N.20
Spring 2023
TRIESTE FASHION
Creativity & design
Vestirsi a Trieste
Musica Live Food & Wine
Top 20
www.triestelifestyle.com
direttore responsabile
Giovanni Marzini
coordinamento
Paola De Cassan
segreteria di redazione
Fabiana Parenzan redazione@prandicom.it
Via Cesare Battisti 1, 34125 Trieste
hanno collaborato
Micol Brusaferro, Alice Fabi, Isabella Franco, Nicolò Giraldi, Maddalena Giuffrida, Rino Lombardi, Emily Menguzzato, Francesca Pitacco, Alberto Polojac, Ilaria Romanzin, Francesca Schillaci, Ottavio Silva, Lucija Slavica
marketing advisor
Stefania Boccabianca
illustrazioni
Jan Sedmak
traduzioni
Rita Pecorari Novak, Eugenia Dal Fovo, Rebecca Blakey
progetto grafico e impaginazione
Matteo Bartoli, Elisa Dudine – Basiq
stampa
Riccigraf S.a.s.
foto di copertina
Barbara Franchin ritratta da Giuliano Koren
L'immagine della copertina è riprodotta su concessione del Ministero della Cultura, Soprintendenza Archeologia, belle arti e paesaggio del Friuli-Venezia Giulia.
fotografie
Giovanni Aiello, Camilla Bach, D. Barraco, G. Baronchelli, Carlo Borlenghi, Alessandro Camoni, Anja Cop, Gabriele Crozzoli, Valentina Cunja, Ulderica Da Pozzo, Nika Furlani, Fabrice Gallina, Massimo Goina, Tiziano Gualtieri, Mauro Marass, Alessandro Michelazzi, Marco Milani, Davide Monti, Salvatore Napolano, N. Oleotto, Lisa Pacor, Francesca Pignatti, Massimo Pistore, Filippo Savoia, Manuela Valta, Comune di Trieste, Discover Trieste, Civico Museo Teatrale Carlo Schmidl, Fototeca dei Civici Musei di Storia ed Arte, PromoTurismoFVG, Archivio Adobe Stock
un progetto
Ies Magazine Trieste Lifestyle N°20 – Spring 2023
Autorizzazione del Tribunale di Trieste del 16 marzo 2018, numero periodico 9/2018 V.G. 847/2018.
Città da scoprire Discover the city ART IN FASHION 6
THE CASUAL TWINKLE, LA MAGIA ADDOSSO 20 MODA, MODE, MODI, IERI, OGGI, DOMANI 22 di Lucija Slavica SQUARCI GLIMPSES 30 di Nicolò Giraldi LA CASA REINTERPRETATA 36 di Ottavio Silva TOP 20 38 di Rino Lombardi Portfolio TRIESTE STREET WEAR 45
di Francesca Pitacco
Sommario IES, TRIESTE LIFESTYLE N°20 — Spring 2023
fotografie di Giuliano Koren
Città da gustare Taste the city ORANGE, AMBER, MACERATO. VINO! 52 di Alice Fabi IL CAFFÈ È POP! 58 I COCKTAIL DELLA "MUTA" 60 PANE NOSTRUM L'ARTE BIANCA A TRIESTE 62 di Isabella Franco Città da vivere Live the city IL TEMPO DELLE ERBE 66 di Francesca Schillaci IL RITORNO DEI GRANDI CONCERTI 70 EXHIBITION 72 LOCAL GUIDES 76 di Micol Brusaferro Fuori porta Outside the city IL MANUALE DI VIAGGIO DI AQUILEIA 80 TORVISCOSA RICOSTRUITA CON MINECRAFT 82 I PROFUMI DEL VINO 84 di Maddalena Giuffrida LA MONTAGNA DI CASA 86 di Ilaria Romanzin SUAZES, BELL'IMPRESA CREATIVA 90 di Emily Menguzzato ASCOLTA LA FORESTA 92 SAURIS, 'BEST TOURISM VILLAGE' 94 Agenda POST-IT 96 Sommario IES, TRIESTE LIFESTYLE N°20 — Spring 2023
Via Felice Venezian 7/b
TRIESTE
TRIESTE, SEMPRE PIÙ DI MODA
Trieste, more and more… In vogue
IES entra nel suo sesto anno di vita –primavera 2018/2023– con un numero venti da festeggiare. Passano in fretta gli anni, vero? E se vogliamo continuare con il festival dei luoghi comuni potremo aggiungere che con gli anni, passano e cambiano anche le "mode". Eppure, la città che questo magazine racconta, sulla moda vuol fare un'eccezione: perché Trieste si vanta di essere… sempre più di moda. Questo "claim" scelto da IES per il 2023 non è però una nostra trovata. Ci è stato suggerito da chi di turismo vive, lo studia, lo analizza e cerca di interpretarlo: gli operatori del settore. Ai quali crediamo.
Trieste piace, continua a piacere. È statistica, non opinione, con crescite esponenziali. A noi il compito di spiegarne il perché, come stiamo cercando di fare dalla primavera del 2018. Di questa città il visitatore –turista/cittadino temporaneo– apprezza il profumo del suo mare, la storia che trasuda dai suoi palazzi, il composto scorrere di un modo di vita mai sopra le righe e comunque votato alla leggerezza. Di questa città adora gli scorci e –come leggerete più avanti–gli squarci che è capace di regalare a vecchi e nuovi ospiti. A quei "triestini temporanei" che suggeriscono di accostare al suo nome la parola "moda". E allora, non potevamo che iniziare da lì il nostro percorso attraverso il 2023, se non dalla moda, intesa stavolta nella più stretta eccezione del termine. Perché tra le tante apparenti contraddizioni di questa città, ecco che il villaggio emporio, l'austero porto commerciale di un grande impero, la città di scrittori e poi di scienziati è capace di tuffarsi con lucida follia nel fantasioso futuro delle avanguardie stilistiche che disegnano la moda che verrà. Trieste sempre più di "moda", non poteva allora che partire da qui, da una vera propria accademia dello stile che in vent'anni ha fatto passi da gigante, sino a regalare e regalarsi un posto di rilievo a livello planetario in questo particolarissimo settore. L'apertura a primavera di Its Arcademy, qualcosa di più che un semplice museo, è una data destinata a restare indelebile nella storia cittadina e non poteva che essere la "cover story" di un numero di IES che vuole raccontarvi le tante "mode" di Trieste e il suo "way of life" finalmente capace di coniugare al meglio un incancellabile passato –lo testimonia il tallero di Maria Teresa che pare ancora… controllare la città– ed un futuro che abbiamo appena iniziato a scrivere.
di /by Giovanni Marzini
With this 20th issue IES celebrates its sixth anniversary – spring 2018 to 2023. Time really does fly. One more cliché: as time goes by, "trends" go in and out of fashion. Yet, the city of Trieste, the real protagonist of our magazine, seems determined to be the exception to the rule: indeed, Trieste is… more and more in vogue. We at IES fully support this claim, although we are not the ones who came up with it: it was made by those whose job is to live, analyse, and interpret tourism trends. This is why we trust such an authoritative source.
Trieste has been and continues to be a beloved destination, as shown by the city's impressive increase in popularity recorded by official statistics. Since the spring of 2018 we have been substantiating those data with ample evidence. Visitors –tourists and temporary residents alike–love Trieste because of the sea and its scent, the history emanating from the city's architecture, her calm and collected way of life, and her lighthearted atmosphere. Trieste offers glimpses and, as you are about to find out, gashes able to captivate both first-time and regular visitors − in other words, "temporary Triestini" and witnesses to the fact that Trieste is very much "in fashion".
It should come as no surprise, therefore, that IES' journey through 2023 starts from fashion itself, in its most specific sense. True to her apparent love of paradoxes, Trieste, once commercial hub, sombre free port and sea outlet of a great empire, city of literature and science, dives with no hesitation –only, perhaps, a touch of lucid folly– into the futuristic fantasies of fashion avant-gardes. Trieste more and more in vogue: a claim and a fact embodied by a true style academy and its 20-year impressive evolution, which has brought it to the attention of the world of fashion and culminated with a welldeserved international recognition. The imminent launch of ITS Arcademy, so much more than a simple museum, is destined to become a date to remember in Trieste's history and is also the cover story of this issue of IES: we are going to tell you about Trieste, the city's many trends and way of life, eventually reconciling its indelible past –as reminded by Maria Theresa's thaler, still casting its ever-watchful gaze over the city– and its future, just about to be written.
5 IES, TRIESTE LIFESTYLE N°20 — Spring 2023 Editoriale
ART IN FASHION
N°20 — Spring 2023 6 IES, TRIESTE LIFESTYLE Città da scoprire
Dall'Archivio all'Arca, ITS firma il primo Museo della moda contemporanea in Italia
Fom Archive to Ark, ITS signs Italy's first contemporary fashion museum
di /by Francesca Pitacco
ITS è conosciuto in tutto il mondo come il contest per giovani designer che si tiene a Trieste dal 2002. Dopo vent'anni nei quali il premio ha fatto della città il proprio palcoscenico Barbara Franchin, ideatrice e anima propulsiva di ITS, ha deciso di radicare maggiormente la propria creatura al territorio e farne comprendere il valore e il potenziale.
Ad aprile apre in un classicissimo e quasi austero palazzo del Borgo Teresiano –sede della Fondazione CRTrieste– ITS Arcademy – Museum of Art in Fashion, un luogo che fa della creatività il proprio tratto distintivo, un luogo multiforme dove preservare la memoria, darle corpo attraverso mostre temporanee, instillare nel visitatore curiosità verso un mondo –quello della moda– che spesso appare lontano per dinamiche e proposte, ma si configura come il più quotidiano e vicino a ciascuno di noi. Ma non solo. Visitare ITS Arcademy significa immergersi in suggestioni che giungono da tutto il mondo per uscirne magari con la voglia di rientrare da una porta diversa, quella dei laboratori e della sartoria, che saranno aperti a chi avrà la voglia di testare le sue abilità ed esprimere o sviluppare il suo
—
G.
7 IES, TRIESTE LIFESTYLE N°20 — Spring 2023 Discover the city
Koren
estro. Non ci sono limiti di età e la proposta che lo staff di ITS metterà in campo dall'estate sarà variegata e accattivante.
"Dopo aver tanto viaggiato" così si racconta Barbara Franchin davanti alla sua nuova avventura "ITS ha raccolto in questi vent'anni di vita una quantità enorme di materiale. Si tratta di opere prime di giovani talenti che in alcuni casi oggi stanno ai vertici di brand molto noti come Balenciaga o Bottega Veneta. Questa fantastica arca ora approda in un porto sicuro, in quella che sarà la sua casa e il luogo adatto a curare ed esibire questo tesoro".
I numeri dell'Arcademy parlano da soli: 14.758 portfolio provenienti da 80 paesi diversi, 1.089 abiti, 163 accessori, 118 gioielli, più di 700 progetti fotografici. Un condensato di bellezza che
ha anche la prerogativa di essere il frutto nato da ragazze e ragazzi alla conclusione del ciclo di studi universitari o da poco laureati. Non è un tratto da sottovalutare. Questi portfolio sono l'espressione purissima del loro sentire, ideare, creare. Sono il risultato –scevro da qualsiasi necessità di produzione e lontano da ogni legge di mercato– di un progetto che nasce bidimensionale e prende forma. I portfolio sono racconto, analisi, invenzione.
La Library è il sancta sanctorum dove tutti i portfolio vengono conservati. Sono i progetti con i quali i candidati a ITS si sono presentati alla prova della giuria. "Ogni anno l'arrivo dei portfolio e la prima scrematura sono per noi il momento di maggior entusiasmo" sono ancora parole di Barbara Franchin
"Un porto sicuro, il luogo adatto a curare ed esibire questo tesoro."
"A safe haven where its treasures can be cherished and displayed."
G. Koren
8 IES, TRIESTE LIFESTYLE N°20 — Spring 2023 Città da scoprire
G. Koren
la cultura,
Leggere un libro. Visitare una mostra. Ascoltare un concerto. Raramente si pensa che si tratta di autentici "privilegi": oggi condivisi da molti, ma ancora (anche se può apparire strano) preclusi ai più.
La cultura, per progredire, richiede continue "chiavi di accesso". Dalle più elementari (come il saper leggere) ad altre più sofisticate, che la cultura stessa, quasi per "geminazione", crea di continuo.
Chiavi che ci consentono di scrutare orizzonti sempre più affascinanti e impegnativi (percepire l'enigma di una statua greca, di un quadro astratto o di un brano musicale, al di là della mera contemplazione).
Chiavi che durano per sempre. Che affinano gusto e capacità di giudizio. Che non possiamo smarrire e che nessuno ci potrà mai rubare. Che potremo condividere e scambiare con altri.
La cultura, innegabile segno di benessere sociale. Ma anche matrice di autentica felicità individuale.
Ci sono infiniti buoni motivi per incoraggiare e sostenere la cultura in tutte le sue migliori espressioni. La Fondazione lo crede da sempre.
il colore del benessere sociale
quasi un processo di "geminazione"
G. Koren G. Koren 10 IES, TRIESTE LIFESTYLE N°20 — Spring 2023 Città da scoprire
I numeri parlano da soli: 14.758 portfolio provenienti da 80 paesi diversi, 1.089 abiti, 163 accessori, 118 gioielli, più di 700 progetti fotografici.
Figures speak for themselves: 14,758 portfolios from 80 different countries, 1,089 fashion items, 163 accessories, 118 jewellery pieces, and more than 700 digital photography projects.
"Abbiamo ricevuto un portfolio all'interno di un palloncino da far scoppiare per far scendere una pioggia di coriandoli, un altro in cemento da scalpellare. Ne abbiamo viste tante, ma ciò che ci ha fatto ridere, piangere, sussultare è stata la capacità di giovani professionisti di raccontarsi, di far emergere dalle creazioni il loro vissuto, i sentimenti, la passione e le lacrime".
Gli abiti, gelosamente custoditi in ambienti appositamente attrezzati per salvaguardare oggetti spesso fragili, sono e saranno i protagonisti delle esposizioni che si susseguiranno nei 1.400 metri quadri della gallery. La prima mostra temporanea è affidata alla curatela di Olivier Saillard, già direttore del Palais Galliera (il museo della moda di Parigi), il quale ha selezionato una nutrita serie di abiti, accessori, gioielli e
ITS Arcademy
Via della Cassa di Risparmio, 10 www.itsweb.org
progetti fotografici che hanno fatto la storia di ITS Contest. Allestiti all'interno di scatole che richiamano quelle per il trasporto delle opere d'arte danno l'idea del loro sbarco nel porto di Trieste. Sono pezzi che possono avere vent'anni ma mantengono intatta la loro dirompente forza creativa. Dovrebbero essere un tassello di passato e invece parlano ancora declinandosi al futuro. "Non chiedetemi cosa andrà di moda il prossimo anno" è uno dei mantra di Barbara Franchin "ITS è un incubatore di ciò che potrà accadere tra dieci anni".
ITS Arcademy apre i suoi battenti e fin da subito l'incontrovertibile dato positivo è la carica di contemporaneità che porterà a Trieste. È legata alle sponde del Golfo esclusivamente dall'ostinata volontà della sua ideatrice di chiamare casa solo Trieste. Una fortuna per chi da oggi ha l'occasione di entrare in una dimensione internazionale, effettuando un viaggio esistenziale attraverso i poliedrici aspetti estetici del vestire, dove fluisce l'ispirazione e si ha la possibilità di esplorare i nuovi sentieri della creatività.
la spettacolare eredità che ITS Contest è stato capace di creare dalla sua nascita. Questo impressionante archivio ha quindi tutta l'intenzione di continuare a essere implementato e fungere da sismografo della moda mondiale. Impossibile fossilizzarlo in un classico museo con un'esposizione permanente. Nel manifesto della neonata Fondazione ITS i valori sono riassunti nei verbi esporre, condividere, diffondere, che hanno come obiettivi il divertimento, la sorpresa e soprattutto la volontà di liberare la creatività che esiste in ciascuno di noi.
È
Piazza della Borsa Piazza Unità d'Italia
G. Koren 11 IES, TRIESTE LIFESTYLE N°20 — Spring 2023 Discover the city
Piazza Ponterosso
Obiettivi: il divertimento, la sorpresa e soprattutto la volontà di liberare la creatività che esiste in ciascuno di noi.
ITS is known worldwide as Trieste's international contest for young designers launched in 2002. In the past twenty years Trieste has become the real stage of ITS Contest, created and nurtured by the brilliant mind of Barbara Franchin, who has always been determined to firmly anchor her brainchild into the local scene, so that its value and potential could be fully appreciated.
ITS Arcademy – Museum of Art in Fashion will be inaugurated in April 2023 within the classic and solemn framework of Palazzo Fondazione CRTrieste, in Borgo Teresiano: a place of creativity, an eclectic archive where memory takes shape through temporary exhibitions and whets visitors' appetite for fashion – a world that may feel distant at times,
Goals: entertainment, surprise, and, most importantly, the wish to help individuals find their inner creativity and set it free.
ENGLISH TEXT
Koren 13 IES, TRIESTE LIFESTYLE N°20 — Spring 2023 Discover the city
G.
The first temporary exhibit is curated by Olivier Saillard, former director of Paris Fashion Museum Palais Galliera.
due to the industry's dynamics and products, and yet is closer to everyday life than one might think. And there is more: ITS Arcademy is an itinerary through hints and ideas from every corner of the world, at the end of which one is tempted to go back and start a new journey, perhaps taking a different route, this time through hands-on workshops and the tailor's shop, which will open its doors to all those who feel like testing their abilities and express their creativity. ITS staff welcomes visitors of every age, with a soon-tobe-announced summer programme filled with numerous, multi-faceted activities.
Barbara Franchin on this new adventure: "After travelling far and wide for twenty years, today ITS can boast a collection of unprecedented size and scope, including a vast archive of the early work of talented young designers, some of whom are now at the helm of renowned brands, such as Balenciaga and Bottega Veneta. This unique ark of ours has found a safe port in its new home, where its treasures can be cherished and displayed".
Arcademy's figures speak for themselves: 14,758 portfolios from 80 different countries, 1,089 fashion items, 163 accessories, 118 jewellery pieces, and more than 700 digital photography projects. A unique concentration of beauty, because it originates from the efforts of young fashion students and graduates, no less. Their portfolios are expressions of their feelings, ideas, and creativity, at their purest – untainted by production imperatives and market laws. A two-dimensional project slowly
acquiring a third dimension through each portfolio's narrative, analysis, and inventiveness.
Arcademy's Library is the holy of holies where all portfolios are enshrined. Each one was submitted to the jury by an ITS contestant in one of the previous editions. According to Barbara Franchin, "Every year at submission time, going through the applicants' portfolios for our pre-selection, we live a moment of pure enthusiasm. I remember one portfolio came to us in the form of a balloon that we had to pop, releasing a rain of confetti, while another portfolio was a block of concrete that we had to chisel. I think I can safely say that we have seen it all −and yet the best part, what made us laugh, cry, or jump, was not one submission in particular, but these young professionals' ability
La prima mostra temporanea è affidata alla curatela di Olivier Saillard, già direttore del Palais Galliera, il museo della moda di Parigi.
G. Koren
G. Koren
14 IES, TRIESTE LIFESTYLE N°20 — Spring 2023 Città da scoprire
G. Koren
JOIN THE REBELLION.
never trust the barber
NONE OF THESE PEOPLE EXIST.
THIS ADVERTISEMENT HAS BEEN ENTIRELY CREATED
ARTIFICIAL INTELLIGENCE.
BY
to tell their story, express their experience through their creations, convey their feelings, passions, and sorrows".
Each clothing piece is carefully stored in a dedicated space, equipped to preserve even the most fragile creation, so that it can be displayed in pristine condition during the exhibitions that will be hosted in the 1,400-square-metre Gallery. The first temporary exhibit is curated by Olivier Saillard, former director of Paris Fashion Museum Palais Galliera, whose significant selection of fashion items, accessories, jewellery pieces, and digital photography projects trace a timeline of ITS Contest's history. Each installation is encased in frames resembling shipping boxes for artworks, as if they had just been unloaded from the hold of a freighter docked in the port of Trieste. Despite their twenty or so years, these pieces' compellingly creative force is still perfectly intact. Instead of being vestiges of the past, they represent voices of the future. One of Barbara Franchin's mantras is: "Do not ask me what will be in fashion next year. ITS is an incubator of potential that could become reality in up to ten years".
ITS Arcademy's open gates breathe a gust of fresh air and contemporary spirit into the very heart of Trieste – after all, the Arcademy itself hangs on to the rocky cliffs of this Gulf only thanks to the strong hold of Barbara Franchin and her determination to call Trieste, and Trieste alone, her home. A true privilege for all those who can now experience the Arcademy's international dimension, following an existential itinerary through the multi-faceted aesthetics of dress sense, where inspiration flows and creativity roams free, paving new paths in its stride.
This is the extraordinary legacy of ITS Contest and its twenty years of history: an open archive that will continue to be updated and serve as a seismographer of world fashion. It would be impossible to confine such legacy within the narrow label of a museum with a permanent, unchanging exhibition. The Manifesto of new-born ITS Foundation enshrines the latter's core values with the verbs display, share, disseminate, whose goals are entertainment, surprise, and, most importantly, the wish to help individuals find their inner creativity and set it free.
La Library
G. Koren 16 IES, TRIESTE LIFESTYLE N°20 — Spring 2023 Città da scoprire
è il sancta sanctorum dove tutti i portfolio vengono conservati. Arcademy's Library is the holy of holies where all portfolios are enshrined.
G. Koren
SPAZI INDIPENDENTI
ABBIGLIAMENTO donna e uomo
TRANSIT
ROBERTO COLLINA
APUNTOB
NINE:INTHE:MORNING
ARAGONA
MOSCA
TANDEM
PEPPINOPEPPINO
RAKKì
LA PAZ
PETIT BATEAU
KIMONORAIN
ACCESSORI
TRAKATAN
IL BISONTE
GREVI
SPRAYGROUND
IZIPIZI
POLONAPOLONA
WOUF
ALBERTO LUTI
HERITAGE 9.1
GOORIN BROS
CALZATURE
PURAAI
LEOPOLDINE
DIEMME
UGG
ALEXANDER HOTTO FLOWER MOUNTAIN
BRANDBLACK
L'ARIANNA
34122 Trieste - Italia, via Santa Caterina 11b 040 661821 n 351 7065150 c f spazio11b info@spazio11b.it CASUAL PRÊT-Á-PORTER B O DNAEUQITU SEIROSSECCA
Perché l'ho fatto? Siamo nati per creare. L'ho capito a diciott'anni entrando in un piccolo atelier sotto casa perché volevo un abito speciale per la mia maturità. Ci sono entrata, non ne sono più uscita. Lì ho imparato a cucire, ho scoperto la creatività, che poi sono andata a scoprire nel mondo, portandola a Trieste perché Trieste è casa, meravigliosa, indomita, scontrosa, ipnotizzante città a cui mai rinuncerò. Sapevo che l'avrei fatto con una squadra di persone scelte tra i miei affetti, o a cui mi sarei affezionata. Una famiglia, ancora con me, vent'anni di amore e sopportazione. Entro nel laboratorio di sartoria di ITS Arcademy è sono ancora in quell'atelier. Ma stavolta non ci sono solo io. Ci siete tutti, è per voi. Siamo nati per creare, a tutte le età, da ogni luogo, insieme. ITS Arcademy è una miccia in ognuno di noi.
Barbara Franchin, Director and supervisor of International Talent Support (ITS)
Why did I do it? We are born to create. It dawned on me when I was still 18 years old, as I entered the little atelier just around the corner from where I lived in search of something special to wear for my high school graduation day. I went in and I never really came out: there I learned to sew and discovered creativity for the first time; there I took my first steps on a journey throughout the world, to experience creativity in its every facet and bring it back to Trieste, my home, wonderful, untamed, moody, spell-binding city I could never give up. I knew my task could only be accomplished with a selected team of people I loved or would end up loving. My elected family has always been by my side in these 20 years of love and patience. Every time I step into the workshop of ITS Arcademy it is like entering that little atelier again. Except now I am not alone: I am opening our doors to all of you. We are born to create, together, regardless of age or origin. ITS Arcademy is a fuse waiting to be lit in every one of us.
Barbara Franchin, Direttrice e supervisore di International Talent Support (ITS)
"Non chiedetemi cosa andrà di moda il prossimo anno. ITS è un incubatore di ciò che potrà accadere tra dieci anni."
"Do not ask me what will be in fashion next year. ITS is an incubator of potential that could become reality in up to ten years."
18 IES, TRIESTE LIFESTYLE N°20 — Spring 2023 Città da scoprire
G. Koren
N°20 — Spring 2023 19 IES, TRIESTE LIFESTYLE Discover the city
SHOP ONLINE THE CASUAL TWINKLE LA MAGIA ADDOSSO
Immaginate di vestire voi e i vostri bambini con tessuti morbidi e colori naturali, dallo stile casual e raffinato. Immaginate che questi capi di abbigliamento abbiano un cuore sostenibile e promuovano l'economia circolare. Ispirato dalla bellezza e dall'armonia della natura, "The Casual Twinkle", boutique online per donna e bambini, porta con sé l'incanto della tradizione sartoriale italiana, la morbidezza degli alpaca delle Ande, la magia dei colletti e dei ricami, la maestria artigiana.
Un amore per il mare e una grande passione per la montagna danno vita alle collezioni d'ispirazione classica e dal design innovativo. La e-boutique propone total look per bambini dalle calzature alle maglie, dalle polo ai completini. Per la donna offre un'interessante selezione di capi realizzati a mano come costumi
da bagno, lingerie e activewear in una scelta accurata di brand che abbracciano il nostro pianeta in un viaggio tutto sostenibile.
Sartorialità, comodità, eleganza e upycling si coniugano armoniosamente con l'altissima qualità e la cura del dettaglio. Dalla scelta dei fornitori alla selezione dei tessuti, dal packaging ai materiali naturali, The Casual Twinkle desidera creare un impatto positivo a livello ambientale, etico e sociale per le generazioni a venire, partendo proprio dalla cultura dell'ambiente attraverso lo shopping.
Fondatrice di "The Casual Twinkle" è Manuela Valta, appassionata di marketing ed esperta nella valorizzazione dei brand di lusso. Esperienze di studio e di lavoro a Los Angeles, Vienna e Madrid, un dottorato di ricerca a Oxford e molti
20 IES, TRIESTE LIFESTYLE N°20 — Spring 2023 Contributors
viaggi sono il mix che ha reso Manuela non solo uno spirito libero nel cuore ma anche nella mente. Da sempre amante della natura, proprio quando stava avviando la carriera accademica, ha deciso di intraprendere questa nuova avventura a sostegno dell'ambiente.
Per chi vive a Trieste o si trova di passaggio, Manuela riceve anche su appuntamento offrendo la possibilità di far provare i capi e toccare con mano l'unicità delle fibre. Uno shopping consapevole in un panorama dove la sostenibilità viene troppe volte proclamata e poche volte concretamente realizzata.
Imagine yourself and your children wearing soft fabrics and natural colours, with a casual and refined style. Imagine that these clothes have a sustainable heart and promote the circular economy.
Inspired by the beauty and harmony of nature, 'The Casual Twinkle', an online boutique for women and children, brings with it the charm of traditional Italian tailoring, the softness of alpacas from the Andes, the magic of collars and embroidery, and craftsmanship. A love for the sea and a great passion for the mountains give life to the classically inspired and innovatively designed collections.
The e-boutique offers total looks for children from footwear to sweaters, from polo shirts to suits. For women, it offers an interesting selection of
handmade garments such as swimwear, lingerie and activewear in a careful choice of brands that embrace our planet in an entirely sustainable journey.
Tailoring, comfort, elegance and upycling are harmoniously combined with the highest quality and attention to detail. From the choice of suppliers to the selection of fabrics, from packaging to natural materials, The Casual Twinkle wishes to create a positive environmental, ethical and social impact for generations to come, starting with the culture of the environment through shopping.
Founder of 'The Casual Twinkle' is Manuela Valta, a marketing enthusiast and expert in the enhancement of luxury brands. Study and work experiences in Los Angeles, Vienna and Madrid, a PhD from Oxford and many trips are the mix that has made Manuela not only a free spirit in her heart but also in her mind. Always a lover of nature, just when she was starting out on her academic career, she decided to embark on this new adventure in support of the environment. For those who live in Trieste or are just passing through, Manuela also receives by appointment, so you can try the clothes on and touch the uniqueness of their fibres. Conscious shopping in a scenario where sustainability is too often proclaimed and seldom truly accomplished.
ENGLISH TEXT
INFO
M. Valta L. Pacor 21 IES, TRIESTE LIFESTYLE N°20 — Spring 2023 Contributors
www.thecasualtwinkle.com Ig: thecasualtwinke
Moda, mode, modi, ieri, oggi, domani
di /by Lucija Slavica
Abito di Roberta Meola Furlani N. Furlani 22
Trieste Style N. IES, TRIESTE LIFESTYLE
N°20 — Spring 2023
Città da scoprire
A Trieste sono state scritte tante storie, molte delle quali firmate dai grandi nomi della moda.
So many of stories have been written in Trieste, many of them signed by the big names in fashion.
Custodire segreti tra le cuciture, puntare spilli quasi a delineare il percorso di un pensiero e tagliare il superfluo per lasciare spazio all'essenziale. La moda non è un risultato, ma un processo. Una storia che si scrive con ago e filo su tessuti che negli anni hanno gridato innovazione, rivoluzione e creatività. E a Trieste ne sono state scritte tante di storie, molte delle quali firmate dai grandi nomi della moda. A partire da Missoni, diventato celebre con il suo iconico zig zag. Il suo nome riecheggia al civico 5/1 di via Pendice dello Scoglietto, dove è ancora visibile la targa dello storico maglificio Venjulia, il tempio dove mosse i primi passi nell'industria del tessile.
Ci sono stati poi Renato Balestra, che disegnò il bozzetto che gli ha cambiato la vita proprio mentre studiava ingegneria all'Università di Trieste, e Gigliola Curiel, la stilista che ha conquistato le dame milanesi e i cui vestiti hanno sfilato più volte alla prima della Scala. E ancora la dalmata Mila Schön, definita da Diana Vrewland "la Coco Chanel italiana", che ha vestito, tra le altre, Jackie Kennedy e Mina, e Leonor Fini che, nel 1937, creò per Elsa Schiaparelli la famosa bottiglia del profumo "Shocking"
Fedora Barbieri Abito per Leonora, Pere Clapera (Civico Museo Teatrale "Carlo Schmidl", Trieste)
23 IES, TRIESTE LIFESTYLE N°20 — Spring 2023 Discover the city
Lucia Valentini Terrani Abito da concerto in tessuto laminato, Roberto Cappucci, Roma. (Civico Museo Teatrale "Carlo Schmidl", Trieste)
ispirata al corpo di Mae West. Infine Anita Pittoni che, oltre ad essere ancora oggi un grande esempio di donna moderna, poliedrica e libera, ha rivoluzionato il campo dell'artigianato tessile. A lei è stato dedicato il ventitreesimo volume della "Collana d'arte", la serie di volumi monografici dedicati all'arte ed editi dalla Fondazione CrTrieste. Tra i tesori triestini non mancano i costumi teatrali conservati al Civico Museo Teatrale Carlo Schmidl (Palazzo Gopcevich, via Rossini 4), che documenta la vita del teatro e della musica a Trieste dal Settecento ai nostri giorni.
Oggi questo importante bagaglio culturale si arricchisce grazie alla nuova generazione di stilisti triestini che costruiscono il futuro, senza mai dimenticare il legame con il passato. Ve ne presentiamo cinque: ecco chi sono e dove trovarli.
Mara Pavatich (Soba, via Milano 14/a) è una stilista triestina appartenente alla comunità slovena. Il suo motto è "slow fashion with folk soul" e nei suoi abiti custodisce le proprie origini e tradizioni, mettendo al centro la figura femminile. Le sue creazioni sono un mix di praticità, comfort,
"Uno dei suoni più belli è quello delle forbici che tagliano la tela di cotone."
"One of the most beautiful sounds is that of scissors cutting through cotton cloth."
24 IES, TRIESTE LIFESTYLE N°20 — Spring 2023 Città da scoprire
Marco Trevisan – Marco Atelier
eleganza, folklore e contemporaneità, e sono pensate per una donna forte ed indipendente. La ricerca del senso di appartenenza si materializza attraverso materiali malleabili e sostenibili, come l'ultima collezione 'Bring me there': un viaggio che parla di luoghi e identità.
La sostenibilità guida anche l'arte di Roberta Meola (@roberta.meola) che, come Pavatich, usa i cosiddetti unwanted fabrics, materiali di scarto, avanzi e giacenze di magazzino. La sua sfida creativa è infatti concepire un capo di abbigliamento in base alla quantità di materiale a disposizione. Per Meola, la moda è un linguaggio primordiale con cui esprimere la propria creatività e arte, e si presenta come un richiamo: "uno dei suoni più belli è quello delle forbici che tagliano la tela di cotone". 'Radici', uno dei suoi ultimi lavori, è un incontro tra riuso e memoria. Protagoniste del progetto, le calze collant trovate nella casa della nonna trasformate in decorazioni per i suoi abiti.
È il lavoro di un artista, quello di Marco Trevisan, che realizza a mano tutti i passaggi delle sue creazioni. Le borse del suo brand Marco Atelier (@marcotrevisan_official) sono accessori di lusso realizzati in pelle, cotone canvas e velluto stampato. Ogni dettaglio è curato, dalle fibbie alle stampe dei tessuti che realizza personalmente ad acquarello. La sua ultima collezione è ispirata al Rinascimento, un inno alle nostre radici e al nostro passato, rivisitato con colori e forme moderni.
C'è sicuramente qualcosa di affascinante nel riscoprire antiche tradizioni, come quella della modisteria. Michela Puzzer con Ullalà crea cappelli come si facevano una volta, su vecchie forme di legno acquistate da vecchie modisterie triestine e francesi. Nel suo laboratorio di largo Barriera 9, si cela una tana per i cercatori di meraviglie e una marea di copricapi pronti a trovare la propria testa. Da Ullalà non mancano modelli cuciti a macchina come baschi, fasce per capelli, cerchietti, velette e fascinators.
Infine, per i più esigenti, c'è FabTailors. In via Donota 4, Fabrizio Pizzioli, Andreea Radut, Irina e Michela realizzano tutto su misura: dalle camicie ai blazer. Un servizio a 360 gradi, come si usava una volta nelle vecchie sartorie. Potrete personalizzare proprio tutto: bottoni, asole, fodere, stile e fit. L'unica regola è che non ci sono regole.
Anita Pittoni, oltre ad essere ancora oggi un grande esempio di donna moderna, poliedrica e libera, ha rivoluzionato il campo dell'artigianato tessile.
Besides still being a great example of a modern, multifaceted and free woman, Anita Pittoni revolutionized the field of textile craftsmanship.
I bozzetti degli abiti di Mara Pavatich
26 IES, TRIESTE LIFESTYLE N°20 — Spring 2023 Città da scoprire
Anita Pittoni
Keeping secrets between the seams, pricking pins as if to outline the path of a thought and cutting out the superfluous to make room for the essential. Fashion is not a result, but a process. A story that is written with needle and thread on fabrics that over the years have been shouting innovation, revolution and creativity. And many stories have been written in Trieste, many of them signed by the great names in fashion. Starting with Missoni, who became famous with his iconic zig zag. His name echoes at number 5/1 Via Pendice dello Scoglietto, where the plaque of the historic Venjulia knitwear factory, the temple where he took his first steps in the textile industry, is still visible.
Then there was Renato Balestra, who drew the sketch that changed his life while he was studying engineering at the University of Trieste, and Gigliola Curiel, the fashion designer who conquered the ladies of Milan and whose clothes were worn several times at the premiere of La Scala. And again the Dalmatian Mila Schön, defined by Diana Vrewland as 'the Italian Coco Chanel', who dressed, among others, Jackie Kennedy and Mina, and
ENGLISH TEXT
Roberta Meola
Anita Pittoni
N. Furlani 27 IES, TRIESTE LIFESTYLE N°20 — Spring 2023 Discover the city
Abito e mantellina con cappuccio in quadrati di lana leggera nera tessuta e intrecciata a fili di rame. (Civici Musei di Storia ed Arte)
Una nuova generazione
Leonor Fini who, in 1937, designed the famous 'Shocking' perfume bottle, inspired by Mae West's body, for Elsa Schiaparelli. Finally, Anita Pittoni who, besides still being a great example of a modern, multifaceted and free woman, revolutionised the field of textile craftsmanship. The twenty-third volume of the 'Collana d'arte', the series of monographic volumes dedicated to art and published by the Fondazione CrTrieste, is dedicated to her. Trieste's treasures include the theatrical costumes preserved at the Carlo Schmidl Theatre Museum (Palazzo Gopcevich, via Rossini 4), which documents the life of theatre and music in Trieste from the 18th century to the present day.
Today, this important cultural heritage is enriched thanks to the new generation of Triestine designers who are building the future, without ever forgetting the link with the past. We present five of them to you: here is who they are and where to find them.
Mara Pavatich (Soba, via Milano 14/a) is a Trieste-based fashion designer from the Slovenian community. Her motto is 'slow fashion with folk soul' and in her clothes she treasures her origins and traditions, putting the female figure at the centre. Her creations are a mix of functionality, comfort, elegance, folklore and contemporaneity, and are designed for a strong and independent woman. The search for a sense of belonging is realised through malleable and sustainable materials, such as the latest collection 'Bring me there': a journey that speaks of places and identity.
Sustainability also guides the art of Roberta Meola (@roberta.meola) who, like Pavatich, uses so-called unwanted fabrics, waste materials, leftovers and stock. Her creative challenge is in fact to conceive a garment based on the amount of material available. For Meola, fashion is a primordial language with which to express one's creativity and art, and it comes as a reminder: 'one of the most beautiful sounds is that of scissors cutting cotton cloth'.
'Radici', one of his latest works, is an encounter between reuse and memory. The protagonists of the project are tights stockings found in her grandmother's house transformed into decorations for her clothes.
It is the work of an artist, that of Marco Trevisan, who carries out all the steps of his creations by hand. The bags of his brand Marco Atelier (@marcotrevisan_official) are luxury accessories made of leather, cotton canvas and printed velvet. Every detail is taken care of, from the buckles to the fabric prints that he personally paints in watercolour. His latest collection is inspired by the Renaissance, a hymn to our roots and our past, revisited with modern colours and shapes.
There is certainly something fascinating about rediscovering ancient traditions, such as millinery. Michela Puzzer with Ullalà creates hats as they used to be made, on old wooden moulds purchased from old millineries in Trieste and France. In her workshop in largo Barriera 9, there is a den for wonder-seekers and a flood of headgear ready to find its head. At Ullalà, there is no shortage of machine-sewn models such as berets, headbands, veils and fascinators.
Finally, for the most demanding, there is FabTailors. At Via Donota 4, Fabrizio Pizzioli, Andreea Radut, Irina and Michela make everything to measure: from shirts to blazers. An allround service, as they used to do in the old tailor's shops. You can customise everything: buttons, buttonholes, linings, style and fit. The only rule is that there are no rules.
di stilisti triestini dà vita al futuro senza dimenticare il passato.
A new generation of Triestine stylists look into the future with an eye to the past.
Un accessorio di 'Marco Atelier'
28 IES, TRIESTE LIFESTYLE N°20 — Spring 2023 Città da scoprire
Un cappello realizzato da 'Ullalà'
SQUARCI GLIMPSES
Trieste invita a vedute, visioni e prospettive originali
Trieste boasts original views, visions and perspectives
30 IES, TRIESTE LIFESTYLE N°20 — Spring 2023 Città da scoprire
Uno squarcio non può essere misurato, né confinato all'interno di uno schema preciso. Può essere sostantivo o verbo, così come è in grado di disegnare uno strappo nello spazio visivo, spalancare alla vista le possibilità degli uomini e delle donne; non c'è limite alle sue mutazioni, o ai suoi utilizzi e no, non è termine negativo. Rimbomba nella lingua parlata come un'improvvisa rivoluzione e distrugge la staticità dell'equilibrio. È provocazione ed allo stesso tempo inaspettata apertura. Trieste abbonda di squarci, siano essi storici o geologici, o ad essi si vogliano dare altri significati. Non si vedono spesso, a dire il vero, o almeno così non vengono percepiti da chi ci vive o ci passeggia. Eppure, la potenza di ciò che ribalta le convinzioni è dappertutto, in questa città. L'ultimo squarcio fisico manifestatosi di recente è la restituzione al viaggiatore della monumentale entrata del porto vecchio [1]
Per aprire lo spazio alla curiosità si è dovuto buttare giù un ex teatro dismesso (una fu stazione per corriere, ormai semi abbandonata). Sì, gli squarci sono anche materia per fisici, considerando le azioni e le reazioni che essi stessi producono. Camminando e perdendosi, in questa città il viaggiatore scoprirà gli angoli dimenticati più suggestivi e respirerà le novità, senza per forza affidarsi all'intermediazione delle mappe geografiche o dei "dieci posti da non perdere".
Fanno rumore, gli squarci, regalano l'emozione di ciò che non conosciamo. La salita alla scala Ciamician [2] e lo sguardo all'orizzonte, a volo d'uccello sopra il campanile di santa Maria del guato (così i triestini chiamano il Salone
degli incanti [3], un tempo rumorosa pescheria cittadina), restituisce la gioia di un sospiro. Esclamazioni dialettali in via d'estinzione sono pilastri che tengono in piedi – meglio in vita – le identità locali: tartàifel (indemoniato), indrioman (di seguito), come pure matavilz (valerianella), s'cenza (scheggia), s'cinca (biglia) o s'ciopeta (piccolo panino con taglio centrale) –in generale tutte le parole che presuppongono una 'sc' sincopata ed interrotta da un apostrofo– producono movimento e guizzi linguistici che qui si possono ancora ascoltare.
Trieste è stato tempio di squarci nel suo passato. Da qui viaggiano i soldi che gli Asburgo investono nel taglio dell'istmo di Suez –in fondo una vera e propria rivoluzione. Qui, nei trent'anni che trascorrono tra la prima e la seconda guerra mondiale, la Storia mette in fila ferite sanguinolente che a fatica si stanno rimarginando, grazie alla comprensione riscoperta negli ultimi vent'anni. Una trincea –il Carso ne è pieno– è uno squarcio, come pure lo è una separazione nelle relazioni. Gli squarci nella terra non sono esclusivi di un martirio giuliano-dalmata (e quindi anche nel racconto delle foibe [4]), bensì trovano realizzazione anche nella speleologia, nelle grotte e in tutto ciò che sta sotto la superficie terrestre. La terra si apre continuamente, a Trieste e dintorni.
Si aprono scorci all'orizzonte anche quando i violenti temporali smettono di percuotere l'aria. Qui, dalla piazza principale della città [5], si apre la vista sulle Alpi carniche, d'inverno innevate. Quegli squarci sono anche e soprattutto il magnete che attrae i triestini a viaggiare e a proiettare le proprie esistenze
di /by
2 Via Ciamician G. Aiello 31 IES, TRIESTE LIFESTYLE N°20 — Spring 2023 Discover the city
Nicolò Giraldi
chissà dove, lontano da qui. Lo squarcio che l'elica di Ressel [6] mette in moto rivoluzionando l'ingegneria mondiale nasce qui, in riva all'Adriatico, nel XIX secolo. Il canal grande taglia in due il borgo Teresiano [7], dove un tempo si "coltivava" il sale e la voglia di grandeur triestina. Squarci come segni del passato, eppure utili a far sì che nel presente trovi spazio l'orizzonte.
Ma a Trieste gli squarci si trasformano spesso in scorci. Per trovarli basta uscire dal centro e salire verso le prime alture che circondano la città. Potrebbe essere monte Valerio [8] (sopra la sede centrale dell'università), come pure scala Santa [9], nel rione di Roiano. Qui, sempre nel mese di settembre, si svolge da anni la rampigada (arrampicata) santa, vale a dire una gara ciclistica amatoriale che si conclude all'obelisco di Opicina [10] , dopo pendenze che toccano il 20 per cento. È qui, nella dimensione sportiva, che lo squarcio muta e diventa scorcio, vista e tramonto.

Ma gli squarci –come gli scorci, non fa differenza– servono soprattutto quando portano il viaggiatore da altre parti, alla stregua di complici consapevoli nell'iniziazione di un processo. Con l'abbattimento della sala Tripcovich chi giunge da fuori fotograferà il monumentale ingresso del Porto vecchio, fino a ieri rimasto nascosto. Il passo successivo sarà entrarci.
Agash has no straight lines or right angles, and can hardly be made to fit an exact diagram. The term "gash" can be both a noun and a verb, just as one can gash, or make a tear, into visual space, thus creating a gash, or an opening, for women and men to be able to see their possibilities. There is no limit to its mutations or the purposes it may serve, in its most positive sense. The uttered word echoes like a sudden revolution, shattering the static frame of balance; it provokes and it surprises. Triestes gashes are numerous – gashes of history, gashes in the ground, gashes for every possible meaning.
Gashes are not easy to spot, or rather are not easily spotted by those who live within or walk through them. Yet, their powerful force overturning certainties
Golfo di Trieste
ENGLISH TEXT
1 5 6 3
Camminando e perdendosi, in questa città il viaggiatore scoprirà gli angoli dimenticati più suggestivi e respirerà le novità.
Wandering, even drifting through the city streets, visitors may discover beautiful, yet forgotten corners, and breathe in the air of ongoing change.
L'entrata al Porto Vecchio
Statua di Josef Ressel
Vista da Piazza Unità d'Italia
Salone degli Incanti
G. Aiello
G. Aiello
32 IES, TRIESTE LIFESTYLE N°20 — Spring 2023 Città da scoprire
G. Aiello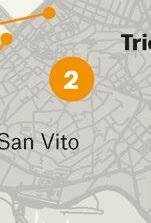 Muggia Opicina San Giacomo Servola San Vito Barcola Porto Vecchio Trieste ItaliaSlovenia 9 8 10
Foiba di Basovizza
Monte Valerio Obelisco di Opicina 33 IES, TRIESTE LIFESTYLE N°20 — Spring 2023 Discover the city
Borgo Teresiano
and convictions dwells in every corner of Trieste. The latest physical gash in the city's urban fabric is the restored main entrance of Porto Vecchio[1]: opening it to the public meant tearing down the abandoned building of an ancient courier station, later turned into a theatre, which had long since fallen into disuse. After all, gashes involve the very physics of matter, considering the actions and reactions they trigger. Wandering, even drifting through the city streets, visitors may discover beautiful, yet forgotten corners, and breathe in the air of ongoing change – no map to rely on, or topten list to go through.
Gashes are loud as the sound of the unknown. Climbing the steps of Scala Ciamician [2] , visitors cannot help but sigh with joy, as their gaze roams free over the belltower of Santa Maria del Guato (lit. Holy Mary of the Gaze, as Triestini call today's Salone degli Incanti [3], once a lively fish market). Exclamations in local vernacular, idioms of a dying language, are the pillars supporting this territory, almost keeping its identity alive: tartàifel (wild, possessed), indrioman (without interruption, one following the other), matavilz (corn salad), s'cenza (splinter), s'cinca (marble), s'ciopeta (small bread roll with a longitudinal incision) – and in general every word with a syncopated "sc" sound in their first syllable, interrupted by an apostrophe – create a sort of movement, made of language jolts and darts that are still very much alive in this area.
Trieste has a long history of gashes: it is the departure point of the Hapsburgs' investment into the gash built within the Isthmus of Suez, later known as the Suez
Canal – a revolution in its own right. The gashes of history, especially those inflicted during the thirty years separating World War I and II, were bleeding wounds that have only recently started to heal, thanks to a spirit of understanding that has inspired the past two decades. A trench [4] is a gash, as witnessed by the scarred surface of the Karst Plateau. And a gash in the earth often opens a painful tear in relations between local peoples, as witnessed by the Istrian–Dalmatian exodus and the foibe massacres. However, there also other gashes running through these rocks, less horrific and more natural: caves, potholes, tunnels…the earth opens quite frequently around here.
When thunderstorms fall silent and the air is respited from the violent strikes of the wind, the sky seems to open and
cast a new gaze upon the horizon. Piazza Unità [5] offers an unobstructed view of the Carnic Alps and, in winter, their snow-covered tops. These gashes are the catalyst pushing Triestini to journey, as they project their lives elsewhere, far from here. This northern-most corner of the Adriatic Sea is where Ressel's propeller [6] was designed and started in the 19th century, its pull a trailblazing force of engineering innovation which would later sweep over the globe. Trieste's canal grande cuts through Borgo Teresiano [7], once the city's saltworks, yielding both salt and aspirations of grandeur. Gashes as traces of the past, but also openings that offer a horizon to the present.
The gashes of Trieste often turn into glimpses and full-fledged views. One only need head towards the upland, leaving the city centre behind. Monte Valerio [8] (overlooking the main University campus) and Scala Santa [9] (in Rione Roiano) are two of Triestini's favourite destinations. The latter is where the rampigada santa (lit. holy climb) takes place every year in September: a cycling race for amateurs, with slopes that may reach an incline gradient of 20%, and finish line at Opicina's obelisk [10]. The sport dimension has the power to turn a gash into a glimpse, a view, and a sunset.
Gashes, as well as glimpses, are first and foremost an invitation to travellers, like an intriguing voice that initiates a process. The gash left by the demolition of Sala Tripcovich turned into the majestic view of the main entrance of Porto Vecchio, otherwise hidden. Now, you only need to take a step inside.
A Trieste gli squarci si trasformano spesso in scorci. Per trovarli basta uscire dal centro e salire verso le prime alture che circondano la città.
The gashes of Trieste often turn into glimpses and full-fledged views.
9 Scala Santa
34 IES, TRIESTE LIFESTYLE N°20 — Spring 2023 Città da scoprire
G. Aiello
INTERIORS LA CASA REINTERPRETATA
Rethinking the home
Le nuove tendenze? Non riguardano solo i colori, ma anche i materiali, sempre più naturali, non trattati.
Una volta in città giravano poche auto, pochi modelli. Oggi, dipende. Da qualche parte ce ne sono troppe, da qualche altra parte non ce ne sono più. Oggi si incontrano più biciclette.
Una volta c'era chi leggeva il giornale passeggiando. Oggi nessuno legge più il giornale nemmeno a casa.
Oggi c'è qualcosa che accomuna se non tutti, molti. Sono in molti a camminare piegati guardando il proprio smartphone. Il nostro mondo pare sia tutto lì.
"Il mondo è cambiato" è la classica frase che un po' come il prezzemolo finisce nelle discussioni di ogni generazione. Eccezion fatta per quelle dei millennial.
In effetti negli ultimi trent'anni si è assistito a un'evoluzione molto profonda, tecnologica, stilistica, comunicativa, che ha cambiato radicalmente anche il modo di porsi verso i più diversi luoghi e situazioni che fanno parte della nostra vita di tutti i giorni.
L'unico mondo che in sostanza non è cambiato è quello dell'arredamento. I mobili erano fatti di truciolare rivestito e sono prodotti così ancora adesso, i
di /by Ottavio Silva
36 IES, TRIESTE LIFESTYLE N°20 — Spring 2023 Contributors
divani erano rivestiti in pelle e tessuto e così sono fatti anche ora.
Ma la visione generale degli ambienti e degli arredi, quella sì che è cambiata.
Oggi si tende ad organizzare case nelle quali chi le abita ha la possibilità di vivere e condividere gli ambienti indipendentemente dalle funzioni specifiche dei locali.
La cucina, insieme alla zona pranzo e al salotto, unità un tempo divise, ormai sono un tutt'uno. Openspace, ovvero spazi aperti alla routine, alla quotidianità. Ma anche all'ospitalità, nel poco tempo che resta. Un tempo da valorizzare con la qualità, per sé stessi e per gli altri.
Le nuove tendenze? Non riguardano solo i colori, che vanno di pari passo con la moda del momento, ma anche i materiali, sempre più naturali, non trattati, come i tessuti sempre più materici che danno corpo a forme sempre più minimali.
Il mondo è cambiato, già, perché più pensato, più coordinato, più personalizzato. Tailor made, come s'usa dire oggi.
In fondo è proprio quello che Zinelli & Perizzi mette in pratica da sempre nel suo "atelier dell'arredamento".
ENGLISH TEXT
The new trends? They do not only concern colours, but also materials, which are increasingly natural and untreated. Once there were few cars, few models in the city. Today, it depends. Somewhere there are too many, somewhere else there are no more. Today you meet more bicycles. Once there were people who read the newspaper while walking. Today nobody reads the newspaper even at home any more. Today there is something that unites if not everyone, many. There are many who walk bent over looking at their smartphones. Our world seems to be all there. 'The world has changed' is the classic phrase that, a bit like parsley, ends up in the discussions of every generation. Indeed, the last thirty years have witnessed a very profound technological, stylistic and communicative evolution, which has also radically changed the way we approach the most diverse places and situations that are part of our everyday lives.
The only world that has basically not changed is that of furniture. Furniture used to be made of coated chipboard and is still made that way now, sofas were upholstered in leather and fabric and are still made that way now. But the general vision of rooms and furnishings has changed. Today we tend to organise houses in which those who live in them have the possibility of living and sharing rooms independently of the specific functions of the rooms. The kitchen, together with the dining area and living room, once separate units, are now one. Openspace, or spaces open to routine, to everyday life. But also to hospitality, in the little time that remains. Time to be enhanced with quality, for oneself and for others.The new trends? Not only in terms of colours, which go hand in hand with the fashion of the moment, but also in terms of materials, which are increasingly natural, untreated, such as more and more textured fabrics that give shape to increasingly minimal forms. The world has changed, yes, because it is more thought out, more coordinated, more customised. Tailor made, as they say nowadays. After all, this is exactly what Zinelli & Perizzi has always put into practice in its 'furniture atelier'.
37 IES, TRIESTE LIFESTYLE N°20 — Spring 2023 Contributors
per celebrare il numero 20 di IES
20 special things in Trieste to celebrate IES no. 20
Una scala poetica
A poet's staircase
Poetica non solo perché la utilizzava Umberto Saba… In pochi minuti si sale dalle Rive a uno degli scorci più belli, in via Ciamician. Si vede tutto il golfo e Trieste sembra un'isola!
–
Not only because poet Umberto Saba used to climb these steps…in just a few minutes one can climb from the Rive all the way to Via Ciamician, where the view on the Gulf is breathtaking and Trieste looks like an island.
El can de Trieste & co
Lelio Luttazzi (1923-2010)
è stato un grande uomo di spettacolo. Pianista, compositore, autore, attore, conduttore televisivo… da scoprire allo Studio Luttazzi, in Largo Papa Giovanni. -
Lelio Luttazzi (1923-2010) was a Trieste-born pianist, composer, author, actor, tv presenter… visitors can learn more about this extraordinary showman at Studio Luttazzi, located in Largo Papa Giovanni.
La fontana dei Quattro Continenti
Si trova in piazza Unità la bella fontana realizzata nel 1751, quando l'Australia non era ancora conosciuta. Oggi è un comodo luogo dove darsi appuntamento per conoscersi.
–
The fountain of the Four Continents is located in Piazza Unità. It was built in 1751, before Captain James Cook mapped the east coast of the Australian continent. Today the fountain is one of Trieste's favourite reference spots and meeting points.
Un caffè speciale
A special coffee
I locals consumano una quantità doppia di caffè rispetto al resto dell'Italia: circa 10 kg a testa all'anno invece dei 5 kg della media nazionale. Perché a Trieste il caffè è una specialità!
Locals drink twice as much coffee as the rest of Italy, namely almost 10 kg per person per year, compared to the national average 5 kg –and with good reason: Trieste's coffee is a unique experience!
20 cose speciali di Trieste
TOP 20
–
01 04 03 02 38 IES, TRIESTE LIFESTYLE N°20 — Spring 2023 Città da scoprire
di /by Rino Lombardi
Svevo come guida Svevo as tour guide
Capita di incontrare turisti con la Coscienza di Zeno in mano alla scoperta dei luoghi di Svevo. Ma occhio! Le lettere U.S. scritte su qualche casa significano Uscita di Sicurezza, mica Ultima Sigaretta!
It is not unusual to spot tourists walking through the city streets with a copy of Zeno's Conscience underarm, following Italo Svevo's itineraries. Warning! Road signs with the letters U.S. signal safety exits (Uscita di Sicurezza), and not the spot of the character's Ultimate Smoke.
Il pinguino di Trieste
The penguin of Trieste Giunto avventurosamente su una nave dal Sudafrica negli anni '50, il pinguino Marco divenne amico di tutti. Abitava nell'Aquario Civico, dove presto sarà ricordato con una statua.
–
After an adventurous crossing on a ship from South Africa, Marco the penguin arrived in Trieste in the '50s and immediately became the city's beloved mascot. He lived in the City's Aquarium, where a statue will soon commemorate him.
La passeggiata sul molo Audace
The promenade of Molo Audace
Quando è sereno, è una "piazza" dove camminare, sedersi, stare al sole.
Al tramonto è un luogo privilegiato per godersi lo spettacolo. E con la Bora? È audace arrivare fino in cima!
–
On a clear day the large pier surface resembles a city square, where one can take a stroll or sit down and enjoy the sun. At sunset the whole perimeter of the dock is a front-row seat to a wonderful display of nature's beauty. And when the Bora rages…only the audaci (lit. the brave) venture all the way to the edge!
Trieste graffiti Trieste graffitis
Diversi luoghi della città, dal bagno Pedocin allo Stadio Grezar, sono diventati gallerie d'arte en plein air. Andarle a scoprire sarà un viaggio nel viaggio.
(Qui quello firmato Jan Sedmak a Borgo San Sergio).
From lido Pedocin to Grezar stadium, the city walls have become a true open-air art gallery. Follow the graffitis to embark on a journey within the journey.
(Jan Sedmak's graffiti in Borgo San Sergio).
Carte in gioco Playing cards
Trieste non è solo una "città di carta" è anche una "città di carte". Da gioco! Ai triestini piace giocare a casa, nei locali, ma anche al mare. Da "gnagno" fino al burraco, sempre più di moda.
Trieste is not only the city of writers, but also a "city of cards" – playing cards, to be exact. Triestini love card games. The trendiest fashion item you can carry with you at a café or the seaside is a suited deck of cards for a game of "gnagno" or Buraco.
–
–
–
05 06 07 08 09
G. Aiello
39 IES, TRIESTE LIFESTYLE N°20 — Spring 2023 Discover the city
Fototeca dei Civici Musei di Storia ed Arte
La scienza che gioca The game of science
Non occorre essere scienziati per andare all'Immaginario Scientifico, uno dei più importanti science centre d'Italia, da scoprire al Magazzino 26 nell'area del Porto Vecchio.
You need not be a scientist to enjoy Immaginario Scientifico, one of Italy's most prestigious science centres, located in Magazzino 26, within the area of Porto Vecchio.
Un Parco rifiorito Where the flowers bloom again
Il Parco di San Giovanni è il luogo-simbolo della rivoluzione culturale di Franco Basaglia, che ha fatto scuola nel mondo. Il roseto che esplode in primavera è uno splendido segnale di rinascita.
Parco di San Giovanni is a symbol of Franco Basaglia's trailblazing cultural revolution. The spring colours of the rose garden in full bloom are a beautiful symbol of rebirth.
Parco di Villa Revoltella Park of Villa Revoltella
Il bel giardino, con villa annessa, donato dal Barone Revoltella alla città, è un luogo che merita di essere visitato. E potete anche farvi un selfie con Pinocchio!
The beautiful garden surrounding the mansion was donated by Barone Revoltella to the city of Trieste. It is worth a visit, and perhaps a selfie with Pinocchio himself!
La grande festa della città
A feast for the entire city
L'appuntamento con la Barcolana si rinnova puntuale la seconda domenica di ottobre, ma l'evento continua tutto l'anno nei ricordi delle edizioni passate e nei progetti per quelle future.
Celebrations culminate every year on the second Sunday of October, yet the trail of joy that Barcolana leaves behind is enough to last throughout the entire year, between the memory of past editions and exciting future projects.
La berlina triestina Trieste's berlina
Una pallina di gelato o due, tanta panna e una guarnizione a scelta, tutto in un bicchiere, da Zampolli, una delle gelaterie più antiche della città.
One or two scoops of ice cream, a generous spray of whipped cream, and a topping of your choosing, served in a glass-size cup at Zampolli's, one of Trieste's historic icecream parlours.
Sua maestà, la Bora. In
Sacchetta!
Her majesty, Queen Bora. In Sacchetta!
Un porticciolo tranquillo dominato dall'antica Lanterna. Ma quando la bora soffia, le barche si scatenano in uno straordinario, eolico concerto.
The Sacchetta is a tranquil marina at the foot of the historic Lanterna. Yet, when the Bora rages, the ships dance within their moorings to the rhythm of an extraordinary concert of the wind.
13
–
–
–
–
–
–
10 11 14 15 12
M. Goina
40 IES, TRIESTE LIFESTYLE N°20 — Spring 2023 Città da scoprire
C. Borlenghi
tel. 040 300 633 Alberto: 347 393 44 67 Giovanna: 348 936 84 26 e-mail: info@aifiori.com L ' a r t e d i m e t t e r e i l m a r e n e l p i a t t o . . .
Trieste MultiCulti
Uno degli aspetti più speciali di Trieste è la sua anima multiculturale, multireligiosa. Le splendide chiese di tanti culti diversi rendono Trieste ancora più bella e affascinante, oltre che tollerante.
One of Trieste's best features is her multicultural soul, where multiple faiths co-exist side by side. The beautiful architecture of these places of worship attest to the city's tolerance, which makes it even more fascinating.
Miramare da ammirare
Magnificent Miramare
Da queste parti non si vedono castelli di sabbia, però c'è un castello altrettanto magico in riva al mare. Per molti la scoperta di Trieste comincia da qui.
–There is no sand for sand castle on these shores – yet, there is a real castle on a cliff overlooking the sea. Many start their exploration of Trieste from here.
Piazza Ponterosso
È il cuore del borgo teresiano
sviluppatosi ai tempi dell'Imperatrice Maria Teresa d'Austria, alla quale è stato da poco reso omaggio con il tallero gigante, un "grazie" postumo alla sovrana.
Situated at the heart of Borgo Teresiano, it stemmed from the urban development endeavour ordered by Empress Maria Theresa of Austria. The recent unveiling of the giant thaler devoted to the monarch is the city's latest sign of posthumous gratitude to honour her memory.
Facciate belle e sfacciate Facades: the beautiful and brazen Tra le chicche architettoniche merita una puntatina Casa Mosco, in via Tigor 14, nota come la "Casa dei Mascheroni", ripresa anche in celebri film da "Senilità" a "Va' dove ti porta il cuore".
–Architecture enthusiasts cannot miss a stop at no.14 of Via Tigor to take a look at Casa Mosco, also known as "Casa dei Mascheroni" (lit. House of Mascarons). The Casa's facade was featured in films such as "Careless" (1962) and "Follow your heart" (1996).
Un panino de coto e kren da Siora Rosa
Bollito, porcina, prosciutto cotto alla triestina… Il ritratto di Siora Rosa veglia su uno dei più celebri buffet triestini, autentica ambasciata dei sapori locali, tappa imperdibile.
Lit. a breadroll with ham and horseradish at Siora Rosa. Bollito (stew), porcina (cured pork meat), prosciutto cotto alla triestina (ham à la Triestina)… From her portrait Siora (Ms) Rosa watches over one of Trieste's most famous buffets and a true beacon of local traditional cuisine. Highly recommended.

–
–
–
16 17 18 19 20
F. Pignatti
M.
Milani
M. Marass
42 IES, TRIESTE LIFESTYLE N°20 — Spring 2023 Città da scoprire
G. Aiello
TRIESTE STREET WEAR
Questo progetto di portfolio fotografico è stato concepito per essere realizzato interamente su pellicola. La mia necessità è stata quella di tornare a una fotografia essenziale, pura, poetica, ponderata e paziente. Da ritrattista, sono ormai nauseato dalla continua ricerca insensata della perfezione, dall'uso esagerato ed esasperato della post-produzione, dalla pulsione incontrollabile di nascondere i propri difetti o di non accettare i segni dell'invecchiamento.
I tempi del processo lavorativo si allungano notevolmente. Le foto che sono state scattate si riveleranno solo dopo qualche giorno ma l'attesa di scoprirne il risultato racchiude in sè emozioni, memorie e curiosità assopite, definitivamente dissolte con l'avvento del digitale e della sua immediatezza. L'unico limite che mi sono posto è stato quello di dedicare 2 rullini da 15 pose per ogni soggetto, un totale di 30 immagini a ritratto. Ogni scatto andava studiato in ogni minimo particolare prima di essere definitivamente impressionato sulla pellicola, un processo irreversibile, permanente e insostituibile.
This photography portfolio project was designed to be done entirely on film. My need was to return to essential, pure, poetic, thoughtful and patient photography. As a portrait photographer, I am now sickened by the constant mindless pursuit of perfection, the exaggerated and overwhelming use of post-production, the uncontrollable urge to hide one's flaws or not to accept the signs of aging. The time of the work process is lengthening considerably. The photos that have been taken will reveal themselves only after a few days, but the anticipation of discovering the result holds dormant emotions, memories and curiosities that have been definitively dissolved with the advent of digital and its immediacy. The only limit I set for myself was to devote 2 rolls of 15 poses for each subject, a total of 30 images per portrait. Each shot had to be studied in every detail before being finally impressed on film, an irreversible, permanent and irreplaceable process.
Foto e testo di /Photo and text by Giuliano Koren
N°20 — Spring 2023 45 IES, TRIESTE LIFESTYLE Portfolio
A sinistra
Stefania Boccabianca
Lifestyle & cool hunting
IES Trieste Lifestyle
Collezione: Neirami
A destra
Martina Serli
Rosiserli – Corso Italia, 10
Collezione: Forte Forte
N°20 — Spring 2023 46 IES, TRIESTE LIFESTYLE Portfolio
N°20 — Spring 2023 47 IES, TRIESTE LIFESTYLE Portfolio
A sinistra Raffaele Cavicchi
Vintage Lover Collezione: Trench Coat in rain camo cecoslovacco (1968) Levi's 501xx big E (anni 60 cimosati) Borsalino (anni 50)
A destra
Emma Rouge Maudit Modella e performer
Martino Pilot Responsabile Multimedia presso Fondazione ITS
N°20 — Spring 2023 48 IES, TRIESTE LIFESTYLE Portfolio
N°20 — Spring 2023 49 IES, TRIESTE LIFESTYLE Portfolio
N°20 — Spring 2023 50 IES, TRIESTE LIFESTYLE Portfolio
Giuliano Koren è un fotografo freelance con base a Trieste. Ha studiato progettazione grafica e comunicazione visiva all'Istituto Superiore per le Industrie artistiche (ISIA) di Urbino, frequentando, grazie all'Erasmus, il corso di fotografia presso la "University of Plymouth" in Inghilterra. Qui ha potuto approfondire gli studi sulla foto documentaristica, la stampa a colori e in bianco e nero. Dal 2008 si occupa di fotogiornalismo, fotografia di ritratto, editoriale, pubblicitaria e commerciale.
Giuliano Koren is a freelance photographer based in Trieste, where he was born in 1974. He studied graphic design and visual communication at the Istituto Superiore per le Industrie Artistiche in Urbino, attending, thanks to Erasmus, the photography course at the University of Plymouth in England. Here he was able to deepen his studies on documentary approach, colour and black and white printing. Since 2008 he has been involved in photojournalism, portrait, editorial, advertising and commercial photography.
Giuliano Koren
–
In basso Barbara Clara Roberts
One night affair – Via della Madonnina 9
Collezione: Costume Cyndi Lauper
A sinstra
N°20 — Spring 2023 51 IES, TRIESTE LIFESTYLE Portfolio
Fabrizio Pizzioli, Andreea Radut Pizzioli FabTailors – Via Donota 4
C. Bach N°20 — Spring 2023 52 IES, TRIESTE LIFESTYLE Città da gustare
di /by Alice Fabi Foto di /photo by Camilla Bach
Orange, Amber, Macerato. Vino!
Li hanno guardati con scetticismo, considerandoli una moda di passaggio lontana dalla "nobiltà" del mondo del vino "vero". Fino a vent'anni fa erano praticamente sconosciuti. Oggi i vini macerati sono presenti nei migliori wine bar e nei ristoranti più importanti al mondo. E sono qui per restare. Vini strutturati e complessi, fuori dagli schemi, fantastici negli abbinamenti in cucina.
Non è infatti un caso che a meno di due ore di macchina il pluripremiato Hiša Franko –2 stelle Michelin, 50 Best, Chefs Table– da anni rappresenti un tempio del vino naturale, con grande focus sui macerati grazie alla guida esperta di Valter Kramar.
La tecnica di vinificazione è antica quanto il vino e ha origine in Georgia (con tracce risalenti al 6000 a.c.) dove si utilizzano ancora i tradizionali "kvevri", anfore in terracotta interrate in cui l'uva rimane a macerare sulle bucce. È a Oslavia, nel Collio, che questa tecnica viene ripresa grazie a maestri come Joško Gravner e Stanko Radikon.
Gravner nel 1997 lo diedero per impazzito. Via barrique, via qualsiasi vitigno internazionale, abbandono degli schemi dell'enologia classica moderna.
Orange, Amber, Macerated. Wine!
Follia, anticamera del genio. E i geni si sa, spesso incompresi all'inizio sono osannati poi. Osanna il regno di Gravner, fa partire un movimento che trasforma Collio, Carso, Slovenia e Istria in fulcro rivoluzionario. A Gravner si affianca Radikon in una visione pionieristica seguita da decine di cantine del territorio.
Ma in buona sostanza, cos'è? Il vino macerato si ottiene da uve bianche lavorandolo come fosse un rosso: la macerazione sulle bucce (da poche ore a mesi interi) permette di estrarre colore, tannini, complessità, sapori. È una rivoluzione che trova il suo miglior alleato nel vino naturale perché proprio la macerazione permette di minimizzare gli
interventi in cantina.
Trieste da tempo ha iniziato ad amarli e a proporli, e il nostro Carso vanta eccellenti produttori come Zidarich, Škerk, Skerlj e Vodopivec. Per entrare in questo mondo vi consigliamo La Bottiglia Volante di P.za Sant'Antonio, il Mood nel ghetto ebraico, Mimì e Cocotte in via Cadorna, il panificio artigianale Pagna in Via Muratti o l'enoteca Tutt* di Via dell'Annunziata. Se ciò non bastasse, il 21 e 22 Maggio al Castello di San Giusto si terrà Amber Wine Festival, che permetterà l'assaggio di alcuni tra i migliori macerati in una location mozzafiato.
In abbinamento sono perfetti con formaggi stagionati, piatti di pesce più strutturati, fritti, carni bianche, agnello, verdure saporite e piatti speziati. Vi proponiamo una ricetta di stagione un pò "selvatica". Un piatto vegetale con una complessità aromatica che si sposa perfettamente con un macerato strutturato come la Malvasia di Skerlj. Se non siete appassionati di foraging non preoccupatevi: troverete mazzetti di erbe spontanee pronti all'uso nei mercati e nelle botteghe. Cercate (tranquilli, non tutte assieme) ortica, tarassaco, silene, aglio orsino, luppolo, papavero, malva, borragine o cicoria selvatica.
53 IES, TRIESTE LIFESTYLE N°20 — Spring 2023 Taste the city
LA RICETTA
Pasta al pesto di erbe selvatiche
400g di pasta corta
1 spicchio d'aglio piccolo
1 mazzo di erbe spontanee miste
1 mazzo di rucola
20g di pinoli
40g di nocciole (idealmente tonda gentile)
40g di anacardi
100ml di olio extravergine di buona qualità
scorza di 1 limone
50g di parmigiano reggiano
50g di pecorino  sale, pepe
Sbollentare le erbe per un minuto e amalgamare insieme agli altri ingredienti in un mortaio o con un mixer. Versare in un'ampia ciotola, aggiungere la pasta scolata e mescolare bene. Servire con un filo d'olio extravergine, una grattugiata di scorza di limone o parmigiano.
Pasta with wild herbal pesto
400g short pasta
1 small clove of garlic
1 bunch of mixed wild herbs
1 bunch of rocket
20g pine nuts
40g hazelnuts
40g cashews
100ml extra virgin olive oil
1 lemon zest
50g parmesan cheese
50g pecorino cheese salt, pepper
Blanch the herbs for a minute and mix together with the other ingredients in a mortar or mixer. Pour into a large bowl, add the drained pasta and mix well. Serve with a drizzle of extra virgin olive oil and a grating of lemon zest or Parmesan cheese.
54 IES, TRIESTE LIFESTYLE N°20 — Spring 2023 Città da gustare
Oggi i vini macerati sono presenti nei migliori wine bar e nei ristoranti più importanti al mondo.
Today, macerated wines can be found in the world's top wine bars and restaurants.
55 IES, TRIESTE LIFESTYLE N°20 — Spring 2023 Taste the city
They looked at them with scepticism, considering them a passing fad far from the 'noble' world of 'real' wine. Until twenty years ago they were practically unknown. Today, macerated wines can be found in the world's best wine bars and restaurants. And they are here to stay. Structured and complex wines, out of the box, fantastic in food pairings. It is no coincidence that less than two hours' drive away, the multi-award-winning Hiša Franko –2 Michelin stars, 50 Best, Chefs Table– has for years been a temple of natural wine, with a great focus on macerated wines thanks to the expert guidance of Valter Kramar.
The winemaking technique is as old as wine and originates in Georgia (with traces dating back to 6000 B.C.) where the traditional 'kvevri',
buried terracotta amphorae in which the grapes were left to macerate with their skins, are still used. It was in Oslavia, in the Collio region, that this technique was revived thanks to masters such as Joško Gravner and Stanko Radikon.
Gravner in 1997 was thought to have gone mad. No more barrique, no more international grape varieties, he abandoned the schemes of modern classical oenology. Madness, the prelude to genius. And geniuses, as you know, are often misunderstood at first and then hailed. Hosanna Gravner's reign, he started a movement that transformed Collio, Karst, Slovenia and Istria into a revolutionary hub. Gravner is joined by Radikon in a pioneering vision followed by dozens of wineries in the area.
But in essence, what is it? Macerated wine is obtained from white grapes by processing it as if it were a red: maceration with the skins (from a few hours to whole months) allows the extraction of colour, tannins, complexity and flavour. It is a revolution that finds its best ally in natural wine because it is precisely maceration that makes it possible to minimise winemaking interventions in the cellar.
Trieste has been offering them for some time now, and our Karst boasts excellent producers such as Zidarich, Škerk, Skerlj and Vodopivec. To enter this world we recommend La Bottiglia Volante on P.za Sant'Antonio, Mood in the Jewish ghetto, Mimì e Cocotte in Via Cadorna, the artisan bakery Pagna in Via Muratti or the wine shop Tutt* in Via dell'Annunziata. If that is not enough, Amber Wine Festival will be held on 21 and 22 May at the San Giusto Castle, which will allow the tasting of some of the best macerates in a breathtaking location.
They are perfect with mature cheeses, more structured fish dishes, fried food, white meat, lamb, tasty vegetables and spicy dishes. We propose a slightly 'wild' seasonal recipe. A vegetable dish with an aromatic complexity that goes perfectly with a structured macerate such as Malvasia by Skerlj. If you are not into foraging, don't worry: you will find bunches of ready-to-use wild herbs in markets and shops. Look for (not all together) nettle, dandelion, silene, wild garlic, hops, poppy, mallow, borage or wild chicory.
Perfetti con formaggi stagionati, piatti di pesce più strutturati, fritti, carni bianche, agnello, verdure saporite e piatti speziati.
ENGLISH TEXT
Perfect with aged cheeses, more structured fish dishes,fried foods, white meats, lamb, savory vegetables and spicy dishes.
INFO www.trieste.green C. Bach 57 IES, TRIESTE LIFESTYLE N°20 — Spring 2023 Taste the city
Il caffè è tra le bevande più consumate al mondo ed è un rito che ci accompagna ogni mattina da diversi secoli, ma il modo in cui questa bevanda viene gustata è cambiato molto nel corso del tempo. Proprio la sua versatilità e capacità di adattamento, ha fatto sì che il caffè conservasse la sua anima modaiola. Le mode vanno, vengono e spesso ritornano, come fossero onde sempre in movimento a contatto con la costa. A Trieste, per molti la capitale del caffè, questo parallelismo risulta decisamente azzeccato, in quanto ci si riferisce ai diversi periodi storici in cui si è trasformato l'approccio alla produzione, alla preparazione e al consumo del caffè, proprio con il termine "ondata" (wave). La terza, quella attuale, è quella che ha visto nascere i cosiddetti specialty coffee, caffè di alta qualità tracciabili e più sostenibili. Si va oltre quindi alla semplice dicitura Arabica e Robusta che identifica solo le due specie più commercializzate al mondo (un po' come dire vino bianco o vino rosso), ma si distinguono le diverse zone di provenienza, la lavorazione e il tipo di tostatura. Per la preparazione degli specialty coffee anche il menu si fa più ricco. All'espresso, che è stato l'elemento distintivo della seconda ondata, a partire dagli anni '60, si affiancano le cosiddette preparazioni alternative. Ecco quindi comparire ormai in qualsiasi caffetteria moderna diversi sistemi a percolazione manuale o meccanica e l'ultimo arrivato in ordine di tempo, l'Aeropress, sistema a pressione manuale divenuto estremamente popolare per la sua facilità di utilizzo e trasportabilità.
Entrare in orbita Bloom, la realtà tra le più innovative di Trieste in tema caffè, significa esplorare un nuovo modo di concepire questa materia. Un luogo dove si miscelano tradizione e nuove tendenze, dove potrete avanzare professionalmente attraverso i diversi programmi formativi di Bloom Coffee School: Barista, Brewing, Analisi
Coffee is hip!
sensoriale, Tostatura e Caffè verde. Se invece siete dei semplici appassionati potrete scoprire la tostatura sartoriale di Bloom Specialty Coffee. Vi guideremo tra blend e singole origini tostate con diversi profili in modo che possiate letteralmente cucirvi addosso il caffè che desiderate. Inoltre potrete esplorare nuovi metodi di estrazione, da casa o da viaggio, oppure farvi consigliare i trucchi del mestiere per utilizzare al meglio ciò che state già utilizzando. Il tutto nel cuore della capitale italiana del caffè, in Campo del Belvedere a Trieste!
Pensate in modo diverso e non resterete mai indietro. Parola di Bloom!
BREAK
58 IES, TRIESTE LIFESTYLE N°20 — Spring 2023 Contributors
IL CAFFÈ È POP!
Coffee is one of the world's most consumed beverages and has been part of Italians' morning ritual for centuries – yet, the way coffee is brewed and served has undergone numerous changes over time. Nevertheless, thanks to its versatile and adaptable nature, coffee has never stopped being hip. Trends go in and out of fashion, often finding their way back like waves on the foreshore. This is particularly true in Trieste – by all accounts the capital of coffee, whose alternating trends production, preparation, and consumption are, indeed, called "waves". The current fashion, also known as the "third wave of coffee", is specialty coffees, namely coffees of the highest grade available, typically referring to the entire supply chain,
including sustainability. The mere distinction between arabica and robusta is now as off the point as would be a classification of wine based only on the distinction between red and white. Specialty coffee is carefully selected on the basis of its origin, farming, and roasting – and, perhaps not surprisingly, a richer brewing and serving menu. Espresso, the real protagonist of the second wave in the '60s, must now compete against alternative preparations: modern cafés use manual or mechanical percolation, together with the latest brewing method, Aeropress, which follows the same principles of French press machines, while providing increased portability and ease of use.
As you step into Bloom café, you are entering a whole universe devoted to coffee and its most innovative features, based on the careful analysis of the raw material. This is where tradition and new trends meet and mingle, and professional knowledge is codified and disseminated through the various training courses of Bloom Coffee School: Barista, Brewing, Sensory analysis, Roasting, and Green Coffee. If you are a coffee enthusiast, you are welcome to discover our Bloom Specialty Coffee tailored
roasting: our staff will guide you through blends and single-origin beans undergoing different roasting methods, so that you can select the roasted blend that best suits your needs. Here you can also learn about the latest extraction methods, including home extraction and extraction on the go, or ask our baristas about tips and tricks to make the most of your coffee machine. Visit us in Campo del Belvedere, in the heart of Italy's capital of coffee!
Think outside the box and you will never miss out. Word of Bloom!
ENGLISH
TEXT
59 IES, TRIESTE LIFESTYLE N°20 — Spring 2023 Contributors
APERITIVO I COCKTAIL DELLA "MUTA"
The 'muta' cocktails
Sì, perché anche Trieste, come Parigi, Amsterdam, Amburgo o New York, aveva il suo quartiere a luci rosse, il rione del… peccato! Aveva, sino a qualche decennio fa, perché oggi Cavana, la città vecchia o il ghetto, come certi chiamavano quella parte di Trieste vicinissima alle sue rive, è diventata zona elegante e di pregio. Ristoranti, taverne ed enoteche sono la meta di una movida soft, dove alla musica techno si preferisce l'aperitivo ed una cena romantica. Ma l'elegante cocktail-bar che il "maestro" dell'imprenditoria triestina Bruno Vesnaver ha voluto adesso donare alla sua clientela (proprio di fianco al suo eccellente ristorante di pesce) non poteva non rendere omaggio in qualche modo al "glorioso" passato di quel quartiere. Ed ecco allora a voi "La muta", sofisticato locale intitolato alla più famosa delle signore che animavano i bordelli triestini prima dell'arrivo di quella legge Merlin che cancellò le case chiuse. Quel soprannome che ricordava un non banale handicap in una donna bella, gentile e per certi versi elegante, è oggi l'insegna di una proposta che in questi termini forse ancora mancava a Trieste.
Bruno Vesnaver si è ispirato a New York (città che conosce molto bene), dove il rito del drink gustato in un ambiente particolare è diffuso al pari del consumo di pranzi e cene. "Ricreare quelle atmosfere è il nostro intento –ci confessa– da qui l'uso dell'ottone per il banco, la scelta di luci calde e colori rilassanti in un contesto che non deve snaturare la storia di un locale ultra centenario, che sorge nella parte più vecchia della città".
La scelta del nome resta poi singolare, originale e curiosa. "Più che un omaggio ad una donna che si era ritrovata quasi costretta dalla vita a praticare il mestiere più antico del mondo, il nostro vuole essere il ricordo di un'epoca che ovviamente non c'è più, ma che ha accompagnato molti…". Non certo la generazione dei "boomers" o dei "millennials", arrivati fuori tempo
massimo; ma nella prima metà del secolo scorso, sino alla clandestinità poi nascosta dell'amore mercenario, il "lavoro" della muta e di tante altre donne, almeno a Trieste, ha tuttora uno spazio nel ricordo di molti. Che hanno apprezzato con un mezzo sorriso la scelta di Vesnaver, ma soprattutto la qualità del servizio offerto. Vasta gamma di bollicine (francesi ed italiane), gli immancabili spritz con sfumature dal rosso all'arancio, ma soprattutto signori cocktail preparati da mani esperte ed accompagnati da stuzzichini e finger food per un pre o dopo cena di grande classe.
60 IES, TRIESTE LIFESTYLE N°20 — Spring 2023 Contributors
Yes, because Trieste too, like Paris, Amsterdam, Hamburg or New York, had its red light district, the sin district! It 'had', until a few decades ago, because nowadays Cavana, the old town or the ghetto, as some used to call that part of Trieste very close to its shores, has become an elegant and stylish area. Restaurants, taverns and wine bars are the destination of a soft movida, where aperitifs and a romantic dinner are preferred to techno music. But the elegant cocktail-bar that the 'master' of Trieste entrepreneurship Bruno Vesnaver now wanted to give his customers (right next to his excellent fish restaurant) could not fail to pay homage in some way to the 'glorious' past of that district. And so here is 'La Muta', a sophisticated club
named after the most famous of the ladies who animated Trieste's brothels before the arrival of the Merlin law that abolished brothels. That nickname, which recalled a non-trivial disability in a beautiful, kind and in some ways elegant woman, is now the sign of a proposal that was perhaps still missing in Trieste.
Bruno Vesnaver drew inspiration from New York (a city he knows very well), where the ritual of a drink enjoyed in a special setting is as widespread as dining. "Recreating those atmospheres is our intention," he confesses, "hence the use of brass for the counter, the choice of warm lights and relaxing colours in a context that must not distort the history of an ultra-centenary bar, located in the oldest part of the city.
The choice of name then remains singular, original and curious. "Rather than a tribute to a woman who found herself almost forced by life to practise the oldest profession in the world, ours is intended as a reminder of an era that is obviously gone, but which was shared by many...". Certainly not the generation of 'boomers' or 'millennials', who have arrived too late; but in the first half of the last century, right up to the clandestine
mercenary love, the 'work' of the mute and of many other women, at least in Trieste, still has a place in the memory of many. These, in particular, appreciated with a half smile the choice of Vesnaver, but above all the quality of the service offered. A wide range of sparkling wines (French and Italian), the ever-present spritzes in shades from red to orange, but above all fine cocktails prepared by expert hands and accompanied by nibbles and finger food for a very classy pre or after dinner.
ENGLISH TEXT
61 IES, TRIESTE LIFESTYLE N°20 — Spring 2023 Contributors
PANE NOSTRUM L'ARTE BIANCA A TRIESTE
—The white art in Trieste
Qualcuno ebbe a sentenziare che, alla lunga, anche l'amore più forte stufa. Il pane no. In tutte le sue innumerevoli forme e gusti è buono sempre! Non rimane deluso chi, a Trieste, cerca un pane tipico; questa città mitteleuropea, dove si incrociano venti e profumi del mondo, di varietà tipiche ne enumera diverse: dalla biga servolana, al pan frizze, alla struza, solo per citare quelli che non mancano mai nelle panetterie triestine. Del resto, spetta proprio al capoluogo regionale il primato dei Tre pani, massimo riconoscimento di bontà assegnato alla panetteria Jerian (via Combi, via Cavana e via Roiano).
Indimenticato il mito delle pancogole , donne che producevano in
casa il pane e lo vendevano ai bordi delle strade o al mercato fino a metà degli anni '50. Si trova proprio in via del Pane Bianco il Museo etnografico di Servola che rende merito a una indimenticata tradizione locale, quella delle "pancogole" (dal latino: panis coculae), le donne che producevano e vendevano autonomamente il pane e che, fino alla metà degli anni '50, si potevano ancora trovare sul ciglio delle strade di campagna con dieci chili di pane sulla testa o presso i mercati triestini. Al pianoterra del museo è stata ricostruita la tipica cucina servolana dominata dal forno per la cottura del pane per il quale veniva sempre usata farina bianca che donava alle pagnotte il colore bianchissimo, il profumo e il sapore inconfondibili dati
di /by Isabella Franco
Foto di /Photo by Valentina Cunja
Pane Nostrum
N°20 — Spring 2023 62 IES, TRIESTE LIFESTYLE Città da gustare
V. Cunja
dall'assenza di crusca, tolta passando la farina su un setaccio di seta. Il tipico sapore e l'aroma dipendevano dal legno usato nella cottura ossia il nocino, raccolto sotto forma di fascine nella Ciceria, zona carsica tra Trieste e Fiume. La maestria delle pancogole trasformava l'impasto in s'ciopete, composte da un unico pezzo ripiegato, oppure in parič (biga), formate da due o quattro palline di pasta attaccate a coppie. Biga servolana, pan frizze, struzze , cornetti. Sui banconi delle panetterie di Trieste si possono trovare molti pani tipici specchio della sua multiculturalità. Anche i Cornetti istriani hanno forma e impasto strettamente locale. Un po' più duro rispetto alle altre tipologie, il pane dei cornetti è entrato a far parte della tradizione dell'arte bianca
triestina a partire dagli anni '50, grazie al contributo dei panificatori istriani che in seguito all'esodo, lasciarono la loro terra per trasferirsi nel capoluogo giuliano. Anche la Rosetta non è così comune in altri luoghi. È un fiore fragrante, eredità dall'impero austroungarico, tanto che originariamente veniva chiamato Pane Kaiser. Molto conosciuto anche il pan de frizze, un pane legato alla stagione invernale arricchito di ciccioli di maiale (frizze in dialetto). Infine, non c'è triestino che non conosca la struza . Qui la derivazione etimologica è lo sloveno štruca, che a sua volta lo ha colto dal dialetto austriaco-bavarese Strutz per indicare un filone dalla forma elittica.
Anche il pane segue le mode. Oggi molti panifici anche a Trieste hanno un occhio attento alla sostenibilità e alla varietà di gusti e farine da grani antichi
Una nota di merito va senz'altro ai panifici che si prodigano per fare in modo che il pane diventi un prodotto etico, con un'attenzione rigorosa nella scelta delle materie prime, dalle farine al lievito, adatto ad essere conservato per più giorni così da ridurre lo spreco. Uno per tutti, va citato il panificio Pagna, aperto di recente in via Muratti. Qui sforna delizie Pedja Kostic, originario di Belgrado ed estremista della panificazione naturale. Il suo è un pane (ma anche un pain au chocolat, una brioche, una pizza…) che non si dimentica: pagnotte di campagna, bauletti di segale, baguette, pane all'uvetta e noci che travolgono le papille gustative con un'esplosione di genuinità. Buono come il pane.
In questa città dove si incrociano venti e profumi del mondo, di varietà tipiche se ne incontrano diverse, dalla biga servolana, alla struza. The winds and scents of the world intertwine in this city, and several typical varieties are listed, from the 'biga servolana', to the 'struza'.
Le preparazioni e le diverse specialità di pane di 'Pagna', in via Muratti
Cunja
V.
Cunja V.
N°20 — Spring 2023 63 IES, TRIESTE LIFESTYLE Taste the city
V. Cunja
Someone once remarked that, in the long run, even the strongest love stews. Bread does not. In all its countless forms and flavours, it is always good! Those looking for a typical bread in Trieste will not be disappointed; this central European city, where the winds and scents of the world meet, boasts a number of typical varieties: from the biga servolana to pan frizze and struza, to name but a few that are always found in Trieste bakeries. Moreover, the regional capital holds the record for the Three Loaves, the highest award for goodness assigned to the Jerian bakery (Via Combi, Via Cavana and Via Roiano).
Unforgotten is the legend of the pancogole, women who baked bread at home and sold it by the roadside or at the market until the mid-1950s.
The Servola Ethnographic Museum is located in Via del Pane Bianco (White Bread Street) and pays tribute to an unforgettable local tradition, that of the 'pancogole' [from the Latin: panis coculae], the women who made and sold their own bread and who, until the mid1950s, could still be found on the side of country roads with ten kilos of bread on their heads or at Trieste markets. On the ground floor of the museum, the typical Servolan kitchen has been reconstructed, dominated by the oven for baking bread, for which white flour was always used, which gave the loaves their unmistakable white colour, fragrance and flavour due to the absence of bran, which was removed by passing the flour over a silk sieve. The typical flavour and aroma depended on the wood used in baking, i.e. walnut wood, gathered in the form of bundles in Ciceria, a Karst area between Trieste and Rijeka. The skill of the pancogole transformed the dough into s'ciopete, made from a single folded piece, or into parič, a type of bread formed from two or four balls of dough attached in pairs.
Biga servolana, pan frizze, struzze , cornetti. On the counters of Trieste's bakeries you can find many typical breads that reflect its multiculturalism
Istrian cornetti also have a strictly local shape and dough. Slightly firmer than the other types, the cornetti
bread has been part of Trieste's baking tradition since the 1950s, thanks to the contribution of Istrian bakers who, following the exodus, left their homeland and moved to the Julian capital. Also the Rosetta is quite uncommon in other places. It is a fragrant flower, a legacy from the Austro-Hungarian Empire, so much so that it was originally called Pane Kaiser. Also well known is pan de frizze, a bread associated with the winter season enriched with pork crackling (frizze in dialect). Finally, there is no Triestine who does not know struza. Here the etymological derivation is from the Slovenian word štruca, which in turn borrowed it from the AustrianBavarian dialect Strutz to indicate an elliptical-shaped loaf.
Even bread follows trends. Today, many bakeries also in Trieste have a keen eye for sustainability and a variety of flavours and flours from ancient grains
A note of credit is certainly due to the bakeries that do their utmost to ensure that bread becomes an ethical product, with rigorous attention to the choice of raw materials, from flours to yeast, suitable to be kept for several days so as to reduce waste. One for all is the recently opened Pagna bakery on Via Muratti. Here, Pedja Kostic, originally from Belgrade and an extremist in natural bread-making, churns out delicacies. His is a bread (but also a pain au chocolat, a brioche, a pizza...) that you won't forget: country loaves, rye buns, baguettes, sultana and walnut bread that overwhelm your taste buds with an explosion of authenticity. As good as bread.
Fino alla metà degli anni '50 si potevano ancora trovare le pancogole sul ciglio delle strade di campagna con dieci chili di pane sulla testa.
Until the mid-1950s you could still find the 'pancogole' on the side of country roads with ten kilos of bread on their heads.
ENGLISH TEXT
Pedja Kostic dietro il bancone del'Pagna'
N°20 — Spring 2023 64 IES, TRIESTE LIFESTYLE Città da gustare
V. Cunja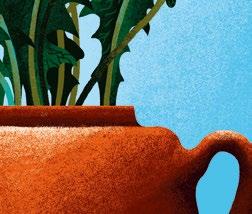 N°20 — Spring 2023 66 IES, TRIESTE LIFESTYLE Città da vivere
illustrazione di /illustration by Jan Sedmak
Il tempo delle erbe
Herbal passion
Pioniere di antiche conoscenze e pilastri di una nuova tradizione triestina, le erboriste della città di Trieste portano con sé, ancora oggi, sciami di fedeli clienti che da quarant'anni oltrepassano le porte dei loro regni profumati di erbe per ricevere una tisana, un sapone tagliato a mano, olii essenziali e un po' di ascolto.
L'erboristeria La Mandragola in via San Lazzaro 20 è stata la prima grande casa delle erbe. La creatrice fu Christel Garassich, pioniera assoluta nei primissimi anni Ottanta, quando giovanissima e fuori da ogni schema lottò affinché il mestiere dell'erborista si consolidasse nonostante fosse una pratica considerata folkloristica negli anni in cui il farmaco stava vivendo il suo boom farmaceutico. Grazie ad una saggezza ancora oggi ricordata e all'influsso delle donne triestine, le più anziane, che oltrepassavano la sua porta chiedendole delle erbe specifiche, tipiche della tradizione popolare triestina, istriana, dalmata, si instaurò il legame saldo che perdura ancora oggi nel ricordo onnipresente di Christel. "Aveva il potere di unire le persone più diverse tra loro e di capire quale erba serviva per ognuno", dicono i cittadini e le sue "figlie" erboriste che portano
avanti il suo metodo, là in quell'angolo di Via San Lazzaro che profuma di balsami, di antica conoscenza e di amore. Nel piccolo Corso Saba 16, tra le pareti di legno riempite di barattoli in latta colmi di calendule, malve, camomille e genziane essiccate si intravede Raffaela: piccola, corvina e sorridente, specializzata nei fiori di Bach, come Christel porta avanti l'antica tradizione erboristica, basata su studi trentennali, esperienza sul campo e capacità di ascolto. Allo stesso modo Oriana, nel suo piccolo antro che si apre alle porte di Cavana, in via San Sebastiano 2, da trent'anni offre erbe di ogni tipo pronte per trasformarsi in una tisana curativa, insieme alla sua innata predisposizione all'accoglienza delle diversità. Ragazzi senegalesi e persone di ogni etnia oltrepassano la sua porta, sempre aperta all'eco-sostenibilità, alla biodiversità e alla possibilità di unire erboristeria e artigianato, culture del mondo e profonda triestinità. Ma cosa ha determinato la riuscita di un'erboristeria basata sugli antichi metodi fitoterapici che ai tempi si potevano studiare solo alla scuola di Urbino? E che cosa accomuna ancora oggi i tre pilastri, le tre donne dell'erboristeria triestina? Il tempo. La cura e la conoscenza.
Le tre pioniere degli antichi metodi erboristici, negli anni '80 hanno consolidato con tenacia il mestiere dell'erborista diventando oggi una parte fondamentale della memoria triestina.
The three pioneers of ancient herbalist methods firmly consolidated the craft of the herbalist in the 1980s, becoming today a fundamental part of Trieste's memory.
di /by
Francesca Schillaci
67 IES, TRIESTE LIFESTYLE N°20 — Spring 2023 Live the city
Aiutare richiede tempo, e il tempo ha bisogno di ascolto. È questo aspetto fondamentale che ha permesso a Raffaela Ruju di Antichi Segreti e Oriana Ferfuia dell'Emporio La Raganella, di salpare insieme a Christel terreni ancora inesplorati di una Trieste misteriosa. Queste tre maghe delle erbe che insieme hanno creduto nel potere dell'antica disciplina erboristica, hanno condiviso lo stesso tempo e la stessa dimensione, ascoltando le anziane signore di una triestinità altrimenti persa e hanno trasformato quest'antica conoscenza in forma di mestiere. E ancora oggi hanno la fila fuori dalle loro porte pronte a spalancarsi per fermare, almeno un po', la frenesia del nostro tempo.
Pioneers of ancient knowledge and pillars of a new Triestine tradition, the herbalists of the city of Trieste still bring with them swarms of loyal customers who, for forty years, have passed through the doors of their herb-scented realms to receive herbal tea, a hand-cut soap, essential oils and a little listening. The herbalist shop La Mandragola in Via San Lazzaro 20 was the first big house of herbs. The creator was Christel Garassich, an absolute pioneer in the very early 1980s, when she was young and unconventional and fought to consolidate the herbalist's trade despite it being a practice considered folkloric in the years when medicine was having its pharmaceutical boom. Thanks to a wisdom that is still remembered today and the influence of the older Triestine women, who would pass through her door asking her for specific herbs, typical of the Triestine, Istrian and Dalmatian folk traditions, a strong bond was established that endures to this day in Christel's ever-present memory. 'She had the power to unite the most diverse people and to understand what herb was needed for each one,' say the people and her herbalist 'daughters' who carry on her practice, there in that corner of Via San Lazzaro that smells of balms, ancient wisdom and love. In the small Corso Saba 16, between the wooden walls filled with tin jars full of marigolds, mallow, chamomile and dried gentian, you can catch a glimpse of Raffaela: small, raven-haired and smiling, specialised in Bach flowers, like Christel she carries on the ancient herbalist tradition, based on thirty years of study, experience in the field and the ability to listen. In the same way, Oriana, in her small shop that opens at the entrance to Cavana, in Via San Sebastiano 2, has been offering herbs of all kinds for thirty years, ready to be transformed into a curative herbal tea, together with her innate predisposition to welcoming diversity. Senegalese children and people of all ethnicities pass through its door, always open to eco-sustainability,
biodiversity and the possibility of combining herbalism and craftsmanship, world cultures and a deep sense of Trieste. But what was behind the success of herbalism based on the ancient herbal medicine methods that in those days could only be studied at the Urbino school? And what do the three pillars, the three women of Triestine herbalism still have in common today? Time. Care and knowledge. Helping takes time, and time needs listening. It is this fundamental aspect that has allowed Raffaela Ruju of Antichi Segreti and Oriana Ferfuia of Emporio La Raganella to set sail, together with Christel, on the unexplored waters of a mysterious Trieste. These three herbal magicians, who together believed in the power of the ancient herbal art practice, shared the same time and dimension, listening to the old ladies of an otherwise lost Trieste and transformed this ancient knowledge into a profession. And still today they have the queue outside their doors ready to open wide to stop, at least a little, the frenzy of our time.
ENGLISH TEXT
Fedeli clienti
da quarant'anni oltrepassano le porte di questi regni profumati di erbe per ricevere una tisana, un sapone tagliato a mano, olii essenziali e un po' di ascolto.
68 IES, TRIESTE LIFESTYLE N°20 — Spring 2023 Città da vivere
Loyal customers for forty years have passed through the doors of these herb-scented realms to receive an herbal tea, hand-cut soap, essential oils and a little listening.
LIVE IL RITORNO DEI GRANDI CONCERTI
The return of great live concerts
Sarà un luglio esplosivo: segnatevi già le date in calendario e correte ad acquistare i biglietti per non perdervi il ritorno della grande musica in due location triestine che, nei tempi passati, sono state palcoscenico di eventi iconici come il concerto del Boss Bruce Springsteen e l'Isle Of Mtv Festival, solo per citarne alcuni.
Due grandi big della musica italiana animeranno con le loro inconfondibili sonorità l'estate cittadina. Nella splendida cornice di piazza Unità d'Italia - che per l'occasione indosserà la sua veste più seducente – su un palcoscenico fronte mare, in un contesto unico al mondo, si esibiranno, il 4 e 5 luglio Zucchero con il suo World Wide Tour mentre sabato 15 luglio sarà la volta di Biagio Antonacci.
L'inconfondibile sound blues di Zucchero Sugar Fornaciari farà ballare il pubblico con i suoi più grandi successi di sempre tra cui Miserere, Diamante, Diavolo in me, X colpa di chi, Overdose d'amore, Donne e molte altre.
Biagio Antonacci, accompagnato sul palco da una band di otto elementi, darà vita ad uno show di pura emozione con l'esecuzione dei suoi brani più celebri, da cantare tutti d'un fiato, che fanno parte ormai della playlist delle hit italiane (si pensi a Convivendo, Non vivo più senza te, Pazzo di lei, Vivimi, Iris, solo per citarne alcune).
Domenica 16 luglio sarà la volta dei Måneskin, la band italiana più famosa al mondo, che ha scelto Trieste e lo Stadio Nereo Rocco per la data zero del primo tour negli stadi. I "Loud Boys" infiammeranno il pubblico di tutte le età con i loro pezzi sempre più trending
topic su social, tv e radio: su tutti Beggin', I Wanna Be Your Slave e Zitti E Buoni, il pezzo della loro consacrazione con il quale hanno vinto il 71° Festival di Sanremo e la 65ª edizione dell'Eurovision Song Contest.
Un'estate insomma con una colonna sonora davvero irripetibile a testimonianza che la bella musica non va mai
INFO www.discover-trieste.it www.triestecultura.it
Napolano 70 IES, TRIESTE LIFESTYLE N°20 — Spring 2023 Contributors
S.
fuori moda e gli eventi LIVE consentono di vivere emozioni uniche. Se poi si svolgono in una cornice unica come piazza Unità d'Italia al tramonto, saranno senz'altro indimenticabili!
Ma molte altre saranno le sorprese della prossima stagione estiva racchiuse nel ricco palinsesto di Trieste Estate che, da giugno a settembre, come ogni anno animerà le serate cittadine nel centro storico e nei rioni spaziando dal teatro alla musica, dal cinema all'operetta.
Gli eventi, promossi dal Comune di Trieste con il supporto di PromoTurismoFVG e Trieste Convention and Visitors Bureau, sono finanziati in parte con l'imposta di soggiorno. ENGLISH TEXT
part of the Italian hit playlist (think of Convivendo, Non vivo più senza te, Pazzo di lei, Vivimi, Iris, just to name a few).
On Sunday 16 July it will be the turn of Måneskin, the most famous Italian band in the world, who have chosen Trieste and the Nereo Rocco Stadium for the zero date of their first stadium tour.
4 e 5 luglio 2023
Zucchero World Wide Tour
15 luglio 2023
Biagio Antonacci
Organizzazione: Zenit srl
It's going to be an explosive July: mark the dates on your calendar and hurry to buy your tickets so you don't miss the return of great music in two Triestine locations that, in the past, were the setting for iconic events such as the Boss Bruce Springsteen concert and the Isle Of Mtv Festival, to name but a few.
Two big names of Italian music will enliven the city's summer with their unmistakable sounds. In the splendid setting of Piazza Unità d'Italia - which will wear its most seductive dress for the occasion – on a stage facing the sea, in a unique context, Zucchero will perform on 4 and 5 July with his World Wide Tour, while on Saturday 15 July it will be Biagio Antonacci's turn.
The 'Loud Boys' will set audiences of all ages on fire with their songs, which are increasingly trending topics on social networks, TV and radio: above all Beggin', I Wanna Be Your Slave and Zitti E Buoni, the song that made them a success, with which they won the 71st Sanremo Festival and the 65th Eurovision Song Contest.
In short, a summer with a truly unrepeatable soundtrack, proving that beautiful music never goes out of fashion and LIVE events make for unique emotions. And if they take place in a unique setting such as Piazza Unità d'Italia at sunset, they will certainly be unforgettable!
16 luglio 2023
Måneskin
Organizzazione: Fvg Music Live in collaborazione con VignaPr
The unmistakable blues sound of Zucchero Sugar Fornaciari will make the audience dance with his greatest hits, including Miserere, Diamante, Diavolo in me, X colpa di chi, Overdose d'amore, Donne, and many others.
Biagio Antonacci, accompanied on stage by an eight-piece band, will give life to a show of pure emotion with the performance of his most famous songs, to be sung all at once, which are now
But many more will be the surprises of the coming summer season enclosed in the rich Trieste Estate programme that, from June to September, as every year will enliven the city evenings in the historic centre and in the districts, ranging from theatre to music, from cinema to operetta.
The events, promoted by the Municipality of Trieste with the support of PromoTurismoFVG and Trieste Convention and Visitors Bureau, are partly financed by the tourist tax.
71 IES, TRIESTE LIFESTYLE N°20 — Spring 2023 Contributors
D. Barraco
Un'area tutta da scoprire quella di Porto Vecchio che presso il Magazzino 26 offre un trittico di proposte nei nuovi spazi espositi ristrutturati delle sale "Carlo Sbisà", "Arturo Nathan" e "Leonor Fini".
An area to be discovered is Porto Vecchio, which offers a series of proposals at Magazzino 26 in the newly renovated 'Carlo Sbisà', 'Arturo Nathan' and 'Leonor Fini' rooms.
Il Mito dell'Arte Africana nel '900. Da Picasso a Man Ray, da Calder a Basquiat e Matisse
La mostra che ha l'obiettivo di comprendere come l'Arte africana ha influito su artisti come Picasso, Man Ray, Calder, Basquiat e Matisse.
#ViaggioNelTempo con Geronimo Stilton
Grandi e piccini possono divertirsi in un affascinante #ViaggioNelTempo con Geronimo Stilton, il topo giornalista più amato dai bambini di tutto il mondo; i Ranger accompagnano i visitatori in un'avventura
STRATOPICA immersiva e interattiva.
–
Young and old can enjoy a fascinating #ViaggioNelTempo with Geronimo Stilton, the mouse journalist most loved by children all over the world; the Rangers accompany visitors on an immersive and interactive STRATOPIC adventure.
Fino al 2 luglio 2023
/Until 2 July 2023
venerdì /Fridays 17.30 – 19.30 sabato, domenica e festivi
/Saturdays, Sundays and holidays 10.00 – 20.00
ingresso a pagamento /admission fee
geronimostiltonexperience.it
The Myth of African Art in the 20th Century. From Picasso to Man Ray, from Calder to Basquiat and Matisse is the title of the exhibition that aims to understand how African Art influenced artists such as Picasso, Man Ray, Calder, Basquiat and Matisse.
Fino al 30 luglio /Until 30 July dal martedì al venerdì
/Tuesday to Friday 10.00 – 18.00
sabato, domenica e festivi
/Saturdays, Sundays and holidays 10.00 – 20.00
ultimo ingresso 30 minuti
prima della chiusura ingresso a pagamento /last admission 30 minutes before closing
www.navigaresrl.com
Lost Places
Con Lost Places protagonista le opere di Barbara Essl, fotografa austriaca interessata al quotidiano, al quasi dimenticato o al represso, di cui fa emergere le storie dall'anonimato. In mostra i "luoghi abbandonati", frutti di una mappatura di singoli edifici o aree nel loro degrado e trasformazione.
Lost Places features the works of Barbara Essl, an Austrian photographer interested in the everyday, the almost forgotten or the repressed, whose stories emerge from anonymity. On show are "abandoned places", the result of mapping individual buildings or areas in their degradation and transformation
Fino al 7 maggio /Until 7 May Giovedì e venerdì /Thursday and Friday 10.00 – 18.00 sabato, domenica e festivi /Saturdays, Sundays and holidays 10.00 – 20.00 ingresso libero /free admission www.discover-trieste.it
I Macchiaioli
Al Museo Revoltella inoltre è possibile visitare la mostra "I Macchiaioli" aperta fino al 10 aprile.
–
At the Museo Revoltella you can also visit the exhibition "I Macchiaioli" open until 10 April.
www.arthemisia.it
Omaggio a Mirò
Al Museo Revoltella dal 30 aprile al 24 settembre aprirà la mostra "Omaggio a Mirò" per scoprire uno dei maggiori artisti dell'arte del Novecento.
Also at the Revoltella Museum from 30 April to 24 September the exhibition "Homage to Mirò" will be open to discover one of the greatest artists of 20th century art.
www.navigaresrl.com
–
–
–
72 IES, TRIESTE LIFESTYLE N°20 — Spring 2023 Agenda
EXHIBITION
home_sapore_di_casa   Home - Sapore di Casa
due punti vendita
enza da noi trovi • Coffee house • Bakery • Healty food • Lounge Bar un servizio 7 su 7 con vasta scelta di colazioni, brunch, pranzi e aperitivi!
via Giusto Muratti 1, TS Domenica chiuso via Cassa di risparmio 1 / piazza della Borsa, TS Lunedì chiuso
per ogni T ua e S i G
WE ARE OPEN
PUNTARE SUI DETTAGLI
Lo stile dice chi siamo, esprime il nostro io più autentico. E a Trieste? Per affinare il proprio gusto estetico la donna triestina si trova ad accettare un'alta dose di compromessi.
Prima di tutto con il territorio. La Bora potrebbe coglierla di sorpresa, mentre la vicinanza e la varietà dei luoghi potrebbero catapultarla al mare o sul Carso nel giro di cinque minuti; del resto, il centro città stesso è un susseguirsi di salite, discese e scalette nascoste.
Poi c'è lo stile di vita. Qualsiasi età abbia, una vera mula triestina non rinuncia mai a un aperitivo, anche se last minute, riuscendo perfino a evitare di passare prima da casa. Così è facile capire perché la triestina è brava nel
non farsi cogliere impreparata. Perché predilige la comodità all'estetica, la sostanza alla forma. La chiave è scegliere pezzi basici e puntare tutto sugli accessori. Dettagli da tenere a portata di mano, capaci di personalizzare anche un abbinamento semplice e dare spazio alla sua personalità eclettica e sfaccettata. Un bijoux, un punto di colore, un fiore tra i capelli…
È nella ricerca di quel particolare unico che Trieste dà il meglio di sé e diventa un'amica fidata da cui lasciarsi guidare in una giornata di shopping dedicata ai propri accessori feticcio.
Senza dimenticare che indossare un po' di profumo, insieme al proprio sorriso migliore, è ciò che rende lo stile di una donna davvero memorabile.
Il foulard in seta che rivisita la fantasia tradizionale usata delle donne dell'Europa centrale e balcanica di Dezen Dezen. Gioielleria Crevatin, Piazza di Cavana, 7/a.
di /by Stefania Boccabianca
Coach e consulente, appassionata di brand ama scoprire piatti, locali e prodotti sempre nuovi. Non resiste alla cucina etnica e al cioccolato fondente.
Quale aspetto di Trieste ti piacerebbe fosse approfondito? Mandami un appunto, scrivi a: stefania.boccabianca@gmail.com
1
74 IES, TRIESTE LIFESTYLE N°20 — Spring 2023 Città da vivere
La purezza essenziale della linea Grezzo con lenti da Vie en Rose. Farben Occhialeria, via Niccolò Machiavelli 20/b.


Cotone in nuance brillanti piegato secondo l'Origami originale e cucito a mano nel cerchietto di Cakeover. Etre Concept Store, Via della Pescheria 13 a.
4 6
Colorati e di gusto francese i bangles in resina arrivano a Trieste direttamente dalla Francia. La piccola Parigi, Via Mazzini 36.
Anello a spirale in alluminio anodizzato e perla in resina opalescente, collezione Stranomavero. Neirami, via Felice Venezian 7/b.
2 3 4 6 5
Vecchi bottoni rivestiti con tessuto di cravatte vintage, diventano i gemelli senza tempo e senza genere di Ines Paola Fontana. www.giadatrieste.com. 7 8
Le sneakers bianche che vanno bene da mattina a sera nascono da materiali completamente riciclati. Spazio 11b, Via Santa Caterina da Siena 11b.
Sea Salt & caramel di Bohoboco. è un profumo contraddittorio, fondente come il caramello e rinfrescante come le onde del mare. Profumeria Essenze, Piazza Sant'Antonio Nuovo 4.
75 IES, TRIESTE LIFESTYLE N°20 — Spring 2023 Live the city
LOCAL GUIDES
CORSI
Triestina, da oltre 15 anni vive a Londra, dove lavora come dj. Da sempre molto legata alla sua Trieste, torna appena può, soprattutto nella stagione estiva, sia per godersi il mare e gli amici, sia per qualche serata lavorativa.
Trieste, città internazionale. Ogni volta che torno vedo sempre più vacanzieri; ciononostante penso ci siano ancora grandi passi da fare perché diventi una città turistica come altre. La mentalità del triestino medio non è molto aperta. Forse sono proprio i triestini che ritorneranno dall'estero il futuro del turismo, perché hanno potuto vedere altrove quanto sia importante aprirsi verso il prossimo.
Siti turistici, ma non troppo. Le serate estive da Sticco o al Castello
di San Giusto sono davvero fantastiche per la location, mentre a Londra sono quelle in locali non convenzionali, eventi "pop up", in ambienti che non sono ciò che la gente normalmente si aspetta come il Secret Brunch e il Mansion Party. Parlando di luoghi a Trieste ho a cuore la passeggiata lungo il tracciato della vecchia ferrovia Hrpelje o una cena sul mare a Canovella, al tramonto. A Londra suggerisco di visitare la zona di Hackney Wick piena di locali di tendenza o un pomeriggio di shopping al nuovissimo "Battersea Power station", centrale elettrica convertita in località residenziale di alto livello. E poi un aperitivo panoramico al Sushi Samba o allo Shard.
Trieste e Londra: punti in comune A Londra, come a Trieste, appena c'è un raggio di sole corrono tutti al parco, anche con un freddo pazzesco. Tra gli aspetti simili della vita quotidiana c'è anche la passione per l'acqua, che se a Trieste è il mare, a Londra è il fiume. Qui c'è una rete molto sviluppata di canali e ci sono tantissime persone che vivono in barca tutto l'anno. Curiosità: i natanti devono obbligatoriamente spostarsi ogni due settimane. Quindi chi vive in una "Barge" non ha un indirizzo ma è costretto a muoversi per evitare la multa.
76 IES, TRIESTE LIFESTYLE N°20 — Spring 2023 Città da vivere
di /by Micol Brusaferro
FABRIZIA
ENGLISH TEXT
Born in Trieste, she moved to London 15 years ago, where she works as DJ. Trieste still has a place in her heart, and she never misses an opportunity to visit, especially over the summer, the best time to enjoy the seaside with her friends, sometimes even adding a gig or two to the mix.
Trieste, international city?
I notice more and more tourists every time I come back, although I personally feel there is still much work to be done to turn Trieste into the best possible tourist destination. The average Triestino is not exactly open-minded. Perhaps those who left and have been living abroad are the key to achieve this goal, as they have experienced first-hand the importance of a welcoming mindset.
Tourist attractions, yet off the beaten path.
Trieste's summer nights at Sticco or Castello di San Giusto have the kind of magical atmosphere one can only
FULVIO ROGANTIN
enjoy in these locations. London's most unique nights feature non-conventional pop-up events taking place in the most unexpected settings, such as Secret Brunch and Mansion Party. My favourite places: when I am in Trieste, I love to take a stroll along the itinerary following the old Hrpelje train tracks, or have dinner at sunset on the seaside of Canovella. When I am in London, I love to relax in one of Hackney Wick's quirky cafés and creative eateries or spend an afternoon of shopping at brand new Battersea Power Station, a decommissioned coal-fired power station now entirely redeveloped into a high-level residential space. Afterwards, a drink with rooftop view at Sushi Samba or at Shard is the perfect ending to a perfect day.
Trieste and London: what do they share?
As soon as a ray of sun peeks out from behind the clouds, both Triestini and Londoners rush to the park, even on the coldest winter day. Water, too, plays a significant role in the life of these two cities, Trieste and her sea, and London and her river. Thanks to London's vast network of urban waterways, thousands of citizens live in houseboats all year round. Interesting fact: since the "continuous cruiser" licence does not allow permanent mooring, barge dwellers do not have a fixed address, as they move between "neighbourhoods" every two weeks.
Triestino, da otto anni vive a Dublino, dove lavora come guida turistica. La sua grande passione è James Joyce e a lui ha dedicato anche il sito www. citiesofjoyce.com, un progetto ambizioso che parte dall'idea di voler unire le città legate in qualche modo allo scrittore.
Trieste, città internazionale?
Credo di sì, a partire dalla sua storia, diversa da tutte le altre città d'Italia. Puoi trovare tradizioni austriache, slovene, italiane, e un mix di culture che è unico e speciale.
Siti turistici, ma non troppo. Consiglio i murales nel quartiere di Rozzol Melara. Sarebbe bello creare un itinerario per valorizzare i più interessanti. Poi penso che passeggiare a San Giovanni, scoprendo la storia dell'ex manicomio e del suo parco, sia qualcosa di importante. Infine, naturalmente, ci sono i luoghi legati a Joyce.
A Dublino invece, leggermente fuori dal centro, suggerisco la Martello Tower di Sandycove, dove inizia l'Ulisse di Joyce. Lì, il 2 febbraio del 2022, centenario della pubblicazione, ho letto la mia traduzione in triestino.
Trieste e Dublino: punti in comune
Sicuramente le osterie di periferia a Trieste e i pub fuori dal centro a Dublino: sono posti dove ti puoi sedere accanto a sconosciuti e parlare; diventano luoghi spontanei di aggregazione. Anche la gente ha un carattere molto simile, all'inizio sono un po' diffidenti, chiusi. O forse solo un po' timidi. E poi ci sono i modi di dire. Il
77 IES, TRIESTE LIFESTYLE N°20 — Spring 2023 Live the city
"volentieri" triestino, che non è detto sia un sì, simile al "sorry" dublinese che non è detto sia "scusami". Anche a tavola trovo tratti comuni, Trieste come Dublino sono città sul mare, in cui però la carne spesso è più importante del pesce. A Trieste amo il bollito misto con porzina. A Dublino adoro l'Irish Stew, uno stufato di agnello con patate e carote.
ENGLISH TEXT
Born in Trieste, he moved to Dublin eight years ago, where he works as tour guide. His true passion, however, is James Joyce, after whom he named his website www.citiesofjoyce.com, an ambitious project aimed at establishing a virtual link between all the cities that share a connection to Joyce.
Trieste, international city?
I believe so, especially because of its unique history, unlike that of any other Italian city. The city is now an unprecedented melting pot of traditions from Austria, Slovenia, and Italy, and many other cultures.
Tourist attractions, yet off the beaten path
I am thinking about the murals in the Rozzol Melara neighbourhood. An itinerary through the most fascinating ones could be an interesting project. I would also suggest a stroll through the grounds of San Giovanni to learn
about the history of the former asylum and its park. And, of course, all the city's landmarks connected to Joyce. As regards Dublin, there is the Martello Tower in Sandycove, where the opening scene of Ulysses takes place. Here, on 2nd February 2022, during the celebrations for the 100th anniversary of the publishing of Ulysses, I had the honour of publicly reading my own Ulysses translation into Trieste dialect.
Trieste and Dublin: what do they share?
The atmosphere of the osterie in Trieste's suburbs reminds me of that of the pubs at the outskirts of Dublin: cosy spaces of spontaneous communion, where one can sit down next to a stranger and chat, as naturally as one would with an old acquaintance. And then the people: Triestini and Dubliners may both come across as aloof and diffident at first. Or perhaps simply a little shy.
There are also expressions in both languages that acquire a different meaning when spoken in these two cities: Trieste's "volentieri" ("I'd love to"), which rarely means "yes"; and Dublin's "sorry", which is rarely uttered as an apology. Finally, these two cities have similar culinary traditions: despite being coastal cities, both Trieste and Dublin's cuisines revolve primarily around meat recipes. My personal favourites are Trieste's bollito misto (lit. mixed boiled meat, an equivalent of stew) with porzina (boiled pork cut made from the drycured muscle running from the neck to the fourth or fifth rib of the pork shoulder, N/T), and Dublin's Irish Stew of root vegetables and lamb.
Trieste Airport
Trieste Airport – Friuli
Venezia Giulia offre voli per destinazioni nazionali ed europee, operati da compagnie aeree full service o low cost con collegamenti diretti per: Bari, Cagliari, Catania, Belgrado, Bruxelles, Francoforte, Londra, Malta, Napoli, Olbia, Palermo, Roma e Valencia; le novità della stagione Summer 2023:  Barcellona, Dublino e Tirana. Le opportunità di collegamento offerte aumentano grazie al polo intermodale di Trieste Airport che raccoglie nella stessa infrastruttura fermata ferroviaria, stazione bus e aerostazione.
Trieste Airport – Friuli Venezia Giulia offers air services to domestic and European destinations, operated both by full-service and low-cost airlines. Direct flights connect Trieste to Bari, Cagliari, Catania, Belgrade, Brussells , Frankfurt, London, Malta, Naples, Palermo,Olbia, Rome, Valencia, while new destinations for the 2023 Summer Season are Barcelona, Dublin and Tirana. Trieste Airport is not only a simple airport but a real integrated multi-modal hub for air-rail-road interchange, with local, intercity and long-haul bus and train services, enhancing its local accessibility and connectivity. connectivity.
–
G. Aiello
78 IES, TRIESTE LIFESTYLE N°20 — Spring 2023 Città da vivere
G. Crozzoli
da 1.135,00 € a incl.persona pensionemezzagourmet
06. 01. - 21. 12. 2023
Energia per la donna
Prendersi del tempo per sè stesse.
• 5 notti / 6 giorni, inclusa mezza pensione gourmet con buffet di prodotti sani e gustosi e menù della cena composto da più portate (a scelta anche secondo un menu´equilibrato e leggero)
• Visita terapica VIBE: valutazione clinica e definizione degli obiettivi dei trattamenti
• Sette trattamenti definiti su misura nel corso della visita terapica VIBE e composti dalle seguenti attività:
• massaggio curativo olistico per la donna
• personal training preventivo
• QChi line (speciale massaggio nei meridiani energetici)
• massaggio basato sulla tecnica Breuss (rilassamento energetico)
• bagno ai fiori di fieno o di fango
• Programma di esercizi e relax con i nostri terapisti, es.nordic walking, allenamento Smovey, yoga, qigong, pilates e molto altro
• Triplice esperienza termale: utilizzo illimitato dell'area benessere VIBE SPA, di tutte le aree delle KärntenTherme (FUN, FIT & SPA) e piscina Thermal Urquellbecken
• Tutti i servizi inclusi del Warmbaderhof
Novità a Warmbad
Dopo soli 3 minuti di permanenza nella camera fredda fino a -110°, a seguito di una seduta di raffreddamento a breve termine, si avrà un immediato beneficio e una sensazione di vitalità. Con oltre 50 aree di applicazione in ambito medico, estetico, sportivo, dalla Cryo Suite di Warmbad si trarrà sollievo per disturbi dovuti a reumatismi, stati dolorosi, depressione, insonnia, dermatite atopica, riduzione del peso, della cellulite, per una pelle più compatta nonché si riscontrerà una rapida rigenerazione dopo l'attività sportiva o si migliorerà le prestazioni sportive e molto altro ancora.
Dal 2023, la Warmbad Cryo-Suite sarà disponibile sia come misura terapeutica individuale, sia come complemento alle terapie o per integrare le stesse presso il Kurzentrum Thermal Heilbad di Warmbad al prezzo singolo di € 39,- a seduta. kryosuite@warmbad.at
Come raggiungerci: Warmbad/Villach si trova a soli 15 minuti dal confine italiano di Tarvisio. Proveniendo dall'Italia: Autostrada (A23) - proseguire sulla A2 fino allo svincolo Warmbad/Villach. Per chi arriva in treno la stazione è quella di Villach collegata con tutti gli snodi ferroviari. I trasferimenti
per Warmbad-Villach sono già compresi in numerosi pacchetti.
BOOKS IL MANUALE DI VIAGGIO DI AQUILEIA
Elena Commessatti
Scrittrice e giornalista letteraria, si occupa di biografie dimenticate; dopo un master in Tecniche della Narrazione alla Scuola Holden, ha vissuto alcuni anni a Milano. Per Odòs è direttrice editoriale della collana incentro, di cui ha inventato il format, e autrice. Qualche anno dopo Udine una guida, è ora tornata per raccontare Aquileia. Collabora alle pagine culturali del "Messaggero Veneto" dal 1995. Dal 2007 è la voce narrante dell'azienda di furniture design Moroso.
–
A Sentimental Journey through Aquileia
Elena Commessatti, writer and literary journalist, deals with forgotten biographies; after a master's degree in Storytelling Techniques at the Holden School, she lived in Milan for a few years. For Odòs she is editorial director of the incentro series, whose format she invented, and author. A few years after Udine a guide, she is now back to narrate Aquileia. She has collaborated on the cultural pages of the 'Messaggero Veneto' since 1995. Since 2007 she has been the narrative voice of the furniture design company Moroso.
"Tanto nel racconto di Aquileia, riconosciuta patrimonio Unesco dal 1998, che vuol dire dell'Umanità, è responsabilità per chi scrive. Perché Aquileia è un mito, e vive in più periodi risorgendo dalle sue rovine come una fenice in una girandola di palingenesi, ma mito rimane, e allora bisogna saperlo spiegare al lettore, senza inganni.
Perché Aquileia è una città per la maggior parte invisibile, e allora bisogna volerla raccontare, perché chi ci cammina sopra usi gli occhi della fantasia e si fidi di te. Perché Aquileia vive, certo, ma vive ancora sottoterra e tanto c'è ancora da fare. E allora bisogna saperla evocare, suggerendo i colori giusti, dentro una lunga storia che comincia ancora prima della sua fondazione del 181 a.C., arriva fino a ora e continuerà anche dopo di noi."
Così Elena Commessatti, l'autrice insider de 'Aquileia una guida', descrive Aquileia nella prefazione; le guide incentro propongono un viaggio, assieme agli autori, ricco di aneddoti, leggende, fascinazioni personali che creano percorsi inconsueti e attenti anche al "sentimento" dei luoghi, sempre
alla ricerca del genius loci. Sono guide slow per un turista non lento ma esigente che si prende il tempo giusto davanti alle cose belle.
Un lungo racconto dentro un format identico, con quattro sezioni principali – 'Ritratto di città', 'Visioni d'autore', 'Passeggiate lente', 'Il meglio di' – in cui fanno irruzione i 'Luoghi del cuore' di artisti, giornalisti, scrittori che hanno vissuto la città o la vivono, per nascita o per adozione: dall'illustratore Francesco Tullio Altan, inventore della Pimpa e la moglie Mara Chaves a Sonia Bergamasco e Cesare Bocci gli attori protagonisti del film 'La scelta di Maria' dedicato al milite ignoto; da Luigi (Gigi) Delneri storico calciatore e allenatore a Emilio Rigatti, insegnante e scrittore alle voci di Sara Zamparo, Anna Sairu, Raffaella Grasselli, Antonella Comelli e Francesca Benvegnù, guide turistiche poliglotte profonde conoscitrici di Aquileia.
In formato tascabile, la guida realizzata con il sostegno di Fondazione Aquileia e PromoTurismoFVG, allega una mappa (42×30 cm) dove sono riportati alberghi e ristoranti/caffè/bar; ogni Passeggiata lenta riporta un close-up sulla parte della mappa da consultare.
80 IES, TRIESTE LIFESTYLE N°20 — Spring 2023 Contributors
Aquileia, a historical and artistic unicum in the historical panorama of northern Italy, is revealed in a new guidebook from the incentro series, by the prolific Libreria Editrice Odòs. "So much in the story of Aquileia, recognised as a Unesco heritage site since 1998, which means belonging to Humanity, is the responsibility of
the writer. Because Aquileia is a legend, and lives on in several periods, rising from its ruins like a phoenix in a whirlwind of palingenesis, but a legend it remains, and then you have to know how to explain it to the reader, without deception. Because Aquileia is a city that is for the most part invisible, and then you must be willing to tell its story, so that those who walk over it use the eyes of imagination and trust you. Because Aquileia lives, of course, but it still lives underground and there is still so much to do. And so you have to know how to evoke it, suggesting the right colours, within a long history that begins even before its foundation in 181 B.C., goes up to now and will continue even after us. "This is how Elena Commessatti, the insider author of Aquileia a guide, describes Aquileia in the preface; the incentro guides propose a journey, together with the authors, full of anecdotes, legends, personal fascinations that create unusual itineraries and also pay attention to the 'feeling' of the places, always in search of the genius loci. They are slow guides for a tourist who is not slow but demanding and who takes his time in front of beautiful things. A long story within the same format, with four main sections –'Portrait of a city', 'Art visions', 'Slow walks', 'The best of'– in which the 'Places of the heart' of artists, journalists, writers who have lived in the city or are living it, either by birth or adoption, burst in: from the illustrator Francesco Tullio Altan, inventor of Pimpa and his wife Mara Chaves, to Sonia Bergamasco and Cesare Bocci, the actors starring in the film 'La scelta di Maria' dedicated to the unknown soldier; from Luigi (Gigi) Delneri, historic footballer and coach, to Emilio Rigatti, teacher and writer, to the voices of Sara Zamparo, Anna Sairu, Raffaella Grasselli, Antonella Comelli and Francesca Benvegnù, multilingual tourist guides with a profound knowledge of Aquileia. In pocket-size format, the guide, produced with the support of Fondazione Aquileia and PromoTurismoFVG, encloses a map (42×30 cm) showing hotels and restaurants/cafés/bars; each Slow Walk shows a close-up on the part of the map to be consulted.
ENGLISH TEXT
N. Oleotto
81 IES, TRIESTE LIFESTYLE N°20 — Spring 2023 Contributors
G. Baronchelli
VIDEOGAME & TURISMO TORVISCOSA RICOSTRUITA CON MINECRAFT
Torviscosa rebuilt with Minecraft
Anche un videogioco può diventare uno strumento per promuovere e per conoscere un territorio: ne è un esempio Torviscosa dove, da un'idea di un giovanissimo studente, è nato un progetto a cui ora stanno lavorando decine di suoi compagni di scuola. L'obiettivo è ricostruire il paese con Minecraft, uno dei videogiochi più famosi e utilizzati al mondo: un primo risultato è stato pubblicato su Youtube, Facebook e Instagram e ha avuto migliaia di visualizzazioni nel giro di pochi giorni.
Torviscosa, d'altra parte, non è un paese qualunque: costruito a partire dal 1937 dalla SNIA Viscosa accanto al grande complesso in mattoni rossi del proprio stabilimento industriale, mantiene le tipiche architetture del regime fascista, ma anche l'organizzazione urbanistica "aziendale", che ha imposto una divisione delle abitazioni in base alla categoria professionale del capofamiglia.
Gli studenti coinvolti nel progetto hanno ricostruito finora gran parte del paese e si dedicheranno ora ad alcuni interni. In particolare, ricostruiranno l'interno originale del teatro, un pregevole edificio purtroppo chiuso al
82 IES, TRIESTE LIFESTYLE N°20 — Spring 2023 Fuori porta
pubblico ormai da anni a causa di lavori mai completati.
L'iniziativa è stata promossa dalla Pro Torviscosa, che ha chiesto e ottenuto un contributo dalla Regione e dal Comitato Pro Loco regionale con il quale è stato possibile acquistare la strumentazione tecnologica necessaria. Una convenzione con l'istituto scolastico ISIS Bassa friulana ha permesso di coinvolgere gli studenti delle varie scuole afferenti. Infine, nel lavoro di ricostruzione i ragazzi hanno potuto accedere ai materiali dell'archivio online del Comune di Torviscosa, che contiene fotografie storiche, piani regolatori, mappe e prospetti degli edifici. Insomma, un'efficace sinergia che ha, innanzitutto, permesso a tanti ragazzi di conoscere e apprezzare un patrimonio urbanistico e architettonico unico nella nostra regione e, inoltre, di promuoverlo al di fuori dei confini regionali.
ENGLISH
TEXT
Avideogame can also become a tool for promoting and getting to know a territory: an example is Torviscosa where, from an idea of a very young student, a project was born on which dozens of his schoolmates are now working. The objective is to reconstruct the town with Minecraft, one of the most famous and widely used video games in the world: an initial result was published on Youtube, Facebook and Instagram and had thousands of views within a few days.
Torviscosa, on the other hand, is no ordinary town: built from 1937 onwards by SNIA Viscosa next to the large redbrick complex of its industrial plant, it retains the typical architecture of the fascist regime, but also the 'corporate' town planning organisation, which imposed a division of homes according to the professional category of the head of the family.
The students involved in the project have reconstructed most of the village so far and will now focus on some of the interiors. In particular, they will reconstruct the original interior of the theatre, a valuable building that has unfortunately been closed to the public for
years due to unfinished works.
The initiative was promoted by Pro Torviscosa, which requested and obtained a contribution from the Region and the regional Pro Loco Committee, with which it was possible to purchase the necessary technological equipment. An agreement with the school institute ISIS Bassa Friulana made it possible to involve the students of the various schools. Lastly, as part of the reconstruction work, the students were able to access materials from the Torviscosa Municipality's online archive, which contains historical photographs, master plans, maps and building elevations. In short, an effective synergy that has, first and foremost, allowed many young people to get to know and appreciate an urban and architectural heritage that is unique in our region and, moreover, to promote it outside the regional borders.
www.turismofvg.it/torviscosa
INFO
video F. Gallina
www.protorviscosa.it www.facebook.com/protorviscosa
83 IES, TRIESTE LIFESTYLE N°20 — Spring 2023 Outside the city
F. Gallina
I PROFUMI DEL VINO
The scents of wine
Aromaterapia e materie prime botaniche per raccontare i vini del nostro territorio. È l'originale progetto della triestina Elena Cobez, aromaterapeuta e esperta di profumeria botanica, che negli ultimi anni ha avviato nella nostra regione dei laboratori sensoriali di educazione olfattiva, rivolti a sommelier, viticoltori, giornalisti e appassionati di vino, per imparare a sviluppare un linguaggio narrativo del vino che metta l'accento sulle emozioni e approfondisca il valore evocativo, psicologico ed estetico della componente olfattiva dei profumi.
In primavera saranno le Donne del Vino del Friuli Venezia Giulia, ospitate sul Carso Triestino dalla viticoltrice e sommelier Noris Vesnaver, a promuovere un seminario di testing olfattivo sui profumi del vino, guidato da Elena Cobez, con l'utilizzo di quelli che da 25 anni sono gli attrezzi del suo mestiere, oli essenziali e tinture. Elena attualmente insegna analisi sensoriale presso l'Italian Perfumery Institute di Milano e tiene corsi in tutta Italia che spaziano dallo storytelling olfattivo alla creazione del proprio profumo personale.
Emozioni in primo piano nei percorsi di testing olfattivo sui profumi del vino del territorio guidati da Elena Cobez, aromaterapeuta e formatrice. In primavera un seminario con le Donne del Vino del Friuli Venezia Giulia.
—
Emotions are the focus of the set of olfactory testing itineraries through the scents and aromas of local wines organised and led by aromatherapist and trainer Elena Cobez. The upcoming event is a workshop with Donne del Vino del Friuli Venezia Giulia.
di /by
Maddalena Giuffrida
84 IES, TRIESTE LIFESTYLE N°20 — Spring 2023 Città da vivere
Al mondo del vino si è avvicinata qualche anno fa, curiosa di esplorare un settore nuovo con il bagaglio della sua lunga esperienza nella profumeria. Nei suoi corsi di educazione olfattiva Elena accompagna i partecipanti ad arricchire il proprio bagaglio verbale, attingendo alle sensazioni che i profumi del vino suscitano, in modo da rendere la comunicazione del vino emozionalmente più coinvolgente.
Il suo lavoro laboratoriale si sposa con le nuove tendenze nel settore turistico, che mira a promuovere esperienze di viaggio alla scoperta olfattiva dei luoghi.
Raccontare il nostro territorio anche attraverso le suggestioni che i profumi del vino sanno evocare –commenta Elena Roppa, delegata regionale delle Donne del Vino– può diventare un modo efficace e inedito per promuovere l'enoturismo nella nostra regione, così come l'incontro tra le competenze di produttrici, enologhe e sommelier con un'esperta in ambito sensoriale può essere un valore aggiunto nella comunicazione dei nostri vini.
Aromatherapy and botanical raw materials telling the stories of local wine: this is the idea behind the project presented by Trieste-born aromatherapist and expert of botanical perfumery Elena Cobez. In recent years, Cobez has launched a series of sensory workshops on olfactory training, open to sommeliers, winemakers, journalists, and wine connoisseurs. The purpose of the initiative is to develop and enhance the language of wine narrative, focusing on emotions and the evocative, psychological, and aesthetic value of scents.
In spring this year Donne del Vino del Friuli Venezia Giulia (lit. Women of Wine of Friuli Venezia Giulia) will be guests of Karst winemaker and sommelier Noris Vesnaver for a seminar on olfactory testing focusing on the scents of wine led by Elena Cobez. Elena has acquired an extensive knowledge of essential oils and tinctures over the past 25 years, and currently teaches sensory analysis at the Italian Perfumery Institute in Milan, while also travelling throughout Italy to hold training courses on a variety of subjects, ranging from olfactory storytelling to the art of blending one's very own personal fragrance.
She approached the world of wine only a few years ago, eager to explore new potential applications of her knowledge in the field of perfumery. During her olfactory training courses Elena encourages participants to enhance their vocabulary starting from the emotions evoked by wine aromas, in order to intensify the emotionally engaging nature of wine storytelling.
Her workshops are in line with the latest trends in the industry of tourism, promoting travel experiences that offer an olfactory exploration of tourist destinations.
In the words of Donne del Vino regional delegate Elena Roppa A narration of our territory through the emotions evoked by wine aromas may very well become an effective and innovative way of promoting wine tourism in our region. Moreover, by bringing together the expertise of winemakers, oenologists, and sommeliers, and an expert of the sensory world can help enhance the way in which local wine is promoted
ENGLISH TEXT
Arricchire il proprio bagaglio verbale, attingendo alle sensazioni che i profumi del vino suscitano.
Enhancing one's vocabulary starting from the emotions evoked by wine aromas.
85 IES, TRIESTE LIFESTYLE N°20 — Spring 2023 Live the city
A. Camoni
Il Giro d'Italia arriva sul MonteLussari
The Giro D'italia arrives on Monte Lussari
Un grande evento anticipa l'estate tarvisiana. Sabato 27 maggio prenderà vita la penultima tappa del Giro d'Italia, sul tratto TarvisioMonte Lussari. Si tratta di un appuntamento decisivo: una crono-scalata lunga 18,6 km, con 1050 metri di dislivello che anticipa la passerella finale verso Roma.
Il tracciato, che parte dalla Val Saisera, sarà poi percorribile dai più allenati in bicicletta o con e-bike, noleggiabili facilmente in loco, oppure per chi lo preferisce a piedi. Una vera festa dello sport, un evento da scoprire, un'occasione per vivere Tarvisio "tinta di rosa". Il 24 maggio il corso principale, via
Roma, sarà chiuso al traffico, i locali proporranno musica, aperitivi all'aperto; i più piccoli festeggeranno il Giro con gli animatori e i negozi saranno aperti fino a sera inoltrata. Persino la storica Miniera di Cave del Predil festeggerà l'evento con una passeggiata in miniera e degustazione prodotti tipici della Valle. Per onorare l'evento del Giro d'Italia le gallerie interne della miniera si tingeranno di luci rosa.
A great event anticipates summer in Tarvisio.
On Saturday 27 May the penultimate stage of the Giro d'Italia will take place on the Tarvisio-Monte Lussari stretch. It will be a decisive appointment: a time trial climb 18.6 km long, with 1050 metres of difference in height that anticipates the final leg
towards Rome. The route, which starts from Val Saisera, will be practicable for the most trained by bicycle or e-bike, easily rented on site, or for those who prefer it on foot. A true sports festival, an event to be discovered, an opportunity to experience Tarvisio 'tinged with pink'. On 24 May, the main street, Via Roma, will be closed to traffic, the clubs will offer music, open-air aperitifs; the youngest will celebrate the Giro with entertainers and the shops will be open until late in the evening. Even the historic Mine of Cave del Predil will celebrate the event with a walk through the mine and a tasting of typical products of the Valley. To honour the Giro d'Italia event, the mine's inner galleries will be coloured with pink lights. www.comuneditarvisio.com
–
TARVISIO F. Gallina 86 IES, TRIESTE LIFESTYLE N°20 — Spring 2023 Fuori porta
Alla scoperta di un tesoro nascosto
Discovering a hidden treasure
"La musica va per le valli in fiore" recita la canzone di apertura di un noto musical di tanti anni fa. Malgrado i tempi siano diversi, la musica continua a riempire la vallata di Tarvisio, specialmente in primavera ed estate. Ma non solo: le note risuonano anche nel ventre della montagna, nella miniera di Cave del Predil.La miniera, luogo di lavoro per tanti abitanti della zona che lasciavano le loro case al mattino e vi tornavano provati la sera, luogo dove il tempo era scandito dal battito ritmico dei picconi sulla dura roccia, a creare quasi una melodia, interrotta dal rumore dei carrelli o di qualche detonazione. Dopo aver indossato il caschetto e la giacca "Gluck auf!" (è il saluto dei minatori) si parte a bordo del trenino che sferragliando ci conduce in un altro mondo. Guide e pannelli ma soprattutto le ricostruzioni avvolgono il turista portandolo in cosmi e vite diverse. Ognuno a suo modo può essere minatore, medico, pompiere e anche soldato. La miniera, infatti, fu anche una vera e propria "strada" sotterranea, soprattutto durante la Grande Guerra quando vide passare nei suoi tunnel soldati, munizioni, armamenti destinati al fronte. Quelle stesse caverne accolgono oggi i visitatori raccontando con garbo e
passione le storie di chi le ha vissute, odiate e amate, facendo diventare l'ospite parte di una grande famiglia.
E in famiglia si fa anche festa: durante l'estate sia negli spazi interni che all'esterno si organizzano eventi, rappresentazioni teatrali, suggestive cene al lume di lanterna con pietanze dedicate e accompagnamento musicale, feste folkloristiche, toccanti concerti dove la musica è il fil rouge tra la storia, le tradizioni ed il presente.
"Music goes through the valleys in bloom" goes the opening song of a well-known musical from many years ago. Although times have changed, music continues to fill the Tarvisio valley, especially in spring and summer. But not only that: the notes also resound in the depths of the mountain, in the mine of Cave del Predil.
The mine, a place of work for many of the inhabitants of the area who left their homes in the morning and returned tired in the evening, a place where time was marked by the rhythmic beating of the pickaxes on the hard rock, creating almost a melody, interrupted by the noise of the mining carts or by some detonation.
After putting on our helmets and jackets, "Gluck auf!"
(that's the miners' greeting), we set off on the little train that rattles and takes us to another world. Guides and panels, but above all the
reconstructions, immerse the tourist into a different world and life. Everyone in their own way can be a miner, doctor, fireman and even a soldier. The mine, in fact, was also a real underground 'road', especially during the Great War when soldiers, ammunitions and weapons destined for the front passed through its tunnels. Those same caverns welcome visitors today, gracefully and passionately telling the stories of those who lived, hated and loved them, making
the guest become part of a big family. And in the family there is also partying, and the music changes: during the summer, both indoors and outdoors, events are organised, theatrical performances, charming lantern-lit dinners with dedicated dishes and music, folk festivals, and heartwarming concerts where music is the fil rouge between history, traditions and the present.
www.museitarvisio.it/museo1
LA MONTAGNA DI CASA
Our mountains
di /by Ilaria Romanzin
–
87 IES, TRIESTE LIFESTYLE N°20 — Spring 2023 Outside the city
Bike Park dell'Angelo
Divertimento e adrenalina sono il leitmotif del nuovo "Bike Park dell'Angelo".
La partenza, raggiungibile agevolmente con la seggiovia dalla Piana dell'Angelo operativa anche d'estate, è soft, nel bosco, dove i suoi abitanti vigili, curiosi e un po' nascosti osservano i bikers; alcuni però consentono ai bambini (e non solo) di "seguire" le loro orme facendosi conoscere meglio. Il percorso poi si divide: "Cervo" (medio-facile) garantisce divertimento a tutta la famiglia; "Lince" (mediodifficile) si dipana nel bosco, costeggiando, quasi a sfidarlo, il tracciato del bob a rotaia. Più lungo, alterna curve a gomito, north-shores e alcuni passaggi mettono alla prova fisicità e tecnica, una vera sfida sui pedali.
Fun and adrenaline are the leitmotif of the new 'Bike Park dell'Angelo'.
The start, easily reached by chairlift from the Piana dell'Angelo, which is also operational in summer, is soft, in the forest, where its watchful, curious and somewhat hidden inhabitants observe the bikers; some, however, allow children (and others) to 'follow' in their footsteps, making them better known. The route then divides up: " Deer" (mediumeasy) guarantees fun for the whole family; "Lynx" (mediumdifficult) unravels through the forest, skirting, almost as if to challenge it, the track of the rail bobsleigh. Longer, it alternates sharp bends, northshores and some passages test physicality and technique, a real cycling challenge.
–
F. Gallina
F. Gallina
Gallina 88 IES, TRIESTE LIFESTYLE N°20 — Spring 2023 Fuori porta
F.
Living like a local Le eccellenze del territorio
Michela Picone è un'operatrice del benessere dei capelli (hair care), formatrice e titolare di un'azienda di Camporosso. Dopo anni di esperienze di natura artistica in giro per il mondo, ha deciso di rientrare nella Valcanale. Quali sono i luoghi che ami di più nel Tarvisiano e dintorni?
Fin da bambina, adoro percorrere in bici la vecchia strada che da Coccau porta al confine con l'Austria, un luogo magico al di fuori delle solite dinamiche. Adoro il percorso Wild Track e tutta la zona della Val Saisera, ma anche le strade dimenticate Rutte di Camporosso dove la natura, nel corso delle stagioni, si manifesta in tutte le sue forme e i suoi colori. Come ami trascorrere il tuo tempo libero? Sono una buongustaia. Non mi perdo mai le manifestazioni culinarie come Ein Prosit, ma anche il festival musicale No Borders.
In che modo, con la tua attività, vuoi portare un valore aggiunto al territorio?
Il desiderio è quello di fornire un'esperienza che rappresenti anche una scelta etica, attraverso l'uso di prodotti e servizi ecosostenibili. Vogliamo regalare attimi di armonia ai nostri clienti, oltre a tagli e colori che riflettano la personalità.
Living like a local The excellence of the territory
Michela Picone is a hair care professional, trainer and owner of a company in Camporosso. After years of artistic experiences around the world, she decided to return to the Valcanale. What are your favourite places in and around Tarvisio? Ever since I was a child, I have loved cycling along the old road from Coccau to the Austrian border, a magical place off the beaten track. I love the Wild Track route and the whole Val Saisera area, but also the forgotten Rutte roads in Camporosso, where nature reveals itself in all its shapes and colours throughout the seasons.
How do you like to spend your free time? I am a food lover. I never miss culinary events such as Ein Prosit, but also the No Borders music festival.
How do you want to bring added value to the area with your business? The desire is to provide an experience that also represents an ethical choice, through the use of eco-friendly products and services. We want to offer moments of harmony to our clients, as well as cuts and colours that reflect personality.
89 IES, TRIESTE LIFESTYLE N°20 — Spring 2023 Outside the city
A. Michelazzi
Come evidenziato dall'Organizzazione Mondiale per il Turismo (OMT) in un recente report, il turismo mondiale è sempre più orientato verso esperienze di natura culturale. Lo sanno bene i fondatori di Suazes, un'impresa culturale e creativa nata in Friuli Venezia Giulia che affianca istituzioni, soggetti pubblici e privati nello sviluppo di progetti. L'obiettivo è quello di rendere la cultura uno strumento di sviluppo e contaminazione per costruire nuove opportunità, generando ricadute concrete sulle comunità.
"Abbiamo deciso di dare vita a questa realtà e di darle un nome fuori dai canoni: Suazes, una parola friulana che significa "cornice" o "prendersi cura" raccontano i fondatori dell'impresa. Crediamo alla cultura intesa come input di processo e da essa siamo riusciti a sviluppare un modello. Operiamo in un campo dove si registra una convergenza con il turismo, con la necessità di sinergie tra pubblico e privato, in linea con la transizione tecnologica. Per questo sviluppiamo progetti chiavi in mano, calati sulla committenza e sulle caratteristiche del territorio, nella convinzione che la cultura sia, e debba
SUAZES, BELL'IMPRESA CREATIVA
Suazes enhances cultural experience
di /by Emily Menguzzato
CULTURA
90 IES, TRIESTE LIFESTYLE N°20 — Spring 2023 Fuori porta
M. Pistore
essere, un bene comune".
Suazes produce e organizza mostre in Italia, ma anche iniziative culturali più articolate.
"Lo scorso anno abbiamo realizzato un grande progetto con il Consorzio turistico della Val di Sole in Trentino e abbiamo sviluppato un sentiero della fotografia in alta quota con il fotografo di Magnum Photos Jerome Sessini attraverso grandi installazioni che potevano essere fruite solo in loco".
Suazes, in questi anni, ha sviluppato progetti espositivi con importanti istituzioni nazionali e creato un network di collaborazioni internazionali. "Consapevolmente volevamo confrontarci con la competitività associata alla dimensione nazionale per maturare esperienza e costruirci una credibilità. In 5 anni abbiamo collaborato con 30 realtà. Siamo sempre andati avanti con la convinzione che la cultura rappresenti una grande opportunità per il nostro Paese".
As the WTO (World Tourism Organisation) pointed out in a recent report, world tourism is increasingly oriented towards culture-based experiences. This is well known by the founders of Suazes, a cultural and creative company set up in Friuli Venezia Giulia that supports institutions, public and private bodies in the development of projects. The aim is to make culture a tool for development and contamination to build new opportunities, generating positive impacts on communities.
"We decided to create this activity and give it an unusual name: Suazes, a Friulian word meaning 'frame' or 'taking care'," the company's founders explained. We believe in culture as process input and from it we have been able to develop a model. We operate in a field
where there is some convergence with tourism, with the need for synergies between the public and private sectors, in line with the technological transition. This is why we develop turnkey projects, tailored to the client and the characteristics of the territory, in the strong belief that culture is, and should be, a common good'.
Suazes produces and organises exhibitions in Italy, but also more complex cultural initiatives.
"Last year, we carried out a major project with the Tourist Consortium of Val di Sole in Trentino, and we developed a photography trail at high altitude with Magnum Photos photographer Jerome Sessini through large installations that could only be enjoyed on site".
In recent years, Suazes has developed exhibition projects with important national institutions and created a network of international collaborations.
"We consciously wanted to confront competitiveness associated with the national dimension in order to gain experience and build credibility. In five years we have collaborated with 30 businesses. We have always moved forward with the conviction that culture represents a great opportunity for our country".
ENGLISH
TEXT
INFO www.suazes.it 91 IES, TRIESTE LIFESTYLE N°20 — Spring 2023 Outside the city
SUONI ASCOLTA LA FORESTA
Festival Risonanze dal 15 al 18 giugno —
Where the forest resonates
Resonance Festival from 15 to 18 June
La musica che riempie la vallata, che diventa compagna di cammino, alla scoperta della natura, curiosando tra le note, dentro gli strumenti e dentro se stessi. Ognuno, adulto o bambino, ha il suo momento, la sua occasione, durante le giornate del festival Risonanze, per vivere e interpretare il contatto con l'ambiente circostante e il dialogo tra strumento, musicista, natura e musica nei luoghi dove tanti strumenti hanno origine: la foresta degli abeti di risonanza della Val Saisera.
Emozionante full immersion nella foresta con tante attività gratuite prima e dopo i concerti. Non solo: anche il paese di Malborghetto si trasforma in un salotto all'aperto con installazioni floreali, momenti di intrattenimento, laboratori di Liuteria, spettacoli per bambini, fattoria didattica, concerti serali, cene a tema e molto altro.
ENGLISH TEXT
The music that fills the valley, that becomes a fellow-traveller, discovering nature, wandering among the notes, inside the instruments and within oneself. Everyone, adult and child, will have their own moment, their own opportunity, during the days of the Resonance Festival, to experience and interpret the contact with the surrounding environment and the dialogue between instrument, musician, nature and music in the places where so many instruments originated: the forest of resonance firs in Val Saisera.
An exciting full immersion in the forest with many free activities before and after the concerts. And that's not all: the village of Malborghetto will be transformed into an open-air lounge with floral installations, entertainment, violin-making workshops, children's shows, an educational farm, evening concerts, themed dinners, and much more.
INFO www.risonanzefestival.com
T. Gualtieri
92 IES, TRIESTE LIFESTYLE N°20 — Spring 2023 Fuori porta
F. Savoia
BORGHI SAURIS 'BEST TOURISM VILLAGE '
L'antico borgo montano immerso nelle Alpi Carniche è stato insignito del prestigioso riconoscimento di "Best Tourism Village" da parte dell'Organizzazione Mondiale del Turismo delle Nazioni Unite (UNWTO): un orgoglio per il Friuli Venezia Giulia e per tutta la comunità saurana.
"Best Tourism Village" contraddistingue a livello internazionale quei borghi "che sono esempio eccezionale di destinazione turistica rurale, dotati di beni culturali e naturali accreditati, che preservano e promuovono valori, prodotti e stili di vita basati sullo sviluppo della comunità locale e dimostrano un chiaro impegno verso l'innovazione e la sostenibilità economica, sociale ed ambientale."
Un titolo di cui Sauris può fregiarsi onoratamente visto il continuo impegno da parte di tutta la comunità a fornire servizi e attività turistiche che mantengano il borgo attivo 365 giorni all'anno, permettendo ai residenti di continuare a vivere delle risorse e delle specificità del territorio e accogliendo i turisti facendo loro conoscere le tradizioni.
La cultura del luogo, infatti, è frutto di molti influssi che si rispecchiano nelle usanze, nell'artigianato e nei prodotti tipici. A partire dalla lingua: qui si parla il saurano (de zahrar sproche ), una lingua antica e affascinante, una sorta di dialetto tedesco appartenente al gruppo linguistico del bavarese meridionale. Tutt'oggi una lingua viva, parlata dai residenti e valorizzata dal Coro "Zahre" che ha recuperato nel tempo i canti tradizionali.
U. Da Pozzo 94 IES, TRIESTE LIFESTYLE N°20 — Spring 2023 Fuori porta
Sauris 'best tourism village'
Il paese è caratterizzato da un particolare stile di architettura che predilige l'utilizzo di materie prime locali, la pietra e il legno; quest'ultimo elemento viene pure intagliato e lavorato realizzando molte opere d'arte e oggetti, nonché le famose maschere del carnevale saurano. Il lavoro artigianale passa pure attraverso le mani di Christian Petris, che continua a portare avanti la tradizione della tessitura realizzando prodotti a mano lavorati esclusivamente con fibre naturali: lana, lino e canapa, cotone. Ma la canapa qui a Sauris viene utilizzata anche nella produzione di una delle birre del birrificio artigianale Zahre Beer; che ben si accompagnano per degustare i formaggi d'alpeggio affinati e stagionati da Sebastiano Crivellaro e i salumi, tra cui il celebre prosciutto, unico per la sua dolcezza e per la sua caratterizzante affumicatura ottenuta con solo legno di faggio.
ENGLISH TEXT
The ancient mountain village in the Carnic Alps has been awarded the prestigious title of 'Best Tourism Village' by the United Nations World Tourism Organisation (UNWTO): a matter of pride for Friuli Venezia Giulia and the entire Saurana community. "Best Tourism Village" internationally distinguishes those villages "that are outstanding examples of rural tourism destinations, endowed with accredited cultural and natural assets, that preserve and promote values, products and lifestyles based on the development of the local community and demonstrate a clear commitment to innovation and economic, social and environmental sustainability." A title that Sauris can honourably boast of, given the continuous commitment of the entire community to provide services and tourist activities that keep the village active 365 days a year, allowing residents to continue to live off the resources and particularities of the area and welcoming tourists by showing them their traditions. In fact, the local culture is the result of many influences that are reflected in traditions, handicrafts and typical products.
Starting with the language: Sauran (de
zahrar sproche) is spoken here, an ancient and fascinating language, a kind of German dialect belonging to the southern Bavarian language group. It is still a living language today, spoken by the residents and enhanced by the 'Zahre' choir, which has recovered traditional songs over time. The village is characterised by a particular style of architecture that favours the use of local raw materials, stone and wood; the latter element is also carved and worked to create many works of art and objects, as well as the famous Saurano carnival masks. Craftsmanship also passes through the hands of Christian Petris, who continues to carry on the tradition of weaving, producing handmade products made exclusively from natural fibres: wool, linen, hemp and cotton. But hemp here in Sauris is also used in the production of one of the craft brewery's beers, Zahre Beer; which go well with the alpine pasture cheeses aged and matured by Sebastiano Crivellaro and the cured meats, including the famous prosciutto, unique for its sweetness and its distinctive smokiness obtained using only beech wood.
95 IES, TRIESTE LIFESTYLE N°20 — Spring 2023 Outside the city
D. Monti
POST-IT
Spring is here!
Horti Tergestini
Sabato 15 e domenica 16 aprile
La mostra mercato di piante e arredi per il giardino ritorna anche quest'anno nel Parco di San Giovanni.
–Saturday 15 and Sunday 16
April. The market exhibition of plants and garden furniture returns to San Giovanni Park in Trieste. hortitergestini.it
Rose libri musica vino
Venerdì 5, 12, 19 e 26 maggio
Nel luogo simbolo del cambiamento, l'ex ospedale psichiatrico provinciale, ora parco restituito alla città, va in scena ogni anno a maggio, tutti i venerdì, una rassegna culturale fatta di conversazioni, passeggiate, lezioni universitarie, momenti musicali e degustazioni in un contesto unico ed originale, il roseto diffuso che si trasforma in un palco originale e suggestivo.
Roses books music wine
Friday 5, 12, 19 and 26 May
In the place that symbolises change, the former provincial psychiatric hospital, now a park that has been returned to the city, a cultural event is staged every Friday in May, consisting of conversations, walks, university lectures, musical moments and tastings in a unique and original setting, a widespread rose garden. agricolamontesanpantaleone.it
Glamour
Barbacan Produce
16 aprile e 18 giugno
Primo appuntamento dell'anno in aprile per la tradizionale manifestazione organizzata per offrire visibilità ad artisti, artigiani e designer emergenti. In piazzetta Barbacan e dintorni, nel cuore della Città vecchia. E a giugno prevista una speciale edizione serale!
–
Move your body
Trieste Spring Run
2-7 maggio
L'evento di running per eccellenza della città di Trieste torna con un nuovo nome e con un nuovo format, pronto ad accogliere tutti i runner, professionisti e amatori, con il suo percorso unico, tra Carso e mare.
2-7 May
Theater
Una sera a teatro
16 April and 18 June
First fixture of the year in April for the traditional event organised to give visibility to emerging artists, craftsmen and designers. In and around Piazzetta Barbacan, in the heart of the old town. And in June there will be a special evening edition!
www.barbacanproduce.com
Food&wine
Amber Wine Festival
21 e 22 maggio
Seconda edizione di un'originale rassegna enogastronomica dedicata ai vini ambrati nella suggestiva location del Castello di San Giusto.
–
21 and 22 May
Second edition of an original food and wine event dedicated to amber wines in the charming location of San Giusto Castle.
www.amberwinefestival.com
The running event par excellence in the city of Trieste returns with a new name and a new format, ready to welcome all runners, professionals and amateurs alike, with its unique route between the Karst and the sea. triestespringrun.com
In City Golf
19-20 maggio
Trieste si trasforma per due giorni in un green grazie alla realizzazione di 18 buche sparse negli angoli e scorci più belli e particolari della città. –
19-20 may
Trieste turns into a green for two days thanks to the creation of 18 holes scattered around the city's most beautiful and special corners and views. www.incitygolf.com
Talk
Parole ostili
26-27 maggio
Due giorni di incontri e talk per riflettere assieme sul tema del linguaggio e della parola. –26-27 May
Two days of meetings and talks to reflect together on the theme of language and speech. paroleostili.it
Una ricca programmazione che spazia dalla prosa e i grandi musical del teatro Rossetti alla musica sinfonica e alla grande stagione lirica e di balletto del Teatro Verdi; senza dimenticare l'offerta "indipendente" e originale del Teatro Miela e di Hangar Teatri e gli spettacoli del Teatro La Contrada. Da non perdere: The Phantom of the Opera di Andrew Lloyd Webber per la prima volta in Italia dal 4 al 16 luglio al teatro Rossetti.
–An evening at the theatre
A rich programme ranging from prose and the great musicals of the Rossetti Theatre to symphonic music and the great opera and ballet season of the Verdi Theatre; not forgetting the "independent" and original offer of the Miela Theatre and Hangar Teatri and the shows of the La Contrada Theatre. Not to be missed: Andrew Lloyd Webber's The Phantom of the Opera for the first time in Italy from 4 to 16 July at the Rossetti Theatre.
www.ilrossetti.it
www.teatroverdi-trieste.com
www.miela.it
www.contrada.it
www.hangarteatri.com
Podcast BoraMata
Inquadra il QR Corde e ascolta su Spotify la serie "La bora si sente", il vento che racconta Trieste.
–Scan the QR Corde and listen on Spotify to the series 'La bora si sente', the wind that tells the story of Trieste.
–
–
96 IES, TRIESTE LIFESTYLE N°20 — Spring 2023 Agenda
comune di trieste