SPRING 2023
MAKEUP MUST-HAVES THE MUSIC OF BELONGING
MOST
VOLUME 1 ISSUE 3
21
INFLUENTIAL PEOPLE
Dear Reader,
ON BEHALF OF THE ENTIRE TEAM at Trending Northwest, we want to thank you for picking up and reading our print magazine. We are so excited to have created something that entertains and informs you. Our ultimate goal is to explore all of the amazing things that the Northwest has to offer, and we are thrilled that you are joining us on this journey.
As Digital Editor of Trending Northwest, I'm so excited about what we've created both online and off. If you love reading the recipes in this Spring edition, don't miss even more delicious dishes, including Kim's mouthwatering and easy weeknight family meals, plus Monika's simple and refreshing salads, on our website TrendingNorthwest.com.
For our west side Washingtonians, Chelsea is back at it with the most unique and delicious cocktails around Seattle, plus some of the most fun breweries around Everett. Finally, plan ahead for your summer escapes by reading (and bookmarking!) Krista's Palm Springs excursion - you won't want to miss what she has to say about Joshua Tree National Park!
That's only some of what you can find on our website, in addition to the beautiful print edition you have in your hands. We hope that you continue to follow us online where you can find the latest news and updates about the Northwest. We are always striving for new ways to share stories and showcase local talent, so be sure to check out our website, TrendingNorthwest.com, regularly for fresh content. Additionally, if you enjoy our print edition, keep an eye out for our quarterly releases!
WITH GRATITUDE,
WITH THE SNOW MELTING
and the sun's triumphant return comes so much optimism. Longer days mean more activities that go late into the evening, flowers are blooming all around us, and lingering outdoors again to enjoy the radiant warmth. The vibrant intensity of green shoots is matched by the energy we all feel after trudging through the gray winter months.
For us here at the magazine, it also has us filled with joy because it means you are holding our second print issue in your hands, and we are elated to share it with you in person at the Spokane Club on April 20th for our first official magazine release party where we will be honoring top restaurants and our 20 most influential people. Tickets will be available soon, and we will share the opportunity to join with honorees and our followers on social media. We are so excited to see you all in person (and at such a beautiful venue) so that we can celebrate together in real-time.
As a special treat for all of you, long-time experienced magazine editor, Stephanie Regalado, joins us to highlight the top award that our publication has bestowed on individuals thus far - a list of the top 20 most influential people in Spokane. We spent endless hours as a team seeking out and compiling a list that we feel best represents people in our community who we look to for setting trends through consistent, positive action in making it a better place to live.
4 SPRING 2023 CATEGORY VOLUME 1 ISSUE 3
US
WE OFFER SO MUCH MORE ONLINE — CHECK
OUT!
We are so grateful for every one of you who has subscribed to the publication, and that so many more of you are getting to read this publication in bookstores and retailers around the region. I had the most surreal experience the other day when I saw a customer at Auntie's Bookstore pick up our issue off the shelf, and thumb through the pages slowly and admiringly with a huge grin on her face. I had to wipe a tear from my eye... it's an unmatched feeling. It's a special moment to see your home featured in a glossy magazine - especially when we see members of our community in its pages that we recognize and admire. We are truly honored to create this experience for all of you.
WITH KINDNESS —
SPRING 2023 5 CATEGORY CONTENTS CURRENT 11 Breakout 2023 Fashion Trends Every Style Lover Needs to Try WANDER 48 Hours in Tacoma Epic Olympic National Park Beaches You Need to Visit MEET Jennifer Vigil: The Music of Belonging T.S The Solution 21 Most Influential People SPACE Forest Bathing in the Northwest A Guide to Adding Character with Vintage Home Decor BEING Seeking Self-Love Believe in Yourself The Best Med Spas in Coeur d'Alene SHOP Top 10 Drugstore Makeup Must-Haves WORK Coworking Spaces to Jumpstart Your Entrepreneurial Journey Top Party Planners in the Northwest: Electric Photoland SIP 5 Reasons Northwest Wine is a Must Buy for Wine Lovers BITE Best Restaurants in Spokane 3 Nutritions & Creative Family Lunch Box Recipes 3 Must-Try Viral TikTok Desserts You'll Love Making and Eating 10 16 78 92 24 73 84 88 101 105 56 62 64 68 32 36 41 52 COVER FEATURE COVER STORY COVER STORY
LIVING OUR BEST. TOGETHER.
ERIN PETERSON grew up in Post Falls, Idaho and became a professionally certified educator – earning the Provost's Award for academic achievement and community service from Lewis-Clark State College. Now she is an award-winning local influencer, podcaster and digital strategy educator with a passion for equity and inclusion. Erin has been published and featured in a wide variety of local publications including the Spokesman Review, The Inlander, and has served as an editor at Spokane Coeur d'Alene Living magazine. If you want to learn more about how she is making an impact right here in the Northwest, give her a follow on Instagram at @trending.northwest or Trending Northwest on Facebook.
STEPHANIE BURNS is a local entrepreneur, public speaker, content creator, model, and writer from Spokane, WA. She's an expert in marketing and owns Posted Consulting LLC, an award-winning PR firm. Born and raised in the Inland Northwest, Christine loves to support and advocate for local businesses and artists, and even hosts the annual Spokane Small Business Convention in the spring..
STEPHANIE REGALADO has been slinging stories as an award-winning writer, publisher, editor, and media pro for brands, publications, and online platforms across the US for more than 20 years. Her first book, If They Only Knew, releases this spring, and features 50 stories showcasing the power and perseverance of women. She loves frolicking around the region with her big kids, little grands, and canine sidekick, Dixie. You can follow along via Instagram at @stephanie_regalado_writer.
6 SPRING 2023 CATEGORY 6
EDITORS-IN-CHIEF Erin Peterson and Melissa Berry COPY EDITOR Hailey Keller CONTRIBUTING WRITERS PHOTOGRAPHY COVER Photographer Shanoah Bri Photography Model: Savina Rodriguez Location: The Now Now Space DESIGN & CREATIVE Maker + Made ADVERTISING Erin Peterson PUBLISHER Trending Northwest, LLC 304 W Pacific Ave #210, Spokane, WA 99201 TrendingNorthwest.com Trending Northwest is published by Trending Northwest, LLC. Contents, including photography and articles, may not be reproduced or transmitted in any form without the express written consent of Trending Northwest. All rights reserved.
Shanoah Bri Photography Dreamily Portraits Erin Peterson Molly Lindquist Monika Jacobson Christine Burns Ashley Wilson Chelsea Booker Zoe Burchard Studio Fay Ripley Erin Peterson Liz Rognes Molly Lindquist Monika Jacobson Rosie Mayfield Esteban Herevia Jr. Christine Burns Lacey Moen Ashley Wilson Chelsea Booker Lauren Trivison Fay Ripley Dr. Patricia Butterfield Bailey Bowerman
CHELSEA BOOKER is a Seattle-based freelance writer with an adventurous spirit and a passion for all travel, whether it takes her across the globe or down the street. She enjoys writing about her trips, whipping up articles on health, wellness, and personal development, and working on her novel. When she's not traveling or writing, she's reading any fantasy book she can get her hands on, tending to her rapidly expanding houseplant collection, and honing her strategy skills so she can always beat her husband at board games.
MADAM STINA RAE is an advocate and mentor in both the queer and kink communities and co-owner of Atomic Threads Boutique. She can help give insight on your sex and relationship needs and curiosities.This space is a judgement free zone where you are welcome to ask some of the most personal questions with total anonymity. Follow along with her at @atomicthreadsboutique.
FAY RIPLEY owns Red Leaf Vintage. "I have been buying and selling vintage clothing for seven years and have three locations in Spokane and Coeur d' Alene where I sell. I love vintage clothing and learning about sustainable fashion, so I hope you will join my journey in learning new things and getting excited about vintage fashion!",
DR. PAT BUTTERFIELD owns Winescape Winery with her winemaker husband Phil (a.k.a. the other Dr. Butterfield). She previously served as Dean of Nursing for WSU and is Professor Emerita at WSU's Elson S. Floyd College of Medicine.
KIM LEHR is a bar/restaurant industry veteran who owns The Accompaniment Co. and is obsessed with all things pickled. Most importantly? She's a wife and mom who wants to feed her family more healthful, wholesome, flavorful, and creative meals. Join her to share some of those meals and her small batch, local products with your family's table. Find her delicious meal ideas at @whatcheescooking on Instagram.
MONIKA JACOBSON earned her Bachelor's degree in Human Nutrition and Dietetics at Washington State University. She moved to the west side and worked as a Registered Dietitian Nutritionist in a myriad of settings–from luxury health clubs, to coaching athletes with sports nutrition, to home health clinical nutrition and various start-ups in Seattle-focused scientific wellness and genetics. Now Monika teaches adult and kid cooking classes (online and in-person) and coaches clients one-on-one with their wellness goals centered on nutrition. Follow along at @ eat_move_thrive_spokane.
MOLLY LINDQUIST is a Spokane photographer who is also on the Board of Directors for the Friends of Manito. She loves supporting both Manito Park and local artists. She has been privileged to help establish Manito Park's first Art Festival.
HAILEY KELLER is a journalistic writer with an empathic soul, and likes to (loudly) speak the truth. She wants to make sure everyone has a seat at the proverbial table. When not fervently championing the success of all those around her, Hailey likes to visit the Gaiser Conserva-
tory within Manito Park, spend hours on Etsy and consume sugary treats. Her time working at Eastern Washington University solidified her passion of advocating for those unable to advocate for themselves and establishing connections with people around the community interested in doing the same.
LACEY MOEN is the owner of Earthly Beauty Bar, an award-winning makeup artist, and an esthetician with 20 years of experience in the industry. She is also a published author, has been mentioned in People Magazine, and was recognized as a "Top 10 Influencer" and one of the "Top 12 Women in Business Leadership" by The Spokane Cd'A Living Magazine in 2018. Her proudest accomplishment, though, is being a mom to Zoey.
ASHLEY WILSON was born and raised in Eastern Washington. She is a PNW stereotype that loves flannel, camping, and coffee. But she is also a proud nerd that loves Star Wars, WWE, her chickens, and books of every genre. Food has been a lifelong passion so no one was surprised when she ended up married to a chef. She loves working in the food industry and also loves supporting restaurants, both locally and when she travels. Her writing has been featured in magazines, blogs, and newspapers, but you can find her most actively posting to her "food diary" on Instagram @ UmamiDiaries.
SPRING 2023 7 CONTRIBUTORS
ESTABAN HEREVIA JR. (he/him/his) is the President and CEO of Spokane Pride - the organization that produces the Spokane Pride Parade and Festival. He co-founded Wonderfully Made Spokane, a non-profit entrusted with increasing inclusion and celebration of LGBTQ+ people in faith communities. Esteban is the Strategist for Health Justice and Belonging at the Washington State University Elson S. Floyd College of Medicine. And, he was recently recognized in the Spokane Coeur D'Alene Living 20 under 40 list for 2021.
BAILEY BOWERMAN is a self-proclaimed recovering attorney and late bloomer. She loves words, rest, and hyping entrepreneurs and creatives. She lives in Idaho with her husband and is decidedly and unapologetically NOT outdoorsy.
LIZ ROGNES (she/her) is a writer, musician, teacher, and mom. She is a songwriter, a composer, and an essayist, and she co-founded Girls Rock Lab, a youth music program that amplifies the voices of girls and queer kids. She has an MFA in Creative Writing from Eastern Washington University, where she is now a Senior Lecturer in the Department of English and Philosophy.
LAUREN TRIVISON After graduating from Gonzaga in 2020, Lauren moved back to Olympia to start her own fashion account on Instagram. She worked at her local Nordstrom where she learned to dress all sorts of women. She says while the west-side was fun, she dearly missed Spokane and has recently moved back to reacquaint herself with the city. Now she shares daily outfit and lifestyle posts with her faves online!
TOGETHER, WE BLOOM.
8 SPRING 2023 CATEGORY
11 BREAKOUT 2023
Fashion Trends
EVERY STYLE LOVER NEEDS TO TRY
BY Lauren Trivison
In the age of social media, what we deem fashionable is moving at a rapid pace. While some trends may feel juvenile to the average adult woman, there are ways to look fashionable and current while still dressing for your body type and age. In this article, we will break down the most common body types, some style tips for each, and break down my top 10 trends to keep an eye out for this year.
10 SPRING 2023 CURRENT
With body types, there are three major categories I focus on. Straight-size women who are 00-08, mid-size women who are size 10-14, and plus-sized women who are sizes 16+. At each size, there are smaller categories like petite sizing, tall sizing, and bodies that may have larger stomachs or bigger hips. We all have a unique look to our physical appearance, which we should always celebrate and never feel like we have to dress to be "flattering". After all, fashion should be fun!
The reign of chunky sneakers is over, and it's time to adopt the sleek sneaker. Think Adidas and Veja, the cool girl brands of this year. I quite enjoy these flatter sneakers - they are fun under the wide-leg denim options that have been popular in the 2020s and they aren't as heavy on the feet. They are also great for travel and making workwear comfier.
While the early 2000s still feel like yesterday, a lot of the trends from that time are coming back! Think halter tops, bright colors, velour and low-rise jeans. For an older demographic, consider wearing the trendy cargo pant with a fitted mock neck bodysuit and the aforementioned sleek sneaker. You could also wear a brightly colored dress for a vacation or wedding, but dial it down with a minimal heel. I think when styled with modern trends, this vintage aesthetic can feel refreshed instead of dated.
SPRING 2023 11 CURRENT
SLEEK SNEAKERS
Y2K INSPIRED
BORROWED FROM THE BOYS
One style that always makes an outfit fun is the borrowed-from-the-boys look. Think oversized men's jackets or coats with satin dresses. For my plus girls, try the men's "big and tall" section for outerwear. There are so many affordable options at thrift and secondhand stores in the men's section, too. Look for luxe fabrics and tailored silhouettes. Go try them all on - don't be shy! Garments do not have a gender and shopping from the men's section makes an outfit that much more unique. Anytime you can get a contrast in an outfit, you will be automatically more fashionable. Be bold.
LAVENDER EVERYTHING
One color we saw a lot on the runways this year was lavender. Think lavender accessories like a handbag or a pair of low-heeled shoes. You could always opt for something bolder and wear a lavender dress for a graduation or a wedding. Remember, lavender evokes femininity and softness, so style it with girlier pieces or harken to the borrowed-from-the-boys trend and wear something like leather.
FLARED PANTS
The 70s are back! Pay homage to the disco era with a pair of flare pants. Whether this is via flared leggings/yoga pants or a flared piece of denim, wide-bottomed pants are all the rage this year. I enjoy wearing these pants with fitted tops like a bodysuit or tight crop top for balance.
For my gals who have some insecurities in the midsection, go with flowy and flowy by adding a blousy tunic on top. The fitted silhouette on the thighs will balance the outfit enough to not overwhelm someone's frame.
EVERYDAY PAJAMAS
Loungewear turned streetwear is one of my favorite trends to wear! You can do it in a couple of different ways, either with a matching satin set or with ribbed or waffle materials. I find the satin sets to work best in a print and look nice with a simple heel and delicate accessories. For the more casual approach, wear a matching set with a cozy bootie or sneaker. You can also layer a big jacket over the top when the weather is cold.
GARMENTS GENDER. DO NOT HAVE A
12 SPRING 2023 CURRENT
COWBOY BOOTS
Cowboy boots aren't just for westerns. I love wearing mine with dresses, jeans, and shorts. They're a fantastic workhorse shoe and more and more wide calf versions are coming out for curvier women.
I find cowboy boots to work best with oversized pieces and street styles. I've worn mine with a big blazer and leather skirts. It creates an outfit that veers away from solely country and makes the shoe more modern for 2023.
BELT BAGS
This trend has gone on for a few years now but is still worth mentioning. I love a good belt bag, especially worn over one shoulder instead of just as a fanny pack. It's a great way to have your items on your person and they are more comfortable overall than many handbag options. For those with a larger bust, many brands are now coming out with belt extenders for their bags or just longer belt bags. I think for travel and errands this is the must-have accessory for every woman!
SPRING 2023 13 CURRENT
WHITE BUTTON DOWN
There is nothing better than a simple white button down, especially when it's slightly oversized and gauzy. I find the crisper options to be outdated, but the loose boyfriend fits are very on-trend. For my bigger busted women, try this trend unbuttoned over a fitted top and high-waisted pants. It also doubles as a swimsuit coverup if you go for a lightweight option.
SLIP DRESS
Another Y2K inspired trend that is absolutely stunning is the slip dress. Whether you wear actual dresses or slip skirts, this flowy yet body-skimming style is perfect for fancier occasions.
I like to get as much use as possible from my dresses by layering sweaters or tees over top in the cooler months to create a shirt and skirt effect. Remember, juxtapositions are always in style and versatility will always reign supreme. Don't just copy what you see on social media - make every look uniquely yours.
BROWNS
Finally we have another popular color for fashion this year, brown! Whether you are going with a dark chocolate brown or a light tan, this neutral will balance out any colors in your outfit and goes nicely with black. If your style is more akin to a classic style, think of brown garments in tailored workwear. You could also lean more trendy with puffer jackets and brown accessories. Either way, we are moving away from black into its softer neutral counterpart.
Remember, fashion is what you make of it - so wear what makes you happiest and you'll never go wrong.
14 SPRING 2023 CURRENT
SPRING 2023 15 CURRENT
Always opt for something bolder.
48
Hours In Tacoma
BY Christine Burns
As Washington's third largest city, Tacoma offers a fun-filled adventure, no matter your interests. Cars, blown-glass art, and a special nature experience are just a few of the attractions awaiting you during 48 hours in Tacoma.
Tacoma is a beautiful city that offers a unique glimpse into Washington's history and culture. Tacoma was originally called "The City of Destiny'' due to its ties to railroads back in the day. It's home to major Washington cultural landmarks, such as the American Car Museum, the Museum of Glass, and the Tacoma Dome.
Ready to plan the best 48 hours in Tacoma? Are you looking for a great Tacoma visitor's guide? Keep reading to see our favorite itinerary.
Things To Do
LEMAY-AMERICA'S CAR MUSEUM
The LeMay-America's Car Museum celebrates a century of automobile history. The museum – with its grill-designed front entrance – features more than 300 cars displayed by era or theme. Most of the museum's vehicles are part of a collection exceeding 3,000 that once belonged to Harold LeMay, who, at the time of his death in 2000, had amassed the largest private
SPRING 2023 17 WANDER 4848
Other vehicles on display are on loan from other collections. From Model-Ts to solar-powered cars, the LeMay museum provides a fun experience over four stories.
MUSEUM OF GLASS
Watch artists create blown-glass art as part of your visit to the Museum of Glass. As the hometown to internationally-recognized artist Dale Chihuly, Tacoma's glass museum greets visitors with a reflection pool, whose white glass art installation illuminates at night, creating an amazing view of the downtown attraction. Inside, tour the facility, with special exhibits highlighting the talents of other glassblowing artists. Afterward, check out other blown-glass art on the pedestrian bridge next to the museum.
DUNE PENINSULA PARK
An 11-acre park, named in honor of "Dune" author and Tacoma native Frank Herbert, Dune Peninsula Park offers a majestic view of Mt. Rainier as part of its trail loop. Built at the former site of a lead and copper smelter plant, with prairie grass and flowers growing along the trail, the park is considered a major accomplishment for the area's environment. With mounds for children to play and tables for picnics, Dune Peninsula is a great spot for family time. As you walk along the trail, look for harbor seals lounging and frolicking on the rocks in Puget Sound. An art installation features sandworms, as depicted in the novel. Other artwork highlights the area's industrial past.
WASHINGTON STATE HISTORY MUSEUM
Take a stroll through the state's history with interactive exhibits at the Washington State History Museum. From its earliest days, including Native American life through European arrival and settlement, the museum's displays include dioramas and special exhibits. The Washington State History Museum also features a look at the state's diverse landscape, from mountains to prairies.
POINT DEFIANCE PARK
It's easy to spend a full day at Point Defiance Park and still feel like you could use more time. With attractions including a large rose and flower garden, beach, zoo, historic
trading post, and a five-mile drive, Point Defiance Park is a beautiful area in Tacoma.
Start your visit with a walk through the park's gardens. With nine gardens, you'll enjoy the beauty and fragrance of roses, dahlias, fuchsias, and iris flowers, as well as rhododendrons. The herb and native Pacific Northwest gardens offer additional looks at botanicals. The Japanese Garden features lanterns, as well as a small tea house, footbridge, and pine trees. It's a picturesque area for relaxing and creating a little zen.
Owen Beach is an excellent spot for sunbathing, walking along the rocky shore, and people-watching. Children, and some adults, enjoy wading into the water for a short swim or a little splashing about. Bring a kayak and enjoy some water sports.
Point Defiance Zoo and Aquarium is home to a group of red wolves, once close to extinct. The zoo has worked over the past few decades to repopulate the wolves, so you'll see a few of them, including young ones, if you're lucky, as well as placards explaining the wolves' history and what is being done to save them. The zoo also has a fun otter exhibit, as well as others showcasing elephants, penguins, and a number of additional animals. The zoo's aquarium includes a look at marine life native to the Pacific Northwest and the Pacific Ocean.
Five Mile Drive includes a drive along the park's woods, including pull-offs with impressive views of the Puget Sound. Hiking trails are abundant in the woods, in case you feel like hoofing it for a while. You'll also see raccoons asking for food on the side of the road.
Fort Nisqually Living History Museum takes you back to the early 1800s, when the Hudson Bay Company established the post for trade among Indigenous tribes, as well as European fur trappers. With actors portraying residents of the fort, you'll see them doing work typical of the era, such as blacksmithing. Tour the buildings inside the fort for a realistic look at life during that time.
NORTHWEST TREK WILDLIFE PARK
With almost 725 acres, Northwest Trek Wildlife Park takes you on an adventure, offering up-close looks at animals native to the
Pacific Northwest, including bobcats, black bears, moose, and even badgers. A paved walking path leads visitors along a route with great views of animals and forests. For an even more personal experience, reserve a spot on a wildlife tour that takes your personal vehicle along a paved road inside the park's free roaming area, where you'll see elk and bison herds, as well as mountain goats. Or, for true close-ups of the animals, hop aboard a Jeep and take an off-road ride on a 90-minute Keeper's Adventure Tour.
TACOMA ART MUSEUM
Focusing on Pacific Northwest art, the Tacoma Art Museum's collection includes more than 5,300 pieces, ranging from Dale Chihuly and Japanese woodblock prints to studio art jewelry. The museum is also home to the Haub Family collection of western art, consisting of more than 300 pieces covering two centuries. Opened in 1935, the TAM moved to its current location in 2003. The art museum is part of the city's Museum District, which also includes the Museum of Glass, State History Museum, Children's Museum, and Historic Union Station.
OTHER ATTRACTIONS
Tacoma is home to great parks, such as Wright Park, which began as a 20-acre donation to help grow trees in the city's early days. The park is now around 30 acres and has hundreds of trees along with statues, and a pond among its attractions. The W.W. Seymour Conservatory includes a greenhouse that's home to flower and plant exhibits at Wright Park.
The Tacoma Chinese Reconciliation Park along the waterfront invites visitors into the interactive exhibit recognizing the Chinese people who were forced out of the city in 1885 during a period of anti-Chinese hate. The day after forcing people out, Chinese-owned businesses were destroyed. The park was established in the early 1990s during a period of reconciliation, and takes visitors along a historical path of the period's events, ending with reconciliation.
Places to Eat
Tacoma, Washington is full of delicious restaurants and bars. Some of the best restaurants are in downtown Tacoma and near the
20 SPRING 2023 WANDER
Tacoma
waterfront. Here's our picks for breakfast, lunch and dinner in Tacoma:
Breakfast: WAFFLE STOP
You'll find something for everyone in the family at Waffle Stop. This cute breakfast restaurant emanates classic diner vibes and serves up all your favorite breakfast items. Their Bacon Cookie Butter Waffle is the perfect mix of sweet and savory, with a Pearl Sugar Waffle, cookie butter, whipped cream, and crumbles of maple-glazed bacon.
And if you like mimosas, definitely check out their Elderflower Mimosa.
Find the Waffle Shop at 2710 N. Proctor St Tacoma, WA.
Lunch:
MOSHI
MOSHI TACOMA
Moshi Moshi is one of the coolest ramen restaurants we've seen in a long time. With many of the traditional ramen dishes and twists on the classics, Moshi Moshi is one of the best ramen bars in Tacoma. We recommend stopping by for lunch and choosing your food and cocktails from their massive menu.
Their Impossi-Bau is a great option for vegans. We also recommend their Coconut Green Curry and Toasted Miso Scallion. Moshi Moshi Tacoma also offers gluten-free ramen noodles on request.
Finding Moshi Moshi can be a little difficult because there's no sign out front. Find them at 110 Suite B N Tacoma Ave.
Dinner:
LOBSTER
SHOP TACOMA
The Lobster Shop in Tacoma is an award-winning restaurant. The patio deck has views stretching across the horizon of Commencement Bay. This premier location means abundant fresh lobsters for customers.
Their menu includes more than lobster - but you definitely don't want to miss trying their decadent lobster dishes. Some of the other delicious items on their menu include Sweet Chili Prawns and Seared Ahi.
With great views and incredible food, Lobster Shop is one of the best Tacoma waterfront restaurants. Try them out at 4015 Ruston Way.
Wine & Libations: STINK & EL TUFO
Fun fact: El Tufo means "stink" in Spanish. Stink & El Tufo are a cheese shop and wine restaurant in Tacoma. They lovingly call Stink the "aroma of Tacoma" and offer family-friendly dining with small, flavorful portions. The extensive wine list at El Tufo feels like you're exploring Europe.
Smell the aroma at 628 St. Helens Ave.
Where to Stay
Tacoma has several great hotels, bed and breakfasts, and guest houses to stay in. Here are our favorite hotels in Tacoma, including budget-friendly places, the best chain hotels, and luxury hotels in Tacoma.
On A Budget: LA QUINTA INN & SUITES BY WYNDHAM TACOMA-WASHINGTON
Looking for a budget-friendly place to rest your head, take a shower, and get back out into the beautiful evergreens? There are many cheap hotels in Tacoma where you can get some rest for the night. The La Quinta Inn & Suites by Wyndham is a great option for the budget-conscious traveler who wants clean and modern accommodations. The La Quinta Inn & Suites in Tacoma also offers a complimentary breakfast.
The La Quinta Inn is family friendly and close enough to major streets that it makes traveling to all Tacoma has to offer a breeze. Stay in the La Quinta at 1425 E 27th St.
Mid-Tier Location:
COURTYARD BY MARRIOTT DOWNTOWN TACOMA
If you're visiting Tacoma, you may want to spend the night in one of the many reliable chain hotels in the area. Courtyard by Marriott Downtown Tacoma is a great choice.
SPRING 2023 21 WANDER
Tacoma
This modern contemporary hotel is in the middle of the financial and theater districts, making this a perfect home base for travelers that want to see a show while they explore the city. The Courtyard by Marriott in downtown Tacoma is close to many tourist attractions, including the Tacoma Convention Center and museums. It's also close to the Tacoma light rail for easy and inexpensive travel.
Each of the rooms are upscale with a contemporary style and have large windows that give you a beautiful view of the Tacoma skyline. Find the Courtyard by Marriott Downtown Tacoma at 1515 Commerce Street.
Luxury Hotel:
THE SILVER CLOUD HOTEL AT POINT RUSTON WATERFRONT
There aren't many luxury hotels in Tacoma, but this one is one of our favorites! The Silver Cloud Inn Tacoma is the ideal home base for the traveler that wants to experience the best of Tacoma while enjoying pristine views of the waterfront. The Silver Cloud Hotel is close to staple Tacoma attractions, including the Museum of Glass.
At The Silver Cloud Hotel, you'll find 4-star accommodations with modern amenities, beautiful views, and premier rooms. Plus it's one of the most gorgeous hotels on the Tacoma waterfront.
The Silver Cloud Hotel at Point Ruston Waterfront is also close to many Tacoma waterfront restaurants. Check into the Silver Cloud Hotel at 2317 North Ruston Way.
Plan Your Visit to Tacoma Today!
Tacoma has a lot to offer and do, so plan your two-day visit accordingly to pack in as much as you can. While the idea is to explore the city in 48 hours, perhaps you'll want to add another day to your trip. Or, better yet, plan your next visit.
22 SPRING 2023 WANDER 48
SCAN ME TO READ MORE WANDER ARTICLES ONLINE!
Epic Olympic National Park Beaches You Need to Visit
BY Chelsea Booker
24 SPRING 2023 CATEGORY
Wild, majestic, and untamed, the beaches within the Olympic National Park are some of the most incredible on the West Coast.
They're distinct from beaches in warmer places like California and Hawaii.
Even in the summer, you'll want to bring hiking boots and layers to explore these rugged terrains.
Don't let the cooler temperatures scare you off, though. These beaches are some of Washington state's best features.
Plan a trip to Washington's coast to backpack, camp, explore tidepools, and admire the beautiful landscape.
There are some key things you'll want to know about the Olympic National Park beaches before you go, so read on to get an idea of which ones will suit you best.
KALALOCH BEACHES
Kalaloch may be one of the most well-known places along the Olympic National Park's coast.
There are a variety of beaches in this area that hikers, people with kids, couples or solo travelers can enjoy.
The beaches are off Highway 101, and if you want to explore all of them, I highly recommend at least a weekend stay in this popular resort area.
Kalaloch Lodge or Kalaloch Campground are great choices. However, they're very popular and spots fill up quickly, so make your Kalaloch Lodge or Kalaloch Campground reservations well in advance.
SPRING 2023 25 WANDER
26 SPRING 2023 WANDER 1 2
KALALOCH BEACH NEAR KALALOCH CAMPGROUND
This is one of the most popular beaches in Kalaloch. It's an easy walk down to the beach from the Kalaloch Campground, and once you're at the beach, you have miles of beautiful, sandy shore to explore. Kalaloch Beach is for everyone.
One of the highlights of visiting this particular beach is the Tree of Life. This is an epic, natural wonder that's hard to believe until you see it.
A Sitka Spruce sits suspended between two cliffs with its roots hanging between them, forming the Tree Root Cave. Even though the roots receive no nutrients from the soil, the tree has continued to live and thrive for years.
It's an incredible sight and is a must-see if you come to Kalaloch Beach.
BEACH 1 AND BEACH 2
Beaches 1 and 2 in the Kalaloch area are also popular. You'll need to hike through a scenic forest filled with pretty ferns and spruce burls to get to them.
The hike is short and relatively simple for people of most abilities. It's pretty doable for kids, too. Just keep in mind that depending on the season, you may have to climb over fallen tree branches or driftwood on the way down.
These beaches have a mix of pebbly and sandy stretches with pristine views of the crashing waves, and plenty of space to run around and explore.
You'll find driftwood aplenty here, and can sit, watch the waves, read a book or look out for wildlife.
BEACH 3 AND BEACH 4
Explore the tide pools at Beaches 3 and 4. These also require relatively short, but semi-steep, and sometimes muddy hikes, to get to them. Still, the trails are fairly well-maintained.
If tide-pooling is what you're most excited about, make sure you visit at low tide. That way, you can get to the rocks (the rock formations themselves are also impressive) and do some searching.
You'll see all manner of critters. Search for crabs, barnacles, sea stars, anemones, sea snails and more.
Be sure if you partake in this activity, you wear shoes with a good grip to avoid falling on the slippery rocks.
LA PUSH BEACHES
The La Push beaches and the surrounding area rose in popularity, in part because it was featured in the "Twilight" book series.
The area is more than just a place for vampires, werewolves, and teen-romance-book enthusiasts, though.
The La Push area is one of the best places to stay on the Washington coast, particularly if you're visiting with family. You've got ample options for where to stay in the La Push area.
First Beach and Second Beach (not to be confused with Beach 1 and Beach 2 in Kalaloch) are two popular beaches here.
SPRING 2023 27 WANDER
3
Here's what you can expect from each of them:
FIRST BEACH
First Beach in the Olympic National Park is one of the most accessible beaches on the Olympic National Park coast, as you don't need to hike in to get there. You just park in the lot and you're steps from the beach!
If you're visiting with older relatives or young kids, this is a great option. It's less remote and closer to civilization, including a resort, restaurant and coffee stand.
The beach is long and there's plenty of room to spread out. In particular, First Beach is known for having some giant pieces of driftwood. Little ones and young-at-heart adults will enjoy climbing and exploring the sun-bleached logs.
You can spend time here watching eagles, sea lions and other animals. Dogs are welcome on the beach, but just make sure you're respectful of the area and keep them away from wildlife.
People in search of surfing opportunities will also find some spots for it at First Beach.
SECOND BEACH
La Push's Second Beach is absolutely beautiful. However, it does require a 1-mile hike to get to the beach.
The trail can be steep and might be a bit difficult for unseasoned hikers. You'll want to make sure you're prepared for the climb and that you bring the appropriate footwear. Since it's a little more work to get to, Second Beach is usually less crowded than First Beach.
At low tide, you can go far out, even to the sea stacks, to explore the tide pools. Just watch the tides carefully if you do this, as you don't want to get stranded when the tide comes back in.
If you're interested in camping along the coast, Second Beach is a great choice. You'll need to make sure you get a camping permit ahead of time.
Once you set up camp, spend time admiring the pretty landscape around you, watching the sunset and stargazing at nightfall.
RUBY BEACH
Ruby Beach is one of the prettiest beaches in the Olympic National Park. It's 8 miles north of the Kalaloch area, and about 35 minutes from Forks.
Because of its picturesque landscape, it's a popular place for couples.
After you park in the Ruby Beach lot, you'll walk down a short path, and then come to a pretty hefty pile of driftwood. Make sure you bring the right shoes because you'll have to climb over this pile to get to the beach.
Once you're there, you'll be blown away by the surrounding landscape.
Admire the sea stacks in the distance, search the tide pools or bring a blanket and some snacks to have a romantic picnic while you watch the sunset.
This is one of the best beaches in the Olympic National Park, and it's no secret. It can get a little crowded during the height of the season, so keep that in mind if you're searching for solitude.
RIALTO BEACH
Rialto Beach is one of the coolest Olympic National Park beaches! It's one of my personal favorites and a standout among the rest.
You don't need to hike to Rialto. Just park in the designated lot and walk down to the beach. Lots of people can experience this epic area.
One of the most popular things to do at Rialto Beach is to hike to Hole-in-the-Wall. This is a simple, 2-mile walk along the sand.
Hole-in-the-Wall is an arch formed in a rock face that was carved from waves eroding it over many years.
At low tide, you can walk through the arch, search the tidepools and emerge on the other side at another beach. Make sure you plan for the tides. It's impossible to cross Hole-in-the-Wall at high tide.
While the beaches in the Olympic National Park are beautiful on sunny days, visiting Rialto on a gloomy day is equally worth it. Admire the black pebbles and sand, wet from the surf, watch the fog roll in from the distance, and listen to the pounding waves crashing against the shore.
It all feels like something out of a fantasy novel.
SHI SHI BEACH
Shi Shi Beach is magnificent. It's one of the most ideal beaches for camping and hiking, especially if you're in search of beauty and solitude.
Because this beach is on the Makah Reservation you'll need both a Makah Recreation Pass and an Olympic National Park Wilderness Permit to hike and camp here.
Shi Shi Beach is one of the furthest north beaches in the state. The hike here is about 8 miles round trip. The longer hike and seclusion mean this beach is better for someone more conditioned, and it may not be suitable for kids.
Hardcore photographers will have a lot to capture at Shi Shi Beach, given all the enchanting natural features. Point of Arches, in particular, is a great place for photos, exploring the rocky terrain and admiring the creatures in the tidepools.
If you're looking for a serene Olympic National Park beach adventure, Shi Shi Beach is it.
28 SPRING 2023 WANDER
SPRING 2023 29 WANDER
SAND POINT
Sand Point is not the most popular Olympic National Park beach compared to others on this list, but it's still a good one to go to if you want an easier hike and/or beach camping.
The trail is flat and well-maintained. Even though it's one of the longer hikes to a beach (about 6 miles round trip), the trail is easy and suitable for kids.
You'll find the trailhead at the Lake Ozette Campground which has plenty of parking.
As with other camping in the area, make sure you get a permit before you come.
After making your way along the trail and through the forest, you'll come to a wide, expansive, sandy beach.
There are plenty of spots to camp and a lot to explore. Watch for eagles, sandpipers, seals and herons.
Walk to the rocky areas, and toward the headland to explore the tidepools. Or simply relax and enjoy a peaceful camping adventure.
BONUS BEACH BEYOND SAND POINT: YELLOW BANKS
If you're up for a longer Olympic National Park beach hike and enjoy backpacking, I recommend going beyond Sand Point to Yellow Banks. This is a beach you can only reach by crossing the headland. You must have a tide chart (which you can pick up at any ranger station) to ensure you cross at the right time.
Yellow Banks is more secluded than Sand Point, so if you're looking to get away from people, this is a great choice. There are plenty of little driftwood "sculptures" to admire, along with trees rising dramatically behind you. Sunsets and stargazing opportunities are also prime.
VIEW
OF THE SUNSET THROUGH THE DRIFTWOOD AT YELLOW BANKS.
SOME OF THE ROCKS NEAR THE HEADLAND AT SAND POINT.
MY HUSBAND AND MOTHER-IN-LAW A
(PHOTO CREDIT: ZOË BURCHARD STUDIO).
BEACH FOR PRETTY OBVIOUS REASONS
MY HUSBAND AND I HAD OUR ENGAGEMENT PHOTOS TAKEN ON RUBY
EVEN IN JUNE, IT WAS FOGGY AND A BIT CHILLY ON THE BEACH. 1 — 2 — 3 — 4 — 5 — 4 5
30 SPRING 2023 WANDER
The beaches in the Olympic National Park are truly breathtaking, and I hope you now feel ready to plan a trip there. There's no better way to get close to nature than visiting Olympic National Park beaches. From the varied wildlife and diverse terrain to the breathtaking views, these beaches provide an unrivaled experience you won't soon forget. Whether you come for an afternoon or camp for a week, I can guarantee you will not regret your decision!
SEA ANEMONES AMONGST THE ROCKS.
SPRING 2023 31
ONE'S DESTINATION IS NEVER A PLACE, BUT A NEW WAY OF SEEING THINGS.
— HENRY MILLER
THE MUSIC OF BELONGING
BY Erin Peterson
When it comes to building community, Jennifer Vigil understands what it means to belong. Born and raised in Spokane, Washington, her strategic, thoughtful, big-hearted work comes from a lifetime of closely-connected family life, with music at its heart.
"When I was growing up," Jennifer said, "I thought every family had a band. I thought every family played music … and that family, food and music were present at everything." Complementing her deep roots in community through music, she has 26 years of experience in healthcare operations, from executive leadership, to Native American health, migrant and seasonal outreach, high-end cosmetics, private practice, and public health operations that gives her deeply impactful, practical ways to positively impact the greater community as well. Jennifer's care for people individually and systematically has driven her to use her unique skill set to bring people together.
Because music is a common language for so many people, it has been a key component of Jennifer's life - both personally and professionally.
"There is a certain rhythm and sensitivity to the Health Equity work that I do. It's important to establish a foundation, structure, and cadence so that the opportune moments of sensitivity and creativity can be maximized. Like music, it's a good mix of right-brain and left-brain, strong and soft. Ultimately, the goal is to reach people where they are." It is that same foundation of music and belonging that allows Jennifer to host live salsa events with Son Dulce, which produces big-bandstyle evenings with dance lessons and bombastic performances, open to all ages.
These events put a smile on the face, and a shimmy in the hips of everyone who attends, from children who have never experienced it, to "viejitos" who haven't been to their home country in decades; The music brings them to their feet and brings them together. "I consider it the highest compliment when someone tells me that the music reminds them of their home. We just want to make sure that we are producing events that really uplift the community.
32 SPRING 2023 MEET
"There is a certain rhythm and sensitivity to the Health Equity work that I do. It's important to establish a foundation, structure, and cadence so that the opportune moments of sensitivity and creativity can be maximized. Like music, it's a good mix of rightbrain and left-brain, strong and soft. Ultimately, the goal is to reach people where they are."
SPRING 2023 CATEGORY 33
Something we are seeing in the social, cultural, and professional aspects of Spokane, is that we have some wonderful educational institutions which draw people of color and people of various backgrounds, but it's also common to see these people leave after graduation in pursuit of greater cultural, social, and professional opportunities.
These performances have a unique translation into the work Jennifer does within the healthcare system here in Washington state. Jennifer clarifies, "Music ties us together and cultivates a sense of belonging, but fulfilling basic needs for our community also ties us together in a similar way. It's vital. If you are part of a marginalized community, it's easy to feel like you are ostracized. Just like when you hear music that makes you feel like home, people need to experience the same feeling in our healthcare industry and other professional fields. People need to feel a sense of belonging to their community on many levels."
The work that she does centers around the social drivers of health. Her role as the Health Equity & Outreach Program Manager at MultiCare Health System reflects her commitment to community wellness that goes beyond each appointment.
"Receiving clinical care in a doctor's office is a piece of the larger puzzle. If you look at a pie chart of what impacts healthcare, it is far more than the clinical piece. It also has to do with access, socioeconomic status, insurance coverage, where you live, transportation, language barriers, food scarcity, and so many other factors that impact daily life. I equate this to a backpack that each person carries," Jennifer explains. "The more impacted a person is by these social determinants of health, the heavier the backpack becomes. Sometimes the burden becomes unbearable."
It may not be the only thing that keeps vibrant professionals in Spokane, but it certainly contributes to the cultural and social fabric of our community and creates an atmosphere of belonging. It takes some particular decision-making. We want it to be wholesome and bring a genuine sense of joy and belonging to people," she says. This year we are able to add the component of a food or clothing drive to each event, to benefit different non-profits in the area. Every little bit helps."
If you've been lucky enough to attend one of these events, you know that one of the night's richest forms of entertainment is the people-watching. The faces of those who are enjoying the music either from their seat, observing near the dance floor, or succumbing to the rhythm and getting down without a care in the world are all united in the radiant joy that they express. It's pure magic.
Jennifer notes that MultiCare shares her commitment to community wellness, including their investment in other local organizations that help positively impact documented health needs of the community through their Community Partnership Fund. In 2022, this fund awarded $250,000 to 15 local organizations in the Inland Northwest.
Each organization that receives Community Partnership Fund support seeks to fulfill a need in our community that is caused by inequity - whether it's cultural, financial, or environmental. Correcting these disparities can be transformative to the lives of those affected, and that is a large part of the work that Jennifer addresses in her program manager role, in partnership with MultiCare's entire Inland Northwest regional team and like-minded community organizations.
SPRING 2023 CATEGORY 34
"I wanted to create high-end performances where any member of my family or community would be proud to come and participate."
FOSTER A
TRUE SENSE
OF BELONGING
Jennifer explains, "We can come together to find the resources and foster a true sense of belonging, especially when it means serving marginalized communities before issues become acute or emergent. Every dollar has a job to do. Every person has a purpose. All work has its own rhythm. We can do this."
SPRING 2023 35 MEET
'I WANT TO BE THE PERSON I WISH I HAD' :
BY Liz Rognes
When I walk into Panoramic Dreams Studio, Devonte Pearson, Spokane hip-hop artist and audio engineer known in the music scene as T.S the Solution, is there, wearing a black hat with the word "Dreams" embroidered in cursive, gold thread.
HE WELCOMES ME WITH A HANDSHAKE, THEN IMMEDIATELY TURNS MY ATTENTION TO A DISPLAY OF SHIRTS AND HATS IN THE LOBBY, FROM LOCAL APPAREL LINE ALPHA GRAND.
Pearson says he wants to feature local brands in the waiting area of his studio, and he hopes to bring in others. I've only been with Pearson for three minutes, and already I know he's the kind of guy who wants to uplift the people around him.
This spirit is apparent in the way he talks about the studio and his own music. Mentorship and bridging gaps for others are clear drivers of his purpose. "I want to be the person I wish I had when I was coming up in music," he says. He wants to help other musicians navigate an industry that can be confusing and separated into pockets. "Making music a career is not a one-man band," he says. "It takes teams upon teams."
Founded by Pearson as an independent record label in 2015, Panoramic Dreams is now a recording studio that recently opened at a new location in East Central Spokane. While Pearson has started taking clients, a grand opening is still forthcoming. The studio can
cater to musicians across genres, but its main focus is on hip-hop and its sub-genres.
"What I noticed is, there wasn't anything central, and we want to facilitate collaboration. We're already doing it internally," Pearson says, referring to his work in-studio with D.J. Spicy Ketchup, "and we're hungry enough to bring in other people and say, 'What do you have going on? We'd love to sit down and chat about your project and bring in new perspectives.'"
There are a lot of creative people in Spokane, and Pearson sees his role as a kind of bridge that helps people connect in a positive and safe environment. He points to bars as places where people find connection, but he wants to offer an alternative, where people can collaborate without being around alcohol and the club scene.
We tour the building, which hosts a few other audio engineers, three studios, and a conference room with a large table set up in the middle. Pearson says this room is his favorite because it's where he gets to hear about other people's dreams.
Pearson is a man who is service-minded and dream-oriented. He's always thinking about the other people in the room. He is encouraging and ready to help. He's got the table, and he wants you to join him.
T.S the Solution's latest single, "Eternity", released in late 2021 and produced by Trenton Latrell, articulates this sentiment. Over an easy tempo, with melodic background vocals supporting him through warm, wide-space reverb, T.S the Solution says:
36 SPRING 2023 MEET
T.S THE SOLUTION
SPRING 2023 37 MEET
At his table in the conference room, Pearson mentions that his twins, who are homeschooled, sometimes do their homework here. Pearson and his wife, Lydia Pearson, are both entrepreneurs who see parenthood as an invitation to build their dreams, rather than a stumbling block to being self-employed creatives. "My kids will be the reason I do accomplish something, not the reason I don't," he says.
The kids will be ten this October, and they are Pearson's biggest inspiration. He describes himself as family-oriented, and the way he talks about his wife and kids demonstrates this. When I ask him when he moved to Spokane, he pauses and thinks. "The kids were…almost two," he says, measuring time by fatherhood.
He moved to Spokane in 2014, from the Westside, though he was born in Long Beach, California. He took a year to settle into the city and listen, and in 2016 he released Purple in Spokane, a four-track E.P. that established him as a Spokane artist. From its first track, "Visions", to its last, "Comfort Zone", T. S the Solution tells his story of moving out of his comfort zone and dreaming about the future he wants to create for himself and his family.
As a kid, Pearson remembers riding around in the car with his mom, sisters, and aunts, listening to 90s R & B. The soundtrack of his childhood was the music they were listening to: Mary J. Blige, Avant, Ginuwine, and Immature. He woke up in the morning to R & B playing in the house, he drove around to it, he played video games while listening to it. He smiles when he talks about being raised by women. "I got comfortable with a lot of emotions," he says. And he says this comes out in his own songwriting—he is able to channel his own emotions through music and storytelling.
That's a hallmark of T.S the Solution's work. He writes about his own experiences and he builds rhymes that echo the themes he talks about—dreaming, unity, overcoming, inviting people to his table. As he got older, he listened to rappers like 50 Cent, Ludacris, and T.I., who were open to talking about their own real-life stories.
As a young musician, Pearson looked up to his cousin, who was a major male role model in his life. "He was a very smart dude," Pearson says, "but he would run the streets." Under the moniker T. Savage, Pearson began to follow his cousin's path. "I thought that was the route, but the more I did it, I realized I'm either gonna be dead or in jail." He says he turned away from the street lifestyle, but this left him moving in a different direction than his friends, and for a while, he felt alone. Shifting from the identity he had crafted as T. Savage, he went by the name Tey Solo before eventually adopting a name that encompassed all of his pasts: T.S the Solution.
Pearson took it upon himself to become a mentor for others. Representation matters to him, and he says that kids coming up now deserve to see people like themselves in the industry, onstage and behind the console. Pearson wants his studio to be a place where musicians like him—people who've experienced what he has, like moving away from the streets, people who are young parents, young Black men—can feel understood. He says that an important element in bringing a song to life is the level of trust between artists, producers, and engineers, and relatability can help build that trust.
But Pearson also sees value in reaching out across genres and working with people with different musical and life experiences. "I'm not afraid to go outside the box. I'll reach out to Water Monster or Vanna Oh!, or whatever the vibe is. I love collaborating across genres—that's what hip hop started out as anyway, a blend of different genres, and that's what makes it cool."
These days, Pearson tells me, he is listening to introspective music and chillhop like Mick Jenkins, J. Cole, and Kendrick Lamar, but he also takes this moment to hype up the local scene. He points to local musicians Chuck Vibes, John MF Ward, Jinx, ExZac Change and Matisse, and Jango. He's listening to Spokane.
As for his own music, Pearson is currently working on Purple in Spokane II. He says this will be his most musical project. He'll produce beats and lyrics, but he's also going to bring in more instrumentalists. He's ready for more collaboration.
Purple in Spokane II will act like another kind of bridge, an album that takes us from T.S the Solution's first years in Spokane to now. And, really, so much of Pearson's work is about bridging—creating paths between sub-communities, using his own life experience to build positive community connections, and extending opportunities to others through mentorship.
"I'm all about dreams," Pearson tells me. He's looking toward possibilities, and even his name is a kind of hopeful extension.
If dreams are another way of finding a way forward, of taking what's already here and imagining new ways to connect and build, that is clearly what Pearson is all about.
38 SPRING 2023 MEET
"T.S IS WHO I AM," HE SAYS. "THE SOLUTION IS WHO I WANT TO BE."
"Got all my people at the table, I'm just here to cater / I'm serving game that you can savor / I play chef and waiter."
Interior and exterior painting
Drywall installation and repair
Furniture assembly & TV mounting
Basement remodeling & more
Call or Text for a Free Estimate 509-761-9846
www.bbhmr.com
40 SPRING 2023 CATEGORY
21 MOST INFLUENTIAL PEOPLE IN THE INLAND NORTHWEST
INTRO BY Erin Peterson PROFILES BY Stephanie Regalado
THE WORD "INFLUENCER" HAS UNIQUE IMPLICATIONS IN OUR DAY AND AGE, but ultimately, influence is won in our everyday words and actions through consistency and trust long-term. There are people who are doing compelling, community-changing work in our region that can go unnoticed by the greater community (but not for those who are impacted by their dynamic contributions), or it can launch them into local-stardom as a kind of celebrity with a devoted following. When we discussed this honor as a team, we wanted to create a list of trusted individuals who you should know in Spokane in a variety of fields who are making a difference, and whose reputations for being forward-thinking and inclusive set them apart.
SPRING 2023 41 MEET 2023 H I G HLIGHTING THE B EST OFOUR REGI O N TRENDING NORT H WEST MAGAZINE
POLITICS
Betsy Wilkerson
SPOKANE CITY COUNCIL
Leading the charge with civility, respect, and honor, Betsy Wilkerson is a steward of all in the pursuit of big, real, systemic change. With highly tuned ears and crystal clear vision, she knows how and where Spokane fails its citizens and speaks of opportunities for progression and an elevation that positively affect the collective.
NONPROFIT Rick Clark
GIVING BACKPACKS | SPOKANE QUARANTEAM
The man, the myth, the legend has single handedly changed the way Spokane gives. Rick Clark's 35,000+ Spokane Quaranteam angels have flown a little girl and her mom home for her final days and given gift cards to families of an entire school (and so much more), proving that light, indeed, attracts light.
42 SPRING 2023 MEET
JOURNALISM Rob Curley THE SPOKESMAN-REVIEW
The region didn't know what was in store for them when Rob Curley moved to Spokane to become the editor for The Spokesman-Review. Where most people prefer to avoid the discomforts of change, Rob blooms within it. His inquisitive nature, playful sense of storytelling, and empowering leadership have kept the newspaper relevant through challenging times.
ENTERTAINMENT Mandi Price
HOLLYWOOD PRODUCER
She grew her wings while walking on the soil of our city, and she's been using them to soar ever since. As a sought-after producer of hits such as "Little Fires Everywhere" and the #1 show in America for its debut on Amazon Prime, "Daisy Jones & the Six," Mandi Price proves that big dreams—even big Hollywood dreams—come true to those who believe in themselves and work their buns off.
SPRING 2023 43
NONPROFIT Rick Welliver
SPOKANE BOXING
Rick Welliver proves that if you build it where they are—and provide a safe, empowering space—they will come, and they will thrive. Where society forgets to make kids feel special, Rick steps in to help them see how marvelous they are while allowing them to express themselves physically, powerfully, and successfully.
FOOD
Celeste Shaw
CHAPS BAKERY
Where food is love, Celeste Shaw is the doting mother who watches over our region, warmly inviting us all into her beautiful Chaps Bakery home to fill our bellies with the deliciousness of fresh, unforgettable comfort food, and our hearts with an experience of old-fashioned, time- and truth-tested community.
44 SPRING 2023 CATEGORY
JOURNALISM Luke Baumgarten
RANGE MEDIA
If it's an audacious desire for the elevation of arts, media, and truth-telling in our region, Luke Baumgarten's hands are molding it. As a founder of Terrain and RANGE Media, and his latest venture - the Spokane Workers' Cooperative, his enterprises break down barriers to access in order for all members of the community to progress into the spaces that make our city shine.
NONPROFIT Julie Garcia
JEWELS HELPING HANDS
Julie Garcia walks directly into the spaces most people turn away from. A fierce woman of compassion who sees and honors the humanity within everyone she encounters,Julie is particularly drawn to serve those who aren't afforded the luxuries of safe places, nourishment, and the basic necessities most of us take for granted.
FOOD Alison Collins
BOOTS BAKERY AND LOUNGE
Thanks to Alison Collins, no animals are harmed in the making of the city's most succulently delicious vegan goods. As the owner of Boots Bakery and Lounge, Alison has created a humanity-centered space with a big heart for all, never turning away customers who may not be customarily welcomed at other establishments.
PHILANTHROPY Michelle Starry
STARRY FINANCIAL GROUP
Michelle Starry has been managing other people's money for more than 25 years while scattering her own like fairy dust to support many Inland Northwest community organizations and nonprofits. She passionately invests her time to help strengthen the community and connect individuals and organizations to create beneficial partnerships.
46 SPRING 2023
JOURNALISM
Hayley Guenthner
COMPASSIONATE ADDICTION TREATMENT
Hundreds of people reach out to "Help Me Hayley" every month hoping Hayley Guenthner will find a solution to a challenge, help solve a crime, or otherwise be an advocate. As an award-winning, fan-favorite reporter and anchor, Hayley has earned the trust of our region, making it a better, more hope-filled place for all.
NONPROFIT
Hallie Burchinal
COMPASSIONATE ADDICTION TREATMENT
As a previously unhoused person, Hallie Burchinal has a strong understanding of the importance of hope and community. As co-founder and executive director of Compassionate Addiction Treatment, Hallie is passionate about harm reduction, meeting people exactly where they are, street outreach, and supporting all paths to recovery.
SPRING 2023 47
FOOD
Sharee Moss
BIRDIE'S PIE SHOP
Sharee Moss learned how to build connections and love people through pies from an early age. Now, three years after making her dream come true of opening her own shop, Sharee's pies are filled with a whole lot of heart, soul, and flavor and have been recognized as the best in the region and one of the best in the nation.
SOCIAL JUSTICE
Ryan Oelrich
PRIORITY SPOKANE
A part-time hobbit with the Spokane Hobbit House to prove it, Ryan Oelrich walks in big shoes as a nonprofit guru. Ryan is a community advocate who works as an agent and engine of positive change with the superpower of pulling people—and agencies— together for social service projects that create upstream impact and make the region a better place for all.
ARTS
Ginger Ewing
TERRAIN
From the way she leads everything under the Terrain umbrella to the way she parents pugs, Ginger Ewing is art in motion. She and her small but mighty team build community and economic opportunity for artists, makers, and culture creators of the Inland Northwest to ensure these populations thrive, and that Spokane is a better, richer, more beautiful place.
48 SPRING 2023
KODY WINS MOST INFLUENTIAL PUP!!
Stephaine Courtney
THE LEARNING PROJECT NETWORK
Where representation was lacking locally, activist and creative Stephaine Courtney stepped in to write and publish Our Community: Black Leaders in Spokane as an illustrated book of representation and inspiration aimed to expose Black children to the possibility and promise that they, too, can be who and what they want.
PODCASTING
Brennon Poynor SPOKAST!
Brennon Poynor shares the stories of Spokane—the people, the places, the happenings!— with thousands of fans on his flagship podcast, Spokast! As a podcast pro with the equipment to prove it, he produces 20 additional podcasts (with 10 more in pre-production), taking on the tech so podcasters can focus on the heart of their work.
SPRING 2023 49
SOCIAL JUSTICE
JUSTICE Gloria Ochoa-Bruck
SPOKANE MUNICIPAL COURT
With a rich career in community and public service as a lawyer and a judge, Gloria Ochoa-Bruck is a fierce advocate for justice, and for humanizing everyone who crosses her path or enters her courtroom. She brings a cultural perspective to the municipal court that Spokane hasn't experienced before, and the community is better because of it.
SOCIAL JUSTICE
Esteban Herevia
SPOKANE PRIDE
Esteban Herevia is the loud and proud Spokane CEO promoting and empowering visible diversity for Spokane's lesbian, gay, bisexual, transgender, queer, and citizens with identities beyond the binaries. He believes the most radical thing any of us can do is to maintain pride in ourselves, in our community, and in our identities—and we are here for it.
CATEGORY
PHILANTHROPY
Jennifer Vigil
MULTICARE HEALTH SYSTEM–INLAND NW
A talented executive by day, a lead vocalist by night, and a thoughtful philanthropist around the clock, Jennifer Vigil can always be found in the places and conversations that matter most. As a health equity and outreach program manager Jennifer works communitywide to ensure all citizens receive access to the health services they deserve.
ARTS
Shantell Jackson
SPOKANE ARTS
With curiosity and wonder as the hallmarks of her artistic process, Shantell Jackson creates new realities and provides reflections of the times through the practice of visual art and writing. Her work calls people into the art, sparking questions of themselves and the human condition that start new emotional journeys and provide beautiful, safe spaces for healing.
SPRING 2023 51 CATEGORY
SCAN THIS CODE TO READ MORE ARTICLES LIKE THIS ON OUR WEBSITE!
Forest Bathing
Sometimes it's the simple things that contribute greatly to our mental and physical health. When we think of the term "self-care" oftentimes images of bubble baths, wine or massages come to the front of our minds. But what if there was something free and easily accessible to you right now? What if it was as simple as a walk in the park?
BY Molly Lindquist
The idea that getting outdoors is good for us is pretty pervasive in our culture, yet many people simply don't incorporate it into their day to day. Perhaps we think of expensive road trips to scenic national parks or grueling uphill climbs to make it to the view to end all views. But what if you could reduce stress, increase immunity, lower blood pressure and ease depression by simply walking in nature?
The term Shinrin-Yoku or forest bathing was coined by the Japanese Ministry of Agriculture, Forestry and Fisheries in 1982. It was an official recognition of something rather intuitive and ancient. In fact, Buddhist and Shinto beliefs have emphasized a need for this for thousands of years. Nowhere is the interconnectivity of beings more apparent than in nature. One can observe how light, water and earth nurture the trees and without these elements, the trees would cease to exist. For most of our history as humans here on earth, we've spent time in nature. It's a recent phenomenon that humans have separated from nature and are spending increasing time indoors and in urban environments. This is largely thanks to the industrial revolution. Currently, 52% of humans live within a city's limits and that number is expected to increase as time goes on.
So when you pair this fact with the immense amount of screen time modern humans are subject to - whether through work or otherwise - you might see how divided we are from nature through the structure of modern society. You might start to appreciate the need for making time to do something as simple as sitting quietly in nature.
"Thousands of tired, nerve-shaken, over-civilized people are beginning to find out that going to the mountains is going home; that wilderness is a necessity; and that mountain parks and reservations are useful not only as fountains of timber and irrigating rivers, but as fountains of life." ~ John Muir, 1901.
While going to the mountains is absolutely ideal, I believe we can obtain many of the same benefits by utilizing our city or regional parks. The goal of Shinrin-Yoku is to mindfully meander through nature, to utilize our 5 senses to fully engage with our environment. Start by noticing the visual details of your environment; what is the light looking like among the tree leaves? Are there birds in the canopy and if so, what are they doing? Can you hear the birdsong or the sound of the wind rushing through the trees? If it's a warm day can you smell the pine needles? What does the texture of the tree bark feel like? What does the path beneath
SPRING 2023 53 SPACE
your feet feel like? Admittedly the 5th sense of taste is tricky but in late summer you might find blackberries or huckleberries to pick from the vine. Or bring along a snack from the grocery store. Be sure to turn off your phone during this time so that you aren't distracted.
The more time that you can spend outdoors the greater the benefits that you will receive from this practice, but if you're quite busy don't let that stop you. A minimum of 20 minutes a day will reap benefits, which could be as simple as taking your work lunch in a park or on a bench beneath a tree. In Spokane, Washington roughly 80% of our population lives within walking distance to a park.
54 SPRING 2023 CATE -
FOR
ARTICLES LIKE THIS ONE :).
HEAD HERE
MORE
SMART BANKING FAMILY STYLE
At Idaho Central Credit Union, the most important thing to us is helping our members succeed. We're here to help you with a full range of both personal and business financial services like checking, loans, mobile banking, and more. Come visit your local ICCU branch and see for yourself how we can help you achieve your financial success.
• Ranked #1 in the Pacific Northwest for member giveback*
• Helping members achieve financial success for over 80 years
• Over 45 branches throughout Idaho and Washington to serve you
• 24/7 access with eBranch Mobile and Online Banking
Become a member today.
Looking
after your daily balance. /// iccu.com
*Callahan & Associates, credit unions with $5b+ assets headquartered in ID, WA, or OR. Federally Insured by NCUA.
56 CATEGORY
ADDING CHARACTER
A GUIDE TO WITH VINTAGE HOME DECOR
BY Fay Ripley
Whether you are a minimalist or a maximalist, it takes time and care to make your house a home you love. One of the easiest ways to create a space that will feel more like a home is purchasing vintage decor and accessories, which are a popular trend right now – experts don't see it going away anytime soon.
SAVING THE WORLD ONE THRIFTED/ VINTAGE ITEM AT A TIME
When we think about helping the planet, you may imagine recycling plastic or paper and donating used items. To have an even bigger impact on your carbon footprint, remember that the purchase of vintage/antique/thrifted decor and accessories requires no new resources. It's important to consider the little choices we make every day and how they impact the globe - that includes buying newly manufactured items instead of sourcing previouslyloved goods near where we live. When we buy vintage, we are not only supporting a small business, but also helping with the efforts to be kinder to our planet.
I've adopted this sensibility in my personal style, and with a really beautiful effect. Each room in my house encompasses a different side to my personality and artistic flair. My living room is a hodgepodge of midcentury with an eclectic vibe and gallery wall that includes paintings from local artists in the area. I'm drawn to art of any type that can help me provide an ambience of calmness and warmth. Alternately, my bedroom is dark, moody and has a distinct Victorian/gothic vibe with a touch of art nouveau.
SPRING 2023 57 SPACE
•
THERE ARE SOME TIMELESS PIECES THAT YOU CAN INVEST IN TO ELEVATE YOUR VINTAGE STYLE AT HOME:
Mid-century modern pieces
Neutral textiles & accessories
Kitchenware
Decorative books
Ceramics
Original art
Vintage baskets
The love for vintage accessories can also give you a nostalgic feeling. It's something that reminds me of my grandparents' house. I have fond memories in my grandma's kitchen – watching her make homemade bread and strudels, and helping to can pickles. They filled their home with high-quality mid-century pieces, and they gifted me their midcentury bar cart that I now treasure. That's what will bring a smile to your face whenever you walk into a room.
As a society, I feel we have changed our attitude towards vintage and repurposed items and are ready to integrate unique items into our homes that reflect our personal style regardless of the era. It's nice to attain harmony to your home in the
design sense, but when you shop for accessories - find things that make you happy. Take your time and find pieces with a purpose that you can get practical use out of daily.
Where can you find all these amazing vintage home decor pieces and accessories in your area? Local is always my first choice, and the easiest way. Shipping can cost a fortune, and you risk damaging precious goods that can't be readily replaced. Go on a hunt and find some treasures in vintage shops, thrift stores, flea markets, garage sales and estate sales near your home or when you travel. You'd be shocked what you'll discover!
58 SPRING 2023 CATEGORY
• • • • • •
Take your time and find pieces with a purpose that you can get practical use out of daily.
WHAT'S TRENDING
NOW?
I spoke to a couple of my favorite vintage store owners who have a unique insight into what is wildly popular right now and that they can't seem to keep on the shelves. Keep your eyes peeled for these special touches to add a fresh perspective in your design scheme.
BOULEVARD MERCANTILE; SPOKANE, WA
The owners of Boulevard Mercantile said the first vintage trend is Japandi, which is a mixture of Japan and Scandinavian design. Japandi is about minimalism, neutral tones with texture and natural materials. It
brings minimalism-meets-comfort, and an unmistakable feeling of coziness. Wabi-Sabi design is very similar, but it embraces the imperfections of your home and furniture versus Japandi, which is more about perfection. The neutral tones and simplicity give a distinctive sense of peace.
MIDTOWN MARKET; COEUR D'ALENE, ID
At Midtown Market, vintage and antique books are always popular. The gorgeous fonts and embossed titles, beautifully worn bindings, aged pages and distinctive smell give them a timeless appeal. Books are perfect for display on your coffee table, shelf, mantle or even
to add height to something such as a plant.
It's also a great place to find special items that can break up a gallery wall or space like figurines, small mirrors, pottery and fun decor pieces. A good rule of thumb for something you'll love having in your home is when you walk by it, you stop and immediately smile. That's my cue to check the price tag and see if it fits in my budget.
Studio pottery is another item I love to pick up here, as it can give any space a sense of balance and add an interesting element to its surroundings. My favorite is East Germany pottery, as it's very vibrant, textured and stunning.
SPRING 2023 59
I asked the owners of Midtown Market what the most sought-after vintage accessories in the Idaho area were vintage books, barware, wicker and rattan, brass candlesticks and figurines, typewriters, paintings, antique crates and locker baskets. If you see any of these that you love, be sure to get them quickly before they disappear!
A COMPLETE DESIGN FOR INSPIRATION
I incorporate as many vintage and antique items into my living space as I can. Here is an example of what these pieces can look like when arranged together in my living room, where I have my vintage accessories displayed. The painting and console were sourced locally from Boulevard Mercantile; the MCM plant stand I found at an estate sale; the blue radio was found locally at a vintage store; the wicker plant holder was thrifted; the brass piece in the back was something I actually traded with another vintage lover – it's called trench art; the two blue vases are pretty swung glass; 1950's tv, and vintage lamp. I also enjoy simple, neutral-tone vintage bud vases. Sometimes the perfect piece can make a collection of decor look complete. The only thing I bought new in my living room are my plants, which is a great way to complement any space.
If you're stuck on what kind of space you want to create and need some ideas, Pinterest can be an exceptional source, along with visiting curated vintage stores that can help stimulate creative ideas.
60 SPRING 2023 SPACE
YOU COULD BE FEATURED ON OUR SOCIAL MEDIA! @TRENDINGNORTHWESTMAG Happy thrifting! Share your thrifted spaces with us by tagging
SPRING 2023 61
SEEKING SELF LOVE
BY Madam Stina Rae
THE TIES THAT BIND US
The Trending Northwest team believes sexual health is a key component of our overall well being. Because our society can be a bit shy when it comes to the bedroom, we wanted to provide a safe space where you can ask your most burning questions—and feel free to use an alias.
The Ties That Bind Us is a spicy advice column written by Madam Stina Rae, an advocate and mentor in both the queer and kink communities. She can help give insight on your sex and relationship needs and curiosities. Is your poly triad in rough waters? Do you and your partners want to explore a more taboo experience? Do you just want help asking out that super cute human you're sweet on? This space is a judgment-free zone where you are welcome to ask some of the most personal questions with total anonymity.
I'm questioning if I might identify as asexual. I am in a happy partnership, but find myself not feeling a sense of sexual attraction to my partner or anyone else. I love being close with them and don't mind physical touch, but rarely do I feel "turned on" or "in the mood" for sex. I feel bad when my partner tries to initiate and I can't "get in the mood." This was a point of contention in a previous relationship and I don't want my current partner to not feel desired. What advice do you have for me?"
– QUESTIONING
DEAR QUESTIONING,
I cannot thank you enough for your vulnerability and writing in. It can often be a very emotional headspace when questioning your sexuality and how you identify. Especially when you have had past relationships where it has planted the seeds of fear and worry around similar situations. I feel so often we have had it ingrained in our minds that love equals sex, so when we don't quite match up to the equation, it taught us a norm of feelings of failure, which can cause shame to creep in and take over.
I have had partners that identified as demisexual, graysexual and asexual. Even though I am a very sexual person, we had deeply intimate relationships with varying levels of sensual to sexual intimacies between us. What I found that made all the difference and kept us from having hurt feelings was because we communicated extensively. When I say this, I don't mean we talked once or twice and then moved on, but discussed our feelings at great lengths, as well as maintenance check-ins so that we were sure assumptions weren't clouding reality.
There are many kinds of relationships and not all of them revolve around sex. Sexuality is fluid and exists on a vast spectrum. We complicate sex and sexuality, but it is vital to express it enough to give yourself time and space to explore what you are feeling. Be gentle and kind with yourself while on this journey. Giving yourself space to research and read up on the varying levels of asexuality, if you feel more sex-adverse or sex-neutral,
for instance, and reflect upon what resonates with you. I have helped partners along this process and explored it myself because I have realized that I identify much more demisexual over the past 5 years and didn't understand it at all. What I have done when talking with my partners was discuss openly and honestly what each of our needs are with sex and intimacy. People naturally can be on different sides of the sexual spectrum, but that doesn't mean the relationship can't be compatible and fulfilling. It just may take more open communication and understanding of where each of you is coming from.
There are so many ways to connect sensually without ever going sexual and provide you both the connections to bring you closer, make them feel desired by you and not pressure you to "get in the mood" for sex. You stated you love the closeness and don't mind physical touch, so I would love to give you a couple ideas to help strengthen your connection:
Creating an intimate space to share where you can give them sensual light touches intentionally where they enjoy being touched. You can include sensory deprivation like a blindfold where it takes some pressure off of you. That way, you won't be feeling like you are being watched when you are unsure of yourself at first. Then you can start by grazing their cheeks lightly, slowly run your hands through their hair and pay attention to their body language, letting that be your guide if you are unsure. I like to curate a playlist that creates the ambiance I want them to feel during this experience. Slow touches help build anticipation and make them crave your touch even more. That build up can easily be just as good as something more sexual. It can help create a whole new level of intimacy for you both.
I love providing acts of service for my partners as part of my love language. I have given sensual massages, cooked them their favorite meals or things like giving them a sensual hot shave. If you have been together for a while, then chances are you know many of the things they enjoy, but don't forget that talking about it can be part of the fun. You can have fun together talking about what kinds of things you both enjoy connecting over, what non-sexual but intimate things they either have wanted more of or wanted to experience. More than anything, creating
a safe and loving space where you both can talk about your feelings, wants, and needs. Intent makes so much difference and helps a person feel seen, heard, and loved.
The two things that I find are key when working on challenges in a relationship are honest, transparent communication about our own needs and wants and active listening to theirs. We are not always going to match up with our partner in every facet, but we can get creative in our relationship to ensure everyone's needs are met. Who said we have to follow the standard norm of what society deems a relationship should be? With lots of work and open communication, those differences can be something that brings newfound depths to the relationship.
Instead of focusing on the acts that come with sex, turn that focus to the feelings they get during those acts and explore what things within your comfort zone that you can do to give them those feelings. Be kind to yourself while you explore your sexual identity. Shame has a way of creeping in and telling us we are wrong because we don't enjoy "X". Wherever you land on the spectrum, remember you are exactly where you belong in this moment. Be bold when being vulnerable and talking about your fears, needs, and desires. You are worthy of those things and your partner deserves the opportunity to give you those things if that is something you want to share with them.
Remember: love does not equal sex, and intimacy does not require sex. I feel intimacy requires transparency and vulnerability and when relationships keep that strong in their core, the differences, though they take more work, can be something that in the end strengthens a partnership.
A song I find myself listening to when I am in this kind of headspace with my own ever changing sexual identity and drive is Que Sera Sera by Sly & the Family Stone. It has a way of grounding me, reminding me it's okay to feel unsure of myself when I am in a time of personal growth, and it kind of connects me to those I am naturally close to in my life.
:) SCAN TO READ MORE LIKE THIS!
SPRING 2023 63 BEING
"DEAR MADAM STINA RAE,
THE BEST OF TODAY
BY Esteban Herevia Jr.
Joy is a pretty natural expression for me. Sickening, I know. If I'm not careful, I can bubble into la la land where everything is rainbows and sunshine. On a good day, joy gives me the motivation to show up fully present and ready for what the day holds. On the bad days, joy helps me transform my depression, despair, anxiety, and abandonment into opportunities for grace with myself and gratitude for my present.
We reflect on this period in our lives often, trying to make sense of what happened. My parents recognized I was making sense of a reality they believed to have no benefit for me. I believed I was doing quite the opposite. It wasn't until they began to see who I was becoming and the ways I believed in myself and others, that they began to transform their understanding of my fullness.
I find that joy helps me unlock areas where anger or fear are present. This gives me a chance to acknowledge I am feeling something big and I need to make sense of how it got big. When I'm able to identify the issue, gratitude swoops in and offers the chance for mediation; seeing the best in me and the best in the situation. I don't always get it right, but it gives me the chance to believe I'm doing the best I can with what I've got. Beyond ourselves, gratitude and joy can also give us keys to seeing the best in others and give us the opportunity to see the best in who we are as people.
I will fully signal here: this shit is hard. Believing in anything is hard these days. Believing in others may be a piece of cake. But believing in yourself? It can be long and difficult. There might be history and time and who-knows-what-else to confront. If I know one thing for sure, believing in yourself is worth it.
At the start of this series, I shared how my parents had a difficult time reconciling my coming out. I felt completely abandoned by them after their reaction. I felt like I had to get as far away from them to give myself the chance to make it. At the time, I had no choice but to believe I had everything I needed with or without a family.
It took us six years to come back together.
Here's what I'm getting at: we must believe in ourselves–not for others, but for ourselves. We must believe that the fullness we so greatly desire starts with us first. Plenty of people will not understand and may leave along the way. Their faith or flight is not a part of your assignment. The belief in yourself is.
Why? Because your dreams, desires, and things you want to accomplish are worth it. Your mental health is worth it. Your love life is worth it. Your action is worth it. Your feelings and emotions are worth it. Your body is worth it. Your motivation and drive are worth it. Your sense of safety and security are worth it. Everything you are is worth it.
My parents are now my greatest champions. They mean more to me than I could have ever imagined and I know it's reciprocated.
The best for today is believing in yourself so you can make it. I have. I promise you can, too.
SPRING 2023 65 BEING
BELIEVING IN ANYTHING IS HARD THESE DAYS. BELIEVING IN OTHERS MAY BE A PIECE OF CAKE. BUT BELIEVING IN YOURSELF? IT CAN BE LONG AND DIFFICULT.
The Best Med Spas
IN COEUR D'ALENE
BY Bailey Bowerman
It may seem odd to be talking about med spas and anti-aging procedures with the girl who is learning to heal and accept and bloom … but I humbly suggest that we rethink the narrative surrounding med spas.
On my healing and self-love journey, I regularly turn to med spas for support via IV, massage, that good ol' boost that comes from a little injectable, and even just for comfort and community.
Not only are med spas expanding their focus beyond facials and fillers to holistic health services, but there is something cathartic about a lovely facial or a nice tan.
Gone are the days of sneaking around to get lifted, injected and waxed. It is 2023!
I'm not sure who decided that women should live up to impossible standards while pretending they do so effortlessly, but it was probably the genius who decided women's bodies should "bounce back" after creating life (I digress).
I suggest that, by owning the things we do to preserve and enhance our appearances, we are standing in our power in a new and beautiful way.
Let's own the time and money we invest in our bodies. It is OK to want to look and feel your best.
If you need someone to empower you to do this guilt-free, I AM HERE FOR SUCH A TIME AS THIS, folks.
If you're ready to invest in yourself, but overwhelmed by the options, as our little town has no dearth of choices when it comes to med spas, I STILL GOT YOU.
Below, I spotlight the best med spas in Coeur d'Alene by asking them the same three questions, and providing their handles and addresses for you to check them out, and find the right spot for you.
Perhaps, like me, you'll find yourself visiting several for different purposes.
As an added treat, each med spa has generously provided an exclusive deal just for us!
Because each takes a unique approach to health, wellness, and beauty, I listed them alphabetically.
68 SPRING 2023
Aesthetica
TNW READERS SPECIAL OFFER — 15% OFF YOUR FIRST INJECTABLE TREATMENT
SOCIAL: @AESTHETICA.CDA
WEBSITE: AESTHETICACDA.COM
VISIT: 113 E SHERMAN AVE.
WHAT SETS YOU APART FROM OTHER MED SPAS IN THE AREA? "We really believe in providing a personalized approach to self-care and beauty. We realize that everyone's goals are different and a one-size-fits-all treatment plan just isn't our jam! We love being our client's own personal hype girls! One of our clients once described our spa as 'Disneyland for women: The happiest place on earth' and it just stuck. We all love coming to work just as much as our clients love coming in for their treatments, and I think that excitement shines through in our customer service."
WHAT IS YOUR MOST POPULAR SERVICE? "It's so hard to say which service is most popular because each provider offers something different that is wildly in-demand. For me, Botox/Dysport and fillers are my biggest sellers; but our
Beauty at the Lake
TNW READERS SPECIAL OFFER — $100 PFF 1 SYRING, $50 OFF HYDROFACIAL OR DIAMOND GLOW FACIAL
SOCIAL: @BEAUTYATTHELAKE
WEBSITE: BEAUTYATHELAKE.COM
VISIT: 204 N 4TH STREET
WHAT SETS YOU APART FROM OTHER MED SPAS IN THE AREA? "The difference between Beauty at the Lake and many other med spas is extremely simplistic! We love being able to say we have a variety of clients and patients from a million walks of life, and at Beauty at the Lake, they are all treated with equal respect and care. Beauty at the Lake also tries to focus on the most holistic options on the market while not sacrificing the efficacy of the treatment."
WHAT IS YOUR MOST POPULAR SERVICE? "Our most popular service is likely a cross between two very different treatments! We do a ton of injectables each day, and our farm-to-face facial is an absolute cult favorite."
HOW WOULD YOU DESCRIBE YOUR APPROACH TO HEALTH AND BEAUTY? "We approach beauty in a very natural and
other girls book out far in advance for lash extensions and spray tans."
HOW WOULD YOU DESCRIBE YOUR APPROACH TO HEALTH AND BEAUTY?
"I believe in connecting with clients, understanding their goals and offering solutions that make them feel beautiful inside and out."
MY TWO CENTS Don't sleep on the makeup artistry at Aesthetica! McKenzie Albrecht applies makeup to complement and accentuate each person's unique characteristics and bone structure. Connect with McKenzie and check out some of her work at @aura.esthetics.cda!
EXCLUSIVE OFFER The Aesthetica team generously offers Trending Northwest Readers 15 percent off your first injectable treatment! Mention this article when you book. Offer valid until May 31, 2023.
conscious way. Whether it's injections or actual treatments, we pride ourselves on only trying to enhance the beauty all humans have within them already!"
My Two Cents Beauty at the Lake is my go-to spot for natural, effective products! Laurel products have become staples in my skincare routine, and Beauty at the Lake makes it easy for me to stay stocked up. Also, Beauty at the Lake offers a lymphatic drainage massage! I get lymphatic drainage massages regularly, and the experience here is TOP NOTCH.
Exclusive Offer The Beauty at the Lake Team generously offers Trending Northwest readers $100 off one syringe of filler and $50 off a hydrafacial or a diamond glow facial. Mention this article when you book. Offer valid through December 31st, 2023.
SPRING 2023 69 CATEGORY
SONJA APPOLDT, OWNER OF AESTHETICA, WAS INTERVIEWED FOR THE FOLLOWING QUOTES:
MICHELLE BRISENO, OWNER OF BEAUTY AT THE LAKE, WAS INTERVIEWED FOR THE FOLLOWING QUOTES
Lakeside Med Spa & IV Lounge
TNW READERS SPECIAL OFFER — 5 FREE TOXIN UNITS WITH PURCHASE
SOCIAL: @LAKESIDEMEDSPA
WEBSITE: MEDSPACDA.COM
VISIT: 420 E INDIANA AVE, STE 200
WHAT SETS YOU APART FROM OTHER MED SPAS IN THE AREA? "We are a boutique med spa where you get personalized one-on-one care. You're not a number. We develop deep relationships with clients, so we are driven to provide cutting-edge, holistic solutions for you. We aren't here just to prevent wrinkles and plump lips (although we LOVE that). We're here to support you on your journey to your best self, and that may mean filler, laser, IVs or even ketamine … or a little of it all!"
WHAT IS YOUR MOST POPULAR SERVICE? "Our most popular service is definitely toxins. We offer a wide variety of wrinkle relaxers, including Botox, Dysport and Xeomin. Lip filler and Microneedling follow closely, though!"
Renew Aesthetics & IV Hydration Bar
SOCIAL: @BEAUTYATTHELAKE
WEBSITE: BEAUTYATHELAKE.COM
VISIT: 204 N 4TH STREET
WHAT SETS YOU APART FROM OTHER MED SPAS IN THE AREA? "Our priority at Renew is not only result-driven, customized services, but also what we call the "Renew Experience." We want every client who walks in to feel comfortable, welcome and like we are family to them. We get to know our clients personally and build relationships with them as they come in. We like to describe our office as being the 'Disneyland' to clients – It's a place for them to get away, relax and enjoy themselves. We never want a client to feel intimidated coming into our office, hence why we keep such a light and fun atmosphere."
WHAT IS YOUR MOST POPULAR SERVICE? "It is hard to pick one service that is the most popular. Botox/Dysport as well as filler are probably some of our most popular services, especially since these types of services are becoming more and more common to be talked about and done whether it be social media, celebrities, etc. Our vitamin IV infusions and vitamin shots are also
HOW WOULD YOU DESCRIBE YOUR APPROACH TO HEALTH AND BEAUTY?
"We take a holistic approach to health and beauty to help you look good AND feel good, which is why we brought on ketamine and other ways to support both mind and body."
MY TWO CENTS If you worship the sun like I do, the SmoothGlo facial at Lakeside Med Spa & IV Lounge is a MUST! It combats sun damage, fine lines and wrinkles. I felt like my skin had a filter on it for months after this treatment!
extremely popular, and we have seen a large growth in the past year. The priority of health and wellness is rapidly increasing among people all over the world. Vitamin IV infusions and shots are the new trend to increase people's overall health in a quick and easy way."
HOW WOULD YOU DESCRIBE YOUR APPROACH TO HEALTH AND BEAUTY?
"Renew Aesthetics & Hydration Bar takes a modern, boutique-style approach to aging while making health and wellness our priority."
MY TWO CENTS I get a kick out of sitting in the wicker swing when I visit Renew for Katie to work her magic on my brows and lashes! It truly feels like a getaway. I also recommend the B12 shots for a clear mind and increased energy.
EXCLUSIVE OFFER The Renew Aesthetics & Hydration Bar Team generously offers Trending Northwest Readers $50 off any service. Mention this article when you book. Offer valid until January 1, 2024.
70 SPRING 2023 CATEGORY
DISCLOSURE: BAILEY, THE WRITER OF THIS PIECE, IS A CONTENT CREATOR FOR LAKESIDE MED SPA & IV LOUNGE RACHEL FIDDES, OWNER OF LAKESIDE MED SPA & IV LOUNGE, WAS INTERVIEWED FOR THE FOLLOWING QUOTES.
TNW READERS SPECIAL OFFER — $50 OFF ANY SERVICE
BEING
ANGELA SATTLER, OWNER OF RENEW AESTHETICS & IV HYDRATION BAR, WAS INTERVIEWED FOR THE FOLLOWING QUOTES.
Sarah Hamilton Face
TNW READERS SPECIAL OFFER — SCAN QR CODE FOR MORE INFO
SOCIAL: @SARAHHAMILTON_FACE
WEBSITE: SARAHHAMILTONFACECDA.COM
SPOKANE: 2120 NORTHWEST BLVD
LIBERTY LAKE: 1334 N. WHITMAN LN, #210
Concluding Thoughts
I hope we can all walk forward into 2023, in our power, owning the effort we put into ourselves, our bodies and our minds. I also hope that I run into you at one of these stellar spas and that you don't hesitate to say, "Hi!"
Coeur d'Alene, Idaho is home to some of the best med spas in the area. These spas offer a variety of services to help visitors look and feel their best. With excellent customer service, experienced providers, and top of the line treatments, these med spas are sure to provide an unforgettable experience.
Also, these spas offer exclusive offers to Trending Northwest readers, so be sure to take advantage of these deals when you visit!
XOXO — YOUR FAVORITE LATE BLOOMER
WHAT SETS YOU APART FROM OTHER MED SPAS IN THE AREA? "There is really no one in the area who offers what we do. We value providing: The best customer service, highly dedicated and educated providers with exceptional years of experience, and the latest and greatest technology in the anti-aging space."
WHAT IS YOUR MOST POPULAR SERVICE? "Our laser treatments for skin rejuvenation are our most popular service. We are also a laser training center where other providers from around the country come to learn the safest and most effective techniques from us and our certified laser trainers."
HOW WOULD YOU DESCRIBE YOUR APPROACH TO HEALTH AND BEAUTY?
At Sarah Hamilton FACE, we enjoy helping
our patient's external appearance match their internal youthfulness. Our practice is dedicated to giving our patients relaxed, natural-looking results, without looking overdone or artificial. We offer the most supreme skincare rejuvenation products and services, as well as offering all things wellness. Our talented providers will always walk you through and help guide you to the best, most effective and safest options for your face and body.
SPRING 2023 71 CATEGORY
EXCLUSIVE OFFER
SARAH HAMILTON, OWNER OF SARAH HAMILTON FACE, WAS INTERVIEWED FOR THE FOLLOWING QUOTES.
and radical authenticity.
Self-acceptance, self-love,
BEING
72 SPRING 2023
BY Lacey Moen
SPOILER ALERT
YOU DON'T HAVE TO SPEND THOUSANDS TO LOOK LIKE YOUR FAVORITE TIKTOK BEAUTY EXPERTS! YOU CAN JUST SHOP AT ULTA BEAUTY OR YOUR LOCAL DRUGSTORE AND GET SOME GREAT PRODUCTS THAT WILL MAKE YOU LOOK LIKE A PRO
I would know, as I am a professional makeup artist with over two decades of experience making women look their best. From celebrities to new brides, to teenagers going to prom, I keep a close eye on trends for every age.
We're all watching our budgets more closely these days for a lot of reasons. The price of everything is rapidly going up, and that leaves us with important questions: Are we going into a recession? Does that mean we don't get to play with our makeup anymore?
We all have that one product that you absolutely must have that's expensive. I get it. For me, that's my skincare, I'll spend all the money in the world to get the best products.
But when it comes to a great highlight, I'm here to tell you that you don't have to spend $50 to get something really fantastic! Just get the Wet n Wild product. It's the same stuff, but in different packaging.
Don't get me wrong, there are some products that you simply cannot substitute for the nuanced color and quality, like Charlotte Tilbury's "Pillow Talk". But I've got some tricks up my sleeve that I'd love to share with you so you don't have to pay top dollar for all of your products.
I've got tens of thousand dollars worth of makeup in my kit – I've tried it all!
But my go-to's for longevity and wear are L'Oreal, NYX and other products you can find at your local Ulta or drugstore.
They're inexpensive and easy to find, plus you can lose them and experiment with them and not feel badly that you're busting your budget.
We're not made of money! That's why, in this article, I'm going to be focusing on my budget-friendly favs that you can find online at Ulta.com, in-store and/or at your local drugstore.
SHOP
74 SPRING 2023 SHOP
L'OREAL ORIGINAL VOLUMINOUS MASCARA IN BLACKEST BLACK
God didn't give me the legs, but he sure gave me the lashes, and you bet I want to make the most of them.
I've been trying out different mascaras my entire life, thinking "This will be the one," only to find it most definitely is not. BUT, the L'Oreal Original Voluminous Mascara in Blackest Black is my GO-TO!
Sometimes I'll find a mascara that is slightly better than this one, but it's so expensive that by the time I get to the end of its expiration date (don't forget to swap yours out regularly) I don't want to throw it away.
I love the L'Oreal mascara because you can find it anywhere and it's easy to replace.
If you're starting with a teenager and getting them set up with their first makeup kit, this is the mascara to buy.
L'Oreal makes a soft brown, but if you want to go glam, I love the Blackest Black. Not the Carbon Black, though, as I think it makes your lashes look too shiny.
Pro Tip: Waterproof mascara is good for brides and funerals, but I'd advise against using waterproof daily because it WRECKS your lashes. If you have to be violent when you're removing your makeup, it's going to do damage to your follicles and give you issues with fallout. Always be sure to use a gentle eye makeup remover and take it easy.
SPRING 2023 75 SHOP
L'OREAL VOLUMINOUS LASH PRIMER
Don't miss this step! This primer gives you extra thick lashes that make them look like you put on fake lashes. It's a must-have in my kit every time.
NYX
MICRO BROW PENCIL
You'll want to marry this one, especially the Ash Brown color! It's not cool, it's not warm; it's a good mix and suits a wide variety of skin tones.
NYX keeps making more colors, too. I believe there are around 12 different shades to choose from, so you can find the perfect fit for your natural brow color. They're around $12 and do a great job of mimicking the natural brow hair when you apply it.
The fine pencil applicator makes applying the makeup pretty foolproof.
NYX BROW GLUE
I love this line by NYX. Their brow glue will keep your face framed all day because it keeps everything in place.
You'll never have to worry about a wonky brow hair flipping up and looking weird. Just brush on the brow glue to keep those bad boys exactly where you want them.
L'OREAL INFALLIBLE PRO-MATTE LIQUID LONGWEAR FOUNDATION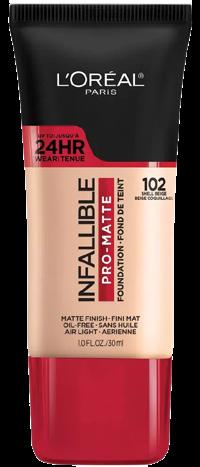 - ORPRO GLOW DEPENDING ON THE OCCASION
This foundation is a definite favorite. There are so many shades and it's really easy to find one that blends seamlessly into any skin tone. It lasts super long, and is incredibly easy to apply.
76 SHOP
WET N' WILD
For basic lashes, these are great. Whether you are doing a daytime or nighttime look, your lashes will appear long and naturally thick (and that lewk won't quit!).
You should use these infrequently, so there's no need to ball-out … and don't get real mink lashes thinking they'll be better; the result will look exactly the same.
Don't forget to cut them to the right length if needed, as they will irritate your eyes if not trimmed correctly.
This black felt eyeliner looks so luxe. They also have a clear one if you prefer that look, but I love the instant glam of the black. This never leaves my touch-up kit.
These wipes are great to have with you in your purse to take your makeup off or touch up a smudge, and they are gentle on your skin.
This setting spray is a must-have for anyone who wants to help their makeup stay on longer while looking flawless. This vegan setting spray is a great dupe for the Charlotte Tilbury Airbrush setting spray, and at $10, it's not going to break the bank.
This is a great highlighter that gives you a phenomenal soft glow, and at less than $7, is a total steal. I use it all the time!
Women spend A LOT on their appearance every year, and the makeup industry takes full advantage. With so much target-marketing telling women what they *need*, it's hard to navigate your local Ulta and know what will work for you.
I hope this article gives you a guideline for what to add to your next Ulta or drug-store shopping list! Tag us in your shopping excursions and makeup haul-shares @laceofface and @trendingnorthwestmag.
SPRING 2023 77 SHOP
ARDELL FAUX MINK DEMI WISPIES
KISS
FELT TIP GLUE LINER LASH ADHESIVE
NEUTROGENA
FRAGRANCE-FREE MAKEUP WIPES
NYX MATTE SETTING SPRAY
MEGA GLOW HIGHLIGHTING POWDER
COWORKING SPACES
TO JUMPSTART YOUR ENTREPRENEURIAL JOURNEY IN 2023
BY Christine Burns
Coworking spaces may feel like a relatively new concept. While the idea of coworking started in the 90s, the first official coworking space kicked off in the early 2000s.
Today, coworking is alive and well in the northwest.
Coworking spaces offer a fascinating service for business owners; enabling them to get out of their houses and around other people who, too, dream of building flourishing companies.
Coworking spaces also offer a few other essential services, such as providing a business address and mailing address, hosting quiet, tech-enabled spaces for conferences both virtual and inperson, wireless internet, printing, and offering a desk and chair to sit at.
For small start-ups, having an official address that isn't their house, and a place to meet clients, can make a huge difference.
Outside of the logistical benefits of coworking, there's also the major benefit of networking with other business owners and building a community – Because starting a business can be a lonely endeavor.
In a post-pandemic world, coworking brings expenses down and professionals together.
I caught up with the owners and community managers from several Spokane-area coworking places to check out their spaces, and find out everything you need to know about coworking in the northwest.
FROM ENTREPRENEURS TO ENTERPRISES Burbity Coworking
If the Inland Northwest had a leading expert on coworking spaces, it would definitely be Ann Long of Burbity Coworking, the Sullivan Valley Commons, and Liberty Lake Coworking. That's right, Ann runs three different coworking workspaces in the greater Spokane area.
Back in 2018, Ann worked as a consultant and customer experience strategist and wanted her own space to work with her clients. She had never heard of coworking in 2018, and started investigating these spaces.
Ann soon realized that there were others like her who needed a shared space. She worked around the country in several coworking spaces and fell in love with the concept.
What did she enjoy about the coworking idea? Ann explained in one of the lounge areas at the Sullivan Valley Commons: "I loved the vibe. I loved the camaraderie. I loved the collaboration between business owners. I loved how coworking operators were so open and free and giving."
Ann said that, after a year, she decided to open her own coworking space. Soon, she closed her other business to focus on coworking full time.
COWORKING SERVES MORE PEOPLE AND COMPANIES THAN YOU MAY REALIZE
When many people think of coworking spaces, they tend to think of freelancing creatives, such as designers and developers. Within the walls of Liberty Lake Coworking, the Sullivan Valley Commons and Burbity Workspaces, it's clear that coworking benefits a variety of people and businesses.
"When I first started in the pre-covid days, I anticipated there would be a lot of freelancers, graphic designers, software engineers and people in the gig economy," explains Ann when asked about the types of people who utilize her coworking facilities. "It turns out that's completely flipped around now. We see all walks of life here. We even see global enterprise companies in our space."
Larger coworking spaces usually have a variety of coworking spaces available, such as community tables, dedicated desk spaces, short-term desk/office rentals, phone booths, conference rooms and private office suites.
Within all of these, entrepreneurs and large companies alike are able to find a workspace that fits their needs.
FROM COWORKING SPACES TO COLLABORATIVE EVENTS
Additionally, coworking spaces often host events, with networking events being a staple.
Networking events offer an opportunity to meet new community members, clients, future referral partners and like-minded friends.
In addition to networking events, coworking facilities often host other events such as technology training, educational workshops and featured speakers.
78 SPRING 2023 CATEGORY
SPRING 2023 79 CATEGORY
Burbity Coworking partners with several organizations in the community to bring great events to their spaces, including local chambers, businesses and networking groups.
This year, Burbity is partnering with Founders Live, a global company based out of Seattle, to host pitch competitions on a local level. These pitch competitions feed into venture capitalist funds, providing the funding needed for start-ups to reach their potential.
Other co-working spots, like Fellow Co-working, also offer "lunch and learns", host book clubs, and have a calendar in the main kitchen where members can share upcoming events.
TWO MAJOR TRENDS FOR 2023 COWORKING
What trends can we look forward to in 2023 for coworking? Coworking experts I spoke to predict coworking will have steady growth in 2023 as companies continue to embrace a hybrid work model.
Ann explains: "We anticipate that a lot of enterprise companies are still trying to navigate hybrid work. What we've discovered is that enterprise-size companies are interested in coworking for hybrid employees because it gives them the flexibility they need while allowing them to work virtually.
"Not everyone can work from home for a multitude of reasons, whether it be roommates, small children, a bad internet connection or they just need to be around people. Coworking provides that to enterprise companies that want to shut down their building when they only have five people coming in. We're seeing that trend here in Spokane."
In addition, according to Coworking Mag, other trends we can expect to see include:
Demand for coworking spots in multi-city locations - if your coworking business is able to scale up in other cities, like Spokane, Seattle, Missoula, Portland, etc., it will be in higher demand for nomadic and traveling entrepreneurs.
Variety of spaces within a coworking location - bean bag chairs, quiet rooms, common rooms, standing desks and more - entrepreneurs and coworkers need flexibility, both in seating arrangements and in the ability to move around their spaces.
Connection to nature - as coworking spaces are traditionally located in the city center, more coworking companies are bringing the outdoors in. From plants to water fountains, offering some aspect of the outdoors brings many positive dividends to workers.
Fellow Coworking
Another important part of the coworking puzzle is the community manager. Most coworking spaces have a community manager who works as a liaison between coworkers and the facility. Often, their work includes being available to answer questions, sorting mail, scheduling events and conference rooms, administrative work, and being a point-of-contact.
Fellow Coworking – located at 304 W. Pacific Avenue in the Washington Cracker Building – is one of Spokane's most well-known coworking spaces.
Filled with modern accents and brilliant coworking features, Fellow Coworking offers an environment that feels very similar to what tech startups in the 2010s dreamed of: Free coffee from Anvil coffee, a selection of tea from Revival Tea Company, smart-looking workspaces, cozy couches, kombucha and local craft beer on tap, contemporary design, and great music fills the space.
At the forefront of the fun, you'll find Karinna Hemenway, Fellow's Community Manager. Karinna began as a Community Manager in 2022, and has become a vital part of Fellow's incredible environment.
Karinna's work involves supporting Fellow's small businesses and entrepreneurs in their day-to-day work, from fixing the printer to helping them receive mail. "Everyone here is super kind and respectful. They let me know when there are concerns, so I can help as they need."
FROM MEDIA ROOMS TO MEETING ROOMS
Fellow offers several memberships with perks and benefitsincluding one and two-day plans, 24/7 memberships, dedicated desk spaces and suites.
Fellow also offers virtual membership options for those that need a business address and a place to send their mail. They also have a variety of designated areas: break-out desks, phone booths, a lounge area, a full kitchen, a media room, conference rooms and more.
80 SPRING 2023
CATEGORY
AMONG FRIENDS AT
"I loved the vibe. I loved the camaraderie. I loved the collaboration between business owners. I loved how coworking operators were so open and free and giving."
SPRING 2023 81 WORK
NORTH SPOKANE'S PROFESSIONAL SPOT
The Happening Space
The Happening Space is a cozy coworking space located off of North Division inside of North Town Insurance. Operated by Lisa LeBlanc, The Happening Space was started in 2022, and has become a convenient spot for entrepreneurs who need a quick office to meet with clients in person, want to hold a small conference meeting or simply want a place to work that isn't their kitchen table. The Happening Space feels modern but comfortable, collaborative but also quiet enough to complete your work.
"Our North Spokane workspace aims to create an environment that is functional and friendly," explains founder, Lisa LeBlanc. "Your work is meaningful. Creating a welcoming space that allows you to brainstorm, get inspired, focus, product and connect with other like-minded members is our effort with this space."
OTHER COWORKING SPACES IN SPOKANE
The Inland Northwest has several other coworking facilities to consider, like 22 ROOMS , which offers an exclusive coworking space for entrepreneurs.
MAD CO-LABS offers coworking, or more aptly, co-creating for artists. Mad Co-Labs also hosts a weekly networking event on Fridays at 3 pm.
JUMP INTO COWORKING THIS YEAR
Coworking is an incredible way to find a community amongst other entrepreneurs, professionals and business owners. As a self-proclaimed extrovert who started a business during the pandemic, coworking has been a vital part of growing my business and staying connected to the community.
Entrepreneurship, especially in its beginning stages, can feel independent in the best times and lonely at other times.
After the joy and adrenaline rush of starting the journey fades, the long, solitary hours creep in.
Between the arduous work days and missing certain occasions to build your business, it can be isolating for entrepreneurs and lead to burnout.
Coworking can help you find your community. Between modern workspaces, great events and camaraderie, coworking can help you find the resources to take your business to new heights.
Where will your work take you in 2023?
82 SPRING 2023 WORK
"Your work is meaningful. Creating a welcoming space that allows you to brainstorm, get inspired, focus, product and connect with other like-minded members is our effort with this space."
This program is funded by the City of Spokane with CARES Act dollars. Our all-local business directory and online marketplace helps you find new ways to live local. Live — Online Local Marketplace VISIT LIVELOCALINW.COM StRENgthen Our LocaL Economy supPort ouR NEighborS CoNnect with comMunitY BROUGHT TO YOU BY
TOP PARTY THE PACIFIC
PLANNERS IN
NORTHWEST
BY Christine Burns
THERE IS A FACT THAT WE ALL KNOW TO BE TRUE EVEN IF WE DON'T ALWAYS SAY IT OUT LOUD… AND IT'S THAT SPOKANE KNOWS HOW TO PARTY.
The Spokane events calendar is booked with neighborhood celebrations, street fairs and night markets, conventions, company parties, culinary expos, grand openings, launch parties, music festivals, Broadway shows, film premieres, and fashion shows. From family-friendly events to 21+ parties, there are always things to do in Spokane.
But let's say you want to leave the party planning to the pros — who are you going to call? I've narrowed down a list of the best northwest party vendors and researched fun party trends to keep an eye out for this year.
And who better to ask than the rockstars who capture a thousand words of fun into a photograph? Electric Photoland is the Inland Northwest's top photo booth company, offering photo booths that are hard to find elsewhere.
I managed to snag a spot on their calendar to get their thoughts on the Northwest's best
party trends and learn a bit about what's in store for the local party scene.
Keep reading for the inside scoop on Spokane's best events.
So who is Electric Photoland?
Long live rock and roll, Electric Photoland's crew can usually be found everywhere from the VIP list to your fun friend's Instagram story. Named after the iconic Jimi Hendrix album, "Electric LadyLand", Electric Photoland encapsulates the best of the '60s and '70s, like great music, groovy vibes, and film photography. And then they take it up a notch using cutting-edge technology operated by people who are the life of the party.
Their calendar is a mix of weddings, charity galas, star-studded events, birthday parties, fashion shows, concerts, and other interesting events. They collaborate with local artists and even traveled to California to host a booth at Coachella earlier this year.
"Spokane is a great small business scene. The community here is so supportive and collaborative," gushes Ashley Cone in their bright studio surrounded by neon signs and
exposed brick. "It's different from bigger cities where things tend to be a little more reserved and corporate when it comes to business relations."
Started in October of 2019 by Ashley Cone and Dylan Cone, Electric Photoland immediately made a local splash. Since their opening, Electric Photoland has grown to 17 photobooths with 15 employees. Ashley and Dylan Cone say they owe the success of their company to a great community, great employees, and high-quality product.
SPRING 2023 85 WORK
PACIFIC
READ MORE LIKE THIS HERE!!
THREE PARTY TRENDS FOR 2023
Here are some of the top party trends in our region that we'll see moving forward.
Unique Experiences in the Inland Northwest
As we transition to being able to gather and celebrate, people are going to want experiences they couldn't find before or during the pandemic.
"Likely, we'll see more focus high-quality, branded and designed photobooth experiences," explains Cone. "There's no limit to what you can do with photo booths. There will still be a need for the more silly photobooths with props and backdrops but the best parties will elevate that experience and take it to a higher level - with video activations that represent the event and brand."
Each photo booth by Electric Photoland comes complete with a professionally custom-designed photo template and high-quality camera. Electric Photoland has seventeen booths they rent out for northwest events, including:
THE MADONNA: a digital photo booth delivered and dropped off by Electric Photoland for easy unlimited use at events.
3
THE HENDRIX: As the most popular photo booth, the Hendrix was handcrafted with solid oak in London and comes with an attendant and pro lights.
THE ZEPPELIN: A premium booth with lots of options, a glam filter, and stop motion capabilities - creating a shareable video.
THE SPINS: This 360 booth is a platform with a rotating arm that creates a fun shareable video.
THE TRIP: Using eight DSLR cameras, the Trip takes images from different angles and creates a 3D image and video.
TO BE ANNOUNCED: Electric Photoland is gearing up to launch a new photo booth experience that looks straight out of Hollywood… Stay tuned!
2
Physical Memories & Favors to Take Home
With so much of our lives being automated, digitized, and posted online, physical copies of images feel even more special than before. While some events are cutting costs by foregoing party favors, great events are embracing physical photographs as mementos to give to guests… A tangible memory if you will.
FOMO Will Drive Ticket Sales
After being shut in for so long, people yearn to get out and do more. They want excitement, laughter, and fun.
To find it, many people look for events that have been hyped up by friends, family, and people they follow online. Building hype is a difficult but common goal for business owners and event planners. For Electric Photoland, building hype for events is a critical part of their business model.
"When people share photos and videos of an event they went to on social media, it builds hype and sparks FOMO," Ashley Cone explains. "At Hoopfest we did a 360 booth for one day and the next day, people constantly came over to ask about the 360 booths because they saw it on Snapchat and Instagram and wanted to check it out. All day long."
Local businesses can build brand recognition and lasting memories with party favors like photographs.
"It's great marketing because if you have your business logo on the photo/video and event attendees share it online, that's countless people who saw your logo," remarks Cone. "Especially if it's something unique that stands out."
THE BOWIE: a glam, celebrity-style black and white photo booth that comes complete with a flattering beauty filter - all at an affordable rate.
To party with Electric Photoland, visit their website or follow them on social at @electricphotoland.photobooth.
86 SPRING 2023 WORK
1
"Spokane is a great small business scene. The community here is so supportive and collaborative."
THE VIP VENDOR LIST
There are many incredible event planners and vendors in the Inland Northwest. From party planners that have worked with celebrities like Kim Kardashian to unique experiences like adult-bouncy houses and aerial artists - there are many high-level event companies to help you make memories. Here are some of our favorites - based on reputation, experience, and online ratings:
PARTY PLANNERS
Jamie Johnson Events
Pearl and Tin
Red Letter Event Planning
Modern Dreamers Co.
PARTY RENTALS & DECOR
Artifact Rentals
Pine and Poppy Event Rentals
Pop! Balloon Bar & Party
Barn to Table Rentals
ENTERTAINMENT
Electric Photoland Photobooth & Rentals
Shenanigans Event Rentals and Bounce House
Vertical Elements Entertainment
Lola Stardust Tarot Reading
MUSIC
Nu Jack City Band
New Beginnings DJ's Complete Weddings & Events
RDJ Collective
CATERING
Mangia Catering
Le Catering
CW Hospitality
Blissful Boards Co.
DRINKS
The Rolling Station
London's Ultimate Catering
The Bubble Bar Spokane
Sip N' Easy
SWEETS
Sweet Annie's Artisan Creamery
Sweet Frostings
Lilac City Bakery
PHOTOGRAPHY
Jennifer Debarros Photography
Paper Tiger Photography
Jessica Mumm Photography
FLORISTS
Anthesis Co.
Flowers by Lily Garland
Emily Mcbride Floral
Flowers for People
Christina Rose Florals
SPRING 2023 87 CATEGORY
5 REASONS
NORTHWEST WINE IS A MUST BUY
for Wine Lovers
BY Dr. Patricia Butterfield
88 SPRING 2023 CATEGORY
BUYING WINE CAN BE COMPLEX. PEEKING AROUND THE AISLE, BUYERS ARE CONFRONTED WITH COUNTLESS CHOICES, PRICES ALL OVER THE BOARD, AND SOMEWHAT CONFUSING LABELS.
France, Portugal, Italy (and the U.S. for that matter) all have slightly different naming conventions. So, where does one start?
There are many approaches to wine selection, but here's one I'm suggesting for 2023: This year, try focusing on Northwest wines. Why? There are lots of reasons, but the main reason is because, well, we live in paradise, wine paradise, that is.
OK, if that sounds too cliché, here are a few more reasons to consider:
#5 EVERYTHING, EVERYWHERE, ALL AT ONCE
Washington and Oregon's diverse landscape means that anything (within reason) can grow here. Sun-drenched hills? We've got them! Beautifully complex soils? – Think Missoula floods, Columbia River and the Cascades – Got them! Long days, cool nights? We've got those too! Grapes need each of these to thrive. Need a hot-site to make that Grenache? Check, we've got it here. Need a slightly cooler site at a higher elevation to plant those Pinot vines? Check (again), we've got that too. The bottom line is that the Northwest is the perfect place to grow grapes.
#4 SUPPORTING THE WORLD YOU WANT TO LIVE IN
Why buy wine that's been on a cargo ship for 8,000 miles when Northwest wines are grown and made right here? Sustainability and environmental stewardship are front and center here in the Northwest. Sustainable WA is a program where vineyard owners focus on 83
(yes, 83) green-based standards addressing water use, soil management and viticultural practices. Those vineyards that meet these essential standards earn a Sustainable WA certification. Oregon launched the LIVE non-profit, sustainable vineyard program in 1999, and has extended the reach of that program to Idaho and Washington. So rest assured, growers and winery owners of the Northwest continue to take steps aimed at ensuring a green future for us all.
#3 BUYING LOCAL (WITH A MULTIPLIER)
In 2022, the Washington state wine industry had a positive economic impact of $9.5 billion (that's with a capital 'B'). That's a big number that translates into jobs for agriculture, hospitality and tourism. See that small winery owner hauling grapes along highway 395? That person's job (and their colleagues' jobs) exists because of our vibrant wine industry. And it doesn't stop there. From the growers to the farm workers, to local merchants and restaurant staff –Wine makes jobs. Last year, wine-related activities accounted for over 3 million tourism visits in our state. When you buy Northwest wines, you're feeding local economies, many of them in rural communities. You're putting your money where your mouth is, literally.
SPRING 2023 89
CLASS HAPPENS HERE
#2 THANK YOU SCIENCE
Important discoveries about wine happen right here in Washington. Research being conducted at Washington State University's (WSU) state-of-the-art Wine Science Center addresses everything from disease mitigation in grapevines to best practices aimed at minimizing the effects of smoke-taint on wine. Universities and community colleges throughout the region offer programs in viticulture and enology where students learn how to grow grapes, care for wines-in-process, and fine tune wines to make them sing.
If you're a talented undergrad looking for the best places in the world to learn winemaking, you may initially think of France, or maybe California, but more and more top-tier students across the globe are seeking out programs at WSU or other places in the Northwest because it's the place to be, the place to learn and the place where you can make your mark in the wine industry.
THE ESCAPE CLAUSE
OK, by now you might feel like slipping away to hide that bottle of New Zealand Sauv Blanc you have in the fridge, or to ditch that bottle of Argentinian Malbec in the pantry. Well, this isn't the place for guilt, so you can free yourself from wine-shaming yourself or others!
The bottom line is that wine the world over reflects its unique climate and terroir (i.e., the traits of the land where they were grown). That's what makes them exciting! That's how we learn and come to understand how a beautiful bottle of French Syrah tastes both the same and different from a beautiful bottle of Washington Syrah. It's fine to taste wines the world over; just remember that "we always find our way back home."
The No. 1 reason to buy Northwest wine? Drumroll …
#1 EXCELLENCE FROM VINE TO GLASS
Excellence happens here. World class happens here. So, raise your glass in toast: To this beautiful place. To this rich and diverse landscape. To each year's bud-break and harvest. To the hands and hearts along the way. To wine excellence. Now lift your glass and take a sniff, swirl and sip. Wow, that wine tastes amazing! Now, center yourself, cherish the moment and take pride in the fact that you live in paradise, wine paradise.
90 SPRING 2023 SIP
WORLD
SCAN TO READ MORE SIP ARTICLES
SPRING 2023 91 SIP
Best Restaurants
BY Ashley Wilson
SPOKANE'S BURGEONING FOOD SCENE IS FINALLY FORGING ITS OWN IDENTITY IN THE PNW.
Every year, there are waves of new restaurants bringing fresh flavors to town. There are also long-established restaurants that are maintaining popularity by adapting with the times, being inventive and keeping diners hungry for more.
In other words: It's a great time to be a foodie in Spokane!
In a city that now has so many choices, it can be hard to decide where to go for a nice sit down meal.
That's where we come in.
We have compiled a list of 11 must-try restaurants with a variety of cuisines, settings and price ranges, but the one thing they all have in common is excellent food and great service.
The days of the Lilac City being dominated by national chains and limited dining options have been replaced with national recognition for the effort local chefs have put into revitalizing the food scene. So grab your utensils and use this as a guide for the 11 best restaurants in Spokane that you need to try in 2023!
SPRING 2023 93 BITE
in Spokane
Ruins
CUISINE: NEW AMERICAN SETTING: FAST CASUAL-CASUAL $-$$
Since opening in 2014, Ruins has been a Spokane staple.
The restaurant has been featured on Food Network and Chef Owner, Tony Brown, is a 2023 semi-finalist for James Beard's Best Chef: Northwest and Pacific.
Ruins currently offers two services: Lunch and dinner.
The fast, casual-lunch service features an array of salads and sandwiches that have been popular since even before the days of Ruins when Brown ran a sandwich shop (RIP Stella's).
The sandwiches are classics, but have original twists that help them stand out; like the meatloaf sandwich with a spicy ketchup and shallot aioli, or the curried egg salad sandwich.
The dinner menu is always rotating, but is certain to feature a creative and eclectic mix of dishes.
Currently, an enticing pan-seared cod with smoked tomato and salsa verde is offered alongside vegetarian and gluten-free plates – like the smoked chickpeas with Yukon gold potatoes and vadouvan curry.
If you are looking for a variety of options, Ruins is a safe bet!
WHAT TO ORDER: Pork or Tofu Banh
Mi (Lunch menu), Okonomiyaki (Lunch & Dinner), Turkey Stroganoff (Dinner), Olive Oil
Focaccia (Dinner)
Inland Pacific Kitchen
CUISINE: NEW AMERICAN SETTING: FINE DINING $$$
Inland Pacific Kitchen is a modern establishment located inside of the historical, 119-year-old Washington Cracker Co. building in downtown Spokane.
The open kitchen and bar are the focal point of the restaurant, and are both located in the center of the dining room. Tables are situated around it so no matter where the diners are seated, they can watch the magic happen as they await their meals.
Chefs Dylan Gilbert, Chong Vang and Allen Wells curate seasonal menus, as well as themed dinners, with fresh, local ingredients and inventive executions.
Dishes are packed full of components that come together harmoniously.
The current, late-winter menu features a starter that is a flavorful parsnip smash with harissa aioli, chili crisp, burnt garlic, picked herbs, and topped with Maldon sea salt.
On the entrée portion of the menu is a perfectly cooked duck breast served with popcorn grits, butternut squash, beet maple jus, chive oil and winter granola.
Perhaps you are a more reserved eater who prefers dishes that sound more familiar, but you want to experience some of the creativity this kitchen has to offer?
Inland Pacific Kitchen also offers a brunch service on the weekends!
The "dopest brunch" has become a favorite of foodies and industry folk around the city.
Regardless of which service you attend, Inland Pacific Kitchen is an approachable way for diners to experience a taste of fine dining.
WHAT TO ORDER: Pork Belly, Bingsu, Benedict (Brunch menu)
Kismet
CUISINE: LATIN AMERICAN SETTING: CASUAL $$
Tucked away in the up-and-coming Hillyard Neighborhood is a gem of a restaurant named Kismet.
The unassuming building hosts a cozy dining room with a large, brightly-painted mural on the wall and an open kitchen.
In the summer, there is extra seating on the pet-friendly patio.
Chef Dan Gonzalez has been a familiar face around Spokane for years. He has worked for several restaurants, including the popular Eat Good Group.
Since he opened Kismet in 2021, he has delighted diners with his Latin-inspired menu.
Gonzalez serves mouth-watering, traditional items such as tacos, arepa cakes, tostadas and ceviche.
There are also fusion dishes where he creatively flexes his toolbox of techniques; like the house-made pasta with braised pork cheeks, ricotta cilantro pesto and harissa-roasted fall vegetables, or the crispy, confit duck leg with mole caramel, heirloom bean cassoulet, house made chorizo, and roasted vegetables.
With such a flavor-forward menu, Kismet is certainly a foodie destination worth going out of the way for!
WHAT TO ORDER: Grilled Queso, El Cubano, Prawn Paella
94 SPRING 2023 CATEGORY
Luna
CUISINE: NEW AMERICAN SETTING: FINE DINING $$$
This year, 2023, marks Luna's 30th year of being one of Spokane's most beloved establishments.
The longevity of the restaurant is reflected in the ownership and staff. Owners, Aaron and Hanna DeLis, were Luna regulars before they took over from the original owners in 2015.
Executive Chef Joe Morris started as a dishwasher at Luna in 2012 and worked his way through the stations for a few years before becoming the leader of the kitchen.
The staff love their restaurant and so do the patrons that have flocked to the South Hill staple for decades.
The naturally lit, French-inspired decor, the beautiful outdoor terrace, and the impressive open kitchen, create an environment that feels both upscale and comforting.
The menu is not only seasonally inspired, but also influenced by the restaurant's commitment to serving fresh locally sourced products and ingredients. The resulting dishes are familiar yet luxurious.
There are Oxtail Sliders served with CasoCano Farms beef, house cheese, oxtail aioli, charred onions and barbecue sauce.
There is a seafood-packed Cioppino with mussels, prawns, sea bass, king crab and a bright seafood tomato broth.
If you are feeling ritzy, then there is a $40 Martini made with Elyx Vodka, Cinzano 1757, and Castelvetrano Olives. It is accompanied with spicy cashews, Dauphinoise Potatoes, PNW caviar and creme fraiche. Because why not?
WHAT TO ORDER: Butternut squash bisque, Scallops, Crab Pasta
SPRING 2023 95 CATEGORY
Durkin's Liquor Bar
CUISINE: GASTROPUB
SETTING: CASUAL $$
Durkin's Liquor Bar is located in the heart of downtown. It is owned by long-time Spokane restauranter Deb Green and her children, Ben Poffenroth and Megan VanStone.
The street front is welcoming with floor to ceiling windows, and the inside has a vintage aesthetic that appeals to the masses.
The upstairs features one wall lined with leather booths and on the opposite side is a long bar that expands past the drink station to the kitchen. Guests seated at the barstools have front row seats to watch food being cooked and prepared.
Downstairs is the basement bar with more booths and tables, couches and an intimate, speakeasy vibe.
A hallmark on the menu is arguably the best burger in town. The Durkin's Famous Double brags two ground chuck patties, American Cheese, shaved pickles, red onion and dill mayo, on the house bun with a side of house cut fries.
However, Durkin's serves much more than the usual gastropub fare and also features lavish dishes like Mussels Escabeche or the hand-chopped NY Steak Tartare with cured yolk.
New executive chef Jarrott Moonitz works wonders with seafood, so be sure to find out what the rotating market fish is when coming in for a visit!
WHAT TO ORDER: Fried Bologna Sandwich, Chopped Salad, Crab Cakes
Cochinito Taqueria
CUISINE: MEXICAN SETTING: FAST CASUAL $-$$
Chef and owner Travis Dickinson, along with co-owner and manager, Justin Curtis, brought Cochinito Taqueria to downtown Spokane in 2018. The taqueria is now a local favorite, with a second location in Hayden, Idaho.
Dickinson's approach to the menu is recognizable Mexican fare that is elevated with locally sourced ingredients and fine dining techniques.
The tacos are proof of this effort. Each one is constructed of a house-made corn tortilla and fillings made with a variety of well-orchestrated components.
One of the most loved tacos on the menu is the 20 HR Carne Asada made with sous vide, chili-rubbed Tri Tip, grilled corn, onions and peppers, chile garlic oil, and dry cheese.
Other flavorful favorites include the Elote Bowl, Pozole, and the Karina's Bowl (named after Dickinson's wife) which features a choice of taco meat, beans, rice, guacamole, queso fresco, crema, pico de gallo and chips or tortillas.
The environment itself deserves some credit for the restaurant's success as well. From the natural lighting, to the walls covered in murals, the vintage fridge stocked full of cold drinks and the always friendly service, Cochinito is the best mix of comforting and cool.
WHAT TO ORDER: The Heritage Duroc Pork Cheek Carnitas, Queso Fundito, Cajeta or Chili Chocolate Churros
96 SPRING 2023 CATEGORY
Gander and Ryegrass
CUISINE: CONTEMPORARY ITALIAN SETTING: FINE DINING $$$
With the arrival of Gander and Ryegrass, chef and owner Peter Froese brought back a much-needed style of dining to Spokane's food scene: Tasting menus.
Visitors can always look forward to housemade pastas, bread and Italian-inspired fare, but the dishes themselves change rapidly, sometimes daily, based on the season or the chef's discretion.
One of the tasting options is a threecourse service where guests can choose their own dishes.
An illustration of this offering would look something like this:
First course — Frutti de Mare; spot prawn, salt spring island mussel, matsutake and smoked cabbage brodo.
Second course — Pasta Tortellini or Caramelle served with fresh-baked bread.
Third course — Entrée could feature a steak with potato, morel mushrooms, asparagus emulsion and beef bacon.
If one truly wants the full experience that Gander has to offer, then the Marathon dinner is the way to go. The six-course presentation is chosen entirely by the chef. Those participating are sure to be pleased as they receive dishes ranging from bitesized starters to plates of pasta. A tasting is also available during daytime hours with the Chef's Leisurely Prix-Fixe menu.
For guests wanting a more classic dining experience, the lunch menu has several small plates, pasta and entrée selections.
Located only a block from the Spokane Convention Center and Riverfront Park, Gander and Ryegrass is the place to go for special occasions, date nights or to simply enjoy an exquisite meal.
WHAT TO ORDER: Chef's Marathon dinner, Tagliatelle, Duck Liver Mousse (lunch menu)
Churchill's Steakhouse
CUISINE: STEAKHOUSE, SEAFOOD SETTING: FINE DINING $$$-$$$$
Churchill's Steakhouse prides itself in being an experience for diners.
The recently updated decor has made the already impressive dining room even more stunning.
The servers go out of their way to provide exceptional hospitality. They make a show of presenting the steaks on a platter for viewing as they explain the different cuts from the filet mignon to the porterhouse.
The nationally acclaimed prime beef is certainly a major attraction on Churchill's menu, but the award-winning wine selection and array of high-caliber seafood, are sure to impress as well.
There is a Seafood Tower available with a whopping six jumbo Gulf shrimp, five Maine lobster claws, 12 Pacific oysters, 3-ounce Lump Crab and 6-ounce Alaska King Crab. There are many entrée options available beyond steak, including a Pan-Seared Chilean Sea Bass, Duroc Pork Rib Chop, Stuffed Free-Range Chicken and Stone Crab Claws.
The house-made desserts are worth saving room for. Churchill's decadent 5-layer cakes and the infamous Chocolate Sack are the ultimate way to end a meal at an establishment that encourages indulgence.
WHAT TO ORDER : Cougar Gold Mac and Cheese, Bone-in Tenderloin Steak, Escargot
SPRING 2023 97 CATEGORY
Wiley's Downtown Bistro
CUISINE: NEW AMERICAN SETTING: CASUAL $$
Michael Wiley spent most of his food industry career in the front of the house before becoming the chef and owner of Wiley's Downtown Bistro.
He quickly won over the diners of Spokane with both his approachable menu of modern classics, and with his heartfelt dedication to the community.
Wiley has been known to go out of his way to provide food and service to customers by going to extremes that are unorthodox for one so in demand. That kind of genuine commitment to hospitality is why "hearts wide open" has become his tagline, and why he is such an easy person to support.
The success of his namesake restaurant has led to Wiley becoming an impressive restaurateur with three establishments under his banner, but his Bistro is still the most loved.
The cozy, intimate atmosphere matches the menu full of comfort foods.
The appropriately named Love Bun is a tasty twist on cream cheese bread. It is made with boule French loaf, whipped cream cheese, garlic, butter, bacon and jalapeno.
Hungry guests love the hearty plate of Portobello Ravioli served with a cream sauce and topped with chicken breast and bacon.
Other savory specialties like the Braised Short Ribs and Duck Confit have been known to leave guests full and content.
Wiley's Downtown Bistro is a rare gem that can bring the comfort of a home cooked meal and refine it for an upscale dining experience.
WHAT TO ORDER: Crab Puff, Beef
Wellington, Mud Pie
98 SPRING 2023 CATEGORY
WE HOPE YOU ENJOY OUR TOP PICKS!
COCHINITO
GANDER & RYEGRASS
DURKIN'S
WILEY'S
RUINS
INLAND PACIFIC KITCHEN
CHURCHILL'S LUNA
KISMET
100 SPRING 2023 CATEGORY month of wellness SEASONAL SPA SPECIALS & PACKAGES Full service spa and salon. For additional treatments please visit cdaresort.com 208.765.4000 Open 7 days a week, 8am - 8pm From transformative treatment packages to Overnight Wellness Retreats, we invite you to embark on a restorative journey this January to heal your mind, body, and soul.
3 Nutritious & Creative Family Lunch Box Recipes
BY Monika Jacobsen & Rosie
Mayfield
We all know how difficult it can be to take time for yourself when juggling work, kids and any other demands of daily life! It may be tempting to skip lunch or grab something quick that's less healthy when you're busy because, well, that's easy. But fueling with nutritious food midday is important to support your energy levels and overall well-being. Skipping meals causes your blood sugar to drop and your metabolism to slow down, which can lead to headaches, feeling weak, and can cause you to make unhealthy choices later due to intense hunger.
IT'S ALL ABOUT BALANCE
Finding new dishes or meal prepping can be intimidating, but making a balanced, healthy lunch can actually be quick and easy. The main components of a balanced lunch are protein, healthy fat, fiber-rich carbs and vegetables. To the right are ideas listed for each category, so when you're stumped on what to make, just pick one from each and you'll have a balanced meal!
Also, make sure you stay hydrated throughout the day with water or other unsweetened beverages like tea.
FOOD/MEAL PREP
A little food preparation can go a long way! If you know you have a busy week ahead, make a batch of food that you can keep in your refrigerator or freezer. Perhaps this is a pot of soup or a whole grain salad. This way, all you have to do is heat up your leftovers for lunch! You can even buy/use food storage containers or a lunch box and pre-portion your lunches ahead of time to make it even easier.
If you tend to be on the go, keep pre-packed snacks like pretzels, popcorn, nuts, trail mix and anything else you enjoy in your car or bag so you don't go too long without eating and to help you have a nutritious day!
If you have kids, let them help with meal prep – You can pack your lunch boxes together! Even if you work or stay at home, having a prepared meal in your refrigerator can make lunchtime less stressful.
In the next couple pages, you'll find a few ideas for meal-prep meals to try!:
PROTEIN
• Meat (chicken, turkey)
• Fish
• Eggs
• Tofu
• Lentils
• Beans
• Dairy (cheese, yogurt)
HEALTHY FAT
• Avocado
• Tahini
• Olive oil
• Nuts
• Flaxseed
• Chia seeds
FIBER-RICH CARBS
• Whole grains
• Quinoa
• Brown rice
• Farro
• Millet
• Oats
• Whole wheat
• Breads
• Pastas
• Tortillas
• Fruit and berries
• Starchy veggies
• Potatoes
• Yams
• Hard Winter squashes
VEGETABLES
• Any and all non-starchy veggies-dark leafy greens
• Kale, arugula, collard greens, bok choy
• Tomatoes, peppers, broccoli, cauliflower
• Sweet potato, carrots, Brussel sprouts
SPRING 2023 101
Fajita Bowls Meal Prep
2 SERVINGS
Ingredients:
2 cups brown rice, cooked
1 cup black beans, canned or cooked from dried
1 bell pepper, any color, sliced into strips
1 small, yellow or white onion, sliced into thin strips
2 Tbs olive or avocado oil
1-2 Tbs. taco seasoning, or more, to preference
salt and pepper, to taste
OPTIONAL GARNISHES
cheese, salsa, sour cream/Greek yogurt, cilantro, hot sauce, tortilla chips
Instructions:
STEP 1: Preheat oven to 425 degrees. In a small bowl, combine oil and seasonings.
STEP 2: Cut bell peppers and onions into strips and place in bowl with oil and seasonings. Toss until evenly coated.
STEP 3: Spread coated peppers and onions onto a parchment-lined baking sheet. Sprinkle with salt and pepper. Place in oven to cook for about 15-20 minutes, turning as needed.
STEP 4: While the veggies are roasting in the oven, warm the rice and beans and put 1 cup of cooked rice, plus 1 cup black beans, in each lunch container (glass containers work well for reheating).
STEP 5: Once the veggies are ready, add half to each container on top of the rice and beans.
Garnish with your choice of additional toppings such as cheese, salsa, sour cream/Greek yogurt, cilantro or hot sauce.
Keep cold until ready to eat lunch and then enjoy with corn chips or tortillas.
Garlic Chicken Veggie Pasta
2 SERVINGS
Ingredients:
1/2 box chickpea pasta, like Banza pasta
1/2 lb. chicken thighs or breasts, cooked and chopped or diced
1 cup cherry tomatoes, cut into halves
1/2 cup cucumber, chopped
2 oz. feta cheese, crumbled
4 Tbs. olive oil
2 Tbs. balsamic vinegar
1/4 cup fresh basil, finely chopped
salt and pepper, to taste
Instructions:
STEP 1: Prepare the pasta as directed.
STEP 2: While pasta is cooking, add the chicken, tomatoes, cucumber, feta, olive oil and vinegar into a large bowl.
STEP 3: Once the pasta is al dente, quickly rinse and drain, then add to the large mixing bowl with remaining ingredients. Taste and season with salt and pepper.
STEP 4: Toss together and garnish with the chopped basil. Portion into two lunch containers.
Seriously delicious, and beautiful too!
102 SPRING 2023 BITE
Kid Charcuterie Board
BUILD YOUR OWN CHARCUTERIE BOARD USING A MIX OF THE FOLLOWING PANTRY/ FRIDGE STAPLES THAT HOLD UP WELL IN A LUNCH BOX:
Ingredients:
FRIDGE
• cheese sticks or slices, cut or rolled up
• deli meat or charcuterie
• pickled vegetables
• shelled edamame
• cut cucumbers, baby carrots, snap peas
• berries, orange sections, grapes
PANTRY
• nuts (or avoid for school)
• dried fruit
• applesauce or fruit pouches
• cooked pasta
• canned chickpeas
• canned olives
• crackers
• pretzels
• chocolate or mini marshmallows (for a little treat!)
Banana Sushi
1 SERVING
Ingredients:
whole wheat tortillas, 1 for each serving
2 Tbs. peanut butter or sunflower seed butter (for nut free school lunches)
1 banana, small to medium-sized
OTHER OPTIONS
Mini chocolate chips, cinnamon, ground flax, shredded coconut, dried cranberries or raisins
Instructions:
STEP 1: Simply combine any mix of the ingredients and fill up a kid's bento box or reusable containers.
Instructions:
STEP 1: Spread peanut butter onto one side of a tortilla, covering every part of the circle.
STEP 2: Place peeled banana directly down the middle of the tortilla, on top of the peanut butter.
STEP 3: Sprinkle with your choice of remaining optional ingredients, then tightly roll the tortilla around the banana.
Try to close the roll shut by sealing the tortilla with peanut butter.
STEP 4: Cut the roll into about eight, equal portions and enjoy right away!
This is a super fun and more sophisticated Lunchables -style option that adults may also enjoy!
SPRING 2023 103 BITE
Whatcheescooking
3 MUST-TRY VIRAL TIKTOK DESSERTS YOU'LL LOVE MAKING AND EATING
BY Kim Leur
Hello Friends! Welcome back to Whatcheescooking, the monthly culinary klatch where I share with you the recipes, tips and tricks to bring restaurant-quality meals to your family's table.
This month, we're going viral… viral TikTok desserts, that is!
Are you looking for an easy way to treat yourself or impress your friends? Look no further, these delicious TikTok desserts will be the talk of your next get-together! From crinkle desserts to strawberry crunch pies, these viral TikTok recipes are sure to make your mouth water. Get ready to satisfy your sweet tooth with some of the most popular and easy-to-make treats around.
SPRING 2023 105 BITE
Whatcheescooking Crinkle Dessert
WITH MASCARPONE, ORANGE AND PISTACHIO
Ingredients:
1 pkg. phyllo dough, defrosted according to package instructions
1 stick butter, melted
1 cup milk
1 cup sugar
2 eggs
1 1/2 tsp. vanilla extract
1/2 cup mascarpone cheese
zest of 1 small orange, with 1 tsp.reserved
GARNISH
1/2 cup pistachios, toasted and chopped honey syrup (1⁄ 3 cup honey 2Tbs. HOT water mixed together well and allowed to cool)
rsvd tsp. orange zest
Instructions:
STEP 1: Preheat the oven to 350°F. In a large baking dish of your choice, begin to fold to crinkle your phyllo dough and place it into the baking dish.
STEP 2: Once the oven is preheated, bake the pastry for 10 minutes. When 10 minutes is up, remove from the oven, and pour the melted butter over the top as evenly as possible.
Return to the oven and bake for another 10 minutes.
TIME TO MAKE THE CUSTARD!
STEP 3: In a medium bowl, mix the eggs, milk, sugar, vanilla, mascarpone and orange zest together. Make sure you whisk well to ensure no clumps of mascarpone remain. Set aside until the phyllo is out of the oven.
STEP 4: When the phyllo has finished the second round of 10 minutes, remove from the oven and pour the custard mixture evenly over the top.
Return to the oven to bake for an additional 30 minutes.
STEP 5: Remove from the oven and drizzle the honey syrup over the top of the finished dessert.
GARNISH!
SPRING 2023 107 BITE
This cheffed-up version of the TikTok viral crinkle dessert is RIDICULOUSLY tasty and easy to make. That's my kind of baking!
Whatcheescooking Strawberry Crunch Pie
WITH SHORTBREAD CRUST
Ingredients:
STRAWBERRY CRUNCH
1 pkg. strawberry Jello
1 pkg. vanilla pudding mix
1 stick butter, melted
1/2 cup flour
CRUST
1 pkg. shortbread cookies of choice, crushed finely
1 ⁄3 cup butter, melted
2 Tbs. sugar
STRAWBERRY AND CREAM FILLING
1 cup Greek yogurt
2 cans sweetened condensed milk
1 tsp. vanilla
zest of 1 lemon
juice of 1/2 lemon
1 cup freeze-dried strawberries, crushed finely
From strawberry crunch cakes to strawberry crunch cookies, this crunch topping has been haunting my tastebuds for WEEKS.
It looks like SUCH a fussy little affair, but it's really easy to fancy it up or down, and you can use any flavor of Jello and pudding to create all sorts of fun-flavor combos!
Instructions:
STRAWBERRY CRUNCH
STEP 1: Preheat the oven to 350°F. In a medium bowl, add trawberry Jello mix, 1/4 cup of the flour and half of the melted butter. Mix together well until you reach a wet-sand consistency.
STEP 2: Line a baking sheet with parchment paper, and spread jello mixture out evenly. Repeat the process with vanilla pudding mix.
Bake in the preheated oven for 5-7 minutes, or until barely browned.
STEP 3: Remove from the oven once done baking and allow to cool completely before attempting to crumble the crunch mixtures.
Crumble the two mixes together and store in an airtight container. This will keep in the fridge for up to a month. It's absolutely delicious on ice cream, cupcakes and this RIDICULOUSLY rich strawberry and cream pie!
CRUST
STEP 1: Mix together all ingredients in a medium bowl.
STEP 2: Spread mixture into pie pan of choice and then use clean hands or a spoon to press firmly to form a thin crust.
STEP 3: Bake in a preheated oven (350°F) for 10 minutes.
Remove from the oven and set aside to cool completely.
Begin to work on the filling.
STRAWBERRY AND CREAM FILLING
STEP 1: Mix all ingredients together in a large bowl; pour into the prepared shortbread crust.
STEP 2: Bake in the preheated oven (350°F) for 15 minutes.
Remove from the oven and allow to cool completely before garnishing.
STEP 3: I like to pile this pie with some whipped cream, then top GENEROUSLY with the strawberry crunch topping.
This pie recipe is SUPER versatile and you have to love that it's that easy!
108 SPRING 2023 CATEGORY
SPRING 2023 109 BITE
No-Bake S'mores Bars
WITH BROWN BUTTER, DARK AND MILK CHOCOLATE, AND FLAKY SEA SALT
Ingredients:
1 bag regular-sized marshmallows
1 bag mini marshmallows
2 sticks butter
1 cup graham crackers, roughly crushed
1 lrg. bar dark chocolate, roughly chopped
1 lrg. bar milk chocolate, roughly chopped
1 1/2 tsp. vanilla bean paste
1 lrg. box Golden Graham-type cereal
flaky sea salt, for finishing
Instructions:
STEP 1: Begin to melt the butter in a small sauté pan over medium-low heat. Allow butter to come to a slow simmer, and continue simmering, stirring the butter the entire time to keep it moving.
Once it is melted, the butter will begin to foam and sizzle around the edges, but it will calm shortly. In about 5-8 minutes, the butter will turn golden brown. Some foam will subside and the milk solids at the bottom of the pan will be toasty brown.
It will smell SO very buttery and nutty …you want every bit of it. Please don't filter it. It's so good, I promise
STEP 2: Add brown butter and ALL those delicious bits to a large stockpot, keep the heat on medium, and start melting those marshmallows! Add the bag of regular-sized marshmallows, along with half of the bag of minis and melt, stirring often and monitoring to ensure they don't burn. Stir in the vanilla bean paste.
STEP 3: Once marshmallows are fully melted, add the cereal and crushed graham crackers, and stir well to coat them in the melted marshmallowy goodness. Remove from the heat.
STEP 4: Stir in all the goodies – the chopped chocolate, the remainder of the mini marshmallows and the crushed graham crackers. Press mixture into a large baking vessel, sprinkle with flaky sea salt and allow to cool completely. Cut into squares of preferred size, and store in an airtight container.
110 SPRING 2023 CATEGORY Whatcheescooking
SCAN HERE TO READ MORE ARTICLES LIKE THIS!
Full disclosure: I am a shameless s'mores lover. It is one of my love languages and I plan on absolutely crushing this pan of treats! Just saying.
SPRING 2023 111
Keep your face to the sun and you will never see the shadows.
— HELEN KELLER
112 SPRING 2023 CATEGORY $9.99 USD $13.47 CA 725272730706