BR I DE WEDDING PLANNING GUIDE whistler, british columbia VOLUME TWO
2 rockymountainbride.com / whistler wedding guide - volume 2
reserved. No
publisher. We
ensure
Rocky
information or omissions
refuse advertising.
PUBLISHED
accuracy
Every effort
BY RMB Media, LLC ErikaPUBLISHEROltmann
publication. The publisher
CONTENT CREATOR - Meagan Kowalik
Contributors' opinions are
DIGITAL CONTENT MANAGER Bailey Jameson
LLC. All
made
right
in whole or in
no responsibility for accuracy
published
CONTENT CREATOR - Shalee Super - Amy Wainess
BR I DE Mountain is by RMB Media, rights portion may be duplicated, part, without the written consent of its greatly appreciate those who have contributed to this publication. their not necessarily represent the opinion of Mountain Bride. has been to the of the information contained in this assumes of from material provided. of and reserve the to
DISTRIBUTION Disticor Magazine Distribution Services Storefronts in the U.S. & Canada or online at shop.rockymountainbride.com contact INQUIRIES - hello@rockymountainbride.com ADVERTISING - rockymountainbride.com/advertise SUBMISSIONS - rockymountainbride.com/submissions proudly printed in the rockies Rocky
Bride Magazine
services rendered by the advertisers published in this magazine. We
canadian editorial EDITOR-IN-CHIEFCelynnBowmanASSISTANTCarlyCooper copywriter Lauren Weller u. s. editorial COLORADO & NEW MEXICO EDITOR Brit IDAHO,EDITOR-IN-CHIEFTucker-KlineMONTANA&WYOMINGMackenzieStevensUTAH&DIGITALEDITORLauraOsborn digital team
goods
own and do
whistler
STYLE EDITOR - Rachael Bell
the
ACCOUNTINGLynnKieffer GETAWAYENGAGEMENTFROMPICSTOYOUR&ALLOFTHELOOKSINBETWEEN rockymountainbride.com/style photographyjacksonheatherphotographyjacksonheather
CONTENT CREATOR - Lily Harris
operations CLIENT RELATIONS MANAGER
Rocky Mountain Bride cannot be held liable for the quality or performance
surrounded by snow-capped mountains, nestled on a glacier-fed lake, Nita Lake Lodge is the ultimate Whistler wedding destination Experience Nita's stunning venues, luxury accommodation, bridal spa services and customized catering www.nitalakelodge.com | +1.888.755.6482 | @nitalakelodge the journey to planning your weddingherebegins all images by Nomad by NK
16.14. 18. 28. 20. Table ContentsofAREAINFORMATION inside scoop - Seasonal weather and activities make it official - Where to get your license rehearsal dinner & brunch locations venue guide - Best local spots to tie the knot62.10.13.8. LOVE STORIES sarah + geoff - Alta Lake vanessa + alec - Pemberton katherine + tim - Private Residence bree + steve - North Arm Farm kristin + mirco - Audain Art Museum joyce + dan - Nita Lake Lodge 20.16. photography: (top to bottom, left to right) the apartment photogrpahy, janice photos, venture out photography, angie gallant, leah kathryn photo weddings engagement 56.46.36.26. proposal vow renewal
Carbon Neutral tourism ights since 2018
LOGAN SWAYZE PHOTOGRAPHY
W H ISTLER, B C
Breathtaking Alpine Elopements
venture out photogrpahy
A stunning canvas brought to life in all seasons. A painting, some say, perfect for a wedding day.
whistler
alamoavis.ca car rental enterprisealamo.ca car rental enterprise.ca
Contrary to popular belief, elevation doesn't mean much when defining some of the Rocky Mountains' most dramatic peaks. In general, the Canadian Rockies are much lower than the American Rockies. There are no 'fourteeners' here, but that's probably a good thing. This far north, anything above 10,000ft is rare, remote, and rugged. That means in Whistler; you get all the benefits of big mountain adventures without the lack of oxygen.
The average high winter temperature is 34 degrees.
by car
vancouver
8 rockymountainbride.com / whistler wedding guide - volume 2
Elevation: Population:2,198ft11,854
Fast Facts
international airport yvr.cawhistlerexecutivetransportation.combyepicrides.caepicwhistlershuttle.comwhistleryvrskylynx.comskylynxshuttleridesprivatevehicle
avis car rental
HOW TO GET THERE
AREA INFO inside scoop
Just two hours north of Vancouver, this mountain paradise features two iconic peaks: Whistler and Blackcomb Mountain. In the summer, you'll find a plethora of hiking, ATV, and mountain biking trails. In the winter, experience one of Canada's most renowned ski resorts. All seasons allow for the opportunity to explore high alpine terrain with the Peak 2 Peak Gondola.
The Peak 2 Peak Gondola is a world record holder, rising 436 meters above the valley floor. There are 8,171 acres of skiable terrain on Whistler and Blackcomb Mountains.
The average high summer temperature is 77 degrees.
Whistler is a secluded mountain retreat, but don't let that fool you regarding accessibility. The scenic town is a short two-hour drive from Vancouver, making it an easy escape with many options for travel.
by shuttle
by plane
leah kathryn photo
Winter temperatures top out around freezing, but weather conditions can differ dramatically! If planning an epic winter wedding filled with skiing and slope time, pack all your typical ski gear, including thermal socks, snow pants, winter jackets, gloves, and ski helmets.
Layers are essential when packing for Whistler! Even in the summer months, the northern latitude and mountainous surroundings can cause dramatic and rapid changes in weather conditions. In addition to typical summer clothes, always pack extra layers, such as a knit cap, wind jacket, and thermal base layers. If you plan to adventure onto hiking trails during your wedding weekend, don't forget to pack your daypack filled with water, snacks, sunglasses, and sunscreen!
AVERAGE TEMPERATURES summerspring16°|4° 24° | 9° 11° | 2° winter3°|-4°autumn
WHAT TO DO
FOR MORE INFORMATION ON AREA ACTIVITIES, VISIT: WHISTLER.COM
venture out photography
There is something for you, your fiance, your bridal party, and all your family and friends in Whistler! Whether you enjoy hanging out in the lodge for cocktails with friends or loading up the gear for an epic heli-skiing adventure, there is no shortage of fun activities for a wedding weekend. The Canadian Rockies are an outdoor paradise! For hikers, Musician Bump, High Note, and Rainbow Lake are all popular trails with stunning scenery and alpine lakes. If you're looking to enjoy an adventure with your bridal party, look into zipline tours, Via Ferrata and glacier tours, or river rafting.
10 rockymountainbride.com / whistler wedding guide - volume 2
RELAX seasons resort and fourseasons.com/whistler/spa/spascandinavespascandinave.com/whistler/en/whistlerdayspawhistlerdayspa.com
adele campbell fine art adelecampbell.comgalleryaritziaaritzia.compatagoniapatagonia.comsalomonsalomon.comthenorthfacethenorthface.comtroyleedesignstroyleedesigns.com
SHOP
four
skiing and
ADVENTURE whistlermountainskillsacademy.commountainskillsacademy.comwhistlerblackcomb.comwhistlerblackcomb.comsnowboardingwhitewaterraftingviaferrataiceclimbingpeaksuspensionbridgewhistlerreservations.compeak2peakgondolawhistlerblackcomb.comseatoskygondolaseatoskygondola.com
rehearsal dinner & day-after brunch
Restaurants
Whistler is a world-class ski resort with world-class dining. Don't let the small size of the town fool you; foodies are welcome (and encouraged!) to try as many spots as possible while in town. Alta Bistro is a popular choice for wedding rehearsals, while Quattro Restaurant is the perfect spot to relax for a casual meal and a delicious woodfired pizza.
whistler wedding guide - volume 2 / rockymountainbride.com 11 il ilcaminetto.cacaminetto 21 steps kitchen & bar hquattrorestaurants.comquattrowhistlervenue.comaltabistro.comalta21steps.cabistrothevenuearaxiaraxi.comtableninteentablenineteen.comrestaurantgibbonsgibbonswhistler.comhuntergatheruntergatherwhistler.com dining
Leah Kathryn Photo
where to stay
Hotels & Resorts
nita lake fourseasons.com/whistlerevolutionnitalakelodge.comlodgewhistlerevolutionwhistler.cafourseasonsresort
guest accommodations
fairmont chateau whistlerwhistlerfairmont.com/whistlerwhistlerchalet&cabinspremiumwhistler.comvacationrentalswhistlervacationrentals.ca
There is an option for every couple in Whistler, from ultra-luxurious ski resorts to scenic lake lodges. When it comes to places to stay, there is no shortage of spots with stunning views, grand amenities, and premium service.
Examples of primary identification include:
Birth IMM/immigrationcertificate form
Citizenship card
In British Columbia, a marriage license can be pickup anytime in the three months leading up to your wedding day. Both members of the couple are not required to be present at the time of pickup. All marriage licenses need to be pickup up in person, and the applicant must show identification for both individuals.
The marriage licence issuer may accept a passport or driver's licence in some circumstances.
MAKE OFFICIALIT
Permanent resident card
If picking up your marriage license in Whistler, one can be purchased from the Whistler Municipal Hall, open Monday to Friday from 8 a.m. to 4 p.m. The application process typically takes around 30 minutes. The cost of a marriage license is $100, which is payable upon pick up of the license.
the apartment photography

BEGINNINGS
sarah + geoff - Alta Lake vanessa + alec - Pemberton20.16.
Sarah + Geoff
16 rockymountainbride.com / whistler wedding guide - volume 2
PROPOSAL // ALTA LAKE
Sarah and Geoff have been neighbours their whole lives, but when the world shut down for COVID-19, they started seeing lots of each other. They walked their dogs, played beer pong together and hit it off right away! For their two year anniversary they planned a visit to Whistler and while on a hike Geoff detoured Sarah through the Stone Circle area. "He wouldn't let me stop and look at the water which was weird, but when I looked up the path I understood why. There was a picnic and two photographers there ready for us. Geoff read me a letter he had wrote and proposed, it was very special. The location, set up and moment was more than I could have imagined!" recalls Sarah.
whistler wedding guide - volume 2 / rockymountainbride.com 17
Anita Kauser
Jancie Power | janicepower.com
Videographer
Photographer
Rachel King Films | rachelking.ca Engagement Ring
Vanessa and Alec met while working at a restaurant in Whistler. To propose, Alec wanted to do something adventurous to emulate their relationship. He took Vanessa on a dirt bike ride, pulled off at a lookout and got down on one knee. Vanessa said "yes!" and the newly engaged couple finished their ride as fiances!
20 rockymountainbride.com / whistler wedding guide - volume 2
Vanessa + Alec
ENGAGEMENT // PEMBERTON
whistler wedding guide - volume 2 / rockymountainbride.com 21
Artist Grist Artistry | gristartistry.com
Makeup
Photographer Angie Gallant | angiegallantphotography.com
weddingsreal laurie + jon - Private Residence bree + steve - North Arm Farm kristin + mirco - Audain Art Museum46.36.26.
the apartment photography
26 rockymountainbride.com / whistler wedding guide - volume 2
whistler wedding guide - volume 2 / rockymountainbride.com 27
Katherine and Tim met at Queen's University when they were both in their early 20s. Almost 10 years later, they were finally ready to tie the knot with 160 of their closest friends and family, however, COVID had other plans. Ultimately, with the help of Nicola Pyo from Petite Pearl Events, Katherine and Tim moved forward with planning a small ceremony and dinner party on August 1st in Katherine's parents' backyard. The evening was filled with romantic details, a neutral color palette with pops of moody florals, and good company!
WHISTLER // AUGUST 1ST
Katherine + Tim
whistler wedding guide - volume 2 / rockymountainbride.com 29
The beauty of having a wedding at home is that many elements were under the couple's control. From the decor and catering to the time table, Katherine and Tim had little restrictions when it came to dreaming up a backyard celebration! They started the day with a slow morning, taking in all the small moments and partied their hearts out with family and friends until 3am under the string lights that lit up the dance floor.
32 rockymountainbride.com / whistler wedding guide - volume 2
"We were fortunate to work with people that went above and beyond to understand our vision and make it happen. Our biggest piece of advice to couples is to work with people you trust. We met with many vendors, but we went with the people we clicked with."
ADVICE TO FUTURE COUPLES
whistler wedding guide - volume 2 / rockymountainbride.com 33
-VENDORSVenue Private Residence Planning & Coordination Petite Pearl Events, Nicola Pyo (Lead Planner) | petitepearlevents.com Photography The Apartment Photography | theapartmentphotography.com Florals Quince Fine Florals | quincefineflorals.com Catering The Collective Kitchen | thecollectivekitchen.ca Placecards Liza Child Calligraphy & Design | lizachild.com Bridal Boutique Bisou Bridal | bisoubridal.com Hair Jade Kugelman Hair | @jadekugelmanhair Makeup Min-jee Mowatt | minjeemowat.com Groom's Attire Blair Shapera Custom Clothing | @measuredstyleW Celebrant Whistler Wedding Celebrant | whistlerweddingcelebrant.com
In order from top left to right: jacie van b photography | cam storie photography | maggie grace photo | alicia lucia photo shutterfreek | rosie nary photography | lindsey boluyt | taylor pettigrew | for the west and wild photo
Rocky Mountain Bride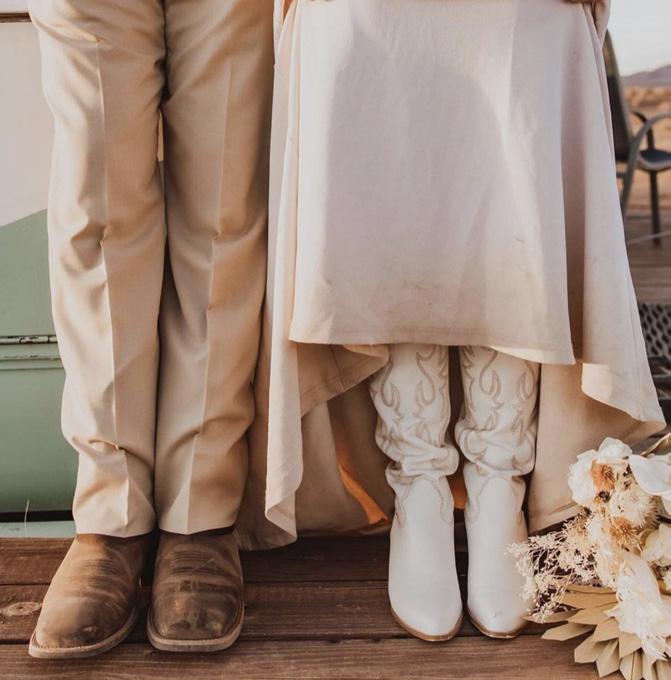 FOLLOW ALONG WITH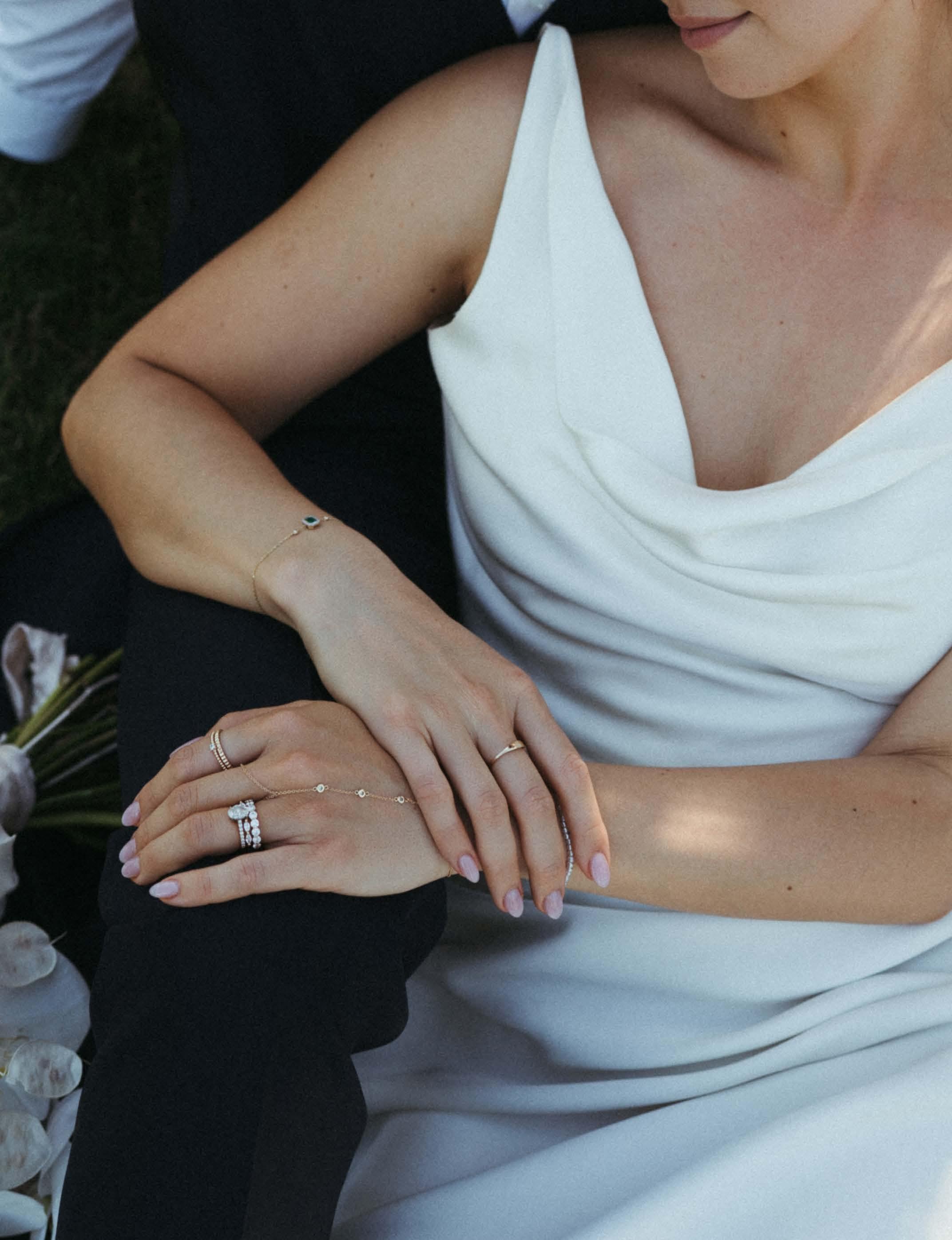 Bree + Steve
When Bree & Steve met in Vancouver in July 2016 they only spent a few marvelous months together before Steve was due to move to London for a new job. They knew that they had something special though, and when Steve returned for Christmas for two weeks, they spent every day together. It was then on new year's day that they decided they wanted to embark on a European adventure together. Bree moved to London shortly after and they began building their European life over the course of the next five years through making new friends, travelling around Europe and immersing themselves in British culture. They were living their best life but this lifestyle took a bit of a turn when world shut-down due to Covid-19, nevertheless, they were determined to make the most of their situation. In what originally planned to be 'two weeks away' working remotely from Cornwall, a charming town on the United Kingdom coast but instead turned into two years as 'digital nomads' living on the coast of France, Spain and Portugal, trying their best to learn the local languages, making their best efforts pretending to be wine 'connoisseurs' and re-connecting with their love for the outdoors.
Steven bought the ring and planned to ask Bree to marry him in Tuscany, after going off on your own from friends, but there was just too many tourists. Two weeks later on a stormy roadtrip up the north coast in the Scottish highlands, there was a break in the weather and Steve suggested you hike to the top of Varrich Castle in Tongue, Scotland, at sunset and look over the ocean. Bree was a good sport despite having just traveled for two days, being a bit grumpy, very hungry, looking forward to their dinner reservation. When the couple ahead of them finally left the lookout point, Steven had a chance to get on one knee and pull out the ring. Let's just say there was surprise, and there was tears. Not only did Bree say "yes!,", but the storm came back in full force and the couple had three days stuck in the car to enjoy each other's company and stare at the ring!
PEMBERTON // JUNE 25TH
40 rockymountainbride.com / whistler wedding guide - volume 2
whistler wedding guide - volume 2 / rockymountainbride.com 41
"We are both born and raised in Vancouver. We both grew up snowboarding; in whistler in particular. My husbands family has a cabin there, so he grew up going to whistler all the time. I had annual dance competitions there since I was eight. But mostly it's where we spent a lot of time when we spent a lot of time when we first started dating and falling in love in 2016; hiking, snowboarding, zip lining, biking etc."
WHY THE ROCKIES?
42 rockymountainbride.com / whistler wedding guide - volume 2
"There were so many favourite moments. It was truly the perfect day. The Ceremony was a first top moment; the anticipation, doing a "first look" with my Dad and sobbing, my brothers walking my mom down the aisle to "somewhere over the rainbow" live on guitar by Antonio, my best childhood friends/ bridesmaids keeping my nerves at bay, Antonio Larosa beautifully singing our personalised aisle song "Home" by Edward Sharp changing the first lyrics from "Alabama, Arkansas" to "London, England, Canada", seeing my husband-to-be's big smile with glossy eyes at the top of the aisle, the way the sun shone, the white rose flower petals down the aisle, seeing everyone we love in one space, and the vast mountains engulfed us; it was the closest thing to what heaven or magic might feel like."
Calligraphy Papier | papier.com
Music & Entertainment Larosa Productions | @antoniolarosa
Rentals Spark Events, North Arm Farm | northarmfarm.com
Bridesmaids Jewelry Pearl earrings: Amazon | amazon.com bracelets: Blue Ruby | blueruby.com
Officiant Lani Brunn, Young Hip & Married | younghipandmarried.com | Glacier Group | whistlerglaciergroup.com
Floral Design Flowers and Jules | flowersandjules.com
Photographer Venture Out Photography | ventureoutphotography.com
-VENDORSVenue & Catering North Arm Farm | northarmfarm.com
Sweets Christine Barker | @pastrypuffs
Gown Designer Savannah Miller | savannahmiller.com
Bride's Shoes Charlotte Mills | charlottemills.com
Invitations Paperless Post | paperlesspost.com
Bride's Ring Designer Ryan Caulder
fourseasons.com/whistler Transportation Whistler
Videographer Bokuria | bokuria.com
Groom's Attire Black and Lee | blackandlee.com
Day-of Coordinator Create Weddings and events | createweddingsandevents.com
Bridal Boutique Bisou Bridal | bisoubridal.com
Bridesmaids' Dresses Park and Fifth | parkandfthco.com
After Party Garnkles - gibbonswhistler.com/venue/garnkels/
Bride's Jewelry Earrings: Sophie Bille Brahe | sophiebillebrahe.com Earrings with chain: Idyl Bracelet: Anissa Kermiche Longer Chain: Jacquie Aiche
Rehearsal Dinner Morgan Creek Golf Course: morgancreekgolf.com
Bride's Veil Davie and Chiyo | davieandchiyo.com
After Party DJ's Banker Boys
Welcome Party Garibaldi Lift Co. | garibaldiliftco.com
Accommodations Four Seasons Whistler
Beauty Kahlia Adams | kahliaadams.com
WHISTLER // NOVEMBER 6TH
Kristin and Mirco met each other while they were both on vacation in Cabo San Lucas, Mexico! They hit it off right away and kept in contact. Mirco is from Switzerland, and Kristin is from Vancouver, so it was a very long distance relationship for awhile until they made the move together to the United States, where he played professional hockey. To propose, the pair went on a run together while visiting Kristin's hometown for her birthday. During the run, Mirco asked if they could stop to take a breath, and when Kristin turned around he was down on one knee!
Kristin + Mirco
48 rockymountainbride.com / whistler wedding guide - volume 2
"We had eloped the year before at City Hall in Vancouver, so we were already married before our wedding ceremony. I was a little curious to see how it would all go, since it was a second ceremony. But our officiant made it so special for us! I still had the same butterflies I did when we eloped!"
ADVICE TO FUTURE COUPLES
"When it comes to planning your wedding, try not to let yourself get too caught up and stressed about the process. Remember that the day is about no one else but the two of you! So try your hardest to stay true to what you both want, and not as much as what everyone else wants! At the end of the day it's about celebrating your love for each other and that's what matters most."
-VENDORSVenue The Audain Museum | audainartmuseum.com Wedding Planner: Smitten Events | smittenevents.ca Photographer: KVD Photography | kvdphotographs.com Caterer The Collective Kitchen | thecollectivekitchen.ca Sweets Cake: Purebread | purebread.ca Donuts: Sunflower Bakery Floral Design Flowers and Jules | flowersandjules.com Invitations minted. | minted.com Paper & Calligraphy Bespoke Decor | bespokedecor.ca Music & Entertainment U&I Entertainment Photo Booth Lucky Booth Photos | luckybooth.ca Bridal Boutique Everly Bridal | everlynebridal.com Dress Designer: Made With Love Bridal, The Lola Gown | madewithlovebridal.com Bride's Veil Atelier Elise, Leila Ribbon Veil, Cathedral Length | atelierelise.com Bride's Shoes Christian Louboutin - Sandale Du Désert | christianlouboutin.com Bride's Jewelry Mejuri | mejuri.com Bride's Ring Designer Harlings Jewelers | harlings.com Hair Alanna Moeller | @hairbyalannaa Makeup Swank Makeup Artistry | @swankmakeup Bridesmaids' Attire Park & Fifth Dresses | parkandiffthco.com Groom's Suit Ermenegildo Zegna | zegna.com Groom's Shoes Bally | bally.com Officiant Kris Wylie Accommodations The Four Seasons Whistler | fourseasons.com/whistler Rehearsal Dinner Hyes Steak House | hyessteakhouse.com Honeymoon Cabanãs Tulum beach hotel & Spa | hotelcabanastulum.com
whistler wedding guide - volume 2 / rockymountainbride.com 57
Joyce + Dan
Joyce and Dan's pre-pandemic plan was to celebrate their vow renewal with their closest family in the Philippines as a way of also celebrating their 10th anniversary. It would have been in April 2020 and due to Covid they had to reimagine their plans. So instead they shifted gears and went west to Vancouver. As their vow renewal date approached, they were thrown by the news that a major spring storm is going to hit Manitoba, pushing multiple delays and cancellations of flights. Things were meant to be and the family boarded the last flight out of Winnipeg before the blizzard hit. We made it in time in Whistler. But just they thought everything was under control, weather conditions halted their helicopter flight to their mountain top ceremony spot. "We are deeply grateful to our team who came up with an amazing alternative. We hiked to a location that showed Whistler's majestic beauty." recalls Joyce. After all of the hiccups, the couple read their vows together, witnessed by their children while using the rings that they used on our wedding 12 years prior.
VOW RENEWAL // NITA LAKE LODGE
whistler wedding guide - volume 2 / rockymountainbride.com 59
WHY THE ROCKIES
-VENDORSReception Venue & Accommodations Nita Lake Lodge | nitalakelodge.com Planner & Officiant Jeremy Postal, Whistler Wedding whistlerweddingpastor.comPastor Photographer Leah Kathryn Photo | leahkathrynphoto.com Videographer Calling Mountains | callingmountains.com Floral Design Blackcomb Creative | blackcombcreative.com Gown Designer Ona Skazala Da | onaskazalada.com Bride's Veil Prim and Prarie | primandprarie.com Bride's Shoes Blundstone | blundstone.com Bride's Jewelry Olive + Piper | oliveandpiper.com Bridesmaids' Attire David's Bridal | davidsbridal.ca Beauty Dolly Make Up by Lidia | dollymakeup.ca
"Moving to Canada from the Philippines (2012) was a big decision that changed our lives. It involved many sacrifices and tears. The first sight of Canada that we saw as the plane was descending was the beautiful alpine peaks of the rockies covered with snow. It was so beautiful. That was symbolic to the begining of our new journey and our new start in a new country that is now our home. It felt very dear to us having our vow renewal in the beautiful rockies. It felt like home."
62 rockymountainbride.com / whistler wedding guide - volume 2
Brew Creek Centre
North Arm Farm
Sunstone Golf Club-Bar and Grill
Green Water Resort
Fairmont Chateau Whistler
WHITSTLER
Cheakamus Centre
Sunwolf
Pemberton Weddings at Dreamcatcher Meadows
The
NitaLake
Sea-to-SkyHighway
Alta Lake
Whistler Sport Legacies
Birken Lakeside Resort
Four Seasons Resort and Residences Whistler
& RESORT
Sea to Gondola
GOLF CLUBLODGERESTAURANT SKI PARKRESORT MUSEUM

WHISTLER
AudainMuseumArt
LorimerRoad
TO PEMBERTON
TO VANCOUVER 99
Nita Lake Lodge
Sky
EVENT CENTER
Canadian AdventuresWilderness
Riverlands Equestrian
RiverLands Equestrian
four seasons resort and residences whistler fourseasons.com/whistler/greenwaterresortgreenwaterresort.comnitalakelodgenitalakelodge.comnortharmfarmnortharmfarm.com
pemberton squamishdreamcatchermeadows.comriverlandsequestrianriverlandsequestrian.comseatoskygondolaseatoskygondola.comandlíl'watculturalcentreslcc.casunstonegolfclub-barandgrillsunstonegolfclub.comsunwolfriversideresortsunwolf.netthevenuewhistlervenue.comwhistlerblackcombwhistlerblackcomb.comwhistlergolfclubwhistlergolf.comwhistlersportlegacieswhistlersportlegacies.com
VENUES
Best local spots to tie the knot
whistler wedding guide - volume 2 / rockymountainbride.com 63
weddings at dreamcatcher meadows
adain art canadianbirkenaudainartmuseum.commuseumbearfootbistrobearfootbistro.comlakesideresortblrproperties.netwildernessadventurescanadianwilderness.comcheakamuscentrecheakamuscentre.cafairmontchateauwhistlerchateau-whistler.com
photography by: tara lily photography
& logan swayze VISIT VENUE
Notes:
2131 LAKE PLACID ROAD, WHISTLER | 888.755.6482 | NITALAKELODGE.COM/WEDDINGS
Open year-round Indoor & outdoor spaces
The award-winning Nita Lake Lodge & Spa is the only lakeside hotel in Whistler. We offer a genuine Canadian experience through a commitment to personalized service. Surrounded by snow-capped mountains, nestled on a glacier-fed lake, Nita Lake Lodge is the ultimate Whistler wedding destination. Design your intimate or lavish wedding celebration embracing our teamcentered approach. A striking environment, bridal spa services and customized catering make Nita Lake Lodge a dreamy destination wedding spot in Whistler, BC. Want to customize your culinary experience? Our executive chef James Olberg and his catering team will collaborate with you to design personalised wedding menus, a creative presentation and realize your vision on a plate. Exchange vows on one of our lakeside patios or under our stunning Porte-cochère. As one of Canada's most Instagrammable properties, you can look forward to a beautiful wedding album full of wonderful memories for years to come.
In-house catering & beverages
130 person capacity
Inclement weather backup
12 a.m. curfew
LODGE - BRITISH COLUMBIA
Guest accommodations on-site Wedding planner required
Rentals included: tables, chairs, basic linens and place settings
Pet friendly
Bridal suite on-site
NITA LAKE LODGE
One event per day
THE BEST VENDORS IN THE ROCKIES!
find your vendors
www.rockymountainbride.com/vendors PHOTOGRAPHYRINKAALICIA
photographychelseakayleebyphoto
Wedding planning guides wedding tips & inspiration
ROCKY MOUNTAIN
LOCATED ONLINE AT ROCKYMOUNTAINBRIDE.COM/LIBRARY 50+ dedicated guides to our favorite ACROSS THE ROCKIEScities & towns