JULY/AUGUST 2022 VOLUME 5 ISSUE 6
... UNDERGROUNDAND The new PDS4.0 Designed by Becker Mining Systems to prevent injury during the operation of mining vehicles in close proximity to mining personnel. Find out more www.becker-mining.com/pds4at: STAY SAFE ON SURFACE ...
49 Boosting Mine Power Stability
03 Guest Comment 05 World News 10 Global Challenges And The Hope For A Sustainable Future Benedikt Sobotka, Eurasian Resources Group and the Global Battery Alliance, Luxembourg, considers how the commodities sector can adapt responsibly and sustainably to the challenges facing key mineral supply chains.
Power grids serving mines face growing stability and reliability challenges due to the trend for electrification and the transition to renewable energy. Christian Payerl, ABB, Sweden, explains how synchronous condensers can boost network stability.
15 Unlocking Africa's Mining Investment Potential
Christopher Blignaut, Epiroc, USA, addresses how to push the boundaries of interoperability whilst maintaining a focus level of control.
28 Breaking New Ground In Greece
Daniele Bonaiti, CICSA, Italy, analyses the benefits of adopting round steel link chain equipment for wheel bucket elevators.
17 Going The Distance
Boris Ivanov, Emiral Resources Ltd, UAE, assesses the current state of the African mining industry and outlines what the future may hold with the proper investment and commitment to development.
Dr Kilian Neubert, BEUMER Group, Germany, discusses how curved belt conveyors can be used to efficiently transport material over long distances.
39 Driving The Value Chain With Focused Layers
42 Meeting Minerals Exploration Drilling Needs
47 A Proven Investment
Douglas Johnson-Poensgen, Circulor, UK, examines how mining companies can monitor their environmental impact and increasingly move toward more sustainable production by using supply chain traceability.
ON THE COVER FAMUR is a technology holding company that provides solutions to the energy, mining, and bulk material handling industries. The company's goal is to support the green transformation in the energy sector –for 100 years, FAMUR has been developing machines and equipment that make mining more efficient and safer. It also provides advanced solutions without which mining would be much more dangerous to people and the environment. Copyright © Palladian Publications Ltd 2022. All rights reserved. No part of this publication may be reproduced, stored in a retrieval system, or transmitted in any form or by any means, electronic, mechanical, photocopying, recording or otherwise, without the prior permission of the copyright owner. All views expressed in this journal are those of the respective contributors and are not necessarily the opinions of the publisher, neither does the publisher endorse any of the claims made in the advertisements. Printed in the UK.
53 Doing Decarbonisation Right
Global Mining Review is a fully-audited member of the Audit Bureau of Circulations (ABC). An audit certificate is available from our sales department on request.
Karol Bartodziej, FAMUR SA, Poland, provides insight into the remote deployment of mining automation systems, with a focus on longwall operations.
MiningReviewlike ReviewGlobaljoinMining@Mining_reviewfollow CBP006075
CONTENTS
Daniel Bergeman, Brokk, Sweden, explores how electrically-powered mining equipment is helping companies become fossil-free and improve safety and efficiency.
21 A Rugged Solution
25 The Intelligent Mine And How To Build It Mike Brooks, AspenTech, USA, reviews the benefits of embracing digital optimisation and predictive/prescriptive maintenance in the context of improving mining operations.
32 Breaking Down Deployment Barriers
Ian C. Galyan, Seaco Technologies, Inc., USA, illustrates how foam dust control is an investment with proven and immediate returns.
36 An Autonomous And Remote Revolution
Greg Johnson, Schneider Electric, Australia, details the implementation of automation and remote working in the mining industry, and how it has accelerated since the outbreak of the COVID-19 pandemic.
Dave Harper, Geodrill, Canada, provides a comprehensive look at the technical advances and specialised approach needed for minerals exploration drilling.
dynonobel.com Our expertise goes beyond the bench with a mindset focused on outcomebased fragmentation. Together, we can help you maximize your return on investment through solutions that reduce your total cost of operations while increasing your productivity.
Instead, there will likely be multiple 'winners' employing numerous variations on a theme around Li-ion batteries. Solid state, silicon anodes, flow batteries – these all have their place in the new world of clean energy, and all present their own investment opportunities.
SIMON
A common misconception is that there will be a technology that is even better than lithium-ion batteries which will emerge as the true winner to provide clean power and mobility solutions. TechMet believes that the chances of this are slim. The automotive world has essentially chosen its pony and funded it to the tune of over half a trillion dollars (and counting). A completely new technology that is not part of the Li-ion battery ecosystem would have to be not just marginally better, but superior by many factors (i.e. safer, cheaper, using more abundant materials, etc.) to convince automotive OEMs that they should write off their now significant Li-ion investments.
Palladian Publications Ltd, 15 South Street, Farnham, Surrey, GU9 7QU, UK t: +44 (0)1252 718999 // w: www.globalminingreview.com MANAGING EDITOR James Little james.little@globalminingreview.com SENIOR EDITOR Callum O'Reilly callum.oreilly@globalminingreview.com EDITOR Will Owen will.owen@globalminingreview.com ASSISTANT EDITOR Jessica Casey jessica.casey@globalminingreview.com SALES DIRECTOR Rod Hardy rod.hardy@globalminingreview.com SALES MANAGER Ryan Freeman ryan.freeman@globalminingreview.com PRODUCTION MANAGER Kyla Waller kyla.waller@globalminingreview.com ADMINISTRATION MANAGER Laura White laura.white@globalminingreview.com EVENTS MANAGER Louise Cameron louise.cameron@globalminingreview.com EVENTS COORDINATOR Stirling Viljoen stirling.viljoen@globalminingreview.com DIGITAL ADMINISTRATOR Leah Jones leah.jones@globalminingreview.com VIDEO CONTENT ASSISTANT Molly Bryant GLOBALmolly.bryant@globalminingreview.comMININGREVIEW(ISSNNo:2515-2777) is published by Palladian Publications Ltd. Annual subscription (nine issues) £50 UK including postage, £60 overseas (airmail). Claims for non-receipt must be made within four months of publication of the issue or they will not honoured without charge.
The current supply outlook from operating mines and viable development projects in most cases is insufficient to meet the consensus metals demand from Li-ion batteries. Further improvements in battery technologies are therefore needed, in order to avoid stalling the energy transition wave. The mining sector has not escaped the effects of inflation this year. There has been a significant rise in ongoing operating costs and most noticeably the capital costs to expand and build new mines and processing facilities. In effect, this raises the 'base' of the price forecast, such that TechMet does not expect to see prices retreating to their previous trough levels again.
Guest(CHIEFGARDNER-BONDTECHNICALOFFICER)TECHMET
B attery electric vehicles (EVs) have recently surpassed 5% of new car sales in the US. Although meagre at first glance, the milestone is a significant threshold marking the onset of mass EV penetration. The EV market has proved remarkably resilient, despite the broader automotive sector reeling from supply chain disruptions over the past few years. The widespread adoption of EVs and battery storage systems is paving the way for what TechMet believes will be a new phase of commodity pricing that will continue to separate certain commodities from the rest of the pack. These technology metals have been the best performers of the last five years, and TechMet expects them to continue to outperform the larger commodity complex for the foreseeable future. Despite this bullish potential, key challenges continue to plague prospects for the energy transition – although some, TechMet believes, should be viewed in a more opportunistic light.
This is not to say that the path to sustained higher prices will be a smooth one. TechMet expects greater volatility in a number of these commodities, in part driven by the fact that they are often not easily stored and therefore a stockpile repository is almost impossible. Without the ability to establish an 'LME warehouse equivalent', TechMet expects spot prices to react much more violently to short-term supply-demand dislocations.
Rather than be fearful of new, less metals-intensive technologies, TechMet is hopeful for their success to ensure that EV adoption maintains its S-curve trajectory.
The increased cost of construction and producing these metals means supply curtailments will occur at elevated price levels, and historically high prices will be required for long periods to justify investment in new supply.
Comment

AUSTRALIA Lynas announces Mt Weld rare earths mine expansion
WORLD NEWS 5GLOBal mining review // july/august 2022
H orizonte Minerals Plc, a nickel development company with assets in Brazil, has awarded the industrial civil works contract for the construction of its 100%-owned Araguaia Nickel Project to Companhia Paranaense de Construção S.A. (Copa). Copa is a leading Brazilian construction company with extensive experience in mining projects and civil infrastructure. It was also awarded the earthworks services contract at the project earlier this year. Copa has demonstrated a safe and reliable operating performance at the project to date, with a track record of creating employment opportunities for local community members. All its contracted services have been delivered ahead of schedule. Copa's track record is complemented by its extensive experience in delivering civil construction projects for several large mining and industrial clients across Brazil. These projects range from roads, viaducts, hydro-electric power plants, ports, dams, and industrial plants. In total, the company has installed a portfolio of more than 2.5 billion m3 of concrete throughout Brazil, and all with the requisite quality management certification.
The award of the industrial civil works contract is another important step in the construction of Araguaia. The scope of the contract incorporates the supply and installation of the process plant foundations and related civil works for the supporting infrastructure. The contract scope has been designed to leverage Copa's reduced mobilisation requirements and familiarity with the project. This will assist to accelerate the installation of the foundations for the furnace, allowing commencement of furnace shell installation during 4Q22. The civils package will also see Copa undertaking the installation of all engineered and concrete structures for the processing facility, including piling, structural foundations, concrete slabs, and bolted connections to enable process equipment to be directly installed. A full progress update on Araguaia will be provided in September 2022.
BRAZIL Horizonte awards Copa industrial civil works contract at Araguaia Nickel Project
L ynas Rare Earths Ltd has announced an approximately US$500 million project to expand capacity at the Mt Weld mine and concentration plant, in order to meet accelerating market demand for rare earth materials. Global demand for rare earth materials and neodymium magnets (NdFeB) continues to accelerate. NdFeB demand is forecast to grow from 130 000 t of NdFeB consumed in 2020 to 265 000 t in 2030, driven by growth in electric vehicles and windTheenergy.Lynas 2025 growth plan (announced 21 May 2019) targeted a 50% increase in neodymium-praseodymium (NdPr) production to 10 500 tpy by 2025, including significant development of the Mt Weld ore body and beneficiation circuit. To meet Lynas' ambition to grow with the market, this previously announced growth plan must be accelerated andInvestmentincreased.in capacity expansion will be required at every production stage. This starts with increasing feedstock availability, which Lynas is implementing with this project, to substantially expand Mt Weld's feedstock capacity, which builds on the previously announced Lynas 2025 growth plan for Mt Weld. The Mt Weld expansion will target feedstock production capacity of 12 000 tpy NdPr-e in 2024. Further capacity expansion in existing upstream and downstream production, together with growth options for 2025 and beyond, are being developed. This includes two additional stages at Mt Weld, which offer a pathway to an additional 2400 tpy NdPr-e each. The Mt Weld mine is a high grade long life resource. The significant potential for further development of the ore body was demonstrated by the 1 km deep exploration drill hole completed in 2021, which displayed continuous rare earthThemineralisation.initialexpansion to 12 000 tpy NdPr-e has been fully scoped and the approximately US$500 million investment for this stage of the project is fully funded from cash flow. This project is based on known technology. It includes upscaled processing equipment, efficiency improvements, enhanced sustainability, and will provide a platform for further capacity increases.
AUSTRALIA Alkemy to build Australia's first lithium sulfate plant at Port Hedland R ajant Corp. has reported the first deployment of its fourth-generation BreadCrumb® Peregrine in South Africa with Anglo American. After successful implementation, Anglo American confirmed a notable increase in capacity of the Rajant Peregrine within its pit network, which enabled the company to become more innovative by introducing technologies in areas of its operation where it was previously impossible. This has allowed the mine to scale the overall network with the operation's demands quickly, bringing much higher bandwidth closer within areas of its pit production environment.
A lkemy Capital Investments plc has announced that it is set to build a lithium sulfate (LSM) plant at Port Hedland, Australia's largest export port located in the Pilbara region of Western Australia, to feed the Tees Valley Lithium Ltd (TVL) lithium hydroxide plant at the Wilton International Chemicals Park, Teesside, UK.
WORLD NEWS Diary Dates 6 july/august 2022 // global mining review Mines & Money Connect 30 August – 01 September 2022 https://minesandmoney.com/onlineOnline Electra Mining Africa 05 – 09 September 2022 Johannesburg, South www.electramining.co.zaAfrica International Fair EXPO KATOWICE 2022 06 – 09 September 2022 Katowice, www.expo-katowice.comPoland Mining Indonesia 14 – 17 September 2022 Jakarta, www.mining-indonesia.comIndonesia Discoveries 2022 Mining Conference 04 – 06 October 2022 Hermosillo, www.discoveriesconference.comMexico China Mining Expo 2022 18 – 21 October Xi'an, www.chinaminingexpo.comChina International Mining and Resources Conference (IMARC) 2022 02 – 04 November Sydney, www.imarcglobal.comAustralia CONEXPO-CON/AGG 2023 14 – 18 March 2023 Las Vegas, page:events,Toagg-construction-trade-showwww.conexpoconagg.com/conexpo-con-USAstayinformedaboutupcomingindustryvisitGlobalMiningReview'seventswww.globalminingreview.com/events
Construction of Train 1 of TVL's LHM processing facility at the Wilton International Chemicals Park in Teesside, UK, the first of four trains planned for the site, is due to commence at the end of this year.
The Peregrine is Rajant's fourth generation Kinetic Mesh BreadCrumb, which supports a maximum combined data rate of 2.3 Gbps and up to 6x enhanced throughput performance over existing Rajant BreadCrumbs. It offers multiple MIMO radio interfaces, high throughput and enhanced security performance, with up to 256-QAM and 80 MHz channels. The Peregrine is part of Rajant's initiative to develop deeply integrated solutions that securely combine data from connected people, vehicles, machines, and sensors with machine learning.
This data combination unlocks the benefits of process optimisation, digital twins, predictive analytics, condition-based maintenance, augmented reality and virtual reality, while improving worker safety. The Peregrine is interoperable with all BreadCrumb radio nodes to expand market capabilities for industries like mining, rail, shipping ports, public safety, agriculture, and heavy construction. It is fortified with rugged, environmentally sealed enclosures and supports several robust cryptographic options for data and MAC-address encryption and per-hop, per-packet authentication. Scalable to hundreds of mobile, high-bandwidth nodes, the Peregrine enables data, voice, and video applications.
The Port Hedland LSM plant, together with TVL's planned LHM processing facility at the Wilton International Chemicals Park in Teesside, UK, will deliver a low carbon, de-risked lithium supply chain between Western Australian spodumene producers and the burgeoning European lithium battery cell market.
Train 1 of the Port Hedland LSM plant is set to process spodumene from Australian lithium miners to produce 40 000 tpy of primary LSM, with Trains 2 – 4 adding a further 120 000 tpy primary LSM production in future expansions.
SOUTH AFRICA Rajant deploys BreadCrumb Peregrine with Anglo American
Hägglunds is a brand of Rexroth. www.hagglunds.com
Nothing should stand in the way of your productivity – least of all the materials you move. With our compact Hägglunds direct drive systems, you can adapt easily to the job at hand, taking advantage of full torque at an infinite range of speeds. And should an overload try to stop you, the drives' low moment of inertia and quick response will keep your machines protected. We'll support you too, with an agile global network and smart connectivity to bring you peace of mind. Driven to the core.
AUSTRALIA Micromine signs software solution agreement with AngloGold Ashanti
M aple Gold Mines Ltd has to reported the mobilisation of a second drill rig (while the first drill rig continues Phase II drilling at the 100%-controlled Eagle Project) to commence a 6000 m deep drilling programme at the Joutel Project in Quebec, Canada, held by a 50/50 joint venture (JV) between the company and Agnico Eagle Mines Ltd. This deep drilling programme is expected to include three drill holes in the Telbel mine area beneath and adjacent to the historical underground mine workings, which extend to roughly 1200 m below surface. Past gold production at Telbel focused on a single zone between 500 – 1050 m; however, data digitisation and 3D modelling have identified significant gold intercepts up to approximately 1400 m below surface that remain open for follow-up exploration. Deep drilling at Telbel will be funded as part of a previously announced CAN$4.8 million supplemental Year Two JV exploration budget. To control potential drillhole deviation, Aziwell Canada Inc. has been contracted to provide directional drilling support on an as-needed basis during the Telbel deep drilling programme.
CANADA Maple Gold mobilises second drill rig at Joutel Project U dokan Copper, the developer of Russia's largest new deposit, has outlined scenarios to cut the carbon intensity of its copper production up to 75% by 2035, bringing the company closer to its ultimate goal of climate neutrality in the long run. The company has published its sustainability report for 2021, which outlines results in terms of the environment, as well as social and corporate governance. Udokan Copper develops and implements programmes aimed at reducing energy consumption and environmental impact as it prepares for the production launch. The company's plan to decrease carbon emissions involves the possibility of purchasing low-emissions electricity from power sources such as hydro, wind and solar, as well as consider its own power generation from renewable sources. It will also study opportunities to switch from coal to less carbon-intensive fuels for heat generation as well as electrification of its mining fleet.
The company's ongoing mission is to produce copper as the key metal for building a secure and tech-based future, while taking care of its employees and minimising its impact on the environment. Udokan Copper's key priorities are to complete its mining and metallurgical plant on time and within budget and to build a reputation as a responsible producer.
World NEWS 8 july/august 2022 // global mining review
In 2021, Udokan Copper invested US$11.5 million in environmental measures and social programmes, as the company prepared to start production at the copper deposit. Udokan Copper had zero fatalities over the period from 2019 to 2021, while the number of total recordable incidents fell to 14 in 2021 from 23 in 2020, helped by measures introduced by the company, such as employee incentives for safe working conditions and staff safety training.
RUSSIA Udokan Copper to cut carbon intensity by up to 75% by 2035 M icromine has entered into a three-year software agreement with AngloGold Ashanti to deliver its mine control and fleet management solution: MicromineMicrominePitram.Pitram will be implemented at AngloGold Ashanti's Australian operations, Sunrise Dam and Tropicana, both located in Western Australia's north-eastern goldfields. Micromine Pitram will help the operations personnel to capture, manage, and optimise its activities by obtaining core operational asset data, such as: equipment, materials, andThelocations.openand scalable technology provides flexibility to incorporate equipment, systems, locations, and network assets as needed. Micromine Pitram provides stakeholders at every level with greater visibility, control, and understanding of operational activities. As per the agreement, Micromine Pitram will be deployed at Sunrise Dam and Tropicana in August 2022.
WHERE GLOBAL MINING LEADERS CONNECT WITH TECHNOLOGY, FINANCE AND THE FUTURE
VISIT IMARCGLOBAL.COM TO REGISTER FOR AUSTRALIA'S MOST INFLUENTIAL MINING EVENT AND RECEIVE 10% OFF WITH THE DISCOUNT CODE GMR10
Discover inspiration and new ideas, find practical solutions, and see demonstrations of the latest products and innovations from startups through to some of the biggest names in the mining industry with more than 400 exhibitors throughout the 15,500m2 expo floor all under the one roof.
Meet over 7,500 decision makers, mining leaders, policy makers, investors, innovators, and educators from more than 100 countries. As the largest gathering of mining professionals in Australia, IMARC provides unmatched networking opportunities, serving as the meeting ground for the mining industry.
As Australia's largest and most influential mining event, IMARC creates a global conversation, mobilises the industry for collaboration and attracts some of the greatest leaders in the mining, investment, and technology industries for three days of learning, deal-making and unparalleled networking.
2 - 4 NOVEMBER 2022 | ICC SYDNEY
Learn from more than 450 mining leaders and resource experts with six concurrent conferences covering the entire mining value chain. Gain strategic insights from c-suite executives on minimising disruptions and building resilience, progressing ESG, accelerating mining's energy transition and the future workforce. Whilst technical talks will delve into exploration, discovery and project developments, minerals processing, digital technology, and mining innovation.
Across three days, there are thousands of opportunities to network, brainstorm, and knowledge share, providing the perfect platform to obtain invaluable new business contacts, connect with the industry's leading figureheads and explore new ideas.
The International Mining and Resources Conference (IMARC) is where global mining leaders connect with technology, finance, and the future.
10 July/August 2022 // global mining review
T he world is changing, and the commodity sector is arguably undergoing its largest transformation in years, driven by the energy transition. While some new factors, such as supply chain issues, have been caused by recent events in Ukraine, others, such as the sources of supply or the definition of strategic materials, areThisfundamental.isthenew reality and all commodity producers around the world are adjusting to it. Producers can no longer pick the best customer, the most profitable route, or the cheapest available material. Yet, it can be argued that this is the cost of improved long-term sustainability and the impact of global geopolitical uncertainty commodity producers have to adapt to. With the effects brought on by the COVID-19 pandemic, which have been exacerbated by the conflict in Ukraine, one thing is clear: the end of the era of cheap raw materials is being witnessed.
11global mining review // July/August 2022
Benedikt Sobotka, Eurasian Resources Group and the Global Battery Alliance, Luxembourg, considers how the commodities sector can adapt responsibly and sustainably to the challenges facing key mineral supply chains.
Managing ESG risks
Concurrently, the pace of electric vehicle (EV) adoption also shows few signs of losing momentum against the backdrop of the global transition to a greener future.
Two concurrent trends emerge from this analysis.
All the while, the production of a rechargeable EV battery poses significant social and environmental risks. At every stage of the process, right the way from the mine to the electric vehicle, issues such as child labour, poor working conditions, and carbon dioxide (CO2) emissions can significantly impact the overall sustainability of the product. One of the major difficulties with reducing the environment, social, and governance (ESG) impact of the battery supply chain is a lack of a standardised global reporting framework that covers the entire chain. Without establishing harmonised principles for digital traceability, access and transparency, companies and nations cannot be easily held accountable for their actions, nor can the sustainability of the final product cannot be guaranteed to the end consumer.
Much and more has been written about the shift away from unsustainable long-term energy generators and storage; talk of flexible grids powered by wind, solar power, and nuclear power is now de rigueur. The same urgent thought must be given to the key technology of short-term energy storage: the battery. Batteries have the single-handed potential to significantly reduce global carbon emissions. According to a 2019 study by the Global Battery Alliance (GBA), batteries have the potential to enable 30% of the required reductions in carbon emissions in the transport and power sectors by 2030.
First, global trials and tribulations – from the hostilities in Ukraine to the pandemic, to global economic shocks, to scarcity – have created new and unique trends in the supply side for many raw materials. Second, the need, and thus the demand, for sustainable technologies are growing at feverish pace, backed by the knowledge that there is, in the long term, no other option but to embrace these technologies. And so, it quickly becomes clear that there is on the near horizon a fundamental inflection point, both for the industry and for the world. In fact, batteries could enable nearly a third of the required reductions in carbon emissions in the transport and power sectors, create 10 million sustainable jobs, and provide access to electricity for 600 million people that currently lack access. While this presents an incredible opportunity for the mining and metals industry, with metals such as cobalt and copper forming key components of the lithium-ion batteries in EVs, it must be careful that the sustainability of the sector does not suffer as a result. Shortages of palladium and platinum, in conjunction with high oil prices and energy security concerns in the West, are likely to accelerate the pace of EV adoption, with governments likely to roll out additional incentives for EV buyers, in order to reduce their exposure to Russian oil supplies.
12 July/August 2022 // global mining review
A new era for commodities International sanctions have contributed to an unprecedented price surge of many raw materials. The prices of wheat, fertilizers, crude oil, natural gas and certain metals, including aluminium and copper, have all reached new highs since the start of 2022. Future larger price volatility is inevitable: many commodities with greater exposure to the crisis are vulnerable to acute shortages and could yet hit new records. The fading pandemic and the tightening US monetary policy both still have the potential to deliver economic setbacks. However, persistent supply chain challenges, a changing inflation landscape and the energy transition should, overall, create a demand-driven environment for industrial commodities, including battery metals. Logistical costs are also soaring, as many companies are re-routing their cargoes. Midstream and downstream producers have also been impacted. Ukraine, for example, was a sizeable automotive parts supplier, home to more than 20 global automotive companies and more than 30 automotive plants. The stage is set for cobalt to climb to new highs, as well. Cobalt's 120% price surge through the course of 2021 shows that the market is severely short of the metal, which is so important to long-term global energy plans. Furthermore, there are no signs of any fundamental easing, with prices remaining on an upward trajectory.
Stepping back from material prices, the industry is also at the dawn of a new era in terms of sustainability. Urgent action must be taken to prevent catastrophic climate change, a fact that is now understood across: industries, populations, continents, and demographics. Governments, businesses, non-governmental organisations (NGOs), and citizens around the world are grappling to find ways to ensure that global temperatures do not rise more than 1.5˚C. Yet, if it is to be successful, the integration of sustainable long-term and short-term energy storage solutions into the energy system will be crucial. Energy storage may seem at first glance highly specific, but it is in fact the dynamo that powers the world. Long-term energy storage powers cities and economies, while short-term energy storage provides a guide across the planet and makes every aspect of daily life possible, from computers to cars to the phones in people's hands. Putting batteries in focus
There is a strong case to be made that future EV sales will continue to smash analysts' expectations, empowered by governments' ambitious adoption goals and manufacturers' aggressive sales targets. Making the production of batteries sustainable and scaleable is of particular importance to the EV sector, which is projected to see 120 million vehicles on the road by 2030, according to the Internation Energy Administration (IEA) – EV demand is expected to grow by over 20 – 25 times, according to the IEA's Sustainable Development Scenario. EV sales market penetration should exceed 50% by 2030, above most analysts' expectations of around 30%. This will be driven by governments' ambitious adoption goals and manufacturers' sales targets.


Meanwhile, according to the Cobalt Institute, almost 70% of the world's cobalt is currently produced in the Democratic Republic of the Congo (DRC), a country where artisanal and small scale mining is often linked to child labour; thus, the increased demand, funnelled through political and social urgency, makes the situation all the more finely balanced. Eliminating these issues and creating a long-term, sustainable value chain is essential if the mining industry and its down-stream products, such as batteries, want to be a major part of the solution to climate change. So, how does the industry achieve that which is a necessary shift and a long-term solution, when there are serious short-term and systemic roadblocks in the path? The solution is cross-organisational frameworks and collaboration. Long strides towards this goal have already been taken. Mitigating these risks is the primary objective of the GBA, which brings together leading international organisations, NGOs, industry actors, academics, and governments to drive systemic change along the entire value chain. It now comprises more than 100 members, including BASF, Tesla, UNICEF, the OECD, and Eurasian Resources Group. If scaled up in a responsible manner, the battery value chain can not only support the fight against climate change, but also create new, safe jobs; add economic value; and safeguard human rights in line with the UN Sustainable Development Goals. For instance, at the GBA, public and private organisations are working together to create a 'Battery Passport' that will act as a quality seal for the industry and increase transparency across the supply chain. The GBA also recently partnered with a German consortium to launch a 'Battery Pass', which will provide a solution for securely sharing information and data across the battery value chain, laying the foundations for a new generation of sustainable batteries in Europe.
Another difficulty is the significant pressure placed on certain supply chains, leading to higher prices and a shortage of materials. The fact that developing new projects entails a long lead time, and that many untapped mineral deposits are in underdeveloped locations with higher risk profiles, is a challenge for both the supply chain and for customers.
It has the potential for becoming a vicious cycle as well. If a supply chain is pushed too hard, ESG compliance problems will arise – for example, child labour issues associated with cobalt production –because operators start to scale up production too quickly and subsequently stretch the rule book too far. It is very important that the industry takes steps to make sure that this does not happen. The case for clean cobalt This brings the discussion back to cobalt. Cobalt is essential for electrification, used in lithium-ion batteries powering EVs and electronic devices. Copper and cobalt are set to experience tighter fundamentals as a result of the conflict in Ukraine, which has undoubtedly added to pre-existing supply pressures in both markets. Other factors supporting cobalt demand include increasing demand for mobile electronics, e-mobility, battery energy storage systems, and other end-use sections. Additionally, demand from traditional cobalt end-use sectors is expected to increase this year, driven by recovery of aerospace sector. In short, cobalt supply will not keep up with demand, given that the development of mining projects takes 10 – 15 years on average. On the other hand, battery production capacity is set to quadruple between 2020 and 2025, according to Benchmark Mineral Intelligence (BMI).
The partnership focused on driving investment and engagement toward on-the-ground projects, and facilitated multi-stakeholder dialogue for sharing, learning, and collaboration.
Cross-organisational initiatives, such as the GBA's recent Cobalt Action Partnership, are key to joined-up communications and operations across sectors and geographies. The Cobalt Action Partnership conducted activities to mitigate these risks, including through engaging with international stakeholders on responsible cobalt production practices, identifying best practices within artisinal and small scale mining supply chains that could be replicated and scaled, and leveraging funds to address the root causes of child labour and forced labour.
Conclusion Throughout the entire lifecycle of these products – from raw battery materials, like cobalt and lithium; to production processes, like mass-manufacturing of batteries; to sale and use, such as in electric vehicles – these supply chains have the potential for both harm and good. The battery's value chain is the exemplar of this in microcosm. This includes improving the end-use of batteries by promoting circular design improvements, encouraging the harmonisation of national and international rules to improve lifecycle management, and ensuring stronger market incentives toward circularity. And policy makers have their role to play, as well. Their role must be to recognise, encourage, and reward compliance with global production standards. All metals need to be established as 'critical' and sustainable mining practices, remining requirements, and land restoration requirements all need to be put in place. Especially given previous scepticism from the public about mining practices, there must be a real focus on rigorous environmental performance requirements, sustainable and ethical production, monitoring of those requirements, and the availability of financial resources to address the impacts of mining and to ensure the recovery of materials during mineral extraction. These initiatives will take time, effort, patience, and drive. Yet the rewards are vast – and more than vast, they are necessary. Amongst their ranks must be included such concepts as a fairer world, a liveable world, a sustainable economy, a healthy planet, and a just international system. These are worth striving for – in both the mining industry and the world in general.
14 July/August 2022 // global mining review
T he last two years have been bruising for the global economy, but the downturn has been felt rather acutely in Africa. With the pandemic pushing foreign debt of low-income countries to record levels, inflation spiking and rising geopolitical tensions disrupting food and commodity prices, several countries in Africa are struggling. For example, Ghana, Kenya, Egypt, Zambia, Zimbabwe, and Tunisia are all lumbered with high levels of debt; Ghana, in particular, is currently negotiating an IMF bailout. There is a risk of accelerating and deepening poverty as a result of political and economic uncertainty.
Rich in both natural and mineral resources, Africa is well positioned to drive long-term, sustainable economic growth for years to come. According to the United Nations, Africa is home to about 30% of the world's mineral reserves, 12% of the world's oil, and 8% of the world's natural gas reserves. Mining is still one of the continent's most important economic drivers, contributing to foreign exchange earnings, government revenue, employment, and almost 10% of the national GDP.
Flying the flag for recovery will be certain key factors, led by the boom in commodities this year and demand for rare earth metals (of which Africa has in abundance), an increasing amount of digitisation in the goods and services market and rising investment in infrastructure, all combining to drive the region forward.
15global mining review // July/August 2022
Boris Ivanov, Emiral Resources Ltd, UAE, assesses the current state of the African mining industry and outlines what the future may hold with the proper investment and commitment to development.
With the energy transition triggering an increase in demand for mineral resources, Africa could scale up investment in key sectors. Countries such as The Democratic Republic of Congo, Zimbabwe, Zambia, Namibia, and South Africa (which are rich in cobalt, nickel, copper, and lithium), Guinea (bauxite and iron ore), and Mauritania (copper) are all looking to maximise opportunities. These countries are receiving growing focus from international mining companies and attracting growing investment. However, it is vital that African countries get a few key things right to maximise the potential of their mineral resources.
While there have been many improvements in Africa's mining sector, the industry is still battling several challenges. Unrest and poor performance of state-run mining infrastructure has negatively impacted the sector's operational stability and attractiveness. There are also worries around policy and regulatory decisions coupled with socio-economic issues, which is creating a difficult operating environment. One of the biggest challenges is the low base of mining activity and the relatively lower level of industrialisation in the industry. Africa is amongst the most mineral-rich areas in the world, but the continent's potential continues to be under-explored. Until a few years ago, expenditure on mineral exploration in Africa had not moved past the US$5/km2 mark. This is particularly interesting since, the average expenditure in Latin America, Australia, and Canada has been hovering around the US$65 mark. Another reason for the struggle could be pegged to the higher degree of dependency that African countries place on production of fewer metals and mineral products, with over 20 countries out of the 54 on the continent relying on the export of metals to generate around three quarters of their earnings. While the pandemic has exacted a heavy toll on economies and has certainly left its legacy, some African governments have been further hamstrung by poor governance, political instability, insufficient development of health and educational systems, and uneven access to digital services. A string of coups across Africa has further slackened growth, and conflict continues to simmer in Burkina Faso, Mali, Ethiopia, and the wider Sahel region. This has hampered mining activities.
A country's fiscal regime must also be transparent and stable. Tax certainty and tax transparency will assume increasing importance in the time to come. It is integral that governments maintain consistency in legislation around mining and tax requirements. At the same time, it is essential that mining companies highlight their financial contributions to local communities through tax and the resulting improvements that these funds bring. Equally, investment in the right skills, infrastructure, energy, and water needs in general can create a supportive environment for exploration, mine development, andLargeproduction.scaleadoption of sustainable mining operations, fast-tracking development of key infrastructure projects, and faster industrialisation in the mineral sector are also factors that boost investment attractiveness. In case of the latter, there has been significant uptake of digital solutions including process-specific dashboards, remote process management platforms, and expansions in digital safetyAttractingportfolios.investment is vital for the legitimacy of African governments who are keen to boost employment and improve living standards – especially with current global economic problems. At Mining Indaba, in May 2022, several African leaders outlined their vision for their country's vital mining sector to the international investment community. Promises of transparent and fair regulatory regimes were announced, creating a hopeful scenario for change.
Conclusion In a year of doom and gloom, mining and exploration companies need to be agile and flexible and African governments need to strike a balance of delivering the value and benefits of the mineral back to its people, while creating an operating environment that is attractive to investors. This will drive further growth and support a freer, safer, greener, and more prosperous Africa for all.
16 July/August 2022 // global mining review
Another quite general, if not omnipresent challenge is the lack of infrastructure – some countries are better than others, but all over Africa there is a distinct lack of energy (and mining and mineral processing are energy intensive industries), and road and rail availability. Infrastructural challenges severely impede efficient exploitation of even discovered resources. The mining industry alone is ill-positioned to solve these issues; constructing hundreds and sometimes thousands of kilometres of highways to link resources to processors or ports, or building power-plants, are tasks beyond the cost of a stand-alone mineral project. This situation is a bit of a 'catch 22' scenario – to improve the transportation network and increase energy generation, governments need to step in, and they need funds to do so. The funds could come primarily from taxing the resource industry; however, it cannot currently develop enough to yield income flows in necessary volumes. This is where international development efforts could be useful and contribute to infrastructure creation.
There are also significant environmental, social, and governance hurdles that have hobbled mining's growth and development. Mining has often been tied in with deforestation, air pollution, and the exploitation of local communities. An under-developed policy framework has also worked against the full realisation of Africa's mining potential, with inconsistent policy frameworks across the continent creating bottlenecks to exploration, geopolitical uncertainty often turning away major international players, and an unstable fiscal regime in relation to minerals often holding the sector back. To attract investment appetite, major fiscal and regulatory reforms are required – especially in relation to mining codes, taxes, and royalties. Balanced regulatory frameworks, as well as strong institutions and stable mining codes, reassure investors that the rule of law and property rights will be respected once they invest.
References: 1. 'Our work in Africa', UN Environment Programme, www.unep.org/ regions/africa/our-work-africa
17global mining review // July/August 2022
H ow can mining companies make their operations more sustainable and reduce their environmental footprints?
One element that can be adapted to match the necessary conditions is the efficient transportation of mined material. Here, overland conveyors that can move large quantities of material over long distances are a good solution.
The company installed the first overland conveyor with horizontal curves as early as 1969. Since then, calculation methods and components (such as idlers, belts, and drives) have undergone constant development, resulting in the
Dr Kilian Neubert, BEUMER Group, Germany, discusses how curved belt conveyors can be used to efficiently transport material over long distances.
Figure 4. The BEUMER Overland Layouting Tool generates a digital 3D model of the conveyor in the virtual landscape during project planning – almost automatically.
Figure 3. A 3D model of terrain and conveyor: the advantages of earthworks (cut and fill) or steel structures can be quickly and precisely assessed using graphic representations and mathematical calculations.
Sustainability in mining Raw materials are needed to produce almost all industrial and consumer goods; however, extracting them has far-reaching effects on the environment and society.
18 July/August 2022 // global mining review
Figure 1. The topography of the existing terrain has a significant influence on the design of the conveying system.
implementation of increasingly efficient conveying systems for routes that are often complex. Mine operators can use BEUMER curved troughed belt and pipe belt conveyors to transport raw materials over routes with steep inclines and narrow curve radii. The company can match its systems to the required conveying task and topography. It relies on state-of-the-art planning and layout tools to suppot operators at an early stage of the project, and provide its customers with an efficient, sustainable, and cost-effective material flow.
This is why mining companies constantly strive to make their extraction and processing operations even more efficient and sustainable, and such efforts are called for in the planning of a new mine. Mine operators must ensure that the population generally approves of the planned project. This approval can be obtained through extensive approval procedures, environmental impact studies, geo-monitoring, and the implementation of suitable risk management systems. Mining companies need to build trust with the public –for example, they need to involve the public and key stakeholders from an early stage of projects. As a result, operators need to integrate the issue of sustainability into all aspects of mine planning and improve the environmental compatibility of the overall system, by ensuring the efficient transport of ore and waste rock over longer distances. Optimised routing and the selection of suitable methods can help achieve these objectives. The fundamentals and capabilities of modern conveying systems No two conveying systems are alike, even if the primary task of transporting bulk material from A to B appears comparable. The components and the system must be adapted to suit the material that needs to be conveyed.
The mass flow to be conveyed and height differences that need to be overcome over the length of the conveyor line are important factors that must be addressed when designing a system.
Figure 2. Long and difficult conveyor lines distances must be considered during the planning phase.
The energy consumption of long, horizontal belt conveyors is primarily determined by the main resistance in the upper and return strand in stationary operating conditions. This resistance consists of the running resistance of the idlers, the indentation rolling resistance, and the flexing resistance of both the conveyed material and the belt as they run over the idlers. The forces required to overcome these resistances depend on various operational and design parameters; however, they can be determined using the 'single resistance method'. If components with low running resistances are used (such as belts with reduced indentation rolling resistance or running-optimised idlers), the calculations of the systems nowadays show considerably lower tractive forces of the belt than those of a few years ago. This leads to lower energy costs, and smaller radii can also be selected for the horizontal curves thanks to the lower tractive forces of the conveyor belt.
The topography of the existing terrain also has a significant influence on the design of the conveying system. An in-depth analysis of various dynamic load cases and a thorough investigation of the technically feasible horizontal and vertical curve radii must be conducted to design the system in the most efficient and environmentally friendly way. This is especially true for longer and more difficult conveyor lines. Potential obstacles that must be considered during the planning phase include residential areas, roads, and rivers. Today, curved overland conveyors (such as those offered by BEUMER) can be designed with lengths of up to 20 km or longer, without the need for a transfer tower. The conveying capacities of a system like this are more than 20 000 tph. The right layout
The company uses its BEUMER Overland Layouting Tool to ascertain the ideal layout for the system. It generates a digital 3D model of the conveyor in the virtual landscape during project planning, more or less automatically. The critical topography data can either be provided by customers, or drones are used to capture terrain data. Important factors, such as 'cut and fill' volumes (i.e. the necessary excavation work), and the required steel structures for the conveyor can be evaluated and illustrated on this basis. This procedure can considerably accelerate the project planning process and enables the company to provide project-critical data to the customer at an early stage of the project. Ongoing development In BEUMER's pipe conveyors, the idlers form the belt into a closed pipe that protects the material needing to be transported against external influences, and the environment from emissions such as dust and odours. This conveying solution is therefore ideally suited for fine bulk materials, such as ore concentrates. Pipe conveyors also allow tighter curve radii and greater angles of inclination compared to conventional troughed beltHowever,conveyors.what if bulk material with large grain sizes requires a larger pipe diameter? The rule of thumb here is that the pipe diameter should be approximately three times the maximum grain size. To solve this problem, the BEUMER Group developed the U-shape conveyor: this variant combines the advantages of a troughed belt conveyor with those of a pipe conveyor. The idlers form the belt into a U-shape rather than a pipe, which enables tighter curve radii than a troughed belt conveyor and higher mass flows than a pipe conveyor, while also protecting the conveyed material from environmental influences and the environment from material loss and emissions.
www.tomra.com/mining Make every diamond count with the COM XRT 300 /FR www.tomra.com/mining Visit us at Electra Mining 5th - 9th September 2022 Hall 6 - Booth E07
21global mining review // July/August 2022
A s a classic movie once said, "when the going gets tough, the tough get going." This is perhaps also the case for round steel link chain equipment for bucket elevators and conveyors, a rugged solution for tough and heavy load material handling applications.
Compared with all the alternatives, round steel chains offer: (a) low cost; (b) a long, trouble-free lifetime; (c) easy monitoring and minor maintenance requirements; (d) self-cleaning operation; and (e) adaptability to practically any granularity, chemical, and temperature specification of the transported product. Through the decades, this type of chain equipment has become a preferred technology for heavy load and heavy-duty machines in mines and quarries, cement factories, as well as in industrial uses; such as power generation and ash handling. In recent years, a few major manufacturers – including CICSA
Daniele Bonaiti, CICSA, Italy, analyses the benefits of adopting round steel link chain equipment for wheel bucket elevators.
Figure 3. A toothed wheel for CICSA round link chain in preparation before delivery.
Unlike the traditional execution of the guides, which was based on cast components, the modern approach proposed by CICSA is based on high-volume manufacturing of light and extremely robust forged segments (covering 30˚ – 45˚ of the
Smooth wheel bucket elevators
22 July/August 2022 // global mining review
Driving and return wheels are generally constructed with a central hub (e.g. fixed on a keyed shaft) and replaceable peripheral chain guides (or segments) bolted onto the hub. The chain links lie, one by one, alternatively in a flat position on the segments or vertically in a continuous central cavity, which allows the discharge of excess material depositing on the wheels during operation.
Focusing on their application to bucket elevators (Figure 1), two technologies are in place: n Smooth wheel bucket elevators, using either: short strand chains (e.g. classic DIN764 type, generally with three, five, or seven links) and bucket attachment with shackles; or long strand chains with clamp-type attachments – in both cases, using smooth driving wheels.
n
Figure 2. An example of a CICSA smooth drive wheel with replaceable forged segments (RLS type).
Smooth wheel bucket elevator technology, which has the longest history in installations (dating back to the early 1950s), has demonstrated the highest flexibility in an extremely wide range of application and is still a preferred choice in many sectors. As an example, CICSA supplies components for elevators transporting from a few tph of abrasive dust at room temperature to a hundred tph of chemical reactants at high temperature (400 – 500˚C), or up to 1000 tph raw materials with variable particle size. The latter capacity is reached in elevators running with Ø36 – Ø42 mm CICSA 3HS equipment (the diameter refers to the size of the round steel composing theThechain).three main elements allowing the bucket charge, elevation, and discharge – and thus the transport of bulk materials – in the machine are: n The driving and return wheels. n The chain strands. n The shackles which connect the chain to the buckets. Driving and return wheels
– have further developed round steel link chains and accessories with additional technological refinement.
Toothed wheel bucket elevators, using long strand chains (e.g. CICSA LH type), to which buckets are attached with couples of pins or with specific clamps (ATS type) and toothed driving wheels.
The transmission of torque between the driving wheels and the chain happens thanks to friction between the smooth guide segments and the chain links. This mechanism is not significantly influenced by the chain size. This is a distinctive advantage towards all toothed wheel equipment, regardless of the chain type, where, conversely, a correct gearing can be ensured only up to relatively small variations of the chain pitch. On the other hand, friction occurs thanks to the tensioning effect created by the weight of the chain equipment combined with the pre-tensioning of the return wheel; the latter can be increased but tends to become impractical (although exceptions do exist) when the height of the machine goes above 40 – 45 m (measured as wheels centre distance between the driving and return stations).
Figure 1. Schematic layout of a smooth wheel bucket elevator.
wheel circle) made of special chromium-molybdenum (CrMo) alloys, assembled on simple design wheel hubs (Figure 2).
The highest speed and capacity elevators are generally built with toothed driving wheels. This solution allows the transmission of torque and movement without relying on pure friction, making possible to carry any kind of bulk material without adding any significant pre-tensioning load on the chain system. Moreover, it allows for the machine in question to be run at higher speed (e.g. up to around 1.5 m/sec. vs the typical 1.3 m/sec. of smooth wheelRemarkableelevators).applications have been successfully proposed in the last years, especially for raw material and clinker transportation, where large round link chain elevators have performed very well using CICSA LH Ø30 mm to Ø38 mm chains. The three main elements facilitating the bucket charge, elevation, and discharge – and thus the transport of bulk materials – in the machine are: n Driving and return wheels. n Chain strands with intermediate couplings.
Chain quality has steadily evolved over the years. CICSA is proposing high-class solutions (3HS and 3HX type) featuring high surface hardness (800 – 820 HV) and high carburising depth; up to 15 – 20% of diameter in terms of total hardening depth and 10 – 15% effective case depth (reference CHD 550 HV1, ISO2639). The case depth is often underestimated, since the smooth wheel drive can work effectively even in presence of large chain pitch variations – a chain with a thicker hardened layer (e.g. high hardening depth) can ensure a much longer lifetime with uniform distribution of wear and tear. Together with their high hardness profiles, 3HS and 3HX chains offer a high tensile strength, equal or exceeding those of conventional products and ideally fitting the requirements of the heaviest applications. Shackles Shackles are classically designed to combine two critical roles: connecting the adjoining chain strands and sustaining the buckets. They must bear both the chain load and the forces related to excavation and rotation of the buckets, and they are subjected to fatigue stress in the machine operating cycles. Novel solutions in the field include the special patented treatment C-HARD® proposed by CICSA, which combines superior hardness at interlink (800 HV) with high core toughness and the use of high-precision closing plates. This solution ensures trouble-free operation, even in the most demanding machines, in terms of capacity, height, and material abrasiveness. As an alternative, shackles can be substituted with clamp-type attachments (ATS type, see also the next section), mounted on long chain strands.
Chain strands
Toothed wheel bucket elevators
FLOTATION 360™ COMPLETE, END-TO-END FLOTATION OPTIMIZATION Superior, customized frothers and collectors Global network of technical consultants and labs ensuring continuous service and support Optimize performance to increase recovery Reduce potential impacts of future ore changes Enhance reagent dosing and consumption Peace of mind for an efficient, productive, and optimized flotation operation Advanced Chemistry Expert Service Digital Solution Complete your circuit with the chemical, service and predictive capabilities of FLOTATION 360: To learn more about how Nalco Water can help maximize your flotation performance, visit https://www ecolab com/nalco water/offerings/flotation 360Copyright ©2022 Ecolab USA Inc All Rights Reserved
n Attachments which connect the chain to the buckets.
Conclusion The adoption of a suitable choice of round steel link chain equipment ensures robustness and reliability in heavy-load bulk material handling applications, including those featuring: harsh operating conditions, transport of corrosive materials, operation at high temperature, and/or handling of extremely abrasive materials.
The chain is mounted in long chain strands, with few and simple couplings connected at each end; see for example the two couplings with flat plates (which are visible in Figure 5), between the green ends of the chain.
Figure 5. Driving station of a toothed wheel bucket elevator with Ø34 mm CICSA LH-CS chain and GV34 couplings.
24 July/August 2022 // global mining review
Wheels are built with a central part constituted by a hub and a peripheral double flange (in grey in Figure 3). Teeth, which are easily replaceable, are made of special alloy steels, case hardened up to the same hardness and depth specifications of the chain and are bolted onto the wheel flange for easy mounting and disassembling. Return wheels instead feature a smooth and continuous guide, with a construction very similar to the one discussed in the previousAimingsection.toextend the chain equipment lifetime, teeth can be changed when the chain pitch grows beyond 2.5 – 3% of its original size due to wear and tear, using oversized teeth which allows for the correct gearing to be restored on worn chains. This technique can extend chain useful lifetime by up to 30 – 40%. Furthermore, CICSA teeth are symmetrical and reversible, so that the very same teeth can be turned and re-used at the appropriate time with the following chain equipment. Chain strands and couplings
CICSA is proposing high-class solutions (from LH-B to LH-CS type) featuring high surface hardness (820 – 830 HV) and high carburising depth, up to 12 – 15% of diameter in terms of total hardening depth and 9 – 12% effective case depth (reference CHD 550 HV1, ISO2639; see some examples in Figure 4). The case depth is especially important when a possible use of the above-mentioned 'oversized teeth' technology is envisaged.
Figure 6. Bucket attachment with ATS type components.
Figure 4. Hardness profiles of most advanced chain qualities for toothed wheel bucket elevators (CICSA LH type).
Driving and return wheels
Bucket attachments The pitch between the buckets can be chosen according to different needs. Buckets are installed after the setting up of the chains. The bucket attachment can be constituted by pins, which are directly inserted in the chain links and in plates welded to the buckets (Figure 5). Alternatively, buckets can be attached with clamps type ATS (Figure 6), which offer a very simple, robust, and inexpensive option.
Mike Brooks, AspenTech, USA, reviews the benefits of embracing digital optimisation and predictive/prescriptive maintenance in the context of improving mining operations.
25global mining review // July/August 2022
T he economic slowdown, resulting from the global crisis of the last two years, has driven many companies across the metals and mining industries to review operational efficiency, asset reliability, and workplace safety from a new and different perspective. That refreshed workplace outlook considers the need to accelerate adoption of automation and modern digital technologies as the critical influence for improving mine operations. In the past, the mining industry has been slow, if not reluctant, to fully embrace digital transformation. According to BCG's Digital Acceleration Index (DAI), metals and mining is approximately 30 – 40% less digitally mature than comparable industries.1 Areas such as petrochemical and electric power are similar in their need for extensive capital investment in equipment and resources, but have been more confident in accepting change. To remain agile, competitive and profitable over the long term, leaders in the mining industry are now adopting digital capabilities into their operations and embracing immediate and measurable benefits. They understand this is especially important, given that they are operating in an environment currently affected by volatility, uncertainty, complexity,
and ambiguity (VUCA) concerns. The ability for quick wins through digital technology demonstrates the inherent capability and value creation while building momentum for future technological projects. Operators understand that digital technologies must be agile, flexible, and be effective across the range of equipment in their asset-intensive industry, covering everything from mobile vehicles to fixed plant machines. There is a need to deliver accelerated time-to-value in an industry with tight operational constraints and short deadlines. A push for a better and more efficient way of managing data is critical to digitalisation and stimulates a new methodology focused on data-driven planning, control, and decision-making that will drive the emergence of the intelligent mine.
While chasing the business goal of reliable equipment is vital in the mining value chain, sometimes the ore processing has a high impact. High recoveries are often only possible when the ore process runs in an optimal, stable way. Whenever equipment breaks down, losses can occur during the stop and restart until the process is stabilised once more. Reliability is key to preventing, or at least minimising, such adverse effects. Traditional preventative maintenance methods generally cannot deliver the benchmark equipment availability and performance required in today's tough economic climate. Despite best efforts, earlier preventive maintenance efforts cannot deliver sufficient time-to-failure warnings to deliver a significant impact on profitability. That is where modern predictive maintenance plays a vital role. The technology monitors data from sensors on and around the machine to develop intense multi-dimensional and temporal patterns of normal operation, abnormal operation, and explicit degradation patterns that precede breakdown. Not only providing extreme early warnings – where time is money – the patterns that the artificial intelligence (AI)/ machine learning digital technology detects are patterns that limited human dimensionality cannot perceive. Also surpassing human capability, the technology can assess the health of numerous machines every few minutes. It also delivers early warnings to maintenance teams, often with prescriptive advice that enables a focus on the bad actors and known Predictiveissues.maintenance enables maintenance and reliability workers. With tough challenges, spread thin over large sites, workers get pre-warnings, and much of the intense repetitive analytics and engineering are executed to help them with the resulting information delivery, so they know when and what to prioritise. Maintenance teams with predictive maintenance tools assure the intelligent mines can make great progress in eliminating unplanned breakdowns.
Bringing in predictive maintenance
Finding a solution An asset performance management (APM) approach – with integrated predictive maintenance capability – assures mines improve reliability, availability and uptime, while reducing the requirement and great expense of redundant equipment. Operations teams have often planned for lower availability; installing three machines when they only need two, or buying 10 haulage trucks to ensure they always have eight up and running. With the right technology, mines can achieve benchmark reliability without the need for more people, equipment, or spend. Companies can work at the
Building the intelligent mine Mine leaders make tough decisions every day. Frequently they scramble around isolated pockets of data to assimilate the relevant information to develop the correct insights to make good decisions. Clearly, it is not enough for data to be available, instead appropriately sorting lots of diverse data in lots of places to enable decision-making is a top priority. The keys are to integrate data and exercise high-level analysis with an understanding of the domain work requirements. Consequently, the intelligent mine brings all that data together with inherent capability to sort and analyse them, developing and presenting information and insight in the proper context to support key decision-makers at any location where they may be working. Only relevant and complete information at their fingertips enables decisions that deliver tangible business benefits. Data stored in 50 different standalone systems will not help to drive efficiencies. So, addressing several issues will facilitate success in a move towards the intelligent mine. First, implement automated data gathering systems to capture relevant data from various parts of the mining process and facilities. Second, only good data enables good decisions, so assure the tools deployed can detect the bad data and deploy management of change to monitor and assure all changes are consistent, correct, and improve data processing. Third, assist the mine personnel by providing capabilities to integrate data with built-in relevant analytics to process data in the correct context for a given purpose. Such analytics do the heavy-lifting, plus rote and tedious work with intense analytics on behalf of the personnel, thus lifting their tasks to higher level judgement and decision tasks – let the computers do what they do best and allow humans do what they do best. The predictive dimension In the context of the Intelligent Mine, having access to good data is important, though it represents just one part of the equation. Organisations also need to be able to analyse the data in different ways within a context of the problem to be solved with appropriate predictive outcomes. One critical way for mining concerns predicting the degradation of equipment that, if unattended, will lead to equipment breakdowns and unplanned maintenance. Mining is equipment and infrastructure-intensive with expensive machinery. Moreover, the business suffers if machinery is not maintained and kept reliable. The biggest profitability challenges that any mining operator faces are in equipment breakdowns, the repairs, and consequent production shortfalls. In the past, such asset failures were largely taken for granted and accepted as part of the mining business. However, today the drive for better operational efficiency focuses attention of preventing such breakdowns, or at least knowing about them early enough to plan safe and efficient repairs, in order to minimise the unplanned downtime and lost production.
26 July/August 2022 // global mining review
YOUR MINING MACHINE DESERVES THE BEST CHAINS
Cincinnati Mine Machinery Company designed and installed the first Dual Sprocket Conveyor Chain. Our unique design utilizes superior metals and a proprietary heat treatment process for unparalleled strength. Our Dual Sprocket Conveyor Chain runs longer and stronger which means less downtime and lower cost per ton. So when it's time to choose, choose the strongest chain under the earth. For over 90 years, Cincinnati Mine Machinery continues to be THE STRONGEST L INK Contact us at 1•513•728•4040 or visit cinmine.com to learn more about Cincinnati Mine Machinery products.
required production levels and either park up or switch off redundant equipment. This makes a significant contribution to the bottom line. To develop an efficient APM programme, certain components must be in place. All too often, mines try to get away with just investing partially in digital solutions to save money by gathering data in one place. Without domain-centric AI/machine learning analytics, this limits the reach and value technology can deliver. Successful APM programmes draw on data from sensors and other sources, for example: enterprise resource planning (ERP) systems, manufacturing execution systems (MES), laboratory management information systems, and advanced process control (APC) systems. Machine learning and other data science techniques require delivery of available data, so plant historians can play an important data delivery role.
References 1. GANERIWALLA, A., HARNATHKA, S., and VOIGT, N., 'Racing Toward a Digital Future in Metals and Mining', BCG, (4 February metals-and-mining-industrywww.bcg.com/publications/2021/adopting-a-digital-strategy-in-the-2021),
Scalable prescriptive maintenance solutions add value to assets; from a single asset, conveyer system, a full processing unit, a large mill, and all the way to equipment across an entire global enterprise. The truly intelligent mine supports mining companies in reducing unplanned downtime and decreasing safety risks, while running more efficiently and increasing profitability.
Getting processes right Digitalisation and APM technologies play a key role in ensuring success. Integration and inter-operation between the foundational technologies are a part of the journey. For example, the predictive maintenance system must be fully capable of incorporating data from the asset management system to properly predict explicit failures, as well as data from the plant historian to be able to understand operational activities. So, to achieve their core goals mining companies must implement the technologies in the right way with the right change management processes around them to deliver on the promise of the intelligent mine. Yet, the right approach becomes a game-changer, giving mines extreme early warnings of degradation that can lead to failures, enabling action to avoid weeks of downtime and tonnage losses. Many mines have felt that pain before and now seek the ability to proactively prevent breakdowns and deliver immediate returns. Looking to the future Today, the mining industry is at the level of maturity to fully embrace and utilise the digital optimisation technologies. Those operators who do not adapt and build a strategy to utilise such technology will struggle to compete against those who do. Prescriptive maintenance can quickly bring results to a mining company by improving the use of existing capital assets and eliminating the surprise of unplanned downtime, which has a direct impact on productivity and safety.
28 July/August 2022 // global mining review
Case study: Greece Now in 2022, new history is being created in the Greek mountains. Mining of the valuable mineral, magnesite, is underway in the Greek archipelago. It is here that one of the richest deposits in the world was discovered.
T he island of Evia, or Euboea as it is also called, is the second largest island in Greece, after Crete. With its mountainous surroundings and pine-covered slopes, Evia gives a dramatic but green impression as it rises out of the AegeanManySea.believe that the dreamlike beaches and small bays could just as easily have been found in the Caribbean with its blue-green sea. The surroundings attract many sun-seeking tourists to the island, and the mountains attract hikers who can find ancient castle ruins and hot springs that were visited by both Winston Churchill and Aristotle Onassis. In fact, the Evia's history goes back a long way, all the way to early antiquity. According to Greek mythology, even the Greek hero, Heracles, bathed in these same springs to find strength.
Grecian Magnesite has owned the rights here since the 1950s. It had seen signs of really old mining and managed to date the work back to 1832 when the first small underground mines started. Now, Grecian Magnesite has portable laser scanners to survey the mines, and core drilling exploration showed very concentrated magnesite. With more extensive test drilling, the company found 200 m-wide and 400 m-deep veins and a total of 20 million t of highly concentrated magnesite, one of the purest deposits in the world. This could amount to
29global mining review // July/August 2022
The mining company, Grecian Magnesite, decided to mine this unique deposit in an equally unique way – completely fossil-free and without explosives. With an electrically powered demolition robot and loader, this small scale mining in the Koutzi underground mine is environmentally friendly, safe, and efficient. The entrance to the mine where they began geotechnical investigations some years ago is also not far away.
Daniel Bergeman, Brokk, Sweden, explores how electrically-powered mining equipment is helping companies become fossil-free and improve safety and efficiency.
In total, there are over 250 products involved, ranging from medicines, environmentally friendly leather tanning, cement and water purification, to brakes for exclusive cars and electrical components. Some products have been developed in their own laboratory and others in collaboration with the global customers. All production can be traced back to the mining operation and process technology used.
Grecian Magnesite only has experience operating opencast mines; however, the circumstances were different here and there was potential for starting a tunnel project using narrow veinThemining.highquality of the veins made it a very important project for the company. There was an opportunity to extract as pure magnesite as possible, with the aid of the right machine, in a fossil-free way. The company wanted to create the most environmentally friendly and safest underground mine.
30 July/August 2022 // global mining review
Figure 3. Safety on site is very important. Electrically powered and remote-controlled, a Brokk robot makes the work safe for the Koutzi underground mine, where magnesite is extracted in a fossil-free way through narrow vein mining.
Figureoperator.1.The
The Koutzi underground mine will provide the highest quality magnesite ore for many decades to come, and at the same time the market is growing and more uses are emerging every day for this carbon-neutral and versatile rock.
Bourmas created a 3D model of the deposit and began design work on the mine in 2018. He was then in a position to design the machines that would work in the tunnels.
Solution The solution was a Brokk 500 from Brokk AB, one of the world's leading manufacturer of remote-controlled demolition robots. It is electrically powered and combines strength and agility, making it well suited for narrow veinBourmasmining. had a theory of just using a hydraulic breaker and breaking up the material to the right size, instead of using explosives, and then loading the material out with a battery-powered loader. He knew how fragmented the rock looked and therefore thought it would be possible to break the magnesite apart with a wide chisel at speed, and in an environmentally friendly way. The company decided to test a Brokk 500 equipped with a 700-kg BHB705 breaker and the project turned out well. When Grecian Magnesite received all the permits from the Greek government in 2021, the hydraulic breaker was set to work on the rock on 9 December.
at least 100 years of future magnesite mining in Evia. The success meant that the next step in the mining project could begin with a strong belief in the future. For over 60 years, Grecian Magnesite has been manufacturing products from the versatile mineral magnesite for various industrial applications. Magnesite is used to produce magnesium oxide, which acts as a refractory material for the steel industry and as a raw material for the chemical industry.
Mine planning George Bourmas, who designed the mine, has widespread experience of mining and was educated at the National Technical University in Athens. He has since added a PhD in underground mining engineering and experience as operations manager at several bauxite mines, conducted technical studies for some of the world's largest mining companies, as well as tunnel projects in Qatar, India, the Balkans, and Greece.
Figure 2. For securing the rockmass with swellex bolt, the Brokk 500 was equipped with a drill to prepare the drilling holes.
The future of mining
The safety factor
For factory-direct service, training and sales call 1-309-852-2384 or to access our education programsand professional development options visit martin-eng.com and click the Learning Center tab Not only do our belt cleaners work with all belt sizes and speeds, and in the most challenging environments, we have technicians and engineers available to provide you with expert site-specific advice and assistance on these products and all of your bulk material handling questions and problems. Keep it rolling with Martin. 10:21 AM
There were large veins but the Brokk robot is well suited to handle this type of assignment productively. The only problem was that the rock was being broken up at such a fast pace that the loader does not have time to take out all the material fast enough. The alternative would have been blasting, but this would have taken longer and created a large disturbance zone that would have required sending the material for sorting. With this innovative underground mining approach, Grecian Magnesite will substitute imports of high purity magnesite from third countries, costing approximately €80/t with Euboean magnesite at a cost between €25 – €30/t.
Another important component is the safety of work. As the mine planner, Bourmas naturally had his own experience of this that contributed to his desire to create as safe a working environment as possible – in 2008, and while working for another company, an employee died underground and Bourmas, who was nearby, was hit by the pressure wave. In the Koutzi underground mine, this has been managed as a result of the Brokk robot. The air is also completely free of diesel fumes. To secure the rock, Brokk 500 is used to drill holes approximately 2 m deep, into which the operator then pushes in a swellex bolt which, with the aid of high water pressure, expands and thus secures the rock. Tests showed that using Brokk's machine, Grecian Magnesite could move forward 10 – 12 m per shift, but it is possible to develop this even more. With blasting, the company might have managed 3 – 4 m per salvo and 6 – 8 m per shift at best. The Brokk robot works continuously, keeping a high tempo, so with two machines and two teams, the company could reach up to 20 – 25 m in eightThehours.operator uses the arm system of the Brokk 500 and can stand 25 m away from the work zone. At present, magnesite is being mined at a depth of approximately 200Sincem. the start of operations, there has not been a single incident, nor has any operator mentioned that they have seen anything fall down. The Koutzi underground mine is the first fully electric mine in Europe and perhaps also the safest – there is no need to be worried about anyone using explosives incorrectly, and there are no diesel fumes or rockfalls.
The company's efforts with its Brokk 500 have resonated in the mining world. A mining company from northern Greece and a Swedish company want to visit the Koutzi underground mine to possibly copy their recipe for success. This type of mining is productive and safe, and aligns well with the strategy to extract key mineral resources for future generations and drive the transition to sustainable mining.
artin belt cleaners, with high-performance urethane blades, effectively reduce a multitude of carryback issues, making your conveyor systems cleaner, safer and more productive. Eliminating waste prevents injuries and excessive downtime for maintenance and cleanup. Because when the belt stops, profitability goes down the chute.
CMYCYMYCMYMCK GlobalMining_8-22_insertV2w-bld.pdf 1 8/2/22
Remote deployment
FAMUR Group has been trying to implement similar tools for years, but the fact that customers were so used to the direct presence of service personnel on site resulted in this remote support taking place more frequently between the service technician and engineering departments, rather than between the user and the service technician. The GoGlobal strategy adopted by the company assumed organisational and hardware preparation for cases in which service or deployment support would have to be carried out using IT tools, instead of the traditional presence of a deployment team at the customer's premises. While the concerns associated with this methodology of conducting deployment are numerous, remote deployment offers one definite advantage – a lack of necessity for the long-term business travel of employees participating in the commissioning process. This results in the fact that, if necessary, even quite a large group of the most experienced engineers who designed a particular machine or piece of equipment can participate in these activities, compared to the traditional deployment process which usually involves only one person from the service and deployment team.
Remote diagnostics
Adjustments of the parameters or diagnostics of modern mining equipment or machines very often requires a direct connection of specialised diagnostic tools to the communication buses of the unit. In classical mining equipment, this meant that a service technician with appropriate training had to physically travel to the underground mine. This problem becomes even more perceptible when the machine is operating thousands of miles from the manufacturer's headquarters. For many years, the company has been trying to engineer its machines so that diagnostics are available from the Ethernet network, which enables diagnostics not only in the direct vicinity of the machine, but also from any location – after appropriate network connections, using the internet.
32 July/August 2022 // global mining review
E nterprise digitalisation has been talked about for several decades. More hardware and software solutions have been gradually deployed in companies, but it was not until the COVID-19 outbreak that many companies were forced to actually implement full-scale digital solutions that enable remote work. The need to change the approach to daily tasks, which came as a surprise to everyone, helped break down many psychological barriers in business. One such barrier was the belief that the deployment of a new type of equipment at a longwall mining production could not take place without the direct presence of the service personnel of the equipment manufacturer. This belief was still particularly strong for longwalls with high levels of automation.
Karol Bartodziej, FAMUR SA, Poland, provides insight into the remote deployment of mining automation systems, with a focus on longwall operations.
Case studies Some examples of the application of these technologies include two deployments of longwall systems that had to be carried out 100% remotely, as a result of cross-border travel restrictions caused by the COVID-19 pandemic.
As part of the GoGlobal strategy, equipment and machine control systems were gradually modified to enable remote diagnostics and adjustments. FAMUR, expanding its sales network to new markets often very distant from the nearest headquarters of the company, assumed that it must provide foreign customers with service response time and support at the same level as those located close to the company offices. This vision required the implementation of a new generation of machine control system components, so that each component can enable full remote diagnostics. It was also necessary to develop competences in building network infrastructure required to connect the machine being operated underground with the company's Service Centre, as well as to ensure an appropriate level of cyber security for these connections.
One was the deployment of the Mikrus type complete longwall system for the automatic mining of thin coal seams at China Energy's Shigetai mine in Shaanxi province, China. The other was the commissioning of a longwall system in Desa Manunggal Jaya, near the city of Samarinda, Indonesia, in a mine owned by PT Gerbang Daya Mandiri. In both cases, the scope of delivery included the mining machine and scraper conveyor, as well as complete power supply and control equipment for the longwall system, including the machine operation visualisation system. In these examples, the commissioning of the complete system was completed using remote supervision tools – the manual activities on site were performed by persons who had no prior contact with the equipment, nor had the opportunity to receive training at the manufacturer's headquarters. Case study: China In the case of the Mikrus complex, the longwall had to be operated in fully automatic mode. Anyone with experience in commissioning these types of systems knows how many fine-tuning steps are required for the control subsystems so that the interaction of individual machines can work properly. Tuning such systems usually requires multiple days of collaboration between automation programmers working side-by-side at the facility with the programmers of the remaining co-operating components. It is necessary to observe the actual behaviour of the machines after successive iterations of changes have been made, and to catch any anomalies or undesirable behaviour. In this case, that opportunity for direct side-by-side co-operation was not an option. Two key elements of the longwall automation system, i.e. the electro-hydraulic control system for the powered roof support and the safety interlocks system, were not supplied by FAMUR, but by local
33global mining review // July/August 2022
Case study: Indonesia A similar case was the Desa Manunggal Jaya longwall in Indonesia. In this scenario, however, although the longwall did not have to be operated in fully automatic mode, commissioning was equally challenging. The scope of supply included, among other solutions, a complete set of power supply and control equipment with a safety system. Adjusting the parameters of this type of system usually requires tuning the settings to the facility in which it is operated, so not being able to stay on site at the customer's premises was a challenge for the manufacturer's deployment team. This was also the first such extensive automation system to be deployed by the company in Indonesia, so adapting to user habits and local regulations required much more work than in markets where the company has been operating for years.
Figure 2. The Mikrus system remote operator's cabin located underground in the maingate tunnel, near the longwall face.
Training Seeing the challenges posed by the need to provide certain services remotely to its customers, the FAMUR Group implemented a dedicated multimedia room used for deployment and training in its headquarters – with the use of both classical videoconferencing solutions and virtual reality (VR) and AR technologies. VR solutions are mainly used for training purposes. The trainee has the opportunity to use a full 3D model of the machine to get acquainted with its engineering design, as well as with the methods of carrying out service repairs. The prepared training environments give the opportunity to conduct the same training on site at the customer's premises, without the need to travel to the manufacturer's training centre – it is enough to provide a VR kit (goggles and manipulators) to be able to conduct training remotely.
34 July/August 2022 // global mining review
Figure 1. The Mikrus longwall system is dedicated for mining low coal seams in automatic mode.
Figure 3. The surface remote operator stand of the Mikrus longwall system.
Chinese suppliers, while the supervisory control system for the entire longwall was within the company's scope of supply. This division of the supplied equipment resulted in a lack of opportunity to work out the interfacing algorithm for these three systems in the company's headquarters – this was supposed to take place during the commissioning on site, at the customer's premises. The inability of the programming team responsible for the operation of the automated longwall that was to arrive at the mine seemed to be a barrier difficult to overcome. It was difficult to assume that this work could be done remotely. Since it looked like the cross-border restrictions would stay in place for an extended period of time, it was decided together with the customer that, despite these inconveniences, an attempt would be made to start up the complex remotely. In retrospect, attempting to commission remotely was a good decision. As of the writing of this article, two years after the start-up of the longwall complex, cross-border restrictions between Europe and China are still very high and there are long quarantines upon arrival in China – this would certainly hinder the attempt to assemble the necessary team at the right time with the group of machines put together at the customer's premises. Through the use of SmartMine remote monitoring tools, VPN connections and video conferencing solutions, this commissioning was successfully carried out and a fully automatic operation of the longwall was achieved.
As with the Mikrus complex in China, the SmartMine remote monitoring and control system and video conferencing solutions proved indispensable. The novelty, in this case, was the use of augmented reality (AR) tools during the assembly and parameters adjustment of the equipment in the underground part of the mine. The person underground was equipped with AR glasses and remained in audio-video communication with the FAMUR Group Service Centre. As a result of the AR glasses, the person working at the machine received visual guidance regarding the next steps that needed to be taken and the relevant parts of the machine's documentation in real time, which greatly facilitated their work underground. This longwall was successfully commissioned in July 2021 and achieved the intended production within the time frame expected by the customer.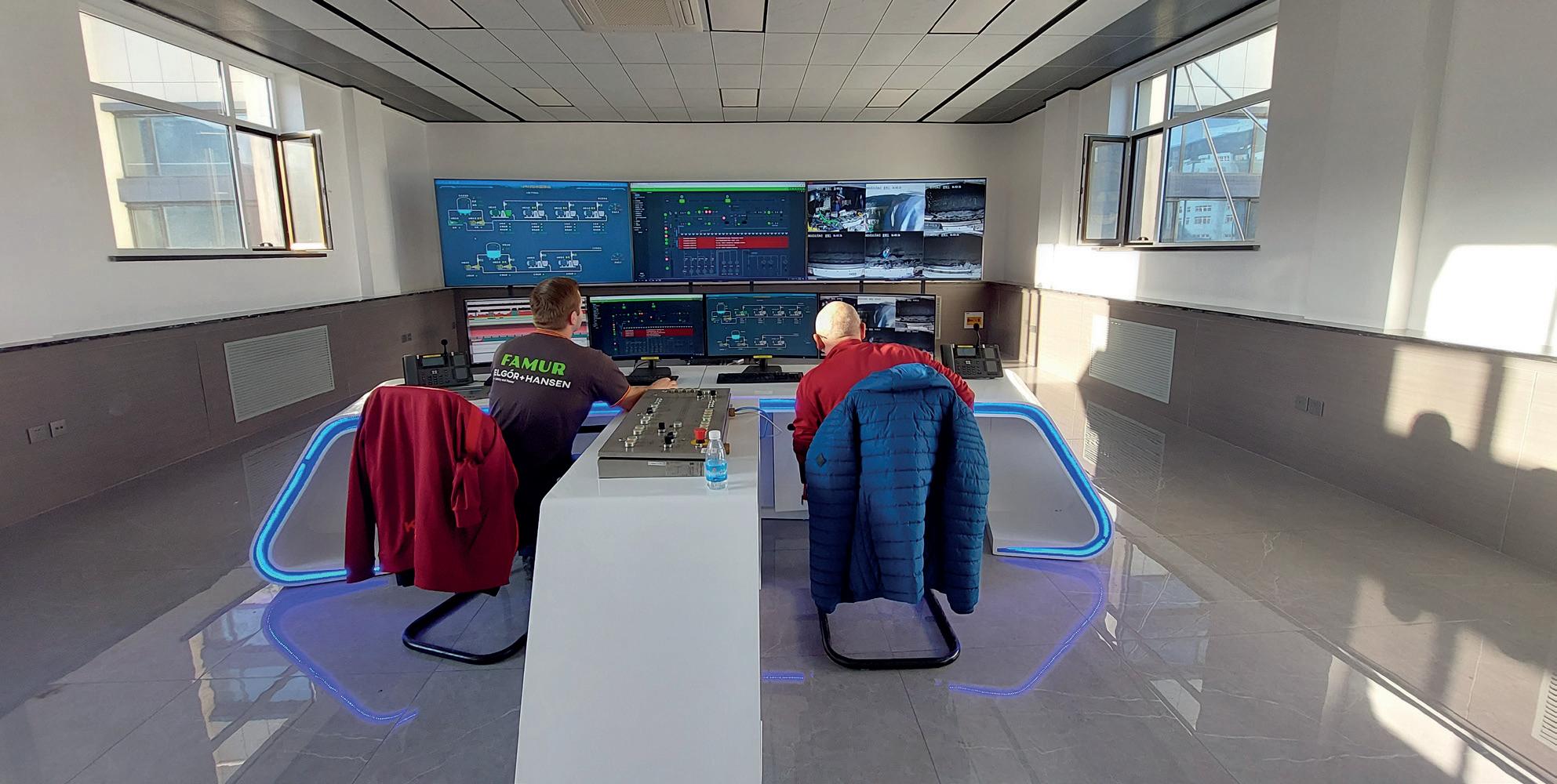 Conclusion Recent years have brought many unexpected setbacks to companies around the world as they conduct their daily business. When choosing a partner for co-operation, especially in the area of supplying machines key for the operations of a given company, it is crucial to have a partner on the other side who is ready to provide a full range of services, even when a personal presence of service personnel at the customer's site is not possible.
Figure 5. Training in the field of service repairs of a longwall shearer, with the use of VR technology. Rely on
AR technology is a tool used for different purposes.
The presented systems for the remote supervision of machine operation, as well as VR and AR solutions, are an excellent example of how, in these difficult realities, the industry can remain flexible and seamlessly perform foreign contracts for the supply of mining machinery and automation systems.
Figure 4. The use of augmented reality glasses during deployment works in an underground mine, Indonesia.
The use of AR technology means it is possible to support the service technician or the end user by superimposing visual guidelines and comments by the manufacturers' employee on the view of the machine seen by the user. This facilitates providing ongoing instructions for the person at the machine while the work is being performed. In this way, it is sufficient to have just one person with basic manual skills on site to perform manual work. AR technology also allows training to be conducted for the user at the actual machine, while the training instructor is in an entirely different corner of the globe. Then, an image of the actual machine at the customer's site – as seen by the trainee through AR glasses – is superimposed on the guidelines from the remote instructor.
36 July/August 2022 // global mining review
Greg Australia,SchneiderJohnson,Electric, details the implementation of automation and remote working in the mining industry, and how it has accelerated since the outbreak of the COVID-19 pandemic. I n an industry as fast paced and cyclical as mining, where efficiency and productivity are critical to profitability, improvements in technology and employee experience are crucial to yielding results. While automation and remote mining are not brand-new ideas, the direct impact felt by the mining industry since the COVID-19 pandemic began has accelerated the need for operations to adapt to the new way of working. With the help of new technology, this can become a COVID-19reality.hasaccelerated the widespread implementation of remote and autonomous operations, with various mining companies relocating around 15 – 20% of their on-site workforce. 1 Both large and small mining companies are using it to their advantage to make improvements to their businesses, to sustain operations, maximise profits, reduce costs, and improve the wellbeing and productivity of their employees. With the combination of advancing technology and the impact of the COVID-19 pandemic, the mining sector has had time to stop and think about how they can change their operations for the better.
review // July/August 2022
Technology transforming mining The explosion of the Internet of Things, 4G, and 5G have revolutionised the mining industry. Thanks to new technologies, mining equipment can be monitored and maintained before breakdowns occur. Not only this, global mining
37
Figure 1. Revolutionising the mining industry.
2. 'Black Rock Mine Operations (BRMO)', www.aveva.com/en/perspectives/success-stories/brmo/AVEVA,
38 July/August 2022 // global mining review
Evaluating autonomous and remote operations in cyclical industries, such as mining, is essential to survive in the new post-COVID era. Understanding employee needs and combining this information with the efficiency and profitability of a site will be crucial to achieving long term success. Introducing successful new ways of working will not happen overnight. However, the benefits of autonomous mining are proving to be a step in the right direction. There is no doubt that autonomous mining and remote operations will be an inevitable and integral part of the mining industry in the future.
The importance of agility Digitalisation goes beyond adopting technology. It needs to be solving a business issue and is key to resolving the sector's number one operational challenge: improving productivity across the value chain. Companies need to be pragmatic when targeting digital enhancements, in order to ensure success in the competitiveCompaniesmarket.largeand small that are not agile enough to vary their operations based on short-term market demands, and the ever-changing global demand for commodities, will run the risk of not being competitive in a volatile market. Several global crises over the past years, have clearly demonstrated that agile organisations out-perform their competitors in difficult periods. Having a holistic view of the entire operation or enterprise will enable informed decision making to best meet market requirements.
References 1. GALLARDO, R., GODDARD, D., GÖRNER, S., and RUBINSTEIN, B., 'Remote operating centers in mining: Unlocking their full potential', McKinsey & Company, (29 October remote-operating-centers-in-mining-unlocking-their-full-potentialwww.mckinsey.com/industries/metals-and-mining/our-insights/2020),
but sensors are able to monitor the speed and temperature of machines, ensuring predictive maintenance takes precedence. Ultimately, by assessing real-time data and ensuring new technologies are working correctly, mining operations can now be safer and more productive for all involved. With the increase of onsite sensors and automation, combined with networks and data collection, the possibility of moving more people offsite and into a remote operating centre is now achievable. A notable example is Black Rock, which has adopted an integrated operating centre, ultimately enabling enhanced decision-making and affording operators the opportunity to address challenges proactively rather than reactively, as had been done in the past. 2 With remote integrated operating centres, organisations are able to monitor and control all equipment used in multiple mines, mills and power plants, with oversight across all the important areas of the organisation. Over time, this will reduce overall maintenance, as problems will be recognised early before they cause serious damage, as well as optimising process performance and providing a detailed overview of plants, guaranteeing optimum visibility across all sites. This idea is being adopted by more companies that are looking to ensure employees can communicate better with each other, while also allowing them to coordinate between maintenance and production. Although not a new concept, integrated and remote operating centres present an opportunity for mining companies to reimagine and reform the ways they operate, as remote working becomes vital to ensuring value and efficiency. Making the case for remote operation However, due to the pandemic and the surge in mobility and technology, the sector has realised that this is not the only change that is needed. Staffing and supporting remote, fly-in-fly-out mines can be expensive and a logistical nightmare. In sites where a high percentage of activity comes from non-mining activity, for example camps and flights, etc., there is a strong case to automate or remotely operate front-line equipment and solely keep small satellite offices on site. When it comes to capitalising on the latest technologies, the mining industry has traditionally lagged behind other sectors. However, due to the uncertainty of the pandemic, mining companies are now taking a leap to collect, store, and utilise data and technologies to drive forward automated and remote mining operations. Mining companies are now adopting new technologies with the required business and technical abilities to decrease costs and boost productivity and safety. Embracing the new normal with remote integrated operations management is essential to not only improving safety, but also decreasing costs. Miners that do not change the way they are operating now, run the risk of lagging behind, and failing to meet the demands of a highly volatile commodities market. Some are layering this with improved remote operations, production or maintenance functions, and go as far as remote and decentralised multi-discipline engineering though modern 3D and 4D tools. Remote operations can play an integral role by providing a holistic and integrated approach, using vital information, and remotely supporting mining operations using up to dateThetechnologies.abilitytodigitise operations will improve the miners' ability to attract and retain new diverse talent, increasingly discouraged by hectic shifts and the need to be physically present on remote sites. The onset of automation and remote operations enables better working conditions for staff, allowing them to move to more predictable schedules and better living conditions in nearby or even large cities and towns.
Surviving the post-COVID era
39global
review // July/August 2022 Figure 1.
A simple yet provocative question perpetually at the forefront of innovative minds in the mining industry is: "What does the future of managing a fleet of autonomous mining equipment look like?" Over the past 100 years, the basis of the question has little changed except for the addition of the word 'autonomous' and a shift in the context in which it is asked (from the miner to the supplier). As with many general questions, solutions inherently succumb to a bias formed through opinion, experience, and perceived influence. The industry has attempted to address it through offering countless solutions shaping the digital and physical landscape of the mine, creating highways to scaleable automation.
Christopher Blignaut, Epiroc, USA, addresses how to push the boundaries of interoperability whilst maintaining a focus level of control.
However, in this pursuit, it has also forced a marching mining Mobius for Drills allows for drill original equipment manufacturers to integrate easily through scaleable architecture.
Figure 2. Flexible and natural interface for effective use and Figurenavigation.3.Detailed
40 July/August 2022 // global mining review
Interoperability vs focus
views capture valuable drilling insight in a digital environment.
direction towards a new problem where it promotes a dichotomy between interoperability and a focus on the components of the value chain.
It is known within the industry that there is a mining value chain acting as an envelope to all major decisions at a mine, yet it is so often diluted by day-to-day operations within individual components. To mitigate this dilution, mines ask for a strong degree of interoperability in the value chain, spanning from equipment control through to data. At the same time, each process and piece of equipment is getting smarter, more efficient, and thus producing more data; all of which can effectively use the context of the value chain to improve productivity and safety. The problem arises as system integration solutions are developed to be interoperable within this value chain, but consequently lose focus in their individual layer. These solutions individually expand out of a particular focused scope into the wider value chain, creating large yet poor overlap. Simply put, the systems which are solving the interoperability problem are not leveraging the depth or focus within individual layers at a mine. One example is a large fleet management system, which aims to connect execution management across multiple equipment types, but ends up dropping much of the detailed data and control capability of each asset type. This proposes an unhealthy dichotomy between the value generated from highly focused data and control of equipment, and the value of connecting the chain. Layered focus Epiroc, along with ASI Mining, has attempted to solve this problem in several ways, and this is one of the major goals of the recently released Mobius for Drills. It acts to provide standalone and focused control and data layers of drills, yet exists as part of the Mobius platform where a fully scaleable implementation of interoperability is inherited. The Mobius platform allows Epiroc (and therefore the mine) to not only combine focused layers of the value chain, but continue to scale automation into each layer in a clear and effective way. In doing so, this receives the benefit of interoperability while minimising the loss of information and control between each layer of the mining value chain. More specifically, Epiroc can continue to develop and improve the drilling platform with a steady cadence all the way from physical hardware to autonomous control. Mobius for Drills then provides the capability to immediately embed the maximum value of those changes; both into the most detailed data and control layer for the drill, as well as an ecosystem shared by the value chain. It is likely that these types of shared development platforms will become more and more important in the future. Decisions in a highly interrelated environment As the digital landscape of a mine gets closer to representing its physical reality, it reveals the universal truth that mines are a highly interrelated environment. Making a simple decision, such as where to place two assets in a shared work area or the response to a small machine error, can have significant impacts, both upstream and downstream. As more sensors and parameters are added to machines and points of measurement and control are improved, desired outcomes may be achieved faster in one area, but may also often result in unexpected inefficiencies being discovered elsewhere. It is fair to say that most of the time, these inefficiencies are created without intent and never truly identified, but always realised at the bottom line. Ultimately, however, every decision cannot always be made with absolute confidence. In fact, attempting to do so will create decision delays. However, being able to better predict and measure these interrelated impacts is impossible without a value chain perspective. This highlights the importance of an interoperable environment, as it creates the required links that result in shared transparency and accountability of decisions in such an environment.
The second way it empowers decisions is through a shared situational awareness and control layer. This means that a single interface can show every asset in a single area, including their mission status and managing the way that they interface with each other.
Matching change with flexibility
A common misconception in the industry is the idea that mining processes (such as drilling, blasting, loading, and hauling) become simpler with robotics and digitalisation. In fact, they become more complex, as it effectively gives the mine more tools to identify and address areas of improvement. As much as companies may try, they cannot fully automate the iterative process of monitor, control, and optimise. Standard end-of-shift reports and a deviation reporting between long term plan and short interval control will always exist as ways to interface with operations. This results in a constant stream of change, as mines identify new value drivers or constantly find ways to improve.Oneofthe goals of Mobius for Drills in this regard is to instead recognise that it can help facilitate change. Management of change is a broad concept applied everywhere, but in its essence is a process to control the impact of change and ensure it is positively received. The flexibility of systems to change where needed, in a controlled way, is therefore key. To achieve this, the visualisation and wrangling of data must be as flexible as possible. This must span from changing the types of graphs used in reports, to the selection of key performance indicators and targets to the way that data is filtered. From a situational awareness perspective, it spans from what alerts are brought to the operator or supervisor to the way status is represented.
Case study: Aitik Mine, Sweden Epiroc recently launched Mobius for Drills in order to pursue a roadmap centred around optimising the drilling layer through unlocking its full impact in the value chain. Designed for small or large operations, and at varying levels of automation, it aims to assist the user in making both day-to-day decisions and strategic long-term decisions. In partnership with Boliden, Epiroc ran a trial of Mobius for Drills at the Aitik mine in Sweden, encouraging the exploration of the tool and development of key features. The mine, an existing key partner of Epiroc, operates multiple autonomous electric Pit Viper 351s and utilises the full suite of Epiroc applications. The trial provided Epiroc with valuable feedback and allowed the mine to explore the wide benefits of Mobius for Drills. Once the trial was complete, Mobius for Drills (once ready for release) continued to be utilised at the mine. Mobius for Drills allowed the drill operators to continue to utilise the stack of technology that enabled their fully autonomous drills and allowed them to get even more out of it. With Mobius for Drills, operators could manage drill plans alongside full situational awareness of the equipment. Furthermore, all stakeholders of the drilling operation could access detailed reports that displayed much more of the data generated by their existing fleet. Operators could analyse their shift performance with more granularity and managers had valuable fleet reports to reference. The future for mining Mobius for Drills is likely just one of a few innovative applications in mining attempting to push the boundaries of interoperability, whilst maintaining a focus level of control and reporting on assets. The value potentially generated from this approach, and the feedback from the industry in implementing these technologies, will continue to be vital in dictating the speed its adoption.
Mobius for Drills has two ways to empower decisions in context of an interrelated environment. The first is in reporting, which is essentially the visualisation and dissemination of data as information. In this regard, reports are not limited a single data source – this allows reports to be constructed in a hierarchy that shows high level impact across the value chain, as well as detailed drill down into individual factors. This is motivated by the idea that data should be process centric, and governance of data should allow for leverage such that a process can be fully described by all its relevant data.
SUPPORTANDUNBEATABLEREPLACEMENTFACILITATESNARROWESTLUBRICATIONUSESBACKSTOPSSERIESBS-FUNIQUEGREASEDESIGNDROP-INPRICETECHNICAL Want us to optimize your operations? That's Call us today to schedule an on-site visit 800-323-7790 @2022 U.S. Tsubaki Power Transmission, LLC. All rights reserved. TSUBAKI BS-F SERIES BACKSTOPS Isn't it time for a change? With the need for tighter tolerances in manufacturing operations today, you need to have a reliable external backstop to keep your operations running smoothly. Assembled here in North America, BS-F Series Backstops can be ordered on short lead times. THE ULTIMATE NON-ROLLOVER BACKSTOP ustsubaki.com
42 July/August 2022 // global mining review
43global mining review // July/August 2022
Dave Harper, Geodrill, Canada, provides a comprehensive look at the technical advances and specialised approach needed for minerals exploration drilling. B y its nature, mining occurs in geographies where harsh weather conditions and physical boundaries provide multiple challenges. From an operational perspective, meeting and solving these challenges can be daunting. Once the rig fleet is mobilised to site, this is when the real challenges begin: the drill crews are required to drill to the highest international standards, while ensuring that customers' objectives are met.
leading speciality service is providing pre-collar to depths of approximately 400 m RC, then completing the hole with core drilling to depths of up to 2000 m. Another specialty service is deep multi-intersectional directional drilling. The concept was originally based on an oil field technology: the deep directional method involves drilling a deep parent (or mother) hole with a series of branch holes (daughters) accurately to the target depths and pierce point co-ordinates. This provides time and cost efficiencies by eliminating the need to repeat the top section of the hole. Depending on the application and topography, the rigs can be either truck or crawler mounted.
Geodrill achieves this by investing significant capital to deliver a modern well-maintained fleet of high-performance drill rigs and support equipment, and by delivering the right expertise in accuracy, reliability, and safety. Some issues with working remotely include understanding how to deliver mechanical availability in order to minimise downtime (which is costly), and maximising other efficiencies, such as ensuring the health and safety of drill crews, by providing training in the field.
The company's fleet of multi-purpose rigs are popular because of their versatility – they perform reverse circulation (RC) and core drilling and can be switched interchangeably while over the same hole, i.e. RC pre-collar with diamond drilling (DD)Geodrill'stail.
44 July/August 2022 // global mining review
Multi-purpose rigs all fitted with on-board compressors are supplied with booster and auxiliary compressors for depths where high water ingress is expected.
The company has therefore established training facilities for providing on-the-job training for its drill crews. Sites with workshops and supply bases are readily available to provide storage, drilling rig repairs, equipment and inventory of spars, and consumables to the efficiencies by minimising trucking, shipping, etc. The ability to mobilise to drill sites with minimal delay ensures cost efficiencies.
Exploration drilling services
The importance of training When operating a fleet of multi-purpose, core, air-core, grade control and underground drill rigs, the need for specialised training and experienced decision making is critical to success.
Geodrill has established centrally located workshops to promote client satisfaction through reliable operational performance. In addition, within the workshop in Ghana, for example, is a manufacturing facility with the capacity to produce ancillary equipment, such as RC drill rods and RC wire-line drill subs, in-house – reducing downtime and reliance on suppliers for these items. The well-resourced, centrally located workshops further reduce downtime, as the company can quickly reach most of its current customer sites. With a geographic footprint spread across two continents, the company has established a 'hub and spoke' model with Ghana as the hub, and Cote d'Ivoire, Burkina Faso, and Mali in Figure 2. On-site in Peru. Figure 1. Drilling in Egypt.
A specialised CNC machining centre for the manufacturer of drill rods and consumables reduces the need to ship parts from out-of-country, which in turn minimises downtime and increases efficiencies.
In recognition of its efforts, Geodrill has received several significant ESG awards – most notably the AAMEG Best Workforce Industry Development Initiative and the Millennium Excellence, aka the King's award, which is the highest recognition of a foreign company in Ghana.
Case studies In 2022, the company signed three significant contracts with Centamin Plc, Endeavour Mining Plc, and Perseus Mining. The Centamin project will require 350 000 m of underground gold exploration and mine DD and RC grade control, utilising five drills over five years at its flagship Sukari gold mine in Egypt. In the case of the Endeavour and Perseus projects, both programmes involve a combination RC (RC0 and DD core using multi-purpose drill rigs). RC is the popular choice of geologists because it can drill economically and efficiently to depths of between 400 – 500 m. RC drilling produces a hole size 140 mm dia. and is generally faster than DD. RC drilling produces high quality rock chips rather than a core sample, yet is more economical than DD core drilling. The RC method produces samples from depth by pulverising rock – using compressed air and a percussion RC hammer – and returns it to surface through an inner tube, collecting it through a cyclone then into a sample bag. RC is often used in conjunction with a multi-purpose rig to drill RC pre-collars with core tails. Geodrill provides this method extensively for exploration and resource drilling.
In terms of social license, Geodrill has always given to sports and education initiates, and regularly donates to various organisations and charities. Building further on the social aspect, Geodrill employs 1200 personnel, most of whom started with a low skills base and worked their way up to become highly trained technicians.
Figure 3. Drill samples from Peru operations.
West Africa; Egypt in North Africa; and Peru in South America, the spokes.
The facility also encompasses a drill academy for developing local skills. Training and development programmes allow personnel with the required skills and knowledge to perform drilling and maintenance to the highest international levels. Safety with the production system has been developed to exceed all applicable government and client standards.
Conclusion With increased geopolitical and inflation risks, commodity prices for both precious and base metals have moved up and down the dial. However, the outlook for exploration remains strong as producers at all levels – from junior to large bellwether names – stay focused on developing their prospects further.
ESG in the mining industry In the mining industry, it goes without saying that environmental, social, and governance (ESG) are essential to the fabric of the community no matter where operations exist. As a company, Geodrill recognises that the environment, and perhaps, more specifically, climate change is one of the greatest threats facing the world today. For example, as part of its effort to reduce its carbon footprint, the company recently added solar panels to its Accra head office. Another project includes an eco-friendly bus shelter made completely from recycled and up-cycled plastic waste, a first for Africa.
30 AUGUST - 1 SEPTEMBER 2022 14 - 16 JANUARY 2023 GLOBAL LONDON 26 - 27 APRIL 2023 LONDON 29 NOVEMBER - 1 DECEMBER 2022 SYDNEY 2 - 4 NOVEMBER 2022 MIAMI 23 - 24 FEBRUARY 2023 SYDNEY 2 - 4 NOVEMBER 2022 Mines and Money is the leading international event series connecting sophisticated investors from around the world with mining company management teams, both online and in person. JOIN US AT AN UPCOMING EVENT MINESANDMONEY.COM THE NUMBER ONE EVENT FOR CAPITAL RAISING AND MINING INVESTMENT Need a reprint? +44 (0)1252 reprints@globalminingreview.com718999 We can tailor to your requirements, produce 1 - 12 page formats, print colour or mono and more
The returns As discussed previously, fugitive dust has to be controlled. However, some methods, such as water sprays, require as much 80 – 90% more moisture than foam dust suppression to be added during crushing and
Federal mandates, such as PM10 and PM2.5, place responsibilities on all mining operations to control and contain respirable dust particulates 10 micron and 2.5 micron in size. This is done to prevent potential respiratory illness, such as silicosis and other cardiovascular impacts. Fugitive dust, small particulate matter suspended in air, is a health and safety hazard that must be controlled per the federal mandates mentioned above. Although controlling respirable dust is a major concern, many operations find it difficult to associate the tangible savings associated with proper dust control, therefore making the addition of a dust control system a cost with little to no direct return. Foam dust suppression is a unique method that targets these particulates unlike conventional water sprays, while adding little moisture. This promotes significant water savings, while also providing tangible savings in areas of operation. With the push for environmentally friendly manufacturing, foam suppression is strongly suited to meeting current industry expectations, while providing savings to offset the cost of the application.
Ian C. Galyan, Seaco Technologies, Inc., USA, illustrates how foam dust control is an investment with proven and immediate returns. I ndustries all across the world have felt the societal and governmental pressures to operate from an eco-friendlier perspective. No longer are the days where profit is the single biggest indicator of a company's health. The evolution of business has brought with it a need to not only profit, but to do so with the least impact on the environment. Globally, the mining industry has been tasked with the responsibility of reducing air-born particulate matter and improving greenhouse gas (GHG) emissions, both of which are affected by the quarrying, crushing, and manufacturing processes.
47global mining review // July/August 2022
Maintenance and housekeeping
Conclusion As the mining industry continues to develop methods increasing their environmental stewardship, simple steps can be taken now, with immediate ROI, to reduce operations costs, greenhouse gas emissions, water consumption, and operational costs with the application of foam dust suppression.
Notes 1. US$2.57 – US$3.20/million Btu, 1140 Btu/lb water and 205.4 lbs CO2-e/million Btu for bituminous coal.
Figure 1. No treatment (left) and with foam dust suppression (right).
Additional benefits of foam dust suppression include reduced wear of hardened crushing surfaces, superior material flow and the chemistry itself, which aids in lubricating belts and increasing flexibility and lifespan. Many applications see a reduction in general housekeeping, as well as reductions in electrical maintenance, due to cooling systems and electrical contact remaining clean. Although these costs are often not considered, they become quite tangible as down-stream benefits are realised by those who utilise foam dust suppression for dust control. Typical treatment costs are less than US$00.10/t, making this a very economical solution to reducing Btu and CO2-e.
Figure 2. Wind-blown material loss >6%.
For example, through the install of foam dust suppression, a calcium carbonate supplier gained the ability to eliminated the use of a diesel fed rotary dryer required when dust control was attempted by water sprays. The process change would net the manufacture US$179 000 savings in drying fuel costs and reduce their carbon emissions by 1 340 000 lbs CO2-e per year. Supplementally, production rates increased as a considerable percentage of material lost to wind-blown fugitive dust was returned to the process stream, improving their profit margins of the finished material. Case study These savings and return on investment (ROI) are well demonstrated in the cement industry. Senate Bill 596 requires the California cement industry to develop methods of cement production to reduce GHG emissions to 40% below the levels observed in 1990, by 2030. SB596 imposes a US$20/t of CO2-e. This may seem like a minimal cost of doing business, however, when you scale it up to the volumes of CO2 produced by the cement manufacturing process, approximately 0.9 lbs CO2 per pound of cement in an operation can incur additional costs of US$18 million per year for a facility producing 1 million tpy of cement.Takingthe same facility producing 1 million tpy of cement, and considering typical 25 – 27% shrinkage, the quarry would need to produce approximately 1.35 million t of limestone. Replacing a typical water spray and surfactant water spray system with foam dust suppression provides an additional 0.6% savings in CO2 emissions, and on average US$127 000 – US$158 000 in additional Btu costs.1 In 2030, with the proposed tax of US$20/t of CO2-e, these savings would increase to between US$215 000 – US$259 000 per year.1 In areas of drought restriction and scarcity of water, a change to foam dust suppression reduces water requirements by 4 532 000 – 5 180 000 gal. per year for an operation of this scale.1 Most cement manufactures typically produce between 1 – 4 million tpy at a single cement plant. Material loss Some material loss can exceed 6% of the process stream. This product already carries the expense of removal of over-burden, drilling, blasting, haulage, and crushing. Without proper dust suppression, this can be a complete loss or, at minimum, an additional cost to preform house keeping to return it to the process stream. In many cases, the fugitive material may result in damage to surrounding equipment as it accumulates causing damage to rollers, belts, and electrical equipment. At times, wind-blown fugitive dust limits operations as it can reduce visibility preventing haul truck and mine operators from safely travelling on the impacted roadways.
sizing in order to provide equal control of PM10 and PM2.5 particulate. Foam dust suppression is a unique method targeting 100 micron and smaller particles with only 0.2 – 0.4% moisture added in total. With limited moisture addition and flexibility of treatment points, foam dust suppression allows for easy adaptation for operations ranging from 100 – 7000 tph. Dust control is typically sustained throughout the crushing and sizing processes and into the reclaiming of stock piles, preventing the need for supplemental down-stream. By significantly reducing the overall amount of moisture required for dust control, one is also reducing the additional Btu cost and amount of carbon dioxide (CO2) if material drying is required prior to processing or shipping. Btu and CO2-e reductions
48 July/August 2022 // global mining review
A further important change for the mining industry is the growing adoption of variable speed drives (VSDs) that control the speed of motors, in order to achieve very significant energy savings. However, a side-effect is the reduced capability of the motors to provide inertia and fault current contribution.
49global mining review // July/August 2022
T he global imperative to decarbonise power production is forcing power networks serving mines to evolve rapidly. Both utilities and private mine networks are switching from conventional fossil-fuel thermal plants to renewable energy, usually in the form of intermittent wind and solar power. This has resulted in a dramatic reduction in spinning inertia, otherwise known as kinetic reserve. Inertia is vital to resisting sudden changes, such as when a generator trips offline, so that the grid frequency remains within tightly controlled limits. It is rather like a car's shock absorbers smoothing out a sudden bump in the road to keep it safely on course. In addition to the loss of inertia, a lower short circuit level (SCL) can create major problems for mining companies. The SCL defines the amount of current that flows through the system during a disturbance, such as when a generator trips out or an overhead line is struck by lightning. A high SCL is vital during this type of fault as it helps maintain a stable system voltage.
Power grids serving mines face growing stability and reliability challenges due to the trend for electrification and the transition to renewable energy. Christian Payerl, ABB, Sweden, explains how synchronous condensers can boost network stability.
Reducing risk There are three main ways that SCs can help to reduce risk for mine networks: Inertia support for frequency stability Balancing supply and demand is critical to maintaining a stable grid frequency. Historically, this was self-regulated by the large spinning inertia provided by traditional rotating generators. However, the variety of non-synchronous resources on the grid – such as wind, solar, tidal, and battery energy storage (BESS) – results in an increased rate of change of frequency that can cause systems to trip offline. The rotating mass in an SC provides the instantaneous inertia to keep the grid frequency within acceptable limits. It also helps by damping frequency excursions and providing more time for the operator to take suitable action to respond to frequency changes.
n Increased voltage fluctuations.
Inertia and SCL are the two different sides of 'grid strength', as shown in these four examples of different types of grid: High inertia and high SCL
n Deeper voltage sags. n Higher voltage peaks.
n Special cases when an induction motor is feeding devices such as fans and other frequency-dependant loads.
n Variation of fault current levels over time. Either individually, or in combination, these issues can cause interruptions to the operation of critical equipment that could result in lost production.
n Grid frequency does not change when the load changes.
n Large variations in frequency occur when the load changes. n Voltage variations are possible, but this depends on the response of the power electronics. n Difficult to provide selective protection with fuses. These last two cases are found typically in mines.
When network faults occur, non-synchronous generators are unable to provide instantaneous support to avoid unnecessary tripping of loads. Their fault current capability is controlled to a level that is close to the nominal current. In contrast, the fault current response of the SC is uncontrolled and defined by its electrical parameters. This means that the fault current can be high – possibly five times the nominal current, or even higher. There is a simple reason why fault current is so important. It is because the majority of the installed protection systems monitor the difference between a normal operating current and phenomena such as inrush currents and fault currents. This difference must be big enough to be detected easily, otherwise it is hard to protect critical assets such as transformers or switchgear.
Another important point is that measures of power quality (such as voltage harmonics, unbalance, and flicker) relate to a defined fault level in the system. If this fault level is reduced by introducing significant levels of renewables, then power quality issues will increase. This may result in the overriding of power quality limits or a direct negative impact on the connected loads, such as overloading of rotating machines and transformers, or disturbing electronic devices.
50 July/August 2022 // global mining review
n Typical for a traditional power grid based on a large, centralised thermal power plant.
Figure 1. Typical synchronous condenser installation.
Fault level contribution
In essence, the changing nature of power networks results in weaker incoming grid connections that cause five main issues for mine operations:
n Voltage variations are small.
n Voltage variations are small – at least initially.
n Typical when a long radial transmission line is feeding a remote operation.
n Difficult to provide selective protection with fuses. Low inertia and low SCL
n Increased frequency variations.
n Grid frequency does not change when the load changes.
Comparing weak and strong electrical grids
n Short circuit current contribution from rotating machines simplifies protection selectivity with fuses. High inertia and low SCL
n Straightforward selectivity for protection against short circuit currents. Low inertia and high SCL
n Large variations in frequency occur when the load changes.
n Large voltage variations are expected, especially for direct online (DOL) starting of motors.
n Found in microgrids with mostly power electronic connected devices.
To address the challenges of weak grids, the mining industry is turning its attention to synchronous condensers (SCs) (Figure 1). These synchronous rotating machines were once widely deployed in the global power industry, but have rarely been used in recent decades. This is because the former function of SCs, which was to provide reactive power compensation, has been replaced by modern semiconductor-based equipment. However, there is renewed interest in the capability of SCs to deliver physical inertia for grids. This provides instantaneous support to maintain stability irrespective of the upstream network voltage or frequency.
51global mining review // July/August 2022
What is a synchronous condenser? An SC is a synchronous machine, but it is not a motor since it does not drive anything. Neither is it a generator, as there is no prime mover. However, it is very similar to a generator in its design and behaviour and produces reactive power. The machine is usually water cooled, as this is one of the most effective ways to dissipate the heat losses and it is designed to be used both indoors and outdoors in different ambient conditions. However, other cooling options, such as air-to-air cooling, are also possible. Its brushless design is particularly important for reliability in the dirty and dusty conditions found in the mining industry. For starters, a small pony motor of approximately 200 – 300 kW is coupled to the SC. It is controlled by a drive that ramps up over a few minutes to bring the speed of the SC into synchronous operation, usually at 1500 rpm in 50 Hz systems or 1800 rpm in 60 Hz systems. At the right moment, the synchronisation procedure will switch the machine online, ready to support the network. Typically, SCs are supplied in ratings up to 80 MVAr and 3 – 15 kV system voltage. The network voltage is usually much higher, so a step-up transformer is used. Higher outputs are reached by using several units in a standardised modular configuration. This offers better redundancy and availability compared to one large unit. An important new development for SCs is a high-inertia configuration. This couples a mid-sized SC with a flywheel and increases the available inertia by several times, while the losses are much lower compared to installing the whole inertia as an SC.
SCs are tailored for specific locations, according to network studies. This enables the creation of pre-designed SC packages that are easy to transport, install, commission, and integrate. They are based on small or medium sized modules that can be strategically sited for optimal results. This provides a decentralised solution to increase grid strength and stability.
As shown in Figure 2, power quality problems can impact a number of different areas in a mine. This starts with the incoming grid connection that can be fed by a weak network, resulting in problems such as voltage sags, peaks and fluctuations, as well as variation of the fault level. These can be addressed by installation of an SC. Furthermore, the often-remote location of mines can mean that active power transfer is a problem due to the inductance of the long power line. An SC can help increase the stability margin above the critical voltage level, so that the mine will be more immune to grid faults, with less tripping of essential equipment. The increased voltage also means that more power is available for mining equipment. By increasing the maximum active power that the mine can consume, the SC also provides headroom for futureTheexpansion.start-upof large inductive loads (such as mine hoists, gearless mill drives [GMDs] and motors) triggers a large reactive inrush current. This produces a voltage drop that can cause tripping of protection equipment. It can also result in system instability, with potential for voltage fluctuations, increased harmonics, increased losses, and limitation of simultaneous start-up loads. An SC will reduce the impact of these voltage variations and dips. During start-up of large grinding machines, typically with loads of 20 – 30 MW, the voltage can drop by 15% for a period of up to 30 secs. In the case of load rejection, which occurs when there is a sudden load loss in the system, the voltage can rise quickly by more than 10%. This can be even higher in weak networks.
Voltage regulation SCs also deliver megavolt amperes reactive (MVars) for voltage regulation. An SC cannot provide active power; it only provides reactive power. In an undervoltage condition, such as when there is a voltage dip, reactive power is produced to support the grid voltage. Equally, in an overvoltage condition, where the voltage is becoming too high, reactive power can be absorbed.
Figure 2. Power quality issues can arise across a wide variety of mine applications.
How can SCs address specific power quality problems in a mine?
Figure 4. Future highly-electrified mines will rely on SCs for a stable power supply.
Case study: Canada Copper Mountain mine near Princeton, British Columbia, is Copper Mountain Mining's flagship site (Figure 3). It is a conventional opencast, truck and shovel operation which produces approximately 45 000 tpy of copper equivalent. As the operation moves to electrification, ABB has installed two SCs, each rated at 13.8 kV with a continuous output of +25/-12.5 MVAr and a short-term (30 mins.) output of +45/25 MVAr. SCs in future mines Mines are becoming increasingly electrified. This includes the adoption of battery electric vehicles (BEVs) for both underground and surface operations, which reduce emissions and enhance energy efficiency. Fast-charging systems for these BEVs place new demands on mine networks, with high inrush currents that impact voltage stability, as well as increasing power demand and potentially introducing harmonics (Figure 4). Similar challenges apply to the power electronics and drives deployed for pumps, conveyors, and ventilation on demand systems. This is a critical area where SCs can help maintain grid stability.
52 July/August 2022 // global mining review
Practical SC applications in mines
Case study: Peru In 2013, ABB completed the commissioning of two SCs and harmonic filters for Xstrata Copper's Antapaccay project in southern Peru. The project is located in a remote area and connected by a long power transmission line. The SCs ensure accurate and dynamic power factor compensation for safe and reliable operation at the mine. By integrating SCs and harmonic filters the harmonics are mitigated and short circuit levels improved, optimising Antapaccay's productivity and energy efficiency.
Both scenarios can lead to system instability and cause unnecessary tripping of equipment. This can be avoided with an SC that reacts swiftly to counteract all fluctuations in voltage and limit any voltage drop or rise. Motors with heavy loads, as well as submerged arc furnaces (SAF) and electric arc furnaces (EAF), consume high amounts of MVArs. This impacts the plant power factor and voltage stability. Furthermore, as well as disturbing the plant's own power quality, electric furnaces can also disturb the connected grid. An SC can increase the fault current capacity at the connection point, with a consequent reduction in voltage variations, flicker, harmonics, and imbalance. Moreover, the dynamic MVArs provided by the SC will also limit the voltage variations.
Figure 3. Two ABB SCs have been installed at the Copper Mountain mine in Canada.
Delivering a stable future for mine power networks The drive for decarbonisation is delivering major benefits for all types of power networks, as the world strives for a sustainable future. However, it is creating new challenges due to the loss of inertia as thermal power plants are decommissioned in favour of renewable energy schemes. This is especially true of remote mining operations that, in many cases, are already served by weak power networks. SCs are set to play an increasingly important role in these networks by restoring rotating inertia to provide stability, strengthening the network with added short circuit capacity and providing dynamic MVArs to support voltage control.
Douglas Johnson-Poensgen, Circulor, UK, examines how mining companies can monitor their environmental impact and increasingly move toward more sustainable production by using supply chain traceability.
Mining processes
Mining practices tend to be complex and, at times, high risk to people and the environment if organisations are unaware of the details and dynamics at play within their supply chains. Circulor, for example, enables its customers to onboard and
T oday, the mining industry plays a key role in shifting to a low-carbon, electrified, battery-powered economy. Mining and material processing is not a straightforward process, and essentially, turning rock into battery-grade materials is enormously energy intensive. Therefore, decarbonising mineral extraction and processing is key to building a sustainable future.
Discussions around decarbonisation have become commonplace in almost every industry. The aim of decarbonising the environment is fundamental – it is about reducing carbon dioxide (CO2) emissions resulting from human activity, with an eventual goal of eliminating them
53global mining review // july/august 2022
Thecompletely.ParisAgreement set out a global framework to avoid dangerous climate change by limiting global warming to well below 2˚C, and pursuing efforts to limit it to at least 1.5˚C. Reducing global greenhouse gas emissions, including CO2, will limit the trend of rising global temperatures that the world has been experiencing over the past decades.
explainedDecarbonisation
Figure 2. Miner scanning a Circulor QR code to trace raw materials.
According to the International Energy Agency (IEA), a battery electric vehicle (BEV) needs six times more minerals than a conventional vehicle. With a growing number of EVs, there will also be an increasing need for batteries, and the critical materials used within these batteries, which will help fuel them.4 There will be a rise in lithium, cobalt and nickel, which are used to make the lithium-ion batteries required for EVs. The increase in EVs and the need for EV batteries with higher energy density will see demand for lithium grow more than threefold by 2025, while cobalt will increase by 60% over the same period, as reported by McKinsey.5 This further confirms the need for decarbonising mining and material production, and to ensure that it is achieved in the most environmentally conscious manner.
Environmental issues have encouraged businesses to strive for a more sustainable, ethical, and eco-friendly way of producing essential minerals. One way to do this is to decarbonise energy systems. The World Economic Forum found that climate stabilisation requires full decarbonisation of the energy systems and net-zero greenhouse-gas emissions by approximately 2070, and mining plays a key role in this process.1 According to a report by McKinsey, "mining is currently responsible for up to 7% of greenhouse gas (GHG) emissions globally."2
54 July/august 2022 // global mining review
connect each participant in their complex supply chains – from raw material extraction to the final product. The company tracks the material as it is mined and as it transforms from a commodity into an intermediate product, and then into the final product – such as an electric vehicle (EV) battery. Circulor uses a combination of technologies, including traditional database and blockchain, alongside business logic, to dynamically track the physical flow and physical transformation at every stage.
Decarbonisation of energy systems
Leaders in the mining industry can take a step-by-step approach to decarbonise their mine sites. First, participants are encouraged to embrace change; this is often easier said than done, but can lead to environmental and economical growth. Then, understanding the impact of the company's carbon footprint supports the decarbonisation process. Once this is identified, cost and Figure 1. Authorised personnel being verified by Circulor facial recognition at a mine.
Electrifying the world In order to reach net-zero emissions and decarbonise energy systems, participants should transition from using fossil fuels to renewables and alternative, low-carbon energy sources. Electrification of systems and resources, including transitioning transportation systems to EV drivetrains, can pave the way to achieving such goals. This is because EVs emit fewer greenhouse gases and air pollutants than petrol or diesel cars. Therefore, this is the most sustainable long-term solution. However, while EVs have no tailpipe emissions, they have much larger resource and emission costs in the production phase. The production and manufacturing phase of an EV can create 70% more emissions than an internal combustion engine (ICE) vehicle, needing as many as nine years of EV driving to get back on par with an ICE.3
What to consider when decarbonising mine sites In theory, mining operations can be fully decarbonised through operational efficiency, electrification, and renewable-energy use.2 However, it is important to note that this will be dependent on many factors, such as location and access to capital. First, it is key to understand that decarbonisation for mines varies by commodity, mine type, power source and grid emissions, among other factors. Across the industry, non-coal mines could fully decarbonise by using multiple levers2 – for example, moving to renewable sources of electricity is becoming increasingly feasible. Operational efficiency, for example, can make incremental improvements to the energy intensity of mining production while requiring little capital expenditure. A wholesale transformation is advised, and accountability at the top can ensure organisations are ready to decarbonise their supply chains. Companies will need visibility on who buys and sells their ores, including traders and end customers, and how the minerals they mine are being used. New blockchain-enabled supply chain tracing methods are already being deployed to track the ethical sourcing of materials and they should readily be extendable into low-emissions mining. What should organisations be prepared to do if they want to decarbonise their mine sites?
carbon savings can be made, which essentially increases the efficiency of equipment to reduce energy consumption. Next, investing in advanced technology is highly beneficial as it is a tool which leads to innovative ideas and changes. Finally, creating a sustainable supply chain will be possible. This could include changing the method of travel and the distance travelled in the transportation of goods. Partnering with other original equipment manufacturers (OEMs) and mining experts can also accelerate its success and positively impact the business and the environment.
6. 'The Role of Critical Minerals in Clean Energy Transitions', International Energy Agency, critical-minerals-in-clean-energy-transitions/executive-summarywww.iea.org/reports/the-role-of-
2. 'Climate risk and decarbonization: What every mining CEO needs to know', McKinsey, every-mining-ceo-needs-to-knowsustainability/our-insights/climate-risk-and-decarbonization-what-www.mckinsey.com/business-functions/
Manganese tracing Element 25 Ltd and Circulor are partnering to establish full manganese traceability. Dynamic tracking of CO2 and environmental, social, and governance (ESG) standards for products produced from the Element 25 owned Butcherbird Project will be carried out. The company will also be able to document supply chain ESG credentials to downstream customers.
55global mining review // july/august 2022
Tackling lithium Canadian-German Rock Tech Lithium's planned battery-grade lithium facility in Germany is expected to produce 24 000 tpy of lithium with the lowest possible environmental impact. Rock Tech Lithium is collaborating with Circulor on traceability and CO2 tracking for the refinery and its upstream suppliers. The end goal is to become Europe's first closed-loop supplier of lithium hydroxide. Currently, only 1% of lithium from batteries is recycled worldwide. By 2030, Rock Tech Lithium aims to source 50% of its materials from recycled batteries.
Nickel consumption Trafigura Pte Ltd is one of the world's largest physical commodity trading companies. It is working with Circulor on traceability and CO2 tracking for its nickel trading division. This includes the dynamic tracking and attributing of CO2 emissions throughout Trafigura's nickel supply chains for customers, in particular EV manufacturers.
Circulor, a leader in supply chain traceability, provides a holistic picture of the provenance of material and embedded carbon attributed to that material by dynamically tracking production and aggregating emissions at each step within the supply chain. Its service attributes carbon intensity to the tracked material, recording energy usage per facility and production volumes. With such accurate and valuable insight into the supply chain, those within the mining industry can successfully start to decarbonise their production processes.
What are key players in the mining industry doing? Company leaders, OEMs, CEOs, and miners are collectively advised to make decisions which align with sustainability goals. Circulor has collaborated with industry experts who are welcoming change and tracking CO2 for the raw materials they are using. Dealing with graphite BlackEarth, a graphite developer, is working with Circulor to ensure data-driven proof of how they are bringing sustainable and responsibly produced graphite that can be trusted to market. A single EV contains 66.3 kg of graphite, according to the IEA, and with a growing number of EVs on the road, the world will need more graphite, meaning the production process of this graphite needs to be done sustainably and responsibly.6
Conclusion If society truly wants to tackle climate change and decarbonise the planet, it is essential to start from the mine. Miners who want to meet and align with ESG goals of their downstream customers must have full visibility of their supply chains, which is possible through collaborating with platforms such as Circulor. There are miners who are already looking to differentiate their products through sustainability, as responsible sourcing poses a competitive advantage. New partnerships and markets will likely form over the coming years, and substances long emitted or discarded as costly nuisances can become products that companies want to invest in. A cleaner, more green economy can emerge when decarbonisation in the mining industry is done right.
5. 'Lithium and cobalt – a tale of two commodities', McKinsey, https://mck.co/3mprzUc
Cobalt tracking Volvo Cars are the first automaker to trace the cobalt supply chain using Circulor's platform. It is decarbonising its mine sites by tracking recycled cobalt through manufacturing and transformation processes within the CATL supply chain. Doing so has enabled Volvo to validate the integrity of the material.
4. 'Minerals used in electric cars compared to conventional cars', International Energy Agency, conventional-carsstatistics/charts/minerals-used-in-electric-cars-compared-to-www.iea.org/data-and-
3. 'Volvo says emissions from making EVs can be 70 percent higher', This is Money, HIGHER-petrol.htmlarticle-10161697/Volvo-says-electric-car-making-emissions-70-www.thisismoney.co.uk/money/cars/
Copper transaction BHP and Southwire – a leading US copper cable and wire manufacturer – are working with Circulor and have completed their first 'carbon neutral' copper transaction. This involved delivery from BHP's mines in Chile to Southwire's processing activities in Georgia, USA, and comprised tracing BHP copper cathodes and associated GHG emissions through to a finished product.
References 1. 'What's the path to deep decarbonization?', World Economic decarbonization/www.weforum.org/agenda/2015/12/whats-the-path-to-deep-Forum,
BE WISE WHEN YOU ADVERTISE Everyone wants to get what they paid Globalfor.Mining Review is independently verified by ABC, because we want our advertisers to know they're getting the exposure they've been promised. ABC. See it. Believe it. Trust it. www.abc.org.uk 2018_be wise when you advertise house ad_A5 landscape.indd 1 08/04/2019 12:21:51 56 ABC IFC Becker Mining Systems 20 China Mining Expo 2022 27 Cincinnati Mine Machinery Co. 04 CTP 02 Dyno Nobel OFC & 13 FAMUR 46 Global Mining Review 07 Hägglunds 09 International Mining and Resources Conference+Expo (IMARC) IBC Jennmar 31 Martin Engineering 46 Mines & Money Connect 23 Nalco Water, An Ecolab Company 35 Richwood 45 Seaco Technologies, Inc. 19 TOMRA 41 U.S. Tsubaki Power Transmission, LLC OBC Weir Minerals Advert Index 56 July/august 2022 // global mining review
For more information on our portfolio of diverse and complementary brands visit us at www.jennmar.com SERVICE,SAFETY,ANDINNOVATION GLOBAL HEADQUARTERS | PITTSBURGH, PA USA | (412)-963-9071 DEMANDINGCONDITIONS DEMAND JENNMAR
Because we understand the ever-changing and demanding conditions above and below ground we have built the richest portfolio of diverse and complementary brands. JENNMAR sets the bar in every industry we serve and as we continue to grow, our focus will always be on the customer. We feel it is essential to develop a close working relationship with every customer so we can understand their unique challenges and ensure superior customer service. Our commitment to the customer is guided by three words: SAFETY, SERVICE, and INNOVATION. It's these words that form the foundation of our business. It's who we are.
JENNMAR designs and manufactures a wide range of dependable ground control products, from bolts and beams to channels and trusses, resin, rebar, and more. We're proud to make products that make the mining, tunneling, civil, and construction industries safer and more efficient.
The proven, trusted industry leader for unrivalled performance and innovation – always. When it comes to specifying your next pump or pump upgrade, it's not a question of whether you can afford Warman®, it's whether you can afford not to. alwayswarman.weir
Copyright© 2022, Weir Minerals Australia. All rights reserved.
WARMAN®