ART DESIGN TALKS FUN
© Metropolis Nessuna parte di questo libro può essere riprodotta o trasmessa in qualsiasi forma senza l'autorizzazione dell'autore. No part of this publication may be reproduced or transmitted in any form without the prior permission of the publisher. Stampato nel Marzo 2017 Printed in march 2017 Progetto grafico / Project design: SOMMARIO / INDEX PRESENTAZIONE / INTRODUCTION 5 ART 20 ART OUTDOOR 23 ART INDOOR 39 DESIGN 84 TALKS 128 FUN 136 CARTASIA EXPERIENCE 142 WHAT'S NEXT 14623
Paper art and design attract the attention of the viewer thanks to their contemporary dualisms: ele ments simultaneously characterised as being poor and lavish, light and heavy, fragile and powerful, ancient and modern. Existing contemporaneously as both Art and Design, within the confines of a subtle boundary, nonexistent, impalpable. Confines that crumble down, that are redefined in order to change perspectives. The ephemeral and the functional, thriving in constant exchange through a single medium: paper. The paper exhibited in this Biennale and in this catalogue catches us by surprise and captivates us, as if we were children. This feeling of wonder and amazement makes us receptive, in a simultaneous leap, to the tradition of our past and the prospect of what we could be tomorrow. Ultimately, the art and the design of impossible objects represent a support system to the irrationality and the magic of fantasies, and together with the logic of a potential world, made of ethics and beauty, which we dream of having already actualised.
PRESENTAZIONE / INTRODUCTION
Cartasia, VIII Biennale Confini e prospettive Sculture monumentali, visioni allucinanti e distorte, porzioni di corpi fuori fuoco, miniature di vita, interpretazioni del passato, sorrisi innocenti, scambi di idee, incontri: tutto questo è la Biennale Inter nazionale della carta. L'ottava edizione della Biennale è stata innanzitutto un potente mezzo creativo di universi paralleli. Art Outdoor. Art Indoor. Talks. Fun. E la novità dell'edizione 2016, la sezione Design. Universi percettivi, sensoriali all'interno dei quali muoversi, tra i quali saltare a piacere, liberamente, inventando percorsi, assorbendo influenze, creando pensiero. Attraverso la Biennale e i suoi Talks abbiamo creato una piazza pubblica, un luogo dove poter cam biare le regole. L'abbiamo costruita e popolata di pensatori con il Design: creativi, proposte, etica, sviluppi. Con il Fun abbiamo portato formazione, apprendisti, manualità creativa, con uno sguardo alla tradizione passata e alle potenzialità del futuro. Abbiamo operato un viaggio nel fantastico dell'Arte, con oltre cento opere provenienti da Grecia, Stati Uniti, Olanda, Italia, Ungheria, Inghilterra, Canada, Germania. Un tuffo estetico proseguito con la sezione Outdoor, che ha reso la città di Lucca palco scenico di opere monumentali, compagne di strada di migliaia di visitatori, presenze improvvise, attrattive. Obbligatorio creare con loro una relazione emotiva. Il Comitato della Biennale ha operato una selezione dei migliori paper artist e designer del mondo, nel tentativo di afferrare un concetto sfuggente, una percezione impalpabile in un mondo cangiante, in perenne metamorfosi: a questi artisti abbiamo chiesto di relazionarsi con il tema della Biennale, quest'anno "confini e prospettive". Ognuno di loro ha saputo rendere quella sensazione per tradurla in opere ed oggetti che ci obbligano a ridefinire il concetto stesso di percezione: ogni elemento in Biennale invita lo spettatore a muoversi in avanti, attivo, partecipando alla creazione di senso, alla ridefinizione dello spazio stesso in cui il significato prende forma. L'arte ed il design di carta attraggono per i loro dualismi contemporanei: l'essere allo stesso tempo poveri e sfarzosi, leggeri e pesanti, fragili e potenti, antichi e moderni. L'essere contemporaneamente Arte e Design, in un confine sottile, inesistente, impalpabile. Confini che si infrangono, si ridefiniscono, al mutare delle prospettive. Come l'effimero e il funzionale. Che vivono in perenne scambio, attraverso un unico media, la carta. La carta presente alla Biennale e in questo catalogo sorprende, come fossimo bambini. La sensazio ne dello stupore ci rende ricettivi, in un balzo simultaneo, nella tradizione del nostro passato e nelle possibilità di ciò che potremmo essere domani. Ancora: l'arte e il design di oggetti impossibili, sono un appiglio all'irrazionale e alla magia del sogno, e insieme alla logica di un mondo potenziale, fatto di etica e bellezza, che vorremmo già realizzato.
Cartasia Director: Emiliano Galigani45
The 8th edition of the Biennial was first and foremost a powerful creative driver of parallel universes. Outdoor Art. Indoor Art. Talks. Fun. And new to the 2016 Edition, the Design section. Perceptual and sensory universes, within which one can move, jumping at will, freely, inventing pathways, absorbing influences, creating thoughts. Through the Biennial and its Talks, we created a public square, a place where rules could be changed. We used Design to build and populated it with thinkers: creativity, proposals, ethics and developments. With the Fun initiative, we turned our attention to training, apprenticeship, manual creativity, with an eye on past traditions and on the potential of the future. We presented a fascinating journey into the illusionary world of art, with over one hundred works from Greece, the United States, the Neth erlands, Italy, Hungary, England, Canada and Germany. An aesthetic plunge that continued with the outdoor section, which transformed the city of Lucca into a stage of monumental works, firing up the inspiration of thousands of visitors along the streets of the old town centre, with unexpected, alluring appearances. Establishing an emotional relationship with them was an essential aspect of our work.
Direttore Cartasia: Emiliano Galigani Cartasia, 8th BordersBiennaleand perspectives Monumental sculptures, hallucinatory and distorted visions, portions of out-of-focus bodies, life min iatures, interpretations of the past, innocent smiles, exchanges of ideas, meetings: this is the Inter national Paper Biennial.
The Biennial Committee carefully selected some of best paper artists and designers in the world, in an effort to capture and convey an elusive concept, an impalpable perception in a changing world, in constant metamorphosis. This group of talented artists was entrusted with the challenge of in terpreting this year's Biennial theme: "borders and perspectives". Each and every one of them was able to capture that feeling, translating it into works and objects of art that force us to redefine the very concept of perception and perspective: each element of the Biennale invites the viewer to move forward, actively, participating in the creation of meaning, in the redefinition of the very space in which the meaning takes shape.
ALLESTIMENTO | OUTDOOR
MAKING OF | OUTDOOR 67
ALLESTIMENTO | OUTDOOR
MAKING OF | OUTDOOR 89
ALLESTIMENTO | OUTDOOR
MAKING OF | OUTDOOR 1011
ALLESTIMENTO | INDOOR
MAKING OF | INDOOR 1213
ALLESTIMENTO | INDOOR
MAKING OF | INDOOR 1415
ALLESTIMENTO | DESIGN
MAKING OF | DESIGN 1617
ALLESTIMENTO | DESIGN
MAKING OF | DESIGN 1819
ART
OUTDOOR 2021
With each edition, we count on a bit of luck. Ours was to have finished this 8th Biennale fully satisfied with all the works created, characterised by original styles, different techniques, at times experimental, without forgetting the sensitivity, creativity, humour that have been the defining elements of a working group composed of artists and a technical team who together overcame significant challenges.
ART OUTDOOR mostra / exibition 2223
LA SFIDA DELLA CARTA Direttore Artistico Art Outdoor: Nicolas Bertoux
La guida artistica di un evento come Cartasia è una vera sfida. Come coordinare, accompagnare artisti diversi con idee, progetti, immaginazioni differenti? Dirigere - in questo caso - non è imporre, ma indirizzare un gruppo composto da caratteri e aspirazioni differenti verso un obiettivo comune: dare un'immagine della carta, in particola re del cartone, diversa dalla considerazione comune di materiale povero, banale, effimero, di scarto. Piuttosto trattarlo come un materiale nobile; con tutte le caratteristiche idonee a supportare un'idea creativa. Come selezionare, considerare giusti alcuni tra i numerosi progetti che, a ogni edizione, sono sottoposti al vaglio di una giuria che sceglie i più adatti per la realizzazione in grande scala? Innovazione, creatività, audacia, originalità, fattibilità, sicurezza sono i parametri ricercati in ogni progetto pervenuto. Una volta selezionati, gli artisti vengono seguiti fino alla realizzazione concreta delle loro idee, cercando di alterare il progetto originale in misura minima. Al fine di assicurare durata e sicurezza di tutte le opere pubbliche esposte.
O
pen air exhibition of works in paper and cardboard, on display in the characteristic squares of the city of Lucca, in Tuscany. Following an international competition, a carefully selected group of international artists were asked to design from scratch sculptures with a maximum size of 6 x 6 x 6 metres, made from local paper and cardboard. The artists chosen by the jury were invited to reside and work in Tuscany for one month, at the expense of the organisation. During their residency, the artists brought their works to life in a dedicated space.
Yet what criteria should the jury responsible for choosing the most suitable works for a large scale implementation rely on, in order to select just a few of the many projects put forward by artists during each edition? Innovation, creativity, boldness, originality, feasibility, safety: the parameters the panel looks for in each and every project. Once selected, the artists are followed and supported until the concrete realisation of their ideas, with a focus on altering the original project as little as possible, while ensuring durability and the safety of all public works exhibited.
In ogni edizione non manca un pò di fortuna. La nostra è stata di aver terminato anche questa edizione soddisfatti a pieno delle opere realizzate, con stili originali, tecniche diverse, a volte sperimentate, senza dimenticare la sensibilità, creatività, umorismo che ha caratte rizzato il gruppo di lavoro composto da artisti e squadra tecnica che insieme hanno superato valide sfide.
The artistic direction of an event like Cartasia is a genuine challenge. What is the most creatively rewarding way to coordinate, to accompany and support different artists with diverse ideas, projects and imaginations? Directing, in this case, is not synon ymous with imposing, but rather guiding a group of divergent characters and aspirations towards a common goal: to transform paper, and particularly cardboard, into something different from its common conception as a poor, trivial, ephemeral, waste material. Treating it instead as a noble material, with all the necessary characteristics to support a creative idea.
THE CHALLENGE OF PAPER Outdoor Artistic Director: Nicolas Bertoux
For this and more, I would like to sincerely congratulate the artists: Laurence Vallieres, Giulio Biazzi, Heike Schaefer, Michael Stutz, Mykl Wells, the NoDump team; thanks to the technical team composed by the Technical Director Emilia Rosi, Lisa Orsi, Elena Giampaoli, Andrea Macis, Claudio Maestrelli, Costantino Novac, Lorenzo Bergamini and all those who dedicated their time to this Biennale's construction site, contributing to its success. Finally, I sincerely congratulate the organisers of this event: Emiliano Galigani, Federica Moretti, Giacomo Pec chia and Claudio Cammarata. Once again, we reached our goals!
Per questo e altro vorrei complimentarmi con gli artisti: Laurence Vallieres, Giulio Biazzi, Heike Schaefer, Michael Stutz, Mykl Wells la squadra NoDump; ringraziare la squadra tec nica composta dal Direttore tecnico Emilia Rosi, Lisa Orsi, Elena Giampaoli, Andrea Macis, Claudio Maestrelli, Costantino Novac, Lorenzo Bergamini e tutti coloro che hanno trascorso il loro tempo sul cantiere di questa Biennale, contribuendo alla sua riuscita. Infine faccio le mie congratulazioni agli organizzatori di questo evento: Emiliano Galigani, Federica Moretti, Giacomo Pecchia, Claudio Cammarata. L'obiettivo è stato raggiunto!
M ostra a cielo aperto di opere in carta e cartone, esposte nelle piazze della città di Lucca, in Toscana. A seguito di un concorso internazionale, una selezione di artisti viene chiamata da tutto il mondo per progettare ex novo sculture di max 6x6x6 metri, realizzate con carta e cartone del territorio. Gli artisti scelti dalla giuria sono invitati a risiedere e lavorare in Toscana per la durata di un mese, a spese dell'organizzazione. Durante la residenza l'artista realizza la propria opera in uno spazio dedicato.
Giulio Biazzi MOSTRA / EXIBITION | ART OUTDOOR
ART OUTDOOR 2425
Heike Schaefer MOSTRA / EXIBITION | ART OUTDOOR
ART OUTDOOR 2627
Laurence Vallieres MOSTRA / EXIBITION | ART OUTDOOR
ART OUTDOOR 2829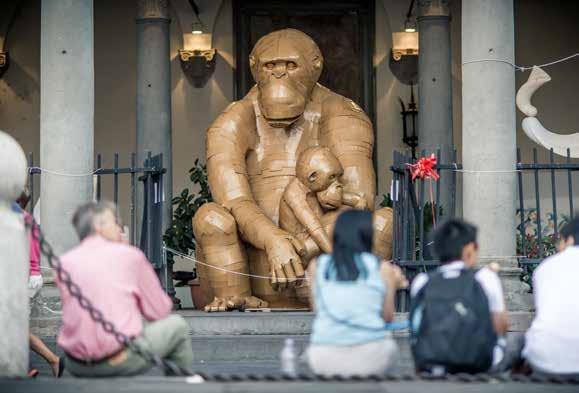 Michael Stutz MOSTRA / EXIBITION | ART OUTDOOR
ART OUTDOOR 3031
Mykl Wells MOSTRA / EXIBITION | ART OUTDOOR
ART OUTDOOR 3233
No Dump MOSTRA / EXIBITION | ART OUTDOOR
ART OUTDOOR 3435
ART
INDOOR 3637
Viaggiare è per me un modo di vivere. Studiare un testo, un'opera o un personaggio è viaggiare, come lo è ideare una mostra. Ciò che mi affascina di un viaggio è l'impulso basilare che, in caso di opportunità o ne cessità, dà vita ad un moto di inquietudine, il quale ci spinge a superare o a modificare ogni ostacolo e che ci proietta verso linee di pensiero diverse, dove corrono nuove idee, nuovi Cartasiasogni.èil luogo del viaggio, uno spazio ricco di stimoli, idee, incontri.
Tutte le vie del mondo della Carta portano in questo luogo; da esse arrivano mani sapienti che con spirito di sfida o esperienza maturata ci mostrano come un materiale semplice quale la carta sia capace di raccontarci: i complessi moti dell'animo umano; il Tempo, che con il suo agire narra i viaggi, le vite o ne cancella i segni; l'esperienza, che trasforma le idee e i sogni in Arte.
The internationally recognised artists were called and/or invited to submit works reflecting the theme of the Biennale.
A Federica Moretti che ha tenuto saldamente le redini della complessa carovana, anche sulle strade più impervie. Un ringraziamento particolare a ogni persona dello staff tecnico che con grande sapienza artigiana e sensibilità artistica ha saputo concretizzare le idee. Infine, ma non ultimo per importanza, un grazie a tutti gli artisti che hanno partecipato a questo viaggio con i loro lavori, rendendolo intenso ed emozionante.
E sposizione di opere di varia manifattura e grandezza, in carta e cartone, allestita in uno degli spazi storici più importanti del centro storico di Lucca: Palazzo Ducale, con oltre 1400 metri quadri espositivi a disposizione. Gli artisti su scala internazionale sono chiamati e/o invitati a proporre opere che riprendono il tema della Biennale. IL LUOGO IN CUI IL FUTURO PRENDE FORMA Curatore Art Indoor: Giacomo Pecchia
THE PLACE WHERE THE FUTURE TAKES SHAPE Indoor Art Curator: Giacomo Pecchia
ART INDOOR mostra / exibition 3839
Un ringraziamento speciale a Emiliano Galigani, che non pone limite a ogni piccolo sogno o grande progetto, ma spinge affinché esso prenda forma, nonché pioniere di questa Biennale.
E xhibition of works of various sizes and craftsmanship, in paper and cardboard, set in one of the most characteristic spaces offered by Lucca's historic centre: Palazzo Ducale, with over 1,400 square metres of exhibition space available.
For me, travelling is a way of life. Studying a text, a work of art or a character is, correspondingly, a way of travelling, as is conceptualising and realising an exhibition. What fascinates me about a voyage is the ba sic impulse which, in case of need or opportunity, creates a wave of unrest, which pushes us to overcome or modify any obstacle, and propels us towards different lines of thought, where new ideas, new dreams take shape. Cartasia is the destination of this journey, a space full of encouragement, ideas and Allencounters.theroads radiating from the world of paper lead to this place, together with skilled hands who armed with a spirit of defiance or experience, demonstrate just how much a simple material like paper is able to express: the complex emotions of the human soul; time, which through its passing narrates the voyage, the lives or erases the signs; experi ence, which transforms ideas and dreams into art.
A special thanks goes to Emiliano Galigani, who does not place any limits on the potential of every small dream or major project, pushing for it to take shape and to be actualised, in addition to pioneering this Biennale adventure. To Federica Moretti who firmly held the reins of this complex caravan, even along the most challenging roads. A special thanks goes to each and every member of the technical staff, who with great artisanal wisdom and artistic sensibility were able to turn artistic ideas into reality. Last but not least, a big thanks goes to all the artists who took part in this journey with their works, making this 8th edition truly intense and stimulating.
Chris Gilmour MOSTRA / EXIBITION | ART INDOOR
ART INDOOR 4041
Hans Meertens MOSTRA / EXIBITION | ART INDOOR
ART INDOOR 4243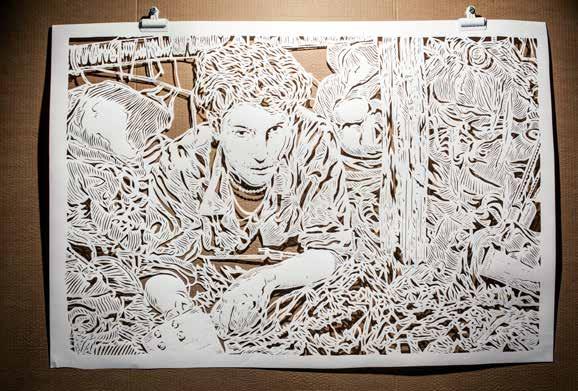 Hans Meertens MOSTRA / EXIBITION | ART INDOOR
ART INDOOR 4445
Lucrezia Bieler MOSTRA / EXIBITION | ART INDOOR
ART INDOOR 4647
Lucrezia Bieler MOSTRA / EXIBITION | ART INDOOR
ART INDOOR 4849
Sergio Gotti MOSTRA / EXIBITION | ART INDOOR
ART INDOOR 5051
Silvia Beltrami MOSTRA / EXIBITION | ART INDOOR
ART INDOOR 5253
Silvia Beltrami MOSTRA / EXIBITION | ART INDOOR
ART INDOOR 5455
Stefano Baroni MOSTRA / EXIBITION | ART INDOOR
ART INDOOR 5657
Stefano Baroni MOSTRA / EXIBITION | ART INDOOR
ART INDOOR 5859
Vassilis Perros MOSTRA / EXIBITION | ART INDOOR
ART INDOOR 6061
Florence Alfano Mc Ewin MOSTRA / EXIBITION | ART INDOOR
ART INDOOR 6263
Eszter Bornemisza MOSTRA / EXIBITION | ART INDOOR
ART INDOOR 6465
Eszter Bornemisza MOSTRA / EXIBITION | ART INDOOR
ART INDOOR 6667
Elisabetta Necchio MOSTRA / EXIBITION | ART INDOOR
ART INDOOR 6869
Consuelo Zatta MOSTRA / EXIBITION | ART INDOOR
ART INDOOR 7071
Consuelo Zatta MOSTRA / EXIBITION | ART INDOOR
ART INDOOR 7273
Anastasia Zisi MOSTRA / EXIBITION | ART INDOOR
ART INDOOR 7475
Alice Steinmetz MOSTRA / EXIBITION | ART INDOOR
ART INDOOR 7677
Gabriele Erno Palandri MOSTRA / EXIBITION | ART INDOOR
ART INDOOR 7879
Giacomo Solfanelli MOSTRA / EXIBITION | ART INDOOR
ART INDOOR 8081
CARTA COUTURE: Jerry Lee Ingram, Silvia Armelleschi, Desirée Costanzo, Elisa Galli, Marta Biagini, Cristina Bozzi e special guest Alessandro Gaggio. MOSTRA / EXIBITION | ART INDOOR
ART INDOOR 8283
DESIGN
DESIGN 8485
The Design section is inspired by the need to photograph the contemporary. It completes and enriches the Biennale, demonstrating how the boundary between art and design is be coming increasingly blurry, transparent and impalpable. Cartasia Design continues to accept the challenge of analysing and disseminating different creative paths, and to do so, carefully chooses some key words to guide it along this journey: ethics, aesthetics, manual skill, re use, recycling, research, assembly, sustainability, contamination, craftsmanship, emergence.
Cartasia Design draws a new space in which the viewer has the opportunity to take in a fresh learning experience, in which collaborative interaction erases the natural instinct of separation. A place for searching for emerging meanings and where the exhibits offer the opportunity to tell the stories of the people and gestures hiding behind the creative pro cess. Cartasia Design provides a pleasant pretext for a constructive dialogue, disseminating knowledge, feeding intellectual enthusiasm, analysing and resolving the various prejudices associated with cardboard in the contemporary world.
Le superfici curve, alternate a spazi vuoti, accolgono gli oggetti e gli spettatori trasportandoli in un mondo irreale. Il disorientamento iniziale diventa subito un piacevole compagno di viag gio in un incedere non lineare ma casuale, in un percorso di visita in cui i cambi di direzione si assoggettano unicamente alla Curiosità. Il risultato di questa sfida progettuale mette in opera, volutamente, uno spazio che non è comprensibile ed assimilabile ad un primo sguardo e che al tempo stesso evidenzia come il cartone racchiuda in sé tutte le caratteristiche di un materiale nobile e responsabile, in cui convivono leggerezza, resistenza, etica ed estetica.
Terms that form the backbone of the innovative paths which, if travelled, become under standable and accessible. Cartasia Design brings to life a real place of welcome and contamination, reconfiguring the space that hosts the exhibition according to a sort of maze in which the viewers perceives, right from the outset, the need to satisfy their curiosity, searching for their very own personal journey. The use of 1,000 cardboard tubes assembled according to a seemingly random pattern, simulates the continuous alternation of those boundaries and perspectives of the cultural environment in which we operate. The curved surfaces, alternating with white space, accommodate the objects and the view ers, leading them into an unreal world. The initial disorientation immediately becomes a pleasant travelling companion at a random, non-linear pace, to a visit in which the infinite changes of direction resign themselves to curiosity.
LA RIVOLUZIONE DEL CARTONE
Direttore Artistico Design: Claudio Cammarata La sezione di Design nasce dall'esigenza di fotografare il contemporaneo; completa e ar ricchisce la Biennale, evidenzia come il confine fra arte e design si assottiglia sempre più, diventando trasparente ed impalpabile. Cartasia Design accetta la sfida di analizzare e divul gare i diversi percorsi creativi e per farlo sceglie con cura alcune parole guida: etica, estetica, manualità, riuso, riciclo, ricerca, assemblaggio, sostenibilità, contaminazione, artigianalità, manualità, emergenza; termini che formano la spina dorsale di percorsi innovativi che, se raccontati, diventano comprensibili ed accessibili. Cartasia Design da vita a un vero e proprio luogo di accoglienza e contaminazione, riconfigu rando lo spazio che la ospita secondo una sorta di labirinto in cui il fruitore percepisce sin da subito l'esigenza di assecondare la propria curiosità, alla ricerca di un percorso personale.
DESIGN mostra / exibition 8687
L'utilizzo di 1000 tubi di cartone assemblati secondo uno schema apparentemente casuale simula il continuo alternarsi di quei confini e di quelle prospettive proprie dell'ambiente culturale in cui operiamo.
THE REVOLUTION OF CARDBOARD Design Artistic Director: Claudio Cammarata
The result of this design challenge brings to life, deliberately, a space that cannot be under stood and assimilated at first glance, and which at the same time highlights the characteris tics of cardboard as a noble and accountable material, where lightness, strength, ethics and aesthetics come seamlessly together.
M ostra di oggetti in carta e cartone innovativi e/o sperimentali, esposti in un allestimento creato ad hoc, anch'esso in carta e cartone. Nella edizione 2016, sono stati impiegati per allestire circa 1000 tubi in cartone. Lo spazio espositivo è la Ex-Cavallerizza, con 1500 metri quadri espositivi a disposizione, luogo di rappresentanza storica della città di Lucca ed esempio di valorizzazione del patrimonio artistico italiano.
Cartasia Design disegna un nuovo territorio in cui vivere un'esperienza di apprendimento, dove l'interazione collaborativa cancella il naturale istinto di separazione. Un luogo in cui si ricercano significati emergenti e dove gli oggetti esposti forniscono l'occasione per narrare le storie delle persone e dei gesti che si nascondono dietro un processo creativo. Cartasia Design fornisce un pretesto gradevole per un confronto costruttivo, divulga consapevolezza, alimenta l'entusiasmo intellettuale, analizza e risolve i pregiudizi sull'uso del cartone nel contemporaneo.
E
xhibition of innovative and/or experimental paper and cardboard objects, displayed as part of an ad hoc setup, also realised using the same materials. For the 2016 Edition, approximately 1,000 cardboard tubes were used for the indoor design installation, hosted by the Ex-Cavallerizza building (restored riding school) with 1,500 square metres of exhibition space available, a place of historic significance for the city of Lucca and a great example of enhancing the value of Italy's artistic heritage.
55100 Cardboard MOSTRA / EXIBITION | DESIGN
DESIGN 8889
Carton Factory MOSTRA / EXIBITION | DESIGN
DESIGN 9091
Caterina Crepax MOSTRA / EXIBITION | DESIGN
DESIGN 9293
Chris Gilmour MOSTRA / EXIBITION | DESIGN
DESIGN 9495
DunaDesign MOSTRA / EXIBITION | DESIGN
DESIGN 9697
E+ MOSTRA / EXIBITION | DESIGN
DESIGN 9899
Eetico MOSTRA / EXIBITION | DESIGN
DESIGN 100101
Giacomo Solfanelli MOSTRA / EXIBITION | DESIGN
DESIGN 102103
GumDesign MOSTRA / EXIBITION | DESIGN
DESIGN 104105
Lessmore MOSTRA / EXIBITION | DESIGN
DESIGN 106107
Liceo Passaglia MOSTRA / EXIBITION | DESIGN
DESIGN 108109
Nextmade MOSTRA / EXIBITION | DESIGN
DESIGN 110111
Nicolas Bertoux MOSTRA / EXIBITION | DESIGN
DESIGN 112113
Paolo Ulian MOSTRA / EXIBITION | DESIGN
DESIGN 114115
Sergio Gotti MOSTRA / EXIBITION | DESIGN
DESIGN 116117
Uashmama MOSTRA / EXIBITION | DESIGN
DESIGN 118119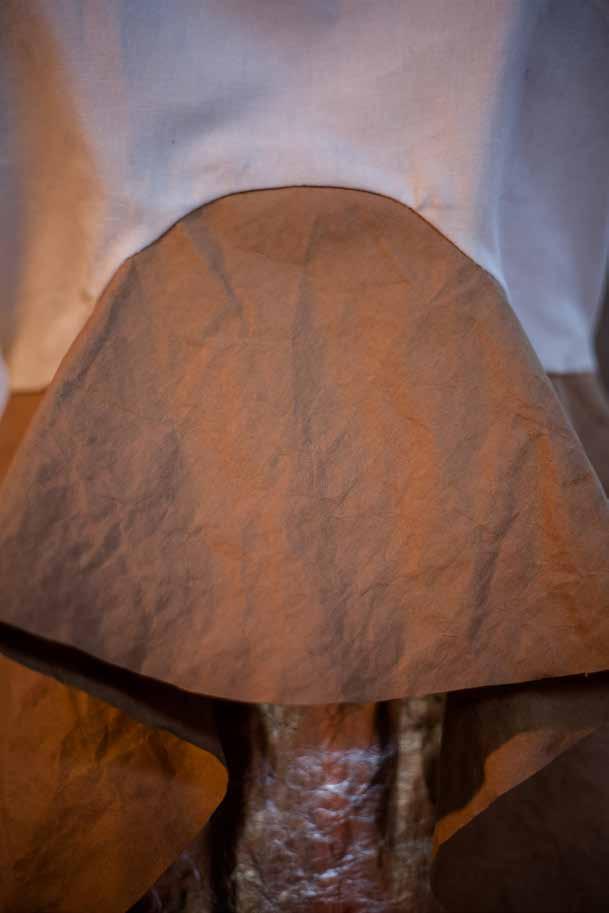 Fatti di Cartone MOSTRA / EXIBITION | DESIGN
DESIGN 120121
Generoso Design MOSTRA / EXIBITION | DESIGN
DESIGN 122123
Emiliana Martinelli MOSTRA / EXIBITION | DESIGN
DESIGN 124125
Fattelo MOSTRA / EXIBITION | DESIGN
DESIGN 126127
TALKS
At the centre of the Design Exhibition setup an agora was constructed in cardboard, a self-produced symbolic object essential in terms of forms, which captures and characterises the full range of meanings of Cartasia's first Design edition. A place where those present could stand and listen to the protagonists invited to exhibit and recount their experiences.
The Agora gave rise to a series of meetings with academics, architects, designers, artists, students, who had the opportunity to discuss common issues, highlighting different design approaches, stimulating new discussions and investigating likely prospects for development and innovative fields of experimentation.
TALKS PAPER (R)EVOLUTION
S peakers, experts in the Design and Architecture fields, were invited to exhibit and discuss certain topics related to the "Boundaries and prospects" theme. The individual talks lasted around 20 minutes, with a focus on sharing experiences, inviting discussion, recommending solutions, taking on challenges, presenting revolving projects and searching for partners. All supported by projections and lighting effects that helped elevate the talks into small shows.
R elatori, esperti del settore Design e Architettura, sono stati invitati a esporre e trattare alcune tematiche basate sul tema "Confini e Prospettive". Interventi della durata di 20 minuti circa, nei quali esporre esperienze, invitare al confronto, suggerire soluzioni, sfide da cogliere, presentare progetti in evoluzione, cercare partner. Il tutto supportato da proiezioni e giochi di luce che rendono questi incontri quasi degli spettacoli.
The 2016 Edition is the starting point of a journey in which the spirit of collaboration and networking become the very design elements required to create products that meet concrete and real needs and enable the transfer of knowledge. Tre giorni, tre modi per raccontare il design di carta, oggi, in Italia.
Three days, three different ways to portray today's paper design in Italy.
L'Agorà ha dato vita a una serie di incontri con docenti universitari, architetti, designer, artisti, studenti, che hanno avuto occasione di confrontarsi su tematiche comuni, evidenziando i di versi approcci progettuali, stimolando nuove discussioni e consentendo di indagare probabili prospettive di sviluppo e innovativi ambiti di sperimentazione.
THE PUBLIC SQUARE AND THE SHARING OF KNOWLEDGE Design Artistic Director: Claudio Cammarata
L'edizione 2016 è pensata come punto di partenza di un percorso in cui lo spirito di collaborazione e il networking diventano atteggiamenti progettuali necessari per realiz zare prodotti che rispondano a esigenze concrete e reali e che abbiano la funzione di trasferimento di sapere.
128129
LA PIAZZA E LA CONDIVISIONE DEL SAPERE Direttore Artistico Design: Claudio Cammarata Al centro dell'allestimento della Mostra di Design, è stata progettata e allestita un'agorà in cartone, un oggetto simbolico autoprodotto ed essenziale nelle forme, che concentra in sé tutti i significati di questa prima edizione. Un luogo in cui sostare ed ascoltare i protagonisti invitati ad esporre e raccontare le proprie esperienze.
Arch. GumDesignBatoni & Bau TALKS / PAPER REVOLUTION
Marcus Homatsch Silvia Armelleschi e Desiree Costanzo Daniele Schinaia Emiliana Martinelli TALKS / PAPER REVOLUTION 130131
Andrea Cattabriga Alberto Cigada Pietro Carlo Pellegrini TALKS / PAPER REVOLUTION
Giancarlo Zema Elvio Cecchini Angelo AlessandroMarzellaRogora TALKS / PAPER REVOLUTION 132133
Generoso ParmegianiVeronica Dal Buono TALKS / PAPER REVOLUTION
GiorgioPieraCaporasoDeLuca Luigi Alini TALKS / PAPER REVOLUTION 134135
FUN
Tutte attività che hanno visto una grande partecipazione della città e non solo, luogo d'incon tro ideale tra arte, creatività e fantasia.
Every Saturday, for the duration of the Biennale, free events were also held in different loca tions in the city of Lucca, open and intended for visitors of all ages. Local and Tuscan asso ciations together with artists and craftsmen were involved in the initiatives, who generously offered their experience and professionalism: the Tri Cooperative, Gianni Luigi Colombo, Fabrizio Silei and Walter Aquiloni.
L'ultimo appuntamento nella piazza del Duomo di Lucca, ha visto grandi e piccoli dar prova della loro abilità e creatività, in un torneo di aeroplanini di carta, costruiti con vecchi giornali.
TRASMETTERE ARTE ATTIVA Responsabile Fun: Elena Bravi L'edizione 2016 ha visto protagonisti bambini e ragazzi in molte attività organizzate appo sitamente per loro. Palazzo Ducale, ospitante la mostra di Paper Art, ha aperto le porte ai piccoli visitatori, permettendo loro di entrare in contatto con le opere. I bambini hanno partecipato a visite guidate, studiate ad hoc per coinvolgerli e farli riflettere sull'utilizzo artistico della carta, sulla sua capacità di trasformare l'ordinario in straordinario.
Ogni sabato, per tutta la durata della Biennale, sono stati organizzati inoltre eventi gratuiti in diversi luoghi della città di Lucca, aperti e pensati per grandi e piccoli. Sono state coinvolte associazioni, artisti e artigiani toscani che hanno messo a disposizione la loro esperienza e professionalità: la Cooperativa Tri, Gianni Luigi Colombo, Fabrizio Silei, Walter Aquiloni.
136137
A ogni visita è seguito un laboratorio in cui ai bambini è stato proposto di "giocare" a fare l'artista, prendendo come spunto uno dei metodi adottati dagli autori delle opere esposte, concretizzando così un percorso. Creare qualcosa di unico usando carta di recupero. Durante le visite, viene incoraggia ta l'interazione con la guida e con le opere stimolando un approccio all'arte attivo, caldo, coinvolgente. In questo modo i ragazzi hanno creato disegni usando solo carta e forbici, utilizzando fogli di giornali, creato strane composizioni utilizzando le riviste e costruito una piccola stanza in carta.
A series of events for children and adults. Ten creative workshops accompanied by guided tours designed with children in mind. Five talks focused on games and paper, with industry experts, each time using different materials and held in a different location in the city of Lucca. A paper airplane launching competition for adults and children, in one of the biggest and most characteristic squares of the historic city centre.
TRANSMITTING THE CONCEPT OF ACTIVE ART Fun Coordinator: Elena Bravi The 2016 Edition saw the participation of children and young people in many activities or ganised specially for them. Palazzo Ducale, which hosted the Paper Art exhibition, opened its doors to young visitors, allowing them to touch and come into direct contact with the works. The children took part in guided tours, designed specifically to engage them and help them reflect on the artistic use of paper, on its ability to transform the ordinary into extraordinary.
FUN U n ciclo di appuntamenti per bambini e per adulti. Dieci laboratori creativi con visita guidata adattata al linguaggio dei bambini. Cinque incontri incentrati sul gioco e la carta, realizzati da esperti di settore, ogni volta con materiale differente, in una location diversa della città di Lucca. Una gara di lancio aeroplanini per grandi e piccoli, in una delle più grandi piazze del centro storico.
Each visit was followed by a workshop during which the children were offered the opportu nity to "play" at becoming an artist, using one of the methods adopted by the authors of the works exhibited as inspiration and allowing their imaginations to run free. Creating something unique using waste paper. During the visits, the interaction with the guide and with the works exhibited was encouraged, stimulating an active, warm and en gaging approach to art. The children had the opportunity to bring to life designs relying only on paper and scissors, using sheets of newspapers, creating strange and interesting com positions using magazines and constructing a small room made of paper.
The last event held in Lucca's Piazza del Duomo saw enthusiasts of all ages demonstrating their skill and creativity in a paper airplanes tournament, constructed using old newspapers. The activities saw a high turnout in the city and beyond, an ideal meeting place that brought together art, creativity and imagination.
CARTASIA FUN
CARTASIA FUN 138139
CARTASIA FUN
CARTASIA FUN 140141
CARTASIA EXPERIENCE
Essere volontaria Cartasia significa avvicinarsi a una Biennale Internazionale d'arte e capirne, piano piano, il suo funzionamento, i suoi meccanismi e alla fine, al termine di questo intenso respiro, poter dire "anche io ne ho fatto parte."
"When I applied for the volunteer position, I had somewhat confusing ideas, I hoped that a full-time experience in a new cultural context, within an organisation such as an art Biennale like yours would be a good way to grow on a personal level. And so it was: I met really interesting people, I was exposed to many stimuli and I had the opportunity to prove myself at something new to me, in the context of a cultural mediation. I fell in love with the project, with the idea of combining tradition and innovation, leveraging the resources of the area, with a focus on ethics, sustainability and on the content. I fell in love with your audience: attentive visitors, sensitive and open to listening and exchanging ideas."
Un ringraziamento particolare va: / Special thanks are extended in particular to: Alice Bolis, Andrea Macciò, Gaetana Ferro, Giulia Dell'amico, Giuseppe Circelli, Luna Landini, Martina Salotti, Priscilla Sagoe, Roberta Ranalli, Sam Austin-Eames, Sara Sportelli, Valentina Spinoso.
In the words of our volunteers:
StudentsVOLUNTEERSfromalloverItaly were invited to Lucca during the Biennial to complement Cartasia's staff during all stages of the event. An unforgettable experience for those who participated, requiring engagement, courage, the desire to get involved and to learn.
"Credo che amare l'arte sia un dono quanto crearla e Cartasia mi ha fatto conoscere, esplorare raccontare l'arte della carta, quell'arte geniale e creativa fino ad allora sconosciuta; e mi ha fatto creare, a fianco degli artisti più veri, i bambini, autentici capolavori.
"Cartasia per me è stata un'occasione unica di vivere "dall'altro lato" una mostra di grandi di mensioni. Non si è trattato infatti di una visita fugace o di un impiego passivo, ma di settimane di lavoro che mi hanno fatto conoscere e apprezzare davvero gli artisti e i designer esposti. Dopo solo un paio di giorni mi sono sentito a mio agio in sala e nell'ambiente generale, e questo mi ha permesso di vivere Cartasia come se fosse anche un po' mia, dedicandole tutto il mio impegno e la mia passione. Il gruppo dei volontari è stato sicuramente una delle cose che più mi ha fatto piacere di questa esperienza: ragazzi da tutta Italia studenti di Arte, Architettura, Lettere o Fotografia che si sono trovati a collaborare per la buona riuscita di un evento che ne aveva per tutti i gusti. Un viavai continuo che mi ha permesso di conoscere persone interessanti con cui ho lavorato benissimo."
VOLONTARI / SOCIAL / CARTASIA GO
CARTASIA GO UN GIOCO, UNA SFIDA, UN MODO DIVERSO DI FRUIRE L'ARTE. Scoprire 6 opere monumentali esposte in 6 posti diver si della città, farsi una foto e condividerla sui social. Il premio era un biglietto gratuito ad una delle due mostre indoor della Biennale. I partecipanti non si sono fatti attendere.
Cosa dicono i nostri volontari:
Cartasia for me was a unique opportunity to experience "the other side" of a large exhibition. This was not a fleeting visit or a casual commitment, but weeks of work that made me really appreciate the artists and designers who exhibited their works. After only a couple of days I felt at ease in the hall and in the general environment, and this allowed me to experience Cartasia as if I were an integral part of it, dedicating my full commitment and passion to its success. Our group of volunteers was definitely one of the things I enjoyed most about this experience: young people from all over Italy, students in art, architecture, literature or photography who worked together towards the success of an event that offered something for everyone. A continuous hustle and bustle of activities that allowed me to meet interesting people with whom I was able to work and collaborate cohesively."
RagazziVOLONTARIdatuttaItaliasono
142143
"
"Quando ho fatto domanda per fare la volontaria avevo le idee un po' confuse, speravo che un'esperienza a tempo pieno in un contesto culturale nuovo, all'interno di un'organizzazione come una Biennale d'Arte come la vostra sarebbe stata un buon modo per crescere a livello perso nale.
"I think that love for art is a gift, just as much as creating it. Cartasia introduced me and gave me the opportunity to explore and share the world of paper art, a little-known yet brilliant and highly creative world which allowed me to create, alongside our truest artists - children - genuine masterpieces. Being a Cartasia volunteer means getting closely involved in an international art Biennale and understanding, little by little, its operation, its mechanisms and eventually, at the end of this extensive experience, being able to say "I was part of it too".
stati invitati a Lucca, durante la Biennale, per affiancare lo staff Carta sia, in tutte le fasi dell'evento. Esperienza indimenticabile che chiede confronto, coraggio, voglia di mettersi in gioco e di conoscere.
Così è stato: ho conosciuto persone davvero interessanti, ho raccolto molti stimoli e ho avuto modo di mettermi alla prova su una cosa per me nuova, quale la mediazione culturale. Mi sono innamorata del vostro progetto, dell'idea di unire tradizione e innovazione facendo leva sulle risorse del territorio, puntando all'etica, alla sostenibilità e al contenuto. Mi sono innamorata del vostro pubblico: visitatori attenti, sensibili e aperti all'ascolto e al confronto."
A GAME, A CHALLENGE, A DIFFERENT WAY TO ENJOY DiscoveringART.6 monumental works exhibited in 6 different places across the city, taking a picture and sharing it on social media. The prize was a free ticket to one of the two indoor exhibits of the Biennale. Participants did not waste any time.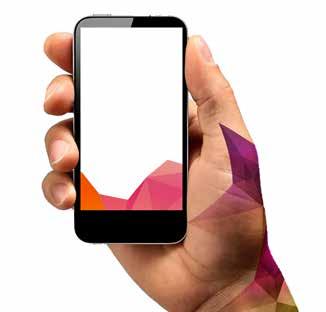 CARTASIA EXPERIENCE / VOLONTARI
CARTASIA EXPERIENCE / VOLONTARI 144145
See you in 2018!
As is the material characterising it, the Biennale is simple and strong, diverse and cultural.
E' filosofia, in quanto con essa ci poniamo domande sul contemporaneo che non riguardi solo l'arte o il design ma tutto ciò che tocchi l'uo mo. E' network, perché grazie al confronto abbiamo modo di rispondere a queste domande, accrescere la conoscenza, apportare sviluppo, mettere in discussione per poi trovare nuove strade da percorrere.
La Biennale non guarda solo al passato o al futuro, ma cerca di contribuire alla crescita odierna attraverso vari linguaggi diretti a un pubblico variegato, più e meno informato, attraverso vari ambiti e varie culture.
It is a philosophy, because through it we ask contemporary questions that concern not only art or design, but also everything relevant to man. It is a network, because thanks to the exchange of ideas and discussions, we have a way to answer these questions, to enhance our knowledge, to make developments, questioning and then finding new ways forward.
D a un'idea nata nel 2004 grazie ad un gruppo di persone sensibili agli eventi del momento, al settore economico del territorio e soprattutto alla cultura, abbiamo oggi concretizzata una necessità: valorizzare una tradizione locale e mondiale, mettere in contatto l'artistico e il razionale, il tecnico e il creativo, comunicare il cambiamento e, soprattutto, coinvolgere il pubblico per esserne parte.
Inoltre, la Biennale promuove l'esposizione delle opere di carta in tutto il mondo: nel dicembre 2016 alcune sculture monumentali sono state trasferite a Cannes, in Francia. Altre esposizioni sono in corso di organizzazione. Sostenibilità, Etica, Arte, Tradizione: su questi pilastri Cartasia costruisce il futuro. Arrivederci al 2018!
ART – DESIGN – TALKS – FUN Coordinatrice Cartasia: Federica Moretti La Biennale è come il materiale di cui si fa portavoce, semplice e forte, molteplice e culturale.
B ased on an idea born in 2004 thanks to a group of individuals sensitive to current events, to the economic sector and especially to culture, today, we have addressed an important contextual need: enhancing global and local traditions, bringing together the artistic and the rational worlds, the technical and the creative realms, communicating change and, above all, engaging audiences to take part in this process.
ART – DESIGN – TALKS – FUN Cartasia Coordinator: Federica Moretti
The Biennale does not look only to the past or to the future, but seeks to contribute to today's growth through various languages directed to diverse audiences, more or less informed, through different contexts and distinct cultures.
Moreover, the Biennal promotes all over the world the exposure of paper artworks: in December 2016 some monumental sculptures moved to Cannes, in France. Other exhibitions will come soon. Sustainability, Ethics, Art, Tradition: on these pillars Cartasia builds the future.
WHAT'SNEXT CARTASIA
Cartasia signifies much more than simply organising (and communicating) an event dedicated to paper. Cartasia is above all a vision suspended between tradition and innovation. Share this vision is the only way to understand its true meaning, and above all, its true potential.
Comunicare Cartasia significa evitare la banalizzazione che l'utilizzo quotidiano della carta e del cartone portano con sé e che possono portare a semplificare le proposte artistiche, bollandole come "giochi espressivi" con la materia-carta. E al contempo richiede la massima attenzione per non cadere in un'autoreferenzialità che limita la fruizione della manifestazione ad un pubblico ristretto di cultori delle avan guardie Cartasiaartistiche.nonvuol dire solo organizzare e comunicare un evento culturale dedicato alla carta. Cartasia è soprattutto una visione sospesa tra tradizione e innovazione. Riconoscere e condividere tale visione è l'unico modo per comprendere il vero significato, ma soprattutto le poten zialità racchiuse in questa manifestazione.
COMUNICARE / COMMUNICATING CARTASIA 146147
Arianna Bottari, Barbara Argentieri AB Studio - Press Office
L'assuefazione al "cartario" come protagonista dato quasi per scontato ha però relegato la carta al ruolo di elemento economico. Si guarda ai numeri della produzione, dell'export, dell'occupazione, ai miglioramenti tecnici, ma non si guarda quasi più alla carta come prodotto che può ancora essere veicolo di innovazione culturale.
Arianna Bottari, Barbara Argentieri Ab Studio - Ufficio stampa I n Lucca and in the surrounding region, paper has been an integral part of the community for over six centuries, from its historic pro duction to the modern day evolution of the material. Paper has always been at the basis of the city's economic and social system. The dependence on "paper" as a protagonist taken almost for granted, however, has relegated paper to a role as an economic element. We analyse production numbers, exports, employments, technical improvements but we rarely ever still consider paper as a product that can be a driver of cultural innovation.
La carta è sempre stata alla base del sistema economico e sociale della città.
Communicating Cartasia, especially during this 8th Edition of the Biennale, which saw the launch of the section dedicated to design, was synonymous with recapturing those innovative aspects that paper has always embodied since the beginning of its production in this area, going back six centuries ago.
A Lucca e nella Lucchesia si "parla" di carta ormai da sei secoli. Da quella prodotta con gli stracci, alla più moderna, fatta con le fibre.
Comunicare Cartasia, in particolar modo in questa sua ottava edizione, che ha registrato la prima apparizione della sezione dedicata al design, è stato come riappropriarsi di quegli aspetti innovativi che la carta ha sempre avuto in sé fin dagli albori della sua produzione, risa lente a sei secoli fa, in questo territorio. Più che oggetto di comunicazione, quindi, Cartasia vuole essere strumento di comunicazione, il medium sorprendente nella sua quotidiana presenza nella vita di tutti noi, grazie al quale scoprire e riscoprire punti di vista inusuali sull'arte e sulla creatività. Ma Cartasia è anche una finestra spalancata sull'attualità e sul mondo in cui viviamo e offre spunti di riflessione coraggiosi, quasi profetici se si pensa che i temi della biennale vengono individuati e annunciati circa 18 mesi prima della manifestazione. Comunicare Cartasia, quindi, implica la ricerca di una sintonia con il pubblico che permetta il passaggio dei significati più profondi che la manifestazione racchiude e incarna.
More than a subject of communication, therefore, Cartasia wants to be a communication tool, a surprising medium in its triviality and pres ence in everyday life, used as a means to discover unusual points of view on art and creativity. But Cartasia is also an open window on current events and on the world we live in, offering brave and almost prophetic insights, if we take into account that the themes of the Biennale are selected and announced almost 18 months before the event.
Communicating Cartasia, therefore, involves an attempt to connect with audiences, allowing the deeper and more profound meanings that the event contains and embodies to be conveyed.
Communicating Cartasia signifies avoiding the trivialisation that the daily use of paper and cardboard embody, easily leading to the over-sim plification of the artistic process and of the resulting works. At the same time requiring the utmost attention to avoid falling into a sense of egocentrism, limiting the fruition of the event to an audience of avant-garde enthusiasts.
Main sponsors With the help of
Un ringraziamento speciale a tutti coloro che hanno contribuito a realizzare questa Biennale: A special thanks to everyone who contributed to this Biennial: STAGISTI E VOLONTARI / INTERNS AND VOLUNTEERS: Alice GiuliaGaetanaFedericoDeborahDarioCleopheAndreaBolisMacciòAiselLanducciStefaniStefaniFerroDell'amico Giuseppe Circelli Helena Ungureanu Isac SamRobertaPriscillaMartinaLunaMasseiLandiniSalottiSagoeRanalliAustin-Eames Sara NicolaClaudiaBiancaValentinaSimoneSportelliGiovannettiSpinosoStefanelliRivieriRadkei ALTRE COLLABORAZIONI / OTHER COLLABORATORS Fondazione IstitutoIstitutoPrismanet.comArkadtecnicoPertinid'ArtePassaglia Tanya Pacini Lisa LibertyFranceschiniRentals ORGANIZZAZIONE GENERALE / ORGANISING COMMITTEE Emiliano Galigani (direttore) Federica Moretti (coordinatrice) Nicola Bertoux (Dir. Artistico Art outdoor) Giacomo Pecchia (Curatore Art Indoor) Claudio Cammarata (Dir. Artistico Design) Elena Bravi (ref. sezione Fun) Francesca Bova (marketing) Angelita Privitera (marketing e comunicazione) Beatrice Attanasio (marketing e comunicazione) Barbara Argentieri, Arianna Bottari (AB Studio - ufficio stampa) Alessandro Casalini (fotografo e operatore video) Paolo De Angelis (ref. volontari) Cynthia Sah (giuria) Patrizia Stranieri (giuria) Giuseppe De Leo (giuria) Giulia SaraMartinaVianelliColozzoSportelli SQUADRA TECNICA / TECHNICAL TEAM Emilia Rosi (Direttore tecnico) Lisa ElenaOrsiGiampaoli Andrea Macis Claudio CostantinoMaestrelliNovac Lorenzo Bergamini Ayoud AbdessamadDbibih Bouallali