Andrew Scott / Chifumi / Stefania Giannici / Inés Hubacher Andrea Marcianò / Mykl Wells / Zsuzsa Horvath Biennaled'ArteContemporanea BiennalofContemporaryArt Crisis and Rebirth Crisi e Rinascita
© Metropolis Nessuna parte di questo libro può essere riprodotta o trasmessa in qualsiasi forma senza l'autorizzazione dell'autore. No part of this publication may be reproduced or transmitted in any form without the prior permission of the publisher. In copertina: Andrew Scott, Black Man Grove: Resilienza On the cover: Andrew Scott, Black Man Grove: Resilience Progetto grafico / Project design:
A cura di / Edited by Eva Guidotti Introduzione di / Introduction by Nicolas Bertoux Saggio critico di / Critical essay by Emiliano Galigani
A far da corollario alla mostra en plein air , altre esposizioni monografiche ed eventi, a creare un ricco calendario di iniziative lungo tutto l'arco della Biennale.
2
Nata
Cartasia is a Biennal of Contemporary art, a wide range cultural event that's developed in Lucca (Tuscany Italy), with environmental finality: Cartasia unites the industry of paper with the artistic communicative vehicle.
Cartasia si propone di raggiungere questi obiettivi attraverso l'espressione artistica che utilizza la carta come media principale. Il cuore dell'evento è costituito dal concorso che vede protagonisti i progetti di artisti provenienti da tutto il mondo, selezionati da una giuria di esperti. Le opere scelte, rigorosamente realizzate in carta e cartone, vengono ubicate nelle piazze e nelle vie della città, dove è possibile ammirarle e interagire con esse. L'installazione artistica inserita nell'ambiente cittadino prende così vita : le opere hanno un loro spazio che si vede, si sente e si attraversa.
Il tema scelto per questa VIa edizione è stato "Crisi e Rinascita" : nel periodo storico che stiamo vivendo, dove la crisi economica e sociale impera, l'arte viene richiamata in soccorso all'uomo e al suo spirito. Nella creazione artistica si ricerca la svolta, l'espressione di un moto di rivolta, l'input al cambiamento.
nel 2004 è arrivata nel 2012 alla sua sesta edizione.
La manifestazione ha tra le sue finalità la diffusione dell'importanza della memoria storica relativamente alla tradizione cartaria e la diffusione della sensibilizzazione al riciclo attraverso l'Eco-Art.
B een born in 2004 it has reached in 2012 its 7 edition. The demonstration relatively has besides among its finalities the diffusion of the importance of the Cartasiaofthetraditionthememoryhistoricaltopaperandimportanceecology.proposes him to reach these objectives through the artistic expression that uses the paper as source of inspiration.
Cartasia 2012 took place in Lucca from June 30 to July 29, 2012. The main theme for this fifth edition was "Crisis and Rebirth": in this historica period, characterized by social and economical crisis, arts helps mankind. The artist looking for an expression of revolt, an input to the change.
Cartasia 2012 si è svolta a Lucca dal 30 giugno al 29 luglio 2012.
The heart of the event is constituted by the contest that it sees protagonists the projects of artists coming from the all the world, selected by a jury of experts. The select works, rigorously realized in paper and cardboard, they are situated in the plazas and in the streets of the city, where is possible to admire them and to interact with them. The artistic installation inserted in the city environment takes so life: the works.
Cartasia è una Biennale d'Arte Contemporanea, un evento culturale di ampio respiro che si svolge a Lucca, (Toscana, Italia): Cartasia unisce l'industria della carta al veicolo comunicativo artistico.
La biennale Cartasia si è confermata nel corso degli anni come evento d'importanza internazionale, e continua a promuovere nel panorama mondiale l'avanguardia artistica che usa la carta come mezzo espressivo.
4
preparazione19 preparation presentazione07 introduction concorso49 contest modello13 Cartasia the Cartasia case 5
6
presentazione introduction 7
8
9
Carta, cartone, schizzo, modello, pieghe, assemblaggi, montaggio, inaugurazione, mostra, complimenti, critiche, smontaggio, bilancio, Cartasia.
PRESENTAZIONE
Di Nicolas Bertoux / Direttore Artistico Cartasia
Progettare, costruire e installare delle sculture in carta in luoghi pubblici, strutture che devono resistere un mese all'aperto, sotto la pioggia, alle intemperie, agli eventuali danneggiamenti causati dall'uomo. Un progetto originale e ambizioso, una sfida. Quando ho ricevuto la proposta di partecipare, nell'aprile del 2004, non ho esitato ad accettare. Avevo già in mente da tempo una scultura monumentale che avesse come elemento base bobine di carta giganti e sentivo che era arrivato il momento di concretizzare la mia idea progettuale; una riproduzione della struttura cittadina di Lucca - con i suoi vicoli, le mura - in una sorta di labirinto, costituito interamente da bobine e cartone ondulato. Con il comitato organizzatore scegliemmo di lavorare, per il primo anno su un terreno sperimentale: non conoscevamo la disponibilità delle cartiere, promotrici principali per quanto riguarda la materia prima dell'opera da realizzare, né l'interesse all'eventuale supporto degli enti istituzionali. Erano molte le incognite. Se questa prima esperienza avesse funzionato, negli anni a venire avremmo fatto ricorso alla creatività di numerosi artisti organizzando un concorso internazionale, convocando una giuria di esperti, e istituendo una biennale. Tutto questo si è concretizzato, e ho potuto vedere Cartasia crescere e affermarsi come Biennale d'Arte Contemporanea, testimoniando l' attenzione verso l'avanguardia artistica che utilizza la carta come mezzo costitutivo delle opere.
10
When I have received the proposal to participate, in April of 2004, I haven't hesitated a second, and immediately accepted. I had for a long time in mind a monumental sculpture that had as basic element giant spools of paper, and I felt that the moment had arrived to concretize my idea; a reproduction of the structure of the city Luccawith its alleys, the walls - in a sort of labyrinth, entirely constituted by spools and waved cardboard. With the organizing committee we chose to work for the first year on an experimental ground: we didn't know the availability of the raw material from the paper industries, neither the interest to support of the institutional bodies. here were a lot of unknown issues. If this experience had worked out, in the years to come we would have resorted to the creativeness of numerous artists, organizing an international contest, summoning a jury of experts, and founding a Biennial exhibition. Everything now is concretized, and I've been able to see Cartasia grow and to affirm itself as Biennal of contemporary art, testifying the increasing attention toward the artistic avant-garde that uses the paper as constitutive media of the works.
By Nicolas Bertoux / Art Director Cartasia
T o plan, build and install some paper sculptures in public places, structures that must withstand one month open air, under the rain, subjected to bad weather, to the possible damages caused by human intervention. An original and ambitious project, a challenge.
11
Paper, cardboard, sketch, model, folds, assembly, installation, opening, exhibition, compliments, criticisms, disassembly, budget, Cartasia.
INTRODUCTION
12
modello Cartasia the Cartasia case 13
14
IL MODELLO CARTASIA
I temi dello sviluppo sostenibile, del coinvolgimento delle in dustrie, del recupero della memoria storica, dell'avanguardia artistica, della promozione dell'area - vera e propria capitale mondiale della carta - si sono andati unendo nel corso degli anni attraverso la funzione promozionale dell'arte. Le campagne stampa nazionali hanno avuto ogni anno un riscontro sempre maggiore, tanto da obbligarci a guardare oltre i confini, puntando a sfide globali. Le collaborazioni con enti internazionali si sono moltiplicate: Sofia (Amateras Pa per Festival), Apeldoorn (Holland Paper Biennial), Charmey (Triennale du Papier), gli istituti italiani di cultura all'estero (New York, San Francisco), la città di Metz (Francia).
Cartasia è una biennale d'arte contemporanea, che nasce da un'eccellenza produttiva territoriale, e dalle sue radici storico culturali, con l'ambizione di essere luogo di con fronto per lo sviluppo dell'avanguardia artistica mondiale, a confronto con un media, la carta, sempre più interessante.
Tutto questo con la consapevolezza che produrre cultura equivale a lasciare un segno profondo del proprio passag gio, del percorso fatto. Produrre cultura vuol dire apportare benessere economico, sociale ed estetico alla comunità. Mi auguro che Cartasia possa continuare a farlo per molti anni ancora.
Abbiamo creato la manifestazione contando sulle queste peculiarità, su un contesto (la città di Lucca) di estremo pre gio, unendo la formula del Simposio (artisti che si incontrano per realizzare le loro opere in un workshop permanente), quella del Concorso, e quella delle mostre e degli eventi. Questo contenitore ha un fil rouge che unisce tutte le ma nifestazioni: la carta, con la sua storia e le sue possibilità. Il passato e il futuro.
I nvestire tempo e risorse in cultura è principalmente sinonimo di sviluppo e promozione territoriale. Questo primo e per certi versi ovvio assunto non può essere disgiunto dal considerare l'investimento in cultura come portatore di uno sviluppo sociale, etico, economico ed estetico. Investire in cultura vuol dire anche preoccuparsi di un tema fondamentale: il recupero della nostra memoria. a memoria di ciò che eravamo (senza voler fare operazioni nostalgiche, ma unicamente per conservare un patrimonio, conoscerlo e rafforzare le proprie radici per affrontare le sfide future con gambe che non siano d'argilla) va preservata, tramandata e comunicata a mio parere in ogni luogo e con ogni mezzo possibile, in maniera trasversale, coinvol gendo tutte le generazioni. Questo è esattamente quello che volevamo fare quando abbiamo pensato a Cartasia.
15
Di Emiliano Galigani / Direttore comitato organizzativo Cartasia
16
All this with the awareness that produce culture is equal to leave a deep sign of a passage. To produce culture means to bring economic, social, aesthetical development to the community. I wish Cartasia can keep going on doing this job, for many years to come.
The themes of sustainable development, involving the industrial world, of the historical memory, of the state-ofthe-art, of the area promotion - real world paper capital - , have gone together along the years through the promotional function of art. The national press campaign have always had every year a great return, so much to force us to look over the borders, aiming to global challenges. The collaborations with international corporate bodies are multiplied: Sofia (Amateras Paper Festival) Apeldoorn (Holland Paper Biennial) Charmey (Triennial du papier) the Italian institutes of culture (New York, St. Francisco), the city of Metz, in France.
By Emiliano Galigani / Organizing comitee director Cartasia T o invest time and resources in culture is mainly synonymous of territorial development and promotion. This first and for some verses obvious sentence cannot be separated from considering the investment in culture as carrier of a social, ethical, economic and aesthetical development. To invest in culture, means also to worry about a fundamental theme: the recovery of our memory. The memory of what we were (without making nostalgic operations, but entirely to preserve a patrimony, to know it and to strengthen our own roots to face the future challenges with legs that are not made out of clay) it has to be preserved, handed down and communicated to my opinion in every place and with every mean possible, in transversal way, involving all the generations. This is exactly what we wanted to do when we thought about making Cartasia. Cartasia is a biennal exhibition of contemporary art, born from a territorial productive excellence, and from historical and cultural roots, with the ambition to be a place of comparison for the development of the artistic worldwide "avant garde", facing a media, paper, more and more interesting. We have created the Biennial counting on the these peculiarities, on a extremely fine context (the city of Lucca), mixing the Symposium's formula (artists that meet each other to realize their works in a permanent workshop), with a Contest, exhibits and events. This melting pot has a "fil rouge" that unites all the demonstrations, and it's just paper, its history, its possibilities. The past and the future.
THE CARTASIA CASE
17
PREPARAZIONE opere installations PREPARATION 18
Inés Hubacher in collaborazione con / with Marianne Meienhofer Il Teatro Della Vita Theater Of Life Zsuzsa Horvath in collaborazione con / with Zoltan Lakatos Le Onde Di Calypso The Waves Of Calipso Mykl Wells (Vincitore) Bucaneve Snowdrop Chifumi Omicidio Murder Andrea Marcianò in collaborazione con/with Maddalena Vidale Organica Organic Andrew Scott Fuori Concorso Out of Contest Black Man Grove: Resilienza Black Man Grove: Resilience Stefania Giannici Afasia Aphasia 19
PREPARAZIONE20
Andrew Scott Black Man Grove: Resilience Black Man Grove: Resilienza 21
22
PREPARATION Andrew Scott (Fuori Concorso / Out of Contest) Black Man Grove: Resilience Black Man Grove: Resilienza 23
PREPARAZIONE24
Chifumi Omicidio Murder 25
Chifumi Omicidio Murder 26
PREPARATION 27
PREPARAZIONE28
Giannici Afasia Aphasia 29
Stefania
30
PREPARATION Stefania Giannici Afasia Aphasia 31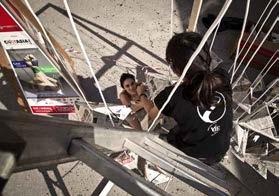 PREPARAZIONE32
Inés Hubacher in collaborazione con / with Marianne Meienhofer Il Teatro Della Vita Theater Of Life 33
Inés Hubacher in collaborazione con / with Marianne Meienhofer Il Teatro Della Vita Theater Of Life 34
PREPARATION 35
PREPARAZIONE36
Andrea
Marcianò in collaborazione con / with Maddalena Vidale Organica Organic 37
38
PREPARATION Andrea Marcianò in collaborazione con / with Maddalena Vidale Organica Organic 39
PREPARAZIONE40
Mykl Wells Vincitore Bucaneve Snowdrop 41
Mykl Wells Bucaneve Snowdrop 42
PREPARATION 43
PREPARAZIONE44
Zsuzsa Horvath in collaborazione con / with Zoltan Lakatos Le Onde Di Calypso The Waves Of Calipso 45
46
PREPARATION Zsuzsa Horvath in collaborazione con / with Zoltan Lakatos Le Onde Di Calypso The Waves Of Calipso 47
CONCORSO CONTEST 48
Il Teatro Della Vita Theater Of Life Le Onde Di Calypso The Waves Of Calipso Bucaneve Snowdrop Omicidio Murder Organica Organic Black Man Grove: Resilienza (Fuori Concorso) Black Man Grove: Resilienza Resilience (Out of Contest) Afasia Aphasia 49
Gli artisti selezionati sono infine invitati dal comitato organizzatore per circa un mese a Lucca, per realizzare i progetti in un simposio nel quale ogni artista lavora alla sua opera accanto a tutti gli altri, in un clima di collaborazione e scambio. E' proprio per questa modalità realizzativa che Cartasia si distingue nel panorama dei festival d' arte contemporanea: dieci artisti provenienti da ogni parte del mondo lavorano nello stesso luogo, sullo stesso tema, nell'atmosfera stimolante dell'incontro intellettuale. Una volta realizzate, le installazioni vengono dislocate all' interno delle principali piazze della città, dando vita a una vera e propria mostra en plein air.
Every participant, both individually and in group, enrolls to the contest by sending a project and a CV to the organizing committee, whose jury of experts selects the projects in conformity to the criteria of evaluation defined by the contest rules. There are no specific rules on the format of presentation of the projects. It's necessary that every project is exhaustive in terms of its position inside the urban space, of the materials used and regarding the respect of fundamental rules of stillness and safety. Every single edition of Cartasia has a main theme to which the artists in competition should follow in to realize their works: also, the monumental sculptures projects must hold in consideration their insertion in the urban environment.
Il concorso, promosso e divulgato a livello internazionale attraverso la stampa tradizionale ed il web, prevede l'elaborazione di opere e progetti in carta o affini, prevalentemente derivati dal riciclo (cartone ondulato, tubi, anime, materiale di riciclo, tessuto non tessuto) con una attenzione particolare al tema ecologico.
T he heart of Cartasia is made by an international contest, finalized to the realization of monumental projects in paper and is tightly bound to the predominant use of this material. The contest, promoted and developed to an international level through traditional press, media and the world wide web, it foresees the elaboration of works and projects in paper or similar, predominantly derived by recycle (waved cardboard, pipes, recycled paper, etc) with a particular attention to the ecological theme.
The selected artists are finally invited by the organizing committee for one month in Lucca, to realize the projects in a symposium in which every artist works close to all the others, in a climate of collaboration and exchange. It's mainly for this realizing concept that Cartasia distinguishes in the panorama of the contemporary art festival: ten artists coming from around the globe work in the same place, on the same theme, in a stimulating atmosphere. Once realized, the installations are posed in the main squares of the city, making a real "en plein air" exhibit.
Ogni partecipante, sia individualmente che in gruppo, si iscrive inviando il proprio progetto e il proprio curriculum al comitato organizzativo, la cui giuria di specialisti seleziona i progetti maggiormente rispondenti ai criteri di valutazione specificati nelle regole del concorso. Non ci sono specifiche sul formato di presentazione dei progetti. E' necessario che l'elaborato sia esaustivo nei termini della sua collocazione all'interno dello spazio urbano, dei materiali utilizzati e del rispetto delle norme fondamentali in materia di staticità e Ognisicurezza.edizione di Cartasia ha un tema a cui gli artisti in gara devono attenersi nel realizzare le loro opere: le sculture monumentali devono essere progettate tenendo in considerazione il loro inserimento nel tessuto urbano.
CONCORSO CONTEST 50
Ul cuore di Cartasia è costituito da un concorso internazionale finalizzato alla realizzazione di progetti monumentali in carta ed è strettamente vincolato all'utilizzo predominante di questo materiale.
La giuria specialistica era così composta: The specialist jury was as follows
Patrizia Stranieri (Ordine degli Architetti, Lucca / Order of Architects, Lucca) 51
Nicolas Bertoux (Direttore artistico, Presidente di Giuria / Artistic Director )
• Voto popolare sul sito web di Cartasia (10%)
• Voto della giuria specialistica (80%)
The theme chosen for this year was Crisis and Rebirth. In the historical period in which we live, in which the economic and social crisis reigns, the art is called to rescue the man and his spirit. In artistic creation is researched the change, the expression of a movement of revolt, the input to Thechange.Organizing Committee of Cartasia 2012 decreed Mikl Wells, with the installation SNOWDROP, the winner of the sixth edition of the Biennial.
The outcome of the competition is resulted from the sum of the marks obtained in the following way:
• Vote of the jury specialist (80%)
Crisi e Rinascita Sette, di cui uno fuori concorso, sono stati gli artisti di questa edizione: Stefania Giannici, Zsuzsa Horvat (in collaborazione con Zoltan Lakatos), Inés Hubacher (in collaborazione con Marianne Meienhofer), Wioland Jerome (in arte Chifumi), Andrea Marcianò (in collaborazione con Maddalena Vidale), Mikl Wells, Andrew Scott (fuori Ilconcorso).temascelto per questa edizione è stato: Crisi e Rinascita. Nel periodo storico che stiamo vivendo, in cui la crisi economica e sociale impera, l'arte viene richiamata in soccorso all'uomo e al suo spirito. Nella creazione artistica si ricerca la svolta, l'espressione di un moto di rivolta, l'input al cambiamento. Il Comitato Organizzativo di Cartasia 2012 ha decretato Mikl Wells, con l'installazione SNOWDROP (Bucaneve), vincitore della sesta edizione della Biennale. L'esito del concorso è scaturito dalla somma dei voti ottenuta secondo le seguenti modalità:
Seven, one out of competition, were the artists of this edition: Stefania Giannici, Zsuzsa Horvat (in collaboration with Zoltan Lakatos), Inés Hubacher (in collaboration with Marianne Meienhofer) Wioland Jerome (aka Chifumi), Andrea Marciano ( in collaboration with Madeleine Vidale), Mikl Wells, Andrew Scott (out of competition).
Maurizio Vanni (Direttore artistico Museo Arte Contemporanea Lu.c.c.a / Artistic Director of L.U.C.C.A Museum of Contemporary Art)
Giuseppe De Leo (Ordine degli architetti Lucca / Order of Architects Lucca)
Eva Guidotti (Responsabile produzione Cartasia / Cartasia Project Manager)
CONTEST
Emiliano Galigani (Direttore comitato organizzativo / Director of the organizing committee )
• Popular vote on the website of Cartasia (10%)
• Voto popolare tramite schede cartacee inserite nelle apposite piramidi poste vicino ad ogni scultura (10%)
Marco Bazzini (Direttore Artistico Museo Arte Contemporanea Pecci, Prato / Artistic Director Pecci Contemporary Art Museum, Prato)
Crisis and Rebirth
• Popular vote by paper ballots firmly in the pyramids placed next to each sculpture (10%)
CONCORSO
Cynthia Sah (Membro onorario di Giuria / Honorary Member of the Jury)
FUORI CONCORSO52
Andrew Scott Black Man Grove: Resilienza Black Man Grove: Resilience 53
54
OUT OF CONTEST 55
FUORI CONCORSO56
57
CONCORSO58
Chifumi Omicidio Murder 59
60
CONTEST 61
CONCORSO62
63
CONCORSO64
Giannici Afasia Aphasia 65
Stefania
CONCORSO66
67
68
CONTEST 69
CONCORSO70
Inés Hubacher in collaborazione con / with Marianne Meienhofer Il Teatro Della Vita Theater Of Life 71
72
CONTEST 73
CONCORSO74
75
CONCORSO76
Andrea
Marcianò in collaborazione con / with Maddalena Vidale Organica Organic 77
78
CONTEST 79
CONCORSO80
81
CONCORSO82
Mykl Wells Vincitore Bucaneve Snowdrop 83
84
CONTEST 85
CONCORSO86
87
CONCORSO88
Zsuzsa Horvath in collaborazione con / with Zoltan Lakatos Le Onde Di Calypso The Waves Of Calipso 89
CONCORSO90
91
92
CONTEST 93
Since 2012, Metropolis organizes exhibitions of contemporary art devoting himself especially to the young artistic talents in Tuscany.
The association produced its firts musical production, Welcome to the machine , in the summer of its birth. After this first work
Dal 2012 Metropolis organizza e allestisce mostre di arte contemporanea dedicandosi soprattutto ai giovani talenti artistici presenti sul territorio.
Metropolis produced: Il re muore di Eugéne Ionesco (2002), Circo Faber (musical, 2003), Paper Histories (documentary, 2004), Zones (film, 2005), Lo strano caso D , written and directed by Emiliano Galigani, (2006), The seventh announcement (film, 2010), Poltrone la serie (web serie, 2012). In 2004 borns Cartasia , International Paper Festival, which in 2010 becomes biennial consolidating its prestige and its visibilità all around the world.
Nata nel 2001 dall'unione di un team di artisti, l'associazione, attraverso la collaborazione con gli enti locali, è riuscita a creare sul territorio una realtà culturale e artistica a tutto tondo: arti visive, teatro, musica, reading e incontri letterari. Metropolis ha realizzato la sua prima produzione, il musical "Welcome to the Machine" nell'estate della sua nascita. Alla prima produzione ne sono seguite altre, sia nell'ambito della prosa (Il re muore – di Eugène Ionesco 2002), (Lo Strano Caso D - testo e regia di Emiliano Galigani, 2006) che nell'ambito musicale (Circo Faber 2003), che in quello video (documentario Storie di Carta 2004) e cinematografico (Zones 2005 - Il Settimo Annuncio, 2010 – Web Serie Poltrone, Nel2012).2004
F ounded in 2001 by a team of artists, Metropolis, through collaboration with local authorities, created on the territory a cultural and artistic setting.
Metropolis è un'associazione culturale che opera sul territorio nazionale e che si propone la promozione e produzione di iniziative artistiche legate all'arte, alla musica e allo spettacolo.
Metropolis is a cultural association which operates on national territory. It works in promotion and production of events related to figurative arts, music and performing arts.
94
nasce Cartasia, Festival Internazionale della Carta, che nel 2010 diventa biennale consolidando il suo prestigio e la sua visibilità a livello internazionale.
Direttore artistico: Nicolas Bertoux Direzione esecutiva: Emiliano Galigani Organizzazione Logistica: Samantha Cesaretti Ufficio stampa e pubbliche relazioni: Eva Guidotti Direttore tecnico: Emilia Rosi Comunicazione sito e web management: Prismanet.com Con il RegionecontributoToscana (nell'ambito del Progetto Regionale Toscana in Contemporanea 2011)
Sponsor FondazioneTecniciRagghianti,
Kappa Packaging, Ordine degli Architetti della Provincia di Lucca, Sistema Ambiente, ICP, Parkpre Bicycles, Prismanet Patrocinanti e/o collaborazioni Provincia di Lucca, Comune di Lucca, Comune di Capannori, Ministero dell'ambiente e della tutela del territorio, Ministero dei Beni e delle Attività Culturali prodotto da /produced by
Technical FondazioneSponsorRagghianti,
Curated by
Kappa Packaging, Ordine degli Architetti della Provincia di Lucca, Sistema Ambiente, ICP, Parkpre Bicycles, Prismanet Sponsor and Collaboration Provincia di Lucca, Comune di Lucca, Comune di Capannori, Ministero dell'ambiente e della tutela del territorio, Ministero dei Beni e delle Attività Culturali 95
Comune di Lucca, Fondazione Cassa di Risparmio di Lucca, Fondazione Banca del Monte di Lucca
Artistic Director: Nicolas Bertoux Executive Management: Emiliano Galigani Press and Public relations : Eva Guidotti Technical Director: Emilia Rosi Comunication and web site management: Prismanet.com Whith the help of: Regione Toscana (Project Toscana in Contemporanea 2011) Comune di Lucca, Fondazione Cassa di Risparmio di Lucca, Fondazione Banca del Monte di Lucca
Organizer: Associazione Culturale Metropolis
A cura di Ente organizzatore: Associazione Culturale Metropolis
www.cartasia.it