Photo by Michelle Herdlick
SEPTEMBER 2022
Is Meet AlainaLimitlessthe RareBeautiful!
Akron & Canton Special Needs Living 5 ISSUE PREVIEW Important Community Connections Alaina: The North Star in the Night Sky ABCs of All-StarsIEPsatthe Alley Recap Musings From A Real Special Needs Mom Of Stark County Showing the World The Value Of Acceptance And Inclusion Beauty Belongs to Everyone Special Olympics Athlete Q&A The Answer is: FinalinEmpowering2022AutismProvidingDennisAQuestionThere'sDon'tBenefitAConversationAccessibilityAsExcellent…Great…Valued…TechnologyRapidlyAdvances,MustBeInTheFamily,StayingtheCourse,fortheofAllWait.Advocate.AlwaysaSilverLiningandAnswerSessionWithCommunityResource—OfficerBetzConnectionsforThosewithandTheirFamiliesMake'mSmileOhioEventRecapStudentstoParticipateTheirCommunityTake 8 16 19 20 22 24 27 27 30 33 34 41 42 44 48 52 56 58 Owner/Advertising Sales Rick ScanTorick.miller@n2co.com(330)Miller283-8462SubscribeorNominate:Facebook(@snl.cak)Instagram(special_needs_cak)theQRcode Providing Connections for Those with Autism and Their Families Showing the World The Value AndAcceptanceOfInclusion Alaina: The North Star in the Night Sky A oftheCourse,StayingFamily,theforBenefitAll AlwaysThere's a Silver Lining Don't Advocate.Wait.
Northeast Developmental Services, Inc (330) www.northdsi.com495-6374
ADULT DAY SUPPORT Premier Approach, LLC Christian Manns (330) www.facebook.com/PremierApproachLLC312-6909
The Workshops, Inc Rachel Doty (330) www.choosetwi.com497-3399
COFFEE CAFE Whole Latte Love Cafe Beth Humbert (234) www.wholelattelovecafe.org360-2233
EQUESTRIAN CENTER Pegasus Farm Shelley Sprang (330) www.pegasusfarm.org935-2300
HOUSE OF HarvestimeWORSHIPTemple (330) www.harvestimeonline.org877-6544
JOB PLACEMENT SERVICES Independent Employment Services Malcolm Porter (330) www.independentemploy.com388-5778
NON-PROFITGentleBrookFrancieKell (330) www.gentlebrook.org877-7700
ART STUDIO BZTAT Studios, LLC (330) www.bztatstudios.com371-3150 CHURCH First Christian Church (330) www.firstchristian.com456-2600
The Chapel Green Amy Troyer (330) www.facebook.com/greenspecialneeds315-5501
EDUCATION SERVICES Jason's Place Melissa Hadnett (234)Facebook714-9815
ANIMAL DogWatchFENCE/TRAININGofNortheastOhioDonnieMyers (330) www.dogwatchneo.com915-6036
DISABILITY RESOURCES REM Ohio, Inc Jo Spargo (330) www.rem-oh.com644-9730
Once Upon A Daycare (330) 990-1466
INSURANCE AGENT American Family - Richard Corns Haley Seifert (234) 714-2300
Red Line Advocacy (234) www.redlineadvocacy.com678-9622
HOMEGlennaCharisBUILDERHomesWilson (330) www.charishomes.com833-4527 HOME CARE SafeInHomeSERVICES-Ohio (740) www.safeinhome.com207-5800
ACT PREP & TUTORING Bright Minds Learning Academy Sheila Lahoti 5368 Fulton Dr. NW Canton, OH 44646 (330) www.brightmindsla.us966-7226
September 20226
This section is here to give our readers easier access when searching for a trusted neighborhood partner to use. Get to know the businesses who make this magazine possible. Please support them in return and thank them if you get the chance!
ACCESSIBILITY & SAFETY MODIFICATIONS
ABA SERVICES Applied Behavioral Connections Kristen Maple (330) info@appliedbehavioralconnections.com309-3133
JTEK Solutions Group, LLC Jared Chevraux (330) www.jtekgroup.com323-0943
DEVELOPMENTAL
INDEPENDENT PRIVATE SCHOOL Wings of Change Therapy Inc Erica Myers (234) www.wingsofchangetherapyinc.com334-0044
COUNTY DISABILITIES BOARD Stark Board of Developmental Disabilities Lisa Parramore (330) www.starkdd.org479-3934
DISABILITY CARE Easterseals Northern Ohio Conor McGarvey (234) www.easterseals.com/noh417-0250
DAYCARE/PRESCHOOLOnceUponADaycareRosieEbner (330) www.onceuponadaycare.org990-1466
eXp Realty : The Amy
Canton
REALTOR® Wengerd Amy Wengerd (330) www.amysguarantee.com681-6090 Ignacio (330) www.brahlerscrr.com834-0008 www.sharingsolutions.info (330) www.cantonpalacetheatre.org454-8172
Group
ORGANIZATION GiGi's
NON-PROFIT Playhouse Megan Vance (330) www.gigisplayhouse.org/canton493-9114
PRIVATE SCHOOL The Golden Key Center for Exceptional Children Gina
CantonTHEATREPalaceTheatreLauraStrader
RESTORATION & CLEANING Brahlers Cleaning & Restoration Stacy
SUPPORT GROUP Sharing Solutions
PERSONAL LEGACY PORTFOLIO DEVELOPMENT
The Tiffany Rockstroh (330) www.preferredlegacy.com209-9229 Bannevich (330) www.goldenkeyschool.com493-4400
REAL Tara Nelson - Keller Williams Chervenic Realty Tara Nelson (330) www.taranelson.kw.com899-1644
ESTATE AGENT
Preferred Legacy Trust Company
TRANSPORTATION PROVIDER CLEARVIEW DEVELOPMENTAL SERVICES Dean Miller (330)Facebook224-4403 Looking For Fun & Exciting Ways To Spend Your Day? PREMIER APPROACH IS THE PLACE FOR YOU! CALL TO SCHEDULE A TOUR! 330-312-6909 | premierapproach@gmail.com 2056 Wales Rd NE | Massillon, OH 44646 We o er a variety of community activities, all of which are chosen by participants of the program. At Premier Approach you'll enjoy a fun, friendly & relaxed atmosphere. Get out and enjoy the things you already love, while also exploring other new and exciting opportunities. SERVICES PROVIDED: · Adult Day Support · Vocational Habilitation · Non-Medical Transportation
Opportunities for Ohioans with Disabilities Phone: (800) 282-4536 Website: Opportunitieswww.ood.ohio.govforOhioanswith Disabilities (OOD) is the state agency that empowers Ohioans with disabilities through employment, disability determinations, and independence. It is accomplished through its Bureau of Vocational Rehabilitation (BVR), Bureau of Services for the Visually Impaired (BSVI), and Division of Disability Determination (DDD). A fourth area is the Division of Employer and Innovation Services (EIS), which is responsible for establishing and maintaining partnerships with employers.
Akron Children's Hospital has been caring for children since 1890, and its pediatric specialties are ranked among the nation's best by U.S. News & World Report. With two hospital campuses, four health centers, and 50+ primary and specialty care locations throughout Ohio, they're making it easier for today's busy families to find the high-quality care they need.
Phone: (330) 575-0996 Website: threateningnutritionalCompassionwww.compassiondelivered.orgDeliveredprovidesmedically-tailoredmealstopeoplecopingwithchronic,life-illnessesanddiseases.
Ohio Developmental Disabilities Planning Council Website: www.ddc.ohio.gov Phone: 800-766-7426
Ohio's Parent Mentor Project Phone: (844) 382-5452 Website: www.parentmentor.osu.edu
The Autism Society is the nation's oldest and largest grassroots autism organization committed to improving the lives of those affected by autism. The Greater Akron affiliate was founded in 1987 by parent volunteers of children with autism. Bureau of Services for the Visually Impaired (BSVI) Website: services-for-the-visually-impairedindividuals-with-disabilities/services/www.ood.ohio.gov/ Medina, Portage, and Summit Counties Phone: 330-643-3080 Carroll and Stark Counties Phone: 330-438-0500 BSVI assists eligible people, beginning at age 14, with low vision and blindness by providing direct, personalized services to assist them in finding and retaining meaningful work and personal independence. Basic services include personal and work adjustment training, vocational training, mental and physical restoration, and placement assistance.
Akron Children's Hospital Phone: (330) 543-1000 Website: www.akronchildrens.org
The ODM provides health care coverage to more than 3 million Ohioans through a network of more than 165,000 providers. Learn more about Ohio's largest state agency and the ways in which they continue to improve wellness and health outcomes for the individuals and families served at our website.
The Arc promotes and protects the human rights of people with intellectual and developmental disabilities and actively supports their full inclusion and participation in the community throughout their lifetimes.
The Akron Blind Center, Inc. is a membershipbased nonprofit organization incorporated in 1948 to serve the blind and low vision communities. They also provide resources, programs, services, and classes for Summit and surrounding counties.
Ohio Coalition for the Education of Children with Disabilities Phone: (844) 382-5452 Website: www.ocecd.org
Arc of Ohio Phone: (234) 571-5689 Website: www.thearcofohio.org
September 20228
Ohio Department of Medicaid Phone: (800) 324-8680 Website: www.medicaid.ohio.gov
IMPORTANT COMMUNITY CONNECTIONS
Delivering Neighborhood Connections © 2022 The N2 Company, Inc. n2co.com
The OCECD is a statewide nonprofit organization that serves families of infants, toddlers, children, and youth with disabilities in Ohio, educators, and agencies who provide services to them.
NEED TO KNOW WHO TO CONNECT WITH TO ASK A QUESTION? THIS IS WHERE YOU FIND OUT WHO YOU NEED TO KNOW!
Call 211 Phone: ServingWebsite:211www.211.orgfourcounties
Ohio Dept of Job and Family Services Phone: (800) 720-9616 Website: www.jfs.ohio.gov The Ohio Department of Job and Family Services (ODJFS) is responsible for managing many vital programs that directly affect the lives of Ohioans.
People First in Ohio Website: www.peoplefirstohio.org People First of Ohio is a statewide organization that works with state legislators and builds relationships with other advocacy groups and state agencies. These relationships promote better interaction among people who make decisions in the communities and the state.
that strengthens families in our community through counseling, education, and support. By offering a variety of programs and services, we are here to help families with the many challenges of daily living and personal crises. Help Me Grow Phone: (330) 492-8136 Website: GrowIntake,ofpromotewell-babysupportHelphelp-me-grow/help-me-growhttps://odh.ohio.gov/know-our-programs/MeGrowisOhio'sevidence-basedparentprogramthatencouragesearlyprenatalandcare,aswellasparentingeducationtothecomprehensivehealthanddevelopmentchildren.HelpMeGrowSystemincludesCentralHelpMeGrowHomeVisiting,andHelpMeEarlyIntervention.
Akron Blind Center Phone: (330) 253-2555 Website: www.akronblindcenter.org
Down Syndrome Association of Northeast Ohio Phone: (216) 447-8763 Website: www.dsaneo.org The Down Syndrome Association of Northeast Ohio is a nonprofit that provides support, education, advocacy, and resources for individuals with Down syndrome, their families, and the community.
and covering 1.5 million people in Ohio, the United Way 2-1-1 Help Center provides free and confidential 24-hour access to a compassionate professional who will review your options for help, develop a plan and act as your advocate if you are faced with barriers to service. Simply dial 2-1-1 or chat with us for assistance. Se habla Espanol. Compassion Delivered
Greenleaf Family Center (Deaf and Hard of Hearing Services)
It is the mission of the Ohio Parent Mentors to provide the necessary support and resources to families of children with disabilities and the professionals that serve them by connecting families, schools, and the community to the benefit of students with disabilities.
Phone: GreenleafWebsite:330-376-9494www.greenleafctr.orgisanonprofitorganization
Autism Society of Greater Akron Phone: (330) 940-1441 Website: www.autismakron.org
The Ohio Developmental Disabilities Council is a planning and advocacy body committed to community inclusion for people with developmental disabilities. It is the mission of the ODDC to create change that improves independence, productivity, and inclusion for people with developmental disabilities and their families in community life. This council is made up of over 30 members, with the majority being individuals with developmental disabilities and parents and guardians of people with developmental disabilities who are appointed by the Governor of Ohio.
PATHFINDERSPROGRAM
Have a suggestion for an important connection that could be added to this page? Email your suggestion to rick.miller@n2pub.com.
Stark County Board of DD Phone: (330) 477-5200 Website: www.starkdd.org Stark DD connects individuals and families with the services persons with developmental disabilities need for health, safety, education, and quality of life.
Social Security Administration - Akron Phone: (800) 772-1213 Website: www.secure.ssa.gov Social Security Administration - Canton Phone: (877) 255-1509 Website: www.secure.ssa.gov
Philomatheon Society of the Blind Phone: ThisWebsite:330-453-9157www.philomatheon.comorganizationisagatheringof blind and visually impaired people, along with sighted family and friends, with a mission and goal to help the blind and visually impaired in the community to help themselves to remain or to become able to live independently and an active member of their community.
Sharing Solutions Phone: (330) 546-2001 Website: www.sharingsolutions.info A community of parents/guardians of individuals from transition to adult age with Intellectual and Developmental Disabilities, professionals who serve the IDD community, caregivers, and policy makers. The focus is to provide information, support, and assistance to all. Everyone is encouraged to play an active role in sharing their resources, knowledge, and experiences.
Special
Red Treehouse - Ronald McDonald Family Website: Supportingwww.redtreehouse.orgthewell-beingoffamilies and children with challenges, disabilities, and health care needs. Finding tools, organizations, and events in the community to meet the needs of families.
College AssessmentsCareerToursCampusandVocationalTrainingCommunityOpportunities&IndependentLivingSkillDevelopmentClassroomStudy Registration Open! CALL NOW!
Akron & Canton Needs Living 2650 Easton St. NE Canton, OH 44721 (234) mrs.hadnett@gmail.com714-9815@Jason'sPlaceInc
9 Join Now! Call or email Today!
College
DISCLAIMER: This publication is owned by The N2 Company and is not affiliated with or sponsored by any club, developer, or homeowners association. Articles and advertisements in this publication and opinions expressed therein do not necessarily reflect the views of N2 but remain solely those of the author(s) or advertiser(s). The paid advertisements contained within this magazine are not endorsed or recommended by N2.
The Social Security Administration assigns Social Security numbers and administers the Social Security retirement, survivors, and disability insurance programs. They also administer the Supplemental Security Income program for the aged, blind, and disabled.
TRIAD Deaf Services Phone: (330) 768-7272 Website: www.triadds.org
HELPING YOUNG
Summit County Developmental Disabilities Board Phone: (330) 634-8000 Website: www.summitdd.org Summit DD offers early intervention programs for infants and toddlers with developmental delays, as well as transition services for students with developmental disabilities to vocational, habilitation, and retirement programs for adults.
ADULTS SUCCESS!FIND Jason's Place Pathfinders is a transition program for young adults graduat ing from high school who need assistance in College,Career and Community Readiness. Support is provided for families in navigating new systems to achieve goals for their loved one. Readiness &
TRIAD Deaf Services Inc is an agency providing services to the deaf community in Stark, Carroll, and Tuscarawas Counties. They provide support services, interpreting, leadership, deaf advocacy, and education.
@Jason's Place
WE HAVE TO OFFER CONNECTING PEOPLE + COMMUNITY Get KnowTo
SERVICESSENIOR DISABILITIESDEVELOPMENTALSERVICES COMMUNITY GentleBrook provides residential options for seniors looking to age in place. The HomeStead: Our 49 bed assisted living and memory care facility The Villas: Our independent living 55+ condominium community GentleBrook fosters independence for individuals with intellectual and/or developmental disabilities by offering programs and services through our adult day programs and residential support services, including residential waiver services, and intermediate care facilities (ICF) in Hartville and West Lafayette. In July of 2022, GentleBrook will take over as the provider of adult day services for the Holmes County Board of Developmental Disabilities. GentleBrook serves the community through two businesses in Hartville. GreenhouseGentleBrook + Farm: GreenhouseGentleBrook + Farm has a wide selection of beautiful bedding plants, hanging baskets, house plants & succulents. Open to the public spring through fall. The SportsPlex: An indoor sports recreation center with a full basketball court and a 7,500 sq. ft. turfed multi-sport training facility for individual and team use. Coming Fall 2022 Menlo Park, a 6-bed ICF • Habilitation / Active Treatment and Adult Day Programs • Medical / Health Care Supports / Respite Services • Home-like environment • Financial Oversight • Transportation For more information call: 330-877-3694 GentleBrook is a not-for-profit social purpose enterprise that believes in connecting people + community through services and businesses. We believe all human life is a sacred gift and most fulfilled in community with others.
September 202212 www.onceuponadaycare.org Ca ll TO DAY to s c hedu l e a v i s i t ! 33 0 .99 0 1 46 6 MalcolmPhotographerPorter MichellePhotographerHerdlick Dave Keller Client Concierge Shelley SchedulingHarknessAssistant DeborahWriterRiley MelissaWriterKlatt Julian PhotographerCuretSarahWriterSmith RickOwnerMiller Mike ContentSturdivantDirector Joy PublishingBrownAssistant AndreaWriterHurr Meet Your Akron/Canton Special Needs Living MAGAZINE TEAM
Harvestime's Special Needs Ministry Presents:
Princess Within Special Needs Noncompetitive Pageant
Just as the farmers gather their corn, Jesus Christ is ready to gather his harvest of souls. Remember, It's Harvestime.
Saturday October 15, 2022
Hi, I'm Pastor Raymond Smith II of Harvestime Apostolic Temple in Hartville, Ohio. Come and worship with us, now is the time to prepare your soul for the Lords day of harvesting. God Bless You! Rev. Raymond Smith II
12:00 pm – 2:00 pm
Every girl is a princess and true beauty comes from within. That is the theme of this pageant. Each princess will be escorted across a wheelchair accessible stage where she will be announced as a princess and receive gifts. Some of the princesses will be sharing their talents this year. Do you have a talent that you would like to share at the Princess Within Pageant? (For example; singing, dancing, cheering, read a poem, etc.) We will be choosing up to 4 ladies, so please send a video to lena719664@aol.com or pattylgraham@hotmail.com. We would LOVE to have you share your talent! After the pageant, refreshments will be served.
Hosted at The Hartville Kitchen Restaurant 1015 Edison St. N.W., Hartville OH Service Times: Sunday School - 10:00 am Sunday Evening Evangelistic Service - 6:30 pm Wednesday Bible Study - 7:00 pm (330) 877-6544 • 136 E Maple St. P.O. Box 26 • Hartville, Ohio 44632 • www.harvestimeonline.org • Harvestimetemple78@gmail.com
If you have questions or want to register, please call: Lena Hartman at 330-704-7896 or Patty Graham at 330-224-2528
Isn't this time of year exciting? We are gathering the rewards of our labor from our elds and gardens. Jesus said in Mark 4:26 – 29, "And He said, So is the kingdom of God, as if a man should cast seed into the ground; And should sleep, and rise night and day, and the seed should spring and group up, he knoweth not how. For the earth bringeth forth fruit of herself, rst the blade, then the ear, after that the full corn in the ear. But when the fruit is brought forth, immediately he putteth in the sickle, because the harvest is come."
Sara Heckert Summary Info: Sara Heckert is currently the Director of Operations at Koala Kruizers where she manages all of the dayto-day operations of the organization. In addition to her two stepchildren, Sara and her husband Ryan have adopted two daughters with Down Syndrome named Ava and Anna. She holds a Bachelor's Degree in Special Education from Kent State University and has been incredibly active with local organizations that support Individuals with Developmental and Intellectual Disabilities including Gigi's Playhouse Canton, Canton Area Buddy Walk, First Christian Day Services, HandPrints Sign Choir and many more!
Summerly Rowlands Summary SummerlyInfo:Rowlands is a mom, licensed school counselor, and business owner. While raising a family of three in Jackson Township, she works full-time as a high school counselor and runs a website on the side to raise awareness for her daughter's rare genetic condition, 22q11.2 deletion syndrome. The website www.my22qt. com shares the story of her daughter's diagnosis while also sharing her journey along the way. The my22qt mission is to raise awareness, help families cope and find understanding, and to pay it forward to the genetic divisions of children's hospitals. If you find her on social media, you will see that she might be obsessed with snapping photos every single day of her kid's cute faces and everything they do!
Special
September 202214
Needs Living Magazine Contributors
Joe Albert Summary Info: Joe Albert is an expert photographer with a studio located in the heart of Downtown Canton. He has mastered the art of seeing the world through a photographer's eye, which, as he states, means "to look for the beauty in everything." Joe has loved getting to know his clients over the years and takes pride in having those same individuals continue to come to him for the most memorable milestones in their lives, their senior portraits, engagement photos, their weddings, and ultimately their children and family pictures. Joe loves nothing more than a good whiskey and cigar and never leaves home without his camera!
James Warnken Summary Info: James Warnken is a 24-yearold visually impaired/ legally blind online accessibility specialist with a deep background in digital marketing and design. He has recently obtained my IAAP CPACC certification and is currently pursuing the IAAP WAS certification to become CPWA. Over the last few years, working in marketing and online accessibility, James has realized that he has a unique perspective compared to most. Living with a visual disability, seven-plus years in the tech/ marketing space, and now almost two years in the digital accessibility space. His mission is to educate, guide, and connect organizations so they can own their accessibility initiatives instead of relying on overlays, third-party providers or hoping that it solves itself.
Rebecca McClary Summary Info: As a special needs mom, Rebecca seeks opportunities to connect with other parents on similar journeys. Her journey started nine years ago when her daughter was born prematurely. She is a parent advocate specializing in guiding parents through the challenges of IEPs, 504s, and school accommodations for children with disabilities. Rebecca jokes that she uses her communication degree, from Kent State University, as a navigation tool through thousands of medical appointments, therapies, and school meetings. She resides in Stark County, Ohio, with her husband, two children, and three dogs. She loves Jesus, reading, boating, and spending time with family and friends. Also notable, she hates winter.
For the 15th year, Ystark! and the Canton Regional Chamber of Commerce held its Twenty Under 40 Awards. The Twenty Under 40 Awards recognize Stark County's best and brightest under the age of 40 who have demonstrated dynamic leadership and social responsibility. These individuals are committed to making a difference in our community and creating a lasting impact. They are the doers, dreamers, and difference-makers. This year's Twenty Under 40 Awards were held on June 21. Please join us in giving a big congratulations to two of our Special Needs Living Akron/Canton contributors, Daniel Anschutz and James Warnken, who were both selected as members of this year's class! Your leadership and dedication to serving others make not only our community a better place but make our magazine better as well. We cannot say enough how proud we are to have both of you as part of our amazing team! Congratulations, Daniel and James, from Rick Miller and Mike Sturdivant!
Twenty Under 40 Award Winners - Congrats to our Contributors
Akron & Canton Special Needs Living 15
Alaina The North Star in the Night Sky
feature article
"We are currently new to the feeding tube world, and that is a huge challenge at the moment. Some days are easier than others. But, we are a praying
friend, Peyton, who's been there since she was a newborn, and doing all kinds of arts and crafts!
Perry Township native, Alaina Zehnder, is much more than the labels she's been diagnosed with. She's been diagnosed with KBG syndrome, autism, and a few others, and though her family has worked hard to get those answers, they focus on her abilities and what challenges she's overcome! With their love for God, involvement with their church, and the community embracing them, the Zehnders have the strength and support to roll with the punches!
Akron & Canton Special Needs Living 17
Alaina also loves to make YouTube videos singing, dancing, and talking about the joys of being different and unique. She's the beacon of hope when the world seems dark.
"Living with Alaina has truly made me a better mom and a better person. Alaina loves friends, and for those who truly get to know her, she makes them giggle, she makes them happy," says mom, Kylie Zehnder. "She is such a happy, happy child and brings light to almost everything."
September 202218
Mom Pro Tip: Find Your Village Alaina's mom, Kylie, shares with us the importance of finding a supportive community to help through the trials of parenthood: "You are not alone. It takes a village to raise a child, so find your tribe, find your village, and if you don't have one, let us be your tribe! Sometimes we all need a shoulder to cry on, a person to vent to, and a friend to ask for prayers from. This is our village. You are not alone!"
Request an IEP Meeting … anytime!
By Rebecca McClary, Special Needs Mom and Parent Advocate Does the theThenaboutfeelsimpleaChangehumanthatchurn?yourtransitionwordmakestomachItisokay;isanaturalresponse.canmakeseeminglytransitionlikeastormistoabrupt.youaddinstrugglesour
Create a Schedule … Create a routine. A schedule can drastically help to reduce triggers during a transition. Anxiety feeds off the unknown, so by making a schedule, your child will know what to expect.
Remember, as your child's parent, you are an essential part of the IEP team. There is no limit to how many IEP meetings you can request each school year. If you feel that you have found a need for change, speak up. I recommend that you request all meetings in writing. If you get into a situation where you feel you want more guidance, reach out to a parent mentor in your community. Transitions can create a lot of troublesome times for our children. I hope that these tips can help you turn those challenges into new changes that cause a celebration!
ABCs of IEPsABC
TURNING TROUBLESOME TRANSITIONS INTO CHANGES TO CELEBRATE
Akron & Canton Special Needs Living 19 educational perspective
Ask for Communication …
Take Notes … Data is key! I will say it again, data is key! When brainstorming ideas, you want to write down any triggers that your child or child's teacher is sharing with you. As you document these episodes, start to look for common themes. For example, when my daughter goes into a new classroom or therapy room, she will be overstimulated by any loud noise or music. By sharing this information with her IEP team, the team can create ideas to make changes that will make a more calming environment for her. Bring the data to the IEP team with an open mind to see what possibilities are available for your child's needs.
Think about what format will work best for your child's needs. Does he/ she do better with pictures, simple 2-3 word phrases, or short sentences? Adding pictures of buildings, rooms, teachers, therapists, counselors, and classrooms can help your child know exactly what to expect. Go over their schedule with them at night and in the morning before school. If you are unsure what their day looks like at school, ask your IEP team to create one and add this to their IEP. Adding this to your child's IEP ensures that all staff are using the same tool and creates consistency. IEP team members may even offer to create a similar one for your home routine.
Never hurts to ask!
kids with special needs face; now, the storm feels like a volcano! Many of our children with disabilities are triggered by changes in routines and schedules, new faces, different buildings or classrooms, and even new smells, sounds and sights. So, how can parents guide the transition so our kids have new experiences to celebrate? Below are some ideas of how you can utilize your child's IEP to avoid a troublesome transition.
If your child is non-verbal or does not typically share much about their day, you can ask the IEP team to create a routine line of communication. This should be specific, as in how they will communicate with you and how often. This can be added to your child's IEP in section 7 under accommodations. Having a consistent line of communication can help create more notes for your data collecting. Communication can be with teachers, aides, bus drivers, therapists, and any other school staff your child spends time with. I would suggest keeping it to as few staff as possible, just to make it easier for you to keep up with the line of communication. Seek frequent communication with staff that your child spends most of their day with or whoever is with them during their most challenging times.
Fun to Spare at
UDS is grateful to presenting sponsor Huntington, first-ever media sponsor Special Needs Living, Clifton Larson Allen, Buckeye Corrugated, C. Massouh Printing Company, Mutual of America Financial Group, Oswald Companies, Summit County Developmental Disabilities Board and the many other sponsors, athletes and friends of UDS who helped make this event a win for the inclusion of people all abilities. United Disability Services is a social service not-for-profit agency that has been meeting the social, vocational, community living, low vision, and transportation needs of people with disabilities in Summit and surrounding counties since 1949. For more information about any of the programs and services offered by UDS, call 330-762-9755, or visit us at www.udsakron.org.
September 202220 event recap United Disability Services (UDS) hosted its signature All-Stars at the Alley bowling fundraiser on Saturday, July 30, at Spins Bowl located in Akron. The sold-out event with 130 bowlers in attendance raised more than $50,000 benefiting its All-Star Training Club integrated sports program where children and adults of all abilities throughout Summit County and the surrounding area can play together competitively. The program offers twelve different year-round athletic opportunities including basketball, track, bowling, gymnastics and soccer that are ageappropriate, accessible and inviting for children and adults with and without disabilities. The nearly 1,000 athletes who participate in All-Star Training Club are encouraged to reach their greatest potential, both on and off the field, by developing social skills, building self-esteem, learning healthy habits and creating meaningful friendships that last well beyond the athletic season. Attendees grooved to the music videos of the '80s on large screens throughout the night while bowling backwards, on one foot and in slow motion during a round of wacky bowling. The lights went down and the evening concluded with an out of this world round of cosmic bowling. Lucky Draw and 50/50 raffles also raised additional funds at the event.
Akron & Canton Special Needs Living 21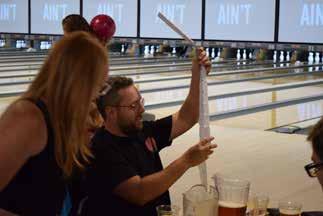 This is what my daughter says when she returns to the living room after using the restroom. Then the girls embrace like they haven't seen each other in a week. It's a whole thing. It's fabulous. Anywho, how have y'all been?
A day at the pool. Some people are perfectly fine staying in the shallow end all day. Not too deep. Low-risk. Safe. These folks are actually fairly happy with life, as a whole, most all of the time! Nothing keeps them down for long. They're able to let things just roll off with a smile on their face, perhaps without even forming much of an opinion. Glass-half-full kind of folks!SomeCheers!people are deep-enders. Cannonball!! They prefer the deep. Few people stay long, making it less crowded. This might include individuals who are genuinely passionate about global or moral issues. Maybe they take their religious studies seriously. Maybe they have big emotions. Those people you haven't seen in years, but the second you meet up for coffee, you pick up right where you left off — those are your fellow deep-enders. And none of that
Musings From A Real Special Needs Mom Of Stark County A DAY AT THE POOL!
We're just livin' the Down syndrome dream over here! You may have observed some levity in my writing which is actually quite representative of, well, me. I do try to keep things light because, y'all, this special needs life can be Jeniferheavy.Hill, a wise executive coach/ counselor friend that has an entire Greek alphabet of letters after her name, recently shared the following sentiment with me. I've elaborated a bit with my own interpretation, but she's definitely the brains behind the metaphor.
kids with special needs! We don't use glass; are you kidding me!?
September 202222 parent perspective
By Sara Heckert
babyI'mback, !
TheDeep-enders.YouYou'reforhidegoingpeople.stuff."oh.my.gosh.i.love.your.haircut"Butthe"howareyou,really?""You'velostweight;what'son?""Yourmake-upistryingtothefactthatyou'vebeencrying…months?Orhasitbeenyears?notfoolingme;whathappened?couldn'tfakeitifyouwantedto!"Thesearemypeople.glassisimpracticalbecauseIhave
The last pool location is the snack bar. On the surface, perhaps they appear lazy. Unengaged. Maybe you even tease them for being afraid of getting a little sun. In your head, you wonder if they even realize there's a pool over here! Maybe these individuals struggle with chronic depression or addiction, and they're tired of watching everyone else win at life, and they just haven't quite figured out how to keep up, so they resort to what they know, what's comfortable. No risk. The snack bar. This pool scenario can be applied to many areas of life. Friendships. A spiritual journey. Marriage. Society as a whole. We all have varying points of view, which shape how we relate to others and move (or get dragged) through life. Do you long to be in the shallow end? Those people look so happy and carefree! Are you jealous of those that are actually able to relax? Haven't quite found your fellow deep-enders yet? The deep end can be lonely. Where is she going with this, you ask? Look, this special needs life can throw you into the deep end right quick. And maybe you feel like you're

Akron & Canton Special Needs Living 23 drowning. Gasping for air. Maybe it was the initial diagnosis. Prenatal? At birth? Developed later as your child began to grow, but not quite at the same pace as her peers? Or all those quirky, funny little things started to add up to a deep-end diagnosis. Maybe the first few months and years weren't too bad. Those playgroup moms and pediatric therapists are so darn happy and encouraging! Playing with your kid for an hour each week IS fun. But the transition tears when it's all over are not. Or maybe at some point, a simple routine lab-work visit led to a follow-up appointment which led to a consult, then a specialist referral, and the lifeguard was on a break and didn't get your memo that a life preserver was needed over here, stat! The deep end snuck up on ya. Well, I'm here to tell you, once again, that you are not alone. While there is plenty of room out here in the deep end for you, we've got life jackets and pool noodles and even those big flat rafts to share; it really is ok to borrow my sun hat and doze off on a lounge chair. Leave the snack bar and put your feet in! Engage with the party people in the pool. Ok, enough with the metaphors for a second. What I'm trying to encourage you to do, especially you full-time caregivers, is to take a break! If you can't seem to leave the deep end, get on this raft and let me shove you off to float in the shallow end for a while. Make a prolonged stop at the snack bar. Heck, make a stop at the swim-up bar and grab a pina colada every once in a while! If you can't quite leave the snack bar, maybe it's time to call a therapist. No shame. No judgment. Take a step toward the pool. It's time to smile again. If someone offers to watch your kiddo, let them! If there's a respite night available at a local church, sign up! If you have access to respite funds, use them!
Being a special needs parent AND caregiver is a lot. A friend told me a few years ago that I needed to relax a little bit. Maybe I was afraid to be viewed as not being a good mom because I was "leaving" my kids for the weekend. But it turns out she was right. Ever since then, I have tried to get away quarterly and get some rest to restore me. I connect with a friend or my husband, and it's been lifechanging! So incredibly helpful. And guess what? My kids need that break from me, too! This special needs life is lifelong. It doesn't end after graduation. Make some plans today to take care of yourself, so you can better take care of your family. Go to a comedy show. Get away for a few nights. Take a quick beach trip. Get a massage. Let someone serve you dinner — and do the dishes! And if you need someone to show you how it's done, my fall calendar is wide open!
HARTMAN Showing the world the value of acceptance and inclusion
By Mike Sturdivant
Tanya was the firstborn child in her family. Because of this, her mother Lena read a lot of books while she was pregnant, learning as much as she could about babies and raising children. It did not take very long for her family to realize she marches to the beat of her own drum. Her mom often describes raising Tanya was like walking in the dark. It was hard for Lena to find answers to questions when she had them until she found a parent hotline that she called frequently. It was during one of those calls that Lena received the most profound advice she had gotten up to that point. Be your daughter's advocate. "If you do not fight for your daughter, no one else will."
As Tanya got older, she began to have questions of her own. She knew as a young girl that other kids viewed her as being different. Lena was very upfront with explaining to her about autism in gentle ways that she could understand. Little by little, as Tanya grew, she learned more and more about her own disability. As she continued to learn, it did not take long for Tanya to realize she could do everything any other kid could, just differently and at her own pace.
September 202224 youth spotlight
TANYA
Tanya Rose Hartman was born three and a half weeks early, needing to be resuscitated immediately following birth. Around age 4, Tanya's neurologist stated she possibly had Rhett syndrome and advised her parents there was a strong chance she may not live past her teen years. At 7, she was diagnosed with autism. However, from early in her life, Tanya made it clear she was going to be a fighter that was destined to forge her own path in life. She overcame all of these early obstacles in life and today is a 28-year-old who is thriving in life. She currently attends Gentlebrook's Adult Day Hab, where she is part of the cleaning crew and is currently learning all of the skills that she needs to one day acquire a community employment position.
The Sweet and Fun-loving
Tanya's family has always put an emphasis on raising her no differently than her other siblings, expecting her to study, finish her homework on time, and complete her chores, and they
Akron & Canton Special Needs Living 25
"One question Tanya asked me over and over growing up, and even sometimes today, was, "I love everybody; why does everybody not love me?" Tanya truly does love everyone. She is kind, thoughtful, and loves her friends. That was the hardest, seeing her cry at night because people were mean to her. She wanted friends to play with growing up. Making friends with her classmate's parents, I was able to pick up her classmates and have them over for play dates. This was not always easy, but very worth it to see the joy on Tanya's face of having a real friend over to play with on her level." Lena Hartman.
even enrolled her on a special needs cheer team called the American Idols!
As Tanya grew, she had an amazing support system that helped her continue to excel. She had two teachers that made a profound impact on her life: Mrs. Maureen Radalia from Fairhope Elementary School and Mrs. Connie Clark from Louisville High School. Her mother Lena stated, "These two women were so patient with Tanya as well as myself; they were always encouraging us and very resourceful. To say they went above and beyond is an understatement." In addition to her teachers, she also received a large amount of encouragement from the bishop of their church Raymond Smith as well as the pastor of their church, his son Rev. Raymond Smith II. In addition to the American Idols Cheer team, Tanya was also part of a special needs choir while growing up. Today she is active in Special Olympics, where she excels in Bocce Ball. She loves embroidering, coloring, and talking on the phone with her friends. She also loves being active with her church, Harvestime Apostolic Temple. Here Tanya is part of the Special Angels sign choir, is active with Sunday School Classes, and absolutely loves to greet people as they arrive. One of the things she enjoys most is helping at the church's annual special needs fundraising event called Make 'M Smile. During this event, Tanya runs her own children's game, the Duck Pond! Today Tanya is content living at home with her parents, two younger brothers, Jeremy and Preston, and their family pets. She loves to be helpful, and like all of us, she just wants to be included in everything she does. She has dreams of one day owning her own place to live in! She also recently was engaged to her sweetheart Daniel Prather, who she talks to every single day! There are no definite plans for a wedding date just yet; she is just enjoying being home and engaged for now! Living in the country, Tanya loves cookouts and bonfires, continuing to practice her bocce ball skills, and taking walks in the neighborhood.
Akron & Canton Special Needs Living 27
Beauty Belongs to Everyone say thousands of words
A story shared simply through images: Meet Monroe Budd pictures
September 202228 athlete spotlight ROBERTSELISA SPECIAL OLYMPICS ATHLETE Q&A Question: Which team do you participate in? Answer: Stark DD Q: Which sports do you participate in? A: Track and field and swimming Q: Why do you love being a Special Olympics athlete? A: I love the people and coaches. It also gives me a chance to compete, which I also love to do Q: What is your favorite professional sports team? A: The Pittsburgh Steelers Q: Who is your favorite sports athlete? A: Myself Q: What is your best Special Olympics memory?
A: I went to state with our swimming team. We had a game night when we were there. That night with my friends was my favorite memory!
We Serve... Hot Beverages that Warm the Soul such as: Fresh Brewed Coffees • Espressos • Lattes • Cappuccinos • Hot Teas London Fog Earl Grey Lattes • Hot Chocolates • And More! Cold Beverages that Refresh Your Spirit such as: Cold Brews •Black Iced Teas • Iced Chai Lattes • Iced Lattes Iced Mochas • Frappes • Smoothies • And More! Breakfast, Lunch & Snacks such as: Breakfast Cupcakes • Bagels with Cream Cheese • Yogurt Parfaits Veggie Sou e' • Sausage & Gravy + Biscuits Pasta Salad • Chicken Salad Croissant • Caesar Chicken Wrap • Grilled Cheese Sandwiches • Muffins • Saldas • Soups • Hummus & Veggies Cookies • Brownies • Cake-Sickles • And More! Special thanks to Charis Homes and Stark Flavor for supporting Whole Latte Love Cafe and for sponsoring this ad! Celebrate Our Differences With A Cup Of Java, Endless Smiles & Contagious Joy Stop by, you'll be glad you did! M-F 8:30am – 4:00pm | Sat. 8:30am – 2:30pm 1308 South Main St. • North Canton, OH 44720 cafe@wholelattelovecafe.org234-360-CAFE(2233) SEPTEMBER IS GREAT FOR APPLE PICKING! Enjoy the taste of fall with our Cinnamon Chip Scones paired with our Apple Pie Frappe!
Kevin is a cashier and self-checkout attendant at the Giant Eagle on The Strip in Canton. Kevin works 24-26 hours a week and has been with Giant Eagle for nearly eight years. Kevin is well-loved by his fellow employees, and he loves to joke with his manager, Terrell!
Valued…Excellent…Great…TheQuestionis:DescribeKevinJordan
"Valued team member!" "Excellent customer service!" "Great attitude!" This is how Kevin Jordan's manager, Terrell, described him as we spoke.
By Deborah Riley
Kevin, who has spina bifida, feels that the most challenging part of his job is finding room for his wheelchair to fit at his register so that he is not
September 202230 community employment spotlight
The Answer is:
Prior to starting Giant Eagle, Kevin previously worked seasonally for Build A Bear and the Former Cleveland Indians Teamshop. In the past, Kevin has done some job searching on his own but had success in working with job development provider, Creative Rehab. When Kevin's past job coaches assisted him, they helped him build the skills he currently uses, such as working a cash register or displaying good customer service. Because of the help of his previous job coaches, Kevin was prepared for his role at Giant Eagle and was able to go into his current position without the assistance of a job Helpingcoach.people is Kevin's favorite part of his job. He really enjoys people, which is why he excels at providing such excellent customer service. His manager Terrell stated that "Kevin really enjoys his job and loves taking care of his guests." In addition to working the cash register and attending the self-checkout, Kevin often conditions the front end of the store, straightening candy, various front-end displays, and pop coolers. Terrell says that Kevin is always asking what he can do to help. He is an employee who can always be depended on to be at work on time and ready to go.
"I
love my job because I love helping people! It gives me an opportunity to help people, whether it is answering questions or just ringing out their items. Every day is a different challenge that is exactly what I like!"Kevin Jordan. blocking the people behind him. Every day, he has to adjust his chair to customerwithyouKevin.stopyouThethehetobeingfantastic!andanyheldwheelchairuseabledsaidmanager,thisform.cordthethatbifidacomfortable.getSpinaisabirthdefecthappenswhenspineandspinaldonotproperlyDespitechallenge,hisTerrell,beingdifferentlyandhavingtheofhismotorizedhasnotKevinbackinway.HisattitudeworkethicareHelovesabletostepuptheplatewhereverisneeded.IfyoufrequentGiantEagleonStrip,makesuretakesometimetoandsay"Hi!"toHe'dlovetoseeandprovideyouthebestpossibleservice!
Akron & Canton Special Needs Living 31
TWi West (A) (7891 Hills & Dales NW, Massillon)
Life skills, self-determination,self-advocacy,healthyliving, social skills. Independence grows when we FUSE together all of our skills! Explore and engage in your community through regular, small-group, excursions focused on empowerment and skill growth. FUSE (B.2) (2912 Whipple Ave NW, Canton)
TWi's place for music! Sing your heart out in our recording studio, choreograph new moves in our dance room, break a sweat in cardio drumming, or compose the next big hit in our instrument labs! ForTWissimo (B.1) (2912 Whipple Ave NW, Canton)
TWiLite Café (D) (Inside Canton City Hall, 218 Cleveland Ave SW, Canton)
Explore your creative side! Artists in our program are offered opportunities to experiment with new art mediums, grow their skills and learn new techniques from professional artists. Just Imagine (C) (Canton Arts District, 201 6th St NW)
Information@ChooseTWi.com330-479-3958
Nurturing skills that foster independence and empower ALL to live their best lives! Services Include: · Adult Day Support · Vocational Habilitation · Group Employment Support · Individual Employment Support · Homemaker Personal Care · Non-Medical Transportation We Have Opportunities Just For You All Over The Neighborhood!
Take part in recreational and leisure activities, or explore your career interests through vocational habilitation activities.Visit
Empowering All To Soar
Our Website To Learn More: ChooseTWi.com
We invite you to visit us Monday – Friday and enjoy a daily menu special, hot breakfast, or hearty and healthy lunch. Through this paid employment opportunity, our team members are growing work skills that foster greater independence.
September 202232
Technology plays an important role in almost every aspect of life. From medicine to entertainment, we all rely on technology in our everyday lives. In early 2020 the world shifted, and technology became an even larger part of our daily life. People are now working from home, ordering food for delivery with no human contact, and taking courses online. In fact, the disability community is to thank for making the transition a little easier.
When the world was forced into a virtual structure, many of the common issues with inaccessible design shined through. Many of which are still not being addressed today. Whether it be working, ordering food, getting medical attention, or entertainment to pass the time, many industries are falling short of being truly inclusive to all. For a blind user who relies on assistive technologies like a screen reader, a non-visual equivalent experience must be provided to allow that user to engage. A deaf user whose scheduled telehealth meeting has no captions or transcripts would be completely useless for that person. An application that requires timely and accurate inputs would be frustrating for someone who has trouble moving/ controlling their movements. There are endless examples, similar to these, where barriers/challenges are present that are frustrating and sometimes even make completion impossible. From screen readers to magnifiers and braille displays, assistive technologies are something that needs to be considered in all online environments.
Likewise, software and built-in features like captions, transcripts, and audio descriptions need to be incorporated to further opportunities for engagement.
technology and life AS TECHNOLOGY RAPIDLY ADVANCES, ACCESSIBILITY MUST BE IN THE CONVERSATION
Akron & Canton Special Needs Living 33
Very few times are people with disabilities intentionally excluded, so this is not an attempt to make anyone feel bad but to merely help at raising awareness, planting the seed for ideas, conversations, and development towards a more accessible digital world that allows everyone to access and engage.
By James Warnken
Think about how many times you check your mobile phone each day. We all rely on technology for independence, learning, development, employment, and overall living purposes. Each of us can play a part in moving things towards more accessibility for everyone, regardless of disabilities, and here is how:
2. Get into the people-first mindset We are all people regardless of whether we can see, hear, taste, touch, and smell. Treating everyone the same will reduce the stigma that people with disabilities need help and cannot live independently.
3. Be intentional/inclusive in Thinkingdevelopmentabout people with disabilities when creating a new product, app, website, or service is a great first step. Better yet, communicate with people with disabilities and those who use assistive technologies. This will be critical in ensuring that the efforts/ work are effective and efficient.
Technology is a part of everyone's everyday life, especially people with disabilities. With time, money, and energy being concerns, it is better to include people with disabilities in the conversation sooner than later. In order to bridge the gap between technology and accessibility, we must work together, share ideas, and put things into action.
Accommodations that were once designated for people with disabilities are now normal practice for many people in a post-pandemic world. Although playing a large part in the transition, the problem still remains that people with disabilities are often forgotten or ignored when building online environments like social media, websites, applications, and documents. What if someone's only option for food was to order for delivery? What would happen if that website didn't work with assistive technologies used by people with disabilities? That would be a serious problem, and for some members of the community, this problem is far too real.
4. Speak up, even if you don't have a disability If you don't have a disability, you can still ask questions to open the conversation. You don't need all the answers or to be an expert to be an advocate. The best question to ask is, "have we thought of users with disabilities?" or "Does this work for assistive technologies like screen readers and magnifiers?"
1. Purchase accessible products and Shiftingservicesbusinesses away from the "accessibility is a good idea" mentality will be slow and painstaking. Being more particular with what products and services you buy will help to show that this is a necessity, not just a good idea.
September 202234 A Family, Staying the Course, for the Benefit of All Meet Mason Gill and His Incredible Family
Written by Andrea Hurr Photos by Julian Curet family spotlight
Mason is 10 years old and going into fifth grade. He gets to experience the best of both worlds because his parents live in the country in an old farmhouse (in between Massillon and Dalton), and Mason lives in a supported living home in Canton run by Quality of Life. He is home regularly for visits and family time and gets to experience a blend of city and country life, which is a unique opportunity for him. Melissa and Jason cared for Mason right after he was born as a foster placement, and then at the age of 1, they adopted him. Melissa says that Mason was a happy, sweet, lively toddler who loved to smile, but she could tell that something was different with him. The Gills have a large family and lots of experience with little ones, so they were able to notice early on that Mason's inability to focus on play and his meltdowns were not of the typical type for his age. They suspected sensory issues, and there was also suspicion that he was neurodivergent (differing in mental or neurological function from what is considered normal or typical). His behavior heightened by the time Mason was in his preschool years, and Melissa still had suspicions that more was going on with him. He was at times very intense with his behavior, and the Gills sought out answers to help him.
At age 5, Mason was officially diagnosed on the fetal alcohol syndrome spectrum (FASD). Fetal alcohol spectrum disorders are a group of conditions that can occur in a person who was exposed to alcohol before birth. FASDs have no cure and last a lifetime. No one treatment is right for every child and often takes years to find the treatment plan that works well. The Gills have had some challenging moments, but Mason continues to show them that mental health challenges and FASD are lifelong battles that they take day by day. They have such high hopes for him!
Akron & Canton Special Needs Living 35
Melissa says that along with the neurological damage from FASD comes a plethora of comorbid disorders. They have discovered that Mason also has sensory differences, severe ADHD, obsessive-compulsive disorder (OCD) and oppositional defiant disorder (ODD). She goes on to say that the "amazing, smart, caring and hilarious boy he is must struggle daily to navigate sensory input, social situations, school, and emotional regulation." They have been giving their all to help Mason be the best he can be, and that has included years of occupational therapy, counseling, education for them so they can be the best they can be for him, home health aides, residential treatment, special schools, and most recently Mason residing in a group home at Quality of Life. Extracurriculars can be challenging for Mason, but this past year he was a part of the Jackson Friends Church basketball league and, in the spring, participated in the Healthy Kids running series. Melissa's heart swells with pride when she sees him participating in a basketball game or race, and they always try to find activities for him that will set him up for success. Mason even likes to add a flip at the finish line of his 1-mile races. He is also very musically inclined and likes to write songs and rap. He's fearless on his bike, super witty, and knows how to get a laugh.
Melissa says that having professional counseling for her personally has literally been lifesaving, giving her a place to vent and build her own coping skills, allowing her to heal from the trauma of a child with violent behaviors. Often parents of special needs children put themselves last and give their all to their children. This can result in burnout, strained relationships, physical health decline, etc. You cannot properly help others if you yourself are struggling, so a round of applause to Melissa for recognizing that and doing what she needed to do. She says, "don't hide your struggles too much; live open, honest, and raw and surround yourself with friends that can handle that. Know that not everyone will understand your journey. Give them as much grace as you can muster, but if you have to, don't be afraid to walk away."
I just want to end with these wise words from Melissa and the Gills, "let your kid be your guide, listen to your child and what they are trying to tell you with their words and actions. Keep moving forward, even by tiny steps." And forward, Mason is going.
Akron & Canton Special Needs Living 37 Job Development Job TravelFollowCareerAssessmentsCommunityCoachingBasedExplorationAlongServicesTrainingOhio Employment First Program ENRICHING LIVES THROUGH EMPLOYMENT Contact us TODAY to learn more: malcolm@independentemploy.comindependentemploy.com330-388-5778 Sharing Solutions IDD Support Group for Families, Caregivers & Professionals 5:00p - Social Hour | 6:00p - Meeting Walthers Twin Tavern | 430 Applegrove St NW | North Canton, OH Contact us TODAY to RSVP for the next meeting and receive email reminders! jodi@sharingsolutions.info • www.sharingsolutions.info Find us on Facebook, too! Next Group Meeting: September 13th Wednesday, October 5th An Evening with DODD Director, Kim Hauck Tuesday, November 15th Stable Accounts MARK YOUR CALENDARS Let's Talk TODAY! Tara Nelson - Realtor 330.371.3493 | Taranelson.kw.comTaranelson@kw.comLET'SFINDYOURDREAMHOMEMillion Dollar Producer 2019, 2020 | Full Time Agent with eBiz, LSS, LSE, and LMS Designations | First Time Buyers Specialist Divorce Specialist | Certified NegotiationSpecializingExpert in Stark, Portage,Carroll,Tuscarawas,Summit,Cuyahoga,Lorain,Wayne,andMedinaCounties&allsurroundingNortheastOhioSuburbs. Tara Nelson is a Proud Member of: • The AssociationAssociationNationalofRealtors•TheOhioAssociationofRealtors•TheEastCentralofRealtors
September 202238 We seek to provide every child with autism an individualized program that employs the research-based methodologies of Applied Behavior Analysis. Building Skills. FosteringChangingRelationships.Lives. AUTISM SCHOLARSHIP, MAJOR INSURANCES, AND OHIO MEDICAID PLANS ACCEPTED! AutismNowacceptingScholarshipapplicationsforthe2022/2023schoolyear! 330-309-3133 info@appliedbehavioralconnections.comwww.appliedbehavioralconnections.com Call TODAY to lean more! We offer high quality, researched based, instruction for students with disabilities in grades 3-12+ with a focus on vocational skill education. SERVICES INCLUDE: On-Site Educational Services BCBA, COBA Services Off-Site Intervention Services IEP Writing and Compliance Professional Development Comprehensive ESY Program Call to learn more! 234-678-9622 3503bhazelett@redlineadvocacy.comFortunaDriveAkron,Ohio44312www.redlineadvocacy.com Where Every Ability is Celebrated
Akron & Canton Special Needs Living 39 Call Richard Corns TODAY for more information! office: 234-714-2300 cell: rcorns@amfam.com330-413-6986 That's why we insure them! CHOOSE THE COVERAGE THAT MEETS YOUR NEEDS: Personal Mobility Device Coverage Covers you anywhere on or off the road for: • Bodily Injury • Property Damage • Collision • Medical Payments • Uninsured Motorist • Underinsured Motorist • Comprehensive Equipment Breakdown Coverage Available for home, condo, or renters and covers mobility devices and motorized chair lifts from mechanical breakdown, electrical breakdown, or power surge. WE KNOW HOW ESSENTIAL YOUR PERSONAL MOBILITY DEVICES ARE TO YOUR LIFE
All children need their parent(s) to be their advocates at one point or another. When it comes to special needs, that advocating starts right away. While my daughter has only been on this earth for a little over a year now, we have had to advocate for her more times than I can count – all necessary and brought on by perplexing situations that still have my mind spinning. Whether it was the phlebotomist spilling her blood and wanting to poke her again, the hospital staff forgetting to fill critical tubes during her back-to-back spinal taps and wanting to perform a third, failing to allow a specialized team in to place her IVs, putting her in a one-size-fitsall bubble for feeding, the pure lack of coordination and communication amongst providers, or the disinterest in hearing what we as her parents think or what we would like to request … I could go on, but enough was enough. This life may be new to us, but we're fast learners. You have to advocate for what you know is right for your child. It can be hard when you're facing professionals, that sense of feeling inferior or less than, but you have to find the strength within you to be the activist your child needs. And trust me, when it comes to your child, that strength emerges easier than you might think. So make them stop. Make them listen. Make them try it your way. It doesn't matter what their job title is. YOUR job title is this child's parent, and that trumps all. They can fight you on what you say. You can fight right back. Fight until you win. Right now, we're only dealing with the medical world of advocating; soon enough, we will be adding in the academic world. No child should ever feel unheard or unseen, and when that child is too young or unable to have a voice, no parent should ever feel unheard or unseen.
Don't wait. Advocate.
By Summerly Rowlands, Owner, Creator, and Writer of my22qt
Akron & Canton Special Needs Living 41 parent perspective
I know we have an uphill battle from here, but we're ready to meet them at the top – guns a-blazin' and voices a-raisin'. Because that's what our daughter deserves; the very best parents, the very best supporters, the very best healthcare, the very best education, and the very best life that we can provide for her, given the life that she was born into, isn't that what we all want for our children regardless of disability or ability? One of the best things we did was ask questions. Even when no one had answers for us or didn't want to answer us – because eventually, they did; if you don't stop, they can't. And when I speak of "them" and "they," that pronoun can refer to whomever or whatever you've had to stand up to. Keep standing. If you need someone to stand with you, don't forget there are people out there who can and will help. We've already met some, and it's only year one. A professional advocate at the hospital, a team at the right school, an exemplary doctor or nurse, a passionate family member or friend … the right people will join you. I will join you. We're in this together. Visit our ourconditionmorecom,www.my22qt.website,toreadaboutIzzy'sandstory.
I pride myself on being a mom. Ever since I can remember, I've always wanted to fulfill that role. I wasn't scared to raise a child; I wasn't nervous. I was ready. This is what I was born to do. That purpose I recognized in myself when others my age were trying to figure out what career path to take. My career path –motherhood. While I've been a mom now for seven years, I more recently earned an even bigger title – a special needsMymom.daughter was born last July. At 22 days old, she was diagnosed with a rare genetic disorder called 22q11.2 deletion syndrome. Through this journey, her dad and I have educated ourselves and have chosen a path to educate others by raising awareness, helping families cope and find understanding, and paying it forward to the genetic divisions of children's hospitals.

Exploring His Community While Overcoming Fears Since a young age, Owen has been an integral part of his community and enjoys exploring it! While in elementary school, he was featured in the local newspaper for his dedication to the American Heart Association Jump Rope for Heart fundraiser. Also, the orthopedics department at Akron Children's chose Owen to participate in a meet and greet with the Thunderbirds at the local air show. And finally, he was also selected by Dr. Kartina Lindsay in the neurodevelopmental center to participate in a horse riding experience at Victory Gallup in Bath Township, Ohio, later featured on social media!
There's Always a
September 202242 youth spotlight SILVER LINING
Owen Culp Proves It Daily!
Written by Melissa Klatt Photos by Julian Curet Radiating Strength from Birth Owen was born twelve weeks early, weighing only 2 pounds. He pushed through three and a half months of care at Akron Children's Hospital in the Neonatal Intensive Care Unit (NICU) before he was strong enough to come home. While in the hospital, he experienced many challenges, including developing hydrocephalus, a grade 4 hemorrhage in his brain, and hemiplegic spastic cerebral palsy due to a brain bleed while in the NICU. He was officially diagnosed with cerebral palsy at age 1 and a half and has had over 20 operations for various issues that have come up. Last summer, when Owen was 16, he was diagnosed with Tourette's syndrome, which brought to light a lot of the symptoms he'd been going through! For mom, Jill Culp, the puzzle started to come together. He'd been experiencing symptoms of anxiety and OCD that come along with Tourette's.
Outside of those extracurriculars, Owen also shares a love of sports, playing Top Soccer in Trumbull County since age 4. "Top Soccer is a league for people with disabilities and has been amazing in helping Owen learn about teamwork and help with his social skills," says mom, Jill. "He also just started playing baseball this year in the Trumbull County Adaptive Baseball League, and he absolutely loves it. I'm just sad that he didn't start playing sooner!"
Owen is hard working on and off the field, also taking on summer work through the Opportunities for Ohioans with Disabilities program. He's worked positions where he's stocked shelves, priced merchandise, and gathered carts. Starting on July 18, you can find him working a new opportunity at an eatery called Beautiful Whirl'd in Warren!
Akron & Canton Special Needs Living 43
There's Always a Silver Lining While Owen overcomes challenges every day, his mom, Jill, is the one cheering right behind him! She gives us some insight into what's kept her going through life's challenges as his mother: "Never stop being your child's advocate! Brag about your child and make sure that the world knows just how awesome your child is. There may be times when it is hard to find the silver lining in things but keep on pushing through. I've had people tell me that they don't know how I've done it raising Owen and all that he's been through, but I just say that this is all I've known as a parent. I just do what I need to do to make sure that he is taken care of! If your child is able to play a sport or get involved in a group, push them to get active!"
A: I would like to see all of the county Board of Developmental Disabilities in Ohio have a specialized position
Q: What is your job title here?
A: Advocating for individuals with developmental disabilities, especially when they are victimized by someone due to them having disabilities.
A: Eighteen years Q: What were your previous jobs in the industry?
A: Yes. I have been personally thanked by individuals, and their families, for getting justice for the individual when they were victimized due to them having developmental disabilities.
Q: What is your favorite success story you have seen?
Answer: I am employed by the Stark County Sheriff's Office in the Detective Bureau, and I am currently assigned to the Stark County Board of Developmental Disabilities.
A: Detective Q: How long have you been employed in your current job?
Sarah's quality of life improved as a result, and she was very appreciative.
Q
September 202244
A: Five years Q: How long have you been employed in this industry?
Q: Do you feel like you're making a difference in your job and why?
Q: What do your day-to-day job responsibilities include?
Q: What is something you would change in your field for the better if you could?
community impact q&a
Question: Where do you work currently?
Q: What part of your job are your most passionate about?
A: I feel my favorite success story was for an individual named Sarah. Sarah had a relative who was managing her finances for her due to her disabilities preventing her from being able to do it. Sarah had mentioned to her Stark DD Service and Support Administrator (SSA) some things about her finances that didn't make sense. Sarah's SSA reported the concerns, and an investigation was started. During the investigation, I was able to prove the family member had misused over $40,000 of Sarah's money. The family member was spending most of Sarah's money on himself instead of Sarah. As a result of the investigation, the family member was criminally charged, convicted, and Sarah was paid back all of the money that was taken from her.
QUESTION and ANSWER session with a COMMUNITY RESOURCE
Officer Dennis Betz, Stark County Sheriff's Office, Detective Bureau
A: I work along with six investigative agents employed by Stark DD to investigate incidents that are reported in regards to individuals Stark DD serves. If the incident that is reported is criminal or potentially criminal in nature, I work along with the Stark DD Investigative Agent assigned to the incident. I complete a sheriff's office report on the investigation and file criminal charges if they are warranted.
A: I started out working in the jail division, transferred to the civil division(court), and then transferred to the operations division (road patrol) before being transferred to the investigation division
Akron & Canton Special Needs Living 45 Q 330-966-7226 | www.brightmindsla.com | brightmind111@gmail.com 5368 Fulton Dr. NW, Canton, OH 44646 •SERVICESACT/SATPrep•Math Enrichment • Creative Writing • Comprehensive Reading • Complete Homework Support • Pre School Learning (ages 3-5) • Spanish Tutoring • Science • Sharpen Study Skills Now offering classes in Akron, Ohio, also! We PersonalizedOffer:LearningPlan(PLP) MENTION THIS AD TO EXPIRESOFF$20RECIEVE10/2/22 Right! Start the School Year Off Offering Homework Help Everyday! like mine with their local sheriff's office. I believe there are only two county boards that have a special contract with their local sheriff's office. In 2006, Stark DD was the first in the State to establish this specialized position. Being a detective with the county sheriff, I am able to investigate any crimes within the county that involve individuals who get services from Stark DD. Also, it allows me to act as a liaison between Stark DD and the criminal justice system to help better serve the individuals who receive services from Stark DD. Q: What has been the biggest factor in your career success?
A: Learning about the DD system and getting to know the individuals they serve. Prior to being assigned to Stark DD, I had little knowledge about the DD system. I have learned a lot about it in the last five years and have interacted with many of the individuals they serve. I have a good rapport with the individuals I have interacted with, and they are comfortable talking to me. Getting to know the system, and getting to know and gain the trust of the individuals they serve, has been a big factor in my success here at Stark DD.
Don't Let The Cleaning Get The Better Of YouGet The Better Of You Cleaning | One Time Cleaning | Emergency Cleaning | Covid or Other Illness Cleaning Other Indoor Cleaning | And More! 330-834-0008 1929 9th Street SW Massillon, Ohio 44647 info@brahlerscrr.com
Akron & Canton Special Needs Living 47 Scan to create a "My GiGi's" account online to register for programs and see what events match your interests! (330) canton@gigisplayhouse.org493-9114gigisplayhouse.org/canton 4061 Bradley Circle NW, Canton, Ohio 44718 Their Families And The Community Special Thanks to John Weston and Five Arrows Technology for supporting GiGi's Playhouse and for sponsoring this ad! gigisplayhouse.org/canton/golf MINI-GOLF | FOOD FROM JERZEE'S CASH BAR | MUSIC | SILENT AUCTION BOOZE WAGON RAFFLE
ASGA provides support in a myriad of ways. Our signature programs include a bike camp and a water safety program. The Help Line is a free service connecting individuals with autism and their families to local services and
By Sarah Smith
The Autism Society of Greater Akron (ASGA) was founded in 1987 by parents of children with autism to support each other and advocate for better lives for their children. ASGA is an affiliate of the Autism Society of America and strives to create connections, empowering everyone in the autism community to live fully in Summit, Medina, Stark, Portage and Wayne counties. When Laurie Cramer became the first Executive Director of ASGA in 2011, her main goal was for ASGA to serve more individuals and families with consistent services and programs. This involved taking the organization from an all-parent volunteer network to a professional organization. A diversified board of directors outside of only parents was established, staff was hired, and the community provided support. Today, ASGA has five full-time staff, two part-time staff, several seasonal employees to support specific programs and over 300 volunteers.ASGAisone of six organizations chosen by the Ohio Department of organizationwethingsstrengthenscommontocommunities.andtheirpeoplecreatedNetworkofDisabilitiesDevelopmentaltobeamembertheOhioFamily(OFN).OFNwasin2019toconnectwithdisabilitiesandfamiliestoinformationresourceswithintheirItprovidesopportunitiesshareideas,findssolutionstochallenges,andinspiresandothers."OneofthemostimportanttoknowaboutASGAisthatareprimarilyafamilysupportandstillaparent
PROVIDING CONNECTIONS FOR THOSE WITH AUTISM AND THEIR FAMILIES THE AUTISM SOCIETY OF GREATER AKRON
September 202248 nonprofit spotlight: the autism society of greater akron
network," Cramer said. "We have adapted events and programs that are more accessible for individuals with autism where parents/guardians are less anxious because we create a judgment-free zone."
EVENTS September Adult Social Club (Ages 18 and Over) Fishing Excursion LEGO Club (Ages 7-13) Sept. 10 Teen Social Club (Ages 14-17) Water Safety Program (Sept. Nov.) October Halloween in the Park (Oct. 15) Halloween Activity Box November 35th Anniversary Ball (Nov. 5) Bowling at AFC Medina Webinar: Autism and Epilepsy December CVSR North Pole Adventure S'mores with Santa Holiday Activity Box
resources, including a Newly Diagnosed Kit: a roadmap to assist parents whose child has received an autism diagnosis. Online and in-person support groups provide social connections for caregivers and grandparents, while social clubs give individuals with autism a chance to connect and have fun in a safe environment. Some of ASGA's most popular events are the family-inclusive events held throughout the year. ASGA works with partners to adapt communitybased programs to accommodate the needs of the autism population and their families. These include visits with Santa and the Easter Bunny and the Cuyahoga Valley Scenic Railroad North Pole Adventure. Providing education to the community is important. With its Autism Friendly Communities program, ASGA has trained a variety of community partners, including emergency, medical, legal, park, and direct service personnel. The training focuses on bias and attitudinal barriers to inclusion, along with adapting programs and services, enabling professionals to better respond to misunderstood behaviors and social and communication challenges. ASGA was chosen as the 2020 Autism Society of America's Affiliate of the Year because of the impact of this program.
Join the Online Facebook Group @ CTAGreaterAkron. Visit the Education section of the ASGA website for previously recorded webinars.
The organization actively works with the Autism Society of America (ASA) to impact federal legislation and policy, with an emphasis on education, healthcare, and employment. ASGA is also a member of the Autism Society of Ohio (ASO), an affiliate of the ASA. ASO is a coalition of Ohio affiliates and focuses on statewide advocacy and awareness, serving areas not covered by local"ASGAaffiliates.isnota direct service provider yet provides many important programs and services to our community. As an advocacy organization, we are an important voice of individuals and families living the autism journey," explained Cramer. "While autism is our specialty, ASGA serves all disabilities, especially as part of the OFN."
ASGA depends on donations to achieve its mission. The programs are either free or greatly subsidized by donors to keep them accessible to the many individuals and families who are ASGAserved.willhold an anniversary ball on Nov. 5 to celebrate its 35th anniversary. Anyone interested in attending or sponsoring should visit the website. To donate, volunteer, or obtain more information, visit autismakron. org or call 330-940-1441.
UPCOMING
Akron & Canton Special Needs Living 49
Live Adult Day Services Home DurableCareMedical Equipment Loan Senior VeteransSharedFriendsLivingServicesServices Learn Make The First Five Count Information and Referral Community Education Programs Work Vocational EastersealsProgramhas, for almost 100 years, provided services to children and adults with disabilities and special needs, and their families. Get connected TODAY! (888)325-8532 Play Community Inclusion Outings www.easterseals.com/noh Our mission is to spread HELP, HOPE & ANSWERS! Come visit our Award Winning Showroom at 950 S. Main St. - North Canton | 330.526.6009 Monday – Friday 9:00 AM – 4:00 PM Evenings & Weekends byMedicaidappointmentWaiver Providers • www.jtekgroup.com • See our latest projects @jtekgroup OUR SERVICES Stairlifts – Straight and Curved Barrier Free Showers Ceiling Track Lift Systems Wheelchair Platform Lifts Walk-in Tubs & Transition Tubs Ramps (for sale or rent) Grab Bars & Handrails Pool Lifts Accessible Remodeling & Additions Interior Design for Mobility Consulting Services BRING DESIGN & STYLE TO YOUR HOME ACCESS PROJECT Experts in Accessible Remodeling and Mobility Equipment since 2011
Akron & Canton Special Needs Living 51 1033 E TURKEYFOOT LAKE RD. #100 | AKRON, OH 44312 // HOURS: Monday-Friday 6 AM to 6 PM AFTER-SCHOOL PROGRAM In our school age program, our children are permitted to do their homework, interact with their peers and create what interests them! Their new space was designed by them with: a karaoke stage, a lego area, a free art space, a cozy corner to chill after school and a playdough area. Call TODAY to aschedulevisit! www.onceuponadaycare.org330.990.1466 DONATED THIS YEAR TO HELP END MODERN- DAY SLAVERY. Thanks to the businesses within these pages, our Area Directors, and readers like you, we're able to break the chains of this horrible reality. Did you know there are more victims held against their will today than ever before? That's why The N2 Company – the company behind this publication and 850+ others like it – is financially committed to end human trafficking. FOR EVERY AD WE SELL, N2 DONATES ENOUGH MONEY TO FREE 2 SLAVES FROM CAPTIVITY. A GIVING PROGRAM BY Visit n2gives.com to learn more about our giving program.
September 202252 community events Make2022'mSmileOhioEventRecap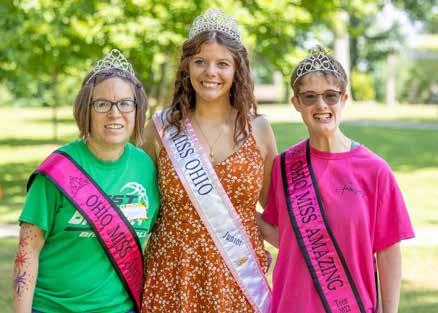 Question: What prompted your group to start hosting the Make 'm Smile event?
Photos by Michelle Herdlick
A: My favorite memory was at the end of the day of our Make
A: I'm not sure I can pick the biggest benefit. One of them would be the services and resources that are brought to share with parents/ caregivers. One is to watch the joy as the VIPs interact all day long. Our team works all year long to put this on, so I would also have to say, emotionally and spiritually, we benefit as well.
Answer: Lena Hartman was attending a special needs conference in Cleveland called Inclusion Fusion. She met the founders of Nathaniel's Hope, Tim and Marie Kuck. She fell in love with their Make 'm Smile program and event. She was so excited to bring it back to us and decided we were gonna make it happen in Ohio.
Q: In your opinion, what is the biggest benefit of the Make 'm Smile event?
Q: What's your favorite memory from all the Make 'm Smile events?
Q&A with Shelly Keller, part of the event organizing team at Make 'm Smile Ohio
Akron & Canton Special Needs Living 53
Q: What are the biggest needs you see as your group starts to plan to ensure the 2023 Make 'm Smile event is better than ever?
'm Smile event the 1st year, we did a butterfly release for all those that had passed the previous year.
September 202254
A: We will be going over this year's victories and areas that need improvement. There is no doubt in our minds that 2023 will be better than ever. Get ready for year #5; it's gonna be better than anything we've done so far!
Q: Tell us about Harvestime Temple's heart for the local special needs community.
A: Harvestime Temple started a special needs Sunday School class many years ago. Lena and her family would go to Gentlebrook and pick up as many as they could. The Sunday School class started a sign team. The Special Angels class was loved by all. They sat in the front row. They worshipped with all of their heart. Some were born again, including a non-verbal who went to the alter and was heard by all speaking to God. If we are blessed to build a new church, we already have plans to have a complete special needs facility and do more for the community.
Akron & Canton Special Needs Living 55
RED LINE ADVOCACY y Sarah Smith
"Red Line is an amazing school that is understanding, accepting, and makes everyone feel welcome. Red Line feels
three through 12. Students are either placed with Red Line Advocacy by a district due to their needs or attend the program on an Autism Scholarship. RLA is a year-round school specializing in vocational training and behavior. Students in the high school program spend a half day in regular academics and the other half of their day out in the community working at a job site. The goal is to ensure the students have coping skills and meaningful employment once they graduate. "Since starting RLA, Drew has thrived. He loves going to school! I can breathe a sigh of relief knowing Drew is not only getting a great learning experience but is also gaining life experiences. Each employee has exemplified professionalism along with a genuine personal connection," said Shannon, parent of a current student. Red Line Advocacy Director, Brandie Hazelett, has been teaching for eight years, mostly in alternative education. She started RLA a year and a half ago when the owner of her last place of employment had a mental health crisis, leaving all its employees and students with nowhere to go. She contacted all the districts being served by her former place of employment, formed her own company, and hired all the employees to continue serving the students.
R ed Line Advocacy LLC is a abilitieswithschoolchartered,non-non-taxforstudentsdifferentingrades
September 202256 sponsor spotlight: red line advocacy TO PARTICIPATE IN THEIR COMMUNITY
B
Empowering Students
Hazelett graduated from Akron Early College High School, got her bachelor's degree from The University of Akron, and holds a master's degree in Applied Behavioral Analysis from The University of Cincinnati.
In addition to participating in academics, students take field trips and community outings. Some examples include grocery shopping, meal planning and cooking, cleaning at a hotel, filing and cleaning at a library, and working at a pet store.
Red Line Advocacy LLC is located at 3503 Fortuna Dr., Suite 2, in Akron. More information can be found 330-957-8112.bywww.redlineadvocacy.comatorcalling234-678-9622or
like a second home," stated Isaiah, a current student at RLA.
Students work on social skills, independent living skills, and regulating behavior and emotions. "Brandie and her team worked with my son, Ben. She was caring but firm and was able to help him gain social, vocational, and organizational skills. Her team helped Ben gain skills that his district was unable to. My son enjoyed his time working with Miss Brandie. As a parent, I was happy with the progress my son made during his time working with Brandie and her team", Sean B., a former parent exclaimed. "Always believe your student can do something, and they almost always will," said Hazelett. "When we show students we believe in their abilities, they always exceed our original expectations. As long as you continue to show up each day, show your students you love them and respect them and hold high expectations, both you and your students will grow."
Akron & Canton Special Needs Living 57
September 202258 SEPTEMBER ISSUE PHOTO FINISH Photos carefully selected by Mike Sturdivant TAKEFINAL Alaina and Avalynn Zehnder 2022 Twenty Under 40 Class Owen CulpMonroe and Christina Budd Make'm Smile The Rowlands family Tanya Hartman
Kevin RedLineMasonJordanGillAdvocacy
Akron & Canton Special Needs Living 59 234-334-0044 • jordye@wingsofchangetherapyinc.com • CollaborativeAcademicsTherapeuticwww.wingsofchangetherapyinc.comDayCenterCombining&TherapiesforaApproach Changing The World, One Child At A Time Jon Peterson and Autism Scholarship Providers Spots are filling quickly! Enroll Now for the 2022-2023 Academic Year! Meet Waffles the Therapy OUR TEAM INCLUDES: - Intervention Specialists - Occupational Therapists - Speech and Language Pathologists - Physical Therapist - Direct Support Professionals
Wings of Change Therapy, Inc. provides therapeutic day programming for youth between the ages of 5 and 21. Our therapeutic day program provides educational and therapeutic services to children of all ability levels. The licensed therapists work alongside the intervention specialists within the classrooms and provide individual therapy. Wings of Change has had a tremendous impact on me and my boys' lives in such a positive way! As a single mom of THREE boys with autism and no family at all in Ohio, Wings has gifted me with joy and assurance that my boys are in excellent hands when away from me. - Shervana Ross, mother to three of our students
Ready to join our Team? Apply Today! sevitacareers com (search cit ies near You ) All Applicants MUST: Be 18 years or older and have a high school diploma; have a valid driver's license in good standing; successful clearance of Local/State Background checks including BCI Thank you to our Outstanding & Caring Direct Support Professionals and Super visors!! Without YOU our mission wou ld not be possible. 5051 New Centre Dr Wilmington, NC 28403 A Social Publication for the Residents of Akron & Canton