Photo by Michelle Herdlick
CHILLIN' WITH BOBBY
OCTOBER 2022
October 20222
ISSUE PREVIEW
Community Support: The Tri-21 Project
Cover Story: Chillin with Bobby
Non-Profit Spotlight: Stark DD
Pictures Say Thousands of Words
Professional Perspective: Jared Chevraux
Artist Spotlight: Joey Warnken
Community Resource Q&A - Dulce Myers
Educator Perspective: Dr. Kristine Turko
Individual Spotlight: Aaron Williams
Employment Spotlight: Teddy Carlson
Individual Spotlight: Jordan Thompson
Professional Perspective: Ric Brown
Professional Perspective: Daniel Anschutz
The Chapel Green Jesus Prom
Sponsor Spotlight: SafeinHome
Final Take: October Photo Finish
Akron & Canton Special Needs Living 5
10 16 22 24 26 28 30 33 34 39 40 41 44 46 51 56 Owner/Advertising Sales Rick Miller (330) 283-8462 rick.miller@n2co.com To Subscribe or Nominate: Facebook (@snl.cak) Instagram (special_needs_cak) Scan the QR Code to Subscribe or Nominate: 22 NonProfit SpotlightStark DD 39 Meet Teddy Carlson 46 The Chapel Green Jesus Prom 24 Beauty Belongs to Everyone 28 What you "See" is not always what you get 16 Chillin with Bobby 34 Introducing Aaron Williams
This section is here to give our readers easier access when searching for a trusted neighborhood partner to use. Get to know the businesses who make this magazine possible. Please support them in return and thank them if you get the chance!
ABA SERVICES
Applied Behavioral Connections Kristen Maple (330) 309-3133 info@appliedbehavioralconnections.com
ACCESSIBILITY & SAFETY MODIFICATIONS
JTEK Solutions Group, LLC Jared Chevraux (330) 323-0943 www.jtekgroup.com
ACT PREP & TUTORING
Bright Minds Learning Academy
Sheila Lahoti
5368 Fulton Dr. NW Canton, OH 44646 (330) 966-7226 www.brightmindsla.us
ADULT DAY SUPPORT Premier Approach, LLC Christian Manns (330) 312-6909 www.facebook.com/PremierApproachLLC
ANIMAL FENCE/TRAINING
DogWatch of Northeast Ohio Donnie Myers (330) 915-6036 www.dogwatchneo.com
ART STUDIO
BZTAT Studios, LLC (330) 371-3150 www.bztatstudios.com
CHIROPRACTIC/WELLNESS
Vogelgesang Family Wellness & Chiropractic Center (330) 818-1212
www.vogelgesangfamilychiropracticinc.com
CHURCH
First Christian Church (330) 456-2600 www.firstchristian.com
The Chapel Green Amy Troyer (330) 315-5501 www.facebook.com/greenspecialneeds
COFFEE CAFE
Whole Latte Love Cafe Beth Humbert (234) 360-2233 www.wholelattelovecafe.org
COUNTY DISABILITIES BOARD
Stark Board of Developmental Disabilities Lisa Parramore (330) 479-3934 www.starkdd.org
DAYCARE/PRESCHOOL
Once Upon A Daycare Rosie Ebner (330) 990-1466 www.onceuponadaycare.org
Once Upon A Daycare (330) 990-1466
DEVELOPMENTAL DISABILITY CARE
Easterseals Northern Ohio Conor McGarvey (234) 417-0250 www.easterseals.com/noh
The Workshops, Inc Rachel Doty (330) 497-3399 www.choosetwi.com
DISABILITY RESOURCES
REM Ohio, Inc Jo Spargo (330) 644-9730 www.rem-oh.com
EDUCATION SERVICES
Jason's Place Melissa Hadnett (234) 714-9815 Facebook Red Line Advocacy (234) 678-9622 www.redlineadvocacy.com
EQUESTRIAN CENTER
Pegasus Farm Shelley Sprang (330) 935-2300 www.pegasusfarm.org
HOME BUILDER
Charis Homes Glenna Wilson (330) 833-4527 www.charishomes.com
HOME CARE SERVICES SafeInHome - Ohio (740) 207-5800 www.safeinhome.com
HOUSE OF WORSHIP Harvestime Temple (330) 877-6544 www.harvestimeonline.org
INDEPENDENT PRIVATE SCHOOL
Wings of Change Therapy Inc Erica Myers (234) 334-0044 www.wingsofchangetherapyinc.com
INSURANCE AGENT
American Family - Richard Corns Haley Seifert (234) 714-2300
JOB PLACEMENT SERVICES
Independent Employment Services Malcolm Porter (330) 388-5778 www.independentemploy.com
October 20226
NON-PROFIT
GentleBrook
Francie Kell (330) 877-7700 www.gentlebrook.org
NON-PROFIT ORGANIZATION
GiGi's Playhouse Canton Megan Vance (330) 493-9114 www.gigisplayhouse.org/canton
PERSONAL LEGACY PORTFOLIO DEVELOPMENT
The Preferred Legacy Trust Company Tiffany Rockstroh (330) 209-9229 www.preferredlegacy.com
PRIVATE SCHOOL
The Golden Key Center for Exceptional Children Gina Bannevich (330) 493-4400 www.goldenkeyschool.com
REALTOR®
eXp Realty : The Amy Wengerd Group Amy Wengerd (330) 681-6090 www.amysguarantee.com
RESTORATION & CLEANING
Brahlers Cleaning & Restoration Stacy Ignacio (330) 834-0008 www.brahlerscrr.com
SUPPORT GROUP Sharing Solutions www.sharingsolutions.info
THEATRE Canton Palace Theatre Laura Strader (330) 454-8172 www.cantonpalacetheatre.org
TRANSPORTATION PROVIDER CLEARVIEW DEVELOPMENTAL SERVICES
Dean Miller (330) 224-4403 Facebook
Akron & Canton Special Needs Living 7
Come visit our Award Winning Showroom at 950 S. Main St. - North Canton | 330.526.6009 Monday – Friday 9:00 AM – 4:00 PM Evenings & Weekends by appointment Medicaid Waiver Providers • www.jtekgroup.com • See our latest projects @jtekgroup OUR SERVICES Stairlifts – Straight and Curved Barrier Free Showers Ceiling Track Lift Systems Wheelchair Platform Lifts Walk-in Tubs & Transition Tubs Ramps (for sale or rent) Grab Bars & Handrails Pool Lifts Accessible Remodeling & Additions Interior Design for Mobility Consulting Services BRING DESIGN & STYLE TO YOUR HOME ACCESS PROJECT Experts in Accessible Remodeling and Mobility Equipment since 2011
Delivering Neighborhood Connections © 2022 The N2 Company, Inc.
IMPORTANT COMMUNITY CONNECTIONS
NEED TO KNOW WHO TO CONNECT WITH TO ASK A QUESTION? THIS IS WHERE YOU FIND OUT WHO YOU NEED TO KNOW!
Akron Blind Center
Phone: (330) 253-2555
Website: www.akronblindcenter.org
The Akron Blind Center, Inc. is a membershipbased nonprofit organization incorporated in 1948 to serve the blind and low vision communities. They also provide resources, programs, services, and classes for Summit and surrounding counties.
Akron Children's Hospital
Phone: (330) 543-1000
Website: www.akronchildrens.org
Akron Children's Hospital has been caring for children since 1890, and its pediatric specialties are ranked among the nation's best by U.S. News & World Report. With two hospital campuses, four health centers, and 50+ primary and specialty care locations throughout Ohio, they're making it easier for today's busy families to find the high-quality care they need.
Arc of Ohio
Phone: (234) 571-5689 Website: www.thearcofohio.org
The Arc promotes and protects the human rights of people with intellectual and developmental disabilities and actively supports their full inclusion and participation in the community throughout their lifetimes.
Autism Society of Greater Akron Phone: (330) 940-1441 Website: www.autismakron.org
The Autism Society is the nation's oldest and largest grassroots autism organization committed to improving the lives of those affected by autism. The Greater Akron affiliate was founded in 1987 by parent volunteers of children with autism.
Bureau of Services for the Visually Impaired (BSVI) Website: www.ood.ohio.gov/ individuals-with-disabilities/services/ services-for-the-visually-impaired Medina, Portage, and Summit Counties Phone: 330-643-3080
Carroll and Stark Counties
Phone: 330-438-0500
BSVI assists eligible people, beginning at age 14, with low vision and blindness by providing direct, personalized services to assist them in finding and retaining meaningful work and personal independence. Basic services include personal and work adjustment training, vocational training, mental and physical restoration, and placement assistance.
Call 211 Phone: 211 Website: www.211.org
Serving four counties and covering 1.5 million people in Ohio, the United Way 2-1-1 Help Center provides free and confidential 24-hour access to a compassionate professional who will review your options for help, develop a plan and act as your advocate if you are faced with barriers to service. Simply dial 2-1-1 or chat with us for assistance. Se habla Espanol.
Compassion Delivered
Phone: (330) 575-0996 Website: www.compassiondelivered.org
Compassion Delivered provides medically-tailored nutritional meals to people coping with chronic, lifethreatening illnesses and diseases.
Down Syndrome Association of Northeast Ohio
Phone: (216) 447-8763
Website: www.dsaneo.org
The Down Syndrome Association of Northeast Ohio is a nonprofit that provides support, education, advocacy, and resources for individuals with Down syndrome, their families, and the community.
Greenleaf Family Center (Deaf and Hard of Hearing Services)
Phone: 330-376-9494 Website: www.greenleafctr.org
Greenleaf is a nonprofit organization that strengthens families in our community through counseling, education, and support. By offering a variety of programs and services, we are here to help families with the many challenges of daily living and personal crises.
Help Me Grow
Phone: (330) 492-8136
Website: https://odh.ohio.gov/know-our-programs/ help-me-grow/help-me-grow
Help Me Grow is Ohio's evidence-based parent support program that encourages early prenatal and well-baby care, as well as parenting education to promote the comprehensive health and development of children. Help Me Grow System includes Central Intake, Help Me Grow Home Visiting, and Help Me Grow Early Intervention.
Ohio's Parent Mentor Project
Phone: (844) 382-5452
Website: www.parentmentor.osu.edu
It is the mission of the Ohio Parent Mentors to provide the necessary support and resources to families of children with disabilities and the professionals that serve them by connecting families, schools, and the community to the benefit of students with disabilities.
Ohio Coalition for the Education of Children with Disabilities
Phone: (844) 382-5452 Website: www.ocecd.org
The OCECD is a statewide nonprofit organization that serves families of infants, toddlers, children, and youth with disabilities in Ohio, educators, and agencies who provide services to them.
Ohio Department of Medicaid Phone: (800) 324-8680 Website: www.medicaid.ohio.gov
The ODM provides health care coverage to more than 3 million Ohioans through a network of more than 165,000 providers. Learn more about Ohio's largest state agency and the ways in which they continue to improve wellness and health outcomes for the individuals and families served at our website.
Ohio Dept of Job and Family Services
Phone: (800) 720-9616 Website: www.jfs.ohio.gov
The Ohio Department of Job and Family Services (ODJFS) is responsible for managing many vital programs that directly affect the lives of Ohioans.
Ohio Developmental Disabilities Planning Council Website: www.ddc.ohio.gov Phone: 800-766-7426
The Ohio Developmental Disabilities Council is a planning and advocacy body committed to community inclusion for people with developmental disabilities.
It is the mission of the ODDC to create change that improves independence, productivity, and inclusion for people with developmental disabilities and their families in community life. This council is made up of over 30 members, with the majority being individuals with developmental disabilities and parents and guardians of people with developmental disabilities who are appointed by the Governor of Ohio.
Opportunities for Ohioans with Disabilities
Phone: (800) 282-4536 Website: www.ood.ohio.gov
Opportunities for Ohioans with Disabilities (OOD) is the state agency that empowers Ohioans with disabilities through employment, disability determinations, and independence. It is accomplished through its Bureau of Vocational Rehabilitation (BVR), Bureau of Services for the Visually Impaired (BSVI), and Division of Disability Determination (DDD). A fourth area is the Division of Employer and Innovation Services (EIS), which is responsible for establishing and maintaining partnerships with employers.
People First in Ohio
Website: www.peoplefirstohio.org
People First of Ohio is a statewide organization that works with state legislators and builds relationships with other advocacy groups and state agencies. These relationships promote better interaction among people who make decisions in the communities and the state.
October 20228 community resources
n2co.com
Philomatheon Society of the Blind
Phone: 330-453-9157
Website: www.philomatheon.com
This organization is a gathering of blind and visually impaired people, along with sighted family and friends, with a mission and goal to help the blind and visually impaired in the community to help themselves to remain or to become able to live independently and an active member of their community.
Red Treehouse - Ronald McDonald Family
Website: www.redtreehouse.org
Supporting the well-being of families and children with challenges, disabilities, and health care needs. Finding tools, organizations, and events in the community to meet the needs of families.
Sharing Solutions
Phone: (330) 546-2001
Website: www.sharingsolutions.info
A community of parents/guardians of individuals from transition to adult age with Intellectual and Developmental Disabilities, professionals who serve the IDD community, caregivers, and policy makers. The focus is to provide information, support, and assistance to all. Everyone is encouraged to play an active role in sharing their resources, knowledge, and experiences.
Social Security Administration - Akron
Phone: (800) 772-1213
Website: www.secure.ssa.gov
Social Security Administration - Canton
Phone: (877) 255-1509
Website: www.secure.ssa.gov
The Social Security Administration assigns Social Security numbers and administers the Social Security retirement, survivors, and disability insurance programs. They also administer the Supplemental Security Income program for the aged, blind, and disabled.
Stark County Board of DD
Phone: (330) 477-5200
Website: www.starkdd.org
Stark DD connects individuals and families with the services persons with developmental disabilities need for health, safety, education, and quality of life.
Summit County Developmental Disabilities Board
Phone: (330) 634-8000
Website: www.summitdd.org
Summit DD offers early intervention programs for infants and toddlers with developmental delays, as well as transition services for students with developmental disabilities to vocational, habilitation, and retirement programs for adults.
TRIAD Deaf Services
Phone: (330) 768-7272
Website: www.triadds.org
TRIAD Deaf Services Inc is an agency providing services to the deaf community in Stark, Carroll, and Tuscarawas Counties. They provide support services, interpreting, leadership, deaf advocacy, and education.
Have a suggestion for an important connection that could be added to this page? Email your suggestion to rick.miller@n2pub.com.
Akron & Canton Special Needs Living 9
GET TO KNOW ALL WE HAVE TO OFFER! ENGAGE, EDUCATE, EMPOWER! Get connected TODAY! (234) 714-9815 mrs.hadnett@gmail.com @ Jason's Place Inc Actually, I CAN. DISCLAIMER: This publication is owned by The N2 Company and is not affiliated with or sponsored by any club, developer, or homeowners association. Articles and advertisements in this publication and opinions expressed therein do not necessarily reflect the views of N2 but remain solely those of the author(s) or advertiser(s). The paid advertisements contained within this magazine are not endorsed or recommended by N2.
The Tri-21 Project
An IPA Craft Beer Collaboration to benefit Gigi's Playhouse
Gigi's Playhouse Canton and Stark Flavor are teaming up with two locally owned Craft Breweries in Stark County to release a craft beer with a purpose! The IPA Craft Beer called The Tri21 Project will be available at Codex Brewing located at 6305 Whipple Ave. NW in North Canton and Muskellunge Brewing Company located at 425 Fifth St. NW in Downtown Canton.
open-ended beer collaboration created to raise awareness for individuals with Down syndrome, during World Down Syndrome Month (October), and to raise money for Gigi's Playhouse.
When you head to either Codex Brewing or Muskellunge Brewing Company and order the Tri-21 Project beer, proceeds of your purchase will
go directly to Gigi's Playhouse Canton located at 4061 Bradley Circle NW in Canton! The beer will be available at these two locations throughout the month of October while supplies last! This month get out and enjoy some great craft beer for a purpose!
For more information about ways to support Gigi's Playhouse, please visit www.gigisplayhouse.com/canton
October 202210 nonprofit support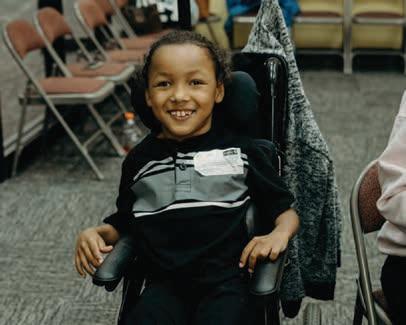 #GenerationG gigsplayhouse.org/dsam
Meet
Andrea Hurr Writer
Joy Brown Publishing Assistant
Mike Sturdivant Content Director
Rick Miller Owner
Sarah Smith Writer
Elaine Bender Writer
Melissa Klatt Writer
Deborah Riley Writer
Shelley Harkness Scheduling Assistant
Dave Keller Client Concierge
Michelle Herdlick Photographer
Julian Curet Photographer
October 202214
Your Akron/Canton Special Needs Living MAGAZINE TEAM
www.onceuponadaycare.org Ca ll TO DAY to s c hedu l e a v i s i t ! 33 0 .99 0 1 46 6
October Issue Contributors Special Needs Living
Daniel Anschutz
Meals by Chef Daniel
Summary Info:
Chef Daniel is an Ohio native and graduate of the LeCordon Bleu Culinary Program at Brown College. He has worked in the food industry since 1997 and has been an Executive Chef since 2012. Daniel has served small dinners for two and coordinated events for up to 3000. About Magazine's Reader's Choice/Best of the Best named Daniel the top chef in Stark County in 2017, 2018, 2020, and 2021. He was the runner-up in 2019. Recipient of the Canton Regional Chamber of Commerce Twenty under Forty Award in 2022, Daniel and his wife founded Compassion Delivered in 2017, a nonprofit in Stark County serving meals to those coping with a lifethreatening or terminal illness at no charge.
Ric Brown
GentleBrook
Summary Info: Ric Brown is the Vice President of Intellectual and Developmental Disabilities Services and Corporate Compliance Officer at GentleBrook. Ric has worked in various roles in the Intellectual and Developmental Disabilities field for almost 30 years! Ric is a graduate of Leadership Stark County and has served on and continues to serve on numerous boards and committees locally, regionally and state-wide and holds memberships in numerous organizations within the Stark, Summit and Carroll County communities. Rich has been married to his wife, Vicky, for 37 years. They have one daughter, Taelor, a son-in-law, Jamison, and three grandchildren, Noah, Connor and Julian.
Jared Chevraux
JTEK. Solutions Group LLC Summary Info:
Jared Chevraux is a certified environmental access consultant and vice president of JTEK Solutions Group LLC. In 2018, Jared was announced as a Forty Under 40 award winner in Professional Remodeler Magazine
He has also been published in HME Business and Qualified Remodeler magazines. Jared received the Best of Houzz award in the service category in 2019, 2021, and 2022. In February 2021, Jared and JTEK were awarded Best Independent Showroom from the National Kitchen & Bath Association for their design and construction of JTEK's Home Access Design Studio in North Canton, Ohio. Jared teaches home modification as a fieldwork instructor for Walsh University's graduate OT program. He also serves as board vice president for The Golden Key School for Exceptional Children in Canton, Ohio, specializing in early intervention and education for K-8 students on the autism spectrum. Jared holds a BA in management from Malone University. Jared lives in North Canton with his wife, Megan, and their three boys, Will, Cole and Cohen.
Dr. Kristine Turko, BCBA, COBA University of Mount Union Summary Info:
Dr. Turko is a professor of psychology and the director/ founder of the Spectrum Education Center at the University of Mount Union. Kristine is a Board Certified Behavior Analyst and is licensed to practice in the state of Ohio. She joined the faculty at Mount Union in 2006, after earning MS and Ph.D. degrees in Psychology at Lehigh University, and a BS degree in Psychology at Drexel University. Kristine's work at the Spectrum Education Center includes autism intervention, undergraduate training in the field of autism, professional development, and supporting area school districts. Her research interests include best practices for autism intervention in adult populations and effective autism intervention training and education for undergraduate students.
Kristine lives in Canton with her husband and daughter. She enjoys being outdoors and cooking.
Akron & Canton Special Needs Living 15
cover story: robert "bobby" snyder Dolly Parton At 4 feet 7, Bobby is a BIG DEAL even loves bobby!
to meet Dolly Parton, and that meant so much to him. That's the one person in the whole world he wanted to meet. She was so humbled to meet him.
If you went out to a restaurant here in northeastern Ohio and saw someone ordering a drink who may not appear old enough … hold your horses! You likely bumped into one of the kindest people on Earth. Though his 4-foot-7 stature may throw you for a moment, Robert "Bobby" Snyder is old enough to legally enjoy that cocktail, living the last 28 years of his life giving people a reason to smile!
Speaking of Holding Horses…
One of Bobby's favorite activities is riding horses. In fact, he's been riding at Pegasus Farm for the last 25 years, since he was a mere 3 years old! Bobby's mom, Vicki, recounts a story from when he first started riding:
"He started riding when he was 3, and he was so small he could run underneath some of the horses! They had to use the smallest saddle they had. This built up his upper body strength. We have made so many friends over the years at the farm."
Aside from riding horses, he's also been swimming in the Special Olympics for 15 years! This has also increased his strength and improved his confidence. He's won 10 gold, seven silver and eight bronze medals over the years. Bobby loves to win!
He Has a Love for Travel: Local and Beyond!
One of his favorite things to do is traveling, whether it's locally throughout northeastern Ohio trying new restaurants or going on trips to vacation spots such as Myrtle Beach and Pigeon Forge. His love of traveling even brought him to meet one of his favorite people: Dolly Parton. "Jolene" superstar Dolly Parton met Bobby in June of this year. Vicki had this to say about the trip:
"In June, he got to meet Dolly Parton, and that meant so much to
Written by Melissa Klatt Photography by Michelle Herdlick
Bobby and Dolly Parton
Akron & Canton Special Needs Living 17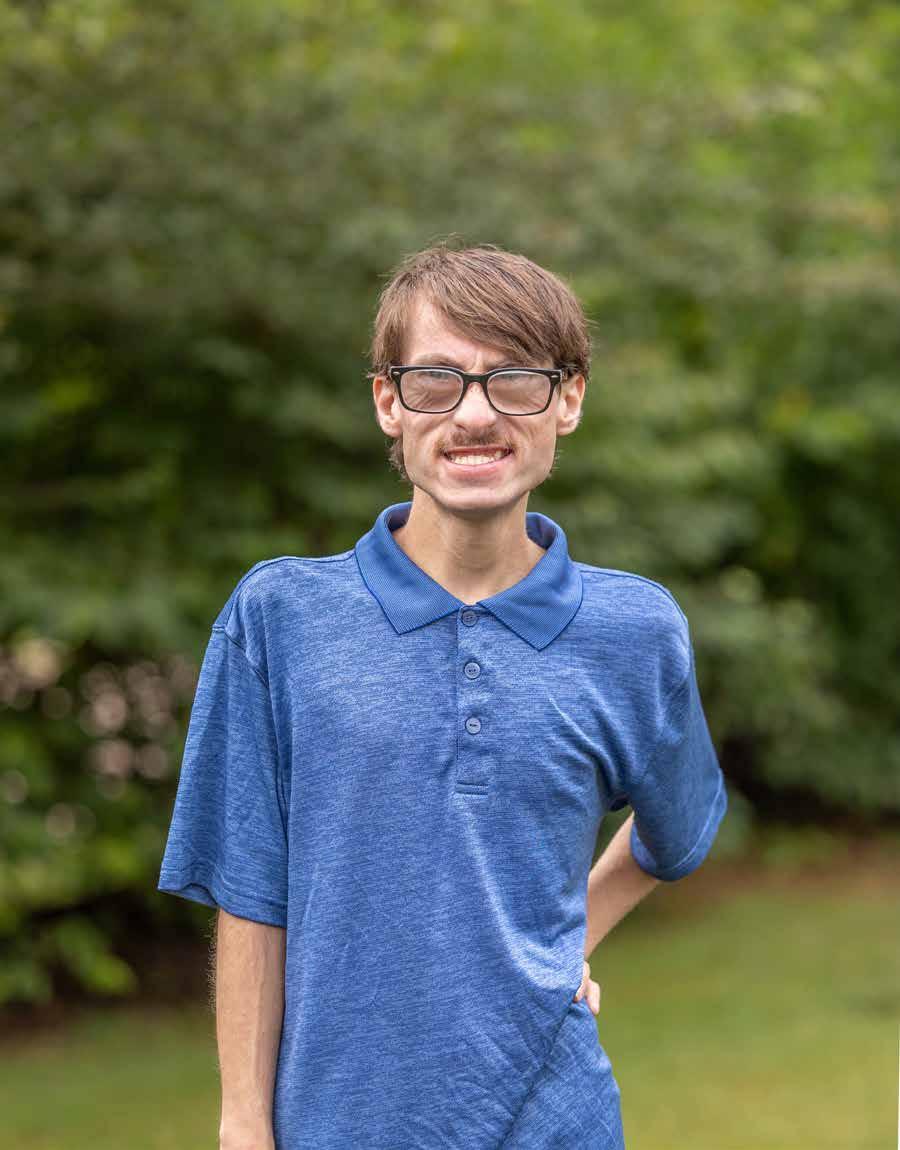 18
October is National Disability Employment Awareness Month
When it comes to employment, choose TWi. With over 50 years' experience connecting local adults to employment opportunities in our community – we're a trusted provider of employment services.
We bring people together — uniting individual dreams with the practical needs of today's employers. Our goal is to empower each person to progress through their employment journey by focusing on their strengths and by connecting them with the right opportunities.
October 202220 Visit Our Website To Learn More: ChooseTWi.com 330-479-3958 Information@ChooseTWi.com
Transportation Job Training Supervision Paycheck
How you speak to people reflects your behavior, your attitude and your willingness to build or destroy relationships with others. Your words have power; they can be offensive and hurt a person, or they can be complimentary and polite to make a person feel good. The bottom line is your words and the language you use when speaking to others sets the tone for recognizing a person's humanity.
In the past, people with disabilities were often discriminated against, spoken to harshly and without dignity, they often lived in isolation and/or within segregated communities, and they were often not granted the same respect and recognition as a person first, which led to the identification of a demeaning label or their disability before the genuine person that they were created to be.
To date, our society has gained ground on treating people with disabilities more equally by recognizing that all people should be "people first" in the way that we speak to and about them. Important ideas to remember include mentioning the person with a disability as a person first; the disability is secondary. This person is not a label, not a condition or not a medical term. A peoplefirst self-advocacy movement in the U.S in the 1970s was just one of a growing number of efforts to engage people with disabilities to speak out for their right and freedoms to be known other than as retarded, to be known other than, and labeled as, a medical term or a number of other variants derogatory TERMS and unkind labels.
To that end, advocacy groups and self-advocates with disabilities began building strong cultural awareness, helping to break down barriers and create an effort to treat a person with disabilities the same way one
WHAT YOU SHOULD KNOW ABOUT HOW TO SPEAK TO AND ABOUT PEOPLE WITH DISABILITIES
would like to be treated. Accepting differences and welcoming people with disabilities into our circles, into our communities, into our work environments where it was once taboo and into our social lives is a great way to create awareness and break the barriers of isolation and dehumanization that was once prevalent in the lives of people with intellectual and/or developmental disabilities.
The development of people-first language has grown into a formal standard of language that helps all people avoid biases, encourages people with disabilities to take back the definition of "disability" with pride, and helps everyone to avoid the use of terms that are outdated derogatory, demeaning and patronizing to people with disabilities. Examples of people-first language can be found below. This includes, but is not limited to, the following examples:
Use…
Uses a wheelchair
Deaf, hard of hearing People with disabilities
He/she has a cognitive disability He/she receives special education services
Instead of… wheelchair bound hearing impaired the handicapped or disabled He/she is mentally retarded he/she's special ed
Put the person first in your words before you speak, be nonjudgmental and, most of all, EMPHASIZE ABILITIES! Language and the terms we use to describe people are a reflection of how people see each other. To gain a better understanding of terms and language concepts that support people with disabilities and recognize humanity toward all, the Ohio Developmental Disabilities Council has created free pamphlets and other materials that provide examples of specific language and terms that represent people with disabilities as a person first. These materials may be found at www.ddc.ohio.gov.
Akron & Canton Special Needs Living 21 professional perspective: ric brown Ric Brown, AA, BA, MPA
By Sarah Smith
Supporting Choices and Creating Opportunities for People with Disabilities and Their Families
Stark County Board of Developmental Disabilities
The Stark County Board of Developmental Disabilities was created by Ohio law in 1967. In 2009, state law changed the Stark County Board of Mental Retardation and Developmental Disabilities (MRDD) to the Board of Developmental Disabilities. Ohio's county boards of developmental disabilities are the government agencies that support people with developmental disabilities using local, state, and federal funding. Each has a governing board composed of residents of the county. Because they are countybased, boards are designed to meet the unique needs of each county.
"Stark DD helps more than 3,800 people with mild to profound developmental disabilities," explained
William Green, Superintendent of Stark DD. "The programs and services provided may begin as early as birth and continue through the senior years. With educational programs, job training and placement, and coordination of residential services, we help children learn to reach their full potential, help parents become more confident and support their child's development, and help adults to live comfortable, independent lives. Stark DD's services not only provide the assistance needed to improve a life when needed, they help provide support to last a lifetime. Stark DD provides help for good."
The organization has three mandated responsibilities: Fund,
Plan and Monitor services. They FUND services and supports and the commitment extends for the life of a person with a disability. Stark DD PLANS and coordinates the supports for people with disabilities in accordance with what is important to and for them. They MONITOR the services and supports for people with disabilities to ensure that they are getting what they want and need. The number-one priority is that they are healthy and safe. People with disabilities and their caregivers are helped most when they have funds that can be used where they need them most. Local tax dollars are reallocated to support more people with disabilities through the Medicaid Waiver program. By using the local revenue to match federal dollars, people with disabilities are accessing services provided by agencies and businesses in the community, not just those services provided by Stark DD. A waiver is support in the moment to last a lifetime.
22 nonprofit spotlight: stark dd
A Home and Community Based Service (HCBS) Waiver is one way people with disabilities pay for the services they need. A waiver pays for services through Medicaid. Once a person receives a HCBS waiver, it stays with them for a lifetime as long as eligibility requirements are met. Family Support Services funds are designated for individuals (children and adults) living at home with their families who do not have a HCBS waiver. The use of FSS funds is to be directly related to improving the living environment and/or facilitating the care of the individual. Tax levies approved by the Stark County voters, along with state and federal dollars, support the services to people with disabilities, their families or caregivers.
"Our daughter is no longer able to walk, use the restroom independently, and feed herself," said Henry and
Not sure where to start?
Stark DD Eligibility
Elizabeth Miles, parents of Alyssa. "Stark County DD helped to modify the house to accommodate her new normal. A bedroom and bathroom had to be built on the first floor. The van was fitted with a seat that rotates out, lowers so she can be transferred easily and then returns to normal position. We are grateful for the Stark County Board of DD."
Become involved by learning what Stark DD does and share the value they bring to families in the community. Readers can join the Help for Good movement by displaying a yard sign, buying a t-shirt, or inviting board members to talk to a group or organization. Consider joining Citizens Who Care for People with Developmental Disabilities help educate the community on Stark DD
services so the community will support a levy renewal slated for May 2023.
"Stark County DD has been an amazing resource for Hudson's journey," exclaimed Corey and Cassidy Jones. "Stark County Early Intervention provided semiweekly physical therapy sessions this past year. They loaned us equipment and helped us get a GO-TO Seat for Hudson that we take everywhere we go. Stark DD's Eastgate Preschool has been a wonderful experience for both of our boys. Hudson loves riding the bus and screams, "BUS" the moment it rolls down our street. The teachers and staff are amazing, and we can't thank them enough for what they do for Hudson."
Stark DD is located at 2950 Whipple Ave., NW in Canton. More information can be found at www. starkdd.org or by calling 330-477-5200.
Community Resources starkdd.org/Resources/GuardiansandCargivers
starkdd.org/services/eligibility/ or email SSA Intake at ssaintake@starkdd.org
Stark DD Navigation Tool best practices across a lifetime of services starkddnav.org/
Akron & Canton Special Needs Living 23
pictures of words
Beauty Belongs to Everyone
October 202224
say thousands
Akron & Canton Special Needs Living 25 A story shared simply through images: Introducing Ava and Anna Heckert
Which Stairlift Is RIGHT
For You & Your Home?
A Three-Step Guide to Choosing the Best Stairlift to Meet Your Needs
By Jared Chevraux
Do you or a special person in your life have trouble with the stairs in your home? A stairlift may be the solution to safer and more independent living on all floors. Let's explore how to select a stairlift model that works for your home and, just as importantly, works for the user. This basic guide is designed to help you narrow down your options and identify your needs before calling a stairlift installer for a quote.
Step 1: Identify the staircase and measure for suitability. Will a stairlift fit? Most staircases are suitable for a stairlift installation, but not all. Of the six brands I have experience with, most of them require at least 30 inches of clearance between the stairs. Any narrower, and there's a good chance the user's knees will come into contact with the wall. Simply
use a tape measure or yardstick to determine if you have the minimum space needed for installation.
What type of stairs do you have?
A straight staircase is common in many homes in Northeast Ohio, but it's not uncommon for a staircase to have a landing and a turn or feature a curve partially or continually in the stair run.
Stairlifts for straight staircases are the most economical. Many dealers can install them within days of your first call. Curved staircases are custom made for each individual staircase. For most curved or turning stairs, the dealer will conduct a detailed measurement of the staircase with a camera survey system and software that will map out a guide for the engineers to design and build a one-of-a-kind stairlift rail. Because of these factors, you can expect a longer lead time and a higher price for a curved stairlift.
Is an electrical outlet nearby at the top or bottom of the staircase? All stairlifts run on batteries and park on battery chargers at the top and bottom of the stairs. The unit will require a standard electrical outlet, usually within ten feet of the top or bottom of the stairs.
Step 2: Determine the features that matter to the user.
Can the user sit or transfer onto the seat of the stairlift? Can the user sit comfortably in an upright position? If not, can the user lean on a "perch seat" in a standing position while the lift is in motion? Does the user have the ability to operate the hand control, or will that person need assistance from a caregiver using the remote control?
All stairlift seats swivel toward the landing at the top for safety. Can the user manually swivel the seat, or will a powered swivel feature be necessary? Will the standard seatbelt provide enough safety and stability, or will a body harness be a better fit for the user? What is the weight and height of the individual using the lift? Stairlifts have varying weight capacities and height limits that need to be considered.
Is the stairlift user living alone? Motion sensors are now available to fit any stairlift that will notify family or caregivers if the stairlift is not used when it should be, or if the stairlift starts a trip but doesn't get to the top or bottom.
Answering the above questions before the next step will make it easier to find the best possible fit for your situation.
Step 3: Find the right company to install your new stairlift.
As we saw in steps 1 and 2, there are many factors to consider when selecting the right stairlift for your home.
October 202226 professional perspective: jared chevraux
Unfortunately, not all stairlift manufacturers offer all of the features mentioned above.
Because of this, I believe it is vital that you find the right installation company for your individual needs. A company that offers more than one brand is more likely to meet your needs than a company dedicated to selling one brand of stairlift. Call on several installation companies and ask if they offer the features you need before scheduling a visit to your home. If possible, visit showrooms and have the user actually ride several stairlift models. Take a test drive! And do not fall for a "one size fits all" sales approach.
Finally, consider the budget. If a Medicaid Waiver is available to the user, make sure your installer is a qualified Waiver Provider. Exercise your right to Free Choice of Provider to make sure you are getting the stairlift and installation company that is best suited for the recipient.
I hope this article helped you to become a bit more knowledgeable and comfortable with the process of adding a stairlift to your home with the goal of increasing safety and independence. If you have any questions, concerns, or you feel you have a need I did not touch base on, ask your local stairlift companies for answers. You can also email me at jared@jtekgroup.com, and I will do my best to find a solution.
Akron & Canton Special Needs Living 27 Call to learn more! 234-678-9622 bhazelett@redlineadvocacy.com 3503 Fortuna Drive Akron, Ohio 44312 www.redlineadvocacy.com You're Invited TO OUR Fall Open House! October 19th 4pm-7pm Inviting all parents, families or school districts looking to learn about our program and see what we're about! Light refreshments will be served.
Written by Andrea Hurr
IS NOT ALWAYS WHAT YOU GET
Not all disabilities can be seen just by looking at someone, and Joey Warnken knows that firsthand. Joey is 21 years old and legally blind. When you look at Joey, you see a young man who is probably eating wings or a quesadilla and listening to punk rock or alternative rock, living life. When Joey looks at you, all he can see are shadows and very blurry images or outlines … not very much at all. But he can hear just fine, and he has had to face the challenges of dealing with people who think he is lying about his disability, his inability to see.
Joey takes time to try to help people understand and has a positive attitude of "if they don't believe me, well, there's nothing I can do to change their
mind." Reading in public is a challenge, especially menus at restaurants and using card scanners when paying. He has overcome these obstacles by using the camera on his phone and utilizing the assistant feature.
Joey offers great advice about doing what you love. He says, "No matter what you have, don't let it stop you from doing what you want with life. A lot of people will tell you that you can't do it and rain on your parade, but I promise you can do it." He definitely knows the can-do attitude, as he is quite a talented artist. His artwork is amazing! It is detailed and in this writer's opinion, just awesome. His Instagram name is joeysblindart and in the description, he states that he is legally blind and loves art. His love and passion for his art really shows, and he was so blessed with this talent.
Joey credits his biggest inspiration as his older brother, James, who has helped him so much in his life. Whether it's helping him with his disability or offering brotherly advice about life, Joeys says James is special to him because "he is the only one in
my family who can truly understand me and what I go through with my disability, and he teaches me how to deal with my disability from reading stuff I can't see to dealing with people."
Joey is a graphic artist who is for hire. His dream job would be to be a YouTuber/streamer to raise awareness across the world and build his own community or video game development/ character designer. He says, "Keep your head up and keep going."
He would also like to share that no matter what disability or special needs you may have, they are a part of who you are and make you more unique as a person. He hopes that people can just treat people right, no matter who they are and teach that to their kids as well. He says, "You never know a thing about a person unless you talk to them and know their story." This is a good reminder that not all disabilities are obvious, and, in the end, only kindness matters.
I am going to end with Joey's favorite quote, and it's by Tim Burton: "One person's crazy is another person's reality."
artist spotlight: joey warnken
One Person's Crazy Is Another Person's Reality
QUESTION & ANSWER session with a COMMUNITY RESOURCE
Dulce Myers, Canton Local Schools Intervention Specialist
Question: Where do you work currently?
Answer: I currently work in Canton Local Schools at Faircrest Memorial Elementary.
Q: What is your job title here?
A: Intervention Specialist (mild to moderate)
Q: How long have you been employed with your current job?
A: Two years but have been teaching for 10 years
Q: How long have you been employed in this industry?
A: 10 years
Q: What were your previous jobs in the industry?
A: My first teaching job was at Southgate. I taught a self-contained MH unit. I then worked in Canton City Schools at Belden Elementary. At Belden, I worked with students with moderate to severe autism in a selfcontained unit.
Q: What is your educational background?
A: I obtained both my bachelor's and master's from Malone University. I am licensed to teach general education PrK-3 and special education PrK-12. I obtained my master's in educational leadership and curriculum and instruction.
Q: What do your day-to-day job responsibilities include?
A: At my current position in Canton Local, I do pull out instruction and work with my students on their specific IEP goals. My main focus has been strengthening students' reading skills. In the schools, we are experiencing serious reading deficits due to the pandemic. I really enjoy teaching reading and seeing my students gain confidence and make progress.
Q: What is the inspiration behind why you work in this field?
A: When I started at Malone, my mentor Dr. Beth Clark-Thomas encouraged me to pursue special education along with early childhood education. It was just a few extra classes, so I signed up, and the rest
is history. When I got out of college, I struggled to find a job. I applied at Stark County Board of Disabilities and was offered a teaching position at Southgate. I was unsure if I could do the job. I was really inexperienced to work with people with moderate to severe disabilities. With bravery and courage, I accepted the position. My career journey has been all part of "God's" plan for me. I just accepted his call. The students and families I have worked with over the years have changed my life. Working with adults and children with disabilities has been the hardest work I have ever done but the most rewarding work as well.
Q: What part of your job are you most passionate about?
A: I am really passionate about getting the community to see the ABILITY in my students, not their disabilities. Everyone has a given gift and talent.
Q: What advice would you give to someone who is new to your field?
A: Persevere, persevere, persevere. When discouraged, always go back to the "why" of your work. What is your "why"?
October 202230
community impact: dulce myers
Q
Q: What is your favorite success story you have seen?
A: When I worked in Canton City Schools, I worked with a young man with autism who literally laid on the sidewalk every morning after getting off the bus. He refused to come into the building for months. He was nonverbal, did not like school and had low confidence. My assistants and I persevered, and now this young man is thriving. We tapped into his interests, and that made all the difference. He can't stop talking now, and he loves going to school. I was so proud of him because at the end of his fourth-grade year, he participated in the All City Band Show as a drummer. He is an amazing young man full of talent. He is truly a success story.
Q: If you could go back and talk to yourself at the beginning of your career, what advice would you give yourself?
A: Don't be so hard on yourself. Change doesn't happen overnight; things take time.
Q: Do you feel like you're making a difference in your job, and why?
A: I believe I am making a difference. All of my students I worked with have made progress in some way, whether it be academically, emotionally, or behaviorally.
Q: What is something you would change in your field for the better if you could?
A: I wish the public school system worked more closely with the county board of developmental disabilities. I feel parents are misinformed about the services available to their children outside of the school setting. Services and waivers that parents need to start applying for before their child is of age.
Q: What advice would you give to parents in your field to help navigate?
A: Do your research, and don't take "no" for an answer. Ask all the questions and really understand what you are signing. Utilize the county board of developmental disabilities for resources for your child.
Q: Where do you see your industry moving forward?
A: My hope is that more training facilities become available in our community for individuals with disabilities after graduation.
Q: What has been the biggest factor in your career success?
A: My biggest factor in my career success is working with a team of people that are all working towards the same goal. I have been so fortunate to work with wonderful assistants over the years that's number-one goal is doing whatever it takes to ensure the success of individuals with disabilities. It makes all the difference.
Q: What is your favorite nonprofit organization or volunteer opportunity?
A: My favorite nonprofit organization is Whole Latte Love Cafe. I love the mission of the organization. In my opinion, it is the most beautiful place in Stark County. The cafe is changing lives for individuals with disabilities. I visited the cafe over my spring break and knew immediately that I needed to get a job there. I feel so blessed to be a part of an amazing organization.
Akron & Canton Special Needs Living 31 Q
October 202232 Call Richard Corns TODAY for more information! office: 234-714-2300 cell: 330-413-6986 rcorns@amfam.com That's why we insure them! CHOOSE THE COVERAGE THAT MEETS YOUR NEEDS: Personal Mobility Device Coverage Covers you anywhere on or off the road for: • Bodily Injury • Property Damage • Collision • Medical Payments • Uninsured Motorist • Underinsured Motorist • Comprehensive Equipment Breakdown Coverage Available for home, condo, or renters and covers mobility devices and motorized chair lifts from mechanical breakdown, electrical breakdown, or power surge. WE KNOW HOW ESSENTIAL YOUR PERSONAL MOBILITY DEVICES ARE TO YOUR LIFE
Courage 2 Communicate Ohio's Communication Disability Law
By Dr. Kristine Turko, BCBA, COBA
Aglimpse of flashing lights in your rearview mirror paired with the sound of sirens makes most of us anxious. Add concern about effectively communicating with the officer that is pulling you over, and the anxiety skyrockets. If you or a family member has difficulty communicating, it can make unexpected interactions with strangers — like law enforcement — an overwhelming task.
Communication disabilities are characterized by challenges in speaking, processing, or comprehending verbal and nonverbal speech. They can be associated with developmental diagnoses like autism and stuttering, or injuries like hearing loss and traumatic brain injury. The symptoms of communication disabilities are often misunderstood. For example, a person who is unable to articulate their words clearly or make eye contact consistently may be wrongly accused of noncompliance or intoxication.
It is important that those with communication disabilities are supported in their daily lives, and Ohio's Communication Disability Law is here to help. Enacted in 2018, this law allows anyone with a diagnosed communication disability, like autism, to voluntarily enroll in a database that connects to Law Enforcement Agencies
Data System (LEADS). Once registered, if you are pulled over, police officers are notified through LEADS that there may be a person with a communication disability in the vehicle. Officers do not receive information about the person's exact diagnosis but are aware that one exists. This notification increases the likelihood that people with communication disabilities will have a positive encounter with law enforcement.
The Spectrum Education Center at the University of Mount Union has created a campaign to increase awareness about Ohio's Communication Disability Law called Courage 2 Communicate. The goals of this campaign are to educate the public about the Communication Disability Law, educate law enforcement about working with people who have communication disabilities, and increase the number of qualified individuals registered in the state database.
Courage 2 Communicate supports those who want to register by helping them complete and return the required form to Ohio's Bureau of Motor Vehicles. Those who register receive a window cling for their vehicle. The window cling provides visual identification of enrollment in the program to help alert law enforcement.
In addition to supporting public enrollment in the state's database, Courage 2 Communicate works with law enforcement to educate officers about communication disabilities. Officers learn about the common characteristics of communication disabilities, how they can be misinterpreted, and how to interact effectively with a person who has challenges with communication.
According to Opportunities for Ohioans with Disabilities, there are only 57 people registered in Stark and Summit
counties combined. The American Speech-LanguageHearing Association, ASHA, estimates that 5% to 10% of Americans have a communication disability. This means that there are between 45,000 and 90,000 qualified Ohioans, in Stark and Summit counties alone, that qualify to register. For more information about Courage 2 Communicate, please contact the Spectrum Education Center at Mount Union at spectrum @mountunion.edu.
Akron & Canton Special Needs Living 33 educator perspective: dr. kristine turko
Calling all Perry High School grads: You may know this fella as 27-year-old Aaron Williams, graduate of the Class of 2013 at Perry High School. If you didn't have the pleasure of meeting him, allow us to introduce you!
Aaron Williams, Long-Time Perry Township Resident
Aaron's been living in Perry Township in Massillon for a long time, in his home built by his father and grandfather!
He was born with developmental disabilities, and in second grade was found to have bilateral hearing loss where he was then fitted with two hearing aids.
Challenges Present Opportunities for Creativity
Even though Aaron loved school, he absolutely hated homework. (Don't we all, though?) Due to this, his junior high and high school years presented its difficulties and challenges, but his family remained persistent and pursued opportunities for him:
"We had to be creative, flexible and have tons of patience," says mom, Lisa Williams. "We chose, as a family, to
Introducing Aaron Williams Focusing on the "Can Do" instead of the "Can't Do"
Written by Melissa Klatt Photos by Julian Curet
October 202234 individual spotlight: aaron williams
focus on what Aaron could do rather than what he couldn't do."
Extracurriculars Bring Out His Confidence
While in school, Aaron learned therapeutic horseback riding at Pegasus Farms in Hartville, as well as bowling for the Special Olympics, and playing baseball for the Canton Challenger Baseball League. He played for the Challengers until 2019 and added golf to the list of sports that he plays! He was also an altar server and greeter at his church, St. Joan of Arc Catholic Church, for many years.
Where Aaron shines brightest is within his community, thriving within his many activities outside of classrooms and workplaces. In fact, if you made a list of all of Aaron's extracurricular activities, you would be amazed at everything he's worked on to help others in his community! Take a look at some of the amazing projects he's worked on to improve his community:
• He volunteers for organizations like Habitat for Humanity and Wishes Can Happen.
• He collects pop tabs for the Akron Ronald McDonald House, where they work with a recycler to turn those tabs into money for their Family Fund, providing muchneeded meals, items, and assistance for emergency situations!
• He donates new children's pajamas to the Children's Network of Stark County Child Advocacy Center and boxes of pantry food items to the SAM (Serving Area Military) Center in Massillon.
• He's also a blood donor, even though he's very fearful of needles!
The Importance of Giving Back Aaron has a drive to continue pursuing volunteer opportunities, giving back to his community! However, he also values the importance of his community where it all starts: his family.
"My mom inspires me. She always watches out for me and helps me to stay involved. She always puts our
family first," Aaron says. "I want to continue working in the community and will always volunteer and help others in need when I can."
Imagine how much better our world could be with more Aarons out there… We don't have to wait! Treat others with kindness, provide a helping hand when you can, and get involved in your community!
Akron & Canton Special Needs Living 35
October 202236 DONATED THIS YEAR TO HELP END MODERN- DAY SLAVERY. Thanks to the businesses within these pages, our Area Directors, and readers like you, we're able to break the chains of this horrible reality. Did you know there are more victims held against their will today than ever before? That's why The N2 Company – the company behind this publication and 850+ others like it – is financially committed to end human trafficking. FOR EVERY AD WE SELL, N2 DONATES ENOUGH MONEY TO FREE 2 SLAVES FROM CAPTIVITY. Visit n2gives.com to learn more about our giving program. A GIVING PROGRAM BY 1033 E TURKEYFOOT LAKE RD. #100 | AKRON, OH 44312 // HOURS: Monday-Friday 6 AM to 6 PM AFTER-SCHOOL PROGRAM In our school age program, our children are permitted to do their homework, interact with their peers and create what interests them! Their new space was designed by them with: a karaoke stage, a lego area, a free art space, a cozy corner to chill after school and a playdough area. Call TODAY to schedule a visit! 330.990.1466 www.onceuponadaycare.org Mon: 9:00 AM – 5:30 PM | Tue: 9:00 AM – 12:00 PM | Wed: 9:00 AM – 5:30 PM Thu: Closed | Fri: 9:00 AM – 4:00 PM | Sat: Closed | Sun: Closed Vogelgesang Family Chiropractic Inc. 7266 Portage Street | Suite C | Massillon
Akron & Canton Special Needs Living 37 Sharing Solutions IDD Support Group for Families, Caregivers & Professionals 5:00p - Social Hour | 6:00p - Meeting Walthers Twin Tavern | 430 Applegrove St NW | North Canton, OH Contact us TODAY to RSVP for the next meeting and receive email reminders! jodi@sharingsolutions.info • www.sharingsolutions.info Find us on Facebook, too! Next Group Meeting: October 5th Tuesday, November 15th Stable Accounts Thursday, December 15th 5:30-8:00 pm - Sharing Solutions Holiday Mix and Mingle, Social Evening MARK YOUR CALENDARS Don't Let The Cleaning Get The Better Of YouGet The Better Of You Cleaning | One Time Cleaning | Emergency Cleaning | Covid or Other Illness Cleaning Other Indoor Cleaning | And More! 330-834-0008 1929 9th Street SW Massillon, Ohio 44647 info@brahlerscrr.com We seek to provide every child with autism an individualized program that employs the research-based methodologies of Applied Behavior Analysis. Building Skills. Fostering Relationships. Changing Lives. AUTISM SCHOLARSHIP, MAJOR INSURANCES, AND OHIO MEDICAID PLANS ACCEPTED! AutismNowacceptingScholarship applicationsfor the2022/2023 schoolyear! 330-309-3133 www.appliedbehavioralconnections.com info@appliedbehavioralconnections.com Call TODAY to lean more!
We Serve... Hot Beverages that Warm the Soul such as: Fresh Brewed Coffees • Espressos • Lattes • Cappuccinos • Hot Teas London Fog Earl Grey Lattes • Hot Chocolates • And More! Cold Beverages that Refresh Your Spirit such as: Cold Brews •Black Iced Teas • Iced Chai Lattes • Iced Lattes Iced Mochas • Frappes • Smoothies • And More! Breakfast, Lunch & Snacks such as: Breakfast Cupcakes • Bagels with Cream Cheese • Yogurt Parfaits Veggie Sou e' • Sausage & Gravy + Biscuits Pasta Salad • Chicken Salad Croissant • Caesar Chicken Wrap • Grilled Cheese Sandwiches • Muffins • Saldas • Soups • Hummus & Veggies Cookies • Brownies • Cake-Sickles • And More! Special thanks to Charis Homes and Stark Flavor for supporting Whole Latte Love Cafe and for sponsoring this ad! Celebrate Our Differences With A Cup Of Java, Endless Smiles & Contagious Joy Stop by, you'll be glad you did! M-F 8:30am – 4:00pm | Sat. 8:30am – 2:30pm 1308 South Main St. • North Canton, OH 44720 cafe@wholelattelovecafe.org 234-360-CAFE (2233) Cozy-up to our delicious PUMPKIN SPICE FRAPPE
Work Hard … and Smile.
Meet Teddy Carlson
By Deborah Riley
Teddy is a hard worker and a joy to work with! He has worked at Deluxe Corporation in Streetsboro since May of this year. Teddy is a worker who
understands that being on time, looking neat, and working through difficult situations are all qualities necessary to be successful in the workplace. Teddy has learned this through the help of his job coaches and work training programs that he has attended over the past several years.
Teddy works Monday through Friday for four hours a day. At Deluxe, Teddy is responsible to fill order forms, organize, alphabetize, count, inventory, and make kits. Teddy said that his Job Coach, Janessa, taught him to do his counting out loud to help him ensure accuracy on his orders. One of his favorite job tasks is to fill the order forms. He says this task helps him feel successful! The most challenging aspect of his job is doing inventory.
Prior to starting his job with Deluxe Corporation, Teddy has participated in various work training programs, all of which have taught him the skills necessary to be successful on the job! Teddy has worked at Kent State University through Roosevelt High School with Mr. Bryan Harvey. Through the Summer Youth Work Experience with Opportunities for Ohians with
Disabilities, Teddy was able to gain work experience with Gabe's. While attending the Vocational Habilitation program at Leeda in Ravenna, he learned many job skills including: painting, inventory, cashier, and getting along with others from Leeda staff Tiffany Jones and Marcy Cohen.
Teddy's job coaches and work training staff have had a profound impact on his life and have helped him make incredible progress over the past few years! This has enabled Teddy to find successful employment allowing him to earn a paycheck to buy the things he wants, which makes him feel proud!
Akron & Canton Special Needs Living 39 community employment spotlight: teddy carlson
MEET JORDAN
Overcoming life's challenges, Jordan truly is "Destined For Greatness"!
Written by Elaine Bender Photos by Julian Curet
JORDAN'S JOURNEY
Twenty-year-old Jordan Thompson, a no-nonsense guy, is the younger twin of Greg and Lisa Thompson.
After learning she was having twins, Lisa dreamt of her children playing soccer together and exchanging roles at school, but little did they know the life they had envisioned would change drastically over the next three years. While in utero, Jordan had a stroke, which affected his right side, his speech and language, and his cognitive ability. At the age of 3, Jordan was diagnosed with autism, and their pediatrician directed them to the integrated preschool in their school district, along with referrals to speech, occupational and physical therapies.
Struggles with self-regulation began in the fifth grade for Jordan. Unable to communicate his feelings appropriately, he resorted to hitting himself in the head whenever he was anxious or overwhelmed. But thankfully, as he entered high school, the IEP team started the socialemotional thinking curriculum. This helped Jordan understand what emotions were, what they felt like, what situations he might experience and what calming strategies he could use. It also taught him to understand the size of his reaction compared to the size of the problem. Since implementing this program, his outbursts have decreased significantly.
A SCARY TIME
At the age of 16, Jordan had his first of 18 seizures while at a football game. Luckily, EMS was on site, and when Jordan woke up in the emergency room, all he wanted to know was if the Copley football team was winning. Thirty % of people with autism can develop epilepsy,
but the Thompsons never thought it would apply to them.
Even through his challenges, Jordan is amazing. He loves to read Dog Man and Cat Kid comic chapter books, and his best friend is his computer, just like most teenagers today. "Jordan makes me want to be the best I can be both in my personal life as his mother/guardian/advocate and in my professional life planning programs for families living a similar journey," his mom reflects. Her son's disability led Lisa to a job at the Autism Society of Greater Akron (ASGA), helping connect families to each other and to their community. Autism is in the name, but the organization is welcoming of all disabilities, since many families face the same challenges. ASGA works with community organizations to help them adapt to autismfriendly event formats, enabling families to take part in activities they normally would not attend. ASGA also provides support groups and skill enhancement programs, such as learning to ride a two-wheel bike and water safety.
LISA'S ADVICE TO OTHER FAMILIES
"Talk with other parents to learn about their experience. We often say almost everything we know about autism, we learned from other parents. You know your loved one best so go with your gut feelings and continue to advocate for what you feel is needed. Get involved with your school so people get to know you, and you can help others understand how to interact with and support people with disabilities. Make time for yourself; you need to take care of you along this journey. When faced with decisions, do your research and make the best decision with the
October 202240 individual spotlight: jordan thompson
information you have and then have no regrets. Take time to educate those that will allow you to about your child's disability as there is more work to be done in the world of acceptance. This is a hard one, but learn how to step back and let your loved one be independent. Learn to laugh at things, and don't be afraid to ask for help from others; it is not a sign of weakness."
THE FUTURE
Jordan currently attends a transition employment program with job-coach support by Copley High School and is hoping to get an externship with the local CVS store this year. Even with preparation, though, there may not be enough employers who understand the benefits of hiring an employee with disabilities. Jordan gets his tasks done quickly and efficiently, has a fear of being late and doesn't like to miss work. Sounds like the makings of a good employee!
Jordan's story is surrounded by support from his family, including his grandmother who lives with them, support from school with his IEP team, support from the community, and support from important organizations like AGSA. Together they are advocating for not only Jordan, but many other local families and promoting positive change.
Akron & Canton Special Needs Living 41
This year's Pegasus Farm Gala will commemorate 35 years of programming in our community. To celebrate, enjoy a night of memorable festivities supporting the students and mission of Pegasus Farm. Your evening includes dinner, raffles, auctions, extraordinary dessert room, and our own Pegasus Farm Country Store.
The entertainment doesn't stop there! We will continue the fun at the After Party! This bonus event All proceeds from the After Party benefit the Military Family Center.
October 202242
includes a signature drink, cigar, golf simulator, and more!
Celebrating 35 years Boots & Bourbon Let's celebrate! Saturday, November 12th Shady Hollow Country Club For more information or to purchase tickets – visit www.pegasusfarm.org or call 330-935-2300 ext. 110 Job Development Job Coaching Community Based Assessments Career Exploration Follow Along Services Travel Training Ohio Employment First Program ENRICHING LIVES THROUGH EMPLOYMENT Contact us TODAY to learn more: 330-388-5778 independentemploy.com malcolm@independentemploy.com
Akron & Canton Special Needs Living 43 330-966-7226 | www.brightmindsla.com | brightmind111@gmail.com 5368 Fulton Dr. NW, Canton, OH 44646 SERVICES • ACT/SAT Prep • Math Enrichment • Creative Writing • Comprehensive Reading • Complete Homework Support • Pre School Learning (ages 3-5) • Spanish Tutoring • Science • Sharpen Study Skills Now offering classes in Akron, Ohio, also! MENTION THIS AD TO RECIEVE $20 OFF EXPIRES 11/2/22 Offering Homework Help Everyday! Get Good Grades With We Offer: Personalized Learning Plan (PLP)
Turmeric, Ginger & Digestive Health
Written by Daniel Anschutz, aka "Chef Daniel"
I believe that food is medicine. What you put in your body affects what kind of performance you get. I didn't always feel this way and simply looked at food to be something you engaged with three or more times a day.
Coming from a long background of food service, I used to consume NSAIDs (anti-inflammatory over-the-counter drugs like ibuprofen or naproxen), was a heavy smoker, took PPIs (Proton Pump Inhibitors — they reduce the amount of acid your stomach produces, aka heartburn pills) daily and weighed way more than I should. I have taken measures to reduce my weight, stopped smoking, changed my diet, and eliminated PPIs and NSAIDs on a daily basis, as all of these have been shown to have negative long-term effects on your health.
The long-term effects of smoking, being excessively overweight and daily use of PPIs and NSAIDs have been linked to many digestive issues, ulcers and other GI (gastrointestinal) issues. Today, I would like to talk about if you experience long-term digestive health issues. Digestive health is a concern of many individuals and a growing concern of many from adolescence and onward. You may have seen a recent article in The New York Times or other national publications about Chron's Disease, Irritable Bowel Syndrome and other digestive disorders being on the rise. Even if you haven't, digestive health is something that affects everyone every day.
Many digestive issues can be lessened or alleviated with a change in diet to help with inflammation. Over the years, both gluten and dairy have been linked to inflammation issues. If you are having inflammation in your joints, Arthritis or general GI issues, limiting or completely eliminating these from your diet has been shown to greatly reduce your inflammation and discomfort. These are all items that are eliminated or greatly reduced in diets such as Paleo, Auto-Immune Paleo, and Whole 30.
A diet is a great way to kickstart your system into a new way of eating, but diets are meant to be for a short time and for a quick change. If you are looking to make major changes, you need to find a lifestyle change — something that you can stick with long term to continue to see positive impact on your daily living. Please consult with your physician before making any drastic changes to your current routines of diet, exercise or anything else that could affect your general health and well-being.
In addition to making sweeping dietary changes, you can introduce turmeric and ginger to your diet. Turmeric and ginger are wonderful root vegetables and have been used in medicine and food for flavor, color and have been found to help reduce inflammation. In a recent article from the Cleveland Clinic, turmeric specifically has been found to reduce inflammation, improve memory, lessen pain, fight free radicals, lower the risk of heart disease, helps fight depression and helps prevent cancerous cells.
Adding turmeric, if you aren't familiar with it, can be a daunting task, but the health benefits can greatly help you in so many ways. For fall, I've included a recipe: wonderful Creamy Turmeric Pumpkin Bisque. This recipe is gluten free and dairy free in addition to using turmeric. I hope you enjoy this fall favorite of mine.
The foods you put in your body matters.
October 202244 professional perspective: daniel anschutz
PUMPKIN TURMERIC BISQUE
Gluten free, dairy free
Ingredients:
• Spanish Onion: 1ea, Small Diced
• Pie Pumpkin: 2ea
• Turmeric: 1 ½ TBSP
• Garlic: 3 Cloves, Minced
• Vegetable Stock: 2 Cups
• Nutmeg: 1 tsp
• Rubbed Sage: 1 tsp
Directions:
1. Scoop out the pumpkin seeds, wash and dry. Cut the pumpkin into 2in cubes, toss with oil, salt and pepper. Roast the pumpkin at 400 F for around 20min or until golden brown. Roast the seeds tossed with oil, salt and pepper on a separate try for around 15mins.
2. After roasting you can remove the skin of the pumpkin if you wish. The skin is completely edible, but most folks do not like the fibrous nature and sometimes grainy texture they can produce.
3. In a sauce pot, cook the onion until golden, add the garlic and sauté for a couple minutes. Stir in the turmeric, nutmeg, sage and pumpkin. Stir in the vegetable stock, and use salt and pepper to taste.
4. Using blender, puree
5. Serve top.
Jesus Prom events
A Special Needs Ministry event hosted by The Chapel Green
Written by Andrea Hurr Photos by Michelle Herdlick
I have had the privilege to write many articles for Special Needs Living, and more than a couple of times, a wonderful lady named Amy Troyer has been mentioned to me as someone who moves mountains and does amazing things for the special needs community. This month I get to spotlight her and her awesome work with The Chapel Green, a church located on Raber Road in Green.
Amy heads up the Special Needs Ministry at church, where their mission is "to allow all special needs families to feel welcomed, accepted, loved and valued while participating in our church fellowship and community to grow in knowledge and faith in Jesus."
Throughout the year, her ministry offers a variety of events including BREATHE (a respite night for families with special needs children, teens, and young adults and their siblings so that Mom and Dad can take the night off and BREATHE) and Jesus Prom, an evening to dress up and bless their friends in the community while having a God-honoring night celebrating His perfect creation, YOU!). Who doesn't remember their prom and hopefully with fond memories? I'm sure the attendees at Jesus Prom will remember this night in their lives forever.
Amy and her team went all out to make sure everyone there knows just how loved they are by Jesus and
October 202246
community
Akron & Canton Special Needs Living 47
this ministry at The Chapel Green. Decorated to the nines with a carnival theme, the church was transformed into the party of the year with music, large balloon arches, a magician, a juggler, face painting, a photo booth, props, games, and so much more. Each attendee was greeted with an announcement, smiles, applause, and some special enthusiasm from the North Canton Hoover High School Dance Team. This event hosted over 200 guests with over 100 volunteers making it all happen. Wow! What an evening!
Amy also wants you to know that the Special Needs Ministry helps with more than just a few events a year. The families of individuals with special needs are a vital part of the body of Christ, and Amy and her team will work with them to help their child, adult or friend with varied abilities reach their full potential and succeed in their Sunday classroom or church setting. Self-contained classrooms are
offered for those who benefit more from a smaller group class. They use a special curriculum to help students understand and grow into a deeper relationship with Jesus. Their Buddy Ministry helps the individual focus on the lesson and participate as much as they can, giving them the ability to take breaks when necessary.
There are Sensory Rooms available to help those who may have sensory processing disorders. The Family Room is a unique worship atmosphere for families where movement, fidgeting, and playing are welcomed while still being able to participate in worship services. Youth Groups: Young Life Capernaum (for ages 14-23) and Anchored (for ages 23 and older) offer a ministry space to meet friends, laugh a lot, and learn more about Jesus and His love for you.
They also realized during COVID19 how valuable Zoom is to their ministry and can invite students
who cannot attend Sunday morning service to join live and still be a part of class. Zoom Bible Study is offered as well, which helps meet the needs of mothers with children who have special needs that are unable to meet in person. Amy Troyer really has the Special Needs Community covered at The Chapel Green and is a terrific resource to anyone new to the community or simply just has questions and doesn't know where to turn. Feel free to send her an email at amy.troyer@thechapel.life.
48
Easterseals has, for almost 100 years, provided services to children and adults with disabilities and special needs, and their families. mission is to & ANSWERS!
Live Adult Day Services Care Medical Equipment Loan Friends Living Services Services
Home
Durable
Senior
Shared
Veterans
Get connected TODAY! (888)325-8532 Our
spread HELP, HOPE
Looking For Fun & Exciting Ways To Spend Your Day? PREMIER APPROACH IS THE PLACE FOR YOU! CALL TO SCHEDULE A TOUR! 330-312-6909 | premierapproach@gmail.com 2056 Wales Rd NE | Massillon, OH 44646 We o er a variety of community activities, all of which are chosen by participants of the program. At Premier Approach you'll enjoy a fun, friendly & relaxed atmosphere. Get out and enjoy the things you already love, while also exploring other new and exciting opportunities. SERVICES PROVIDED: · Adult Day Support · Vocational Habilitation · Non-Medical Transportation
EMPOWERING INDEPENDENT LIVING SafeinHome
sponsor spotlight: safeinhome
By Sarah Smith
SafeinHome, a provider of remote supports, assistive, and sensor technologies, empowers people with disabilities to live independently in their own homes and engage in their communities. With a remote staff that's available 24/7, SafeinHome makes daily living safer while supporting the dignity of choice.
"We all have the right to make our own choices, even when others don't agree with them. When we can choose for ourselves, we learn, grow, and improve the quality of our lives. That is what the dignity of choice means," said Clare Husbands, Senior Marketing Manager. "Whether by choosing what we want to wear, where we want to live, how we live, or what we need to reach our goals, every choice helps us know ourselves better. These are choices we all get to make."
SafeinHome's remote support provides off-site staff for people with disabilities. The staff provides support with the help of an integrated system of sensors and assistive technology used in and out of the home. Remote Support solutions cover visitor safety, medication management, seizure management, daily activity reminders, community engagement, transitioning youth and much more.
When someone requests SafeinHome's service, SafeinHome listens to what is important to and what is important for the client.
Together with the person, a support plan is designed based on their desires, goals, and risks. This is called person-centered planning that's integrated with any care plan that may be already in place.
Every person is approached with respect. Each individual has the power to decide what is right for them: the type of support they need, which devices are installed in their home, and even check-in times. SafeinHome is not bossy or authoritative. Decisionmaking to build self-determination (the power to make one's own choices) and daily living skills is encouraged.
The Remote Support Staff are trained in behavioral health techniques such as trauma-informed care, Acceptance Commitment Therapy, and state-required guidelines. They are available 24/7 at the touch of a button; staff are always there when needed, with respect for privacy and space.
For example, Sally wants to prepare meals more often. Sometimes, Sally forgets to turn the oven off. To help her reach her goals, a stove sensor is installed in her home and a friendly remote check-in from a Remote Staff Team member is arranged. With those worries out of the way, Sally can do what she loves — cooking more!
Eugene loves to go birdwatching in the park. He wants to go by himself but needs to be back by 7 p.m. to take his medication. SafeinHome empowers
Eugene to visit the local park and be home in time by providing a GeoComm to take with him. A Remote Staff Member connects with him on his walk to remind him to head back in time to take his medication. If he gets lost, a Remote Staff Member can provide stepby-step instructions and stay connected with Eugene the whole way home.
There are many ways to live independently with a disability. From transitioning from a group home, living in the family home, or living with a roommate, SafeinHome understands that living independently looks different to each person, and is equipped and ready to provide support to help meet the stated goals.
SafeinHome works as a standalone service or with existing support services. The company can take those shifts that might otherwise be hard to fill, like overnights or evenings.
The shortage of Direct Support Professionals is not going to end anytime soon, but SafeinHome is here. SafeinHome offers solutions to the needs and desires of each individual.
"We are part of the support team to enable a life lived more independently," stated Husbands. "SafeinHome Remote Supports is here to empower people with disabilities to be amazing."
Learn more about SafeinHome at www.safeinhome.com or contact them directly at 855-476-6555.
Akron & Canton Special Needs Living 51
Harvestime's Ministry Presents: Princess Within Special Needs Noncompetitive Pageant
Saturday October 15, 2022
12:00 pm – 2:00 pm
Hosted at The Hartville Kitchen Restaurant 1015 Edison St. N.W., Hartville OH
Every girl is a princess and true beauty comes from within. That is the theme of this pageant. Each princess will be escorted across a wheelchair accessible stage where she will be announced as a princess and receive gifts. Some of the princesses will be sharing their talents this year.
After the pageant, refreshments will be served.
Service Times:
Sunday School - 10:00 am Sunday Evening Evangelistic Service - 6:30 pm Wednesday Bible Study - 7:00 pm www.harvestimeonline.org Harvestimetemple78@gmail.com Lena Hartman 330-704-7896 Patty Graham
Special Needs
(330) 877-6544 • 136 E Maple St. P.O. Box 26 • Hartville, Ohio 44632 •
•
See you there! God Bless You! Rev. Raymond Smith II If you have questions or want to register, please call:
at
or
at 330-224-2528
You Are Also Invited to our Trunk or Treat October 29, 2022, 2:00 pm to 4:00 pm Bonfire – Hot Dogs – S'mores to follow
WE HAVE TO OFFER CONNECTING PEOPLE + COMMUNITY Get To Know
SENIOR SERVICES
GentleBrook provides residential options for seniors looking to in
The HomeStead: Our 49 bed living memory care
The Villas: Our independent living 55+ condominium
DEVELOPMENTAL DISABILITIES SERVICES COMMUNITY
GentleBrook fosters independence for individuals with intellectual and/or developmental disabilities by offering programs and services through our adult day programs and residential support services, including residential waiver services, and intermediate care facilities (ICF) in Hartville and West Lafayette. In July of 2022, GentleBrook will take over as the provider of adult day services for the Holmes County Board of Developmental Disabilities.
GentleBrook serves the community through two businesses in Hartville.
GentleBrook Greenhouse + Farm: GentleBrook Greenhouse + Farm has a wide selection of beautiful bedding plants, hanging baskets, house plants & succulents. Open to the public spring through fall.
The SportsPlex: An indoor sports recreation center with a full basketball court and a 7,500 sq. ft. turfed multi-sport training facility for individual and team use.
age
place.
assisted
and
facility
community
Coming Fall 2022 Menlo Park, a 6-bed ICF • Habilitation / Active Treatment and Adult Day Programs • Medical / Health Care Supports / Respite Services • Home-like environment • Financial Oversight • Transportation For more information call: 330-877-3694 GentleBrook is a not-for-profit social purpose enterprise that believes in connecting people + community through services and businesses. We believe all human life is a sacred gift and most fulfilled in community with others.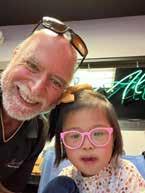 Photos carefully selected by Mike Sturdivant
Aaron Williams
Beauty Belongs To Everyone
Jesus Prom
Joe Albert & Anna Heckert
Jesus Prom Bobby & Dolly
Teddy Carlson
Meals By Chef Daniel
Art By Joseph Warnken
Jordan Thompson
October 202256 OCTOBER ISSUE PHOTO FINISH
FINAL TAKE
Akron & Canton Special Needs Living 57 Therapeutic Day Center Combining Academics & Therapies for a Collaborative Approach Changing The World, One Child At A Time Changing The World, One Child At A Time Spots are filling quickly! Enroll Now for the 2022-2023 Academic Year! Autism Scholarship Providers 234-334-0044 • jordye@wingsofchangetherapyinc.com www.wingsofchangetherapyinc.com Meet Waffles the Therapy Dog! OUR TEAM INCLUDES: - Intervention Specialists - Occupational Therapists - Physical Therapist - Speech and Language Pathologists - Direct Support Professionals Wings of Change Therapy, Inc. provides therapeutic day programming for youth between the ages of 5 and 21. Our therapeutic day program provides educational and therapeutic services to children of all ability levels. The licensed therapists work alongside the intervention specialists within the classrooms and provide individual therapy.
OHIO SHARED LIVING Families in the community providing support, care and services for Adults with Developmental Disabilities Do You Have Room In Your Home & Heart? For more information about the Ohio Shared Living Program (OSL) or how to become a mentor in Ohio, please contact us at 855-611-4OSL(4675) Or email us at REM.OhioSharedLiving@sevitahealth.com There's No Place Like Home! 5051 New Centre Dr Wilmington, NC 28403 A Social Publication for the Residents of Akron & Canton