PARKS, RECREATION AND OPEN SPACES
STATEMENT OF QUALIFICATIONS
www.msa-ps.com
2 MSA - Parks,
Recreation and Open Spaces Statement of Qualifications
and
Spaces: Statement of Qualifications
TABLE OF CONTENTS
TRAILS
AND
DEVELOPMENT
WWW.MSA-PS.COM 3
PARKS, RECREATION AND OPEN SPACES EXPERTISE 4 HOW WE HELP 6 PARK PLANNING AND LANDSCAPE ARCHITECTURE 8 SHELTERS AND RESTROOMS 12 ATHLETIC FACILITIES 14 MULTIUSE
16 ATV TRAILS
CAMPGROUNDS 18 AQUATICS 20 LET'S TAKE A DEEPER DIVEERB PARK AND POOL 24 WATERFRONT
26 LET'S TAKE A DEEPER DIVEMAUSTON'S RIVERSIDE PARK 28 SPECIALTY FEATURES/FACILITIES 30 FUNDING SERVICES 32 MULTIMEDIA 33 PUBLIC ENGAGEMENT 3421 16 10 31 Parks, Recreation
Open
Engage more people. Enjoy greater prosperity.
How residents perceive the quality of life within their community can be attributed to the quality of facilities available to them. As new sports emerge, and as the population and age of Americans the demand for both traditional and non-traditional recreational facilities surges. We look forward to partner with you and your community to make it the best place to live, play, and grow.
4 MSA - Parks, Recreation and Open Spaces Statement of Qualifications
prosperity.
of parks and recreational Americans continues to diversify, forward to the opportunity
We translate that knowledge into new and reengineered parks, and recreational and water-based facilities that promote engagement, foster a sense of community pride and improve quality of life—all of which help drive economic growth and community prosperity. Then, we help secure the funding to make the plans happen. Ultimately, we help you create a community that not only looks better, but functions better too.
MSA has helped numerous clients meet this growing demand through the planning, development and revitalization of recreational amenities, including parks, waterfront developments, aquatic facilities, multiuse paths and athletic facilities. Whether on land or on water, we can help.
As a multidisciplinary firm, MSA provides expertise in architecture, engineering, funding, landscape architecture and planning to assist with the execution of park and recreational projects from visioning and project championing, concept development, design, and ultimately, through final construction.
WWW.MSA-PS.COM 5
At MSA, we work closely with communities to build greater awareness of residents' wants and needs.
How we help...
• ADA Audits for Park and Recreational Facilities
• Aerial Solutions (Mapping, Modeling, Marketing, Surveying, etc.)
• Aquatic Facilities (Indoor and Outdoor) and Splash Pads
• Architectural Design (Shelters, Restrooms, etc.)
• Asset Management
• Athletic Facilities (Indoor and Outdoor)
• Campground Development and Infrastructure Design
• Community/Recreational Centers
• Comprehensive Park and Recreation Plans (Municipal, County, Regional)
• Conceptual Site Plans, 3D Renderings and Virtual Reality
• Educational Programming
• Infrastructure Survey and Design (Parking, Stormwater, Sewer, Water, etc.)
• Landscape Design
• Lighting Design
• Multimedia (360° Video, Esri Story Maps, etc.)
• Grant and Funding Services
• Park Planning and Design
• Playground Safety Audits
• Professional Fundraising (Public, Private)
• Public Engagement (Public Input, Opinion Surveys, Visioning, etc.)
• Recreational Trails, Bridges and Boardwalks
• Skate Parks
• Tree Inventories and Assessments
• Waterfront Improvements (Boat Launches, Piers, Riverwalks, etc.)
• Wayfinding (Interpretive Signage, Interactive Kiosks, etc.)
At MSA, our commitment to the clients we serve is evidenced by the innovative solutions we provide.
6 MSA - Parks, Recreation and Open Spaces Statement of Qualifications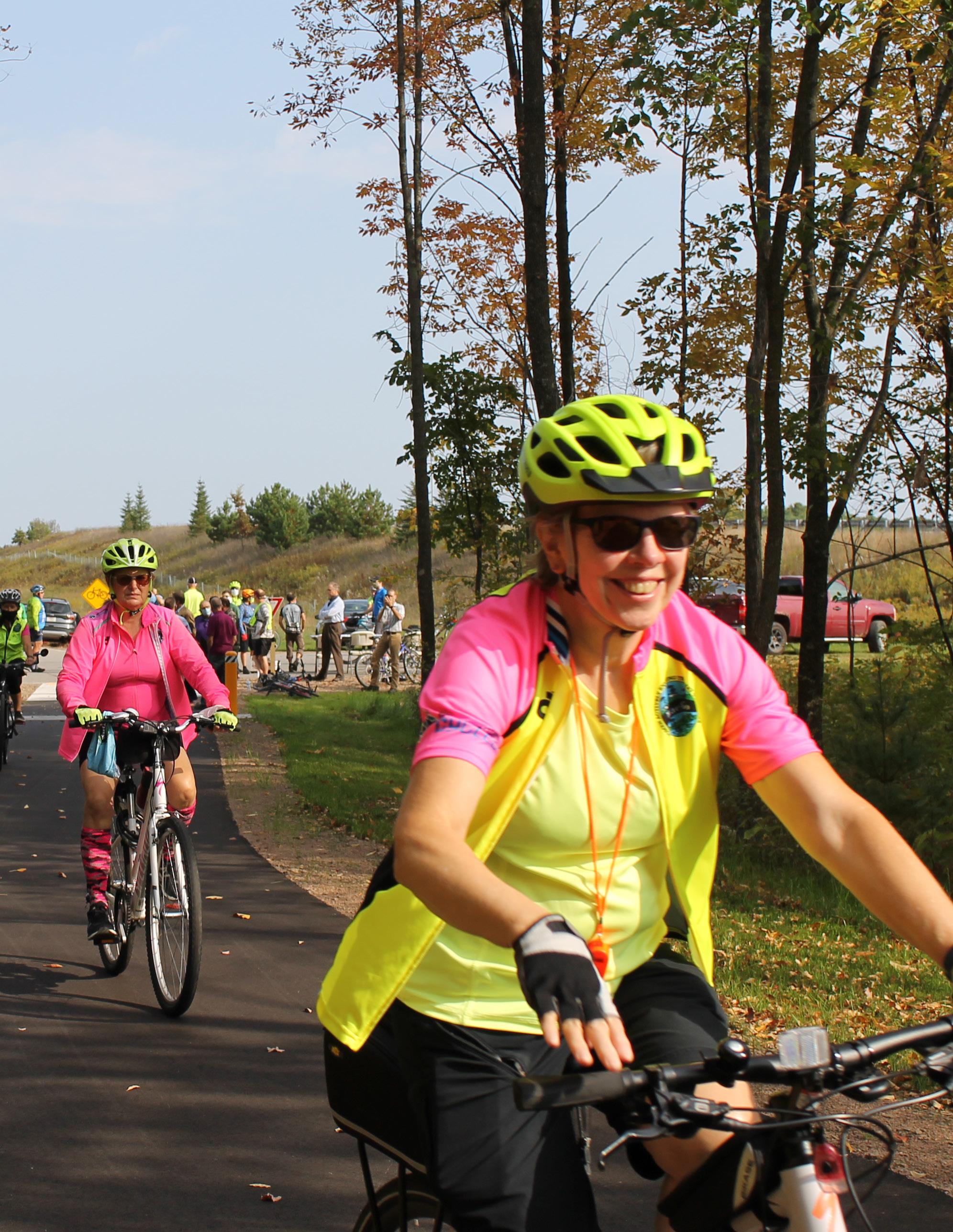 PARK PLANNING AND
ARCHITECTURE
Optimize your outdoor space. Make a deeper connection.
Vibrant, functional outdoor spaces are critical to physical, emotional and social well-being. Whether part of a corporate campus, housing development, streetscape or park, even the smallest outdoor space has the potential to deliver major value. Creating memorable destinations and desirable places enhances the user's quality of life while promoting economic benefits.
LANDSCAPE
Fireman's Park City of Verona
Address every aspect of your critical space.
Making the most of the environment is both an art and a science that requires expertise in multiple disciplines, from planning, green infrastructure and stormwater management, to branding and wayfinding. At MSA, our professional landscape architects understand how people interact with their environment in various settings. We use that knowledge to craft distinctive plans while supporting implementation through our strong understanding of construction principles.
Design
Park Planning and
Achieve multiple goals in one setting.
Our multidisciplinary expertise and collaborative approach to design empowers you to do more with your space. Even while we're creating outdoor spaces for people to use and enjoy, we're thinking innovatively about how to balance budget and maintenance goals. By collaborating with MSA, you get smart, well-built solutions for your investment.
Located along the shores of a highly-visited reclaimed quarry site, Fireman's Park has provided a public open space for soccer, picnicking, and waterfront recreation. The beach and splash pad provide options for water lovers of all ages!
WWW.MSA-PS.COM 9
Landscape
Villas Park
City of Madison
Vilas Park is one of Madison's oldest and well-loved parks. Now, With the creation of a new Master Plan for the park, it is ready to establish a new vision for the next hundred years of its legacy.
ADA Parks Assessment
City of Neenah
Neenah hired MSA to conduct an ADA Audit and evaluate 25 public park properties and nine public buildings to assess compliance under Title II of the Americans with Disabilities Act (ADA). MSA's team of architects and landscape architects identified deficiencies and recommended steps for corrective action.
10 MSA - Parks,
Recreation and Open Spaces Statement of Qualifications
Ellen Kort Peace Park
City of Appleton
The community is transforming a deserted 7-acre industrial space into a beautiful park dedicated to Ellen Kort, Wisconsin's first Poet Laureate, that honors Ellen's legacy as an interactive, peaceful experience, not as a static memorial.
Park Planning and Landscape Design
WWW.MSA-PS.COM 11
SHELTERS AND RESTROOMS
Healthy communities encourage healthy lifestyles, with park and recreational amenities to meet the challenge.
Choosing to make your community amenities inclusive, accessible, interactive and diverse means providing ways for residents and guests of all ages and abilities to connect—and play—in real and memorable ways.
Newport Park Village of Lake Delton
MSA provided design and construction services for Newport Park, a 6-acre park at the confluence of the Wisconsin River and Dell Creek. The project was a successful cooperative effort between federal, state and local agencies as well as private parties. Optimizing several state and federal grant programs (totaling $1.4 million) reduced project costs by 65 percent.
12 MSA - Parks, Recreation and Open Spaces Statement of Qualifications
MSA offers solutions of various sizes and shapes to meet the demands of your residents and unique features of your community spaces.
Creating accessible—and successful—park and recreational amenities for a community is about providing equal and positive opportunities for every single resident. Make your municipality a destination of choice, both for visitors and for those looking for a place to call home. Because, a strong community is one that is able to live, work, grow and play—together.
Shelters andRestrooms
Phoebe Bakken Memorial Park Hills Campground Village of Cottage Grove
From master planning efforts to splash pad design and construction of a contemporary shelter/ concessions building, the new Bakken Park amenities boast full ADA compliance and easily transition to the surrounding multiuse path, playground and Miracle Field.
WWW.MSA-PS.COM 13
South Park | City of Waupaca
Riverside Park | City of Mauston
ATHLETIC FACILITIES
Create a destination that current and future residents will love.
Savoy Recreation Center
Village of Savoy
MSA worked with the Village of Savoy to expand an existing, 6,000-squarefoot church into a 20,000-square-foot recreational facility by providing full A/E services, including schematic design, design development, construction docu mentation, construction administration and observation.
Few things bring people together like sports and a little dose of friendly competition. Whether its Little League baseball, fierce high school show-downs or casual tennis matches between neighbors, athletic facilities are the core of community camaraderie and good old-fashioned fun.
MSA understands the vital role athletics and recreational facilities play in community health. Leaders are recognizing these supporting facilities as true drivers of residential growth and success. A smart community needs to offer options for both team-sport enthusiasts as well as those who prefer individual sports, with indoor and outdoor amenities to match.
14 MSA - Parks, Recreation and Open Spaces Statement of Qualifications
More than just brick and mortar, turf and trail, we bring these facilities to life with an architectural eye, sophisticated lighting design and complementary finishing landscaping. Meanwhile, we assure functionality by designing all related water, stormwater and mechanical, electrical and plumbing systems to support continued and expanded use.
What about traffic and the safe movement of cars, buses, pedestrians and bicyclists throughout? We handle that too. MSA can perform traffic pattern studies, pedestrian and bike counts, and traffic ergonomics evaluations to determine the best inflow and outflow of vehicles through your facility's property. And, we are dedicated to helping you provide options that are accessible, engaging and enjoyable by performing ADA audits and designing the right solutions for every member of your community.
WWW.MSA-PS.COM 15 AthleticFacilities
MSA has helped municipalities envision, fund and construct athletic facilities, sport courts, multi-purpose recreation centers and specialty fields of all sizes.
Prairie Heights Park | City of Davenport
Tennis Court Reconstruction | Baraboo School District
Demirjian Indoor Golf Facility | City of Urbana
Theiler Park | City of Mayville
MULTIUSE TRAILS
Connecting your community in more ways than one.
There is a feeling of freedom associated with traveling by trail. Whether you're an urban bicycle commuter navigating to the office or a family on a weekend outing to get "off the beaten path," multiuse trails offer something for everyone. That's their beauty.
We view these trails as true community connectors, and in many cases, connectors to neighbors within the broader region. Designed to accommodate people with a range of interests and levels of mobility, multiuse trails can fit into almost every geography, grid or budget, and can serve as an extension of your community's existing transportation and recreation networks.
The TAP-funded Trillium Trail adds over 1 mile of new 10-foot-wide paved trail that connects to existing routes, provides safe, accessible access over USH 51/I39 and links to the Wisconsin River pedestrian bridge — and, ultimately, surrounding communities.
16 MSA - Parks, Recreation
and Open Spaces Statement of Qualifications
Municipal leaders are seeing a consistent uptick in trail use and are electing to invest in the development of new trails and the maximizing the connectivity of existing trail systems. Trails yield a multitude of benefits, from increasing citizen health by encouraging healthy activity to cutting down on traffic congestion and reducing vehicular emissions.
MultiuseTrails
Good for people, good for the planet, and good for diversity and the economic prosperity of the community as a whole.
Three Eagle Trail Township of Three Lakes and City of Eagle River
Bicycle Roundabout and Trails City of Fitchburg
Gold Star Memorial Trail Dodge County
Trillium Trail Town of Rib Mountain
ATV TRAILS AND CAMPGROUNDS
When adventure calls, be ready to answer.
Campgrounds, RV parks and ATV trails have become places of solace—a means to get away from busy schedules and retreat. For some, "R and R" means lounging at camp with a cup of coffee and a book. For others, it means hitting the ATV trail with friends to explore the surrounding landscape. We design to accommodate all preferences, by collaboratively working with state and local DNR, preservation groups, the U.S. Fish and Wildlife Service, forestry departments, trail clubs, recreational organizations and local tourism interests to create trails and home-away-from-home bases that are functional, beautiful and accessible.
Drummond Lake Campground | Town of Drummond
MSA worked with the Town of Drummond to develop an ATV campground facility. MSA's design included sanitary sewer, water main and stormwater, plus the electrical and grading plan. The project also included a prefabricated restroom building.
18 MSA - Parks, Recreation and Open Spaces Statement of Qualifications
Bunker Hills Campground Anoka County Parks
The Bunker Hills Campground needed more sites to keep pace with its growing popularity and to address the needs of modern campers. One of the project's main challenges was to protect the landscape while offering campers convenient access to electricity, water and bathroom facilities. The final product tucked 25 new campsites in among the trees and natural topography, while protecting surrounding wetlands and accommodating the existing bike paths and disk golf course.
Most adventurers still need access to staples such as electric, water and sanitary services. The MSA park and recreation team works to provide cost-efficient designs that meet these basic needs, while protecting the environment, providing safe stormwater and sanitary sewer engineering practices and working within the parameters of the existing environment. All of this helps assure that fun, outdoor recreation minimizes impact to our natural resources, wetlands and any fragile or protected species found along the project path.
Wild Rivers Trail RV Park Village of Minong
MSA completed the grant application and the design for the RV campground. The project included a prefabricated restroom building, pavilion and tent sites.
Quartzite and Northern Lights Campsites
Devil's Lake State Park
Upgrades were needed to the Quartzite and Northern Lights campground facilities in the form of new toilet/shower buildings and pit toilet buildings. MSA provided architectural, structural, site civil and surveying services. The new prefabricated concrete pit toilet buildings are cost efficient and will serve the park for years to come.
MSA recognizes that getting away isn't always about roughing it.
ATV Trails and
Campgrounds
WWW.MSA-PS.COM 19
AQUATICS
Help your community make a splash.
Water-based recreation can find a home in any part of your community, whether as a large aquatics centerpiece or a small neighborhood splash pad. MSA recognizes that water amenities can be built to accommodate people of all ages, abilities and comfort levels. For some communities, this means a zero-depth splash pad that is safe for the very young and welcoming to those who just need to cool off on a hot summer day. For others, we've designed Olympic-sized competitive swimming and diving pools, water slides, lazy rivers, zip line features and poolside climbing walls. These can be stand-alone facilities or incorporated into larger park-like settings with bath houses, concessions, sport courts, athletic fields, playgrounds, shelters and trails. Whatever your vision, we'll help you bring it to life with just the right splash factor.
Town Splash Pad Town of Rome
Rome's splash pad features a unique wilderness theme with spray features that resemble tall spruce trees and cattails, leaves and flowers. MSA contributed design engineering to this project, creating the overall layout of the park – Phase I of a broader master plan.
20 MSA - Parks, Recreation and Open Spaces Statement of Qualifications
Erb Park and Pool | City of Appleton
The City of Appleton worked with MSA to transform the popular Erb Park and Pool. The $10-million project provided new aquatics and overall park amenities, including a 50-meter competitive pool, recreation pool and water slide. In addition, the project encompassed a new pavilion, bath house and pool equipment building, new playground equipment with poured-in-place surface, connecting paths, grilling stations, additional parking, relocation of the sledding hill and ice skating rinks within the park, reconstruction of the basketball court and addition of two new youth tennis courts.
Aquatics
Nekoosa Splash Pad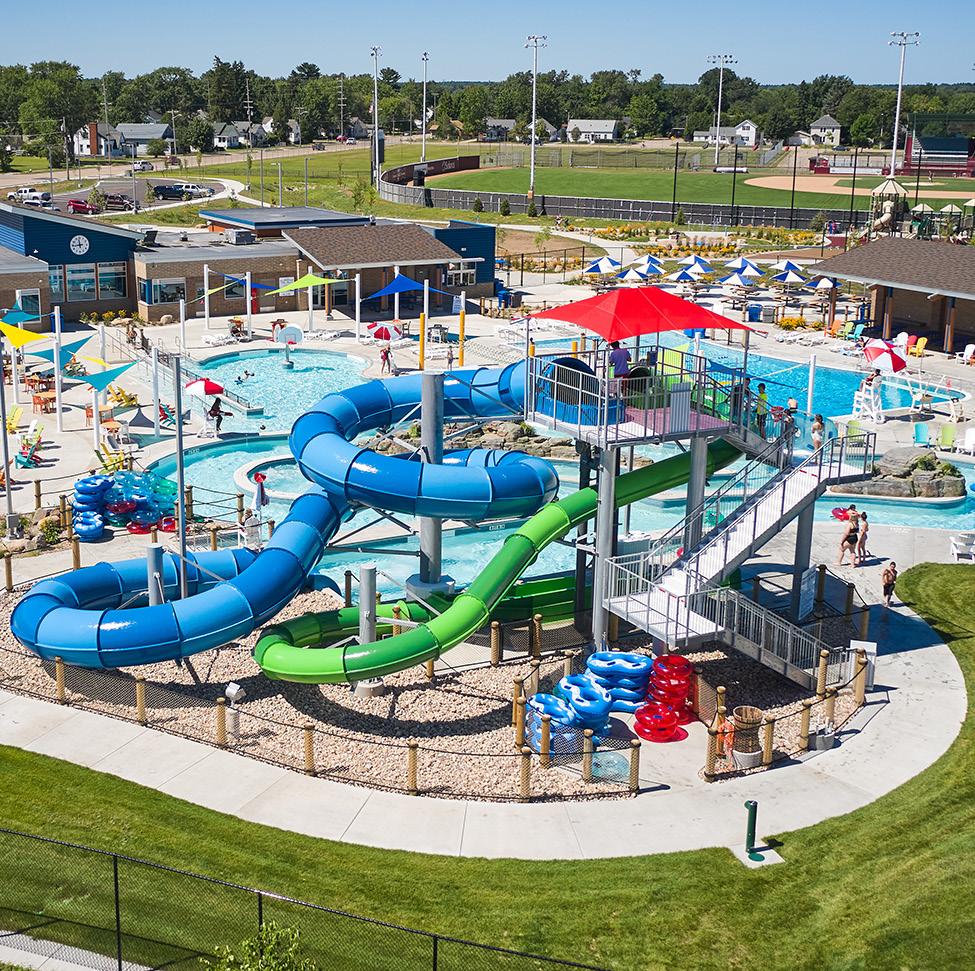 City of Nekoosa
The splash pad was developed to be within the proposed budget, and create a sense of place, or "gathering spot" for the City. Area youth and families were encouraged to have some involvement in the splash pad development. Allowing residents the opportunity to provide feedback about the features in the splash pad was an important aspect of the project and helped build community pride towards this new feature in the City. MSA provided design, bidding, construction administration and observation for the project.
Recreation Complex and Aquatic Center
City of Wisconsin Rapids
Recreation matters. After the closing of two beloved community pools due to deteriorating conditions, Wisconsin Rapids embarked on an ambitious park plan for a regional aquatic center and recreation complex. With some aspects adaptable for year-round use, the complex features a large outdoor aquatic park, expansive playground, splash pad, lit recreational trails, sport courts, outdoor open-air shelter, and options for seasonal hockey and ice skating.
Sunset Pool
City of Elkorn
This facility includes a 7,400-square-foot pool with six lap lanes, two diving boards, drop slide, kiddie slide, and other aquatic amenities. In addition, a 5,000-square-foot masonry bath house accommodates pool equipment, restrooms, showers, staff areas and a concession stand with covered seating area that can serve both the pool and adjacent Sunset Park.
22 MSA - Parks, Recreation and Open Spaces Statement of Qualifications
Lodi Municipal Pool City of Lodi
This facility features a 1,776-square-foot bathhouse/admission building and 600square-foot equipment building. The pool has a 389-patron load, and the design features a zero-depth area with geysers, jetted bench and basketball hoops.
Christmas Mountain Village ResortCheck-In/Pool Building
City of Wisconsin Dells
This 15,000-square-foot, cottage-themed facility incorporates stone and log accents and features a 2,000-square-foot pool area with a water slide and water activities.
Hessel Park and Splash Pad
City of Champaign
MSA provided professional engineering, surveying, topographic studies and architectural services in order to design and construct a new splash pad and improve existing restrooms. With a simple wave of a hand or kick of a foot, the "sprayground" comes alive with ground spray rocks, snails and ladybugs, as well as flower, butterfly and dragonfly fountains.
Aquatics WWW.MSA-PS.COM 23
Let's Take A Deeper Dive.
Erb Park and Pool in the City of Appleton
all
stations
to enjoy this
park.
A new multiuse path connects the entire park, including lighted basketball and tennis courts.
Accessible grilling
allow
users
community
A new playground, durable, low-maintenance composite, challenges climbers.
situated atop a low-maintenance rubber challenges adventurous
A beautiful bath house serves as a park focal point and is designed to be multi-seasonal. In summer, it functions like a traditional bathhouse with a pool shower and locker area. In winter, it can be used for parties and other events, in addition to a warming house for the ice skating arena.
The site was regraded to provide dual benefits. A sledding hill was created, and stormwater runoff was directed into a detention pond so the new park did not increase stormwater runoff. This also helps keep the site usable at all times of the year by improving overall site drainage.
A new competition pool, zero-depth entry and training pool and various speed water slides allow this new aquatic area to be used by community members of all abilities.
Creative parking and traffic flow allows for users to access various parts of the park—and minimizes vehicles speeds to keep the park safe.
WATERFRONT DEVELOPMENT
Harbor Club Marina | City of Sturgeon Bay
The Harbor Club Marina was thoughtfully engineered by MSA marine waterfront experts, converting a formerly blighted property into the beautiful, bustling, boat-filled destination. This 150-slip marina includes a protective breakwater, floating concrete wave and ice diversion structure to protect the marina from ice flows in the winter months. Situated on the canal between Green Bay and Lake Michigan, this revitalized waterfront is the perfect means to welcome to visitors to the Door County peninsula.
Developing your dreams into reality.
Designing for environmental challenges like coastal storms, ice events, floods and droughts requires a strong, time-tested blend of experience and technical knowledge. Our planners, landscape architects, designers, engineers, financial advisors, and surveyors provide a comprehensive team for your project. As a group, we have over 75 years of waterfront development experience, and as members of several industry organizations, we stay current with issues and codes that affect designs and costs.
Pelican Rapids Boat Landing City of Rhinelander
Improvements to the Pelican Rapids boat landing include a new boat ramp, new ADA-accessible dock, new ADA-compliant restroom facility and parking.
West Bend Riverwalk City of West Bend
A revitalized 1,500-foot stretch of riverfront property featuring removed and replaced retaining walls, utility relocations, streambank restoration and a pedestrian bridge
Alton Marina | City of Alton
Alton Marina is a municipally owned 300-slip marina located above the last lock and dam system on the Mississippi River with access to many restaurants, a performance amphitheater and casino boat.
WaterfrontDevelopment WWW.MSA-PS.COM 27
Let's Take A Deeper Dive.
Mauston's Riverside Park along the Lemonweir River
A floating double-lane boat launch features a boarding dock and ample boat and vehicle parking all along the Lemonweir River.
Flood-proof open-air shelter near the river. A perfect place for a picnic, even in the rain.
ADA-accessible floating fishing pier. Op Op
During the first phase of this project, MSA designed a 10-footwide multiuse path (MUP) that posed it's own unique issue—it was in the floodplain.
Plenty of open greenspace draws in a mix of park activities, organizations and events at this Riverside Park.
An open-air, flood-proof band shell is the focal point of this park, providing shelter and seating for area entertainers—music that can be heard along the river valley.
New playground built within the floodplain, yet sustainable to the poor site soil conditions. Included here are also benches, bike racks and new playground equipment.
Op Throughout the park, several wayfinding and park lighting safety assets were added, including: LED fixtures within the shelters, decorative light poles at destination points and bollards along the path.
SPECIALTY FEATURES/ FACILITIES
Design to make things uniquely yours.
MSA is interested in creating not just places, but experiences. Our blend of park and recreational design, planning and landscape architecture means designing new and special places to gather. These locations are sometimes surprising retrofits or repurposed environments, but always delivering a hint of the unique. We've worked on skate parks and pocket parks, memorial gardens and pop-up plazas—spaces that define the character of a community and make it truly one-of-a-kind.
Café Zones Skate Parks Streetscaping
Broadway Café Zones
City of Wisconsin Dells
MSA worked with the City to revitalize Broadway by removing parking, extending the pedestrian zone and creating café seating, all guided by their newly identified River Arts District. The retrofit included replacing aged stamped concrete with decorative pavers, constructing curvilinear seat walls with mosaic tile insets, light bollards, under-cap lighting and charging stations.
Lake Delton Skate Park
Village of Lake Delton
The 6,000-square-foot facility consists of an in-ground bowl to accommodate free-flow staking, street course features, transition areas and other features to appeal to skaters of varying skill levels.
State Street Library Mall
City of Madison
Working closely with neighbors and businesses, MSA collaborated with the City of Madison to reconstruct State Street. This iconic element of the City accommodates bike, pedestrian and bus traffic. The American Public Works Association - Wisconsin Chapter presented a Project of the Year Award to the City, MSA and Speedway Sand and Gravel for this project.
30 MSA - Parks, Recreation and Open Spaces Statement of Qualifications
Community Plazas
Downtown Plaza and Fountain
Village of Lake Delton
The Village established and beautified the main intersection of its downtown area to create a sense of place. The northwest corner was constructed as part of the USH 12 reconstruction and included a plaza area with an identifiable sign for the Village. This corner was funded by a TAP grant. The Village developed the southeast corner by removing its deteriorated fire station and replacing it with a much-needed public parking lot, water fountain and seating area. Both plazas are heavily landscaped and illuminated at night with LED rope lighting.
Main Street Reconstruction City of Oshkosh
Updates to Main Street revitalized the City's historic commercial district in fulfillment of its downtown revitalization plan.
Oak Street Pop-Up Plaza City of Wisconsin Dells
This temporary/pop-up plaza provided the community with a central gathering space while assisting the City in experimenting with layout and programming before making a permanent investment.
Lisa Link Peace Park City of Madison
As part of a unique urban park redevelopment project, MSA designed the Visitor Center Building to be compact with good sight lines. The 1,000-squarefoot building contains public restrooms, a visitor information area and a police office.
Specialty Features/ Facilities WWW.MSA-PS.COM 31
FUNDING SERVICES
MSA provides multifaceted funding services to help you turn the vision for your community into a reality. We turn every stone to help you fund your project. We know the ins and outs of the programs, so we can help you bundle funding sources, manage timelines, and take care of the details to satisfy the fund requirements. With MSA's support, you can complete the projects you must, and deliver more of the projects you want, all while getting closer to the balanced, sustainable community you've always envisioned.
Public Funding
MSA's dedicated in-house funding experts assist in reducing the funding acquisition burden by finding funding opportunities, coordinating applications and fulfilling the requirements of funding agencies. We've helped our clients secure over $500 million in grants and low-interest loans to help offset the cost of infrastructure projects.
• Tax incremental financing • Grant writing • Grant administration
32 MSA - Parks, Recreation and Open Spaces Statement of Qualifications
MULTIMEDIA
In addition to parks and recreation amenities, MSA also offers services that can enhance your projects and add value to your investments.
Aerial Solutions
The pilots, surveyors, video editors and marketers who make up the MSA Aerial Solutions team are highly experienced with capturing aerial photos and videos that deliver a wealth of information about vast areas in a highly effective and efficient manner. These resources add value to a wide range of applications and can be used for analyzing infrastructure in real time and using sUAS technology for topographic survey, gaining a bird's-eye view of potential sites and make use of 3D modeling for planning and public engagement purposes. Photos can also do wonders for mapping and marketing projects.
Asset Management
Cloud-based GIS applications empower your parks and recreation staff to efficiently and systematically monitor park maintenance. Our asset management solutions can be easily scaled to fit your community's goals, all while keeping your data centralized and at your fingertips.
Modeling
With the help of 3D modeling, you will get a glimpse of different scenarios and truly bring your future projects to life. With this tool, public engagement and planning rise to a new level, whether attendees are physically at a session or viewing potential plans at home.
StoryMaps
Using the same cloud-based platform as our asset management solutions, an Esri StoryMap is an interactive, map-based application that allows you to overlay text, images and multimedia content.
Wayfinding and Informational Kiosks
Custom wayfinding and kiosks create a self-guided journey for visitors to your parks. From educating on the rich history of the site to enforcing community branding and identity, MSA can assist with planning, design and implementation to create a cohesive patron experience.
WWW.MSA-PS.COM 33
PUBLIC ENGAGEMENT
Our ability to implement effective, comprehensive public participation plans is one of the many reasons communities turn to MSA for their public engagement needs.
Decisions made by local governments affect the future of all those who live and work in the community. We are committed to helping governments and organizations understand the diverse needs and concerns of the public, non-profit organizations, business interests and local governments. Aside from community support, this process also lends itself to ensuring the final project reflects the community's ethos and vision for its future.
Public engagement generally consists of three related, and often overlapping, processes: information dissemination, dialogue, and citizen input. We specialize in working alongside our clients and selecting the best available methods to hear the voices of many citizens through the process. The type and combinations of methods selected will ensure a balance of informing, consulting, involving, collaborating, and empowering the public. Therefore, engagement can and should be accomplished by tapping into a variety of sources, including community and non-profit organizations, public officials, youth,
individuals with disabilities, mature citizens and those that have been traditionally underserved. Listed below are a few techniques we use to strengthen public involvement for your community.
Neighborhood advisory committees
Open houses
Pop-up booths at community events
Community surveys
Media relations
Project websites
Project newsletters/direct mailers
Neighborhood office hours
Stakeholder interviews/focus groups
Interactive community mapping tools
Door hangers/leave behinds
Translation of multilingual materials into other languages
Mobile apps for hyperlocal engagement
Dialogue
• •
•
•
•
•
•
•
•
•
•
•
•
•
Public Engagement
Information Sharing
Stakeholder participation 34 MSA - Parks, Recreation and Open Spaces Statement of Qualifications
Let's start a conversation.
Our comprehensive experience with projects of all sizes means that whatever you're imagining, we have the people who know how to make it happen.
Contact us to get the conversation started. And learn more about how MSA can be a trusted partner in meeting your community or development goals.
www.msa-ps.com