Holiday Edition 2022
Christmas home tours benefit care for children
Muskogee residents open homes to celebrate season
Candlelight tour an annual event that shines Enjoy a recipe or two shared at 'Friendsgiving'
MU
muskogeephoenix.com
SKOGEE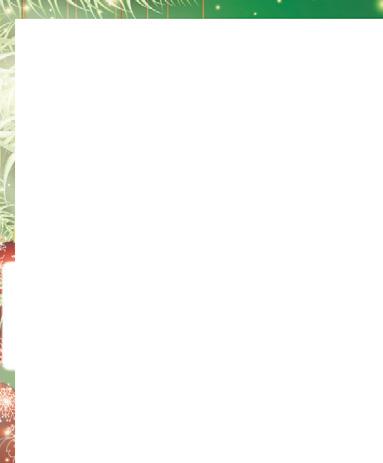 2 Holiday Edition 2022 918-401-9125 2421 SYork St, Suite 14, Muskogee, OK www.r oughneckr oofingllc.com OK Roofing Reg. No. 80005264 •Free Estimates •Fully Insured •Financing Available •Roof Replacement •Roof Repair •Flat Roof 24 K Merry Christmas from our family to yours!
3 Green Country Living centennial.edwardjones.com Member SIPC > edwardjones.com | Member SIPC Here's to all good things this holiday season, your Muskogee Financial Advisors. To New Beginnings! Kevin R White, AAMS® Financial Advisor 116 N 3rd St 918-681-4285 Mike Carman Financial Advisor 948 W Shawnee St, Ste 948b 918-682-1648 Melissa GoodmanNissley, AAMS® Financial Advisor 600 Emporia, Ste D 918-687-4786 T J Ellis, CFP®, AAMS® Financial Advisor 1411 S York St 918-682-4808 Sheri G Barton, AAMS® Financial Advisor 2108 N Country Club Rd 918-683-6892 Daniel T Miller, CFP®, AAMS® Financial Advisor 1010 N Main St 918-683-3801
Cathy Spaulding, Melony Carey
Mandy Corbell, Chris Cummings, Cathy Spaulding, Ronn Rowland
Angela Jackson, Therese Lewis, Kris Hight
Green Country Living is published by the Muskogee Phoenix. Contents of the magazine are by the Muskogee Phoenix. No part of this publication may be reproduced, stored in a retrieval system, or transmitted in any form or by any means, electronic, mechanical, photocopying, recording or otherwise, without the prior consent of the Muskogee Phoenix. Green Country Living, P.O. Box 1968, Muskogee OK 74402. email eridenour@muskogeephoenix.com - Editorial: (918) 684-2929 Advertising and distribution: (918) 684-2804
4 Holiday Edition 2022
MUSKOGEE muskogeephoenix.com Christmas home tours benefit care for children Muskogee residents open homes to celebrate season Candlelight tour an annual event that shines Enjoy a recipe or two shared at 'Friendsgiving' Holiday Edition 2022 Sarah Moschak and her dog Wilson enjoy a cozy setting in their Muskogee home. Wilson even has his own stocking.
6 28 66 58 Features 6 Daytime tour Residents open home in support of good cause. 28 Candlelight tour Homes light up during evening portion of the home tours. 54 Beyond the Listing 'Classic' Honor Heights house features modern touches. InsIDe 66 art of the Matter Professional artworks range from traditional to commercial. 78 Friendsgiving Friends join together with family for Thanksgiving. 87 scene & Be seen Chat, hang out, relax and smile because you're on camera. On th E C O v E r PublisHEr Ed Choate Editor
Contributing Editor
layout & dEsign
WritErs
I SS u E 68 Holiday Edition 2022 facebook.com/greencountryliving
Photo by Mandy Corbell
Elizabeth Ridenour
Angela Jackson
Joshua Cagle
PHotograPHErs
adVErtising salEs
Muskogee. It 's who we are.
Born and raised Muskogee proud. He's cared for his neighbors for 25 years, now, Donald is more than just a par t of the Saint Francis family—he's par t of our promise to improve the health of the communities we call home
Donald Mayes • Certified Surgical Technologist
5 Green Country Living