OCTOBER 2022
Madison Callaghan 704.915.5271 madison.callaghan@compass.com @madisoncallaghanrealty hendersonventuresinc.com
If you are looking for a fun night out with the perfect blend of laughter and learning about the history of the city, then you've found it! Bring your own beer and wine as we tour cool, hip neighborhoods with a comedian as your host. Whether you are visiting or a local, you'll enjoy exploring the city on this unique and hilarious 90-minute bus tour. Laugh and learn with us on your next date night, girl's night out, entertaining guests or just to kick start a night on the town. We also do private tours!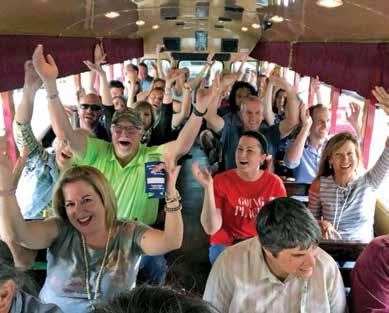 COMEDY CITY TOUR funnybus.net | 704-659-3186 @ funnybus
MORE THAN A GYM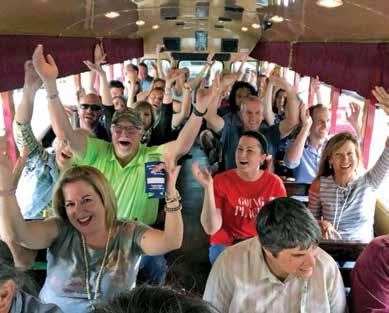 704-626-7515 | 631 Brawley School Rd. | Mooresville, North Carolina 28117
Orangetheory is a science-backed, technology-tracked, coach-inspired group workout designed to produce results from the inside out. BOOK A WORKOUT!
As a two-time breast cancer survivor, October has always been a special month for me - it's Breast Cancer Awareness month. The journey isn't always easy, but I'm so grateful to have experienced something that showed me how precious each and every day is. I've met so many wonderful women along the way and am in awe of their strength, determination and ability to stay positive in the face of this horrible, deadly disease. If you are a survivor, or know one, plan something this month to celebrate Breast Cancer Awareness. There are walks, runs, golf games, raffles, fundraisers, concerts and more so you shouldn't have any trouble finding a way! In fact, check out Celebrate the Ta Tas Tournament of Champions article on page 62, and mark your calendars for Oct 15-16th. Most importantly Breast Cancer won't wait until October, so please don't forget to schedule or remind a loved one to schedule their annual mammogram.
We are so excited about how well received our first edition of LKN has been and the support we've received from this wonderful community. They've been flying off the shelves and we've received so many calls from readers, friends, family and local businesses with positive feedback. We've got interviewers interviewing, writers writing, editors editing, photographers taking photographs, designers designing, and so much more! If you aren't already, be sure to follow us on social media @lknmagazine!
We're thrilled to bring you our first-ever Home Issue! What does that mean? It means we have this issue chock full of content focused on everything home related! We have you covered… home mortgages, tiny home sales and rentals, home decor, fabrics, furniture and so much more! If you're interested in participating in our next home issue in the spring, send me an email! Keela@lkn-magazine.com.
PUBLISHER
Keela Johnson
Keela@lkn-magazine.com
EDITOR
Brooke Eagle Brooke@ForsythMags.com
CHIEF SALES OFFICER
Kasey Jamison Thompson
Kasey@lkn-magazine.com
SALES & MARKETING
Barbara Minor
Barbara@lkn-magazine.com
ADVERTISING
Advertising@lkn-magazine.com
PHOTO BY CARRIE ALLEN
We are delighted to feature Dynamis Estate Wines in this issue. We had an incredible time at the cover shoot, watching their team in action. Getting there is so easy! It's located right off highway 77! When you turn in to the Estate, it's the most beautiful drive and scenery you can imagine - it's like you've been transported to a villa of peace and serenity (and wine, of course!). When you have family and friends in town, this is a must-visit! Be sure to tell them Keela sent you!
Thank you to our amazing team Barbara Minor, Brooke Eagle, Kasey Jamison, Rocky Thompson, Robin Shupe, Martie Emory, Carrie Allen, Aron Daniels and Michelle Hyatt! Without them, LKN Magazine certainly would not be possible. The support from my family, friends and neighbors has been beyond amazing. And a special big shout out to my hubby, Tim - without his support in every part of this I know I would be lost!
Have an idea for something you'd like to see in a future issue of LKN Magazine? We'd love to hear from you!
"In a magazine, one can get from cover to cover- 15 to 20 different ideas about life and how to live it." - Maya Angelou
Happy Reading, Keela Johnson Publisher
EDITORIAL DIRECTOR
Robin Shupe Keller
BACK OFFICE & VIRTUAL ASSISTANT
The Office Nerd, Denise Heidel
COVER PHOTOGRAPHER
Carrie Allen, LLC
LEAD PHOTOGRAPHER
Carrie Allen, LLC
CONTRIBUTING PHOTOGRAPHERS
*credited throughout accordingly
CONTENT EDITORS
Kim Beane
Robin Shupe Keller Meghan Corbett
SENIOR STAFF WRITER
Martie Emory
OTHER CONTRIBUTING WRITERS
Jessica Grimsland
Taryn Jerez
Jean Marie Johnson
Michael Johnson Chelsea Kowalski
Carolyn S. Peterson
Rocky Thompson
Kasey Jamison
Robin Shupe Keller
Talia Goldman
John Chandler
Lauren Sephton
*others credited throughout accordingly
GRAPHIC DESIGN & PRODUCTION
Emerson Designs
WEB DESIGN/ MAINTENANCE
McIlwraith Enterprises, LLC
CONTACT
Lkn-Magazine.com 888-892-3204
LKN Magazine Disclaimer: Please note that the inclusion of stories and articles in LKN Magazine magazine does not imply endorsement of products or people. The views of the authors are presented for information and entertainment only, and may not necessarily reflect the views of LKN Magazine. Specifically, LKN Magazine in no way endorses any claim associated with health and/or well being with respect to any particular person. We disclaim all warranties, express or implied, including, but not limited to, implied warranties of merchantability and fitness for a particular purpose. We will not be held responsible or liable, directly or indirectly, for any loss or damage that is caused or alleged to have been caused in connection with the use of, or reliance on, any content in this magazine. LKN Magazine reserves the right to deny any advertisement or listing that does not meet LKN Magazine standards. Submissions are welcome but unsolicited materials are not guaranteed to be returned. LKN Magazine assumes no responsibility for information, products, services or statements made by advertisers or editorial contributors. All rights reserved. Reproduction in whole or in part without written permission from the publisher is prohibited. ©2022 by LKN Magazine, Inc.
Keela
6 | lkn-magazine.com