DECEMBER 2022
live playfully
This is what life is supposed to feel like. When you aren't held back. When you have a health partner that doesn't just treat part of you — they care for all of you. At Atrium Health, we're bringing you the most complete care, so that you can get back to the moments that matter most. That's what it means to live fully.
GOLDMAN CENTER for Facial Plastic Surgery With Offices Serving the Piedmont & High Country 108 Dornach Way | Advance, NC | (336) 245-9595 Kinderton Village – across from Bermuda Run 717 Greenway Road | Suite A | Boone, NC | (828) 278-9230 FacialPlasticSurgeryNC.com Facial Rejuvenation | Minimally Invasive Surgery Skin Rejuvenation & Fractional Laser Therapy Fillers & Injectables | Hair Restoration Surgery Aesthetic & Functional Nasal Surgery NEAL D. GOLDMAN, MD Double Board Certified Facial Plastic Surgeon
F45 f45training.com/winstonsalem | 336.703.7556 winstonsalem@f45training.com | @f45_training_winstonsalem 486 N Patterson Ave, Suite 125 | Winston-Salem, NC 27101 FUNCTIONAL TRAINING Strength, Hybrid & Cardio Full Body Workouts 45 minutes TEAM TRAINING Build community & accountability 1 on 1 coaching in a group training environment ALL ABILITIES Programming designed to cater to all abilities in 1 class!! WINSTON-SALEM COME TRY US OUT!
336-766-7440 | FraleighsBoutiqueNC.com Monday-Friday 10am-5pm | Saturday 10am-4pm | 2626 Lewisville-Clemmons Rd. Clemmons, NC 27012 From Casual Holiday Parties to Formal, Fraleigh's has you covered! Join Us for our Holiday Open House December 1-3 Store Specials • Treats • Complimentary Gift Wrapping • Giveaways
YOUR SPACE. YOUR PLACE. Workout in your own personal station at the cleanest place in town! Try a FREE introductory class to feel the benefits for yourself! CLUB PILATES WINSTON-SALEM 336.717.1222 • clubpilates.com/winstonsalem • winstonsalem@clubpilates.com 371 Lower Mall Drive Winston-Salem, NC Free Intro Class!
December. A time to reflect on the year.
When December rolls around, I love going through the camera roll on my phone and compiling my "favorite" photo from each month of the year. It's a great gratitude exercise and if you are like me and don't have a "best" memory, it's always fun to look back through the year. I made a point to take a good amount of video clips instead of just photos these last 11 months. I love the way a video can truly take you back to that moment even better than a still shot can. I've included a few of my favorite photos from 2022 here—it was one big, eventful, exciting year!
Some of the high points included: lots of DIY home projects in our new home, the inaugural Women on the Move Leadership Conference, watching several of my friends become moms for the first or second time, launching our fourth publication, LKN Magazine, putting on our largest ever Tour de Boutique event and last but certainly not least, officially opening the doors to Washington Park CrossFit! As I'm writing this, it's still early November… so I have no doubt this year still has even more good things to come! While all the things I mentioned are "big" moments, I'd be remiss not to mention those little moments, too. The dog walks around the neighborhood, late nights spent at the gym getting it ready to open, boat rides on the lake with my family. I've said it once and I'll say it again—those little moments are what's important. None of the big things would matter without those seemingly "unimportant" little moments trickled in.
The December issue is a special one! Our team has poured hours upon hours of hard work into making this issue a resourceful, insightful and inspiring magazine for you to enjoy from cover to cover. You know we are always going to encourage you to "shop local" and the holiday gift guide on pages 96 –103 is a perfect resource for doing just that.
We've featured the beautiful Rachel Morales on our cover this month. Rachel is the owner of Evelyn Rose Boutique, an adorable store tucked in the heart of Burke street in downtown Winston-Salem. You can read all about Evelyn Rose Boutique on page 68.
Mark your calendar for Girls' Night Out on Wednesday, December 7th at Butcher & Bull! Curious what the food is like? We had the pleasure of featuring Butcher & Bull as our Foodie Review for this issue and let me tell you, it did not disappoint! You can read about the delicious new menu (and see some pretty darn amazing photos) on page 55. And the best part about this month's GNO event? Butcher & Bull is going to be
completely decked out in Christmas décor. Quite literally from floor to ceiling. You won't want to miss this one! Learn more and find out how to make your reservations on page 51.
I'd like to close with a heartfelt THANK YOU to the publisher of Forsyth Family, Robin Bralley. I've considered Robin another "mom" in my life for as long as I can remember.
She's kind, genuine, a sweet soul and a woman of tremendous faith. December marks her last issue as publisher of Forsyth Family, but don't worry, she is still very much on our team and you'll see her around town distributing magazines among other things.
While December can be a cheerful season, it can also be a tough season for some. I encourage you to remember that as you are doing your Christmas shopping and planning your holiday events. No matter the time of year, I believe it's always important to give everyone a little grace as we never know what others may be going through. Whether it's refraining from road rage or holding the door open for a few extra people—these little gestures of kindness can go a long way in our world.
PUBLISHER
Brooke Eagle
Brooke@ForsythMags.com
EDITOR
Keela Johnson Keela@ForsythMags.com
SENIOR ACCOUNT EXECUTIVE
Tamara Bodford
ADVERTISING
Advertising @ForsythMags.com
EDITORIAL DIRECTOR
Vonda Henderson Robin Shupe Keller
BACK OFFICE & VIRTUAL ASSISTANT
The Office Nerd, Denise Heidel
COVER PHOTOGRAPHER
JEJ Photos
CONTRIBUTING
PHOTOGRAPHERS
JEJ Photos
Jodie Brim Creative
Megan Black Photography
Photo Artistry by Melinda
*others credited throughout accordingly
CONTENT EDITORS
Kim Beane
Meghan Corbett (Assistant)
SENIOR STAFF WRITERS
Martie Emory Carolyn Peterson
OTHER CONTRIBUTING WRITERS
Karen Cooper Candice Deal June DeLugas Anne Glenn Denise Heidel Amy Hill Taryn Jerez Jean Marie Johnson Debbie Lanier Kelli Messick Susan Schabacker Lauren Sephton Erika Taylor Megan Taylor Sheridan Watkins
*others credited throughout accordingly
GRAPHIC DESIGN & PRODUCTION
Brooke Eagle, Publisher
Stefanie Lyons WEB DESIGN/ MAINTENANCE McIlwraith Enterprises, LLC
CONTACT ForsythWoman.com 888-892-3204
Forsyth Woman Disclaimer: Please note that the inclusion of stories and articles in Forsyth Woman magazine does not imply endorsement of products or people. The views of the authors are presented for information and entertainment only, and may not necessarily reflect the views of
Forsyth Woman. Specifically, Forsyth Woman in no way endorses any claim associated with health and/or well being with respect to any particular person. We disclaim all warranties, express or implied, including, but not limited to, implied warranties of merchantability and fitness for a particular purpose. We will not be held responsible or liable, directly or indirectly, for any loss or damage that is caused or alleged to have been caused in connection with the use of, or reliance on, any content in this magazine. Forsyth Woman reserves the right to deny any advertisement or listing that does not meet Forsyth Woman standards. Submissions are welcome but unsolicited materials are not guaranteed to be returned. Forsyth Woman assumes no responsibility for information, products, services or statements made by advertisers or editorial contributors. All rights reserved. Reproduction in whole or in part without written permission from the publisher is prohibited. ©2005 by Forsyth Woman, Inc.
Wishing you the best holiday season and a Happy New Year!
the publisher perspective 10 | ForsythWoman.com
SHOPEVELYNROSEBOUTIQUE.COM 916 Burke Street Winston-Salem, NC | Tuesday-Friday 11-6, Saturday 11-5, Sunday & Monday Closed @theevelynroseboutique
54 68 Shop Local 16
the Holidays Simple 18
Sweet Spot: A Second Taste 80
Great Movies: Holiday Edition 86 Toys for Tots 88 Holiday Gift Guide 96 Women on the Move 106 12 | ForsythWoman.com
Keeping
COVER STORY: Classic. Feminine. Fun. Evelyn Rose Boutique 68 The
Eight
104 22 20 90 84 58
Keeping It Real
A HUMBLING INVITATION
BY DR. DEBBIE LANIER
WOW! How humbling yet empowering, too!
This All-Knowing Father is fully aware of our frailties. He knows we spill milk, drop dishes, and break things into a thousand tiny pieces. (You know it's true!) We carry this proclivity to try things all by ourselves until we're clobbered by our own arrogance.
There are some things we CAN'T do without God. And there are some things God WON'T do without us!
This Loving Father extends Promises to us throughout each page of Scripture. But friends, these promises are not guarantees; they are invitations. God invites us to partner with Him to establish that promise in our living and into our world! He could do it entirely on His own with His hands tied behind His back. Yet God welcomes us to labor WITH Him, not merely FOR Him.
Laugh if you want, but I STILL bake Christmas cookies with my grown children. We've laughed and loved through this tradition since before they were old enough to remember the memory!
My heart smiles to remember those little flour-smudged faces and sprinkle-filled floors. Oh, the mess! But oh, the delight! The sweetness of those moments surpassed the sweetness of the cookies (and still does).
Any sane person watching this exhilarating catastrophe might surely wonder why I didn't just bake the cookies myself. After all, I could have accomplished twice as much in half the time without needing disasterrelief afterward.
Sure, if the goal was strictly to create cookies, it would have made perfect sense to zip proficiently through it myself. But sheer delight transpired from deepening bonds with my children as we teamed together. Those moments brought combustible joy to my heart (and still do)!
Does it sound blasphemous to consider that God desires to partner with us, too? We're talking about the Creator of every good thing in our life, the One who formed us in our mama's womb! THAT God!
The One who possesses ALL Power and ALL Knowledge...this Good Father is in need of NOTHING! He's utterly self-sufficient! He's the God who was here long before there was anybody here to tell Him He was God! This Magnificent King actually chooses to partner with US! Don't believe me? Check out God's take on the matter . . . .
"WE ARE COWORKERS WITH GOD and you are God's cultivated garden, the house He is building."(1 Corinthians 3:9 tPt) While He could do anything effortlessly Himself, God so delights to be with US that He'd rather clean up the mess we make than do it without us!
C.S. Lewis wrote, "For He [God] seems to do nothing of Himself which He can possibly delegate to His creatures. He commands us to do slowly and blunderingly what He could do perfectly and in the twinkling of an eye." (The World's Last Night and Other Essays, p.8-9)
But why? He simply likes it better when we do it with Him. It's that simple! This Loving Lord rushes to pick up even the pieces we've shattered beyond recognition, so we can get back to doing that thing with Him! What a Father! Friend, I don't know what promise from God you're waiting to see fulfilled. But the Lord sent me today to nudge you into action. He's waiting on US to get in the kitchen with Him! Let's roll up those sleeves and get to baking!
For comments or prayer, contact Dr. Lanier at PastorDebbie@HopeCommunityChurch.tv.
14 | ForsythWoman.com
151 S. Stratford Road | Winston-Salem, NC 27104 | 336.724.9800 | MidtownCafeWS.com New Fresh Look. New Extended Weekend Hours. New Coffee Bar Menu Same Great Hospitality Long holiday to-do list? We have you covered for holiday desserts! Preorder today!
Here's a question for you: When is it a good time to shop local? Consider these answers and choose your favorite: EVERY DAY.
ALL THE TIME. RIGHT NOW. ON DAYS THAT END IN Y. WHEN THE SKY IS BLUE.
In other words – it's ALWAYS a great time to shop local. Recent years have reminded us of the importance of supporting our small business community. And moreover, local retailers have engaged their customers in new ways, making it easier than ever to shop small. If holiday shopping convenience is a priority for you – you have local options. Check your favorite stores' websites and social media accounts. They've gotten quite savvy at making shopping fun and convenient!
But don't just stay online! Go! Visit the store! Local retailers are thankful when you come see them. After all – as great as Amazon is – they aren't going to ask you about your day…. They aren't going to help you choose the perfect gift for your mother-in-law…. Amazon
isn't going to ask how she liked it next time you see them…
Maybe you aren't even gift-buying. Perhaps you need a new outfit for an interview or a first date! Amazon isn't going to ask you how the interview went, nor will they make recommendations about how to accessorize. They definitely won't direct you to the awesome new hairstylist who can help tame those locks!
Most of all, Amazon isn't going to light up with a smile when they see you coming! And seriously – isn't it nice to see someone who is excited to see you?
At the heart of shopping local – you're investing in the community. YOUR community. You're supporting your neighbors. And if you shop in our local establishments frequently enough – you're supporting your friends.
Doing a small thing like shopping local matters. It's a give and receive situation…. They have curated unique products and services… And when we show up and shop with them, we've given them the best gift – our support. It's a circle of giving that makes our community a stronger and better place.
SO SHOP SMALL. SHOP LOCAL. SUPPORT YOUR COMMUNITY.
16 | ForsythWoman.com
Keeping the Holidays Simple
How to Have More with Less
BY KAREN COOPER
Some people seem to thrive on the chaos of the holidays, soaking up all the hustle and bustle, the parties and the planning, the shopping, the decorating and all the other things on their "to-do" lists. For others, however, just the anticipation of the holidays can feel very stressful and overwhelming. Rather than feeling joyous, the holidays begin to feel more like an obligation and a chore.
Instead of falling into the trap of all the turmoil and frustration this year, take a deep breath and read on for some specific ways you can simplify your holiday season with intention and alleviate a lot of stress.
Adjust your expectations
Taking the step to adjust your expectations and perspective goes a long way in simplifying the holidays.
There's no need to produce a Pinterest perfect holiday season that will leave you feeling exhausted. Keep things realistic and think about what's most important to you and your family. What the people you love will remember is not the way everything looked or how many kinds of cookies you baked… or even if the house was expertly decorated. They will remember the time spent together talking, laughing and enjoying each other. They will remember sharing meals together whether it be a cheese board, or a feast fit for a king. If you love to bake…bake! If you love to prepare holiday meals…. go to town in the kitchen. If decorating is your passion…go crazy! However, if these are not your favorite things, there are many places you can purchase fully prepared meals and baked goods. The house will look wonderful with just a few well-placed decorations. Let yourself off the hook this year if the stress of decorating or cooking is causing you to lose your motivation to do any of it.
Keep your focus on gratitude
Remembering to stay grateful and in the moment can go a long way to keep your perspective positive during the holidays. Take time to notice and appreciate the simple joys going on around you. This may be having
special family and friends coming together, sitting by the fire, and watching a favorite holiday movie, taking time to enjoy a special family holiday tradition or anything that makes you feel comforted and at peace.
Remember that your and your family's holiday memories won't likely be about what gifts were exchanged or how big the tree was. What you will remember and be most grateful for is the time you all spent together doing things you love to do. Will there be a family board game night, a holiday movie marathon, a drive through town to look at who has the best decorations, roasting marshmallows by the fire, or maybe a gingerbread house building contest? What memories would you like to make this year? Keep your eyes and your heart open to notice and feel grateful for all these precious times together.
Know what you don't need to stress about
To keep things simple, it's important to know what your priorities are. And even more specifically, what you absolutely choose not to do this holiday season and not to stress about. Having clarity on these things will give you guidelines to refer to if you start to feel anxious or pressured about a holiday activity you're not sure is important to you. Being intentional about simplifying how you spend your time involves accepting that you can't do everything! You need to pick what is most important to you, focus on those things, then let the rest go. This may mean that you miss the neighborhood party in favor of spending more time with a kid who just returned home from college. It may mean that you decide not to travel a long distance
this year because that's just too draining. Only you know what your biggest priorities will be.
When all is said and done, you will be glad you let go of the unrealistic idea of a "perfect" holiday season. Perfection doesn't exist anywhere! If you can shift your perspective to focus on the priorities you have chosen, you will find that the holiday season can be simple, joyous, and memorable in a way it may not have been before.
18 | ForsythWoman.com
Best Asian Restaurant & Runners Up Sushi 2020 WEEKLY DRINK SPECIALS Tuesday all moscow mule cocktails $2 off Wednesday all mojito cocktails $2 off Thursday half price wine by the glass Friday & Saturday bottled beer $1.50 off and draft beer $2 off Sunday mimosas and bloody marys $6 half price flavored sake by the glass NEW: Biggest Sake Selection in the Triad. More than 20 different Sake available. (336) 893-8178 | hakka-chow.com 615 Saint George Sq Ct | Winston-Salem, NC 27103 (Right off Hanes Mall Blvd. across from the Wynnsong 12 Movie Theater) Monday Closed Tuesday -Thursday 11:30am - 9:30pm Friday 11:30am - 10pm Saturday 12pm - 10pm Sunday 12pm - 9pm Winner Best Asian Best Sushi Runner Up
Hi! I'm Lauren. I'm a freelance writer, a food blogger and the official Forsyth Mags Foodie! Stay tuned each month to find everything from achievable dessert ideas to healthy, quick dinners that'll happily feed the family.
@brightmomentco | abrightmoment.com
BY LAUREN SEPHTON
1 Hour Soft Cinnamon Rolls
(Heavy Cream Hack)
Servings: 12 Prep time: 20 minutes
Rising time: 20 minutes Cook time: 18 minutes
INGREDIENTS
For the Dough:
• 1 cup Warm Milk
• 1 tbsp. Instant Dry Yeast
• 2 tbsp. Brown Sugar
• 1 tsp. Fine Sea Salt
• 3 tbsp. Softened Butter, or Olive Oil
• 1 large Egg
• 3 cups All Purpose Flour
• 2/3 cup Heavy Cream
INSTRUCTIONS
For the Cinnamon Rolls:
1. Preheat oven to 200F.
For the Filling:
• 1/2 cup Softened Butter
• 1 cup Brown Sugar
• 2 tbsp. Ground Cinnamon
For the Icing:
• 4 oz. Cream Cheese, softened
• 1/4 cup Salted Butter, softened
• 1 cup Powdered Sugar
• 1/2 tsp. Vanilla Extract
• 1 tbsp. Milk
2. In the bowl of a stand mixer, combine the warm milk, yeast, and sugar. Lightly whisk together, then set aside for 6-8 minutes to activate the yeast.
3. Add the egg, salt, and butter. Whisk to combine.
4. Add the flour. Using the hook attachment, knead the dough on LOW for 2 minutes. Increase speed to Medium-High to knead for 5 more minutes. The dough should be soft and pliable. Adjust with milk (if too dry) or flour (if too sticky), if needed.
5. Cover with Saran Wrap and let the dough rest in the oven with the light on for 10 minutes.
6. While resting, lightly flour a clean surface.
7. Roll out the dough 12"x18" rectangle, about 1/4" thick.
8. Spread the softened butter evenly over the dough. The butter shouldn't be melted but should spread over the dough easily.
9. In a small bowl, mix the brown sugar and cinnamon together. Sprinkle the mixture evenly over the buttered dough.
10. Roll up the dough tightly.
11. Cut the cinnamon rolls using a thin string or dental floss to be 1 1/2" - 2" thick slices.
12. Place into a lightly greased pan. Cover with Saran Wrap.
13. Turn the oven OFF. Place the cinnamon rolls in the heated oven to rise 20 minutes.
14. After 20 minutes, quickly pour the heavy cream over the cinnamon rolls. Then place back into the oven.
15. Leaving them in the oven, turn the oven ON to 375F. Bake for 18-20 minutes, until brown on top (like visual above).
For the Icing:
1. Beat the softened cream cheese and butter until light and fluffy, about 1-2 minutes.
2. Add the powdered sugar and milk. Beat until soft and fluffy, about 1-2 minutes.
3. Fold in the vanilla extract.
4. Let the cinnamon rolls cool for 2-3 minutes before adding the icing. The icing should melt and become a beautiful glaze on top. Enjoy warm!
20 | ForsythWoman.com
SHOWCASING THE STORY BEHIND THE BRAND PHOTOGRAPHY VIDEOGRAPHY for business owners jodiebrim.com | 336.997.9487 | @jodiebrim 405 N. Cherry Street, Winston-Salem
Jodie Brim, Photographer
+ Creative Director
BY TARYN JEREZ
A monthly column that keeps its finger on the pulse of Forsyth's artists and their inspiring stories!
Elizabeth H. Myers | Watercolor Artist
This month's featured artist, Elizabeth H. Myers, has both passion and talent for capturing everything from love stories and legacies to milestones and everyday magical moments in her one-of-a-kind watercolor prints and portraits.
How would you describe your work?
I truly enjoy capturing the essence and uniqueness of each home and making that the heart and focus of the painting. My focus is on capturing the color palette and details of the main object I am recreating for my customers. My style works with white space and uses it to complement the focal point of the painting. For instance, with my house portraits, I embody all the unique characteristics of the home and focus on them as well as making aspects like the landscaping vibrant and colorful.
What influences your art most?
As someone who has a creative eye, I am constantly on the lookout for things that inspire a piece of artwork. Things in even our day-to-day lives can stand out as something that would transfer well to paper. An example of this would be one of my home décor style designs, which is a simple blue KitchenAid mixer. This piece is just one of many paintings that have been inspired by items that you would find around your home! I think that is what is really special about art; anything and everything can be an inspiration. It just might take seeing it a certain way at a certain time!
How have you evolved, personally, as an artist?
Looking back and seeing where I started in my watercolor journey is simply amazing. Four years ago when I first started painting as a hobby, I truly never envisioned myself being where I am today! Just a few months ago I was able to quit my full time job to pursue my art business as a career. This itself shows how much I have been able to grow over the years. It is such a blessing and I am so grateful to be living out my dream! Painting is truly a God given talent I never knew I had!
Time has allowed me to grow, learn new techniques that work well for me, and understand watercolor even more. My styles have changed and improved with each piece along the way. It is so neat to look back at how my paintings looked in the beginning and then to see how they look now!
What is your favorite thing about creating such personal, special pieces?
My custom house portraits are by far my favorite style of painting that I create. These are so humbling to be able to paint for my clients because houses, in most cases, are so much more than just that. A home is one of the most personal and special places you can have in your life. The walls of a home hold memories, tell a story and provide a safe space where one can be fully authentic - it's where love grows and is nourished! To be able to be a part of this and help tell someone's story is truly remarkable and I am so thankful for each and every one I have had the honor of painting.
How do you carve out time to be creative?
Working full time for myself has opened a whole new world of opportunity for painting! It is amazing being able to fill the entire day by working on projects I enjoy and I am excited about. Each day is different depending on what steps need to be completed, but overall it has been really easy to stay motivated! When you get the chance to do a job you love, it really doesn't even feel like "work" and for this I am so very grateful!
What are you working on that excites you right now?
Since we are coming up on the holiday rush, I am most excited about the challenge of getting all of my Christmas orders fulfilled! Every Christmas, my list grows and this holiday season is a busy one! For me, the hustle and bustle is just part of the fun! It is exhilarating and brings me such joy. Knowing that a special house portrait, love story or framed piece will be given to a loved one at Christmas is the fuel I need to get it all done and make it happen!
What is one piece of advice you'd like to share with fellow artists?
An important thing to remember when you are just getting started as an artist, or even for artists who have been in the business a long time, never give up. Some days can be harder than others and artist block can be a real thing! If you stay dedicated and keep pushing through it is all worth it in the end. For artists that are just starting up and dipping their toes in the water, don't be afraid to put yourself and your product out there! Don't give in to the fear, lies and intimidation that can steal the fun out of creating unique and beautiful artwork! You were made for this!
If you are interested in learning more about Elizabeth, you can follow her on Instagram @e.hollanddesigns. You can also check out her work locally at Twin City Euro at 3480 Vest Mill Road in the "shop local" corner in their lobby.
22 | ForsythWoman.com
GOLDMAN CENTER for Facial Plastic Surgery
Seeing a Smi le in te Mirror!
BY MARTIE EMORY
method – a lower face lift with an experienced surgeon – really provides the best and most long-lasting results, Dr. Goldman explains.
He and his exceptional staff use computer imaging to project the patient's face and neck area from all angles, and then address – with as much honesty as possible – any potential limitations. This is a professional team who is intent on listening to a patient's concerns, and putting them immediately at ease. With good communication, their goal is also to give patients a realistic view of what they can expect afterwards.
"Most of our face lift patients are in their 50s, 60s, 70s and 80s, but many people begin to examine their necks while still in their 40s," says Dr. Goldman. "It is not about the patient's age, but rather about his or her overall health and outlook on life that makes for a good candidate."
Above: Before, Right: After
Feeling confident can be a game changer in life, and self-care should always be a priority, no matter how busy or overwhelmed you may feel!
You might be surprised to learn that facial procedures became increasingly popular during the pandemic. Not only did we have more time to dwell on what we saw in the mirror (and on Zoom calls!), but we certainly needed the distraction of something that hinted at a brighter future.
Dr. Neal Goldman of the Goldman Center for Facial Plastic Surgery will tell you his practice is still seeing a steady interest in face and neck lifts. For most women, these are the two areas most notably marked for improvement, and his practice is 100% specialized, and limited to cosmetic, aesthetic, and reconstructive facial surgery.
"I've been taking care of aging faces in Winston-Salem since 1999," says Dr. Goldman. "People always ask if a face lift or neck lift is the only answer for lifting jowls."
And if you're not familiar with the term jowls, here's what happens. As we age, the soft tissue and skin of the lower face begin to descend. Fillers are temporary treatments that can work for early signs of jowling, but the most fool-proof
While the inevitable loosening of skin is a given as we age, key factors such as genetics, sun exposure, stress, and diet can definitely accelerate the process. A face lift is designed to remove excess skin and fat, while repositioning the skin, muscle and deeper tissues.
Above: Before, Right: After
Above: Before, Right: After
Even with many women working from home now, patients are still interested in minimizing downtime, and often ask about a possible mini-lift or a weekend face lift.
"Every individual should do what's best for him or her, based on their current situation," says Dr. Goldman. "We can provide a quicker recovery period with more subtle results with a mini-lift that addresses the skin, but not the muscle layers, or we can perform a more traditional face lift which has a longer recovery, but will give the incredible long-lasting results that women (and more and more men!) seek.
Dr. Goldman and his staff are always available to discuss your best options for looking your very best!
The Goldman Center for Facial Plastic Surgery is located at 108 Dornach Way, Advance, NC, 336-245-9595, and at 717 Greenway Road, Boone, NC, 828-2789230. Visit FacialPlasticSurgeryNC.com to learn more about their services. Dr. Goldman is double board certified with both the American Board of Facial Plastic and Reconstructive Surgery and the American Board of Otolaryngology Head and Neck Surgery.
24 | ForsythWoman.com
are in the Novant & Atrium Health Wake Forest Baptist Networks
We
111 Hanestown Court, Suite 151 Winston-Salem, NC 27103 336.765.9350 445 Pineview Drive, Suite 110 Kernersville, NC 27284 336.993.4532
Happy Holidays from the Lyndhurst Family! Delivering Care for Generations… lyndhurstgyn.com
1908 Caudle Road, Suite 101 Mt. Airy, NC 27030 336-789-9076 304 Mountainview Road King, NC 27021 336-765-9350
BY MEGAN TAYLOR
Don't Forget to Include These People on Your Holiday Gift List
The holidays are a busy time with various annual activities. One is shopping for all of the recipients on your holiday gift list. When it comes to creating the list of who to shop for and what they are getting, most of the time people think of their family and friends. Yet, there may be others to add to your list. Sometimes neighbors, mail carriers, co-workers, hairdressers, etc. are left off the list, but still hold a valuable spot in your life. These are the people who complete a service for you or are an important part of your life. Because of that, they should also be considered during the holidays to receive a gift of gratitude and fellowship. While it may not be realistic to purchase a gift for everyone in your life outside of your family and friends, there are still many ways to help make these people feel memorable. While gift cards are wonderful tokens of appreciation, there are many other ideas for simple and small gifts. Take a look at the list of people and gift ideas below. See who you may want to include on your holiday gift list.
LIST OF POSSIBLE PEOPLE TO ADD:
Neighbors
Mail Carriers
Babysitters
Teachers and Childcare Providers
School Bus Drivers
School Crossing Guard
Hairdressers and Nail Technicians
Co-workers
Handyman
First Responders
Service Men and Women
Garbage Collectors
Lawn Service Providers
Medical Providers
Cleaning Service
For many of these people, a heartfelt card will suffice. But, for the people who you interact with on a regular basis, a simple gift can go a long way.
GIFT IDEAS:
Oven-mitts filled with a package of cookie or brownie mix. Add in a festive towel or fun whisk or spatula and you have one tasty gift with all the needed essentials. Don't forget the cookie-cutters.
A tray full of homemade cookies or another sweet or salty treat. Homemade or store bought bread is always a favorite.
A mason jar filled with handmade hot chocolate mix. Another option is to place the mix inside a clear glass ornament with a cute ribbon tied on top.
Stovetop Potpourri in a Jar - The sweet smells of Christmas are all mixed together in this potpourri recipe that can be made in large batches. First, get the needed number of mason jars. Then, add the following ingredients:
Cinnamon sticks Whole allspice Whole cloves Rosemary Cranberries Orange Slices Whole Star Anise
Be sure to include instructions on the gift: place the items into water in a pot on the stove and let simmer.
A small arrangement of herbs that will grow during the winter or spring.
A personalized ornament that resembles the person you are gifting to. For example, a fun school ornament for a teacher.
COZY HAND WARMERS
Quick and simple to make with these instructions: Items Needed: Two Pieces of 3" x 3" cotton Fabric Uncooked Rice Sewing Supplies
Directions:
1. Sew together, inside out, the fabric pieces, but leave an inch open on one side to add in the rice.
2. Then, turn the squares right side out.
3. Add in the rice. Fill the square to about 3/4s full.
4. Finally, sew the hole together.
Include the following instructions with your gift: place in the microwave to warm for 25 to 30 seconds. Let cool for a minute, before using.
These gifts don't have to be big or expensive. Most of the time, these people are overlooked on holiday gift lists. A simple gift can have a big impact and valuable meaning that can last for many years.
. .
. . . .
26 | ForsythWoman.com
Winston-Salem 336.725.1999 nitsas.com 107 South Stratford Road, Stratford Village #wewearnitsas @nitsasapparel CELEBRATING PROM 2023!
Grumpy Grinch or Moody Scrooge
Stealing Your Christmas & Holiday Spirit? or Moody Scrooge or Moody Scrooge
BY SUSAN BB SCHABACKER
Feeling burned out and bedraggled by the bedlam of the holidays? It may be the happiest time of year for some, but it's also easy to be a grump in a slump. Grinch aside, whatever or whoever is getting you down, or if you're just feeling alone this time of year, hope this article helps offer you hope. Learn to lift your - and your loved ones' - spirits, despite how depressed you might feel.
'Tis a season for merriness and jollyness, but not everyone is feeling so bright and joyous under the surface. The commercialization of Christmas and the holidays, with ongoing family feuds, strained finances, mental illnesses and addictions, colds/flu, COVID, and harsh winter weather conditions can hamper health and happiness, but there is always hope.
It's a festive celebration of red and green, but before you yourself turn green and morph into an incredible hulk or grumpy grinch on the verge of stealing Christmas and sending those holidays to hell, consort with creative coping and find your solace as you reclaim and improve your life. If you're not getting green with anger and/or envy, you may be feeling blue.
Get Empowered: Jolly as Holly and Merry as a Berry as You Celebrate this Special Season
Make room for some "you" time. Listen to Sinatra singing "Have Yourself a Merry Little Christmas" or any music that embraces your ears and soothes your soul. Turn on the Christmas lights, light some candles, and sit by the fire as you sip and savor a cuppa of something comforting. Ask yourself what you'd rather focus on and then enjoy every aspect of the process, whether it's art therapy, music therapy, talk therapy, spa time, nap time, snack time, or whatever you feel is best.
While you're making your Christmas list of what you want, think beyond material, physical gifts. Instead, think of your deepest desires in life that don't fit under the Christmas tree or stuffed in a stocking. Whatever your religious or spiritual beliefs, prayer is powerful, and this is an ideal time to realize and decide what you want and then to
ask, so don't hold back from sharing what's on your mind and in your heart. Santa may not be able to fit everything into his overladen red satchel, so whatever you don't get this Christmas can be moved to another ongoing list.
And, good news for those with limited financial means. There are many ways to give that enable and enrich lives without requiring monetary means. You can metaphorically sow seeds of goodness in a garden that thrives, producing a harvest in any season. Ask for spiritual support to stay aligned, and focus your thoughts, words, and actions on amplifying and magnifying as much goodness as possible. Express your love for others through prayers, good vibes, a simple voicemail/ phone call/message or handwritten note, video chat or in-person visit, fresh flowers or herbs, and other gifts.
Find a quiet, warm, and welcoming environment and feel at peace. Grow your gratitude and hold onto hope, reminding yourself you're always loved, worthy, and uniquely beautiful. There's no one else in the world just like you and you have the ability to make our world a better place. Magnify your mindfulness, one deep breath and step at a time, as you affirm and amplify what's good, positive, and will move you forward.
Shift your focus to who and what ignite and inspire your inspiration, lift your spirits, soothe your senses, and sate your appetite. Celebrate everything that makes Christmas and holidays so special and unique. Fill your ears with your fav festive songs, enjoy beauty in the decoratively decked out, and feel good about treating yourself and your loved ones on this special occasion. Treasure every moment as you make more memories, fresh as evergreen of Christmas trees and wreaths that will linger on.
May you feel embraced and be empowered, whether you feel grumpy as a grinch or jolly as the holly and merry as old St. Nick. Experience true peace and joy of this special winter season, with the reminder of Christ's birth in celebration of the gifts of life, along with other important holidays!
28 | ForsythWoman.com
Pat's Body Shop & Towing Expands with Paint Shop and Scarlette's Performance and Parts
BY AMY HILL
Woman-owned Pat's Body Shop & Towing has been servicing the Triad for decades, operated by Sandra Scarlette, a true "Jill-of-all-trades." A force to be reckoned with, Sandra serves as nothing short of an inspiration for young women and striving female business-owners of all ages by letting her quality work speak for itself. In addition to Pat's Body Shop & Towing, Sandra developed a passion for drag racing and opened Scarlette's Performance and Parts earlier last year, which has been making big noise in the racing world ever since.
The Scarlette's Performance team provides services as leaders in their field, with a highly-trained and professional staff. Adrenaline junkies are drawn to Scarlette's Performance due to its full racing team. Joined by NASCAR crew chief of over 20 years, Randy Cox, and Big Dog Racer Bubba Turner, the high-speed team at Scarlette's will be a tough act to follow for fellow racing enthusiasts. Additionally, the team recently welcomed Copo Camaro driver Tim Taylor aboard. Sandra even drives her very own speed demon after attending drag racing school under the instruction of Bubba Turner.
Scarlette's Performance customers can receive services such as computerized tire balancing, high-performance engine modifications, dyno tuning, and more. Upon entering the Scarlette's Performance and Parts showroom, guests are immediately taken aback by the sleek black, red, and white decor, the stunning 1963 Corvette split-window on the showroom floor, and walls of awards and trophies lining the shop. The shop is truly one-of-a-kind in the Triad. It is the crown jewel of inventory, customer service, and quality automotive care.
After many months of planning and waiting for permits from the City, the Pat's Body Shop team built a brand new paint shop, which added a whopping 5,400 square feet,
two Blowtherm Down Draft automotive paint booths, and a new paint department to the roster. A new truck has also been added to Pat's towing fleet over the last year. Pat's currently services 100 cars on a weekly basis, with that number expected to increase as the space expands. Interested in joining the team at Pat's Body Shop & Towing? Sandra is currently searching for painters, auto body technicians, and collision repair technicians. Email resumes to patbodyshop@aol.com to apply.
Found on Sandra's properties are beautiful murals painted by tattoo artist Andre Phillip, which represent what Sandra loves the most (besides her family, of course): her pets, her cars, bodybuilding, and especially her late brother Pat Scarlette.
Sandra keeps her impressive collection of classic
& Hot Rod Expo in Greensboro to benefit Shriners Hospitals for Children, as well as the upcoming 2023 Expo. Sandra's team also participated in the 11th Annual Fun in the Sun Car and Truck Show in North Myrtle Beach, which draws in a huge crowd each year. In fact, the Scarlette's Performance and Parts team plans to travel out of state even more frequently for races in 2023.
Upon speaking with Sandra, it is no mystery how she feels about her career, team of employees and friends, and desire to keep growing. Although Sandra's hard work continuing to pay off may seem like a no-brainer to Sandra's nearest and dearest, she is still blown away by how her business has progressed each morning she pulls into the parking lot. She is so moved by the support from her community and team members that she becomes teary-eyed when asked to reflect on her years of dedication to her trade. Aside from her dedication and a supportive community, she attributes her success to God and His timing.
Interested in seeing what Scarlette's Performance and Parts has in store? Follow Sandra and her team on Facebook, and check out @scarlettes_ performance on Instagram to learn more.
PERFORMANCE & PARTS
cars carefully tucked away in her "She Shed," which consists of one room for car storage and another room for entertaining friends, family, and the public. In November, Sandra hosted a chicken stew and a cruise-in in her newly renovated She Shed, and looks forward to hosting more events in the future.
There is no doubt that Sandra's legacy is due largely in part to her virtues. Giving back to the community is important to Sandra and her employees, inspiring Scarlette's Performance to sponsor the 2022 Shriners Drag Racing
For all your automotive parts needs, call Scarlette's Performance and Parts at 336-946-9007. Stop by and visit the showroom at 5730 Country Club Road in Winston-Salem. For Performance, Mechanical and Dyno-Tuning, call 336-955-3099. They are located at 4961 S. Main Street in Winston-Salem. Visit www.scarlettesperformanceparts.com
For all of your collision repairs (Pat's works with all insurance companies), interior, or mechanical needs, call Pat's Body Shop & Towing at 336-945-3767, or stop by 5720 Country Club Rd. For towing, please call 336-999-3000. Read more online by visiting www.pats-bodyshop.com.
Taking care of all your toys. COLLISION, DETAILING, INTERIOR, MECHANICAL, TOWING, UPGRADES & PERFORMANCE 336-955-3099 The Carolina's Performance Headquarters 336-945-3767 336-999-3000TOWING 5720 Country Club Road Winston-Salem, NC 27104 Monday - Friday 8:00am - 5:30pm Gift Certificates Available performance parts divison 336 946-9007 5730 Country Club Rd Winston-Salem 4961 S Main Street, Winston-Salem Monday - Friday 8:00am - 5:30pm
A Sisters' Christmas: Embracing New Traditions
BY JEAN MARIE JOHNSON
We both knew that with my relocation to the South, things would be different. A mere three months in and it was already the holiday season.
"You're coming for Christmas, right?"
"Well no, I mean there's Alex's wedding in January, so we'll all get together then."
It was hard to push back on the logic. But when Christmas - the extravagant, highly-personalized, and memory-imbued FAMILY CHRISTMAS PARTY which I launched in 1992 rolled around, the sting of loneliness took root. Glued to my phone, I waited for their call and what I thought would be an avalanche of real-time photos captured throughout the joyful, often raucous day. I got the call and longed to be right there with them. Photos arrived well past my bedtime. A year later:
2018 - "Hey, it's me. I just booked my flight. I'm coming for family Christmas."
2019 - "You know I'll be there!"
And so it went until COVID once again found me glued to my phone, far from the action.
2021 - "Count me in!"
And so I have gone. But you know how it is... things are never as we imagine they will be because nothing stands still. There is no "Go Back" button to press. A lot changes in just a few years, and in our case, the next generation had grown, evolved, and happily taken over. The only thing we had to do was to show up for the all-day Family Party. The rest of the time, we sisters could savor as we wished.
We were giddy with a strange sense of "freedom" that first year. As this new "tradition"- ably and creatively assumed by her grown children - has taken hold in the fabric of our sister-story, we've evolved how we spend this precious time together and made a few key realizations along the way:
LET GO OF HOW IT USED TO BE...MOVE GRACEFULLY INTO YOUR NEW ROLE
It's the "know when to lead and when to follow." It doesn't matter that you
are no longer the hostess with the most-est or that no one bothers to make that three-tiered chocolate truffle that was YOUR tradition. Know when it is your place to hand over the reins and let those behind you experience the joy and the hassle of running things without interference, judgment, or second guessing. No helicoptering or nagging. Let it be.
ROLL WITH WHAT IS...KEEP PERSPECTIVE
It's a beautiful thing to observe yourself exercising the discipline of holding your tongue and not clinging wistfully to how things used to be. When you remind yourself that this holiday is about reconnecting and enjoying the company of those you love, it's easier to focus on what's good now, not what's missing.
And about that alone time with your sister...
RE-EMBRACE THE THINGS YOU'VE ENJOYED OVER THE COURSE OF YOUR SISTERHOOD
It's crazy how easy it is to feel 15 again – without all of the drama and insecurity, that is! We watch a Hallmark movie, eat chocolate chip ice cream, sit around, walk the dog, nap...whatever we want to do. No one's watching. And even if they were? It's about you two in the here and now.
BALANCE SERIOUS TALK WITH SOME FRIVOLOUS FUN
For us, it is easy to go deep, to tap into any point in each other's story and hang out there for a while. That's a good thing but make a place for fun –however you two define it.
MAKE NEW MEMORIES
After just a few Christmas seasons, we have this down! The night I arrive, we eat out in a cozy place – often a family-owned ethnic restaurant. The next day is shopping, shopping, shopping. Not Christmas shopping; shopping for us! The following day is the Family Party, which includes some old and always some new and emerging traditions. Did someone say pin the antlers on the reindeer? It goes on forever with more laughs and clever surprises than I could possibly count. Last day before departure: we sleep in, go out for a leisurely lunch and debrief the entire experience against a backdrop of holiday music, Christmas lights, and the familiar waves of the Atlantic Ocean in December.
32 | ForsythWoman.com
On the Road Again: West Virginia
BY AMY HILL
If you're not a fan of nature, West Virginia might not be the state for you - although there's still plenty to enjoy aside from the outdoors. Here's how to spend seven days in the "Mountain State."
Day 1: Make it to Morgantown
We'll start our trip in the college town of Morgantown, WV, home of West Virginia University. In order to get there, I suggest flying into Pittsburgh International Airport (PIT) in Pennsylvania, and renting a car for a drop-off at Charleston's West Virginia International Yeager Airport (CRW). Pittsburgh International Airport is less than 90 minutes north of Morgantown and offers passengers more flight options than flying directly into the small Morgantown Municipal Airport (MGW). By entering Pennsylvania first, you'll enjoy knocking two states off your bucket list at once.
Day 2: Explore Morgantown
On your first full day in Morgantown, spend the day exploring the charming college town with plenty of eateries, a bustling Farmer's Market, and no shortage of sporting events at West Virginia University. If you're looking to enjoy a family day in the sunshine, enjoy some fresh air at scenic Dorsey's Knob Park and Disc Golf Course.
Day 3: Tour the West Virginia Penitentiary
Although it's a bit of a drive, with another passing through Pennsylvania highly recommended as the best driving route, the West Virginia Penitentiary is 1.5 hours northwest of Morgantown in Moundsville, WV. This penitentiary was in operation from 1897 to 1995, and now offers guided historical day tours and exhilarating paranormal twilight tours for those looking to thrill-seek in a gothic prison. During the Halloween season, visitors flock to the penitentiary's numerous haunted house attractions. To book a tour and read more about the West Virginia Penitentiary, visit www.wvpentours.com.
Day 4: Pricketts Fort State Park
Less than 30 minutes south of Morgantown is Pricketts Fort State Park, which is a perfect blend of nature and history for family members and solo travelers of all ages. Enjoy the historical re-enactments of colonial life and watch actors engage in activities such as basketry, blacksmithing, and pottery. Those less interested in the park's historical features can find trails for hiking and biking, as well as opportunities for fishing (with the proper licensing). My advice is to check out of your Morgantown accommodation in the early morning, spend a few hours at Pricketts Fort State Park, then make the long drive south to Charleston, WV, to get a good nights' rest before the following day's activities in a new National Park.
Day 5: New River Gorge National Park and Preserve
In 2021, West Virginia's New River Gorge National River was redesignated by Congress as New River Gorge National Park and Preserve. Home to an iconic bridge most frequently seen by visitors on postcards, New River Gorge National Park offers scenic drives, hiking, whitewater rafting, and more. Depending on traffic and weather conditions, the heart of the park sits around 60 miles southeast of Charleston, with numerous stops for waterfall viewing along the drive to the New River Gorge Bridge. If you're feeling brave, you can book a guided walk along the catwalk that spans across the 3,000-foot bridge. For available dates, times, and pricing, visit www.bridgewalk. com to learn more.
Day 6: Point Pleasant
Spooky movie enthusiasts can't pass up the opportunity to visit the Mothman Museum in Point Pleasant, which is approximately an hour northwest of Charleston and houses props from the famous film The Mothman Prophecies. Learn about the local legend before taking a stroll along the Point Pleasant Riverfront Park, which follows the Ohio and Kanawha Rivers. Across the Ohio River sits the city of Gallipolis, Ohio, connected by the Kanauga Railroad Bridge. Although Point Pleasant is far from a large metropolis, visitors will find quaint shops, restaurants, and pretty sights for a nice day trip from Charleston.
Not interested in learning about the legend of the Mothman? In the capital city of Charleston, learn more about West Virginia's state history at the West Virginia State Museum and the West Virginia Veterans Memorial. In the nearby Kanawha State Forest, hikers can walk along part of the Mary Draper Ingles Trail, which follows the 1755 escape route of Shawnee captive Mary Draper Ingles, who was accompanied by an elderly Dutch woman for hundreds of miles along the Kanawha, Ohio, and New Rivers.
Day 7: Depart Charleston
Wake up early to catch a Belgian waffle breakfast platter or fresh frittata at Charleston's CoCo's before catching your flight home from CRW. Don't forget to leave yourself plenty of time to drop-off your rental car and make it through TSA for a stress-free flight home.
34 | ForsythWoman.com
Anywhere, Anytime! The Salvation Army Virtual Red Kettle is as close as your phone or iPad. Yes, the kettles are out all over the Winston-Salem area but you can make a kettle donation from the comfort of home too! Click on https://bit.ly/wsredkettle22 or scan the QR code and drop a donation in the Virtual Kettle today! Learn more at www.SalvationArmyWS.org or contact Robin Stone at 336-245-2080 Feed a hungry child, shelter a homeless family, give hope to those who've lost theirs. he need is always there, this kettle is always open Hope is at Hand Spread Hope This Holiday
EMBRACING WHAT'S NEXT... Chef Cherisha (Cookie) Williams fills her days with food. SecondHarvestNWNC.org | ProvidenceWS.org 36 | ForsythWoman.com
She caters formal dinners for couples, hosts events for small groups, teaches monthly cooking classes at North Carolina A&T State University, and teaches family and consumer science and apparel classes at North Forsyth High School.
Her busy, food-focused life is a far cry from her 20-year corporate career
In 2017, Williams' corporate management position was eliminated, she faced health issues, and her marriage was not working.
"If I had to tell anybody anything, I would say, 'If you're faced with a challenge in life, don't let the challenge control you,'" she said. "Just take the challenge on, just make the best of it, the best that you can. I had a choice. I chose to find a little bit of light. It took me to Second Harvest Food Bank's Triad Community Kitchen (now Providence Culinary Training), and I was able to flourish from there."
Williams had always enjoyed the creativity of food and, as a child, she would "try anything once. My grandmother called me her 'culture child.' Eating in a restaurant, I am tasting and breaking down the flavor profile, figuring out how this can be executed."
She enrolled in the Culinary Class 57 of the Providence Culinary Training, a program of Second Harvest Food Bank of Northwest NC.
Since its inception in 2006, more than 845 students have graduated from the program. Students assist in preparing some 18,000 meals for children and seniors each week as part of the curriculum, and Providence Catering, a non-profit catering enterprise and the second largest catering business in Forsyth County, provides revenue to support the culinary program.
"The program was my happy place, my bright place," Williams said. "Everybody has a place they have to go in life. That's where I started the journey. That was a really pivotal point for me. It was my therapy. As far as my class, we all bonded. It was almost like we gravitated to each other. I still keep in contact with at least three classmates. We still consider ourselves family. Different walks of life brought us there, and we supported each other. We were in this together."
Classmates created the hashtag "57forlife." Williams appreciated her chef instructors, who provided a variety of hands-on experiences, and interned at Forsyth Country Club and a local restaurant.
"It wasn't some 'Hell's Kitchen' chef shouting at you," she said. "For me, it's community and family. That's what Providence represented for me. I will never be able to forget what '57' meant to me. It's a launching pad. You can do what you want to do with it. It's art. You make it what you want to make it."
After graduating from the program, Williams started her own business, Flavor 57 Personal Chef Services and Catering LLC, with a menu full of "Southern comfort" dishes.
She prepares her food at the Enterprise Center, which has a commercial kitchen, then transports the meals to her business space where she serves small, formal dinners and caters events.
Business was well underway when COVID hit, she said. In fact, her business picked up because as a private chef, she hosted events that enabled families to get out of their homes in a safe place. She built relationships with customers, who hired her to cook in their homes during COVID.
Other connections blossomed. After high school, Williams had enrolled at N.C. A&T State University and graduated from High Point University. Her membership in Alpha Kappa Alpha, the first intercollegiate historically African American sorority, reinforced her desire to give back to her community. She said, "Wherever I can give back, in any type of way, that is what makes my heart smile, and I'm living out of a purpose."
Williams has returned to A&T as a chef, and through A&T's association with the N.C. Cooperative Extension Service, she teaches a healthy habits cooking class for the community. She recently completed a video demonstrating how to take traditional meals that families enjoy and make them healthier
Meanwhile, her oldest son graduated from high school in 2018, and her youngest will graduate in 2023, and Williams, recognizing the pending "empty nest syndrome," prepared for her next phase.
"I found myself not having a lot to do during the day," she said, since most of her major catering events occurred on weekends. She began substitute teaching at North Forsyth High school, and the school offered her a full-time position in its family and consumer science program. North Forsyth also recognized the opportunity to use Williams' experience in the apparel industry to benefit the students.
"I love these kids," Williams said. "It was a perfect fit. The kids are enjoying the classes. I feel like it is a benefit for them to see someone in real life being able to speak to them, to let them know, 'this is what you can do in real life.'"
Williams seeks to continually grow and impact her community Through her teaching, she's seen, "What was so clea r to me, these babies don't know how to do anything," she said wit h a laugh, recalling that students thought wa shing dishes simply meant putting them in a dishwasher.
"I feel like along the way in society, we've lost sight of trades and skills and design and automotive," she said. "I'm looking at my next phase. I do want to have a nonprofit to teach those life skills. If I could teach one person and make a difference in one person's life, it will just make me happy."
As her business plans grow, she is looking for space to not only hold formal dinners but also community events.
"Community has become so important to me," Williams said, and she credits Providence with where she is today.
"I had a choice to throw in the towel and give up. I turned that into a positive: 'Now, what can I do?' Obviously, there's a next phase."
What began as "a downward spiral turned into this beautiful situation where I'm able to use all my gifts. I love food; I love kids; I love being creative. I'm so glad I'm here. I'm passionate about what I do. I reach the kids."
For more information about Chef Williams and Flavor57, go to flavor57 com or email admin@flavor57.com.
Food brings us together. Find out how you can get involved and support programs like Second Harvest's Providence Culinary Training this holiday season. Visit SecondHarvestNWNC.org.
December 2022 | 37
Changing lives, one recipe at a time.
919 919 919
BBQ BBQbackyard backyard
by TANNER JOHNSON
There's nothing like a slow cooked ham when the holidays roll around. This is a delicious recipe to feed a large crowd for a holiday party, a family gathering, or any occasion that you want to impress guests. Most of the spiral cut hams from the grocery store are pretty large so expect a lot of leftovers or have plenty of people to feed when you cook this!
With this recipe I typically cook on a pellet smoker, so I can set it and forget it while preparing the rest of the food for the perfect holiday meal. But, you can also cook this on a low heat grill or even in your oven.
Smoked Spiral Ham
• What you'll want to get at the store is a Bone-In Spiral Cut ham. Depending on how many mouths you have to feed or leftovers you want - pick the right size ham: estimate about ¾-1lb per person. They come fully cooked so all you're doing in the smoker (or cooking device of your choice) is reheating it, getting some smoke on it (if using a smoker), adding an awesome blend of seasonings, and covering in a sweet sauce to really take it to the next level.
• Preheat cooker to 250°
• Season ham all over with Spice and Tea Exchange®️ Cinnabar Smoke Spice Blend or if you can't find this use your favorite pork seasoning/rub (think Sweet Heat seasoning that may have some cinnamon and brown sugar for the sweet and spices such as cayenne pepper, paprika, garlic powder, and/or marjoram for example.) You could also make your own by combining a Cup of Brown Sugar, ½ tsp mustard powder, ½ tsp cayenne pepper, ¼ tsp onion powder, 1 tsp paprika, and some cracked black pepper and salt to taste.
• Place your ham in the cooker on a pan and let cook for 3-4 hours, and you'll want the middle of the thickest part of the ham to read 140° when done.
• Once your ham is temping around 130135° it's time to add the sauce.
• For the sauce I love using a mixture of Texas Pete Honey Mustard and honey. Around 1.5 Cups of honey mustard and a few tablespoons of honey. If you're not a big fan of honey/honey mustard you could also do a maple bourbon type of glaze.
• Glaze the sauce all over the ham with a brush, and turn your cooker up higher (broil for 2-3 minutes in an oven) or 400-500° degrees in a smoker for a few minutes to set the glaze.
• Pull the ham, let it rest 10 minutes before slicing. Slice a circle around the bone and it should easily fall apart, then slice through the ham along the seams which are the natural breaks (fat) in the ham.
For more recipes and demos follow Tanner on Instagram @919backyardbbq
38 | ForsythWoman.com
Forsyth Medical Supply When health care comes home, Forsyth Medical Supply has everything you need. If you or a loved one requires medical equipment and supplies to live comfortably and have the best quality of life possible, look to us as your one-stop solution. Lift Chairs, Mobility Scooters, Aids for Daily Living, Compression Garments, Wound Care, Wheelchairs and Walkers, and much more. Present this coupon to get 10% OFF one regular priced item! Restrictions Apply. Limit one discount per customer. Products and services excluded from this offer: rentals, lift chairs, scooters, beds, and delivery. Not valid with any other offer. Coupon will be tendered to Forsyth Medical Supply upon redemption. Why Choose Us? • Conveniently located between Winston-Salem's two hospitals • Over 50 years experience • Extensive in-stock selection • Experienced, knowledgeable staff 336-768-5512 | Monday - Friday 9 am - 5:30 pm | 3033 Trenwest Drive Winston-Salem Delivery and In-Home Service Available! ForsythMedicalSupply.com
Holidays, Please Hold the Hassle!
With two of the most celebrated and cherished holidays positioned backto-back, Christmas and Thanksgiving are the times of year when families and friends go all out to secure valuable time with one another. It takes an immense effort to host family and friends during the holidays. The hassles of cleaning, organizing, scheduling, and cooking create a heavy burden for the host. If you can relate to the rigors and calamities of hosting holiday gatherings, you'll know that the possibility of those stressors being lifted from your plate is priceless.
Exchanging the stress and worry for time better spent talking, hugging, singing, and laughing is Homestead Hills' motto. In fact, it's what they do best.
The preparations began months ago, and the many hands required to successfully put together a wonderful winter holiday experience were in motion. Even before the ghouls and ghosts had been packed away after their designated haunting days in October, the experienced event planners, cooks, and chefs at Homestead Hills were busy scheduling, constructing, and ordering the components for the amazing holiday celebrations to come. It's a team effort so well-oiled it rivals Santa's workshop.
Considering how valuable holiday time is and the number of quality holidays we get to celebrate with our loved ones, it's apparent we should be maximizing our time together.
Homestead Hills' first guiding principle, people first always, is apparent in everything from operations, dining, care, maintenance, housekeeping, and wellness. The entire community works together to cultivate a year-round cruise ship-like lifestyle, though the holidays invite a unique buzz. Social directors plan and decorate for the activities and games that complement the delectable culinary fare. The food is worthy of praise on its own, and the absence of clean-up stressors makes for an unforgettable experience. With an entire community of dedicated professionals working in unison, great things can be achieved. By combining the ingredients of Social, Dining, and Wellness programming, joy, and compassion, Homestead Hills delivers a holiday experience like no other.
As a 55+ retirement community, anyone aged 55 and over is eligible to move into Homestead Hills community. With cottage homes and villa apartments available in 1,2, and 3-bedroom options, there is a home for all situations. For more information on Homestead Hills senior living retirement community, speak with a Lifestyle Advisor at (336)770-2024 or visit the website at Homestead-Hills.com.
There's No Place Like Home for Christmas
"There's no place like home for the holidays." For those of us living in the Piedmont, that means a variety of local Christmas traditions: The School of the Arts The Nutcracker, Tanglewood's Festival of Lights, Old Salem's Saturdays at Christmas, Holidays at Reynolda, Christmas by Candlelight at Korner's Folly, Graylyn Santa Experience, Caroling Fridays at Reynolda, and WinstonSalem Symphony's A Carolina Christmas. All these wonderful celebrations are right here in the Triad area, and December is the month to prepare for holiday guests, parties, and entertaining.
Each year, we have customers calling early to get on our calendar. We all like to open our doors to family and friends and the first week of December is a great time to start.
For those of you who need inspiration and ideas before you embark on a project, never fear, the designer elves of June DeLugas Interiors are here to help you make plans.
When it comes to Christmas décor and gift ideas, we've got you covered. For a fun way to display Christmas cards, try hanging a wide ribbon in a family room or foyer and use raffia to tie each card to the ribbon. Integrate your Christmas decorations with your existing home décor when possible; a red vase, cream plate ware, or metallic candlesticks will make a room feel nice and cheery when mixed with a strand of garland and lights. When wrapping the hostess gift, tie a favorite ornament onto the box (I personally use vintage ornaments). Everyone will want to see what's in that box. For music lovers, give iTunes cards with Christmas sounds like A Charlie Brown Christmas, Rockin' Around the Christmas Tree, or I'll be Home for Christmas. A basket of produce from a local farmer's market is always a thoughtful and healthy gift for your guests. Gift certificates for a massage or personal trainer are also great for those who are hard to shop for. Specialty olive oils or infused vinegars make a nice gift for folks who like to cook.
The designers of June DeLugas Interiors are ready and waiting to help you complete your home for guests to visit. Come see the many beautiful Christmas adornments and inspirations for your home at June DeLugas Interiors, Inc!
Merry Christmas and God Bless,
2018, 2017, 2016, 2016, 2013
June
42 | ForsythWoman.com
North Carolina's Premier Interior Design Firm | 2575 Old Glory Road, Clemmons | 336-778-1030 Home for the Holidays TURNKEY REMODELING AND INTERIOR DESIGN! FROM START TO FINISH AND EVERYTHING IN BETWEEN! LIGHTING • FLOORING • FURNITURE • WINDOW TREATMENTS • AND MORE! junedelugasinteriors.com
Deck the Halls - and Your Ears - This Holiday Season with Dew You Boutique
BY AMY HILL
Looking for unique, lightweight and eye-catching earrings to gift your loved ones this holiday season? Skip the trip to busy department stores this December and shop for your gifts locally. Dew You Boutique offers customers handmade clay earrings of all shapes, colors and sizes to suit every style and spruce up all wardrobes. What started as a crafty way of relieving anxiety and stress throughout the COVID-19 pandemic turned into a profitable passion for Owner Elisabeth Patterson. As a mother with a full-time desk job, Elisabeth makes time in her busy schedule to creating new inventory to sell, frequently staying up until the early hours of the morning. Since spring 2020, Elisabeth has been perfecting the art of clay jewelry-making and reflects fondly upon her first few batches of clay earrings she made while learning the ropes.
With years of experience now under her belt, Elisabeth has gained an impressive social media following on Instagram, where much of her business takes place. Local salon and boutique owners frequently reach out to Elisabeth for customized items to sell in their shops, and Elisabeth's followers are able to see the wizard behind the curtain of creating clay earrings. She has even had the pleasure of creating custom pieces for bridal parties.
"I chose to focus on earrings because I truly believe no outfit is complete without them," Elisabeth explains. "What's great about clay is that no matter how large the earrings are, they're so lightweight that you'll forget you're wearing them."
Another benefit of the clay earrings at Dew You Boutique are their hypoallergenic hardware, making them a solid choice for those with sensitive skin. Elisabeth works solely with polymer clay and utilizes a pasta machine to flatten the clay before it is baked to harden. Surprisingly, like many other industries, clay production has suffered throughout the pandemic, making supplies few and far between. Elisabeth is on top of knowing where to shop to find the colors of clay she needs, and it is not unusual for her to wake up at 3:00 or 4:00 a.m. to be one of the first customers to hit "add to cart" when a supplier restocks its online store with some of the most coveted clay colors.
As the sole operator of Dew You Boutique, Elisabeth juggles a packed schedule as a full-time employee, mother and Dew You Boutique team of one. She considers the boutique to be her brainchild and thrives when she can be creative. Aside from working with her hands to craft beautiful creations for customers, she relishes in seeing customers happy with their purchases and feeling beautiful with the help of her earrings.
Because social media is imperative in marketing a small business, Elisabeth also had to learn the ins and outs of marketing and social media. Throughout researching various social media platform algorithms and learning how to engage social media users through consistency and trial and error, Elisabeth has found that she has a knack for marketing and producing online content. As a critical thinker, she is able to reach her target demographic through visual storytelling on Instagram, allowing her to show her newest earring designs, behind-the-scenes of her earring-making process and the versatility of Dew You Boutique as a brand.
Although Elisabeth strives to one day open up a storefront to sell her products, customers can find Dew You Boutique earrings, jewelry and phone grips in local salons and boutiques such as Evelyn Rose Boutique. Elisabeth often participates in pop-up shops and markets, where she has had the opportunity to connect with fellow business owners throughout the greater Winston-Salem area. Soon, earring enthusiasts can also be on the lookout for Dew You Boutique's merchandise in local hotspots such as The Humble Bee Shoppe and The Board
Babe Charcuterie Café. Being surrounded by supportive community members and business owners has made Elisabeth's transition into the world of owning a small business much smoother, and she looks forward to collaborating with others in the community as her brand continues to grow.
To shop all things Dew You Boutique, visit dewyouboutique.com, or direct message @ dewyouboutique on Instagram for all businessrelated inquiries. Check out Dew You Boutique on Facebook, and email dewyouboutique@gmail.com to learn more about Elisabeth and the brand.
@womenownednc Bridal Hair & Makeup | Hair Extensions | Microblading Blonding & Balayage | Waxing | Teeth Whitening Lash Lifts, Tints & Extensions (336) 934-3613 | maesmakeoversbeautybar.com 121 Pineview Drive | Kernersville, NC Kaylaberry.exprealty.com | @kbbbroker 336.528.3333 | kaylaberryhomes@gmail.com Greensboro 1615 Westover Terrace 336.543.6787 Winston-Salem 205 S. Stratford Rd. 336.997.8981 Check out our website for a full list of services! pigtailsandcrewcuts.com Mom-Owned | Kid-Approved | Styles for All Ages opalandonyxhairco.com 431 W End Blvd Winston Salem NC @opalandonyxhairco megansmith-photography.com info@megansmith-photography.com ivyandduststudio.com @ivyanddust woodandthreadboutique.com 301 Brookstown Avenue Suite #500 Winston-Salem, NC @woodandthreadboutique www.dewyouboutique.com @dewyouboutique December 2022 | 45
The Gift of Hearing:
When It's Not Just for You
BY DENISE HEIDEL, PHOTOS BY JEJ PHOTOS
We often take our senses for granted. We may absentmindedly appreciate the colors of a sunset…. Our sense of touch provides comfort and affection from our friends and loved ones…. Our sense of taste enables us to enjoy delicious meals with our family…. Without even thinking about it, our sense of smell may trigger memories from bygone years…. And, our sense of hearing – how often we take for granted the ability to hear the voices of those we love. Like all our senses, we undervalue these gifts until we realize they are slipping away.
The gift of hearing, though, is one that doesn't have to be lost. Dr. Anna Nichols of Nichols Hearing and Audiology specializes in helping patients combat their hearing loss. "Our motto is 'Hear Well, Live Well,' Anna explained. "We stand by the importance of audiological health and the impact on our patients' quality of life."
For many – the loss of hearing is not something that only affects them. It affects their family and friends. "Those with hearing loss often disengage from conversations. They
can't hear what is being said, so fellowship with others is disrupted," Anna said. "It doesn't have to be this way. While taking care of hearing health is very personal for the patient, it's actually a gift to their family.
"After a decade of experience, it still breaks my heart to see how some people struggle with hearing difficulties," shared Anna. "It affects everything. While some hearing losses are permanent, the technology and resources we have today can make a huge difference for our patients. In addition, we don't want anyone to feel excluded from conversations with their friends and loved ones because of hearing challenges. We have so many options that can readily and easily correct those situations. After all, if you've spent a lifetime with a close bond with your parent or grandparent, and a progressive hearing loss causes them to become withdrawn and isolated, it may feel confusing, hurtful or even create misunderstandings in the relationship."
There are so many great options to help correct hearing and enable patients to reconnect with those around them. Anna said, "When people invest in their hearing health, they give their loved ones as much, if not more, than they receive. They give their engaged presence. They give their ability to share more stories. They give the gift of shared laughter and great conversation.
"At Nichols Hearing and Audiology, every treatment plan is personalized to our patients. We work with individuals to create proactive, preventative solutions as well as offer treatment for existing hearing loss. In addition, we enjoy getting to know our patients, knowing that the end result is about to make a significant impact in their lives."
Anna encourages those who are starting to experience muffled sounds, having difficulty understanding words or constantly adjusting the volume on the
radio or television to seek an evaluation. "We pride ourselves on listening to our patients," Anna said. "There are solutions available."
Some important things to remember:
1. A hearing test is painless and will take less than an hour of your time.
2. Most insurance plans cover one hearing test per year.
3. Hearing tests may help detect other health concerns before they become problems.
4. Being proactive about your hearing health today can reap long-term benefits tomorrow and in years to come.
5. People are five times more likely to develop dementia and other cognitive diseases from untreated hearing loss.
Nichols Hearing and Audiology is located at 3640 Westgate Center Circle, Suite B, in WinstonSalem. Call the office at 336.842.3437. Visit NicholsHearingandAudiology.com. Be sure to like the practice on Facebook and follow on Instagram (@nicholshearingandaudiology).
HEARING & AUDIOLOGY
NICHOLS
46 | ForsythWoman.com
BY MEGAN TAYLOR
Advent calendars are a popular tradition for the holiday season and help people count down to Christmas in a fun and festive way. Specifically, the calendar marks the period of Advent or the preparation for the birth of Jesus Christ. Today's version of the Advent calendar dates back to the 1800s. It is based on the German Lutheran's tradition of writing chalk tally marks on walls or lighting candles to count the remaining days until Christmas.
Coming in different shapes and sizes, this type of calendar usually starts on December 1st and goes to either December 24 or 25. They can be standing holders with doors or window cutouts, hanging pieces of fabric, or individual containers. Each day on the calendar holds a small trinket to celebrate the season. Some examples of trinkets could be daily devotions, candy, books, toys, snacks, small gifts, or something special. There are even pet versions. A quick search in stores and on online shops will produce a plethora of various advent calendars. Whether you are into Christmas themed items, sports, a specific hobby, or a TV show or movie, there is probably an Advent calendar for it. For the entire month of December, items are taken away from the Advent calendar. By the time Christmas comes, the calendar is left empty, there are 24 or 25 treats for a person to enjoy, and can sometimes be used for next year. However, there is another type of Advent calendar that isn't as well-known, but still has the same importance and value as the traditional one. In addition, this type of calendar doesn't become empty by the end of the month; in fact, it becomes full. Let me introduce you to the reverse Advent calendar.
The reverse Advent calendar follows the same process as the traditional. It begins on December 1st and runs through the 24th or 25th. As mentioned above, you don't receive a gift with the reverse Advent calendar. Instead, you donate an item to a box or container each day. At the end of the season, you will then take your items to your selected charity.
Making a reverse Advent calendar is simple and easy. First, select a charity or nonprofit organization you would like to collect items for. Be sure that your choice is important to you and your family. If you are having a hard time deciding on one nonprofit, select a few and divide up the days with specific items for a specific charity. For example, the first week will be items collected for one charity, the next week will be items for another nonprofit, and so on. This will help motivate you to donate and add to your box. Next, pick out your container to hold all of the items. Get creative
and decorate your holder. You can even turn it into a theme or something that resembles your favorite sport, hobby, etc. Lastly, create a list of items to place in the box for the month of December. Check with your chosen organization(s) beforehand and see what items they need the most, items they accept, or any special instructions. Many nonprofits have wish lists for this time of the year. Then, start collecting! Some items may need to be bought, but second-hand items may work just as well. Also, get your family, friends, and neighbors involved. Ask them for donations to ask to your box, if you feel comfortable.
Don't know where to start? Think of common items that food banks, nonprofits that serve homeless people, or animal shelters could use. Some of the items are:
A final idea for the reverse Advent calendar that doesn't cost too much is a random acts of kindness calendar. For each day of December, complete a random act of kindness with your family and mark it down on the calendar.
Whether
you
items
or filling
calendar with kindness,
reverse
calendar will
you
gifting
caring for others during
season
giving,
receiving,
are adding donation
to a box
up a
the
Advent
leave
feeling fulfilled with the holiday spirit. It is also a great way to teach your children and yourself about the importance of
and
this time of the year. It is a
of
not just
and the reverse Advent calendar is the perfect way to do just that.
The Reverse . . . . . . . . . A Fulfilling Twist on a Popular Holiday Tradition Nonperishable Food Canned Goods Pasta and Sauce Flour Sugar Cereal Peanut Butter Hot Chocolate Mixes Baking Items and Birthday Celebration Ingredients (Often items for baking and birthday celebrations are overlooked for food banks.) Toiletries Soap Toothpaste and Toothbrushes Sanitary Products Clean and unused bath cloths Warm Clothes Socks and Shoes Toys Books Games Home Items Blankets . . . . . . . . . . . . A D V E N T calendar:
Pizzazz
BY MEGAN TAYLOR
When it comes to wrapping presents for the holidays or any time of the year, I am well-known for my love of adding too much tape and doing the bare minimum. Wrapping paper, a bow, and a card and I call it a day. Most times, I favor bags and tissue paper to make my job easier. You may have realized that wrapping gifts isn't a favorite thing to do for me. However, there are times when I do like wrapping gifts. These are moments when I get a little more creative and use materials that many people may not think of as ways to wrap gifts.
When it comes to wrapping, people usually go with paper, bags, and bows. While these materials can be turned into beautiful masterpieces, there are many other unconventional materials that can be used to wrap presents and still add the same pizzazz as the traditional items do. These items can be handcrafted originals by you or can be functional parts of the present. Here are some unconventional wrapping ideas that are creative, simple, and for you to use this holiday season:
USE A PART OF THE GIFT TO WRAP THE REST OF THE ITEMS:
For example, baking items can be placed in a bowl and wrapped with clear cellophane around it. Decorative baskets, tote bags, trays and coffee mugs are other great items for gifts that have additional purposes, as well as tins. Another fun idea is to place Christmas pajamas, socks, and a book inside a Christmas themed pillowcase. Lastly, wrap your items in a reusable material, such as shopping bags.
PLACE YOUR GIFT IN A GLASS JAR:
Glass jars are reusable and versatile. They came in all shapes and sizes. Fill the jar with your gift and decorate it. Include all the ribbons, tags, and fun items to make it personalized and unique. Don't forget to place the lid on top. It is as if your receiver is getting two gifts in one.
MAKE YOUR OWN WRAPPING PAPER:
Customize kraft paper, fabric, burlap, tissue paper, or old maps with stamps, writing, or yarn. Other uncommon items to decorate the paper with are duct tape and crayons. Chalkboard paper is a great tool to use for writing and personalization. Also, you could make the wrapping paper a game and interactive for the receiver. Place a holiday themed word search on top or a handwritten note instead of a card. Lastly, leave the wrapping paper blank. Using white kraft paper, place it around the gift, tape a few different color crayons on top, and write "color me" for the receiver to have fun and create their own version. This is a festive way to get kids excited about their gift before actually seeing it.
CREATE A FABRIC GIFT BAG:
The good news is that these fabric gift bags are easy to make and no sewing is required. All you need is a piece of fabric, pinking scissors, double sided tape, and any other embellishment items you would like, such as ribbons, lace, etc. Next, cut the fabric the size you need with the pinking scissors. You can cut the fabric into whatever shape you would like, but need two of the same size. Attach the pieces of fabric with the double sided tape around only three of the edges. Then, place your gift inside the bag and finish decorating. You can close the bag with another piece of tape, a ribbon wrapped around it, or a gift taganything you wish.
CREATE FUN AND INDIVIDUALIZED TAGS:
Normally, gift tags are cardstock or a sticker material. Take it a step up and create individualized tags for your gift recipients. Your tags could be a picture of the two of you, a handcrafted or bought ornament, or an item that the receiver could use and that goes with the gift. For example, a small whisk for a cooking gift. Another idea could be a small lace bag with nail polish, a nail kit, and other spa items.
These unconventional wrapping ideas are perfect for all ages to use and create. None of the ideas take too much time and can be very memorable for the gift receiver. Which one are you going to try this year?
TO YOUR GIFTS WITH THESE UNCONVENTIONAL WRAPPING IDEAS
50 | ForsythWoman.com
Add Some
and Creativity
Purpose Push:
Living in Expectancy
BY SHERIDAN WATKINS
In the beginning of my entrepreneurial journey, I worried about everything. Whether I picked the right coach, or the right niche, or the right colors were just a few things. I constantly stressed and cried over every single step I took, wondering if it was moving me toward or away from the freedom and finances I wanted to attain as a businesswoman. I always heard there isn't a straight line towards the success you seek but I didn't want to accept that. I thought I could surpass all pitfalls because I always had a business podcast playing and wasn't afraid to invest in educating myself. Yet, I was still frustrated. I thought hearing from the most successful people and reciting prayers was enough but it wasn't until I embodied these prayers and advice, let God transform my mind and walked like I was living the life I wanted that I began to see my desires catch up with me. So let me help you live in expectancy:
Give God something to bless
There's a woman, Patrice Washington, who first said, "Give God something to bless," through her podcast, "Redefining Wealth." The tips and advice you hear prove to be more valuable when you actually implement them in your life. Giving God something to bless means to stop consuming so much information and put out your own! How can you expect to see your prayers manifest if you're being inspired but not producing anything? You're inspired so you can inspire those who are connected to your life. Those people may never hear the podcast or read the article that changed your life, so how will you get that information or product to them? When you produce, you can surely expect God to guide the right people to you. The timeline of when is up to God, your job is to stay consistent and create what He laid in your heart so you're ready to receive your supernatural blessings.
God heirs will succeed
Don't ever question whether or not you are a true heir of God. Of all creations, God fell in love with humans! At one point, it was assumed Jews were the chosen people but God doesn't show favoritism. Read Acts 10, the story of Peter and Cornelius and discover this for yourself.
God governs the journey and the money
Money was never meant to be evil. In fact, it's neutral but you do need money to do God's work. And guess what? God knows this! So you can rest assured that He will fund the work of the kingdom. So rent and mortgage? You're good! Bills? You're good! Food and clothes? He's got you covered! Lean into that. Don't be frivolous with your money or you will struggle more than what's required but give every monetary need and desire to God and listen to what He tells you to do next.
Remember, God is not a slot machine
One time, I found myself in a dilemma. I needed to make sales but I also needed to pay my rent! I could either invest in my business to upgrade my display for visual aesthetic so it could represent luxury (and my luxury prices) or I could use that money to pay my rent. I couldn't do both. So I talked with God and He said INVEST! It was one of the hardest decisions I've ever made. But I felt peace in my uncertainty and ended up making three times my investment and was able to pay my rent that month and every month going forward! I use this example to highlight the importance of discernment. God is not a slot machine, however, and He will not back up foolish decisions just because you slapped His name on it. Living in expectancy means you are consistently hearing from God so there's no question about the ultimate outcome. Even when things don't go exactly
how you thought, you are unwavered because you heard what God said and you are attached to the outcome, not the process.
People speak about walking by faith constantly but it's not until you actually do it that you realize God will never let you fall. If you hear it from Him, He's got you covered! I'm a living testament and I have faith in you. Expect good things from God.
Sheridan C. Watkins is a journalist and the owner of Perennial Peaces (formerly Shairpins), a jewelry and gifts brand focused on transcending self-worth to all women. Her true work began after climbing out of a dark place with the help of God and therapy and her life mission is to provide tangible peace through her Divine gifts to help women heal and transform their life. Follow the mission on Instagram and Facebook: @perennialpeaces
52 | ForsythWoman.com
FOR FANS OF FOOD!
BY AMY HILL, PHOTOS BY SAIL OFF PHOTOGRAPHY
54 | ForsythWoman.com
In early November, three Forsyth Woman ladies and I entered Butcher & Bull Steakhouse expecting a delicious meal, but when we arrived, our expectations were more than exceeded. We were greeted by the personable general manager Chris Hammer, who describes Butcher & Bull as a "steakhouse with swagger," a suitable synopsis of the chic décor which gives the restaurant a modern flair in contrast to the ambiance of a classic, rustic steakhouse. Chris encouraged each of us to enjoy our evening and start off with a craft cocktail, to which I happily obliged and ordered the refreshing Lavender Margarita to get the night started.
We were first served a hearty portion of the Shotgun Shrimp appetizer, which consists of juicy jumbo shrimp wrapped in crisp spring roll wrappers, served with a trio of distinct dipping sauces. The ladies and I devoured the Shotgun Shrimp, and quickly realized we needed to exercise a little self-control and pace ourselves for the appetizers and entrees to follow.
Our next course was the picturesque Equinox Salad, a strategic combination of spinach, kale, goat cheese crumbles, thinly sliced apples, candied walnuts, Craisins, and a sweet lemon poppyseed dressing. The Equinox Salad is also topped with a colorful, locally sourced edible flower. The ratio of ingredients to dressing was just right, providing us with a light, healthy precursor to the dishes to come.
The ladies and I got our hands dirty by diving into the Twice Cooked Jumbo Chicken Wings, tossed in spicy miso and dipping sauces to die for. Because the wings were, in fact, jumbo wings, this small plate is satisfying with just the right amount of spice.
One of the most unique dishes of the night was the Saganaki, a Greek recipe of pan-seared Halloumi cheese with a thin, crispy crust topped with a drizzle of honey. Chef Mitchell Nicks added a bit of flair to our dinner by lighting the Saganaki on fire at the table to assist in caramelizing the honey on top of the Halloumi. Alongside the cheese were thick slices of fresh focaccia bread with a light herb seasoning, presenting itself as the perfect vehicle for the Saganaki. In addition to the cheese and focaccia, Chef Mitchell brought Lemon Garlic Mushrooms to the table that were served with thyme, parmesan, and olive oil.
Our next entrée, the Cavatappi Bolognese, was a heartwarming plate of cavatappi pasta in a meaty Bolognese sauce with finely shredded Parmigiano Reggiano, basil, and oregano. We were then served a melt-in-your-mouth, wine-braised short rib atop whipped buttery potatoes and organic baby spinach. According to Chef Mitchell, the short rib pairs best with an inky cabernet wine, a Bordeaux, or a red Zinfandel, due to the short rib's fatty and rich flavor. He also suggested a glass of Champagne, to which I upped the ante and ordered one of my favorites, the Aperol Spritz. Although it's made with Prosecco rather than Champagne, an Aperol Spritz is a sparkling, citrus Italian cocktail that you can never go wrong with.
As the evening was winding down, we were served a perfectly cooked Ribeye steak with salt, pepper, and herbs, and ended the evening with the Pan-seared Salmon Filet cooked in brown butter and fresh herbs, served with whipped potatoes. The salmon carried a pleasant flavor that even those wary of seafood would enjoy. If you're wondering whether the four of us were able to clean every plate, rest assured that we each happily left with to-go boxes for top-ofthe-line leftovers the following day.
Aside from culinary excellence, the staff at Butcher & Bull sets the restaurant apart from other local eateries. Located in the Marriott Hotel in downtown Winston-Salem, Butcher & Bull has curated a brand new menu and an environment that serves its guests far more of a dining experience than a typical hotel restaurant. Although Butcher & Bull opened in 2019, Chef Mitchell Nicks is fairly new to the restaurant, starting his position in October. A former student at UNC School of the Arts, Mitchell is a ballet dancer-turned-culinary genius, attending Johnson & Wales University for culinary school, and attending a six-month apprenticeship in the Savoie region of France. With 30 years of experience as a chef, he creates edible works of art and serves them with a delightful sense of humor.
Don't wait to book your next date night at Butcher & Bull. Visit www. butcherandbull.com or call the restaurant 336-722-5232 to reserve a table. Find Butcher & Bull at 425 N. Cherry Street in Winston-Salem, and check out the Butcher & Bull team on Instagram, Facebook, and Twitter at @ butcherandbull.
N CHERRY ST, WINSTON-SALEM • 336.722.5232 • BUTCHERANDBULL.COM
Butcher & Bull Steakhouse 425
December 2022 | 55
CLEAN LIVING WITH COACH JANE
A little about me:
WHO AM I?
Hi! My name is Jane Daniel. I am a proud mom to three healthy boys, a lover of the great outdoors, a forever student, health nut, exercise enthusiast and native of the Triad. I am also a graduate of The University of North Carolina at Chapel Hill.
WHAT DO I DO?
I am a holistic health coach with multiple certifications in all things related to health, nutrition and exercise. In 2015, I received my first certification as an Integrative Nutrition Health Coach from the Institute of Integrative Nutrition. I haven't stopped taking classes since then and hope I never will! The areas I'm most passionate about are my training in Ayurveda, Polyvagal Theory, Female Hormone Optimization and Weight Loss, and most recently the Journey of Intrinsic Health. All of these have one thing in common; the body has the ability to heal itself if we allow it to do so.
I'm super excited to have the opportunity to share all things health for the lovers of Forsyth Woman magazine!
How To Feel Lighter Over The Holidays
"It's the most wonderful time of the year." As women, we tend to be the ones who make the holidays special for our friends and families. But, the holidays tend to add more things on our already jam packed to-do list. So how do we enjoy the holidays while making it fun for everyone else?
Follow these 4 tips to give you more time, feel lighter, and liberated in the process of it all!
Tip 1: Clear out the physical clutter in your surroundings
Do you walk into your home, office, or car and feel a sense of peace? If not, cortisol, our stress hormone, rises. This can lead to heightened anxiety and/or depression where we want to numb out. We look for the quick fix, grabbing a sweet or salty treat, pouring a glass of wine, or buying something on sale to help soothe us. A study had two groups with the task of signing papers: One group was in a clean, tidy office and the other was in a cluttered office. After the individuals in each group signed the papers, they were offered an apple or candy bar. Those who left the cluttered space had a higher propensity to take the candy bar. Set a timer for 8 minutes and organize whatever hot spot zone you wish! You may find you get started and don't want to stop!
Tip 2: Reduce calendar clutter and create some white space each day for things you enjoy
Take advantage of technology; use programs like Unroll. me or Sanebox to help filter out ALL those daily emails you receive from companies trying to sell you something. You can allot a certain amount of time each day or
week to review those emails at once and focus on the more pertinent email tasks at hand. Schedule time each day to scroll social media if that is your thing. Social media can be a time suck and can leave you feeling bad in the process. There is even an app for that! Iphone has a feature where you can limit your screen time for certains apps. When responding to an event, ask yourself, "Five minutes before I go to this event, will I be excited?" If the answer is no, kindly regret and don't feel bad about it. Buy local!…Owners and employees of these stores are knowledgeable on the products they carry. They can be a great resource for buying that perfect present instead of scrolling online not knowing what it will actually look like in person. Most offer gift wrapping services so you can knock that off your to-do list. Consider "batch" buying; purchase several of the same gift that has brought you joy this year; a gift card to your favorite restaurant or spa, candle, kitchen utensil, or book to name a few. Find moments that bring you daily joy: walking with a friend, listening to your favorite holiday music as you look at the ornaments and their significance on the tree, or sitting quietly with a cup of hot tea are ways to sprinkle happiness throughout your day.
Tip 3: Flip FOMO into JOMO
This is how we can make positive changes sustainable. During the holidays, "Fear of Missing Out" is exceptionally high. 'That shirt is such a good deal, why not get one in every color?' 'There are doughnuts in the breakroom, it's the holidays…why not?' Turn Fear of Missing Out to Joy of Missing Out! Think about 1 or 2 things that you know aren't serving you. For example, when the bread basket comes before your entree', you can't resist and then aren't hungry for your meal. You know gluten makes you bloated and uncomfortable. Ask the server to not bring the bread or order a soup or salad while others are eating the bread. The key is to celebrate your JOMO! "I don't feel bloated and uncomfortable after my meal! My dinner was good without it!." Celebration gives you a mini dopamine hit which leads me to my last tip!
Tip 4: Celebrate yourself!
Dopamine is the feel good neurotransmitter involved in pleasure and reinforcement. When you do any of the above tips, notice and name your accomplishment to keep the positive reinforcements going. "I organized my junk drawer!" Do a fist pump! "Instead of looking at Instagram, I went for a walk." Say, "I am nourishing myself." "I didn't have the bread before my entree.'" Draw a smiley face on your napkin. It sounds silly but dopamine loves these mini rewards we give ourselves.
Wishing you a light and liberating holiday season! Visit my website at www.healthcoachjane.com or follow me at IG @ncjane77 and FB @janedanielinhc.
MEGANBLACKPHOTOGRAPHY.COM Megan@meganblackphotography.com (336) 817-7467 | @meganblackphotographync
BY ERIKA TAYLOR, FOUNDER OF TAYLOR YOUR CLOSET & TAYLORINGSTYLE BLOG | @TAYLORINGSTYLE
Erika Taylor is the creator of Tayloringstyle Blog and founder of Taylor Your Closet, her personal styling business. Her love for style, writing, and helping others came together to produce a business that makes day-to-day styling attainable for women from all walks of life. She tailors each of her clients' wardrobes so that they can save time putting outfits together, feel confident in what they wear and conquer whatever the day brings.
We're officially IN the holiday season! This time of year is so exciting, especially with fashion! This is the time of year for those 'extra' pieces you keep in your closet - aka those sequin and feather tops and dresses. Y'all know I am all about a wardrobe full of versatile staples, but I also believe we should have a couple 'extras' in our closet for the holidays and special occasions.
One place you can find great wardrobe staples and special holiday pieces is at Nitsa's Apparel in Winston! Nitsa's was started by a young woman, Nitsa Bambalis, who fled a war-torn country to come to the United States during the 1950s - talk about an inspiration! She officially opened Nitsa's Apparel in 1964 and with the help of her family, they have been thriving ever since. When you shop at Nitsa's, you'll find a wide variety of styles from casual to business, special occasion and even bridal. Their bridal shop is absolutely stun-ning! With the help of their amazing staff, here are some looks we put together!
This first outfit is great for work, holiday shopping or a "girls who lunch" scenario. Although it's short sleeve, it's perfect for winter in the south (because let's be real - it's just like Forest said, you never know what you're gonna get). BUT, with a top like this if it is a cooler day, you can always add a basic long sleeve white tee or button down underneath. I paired this top with dark wash denim; however, you could also wear black denim or slacks and add a black or leopard flat, bootie, or heel!
58 | ForsythWoman.com
While neutrals are fantastic and offer a wide range of outfits, a pop of color is great for your wardrobe as well. I absolutely love this pink sweater. We decided to pair it with a wide-leg glen plaid pant and sneakers for a more casual look. You could change out the sneakers for a pair of black heels, flats, or loafers to dress it up a bit more. If you're like me, I'm always cold, so layering is clutch for me. Adding a white button down under the pink sweater is also a great way to level up this look!
This next look says "Hi, I'm the SHE-E-O" because you will be feeling like the boss you are (as you deserve to feel in every outfit). This dress is one for the office, church or holiday events. Side note: the vegan leather makes it one of those 'extra' type pieces I referred to earlier; however, it's also one that can be worn all fall and winter long. We styled it with this gorgeous suede duster, but it can also be worn without this piece as well. The duster would also look great with a long sleeve crew neck, v-neck, button-down or lightweight turtleneck and jeans.
Another vegan leather dress? Yes, please. Sign us up! I love this one for a couple reasons. One, because it is a gorgeous chocolate brown and two, the scrunch detail is unique, flattering and helps give some shape to you in the dress. We paired it with this beautiful coat, that is reversible and versatile, which we love! I am wearing it with the fur on the inside and suede on the outside, but you could easily switch it up to add a little sass to almost any outfit.
Along with fabulous and one-of-a-kind apparel and bridal gowns, Nitsa's Apparel also has a prom salon and a skincare boutique, as well as a lovely and helpful staff. They also have a beautiful collection of jewelry, purses, travel bags, and other accessories. If you have never shopped at Nitsa's or it's been a while since you've been, this is your sign to go!
You can also learn more about them by visiting their website (http://nitsas.com/) or give them a follow on Instagram (@nitsasapparel).
Happy Shopping!
XO, Erika
December 2022 | 59
Taylor
Best Loved Traditions
BY MARTIE EMORY
After downsizing from our home where my sons spent most of their childhood, our memories and most treasured possessions were carefully chosen. Lots of keepsakes followed us, but none more priceless – at least to me! – than our matching, personalized, hand-knit Christmas stockings. Mine was lovingly handmade by a friend of my mother's the year I was born, and when I had my first child, her equally creative daughter graciously agreed to take over the tradition using the identical pattern.
I think they reveal something about us: We're traditional at heart, we do love to celebrate, and while mine from 1959 boasts slightly different shades of red and green than theirs from 1991 and 1996, maybe that's a statement of where we've landed. We're still traditional, with our southern roots, but my oldest son now lives in Brooklyn, NY, and we've adapted to knowing sometimes our holidays might be spent somewhere new.
And yes, those stockings travel! A few years back they were one of the first things I packed for our first Christmas Day in New York, and I have no doubt they will travel there again,
and anywhere else we need them to go. We are flexible on locale, and the name on those stockings is the most important thing! While so many details of life have changed, this single tradition has not. If there's no mantel, we find a place of honor for them in our holiday gathering.
Mine – with its slightly more vintage coloring – was always my favorite part of Christmas morning, and I think that carried over to the boys. An interesting assortment of goodies has filled those stockings, from Thomas the Tank Engine to Star Wars and Pokemon, always with the appropriate amount of chocolate and bubblegum for good measure. More recently, a gas gift card or hand sanitizer, but always combined with something sweet or silly to complete the mix. Amazingly, Santa still remembers my favorite candy, too! When I was growing up, we always asked Santa for "nuts and fruits and candy" to complete our wish-list – and those always found their way into my stocking as a child.
My mother also had the exact same stocking design handmade for the first-born children of my two best high school friends. Sometimes,
your traditions stretch to other hearts!
While I know the memories and the love are the important things, our carefully stored stockings are also in the "to-go" bag if we had to evacuate for any reason. Call me crazy, but there they are!
Hoping I hadn't taken the material attachment thing too far, I asked friends for some of their family traditions, which have included creating "scratch off" coupons for each other's stockings (free movie night, ice cream party, and an automatic argument win – gotta love that one!), playing a Frank Sinatra Christmas album on the old-fashioned record player while opening gifts, in memory of a missing parent, and driving to the North Carolina mountains as a family, in search of the perfect tree to cut down.
As we move through the years faster than ever, and the "look" of our Christmas mornings may shift ever so slightly, the childhood memories and unending love will always be there: in a sentimental melody or an heirloom tree ornament, and always, peeking out of our well-loved stockings!
60 | ForsythWoman.com
336-661-8400 | thebarnoncountryclub.com 4886 Country Club Road Winston-Salem | Closed Monday, Tuesday-Saturday 10am-6pm, Sunday 12-6pm Winston-Salem's Best Kept Secret! Home Decor | Artwork Custom Built Tables, Benches & Much More! The BARN On Country Club The BARN On Country Club ANTIQUE/VINTAGE FURNITURE & HOME DECOR ANTIQUE/VINTAGE FURNITURE & HOME DECOR
Innovation
So should you... tm
by Marisa Faircloth
RIt's another in a long line of services that differentiate us as pioneers in facial treatments. It's the very rst device to use Dynamic Muscle Stimulation (DMSt) technology in sequence with two other modalities TriPollar RF and triFX microneedling to achieve fantastic results.
It's a nearly painless procedure that tones your face the same way you'd tone your body for a youthful, lifted look. As we age, our facial muscles weaken and sag. The triLift activates the facial muscles for a well-de ned, toned, and lifted look.
Do any of the following describe your face?
• Stubborn wrinkles
• Drooping cheeks
No worries, the triLift can help you regain the youthful shape of your face. And, best of all … you'll enjoy facelift-like results without surgery by activating the triple threat of renewed muscle, skin, and structure.
At Restoration MedSpa, our providers have been trained on-site to make sure each one has the expertise to give you the best triLift results. I wouldn't recommend to you anything that I haven't experienced myself, so during a recent training I received the triLift treatment. I could feel the muscle stimulation, but it wasn't painful at all. You know it's working as it causes your facial muscles to twitch. At most if felt like a little electric charge like what you get from static electricity. It was absolutely a workout for my face.
And the best part? I could visibly see the di erence after only one treatment. The recommendation is four radio frequency and muscle stimulation treatments and two radio frequency microneedling treatments. If it sounds good to you, please call today for your no cost consultation. We can't wait to provide you with these same results.
"
And the best part? I could visibly see the di erence after only one treatment.
can learn more at RestorationMedSpa.com
Marisa Faircloth, PA- ‐C, is the author of Empowered by Beauty: A Testament for Unleashing Con dence. She's also the owner and chief practitioner at Restoration MedSpa of Winston-Salem and Greensboro. A sought-after Forbes Speaker, Marisa is an industry leader and the Triad's No. 1 non-invasive cosmetic procedures provider. She has dedicated more than 40 years of her health care career toward aesthetics, healthy aging, and weight loss. She is credentialed as a Master Level Injector with Allergan, makers of Botox and Juvéderm, which ranks Restoration MedSpa in the top 250 among approximately 40,000 medical spas nationwide. You
• Saggy jawline
I Gave my Face a triLift
336.712.4636 | mysimplysouthern.com | 3570 Clemmons Road, Suite C | Clemmons STORE FRONT HOURS: M-F 12-5 Sat 12-4 Voted Best Chicken Pie in the Triad! Enjoy quality time with your family and leave the cooking to us. Along with our family size meals and sides, we also offer complete Christmas packages, including turkey and/or ham, 3 sides and a dessert, ready for you to pick up and bake. Check out the holiday menus tab on our website or give us a call at 336.712.4636 for more details. Make your holiday dinner simple! 110 Oakwood Dr, Winston-Salem, NC 27103 Monday-Friday 10am-5pm | Saturday 10am-4pm lovewellboutique.com
Download our FREE LoveWell Boutique App and use code LOVEWELLAPP to save 15% off your first app purchase! December 2022 | 63
PHOTO BY JODIE BRIM
Beautifully Hypnotic Hair Salon
BY AMY HILL
With the cold, dry December air upon us, there's no better time than the present to protect your delicate locks from winter weather. Impress your family and friends at upcoming holiday parties with healthy, stylish hair by booking an appointment with the highly trained and professional color expert hair stylists at Clemmons' Beautifully Hypnotic Hair Salon. Stylists at Beautifully Hypnotic Hair Salon are well-versed in leaving their clients with strong, shiny hair and countless smiles. They also want them to feel at home and cared for as well as feeling calm, relaxed, appreciated and inspired.
Open since April 2021, Salon Owners Debi Marion and Nicholas Pettenati set out to create a warm, welcoming environment for clients and stylists alike. The pair believes that when your hair looks good, you feel better overall. In fact, making clients happy is what Debi loves about her work as a salon owner, hair stylist, master colorist and barber. As a master colorist with about 25 years of experience, Debi moved to North Carolina from New York eight years ago and has been working as a hairstylist in the Clemmons area since. In 2016, she successfully completed Wella Studio's Master Color Expert program by traveling back and forth between North Carolina and New York over a period of two years. Debi always
clients are her
sculptures. With the many years of experience she has acquired, it doesn't matter what kind of hair you have – whether it be curly, straight, wavy or even damaged, Debi is able to fix your hair and make you feel beautiful again, giving you the desired look you have always been searching for. Debi loves being able to help teach her clients how to style their hair at home, helping them to have salon perfect hair every day.
Prior to opening Beautifully Hypnotic Hair Salon with Debi, Nicholas worked as a land surveyor before jumping head-first into his new business venture. With his fiancé, Debi, serving as inspiration, Nicholas decided to create another career path for himself in becoming a licensed stylist while maintaining his passions in professional land surveying and entrepreneurship.
At Beautifully Hypnotic, clients are offered a wide variety of services, from top-notch color, conditioning treatments, perms, up-styles and makeup for weddings to hair extensions, highlights, keratin treatments and hair tattoos. Additionally, barber services such as men's haircuts and beard and mustache trims are provided, in addition to a hot towel treatment. Need to bring your lashes to life? Schedule an appointment for lash lift and tint, lash extensions or a brow tint to give your face a glow-up. Interested in having hair as healthy as it was when you were a kid? Try one of Wella's Shinefinity glossing treatments combining amino fillers and toners all in one or a Botox hair treatment that will heal damaged hair and make it feel light and silky-smooth, lessening the amount of time you spend styling your hair and bringing it back to more youthful, shiny, frizz-free hair.
At Beautifully Hypnotic Hair Salon, we have Steve Westerlage who has been in the hair industry for more than 50 years. He has lived in this area for the majority of his life. He has operated the hair salon in North Carolina Baptist hospital for 31 years and later opened a salon in Whitaker Rehab at Forsyth Medical Center. "I can say with absolute certainty that this is the
best team that I have ever had the pleasure of working with. They are such an outgoing group, friendly and nothing but professional and fun," said Westerlage. Our newest stylist at Beautifully Hypnotic Hair Salon is Olivia Smith. She loves doing up-styles and makeup for weddings, proms or any other special occasion. She specializes in doing colors, balayages, ombres, highlights, color corrections and vivid colors. She also really enjoys doing men's haircuts and fades, women's haircuts, kid cuts, relaxers, keratins and waxings. Make sure to get your appointment with Olivia before she gets all booked up and mention this article prior to making the appointment to receive a free haircut with the purchase for a chemical service or receive 20% off a wash, cut and style.
A popular trend Beautifully Hypnotic Hair Salon has noticed over this past year is the half-and-half hair color, where clients often request stylists to dye one side of their hair black, and the other side a fun, dynamic color that is sure to turn heads. Clients can rest assured that their hair is being treated with the highest-quality products such as the Wella color brand. Our stylists help lead clients to their desired look by assisting them in choosing which hair products they are most comfortable with and which products are best suited for their lifestyle and profession.
Interested in joining the team at Beautifully Hypnotic Hair Salon? Debi and Nicholas are in search of experienced commission stylists and booth renters as the salon continues to grow. If you'd like to apply, send your resume to beautifullyhypnotichairsalon@gmail.com, or call the salon directly to speak with Debi or Nicholas at 336.955.2766. To book an appointment or consultation online, and to view a list of services offered, visit the salon's website at beautifullyhypnotichairsalon.com. To keep up with the latest news and pictures from the salon, follow the Facebook page and check out their photo gallery on the website. Walk-in appointments are also welcome. Visit the salon in person at 6353 Cephis Drive in Clemmons.
VISIT CLEMMONS:
64 | ForsythWoman.com
2685 Lewisville-Clemmons Road | Clemmons, NC Tuesday - Saturday 10am - 5:30pm | @ourbanquetingtable jacksnewgrass.com 336.712.9977 • 4798 Kinnamon Road For all your outdoor power equipment needs! fullmoonoysterbar.com (336) 712-8200 1473 River Ridge Dr Clemmons, NC 27012 fullmoonclemmons fullmoonoysterbarclemmons 2503 Lewisville Clemmons Rd. Clemmons, NC | 336-766-8505 Treasures Decor Consignment 2671 Lewisville-Clemmons Road Clemmons NC 336.306.9341 | treasuresdecor.net 5 Locations including Clemmons! trutkd.com Beautifully Hypnotic Hair Salon 6353 Cephis Drive Clemmons NC 27012 336-955-2766 new clients get a free haircut with purchase of highlights Home Decor • Antiques Painted Furniture 10 Vendors restocking weekly! 2550 Lewisville-Clemmons Rd. Mon-Sat 10-6 December 2022 | 65
Savor Flavors & Scents
BY SUSAN BB SCHABACKER
Celebrate a simply scent-sational Christmas and holiday season with savorable flavors and aromas of winter. Whether you're sledding or making snow cream and snow angels in a winter wonderland outside, sitting cozy by the fireplace, by a fir tree, or in an ovenwarmed kitchen with something yummy baking in the oven, you'll be transported as you reminisce about these winter scents . . .
Refreshing citrus, whether an orange covered in cloves and rolled in powdered spices, tart and tangy orange marmalade on a crunchy piece toast, or an optimistic swirl of orange zest garnishing a festive cocktail or mocktail.
A steaming mug full of hot spiced apple cider, mulled wine, or hot cocoa that warms your tummy.
Chai tea spices, their exotic scent rising in tendrils of steam from a mug that warms your hands as you sip and savor this nutritious and delicious black tea.
Vanilla snow cream, a sweet treat after catching snowflakes on your nose, tongue and eyelashes and making snow angels in a white winter wonderland.
Simple DIY Tips To Celebrate Winter Magic
String together cinnamon, dried orange slices, gingerbread.
Add atmosphere by burning fragrance oils, diffusing essential oils, spritzing room spray and adding a pot or bowl of potpourri.
To make potpourri for sachets, assemble a collection of dried leaves, herbs, berries, and nuts, then add fragrance oil. To hang sachets in your closet, pantry, or tuck into drawers, wrap mixture in tulle and tie with raffia or ribbon. Spray with fragrance to freshen up and enhance scent.
And, while you're in the kitchen, boil some spiced apple cider or mulled wine and bake some sweet treats (remember to set the timer!).
of a Magical Winter Season
The smoky, woodsy, earthy smell of wood fires keeping you warm and cozy by the hearthside of a candle-lit cabin in the woods.
Invigorating and refreshing peppermint and spearmint candy canes you pluck from your Christmas tree, stir into hot cocoa, and mint-aliciously awaken your senses.
The aroma of apple and pecan pies, just pulled from the oven, wafting from the kitchen, served with scoops of ice cream and dollops of whipped cream.
Sweetness and spiciness of gingerbread lattes, Moravian gingerbread, and Swedish gingerbread cookies (pepparkakor) linger in the air and on your palate.
An evergreen forest, the fresh smell of pine or fir trees, and a Christmas tree, a splendid sight, lit up at night.
Reminisce and joyously scratch and smell each imagined page in a now dogeared and dusty scratch-and-sniff book that ignites your imagination. Scents of hot cocoa, apple cider, and pine trigger welcome memories from childhood Christmases.
DIY Versatile Scented, Deodorizing Powder
Detox and makes a great gift when mixed with Epsom salt and sea salt for the bath.
Ingredients & Supplies:
1. 1 cup base powder(s) such as bentonite clay and kaolin clay which are ideal for facial masks and detoxifying baths, or choose arrowroot, tapioca, rice flour, oat flour, or garbanzo bean flour.
2. ½-¾ cup deodorizing powder(s) such as baking soda, arrowroot, and/or cornstarch.
3. 3 tablespoons herbs/flowers ground into a fine powder such as chamomile, lavender, calendula, chrysanthemums, jasmine, rose petals, and/or yarrow.
4. 50 drops of essential oils such as pine needles, fir, frankincense, myrrh, cinnamon, cloves, ginger, orange, peppermint, spearmint, rosemary, or cyprus.
5. Glass mason jar.
6. Raffia or ribbon.
7. Sprig of rosemary, sprig of lavender, cinnamon stick, dried orange slice or another whole spice, herb, or flower to tie around the jar.
Instructions:
1. Grind flowers or herbs into a fine powder using a mortar and pestle, food processor, or coffee grinder.
2. In a large mixing bowl, mix base powders, deodorizing powders, flowers, spices, and/or herbs.
3. Slowly and gradually add up to 50 drops of essential oils, mixing together and breaking up any clumps.
4. Store in a jar with a shaker top.
5. To use, sprinkle onto the body and lightly massage into your skin. Can also be sprinkled into shoes to deodorize and neutralize odor. Mix powder blend with water or apple cider vinegar and apply as a facial mask.
Recipe adapted from: https://naturallivingfamily.com/homemade-body-powder-recipe/ Smile and embrace the scents of a cozy winter Christmas and the holidays!
* * * * * * * * * *
*
*
*
66 | ForsythWoman.com
THIS HOLIDAY SEASON, GIVE THE GIFT OF HEALTH Outpatient Imaging Phone: 336-546-1932 I WakeHealth.edu/Imaging Schedule your mammogram and encourage your friends and family to as well. Screening Mammography Exams available at TWO convenient locations in Winston-Salem & Kernersville. December 2022 | 67
68 | ForsythWoman.com
Classic. Feminine. Fun.
BY MARTIE EMORY PHOTOS BY JODIE BRIM CREATIVE
Charmingly nestled in Winston-Salem's historic West End, Evelyn Rose Boutique is a treat for savvy shoppers who love classic, feminine style. Owner Rachel Morales first introduced her dream as a mobile boutique in her cherished Airstream – which is now a popular attraction at several pop-up shops in the Triad, Charlotte, and Raleigh areas.
INSPIRATION
"I still love the retro-aesthetic feel of the Airstream, and that people can shop both inside there and at the store now!" says Rachel. Customers count on the boutique when it's time to introduce a new color combination to their wardrobe, find an inspired look for a special occasion, or when a little retail therapy is on the calendar for a much-needed mood boost!
Rachel is the first to tell you she's a very grateful small business owner, and treasures the camaraderie among other Burke Street businesses. She loves helping build a community of women with similar fashion tastes, while honoring her great-grandmother, Evelyn, with the shop's clever name. A lifelong fashion devotee, helping other women expand their fashion world is a dream come true for Rachel, and introducing them to a bold new color or style that reflects their personality. "It's so easy to truly express yourself once you move out of your fashion comfort zone!" she notes.
The Evelyn Rose team includes Merchandise Manager, Krista – the lucky first person to see new styles when they arrive – and Lexi, who assists customers on the floor. You'll also see her modeling for the boutique's social media pages. Follow them on Instagram to see sales and events that are happening, and for new styling ideas.
December 2022 | 69
EVERYTHING NEW
"We're so excited for all the new arrivals launching in December, and all our specials for the month!" says Rachel. "In December we will be starting a new gathering every Wednesday evening during the month called Wine Wednesday. It's a happy hour for shopping, complimentary wine while you shop, and a special discount during the hours of 4:00 p.m. - 6:00 p.m."
Customers can sign up via email and text to be the first notified of sales and special events, as well as a first look at new arrivals. Helpful hint: Evelyn Rose Boutique gift certificates are awesome gift ideas – and fit perfectly in Christmas stockings!
The Airstream is also geared up to hit the road in December, with two big pop- up events. "The first is a new one for us," says Rachel. "We'll be in Raleigh at the Junior League Shopping Spree event on December 1 through December 4, and the second event is Girl Tribe Pop-Up in Charlotte, at the Charlotte Convention Center, December 10 and December 11. We've now popped up at more than 10 Girl Tribe events with the Airstream."
And after the hustle, bustle, and magic of the holidays,
70 | ForsythWoman.com
spring will be just around the corner. "For spring we have fun colors coming back –aqua, orange, and pinks are definitely the three hottest colors we have coming in!" says Rachel. "Popular styles customers can expect to see from us this next season are pretty sundresses, and lots of matching sets!"
Even more exciting news: you can now shop the boutique at a second location!
"We have a space at Girl Supply which is located in Birkdale Village in Huntersville, NC." saysRachel. "Girl Supply is a 10,000-square-foot space filled with over 20 amazing women-owned businesses, and we are one of them!"
The Huntersville spot carries some of the same items as the store in Winston-Salem, along with special styles exclusive to that location. Girl Supply is run by Girl Tribe, a Charlotte-based boutique, and also the same Girl Tribe that hosts the popular Girls Tribe Pop-Ups in Charlotte. (Girl Supply is located at 8805 Townley Rd, Birkdale Village, Huntersville, and is open Monday through Saturday 10:00 a.m. - 7:00 p.m., and Sunday 12:00 p.m. - 5:00 p.m.
Shopping at Evelyn Rose couldn't be easier – with the options of online, mobile via the Airstream, or at the brick-and-mortar stores, Rachel and her talented team promise a next-level experience, no matter which one you choose!
Visit Evelyn Rose Boutique in Winston-Salem at 916 Burke Street. Hours are Tuesday through Friday 11:00 a.m. - 6:00 p.m., and Saturday 11:00 a.m. - 5:00 p.m. Reach Rachel or her staff at info@shopevelynroseboutique.com, and online at shopevelynroseboutique.com. Follow them on Instagram @theevelynroseboutique for upcoming pop-up dates and more information on new topics and trends.
December 2022 | 71
Creative and Peaceful Ways 5
to Celebrate the Winter Solstice
BY MEGAN TAYLOR
A few days before Christmas is celebrated and the candles are lit for Kwanzaa, people throughout the world come together and commemorate the winter solstice. Observed this year on Wednesday, December 21st, the winter solstice is a time of seasons changing and one of the Earth's poles being tilted as far away from the sun as possible. The sun is the farthest south in the Northern Hemisphere at this time. This tilt only happens twice a year - once during December and the other during June. In fact, December 21st is known as the "shortest day" of the year because of this and is the first official day of winter.
The winter solstice is of valuable importance to many people. The word "solstice" is Latin and made of two words: sol - the sun and sistere - to make a stand. This day symbolizes life, death, and the sun's rebirth. It is often considered to be one of the most powerful moments of the year because the Earth pauses and hesitates for a moment on the tilting axis. Ceremonies and festivals are held throughout the world and have been for centuries to celebrate this passing event. Saint Lucia Day in Scandinavia, the Dongzhi festival in China, and the Stonehenge gathering in England are just a few of the more well-known traditions of the winter solstice. However, there are many activities that can be held on smaller scales, such as with your family and friends, and can turn into traditions for years to come. The festivities below are only a handful of the options available:
MAKE DIY-LANTERNS TO HANG OUTSIDE
Using Mason jars, colored tissue paper, and leaves, cut out sun, moon, and star shapes in the tissue paper. Then, glue the shapes and leaves to the outside of the jars. White Elmer's glue or Mod Podge work great for this. Be creative. Once the glue has dried, place a tea light inside the jar and set outside to help make the shortest night of the year last longer. You can also take this tradition a step further by turning off all the lights and spending the night with only candlelights and the light of the lanterns.
READ BOOKS BASED ON THE WINTER SOLSTICE
This is a great activity to do with kids. Spend the night snuggled up
with hot chocolate, blankets, and a good book. There are many books, of all different lengths, available about the winter solstice. The Shortest Day by Susan Cooper is a favorite for many.
CRAFT AN ORANGE POMANDER
Orange and cloves are two scents that are closely associated with the winter and holiday seasons. Together, they make a festive decoration. An orange pomander is simply an orange with cloves poked into it in a shape or pattern. First, use a zester or peeler to create your design. Then, poke holes along the lines of the design and place cloves inside the holes. You don't have to have a design. A random pattern works just as well. Lastly, you can roll your orange pomander in cinnamon, ginger, nutmeg, or another scent for an extra spice element.
WATCH THE SUNSET OR SUNRISE
Since the winter solstice is all about the sun and rebirth, a quick and easy activity is to sit back, relax, and watch the sunset and/or sunrise. While watching the moment, take time to reflect on the season, the positive aspects of your life, and areas where you feel growth could be possible. After all, the winter solstice is a chance for a new beginning.
HANG AN EVERGREEN WREATH
Evergreens are symbols of safety, success, and eternal life - perfect associations for the winter solstice. When placed into a wreath (or you could even make it a planter), along with yew, pine, holly, ivy, and mistletoe, good tidings and well-wishes have a chance of coming your way. Here is your quick reference of the meanings behind the plants:
PINE: HEALING HOLLY AND IVY: GOOD ENERGY MISTLETOE: AFFLUENCE YEW: ETERNAL LIFE
The winter solstice holds a powerful meaning of healing, growth, and rebirth. However you may honor the day, be sure to relax, reflect, and think. Then, mark your calendars for the summer solstice six months later.
TEDDYSTACTICAL.COM - 336.506.8822 CLEMMONS, NC Less-lethal self protection | No waiting period or background check Can carry almost anywhere | Authorized Byrna Dealer December 2022 | 73
BRANDON
JAMES:
FINANCIAL ADVISOR AT MARZANO CAPITAL GROUP
It's not uncommon these days for people to start one career and then to – quite suddenly – find a new and unexpected opportunity that results in a change in direction. Such is the case for Brandon James, a financial advisor at Marzano Capital Group.
"I spent the first part of my career as a Subway franchisee," explained Brandon. "I owned one store and had partial ownership in two others. While it was a great experience in many ways, running three restaurants with three children at home is very challenging. So after much reflection and many discussions with my wife, we decided I needed a change.
"I was still young enough to try something new, and when speaking with my own financial advisor, he shared with me about the opportunities in his field. I was intrigued by the process of financial management, so in the spring of 2017, I began transitioning out of Subway. I joined Northwestern Mutual as a financial advisor in August 2017."
Brandon continued, "It was really interesting to be on the other side of the table. While I work with clients in all stages of life to meet their financial goals, I still have a soft spot for working with entrepreneurs and business owners because I know their unique challenges firsthand."
While Brandon is involved with building financial plans and working with clients, he shared that one of his favorite things is evaluating the risks and benefits of investments. "I compare it to examining the engine of a car. Only when we open the hood and look around can we fully appreciate and understand the mechanics of what makes the car run. The same is true with finances. I enjoy diving in and examining the options that can really make a person's investments run well."
After a few years at Northwestern Mutual, Brandon joined Marzano Capital Group in 2020. "I had met Mike McGilvary at the Lewisville-Clemmons Chamber of Commerce as a new financial advisor. When the opportunity to join Marzano Capital Group came up, it seemed a great fit. I was very intrigued by the opportunity to work in an independent environment. It's given me more flexibility to think outside the box and help the clients we serve."
Brandon has been married to his wife, Cambria, for 14 years.
MEET THE ADVISORS Behind Making Dollars Making Sense
BY DENISE HEIDEL
TWO FUN FACTS & A TIP
Brandon James shares two fun facts and his best financial tip: 1. If Brandon could have any other career – he would want to be a PGA Golf Pro, though he admits he would need more practice for that career. 2. Brandon is an Eagle Scout and is still active in the scouting community, currently serving on the Eagle Alumni Committee, "Awards & Recognition."
BRANDON'S TIP: Don't try to keep up with the Joneses because, in reality, the Joneses might be broke.
Together, they have three children – Ali, Ana, and Aiden. Brandon is a Clemmons native and a graduate of West Forsyth High School. He earned a bachelor's degree in business administration from East Carolina University.
Brandon enjoys playing golf and guitar and spending time outdoors in his spare time. He and his family love to travel, especially visiting and discovering new places.
Brandon is always eager to help individuals and families plan and prepare for their financial futures through sound financial management. "The relationship with our financial advisors is deeply personal, and it is anchored in trust. I know how much I depended on my financial advisor before transitioning into this field. It's
my goal to be the same kind of resource to the clients we serve at Marzano Capital Group."
Marzano Capital Group is located at 2625 Neudorf Road, Suite 400 in Clemmons. Call them at 336.766.0464 or visit them online at MarzanoCapitalGroup.com. Also, be sure to like their page on Facebook.
Securities offered through LPL Financial, Member FINRA/SIPC, Investment advice offered through Independent Advisor Alliance, a registered investment advisor, Independent Advisor Alliance and Marzano Capital Group are separate entities from LPL Financial.
74 | ForsythWoman.com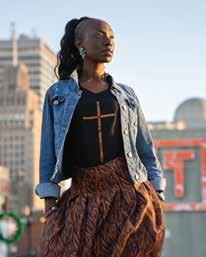 Sahloff Photography Become a scroll stopper! Bold. Vibrant. Timeless. Natalie Sahloff | Owner/Photographer sailoffphoto.com | Natalie@sailoffphoto.com | 336.407.2655 @sailoff_photo December 2022 | 75
Child Care Health Consultation Services @ Smart Start of Forsyth County
Did you know that:
North Carolina is the 32nd ranked state in terms of childhood health. Poor health can come from stress, poor nutrition, abuse, lack of health care, and inadequate housing.
. .
In 2019, almost 11% of babies born in Forsyth County were considered below a healthy birth weight (5.5 pounds). Low birth weights are an indicator for health issues in babies and children, including the risk of death within year one.
In 2019, 50.2% of children in Forsyth County lived in poor or low-income homes.
In 2019, only 6% of children in North Carolina had health insurance. This is a 2% decrease from 2010.
In 2019, 53.9 children out of 1,000 were assessed for abuse or neglect in Forsyth County.
In 2019, there were 62.8 child deaths per 100,000.
Improving these statistics will take a collaborative effort of many in Forsyth County. For this reason, Smart Start of Forsyth County not only provides resource services for families but also for Child Care Centers across the county through our Child Care Health Consultation Services program.
Child Care Health Consultation (CCHC) Services are provided through SSFC's Manager of Child Care Health Services, a trained Public Health Professional. This professional will come to the site to provide technical assistance
in the form of consultation and coaching to early educators. The consultant will also conduct health and safety assessments and provide training related to health and safety topics to child care providers and early educators, allowing them opportunities to continue their own education.
Smart Start of Forsyth County will implement activities that follow the CCHC Service Model, which was founded to ensure consistent statewide
CCHCs are skilled to provide training and support in the following areas:
Quality health, wellness and safety practices
Policy development and implementation
Health education
Resource and referral
Illness and infectious diseases
Children with special healthcare needs Medical administration
Safety and injury prevention
Emergency preparedness, response and recovery
Infant and child social and emotional well-being
Child abuse and neglect
Nutrition and physical activity
Oral health Environmental health Staff health and wellness
child care health services that positively impact the quality of care received in early care and education settings. The CCHC Service Model is in alignment with Caring for Our Children, National Health and Safety Performance Standards, Guidelines for Early Care and Education Programs (CFOC), and the National Center on Early Childhood Health and Wellness's Child Care Health Consultant Competencies.
At Smart Start our vision is to create an equitable early childhood system that will foster an environment for learning, growing, developing, and succeeding. Together, with our collective work, we can improve the child care climate within Forsyth County and diminish these disparities amongst the children in our community.
Statistics show that this service and subject is important to child care centers and their staff, as well as to area families. Together, we can improve the child care climate within Forsyth County. This program is available to child care providers and facilities for free, as a way of helping child care programs maintain a healthy and safe environment. The CCHC services are intended to help build capacity in a much-needed area of child care and staff development.
Allow Smart Start of Forsyth County to be not only a resource, but an ally for you and your child care facility! To learn more about how we can be of service to you or your facility, please visit our website at www.SmartStart-FC.org
. . .
Sma r t S t art -FC .org To register for this free program, visit Dream More, Learn More, Care More, Be More Plastic Surgery Vest Mill Professional Park 1450 Professional Park Drive, Suite 300 Winston-Salem, NC 27103 336-713-0255 WakeHealth.edu/plastic Se Habla Español Our Providers
R. David, MD, FACS
DeFranzo, MD, FACS
Pestana, MD, FACS
J Katz, MD, FACS
MD, FACS
MD
aesthetician Buy One...Gift One at half off. Purchase any aesthetic service and receive another same service at half off to gift or keep for yourself. (Does not include wax, tint, scrubs, or massage services.) Specials are good through 12/31/22 December Specials 20% Off All Skincare Products December 2022 | 77
www.
Lisa
Anthony
Ivo
Adam
Christopher Runyan,
Bennett Calder,
Elizabeth Farris,
Comfort and Joy
BY JEAN MARIE JOHNSON
When summer emerges in all its verdant glory, my kitchen windowsill sports three glasses:
one green, one golden, one lavender
Each is a vessel for something from my piece of Mother Earth – a sprig of rosemary, a handful of basil, a trailing thyme. As the morning sun graces this seasonal vignette, the light shines through the etched glass, stopping me in my well-worn, everyday tracks, scooping out the coffee or washing the blueberries, or wondering if I have what I need for tonight's dinner. I pause to savor the moment, grateful for its gentle prompt to stop, to see, to take in the beauty at every turn.
I don't recall where those light-filled lovelies found me, but I knew I had to bring them into my world. I imagined there was a fourth glass at some point, maybe pink? Maybe blue? Perhaps they were passed over by another would-be buyer as their practical mind rhetorically asked, "Who wants three glasses, after all?" No matter because they were of course too delicate and impractical for the everyday, and it wasn't my head that told me to buy them, it was my heart.
The longer I occupy the earth plane, the more deeply I "know in my knowing" that the heart expresses a wisdom that the head will never understand. Take love or faith, ever inexplicable and personal. And yet, where would we be without them? For me, joy, or, more specifically that which brings me joy, comes from that same mysterious place.
As I travel those well-worn, everyday tracks, I am everywhere reminded
of how I have filled my home with joyful, joy-filled "things," like those glasses. And I understand why. It's the same reason that, back in my hither and yon road warrior days, I would buy that over-priced eucalyptus mint hand cream, or that amber vanilla travel candle from a cute airport shop - to spark some comfort and joy in the turnkey hotel room that would serve as my transient home. I'd lay down my hardearned cash to remind myself that
Everywhere - in the midst of the mundane, the necessary, the difficult, the ugly - there is food for the soul and inspiration for the spirit.
It's the same reason that I balance the constant onslaught of worldweary news with poetry, literature, and glossy shelter magazines.
The same reason I walk backwards to take in the glory of a bursting, early morning sunrise.
The same reason I organize my towels by color and size. Can such a utilitarian thing be beautiful? Can it spark a sense of comfort? Maybe even joy? Oh, yes!
Not everyone understands, and they don't need to. Moved and humbled, I will continue to stop, to see, to take in the beauty around me. And at night, when the lights are out and I seek rest, these are the last words that will leave my lips: "I am grateful for this bed that comforts me." Then I will close my eyes, trusting that whatever the next day brings, it will contain its own inexplicable share of comfort and joy.
78 | ForsythWoman.com
December 2022 | 79
The Sweet Spot:
The Sweet Spot: A Second Taste
BY AMY HILL
As the year comes to a close, don't forget to give these tasty Triad bakeries a try to satisfy your sweet tooth this holiday season.
BAKED JUST SO
Baked Just SO provides customers with pastries, specialty cakes, and ice cream sandwiches. Owner Stacey Milner also created the customer favorite, dairy-free latte called "The Stacey," a lavender vanilla latte made with oat milk. Customers rave about Baked Just SO's croissants, which sport seasonal flavors such as fig and goat cheese with honey. Baked Just SO hosts birthday parties and serves coffee beverages made with air roasted Magic Bean coffee. Visit the bakery's website at www.bakedjustso.com, and follow the team on Facebook and Instagram at @bakedjustso1. Stop by in-person at 5395 Robinhood Village Dr. in Winston-Salem, or speak to a team member directly at (336) 923-5778.
LIV FOR SWEETS
Liv for Sweets owner Olivia ("Liv") Jessup treats Pilot Mountain locals to craft cupcakes, custom cakes, and fruity sweets, including the much-loved alcoholinfused cupcakes every Saturday. Locals also look forward to participating in Liv for Sweets Bakery's Gingerbread House Contest, with voting taking place on the first Saturday in December. Additionally, Jane and her team create standardized party cakes for large events such as birthday parties, anniversaries, and more. Check out Liv for Sweets online at www.livforsweetsbakery.com.
Call the bakery at (336) 444-8400, or visit Liv and her team in-person at 134 West Main St., Pilot Mountain, NC 27041. Email Liv at LivForSweets@gmail. com, and follow @livforsweetsbakery on social media.
LOUIE AND HONEY'S KITCHEN
Mother-daughter duo Natalie and Naomi Gingerich are the owners of Louie and Honey's Kitchen, and are the geniuses who created Louie and Honey's social media-famous Amish cinnamon rolls topped with a brown sugar icing. In fact, the Kitchen's enormous Amish cinnamon rolls are a customer favorite that helped propel Louie and Honey's in popularity among locals and out-oftown visitors. Thanks to the Kitchen's coffee manager Jake, Louie and Honey's Kitchen also features a new latte on the menu each month. To place an order for in-store pick-up, visit www.louieandhoneyskitchen.com. Stop by in-person at 401 W. End Blvd, check out the shop's Facebook page, and follow @ louieandhoneyskitchen on Instagram to learn more.
LEI LEI'S CUISINE & BAKERY
Clemmons gem Lei Lei's Cuisine & Bakery is owned by Lei Lei Patterson, and is beloved for Lei Lei's iconic red velvet cake. In addition to baked goods, Lei Lei's Bakery also creates a no-churn ice cream, which Lei Lei learned from her father as a child. Customers go crazy for Lei Lei's chocolate cake, which sells out nearly every Saturday. Read more about Lei Lei's Cuisine & Bakery and place an order online at www.leileisbakery.com. Check out Lei Lei's Cuisine on Facebook, and follow the team on Instagram at @leileiscuisine. For all other inquiries, email bakery@leileis.com, or call the shop directly at (336) 794-6511.
WHAT JANE BAKED
Wife and stay-at-home mom Jane Davis creates customized masterpieces from her home kitchen in Mt. Airy, specializing in buttercream flowers and petal work. Customers often request Jane's notorious white chocolate raspberry cake, along with her Biscoff white chocolate cake. Jane also concocts cakes inspired by classic candy bar favorites. What Jane Baked has created cakes for weddings of all sizes, but most frequently makes four-tiered cakes for wedding sizes of 150 guests. To place an order at What Jane Baked and to browse the menu, visit the What Jane Baked website at www.whatjanebaked.com. See Jane's creations on Facebook and Instagram at @whatjanebaked.
WILKERSON MORAVIAN BAKERY
Wilkerson Moravian Bakery has been serving iconic Moravian baked goods to customers since 1925. The Wilkerson family has perfected the craft of the Moravian Cookie in a variety of flavors, Love Feast Buns, and the beloved Moravian Sugar Cake. Gift-givers love sending Wilkerson Moravian Cookies, Moravian Sugar Cakes, and Carolina Cheese Straws to family and friends throughout the holiday season. Read more about the Wilkerson Bakery at www. wilkersonbakery.com. Visit Wilkerson Moravian Bakery at 50 Miller Street Suite B in Winston-Salem, and follow @wilkersonbakery on Instagram, Facebook, and Twitter. For questions or inquiries, email info@wilkersonbakery.com or call directly at (336) 829-0407.
NOTHING BUNDT CAKES
With a variety of flavors and sizes to choose from, customers can purchase Nothing Bundt Cakes to serve anywhere from 1 to 20 individuals. Pre-purchase themed cake toppers, candles, and serving packs to enhance your party decor. Year-round flavor staples include decadent Chocolate Chocolate Chip, Red Velvet, White Chocolate Raspberry, Lemon, and Carrot to name just a few. Visit www.nothingbundtcakes.com to see flavor and size options, place an order, and pre-purchase cake decor. Visit the Winston-Salem branch in person at 678 Saint George Square Court, and call the store directly at (336) 306-9146 to speak with a team member.
BOBBY BOY BAKESHOP
Since 2019, Lucia and John Bobby's culinary and pastry-making expertise have propelled Bobby Boy Bakeshop to Triad fame, notorious for popping out artisanal pastries intricately decorated and baked with high-quality ingredients, including those from the bakeshop's own garden of mint, basil, and edible flowers. Customers enjoy sipping coffee on their walk home, on the shared back patio, and utilizing the bakeshop's 15-minute dog parking spaces. Check out the bakeshop online at www.bobbyboybakeshop.com, and follow @ bobbyboybakeshop on Instagram and Facebook. Visit the Winston-Salem bakeshop at 1100 Reynolda Rd.
80 | ForsythWoman.com
5395 Robinhood Village Drive | Winston-Salem | 336.923.5778 Louie & Honey's Kitchen 336-422-7500 louieandhoneyskitchen.com @louieandhoneyskitchen wilkersonbakery.com 336.829.0407 | info@wilkersonbakery.com @WilkersonBakery #TasteTellstheTruth™ livforsweetsbakery.com livforsweets@gmail.com | (336)444-8400 134 W Main Street, Pilot Mountain NC 27041 What Jane Baked whatjanebaked.com @whatjanebaked Lei Lei's Bakery 6354 Cephis Drive Clemmons NC | 336.794.6511 | bakery@leileis.com | @leileiscuisine Nothing Bundt Cakes Bundtinis® & our "Witches" Hats and Boots" Bundtini Toppers available by the dozen. ORDER ONLINE! WE DELIVER! NothingBundtCakes.com Burlington 1461 A University Drive Burlington, NC 27215 (336) 915-4030 Winston-Salem 678 St George Square Ct Winston-Salem, NC 27103 (336) 306-9146 Bobby Boy Bakeshop ARTISAN PASTRIES & BREAD 336-955-2284 • 1100 Reynolda Rd bobbyboybakeshop December 2022 | 81
LetteLight of te WorldShine
The Meaning of Light during the Holiday Season
BY MEGAN TAYLOR
During the holiday season, Hanukkah, Christmas, and Kwanzaa are the three main celebratory events. Each holiday has different backgrounds, beliefs, and traditions that people throughout the world honor. While the three celebrations have their own meanings and festivals, there is something they all have in common: the importance of light.
Holiday lights are all around us. We see them in the forms of tree lights, garlands, candles, stars, menorahs, Kinaras, and many other illuminating objects. Light is very meaningful and important for all three religious and cultural holidays. The meanings date back to the beginnings of the celebrations. The symbol of light overcoming darkness is powerful and represents the hope that many people have. Finding the similarities between the symbol of light in Kwanzaa, Christmas, and Hanukkah is easier than you think.
CHRISTMAS
To Christians, Jesus Christ is the light of the world. He is the source of all of the light and stands to remind us to be that light to others around us. It is a reminder of hope, joy, and good in the world. Because of that, the brightness of tree lights, candles, and others throughout the Christmas season represent Jesus Christ. In addition, these illuminations are symbols for the Star of Bethlehem that appeared at Christ's birth and guided the three wisemen. Lastly, during Christmas, lights are significant for being known for the path to salvation through Jesus Christ.
HANUKKAH
Also, known as the Festival of Lights, one of the most well-known features of Hanukkah is the menorah. According to author and rabbi Shimon Apisdorf, light is the central and foundational understanding for Judaism. "Light is the overarching, central, and definitive metaphor for Jewish understanding of all of reality," Rabbi Apisdorf stated in his book Chanukah: Eight Nights of Light, Eight Gifts for the Soul. Holding nine candles, the menorah symbolizes the light of God. After the rededication of the Temple in Jerusalem, there was only enough olive oil left to light
the eternal flame in the Temple for one day. However, that oil burned for eight days. Now, those eight days are represented by the eight of the nine candles on the menorah. The ninth candle, the shamash light, is used to create flames for the other candles. Together, the light of the nine candles honor the miracle that occurred many years ago. Each night, during Hanukkah, a candle is lit, while prayers and songs are recited.
KWANZAA
A cultural holiday, Kwanzaa's traditions are similar to Hanukkah in the aspect that Kwanzaa also has a candle holder, the kinara. For Kwanzaa, light represents family, community, and culture. In addition, light symbolizes the sun's powers and the African belief that all life comes from the sun's rays. The kinara holds seven candles, one for each principle of Kwanzaa: umoja (unity), kujichagulia (self-determination), ujima (collective work and responsibility), ujamaa (cooperative economics), nia (purpose), kuumba (creativity), and imani (faith). Within the kinara, black, red, and green candles stand and are lit. One black candle for the African people, three red candles for their struggles, and three green candles represent hope for the future. There is also a proper order for lighting the candles to add to their special meaning. Many people first start with lighting the black candles then move left to right when facing the kinara. This symbolizes struggle than hope that comes from the struggle. The candles are lit daily throughout the seven days of Kwanzaa.
The importance of light in Christmas, Hanukkah, and Kwanzaa all stand for hope, unity, and the power of believing. In addition, light shining bright during the holiday season is also connected to the winter solstice, when the seasons change and the shortest day and longest night of the year occur.
No matter what time of the year, the meaning of light is still the same. Rays shining bright help guide people in many different ways and offer them a sense of protection and comfort, just like they do during the seasons of Christmas, Kwanzaa, and Hanukkah. As the lyrics to the song "This Little Light of Mine" goes, light will always shine throughout the world. "Let it shine, all the time, let it shine."
82 | ForsythWoman.com
POP UP DATES
Thurs-Sun Dec 1st-4th
The Bizarre Bazaar at the Richmond Raceway Complex Fri-Sun Dec 9th - 11th 10am-4pm, Vintage Market Days Asheville, 761 Boylston Hwy, Fletcher
Saturday December 17th 12p-6p Matthews Mainline Market, W. Charles St, Downtown Matthews
Sunday December 18th 11am-4pm, Pop Up in the Pines at Hatchet Brewing, 490 SW Broad Street, Southern Pines Wed-Sat Dec 21st - 24th Wed-Fri 11-8, Saturday 10-4 Pop Up Shop at Brown Truck Brewery, 1234 North Main Street, High Point
© Novant Health, Inc. 2020 Call us at 336-765-5470 or visit nhwomancare.org Our team approach addresses your unique needs BLUEJEANBOUTIQUENC.COM | @BLUEJEAN.BOUTIQUE
Novant Health WomanCare 1730 Kernersville Medical Pkwy. Suite 104 Kernersville, NC 27284 114 Charlois Blvd. Winton-Salem, NC 27103 4130 Clemmons Rd. Clemmons, NC 27013
December 2022 | 83
Anne Glenn Owner, Best of Winston
BEST OF WINSTON
SHOPPING LOCAL
It's the holiday season, so what better time than now to shop local! While we couldn't include all of the amazing local shops you can find in our area - there are too many! - we've rounded up a variety of spots that will check off everyone on your list. (And make sure to follow us on social media @bestofwinston for our curated gift guides!)
1. SOUTHERN HOME & KITCHEN
Southern Home & Kitchen is the place to go for your mom, neighbor, chef-friend, or hostess gifts. You can always find a new kitchen gadget or pretty platter for that person who's hard to shop for, and with their wide range of price points for gift-y items, it's easy to stock up on lastminute gifts like candles, matches, and soaps. Get them to gift wrap a couple of items so you're always ready with a present! 200 S Stratford Road, Winston-Salem
2. FIDDLE & FIG
With trendy seasonal decor and classic pieces for your home, Fiddle & Fig is where you should head for college students and recent grads, friends, and in-laws. Everyone loves beautiful items at the holidays, so you can't go wrong with a new ornament, decorative candles, faux trees, or a classic white pitcher. 403 West End Blvd, Winston-Salem
3. HIVE
If you need to wow a woman on your list, Hive is the place for you. With upscale fashion, art, and accessories, Hive has something for the woman who has everything. Don't miss their elegant bar accessories and cocktail table books. 304 S Stratford Road, Winston-Salem
4. EVELYN ROSE BOUTIQUE
What about something to impress teens or fashionistas? Hit Evelyn Rose. They offer trendy, affordable clothing and accessories. Don't be shy about asking their superfriendly staff for help in selecting the right gift. 916 Burke Street, Winston-Salem
5. ROLLY'S BABY BOUTIQUE
Head to Rolly's if you need a gift for a new parent or child; they carry adorable clothing plus a selection of toys and books for younger children. And make sure you get them to gift-wrap your presents - they make the prettiest bows! 275 S Stratford Road, Winston-Salem
6. CAMEL CITY GOODS
Here's our go-to place for the men in our lives. Buy a soft Camel City Goods shirt or one of their mugs with a new graphic design, and we guarantee your gift will actually be used. Shop at Camel City Goods for your Wake Forest or UNCSA fan, too; they carry a wide range of items bearing the schools' logos. 1004 Brookstown Avenue, Winston-Salem
7. PIEDMONT CRAFTSMAN
If you want something unique and one-of-akind, Piedmont Craftsmen offers a wide range of art for sale. For the person who appreciates handcrafted items, you can find everything from jewelry to paintings here. 601 Trade Street NW, Winston-Salem
8. MAST GENERAL STORE
While Mast General Store is a local chain, it still makes it on our list for their commitment to the local community. We love their desire to reinvigorate downtown shopping areas, so make it a point to shop downtown at Mast General Store this holiday. You'll find gifts for outdoor enthusiasts, kids, and grandparents here. 516 Trade Street NW, Winston-Salem
84 | ForsythWoman.com
F. Simmons, M.D.
F. Simmons is a native of Houma, LA. She earned an undergraduate degree in 2014 in Biological Sciences from Louisiana State University in Baton Rouge. Dr. Simmons then attended LSU Medical School in Shreveport, LA where she earned her medical degree in 2018, receiving an award for excellence in OBGYN. She went on to complete her obstetrics and gynecology residency at Ochsner Medical Center in New Orleans, LA earning distinction in laparoscopic surgery in 2021. She enjoys cooking, being outdoors, playing tennis and spending time with her husband and her dog.
Hawthorn Obgyn www.hawthorneobgyn.com 4605 Country Club Road Winston-Salem, NC 27104 • 336-768-3632 We participate with Novant Health and Wake Forest Baptist Medical Center insurance plans. Anthony L. Masciello MD, FACOG Kerri R. Scherer MD, FACOG C. Aaron Thompson MD, FACOG Ray M. Braquet MD, FACOG Jennifer Santos NP-C Jill Smith NP-C Katelyn Simmons MD
Katelyn
Provider Spotlight SAIL OFF PHOTOGRAPHY Best Steaks & Chops Mon - Thurs 11am - 9pm | Friday - Saturday 11am - 10pm | Sundays -10am - 3pm - Sunday Brunch TANGLEWOOD CROSSING SHOPPING CENTER 5279 U.S. Hwy. 158 | Advance , N.C. 27006 | 336-940-2010 | @Davietavern | DavieTavern.com FOLLOW US ON FACEBOOK FOR DAILY SPECIALS • BEST SOUPS IN TRIAD! We cater events of all sizes! Weddings, corporate, birthdays and more. December 2022 | 85
Katelyn
Eight Great Movies - Holiday Edition... Something for Everyone
BY KAREN COOPER
'Tis the season for holiday movies! While there are plenty of great classic holiday films we practically know by heart, there are also other holiday movies you may not have heard of. Check out this list and find the ones that suit you best.
THE CLASSIC: MIRACLE ON 34TH STREET (1947)
InIn this story, a man calling himself Kris Kringle (Edmund Gwenn) is found just in time to fill in for Macy's drunk Santa in the Macy's annual Thanksgiving Day parade. Kringle is so likable, he becomes the store's new Santa, but something is a little off. Kris Kringle tells everyone he really IS Santa! Befriended by Doris Walker (Maureen O'Hara) and her daughter Susan (Natalie Wood) who are both practical and reject all notions of fantasy, Kringle is on a mission to prove his identity. He pleads his case in court to determine his state of mental health and, ultimately, his authenticity.
THE COMEDY: NATIONAL LAMPOON'S CHRISTMAS VACATION (1989)
Clark Griswold (Chevy Chase) has his heart set on a perfect family Christmas which includes a house filled with relatives. His wife Ellen (Beverly D'Angelo) is not as keen on his plan. Clark becomes nearly obsessed with finding the perfect tree and putting up the most spectacular decorations. However, everything does not go as planned, and instead things start to go awry almost immediately, making Clark's efforts and intensity all the more hilarious. When cousin Eddie (Randy Quaid) shows up, the movie just levels up a notch on the humor.
THE HOLIDAY HORROR: WIND CHILL (2007)
Emily Blunt stars in a chilling story about a college-age woman and her classmate who are traveling home to Delaware the day before Christmas Eve. They become stranded on the side of a snowy, remote highway when she starts to see a menacing figure who is always accompanied by the song "Rockin' Around the Christmas Tree." Is someone really out there? Is he coming for her or is the extreme cold playing tricks on her mind?
THE ROMANTIC: THE HOLIDAY (2006)
This is a story about two women who swap lives and their (perfect) homes to escape their messy problems. Amanda (Cameron Diaz) leaves her Beverly Hills mansion and Iris (Kate Winslet) leaves her quaint English cottage. Each woman is looking for something different in her life, and to find it, she will have to change her environment. Along the way they both discover new friendships, a new sense of purpose and of course, love. Jack Black and Jude Law also star in this enjoyable film about leaving your comfort zone to find what's missing in your life.
THE SO BAD IT'S GOOD: JACK FROST (1998)
Jack Frost is an easily watchable movie filled with holiday cheer and a talking snowman! A musician with dreams of stardom, Jack Frost (Michael Keaton) never had much time for wife Gabby (Kelly Preston), and son Charlie (Joseph Cross). A year after Jack's death in a car accident on Christmas Day, Charlie plays a sad tune on his father's harmonica. To his surprise, his father magically comes to life as a snowman on the front lawn. With this second chance, Charlie and Jack make up for lost time…before Dad melts away.
THE VINTAGE: IT HAPPENED ON 5TH AVENUE (1947)
Homeless New Yorker moves into a mansion and proceeds to gather others to live with him saying it's his home. Rich businessman Mike O'Connor (Charles Ruggles) owns the luxury townhouse. While he believes it to be vacant, drifter "Mac" McKeever (Victor Moore) has been staying there. Mac invites Jim (Don DeFore), an unemployed veteran to stay, and then O'Connor's own daughter, Trudy (Gale Storm), comes to stay. In the end, everyone comes clean about their true identities and lives happily ever after. A feel-good movie, if not entirely realistic.
THE MUSICAL: WHITE CHRISTMAS (1954)
Singers Bob Wallace (Bing Crosby) and Phil Davis (Danny Kaye) join a sister act with Betty (Rosemary Clooney) and Judy Haynes (Vera Ellen) to perform a Christmas show in Vermont. While there, they run into General Waverly (Dean Jagger), their old commander in World War II, who owns the inn where they are staying. The inn is in financial trouble and the team of entertainers pull together a fun-filled musical extravaganza that's sure to pull the business out of the red.
THE YES, IT IS A HOLIDAY MOVIE: DIE HARD (1988)
Now a beloved Christmas movie, the story follows New York City cop, John McClane (Bruce Willis) who has gone to LA for the holidays to visit estranged wife Holly (Bonnie Bedelia) and their children. While at Holly's holiday party, terrorists begin taking over the building, interrupting the festivities and soon McClane realizes it's up to him to save the day.
86 | ForsythWoman.com
17 Years Of Experience & Quality Local & Long Distance Packing, Moving & Secure Storage Contact us for a free estimate 336.765.3499 americanmovingandhauling.com WINSTON-SALEM PROUD FAMILY MANAGED WOMAN OWNED NCUC 2411 | NCDOT 2007851 Merry Christmas! Call today to book your event or become a member! Paul Stephens, Membership Director | 336-551-2736 | paul.stephens@invitedclubs.com 324 Bermuda Run Drive | Bermuda Run, NC 27006 | Follow us @bermudaruncc December 2022 | 87
BY CAROLYN S. PETERSON
Celebrating 75 Years of Bringing Smiles to Children's Faces
There truly is nothing like seeing the holidays through the eyes of a child with a new toy. Unfortunately, not all children have families that can afford a wanted toy. Since 1947, Toys for Tots, has collected new, unwrapped toys and distributed them to children whose parents are unable to afford Christmas gifts. The non-profit organization, operated and directed by Marines and the Winston-Salem Chapter that includes Forsyth County, is once again working to make this Christmas the best ever for local children!
SIMPLE BEGINNINGS
Toys for Tots began in 1947 when Marine Corps Reserve Major Bill Hendricks was asked by his wife, Diane, to deliver handcrafted dolls she made to an agency that helped children in need. When Maj. Hendricks could not find any organization, they decided to create one. Within the first year, they donated 5,000 toys to children in need all over Los Angeles, where the Hendricks lived at the time.
THE NEED IS GREAT
The USMC League Detachment #1075 is active year-round, not just during the holiday season. Rev. Victoria Reid, volunteer coordinator and technology support, said, "The local chapter members speak at local events, participate in parades, attend community functions and much more. The Toys for Tots program runs actively October through December at its peak season. From January to September, our Marines work to keep current support and relationships strong while building new partnerships, support and raising awareness each year."
LEADERSHIP AND COMMUNITY SUPPORT
For the last three years, Marine Tony Bricca, has been the coordinator of the local campaign Chapter of the Toys for Tots Program. Previously, Flow Automotive has made huge impacts in the program's growth by supplying an operations location. Because the program has grown so much, Toys for Tots received the support from Novant Health. The program collects toys in the white bins placed with local businesses and partners, like Flow, Novant Health, Reynolds America, Carolina Thunderbirds, Forsyth County Sheriff's Office and Winston-Salem Police Department to mention a few, and also receives news coverage from WXII. The toys are then brought to the operations center; sorting by age begins and then volunteers receive the applications with toy request, put families' requests together and plan pick-up times for approved applicants to come and get their toys. But, this plan was put to the test during the pandemic of 2020.
"The need for support of children in our community didn't change during the pandemic; if anything, it drastically increased. Tony Bricca, my dad, had one goal in 2020: to continue the mission of Toys for Tots. As Marines, the understanding of adapt, improvise and overcome is part of the foundational lessons all Marines learn. During this time, the core group of leaders looked to their families for ideas and support to continue the toy drive. We needed to distribute the toys and keep everyone safe. My dad looked to my mom, Faye, and me for help, and I presented him a plan to do all we needed to do and stay within the safety requirements in place.
Last year, we distributed 54,180 toys to more than 28,000 children," Rev. Reid commented.
"In our area, the community support for Toys for Tots is like no other. Not only do businesses support us by collecting toys, we have support from some of our college and high school athletic coaches, families, friends, groups, high school students and more. We also do our best to shop local to make a positive impact on our local area," stated Rev. Reid.
THE VOLUNTEERS AND THEIR FAMILIES MAKE THE DIFFERENCE
"We would not be thriving if it was not for the support of our friends and families. Our next coordinator, Jeff Williams, who plans to step into the role in 2023, looks forward to his vision and passion as the next coordinator. We have a solid group in place and have come so far with Jerry Johnson as administrative coordinator and Rick Schweikert, our operations coordinator. Our program would not be the same without Cherrie Williams and Lewis Pleasants. We are one of the few programs in the country with three generations of volunteers present in helping: Kelly Anders, Leanne Anders, and Pat York are a dynamite team of women who help with phones, organizing pick-up times, toy sorting and more. Faye Bricca Bricca, myself and my children also help in monumental ways. Then, we have a phenomenal group of spouses and close friends who step up every day in more ways than we can count. We look forward to the years to come of helping local families and children have a very Merry Christmas," Rev. Reid said.
For more information, visit winston-salem-nc. toysfortots.org.
450 N Patterson Avenue Suite 120 in Downtown Winston-Salem | 335.283.6754 | @sixhundred_wsnc December 2022 | 89
Patiently Rooted
BY KELLI MESSICK, OWNER OF PATIENTLY ROOTED
Hi, plant friends! My name is Kelli and my goal is to help more people become plant people and see all the amazing benefits plants can bring to your life. As the founder and owner of Patiently Rooted, a company dedicated to spreading the word about the benefits of plants, I have always had a love of nature and plants, and now I want to share my obsession with other people.
WINTER IS HERE
The cold weather is here and people often ask how to keep houseplants alive in the winter. The answers are simpler than you think and everyone can keep their plants alive in this cold season. If you haven't brought your plants in from outside, it is definitely time to do that. Houseplants thrive in warm temperatures so they will love the comfort of your home. Here are some tips on how to keep them healthy during these next cold months.
WINTERIZING TIPS
Since houseplants love to stay warm, try to group them together like they are cuddling. You can group them together based on their lighting and water needs to help keep them on the right schedule.
One of the most important things to remember is plants need less water in the winter. Since they are getting less sunlight their dry-out time is prolonged. When you go to check on your plants to see if they need watering, just poke at the soil and see if it's still wet or not. If it's wet then wait on watering it until it has dried out.
Speaking of lighting, since we are in the time of year when there is not as much sunlight, your plants will be affected by that. You will need to adjust them in your home so they still get as much light as before if possible. You will notice some of the leaves on your plants turn yellow, and that is because they are not getting enough light on them. They can't perform their normal photosynthesis journey, because of the lack of sun during this time of year.
When you do see these yellow leaves or leaves that have turned brown and
How to Keep Your House Plants Alive in the Winter
crispy, make sure you prune them off your plant. Leaving them there will only hurt your plant because they are trying to get nutrients to that leaf, even though it is already dead. By cutting it off, you can help the plant keep growing with its healthier leaves.
If your home is not getting enough light for your plants, you can get a grow light for them. These are available online and can help provide sunlight for your plants where it's lacking. Please be mindful when using them though, as they will burn the plant if they are kept on too long. I recommend reading the instructions that come with it because all grow lights are different.
Some people like to wait to repot their plants in the winter, but I am here to tell you it is ok to do so. If you can tell the plant needs to be repotted because it looks sad or has outgrown its pot, it's ok! Plants appreciate the new soil and nutrients, just make sure you only put it in a pot that is 1-2 inches bigger than the pot it is already in. I recommend repotting them inside to keep them warm and not reusing the same soil because it might have a pest in it.
Even though we are in the colder part of the year, houseplants can bring so much joy and warmth to your home. They give you the reminder that they need water, sun, and patience to grow, just like you.
The Real Deal with Candice Deal
THE FOUR PILLARS OF
BY CANDICE DEAL
HEALTH
Yes, 2022 is quickly coming to a close. The New Year's celebration is just around the corner and for many of us, it seems that each year may go by faster than the last. With 2023 on the horizon, we may be thinking of the traditional New Year's resolutions. If so, it's likely that the majority of people will focus that resolution on some aspect of their health and how to improve it. Health is more than just a number on a scale. In order to have good health we have to be well rounded in several aspects of our health.
Pillar One: Sleep. Sleep is vital and so often a difficult subject. It's easy to cut out sleep to make time for all the other things we feel are more important, but sleep is where our body and our brain health starts. It's estimated that 35% of American adults do not get enough sleep and that the average is less than seven total hours! When we neglect our sleep, we can find ourselves irritable, or in a brain fog, making it hard to remember important things or simply just being less than our best when we need to be productive.
Chronic sleep deprivation is linked to serious health issues, including major ones like stroke, hypertension and even heart attacks. Sleep is certainly something we should all be trying to make a priority. Not only to feel better each day but to keep ourselves in long term health. Many of us may make a habit of browsing the internet, social media or even watching bad television at night, none of which is probably serving us well, so cutting that out can lead to more time asleep and even better quality of sleep. The blue light that our devices emit has been shown to keep the brain more active and can disrupt our natural cadence to get sleepy at night. Adding in some blue light glasses at work while you are on the computer and putting the phone away and turning off the television for a half hour before your bedtime may greatly improve the quality of sleep!
PillarTwo: Nutrition. We are what we eat, they say! Filling up our fuel tank with whole
foods that truly serve our bodies and add to our nutritional health is an easy way to stay on a healthy track. Cutting out processed foods will greatly increase our nutritional health. Taking a multivitamin is also a great way to help close the gap in the nutrients we might be lacking from our diets. This can be a simple swap of reaching for an apple versus a granola bar. The simpler the ingredients, the better off your health. Keeping nutrition simple is the key to doing this long term for your health goals.
Pillar Three: Movement. Daily movement is the key. If you can find fifteen minutes in your day to dedicate to movement you can greatly improve your overall well-being, in your body and your mind. Some of us love to work out and some of us would rather not. Research has shown that this can actually be linked to our genetics! If you are someone who looks at a dumbbell or yoga mat with an eye roll, it could be that you are simply wired this way. Maybe a few walks a day would be a better option. Something as simple as walking is a great way to get your body moving, using your larger muscle groups which will in turn burn more calories, it's also going to improve your brain function. Getting in a fifteen-
minute walk can improve your cognitive performance up to 14% and help reduce sweet cravings! If you are someone who loves to work out, chances are you are getting your daily movement in.
Pillar Four: Self-love. Find your joy and do it daily, just for you. Women often tend to feel guilty when they take time for themselves but we have to find ways to have a joyful mind. Our mental health is a huge part of our overall health and it's certainly not last or least on the list. It doesn't mean that you need to visit the spa daily - it can be something like reading, taking a bath, or taking your fur friend for a walk. Whatever it is, do something that brings you joy each day. This simple act can do a wealth of good for your mental health, it can also improve your mood, making you a kinder and calmer version of yourself. It helps boost your immune system and you improve your life longevity. Joy can even bring you success. Studies have shown that if your team at work perceives you as a joyful person, you are 40% more likely to be offered a promotion.
When making any commitment to change, keeping it simple is the best way to keeping it going!
92 | ForsythWoman.com
Flex Your Healthy Legs.
The
Join us December 1 and 6 for a free vein consultation. RSVP required.
It is the perfect time to use your flex dollars or remaining insurance benefits towards healthy, pain-free legs in the new year. If you or someone you know is experiencing any of the leg symptoms below, Novant Health Vein Specialists can help.
If you experience:
• Swelling in your legs
• Leg pain and discomfort
• Tired or heavy legs
• Bulging veins
• Spider veins
• Skin discoloration
Schedule a free consultation today and be on your way to great looking legs for 2021.
RSVP to 336-306-8075 or go online to salemveins.com to register.
3250 Homestead Club Drive • Winston-Salem, NC (336) 770-2024 • Homestead-Hills.com Independent Living • Assisted Living Memory Care • Skilled Nursing • Rehab
Perfect Retirement, and the perfect way to experience the magic of the holidays with friends, family, and loved ones. An entire community of caring professionals dedicated to quality services where our Members live longer, healthier, and happier lives.
Three convenient locations Winston-Salem, Kernersville and High Point
December 2022 | 93
ANGELA HUBBARD, Director of Student Services, West Forsyth High School Leading by
Angela Hubbard, Director of Student Services at West Forsyth High School, is enjoying her 24th year in the Winston-Salem Forsyth County School district. She found her career in education by listening to her heart while attending the University of South Carolina. She had considered a career in physical therapy early-on at USC but changed her major to physical education with a concentration in sports medicine after working with the football and swimming teams. She worked with local high school athletic teams as a student trainer and discovered that she enjoyed the counseling aspect of athletic training more than the medical aspect. She listened to her heart and pursued a master's degree in counseling after graduation from USC, where she met her husband, Jeffery Hubbard, in her senior year and eventually moved to his home state of Virginia.
In 2000, Angela and her husband moved to Winston-Salem, where she joined the counseling team at RJ Reynolds High School (RJR). After two years at RJR as a student counselor, and at the youthful age of 27 years, Angela was promoted to Director of Student Counseling by Principal Stan Elrod. She listened to her heart and trusted that she was ready. "I did not have any children yet, so I just went for it!" Angela credits mentors like Mr. Elrod, a great counseling team, and active, involved parents for a wonderful five years at RJR High School. Her success led her to join Dan Piggott to help start Atkins High School. "That was the hardest I have ever worked; some days started at 8:00 am and ended at 1:00 am." This was a busy time for Angela as she and her husband started their family with their son, Jaiden, while Angela worked overtime to start a new school.
With this leadership success at Atkins, Angela returned to school at the University of North Carolina at Greensboro to pursue a doctoral degree in education, while her family continued to grow
Listening
with her daughter, Zori. She continued to flex her leadership skills as the principal at Flat Rock Middle School. Her valuable time at Flat Rock taught her that pre-adolescent conversations with 10–12-year-olds were "not her jam." She listened to her heart and transitioned to the District Office as the Director of Student Counseling, responsible for 150 K-12 counselors. This work was challenging and offered professional growth, but Angela eventually returned to high-school counseling, realizing that high school was "her jam"! As the Director of Student Counseling at West Forsyth High School, Angela helps teenagers navigate the stress and trauma that can come with high school. West Forsyth High School has 2,400 students and is the largest high school in the district. With a total of six counselors for this considerable number of students, Angela must be effective, organized, and caring.
Angela's message for the community is a positive "Thank you" for parents who support public schools with resources and time. While high school may seem like a time for parents to step back and allow their teenagers to blossom, she urges parents to stay involved, volunteer in counseling offices or at school events, and be present in their child's school. Angela identifies stress, anxiety, and depression as mental health concerns that impact her students. Students have had a difficult transition back to school post-Covid and it is important to know your children's friends and ask open-ended questions about their day. Parents can also find help through programs such as the School Health Alliance that links schools with local agencies that can provide schoolspecific services such as short-term counseling, social work, and clinical psychology consults.
Angela models the skills and characteristics that she feels are important for successful counselors, such as compassion, empathy, flexibility, and good listening skills. She has positively influenced thousands of students, has never had a dull day and, according to her family, seems to "know everybody" at the grocery store, the mall, or the skating rink! She describes the students at West Forsyth as compassionate, prepared, respectful, mature, driven, and good-hearted. They undoubtedly exhibit characteristics they see in their Director of Counseling, Angela Hubbard.
Resources: https://globalsportmatters.com/business/2021/05/07/few-college-athletic-directors-minorities-ncaa/ https://www.usatoday.com/story/opinion/2021/05/10/ncaa-title-ix-equity-women-athletic-director-power-schools/4989933001/
94 | ForsythWoman.com
HEAR CLEARER THIS CHRISTMAS Don't let hearing difficulties make family gatherings less enjoyable this year! Let us help! HOLIDAY SPECIAL: $250 OFF NICHOLS HEARING & AUDIOLOGY 336-842-3437 | drnichols@nicholshearingandaudiology.com | 3640 Westgate Center Circle, Ste. B | Winston-Salem, NC 27103 HearWellLiveWellNC.com December 2022 | 95
2022 Holiday Gift Guide
1 - FARRAGO
One-of-a-kind sterling silver earrings, perfect for that one-of-a-kind woman on your shopping list! Available at Farrago, this handcrafted jewelry will be enjoyed (and admired!) for years to come! Farrago is located at 6301 Shallowford Road in Lewisville. 336.946.9128
2 - LOVEWELL BOUTIQUE
Looking for the perfect gift? From clothing to jewelry and stocking stuffers, too, LoveWell Boutique's got you covered. Stop by to see their best selling BuDhaGirl bracelets that are all weather and TSA approved. Now that's a gift for even the hardest to please. Don't want to get out in the hustle and bustle?
Download their FREE LoveWell Boutique app and shop 24/7. Use code LOVEWELLAPP to receive 15% off your first app purchase.
Located at 110 Oakwood Drive in Winston Salem. Thank you for shopping local!
3 - THE VISTA AT FORSYTH PLASTIC SURGERY
Looking for a great holiday gift? Come see us at The VISTA. Our gift cards are really popular this time of year. Not sure what to give? We recommend a DiamondGlow facial. It's relaxing, beneficial for the skin and great for all skin types. To order a gift card, call us at 336-765-8620 OR text our Cosmetic Concierges Danielle and Trish at 336-443-6313.
4 - MEGAN BLACK PHOTOGRAPHY
Looking for a memorable holiday gift idea? Megan Black Photography, local to the triad area, offers a wide selection of photography services. Sessions range from family, maternity, couples and weddings—we cover it all. Visit meganblackphotography.com to purchase the picture perfect gift this year or email Megan@ meganblackphotography.com
SUPPORT LOCAL SUPPORT LOCAL SUPPORT LOCAL SUPPORT LOCAL SUPPORT LOCAL SUPPORT LOCAL
In a world where you can shop anywhere…shop local! 2 4 3 1
96 | ForsythWoman.com
5 - BUIE'S MARKET
Nestled in the heart of Buena Vista, Buie's offers a large selection of locally sourced goods including grocery, to-go meals, beer, wine and giftable items. Buie's offers curated gift boxes and baskets for all of your holiday gift giving needs. Stop in to discuss your next holiday gathering or gift giving with the friendly team at Buie's. Open Daily 7:00am to 9:00pm at 749 Avalon Rd North or online at buiesmarket.com
6 - BLUE JEAN BOUTIQUE
Give the gift of style with a new look from Blue Jean Boutique, locally designed and printed tees from sizes small through 3X, boutique clothing, jewelry and accessories. Shop online at bluejeanboutiquenc. com or at our next pop up shop!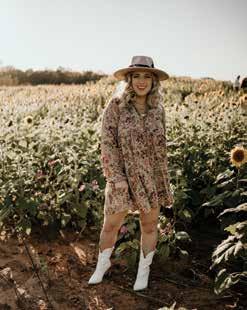 7 - AERACURA
SALON
Nutriplenish light moisture collection is a great addition to your regular haircare routine. Includes full size leave-in conditioner, trial size light treatment masque, and our limited edition hair scarf. Suggested Retail $83 Priced at $62 aeracurasalon. com Located at 101A Reynolda Village in Winston-Salem (336.448.0792) and 6265 Towncenter Drive in Clemmons (336.448.2044)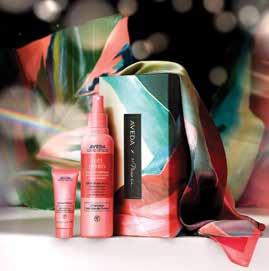 8 - HAMPTON MEN'S CLOTHING
Merino-Cashmere Cable Knit Quarter Zip by Hagen, $475. Classic style in a lightweight, soft Italian merino wool quarter zip. Pairs well with sport shirts, polos, jeans, and five pockets. These fit and perform extremely well and are one of our favorite pieces in the store! 100% Merino wool, ribbed waist and cuffs, made in Italy. Exclusive Hagen Design, made in partnership with a small family-owned knitter in Tuscany. Hampton's Men's Clothing is located at 129 Langree Village Drive Suite 105 in Mooresville, NC. 704.230.4458
8 6 SUPPORT LOCAL SUPPORT LOCAL SUPPORT LOCAL SUPPORT LOCAL SUPPORT LOCAL SUPPORT LOCAL
7
December 2022 | 97
2022 Holiday Gift Guide
In a world where you can shop anywhere…shop local!
9 - WINDSOR JEWELERS
Add sparkle to her wrist this holiday with a variety of stackable bracelets in 18K gold, diamonds and semi-precious stones from JUDE FRANCES JEWELRY. Perfect for any occasion, every bracelet in the collection is unique yet can be curated and cohesively stacked to express any woman's individual style. Shop an impressive selection and elevate her look at Windsor Jewelers! Windsor Jewelers is located at 526 S Stratford Road in Winston-Salem. 336.721.1768, windsor-jewelers.com
10 - RESTORATION MED SPA
Whether it is for yourself or a friend or relative, nothing says "I Care" more than a gift card or a pampering Salt Therapy Suite Session from Restoration MedSpa. Enjoy your service at a Nationally Recognized Top 250 Practice with top-notch providers. Restoration MedSpa can bring back the natural beauty and balance to any face and body. As our gift to you… we are giving you a gift with the purchase of any gift card during the month of December. Call 336.999.8295 today to reserve your gift! Visit us online at restorationmedspa.com.
11 - WILKERSON BAKERY
Taste goodness and spread love with Wilkerson Moravian Bakery this holiday season! With 100 Years of Family Baking under their Santa belt, the Wilkerson's offer unforgettable gifts that are rich in North Carolina tradition. From the "Thinnest of All" Moravian Cookies and the original "Famous" Sugar Cake to their Carolina Cheese Straws and more -- every flavor tells a story. It's the taste from your childhood, and the flavor of magical memories yet to come. Shop local at their holiday shop located at 50 Miller Street, Suite B, Winston-Salem, 27104 (next door to Mayberry's). Find more location information at WilkersonBakery.com. You can also order online and ship gifts nationwide at WilkersonBakery.com! Call today! 336.829.0407
9 10 11
LOCAL SUPPORT LOCAL SUPPORT LOCAL SUPPORT LOCAL SUPPORT LOCAL SUPPORT LOCAL
SUPPORT
98 | ForsythWoman.com
12 - CLUB PILATES
Give the gift of pain free movement and new found strength! Make their day with Pilates classes at our inclusive studio! Get two full length level 1 classes + a free introductory class for $40. Save 30%!
Located at 371 Lower Mall Drive in Winston-Salem. Visit us online at clubpilates.com, on Instagram @clubpilates_winstonsalem or give us a call at 336.717.1222.
13 - SKI & TENNIS STATION
Locally owned since 1977, Ski & Tennis Station provides all your needs for ski, snowboarding, tennis, wakeboarding and more! Looking for a gift for someone adventurous in your life? A Onewheel is the perfect option! Designed and assembled in the USA, it's more than a board. Ski & Tennis Station is located at 119 South Stratford Road in Winston-Salem. 336.722.6111, skiandtennisstation.com.
14 - DEKALASH
Look your best this holiday season! Deka Lash is on a mission to help you uncover the most confident and empowered version of yourself through customized lash and brow services, high-end products, and an elevated experience each and every time you walk through our doors. We are experts in Eyelashes! Located in the Shoppes on Little Creek 1247 Creekshire Way, Winston-Salem. 336-422-0626. Dekalash.com
15 - SALEM
PLASTIC SURGERY
Give the gift of self care— A Skintrinsiq facial at Renewal Med Spa is one way to show your skin (or someone else) a little love. Extract impurities and deeply infuse customized skincare all while benefiting from red and blue light therapy. This all-in-one treatment has something to offer for all skin types and concerns, and will leave skin replenished, balanced and fortified. Call 336.768.8483 today to schedule!
SUPPORT LOCAL SUPPORT LOCAL SUPPORT LOCAL SUPPORT LOCAL SUPPORT LOCAL SUPPORT LOCAL
14 15 12 13 December 2022 | 99
2022 Holiday Gift Guide
In a world where you can shop anywhere…shop local!
16 - DALTON HARRIS
PHOTOGRAPHY
Give your friends and family the gift of nature with prints from DaltonHarris Photography. Each location is photographed to capture the true peace and tranquility we all long for. Commission a piece or ask to customize an existing print to make the perfect gift. Head over to daltonharrisphotography.com to find the prints for all the special people on your list this holiday season.
17 - ORGANIZED JILL
The team at Organized Jill Professional Home Organization brings together function and aesthetics to create systems for every room of your home. If you've been dreaming of organized closets, pantries, kitchens, bedrooms, we're here to help! It's time to give your home the refresh and reset it needs to start the New Year off on the right foot. Say goodbye to overwhelm & hello to fresh, organized spaces. 336.705.1482 or jill@organizedjill.com.
18 - CHILDRESS VINEYARD
Give the gift of taste with the Reserve Grand Snack Gift Basket, handcrafted with sweet and savory items like camembert cheese spread, hot pepper bacon jam, and dark chocolate. Let Childress Vineyards create a holiday gift basket with award-winning wines and the finest food products designed to make a lasting impression on any budget. Custom creations available. Call today, 336-236-9463.
19 - LEWISVILLE LASER & AESTHETICS
Physician-grade skincare is the Christmas gift she'll love all year long!! Pamper her with award-winning products from SkinMedica and Alastin that deliver proven results. Or treat her to any of our products or services with a Lewisville Laser gift card! Need help choosing just the right combo? Let our team help you put together the perfect gift package when you stop by our office, or shop lewisvillelaser.com right from home.
SUPPORT LOCAL SUPPORT LOCAL SUPPORT LOCAL SUPPORT LOCAL SUPPORT LOCAL SUPPORT LOCAL
18 17
19
16
100 | ForsythWoman.com
20 - WINDSOR JEWELERS
Inspired by a region in Spain, ROBERTO COIN'S Navarra Collection is classic yet modern, featuring 18K yellow gold satin chain links, some accented with shimmering pavé white diamonds. This renowned designer signs each one of his pieces with a small ruby set on the inside, representing his message of good wishes to the one who wears it. Express your own wishes and let her express her unique style with jewelry from the collection at Windsor Jewelers! Windsor Jewelers is located at 526 S Stratford Road in Winston-Salem. 336.721.1768, windsor-jewelers.com.
21 - RUBY THREADGOOD
Is there anything more appreciated than a gift made with your own two hands? With Cut & Sew Patterns and Kits from Ruby Threadgood, you can create a variety of beautiful, wool felt pillows for those on your gift-giving list to cherish for years to come. Not a maker yourself but have one on your list? These crafty Patterns & Kits are packaged to be gift-worthy! Let us help you make meaningful connections with heart and hand-crafted gifts and keepsakes––all while engaging your creative side. Shop online at rubythreadgood.com and follow us on Instagram @rubythreadgood
22 - HAMPTON MEN'S
CLOTHING
Cashmere & Beaver Lined Bomber Jacket by Pashmere, $3350. One of the softest and warmest items you will ever touch! Luxury top quality 4-ply cashmere Bomber lined with genuine Beaver fur. Leather zipper borders and inside pocket. Cashmere exterior, ultra-luxury beaver fur lining throughout body & collar, leather trim, premium hardware, fits true to size. Made in Italy. Hampton's Men's Clothing is located at 129 Langree Village Drive Suite 105 in Mooresville, NC. 704.230.4458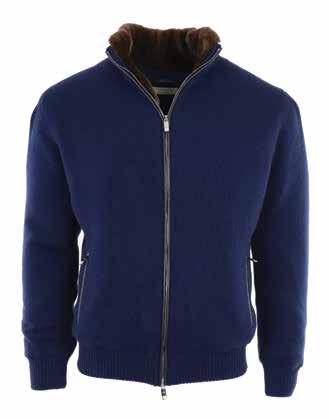 LOCAL SUPPORT LOCAL SUPPORT LOCAL SUPPORT LOCAL SUPPORT LOCAL SUPPORT LOCAL 21 22
SUPPORT
20
December 2022 | 101
2022 Holiday Gift Guide
23 - PEAK OLIVE OIL
Our olive oils and balsamic vinegars are perfect for hostess gifts, teacher gifts, stocking stuffers, your favorite foodie or those who just enjoy eating or who have everything! We offer an extensive list of high quality imported Italian white and dark aged balsamic vinegars, single varietal high polyphenol extra virgin olive oils and flavored olive oils for that perfect recipe. Come in and taste the difference. 125 S. Stratford Road, Winston-Salem, NC 336.331.3069
24 - KLIMS CARAMELS
If you're looking for small and yummy gifts for your co-workers, employees, family and teachers these caramels are a perfect gift! The quality of ingredients is what makes a product special. These caramels contain grass-fed butter, International award winning chocolates, unrefined and organic ingredients, local bourbon and local organic coffee. Purchase today at klimscaramels. com. Connect with us on Instagram @ klimscaramels. 336.775.8584
25 - SPA AT HIGHLAND OAKS
A gift certificate: the perfect gift of all things Spa to help that special someone look and feel their best. Gift certificates can be used for facials, massage, Diamond Glow dermal infusion, Botox, dermal fillers, body contouring, PDO threads or any other treatment we offer. It can also be used for medical grade skin care products as well as Latisse. Located at 765 Highland Oaks Drive Suite 150 in Winston-Salem. 336.774.8520
26 - TEDDY'S TACTICAL
Live Safe! Give your loved ones the gift of self-protection with a less lethal Byrna SD Pepper Ball Launcher. The SD is the perfect gift for women, men, or anyone 18 years or older. No waiting period or permits needed. Legal in all 50 states. Comes in multiple colors and can be easily carried concealed. We are a local authorized dealer (Clemmons, NC) that provides free training and demos. Visit us at TeddysTactical.com or call 336.506.8822 for more info.
SUPPORT LOCAL SUPPORT LOCAL SUPPORT LOCAL SUPPORT LOCAL SUPPORT LOCAL SUPPORT LOCAL
In a world where you can shop anywhere…shop local! 26 23 25 24
102 | ForsythWoman.com
27 - BUDGET BLINDS
NORTH WINSTON SALEM
Refresh your house with new window treatments from Budget Blinds of North Winston-Salem & Mt Airy. We offer a variety of options – plantation shutters, blinds, roller shades, woven woods, roman shades and cellular shades as well as home automation and window film. Let Budget Blinds of North Winston-Salem & Mt Airy help you refresh and revitalize your living space. Call today 336-701-5474!
28 - WOOD & THREAD BOUTIQUE
At Wood and Thread Boutique it's all about the accessories and gift giving this time of year. We have a little bit of everything for your special someone in your life. Don't forget to add a gift card for the stocking stuffers too. You will find our unique shop located in downtown Winston-Salem, with great ideas for all your holiday needs. Open Monday 11:00 to 4:00 Tuesday through Saturday 11:00 to 6:00 301 Brookstown Ave #500 or online at woodandthreadboutique.com.
29 - NOVANT HEALTH VEIN SPECIALISTS
Treat yourself or someone you love to less wrinkles and great photo memories this holiday season. Botox Cosmetic® can take away years in just a few seconds! Reduce wrinkles, frown lines, forehead lines and crows feet. Let our board-certified physician help you show off your confident side. Look photo ready and fabulous with Botox Cosmetic®. Call today. Gift certificates available. 3 Locations in Winston-Salem, Kernersville and High Point. 336-306-8027, salemveins.com
SUPPORT LOCAL SUPPORT LOCAL SUPPORT LOCAL SUPPORT LOCAL SUPPORT LOCAL SUPPORT LOCAL
29 28 27 December 2022 | 103
Exceptional Young Women in the Community: Madison Edmunds
Madison "Maddy" Edmunds carries a full plate at only 14 years of age. After becoming involved in LEAD Girls of NC (Learning Everyday Accomplishing Dreams) at age 11, she has gained confidence, sharpened her social skills, and strengthened her leadership capabilities. An organization designed to prepare low-income and/or at-risk preteen girls in the community, LEAD inspires these young women to become strong, stable, and successful women in society.
Maddy's mother Shayla HerndonEdmunds encouraged Maddy to join LEAD, which led to Maddy first attending LEAD's Fashion Camp in August 2021.
LEAD's Fashion Camp allowed Maddy the opportunity to walk confidently down the runway for Winston-Salem Fashion Week in 2022, alongside her peers.
LEAD's Fashion Camp provides all participants with the opportunity to create their own designs, learn skills on starting a small business, and provides young girls with tips and tricks on how to market products to target audiences.
Maddy helped LEAD prepare outfits for Winston-Salem Fashion Week, even sporting one herself.
Outside of LEAD, Maddy has also taken an entrepreneurial interest in her mother Shayla's business, Oh My Goodness Wellness Bar. Maddy spends time each month aiding in preparing natural and holistic body butters, body scrubs, lotions, and bath products for customers, in addition to helping Shayla prepare for businessrelated events. Paired with a strong support and mentoring system through LEAD, Maddy
BY AMY HILL, PHOTOS BY JODIE BRIM CREATIVE
has learned loads about the importance of self-love, self-care, and self-esteem through her efforts with OMG Wellness Bar.
Maddy has capitalized on the lessons she's learned through LEAD, opening her eyes to many educational and professional opportunities and inspiring her to believe that the sky's the limit when it comes to her success as a young woman. Although she still has a few years of homeschooling left to complete before attending college, Maddy aspires to study neurology. Fascinated by the subject matter in one of her favorite television shows, Grey's Anatomy, Maddy has always felt pulled towards the medical profession and plans to chase her dream of applying for medical school.
As she continues to grow, Maddy sees herself becoming one of LEAD's ambassadors in the future to give back to her community and help other young girls benefit from LEAD. In her spare time, she enjoys taking tumbling and pottery classes, sewing, designing outfits, and babysitting. She adores snacking on tacos at The Porch, along with browsing the racks for unique finds at Goodwill and other thrift stores throughout the Triad.
Interested in becoming involved with LEAD Girls of NC? Visit www. leadgirls.org to learn how to contribute.
Shop for natural and holistic selfcare products at Oh My Goodness Wellness Bar by visiting www. omgherbalbar.com, or stop by in-person at 2724 Henning Dr., Winston-Salem, NC 27106.
104 | ForsythWoman.com
Great eye health begins wit h preventative eye exams. Locally-owned & operated. Providing excellent care in the Triad for 11+ years. 2341 Winterhaven Lane | Winston-Salem, NC 27103 | 336.760.2020 | HillcrestVision.com Call to schedule an appointment today. PAYROLL | BOOKKEEPING QUICKBOOKS CONSULTING PPP APPLICATION & FORGIVENESS Free initial consultation for bookkeeping 336.397.4974 | StarboardAccounting.com THE STARBOARD GUARANTEE Complete, Accurate, Timely Bookkeeping & Financials Kerri Stewart QuickBooks Certified ProAdvisor December 2022 | 105
WOMEN ON
SIERRA BOWYER
Sierra Bowyer is the owner of Howlin' at the Moon Bakery which she opened in November of 2021. She has since opened a DIY dog wash at her shop. "It was a hobby that turned into something I couldn't ever imagine," said Sierra. "I was managing a bar when Covid shut everything down. I already decided I wanted to eventually open some sort of 'dog place,' so that put everything in motion. I think it's important that dogs are able to get human grade, locally made, 100% dog safe dog treats and pastries without wondering what's hidden in the ingredients and without paying a fortune. I have a blast creating dog versions of snacks that we eat; like pop tarts, dirt cake, popcorn, waffles and donuts; just to name a few! I wanted to open a place that was more of a community space, rather than a traditional 'dog store.' I invited more than 20 local artists and crafters to offer their dog and cat related items for the whole family in our boutique area." In her spare time, Sierra enjoys spending time with her family including her two pups, George and Frank as well as her cat, Kitty. She also loves playing video games.
BRITTANY KUES
Brittany Kues is a podcast expert that specializes in helping female entrepreneurs monetize their show while creating massive impact. She is the owner of Kues Productions, a boutique podcast marketing and production agency. In two years, she has built her online business from the ground up and has achieved her main goal of working part-time hours while making a full-time income. Earlier this year, she launched her own podcast, Dreamer to Entrepreneur, in the hopes of motivating other women to go after their dreams. Alongside co-host Amanda Benedict, both ladies are on a mission to help moms create the life they yearn for. Aside from the world of podcasting, Brittany is a wife and mom to one incredible little boy, three dogs and six chickens!
MICHELLE KLINE
Personal tragedy became the springboard for strength, compassion and adventure for Michelle Kline. In 2019, while out for a stroll on an idyllic spring afternoon, Michelle was physically attacked. She was one month shy of graduating with a master's degree in social work from UNC-Chapel Hill. The attack altered her trajectory. Instead of staying on the beaten path, she pivoted to build the largest dog walking company in the Triad, focusing on building a supportive environment for a team of employees who need space to explore their own "next thing," all while providing a needed resource to Winston-Salem pet parents. Seeing her ability to grow a vibrant team and build something from nothing, Michelle was approached to join a startup in Winston's growing entrepreneurial ecosystem and joined BEAM Dynamics as the director of customer success. When Michelle isn't running Venture Dog Walking or working to help develop BEAM, she spends time investing in real estate and traveling with her husband and two dogs, Winston and Ronin.
106 | ForsythWoman.com
THE MOVE
BRITTANY RUSSELL
Brittany Russell is the CEO and senior agent for Health Saving Solutions. "I've worked in the insurance industry for four years and, in 2015, I satisfied my creative passion by starting my own Marketing Agency, CAVU Marketing," said Brittany. "Both of my businesses have helped me to develop a strong attention to detail, an ability to manage multiple priorities at one time and an intense focus on customer service. I have the pleasure of working with many individuals and businesses to solve whatever needs they may have. Knowing I've calmed someone's insurance fears is just as gratifying to me as designing a new website or ad campaign that will launch someone's dream business. When I'm not working, I enjoy spending time with my family on our farm, working in the garden, relaxing by the pool and taking day trips with my husband. I'm also very passionate about my community and love volunteering and especially focusing on Main Street initiative. I love coffee, music and wearing my comfy leggings!"
SAUDIA SEKANDRI
Saudia Sekandri is the owner of Moroccan Touch Day Spa. She has built and run the business since October of 2019. Moroccan Touch Day Spa offers facials, chemical peels, microdermabrasion, a sauna, massage, waxing, body contouring and various packages for those looking to have more than one treatment. She believes in how peace, tranquility and relaxation can improve overall health and welcomes her clients with fragrances of Morocco such as rose, sandalwood, amber, vanilla, musk and jasmine. She also offers complimentary glasses of fruit flavored water or organic mint, green, ginger, turmeric or saffron tea. She also runs a car dealership with her husband. In her spare time, she loves listening to music and having game nights with her family who is very proud of its Moroccan heritage and culture.
JESSICA HEMMEN
Jessica Hemmen is the owner of Mommy & Children Boutique, LLC. She opened her first location in Iowa. "Mommy & Children Boutique offers baby, toddler and kids' clothing for boys and girls, along with women's, women's plus and maternity! I love shopping for new arrivals on my off days; I love adding new things to the website – mommychildrenboutique.com! My sister and dad are out here in North Carolina, and that is what made me make the big move out here! I love being close to family and traveling whenever we get the opportunity! I love to support other local businesses in the surrounding areas! I am a small-town girl, and I always believe in supporting small businesses!"
submit yourself or someone you know to be featured!
Tinyurl.com/forsythwomanwom
BY SUSAN BB SCHABACKER
Bigger is not always better when it comes to gifts, so if you're into the heartfully homemade and handmade, try these DIY gift ideas that make ideal stocking stuffers.
SANTA'S SWEET SIPPABLES TO SAVOR
Ingredients:
Choose among these flavor options:
. Combine matcha green tea powder, cinnamon powder, ginger powder, powdered cloves, and stevia powder.
. Combine carob powder/hot cocoa mix, powdered sugar, any combination of small pieces of peppermint bark, dark chocolate chips, white chocolate chips, milk chocolate chips, or crushed peppermint candies/candy canes, and mini marshmallows.
Combine carob powder/hot cocoa mix, powdered milk, stevia powder or powdered sugar, and instant coffee grounds or ground coffee for French press with crushed peppermint or peppermint bark, and a few drops of peppermint extract.
Instructions:
1. Spoon into a decorative packet/envelope, cellophane bag, or mason jar and tie or glue on red bow(s) and candy cane.
2. Print or handwrite labels. Hole punch and tie on with ribbon, raffia, jute or yarn.
May these gifts bring you joy, both in creating and also giving. There's nothing quite as special as homemade and from the heart. Thanks to these smaller scale stocking size DIY gifts for you and your loved ones, Santa's satchel will not cause him (or his reindeer) any back problems. He can travel light this year!
Creative Christmas & Holiday Gifts
DIY Stocking Stuffers and Tiny Treasures
'MAZINGLY MOISTURIZING MISTLETOE MAGNET KISSABLE LIPS
Ready to pucker up, mistletoe magnet? Forgo the harmful, endocrine-disrupting chemicals and opt for the organic. For hydrated and healthier lips, try this two-step scent-sationally simple lip care routine with only the healthiest organic and natural ingredients:
1. Slough off those dry flakes, smooth and soften by exfoliating with a quick-fix mixture of a plant-based oil, like jojoba, avocado, olive, apricot kernel, argan, or coconut oil combined with natural exfoliators like coffee grounds, sea salt, or sugar.
2. Mix together, then very gently, scrub a dub dub to condition, hydrate, and soothe lips with this DIY lip balm.
GILEAD'S BALM TO SOOTHE, SOFTEN, AND SMOOTH
"Balm in Gilead," according to Wikipedia, was a rare perfume used medicinally as a universal cure in the Hebrew Bible. There's nothing as soothing and restorative as a balm to nourish, condition, and moisturize those lips. This recipe makes 5-6 tubes or 3 metal tins of homemade lip balm.
Ingredients:
1 teaspoon beeswax
2 teaspoons shea butter
1 teaspoon cocoa butter
1 teaspoon almond oil
1 teaspoon jojoba oil
5 drops vitamin E
12-18 drops essential oil(s) of choice
Instructions:
1. Measure beeswax, shea butter and cocoa butter and put in the top of a double boiler.
2. Melt the butters and waxes over low heat in a double boiler until completely combined.
3. Add the almond oil and jojoba oil and stir.
4. Remove from heat and add Vitamin E and essential oils.
5. Pour into lip balm tubes or tins.
6. Allow to cool completely for at least 30 minutes.
Recipe adapted from https://ecolivingmama. com/diy-lip-balm-recipe/
ACCESSORIZE WITH HEARTFULLY HANDCRAFTED JEWELRY
With some fine wire, jump rings, and earring posts or danglies, silver or gold chains, ring backs, and barrettes, you can turn little treasures into earrings, necklaces, bracelets, and hair pieces. Dried cranberries, orange slices, cinnamon sticks, star anise, pinecones and gingerbread cookies may be popular for their culinary uses in holiday bites and sippables, but they become a fun surprise when you pull out your jewelry talents and turn them into showstopping accessories to wear.
AROMATHERAPY ANTI-BACTERIAL SPRAY
With colds, flu, and COVID still lurking, it's important to amp up your arsenal and combat bad bacteria in natural ways that can improve your health, instead of harsh chemicals that can detract from it. Antibacterial, antifungal, and antimicrobial properties banish bacterial baddies, yet are gentle enough to use on hands and skin and to spray in rooms, on countertops, door knobs, sinks, tables, and appliances.
Ingredients:
7 drops peppermint/eucalyptus essential oil
7 drops rosemary essential oil
7 drops orange/lemon essential oil
7 drops tea tree essential oil
3/4 cup distilled water
2 tablespoons vinegar
2 tablespoons witch hazel
8-ounce spray bottle
Instructions:
Fill the spray bottle with ingredients and shake to mix well.
Recipe adapted from https://www. lovingessentialoils.com/blogs/diy-recipes/ disinfecting-spray-with-essential-oils
BY TARYN JEREZ OF ONECRAFTYMISS.COM
Turning Your Holiday Buyers into Lifelong Customers
This column is meant to serve as a resource for readers who seek inspiration and knowledge for building their own small business brands. Through actionable advice, find the encouragement to help you keep living your life with hustle and heart.
Cheers to bringing in all the new customers this holiday season! From added website traffic and social media engagement to increased sales, let's make sure all of this amazing customer interaction during the holidays leads to long term success!
With so many small business owners celebrating the holiday surge only for business to return back to usual shortly after, I want to help you build a game plan to keep those holiday customers coming back for more all year long!
Here are a few simple ways to turn your holiday buyers into lifelong customers.
MAKE THE TRANSACTION FEEL PERSONAL
Remember that every single transaction that comes in during the holidays occurs with a human being on the other end. Your goal should be to remind them that they are more than just a transaction. Lead with gratitude in any follow up communications reminding them how thankful you are for their business. Include a personalized message to your customer or record a short video thanking them for their purchase and even sharing with them a little bit about your business. Sure, they purchased from you already but that doesn't mean your core brand message or mission connected during all the hustle and bustle of the season. It doesn't have to be anything high production quality either - a simple Instagram DM or email works just fine. These personal gestures create closer connections and added trust when it comes to returning as a customer or referring others your way.
IMPLEMENT A CUSTOMER LOYALTY PROGRAM
Forget whatever you've heard about creating a customer loyalty program in the past and know that they don't have to all be the same cookie cutter program! Your customers and your business are unique, so your loyalty program can be, too! The point of a loyalty program is to entice customers by rewarding them for returning to purchase again in the future. This is particularly a great marketing asset if you're in a saturated market wanting to stand out! Embrace your unique brand personality, values and goals to create whatever feels right! You can send inexpensive gifts to your VIP customers, create a point system that tracks for special promotions and discounts, or recognize loyalty members with special invites for first dibs on things or shoutouts on social media.
REQUESTING TIMELY CUSTOMER REVIEWS
Despite some of the strongest marketing tactics, social media strategies and PR efforts available, business owners often find that good old fashioned reviews are still one of the main drivers behind customer loyalty. Sounds easier said than done? Take time to invite them to leave a review in a simple, straightforward way including exactly where to leave it and perhaps, give them some guidance on what to include. Providing a few quick questions for them to answer can take the "what do I say" worry off of them and help them write it faster. Create a simple low cost incentive for customers to complete their review. Depending on what you sell, this could be a freebie, a 15% discount or an extra 30 minute session with you. Make sure it has genuine value to your customer to show you appreciate them.
Hustle & Heart Challenge
INVITE THEM BACK IN THE NEW YEAR
Be creative about inviting customers back come January! Think about how your business can be part of their lives now at the start of the year. Does your brand fit into a popular new year's resolution you can create content around or offer a new promotion around? Have leftover seasonal products you can bundle and promote to keep the sales momentum going? Can you retarget an audience from your holiday digital campaign from your website or email marketing? This is the perfect time to circle back with those customers who may have shown interest in your holiday sales but never made it official with a purchase or booking. So often businesses worry about standing out during the holidays that we forget the real hurdle is maintaining or rekindling the relationship once the holidays have passed.
This month challenge yourself to get creative and make a list of three things you're going to initiate with your holiday customers to help strengthen the relationship and keep them coming back for more into the new year. Prioritize each and set action steps towards them on the calendar now.
110 | ForsythWoman.com
Where does YOUR Inner Strength come from? Philippians 4:13 InnerStrengthPilatesNC.com • 336.813.5320 Located at the corner of Peacehaven & Country Club Roads, in the Harper Hill Commons Shopping Center Book Your Massage Today! Architectural & Landscape Lighting for Your Castle! Mention this ad for $100 OFF new installations or 10% OFF LED conversions *Minimum purchase required. *Offer expires 12/31/22 www.castlelights.com Call TODAY for a Complimentary Consultation 336.505.4913 (336) 409-1133 | yourfirstclasscleaning@gmail.com | @Yourfirstclasscleaning Mom Owned Business • Residential, Commercial, & New Construction One Time, Weekly, Bi-Weekly, & Monthly Cleaning Options Bonded & Insured December 2022 | 111
*Disclaimer: event details are subject to change. Please check event websites & social media pages for updates as the dates draw near.*
NOW THROUGH JANUARY 1
TANGLEWOOD PARK FESTIVAL OF LIGHTS
6-11pm, Tanglewood Park in Clemmons. Open nightly. Tickets may be purchased at the gate upon entry and in advance at the Welcome Center at Tanglewood Park. The gift village will be open with snacks, hot cocoa and marshmallow roasting. Prices start at $20/car.
DECEMBER 1-3
HOLIDAY OPEN HOUSE AT FRALEIGH'S BOUTIQUE
Fraleigh's Boutique, 2626 LewisvilleClemmons Road in Clemmons. Enjoy store specials, treats, complimentary gift wrapping and giveaways. From casual holiday parties to formal, Fraleigh's has you covered!
DECEMBER 2
HOLIDAY HOUSE TOUR TO BENEFIT JDRF
4-7pm. Homes are located in ColdWater development, Coldwater Road in Stokesdale. Get inspired for a good cause. Visit two new luxury custom homes furnished and decorated for the holidays. Support JDRF and visit these elegantly decorated, brand-new custom homes 12/3, 12/4, 12/9, 12/10, 12/11, 12/16, 12/17, 12/18, 12/30, 12/31. Cost: $5/person. Tickets available online and at the door. 2022holidayhouse.com
DECEMBER 3
CHRISTMAS TREASURES SALE
8am-12pm, Clemmons Moravian Church. All gently used holiday related items including ornaments, lights and many other decorations. Proceeds will be shared with the Clemmons Food Pantry. Call 336.941.3062 to donate items.
ACCENT PRONE HOLIDAY OPEN HOUSE
10am-5pm, Accent Prone in Kernersville. Visit Accent Prone to enjoy storewide sales, holiday refreshments, a permanent jewelry pop-up and enter a giveaway for a chance to win a $1,000 Accent Prone gift card!
DRIVE THRU LIVE NATIVITY
6-8pm, Mizpah Moravian Church is hosting a drive thru nativity. As you drive thru, you will
see live scenes depicting the Christmas story and hear the band playing Christmas carols. Come and enjoy our gift to the community from the comfort of your vehicle.
MISTLETOE RUN
A run in the cold can warm the heart. Half marathon, 5K, Fun Run, free childcare and an after party. All proceeds benefit children's programs at the YMCA. Learn more and register at ymcamistletoe.org.
HOLIDAY NATURE CRAFTS
Minglewood Farm and Nature Preserve, 238 Minglewood Road in Westfield. This will be a fun afternoon filled with holiday craft festivities for the whole family! Join us for a holiday craft day at Minglewood Farm & Nature Preserve. Children and adults will have the opportunity to create cards, wrapping paper, ornaments and other pieces of art inspired by nature! These crafts and artwork will be wonderful gifts to share with friends and family for the season or to keep as a present to yourself! This program is donation based. Visit our website to learn more about our mission and upcoming opportunities (minglewoodpreserve.org).
DECEMBER 4
COMMUNITY CHRISTMAS FESTIVAL
5-8pm, Winmock at Kinderton, Church of the Good Shepherd. Come join the whole community at the beautiful, historic WinMock barn to start off the advent season with a fun night of fellowship! We will have plenty of vendors selling community crafts and goods, some Christmas singers and musical performances, and a short kids' program. In addition, we will have a food truck selling meals, a bounce house for children, a family photo area and some carnival games. All ages are welcome, and there is no cost for admission.
DECEMBER 7
GIRLS' NIGHT OUT
5pm-until…Butcher & Bull, 425 North Cherry Street in W-S. Grab a friend, a neighbor, your sister, your mother, a co-worker and have a much-needed Girls' Night Out! Enjoy $5 select wine by the glass, $10 appetizers and $5 dessert options. Reservations are highly recommended (please add a comment that says "GNO" to your reservation). As always, each attendee receives four tickets for the fabulous prize board drawings!
OPEN YOUR CAMERA APP & POINT IT
HERE TO SCAN
submit an event!
DECEMBER 9
FESTIVE FAMILY FRIDAY
6-9pm, Kaleideum, 400 West Hanes Mill Road in W-S. Holiday laser shows, holiday crafts, live music and Santa! Buy tickets online early for $5/person or $7/person at the door. $3 Museums for All admission available at the welcome desk the evening of the event. Prepurchase tickets at kaleideum.org.
DECEMBER 9-11 & 15-18
A CHRISTMAS CAROL Reynolds Place Theatre, 251 North Spruce Street in W-S. Tickets available by calling 725.4001 or visiting LTofWS. org.
DECEMBER 10
BALSAM RANGE
7:30-9:30pm, The Historic Earle Theatre, Surry Arts Council, Downtown Mount Airy. The 2018 International Bluegrass Music Association's Entertainer of the Year, Balsam Range, has become one of the genre's most award-winning acts. Since forming in 2007, the group has garnered 13 IBMA awards on the heels of eight critically acclaimed albums. Balsam Range has left audiences spellbound while headlining major festivals from coastto-coast, selling out venues across the nation and in multiple appearances at the Grand Ole Opry. Tickets are $60/$55/$40. Visit surryarts.org for more information.
112 | ForsythWoman.com
11
KING + COUNTRY'S "A DRUMMER BOY CHRISTMAS"
Greensboro Coliseum, 1921 West Gate City Boulevard in Greensboro. The holidays will be here before we know it! Our most elaborate, meaningful, joy-filled – and of course – rhythmic tour of the year, all while celebrating the greatest news the world has ever known. We'll be bringing holiday cheer to audiences nationwide this season, performing many Christmas classics as well as some year-round favorites. So, gather your loved ones and grab a ticket or two, and we'll look forward to ringing in the season with you. This is an all ages, family friendly event! More details at https://fb.me/e/1OG3Xd45x
DECEMBER 12-23
12 DAYS OF CHRISTMAS SALE AT SIMPLY STERLING
Simply Sterling, 5275 Robinhood Village Drive. Enjoy savings on jewelry, apparel, handbags, art, bath & body, and gifts galore! Visit simplysterling.com for more information.
DECEMBER 13
7:30pm,
DECEMBER 14
HIP HOP NUTCRACKER
Steven Tanger Center for the Performing Arts. Visit tangercenter.com for more information.
DECEMBER 14-25
TWELVE DAYS OF CHRISTMAS MUSIC
Enjoy 12 days of Christmas music on the radio at 89.3 WBFJ Your Family Station!
DECEMBER 15
CHRISTMAS WITH THE EMBERS FEATURING CRAIG WOOLARD
7:30-9:30pm, The Andy Griffith Playhouse, Surry Arts Council. The Embers – Heart and Soul, Rhythm and Blues, Feel Good Music. Regularly boasting an average of 225 shows per year, with numerous shows in Mount Airy including their annual Christmas show – perfect to get you in the mood for the holiday season!
DECEMBER 23
CANDLELIGHT ORCHESTRA CHRISTMAS CONCERT
4-5:30pm, R.J. Reynolds Auditorium, 301 Hawthorne Road in W-S. With more than 2,000 flickering candles illuminating the performers, the Candlelight Orchestra concerts present a collection of Christmas classical music over the course of 90 mesmerizing minutes. candlelightorchestra.com
DECEMBER 31-JANUARY 1
NEW YEARS EVE 2023 CELEBRATION
Doors open at 8pm, Village Inn Hotel & Event Center. Throwing it back to the 80s and 90s – it's going to be totally awesome! Cost starts at $42/person or $189.99/couple for a room package. Purchase online at 2023newyearseve.eventbrite.
DECEMBER
WINSTON-SALEM SYMPHONY HANDEL'S MESSIAH
Wait Chapel, Wake Forest University. Conductor Robert Moody. Tickets and more can be found at wssymphony.org.
WASHINGTONPARKCROSSFIT.COM 2020 HOLLYROOD ST WINSTON-SALEM @WASHINGTONPARKCROSSFIT ONE WEEK FREE TRIAL December 2022 | 113
Conversations with Your BFF
My friend and I were having lunch not too long ago and we noticed a family of four: mom, dad, and two kids, approximately 6 and 8, boy and girl, respectively, sitting nearby in a booth. There was no conversation between the family members other than placing their order. Mom and dad made some small talk, as the kids kept their eyes on their electronic devices. The boy had dad's iPhone and the girl had an iPad. There was no effort to engage the kids in a discussion of any sort, which got me to thinking and discussing with my friend whether parents have given much of the time they could be bonding with their kids over to the many gadgets we have today. So, 'Am I using my iPad as a babysitter?'….I am so glad you asked!
TECHNOLOGY IN TODAY'S FAMILY
It's pretty evident that technology is here to stay and there's no way of going back, even if we wanted to do so. Technology can help kids of all ages with tools for learning in fun and engaging ways, while expressing their creativity, and connecting with others. With the positives of integrating technology into the lives of our families, how much is too much when kids are tethered to today's gadgetry?
Health care professionals say that, as with most situations, a balanced approach to the challenges of technology and maintaining a personal tie to the world and family is needed. The most important step in this approach is to establish a balanced and sustainable relationship with the technology in our lives. Kids innately understand the concept of balance; they know that it's important to eat a healthy diet, with veggies, fruits, etc. along with an occasional dessert or candy. There's a time for screens, but that should never be at the expense of time for physical activity and connecting with family and friends in the present.
The idea of balance won't look the same in your family as it does in your neighbor's. There's a sweet spot to getting it just right and you won't get it right the first time. Every family is different, unique with parenting styles and values that vary.
'Am I Using My Ipad As a
BY REBECCA COOPER
Babysitter?'
WHAT DOES UNHEALTHY TECH TIME LOOK LIKE?
There are a few warning signs that healthcare professionals say parents should look for in their kids to determine if the time with tech is out of hand.
* If your kids complain about being bored or unhappy when they don't have access to their technology.
* Poor behavior or all out tantrums occur when tech time is restricted.
* Time with technology interferes with sleep, school work, or face-to-face interaction with others.
TECH TIME: AN ONGOING STRUGGLE
As your kids grow, their reliance and involvement with technology will change, too. With all the advancements,
it is hard to know exactly how technology will evolve in a short time. Your definition of healthy and unhealthy tech usage will need regular re-evaluation and updates as your kid ages. Some things to remember are:
* Is the info your kid watches/listens to age appropriate?
* Are the apps they use most interactive and thought provoking?
* Are there privacy settings in place to monitor social media and keep strangers from contacting your kid?
Whatever age your child is, never turn on technology and plop them down in front of it for mindless media just to keep from being bothered by him or her. When at dinner, at home or in a restaurant, everyone, including the adults, should put gadgets aside and do something earth shattering…talk! What a concept, right? You will never get that precious time back, so don't let technology horn in on family time.
Jeffrey Adams Twisted Pine Young Cardinal Cafe 527 N Liberty Street Winston-Salem, NC 27101 COMING SOON @youngcardinalws 336-448-5188 | HOURS: Monday Closed | Tuesday - Sunday 8am - 3pm 424 4th Street NW, Winston-Salem (formerly Hutch & Harris) 321 WEST FOURTH STREET | WINSTON SALEM | 336.448.1714 | TUESDAY-THURSDAY 4pm-9pm | FRIDAY - SATURDAY 4pm-10pm | SUNDAY 4pm-9pm TUESDAY Half Price Wine by the Glass WEDNESDAY Half price Whiskey & Bourbon THURSDAY $3 Off Martinis farm fresh meets sophisticated dining ANDREWSRESTAURANTSWS.COM