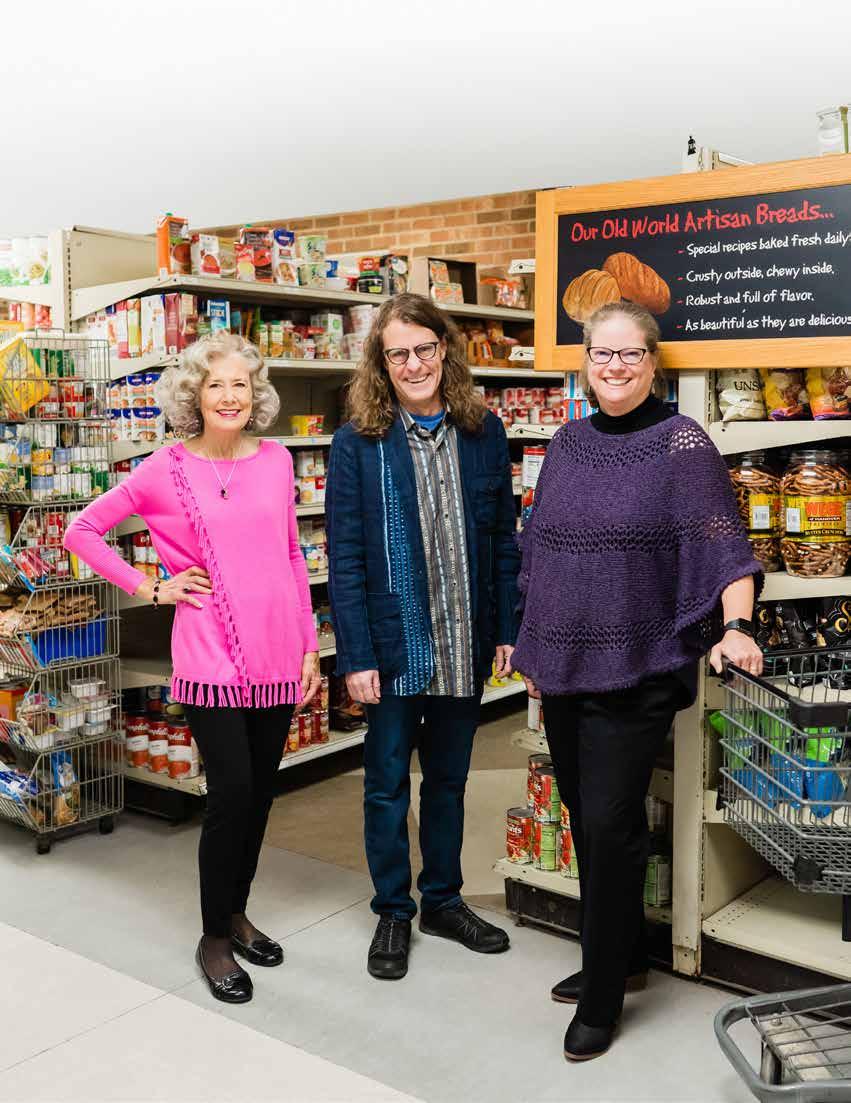 Hope & Grace MARCH 2023
Sharing
2 / FORSYTHFAMILYMAGAZINE.COM © 2022 Bombardier Recreational Products Inc. (BRP). All rights reserved. ®, TM and the BRP logo are trademarks of BRP or its affiliates. In the U.S.A., products are distributed by BRP US Inc. Offers valid in the U.S.A. only from August 7, 2022, to March 31, 2023. The terms and conditions may vary depending on your state and these offers are subject to termination or change at any time without notice. While quantities last. †Get 2-year coverage when reserving a 2023 Sea-Doo personal watercraft by March 31, 2023, and taking delivery by April 30, 2023 (Sunbelt), and May 31, 2023 (Snowbelt). The buyer of an eligible model will receive a 12-month BRP limited warranty plus 12-month B.E.S.T. coverage. Florida residents receive 24 months of BRP limited warranty. Subject to the exclusions, limitations of liabilities and all other terms and conditions of BRP's standard limited warranty contract, including without limitation the exclusions of damages caused by abuse, abnormal use or neglect. B.E.S.T. service contract is subject to a $50 deductible on each repair. For complete details, please see the BRP limited warranty and the B.E.S.T. contract. Carefully read the operator's guide and safety instructions. Observe applicable laws and regulations. Always wear appropriate protective clothing, including a helmet. Riding, alcohol and drugs don't mix. See your authorized BRP dealer for details and visit Sea-Doo.com. HONDA | SEA-DOO | CAN-AM OF WINSTON-SALEM 6209 Ramada Drive • Clemmons, NC 336.765.0330 • www.HondaWS.com Pre-order you new 2023 Sea-Doo Switch and Get 2-year coverage† & Monthly payments starting as low as $184‡ Make any weekend a vacation © 2022 Bombardier Recreational Products Inc. (BRP). All rights reserved. ®, TM and the BRP logo are trademarks of BRP or its affiliates. In the U.S.A., products are distributed by BRP US Inc. Offers valid in the U.S.A. only from August 7, 2022, to March 31, 2023. The terms and conditions may vary depending on your state and these offers are subject to termination or change at any time without notice. While quantities last. †Get 2-year coverage when reserving a 2023 Sea-Doo pontoon by March 31, 2023, and taking delivery by April 30, 2023 (Sunbelt), and May 31, 2023 (Snowbelt). The buyer of an eligible model will receive a 12-month BRP limited warranty plus 12-month B.E.S.T. coverage. Florida residents receive 24 months of BRP limited warranty. Subject to the exclusions, limitations of liabilities and all other terms and conditions of BRP's standard limited warranty contract, including without limitation the exclusions of damages caused by abuse, abnormal use or neglect. B.E.S.T. service contract is subject to a $50 deductible on each repair. For complete details, please see the BRP limited warranty and the B.E.S.T. contract. Carefully read the operator's guide and safety instructions. Observe applicable laws and regulations. Always wear appropriate protective clothing, including a helmet. Riding, alcohol and drugs don't mix. See your authorized BRP dealer for details and visit Sea-Doo.com. ‡Starting at $184 per month. Examples of monthly payments required over a 180-month term at a 5.99% APR (Annual Percentage Rate): $8.43 per $1,000 financed. An example of a monthly payment with $0 down, no rebate, an APR of 5.99% for 180 months at an MSRP of $21,799: $183.83/mo. Total cost of borrowing is $11,291.23 with a total repayment obligation of $33,090.23. Down payment may be required. Other financing offers may be available. Minimum and maximum amount financed may vary. Not all buyers will qualify. Higher rates apply for buyers with lower credit ratings. Other qualifications and restrictions may apply, depending on the participating financial institution(s). BRP is not responsible for any of the financing terms and conditions. Offer subject to change without notice. Financing promotions void where prohibited. See your BRP dealer for details. Make any weekend a vacation Choose fun for the whole family
MARCH 2023 / 3
Happy Spring, y'all! Ok, I'm a little ahead of myself. The first day of Spring isn't until March 20th…but I'm already excited. With warmer weather comes more time enjoying the outdoors and so much more going on around our awesome city! We have countless events going on in March, April and May – and several of those are promoted in these upcoming pages!
We're thrilled to have a Kid's Morning Out event this month at Salem Gym + Swim! Join us on Monday, March 13th and learn more on page 67.
This month, our cover features Crisis Control Ministry as they celebrate a huge milestone of 50 years! Crisis Control Ministry is the largest non-profit provider of emergency assistance in the county. This amazing organization has served more than 18,000 people in 2022 alone! Read all about Crisis Control Ministry on pages 32-35.
The March issue kicks off our Summer Camp section! We know many parents are already thinking about those summer plans for the kids and checking out this section in our March-May issues is a great place to start! Head to page 46!
I feel like a broken record sometimes, but as always, if you visit an event or business you saw in these upcoming pages, please let them know you saw them in Forsyth Family! These publications wouldn't be possible without our advertising partners!
If you haven't yet, be sure to give us a follow on social media (@forsythmags) and tune in to the Forsyth Magazines podcast. It's available on Apple Podcast, Spotify and all major streaming platforms. We just released episode 135 and are having so much fun with this podcast. It was an honor to learn recently that we're globally ranked in the top 3% of podcasts!
Wishing you a March full of fun!
All my best,
PUBLISHER
Brooke Eagle • Brooke@ForsythMags.com
SENIOR ACCOUNT EXECUTIVE
Tamara Bodford
ACCOUNT EXECUTIVE
Robin Bralley
ADVERTISING
Advertising@ForsythMags.com
BACK OFFICE & VIRTUAL ASSISTANT
The Office Nerd, Denise Heidel
COVER PHOTOGRAPHY
Jodie Brim Creative
CONTRIBUTING PHOTOGRAPHERS
Jodie Brim Creative JEJ Photos
Sail Off Photography
*others contributed throughout accordingly
CONTENT EDITOR
Meghan Corbett
EDITORIAL DIRECTOR
Robin Shupe Keller
SENIOR STAFF WRITERS
Martie Emory • Carolyn Peterson
OTHER CONTRIBUTING WRITERS
Casey Cheek Karen Cooper
Angelia Cornatzer Damian Desmond
Tabi Falcone • Amy Hill • Brian Jared
Taryn Jerez • Jean Marie Johnson
Debbie Linville Susan • Schabacker
Lauren Sephton • Leslie Speas
Megan Taylor Keith Tilley Susan Woodall *others credited throughout accordingly
GRAPHIC DESIGN & PRODUCTION
Laurie Dalton
WEB DESIGN/MAINTENANCE
Ian McIlwraith
CONTACT
.forsythfamilymagazine.com
888-892-3204
BFORSYTH FAMILY DISCLAIMER Please note that the inclusion of stories and articles in Forsyth Family magazine does not imply endorsement of products or people. The views of the authors are presented for information and entertainment only, and may not necessarily reflect the views of Forsyth Family. Specifically, Forsyth Family in no way endorses any claim associated with health and/or well being with respect to any particular person. We disclaim all warranties, express or implied,including, but not limited to, implied warranties of merchantability and fitness for a particular purpose. We will not be held responsible or liable, directly or indirectly, for any loss or damage that is caused or alleged to have been caused in connection with the use of, or reliance on, any content in this magazine. Forsyth Family reserves the right to deny any advertisement or listing that does not meet Forsyth Family standards. Submissions are welcome but unsolicited materials are not guaranteed to be returned. Forsyth Family assumes no responsibility for information, products, services or statements made by advertisers or editorial contributors. All rights reserved. Reproduction in whole or in part without written permission from the publisher is prohibited. ©2007 by Forsyth Family Magazine, Inc.
4 / FORSYTHFAMILYMAGAZINE.COM
Jodie Brim Creative
SHOWCASING THE STORY BEHIND THE BRAND PHOTOGRAPHY VIDEOGRAPHY for business owners jodiebrim.com | 336.997.9487 | @jodiebrim 405 N. Cherry Street, Winston-Salem
Jodie Brim, Photographer + Creative Director
6 / FORSYTHFAMILYMAGAZINE.COM 8 National Single Parent Day 12 Victory Junction: Living Life to Its Fullest 18 5 Ways to Simplify Your Home This Spring 22 Naional Park Passports Features TABLE OF CONTENTS 26 10 32 COVER STORY
36 Spring's Budding Beauties Bring Busy Butterflies and Bees 42 Dr. Seuss: Creating and Celebrating a Nation of Readers 46 Kids Summer Camp Showcase 52 Imprints Cares Summer Enrichment Camp 62 Lights, Camera, North Carolina 70 Cure or Kill: Old Remedies that Would Horrify Us Today
Left
to
right: Paula Parks, Kevin Owen and Margaret Elliott all have a long history with Crisis Control Ministry. Paula Parks has volunteered at Crisis Control Ministry for 50 years. Kevin Owen, grandson of the Founding Director, Ron Rice, is a current Board member. Margaret Elliott has served as Executive Director for 24 years.
MARCH 2023 / 7 Reflections of a Southern Yankee 20 All Types of Bowls 30 The Fancy Fork 44 Out & About in Winston-Salem 58 The View from My Section: A Father's Perspective 68 Dining Guide 72 Triad Moms on Main 74 It's a Grand Life 76 Every Issue 72 46 MARCH '23