CutestPeru'sbyHawaiiSeeingBelizeBountifulSeaHiking
FALL 2022
Guides THEFOLLOWSUN
The world awaits, and we're eager to help you travel again. We'll be there for you to safely explore the beautiful wonders of the world, make new connections and enjoy life at its best. Our promise: • To be your inspiration, insider knowledge, advice, answers, and right hand. • To ensure there's always a team standing behind you that you can count on. • To relieve you from stress so you can fully enjoy your vacation. • To create personalized experiences and custom touches just for you. • To make you feel welcome, wherever you choose to go. With our expertise, you'll never feel more connected to the world.
Think about incorporating outdoor adventures into your itineraries. Spending time surrounded by nature continues to be a big trend. If the pandemic taught us anything, it was how important that is. It's good for the body and soul. Our writers are fans, too, as you'll see by their stories throughout the magazine. Iuliana Marchian rode a camel across the Sahara. Fiona Tapp soaked up the beauty of the Arizona desert from a kayak and Claudia Laroye and her family snorkelled the impossibly clear blue waters of OurFiji.writers aren't armchair travellers. They criss-cross the globe in search of wonderful places that will inspire and captivate readers. I think they did a great job in doing that as you'll see on the pages that follow. Let their expertise guide you to exciting new places as you ponder your vacation plans. And speaking of expertise, do reach out to your Ensemble Travel advisor. With their knowledge and incredible resources, they can create a perfect itinerary for you and your travel companions. Leave the heavy lifting to the experts, so you can focus on the fun part –MichelewhereverEnjoytravelling.thejourneyyougo.
Editor's
CREATIVE DESIGNER Bertrand Richer Fleur de Lysée Ensemble Travel® Group Ensemble Vacations (Fall 2022). All rights reserved, Ensemble Travel® Group. Ensemble Vacations®, Ensemble® Experiences, Ensemble® Exclusive, Ensemble® Hosted Cruises, Ensemble® Villas & Vacation Homes, Ensemble® On Location and Ensemble® Hotel & Resort Collection are all proprietary trademarks of Ensemble Travel® Group. No part of this publication may be reprinted or otherwise duplicated without written permission of the Ensemblepublisher.Vacations® is published on behalf of Ensemble Travel® Group member agencies.
CERTIFIED REFORESTED ACT_0107A10A5FF5 4 • Vacations ® • Fall 2022
CREATIVE DIRECTOR & MANAGING EDITOR Valérie Lenoir EDITOR Michele Sponagle PROOFREADING Isabelle Labrosse ADVERTISING Franca Iuele CONTRIBUTORS Leslie A. Westbrook, Robin Catalano, Vanessa Dewson, Lisa Kadane, Isabelle Labrosse, Claudia Laroye, Iuliana Marchian, Jennifer Richardson, Sarah Sekula, Michele Sponagle, Katy Spratte Joyce, Fiona Tapp
ENSEMBLE VACATIONS® 2 Toronto Street, Suite 469 Toronto, ON M5C 2B5 (416) 367-3660 TICO Registration#50022140Numbers: vary by agency Photos by Getty Images unless stated Coverotherwise.image © Aleh Varanishcha Making publications eco-friendly Our printer, Solisco, was PrintReleaf's first Canadian partner. This program guarantees every sheet of paper used within the production of a printed project will be reforested. Solisco measures our use, reports it to PrintReleaf, and new trees are planted on behalf of Ensemble Travel® Group in a certified reforestation project across the globe.
Summer may be almost over, but you can still find plenty of inviting, wonderful weather in destinations all over the world, from the Caribbean to Australia to Portugal and beyond. Just follow the sun on your next vacation and you'll find some spectacular places to explore, whether you've got an oceanside lounger in mind or action-packed days ahead. The question remains – where should you go?
MICHELE SPONAGLE EDITOR@ENSEMBLETRAVEL.CAEDITOR
Credits PUBLISHER Ensemble Travel Group
Letter
My bucket list of destinations continues to grow and I blame the contributors who shared their unique travel experiences in this issue of Vacations and have added to my wanderlust. I'm already thinking of trips to Cambodia, Taiwan, Dominica, Italy, Hawaii, Las Vegas, Fiji and Belize. I'd be happy to visit any of these spots.
Cruise into the history, culture and dramatic landscapes of the Mediterranean aboard Norwegian Breakaway. Enjoy a short ferry ride from Mykonos to the island of Delos — the mythological birthplace of Apollo and Artemis and a UNESCO World Heritage Site — and visit ancient ruins. From Naples, step back in time while exploring the ruins of Pompeii — a UNESCO World Heritage Site — and journey to Sorrento to savor lunch at a local family-owned farm. Nestled on the west coast of Tuscany, charming Livorno offers the freshest seafood, awe-inspiring forts and splendid coastal views with ample cafes and boutiques awaiting your discovery.
TO BOOK, CONTACT OUR TRAVEL AGENCY TODAY
NCL SALES TEAM Norwegian Breakaway is ready to whisk you away to your best vacation yet. Named Best Cruise Ship for Families by USA Today, there's something on board for everyone. Breathe in the fresh ocean air and connect with the sea like never before along The Waterfront, a quarter-mile oceanfront promenade lined with restaurants, bars, and spectacular views. Indulge in more than 25 dining experiences, including three new, dedicated seafood venues. And enjoy dazzling Broadway performances Rock of Ages, Burn the Floor, and Cirque Dreams & Dinner Jungle Fantasy. Norwegian Breakaway offers magnificent amenities at sea. BOOK TODAY! to toto STARTING FROM $0PP STARTING FROM $ PP STARTING FROM $ PP
0
TO BOOK, CONTACT OUR TRAVEL AGENCY TODAY
Norwegian Breakaway 10-Day Greek Isles & Italy r/t from Rome (Civitavecchia) May – October 2023
Ports of Call: Rome (Civitavecchia), Italy Santorini, Greece Athens (Piraeus), Greece Mykonos, Greece Corfu, Florence/PisaMessinaValletta,GreeceMalta(Sicily),ItalyNaples,Italy(Livorno),ItalyRome(Civitavecchia),Italy
0
Cruise into the history, culture and dramatic landscapes of the Mediterranean aboard Norwegian Breakaway. Enjoy a short ferry ride from Mykonos to the island of Delos — the mythological birthplace of Apollo and Artemis and a UNESCO World Heritage Site — and visit ancient ruins. From Naples, step back in time while exploring the ruins of Pompeii — a UNESCO World Heritage Site — and journey to Sorrento to savor lunch at a local family-owned farm. Nestled on the west coast of Tuscany, charming Livorno offers the freshest seafood, awe-inspiring forts and splendid coastal views with ample cafes and boutiques awaiting your discovery.
Norwegian Breakaway 10-Day Greek Isles & Italy r/t from Rome (Civitavecchia) May – October 2023 Ports of Call: Rome (Civitavecchia), Italy Santorini, Greece Athens (Piraeus), Greece Mykonos, Greece Corfu, Florence/PisaMessinaValletta,GreeceMalta(Sicily),ItalyNaples,Italy(Livorno),ItalyRome(Civitavecchia),Italy
NCL SALES TEAM dedicated seafood venues. And enjoy dazzling Broadway performances Rock of Ages, Burn the Floor, and Cirque Dreams & Dinner Jungle Fantasy. Norwegian Breakaway offers magnificent amenities at sea. BOOK TODAY! to STARTING FROM $0PP MODERNO FEEL FREE TO FOLLOW THE SUN ©2022 NCL Corporation Ltd. Ships' Registry: BAHAMAS and USA. *Terms and conditions apply. 07/22
©2022 NCL Corporation Ltd. Ships' Registry: BAHAMAS and USA. *Terms and conditions apply. 07/22
MODERNO
Featured Contributors
6 • Vacations ® • Fall 2022
Iuliana Marchian is an accomplished travel writer and a local tour guide based in Sibiu, Romania. Her work has appeared in Inside Himalayas, Culture Trip, Matador Network, National Geographic Romania and more. She likes to travel slowly and to places off the beaten bath.
Robin Catalano has never met an ocean, lake, or river she didn't want to paddle on. An avid kayaker, she writes for publications such as National Geographic, Condé Nast Traveler, Travel + Leisure, AFAR, and many more. She was the 2020 Writer-in-Residence at Herman Melville's Arrowhead and a 2022 finalist for the IFWTWA's Excellence in Journalism Award. A New Englander by birth and an honourary Spaniard by marriage, she specializes in coastal experiences, the Northeast U.S. and Spain.
Riding a camel in the midst of desert dunes is a moment that she feels authentic. A quote from Khalil Gibran she loves: "We live only to discover beauty. All else is a form of waiting."
Sarah Sekula is an adventure writer, photographer and on-camera host. Her assignments for CNN, USA TODAY, Lonely Planet and ESPN have taken her to all seven continents. When she's not zigzagging around the planet, coming face to face with tiger sharks in the Bahamas, carving up waves in Costa Rica or roaming the remote jungles of India, she is writing about her adventures, fitness, health/wellness and extraordinary people.
Jennifer Richardson was born with an insatiable desire to discover the world. She has been lucky enough to travel to more than 30 countries and write about her experiences along the way. What brings her to a new destination is curiosity, and what keeps her there is connection and amazing food. Of all the dishes she has tried around the world, her favourite is a plate of chilaquiles, served with a cup of fresh coffee.
From hotels for pet lovers to finding love at sea, here's a snapshot of what's new in the world of travel LIST
SOLO TRAVEL
PACKING
Learn why the island nation of Dominica should be on every traveller's radar
Features CRUISE 20 Seeing Hawaii by Sea
ADVENTURE 28 Kayaking in the Desert
From Baozhong to Oriental Beauty, the art of steeping leaves has been perfected by this island nation ®
16
56
56361220 FallDetours2022
CULTURE 32 Bountiful Belize Exploring the rich culture, ancient temples, toucans and tasty traditional cuisine of this Central American country
One writer explores the dramatic scenery of the Ausangate Mountain with llamas as companions and falls for their charms
From thermal pools to floating spas, taking advantage of the innate healing powers of water is good for the body and soul
FAMILY TRAVEL A Trip of Firsts A family trip to Fiji leads to new adventures, from scuba diving to sailing the scenic waters of the welcoming island nation Bon Vivant Dig Into Italy's Food Valley
All the Tea in Taiwan
54
Essentials You've Just Got to Have Our editor's picks for the best fall travel gear HOT LIST 12
A culinary trip to Emilia-Romagna is a journey through the region's past with heritage ingredients and classic pasta dishes
36
Despite self-doubts, a writer makes a dream come true and learns to live up to her true potential by exploring bravely WELLNESS 42 Into the Blue
Sustainable travel to Cambodia helps small businesses give back to their communities with stops at non-profit cafés and guesthouses with philanthropy initiatives
A former resident of the Big Island returns to experience the state's culture, history and natural beauty in a new way – on a cruise
Vacations
• Fall 2022 • 7
EXTRAORDINARY EXPERIENCES 24 Peru's Cutest Hiking Guides
Paddling the waterways of an unexpected oasis where abundant plant life, like the famous saguaro cactus, thrives
TRAVEL NEWS 8 What's Trending This Fall
Camel Trekking Through the Sahara
50
Leaving Las Vegas Trade the buzzy Strip for blissful solitude at these desert destinations within a three-hour drive of Sin City SPOTLIGHT The Caribbean's Nature Island
10
SUSTAINABLE TRAVEL 46 Impactful Choices
By Isabelle Labrosse
DETOURS 8 • Vacations ® • Fall 2022
TRAVELLING WITH FAMILY AND (FURRY) FRIENDS Do you worry about leaving your furry friends behind while you travel? You might not need to anymore! Hilton has expanded its pet-friendly offering in Canada and the United States, including a partnership with Mars Petcare, the largest pet care company in the world. Through this partnership, guests can have all their questions about travelling with their cats and dogs answered by an online expert team during their stay. Hilton guests can also receive waived enrollment fees when purchasing an Optimum Wellness Plan from Banfield Pet Hospital. With these latest additions, the chain now has some 5,000 pet-friendly properties worldwide and more than 4,600 in North America offering perks through Mars Petcare.
TRAVEL NEWS What's Trending This Fall
From hotels for pet lovers to finding love at sea, here's a snapshot of what's new in the world of travel TAKING TO THE NILE Luxury river cruise line AmaWaterways will soon launch a second intimate ship on the legendary Nile River. The AmaLilia – named after the sacred blue water lily found in ancient Egypt – will set sail in 2024, taking passengers on an immersive Secrets of Egypt & Nile itinerary to experience the country's ancient wonders. The extraordinary journey will include a sevennight roundtrip cruise from Luxor, a threenight pre-cruise stay in the historic city of Cairo and an additional night postcruise. Thoughtfully designed with regionally inspired touches, the ship will offer guests spacious staterooms and suites as well as delicious meals from an included specialty restaurant.
CALIFORNIA DREAMIN'
•
• 9
A NEW COLOMBIAN GETAWAY
A LITTLE ROMANCE AT SEA A new reality romance adventure will set sail this October onboard popular cruise line Princess Cruises The Real Love Boat is a new dating competition inspired by The Love Boat, the popular 1970s scripted show. The new series will bring together single contestants looking for love on a luxury Mediterranean cruise. They will participate in challenges and dates set by the matchmaking crew members to test their compatibility and chemistry in the hopes of staying onboard and finding real love. In the end, only one couple will remain on the ship and take home a cash prize and a once-in-a-lifetime cruise courtesy of Princess. The American version of the show will air on CBS starting on October 5.
The travel company recently added San Andrés, Colombia, as a new destination on its winter 20222023 roster. Guests can choose from six Decameron properties within minutes of the Caribbean Sea, the city centre and the airport. Located off the coast of Nicaragua, San Andrés is a small, intimate island known for its immaculate sandy beaches, swaying palm trees and numerous cays. A nature lover's paradise, it offers excellent diving and a multicultural community blending Anglo-Caribbean Raizal and Colombian cultures.
This winter, Canadian vacationers can discover the charms of a new South American island with Sunwing.
Tour operator Colette is expanding to its Golden State offering with its California Dreamin': Monterey, Yosemite & Napa itinerary from Monterey to San Francisco. Over eight days, guests will have the chance to explore the best of Northern California, from the unspoiled beauty of Yosemite National Park and the pristine waters of Lake Tahoe to the stunning old town of Sacramento and the famed 17-Mile Drive on the Monterey Peninsula. And let's not forget the wine! You'll be treated to a private lunch and tasting at a historic Napa winery, where you can toast to your California adventure with a glass of locally produced wine. Vacations® Fall 2022
10 • Vacations ® • Fall 2022
DETOURS
When you travel, how many times do you ask yourself, "Where's my passport?" I'm always trying to remember where I put it. This fashionable, looped scarf has a hidden pocket big enough to tuck in important documents as you make your way to your destination. Made in Canada by RubysDaughter1977, it uses a cotton/spandex mix for breathability. $47.64, Etsy.com
FERNANDO BY HEYS GRAPHIC SUITCASE –FVT CANADA II
It's a good thing to stand out in the crowd, especially when it comes to suitcases. This beauty features a fun design from Brazilian artist Fernando Volken Togni depicting beloved Canadian icons, from beavers to the CN Tower, so you can spot it easily on an airport luggage carousel. Part of the Canada Spinners collection, it's incredibly lightweight and has well-engineered, ultra-smooth wheels that make it roll almost effortlessly. Its internal expansion system gives you 20 per cent more space. Super sweet! From $179.99, Ca.Heys.com
Where are you headed this fall? Whether you're travelling to a sunny destination for some extended beach time or nibbling your way through the islands of Greece, you'll want to be equipped with the latest gear and goodies to make the most out of your trip. Here are a few things that are on my radar this season.
By Michele Sponagle
HIDDEN POCKET INFINITY SCARF
PACKING LIST Essentials You've Just Got to Have
BIOLITE SOLAR PANEL 5+ Keep your USB-powered devices charged no matter where you are – off the grid, glamping, hiking and exploring away from regular power sources. This nifty gadget draws energy from the sun to ensure you are always ready to take pictures and videos or listen to podcasts and watch movies. Never stress about battery life again. $99.95. MEC.ca
VINNIBAG INFLATABLE BOTTLE PROTECTORS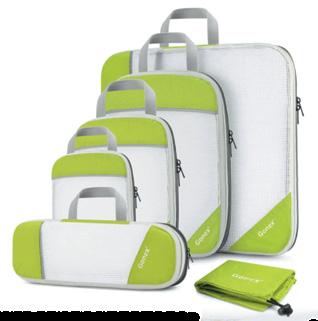 For little touch-ups on the go, I tuck these little blotting linens in my purse or pocket to blot away excess oil and perspiration without messing up my make-up. For warmer climates, they are invaluable for helping you look fresh and selfie-ready throughout the day. Their subtle cherry blossom scent also provides a pleasant touch. $14, Boscia.com
It's good news for bath enthusiasts as new hotels are incorporating generously sized tubs into bathrooms. I like to tuck a bath bomb into my suitcase so I kickstart my vacation with a relaxing soak. This one from Canada's Bathorium turns water into a gorgeous shade of violet and releases a lovely floral scent, thanks to ground hibiscus flowers, while skin-pampering moisturizers leave skin soft.
It's nice to add a bit of bling to luggage or carry-on bags with a gorgeous tag that oozes luxury. This one in iconic Tiffany blue is made in Italy from high-quality leather. It has a doublefaced flap with an ID window where you can add your contact details. It makes an ideal gift for those who love the finer things in life. $275, Tiffany.ca
GONEX PACKINGCOMPRESSIONCUBES
It's always a challenge getting everything I need to fit into my suitcase. I recently cubescompressiondiscoveredpackingandthey'vebeen game-changers. They allow me to pack about 50 per cent more items and also help keep my stuff organized – one cube for evening wear, another for dirty laundry, etc. I like this set of six because the cubes have a mesh panel so you can see what's inside without unzipping them. Starting at $59, Amazon.ca
TIFFANY & CO. LEATHER LUGGAGE TAG
BOSCIA LINENSBLOSSOMCHERRYBLOTTING
While visiting Europe, it's heartbreaking to leave behind delicious wines and olive oils you might not be able to find back home. Fear of the bottle breaking inside your suitcase is real. That's why I love these bags with inflatable air chambers, designed to protect fragile goods (even items like camera lenses) from damage. They fold totally flat when not in use. $28, Ellessco.com
PACKINGCOMPRESSIONGONEXCUBES
$12, Bathorium.com BOSCIA CHERRY BLOSSOM BLOTTING LINENS
BATHORIUM SNOOZE BOMB
Vacations® • Fall 2022 • 11
HOT LIST Leaving Las Vegas
WILD, WILD GRAND CANYON, ARIZONA Tour past Hoover Dam and a portion of Route 66 during the three-hour trip from Las Vegas to Williams, Arizona to catch the Grand Canyon Railway to the national park's South Rim. The historic train ride gets guests into the Wild West spirit with singing cowboys and a staged train robbery. Once you arrive, it's easy to catch the free shuttles around the park to all of the viewpoints and trailheads.  The classic Bright Angel Trail descends almost a vertical mile over 12.6 kilometres all the way to the Colorado River, so you can see the colourful layers of geologic history on the hike down. (Plan this epic trek for a cool day and bring litres of water.) Less energetic souls can hike the mostly flat Trail of Time, where each metre walked signifies a million years of the gaping canyon's ancient history.  You can always let a beast of burden do the plodding by booking a two-hour mule ride along the rim, or all the way down to Phantom Ranch for an overnight stay.
DETOURS L ocated at the pointy end of Nevada between Utah, California and Arizona, Las Vegas makes a well-situated hub for exploring the American Southwest. When you have had your fill of shows, shopping and slot machines on the Strip, drive to nearby national parks across the state line, where natural beauty is on display and active adventures abound.
12 • Vacations ® • Fall 2022
By Lisa Kadane Trade the buzzy Strip for blissful solitude at these desert destinations within a three-hour drive of Sin City
HIGHS AND LOWS IN DEATH VALLEY, CALIFORNIA
A 2.5-hour road trip west from Vegas takes visitors to Death Valley National Park, the lowest, driest and hottest spot in North America. Though these extremes are what attract curious travellers, most soon realize there's more to Death Valley than the fate implied by its name.
In addition to Badwater Basin (the lowest elevation point on the continent), there are towering mountains, colourful badlands and a freshwater oasis that feeds date palms and animals like coyotes and jackrabbits. Hit the highlights accessible by car first, such as the Mesquite Flat Sand Dunes (bring your own sandboard), then hike into Golden Canyon or stroll the 1.3-kilometre loop of the Salt Creek Interpretive Trail, an easy 15-minute route.
TEMMESCOTT© Vacations® • Fall 2022 • 13
If you have time, join a Jeep tour and journey deep into the desert to out-of-the-way spots such as Racetrack Playa. There, large stones slowly 'sail' across the flat, dry lake bed as if by magic, leaving a trail behind them as they move.
After a day in the parched valley, top up your moisture level in the swimming pool at The Ranch at Death Valley. It's fed by a natural spring and stays 30 degrees Celsius year-round.
Animal lovers can register for a volunteer shift at Best Friends Animal Society, the largest no-kill sanctuary in the U.S., headquartered in Kanab. Book well in advance to walk a rescue dog on the many trails inside the sanctuary grounds in Angel Canyon, or drive them off-campus for a hike on Kanab's extensive trail network.
This small town in Southern Utah, a 3.5-hour drive northwest of Las Vegas, is surrounded by the state's coyote-and-roadrunner-like scenery of red buttes and water-carved slot canyons. Use Kanab as a base for exploring Zion and Bryce Canyon National Parks, or check out the less-busy attractions close to town. Rent sandboards or a sand sled from the visitor centre at Coral Pink Sand Dunes State Park, 30 minutes from Kanab. Then, spend the morning slogging up and gliding down pink grains of sandstone that have blown in and settled into picturesque peaks and valleys.  To hike into a narrow crevice between smooth slabs of Navajo sandstone, consider joining a safari tour and going off-road in a Jeep to Red Canyon Slot (also called Peek-a-Boo Canyon). Or saddle up and ride to Red Hollow Canyon near Orderville.
SAND AND SURF IN KANAB, UTAH 14 • Vacations ® • Fall 2022
IT'S YOUR HEART THAT TAKES YOU PLACES
We your travels world's most magical destinations possible. it's your endless passion that leads there.
Contact our Travel Advisors Today. Ask about Canadian Resident rates and our Exclusive FREE Pre-Paid Gratuities. EXQUISITELY CRAFTED CUISINE. CURATED TRAVEL EXPERIENCES. SMALL SHIP LUXURY.
But
for discovery
you
to the
Please
make
DETOURS
Somehow, Dominica has stayed off the radar of many travellers. This is partially because the vast majority of international visitors – more than 200,000 annually –access the island via cruise ships to explore Roseau, the colourful capital. However, after 10 beautiful days on the island, I suggest a longer stay to experience more of it for Fromyourself.the
SPOTLIGHT The Caribbean's Nature Island
By Katy Spratte Joyce
Laura Hamm, co-owner of a responsible travel company that leads small group tours to the island, agrees. "Lesser known than its 'sun, sand and sea' counterparts in the Caribbean, and often confused with the Dominican Republic over 1,000 miles away, the island of Dominica is an off-the-beaten-path treasure trove of vibrant nature on par with the most untouched and Jurassic-looking islands on the planet," she says.
Learn why the island nation of Dominica should be on every traveller's radar
I do, at the aptly named Champagne Beach, where teeny
Dominica is clearly a special place.
T he iconic main theme from Jurassic Park floats through my head as the plane glides nearer to Douglas-Charles Airport in Marigot, Dominica. Buh-nuh nuh-nuh-nuh. Buh-nuh nuh-nuh-nuh. I almost whistle as the densely green and mountainous slopes of "the nature island" of the Caribbean welcome me into their lush fold for the first time.
infinity pool at Jungle Bay, an upscale resort near Soufriere, I see Scott's Head, the famed teardrop-shaped southern tip of the island. Dominica is impressive on many fronts, but none more so than for its natural wonders, like this epic dive spot, part of Soufriere-Scott's Head Marine Reserve. Scuba divers will delight in the dramatic reefs off this volcanic isle, though I prefer to snorkel. And snorkel
AMBOCHAD©TI KWEN GLO CHO, A NATURAL SULPHUR SPA 16 • Vacations ® • Fall 2022
bubbles, a hint of local seismic activity, emerge from the soft sand beneath these warm Caribbean waters. You can experience the healing properties of hot springs at Ti Kwen Glo Cho by submerging yourself in therapeutic sulphur Anotherwater. unique Dominica feature, also a volcanic remnant, is Boiling Lake, part of the UNESCO World Heritage site Morne Trois Pitons National Park. The second-largest boiling lake in the world, it's only accessible by a 12.8-kilometre hike to the island's rugged interior. On this trip, my hiking is a touch more relaxing and is limited to a gorgeous coastal walk near Calibishie, on the red rocks of the northern coast. According to my jovial guide, Dominica stands supreme in terms of hiking in the region, boasting its longest continuous trail, the 185-kilometre Waitukubuli National Trail. The HEAD
BAYJUNGLE©AMBOCHAD©SCOTT'S
YOGA RETREAT AT JUNGLE BAY Vacations® • Fall 2022 • 17
SPERM WHALE 18 • Vacations ® • Fall 2022
MORNE TROIS PITONS NATIONAL PARK
Back at Jungle Bay, I breathe deeply and inhale the herbaceous aroma of my hand-picked custom tea blend. Crafted from medicinal plants abundantly growing on the 22-hectare property, the warm drink contains guava leaves, moringa, lemon sage and hibiscus petals. I'm here for a week-long yoga retreat, and one of the optional activities is a garden tour with a local healer. Learning about the power of plants as medicine expertly encapsulates the potential for wellness travel on this lush and beautiful island. I'm already planning my next sojourn to multifaceted Dominica. With its abundant resources and exciting culture, the nature island of the Caribbean is poised to become more than just a port of call.
trail is broken into 14 segments, which volunteers help maintain and clear even as the jungle battles to reclaim its Dominicaadvantage. also earns points among wildlife watchers, as it's the only nation on earth with a year-round sperm whale population. Sightings of these behemoth beauties are most common from November to March, so my December trip is well-timed for a whale-watching excursion. We set out with a local crew on a boat from Roseau, and within an hour, the striking silhouette of a baby sperm whale makes its dramatic debut. Spotting a handful of adult whales throughout the afternoon is an enchanting activity for our group.
See inside this brochure for EXCLUSIVE offers Let us show you the world as only we can 080822_Trade - Ensemble Vacations Insert - 12 pg - HAL Magazine-REV.indd 1 2022-08-17 11:05 AM
CRUISE Seeing Hawaii
I thought I knew the Hawaiian Islands well, having visited many times over the decades and lived on the Big Island of Hawaii for a short time, which actually felt like a long time (in a good way). Hawaii is like that – a relaxed idyll where time seems to slow down. Upon my arrival there, I love the blast of warm tropical air and the fragrance of sweet plumeria in the air. Then there's the local food – papaya, fresh fish, coconuts and more, plus relaxing, languid music and Hawaii's fascinating history and customs. These are all coupled with the ever-present spirit of aloha making visitors feel welcome. Most of all, I revere the landscapes of Hawaii – rugged volcanic lava fields, lush tropical forests and crystalline waters ideal for swimming, surfing, kayaking and snorkelling.
A former resident of the Big Island returns to experience the state's culture, history and natural beauty in a new way – on a cruise
ADVENTURESUNCRUISE©SAFARI EXPLORER IN HAWAII 20 • Vacations ® • Fall 2022
By Leslie A. Westbrook by Sea
The idea of a cruise through the islands caught my fancy, as I'd never really experienced them by sea. So, I booked an UnCruise Adventures cruise for November, when the temperatures are perfect and balmy and the numbers of tourists are lower. There were so many highlights during my wonderful cruise, from a night dive with amazing manta rays to an authentic Hawaiian pa'ina (feast) – quite different from the typical touristy luau. While luaus created for the tourist market offer huge spreads of food, hula dancers and loud drumming, our pa'ina is a homegrown, heart-warming potluck with food prepared by the islanders and simple music performed on ukulele. Some of us join in with handmade percussion instruments and become part of the party. MAUI, ALSO KNOWN AS "THE VALLEY ISLE"
ENJOY A TROPICAL DRINK MADE WITH LILIKOI JUICE Vacations® • Fall 2022 • 21
ADVENTURESUNCRUISE©HAWAIIAN WOMAN PLAYING UKULELE
I realize I have made the right choice booking with this cruise line when my travel companion and I land on Molokai, a less visited, less touristy island, for a welcome gathering. We soon learn that most of our fellow passengers are repeat guests who have sailed with UnCruise on their small ships before to destinations like Mexico, Central America and Alaska.
ADVENTURESUNCRUISE©
It's a good sign. Our cozy travel group of 22 will get to know one another well as we island hop. The itinerary for our seven-day cruise begins on tiny Molokai (famous for Father Damien and the leper colony he oversaw). Then, it moves to Lanai, Maui and, finally, the largest of the islands, Hawaii (a.k.a. the Big Island), known for its geographical diversity, from pristine beaches to lava flows and the snow-capped Mauna Kea. Cultural immersions on Molokai make us feel like locals with an evening pa'ina and Hawaiian jam session, hanging out with a real Kahuna (a Hawaiian shaman) for a lesson in pounding poi (a sacred food made from taro root) and cloud-gazing in magnificent gardens. Every day at sea is different, but an interesting excursion or a dip
SWIMMING WITH MALA TURTLES NIGHT DIVE ENCOUNTER WITH MANTA RAYS 22 • Vacations ® • Fall 2022
Onboard, you'll get to hear stories from locals and taste the region's culinary traditions.
CULTURAL IMMERSIONS IN HALAWA VALLEY, ON MOLOKAI
Vacations® • Fall 2022 • 23
For a deeper dive, enjoy an Oahu Explorer cruise tour, combining your days at sea with a four-day stay on WithOahu.
Speak with your travel advisor about which cruise is the right style for you.
With Princess Cruises, explore the four toprated Hawaiian islands while enjoying enriching Discovery and Animal Planet shore excursions as well as an immersive "Aloha Spirit" program onboard, with ukulele lessons, flower lei weaving and folkloric Withperformances.
Royal Caribbean, discover Hawaii's natural beauty onboard one of three ships sailing to the region, taking you to popular cruise ports, from attraction-filled Honolulu to waterfall-rich Maui, and scenic cruising along the Napali Coast.
On the last night, we do a night dive off the coast to encounter with giant manta rays, some as wide as almost 9 metres. A lecture onboard prepares us for what to do and what to expect. We don our wetsuits one last time, jump into the ocean and form a circle, holding hands. Our guides use underwater lanterns to lure the rays to the surface. I nearly jump out of my skin as the first of several of these winged creatures rises from the depths and gently brushes against me. It's certainly one of the most unusual experiences of my life.
Our Experts Suggestin the ocean is usually included, whether you choose to jump off the ship and do a high dive or gently lower yourself down the ladder into a kayak or pontoon. While onboard, humpback, Baird's beaked and pilot whales are Onespotted.ofmy favourite island activities on this cruise was swimming with the honu (turtles). I love the soothing, magical encounters with the friendly sea turtles who accompany me. Back on the ship, refreshing tropical drinks, like a mimosa made with cava and lilikoi juice, await us, much appreciated after peeling off our wetsuits. With such an active itinerary, I also look forward to the hearty meals – taro flour pancakes with coconut syrup topped with mangos and macadamia nuts, or a Hawaiian-style breakfast with eggs and SPAM (a staple well loved by locals). Entrées feature fresh Hawaiian fish, like ono, and are accompanied by desserts like a coffee semifreddo with salted chocolate Myslivers.time exploring the Hawaiian Islands by sea helped expand my understanding of this isolated archipelago. I got to experience it in new ways. Even though I had lived on the Big Island, I had missed out on an activity that became one of the highlights of the cruise.
With Norwegian Cruise Line, cruise to Hawaii yearround onboard Pride of America, visiting four islands in seven days with convenient Saturday departures.
In addition to UnCruise Adventures, there are many more options to see Hawaii by sea, depending on the type of itinerary and amenities you want.
Holland America Line, enjoy the convenience of a mid-sized ship while island hopping and taking part in off-the-beaten-track shore excursions.
ADVENTURESUNCRUISE©
CRUISING HAWAII YOUR WAY
24 • Vacations ® • Fall 2022
I lock eyes with Labrayani, a 140-kilogram llama on the trail behind me. He tilts his head and flicks his ears back. While he pauses, I get a good look at those long lashes, awkward underbite and knobby knees. It's impossible not to crack a smile. He's my new hiking companion for my trip to the Ausangate Mountain of Peru and he happens to be the head honcho of the llama posse. For that reason alone, he gets to sport the most decorations. We're talking hot pink ear tassels, a pom-pom necklace and a decorative saddle. He's a camelid with style. We're at 4,267 metres on day one of a two-day trek. My buddies amount to one guide, two herders, one horse and five llamas. Together we are, quite literally, following the same paths the Incas took thousands of years ago. It's all thanks to an extensive system of ancient trails created by llama herders. For avid hikers, it's a dreamy mishmash of terrain. One that is full of impressive peaks, impossibly blue lakes and pasture after pasture of llamas and alpacas. Our route through the Vilcanota range is one of the highest treks in Peru. The journey, however, will be made a bit easier with llamas as our sherpas. For thousands of years, these trusty animals have made life possible in the Andes by carrying goods from village to village. Fast forward to today and the llamas are also used for trips like mine, where hikers travel from one lodge to the next.
EXTRAORDINARY EXPERIENCES
Hiking Guides
By Sarah Sekula
LLAMAS HIKING GUIDE, AUSANGATE MOUNTAIN
Peru's Cutest
One writer explores the dramatic scenery of the Ausangate Mountain with llamas as companions and falls for their charms
We begin our foray into the wilderness at a steady pace. Gradually, we ascend through a valley, home to some of the highest potato crops in the world. Before long, we meet a herd of about 100 alpacas. Several young ones sport new hairdos. Fluffy wool on the tops of their heads sticks straight up while the wool on their bodies is trimmed close – all making their periscope necks appear comical. I'm beside myself with delight. I glance over my shoulder and Labrayani is still there, grinning peacefully. It's already apparent that this will be no ordinary hiking trip. Besides getting schooled on the landscape and culture, I'm learning loads about llamas. They are low maintenance, dependable and calm for the most part. They leap over streams surprisingly well, are natural grazers – so there's no need to bring food along – and they can carry up to one-third of their body weight. Not to mention their funny noises include snorts, sneezes, belches and even high-pitched squeals when predators are near. It's a treat getting to know their personalities.
LODGESANDEAN©AT THE TOP OF THE RAINBOW MOUNTAIN Vacations® • Fall 2022 • 25
After a hearty Andean breakfast, we load our gear and resume our hike, donning rain jackets this time. Hail is beginning to fall through the thick layer of fog, and within 20 minutes, snowflakes appear. Instantly, the sweeping landscape looks even more magical.
LODGESANDEAN©
We chat about tomorrow's adventures that will culminate at Rainbow Mountain, a 5,181-metre-high beauty. Created by mineral deposits, its psychedelic bands of turquoise, lavender, red-violet and gold are quite a spectacle.
After a few hours of trekking, I point out what looks like lines of large white polka dots crisscrossing the side
At sunset, a steep march up a rocky hillside brings us to the best views yet. The jumble of snowy peaks to the left is known as Nevado del Inca. To the right, neon-green grass and moss-covered rocks dot the Ausangate mountainside. Straight ahead, I see the vivid hues of the Red Valley. The icing on the cake is a bright blue lagoon where llamas are grazing. We arrive at our eco-lodge, a two-storey abode where we are greeted with a warm meal that could rival the best restaurants in Cusco and coca tea to ward off altitude Assickness.wewarm up by the fire, Lopez tells me that the lodgekeeper, Mario, used to make three-week treks from this area to the Amazon and back for trading on a regular basis. With his family in tow, no less. It reminds me how hardy the local Quechuan people are. I'm utterly fascinated by how they've adapted to this extreme environment. They tell me I might be able to adjust to this altitude if I spent a year here. But I have my doubts.
MARIO, THE LODGEKEEPER
"Some of them are kind of cranky, and some of them are actually really social," says Bruno Lopez, my guide. "I've seen a few llamas put their necks on top of people's heads when they are taking photos." He knows every inch of this area and leads us from one stunning valley to the next. We pass uplifted granitic cliffs, tumbling streams and limestone forests. Millions of years of geologic history. "Everyone has their favourite day," says Lopez. "It's very peaceful, very far from civilization, far from the cities." To me, it's an added bonus to go an entire day and see only a few people. It means I'm fully immersed in the dramatic topography around me. The scenery, he explains, was created by several tectonic forces and the presence of minerals is very high. Silver, copper and iron are scattered as far as the eye can see. This explains why several mountains have a beautiful red hue and why I keep spotting rocks that any geologist would envy.
26 • Vacations ® • Fall 2022
PROMPERU©PROMPERU©TREKKING IN VINICUNCA A HERD OF ALPACAS Vacations® • Fall 2022 • 27
of a red mountain in the distance. Lopez explains that it is snow that has filled in the llama footprints. Every now and then, the llamas wander off the trail and up the mountainside. Surefooted and graceful, they make it look easy. With their soft padded feet, they don't have much impact on the ecosystem. Each time this happens, one of the llama herders nimbly sprints after them and coaxes them back into the lineup. It's no wonder these types of treks have been extremely popular. Many people, myself included, are obsessed with llamas. It's not just us, though. Travellers come not only from Canada and the U.S. but also from Europe to spend time hiking with llamas. To know that they are simultaneously assisting this isolated community is even better. Many local companies work hard to preserve the culture, traditions and ancestral ways of transportation and to make sure the llama herders get work. And the fact that the fluffy porters are so darn cute is just an added bonus.
By Fiona Tapp Kayakingin the Desert
EXPERIENCESCO-OPREI© 28 • Vacations ® • Fall 2022
But as Old Town Scottsdale is within just a 60-minute drive of eight lakes and rivers, it's worth trying a range of watersports in the desert, including kayaking. These waterways may seem like an unexpected oasis in the middle of an inhospitable environment, but this region is a subtropical desert and receives rainfall bi-seasonally in the winter and in July and August. This creates a huge biodiversity of different plants and animals, which require that reliable rainwater and the waterways they supply to thrive, including the Sonoran Desert's most famous cacti.
W hen I arrived in Scottsdale, I expected to find towering saguaro cacti, parched landscapes and red rock formations. What I wasn't counting on were all the opportunities available to see the Sonoran Desert from the water. Arizona remains an incredibly popular U.S. destination, welcoming more than a million Canadians every year who come to escape winter, enjoy its spas, play golf and shop.
ADVENTURE
Paddling the waterways of an unexpected oasis where abundant plant life, like the famous saguaro cactus, thrives
If one plant could represent the American Southwest, it would be the giant saguaros. These magnificent and iconic plants can grow as tall as 23 metres and live for over 175 years. They are so significant to the region that the
Indigenous Tohono O'Odham people believe they are their ancestors and treat them as respected members of the tribe. In these communities, a new year is marked by the harvest of the saguaro fruit, used to make a sweet syrup for special ceremonies.  I can see saguaro cacti all over the region but somehow, I find them more imposing and impressive viewed from the water, as I paddle below them. They dot the cliff sides in vast numbers along the 35 kilometres of Saguaro Lake's shoreline. From my kayak, I spot them among rocky flatlands, perched on canyon walls, and nestled in desert shrubland. I paddle silently looking out for local wildlife, including quails, lizards, or even bighorn sheep. Before scanning the endless, cloudless skies above as I turn my gaze to the mountains in hopes of seeing a bald eagle or a hawk gliding overhead.
The Saguaro Lake is located within the Tonto National Forest and was created by the Stewart Mountain Dam. Just 56 kilometres northeast of Old Town Scottsdale, I leave the city behind and, in less than 45 minutes, I am paddling on the still lake. The gentle waters offer me a safe and serene day of kayaking, suitable for beginners and families alike.  A fellow kayaker passes me and points into the distance letting me know there is a cove ahead which, depending on water levels, has a little beach perfect for a picnic lunch. The lake is very popular with power boaters, which can cause quite the wake and shakes my kayak. My English skin burns very easily so I make sure to reapply sunscreen
RANCHGUESTLAKESAGUARODOYLE/LAURA©SCOTTSDALEEXPERIENCEFORPHAMAN©A DOUBLE-CRESTED SAGUARO VIEW OF THE BULLDOG CLIFFS FROM SAGUARO LAKE GUEST RANCH Vacations® • Fall 2022 • 29
regularly and wear a wide-brimmed hat. The desert sun can be relentless. I was very glad I started early to avoid the crowds and escape the heat. Although it's possible to bring your own kayak and PFD (personal flotation device), I took the more convenient option and rented mine from Saguaro Lake Guest Ranch. One of its vehicles dropped me and the gear off right at the water's edge and picked me up after my paddle. Next time, I'd like to try out another route, launching right from the ranch and paddling along the Salt River instead, which is bordered by tall, dramatic cliffs and is home to a band of wild horses that roam the banks. This option offers a choice of a bypass route or the modest thrill of some class-one rapids, which I'm keen to explore. I notice there is also a gentler option to explore these waterways, during a 90-minute guided lake tour onboard a double-decker paddleboat, named the Desert Belle, which has been offering tours since 1964. Also included with my rental fee to Saguaro Lake Guest Ranch is the park pass fee ($8 USD) to access the Tonto National Forest. The park doesn't have a garbage pick-up service, so I made sure to follow "leave no trace" practices and took everything with me. Before I left, I was planning my next trip to continue touring the desert waterways by visiting other rivers and lakes in the area, including Verde River, Bartlett Lake, Lake Pleasant, Apache Lake, Roosevelt Lake and Canyon Lake, located within the Superstition Wilderness Area. Whether I kayak, stand-up paddle board, boat or fish, I'll be scanning around the shoreline to spot those beautiful saguaro cacti that make this region so special.
EXPERIENCESCO-OPREI©BOATTOURBELLEDESERT©THE DESERT BELLE NAVIGATING THE WATERWAYS WILD HORSES IN THE VERDE RIVER 30 • Vacations ® • Summer 2022
SOMEWHERE TO LOOK FORWARD TO. Grand Memories Varadero | Varadero, Cuba
•On-site Kids Club with plenty of kid-friendly activities bar that's perfect for soaking up the local culture
•Family-friendly beachfront resort
•Cuban
Grand Memories Varadero is located on a pristine whitesand beach and offers vacationers exciting entertainment and plenty of opportunities for relaxation. Kids will have a blast at the on-site Kids Club with supervised activities and a pool just for them while parents enjoy a relaxing massage at the spa. Relax by one of the resort's sprawling swimming pools, including a pool with a waterfall; or try out some exciting non-motorized water sports. Choose from a host of dining options with two à la carte reservations included per stay before taking in an evening show at the theatre or listening to music at the Cuban bar.
By Vanessa Dewson Belize
CULTURE Exploring the rich culture, ancient temples, toucans and tasty traditional cuisine of this Central American country with so much to offer
A t first, I thought it was a monkey stealing chunks of fruit left out for the birds at the crack of dawn, but as I got closer, I saw it was a coati – a relative of the raccoon with reddish-brown fur and a much longer tail and pointier snout than its cousin. As soon as it sensed my presence, it jumped onto the closest palm tree and scurried down the trunk. The fruit left out every morning at 6 am next to the openair restaurant of my hotel in western Belize attracted not just coati but also toucans, motmots and other beautiful tropical birds. Later, when my group finally gathered for breakfast, the coati returned and we quickly realized it was quite the picky eater, digging around and eating only bits of watermelon. On the other hand, my travel companions and I quickly fell in love with all the Belizean cuisine we tried wherever we went. We were never disappointed. It all started with Belizean breakfast, which can have some variety but typically includes eggs, stewed chicken, fried beans and fry jacks (circles of dough cut into quarters and fried until they puff
Bountiful GARIFUNA PEOPLE, AN AFRO-INDIGENOUS CULTURE32 • Vacations ® • Fall 2022
INSTITUTEECO-CULTURALGARIFUNAGROVE© LODGEJUNGLESONGSSWEET©INFINITY POOL OVERLOOKING THE MACAL RIVER AND JUNGLE COATI, AN OMNIVORE RELATED TO RACCOONSVacations® • Fall 2022 • 33
BOARDTOURISMBELIZE©LODGEREEFJAGUAR©THE BEACH AT JAGUAR REEF LODGE, HOPKINS XUNANTUNICH MAYAN SITE 34 • Vacations ® • Fall 2022
up to golden perfection). If you have a sweet tooth, the latter can be ordered sprinkled with sugar. After such a hearty breakfast, climbing the steps of the tallest temple in Xunantunich, a Mayan site near the Guatemala border, was a great way to burn off the extra calories. This ancient village was first established sometime between 600 and 300 BC and was lost to the encroaching jungle when it was abandoned around 1000 AD. We reached the top when the overcast sky started to break up, and the hot sun quickly made the temperature rise. I was glad we went early to explore and could head back to the hotel to swim in the infinity pool and grab an inner tube to float on the Fromriver. the lush hills in the interior of the country, we made our way to the coast on one of the most scenic drives in Central America – the Hummingbird Highway, which runs from the capital of Belmopan in the centre to Dangriga on the eastern coast. We were staying in Hopkins, just a little further south on the coast and home to the largest population of Garifuna people in Belize. This
LODGEJUNGLESONGSSWEET©A WOMAN PERFORMING TRADITIONAL ACTIVITIES AT THE GROVE GARIFUNA ECO-CULTURAL INSTITUTE TYPICAL BELIZEAN BREAKFAST HUMMINGBIRD HIGHWAY Vacations® • Fall 2022 • 35
I continued to fall under Belize's spell when, a few days later, our small plane rose up and over the turquoise blue water hugging the edges of atolls along the secondlargest reef in the world. We landed in San Pedro on Ambergris Caye, a laidback town where there are more golf carts than cars. While it may be tempting to lounge in a hammock on the beach, venturing out to explore the town, eat out, shop or catch a sunset cruise is well worth it, as is a snorkelling trip to Hol Chan Marine Reserve. This protected area, with its shallow waters, colourful coral and sea grass, attracts countless fish, sea turtles, rays and nurse sharks. I was in heaven swimming alongside these beautiful Belizecreatures.surprised me and surpassed my expectations, from how friendly people were to how amazing the local cuisine was and just how much this small Central American country has to offer from north to south – and everywhere in between.
distinct Afro-Indigenous culture has its own language and traditions. Exiled from the British colony of Saint Vincent in the early 19th century, today there are pockets of Garifuna in several countries, including Belize. To learn more about them, we visited the Palmento Grove Garifuna Eco-Cultural Institute on Kalipuna Island. After a short boat ride to get there, owner/operator Eugene Martinez and his daughter Uwahnie greeted us. First, we needed to choose traditional dresses and shirts to wear.
We then sat and listened to Eugene as he talked about the history and traditions of his people, passionate about preserving and sharing their culture.
"We believe that it is in giving that you will receive," he said. The giving of knowledge continued as we moved to another thatched-roof building. The kitchen with a typical Belizean fire hearth is where we were taught to prepare hudut, a traditional meal of coconut fish stew, and fufu, made from mashed plantains. We all pitched in to help – husking coconuts, grating them to make fresh coconut milk, pounding plantains and readying the fish for frying. To eat something so fresh and flavourful was worth the effort. A meal like this is not an everyday occurrence.
I slipped one on with the colours of the Garifuna flag –yellow, white and black. Already, I noticed how breezy and light the dress was compared to my T-shirt and capris.
INSTITUTEECO-CULTURALGARIFUNAGROVEPALMENTO©
It's more like a Sunday meal where the whole family gathers and everyone has their role in making it.
Once our bellies were full, we headed over to the drumming centre to learn some Garifuna rhythms. To be so fully immersed in a new culture in just a few hours was magical.
Sahara 36 • Vacations ® • Fall 2022
By Marchian
Iuliana
SOLO TRAVEL Camel Trekking Through the Despite self-doubts, a writer makes a dream come true and learns to live up to her true potential by exploring bravely
T he Jeep leaves the asphalt road from Zagora to Foum Zguid and turns left on a dirt track running through arid reddish scenery. Giant black boulders, small bushes and an endless stony terrain surround us. The camels and their caretaker, Lahseen, wait for us in the shade of the only acacia tree in the area. This is the starting point of our camel trek through the Moroccan part of the Sahara Desert. I have always been passionate about reading the books of great explorers and visualize that I'm one of them. So, I eagerly searched to join a four-day camel trek during my trip to Morocco. But I was afraid I wouldn't be able to make it to the end.
I didn't have the answer. I thought it was a bit crazy, too, but something in me was more powerful than the doubts, fears and lack of self-trust. At least I had to try doing this trip.
"We must cross the Jbel Bani mountains," says our guide, Mohammed. "From there," as he points up to a pass, "you can see the desert."
• Fall 2022 • 37
"You're crazy!" friends told me. "It will be so hot!" others cautioned me. "Riding camels is painful!" they added. "Why would you do that!?"
The hike up to Oum Laachar pass is steep and we have to squeeze on a narrow footpath snaking among sharp Vacations®
boulders. I move slowly but steadily uphill. It is hot, indeed. I drink plenty of water and ride a camel down. While we were immersing in its dimensionless immensity, I saw the desert spanning in front of me. We descended for half an hour to a well where we set up our camp at dusk. In the evening, we all gathered inside the big tent and drank Moroccan mint tea. Then, we had a traditional tajine cooked with delicious lamb meat preserved in brine.
ON TOP OF ERG CHIGAGA DESERT CAMP 38 • Vacations ® • Fall 2022
On the second day, we start to walk early in the morning to avoid the heat. Unfortunately, we can ride the camels only for a while. When we reach the uneven terrain of the Ouad Mhasser Valley, we have to get off the camels as the sway is too dangerous. I feel drained when we arrive at the Afrokh nomads' camp at the end of the valley. From there, we have to walk a few more kilometres until we finally find an acacia tree where
While we were immersing in its dimensionless immensity, I saw the desert spanning in front of me. We descended for half an hour to a well where we set up our camp at dusk. In the evening, we all gathered inside the big tent and drank Moroccan mint tea.
TEA IN THE DESERT
Vacations® • Fall 2022 • 39
In the evening, we reach the group of dunes called Bogarne and camp there. Sleeping in a tent has never been so comfortable and restful. And washing myself with water poured from a plastic bottle is no longer something unusual.
Timeless, storied, luxurious, authentic, mythical –words are not enough to describe the history-rich splendours of Morocco. On this once-in-a-lifetime journey, you'll trek amidst the rugged beauty of the High Atlas Mountains, venture out on a 4x4 vehicle to the dunes of Erg Chebbi, ride a camel to admire a memorable sunrise over the Sahara and peruse the mesmerizing souks of the Red City of Marrakesh, all with a knowledgeable private guide at your side.
In the morning, Mohammed wakes me up at five o'clock. He's very determined and firm: "If you want to go on top of the dune, we must go now. Later is too hot!" I have never been a morning person. But I am in the desert and have to listen to my guide. We start to climb up to the top of Erg Chigaga. It's the first time I'm climbing a dune. We follow the ridge of the dune where the sand should have been harder. However, we still sink deeply into the soft sand. One step forward, two steps back. My trekking boots are full of sand. Mohammed holds my hand and pulls me up whenever I get too deep into the sand. The more we climb, the better the view. It is promising, but difficult to advance a few metres.
From Erg Chigaga to M'Hamid, the nearest settlement, we have two more days of walking through the desert.
AN ACACIA TREE, KNOWN AS THE TREE THAT SURVIVES THE DESERT 40 • Vacations ® • Fall 2022
Plus, you'll explore some of the country's wonderful UNESCO-listed sites, like the fortified village of Aït Benhaddou and Fes el Bali, the best-preserved medina in the Arab world.
The harsh conditions don't change after coming down from Erg Chigaga. We have another full day of riding the camels on flat terrain until sunset, but I'm too excited and don't notice the heat from the blazing sun. I have grown accustomed to it.
My inner strength taught me I'm the one creating my own reality from the inside out. Even though I second-guessed myself, my passion for exploring helped push me forward into the desert and I never looked back.
My dream has come true. Standing with the entire desert at my feet is a life-changing moment. I pushed myself to reach the top of Erg Chigaga and proved I could do it despite what others had told me, despite my fears, my less-than-perfect physical condition and my doubts of what I believed I could accomplish. At that moment, I realize doubts and fears live just in our heads. We're the ones telling ourselves what we can or cannot do. I'm the living proof of what I'm capable of, and I know, after achieving this, I can make it to the end of the trek.
On the last day, it's even hotter as we head south, but it doesn't matter anymore. We continue on. We enter a mild sand storm, but I protect my face with a shawl and move on instinctively. When we finally reach M'Hamid El Ghizlane, I feel sad the experience is over. I would have been content to Recallingcontinue.my memories now, I understand how I was able to connect to my true potential during the moments of excitement and bliss with the whole desert at my feet.
Our Experts Suggest
And the best part is that your itinerary is fully customizable, so that it suits your interests and every facet of your dream comes true. Contact your travel advisor to start planning your trip to Morocco.
we can cook lunch in the shade. Then, we hike until late in the afternoon before arriving at the foot of Erg Chigaga, the highest dune in Morocco at 400 metres. Mohammed and Lahseen set up the camp among the dunes, while I fall asleep admiring the big dune.
Finally, after half an hour of fighting with the slippery sand, we make it to the top. Here on Morocco's highest dune, I stare out at the countless rippling dunes spanning endlessly around us. Wherever I look, there are only sand waves covering the earth like a light brown velvet. It seems unreal, yet this is the place I have been craving to visit for so long.
And throughout your itinerary, you'll get to experience the warm, traditional Moroccan hospitality while staying at high-end accommodations, from the most modern like the Four Seasons Hotel Casablanca to the most authentic like the Riad Fès, a magnificent traditional courtyard property – and of course, a luxurious desert camp among the towering dunes.
12-DAY MOROCCO EXCLUSIVE ITINERARY
Please contact our travel agency. Manulife ProtectionPremiumPlan ® Help protect yourself against the cost of unexpected emergencies prior to or during your trip. * Certain conditions, limitations and exclusions apply. See policy for details. Underwritten by The Manufacturers Life Insurance Company (Manulife) and First North American Insurance Company (FNAIC), a wholly owned subsidiary of Manulife. Manulife, Manulife & Stylized M Design, Stylized M Design and Manulife Premium Protection Plan are trademarks of The Manufacturers Life Insurance Company and are used by it, and by its affiliates under license. © 2022 The Manufacturers Life Insurance Company. All rights reserved. Manulife, PO Box 670, Stn Waterloo, Waterloo, ON N2J 4B8. Website: www.manulife.ca Telephone: 1-800-268-3763 Accessible formats and communication supports are available upon request. Visit manulife.ca/accessibility for more information. 22_372978 09/2022 The Manulife Premium Protection Plan offers: • Up to $10,000,000 Emergency Medical Insurance (includes coverage for COVID-19 related expenses)* • Cancel For Any Reason • All-inclusive coverage • Assistance 24 hours a day, 7 days a week • Great value • No medical questionnaire at any time
By Robin Catalano
42 • Vacations ® • Fall 2022
From thermal pools to floating spas, taking advantage of the innate healing powers of water is good for the body and soul
WELLNESS Into theBlue
I float, nearly weightless, on my back in the warm lagoon. The water muffles the sound of nearby conversation, and fans out my hair like a halo. Overhead, rain clouds drift across a slate-coloured sky. I close my eyes and inhale, salt air filling my nostrils. Here in the water, without a phone or computer or other distractions, time stands still.
SKY LAGOON, REYKJAVIK
– Wallace J. Nichols, author and biologist
NIMANNORRIS©
Vacations® • Fall 2022 • 43
"When we see, hear, smell, taste or notice in any way the presence of water, there's an emotional and biological response," he says. "Your body responds to the presence or absence of water, or even the idea of its presence or absence. It's that important to maintaining life."
I came to Sky Lagoon, a brand-new wellness facility outside of Reykjavik, to experience their signature seven-step healing ritual. Rooted in the centuries-old Icelandic tradition of communal bathing, the treatment includes dry and steam sauna, a salt scrub, and alternating warm- and cold-water therapies. The centrepiece was the geothermal lagoon. Whether standing under the manmade waterfall, reclining on a rock seat with a glass of wine from the walk-up bar or looking out over the edge of the infinity pool at the Atlantic Ocean, I feel relaxed and at peace. There's plenty of science to back up my experience.
Wallace J. Nichols, a marine biologist and author of Blue Mind, points out some basics: all life on Earth comes from water and 60 per cent of the human body is liquid. We spend the first 9.2 months of our lives underwater. Without it, we would cease to exist in less than a week's time.
RESORTSPAAUSTINLAKEPALADINOMARCUS©FLOATING SAUNA, TOFINO RESORT AQUASTRETCH LAKE AUSTIN SPA RESORT 44 • Vacations ® • Fall 2022
While green spaces have gotten the lion's share of attention for their mental-health benefits, blue spaces –everything from streams and waterfalls to rivers, lakes and oceans – have more pronounced healing effects. Water lacks the visual and auditory stimulation of a green space such as a hiking trail, where its terrain and hundreds of plants, trees and animals command your attention. The sound of the water, whether trickling or rushing in waves, creates a soothing "bubble of silence or privacy," explains Nichols. There's also the somatic experience of being splashed by waves, wading into a lake or, in my case, floating in a lagoon. Cultures with community bathing traditions have long understood water's ability to boost clarity and promote calm. Viktoria Seavey, a life coach and mentor, grew up in Hungary, where thermal baths are common. On a recent trip home, she spent several hours at Thermal Hotel Visegrád's Lepence Spa. "The water in the mineral pools was so buoyant that you could actually feel the bubbles on your skin. It was magical," she says. "I literally had no jet lag. Water just resonates with the human body." Resorts are now honing in this connection with a plethora of unique water-based therapies. At Banyan Tree Mayakoba in Playa del Carmen, Mexico, a practitioner of Wave Stretch gently cradles, massages and stretches guests in the water. Coco Collection in the Maldives offers a unique coral reef gardening program, as well as floating breakfast in the private infinity pool of each overwater villa. At Tofino Resort + Marina on Vancouver Island, travellers boat out in the Clayoquot Sound, part of a stunning UNESCO Biosphere Reserve, to experience cold plunges and heat therapy in a floating sauna. And 'Alohilani Resort in Oahu, Hawaii, has a traditional Hi'uwai ceremony, in which visitors immerse themselves in the ocean at sunrise to "purify" mind, body and spirit. Sometimes these therapies prompt physical and personal transformation. Following cancer treatment, Anne Ilyinsky developed radiation fibrosis and blood clots in her left
arm, which led to a frozen shoulder. While on vacation at the Lake Austin Spa Resort in Austin, Texas, she tried AquaStretch, a fusion of myofascial release and massage conducted in a warm pool. After a 50-minute session, Ilyinsky had full range of motion in her arm for the first time in more than a year. "At different points of the session, I could feel something pop or release," she recalls. "And with that came a lot of emotion. It was both a release of the tissues and of fear. It became almost spiritual." According to Nichols, there's no specific "prescription" for how much we should expose ourselves to water, but 20 minutes several times a week has shown promising results. Even if you live in a place that lacks blue spaces, he explains, you can substitute with manmade ones – for example, a swimming pool or a bathtub. "We are water beings on a water planet," says Nichols. "If the eight billion people on Earth understood blue mind and practiced it somewhat regularly, it would transform our public health and the environment. We would have a different value equation for the river that runs through our town and for ourselves."
46 • Vacations ® • Fall 2022
Choices
O
After getting off the bus, I cross the Siem Reap River, passing a few hostels bustling with backpackers before turning onto a little street to find the Seven Candles Guesthouse, locally owned and home to the Ponheary Ly Foundation. Some profits from my stay will go to this foundation, which directly supports the local community of Siem Reap. Guests can gather together for an evening meditation or morning yoga on the hotel rooftop. It's more like a community than just a hotel, so I feel right at Thehome.owner of the guesthouse, a survivor of the Cambodian genocide, built the foundation to expand educational opportunities for the youth of Siem Reap, the former capital of the Khmer Empire. The city has rebuilt itself time and time again. Though the word "defeat" is in its name (reap means defeated), it proves otherwise throughout my visit by showing its resilience and desire to support its residents, in part through the benefits of tourism.
One afternoon, I hop in a tuk-tuk and ask the driver to take me to the Phare Circus, located just outside of town.
SUSTAINABLE TRAVEL
A friend who had visited Cambodia a few months back raved about it. The guesthouse also recommended it. How could I not go?
Sustainable travel to Cambodia helps small businesses give back to their communities with stops at non-profit cafés and guesthouses with philanthropy
SALA BAÏ FIGHTS POVERTY THROUGH VOCATIONAL TRAINING
n a July afternoon, I roll into Siem Reap on a bus from Bangkok. This is my first time in Cambodia and I feel like my visit is long overdue. I can't wait to start exploring this country known for its incredible history and Whenculture.I first started travelling, doing it in a sustainable way made sense. It means slowing down and getting to know your surroundings in a meaningful way. Sustainable travel also ensures the money you spend goes directly back into the local community. Before my trip to Cambodia, I researched businesses that give back and found some guesthouses, shops and restaurants where the profits go to good causes.
ByinitiativesJenniferRichardson Impactful
I decide to extend my stay in Siem Reap to check out Sala Baï, a sustainable hotel which also serves as a vocational school to train young adults to become professionals in the tourism industry. The program is free for students through the profits of the hotel.
Vacations® • Fall 2022 • 47
ANGKOR WAT, SIEM REAP
SCHOOLRESTAURANTANDHOTELBAÏSALA©
With a complimentary breakfast of local, fresh food, bikes to rent, an on-site spa and a beautiful room overlooking the garden, the property has everything I need. But one of the favourite parts of my stay is the friendly students. When Siem Reap has rebuilt itself time and time again. Though the word "defeat" is in its name (reap means defeated), it proves otherwise throughout my visit by showing its resilience and desire to support its residents, in part through the benefits of tourism.
Founded by Cambodian refugees, the Phare Circus began as a space where ostracized local youth living in poverty could get a free education. Over time, it evolved into a drama and acrobatics school. The MC of tonight's show called Khmer Metal talks about how the students are involved in every step of the production's creative process. From the music to the fantastic acrobatics, the show comes together so beautifully that it moves some audience members to tears. I think it may be the best $14 I've ever spent.
I return after a day of exploring the city, I am greeted with their big smiles and a cheerful, "Hello, miss!" They wave to me as they sit sprawled across the garden to receive their daily work briefing.
I'm thankful for my time in Cambodia. I'm coming home with countless memories of the people I met and an understanding of how important it is to support small businesses focused on giving back to their communities. I've seen first-hand how travelling in a sustainable way offers ample rewards. It can help destinations write their own stories and create the changes they need. For travellers, making thoughtful, meaningful choices about where we spend money is something we can truly feel good about.
GUESTHOUSECANDLESSEVEN©BLOOMFIELDPAUL©FOUNDATIONLYPONHEARY©THE PONHEARY LY FOUNDATION SUPPORTS CHILDREN EDUCATION THE PHARE CIRCUS, A DRAMA AND ACROBATICS SCHOOL SEVEN CANDLES GUESTHOUSE EXPLORING THE CITY BY BICYCLE 48 • Vacations ® • Fall 2022
On a sunny Saturday morning, I ride my bike into town and park in front of Peace Cafe. I think I'm just going for breakfast, but I discover a space that makes me want to stay in Siem Reap for weeks. They offer Khmer language classes, yoga every day and other communitybased programs where a mix of locals and foreigners are welcome. As I sit under the shade drinking a passion fruit smoothie, I realize there's so much more to Siem Reap.
It isn't necessarily a place just to take pictures of the Angkor Wat ruins and head off to your next destination. I realize the city's story can be told through its small businesses devoted to helping the local community.
The next day, I catch a bus to Battambang (known for its colonial architecture), but not before a quick lunch at New Leaf, a not-for-profit café. I have a few minutes to spare after I finish my delicious vegan wrap, so I browse the handmade gifts in the shop. Many are made from recycled materials, like the colourful wallet I buy fashioned out of cut-up newspapers and magazines. To me, it represents so much – a new purpose for something so easily thrown away and an opportunity to benefit local people.
Explore Antigua and Saint Lucia in luxury at Blue Diamond hotels. Now available through WestJet Vacations. Escape to paradise with Royalton Luxury Resorts and experience the All In Luxury® getaway of your dreams. Hideaway at Royalton Resorts offers adult only sanctuaries. Mystique by Royalton are contemporary boutique resorts, located on exotic islands in some of the best kept secret pieces of paradise. Starfish being the family friendly property of their collection with plenty of activities for the kids. Pick your perfect getaway today.
Your come back holiday.
Plan your tropical getaway.
Royalton Antigua, an Autograph Collection Resort and Casino Royalton St. Lucia Starfish St. Lucia Mystique St. Lucia Hideaway at Royalton St. Lucia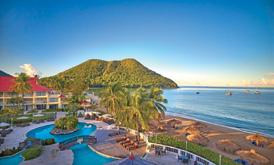 FAMILY TRAVEL A family trip to Fiji leads to new adventures, from scuba diving to sailing the scenic waters of the welcoming island nation
A AERIAL VIEW OF JEAN-MICHEL COUSTEAU RESORT50 • Vacations ® • Fall 2022
Firsts
By Claudia Laroye ofTrip
FIJITOURISM© FIJITOURISM©A
FAMILY ENJOYING A BILIBILI RAFTING EXPERIENCE
Vacations® • Fall 2022 • 51
KAVA CEREMONY PHOTOGRAPHYMCLENNANCHRIS©
M y son's request for a 'high tide' serving of kava, a brimming cupful of the mild narcotic drink given as a welcome in Fiji, was symbolic of his enthusiasm to go 'all in' on our adventurous trip to this South Pacific nation. As a 17-year-old, he's fully embracing the spirit of bula (life), and the kava is one of many new experiences we encounter on our holiday. It will be a family trip of firsts – first time sailing, kayaking and learning to scuba dive at a legendary resort. And drinking kava. According to the taxi driver who picked us up in the warm, early morning sunshine at the Nadi airport, drinking kava is a must-do. "You haven't been to Fiji unless you've drunk kava," he advised. This local tip was gold. Embracing cultural traditions and trying new things are major travel objectives for our family. But you don't have to imbibe the slightly peppery brew to feel Fiji's warm welcome; the hospitable spirit of bula is everywhere. Like the Hawaiian aloha, bula has more than one meaning – welcome, hello, enjoy, life. You can't help but smile and be happy when you say the word. In addition to being a welcoming place for families, Fiji is home to countless soft adventures on land and sea, from a ride on a bilibili boat to a hike to secret waterfalls, offering a wide variety of experiences for kids of all ages. Its 300-plus islands are spread over three million square kilometres, with about 100 of them inhabited and home to a variety of Whileresorts.wedon't have a year to visit all of Fiji's tropical paradises, we do a bit of island hopping during our trip. We board a ferry from Port Denarau on Fiji's main island of Viti Levu, bound for tiny Castaway Island (Qalito Island is the Fijian name) and the Castaway Island Resort. The small island is covered in a bright green tropical rainforest, which shades the pathways between the
We're not ones to let this opportunity go to waste and we sign up for some entry-level scuba lessons at the Cousteau Dive Centre. After a short time in the pool proving we've mastered the hand signals and regulator apparatus, we step off the dock and drop under the shimmering blue water into a whole new world.
The waters teem with colourful tropical fish and coral reefs. The renowned Namena Marine Reserve, one of the world's top scuba diving sites, is only a short boat ride away.
RESORTCOUSTEAUJEAN-MICHEL©ADVENTURESAWESOME©RESORTCOUSTEAUJEAN-MICHEL© DIVERS EXPLORING A CORAL REEF KAYAK AND CATAMARAN ADVENTURES ARE OFFERED AT JEAN-MICHEL COUSTEAU RESORT OCEANFRONT BURE BEDROOM SUITE. JEAN-MICHEL COUSTEAU RESORT 52 • Vacations ® • Fall 2022
thatched-roof bures (bungalows). Our family's bure is made of local timber with a hand-painted 'tapa' ceiling done in distinctive Fijian design. I appreciate the bure's air conditioning as the temperature is rising despite the ocean breeze. Just outside, the soft, white sand beach awaits and becomes like a second home during our stay.
The turquoise lagoon waters are warm and inviting for swimming and water sports. I settle into a palm-shaded hammock to read, keeping an eye on the beach and listening to the mix of Fijian, Australian and New Zealand accents. A stay at Castaway Island includes all the equipment required for kayaking, paddle boarding, sailing and snorkelling. My husband and son are keen to try sailing a small Pushingcatamaran.theboat into the water with their guide, they hop in and are off on the surf, the small craft's colourful sail moving past the beach with the breeze. It's our son's first time trying his hand at operating a marine craft, and he's loving it. Surrounded by crystal-clear waters, I can't think of a more beautiful place to learn the art of sailing. Lamenting our too brief time on Castaway, we depart back to Nadi for a short flight to the second largest of Fiji's islands, Vanua Levu. We're welcomed at our destination, the five-star Jean-Michel Cousteau Resort, by a chorus of singers and the warmth we've grown to love – another hearty expression of bula In addition to being known for its fine dining and Bula Club of kid-friendly programs for all ages, the property provides extensive marine-focused activities, taking full advantage of its location on Savusavu Bay.
The ocean is alive with sea creatures, and the vibrant fish in a rainbow of hues seem brighter and more vivid than we've ever seen before. Coral gardens provide shelter for tiny animals and fish, which dart in and out of holes and between crevices in this living ecosystem. We look at each other in wonder, our emotive smiles worth a thousand words. As we ascend to the surface in a cloud of our own bubbles, I linger in the warmth of the South Pacific, grateful for our family time, wrapped in the embrace of Fiji's beauty and spirit.
Imagery and messaging may not reflect available cruise experiences and health protocols, which vary by ship and destination, and may be subject to change without notice. ©2022 Royal Caribbean Cruises Ltd. Ships' registry: The Bahamas. 22004607 • 8/01/2022 Perfect Day at CocoCay, Bahamas Everything is a big deal on the boldest and biggest ship in the world, Wonder of the Seas SM , sailing from Orlando this November. Adrenaline chasers can plunge 10 stories down the tallest slide at sea, Ultimate Abyss SM . Wonder Playscape SM takes kids' playtime to the next level. For homespun brunch, nothing compares to The Mason Jar SM Southern Restaurant & Bar. And the new Vue Bar SM serves up cocktails alongside picture-perfect panoramas that are prime for quality couple time. The Space Coast is about to become your launching point for out-of-this-world adventures to sun-kissed Caribbean shores — plus our private island, Perfect Day at CocoCay. Only on Royal Caribbean ® Contact your trusted travel advisor to learn more The Mason Jar SM Southern Restaurant & Bar Wonder Playscape SM
A culinary trip to Emilia-Romagna is a journey through the region's past with heritage ingredients, like Parmigiano Reggiano, and classic pasta dishes in the hands of celebrated chefs
I t's just past 9 am in the northern Italian province of Parma. I'm touring a cheese factory (Parmigiano Reggiano, naturally) that still does everything by hand, like in the old days. After watching the delicate cheese "dance," when two cheesemakers rhythmically flip and strain the curd in linen, I head up to the aging room in a cramped elevator. "It's the elevator to cheese heaven," laughs my tour guide. The doors open, and as my eyes adjust to the dim light, I notice the smell. It's divine.
Known as the food valley of Italy, Emilia-Romagna is situated in the north-central reaches of the country. While every town offers something special, I choose to focus on three main foodie destinations: Parma, Modena and TheBologna.citizens of Emilia-Romagna take their food seriously. They say, "If you are truly Bolognese, you eat tortellini in brodo [broth] on the 15th of August." According to Barbara Zaccagni, owner of Il Salotto di Penelope, a premier cooking school in Bologna: "That means the tradition is so strong that you eat something really hot even if it is too hot out. The food is so important in our region that Bologna was the first in Italy to deposit its traditional recipes at the Accademia Italiana della Cucina [an institution established to preserve the country's food traditions] almost 50 years ago."
Unsurprisingly, there's no shortage of options for a culinary-focused trip in a country known worldwide for its delectable food traditions. After all, Italy has 20 distinct regions, with heavy hitters like Tuscany (and its capital, Florence) and Lazio (Rome's home) earning much of the international tourist traffic. But for true culinary enthusiasts, there's no better spot to visit in "Bel Paese," meaning the beautiful country, than the region of Emilia-Romagna.
SLOW TRAVEL Dig Into Italy's Food Valley By Katy Spratte Joyce
BON VIVANT TRADITIONAL FOOD MARKET IN BOLOGNA 54 • Vacations ® • Fall 2022
In my quest for an Italian getaway with a culinary focus, Emilia-Romagna more than delivers on all fronts. The foods of Parma, Modena and Bologna are sure to satisfy and delight travellers.
A culinary tour is another excellent way to grasp the true majesty of Emilia-Romagna's bounty, with local tour operators offering an overview of the high notes and history, from mortadella to the fresh market. This mix of historical context with a food lens helps illustrate all that Bologna has to offer.
Another Denominazione di Origine Protetta (Protected Designation of Origin or PDO) product of Emilia-Romagna is found just down the road. During a three-hour experience and al fresco lunch at Acetaia Gambigliani Zoccoli, I delight in learning about the traditional balsamic vinegar of Modena. Various members of the family-run business pop in and out as the day unfolds, adding colourful commentary and warm Italian hospitality to the otherwise educational presentation. After an explanation of the process, including a visit to the attic aging space, my travel companion and I settle into the courtyard for a feast of Italian proportions.
As I stroll through the picturesque centre of Bologna, the capital of Emilia-Romagna, I'm struck by the city's iconic, UNESCO-recognized porticoes. Known as one of the bestpreserved medieval centres in the world, Bologna is an elite destination on its own. To get hands-on with its famous food reputation, I turn to Il Salotto di Penelope cooking
NACCHIONASTRIANGELO©DUMAFABIO© SALVATORIGIORGIO© BALSAMIC VINEGAR PRODUCTION IN MODENA PARMIGIANO REGGIANO CHEESE AGING VINEYARDS IN EMILIA-ROMAGNA PROSCIUTTO, AN ESSENTIAL COMPONENT OF A MULTITUDE OF TRADITIONAL RECIPES Vacations® • Fall 2022 • 55
For a refined dining expression of Emilia-Romagna, visitors should consider a meal at star chef Massimo Bottura's Osteria Francescana, a three Michelin-star eatery commonly listed among the world's best. Reservations book out months in advance, however, so one of Bottura's three other restaurants in the area may offer a reliable stand-in.
The rolling hills and rich soil of Parma remind me of my homeland in the U.S. Midwest, also renowned for cheesemaking. But nothing can quite compete with the socalled "king of cheese," Parmigiano Reggiano, which I see, taste and smell at the Giansanti Di Muzio factory. On the tour, I learn about the process, from cow to mould, and end with a tasting of cheeses aged 12 months, 24 months and 30 months. First on their own, then paired with standard area accompaniments like raw honey and pear vinegar, this cheese royalty earns its crown.
Each bite is designed to perfectly pair with either the 12year- or 25-year-aged vinegar, so the meal serves as a tasting, too. Standout morsels include homemade ricotta cake, prosciutto and risotto, all made from regional recipes.
Theschool.owner can customize classes based on students' needs, so I choose to learn about the region's trio of star pastas: tortelloni, ravioli (also called tortelli) and tagliatelle. Three hours fly by as the decadent smell of ragù Bolognese and robust Sangiovese wine permeates the air. Cheery conversation flows and I find myself transfixed by the rhythmic rolling of freshly made pasta dough on the flourdusted wooden island. When all is said and done, I am satiated by both a delicious meal and the knowledge of the deeply rooted food traditions that make this area shine.
From Baozhong to Oriental Beauty, the art of steeping leaves has been perfected by this island nation VIVANT
WORLDLY DELIGHTS
BON
All the Tea in Taiwan
By Lisa Kadane
T he server carefully measures out loose tea leaves with a wooden spoon before gently depositing them into a glass teapot. Once the Baozhong leaves fill up half of the pot, she adds hot water and waits exactly 60 seconds. Then, she strains the tea into a pouring vessel and fills eight little cups with the steaming yellow "Ifliquid.you steep it longer than one minute, it will be bitter," explains Jack Wang, our tea interpreter at the Pinglin Tea Museum, located on a hillside surrounded by tea plantations 20 kilometres southeast of Taipei.  "When you get your tea, smell it first and ask yourself if it smells floral," he instructs. I lift the tiny teacup to my nose and inhale. It smells toasty and nutty and, yes, fragrant – like a ripe melon and spring air redolent with blossoms. I sip it slowly and enjoy a rich but mild flavour that lands somewhere between green tea and traditional oolong.  Meanwhile, the server has refilled the teapot with more water for round two. This process can be repeated up to four times, steeping the leaves slightly longer each time before they lose their pungency. The Taiwanese haven't been practising this tea ritual as long as their counterparts in China, but ever since the tea plant crossed the Taiwan Strait from the mainland nearly 400 years ago and took root on the island's fertile hillsides, it has become a part of local Teaculture. culture is celebrated at the museum, which tells the tale of tea in Taiwan – from picking to packaging – in an interesting and immersive way. I'm surprised to learn that green tea, oolong tea and black tea all come from
FARMERS PICKING TEA LEAVES 56 • Vacations ® • Fall 2022
The Taiwanese haven't been practising this tea ritual as long as the Chinese, but ever since the tea plant crossed the Taiwan Strait from the mainland nearly 400 years ago and took root on the island's fertile hillsides, it has become a part of local culture.
OOLONG TEA Vacations® • Fall 2022 • 57
the same tea plant, Camellia sinensis The tea you end up with in your cup depends on how the leaves are Evenprocessed. morefascinating is the story of its exodus from Asia to the rest of the world. The tea trade helped establish global commerce by creating overland routes from China to Russia and Europe, where it was considered a status symbol in cities like Moscow and London. After the Suez Canal was completed in 1869, tea from "Formosa" (what Taiwan was called until the early 1900s) finally reached New York City by ship and turned Formosa Oolong into a coveted product. Tea became Taiwan's top export, edging out sugar and camphor (an oil used in mosquito repellent), by the late 1800s.
Lightly oxidized, with twisted leaves and a rich, floral flavour, it's one of Taiwan's most popular teas and a must-try.
Also called high-mountain tea, it grows at elevations above 1,000 metres. It typically has a strong flavour.
KADANELISA© THE ORIGINAL PEARL MILK TEA, NOW KNOWN AS BUBBLE TEA TEA SERVICE AT THE PINGLIN TEA MUSEUM 58 • Vacations ® • Fall 2022
 Alpine oolong tea
Words From Our Experts
 Oriental Beauty tea
While it no longer props up the economy, Taiwan tea is still popular and served with most meals in the country. In Taipei, I sip it with soup dumplings at Din Tai Fung, and with blanched abalone at the Michelin-starred Tainan Tan Tsu Mien Seafood. In Taichung, I drink it in the form of bubble tea – served with milk, cane sugar and tapioca pearls – and the 590-millilitre glass is almost a meal in itself.
My little cups of tea at lunch and dinner become a calming expectation and a healthy pastime to boot. Thanks to the polyphenols in camellia tea plants, I've probably ingested the equivalent antioxidants in a week as eating 100 salads or fruit smoothies. In addition to its health benefits, tea is also believed to be ideal for meditation and good for the soul.  Before I depart Taiwan, I stock up on loose Baozhong leaves. Now that I've got this tradition figured out, I'll bring serenity in a teacup back to Canada.
It is earthy and robust, thanks to the inclusion of insect eggs and egg sacs during harvesting. Named by Queen Elizabeth, Taiwan regularly sends packages of it to Buckingham Palace in the hope Her Majesty will endorse it.
 Bubble tea Invented in Taichung in the 1980s, it is now a global phenomenon. The most popular kind, pearl milk tea, combines black or oolong tea with milk and cane sugar, and adds delightful tapioca balls – a.k.a. "pearls" – that can be sucked up through a straw. It's traditionally served cold.
TAIWAN TEA 101 Taiwan is famous for what became known as "Formosa Tea," a family of oolong teas considered some of the world's finest. Oolong tea is semioxidized and falls between green tea and black tea in strength and taste. Sample these:  Baozhong oolong tea
EXCLUSIVE OFFERS ON 2023 DEPARTURES
$100 USD per stateroom Shore Excursion Credit* Whether you love art, history, natural wonders, fine cuisine, or all of the above, a Mediterranean cruise lets you experience something amazing at every stop. ITALY, CROATIA & MONTENEGRO 10 NIGHTS | JULY 28, AUGUST 18, SEPTEMBER 8 & OCTOBER 20, 2023 | CELEBRITY BEYOND SM Per$From3,869 USDperson,doubleoccupancy, AquaClass®, based on July 28 departure. Taxes and fees additional $98.81 USD per person. •ITINERARYRome(Civitavecchia), Italy • At sea • Olympia (Katakolon), Greece • Corfu, Greece • Dubrovnik, Croatia • Kotor, Montenegro • At sea • Sicily (Messina), Italy • Naples, Italy • Florence/Pisa (Livorno), Italy • Rome (Civitavecchia), Italy proof cocktails. EXCLUSIVE OFFER The Regent Experience has long been absolute in its inclusiveness, providing you with the most enriching and luxurious journey on the seven seas. Join us as we travel the world in search of the best life has to offer, with every luxury included, and discover a truly unrivaled experience. SOUTH AMERICA 10 NIGHTS | MARCH 5, 2023 | SEVEN SEAS VOYAGER® $From12,199 USD Per person, double occupancy. Deluxe Veranda Suite. Rates include taxes & fees, airfare, plus all of Regent's inclusions. •ITINERARYBuenosAires, Argentina • Montevideo, Uruguay (overnight) • Rio Grande, Brazil • Cruising the coast of Brazil • Porto Belo, Brazil • Santos, Brazil • Ilha Grande, Brazil • Búzios, Brazil • Rio de Janeiro, Brazil (overnight) EXCLUSIVE OFFER • 2-FOR-1 All-Inclusive Fares • FREE Business Class Air* on All Intercontinental Flights with FREE Transfers Between Airport and Ship • FREE Pre- or Post-Cruise Land Program • FREE Unlimited Shore Excursions • FREE Unlimited Beverages, Including Fine Wines and Spirits • FREE Open Bars and Lounges Plus In-Suite Mini-Bar Replenished Daily • FREE Pre-Paid Gratuities • FREE Specialty Restaurants • FREE Unlimited Wi-Fi • FREE Valet Laundry Service Book an AquaClass® or above stateroom and receive drinks, Wi-Fi and tips all included! PLUS, exclusive dining and complimentary spa $100experiences.USD per person Shipboard Credit 60 • Vacations ® • Fall 2022
Paul Gauguin Cruises operates an award-winning, luxury small ship, the m/s Paul Gauguin, providing an exceptional cruise experience. Discover the difference of cruising with purpose and allow us to introduce you to authentic Polynesia. SOCIETY ISLANDS & TUAMOTUS 10 NIGHTS | JULY 12, 2023 | M/S PAUL GAUGUIN Per$From5,570 USDperson,doubleoccupancy, cruise only Port security and handle fees included. •ITINERARYPapeete,Tahiti, French Polynesia • Huahine, French Polynesia • Bora Bora, French Polynesia • Rangiroa, French Polynesia • Fakarava, French Polynesia • Taha'a (Motu Mahana), French Polynesia • Moorea, French Polynesia • Papeete, Tahiti, French Polynesia EXCLUSIVE OFFER $100 USD per person Shipboard Credit These shores gave birth to Silversea, and no cruise line understands the Mediterranean better. This depth of local knowledge – combined with a fleet perfectly sized to access not only the familiar marquee destinations but smaller, less-travelled ports – promises an experience only Silversea can offer. THE RECIPE FOR MEDITERRANEANUNMATCHEDPLEASURE 11 DAYS | MAY 10, 2023 | SILVER MOON Per$From9,700 USDperson,doubleoccupancy, door-to-door fares (including all taxes and fees). Deluxe Veranda Suite. •ITINERARYVenice,Italy (overnight) • Piran, Slovenia • Split, Croatia • Hvar, Croatia • Corfu, Greece (overnight) • Day at sea • Valletta, Malta • Giardini Naxos (Sicily), Italy • Sorrento, Italy • Civitavecchia (Rome), Italy EXCLUSIVE OFFER $600 USD per suite Shipboard Credit on select Mediterranean voyages Vacations® • Fall 2022 • 61
* Prices listed are per person, cruise only, double occupancy, in USD and include Canadian Resident and Bonus promotional discounts, and port security and handle fees. Pricing is subject to change at any time. The category of cabin that to which this price applies may no longer be available. Airfare and transfers are available upon request.
CELEBRITY CRUISES**
*Offer applies to 4-night and longer itineraries that depart Jan. 1st, 2022 through Open Deployment. Bookings must be made by Dec. 31, 2022. $100 per stateroom Shore Excursion credit will be applied in the form of an onboard credit and applied to guests' stateroom folio. Offer is $100 Onboard credit "OBC" per stateroom for standard Verandas, Infinity Veranda, Concierge, AquaClass and Suites. Offers are applicable to new individual bookings and to staterooms in non-contracted group bookings, which must be named and deposited. OBC has no cash value, is applicable to cruise only, non-transferable, not redeemable for cash, and will expire if not used by 10:00 PM on the final night of the cruise. Offer excludes interior and oceanview staterooms. Offer is not combinable with onboard/future cruise bookings, Galapagos sailings or No Perk rate. Single occupancy bookings are eligible for the Offer. Refer to Cruise Ticket Contract for additional terms and conditions. Celebrity reserves the right to cancel the Offer at any time, correct any errors, inaccuracies or omissions, and change or update fares, fees and surcharges at any time without prior notice. ©2022 Celebrity Cruises Inc. Ships' registry: Malta and Ecuador.
*Offers and fares are subject to change on 10/01/22. All fares are per person in U.S. dollars, valid for residents of Canada and the United States, based on double occupancy; except fares for Concierge Level Solo Veranda are for a single traveller and are based on single occupancy; (unless otherwise noted), for new bookings only and may be withdrawn at any time. Contact your travel advisor for more details.
PAUL GAUGUIN**
OCEANIA CRUISES**
*AllSILVERSEA**fares,savings, offers, programmes and itineraries are subject to change without notice. Any fares shown are per guest, based on double occupancy. Additional restrictions may apply. Silversea reserves the right to correct any errors or omissions. Visit www.silversea.com/terms-and-conditions.html for full offer details and complete Terms and Conditions. This document may contain inadvertent technical or factual inaccuracies and typographical errors. Silversea reserves the right to correct errors and omissions at any time without prior notice, and to cancel any offered product, service, programme, reward, savings, credit, amenity, etc. in the event of any error or omission in the description, including pricing and availability.
** Please refer to suppliers' websites for complete details, terms and conditions. Prices displayed are in Canadian or US dollars. They include all government taxes (except HST/GST), fees and port charges if applicable unless otherwise stated. Additional fuel surcharges may apply. Additional agency fee may apply – please ask our Travel Agency for details. Prices stated are per person based on double occupancy and do not include airfare or transfers unless otherwise specified. In cruise bookings, where airfares are included, pre and post accommodations necessary due to flight schedules are at the passenger's expense. Other conditions may apply and may vary depending on the cruise line or tour operator. We are not responsible for errors or omissions.
REGENT SEVEN SEAS CRUISES**
*FREE Business Class Air applies to intercontinental flights only from the following airports: ATL, BOS, CLT, DEN, DFW, DTW, EWR, FLL, IAD, IAH, JFK, LAX, LGA, MCO, MDW, MIA, MSP, ORD, PBI, PHL, PHX, SAN, SAV, SEA, SFO, TPA, YUL, YVR, YYZ. Airfare is available from all other U.S. and Canadian gateways for an additional charge. On domestic flights, FREE Economy Class Air, will be offered from the airports listed above. Ground transfers between airport and ship are included. All airline fees, surcharges and government taxes are included, however airline-imposed personal charges such as baggage fees may apply. Custom Air arrangements may be made 270 days prior to sailing (custom air fees apply). Guests who elect not to participate in Regent Seven Seas Cruises® FREE Air Program or do not purchase transfer arrangements from Regent Seven Seas Cruises® will be responsible for their own transfer arrangements to and from the ship. FREE 1-Night Pre-Cruise Hotel Package applies to guests 1 and 2 in Concierge Suites and higher, includes transfers from hotel to pier only and is not available for new bookings made within 60 days of departure. Single supplement savings are based on double occupancy 2-for-1 fares and are capacity-controlled on selected featured voyages on select categories. Guest sailings at a reduced single supplement that elect not to participate in our FREE Air Program will receive an air credit only for one guest. FREE Unlimited Wi-Fi includes one log-in, one device, per suite. Concierge Suites and higher receive up to four logins, four devices, per suite. FREE Valet Laundry Service includes wash, press and fold services for guests sailing in Deluxe Window/ Veranda Suites through Master Suites; additionally, Regent Suite guests receive free unlimited dry cleaning service. FREE Valet Laundry Service is not available on the final day of cruise prior to disembarkation.
Ensemble Travel® Group makes every effort to ensure the accuracy of the information contained herein and to the best of its knowledge, all information is accurate at time of printing.
Ensemble® Hosted Cruise • Ensemble Host • Private Cocktail Party • Private Ensemble® Experience Shore Event in Cozumel Treat yourself to a relaxing getaway to beloved destinations in the Western Caribbean as you swim among vibrant tropical fish and lounge on relaxing beaches. TROPICAL RETREATS 7 DAYS | JANUARY 24, 2023 | RIVIERA Per$From4,149CADperson,doubleoccupancy, B4 Veranda Stateroom. Includes taxes and government •ITINERARYfees.Miami,Florida • Cruising the Straits of Florida • Costa Maya, Mexico • Harvest Caye, Belize • Roatan, Honduras • Cozumel, Mexico • Cruising the Straits of Florida • Miami, Floridaproof cocktails. EXCLUSIVE OFFERWith OLife Choice*, our limited-time inclusive package, enjoy 2 for 1 Cruise Fares, Roundtrip Airfare and Airport Transfers* plus choose one (per stateroom): FREE – 4 Shore Excursions FREE – Beverage Package FREE – $400 Shipboard Credit HOSTED CRUISE TERMS AND CONDITONS 62 • Vacations ® • Fall 2022
*Fares are subject to increase. All fares are per person in U.S. dollars, valid for residents of Canada and the U.S., based on double occupancy for new bookings only and may be withdrawn at any time without notice. Not all promotions are combinable. 2-for-1 Fares are based on published Full Brochure Fares; such fares may not have resulted in actual sales in all suite categories and do not include optional charges as detailed in the Guest Ticket Contract. Future Cruise Credits applied toward bookings follow the same penalty schedule as other forms of payment.
Ships' Registry: Marshall Islands & Bahamas. ©2022 Regent Seven Seas Cruises.
Luxury Villa Rentals in Over 50 Countries Worldwide
North America Retreats
Caribbean Escapes Our portfolio of more than 1,200 luxury villas encompasses the very best of the Caribbean with properties from St. Martin to Turks & Caicos, Grand Cayman, and beyond. Whether you're looking for a one-bedroom couple's retreat or a sprawling seaside estate for the whole family, we have it all.
As countries start their slow reopenings, our wanderlust and desire to venture beyond our immediate neighbourhoods will grow, too. Yet, we still must be hyper-conscious of the current situation. With enhanced safety and health measures, thoroughly trained cleaning staff, distanced group arrivals, sanitization packages and more, renting a villa is an ideal option to enjoy an intimate vacation with your family, safely away from the crowds. For more information about the various cleanliness and safety protocols, or to book a stay at one of these villas, contact your trusted travel advisor who is always there for you – before, during and after your travels.
YOUR VILLA AWAITS
Creating one-of-a-kind getaways and lasting memories at the world's top luxury villas
To Learn More, Ask Your Trusted Travel Advisor
There's no need to travel far for the getaway of your dreams! With everything from mountain retreats in British Columbia to family-friendly vacations in Florida, we're guaranteed to have the perfect villa for you. A one-of-a-kind getaway may only be a short flight (or drive) away.
With over 2,000 luxury villas worldwide, we o er a taste of luxury, wherever you go. From the cerulean seas of Southeast Asia to the old-world elegance of Europe – there's a destination waiting to be discovered.
We're ready when you are
Making your wildest travel dreams come true has always been our focus. We know you're eager to get back to exploring the world, and we're here to help you do just that.
We hope you enjoy reading through this printed copy of Vacations magazine, featuring stories and images from the world's most desirable and luxurious destinations. If you're intrigued by these stories and want to live one of your own, we're here to design a custom-tailored vacation just for you and help you fulfill your dreams safely and worry-free.