APRIL 2023
NOVEMBER 2022
FASHION DESIGNER
DIANE VON FÜRSTENBERG
Een icoon komt thuis
Orgasmes pour toutes !
Le Canine Collectif parle plaisir Cute vs. evil Child's play at the Brussels International Fantastic Film Festival
MAANDELIJKS CULTUURMAGAZINE MAGAZINE CULTUREL MENSUEL MONTHLY CULTURAL MAGAZINE
De Brouckère & BeursBrussel
Centraal abconcerts.be/mobiliteit
THIS MONTH
Strong emotions
NL/ Lieve lezers, de maand april wordt er eentje van heftige emoties. Trip mee op de spookachtige soundtrack van Kleine Crack, de Antwerpse pionier van de horrorrap die zijn duivels ontbindt op het BRDCST-festival. Vind eindelijk dat hoogtepunt dankzij het Canine Collectif en hun nieuwe voorstelling Orgasme(s). Durf alles los te laten in naam van de liefde op de beats van de Brusselse elektropopartieste Tsar B. Laat je meevoeren op de rollercoaster van het moederschap samen met filmmaker Faustine Cros. Bibber op het Brussels International Fantastic Film Festival (BIFFF) bij de aanblik van kinderen die nog angstaanjagender zijn dan je ergste nachtmerries. Kortom, gooi alle remmen los en leef!
FR/ Chères lectrices, chers lecteurs, le mois d'avril sera celui des sensations fortes. Trippez sur la bande-son hantée de Kleine Crack, pionnier anversois du « horror rap » à découvrir au BRDCST. Trouvez enfin l'extase grâce au Canine Collectif et leur nouveau spectacle Orgasme(s). Osez tout abandonner au nom de l'amour avec l'artiste électro bruxelloise Tsar B. Affrontez les montagnes russes de la maternité et de la filiation avec la réalisatrice Faustine Cros. Tremblez au Festival du Film Fantastique de Bruxelles (BIFFF) à la vue d'enfants encore plus terrifiants que vos pires cauchemars. Bref, laissez la culture se déchaîner en vous, sentez-vous en vie !
EN/ Dear readers, April will be a month of strong emotions. Trip on the spooky soundtrack of Kleine Crack, the pioneer of Flemish horror rap, who you can discover at the BRDCST festival. Finally reach your climax thanks to the Canine Collectif and their new show Orgasme(s) Dare to let go of everything in the name of love on the beats of the Brussels electronic pop artist Tsar B. Let yourself be carried away by the rollercoaster of motherhood with filmmaker Faustine Cros. Or tremble with fear at the Brussels International Fantastic Film Festival (BIFFF) at the sight of children who turn out to be more frightening than your worst nightmares. In short, release all the brakes and live!
SOPHIE SOUKIAS, RÉDACTRICE
30 32
Do we really think a disobedient child is worse than a demon?
The Brussels International Fantastic Film Festival is invaded by naughty kids
Le Canine Collectif célèbre l'orgasme féminin
Faustine Cros filme sa mère au-delà de la colère
Horrorrapper Kleine Crack ontbindt zijn duivels op BRDCST, de jaarlijkse hoogmis voor muzikale avonturiers
SELECT
8 STEM UIT DE STAD Uschi Cop 15 WTF? The Friends experience 16 PORTRET Jazz Brak 24 IN THE PICTURE Diane von Fürstenberg 27 EYE-CATCHER Joesef 38 THE STUFF OF LIFE Tsar B 44 EAT & DRINK Saveurs du Japon 46 STREET LIFE Jazzy Bench 10 18
Coverfoto: Diane von Fürstenberg © Ara Gallant
« Ma mère aurait pu être considérée comme une sorte de Cruella »
"Ik ben een vriendelijke jongen, ik lééf die shit niet"
« Le spectacle risque de susciter des remous au sein des couples »
10 30
APRIL
COLOFON
BRUZZ
Flageyplein 18, 1050 Brussel, 02-650.10.65
ABONNEMENTEN
Made in Brussels
Man bags by Bjorn Ghyselen, tattoos by Matilde Everaert, energy drinks from Ossa and bathing suits by Rhodée
Music
Ontdek de nieuwe Franse hype Saho de Sagazan op Les Nuits Botanique, vier het afscheid van BRNS, tsjirp doorheen de sirenenzang van Birdy en ril mee met Fever Ray
Theatre & Dance
L.I.A.R. répond aux questions que vous ne vous posez pas, Hors Pistes fait son cirque et une fée ouvre aux enfants les portes de l'opéra
Art & Literature
Stephan Balleux wijdt het nieuwe Fondation blan in, 150 galerieën etaleren hun waar op Art Brussels en Janina Ramirez eert het feminisme van middeleeuwse vrouwen
Cinema
Dive into the tragic yet sparkling life and work of Romy Schneider, eat your shorts at the Brussels Short Film Festival or get soaked up by the mystery of Emily Brontë
Abonneren op BRUZZ?
MORE SELECT
Reviews
Onze film-, podium-, concert-, expo- en restaurantreviews vind je op BRUZZ.be
Agenda
Wie wil weten wat er allemaal te beleven is in de stad, kan de volledige Select-agenda op BRUZZ.be raadplegen
Follow us on Insta
Ook dol op de fotografie van BRUZZ? Bekijk meer fraaie beelden van onze fotografen op het Instagram-account van @Bruzzbe
Voortaan verpakken we elke maand onze beste cultuurtips in dit drietalige bewaarmagazine. De BRUZZ Selectcultuurspecial verschijnt telkens op de laatste woensdag van de maand. Het meinummer van BRUZZ Select komt eraan op 26 april, handig bij BRUZZ magazine gevoegd. Neem nu een abonnement op BRUZZ magazine en mis geen enkel nummer!
BRUZZ magazine, dat zijn elke week sterke verhalen uit Brussel, met mooie reportages, pakkende foto's en nog meer fijne cultuurtips. Een abonnement is gratis voor inwoners van het Brussels Gewest. Buiten Brussel kost een abonnement op BRUZZ magazine 29 euro per jaar.
Surf naar BRUZZ.be/abo
Josiane De Troyer (abo@bruzz.be), 02-650.10.80 Gratis in Brussels Hoofdstedelijk Gewest. Rest van België: 29 euro per jaar;
IBAN: BE98 3631 6044 3393 van Vlaams Brusselse Media vzw Buiten België: 35 euro per jaar.
OPLAGE
46.000 exemplaren.
ADVERTEREN?
Marlies De Deygere 02-650.10.81 marlies.dedeygere@bruzz.be
DISTRIBUTIE
Ute Otten, 02-650.10.63, ute.otten@bruzz.be
ALGEMENE DIRECTIE
Dirk De Clippeleir
HOOFDREDACTIE
Kristof Pitteurs (algemeen hoofdredacteur)
CULTUUR & UIT
Gerd Hendrickx
ART DIRECTOR
Heleen Rodiers
EINDREDACTIE
Karen De Becker, Bouke Schut, Sophie Soukias
WERKTEN MEE AAN DIT NUMMER
Eva Christiaens, Tom Zonderman, Sophie Soukias (redacteurs); Nicolas Alsteen, Gilles Bechet, Michaël Bellon, Tom Peeters, Niels Ruëll, Michel Verlinden (medewerkers)
VERTALING
Frédérique Beuzon, George Holmer, Laura Jones
FOTOGRAFIE & ILLUSTRATIE
Agneskena, Ivan Put, Saskia Vanderstichele, Wide Vercnocke
VERANTWOORDELIJKE UITGEVER
Kristof Pitteurs
Flageyplein 18, 1050 Elsene. BRUZZ is een uitgave van de Vlaams Brusselse Media vzw,
wordt gedrukt bij
Printing Partners
Paal-Beringen en wordt gesubsidieerd door de Vlaamse Gemeenschap en de Vlaamse Gemeenschapscommissie
MELD NIEUWS
Zelf nieuws gespot?
Tips zijn altijd welkom via: BRUZZ.be/meldnieuws
Persberichten kunnen via redactie@bruzz.be
VOER UW EVENEMENT IN OP ENCODEZ VOTRE ÉVÉNEMENT SUR ENTER YOUR EVENT ON www.agenda.brussels
WWW.BRUZZ.BE
4
06
22 28 36 42
Lylybeth Merle 20—26.04.2023 HIPPOCAMPE Brussels museums in a new light Every Thursday Evening 13.04 — 18.05 nocturnes.brussels
THEY SEE ME BRONZING
EN/ When 'Pool is Cool' kicks off its summer campaigns to solicit new places for swimming in Brussels, we will be shopping for an outfit already. Brussels stylist Emilie Cricks Rhodée just launched her own swimwear collection with swimming costumes co-designed by Valentine Witmeur (who, for some time, has had her own knitwear label). Let's do it with a little less fabric, the two must have thought. For the first collection, they found inspiration on tropical islands, although the prints look just as cheerfully Scandinavian. Now all we need is an outdoor pool. (EC)
Rhodée. From 95 euro, rhodee.com
LET'S GO!
EN/ Spring is here: it's terrace weather, the Vismet brims. For an extra boost, Brussels has its own refreshing tea-based energy drink. The founders of Ossa took inspiration from the Guayusa plant from the Amazon, which is packed with antioxidants and caffeine. It won't make you hyper-active, but energetic and calm, all at the same time. This spring, the company plans another full rebranding, a bigger team and additional outlets. They already have three flavours. Ready for the energy rush? (EC)
Ossa. 38.25 euro for 24 cans, www.drinkossa.com
EN PLEIN AIR
FR/ Prêt pour de longues excursions à vélo ce printemps ? Vous pourrez mettre tout ce que vous voulez dans le sac X-Pac du studio Alt100. La marque bruxelloise de produits outdoor teste depuis un certain temps des vêtements imperméables qu'elle met personnellement à l'épreuve lors d'expéditions en montagne ou à vélo. Le X-Pac, qui a maintenant six mois, semble être le sac idéal pour partir en exploration. Accrochez-le à l'avant de votre guidon, portez-le en bandoulière et fourrez votre pique-nique ou votre sac de couchage dans ses profonds recoins. (EC) Alt100. 150 euros, @alt100_
HUIDPLAATJES
NL/ Zei iemand T-shirtweer? Ook deze lente mogen armen en benen versierd zijn met grote of kleine tattoos. De Brusselse architecte en artieste Matilde Everaert gaat voor 'fine line'-kunstwerkjes op je huid. Ze deelt haar ontwerpen via Instagram en wie er eentje koopt, is meteen de enige die ze krijgt. De tafereeltjes zijn dromerig en lijken wel kadertjes uit een stripboek. Everaert tatoeëerde al in het Antwerpse KMSKA en is net terug van een residentie in Parijs. Haar nieuwste inspiratie zien we binnenkort wel op jouw armen. (EC) Ta ootilde. Instagram @tattootilde, boekingen via info@nietsisvooraltijd.be
UNISEX
NL/ Waar blijft de man bag? Brusselaar en communicatie-wizard Bjorn Ghyselen was de zoektocht beu en richtte vorig jaar zijn eigen handtassenmerk Peterselie op. Niet alleen voor mannen of vrouwen, maar volledig genderneutraal. Na een eerste collectie van leren totebags dropte hij vorige maand een tweede model, een kleinere schoudertas. Het leer haalt hij uit reststoffen van andere merken, de assemblage gebeurt in het Italiaanse Padua. Het is 2023, de handtas is van iedereen. (EC)
Peterselie. 295 euro, www.peterseliebruxelles.com
6 MADE IN BRUSSELS
Tisserand de couleurs
FR/ Chaque mois, nous mettons les projecteurs sur un.e créateur.rice bruxellois.e. C'est au tour de MANUEL LEROMAIN, designer de textiles ou selon ses mots: tisserand de couleurs. « Je puise beaucoup dans des souvenirs d'enfance. »
Formé au stylisme à Strasbourg, Manuel Leromain est venu à Bruxelles en 2016 pour suivre un Master en Design textile à La Cambre. Et depuis il y est resté. Des vêtements à la nappe, de la couverture aux coussins, en passant par le tapis et la tapisserie, il aime produire des textiles qui combinent les matières et varient les techniques. En avril, il présentera ses tapisseries à la Design Week de Milan dans le stand collectif de Belgium is Design dans la section SaloneSatellite dédiée aux prototypes inédits.
D'où vient votre a rait pour le textile ?
J'ai fait des études de stylisme à Strasbourg et je me suis rendu compte que j'étais plus fasciné par la matière textile, par la fabrication des étoffes et la réalisation des motifs que par le vêtement. Tout au long de la vie, on est entouré de textiles. C'est comme une évidence qui dormait en moi.
Votre inspiration vient du quotidien ?
Je puise beaucoup dans des souvenirs d'enfance. L'attrait pour la couleur et les motifs simples et quotidiens me viennent de là, je crois. J'ai grandi dans un moulin dans l'est de la France. J'étais entouré de sacs de farine qui étaient encore parfois en jute. Derrière le moulin, il y avait une rivière et autour de la campagne. Ce sont des choses qui m'inspirent beaucoup et que je retrouve aussi dans les motifs de jardin clos des tapis persans.
Une de vos séries s'intitule « Tout est permis », c'est pour vous une profession de foi ?
J'ai toujours aimé expérimenter un maximum dans le textile. Il y a tellement de possibilités, de manières d'aborder le tissage ou le tricot qu'on ne connaît pas encore. Au cours de mes études à La Cambre, nos professeurs insistaient beaucoup sur l'expérimentation, à partir de l'observation et de l'analyse de tout ce qu'on fait. Aujourd'hui, je suis toujours en perpétuelle recherche et je trouve même parfois que je ne vais pas assez loin. J'aimerais bien, par exemple, marier le textile à l'architecture ou encore explorer ses qualités acoustiques.
Instagram: @manuel_leromain
GILLES BECHET
7
zingeving is een
Ik neem de trein naar Zuid-Frankrijk om te schrijven. Met een rotvaart snel ik weg van Brussel. Mijn korte verhalen wachten al maanden vol ongeduld tot ik de tijd neem om ze af te borstelen, op te poetsen. Het moet een bundel worden over de mens, over de universele vraag naar zingeving, over alle constructies die we zorgvuldig bouwen om te kunnen leven: liefdesrelaties, huizen, kunstprojecten, kinderen, het schrijven zelf.
De zon heeft precies vandaag gekozen om haar gezicht te laten zien. De hemel lijkt blauwer te worden bij elke afgelegde kilometer, net zoals mijn hoofd opklaart, vrijer wordt. Ik betrap mezelf erop aan mijn geliefde Brussel te denken als een grauwe plek, verstikkend bijna. De aardbevingen in Syrië en Turkije, de conflicten in Palestina en Israël, de drenkelingen in Europese wateren en de oorlog in Oekraïne, lijken in de hoofdstad erg dichtbij. Het nieuws uit Iran dat me de laatste maanden via vrienden, sociale media en de protesten bereikt, lijkt meer en meer op een nachtmerrie. Ik laat de narigheid letterlijk achter me, niet in het minst het tentenkamp dat zich de laatste maanden vanaf de toegangspoort van het Klein Kasteeltje tot vlak voor mijn voordeur op de Koolmijnenkaai heeft gevormd.
Mijn gedachten keren naar mijn verhalenbundel. Universele vragen? Dat vertel ik mezelf, maar de thema's en situaties in mijn verhalen zijn niet universeel: zieke papegaaien, moeders met dementie, angst voor buurvrouwen, constipatie en writer's block. De vraag naar zingeving is een privilege. Extra. Luxe. Ik schrijf over de middenklasse, over wat er gebeurt als een mens te veel heeft: ik schrijf over mezelf.
Write what you know. Wel, dit is wat ik ken. Keuzemogelijkheden, aanmoediging, een bagage aan diploma's, liefhebbende ouders, een steunende vriendenkring. Natuurlijk heb ik mijn verdriet gehad, het verlies van geliefden, rouw, het subtiel en minder subtiel seksisme waar elke vrouw mee leeft. Maar slopend racisme, doodsangst, onversneden wanhoop: dat ken ik niet.
NIEUWE WERELD
De beslissing om negen jaar geleden naar Brussel te verhuizen, was weloverwogen. Een beweging naar andere perspectieven, een beweging naar de wereld. Nu, op de TGV naar Avignon, beweeg ik weg van die wereld. Ik neem een pauze, exact wanneer ik het wil. Dat privilege ontgaat me niet. Ik beweeg me vrij door Europa en door de rest van de wereld. Zoveel mensen zitten vast. Wie zit er op mijn stem te wachten?
USCHI COP is doctor in de taalpsychologie, oprichter van het feministische makerscollectief Hyster-x en schrijfster van verhalen, poëzie, columns en binnenkort een eerste roman. Beurtelings schrijven zij en Mohamed Salim Haouach over het leven in hun stad. Info: www.uschicop.com, hyster-x.com
Een vriend komt me ophalen van het station. De zon gaat onder terwijl de auto over slingerende paadjes naar het huis op de heuvel rijdt. Het landschap is vredig, wordt oranje gekleurd door het laatste licht. Een uur later zit ik met een glas Syrah op de bank, starend naar de eerste vlammen in het haardvuur. Mijn vriend speelt een cellosonate van Rachmaninov. Het geluid van de paardenharen van de strijkstok op de snaren klinkt te menselijk. Deze column heet 'Stem uit de stad'. Inderdaad, ik ben een stem uit de stad, maar er zijn vele stemmen die noodkreten slaken, die niet de tijd, niet de middelen hebben om een column te schrijven. Schrijven heeft een lang verleden van elitaire blikken en een korte geschiedenis van écht subversieve teksten. Noodzakelijk heb ik één perspectief, het mijne: vrouwelijk, wit, hoogopgeleid. Daar kan ik niet omheen. Slechts honderd jaar geleden maakten dat soort vrouwelijke stemmen een fractie van het publieke domein uit, nu klinken ze steeds luider.
De cello speelt door. De kwetsbare schoonheid van de menselijke ervaring raakt me, de kracht van muziek om dat lijden tijdelijk te verzachten. Ik weet uit ervaring dat fictie die kwaliteit ook bezit. Ik put er hoop uit dat tijden veranderen. Mensen die het zich nu kunnen permitteren moeten het doen: schrijven. En strijden voor ruimte voor anderen om datzelfde te doen.
8 STEM UIT DE STAD Uschi Cop Column
'De vraag naar
privilege'
26.04 06.05.2023 BSFF.BE
ENTREZ
DANS LE MONDE DE
Ixelles Elsene
L'ART
FLAGEY I VENDÔME I GALERIES I KUNSTBERG artnouveaupass.brussels Hôtel van Eetvelde ©Dorka Demeter
NOUVEAU STAP IN DE WERELD VAN ART NOUVEAU
Parental advisory for the Brussels International Fantastic Film Festival
Beware of the naughty children
EN/ This year, something more scary than leeches, serial killers or space aliens will dominate the Brussels International Film Festival: naughty children. Do we really think a disobedient child is worse than a demon? Or is there something else going on?
Text Niels Ruëll
CINEMA
Any idea what you might say if the headmaster took you aside to report that your angel had bitten or scratched someone else's angel? Would you even believe it? More than anything, do you want to know what the other kid must have done to drive yours that far?
Single mother Elaine is distraught when her 10-year-old Martin has bitten a classmate and drawn blood once again. Because of his increasingly aggressive behaviour, people are dodging them. She flees Brussels. Her filthy rich parentsin-law in Luxembourg seem to know how to handle Martin: they shave his excessive body hair, teach him to hunt and pray and, if he does not listen, chain him up.
You'll have to go the BIFFF – the nickname for the Brussels International Fantastic Film Festival that brings in more than 50,000 people every year – to find out the chilling ending of Wolfkin Director Jacques Molitor combines the ancient myth of the werewolf with a much more contemporary fear. The fear of failing as a parent and seeing your child turn into an unhinged monster that threatens both you and the outside world, without being able to intervene. Could the German girls, aged twelve and thirteen, who stabbed their twelve-year-old classmate Luise to death last month, also have been biters in kindergarten? Could they have been your daughters? Very unlikely, but the fear of naughty children is real, and this fear is mercilessly explored by several films from all corners of the world. There are so many of them - at least if you count the films in which the youngsters have a lot of trauma to deal with - that the BIFFF is compiling them into a "Naughty kids" anthology.
Even on the small screen, the fusion of children and horror has reached unseen popularity. Two of the biggest hits on Netflix are Stranger Things (1980s kids with mysterious powers versus sinister governments and monsters) and The Addams Family spin-off Wednesday, with Jenna Ortega as a social pariah at a school for outcasts. She belittles bullies, plays the cello, excels in being gloomy and comes up with witty one-liners. Good girls go to heaven, bad girls go everywhere.
CHILD ABUSE
The BIFFF programme includes Kids vs. Aliens. In that American, cheap genre film, a bunch of kids left to their own devices by their workaholic parents (feel free to feel guilty) curses briskly as they indulge in their obsession with violence in DIY movies. Via the big sister, who lustily experiments with cigarettes and make-up (how dare she!), they collide with a first-class scumbag. They need to bundle all their destructive energy to fight an alien invasion. In the Polish horror comedy It Came from the Water, spoilt, giggling, hopelessly narcissistic city teenagers who are sick of lockdowns and online classes head inland to intoxicate themselves. They are punished by visiting zombies who feast on them.
In the horror-genre, there isn't always a reason why evil is unleashed on children. Sometimes they just look too cute and innocent – and that's it. Playing off the great contrast between the innocence of the child and absolute evil is a tried and tested procedure in films. Evil Dead Rise resurrects the horror franchise that started forty years ago, with Sam Raimi's legendary The Evil Dead. This time, Necronomicon does not turn people into hideous Deadites in a remote forest cabin, but in a Detroit flat. A single mother sets her sight on her own sister and three children and terrorises them with extreme violence and sadism, physically as well as psychologically. Film critics who attended the première at the South by Southwest festival speak of "'pathological violence on children" and "insane massacres".
THE MONSTER IN BED
Once again, the world needs saving from a few naughty children, those strange creatures that roam your house, disobey and are sometimes totally unaware of what is going on in their heads. One of the prototypes is Wolf Rilla's Village of the Damned (1960), impeccably reworked in 1995 by horror maestro John Carpenter. In an English village, all the women give birth at the same time. Their children grow up to be blonde angels with strange eyes who are far too smart and cold, and use telepathic powers to do great mischief.
We saw even more encouragement for not
having children in Rosemary's Baby and The Exorcist, the horror classic in which an innocent sweet child wearing flower dresses suddenly turns into a swearing, puking, priest-threatening terror with a head that turns 180 degrees. Horror plays with our fears – the fear of being a bad parent is a deeply rooted one. A perniciously derailing mother-son relationship and a head that does not stay in place was also central to Hereditary by Ari Aster.
There is only one thing more stupid than bringing a child into the world: adopting one. There is the standard-bearer Damien, the devil child who makes his parents' lives into hell in The
outnumbered by the children who are poorly protected in horror films. They end up paying a high price for their curiosity and naivety, they are not believed when they first smell danger or they just remind us of the childhood fears we thought we have under control. They come in handy in the eternal battle between good and evil, especially when a film explores the moment where innocence is lost. Even though this seems an inevitable step in their development toward adulthood, for the audience it remains frightening and compelling to see children lose their innocence in dark, twisted ways. Regardless of whether they are on the good or evil side, in the end.
Horror plays with our fears – the fear of being a bad parent is a
Omen. Adoption is also the death sentence in Jaume Collet-Serra's The Orphan. The monster does not hide under the bed. It lies in it and you tuck it in every night. It is not the heart of a family, symbol of perfect happiness, but the threat to its happiness, the reason for its disintegration.
Sometimes, there is an exciting duel between older and younger people. At the BIFFF, for instance, look out for Evil Eye by Mexican genre master Isaac Ezban. Inspired by sinister Mexican folklore surrounding witches and evil entities, he tells the tale of a thirteen-year-old, rebellious city girl who moves with her family to her grandmother's haunted mansion for the sake of her bizarrely ill sister. Her distrust of strict authority puts her in diametric opposition to her grandmother, who does not exactly live up to the cliché of the "dear old lady". A nightmare of generational conflict that grows darker minute by minute.
TRAUMA AND RESILIENCE
Naturally evil and possessed children are
With In My Mother's Skin by Filipino director Kenneth Dagatan, the BIFFF presents an allegedly heart-breaking, morbid and cannibalism-laced fairy tale that is being hotly hyped. A brave girl is being tested to the extreme limits. During World War II, Tala ends up with her little brother and her blood-coughing mother. They are in danger of starving, so she thinks it's a good idea to catch up with a tempting fairy. But despite its beauty, it is a terrifying entity that horrifies her mother.
It has resemblances with Guillermo del Toro's Pan's Labyrinth (El laberinto del fauno) from 2006, a sinister fairytale about the Francoist terror of the Spanish Civil War. A twelve-year-old girl eludes her sadistic stepfather in a labyrinth with a faun, giant toad and a corpulent giant with eyeballs in his palms. Del Toro showed that monsters sent on the children are not necessarily evil creatures. They can also be allies in processing trauma or defending against human harm.
The BIFFF puts on Blaze, the confronting début film by Australian artist Del Kathryn Barton, renowned for her psychedelic style. Twelve-year-
12
deeply rooted one
Evil Dead Rise
Where do those naughty children come from? In depth
The Wrath of Becky
old Blaze is sole witness to a disgusting rape and murder. The trial ends up being a horror show. Traumatised, Blaze ends up in a psychiatric institution against her will. By retreating into her imaginary world with a fire-breathing, feathered dragon and other wonders, she prevents herself from being destroyed by the pain she suffered in the horrific reality.
NICE, NAUGHTY, REBELLIOUS
Yet another category in genre films are the naughty children who protect us. In the Stephen King-adapted It, the kids who call themselves "the losers" join forces to take on the murderous, age-old clown Pennywise. Sometimes being naughty is okay. Or at least it works out that way. Sometimes the monsters are an opportunity to prove your worth to society. In the BIFFF's coming-of-age horror film Slash/Back, a few teenage girls have no high opinion of the culture and old ploys in their Inuit village. The arrival of bloodthirsty aliens forces them to unleash their hunter instinct.
The tagline from The Wrath of Becky is that hell hath no fury like a scorned 16-year-old. In the sequel to Becky, the orphaned heroine murders an entire battalion of homicidal Proud Boys-ish fascists with a grenade, firearm, bear trap and fighting dog. Tormented teenagers are not to be trifled with. See also Brian De Palma's Carrie, in which the daughter of a religious fanatic takes
terrible revenge on her bullies during prom night. Sometimes, naughty children are punished. Others are the hero of the day or at least admired for their rebellion, for questioning power and authority and challenging stifling or oppressive socio-cultural norms. The character of the rebellious teenage girl is at the heart of UFO Sweden, which the BIFFF describes as "a cross between The X-Files and Stranger Things." A hacker plagued by mean foster parents and the police, searches for evidence that her father was abducted by aliens.
BORN AFTER ARMAGEDDON
Do we really think a disobedient child or rebellious teenager is worse than a demon? Of course not. The child is just a very handy character for horror films. With all these "Naughty Children" films, the BIFFF does not want to pick a fight with the youngest generations. On the contrary, the festival lures them in with a creative promotion: on 12 April, all screenings are free for anyone born after Armageddon, the very bombastic 1998 disaster film in which Bruce Willis, Ben Affleck and Liv Tyler must prevent a meteorite from destroying Earth. Have all those fear-mongering films with naughty children made the BIFFF realise that you better keep the youngsters on your side? Or is it common sense? The young people of today are the elderly of tomorrow, after all.
ER ZIJN DIT JAAR VEEL STOUTE KINDEREN
NL/ Het Brussels International Fantastic Film Festival wordt dit jaar gedomineerd door stoute kinderen. De voorbije jaren speelden horrorfilms in op de schijnbare onschuld van kinderen, door hen te laten vechten tegen het kwaad, of het kwaad zelf de wereld in te laten brengen. Series als Stranger things en Wednesday worden massaal bekeken, en de klassiekers Carrie, The orphan, The excorsist en Rosemary's baby zijn we ook niet vergeten. Durf jij je kind vanavond nog in bed te stoppen?
ATTENTION, ENFANTS MÉCHANTS
FR/ Cette année, le Festival international du film fantastique de Bruxelles BIFFF est sous la coupe des enfants méchants. Chaque année, le festival attire quelque 50 000 spectateurs. Ces dernières années, les films d'horreur jouaient souvent sur l'apparente innocence des enfants, en les faisant combattre le mal ou en l'introduisant eux-mêmes dans le monde. Les séries comme Stranger Things et Wednesday sont parmi les plus regardées et personne n'a oublié les classiques Carrie, Esther, L'Exorciste et Rosemary's baby. Allez-vous encore oser mettre votre enfant au lit ce soir ?
13
Info: www.bifff.net
In My Mother's Skin Base
Kids vs. Aliens
Brussels International Fantastic Film Festival 11 > 23/4, Brussels Expo
The Loneliest Boy in the World
 MEESTERLIJK DE MORGEN  AUSSI PASSIONNANT QU'INSPIRANT FOCUS VIF AU CINÉMA LE 19/04 IN DE BIOSCOOP EEN FILM VAN - UN FILM DE LAURA POITRAS
"When it hasn't been your day, your week, your month / Or even your year / I'll be there for you": wie nu niet luidkeels het openingslied van de Amerikaanse sitcom Friends mee kan kwelen, heeft de voorbije decennia onder een steen geleefd. Op de tonen van de oorwurm van The Rembrandts dollen zes vrienden bij de begingeneriek lekker in een fontein. Het zet een dikke streep onder een onvoorwaardelijke goofy vriendschap. Een serie kan niet beter starten. Dat ontdekt ook Gen Z, die dankzij streamingplatforms en een revival van de nineties massaal afstemt op Friends. De sitcom verschijnt voor het eerst op de buis in de herfst van 1994, houdt het tien seizoenen vol en kluistert 25 tot 30 miljoen kijkers per week aan het scherm. Wanneer Rachel Green, Phoebe Buffay, Monica Geller, Joey Tribbiani, Chandler Bing and Ross Geller voor het eerst op het scherm verschijnen, zijn Jennifer Aniston, Lisa Kudrow, Courteney Cox, Ma LeBlanc, Ma hew Perry and David Schwimmer nog nobele onbekenden. Nu naar Friends kijken, is kijken naar sterren. Misschien zit daar een deel van de hernieuwde populariteit, maar een betere graadmeter is wellicht de jeugd van tegenwoordig die zich nog weet te herkennen in de vriendschapbanden van het zestal. Twintigers die zonder groots plan het volwassen leven binnen strompelen in New York. "I don't have a plan. Phoebe, do you have a plan?"
vraagt Monica in het eerste seizoen (aflevering 4, als je het echt wilt weten).
"I don't even have a pla." Waarbij het inslikken van de 'n' voelt als het ultieme geen plan hebben.
Gen Z hee het gehad met grootse plannen en picture perfect zijn op TikTok of Instagram. Het mag weer leuk en onbeholpen. Dat Jennifer Aniston op haar 54e kan pronken
Ook Gen Z raakt verknocht aan Friends
met een pilatesproof lijf vergeten we even. Rachel maakt koffie, niet eens voor zichzelf, maar in koffiebar Central Perk in afwachting van een betere job. Voor jonge vrouwen was ze in de jaren 1990 een rolmodel en niet alleen met haar kapsel. Rachel stormt de eerste aflevering binnen in een trouwjurk. Ze heeft net haar huwelijk afgeblazen: een illusie armer, een nieuwe toekomst rijker. Eentje van zelfontplooiing en carrière jagen zonder daarbij een agressieve boss lady te zijn uit de jaren 1980. Ook Friends verzette kleine bakens. Maar de kritiek dat de show homofoob is, te weinig divers, en zou lachen met obesitas, is niet uit de lucht gegrepen. Mensen van kleur zijn slechts figurant en Carol, Ross' ex-vrouw van wie hij is gescheiden wanneer ze zich out als lesbisch, dient enkel om hem te doen twijfelen aan zijn mannelijkheid. Een leren broek dragen op je eerste date kan er ook voor iets tussen zitten. Zo'n broek is zweterig warm. Wanneer je het onding uittrekt om af te koelen op de wc, krijg je het niet meer aan (check seizoen 5, episode 11 voor meer). Je laven aan nostalgie is niks nieuws, maar in deze onzekere tijden snakken we nog meer naar escapisme. Zes vrienden die hun problemen en onzekerheden tackelen met dwaze situatiehumor en geva e oneliners, is precies wat we nodig hebben. Of met de woorden van Matthew Perry's personage:"I'm Chandler, I make jokes when I'm uncomfortable."
Zal Gen Z, Y en X nu ook massaal afzakken naar Brussels Expo om zich helemaal onder te dompelen in The Friends experience met zijn replica's van de sets? Dat is koffiedik kijken. Maar wie weet: misschien wordt het wel kick-you-in-the-crotch, spit-on-your-neck fantastic! HELEEN RODIERS
The Friends experience: the one in Brussels. > 18/6, Brussels Expo, Paleis 4, brussels.friendstheexperience.com
15
WTF?
CONSTERNATIE OP DE WERKLOCATIE
Wide Vercnocke
'Ik wilde geen spijt hebben dat ik nooit was gesprongen'
NL/ Na Zwangere Guy is het de beurt aan het andere STIKSTOFzwaargewicht om zich solo te roeren: JAZZ BRAK, de woordkunstenaar die poëzie puurt uit leven en welzijn in de stedelijke jungle. "Eigenlijk zwoeg
blootgeeft. Nu geef ik me wel bloot, maar zonder me helemaal voor de leeuwen te gooien." De rapper is een oldskool woordkunstenaar, in zijn lyrics lijkt elke lettergreep op zijn plaats gebeiteld. "Teksten zijn voor mij het belangrijkst, ik kan er helemaal door opgeslorpt worden. Dat is soms vermoeiend. Ik heb een speciale Spotify-lijst gemaakt met tracks in talen die ik níét versta, zodat ik helemaal in de muziek kan opgaan. Eigenlijk zwoeg ik zelden op lyrics. Als ze niet in twintig minuten geschreven zijn, laat ik ze los."
"Dit was een leven vol met veel verwachting, 33, ik schrijf teksten op een lege parking," rapt Jasper De Ridder alias Jazz Brak op zijn solodebuut Brak "Ik ben intussen 34," lacht hij. Maar dat van die parking klopt: wanneer hij een tekst wil "leggen", rijdt hij een eindje met de wagen. "In de auto ben ik alleen, met de muziek rond mij, de perfecte cocon. Thuis loopt er een peuter rond en sinds kort heb ik er een pasgeborene bij. Er is altijd iets dat je weer de werkelijkheid in trekt."
"Slenter vaak door de stille straten, alles binnenshuis heb ik in de gaten," klink het op zijn plaat, "ik kan uren in de nacht in het donker staren, mijn zesde zintuig, dat is minder praten."
"Ik ben geen flapuit, denk over alles twee keer na," knikt Jazz Brak. "Liever de stille die je onderschat, dan de brulaap die alles meteen
Zijn soloplaat is een rauwe brok straatpoëzie, over zichzelf, zijn familie en de stad die hem gevormd heeft. Jazz Brak groeide op in Evere, zijn moeder is een Gentse, zijn vader komt uit Jette. "Taal is het wapen van het volk, met paar woorden komt ge ver, beide ouders waren tolk," geeft hij mee op Brak. "Op de een of andere manier was iedereen thuis altijd met taal bezig. Mijn zus heeft een master in de Engelse letterkunde. In het vijfde leerjaar mocht ik een keer een voordracht doen in een soort van poëziegroep. Wellicht is daar mijn liefde om een tekst te brengen voor een publiek geboren."
PASJA
Rappen begon Jazz Brak op z'n veertiende. "Ik zat in basketclubs, daar hoorde je veel hiphop. Ik rapte met vrienden in Brusselse parken, in het Nederlands, maar ook in het Frans en Engels." Na een ommetje als dj ontmoette hij als 21-jarige zoeker op het Sint-Katelijneplein Zwangere Guy, die toen nog gewoon Gorik van Oudheusden heette. "We stonden in een kringetje en Gorik rapte een paar zinnen, waarna ik er zelf iets van mijn oude schrijfsels tussen mikte. Die avond
spraken we af bij Gorik thuis en schreven we samen een tekst." In Paulo Rietjens alias Astrofisiks vonden ze de beatmaker die ze nodig hadden. In de kelder van zijn ouderlijke huis in Sint-Agatha-Berchem werd STIKSTOF geboren. Vijf platen schreef Jazz Brak al bij elkaar met de Brusselse rapcrew, een veilige schoot waar hij nu uitbreekt. "Eigenlijk heb ik nooit de ambitie gehad om solo te gaan," bekent hij. "Maar ik kreeg heel vaak de vraag wanneer ik nu zelf eens mijn ei zou leggen. Na ons album Familie boven alles dacht ik, het is nu of nooit, anders ga ik misschien spijt hebben dat ik nooit ben gesprongen."
Dát, en enkele sleutelmomenten in zijn leven: de kaap van de dertig, zijn vaderschap en stoppen met verslavend spul. "Ik heb van mijn vijftiende tot mijn dertigste geblowd, de helft van mijn leven. Ik smoorde steeds straffer spul, maar op den duur kreeg ik angstaanvallen. Aan metrohalte West-Station heb ik een keer aan een wildvreemde gevraagd om op mij te letten, omdat ik het gevoel had dat ik ging omvallen. Ik dacht, ofwel stop ik nu, ofwel ga ik de psychiatrie in."
De aanvang van zijn solovlucht duurde lang "omdat ik een pasja ben," heet het in 'Hayabusa'. "Mijn moeder noemde mij zo toen ik als zestienjarige in de zetel lag. (Lacht) Ik ben keihard een uitsteller, maar ik ben niet lui. Er is STIKSTOF, ik teken, heb met Goldblok een kledinglijn. Dat is misschien het goede en het slechte van Jazz Brak, dat ik een duizendpoot ben en met van alles bezig ben, maar me nooit echt op één ding concentreer." Daar komt nu verandering in.
Brak is nu uit (Top Notch), concert op 1/4 in De Vaartkapoen, www.vaartkapoen.be
16
ik zelden op lyrics."
PORTRET
Tekst Tom Zonderman
17
Jazz Brak treedt uit de schaduw van STIKSTOF: "Ik ben liever de stille die je onderschat, dan de brulaap die meteen alles blootgeeft."
© YAQINE HAMZAOUI
THÉÂTRE
Le Canine Collectif déshabille le plaisir féminin
'Le sexe, ça n'est pas un trou noir'
FR/ Après le succès de la pièce de théâtre La Théorie du Y et le carton de la websérie éponyme déclinée en trois saisons, Caroline Taillet, Léone François et Violette de Leu sont de retour sur les planches avec Orgasme(s). Un spectacle qui s'aventure au bout du plaisir féminin sans rougir et surtout sans s'excuser.
Dans La Théorie du Y, pièce de théâtre et puis série télé imaginée par Caroline Taillet, le Canine Collectif se posait la question de savoir s'il était possible de tomber amoureux sans se demander si c'est d'un homme ou d'une femme. Dans Orgasme(s), le même collectif se demande pourquoi si peu de femmes atteignent l'orgasme et pourquoi personne ne semble être au courant.
Face à ce constat très dommageable pour les femmes mais aussi pour les hommes, Caroline Taillet, Violette de Leu et Léone François fusionnent derrière le personnage-marionnette
de Lisa, jeune trentenaire hétérosexuelle qui, malgré une sexualité active, n'a jamais atteint le nirvana.
Échouée dans un bungalow habité par l'esprit de sa grand-tante un peu sorcière, Lisa affronte les démons qui entravent son plaisir, portée par les témoignages d'autres femmes ayant fait ce trajet avant elle. Certaines sont restées en couple sans explorer la jouissance sexuelle de peur de déplaire, d'autres ont été victimes de violences sexuelles, d'autres encore ont mis des années à assumer leur orientation sexuelle. « On espère que ce spectacle va libérer la parole. Pour que les femmes qui désirent jouir y parviennent.»
Avant d'arriver à Bruxelles, votre spectacle a été joué dans divers lieux culturels du Brabant Wallon. Ce e tournée a-t-elle été bien accueillie ?
VIOLETTE DE LEU : On sent que c'est vraiment touchy
CAROLINE TAILLET : On a fait des bords de scène à Rixensart et à Nivelles et la thématique de la sexualité était peu abordée. C'est comme s'il y avait un besoin de contourner le sujet en parlant d'autre chose : de la mise en scène, des marionnettes. On a aussi fait une séance scolaire l'après-midi avec des ados dont les questions étaient légèrement plus explicites, notamment autour de la scène de l'orgasme où on nous a demandé, par exemple, pourquoi la marionnette se détachait de son corps et qu'elle s'envolait.
Ce sont les jeunes qu'Orgasme(s) vise en priorité ? Mieux vaut être en harmonie avec son plaisir dès les premières expériences amoureuses.
DE LEU : On aimerait toucher ce public-là même si on sent que c'est encore un gros tabou. On se rend compte que le tabou vient avant tout des professeurs. Emmener une classe voir un spectacle qui parle d'orgasme, ça n'est pas évident à assumer.
TAILLET : C'est pour cela qu'on essaie de créer un soutien pédagogique. On travaille avec des
19
Texte Sophie Soukias Photo Saskia Vandertichele
associations et des plannings familiaux pour aller avant et après dans les classes. Dans toute la tournée qu'on a faite dans le Brabant Wallon, on a eu des demandes de professeurs de Perwez et Nivelles seulement. On a également postulé à un festival de théâtre jeune public très reconnu et l'organisation n'a même pas accepté de venir voir le spectacle pour candidater sous prétexte qu'il n'était pas adapté aux adolescent.e.s. C'est étonnant parce que notre spectacle sur la bisexualité (La Théorie du Y) avait eu une belle réception dans ce même festival et cette visibilité lui avait valu une belle tournée.
L'orgasme féminin est plus tabou que la bisexualité ?
DE LEU : Lorsqu'on jouait La Théorie du Y, on constatait beaucoup plus une libération de la parole après le spectacle. Pour Orgasme(s), on sent que c'est gênant et que ça peut mettre mal à l'aise des gens qui viennent en couple.
TAILLET : Aujourd'hui, on parle ouvertement d'orientation sexuelle, difficile de se positionner contre la bisexualité sans passer pour quelqu'un d'homophobe. Dans La Théorie du Y, on parlait
d'amour et de relations amoureuses, dans Orgasme(s) on traite d'un sujet intime qui risque de susciter des remous au sein du couple. Et c'est le but, quelque part.
Vous jetez une bombe en laissant entendre dès le début du spectacle que si une femme n'est pas certaine d'avoir déjà eu un orgasme, c'est qu'elle n'en a jamais eu.
LÉONE FRANÇOIS : Remettre en question sa manière de faire l'amour, c'est questionner plus largement tout notre rapport au patriarcat. Ça chamboule le prisme avec lequel on interagit, avec des conséquences inévitables sur l'intimité. On peut être en couple pendant des années et ne jamais connaître l'orgasme. Et on sait que ça concerne une partie des femmes qui sont assises à côté de leur mari dans la salle. C'est une découverte que l'on a faite nous-mêmes parce qu'on a commencé à en parler et qu'on s'est rendu compte qu'il y avait un tabou même entre nous. En interviewant une grande diversité de femmes pour le spectacle, on a compris qu'il y avait beaucoup plus de femmes que l'on pensait qui n'avaient jamais connu l'orgasme, ou alors
très tardivement. On a beaucoup dit que nous n'avions interrogé que des femmes qui avaient un rapport problématique au sexe mais il se fait que ça a été le cas de tous les témoignages qu'on a eus, ça va des petits soucis au viol. La sexualité est complexe.
DE LEU : Il s'agit aussi du fait que la majorité des femmes n'ont pas d'orgasme avec la pénétration. Il s'agit donc de déconstruire cette idée reçue. Même pour nous-mêmes à 30 ans, c'est compliqué.
TAILLET : On se demande si tout le monde est conscient de ça et on se rend compte qu'on vit dans un microcosme. On lit beaucoup là-dessus, on écoute des podcasts, mais ça reste une bulle qui n'est pas représentative du « vrai » monde.
Vous avez chacune effectué ce travail de déconstruction du plaisir féminin. Comment en ressortez-vous ?
DE LEU : C'est très différent pour chacune. Caroline et Léone sont en couple, moi je suis célibataire, donc je dois à chaque fois éduquer les garçons (rires). Tu peux déconstruire beaucoup plus de choses avec ton partenaire de longue date qu'avec quelqu'un que tu ne connais pas, à moins qu'il ne se soit lui-même déjà déconstruit. Vraiment, je trouve que ça n'est pas facile.
FRANÇOIS : Ça n'est pas facile en couple non plus. On se retrouve à remettre en question des choses qui sont installées depuis des années.
Comment s'est manifesté le déclic ?
FRANÇOIS : C'est parti d'une soirée à boire du rhum à trois en tournée lors de notre précédent spectacle. On a commencé à se confier les unes aux autres.
TAILLET : On avait déjà lu des choses à ce sujet et ça s'est affiné quand on a commencé à écrire le dossier du spectacle et à faire des interviews avec une grande variété de femmes.
Seules des femmes témoignent dans votre spectacle ?
TAILLET : Au début, on a pensé interviewer aussi des hommes, mais il y avait déjà tellement de choses à dire et à écouter sur le plaisir féminin qu'on s'est dit qu'il fallait peut-être laisser des hommes faire un spectacle sur le plaisir masculin. Pendant les représentations scolaires, le public était majoritairement constitué de garçons et on a vu à quel point ils étaient intéressés. C'est comme s'ils pouvaient regarder par le trou de la serrure et voir les femmes parler ente elles et ce qu'elles se disent.
Les hommes font partie de ce système et ils en sont aussi les victimes ?
DE LEU : Oui, évidemment. C'est une pression énorme et il faut en parler. Mais en tant que
20
« Emmener une classe voir un spectacle qui parle d'orgasmes, ça n'est pas évident à assumer»
VIOLETTE DE LEU
© LESLIE ARTAMONOW Canine Collectif Interview
femmes, ça n'est pas à nous de le faire.
FRANÇOIS : Dans le spectacle, il y a une femme trans qui s'exprime et dont le témoignage fait beaucoup de bien. Comme elle a été socialisée en tant que garçon, elle explique la pression qui repose sur les hommes de devoir bander et de devoir durer, par exemple. Ce point de vue nous semblait intéressant car on n'avait pas envie de blâmer les hommes.
TAILLET : Une autre parole importante est celle d'une femme qui imagine un monde où les femmes ne jouissent pas et sont parfaitement heureuses. On ne voulait pas présenter l'orgasme comme quelque chose d'incontournable. On peut tout à fait ne pas s'y intéresser mais ça doit rester un choix. Mais si l'envie de jouir y est, on espère pouvoir libérer la parole pour que les femmes qui le désirent y parviennent.
Dans la pièce, Lisa, le personnage principal, trouve l'orgasme dans la solitude.
FRANÇOIS : Oui parce que c'est en se connaissant soi-même et son rapport à son propre corps qu'on peut partager son plaisir avec quelqu'un d'autre. Avant tout, il importe d'avoir un regard bienveillant sur soi et son plaisir.
TAILLET : Lors des interviews, on a pu aussi mesurer l'ampleur du tabou autour de la masturbation féminine. On a eu envie d'encourager ça, de sortir de la honte.
Un autre tabou que vous faites sauter est celui des pulsions sexuelles chez les petites filles.
DE LEU : On est brimées très tôt. La honte s'installe dès l'enfance.
FRANÇOIS : Une petite fille qui a des guilis dans le
bas du ventre, ça met très mal à l'aise le public. Tout ce que l'on montre est une petite fille sur un petit cheval de bois mais évidemment qu'il y a tellement de choses qui se construisent à ce moment-là. C'était d'autant plus important de s'adresser aux jeunes dans ce spectacle car ce n'est pas à 16 ans et un jour que l'on découvre le rapport à la sexualité.
DE LEU : On a demandé aux femmes interviewées à quel âge elles avaient ressenti leurs premières sensations de plaisir et c'était très jeune. Et c'est tout à fait naturel.
TAILLET : À nouveau, on n'en parle pas dans les écoles. Ça nous semble tellement essentiel de parler de la sexualité pas uniquement sous l'angle des maladies ou du risque de grossesse. Le plaisir c'est beau et positif, et non pas sale, honteux et flippant. Beaucoup de femmes n'ont jamais osé regarder leur sexe dans un miroir.
Ce que Lisa ose faire. À quel moment avez-vous décidé de faire de Lisa une marionne e ?
DE LEU : À partir du moment où on a voulu organiser un orgasme sur scène. On avait l'image de ce corps de femme qui s'envole dans une explosion de paillettes, et ça c'est impossible de le faire avec nos corps à nous. C'est comme ça que l'idée de la marionnette est apparue. On voulait s'approprier la beauté du sexe.
TAILLET : Le sexe, ça n'est pas un trou noir, c'est lumineux et brillant. La marionnette nous permettait de sortir du théâtre documentaire et d'aller vers la poésie.
FRANÇOIS : La pièce est joyeuse. Même si on parle de tabous et de choses difficiles, ça reste une célébration.
QU'EST-CE QUE LE CANINE COLLECTIF?
— Né en 2014, il héberge 11 acteur.ice.s et créateur.ice.s qui se sont réunis à leur sortie de l'IAD. Tous les membres ne participent pas nécessairement à chaque projet
— En 2015, Caroline Taillet crée pour le collectif le spectacle La Théorie du Y, dans lequel jouent Violette de Leu et Léone François. La pièce aborde la thématique de la bisexualité. Elle sera jouée plus de 120 fois, notamment pendant le festival OFF d'Avignon
— En 2017, Caroline Taillet s'associe à Martin Landmeters pour adapter La Théorie du Y en websérie. Le succès est immédiat. La série bénéficie d'une belle reconnaissance internationale
— En 2019, le collectif dans son entièreté monte Régis, un spectacle qui questionne la notion d'intrusion
"SEKS IS MOOI"
NL/ Na het succes van de theatervoorstelling La théorie du Y en de triomf van de gelijknamige, drie seizoenen tellende webreeks, keren Caroline Taillet, Léone François en Violette de Leu van het Canine Collectif terug naar de bühne met Orgasme(s), een stuk dat zonder blozen en vooral zonder excuses op zoek gaat naar het vrouwelijke genot. "We hopen dat deze voorstelling de tongen losmaakt. Zodat vrouwen die op zoek zijn naar een hoogtepunt, daar ook raken."
"SEX IS BEAUTIFUL"
EN/ Following the success of the theatre production La théorie du Y and the triumph of the three seasons of the web-series of the same name, Caroline Taillet, Léone François and Violette de Leu of the Canine Collectif return to the stage with Orgasme(s), a play that explores female pleasure without blushing and, above all, without apologies. "We hope this performance will loosen up things and help women in search of climax to reach that."
21
Info: www.lestanneurs.be
C'est dans le bungalow magique de sa grand-tante décédée que Lisa partira en quête de l'orgasme.
Orgasme(s) 4 > 13/4, Les Tanneurs
© LESLIE ARTAMONOW
Bonnes Nuits
FR/ Rendez-vous incontournable du printemps bruxellois, les Nuits Botanique marquent le coup d'envoi de la saison des festivals avec une programmation aventureuse et touche-à-tout. Dans ses salles rénovées, sous ses verrières restaurées, ses jardins ou ailleurs – à Bozar et dans des églises –, l'événement déroule son affiche plantureuse sur près de trois semaines. À côté des têtes de série du folk (Bill Callahan), de l'indie rock (The Haunted Youth), du rap (B.B. Jacques) ou de l'électro-pop (Flavien Berger), le festival se positionne comme une plaque tournante des musiques émergentes. Zaho de Sagazan (photo), future star de la chanson française, Lankum, avec ses incursions expérimentales sur les terres des musiques traditionnelles, ou l'Amstellodamoise Pitou, et sa pop féerique à ranger entre Björk et Camille, comptent parmi les noms à
suivre de près. Immanquables, aussi, les deux dates délocalisées sous les voûtes de l'église Notre-Dame de Laeken : le 8 mai, d'abord, avec les mélodies angéliques de November Ultra, dernière révélation féminine des Victoires de la Musique. Puis, le lendemain, en compagnie de la gracieuse Arooj Aftab, première chanteuse pakistanaise à remporter un Grammy Award. Ailleurs, les Nuits Botanique mettent à l'honneur les créations d'artistes en résidence, comme la productrice Clara!, le fantasque David Numwami ou la violoniste Catherine Graindorge, aperçue récemment dans un numéro d'exception aux côtés d'Iggy Pop. Certaines forces vives de la scène locale (Annabel Lee, Sagat, Rori, Predatory Void, Echt!, Dan San ou Mia Lena) en profitent aussi pour dévoiler leurs nouveaux albums en primeur. Enfin, une soirée labelisée Bota By Night devrait combler les fanas de clubbing. Histoire de danser jusqu'au bout des Nuits. ( NAL)
LES NUITS. 23/4 > 12/5, divers lieux, www.botanique.be
Cosmic energy bomb
EN/ Sons of Kemet went out with a bang, which leaves English sax prodigy Shabaka Hutchings with more time for his other band, The Comet Is Coming. We once called this heavyweight from London's progressive jazz scene "jazz from another planet". On last year's album Hyper-Dimensional Expansion Beam, the clash with rock and electronica already stretches from the cosmos to the dance floor. Sun Ra dances along to the energy waves being released. (TP)
THE COMET IS COMING. 2/4, 19.00, Ancienne Belgique, www.abconcerts.be
Rillerige romantiek
NL/ Geen griep die je meer rillingen kan geven dan Fever Ray, het duistere alter ego waarmee de Zweedse popartiest Karin Dreijer kille klanklandschappen over donkere gedachten drapeert. Op hun nieuwe album Radical romantics probeert Dreijer, die zich onlangs outte als non-binair, het enigma genaamd liefde te doorgronden. Hun broer Olof, met wie Dreijer het vernieuwende elektroduo The Knife vormde, zorgt voor verhelderende beats. (TZ)
FEVER RAY. 3/4, 20.00, Koninklijk Circus, www.cirque-royal-bruxelles.be
Punk qui pique
FR/ Encensée par Iggy Pop, révélée grâce à sa collaboration avec les zigotos de Sleaford Mods, Billy Nomates secoue sa coupe mulet dans les chansons de Cacti, un deuxième album qui, assurément, ne manque pas de piquant. Signé sur le label de Geoff Barrow (Portishead, Beak>), ce disque tient tête aux capitalistes de tout poil et rue dans les brancards avec des mélodies évidentes et une urgence héritée des ténors du mouvement punk. Chaud devant ! (NAL)
BILLY NOMATES. 6/4, 19.30, Botanique, www.botanique.be
22
9 X MUSIC
BRNS vous dit au revoir
FR/ Toutes les bonnes choses ont une fin… même BRNS. Après quatre albums, un tube fantastique ('Mexico') et treize ans de bons et loyaux services rendus au rock indépendant, la formation bruxelloise a décidé de débrancher les amplis. Mais avant de ranger définitivement ses instruments, le groupe entame une tournée d'adieux qui passera notamment par l'AB et les Nuits Botanique. De quoi prolonger le plaisir. Jusqu'au baisser de rideau. (NAL)
BRNS. 18/4, 20.00, Ancienne Belgique, www.abconcerts.be & 30/4, 20.00, Botanique, www.botanique.be
Guitar hurricane
EN/ On 14 April, Mark Oliver Everett blows out sixty candles. The American singer-songwriter has been Eels' only regular band member since 1995 and made one of the finest debuts of the 1990s with Beautiful Freak. For his fourteenth album, he got back into the studio with his friend and producer John Parish, which led to Extreme Witchcraft "After two years of incarceration, I wanted to rock again," Everett says. (TP) EELS. 8/4, 20.00, Forest National, www.forest-national.be
Forever JID
Gerijpte stem
NL/ Jasmine van den Bogaerde, alias Birdy, werd op haar twaalfde ontdekt. Toen ze haar succesvolle debuutalbum uitbracht was ze amper vijftien. Intussen is de frêle Engelse singer-songwriter 26 en heeft ze vier studioplaten op haar naam staan. Midden juli volgt Portraits, nummer vijf. Het met fraaie strijkers getoonzette 'Raincatchers' gaat de nieuwe release vooraf. Birdy is al lang niet meer het meisje van de ingetogen indiecovers. Ze kiest voor een breedvoeriger palet met haar rijper geworden stem als scharnier. (TP)
BIRDY. 9/4, 20.00, Koninklijk Circus, www.cirque-royal-bruxelles.be
EN/ Destin Choice Route, aka JID, once hoped for a career as a defensive back in American football, but eventually ended up in hip hop. We're happy he did, as this Atlanta rapper proved with his third, jazzy 1990s boombap-pollinated album The Forever Story, that he has grown into one of the best rappers of his generation. The guest list he drummed up isn't shy, either: from legend Yasiin Bey aka Mos Def over Ari Lennox to 21 Savage and bass wonder Thundercat. (TZ)
JID. 20/4, 20.00, La Madeleine, www.la-madeleine.be
Rock is niet dood
NL/ Eerst dook hij op in De slimste mens ter wereld, daarna werd hij radiohost bij StuBru en mocht hij als jurylid The voice van Vlaanderen een likje indiecool toestoppen. Straks blijkt Jan Paternoster nog Hippo te zijn uit The masked singer! Gelukkig vond de Brusselse rocker ook nog de tijd voor nieuw werk met zijn band Black Box Revelation, die deze maand terugkeert met zijn zesde plaat, Poetic rivals. Verwacht geen zoete poëzie, maar onversneden rock-'n-roll. (TZ) BLACK BOX REVELATION. 18 & 20/4, 19.00, Ancienne Belgique, www.abconcerts.be
23
The best of April in music
Mode-icoon in Brussel: it's a wrap!
NL/ Het Mode en Kant Museum maakt zich op voor een feestjaar, want de iconische wikkeljurk bestaat vijftig jaar.
Ontwerpster DIANE VON FÜRSTENBERG brengt een eerste overzichtstentoonstelling naar Europa.
Tekst Eva Christiaens
Het zal ook deze lente wikkeljurken regenen in de winkelrekken. De zwierige jurk van zachte jersey die je rond je middel knoopt, is vandaag niet meer weg te denken bij zowel grote als kleine ketens. In de jaren 1970 was ze nog gloednieuw en bevrijdend voor de vrouw: je kon er zo mee naar kantoor, hoog en strak opgeknoopt, of er ontspannen in dansen. En moest die snel uit, dan hoefde je maar aan één lintje te trekken. De jurk toont de seventies waar ontwerpster Diane von Fürstenberg zo van genoot in New York City. Vrijheid en experiment stonden centraal, kleur en prints brachten plezier.
Von Fürstenberg was in die periode net gescheiden van prins Egon von Fürstenberg, met wie ze als socialite naam had gemaakt in New York. Zelf is ze afkomstig uit Brussel. Ze werd op oudejaarsavond geboren als Diane Halfin en ging naar school in het Dachsbeck-lyceum in de Strostraat. Haar beste vriendinnetje was wijlen Myriam Wittamer (van de beroemde familiepatisserie aan de Grote Zavel). Later trok Diane naar een Engelse kostschool en studeerde ze in Spanje en Genève. In Brussel heeft ze vandaag nog
weinig familie, behalve haar broer en zijn gezin.
"We spreken vaker af in Parijs of Italië dan in Brussel," zegt haar schoonzus Greta Halfin, die de DvF-winkel in de Grotehertstraat uitbaat. Toch werd von Fürstenberg in 2018 nog ereburger van de stad Brussel en krijgt ze hier haar eigen jubileumtentoonstelling. "Ze is dan ook een icoon, misschien zelfs een van de laatsten in de modewereld," zegt Halfin. De wrap dress is miljoenen keren verkocht en DvF verkoopt in zeventig landen wereldwijd.
VAN VROUW OP VROUW
Vandaag houdt de ontwerpster zich meer bezig met filantropie dan met haar collecties. "Maar pas op, als een knop haar niet aanstaat, zal die niet in de collectie zitten. Om zo ver te raken, moet je wel een sterk karakter hebben," zegt haar schoonzus. Een deel van dat karakter kreeg ze mee van haar moeder, een Auschwitz-overlever. Die leerde haar dat bang zijn nooit een optie is. In eigen boeken roept Von Fürstenberg vrouwen op om eerlijk en voluit te zijn wie ze willen. Ze reikt elk jaar een prijs uit aan inspirerende vrouwen en weet nog altijd zelf te inspireren. Zo draait Disney dit jaar een grote documentaire over haar leven. "Ze richt zich volop op haar nalatenschap," zegt Greta Halfin. Het kledingmerk ligt ondertussen in handen van Dianes kleindochter, die het na een flinke coronaklap mag heruitvinden.
Verwacht van de expo nog geen retrospectieve. Curator Nicolas Lor gebruikt de wrap dress als rode draad om met een moderne blik naar vrouwelijke mode en succes te kijken. Michelle Obama droeg hem, Kate Middleton en Amy Winehouse ook. Eind vorig jaar was kroonprinses Elisabeth zelfs nog in DvF te zien. Zwiert u ook mee de lente in?
24
IN THE PICTURE
Women before fashion, vanaf 21 april in het Mode & Kant Museum, www.fashionandlacemuseum.brussels
Diane von Fürstenberg op het Empire State Building voor een Japanse jeansadvertentie, rond 1980 © ARCHIEVEN DIANE VON FÜRSTENBERG / ARA GALLANT
25
Diane von Fürstenberg naast een mannequin naar haar evenbeeld, rond 1977
Amy Winehouse
© ARCHIEVEN DIANE VON FÜRSTENBERG
JERSEY WIKKELJURK MET LUIPAARDPRINT, 1974
© E.GOMEZ

CHANTAL AKERMAN MARIANNE BERENHAUT SARAH KALISKI JULIA PIROTTE Jewish Museum of Belgium 24.03 –27.08.2023
FOUR SISTERS
Joesef
Sco ish singer Joesef was discovered by his best friend during a drunken night out. After downing a number of pints, his comrade enticed him to sing a song at an open mic. He was blown away and immediately offered to become his manager. Together, they launched their first single with "Limbo". The rest is history. Growing up in a working-class environment in a Glasgow suburb, a career as a singer-songwriter was the last thing on his mind. His frank lyrics, sometimes bathed in scorched melancholy, his delicate androgynous voice, his soulful, vulnerable delivery... Not really a sound a male environment will appreciate. But his contemporary R&B songs – once referred to as "sad disco tunes" – slowly started to get some traction. A week before the lockdown, he played at the Botanique. At BBC Radio 1, they had him on their Best of 2020 list based on the single "Play Me Something Nice". A second single, "Does It Make You Feel Good?", followed that same year, as did performances at major UK festivals. Since the beginning of this year, Joesef's debut album has also been in shops.
Joesef took the title Permanent Damage from a packet of cigare es. He has since moved from East Glasgow to East London. Not so much with the prospect of more career opportunities, but as a way of using a change of scenery to deal with a love break-up. "My shite love life has always been my biggest inspiration," he told Unclear Magazine. "Everything you hear on my debut actually has happened to me. I have always used my music to express parts of myself that I could not express in any other way."
When the British edition of rock magazine Rolling Stone recently brought him together with author Douglas Stuart, he met not only a fellow Glaswegian, but also a personal hero and inspiration. Booker Prize-winning Shuggie Bain described the coming-of-age of an adolescent struggling with his burgeoning sexuality in shabby 1980s Glasgow. Joesef read it while working on Permanent Damage in the studio. He also devoured Stuart's Young Mungo: "In it, someone asked: 'You can meet people in the [housing] scheme that are gay?' It was as if he was talking straight to me. His books are also written in a simple language and inspire me to get even more to the point myself so that more people understand me."
Praise goes both ways. Stuart: "When I listened to Joesef's music, I heard a voice with self-confidence, not someone who constantly apologised for who he was, but someone who sang sincerely about love, longing and failing relationships. When I heard 'East End Coast', I thought to myself: 'God, that could have been the theme song of Young Mungo.'" TOM PEETERS
© NATHAN DUNPHY
Info: 14/4, 19.30, Botanique, www.botanique.be Eye-catcher
"Everything you hear on my debut has happened to me"
Frankie onderzoekt
EN/ L.I.A.R. is een zelf samengesteld laboratorium waarin Simon Lynen, Vincent Lynen, Brecht Hayen, drummer Timo Fannoy en hond Nathan Roche als een stel serieuze wetenschappers op zoek gaan naar antwoorden op vragen die u zich wellicht nooit stelde. Met hun debuut Laguna Beach haalden de leden van het knutselende muziektheatercollectief Frankie de selectie '#NieuwJong' van het TheaterFestival 2019. Laguna Beach was een lo-fi totaalspektakel waarin Frankie zich opstelde als een muziekband temidden van installaties en constructies, live-animaties met poppen op groot scherm, gemotoriseerde objecten en muziekinstrumenten. Hun nieuwste creatie
L.I.A.R. wordt, net zoals Laguna Beach, een mix van video, muziek, installatie, maquettes en performance. In de voorstelling wordt ook
Step right up
EN/ Circus never ceases to reinvent itself, seek new forms and new dramatic approaches with which to astound us and take us on a journey. Featuring, among others, the poetic brilliance of the Simul Solus collective, the acrobats of the Galactik Ensemble, Inbal Ben Haim's dizzying hand-to-hand encounter with paper, and Gandini Juggling's mix of dance and juggling, Hors Pistes serves ten shows to defy the senses. (GB)
HORS PISTES #12. 4/4 > 6/5, les Halles, www.halles.be
opnieuw gewerkt met oude analoge apparatuur en zelfbedachte systemen. Frankie zegt nu wel gesofisticeerder te werk te gaan. Onderzoeksobject is de mens, "met een focus op het doodnormale, de eenvoud der dingen, de naïviteit en de schoonheid van het banale, maar ook verveling, saaiheid, angst, het absurde en het tragikomische." Belangrijker dan de onderzoeksresultaten wordt ongetwijfeld het onderzoeksproces, dat niet alleen wordt ondersteund door allerlei apparatuur, maar ook door een eend en een pratende hond. Ook aardig aan Frankie is dat de leden, ondanks hun als 'Gents' te identificeren accent, hun met spuug en plaktouw veredelde kunst- en vliegwerk in een Brussels atelier bedenken en tot uitvoering brengen. (MB)
L.I.A.R. 29/4, 20.00, Bronks, www.bronks.be, www.frankie.nu
Faut que ça sorte
FR/ Le quotidien de beaucoup de femmes est fait de violences, grandes parfois et petites souvent, qui s'accumulent sans que la victime ne veuille ou ne puisse réagir. Emilienne Flagothier réagit. Avec Rage. La comédienne, autrice et metteuse en scène s'inspire de faits réels pour inverser les rapports de pouvoir.
Puisant dans le théâtre les armes d'une violence sans limites, elle passe à l'offensive contre le sexisme ordinaire. Dans une jouissive liberté d'action et de paroles. (GB)
RAGE. 4 > 8/4, Théâtre National, www.theatrenational.be
First dance steps
EN/ When you see children walking, you often get the impression that, in their minds, they are dancing. The Mini D Festival will give them reasons to dance, again and again. Kids aged four months to twelve years are invited to join the ball, see a dancing inflatable structure and origami creatures, explore marine depths beneath waves of cloth and watch two acrobats help each other up and down a Chinese pole. (GB)
MINI D FESTIVAL. 15 > 26/4, Théâtre Marni, www.theatremarni.com
28 9 X THEATRE AND DANCE
De Lagos à Bruxelles
FR/ Voix singulière et rayonnante de la nouvelle scène nigériane, Ifeoma Fafunwa propose sa première création en Belgique. Une célébration de la voix des femmes et de leurs parcours de vie par la rencontre sur le plateau entre des citoyennes, comédiennes d'un soir et des actrices professionnelles venues de deux continents. Ensemble par leur humour, leur énergie et portées par une musique live, elles dressent les contours d'un nouveau monde possible. (GB)
ÉCOUTE ! Varia, 19 > 22/4, www.varia.be
Jezidi-vrouwen vertellen
NL/ In 2014 voerde IS aanvallen uit op de Jezidi's, een religieuze minderheid in NoordIrak. Het vermoordde een groot deel van de mannelijke bevolking en nam meer dan zevenduizend vrouwen en meisjes gevangen als seksslaven. Het verhaal van verkrachtingen, gedwongen abortussen en folteringen is te gruwelijk voor woorden. Vier Jezidi-vrouwen delen hun ervaringen en herinneringen onder begeleiding van de Kroatische theater- en filmregisseur Tea Tupajic. (MB)
LICHT IV. 21/4, 19.00, KVS, www.kaaitheater.be
L'opéra raconté aux enfants
FR/ L'opéra n'est pas qu'un monde d'adultes. Il peut aussi faire rêver les enfants. C'est la fée qui l'a dit. Et elle en connaît un bout. Comme elle peut traverser les murs, elle entend tout et elle voit tout. Elle a donc bien des histoires à raconter aux enfants de 4 à 9 ans sur les coulisses de cette grande maison et sur les préparations d'un concert. En plus, elle sait chanter des airs de Haendel, Verdi, Puccini accompagnée d'un quintette à cordes. (GB)
PREMIERS PAS À L'OPÉRA : LA FÉE DE L'OPÉRA. 1/4, Bozar, www.bozar.be
Dizzy
EN/ In his hypnotic solo Revolutions 2349, (named after the Hz frequency 2349.32 assigned to the musical note RE and to the rotating body) choreographer Arco Renz makes dancer Danielle Allouma spin around her own axis. After that, Chloé Beillevaire and Sabina Scarlat of Cie La Teneur will provide a comic note by doing crazy things with panties.
(MB)
ARCO RENZ & DANIELLE ALLOUMA: REVOLUTIONS 2349. 27 > 29/4, Les Brigittines, www.lesbrigittines.be
Hekserij
NL/ Nkisi is een taboewoord in het Lingala dat 'remedie', 'medicijn', maar ook 'hekserij' kan betekenen. Voor de kolonisatie werd het gebruikt in verband met sterke vrouwen. Maar omdat een groot deel van de Congolese bevolking in armoede leeft, wordt wie succes heeft nu vaak van nkisi of 'hekserij' beschuldigd. Zo ook de Congolese danseres en choreografe Jolie Ngemi, die in Zwitserland woont en danste van de protestantse kerk in Kinshasa tot in P.A.R.T.S. (MB)
JOLIE NGEMI: NKISI. 29 & 30/4, De Kriekelaar, www.kaaitheater.be
29 The best of April in theatre & dance
'On m'a demandé si j'avais les épaules pour faire ce film'
FR/ Colombe d'argent à Leipzig, le premier long-métrage documentaire de FAUSTINE
CROS reçoit la reconnaissance qu'il mérite. Dans Une vie comme une autre, la FrancoBruxelloise convoque le cinéma pour tenter de comprendre sa mère... qui souffre d'être mère.
Au départ, il y a La Détesteuse, un court-métrage de fin d'études à l'Insas dans lequel Faustine Cros (34 ans aujourd'hui) replonge dans des films familiaux pour renouer les fils d'un souvenir d'enfance brumeux. Celui de sa mère lui lançant un couteau. Le film est repéré, tourne et se destine à devenir un long-métrage. Entre-temps, la mère de Faustine Cros est rattrapée par une dépression qui s'acharne et tente de mettre fin à ses jours. Le couteau s'estompe du film, la colère aussi – « Ce qui m'importait désormais, c'était de comprendre comment ma mère avait pu en arriver là. » La Détesteuse devient alors Une vie comme une autre.
DE PÈRE EN FILLE
Faustine Cros a cette chance rare d'avoir un père réalisateur de cinéma qui a filmé toute son enfance et celle de son frère depuis sa naissance jusqu'à ses dix ans. Ça se passe dans les années nonante et toutes les familles ne disposent pas d'un caméscope, encore moins d'une caméra d'épaule professionnelle. Mais Jean-Louis Cros ne fait pas un film de famille, il fait un film sur sa famille. Un film de cinéma.
Que cherche-t-il, retranché derrière sa
caméra? Lorsque sa fille l'interroge des années plus tard, il évoque la volonté de retenir les beaux moments avant qu'ils ne s'échappent à jamais. Pourtant, dans les interstices entre les promenades au parc, les jeux d'enfants et les vacances à la plage, c'est un autre film qui défile. Comme ce long plan serré sur le visage de la mère de Faustine. Ses yeux hagards sont rivés sur son assiette vide et sa main fatiguée s'acharne sur une mèche de cheveux alors qu'en arrière-plan, ses bambins jouent et se déchaînent.
Au total, une cinquantaine d'heures de rushes stoppés net, du jour au lendemain. « Le film de mon père s'arrête sur une scène où ma mère s'enrage contre tout le patriarcat. Elle crache sa colère et sa frustration. Ça n'est pas un hasard. » Une vie comme une autre n'est pas le montage par sa fille du film qu'un père n'a jamais réussi à terminer. Faustine Cros fait son propre film.
À partir d'images d'archives mais aussi en créant ses propres images, elle recompose le puzzle de la vie de sa mère Valérie – « une vie comme une autre » pour reprendre ses mots à elle. Maquilleuse dans les année quatre-vingt, elle côtoie les vedettes de cinéma et du monde politique, de Godard à Chirac. Elle adore son métier mais son métier ne veut plus d'elle lorsque ses horaires flexibles se rigidifient par l'arrivée de deux enfants. Alors, elle n'a pas tellement le choix, du moins elle ne pense pas l'avoir, et devient mère à plein temps. C'est à partir de là qu'elle commence à perdre pied, à vaciller.
CRUELLA VALÈRE
Quand elle reprend le contrôle, c'est à travers le maquillage, sous les traits intensément ingénieux de la sorcière Valère, qui pimente les films de famille. Personnage déluré qui fait peur aux enfants, elle parvient aussi à dire à Faustine que sa mère l'aime quand celle-ci n'y arrive pas. «C'est une forme de catharsis. Aux yeux de la société, ma mère aurait pu être considérée comme une sorte de Cruella.»
Pour décoder les archives familiales, Faustine
Cros retourne en France filmer le quotidien de ses parents, les interroge et ne craint pas d'apparaître à l'image. « Je viens d'une autre génération. Mon père avait une position classique de réalisateur de documentaire qui s'efforce de ne pas intervenir dans le réel pour ne pas le dénaturer. Moi j'ai un autre regard, qui est aussi un regard de femme. »
Devant la souffrance de sa mère, Faustine Cros enjoint la caméra d'intervenir. « Le film était devenu un prétexte pour passer du temps avec elle, pour la faire sortir. Je voulais surtout que ma mère ne soit pas au service d'un film mais que le film soit à son service. »
D'un côté, un homme de sa génération, réalisateur de père en fils, dont ni l'homme ni la caméra n'agissent sur le déroulé de la vie domestique. De l'autre, la première femme réalisatrice de sa lignée qui ne peut s'empêcher de revisiter sous le prisme des inégalités de genre l'expérience du regret maternel – « Ma mère a dit à plusieurs reprises qu'elle avait peut-être fait une erreur, qu'elle n'était pas à la hauteur. Je ne sais pas si elle aurait échappé à la dépression si elle avait été jeune mère dans la société d'aujourd'hui. Mais elle se serait sentie moins seule ».
La mère de Faustine Cros ne s'est pas permise de vivre pleinement sa carrière artistique. Sa fille se le permet. « Je voulais me prouver que je pouvais y arriver. En tant que filles, on continue de nous enlever beaucoup de confiance en nous. Quand j'ai commencé à faire ce film on m'a demandé si j'étais certaine d'avoir 'les épaules'. Ce n'est pas une question qu'on aurait posé à un homme. Avec ce film, je veux prendre ma place. »
Mission accomplie puisque Une vie comme une autre tourne dans les plus grands festivals de documentaire. La mère de Faustine, qui avait toujours rêvé d'une vie nomade, accompagne le film aux quatre coins du monde. « Lorsqu'il a été récompensé au DOK Leipzig, ma mère m'a dit qu'elle s'était enfin sentie comprise. »
Une vie comme une autre est à voir au Cinéma Galeries à partir du 26 avril.
30
Texte et photo Sophie Soukias
TALENT À SUIVRE
« Je voulais surtout que ma mère ne soit pas au service d'un film mais que le film soit à son service », dit Faustine Cros
31
Kleine Crack nodigt satan uit op BRDCST
'Soms zijn mensen bang van mij, ja'
NL/ Nu de hiphop in de mainstream vertoeft en het daar iets te gezellig dreigt te worden, is het tijd om eens in de ondergrond te poken. Bij voorkeur met de drietand van Kleine Crack, de Antwerpse horrorrapper die zijn duivels mag ontbinden op het BRDCST-festival.
Tekst Tom Zonderman
HIPHOP
© KELLY FOBER
Kleine Crack is héél punk," zegt Kurt Overbergh, artistiek directeur van de Ancienne Belgique en programmator van BRDCST, de jaarlijkse hoogmis voor de muzikale avonturier waar de Antwerpse rapper perfect op zijn plaats zit. "Er is niemand in België die doet wat hij doet. Ik hou van zijn uitgepuurde identiteit. Hij is rauw, maar niet brutaal. Hij doet me denken aan Public Enemy. Toen ik eind jaren 1980 als muziekliefhebber naar de AB ging om hen aan het werk te zien, stond iedereen zijn hoofd te nodden op de stoere beats van die Amerikanen. Maar zet die rappers nu op een podium, en ze triggeren een wall of death. Die vibe van dat moshen in de hiphop vind ik heerlijk."
Kleine Crack – op zijn paspoort staat Lenny Gerard – is een evil motherfucker uit Schoten. Sinds een jaar of vijf zendt hij schokgolven door de ondergrond van de Nederlandstalige hiphop, tot over de Moerdijk toe. Hij dweept met vampieren, heksen en spoken, drinkt bloed – of toch Kasteel Rouge-bier – en loopt rond met een lijf vol tatoeages, niet zelden met het cijfer 666. De horrorrap die hij samen met zijn beatmaker Slagter in een ziedend tempo via ep's de wereld instuurt, is geënt op de alternatieve hiphopscene die in de jaren 1990 in Memphis opgang maakte en die zich liet inspireren door drugs en moorden, gelardeerd met cues uit horrorfilms.
"Vroeger maakte ik hiphop in de traditie van de boom bap, maar daarin kon je je nog maar moeilijk onderscheiden," zegt Kleine Crack. "Op een bepaald moment heb ik me teruggetrokken uit de scene om na te denken over wat ik wilde doen. Ook met mijn leven. Ik heb toen een tijd gewerkt als industriële borduurder. Dat was leuk en creatief, maar uiteindelijk knaagde het toch weer om met muziek te beginnen, maar met een hele andere aanpak. Iets héél donkers, in het Nederlands, dat was nog niet eerder gedaan."
Nu de hiphop zich de voorbije jaren tot de nieuwe popmuziek heeft gekroond, is het goed dat er stoorzenders als Kleine Crack opduiken om ervoor te zorgen dat het genre niet indommelt. "Hiphop is hier lang miskend gebleven, pas de laatste tien jaar is het tot volle wasdom gekomen," zegt Kurt Overbergh. "Er werd lang
Kleine Crack tekende bij het Nederlandse label Burning Fik: "In België valt er nu eenmaal niet zoveel te rappen."
lacherig over gedaan, maar vandaag is rap ook bij ons een volwassen genre dat heel breed gaat, van de brute kwetsbaarheid van Zwangere Guy tot de poëzie van Brihang, het troubadourschap van Tourist LeMC en de punk van Kleine Crack."
RAAR
Die punkvibe van Kleine Crack viel ook Pepijn Lanen alias Faberyayo op. De Nederlandse rapper en schrijver (een vierde van De Jeugd van Tegenwoordig) was drie jaar geleden in Antwerpen om te shoppen, toen hij bij een winkelbediende peilde welke Belgische rappers hij dringend moest checken. "Die gast van die winkel was toevallig een mattie van ons," grijnst Kleine Crack, "niet veel later stuurde Faberyayo me een berichtje."
Faberyayo nodigde Kleine Crack prompt uit om te tekenen op Burning Fik, het label waarmee hij en rocker Abel van Gijswijk zich willen loswrikken uit de "vastgeroeste muziekindus-
trie". In hun stal huizen "artiesten die anders zijn," wier muziek "te raar is voor de radio." Voor Faberyayo is het een uitdaging om hen als een paard van Troje toch de mainstream te laten binnendringen. Kleine Crack voelt er zich als, euh, duivel in de hel. "Burning Fik wil heel rebels zijn," beaamt Kleine Crack. "Dat is ook die punk mindset die zij zelf uitdragen. In Nederland dreigde hiphop een formule te worden, er werd nog weinig buiten de lijntjes gekleurd. Ik vind het goed dat Faber en Abel daar tegenin gaan, het mag geen fabriekje worden."
De ondergrond blijft essentieel, vindt Kleine Crack. "Maar het is niet omdat hiphop uit de ondergrond komt, dat het niet de plek mag hebben die het nu heeft in de mainstream. Dat zijn twee verschillende werelden. Er moet gewoon plaats voor popmuziek zijn, én voor artiesten zoals wij. Ook op grote podia." Volgens Faberyayo bestaat de ondergrond niet meer, alles leeft in dezelfde digitale stratosfeer. "Ja en nee. Hij heeft gelijk dat iedereen vandaag zijn spul gewoon kan uploaden, maar daardoor gaat de kwaliteit ook naar beneden. En je hebt nog altijd labels nodig die je kunnen pushen in playlists en dat soort dingen. Er is nog steeds een gat tussen de ondergrond en de mainstream, maar door het internet is dat wel kleiner aan het worden."
Faberyayo wilde een voet tussen de deur op de Belgische markt, voor Kleine Crack is de wig naar Nederland mooi meegenomen. "Hij zegt altijd dat hij mij de hardste Nederlandstalige Belgische rapper vindt," glimlacht Kleine Crack. "Maar als
34
"Ik was altijd aangetrokken tot donker spul. Ook toen ik nog boom bap deed, rapte ik dat ik de slechtste, rotste, lastigste was"
Kleine Crack Interview
"
© KELLY FOBER
je iets wilt bereiken in de Nederlandstalige hiphop, moet je ook in Nederland potten breken. In België valt er niet zoveel te rappen. Dat klinkt belachelijk, maar het is zo."
De redenen daartoe zijn velerlei: zo is Nederland één taalgebied en is hiphop er ook al veel langer ingeburgerd dan hier. "België is eigenlijk pas begonnen," zegt Kleine Crack. "Er was lang geen structuur voor hiphop. Dankzij labels als Top Notch, dat hier nu ook een poot heeft, begint dat te veranderen." Kleine Crack heeft in Nederland al meer shows gespeeld dan hier. De respons is er veel groter, zegt hij. "Nederlanders zijn ook gewoon sneller klaar voor iets nieuws, Belgen houden meer van een vertrouwde boom bap-beat of trap, Kleine Crack vinden ze gewoon raar. Ik volg het zelf niet meer zo hard als vroeger, dus ik weet niet wat er allemaal aan het broeien is in België, maar het lijkt mij dat er niet veel gaande is. Op festivals en op de radio duiken altijd dezelfde namen op. En daar stopt het. Ik zie niet snel iets nieuws komen."
DOOD
Rapmuziek kwam heel vroeg binnen bij Kleine Crack. Al op zijn elfde nam hij een nummer op, schrijven deed hij vanaf zijn twaalfde. "Maar op mijn negentiende dacht ik: ik ben nog zo jong, wat kan ik mensen eigenlijk bijbrengen?" Hij geloofde zichzelf niet en stopte met muziek. Zijn goesting keerde terug toen hij Memphis-rap uit de jaren 1990 ontdekte, grimmig spul van crews als Three 6 Mafia en artiesten als Lord Infamous, wegbereiders van de horrorcore.
"Ik was altijd aangetrokken tot donker spul. Ook toen ik nog boom bap deed, rapte ik dat ik de slechtste, rotste, lastigste was. (Lacht) Maar Memphis-rap heeft mij echt gepakt. De rauwe stijl, de uitgepuurde beats, dat was anders dan alles wat ik al kende. De horrorthema's vond ik ook cool, en ik ben niet eens een horrorfan. We hebben jaren geluisterd naar mensen die hun eigen verhaal te vertellen hebben. Dat is nice, ik heb daar respect voor. Maar er moet ook plek zijn voor andere dingen. Je kan gerust je eigen verhaal vertellen in een jasje van een superheld, zoals MF Doom. Of iets heel donkers, zoals ik doe."
Gevraagd naar de oorsprong voor die liefde voor het donkere, haalt Kleine Crack zijn schouders op. "Ik heb dat altijd dope gevonden. Aliens, demons, hell. Als ik donkere muziek wil maken, wil ik ook rappen over donkere dingen, anders klopt het niet. Maar ik ben daar niet voortdurend mee bezig. Het is een vibe." Kleine Crack wordt weleens een satanist genoemd. "Mensen zijn soms bang van mij, ja, maar ik ben een vriendelijke, happy kerel. Als ik zou zijn wat ik rap, zou ik geen aangename persoon zijn. (Lacht) Het gaat mij om die duistere sounds, ik
lééf die shit niet."
'D.i.e.d.', 'Doder dans' of zijn collab met Zwangere Guy, 'Doodslijn': het zijn maar enkele van de vele tracks waarin Kleine Crack naar de dood verwijst. Die dood was de voorbije jaren erg aanwezig in zijn leven. "In de periode dat ik ben gestopt met muziek, is mijn vader gestorven. Hij vond het jammer dat ik geen muziek meer maakte. Toen hij stierf, heb ik beslist dat ik er opnieuw vol voor moest gaan." Magere Hein kwam ook bij Kleine Crack zelf aankloppen. "Ik heb tuberculose gehad. En op mijn negentiende kreeg ik lymfeklierkanker, gelukkig de geneesbare variant. Ik heb een jaar chemo gehad, de ene dag was slechter dan de andere. Ik heb toen echt kutmomenten gehad, maar mijn haar viel niet uit en zo, het was oké. Ik ben nu tien jaar kankervrij, maar de dood is heel aanwezig geweest in mijn teksten. Zeker in het begin."
KINDERLIEDJES
Op zijn laatste ep, Crack Slagter vol. 9, vergrijpt Kleine Crack zich aan Kortjakje, maar dan als 'Kortcrackje'. "Een kinderliedje evil maken, dat is een match made in heaven. Ik heb dat ontdekt met 'Opzij' van Herman van Veen, daarna heb ik nog 'Alles is op' van Samson en Gert onder handen genomen. Dat contrast werkt goed. Ook omdat die liedjes zo gekend zijn. Mensen denken altijd dat de inhoud iets goeds moet zijn, een gebeurtenis, iets wat je iets bijleert. Ik heb daar een andere gedachtegang over. Slagter en ik halen betekenis uit het spelen met woorden."
Met zijn evil spul haakt Kleine Crack in in de tijdgeest. Dat horror een ding is, blijkt uit de populariteit van series als Stranger things en The last of us, en films als Bones and all – je leest er meer over elders in dit magazine. "Alles is wat grimmiger aan het worden," knikt Kleine Crack. "Misschien komt dat door corona. Plots heeft iedereen van Playboi Carti tot Doja Cat iets met vampire shit. De mode is ook heel donker aan het worden, met die lettering uit de metal. Je hoort weer veel elektronische muziek, techno is opnieuw zwaar naar boven aan het komen. Dat heeft ook een donker kantje. Misschien kan dat voor ons een doorbraak zijn. Wij zeggen altijd dat wij dat zagen aankomen." (Lacht)
Kleine Crack en Slagter werken zich intussen langzaam een weg naar boven met hun onophoudelijke, unieke stroom aan releases, en met hun samenwerkingen met Zwangere Guy, de Nederlandse punkrapper Ray Fuego en held Rico van het Nederlandse rapinstituut Opgezwolle. "Ik had nooit gedacht dat Zwangere Guy bovengronds zou komen," zegt Kurt Overbergh. "Zijn teksten zijn soms heel rauw en hard, maar kijk, intussen heeft hij zeven keer de AB uitverkocht en is iedereen fan. Als hij het kan, kan Kleine Crack het ook."
WIE IS KLEINE CRACK?
— Geboren als Lenny Gerard, groeide op in Schoten, is 31 jaar. Begint op zijn elfde te rappen, maar geeft er op zijn negentiende de brui aan. Werkt een tijdje als industriële borduurder in een textielverwerkingsbedrijf
— Keert na een sabbat van vijf jaar weer terug naar de muziek met door Memphis-rappers geïnspireerde horrorrap. Dat doet hij onder zijn nieuwe alias Crack, op aanraden van zijn label Burning Fik voegt hij daar 'Kleine' aan toe. De 'Ana' waar hij vaak over rapt, is kort voor Antwerpen, maar verwijst ook naar 'animosity'
— Brengt samen met zijn vaste producer Slagter de ene na de andere ep uit, werkt samen met onder meer Zwangere Guy, Rico en Ray Fuego. Daarnaast heeft hij zijn eigen collectief, VHS, waartoe gelijkgestemde artiesten als Kleine Kova, 100Gen en Roi behoren. Zijn ep Crack Slagter vol. 9 is nu uit
PLONGÉE DANS L'UNDERGROUND DU RAP
FR/ Maintenant que le hip-hop est devenu mainstream et que les choses y deviennent un peu trop confortables, il est temps de s'enfoncer dans l'underground. De préférence du côté de Kleine Crack, le « horror » rappeur anversois qui va pouvoir se déchaîner au festival BRDCST à l'Ancienne Belgique, grand-messe annuelle des aventuriers de la musique. « Parfois, les gens ont peur de moi, mais je suis un gars sympa et joyeux. »
A DIVE INTO THE UNDERBELLY OF HIP HOP
EN/ With hip hop having become mainstream and the risk of things getting a bit too cosy there, it's time to poke around in the underground. Preferably with the trident of Kleine Crack, the Antwerp horror rapper who gets to unleash his devils at the BRDCST festival at the Ancienne Belgique, the annual high mass for the musical adventurer. "Sometimes I scare people, but I'm a friendly, happy guy."
35
Info: www.abconcerts.be Crack Slagter vol. 9 is nu uit (Burning Fik) BRDCST 7 > 9/4, Ancienne Belgique
Balleux passe au blan
FR/ Artificialia est le terme générique qui, dans les cabinets de curiosités de la Renaissance, désignait les objets créés ou modifiés par la main de l'homme. C'est un titre magnifique pour la nouvelle exposition de Stephan Balleux. Le célèbre artiste bruxellois passe de la peinture et du dessin à la sculpture et à la vidéo et aime travailler sur des documents et des objets trouvés. La plupart des oeuvres exposées ont été réalisées spécifiquement pour la Fondation blan, un nouveau lieu qui s'ouvre à Bruxelles dans un ancien hôtel de maître du Boulevard Général Jacques. On y retrouve l'étrangeté et la théâtralité caractéristiques de son travail. Dans la peinture de Balleux, la matière est un personnage qui fait des glitchs dans la surface du réel pour le faire glisser de l'abstrait au concret. Sur un grand escalier d'un hôtel de maître parisien désert, il a peint des éléments dispa-
rates, un danseur de flamenco, un requin, un rocher, une échelle de bambou, comme autant de pièces à conviction que quelque part d'autres réalités existent.
Dans une petite salle, une série de quatre toiles entoure le visiteur du regard fuyant de Charlotte Rampling. À quoi pense-t-elle au milieu de ces chapelets d'oiseaux chatoyants inspirés par les aquarelles du naturaliste
Audubon. Balleux conçoit l'art comme une énigme et son parcours qui se poursuit dans les caves est jalonné de détours et de recoins et surtout de plein de questions. Ici des peintures, des portraits détournés, là des céramiques ou un étrange miroir-blason ventru et d'invisibles correspondances entre passé et présent, ici et ailleurs.
Stephan Balleux est le premier artiste invité par la Fondation blan, un lieu de création et de rencontres. « Un grand bazar flottant complètement fou», selon son fondateur Thomas de Wouters. (GB)
STEPHAN BALLEUX : ARTIFICIALIA. > 1/7, Fondation blan, www.fondationblan.org
Namur à Bruxelles
FR/ Depuis 1977, le salon Antica à Namur comble les amateurs d'objets d'art et de mobilier grâce à une sélection éclectique et raffinée et la présence de nombreuses galeries belges et étrangères.
Cette année, Antica lance sa première édition bruxelloise sur le site de Tour et Taxis avec pour thématique « Les femmes qui font l'art ». Artistes, galeristes, expertes ou collectionneuses seront mises en lumière par des conférences et un parcours thématique qui les replacera à leur juste place dans l'histoire de l'art. (GB)
Nieuwe schone kunsten
NL/ De Koninklijke Musea voor Schone
Kunsten nodigen de Brusselse kunstenaar
Johan Van Mullem uit om met een vijftigtal nieuwe werken in dialoog te gaan met de permanente verzameling. De internationaal vermaarde tekenaar, schilder en beeldhouwer is vooral bekend om zijn intrigerende afbeeldingen van gezichten, maar maakt sinds de lockdown ook fantasierijke kleurenlandschappen. (MB)
JOHAN VAN MULLEM: FOR LOVE'S S(N)AKE! 31/3 > 23/7, KMSK, www.fine-arts-museum.be
ANTICA BRUSSELS. Tour & Taxis, 19 > 23/4, www.antica.be
Middle Ages revised
EN/ British cultural historian Janina Ramirez recently published Femina – A New History of the Middle Ages with some of the women that once were removed from it. Drawing on the lives of nine remarkable women, she shows us that women in the Middle Ages could also be leaders, warriors or scientists, and that nuns and beguines were often free-spirited women.
(MB)
MEET THE WRITER: JANINA RAMIREZ. 26/4, 19.30, Bozar, www.bozar.be
36
9 X ART AND LITERATURE
Double regard
FR/ Née en Corée du Sud et adoptée en France, Daphné Nan Le Sergent, explore la problématique du territoire et des questions géopolitiques ainsi que leur inscription corporelle chez les individus. Pour sa première exposition bruxelloise, elle développe une fable sur la mémoire à travers deux récits parallèles, l'un porté par l'image argentique et l'autre par l'image numérique. (GB)
DAPHNÉ LE SERGENT : DEFECTED TIMES. 6/4 > 28/5, Contretype, www.contretype.org
Met geweld
NL/ Beeldend kunstenaar Mehdi-Georges
Lahlou werkt in Brussel en Parijs. Hij presenteert werk over geweld en geopolitiek aan de hand van materiaal uit oorlogsarchieven en van zijn eigen ervaringen. Hij nodigde ook de Zuid-Afrikaanse kunstenaar Candice Breitz uit, in wier werk de gewelddadige geschiedenis van haar land een belangrijke rol speelt. (MB)
MEHDI-GEORGES LAHLOU – CANDICE BREITZ. 20/4 > 17/9, CENTRALE for contemporary art, www.centrale.brussels
Art, gather!
EN/ Art lovers, collectors, gallery owners, curators and other art professionals from around the capital and beyond will once more gather at the major art fair Art Brussels, which brings together more than 150 galleries and welcomes 25,000 visitors. After several editions at Tour & Taxis, this year it will return in Halls 5 and 6 at the Brussels Expo at the Heysel. Eva Jospin is Carte Blanche artist. There will also be an off-programme. (MB)
ART BRUSSELS. 20 > 23/4, Brussels Expo, www.artbrussels.com
American Baroque
EN/ Sir Mark Fehrs Haukohl is an American collector who has amassed the largest private collection of 16th- and 17th-century Florentine Baroque art outside of Italy. When that collection arrives here, it comes with many works that have not been seen in Europe for a long time, such as works by Francesco Furini, the Dandinis, Jacopo da Empoli or Ottavio Vannini. (MB) BAROQUE IN FLORENCE. 26/4 > 21/7, Bozar, www.bozar.be
Nieuwe verbanden
NL/ Hans-Peter Feldmann is kunstenaar-verzamelaar. Niet alleen verzamelt, inventariseert en fotografeert hij zelf reeksen voorwerpen en groepen objecten die iets met elkaar gemeen hebben, hij verzamelt ook bestaande foto's om ze samen te brengen in archieven, collages en ongebruikelijke combinaties. (MB)
HANS-PETER FELDMANN 100 JAHRE. 20/4 > 2/7, Fondation A Stichting, www.fondationastichting.com
37
The best of April in art & literature
'I've never felt more like I'm in the right place'
EN/ Every month, a Brussels artist grabs a few items from their closet to tell their life story. While she feasts on art and books in her flat in Schaerbeek, electro-pop musician TSAR B is reaching for the stars at the Listen Festival.
Text Tom Zonderman Photos Heleen Rodiers
SHIRLEY VILLAVICENCIO PIZANGO
"I try to buy an artwork now and then, especially from friends. Like this painting by Shirley Villavicencio Pizango. Shirley grew up in Peru between the Amazon and Lima, but ended up in Ghent aged 18. That's where I met her, and we became friends. She usually uses a lot of colour, but in this work black and white dominate, which makes it even more unique. I wrote 'Brazil' for her, a song from my previous album originally called 'I wanna be your girl'. That song was about a difficult love, the pain and sorrow that haunts you, and I recognise that theme in this painting too. Painting and films can make me very happy, much more than, say, a concert. They fulfil me as a human being and make me feel all warm inside."
"Early this year, I spent a month in Mexico City, to get away from it all before my album came out, but mainly to immerse myself in the art scene there. I love nothing more than snooping
around artists' studios. Like Frida Kahlo's studio or that of Leonora Carrington, a British-Mexican painter who made surrealism a bit more feminine in the middle of the last century."
"We humans are so small, just a tiny part of a fungus. You can spend whole days thinking very hard about who you are and what you do. I want to absorb as much as possible and find happiness that way. Not projecting yourself, but the opposite: having everything projected onto you. For me, therein lies the core."
ALEJANDRO JODOROWSKY
"I very much enjoy reading biographies, much more than fiction – it's nice, but it's not real! (Laughs) Like this book, The Spiritual Journey of Alejandro Jodorowsky: The Creator of El topo. It has only just arrived in the post, but I am already sure it will be my favourite book. Jodorowksy is an amazing Chilean-French surrealist film director who, outside of El topo, also directed Dune and The Holy Mountain, among others. In Mexico City, he worked with Leonora Carrington, the painter I just mentioned. When he went to visit her at her house, he reportedly drank blood from a glass, she had just collected it from a wound. I find that wonderfully absurd and enriching."
"I can take a great deal of inspiration from someone's life. After reading Just Kids by Patti Smith five years ago, I realised I was not at all where I needed to be. From then on, I completely turned my life around. I broke up with the friend I had been with since I was 16 and worked incredibly hard on self-development. Partly by going out a lot, which turned out to be very constructive for me. Endlessly partying resulted in such deep friendships, it was magical. There is a reason why there are so many gabber and trance beats on my new record. It was in that period that I moved from Antwerp to Brussels. I did go
through a crisis when I bought this flat with my new boyfriend. Was this where I wanted to be? Isn't renting more relaxed? Now I am sure. I feel like I'm a 'bruxelloise' because you don't have to be from Brussels to be one, you can just be yourself here. Not that I wasn't myself before. I found myself already the day after I broke up with my previous boyfriend." (Laughs)
"My new album, To the Stars, can be seen as a journey through those years after that break-up. I found a lot of inspiration from our Belgian astronaut Dirk Frimout. He once wrote down what it feels like to go to space. The supreme pressure when you take off, then the weightlessness, a succession of intense physical experiences. Those four years in which I had written my new album were just like that. First very heavy, then very light, then I pushed really hard against things again. After which, like Dirk Frimout, I saw the world in a different perspective."
JULIETTE
"I have recently become a real hippy when it comes to animals. I don't have a pet, but I do have a painting of Juliette, my parents' dog. At my parents' house, we looked after dogs trained for people in wheelchairs for many years. No dog stayed more than two years. As a kid, that was hard but also very educational because we learned to say goodbye. We were also proud, of course, because we always knew where the dog went."
"All my friends are like dogs, they are supportive, loyal, unconditional. Unconditional love is always seen as the ultimate, but things also shouldn't exist if they poison each other. Healthy love is love where, above all, you work a lot on yourself. We are all a bit lost these days, we are very focused on finding ourselves. That is very valuable, because we are what we are to the other."
38
STUFF OF LIFE
THE
39
Tsar B on her love for paintings: "They fulfil me as a human being and make me feel all warm inside."
Tsar B speaks her vow: "That red-lit cross of the Basilica of Koekelberg is so cool that I wanted one like it for myself."
UDO SUPER SIX
"When I was three, I started playing the violin, but from the age of fourteen I was in pop bands. At first I only performed as a musician, but on the tour bus with School Is Cool, I became addicted to the digital music programme Ableton. It is during the waiting game that the good things happen. (Laughs) From then on, I started making and producing music myself. On stage, this did not really manifested itself, I mostly sang and for the rest I was bored. There was an ego thing at play too, since nobody knew I had made those beats myself. They just told me my voice was great and my musicians were complimented on the music. I wanted to shout: 'Those beats are mine!' That gender inequality has flattened out by now. Maybe because the people I work with know what I do, or because the scene has changed. The music business is a microclimate, of course, it's not that women's rights have improved globally. But I do feel comfortable now."
"I have this new toy, an Udo Super 6 synth, a real cutie based on vintage synths. I bought it to help me translate the spacey, Blade Runner-like sounds of my new album to the stage. Tsar B is mostly electronic, but with an analogue feel. We play with the philosophy of a jazz band. We do everything live and don't stick to samples and a backing track. During the try-out show, adrenaline was running through my body. It felt exciting
again. This is a new era for Tsar B. I have never felt so in the right place."
CROSS
"That red-lit cross of the Basilica of Koekelberg is so cool that I wanted one like it for myself. So now there is one hanging above my bed, flown in from LA. I have a thing for crucifixes, like here (shows her tooth), I had a gold cross put on there. I reject the institution of church, but I love everything else about it, the music, the art, the architecture, the mystical, the overwhelming."
"My father is an atheist, but I was raised Catholic. When I was six, my faith in Jesus was very strong. That was a bit dangerous. I would have jumped off anything, because Jesus was going to catch me. When we went skiing once, I abruptly went straight down a ravine. My father threw himself in front of me, saving me. 'What are you doing?" he cried out, dismayed. I replied that Jesus was going to save me. (Laughs) He vowed I would never go to Sunday school again, but in the end I did finish it."
To the Stars van Tsar B is nu uit (eigen beheer). Tsar B stelt haar album voor tijdens het Listen Festival op 1 april in de Ancienne Belgique. Meer info op www.listenfestival.be
WHO IS TSAR B?
— Born as Justine Bourgeus in 1994 in Ghent. Has played the violin since the age of three and studied economics at UGent. Came to Brussels via a stopover in Antwerp, eventually finding her spot in Schaerbeek
— Played with Antwerp rock band School Is Cool from 2012 to 2016. Had her début as a singer with a duet with Oscar and the Wolf in the film Black by Adil El Arbi and Bilall Fallah. Her debut single "Escalate" goes viral on YouTube
— Launches her first album, The Games I Played,in 2018. Has written the soundtracks for TV series such as FC United and Season of Sex Released the concert film Les diners de Gala, an ode to Salvador Dalí, in 2021. To the Stars, her second album, has just been released
NAAR DE STERREN
NL/ Elke maand graait een Brusselse artiest enkele spullen uit zijn kast die het verhaal van zijn leven vertellen. Met haar nieuwe album To the stars reikt elektropopzangeres en soundtrackcomponiste Justine Bourgeus alias Tsar B naar de sterren, onder meer tijdens het Listen Festival in de Ancienne Belgique. Thuis laat ze zich inspireren door kunst, het leven van de avant-gardefilmmaker Alejandro Jodorowsky, kruisbeelden, synthesizers en trouwe viervoeters.
JUSQU'AUX ÉTOILES
FR/ Chaque mois, un ou une artiste bruxelloise fait parler quelques objets ressortis de ses placards. Avec son nouvel album To the stars, la chanteuse électropop et compositrice de bandes originales Justine Bourgeus, alias Tsar B, vise les étoiles, notamment lors du Listen Festival à l'Ancienne Belgique. Chez elle, l'art, la vie du cinéaste d'avant-garde Alejandro Jodorowsky, les crucifix, les synthétiseurs et de fidèles compagnons à quatre pattes sont autant de sources d'inspiration.
40
The stuff of life Tsar B
Beyond Sissi
EN/ In anticipation of a prestigious series that Romy Schneider deserves, Cinema Palace immerses us in the tragic yet sparkling life and work of the film star who le us too early. Romy Schneider gained world fame in the 1950s, starring in three shamelessly kitschy movie hits about the princess who marries Emperor Franz Joseph and becomes Empress of Austria. Thanks to the Sissi films, Schneider became a symbol of innocence and virtue that post-war Germany looked up to. It took blood, sweat, tears and scandals for Schneider to free herself from the image of princess Sissi. In 1958, she fell in love with young Alain Delon on the set of Christine. She escaped the control and bourgeois thinking of her mother and stepfather and followed Delon to anti-conformist Paris. Germany considered it high treason. France savoured the engagement between the two
passionate, young celebrities. But their relationship becomes one of ups and downs, filled with drama. Schneider's beauty, her turbulent love life, unmerciful strokes of fate and those syrupy Sissi films hide the fact that she was a supremely good and hard-working actress. At 43, she has already acted in sixty films. To her, only ten of them are "good".
After an American adventure, she decides that she best suits French films, especially those by Bertrand Tavernier and Claude Sautet. The expo at Palace will also be accompanied by a retrospective. In Les choses de la vie, she shines brighter than ever.
Watch Andrzej Zulawski's L'important c'est d'aimer – Schneider will forever etch herself into your memory. Even though a heart attack took her from us 40 years ago, her legacy still captures our imagination. (NR)
EXPO ROMY SCHNEIDER.
24/3 > 25/6, Cinema Palace, cinema-palace.be
Gekraakt door Tsjaikovski
NL/ Een spitante aristocrate wordt hopeloos verliefd op Tsjaikovski (1840-1893). De componist van Het zwanenmeer en De notenkraker stemt in met een huwelijk omwille van haar geld en om de geruchten de kop in te drukken over zijn intieme relaties met mannen. Een dramatische beslissing. Zijn haat drijft haar alsmaar dieper de waanzin in. De dissidente Rus Kirill Serebrennikov (Leto, Petrov's flu) verstomt vooral stilistisch: met excessieve, koortsige, streng gechoreografeerde scènes. (NR)
TCHAIKOVSKY'S WIFE. RU, dir.: Kirill Serebrennikov, act.: Alyona Mikhailova, Odin Biron, release: 5/4
L'histoire d'une chaussure
FR/ Un quart de siècle après avoir remporté l'Oscar du meilleur scénario pour Good Will Hunting, les potes de Boston Ben Affleck et Matt Damon se remettent en selle. Affleck, qui a fait ses preuves en tant que réalisateur, reconstitue l'histoire de l'une des chaussures de sport les plus célèbres : l'Air Jordan. Il incarne lui-même Phil Knight, le patron de Nike, et Damon joue le rôle du petit malin qui a eu l'idée révolutionnaire de collaborer avec la légende du basket, Michael Jordan. (NR) AIR. US, dir.: Ben Affleck, act.: Matt Damon, Viola Davis, Ben Affleck, sortie : 5/4
Out on the wily, windy moors
EN/ There is a haze of mystery hanging over Emily Brontë, who died (in 1848) before the world realised what an exceptionally good book Wuthering Heights was. Director and actress Frances O'Connor has to assume a great deal in her cinematically strong costume drama about the famous writer. In Emily, she sees a rebellious, freedom-hungry, passionate woman who took inspiration from her own love-hate relationship with the assistant vicar for the turbulence between Cathy and Heathcliff. (NR)
EMILY. UK, dir.: Frances O'Connor, act.: Emma Mackey, Fionn Whitehead, release: 12/4
42
9 X CINEMA
De straat als motor
NL/ In Zolang er scheepsbouwers zingen verdiepte de Brusselse documentairemaker Jan Vromman zich in de bloei en teloorgang van de scheepsbouwindustrie, in het elegische De geschiedenis van het varken (in ons) in de pijn van het zwijn. In zijn nieuwste film buigt hij zich over de interessante geschiedenis van processies, stoeten, parades, carnavalsoptochten en straatmanifestaties, geïnspireerd door een oom die stoetenbouwer was. Zijn zoon wijst op de hedendaagse vormen, de gemeenschapsvorming en de macht van de massa wanneer het met kwinkslagen de straat opeist en zich laat horen. (NR)
ALS REUZEN STERVEN. BE, dir.: Jan Vromman, release: 14/4
Verrassing!
NL/ De steun van onder anderen Cate Blanchett, Jane Fonda en Kate Winslet hielp Andrea Riseborough aan een nominatie voor de Oscar voor beste actrice. Verrassend, omdat het bescheiden gebudgetteerde To Leslie geen succes kende in Amerika. Aan de kwaliteiten van de Britse actrice moet je evenwel niet twijfelen na Shadow dancer, Birdman, Nocturnal animals en The death of Stalin. Ze speelt een manipulatieve alcoholiste uit Texas die een fortuin verspeelde. Haar zoon neemt haar in huis, op voorwaarde dat ze alcohol afzweert. (NR)
TO LESLIE. US, dir.: Michael Morris, act.: Andrea Riseborough, Marc Maron, Allison Janney, release: 12/4
L'Irakien qui voulait être Messi
FR/ Avant de remporter le Grand Prix du Film Fest Gent avec Zagros, le Kurde belge Sahim Omar Kalifa a connu un succès mondial avec le court-métrage Baghdad Messi. L'histoire héroïque d'un garçon de 11 ans, qui perd une jambe lors d'une explosion dans la capitale irakienne, mais qui refuse d'abandonner son rêve de jouer au foot, est désormais un long-métrage. Le protagoniste unijambiste a vraiment rencontré Lionel Messi. La sortie coïncide à peu près avec le 20e anniversaire de l'invasion de l'Irak par les États-Unis. (NR) BAGHDAD MESSI. BE, IQ, dir.: Sahim Omar Kalifa, act.: Ahmed Mohammed Abdullah, Atheer Adel, sortie : 12/4
Blood money
EN/ Oscar-winner Laura Poitras gives you two films for the price of one with All the Beauty and the Bloodshed. No wonder she won the Golden Lion in Venice. On the one hand, it is a gripping portrait of Nan Goldin, an outstanding photographer from New York's underground scene. On the other hand, it is a suspenseful thriller about her battle against the Sackler family, who gained a fortune making America addicted to painkillers. Goldin convinces major museums to accept no more blood money from the Sacklers. (NR) ALL THE BEAUTY AND THE BLOODSHED. US, dir: Laura Poitras, release: 19/4
Courts toujours
FR/ On peut déjà vous dire que le Brussels Short Film Festival n'a retenu que 51 courts-métrages sur les 3500 inscrits pour la Compétition internationale. Parmi les élus, l'Arménienne Ophelia Harutyunyan avec It takes a village, la Portugaise Marcela Jacobina avec Nobody ainsi que Hlynur Pálmason, dont Godland fait fureur dans les salles d'art et d'essai. Mais ce ne sont pas les noms et les chiffres qui comptent. Si le BSFF est si populaire, c'est qu'il fait de la projection de courts une véritable fête. (NR) BRUSSELS SHORT FILM FESTIVAL. 26/4 > 6/5, www.bsff.be
43
The best of April in film
Un printemps nippon
La cuisine qui vous veut du bien
FR/ Quelle cuisine pour renouer avec les beaux jours ?
Sans hésiter : la gastronomie du Pays du Soleil Levant. Marquée par le végétal et la minutie, elle fait fleurir le palais.
Peut-être que la gastronomie telle que nous la connaissons oublie parfois l'essentiel. C'est-àdire ? Que la cuisine n'est pas une compétition –contrairement à ce que beaucoup de classements et d'émissions télévisées tendent à nous faire croire – et que sa vraie mission est à la fois beaucoup plus simple et immensément plus compliquée : faire du bien à autrui, prendre soin des convives. Ce dépassement du moi et de l'égoïsme est inscrit à même l'ADN de la culture japonaise.
On se souvient encore du chef Saburo Inada, aujourd'hui retraité, et de la leçon magistrale qu'il adressait au monde depuis son restaurant de la rue de la Source. Au mur, on pouvait lire ceci : « We seek to serve you food for culture, joy and peace » (« Nous cherchons à vous servir de la
nourriture pour la culture, la joie et la paix »). En phase avec une philosophie peu encline à l'individualisme, Inada ne concevait pas son métier sans un rapport au collectif.
LE PARFAIT ÉQUILIBRE
Mais ce « care » appliqué n'est pas la seule dimension donnant ses lettres de noblesse à la cuisine nipponne. Il faut également pointer l'incroyable minutie et l'application qu'elle nécessite. À travers des gestes rigoureusement répétés des milliers de fois, du plus simple au plus compliqué, les chefs japonais sont drillés à la perfection. Enfin, il importe également de mentionner son sens inné de l'équilibre et de la proportion juste. Cet horizon est souvent atteint à travers un usage précis du végétal. En prendre
44
Texte Michel Verlinden Photo Saskia Vanderstichele
Eat & Drink
Trois adresses japonaises
toute la mesure nécessite un mangeur à la hauteur, capable d'une véritable attention. Y a-t-il aujourd'hui à Bruxelles un chef qui perpétue l'héritage de Saburo Inada ? Réponse : oui.
SEINOGRAPHIE
Sans qu'il en soit forcément conscient Minoru Seino s'inscrit dans la lignée d'une cuisine japonaise fusionnant harmonieusement avec la gastronomie française – Seino a appris cette dernière à Lyon avant de suivre une formation auprès de grands chefs, dont Bernard Loiseau. Son restaurant de la rue du Mail se présente comme un bistro aux lignes épurées dans lequel il officie avec Oumar Dramé, le sous-chef. Patiné par le temps, le décor aux nuances de brun et les luminaires en papier de riz plantent une atmosphère assez neutre le midi – on la devine plus feutrée le soir.
Mythique
Yamayu Santatsu ••• Elsensesteenweg 141 chaussée d'Ixelles, Elsene/Ixelles, 02-513.53.12, www.yamayu.be, di/ma/Tu > za/sa/Sa 12 > 13.45 & 19 > 21.00, & zo/di/Su 19 > 21.00
Seino
Maliestraat 81 rue du Mail, Elsene/Ixelles, 02-538.84.76, seino-restaurant.be, ma/lu/Mo > za/sa/Sa 12 > 14.00 & 19 > 21.00, ma/di/Tu 19 > 21.00
Proposé à 35 euros, le lunch est un modèle du genre qui panache variété et satiété (sans jamais verser dans la lourdeur). Ses contours évoquent l'approche « omakase » (« Je m'en remets à vous »), à ceci près que l'on a tout de même le choix entre poisson ou viande pour le plat de résistance. En entrée, c'est un festival, soit un plateau faisant place à huit dégustations calibrées : aubergine confite, kumquat confit, brocolinis marinés au vinaigre de riz, omelette japonaise, inari sushi (du riz enrobé de tofu frit, vinaigré et sucré), un gyoza aux légumes à la fois tendre et croquant, une purée de panais saupoudrée de shiso, ainsi que du fromage frais ponctué de rondelles de concombre marinées au yuzu. La composition laisse l'impression d'un paysage ciselé, d'un jardin taillé dans le sens de la gourmandise. Le plat, quant à lui, explore les voies de l'umami, cette cinquième saveur tout en rondeur et profondeur. Il prend la forme d'une poitrine de porc accompagnée de patates douces japonaises (satsuma imo) et de carottes rôties. Le tout est surmonté de rondelles de jeunes oignons. Tendre à souhait, la préparation se déguste avec des baguettes – celles-là même que le chef a pris soin de déposer sur une petite pierre. On se perd dans chaque bouchée en regrettant de ne pas s'embarquer dans les méandres d'accords avec des sakés – une des spécialités de Seino – ou des vins finement choisis – ainsi du blanc belge Terre Charlot, du Château de Bioul (40 euros).
Fantastique
Yoka Tomo ••••
Les habitués le savent : quand on va au Yamayu Santatsu, il faut savoir ce que l'on va manger avant d'arriver. Il est vrai que cette institution japonaise à Bruxelles est connue pour son accueil rugueux. En salle, on est accueilli par une grand-mère pas très patiente – à sa décharge, cela fait quelques décennies qu'elle prend les commandes – dont le mari s'active en cuisine. Le décor? Sans relief particulier sauf si on a le privilège de s'asseoir dans la salle du fond où il convient de retirer ses chaussures avant d'entrer – un privilège réservé aux fidèles. Il reste que le chirashi, ce bol de riz accompagné de poisson cru, y est aussi délicieux que bon marché – la formule lunch s'affiche à 17 euros. Il est invariablement servi avec un petit hors d'œuvre – une coupelle de bulots, des légumes fermentés, une soupe miso – et du thé. (MV)
Félix Marchallaan 26 avenue Félix Marchal, Schaarbeek/Schaerbeek, 0475-40.99.60, www.yokatomo.brussels, wo/me/We > za/sa/Sa 18.30 >22.00
Bruxelles rêvait depuis longtemps d'un izakaya en phase avec le goût du jour. Un izakaya ? Oui, une adresse pour déguster des préparations simples travaillées avec rigueur, entre autres les tsukemono, ces macérations de légumes imbibées de vinaigre ou de saké. Ce songe est désormais réalité à Schaerbeek où le chef Tomo fait des merveilles dans une enseigne aussi contemporaine qu'exiguë – dix couverts au comptoir, une dizaine de places à table et une salle privative. Au menu ? Que du bon en fonction des produits de saison. Salade de pommes de terre; salade kimpira de carottes, lotus et de salsifis; aubergine marinée au saké et au gingembre; tamagoyaki (omelette); ou encore gyozas redoutables. Une carte courte mais éclairée de bières (Zinnebir, Lanterne, ...), de vins nature et de sakés, complète le tout. (MV)
45
••••
Jazzy Bench (27)
I don't really have a specific style. I like to mix different genres and play with colours. My outfits are usually relaxed, wide and cosy. Occasionally, I also dare to dress a bit tighter and neater. I take my inspiration mostly from the people around me, artists in the music industry and magazines. I can also be inspired by a garment alone. I usually find cute pieces online or in thrift shops. A tip? Don't necessarily try to go with a particular trend, do your own thing. You should feel good in what you wear.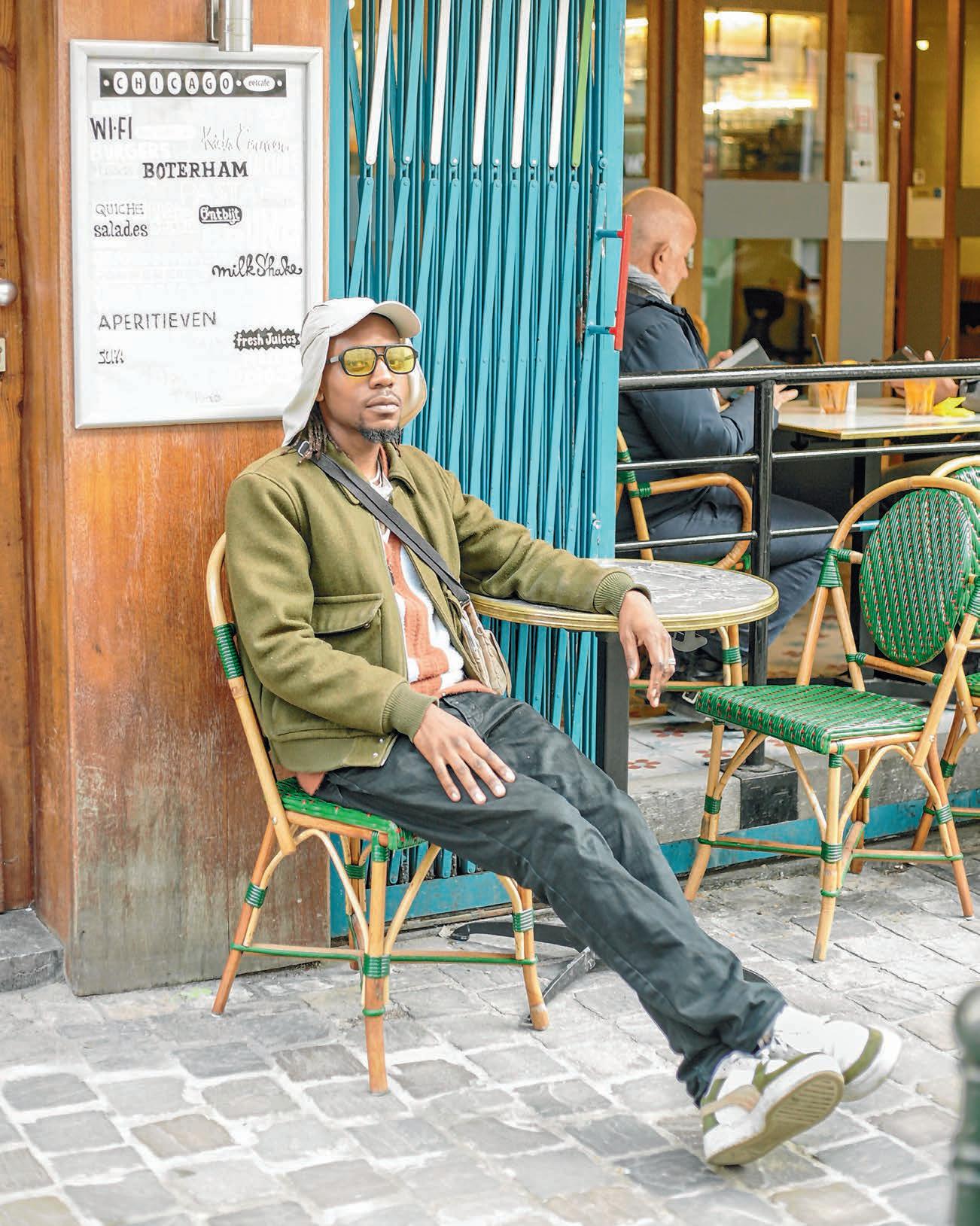 Street Life Photographer Agneskena
the streets of Brussels for fashion kings and queens
scours
advertentie aflopend
De nieuwe BRUZZ Guide is er: 'Brussels on a Budget'. Een gids met 100 tips om van de stad te genieten tegen een zacht prijsje. Haal je gratis exemplaar bij Muntpunt of check bruzz.be/guide voor de andere verdeelpunten.
1/1
Info & tickets: bozar.be
Photo
✓ Concerts ✓ Films ✓ Exhibition ✓ Talks and Debates ✓ With Kids and Teens 'Legacies From The Black Cosmos' 19£21 May.'23 at Bozar Afropolitan Festival
: © Thandiwe Muriu