Connection WWW.BISMARCKMANDAN.COMSEPTEMBER 2022 A BUSINESS PUBLICATION OF THE BISMARCK MANDAN CHAMBER EDC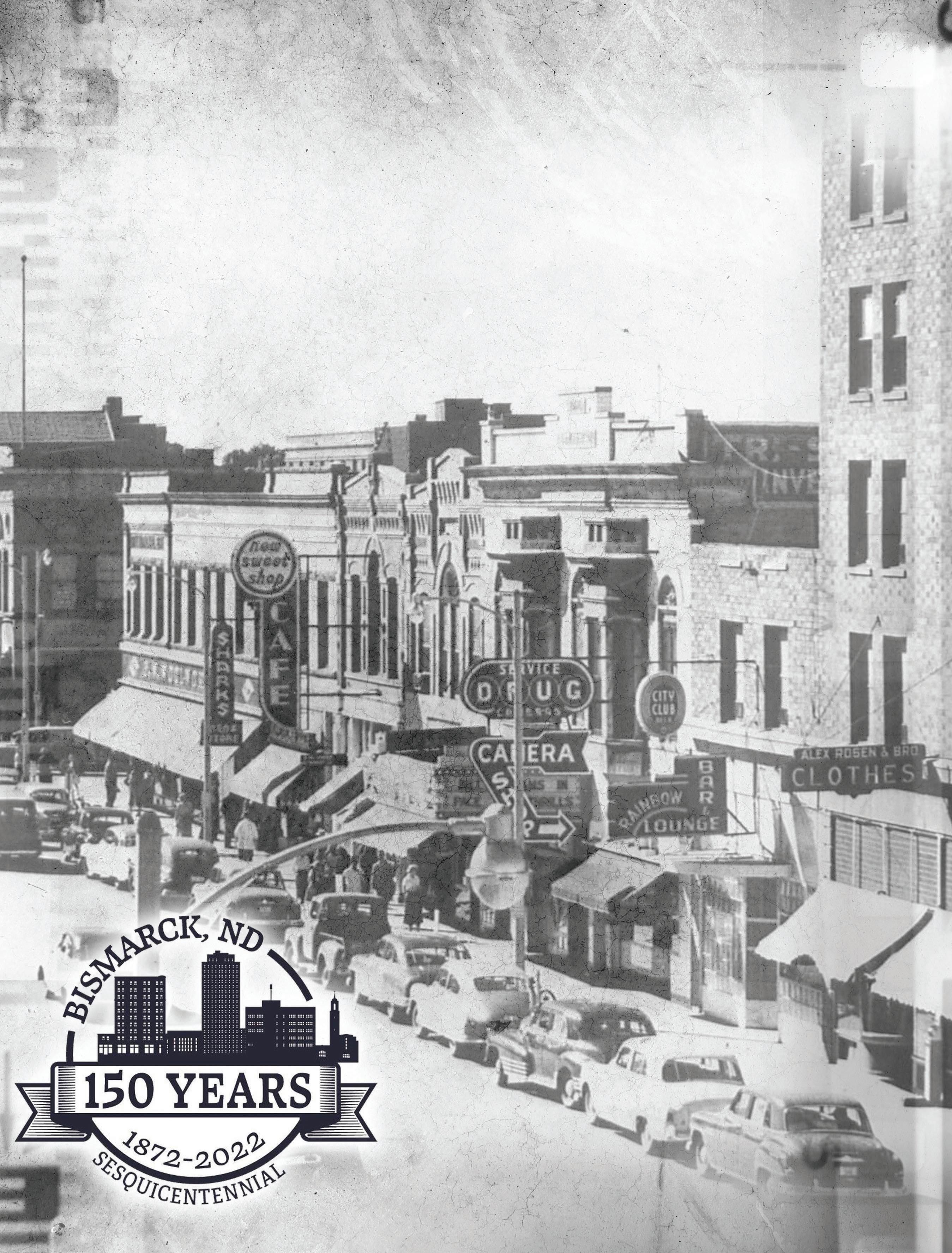 2 4 Connection EXECUTIVE COMMITTEE Kevin Strege ...................................................................... Chair Wendy Van Duyne .......................................................Vice-Chair Matt Sagaser ................................................................Secretary Valerie Weigel ............................................................ Past Chair Dave Ehlis .................................................................... Treasurer BOARD OF DIRECTORS Evan Anderson ...........................................................Gizmonics Andrea Birst ...............................................Glance Spa & Salon Nathan Boehm ....................................................Morton County Dave Ehlis ..............................................................Bravera Bank Fred Fridley .........................................................Sanford Health Heather Jones .............................................City Air Mechanical Joe Camisa ..........................................................City of Mandan Becky Matthews ................................................Burleigh County Allan Miller ............................................................Anyleaks, Inc. Lee Pierce .........................................................ICON Architects Marnie Piehl .......................................................................AARP Mike Remboldt ................................................................HIT Inc. Dave Rogstad ....................................................... Starion Bank Matt Sagaser ......................................................Doosan Bobcat Mike Schmitz .....................................................City of Bismarck Garret Senger ...............................Montana-Dakota Utilities Co. Kevin Strege ................................................Credit Foundations Wendy Van Duyne .....................Stantec Consulting Services Inc. Valerie Weigel .......................Basin Electric Power Cooperative CHAMBER EDC STAFF Brian Ritter .......................................................President & CEO Nate Brown......................................................Sales Coordinator Maggie Byrd ...................................................Event Coordinator Katelyn Corrigan ............ Small Business Outreach Coordinator Ross Frohlich ............................................Membership Director Mary Kempenich........................Workforce Marketing Specialist Christine Nelson ....................................Event & Sales Manager Rebecca Pelkey .................................Communications Specialist Elliot Rust ................................................Chief Financial Officer Lyndsey Scheurer .........................Creative Marketing Specialist Nathan Schneider ................................................Vice President Cathryn Sprynczynatyk .....................Communications Specialist 1640 Burnt Boat Drive, Bismarck, ND 58503 701-223-5660 • www.bismarckmandan.com CONTACT INFORMATION Focusing on what matters most, your business—that's living first. With First International Bank & Trust you'll be ready to say yes with banking solutions tailored to your needs, from business loans to direct deposits. FIBT.com *Not FDIC or any federal agency insured | No bank guarantee | May lose value0274_7-22 BANKING | MORTGAGE | INSURANCE* | TRUST & INVESTMENTS* Say Yes To Better Business Solutions Advertising Nate nbrown@bmcedc.comBrown Content Rebecca rpelkey@bmcedc.comPelkey
The Board also has non-voting members who serve as liaisons from our "Big 3" committees of Government Affairs, Economic Development and Local Issues. Often these chairs, or other active members of those committees, are a source of prospects for the Nominating Committee as they are already demonstrating their commitment to the Chamber EDC.
ast month, my column focused on emerging leaders. This month, the focus is on current leadership of the Bismarck Mandan Chamber EDC and the strategic approach we take to balancing the skills and knowledge needed to guide the organization led by our 19-member Board of Directors. This group includes: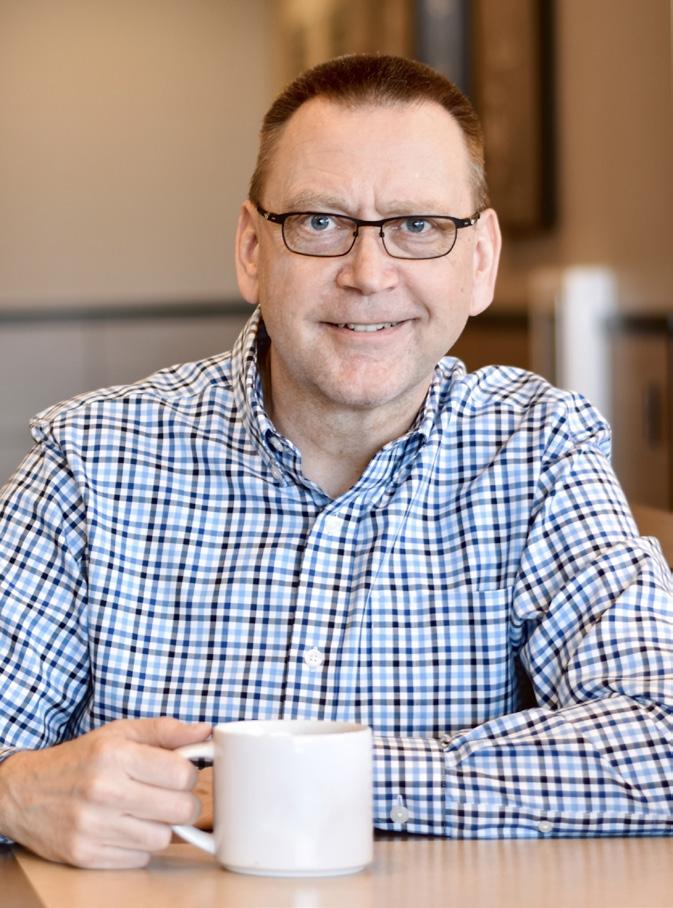 When selecting Chamber EDC Members to become At-Large Members of the Board, our Nominating Committee focuses on balancing the needed expertise and repre sentation of small business, primary sector companies, energy, retail, education and healthcare. It's a complex puzzle and often, members check multiple boxes. For example, elected officials with a day job in a different industry or individuals in a targeted industry with financial expertise, operational expertise, etc.
Kevin Strege, Chair Bismarck Mandan Chamber EDC
I am confident that our Board has the expertise and vision to continue the tradition of sound strategic guidance that has brought the Chamber EDC to our current position of opera tional strength and member satisfaction.
Veterans Memorial Public Library (Bismarck: Capital City Memories 1f-75)
CONNECTION | CHAIR'S CORNER Connection 3 3 L
• 5 Executive Committee Members • 10 At-Large Members selected by a separate nominating committee • 4 Members from the cities and counties who financially support our organization.
From the existing At-Large Board Members, individuals are elected to the Executive Committee. Again, demonstrated commitment to the Board role and other aspects of the Chamber EDC are key factors in choosing those members. A will ingness to commit to the Chair's role is also important as our bylaws define a progression of Executive Committee roles from Secretary to Vice Chair, Vice Chair to Chair and Chair to Past Chair. With this structure, we know our Chair two years before they enter the position which allows them to acclimate to all aspects of the role and give them time to identify key priorities for the organization. To illustrate just how this works, consider this recent example. In August, Dave Ehlis from Bravera Bank was appointed to the Treasurer position on the Executive Committee. This appointment opened an At-Large seat on the Board which was filled by Dave Rogstad from Starion Bank. We were able to fill the vacant Treasurer spot with someone who has a financial background and then backfill his spot with someone who was already engaged in our committee structure.
Cover@bismancedctwitter.com/bismancedcfacebook.com/bismancedcPhotoCredit:Source:Bismarck
"As the hospitality industry has grown in our community, our portfolio of offerings has also had to grow," McQuadeEly McQuade-Elysays. hopes the family business' contribution to Bismarck's growth comes in part through its philanthropic "Fosteringpractices. the idea of volunteerism and giving back to the community has been something that our company has stood for since 1947," McQuade-Ely says.
As Bismarck commemorates its 150th anniversary this year, many facets of its long history are being celebrated. Below, leaders of long-standing area businesses reflect on decades of growth and service to the community, and their impacts in Bismarck-Mandan.
McQuade Distributing Co., Inc. is a family-owned beer distribution company headquartered in Bismarck. Founded in 1947, the business is a long-standing presence in Bismarck's economy. Shannon McQuadeEly proudly wears the title of both President and "Beer Chick," a nickname given to her during a Bismarck Mandan Chamber EDC board meeting, which she views as "a badge of honor" in the male-dominated beer industry.
McQuade's Recycle Center was started by Sam McQuade Sr. in 1973. Source: Bismarck Veterans Memorial Public Library (Bismarck: Capital City Memories 1d-176)
FEATURE | CONNECTION 4 4 Connection
LEGACY BUSINESSES REFLECT ON BISMARCK'S 150TH ANNIVERSARY
By Mary Cole, Clearwater Communications
As a Bismarck native who grew up both in the community and in a long-standing family business, McQuade-Ely recalls changes she has witnessed.
"I remember it used to be a big deal to go somewhere like Fargo for 'big city' food and shopping options, and now we have all the choices we could hope for right here," she says.
MCQUADE DISTRIBUTING CO., INC.
"I grew up in this business, started in the company as a delivery person and now I am still very proud of my family business," McQuade-Ely says.
As the city grew, she notes, so did McQuade Distributing Co., Inc.
Come by our liquor superstore in Bismarck and browse endless aisles (and walk-in beer cooler) of everything liquid and delicious. Our selection is ! 3025 Yorktown Drive, www.williquors.com701.751.7373Bismarck
Wallick says, some things have remained consistent in the community. "Bismarck has remained a conservative community," he notes. "It has often followed a cautious approach to growth."
Source: The Bismarck Tribune
Wallick describes the Bismarck Tribune's contribution to the community as "the first draft of history of Bismarck and North Dakota."
A. Lounsberry, vocally opposed "saloons and rowdy behavior," says Steve Wallick, former Editor of the Bismarck Tribune.
"As the state's oldest newspaper, and only one year behind the City of Bismarck in celebrating our 150th anniversary, Bismarck Tribune journalists have been at the frontlines of just about every story in the history of the city," adds Amy Dalrymple, current Editor.
The Bismarck Tribune building, seen circa 1940, was built in 1920on the corner of 4th Street and Thayer Avenue. Today, the Tribunebuilding is located on 7th Street near the Bismarck Event Center.
The Bismarck Tribune has been uniquely positioned to observe changes through the years, notes Wallick.
"Not only has Bismarck's population grown, but it has become more diverse. In recent years, especially during the oil boom, the population has become However,younger."
"The Tribune won the Pulitzer Prize in 1937 for its coverage of the Dust Bowl and how farmers could be helped by tapping the Missouri River for irrigation... that eventually resulted in Garrison Diversion," he continues.
CONNECTION | FEATURE Connection 3 5 TRIBUNEBISMARCKTHE The U.S.founder,Tribune'sThetheimprovementshaspublicationinSincethangrowthonbeenTribuneBismarckhasreportingBismarck'sformoreacentury.itsstart1873,thepromotedincommunity.BismarckArmyCol.Clement
58503 Call 800.279.4796 today! readitech.com Your Local I.T. Expert From the first meeting to daily help desk support, Krystal will be on your team. Ask her today how we can support you business. Hi, I'm Krystal! + Network Infrastructure + Business Intelligence + Security Systems + Secure Online Back-up YOUR COMPLETE IT SOLUTIONS PROVIDER + Cloud Services + Managed IT Services + Phone Systems
Opened in 1974 directly across from Kirkwood Mall, the original Kirkwood Motor Inn is now known as the Bismarck Hotel and Conference Center.
CLIENT FOCUSED—TECHNOLOGY DRIVEN 1600 E Interstate Ave, Suite 106, Bismarck,
"When you look at all the activity around there, and that it's within walking distance of the downtown area," says Wachter. "It's hard to think of what Bismarck would be like today without these projects."
Skeels Electric Company, founded in Bismarck by Barlow K. Skeels in 1914, is now in its fourth generation of local ownership. Skeels Electric Company has been involved in many major Bismarck projects over the decades, from installing the first electronic voting machines in the State Capitol to performing electrical work for Bismarck Public Schools for 90-plus years. The business has also performed work for the University of Mary for more than 30 years and St. Alexius Health facilities for more than 50 years.
Drew Flurer, President, notes the company has played a role in many projects that "have been instrumental to the growth of Bismarck." In turn, he says, Bismarck's growth has bolstered Skeels Electric Company as well. "We would not be in the position we are today if it wasn't for the Bismarck community and customers that have allowed us to serve their electrical needs." ND Source: Bismarck Veterans Memorial Public Library (Bismarck: Capital City Memories 1d-205)
SKEELS ELECTRIC COMPANY
WACHTER FAMILY REAL ESTATE DEVELOPERS
The Wachter family has run businesses in Bismarck since 1880. "We've probably developed 60 percent of the city... At one time, the Wachter family had over 800 employees back in the late 1970s and early 1980s," says Chad Wachter, President and CEO of Investcore, Inc., of the family's business development impacts on the community. He says Wachter family development projects have changed along with the Bismarck-Mandan community.
Major development projects spurred by the Wachter family include the Kirkwood Mall, the Ramkota Hotel (now the Bismarck Hotel and Conference Center), and Kirkwood Bank and Trust. The family was also involved in the construction of the Bismarck Event Center, which Wachter counts as a success because of its location in the community.
"Just look at our first Bismarck business, cutting ice from the river for people's iceboxes. We used horses and buggies to do everything!"
FEATURE | CONNECTION 6 4 Connection
CONNECTION | FEATURE Connection 3 7
"They recognized a need and rose to meet it," says Kunze. They treated 65 patients the first year, including Chief Sitting Bull, Teddy Roosevelt and Medora de Mores. Demand for these services continued, and St. Alexius Hospital moved to its present-day site in 1911. "Their ministry continued to flourish," says Kunze. On March 24, 1947, the pope granted their request to become an independent monastic community, electing leaders and making key decisions for themselves. Founded in 1959, Mary College became the University of Mary in 1986. St. Alexius Hospital also expanded, adding several new buildings, clinics and satellite hospitals, becoming St. Alexius Medical Center and now, CHI St. Alexius Health. "I think Bismarck, and all of western North Dakota, would be quite different if the sisters hadn't come to serve the needs of the people in this area," says Kunze. In 1885, the Benedictine Sisters of Annunciation Monastery were asked to open the first hospital in Dakota Territory, which became CHI St. Alexius Health. Source: Annunciation Monastery
ALIGNED SUSTAINABLEVISIONS.PROJECTS. A BETTER WORLD. SOLVING YOUR MOST CHALLENGES.COMPLEX Engineers | Architects | Planners | Scientists 701.354.7121 | sehinc.com/subscribe
In 1878, five sisters from St. Benedict's in St. Joseph, Minn., came to Bismarck to open a school, St. Mary's Academy and Boarding School. Soon, the sisters also saw a need for healthcare in the area.
While Bismarck celebrates its 150th AnnunciationNicoleevenbeforehave"Thecommunity.formeddifferenceSistersHowever,independentanniversarycelebratesAnnunciationanniversary,Monasteryits75thasancommunity.theBenedictineweremakingalongbeforetheytheirindependentBenedictineSistersbeenhereinBismarckNorthDakotawasastate,"saysSisterKunze,prioressofMonastery.
MONASTERYANNUNCIATION
Q&A WITH BISMARCK'S NEW MAYOR
A: "It has been a four-year discernment process for me to choose to run. I had to convince my wife.
Bismarck Mayor Mike Schmitz
FEATURE | CONNECTION 8 4 Connection
A: "I grew up in Bismarck, graduated from St. Mary's Central High School, class of 1980, and from the University of Mary with a double major in accounting and business administration in 1984. I received my MBA from University of Mary in 2010. I am a licensed CPA, and I have been married to my wife Janel for 38 years. We have two boys, Jason and David. We welcomed our lovely daughter-inlaw Kate into our family when she and David married last August, and our first grandchild, Hazel Meyer Schmitz, was born July 15. Yes, I plan to spoil her like crazy. "I've practiced accounting for 38 years of my professional life, working with clients from all walks of life. I believe strongly in community service and that we are all called to serve others in some capacity. My faith is very important to me."
By Cathryn Sprynczynatyk Mike Schmitz was elected as Bismarck's 34th Mayor in June 2022. Connection Magazine sat down with the new Mayor to discuss the opportunities and challenges the business community faces in Bismarck.
Q: TELL US ABOUT YOUR BACKGROUND.
Q: WHY DID YOU DECIDE TO RUN FOR MAYOR?
"I felt we could do better as a community. As residents, we can do better at welcoming people to Bismarck. As city government, we can do better at opening doors for a thriving economic sector. City government needs to be accountable to the citizens, and the communication doors needed to be opened. It is important for city government to educate, as well as regulate. If a resident receives a 'no' on a project or a deficiency in their food service operation, we need to educate on what it takes to make it a 'yes.'"
A: The first is to maintain financial sustainability for the city and improve our infrastructure. Secondly, incorporating the three guiding principles to simplify, streamline, and serve so it happens naturally. Finally, we need to set our sights to attract and retain workforce, utilizing all the tools we have available to do so. To accomplish this, we need everyone on the same page. I talked a great deal in my campaign about the importance of collaboration. It is not about north Bismarck vs. downtown Bismarck vs. the riverfront. As one community, we need to create consensus. That likely means no one gets everything they want, but everyone works together to create the best solution for the greater good."
A: "I want to increase transparency so that residents of Bismarck know what's potentially coming before it hits them. The city recently hired a new public information officer, and I will work with that person to improve communication.
Q: WHAT ARE YOUR TOP PRIORITIES AS YOU BEGIN YOUR TERM AS MAYOR?
• Streamline. If there are multiple sign-off points, let's coordinate that so that it's done quickly. If a process is going to take 10-15 sign offs, that could take two weeks. We need to figure out how to get it done in the two days.
"Residents can expect to hear about a new initiative to welcome newcomers to Bismarck in early 2023. In addition, I have set three guiding principles that I am asking each city employee to consider as they complete their daily work:
• Serve. The citizens are our customers, and they should be treated as the most important customer when they call. It doesn't mean they will get absolutely everything they want, but they should be treated with respect and should leave the conversation with a better understanding of how to move forward."
CONNECTION | FEATURE Connection 3 9
Q: WHAT ARE YOUR OTHER PRIORITIES OVER THE NEXT FOUR YEARS?
• Simplify. Make sure communications are understandable and timely. Rather than multiple emails, pick up the phone or meet in person to resolve the issue.
Q: YOU HAVE HAD A LONG HISTORY OF INVOLVEMENT WITH THE BISMARCK MANDAN CHAMBER EDC. WHY DO YOU FIND IT IMPORTANT TO BE INVOLVED?
MIKE SCHMITZ BIOGRAPHY
Q: WHAT ARE SOME OF THE BUSINESS CHALLENGES YOU SEE IN BISMARCK?A: "Right now, inflation and supply-chain are global challenges. That is compounded by the fact that we have a need for talent to grow our economy easily. We need to help businesses recruit and retain employees, so it makes it easier for them to succeed."
Because we have a fairly diverse economic base for a rural state, we have an excellent opportunity to outsource services throughout the state, country, and world. If there is one great advantage we have in Bismarck, it is that we are big enough to make things happen, and small enough to make things happen. By that I mean, if you have an idea, either you know someone, or know someone who knows someone who can help make it happen. We need to start leveraging those types of relationships and that way of thinking to create opportunity. We need to expand our engagement with young people and realize that mentoring happens in all directions. Those of us like me who have been around awhile can help mentor young people, but in turn they also mentor me because I learn from them."
Q: WHAT ARE SOME OF THE BUSINESS OPPORTUNITIES YOU SEE IN A:BISMARCK?
A: "Newcomers feel welcomed and want to stay. Businesses want to locate here. Residents want to start businesses here. Our emergency responders feel supported and respected. The staff working in city government enjoy their work and realize the important role they play in improving the lives of our residents. I want to hear residents saying, 'I am so grateful I called — fill in whatever city office here — because they helped me resolve my issue.'"
FEATURE | CONNECTION 10 4 Connection www.applefest.org BUCKSTOP24SEPTEMBER25& 3805 E. BISMARCK EXPRESSWAY BISMARCK, JUNCTIONND 16th Annual BISMARCK CANCER CENTER FOUNDATIONBISMARCK CANCER CENTER FOUNDATION
A: "It gave me the avenue to network and develop relationships that turned into friends, referral sources and clients. It spurred my interest in city government and started me thinking about running for public office. There are many resources available through the EDC that aren't being used to their full potential by our residents and business owners."
Job Title: Managing Partner at Schmitz-Holmstrom CPA Age: 60 Hometown: Bismarck Family: Wife Janel Schmitz, son Jason, son David, daughterin-law Kate, first grandchild Hazel (6-weeks old) Favorite Bismarck-Mandan Activity: I would love to say golf, but I don't do that enough. We love to entertain. Almost every weekend we're hosting friends at our house.
TIMELINE OF CHAMBER EDC INVOLVEMENT
Bismarck's new Mayor has a long history of involvement with the Bismarck Mandan Chamber EDC and its parent organizations. 2011-2015 Board of Directors, Bismarck-Mandan Chamber of Commerce 2015-2018 Board of Directors, Bismarck-Mandan Development Association 2019-Present Board of Directors, Bismarck Mandan Chamber EDC 2020-2022 Treasurer, Executive Committee, Bismarck Mandan Chamber EDC
Q: AT THE END OF FOUR YEARS, HOW WILL YOU MEASURE SUCCESS?
CONNECTION | FEATURE Connection 3 11 Give your employees better coverage for better health. Request a quote today at (888) 851-2408 or sanfordhealthplan.com/employers. Our plans come with benefits that support the health of your employees and business every day – not just when your team is feeling under the weather. Affordable premiums Fitness incentives Access to top doctors Behavioral health assistance 24/7 $0 video visit copays* Prescription Personalizedcoveragewellness programs Preventive screenings $0 co-pays for urgent care virtual visits through sanfordvideovisits.com or the Sanford Video Visits app powered by Amwell. Some exclusions apply. 6/22861-923-637
Briefly tell us the history behind Herc Rentals and how you got started.
MEMBER SINCE 2018
A: Herc Rentals was previously known as Hertz Equipment Rental until 2016 when we became an independent, publicly traded company. We've been in the equipment rental business for over 55 years with 315+ locations throughout the United States and Canada. We specialize in everything from small tools to large aerial and earthmoving equipment along with an extensive line of trucks, climate control, and power generation equipment.
Aaron Hermanson
MEMBER PROFILE | CONNECTION 12 4 Connection Herc Rentals has been a Chamber EDC member since 2018.
I was born and raised in Bismarck. I am the Branch Manager for our Bismarck and Williston locations. I oversee every segment of our business from sales and operations, to field service and transportation. I've been with Herc since 2014 when I started as a professional driver. Since then I've been an operations coordinator, sales rep, and now branch manager.
HERC RENTALS
Tell us about yourself and your role within your A:business.
A: The growth of Bismarck-Mandan has been a significant driver for our business, not only for our contractors, but for homeowners doing weekend projects as well. What trends are taking place in your industry?
A: We continue to renew our Chamber EDC membership because it allows us to be better connected with the community. What should other Chamber EDC members know about Herc Rentals that may assist them?
www.millnerwealthmanagement.com | (701) 255-4225 1400 W. Century Avenue | Bismarck, North Dakota 58503 Stifel, Nicolaus & Company, Incorporated | Member SIPC & NYSE | www.stifel.com Goals are personal. Your financial plan should be too.
Vice President/Investments Millner Wealth Management Group
A: Technology advancement is where we have seen the biggest changes. With ProControl NextGen, you can easily reserve, rent, and off-rent equipment from us. You can even track your equipment anytime, anywhere — right from your phone. Have there been any monumental changes within your industry that you've had to deal with?
Registered
A: Like almost every industry, we've got some headwinds with increased costs and supply chain shortages. However, we have great relationships with our suppliers and customers, along with the best team members in the industry to best navigate through this. What does the future of Herc Rentals look like and the industry as a whole look like to you?
CONNECTION | MEMBER PROFILE Connection 3 13
Pictured left to right: Katie Peltz, Client Associate; Jason L. Millner, CFP®,
A: Herc Rentals is much more than just an equipment rental company. We provide equipment, services, and solutions to help our customers achieve optimal performance safely, efficiently, and effectively.
Service
A: We're aggressively growing throughout North America and, along with technological innovations, lends way for an exciting future. Herc Rentals became a member in 2018, why do you continue to renew?
How has the growth of Bismarck-Mandan impacted Herc Rentals?
Over the past few years, unmanned aerial systems (UAS) development has taken off across North Dakota. That growth is driven in part by an organization called Vantis, who is tasked with developing the State's UAS beyond vi sual line of sight network. More specifically, the company is looking for partners here in Bismarck-Mandan with an interest in testing and operationalizing drone use cases. To help make this happen, the Chamber EDC helped or ganize a discussion with business and community leaders, in August, as development in this area can lead to addi tional economic development opportunities right here in Bismarck-Mandan. If you're interested in learning more, please contact Chamber EDC Vice President Nathan Schneider.
The North Dakota Opportunity Fund (NDOF) Steering Committee recently voted to create a new collateral support program which expands the financing options available to the lending and business community served by NDOF. The new NDOF Collateral Support Program will establish pledged case collateral accounts with lending institutions to enhance loan collateral for qualifying busi nesses, which will help them obtain financing on accept able terms and conditions. To learn more about the Collateral Support Program contact the Lewis & Clark Development Group office or Chamber EDC Vice President Nathan Schneider.
PROTECT YOURS IT'S OUR BUSINESS TO PROTECT YOURS At Starion Insurance, we make acquiring the coverage you need easy and affordable, freeing your mind to focus on what matters most, your business. Our local agent is here for you. Tonja Iverson Insurance Agent 109tonjai@starionbank.com701.667.16321stStNW|Mandan, ND starionbank.com Insurance products are not a deposit, not FDIC insured, not insured by any federal government agency and not guaranteed by the bank.
CEDC HOSTS PRESENTATIONVANTIS
BUSINESS MONTHPROGRAMASSISTANCEOFTHE
ECONOMIC DEVELOPMENT 14 4 Connection
See the full list of indicators on the Chamber EDC's Economy at a Glance at www.bismarckmandanedc.com.
NEW INTERNSHIP NETWORK EVENT HELD
A new program that the Chamber EDC has introduced had its kickoff event in July. The Internship Network is a program developed to integrate interns from around the community into Bismarck Mandan. Businesses across Bismarck Mandan employ interns and co-ops that come from colleges outside the community. The Internship Network was developed to introduce those students to other interns and experiences across Bismarck Mandan. The first event was hosted at The Craftcade in downtown Bismarck and saw around 75 interns in attendance. There will be more of these events and informational sessions all aimed at keeping interns in Bismarck Mandan.
The North Dakota Opportunity Fund is a revolving loan fund administered by the Lewis & Clark Development Group and will consider providing the local match of the Flex PACE and PACE when the community is unable, due to the lack of funding or the project not meeting its local economic development fund.
CHAMBER EDC ASSISTS
LOCALEXPANSIONBUSINESS
The Chamber EDC assisted in facilitating a letter of sup port request to the city of Bismarck for Capital Acres, Inc. The letter of support was for the local match of BND's Flex PACE interest buy-down program to come from the North Dakota Opportunity Fund.
JULY 2022 ECONOMIC INDICATORS Sales CollectedTax $3,209,216 PassengersAirport 43,878 ResidentialPermitsBuilding 34 ResidentialValuationPermit $9,829,846 ECONOMY
NMG UPDATESTRATEGICPROVIDESPLAN
economic
Representatives from Next Move Group (NMG), the con sultant developing the economic development strategic plan, provided an update during a visit in July. NMG had taken feedback from the one-on-one visits and focus group meetings held during their visit in June and devel oped several ideas and potential efforts to be included in the plan for the Chamber EDC to engage in. The eco nomic development committee and board members then provided feedback on which of the ideas they felt were plausible and possible for the organization. NMG will use that feedback to narrow the focus to four or five ideas/ efforts that will make up the strategic plan. NMG is plan ning to come back to Bismarck Mandan in late September or late October to present the final plan.
Capital Acres, Inc will be renovating an 18,034 square foot building located at 2897 93rd ST SE in Bismarck.
ECONOMIC DEVELOPMENT Connection 3 15
: Resources to Cloverdale Foods brats, Dakota Community Bank
Group, Inc., Northern Improvement Company Special thanks
One of the best ways to reach the Bismarck Mandan Chamber EDC's 1,200 members is by participating in our events and programs. The best way to get started—and save $$$—is through our annual Total Resource Campaign (TRC)! Whether it is Annual Dinner, Indoor Golf Tournament, Tastes of Christmas, or any of our other incredible events, extend your business's reach by sponsoring a CEDC event!
& Trust for grilling. BASINELECTRIC POWERCOOPERATIVE ATouchstoneEnergyCooperative UNITED TRIBES TECHNICAL COLLEGE UNITED TRIBES TECHNICAL COLLEGE SECONDARY LOGO - COLOR UNITED TRIBES TECHNICAL COLLEGE PRIMARY LOGO - COLOR UNITED TRIBES TECHNICAL COLLEGE MONOGRAM - COLOR MONOGRAM - B&W U T TC U T TC U T TC U T TC
The Bismarck Mandan Chamber EDC would like to invite the community to our annual Brats with the Brave appreciation picnic at the Kirkwood Mall (North underpass entrance, door #1), on Wednesday, September 7th, from 11:30am to 1:30pm! Join us as we thank veterans, military personal, first responders and healthcare workers!
SAVE THE DATES! • September 5th — Open enrollment begins • November 18th — TRC Conclusion • November 30th — 5% early pay discount period ends If your organization is interested in sponsoring an event, take this opportunity to get involved! Questions? Contact Nate Brown at nbrown@bmcedc.com or 701-223-5660.
CHAMBER EDC NEWS | CONNECTION 16 4 Connection
THANK YOU SPONSORS! EventSponsors:LunchSponsor:PresentingSponsors
2023 TOTAL RESOURCE CAMPAIGN ENROLLMENTOPENISHERE!
New this year, attendees will be able to participate in Vitalant's friendly, but competitive 3-day blood drive between the police and fire departments to see which agency can recruit the most blood donors – Battle of the Badges! Everyone is invited to come enjoy lunch, donate blood, and thank those who protect and serve our community and our country! RSVPs are appreciated and can be made by registering online. Contact Maggie Byrd, mbyrd@bmcedc.com, for any questions. This free event would not be possible without the continual support of the Chamber EDC members, community, and our sponsors!
BEK Communications, First Western Bank & Trust, MDU
Company for providing the
and
BRATS WITH THE BRAVE & BATTLE OF THE BADGES
The TRC 2023 open enrollment period starts this month, so don't wait to call if there's an event that you'd like to sponsor! Learn how to maximize the benefits of your membership and reserve the sponsorships that fit you and your business the best.
BASINELECTRIC POWERCOOPERATIVE ATouchstoneEnergyCooperative Celebrate Bismarck-Mandan will be September 22.
THANK YOU SPONSORS:
The Bismarck Mandan Chamber EDC would like to invite our members AND the community to this year's Celebrate BismarckMandan award ceremony! Join us on Thursday, September 22nd, with registration starting at 10:30am and the event to follow at 11:00am to 1:00pm at the Baymont Inn & Suites. Mark your calendar and help us in congratulating and honoring this year's amazing nominees and winners as they come together on one stage! At this year's event, we will announce recipients in the following categories: 20 Under 40 Ambassador of the Year Golden Eagle Award Large Business of the Year New Entrepreneur of the Year Outstanding Teacher of the Year Service Award of the Year Small Business of the Year Women Owned Business of the Year Young Entrepreneur of the Year
•
TableSponsors:AwardSponsors:GoldSponsor:PresentingSponsors:
•
Tickets are $40 for Chamber EDC members and $75 for General Admission.
•
•
Interested in sponsoring the event? Contact Nate Brown at nbrown@bmcedc.com for more information. For general questions regarding individual tickets contact Maggie Byrd at mbyrd@bmcedc.com.
•
JOIN THE CHAMBER EDC IN BISMARCK-MANDAN'SCELEBRATINGFINEST!
Event Sponsor: Advanced Business Methods, CornerStone Bank
CONNECTION | CHAMBER EDC NEWS Connection 3 17
•
•
Apex Engineering Group, Inc., Bank of North Dakota, Bismarck Cancer Center, Bismarck State College, Blue Cross Blue Shield of North Dakota, Brady, Martz & Associates, Capital Credit Union, Choice Bank, Dakota Community Bank & Trust, Dakota Home Care, Eide Bailly LLP, First International Bank & Trust, Gate City Bank, H.A. Thompson & Sons, Inc., Heritage Exteriors, Kids in Motion Pediatric Therapy & Wellness, Laughing Sun Brewing Co., Northwest Contracting, Sanford Health, Schmitz-Holmstrom CPA, Security First Bank, Starion Bank, United Tribes Technical College, University of Mary
•
•
•
Date: Tuesday, November 8 Registration: 7:00am - 7:30am Event Time: 7:30am - 9:00am Location: Bismarck Hotel & Conference Center — 800 S 3rd Street, Bismarck
SEPTEMBER MEMBERSHIP MIXER: TIRES PLUS (NORTH)
Date: Thursday, September 15 Time: 4:30pm - 6:30pm Location: Tires Plus - North — 5216 Ottawa Street, Bismarck Admission: Free Enjoy a fun evening business after hours at Tires Plus North Bismarck location!
22SEPT
Location: Baymont Inn & Suites — 2611 Old Red Trail, Mandan Admission: $40 for Chamber EDC members; $75 for General Admission
Location: Kirkwood Mall - North Underpass Entrance, Door #1 Admission: Free The Chamber EDC Staff will serve lunch to military personnel, health care workers, first responders and blood drive donors.
Date: Friday, January 13 Time: Flight 1 — 12:00pm; Flight 2 — 2:00pm; Flight 3 — 4:00pm Location: Golf Etc — 511 Airport Road, Bismarck Admission: $75 per person, $150 for 2-person team
BISMARCK-MANDAN
Admission: Free Enjoy a fun evening business after hours at Bismarck Sign Co!
Help us honor and celebrate Bismarck-Mandan's brightest and finest businesses & business professionals.
Date: Thursday, October 6 Time: 4:30pm - 6:30pm Location: Bismarck Sign Co. — 1926 Frontier Drive, Bismarck
Admission: $40 for Chamber EDC members; $75 for General Admission
Date: Thursday, November 17 Time: 4:30pm - 6:30pm
NOV8
Date: Thursday, September 22 Registration: 10:30am - 11:00am Event Time: 11:00am - 1:00pm
Location: NECE 4th Floor of Bavendick Stateroom – BSC Campus — 1200 Schafer Street, Bismarck Admission: $25 for Chamber EDC members; $50 for General Admission
OCTOBER MEMBERSHIP MIXER: BISMARCK SIGN CO
Please arrive 30 minutes before flight time for registration
17NOVDEC1
STATE OF THE CITIES
Enjoy a festive evening with other Chamber EDC members as we taste test the latest holiday beverages.
BRATS WITH THE BRAVE & BATTLE OF THE BADGES
Date: Thursday, December 1 Registration: 4:30pm - 5:00pm Event Time: 5:00pm - 7:00pm
NOVEMBER MEMBERSHIP MIXER: ZORELL'S JEWELRY
Date: Wednesday, September 7 Time: 11:30am - 1:30pm
Join us while we hear from Burleigh/Bismarck and Morton/Mandan panel discussions as they answer hard hitting questions.
Location: Zorell's Jewelry – 221 S 9th Street, Bismarck Admission: Free Enjoy a fun evening mixing & mingling with other Chamber EDC members.
CALENDAR OF EVENTS
TASTES OF CHRISTMAS
CELEBRATE
CHAMBER EDC EVENTS | CONNECTION 18 4 Connection
OCT6
REGISTER FOR THESE EVENTS AND MANY MORE ONLINE AT WWW.BISMARCKMANDAN.COM
15SEPTSEPT7
13JAN INDOOR GOLF TOURNAMENT
Midco.com/FiberForward
Fiber.Faster.Better.Stronger.
CONNECTION | CHAMBER EDC EVENTS Connection 3 19
Move forward into tomorrow and a seamlessly connected smart world. Our internet brings you a stronger connection with better reliability and faster speeds that keep up with you and your devices all day, every day.
Shared Medical Services (SMS) is helping bring this new technology to CHI St. Alexius Health. Through a strategic collaboration with United Imaging, SMS is the first in the United States to offer a mobile digital PET/CT unit.
FORUM WILL FEATURE AN OVERVIEW OF STATEWIDE HOUSING NEEDS ASSESSMENT
The digital PET/CT technology offers improved image quality with 80-slice CT, detection of lesions as small as 1.4 mm, shorter scan times and smaller injections of radioac tive material, reducing radiation exposure. Another feature is motion correction, which monitors a patient's breathing and adjusts for image distortion. It also reduces artifacts in joint replacement, dental and metal implants.
CHI ST. HEALTHALEXIUSINNOVATES BY INVESTING IN MOBILE DIGITAL SOLUTIONPET/CT
CHI St. Alexius Health has invested in a Tomography-Com puted Tomography (PET/CT) imaging system to add to its Radiology Services. This will allow St. Alexius will be the first to offer this service to the region in Bismarck and Williston as the high-tech images capture changes at the cellular level — identifying diseases like cancer — in their earliest stages. "CHI St. Alexius Health doesn't settle when it comes to identifying the best possible technology we can use to ad vance patient care in our community," said Deb Mohesky, MBA, MS, ACPEC, BCC, FACHE and Market President/CEO at CHI St. Alexius Health. "We chose the mobile digital PET/ CT because it is of the highest, most modern standard and we believe we can offer better diagnosis and treatment to our community because of it."
PET images reveal metabolic activity in the body, but lack the detail to identify the exact location. The CT scan pro vides an anatomical reference. Together, these two scans allow you to view metabolic changes in the proper anatom ical context.
"We are excited to bring digital PET/CT technology to the Bismarck and Williston communities," Mohesky said. "It will improve patient care through enhanced imaging, aid physicians in diagnosis and treatment plans, and increase patient satisfaction."
MEMBER NEWS | CONNECTION 20 4 Connection North Dakota Housing Finance Agency (NDHFA) will host an overview of the 2020-2025 Statewide Housing Needs Assessment this fall at a Statewide Housing Forum. "The Assessment will provide an overview of North Dakota's current housing conditions and important trends that impact the state's housing dynamics," said Dave Flohr, NDHFA ex ecutive director. The state agency is charged with providing North Dakotans with affordable housing. The housing forum will be held on Wednesday, Oct. 5, 2022, in Bismarck, ND. The face-to-face event is targeted to housing industry professionals including appraisers, bro kers, builders, developers, investors and service providers, economic development experts, and local and state govern ment Followingleaders.the assessment overview, a range of experts, insiders and government officials will provide their perspec tive on the housing trends and policy solutions to make single and multifamily housing more accessible. Stakeholder sessions to discuss legislative action and other initiatives will round out the forum.
BEK TV recognizingis entrepreneurialthe spirit within North Dakota! Host Lori Hinz travels across the state to introduce us to the people who made good on their dream of creating a business out of state-made goods.
To receive the Chest Pain - MI Registry Platinum Perfor mance Achievement Award, Sanford Health demonstrated sustained achievement in the Chest Pain - MI Registry for two consecutive years (2020 and 2021), and performed at the highest level for specific performance measures. Full participation in the registry engages hospitals in a robust quality improvement process using data to drive improve ments in adherence to guideline recommendations and overall quality of care provided to heart attack patients. "When it comes to treating heart attacks, every second counts," said Nate Blessen, system executive director of cardiovascular services. "We take pride in putting the latest technology in the hands of top cardiology experts at San ford Health, and this recognition confirms our continued investment in producing exceptional care."
Chest Pain - MI Registry empowers health care provider teams to consistently treat heart attack patients according to the most current, science-based guidelines and estab lishes a national standard for understanding and improv ing the quality, safety and outcomes of care provided for patients with coronary artery disease, specifically high-risk heart attack patients. "It is an honor to award Sanford Health with the Platinum Performance Award for their valuable national leadership and dedication to meeting comprehensive performance measures in patient care," said Michael C. Kontos, MD, FACC, chair of the NCDR Chest Pain – MI Registry Steering Subcommittee, and cardiologist at Virginia Commonwealth University Medical Center. "The receipt of this award indi cates that Sanford Health remains committed to providing top quality, guideline-driven care for heart attack patients. Their success ensures patients are receiving the highest quality cardiovascular care."
Sanford Health has received the American College of Cardiology's NCDR Chest Pain - MI Registry Platinum Per formance Achievement Award for 2022. Sanford Bismarck Medical Center is one of only 240 hospitals nationwide to receive the honor. Sanford hospitals in Fargo, Bemidji and Sioux Falls were also honored.
SANFORD HEALTH AMONG NATION'S TOP PERFORMING HOSPITALS FOR TREATMENT OF HEART ATTACK PATIENTS
The award recognizes Sanford Health's commitment and success in implementing a higher standard of care for heart attack patients and signifies that Sanford Health has reached an aggressive goal of treating these patients to standard levels of care as outlined by the American Col lege of Cardiology/American Heart Association clinical guidelines and recommendations.
DAKOTA AT 7:00PM beCT k.news
SUNDAYS
CONNECTION | MEMBER NEWS Connection 3 21
The Centers for Disease Control estimates that over 800,000 Americans suffer a heart attack each year.
• Coordinating interdisciplinary care between other physicians, imaging, and therapies. The staff at BCC understands that helping a patient navigate through their cancer care improves a patient's access to consis tent high-quality cancer care. It also allevi ates stress for the patient and caregiver.
• Connecting patients with support ser vices for nutrition, physical therapy, massage therapy, emotional counsel ing, spiritual counseling and more
You can then recommend grants from the DAF to your favorite causes when the impulse to give strikes. If you wish to help only one charitable or ganization, you can give the shares directly to that specific charity and benefit from the same tax advantages. For more information on integrating char itable and financial goals into your plans, contact the North Dakota Community AsFoundation.always,we suggest that you consult your tax and legal advisor before entering into any sophisticated giving arrangement.
Q: I'M PLANNING TO SELL A STOCK THAT IS HIGHLY APPRECIATED IN VALUE AND I WANT TO USE SOME OF THE PROCEEDS TO MAKE CHARITABLE GIFTS.
ASK A PRO | CONNECTION 22 4 Connection 4204 Boulder Ridge Rd, #100, Bismarck, ND 58503 701-751-3064 SAILERNICHOLE at 500 N 8th Street, Bismarck, ND 58501 701-222-6100
A: When diagnosed with cancer, patients are faced with needing to find informa tion about their illness and its treatment, make major medical decisions, seek medical treatment and make logistical arrangements. To meet this need, BCC has a patient navigation program to directly "navigate" or guide patients and their fam ilies through their treatment process. This program can assist patients to find answers and support through the following areas:
Q: I WAS RECENTLY DIAGNOSED WITH CANCER AND STARTED SCHEDULING MY UPCOMING DOCTOR VISITS. HOW DO I KEEP IT ALL ORGANIZED?
Q: DO I NEED A PHYSICIAN REFERRAL BEFORE I CAN COME TO PHYSICAL THERAPY?
Therapies we are a true be liever of collaborative care. Your physical therapist will communicate with your primary doctor and specialist from start to finish. To learn more about Optimum Therapies visit www.optimumtherapies.com or call us at (701)751-3064.
A: WAIT! When contemplating selling a highly appreciated stock (or other asset), you can help your favorite charity(ies) and save on the capital gains tax by transfer ring ownership of all or a portion of the stock to your donor-advised fund (DAF) before the sale. You will get a charitable deduction for the market value of the stock on the date of transfer, you will avoid capital gains taxes on the portion that you gift, and the DAF will receive the full proceeds from its shares when sold as it is tax-exempt. (If you choose to give to an endowed DAF, your gift of stock will also qualify for the North Dakota 40% Income Tax Credit.)
• Scheduling appointments
• Providing education about treatment
• Helping patients and their family understand doctors' instructions
711 Riverwood Dr, Ste 2, Bismarck, ND 58504 701-222-8349
A: No referral needed! North Dakota is a state that allows you to go directly to a physical therapist without obtaining a physician's referral first. Direct access to physical therapy is your opportunity to be evaluated and treated by a licensed physical therapist without first seeing your physician for a referral. If payment is approved by your insurance company, direct access is your opportunity to save time and money, thereby expedit ing your treatment, relief, and recovery. Research supports that patients who seek physical therapy via direct access for a musculoskeletal condition tend to have better functional outcomes with fewer treatments and lower overall health expen Atditure.Optimum
DVORAKKEVIN at KUDRNACOLLIN at
MACKKAITLYN at NARUMMARCI at
Q: HOW DO I BEGIN BUILDING MY OWN ART COLLECTION?
A: Gathering feedback from your custom ers is important. But how can you provide your customers with opportunities to share their thoughts and suggestions beyond the standard suggestion box? At the Bismarck Larks we've focused on listening to our fans through surveys and direct correspondence. Here's how you can get started too:
Many of our clients, after getting their first piece, can't wait to add more from their "favorite artist!" You may follow a theme, from landscapes to wildlife to historical, to expressive or abstract. This allows you more latitude with a variety of artists, if you wish.
CONNECTION | ASK A PRO Connection 3 23
Q: I'VE BEEN USING THE SAME DRUG TESTING PANEL FOR YEARS AT MY WORKSITE. HOW DO I MAKE SURE THAT THE PANEL IS STILL RELEVANT AND TESTING FOR THE RIGHT DRUGS?
Tell your customers you are listening, let them know you care. Tell your customers how they can share their feedback. Inform them through your social channels, web site, business mailers, email blasts, office posters, etc.
Many of our customers, after making their first original art purchase, decide to create their own collection, whether in their home or office environment. There are many approaches to take: First, acquire what "speaks to you," and you'll know when you see it. It's not about subject matter or price, but how the piece makes you feel. You may wish to build upon the work of one artist, which of course means they will be very complementary of each other.
Provide your customers with a direct line for feedback. You can do this by dedicat ing a singular email address for customer concerns and praises, or by appointing a specific person in your business to handle customer feedback.
Q: I WANT TO GATHER FEEDBACK FROM MY CUSTOMERS, WHERE DO I START?
Implement a survey strategy. Find a survey platform that allows you to gath er feedback from your customers after transactions or interactions. From there – determine questions, when and how the survey will be sent, how the feedback will be shared within your business and how issues will be resolved.
BLANCHARD,JOEL MD at 2603 E Broadway Ave, Bismarck, ND 58501 701-323-5222
Whatever approach you desire, we are here to assist, offering our advice. And we deliver art to your home to help you determine the perfect location too! We are ready to help you on your journey to enjoying the joy of owning fine original art. 201 W Front Ave, Bismarck, ND 58504 701-557-7600 109 N 4th Street, Bismarck, ND 58501 701-751-1698
A: Since joining The Capital Gallery two years ago, my appreciation for original art has grown much deeper. I have begun my own small collection, listening to and learning from co-director David Borlaug.
A: The drugs being abused today are not the same drugs that were abused 5-10 years ago, and many panels established in the past use cutoff levels that are differ ent from what's recommended today. If you haven't had your drug testing panels reviewed by a drug testing team within the last five years, contact Sanford Occmed and ask for a panel review and recommen dations for an up-to-date panel. This will ensure that you get the full benefit of your drug testing program, which will help you maintain the safest possible work environ ment.
After four years of active service in the US Air Force, Ryan Straub relocated to Bismarck, ND to join BAC as an Aircraft Maintenance Technician. While working in Minot at the Minot Air Base, he served as flight controls and landing gear Maintenance Technician on B-52's. Ryan joins BAC maintenance team with a reputation of being a "go-to airman" on tough projects. Ryan has his bachelor's degree and is looking to continue to fine tune is A&P skills in Bismarck under his new leadership.
CHI St. Alexius Health Heart & Lung Clinic is pleased to welcome Joya Ganguly, MD, andelectrophysiology,cardiacPeterMikhail, MD, FRCS(C), FACS, cardiovascular and thoracic surgery to its care teams in Bismarck. Joya Ganguly, MD, received her medical degree from Wayne State University/Detroit Medical Center - Detroit, MI. She completed her internal medicine residency at Loyola University Medical Center, Maywood, IL, an electrophysiology fellowship from the University of Utah, Salt Lake City, UT, and general cardiology fellowship at Wayne State University/Detroit Medical Center, Detroit, MI. Dr. Ganguly is board certified by the American Board of Internal Medicine and a member of the American College of Cardiology and Heart Rhythm Society.
AARP NORTH DAKOTA WELCOMES INTERN HALEY VOLLMER
Peter Mikhail, MD, FRCS(C), FACS, received his medical degree from McGill University, Montreal, QC. He completed a general surgery residency at University of Toronto, Toronto, ON, and cardiovascular and thoracic surgery residency at the University of Florida, Gainesville, FL. Dr. Mikhail is board certified by the American Board of Surgery and American Board of Thoracic Surgery, and is a Fellow of The American College of Surgeons, Fellow of The Royal College of Surgeons, and member of the American Medical Association, and Society of Thoracic Surgery.
Wendy Spencer has been hired as the Chief Executive Officer of the Bismarck-Mandan Board of Realtors®. She will replace Nancy Deichert who is leaving the position after 20 years. The BMBOR is a membership organization with 534 Realtors®. The organization also oversees administration for the newly-formed Great North MLS (Multiple Listing Service) with approximately 780 subscribers. In addition to the multiple listing service, the Realtor® Association is involved in providing member education, community involvement of its members, advocacy, administration and enforcement of the Realtors® Code of Ethics and use of the Realtor® trademark. Spencer came on board July 5 and will work with the Board of Directors, committees, and staff to achieve goals and objectives and to carry out the strategic plan of the association.
BISMARCK AERO CENTER WELCOMES STRAUB
WendyZeltingerSpencer
HBA EXECUTIVESPENCERWELCOMESASCHIEFOFFICER
GANGULY AND MIKHAIL JOIN CHI ST. ALEXIUS HEALTH HEART & LUNG CLINIC
Bianco Realty has announced their top 10 REALTORS® for July: Darcy Fettig, Shirley Thomas, Amber Sandness, Judy Maslowski, Phyllis Rittenbach, Justin Sackman, Tori Meyer, Greg Gerhart, Duane Bentz & Amy Asche. These 10 REALTORS® had the highest sales totals at Bianco Realty in July 2022. Share your business news with the Chamber EDC. Email press releases to Rebecca at rpelkey@bmcedc.com. Joya Ganguly, MD Peter Mikhail Haley Vollmer Dani Zimmerman Ryan Straub Brett
NDIRF'S KISTLER EARNS AINS DESIGNATION
MEMBER PERKS | CONNECTION 24 4 Connection
The North Dakota Insurance Reserve Fund (NDIRF) is proud to announce Underwriting Support Specialist Renae Kistler recently received an Associate in Insurance (AINS) designation. The Associate in Insurance (AINS) designation provides a broad understanding of the insurance industry for insurance professionals. To receive this designation, Kistler completed courses and tests on general insurance, commercial underwriting risks, and commercial insurance.
APEX HIRES SR. SURVEY CREW CHIEF Brett Zeltinger is a professional land surveyor certified in the state of North Dakota. He has 12 years of industry experience and joins Apex in Bismarck as a Sr. Survey Crew Chief. Brett is a member of the North Dakota Professional Land Surveyors Missouri River Chapter and is their current Vice President. In his role at Apex, he will provide survey project management, title research, drafting and consulting services.
Haley Vollmer has joined the AARP ND team as a communications and volunteer engagement intern.Vollmer is from Wing, N.D., and will be a third-year student at Kansas State University next fall working towards a Bachelor of Science in Marketing, with minors in Agricultural Communications and Education as well as Entrepreneurship. She is also a competing member of the Kansas State University Rodeo Team. Her role at AARP includes working with the North Dakota team to engage people with AARP and its events and activities. She will help communicate and promote AARP and what the organization represents -- empowering people to choose how they live as they age.
ZIMMERMAN JOINS BIANCO REALTY Bianco Realty is excited to announce the newest REALTOR® to join their professional Real Estate Team: Dani Zimmerman. Dani looks forward to helping clients with their Real Estate needs, achieving their dream of home ownership and providing a Tradition of Excellence!
BIANCO REALTY SALES AWARDS
LEGACY FINANCIAL PARTNERS HONORED AS TOP 100 PRIVATE WEALTH MANAGEMENT TEAM
BRADY HIRED AS AVIONICS TECHNICIAN AT BISMARCK AERO CENTER Ben Brady joins Bismarck Aero Center with an AS degree in both Electronics and Avionics. Early on in his career, Ben worked at an avionics shop as a wiring harness fabricator. Ben's last several years of experience have been in field repair of industrial appliances, food equipment, and HVAC equipment. As a field repairman, he has developed skills in customer service, problem solving, and ingenuity. Ben's references praise him as someone who is resourceful in getting the job done and having high integrity. Ben will be able to apply his field repair skills immediately at BAC while continuing to refine his avionics craft.
Thurs, 8th 9:00 am Bismarck Parking Authority * 4:00 pm Bismarck Renaissance Zone Authority *
Tues, 27th 5:15 pm Bismarck City Commission Wed, 28th 5:00 pm Bismarck Planning & Zoning
Wed, 7th 5:00 pm Burleigh County Commission
SEPTEMBER LIVE GOVERNMENT MEETINGS
CONNECTION | MEMBER PERKS Connection 3 25
Legacy Financial Partners, a private wealth advisory practice of Ameriprise Financial Services, LLC in Bismarck, was recognized as one of "Barron's Top 100 Private Wealth Management Teams" in the country by Barron's Magazine, a publication covering business and finance. Barron's recognizes the industry's most outstanding financial advisors and their teams who represent the highest levels of ethical standards, professionalism, and success in the business. Legacy Financial Partners was chosen based on assets under management, revenue generated for their firm, and the quality of their practice. The team focuses on helping their clients plan for their financial goals for a lifetime – through a personal long-term financial planning relationship.LegacyFinancial Partners also includes financial advisors and staff members in 27 other office locations throughout the Upper Midwest.
Tues, 20th 1:30 pm Met. Planning Org. – Policy Board * 5:30 pm Mandan City Commission Wed, 21st 3:00 pm Bismarck Historic Preservation Commission * 5:00 pm Burleigh County Commission Final Budget Mon, 26th 5:15 pm Bismarck School Board 5:30 pm Mandan Planning & Zoning
Wed, 14th 8:00 am Burleigh Water Resource District * 5:15 pm Burleigh Planning & Zoning
The CRA Group, a commercial real estate brokerage company, is pleased to announce that Kristyn Steckler is the new Managing Broker of The CRA Group. Kristyn Steckler is a life-time resident of Bismarck-Mandan and University of Mary Alumni. Kristyn joined Kyle in 2017 as a Client Relationship Manager, and just about two years later, established The CRA Group as 50/50 partners. Her deep roots and community involvement in the Bismarck-Mandan area has established many relationships and network connections throughout all industries in the area. Kristyn continues to be a multi-million-dollar producer in commercial real estate. Kristyn would like to thank the community for all their continued support!
Kristyn Steckler Ben Brady
ProvidedBoardonGovernment Access cable channels 2 & 602HD FreeTV.org, Roku, Apple TV, Fire TV Radio Access 102.5FM and RadioAccess.org Meetings are replayed on Government Access channels and are archived online at FreeTV.org * Not available on Radio Access
Mon, 12th 5:15 pm Bismarck School Board 5:30 pm Mandan Park Board *
Thurs, 1st 5:00 pm Bismarck Board of Adjustment *
Tues, 13th 5:15 pm Bismarck City Commission
Thurs, 15th 5:15 pm Bismarck Park Board
Kyle Holwagner, CCIM, SIOR, will be an Associate Broker for The CRA Group.
NEW CRABROKERMANAGINGFORTHEGROUP
Mon, 19th 10:00 am Met. Planning Org. – Tech Advisory Cmte. * 5:30 pm Mandan School
Tues, 6th 5:00 pm Mandan City Commission 7:00 pm Mandan School Board
RIBBON CUTTINGS | CONNECTION 26 4 Connection First Community Credit Union celebrate their new location at 4614 Memorial Hwy in Mandan. Phone: 701-258-2751. Member. FIRST COMMUNITY CREDIT UNION Crystal Rock Healing celebrating their new location at 923 W Interstate Ave in Bismarck. Phone: 701-516-7225. CRYSTAL ROCK HEALING Kirkwood Mall celebrate the grand opening party of their five new parking lot tenants - Five Guys, Blaze Pizza, Pancheros, Thrifty White, and Chick-fil-A. KIRKWOOD MALL Alzheimer's Association celebrate their new location at 600 S 2nd Street, suite 202 in Bismarck. Phone: 701-356-2087. Member. ALZHEIMER'S ASSOCIATION Ribbon cuttings are conducted by a committee of Chamber EDC volunteers called Ambassadors. Businesses qualify for a ribbon cutting if they open, move, and remodel, are under new ownership, change their name, or offer a new product or service. To find out how you can get a free ribbon cutting from the Bismarck Mandan Chamber EDC, please call Ross at 701-223-5660. 3801 Lockport Street, Ste #3 Bismarck, ND 58503 Phone:www.nodakins.com701-223-4400 Brandon 701-214-7614Piatz McKeon701-870-6225MeyhoffGetting a quote is quick & easy!
Creativity is in our DNA. Our game-changing innovations are redefining the possibilities of digital experiences. We connect content and data and introduce new technologies that democratize creativity.
Contact us today to rent this venue for your meetings, holidays, birthdays, celebrations, and events!
CONNECTION | NEW MEMBERS
Fabricators Unlimited 171 Eastdale Drive Bismarck, ND 58501 (701) 751-6024
Amy Larsen Home builders.
3 27
Apex Builders 104 Keidel Trail SW Mandan, ND 58554 (701) 527-7899
Dan Anderson Compassionate law firm that honors family tradition and spirit of service to our community and friends. Enticed Bismarck V3NU3 LLC 320 W Main Street Mandan, Nd 58554 (701) Cassandra220-7548Chapa
Connection
The Chamber EDC encourages all members to do business with each other. The following companies and organizations have recently made an important investment in their business by joining the Chamber EDC. Please consider them for your professional and personal needs. To find a complete listing of Chamber EDC members, view the Member Directory online at www.bismarckmandan.com.
Nodak Insurance Company 3801 Lockport Street, Ste #3 Bismarck, ND 58503 (701) 214-7614 Property, casualty, health, farm and life insurance, auto, camper, trailer, home, boat, motorcycle, farm, crop, umbrella, life and business insurance.
Rachael Howard We are a Pride of Dakota certified mobile coffee shop serving fresh wraps, frappes, smoothies, lattes, desserts & more! We stand out from the competition by using locally sourced products. ReadiTech IT Solutions 4870 Rocking Horse Circle S. Fargo, ND 58104 (800) Justin279-4796Farkas Offer a suite of services that can boost, secure and streamline your business operations. Our analysts proactively monitor and maintain your network, servers, computers, software and support.
3andME, LLC (Mobile Coffee Shop) 4301 Sandy River Drive Bismarck, ND 58503 (701) 425-3163
Kelli Thompson Est. in 1985, we provide a high-quality countertops & installation service. Using advanced technology/equipment we pride ourselves on our service, quality of workmanship, & commitment to our client. Adobe 345 Park Avenue San Jose, CA 27616 (502) Alexandria530-0418Haslam
Legacy Law Firm 222 E Main Street, Ste A Mandan, ND 58554 (701) 354-4004
UPCOMING CHAMBER EDC EVENTS THURSDAY, SEPTEMBER 22 BAYMONT INN & SUITES THURSDAY, SEPTEMBER 22 BAYMONT INN & SUITES Presented by Purchase tickets online www.bismarckmandan.comat Help us celebrate our local businesses and leaders for their accomplishments within the community! FIND HEALTHY YOUR$1 JOINER FEE PLACE SEPTEMBER 6-30 Join now for the very best value of the season, a savings of up to $100! www.bismarckymca.org Pay no dues until October 1 FIND YOUR "Y"
Bismarck Mandan Chamber EDC Connection 1640 Burnt Boat Drive Bismarck, ND 58503
SEPTEMBER MEMBERSHIP MIXER: TIRES PLUS (NORTH)
MIXER:
OCTOBER MEMBERSHIP MIXER:
Date: November 8, 2022 • Registration: 7:00am - 7:30am Event Time: 7:30am - 9:00am Location: Bismarck Hotel & Conference Center – 800 S 3rd Street, Bismarck
NOVEMBER MEMBERSHIP ZORELLS JEWELRY Date: November 17, 2022 • Time: 4:30pm - 6:30pm Location: Zorell's Jewelry – 221 S 9th Street, Bismarck BISMARCK SIGN CO Date: October 6, 2022 • Time: 4:30pm - 6:30pm Location: Bismarck Sign Co 1926 Frontier Drive, Bismarck CELEBRATE Date: September 22, 2022 • Registration: 10:30am - 11:00am Event Time: 11:00am - 1:00pm Location: Baymont Inn & Suites – 2611 Old Red Trail, Mandan
BISMARCK-MANDAN
Date: September 15, 2022 • Time: 4:30pm - 6:30pm Location: Tires Plus (North) – 5216 Ottawa Street, Bismarck BRATS WITH THE BRAVE Date: September 7, 2022 • Time: 11:30am - 1:30pm Location: Kirkwood Mall – North Underpass Entrance, Door #1 STATE OF THE CITIES