CONFERENCE Report OUR TAKEAWAYSKEY THE RAPID RISE OF RESTORATIONHAIRDRLIZGOLEZON INMODE'S GAME-CHANGING NEW PLATFORM FOR WOMEN'S HEALTH aesthetics • medi • wellnessVolume 90 2022
For the forward-thinking individual who values unrivalled precision, safety and clinical efficacy, science proves the superiority of 532 nm combined with 1064 nm – excel V+ makes this a reality. "The machine has been a godsend, it's my workhorse machine. I do everything GREEN. REDEFINED.
Model, not actual patient. Results may vary. 1 Taub A, Bartholomeusz J. Ultrasound Evaluation of a Single Treatment With a Temperature Controlled MultiFrequency Monopolar Radio Frequency Device for the Improvement of Localized Adiposity on the Abdomen and Flanks. J Drugs Dermatol. 2020;19(1):28-34 Somenek MT, Ronan SJ, Pittman TA. A Multi-Site, Single-Blinded, Prospective Pilot Clinical Trial for Non-Invasive Fat Reduction of the Abdomen and Flanks Using a Monopolar 2 MHz Radiofrequency Device. Lasers Surg Med. 2021 Mar;53(3):337-343AP003662. *Medical Insight Energy-Based Body Shaping and Skin Tightening 8-2019 Look good, feel good and get there faster with the 15-minute proven fat reduction and muscle sculpting treatments by truBody.1,2 truBody pairs fat reduction by truSculpt iD and muscle sculpting by truSculpt flex for an effective comfortable, no down-time body shaping treatment. DELIVERS HIGH THROUGHPUT & ROI Learn more about our award-winning technology go to cuteraanz.com/trubody Tap into this fast-growing $4.9B MARKET* using low cost consumables to deliver high patient satisfaction.
ONLY AT SELECTED PAYOT SALONS & SPAS Call 1300 367 969 or 02 9874 1166 for the location of your nearest Payot Salon & Spa. www.payot.com | join us payotaustralia
CLINICALLY TESTED MULTIFUNCTIONAL BRIGHTENING AND ILLUMINATING SKINCARE ROUTINE (1) Satisfaction test carried out on 20 volunteers. Application twice a day for 28 days. % of volunteers who noticed the effects. (2) Satisfaction test carried out on 22 volunteers. Application twice a day for 28 days. % of volunteers who noticed the effects. STEP 01 Harmonie Lotion Cleanses, moisturizes and brightens. STEP 02 Harmonie Serum Corrects and radiance.gives STEP 03 Harmonie Jour SPF30 Protects, hydrates and illuminates. Reduces the appearance of dark spots and pores 95% (1) Unifies the95%complexion(1) Corrects and prevents the appearance of pigment spots 100% (2) MOONSTONE Skin luminosity Skin hydration NIACINAMIDE + VITAMINE C DERIVATIVE Complexion brightener Dark spots corrector AsseeninMarieClaire PayotwanttosendYOUNewCustomers
www.waterlilyskinbodyspa.com.au
Letter EDITOR'S published by BHA MEDIA Pty Ltd A division of The Intermedia Group 41 Bridge Rd, Glebe NSW 2037 ph:www.bhamedia.com.au0296602113fax:02 9660 4419 executive chairman Simon managingGrover director Craig ph:Kymadvertisingndilong@intermedia.com.auNadinemanagingcraig@intermedia.com.auHawtin-ButchereditorDilongenquiriesCowper+61296602113mob:0410 570 467 Tsubscriptions@intermedia.com.ausubscriptionLeannegraphickcowper@intermedia.com.audesignerHogbinenquiriesosubscribebycreditcardcall1800 651 422 or visit www.intermedia.com.au To subscribe by cheque or money order, make cheque/money order payable to: The Intermedia Group Pty Ltd. P.O. Box 55, Glebe, NSW Australia 2037 1AUSTRALIAyr(4issues) $AUD 79.00 inc GST 2yrs (8 issues) $AUD 126.40 inc GST – SAVE 20% 3yrs (12 issues) $AUD 165.90 inc GST – SAVE 30% NEW ZEALAND 1 yr (4 issues) $AUD 100.00 1ASIA/PACIFICyr(4issues) $AUD 110.00 REST OF WORLD 1 yr (4 issues) $AUD 127.00 Payable in Australian dollars includes air postage Disclaimer: This publication is published by BHA MEDIA Pty Ltd (the "Publisher"). Materials in this publication have been created by a variety of different entities and, to the extent permitted by law, the Publisher accepts no liability for materials created by others. All mate rials should be considered protected by Australian and international intellectual property laws. Unless you are authorised by law or the copyright owner to do so, you may not copy any of the materials. The mention of a product or service, person or company in this publication does not indicate the Publisher's endorsement. The views expressed in this publication do not necessarily represent the opinion of the Publisher, its agents, company officers or employees. Any use of the information contained in this publication is at the sole risk of the person using that information. The user should make independent enquiries as to the accuracy of the information before relying on that information.All express or implied terms, conditions, warranties, state ments, assurances and representations in relation to the Publisher, its publications and its services are expressly excluded save for those conditions and warranties which must be implied under the laws of any State of Australia or the provisions of Division 2 of Part V of the Trade Practices Act 1974 and any statutory modification or re-enact ment thereof. To the extent permitted by law, the Publisher will not be liable for any damages including special, exemplary, punitive or consequential damages (including but not limited to economic loss or loss of profit or revenue or loss of opportunity) or indirect loss or damage of any kind arising in contract, tort or otherwise, even if advised of the possibility of such loss of profits or damages. While we use our best endeavours to ensure accuracy of the materials we create, to the extent permitted by law, the Publisher excludes all lia bility for loss resulting from any inaccuracies or false or misleading statements that may appear in this publication. Copyright © 2022 BHA Media Pty Ltd. Environmental Statement: The Intermedia Group takes its Corporate and Social Responsibilities seriously and is committed to reducing its impact on the environment. We continuously strive to improve our environmental performance and to initiate additional CSR based pro jects and activities. As part of our company policy we ensure that the products and services used in the manufacture of this magazine are sourced from environmentally responsible suppliers. This magazine has been printed on paper produced from sustainably sourced wood and pulp fibre and is accredited under PEFC chain of custody. PEFC certified wood and paper products come from environmentally appro priate, socially beneficial and economically viable management of forests. The wrapping used in the delivery process of this magazine is 100% recyclable. aesthetics • medi • wellness SPA+CLINIC
With large parts of Aussies having escaped to Europe this Winter (I see you all on Instagram!), I think I speak for all of us when I say I cannot wait for Spring to start. Spring brings new beginnings, which is something a lot of people in this industry desperately want after almost three years of natural disasters and a global pandemic. It feels like we're still not quite back to normal yet, but at least we can be together again, and it's that amazing feeling of real-life interaction and community that I felt at all the conferences and events I have been to this year. Have a look at page 54 for our NSS wrap-up including all the trends and news we learned about.
I met some incredibly talented practitioners at the Non-Surgical Symposium, including California-based Dr Richard Chaffoo, a hair restoration expert, who shares with us why hair is the next big thing and now is the time for you to add hair transplant treatments to your clinic (page 60).
Another US based doctor I loved getting to know is Dr Tahl Humes, who chatted with me about an exciting new laser launching in Australia soon (page 96). And our cover star is doing amazing things to empower women and destigmatise women's health. Read all about Dr Liz Golez and InMode's incredible new women's wellness platform on page 58. Education is another big focus of this issue, and I love that many brands are investing in exceptional training these days, like Galderma, who have opened their new GAIN Academy in Melbourne (page 36) and Teoxane, who invited their trainers to their Academy in Geneva, as cosmetic nurse Madeline Firkins tells us (page 102). If you'd like to further your education too, join us at our B2B event, BEAUTY&SPA Insiders, on Sep 12! Limited tickets are available at beautyandspainsiders.com.au. I hope to see you there! Nadine Dilong Managing Editor NDILONG@INTERMEDIA.COM.AU
www.facebook.com/spaclinicmagazinetwitter.com/spaandclinicwww.instagram.com/spaandclinicwww.linkedin.com/company/spaclinic Video Play to watch Nadine talk about this issue.
Advanced Cosmeceuticals 1800 242 advancedcosmeceuticals.com.au011
62 54 Contents 76 On the cover InMode, leaders in RF technology. InMode is an Israeli based company focusing on developing products and procedures utilising the most innovative radio frequency, light-based energy and laser technologies that strives to enable new emerging minimally-invasive procedures and improve existing surgical procedures. Our minimally invasive and non-invasive procedures are clinically proven to reduce treatment and recovery time. InMode has leveraged its medically-accepted RF technologies to offer a comprehensive line of platforms. Our mission is to deliver in our promise! Create innovative, life changing technology that leads the industry in enhancing beauty and wellbeing. inmode.com.au COVER STORIES 54 Conference Report 58 Dr Liz Golez on InMode's game changing new platform for women's health 60 The Rapid Rise of Hair Restoration INTERIOR 14 Orèa Aesthetics Take a look at this stunning new clinic in Burleigh Heads EVENTS 24 NSS Celebrates 10 Years Our report on the Non-Surgical Symposium 2022 30 It's Beauty Expo Time! What to expect at this year's comeback of Beauty Expo BUSINESS 36 Galderma Opens GAIN Academy Galderma's newest academy in Victoria has opened 40 It's All About The Patient Journey We chat to Dolce Vita owner, Vita Catanzariti 46 Why We Close Our Doors Every 8 Weeks For Training Dr Clair McCartney explains 50 The Experts Are Here To Help How can ABIC's council members help you and your business? 52 How This Clinic Owner Tripled Her Business In 3 Years Top tips for growth from Dr Clara Hurst ICONS OF INDUSTRY 72 Jeff Chen, Luxe Cosmetic Clinic SPA HOTSPOT 76 Raffles Spa, Singapore WELLNESS 80 The Power of Sandalwood Why this ancient ingredient is entering the skincare industry 82 The Only Way To Prevent Sleep Wrinkles Why you need to recommend these pillows to your clients AESTHETICS 85 Sensitivity Be Gone mesoestetics' new range is all about strengthening and calming the skin TECHNOLOGY 88 Intimate Rejuvenation O-Shot, vaginal tightening, and much more explained 92 HydraFacial Gets Personal We chat to HydraFacial's CEO about the many ways to personalise the treatment 96 An American Perspective Dr Tahl talks aesthetics in the US and the new acne technology MEDI 100 The Psychology of Aesthetics and Body Dysmorphic Disorder Is aesthetics actually less about beauty and more about psychology? 102 How I became a Teoxane Trainer Cosmetic Nurse Madeline Firkins shares her career journey 10 | SPA+CLINIC
LIFTING PROGRAMMEBRIGHTENINGANDSTATE-OF-THE-ART www.wiqo.com1800 242 011 @wiqoanz A revolution in needle-free biorevitalisation that stimulates the skin's natural restorative processes like never before. The 3-step approach combines an innovative, patentpending formulation applied in-clinic, with a home care protocol to deliver immediate and progressive results with minimal downtime. The skin is visibly firmer, brighter and smoother from the very first treatment. All ages | All areas | All skin types | All year-round Before After 3 sessions
The textures are relatively thin and were absorbed by my skin quickly, and even though there was no visible film left on my skin, it felt hydrated and nourished – great for people who like light products. After a few weeks, I noticed that the texture of my skin had become finer – my skin felt smoother and softer to touch. None of the products irritated my sensitive skin, which is another big plus from me. SkinMTX would be a great addition to your clinic if you are looking for an active, results-focused, 'scientific' brand as it "bridges the gap between beauty formulations and prescriptive drugs." I can't wait to try more of their products. advancedcosmeceuticals.com.au
Nadine Dilong, Managing Editor tried: Omnilux Clear LED is everywhere. While I love the efficacy of in-clinic LEDs, it's often hard to find the time to pop into a spa or clinic for a treatment, so at-home LED masks are a great complement to my professional treatments. Omnilux was one of the first to offer a portable LED face mask, which was so popular during lockdown, it was sold out in a lot of places, and now, they have release their new Omnilux CLEAR, which uses blue LED light proven to kill bacteria and help reduce oil production and inflammation that causes acne. While I only get a few hormonal pimples every now and then, I loved the mask's ability to calm down my skin's inflammation and redness I often experience. The mask has adjustable straps and shields the eyes from the light so you can still go about reading or watching TV while using it, which is great as some other brand's masks are so bright, it's hard to see anything while they're on. With FDA/TGA clearance specifically for acne, this could be a game-changer for your patients with breakout prone skin, and a great add-on sell to your treatment packages. omniluxaustralia.com.au
Nadine Dilong, Managing Editor tried: SkinMTX Skincare SkinMTX is a dermatological-grade skincare brand trusted by dermatologists, aesthetic doctors and medi-spas around the world, so I was excited to try it and gave it the required 12 weeks' time before writing this review to see how my skin would react. I tried the Lumi Cleansing Milk, a very mild, creamy cleanser, which removed impurities without leaving my skin feeling stripped, followed by the TeloZyme Youth Activator Serum and Ultimate Fine Line Eraser Moisturiser every morning and night. The brand is known for its revolutionary TeloZyme ComplexTM, based on the Nobel Prize-winning discovery that the ageing process is linked to telomeres.
Kym Cowper, Advertising Manager tried: Ultraformer III So I'm totally convinced of the results of Ultraformer III for non-surgical skin tightening and lifting for the face, but what I didn't realise was the amazing results it can have for the body. I'm especially in need of a little help on my tummy after two babies and gravity, lately I've noticed skin laxity on my stomach; the team at Cryomed were up for the challenge! The high peak power means Ultrasound energy is delivered effectively onto larger areas, says Cryomed's Shaun Connolly, therefore it is time efficient when treating larger body parts, and you see results faster. My treatment lasted approximately 35 minutes and the coagulative temperature of 60-70 degrees that was reached with different hand pieces activates the skin's natural healing process. This makes room for collagen regeneration which will assist to naturally lift and tighten my tummy skin. I'm not going to lie, it was a tad bitey for the first half of the treatment, but Shaun ensures me that it will achieve better results this way. At the time of writing this review I have had only one treatment, while protocol suggests 6 x weekly intervals so I'm keen to continue my Ultraformer III journey and update you all via socials with what's looking like some great before and after photos. So far, during my weekly pilates reformer classes, I have definitely already noticed a difference. Cryomed.com.au
12 | SPA+CLINIC
TRIED +TESTED
The latest and greatest in the aesthetics industry, tested by the SPA+CLINIC team.
Kym Cowper, Advertising Manager tried: Rezenerate Nanofacial I tried the Rezenerate nanofacial –their philosophy is simple: combine innovative tech with pure high quality products to deliver next-level cosmetic facial results with no pain and no downtime. The product neutral offering means this device can be combined with clinics' current skincare lines. My first Rezenerate nanofacial was combined with Ultraderm cosmeceutical skincare at DermaGlow Medi Spa. The gorgeous Paula has been in the aesthetic space for over three decades. Paula began my treatment with traditional cleansing, followed by a firm facial massage, incorporating acupressure points, stimulating my facial muscles, which supports the Rezenerate protocol and Paula's ethos at DermaGlow to stimulate a healthy glow. I can tell she absolutely loves her job, complimenting my facial with an amazing décolletage, shoulder and neck massage – sheer bliss, so grateful for this mid-week skin treat. Post divine massage, Paula applies a mask and then covers my face with a sheer cloth mask; now the fun begins, the mask is complimented with stainless steel ice globes to further stimulate my complexion, which is surprisingly relaxing. The last step is the Rezenerate tool, which resembles a skin pen without the needles and acts as an infusion catalyst. It is used perpendicularly to my face to infuse Ultraderm's Absolute C serum as the last step of my nanofacial, and it feels nice and absolutely painless. I have to say, the results speak for themselves; my complexion is plump, firm and extremely hydrated, definitely achieved the 'DermaGlow' with Rezenerate. Rezenerate.com.au
TRIED+TESTED Welcome to the Rezenerate rezenerated! Increases product absorption for deeper penetration of topical skincare products Restructures, rebalances and optimises cell function Volumises for a firmer, more lifted Enhancesappearancemicrocirculation for improved brightness and optimum skin health Lessens the appearance of UV damage and pore size Visit our stand J139 at BeautyAustraliaExpo 1300 660 www.rezenerate.com.au297
Pillow Talk pillowtalk.com.au Kalamata Olive Tree Greece When two nurses transform a factory to build their state-of-the-art clinic, magic happens. Meet Orèa Aesthetics. INDUSTRIAL WITH A TOUCH OF Sarah Ellison sarahellison.com.au 14 | SPA+CLINIC
INTERIOR Tom Clifford Carpentry tomcliffordcarpentry@yahoo.com Custom made with Mosaic Stone Tiles Bed, Bath N' Table bedbathntable.com.au spaandclinic.com.au | 15
"It was such a fun and exciting process planning the design of the clinic," says Chiara. "Firstly, we needed to find the perfect location which was limited because we specifically wanted to transform a warehouse. The reception area is such a beautiful open space and by adding the glass facade we created so much more natural light, which adds to that Greek summer feel. We designed and selected every single little detail ourselves because we were both so confident in our vision and took inspiration from our own travels. The little touches and finer details like the mosaic stone bench seat and matching reception desk really set the tone for the space and create that wow factor that everyone comments on when visiting Orèa. Our builder was also incredible to work with which made the entire process a breeze considering this was our first time'Orèa'renovating!"isaGreek word for 'beautiful/nice', which perfectly reflects the emotions their patients feel when leaving this oasis. Chiara and Kirby pride themselves on their personal approach to the clients experience and treating the skin and person as a whole. This isn't about simply looking youthful or feeling great, it's about transforming your lifestyle from the inside-out.
16 | SPA+CLINIC
When it comes to lessons they've learned and advice for anyone wanting to open their own business, the duo say this: "Don't settle for less, you'll end up redoing it in the future, costing yourself more time and money."
Location: BURLEIGH HEADS, QLD Size: 180 m2 Number of treatment rooms: 4 Number of staff: 3 Interior Inspiration: MODERN,TRANQUILSIMPLISTIC,
"Aesthetics is our business, so the look of our business is everything," says Kirby. "Creating a space that exudes warmth was so important, we want our clients to feel at ease before having a treatment and I think this starts the moment they arrive."
The space at Orèa Aesthetics was created to be one of a kind. Located in an industrial area, it's the first of its kind being a factory transformed into a European haven of white arches and olive trees. Once inside the doors, you could easily confuse it with being in the dreamy surrounds of Mykonos.
INTERIORWhen two forces combine, incredible things happen. Orèa Aesthetics is the pride and joy of Registered Nurses Chiara Dhu and Kirby Petterson. Located in the ultra-popular suburb of Burleigh Heads on the Gold Coast, this brand-new aesthetic clinic offers all the latest treatments in cosmetic injectables complemented with medical grade skin treatments. Chiara and Kirby began their careers in the world of cosmetic medicine six years ago where they met during their time working for a large Australian cosmetic clinic franchise. From here, Chiara has built a reputation as The Lip Fairy having worked in both Melbourne and on the Gold Coast over many years. Kirby established her following on the Gold Coast and now also travels to Gladstone once a month to see her loyal clients. Last year the girls both knew the time was right to bring a new experience to the Gold Coast that reflects their passion for aesthetics.
Facts & Figures
Owners: KIRBY PETTERSON & CHIARA DHU
Name: ORÈA AESTHETICS
Straight Up. Therapure offers straight-up, honest labels that you can trust. When it comes to our products, you won't need to worry about what harsh excipients, fillers or hidden ingredients are in our capsules, as we pride ourselves in complete straight up label transparency. We never leave an ingredient off our clear labels! When you choose Therapure, you can be confident you're buying pure. For more information or to become a stockist visit TheraHealth.com.au
SPA+CLINIC ONLINE Stay in touch ! Subscribe to our weekly newsletter to get the latest industry news delivered straight to your inbox. Head to spaandclinic.com.au/newsletter-signup Come follow us on social media for daily updates: Instagram: @spaandclinic Facebook: @spaclinicmagazine LinkedIn: @SPA+CLINIC TrendingWhat'sOnline? InstagramLikedMostOn Find even more information and inspiration for the spa and aesthetics industry by heading to spaandclinic.com.au and following us on social media. Could 'Lip Blushing' Tattooing Be The New Filler Alternative For A Fuller Pout? 7 Instagram Reel Ideas To Inspire Your Clinic's Next Content Creation InfraredSession vs Coal Saunas: Which Should You Choose For Your Spa? GSN Planet Launches App To Improve Spas' Sustainability Practices 18 | SPA+CLINIC
www.calecimprofessional.com.au andregeneratesVisiblyrestoresskin post-procedureImprovesrecoverywithimmediateimpact Day 4 post procedure: Decreased swelling on LHS using CALECIM Day 4 post procedure: Decreased redness on LHS using CALECIM Post 2 weeks CALECIMusing The World's Only Skincare Powered by Ethically Derived Red Deer Umbilical Cord Lining Stem Cells calecimprofessional.com.au | 1800 242 011 IT'S NO MIRACLE. IT'S SCIENCE ®
NEWS Flash! The latest and greatest to stock your shelves with right now. COSMEDIX ELITE ALT-A, RRP $236.00 ADVANCEDSKINTECHNOLOGY.COM.AU ESK Evidence Skincare Ageless Microneedle Patches, RRP $39.00 ESKCARE.COM PMDRRPPillowcase,Silversilk$149.00 AU.PMDBEAUTY.COM Revision Gentle Foaming Cleanser, RRP $66.00 REVEALAUSTRALIA.COM.AU By The Be Lumière, RRP $36.00 BYTHEBE.COM.AUDermalogica Daily Milkfoliant, RRP $99.00 DERMALOGICA.COM.AU Liberty Belle Date Night, RRP $138.00 LIBERTYBELLE.COM.AU The Better Brand Solid Fragrance Keeper, RRP $109.00 THEBETTERBRAND.COM.AU KeraFactor Scalp Stimulating Shampoo & Conditioner, RRP $103.40 ADVANCEDCOSMECEUTICALS.COM.AU Dr Naomi Skin One Night Stand, RRP $149.00 DRNAOMI.COM The Better Brand Fragranced Elixir, RRP $72.00 THEBETTERBRAND.COM.AU 20 | SPA+CLINIC
COSMETICS Murad Rapid Dark Spot Correcting Serum, RRP $120.00 MURAD.COM.AU NuSkin ageLOC Meta, RRP $199.00 NUSKIN.COM.AU SEIR Mineral Complex AntiAgeing Elixir, RRP $52.00 SEIRBEAUTYSCHOOL.COM OCosmedics O-Rejuv Facial Device, RRP $199.00 INSKINCOSMEDICS.COM.AU AestheticsRx Biofermented Triple Action Scrub, RRP $79.99 AESTHETICSRX.COM.AU Jeuneora Renewing Booster, RRP $58.00 JEUNEORA.COM.AU Mavala Prismatic Collection, RRP $8.95 each MAVALA.COM.AU Payot Rituel Duceur, RRP $40.00 PAYOT.COM.AU Waterlily Spaceuticals Intensive Hand Therapy, RRP $79.00 WATERLILYSKINBODYSPA.COM.AU Ultraderm Hydra Express Eye Patches, RRP $39.00 for 3 pairs ULTRADERM.COM.AU Waterlily Spaceuticals Cell Therapy, RRP $129.00 WATERLILYSKINBODYSPA.COM.AU spaandclinic.com.au | 21
Join us for Australia's Premier Beauty and Medi-aesthetics Event The third instalment is returning to Sydney. BEAUTY & SPA Insiders is our celebration of the Australian beauty and medi-aesthetics industry – showcasing talent, innovation and creativity. Join us for presentations and panels from industry leaders and get ready to explore the latest trends, technologies, and news from well-loved and upcoming brands. Designed to inspire, BEAUTY & SPA Insiders also provides the opportunity to connect and celebrate with like-minded professionals from across the industry. 12 September 2022 Hinchcliff House, Sydney www.beautyandspainsiders.com.au Tickets are on sale now BEAUTY & SPA INSIDERS12September2022
BROUGHT TO YOU BY Guest speakers include: OTTO www.beautyandspainsiders.com.auspeakerDiscoverMediclinicFounderManagingMITTERDirectorElleebanaCATHYTOLPIGINandCuratorSARAHHUGHEStrainingmanagerTheInternationalDermalInstituteGRYTØMTEFounderHÜD&TheProfit+PurposeConceptthefullline-uponlineatEREFounderPEREZ Ere Perez Natural Cosmetics DR MARTINA LAVERY ClinicianBDSand Owner Martina Dental And +Aesthetics SARAH HUDSON Founder and Director Skin By Sarah Hudson DR YUMIKO KADOTA MBBS (Hons) BSc (Med) Hons I Co-DirectorDouglasSydneyDirectorFaceDoctorDOUGLASPEREIRAFounderPereiraSkinHealthSUZIEHOITINKRNFACNandSeniorConsultantHtnkConsulting
10 YEARS WITH CONFERENCEBIGGESTYET
24 | SPA+CLINIC
We spent the first weekend in June at the Non-Surgical Symposium on the Gold Coast; Editor Nadine Dilong shares her experience. The NSS is one of the conferences I look forward to most every year, and so I was especially excited this time as it had been three whole years (due to the pandemic) since I attended the Non-Surgical Symposium in person. Organised by the incredible team at The Production House Events, this conference is big: Over 600 delegates, and just under 100 exhibitors made their way to the Gold Coast Convention Centre on June 3-5 to learn, connect, and celebrate the symposium's 10th anniversary. The line-up of speakers was incredible, including several practitioners from overseas, such as Dr Tahl Humes, Dr Richard Chaffoo, and Dr Simon Ravichandran, but it was the opening and closing panels that were my favourite. Scientific Convenor of NSS, Dr Naveen Somia joined past and present ASAPS Presidents and NSS
THE NSS CELEBRATES
Convenors, including: Dr Niamh Corduff, Dr Craig Layt, Dr Steven Liew, Dr Gabrielle Caswell, Dr Scott Ingram, Dr Mark Magnusson, Dr Tim Papadopoulos, and Prof Greg Goodman, to share the NSS's legacy, and a look at how the industry has changed in the past 10 years, as well as a guessing look into the future. Huge advancements in technology were mentioned, as well as a very welcome trend towards collaboration, rather than defragmentation. And that's exactly what the NSS is about, bringing together practitioners from different aspects of the industry, and encouraging them to share their knowledge for the betterment of the industry as a whole. Trust and transparency was one of the main focuses at the conference, and something close to ASAPS President Dr Robert Sheen's heart, as he explained in an exclusive interview with SPA+CLINIC:
Dr Naveen Somia added that "this industry was an emerging industry a few years ago, and now it is a mature industry, so if you want to join this industry now, your skillset has to be at a certain level, so it is really important for people to upskill. We have an interest in raising the standards constantly based on evidence-based research and technology." And upskill is what people did, learning about new technologies, such as the Artis hair restoration robot, the latest in body contouring, new injecting techniques, and how to minimise risk and adverse events. But it wouldn't be NSS without grand social events. The welcome drinks event on Friday night was Greek-themed and saw hundreds of delegates enjoy a drink and delicious Mediterranean food, while the sold-out Gala Dinner on Saturday night took us on a journey to Arabian Nights, including fire dancers and a real-life python.
My personal highlight? The warm and collegial feeling throughout the weekend – the community that conferences like the NSS build should not be underestimated, and I certainly can't wait to attend next year's NSS in Brisbane.
spaandclinic.com.au | 25
Events
"It's important that clients and patients trust the service you provide, they need to trust the technology and the people delivering that technology. And a way to achieve this is transparency, to be completely upfront about what your qualifications are, what your experience is, what symposiums you go to, what problems you've had in the past. One of the benefits of the NSS is that we recognise we're a community of like-minded professionals. And the networking opportunities we provide allows you to learn from other people and open your hearts to other people, which builds trust with the community."
Ready to feel inspired? Whether you're a nursepreneur, clinic owner or practitioner, The Fresh Life is here to revive your spirit and ignite your business. Partnering with the big players and out-of-the-box partners in the wellness & beauty arenas, this conference/wellness retreat promises to support every aesthetic professional across every part of their business. Connect with the cosmetics community as you take part in innovative discussions, demos and training sessions that will boost your business, refresh your body and reinvigorate your mind. With the perfect mix of education, self-development and relaxation, you can enjoy: Spa & injectable treatments Training • Live demos • Coaching • Wellness classes • Community • And so much more! Find the right aesthetics Forget dark hotel ballrooms or bland convention centres: The Fresh Life is an aesthetics conference like no other! With week-away-vibes aplenty, you can immerse yourself in the lush, natural surrounds of Brisbane's Howard Smith Wharves as you embark on a journey of self-exploration, learning and empowerment. Learn about the newest
•
•
THE FRESH LIFE BRISBANE | SEPTEMBER 6-9
Learn how a holistic approach can sow (and grow) the seeds for success at Fresh Clinics' inaugural aesthetics conference.
26 | SPA+CLINIC
• Dr Clara Hurst, a Perth-based, internationallyrecognised cosmetic injector and co-founder of The Secret skincare
| 27
• Michael Clague, published author, aesthetic nurse and Clinical Director of Facelove
Wellness sessions - The holistic approach means focusing on you, not just your business. Learn about meditation, time management and how to overcome the challenges every cosmetic injector faces. Inspiring presentations With an incredible lineup of leading experts presenting, you'll walk away brimming with the latest industry knowledge – and the confidence to start using it. You'll hear from:
• Dr Raj Kanodia, a pioneer in closed rhinoplasty, his Beverly Hills medspa treats all of Hollywood's A-listers
• Dr Michael Kane, author of 'The Botox Book' and plastic surgeon based in New York
Get across the latest aesthetics advice with: Keynote speakers - Hear from the industry's most respected cosmetic professionals as well as entrepreneurs who've faced adversity and come out the other side. Live demos - Need a fresh perspective on creating the ultimate treatment plan or nailing terrific technique? Head along to a live demo and find out how.
Sponsored treatments and techniques, feast your ears on live music, treat your taste buds to nutritious food and soak your soul with mindfulness practices. In other words, embrace the holistic way! See the holistic picture There's so much more to aesthetics than technique. This year, The Fresh Life is opening the door to more: focusing on holistic aesthetics. What is holistic aesthetics? It's all about transformation – for your patients and for your business. Your patients need someone to join their beauty journey. To engage with them, to tailor a plan to suit them – and support them along the way. The Fresh Life will help you start seeing the whole picture, creatively connecting techniques and philosophies to achieve patientAnd,goals.when it comes to a successful business, it's about nurturing every part of it to grow, adapt and reach your goals. So, at The Fresh Life, you can balance both sides of your business brain – dabbling in business skills and self-development sessions. Start with morning yoga, then dive into an afternoon of self-improvement. After all, your business and patients need you at your best! All the fun feels Grazina 'Griz' Fechner from Front and Centre will MC The Fresh Life, bringing her signature sparkle and fun to the event. As Channel 7's regular communications expert, she'll keep you engaged, energised and amused as you rub shoulders with your fellow nursepreneurs and aesthetic professionals. Not only will you feel inspired to reach for your aesthetics business goals - you'll walk away with a plan to actually make it happen. Whether it's a business plan, marketing, meditation or social media, you'll find everything you need to grow your clinic and your confidence as an entrepreneur. A pep-you-up programme
• Daniel Julien, Founder and CEO of Danesthetics and one of Canada's leading aesthetic nurses
• Kelly George, cosmetic nurse and clinic owner of Kelly George Aesthetics
• And many more! Want holistic support for your aesthetics business? Head to thefreshlifeconference.com and book your ticket today!What: The Fresh Life When: September 6-9 Where: Howard Smith Wharves in Brisbane, Queensland Tickets: thefreshlifeconference.com spaandclinic.com.au
SPA+CLINIC spent the first May weekend with CUTERA at their yearly conference, CUTERA University Clinical Forum (CUCF). Here's what went down.
WHY THIS YEAR'S CUTERA UNIVERSITY WAS THE SUCCESSFULMOSTEVER 28 | SPA+CLINIC
spaandclinic.com.au | 29
The amount of questions and interaction with the audience that followed showed that people listened to Elliott's request, even those that may have been too shy to ask a question in front of 300 people as there was an event app which allowed to submit questions anonymously. And so, over two days and 20 different presentations plus panel discussions, the audience learned how esteemed practitioners in Australia and overseas use their CUTERA device, and how they get their ROIs, i.e. marketing tips and tricks.
After welcome drinks on Friday night, the jam-packed program started Saturday morning as hundreds of delegates, mostly skin clinic owners and their staff, arrived at Sydney's SOFITEL Hotel, where CUTERA's signature green branding awaited them. The 2-day program was split into four categories for their different devices: Excel V+, Trubody, Enlighten, and Xeo. The calibre of speakers was notably high this year, with two doctors flying all the way from the US to present their experience with CUTERA's devices: Dr Ashish Bhatia and Dr Michael Somenek. CUTERA's GM, Brett Elliott, asked the audience during his welcome speech, to challenge the team over the weekend and ask any questions they had.
Events We knew this conference would be great based on previous years. CUTERA has been fortunate to dodge all lockdowns and has thus not missed a single year of in-person conferences, but this year was the first without any restrictions, and it was bigger than ever before. Over 300 registrations meant that CUCF sold out weeks in advance with the device company having to turn awayExpectationspeople. were high, but CUTERA delivered.
The presentations included lots of before and afters, treatment demos, and a look 'behind the scenes' of successful clinics. After the first day of learning, delegates were invited to a Sydney Harbour Night Cruise aboard the Starship Sydney. Signature CUTERA cocktails were on offer as Cirque du Soleil dancers performed and people boogied the night away with the iconic Sydney skyline backdrop. We loved the attention to detail in the form of a 'Slipper Bar' – a box full of SOFITEL slippers for tired women's feet who had been walking around in heels all day (and we definitely made use of this offer).
On Sunday afternoon, a clearly relieved and proud Brett Elliott thanked his team and delegates for what was CUTERA's most successful CUCF so far, and announced next year's event, which will be held on the Gold Coast in May 2023. We can't wait!
The level of dedication delegates had to learning and improving their skills showed when the conference room was full the next morning at 8.30am despite the late night prior – we have been to plenty of conferences and this is a rare sight.
Education Expo ticket holders will be able to take advantage of cutting-edge insights from industry leaders while learning about all the latest innovations and skill
Event highlights The Australian Beauty & Aesthetics Conference will present over 30 sessions of immersive education including the new aesthetics stream. Beauty Expo Event Director, Nina Vidale says: "We are so very excited to be able to welcome you back to Beauty Expo Australia, where the beauty industry will reunite in the country's largest celebration of all things beauty in one bumper weekend, 20-21 August. "Beauty Expo Australia has championed the local beauty scene for almost two decades. Our events and community have helped shape the future of beauty trends, innovations and product offerings in Australia and beyond and in 2022 we introduce the inaugural Australian Beauty & Aesthetics Conference (ABAC). With two days of feature keynote presentations, panel discussions, case studies and educational sessions, mix and match sessions across three simultaneous streams covering: The Business of Beauty Dermal Health & Wellness and our exciting new addition The Art of Aesthetics."
developmentAndthere's a new focus onopportunitieseducation.for
teams. Attendees can hear from over 30 industry experts including Maria Thattil (former Miss Universe Australia), Emma Hobson (Dermalogica), Carly Knowles (Belle Pelle Body Clinic), Matt Williams (Professional Beauty Solutions), Jazz Pampling (Brow Artist), Karla McDiarmid (Macquarie Medispa), Fiona Tuck (Vita-sol), Paul Frasca (Sustainable Salons), Gay Wardle (Gay Wardle Education), Nina Gajic (Skin Virtue), Tina Viney (Aesthetic Practitioners Advisory Network), Dr Mariusz Gajewski (Star Cosmetic Medicine), Nancy Abdou (The Dermal & Laser Institute), Sarah Hudson (Skin by Sarah Hudson), and Chiza Westcarr (Glow Skin & Nutrition Founder). More than 200 leading brands from Australia and overseas will be showcased. Professional beauty brands and products across 32 categories will be featured including Candela, Medik8, Dermalogica, Crown Brushes, Lycon Cosmetics, and many more. BEAUTY EXPO TIME!
After a three-year hiatus due to the pandemic, Australia's largest celebration of all things beauty is officially back. Taking place from 20 August to 21 August 2022 in Sydney, this two-day beauty and aesthetics extravaganza is a must-visit for industry professionals.
30 | SPA+CLINIC IT'S
Events The Business Couch If you're wanting to take your business to the next level, you can also book a free half-hour one-on-one consultation with a specialist on the Business Couch. Choose from a lineup of experts in salon management, sales and marketing, plus training and development. Exhibitor Preview Discover Natural Beauty With Waterlily – Stand SP02
Alma Lasers can't wait to see you at Beauty Expo this year with lots of exciting and fun activations – as they are known for at conferences! There will be Accent Prime and DermaClear live demos, and Alma's Clinical Applications Specialist, Tara Roberts, and Head of Clinical Affairs, Tiarnna Smith, will feature on an industry panel as part of the Beauty Expo's Conference Program. The topic 'A deep dive on combination therapies for skin perfection' will see Tiarnna and Tara explain different treatment modalities and how to safely combine them.
Alma is also excited to host an exclusive 'Dare to be Bare' Cocktail event on the Saturday night as well as sponsor the ABIA awards on the Sunday night of Beauty Expo weekend. Come and say hi at the Alma Lasers Australia stand! Let there be light – Stand F125 Aesthetic Bureau has earned a reputation as a trusted manufacturer of quality medical aesthetic devices in Australia. As the only ISO 13485:2016 certified Australian manufacturer of IPL and LED devices, they have rigorous quality control and testing protocols adhered to in the production of every device. This year they'll be showcasing their latest range of technology with exclusive offers, live demonstrations, and giveaways (including the chance to win a Pearl Xen LED mask worth $4,180), so make sure you visit them at stand F125.
COVID-safety: Beauty Expo Australia is excited to welcome the industry back to live events in a safe environment and the well-being, health and safety of attendees remain a number one priority. With this in mind, RX Global (Reed Exhibitions) has developed a formal COVID-safe event plan and protocols with venues and local government authorities to ensure a safe return to 'business normal' at all RX Global events.
With over 2 million HydraFacials performed every year –that is one every 12 seconds (!) – come and see for yourself what it is that makes the treatment so special. Choose from a variety of boosters suited to your skin concerns, and let them show you why HydraFacial has become a global phenomenon.
Since our industry.ourtheSydneyWellnessexclusiveleadingremainsbotanicalandbeautyoftrueWATERLILYinceptionhasbeentothecorevaluescreatingfreshbatchedusingthefreshestpurestofactiveingredientsandanAustralianprofessionally-Spaandbrand.TheBeautyExpoisidealspacetoshareevolutionwithWehavebeeninvited to profile our brand in the 'Natural Beauty Spotlight' section dedicated to celebrating the values of Spa Wellness. We are excited to profile not only our innovation in brand offerings but new ways we are supporting our partners including generous gift with purchase campaigns, quarterly cash rebates and many other compelling incentives. This Expo also falls in line with the launch of our exclusive new Spa and Salon Partner website. A dedicated online platform where stockists can order conveniently, source assets and resources for social media campaigns, access free merchandising, and be part of our online learning centre. Our Skin Concierge continues to offer responsive real time support while our business development team nurtures our stockists through mentoring programs. Our founder and formulator, Michelle Reeve, has been invited to be part of the Australian Beauty and Aesthetics Conference on the 20th August and will be featured on the panel discussing The Clean Beauty Movement and the Conscious Consumer. We look forward to seeing you there! Get the best skin of your life with HydraFacial – Stand J109 "Come and see us at the HydraFacial stand at number J109. We will be doing treatments during the entire Beauty Expo, so come along and experience a HydraFacial for yourself," says the HydraFacial team. HydraFacial uses patented technology combined with nourishing ingredients to deliver instantly noticeable, long-lasting results that you can see and feel; with no downtime! 3 steps, 30 minutes to the best skin of your life!
Live demos, cocktails, and much more with Alma Lasers Australia! – Stand H103
Where: This major beauty and aesthetics event will be taking place at the ICC Sydney Exhibition Centre Darling Harbour in Sydney.
spaandclinic.com.au | 31
When: The Australian Beauty and Aesthetics Conference will be on at Beauty Expo from 9am to 5pm daily on Saturday 20 August and Sunday 21 August.
SPA+CLINIC in collaboration with Professional Beauty bring you our third instalment of BEAUTY & SPA Insiders, held at Hinchcliff House in Sydney on September 12. We know you're busy, but we promise to make it worth your while. Here are 5 reasons you should attend BEAUTY & SPA Insiders:
5 REASONS
4. Take home a massive goodie bag Of course, it wouldn't be a great event without a goodie bag filled to the brim with exciting gifts! This year, we have an amazing set of sponsored on board who will kindly gift each attendee with products. The brands include: Dermalogica, Podium, SmartPay, Dermatonics, Elleebana, Esthetica Academy, No Ugly, Retreatment Botanics, Timely, Ultraderm, Victoria Curtis, and Vida Glow. There will also be fun activations and opportunities to try products during the day.
2. Learn from the experts We have come up with a pretty cool program this year, with presentations and panel discussions on relevant topics that everyone can take something away from. We've enlisted the experts in their fields to present on areas like business growth, technology advancements, skin science, and we can't wait to start engaging conversations on and off stage! Plus, you don't want to miss our keynote speaker, Dr Yumiko Kadota, who will for sure leave you inspired and motivated as she talks us through her challenges facing racism, sexism, and overall inequality in the aesthetics industry.
3. Check out one of Sydney's coolest locations We're not really into hotel conference rooms – we found something
1. Catch up with your peers Running a clinic or spa is time-consuming, and we know how hard it is to schedule in that coffee catch-up with your colleagues. Coming to an industry event like BEAUTY & SPA Insiders means you can spend an entire day with likeminded people from the aesthetics industry, catch up with old friends, and make new ones! There is nothing as inspiring as hearing first-hand from someone about how their business is going, what they are investing in at the moment, and what their plans are for the future! Helping each other and sharing information are the basis of a great community, and we're so here for it!
5. Celebrate Australia's aesthetics industry After two long years of being locked down and struggling to keep business afloat, we are just so happy to see the Australian aesthetics industry flourish again. What better way to celebrate this than by coming together and sharing our knowledge, stories, and advice for one another? With events and conferences back on, let's take every opportunity we can get to show our appreciation for this industry. We, at SPA+CLINIC, cannot wait to see you in person and spend a day full of opportunities and inspiration together! Buy your tickets at www.beautyandspainsiders.com.au WHY YOU SHOULD ATTEND BEAUTY & SPA INSIDERS YEAR!
much more inviting in Hinchcliff House, Sydney's newest restaurant, bar, and event venue you can't miss right at Circular Quay. Enjoy the historic nature of the brick building, which was once a wool store. The first of the two matching structures was built in the late 1870s and the second a few years later. The stonemasonry, gabled roofs, hardwood internal structure, catheads and surviving pulley systems are historically significant relics of a period when Circular Quay was the centre of Australia's international shipping trade. Now, it's one of the hottest places to be serving amazing food and drinks, which you will of course also get to experience at our event.
THIS
Only a few weeks left until the B2B event of the year kicks off – come and join us!
TEvents here is just nothing quite like an in-person event, being in one room with your peers and upskilling together while making new friends and connections.
32 | SPA+CLINIC
The Aest het i c & Beaut y I ndust r y Counci l i s commi t t ed t o pr ovi di ng aut hent i c, et hi cal , and accessi bl e suppor t f or t he bet t er ment of t he pr of essi onal spa, beaut y and aest het i cs i ndust r y We r epr esent you, as your t r ust ed voi ce and i nf l uent i al r epr esent at i ve body As an ABI C member , you ' l l r ecei ve excl usi ve access t o a r ange of benef i t s i ncl udi ng: An ext ensi ve l i br ar y of exper t cr eat ed busi ness r esour ces Ed ucat i on sessi ons wi t h sought af t er i ndust r y speci al i st s Dai l y access t o advi ce f r om ABI C f aci l i t at or s The l at est r el evant i ndust r y news and updat es Gover nment r epr esent at i on t o ensur e your voi ce i s hear d Your member shi p not onl y benef i t s you as an i ndi vi dual or busi ness, but dr i ves t he success and t he heal t h of our col l ect i ve i ndust r y Toget her , acr oss Aust r al i a, wi t h your suppor t we can make a di f f er ence What ABIC membership can do for you S i g n u p t o d a y b y v i s i t i n g t h e a b i c . o r g . a u C L I N I C M E M B E R S H I P $ 9 8 8 M A N A G E M E N T M E M B E R S H I P $ 4 4 9 I N D I V I D U A L M E M B E R S H I P $ 9 9 S T U D E N T M E M B E R S H I P $ 4 9
STRUGGLING TO GROW YOUR BUSINESS? HERE ARE 3 METRICS YOU SHOULD TRACKINGBE
1. New client rate If your goal is to grow your customer base, you'll want to track your new client rate. The new client rate metric is the percentage of clients that visited your spa or clinic who haven't been to your business before. For example, if you had a new client rate of 10%, that means that in your reporting period, 10% of the clients you saw were new clients to your business. This is important as this metric can be tracked over small periods. Where other metrics need large date ranges to see the most accurate results, the new client rate can be tracked monthly or even weekly. As you begin your journey of growing your business, the number of new clients should increase, and therefore, your new client rate should also increase. It also allows you to easily track the results of actions you take. For example, if you start a referral program with your current clients, or you begin promoting your business on social media, you should be able to see the outcomes of those actions in your new client rate increasing.
One of the first steps that many business owners take when wanting to grow their spa or clinic is to try to increase the number of clients they see, but why not make your current clients' visits more valuable by increasing your retail revenue? When faced with lockdowns, many businesses turned to home delivery product kits for their clients to maintain their skin health, and continuing with these types of revenue streams can greatly improve your business' overall revenue. Your retail revenue is the amount of revenue made from retail sales. These can either be walk-in retail, where a client walks in off the street and purchases a product, or buying it with a service. The latter is important because it allows you to upsell retail products to your existing clients. Your clients trust your staff, so your staff can speak with them about their skincare needs and what products they should be using to maintain their skin or hair health. This will not only increase revenue for your business, but it will also result in happier clients.
Kamrin Hira explains the software reports you should be running regularly to keep track of your business growth.
34 | SPA+CLINIC
One of the outcomes of growing your spa or clinic is increasing the number of clients you have, however, it isn't helpful if all of the new clients who visit you don't end up returning!
The new client retention metric is the percentage of new clients that make a booking within 90 days of their first visit. This is slightly different to rebooking, which looks at if they booked within the first 24 hours. Giving them a larger window of time to book in again gives you a more accurate number of how many of your new clients you converted intoByregulars.tracking these three metrics closely, you can be assured that as you go on this journey to grow your business, you understand exactly how it's growing and what strategies are effective in getting new clients.
3. New client retention rate
As the industry recovers from COVID-19, many spa and clinic owners are switching their focus from surviving in the present to thriving in the future. The ultimate goal for many businesses is to grow to recoup their clients and get back to the level of sales they experienced before the pandemic hit. One of the most important parts of setting a goal, like wanting to grow your business, is that it needs to be measurable. Otherwise, how can you tell if you were successful? Here are three metrics you should be looking at when you grow your spa or clinic.
Kamrin Hira is a Marketer at Kitomba Salon and Spa Software. To learn more about how Kitomba can help you measure your key business metrics, visit kitomba.com or call 1800 161 101.
2. Retail revenue
Everyone knows that your business' retention rate is an incredibly important metric to measure, but did you know you can find out your retention rate for only new clients, too?
While you could always provide extra training, you may also need to ensure you have adequate Public Liability cover, which is designed to provide protection from third-party injury or property damage. The risk to your business itself has changed. Your customers are important, but so is stock, your equipment, salon contents and your commercial premises. From fires to theft, the risk to your assets could have changed since you reviewed your policy. Business Insurance is a package designed to provide cover for assets, such as stock and equipment from risks such as fire, storm, theft, or accidental damage. It can even cover your portable equipment, glass and for loss of revenue due to a business interruption in specified circumstances.
Business *Must be a Qantas Business Rewards member. Maximum of 10,000 Qantas Points earned per policy. Available to new BizCover policy purchase only and not available with any other offer. See Terms & Conditions at bizcover.com.au/qbr The information provided is general only and should not be relied upon as advice. BizCover Pty Ltd (ABN 68 127 707 975; AFSL 501769) © 2021 BizCover. BC2088 Compare multiple quotes online in minutes Instant online cover –no requiredpaperwork Save yourself time and money bizcover.com.au1300805821 Compare with Australia's Small Business Insurance Specialist Life is already ! Business insurance doesn't have to be EARN QANTAS POINTS for every dollar spent on a new small business insurance policy
IS IT TIME TO GIVE YOUR BUSINESS A HEALTH CHECK?
Just like your clients are going to you to feel refreshed, it may also be time for your business to have its check-in. Just like beauty trends change, so could your risk profile. Here are three factors to check mid-year to ensure that your business is healthy enough to cover any claims that may arise. Your workforce has changed. Small businesses are barely ever stagnant, which often influences the size of their workforce. After coming out of lockdowns into a worker shortage, spa and clinic businesses may have a drastically different team than when they last renewed their insurance. If your workforce has shrunk since the you last reviewed your policy, you could adjust your insurance to better suit its current size. Conversely, if your business has grown and your workforce has increased, you may need to consider getting more cover. The risk to customers and suppliers is different. If you interact with your clients in a physical environment, there are many risks you may come up against. Understaffing and untrained workers could lead to situations where safety protocols aren't properly followed, resulting in a higher chance of an accident. For instance, if a customer or supplier trips at your workplace and suffers an injury or you damage a client's property while doing an in-home treatment, a claim could be made against you.
Review your policy today. Insurance is there to protect you from the current risks you face. By not giving a business a health check every now and then, these problems could become a lot worse if a claim were made against you. What's more, doing a review of your insurance could help you save on your premium. Visit bizcover.com.au to compare quotes or give us a call today - no dramas!
*This information is general only and does not take into account your objectives, financial situation or needs. It should not be relied upon as advice. As with any insurance, cover will be subject to the terms, conditions and exclusions contained in the policy wording.
© 2022 BizCover Pty Limited, all rights reserved. ABN 68 127 707 975; AFSL 501769
GALDERMA OPENS VICTORIAN OFFICE AND GAIN ACADEMY
Sponsored
The world's largest independent dermatology company, Galderma, has further strengthened their leading position in the Australian aesthetics and skincare market by opening their Victorian office and GAIN Academy in Richmond, Melbourne. Standing for 'Galderma Aesthetic Injector Network', GAIN provides an advanced approach to medical education and is an important part of Galderma's commitment to support Healthcare Professionals in Australia and New Zealand. The Victorian Office and GAIN Academy will host a range of training activities, workshops, and events, and is equipped with state-of-the-art technology facilitating in-person as well as remote training opportunities.
SPA+CLINIC attended the grand opening night of the Victorian Office and GAIN Academy in June, which saw a range of leading Cosmetic Physicians, Dermatologists, Plastic Surgeons; Nurse Practitioners and Registered Nurses attend to learn more about the new training facility and how Galderma continues to be at the forefront of dermatology products. Galderma Australia and New Zealand Managing Training and education is at the very core of Galderma's vision, and the brand new Victorian office and GAIN Academy has opened its doors for aesthetic, dermatology and skincare professionals.
The training facilities and programs aim to advance Healthcare Professionals' knowledge of dermatological conditions and their treatment and enhance clinical expertise in the safe use of cosmetic injectables, prescription and skincare products. Since its inception in 1981, Galderma has grown to be present in over 100 countries worldwide with the unique position to serve three categories: consumers, patients, and healthcare professionals. Constant competitive innovation and a complete dedication to dermatology has made Galderma one of the most trusted companies on the market, and their broad portfolio of brands and focus on education means that brand awareness is continually growing.
The Galderma and SPA+CLINIC team at the GAIN Academy opening Galderma's MD, Ercument Ates welcomes guests during the GAIN Academy's opening night
36 | SPA+CLINIC
37
Director, Ercument Ates, presented on the evolution of Galderma, their integrated dermatology strategy across the aesthetics, consumer products division and prescription business unit, new product developments and innovations. "The opening of our Galderma GAIN Academies is strengthening our commitment to education and support for our healthcare professionals, who are trusted by consumers. Galderma takes pride in providing an extensive range of training opportunities both locally and globally, and across multiple channels. It's just one more way we express our commitment to you, your clinic, and your patients," says Ates.
The new Galderma Victorian Office and GAIN Academy in Melbourne Team SPA+CLINIC with Galderma's MD, Ercument Ates spaandclinic.com.au |
Sponsored
Galderma Australia Pty Ltd, Suite 4, 13B Narabang Way, Belrose NSW 2085. ABN 12 003 976 930. Distributed in NZ by Healthcare Logistics, 58 Richard Pearse Drive, Airport Oaks, Mangere 2022, NZ. Phone: 1800 144 944 (AUS) 0800 174 104 (NZ) Fax: +61 (2) 9986 1699. Galderma is a regis tered trademark of Galderma Holding S.A. TAPS NP18283. AU-NBD-2200059. August 2022.
@GAIN_by_Galderma_ANZ
For aesthetic professionals in Australia and New Zealand, Galderma offers support through online training, in-person training, and the GAIN Connect Preceptorship, which pairs national aesthetic industry leaders (Preceptors) with intermediateadvanced injectors (Preceptees). Practitioners joining Galderma's GAIN Academy are able to access a range of training options and resources to suit their needs, from face-to-face training sessions, to webinar events led by internationally renowned speakers. Topics include but are not limited to facial anatomy, patient care, and innovative injection techniques. Workshops are led by one of Galderma's Clinical Nurse Specialists or Dr Trainers and comprised of both theory and practical training. Galderma understands the importance of trust in their partnerships with healthcare professionals, and is dedicated to continuing to expand their network, including three more GAIN Academy openings planned in the coming months: Brisbane, Perth, and a new Sydney facility in early 2023. For more information, visit galderma.com Galderma posts on Instagram about upcoming events and webinars, as well as other face-to-face and online learning opportunities. Follow to stay up to date!
OPEN
Lisa Rush Skin Clinic
Contour Clinics Newtown Renowned for its holistic approach to cosmetic medicine and highly regarded doctors and clinicians, Contour Clinics has recently expanded its list of state-of-the-art clinics in Miranda, Five Dock, and Brisbane by opening its new clinic in Newtown. The luxurious clinic in King Street, Newtown features eight premium treatment rooms. The highly anticipated expansion brings Contour Clinics' individualised treatment plans, latest technologies, and unparalleled expertise to a more significant number of people looking to augment or rejuvenate their naturalContourappearance.Clinicsaims to empower individuals in their selfimprovement journey. Science-based and results-focused, Dr Josh Wall leads the experienced team as the Medical Director of Contour Clinics, offering cosmetic injectables, advanced dermal fillers, non-surgical facelifts, thread-lifting, body sculpting, and laser to treat a variety of skin complaints. In addition, Contour Clinics exclusively offers the innovative intimate area rejuvenation. Contour Clinics has a couple of new clinics in the pipeline across Australia, which will open in the coming months. NOW!
38 | SPA+CLINIC
Here are the new businesses to know.
The latest clinic openings are definitely worth a visit!
Business
The Old Paddington Beauty Room location started as a dream 16 years ago and is now the new home to Lisa Rush Skin Clinic. Nestled in the heart of Paddington Fiveways, Lisa wanted to create a space of calm, glamour and clinical excellence. The charming terrace delivers on beauty and class, and is surrounded by some of Australia's top brands. The clinic opened its doors in July with a team of two nurses, one doctor and a beautician, and plenty of room for growth. The clinic features state-of-the-art equipment, such as Ultraformer III, Trusculpt iD, Venus Versa and Hydrafacial MD. The targeted skincare brand offerings include Skinceuticals, The Secret, and Vitasol, and the treatment menu has also now branched out to include some relaxing touches, with their signature Reiki Facials.
The move to Paddington from the smaller Woollahra location came after exponential growth in the business, and the need to move to a bigger space. The design touches were personally selected by Lisa Rush and the renovation project took almost six months. The team can't wait to welcome old and new patients to their new space.
In addition to veneers, Dental Lounge also offers gum recontouring, Invisalign, and cosmetic injections (a great way to correct a gummy smile or relieve headache-causing tension in the TMJ chewing muscles).
Business We believe you shouldn't have to choose between beautiful makeup and quality FlawlessTreatmentSuperioringredients.ingredientsColourMakeupresultswith100%pigmentCompactrangeRetailfriendlyFlexibleopeningordersFreefromtalc,parabens,syntheticfragrance. Visit our stand J139 at BeautyAustraliaExpo FIND OUT advancedmineralmakeup.com.auMOREINTRODUCING Australia's newest Mineral Makeup Range
"Who wants to go to the dentist? Our patients do! We do everything we can to ensure they look forward to a teeth pampering session from the moment they step inside this luxurious space," says Dr. Verdian, whose gentle chair-side manner has already garnered a loyal following at his Macquarie Street practice. "At Dental Lounge, we firmly believe a visit to the dentist should feel anything but ordinary. Clients who desire a unique experience for lifestyle procedures, such as teeth whitening, are welcomed to after dark events, combined with a premium bar where all patients can enjoy optional access to the latest interactive technology while undergoing treatment."
Dental Lounge Sydney's leading cosmetic dentist, Dr. Gamer Verdian, is proud to announce the opening of a new premium Dental Lounge in Double Bay. Featuring state-of-the-art technology in a spa-like surrealist setting, patients are welcomed through leather doors into light-filled treatment and recovery suites featuring curved designer lounges in muted tones and striking silver.
Nadine Dilong catches up with Dolce Vita Skin Founder Vita Catanzariti to talk about the success of her Central Coast based skin clinic.
BUSINESS IT'S ALL PATIENTTHEABOUT JOURNEY
T here are many reasons why I love driving up to the Central Coast, just an hour north of Sydney, and one of them is visiting Vita Catanzariti, Founder and Director of skin clinic Dolce Vita Skin. After working alongside Plastic Surgeons for many years, where Vita took care of patients' postop skin, she noticed demand for results-driven but nurturing treatments increase steadily, and finally made the decision to open her own skin clinic in 2017. Having worked in the hustle and bustle of Sydney for a long time, the move to Erina on the Central Coast took some getting used to initially, but Vita hasn't looked back and enjoys the more laid-back lifestyle the Central Coast offers. Moreover, she gets quite a few clients that come to see her from Sydney, and some even from Newcastle thanks to her excellent reputation in the industry and great offer of treatments and holistic treatment protocols. A well-rounded team Vita has created a great team of professionals who complement each other. While Vita is the skin expert of the business (though not the only one; there is Dermal Therapist Kylie, who works alongside Vita), Dr Nik Davies, who works at Dolce Vita Skin three days a week, is the cosmetic doctor who offers treatments such as injectables and hair restoration procedures.
Completing the trio is Nutritional Medicine Practitioner Chiza Westcarr, who works with Vita's clients on their gut health and overall wellbeing. "It really is what gives the end result," says Vita. "I can give you phenomenal "Anyone can open up a clinic, but at the end of the day, you've got to form relationships with your patients"
40 | SPA+CLINIC
Vita Catanzariti with S+C Editor Nadine Dilong
Dolce Vita Skin is always at the forefront of leading technologies and products, offering treatments unique to the Central Coast in a bespoke and holistic manner. The clinic doesn't fall victim to fashionable trends or fads, but instead combines the highest quality skincare from Australian and French brands, with state-of-the-art technology, science, and medicine to help every client achieve their specific goals. Vita offers all kinds of treatments, but rather than selling them strictly off the menu or offering package deals, Vita creates bespoke treatment plans for every single client. Appointments are tailored specifically to each client's concerns, meaning that every treatment is different. One very unique treatment at Dolce Vita Skin is Biologique Recherche's Face Remodelling facial, which uses the French skincare range in combination with a bioelectrotherapy machine to enhance product penetration, sculpt the face, and revitalise the epidermis. Vita also offers Rationale, Universkin, and will soon be stocking The Secret. In terms of lasers, Vita is seeing great results with her Cutera excel V, her Venus Versa, and loves using LED on most patients. "Anyone can open up a clinic, but at the end of the day, you've got to form relationships with your patients. And the nice thing is, I've got clients that have been with me for a long time, that are loyal," Vita says. Keeping a clear mind After almost five years in her Erina clinic, the business is bursting at the seams, but Vita hasn't had much time to think about expanding. "We've been so busy post-COVID, and Dr Nik and I will often comment on the lack of space, so we'll see." At least now, Vita has half a decade worth of knowledge and experience that comes with being a business owner.
"In the end, you realise that with a clear mind and step-by-step approach you can overcome almost any problem – as long as you're willing to put in the work. If your mindset goes too far down the line, you'll lose sight of the immediate action you need to take."
spaandclinic.com.au | 41
Business products, but unless the clients do their homework and take care of their skin from within, it's not enough." So for Vita, it's all about the patient journey. "From the minute a Dolce Vita client walks through the clinic doors, they are taken care of by our wonderful staff. Our goal is to make sure our client's skin is the best it can get, and to educate them on how to achieve the best results all year long. We begin with an initial consultation to address any concerns and advise the best treatment going forwards. Our holistic approach to skincare means that the combination of treatments, products, advice, and lifestyle changes help each person achieve their dream skin. The combination of Dr Nik's, Chiza's, and my knowledge creates a well-rounded approach to healthy skin," Vita explains.
Bespoke and unique treatments
Vita performing Biologique Recherche Face Remodelling Dr Nik Davies, Chiza Westcarr, and Vita Catanzariti
"I think the biggest piece of advice I'd give to myself back then is to break down your challenges into bite size pieces," she says, "When you're starting a business or brand of any kind, you can focus so much on the big picture or the end goal, because of your passion and excitement for what you do. It can become overwhelming when challenges begin to arise – which they always will – and you can often feel as though the wheels are falling off. This is never usually the case and issues in the moment always feel bigger than they truly are. It's taken me a while to learn that and there's certainly been times where I've felt the weight of the world on my shoulders. I'm yet to meet anyone who runs their own business who hasn't felt the same at some stage!"
And lastly, like any successful business owner, Vita knows it's not all about facials and skincare, but you have to work in the backend, too. "Get to love admin! I'm not sure I've found my love for it yet, but I'm still trying," she concludes. dolcevitaskin.com.au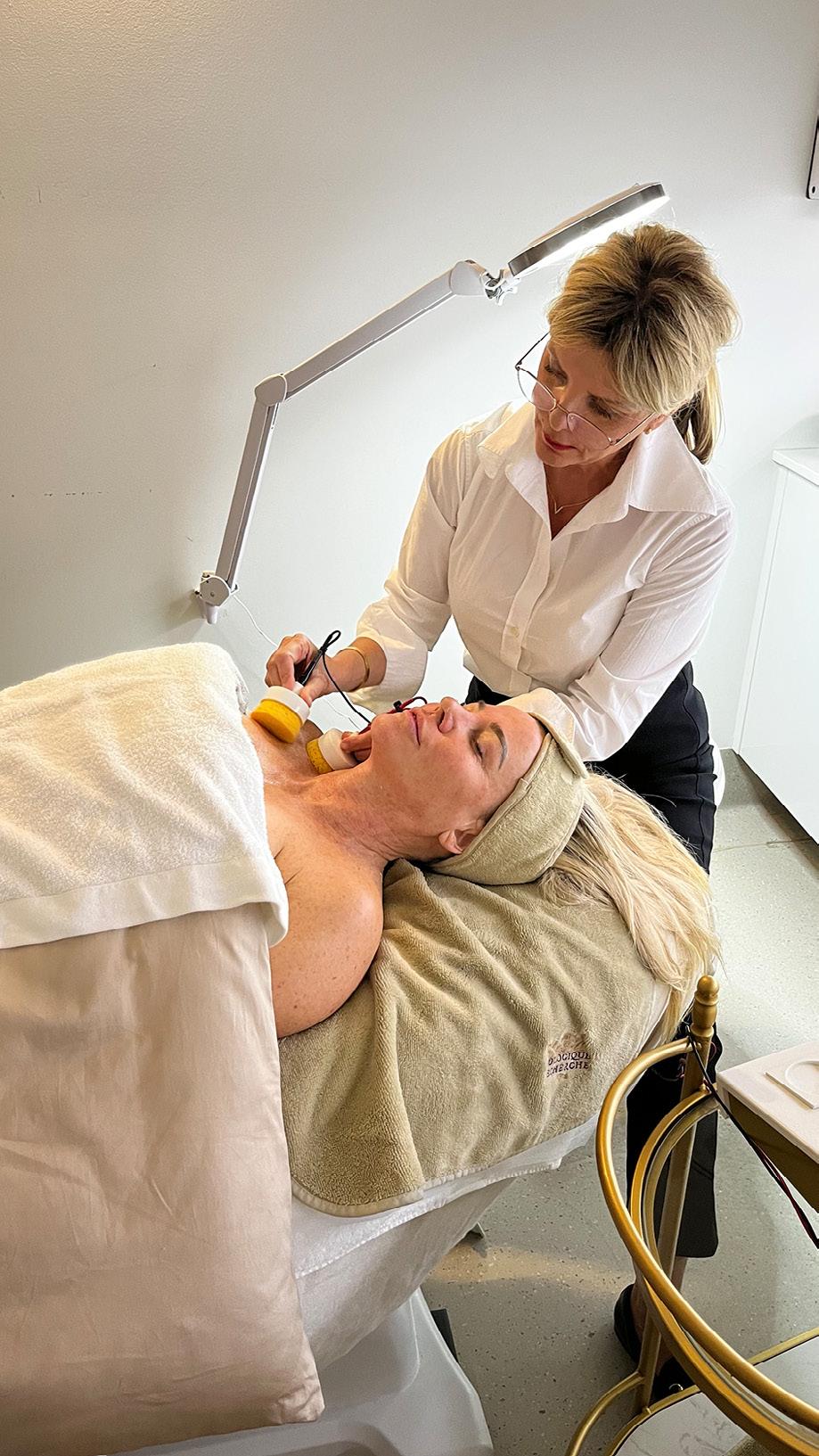 Has the high cost of PR retainers discouraged you from using an agency?
SBusiness mall and medium businesses have prospered with the introduction of social media. It has had a transformative impact, providing new means for businesses to promote their brand to the masses for a relatively low cost, compared to traditional advertising. With so many businesses adopting social media as their main strategy for promotion, it's becoming increasingly difficult to cut through the noise in a highly saturated sphere. By extension, consumers have become overwhelmed with paid advertisements and collaborations – think of the Kardashians and their 'wellness' teas. Public opinion has ultimately shifted with more consumers opting towards authentic key opinion leaders whose opinion can be trusted. Enter, Public Relations. In a similar way, social media has marked a cross-roads for many agencies who previously focused on press office. As such, Public Relations has evolved to encompass key opinion leaders, activations, in-person engagements and other digital activities. PR has provided a gateway for brands to negotiate social media partnerships, gaining 'unpaid' or earned communications. Comparatively, it has become difficult for brands to secure press coverage in traditional media. Activations and events have risen to prominence as a means to generate traditional press. So why is it important? At its foundation, Public Relations communicates a brand's message to its target audience. It can sway public opinion in your favour through less explicit means than other promotional efforts. It cannot be denied that Public Relations has received a bad rep for doing so in the past, but maintaining authenticity has become a pillar of today's Public Relations. It is the style of communication that audiences are highly receptive to and in turn, leads to conversion! Public relations possesses the unique ability to build brand communities and cultivate an audience. This is sometimes overlooked by small and large businesses wanting to build awareness.
What is pay-as-you-go PR? In my experience as a Publicist, I have observed various pain points for SME due to the current structure of Public Relations. Starting out,
Grace Garrick is here to changesecuringthis. funds for a Public Relations retainer is not necessarily the first priority for small businesses. PR agencies tend to cater to large businesses who require a full suite of services. In recognising the obstacles for small businesses, I created No Boundaries, Australia's first pay-asyou-go PR platform. Key opinion leader (KOL) strategy stands to be one of the most organic ways to promote your brand. Consumers connect with figures they identify with or aspire to be. They're buying the 'Who,' not always the 'What'. Businesses can leverage off KOLs to inject personality into their brand. It is vital to find suitable spokespeople for your business. Many businesses waste time and resources working with key opinion leaders that do not reach the relevant target audience, therefore fail to see results. No Boundaries want to ensure your brand is promoted in the best light possible, offering a range of KOL strategies. Although social media has become a front runner in the promotional space, the traditional press office is still extremely important for businesses, providing brand awareness, credibility and mass exposure. The press office can be difficult to crack alone as it requires time and patience, building relationships with journalists and publications. With a vast range of contacts and connections in the industry, No Boundaries is already one step ahead. Providing multiple services for press coverage, No Boundaries offer a fast and easy way to achieve your press office goals. As Public Relations is just as important for startups and small businesses, No Boundaries enables businesses to make a one-off purchase of a service, which is provided at the same high standard as the traditional PR packages and in a timely manner. Whether looking for strategies, copywriting, key opinion leaders or press coverage, No Boundaries has a solution for you. It is a flexible, accessible option for those looking to put PR to the test.
Grace Garrick is the Director of MVMNT Agency and No Boundaries PR. noboundariesau.com
42 | SPA+CLINIC
PAY-AS-YOU-GO PR FOR SMALL businesses
PRO COLLECTIVE NEW ZEALAND For hair, beauty and aesthetics professionals Launching in New Zealand in July 2022 PROCOLLECTIVE.CO.NZ Everything you need to know about hair, beauty and aesthetics in New Zealand. Sign up now for the weekly e-newsletter at procollective.co.nz/subscribe ProCollectiveNZ ProCollectiveNZ
The Diploma of Salon Management requires 18 hours of inspa work experience, completed in 3 x 6 hour shifts, and the Diploma of Beauty Therapy requires full-time and part-time students to complete 76 hours of in-spa work experience, both completed in our endota Wellness College spa.
With a variety of beauty schools and colleges in Australia, we talk to Helen Robb-Lacey to learn more about endota Wellness College and what makes it special.
Helen Robb-Lacey, CEO, endota Wellness College
endota Wellness College provides physical, online and blended learning opportunities that train students for real jobs, providing graduates with a nationally recognised qualification. Where endota Wellness College truly differs from other registered training organisations is the experience, with every step of the journey carefully crafted to be nurturing and supportive, it is the embodiment of the college's mantra 'learn mindfully, live authentically'. There's morning meditations, complimentary yoga classes and a spacious, light filled environment built to emulate a spa and give a relaxed feeling as opposed to that of a classroom.
Why did you see a need for your own college/was there something missing in the industry? endota was founded in 2000, with over 20 years as leaders in the wellness industry and owning over 110 spas across Australia with this in mind, we really are in a position to know what therapists require to be work placement ready. We introduced the college in 2018, after witnessing the health and wellness industries growing at an exponential rate and jobs in these industries becoming increasingly sought after, it made sense to pass on our knowledge as industry leaders and instil confidence and practical skills in a field which was becoming increasingly valuable and inspire the next generation of therapists. We take a more holistic approach to education than most Beauty Therapy colleges, and teach our students how to limit stress, sleep well and foster better physical, emotional and spiritual wellness. We believe this equips them with skills that give a competitive advantage and foster an element of consciousness in their expertise that isn't available in a more traditional environment. How much practical work is involved in the courses and where is this done? Each course requires a certain number of practical hours, our Diploma of Remedial Massage requires a minimum 200 hours of clinical practice, providing remedial massage services to clients, with at least 150 hours needing to be completed in our endota Wellness College student-run spa.
Is there a conflict of interest if graduates want to work at businesses outside of endota?
THE RIGHT EDUCATION
44 | SPA+CLINIC
What sets endota Wellness College apart from other beauty/wellness schools?
We are proud to be an organisation built by passionate and forward-thinking individuals. As leaders in the wellness industry, endota encourages a spirit of innovation, collaboration and respect.
Over 80% of endota Wellness College graduates are working in the beauty and wellness industry with approximately 65% employed at endota. There is absolutely no conflict of interest for our students to work with other spa networks, our goal is to ensure the best grounding for a career in wellness, however if our students want to work for endota, there are great odds! Often our students can be halfway through their course and already be in a part-time job.
What skills/traits do you think are most important in someone just starting out in the beauty and wellness industry? I've been in the beauty industry for over 35 years, and started with a Diploma of Beauty Therapy before opening my own salon. I believe the foundation for success within this industry stems from passion for the job and a positive attitude. Our work is such a transfer of energy when performing services such as a massage or facial, and you can always tell if your therapist's mind is elsewhere. People in the beauty/ wellness industry deal with many different people on a day-to-day basis, and to secure repeat clients, good communication, interpersonal skills and empathy will be pivotal to deliver a positive experience and grow your brand.
Education powerhouses Stefanie Milla and Suzanne Robertson team up to rebrand their dermal training institute and go national. Their unique and innovative education programs not only teach you and your team about skin, dermal therapies, modalities and aesthetics, but they also teach you how to learn, retain the information and apply it for success in consultation, treatment, and sales.
INTRODUCING, UNITED INSTITUTE OF AESTHETICS spaandclinic.com.au | 45
Suzanne: They can expect to enter a caring and fun environment where learning is easy and a complete pleasure. They can look forward to being inspired and elevated through transformative learning experiences which deliver real, tangible outcomes and success. My goal as an educator is to help people realise their fullest potential and excel beyond their expectations and self-imposed limitations.
Stef: First and foremost, it is essential to understand what learning style an individual has so that you can use the correct medium with the
StefanieMilla RobertsonSuzanne
What areas of education do you specialise in?
Secondly, the student must participate from a place of true interest and applicability. Research shows that if a student knows what the outcomes of the training will be, how it practically applies to their job role, career advancement and self-interest, they will naturally absorb it faster and retain it for Additionally,longer. we use a system of quick study preparation methods, which include augmenting the surroundings for maximum focus, along with delivery techniques such as acronyms, mnemonics and other memory recall techniques in conjunction with storytelling and humour to spark the creation of new synapses whilst strengthening existing neural pathways.
Clients are becoming savvier and they will test your knowledge and expertise. With so much competition, it's vital that your knowledge and skills stand out. Education is an important factor when it comes to creativity, passion, and success. Staff thrive in an environment that provides them with stimulus and a sense of achievement. If your team are happy and fulfilled then you will retain them for longer and they will perform at a much higher level. What can students and businesses expect when they undertake a course with UIA?
Offer to SPA + CLINIC readers: 20% off all courses with UIA, valid until the 20th September 2022. Contact us on info@unitedinstituteofaesthetics.com www.unitedinstituteofaesthetics.com
As a dermal clinic owner, I can attribute the success of my clinics to continual staff training and advancement. With the combined industry experience of over 37 years, Suzanne and I have dedicated thousands of hours to perfecting advanced training techniques that deliver unparalleled results for students and businesses. Suzanne is our Head Educator, and she works alongside an incredible team of trainers. We have been based in Victoria for several years now and we wanted to make our programs available to the industry nationally, so our rebrand is very exciting!
Congratulations on your rebrand and your expansion nationally, tell us about why you created UIA.
student. In our general presentations, we utilise mixed mediums and we teach the student how to identify their learning style so that they get the most out of their training.
Introducing, United Institute of Aesthetics. We chatted to the duo to learn about it!
Stef: We created UIA because there is a clear gap in the contemporary, tailored and relevant education in the dermal space and we wanted to make current, innovative training available to both individuals and clinics. Formal education has failed to keep pace with the changing needs of the industry. Technology and advancement are entering our industry at such a fast rate that training is at times lagging behind current information, new modalities and emerging practices.
Why is education so important in the beauty and aesthetic profession?
Suzanne: I've been a Dermal Therapist and educator for the past 15 years and have seen our industry change rapidly and in so many exciting ways, but something that we have all learnt from this rapid momentum is, if you're not continuously up-skilling, you will be left behind.
SPONSORED
United Institute of Aesthetics (UIA) are proud Education Members of The Aesthetic & Beauty Industry Council (ABIC). We believe in striving for the highest standards and giving back to the professional beauty and aesthetic industry.
The study programs are unique because every course incorporates follow-up sessions which are designed to reduce the forgetting curve and ensure that students retain and build on their skills. In short, this type of training is more successful and valuable to both students and businesses, with proven outcomes.
I'm passionate not only about passing on our collective knowledge, but ensuring that the skills can be applied for the future success of the therapist, salon or clinic. It was important for us to be flexible and malleable with our offering, so we can adapt the type of training to the specific needs of the industry. You can choose between online theory courses which are prerecorded and self paced for the convenience of the student, live or in-person theory sessions, group sessions, and of course in-clinic practical training. We can develop tailored training to suit the needs of any business and its staff, and we also have continual development membership packages for salons and clinics, which means that your training demands are always covered. You are known to have innovative training techniques, can you tell us some of your trade secrets.
Suzanne: Our speciality is skin, dermal therapy and modalities. We have courses from basic and refresher level skin anatomy and physiology, to advanced skin science. We offer both theory and practical training on dermal and laser devices, laser safety certificates, and we are specialists in multi-therapy dermal treatments and combined modality training.
BUSINESS
It's only one day every 2 months but it has made a world of difference to Sanctum Medical's team culture and bottom line. Dr Clair McCartney explains. What is it that we all aspire to at work? Many articles in the last few months have been talking about improving workplace culture, supporting staff and building resilience. There is no doubt that the last couple of years have been difficult for most of us, but does building resilience actually bring us closer to happiness in the workplace? I am lucky enough to have a workplace that has a very positive and supportive team culture. We have focussed a lot of time and energy to create this great team culture. I believe it is what has helped us, not only survive, but thrive over these difficult COVID-19 times. So how did I make this happen and what can you replicate in your own clinic? When I started out as the Business Manager of our clinic, Sanctum Medical Aesthetics, one profound learning experience I had was in relation to staff retention and motivation. When I started, I was initially rewarding staff performance primarily with salary increases. However, I was not seeing any change in our staff culture and I couldn't understand why my staff weren't 'happier'. After sitting down with my team and doing focussed performance reviews I started to see a pattern in what each and every person wanted. My team wanted to learn. They wanted to see and realise a career pathway. They wanted to be the best at what we do, and deliver care with skill and confidence. I sat down with my co-Director and we decided we would dedicate one day every eight weeks to training. A revolutionary idea for us at the time and a decision that has changed our team culture, staff retention and work happiness. Involve your providers We partner with some incredible companies that provide ongoing support and training including our skincare brands, Rationale and Synergie Skin, and our clinical companies Cutera and Galderma, who we arrange to come down at least once a year to provide onsite training. By closing the clinic for the day and allowing all staff, clinicians and front of house, to be involved in training, we ensure that the whole team is up to date with the latest knowledge. It fosters a positive WHY WE CLOSE OUR DOORS EVERY 8 WEEKS FOR TRAINING
46 | SPA+CLINIC
relationship between clinicians and our receptionists and allows our standard of care to be maintained no matter who you see or speak with in clinic. We also use some of these days as in-house training. We've run a Values + Mission day where we got stuck into the nitty gritty of what it means to be Sanctum Medical Aesthetics. We run clinical days where our highly skilled doctors spend the day teaching and training our nurse injectors and junior doctors more advanced techniques. These are highly valuable days of shared learning, passing on years of acquired skill and refinement. Our front of house team are often our models, or else have an opportunity to watch and actually see what our patients are experiencing, which helps them discuss it better on the phone when patients ring and enquire about procedures.
The importance of social time A dedicated training schedule has a multitude of benefits. It allows my whole team to work collaboratively for a day. To chat, learn, discuss, understand all together, and to strengthen those skills that each person wants to improve. We are all on the same page when it comes to our service offering, we all talk the same talk and walk the same walk, so to speak, which is crucial when you have a large patient base that often sees different clinicians. It fosters creativity and innovation. You can't do either of these things when you have no time or space in which to think. By creating space and time for creative thinking we improve our clinic, our treatments and the service offering to our clients. Another, not to be underestimated, benefit is the social time it allows. Most of my team work part-time. Very rarely do we get the opportunity to relax and chat together. By having 'patient free' days, even though they are structured and filled to the brim with education, they are more relaxed than your average work day. We try to include some time to sit back and relax. We might start the day with a quick meeting over delicious breakfast and coffees from one of our local cafes. Or if we're feeling like we've worked particularly hard, finish with a gin tasting from one of Hobart's amazing distilleries.
• Encourages creative thinking • Team is on the same page and able to support each other
With Kitomba's Business Summary report, I can get a snapshot of what my entire group is making in one day, and all the metrics I want: Rebooking rates, cancellations, retail sales and more! " "
• Involving front of house improves their knowledge of treatments
THERE ARE SO MANY DIFFERENT REPORTS YOU CAN GENERATE, AND IT'S SO SIMPLE.
Talkwww.kitomba.comtous:1800161 101
MY FAVOURITE KITOMBA FEATURE HAS TO BE REPORTING.
Why your team needs to be 'fluid'
Reece Unahi Founder, RU&CO Hair Group
• Social time for the whole team strengthens bond
There is no doubt that setting aside dedicated training time can be tough. It is a whole day of lost income every couple of months. It's an added cost of staff wages as some staff will be working that extra day to come in for the training day. Is it worth it? A hundred times over. I've watched my team blossom over the last few years. They are confident in their skill levels. They know that when they ask for help or extra training it will happen. Our patients feel confident in the hands of all of our clinicians, and our front of house team are experts at talking patients through procedures and recommending appropriate skincare. Most importantly, our team all becomes fluid, being able to support each other when the clinic is humming. Having recently completed a Women in Leadership course with Deakin University, I have a much greater understanding of why our commitment to training creates positivity at work. Team culture is a collection of values, behaviours, working practices, and beliefs that team members share while aiming to fulfill their collective purpose. Our team has an amazing culture, built on shared learning. Our organisation understands that knowledge builds confidence. Confidence reduces stress and anxiety, it leads to greater success and internal happiness. I am one of those lucky few who get to work in a job I love, with people I love. I've spent the last few years learning how to create positive energy within my staff, to try to ensure they like working in our clinic as much as I do. One of the greatest reforms has been our commitment to training. If you can find the space and time do to the same, I'm sure you will love the positive change you'll see in your team. Dr Clair McCartney is Sanctum Medical Aesthetics' Business Manager and Co-Director.
sanctummedical.com.au The benefits of regular training days:
• Staying on top of the latest products, techniques, and education
• Opportunity for team to ask questions
HAesthetics
48 | SPA+CLINIC
ands up if you're a skin therapist who has been 'faking it til you make it' but you still don't feel like you've quite 'made it'. Like, when does the 'faking it' part end and the 'making it' begin? Is there a sign? Is there a skin fairy godmother who comes and gives you your wings and a badge and sends you off with permission to go forth and confidently conquer? Is there a certain number of treatments you do to reach a qualifying quota and BAM! You suddenly no longer feel like you're winging it and you now permanently live in "made it" territory? Every single day my inbox, DM's and voicemail are blown up with messages from skin, beauty and dermal therapists, ALL searching for support, advice and guidance in all things skin. We all reach a point in our skin therapist journey where we need a "big sister", someone who has been there, done that. Whether it be to bounce an idea off, to get a second opinion, or someone to blow wind in our sails when we need a confidence pep talk.
There are three common questions I am asked by my fellow skin therapists: The first and most frequent question I am asked is "how do I talk to clients about skin?" You see, we are taught the technical jargon, skin anatomy and physiology about how cells and skin works, but we're not actually told how to make it relatable in a skin consultation context. If you've ever seen a client's eyes glaze over mid consultation, you'll know exactly what I am talking about. I used to think that using the big fancy words made me sound more professional but in actual fact, they were just alienating my clients and not at all helping them with their skin goals. Breaking down skin jargon into relatable content takes practice and sometimes you just need someone to give you the words and ideas to do it.
The next question is "what courses should I do to learn more about skin?"  So many of us leave beauty college with the most basic of skin knowledge and when we don't use it we lose it. With so many beauty salons becoming more skin
WHY YOU NEEDA Skin Squad Robyn McAlpine wants to be your skin cheerleader to help you reach your full potential as a skin therapist.
I realised that so many other skin therapists are exactly where I was and I knew I could save them from all the dead ends, wrong turns and wasted time and money but showing them the shortcuts. Thus, The Skinside Out Squad was born.  The Skinside Out Squad is an exclusive global community for skin therapists, hungry for learning, ready for connection, inspiration and motivation, who want me in their corner, cheering them on. I share all that I know so that you can feel supported and mentored in your skin therapist career. The Skinside Out Squad is not a skin course. There's more than enough of those in our industry.
The Squad is a mentoring membership led by Yours Truly. Each month, we tackle topics like, building confidence as a therapist, how to do a consultation, what to do when you're not getting results and so much more. It's exclusive to skin therapists so if you aren't actively hands on working with skin (i.e. you own a business but don't do treatments or you represent a skincare line), sorry, this isn't the group for you.  There are business coaches for the bosses, there's sales training for the reps... Where's the skin therapist bestie, the skin fairy godmother in your corner, cheering you on and being your biggest hype girl? *cough* I'm right Teachinghere!someone about their skin is the most empowering thing. In a world full of hype, myths and slimy sales pitches, knowledge is the light in the dark and I want to teach you how to share that knowledge with your clients. If you are a skin therapist, beauty therapist, either a solo therapist kicking it in your own business or you're employed in a salon, but needing more skin-spiration than your boss can provide, this is the Squad for you!  Robyn McAlpine is the Founder of Skintifix and the Skinside Out Squad. robynmcalpine.com
Aesthetics ✓ Australian cosmeceutical range ✓ Results driven skincare ✓ Select 7 Skin Peel System ✓ Great price point and markup ✓ Easy to use and recommend for retail ✓ Annual marketing planner in place with regular promotional activity ✓ UltraRewards - Client Loyalty Program ✓ Staff skincare rewards ✓ Flexible Opening Orders ✓ Regular Salon Training Be a part growingAustralia'soffastestsalonbrand 1300 660 297 ultraderm.com.au Find us on Visit ourstand J139 atBeautyAustraliaExpo focused, I'm finding that the therapist's knowledge is getting left behind and we're being thrown into the deep end with the skin treatments but we lack the theory to back it up. There's hundreds of courses out there on offer. So many more than when I started. But how do you know which ones are worth it and which actually just suck?  Sometimes you just need someone to point you in the right direction to save you from wasting your time and money.  Another frequent question that pops up in my inbox is "how do I do a proper skin analysis? Am I doing it right? Have I done this properly?"
Chances are if your clients are falling over themselves to book your treatment plan and they are handing over cash for your product prescription then you've probably done it right. But most of the time, we do the courses, we know that we are meant to then talk to clients and sell them products and make a treatment plan… but HOW exactly do we do that? Like what are the actual steps once we get in the room with the client? Sometimes we just need someone to give us a framework and show us how it's done. I've realised there's a missing link. A gap from where we are to where we want to be in our careers. It's the gap I spent years wandering around a bit lost for a while there. But it was in this wilderness that I was learning through trial and error how to not only talk to clients about skin and do a consultation but to totally kick butt while doing it.
Through trial, error, mistakes, and success, I figured out the most effective way to talk about skin. I did all the courses, good ones (some of them twice), bad ones and everything in between. I also figured out how to make a consultation flow and make sense to both me and the client.
Learning To Lead Instead of Manage By Matt Williams Knowing how to build a team of engaged employees is as critical as it has ever been. Right now, some business analysts are calling the current business climate 'an employee's market', as there are more jobs available than people to fill those jobs. This has resulted in record low unemployment rate, and if you are a business owner, you have probably noticed that this has meant having great difficulty attracting and retaining quality
How can ABIC's council members help you and your business? Three expertsindustryexplain.
The Aesthetic and Beauty Industry Council (ABIC), established just one year ago, is still very much in its youth. While membership numbers are steadily growing, many are still yet to become familiar with the non-profit's purpose, mission, and benefits. Created to act in the interests of all beauty, spa, and medical aesthetic professionals and businesses alike, ABIC is extremely active in engagement with government, giving voice to our industry sectors as a united front in order to make tangible changes to policies. While this is primarily what ABIC is known for, there are countless resources available for members designed to feed directly into businesses and improve practices, from marketing to HR, compliance to team training. ABIC's council comprises some of the industry's most highly regarded business owners, educators, and entrepreneurs, who are on a personal mission to help each and every individual be their best selves - whether they be a team leader or a sole practitioner. Here, they share their thoughts on how ABIC best benefits its members, protecting businesses, elevating practices, and raising standards for our collective industry.
Withcandidates.thisinmind, you may find that by not having excellent performance management protocols in place that will allow you to effectively lead your team and keep them motivated, you are at risk of losing them. Over 50 years ago, the great business guru Peter Drucker said, "One does not 'manage' people. The task is to 'lead' people." He also said, "I am more interested in people than I am in how businesses work". I love this approach when it comes to getting the best from your team. First, understand that you manage your business, but you lead your people. And in order to lead people, you really have to understand what drives them, what they love, and why they do what they do. I have read thousands of books on this topic in an effort to determine the best patterns that will help develop better leadership qualities, and I feel that I have
THE EXPERTS ARE HERE TO HELP
"And in order to lead people, you really have to understand what drives them, what they love, and why they do what they do."
50 | SPA+CLINIC
If not – your contractor may have grounds to claim entitlements such as superannuation, leave, and penalties that would have been applicable to a normal employee for the duration of their time working for you, resulting in thousands of dollars in back-pay.
spaandclinic.com.au | 51
Having the protection of an industry association that is curated by industry experts, run specifically for industry, is just one thing that you don't have to lose sleep over - when your head hits the pillow at the end of a back-to-back, fully booked Saturday! Whether it's getting the most from your team, or safeguarding your business from legal complications and everything in between, ABIC membership can protect, prolong, and propel your salon or clinic in ways you may not have even imagined. For more information, visit theabic.org.au
There's a fine line between genuine employment and a sham contracting agreement, and many employers in our industry unfortunately aren't completely aware of where that line sits. We're keen to start the conversation so that businesses are not caught out owing months (sometimes even years!) worth of back-pay. But first, what is sham contracting? A sham contracting arrangement is when an employer disguises an employment relationship, either recklessly/ intentionally or (or sometimes even unintentionally!), as a contracting arrangement. This might be done to avoid certain taxes or avoid responsibility for employee entitlements such as minimum wages, superannuation, workers' compensation, and leave. In our industry, many contracting arrangements are the norm, especially when it comes to salons or clinics where a contractor is offering an additional niche service such as cosmetic tattooing, or cosmetic injectable treatments. It's extremely important to ensure that the agreement that you have in place with that contractor meets the criteria of a genuine contractor agreement, and not an employment agreement, disguised as a contractor agreement. Is that contractor expected to arrive to work at a certain time and work certain hours, wear your uniform, or use the tools and equipment supplied by the business? Do they manage their own booking day, or does the business strictly manage this for them? If you have a contractor actively working in your business, it's very important that you speak to a HR professional to ensure that your contractual agreement outlines terms that are conducive with a genuine contracting agreement.
4. Provide consistent positive feedback and opportunities for Igrowthamthe first to acknowledge that I often get this wrong, and I have lost good people as a result. This can really hurt your business, and often hurts on a personal level too. So, if you own or manage a salon, spa or clinic, and wish to excel your leadership to the next level, you absolutely need to avail yourself of the types of resources found in the ABIC library that can help you develop the perfect system for leading your people.
"We're keen to start the conversation so that businesses are not caught out owing months (sometimes even years!) worth of back-pay. "
By Keira Maloney
The changes in awards and rates are difficult to follow, to say the least, and without time and dedicated resources to do so, they can easily fall to the wayside - something that can be an enormous risk when you're employing multiple people. The beauty of having an association like ABIC at your disposal is that it's our job to keep track of informational updates exactly like this, so that business owners can get back to treating, marketing, and managing theirNotbusinesses.onlydoes ABIC provide trusted advice that members can access via its many touch points of dedicated phone lines and social media pages but also, it provides members with qualified connections to experts in their fields of subject matters like human resources and industrial relations, that can help when questions and concerns from the team are a little out of their depth - and let's face it, some of them are!
"The beauty of having an association like ABIC at your disposal is that it's our job to keep track of informational updates"
1. Ensure that your team knows how much you care about their needs
2. Set clear goals and expectations of what you need your team to be able to do in their roles
Don't get caught out - liaising with the ABIC HR team, who are knowledgeable and experienced specifically in our industry, can ensure that you are covered.
Beware Sham Contracting
3. Offer adequate training so that your team has what they require to do their best work
Business only scratched the surface. But here are some of the top ideas and concepts that have worked for me over the last several decades in business.
The Hidden Wage Threats of Running an Aesthetic Business By Tamara Reid Business owners have an incredible amount of work on their hands. Between wearing the hat of a marketing manager, a bookkeeper, coach, cleaner, and many others, it's essential (if not vital for their business!) that they keep on top of their team's wages.
Over the last three years, despite the pandemic, she's managed to kick some serious business goals. Below, Dr Hurst shares – from her own experience –what to consider doing if you'd like to grow too. Increase your square footage Having a bigger floor space will allow you to take in more clients. And, we all know more bookings = more revenue. Within six months of Blanc's opening, Dr Hurst seized an opportunity to take over extra premises next door. This allowed Dr Hurst to develop her clinic considerably with the doubling of treatment rooms, staff, and the addition of a second waiting room. Now, we know what you're thinking – how does one know whether it's the right time to consider taking a larger
52 | SPA+CLINIC
While the world grappled with COVID-19, beauty and aesthetics businesses were focused on surviving while being forced to shut their doors. But, as we move through the aftermath of the pandemic, many business owners are now turning their gaze back to focusing on growth. If you're in this boat, we've got you covered with a few tips from someone who has tripled their business in three years. Dr Clara Hurst is a cosmetic injector, educator and founder of award-winning, Perth-based skin studio, Blanc.
LARKIN.ISOBELBYWORDS HOW THIS CLINIC OWNER TRIPLED HER BUSINESS IN 3 YEARS
Top tips for growth from Dr Clara Hurst, founder of Perth-based cosmetic clinic, Blanc.
Business premise? Follow Dr Hurst's lead and be guided by your booking capacity… Just months after Blanc's opening in March 2019, Dr Hurst found appointments were regularly being booked out. Exactly one year after this, Blanc had again outgrown the increased clinic size. An opportunity again presented itself to acquire another commercial unit next door and the clinic once again expanded to triple the size of the original venture. If you're finding demand for service is greater than what you currently provide, it's likely time to go bigger. If your books aren't full, consider focusing on other areas for improvement first. Build strong relationships with your client base From the beginning, Dr Hurst and Blanc's staff worked hard to build rapport with clients and solidify the clinic's impressive reputation as a trusted brand. Due to Blanc's rapid growth, Dr Hurst also invested in hiring an in-house marketing team to support communication with existing and potentialDevelopingclients.solid bonds with your customer base will have you enjoying returns on two fronts: 1. Repeat clientele who book appointments with you regularly. 2. Word-of-mouth recommendations by clients who refer your business to friends and colleagues as a reliable service provider. Diversify your treatment offering If it's appropriate for you to do so, adding to your service menu may have you reaping serious benefits. Following the new fit-out, Blanc now offers two pillars of treatments: A dermal therapy side of the clinic plus a clinic side for medical therapies. Dr Hurst recognised that many clients wanted the best of both worlds in terms of medically-led and spa-inspired treatments so she decided to use this to her advantage and service both. To decide whether to add further treatment options, chat with your staff and ask them whether there are any particular procedures that clients are requesting. If you send out email communications to your customers, you could also consider surveying them to find out what they'd like.
Invest in your premises When it comes to spas and clinics, that old adage about how 'first impressions count' couldn't ring more true. From the moment new clients walk through your doors, they will be checking out the space and starting to form opinions. Blanc was designed drawing on inspiration from Dr Hurst's time working in London. From this experience, she understood how much clients valued finding a peaceful escape amidst the hustle and bustle of one of the world's busiest cities. The dermal therapy section of the clinic is spa-like in nature and decked out with plush furnishings. Meanwhile, dim lighting relaxes the mood of the space and sets the scene for indulgent treatments. In contrast, the clinical side is brighter and features streamlined marble stone bench tops and polished plaster walls. The vibe is still tranquil yet the space fittingly feels more medical in nature reflecting the attention to detail and exceptional results patients can expect.
Dr Clara Hurst is the owner and director of BLANC. blancskin.com.au
spaandclinic.com.au | 53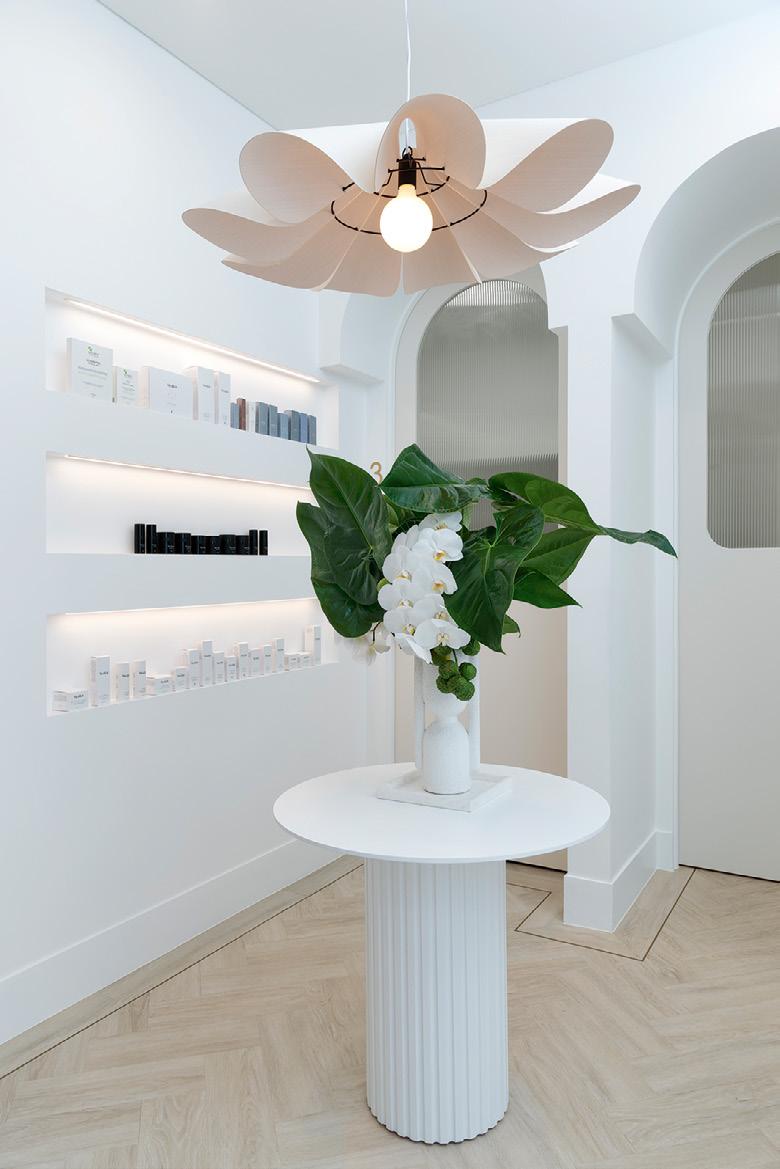 There is a new laser device on the market in the US, which will launch in Australia soon. Called 'AviClear', the 1726nm wavelength laser treats acne at the source by selectively targeting and suppressing the sebaceous gland safely and effectively. US cosmetic physician and AviClear KOL, Dr Tahl Humes (pictured) told us she is excited about this new device. "There have been two studies so far. The first one was a 17-patient study. So a smaller study, really just looking at safety of the device. And then followed by a 104-patient study. So a lot of patients, and 32 had moderate to severe acne. And every single person had a reduction, either to clear or almost clear. And then what's even more exciting is some of the patients from the very initial 17-cases study – after two years out, their skin is still clear." Considering the amount of people presenting with acne, this could be a lucrative addition to clinics. " It's the number one skin condition in the US, and around the world, it's at the top as well. So it's going to be a game changer," says Dr Humes.
Here are some of our takeaways from the Non-Surgical Symposium 2022. Hair Restoration Is The Next Big Thing Global Market Insights valued the international hair transplant market at US$8.1 billion in 2019 and expects it to grow 25.8 per cent annually to reach US$40.1 billion by 2026. There aren't too many doctors yet in Australia who are performing hair transplants, but all of them say the same thing: demand is growing. Devices like the NeoGraft and the Artas, both distributed by Venus Concept, are revolutionising how hair transplants are done. NeoGraft works by extracting individual hair follicles, which are then sorted by size and placed into the recipient site – all done by very steady hands of a doctor, whereas the Artas does the harvesting for you – a hair transplant robot, if you will. While both men and women suffer from thinning hair, this treatment of course largely targets the male population, opening up millions of people to the world of aesthetic treatments, which is what makes it so exciting.
Aesthetics
54 | SPA+CLINIC
We'll Be Treating Acne More Efficiently
Three full days of conferencing and over 600 delegates make for one inspiring event!
WHAT WE LEARNED AT NSS IN 2022
Aesthetics
Laser Hair Removal Is Now Possible On All Skin Colours
Alma Lasers Australia is revolutionising the laser hair removal market with its Soprano Titanium device, which allows practitioners to safely perform laser hair removal on all skin colours and hair colours. That means that everyone, from red and blonde hair with fair skin to dark hair with dark skin can now enjoy hair-free bodies. It is virtually pain free and can treat both self-tanned and sun tanned skin.The treatment smoothly glides over skin making the Alma Soprano Titanium the quickest, safest, most comfortable and efficient hair removal device on the market globally. This is a game-changer for all businesses offering laser hair removal as it expands the target group of possible clients.
It's no secret that injectables are steadily increasing in popularity, but while the most known and loved products are muscle-relaxant injections and volumising fillers, there is a new breed of hyaluronic acid based fillers that don't add volume, but help the skin improve itself. Bio-stimulators are injected more superficially and stimulate the skin to produce its own collagen, which in turn has a lifting, volumising, and texture improving effect. The overall result is often more natural and balanced than using traditional fillers. Dermal fillers give an instant result; whereas collagen bio-stimulants can take up to six weeks to gradually grow collagen to the treated area. As a larger area of the face can be treated with less product, it can be more cost effective than dermal filler. As people are prioritising the quality of their skin more and more, we see huge potential in this area of injectables.
Think about all the blondes, dark skinned people, and tan-obsessed that have, up to this point, been unable to be treated by you. Well, now they can. LED Is Not Just For The Face LED has truly cemented itself as one of the most popular add-on or membership treatments in most spas and clinics, but mainly for the face. While devices, such as Omnilux, Healite, or SmartLUX are here to stay, it's full-body LED beds we think will be the next big thing in photobiomodulation. At NSS, we loved experiencing Aesthetic Bureau's 'Total Xen' LED chamber/ bed, which uses evidence-based red (630nm) and near infrared light (850nm) to deliver a whole body systemic photobiomodulation experience. The Australian designed and engineered product can be used horizontally as a bed, or used vertically as a chamber for people to stand in – genius and great for smaller spaces. Clinically proven benefits include skin health, muscle recovery, reduced inflammation, optimised sleep, increased immunity and more. The LED trend can also help businesses increase their male clientele. "Our Total Xen draws men and athletes who are increasingly conscious of health and wellness and appearance," says Aesthetic Bureau's Mabelle Koh. "It's a great treatment with wide appeal that taps into the inclusive beauty movement and the male grooming boom. The Total Xen was a big conversation starter and attracted many booth visitors at NSS. In fact, several of our stand visitors were prepared to strip off so that they could experience a treatment in the Total Xen."
spaandclinic.com.au | 55
Biostimulators Are The Next Generation Filler
"Being afraid to promote your staff in the media and on social media is a backwards way of thinking. When showcasing your employees, it's a juggling act but it comes down to your brand structure, having a clear vision of employees you are hiring and mutually beneficial staff business relationships," say the pair in a joint statement. "It is naive for brands to think that by not promoting their staff publicly that they are not forming relationships with their clients. So why not use this aspect, which is often very beneficial for the business, to mutually grow together?"
I n 2022, it won't be news to anyone that we're well and truly living in the 'digital age.' Social media can be a powerful tool for marketing and supercharging the growth of your business, as well as building a solid community within your client base. But in the aesthetics world, a debate amongst spa and clinic owners has been raging around the etiquette of staff Instagram accounts, and whether these can be beneficial or detrimental to businesses.
MEDIAONOURPROMOTESTAFFSOCIAL Clinic owners Amy and Emilee Hembrow, share why they encourage staff and businesses to grow together.
WHY
Below, the sisters summarise four main reasons why they think the idea of hiding employees behind the brand – for fear of losing their investment or clientele – should be left in the past: WE
LARKINISOBELBYWORDS 56 | SPA+CLINIC
Weighing in on the debate are two major Australian rising stars, sisters and co-founders of SSKIN Clinic, Amy and Emilee Hembrow. If you're thinking their surname sounds familiar, you're not mistaken. The two are in fact sisters of powerhouse Australian YouTuber and content creator, Tammy Hembrow, as well as influencers in their own right. Emilee boasts an incredible 1.1 million Instagram followers while Amy has an impressiveConsidering281k.their roles as cosmetic clinic owners, and social media insiders, Amy and Emilee are primed to offer a well-informed and incredibly insightful opinion on the topic. SPA+CLINIC caught up with Amy and Emilee to hear their thoughts on whether or not you should encourage your staff to showcase their work via social media.
Business
We have found industry recognition is high on the priority list for staff these days. It opens more opportunities for the employee and employer. This can be a very mutually beneficial relationship when approached correctly.
"We strongly believe that if your business could be greatly affected by having a practitioner leave, then your brand strategy needs adjusting"
4. Social media promotes transparency and allows clients to more easily find their ideal practitioner When you're getting procedures done it's important to know who you're going to, their experience, and their past work. An Instagram page is like a portfolio of the practitioner's work – it helps builds trust. In today's social media climate, more clients ask for personal pages of nurses to see their work so they can differentiate between other practitioners on the business page. We encourage sharing our practitioners' personal work because we are proud of their skillset. It can come across as sneaky and less transparent when cosmetic pages don't [specify] who the injector is [and] you could book thinking you will get an experienced nurse but get someone who is fairly new to the industry. Amy and Emilee Hembrow are co-founders of SSKIN Clinic. sskinaus.com
2. A nurturing workplace with opportunities for growth attracts quality talent We ask our employees what drives them in their careers, and employee feedback allows us to tap into what's most appealing. With industry recognition and increased opportunities, the workplace becomes a highly sought after and attractive workplace to people comparing workplaces when looking for places to apply.
1. Creating industry recognition through social media is brilliant for your business
3. Encouraging employees to grow can enhance staff retention Inspire employees to work hard and achieve their career goals. But also, encourage employees to grow and develop with the company – thus increasing employee retention and loyalty. This can also lead to increased overall productivity. When the hard work and expertise of employees are highlighted, it inspires other employees to work hard to achieve similar goals.
spaandclinic.com.au | 57
are encouraged with their practitioner because any employee good at their work will already be forming these relationships. It's on the business to leverage this. For example, Christie Cameron, our Senior Dermal Therapist, has won best Beauty Therapist on the Gold Coast twice. Christie often contributes to media articles and is encouraged to promote herself and is promoted by the business. We are working with Christie towards her future goals so that she grows with the business, we leverage her success for the business and give her resources to better achieve our common goals. Yes, she could leave us but we have become very selective in our hiring process specifically selecting employees that want to grow with the company, and if they do move on which is in their right (which often happens when your goals no longer align) we have positioned the business so that many of our clientele see multiple practitioners at our clinic, have relationships with our coordinators and have become accustomed to the "experience" which is embedded in our brand strategy.
To make sure your investment in the employee is worthwhile, the business should be structured so that clientele form an attachment to the brand and not solely the practitioner. We strongly believe that if your business could be greatly affected by having a practitioner leave, then your brand strategy needsRelationshipsadjusting.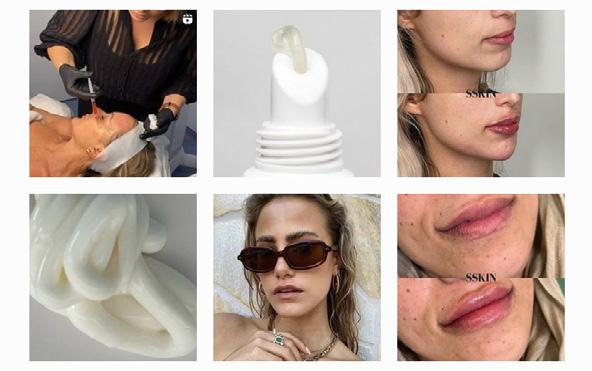 Scan the QR code to learn more about InMode's EmpowerRF
"Women no longer need to be embarrassed as there is a solution"
Women's health: a billion dollar industry According to recent studies taken in  2019, the women's health market was estimated to be worth US$35.02 billion, but is on the trajectory to increase to upwards of US$41.05 billion by 2027, that coupled with the fact that approximately 1 in 3 women suffer from Stress Urinary Incontinence at some point in their lives, it has started to turn the conversations women are having. Women no longer need to be embarrassed as there is a solution.
It's not surprising to learn that up to 76% of women experience decreased vaginal sensation, most commonly with a feeling of a widened vagina. Even vaginal atrophy, or atrophic vaginitis, results in sexual dysfunction affecting approximately 50% of postmenopausal women, Dr Liz Golez is on a mission to help women with their vaginal concerns and remove the stigma around women's health. Here, she explains how InMode's EmpowerRF is revolutionary for her female patients.
COVER STORY
58 | SPA+CLINIC
Women's health is a growing industry with so many advances in technology, so it made sense for me to invest in a device that could treat these issues women are having.
Moreover, my mum has debilitating genitourinary syndrome of menopause (GSM), most specifically incontinence. I saw how this common condition had affected her health, personality and quality of life and started researching preventative options to not go through the same path and suffer the same fate. The answer is to maximally strengthen your pelvic floor muscles and for muscle memory to form before menopause sets in.
Empowering
Ifinished my Accredited Specialist Training in Obstetrics and Gynaecology at a University Tertiary Hospital in the Philippines in 2003. Since then I have advanced my training in O&G in tertiary hospitals around Australia and New Zealand and have since been a GP Obstetrician after receiving my Fellowship in RACGP (Royal Australian College of General Practitioners) and Advanced Diploma in RANZCOG (Royal Australia  and New Zealand College of Obstetrics and Gynaecology) in 2013. As a holistic GP caring for my patients beyond their postpartum stages, I developed an interest in antiageing medicine, as my patients' needs extended to wellness, cosmetics and Aesthetic Gynaecology. I trained with some of the best Cosmetic Doctors in Sydney, completing my training with AAAM (American Academy of Aesthetic Medicine), and I am a member of ACAM (Australasian College of Aesthetic Medicine) and IFAAS (International Fellowship in Advanced Aesthetic Science). The importance of a strong pelvic floor Skin tightening treatments such as biostimulator injections, threadlifting and radiofrequency microneedling are my favourite cosmetic procedures. I age gracefully with my patients as I experience firsthand the effects of hormonal changes and ageing to our skin and body. I can fairly say my patients' demographics are now mostly women in their perimenopausal to menopausal stages, and the need to provide services as they age dictates the direction of how I evolved as a Women's Health Doctor.
WOMEN THROUGH LIFE-CHANGING TREATMENTS
spaandclinic.com.au | 59
The fact that a range of treatments from the one device can be performed in my clinic (in office) at no huge cost, no surgery, no scarring with little to no downtime makes this a very sellable treatment. I have had patients come to me at their wits' end, who have had surgery and still don't feel it's assisted their problems, so being able to offer EmpowerRF is life-changing for some patients.
For more information on InMode's EmpowerRF, visit inmode.com.au
What the EmpowerRF can treat I found InMode's Women's Wellness device, EmpowerRF, which treats the skin, muscles and fat layer, offering a mix and match combination of external RF energy, internal and external fractional RF micro-needling, electrical muscle stimulation (EMS), and internal RF energy. The options of treatments EmpowerRF provides are adjunct to recommended medical and surgical treatment of conditions experienced by women in the genitourinary areas. InMode responded to the market given the changing needs of women from puberty through to menopause, and the treatments are completely life-changing. This device has a number of unique hand pieces that treat a range of different symptoms from urinary incontinence, sexual dysfunction, genitourinary syndrome of menopause (GSM) or vulvovaginal atrophy (VVA), dryness, itching, reduced elasticity and burning during menopause as well as the changing aesthetic appearance as mentioned earlier.  The Morpheus8V applicator is used to treat the collagen boost for incontinence, loss of vaginal collagen (vulvovaginal atrophy), and vaginal muscle relaxation symptoms (collapsed pelvic floors), increasing lubrication and renewed thickness, strength and tone in the vaginal walls and labia. Contrary to what most people think, RF microneedling using the Morpheus8V intravaginally is not as painful as microneedling on the exposed areas of the skin. The birth canal doesn't have many nerve endings, hence the procedure is very tolerable with the use of a strong compounded anaesthetic cream pre-procedure.
As a GP Obstetrician, establishing rapport with patients after a thorough and patient-centred consultation will make the patient feel at ease at the start. As a woman doctor, most patients feel at ease opening up to somebody who can relate to them. Someone who listens and gives them time to talk about how their symptoms affect their lives. The majority of my patients have not opened up about their incontinence and sexual dysfunction issues to anybody. When they start talking, they never seem to stop. The empathy and time spent listening to them helps establish the trust that makes them feel at ease in the subsequent examination.
cover story notwithstanding just how incontinence will affect the lives of almost 400 million people worldwide. You then look at the number of women that begin new relationships and feel that their genitalia is no longer aesthetically pleasing as they age, so based on what they're seeing, they're looking for solutions to feel better about themselves.
Barriers to any woman's health consultation include embarrassment (of talking about her genitourinary symptoms or exposing one's self during the examination) and fear of perceived pain during examination on the intimate parts of the body. As mentioned before, the initial consultation with the doctor is the most important part of everything, since establishing trust is crucial in the whole process.
The importance of an empathetic consultation The fear of any procedure on the intimate parts of the body is the first barrier that prevents women from seeking help. The initial consultation with the doctor is the most important part of everything, since establishing trust is crucial in the whole process. Patients who are empowered by being a part of the decision making of their treatment, involved in the process and in control the whole time (whereby they can always say stop if discomfort becomes unacceptable), respond very well to the treatments. Since the procedure is very tolerable to most, almost painless to some, patients relax after a few minutes into the procedure and start talking about scheduling their next appointments.
The hair restoration industry is growing at a rapid speed, so is this a treatment you should offer at your clinic? THE NEXT BIG THING: HAIR RESTORATION 60 | SPA+CLINIC
"When you reach age 40, 40% of men begin to suffer from male pattern hair loss. At 50, 50%. And so yes, a large segment of men are candidates for hair restoration. It depends on obviously the extent of the loss and age. But I think many men are not aware of the technology or not aware that today we can do hair restoration that's virtually imperceptible; and that's what men are afraid of. They don't want to look strange or different, they just want to look a little bit more youthful. And when you've recreated the frontal hairline, if you think about the face, the chin frames the lower part of the face, and the hairline frames the upper part. So it really is a youth defining procedure," he continues.
Aesthetics
While a lengthy procedure like this obviously comes at a cost, Dr Chaffoo says plenty of people are willing to spend a lot of money on this life-changing treatment, mentioning a survey that was done Artas
NeoGraft spaandclinic.com.au | 61
It's important to note that, while currently you have to be a doctor to perform this treatment, in the US, legislation is about to change, allowing nurses to do hair restoration, which, as Dr Chaffoo says, is "not a great idea for patients", but he also notes that it will make this part of the industry grow even quicker. But how exactly do NeoGraft and Artas work? In Australia, both technologies are distributed by Venus Concept, with Dr Nik Davies being one of the first to use the NeoGraft Down Under. "I think this area of medicine is going to be massive this year and the years to come. It is a huge issue for millions of people and I think the problem may be the lack of knowledge of options for treatment. I get so much out of treating aesthetic patients – there is nothing more rewarding than patients telling me how my treatments have changed their lives and most importantly given the confidence that they used to have. Something the NeoGraft will do so well!" saysNeoGraft'sDavies. success lies in its simplicity. The device works by extracting individual hair follicles, which are then sorted by size and placed into the recipient site. While this sounds relatively straight forward, a treatment takes many hours as a transplant usually requires thousands of hairs. And then there is the Artas. A robot which not only does the hair extraction automatically, but it can also tell which hair follicle is best suited to be transplanted - something our eyes can't see. Dr Chaffoo thinks there is a time and place for both technologies, but loves the Artas.
Dr Richard Chaffoo with S+C Editor Nadine Dilong E very 5-10 years there seems to be a new treatment that is sweeping the aesthetics industry (think CoolSculpting about 10 years ago, or the rapid rise of HydraFacial). Right now, the next big thing is forecast to be hair restoration. Technology has come far and the days of unnatural looking hair transplants are over, instead, the results that can be achieved nowadays are virtually undetectable. Global Market Insights valued the international hair transplant market at US$8.1 billion in 2019 and expects it to grow 25.8 per cent annually to reach US$40.1 billion by 2026. Dr Richard Chaffoo is a California-based Plastic Surgeon and expert in hair restoration. In fact, around 60% of treatments at his practice in La Jolla is hair restoration – and it's growing. "I think right now we're only hitting about 2% of the male market. The male market, as you know, is a very small segment of the aesthetic market, but it's growing. And what I found is that men's initial introduction into the aesthetic industry is offered through hair restoration. So they can do that, and then they may have eyelid surgery or injectables, something else, and then they usually have significant others who will come in for some other type of procedure. So it's great. I think it's great in terms of being able to help build your aesthetic practice, because it's been kind of an ignored field for a long time. With the great technology we have now, with the NeoGraft and the Artas robot, it's such cutting edge technology that I think it's going to grow exponentially in the next 10 years," says Chaffoo.
"If you're going to start with hair restoration, you want I think, at least the NeoGraft device because it's a manual device, and it's a little bit less expensive. But there is a relatively steep learning curve, it's a little difficult to learn. It takes a bit of time. The nice thing about robotic technology is the robot is doing the harvesting, which makes it easier and quicker," says Chaffoo.
"The takeaway from this event (Oscars 2022) should be the importance of raising medical awareness on hair loss conditions such as Alopecia. Particularly when seeking medical treatment early is of monumental significance, not just within the scope of treatment results but to the benefit of the diagnosed patients' quality of life. Let's start the conversation," Dr Murray concludes.
Aesthetics
Vida Glow Hairology
Vida Glow Hairology marks the brand's ground-breaking move into haircare. The second sku launch from their specialised Advanced Repair range, Hairology is a once-daily ingestible capsule that targets thinning, lacklustre hair – at its root cause. Working internally to replenish hair health and optimise the environment necessary for hair to grow and thrive. With trademarked active AnaGainTM, and a comprehensive blend of targeted vitamins and minerals, such as biotin, selenium and zinc, Hairology reduces hair shedding and loss, supports hair growth, and helps maintain healthy hair follicles for longer, thicker locks.
"Since the Oscars incident on April 8 [editor's note: where Will Smith slapped Oscars host Chris Rock after he made fun of Smith's wife's Alopecia condition], we have noticed a significant spike of enquiries relating to treating forms of Alopecia and other auto-immune conditions that impact hair growth. To our surprise these enquiries have not come solely from women who relate specifically to Jada Smith's diagnosis and the 2022 Oscars incident – enquiries from men have been just as prominent, of all varying age groups. What is encouraging about this spike is that people are becoming educated, less ashamed, and are beginning to understand hair loss as a prevalent medical disorder that requires professional support from a hair restoration/trained specialist," explains Murray.
Before and after FUT procedure by Absolute Cosmetic Medicine 62 | SPA+CLINIC
For patients that don't quite need a transplant yet, these products encourage hair growth.
HELPERSHAIR
Dr Glenn Murray where men were asked: If they could only pick one of the three: sex, money, or have a full head of hair, most men chose hair. So there you go, maybe it's time to introduce hair restoration to your clinic. One of those clinics that has made the decision to add hair loss treatments to their list of services is Absolute Cosmetic Medicine. Dr Glenn Murray says he is in the "business of building confidence and body positivity - which is why we are excited to expand our scope of treatments to include hair loss. Knowing the far-reaching effects amongst both men and women, it was obvious to us that we needed to offer treatment solutions that are effective and wouldn't cause further emotional and psychological trauma."
The Hair Elixir thickens, strengthens and nourishes right down to the follicles to minimise hair loss and reduce breakage, while encouraging the formation of keratin and boosting your body with powerful minerals and adaptogens to fast-track growth. The unique vegan formula promotes hair growth and thickness with a potent blend of proven ingredients including biotin, amino acids, zinc, omega complex, rhodiola and iodine from organic seaweed.
"We offer both non-surgical, and FUT, FUE surgical permanent hair loss solutions. Our services are world leading and optimise graph survival rates through our patented technique; The Martinick Technique™, which is a world leading technique for hair transplant surgery, developed and perfected through years of research by our principal surgeon and educator, Dr Jennifer Martinick."
WelleCo Hair Elixir
KeraFactor Scalp Stimulating Shampoo & Conditioner KeraFactor Scalp Stimulating Shampoo & Conditioner exfoliates the scalp and hair using a unique combination of conditioners and growth factors. The patented complex of seven biosynthetic polypeptides helps promote healthy-looking hair and scalp. The customised formula helps enhance the appearance of the scalp skin leading to hair that appears fuller, with visibly more body and healthier-looking. The proprietary and patented technology allows each growth factor to be individually wrapped into its own nanoliposome for increased absorption. This promotes significant visible improvements in scalp and hair revitalisation.
Dr Ahmed AlSultan, Associate at Dr Michael Zacharia, NSW
Sponsored
Why did you decide to include hair restoration in your practice?  Hair is like a crown on peoples' heads that is only observed by those who have lost it. Hair transplant can restore not only hair but peoples' lives. It can bring them joy, and make them feel more youthful, energetic, and much more confident to engage in social activities and arguably opens more career opportunities. Among an endless list of aesthetic surgeries, I see hair restoration sits at the top rank in achieving the most positive changes in people's life and that is why I decided to include hair restoration in my practice.   How do you choose the best clients for hair restoration?
Dr Michael O'Gorman, Renewed Confidence Clinic, VIC Why did you decide to include hair restoration in your practice? After 18 years in cosmetic medicine, I decided to create a new clinic with services extending into areas which help to restore my patient's self-confidence. I identified hair loss and sexual dysfunction as two important areas in which I could help patients overcome the shyness in talking about their concerns and provide effective treatment solutions for them. And so I named my clinic 'Renewed Confidence'.
It is the most advanced technology in hair restoration surgery to date. It uses a gentle motorised rotation around each graft to puncture the These 5 doctors reveal why they love offering hair restoration services using NeoGraft.
There are many elements of the NeoGraft technology that I love, but if I have to choose one, I would say the method of suctioning the donor graft out of the biopsied site for storage and irrigation. This takes away the need to extract the graft manually and reduces potential trauma to the graft from extraction forceps and manual handling. Genius!
What is your favourite element of the NeoGraft technology?
The best candidates for surgical hair restoration are those with male pattern baldness (inherited) who still have good quality hair that is abundant enough to cover the area of their expectations and who are solidly committed to the hair transplant aftercare.
MEET THE HAIR HEROES
NeoGraft revolutionises hair restoration
64 | SPA+CLINIC
How do you pick the right clients for hair restoration? In cosmetic medicine, one of my mottos is that the secret lies in the consultation. A comprehensive hair loss consultation is a very holistic view of the patient's health journey to date and that of their family members. I assess the extent of their current hair loss and predict their future hair loss to ensure they are suitable for a hair transplant – not just today but that this transplant will continue to serve them well with respect to any future hair loss. I utilise many forms of assessment including examination, investigations, densitometry, photography, and classification scale of severity of hair loss for both the patient and their family. What is your favourite element of the NeoGraft technology?
Facebook Instagram spaandclinic.com.au | 65
Dr Anh Plastic Surgery and Medical Aesthetics, WA How do you pick the right clients for hair restoration? With any procedure, client selection is of paramount importance. As trained plastic surgeons we know the limits of what is possible, and never try to over-promise our patients. Being aware of what we can achieve is an important component of client selection, however I'd argue that the most important part is managing patient expectations. People come to us for our expert opinions and an idea of their desired outcomes. It's up to us to work with a patient to manage their expectations to make sure they line up with what is possible.
Empowering confidence elegantly and tracelessly via a scientific and holistic approach to cosmetic medicine has always been my philosophy at Eleventh Heaven. Having listened to many of our patients, we have come to realise that a significant portion of our patients and public in Queensland are suffering from hair loss, which hugely impacts on their self-confidence without knowing the availability of hair restoration as a permanent option. Wanting to assist these patients to regain their confidence back, I decided to marry my aesthetic eyes and great passion in meticulous procedures, and started offering hair restorationNeoGraftsolution.isthenamed brand and industry pioneer in follicular unit extraction (FUE) hair restoration with proven results as an effective solution for hair loss. Eleventh Heaven is proud to be the first clinic in Queensland to be able to offer this revolutionary technology to assist patients with hair loss, especially those with mild to moderate hair loss and is committed to the journey of transformation.  What is your favourite element of the NeoGraft technology?  My favourite element of the technology is its automated pneumatic system that can control the depth of incision with reduced trauma and increased harvesting speed that helps to preserve graft viability. Our patients report quick recovery with minimal discomfort even on day one post procedure. NeoGraft allows patients to return to their daily activities a lot quicker and is a lot more comfortable unlike other harvesting methods. Most importantly, NeoGraft has an undeniably superior safety profile and very high patient satisfaction. Dr Matt Holman, SA and NSW Why did you decide to include NeoGraft in your practice? I chose to incorporate hair transplant into my practice when NeoGraft became available as it's a quantum leap in technology that streamlines the procedure and most importantly greatly improves the graft survival rate to around 90%. NeoGraft® is a revolutionary FUE (follicular unit graft extraction) hair restoration system that has brought new meaning to hair restoration. By providing a mechanically-assisted, minimally invasive alternative to manual (FUE), it eliminates the inefficiencies of manual tools. The result is a reduced treatment time, no linear scars and fast recovery. The motorised hand piece with integrated suction means that the punch insertion can be made shallower and the hair is gently withdrawn by gentle suction straight into fluid without the need to manually remove the follicle with forceps. With NeoGraft, you can restore patients' hair, even if there's not a lot of follicles at the back of their heads.
Why did you decide to include NeoGraft in your practice? Surgical and non-surgical techniques are being refined constantly, so it was wonderful to learn of NeoGraft. We loved the concept of NeoGraft because it brought the hair transplant into the 21st century.
The older style of hair transplant required a strip to be taken from the patient's head and left a large scar. We selected NeoGraft because it did not require the strip to be harvested. We love that we are able to transform lives without leaving scars behind. Obviously it's a big bonus for the patients, too.
NeoGraft is distributed by Venus Concept Australia Pty Ltd Suite 3.06, Level 3 20 Rodborough Road, Frenchs Forest NSW 2086, AUSTRALIA P: +61 (0)2 8329 0770 P: +61 416 022 096 E: info.au@venusconcept.com venusconcept.com/en-au/neograft.htm
Sponsored scalp with superb precision followed by a very controlled pneumatic suction pressure to extract the graft from the scalp without risking trauma to the graft. What I also like is the adjustability of these parameters on a colourful smart touch screen to tailor specifically for individual variation in scalp characteristics. NeoGraft has proven excellence in patients satisfaction. It is safe, minimally invasive with no sutures needed and as a result patients experience rapid recovery. NeoGraft is the hair transplant industry transformation pioneer.   Dr Ricky Sia, Eleventh Heaven, QLD Why did you decide to include hair restoration in your practice?
Another factor to consider is that no matter how carefully and skilfully designed the formula is, combining multiple actives will stimulate the skin and create a response. Whilst this can be a good thing, we always must consider lowering the inflammatory response so that the active ingredients can work effectively without any adverse effects. This is why we combine our formulas with the specifically selected anti-inflammatory and skin cortisol-reducing ingredients, so clients experience fewer responses with less downtime.
Dermalist Founder Stefanie Milla
Tell us about the Dermalist philosophy. The overarching formulation philosophy that is inherent in every product within the Dermalist range is a focus on addressing the underlying causes of skin dysfunction, whilst simultaneously treating the visible symptoms. I created Dermalist to promote the improvement of overall skin health using a holistic methodology that focuses on targeting the common causative factor in all skin concerns: inflammation, and more specifically, chronic uncontrolled inflammation.  The model of skincare that we still use today began in the 1980s, a plethora of skincare products began springing up, and of course, this led to the ritual of layering up to 10 products on the skin at any one time. Many of those products are single-ingredient actives or vitamins in extremely high concentrations.
Firstly, all the ingredients need to be stable in the selected base, and the preservative system must be effective and suited to each ingredient type. For the ingredients to work symbiotically they must act as catalysts for each other, or at a bare minimum not interact negatively, and that's just the beginning.
Since its recent launch in 2020, Dermalist Skincare has been making waves. A revolutionary multifunctional range of products that addresses all skin types and skin concerns, within a condensed and concentrated range, eliminating the need for a complicated and elaborate skincare routine – and both clients and therapists alike are loving it! We speak with Founder and Formulator Stefanie Milla to find out more about the brand and the many hats she wears.
And finally there is the high cost and complexity of an elaborate skin routine. Our client philosophy is that we do all the research and hard work so that it's easier for our clients to use professional skincare and get truly remarkable results.
Then there's the issue of the environment. The significant carbon footprint of an extensive skincare routine, the manufacturing process, packaging, shipping and so on, all adds up and takes a toll on our beautiful earth and the wonderfully diverse life that relies on it!
Skincare science has advanced beyond the need to use a multitude of individual products. Studies have established that formulas which correctly combine symbiotically active skincare ingredients, in the right doses are far more effective in concert with one another. There are so many challenges with layering many skincare products. Firstly, you are exposing your skin to multiple doses of preservatives with each added product you use. Single or few ingredient products tend to have higher than required doses of active ingredients, this may sound great in theory, but the latest research shows that this can lead to inflammation in the skin, which in the long term will exacerbate skin concerns. The days of mega-dosing actives should be a thing of the past. It's all about using the correct dose and amplifying effects using a conjunctive ingredient approach.
SPONSORED
66 | SPA+CLINIC
For clients that want maximum effect using cosmeceutical skincare and minimal effort, we have a core skincare system called the Radiance Range that is truly made for all skin types and addresses all skin concerns simultaneously. It may sound simplistic, but it's one of the most complicated formulation feats to achieve. It is incredibly easy to formulate a single active ingredient product, yet, the more actives you have in a formulation, the more complex the science becomes.
What makes Dermalist products unlike anything else in the professional skincare industry?
THEBRANDSKINCARETHATSells Itself
For clients that wish to amplify effects, there are additions to the Radiance Range. The first is a true anti-aging powerhouse serum from the Defy Range: Age Defying Multicomplex, which includes .7% encapsulated time-released pure
Well, for one thing, it is fast and easy for a therapist or skin health professional to prescribe and explain to the client, likewise, it's a very simple routine for the client to use. The range is super easy for the therapist to sell, therefore both their personal sales and clinic sales increase immediately, so yes they love it!
"Dermalist formulas are complex, so your skincare routine doesn't need to be"
Why do both therapists and clients gravitate so passionately towards the brand?
Dermalist, like SPA+CLINIC and other noted industry brands, are Foundation Members of The Aesthetic & Beauty Industry Council, and you're also the ABIC CEO, why do you think it is so important to support the industry?
I am also a Dermal Educator and own an aesthetic training institute - The United Institute of Aesthetics, in addition to being a formulator. Having so many diverse viewpoints on the industry and the aesthetic profession has had a unique and noteworthy influence on my treatment and formulation ideology, it has allowed me to make profound observations and has inspired me to strive to accelerate innovation. It's so important to note that many professionals have passionately supported Dermalist right from the beginning, lending their expertise and talent to champion this progression within the skincare industry.
What makes you uniquely qualified to formulate an innovative and progressive product range?  I've been in aesthetics for 22 years now, and I am more passionate and excited about it today than the day I started. I feel blessed to be in a very rare position within this field, with experience overlapping into almost every facet of the industry. I've owned multiple dermal clinics now for about 17 years, and it's been such a privilege working with my talented Cosmetic Doctors, Nurses and Dermal Clinicians, both teaching and learning from them and our incredible clients. The sheer amount of knowledge and experience that you build from being in this distinctive position is truly immeasurable and I am grateful for this every day.
This is why we critically needed an association that put the needs of beauty and aesthetic professionals and their businesses first, to protect them and guide them and give them a voice. I'm fiercely passionate about protecting and championing our industry and the remarkable individuals within it, that's why there was no hesitation when the opportunity arose to support them through ABIC.
spaandclinic.com.au | 67
For stockist inquiries contact info@dermalist.com and visit dermalist.com
SPONSORED Retinol combined with anti-ageing peptides, vitamins and Australian native plant extracts that not only address fine lines and wrinkles but also increase the skin's tensile strength dramatically improving skin laxity and density. We are also excited about the recent launch of our Clinical Serums which can only be prescribed and purchased directly from skin health professionals in salons or clinics.
What was it like launching a professional skincare brand in the midst of a pandemic?
This industry has given us all so much joy, excitement and fulfilment, but it has had its share of hardships. It's interesting because our profession is made up of caring, compassionate and empathetic individuals that put their self-interests, and often the interests of their own business, after the needs of their clients. Our industry has undergone so much change over the past 20 years, meanwhile, our legislation, education, professional recognition and so much more have not kept pace.
I feel extremely humbled standing alongside fellow leaders of the industry, as together we provide a platform for the change that our field needs in order to advance.
The bonus is that because the Dermalist ranges consist of uncomplicated regimes, the clients are more compliant and use the products religiously. I think the most impressive thing about the range is how fast you see results, clients start experiencing dramatic results within two weeks. It's the wow factor that keeps them hooked and excited!  Was it challenging creating such complex formulas? It was the good type of challenge, the type that inspires you. A lot of thought and planning went into the design process for each product. Hundreds of hours of research went into finding the right ingredients, those that not only work in harmony with each other but collectively enhance results. The most challenging factor was time – testing, trialling and adjusting. Thankfully I had an extensive team of experts at my disposal to help run clinical trials on clients, test the products in clinic and give expert feedback every step of the way. I have been extremely fortunate in that regard.
An interesting experience for sure! Of course, there were challenges, being a professional range and having salons and clinics in the middle of the longest lockdown in the world. We chose to support the industry rather than aggressively push our launch, and we have been so graciously rewarded with Dermalist's growth exceeding our expectations in just two years. Our clinical partners are just so passionate and dedicated to treatment excellence, it's an honour working with them.
Sponsored
Although the smallest hyaluronic acid molecules are unlikely to penetrate the dermis, they will still plump the skin from deep within the epidermis and reduce the appearance of fine lines and wrinkles. Larger hyaluronic It's one of the most common skincare ingredients, but to really understand hyaluronic acid, Dr Tania Romano takes us on a deep dive into our skin.
68 | SPA+CLINIC
The SCIENCE OF HYALURONIC ACID
unfortunately this dryness is often exacerbated in cooler climates. It is also common for people without dry skin to notice seasonal changes to their skin hydration levels, especially when factoring in the effects of indoor heating. The main reason for these seasonal changes is an overall reduction in air humidity during cooler months, equating to less water in the atmosphere to help naturally moisturise our skin. This lack of environmental moisture dries out our skin barrier, which can lead to further sensitivity, dryness, and irritation. Aside from this, dehydrated skin typically looks dull, and premature signs of ageing (including fine lines and wrinkles) can be more prominent. This can be visualised by comparing a dry, shrivelled kitchen sponge versus one that is moist, hydrated, and plump. Skin hydration is maintained by a molecule called hyaluronic acid. Hyaluronic acid (also known as hyaluronan) is a glycosaminoglycan naturally produced by fibroblast cells and is found in many connective tissues and bodily fluids. It is a major component of synovial fluid where it acts as a shock absorber and joint lubricant. Half of the total amount of hyaluronic acid in the human body is found within the skin, where it is produced by fibroblasts within the dermis (these same cells produce collagen). Hyaluronic acid is responsible for the viscoelastic properties of the skin, whilst also facilitating transport of ions and nutrients within the extracellular matrix. Importantly, it acts as a humectant, given it has the unique ability to bind and retain water molecules within the skin. This essentially traps water into the skin, which in turn improves skin plumpness and texture. Although the skin naturally produces hyaluronic acid, the rate of production steadily decreases with increasing age. Even at peak production, hyaluronic acid in the skin is depleted by up to 50% every 24 hours. Hyaluronic acid production begins to slow in the 20s, with this decline accelerating in the 40s; but by 50 plus years the severity of hyaluronic acid loss manifests with the deepening of wrinkles, skin laxity, uneven texture, and dryness. Many methodologiesanti-aginghave been developed to counteract the natural age-related decline in skin hyaluronic acid levels. Most of these are based on replacement of hyaluronic acid into the skin. This can be done in the form of injectable cosmetic fillers, many of which will improve long term hydration and reduce the appearance of wrinkles for up to 12 months. While the effects of a topical treatment cannot be expected to completely replicate the effects of injectable filler, it may be an alternative for consumers not wanting to go down the injectable route. There are some constraints when using topical hyaluronic acid serums. For instance, hyaluronic acid molecules can have varying molecular weights (or sizes); in fact, there are six different sizes. The smallest fragment sizes can penetrate the deepest layers of the epidermis providing intense moisture and sustained longer term hydration.
Protocols: (1) A 4-week study on 12 females, ages 45-65. 4mm Punch biopsies collected at baseline and after 4 weeks of daily application of H.A. Intensifier to the forearm. Hyaluronic acid content was quantified by commercially available ELISA kit. Hyaluronic acid localisation was visualised using biotinylated hyaluronic acid binding protein and streptavidin conjugated horse radish peroxidase.
Dr Tania Romano is SkinCeuticals' Scientific and Education Communications Manager. Skinceuticals.com.au 12 weeks spaandclinic.com.au
A 12-week, single-centre, scientific study was conducted on 59 females, ages 42-60, with mild to moderate facial sagging and loss of firmness, rough skin texture, nasolabial fold wrinkles, marionette wrinkles, and presence of fine lines/wrinkles in the crow 's feet area. H.A. Intensifier was used twice daily in conjunction with Gentle Cleanser and a sunscreen. Efficacy and tolerability evaluations were conducted at baseline and at weeks 4, 8, and 12.
*
• +30% increase in skin's hyaluronic acid levels*
• +70% increase in hyaluronic acid synthesis*
• +50% increase in Collagen 1 expression*
Sponsored acid fragment sizes won't be able to penetrate as deeply but will remain closer to the epidermal surface and be able to hold more water content for a more temporary (but also instantaneous) increase in skin surface hydration, improving skin texture and plumpness. Unfortunately, exogenous hyaluronic acid is degraded within the skin rapidly, so the benefits of a topic serum are usually short term. Given the natural age-related decline in fibroblast activity and consequent reduced hyaluronic acid production, new innovations in skincare have focused on the stimulation of the skin's own synthesis of hyaluronic acid. Proxylane is a molecule that is capable of not only initiating but also stimulating the production of hyaluronic acid by fibroblasts. It is produced from the naturally occurring monosaccharide xylose that is extracted from beechwood trees found in Western Europe. Extensive research on the skin benefits of Proxylane have also revealed that there are improvements to skin integrity, biomechanical properties, and structural integrity. While it is not difficult to find skincare products and serums containing hyaluronic acid, the challenge lies in finding a formulation that will successfully deliver the ingredients topically. SkinCeuticals' H.A. Intensifier is a light-weight serum-gel that amplifies skin's hyaluronic acid levels utilising a high concentration of key ingredients including Proxylane. Other hero ingredients include liquorice root extract
• +18% improvement in skin's texture**
| 69
**(2) A 12-week, single-centre, scientific study was conducted on 59 females, ages 42-60, with mild to moderate facial sagging and loss of firmness, rough skin texture, nasolabial fold wrinkles, marionette wrinkles, and presence of fine lines/wrinkles in the crow 's feet area.
H.A. Intensifier was used twice daily in conjunction with Gentle Cleanser and a sunscreen. Efficacy and tolerability evaluations were conduc ted at baseline and at weeks 4, 8, and 12. (reduces skin inflammation, redness, and irritation) and purple rice extract (inhibits collagen degradation and preserves hyaluronic acid content in the skin). As a brand committed to scientific research and clinical results, the studies and trials conducted on H.A. Intensifier by SkinCeuticals and its independent partners unprecedenteddemonstrateproof of its effectiveness on the stimulation of fibroblasts in the skin. As a daily-use serum for all skin types, H.A. Intensifier pairs perfectly with hyaluronic acid fillers to synergistically improve facial volume. For people with very dry skin, incorporating panthenol (as included in the SkinCeuticals Hydrating B5 serum) will provide an additional skin hydration boost. Use of a thicker and more nourishing moisturiser can also effectively counteract the extra dryness associated with the cooler months of the year. SkinCeuticals Triple Lipid Restore 2:4:2 is ideal for dry skin as it contains fatty acids, ceramides and cholesterol which help to restore the skin's natural barrier and support natural self-repair.
• +11% improvement in skin's firmness**
• +23% improvement in skin plumpness**
• Visible improvements in the appearance of marionette lines, nasolabial folds, and crow's feet.
Studies on SkinCeuticals H.A. Intensifier show:
Baseline
Exfoliation EDUCATION DERMALOGICAWITH
70 | SPA+CLINIC
We are excited to launch our new Daily Milkfoliant. This calming oat-based powder exfoliant smooths and soothes skin while restoring the moisture barrier. If you're fearful of exfoliation or not sure what to use and how often is best, we're here to give you the low down on how to make peace with exfoliation. Why exfoliation is important for all skins Exfoliation is greatly beneficial to skin as it supports the natural desquamation process – this is where our skin sheds dead cells and replaces them with new. Humans lose around 500 million dead skin cells a day; without gentle regular exfoliation, dead skin can quickly build up leading to dull, flaky skin and congestion or breakouts. All skins benefit from exfoliation, even sensitive skin. There's a lot of misinformation out there that says you should only exfoliate once a week or if you have sensitive skin, you should avoid it. Some also believe exfoliation can make breakouts worse. The likelihood is, if you've experienced negative effects from exfoliating products, they were not the right type of formula for your skin, or it was used incorrectly. The gentle and regular removal of dead skin cells helps renew skin's protective barrier and improves skin resilience and hydration. Regular exfoliation also helps clear pores of congestion, smooths and brightens a rough or dull complexion and improves the penetration of actives in our serums. Signs of over-exfoliated skin and what to do about it Using the wrong exfoliant can be hard on our skin. The signs you've over-exfoliated are skin irritation, increased sensitivity, breakouts, or dry, dehydrated, flaky skin. It's important to be aware of exfoliating
There's no reason to be intimidated by exfoliation, you just need the right product.
SPONSORED
• Fruit-based Grape Extract and Arginine – A natural blend containing Alpha Hydroxy Acids (AHA), Beta Hydroxy Acids (BHA), providing a gentle chemical exfoliation, while improving overall skin smoothness.
spaandclinic.com.au | 71
• Saccharide Isomerate – Works with Atomized Sea Salt and Hyaluronic Acid to help support the skin's moisture barrier through hydration and prevention of skin dryness. It also has a prebiotic property to support a healthy microbiome. "Dermalogica pioneered the concept of daily exfoliation many years ago with our iconic powder exfoliant, Daily Microfoliant."
SPONSORED ingredients in other formulas you're using. For example, you can find acids in cleansers, tonics, and serums, not just 'exfoliants'. Using multiple formulas in your regimen that contain exfoliating actives, increases the level of skin resurfacing you experience. If you experience over-exfoliation symptoms, stop exfoliating until skin recovers and reintroduce gradually. Why daily exfoliation is safe and effective Dermalogica pioneered the concept of daily exfoliation many years ago with our iconic powder exfoliant, Daily Microfoliant. Our powder exfoliants, including the new Daily Milkfoliant are designed to be used daily and will not compromise skin health. Microfoliation is the removal of superficial skin cells from the surface layer of the skin, a layer known as the Stratum Disjunctum. This thin layer of dead skin is the culprit behind dull looking and rough feeling skin. Other exfoliants may be designed for weekly use as their exfoliating action is deeper and thus not suitable for daily use. Always follow product directions for use. Make peace with exfoliation Daily Milkfoliant is the peaceful way to exfoliate. This calming, Oat-based powder exfoliant polishes to reveal smoother, more vibrant skin, replenishes and supports skin's barrier, and relieves skin with calming ingredients. Offering both a polishing and restorative treatment, Daily Milkfoliant is proven to calmy exfoliate skin. This vegan milky powder exfoliant with Oat and Coconut is activated by water. Upon mixing Daily Milkfoliant with water, it transforms into a creamy, frothy lather that releases botanical extracts, to help polish away dead skin cells. As a result of the calming ingredient blend, Daily Milkfoliant can be safely used daily, for soft, smooth skin every day. How to use Daily Milkfoliant Exfoliation is typically carried out after cleansing and before application of serums and moisturisers. Daily exfoliation can be performed either AM or PM to suit your lifestyle. If you choose to include a weekly exfoliant as well as daily, omit your daily use exfoliant on the day you use your weekly one. After cleansing, dispense half a teaspoon of the Daily Milkfoliant into damp hands and gently rub together to create a creamy lather. Lightly massage over face and neck in small circular motions for 1 minute, avoiding the eye area, then rinse away. Support skin post exfoliation by layering hydrating and protecting formulas such as Hyaluronic Ceramide Mist and Circular Hydration Serum. Daily application of SPF is also critical to defend resurfaced skin from damaging UV rays. Try Invisible Physical Defence SPF30. To learn more or become a dermalogica stockist, please visitdermalogica.com.au/become-a-stockistThe5all-staringredients in Daily Milkfoliant
• Coconut Milk – Conditions for smoother, softer skin.
• Papain Extract – An exfoliating enzyme derived from Papaya that digests dead skin cells for smoother skin.
• Oat Bran Extract – Known for its anti-inflammatory and antioxidant properties, it works to replenish and calm the skin.
SUPERIOR OUTCOME, LESS DOWNTIME
Who I Am Luxe Cosmetic Clinic is a clinic for everyone. We offer a variety of premium services and treatments, such as cosmetic injectables, laser skin treatments, skin tightening, body contouring, and some minimally invasive surgical procedures carried out by our doctors. Luxe is a onestop shop for cosmetic treatments using the most recent and relevant devices available on the Australian market, and our latest addition is Cynosure's PicoSure Pro. The first clinic to use the PicoSure Pro We absolutely love the technology and results we have obtained from our other Cynosure device. So, when the opportunity came up for us to be the first to have PicoSure Pro we jumped on it. Not only from a business marketing perspective but mostly because this meant we could offer more patients a more superior outcome in less time. This is very exciting because it also meant we could now treat patients with active acne for the first time. The Picosure has been our work horse; a fantastic treatment that sold itself. Not only was it already well known through the excellent investment in marketing Cynosure made but the results have been great. But now with PicoSure Pro, we can take it to another level as well as treat more patients daily. Optimal support and training When we are making a decision about purchasing a new device, we take a number of things into consideration. We are always looking at the latest technologies on offer to better treat our patients' concerns with minimal downtime if possible. We are also wanting to ensure the technology we select is operator friendly with optimal support and training from the supplier.
The PicoSure Pro is the only picosecond device FDA-cleared to treat melasma pigment, nevus of Ota and Hori's nevus, which is significant. Obviously, the device needs to prove it works and is safe and does what it promises to do. And the PicoSure Pro certainly does that. FDA clearance helps to establish the initial trust when purchasing equipment of this level of quality and investment.
BY JEFF CHEN Managing Director / Luxe Cosmetic Clinic
Treating active acne effectively We perform skin rejuvenation, pore reduction, pigmentation removal and acne treatments with the PicoSure Pro, and all of them are extremely effectively with little to no downtime. The fact we can treat active acne is exceptional because in the past we were unable to provide services for those suffering from acne. We use topical anaesthetic numbing cream that we apply on the patient for 20 minutes prior to their treatment. This is a compulsory part of the pre-treatment protocol. This ensures a painless comfortable treatment that lasts about 15-20 minutes. So overall even with the application of numbing cream, PicoSure Pro is a lunchtime treatment. Patient comfort is paramount and also optimises the patient's confidence in returning for their follow-up treatments without hesitation. Cynosure is incredible to work with. The after sales and educational support is extremely thorough. They were able to provide significant information with all of our questions answered pre-sale. We have had such a great experience with our Picosure that it wasn't complicated at all for us to consider another device. This has been an excellent business decision for us and our patients.
"We are always looking at the latest technologies on offer to better treat our patients' concerns"
72 | SPA+CLINIC
PROFILE PROMOTION MinimallyBodySkinInjectablesLasertighteningcontouringinvasiveproceduresPlasticsurgeon&more ServicesContact Luxe Cosmetic Clinic E: info@luxe-group.com.au luxe-group.com.au spaandclinic.com.au | 73
Men are slowly but surely taking up more space on bathroom shelves with products like these. LET'S HEAR IT FOR THE Boys BABOR Instant Energising Ampoules, RRP $86.00 BABOR.COM.AU BABOR Calming Face and Eye Cream, RRP $140 BABOR.COM.AU Natio Wild Ranges for Men Beard Oil, RRP $16.95 NATIO.COM.AU AestheticsRx Microfibre Face Pads, RRP $20.00 AESTHETICSRX.COM.AU Vida Glow Men's Hair Defence + Collagen, RRP $80.00 VIDAGLOW.COM Nu Skin Dividends Shave Cream, RRP $29.00 NUSKIN.COM Nu Skin Dividends Aftershave Balm, RRP $41.00 NUSKIN.COM Sodashi Mankind Sleek Moisturiser, RRP $105.00 SODASHI.COM.AU 74 | SPA+CLINIC
COSMETICS Liberty Belle Rx Bromance, RRP $70.00 LIBERTYBELLE.COM.AU Guinot Nettoyant Cleansing Gel, RRP $72.00 GUINOT.COM.AU Guinot Baume After Shave Balm, RRP $84 GUINOT.COM.AU The Secret Men's Serum, RRP $130.00 THESECRETSKINCARE.COM Medik8 Daily Radiance Vitamin C, RRP $114.00 ADVANCEDCOSMECEUTICALS.COM.AU Payot Optimale Soin Quotidien 3-en-1, RRP $85.00 PAYOT.COM.AU Payot Optimale Déodorant 24h, RRP $45.00 PAYOT.COM.AU Hanz De Fuko Beard Oil, RRP $34.95 MENSBIZ.COM.AU Natio Wild Ranges for Men Face and Body Exfoliating Bar, RRP $10.95 NATIO.COM.AU spaandclinic.com.au | 75
When I think of Singapore, I think of amazing food, endless shopping centres, and Raffles Hotel. There aren't many places as iconic as this one, with its grand white columns and gorgeous courtyards. Opened in 1887, Raffles Singapore is one of the few remaining great 19th century hotels in the world, and after an extensive recent restoration, you get modern and luxurious amenities
Iconic FOR A REASON Located in one of the most famous hotels, Raffles Spa in Singapore delights with old-world grandeur. Nadine Dilong shares her experience. with old-world charm. So of course, I couldn't visit Singapore without checking out Raffles Spa for a Biologique Recherche Facial. The French brand is up-and-coming in Singapore, with a new concept store just opened at the famous Marina Bay Sands shopping centre. Before treatments at Raffles Spa, guests can use the steam room and plunge pool next to the gorgeous change room, which is one of the
76 | SPA+CLINIC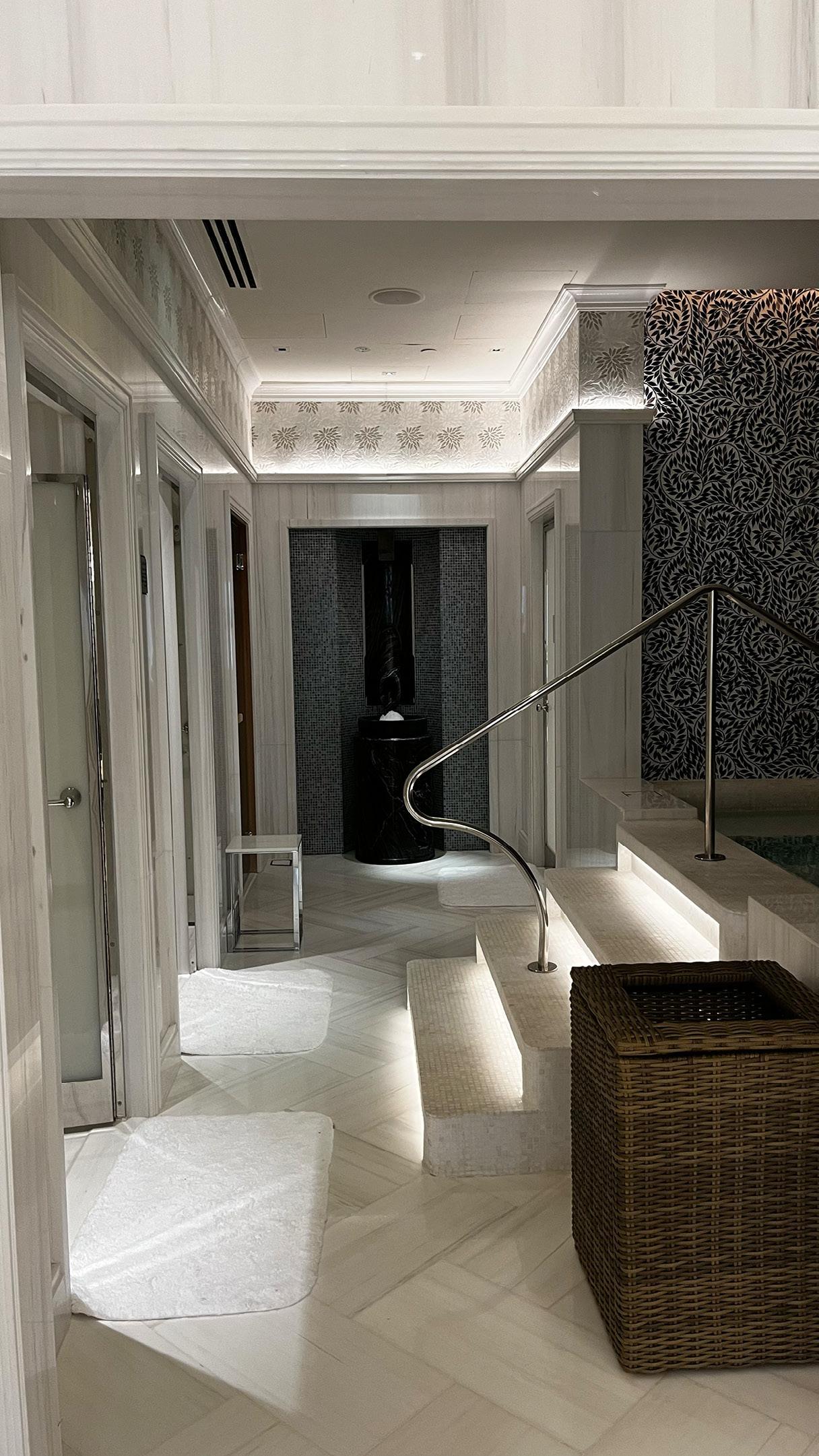 biggest and brightest I have seen with black and white marble evoking old Hollywood glamour. I loved the attention to detail, which showed when I opened my locker, stocked with everything spa goers could wish for: A water bottle, hair tie, comb, disposable underwear, a robe, slippers, and several towels. There was a seperate room with hair and makeup tools in front of a huge vanity to freshen up post-treatment, and large shower rooms. My treatment room was dimly lit and my male therapist awaited me with a big smile before he explained my facial to me. I was covered in the softest towels and blankets I had ever experienced during a facial, which really elevated the experience. Biologique Recherche facials, like most facials, start with a deep cleanse, but in contrast to most other treatments, the massage happens directly after cleansing, and before the skin treatment. A lymphatic drainage massage is incorporated to stimulate blood flow and naturally sculpt and lift the face. My therapist used low pressure, but very precise movements along my décolletage, neck, shoulders, and face (even my nose!), and it felt like a treat to start off with such a relaxing part of the facial – kind of like having your dessert first. What followed was exfoliation using the brand's iconic P50 Lotion, which not only gently exfoliates, but also moisturises, maintains the skin's pH levels, and enables deeper penetration of products used straight after. Then, my therapist applied three different masks onto my face: an oxygenating one around my eyes, a lifting one around my neck and jaw, and a calming one on my cheeks. While the active ingredients in the masks did their magic, I was treated to a scalp massage – my favourite part of any treatment. After the masks were removed, a day cream and eye cream were applied, and my skin looked bright and balanced, no redness in sight! I was guided to the relaxation area, where a buffet of nuts, coconut flakes, fresh fruit, protein balls, and tea awaited me as I sat down on the day beds and stayed a little longer before going back into the humid Singapore heat outside. Raffles Spa is truly an urban oasis in one of the most iconic hotels you can visit.
spaandclinic.com.au | 77
SPA HOTSPOT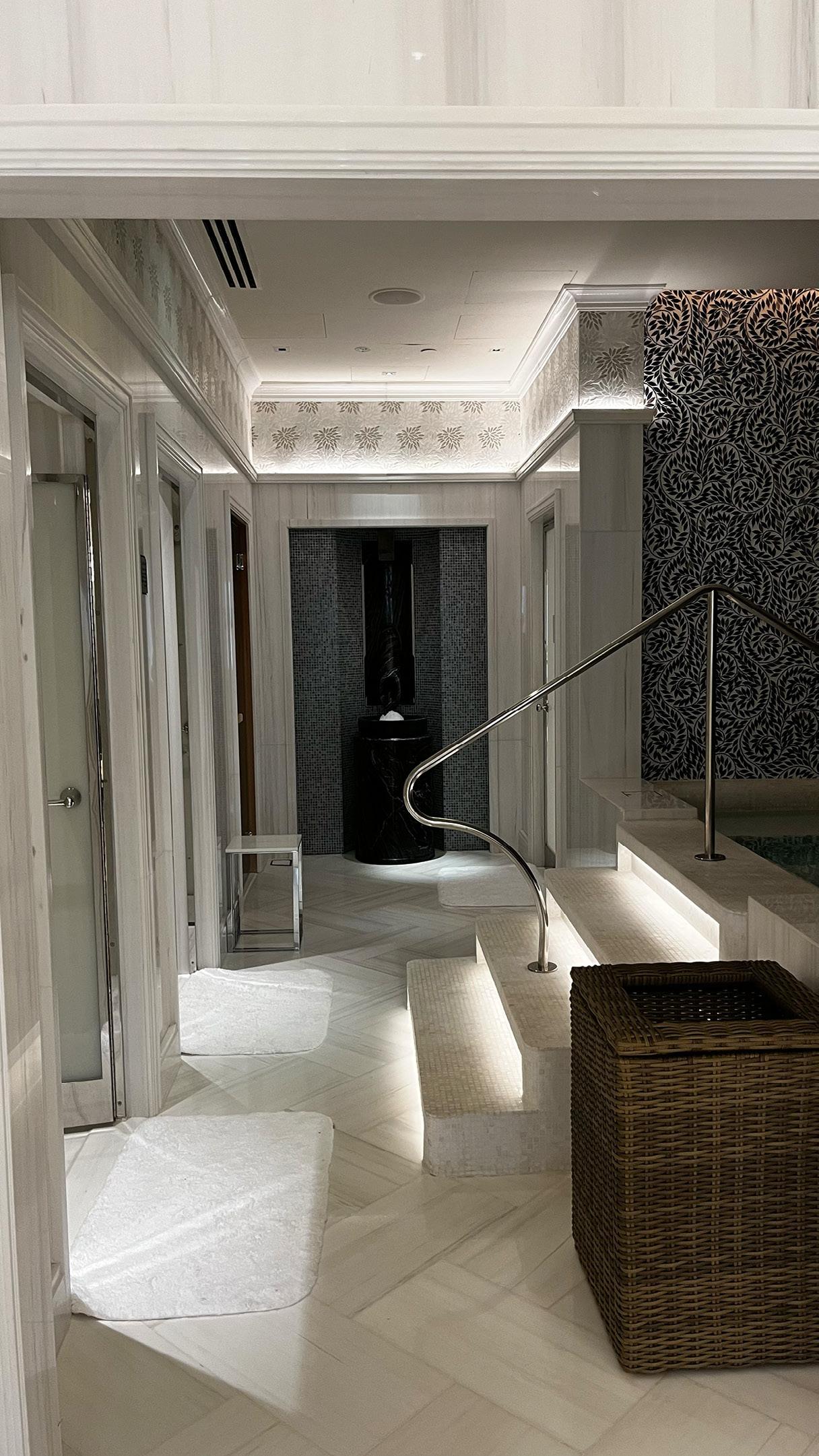 Where are SPARITUAL treatments and products offered? Our stunning range is offered at some of the largest and most renowned spa locations including, The Ritz-Carlton Charlotte in
How did the collaborations between SPARITUAL and The Ritz-Carlton and The Four Seasons come about? SPARITUAL and our Slow Beauty philosophy are loved by spa professionals around the world where they use our treatment products in manicure, pedicure and body care treatment services in the spa. We have been collaborating with spas, such as The Ritz-Carlton and The Four Seasons for many years and continue to collaborate with luxury spa locations globally. Many of these locations are independently operated and we work with each Spa Director to tailor the SPARITUAL program and selected protocols to suit the ethos and essence of the particular location and hotel/resort brand. Could you please tell us a bit about the nature of the collaborations? Selected locations of The Ritz-Carlton and The Four Seasons spas where we partner use SPARITUAL in their manicure and pedicure treatment services. We have trained their nail technicians on the SPARITUAL Mindful Manicure and Mindful Pedicure which is our 30-minute experience that includes a signature breathing ritual at the start of each service to help calm the guest and reduce any stress and anxiety. This treatment also includes our signature Slow Beauty massage to melt away tension and restore balance whilst delivering intense moisture and restoring skin health to the hands and feet. The Slow Beauty Manicure and Pedicure is our 60-minute service and begins with the breathing technique as well and also includes a purifying exfoliation followed by a soaking experience to cleanse away any tension and stress. The guest may choose between a moisture-rich or detoxifying mask to meet their specific needs. A signature massage relaxes and restores the body and mind and the nails are perfectly polished and finely groomed.
Rituals and Recipes to Nourish the Body and Feed the Soul, to hear all about SPARITUAL's collaborations with these top-tier wellness destinations.
78 | SPA+CLINIC
LARKINISOBELBYWORDS SPARITUAL:
Several of our partner locations also offer the SPARITUAL Meditative Manicure and Pedicure known as SOUND OF COLOR. This treatment merges the beauty ritual of the manicure and pedicure with the ancient practice of meditation. SOUND OF COLOR offers a unique spa experience integrating beauty, health and wellness services, for a holistic experience the guest can enjoy. This service includes a unique meditation paired with the SPARITUAL nail lacquer colour selected by the guest. All of the SPARITUAL body care products with effective skin health benefits are applied throughout the service via our signature massage techniques.
SPA+CLINIC catches up with the brand's founder, Shel Pink
THE LUXURY BEAUTY RANGE LOVED BY THE RITZ-CARLTON AND THE FOUR SEASONS HOTELS
Wellness
Our next and most exciting chapter for SPARITUAL, sees its presence in Australia at premium spas and beauty salons. With its vegan-friendly and clean beauty formulation, plus its slow beauty philosophy, we see the opportunity for Australian spas to incorporate this into their treatment and services. It offers a unique point of difference, and also allows the client to continue the spa experience at home with our retail offerings. What are the benefits of SPARITUAL products and why are they a good fit for high end spas?
Wellness Charlotte, North Carolina and The Ritz-Carlton Grande Lakes in Orlando Florida. SPARITUAL products and methods are also offered at Four Seasons Resort Rancho Encantado in Santa Fe, New Mexico; Four Seasons Resorts Lana'i in Lanai City Hawaii; Four Seasons Aviara at the Aviara Residence Club in Carlsbad, California; Four Seasons Seattle in Seattle, Washington; and at Four Seasons Hotel Houston in Houston, Texas. All of these locations carry our assortment of Nourishing Vegan Color and our range of body care products used in the manicure and pedicure services. The Four Seasons in Hawaii and California also offer the SOUND OF COLOR program.
SPARITUAL is a clean, vegan, sustainable beauty care brand based on the rituals of Slow Beauty and the spa tradition. All of our treatment products offer effective skin health benefits to nourish the body and nails for optimal health and wellbeing. We offer high-quality formulas that contain nature-derived ingredients including fair-trade and certified organic. Our body care products do not contain parabens, petrochemicals, synthetic fragrances or dyes. Our nail polish formula is 13-free and has been formulated to improve the health of the nail to promote nail growth and strength. The clientele at these types of spa hotels and resorts like The Ritz-Carlton and The Four Seasons expect high-quality experiences throughout their stay including in spa treatments. The high quality and effectiveness of the SPARITUAL products coupled with the quality of the service and the education we offer to the spa professionals is perfectly suited to exceed the spa guest's expectations. Guests will feel less stressed, more relaxed, calmer and their skin and nails will be in a healthy state. Our goal always is to help make the guest look good and feel good, and we choose to collaborate with partners who align with the SPARITUAL wellbeing values. We love to partner with our spas to support them for ongoing success. We help our partners develop their menu for manicure, pedicure and body care treatment services, and provide detailed educational training for the spa professional at all levels including Director, Nail Technicians, Massage Therapists and retail staff for spa treatments that will exceed the expectations of the guests who receive them. We believe slowing down to return home to yourself is the path to help reduce stress and anxiety and set healthy boundaries for the 24/7 culture we live in. We are committed to creating healthy body and nail care products for the spa professional and the Slow Beauty advocate. Our products and programs are designed to intentionally connect you to Slow Beauty Rituals to awaken relaxation, deliver nourishment and set in motion the return to a state of wholeness and optimal health for skin, body and mind. As we grace Australia with this stunning range, we are now offering Partner and Stockist opportunities to extend our Slow Beauty philosophy across this industry. We welcome enquiries via (03) 8520 9541 or via our enquiry form on sparitualaustralia.com.au/pages/join
spaandclinic.com.au | 79
Power OF SANDALWOOD
The Known Benefits of Sandalwood:
Wanting to share the powerful healing properties of Indian Sandalwood, as well as the legacy of sandalwood in beauty, worship and Eastern medicine, came Alex's brainchild – Heartwood. Heartwood is a concept store harnessing the abundant uses of Indian Sandalwood, supported by a curated line of wellbeing and natural beauty products.
• Promotes focus Sandalwood plantation industry in Australia and she grew up immersed in the world of fragrant and beautiful wood.
• Enhances natural beauty - brightening, hydrating, anti-inflammatory, anti-bacterial, astringent (porerefining) and cooling
• Aids sleep
Wilson has worked with expert formulators, perfumers and aestheticians, to design spa treatments, beauty rituals and bespoke natural fragrances, all rooted in Indian Sandalwood. So why not add this beautiful ingredient to your spa? Whether you're ready to give it a go in your treatments, or want to start with burning some Indian Sandalwood incense in your treatment rooms, we're sure your clients will love it.
Alex Wilson
hen hearing the word 'sandalwood', most people would probably think of the strong scent of incense or the sort of heavy perfumes popular in the 90s, but rarely would someone think of sandalwood as a powerful skincare ingredient. However, here are just some known skin benefits of the essential oil: brightening, hydrating, anti-inflammatory, anti-bacterial, astringent (pore-refining) and cooling – quite the list! So what exactly is Sandalwood and where does it come from? For thousands of years, Indian sandalwood has been coveted by ancient cultures and religions. Of the many varieties of sandalwood, Indian sandalwood is the most prized as it holds the highest concentration of sesquiterpenes - the chemical compounds responsible for producing its powerful therapeutic and anti-aging properties. Many people in India are drawn to Indian Sandalwood and make sure to be close to it whenever possible due to the many healing properties it seems to have. Indian sandalwood is on The IUCN Red List of Threatened Species because demand is so high and sandalwood forests have been depleted to the point that the Santalum album species is almost extinct in the wild. However, there are sustainable farms, one of them in Western Australia, owned by the Wilson family whose daughter, Alex Wilson is now on a mission to introduce people to the power of Indian Sandalwood through her brand, Heartwood. Heartwood is the core part of a tree, found in the centre of the trunk; where the most potent, fragrant and medicinal properties lie. It is the heartwood that yields a sandalwood tree's valuable essential oil. Alex's family are pioneers of the Indian
• A fixative in fragrance – the slowest evaporation of all essential oils
• A natural aphrodisiac
This ancient ingredient is one of the lesser known in skincare, but this could soon change thanks to its efficacy. Here's what you need to know.
80 | SPA+CLINIC
From a young age (grade 5, to be exact) Alex began exploring how to bring the traditional uses of Indian Sandalwood as a therapeutic ingredient to a modern audience and has long used sandalwood in her beauty regimen. "It's written into some of the world's oldest history and medicine books," explains Wilson, "Its anti-inflammatory qualities qualify Indian Sandalwood for the treatment of all kinds of ailments. People will ingest it as a tea, but it is also used as a topical," says Wilson.
WWellness
THE
• Calms the mind and body
"I personally love products that smell good because they make me feel good so the focus on fragranced products for The Better Brand was a no-brainer. But I am conscious the beauty industry can be doing much better with its sustainable choices. My challenge was to combine this with a desire to create incredibly beautiful products," continues Eacott.
The Better Brand is available online and via select spas and clinics. thebetterbrand.com.au
Wellness If it's happening in the aesthetics industry, it's in SPA+CLINIC! Get the latest industry news, interviews, and inspiration delivered straight to your inbox every week. Sign up to our free e-newsletter using the QR code below to stay informed anytime, www.spaandclinic.com.auanywhere! THE BETTER BRAND: GENDER FRAGRANCESSUSTAINABLENEUTRAL,THAT ARE ACTUALLY GOOD FOR YOUR SKIN Often housed in elaborate packaging and made using ingredients that are hard to pronounce, the olfactory industry hasn't always been the most environmentally friendly. Here to change the game is fragrance newcomer, The Better Brand. This new range of gender-neutral fragrances has been created using skin-loving ingredients and comes packaged in 100 per cent recycled HDPE (High-Density Polyethylene) bottles with 100 per cent recyclable HDPE plastic lids.
"The idea started with me questioning how can I use my knowledge of the skincare and beauty industry and marry this with a desire to create a more sustainable and progressive brand," says The Better Brand's owner, Tamara Eacott.
The Better Brand launches with a handful of gender-neutral products including solid fragrances, body elixirs, eau de fraiche mists and refills for each. If you'd like to consider stocking The Better Brand in your spa, salon or clinic, the brand's National Sales Manager, Rae Williams, has some"Fragrancethoughts:is an emerging, on-trend category within the landscape of salons and spas. People usually buy their fragrance from someone they don't know. Giving your client the opportunity to experience a fragrance via an established, trusted relationship with their beauty therapist is a new dimension in a spa's retail offering. Fragrance is proven to trigger memories that will deliver strong recall to your spa, adding to the emotional connection the client maintains with your business."
SSponsored ide sleeping can contribute to the formation of facial wrinkles and even play a role in facial distortion. Sleep wrinkles are harder to treat with injectables than expression wrinkles, as concluded in a 2016 study1 that says "neurotoxins should have no effect on true sleep wrinkles since they are not caused by muscle contraction. The only reliable way to minimise sleep wrinkles is to avoid facial Furthermore,distortion."a28-day
pilot study2 was carried out in which fifteen healthy female volunteers aged 23-55 years slept on an anti-wrinkle Sleep wrinkles are better prevented than treated, here's how. pillow. When their wrinkle density was assessed before and after the study, it was found that wrinkles around the eyes had decreased after sleeping on a specialty pillow for a month. Seeing that the only way to reduce the facial distortion that causes sleep wrinkles is to use specialty pillows, Sleep&Glow have developed a patented 3D design that minimises skin creasing and compression duringThesleep.Sleep&Glow range features two styles: Aula for sleeping on your back and Omnia for both side and back sleeping. Developed in ONLY WAY TO SLEEPPREVENTWRINKLES
82 | SPA+CLINIC
THE
1
Speaking about the Sleep&Glow pillows, California-based Dr Jay Calvert also explains why he thinks the pillow could be a good at-home recommendation for patients. It can help "protect your facial aesthetic surgery and medispa treatments like Botox and fillers as well as surgery like facelifts and rhinoplasty," says Dr Calvert.
Research 2015(3):48-56) Aula
and
(May 2015 Forensic Medicine and
SPONSORED collaboration with cosmetologists, orthopaedists and sleep specialists, the pillow range is constructed from top-quality foam. Additional foam inserts are also available so that the design can be perfectly tailored to each individual for best results. And it's not just about wrinkles, but also about reducing puffiness that many experience after waking up.
"[Sleep&Glow's pillow] has a neck support and side bolsters to help support you and prevent you from moving your head to the side and smooshing your face," he continues.
and
"When you sleep, blood flow is increased but you don't want blood flow to collect under your eyes so that you wake up with a puffy face or puffy bags under your eyes," says Dermatologist Dr Daniel Sugai.
"For those of you who get [anti-wrinkle injections], lasers and fillers and all of those other facial aesthetic procedures, you might want to have something that protects your investment," Dr Calvert finishes. So if you're looking for a relevant addition to your post-treatment retail section, a Sleep&Glow Pillow is a great idea – we're sure your patients will appreciate it. sleepandglow.com.au Sleep Wrinkles: Facial Aging Facial Distortion Sleeping on an Anti-Wrinkle Pillow Reduces Facial Wrinkles: Results from an Anatomical Study Anatomy is perfect for back sleepers is perfect for side back
During Sleep (Aesthetic Surgery Journal, Vol ume 36, Issue 8, September 2016, Pages 931–940) 2
sleepers
Omnia
84 | SPA+CLINIC
The brand's uncompromising stance on palm oil Retreatment Botanics is one of the first ranges that is completely free from palm oil. Being a brand that is against animal-testing and animalcruelty, having products that are 100% certified free from palm oil derivatives was a critical factor from early stages of development.
Through doing this, Jaye hopes that Retreatment Botanics can encourage other brands to create formulas without palm oil while increasing awareness on the issue and driving demand for palm oil alternatives.
BRIDGING THE GAP BETWEEN 'SPA' 'COSMECEUTICAL'AND
"We hope that one day palm-oil-free will be the 'every day normal', and become an integral part of the next generation of skincare," says Jaye. Professional treatments by Retreatment Botanics "As we have expanded and now offer treatments in premium locations around Australia, we have developed three signature Retreatment Botanics facials that can be incorporated into any high-quality spa or salon treatment menu, including our Phytoactive Hydro Facial, Brightening Enzyme Facial, and my favourite, the 90-minute deluxe Cellular Regeneration Facial," explains Jaye. So if you're an advanced skin clinic, spa, or retreat looking to stock an Australian made, green, palm-oil free, results-driven cosmeceuticals brand, Retreatment Botanics might be for you.
ver wished you could have the best of both worlds when it comes to choosing skincare with the indulgence of spa products plus the efficacy of cosmeceutical ranges? Created on Bundjalung country in the hinterland of Byron Bay, Retreatment Botanics' collection melds the pleasure factor of luxury formulas with the science of high-quality ingredients. The result of this methodology is a product range that's enjoyable and relaxing to use while still delivering real results. "When developing Retreatment Botanics, it was my top priority to formulate with transformational actives – providing rapid, visible and long-lasting results. Our beautiful community of customers and clients know they will experience deep changes in their skin when using Retreatment, and this is how we have grown such a loyal following after only a few years of launching the range," says Trudi Jaye. So, how did they do it and what sets Retreatment Botanics apart from other skincare brands? The answer: Results-driven formulas with highquality Australian native botanical extracts. Retreatment Botanics' products hero vitamin and antioxidant-rich Australian native botanicals. "Phyto-actives are the most active, nutrient-rich components of a plant extract. We utilise a technology that suspends phytocompounds and amino acids in a liquid cellular matrix under rapid, high pressure, to ensure
"In addition to the mass destruction of ancient habitats and critically endangered species, palm oil plantations are a major source of dangerous greenhouse gas emissions and a significant contributor to climate change," says Jaye. "This had never been done before and many people in the industry said it wasn't possible... We were determined to drive change in the industry and prove there is a better and kinder way to create sophisticated skincare, so we stayed persistent throughout a complex development process, until finally achieving the most beautiful, efficacious spa-quality formulas that were also palm oil free," she continues.
"Our ideal spa or clinic is looking to offer their clients sophisticated, performancefirst skincare that doesn't compromise on highest quality, ethically derived and active ingredients," says Jaye. To learn more about Retreatment Botanics, visit retreatmentbotanics.com.au
We speak with Retreatment Botanics' Co-Founder and Managing Director, Trudi Jaye maximum phyto-activity is preserved and long-lasting," explains Jaye. The extracts in Retreatment Botanics' range have been scientifically proven to deliver extraordinarily high levels of vitamins and phyto-actives. "Unlike traditional extracts that will often degrade and decompose quickly, our botanical extracts stay fresh and potent for long periods of time, ensuring your clients experience the most active formulas directly on their skin," says Jaye.
EWellness
Sensitivity BE GONE mesoestetic's new range is all about strengthening and calming the skin.
'skin balance' is a new soothing concentrate that helps reduce visible signs of reactive skin such as redness, itching and irritation. It contains antioxidant and rebalancing plant-based active ingredients, such as panthenol, aloe vera and calendula extracts to help restore theItsskin.fast absorbing, ultra-light texture provides an immediate feeling of relief with an intensive soothing, calming, anti-redness, restorative, biobalancing and antioxidant action.
There are also several professional-only products for use directly post-treatment, such as the 3D fiber facial mask. It promotes the skin renewal process, helping restore the hydrolipidic layer and deeply moisturises the skin.
Rounding up the range are 'fast skin repair', a restorative cream that helps revive skin balance, 'melan recovery', a balm suited for skin prone to hyperpigmentation, and 'antistress mask', an intensive mask that helps soothe and relieve skin with visible redness.
AESTHETICS
We've all come around to admit that we've been putting our skin through a lot in the past few years. From abrasive exfoliation to lasers, needling, retinols… it's no surprise some of us are experiencing sensitised skin. Mesoestetic's sensitive skin solutions features a range of products designed for sensitive and sensitised skin. Formulated to help treat the signs of permanent and temporary skin sensitivity, they also help restore skin balance, maximising the feeling of skin tolerance.
There is also a cream created for rosacea and couperose prone skin, 'couperend cream'. It's a moisturising cream that reduces the appearance of microcapillaries and visible redness in sensitive skin thanks to the combination of sweet clover, Ruscus, hesperidin and aescin extracts. Rich in squalane and panthenol, it provides skin with nourishment and helps improve elasticity preventing flaking and signs of irritation. It has a moisturising, biobalancing and antioxidant action while replenishing lipids.
New 'skin balance', part of the sensitive skin solutions range, enhances the balance of the skin microbiota, helping to strengthen the skin's natural defence system, while helping to preserve the barrier function. A serum with an antioxidant effect, it provides protection against the visible effects of external aggressors that skin is exposed to on a daily basis. In addition, its innovative formula provides a soothing, visible anti-redness and restorative action.
The mesoestetic sensitive skin solution range is available now via advancedcosmeceuticals.com.au
spaandclinic.com.au | 85
LED has been around for a while, but is experiencing high popularity at the moment, why do you think that is? I believe it has a lot to do with what Australians (and the rest of the world) have had to go through in the past two years. As the world continues to battle the COVID-19 pandemic, people have become much more health conscious, and are continuing to place more emphasis on wellness and self-care. While LED is Instagrammable and looks like a fad, the science behind it has existed for decades. The other factor propelling LED's popularity is the growing preference toward non-invasive treatments. And we're also seeing more interest in 'low touch' therapies in our post-COVID world.
IT'S TIME TO INVEST IN LED
Sponsored
What should practitioners look out for when deciding which LED device to buy?
Aesthetic Bureau's Total Xen
The three primary things practitioners should be concerned with are wavelength, output (mW/cm2) and recommended treatment time, as these determine the dosage of medically optimised light and consequently the effectiveness of the treatment. It should come as no surprise that studies find no effects from light therapy when using insufficient dose or the wrong light frequencies: Too low and cells experience no biological changes; too high and you cancel out the benefits (a phenomenon known as biphasic dose response). Research shows that the most positive results occur in the upper end of the intensity range, with cells potentially benefitting from deeper penetration and deeper systemic effects of higher doses of energy applied to larger surface areas of the skin. Aesthetic Bureau's Xen devices are meticulously engineered to output the right amount of power density for maximum benefits based on our research and knowledge of the dose-response relationship. We are also the only ISO 13485:2016 certified Australian manufacturer of light-based medical aesthetic devices. This means we have appropriate controls in place within our quality management system for medical devices and related services. Why should clinics offer a full body LED treatment instead of just a face one? There is a much wider range of physiological and health benefits associated with increased size, power and coverage of LED treatments. Full body LEDs provide more light energy (450kJ compared to 45kJ) and deeper systemic benefits. You can treat the whole body in one short session, reduce oxidative stress, and stimulate cell renewal and cell repair by increasing the metabolic activity of injured cells. This has positive impacts on disease prevention as it treats and improves a multitude of conditions. Now is a great time to capitalise on the growing health and wellness trend that we are seeing post-COVID. Moreover, full body LEDs help aesthetic practice owners tap into other markets and expand their reach and market share. Our Total Xen LED is used by professional athletes like the Manly Sea Eagles for its ability to help improve performance, muscle recovery, tissue healing, as well as support mood and sleep. There are over 500 human clinical trials demonstrating these benefits, so the science is robust. What do you think of at-home LED products? As mentioned before, the effectiveness of an LED therapy device is directly correlated with its power output. For liability reasons, most at-home LED devices are weak as they legally must carry very low to no risk of cumulative eye damage. This becomes obvious when you realise that most smaller devices and face masks do not require a heat sink to dissipate heat, since they don't produce high enough output to generate any heat. Low power means low quality results. In addition, most of the at-home devices generally have not been subject to the same rigorous testing that other professional devices have. Many of them utilise other colours (wavelengths) that don't have enough clinical evidence behind them. Consumers need to have realistic expectations about at-home LED devices and understand that most of these products will require very long-term consistent use and likely only yield modest results. Aesthetic Bureau are exhibiting at Beauty Expo Australia 2022 taking place from 20-21 August at ICC Sydney. Find us on stand #F125. Aestheticbureau.com.au
Trevor, you've been in the aesthetic device industry for decades, what excites you about this industry? It is really the physics and technology that excite me. I'm especially passionate about the use of light in Aesthetic Medicine. Light or photoradiation, the only form of energy we can see, is the source of all life on earth. The way that light interacts with the cells and tissues of our body is fascinating. Within our bodies it can translate into electrical signals and hormone signals; it can even change gene expression. It's been studied and tested across thousands of peer-reviewed clinical trials, and the results are overwhelmingly positive across multiple applications. Its anti-inflammatory and circulationboosting effects have implications for a wide variety of pathologies, and these powerful effects have been shown to positively impact our skin and overall health in myriad ways. Being at the frontier of this science is a privilege, and we are constantly expanding and refining our knowledge about this fascinating modality.
86 | SPA+CLINIC
We talk to Aesthetic Bureau's Director Trevor Neale about the many benefits of offering LED services.
Originating from France over 30 years ago, this non-invasive technology uses mechanical stimulation to gently stimulate dormant cellular skin activity. A real skin workout, face endermologie® boosts the natural synthesis of essential rejuvenating substances such as collagen, elastin and Hyaluronic acid. Endermologie® body makes it possible to simultaneously release stubborn localised fat and cellulite aspect on the skin while also firming the skin. A real solution all year round.Torequest
endotherapeutics.com.au
La Fontaine treatments simultane ously aims at maintaining and refining the skin texture, tighteningreducingpores,wrinklesandenhancingskincomplexion.
YOURRESULTSCLIENTS DESERVELPGCELLUM6Alliance
KEEP LED Light Therapy System
With a total of 480 LEDs carefully chosen, this Italian made LED device presents a unique light patented module using three different wavelengths in one single machine: red, blue and infrared. In addition to its powerful lights, KEEP comes with a tablet and integrated software to choose the treatment best adapted to the needs of the patient: for acne, sensitive skin, impure skin, anti-ageing, couperose, after-lifting scars, psoriasis and pigmentation. One of the most effective LED devices on the market.
Book a hands-on demo today!
Blooméa La Fontaine La Fontaine Blooméa is a three-step skincare device developed by French aesthetic surgeons. The device not only stimulates the production of collagen and elastin (microvibration), but it also erases imperfections layer by layer to smooth and unify the skin (macro-exfoliation). It helps to dramatically reduce the appearance and texture of stretch marks leaving a bright and unified skin. The treatment also improves skin problems such as acne scars, skin lesions, sun marks, melasma, neckline furrows, etc.
further info or to book your hands-on demo, please contact our Customer Support Team on 1300 00 3636 or info@endotherapeutics.com.au
Which device do you use for vaginal tightening and why did you decide on that one?
Is demand growing/how do people approach you about these often-sensitive topics? It's a delicate subject to broach, especially when asking for professional opinion, and we find that patients often do a lot of online research in preparation for approaching consultation. However, our patient coordination team, who take our patients' phone calls and online enquiries, receive interest in these treatments daily, and are very experienced in talking through these procedures and making our patients feel comfortable and cared for. It's a very popular area of treatment – we're speaking with patients about intimate rejuvenation multiple times a day, every day.
What is their motivation? There are myriad reasons for someone's desire to rejuvenate the intimate area. It could be physiological, such as for sexual pleasure, improved sensation, or improved orgasms, or it could be psychological, such as the huge boost in confidence that could come with improving the look or feel of these areas. For many patients, rejuvenating this area could make the difference between having a happy sex life, or not. Results can also come in the form of increased comfort such as with vaginal tightening having many benefits that include reduction in UTIs, and increased control of light bladder leakage by tightening tissues around the urethra. Whether the motivation is aesthetics or function; the results can be life changing.
Medi Please tell us about the different intimate treatments you offer at Contour Clinics. At Contour, we offer a range of intimate area rejuvenation procedures for patients wanting to improve appearance, sensation or performance. This includes penile enlargement with dermal filler; vaginal tightening with our Tempsure Vitalia radiofrequency device, which tones and tightens vaginal tissues; 'O-shot' injections, where PRP is harvested and carefully placed into the clitoris and G-spot by female doctors to improve orgasmic sensation and sexual satisfaction; and PRP erection enhancement to turn the clock back on male sexual performance.
At Contour Clinics we have tested many different technologies before we choose to use them in-clinic. For a delicate procedure such as vaginal tightening, we wanted the gold standard, as we do for all of our services. We chose Tempsure Vitalia, the world's best radiofrequency multiplatform device for vaginal health. We were reassured by the Tempsure Vitalia inbuilt temperature cut-off technology, which improves treatment safety by ensuring excessive temperatures are avoided in delicate treatment areas. This reduces the risks of burns and complications which can occur more commonly in technologies lacking this inbuilt safety mechanism. Is it possible to measure results from treatments like the O-shot and vaginal tightening or is patient satisfaction purely based on how they feel afterwards? Success is how the patient feels after their treatment. With many of our patients reporting "better, longer orgasms", increased sexual desire, as well as helping with other health concerns. How long do results last? Depending on the treatment, results are instant yet continue to develop and maximise over six months. Some of these treatments last for between one and two years.
Intimate treatments are no longer taboo. We chat to Dr Josh Wall about the rise in popularity of treatments such as the O-Shot, penis enlargements, and vaginal tightening.
Are most people a good candidate for these kinds of treatments or do you have to turn people away? These treatments are non-invasive, performed under local anaesthetic in our dedicated in-clinic procedure rooms, and are generally suitable for most people in good general physical and mental health. There are minor requisites specific to each treatment though; vaginal rejuvenation cannot be performed on patients currently suffering infection or without an up to date normal pap-smear. Conversely, our non-surgical penis enlargement, which is performed using dermal fillers, is suitable to those with reasonable expectations, who are in good physical and mental health and are free of active infection in the area. All treatments require consultation with our doctors pre-treatment to determine whether our intimate rejuvenation treatments are right for them.
There is an overwhelming demand for safe, effective and non-surgical treatments for these areas of concern – much of it coming from sexually active patients who wish to improve their enjoyment, confidence and performance, without the need for surgery, pills or potions. There are also many patients who want to revive a dormant sex life by rejuvenating these areas.
What made you decide to offer these treatments?
Intimate REJUVENATION 88 | SPA+CLINIC
Exclusive
aussie amtlaser.com.au1300257020 Made In Italy
Variable Radio Frequency VRF technology automatically adjusts a range of pre-set frequencies to treat deep dermal layers, for face and body contouring, and depending on the target areas, without causing damage to outer tissue layers.
Harnessing The Power of Four Technologies
VAGINAVULVA
RSS™RFSafetySystem
The Unique RF Device For Face, Body & Intimate Care Treatments
Brand New Extra Small Area HandpieceNEW!Lipvolume & ScarswrinklesNasolabial&EyeEyewrinkleswrinkles,edemaDarkcircles&
VRF™™
Dynamic Quadropoal Radio Frequency DQRF technology is designed to focus energy emissions precisely on three different tissue layers, using gentle heat to stimulate subdermal collagen production and tissue remodelling. The technology is dynamic because the emitters turn into receivers and vice-versa by changing their charge at specific time spots
RSS™ is the safety system that makes 4Plus treatments safe for both the patient and the operator through a movement sensor to avoid stationary emissions, a temeperature sensor to make sure the treated area reaches the effective treatment temperature and a bio-feedback button, to allow the patient to control the treatment.
FACE NECK HANDS
ARMS KNEESLEGSGLUTEUSABDOMENHIPS
Ultra Pulsed Radioporation UPR™ - is the most innovative technology which, during the treatment, by using high energy micro-pulses, makes it possible to increase cell membrane permeability as well as opening aqueous channels, thus conveying any active substances you would like to use to the deepest layers of the skin. UPR™
Medi
VAGINAL REJUVENATION
Aussie Medi Tech EVATM EVATM , which stands for 'enhancing the vaginal anatomy' offers a safe, effective and comfortable non-ablative solution for the treatment of the most common gynecological conditions. EVATM employs innovative Dynamic Quadripolar Radiofrequency (DQRF TM) energy designed to trigger vulvar tissue remodelling. DQRF TM utilises FOUR electrodes designed to focus energy emission precisely on three different tissue layers using heat to stimulate subdermal collagen production and tissue remodelling, whilst leaving the surrounding tissue unharmed. Through the DQRF TM technology, EVATM stimulates the production of collagen and hyaluronic acid and thus naturally rejuvenating and restoring the normal physiology of the tissue. EVATM has been clinically proven to improve Genitourinary Syndrome of menopause (GSM) and Vulvovaginal Atrophy (VVA) symptoms and showed perceived psychological benefits and reduced daily life discomfort.
InMode EmpowerRF Combining three complementary energies (submucosal fractional radiofrequency, intravaginal electrical muscle stimulation (EMS) and bi-polar radio frequency), InMode's latest device launch, EmpowerRF, offers an almost endless range of abilities. With its ability to address a huge selection of concerns, EmpowerRF is being touted as one of the most advanced feminine wellness solutions, as well as being the only internal vaginal RF Microneedling system on the market. Thanks to its combination of multiple modalities, EmpowerRF has an incredible advantage over single energy alternatives. The system can deliver customised, layered procedures to address an incredible array of conditions including urinary incontinence, sexual dysfunction, pelvic floor weakness, and heavy bleeding.
90 | SPA+CLINIC
Cynosure TempSure Vitalia Cynosure's TempSure Vitalia offers a temperature controlled radio frequency probe for women's wellness treatments. TempSure Vitalia harnesses gentle radiofrequency technology, which enables vaginal rejuvenation by delivering therapeutic heat to the target tissue that works to temporarily increase local circulation, boost collagen and elastin production and decrease pain and muscle spasms. The increased production of collagen and elastin helps to restore and tighten loose vaginal tissue, enhance nerve sensitivity, reduce urinary leaks and incontinence and improve vaginal health and functionality. With treatments lasting less than 30 minutes and with no downtime required, the procedure fits nicely into your patients' busy schedule and provides the ability for them to return to their daily activities immediately after treatment.
With thousands of women suffering in silence when it comes to issues like vaginal dryness, laxity, incontinence, and more, these devices can introduce a whole new client base to your clinic.
Aussie Medi Tech EVATM BTL Emsella InMode EmpowerRF Cynosure TempSure Vitalia
BTL Emsella Recently awarded 'Best Intimate Health Treatment' by New Beauty, BTL's Emsella uses High-intensity Focused Electromagnetic technology to treat incontinence. In what must be one of the most comfortable treatments on the market, patients can sit on the chair fully clothed while their pelvic floor gets treated. In a 2021 study on the effects of High-Intensity Focused Electromagnetic Technology Vs Electrostimulation for the Treatment of Pelvic Floor Muscles and Urinary Incontinence, it was found that there was a significantly higher improvement of the pelvic floor muscle in those treated with HIFEM. Six sessions are recommended for best results, with some women experiencing reduced incontinence with fewer treatments.
Do you think intimate treatments is an area of your business that will keep growing? This is an area which we have seen strong growth in. As more and more patients discover this treatment, we expect it to continue to grow. The confidence we see our patients experience post intimate area rejuvenations at Contour Clinics is an immensely satisfying part of our job. We will continue to heavily invest in this area of cosmetic/wellness medicine, and are constantly investigating the latest evidence based technologies to bring to our patient base. Dr Josh Wall is the Medical Director of Contour Clinics. contourclinics.com.au
EXCLUSIVELYAVAILABLEIN-CLINIC& skinmtx.com.au ClinicallySkinMTXResearchedFormulation® Elevate WithAestheticYourPractice SkinMTX® Trusted by Dermatologists, Aesthetic Doctors and Medi-Spas SkinMTX® offers a complete range of formulations from in-clinic solutions to post-procedure home care and special care. A perfect companion to your aesthetic practice, SkinMTX® pushes the boundaries of efficacy to offer high potency products that are specially designed and formulated to penetrate optimally into skin to achieve visible results. skinmtx.com.au | 1800 242 011 Activate skin's restorative ability for lasting youthfullooking skin and vitality ANTI-AGEING ANTI-ACNE Purify skin for long-lasting mattness and a comfortable feeling of freshness BRIGHTENING Improve the appearance of pigmentation and even skin tone for luminosity SPECIAL CARE Boost your skincare regime to reveal flawless skin DERMAT Recommended for postlaser and post-procedure IN-CLINIC Professional monodose treatment kits to nurture and optimise healthy-looking skin
HydraFacial offers ongoing support to
Sponsored
While the partnership with a global megastar with more than 219 million Instagram followers will certainly raise brand awareness, Stanleick stresses that it's not about selling one booster to everyone, HydraFacial is about the aesthetician analysing each patient's skin and recommending the most suitable booster for them. Another update HydraFacial is launching soon is the improved LED component to stimulate collagen as part of the service.
92 | SPA+CLINIC
"We have over 50 patents on our technology," says CEO of HydraFacial's parent company BeautyHealth, Andrew Stanleick. "I think part of our secret is not just the patents, but the unique relationship we have created with our aestheticians – the HydraFacial Nation! We invest a lot into training and educating our aestheticians; we are actually about to open a fantastic experience centre in Sydney to complement Melbourne, Brisbane, and ultimately Perth and Auckland."
Stanleick recently joined BeautyHealth after holding senior roles at Coty and serving as Global CEO for Kylie Jenner Beauty and overseeing the Kim Kardashian West business. He is very excited about HydraFacial, seeing huge potential to "take this California-based brand and globalise it." What makes the treatment so unique is its efficacy as well as customisability. Three steps and 30 minutes is all it takes to reveal patients' best skin. After deeply cleansing and exfoliating skin with HydraFacial's patented vortex technology, practitioners can choose from a range of boosters depending on the patient's skin's needs and concerns. Whether it's fine lines, congestion, or sensitivity, there is a booster for everyone, with more launching soon. "We have our own proprietary boosters, which we are very proud of, and we have also partnered with brands, such as Murad and Dr Nassif, and we're very excited to announce our latest partnership with Jennifer Lopez," says Stanleick. "It was an obvious partnership. JLo is an Icon, she's known for her amazing skin and she also has a successful skincare brand with the premise of 'glow', so it was a partnership made in colab-heaven."
HYDRAFACIAL GETS
HydraFacial keeps growing in popularity, but did you know it is highly customisable? their stockists, and has recently seen more and more providers offer HydraFacial memberships to patients as it's the perfect maintenance treatment. When it comes to ROI, Stanleick says the average payback time for providers is between four to six months, and some of them have done it in one day. "We encourage providers to get 20 to 30 of their best clients to buy a pack of 12 HydraFacials for the price of 10 – that's how you pay it off in one day." We can see why this treatment is so popular, both for practitioner and consumers. For more information, visit hydrafacial.com.au
O ver 2 million HydraFacials are performed every year – that is one every 12 seconds (!), so it's no exaggeration to say it is one of the most popular facial treatments in the world, counting plenty of celebrities as die-hard fans to keep their skin looking fresh and glowing. From a practitioners' perspective, HydraFacial presents a great opportunity to keep patients coming back on a regular basis as well as offer them a quick and easy 'lunch time' glow-up with no downtime.
Another way HydraFacial personalises the patient experience is through the creation of a QR code each client can take to any HydraFacial provider around the world to receive the same, customised treatment tailored to their skin. "We found that, in the US, most people tend to go to three different places to get their HydraFacial per year, so this enables them to do that without compromising their experience," saysHydraFacialStanleick. is about to launch a scalp care booster, too, further expanding their offering and tapping into the ever growing scalp and hair health market. "The 'skinification' of scalp is a huge trend," says Stanleick, "People are looking to invest into their wellness and beauty but perhaps in a less invasive way, and the no-makeup look is very popular. The great thing about HydraFacial is we can treat the entire body, the scalp, the face, the back, the booty, lymphatic drainage for the legs even."
Personal
StanleickAndrew
Sponsored 1 2 3 4 5 6 7 1) Nassif MD Hydraglucan Intense Hydration • Rejuvenates and protects your skin • Hydrates and radiates your skin leaving it glowing • Addresses visible signs of ageing 2) HydraFacial DermaBuilder • Helps smooth the appearance of fine lines and wrinkles and enhances skin elasticity 3) Circadia Chrono-Peptide • Reduces the appearance of fine lines and wrinkles • Energises the skin • Leaves skin feeling radiant and glowing 4) Circadia Protec Plus • Visibly brightens the skin • Provides optimal hydration • Reduces redness 5) HydraFacial Britenol • Targeted brightening treatmentDid you know that there are seven boosters to choose from when personalising your patient's treatment? "Part of our secret is […] the relationshipuniquewe have created with our aestheticians – theNation!"HydraFacial Add-On Eye and Lip Boosters Perk Eye • Hydrates and brightens the eyes for a refreshed and renewed look Perk Lip • A refreshing treatment that exfoliates, hydrates and plumps the lips. MEET THE BOOSTERHYDRAFACIALLINE-UP 6) HydraFacial ReGen GF • Designed to promote healthier-looking skin • Diminishes the appearance of fine lines • Enhances the appearance of firmness 7) Murad Retinol • Accelerates skin's surface renewal and instantly plumps to minimise the look or wrinkles, even tone and boost youthful radiance • Rapid renewal while being gentle on skin • Plumps skin's surface spaandclinic.com.au | 93
STechnology
Dr Elaine F Kung tells us about her experience offering new SmoothGlo treatment in her Manhattan practice
The new standard for aesthetic skin rejuvenation I think one of the major benefits of SmoothGlo to the patient and to the clinic is that people find the treatment relatively comfortable. The Stellar M22 portion of the treatment may be a little jarring with the heat and flashes of light, but is very tolerable. The device has a lot of mechanisms to ensure safety and comfort such as the sapphire chilled tip and proprietary Optimal Pulse Technology that allows for multiple sequential pulsing with lower fluences. The Legend Pro+ DMA is very tolerable and the VoluDerm RF treatment allows for the delivery of energy with very fine needles that range from 0.6mm to 1mm in depth. The needles are so fine that one of my patients describes the treatment as warm sandpaper pressing against her skin. Our patients feel the microneedles but do not find it too painful which sets the Legend Pro+ apart from some of its competitors.
Lumenis'
moothGlo is a trademarked treatment by Lumenis that utilises three modalities via two technologies in one session to optimise results for patients. SmoothGlo can treat photoaging, hyperpigmentation, rosacea, acne scars, fine lines and wrinkles, skin laxity. It capitalises on the synergies between the Stellar M22 and the Legend Pro+ technologies. The two devices combined form a 3-in-1 service that will improve someone's skin colour, texture, and volume loss. One of my patients describes her skin after one treatment as radiant, which captures the essence of the SmoothGlo service in one word. The Dynamic Muscle Activation (DMA) for the face via the Legend Pro+ is unique to the Lumenis device and tightens and lifts the SMAS – it's like a non-surgical facelift. The Stellar M22, reigns supreme with its proprietary OPT technology, treating pigmentary issues such as brown spots and visible blood vessels, causing some temporary inflammation, which can stimulate collagen and elastin production. We can amplify the results of the VoluDerm RF Microneedling by exploiting the temporary inflammation that The Stellar OPT created. VoluDerm utilises microneedles finer than hair to deliver energy into the dermis which stimulates collagen production, while breaking pigment into little particles and cauterising blood vessels. Therefore, the two machines work hand-in-hand to amplify the results for our patients more than each modality as a standalone service.   Why I choose Lumenis Lumenis has been a reputable force in laser and energy-based technology for decades.  Lumenis brought the first Intense Pulse Light and the first Fractionated CO2 to market.  Therefore, I trusted the company would produce devices that can reliably deliver results. The Stellar M22 has different shape light guides and nine wavelength filters so it is an incredibly versatile IPL, which allows me to treat a myriad of skin problems. The Legend Pro+ is so easy to use and less painful than some of the other radiofrequency and Microneedling devices that I have tried in the past. I have treated my face and neck with the Legend Pro in 10 minutes with minimal topical numbing. It also has the proprietary Dynamic Muscle Activation for SMAS stimulation that is unique to Lumenis and the Legend Pro+.
TREATMENTREJUVENATIONSKINULTIMATETHE
Another benefit for our patients and the clinic is how well people heal for the level of improvement they have. Immediately after SmoothGlo, there may be some redness and swelling (edema) that predictably go away within a few hours. Our clinic does not have to do much handholding during patients' recovery period. Many of my patients tell me that they feel "zoom-ready" or "work-ready" the next day. Some of them even feel comfortable enough to have dinner with friends' hours after treatment. At most, people have the darkening of brown spots or more enhanced rosacea appearance from the OPT portion of the treatment for roughly one week.    I think the new era of aesthetic medication entails delivering results to our patients comfortably, reliably, and with the least amount of recovery time. It doesn't matter how effective a procedure is if our patients are scared of the procedure or can't find time in their schedule for the procedure.   Why patients love SmoothGlo SmoothGlo has been the most well-received treatment in our office in the shortest amount of time. This is because SmoothGlo offers people the ability to improve their skin overall, so I have patients as young as 24 or as old as 72 signing up for it. Unlike injectables or thread lifts, it targets the entire face instead of selective areas and the microneedles are less daunting to patients than syringe needles. Unlike chemical peels or non-energy based manual Microneedling, the results are so much better because the energy delivered through SmoothGlo targets different layers of pigmentary problems and induces much more collagen synthesis.
94 | SPA+CLINIC
OPT FOR TONE VOLUDERMFORTEXTURE&VOLUME
Please tell me about your clinics, VITAHL. TH: Yeah, absolutely. So I am a physician, I have three clinics, two in Denver, Colorado and one in Chicago. I opened my first practice, or what we call our flagship practice, about 16 plus years ago, and really started with 'medical massage'; we were doing a little bit of everything. And then we realised what we really want to do is focus on skincare, and do really good skincare. And that included things like our facials, and lasers and anti-wrinkle and volumising treatments. And so naturally, we got rid of the massage, not because it's not great, but it just didn't fit the model. And then from there, actually, then kind of segwayed back and started getting into body contouring about 2010 when it was really hitting the market hard.
. ANAmerican PERSPECTIVE Dr presentingHumesatNSSthisyear 96 | SPA+CLINIC
How does the aesthetics industry in the US compare to Australia? In some ways, it's similar, in some ways very different. I'll say where it used to be much more different is Australia had a much more natural look than the US did for a long time. I am happy to say the US is coming around. And we're getting more natural. I think we get better, you know, with combination therapies and people understanding devices more and that it's not just a needle that's going to get them there. The US is getting better about looking more natural. I think interestingly enough, what's different to me about the US versus Australia is just the different rules or regulations. You, from state to state, have such different regulations on who can run a device versus not and I find it intriguing. Like, we're in
Nadine Dilong caught up with US-based Physician and skin expert, Dr Tahl Humes
There have been two studies so far. The first one was a 17-patient study. So a smaller study, really just looking at safety of the device. And then followed by a-104 patient study. So a lot of patients, of which we found 32 had moderate to severe acne and a few with mild acne, but mostly moderate to severe. And every single person had a reduction, either to clear or almost clear. And then what's even more exciting is some of the patients from the very initial 17-case study – two years out, their skin is still clear. They did the initial three treatments, and they have been clear since then. What are your personal go-to treatments? Oh, all of it, I mean, so I regularly get neurotoxins, so wrinkle reducers and occasionally fillers, I love all the fillers – the hyaluronic acid fillers as well as the others. I tend to do a little bit more of the [bioremodelling fillers] just because I love that natural look, myself. But I've done the hyaluronic acid fillers as well. I tried to get regular skin care. I'm terrible about getting in there regularly. I can tell you that I have trouble laying on the table. We use iSClinical skincare. It's a really nice clean line, pharmaceutical grade. So a lot of things I like about it. And then I do body contouring. So I've been doing truSculpt ID and truSculpt Flex for fat reduction and muscle stimulation. I should get in there and do a few more lasers. I mean, honestly, it's like: you're in the practice. And you think I'm going to do this today? Yeah. And all of a sudden, it's six weeks later. And I still haven't done it. Dr Humes with S+C Editor Nadine Dilong
What's great about conferences such as the Non-Surgical Symposium? You know, I think what's great about conferences, like the NSS are a few things. One, it is the education that we get from our colleagues, meaning that I can go and listen to a talk, and I take away something, even if I have been using the device for years and years, I always take something new away that I've learned, and I can take back with me. On top of that: collaboration, talking with likeminded people, clinicians, understanding what they're doing in their practices, maybe it's something I've never thought of, maybe something I would never do. And I can learn from them, too. Is there a specific topic you're interested in learning more about? I actually really am excited to learn more about the view on injectables in Australia. Again, like I said, the US was very, you know, almost about that 'not natural look'. And I feel like things are much more natural here. So I'm excited about that. I always love hearing what's being done for skincare. You guys have different fillers than we have. And then honestly, I can't say there's anything I don't want to learn about. That's a good attitude to have to be able to go to all sessions at once. You're presenting on a new acne treatment at NSS, can you tell us more about that? Yeah, I'm so excited about this. In fact, when I first agreed to do the AviClear presentation, the device wasn't approved. And I was hoping that I'd be able to talk about it, and then it got approval. So it has been, so AviClear, which has been FDA cleared in the US since May, I think it has a C approval, it's on its way to see approval here as well. And this is a 1726 nanometer wavelength laser. It is novel, it hasn't been used before, and what it's doing is it's targeting the sebum. So it actually goes in and ablates the sebaceous sites, and it's down-regulating the sebaceous glands. So the skin is less oily, we're making less acne.
Aesthetics Queensland right now. And here, it doesn't matter what your medical training is, everybody has to go through a big laser course, which I think is great. Yeah, it's just so different than I am used to.
spaandclinic.com.au | 97
We chat to four aesthetic practitioners about their device MVPs.
LUTRONICFAVOURITE
The DermaV is an invaluable device whether you are a cosmetic clinic, dermatologist or plastic surgeon. With the dual wavelength of 532/1064nm this laser can target both vascular and pigment concerns. This platform offers a stable, reliable fluence with in-built presets for quick familarisation. The integrated cooling device ensures patient comfort and safety, whilst the quick pulse rate is more than double the speed of current platforms. A lot of thought has gone into the design, ease of use and practicality of DermaV. The primary engineer, James Bartholomeusz, who is originally from Brisbane now based in the US, worked closely with clinicians early in the development of this laser. The superior ergonomics, laser dynamics, functionality and practical aspects such as presets are reflected in the final product. Results to date have been both outstanding and positive. This laser has the power to treat pulse dye resistant port wine stains but at the same time gentle enough to provide dermal toning and laser genesis like treatments. DermaV is truly a flexible platform that is the current market leader in vascular lasers.
98 | SPA+CLINIC
TECHNOLOGY
Dr Davin Lim on Lutronic's DermaV
Senior Cosmetic Nurse and Team Leader at Medaesthetics, Daniella Gardner on Lutronic's Hollywood Spectra: Here at Medaesthetics we believe in offering skin treatments using state-of-the-art clinical equipment that ensures superior clinical results with unsurpassed patient safety. Hollywood Spectra has become an integral part of our clinical practice as it offers a multitude of skin treatments which are in very high demand among our patients. The patented laser technology offered by this platform gives us the flexibility to treat an array of skin concerns including laser skin rejuvenation, fine lines, sun spots and freckles, hormonal pigmentation, enlarged pores, inflamed acne lesion, and more. The Hollywood Spectra device offers the world renowned Hollywood Carbon Laser Facial treatment, which rose to fame in the USA by Hollywood stars including Kim Kardashian and Jennifer Aniston. The treatment can be performed as a once-off but works best when you have several treatments over a period. Key benefits to the patient are that the treatments performed by Hollywood Spectra are not painful and offer minimal downtime, they're also extremely cost effective and represent great value for money, as well as being safe for all skin types including darker skins. We consider this platform as our workhorse.
OUR Devices
The 1927nm thulium laser is very important in our practice as it 'lifts off' the top layer of the skin in a fractionated way to 'mop up' skin surface imperfections like sun spots, sun freckles and wrinkles. The controlled damage created by the laser stimulates the body's own natural healing process, which replaces old and damaged cells with healthy new cells. At the same time, it also heats the dermis to improve skin texture. Our patients love it because it addresses skin tone and texture in one treatment.
spaandclinic.com.au | 99
"The controlled damage created by the laser stimulates the body's own natural healing process, which replaces old and damaged cells with healthy new cells."
LaseMD Ultra is a low-downtime procedure. It is a particularly useful option for our sun-damaged patients with lots of solar keratoses, who can use it to treat both precancerous sun spots and skin texture simultaneously. We use LaseMD Ultra primarily on the face, but can also use it on the neck, chest, arms and hands. The treatment may range from five to 20 minutes or longer, depending on the size and number of areas being addressed.
Technology
Dr. Wenyuan Liu on Lutronic's LaseMD
The eCO2 is a must-have in my specialist practice as a dermatologist to enable me to offer a comprehensive portfolio of state-of-the-art laser treatments for skin resurfacing to treat sun damage, scarring and for skin rejuvenation. When it comes to improving and treating these skin conditions, medical treatments can only achieve so much. The eCO2 enables me to take my service offerings and results for patients to the next level where they see good value and quality in this service that they are investing for their skin. The eCO2 is efficient to operate and offers me reduced treatment times for patients. I am continually impressed with the versatility and consistency of delivering excellent results for my patients with this machine. Paired with the Healite which reduces treatment recovery time for patients, the eCo2 and Healite combination are workhorse machines and indispensable for my practice. "The eCO2 enables me to take my service offerings and results for patients to the next level where they see good value and quality in this service that they are investing for their skin."
Dr Leona Yip on Lutronic's eCO2 and Healite
However, this type of positive psychosocial impact takes a lot of practitioner determination and grit. Experienced and dedicated aesthetic healthcare professionals know too well the immense effort involved with each consultation, with many experiencing psychological fatigue or even burn out. So, what causes this exhaustion? Could it be that aesthetics is actually less about beauty and more about psychology? Are we too focused on creating perfect aesthetic results, that we miss the true science behind treatments? In the midst of facial assessment and analysing proportions, have we forgotten to stop and actually listen to our patients? Or perhaps we care far too much about our patient's desires that we find great difficulty refusing treatments?
Beauty is undoubtedly emotionally and psychologically driven. Everyone's self-perception and emotional processing plays a pivotal role in our overall mental health and wellbeing. Within the aesthetic industry, our awareness of body dysmorphic disorder (BDD) is increasing, however our overall understanding of BDD risk factors and recommended screening tools is minimal.
100 | SPA+CLINIC
Vanity, trout pouts and frozen faces. The stigma surrounding aesthetic treatments is real and ever prevalent in our media driven world. The unfortunate reality is that the portrayal of over inflated or frozen faces actually sends media sales and ratings sky high. Reality television is a clear example with many programs consistently casting people with enormous, disproportionate lips with or without cheeks that meet their lower eye lids. Needless to say, it is understandable why the general public have an unhealthy, dysmorphic perception of aesthetic treatments. However, the reality is that aesthetic medicine is largely centered around maintaining a patient's natural beauty, or perhaps improving facial balance so as to increase confidence levels. Those of us on the "inside" are able to appreciate the natural and often undetectable results that can be achieved with aesthetic treatments. We are able to see, and more importantly, feel the impact our treatments have on our patients' emotional, social and psychological wellbeing. It's not uncommon for patients to experience tears of joy or relief following treatments, with many reporting their increased confidence level as life changing.
AMET's Bronwyn Granata and Elena Currie explore this question. "Art is a human phenomenon, and therefore aesthetics is fundamentally a psychological process"
THE PSYCHOLOGY OF AESTHETICS AND BODY DYSMORPHIC DISORDER Is aesthetics actually less about beauty and more about psychology?
BDD and Aesthetic Sensitivity
AMET members will find referral links and further detailed information on BDD in the members areal. To join AMET's aesthetic safety movement or for more information, visit aestheticmet.com
MEDI BDD in Aesthetics
The findings from Dr Harris and Dr Johnson are also in line with a 2002 study by UK Consultant Psychiatrist Prof David Veale. Veale discovered that of 100 BDD patients, 20% of them had some form of employment or education in art and/or design. This was markedly higher when compared with other psychiatric conditions such as major depressive disorder (4%), OCD (3%) and PTSD (0%). It is unknown whether the occupation or education poses an increased risk of developing BDD, or if those with BDD (and a higher aesthetic sensitivity) gravitate towards art and design industries. Irrespective of the dynamic, the relationship is very significant when considering both aesthetic patients and practitioners. How can we help? We need to think beyond our technical abilities and focus more on expanding our psychological skills. Implementation of screening questionnaires such as the BDD Questionnaire for Dermatology (BDDQ-DV) or the Dysmorphic Concern Questionnaire (DCQ) into consultation forms is vital, as well as prioritising questions that target psycho-social wellbeing. As healthcare professionals, we are responsible for maintaining the physical and psychological safety of our patients. On the outside it may seem that patients come into an aesthetic practice feeling "well", however the stark reality is many are unwell and fighting a serious psychological battle. The same can be said for our own professional community. One could argue that perhaps it's more difficult for us being immersed 24/7, with round the clock access to treatments. Education and awareness breeds confidence. Confidence to ask the right questions for early detection. Confidence with refusing treatments and communicating our reasoning. And most importantly, confidence to refer our patients (and colleagues) to a qualified Psychologist to access the life changing treatment they deserve.
spaandclinic.com.au | 101
Body dysmorphic disorder is a psychiatric condition characterised by an excessive preoccupation with slight or imagined defects in appearance. BDD affects approximately 2% of the general population, however a recent meta-analysis by Ribeiro, found prevalence rates of 12.65% and 15.04% for dermatology and plastic surgery patients respectively. Alarmingly, available data showcases that BDD is associated with markedly higher suicide rates, highlighting the urgent need for greater awareness of early diagnosis and intervention. UK based Aesthetic Physician Dr Harris in partnership with Dr Johnson, a consultant psychiatrist and aesthetic doctor, recently conducted the first aesthetic practitioner BDD survey. The aim was to understand BDD risk and prevalence rates amongst aesthetic healthcare professionals. Unsurprisingly it uncovered that 16% of practitioners satisfied the diagnostic criteria for BDD.
After finishing my Beauty Diploma, I started working in a cosmetic medical clinic. I realised my love for the cosmetic aesthetic industry, so I studied with the Australasian Academy of Cosmetic Dermal Science (AACDS) and then went on to manage a clinic and work with a team of doctors that mentored me. I then pursued my dream further and studied for a Bachelor of Nursing. I learned many skills from my colleagues and the doctors I worked alongside during this time. What training did you receive in aesthetic medicine, and do you have a mentor?
When did you decide to become a Cosmetic Nurse?
HOW I BECAME A TEOXANE TRAINER
Madeline Firkins at her clinic, SM Aesthetic Lab
Over my years in the cosmetic industry, I have been fortunate to work within professional clinics where my work colleagues, whether doctors, nurses or dermal therapists, have all been my mentors. We learn so much as all these job roles create the ever-evolving cosmetic medical industry. All my training has been combined with in-house training, studying with AACDS and furthering my
Sponsored
102 | SPA+CLINIC
We speak with Registered Nurse and TEOXANE trainer, Madeline Firkins, about her career and key takeaways from this year's Teoxane Academy in Geneva
You mentioned you are a part of the Teoxane Faculty, how do you support other Aesthetic Practitioners in their aesthetic medicine journey?
What was the journey to opening your own aesthetic clinic?
Sponsored knowledge and training through the Teoxane Academy in Sydney. I also attend regular cosmetic conferences both interstate and internationally.
What is the most popular treatment in your clinic and what have you noticed is gaining popularity? Dermal fillers are our clinic's most popular treatment, mainly because the Teoxane products are long-lasting and offer a soft natural enhancement. Our Venus Viva skin resurfacing device is another popular treatment. This treatment offers exceptional results with minimal downtime.
To learn more, visit teoxane.com.au or e-mail infoanz@teoxane.com
I am engaged with Teoxane as a clinical trainer, therefore I educate and train doctors and nurses who want to learn more about injecting dermal fillers using Teoxane products. I facilitate group training workshops alongside the Teoxane faculty in the Teoxane Academy in Sydney. I also offer in-clinic training to all clinics that prefer using Teoxane products or wanting to use Teoxane products. The training varies in knowledge, skills and complexity, from beginner training all the way through to advanced injecting techniques.
How do you continue to learn and keep up with new trends and innovations?
I have been working in the cosmetic industry for over 13 years. I decided it was time to open a clinic with my long-time friend and business partner, Selina, a dermal therapist and skin guru. It was an easy decision to open my own clinic as we were the perfect duo to drive the business and offer exceptional service to our patients. Our vision for SM Aesthetic Lab was for customer experience to be first and foremost, offering safety, quality and results-driven treatments.
In this industry, you always need to further your skills. I attend regular workshops, online webinars and conferences. As an educator for Teoxane, they invited a few select cosmetic doctors and I to the IMCAS world congress in Paris and the Teoxane Laboratory in Geneva. I was fortunate enough to learn all the latest trends and techniques and bring this back to Australia to further train and mentor my students and staff to deliver the best results.
You have your own successful business SM Aesthetic Lab, what made you decide to open your own business?
Will you implement any of the new trends that you learnt in Paris or Geneva to your own clinic?
Absolutely, I have already been practising everything I learned in Paris and Geneva in my clinic. I continue to train our staff of cosmetic doctors and nurses with these new tips and techniques.
How does Teoxane support you and your business?  Teoxane is a very professional company to work with; everyone in their team is exceptionally trained. They have a very high standard of education and in-clinic training with all my staff. Their ongoing and regular support is unmatched by any other company.
| 103
Firkins, colleagues and the Teoxane team at this year's Teoxane Academy spaandclinic.com.au
I have worked for over 13 years, from beauty and dermal therapy to cosmetic injectables. I have worked in many excellent clinics that have guided and mentored me. The journey of opening your own business is never easy especially being a mum, however, loads of passion and perseverance keep me going. I first went out on my own working for myself about two years before opening the clinic and loved the freedom it gave me. Opening a Cosmetic Clinic was an easy next-step decision.
What new trends did you discover whilst on your recent trip to Paris and Geneva?  I learnt so many however the primary new technique and trend is keeping it natural by multi-layering different types of dermal fillers to achieve the best outcome while maintaining a natural aesthetic. This is one of the main advantages of using Teoxane products as they have a wide range of dermal fillers to treat different concerns for each patient. The takeaways from Paris and Geneva will strengthen the foundations I already have well implemented within my clinic.
23 years and still Australasia's leading B2B publication for the aesthetics, medi and wellness industry Reach our quality, influential audience of 50,000 through bespoke advertising and content solutions updatedWebsite daily Quarterly print & digital magazine Annual conferenceSocial media Weekly e-newsletter
Over half our readers managersownersbusinessareor"TrademagsareanimportantvehicletosendyourmessagetothetherapistandSPA+CLINICisaMercedes." CLIVE SMITH, PAYOT Contact SPA+CLINIC's Kym Cowper: 0410 570 467 kcowper@intermedia.com.au
Advertisers COSMECEUTICALS:ADVANCED 9, 11, 19, 91 AMET: 100 ABIC: 33 AESTHETIC BUREAU: 86 AUSSIE MEDI TECH: 89 BTL: 107 BIZCOVER: 35 CUTERA: 2, 3 CYNOSURE: 72, 73 DERMALIST: 45, 66, 67 DERMALOGICA: 70, 71 ENDOTHERAPEUTICS: 87 FRESH CLINICS: 26, 27 GALDERMA: 36, 37 HYDRAFACIAL: 92, 93 INMODE: COVER, 58, 59 KITOMBA: 47 LUMENIS: 94, 95 PAYOT: 4, 5 SKINCEUTICALS: 68, 69 SLEEP&GLOW: 82, 83 THERA HEALTH: 17 TEOXANE: 102, 103 ULTRADERM: 13, 39, 49 VENUS CONCEPT: 63, 64, 65 WATERLILY: 6, 7, 108106INDEX|SPA+CLINIC
Please be aware that some of the information / intended uses / configurations / accessories mentioned here are not available in your country. For more information contact your local distributor. Results and patient experience may vary. As with any medical procedure, ask your doctor if the EMSCULPT NEO® procedure is right for you. In Australia EMSCULPT NEO® is intended for application of combination of bipolar radiofrequency with high-intensity electromagnetic energy for body reshaping and fat reduction by lipolysis.
in
Always
We recommend following a well-balanced diet and physical activity. Always follow the directions for use.
SALES@BTLMED.COM.AU | #EMSCULPT Body Shaping
MuscleFat Original
899-79EMCNADFMSCENCA100Emsculpt_Neo_AD_Spa-and-Clinic-magazine-TGA_ENAU100_A4;
©2022 BTL Group of Companies. All rights reserved. BTL®, EMSCULPT NEO® and EMSCULPT® are registered trademarks in the United States of America, the European Union, or other countries. The products, the methods of manufacture or the use may be subject to one or more U.S. or foreign patents or pending applications. Trademarks EMSCULPT®, EMSCULPT NEO®, EMSELLA®, EMTONE®, EMBODY®, and HIFEM® are parts of EM™ Family of products. *Data on file.