FACE OF
REGIONAL BUSINESS
IS BACK
AMBITIOUS LEADERS
BEST OF BUSINESS NEWS COMPANIES TO INSPIRE
Cyber & IT
Finance & Investment
International
Manufacturing
Real Estate & Construction
Science & Technology
Skills
SME Growth
Sustainable Futures
Covering
Gloucestershire
Oxfordshire
Worcestershire & Hereford
Coventry & Warwickshire
Thames Valley & Swindon
South Gloucestershire & Bristol
THE
LAUNCHPAD
When everyone was in lockdown, the free flow of news became even more important. Having a trusted source of information online when you can't get out and see anyone helps keep things in perspective.
While other daily news sources understandably concentrated on the immediate grim reality, Business & Innovation Magazine felt there was even more of a need to share news on business activities and opportunities across the region (and despite the pandemic there has been lots going on).
Over the past year we have been contacted many times by people asking us to share their news because they wanted to raise awareness of how they could help. From companies able to source precious PPE and asking us to help publicise it, to others inviting us to share news of their ideas and inventions which are helping to make life more bearable.
Manufacturers pivoted to produce what the country needed (PPE, ventilators), food and drink producers upped production to meet increased demand, our supermarkets and local stores kept their shelves filled, while almost the entire professional community decamped to work from home, making life very busy for the tech companies in keeping us connected. And don't get me started on the ubiquity of video conferencing.
All the while our key workers – the doctors, nurses, care workers, hospital porters, police, council workers and many others worked on – in conditions that few of us can really appreciate.
Some businesses will never open again, while others have a fight on their hands when they return. Pubs and restaurants, the events businesses, non-essential retail, hairdressers, barbers, beauticians and others saw their hard work jeopardised through no fault of their own.
The events of 2020 changed lots of things for many of us in our personal and professional lives. Whether Covid-19 has presented new opportunities or pressing challenges for your business, we have all had to adapt to a new way of doing things.
Looking ahead at new opportunities
However, this issue is about the future, and you'll see many changes from the last time we published in March 2020.
As we now have what we consider the best regional daily business news website in the UK, we can dedicate more of our published magazine pages to key issues, allowing more industry commentators and regional experts to share their knowledge and undertake
analysis. Content has always been king for this magazine – and now we can broaden that to stimulate debate and widen awareness of business opportunities across the region.
We want to be inspired by the next generation of leaders as well as those who've already achieved, so we are widening our pool of interviewees to include those still halfway through their careers but who are already making waves. If you consider yourself an ambitious leader with a good story to tell, get in touch.
Whether you're interested in what's going on in your region, or you're interested in learning more about the sector in which you operate, be that science, technology, manufacturing, skills, real estate or finance and investment – in this magazine, and online, you will find information you can use.
With vaccines now a reality, the immediate, painful and interminable Brexit negotiations behind us (although there's a long way to go yet), 2021 could be the year to reset as we focus our sights on the road ahead.
Godding Editor-in-Chief and Co-Publisher
Muir Commercial Director and Co-Publisher
BUSINESSINNOVATIONMAG.CO.UK 03 ISSUE 19 | LAUNCHPAD
We're back! Welcome to our first published issue since last March, when we responded to the pandemic by taking the magazine online only and boosting our business news content
Kirsty
Nicky
IN THE HEADLINES 06 COMPANIES TO INSPIRE BRITAIN 10
AMBITIOUS
Highlighting some of the biggest business issues from across 16 Gloucestershire 26 Oxfordshire 34 Thames Valley & Swindon 38 Worcestershire 44 Coventry & Warwickshire 49 Bristol & South Gloucestershire REGIONAL FOCUS 54 Skills 58 SME Growth 61 Finance & Investment 70 Cyber & IT 77 International 80 Manufacturing 84 Science & Technology 88 Real Estate & Construction 92 Sustainable Futures PLATFORMS
 24 Lindsey Young, Clarkson Evans

32 Kyle Grant, Oxwash  46 Jason Ashby, UK Flooring Direct
LEADERS
We round up some of the most inspiring stories from businesses across the region THE BEST OF BUSINESS 50 Mergers & Acquisitions success for region's professionals M&A REPORT 64 ISSUE 19 | CONTENTS In the headlines 06 REPORT 10 Companies to inspire Britain Regional focus 16 Highlighting some of the biggest talking points from across Gloucestershire, Oxfordshire, Thames Valley & Swindon, Worcestershire, Coventry & Warwickshire, Bristol and South Gloucestershire Ambitious Leaders: Lindsey Young, Clarkson Evans 24 Kyle Grant, Oxwash 32 Jason Ashby, UK Flooring Direct 46 The Best of Business 50 We round up stories from businesses across the region Career Ahead 52 Senior promotions and appointments Skills 54 We analyse the government's White Paper on Skills and FE college heads give their views SME Growth 58 Growing businesses share their news Finance & Investment 61 REPORT 64 Mergers & Acquisitions success for region's professionals Cyber & IT 70 Cheltenham aims to be UK cyber central International 77 Manufacturing 80 Stephen Phipson, Chief Executive of Make UK talks green Science & Technology 84 Can spin-outs cement the UK as a science super power? Real Estate & Construction 88 Views from the regions experts Sustainable Futures 92 Green Fuels, Oxford super-charges and more 05 BUSINESSINNOVATIONMAG.CO.UK
HEALTHY GLOW FOR SLG AS IT RETURNS TO SELF-TAN MITT MANUFACTURE
With Covid-19 trying its best to kibosh summer travel to warmer climes, it's great to hear that SLG, the Cheltenhamborn global beauty products business, has restarted manufacture of the product it launched 20 years ago by company founder Graham Dunkley.
Graham's patented self-tan mitts allow the flawless application of self-tan to skin, without any streaking or staining of hands.
So we might all be stuck in Blighty this summer, but we can still get that sunkissed glow.
Over the past two decades and under SLG's three global patents, Graham's phenomenally successful invention has produced more than 50 million mitts.
The Velvotan mitts are sold in Boots, Tesco, Sainsbury's and Asda – which sells one mitt every 30 seconds in the UK.
The company also supplies leading brands such as St Tropez, Vita Liberata and the world's largest retail multiples.
SLG previously manufactured the mitt and other products from its facility
ROBOT HELPS HUMANS HUNT DOWN DANGEROUS CHEMICALS
Detecting hazardous chemicals over large areas is a dangerous business. Now the UK's Defence Science and Technology Laboratory has developed a prototype robot to enable humans and machines to share the burden.
in Kingsholm Road, Gloucester but subcontracted the manufacturing out in 2018 as it switched to concentrate on global brand building and marketing.
But last year, against the backdrop of the pandemic and growth in the global self-tan market, the company brought the manufacturing of its self-tan mitt back in-house. This will allow more product innovation, help boost quality and production control and enable a scale-up in America, where a healthylooking skin seems to be as important as very white teeth.
SLG has now opened its new manufacturing facility on the Lansdown Trading Estate in Cheltenham.
Lucy Beresford, SLG's Joint Managing Director, said: "The opening of our new factory in such a short space of time is testament to the resilience and determination of our team in spite of Covid-19.
"SLG's teams opened a new production facility and managed to maintain the complex developments of three other new brands which we are launching in the first quarter of this year in the UK and America."
Developed by Warwickshirebased advanced engineering and research company Horiba-Mira, with funding from government, the Merlin Robot can autonomously carry out simulated chemical reconnaissance tasks over test areas covering up to 10,000 square metres.
Deployment of the Merlin Robot, which is still a single prototype, allows personnel to monitor and manage the test incident scene from a safe distance, away from potential harm.
Chemical reconnaissance on suspected or confirmed use of chemical agents is currently carried out by specialist personnel on foot and in specially modified vehicles. A dangerous and laborious task, it requires high levels of specialist training.
Using autonomous systems could significantly lower the risk on deployed teams.
BUSINESSINNOVATIONMAG.CO.UK 06 IN THE HEADLINES
SLG's self-tan mitt is back in production in Cheltenham
SMALL BUSINESSES THRIVE AS COVID FORCES US ALL TO BUY LOCAL
Online orders double at Herefordshire small business
A small drinks company based on a Herefordshire farm has adapted its business model in response to the seismic challenges it faced from Covid-19.
Recent Barclays research found one in seven people had never visited a farm shop before the pandemic, but now visit regularly. It discovered that twothirds of consumers now look for more home-grown and seasonal produce as a result of the pandemic and Brexit.
One business, White Heron, a drinks offshoot of Whittern Farms in
Herefordshire, has been thriving off the behaviour change. White Heron produces a British Cassis from the farm's blackcurrants, as well as British Framboise and its own Whittern Pink Gin – and it saw online orders double in 2020.
"When physically going to shops was a no-no, all our online outlets have been inundated with orders," said Jo Hilditch, managing director of White Heron. "The warehouse has been so busy that many of my days have been spent bottling and packaging.
"It's encouraging that consumers are looking for more ways to shop locally and buy British produce, so we'll continue to make the most of this growing demand."
Sweet smell of success for one-year-old Broadway natural beauty business
A Worcestershire skincare company which uses natural remedies, forgotten customs and folk medicine is set to expand after celebrating its first anniversary.
ORKA-Naturals uses age-old remedies, healing knowledge and natural ingredients for its range which has been sold successfully online.
The company, based in Broadway, is now introducing new products. Founder Kate Varvedo was raised in Hungary where her grandfather taught her about nature and animals.
Kate said: "ORKA-Naturals is very much about going back to basics and using organic ingredients to create products that hail back to a time when natural remedies were used.
"Many of the herbs that are used I grow myself and those that I do not grow, I source from natural organic suppliers."
JAPANESE COMPANY TO PAY 4.9 BILLION EUROS FOR READING SEMICONDUCTOR BUSINESS
Dialog Semiconductor, the Reading based microchip manufacturer and a major supplier to Apple, is to be bought by the Japanese company Renesas Eletectronics Corporation.
Renesas is expected to pay 4.9 billion Euros for the company which is listed on the Frankfurt Stock Exchange.
Dialog makes mixed-signal integrated circuits for the consumer electronics and high-growth segments of the automotive and industrial end-markets.
The company employs more than 2,000 people, with 77 per cent working in engineering functions across 15 countries.
According to reports Dialog employs about 250 people in Reading, Swindon and Edinburgh. In 2019, it reported revenues of $1,420 million.
Dr Jalal Bagherli, CEO at Dialog, said: "The combined company will be in an even stronger position to provide innovative products for our markets."
BUSINESSINNOVATIONMAG.CO.UK 07 IN THE HEADLINES
ORKA-Naturals soap
Jo Hilditch with her cassis made in Herefordshire
POVERTY IS PANTS, BUT NEW BUSINESS STEPS IN TO HELP
You may have heard of period poverty, where in some parts of the world women don't have access to the sanitary products they need every month, forcing them to stay at home.
The charity Action Aid estimates that one in 10 girls in Africa will miss school when they have their periods, seriously disadvantaging them in life. But when Sarah Jordan travelled to East Africa in 2016 to undertake charity work as part of the Uganda Marathon, she realised that it wasn't just sanitary products the girls needed, it was pants too.
"I was shocked at the number of women and children I met who didn't have access to something we take for granted every day – underwear."
When she returned home to Oxford (after breaking her leg in the marathon itself, but that's another story), she decided to launch a business selling underwear on a buy-one-give-two model. You Underwear was born.
However, Sarah didn't want to sell just any knickers, how they were manufactured was important too.
"Conventional cotton is a really polluting crop, and the more I dug into it, the more I realised if we were going to provide underwear, we had to do it in a sustainable way." That meant outsourcing to India.
"We manufacture in India because most organic cotton is grown there, and rather than import the cotton on rolls and make the pants here, we import the final finished products, so our footprint is less. Through the company we work with there, which uses local co-operatives, we have visibility throughout our supply chain," Sarah explained.
She launched the business thanks to a £20,000 crowd-funding campaign, and despite a few Covid-19 setbacks (when she had to scale back selling at markets, pop-ups and events), things are going well with online sales growing.
"We launched two new ranges just before Christmas which include bralettes designed by two schoolgirls in Oxford, and partnered with a designer in Nairobi. We are also looking at branching out into new items such as T-shirts and loungewear.
"The biggest thing behind what we are doing is trying to show that fashion can be a force for good and doesn't need to kill the planet.
"I am happy for the business to grow more slowly, I want it to be profitable, but not at the expense of the environment."
www.youunderwear.com
GREAT WESTERN FREEPORT COULD CREATE UP TO 50,000 JOBS IN REGION
The West of England Combined Authority is bidding to host a Great Western Freeport that could create up to 50,000 jobs in the region, 90,000 nationally and boost the economy by around £3 billion a year.
Freeports are secure customs zones where business can be carried out inside a country's land border, but where different customs rules apply.
The Authority is working with public and private sector partners, including further and higher education, and has ambitions for the port to become a national hub for green manufacturing and trade.
A Great Western Freeport would be based around Bristol Port, the UK's most centrally located deep water port, with additional tax and customs sites at Avonmouth and Severnside, Junction 21 Enterprise Area and Gravity Smart Campus.
BUSINESSINNOVATIONMAG.CO.UK 08
IN THE HEADLINES
You Underwear
Bristol Port
TAKE INSPIRATION FROM THE REGION'S MOST SUCCESSFUL SME BUSINESSES
For the seventh year running, the London Stock Exchange Group has published its 1,000 Companies to Inspire Britain report
It's been the toughest of years, possibly the most challenging on record, for UK businesses – and particularly for the country's small and medium-sized enterprises (SMEs) which account for around 60 per cent of employment and more than half of turnover in the UK private sector.
Key sectors, such as the leisure and events industries, face a truly uphill struggle to survive, other businesses have been able to adapt, and some companies have found that their offer is exactly what we needed.
Many technology and communications businesses and those in the food supply chain have seen revenues rise sharply. This of course, comes with its own challenges: sizing up to meet demand can be as difficult as seeing your business simply melt away.
Remember the empty shelves in supermarkets in March and April?
It wasn't always because they had run out of loo rolls or bread flour. In some cases they just couldn't get the products to the shelves fast enough, or the products were in catering packs rather than sized for domestic use.
However, everyone needs to be inspired so we took a look at London Stock Exchange Group's latest 1,000 Companies to Inspire Britain 2020 report and this feature highlights more than 80 companies from the West Midlands, South West and
Thames Valley which made the list. The companies in the report, published by London Stock Exchange Group with research partner Beauhurst, are all classed as SMEs and met the criteria of having company or consolidated group revenues from £6 million to £250 million based on latest Companies House filings. Companies incorporated after November 1, 2016 were excluded.
David Schwimmer, CEO at London Stock Exchange Group, said: "This year's report highlights the regional and sector diversity of the UK's SMEs and the entrepreneurial spirit shown by these companies.
"The top five industries represented by this year's companies account for more than 40 per cent of the list, led by engineering and construction, manufacturing, food and beverage, retail and technology."
Companies in this year's report have together created 42,606 jobs in the two years to the end of 2019, demonstrating the contribution SMEs
can make to the pandemic recovery. David added: "SMEs are the backbone of the UK economy. They drive growth, lead innovation and provide a critical source of jobs. It is vital that we continue to support them as we rebuild a post Covid-19 economy. London Stock Exchange Group is committed to championing these companies and helping them succeed.
"Many companies in this report now face new challenges due to the impact of the pandemic, so supporting these businesses and shining a light on their stories is crucial."
Henry Whorwood, Head of Research & Consultancy at Beauhurst, added: "The 1,000 Companies were a real mixed bag. Some were start-ups working on groundbreaking technologies, others were simpler businesses done really well. Some companies have been in many editions of this list but I think we will see some big changes in the next list. As tragic as it is that so many businesses are struggling under lockdown, I look forward to being able to shine a spotlight on the bright spots."
Bremont's Hawking Watch, launched last year
Footsure in Gloucester sells Muck Boots Chore Max Pragnell, Stratford-upon-Avon
COMPANIES TO INSPIRE BUSINESSINNOVATIONMAG.CO.UK 10
The experts give their views
"Great science is on our doorstep. We are second only to the US for Nobel Prizes and top universities. The UK is the third global life sciences cluster behind Boston and San Francisco, and we raised a quarter of all European biotech venture capital in 2019. More than two-thirds of European biotech start-ups since 2012 were founded in the UK.
Gerard Grech Chief Executive, Tech Nation
"It remains too early to tell how widely the Covid-19 pandemic will impact the technology sector. Early signs suggest that it has proven more resilient than others and there are widespread examples of how it has helped businesses in other sectors to be the same.
"Clearly, the fact that tech solutions are increasingly driving growth in the private and public sector helps. The digital technology sector grew six times faster than the rest of the UK economy in 2019 and employs nearly three million people across the country. Over the coming years, businesses, consumers and governments will lean on tech solutions like never before."
"UK biotechs are developing technologies that solve critical global challenges: companies like Oxford Nanopore developed the handheld DNA sequencing device used throughout China to diagnose and track the coronavirus.
"Capital is on our doorstep in the City but is it seizing the opportunity? Historically, few have participated in the prevailing life sciences boom, but during the pandemic, we've welcomed support from the investor community, with many investing in the sector for the first time."
"These barriers are well known: gaps in talent and skills, access to markets, at home and overseas, opportunities to develop leadership capacity, a need to access finance, notably patient capital, and a lack of flexible infrastructure. Another critical challenge is that large disparities in scale-up numbers persist at a regional level so levelling up across the UK must be a priority."
Steve Bates OBE
Chief Executive of the UK BioIndustry Association
"To build successful life science companies you need three things: great science, great people and the money to back them to success. The UK is not short of any of these components, but they aren't pulling together in equal measure for our sector. As a result, we have a scaleup challenge, and pension savers in particular are at risk of missing out on a key growth sector of the economy.
"Our recent analysis of the latest ONS data from 2018 showed the first drop in the number of scale-ups since 2013, a decline of more than seven per cent to 33,860, but real progress has been made over the past five years. The number of scale-ups today is 25 per cent higher than it was in 2013. That compares favourably with gross domestic product growth, which was just 11 per cent over the same period.
"However, this underscores how we must redouble our efforts to foster more scale-ups and enable these resilient companies to overcome persistent barriers to growth.
"An effective and connected entrepreneurial finance ecosystem is vital for the successful growth and scaling of small businesses across the UK – and a thriving angel community is an essential component of this supply chain of scale-up finance. Many of the inspiring businesses featured in this report have successfully accessed angel finance to build their early-stage growth and scale.
"Last year showed a continuing rise in the level of angel investment in innovating businesses, with an increase in the value of initial and follow-on investments made by the investors and with experienced angels committing more than 20 per cent of their disposable assets in backing growthfocused entrepreneurs.
"The year 2020 has been a challenging time for the angel investment market. Angel investors have focused on supporting the growth of the businesses in their existing portfolios during the Covid-19 crisis, providing strategic support, mentoring and hands-on help, while many have been providing extensive additional funding, bringing forward investment rounds to their investee businesses to enable them to continue to survive and grow."
Irene Graham CEO of the ScaleUp Institute
COMPANIES TO INSPIRE BUSINESSINNOVATIONMAG.CO.UK 11
Jenny Tooth OBE UK Business Angels Association
SOUTH WEST
Bristol A1 Engineering Solutions Engineering & Construction www.a1-es.com
Applied Market Information Industry Services www.ami.international
Bristol Zoo Travel & Leisure www.bristolzoo.org.uk
Deeley Freed Developments Engineering & Construction www.deeleyfreed.co.uk
ETM Construction & Recycling Holdings Engineering & Construction www.etmcontractors.co.uk
FILMS At 59 Entertainment www.filmsat59.com
Molson Group Engineering & Construction www.molsongroup.co.uk
Owtanet Technology www.owta.net
Pieminister Food & Beverages www.pieminister.co.uk
Plantforce Rentals Engineering & Construction www.plantforce.com
Cheltenham Off-Piste Wines Food & Beverage www.offpistewines.com
Chippenham Alliance Pharma Healthcare www.alliancepharma.co.uk
Good Energy Energy www.goodenergygroup.co.uk
Xmos Technology www.xmos.ai
Gloucester Autoparts & Diagnostics Automotive www.autopartsanddiagnostics.com
Bennetts Cranes Engineering & Construction www.tower-crane.co.uk
Complete Utilities Engineering & Construction www.completeutilities.co.uk
Footsure Western Retail www.footsure.net
Newland Homes Real Estate www.newlandhomes.co.uk
Stroud Dairy Partners Food & Beverage www.dairypartners.co.uk
Swindon Fundamentals Energy www.fundamentalsltd.co.uk
REPL International Manufacturing www.repl.com
COMPANIES TO INSPIRE
Bristol Zoo Gardens
BUSINESSINNOVATIONMAG.CO.UK 12
WEST MIDLANDS
Bromsgrove AFH Financial Group Financial Services www.afhfinancialgroup.com
Barton Firtop Engineering & Construction www.bartonfirtop.co.uk
Benniman Engineering & Construction www.benniman.co.uk
Coventry e-ppl Automotive Services www.e-ppl.co.uk
Millboard Engineering & Construction www.millboard.co.uk
ParentPay Technology www.parentpay.com
Staircraft Group Manufacturing www.staircraftgroup.com
Evesham Weaving Machinery Manufacturing www.weavingmachinery.net
Henley-in-Arden REPL Group Professional Services www.replgroup.com
Hereford Hereford Contract Canning Manufacturing www.hccanning.com
TRP Sealing Systems Manufacturing www.trpsealing.com
Wye Valley Group Waste Management www.wyevalleygroup.co.uk
Kidderminster Brockway Carpets (Holdings) Retail www.brockway.co.uk
Drp Group Advertising & Marketing www.drpgroup.com
Leamington Spa Solid Solutions Management Design www.solidsolutions.co.uk
Ledbury Bevisol Food & Beverages www.bevisol.com
Haygrove Agriculture www.haygrove.com
Ross-on-Wye EC Drummond Food & Beverages www.ecdrummond.co.uk
Labels Shopping Retail www.labelsshopping.co.uk
Stratford-upon-Avon Pragnell Retail www.pragnell.co.uk
Tappex Thread Inserts Manufacturing www.tappex.co.uk
Warwick BPS Building & Plumbing Supplies Engineering & Construction www.bpsbuildit.co.uk
mcs Group Engineering & Construction www.mcs-ltd.com
Worcester Aspens Food & Beverages www.aspens-services.co.uk
Lioncourt Homes Real Estate www.lioncourthomes.com
COMPANIES TO INSPIRE
drp Group
BUSINESSINNOVATIONMAG.CO.UK 13
SOUTH EAST
Aldermaston DACO Scientific Engineering & Construction www.daco.co.uk
Abingdon Adaptimmune Therapeutics Healthcare www.adaptimmune.com
Gigaclear Telecommunications www.gigaclear.com
Reaction Engines Engineering & Construction www.reactionengines.co.uk
Aylesbury Phoenix Datacom Technology www.phoenixdatacom.com
Softbox Systems Packaging www.softboxsystems.com
Banbury Hawkins Group Engineering & Construction www.hawkins-group.co.uk
Bracknall Venture Life Group Manufacturing www.venture-life.com
Chipping Norton Wise Investments Financial Services www.wiseinvestment.co.uk
Farnham Common Kurt Orban Partners Manufacturing www.kopuk.co.uk
Henley-on-Thames Bremont Watch Company Retail www.bremont.com
Geos Group Oil & Gas www.geosgroup.com
High Wycombe Account Technologies Technology www.accounttechnologies.com
ADA Fastfix Engineering & Construction www.adafastfix.co.uk
Comland Real Estate www.comland.co.uk
Maidenhead Lane4 Professional Services www.lane4performance.com
N2O Advertising & Marketing www.n2o.co.uk
Newbury Rebound Group Industry Services www.reboundeu.com
Oxford Oxford BioMedica Healthcare www.oxfordbiomedica.co.uk
Oxford Economics Financial Services www.oxfordeconomics.com
Oxford Nanopore Healthcare www.nanoporetech.com
Oxford PharmaGenesis Healthcare www.pharmagenesis.com
YASA Automotive Services www.yasa.com
Reading Active-Pcb Solutions Manufacturing www.active-pcb.com
Austin Fraser Industry Services www.austinfraser.com
Sandbag Media www.sandbagheadquarters.com
Sol-Tec Technology www.sol-tec.com
Teneo Professional Services www.teneo.net
TP Group Engineering & Construction www.tpgroup.uk.com
Slough Mitchellson Engineering & Construction www.mitchellson.co.uk
Wallingford MMR Research Worldwide Advertising & Marketing www.mmr-research.com
Windsor Eton Bridge Partners Employment Services www.etonbridgepartners.com
Witney Ede Holdings Group Real Estate www.edehomes.co.uk
Meech International Manufacturing www.meech.com
BUSINESSINNOVATIONMAG.CO.UK 14 COMPANIES TO INSPIRE
origin-creative.com / studio@origin-creative.com Origin Creative, Unit 9 Cirencester Office Park , Tetbury Road, Cirencester, Gloucestershire, GL7 6JJ origin_creative_live /OriginCreativeLive COMMITTED TO CREATIVITY Proud to design
TEWKESBURY: THE NEW POWERHOUSE FOR GLOUCESTERSHIRE
Ian Mean examines the town's ambitions
It's difficult to believe but over the next 20 years Tewkesbury could be home to more than 12,000 new jobs.
How has the growth of this town –always something of a hidden gem in terms of the strength of its companies – become a reality? Answer: vision and planning developed by Tewkesbury Borough Council and Gloucestershire County Council acting in unison.
Gloucestershire is in dire need of employment land and Tewkesbury has that, as well as land for the new homes needed to attract young families.
The projections for new jobs and homes here are staggering, and I truly believe they will develop the Tewkesbury area into a new powerhouse for Gloucestershire.
My view is shared by Mike Dawson, Chief Executive of Tewkesbury Borough Council – a blunt Lancastrian who gets things done.
"Tewkesbury is growing and driving growth in the county," Mike told me.
"I believe that at the minute, Gloucestershire is on the verge of a lot of good things, and Tewkesbury is truly set to become the county's powerhouse."
So, what are the key drivers of this enormous growth plan?
First and foremost is the new Tewkesbury Garden Town, planned to be developed just two miles from the old town centre, near Ashchurch off the A46. Here 10,000 new homes could be built and it is set become the biggest strategic housing site in Gloucestershire.
According to ONS figures, in 2019 Tewkesbury Borough was officially the fastest growing local authority area outside London. And around 30 per cent of all Gloucestershire's housing growth to 2031 is in the borough. Pro rata, that's about twice as much as an equal share would be between the six district councils of the county.
And tied in with those new homes would be employment land – probably about 100 hectares – to provide the new jobs.
Financed by government and development partners' cash, the new garden town is a long-term project and will cost millions of pounds. To realise its ambitions, Tewkesbury Borough Council will need all the government help it can get because it only turns over about £19 million a year.
"The prep work for this is going to take some years," said Mike. "We plan to set out key planning principles and controls on the new roads and the infrastructure.
"These will not be any old houses –they will be well designed with high standards of carbon neutrality.
"We believe that 8,000 to 10,000 jobs could be created for the garden town. Our aim is to try and find about 100
BUSINESSINNOVATIONMAG.CO.UK 16
Quietly and unobtrusively, Tewkesbury is set to become Gloucestershire's business and homes powerhouse over the next 20 years
"According to ONS figures, in 2019 Tewkesbury Borough was officially the fastest growing local authority area outside London"
REGIONAL FOCUS
Plans are underway to develop a new garden town for Tewkesbury
GLOUCESTERSHIRE
hectares of employment land – that's a lot of employment land, which will be close to where families will live."
Major road infrastructure will be needed to serve the new garden town, and Gloucestershire County Council's Executive Director of Economy, Environment and Infrastructure Colin Chick, is battling to convince Highways England that a new junction 9 needs to be developed about two miles down the M5 from the current junction.
This new junction to service the new town and link up with the A46 could cost £350 million.
The aim is also to provide a new route across the Midlands for the A46, and by doing so take pressure off the Birmingham traffic box with roads like the M42.
While this infrastructure is long-term, Tewkesbury is getting a big boost to the local economy with the current development of the Designer Outlet Cotswolds just off junction 9 of the M5 and fronting the A46. Robert Hitchins, the Cheltenham property developer, says it will open in 2022.
The 180-acre site will feature up to 90 shops, restaurants and cafes, the largest Dobbies garden centre in South West England and 850 homes complete with a school, local centre and recreation facilities.
Currently 1.9 million people visit the borough every year and when the new outlet centre opens, it could well become a new Bicester for our region, and that number will rise.
Manufacturing drives Tewkesbury's growth ambitions
It surprised me to learn that more than 23 per cent of people in the Tewkesbury area are employed in manufacturing, with major aerospace companies such as Safran, GE Aviation and Dowty Propellers located in the borough.
The quality of the businesses here and the ambitions they have for growth are impressive. Moog and its current growth plans seem to me to epitomise that excellence. This is an amazing global company which currently employs 463 people in Tewkesbury.
The company operates from two sites close to Ashchurch station delivering high performance niche applications such as aircraft controls and precision control components and systems.
The company is also developing a new £40 million aerospace manufacturing and design facility. The 184,000 sq ft centre of excellence for Moog's Aircraft Controls Segment will be built on a 10-acre site, the former Trelleborg site
at Ashchurch, Tewkesbury. It is due to open in 2023.
Mike Dawson is spot on when he says he would like to see Tewkesbury become a centre of engineering excellence.
We have a great heritage of advanced manufacturing in the county and with new families expected to come as the housing stock grows, it will provide a real magnet to keep them in Gloucestershire.
And on top of that, it would be good to see the University of Gloucestershire develop an advanced manufacturing campus in Tewkesbury to encourage these skills.
I am not trying to say that Tewkesbury is like the Northern Powerhouse or our Western Gateway political partnership, I am simply saying these are exciting times for the growth of Tewkesbury and Gloucestershire.
And as Mike Dawson told me: "There are many people in Gloucestershire who would rather wrap it in aspic, but if you don't grow, you go backwards"
BUSINESSINNOVATIONMAG.CO.UK 17
Ian Mean is Gloucestershire director of Business West and a board member of GFirst LEP.
"The 180-acre site will feature up to 90 shops, restaurants and cafes, the largest Dobbies Centre in South West England and 850 homes complete with a school ..."
REGIONAL FOCUS GLOUCESTERSHIRE
CGI of Cotswold Designer Outlet planned for Ashchurch
Investment
Growth
PinPoint Media cut the nonsense to focus on content that works.
Vision
This February one of the largest content production companies in the South West launched it's new-look 'no nonsense. Just business sense' vision for online content creation.
Founded by entrepreneur Oliver Bruce in 2013 and no stranger to being disruptive, PinPoint Media has thrown out its old rhetoric for a new, more scalable version, PinPoint Media – No nonsense. Just business sense
With the new slogan comes a new logo, a bigger head office, and an enhanced recruitment strategy as well as aggressive expansion plans in not only the South West but London and Manchester also.
Whilst so many brands and businesses are holding off investing due to uncertainty, PinPoint Media are doing quite the opposite investing over £1million in 2021 into their vision and growth plans something Oliver likes to call "Observing the masses and doing the opposite".
Like most businesses, PinPoint Media's service offerings have developed over the years and are set to continue to do so throughout 2021 and beyond. This year will see them provide three exciting new services and offer their clients what the team like to call 'intelligent content'. This is part of the new 'Blue Ocean' strategy enabling the team to explore uncharted waters and innovative gaps in the market.
One of the biggest issues with any content that's created for brands is trackability and proof of ROI. Recognising this PinPoint Media have launched a Content Strategy arm to the business. Designed to enable trackable and
measurable KPI's for clients when publishing content, the methods used showcase a clear spend vs return ultimately dictating the success of a campaign. As well as having launched their Content Strategy arm they've also been approved by Hubspot as an Agency Partner. Since the end of 2020, the PinPoint Media team have been using Hubspot internally and have seen first-hand the power that it can offer clients.
Achieving Hubspot Partner status approves them to provide onboarding and further integrated strategic support through helping their clients to implement an inbound strategy whilst making the most of the complex sales and marketing tools Hubspot has to offer.
With a new department comes fresh blood…
In January Tim Jarvis joined PinPoint Media as the Head of Content Strategy, overseeing and building out a team who will ensure client productions and campaigns are distributed and strategically put in front of the exact audience! Tim has already been involved in content strategy overviews, implementation and rollout for a range of clients and boasts a back catalogue of
experience having worked for the likes of Shell and St Johns Ambulance on campaign optimisation.
A logical and somewhat expected move following the successful undertaking of several national and international live streams during the pandemic. PinPoint Media will also be launching a Live and Hybrid-Event offerings.
With live video set to account for 13% of traffic by 2021 (Cisco), PinPoint Media are primed to offer their clients a range of Live content choices so they can deliver the content their customers, delegates and employees desire.
One of the more up and coming mediums PinPoint Media are set to offer clients is that of Podcast production and distribution. Within their new offices the team have designed and fitted out a bespoke, soundproof podcast studio called Studio43 with space for 4 guests and a producer as well as the ability to record remotely, enabling for global guests to join the fun!
The desire to rollout Podcasting to their clients comes after the enormous success of their own brand podcast 'Success Is In The Mind' which saw itself rank in the top 50 podcasts on Apple for entrepreneurship. The topic of the podcast is entrepreneurialism and realism in a world full of idealism. With the number of podcasts having doubled in recent years, growing from 500,000 to more than 1 million this is definitely a growing market.
Managing Director Oliver Bruce says the reason behind the complete overhaul and the primary focus on 'intelligent content' is "due to the seismic shift in the consumption of media and content as a whole the pandemic threw up last
Vision.
.
.
PinPoint Media's new o ce
year. The way people react and accept content has changed forever. It won't be long before those that just make 'pretty' will be left behind. If it isn't measurable and doesn't deliver, forget it, we call this Intelligent Content."
Investment
With any plan to scale significant investment is required and it's no exception here. During 2021 PinPoint Media have plans to grow staffing to between 40-50 heads whilst doubling their turnover and building out a larger, more permanent presence in London. Assisting with the London expansion is another recent hire, Business Development Director Amy Green who will be based in London. Amy said
"Pinpoint Media are at a pivotal point of exciting growth within the industry. I am extremely honoured to be part of this journey. Putting strategy and meaningful content at the core of everything we create for our clients, our no nonsense approach will certify a return on investment for our clients and take them on a valuable journey proving what intelligent content can do for their business or brand!"
Not only is expanding in London underway but the team have also upped sticks from their Royal Crescent Head Office and moved to prime town centre real-estate, 43-45 Promenade.
The new office is not only three times the size of their previous but also boasts fantastic views of Cheltenham's iconic Promenade, a highly entertaining ping pong table, Podcast studio, edit suites and bar aptly named the "Gold Cup Bar" in homage to the festival.
The move to an open plan layout sees PinPoint Media go from regency to agency, allowing for a collaborative approach between staff and clients. "With challenge comes change and the last 12 months have been no exception" says Oliver Bruce. PinPoint Media have
decided to implement flexi working to allow it's team the optimum work life balance, something both Directors, Oliver and Fergus, learnt was key during the lockdown.
With an already vastly experienced pool of talent, PinPoint Media are currently recruiting for even more talented future team members; from Producers and Account Managers to Creative Directors and Designers. These roles will all be filled over the next 6-12 months.
"Service, quality and deliverability is key to everything PinPoint Media stands for and ensuring there's a wealth of experience at our clients fingertips should go without saying. As we scale we need to ensure our management structure is robust to ensure employee satisfaction and engagement at all times" Says Oliver.
Not only are hires on the horizon but
apprenticeships are too! PinPoint Media have successfully been accepted into the Government's Kickstart scheme and have already started onboarding 6 Kickstart Apprentices ranging from Assistant Producers and Vloggers to Marketing Assistants and Podcast Researchers. With a view of keeping on post apprenticeship those that show flare and are willing.
Growth
With online video consumption increasing yearly, smartinsights.com predicts the average person will view 100 minutes of online video content per day in 2021 - up 19% from 2019, so the team at PinPoint Media are aware that the world of online digestible content is not slowing yet.
With so many exciting changes coming up, we'll be keeping a close eye on PinPoint Media this year and so should you.
To find out more about PinPoint Media visit www.pinpoint-media.co.uk PROMOTIONAL BUSINESS FEATURE
Directors Oliver Bruce (L) and Fergus Bruce (R) outside new o ce on Cheltenham Promenade
FOR SALE: THE FASTEST CAR IN THE WORLD
TWO CAREFUL OWNERS
The Gloucestershire-based Bloodhound Land Speed Record project is looking for a new owner to take the team through to setting a new World Land Speed Record in 2022
For the second time in its short history, Bloodhound LSR (land speed record), is looking for a new investor after current owner Ian Warhurst rescued the project from administration in 2018.
Having pumped in much-needed investment, in 2019 the Bloodhound team began high speed testing in South Africa. The car smashed the test programme target of 500mph, hitting a peak speed of 628mph, validating the computer modelling used in designing the car and proving that Bloodhound has real record-breaking capability.
Ian, a Yorkshire-based entrepreneur, mechanical engineer and long-term Bloodhound enthusiast, said: "When I committed to take the car high speed testing in 2019, I allocated enough funding to achieve this goal on the
basis that alternative funding would then allow us to continue to the record attempts. Along with many other things, the global pandemic wrecked this opportunity in 2020 which has left the project unfunded and delayed by a further 12 months."
Ian added: "It has been a privilege to lead this team of world-class engineers over the past two years. I was spellbound –along with a huge audience around the world – as we tested the car up to 600+ mph in South Africa."
The team now needs to install the Nammo monopropellant rocket, giving the car a top speed of more than 800mph. The car can then run on its specially prepared 12-mile long dry lake-bed race track at Hakskeen Pan, Northern Cape, South Africa.
The Bloodhound Project was launched in 2008 by former world land speed record holder Richard Noble, who had set a new record of 633mph (1,019km/h) in 1983. That record was surpassed in 1997 by a team led by Noble, with Thrust SSC driven by Andy Green which reached 763mph (1,227km/h).
Over the following 10 years, the engineering project developed, culminating in the public 210mph runs in 2017. But it's an expensive process, and the project was placed into administration in 2018. It was bought by Ian Warhurst the following year.
GLOUCESTER CITY COUNCIL APPROVES £107 MILLION KINGS' QUARTER BUDGET
Gloucester City Council is to push ahead with its ambitious £107 million plan for King's Quarter in the city.
The plan will see Reef Group develop the Forum into a social and digital campus which the city council hopes will act as a catalyst for the emerging digital and cyber security sector.
The Forum proposals include more than 125,000 sq ft of versatile o ce space with a shared workspace club and an innovation hub designed for growing cyber businesses and incubator companies. This will sit alongside a 131-bedroom four-star hotel, gym, restaurants, shops, bars and apartments.
The 600,000 sq ft masterplan, includes a multi-storey car park, alongside more than one acre of public realm and landscaping work. The wider regeneration of King's Quarter started at last year when contractors EG Carter began work on Kings Square. Work is planned to start on the first phase this spring.
BUSINESSINNOVATIONMAG.CO.UK 20 REGIONAL FOCUS GLOUCESTERSHIRE
The Bloodhound
SUCCESSFUL COOKWARE RETAILER LOOKS TO EXTERNAL INVESTMENT FOR GROWTH
Not all retail is struggling. The founder of ProCook, the successful Gloucesterheadquartered online and high street store cookware business, is on the hunt for suitable investors to support future growth plans. The move follows a 40 per cent uplift on sales for the 12 weeks to January 3, compared to the same period last year
ProCook is eyeing up opportunities for expansion in the UK and Europe, and founder and owner Daniel O'Neill has now gone public in his hunt for investment partners.
He's got a great retail success story to tell. With an expected annual turnover of more than £50 million, profits are set to top £10 million this financial year.
Despite most of its near-50 stores being closed for the November and December lockdowns, total company sales reached £21 million in the run-up to and including Christmas. Sales were driven by increased consumer demand for kitchenware together with significant growth in the retailer's newly-expanded tableware category.
We asked Daniel O'Neill, a former software developer who moved into retail with his family in 1995 with the launch of ProCook, why he's looking for external investment.
"We have set some ambitious goals for growth that will require investment to
achieve them. In the past year we've recruited many specialists into our head office function to take us to the next stage, but we need to maintain momentum as we transition. As we grow it's vital that we have the right infrastructure and technologies to cope with demand, and further investment will enable us to remain robust."
"At ProCook we want to give people the best tools to deliver great cooking results in their own home. We're experts in cookware and kitchenware and now we want to show our customers how to turn great ingredients into delicious meals, so launching a cookery school is the natural next step.
"The idea is in its infancy, but we expect to have the school up and running by the end of the year (Covid-19 permitting). It will probably be launched with another larger format store so watch this space."
Optimism and ambition are two qualities Daniel has in abundance. In 2019, as
many retail brands were falling by the wayside, ProCook bought kitchen retailer Steamer Trading out of administration. "We saw a great opportunity to grow our ranges, especially tableware, and to learn from an existing business. We also saw it as a route to market on the high street and it's been a great success in this area."
Daniel sees huge potential for ProCook. "We're a decent size but there is a large portion of the market that is up for grabs and as a brand on the up we're in a strong position to take some of that trade.
"As a multi-channel retailer we're in an agile position which is not the case for some of our competitors and this is very important as we can react quickly to outside challenges. Over the past year this has been a huge benefit and it bears out in the numbers as we've grown our UK market share in all four of our core categories (cookware, kitchen knives, tableware and kitchen accessories)."
BUSINESSINNOVATIONMAG.CO.UK
Success is direct-to-consumer says Daniel "As a multi-channel retailer we're in an agile position which is not the case for some of our competitors and this is very important as we can react quickly to outside challenges."
21 REGIONAL FOCUS GLOUCESTERSHIRE
ProCook Founder Daniel O'Neill
SUCCESS SPARKS FOR LINDSEY AFTER JOINING CLARKSON EVANS
By Ian Mean
You don't have to have early career ambitions to succeed in business
For someone who wasn't particularly ambitious when she was younger, Lindsey Young is enjoying a remarkably successful career.
Despite that lack of early ambition, Lindsey, 42, is now Chief Operating Officer at Clarkson Evans, the UK's largest electrical contractor serving the new build housing industry.
Based at Staverton, the company employs around 850 staff across the country, and in a typical year it wires more than 24,000 new homes achieving an annual turnover of around £60 million.
Lindsey went to Birmingham University to study for a degree in commerce. Her parents were proud of her, but she is modest: "That's not what my family did."
Boyfriend Mike (now her husband), got a job in Cheltenham and she moved with him and found a job at Clarkson Evans.
"I was 23 when I joined, and I didn't think about what I was going to do with my career. I was more interested in getting married, having kids — the traditional family role."
She is disarmingly honest about her family background in Birmingham.
"Mum worked as a barmaid and in care. I even remember accompanying her on a paper round which she did as a bit of a part-time job to keep the money coming in.
"I didn't really know what I wanted to do with my life, but I didn't want to struggle for money like my parents."
Was there a Damascus moment in your working journey to start becoming ambitious?
"I don't think there was a moment that told me suddenly, 'I feel ambitious'.
"But when I joined Clarkson Evans on September 24, 2001, I felt early on I was being appreciated for what I was doing.
"The company employed many people who knew a lot about construction and electrical installation but fewer who could write a decent letter and use communications .
"It wasn't long before Steve Evans (now chairman) himself would start running emails past me and say: 'What do you think of this before I send it out?'"
BUSINESSINNOVATIONMAG.CO.UK 24
Former regional newspaper editor, now Gloucestershire director of Business West and board director of Gloucestershire's Local Enterprise Partnership
AMBITIOUS LEADERS
Did you ever think you would have such a senior role?
"Not really", she says. "It's only been in recent times that I think I am actually important.
"I think that people get respect because they have earned it. It's nothing to do with the title. You have to behave in a way that encourages people to respect and follow you.
"That's my management style. It is not to demand somebody does something – that is not me at all. I win people over, hopefully, and get people to decide they want to do the right thing."
What is your leadership philosophy?
"I think it is really important to be authentic but being a leader to me is also partly about being a good actor.
"You have got to play the part – from the moment you are choosing what to wear in the morning, you are thinking about the image you are trying to project.
"I always think you should dress for the role above the one you have."
Do you consciously pick out people who could be future leaders?
"You can't help doing that. To me, one of the most satisfying things is to talent spot someone and support their progression. You can see where you once were and this is a really nice feeling."
What do you believe you add to the balance of the board?
"Maybe I am a bit of a mother hen with some of them.
"I encourage empathy so where they might see things from a certain point of view, I always come from the standpoint of the person on the receiving end."
Do you consider yourself an ambitious leader?
"My CV just says Clarkson Evans on it and I just want to continue to take the business wherever it can go.
"I would like to get to the point where I would retire here, although I don't know whether I will, to look back over the business and think it did well because I was a big part of it."
Lindsey is a determined lady. She says she saw the company needed a chief operating officer and she was not just the HR and training director.
So, she suggested it to chairman, Steve Evans and he readily agreed.
Steve said: "Lindsey is a great example of someone who has made the very most of the career opportunities we have to offer.
"She joined us from university as an admin assistant, and within 10 years had worked her way up to board level. As the company's chief operating officer, Lindsey is very much the glue that holds the company together.
"She's professional, confident, full of ideas, a great communicator and the person other directors turn to when in need of some sensible, levelheaded advice."
BUSINESSINNOVATIONMAG.CO.UK 25
AMBITIOUS LEADERS
"From a young age I didn't really know what I wanted to do with my life, but I didn't want to struggle for money like my parents"
OXFORDSHIRE: A YEAR IN THE GLOBAL SPOTLIGHT
On December 30, The Oxford AstraZeneca vaccine was given the go-ahead for use against Covid-19. For months we'd been waiting for one vaccine, then two come along within weeks of each other – the Pfizer/ BioNTech had already been approved at the beginning of the month.
That the Oxford AstraZeneca vaccine doesn't have to be stored at a temperature of -70C, like the Pfizer vaccine, makes its deployment much easier (In January it was reported that more than a thousand doses of Pfizer's vaccine had to be destroyed after an employee at a health centre in Florida accidentally turned off the fridge in which they were being stored).
The Oxford vaccine, developed by a team led by University of Oxford Professor of Vaccinology, Dr Sarah Gilbert, can be stored for six months at temperatures between 2C and 8C, not only making it easier to transport around the UK, but also to people living in harder to reach areas of the world.
Since then, still more vaccines have been approved. The achievement of all those involved, not just in Oxford but around the world in bringing the vaccine development time down from between 10-15 years to less than a year cannot be overestimated.
Throughout the pandemic, Oxfordshire has been central to the UK's response, with many senior scientists playing key roles. Professor Sir John Bell, Regius Professor of Medicine at
Oxford University, is one. Undoubtedly one of the most well-connected scientists in the world, Sir John has been one of the UK government's two Life Sciences Champions since 2011, regularly appearing in the media discussing the pandemic and the vaccines without hyperbole, something that perhaps others airing their views in the media could learn from.
He founded the Wellcome Trust Centre for Human Genetics, chairs the Global Health Scientific Advisory Board of the
Bill & Melinda Gates Foundation and has founded biotech start-ups. He also advised the UK's Vaccine Taskforce.
He authored the UK's first Life Sciences Industrial Strategy in 2017, updating it last year and writing in the foreword: "One significant advantage of this Life Sciences Industrial Strategy is that it creates not only opportunities for economic growth, but also underpins a more efficient and effective health system. Together, it is hard to see where government can better spend its resources and energy."
BUSINESSINNOVATIONMAG.CO.UK
From the ventilator challenge to the Oxford AstraZeneca vaccine, the strength of Oxfordshire's world-beating science and technology in tackling Covid-19 has been revealed
... it is hard to see where government can better spend its resources and energy."
REGIONAL FOCUS OXFORDSHIRE 26
The Oxford AstraZeneca vaccine was approved by the MHRA in December
Vaccine Manufacturing Innovation Centre to open ahead of schedule
The government heeded his advice. Soon after the publication of the first strategy, it announced the UK's first dedicated Vaccines Manufacturing Innovation Centre (VMIC), which is now being built at Harwell Campus.
Backed by a total of £158 million from the government, VMIC will provide facilities and expertise to accelerate vaccine research in the UK and establish the UK's first vaccines advanced manufacturing capabilities.
Project VMIC was first announced in 2018, more than a year before Covid-19 became rampant. Little did the government know how important that decision to invest would quickly come to be.
Last year, it awarded VMIC further funding to expand its vaccines production capabilities nearly 20-fold, and to fast-track the development schedule so the facility could open a year earlier. Because of Covid-19 and the threat of future pandemics, VMIC aims to open this year and needs to be fully operational in 2022, able to manufacture 70 million doses of a pandemic vaccine within a four to six month time frame.
VMIC CEO Dr Matthew Duchars, said: "Whilst few could have predicted the Covid-19 outbreak, we set out to do all we could to fast-track the build so VMIC could offer long-term pandemic support to the UK."
Oxford BioMedica plays leading role in vaccine manufacture
In the meantime, another Oxford company, Oxford BioMedica, is one of two UK companies manufacturing the Oxford AstraZeneca vaccine (the other is is in Staffordshire).
Its Oxbox facility was only completed at the end of 2019 with the Group expecting to have just one or potentially two of
the manufacturing suites approved during 2020. But by that April it had joined the Oxford Vaccine Consortium and signed the first of two agreements with AstraZeneca for Covid-19 vaccine production. By October 2020, the Group had four manufacturing suites approved by the MHRA, three were contracted by AstraZeneca and are currently producing bulk vaccine at scale.
In January, as Oxford BioMedica was in full production at its new 84,000 sq ft facility, the company welcomed Boris Johnson, who paid tribute to the company's 250-strong team.
He said: "You should be hugely proud of the role you've played in protecting the vulnerable, whilst creating a domestic manufacturing capability in months that would usually take years."
John Dawson, Chief Executive Officer of Oxford BioMedica, added: "Oxford BioMedica is a global leader in lentiviral vectors and we as a Group were delighted to be able to rapidly deploy this world-class facility as part of the consortia to help during this global crisis."
How an Abingdon company led the ventilator challenge
From vaccine manufacture to ventilators, a year ago the government issued a national challenge to UK manufacturing –it needed more ventilators for the NHS to treat Covid-19 patients.
The UK had access to around 5,000 ventilators, but the NHS said it needed thousands more in readiness to treat Covid-19 patients.
Within days The Ventilator Challenge UK consortium had been set up, made up of technology and engineering businesses from across the country's aerospace, automotive and medical sectors. More than 1,000 offers of help came forward.
One company already had considerable expertise in the design and manufacture of anaesthesia ventilators, intubation and oxygen therapy equipment. More
importantly Abingdon-based Penlon, which already made anaesthesia machines, had a system already approved by the MHRA.
Craig Thompson, Penlon's Head of Products and Marketing, said: "We concentrated on developing a prototype to meet the government's ventilator specification. The solution needed to be based on existing regulatory approved products to meet the short timescales and MHRA regulatory requirements. The first prototype for testing was completed on March 23, and MHRA approval was given on April 15."
In the medical world, it doesn't come faster than that.
Penlon didn't have the manufacturing capability to meet the increased production targets, so Ford manufactured the ventilators, Airbus the breathing module and gas delivery, McLaren the trolleys and electronics manufacturer STI undertook the final assembly.
Many other companies also provided parts and expertise. Penlon, assisted by GKN, undertook the final test and product release. At one stage the company had around 450 people testing ventilators on the shop floor, having seconded staff from elsewhere.
"With ventilator and other critical shortages, the world went from globalisation to localisation in the blink of an eye," said Craig. "Now the UK has the evidence to back an industrial strategy to make more critical products in this country."
Many, many other Oxfordshire businesses are continuing to play key roles in fighting the pandemic, from DNA sequencing pioneer Oxford Nanopore which is helping in the testing and tracking of the virus, to Oxsed, which only launched last summer as a social enterprise to develop a rapid Covid-19 test. The test is being used at Heathrow. Oxsed has already been bought by DNAFit Life Sciences Ltd, part of Hong Kong-based Prenetics Ltd.
REGIONAL FOCUS OXFORDSHIRE BUSINESSINNOVATIONMAG.CO.UK 27
BICESTER SURFACE COATING MANUFACTURER SECURES ALMOST £1 MILLION IN NEW FINANCING
Advanced surface coating technology company Hardide Coatings, which recently moved into a new 20,000 sq ft site in Bicester, has successfully raised £790,000 through share placing.
Combined with securing £250,000 under the Coronavirus Business Interruption Loan Scheme (CBILS), the company has raised net new financing of approximately £1 million.
Robert Goddard, Chairman of Hardide which won a Queen's Award for
Rockley Photonics secures additional $65 million to speed growth
Rockley Photonics, which manufactures photonics chips and custom integrated packaged products, has closed an additional $65 million round of growth capital. The company's latest cash injection comes from both new private funds as well as Morningside Ventures, an existing investor. To date, Rockley has raised more than $290 million of financing to develop its silicon photonics platform.
Andrew Rickman, Chief Executive Officer at Rockley, said: "There is tremendous need for technologies that can enable effective digital health and wellness, driven by the associated benefit provided to population health."
Mick Sawka, Investment Manager at Morningside Group, added: "We believe that silicon photonics is at a tipping point, and the technical attributes of Rockley's platform, coupled with the strong product roadmap and established high-volume production ecosystem, positions the company for growth. We have confidence in the expertise and track record of the Rockley team to deliver exceptional results."
International Trade last year, said: "We are delighted to receive additional support from investors as the Group takes the prudent measure to increase its cash reserves.
"As the global economy recovers, the Group retains its positive outlook and expectation that demand will return and continue on the upward trajectory that was established before the e ects of the pandemic. It is a mark of our confidence that the Board have contributed to the fundraise."
OXFORDSHIRE COMPANIES DO BUSINESS DOWN UNDER AS THEY LOOK TO GROW
Scientific Magnetics, based in Abingdon, is merging with Australian medtech business Magnetica to create a new MRI (magnetic resonance imaging) original equipment manufacturer.
Scientific Magnetics designs and manufactures superconducting magnet systems. The deal is expected to see Avingtrans PLC, which owns a majority stake in Scientific Magnetics, acquire the majority shareholding in the new business, which will continue to be known as Magnetica.
The deal will create a combined business with assets of approximately £5.3 million, and will see Avingtrans invest up to £3.2 million in the newly-formed business to fund MRI product development and commercialisation of existing prototype products developed by the individual entities to date.
Steve McQuillan, CEO of Avingtrans, said: "We believe this merger
offers real potential to accelerate our move up the value chain in a highly-specialised and integrated international medical-imaging market."
And in another deal Down Under, Oxford-based Speik – a leading UK-based provider of call recording and PCI (payment card industry) compliance has been acquired for £21.5 million by Australia-based cloud call recording and voice company AI Dubber Corporation.

Speik will continue independently within the Dubber group, serving customers with its current product portfolio as supplemented by Dubber solutions.
Matthew Bryars, Founder and Vice-Chairman at Speik, said:
"Dubber is the clear category leader in unified call recording and we are excited to accelerate our growth, deliver richer solutions to service providers and unlock the power of voice data for government and enterprises."
BUSINESSINNOVATIONMAG.CO.UK 29
REGIONAL FOCUS OXFORDSHIRE
Hardide Coating's new facility in Bicester
Rising to the challenge…
In the past 12 months we have all faced challenges, things that have forced us to adapt, to think differently, to take a new approach. For multidiscipline property and construction consultancy Ridge and Partners LLP (Ridge), who this year celebrate their 75th year, their ability to do just that has been put to the test, as clients have called on them to rise to the challenge, to find solutions to difficult problems in fast-moving situations and unknown territory - addressing need caused by the impact of Covid-19.
"We have had to accelerate the pace of our work and achieve things in weeks that would usually have been expected to take years," says Tim Leigh, who leads the Project Management team in the Ridge Oxford office. Tim and his team have been working with the University of Oxford to create a new respiratory medicine and clinical research facility. Ridge is providing project and cost management and design services and, with the onset of the pandemic, have been asked to deliver a muchaccelerated programme, to enable crucial research to get underway more quickly.
Ridge was called on to transform the Exhibition and Conference Centre at the University of the West of England into the Bristol NHS Nightingale Hospital. Ridge provided mechanical and electrical design and onsite assistance for the renovation, which included the construction of 300 intensive care bays.
The project was completed within just four weeks. "As a project team, we were all working toward achieving a common goal," explains Stephen Meigh who leads the Building Services team in the Ridge Bristol office. "We felt that it was our duty to do everything we could to make it happen."
In London, Ridge has been working with UCL Hospitals NHS Foundation Trust and Barking, Havering and Redbridge University Hospitals NHS Trust to optimise
their buildings to manage the impact of the pandemic including ensuring social distancing protocols can be adhered to, introducing Covid-secure units, installing vaccine storage facilities for vaccine trial, as well as managing the addition of modular buildings to provide additional capacity for intensive care units. The team also provided project management, cost management, building surveying and principal designer services to assist the Vaccination Programme in the London North East & Central Region. This included visiting over 20 proposed locations for feasibility assessment for patient flows and security, design, tender and construction. Each site was completed within just 3 weeks from inception to completion.
Ridge has also supported the vital work undertaken within the pharma sector in vaccine research, including with Oxford BioMedica who have partnered with AstraZeneca in the production of the Covid vaccine. Ridge has provided project and cost management and mechanical and electrical engineering services for the new viral research and manufacturing facility that now produces the Oxford Covid vaccine.
More recently, the impact of Covid restrictions has also tested the capability of the Ridge teams. Working for a large client with sites across the UK, Ridge has been tasked with assessing all sites for compliance in relation to air ventilation, to ensure the safety and security of their staff.
"Many of our clients are having to adapt in the light of the impact of Covid. We are being asked to support clients to future proof their workspaces, to meet new guidance, but most importantly to protect the health and wellbeing of employees," says Alex Hall, building services lead in the Ridge Birmingham office.
Adrian O'Hickey, Senior Partner at Ridge, concludes: "The support that our clients have called on us to provide during this time has been broad - not only in delivering the quality services within the specific disciplines for which we are well known, but in the way we have been asked to adapt, to think di erently, to go above and beyond in the face of very challenging situations and unknown risk.
I am very proud of every member of the team for the part they have played in rising to the challenge."
www.ridge.co.uk
PROMOTIONAL BUSINESS FEATURE
As a project team, we were all working toward achieving a common goal,"
Bristol NHS Nightingale Hospital
GOOD GROWTH FOR CITIES REPORT HIGHLIGHTS OXFORD'S ECONOMIC RESILIENCE
The latest Good Growth for Cities report, published by PwC, has revealed Oxford's economic resilience despite the pressures of the COVID-19 pandemic.
The report, which looks into the economic impact of coronavirus on local and regional economies across the UK, highlighted how several cities – including Oxford – have benefited from a sectoral mix with its performance on broader economic and social indicators helping to provide resilience.
Good Growth for Cities measures the performance of the UK's largest cities against 10 indicators that the public think are most important when it comes to economic wellbeing. The Index was developed by PwC and the think tank
Demos in the aftermath of the financial crisis in response to the sense that we need to look beyond GDP headlines to measure economic success.
In the report's index of cities, Oxford increased its lead in first place. The report stated that "Oxford performs particularly strongly in jobs, income, health and skills of the adult population, scoring within the top five cities for each of these variables".
One further piece of analysis showed scores for the 38 Local Enterprise Partnership areas in England, with Oxfordshire coming in second place, only being tipped to the top by Buckinghamshire Thames Valley Local Enterprise Partnership.
OXFORD BROOKES UNI LAUNCHES DIGILAB TO HELP BUSINESSES CLOSE GAP
A new research centre involving three academics from Oxford Brookes Business School will help large organisations adapt to the rapid pace of digital transformation in society.
The DIGIT (Digital Innovation for Growth, Impact and Transformation (DIGIT) Lab has been announced as one of six new national Next Stage Digital Economy Centres by the Engineering and Physical Sciences Research Council (EPRSC).
Almost £12 million is being invested in centres over five years, including more than £5 million from industry partners and a £3.6 million investment from EPRSC.
Led by the University of Exeter Business School, the DIGIT Lab will work with large established organisations to reimagine them for the digital age.
£760 MILLION FOR DELIVERY OF OXFORD-CAMBRIDGE ARC RAIL ROUTE
The government has announced £760 million funding for the delivery of the next phase of East West Rail, which will create 1,500 skilled jobs, and reinstate direct rail services between Bicester and Bletchley for the first time since 1968.
Barry Wood, Chair of the Oxford-Cambridge Arc Leadership Group and Leader of Cherwell District Council, said: "This investment announcement
demonstrates the government's commitment to improved East-West links to enhance the connectivity of our towns and cities across the Arc.
"Progress with this Bicester to Bletchley section is a further step towards completing East West Rail, identified as key piece of infrastructure that will help unlock greater economic opportunity for our fast-growing region. It will bring significant benefits to local
communities, giving increased choice for people wanting to travel more quickly and sustainably to local jobs, education and for leisure."
This phase of the project will include the construction of a new station at Winslow and as well as enhancements to existing stations along the route, including Bletchley. By 2025, two trains per hour will run between Oxford and Milton Keynes via Bletchley.
BUSINESSINNOVATIONMAG.CO.UK 31
Oxford is
says report
economically resilient,
REGIONAL FOCUS OXFORDSHIRE
OXWASH CREATES A CLEAN SHEET FOR INNOVATION
Why would a former bio scientist who worked for NASA set up a laundry business? Washing other people's bedsheets, towels and smalls isn't the most alluring occupation.
That's why it's ripe for innovation, according to Kyle Grant who set up Oxford-based Oxwash in 2018.
We've heard of FinTech and PropTech; is it time for LaunTech?
"One of my mentors said he made his biggest impact in the pensions industry," said Kyle. "You might not tell someone you were dating you worked in pensions, but in sectors such as these, which may not have undergone innovation for years, you can make a massive impression."
Kyle set up Oxwash while completing a PhD at Oxford University. He regularly had to deal with broken washing machines in his college laundry, and having an entrepreneurial frame of mind, he decided that solving his shortterm problem could present a bigger business opportunity.
Others agree. Last year Oxwash secured £1.75 million from a variety of investors.
Are homeowners ready to outsource their dirty washing?
The laundry sector is antiquated, according to Kyle. While the equipment had seen some innovation, there has been no paradigm shift in the model, either in laundry practices or consumer habit. "At the moment everyone has a washing machine at home. We want people to outsource their laundry. No-one has a rubbish dump in their back garden but sending it to a waste reclamation centre makes sense."
Kyle launched the business with just the software, a bike and backpack, collecting dirty washing from fellow students and arranging its laundry. Oxwash uses bikes in the same way as Deliveroo: it's quick, efficient and the cyclists can do lots of loops around the same area during the day.
The business has expanded to Cambridge and London. Everything is collected and returned by electric bike and washed sustainably in one of the company's "lagoons" (they're not called laundries).
The company initially outsourced the washing to external laundries. But partnering with other laundries was a nightmare. "Every laundry washes differently: different washing systems, smells, folds – so we decided to own the whole thing from collection to washing and redelivery," said Kyle.
Oxwash built its first lagoon in Osney Mead, central Oxford. The technology concentrated on reclaiming water from the wash cycle and filtering microfibres.
To get something clean you need water, chemistry, heat and movement. All these overheads incur cost, so Oxwash came at the process from a different direction.
BUSINESSINNOVATIONMAG.CO.UK 32
Every week more than 53 million textile items, from sheets to workwear, are processed by companies using long-established laundry practices. Can it be done better?
AMBITIOUS LEADERS
Kyle Grant
Kyle explained: "We looked at technologies which allow us to wash cold and still get an award-winning result. We use ozone to achieve that –deodorising and disinfecting the laundry at the same time, and we are trialling other processes such as new types of enzyme chemistry and formulations which don't have all the nasties in like phosphates, bleaches and optical brighteners – all those additives which typically Tippex over problems but don't actually take out the stains and smells."
Sustainability is great, but reliability wins customers
While customers say they put a lot of emphasis on sustainability, the real reason they use Oxwash is that the company is good at the basics: quality, reliability and service.
"There's no point being the best in the world at sustainability and the chemistry you use if the finished product and service isn't good," said Kyle "So we put a lot of emphasis on doing it right every time, with the sustainability in the background."
The first Covid-19 lockdown last March hit Oxwash hard when hospitality and catering outlets shut down.
But Kyle quickly realised the business could just as efficiently serve healthcare, care homes and science labs.
Pandemic pivot opens up new opportunities
"We secured accreditation for these sectors, which needed a lot of lab testing. That was super cool and took me back to my days of being a life scientist.
"We now have a decent customer base in healthcare and scientific. We did the laundry for labs and companies involved with the Oxford/AstraZeneca vaccine trial. We also do some GP surgeries."
There are some drawbacks to using bicycles (and Oxwash does just use bicycles, it doesn't own a van). You can't send a cyclist up the busy A34 to Milton
Park near Abingdon delivering laundry to science labs.
Retro-fitting an old industrial unit isn't the solution either – it's too expensive, so the team is looking at designing lagoons in shipping containers. The inspiration for these was the "dark kitchens" pioneered by Deliveroo – pop-ups parked in car parks where chefs prepare food for delivery.
"A pop-up lagoon could be located in a hospital car park, or anywhere to serve a local community," said Kyle.
Cleaning up in the vintage fashion sector
And there's another big opportunity emerging for Oxwash in supporting the growing trend of fashion rental, vintage upcycling and charity donations.
According to Ebay, sales of secondhand fashion soared during lockdown. Between January and September
last year, 12 million people in the UK purchased a "pre-loved" item. Think Depop, Thrift+, Refashion and Farfetch. Don't dump your second-hand clothes at a charity shop, make money out of them – but they have to be clean.
And with the market for secondhand clothing growing, so are the expectations of the consumer. "We want to take these clothes, upcycle them and make them look as good as new," said Kyle.
Longer term, he sees Oxwash expanding out from laundry.
"We are washing clothes now but sooner than we might think, everything we buy – from food containers to cosmetic make-up containers won't go to landfill, some of it will be recycled, more will be washed and reused.
"You don't sleep in your sheets and then throw them away, so why do we do it with coffee cups? I see us moving into fast moving consumer goods."
BUSINESSINNOVATIONMAG.CO.UK 33
AMBITIOUS LEADERS
"...we put a lot of emphasis on doing it right every time, with the sustainability in the background."
READING ECONOMY BETTER PLACED THAN MANY TO RECOVER FROM COVID MAJOR FILM STUDIO BOOST TO THAMES VALLEY SCIENCE PARK
Good Growth for Cities 2020, published by accountants PwC and think tank Demos in January, ranks Reading second only to Oxford among the UK cities economically able to withstand the major pandemic economic shock.
The report reveals that Reading, along with the economies of other cities that performed well in the two years before Covid (2017-19), has been relatively less impacted by the pandemic. The mix of sectors and its performance on broader economic and social indicators has to some extent provided some resilience says the report.
While Reading ranked tenth for the economy least impacted by Covid in the UK, its overall ranking of second in the Index demonstrates its success in recent years in creating jobs, high incomes, good quality of life, high workforce skills and strong levels of business creation.
Nigel Horton-Baker, Executive Director, Reading UK, said: "In Reading, as everywhere, Covid is taking its toll on people's lives and the resulting economic restrictions affects the ability of businesses to operate normally. However, there are good reasons for optimism about the future. The Good Growth report identifies the strength and diversity of the Reading economy which has allowed it to bounce back from previous crises quickly and which will help it get back on track again quickly post-Covid."
Reading's success is based on a broad range of factors, he added.
"The Powered by People Reading Economic Recovery Strategy, launched by Reading UK before Christmas, places skills, sustainability, inclusivity and placemaking among the key actions needed to support our recovery. It is heartening to see that the Good Growth report concurs with that wider assessment of success."
The Index also reports that capital investment remains plentiful but paused, unlike in the last global financial crisis.
Nigel added: "Reading has seen new investment and businesses moving in during the pandemic; a huge vote of confidence for the quality of our economy and skills of our workforce."
Reading could be welcoming Hollywood stars to the town following the news that a US-based film studio investor is to develop a major film studio and creative media campus at the Thames Valley Science Park.
Late last year the University of Reading, which owns the science park, revealed that it had agreed a deal with affiliates of Commonwealth Real Estate LP, a film studios investor based in Los Angeles, for a long lease of land at the park.
It represents one of the most significant investments into the Thames Valley in the last decade.
The campus will be known as Shinfield Studios, and is expected to open, subject to planning approval, in late 2022. The studios will bring major Hollywood film productions to the UK, creating around 1,500 new jobs, and supporting up to 1,500 further indirect jobs.
The scheme represents a significant investment in the British film and creative industries and is expected to create £500 million of annual inward investment.
Professor Robert Van de Noort, Vice-Chancellor of the University of Reading, said: "This will bring welcome significant Hollywood investment, creativity and job opportunities to Reading,
BUSINESSINNOVATIONMAG.CO.UK 34
Reading's economy has been among the least impacted by Covid and is best placed to recover, according to a new report
REGIONAL FOCUS THAMES VALLEY & SWINDON
Reading has seen new investment and businesses moving in during the pandemic, a huge vote of confidence ..."
Wokingham and the wider Thames Valley. It is a credit to the hard work and determination of everyone involved to have concluded a transaction while negotiating through challenging restrictions on movement and travel.
"This lease presents a superb opportunity for the university and facilitates an exciting development for the wider community."
Nick Smith, Managing Director of Shinfield Studios, said: "Britain has an enviable array of filmmaking talent, but the industry is short of high-quality studio facilities capable of catering for the new and emerging technologies that
will form the core of television and film production in the future.
"This development, costing more than £200 million, will create a new powerhouse of creative production and new talent, as well as generating up to 3,000 new jobs.
Adam Fisher, Commonwealth Founder and Chief Investment Officer, said: "We look forward to building partnerships across Wokingham and Reading to make this project a resounding success
Our ambitions for the new studio will be of real benefit to the local economy and the UK as a whole."
Paul Britton, Chief Executive of Thames Valley Chamber of Commerce, said: "This is a win for UK Plc and a big statement about the leading role of universities in driving growth and recovery."
Law firms Eversheds Sutherland and Farrer & Co advised on the new agreement.
FROM FILM TO TV AS UNIVERSITY IN BID TO ADD NEW STUDIOS
Following news of the deal with Shinfield Studios, the University of Reading is submitting a planning application for a new TV studio building beside the existing Gateway building at Thames Valley Science Park. This new 4,800 sq metre studio complex aims to support increased demand for quality studio space from the TV industry. The studio will be
designed to host audience-based shows for multiple broadcasters, such as chat and game shows.
The university said that the studio could create around 150 full time roles, which would include engineers, electricians, camera, sound and lighting specialists as well as event and admin roles.
BUSINESSINNOVATIONMAG.CO.UK 35
CGI of proposed new TV studio
A CGI of the proposed film studios
REGIONAL FOCUS
"This lease presents a superb opportunity for the university and facilitates an exciting development for the wider community"
THAMES VALLEY & SWINDON
HONDA PREPARES TO CLOSE SWINDON FACTORY, BUT WHAT'S NEXT FOR THE SITE?
More than 35 years after it first established a presence in the UK, the Japanese carmaker Honda will close its Swindon factory later this year.
The motor manufacturer, which built around 150,000 cars a year at the plant and currently builds the Civic, announced its intention to close in early 2019. It said the decision was part of a major restructuring, not related to Brexit and based on unprecedented changes in the global market. At the same time, it announced the closure of its factory in Kocaeli, Turkey, which will also happen this year.
However, the news was devastating for Swindon and Honda's workforce –which now number around 2,500, but was much more when the manufacturer was at full capacity.
The government and local council quickly established a taskforce to help mitigate the problems associated with the closure of such a major employer. The manufacturer's substantial supply chain is also feeling the chill and are being supported by the taskforce.
Two years on and the town has benefited thanks to a range of investments. These include £25 million from the government's Future High Streets Fund to regenerate Fleming Way into a new Bus Boulevard, to funding for a new Institute of Technology, near North Star, on which work will begin soon.
Swindon has come back from hard economic knocks before, most notably after the town's famous engine works, opened by Isambard Kingdom Brunel in 1843, were closed 100 years later.
But what to do with the 370 acre site in North Swindon which Honda bought in 1985?
The council isn't going to let the site go without a fight. In January, Swindon Borough Council leader David Renard made local headlines after he said he'd written to Elon Musk, the billionaire founder of Tesla, drawing his attention to the Honda site and its skilled workforce, and suggesting that he should consider it for the development of a gigafactory.
David admits that the site, while large, probably won't be big enough to build such a factory (Tesla's Nevada Desert gigafactory is built on a 3,200-acre site), but he is determined to see the site retained for employment use
He said: "Ideally we would like to see more high value manufacturing industry to replace Honda, but I think given the size we will probably end up with a mix of manufacturing, logistics and office space."
The difficulty for the town is that Honda hasn't yet said what it plans to do with the site. Everyone interviewed for this article said that the Japanese car manufacturer is playing its cards close to its chest.
The council is doing as much as it can to ensure that whatever happens to the site, it will be ready to respond.
David added: "It is one of the most important employment development sites in the UK, and whatever happens to it, it must be for Swindon's long-term interests, but the town had a broadbased economy, and we will come back from this."
He's right. Despite the Honda closure, the Demos-PwC Good Growth for Cities 2020, published in January, ranks Swindon 11th out of 42 towns and cities in the South West, saying Swindon, like Reading, has been less impacted than others by the pandemic.
Previously an airfield, Honda bought the Swindon site in 1985 and established Honda of the UK Manufacturing. By 1989 the manufacturer had opened an engine plant. In 1992, Car Plant One became fully operational. Since then, Honda has gone on to produce the Accord, Jazz, CR-V and Civic at the site.
The Civic production line at Honda
REGIONAL FOCUS THAMES VALLEY & SWINDON BUSINESSINNOVATIONMAG.CO.UK 37
The Honda site at Swindon
WORCESTERSHIRE DRIVES 5G MANUFACTURING INNOVATION
technology could be game-changing for UK manufacturing
In 2018 Worcestershire launched the UK's first 5G testbed trials into manufacturing.
The objective of the £11 million project was to assess how this new technology could boost manufacturing productivity.
Following two years of rigorous research, the final report has been published. And the results look promising.
They reveal that up to a two per cent efficiency gain in manufacturing may be possible. If you think that a single percentage is negligible, consider this: these results extrapolated to a UK level would be equivalent to a contribution of £2.6 billion in productivity.
5G could transform the UK economy, and not just in manufacturing. It's much faster than previous generations of wireless technology. It also offers greater capacity, allowing thousands of devices in a small area to be connected at the same time.
The reduction in latency (the time between instructing a wireless device to perform an action and that action
being completed) means 5G is much more responsive.
In fact the capacity offered by 5G is opening up the potential for many new, innovative services, ranging across pretty much every area of our lives, from supporting social care to farming.
However, the Worcestershire 5G Consortium testbed trials focused on manufacturing, with the team working with world-class companies such as Worcester Bosch and Yamazaki Mazak, cyber security experts including Malvern-based QinetiQ, mobile network operators, system integrators, academia and public bodies.
Manufacturing is a particularly critical sector of the Midlands' economy and the consortium was tasked with discovering if the adoption of 5G with industry 4.0 principles (shorthand for what is known as the Fourth Industrial Revolution –the ongoing automation of traditional manufacturing and industrial practices) would lead to a potential one per cent improvement in productivity.
That it appears to have achieved a two per cent improvement is impressive.
But manufacturers' ability to generate efficiency savings is not only dependent on the availability of 5G, says the report, but also on other technology such as artificial intelligence, augmented reality, and – critically – on the identification of applications for those technologies.
There is as yet no single application that will work for all manufacturers; each needs to consider how to leverage new technologies, including 5G, to address their specific requirements.
The Worcestershire 5G Testbed consortium (W5G) was led by Mark Stansfeld who is also chair of Worcestershire's Local Enterprise Partnership. He said: "The programme afforded Worcestershire a once-in-alifetime opportunity to take early-mover advantage within the 5G ecosystem.
"The work delivered through W5G forms part of a wider programme in Worcestershire aiming to build a connected and dynamic economy for the county; sitting at the centre of the wider national 5G ecosystem."
Ste Ashton is Broadband, 5G and Connectivity Manager at Worcestershire
BUSINESSINNOVATIONMAG.CO.UK
The
REGIONAL FOCUS WORCESTERSHIRE 38
County Council. He has been leading Worcestershire's 5G programme, including the Worcestershire 5G Consortium and the West Mercia Rural 5G project.
He is also working closely with Malvern Hills Science Park and BT to ensure that following the project there are lasting benefits for smaller companies which would like to run their own trials.
He said: "Following successful completion of the project with the major manufacturers such as Worcester Bosch and Yamazaki Mazak, we are now applying all we have learned to develop a testbed for large businesses and crucially for SMEs too, along with our technology partner BT.
"SMEs make up a large proportion of the UK manufacturing sector and we want to hear from businesses interested in accessing the 'Testbed
AEROSPACE COMPANY IS FIRST UK SME TO DEPLOY 5G PRIVATE NETWORK
AE Aerospace, a leading West Midlands aerospace manufacturer, will be the first UK SME to deploy a 5G private network. The company, which produces parts for customers such as Rolls Royce, Raytheon UK and Tewkesbury-based Moog, will work with Worcestershire 5G and West Midlands 5G.
AE Aerospace believes that 5G-enabled trials will improve productivity and provide existing clients with a better service, as well as creating new business models and revenue opportunities.
as a Service' environment to develop their processes, products and services on a private 5G network."
The newly-launched testbed is open to small, medium and large businesses through on-site testing at Malvern Hills Science Park, access to technical and commercial expertise, or extending the network to customer sites.
The Testbed as a Service will also be made available to the next cohort of BetaDen companies. BetaDen is Worcestershire's commercial technology accelerator based at Malvern Hills Science Park.
Useful websites
wm5g.org.uk
uk5g.org
mhsp.co.uk
beta-den.com
Manufacturing in the Midlands generates more than £32 billion GVA a year and accounts for 22 per cent of jobs. Despite the prevalence of large manufacturers in the Midlands, most of the value of the output in manufacturing comes from the SME businesses which make up these organisations' supply chains.
Key learnings from the trials will be shared with the region's manufacturers to boost the adoption of 5G technology within the sector. Any efficiencies and productivity gains that AE Aerospace and WM5G prove from these trials could also be replicated across the sector to support the region's economic growth.
Peter Bruch, Managing Director at AE Aerospace, said: "We are delighted to have been chosen to develop the 5G technology which will improve our productivity and flexibility, reducing costs and lead time for our customers. Post Covid and Brexit, we believe that this support will be a driving force, enabling the UK manufacturing sector to compete on the world stage."
Andy Street, the Mayor of the West Midlands, added: "We face a massive challenge to get our economy back on track and we must capitalise on new technology to supercharge that recovery."
"The 5G Testbeds and Trials Programme afforded Worcestershire a once-in a lifetime opportunity to take early-mover advantage within the 5G ecosystem"
REGIONAL FOCUS WORCESTERSHIRE BUSINESSINNOVATIONMAG.CO.UK 39
Drone shot of Worcestershire, Photography: Nigel Pugh Impact Aerial Ltd
COVID BUSINESS RECOVERY START-UP & EARLY STAGE BUSINESSES
Here2Help Business Grants
We have a range of grants available to help Worcestershire businesses invest in projects to help recover, adapt, develop and support future resilience in response to COVID-19. Grant support is offered on a 50% match funded basis, including:
• Sustain & Grow Grant: up to £25,000 capital and revenue
• COVID-19 Response Grant: up to £100,000 capital only
• Agriculture & Horticulture Grant: up to £10,000 capital only
• Graduate Development Grant: up to £10,000
Who is eligible?
Applicants in eligible sectors must be:
• Operating within Worcestershire and have a Worcestershire business address
• Trading predominantly B2B
• A limited company, a sole trader or partnership (trading over 12 months)
Within an eligible sector, to find out more, visit: www.worcestershire.gov.uk/here2helpbusiness
Adapt Programme Support
Set up in response to COVID-19, the Here2Help Adapt Programme offers flexible and free support in critical areas to enable Worcestershire businesses to move forward and grow in the post pandemic economy.
All businesses in Worcestershire can receive a 1:1 advice session, which involves up to three hours of free support with a specialist advisor. As well as this, eligible businesses can receive up to six days of bespoke, in-depth, one to one support to address more complex, longer-term considerations.
Eligibility criteria applies.
To find out more, visit: www.worcestershire.gov.uk/here2helpbusiness
Enterprising Worcestershire Grants
Grants between £1,000£15,000 are available to enable start-up and early stage enterprises to develop and prosper. This grant support provides 40% of the total cost of a project, with the remaining 60% provided by the SME.
Who is eligible?
Applicants must be based in Worcestershire and:
• Be defined as an SME and employ fewer than 250 employees
• Be less than 3 years old
• Have a turnover of less than the equivalent of €50 million per annum or a balance sheet of less than €43 million
• Trade predominantly B2B (70%)
• Full European Regional Development Funding (ERDF) eligibility criteria also applies.
To find out more, visit: www.business-central.co.uk/eworcestershire
Enterprising Worcestershire Support
As well as grant funding, the Enterprising Worcestershire programme offers a variety of support for start-ups and early stage businesses, ideal for those looking to start and develop their own business. This support includes free startup master classes, business coaching, specialist consultancy support and business membership funding to help take your business ideas to the next level.
Full European Regional Development Funding (ERDF) eligibility criteria applies.
To find out more, visit: www.business-central.co.uk/eworcestershire
To stay up to date with the latest business news in Worcestershire, follow @BusinessWorcs on Twitter or Worcestershire County Council on LinkedIn. You can also visit our website: www.worcestershire.gov.uk/supportforbusinesses
PROMOTIONAL BUSINESS FEATURE
We're offering a variety of support for businesses of all sizes across the county. From local start-ups to high-growth enterprises, there are various levels of support available to help your business both during the pandemic and beyond.
Worcestershire County Council is dedicated to helping local businesses during these challenging times.
INNOVATION GROWTH
Proof of Concept Grants
Grant funding of up to £30,000 is available to support SMEs to investigate, advance, commercialise and protect innovative early stage business ideas. This grant support provides 40% of the total cost of a project, with the remaining 60% provided by the SME.
Who is eligible?
Applicants must be based in Worcestershire and:
• Be defined as an SME and employ fewer than 250 employees
• Have a turnover of less than the equivalent of €50 million per annum or a balance sheet of less than €43 million
• Trade predominantly B2B (70%)
• Full European Regional Development Funding (ERDF) eligibility criteria also applies.
To find out more, visit: www.business-central.co.uk/proof-of-concept
WINN Innovation Launchpad
This two-part programme offers expert advice and support to local SMEs. If you're a future-thinking Worcestershire business passionate about innovating, sign up to a Launchpad event to receive specialist bespoke advice to help you create, develop, and define new ideas.
Full European Regional Development Funding (ERDF) eligibility criteria applies.
To find out more, visit: www.winn-hub.com/innovationlaunchpad
Innovation Platform
Open to all Worcestershire residents, the Innovation Platform is an online platform where individuals can set up a profile to collaborate with likeminded innovators and respond to challenges. Having initially started in 2019, the Innovation Platform highlights how 'Great Things Happen When People Get Together.'
Once you're active on the platform, join in the conversations, respond to challenges and get answers to all your businessrelated questions. While you're there share your knowledge and experience with others too.
To find out more, visit: www.winn-hub.com/innovationplatform
Elevate Support
Aimed at established SMEs in Worcestershire, Elevate is an exclusive and unique offer for successful applicants to gain high quality, specialist business and grant support to take their business to the next level. The programme is aimed at local businesses who have been operating successfully and have an ambitious mindset for further growth.
The programme is now moving onto sector specific support including manufacturing supply chain, digital technology and automated manufacturing consultancy, along with another cohort of generic business support.
Full European Regional Development Funding (ERDF) eligibility criteria applies.
To find out more, visit: www.worcestershire.gov.uk/elevate
CLEAN GROWTH
Business Energy E ciency Programme (BEEP) Grants
BEEP offers free energy efficiency assessments and grants of up to £20,000 for businesses who wish to reduce costs and improve their environmental impact. BEEP's recommendations will, on average, reduce energy bills by around 30%.
Funded activities include LED lighting, heating, energy efficiency equipment, compressors and fast shutting warehouse doors.
Full European Regional Development Funding (ERDF) eligibility criteria applies.
To find out more, visit: www.business-central.co.uk/beep
Low Carbon Opportunities Programme (LOCOP) Grants
For businesses interested in investing in solar or other renewable technologies, LOCOP offers renewable energy assessments and grants of up to £100,000 to businesses in eligible sectors.
This grant can be used to install solar panels, biomass boilers, air and ground source heat pumps, and more.
There is also advice and grant funding up to £30,000 available for businesses developing and bringing to market a low carbon innovation product or service that helps others to be green.
Full European Regional Development Funding (ERDF) eligibility criteria applies.
To find out more, visit: www.business-central.co.uk/locop
PROMOTIONAL BUSINESS FEATURE
RECORD REVENUES FOR VICTORIA CARPETS
The pandemic lockdowns and enforced social distancing keeping populatins at home across Europe have given us all a renewed interest in our surroundings, and DIY and spending on home improvements has risen sharply.
In January, carpet and flooring manufacturing company Victoria revealed record revenues and operating profits for the third quarter to the end of December, continuing the strong performance for the first half-year to the beinning of last October.
The Kidderminster-based company put its stellar performance down to geographical diversification, all its factories staying open throughout the pandemic and a major investment in its UK logistics which it completed in late 2019.
Victoria generates nearly 75 per cent of earnings and cash from outside the UK, selling to flooring retailers
across Europe, North America, the UK, Australasia and the Middle East.
Victoria's Executive Chairman Geoff Wilding said: "Demand for flooring products is strong from consumers' renewed focus on investing in their homes but we are outperforming the market generally."
Following the announcement last November of a major investment in the business from US-based Koch Equity Development, Victoria is planning to increase its distribution capabilities across North America.
WORCESTER CYBER SECURITY FIRM SECURES £2.5 MILLION GROWTH INVESTMENT
Titania has secured £2.5 million investment from the private equity investment manager Foresight Group LLP.
Founded in 2009 by Ian Whiting, the Queen's Award-winning company has grown fast thanks in large part to the huge success of its first product, Nipper.
With the accuracy of a penetration tester, Nipper automates the assessment of network devices to identify a company's online vulnerabilities.
Phil Lewis, CEO of Titania Ltd, said: "Titania's mission is to increase our customers' network resilience and
security compliance. Foresight's backing will accelerate our ambitious plans to automatically detect and remediate misconfigurations and vulnerabilities at scale and reduce customers' attacks. Delivering this at scale is especially important in a world in which organisations need to move from occasional auditing through to continuous monitoring of network security."
Mr Whiting added: "Our partnership with Foresight comes at a very important time in the company's development and that of the industry. It provides the platform from which to accelerate our growth and meet our customers' cybersecurity challenges."
DEMAND INCREASES AT OAKLAND INTERNATIONAL'S DUBLIN FACILITY
A Redditch logistics company which increased capacity at its Dublin facility by 60 per cent in January has seen demand rise sharply following Brexit.
Dublin Port has become a major bottleneck for Northern Ireland businesses trying to operate under new Brexit rules. Around 20 per cent of Northern Irish trade goes through Dublin and haulage firms were reporting delays getting customs clearance for loads arriving from Britain.
Oakland International's warehouse is very close to the Dublin port tunnel, enabling it to respond to growing import/ export tra c.
Director Richard Hill said: "We're now in a 50,000 sq ft warehouse and servicing all major Irish retailers."
WORCESTER BROADBAND PROVIDER SECURES SIGNIFICANT CONTRACT WINS
Worcester rural broadband provider, Airband has revealed new contract wins.
The company, which last year revealed that Aberdeen Standard Investments had acquired a majority stake in the business, will install its ultra-fast, fibreto-the-premises broadband across rural areas in Cheshire, Somerset and Devon.
Across the country, the vast majority (96 per cent) of UK homes can now get superfast broadband, which provides download speeds of at least 30 Mbit/s. But within rural areas, this falls to 81 per cent, according to Ofcom.
The contracts, totalling more than £30 million, will see Airband rolling out connectivity to more than 44,000 properties.
BUSINESSINNOVATIONMAG.CO.UK 43
Victoria Carpets
REGIONAL FOCUS WORCESTERSHIRE
ALL EYES ARE FOCUSED ON COVENTRY
Coventry City of Culture 2021 to launch in May
A few months later than envisaged thanks to the global pandemic, Coventry's City of Culture year will finally kick off on May 15 with launch event "Coventry Moves" when the city will be transformed in a spectacular performance.
Being awarded City of Culture in 2018 has galvanised Coventry, as well as bringing in much-needed funds from public investment, businesses and charitable foundations.
in 2017, Hull's status as the UK City of Culture attracted more than five million
people, £220 million of investment and 800 new jobs, according to a report published after the event. It passed the baton onto Coventry, and while the pandemic may have diminished the city's prospects of matching Hull's achievements, the benefits are clear.
The government has invested £15 million, with Arts Council England allocating a further £3.4 million to support the project.
From boom (literally) to almost bust, Coventry is rising again
Coventry certainly deserves the investment. Between the wars, the city
was the fastest-growing urban centre in Britain which made it a valuable target for a German air raid on the night of November 14, 1940. The single most concentrated attack on a British city in the Second World War, the aim was probably to knock out Coventry as a major centre for war production.
As a result, Coventry lost not only its great medieval church of St Michael's, the only English Cathedral to be destroyed in the Second World War, but hundreds of city centre buildings, including the 16th century Palace Yard, where James II once held court.
But this feisty city rose from the rubble, thanks to car production. In the 1950s they called it 'Britain's Detroit'.
BUSINESSINNOVATIONMAG.CO.UK 44
From city of culture for 2021, to hosting the world's first electric vehicle take-o and landing port, Coventry should enjoy its time in the spotlight this year
REGIONAL FOCUS
A Coventry Carnival of Lights event. Photographer Dylan Parrin
COVENTRY & WARWICKSHIRE
The city's new cathedral, built alongside the ruined St Michael's and consecrated in 1962, seemed to symbolise a prosperous future, but the 1970s recession, fuelled by the oil crisis, affected Coventry badly. It did not have the variety of industry to fight back.
WORLD-FIRST ELECTRIC VERTICAL TAKE-OFF AND LANDING SITE COULD BE IN COVENTRY
Coventry could become home to the world's first electric Vertical Take-O and Landing (eVTOL) site after the company behind the project secured a £1.2 million grant from UK Research and Innovation's Future Flight Challenge.
Factory closures and a failure to invest gave Coventry a bleak "ghost town" feel, painfully expressed by its most famous musical export, The Specials.
Fast forward 50 years and the city is in a renaissance. With a population of more than 400,000, Coventry has diversified into new sectors.
The region is a major UK centre of aerospace and advanced manufacturing in automotive, rail and motorsport and is the UK's centre for low carbon powertrain and other low carbon technologies. In December, Coventry was named the best UK town for electric cars.
Last month's news that Coventry City Council is to work with Coventry Airport Ltd to develop proposals for a gigafactory at the airport has been welcomed. The partners plan to develop proposals and submit an outline planning application for a gigafactory this year. This will take place alongside discussions with battery suppliers and automotive manufacturers to secure the long-term investment needed.
Urban-Air Port has partnered with Hyundai Motor Group and Coventry City Council to launch Air-One in Coventry to demonstrate the potential of urban air mobility to the UK and worldwide.
Air-One plans to be a world-first fully-operational hub for eVTOL aircraft such as cargo drones and air taxis, and plans to launch in the city later this year.
If all goes well, Urban-Air Port plans to install more than 200 zero emission sites worldwide over the next five years in response to global demand.
The company chose Coventry for the first site due to its central UK location and because it is a historic hub for the automobile and aerospace industry, with a pool of people and skills that can support the manufacturing industries of the future.
The plan is to unveil Air-One during Coventry's UK City of Culture celebrations and continue to form part of the Commonwealth Games in 2022.
Councillor Jim O'Boyle, Coventry City Council Cabinet Member for Jobs and Regeneration, said: "We are already a city that is helping to shape the future of electric transport and this is yet another ground-breaking project that puts Coventry at the forefront of new technologies."
Ricky Sandhu, founder and executive chairman of Urban-Air Port, said: "Air Port will improve connectivity across our cities, boost productivity and help the UK to take the lead in a whole new clean global economy. Air-One will bring clean urban air transport to the masses and unleash a new airborne world of zero emission mobility."
The physical footprint of an Urban-Air Port is 60 per cent smaller than a traditional heliport (the most comparable existing infrastructure).
Using innovative construction, the sites can be installed in a matter of days, emit net zero carbon emissions and can be operated completely o -grid, meaning they do not always have to rely on a suitable grid connection.
Urban-Air Port will use large cargo drones developed by Berkshire-based drone developer, logistics and engineering company Malloy Aeronautics.
BUSINESSINNOVATIONMAG.CO.UK 45
An artist's impression of the proposed eVTOL
REGIONAL FOCUS COVENTRY & WARWICKSHIRE
"Being awarded City of Culture in 2018 has galvanised the city ..."
A BRILLIANT BUSINESS BUILT THROUGH PERSEVERANCE AND SELF-BELIEF
Growing a business takes perseverance and belief. So says Jason Ashby who founded UK Flooring Direct in 2005. Now his Midlands-based company is the country's fastest growing online flooring retailer – turnover was £54 million in 2020.
Talking to him, you'd think he had no shortage of either.
But while perseverance is clearly part of his character, self-belief has surprisingly been harder to achieve, despite words tumbling out of his mouth at breakneck speed.
"Entrepreneurs often wonder "am I good enough ... can I get to the next level?" he said. "Until recently that's always been in the back of my mind."
What's changed? It could be that he's had rather less time for self-reflection recently. Over the past few years, the business has grown very fast – all self-funded with no debt – but driving that expansion has taken laser focus and commitment.
And he's not done yet. Jason, 48, says that there's still huge growth potential in the business and the sector.
Last November to allow even faster growth, UK Flooring Direct secured £8 million investment from the Business Growth Fund, which allowed him to open a warehouse in Coventry.
"The UK's home improvement market is worth £30 billion and someone is going to build a billion-pound ecommerce
business in it." Jason doesn't say so –but that someone could be him.
The pandemic has seen internet shopping go into overdrive. Online retail spend rose from around 20 per cent of the overall market at the beginning of last year to around 35 per cent in November.
Will he ever open a physical store?
"No." There's a reason for that – he's been there and done that, read on.
"Retail has changed for ever," he said. "Digital brings convenience and the ability to self-inform. Why take two hours of your day to look at a few products in a store when I can use digital technology to show you many more and allow you to do that in the comfort of your own
BUSINESSINNOVATIONMAG.CO.UK 46
UK Flooring Direct is the country's fastest growing online flooring retailer and it's about to get even more successful
AMBITIOUS LEADERS
Jason Ashby
home. And I will send you samples free of charge."
Making up for the lack of physical retail, UK Flooring Direct invests heavily in technology. "Our website is an information hub and some of the technology we are working on in the background is very exciting.
"What do our customers want to make their lives easier? Receiving samples, room visualisations, room measurement tools?
"Fundamentally it's about delivering a great product at a great price. Then it's about leveraging digital technology to make it easier for our customers and delivering an unbelievable service in terms of deliveries and returns. Simple."
Disruptive retail gives big brands the jitters
Jason left school at 16 to work as an apprentice carpet fitter, earning £27.50 a week. Aged 21 he had several teams working for him, and by 28 he had opened a carpet and flooring shop.
The business did well for three years – it was one of the first to sell wood and laminate flooring but started to struggle when big box retailers such as Carpetright moved into the space. "We couldn't compete on price, so I shut the shop, and with the money left (£500), I spent £299 on building a website which launched UK Flooring Direct."
With no shop, no warehousing and just the website, the company drop shipped everything. Not that this was easy, Jason was forced to buy everything through distributors because the big flooring brands wouldn't work with him. "They didn't want anything which threatened their biggest channel: traditional retail."
But with lower overheads, UK Flooring Direct attracted customers because it could sell cheaper online.
The business grew rapidly, turning over £3.7 million by its third year, all the time constantly battling with distributors and brand manufacturers. Eventually he bought pallets from distributors and shipped them himself, all the time making slight improvements on margins.
Then, overnight, things went south. In 2011 Google changed the way it ranked websites organically.
"As a result of the changed algorithms, we lost 60 per cent of website visits over a week and dropped from No 1 organically to 20 or 30 down the list," said Jason. Turnover slumped from £16 million down to £12 million.
"We needed to make more money to cover the huge increase in marketing spend, so I began buying direct from factories in Europe and Asia, branding and trademarking everything with our name," said Jason.
The business recovered fast, but the near disaster taught Jason a lot. "Losing the SEO ranking made us realise that we had to run the business differently. Before that we'd just followed the growth. It's at those times you realise what you've learned. You don't realise along the way."
It's all about your people
What's changed to bring the business to its £54 million plus turnover? It's about the people, said Jason. "The biggest thing for me has been about building a team. That's how you really grow. UK Flooring Direct now has nearly 200 employees. We have a great culture, a fantastic senior team and incredibly talented people."
But ultimately, Jason knows that everyone's happiness and the growth of the company falls on his shoulders.
"I have had some good mentors along the way, and I could sit and listen to them for hours and take snippets out of their experiences.
UK Flooring Direct adapted fast. Whereas organic searches had cost it around 1p pay per click, the new regime saw the business being charged 50p pay per click.
"You have to have belief in where you're going. Don't worry about how you are going to get there, that path will change many times and you will find your way."
BUSINESSINNOVATIONMAG.CO.UK 47
"We get knocked down, but we get up again..."
Jason Ashby, centre, with son Josh Ashby (Chief Commercial O cer) and Darren Gilbert (Chief Financial O cer)
AMBITIOUS LEADERS
"Our website is an information hub and some of the technology we are working on in the background is very exciting"
BRISTOL PHARMATECH SECURES ALMOST £1 MILLION GROWTH FUNDING
CITY INVESTS MORE THAN £11 MILLION IN STUDIOS
More big-budget film and TV productions could be attracted to the region with an £11.8 million investment from the West of England Combined Authority to expand The Bottle Yard Studios in Bristol.
The studios host many productions, from drama, feature films to gameshows and commercials. Its growth will help support other businesses across the region which rely on film and TV production opportunities.
Tim Bowles, Mayor of the West of England, said: "The Bottle Yard Studios is a terrific example of our region's vibrant creative sector that brings so much joy to people right across the globe."
The expansion plan, which could create around 1,000 jobs over a 10-year period, includes the conversion of an industrial property at South Bristol's Hawkfield Business Park (half a mile from the main Bottle Yard site), into three sound stages, complete with production offices, prop stores and costume/make-up areas.
The proposed works will take the number of sound stages available at the studios from eight to 11.
Laura Aviles, at Bristol City Council who is responsible for The Bottle Yard Studios and Bristol Film Office, said: "The Bottle Yard Studios have seen a significant post-Covid rise in demand for space, which was already high before the pandemic. Many production companies are now seeking to secure studios for multiple year periods.
"With more high-end TV titles opting to shoot in Bristol, this expansion will enable the studios to attract an even greater percentage of that potential business to the region.
"Valuable jobs will be generated for Bristol's talented crew base, local companies will see an increase in workflow and vital career opportunities for industry entrants from all parts of the city will be created, particularly for those living close to the Studios in South Bristol. All at a time when these opportunities are needed more than ever."
A leading provider of market intelligence, data and events to the global plastics industry has secured a £3 million refinance and working capital facility by investor ThinCats.
Founded in Bristol in 1986, Applied Market Information historically ran more than 60 events in Europe, North America and Asia each year, featuring more than 1,000 expert presentations and attracting more than 10,000 plastics industry professionals.
The Covid-19 pandemic presented significant challenges to the business, given the considerable impact on the events industry worldwide so AMI moved many events online.
Andy Symons, CEO at AMI, said: "While the dramatic shift to the virtual world has been forced on us, it has highlighted a number of very positive areas for growth and improved productivity. This funding is instrumental in allowing us to pursue these goals."
BRISTOL UNIFORMS SOLD TO USA SAFETY COMPANY
a
Uniforms in its entirety as a going concern, with 200 sta continuing in their current roles. The purchase enables MSA to increase its global presence in the provision of firefighting Personal Protective Equipment (PPE).
BUSINESSINNOVATIONMAG.CO.UK 49
The Pale Horse filming at The Bottle Yard Studios (image courtesy Mammoth Screen/Agatha Christie Ltd/BBC)
A
leading manufacturer of highperformance protective clothing for emergency services across the globe has been sold to US-based safety company MSA Safety Inc in a deal worth £44 million.
RSM Corporate Finance LLP advised on the sale of Bristol Uniforms and Bell Apparel.
MSA,
US manufacturer of safety equipment, has acquired Bristol
REGIONAL FOCUS BRISTOL & SOUTH GLOS
BEST OF BUSINESS
For all the PR agencies out there faced with the daily grind of churning out press releases promoting everything from computer software (surely one of the most difficult sectors in which to differentiate a product), to another indistinguishable brand of health food supplement, eat your hearts out for what must be one of the most rewarding PR projects to pick up.
Moreton-in-Marsh based PR agency Norton PR has been appointed by US company Callaway Arts & Entertainment to manage the brand's media presence throughout the UK, leading up to the Easter launch of what could well be the world's most lavish book, a full colour rendering of the artwork in The Vatican's Sistine Chapel.
Photographing the Sistine Chapel
Tony Norton, CEO for Norton PR, said: "It's very rare that a project like this comes along. The beauty and impact of this book is simply off the scale. We are thrilled to be involved in getting this magnificent work in front of a global audience."
KARCHER RECONFIRMS SUPPORT FOR TEAM BRIT
cleaners and floor cleaners, first partnered with Team BRIT in 2019. Team BRIT's drivers aim to become the first British all-disabled team to race in the Le Mans 24 hour race.
Kärcher, the German, family-owned company that operates worldwide and is known for its professional cleaning equipment such as pressure washers, window vacuum
Through its Racing Academy Team BRIT supports people with physical and psychological challenges wanting to participate in motorsport.
TRIODOS
BANK UK RECOGNISED WITH FINANCIAL LEADERSHIP AWARD
Ethical Dutch bank Triodos, which has its UK headquarters in Bristol, has won the Financial Leadership category at this year's British Renewable Energy Awards, run by the Association for Renewable Energy and Clean Technology.
Triodos Bank UK was recognised for its work championing the net zero transition by providing finance to support a nationwide rollout of EV charge points at supermarkets, helping launch the UK's first intercity, all-electric coach service, and funding stores selling individual e-transport, such as e-bikes and e-mopeds.
EcoMove, a Bristol-based company that sells zeroemissions electric mopeds, bikes and scooters worked with Triodos to secure a £220,000 loan as part of the government's Coronavirus Business Interruption Loan Scheme (CBILS).
EcoMove wants to bring a full range of all-electric products to the mainstream UK market and introduce current petrol car and motorbike drivers to clean, quiet and e cient electric transport.
range of all-electric products to e cient electric transport.
Judges at the British Renewable Energy Awards said: "Triodos is a brave and supportive investor, a real role model on a number of fronts."
Renewable Energy Awards said: "Triodos is a brave and
BUSINESSINNOVATIONMAG.CO.UK 50
ONCE IN A LIFETIME PR PROJECT FOR GLOUCESTERSHIRE AGENCY EcoMove bike
Banbury-based cleaning equipment manufacturer Kärcher has confirmed its support of all-disabled Team BRIT for the third consecutive year.
Kärcher's Team Brit car
BUSINESS AWARD FOR CARBON-FREE BATTERY COLLECTIONS
Stratford-upon-Avon environmental company Valpak has won a top industry award for its carbon-free battery collection service.
The free service is a UK first. It uses cycle couriers to collect waste batteries from workplaces in Cambridge and London.
The bikes use reverse logistics, picking up batteries after dropping off parcels at offices and retail outlets. The scheme has already collected nearly seven tonnes – equivalent to 348,700 waste batteries – and Valpak is hoping to expand to other areas of its national collection network.
Valpak pioneered the service, working with logistics partner Zedify and battery recycler Ecobat Logistics.
WORCESTER HOME AND GIFT SHOP NAMED BRITAIN'S BEST SMALL SHOP OF 2020
With many retailers struggling to survive, it's lovely to report on a family-run, independent home and gift shop in Worcester which has been named as Britain's Best Small Shop of 2020.
Cornucopia stocks British brands such as Emma Bridgewater, Plum & Ashby and Repeat Repeat. During lockdown it opened a Trouva boutique online with owners Clare and Hannah Bishop turning their garage into a distribution centre.
The Best Small Shops competition is
PACKAGING BUSINESS BOOSTS ENVIRONMENTAL CREDENTIALS
Corrugated packaging specialist GWP has secured certification from the Forest Stewardship Council (FSC).
The company has achieved FSC Chain of Custody certification which verifies its products back to "Well Managed Forests", certified in accordance with the strict rules of the organisation.
The award means that the Cricklade manufacturer can o er customers FSC
certified transit packaging, ecommerce boxes and point of sale displays.
Established in 1993, and supported by WWF, Greenpeace and The Woodland Trust, the Forest Stewardship Council has certified approximately 213 million hectares of forests worldwide (accounting for 11 per cent of all productive forests globally). Around 40 per cent of the UK's forests are now certified by the FSC.
managed by the Independent Retailers Confederation, whose member trade associations represent approximately 100,000 independent UK retailers between them.
Other shortlisted retailers from across the region included Cawthornes, a family business in Nuneaton which supplies print, graphic design, office supplies and promotional gifts, Sophie Sews, a soft furnishing shop in Horsell near Woking, Sound Records in Stroud and TH Burroughs, a family butcher and farm shop in Swindon.
BUSINESSINNOVATIONMAG.CO.UK 51 BEST OF BUSINESS
Valpak pedal power
Clare and Hannah Bishop of Cornucopia
01 Ambitious Kidderminster computer business appoints software director
OGL Computer has appointed Gary Reynolds as Software Director. Gary has more than 24 years' experience in the software industry and in taking new software products to market.
02 Senior promotion for St.
Modwen
West Midlands-based St. Modwen Industrial & Logistics has promoted James Irwin-Singer to Senior Development Manager. James, who is RICS accredited, has been responsible for a number of successful deals since he joined in 2018.
03
New
MD
takes o at Gloucestershire Airport
Gloucestershire Airport Ltd has appointed Karen Taylor as the airport's new Managing Director. Karen, who was previously Interim Managing Director and Commercial Finance Director at the airport, has already played a central role in developing its long-term vision.
04 Airbus boss to take control at UK Catapult
Katherine Bennett CBE, currently Senior Vice-President at Bristol-based Airbus is set to move to the UK's High Value Manufacturing Catapult, taking on the role of CEO later this year.
05 Grundon strengthens Board with two appointments
Oxford-based Grundon Waste Management has added to its Board of Directors. Simon Arnold (above) has been appointed Finance Director, while Jonathan Harris (below) takes over as Technical Director, a role previously held by Stephen Roscoe, who has moved to the new position of Compliance Director.
BUSINESSINNOVATIONMAG.CO.UK 52
01 03 02 04 05 05 CAREER AHEAD
06
Helen Peters, boss of Shakespeare's England, the destination management organisation, has been named as one of 14 new board executives of UKinbound.
07
The UK Battery Industrialisation Centre, due to open this year near Coventry, has appointed Ian Whiting to the post of Commercial Director. Ian previously worked for brands including AMTE Power, Ricardo and QinetiQ.
08
New CEO for food and drink research company
Campden BRI, the food and drink technology research company based at Chipping Campden, has appointed Pete Headridge as its new Chief Executive. He brings years of experience in senior technical and quality roles at the Kellogg Company.
10 Mass photometry company Refeyn appoints CEO
Oxford-based Refeyn has appointed Anthony Fernandez as Chief Executive Officer. Anthony has experience in corporate and start-ups, with a specific focus on commercialising disruptive and innovative technologies.
11 Property firm promotes Harry to partner
National Chartered Surveyors
Bruton Knowles has promoted Harry Breakwell to partner. Harry is part of the firm's planning and land development team based in Gloucester and will be instrumental in building its South West client base.
09
Dawn has a head for business at law firm FBC Manby Bowdler
Worcestershire law firm FBC Manby Bowdler has created a new strategic role to drive business growth.
Dawn Tuck has a background in banking and finance and becomes the firm's Head of New Business.
BUSINESSINNOVATIONMAG.CO.UK 53
Shakespeare's England boss steps up to UK travel trade organisation
Coventry battery industrialisation centre appoints Commercial Director
06 07 08 09 10 11 CAREER AHEAD
GOVERNMENT WHITE PAPER PUTS BUSINESSES BACK IN CONTROL OF SKILLS TRAINING
The government has published its Skills for Jobs White Paper to help revolutionise post-16 education and reshape the training landscape
In a move that recognises that each region has its particular training and skills demands the White Paper, published in January, seeks to realign the whole system around employers, so that people are trained for the skills gaps that exist now and in the future, in sectors the economy desperately needs, such as construction, digital, clean energy and manufacturing. The government wants to encourage stronger collaboration with more employers and chambers of commerce.
It's fair to say that over the past few years most of the region's further education (FE) colleges have been
ahead of the game on this one, investing time engaging with their local business communities, so the fact that the government wants to make this a more formal arrangement can only be positive.
For Jacqui Canton, Principal and Chief Executive, Abingdon and Witney College, the paper emphasises the importance of working closely with employers. "We are looking forward to building even further on the already extensive work that we carry out in this regard," she said.
But such engagement takes investment and the FE sector is already asking
where this will come from. Nicky Williams, Head of Skills at Business West, said: "The aspects around chambers being involved is a radical change. How much money will the government put behind this? is it a long-term plan? Colleges as well as businesses are under a huge amount of financial pressure and all are focused on recovery and survival."
The question of funding might be answered when more details emerge in September on how the recommendations of The Augar report on post-18 education in England will be implemented. The report, commissioned in 2019 by Theresa May, recommended a shift in funding away from universities towards further education and vocational training.
Another central part of the White Paper is its ambition for a Lifetime Skills Guarantee. This, the government says, will offer tens of thousands of adults
BUSINESSINNOVATIONMAG.CO.UK
SKILLS 54
Gloucestershire College students
the opportunity to retrain in later life, and includes the chance for adults without a full level 3 qualification (A-level equivalent) to gain one for free in a range of sectors including engineering, health and accountancy.
Alongside this, the government will offer skills bootcamps. These are free, flexible courses of 12-16 weeks which it hopes will give adults the opportunity to build up sector-specific skills and fast-track to an interview with a local employer.
A Lifelong Loan Entitlement will make it easier for adults and young people to study more flexibly, says the government (though some college principals don't agree). The loan will be used over their lifetime and to pay for course modules
The government hopes the measures will put paid to what more people now accept is an outdated view that a degree is the only route to career success, and that further and technical education is the second-class option.
The White Paper has attracted broad approval from business groups. The Coventry and Warwickshire Chamber of Commerce's chief executive, Louise Bennett, said: "Firms across our region and, indeed, all over the country are at the coalface on a daily basis and understand where there are skills shortages and what is needed to improve productivity.
"It's clear that the future workforce is going to need constant training and upskilling to meet new challenges."
FE College bosses are also largely in favour. Angela Joyce, CEO of WCG (formerly Warwickshire College Group), said: "The White Paper is a major step towards addressing years of underfunding for further education and will enable us to provide even more support for employers, individuals and our localities."
Sara-Jane Watkins, College Principal at SGS College in Stroud, agreed. She said: "The White Paper presents many positive opportunities.
"However, full judgement is reserved until more details of the initiatives are made available outlining how the government will ensure that those with experience and success in the further education sector are to be involved, and funding is formally confirmed to support the ideas proposed."
The White Paper itself is relatively quiet on the importance of lower-level skills and leisure courses for adults, according to Jacqui Canton at Abingdon and Witney College
"As a college we are committed to supporting every member of the communities we work with, whether they want to develop skills for work, to gain personal independence or simply to have some fun and learn new things.
FE Colleges genuinely do change lives and communities, and I was very pleased to see that the White Paper acknowledged the significant difference that colleges make to society."
Measures in the Government's Skills White Paper include:
• Business groups, including Chambers of Commerce, working alongside colleges to develop tailored skills plans to meet local training needs; supported by a £65 million Strategic Development Fund to put the plans into action and establish new College Business Centres to drive collaboration with employers.
• Giving employers a central role in designing almost all technical courses by 2030, to ensure that the education and training people receive is directly linked to the skills needed for real jobs.
• Boosting the quality and uptake of Higher Technical Qualifications that provide the skills many employers say they need which can lead to higher wages.
• Changing the law so that from 2025 people can access flexible student finance to train and retrain throughout their lives, supported by funding in 21/22 to test ways to boost access to more modular and flexible learning.
• Launching a nationwide recruitment campaign to get more talented individuals to teach in further education, and investing in high quality professional development including a new Workforce Industry Exchange Programme.
BUSINESSINNOVATIONMAG.CO.UK
Students from Abingdon & Witney College
SKILLS 55
Gloucestershire College students
MATTHEW BURGESS, PRINCIPAL AT GLOUCESTERSHIRE COLLEGE ON THE SKILLS WHITE PAPER
"I think there are some really good things in the Skills White Paper, but I have reservations too. I welcome the government recognising the core role that FE colleges play in helping increase social mobility as well as skills. For too long the UK has put too much emphasis on developing academic skills at the expense of core skills. The academic route isn't for everyone.
"A huge part of the paper is about developing higher technical skills –level 4 (that's university and above) in areas such as science, technology, engineering and mathematics (STEM), computing and construction. Currently we have just four per cent of our population achieving level 4 thanks to artificial targets of 50 per cent of young people going to university.
"I remember the successful HNCs and HNDs that so many of our college students studied for, but then the government decided that young people should pay for them. My big concern is that the government thinks that offering loans rather than subsidising these hugely worthwhile technical
qualifications is the answer, but I don't think so. At the age of 18 students are ambivalent about the debt. However, once they are 25-30 they are less likely to want to take on debt, and employers don't want to invest in training someone who then goes on to work for someone else.
"We were also puzzled when we saw that the government wants chambers of commerce to be involved. Chambers across the UK have very different levels of capability and focus. We wondered whether the Education Secretary was likening the UK Chambers of Commerce with those of Germany, but they are very different.
Our Local Economic Partnerships have all been working on skills plans but encouraging employers to engage has always been difficult so colleges can
take a much more proactive role in that. In Gloucestershire, we are lucky to have a strong and supportive business community.
"There are three elements to my job. Gloucestershire College has an important role to play in social mobility, supporting those from disadvantaged backgrounds. We are an integral part of the local business community and we are a large business in our own right. All these are things that we want to share and much of the White Paper seems to recognise these ambitions. I look forward to understanding how the government plans the practical implementation of its ideas."
Chambers of Commerce were first established in France in 1599 (in the time of Napoleon) to represent the voice of business. English chambers developed differently to France and Germany, responding to local conditions.
In other countries, the private sector and government co-invested in these institutions over a long period of time. The UK chose a more laid back approach. As a result, continental businesses seem to be at an advantage in having a simpler and better understood route to business support.
BUSINESSINNOVATIONMAG.CO.UK 57
SKILLS
Gloucestershire College students
Matthew Burgess
"There are some really good things in the Skills White Paper, but I have reservations too"
SALES SOAR AT STEWART GOLF
Business almost doubled in size last year at Gloucester golf trolley manufacturer Stewart Golf.
The company saw total sales increase by 93 per cent. Against a backdrop of the Coronavirus pandemic, many golfers took to the fairways for exercise. For a number of golf courses, walking the course was the only option and this helped lead to an unprecedented surge in demand for trolleys.
Stewart Golf built 65 per cent more of its iconic X Series electric trolleys than in 2019 and production of the R1-S Push increased by 51 per cent.
The company also successfully launched the new Q Follow after four years of design and development.
Stewart Golf builds its machines by hand in Gloucester, so it didn't experience any of the delays other
businesses had to endure for containers to arrive from the Far East.
While UK sales grew by 33 per cent, exports soared and now account for almost 75 per cent of sales. Stewart Golf sold to 45 countries throughout the world including the USA, Canada, South Africa, Singapore, and South Korea. European sales also increased by 16 per cent despite Brexit uncertainty throughout the year.
A technology start-up that joined the HS2 COVID-19 Innovation Challenge last Spring has secured a major deal to supply work site social distancing technology to one of HS2's main works civil contractors.
Contractor Eiffage Kier Ferrovial BAM awarded Malvern Science Park-based PLINX a contract to supply 1,500 helmetmounted devices for site workers.
The PLINX devices use wireless technology to accurately monitor how close workers are to each other; if they are within two metres of another person,
the devices will beep, vibrate and flash, notifying the users to keep their distance.
The anonymous data from these devices will provide Health and Safety managers with valuable insights to manage population density, monitor pinch points on sites and collate data to enable effective contact tracing.
PLINX Founder Tommy Williams said: "It is refreshing to see how well HS2 and EKFB adopt new technologies, such as ours, to address their biggest challenges."
Business formations grew by 14 per cent last year. At the start of 2020 there were 5.94 million small businesses with up to 49 employees.
And that number swelled by a record of 772,002 during the year, according to the Centre for Entrepreneurs' annual analysis of Companies House data.
Consumer businesses increased significantly, with business startups in the wholesale and retail industry growing 60.5 per cent year-on-year and totalling 190,379.
Online retail start-ups more than doubled, totalling 43,127. New businesses selling computers, sporting goods, games and toys also grew strongly last year.
BUSINESSINNOVATIONMAG.CO.UK 58
"It is refreshing to see how well HS2 and EKFB adopt new technologies such as ours to address their biggest challenges"
MALVERN SOCIAL DISTANCING TECH START-UP SECURES MAJOR HS2 CONTRACT
The PLINX helmet
SME GROWTH
PANDEMIC PUSHES BUSINESS START-UPS TO NEW RECORDS
BRISTOL START-UP VACUUM CLEANER BRAND PUTS UP FIGHT AGAINST HOUSEHOLD NAMES
A cordless vacuum cleaner company established in Bristol by two former Dyson employees is putting up a fight against the more well-known household names. Lupe Technology made more than £250,000 in profits in its first year.
However, getting to this point has taken founders Pablo Montero and Lucas Horne six years. The resulting Lupe Pure Cordless is lightweight, manoeuvrable, longlasting and powerful.
Lupe is already exporting its vacuum cleaners, with half of its export sales to date going to the USA.
WARWICK CIDERY LAUNCHES CROWDFUNDING CAMPAIGN
The owners of an award-winning family-run cidery in Warwickshire have launched a new crowdfunding campaign to help mount a post-pandemic recovery of their business.
Jolyon and Charlotte Olivier are inviting supporters to apply for at least £40,000 in shares of Napton Cidery following the success of their first round of investment two years ago.
The eight-week campaign is central to the entrepreneurs' plans to re-emerge from the pandemic robust enough to build on the early success of their business – which started as a hobby nine years ago.
Today, an eight-strong team at Napton harvests, presses, bottles and distributes more than 90,000 litres of cider a year, using 17 types of apples from six orchards across the Herefordshire region.
READING DRONE COMPANY RAISES £4 MILLION TO GROW
A Reading drone technology traffic management company has raised a further £4 million from one of Europe's largest venture capital investors.
Altitude Angel, which says it is the world's leading UTM (Unified Traffic Management) technology
provider, raised the funding from Octopus Ventures.
The latest fundraising Altitude Angel's series A round, led by Octopus Ventures and existing investor Seraphim Capital. It brings the total invested in Altitude Angel in 2020 to £7.05 million.
SALES GO THROUGH THE ROOF FOR MEGASTORE
Banbury-based online roofing merchant Roofing Megastore doubled revenues last year, with its website attracting more than one million visits for people on the hunt for roofing and DIY supplies.
With so many Brits stuck at home – and with time on their hands to dabble in DIY, Roofing Megastore's tripled the size of its customer service team to meet demand.
Founded in 2017 by Banburybased entrepreneur Gian-Carlo Grossi, Roofing Megastore's success in 2020 was made possible by rapidly scaling its team, adopting new processes and making targeted investment in response to the explosion in demand during the first lockdown.
BUSINESSINNOVATIONMAG.CO.UK 59
Lupe founders Pablo Montero and Lucas Horne with their vaccum cleaner
Napton Cidery's Jolyon and Charlotte Olivier
SME GROWTH
FOLK2FOLK COMES OF AGE
Every idea starts with a problem. Ours was in 2013 when the nation was still reeling from the global financial crisis, banks were withdrawing from rural areas, business funding was drying up, and savers were receiving rock-bottom levels of interest.
An idea for an alternative finance option was concieved to help local people. The thinking was that 'good folks' could help other 'good folks' by lending their money in fair exchange for a good rate of interest, secured against land or property. This local money exchange was named FOLK2FOLK, and three years later it became a regulated Peer to Peer (P2P) lender, fully authorised by the Financial Conduct Authority.
Motivated by a desire to help financially disenfranchised local and rural communities, FOLK2FOLK spearheaded a Local Lending Movement nationally, setting up office in Gloucestershire to help businesses across the three counties and Midlands. Typically, businesses in large conurbations have easier access to finance, but what about businesses in more sparsely populated areas? We want to help level the playing field in the availability of finance.
The pandemic created a national pause and like others we took the opportunity to reflect. 2020 was a surprising year of success for us. We announced profitability for the first time; became accredited by the British Business Bank to deliver CBILS; reached a milestone lending total of £400 million; and experienced headline-grabbing levels of liquidity in our secondary market. Most importantly we continued to serve business owners and investors.
Our business has come a long way. Most people knew us as a South West P2P lender for farmers. But, as we celebrate our eighth birthday, FOLK2FOLK has emerged as a national Marketplace lender for British businesses.
Our evolution from P2P to becoming a Marketplace Lender (MPL) is a significant step. A P2P lender only accepts investment from individuals (retail investors), while a Marketplace Lender (MPL) is a platform which accepts retail and institutional investment. We were delighted that Cheltenham Borough Council and Forest of Dean District Council were the first local authorities to register as FOLK2FOLK investors.
But our approach remains human. Over the years we've seen changing
customer expectations of financial services, and these were brought into sharp focus by our collective lockdown experience.
Business owners and investors want financial services they can trust with aligned interests. During the pandemic we didn't lose sight of the 'human factor' in our interactions. People will remember those financial services who stayed fair; who provided good service; who didn't fail to support their customers with honest, human communications.
While accessing finance is important, business-owners are looking for more than money. They are looking for funding relationships that fit their needs; finance providers who believe in their business vision and see the humans behind the business. Similarly, when it comes to investing their money, investors will only consider opportunities from platforms, and people, they trust.
Our customers, both borrowers and investors, see that we genuinely have their interests at heart, we want to see them grow and prosper. Going beyond that, we're always delighted to see the happy by-product of borrowing and lending – job creation or bolstering local supply chains – that results from the movement of money through local economies. We even coined a special term, FOLKOMONICS™, to describe this human impact of finance.
We want to help British businesses grow, diversify or adapt following COVID-19. To fund this, we offer attractive investment opportunities for people and institutions who have money to invest and want to make the most of it.
PROMOTIONAL BUSINESS FEATURE
you're looking for finance to grow your business, or looking for an investment to grow your capital, why not talk to us. Perhaps we can help. 01566 773296. www.folk2folk.com FINANCE & INVESTMENT
If
From humble beginnings to national lender for British small businesses, Roy Warren, FOLK2FOLK Managing Director, tells the coming-of-age tale of a successful regional business…
Roy Warren, Managing Director FOLK2FOLK
"We want to help British businesses grow, diversify or adapt following COVID-19."
STRONG TRADING AT HALFORDS AS CYCLING IS STAND-OUT WINNER
Halfords Group, the national motoring and cycling retailer which has its headquarters in Redditch, reported strong trading across the last quarter of 2020 with Group likefor-like sales up more than 11 per cent – which includes retail up 9.8 per cent and trading at its Autocentres up more than 21 per cent.
Cycling was the stand-out winner for Halfords. Like-for-like growth in this retail sector was more than 35 per cent, driven by continued strength in e-bikes and e-scooters, despite global container shortages and port congestion impacting availability.
Graham Stapleton, Chief Executive Officer, said: "We are pleased to have delivered a strong performance
under hugely challenging circumstances, including our best ever Christmas week. Despite a large reduction in traffic on the roads, our Autocentres business saw significant growth, with strong demand for the services of our growing fleet of Halfords Mobile Expert vans.
"We are carrying out more than half a million services and repair jobs on cars and bikes each month, and continue to play an essential role in keeping the UK moving during this pandemic.
"Throughout the crisis we have been able to offer free checks and discounts to 239,000 NHS workers, teachers and Armed Forces staff to help them keep their vehicles safe and roadworthy."
HR AND PAYROLL SOFTWARE PROVIDER SECURES £2 MILLION
BGF (Business Growth Fund) –the UK's most active investor – has invested £2 million in XCD, the Bristol-based HR and Payroll cloud software provider.
The investment will support XCD's organic and acquisitive growth strategy. Founded in 2011, the company now has more than 30,000 users across 35 countries using its Salesforcepowered services.
In 2015, XCD received investment from UK tech entrepreneur and investor Vin Murria OBE, who also took on the role of company Chair. CEO Simon Fowler joined the business in 2017 to drive a new growth strategy for the business.
Simon said: "We are extremely excited to be partnering with BGF with this investment. It not only means our plans are funded, but also gives us validation that an investor with a reputation such as BGF's believes in what we have achieved up to this point."
Mitcheldean-based Exploration Logistics Limited has been sold to leading risk management and crisis response company Exlog Global.
The deal, completed just before Christmas, will support Exlog Global's support for its growing client base in
Europe, the Middle East, and Africa.
Jack Stradley, CEO of Exlog Global, said: "Not only does it expand the scope of our capabilities and our regional footprint, it also strengthens and broadens our management team."
Mark Hutchings, CEO of Exploration Logistics, added: "We have worked closely for many years on significant projects around the world.
"It is great to bring the businesses together to extend our capabilities, network and reach."
BUSINESSINNOVATIONMAG.CO.UK 61
An Halfords Autocentre
FINANCE & INVESTMENT
Exlog Global
FOREST BUSINESS ACQUIRED BY GLOBAL RISK MANAGEMENT COMPANY
CONTRACTORS URGED TO CHECK IF KEY IR35 LEGISLATION COULD NOW APPLY
Private contractors who set up limited companies to avoid being responsible for PAYE and national insurance contributions are being warned of key changes to legislation.
From April rules around the IR35 legislation will be extended to the private sector. IR35 is ultimately intended to prevent the lower rates of tax which would otherwise apply when payments to intermediaries are regarded as "disguised employment."
The key change is that the responsibility of defining IR35 status will switch from the individual's limited company to the client.
Where an assignment is deemed 'inside' IR35, PAYE deductions must be made from the contractor's pay. Any assignment 'outside' IR35 is classed as a genuine B2B service and so is not subject to the same tax treatment as employees.
But how do you decide if your company is inside or outside of IR35?
If you are an employer or a contractor you can use the HMRC's online tool, check for Employment Status for Tax (CEST) service to help determine if you should be classed as employed or selfemployed for tax purposes.
In most cases you will get an answer because this online tool has produced a definitive response in more than 80 per cent of cases since it was introduced in November 2019. If it proves more
complicated, then HMRC will likely have to be contacted directly.
Significantly, the legislation only applies to large and medium-sized companies. Where a private sector client is considered "small", limited companies will remain responsible for deciding the contractor's employment status and whether IR35 applies.
If an assignment is deemed to be outside IR35, then it is essential that "reasonable care" was taken in making the decision. In the event it is proven that reasonable care was not taken, then the client will be liable for the unpaid taxes.
Owen Kyffin, director of Whitley Stimpson, said: "This is a significant change in the IR35 rules, and it is important that contractors are not caught out by the implications.
"There are complexities, particularly in determining whether you are inside or outside the rules and I would urge anyone with queries to contact us for guidance."
On the 15th February HMRC issued a briefing setting out how they will support
organisations to comply with these changes to the new IR35 rules. This explained that HMRC will take a 'light touch' approach to penalties. Customers will not have to pay penalties for inaccuracies in the first 12 months relating to the off-payroll working rules.
To read the full briefing document visit https://bit.ly/3sbG0vG
Whitley Stimpson has offices in Banbury, Bicester, High Wycombe and Witney and has continued its investment in young talent throughout 2020 welcoming ten new starters to join its leading accountancy team.
Despite these unprecedented times the Whitley Stimpson teams have responded to challenges and supported clients throughout.
The company has been providing financial advice to businesses and individuals for 90 years, is consistently ranked within the top 100 practices in the country and is recognised as one of the top ten accountancy employers in the UK.
For further information contact Owen Kyffin on 01295 270200 or email Owenk@whitleystimpson.co.uk
CHAR TERED AC CO UN TA NTS AND BUSINESS ADVISORS www.whitleystimpson.co.uk
PROMOTIONAL BUSINESS FEATURE
Owen Ky n, Director at Whitley Stimpson
UK IS EUROPE'S TOP INVESTMENT DESTINATION FOR FINTECH ANGELS HIT RECORD FOR INVESTING, DESPITE COVID CRISIS
The UK FinTech sector has retained its role as the top-ranking investment destination in Europe, with $4.1 billion venture capital and growth private equity invested across a total of 408 deals. While this represents a year-on-year drop of nine per cent, given the global Covid-19 pandemic and the surrounding economic challenges, it's not surprising the drop wasn't further.
Globally, the UK ranks second only to the US in total capital raised.
The UK accounts for just under half of the total $9.3 billion European FinTech
investment, with more deals and capital invested here than in Germany, Sweden, France, Switzerland and the Netherlands combined.
Within Europe, Germany was second with $1.4 billion of investment across 71 deals, up 50 per cent. Sweden ranked third with $1.3 billion of capital raised, with France and Switzerland closing out the top five.
The largest investments in Europe were secured by payments company Klarna in Sweden ($650 million), and challenger banks Revolut in the UK ($580 million) and N26 in Germany ($570 million).
CHELTENHAM BUILDING SUPPLIES BUSINESS SOLD TO DORSET BUILDERS' MERCHANTS
An angel investment group –which is part of the University of Warwick Science Park – hit a record for the amount of cash injected into businesses in 2020 despite the Covid crisis.
Minerva Business Angels, which now has investment groups across the Midlands and on Merseyside, pumped £1.4 million into start-up, spin-out and scale-up businesses over the past 12 months. Companies invested in include Alvant, Expandly, Kubos Semi Conductors, Sparks EV and Natter.
More than £24 million has now been invested and used to leverage around £75 million angel investing since it first grew out of the University of Warwick Science Park Ltd in 1994, with 129 companies being supported –putting Minerva at the top of the UK's Angel networks.
But Alex Toft, who has overseen the expansion of the Minerva network since becoming head of the group in 2017, says it is vital that the regions close the gap on London when it comes to angel investment and that local investors get involved.
"In 2020, we hit the £1.4 million mark, but I think that would have exceeded more than £2 million had it not been for Covid. We've had more than 320 applications and had 70 pitches from businesses looking for angel investment funding. We are also developing new partnerships and a new Super Start-Up Club to provide a structure to work with and develop spin-outs from universities."
BUSINESSINNOVATIONMAG.CO.UK
Staverton Building Supplies has been sold to Dorset timber and builders' merchant, Sydenhams Ltd.
The double deal, involving the sale of Staverton Building Supplies and Isobar Properties Limited to Sydenhams, led to a negotiated multi-million-pound asset and share transaction.
The acquisition gives Sydenhams a total of 31 sites across the South of England including a variety of timber and builders' merchants, specialist timber centres, kitchen and bathroom showrooms, tool and plant hire services and timber engineering depots.
Sydenhams was advised by GL Law.
63 FINANCE & INVESTMENT
M&A ACTIVITY SHOWS NO SIGN OF SLOWING DOWN
The resilience of the UK's mergers and acquisition market is clear in a new M&A report published by market researchers Experian
Deal volumes for mergers and acquisitions approached pre-pandemic levels in the final quarter of last year, and a flurry of multi-billion-pound acquisitions towards the end of the year saw annual transaction value eventually eclipse that of 2019.
Logistical difficulties thrown up by Covid-19 were brushed aside by dealmakers quick to adapt to changing circumstances.
Tech deals, which had already started to dominate the UK's M&A landscape in recent years, seem to have accelerated that process.
Writing in the foreword of the new report, Jane Turner, Research Manager, Experian MarketIQ, said: "Having spent time taking stock and shoring up the capital positions of their portfolio companies in the immediate aftermath of lockdown, the private equity sector played an increasingly key role on the buy-side in the last two quarters of 2020.
"We expect this to continue into the new year. However, whether the wider market will undergo any dampening effect due to January's third national coronavirus lockdown in England remains to be seen."
And some of our professional firms across the region have been particularly active.
Harrison Clark Rickerbys, which has its headquarters in Worcester, ranked third most active legal adviser in the report, rising from seventh position in 2019.
The firm again ranked most active in the South West, having completed nearly three times as many deals as the next legal adviser – and is in pole position in the South East.
Tim Ward, Head of Corporate in the law firm's Cheltenham office, said: "The market remains busy. Businesses are looking for opportunities despite the challenges of lockdowns and Brexit."
The firm was also ranked second in both the east of England and the Midlands.
Its team has been ranked second in the South West and rose eight places in the national rankings to be named the sixth most active adviser in the UK.
The annual report also placed Hazlewoods number three in the Midlands, fifth in London and in the top 10 in the North West, South East, East of England and Yorkshire and Humber.
Corporate Finance Partner, Paul Fussell, said: "Covid-19 caused uncertainty for many companies, and although deals in
Cheltenham-based BPE Solicitors' Corporate Team gained five places in the rankings for the South West.
With 13 reported deals in 2020, the corporate team becomes the second most active legal adviser in the South West due to the value of the deals the team advised on.
Louise Grzasko, Partner and Corporate Team Leader, said: "To be the second most active adviser in the South West during 2020 is a real achievement, especially given the circumstances in which we were working. I am proud of what the team achieved last year and expect to be even busier this year."
Cheltenham-based accountants Hazlewoods are listed as a top 10 UK adviser in the report.
certain sectors were put on hold, other sectors continued with buy and build strategies.
"By the end of the year we saw a strong recovery in the M&A landscape, with deal volumes bouncing back to pre-pandemic levels, helped in part by sellers fearing possible changes in capital gains tax rules ahead of the March Budget.
"The outlook for 2021 is already looking strong."
Hazlewoods' corporate finance team advised on 133 completed deals in 2020, with a total value of more than £763 million. They saw a continuous volume of deals in sector specialisms such as veterinary and health and care, as well as the general market.
BUSINESSINNOVATIONMAG.CO.UK 64
MERGERS & AQUISITIONS
"The outlook for 2021 is already looking strong"
Experian recorded a total of 5,867 transactions involving a UK-based firm in 2020, a decline of 15 per cent on the 6,894 deals carried out in 2019 and the lowest figure since 2012.
In the second quarter, deal making was at its lowest ebb since the first quarter of
2009 at the height of the financial crisis. Although annual volume is significantly down on previous years, the direction of travel looks positive says Experian.
The number of deals announced in Q4 was around 42 per cent higher than in Q2 and it seems that increasing numbers
of companies are looking to growth by acquisition. Some big-ticket deal making at the end of the year – with more than £120 billion worth of acquisitions carried out in the last two months alone –pushed the overall value of UK deals for 2020 to £356 billion, up by 79 per cent on a year-on-year basis.
Information sourced from: United Kingdom and Republic of Ireland, M&A Review. Experian Business Research: 2020
BUSINESSINNOVATIONMAG.CO.UK 65
Legal adviser rankings in the South East by volume 01 Harrison Clark Rickerbys 02 Knights 03 Gateley 04 DLA Piper 05 Pinsent Masons 06 CMS 07 Freeths 08 Eversheds Sutherland 09 Stevens & Bolton 10 Irwin Mitchell Financial adviser rankings in the South East by volume 01 KBS Corporate 02 RSM 03 BDO 04 EMC Corporate Finance 05 Grant Thornton 06 Numis Securities 07 Hazlewoods 08 Benchmark International 09 EY 10 PWC
rankings Legal adviser rankings in the South West by volume 01 Harrison Clark Rickerbys 02 BPE Solicitors 03 Boyce Hatton 04 TLT 05 Squire Patton Boggs 06 Royds Withy King 07 Michelmores 08 Pinsent Masons 09 Foot Anstey 10 Gateley Financial adviser rankings in the South West by volume 01 BDO 02 Hazlewoods 03 PKF Francis Clark 04 Peel Hunt 05 RSM 06 KBS Corporate 07 Grant Thornton 08 Bishop Fleming 09 Benchmark International 10 Numis Securities South West rankings Legal adviser rankings in the Midlands by volume 01 Gateley 02 Harrison Clark Rickerbys 03 Brown Jacobson 04 Pinsent Masons 05 Freeths 06 Addleshaw Goddard 07 Evershed Sutherland 08 Knights 09 Square Patton Boggs 10 Mills & Reeve Financial adviser rankings in the Midlands by volume 01 KBS Corporate 02 BDO 03 Hazlewoods 04 RSM 05 Grant Thornton 06 KPMG 07 Mazars 08 Smith Cooper Corporate Finance 09 Benchmark International 09 Dains Corporate Finance Midlands rankings
South East
Tim Ward, Head of Corporate in Harrison Clark Rickerby's Cheltenham o ce
Paul
Fussell Corporate Finance Partner at Hazlewoods
MERGERS & AQUISITIONS
Louise Grzasko, Partner and Corporate Team Leader, BPE Solicitors
2021: THE YEAR OF LIFT-OFF FOR CHELTENHAM'S CYBER AMBITIONS
Cheltenham is already home to GCHQ. Now it has major plans to become UK cyber central
Cheltenham's ambition to be at the heart of the UK cyber industry will take a big step forward this summer when the developer awarded the contract to work on the £400 million Golden Valley Development is finally announced.
Companies from across the country have been vying for the opportunity to develop the 200-hectare site and deliver a mixed-use development including Cyber Central, the UK's first campus focused around the rapidly growing cyber-tech sector.
The scheme will also see up to 3,700 homes built as part of a new "Garden Community".
Tim Atkins, Cheltenham Borough Council Managing Director for place and growth, said: "The response to the search for a development partner for the Golden Valley Development has been overwhelmingly positive. The calibre of the submissions has been exceptional and has justified recognition of the scale and significance of the opportunity we have in front of us.
"We are entering further detailed dialogue with these potential partners over the coming months and hope to be in a position to announce our appointed partner in the summer."
The UK's cyber industry is today worth an estimated £8.3 billion, with total revenues in the sector up 46 per cent from £5.7 billion in 2017. Along with
this growth in annual revenue it is also seeing sharp increases in employment, as well as considerable investment in early-stage companies.
For 60 years Cheltenham has been the home of the UK's intelligence and security organisation, GCHQ. From here, more than 5,000 employees keep the country safe, in the real world and online, focusing on communications and, crucially, protecting the nation's cyber security.
Around this hub are hundreds of cyber companies, creating a huge density
of cyber businesses second only to London, according to the borough council.
Some are small start-ups, while others such as Ripjar, founded in 2013 by former GCHQ employees, have grown rapidly. Ripjar has become a worldleading data intelligence provider. Last year the company raised around £28 million growth funding in series B funding from various equity partners. In total the cyber company has raised more than $60 million.
But start-ups struggle to find incubator
BUSINESSINNOVATIONMAG.CO.UK 68
CYBER & IT
Location of proposed Cyber Central
space to thrive, which is why the Golden Valley Development is building on its rich cyber history to deliver a world-class "campus-style" mixed-use development.
The site in West Cheltenham is highly accessible, being bounded by two motorway junctions, close to an airport and mainline railway station with direct access to UK towns and cities such as London, Bristol, Bath and Birmingham.
Within this development, and building on Cheltenham's growing reputation for cyber security, will be Cyber Central
and the Cyber Innovation Centre, bringing together GCHQ's innovation programmes, academia, business and event space.
It will also offer up to two million square feet of commercial floor space for the cyber sector and see a "garden community" of homes supported by shops, cafes, restaurants and leisure facilities.
Tim Atkins explained that the chance to make the town the UK's number one destination for cyber services was a "once in a lifetime" opportunity that would have far-reaching benefits for residents and businesses.
He said: "The growth in the cyber industry is huge and it's just going to continue to grow. That gives us a massive opportunity economically.
"But it's about far more than just that. As a council we are looking at this from the lifestyle angle, creating skilled jobs for people, and about regeneration."
He added: "This is a huge undertaking that will place Cheltenham at the heart of this multi-billion industry and create jobs, attract inward investment and pave the way for thousands of new homes around the development."
He added: "We welcome hearing from companies and organisations in the cyber and digital sectors that don't already have a presence in the region as we don't want them to miss out on this opportunity."
Cheltenham Borough Council has purchased 45 hectares of land – at
£37.5 million the biggest single purchase ever made by the council – to ensure the development goes ahead.
"This just underlines our commitment to the project," added Tim. "The investment will see the development create a sustainable place for the community to thrive, with a long-term focus on creating new job opportunities, high-quality housing, sustainable transport and connectivity through public transport routes."
He added: "The sheer scale of investment will create a ripple effect that will spark new socio-economic opportunities for Cheltenham, Gloucestershire and the wider region."
Rowena Hay, leader of Cheltenham Borough Council, voiced her support for the project: "Our vision for the Golden Valley is to create a mixeduse development integrating Cyber Central as part of an innovative garden community comprising two million sq ft of commercial space and more than 3,000 new homes. We want to challenge existing norms relating to design and sustainability particularly in response to the climate change agenda.
"This first phase brings 45 hectares of council-owned land along with a further commitment of up to £180 million investment into housing as we spearhead our economic recovery."
For more information
goldenvalleyuk.com
BUSINESSINNOVATIONMAG.CO.UK 69
"The calibre of the submissions has been exceptional and has justified recognition of the scale and significance of the opportunity we have in front of us"
CYBER & IT
Artist's impression of Cyber Central
C11 – the cyber secure, digital innovation hotspot for your business
The University of Gloucestershire's C11 Cyber Security and Digital Innovation Centre continues to respond to its clients' needs as COVID-19 begins to recede across the south-west.
Among the many challenges currently facing business owners there are two stand-out issues that Gloucestershire's 'C11 Cyber Security and Digital Innovation Centre' is designed to address – firstly, the myriad of cyber-security threats which have rapidly risen throughout lockdown, and secondly the provision of a secure work, demonstration and networking environment that allows organisations to meet and collaborate safely.
Founded in 2017 as part of the University of Gloucestershire, C11 sits within the Gloucestershire Science and Technology Park at Berkeley Green, offering a peaceful 16,000sq ft workspace with free parking and broadband, overlooking the River Severn, and easily within reach of the M5 and M4.
C11's primary function is to fire-up the growth and advancement of specialist firms in a discreet, yet accessible environment. As such it comprises purpose-built conference and event facilities, incubation offices and support for start-ups, and cyber-forensic labs with high-spec PCs and technology demonstration zones.
C11 tenants notice the di erence
Despite the impacts of the pandemic, C11 staff and clients have continued to
take great strides over the past year in their stated goal of 'helping bring brilliant minds and businesses together,' both onsite and remotely in the ever-changing cyber and digital sectors.
Examples of this successful partnership approach include on-site C11 tenants:
Aetek Ltd – Philip Curzon: "Aetek is an aerospace and defence consultancy providing support to global aerospace companies. C11 is ideally situated between the aerospace hubs of Bristol and Gloucester, and the connections I've made with fellow occupiers here have really helped me advance my business goals."
CamEra Group – Patrick Goodenough: "CamEra Group CCTV and 3ITC Limited are an efficient and cost-effective security company which has been delivering the installation of high-end security equipment for over 25 years. Our requirements are to be surrounded by hi tech, innovative organisations involved in cyber security and AI surveillance development and we're delighted to have become a tenant of C11."
Active Building Centre – Ron Cowley: "We love being part of C11 because it offers our business secure cybersecurity facilities which our government infrastructure authorities, including the DIO, MOD and MOJ demand we use to
test and develop security aspects of our Internet of Things platforms. We use the C11 board rooms for high-level meetings, and the facilities and support services are exceptional giving our clients, who travel from all parts of the UK to visit, a positive perception of ABC."
CGTech – Gavin Powell: "CGTech has been the global leader in Computer Numerical Control (CNC) code simulation with VERICUT since 1988. We offer a wide range of products and solutions to make CNC machines collision-free and manufacturing processes more efficient. C11 is the base of our UK technical support team and our apprentice and two engineers are permanently located here with the remainder of our UK employees working from home around the country. We appreciate C11's facilities, working atmosphere, meeting rooms and especially the views across the river."
Even C11's immediate neighbours have positive things to say, as Ruth Frett, Business & Development Manager at the Sabrina Centre police training and conference facility for Gloucestershire Constabulary, adds: "We thoroughly enjoy being part of the collaborative community at Gloucestershire Science and Technology Park. We're especially thrilled to be next door to C11. The team there are incredibly welcoming and helpful and we look forward to working closely with them on future projects."
PROMOTIONAL BUSINESS FEATURE
Beyond lockdown…
Now, with plans to exit lockdown in the UK beginning to take shape, C11 is looking towards expanding its remit to further support organisations in Gloucestershire and across the southwest in need of the latest technologies and state-of-the-art digital security.
Rayelle Pentland-Smith, C11 Business Development Director, explains: "Digital technologies drive our daily lives, from the hardware that helps keep our borders secure, through to the software monitoring home energy use and keeping our bank accounts running smoothly.
"Simply put, in 2021 the world can't function e ectively o ine. To face the continually-developing digital landscape UK business needs facilities that are fit for purpose, flexible, private and supply networking opportunities to equip future workforces."
Getting into the Zone
As part of this offer C11 is the only facility of its type in the south-west to subdivide its services into increasingly secure technology gradients, depending upon the needs of its clients.
Zones 1-4 offer a mix of cyber security, conferencing, networking and digital seminar programme space. As a meeting point these all provide outstanding facilities for start-up and incubation firms, as well as networking room and presentation space for industry experts.
The areas are also flexibly-equipped for event needs and can be configured to seat up to 140 people alongside exhibition and breakout space.
Zone 5, the Cyber Learning Zone, is a controlled-access area providing
secure labs and specialist facilities for private technology meetings. Perfect for training and development it is equipped with high-spec PCs capable of open or closed network configurations and interactive presentation equipment, all with guaranteed privacy and security, ideal for debuting new technologies and collaborating on classified projects.
Finally, Zone 6 is a restricted facility housed in an exclusive environment with government-approved security, making it a world-class base for the most sensitive cyber and digital work.
For companies involved in cyber-security or digital innovation which have been struggling to find physical facilities throughout the pandemic, C11 still offers availability in our incubation offices and rental space.
"The sheer volume of these areas allow for excellent levels of social distancing and our teaching and learning facilities have continued to be used for key worker training throughout lockdown." Adds Rayelle.
Engaging in good security practice at all levels
Professor Ali Al Sherbaz, Technical and Applied Computing lead at the University of Gloucestershire and one of the academics with special responsibilities for supporting businesses based at C11, adds: "Cyber-security is one of the biggest risks facing businesses today in a world in which data management and protection has become a crucial aspect of everyone's day-to-day interactions, particularly with a high
number of workers still operating remotely in the wake of COVID-19.
"Sadly a cyber-attack on your organisation is almost inevitable. It's really not a question of 'if,' but 'when.'
"C11 is working intensively with the University of Gloucestershire through our undergraduate, postgraduate and apprenticeship courses, as well as our clients and partners, to realise the development of the 'smart city' concept. This essentially focuses on urban areas and the collection and analysis of digital data that delivers a better quality of life for people.
"This could, for example, involve the development of intelligent public transport systems that use information and communications technology to improve e ciency.
"To achieve this we need to formalise cyber and data governance strategic partnerships that both strengthen business opportunities and ensure the continuous improvement of cybersecurity solutions.
"To face the digital challenges ahead we also need a highly-skilled workforce with knowledge of the software and technology required to prevent cyberattacks and keep us safe, operating from a facility that's fit-for-purpose, flexible, secure, and which o ers networking opportunities to equip all of us for the future.
"We're confident C11 is this place and look forward to discussing the way forward with our client base as working life begins to return to some semblance of normality."
To find out more about the C11 Cyber Security and Digital Innovation Centre: Tel: 01453-707511 / 07912 770053 Email: C11@glos.ac.uk www.glos.ac.uk/C11
HOW THE TECH SECTOR IS CHANGING THE FACE OF LAW
traditional,
Can the legal industry adapt and change?
The tech sector is flexible, fast, comfortable with discomfort, constantly changing. Pioneering products and services, that change every aspect of our lives. Traditional law firms, on the other hand, are everything but. They are process-driven, paper-heavy and can be risk-averse, which is why they offer their clients informed options and opinions. Often however, they stop short of advocating e-minded clear solutions.
Therefore, it's little wonder that the tech sector, which needs fast, informed decisions, finds traditional law firms frustratingly slow. They are often developing services and products that current compliance and regulations haven't encountered yet. Operating at the cutting edge, they need power boats, not super tankers when they enter unchartered waters.
Tech innovators are challenging law firms to change. They need legal advisors who are as agile as they are; who know their sector and the law inside out.
From ivory tower to real world
Cheltenham-based law firm BPE Solicitors has risen to the challenge. It gives legal advice for the real world. Having worked as in-house lawyers and in traditional private practice law firms, their Tech team has deep sector experience. This understanding of
commercial imperatives means they are uniquely placed to offer legal advice that is based on true understanding of how businesses, especially enterprising businesses, actually operate. Sarah Kenshall is a Partner on BPE's tech team.
"Your clients have confidence right from the word go that you know what you're talking about, particularly in my sector, technology. You're constantly thinking what is currently needed and also – will it work for the future? I found that you don't normally see that in private practice"
Enterprising advice that's one step ahead
all BPE lawyers across all teams make it their business to understand their clients' business and to connect them with others. The Tech team in particular are well-placed to make powerful introductions and networking opportunities across industries.
"We don't just sit in our ivory tower advising on legal issues. We bring our clients together across industries, introduce smaller clients to investors. That's adding a lot more value than simply the legal advice." This proactive approach builds diversity of thinking. It's how business innovators stay one step ahead".
The changing face of law
needs
She says that the traditional model needs to change. "A legal issue doesn't exist in a vacuum. It's set in the context of the client's commercial imperatives. Sometimes in the UK we don't get to the bottom of what the business wants or needs." In response,
At BPE, lawyers are business partners, giving practical, commercially-sound advice for any size of enterprise. BPE was considered maverick when it was first set up in the 1960s, simply for remaining open over lunch. Its agile, informed model is leading the way, delivering enterprising legal advice that works in the real world.
CYBER & IT
Tomorrow's tech innovators thrive on collaboration, speed and agility. They don't just think di erently. They behave di erently. But
big law firms aren't built to move at speed.
PROMOTIONAL BUSINESS FEATURE
Sarah Kenshall, Tech Partner at BPE Solicitors
An update from Group Managing Director, Nigel Church Helping businesses transform through the delivery of low investment, high return technology…
First Solution supports the transformation of our customers' businesses using secure business-enabling technology. Over the last decade we have delivered resilient cloud computing using public and private cloud infrastructure, and our focus on innovation ensures we continually evolve to serve our customers' changing needs.
The Microsoft opportunity
The ongoing development of the Microsoft 365 platform is a great opportunity for businesses whatever their
size. To maximise that opportunity, we have invested in developing our staff, reorganising the business, and recruiting new talent. We are primed and ready to take full advantage of the Microsoft 365 technological developments and deliver those benefits to our customers.
A division for every technology need
In addition to First Solution, our awardwinning industry leading MSP, we have created two additional business divisions, First Digital and First People
Each division is led and supported by an outstanding and technology expert. In my new role of Group Managing Director, I will focus on the strategic direction and integration of all three divisions.
As a result of our new structure, my role as Group Managing Director, will focus on the strategic direction and integration of our three business divisions.
"These are exciting times for First Solution Group and our customers. We look forward with anticipation to the next 24 months and beyond"
First Solution – award winning MSP
Tom Henson has been promoted to Managing Director of First Solution. His previous experience as our Client Services Director means that Tom has developed a deep understanding and appreciation of both our business and our customers' businesses. His oversight of all the elements of customer management and the wider service delivery capability will ensure we continue to deliver world class 24/7 proactive IT support and services.
For more information visit https://go.firstsolution.co.uk/J9DN6
First Digital – technology transformation
The newly created First Digital division brings technology transformation to both existing and prospective customers. It ensures low investment, high return transformation by utilising the business-enabling Microsoft 365 platform, including the Microsoft Power Platform, Power BI, and Power Apps. The team is led by our new Head of Technology, Chris Shanks. His technology expertise has proved invaluable in developing businessenabling technology solutions for our customers.
For more information visit https://go.firstdigital.co.uk/D8JFN
First People – technology talent on tap
First People manages an associate network of individuals and companies, ensuring our customers have the right operational, technical and leadership skills, as well as resources to allow them to transform their business.
To support the continued evolution of the business, Paul Hillis has been promoted to Group Sales Director. He will oversee the entire group's sales effort ensuring we always offer the best solution for our customers.
PROMOTIONAL BUSINESS FEATURE
divisions: Visit our new First Digital website here: https://go.firstdigital.co.uk/D8JFN
out more about how First Solution Group can help transform your business using innovative technology solutions. Book an initial meeting with Nigel by scanning this QR code:
First Solution Group launches two new business
Find
WHAT THE COVID-19 PANDEMIC TEACHES US ABOUT CYBER SECURITY
Covid-19 has shown us all how vulnerable the world is to major disruption from pandemics, cyber attacks and environmental tipping points.
But if the UK wasn't taking this seriously enough, the World Economic Forum is urging us all to prepare to avert a cyber pandemic, which it says has the potential to upend our lives even more than the current Coronavirus.
Writing ahead of the World Economic Forum virtual Davos meeting, which was held in January, Ravi Kumar S, the president of global IT services company Infosys, and Vishal Salvi, the company's Chief Information Security Officer and Head of Cyber Security Practice, said: "As we scale up our response to the crisis, through largely digital means, our interconnectedness grows exponentially. And with it our vulnerability to the risk exposures of the virtual world. In fact, businesses of the future are evolving to be more digital and more shared. The need to prepare to avert a cyber pandemic – with potential even more than the coronavirus to upend our lives – has never been more urgent."
And they take the doomsday scenario even further: "For a moment, let's think of the unthinkable. A world without phones and internet, with idling trucks, trains and planes because fuel pumps and charging stations are incapacitated; banks shuttered; food supply chains broken and emergency services made all but unavailable. This bleak vision would be inevitable if electricity supplies are cut off by a cyber attack."
Britain is doing its bit. Last November, Boris Johnson announced a new National Cyber Force. The NCF draws
together personnel from intelligence, cyber and security agency GCHQ, the MOD, the Secret Intelligence Service (MI6) and the Defence Science and Technology Laboratory (DSTL) under one unified command for the first time.
At its launch, Jeremy Fleming, Director at GCHQ said: "For over a century, GCHQ has worked to keep the UK safe. Cyber security has become an integral part of this mission as we strive to make
Get your own protection
the UK the safest place to live and do business online. We are a world-leading cyber power.
"The National Cyber Force builds out from that position of defensive strength.
"It brings together intelligence and defence capabilities to transform the UK's ability to contest adversaries in cyber space, to protect the country, its people and our way of life."
There's a lot going on at national level, but what can businesses do to protect themselves? Gloucester-based Fasthosts offers some practical advice.
01 Limit user access and restrict admin privileges
One of the simplest ways of ensuring cyber security is by limiting those who can access sensitive information.
A hierarchal structure means that only those who require access to personal, password and payment data have the permissions to do so.
02 Abide by best-practice security standards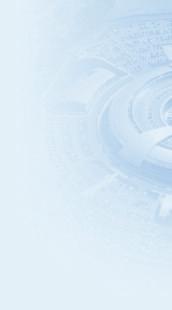 Protecting customer data is paramount and it's vitally important to adhere to universal security standards and attain relevant certification.
03 Constantly monitor user activity
Establishing a system that allows you to monitor activity and quickly respond to suspicious behaviour is one of the more effective means of maintaining cyber security.
04 Encouraging a strong password is crucial
It doesn't matter how complex or sophisticated your security software is; if a user or customer is using a weak or simple password, your system is left wide open for hackers to infiltrate.
Passwords that are most easily guessed often include predictable sequences or personal details such as names, birthdays, place names or popular sports teams.
05 Implement two-factor authentication
Take password protection one step further with two-factor authentication.
Even if an unwelcome presence manages to crack a user's password, the attempted intrusion is made very difficult with the addition of a secondary protective layer.
And CYBER & IT BUSINESSINNOVATIONMAG.CO.UK 75
how we can better protect our businesses
TRADING WORLDWIDE: ADAPT TO SURVIVE
However, when the Brexit deal was signed on 1 January 2021 businesses worldwide were battling the challenges of national lockdowns and restrictions amid the COVID-19 pandemic. The challenges of the past year have demonstrated that organisations and their people can adapt, think outside the box, work together and keep moving forwards during very difficult market conditions.
The nature of a global pandemic means the challenge and the suffering is universal – all countries – all people –all organisations. It is a test of resilience and purpose.
We live on a relatively small island and trading internationally is something we have done successfully for centuries. It is also something we need to keep on doing.
While some businesses have sadly fallen victim to the pandemic, many more have found a way to survive and even prosper. Whether your business is new or established, take a good look at the challenges ahead, review learning points shared by others, minimise unnecessary risks and loss-making operations and take positive steps to seize opportunities. Look worldwide and consider the possibilities.
Trading internationally requires attention to legal requirements around licensing, labelling, customs declarations, imports, exports, data and recruitment as well as negotiating different taxation regulations. The EU is now part of the wider picture.
Don't let the increased paperwork make you forget the basics….
Check how product names work in your target country or countries. Does the name have an unhelpful meaning in the local language; can it be pronounced by locals; is the colour of your packaging appropriate for the culture of the target country?
Not every organisation wants to look worldwide. For those looking to trade on new terms with our neighbours in the EU, there is a significant degree of consistency. The 27 current countries are still one economic bloc and 19 of them have the euro as their common currency.
It is also important not to lose sight of the people who work in your business. You know you have to invest in the people to keep the business working, but have you considered the impact of Brexit on
your EU employees? The previously open border with the EU is now closed.
Under the transition terms, assuming EU employees lived in the UK at 31 December 2020, they can continue to work in the UK without a work visa until 30 June 2021. They can only continue to work in the UK after that date if they apply successfully under the two-tier EU Settlement Scheme (EUSS). Applications can take several months to be decided. EU nationals who want to stay in the UK and have not yet applied need to do so as soon as possible.
Although employers have an interest in this procedure, they cannot apply on behalf of their people. Applications under the EUSS must be made by the relevant EU national.
Importantly the UK government stated that up to 30 June 2021 it will be discriminatory to ask an employee whether they have made an application, or enquire as to the outcome of any application, under the EUSS.
On 1 July 2021 any EU national who has not been successful in their EUSS application, or who has not applied at all, will be in the UK illegally.
In recent months, here at Crowe, we have seen businesses step up to face the challenge. We have been helping clients comply with the new regulations and requirements as well as helping them manage their global, mobile workforce.
Charles Darwin's well-known quote applies: "It is not the strongest of the species that survives, nor the most intelligent… It is the one that is most adaptable to change."
For advice and guidance on international trade issues, including VAT and Customs, please contact Chris Mould, Partner at Crowe in Cheltenham on 01242 234421 or by email to chris.mould@crowe.co.uk
INTERNATIONAL
Organisational restructuring brings opportunities and challenges and Brexit is no di erent.
Chris Mould, Partner at Crowe UK, Cheltenham O ce
PROMOTIONAL BUSINESS FEATURE
WHAT DOES BREXIT REALLY MEAN FOR BUSINESS?
It took four years, and the brinkmanship was epic on both sides, but on Christmas Eve, the UK finally secured a Brexit deal. Three months on and what's the verdict?
Carina Evans is CEO of Maidenheadbased Podium Pet Products. The company develops and manufactures natural products for domestic animals. It also sells Dog Rocks which help reduces grass burn caused by dogs urinating on lawns.
Carina said: "Despite everything, we had our best year to date last year – in 13 years of trading. We exported more to North America and Europe because we were ready to go online. We also cut products that were not selling and focused on our non-plastic ethics."
No deal would not have been a calamity for Podium. "Our biggest markets are the US and Canada. We are not dependent
on Europe, but it is a large market on our doorstep, so Brexit gave us the opportunity to give Europe another go. The shipping requirements and extra paperwork are no different from selling into North America so in theory, there should be no difference.
"Europe is our neighbour. We need it and its population need us, we just don't need such close integration and we need to protect our assets and sovereignty. I believe this degree of separation is ideal. It's a good outcome from where I stand."
She admits there are teething troubles. "But ultimately neither party wants to damage trade relationships. We have been through much bigger problems than this."
Carina is looking forward. "We want to consolidate on a whirlwind 2020, look at where we can further refine, develop new products, tighten contracts, look at other markets and travel for face-to-face meetings with customers and suppliers as soon as we possibly can."
For Swindon-based healthcare group Wasdell Group, the Brexit deal was a welcome Christmas present.
Chairman Martin Tedham, said: "Until the Brexit deal was done, there was enormous uncertainty surrounding international trade. If we had gone out of the EU without a deal, that could have been disastrous in terms of our not knowing when or if pharmaceuticals would be arriving.
"We pre-empted the confusion and inevitable teething troubles in the first months following the deal by buying an additional three months' supplies of the goods we need to deliver our services. It was really our customers who have faced difficulties – until the last minute, they weren't clear about tariffs, or when their goods would get through border controls. Our customers supply their own containers, so the burden of border issues has fallen on them rather than us, though we all expected some friction in the initial stages.
"The major difference we have seen is a steep rise in the costs of pallets – we were paying around £35 per pallet, but that rocketed to more than £100. Some transport drivers are demanding higher rates to compensate for additional time spent waiting at borders."
Three years ago, Wasdell built a new facility in Dundalk, Ireland, so it would have a European headquarters ahead of the UK leaving the EU. "Twenty of our current customers moved their work to Dundalk in January 2021 alone, and I expect more to want to do so," said Martin. "We've ensured colleagues have been trained in the new tariffs and duty regulations, and the operation is going smoothly. Dundalk is now an important strand of our expansion strategy. We own additional land there, so that we can expand that facility as demand increases."
BUSINESSINNOVATIONMAG.CO.UK 77
Carina Evans, CEO at Podium Pet Products
Podium Pet Products range
INTERNATIONAL
Martin Tedham, Wasdell Chairman
Protecting your business for tomorrow…
Hindsight is an exact science. How often do we think, we would have done it differently "if only we'd known".
The proliferation of websites purporting to provide advice based on a few general questions and algorithms, coupled with the commoditisation of the insurance broking market, is leading to a crisis in the quality of advice available to businesses and private individuals.
The wider context
The insurance broking market today, like many professional services, has gone through a period of consolidation. As a result, many community-based insurance brokers have been bought by large nationals or multinationals and subsumed into larger, less personal businesses, with limited insight into local markets, and a lack of care for relationships. People's efforts, which were once largely focused on nurturing relationships with clients, have become introspective; focused on financial reporting, internal management meetings, and the profit motive. In my view, the clients, and the quality of advice they deserve, have been lost in the dash for scale.
An advice methodology
Good advice is not an off the shelf answer or click of a button solution. In its purest form, good advice, relies on an intimate understanding of each client's business, its goals and its markets. It's about looking at each individual or business holistically, identifying the risks that are prevalent and building a strategy to mitigate, transfer or accept them. It is this diagnostic process which is at the heart of sound advice.
The best advisers anticipate emerging risks (as well as dealing with traditional issues). They reflect on concerns that keep a business owner awake at night – such as the war for talent or the loss of a key person in a business, or equally importantly in these times of remote working, the exposure businesses have to a cyber-attack or data breach.
By proactively exposing and managing the risks or fault lines in your business, a good adviser will work through the
detail, ask the killer questions, and help safeguard your future and protect tomorrow...and for that, you need insight, technical knowledge, and a commitment to seeing issues through the lens of the client. In other words, you need an experienced adviser.
About Partners&
Partners& is a Chartered insurance broker providing specialist insurance, employee benefits, risk management and claims advice to businesses and private clients. Through our collective experience, we've observed many of the best and worst practices in the insurance advisory model. We're here to challenge the status quo and we aim to establish a new level of service by combining the best traditions of broking, such as technical advice and client service, with modern thinking and intelligent use of technology, to enhance the client experience and create a dynamic workplace for our talented team.
PROMOTIONAL BUSINESS FEATURE
Bristol | Cambridge | High Wycombe | Lichfield | Leeds | London | Nottingham | Okehampton | Oxford | Plymouth | Reading | Stow-on-the-Wold
more information, visit www.partnerand.com
For
Led by CEO, Phil Barton, Partners& marks a turning point in the way advisers engage with clients.
In this article Phil Barton, looks at the value of advice.
We're creating a better way Our industry has become increasingly commoditised, resulting in diminishing client service and short term profit being prioritised over clients. We're here to challenge that with a new advisory model that puts people and relationships back at the centre
Phil Barton, CEO
Partners& is the trading style of J N Dobbin Limited, which is authorised and regulated by the Financial Conduct Authority. Registered in England and Wales No 00497227.
Phil Barton, CEO, Partners&
LEVC GOES FOR EUROPEAN MARKET GROWTH
Coventry based LEVC – the London Electric Vehicle Company, has agreed a five-year deal with logistics company TVS Supply Chain Solutions to operate a parts distribution network. As part of the agreement, the company will open a new warehouse hub in Eisenach, Germany to boost parts availability for the growing list of LEVC dealers across the globe.
This new partnership supports LEVC's 2021 European market growth plan and the introduction of the VN5 electric van into Europe this spring. LEVC continues to expand its dealer network across the UK and Europe with the aim to cover 21 markets by the end of this year.
LEVC has come a long way since its beginnings in 1908 when London taxi cab dealers JJ Mann and Tom Overton began importing taxi cabs into the UK. By the 1950s the company was making the first editions of the iconic black London taxi cab so familiar today.
In 2013 Geely Auto, China's largest privately-owned automotive manufacturer, bought the company having first invested in 2006.
By 2017, the company had changed its name to the London Electric Vehicle Company (LEVC) and opened a new global headquarters in Ansty, Coventry.
At the time it was the UK's only dedicated electric vehicle manufacturing plant, and represents an investment of more than £500 million to date.
Housing a research and development centre, as well as manufacturing, quality and testing facilities, it also stands as a centre of competence for lightweight aluminium production and EV technology within the Geely Commercial Vehicles Group.
Designed, engineered and built in Britain, LEVC launched the world's first zero-emissions capable electric taxi in January 2018.
Last year LEVC launched its first commercial electric vehicle, which it says stands ready to revolutionise the medium-sized van sector. The company says it has a total electrically-driven range of more than 300 miles - made possible by the range-extender.
New trade barriers service launched to help British businesses export internationally
The 'check for barriers to trading and investing abroad' digital service will allow users to search for information on trade barriers imposed by other countries, which could restrict businesses in trading and investing there. While not all barriers are necessarily resolvable, businesses will be able to see where barriers have been removed and the new service will highlight potential areas of growth and opportunity for their products or services.
For more information
gov.uk/barriers-tradinginvesting-abroad
BUSINESSINNOVATIONMAG.CO.UK
Coventry's LEVC vehicles head to Europe
INTERNATIONAL 79
The LEVC factory at Anstey, Coventry
The UK's manufacturers have had a torrid time of it of late. Four years of Brexit preparations, then responding to Covid-19 – both of which are ongoing.
Some manufacturing sectors – in particular aerospace and automotive, saw a huge slump in demand, others –such as the food and drink sector, saw demand go through the roof with all the challenges that brings.
Medical device manufacturers pulled out all the stops to support the pandemic response and there has been no let-up in demand for defence equipment. We have around 12,000 companies in the defence sector in the UK, employing around 250,000 people across the country.
Since the industrial revolution, Britain's manufacturing sector has risen to every challenge thrown at it. The sector employs around 2.7 million people, contributes around 10 per cent of UK GDP, which is less than financial services or leisure and hospitality, but makes up 53 per cent of our exports.
Now UK manufacturing must make more radical strides. It is being told to embrace the fourth industrial revolution – where smart technology is transforming traditional industrial
UK MANUFACTURING WILL RISE TO THE GREEN CHALLENGE, SAYS MAKE UK BOSS
practices. It has also been challenged to meet the government's much touted green industrial revolution to accelerate the UK's route to net zero carbon emissions.
After all it's been through over the past four years, and the major challenges that two of the UK's most successful manufacturing sectors (aerospace and automotive manufacturing) are currently facing following the slump in air travel and new car sales, is it ready?
Stephen Phipson, CBE is the Chief Executive of Make UK, the UK's biggest manufacturing support organisation. While he is very concerned about some areas of UK manufacturing and their supply chains, he says there are wider reasons for optimism.
"The government is about to start refreshing the industrial strategy, which will be green focused, and there will be some major opportunities for manufacturers," he said.
One nascent green technology which he is particularly excited about is carbon capture, use and storage (CCUS).
"This is an emissions reduction technology that can be applied across
the energy system. CCUS captures carbon dioxide (CO2) from fuel combustion or industrial processes, and either reuses it as a resource to create new products or services, or stores it deep underground in geological formations, effectively sending it back where it came from."
CCUS technologies also provide the foundation for carbon removal or "negative emissions" when the CO2 comes from bio-based processes, or directly from the atmosphere.
"The technology is there – we just need some pump priming from government to get it going," said Stephen.
Another technology where the UK is seen as a world leader is in the development of hydrogen as a zerocarbon fuel.
While hydrogen has been used in industrial processes for many years, the aim now is to produce the fuel without releasing carbon dioxide into the atmosphere. This can be done through green hydrogen – produced using renewable energy and electrolysis to split water, and blue hydrogen, which captures those emissions and stores them underground to prevent them causing climate change.
BUSINESSINNOVATIONMAG.CO.UK 80 MANUFACTURING
Stephen Phipson, CEO Make UK
In Boris Johnson's 10-point plan for a green industrial revolution, published last November, the Prime Minister said the government would set aside up to £500 million to invest in trialling hydrogen for heating and cooking in homes.
This would start with a hydrogen neighbourhood in 2023, moving to a hydrogen village by 2025, with an aim for a hydrogen town before the end of the decade.
Hydrogen (like nuclear fusion) has been touted for many years as the fuel of the future, but the technology hasn't been ready. However, that could be changing said Stephen: "The UK is highly innovative in this area and other
countries want access to our worldleading expertise," he said.
So much so that the UK could use its knowledge in the development of hydrogen as a negotiating tool in trade deals, he thinks.
It's innovations such as these which will help the UK manufacturing sector grow again, Stephen added.
"The UK is very, very good at high tech, innovative small volume manufacturing. We are also very good at automation, digitisation and logistics.
"We have become incredibly successful at assembly – you only have to look at Jaguar Land Rover in Warwickshire and
Nissan Sunderland, which is often cited as the most efficient car plant in Europe, for that."
But before our manufacturing sector can emerge into the sunlit uplands, it's looking like the UK will see a 12 per cent drop in manufacturing output in 2020.
To put that in perspective: in 2008 during the banking crisis manufacturing output fell by 11.7 per cent, and it took until 2019 to return to pre-2008 levels.
"We lost a decade of manufacturing in that time," said Stephen. "We're not going to see a V shaped recovery for manufacturing, and that is our challenge."
BUSINESSINNOVATIONMAG.CO.UK 81
MANUFACTURING
"The government is about to start refreshing the industrial strategy, which will be green focused and there will be some major opportunities for manufacturers"
GRUNDON LAUNCHES NEW COVID-19 LATERAL FLOW TEST KIT DISPOSAL SERVICE
The last 12 months have been incredibly challenging. From every sector of industry to family and friends, COVID-19 has reached far and wide, impacting on businesses, livelihoods and, of course, our health and wellbeing.
Never wishing to stand still, Oxfordshirebased Grundon Waste Management have developed new products and services for the ever-changing environment, including the disposal of COVID-19 test materials.
The Government's roll out of Lateral Flow Test Kits is designed to help increase regular, rapid testing for people without symptoms of COVID-19.
Community testing has been taking place across schools, universities, workplaces and many other locations – often with a focus on the testing of critical or key workers who cannot work from home.
Given the variety and number of locations where testing is taking place, it's essential that correct waste disposal procedures are in place.
Government regulations state that any waste that derives from Lateral Flow Test Kits, including the PPE worn by staff at testing centres, cannot be placed in general waste or mixed recycling. Instead they must be segregated into separate dedicated containers/sacks and sent for specialist disposal.
Test kits contain a small volume of a non-hazardous chemical which destroys any infection present. This means if the test returns a positive result, the waste is non-hazardous. Test kits must be placed
in a neutral-coloured bag and then into a dedicated container ready for collection.
PPE is classified as offensive waste and must be placed in yellow sacks with at least one black stripe and then into a separate container.
Grundon can provide a full range of approved sacks and storage containers and work with customers to advise how many of each would be necessary, based on the number of tests taking place.
Once collected, the different waste streams are securely transported to Grundon's own specialist waste treatment facilities, with all the necessary legal documentation provided.
For expert advice and information on safe and compliant disposal of PPE and testing kits, email sales@grundon.com, call 01753 686 777 or visit www.grundon.com/lateral-flow-test-waste-disposal
PROMOTIONAL
BUSINESS FEATURE
PANDEMIC FLIES AEROSPACE SUPPLY CHAIN CLOSE TO THE FLAME
The pandemic has hit the aerospace supply chain hard. Because consumers aren't flying, airlines can't afford to buy the aircraft they have ordered.
According to the International Air Transport Association (IATA), total losses for the industry last year were $118 billion with demand down more than 65 per cent on 2019. Aerospace primes like Rolls-Royce and Airbus halved – or more – production, and the supply chain cut costs and workforces.
The Midlands Aerospace Alliance, which represents more than 300 aerospace companies, is now helping companies uncover new opportunities. Some aerospace suppliers are in a better position than others. Those that make parts for aircraft programmes,
and supply sectors such as rail, and particularly defence and space which are driven by government spending, are in a stronger position than those dependent on the production of longhaul civil aircraft.
However, new opportunities are beginning to arise in aerospace, and in other sectors which see benefits in using the advanced manufacturing capabilities of aerospace companies, for example in medical and rail. One Midlands aerospace company even deployed its precision manufacturing into architectural fittings.
At the beginning of the pandemic, more than 40 aerospace companies from across the region helped in the manufacture of thousands of ventilators
for the NHS. Without the inventiveness of the aerospace supply chain, this would have been impossible because these companies made a large proportion of the components.
The Midlands Aerospace Alliance has now partnered with Nottingham University to create Aerospace UP, a £20 million project supported by the European Regional Development Fund to support the sector's supply chain.
Aerospace UP is offering SMEs grants of between £1,000 to £100,000 over 18 months. 2021 will be a critical year for aerospace. Revised forecasts for when full recovery to pre-pandemic levels predicts from 2023 – 2024 but the level of uncertainty seems to be increasing, not decreasing.
OPTIMISM FOR THE FUTURE BUT UNCERTAINTY REMAINS SAYS NEW MANUFACTURING SURVEY
More than 80 per cent of manufacturing companies expect turnover to grow this year, according to the latest manufacturing survey from accountanting an advisory firm Crowe.
But such optimism for the future is tempered by the fact that the manufacturers are working from a very low starting point.
The findings reveal that despite everything they've had to deal with this year, most manufacturers are looking to the future, with 90 per cent agreeing that Industry 4.0 will start to replace traditional manufacturing methods.
Another major issue is the e ect of Brexit. More than 70 per cent of respondents think that it will a ect their business, and almost three quarters of respondents said that current government incentives are ine ective. With almost half of those surveyed saying that their major competitors
are located overseas, if it continues to prove more di cult to export abroad, manufacturers are seriously concerned about losing long-term business.
In his introduction to the Manufacturing Outlook report for 2021, published in association with the Confederation of British Metalformers (CBM), Johnathan Dudley, Partner and Head of Manufacturing at Crowe, said: "The prospect of the rollout of vaccines over the winter and spring suggests an end to COVID-19 disruption. The EU deal also provides more certainty.
Now businesses need to use their time wisely to plan for what will be a di erent future."
The biggest challenge, outside any debt, will be rebuilding confidence in the markets and better sales, according to Stephen Morley, President of the CBM, which is the leading trade association for UK manufacturers of fasteners, forgings and pressings, coldrolled and sheet-metal products.
The main barrier to growth does not just lie in the UK. More than 30 per cent of respondents cited global economic conditions as the main restraint, just ahead of Brexit.
With most commentators and government agencies seeing the UK's future prosperity for the manufacturing sector as being export led, government assistance to increase exporting and to encourage businesses to even make a start is key.
BUSINESSINNOVATIONMAG.CO.UK 83
MANUFACTURING
Johnathan Dudley, Partner and Head of Manufacturing at Crowe
CAN SPINOUTS HELP CEMENT THE UK AS A 'SCIENCE SUPERPOWER' ?
New analysis boosts our understanding of why spinouts thrive
Out of more than 165 higher education institutions in the UK, just four universities – Oxford, Cambridge, Imperial College London and University College London – account for a third of all UK spinout companies, according to a report published in January by the Royal Academy of Engineering and research company Beauhurst.
Oxford is at the top of the list, recording 156 spinouts, with Cambridge in second with 140. The University of Bristol recorded 51 spinouts and Warwick, 38. Coventry University reported nine.
Pharmaceuticals, research and medtech are some of the UK's largest spinout sectors, along with a rapidly developing artificial intelligence (AI) sector.
The report: Spotlight on spinouts: UK academic spinout trends examines where and how effectively innovations developed in universities are being turned into real-world products, processes and commercial successes.
According to the report, spinout companies raised a record £1.3 billion of equity investment in 2018.
Oxford spinout cancer therapy company Adaptimmune, which listed on NASDAQ in 2015 with a market capitalisation of $1.2 billion, is the largest pharmaceutical spinout IPO to date.
Another Oxford company, Oxford Nanopore Technologies, the developer of portable DNA and RNA sequencing devices, raised the most equity investment of all UK spinouts in 2020, with £163 million of its total secured last year.
The report identifies a potential trend towards spinouts attracting less new investment but more follow-on funding. The data includes a huge amount of information, including which universities are successfully generating spinouts, their geographic spread, top sectors, investments and who is making them, growth rates and exits, Innovate UK grants, gender and nationality of leadership. The IP policies and stakes taken by universities are also examined.
The number of deals secured remained similar in 2019, but the amount invested decreased by 18 per cent. While the data for 2020 remains incomplete and the full impact of the Covid pandemic on spinout success and investment trends remains to be fully understood, the significantly increased average investment size could suggest a trend of more follow-on funding and less new investment.
The research has also highlighted that grants are becoming increasingly important as sources of funds for spinouts.
Building on its work to boost innovation through its Enterprise Hub, the Royal Academy of Engineering will use the evidence to inform the wider debate about UK innovation and enterprise. The data will be updated annually to track progress, identify the impact of any changes and draw firmer conclusions on the state of UK spinouts.
BUSINESSINNOVATIONMAG.CO.UK 84
"Oxford Nanopore Technologies, the developer of portable DNA and RNA sequencing devices, raised the most equity investment of all UK spinouts in 2020"
SCIENCE & TECHNOLOGY
Oxford Nanopore's DNA sequencing device
Spinout facts
On average it takes a spinout almost 10 years to exit by IPO or acquisition, and 41 per cent of spinouts ceased activity between five and 10 years of age.
Only 20 per cent of founding teams included a female member and only 12 per cent of spinouts have at least one female director.
There is a lack of data available to undertake serious analysis on the ethnicity of spinout founders and directors.
A surprisingly small number of investors account for the bulk of activity, the largest of which, Woodford Investment Management, collapsed last year.
Source: Spotlight on spinouts, UK academic spinout trends January 2021, published by the Royal Academy of Engineering Enterprise Hub and Beauhurst
Record–breaking grants awarded
More than half of spinouts incorporated since 2015 saw a university take an equity stake. The average stake taken by a UK university in the year of spinning out is 22 per centbut this varies greatly by institution and type of spinout.
There were a record-breaking 231 grants awarded to spinouts in 2020, in part due the Covid grants issued by Innovate UK. However, last year did not beat 2019 for the total amount awarded, where £68 million was received by academic spinouts. This includes grants awarded to automotive spinouts Oxford-based electric motor manufacturer YASA (£7.34 million) and Loughborough-based fuel cell engineering company Intelligent Energy (£7.35 million).
Oxford spinout success
Oxford University Innovation supported the creation of 28 new companies in 2020.
YASA in hydrogen flight first
Last summer the first ever flight of Europe's largest zero-emission plane took place from Cranfield Airport. The aircraft, named the HyFlyer, was powered by two stacked YASA-750 electric motors and hydrogen fuel cells from Oxford Industrial Park-based YASA, an Oxford University spinout. Behind this moment in aviation history is ZeroAvia – a company focused on developing a hydrogen powertrain for aviation.
Of these, four were startups from its incubator, seven were social ventures (some of which were also counted as spinouts) and 20 were full spinouts. Two were founded expressly to address the pandemic.
One of these is Oxsed. Launched just last summer as a social enterprise to develop a rapid Covid-19 test, the company's test was quickly adopted by Heathrow Airport. By November, Oxsed had been bought by DNAFit Life Sciences Ltd, part of Hong Kong-based Prenetics Ltd.
The Oxford team behind the research and development of the Oxsed rapid 30 minutes Covid-19 test was awarded the Royal Academy of Engineering President's Special Awards for Pandemic
Service for exceptional engineering achievements in tackling Covid-19.
DNAFit Life Sciences acquired exclusive rights to the Oxsed technology based on research from Oxford University. Under the terms of the acquisition, Oxsed will maintain its focus on prioritising low and middleincome countries.
Theolytics, another Oxford-based biotech this time focused on combating cancer, raised £5 million in Series A funding round in January. The round was co-led by Edinburgh-based Epidarex Capital and California-based Taiho Ventures LLC with participation from existing investor, Oxford Sciences Innovation. The financing will be used to progress the company's pipeline of candidates towards human clinical trials.
Overall, Oxford University Innovation companies raised £1.07 billion in external fundraising, plus an additional £20.3 million at seed stage.
BUSINESSINNOVATIONMAG.CO.UK 85
SCIENCE & TECHNOLOGY
The ZeroAvia flight
THE FUTURE IS BATTERY POWERED, BUT THEY NEED TO BE BUILT IN THE UK
Everyone's talking about battery technology and in transport in particular. Electrification is reinventing how transport operates, from road and aero to power generation, distribution and storage.
And with the government banning the sale of all new diesel and petrol-only vehicles from 2030, the race is on to build batteries in the UK, because unless this country is able to produce this key component of an electric vehicle close to the car plant, then the future of the UK's pioneering car manufacturing industry is seriously in doubt.
When Jaguar Land Rover announced –in the halcyon, pre-Coronavirus days of 2019 that it intended to invest around £1 billion to build electric cars in Britain, its then CEO, Dr Ralf Speth, called on the government to work with business to build a battery gigafactory in the country. He said: "The battery is 40 per cent of the cost of a battery electric vehicle. We want to keep this kind of added value inside the UK."
In 2017, before the Jaguar Land Rover boss made his pronouncement, the government had committed to investing £318 million in The Faraday Institution. Based at Harwell Campus near Oxford, this is the UK's flagship battery research programme accelerating the
commercially relevant research needed for future battery development to power the transport and energy revolution for the UK.
And then last year, almost out of the blue, along came Britishvolt. In December, the then Coventryheadquartered company acquired exclusive rights to a site in Blyth, Northumberland and intends to begin construction of a battery manufacturing plant as soon as this summer. The project cost is estimated to be £2.6 billion, and the company says that if all goes to plan, world-class lithium-ion batteries will be in production by the end of 2023.
Britishvolt is led by Orral Nadjari, who established the company in 2019. It's a hugely ambitious project, and he has recruited some of the UK's top battery experts. One of them is Isobel Sheldon, appointed Chief Strategy Officer at Britishvolt last year. Isobel was awarded an OBE in this year's New Year's Honours for her services to the EV battery industry.
Britishvolt intends to build a "second generation" gigafactory, Isobel explained. "The automotive industry currently has the same battery available to it regardless of what the product is expected to do. For instance,
the same batteries are being built for large four wheel drives, which can weigh around 2.5 tonnes, as for a small family car, where the weight can be around 1,200 kilos, but the demands on the battery system are totally different.
"We are involving the automotive manufacturers in the development cycle for the cell so we can customise it in the way that brand requires their vehicles to perform. The reason why the industry has been building the same battery for everything was that until recently, there wasn't enough volume for battery manufacturers to design specifically for a car marque."
With the internal combustion engine ban looming, automotive manufacturers can begin investing to differentiate themselves from the others. But first, Britishvolt has to build the plant. The company says that investment is being raised from across the world, including from the UK, Middle East, Norway and Sweden. According to reports, the company is also considering listing on the London Stock Exchange later this year in order to raise further funds, and has applied for a UK government grant.
Coventry City Council has also announced its intention to partner with Coventry Airport to build a gigafactory. Read our report on page 44.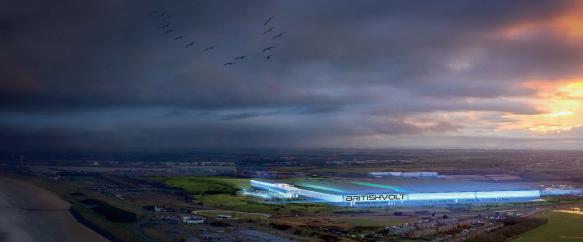 A Coventry company is planning to build the UK's first gigafactory
SCIENCE & TECHNOLOGY BUSINESSINNOVATIONMAG.CO.UK 87
The planned Britishvolt gigafactory could be operational in 2023
WHAT ARE THE BIG OPPORTUNITIES FOR COMMERCIAL REAL ESTATE ACROSS THE REGION?
Property experts o er a snapshot perspective from their area
Keeping pace with Oxfordshire's fast-moving knowledge economy
David Williams
and
Despite Covid-19, the challenge for Oxfordshire's commercial real estate is simply to keep pace with the county's fast-moving knowledge economy. Bidwells' market data reveals that office and lab take-up during 2020 was 36 per cent ahead of 2019 and remarkably 12 per cent above the 10-year average trend level, with prime rent up by 40 per cent over the past three years.
With Oxford University Innovation reporting that more than £1 billion of inward investment was raised during 2020 by companies emerging from the university, it's easy to see the driver behind the demand for commercial real estate from the science and tech sector.
The past five years have seen a gear change in the creation and scale up of these companies, and projections for the next five years are even more exciting.
Oxford has been in the international spotlight thanks to the Oxford/ AstraZeneca vaccine, and yet again in January when chemical giant INEOS announced a £100 million donation for antimicrobial research.
The immediate demand for high-tech lab space is being served by re-purposing existing office and industrial stock, which has soaked up supply and triggered rental growth. There still remains a significant shortfall in lab space around Oxford as well as offices and labs in the city centre. This supply/demand imbalance has resulted in significant capital and rental growth for those fortunate asset owners around Oxford, and a lack of stock for those investors looking to enter the market.
The great news for Oxfordshire is that development is happening – at scale. The biggest opportunities exist for the new science and technology developments delivered in the next three to five years; Harwell Campus; Oxford Business Park; Oxford Science Park, Oxford Technology Park, Milton Park, Catalyst Bicester, Oxford North, Westcott Venture Park, Begbroke Science Park and others will all add millions of square feet.
Moreover, the stable of national research facilities notably at Harwell, Culham, Westcott Venture Park and Oxford's Headington quarter are all driving innovation and scientific endeavour through the triple helix of academic, business and public sector interaction.
These have world-class research and business clusters across life sciences and healthtec, AI/data, energy and fusion, space, engineering and environmental sciences.
Oxford's real game changer will come with a new urban innovation district in the West End regeneration, with the hugely successful Jam Factory building development marking the start in 2020.
There's more to life than a long commute
Philip Campbell
Commercial Director at Milton Park near Abingdon, Owned by MEPC.
I have been lucky enough to live and work in Oxfordshire for 25 years. It's a diverse county of many strengths culturally, historically, economically, academically, scientifically and geographically.
I often think about people I know who are fortunate enough to live in Oxfordshire but travel daily to London, and how in the last year they may have realised there's more to life than a long commute.
The University of Oxford has retained its first-place position in the World University Rankings for the last five years and the Oxford/AstraZeneca vaccine has certainly put Oxford and Oxfordshire in the limelight globally.
If we are looking for chinks of light from this pandemic, these amazing achievements give Oxfordshire a platform we didn't have before.
And in my view, the eye-watering economic and social impacts of the pandemic can only serve to reinforce the need for greater investment in healthcare and research. With its newly elevated global status, Oxfordshire is well placed to capitalise on this.
BUSINESSINNOVATIONMAG.CO.UK
Partner
Head of Science & Technology, Bidwells Oxford
REAL ESTATE & CONSTRUCTION 88
We are sure that Oxford's global elevation will help our commercial real estate peers, and Milton Park achieve its 2040 Vision, our masterplan to sustainably grow from 9,000 employees to 20,000, alongside investment in travel initiatives to reduce reliance on the car as a mode of transport.
It's not just about the global platform though. At the other of end of the scale, I believe we will see a shift to more people wanting to work locally. We are seeing a growing number of enquiries for satellite space outside the big cities – for those that want connectivity –
physical face-to-face interaction and green open space.
People are looking for a separate workplace outside their home, a place that offers flexibility and accessibility
by car, cycle and public transport from home and the big cities.
As we 'think global and work local', watch this space for an exciting project coming forward at Milton Park in 2021.
quality commercial estates for office, warehouse or industrial space. The most prevalent of developments is at Gloucestershire Airport in Staverton –a new 5.9-hectare business park will provide 30,000 sq metres of commercial and industrial floor space.
Despite the impact of Covid-19, Gloucestershire remains an innovative location actively adapting to new demands.
With retail in town and city centres closing as e-commerce grows, this space is ripe for redevelopment, and investors are buying into opportunities to reinvigorate redundant upper floors into apartments for young professionals. Bruton Knowles is currently marketing multiple city centre-based properties with the opportunity to be redeveloped into flats.
But no-one wants Gloucester to become a dormitory, so the city council is investing in the redevelopment of King's Walk, King's Quarter, the Railway Station and the High Street Heritage
Action Zone in Westgate to provide modern, high spec office, retail and leisure facilities as a juxtaposition to Cheltenham's Regency grandeur.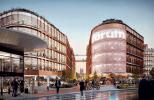 Bruton Knowles is working with Reef Group to market offices which form part of The Forum, to be made up of new homes, co-working and office space, leisure, retail, food and beverage.
Across the county we have seen an increase in speculative industrial development, with businesses looking for good quality industrial units to take advantage of the opportunities presented by Brexit and the Covid pandemic. Growth in this sector has been stymied by the historic shortage of industrial space across the region.
Examples include commercial development land at Junction 12 of the M5, providing much-needed development opportunities on this key growth corridor, along with Kingsditch Trade Park in Cheltenham, offering
Cheltenham's planned cyber park development is set to transform the town, and even more so following the selection of a development partner which will be announced soon.
Alongside this is the £1 million investment into the Innovation Centre at Gloucestershire College's Cheltenham campus.
Gloucestershire is pioneering the trend towards green technology, with one example being its shift to becoming a circular economy, opening doors to innovative, practical solutions to build or repurpose real estate to become more sustainable.
This trend continues into office space, as areas become condensed for hybrid use. Many businesses are downsizing, looking for spaces they can use collaboratively. The focus is on high quality space that reflects a company's culture and ethics. Rather than use expensive space for administration purposes, companies seek spaces which will promote creativity and innovation.
Collectively we now need to think about how we maximise these opportunities.
Gloucestershire is backing creativity, innovation and cyber
Dorian Wragg
Head of Commercial and Partner at Bruton Knowles' Gloucester office
Milton Park
REAL ESTATE & CONSTRUCTION BUSINESSINNOVATIONMAG.CO.UK 89
CGI of the proposed Gloucester Forum
Bristol's historic shortage of o ce and logistic space has cushioned the Covid-19 blow
Simon Price Partner at Alder King
The industrial and logistics market recorded an annual take-up of more than 6.3 million sq ft in the South West last year – the highest figure since 2016. This was driven by continuing demand from e-commerce, government investment in infrastructure and last mile logistics.
Bristol's industrial and office market are competing with the residential development market for sites. The city needs to safeguard more employment land.
At the start of the pandemic, some office occupiers' knee-jerk reaction was that they didn't need offices, but we have absolutely seen a change in that view. Offices play an important role in a business community and the majority of office workers want to return, albeit more flexibly. While it is likely that businesses will require 10-20 per cent less space, landlords may need to invest in higher spec buildings to attract quality tenants, such as enhanced ventilation/ air conditioning and wider wellness elements of office occupation.
Total take-up of office space across Bristol in 2020 was 764,000 sq ft, compared to 939,000 sq ft in 2019. In the city centre itself, take up in 2020 was 506,000 sq ft, compared to 693,000 sq ft the previous year, so last year's performance was better than expected, and we saw a rebound in the last quarter of last year. Against a
backdrop of a shortage of office supply in the city, there is pent-up demand.
On the high street, the issue is how to repurpose redundant retail. We are also seeing interest in converting out of town retail into residential and have seen a number of mixed-use proposals.
The future is likely to be a mix of residential, co-working, healthcare and community services in former retail dominated high streets. Businesses want the civic amenities and public transport access which high streets offer. There has also been a big uplift in enquiries from training and healthrelated businesses, all of these create activity in previously purely retail spaces.
The other big retail trend is the growth in importance of independents, but much more co-operation will be needed between retailer and landlord if these smaller businesses are going to fill the void. We are seeing more turnover deals being done, but it will take time.
While the overall situation remains unsettled, we feel optimistic for a sustained bounce-back in most sectors of the market beginning in the second quarter of 2021.
Government backs Swindon's bus boulevard scheme to transform Fleming Way
Swindon has been awarded £25 million from the government's Future High Streets fund, to help pave the way for a new bus interchange and gateway into the town centre.
The proposed Bus Boulevard scheme will see Fleming Way transformed to include a new public open space on the north side with a green central spine to increase biodiversity.
The scheme will also feature muchimproved pedestrian and cycle routes and the removal of the current Fleming Way underpass creating an attractive route from the train station into the town centre, encouraging further investment in the area.
Work on the Bus Boulevard scheme is expected to start next winter. Over the next 12 months, a temporary bus station will be created within the Kimmerfields site and the multi-storey car park off Fleming Way will be demolished as part of the wider overall plans.
REAL ESTATE & CONSTRUCTION BUSINESSINNOVATIONMAG.CO.UK 90
EQ, in Bristol, the largest speculative o ce development currently being built in the south of England
Central London occupiers "hub and spoke" strategy drives demand in Thames Valley Guy Parkes
Partner, Vail Williams
There is a trend towards a "hub and spoke" strategy whereby larger companies in central London are retaining a smaller office base in the city and opening regional satellite offices in places like the Thames Valley, attracted by the amenities on offer here, as well as the transport connectivity and financial benefits.
This will boost demand in the Thames Valley – particularly for high
Rise of pandemic-driven online retailing boosts Midlands real estate activity
Ben Truslove
Joint managing director of Warwickshire and Worcestershire surveyors and valuers John Truslove
During 2020 and into 2021, the majority of this region's activity has been in the industrial sector.
We are even seeing speculative developments, with EDR Developments acquiring a site at 35 Enfield Industrial Estate for further industrial units to build on the company's disposal in 2020 of Royal Enfield Industrial Estate.
quality space. However the availability of new, high-quality office space remains constrained, which is stimulating prime rental growth in places like Reading, Bracknell and Slough.
Bracknell in particular is experiencing an office revival, owing to the town's reputation as the UK's Silicon Valley, with a talent pool to match and a dominant ITC sector, one of the few to experience growth during the pandemic.
Reading also has this attraction with Pexip, a video conferencing rival to Zoom taking 15,000 sq ft at Thames Valley Park, Reading.
Although rents have risen in Maidenhead, the town has an oversupply of office space. Grade A stock is holding up so far, but Grade B space rental values are declining.
We have also seen an increase in demand for serviced office space as a stop gap option for some occupiers.
There is a lack of new build logistics warehouse units coming to market across the Thames Valley which are larger than 100,000 sq ft, but demand is there. This represents an opportunity for those willing to invest in a speculative scheme here.
In terms of retail, a more rapid transition to e-tailing will reduce the physical presence and size of stores on the high street and we are looking at repurposing these surplus assets. Some are suitable for residential conversion or health and leisure use, and the larger department stores a combination of offices, and in some cases last mile sorting and distribution depots.
John
The driver for much of the activity is the huge increase in online business brought on by the Covid-19 pandemic and successive lockdowns.
Online logistics is the fastest growing services sector. The Worcestershire and Warwickshire area, with its excellent national motorway connections, is ideal for retailers and manufacturers who need fast access to their markets. We are seeing phenomenal demand for any presentable industrial unit that comes on the market.
In other sectors I am less optimistic. While I'm firmly behind the Shop Local campaign, the High Street is feeling more like a lost cause, unless you have a really good business proposition and offer a product, service or specialism in very strong demand.
For day-to-day needs, while we will shop locally for something to do on our daily walk, grocery shopping is easy to do from the sofa, thanks to the massive growth in online deliveries which is the driving factor.
In the office sector we are still seeing good demand and the beginning of a trickle away from the cities. We have already done a number of lettings to office occupiers leaving Birmingham, but I would not categorise it as a tidal wave.
When furlough ends, and leases gradually start to run out, I think we could see a seismic shift in office space requirements in inner cities, but for this area, I believe this is still some way down the line.
BUSINESSINNOVATIONMAG.CO.UK
Thames Valley Park, Reading
The Royal Enfield Industrial Estate, Redditch
Truslove acted for EDR in the sale to Redditch Borough Council for £2.75 million.
REAL ESTATE & CONSTRUCTION 91
TECHNOLOGY TURNS USED COOKING OIL INTO FUEL
Demand for used cooking oil heats up as technology turns it into fuel
The year 2020 has proved that nothing in this world is guaranteed. And when used cooking oil is deemed as valuable in its own way as gold, silver and diamonds it seems like our entire perspective on value has been turned upside down.
The demand for used cooking oil has grown phenomenally over the last few years, thanks to its increasing use as a raw material in biodiesel, and the development of technology enabling its adaptation for use in products such as detergents, soaps, paints and lubricants.
The size of the global used cooking oil market is projected to reach $8.48 billion by the end of 2027, according to global research company Fortune Business Insights, up from $5.50 billion in 2019.
But successfully turning cooking oil into a usable product, such as biodiesel, takes years of expertise.
James, 44, has always been interested in the natural world. Growing up near Stroud, he studied zoology at university, followed by environmental assessment and management. "That was back in the 1990s," he said. "And it's interesting to reflect that there hasn't been much change in the fundamental science since then. What we know now we knew then."
After repeated use cooking oil begins to break down, building up toxins that can be dangerous to human health. Good restaurants and kitchens will change their oil frequently and dispose of it safely, others will sell the oil on, perhaps to another restaurant, or to a street food vendor, and the health risk will increase. If it's disposed of carelessly into the environment it can pollute aquifers and block drainage systems. Collecting the oil and converting it to sustainable fuel is the most responsible way to deal with it, keeping people healthy and the environment clean as well as saving carbon.
Gloucestershire-based Green Fuels, the world's leading distributed-scale biodiesel and advanced biofuels company, has been pioneering the technology and chemistry of sustainable fuels since 2003. Waste-derived biodiesel is one of the most carbonefficient fuels available, and Green Fuels' equipment has displaced an estimated 6.5 million tonnes of carbon emissions (CO2 equivalents) to date. A fact of which company founder James Hygate is particularly proud.
Wanting to make a positive difference, he began making his own fuel. "I've always been a bit of a tinkerer and I learned from the internet that I could make fuel from waste cooking oil. The important thing is that it is from a biological source. It is a net zero carbon fuel."
But isn't all the hype about electric vehicles now? Why bother making biofuels if we are all going to be driving electric cars by 2030?
BUSINESSINNOVATIONMAG.CO.UK 92
SUSTAINABLE FUTURES
James Hygate, CEO of Green Fuels
The right fuel for the right job
"It's about using the right fuel for the right job," says James. "For most commuting and general road use, we should all drive electric cars, or perhaps ones powered by green hydrogen. But if you have to move something heavy a long way, then biofuels are the solution."
James isn't just talking about heavy lorries. The 20-strong team at Green Fuels is also working on aviation and marine fuel. "We are building Europe's first waste-to-sustainable aviation fuel plant at Berkeley in Gloucestershire," he explained. It's an EU-funded project with BA as a strategic partner.
It is interesting that a relatively small player in a huge market should be making such progress. But the decentralised technology Green Fuels builds is scaled to the available, sustainable, feedstock supply and perfect for developing biofuels markets.
"Transport is responsible for around 23 per cent of all human CO2 emissions, and increasing at a faster rate than any other sector. Experts agree that reducing the impact of transport will be critical in combating climate change. This is our mission at Green Fuels," he added.
Last year, Wakud International LLC, Green Fuels' joint venture in the Sultanate of Oman, signed a partnership
agreement with Modern Arabian Projects LLC for the collection of used cooking oil for conversion into biodiesel. The Oman facility is 20 tonnes production a day which is pretty much all the waste oil in Oman.
Green Fuels has formed a joint venture with Indian company Aris Bioenergy to leverage Aris's considerable experience in used cooking oil collection in Mumbai. This feedstock will be transformed into biodiesel in a Green Fuels FuelMatic GSX20 biorefinery to be located between Mumbai and Pune, the first of 20 planned facilities. The joint venture is tendering to supply the offtake from this and future plants to India's three stateoperated Oil Marketing Companies.
True innovation comes from radical ideas
While Green Fuels' priority is to accelerate the adoption of biodiesel and advanced biodiesel production in places such as Oman, India and South America, the company has also set up a separate entity, Green Fuels Research, which is investigating some fairly radical ideas, including the development of fuel from maggots, and repurposing sugar cane waste as fuel.
Another project, called SALMO, is a Maritime Research and Innovation UK initiative supported by the UK Department for Transport, which will convert waste biomass from salmon farming into drop-in fuels suitable for use in marine diesel engines.
The UK has some of the world's leading salmon farms. In Scotland, more than 200 fish farms produce more than 150,000 tonnes of salmon a year. Processing waste (the heads and skin etc) produces around 20,000 tons of waste oil, and the fuel from it would save more than 34,000 tonnes of CO2 per annum.
Offbeat such ideas might be, but true entrepreneurs don't take any ideas off the table until they have been thoroughly investigated. Returning to the point made at the beginning – who would have predicted a decade ago that repurposed used cooking oil would be so valuable.
There is no single answer to reducing the climate impact of transport, and no perfect solution according to James. Alongside technology improvements, behavioural changes will have to happen. These may be easy, like doing more shopping online, or working from home; they may be more difficult, like reducing the amount we fly.
James said: "What drives us at Green Fuels is ensuring that sustainable, net-zero-carbon fuels are included in the mix, which will mean that we can continue to move goods, to travel, to make the world a small place, providing we do so responsibly."
BUSINESSINNOVATIONMAG.CO.UK 93
information
SUSTAINABLE FUTURES
Green Fuels biofuels system
For more
greenfuels.co.uk
OXFORD SUPER CHARGES ITS RESPONSE TO CLIMATE CHANGE
In 2019, Oxford City Council declared a climate emergency. It wasn't alone in doing this – many other councils across the UK have done the same thing, from Bristol to Bromsgrove, Cheltenham to the Forest of Dean, Reading, Redditch, Rugby to West Berkshire and many more.
There's no financial gain in a council declaring a climate emergency either –but it does galvanise activity.
However, the city's carbon reducing ambitions are much older. Way back in 2010, Oxford City Council launched the Low Carbon Oxford project, where a network of organisations committed to reduce carbon emissions in Oxford by 40 per cent by 2020. Now the council wants to go carbon neutral by 2030.
One of the city's flagship low carbon projects is a £41 million Energy Superhub Oxford. This is an innovative infrastructure project looking to decarbonise energy, transport and heat.
With the massive shift towards energy generation from wind and solar, the UK needs to find ways of harnessing that power and being able to control it when it's despatched.
The superhub will house some pretty mighty batteries – which will act like warehouses for the power grid, enabling
the storage of power when the sun is shining for use when the demand is much higher.
The superhub is creating what it says is the world's most powerful electric vehicle network to accelerate the electrification of transport, and the consortium is installing more than 300 ground source heat pumps around the city to replace oil and gas fired boilers with clean electrical equivalents.
The project is a demonstration of lots of different technologies but what ties it all together is the technology and understanding to be able to control the assets to deliver what the customer wants, deliver a profitable system and enable the power grid to be cleaner.
By 2022, the consortium wants to have got the entire Oxford community on board, which will drive adoption rates of electric vehicles and heat pumps higher than anywhere else in the country, and challenge other cities to do the same.
Energy Superhub Oxford is a consortium of six partners, led by Pivot Power, and includes public, business and academic organisations. The funding for the project was achieved thanks to a multi-millionpound award from the UK's innovation agency UK Research and Innovation. One of the brains behind the project
is Oxford-based Habitat Energy. The company calls itself an asset optimiser and is the first in the UK to blend data science and an algorithmic approach with an understanding of batteries and the traded markets and ancillary services in which they operate.
The company's co-founder and CEO, Andrew Luers explains: "We use these capabilities to deliver the greatest value to battery asset owners, both on a short-term basis, minute-by-minute, and throughout the life of the asset.
"Batteries are unique in that they can be generation or load and respond to what the grid needs at any given time. They're also incredibly fast and so can provide services for grid stability at a frequency level. But they can also be scaled in duration to provide what the grid needs, for very short-term responses or throughout the day to move energy from one part of the day to another.
"We are optimising the assets that are in the Superhub project, including the hybrid battery system and electric vehicles. We'll be forecasting market prices, and coupled with our knowledge of ancillary service markets, recommending the commercial strategy for these assets and then executing it day-by-day."
Using innovative new battery technology, Energy Superhub aims to deliver 20,000 tonnes of CO2 per year saving by 2021, rising to 44,000 tonnes per year by 2032.
BUSINESSINNOVATIONMAG.CO.UK 95
A computer-generated image of the Energy Superhub currently being built at Cowley, Oxford
For more information pivot-power.co.uk energysuperhuboxford.org habitat.energy SUSTAINABLE FUTURES SUSTAINABLE FUTURES
Oxford's ambitions are all electric in the city centre
DEVELOPING CLEANTECH FOR HARSH ENVIRONMENTS
Heavy duty plant equipment is likely to be one of the last transport sectors to go fully green. But thanks to funding from Innovate UK, the UK's innovation agency, a Worcestershire company is developing a battery powertrain for non-road mobile machinery.
Steatite, part of Redditch-based computing products manufacturer Solid State plc, is developing a modular battery pack including a battery management system combined with a British-sourced bespoke electric motor, providing an electric powertrain which will
EUROPE'S FIRST WORKING 3D PRINTED ELECTRIC VEHICLE PRODUCED IN SWINDON
Honda may be closing its vehicle manufacturing works in the town, but that's not the end for automotive innovation in Swindon.
The engineers behind Swindonbased tech company Scaled have built the UK's first 3D printed electric vehicle.
The vehicle is a fully functioning electric vehicle for a single passenger using large scale 3D printing technology. The Chameleon is now available for driving demonstrations.
Scaled director Bob Bradley said: "Our prototype can achieve speeds
of up to 45 mph and we have also used high-strength recycled plastic which is an additional environmental benefit to the electric vehicle aspect. In theory it should be possible to manufacture ecological light vehicles from materials that are currently dealt with as waste."
The team know that this type of vehicle won't be suitable for everyone, however it could be ideal for those who don't need to drive long distances, those needing to use a company vehicle for short journeys or security firms who need to patrol in a defined area.
scal3d.com
enable conversion of internal combustion engine powered machinery to a clean, powerful and reliable drive system
It will initially be installed in a woodchipper manufactured by Alcesterbased GreenMech Ltd, Europe's leading woodchipper manufacturer, with the aim to be the first UK-manufactured zero emission industrial woodchipper.
steatite.co.uk
solidstateplc.com
DRIVING A GREEN RECOVERY
More than £92 million in combined government and industry funding has been committed to 49 projects across the UK automotive sector to help drive a low-carbon future.
The investment, co-ordinated by the Coventry-based Advanced Propulsion Centre, includes vital support for industry research and development and funding for next-generation low-carbon technology. Through the Automotive Transformation Fund 31 projects are set to benefit from £17 million of investment in feasibility studies to support the future of green manufacturing and economic recovery for the UK.
The money will support commerciallyled research and development of manufacturing and product scale-up for a future automotive supply chain.
And £59 million will be committed to six automotive projects through the APC16 competition, including battery development, recycling and technology for cars, motorcycles, buses and commercial vehicles. The combined award with funding from the Department for Business, Energy and Industrial Strategy, matched by the industry partners, is aimed at providing support for technological growth, and will secure almost 3,000 jobs in the UK across research and manufacturing.
apcuk.co.uk
BUSINESSINNOVATIONMAG.CO.UK 96 SUSTAINABLE FUTURES
Bob Bradley & David Speight of Scaled with their printed vehicle
The region's most influential B2B magazine, in-print and online for news, features, interviews and business sector analysis. Published by NK Media Ltd.
2021 print issues will be published in March, May, July, and October
Regional Coverage: Gloucestershire, Oxfordshire, South Gloucestershire, Bristol, Thames Valley, Swindon, Worcestershire & Hereford, Coventry & Warwickshire
General Enquiries: enquiries@nkmedia.co.uk
Accounts: accounts@nkmedia.co.uk
Magazine Design: Origin Creative | www.origin-creative.com
Magazine Printers: The Manson Group | www.mansongroup.co.uk
Chief Photographer: Rob Lacey | www.roblaceyphotographer.co.uk
Contributing Editor: Ian Mean
Sub Editor: Joyce Matthews
Publisher: NK Media Ltd - Company number 10569394.
Registered Office: McGills, Oakley House, Tetbury Road, Cirencester, Gloucestershire GL7 1US
Business & Innovation Magazine is published quarterly by NK Media Ltd. Our readers are business owners, senior executives, directors, key influencers, entrepreneurs, innovators, and those working in further and higher education and government departments and business support organisations. Any opinions expressed by those quoted in this magazine are their own and do not necessarily represent or reflect those of Business & Innovation Magazine, or of NK Media Ltd. No part of this publication may be reproduced or used in any form of advertising or promotion without the written permission of the Editor-in-Chief or Commercial Director. ISSN 2514 - 7609 Nicky Godding Editor-in-Chief and Co-Publisher Tel: 07966 510401 nicky.godding@nkmedia.co.uk Kirsty Muir Commercial Director and Co-Publisher Tel: 07971 912020 kirsty.muir@nkmedia.co.uk
Head of Operations Tel: 07955 855817 lizi.clapham@nkmedia.co.uk
Lizi Clapham
ISSUE 19 SPRING 2021 NEXT ISSUE: Q2 Spring/Summer - MAY Visit our magazine online businessinnovationmag.co.uk Follow us: @BizInnovateMag @BizInnovateMag linkedin.com/company/businessinnovationmag
James Palmer Chairman, NK Media Ltd