5 minute read
Patricia Rhoden Bartels
~by Bob Gustin
Oftentimes, working with the kids stimulated me to think about things and go off in a different direction.
Patricia Rhoden Bartels has painted with aboriginals in Australia, explained American culture to teenagers in Russia, and taught art in a Yupik village in Alaska. Her art-related travels also took her to India, China, Japan, Europe, Mexico, Turkey, Peru, and many other nations.
But perhaps her favorite scenes to paint are found on the driveway to her house atop a hill in southern Brown County, or even those she sees gazing out of her living room windows.
Her 30 years here "seems like an instant," she said, and there's nowhere she'd rather live.
Some of those 30 years were spent teaching art at Brown County Junior High. And it's in Brown County that she connected with artist Fred Rigley and became a painting companion to him, which prompted renewed interest in pursuing her own work. Their plein air excursions continued until his death.
Known for her impasto style of painting, characterized by thick strokes of paint (like Vincent Van Gogh used), she does florals which include silver and gold leaf paint, and landscapes in the Impressionist style reminiscent of the founders of the Brown County Art Colony.
Art has always been her passion. Though her mother died when she was an infant, one of the family stories told was how her father first saw her mother while she was doing charcoal drawings in the window of an art store. She doesn't know whether she loved that story so much that it planted the seed for her art career, or whether she was genetically predisposed for art in general, or both. But she remembers as a child drawing on the pages of a phone book so heavily that it became unusable.
She has a bachelor of art education from the University of Toledo, and two master's degrees (arts and fine arts) from Bowling Green State University, as well as studying at Portland State University, Kent State University, the University of Hawaii, and Penland School of Craft in North Carolina.
She taught art in public schools from 1973 to 2013, and has been a professional painter since 1973.
Her work is in the permanent museum collections of the Kelley School of Business at Indiana University, the Civil Rights Museum in Birmingham, Alabama, the Indiana State Museum, Fort Wayne Museum of Art, Eli Lilly Collections, and the Evansville Museum of Arts, History and Science. Recently three of her paintings were turned into huge mosaics on the walls of the IU Health hospital in Bloomington.
And her list of honors includes awards from the Hoosier Salon, Midwest National Abstract Painting, Indianapolis Museum of Art, Heartland Art show, Indiana Heritage Arts, and many others.
But teaching, both in Ohio and in Brown County, has been important.
"Oftentimes, working with the kids stimulated me to think about things and go off in a different direction" with her own artwork, she said.
Patricia and her husband Gary Bartels own the recreational business Explore Brown County, have two children, Lance, a pilot with United Parcel Service, and Christopher, a dentist who owns Tipton Lakes Family Dentist in Columbus.
Patricia and Gary moved to Brown County in 1984 and began building log cabins on land originally owned by her father.
"I knew when I was very young that I didn't belong in the city," she said.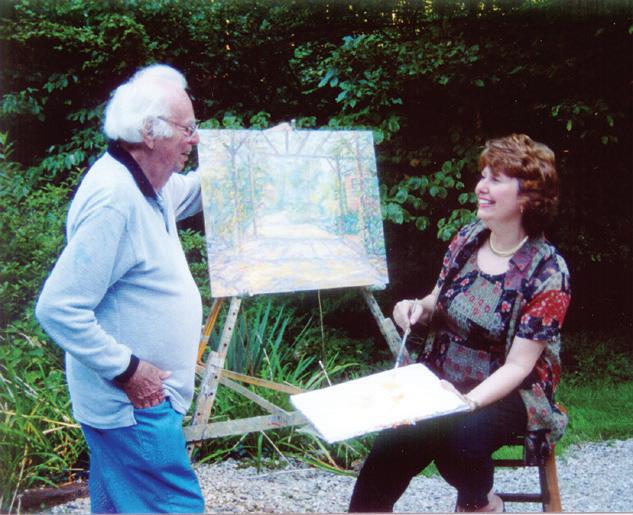 Patricia also has a degree in biology. Her father was a pathologist. She worked as a lab tech for a hospital in Ohio before beginning her teaching career, and says her background in science helps with her painting.
She remains in touch with many of the students she taught through the years
She paused her painting career for a few years while her sons were young, but got back into it with a nudge from friend and fellow artist Terri Schultz, who suggested she get to know local landscape artist Fred Rigley.
Rigley (1914-2009) was considered one of the last surviving artists who painted with some of the founders of the Brown County Art Colony. Rigley agreed to take her under his wing. It became a 17-year companionship for the two artists.
"We had a wonderful relationship," she said. "He became like a father to me."
She considers the floral paintings she is known for as abstracts, with the focus of the paintings being color and shape and moving the eye around the surface of the painting, not necessarily a realistic representation of the flowers. The landscapes she paints are often more literal, she said.
But whatever she is painting, she said art is a stabilizing factor and became even more important as the coronavirus kept her home in recent years.
"It keeps me off the shrink's couch," she said. "I mentally couldn't handle what goes on every day without art."
More information can be found on her website <www.rhodenart.com>.