SEPTEMBER 2022 NORTH SHORE CONNECTING. ELEVATING. INSPIRING. RISING STAR Julie HackettFEATUREDWilliamWetherbeeRaveisTEAM&GlessnerTeamJ.Barrett&CompanyPARTNERSPOTLIGHTChristinaPetrucciDalton&Finegold,LLP CUCCHIARAJOYCE Coldwell Banker
2 • September 2022 @realproducers We look forward to being involved in your next closing. Thank you for your referral! 150A Andover Street Suite 11A | Danvers, MA 01923 deffermortgage.com ANDREW DEFFER Loan NMLS197013508-423-6745adeffer@rossmortgageco.comOriginator Ross Mortgage Company, Inc. NMLS #2084. Equal Housing Lender. Licensed in the following states: MA: Mortgage Lender License #MC2084; NH: Licensed by the NH Banking Department as Ross Mortgage Company, #8882-MB; ME: Supervised Lender License #2084; RI: Licensed Lender #20051871LL; CT: Mortgage Lender License #18804; FL: Mortgage Lender License #MLD1418 NORTH SPECIALISTSMORTGAGEPREMIERMASSACHUSETTS'SHORE•Fixed-RateMortgages•AffordableLoanPrograms•Adjustable-RateMortgages•FHAHomeLoans•FHA203(k)RehabilitationLoans•JumboMortgages•USDAHomeLoans•VAHomeLoans Nothing Gets Past The Deffer Bros. We are here to provide you with the best mortgage experience, every time, guaranteed.
- Nora Marblehead, MA Dave is so customer focused he makes things easy when it comes to insurance. Whether it is setting up a new policy, answering my questions promptly, helping get a claim filed or any other insurance related issue he is always right on top of it. I do all my personal insurance with him and when I started my own business a few years ago he set all that insurance up for me as well. Dave is the best! - Sam Salem, MA Bruett Phone: 978-594-5308 quote@davebruettinsurance.com978-594-0236info@davebruettinsurance.com www.davebruettinsurance.com
Fax:
- Maureen Marblehead, MA We have worked with Dave Bruett for only a few years and can confidently say we would never change. Dave's professionalism and responsiveness sets him apart from the other agents we have worked with. His expertise and thorough guidance provides us the confidence that we are making the right decisions for all our insurance needs. He is our 'go to!'
ALL OF YOUR INSURANCE NEEDS MET WITH ONE AGENT Put David's 17 years of experience to work and protect yourself, your clients, and your business! PERSONAL INSURANCE | SMALL BUSINESS INSURANCE David
President
Working with Dave has taken all of the guess work out of determining insurance coverage and needs for our family—we had previously enrolled in a corporate option, thinking that our best interests were protected; however, Dave's analysis and insights not only saved us on premiums, but offered us more coverage. He holds the insurance for our home and our vehicles, continually updating us on policies and rates …without hesitation, I would recommend Dave for his knowledge, response rate and genuine customer service.
realproducersmag.com
MEET THE NORTH
If you are interested in contributing or nominating REALTORS® for certain stories, please email us at NSRP@RealProducersMag.com.
Dr. Brian Ramsey Sr. Writer Eilertson Marketing Coordinator Michelle Morello Photographer Lightshed Photography Studio
talman.hauch@realproducersmag.com
Maeve
Heather
For content contributions, or to nominate a REALTOR® for a certain story, please email NSRP@RealProducersMag.com. SHORE
DISCLAIMER: Any articles included in this publication and/or opinions expressed therein do not necessarily reflect the views of The N2 Company d/b/a Real Producers but remain solely those of the author(s). The paid advertisements contained within the North Shore Real Producers magazine are not endorsed or recommended by The N2 Company or the publisher. Therefore, neither The N2 Company nor the publisher may be held liable or responsible for business practices of these companies.
Social
Geneva
REAL PRODUCERS TEAM
Dan St. John Photographer Lightshed Photography Studio Talman Hauch Owner/Publisher/Advertising
Corey Stein Photo + Video Production Corey Stein Films Sherwood Media Manager Johnson Ad Strategist
4 • September 2022 @realproducers
The Mediterranean diet your doctor is on board; moderate wine drinking can increase longevity and reduce the risk of cardiovascular disease. Most importantly, the Mediterranean diet is about more than just food; it's a lifestyle, a mindset shift. Beyond healthy eating, it encourages people to be more active every day and to enjoy food to its fullest in the company of friends and family. Taking time to Kidd
o your children see you pay with truly understand the value of a means to save? Sooner or later, doesn't grow on trees. Why not get your the right foot financially by teaching them stuff? Small steps today can lay the foundation important? Start with a clear jar to save coins, whether putting in spare change monthly allowance. Pass on piggy banks. Allowing children to earn and save money, allowance or as payment for specific tasks provides them with the opportunity to offering important lessons about the value savings account for your child. One of teach children, especially teens, to save money where your mouth is. Match their to savings. If they contribute $10, then $10. Building a savings account at a young purchase? Encourage savings goals. Goals specific and attainable. Purchasing their game can motivate children and teens have a specific purchase in mind, help In closing, remember to allow kids room along the way, using their missteps as teachable Learning to save today is important for future. After all, "A penny saved is a penny
6 • September 2022 @realproducers (781) 821-8777 · Humboldt.com Residential Moving · International Moving · Corporate Relocation · Storage & Warehousing A United Van Lines Agent for realtors and their clients for over 115 years CONTENTS TABLE OF 10 Publisher's 14 Rising 08 Index of
G
oodbye, unhealthy habits, and hello to making redeeming nutritional choices. According to U.S. News and World Report's team of expert panelists, the Mediterranean diet is the top diet for Americans in terms of health benefits, ease, and weight-loss potential. Let's delve more into the details of this nourishing diet.
LIVING & LOVING MEDITERRANEANTHEDIET Sue
and Shauna Osborne 40 HealthyLiving
North Shore Real Producers • 7realproducersmag.com FRED INSPECTORLAPITINOSPOTLIGH T RJHomeInspection.com • 1-800-253-4402 Follow us on our social media @rjhomeinspections FULL-SERVICE HOME INSPECTION COMPANY Inspections 7 Days A Week • Reports Within 24 Hours • Nights & Weekends Phone Coverage As both a technician and manager in management,property Fred has developed an knowledgeextensive of homes that have helped him pursue a career as a home inspector. As a result of his passion for real estate and positive and friendly attitude, he has become one of the most trusted inspectors at RJ Inspections. Having an amazing attitude and an ability to communicate well has made Fred one of the most requested inspectors.Theinfluence of his parents on his passion for music and compassionate nature can be seen in his generosity and love for others. His mother's mantra "No matter where you go, there you are" resonates with Fred. With this phrase, he values being present; it allows him to be content where he is. Along with being a terrific inspector, Fred enjoys playing basketball. Formerly an AAU basketball player, he continues to play in his spare time and hopes to coach and guide young basketball players. His life isn't dominated by basketball alone, but by music as well! As a kid, he was surrounded by music from his musician father, who inspired him to become a dj on his own. One of Fred's accomplishmentsgreatestisthe growth of his family and son. The amazing qualities of Fred's character extend to his role as a father as well. During his downtime between work and family, he enjoys bonding with his baby boy. The best thing about Fred's inspections is he enjoys a great conversation, share what you like about basketball or your favorite music artists, and makes his day! WHY CHOOSE RJ INSPECTIONS? Rating on with over 1500 reviews! • Money-Back Guarantee • FREE Termite Inspection • Spanish-Speaking Inspectors • 90-Day Warranty • Home Buyer Protection • 30+ Years of Experience pay with plastic? Do they value of a dollar and what it or later, kids realize money get your kids started on teaching them about the green the foundation for a solid jar to save dollars and change or even their piggy banks. Children can't save money, as a regular specific tasks completed, opportunity to learn how to use it, about the value of hard work. One of the best ways to teens, to save is to put your Match their contributions $10, then you contribute at a young age is one way goals. Goals should be Purchasing their favorite toy or and teens to save. If they mind, help them break down kids room to take risks missteps as teachable moments. important for a child's financial is a penny earned."
Tiernan Law Sean Tiernan (617) Tiernan-Law.com791-3538
8 • September 2022 @realproducers
PARTNERSPREFERRED
ATTORNEY Capano & McGloin, LLP Lisa J. McGloin (781)
HOME STAGING & DESIGN
GilmoreGilmore.com(978)RachelAttorneysGilmoredfllp.com(978)ChristinaDaltonCapanoMcGloin.com599-1010&Finegold,LLPPetrucci783-3038&Gilmore,atLawHollingsworth777-3480
Relux ReluxDecor.com(978)AshleyDecorO'Shea979-6532
INSURANCE SERVICES
INSURANCE AGENCY Tarpey tarpeyinsurance.com(781)ElizabethInsuranceKent246-2677
INTERIOR DESIGN Living Swell Diana James (781) livingswellmarblehead.com990-5150
MORTGAGE LENDER Academy Mortgage Adam Moore (978) rate.com(781)BrianGuaranteedccm.com/liz-ryan(978)LizLizCrossCountryabout-us/team/adammooreAcademyMortgage.com/697-6019Mortgage-&MikeTeamRyan237-4431RateMahoney731-9405
This section has been created to give you easier access when searching for a trusted real estate affiliate. Take a minute to familiarize yourself with the businesses sponsoring your magazine. These local businesses are proud to partner with you and make this magazine possible. Please support these businesses and thank them for supporting the REALTOR® community
PHOTOGRAPHER PhotographyLightshed Studio Dan St. John (978) lightshedphoto.com854-5348
VIDEO
NewFed Mortgage Brian D'Amico (781) Theanthonyatenvoy.com(978)AnthonyNRLnewfed.com241-1225MortgageLapolla209-0916DefferMortgage Team Eric deffermortgage.com(508)Deffer423-6746 MOVERS Humboldt Storage & Moving Jim Humboldt.com(781)Sullivan821-8777
PUBLIC ADJUSTERINSURANCE Panakio Adjusters, Inc. Melissa Sherwood (781) panakioadjusters.com592-7575 PRODUCTION Corey Stein Films Corey Stein (781) CoreySteinFilms.com479-7774
FINANCIAL ADVISOR Northwestern Mutual Martin Connolly (781) 224-1623 HOME INSPECTION Indian Inspections,Rock LLC Brett Maloney (978) vectorhomeinspection.com(978)GlennInspection,Vectorrjhomeinspection.com(800)AdamR.J.indianrockinspections.com766-0366HomeInspectionWright253-4402HomeLLCGrutta705-1007
COMPANYATTORNEY/TITLE
ESTATE SALES Blue Moon Estate Sales Jonathan Mandell (781) MerrimackValleyBlueMoonEstateSales.com/698-7379
HOME RENOVATION Curbio.com(810)Curbio300-9432 HOME STAGING Staged Occasions Tara stagedoccasions.com(978)Konaxis885-0125
David davebruettinsurance.com(978)DavidInsuranceBruettServicesBruett594-5308
Anthony G. Keck & AnthonyAssociatesKeck & Julie Rubenstein (978) CherrySalem-Law.com745-3353TreeLegal, PLLC Brendan L. Ward, Esq. (781) simpletitle.us(978)GeorgeEscrowSimple(978)DeniseParry(781)DavidHallettwww.cherrytreelegal.com496-2013Closing&Title,LLCHallett797-0088&Parry,P.C.Parry346-0005TitleClosing&PLLCMegaloudis539-7500
North Shore Real Producers • 9realproducersmag.com We are an Independent Insurance Agency • Complete Analysis of Your Insurance Needs • Well-Educated Staff to Assist You • Business Insurance Available for All Types of Exposures • Significant Account Discounts for Home & Auto Insurance www.tarpeyinsurance.com Bill Tarpey - bill@tarpeyinsurance.com Devin Tarpey - devin@tarpeyinsurance.com James Tarpey - james@tarpeyinsurance.com CONTACT ONE OF OUR LOCATIONS! Saugus 781-233-9050 Lexington 781-861-7878 Melrose 781-665-1034 Wakefield 781-246-2677
Well, as much as I hate to say it, fall is just about here. New England summer months don't last very long for sure... however, many would argue that September is the best weather month of the year...and I agree! That said, I think we've got a great issue for you this month. Included is our cover feature, Joyce Cucchiara of Coldwell Banker. Joyce was a music teacher for 35 years before becoming the tenacious, hard-working and suc cessful REALTOR® she is today! Our Rising Star this month is Julie Wetherbee, William Raveis. Julie has settled into her career as a top-per forming REALTOR®, but there is so much more to her story. Julie gradu ated second in her high school class and received many scholarship offers. Her accomplishments in school set her up for pre-law and pre-med, but her initial love was sports broadcasting. It's a tough field of play, and she worked hard to find her place but ultimately pivoted to where she is now...a successful REALTOR® and loving mother.
Binni Hackett and Char Glessner are a two-person team...and they are particularly good at what they do.
publisher'snote
Talman Owner/PublisherHauch North Shore Real Producers
"We love the buzz of working in real estate, and we really love getting to know our clients well." Read more about their highly-polished, profes sional success story.
Also, please check out our Partner Spotlight, Christina Petrucci of Dalton & Finegold, LLP. When she made the pivot to law school from her undergraduate studies, she knew she wanted to work in law that helped people create wealth and something that enriched their lives. Thanks for reading, and happy selling!
North Shore Real Producers • 11realproducersmag.com
12 • September 2022 @realproducers We are committed to providing high-quality legal services that meet our clients' needs. Real Estate Transactions Probate Matters Estate Planning Small Business Salem-Law.comOrganization 224 Essex Street | Salem, Massachusetts 01970 (978) 745-3353Anthony KeckJulie Rubenstein
North Shore Real Producers • 13realproducersmag.com We provide: FHA. Conventional/ Jumbo – Financing Ask about our internal Bridge Financing Program RICHARD GAROFALO Vice President Loan Origination Cell: rich@newfed.com781-910-8345 98 High Street Danvers, MA 01923 MLO# 413811 | NMLS #1881
By Dr. Brian Ramsey, Senior Writer.
rising star
Photography by Michelle Morello, Lightshed Photography Studio
JULIERAVEIS
SETTING,WETHERBEEMANAGINGANDFULFILLINGEXPECTATIONS
- Dr. Seuss
Wetherbee launched her professional career with a job as a production assistant with Channel 7 (WHDH – in Boston). She discovered that she loved telling stories, and though they tried to get her to shift to doing the news, she wanted to stay in her lane: sports broadcasting. As many know, breaking into the field of television is difficult, and Julie worked multiple jobs while trying to establish her career. She served as a substitute teacher, worked in the office of business development as the marketing director for the state of Massachusetts, and she even took up yoga and later became certified to teach it. Many know her from her days of entertaining the spectators at the Boston Celtics games; yes, she was the Celtic Girl known as the Roving Crowd Reporter.
There are so many things that impact us, but then there are those times when someone creates a gamechanger, and our lives are lived on a different course – one that brings joy, fulfillment and opportunity – that is until they offer us a chance to see what we are made of by living through the cru cible of life experience.
Julie's seemingly big break came when she was asked to apply for the position of Red Sox reporter (for NESN). All signs and statements indicated that the job was hers, but in the end, she
WILLIAM
"Be who you are and say what you feel because those who mind don't matter and those who matter don't mind."
North Shore Real Producers • 15realproducersmag.com
Julie Wetherbee graduated second in her high school class and was offered many scholarships to attend various universi ties, but she chose Boston College and decided to study chemical engineering on a track for pre-med. She was very adept in math and science, so she tried to leverage those gifts. Then she took a public speaking class, and her professor told her she was born to speak to the public. Julie took several stagealsowithinishedvinced.wascourses,communicationotherandshefinallyconShefinherdegreecommunicationhonorswhilesettingtheforpre-law.
ALL OF LIFE'S EXPERIENCES AND LESSONS HAVE CREATED A COLLAGE OF EMOTIONS AND SKILLS THAT HELP JULIE TO SERVE OTHERS.
Wetherbee has learned to love her life. She enjoys being very active in sports, such as snowboarding, boxing and even skydiving. She loves to dance, practice yoga or do anything that would be a thrill-seeking endeavor. She is known by her family as someone who is patient, kind and giving and as one who will tell you what the truth is despite the consequences. That is why so many clients enjoy her too.
16 • September 2022 @realproducers was not chosen. She admits it was devastating, but Wetherbee only knows one direction – forward/up. Wetherbee pivoted to work as a freelance reporter (NESN) for a while, became a Lululemon ambassador and then finally opened her own yoga studio. COVID19 shut her small business down, and Julie found her self positioned at a major crossroads. She accessed her skill set knowing that her passion was helping people and decided to obtain her real estate license, and the rest is history. Though her professional journey started with some difficult obstacles and speedbumps, and her personal life followed suit as she navigated living through a divorce and sin gle-motherhood, Julie's resilience and perseverance helped her to press on. She has always had a thirst for learning, and Julie has determined that we cannot wait until there are no challenges in life in order to be happy. She developed the discipline of not dwelling on the hard times, and she has certainly become very empathetic for those who face similar struggles. and skills that help Julie to serve others. For her, success is very dif ferent from what it would have been ten years ago. She defines it as being trustworthy and stable and a role model for her 4-year-old daughter. "Don't misunderstand," she quips, "I have clear goals, and I want to achieve them, but I also want to spend quality time with my daughter, model a good work ethic, and build the proper home and business." In addition to her college professor, who helped her to change her course of study, Julie gives kudos to many bosses who mentored her and taught her the value of having many life lessons to share with others. As one former boss noted, "no one can take your experiences away from you." She often has an opportunity to help a cli ent by illustrating something by using the phrase "from my experience."
Julie is quick to note that one of the keys in life is to stop blaming others and other things but rather accept one's circumstances, take responsibilities and move on. Sure, some days bring tears, and others bring inexpressible joy (with every thing in between), but in the end, people can still control their modeling of charac ter qualities that matter, like class, trust worthiness, a strong work ethic, empathy and the ability to put family first.
Julie Wetherbee is engaging and knows how to create fun, but behind that ability is the genuine heart that loves to serve, and she will have much more time to demon strate that gift!
Melissa
Panakio Adjusters, Inc Brian Mahoney, Guaranteed Rate Liz Ryan, Guaranteed Rate
Corey Stein Films is a full-service production and marketing company based in Marblehead, MA. They are dedicated to creating cinematic videos for businesses that wish to connect viewers to their products or services. To learn more about becoming a North Shore Real Producers Preferred Partner, please reach out to Talman Hauch, owner/publisher, North Shore Real Producers. producersmag.com,Talman.hauch@real617-921-7033.
partner
September 2022 @realproducers
SPOTLIGHTVIDEOSERIES video spotlights you know of a great business that would love to connect with top real estate agents on the North Shore? talman.hauch@ RealProducersMag.com Wright, R. J. Inspections Sherwood,
Adam
Do
Please visit North Shore Real Producers' social media channels to view NSRP's Preferred Partner video series produced by NSRP Preferred Partner Corey Stein Films. Each video gives our readers a chance to get to know each partner in a unique and creative way.
PREFERRED PARTNER
A GIVING PROGRAM BY
DONATED THIS YEAR TO HELP END MODERN- DAY SLAVERY. Thanks to the businesses within these pages, our Area Directors, and readers like you, we're able to break the chains of this horrible reality. Did you know there are more victims held against their will today than ever before? That's why The N2 Company – the company behind this publication and 850+ others like it – is financially committed to end human trafficking. FOR EVERY AD WE SELL, N2 DONATES ENOUGH MONEY TO FREE 2 SLAVES FROM CAPTIVITY. Visit n2gives.com to learn more about our giving program.
North Shore Real Producers • 19realproducersmag.com

20 • September 2022 INFO@RELUXDECOR.COMwww.ReluxDecor.com978.979.6532 LET US HELP YOU MAXIMIZE THE HOME SALE! MARBLEHEAD • WINCHESTER • NORTH CONWAY North Shore Native - in practice since 1991 representing Buyers, Sellers & Lenders. Specializing in Residential Real Estate Transactions LICENSED IN BOTH MA & NH david@hallettesq.com 781.797.0088 David J. Hallett, Esq Tiernan Law, LLC. 400 Trade Center Dr. Suite 5900 Woburn, MA 01801 (617) 791-3538
WE ARE CLIENT FOCUSED DELIVER POWERFUL RESULTS! 301 Edgewater Place, Suite 100, Wakefield, MA 978.618.6801 | dfllp.com | cpetrucci@dfllp.com Christina Petrucci, Esq Partner Cpetrucci@dfllp.com AlannaAssociateDriscoll Adriscoll@dfllp.com NoelleAssociateRossini Nrossini@dfllp.com KerriAssociateTolman Ktolman@dfllp.com Follow Our Team @Daltonfinegold_northshore MelissaAssociateLee Mlee@dfllp.com
By Dr. Brian Ramsey, Senior Writer. Photography by Michelle Morello, Lightshed Photography Studio
DALTON FINEGOLD,& LLP Christina Petrucci
partner spotlight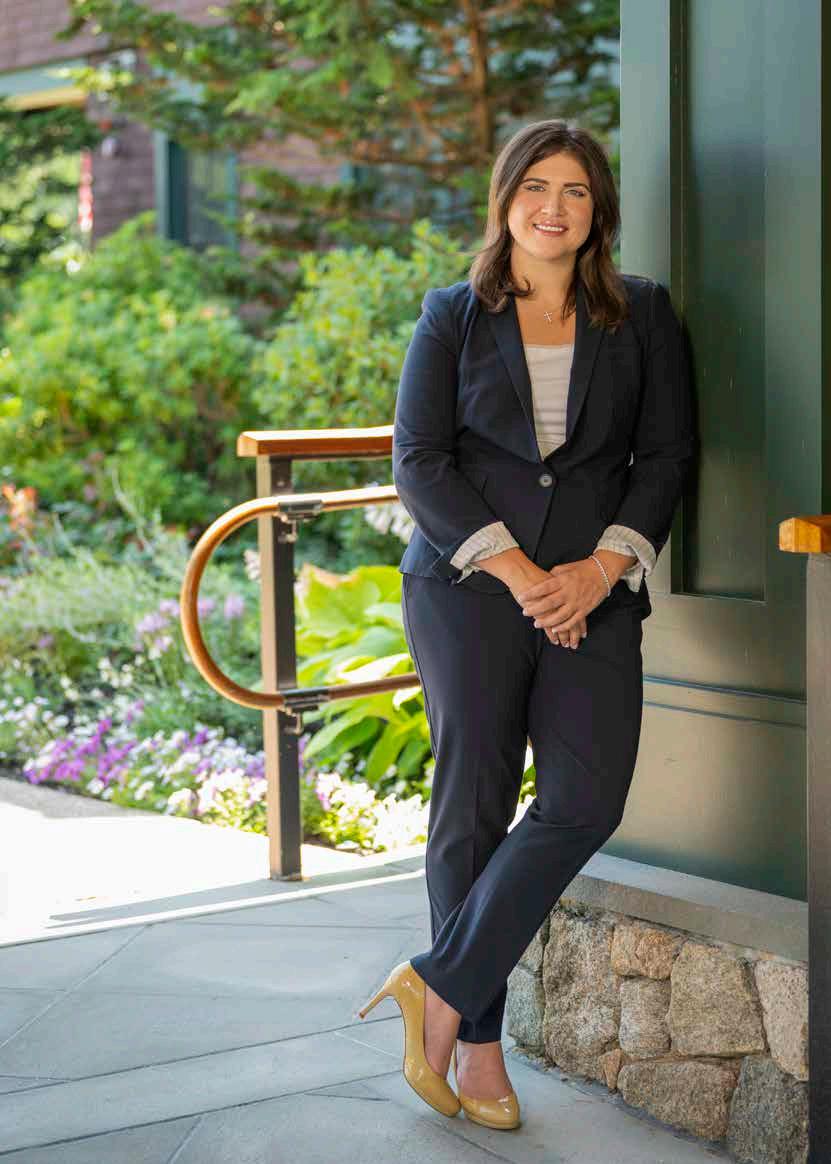 Petrucci now leads a team of seven people she mentors in law and sales. She has always had a knack for quietly observing everyone and all situations to learn how to improve her skill set. She has forged a habit of asking people who have been in her situation what advice they have and what pointers they would share. Whether they were rugby captains, women in leadership or other title leaders, Christina has made a prac tice of building on the foundation of others and trying to improve her industry by taking it to the next level.
The pandemic forced her and others to re-evaluate the many processes of closings, and what has emerged is a new method of doing business that creates a seamless and pleasant expe rience for clients and agents alike. Once a month, Christina teaches a continuing education class for
North Shore Real Producers • 23realproducersmag.com their lives – opening new chapters in their jour neys. She could have succeeded in any endeavor in law, but she has always loved the fact that she joins people who are striving to obtain that next home for making memories. Christina entered Merrimack College ready to study sports medicine, and she was excited to play rugby – even serving as the captain of the team her junior and senior years. In the last semester of her junior year, Petrucci switched her major to political science and finished with a bachelor's degree (busi ness minor). She applied to law school almost on a whim and was accepted. Christina's father, a small business owner, owned multiple properties too, and she was fascinated with the facets of law needed to secure property. This spawned an interest and led to her future upward trajectory in an industry that provides her with an opportunity to impact other lawyers, clients and real estate agents alike. Hoping to gain experi ence in a law firm while attending law school, Christina googled local law firms and was most impressed with the website of Dalton & Finegold. "I saw how committed to property law they were, and they appeared to be a technologically forward firm," notes Petrucci. She began her work there as a legal assistant on the commercial side, and after passing the bar, she also had the opportunity to move into residential work. Christina has propelled herself from an associ ate to senior associate and now to partner. For Christina, success is really about becom ing a sionalskillsgrowingmore,vatedresource;toagentsofficersreferringlawsolutionsandproblemsShesolutionresponsivesomeoneaboutbusinessresourcewell-respectedforotherpartnersandbeingknownaswhoisquitetobeingatoproblems.lovessolvingingeneralisveryadeptwithinproperty/realestate.Aspartners,loanandrealestatebeganreferringherasarespecteditonlymotiChristina,eventokeeplearning,andhoningtheinherprofestoolbelt.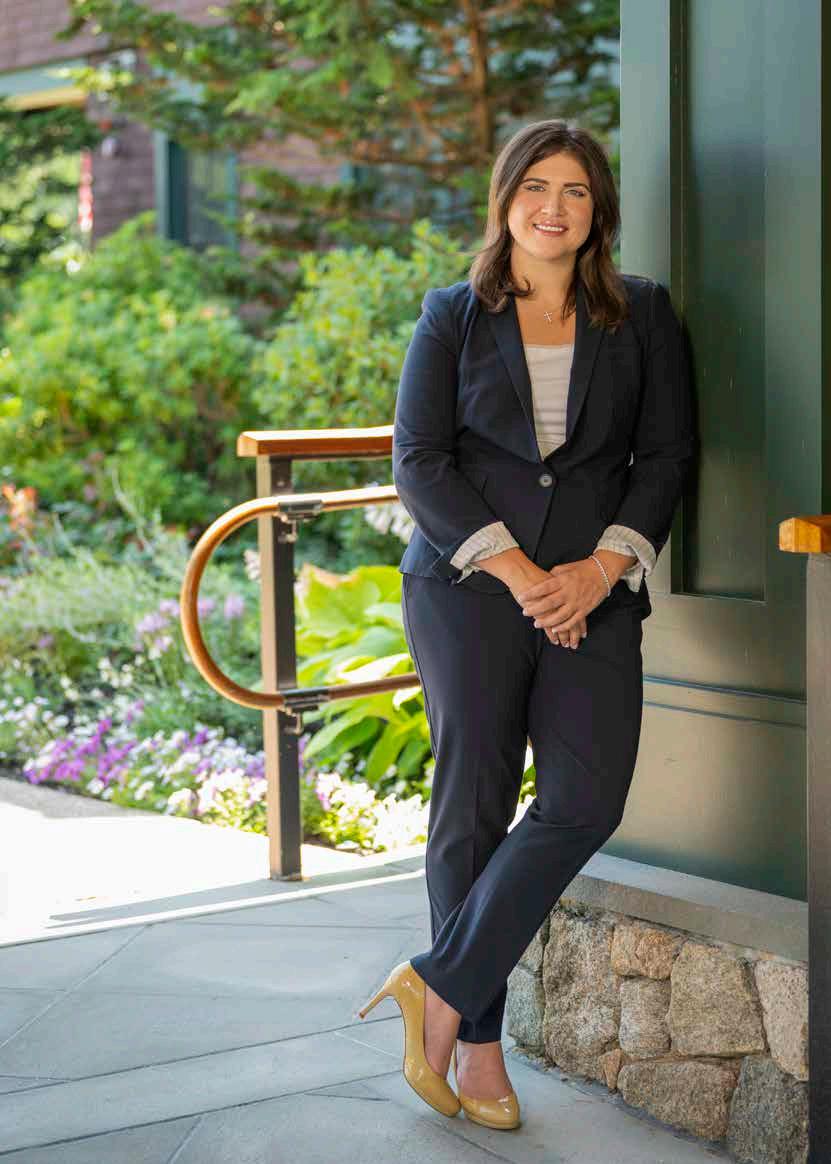 It seems unreal that, in some sense, Christina Petrucci is just getting started in her insatiable desire to impact others and positively change her industry. She hopes her legacy is defined by her efforts to make the legal process accessible, understandable and ever-evolving into the next chap ter. She will make it happen because she will get ahead of it for sure!
Christina is very close to her fam ily, and she enjoys golfing, hiking, boating, fishing and anything having to do with the ocean or mountains. If she could take a trip anywhere in the world, she would go to Australia, and if she could choose any other job and be successful, she would be the leader of an overnight summer camp – equipped with all the ame nities, exposure to a great setting in nature, sports and great technology. Her work with summer camps was life-changing, and she would love to provide that for others. Petrucci loves to give to others, but she rarely lets them know, preferring to deal with things on the "down-low."
24 • September 2022 @realproducers agents, and she loves giving them the information they need along with an attorney's perspective. She is proud of Dalton & Finegold's reputation for responsiveness and their commitment to their mantra of being "deal makers, not deal breakers." She explains, "we have the best resources, through our many other teams such as our commercial, litigation and estate planning departments who can help with a sundry of issues that affect real estate." Petrucci also boasts of a state-of-the-art closing software system that enhances the process of closing for all. In addition to the spirit of never quitting, Christina adds a mentality of always "getting ahead of it." She mentors others in learning to be proactive and not reactive, and she teaches them to set a high bench mark of completion and perfor mance. Petrucci is tenacious, but she always wants to "look at the flipside and see things from the client's per spective, taking time to walk in their shoes." Clients and agents appreci ate her balance, and they know that aggressively getting the job done comes along with care and concern for the clients' best interests.
North Shore Real Producers • 25 4 Merrimac Sq. | Merrimac, MA 01860 | (978) 346-0005 Cell (978) 423-6759 | denise@parrylawandtitle.com ParryLawandTitle.com | We conduct closings in ME, NH, MA and FL Give Attorney Denise Parry a call Closings and Escrow/Real Estate Law/Wills and Estate Planning Philip A. Parry | Emily L. Kirby Christopher J. Worthington ADD US TO YOUR CONTACTS TODAY! • (978) 705-1007 info@vectorhomeinspection.com • www.vectorhomeinspection.com HOME INSPECTIONS • SELLER CONSULTATIONS • RADON & WATER TESTING & MORE! YOUR TRUSTED FIRST CHOICE FOR PROPERTY INSPECTIONS IN THE NORTH SHORE! Glenn M. Grutta Licensed Inspector/Owner
26 • September 2022
Photography by Michelle Morello, Lightshe Photography Studio Binni Hackett was born in England, and after high school, she worked in London for a radio producer. She was an au pair in New York, where she met her husband. She also worked for Good Housekeeping magazine, and after marriage, she moved to D.C. Binni shifted her professional experience to the BBC, and eventually, she worked in a children's clothing store and then started her own company designing and wholesaling children's clothing. In 1988, Binni moved to Ipswich, and after two decades of home-schooling and starting a company that made high-end knitting bags, she launched her talents into real estate. For fourteen years, Hackett has been developing a following for real estate, and one of the game-changers in her life was creating a partnership with Char Glessner, someone she met when Char was only about 8 years old. This dynamic duo has an energy and a complementary working nature that few probably possess. They are known for their empathy, energy, and savvy style of helping people obtain their dream homes.
HACKETT & GLESSNER TEAM COMPANY
Better Together J. BARRETT &
B
featured team
By Dr. Brian Ramsey, Senior Writer.
Char Glessner attended Middlebury College in Vermont, where she earned All-American Honors on both the lacrosse and field hockey fields. She led several of her teams to national cham pionships, and she earned a bachelor's degree in sociology/ anthropology and art. She later went to graduate school and earned a degree in education. For five years, Char taught in a private school in New York City. She met her husband and lived between Paris and southeast Asia for five years. When she moved back in 2016 to Ipswich,
This team is not only smart, but they are more than willing to go the extra mile when it comes to caring for their clients. "We love the buzz of working in real estate," says Binni, "and we really love getting to know our clients well." Sure, most think that working in real estate is emotionally draining, but it really does not seem that way for Hackett and Glessner. When 99% of your clients are clearly happy with your efforts and service, it makes for a won derful relationship and custom er-friendly atmosphere.
Binni has five children, Daisy, Polly, Tristan, Flora and Finn. She also has four grandchildren, and she is known for loving animals. Hackett has a horse, a donkey, seven chickens, two dogs, two kittens and a par tridge in a pear tree – well, not the partridge. She loves to sail in the summer and is a vora cious reader.
North Shore Real Producers • 29 where she grew up, she had a game-chang ing discussion with Binni and then obtained her license to sell real estate. One of the features that makes this team work is the fact that the two thrive off each other's energy. Char notes devel oping under Binni's wing was crucial, and though she started as an assistant, it was clear in a short order of time that they needed to form a partnership – like two functioning as one. Their success in selling is proven, and they even have the artistic flair for accomplishing their goals while having a great deal of fun – playing off each other and creating a great Thoughvibe.there is a distance in age, they often help the same clients. Many of Binni's clients are downsizing while many of Char's are upsizing. You can guess how that pairs together in finding homes. For them, success is really about being busy, being better under pressure, and helping clients in leading them to a happy place – literally. Hackett and Glessner hope that, someday, they will be known as tireless and energetic workers who give over 100%. They are detail-oriented, so nothing falls through the cracks. For those who are new to the business, this duo often gives sage advice. They encourage them to keep their mindset secure by always thinking about "how" something can get done and not "if." Char says that the first two years of working in real estate are like the paint preparation of a home; it is the scraping. It is hard work, and you have to see the future benefit. After that, she thinks it is like painting – where it all comes together to make something rewarding and beautiful. They both believe in spending time under a mentor, and as one leader taught Binni – show up, work at it, and make sure you give the effort every day.
Char is married to Jon, the CFO of a regional brewery. They have a son, Henry (8), and two daughters: Lily (6) and Coco (4). They enjoy anything outdoors and most sports-related things. They like to ski in the winter and boat/ fish in the summer. They enjoy their yellow lab, Ceilidh and their black lab, Maggie. For a get away, they slip over to Maine to a cottage and create family memories.
Binni Hackett and Char Glessner are extremely thankful for the partnership that they have created and developed, but so are the many clients that have appreciated working with them. It is clear that their deci sion made them better together!
North Shore Real Producers • 31realproducersmag.com Brett Maloney, Home Inspector | Call or Text: 978-766-0366 Brett@IndianRockInspections.com | www.IndianRockInspections.com "DRAMA FREE" HOME INSPECTION SERVICES With over 35 years in the building and construction industry, we can confidently provide our clients with a detailed inspection report delivered within 24 hours. Indian InspectionsRockservices Boston's North Shore and Southern Hampshire.New
By Dr. Brian Ramsey, Senior Writer. Photography by Michelle Morello, Lightshed Photography Studio
Coldwell Banker cover feature
CUCCHIARAJOYCE
Cucchiara earned a bachelor's degree in education/music minor from what is now known as Salem State University, and she launched her professional career in elementary music. Joyce was an elementary music educator in the Methuen Public School system for 35 years, and she loved everything about her perfor mance art. In 1986, she obtained her real estate license and began working part-time as an agent on weekends and vacations, etc. In 2009, she retired from teaching and pivoted to a full-time career in real estate.
As if she needed more in her life at the time, Joyce earned a master's degree from Lesley University. For ten years (1980-1990), she per formed dinner theater at The Prince Restaurant in Saugus, MA, and after that (1990), Joyce started The Mood Swings, a three-female front band that performed girl songs of the 1960s. She was married during that time, also focusing on a sstep daughter. Other than that, Joyce's life was fairly routine! While some might question all the demands of her life, Joyce says she would not have orchestrated it any other way. "I loved the activity and the opportunity to fulfill many passions," she says.
Unless I Show 'Em I DON'T SELL 'EM
Joyce Cucchiara may be the most classic example of one aspect of the American Dream; she illustrates how hard work and tenacious dedication to the right things can sustain you across many careers – even when they coexist! Joyce moved to Peabody, MA, when she was 6 years old, and she still maintains a close relationship with the first person she befriended when she arrived. It is not hard to under stand why Joyce can keep long-haul relationships; perhaps it is her crazy energy, her straightforward commu nication, or her inspirational activity – maybe all of the above. She loves her community, and her community knows her and knows that she wants to promote it 100%.
Choosing to work in real estate was an excellent choice for Cucchiara, and she notes that her propensity to be a self-motivator all her life was a crucial factor. She does love working with people, but she really enjoys the other aspects of agent life, such as the "hunt" for a good home and the ever-exciting negotiations. It is easy to promote the city she loves (Peabody), and knowing a plethora of people who live and work there easily helps. On most Fourth of July bashes, you can find Joyce work ing with the people from all six local wards to run the parade. The landscape, if you will, was very different for Joyce when she started focusing on houses. There was no internet, and each week, agents learned about the availability of homes from the black and white pictures of a book called the "Great White Book." Much has changed and evolved since then, but Joyce has labored diligently to stay current and adapt to the new technology. She still retains the timeless features in her career of working 24/7, always answering the phone, taking advan tage of the benefits of the computer, and enhancing her social media skills.
34 • September 2022
Joyce knows that understanding the local market is vital, and she advises all newer agents to have the drive to be an expert in their area and to never stop learning. For her, success is really about hav ing a great reputation and about people respecting her and her work. She returns the respect and postulates that being honest, truthful and working hard are her staples for living the right way and doing business.
36 • September 2022 For the last five years, Cucchiara has been the number one agent in the city, and people often remark that they see her signs everywhere. She quips that she does not sell anything that she does not show, and agents are aware that if they want to show one of her listings, she will be there to unlock the door for them. She hopes that some day she will be able to be remembered as the agent who was very hard-work ing and also "got the job done." She wants to be well-respected with her clients and in the industry. Joyce has been married 26 years to Joseph Bongiorno, who retired from the Boston Herald. The couple built a home over three decades ago, and they have a daughter (stepdaughter to Joyce), Tara (married to Matt) and two grandchildren: Joanna (4) and Stella (2). They have extended family that lives two streets over, and they love to spend time together. Joyce and Joseph love to golf, play pickleball, and relax at their home in Florida. She is an avid walker (3-5 miles /five times a week), too. Joyce Cucchiara has loved her life, and she is really enjoying focusing on two jobs now: being a stellar agent and grandmother. Coldwell Banker has been her professional home for 26 years. "The company has been around since 1929, and they have a great reputation and excellent sup port system," says Joyce. The same can be said of Joyce … well, not the 1929 part.
38 • September 2022 @realproducers www.CherryTreeTitle.com | 781-496-2002 85 Exchange Street, Suite 302, Lynn, MA 01901CHERRY TREE TITLE, LLC BUYER REPRESENTATION | SELLER REPRESENTATION | LENDER SERVICES CALL BRENDAN WARD & DAN CAHILL TODAY!Brendan Ward 781-496-2013 Dan Cahill 781-496-2016 Jerry Parisella Nancy Theodore CHERRY TREE LEGAL, PLLC OUR TEAM MOVED Capano & McGloin, LLP LAW OFFICE Trusted Attorneys with Proven Results 781.599.1010 101 NORTH COMMON ST LYNN, MASSACHUSETTS www.capanomcgloin.com lmcgloin@cm-lawfirm.com
LIVING & LOVING MEDITERRANEANTHEDIET Sue Kidd and Shauna 978-885-0125Osborne • www.stagedoccasions.comtara@stagedoccasions.com INQUIRE TODAY ABOUT OUR REALTOR PARTNERSHIP PROGRAMS AND START REAPING THE BENEFITS OF PARTNERING WITH A PROFESSIONAL STAGER. HOME STAGING & DESIGN OCCUPIED STAGING IN SINGLE FAMILY HOME • AVERAGE DAYS TO OFFER: 6 • SALES TO LIST RATION: 105% • AVERAGE INVESTMENT: $2,000 EXAMPLE: $500,000 HOME - SPEND $2,000 IN STAGING & SELL FOR $525,000 (12.5X ROI) BEEN THERE, SOLD THAT.
Goodbye, unhealthy habits, and hello to making redeeming nutritional choices. According to U.S. News and World Report's team of expert panelists, the Mediterranean diet is the top diet for Americans in terms of health benefits, ease, and weight-loss potential. Let's delve more into the details of this nourishing diet. The Mediterranean diet pyramid is an excellent place to start. The pyramid features fruits, vegetables, whole grains, beans, nuts, legumes and seeds, herbs and spices, and olive oil as the foundational elements upon which every meal should be built. Beyond those key ingredients, fish and seafood should be consumed at least twice weekly and poultry, eggs, cheese, and yogurt in moderation. Save sweets, white rice and pasta, butter, and red meat for special occasions. Feel free to enjoy a glass or two of quality red wine daily, as long as your doctor is on board; moderate wine drinking can increase longevity and reduce the risk of cardiovascular disease. Most importantly, the Mediterranean diet is about more than just food; it's a lifestyle, a mindset shift. Beyond healthy eating, it encourages people to be more active every day and to enjoy food to its fullest in the company of friends and family. Taking time to savor meals allows you to appreciate your food and its flavors and origins deeply and tune in to the body's fullness cues.
With noteworthy health benefits quitedietadoptingandmention,betterandlowerdisease,riskfunction,lifespan,like increasedimprovedbraindecreasedofobesity,heartanddiabetes,bloodpressureLDLcholesterol,andfertility—nottomoreflavorfulsatisfyingmeals—Mediterraneanprinciplescanofferapayoff!
40 • September 2022 @realproducers
VIDEO PRODUCTION & MARKETING HIGH-QUALIT Y PHOTO + VIDEO SERVICES for promoting properties and towns LICENSED + INSURED DRONE OPERATORS for aerial shots ORIGINAL COMPOSED MUSIC MATCH BRAND colors + fonts + logos for custom look VIDEO OPTIONS voiceover + on screen text/titles + split-screen COREY STEIN FILMS CAPTURES THE BEST OF YOUR REAL ESTATE WITH A CINEMATIC FILMMAKING APPROACH. COREYSTEINFILMS.COM • 781-479-7774 • COREYSTEINFILMS@GMAIL.COM
financial fitness Call Us for a FREE Consultation! Visit our website to learn more about the claims process! We work for you and advocate for you throughout the entire claims process. CLAIMS WE CAN HELP WITH: FIRE & SMOKE DAMAGE | WATER DAMAGE SPECIALTY CLAIMS (OTHER) Panakio Adjusters Inc. Public Insurance Adjusters 330 Lynnway Suite 402 Lynn, MA www.Panakio.com781.592.757501903
OPEN A SAVINGS ACCOUNT
44 @realproducers
USE A CLEAR JAR TO SAVE DOLLARS AND COINS
D
Teach Children
LET THEM EARN THEIR OWN FUNDS
Do your children have certain items they want to purchase? Encourage savings goals. Goals should be specific and attainable. Purchasing their favorite toy or game can motivate children and teens to save. If they have a specific purchase in mind, help them break down their goal into manageable steps. In closing, remember to allow kids room to take risks along the way, using their missteps as teachable moments. Learning to save today is important for a child's financial future. After all, "A penny saved is a penny earned."
o your children see you pay with plastic? Do they truly understand the value of a dollar and what it means to save? Sooner or later, kids realize money doesn't grow on trees. Why not get your kids started on the right foot financially by teaching them about the green stuff? Small steps today can lay the foundation for a solid financial future.
Simple Tips to How to By Elizabeth McCabe and Shauna Osborne
Save
Allowing children to earn and save money, as a regular allowance or as payment for specific tasks completed, provides them with the opportunity to learn how to use it, offering important lessons about the value of hard work.
Take a trip to a brick-and-mortar bank and open a savings account for your child. One of the best ways to teach children, especially teens, to save is to put your money where your mouth is. Match their contributions to savings. If they contribute $10, then you contribute $10. Building a savings account at a young age is one way to lay the foundation for future financial stability.
Looking to teach your children about how saving is important? Start with a clear jar to save dollars and coins, whether putting in spare change or even their monthly allowance. Pass on piggy banks. Children can't see how much money is in their bank.
MAKE SAVINGS GOALS
NMLS ID: 441907 | NMLS 3029 State License Numbers: MA - MLO441907, ME - Licensed, NH - Licensed HAVE NO FEAR, THE SWEDE IS HERE! 978.500.5378 • 6liz.ryan@myccmortgage.comccm.com/liz-ryan978.237.4431AWinterStreetNewburyport, MA 01950 NMLS 2393492 Liz RyanProducing Sales Manager