The Wynnum Manly View
Spring Events In Wynnum Manly Manly Harbour VillageChristmas Harbour Lights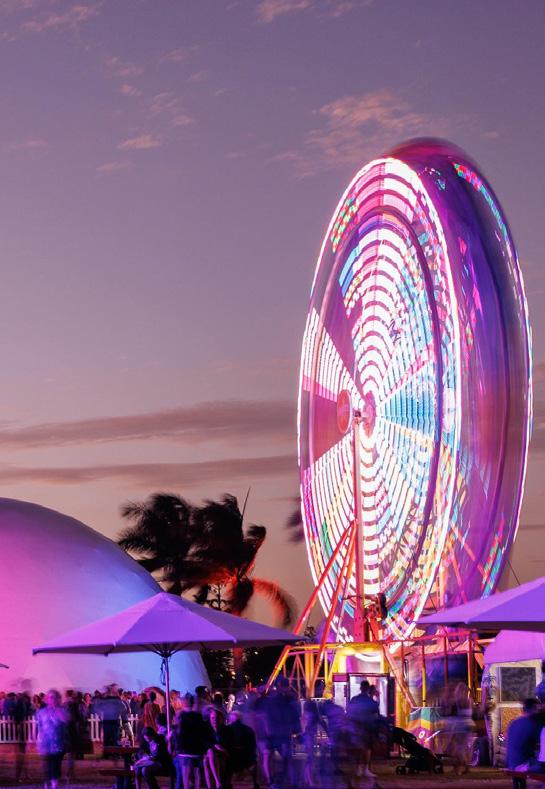 Ghouls, Ghost and Vampires are sure to feature in the AMPOL WYNNUM HALLOWEEN PARADE on Saturday 28
October as Wynnum Central has its own spooktacular.
The Parade commences at 6pm passing through Bay Terrace between Berrima St and turning right onto Edith St. From 4pm enjoy FREE entertainment, stalls, amusement rides and follow the Wynnum Retailer Trick & Treat Trail visiting many of the unique local Wynnum businesses.
Follow Wynnum Halloween Parade on Facebook for more details.
Wynnum Fringe will again rock the Wynnum Manly Bayside over three fabulous weeks from 15 November to 3 December. Comedy, music, cabaret, circus, family and kids events and much more will feature at the festival. Come along and soak up the magic vibes at the Wynnum Fringe Garden in George Clayton Park overlooking the magnificent Moreton Bay. Follow Wynnum Fringe on FB for updates.
Saturday 2nd December is the launch of the Christmas Harbour Lights Competition commencing after 4pm. Manly Harbour and Village will again be lit up this December as the yachts, power boats, businesses and homes are dressed in festive lights for a full month from 2nd December. Enjoy a harbour cruise with gift vouchers included in the ticket price for every business in the village.
The launch of the Christmas Harbour Lights will be on Saturday 2nd Dec. in Little Bayside Park. Enjoy entertainment for all the family, with Christmas Carols; a visit from the man in the red suit; a family friendly movie Merry Madagascar. The Night will culminate with a laser light show.
Look out for the promotion on www. manlyharbourvillage.com.au
• DINING & RETAIL • WHAT'S ON • LIFESTYLE & PROPERTY • THINGS TO DO • COMMUNITY •
VisitWynnumManly.com.au
SPRING 2023 / SUMMER 2024
Wynnum Fringe
MANLY CREATIVE MARKET
Every weekend. 8am – 3pm Little Bayside Park, Manly Crafts; Art, Plants, Coffee,Food & Vegetables. Kids rides and entertainment.
OCTOBER '23 TO JANUARY '24
FOLLOW Visit Wynnum Manly on Facebook for up to date details
MARKETS, 8AM - 1PM
Saturday 21 Oct 2023 & 9 Dec 2023
241 Tingal Road, Wynnum.
70 Indoor & Outdoor market stalls. Devonshire teas served at the Shire Clerk's Cottage.
EVERY SATURDAY, 7AM
FREE timed 5km run.
Wynnum Manly foreshore
Lota Reserve & foreshore
FRI 10th NOV
LATE NIGHT SHOPPING
BUY LOCAL
CHRISTMAS EDITION
Enjoy Live Music at one of these Wynnum Manly venues:
MANLY HARBOUR VILLAGE
Tide on Jetty
Bluebottle Bar
Manly Deck
Manly Harbour Boat Club RQYS
WYNNUM CENTRAL
Waterloo Bay Hotel
D&W Republic
Cedar & Pine
Wynnum RSL
Hudson Brewing (comedy night)
1st Saturday each month, Little Bayside Park, Manly
Oct 7 – Shrek
Nov 4 – Nanny McPhee
Dec 2 – TBC
Dec 31 - TBC
Enjoy FREE movies overlooking Manly Harbour. Pack a chair, blanket and enjoy food from one of the many Manly Harbour Village eateries.
JAN POWERS FARMERS MARKET
1st & 3rd Saturday each month6am – Noon Little Bayside Park, Manly Farm Fresh Organics, Vegetables, Meat, Coffee, Fresh Juices & Smoothies, Live Music & More.
ROYAL QUEENSLAND YACHT SQUADRON
WAGS (Wednesday Afternoon Go Sailing)
Every Wednesday
Registration from 12pm
Ladies Sailing
Sat. 1-3pm
Social Sailing
Thu & Fri 3.30pm-5.30pm
Saturday 9.30am-11.30am
Christmas & NYE Melbourne Cup
TUESDAY 7 NOVEMBER
Why go to Brisbane CBD?
Melbourne Cup will be celebrated at special events in bars, clubs, cafes and restaurants across Wynnum Manly. Follow Visit Wynnum Manly on Facebook for local Melbourne Cup events.
Christmas is fast approaching so why not DINE LOCAL in your choice of celebration. Restaurants, Bars, Cafes & Unique Function Venues provide the perfect opportunity to Dine local in Wynnum Manly.
Choose from Bayside and Harbour views or a friendly Village ambience. Look for special celebratory menus, especially around New Year's Eve.
Visit Wynnum Manly Facebook page for details.
Jan Powers Farmers Market