The 2023 EDITION 16th Annual Area Magazine & Community Guide YOUR COMPLETE SOURCE FOR LOCAL BUSINESS & COMMUNITY INFORMATION
Live and work in our All-American city.
Historic Medina Public Square, is at the heart of our hometown, hosting a popular farmers' market, concerts of all kinds, a brilliant holiday gala and more. Unique locally owned shops and dining spots are bustling year-round. Other attractions include museums, game spots and indoor karting. South Town and business districts north and west of the Historic area offer more retail and dining opportunities.
Low crime, access to quality heathcare, highly ranked schools, an excellent county library system, plus multiple recreational facilities, an arboretum, parks and miles of hiking and bike trails, are important to our quality of life. A successful drive to preserve the architectural integrity of buildings in our historic district and neighborhoods, combined with residential development in and near the city, has led to a vibrant housing market. Lastly, our proximity to the employment opportunities, professional sports, and world-class cultural experiences the greater Cleveland/Akron metro area offers make our city a truly attractive option.
Get to know Medina — an All-American hometown with the lifestyle and sense of community today's families desire, where business is encouraged and celebrated, and where patriotism and old-school values meet new-town ideas to make this one of northeast Ohio's fastest growing communities.
Learn more about our beautiful and amazing city at medinaoh.org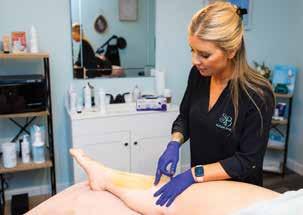      Sugaring conditions your skin while removing unwanted hair! Body Sugaring Dermaplaning Targeted Facials Clinical Couture Designer Peels featuring Image Skincare Diamond Peel Microdermabrasion Body Sugaring Studio & Spa 984 N. Court Street, Medina 440.454.4665 Say goodbye to the trauma of waxing, and never worry about those hair removal horror stories again! Book an appointment at Sugar Bar today and find out why Body Sugaring is the New Smooth. SERVICES WE OFFER: HOURS: Tuesday / Wednesday / Thursday: 10:00am - 8:00pm • Friday: 10:00am - 6:00pm Saturday: 10:00am - 2:00pm • Sunday / Monday: Closed clevelandsugarbar.com
PROUD
of our past.
POISED
for our future.
Westfield is proud to call Medina County home for the last 175 years.
westfieldinsurance.com
©2023 Westfield. All rights reserved.
We are pleased to present to you the 16th annual Medina Area Magazine and Community Guide. Thanks to the generous sponsorships of our local businesses and organizations, the publication is brought to you free-ofcharge. In turn, please support our local businesses with your patronage, and "Shop Local" whenever possible.
We are all aware that Medina has become a destination on many levels. Our businesses have found the city to be a business-friendly location with a quality workforce. In 2022, the city welcomed over 25 new businesses with ribbon cuttings. We held a 20th anniversary celebrations for Medina Center for Dance Art, and Century Cycle marked its 30th anniversary. Medina Hardware reached a significant milestone in 2022, when it celebrated its 150th anniversary, joining Medina's oldest business, 154-years-old Root Candles. We are fortunate that businesses come to Medina to stay and grow.
Known for its historic downtown of late 1800's Victorian architecture, Medina is a destination for tourists and history-lovers. The downtown Square, and most of the buildings around the Square, are included on the National Register of Historic Places. Other national registered properties in the city include: King-Phillips-Deibel House, H. G. Blake House, Medina Farmers Exchange, Judge Albert Munson House, A. I. and E. R. Root Homestead, Spring Grove Cemetery, Donald
Pease Federal Building, and St. Paul's Episcopal Church. Additionally, over 100 homes in the city are on the Ohio Inventory of Historic Properties.
Medina is the host for great events that bring thousands of visitors to town, including the Ice Festival, concerts, crafts and art shows, Ladies-Nights-Out, Cars and Coffee, and the holiday celebration ushered in by Candlelight Walk. There is always something going on that brings visitors to Medina. In 2022, Medina was tapped to host a lunch stop for the cross-country Great Race that featured 260 vintage automobiles racing from Rhode Island to North Dakota. We are proud to say that Medina was selected by the racers and race staff as the "Best Lunch Stop."
Lastly, Medina is a destination for new residents. One drive through the Square and folks know this is where they want to live, raise a family, or make it their retirement home. Medina has award-winning schools, a premier library system, an extensive selection of fine parks and recreation choices, safe streets and neighborhoods, and world-class healthcare. No matter how you have found your way to Medina, we welcome you. If you have any questions or we may assist you, please contact the city at 330-725-8861 or visit www.medinaoh.org.
Sincerely, Dennis Hanwell Mayor, City of Medina
www.medinaoh.org 3
MESSAGE
MAYOR'S
Mayor Dennis Hanwell
This is an Image Builders Marketing, Inc.™ Trademark Publication Created and produced for the City of Medina. City of Medina Dennis Hanwell, Mayor 132 North Elmwood, P.O. Box 703 Medina, Ohio 44256 330-725-8861 www.medinaoh.org
Copyright © 2023, All rights reserved. Image Builders Marketing, Inc. www.ImageBuildersMarketing.us To advertise in the next edition call: 440-346-4482 or email: bkimagebuilder@outlook.com Additional
No part of this publication may be reproduced by any means without the written permission of the publisher. Advertisements and listings in this publication are provided as a public service. Image Builders Marketing, Inc. is not responsible for errors or omissions, and inclusion does not constitute an endorsement or recommendation.
4 Medina Area Magazine & Community Guide | 2023 3 MAYOR'S MESSAGE 5 BUSINESS & COMMUNITY LEADERS 9 CITY OVERVIEW 16 EDUCATION 17 LIBRARY 18 HEALTH & WELLNESS
THE COVER:
Swing Creative This Page: Gazebo in Medina City Square Photo: Main Street Medina 24 HOMES & REAL ESTATE 25 PARKS & RECREATION 26 MAIN STREET MEDINA 29 COMMUNITY INFORMATION 30 MEDINA AREA MAP 34 PLACES OF WORSHIP 37 DINING GUIDE 40 ADVERTISER INDEX Contents 2023 AREA
Medina
ON
Photo: Courtesy of Tommy Lee Byrd of Corker Tire. 2022 Great Race Winner a 1932 v Ford Speedster, Team of Josh Hull and Trevor Stahl. This is the winning team that traveled through Medina as part of a cross-country race in 2022. Cover design: Judy Barabas, Red
MAGAZINE AND COMMUNITY GUIDE
BUSINESS President & Publisher BERNICE P. KALDY Business Manager MARY DODGE Editor LAURA LAKNER PRODUCTION Art Director & Production Manager GAIL HARTMAN Production Coordinator ANDREA BARTEL Designers JUDY BEVERIDGE KATIE HOWARD Photography CITY OF MEDINA MAIN STREET MEDINA Writers KEN McENTEE LAURA LAKNER SALES & MARKETING Vice President SCOTT HUGHES Community Consultant ALEX DRELLISHAK Map MEDINA COUNTY ENGINEER'S OFFICE
copies are available at the City of Medina Or view the book online at www.medinaoh.org
Image Builders Marketing, Inc. would like to extend a special thank you to all the business organizations and individuals who take an active and enthusiastic role in the Medina Area Magazine & Community Guide, especially our advertisers who provide the financial support to make this a successful community project. We hope that you enjoy the informative features contained in this publication and will keep it as a reference guide for community and advertiser information.
Logan T. Mellert, CO, FACOS, FACS, Summa Health
Steven Walbolt, President, MDG Flooring America
Chad Gibson, General Manager, Bunker Hill Golf Course & Event Center
Lisa Puto, President, Crossroads Home Loans
Brandon Rapp, CEO, Homestead Insurance Agency, Inc.
Sheri Smith, Branch Manager, PSE Credit Union
Dennis Hanwell, Mayor, City of Medina
Kimberly Marshall, Economic Development Director, City of Medina
Aaron Sable, Superintendent, Medina City Schools
George Sam, Executive Director, Main Street Medina
John Coyne, City Council President
Dr. Kate Cartwright, Owner & Dr. Karry Rogus, South Court Dental
www.medinaoh.org 5
Dr. Anita Bellante and Dr. Meghan Foote, Southwest General Medical Group, Inc.
South Court Dental
It's Not Just About Teeth
South Court Dental welcomes you to a practice of skilled professionals. This all-female staff, led by Dr. Kate Cartwright and Dr. Karry Rogus, provides general dentistry for adults and children. When you make an appointment there, be prepared to talk about more than just your teeth. "Getting to know patients is one of the core values of our practice. That may seem old-fashioned in today's fast-paced medical environment, but it's just who we are," explains Dr. Cartwright.
There is nothing old-fashioned about the dentistry at South Court Dental. They provide the latest technology, including Invisalign® clear orthodontics and cosmetic dentistry.
If you are looking for a privately-owned dental practice that values high-quality, reliable dentistry, you will find a home at South Court Dental.
South Court Dental is located one mile south of the
Call 330-725-0581 or visit www.southcourtdental.com
6 Medina Area Magazine & Community Guide | 2023
Dr. Kate Cartwright, owner, and Dr. Karry Rogus
Medina Square on South Court Street.
to schedule your appointment.
Logan T. Mellert DO, FACOS, FACS
Summa Health
Logan T. Mellert DO, FACOS, FACS is board certified in General Surgery by the American Osteopathic Association. He received a bachelor's degree in Chemical and Biomolecular Engineering with Polymer Specialization from The University of Akron. Following medical school at Ohio University's Heritage College of Osteopathic Medicine, he completed General Surgery Residency at Western Reserve Hospital in Cuyahoga Falls and Fellowship in Bariatric and Minimally Invasive Surgery at Summa Health.
Dr. Mellert is a Medina native, an alumnus of Medina Sr. High School ('05) and proud to carry on his family's tradition of caring for the residents of Medina County. His grandmother, Mary Mellert, was a long-time nurse and manager at Medina General Hospital, where his mother also worked. He specializes in minimally invasive and robotic surgery, bariatric/metabolic surgery, and abdominal wall reconstruction. He has a strong passion for surgical education, publishing numerous peerreviewed articles, books, chapters, and surgical videos.
Summa Health • 95 Arch St., Suite 260, Akron 234-260-3365 • www.summahealth.org
Brandon Rapp and Mark Herwick Homestead Insurance Agency Inc. H
omestead Insurance Agency Inc. is a professional agency with a personal touch. With over 70 years of experience in Medina County and the insurance industry, Homestead can be trusted to complete an analysis of your insurance needs and design a responsible protection program for you.
Located at 1324 Pearl Road in Brunswick, they offer a variety of professional insurance services and policies as an independent agency. They represent various outstanding carriers in our industry. Brandon Rapp (CEO) and Mark Herwick (President) represent the following products that include, but are not limited to: auto, home, motorcycle, recreational vehicles, and all types of commercial insurance. Homestead also specializes in the sale of life, health, annuities, long-term care, medicare supplements advantage plans, medicare prescription drug plans, and disability income. Our goal at Homestead is to provide you, the customer, with the best coverage at the lowest premium, while building a longstanding relationship with excellent, personal service.
Homestead Insurance Agency Inc.
• 1324 Pearl Rd., Brunswick Brunswick: 330-225-3100
• Medina: 330-725-3100 www.homesteadins.com
Client Service First
Crossroads Home Loans is celebrating 15 years of "Lending Made Easy"! That is what you will find with the local female-owned mortgage wholesale broker. With an average 2-8 day clear to close you may apply online or in person with competitive costs, & interest rates! They use a simple, "web based platform".
Crossroads Home Loans is a proud team of not only loan originators and underwriters, but also a full team of loan concierge specialists, multiple lenders, attorneys, and investors at the forefront of ingenuity, technology & loan products. "We take it a step further through our simple process, as the
consumer has control. We are relationship driven first, not transaction driven! In the last 15 years we have excelled through many markets. Even during the "mortgage melt down of 2008," we never faltered & truly are mortgage & commercial loan specialists" says Lisa Puto, owner.
Crossroads puts your needs first & is quick to refer or team up in consultation, preapproval, and approval with your local Realtor, CPA, Attorney, retail bank & Financial Planner. Whether you are purchasing or refinancing, a first-time home buyer or owner of multiple properties, they are ready to close your mortgage or commercial transaction.
• Go DOC-LESS & click the QR code, data enter/ upload/ credit pull
• As little as 0-3% Down Payment and NO Mortgage Insurance
• 1% down Conventional Loan Product
Lisa feels truly blessed to do a job that touches her heart as she gives back by supporting the Medina community & nonprofits. Lisa's goal is to educate her customers in purchasing their first home, vacation home, commercial property, or investment portfolio.
*Rates and terms are subject to change based on market conditions without notice. This is not an offer of a commitment to lend, must be approved.
Crossroads Loans dba, a division of Crossroads Financial of NE Ohio, LLC.
NMLS 252654 MB 803916
Lisa Puto, Mortgage Banker Owner
NMLS 284925 LO 015669 NMLS 252654 MB 803916
Crossroads Home Loans • 440-638-5280, C-330-321-6400 • www.crossroadsloans.com
www.medinaoh.org 7
Brandon Rapp, Owner & CEO and Mark Herwick, Pres.
Logan T. Mellert DO, FACOS, FACS
Compassionate OB/GYN Care Close To
rs. Anita Bellante and Meghan Foote are board-certified obstetricians/gynecologists who provide care to women, from adolescence through menopause. In their practices, they focus on providing personalized, compassionate care and targeted health education, which makes their patients feel supported, safe and an active part of their own care. Both physicians specialize in prenatal/pregnancy care, relief of perimenopause and menopause symptoms, all forms of contraception, minimally invasive in-office procedures for excessive menstrual bleeding, tubal ligations and laparoscopic surgery. Each physician has additional specialties and unique interests, which make them valuable advocates for women's health no matter what OB/GYN issues arise during a woman's lifetime. Drs. Bellante and Foote are accepting new patients at their office in Medina, which is convenient, safe and close to home for local residents. To make an appointment, call 330-952-2251.
MDG Flooring America
MDG Flooring America is a floor covering retailer, located in Medina, OH specializing in custom floors, showers, and backsplashes. They have a 5,000-square-foot showroom that allows their consumers to make selections with one of their trained sales consultants.
If you are looking for budget-friendly selections or customization, MDG Flooring America offers many options to accommodate every client. Many customers have returned since the opening in 2001 and have referred friends and family, which MDG considers the highest compliment they can receive.
As a 20+ year family business, they treat everyone like family and hold themselves accountable to deliver a superior experience every time.
With the addition of Kiba Studios, the MDG showroom now offers a one-stop shop for everything needed to upgrade kitchens and bathrooms, with everything from quality cabinets and countertops to plumbing accessories and organizing systems.
MDG Flooring America
• 3182 Pearl Road, Suite C in Medina 330-725-5252
• www.mdgflooringamerica.com
PSE Credit Union
Cuyahoga and Medina County's Family Bank
What started more than 65 years ago as a credit union for the Parma school teachers is now a thriving not-for-profit bank that offers Cuyahoga and Medina County residents financial services and more.
PSE Credit Union, conveniently located at 3845 Pearl Road in Medina Township, offers all the same services as a bank, "but with lower loan rates, higher savings interest rates and lower fees," says Branch Manager Sheri Smith.
This family-oriented institution now includes over 18,000 members throughout Cuyahoga and Medina Counties and makes educating kids about finances a core part of its mission.
"As part of our commitment to kids, we take our mascot Pennie the PSE Puppy into schools and teach kids as young as kindergartners to save money through our Pennie Club," says Smith.
PSE Credit Union
• 5255 Regency Drive 440-843-8300
• www.psecreditunion.org
Golfing Since 1927
Chad Gibson is the General Manager at Bunker Hill Golf Course in Medina, where he continues his passion for the community as host of two local high school golf teams and the Special Olympics.
As a Medina County native who's worked at Medina County Golf Courses and Event Centers for 34 years, his philosophy of giving shows in networking, community involvement, investing in and helping individuals, families, and businesses succeed.
Chad has hosted over 2,500 fundraisers that have accumulated over $3,000,000 given back to our local schools, churches, military, scouts, families in need, and non-profits. Over the years, Chad and his team have developed a niche in hosting and co-chairing events to help the community.
Chad spent several years as a director and a volunteer for local Chambers and non-profit organizations. He is a current member in BNI with past leadership roles as President, Vice President, Mentor, and Ambassador.
Bunker Hill Golf Course • 3060 Pearl Rd., Medina 330-722-4174
• www.bunkerhillgolf.com
8 Medina Area Magazine & Community Guide | 2023
Sheri Smith, Branch Manager
Steven Walbolt
Steven Walbolt, President
Bunker Hill Golf Course
Chad Gibson, General Manager, Bunker Hill Golf Course
Medina OB/GYN-Southwest General Medical Group, Inc.
3985
•
l 330-952-2251 •
DHome Medina OB/GYN – Southwest General Medical Group, Inc.
Medina Road, Suite 200
Medina, OH 44256
swmedgroup.com
Dr. Meghan Foote Dr. Anita Bellante
Medina: A Destination City
By Ken McEntee
The friendliness of the Medina community made an impression even on a guy who used to frighten people for a living. Horror actor Ari Lehman – the child Jason from the film, Friday the 13th – appeared at a meet-and-greet last summer to promote a new local business. "When he left, he said that he visits a lot of towns across the country, but he had never visited a town that was as beautiful and as friendly as Medina," shares Mayor Dennis Hanwell. "That's not unusual. So many people I talk with say the same thing. It warms my heart to hear things like that because that's just what we want. We want people to feel welcome and feel that they're a part of our community."
Medina has long been recognized as an ideal community in which to live, run a business and raise a family. But Hanwell says it's also a compelling place to visit. "We're working very hard with Main Street Medina and the Chamber of Commerce to make Medina more like a destination," he says.
Perhaps the town's most notable attraction, the iconic Public Square is surrounded by Victorian style buildings,
www.medinaoh.org 9
CITY OVERVIEW
8 Continued on page 10
CITY OVERVIEW
Medina: A Destination City
7 Continued from page 9
projecting the ambiance of a quintessential old fashioned small town. "The events and activities on the square and throughout the nine-block historic area keep the town vibrant and are very helpful to our business community," Hanwell said. "If an event brings in 10,000 or 15,000 people, they have to eat somewhere. They're going to get a coffee or a soda somewhere."
In one of last summer's events, Medina was recognized as the "best lunch stop" in The Great Race — the country's oldest, longest running vintage automobile event. The 2022 race featured 120 vintage automobiles that embarked on a nine-day, 2,300-mile adventure from Warrick, Rhode Island to Fargo, North Dakota — with a lunch stop in Medina. "We were one of two stops in Ohio, says Kimberly Marshall, the city's economic development director. "Lunch was at the United Church of Christ, Congregational and we got money to get the racers lunches from Buehlers. The city received a plaque from the race organizers."
Hanwell said mutual cooperation among local organizations helps to coordinate events and collaboratively promote the city. "Real estate agents love to drive clients through the Square whether it's on their way to a destination or not. That's what a powerful draw it is," Hanwell says. "When people see the Square and our historic district—and how meticulously we've been preserving the area—they want to be a part of it."
Convenient amenities help to make the Downtown historic district visitor friendly. "A few years ago we built clean, modern public restrooms, so when we have our many events on the square, people don't have to use portable toilets," Hanwell says. "We've added 72 flower pots to beautify the Square. The improvements we've made have made it attractive for organizations who want to bring concerts and plays to the Square, so it draws a lot of people, both locals and visitors."
10 Medina Area Magazine & Community Guide | 2023
THAT'S RIGHT FOR YOU ,noitamrofnillacF 3 0013-522-03 tisiv w moc.snidaetsemoh.ww elbaliavalla.setatsP W retaergeulavnaht tnednepednitnegatH daetsemo I ycnegA.cnIegarevocll'eWplehuoyroliatruoy gnolaeht.yawfi
INSURANCE
Medina's annual Ice Festival is very popular every February.
Public Square also is a strong center for business activity, Hanwell notes. "There's such a demand in the Downtown area for the businesses that if a location becomes available, there are literally five, six, seven people vying for it."
To tempt I-71 commuters to exit the highway and explore the town, "Historic Medina" road signs were installed on I-71 in 2016. "We're not right on the highway, so if travelers don't know about us, they might just stop at a chain restaurant near the interchange," Hanwell
Continued on page 12
MEDINA |
New hires start at $20
• Pay increases to $23.10 after 90-day probation and job training certification is complete
• $1 -$1.25 shift differential available for working second and third shift OR 12-hour night shifts
• First day benefits including medical, dental, vision, employee assistance program, and wellness program
• Scholarships available after one year of employment to those who would like to pursue their education
• Holiday pay on the first day of employment and vacation at six months
• 401(K) retirement savings with 100% company match up to 6%, including employee stock purchase program (ESPP) at 15% every six months
• Parental leave with two weeks paid time off for all new parents, including adoptions
• Career advancement opportunities
• 7% quarterly bonus potential when the plant meets production goals
890 W Smith Road Medina, Ohio 44256
www.medinaoh.org 11
Owens Corning
PHOTO: MARY LOU TOLER 8
Farmers Market
CITY OVERVIEW
Medina: A Destination City
says. "They only have to travel a few more miles up the road to experience the local businesses and the charm of Downtown Medina."
Printed visitors guides help tourists find their way around the town's many attractions. "They give guests an orientation of where all the public parking is, where all the stores and restaurants are, and they have a listing of all of the upcoming events," Hanwell says. "If somebody is in town for a craft show or for Art in the Park, for example, they may find an upcoming event that will draw them back here later. We think doing things like that to market the town has really helped with our success."
Community-oriented Government Hanwell says the philosophy of "community oriented government" has helped to make residents happy and proud of their town. "City employees don't say 'that's not my job' when we see something that needs to be done," the mayor insists. "If there is a problem, it's everybody's responsibility to fix it. If there is a defect in the street for example, it doesn't matter whether somebody from the Parks Department or a clerk at City Hall spots it — it's all of our responsibility to get it reported and get it corrected before somebody damages a tire. The goal is to make sure that even small problems are fixed promptly so that the city always looks well kept, clean and pretty. When I
AROUND THE SQUARE: businesses decorated Fall flower pots as part of a local contest; a sample storefront showcasing the Victorian architecture that has been restored to make residents and visitors feel as if they're stepping back in time; Root Candles, celebrating more than 150 years of business in Medina.
was with the police department including almost 13 years as chief, we called it a community oriented policing model. We've adopted that into our community oriented government model."
The results of the philosophy were recently illustrated when a "windshield survey" team from Baldwin Wallace University remarked how clean and well maintained the city was, Hanwell shares. "We want it to look that way all the time," he says. "We never know when it's the first time that somebody visits our community."
Local Growth
To serve Medina's many visitors, local developer Jim Gerpsacher is planning to construct a 75-room hotel near the Square, across from Castle Noel. "I think it'll be a nice addition to the city," Marshall says. "When our businesses in the industrial sector bring clients or team members into town, they have to stay out near the highway. It will be convenient for them to stay here in town, supporting our local businesses."
Low Taxes
Among the perks that attract residents to Medina is the city's low tax rate, Hanwell says. "At 1.25%, we have one of the lowest income tax rates in the state of Ohio," he says. "Residents agreed to raise the rate from 0.5% to 1.25% providing that 20% off the top goes into street and storm sewer repair. Before that many of our streets hadn't been kept up because we simply didn't have the money. We now put $2.2 to $2.4 million a year into streets and sewer."
12 Medina Area Magazine & Community Guide | 2023
7 Continued from page 11
Strong Business Development
Marshall says the city has continued to experience strong development in the service and retail sector. "We've had about 16 new businesses open since October 2022," including Operation Fandom, a collectables shop; Blackbird Records; First Watch restaurant; Monarca Cantina Mexican restaurant; and Wendy's construction has been completed.
"In the industrial sector Sandridge Foods and Spray Products did expansion projects in 2022, and NCT Technologies, a manufacturing company that does powder coating, started up," Marshall says.
Medina, she says, offers a friendly business environment. "Time is money, so we do what we can to get projects moving along so businesses can get up and running a lot quicker," she says. "From our Planning and Zoning Department, to our Building Department and Engineering Department, you can get your plans looked at within 30 days. Many businesses tell us it can take months, if not more than a year, to get through those processes in other cities.
Our cooperative business model, along with our strategic location, makes Medina an excellent place to run a business."
into 2023 we are focusing on our Core Values to keep our team members engaged and our business and community partnerships strong as we navigate toward our goal of continued growth and sustainability. www.sprayproducts.com
www.medinaoh.org 13 B usiness e vents • fundrais ers s howers • B irthdays • & More! Go lf simulators available for your event Bunker h ill Golf Course & e vent Center 3060 Pearl Rd., Medina, Ohio 44256 330-722-4174 • BunkerHillGolf.com Trust
Partnerships Peformance & Execution Empowered Collaboration Always Getting Better
Honoring
Spray Products is proud to be an employer in Medina County. As we move
Students had an opportunity to share their learning at the November Chamber of Commerce
The Opportunity to
MEDINA CITY SCHOOLS
The Medina City School District encompasses approximately 52 square miles, including the City of Medina, Medina and Montville Townships, and a portion of Lafayette Township. The District's current enrollment is about 6,300 students. Facilities currently include seven elementary schools: Eliza Northrop Elementary, Ella Canavan Elementary, Garfield Elementary, Heritage Elementary, H.G. Blake Elementary, Ralph E. Waite Elementary, and Sidney Fenn Elementary; two middle schools: A.I. Root Middle School and Claggett Middle School; Medina High School and an alternative school, the Evolve Academy which serves students throughout the county.
Their mission statement is: The Medina City School District prepares students for an ever-changing future by:
• Providing a student-centered learning environment to help students reach their maximum potential
• Instilling in them an enthusiasm for life-long learning
• Engaging in collaborative partnerships with our families, community, and world
As a District, our theme for this school year is Soaring Into the Future-Empower. The focus is to further efforts surrounding the District's Portrait of a Bee and empowering staff to be creative and innovative in their instruction.
We continue to expand student-centered learning opportunities. Elementary students can use 3-D printers and work in their Makerspaces. Exploring and learning about different careers through Project Lead the Way is an opportunity for middle and high school students. Family and Consumer Science has been added to the curriculum at Medina High School, drawing from several disciplines.
For more information about the Medina City Schools, please visit the District's website at www.medinabees.org.
Proud to Be a Medina Bee!
16 Medina Area Magazine & Community Guide | 2023 Your Future Starts Here!
COUNTY CAREER CENTER We are a learning community providing students with a competitive advantage through career technical education and academic
To
learn more
our high
and adult education offerings, visit us at mcvjs.edu. 1101 W. Liberty St. | Medina, OH 44256 www.mcjvs.edu | 330-725-8461 Adult Education MCCC SCAN/learn more EDUCATION
MEDINA
excellence.
apply or
about
school
Luncheon.
Students participate in Science Olympiad.
CHARACTER
Respectful Citizen Acts with integrity – shows empathy and kindness –demonstrates awareness of diversity – contributes to the community and beyond
Responsible Decision Maker
Understands that their response to an event impacts an outcome – makes positive and healthy choices
INTERACTIONS
WITH OTHERS
Collaborator
Cooperates on teams – is a reflective listener – understands and respects diverse perspectives
Communicator Listens for understandingarticulates thoughts and ideas clearly – utilizes technology and media effectively and responsibly
THINKING AND LEARNING
Innovative
Problem Solver
Thinks critically to analyze situations –designs, develops and advances ideas – reflects and refines results
Resilient Lifelong Learner Discovers, explores and pursues passions and interests – is curious – has courage to try new things – perseveres through setbacks, failures and challenges – uses a growth mindset
The Medina Library, located on the historic Square, is one of Medina County District Library's six locations to serve your reading, research, and entertainment needs.
Browse the beautiful collection on our shelves and thousands of digital items at mcdl.info/emedia, including eBooks, eAudiobooks, magazines, movies, music and TV shows through free downloadable apps. Families love our story times and inspiring Children's Department. We offer passport and photo service by appointment, events for all ages, and meeting rooms free to non-profit groups.
The Virginia Wheeler Martin Family History and Learning Center at the Medina Library is a hub for genealogy research, and offers a Digital Lab for AV conversion to digital files, a Makerspace with a 3D printer, laser engraver, embroidery machine, banner printing and more.
Check out mcdl.info and follow us on Facebook and Twitter for more on events and services. 330-725-0588
www.medinaoh.org 17
LIBRARY
Project Lead the Way Medical Detectives course offered at the middle school level.
Effective Weight Loss is Attainable
Anyone that has been affected by obesity can tell you — it's hard to lose weight and keep it off. That's why it's important to partner with a compassionate and capable medical team who specializes in obesity medicine to help you develop a plan for long-term success.
According to the Centers for Disease Control (CDC), more than two-thirds of adults in the United States are overweight or obese, including nearly 70% of Ohioans. Severe obesity increases the risk of developing diabetes, heart disease, obstructive sleep apnea, GERD and many types of cancer.
The Summa Health Weight Management Institute offers a supportive, structured and multidisciplinary approach to successful, long-term weight loss.
Nonsurgical Weight Management: Focuses on modification of meal plan, review of medications impacting weight, management of eating behaviors,
exercise and lifelong strategies to ensure maintenance of weight loss. Our comprehensive approach is physicianbased, who collaborate with our behavioral health, nutrition and exercise specialists.
Surgical Weight Loss: This option uses a multidisciplinary approach with a care team that includes fellowship-trained surgeons, physicians, behavioral health specialists, nurses, dietitians, and an array of highly trained support staff working together to provide the best possible outcome.
Outpatient Nutrition Services: Registered dietitians see patients needing Medical Nutrition Therapy (MNT) for diabetes and work with patients to nutritionally help address high blood pressure, kidney disease, high cholesterol, weight loss and many other conditions.
Call 234-260-3365 or visit summahealth.org/weightloss to learn more.
18 Medina Area Magazine & Community Guide | 2023 HEALTH & WELLNESS
Don't Let Osteoarthritis Keep You From Being Active
Osteoarthritis, or degenerative joint disease, is the most common cause of walking-related disability in people age 65 and older. But that doesn't mean you have to stop being active! There are many treatment options available.
For some patients, anti-inflammatory medications, physical therapy and injections can help ease pain and maintain mobility. For those who need more, partial or total joint replacement surgery may be recommended. Today, many patients can benefit from new robotic-assisted technology used by the orthopaedic surgeons at Cleveland Clinic Medina Hospital.
Integrative and Lifestyle Medicine Specialists
Orthopaedic surgeon Peter Surace, MD, said the robot significantly enhances accuracy in total knee and total hip replacement surgeries. "Surgeons use the robot to create a 3-D model of a patient's bone, choose the correct implant size and create a custom surgical plan for each patient," he said. "This allows surgeons to be more precise in placing implants, which leads to better fit and function."
To schedule an appointment with Dr. Surace or another Cleveland Clinic orthopaedic surgeon at Medina Hospital, call 866-320-4573.
Can Enhance Medical Care
Begin your Wellness Journey at Cleveland Clinic Medina Hospital
Conventional medicine is critical for the management of many diseases, but many patients still experience lingering symptoms. Our integrative and lifestyle experts collaborate with your medical team to develop a path to well-being. Our team can guide you through dietary and lifestyle changes, identify risk factors for disease, provide acupuncture or chiropractic treatments and give you the tools you need to take control of your health.
Our Team: Services Include:
• Consultations to create a plan just for you
• Acupuncture
• Nutrition Consultations
• Chiropractic Care
Director Integrative Medicine
We offer a variety of appointment options: in-person, virtual and shared medical appointments. Call 216.448.4325, option 1 for an appointment or visit clevelandclinic.org/medinawellness
Cleveland Clinic Medina Medical Office Building
970 E. Washington St. Medina, OH 44256 my.clevelandclinic.org
Irina Todorov, MD Medical
Adam Browning, DC Chiropractic Care
Junsik (Jay) Kim, LAc Acupuncture
Sharon Jaeger, MS, RD, LD Nutrition
www.medinaoh.org 19
We Have Exciting News!
Elevated Care Closer to Home
The Cosgrove Maternity Center at Southwest General is the result of a recently completed multimillion-dollar expansion and renovation project. The newly designed, state-of-the-art facility nearly doubles the size of our former Maternity Unit and includes a higher level of care for both moms and babies, elevating from Level I care (35+ weeks of pregnancy) to Level II care (32+ weeks of pregnancy). We're proud to be filling the need for advanced maternity services and newborn care—all within minutes of home for our patients and their loved ones. To learn more, visit swgeneral.com/baby
Expanding upon Level I abilities, Level II accreditation adds:
n Elevated Maternity services—care for appropriate moderate to high-risk conditions in pregnancy
n Broader neonatal care for babies who:
– Are born up to eight weeks premature (at or after 32-weeks gestation)
– Weigh at least 3.3 pounds (1500 grams)
– Need special care for temporary breathing problems, feeding issues, jaundice, low blood sugar or other complications
These infants will receive care in The Cosgrove Maternity Center's Level II Special Care Nursery 24/7 access to a team of specialists experienced in maternity and newborn care.
In addition to offering Level II care, the new Cosgrove Maternity Center is designed to support an exceptional birth experience and features:
n 10 labor and delivery suites, including two hydrotherapy suites for labor n 19 postpartum suites
n State-of-the-art operating rooms for Cesarean section (C-section) deliveries
n A Well-Baby Nursery (in addition to the Level II Special Care Nursery)
n Family-friendly visitor waiting areas and support spaces
20 Medina Area Magazine & Community Guide | 2023 • Servers • Cybersecurity Solutions • Desktops/ Workstations • Anti-SPAM Solutions • Laptops/ Notebooks/ Tablets • Business Telephone Systems • Firewalls/ Routers/ Switches • Back up/ Disaster Recovery • Wireless/ Wired Infrastructure • Server Virtualization • Cloud and On-Premise Email • Website Development/ Hosting www.iler.com 440-322-ILER (4537) l 440-458-5207 (Fax) 5061 N Abbe Road, Suite 3 l Sheffield Village Supporting Businesses since 1994 Sales/Service/Supportfor: Full service salon • haircuts • coloring • styling • facial waxing • microblading • hair extensions • eyelash extensions 1162 N. Court St., Medina 330-321-3762 studioasalon.glossgenius.com HEALTH & WELLNESS Southwest General is proud to announce that our new
Center in Middleburg Heights has received licensure from the
Health as a Level II Neonatal & Maternity Care Center.
Cosgrove Maternity
Ohio Department of
A special delivery for all moms.
The area's newest Level II Neonatal and Maternity Care Center is now open!
Our Maternity Unit has doubled in size and added a higher level of care for both moms and babies—elevating from Level I care (35+ weeks of pregnancy) to Level II care (32+ weeks of pregnancy). Southwest General is now the only Level II Neonatal and Maternity Care Center serving southwestern Cuyahoga County and northern Medina County—meaning that moms and babies who need extra medical attention can receive the specialized care they need right here, closer to home.
We're proud to be filling the need for advanced maternity and newborn care —all within minutes of home for moms and babies.
The Cosgrove Maternity Center at Southwest General offers:
• Level II Neonatal and Maternity Care Center
• Renovated Postpartum Rooms
• A Well-Baby Nursery
• Level II Special Care Nursery
• Enhanced Visitor Waiting Areas and Support Spaces
• Upgraded Labor and Delivery Suites and Operating Rooms
www.medinaoh.org 21
I-71 at Bagley Road | Middleburg Heights | swgeneral.com/baby
A.I. Root and their Honeybees
In the summer of 1865, a swarm of bees landed on the window of A. I. Root's jewelry shop. Curious by nature, he paid an employee $1 to capture the swarm. That single moment sparked the love affair with honeybees and inspired A.I. Root to start his own beekeeping business. Over 150 years later, Root Candles is still synonymously known for beekeeping, beeswax, honey, and the highest quality candles.
Root Candles is all about those little honey makers and they've pledged to help #savethehoneybee. Their ongoing partnership with Ohio State Beekeepers, Ernst Seeds, the Pollinator Partnership Program continues to develop their ever-growing pollinator garden. The gardens are located in the field behind corporate offices, in front of the retail flagship store, and on the front lawn of the A. I. Root Homestead. There are five hives on the property and additional hives behind the production facility. Root uses about 5% of the beeswax harvested in America. Honeybees are not only vital for candle making, but also for humans. They pollinate 70% of the crops grown in the U.S., and their livelihood continues to be threatened. Numerous factors are causing the honeybee to die, but we have ways you can help.
1. Buy local honey! It's so much more than just a tasty sweetener. Did you know ingesting honey, harvested within your area, will help relieve allergy symptoms?
2. Plant bee friendly blooms, bushes, and trees in your yard. Some of a honeybees' favorites are the Basswood Tree, Echinacea, and Lavender.
3. Let those weeds grow. Honeybees are naturally drawn to dandelions and clover.
4. Support our friends at Project Apis m. (www.projectapism.org).
5. Consider beekeeping! Check with your local beekeeper's associations to help you get started.
24 Medina Area Magazine & Community Guide | 2023
TIME FOR A bathroom remodel? With the addition of a Kiba Studios, the MDG showroom now offers a one-stop shop for everything needed to upgrade kitchens and bathrooms 20+ year family business medina.kibastudios.com | 330-725-5252 3812 Pearl Road, Suite C, Medina, OH 44256 • Finish Basement Specialists • Renovations • Quality Finish Carpentry 330-273-4547 www.ClementConstruction.com
HOMES & REAL ESTATE
700 Homes Last Year! Jennifer Campanella Your Trusted Realtor® 330-636-6438
A.I. Root
START AND STAY
ACT IVE
The Medina Community Recreation Center
provides 110,000 sq. ft of recreational space that offers everything you need to maintain a healthy and active life including: Fitness Room and Free Weights, Leisure Pool, Competition Pool, Field House with four full size courts, Jogging/Walking Track, Locker Rooms with Sauna, Rascal Room Child Activity Center, Fitness and Aerobic Classes, Senior Programs, Toddler and Preschool Programs, Learn to Swim Classes, Swim Teams, Water Aerobics and Therapy Classes and Sports Leagues.
From early morning workouts, to late night pickup
MEDINA CITY PARKS
The Medina City Parks & Recreation Department is a growing department that is responsible for maintaining 800 acres of parkland, athletic fields, and all park facilities. It also manages the Forestry and Cemetery Departments. The City of Medina Parks Department is located at 785 E. Washington Street. For parks information and pavilion rentals please call 330-721-6950 or visit www.medinaoh.org/city-hall/parks
LIBERTY PARK
Pavilion (grill), Playground, Natural Area
RAY MELLERT PARK
Splash Pad & Multi-purpose Trail, Pavilion (electricity & grill), Playground, Restroom, Baseball Fields, Basketball Courts
MEMORIAL PARK
Pavilion (electricity & grill), Dog Park, J.U.M.P. Playground, Disc Golf Course, Wooded Area, Outdoor Pool
UPTOWN PARK
Gazebo, Picnic Area, Band Concerts, Special Events. For information on renting the gazebo, call 330-722-9020
REAGAN PARK
Pavilions (electricity & grills), Skate Park, Remote Control Car Track, Baseball Fields, Football Field, Basketball Court, Playground, Sledding Hills, Mountain Bike Trail, Walking Trail, Multi-purpose Trail
HUFFMAN
CUNNINGHAM PARK
Pavilions (grill), Playgrounds, Soccer Fields, Walking Trail, Mountain Bike Trail
basketball games, the Medina Community Recreation Center is designed to fit your needs and schedule and offers a safe & fun environment that everyone in your family can enjoy. Hours are as follows: Monday-Friday 5:30am -9pm, Saturday 8am – 6pm and Sunday 10am6pm. Pool hours are as follows: Monday-Friday 7am-7pm, Saturday 9am-5pm and Sunday 10am-5pm.
For membership information, current schedules, special events and senior programs, please see the website for more details at www.medinaoh.org/medina-rec.
PLEASE NOTE: For Your Safety, Remember To Lock Your Vehicles While You're In The Recreation Center.
The Medina Community Recreation Center 855 Weymouth Rd., Medina • 330-721-6900 www.medinaoh.org/medina-rec
SAM MASI PARK
Pavilion (grill), Playground, Miracle League Field, Tennis Court, Natural Area
ROSCOE EWING PARK Pavilion (electricity & grill), Playground, Disc Golf Course, Multi-purpose Trail
KUEHN-TODD
CONSERVATION AREA
Nature Trail
SYCAMORE PARK
Nature Trail
JAYCEE PARK
Pavilion (grill), Playground, Nature Area
KEN CLEVELAND PARK Pavilion (grill), Tennis Court, Playground, Softball Field, Basketball Court
FRED GREENWOOD PARK
Splash Pad, Pavilion (electricity & grill), Playground, Softball Fields, Soccer Fields
STANBERY & MAXINE NICHOLS PARK
Multi-purpose Trail, Nature Trail, Disc Golf Course, Natural Area
www.medinaoh.org 25 PARKS & RECREATION
Come Join Us!
IT'S HIP TO BE SQUARE
(clockwise from top left):
Annual Ice Festival, Medina Square Gazebo, Farmer's Market on the Square, 4th of July fireworks, South Town Music Festival.
Historic Medina is the quintessential small town, just a day trip from most places. With our picturesque public square and gazebo; fun activities, events and attractions; and unique shopping and dining at small, independent, locally owned shops and restaurants; Medina is an experience for everyone.
There's always something going on: Farmers' Markets on Saturdays at the Square, Kids Day, Ladies Nights Out, Cars and Coffee, and Festivals! Enjoy the Ice Festival in February, Kids Day in June, the South Town Music Festival in August, a new Fall Festival in September, and of course, the Annual Candlelight Walk in November!
So spend some time here with friends and family, meet the locals, enjoy the changing seasons, and make Medina a special getaway!
Visit www.mainstreetmedina.com and follow us on Facebook at MainStreetMedina for upcoming events, places to shop-dine-unwind, and opportunities to get involved. Our vision is to be Ohio's premier small-town destination!
26 Medina Area Magazine & Community Guide | 2023
MAIN STREET MEDINA
SHOP. DINE. UNWIND. Unique local shops & boutiques Great local eateries Farmers Markets Year-round festivals & events Plan a visit with family & friends to historic Medina, Ohio www.mainstreetmedina.com Kids Day of Safety and Play
Kids Day of Safety and Play
www.medinaoh.org 27 Hobby Horse Preschool 217 E Liberty St. in Medina Offering a child-centered education in a loving Christian environment. Contact Jen Vilimonovic 330-722-1445 Or visit www.hobbyhorsepreschool.org for more information. Specializing in custom jewelry design. We Repair, Restyle & Restore. We specialize in designing and making a piece for you. 23 Public Square, Ste 3 in Historic Medina medinagemco.com 330.722.4714 623 West Liberty Street Medina, Ohio 44256 RootCandles.com (330)723-4359 Shop our homeunique décor too! CANDY • SODA • EVENTS GAMES • FUNKO • LEGO ICE CREAM • BOBA 342 East Smith Road (330) 662-4272 www.sweetsandgeeks.com Shop, Dine BuygMedina! www.medinaoh.org 27
28 Medina Area Magazine & Community Guide | 2023 PawsitiveLifestyleDogTraining.com Call or Text 330-396-2656 somethingspopping.com 47 Public Square, Medina 330-722-3088 40+ Gourmet Flavors! • Nostalgic candy • Soda • Homemade Fudge UWSUMMITMEDINA.ORG 225 E. Liberty St., Suite 100, Medina l 216-293-8900 l www.themasicacompany.com Commercial Real Estate • Sales • Leasing • Property Management • Business Brokerage Local Reach on a Global Scale www.HeartlandPetStore.com Family Owned Holistic Pet Food & Supplies Mon-Fri 10-7 Sat 10-5 Sun 10-2 Mark Pittenger, Owner 330-461-9063 3711 Pearl Rd., Medina Saturdays, 9am-1pm May 20–Oct 7, 2023 Medina's Public Square MainStreetMedina.com
Important Telephone Numbers
EMERGENCY - 911
Medina Police (non-emergency) 330-725-7777
Medina Fire (non-emergency) 330-725-1772
Life Support Team (EMS) 911
Medina County Sheriff 330-725-0028
Medina County Public Transit 330-723-9670
CITY BUILDINGS
City Hall 132 North Elmwood Ave. 330-725-8861
Medina Municipal Court 135 North Elmwood Ave. 330-723-3287
Medina Community Recreation Center 855 Weymouth Rd. 330-721-6900
Parks & Pavilion Reservations 330-721-6950
Medina Municipal Airport 2050 Medina Rd. 330-239-1606
OFFICIALS
Mayor Dennis Hanwell 330-722-9020 dhanwell@medinaoh.org
CITY COUNCIL
Council President John M. Coyne III 330-723-9998 jcoyne@medinaoh.org
Ward 1 Jessica Hazeltine 330-421-4750 jhazeltine@medinaoh.org
Ward 2 Dennie Simpson 330-725-3302 dsimpson@medinaoh.org
Ward 3 Regi Haire 330-532-8440 rhaire@medinaoh.org
Ward 4 Jim Shields 330-722-8402 jshields@medinaoh.org
At-Large
Paul Rose Sr. 330-723-3459 prose@medinaoh.org
At-Large Bill Lamb 330-421-5829 blamb@medinaoh.org
Clerk of Council Kathy Patton 330-722-9040 kpatton@medinaoh.org
CITY DEPARTMENTS
Office of the Mayor Administrative Office Manager Sherry Crow 330-722-9020 scrow@medinaoh.org
Building Department Dan Gladish 330-722-9030 dgladish@medinaoh.org
Cemetery Department City of Medina Sexton James Hjort 330-722-9056 springgrovecemetery@medinaoh.org
Economic Development
Kimberly Marshall, Economic Development Director 330-764-3319 kmarshall@medinaoh.org
Economic Development
Barbara Dzur Economic Development & Marketing Manager 330-722-9029 bdzur@medinaoh.org
Engineering Department
Patrick Patton, City Engineer 330-721-4721 ppatton@medinaoh.org
Finance Department Keith Dirham, Finance Director 330-722-9051 kdirham@medinaoh.org
Fire Department
Chief Larry Walters 330-725-1772 (non-emergency) lwalters@medinaoh.org
Law Department
Greg Huber, Law Director ghuber@medinaoh.org
www.medinaoh.org 29 COMMUNITY INFORMATION
8 Continued on page 32 Santas on the Square
30 Medina Area Magazine & Community Guide | 2023
City of MEDINA Map
www.medinaoh.org 31
COMMUNITY INFORMATION
Administrative Assistant
Dena Haswell 330-722-9070 dhaswell@medinaoh.org
Parks Department
Jansen Wehrley, Director 785 E. Washington St. 330-721-6950 jwehrley@medinaoh.org
Planning & Zoning
Andrew Dutton, Community Development Director 330-722-9023 adutton@medinaoh.org Administrative Assistant 330-722-9038
Police Department
Chief Edward Kinney 330-725-7777 (non-emergency) ekinney@medinaoh.org
Recreation Center
Christy Moats, MCRC Superintendent 330-721-6916 cmoats@medinaoh.org
Service Department
Nino Piccoli, Service Director 330-722-9082 npiccoli@medinaoh.org
UTILITIES
Armstrong Cable Service 330-723-3536
Columbia Gas of Ohio 800-344-4077
First Energy (electricity) 800-633-4766
Medina City Water 330-722-9081
Medina County Sanitary Engineers (sewer) 330-723-9585
Medina Fiber 330-366-2008
Medina Solid Waste/ Rubbish 330-722-9026
Frontier (phone) 877-462-8188
OTHER IMPORTANT NUMBERS
American Red Cross 330-535-6131 www.redcross.org
Bureau of Motor Vehicles 972 N. Court St. 330-725-4635 www.bmv.ohio.gov
Greater Medina Chamber of Commerce 211 S. Court St. 330-723-8773 www.medinachamber.com
Medina County District Library 210 S. Broadway St. 330-725-0588 www.mcdl.info
Main Street Medina 39 Public Square, Ste. 305 330-722-6186 www.mainstreetmedina.com
U.S. Post Office 303 North Court St. 800-275-8777 or 330-722-6511
Medina County Convention & Visitors Bureau 23 Public Square 330-722-5502 www.visitmedinacounty.com
SCHOOLS
Medina City School District 739 Weymouth Rd. 330-636-3031 www.medinabees.org
Superintendent Aaron Sable 330-636-3010 sablea@medinabees.org
32 Medina Area Magazine & Community Guide | 2023
Wed. - Sat. 9 a.m.-5 p.m. 330-722-4494 2 3 3 L a f a y e t t e R d. • M e d i n a ReStore open to the public www . medinahabitat . org "Bringing people together to build homes, communities and hope." 7 Continued on page 29
PRE-SCHOOL, K-5
Eliza Northrop Elementary 950 E. Reagan Pkwy. 330-636-4600
GRADES: K-5
Ella Canavan Elementary 825 Lawrence St. 330-636-4000
Garfield Elementary 234 S. Broadway St. 330-636-4200
H.G. Blake Elementary 4704 Lexington Ridge Dr. 330-636-3900
Heritage Elementary 833 Guilford Blvd. 330-636-4400
Ralph E. Waite Elementary 4765 Cobblestone Park Dr. 330-636-4500
Sidney Fenn Elementary 320 N. Spring Grove St. 330-636-4100
GRADES: 6-8
A.I. Root Middle School 333 W. Sturbridge Dr. 330-636-3500
Claggett Middle School 420 East Union St. 330-636-3600
GRADES: 9-12
Medina High School 777 East Union St. 330-636-3200
Evolve Academy 222 South Broadway St. 330-636-4213
Medina County Career Center
1101 W. Liberty St. 330-725-8461 www.mcjvs.edu
Buckeye Local Schools 3044 Columbia Rd. Medina, OH 44256 330-722-8257 www.buckeyeschools.org
Cloverleaf Local School District 8525 Friendsville Rd. Lodi, OH 44254 330-948-2500 www.cloverleaflocal.org
Highland Local School District 3880 Ridge Rd. Medina, OH 44256-7920 330-239-1901, 330-686-1901, 330-278-2727 www.highlandschools.org
PRIVATE SCHOOLS
St. Francis Xavier 612 East Washington St. 330-725-3345 www.sfxmedina.com/school
Medina Christian Academy 3646 Medina Rd. 330-725-3227 www.medinachristian.org
www.medinaoh.org 33
Sand sculptor Carl Jara created a giant piece of art on the Square during Medina Arts Week in July 2022.
Bethany Baptist Church
7040 Chatham Rd. 330-635-0322
Buckeye Christian Assembly 3159 Columbia Rd. 330-722-8812
The Chapel 4855 Lexington Ridge Dr. 330-315-3444
Chatham Community Church 6423 Avon Lake Rd. 330-667-2351
Chippewa Lake Baptist Church 5326 Chippewa Rd. 330-769-2790
Chippewa Road Church of God 5301 Chippewa Rd. 330-769-4262
Church of Christ 4730 Sharon Copley Rd. 330-725-2201
Church of Jesus Christ of Latter-Day Saints 4411 Windfall Rd. 330-723-5200
Cornerstone Chapel 3939 Granger Rd. 330-723-3334
Covenant Word Fellowship 146 Highland Dr. 330-722-8411
Fellowship Baptist Church 901 W Liberty St. 330-725-5571
First Baptist Church 3646 Medina Rd. 330-725-5853
First Christian Church 4797 Sharon Copley Rd. 330-723-7021
First Church of Christian Scientist 5147 River Styx Rd. 330-723-1616
Grace Church Medina East Campus 2325 Medina Rd. 330-239-2600
Granger United Methodist Church 1235 Granger Rd. 330-239-2396
Harvest Presbyterian Church 1095 E Reagan Pkwy. 330-723-0770
Heartland Community Church Heartland Weymouth 3400 Weymouth Rd. 330-725-1948
Heartland Community Church Williams Campus 787 Lafayette Rd. 330-725-1948
Holy Martyrs Church 3100 Old Weymouth Rd. 330-722-6633
Lafayette United Methodist Church 6201 Lafayette Rd. 330-725-6176
Liberty Baptist Fellowship 111 N Broadway St. 330-722-7775
Lighthouse Baptist Church 5301 Chippewa Rd. 330-769-0201
Living Hope Church 6288 Wooster Pike 330-725-7730
The Medina SDA Outreach Center, Incorporated is located on the property lot of the Medina Seventh-Day Adventist Church: 3866 Medina Road, Medina, Ohio 44256. The "Outreach (Community) Center" is registered with the IRS and the State of Ohio as a Non-Profit Corporation. As a sponsored independent organization to provide literacy intervention, education counseling, clothing give-aways, and social work counseling, it operates as a separate business from the church with an independent tax-ID number and state certification – while maintaining its status as a subsidiary of the Ohio Conference of Seventh-Day Adventists located in Dayton, Ohio.
Currently, the Outreach Center is designed to be open four (4) evenings per week. We eliminated the option of serving meals and exchanged our services to teaching literacy intervention instead, but we will still collect clothing (and other miscellaneous) donations, then distribute them on a "first come-first serve" basis.
For any questions, please contact Darrin Lionel Moore at 330-607-9587.
34 Medina Area Magazine & Community Guide | 2023 PLACES OF WORSHIP Feel free to join us every Sabbath! Saturday Morning Service Times: 10:00 am – Sabbath School 11:00 am – Congregational Worship We Sponsor The Medina SDA Outreach (Community) Center Pastor Quentin Purvis and Mrs. Kimberly Purvis Medina Seventh-Day Adventist Church 3866 Medina Road Medina, Ohio 44256 330-723-0250 www.facebook.com/medinasdachurch Search: Medina Seventh-Day Adventist Church John 3:16
Medina Assembly of God 830 Lafayette Rd. 330-725-4887
Medina Bible Church 620 North Broadway St. 330-722-4847
Medina Church of Christ 295 Forest Meadows Dr. 330-725-5910
Medina Church of the Nazarene 6901 Wooster Pike 330-722-7683
Medina Community Church 416 S Broadway St. 330-723-5155
Medina Presbyterian Church 5020 Burgundy Bay Blvd. 330-723-1000
What to Do!
Prince of Peace Lutheran Church 3355 Medina Rd. 330-723-8293
Remsen Christian Church 1500 Remsen Rd. 330-239-1203
St. Francis Xavier Catholic Church 606 E. Washington St. 330-725-4968
St. Matthew Evangelical Lutheran Church 400 N. Broadway St. 330-725-8885
St. Paul's Episcopal Church 317 E Liberty St. 330-725-4131
Second Baptist Church 451 Bronson St. 330-952-2055
True Faith Fellowship 4046 Medina Rd. 330-321-4247
United Church of Christ Congregational 217 E Liberty St. #B 330-725-4559
Unity of Medina 787 Lafayette Rd. 330-764-7999
Waltz United Methodist Church 7465 Egypt Rd. 330-722-1015
Visiting Medina, Ohio is an experience you will never forget!
Located in the heart of Medina County, there is something for every interest. Visit Castle Noel, America's #1 Christmas Fun Place open all year, Alien Vacation Mini-Golf, High Voltage Indoor Karting, and Foundry Social offering spirits, games, and fun for adults. It is hard to decide what to do… so why not try it all!
Enjoy incredible specialty shopping in the historic downtown or browse antiquities at Medina Antique Mall near the interstate. Indulge your taste buds with world class dining at Sérénité Restaurant, Thyme2 Pub & Fine Dining, or Monarca Cantina. The city's park system offers hiking, biking, and more outdoor fun. Be sure to check out www.visitmedinacounty.com for all the fun family events, comfortable lodging and so much more. Come visit Medina today!
Medina Seventh-Day Adventist Church 3866 Medina Rd. 330-723-0250
Medina United Methodist Church 4747 Foote Rd. 330-725-4943
New Hill Church 580 N State Rd. 330-800-0976
Poe United Methodist Church 6712 Wadsworth Rd. 330-722-0521
Weymouth Community Church 2756 Stony Hill Rd. 330-723-1750
York United Methodist Church 6566 Norwalk Rd. 330-725-8147
visitmedinacounty.com
Experience the
with Big
Flavor Shopping • Dining • Entertainment 23 Public Square in Medina, OH
www.medinaoh.org 35
Small-Town Vibe
City
44256 330.722.5502
Strength Through Comfort
The mission of Crisis Response Canines is to provide strength, comfort, and emotional support to individuals, families, communities, and first responders experiencing traumatic emotions in the aftermath of critical incidents.
Crisis Response Canines (CRC) is a 501(c)(3) non-profit organization comprised of certified K9 teams throughout the United States who have dedicated thousands of hours comforting those impacted by personal or community crisis events.
Our goal is to establish a nationwide network of canine crisis response teams who can be deployed immediately where they are needed most. CRC also offers local volunteer services that are provided by the handlers and their canine partners, offering a level of comfort and calmness that only a canine can.
Our volunteer members and their canine partners are background checked, and must complete a comprehensive series of nationally-recognized certifications and commit to ongoing training with annual re-testing/re-certifications as required to perform duties.
For more information about these wonderful dogs and their compassionate handlers, visit www.crisiscanines.org.
Bringing People
In 1976, Millard and Linda Fuller gave birth to a vision that believed everyone deserved a decent place to live. Over the last 47 years Habitat for Humanity has improved the shelter of over 22 million people. Habitat for Humanity of Medina County joined with this vision back in 1991 and over the last 32 years has built 47 homes across our county. This was accomplished because of our committed volunteers both on our build site and ReStore, along with generous financial supporters of Habitat.
As we move forward our mission remains the same. To provide decent, safe and affordable shelter to qualified households in Medina County. We strive to put God's love into action by bringing people together to build homes, communities, and hope. Stop by our ReStore or visit our website at www.medinacountyhabitat.org to learn more about how you can partner with us on this mission.
Medina Magazine Cover Photo Acknowledgement
Photo: Courtesy of Tommy Lee Byrd of Corker Tire 2022 Great Race winner, a 1932 v Ford Speedster Team: Josh Hull and Trevor Stahl
In 1983, Tom McRae and Norman Miller bought out an ailing race promoter who planned to race pre-World War II automobiles across the United States for a massive purse. No matter the route, Great Race participants view the most amazing scenery this country has to offer, and tour some of the coolest back roads to get there. These pre-World War II cars aren't exactly cut out for interstate driving, so the intricate routes were designed to suit antique cars and their capabilities, in terms of speed, and durability. This past year, they stopped in Medina for lunch.
And though McRae is no longer with us, his vision for the event and his love for old cars still lives on through the continuation of the Great Race. For more information, visit www.greatrace.com
36 Medina Area Magazine & Community Guide | 2023 COMMUNITY INFORMATION Medicare: New or Review. It's Time to Call John W. Kyle Licensed Insurance Agent John@JohnKyleInsurance.com www.JohnKyleInsurance.com Medicare • Healthcare • Life • Supplemental 4 4 0 - 2 3 0 - 1 2 2 3 5020 Enterprise Parkway l 800-321-5583 Seville, OH 44273 www.blairrubber.com W E ' R E H I R I N G We are always interested in individuals looking to learn and grow with our company Benefits Offered: Health, Dental, Life, Employee Assistance Program, Vacation Time, Holidays & Sick Pay Together
17 Public Square
17 Public Square 330-952-2330 www.17publicsquare.com
111 Bistro Medina 2736 Medina Rd. 330-952-1122 www.111bistro.com
A Cupcake a Day 115 W. Liberty St. 330-389-1247 www.acupcakeaday.com
Akronym Brewing 5121 Buehler's Dr. 330-952-1112 akronymbrewing.com
Antonio's Pizza 3825 Pearl Rd. 330-725-1111 www.antoniospizza.net
Applebee's 4115 Pearl Rd. 330-723-2311 www.applebees.com
Asian Grill 1164 N. Court St. 330-764-3332 www.medinaasiangrill.com
Big Dog Daddy's
320 S Court St. 330-952-1870 www.facebook.com/profile. php?id=100063524108240
Blue Heron Brewery 3227 Blue Heron Trace 330-870-2583 www.blueheronmedina.com/ brewery
Bob Evans 4904 Grande Blvd. 330-721-1348 3049 Medina Rd. 330-725-3343 www.bobevans.com
Brown Derby 5051 Eastpointe Dr. 330-721-1731 www.brownderbyusa.com
Buffalo Wild Wings 5050 Eastpointe Dr. 330-764-9464 www.buffalowildwings.com
Candyapple & Co. 109 W. Washington St. 330-635-0132 www.candyappleco.com
Chill Artisan Ice Cream
2775 Medina Rd.
11 Public Square 330-722-3035 www.chill-icecream.com
Chipotle Mexican Grill
899 N. Court St. 330-725-2303
3070 Medina Rd. 330-721-1747 www.chipotle.com
Cin Dees Place 232 W. Smith Rd. 330-722-6700 www.cindeesplace.com
Circles on the Square Donuts
28 Public Square 330-952-2728 www.circlesonthesquare.net
Cool Beans Café 103 W. Liberty St. 330-723-7174 www.coolbeansmedina.com
The Corkscrew Saloon 811 W. Liberty St. 330-725-0220 www.corkscrewsaloon.com
Ladies Night Out
Courthouse Pizzeria
2 Public Square 330-952-1743 www.courthousepizzeria.com
Cups Café 126 N. Court St. 330-241-5990 www.cupscafe.org
www.medinaoh.org 37 DINING GUIDE The one-stop destination for FUN! 333 FOUNDRY STREET | MEDINA, OHIO 44256 | 330.333.9000 THEFOUNDRYSOCIAL.COM | HIGHVOLTAGEKARTING.COM | MADBREWINGCOMPANY.COM 8 Continued on page 38
Denny's
3105 Medina Rd. 330-722-1600 www.dennys.com
Diner 42 665 Lafayette Rd. 330-725-2777 www.diner-42.com
Dominic's Italian Restaurant 221 S. Jefferson St. 330-725-8424 www.dominicspizzamedina.com
Don Tequila Mexican Restaurant 1158 N. Court St. 330-723-7917 www.dontequilamedina.com
Dragon Buffet 1201 N. Court St. 330-725-6155 www.dragonbuffetmedina.com
Dunkin Donuts
1209 N. Court St. 330-722-4040 2739 Medina Rd. 330-721-8271 www.dunkindonuts.com
East of Chicago Pizza 307 S. Court St. 330-723-0510 www.eastofchicago.com
Emi's Taqueria 249 Lafayette Rd. 330-722-7528 www.emistaqueria.com
The Farmers Table 320 S. Court St. 330-952-2079 www.thefarmerstablemedina.com
Fiesta Jalapenos 4136 Pearl Rd. 330-723-9896 www.fiestajalapenos.us
First Watch 1001 N. Court St. 330-661-4693 www.firstwatch.com
Foundry Social 333 Foundry St. 330-333-9000 www.thefoundrysocial.com
Fresh Food Deli 2860 Medina Rd. 330-722-3660 www.freshfooddelimedina.com
Frosted Cake Shoppe 503 S. Court St. 330-952-2253 www.frostedcakeshoppe.com
Geppetto's Pizza & Ribs 1038 N. Court St. 330-225-4100 www.geppettos.com
Gionino's Pizza 203 Lafayette Rd. 330-722-2727 www.gioninos.com
Grab & Go Drive-Thru & Pub 236 N. State St. 330-461-4042 www.facebook.com/gngbeverage
Grande Café & Roastery 4080 Creative Living Way 330-591-4434 https://www.medinacreative housing.com/grande-cafe-roastery
Granite Grill at Shale Creek 5420 Wolff Rd. 330-723-8774 www.shalecreekgolfclubggp.com
Griddles Café 986 N. Court St. 330-722-9886 griddles-cafe.business.site
Guy's Pizza Co. 800 Lafayette Rd. 330-723-7600 www.guyspizzaco.com
H2 Huth & Harris Wine Merchants 221 S. Court St. 330-805-3212 www.h2winemerchants.com
Handel's Homemade Ice Cream
1050 S. Court St. 330-952-2313 www.handelsicecream.com
Happy Garden 3725 Medina Rd., Suite 33 330-725-7099 www.happygardenoh.com
Honey Bee Bakery 23 Public Square 330-725-0912 www.honeybeebakerymedina.com
Hop Hing Chinese Restaurant 891 N. Court St. 330-722-6135 www.newhophing.com
House of Hunan 18 Public Square 330-722-1899 www.thehouseofhunan.com
Hutch Nutrition 503 S. Court St. 330-952-0469 hutchsportsxpe.com/classes/ nutrition
Jane's Diner 115 Public Square www.facebook.com/JanesOn TheSquare
Jimmy John's 240 N. Court St. 330-721-7700 www.jimmyjohns.com
Johnny J's Pub & Grill 925 N. Court St. 330-721-0082 www.johnnyjspub.com
Johnny Malloy's Sports Pub 1038 N. Court St. 330-723-4100 www.johnnymalloysmedina.com
Jo Jo's Sports Bar & Grill 221 S. Jefferson St. 330-722-5656 www.dominicspizzamedina.com
Lagerheads BBQ Smokehouse 2832 Abbeyville Rd. 330-725-1947 www.lagerheads.us
Lager Heads Brewing Company 325 W. Smith Rd. 330-721-2337 www.lagerheads.us
Lemonberry Frozen Yogurt 201 S. Court St. 330-721-0793 www.lemonberryfrozenyogurt.com
Little Caesars 1174 N. Court St. 330-723-2012 www.littlecaesars.com
The Little Fox Café & Bakery 540 Blake Ave. 330-952-2500 www.littlefoxmedina.com
Longhorn Steakhouse 4907 Grande Blvd. 330-721-4585 www.longhornsteakhouse.com
Los Cantaritos Mexican Restaurant 930 W. Liberty St. 330-952-0464 www.facebook.com/Los Cantaritos930
MAD Brewing Co. 333 Foundry St. 330-333-9000 www.thefoundrysocial.com
Marco's Pizza 244 N. Court St. 330-725-0101 www.marcos.com
38 Medina Area Magazine & Community Guide | 2023 DINING GUIDE 7 Continued from page 37
Master Pizza 2736 Medina Rd. 330-723-9700 www.masterpizza.com
Medina Brewing Company 320 S. Court St. 330-952-1217 www.medinabrewing company.com
Miss Molly's Tea Room 140 W. Washington St. #6 330-725-6830 www.missmollys.net
Monarca Cantina 108 Public Square 330-723-0100 www.monarca.co
Mr. Hero 1029 N. Court St. 330-722-4376 www.mrhero.com
NY Bagel Deli 3725 Medina Rd., Ste. 115 330-952-0985 www.nybageldelis.com
P.J. Marley's 119 Public Square 330-722-6328 www.pjmarleys.com
Planted Flag Brewery 3594 Pearl Rd. 330-952-2739 www.plantedflag.com
Polar Bear Club at Castle Noel 260 S. Court St. 330-721-6635 www.castlenoel.com
Project Sushi 3579 Medina Rd. 330-661-0117 www.project-sushi.com
Pulp Juice & Smoothie Bar 1122 N. Court St. 330-952-0088 2736 Medina Rd. Ste. 109 330-952-1721 www.pulpjuiceandsmoothie.com
Quaker Steak & Lube 4094 Pearl Rd. 330-723-5823 www.thelube.com
Sweets & Geeks 342 E. Smith Rd. 330-662-4272 www.sweetsandgeeks.com
Sweet Mango Thai Cuisine 871 N. Court St. 330-952-2637 www.sweetmangoohio.com
Swine BBQ 117 Public Square 330-725-3322 www.swinebbq.net
Thyme² 113 W. Smith Rd. 330-764-4114 www.thymethe restaurant.com
Timber Lodge 2809 Pearl Rd. 330-725-6288 www.timberlodge medina.com
Tokyo Hibachi & Sushi 1132 N. Court St. 330-952-2818 www.medinatokyo.com
Ohio Valley Pizza 426 S. Court St. 330-952-2627 www.ohiovalleypizza.com
On Tap 2736 Medina Rd. 330-725-1972 www.ontapgrille.com
Original Steaks & Hoagies 947 N. Court St. 330-952-0878 www.steaksandhoagies.com/ medina
Panda Kitchen 503 S. Court St. 330-725-2989 www.pandamedina.webs.com
Panera Bread 4065 Pearl Rd. 330-721-4728 www.panerabread.com
Papa John's Pizza 500 S. Court St. 330-725-7575 www.papajohns.com
ParTake Kitchen 236A N. State Rd. 330-461-9998 www.partakekitchen.com
Romeo's OT Sports Grille 1100 N. Court St. 330-723-6111 www.romeospizza.com
Romeo's Pizza 1100 N. Court St. 330-723-6111 www.romeospizza.com
Santosuosso's Pizza, Pasta & Vino 3725 Medina Rd. 330-764-9888 www.santosuossos.com
Serenite Restaurant 538 W. Liberty St. 330-952-2611 www.sereniterestaurant.com
Something's Popping 47 Public Square 330-722-3088 www.somethingspopping.com
Spoke's Café & Bike Rental 406 S. Broadway St. 330-725-1298 www.ifpeace.com
Sully's Irish Pub 117 W. Liberty St. 330-764-3333 www.sullysmedina.com
Tres Potrillos 3175 Medina Rd. 330-723-5600 www.trespotrillosmexican restaurant.com
Twiisted Burgers & Sushi 985 Boardman Alley 330-661-0606 www.twiisted.com
Waffle House 3190 Medina Rd. 330-725-1538 www.wafflehouse.com
Waffle O Waffle 799 N. Court St. #25 330-722-8689 www.waffleowaffle.com
Wrecking Crew Brew Works 144 N. Court St. 330-952-1480 www.wreckingcrewbrewworks.com
Yours Truly 3725 Medina Rd. 330-722-5800 www.ytr.com
Every effort has been made to provide a complete and accurate food and beverage listing. Please contact us in reference to corrections or additions for future publications.
Experience in Trailer Sales, Leasing and Rental. Put our PROS to work for you!
Now o ering parts and service! "Thats my Giant Eagle Advantage" www.gianteagle.com 330-723-8873 870 N.
of
1030 West Liberty Medina 330-723-7474 www.traileroneinc.com
Court St.
www.medinaoh.org 39
17 Public Square | Restaurant p 27
Armstrong | Cable, Internet, Telephone p 12
Blair Rubber Company | Manufacturing/ Employment Opportunities p 36
Bunker Hill Golf Course | Golf Course/ Event Center/Catering p 8, 13
City of Medina | City Government Inside ft. cover
Clement Construction Inc. | Home Remodeling/ Renovations/Carpentry p 24
Cleveland Clinic-Medina Hospital | Hospitals/ Medical Facilities p 19
Corrigan Krause | Accountants / Consultants p 38
Crossroads Home Loans | Mortgage Loan Services p 7
Giant Eagle | Grocery Store p 39
Habitat for Humanity | Home Improvement/ Donation Center p 32,36
Heartland Pet Center | Pet Food & Supply Store p 28
Hobby Horse Preschool | Preschool/Child Care p 27
Hokulia Shave Ice Medina | Shave Ice Desserts p 14,15
Homestead Insurance | Insurance p 7, 10
Hospice of Medina County | Hospice Services p 18
Hunter Insurance Agency | Insurance p 27
Iler Networking & Computing | Networking & Computing p 20
Jazzercise Medina | Fitness/Exercise/Dance p 28
Jennifer Campanella-Realtor-Keller Williams | Realtors p 24
John Kyle Insurance | Insurance p 36
Life's Treasures Thrift Shop | Thrift Store p 33
Main Street Medina | Organizations/Associations p 26
MDG Flooring America & Kiba Studios | Floor Coverings & Kitchen & Bath Design p 8, 24
Medina Community Recreation Center | Recreation & Fitness Center p 25
Medina County Career Center | Schools/Career & Technical p 16
Medina County Convention & Visitor's Bureau | Visitor's Bureau/Tourism p 35
Medina County District Library | Library p 17
Medina County Federal Credit Union | Credit Unions p 32
Medina Fiber | Broadband & Connectivity Cable, Internet, Telephone p 10
Medina Gazette | Newspaper/Print & Online p 39
Medina Gem Co. | Jewelry p 27
Medina Seventh Day Adventist Church | Churches p 34
Medina Square Farmers Market | Farmers Market p 28
Ohio Valley Pizza Company | Pizza Restaurant p 14,15
Owens Corning | Manufacturing/Employment Opportunities p 11
Pawsitive Lifestyle Dog Training | Dog Training p 28
PSE Credit Union | Credit Unions p 8, 11
Ravago | Manufacturing/Employment Opportunities p 13
Root Candles | Candles & Gifts p 27
Slicker Trucking | Ground Trucking Operation p 14, 15
Something's Popping | Gourmet Popcorn Shop p 28
South Court Dental | Dentists p 6
Southwest General Health Center | Hospitals/ Medical Facilities p 8, 20, 21
Spray Products Corporation | Manufacturing/ Employment Opportunities p 13
Studio-A-Salon | Hair Salon p 20
Sugar Bar | Body Sugaring Studio & Spa p 1
Summa Health | Hospitals/Medical Facilities p 7, 18, Back cover Sweets & Geeks | Candy Store & Modern Memorabilia p 27
The Foundry Social/High Voltage | Entertainment p 37
The Masica Company/Sperry Commercial Global Affiliates | Commercial Real Estate p 28
Trailer One | Trailer Sales & Rentals p 39
Trillium Creek Dermatology | Dermatologists/ Skin & Cosmetic Surgery p 22, 23
United Way of Summit & Medina | Non profit Organization p 28 Westfield Group | Insurance p 2 Weymouth Community Church | Churches p 34 Wichert Insurance | Insurance p 28 Wolff Bros. Supply Inc. | Home Design/Remodeling/ Plumbing/Electrical/HVAC
Inside bk. cover
40 Medina Area Magazine & Community Guide | 2023 AD INDEX
Scott Hughes Vice President - Sales 440-823-1908 shughes@imagebuildersmarketing.us Alex Drellishak Community Consultant 440-263-2263 akaldy@msn.com Want to be in the next Community Guide? Become an advertiser! Call Scott or Alex The 2023 EDITION 16th Annual Area Magazine & Community Guide YOUR COMPLETE SOURCE FOR LOCAL BUSINESS COMMUNITY INFORMATION www.imagebuildersmarketing.us Medina for Our 16th Annual Edition!! Thank You
Kandice had weight loss surgery at Summa Health. She had a whole team at her side: her surgeon, physicians, dietitian, advanced practice providers and psychologist.
At Summa Health, weight loss is a team approach.
Vital for losing weight and regaining your health. Vital for life.
888.210.5048 summahealth.org/weightloss SCAN CODE TO SEE KANDICE'S STORY. Kandice Weight Loss Surgery Patient
Greater Akron's most comprehensive weight loss program. PRSRT STD U.S. POSTAGE PAID AKRON, OH PERMIT NO. 286 *****ECRWSSEDDM***** Postal Customer