MMXXII (120)
LIFESTYLE | LUJO | MODA | POLO | CULTURA | GASTRONOMÍA | GOLF
A UNIQUE LIFESTYLE WITHIN SOTOGRANDE
Set in the beautiful countryside in the heart of Sotogrande, Village Verde offers: a home set in a natural parkland · resort living at its finest · state-of-the-art amenities · sea and golf course views · close proximity and privileged access to La Reserva Club.
Consisting of luxury two, three, and four-bedroom apartments and penthouses, Village Verdehasbroughtanewlifestyleintoa21stcenturyresortwithauniquesenseofcommunity.
Prices from €620,000.
REQUEST AN INFORMATION PACK OR A PRIVATE TOUR +34 856 560 922 villageverde@sotogrande.com villageverdesotogrande.com DISCOVER MORE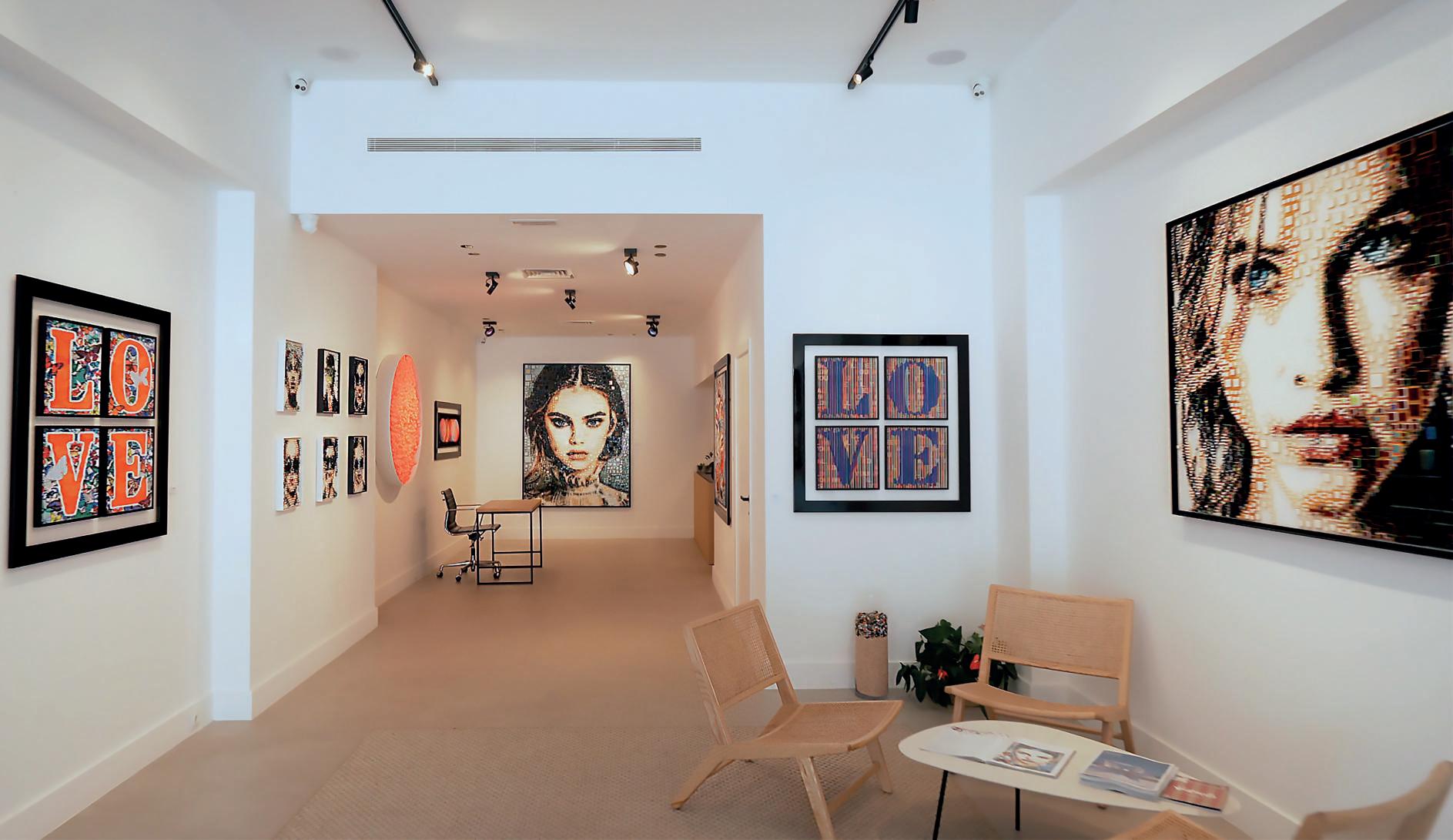 Exclusive art for luxurious homes.
Fused glass artworks created by Isabelle Scheltjens. Kinetic pop art by Patrick Rubinstein.
ART GALLERY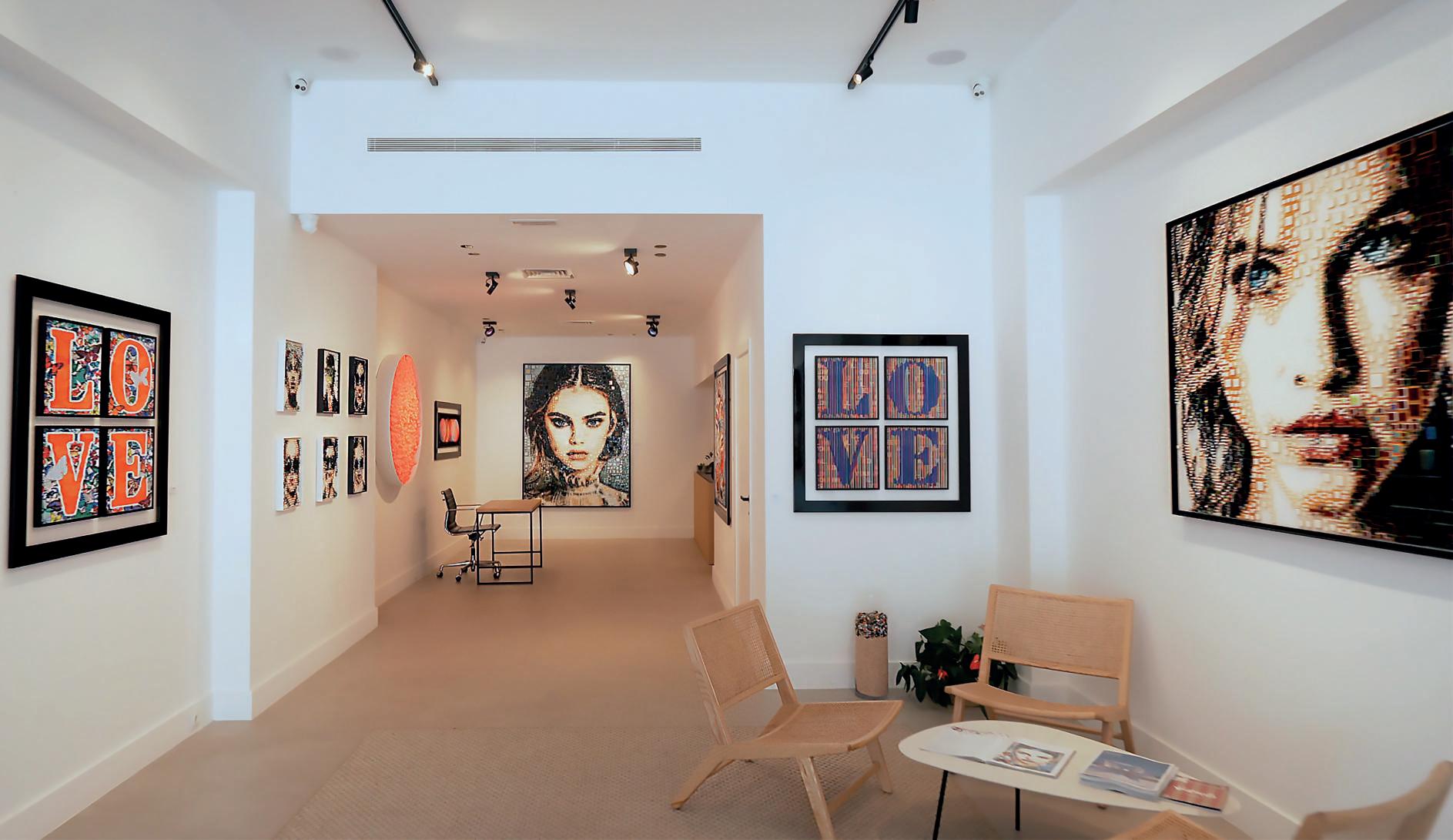 Blizz Art Gallery Calle Ribera, Casa N, Local 18, planta baja 29660 Puerto Banús, Marbella, T +34 951 74 30 06 info@blizzartgallery.com www.blizzartgallery.com
IZZ


8 Editorial. 10 PLAYLIST CLÁSICOS DE LOS 80'S Y 90'S 12 20 ENTREVISTA 44 52 38 MORENO INFANTESJavier 30 ARK RV: UNA EXPERIENCIA TAMBIÉN VIRTUAL SO/ SOTOGRANDE UNA EXPERIENCIA CINCO ESTRELLAS HOLMES SOTOGRANDE Ben Bateman ENTREVISTA VIAJES ENTREVISTA SUMAR MÁS PARA SOTOGRANDE Adding more for Sotogrande XIII FORO EMPRESARIAL SOTOGRANDE ENTRENADOR DE JON RAHM EduardoCelles 58 ROLEX, el reloj dela FÓRMULA1 62 70 El embrujo de los FARAONES

n.120 96 88 114 CINE 78 102 84 128 ocial otogrande 122 La nueva arquitectura redefine el concepto del lujo FLOW81 Vinos para celebrar la vida PASIÓN CARNÍVORA 2022:ELAÑODE LAEXPLOSIÓNDEL NUEVO CINE ESPAÑOL El polo en Sotogrande suma 22 ESCRIBE SU NOMBRE EN LA HISTORIA DE VALDERRAMA 108 James Stewart Y maría acacia Ryder Cup IX CIRCUITO DE GOLF SOTOGRANDE
Staff.
PRESIDENTE Y EDITOR DE GRUPO HCP
José Luis García Iglesias jlgarcia@grupohcp.com
COORDINADOR
EDITORIAL
Manuel Gil periodico.sotogrande@grupohcp.com
VENTAS Y COORDINACIÓN
Ever. Comunicación & Marketing Juanjo González Franco juanjo@agenciaever.com
DISEÑO Y REDACCIÓN
Ever. Comunicación & Marketing Claudia Valenzuela y María José Carmona creatividad@agenciaever.com
PUBLICIDAD Y PRODUCCIÓN
Agustín Domínguez creatividad@grupohcp.com
ASISTENTE DE DIRECCIÓN
Victoria Vaca asistente_direccion@grupohcp.com
DISTRIBUCIÓN Diego González distribucion@grupohcp.com
COLABORADORES
Alicia Nieto, Carlos Morcillo, James Stewart y María Acacia
IMPRESIÓN EGONDI Artes Gráficas Depósito Legal: CA-559/99
MEJOR EDITOR DE PUBLICACIONES GRATUITAS 2012
MEJOR EDITOR DEL AÑO 2007
PUBLICACIÓN ASOCIADA A CLABE (CLUB ABIERTO DE EDITORES), QUE A SU VEZ ES MIENMBRO DE LA FIPP Y LA FAEP
OFICINA CENTRAL · SOTOGRANDE
Avda Mar del Sur, s/n 11312 Torreguadiaro - San Roque (Cádiz) Tl.: +34 956 610 043 Fax. +34 956 61 00 44 www.grupohcp.com · www.sotograndedigital.com
CONTRATE SU PUBLICIDAD EN CUALQUIERA DE NUESTROS MEDIOS
@
@
LIFESTYLE LUJO MODA POLO CULTURA GASTRONOMÍA GOLF LIFESTYLE LUJO MODA POLO CULTURA GASTRONOMÍA GOLF LIFESTYLE LUJO MODA POLO CULTURA GASTRONOMÍA GOLF 8 LA REVISTA DE SOTOGRANDE EDITORIAL INVIERNO 2022
@sotogrande digital
sotograndedigital
sotogrande info SotograndeDigital www.grupohcp.com www sotograndedigital.com
Editorial.
EDITOR GRUPO HCP José Luís García Iglesias @JLGarciaSG
SOTOGRANDE, DOCE MESES DEL AÑO
En esta casa no somos dados a la nostalgia y el rememorar, somos más de avanzar, crear, planificar y organizar el futuro a corto y medio plazo. En lugar de hacer un balance más orientado al pasado nos gusta trabajar desde muy pronto, casi desde que va orillando el verano, en los proyectos de pasado-mañana y más que la vista puesta en todo lo que ocurrió y contamos en 2022; llevamos semanas, meses, trabajando y apostando por un 2023 aún más brillante y mejor.
Será un año notablemente especial. El Periódico de Sotogrande, la cabecera más emblemática e identificativa de todo el resort y el Valle del Guadiaro, cumple nada menos que 25 años. Un cuarto de siglo con la responsabilidad y el orgullo de ser líderes en comunicación y en todo cuanto hacemos: eventos, torneos de golf, foros empresariales, comunicación y promoción para terceros y por supuesto, información, mucha información y de calidad.
Si de algo podemos presumir es que sabemos tratar y descubrir Sotogrande y su comunicación con la mayor sofisticación, delicadez y excelencia. Así comenzamos en 1998 y seguramente así continuaremos, si Dios quiere, mucho después de estas bodas de plata.
Sotogrande está para eso y para más. Se ha convertido integralmente en un destino de 12 meses al año; con una temporada alta ininterrumpida y que permite disfrutar del entorno, por su excelente oferta en ocio, gastronomía, hoteles y servicios, durante todo el curso. Más que mirar al pasado, cópienos, proyecten sus mejores planes para lo que está por venir. Todo esto, se lo contamos a Sotogrande, su área de influencia y al mundo, como en esta edición, presente también en el próximo Fitur.
SOTOGRANDE, TWELVE MONTHS A YEAR
At this house we are not prone to nostalgia and looking back, we are more about moving forward, creating, planning and organising the future in the short and mid-term. Instead of making an assessment more aimed at past we like to get working very early, almost from the point at which the summer winds up, on the projects of tomorrow and rather than focussing on everything that happened and that we reported in 2022; we have spent weeks, months, working and committing to a 2023 that is even more brilliant and better.
It will be a notably special year. El Periódico de Sotogrande, the most emblematic and identifying publication of the entire resort and Valle del Guadiaro, is celebrating none other than its 25th anniversary. A quarter of a century with the responsibility and pride of being leaders in communication and everything we do: events, golf tournaments, business forums, communication and promotion for third parties and of course, information, lots of information and the quality kind.
If we can boast of something it is that we know how to handle and reveal Sotogrande and its communication with the greatest sophistication, delicacy and excellence. That is how we got started in 1998 and of course we will continue like that, if God wishes, long after this silver wedding anniversary.
Sotogrande is for this and more. It has fully become a destination for 12 months a year; with a continuous peak season and which makes it possible to enjoy the area, due to its excellent range of leisure, gastronomy, hotels and services, during the entire year. Rather than looking to the past, copy us, project your best plans for what is to come. All of this, we report it to Sotogrande, its area of influence and the world, as in this edition, also present at the upcoming Fitur.
9 LA REVISTA DE SOTOGRANDE · INVIERNO 2022 EDITORIAL INVIERNO 2022
10 LA REVISTA DE SOTOGRANDE PLAYLIST INVIERNO 2022
Clásicos de los 80's y 90's Classics from the 80's and 90's La lista 120 m Eye of the Tiger SURVIVOR m I'm so Excited THE POINTER SISTERS m Wake Me Up Before You Go-Go WHAM! m I Was Made for Lovin' You KISS m Bette Davis Eyes KIM CARNES m Beat It MICHAEL JACKSON m Gimme! Gimme! Gimme! ABBA m Welcome To The Jungle GUNS N' ROSES m Material Girl MADONNA m Nothing Else Matters METALLICA 11 LA REVISTA DE SOTOGRANDE · INVIERNO 2022 PLAYLIST INVIERNO 2022
LA REVISTA DE SOTOGRANDE OUTFITS · MARISOL GUTIÉRREZ · JOAQUÍN SERRA · REVELIGION trends Photography&ArtDirector: Alicia Nieto @alicianieto70and7photography Stilist: Victoria Díaz @victoriadiazpaez Lidia Mena @lidiamena07 Models: Ana Torres @anatorresgarc_ Angustias Montaño @angustiasmontano Vesta @vestajureviciute Daniela Vázquez @_daanielaa_vv María Arques @maria.arques Ana María Muñoz @anaamaria.28 Demba @dembiita21 Alba Pérez @albaaperez02 Pilar Espejo @pilarespejo27 Rocío Benítez MUAH: Victor del Valle @victordelvalle_ 12 MODA INVIERNO 2022

13 LA REVISTA DE SOTOGRANDE · INVIERNO 2022 MODA INVIERNO 2022
OUTFITS · ROOTS BY MACARENA DELGADO
trends
t OUTFITS ·
OUTFITS · CANTINA DESING 14 LA REVISTA DE SOTOGRANDE MODA INVIERNO 2022
Andalusian
ARH SUENDI
OUTFITS · AZUL&VERDE ·
·
·
16 LA REVISTA DE SOTOGRANDE MODA INVIERNO 2022
ALEX MENORCA
DISEÑOS EN COLOR
CREMA ROOTS BY MACARENA DELGADO
OUTFIT · CERRILLO DESING 17 LA REVISTA DE SOTOGRANDE · INVIERNO 2022 MODA INVIERNO 2022
z OUTFITS · CREMA&ROJOS CANTINA DESING ·
·
18 LA REVISTA DE SOTOGRANDE MODA INVIERNO 2022
MORADO CERRILLO DESING
NARANJA ROOTS BY MACARENA DELGADO
MORENO INFANTESJavier
MODELO PROFESIONAL /PROFESSIONALMODEL
wMARÍA JOSÉ CARMONA I MANUEL GIL Y CEDIDAS
20 LA REVISTA DE SOTOGRANDE ENTREVISTA INVIERNO 2022
"Siempre he sido un niño súper tímido, mi vida
Con 17 años Javier Moreno comenzó en el mundo de la moda casi por casualidad. Hoy con45,estemodelosevillanosehaconvertido en uno de los rostros más destacados de pasarelas y campañas de publicidad a nivel internacional. Su estilo, autenticidad y elegancia le ha llevado a ser imagen de marcas como Porsche, el Corte Inglés o Loreal.Sustrabajoslemantienenenperpetuo movimiento de Alemania a Nueva York, de Egipto a Miami. Eso sí, su hogar sigue siendo Andalucía, donde este 2022 la Consejería de Turismo reconoció su trayectoria con el Premio a la Excelencia en la Moda.
At the age of 17, Javier Moreno began in the fashion world almost by chance. Now aged 45, the model from Seville has become one of the outstanding faces on catwalks and in international advertising campaigns. His style,authenticityandelegancehaveledhim to be the image of brands such as Porsche, El Corte Inglés and Loreal. His projects keep him in perpetual movement from Germany toNewYork,EgypttoMiami.Havingsaidthat, his home remains Andalusia, where in 2022 the Department of Tourism acknowledged his career with the Award for Excellence in Fashion.
ENTREVISTA/INTERVIEW
"I was always a very shy child; my life has been a constant challenge"
ha sido un reto constante"
21 LA REVISTA DE SOTOGRANDE · INVIERNO 2022 ENTREVISTA INVIERNO 2022
Javier Moreno, vecino de San Roque donde reside desde hace nueve años con su mujer y sus dos hijos, recibe a La Revista de Sotogrande para contarnos las idas y venidas de una vida apasionante como modelo profesional.
· Javier llevas más de 25 años en el mundo del modelaje,¿cómofueronloscomienzos?
Empecé en esto como se empiezan muchas cosas, por casualidad. Yo era deportista, estaba en la selección nacional de remo, en el equipo olímpico. Entrenaba en el Centro de Alto Rendimiento de Sevilla y un día vinieron de una productora buscando chicos para un anuncio porque acababan de abrir Isla Mágica. Yo tenía 17 años y fui uno de los elegidos. Cuando acabé el anuncio la chica de la productora me preguntó: '¿Tú quieres trabajar de esto?' y le dije que sí. Me pareció bien hacerlo en mi tiempo libre porque yo ante todo me dedicaba a entrenar.
Javier Moreno, a resident of San Roque where he has lived for nine years with his wife and two children, welcomedLaRevistadeSotograndetotellusaboutthe comings and goings of an exciting life as a professional model.
· Javieryouhavebeeninthemodellingworldfor morethan25years,howdidyougetstarted?
I got started the way that many things start, by chance. Iwassportsperson,Iwasinthenationalrowingsquad, in the Olympic team. I trained at the Elite Performance Centre in Seville and one day a producer came looking for guys for an advertisement because they had just opened Isla Mágica. I was 17 and was one of the people chosen. When I finished the advertisement the production girl asked me: "Do you want to make a living from this?" and I said yes. It seemed good to do it in my free time because above all I was devoted to training.
22 LA REVISTA DE SOTOGRANDE ENTREVISTA INVIERNO 2022
Después de eso, me llamaron de una agencia de Sevilla y el primer día que fui para que me tomaran las medidasmedijeronqueporlatardehabíaundesfileen Telecinco. Así empecé. Por cierto, a principios de año comienzo un nuevo proyecto de televisión.
· ¿Túentoncesnoteníasniideademodelar?
Nada, yo no había hecho absolutamente nada y lo peor es que era un niño súper tímido. Por suerte, en mi vida siempre me he enfrentado a todo aquello que pensaba que no podía a hacer, toda mi vida ha sido un reto.
· ¿Cuándodecidistequeelmundodelmodelajeiba asertufuturoprofesional?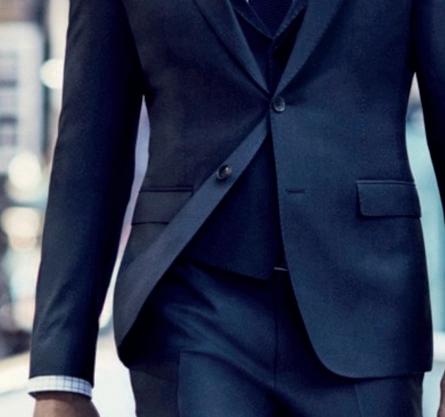 La vida fue la que me llevó. A mí me iba muy bien en el deporte, estaba en el equipo olímpico, iba a campeonatosdelmundo,peroafinalesdel96tuveuna lesión que se agravó bastante. Entonces decidí que se acabó, hablé con mi padre y le dije 'me voy a Madrid a trabajar de modelo'. Tenía 18 años.
En aquella época había muchos desfiles en Madrid, sobre todo a partir de los 2000. Eso no quita que también tuve que hacer otros miles de trabajos como portero, de imagen en discotecas. También empecé a estudiar arte dramático, hice algunas intervenciones en series. Fui buscándome la vida.
Afterthat,theycalledmefromanagencyinSevilleand the first day I went to have my measurements taken they told me that there was a catwalk in the afternoon on Telecinco. That is how I got started. By the way, at the beginning of next year I will start a new TV project.
· Then,youhadnoideaaboutmodelling?
Nothing, I hadn´t done anything, and the worst thing is that I was a very shy child. Luckily, in my life I have always tackled everything that I thought I couldn´t do, my entire life has been a challenge.
· Whendidyoudecidethattheworldofmodelling wasgoingtobeyourprofessionalfuture?
Life is what led me to it. Things were going very well for me in sport, I was on the Olympic team, I was going to the world championships, but at the end of ´96, I had an enjoy that got quite a lot worse. Then I decided that was the end, I spoke to my father and told him "I am going to Madrid to work as a model". I was 18.
At that time there were a lot of shows in Madrid, especially from 2000 on. Aside from that I also had to do thousands of other jobs such as bouncer, and image work in nightclubs. I also began to study drama, I had some performances in series. I sought a way to make a living.
24 LA REVISTA DE SOTOGRANDE ENTREVISTA INVIERNO 2022
"In my life I have always tackled everything that I thought I couldn´t do. My entire life has been a challenge"
26 LA REVISTA DE SOTOGRANDE ENTREVISTA INVIERNO 2022
"En mi vida siempre me he enfrentado a todo aquello que pensaba que no podía a hacer. Toda mi vida ha sido un reto".
· Luego vendría el salto como modelo internacional,¿cómofue?
No fue de la noche a la mañana, desde luego. En 2001 hubo un cambio en la moda, se empezaron a llevar modelos más andróginos, el mercado se me cortó porque mi imagen es más varonil y ahí empecé a trabajar más de actor. Luego, en 2004 hice mi primera incursión en Nueva York, visité algunas agencias pero solo estuve unos días.
Con el tiempo la presión me pudo, siempre haciendo castings, en el filo de la navaja. Me tomé un tiempo, volví a Sevilla, allí conocí a mi mujer y monté un negocio de hostelería,
aunque seguía haciendo trabajos de modelo. Fue en 2010, después de cerrar el negocio, cuando decidí apostar de lleno por la moda. Cogí un fotógrafo, me hice una nueva sesión de fotos, la mandé a la que hoy es mi agencia y ahí empezó otra vez. De ahí di el salto internacional, primero a Europa (Alemania, Milán), después todo lo demás.
· ¿Con qué marcas destacadas has trabajado?
Con muchas, desde Porsche, BMW, Loreal Men Expert. Sobre todo muchas marcas de coches, relojes, gafas.
· ¿Qué exigencias requiere la vida de un modelo internacional en cuanto a cuidadosfísicos,alimentación,idiomas?
Todo depende de dónde quieras llegar. Yo soy muy exigente conmigo mismo, lo bueno es que vengo del deporte, estoy hecho a la disciplina. Desde el principio traía muy buenos hábitos de alimentación y ejercicio, pero es verdad que no es lo mismo tener 25 años que 45, a medida que han pasado los años he tenido que ir transformando esa rutina. En cuanto a los idiomas, es importante para comunicarte con los clientes, pero sobre todo lo hago por mí, es enriquecedor.
· Then you made the leap as an internationalmodel,howwasthat?
It didn´t happen overnight, of course. In 2001 there was a change in fashion, more androgynous models became trendy, the market cut me out because my image is more masculine and then I began to work more as an actor. Then, in 2004 I made my first incursion in New York, I visited some agencies but I was only there for a few days.
Over time, pressure got the best of me, I was always doing castings, always on the edge. I tooksometimeout,IreturnedtoSeville,Imet my wife there and set up a catering business,
although I continued to do modelling work. It was in 2010, after the business shut down, when I decided to fully commit to fashion. I got a photographer, did a photo shoot, I sent it to what is now my agency and it began again there. From there I took the leap internationally, first in Europe (Germany, Milan), and then all the rest.
· Whatnotablebrandshaveyouworked with?
With lots, from Porsche, BMW, Loreal, Men Expert. Especially lots of brands of cars, watches, sunglasses.
· What demands does the life of an international model require in terms of looking after your physique, diet, languages?
It all depends on how far you want to go. I am very demanding with myself, the good thing is that I come from sport, I am used to discipline. From the outset I had very good diet and exercise habits, but it is true that being 25 years old is different to being 45, as the years have passed I have had to transform that routine. As for languages, it is important in order to communicate with clients, but above all, I do it for me, it is enriching.
27 LA REVISTA DE SOTOGRANDE · INVIERNO 2022 ENTREVISTA INVIERNO 2022
·
¿Cómovestufuturodentrodelaprofesión?
He aprendido a no planear mucho, hace un par de años sufrí un micro infarto y, cuando pasan cosas así, te planteas las cosas de otro modo, el día a día.
Ahora mismo tengo proyectos en mente, quiero encauzarme hacia la tele, pero dentro de la moda todavía tengo recorrido. Es verdad que las marcas suelen tirar de gente joven, pero cuando quieren mostrar poder adquisitivo necesitan un modelo con más edad. Si te conservas bien, hay mercado. La cuestión es abrir fronteras, saber moverte. Mi nicho de trabajo es sobre todo extranjero, este año habré ido como ocho o nueve veces a EEUU.
· Tienes 136 mil seguidores en Instagram, 336 milenTikTok,¿hastaquépuntosonimportantes lasredesparaconservareléxito?
Lasredessehanconvertidoenalgoesencial,sonuna carta de presentación. De hecho, tú haces un casting online y lo primero que te piden es tu Instagram. Para mí es como otro trabajo, de lunes a domingo. Mi intención ahora es posicionarme también como influencer. Al final todos los días recibo mensajes de gente preguntándome qué ejercicio hago, qué como. Me he dado cuenta de que tengo influencia sobre la gente. Por eso intento aportar un contenido variado, pongo cosas de coaching, de surf y kite
· How do you view your future within the profession?
I have learned not to plan a lot, a few years ago I suffered a micro heart attack and, when things like thathappen,youthinkaboutthingsdifferently,from day to day.
Right now I have projects in mind, I want to focus on television, but within fashion I still have a long path ahead. It is true that brands normally use young people, but when they want to show purchase power they need an older model. If you look after yourself well, there is a market. The issue is opening up borders, knowing how to move. My working niche is foreign above all; this year I have been to the United States eight or nine times.
· Youhave136thousandfollowersonInstagram, 336 thousand on Tik Tok, to what extent are networksimportanttomaintainingsuccess?
Networks have become essential; they are your introduction. In fact, you do a casting online and the first thing they ask you for is your Instagram. For me it is like another job, from Monday to Sunday.
Now, my aim is to also position myself as an influencer. Ultimately, every day I receive messages from people asking me what exercise I do, what I eat. I have realised that I have influence over people. Therefore, I try to provide varied content,
surf (actualmente soy rider de kite surf de la marca MANERA Y F-One), quiero mostrar un estilo de vida. Gracias a eso tengo un target muy amplio, me sigue gente de 24 a 60 años.
· ¿De todo tu trabajo –shootings, pasarelas- qué disfrutasmás?
Sinceramente me encanta todo lo que engloba mi trabajo. A mí me avisan ahora de que en siete días me tengo que ir a Nueva York y ya cambio el chip. Es verdad que suele gustarme más el shooting y el video que la pasarela, pero en general lo que disfruto de verdad es el estilo de vida que me he creado.
· Para finalizar, ¿alguna anécdota curiosa que te hayaocurridoenalgunodetustrabajos?
En el último desfile que hice en Egipto me paso una cosa. Desfilábamos en un templo egipcio para un diseñador italiano, un lugar increíble. Yo siempre voy con gafas, pero en los desfiles uso lentillas. Pues bien, justo antes del desfile se me cayó una y la perdí. Éramos 42 modelos y tuve que preguntar a todos si tenían una lentilla para prestarme con el agravante de que en la pasarela había una bajada de escaleras de cien metros. Al final conseguí una lentilla de diferente graduación a la mía, a la mañana siguiente estuve fatal, pero el trabajo salió. Es lo que importa.
I put up coaching things, surfing and kite surfing (I am currently a kite surfer for the MANERA and F-One brand), I want to show off a lifestyle. Thanks to that I have a very broad target audience, I am followed by people aged 24 to 60.
· Fromallyourwork-shoots,catwalks-whatdo youenjoymore?
Honestly, I love everything that my job encompasses. I am now told that in seven days I have to go to New York and I change my mind-set. It is true that I normally enjoy shoots and videos more than catwalks, but in general what I really enjoy is the lifestyle I have created for myself.
· Tofinish,doyouhaveanyinterestinganecdotes aboutsomethingthathappenedononeofyour jobs?
Something happened on the last fashion show that I did in Egypt. We were doing a show in an Egyptian temple for an Italian designer, an incredible place. I always wear glasses, but I wear contacts on fashion shows. Well, just before the show one of them fell out and I lost it. There were 42 models and I had to ask everyone if they had a lens to lend me with the aggravating circumstance that on the catwalk there was one hundred metres of downward stairs. In the end I got a lens with a different prescription to mine, the next morning I felt awful, but the job went ahead. That is what matters.
28 LA REVISTA DE SOTOGRANDE ENTREVISTA INVIERNO 2022
"Todos los días recibo mensajes de gente preguntándome qué ejercicio hago, qué como. Por eso intento aportar un contenido variado, pongo cosas de coaching, de surf y kite surf, quiero mostrar un estilo de vida".
"Every day I receive messages from people asking me what exercise I do, what I eat. I try to provide varied content, I put up coaching things, surfing and kite surfing, I want to show off a lifestyle."
29 LA REVISTA DE SOTOGRANDE · INVIERNO 2022 ENTREVISTA INVIERNO 2022
TECNOLOGÍA
SERVICIO
LA ARQUITECTURA. A TRAVÉS DE LA REALIDAD VIRTUAL OFRECEN LA POSIBILIDAD DE PROBAR Y SENTIR SUS CREACIONES DESDE EL MISMO PROCESO DE DISEÑO.
ARK ARK RV: UNA EXPERIENCIA TAMBIÉN VIRTUAL ARK RV: An experience that is also virtual 30 LA REVISTA DE SOTOGRANDE ARK INVIERNO 2022
MANUEL RUIZ MORICHE Y SU EQUIPO PONEN LA
AL
DE
wMARÍA JOSÉ CARMONA I
956 793 166 · 629 965 014 info@ark-arquitectos.com ark-architects.com 31 LA REVISTA DE SOTOGRANDE · INVIERNO 2022 ARK INVIERNO 2022
Manuel Ruiz Moriche and his team are putting technology at the service of architecture. Through virtual reality they offer the chance to test and experience their creations from the very design process on.
Existenmuchasformasdeexperimentar el lujo, una de ellas es adelantándose al futuro. Afortunadamente hoy la tecnología y los avanzados sistemas de realidad virtual permiten lo inimaginable hace unos años: La posibilidad de pasear y sentir cómo será el futuro hogar antes de su propia construcción.
El estudio de arquitectura ARK es un auténtico pionero en este campo. Manuel Ruiz Moriche y su equipo llevan a gala el haber sido los primeros en diseñar una plataforma de realidad virtual capaz de ofrecer una inmersión completa a tiempo real en cualquiera de sus villas de lujo. Un servicio de excelencia y sofisticación que se suma a la garantía de calidad y exclusividad de cada uno de sus proyectos arquitectónicos.
"EL ESTUDIO DE ARQUITECTURA ARK LLEVAN A GALA EL HABER SIDO LOS PRIMEROS EN DISEÑAR UNA PLATAFORMA DE REALIDAD VIRTUAL CAPAZ DE OFRECER UNA INMERSIÓN COMPLETA A TIEMPO REAL EN CUALQUIERA DE SUS VILLAS DE LUJO".
32 LA REVISTA DE SOTOGRANDE ARK INVIERNO 2022
"The ARK architecture studio is a real pioneer in this field. Manuel Ruiz Moriche and his team pride themselves on being the first to design a virtual reality platform capable of offering a complete real-time immersion in any of their luxury villas".
There are many ways to experience luxury, one of them is by anticipating the future. Fortunately, what was unimaginable a few years ago is now possible with technology and advanced virtual reality systems: The chance to walk and feel what your future home will be like before it has been built.
The ARK architecture studio is a real pioneer in this field. Manuel Ruiz Moriche and his team pride themselves on being the first to design a virtual reality platform capable of offering a complete real-time immersion in any of their luxury villas. A service of excellence and sophistication that joins the guarantee ofquality and exclusivity of each of its architectural projects.
33 LA REVISTA DE SOTOGRANDE · INVIERNO 2022 ARK INVIERNO 2022
Sondear un proyecto en progreso a travésde'ARKRV'ofrecevariasventajas: porunladopermitealosdiseñadoresde ARKsermáseficientes.Porotro,facilita alosclientesladecisióndeadquiriruna viviendaaunqueseencuentrenamiles de kilómetros, les ayuda a comprender sus características, a visualizar sus avances, en definitiva a conectaryvivir todoelprocesodecreacióndesunuevo hogarmientras éste toma forma.
El objetivo –aseguran desde ARK Arquitectos- es buscar "el mayor grado de realismo y activación emocional posible". Para ello, utilizan software y hardware de última generación capaz de comunicar la arquitectura como nunca se había hecho antes.
'ARK RV' propone una simulación generada por ordenador de un entorno interactivo tridimensional que se experimenta mediante el uso de un auricular de RV. En otras palabras, el usuario es capaz de vivir una experiencia foto-realista en cualquier espacio tridimensional imaginable, utilizando principalmente los sentidos de lavistayel oído.
Exploring a project that is underway through "ARK VR" offers several advantages: on one hand it enables ARK designers to be more efficient. On the other, it makes it easier for clients to takethedecisiontopurchaseaproperty even ifthey are thousands ofkilometres away, it helps them to understand its characteristics, to view progress, ultimately, to connect and experience the entire process of creating their new home while it is taking shape.
The objective, according to ARK Arquitectos, is to pursue "the highest possible level of realism and emotional activation".Tothisend,theyusecuttingedge software and hardware capable of communicating architecture like never before.
'ARK VR' offers a computer simulated generation of an interactive threedimensional environment that is experienced through the use of a VR headset. In other words, the user is able to enjoy a photo-realist experience in any imaginable three-dimensional space, mainly using the senses of sight and hearing.
34 LA REVISTA DE SOTOGRANDE ARK INVIERNO 2022
"EL OBJETIVO ES BUSCAR EL MAYOR GRADO DE REALISMO Y ACTIVACIÓN EMOCIONAL POSIBLE".
35 LA REVISTA DE SOTOGRANDE · INVIERNO 2022 ARK INVIERNO 2022
"The objective is to pursue "the highest possible level of realism and emotional activation"
"La RV se convierte en la solución más poderosa a la hora de probar, sentir y presentar proyectos arquitectónicos no construidos. El proceso de diseño se convierte en una síntesis de experiencias vivas en lugar de ideas preconcebidas, lo que nos permite verificar y explorar las mejores decisionesparacadaproyectodesdeun punto de vista humano", explican los diseñadores deARK.
Tecnología, innovación y progreso han sido siempre fundamentales en la historia de la humanidad a la hora buscar una mejor calidad de vida. En ese sentido, las experiencias virtuales e interactivas de ARK no solo sitúan a este estudio de arquitectura en la vanguardia de la más alta tecnología, también contribuyen a crear esas atmósferas únicas, personalizadas y a medida, sello de identidad inigualable de lasvillas deARK.
"VR has become the most powerful solution when it comes to testing, experiencing and presenting architectural projects that have not been built. The design process becomes a synthesis of lived experiences instead ofpreconceived ideas,which enables us to verify and explore the best decisions for each project from a human point of view" explain the designers atARK.
Technology, innovation and progress have always been essential in the history of humanity when it comes to seeking a better quality of life. In this regard, the virtual and interactive experiences of ARK not only place this architecturestudioattheforefrontofthe mostcutting-edgetechnology,theyalso help to create unique, personalised and bespoke atmospheres, the unparalleled hallmark ofARKvillas.
36 LA REVISTA DE SOTOGRANDE ARK INVIERNO 2022
MARÍA JOSÉ CARMONA I SO/ SOTOGRANDE
UNA EXPERIENCIA CINCO ESTRELLAS 38 LA REVISTA DE SOTOGRANDE SO/ SOTOGRANDE INVIERNO 2022
w
SO/ SOTOGRANDE
El Hotel SO/ Sotogrande no solo es un magnífico y revolucionario alojamiento cinco estrellas, desde su apertura en verano de 2021, supuso un cataclismo en la vida social de Sotogrande. Con su rompedor diseño, su conceptoinnovadorde"cortijo revolucionado", su espíritu de rebeldíaysofisticación,elHotel SO/ Sotogrande –el primero de la marca de lujo SO/ Hotels & Resorts en Europa–se ha consolidado como uno de los grandes epicentros de la urbanización, un lugar abiertotantoalpúblicoquese hospeda en el hotel como a la comunidadlocal.
Afive-starexperience
Como explica Stephane Menou, su General Manager, "SO/ Sotogrande quiere posicionarse como el principal punto de encuentro en la urbanización, un lugar dónde poder hacer una comida de trabajo, pasar un día en familia, organizar un 'afterwork', disfrutar de un excelente spa y zona fitnnes, incluso un espacio para tomar una pausa y seguir trabajando".
En esa línea, SO/ Sotogrande ofrece una experiencia cuerpo-mente difícil de igualar que combina aspectos como el ocio,elrelaxolagastronomía.Esteúltimo punto es probablemente uno de los más celebrados y es que su diferenciador espacio gastronómico ofrece al visitante un singular viaje de sabores que incluye desde los productos mediterráneos más auténticos, a recetas de temporada, platos ligeros y saludables, manjares a la brasa o deliciosos cócteles y tapas de vanguardia.
Hotel SO/ Sotogrande is not only a magnificent and revolutionary five-star hotel, since its opening in 2021, it has been a cataclysm in Sotogrande´s social life. With its ground-breaking design, its innovative concept of "revolutionised cortijo", its spirit of rebelliousness and sophistication, Hotel SO/ Sotogrande –the first of the luxury brand SO/ Hotels & Resorts in Europe has consolidated itself as one of the great epicentres of the resort, a place that is open to both the public who stay in the hotel and to the local community.
AsStephaneMenou,itsGeneralmanager explains, "SO/ Sotogrande wants to position itself as the main meeting place in the resort, a place where it is possible to have work lunch, spend a family day, organise an after work event, enjoy an excellent spa and fitness area, even a space for having a break and continuing to work".
In this vein, SO/ Sotogrande offers a body and mind experience that is difficulttoequal,combiningaspectssuch as leisure, relaxation and gastronomy. The latter point is probably one of the most famous and the fact is that its distinguished gastronomic space offers visitors a unique journey of flavours which includes everything from the most authentic Mediterranean products, to seasonal recipes, light and healthy recipes, grilled delicacies and delicious cocktails and avant-garde tapas.
SO/SOTOGRANDE
39 LA REVISTA DE SOTOGRANDE · INVIERNO 2022 SO/ SOTOGRANDE INVIERNO 2022
En total cuatro restaurantes y bares que, al más puro estilo SO/ Sotogrande, conjugan lo contemporáneo con la tradición para ofrecer menús innovadores y propuestas gastronómicas diferentes según la ocasión. "Estamos potenciando de una manera muy sobresaliente los diferentes conceptos de gastronomía que tenemos presente en el resort y desarrollando al máximo sus espacios y alternativas culinarias para alcanzar todas las necesidades de la comunidad local", asegura el General Manager, Stephane Menou.
CORTIJO
Cortijo es, sin duda, el corazón gastronómicodelHotelSO/Sotogrande, surestauranteprincipal.Inspiradoenla cocina tradicional andaluza, el Cortijo selecciona para sus comensales los productos e ingredientes más frescos, todos ellos productos de proximidad. Es una de las líneas maestras del chef Leandro Caballero, la apuesta decidida
por "la cocina local y tradicional pero con una visión renovadora". Solo así se consigue permanecer en el recuerdo de los comensales a través de "la tradición de los platosysu textura".
Algunos de los imprescindibles de Cortijo, recomendados por el propio chef, son el jamón ibérico del valle de los Pedroches –hay que probarlo sí o sí, asegura Caballero-, la degustación de quesos andaluces, los puerros con mantequilla de oveja, el pulpo a la parrilla o la paletilla de cordero. Un auténtico festín para los sentidos que hoy seduce tanto a huéspedes como a residentesdeSotograndeenunespacio rústicoyacogedor.
CORTIJO-BAR
Cortijo Bar fusiona el bar moderno y divertido del hotel con la elegancia y esencia andaluza de su hermano mayor, Cortijo. Las tapas devanguardia en el mejor ambiente y compañía lo convierten en una de las opciones más
recomendablesparalosresidentesenla urbanización, así como para visitantes. Sin duda, una gran alternativa para tomar algo ligero y disfrutar de alguno de sus magníficos cocteles de autor.
HI - SO
Situado junto a la piscina, con una impresionante parrilla abierta de leña, el restaurante HI-SO impregna el aire del aroma suculento del pescado del díaylas más selectas carnes a la brasa.
Un espacio perfecto para disfrutar de deliciosas comidas al aire libre con una carta de bebidas igualmente tentadoraqueincluyelimonadasrecién exprimidas, cócteles, vinos y cervezas nacionales e internacionales. Ya por la noche, HI-SO baja las luces y sube el glamour, invitando a sus clientes a vibrantes fiestas en la piscina donde encontrarse y socializar dejándose llevarporla buena música.
Four restaurants and bars in total that, inthepurestSO/Sotograndestyle,blend thecontemporarywithtraditioninorder to offer innovative menus and different gastronomic proposals according to the occasion. We are enhancing the different gastronomy concepts we have in the resort in a really outstanding way and fully developing its spaces, culinary alternatives and meeting all theneedsofthelocalcommunity"states the General Manager, Stephane Menou.
CORTIJO
Cortijo is undoubtedly the gastronomic heart of Hotel SO/ Sotogrande, its main restaurant. Inspired by traditional Andalusian cuisine, Cortijo selects the freshest products and ingredients for its diners, all local produce. It is one of the key ideas of the chef Leandro Caballero, the decisive commitment to "local and traditional cuisine but with a revamped vision". Only by doing so do you manage to stay in the memory of diners through the "tradition of dishes and their texture".
Some of the essentials of Cortijo, recommended by the chef themselves, are the Iberian ham of Valle de los Pedroches -you simply have to try it, states Caballero-, the tasting of Andalusian cheeses, leeks with sheep´s milk butter, grilled octopus and lamb shoulder. A real feast for the senses that seduces both guests and residents today in Sotogrande in a rustic and welcoming space.
40 LA REVISTA DE SOTOGRANDE SO/ SOTOGRANDE INVIERNO 2022
"EN TOTAL CUATRO RESTAURANTES Y BARES QUE OFRECEN MENÚS INNOVADORES Y PROPUESTAS GASTRONÓMICAS DIFERENTES SEGÚN LA OCASIÓN"
CORTIJO-BAR
Cortijo Bar blends the modern and fun bar of the hotel with the elegance and Andalusian essence of its older brother, Cortijo. The avant-garde tapas in the best atmosphere and company make it one of the most recommended options for residents in the resort, and also for visitors. Undoubtedly, a great option for having something light and enjoying any of its magnificent signature cocktails.
HI-SO
Located next to the pool, with an impressive wood fired open grill, the HI-SO restaurant fills the air with the succulent aromas of the fish of the day and the most select grilled meats.
A perfect space for enjoying outdoor meals with an equally tempting drinks menu that includes freshly squeezed lemonades, cocktails, wines and national and international beers. At night, HI-SO dims the lights and turns up the glamour, inviting clients to lively parties at the poolwhere you can gather and socialise and be carried away by the good music.
41 LA REVISTA DE SOTOGRANDE · INVIERNO 2022 SO/ SOTOGRANDE INVIERNO 2022
"FOURRESTAURANTSANDBARS INTOTALTHATOFFERINNOVATIVE MENUSANDDIFFERENT GASTRONOMICPROPOSALS ACCORDINGTOTHEOCCASION"
SOCIETY
Society es el restaunte 'All Day dinning' del hotel. Un lugar donde disfrutar todo el día, donde los ingredientes son frescos y las vistas inspiradoras. Puede comenzar el día aquí con un café y un espectacular desayuno, picar algo antes de salir al golf, tener una comida de trabajo o bien cenar disfrutando de la música en directo durante el fin de semana. Su amplia selección gastronómica –toda ella basada en el producto local- se adapta a todos los gustos: desde clásicos españoles hasta degustaciones de atún, entrantes para compartir, ensaladas, pastas, sándwiches y hamburguesas que se ajustan a sus preferencias, además de una selección de carnesypescados.
EVENTOS
Cualquieradeestosespaciospuede,por supuesto, reservarse para uso privado. YasealasalaMIXOVVIPparauncóctel ounaconferencia,elrestauranteCortijo para una degustación privada o la terraza del HI-SO para una celebración o evento particular.
ZONA WELLNESS
Nada mejor que completar esta experiencia gastronómica cinco estrellas con una visita a la zona wellness del Hotel SO/ Sotogrande. Un espacio dedicado al bienestar y el relax con increíbles vistas a Sotogrande y al marMediterráneo.
Ubicado en un oasis de paz y lujosos jardines, encontramos el SO/ SPA, uno de los mejores y más lujosos centros de bienestar de la Costa del Sol. A lo largo de ocho salas incluye una
amplísima oferta de terapias naturales, incluyendo tratamientos innovadores de cosmetología moderna, crioterapia, flotarium,fisioterapia,piscinastermales e hidráulicasyhammam.
Aquellos que quieran mantenerse en forma en cualquier momento del día pueden acudir también al SO/ FIT, el gimnasio de última generación de SO/ Sotogrande. Equipado con los últimos equipos y máquinas, este gimnasio ofrece desde clases de spinning a sesiones regulares de yoga, fitness o meditación. El lugar más de moda para cuidar del bienestar interior situado dentro de las exclusivas instalaciones de un hotel cinco estrellas.
42 LA REVISTA DE SOTOGRANDE SO/ SOTOGRANDE INVIERNO 2022
SOCIETY
Society is the hotel´s 'All Day dining' restaurant. A place to enjoy the entire day, where the ingredients are fresh and the views inspiring. You can begin the day here with a coffee and a spectacular breakfast, have a bite to eat before headingouttogolf,haveaworkinglunch or dine while enjoying live music during the weekend. Its extensive selection of gastronomy -all based on local produceadapts to all tastes; from Spanish classics to tastings of tuna, starters to share, salads, pastas, sandwiches and burgers that adapt to your preferences, as well as a selection of meats and fish.
EVENTS
Any of these spaces can of course be bookedforprivateuse.WhethertheMIXO VVIP for a cocktail or a conference, the Cortijo restaurant for a private tasting or the terrace of the HI-SO for a celebration or private event.
ZONA WELLNESS
There is nothing better to complete this gastronomic five-star experience with a visit to the wellness area of Hotel SO/ Sotogrande.Aspacedevotedtowellbeing and relaxation with incredible views over Sotogrande and the Mediterranean Sea.
Located in a haven of peace and luxury gardens,we find SO/ SPA, one of the best and most luxury wellbeing centres on the Costa del Sol. Its eight rooms include a very wide range of natural therapies, including innovative modern cosmetics treatments, cryotherapy, flotarium, physiotherapy, thermal and hydraulic pools and Hamman.
Those who want to stay in shape at any time ofthe day can also come to SO/ FIT, thecutting-edgegymofSO/Sotogrande. Equipped with the latest equipment and machines, this gym offers everything from spinning classes to regular yoga, fitness and meditation sessions. The most fashionable place for looking after inner wellbeing located within the exclusive facilities of a five-star hotel.
43 LA REVISTA DE SOTOGRANDE · INVIERNO 2022 SO/ SOTOGRANDE INVIERNO 2022
Ben Bateman nació en Inglaterra pero se siente, por encima de cualquier otra definición, un orgulloso habitante de Sotogrande. Él es la cara visible de Holmes Property Sales, empresa con más de cuarenta años de historia y referente del sector inmobiliario en la urbanización.Batemanrecibe a La Revista de Sotogrande parahablarsobreelpresente, el pasado, pero sobre todo el brillantefuturodeSotogrande.
ï Un placer tenerte con nosotros, Ben. Holmes ha superado las cuatro décadas de historia, de hecho está cerca ya de su 45 aniversario, ¿cómo empezótodo?
En el otoño del año 78 mi padre, Ian Bateman, vino con tres amigos a la Costa del Sol a jugar al golf y al llegar descubrió un sitio que se llamaba Sotogrande. Por la mañana tenían 18 hoyos reservados para jugar en un nuevo campo de golf, lo que hoy es Valderrama, y cuando llegaron mi padre quedó sorprendido. Al final jugaron los 18 hoyos, se fueron a comer y mi padre les dijo a sus amigos que le disculparan, que no podíajugarporlatardeporqueteníaqueira buscar al director de la urbanización.
En esa época Miguel Preysler era el director comercial de Sotogrande y futuro socio en Holmes desde 1986 hasta finales de 2011. Ese mismo día mi padre y él llegaron a un acuerdo para captar grupos de golfistas que quisieran venir a jugar a Sotogrande. Luego, al volver de regreso al aeropuerto de Málaga llegó a un acuerdo con la misma empresa que les había alquilado el coche a él y a sus amigos para organizar los futuros viajes. Al año siguiente, en el otoño del 79, mi padre ya tenía entre 30 y 50 pisos en alquiler de corta estancia en Sotogrande. La oficina estaba donde ahora está la casa club de Valderrama. Así empezó nuestra historia.
Ben Bateman was born in England but above any other definition,hefeelslikeaproud inhabitant of Sotogrande. He is the visible face of Holmes Property Sales, a company with a history of over forty years and a property sector benchmark in the resort. Bateman welcomed Sotogrande Magazine to talk about the present, past and above all, about the dazzling futureofSotogrande.
·
In the autumn of `78 my father, Ian Bateman, came with three friends to the Costa del Sol to play golf and upon arrival he discovered a place called Sotogrande. In the morning they had 18 holes reserved to play on a new golf course, which is now Valderrama, and when they got there my father was surprised. In the end they played 18 holes, went for lunch, and my father told his friends to excuse him, that he couldn´t play in the afternoon because he had to go and find the manager of the resort.
At that time, Miguel Preysler was the commercial director of Sotogrande and future partner at Holmes from 1986 to the end of 2011. That same day my father and him reached an agreement to attract groups of golfers who wanted to come and play in Sotogrande. Then, when he returned to Malaga airport, he reached an agreement for organising the future trips with the same company that had rented a car to him and his friends. The following year, in the autumn of ´79, my father already had between 30 and 50 flats for short rentals in Sotogrande. The office was located where the Valderrama club house now is. That is how our story began.
Itisapleasuretohaveyouwithus Ben.Holmeshasoverfourdecadesof history,infactisnowclosetoits45th anniversary,howdiditallbegin?
ENTREVISTA/INTERVIEW
"Sotogrande está cambiando, pero mantiene el mismo espíritu y magia de sus orígenes. Tenemos que seguir cuidando eso".
"Sotogrande is changing, but it maintains the same spirit and magic of its origins. We have to continue to look after that"
44 LA REVISTA DE SOTOGRANDE ENTREVISTA INVIERNO 2022
wMANUEL GIL I HOLMES
Ben Bateman
HOLMES SOTOGRANDE SOTOGRANDE
45 LA REVISTA DE SOTOGRANDE · INVIERNO 2022 ENTREVISTA INVIERNO 2022
ï Seguramente en este tiempo habréisayudadoavariasgeneraciones de una misma familia a llegar e instalarseenSotogrande.
Han pasado muchos años, imagina. A mí me encanta Sotogrande, es mi hogar. Yo soy inglés pero soy de Sotogrande y me encanta conocer a la gente que quiere venir aquí, gente que ha disfrutado diez, quince, treinta días de vacaciones y ha decidido quedarse. Ayudarles a mudarse aquí es lo que más disfruto.
ï Imagino que lo más importante para explicarle a alguien cómo se vive aquí es saber exactamente qué es Sotogrande. En ese sentido, tú has vivido muchas experiencias como para poder transmitirlas a tus clientes.
Vivir en Sotogrande es tener a tus pies un montón de actividades que en ningún otro sitio del mundo las puedes disfrutar a solo unos pasos de tu casa. Sales de tu casa y andando vas al golf, a un club de tenis, a instalaciones equinas, al club marítimo, a una regata de vela. Está todo a tus pies, como en un resort, pero tú controlas cuándo y cómo quieres hacer todo.
ï Alguna vez te he escuchado decir que antes había que preocuparse por vender o mostrar Sotogrande, pero que ahora Sotogrande se vende por sí solo.
Sotogrande supo conservar durante muchos años un ambiente y una filosofía única que se ha mantenido gracias al orgullo de los residentes,delospromotores,delasfamilias y empresarios que viven y trabajan aquí. Ahora, tras el Covid, por fin Sotogrande está ganando fama por todo lo que es, por haber conservado esa filosofía. Por fin esa filosofía, eseencanto,esamagiaquetieneSotogrande es relevante en el mundo. Por eso está ganando fama, pero también por la ayuda de la inversión en publicidad de Sotogrande S.A., de Millenium en Alcaidesa, lo que están haciendo en San Roque Club, las mejoras en el puerto deportivo, las mejoras de Ayala en el Polo, Santa María con la doma clásica, Valderrama con sus instalaciones.
• ¿Qué influencia tuvo la Ryder Cup en ese periodo de gran expansión de Sotogrande?
Para ver la evolución de Sotogrande hay que mirar las épocas y ciclos económicos. Tenemos que pensar que hasta principios de los 80 la verja con Gibraltar todavía estaba cerrada. Durante los 60 y 70 la evolución de Sotogrande estuvo parada por eso, porque se tardaba entre dos horas y media y tres horas en llegar al aeropuerto más cercano, el de Málaga.
La llegada de la Ryder coincidió con la ampliación de las carreteras nacionales, la mejora de las conexiones viales entre Sotogrande y Málaga. Además, tras la crisis financieraqueempezóen1991,laeconomía ya se estaba recuperando, para 1997 estaba del todo recuperada. Por eso pienso que en
esa nueva etapa influyó la Ryder Cup, pero también la situación económica. La Ryder llegó en un momento adecuado cuando la economía ya estaba mejorando. Después, esa buena trayectoria continuó hasta el 2001. A partir de entonces volvieron las complicaciones: el 9/11 en Nueva York, la invasión a Afganistán e Iraq, luego el Brexit.
Durante muchos años Sotogrande fue destino para el mercado británico, eso cambió a finales de 2008 porque la libra se desvalorizó muchísimo, el poder adquisitivo del mercado británico nunca volvió a ser tan fuerte como en los años 90. Pero eso también ha sido un beneficio al mercado porque antes entre un 30-40% de las ventas anuales se concentraban en un mercado concreto, ahora ese porcentaje se está distribuyendo entre muchos más países. Al final, más nacionalidades hacen Sotogrande más rico culturalmente. Hoy tenemos 46 nacionalidades distintas, eso representa muy bien la cultura cosmopolita que tenemos aquí.
ï Desde la pandemia se nota un crecimientodelapoblaciónresidente en Sotogrande. Se ve muy claro en las cifras del Colegio Internacional que ha crecido en más de 400-500 niños. ¿Se está instalando
Había muchas familias en los últimos años que se estaban instalando aquí, padres que a lo mejor viajan a Londres o a Frankfurt por trabajo pero que están basados aquí.
más gente a vivir enlaurbanización?
46 LA REVISTA DE SOTOGRANDE ENTREVISTA INVIERNO 2022
"Vivir en Sotogrande es tener a tus pies un montón de actividades que en ningún otro sitio del mundo las puedes disfrutar a solo unos pasos de tu casa".
ï During that time, you will undoubtedly have helped several generationsofasamefamilytoarrive andsettledowninSotogrande.
A lot of years have passed, you can imagine. IloveSotogrande,itismyhome.IamEnglish but I am from Sotogrande and I love to meet the people who want to come here, people who have enjoyed ten, fifteen, thirty days of holidays and decided to stay. Helping them to move here is what I enjoy most.
ï Iimaginethatthemostimportant thing to explain to someone about lifehere,istofindoutexactlywhat Sotogrande is. In that regard, you have enjoyed many experiences in ordertopassthemontoyourclients.
Living in Sotogrande means being involved in lots of activities that you cannot enjoy anywhere else in the world and just a few steps from your home. You leave home and can walk to golf, to a tennis club, to equine facilities, to the sailing club, to a sailing race. Everything is at your feet, like in a resort, but you control when and how you want to do everything.
ï I have sometimes heard you say thatpreviouslywehadtoworryabout sellingordisplayingSotogrande,but nowSotograndesellsitself.
For many years, Sotogrande was able to preserve a unique atmosphere and philosophythathasbeenmaintainedthanks
to the pride of the residents, developers, families and business people who live and work here. Now, after Covid, Sotogrande is finally gaining renown for everything that it is, for having preserved that philosophy. Finally, that philosophy, that charm, that magic that Sotogrande has is important worldwide.Thatiswhyitisgainingrenown, but also due to the help of the investment in advertising by Sotogrande S.A., by Millenium in Alcaidesa, what they are doing in San Roque Club, the improvements in the marina, the improvements by Ayala in the Polo, Santa María with classical dressage, Valderrama with its facilities.
•WhatinfluencedidtheRyderCup haveonthatperiodofgreatexpansion inSotogrande?
In order to see the evolution of Sotogrande it is necessary to look at periods and economic cycles. We need to think that until the start of the 80´s the border with Gibraltar was still closed. During the 60´s and 70´s, the development of Sotogrande stopped because of that, because it took between two and a half and three hours to reach the nearest airport, that of Malaga.
The arrival of the Ryder Cup coincided with the extension of the national roads, the improved road connections between Sotogrande and Malaga. Also, after the financial crisis which began in 1991, the economy was already recovering, by 1997 it had completely recovered. Therefore, I think that the Ryder Cup influenced that
new stage, but also the economic situation. The Ryder Cup came at the right time when the economy was already improving. Then, that good trajectory continued up until 2001. Following that, the complications returned: 9/11 in New York, the invasion of Afghanistan and Iraq, then Brexit.
For many years, Sotogrande was a destination for the British market, that changed at the end of 2008 because the pound lost a lot of value, the purchase power of the British market has never been as strong as it was in the 90´s. However, that has also been a benefit for the market because beforehand 30-40% of annual sales were concentrated in a specific market, now that percentage is spread across many more countries. In the end, more nationalities make Sotogrande more culturally rich. Today, we have 46 different nationalities, that really represents the cosmopolitan culture we have here.
Over recent years, many families have been settling here, parents who perhaps travel to London or Frankfurt for work but are based here.
ïSincethepandemicagrowthinthe population residing in Sotogrande hasbeennoted.Itisseenveryclearly in the figures of the International Schoolwhichhasgrownbymorethan 400-500children.Aremorepeople settlingdowntoliveintheresort?
47 LA REVISTA DE SOTOGRANDE · INVIERNO 2022 ENTREVISTA INVIERNO 2022
"Living in Sotogrande means being involved in lots of activities that you cannot enjoy anywhere else in the world and just a few steps from your home".
La pandemia lo que hizo fue permitir trabajar mucho más desde casa. Hoy existe la oportunidad de vivir realmente donde quieras. En el actual mundo globalizado, ¿por qué vivir en el centro de una ciudad cuando puedes vivir en Sotogrande? Tenemos fantásticas comunicaciones internacionales: a veinte minutos de Gibraltar, a una hora de Jerez, dos horas de Sevilla, a una hora de Málaga, son cuatro aeropuertos internacionales. Hoy puedes vivir en Sotogrande y trabajar en Londres, solo se tardan dos horas y media.
• ¿Crees que en los últimos años la urbanización se está abriendo a un perfilmásalto?
LainfraestructuradeSotograndesiempreha sido de cinco estrellas o más, lo que pasa es que nunca habíamos tenido un hotel de más de cuatro estrellas. Era lo que hacía falta en Sotogrande,iraesenivel,mostrarqueexiste ese potencial. Yo creo que Sotogrande está cambiando, pero mantiene el mismo espíritu y magia del origen. Tenemos que seguir cuidando eso, es lo que nos distingue de otros sitios del mundo.
• ¿Cómo ves el futuro más inmediato? Todo el mundo está asustado económicamente con lo que puedaocurriresteinvierno.
Cualquier persona que mire la macroeconomía y la situación geopolítica
del mundo y piense que está todo bien debería hacérselo mirar. La situación es preocupante, por supuesto, pero lo que sí está claro es que, tras el Brexit y el Covid, hemosvistounabajadatremendadelaoferta de vivienda y una subida de la demanda impresionante. Nunca en la historia de Holmes hemos tenido un desequilibrio tan grande. Estamos a la mitad de la oferta que tuvimos a principios de la pandemia, pero la demanda está a más del doble. Con estas estadísticas, deberíamos haber visto una subida de precios tremenda y, aunque es verdad que los precios han subido algo, esa subida no refleja para nada el desequilibrio entre oferta y demanda. Eso es porque el mercado está valorando la situación económica y geopolítica.
What the pandemic done was make it possible to work a lot more from home. Now, there is the chance to really live wherever you want. In the current globalised world, why live in the centre of a city when you can live in Sotogrande? We have fantastic international connections: twenty minutes from Gibraltar, an hour from Jerez, two hours from Seville, an hour from Malaga, they are four international airports. You can now live in Sotogrande and work in London, it only takes two and a half hours.
ïDoyoubelievethatinrecentyears theresorthasbeenopeninguptoa higherprofile?
TheinfrastructureinSotograndehasalways been five stars or more, what happens is that we have never had a hotel with four or more stars. That is what was needed in Sotogrande, to get to that level, to show that potential exists. I believe that Sotogrande is changing, but it maintains the same spirit and magic of its origins. We have to continue to look after that, it is what makes us stand out from other places in the world.
ï How do you see the near future? Everyone is financially scared about whatcouldhappenthiswinter.
Anyone who looks at macroeconomics and the geopolitical situation around the world
and thinks that everything is good should have themselves looked at. The situation is worrying, of course, but what is clear is that, after Brexit and Covid, we have seen a tremendous drop in the housing supply an impressive increase in demand. Never in the history of Holmes have we had such a big imbalance. We have half the offer that we had at the start of the pandemic, but the demand is more than double. With these statistics, we should have seen an incredible rise in prices and, although it is true that prices have somewhat risen, that increase does not at all reflect that imbalance between offer and demand. That is because the market is assessing the economic and geopolitical situation.
48 LA REVISTA DE SOTOGRANDE ENTREVISTA INVIERNO 2022
Ennuestrocaso,yopensabaqueesteañoiba a ser difícil por la falta de oferta, pero hemos superado las ventas de 2021, veremos el año que viene. Yo creo que la demanda no va a bajar, pero va a moverse con mucha más precaución, los compradores van a tener más paciencia por la situación económica.
• ¿Cómo deberían ser siguientes los pasos en la urbanización de aquí a los próximoscincoodiezaños?
Lo que tiene que hacer el mercado inmobiliario en Sotogrande es dejar que los inmuebles hablen por ellos, hacer un mayor esfuerzo en demostrar nuestra profesionalidad, pensar mucho en los valores que ponemos a los inmuebles, ser sincerosconlospropietarios.Paraesodebes conocer tu mercado, si conoces tu mercado puedes explicarle a tus propietarios cuál es la situación real.
ï ¿Más allá del trabajo en Holmes, cómo disfrutas con tu familia de Sotogrande?
Aquí hay mucho para disfrutar. Me gusta disfrutar la playa, los restaurantes, el golf, el tenis, el tiempo en casa, el polo en verano. Siendo empresario y padre de cinco tengo pocotiempoaldíaparahacertodasesascosas pero hago lo que puedo. Personalmente lo que más me gusta es la temporada de esquí, desde principios de diciembre me puedes encontrar los fines de semana en Sierra Nevada, disfrutando de la montaña. Es otro de los placeres de Sotogrande, vives en la costa y a solo dos horas y media estás en la nieve.
In our case, I thought that this year was going to be difficult due to the lack of offer, but we have surpassed the sales of 2021, we will see what happens next year. I don´t think demand will fall, but it is going to move with much more caution, buyers are going to be more patient due to the economic situation.
ïWhatshouldthenextstepsbeinthe resortoverthenextfiveortenyears?
What the property market in Sotogrande needs to do is to allow the properties to speak for themselves, make a greater effort to show our professionalism, to think a lot about the values we place on properties, to be honest with the owners. To do that you need to know your market, if you know your marketyoucanexplaintoyourownerswhat the real situation is.
ï Beyond the work at Holmes, how do you enjoy Sotogrande with your family?
There is a lot to enjoy here. I like to enjoy the beach, restaurants, golf, tennis, time at home, polo in summer. As a business person and father of five I have little time in the day for doing all those things but I do what I can. Personally,whatIlikemostistheskiseason, from the start of December you can find me every weekend in Sierra Nevada, enjoying themountain.Itisanotherofthepleasuresof Sotogrande, you live on the coast and in just two and a half hours you are in the snow.
"Lo que tiene que hacer el mercado inmobiliario en Sotogrande es pensar mucho en los valores que ponemos a los inmuebles, ser sinceros con los propietarios"
50 LA REVISTA DE SOTOGRANDE ENTREVISTA INVIERNO 2022
"What the property market in Sotogrande needs to do is to think a lot about the values we place on properties, to be honest with the owners. "
SUMAR MÁS PARA SOTOGRANDE Adding more for Sotogrande XIII FORO EMPRESARIAL SOTOGRANDE 52 LA REVISTA DE SOTOGRANDE XIII FORO EMPRESARIAL SOTOGRANDE INVIERNO 2022
Las excepcionales instalaciones del Real Club Valderrama acogen la edición 2022 de uno de los eventos más esperados del calendario en Sotogrande, para tomar el pulso al rumbo socio-económico de la urbanización.
La ilustrativa ponencia magistral de Carlos Rodríguez Braun dibuja el horizonte económico y macro-económico al centenar de asistentes al evento, componentes de tejido empresarial, político y social de la zona.
Conocer el rumbo de Sotogrande, es una pregunta que en muchas ocasiones se formula y no siempre cuenta con una respuesta sencilla o repleta de matices. Fruto de todas estas inquietudes y en la búsqueda de certidumbres del escenario socio-económico a corto y medio plazo, se celebró en las magníficas instalaciones del Real Club Valderrama el XIII Foro Empresarial Sotogrande, organizado por Grupo HCP Sotogrande.
Una cita habitual cada otoño que permite tomarle el puso al resort, conocer y descubrir las principales inquietudes y sugerencias de su tejido empresarial y social gracias a la asistencia de cerca de un centenar de los principales representantes de los principales sectores de la zona.
En esta ocasión, la mesa principal que invitaba e impulsaba los temas a debatiryargumentar, estuvo formada por:Javier Reviriego, director general de Real Club Valderrama; Rita Jordao, directora de Marketing & Ventas de Sotogrande S.A.; Domingo Plazas, de Plazas Abogados; Gerardo Cuartero, de la división comercial de Caixabank; y con la moderación y presidencia de José Luis García, presidente de Grupo HCP Sotogrande. La cita, contó como evento central, además del clásico debate-coloquio local, con la ponencia magistral del doctor, economista y columnista de El Periódico de Sotogrande, Carlos Rodríguez Braun.
ExceptionalfacilitiesofRealClubValderrama host 2022 edition of one of most eagerlyawaitedeventsofyearinSotogrande,inorder to take the pulse of the socio-economical direction of the resort.
The enlightening keynote address by Carlos Rodríguez Braun outlined the economical ad macro-economic horizon to the hundred people attending the event, members of the business, political and social community of the area.
Discovering the direction of Sotogrande, is a question that is often asked and it doesn´t always have a simple answer or one full of nuance. As a result of all these concerns and the pursuit of certainties in the socio-economic scene in the short and mid-term, the magnificent facilities of Real Club Valderrama hosted the XIII Sotogrande Business Forum, organised by Grupo HCP Sotogrande.
A regular event each autumn that makes it possible to take the pulse of the resort, find out and discover the main concerns and suggestions of its business and social community thanks to the attendance ofalmost one hundred of the main representatives from the main sectors in the area.
On this occasion, the man table that invited and encouraged the topics to debate and discuss, was formed by: Javier Reviriego, director general of Real Club Valderrama; Rita Jordao, director of Marketing & Sales of Sotogrande S.A.; Domingo Plazas, of Plazas Abogados; Gerardo Cuartero, from the commercial division of Caixabank; and with the moderation and presidency ofJosé Luis García, president of Grupo HCP Sotogrande. As the central event, in addition to the classic local debate-chat, the gathering had the keynote address by the doctorate holder, economist and columnist of El Periódico de Sotogrande, Carlos Rodríguez Braun.
53 LA REVISTA DE SOTOGRANDE · INVIERNO 2022 XIII FORO EMPRESARIAL SOTOGRANDE INVIERNO 2022
Entre las conclusiones más evidentesyque más centraron el debate entre los asistentes al evento fue la necesidad de una vez conseguido el posicionamiento "idílico" de Sotogrande como destino internacional vinculado al segmento de alto nivel y lujo; lograr establecer una coherencia y constancia en cuanto al estándar de calidad que deben ofrecer cada uno de sus sectores con un servicio acorde al nivel del destino.
De común acuerdo fue la tendencia positiva vivida desde la salida de la pandemia que potencia aún más el valor y el interés de inversores hacia un enclave tan privilegiado como el de Sotogrande (posición geográfica, baja densidad, naturaleza, buenas conexiones de transporte, educación de calidad, seguridad o entidades deportivas de primerísimo escalafón mundial).Todo ello, arroja también una serie de desafíos y retos sobre la "sostenibilidad" al más alto nivel de esta oferta de servicios.
Es una preocupación latente en todo el tejido empresarial de Sotogrande y su área de influencia, la continua, desde hace un tiempo, falta de personal de operatividad dispuesto a sumir unas tareas esenciales a la hora de prestar una atención al cliente y al usuario de 'destino
prime'. Algo indispensable para una población local cada vez más creciente y que demanda esta oferta de calidad en todos los ámbitos: gastronomía, hoteles, seguridad, ocio, deporte, instalaciones, infraestructuras, transportes, etc.
En este sentido, entre las certezas de los ponentes, se determinaba una realidad muy palpable en el día a día de la urbanización como es el incremento de su comunidad. El concepto tradicional de Sotogrande que a menudo venía asociado a segundas residencias y periodos vacaciones está transformándose y evolucionando de una manera sobresaliente hacia un destino de residencia 'full time'. Las familias encuentran un entorno perfecto, en todas sus necesidades, para establecerse de manera definitiva en la zona, un fenómeno que impulsa y apoya también la tendencia alcista y positiva que vive el sector inmobiliario desde hace más de 18 meses y cuyos primeros síntomas comenzaron ya en los meses previos a la pandemia. Según datos facilitados por asistentes, a niveles generales, se está viviendo un incremento en la venta de propiedades superior al 30% en referencia a los datos de 2014; uno de los mejores momentos del sector en este sentido.
"El concepto tradicional de Sotogrande que a menudo venía asociado a segundas residencias y periodos vacaciones está transformándose y evolucionando de una manera sobresaliente hacia un destino de residencia 'full time'"
54 LA REVISTA DE SOTOGRANDE XIII FORO EMPRESARIAL SOTOGRANDE INVIERNO 2022
Among the clearest conclusions and that the debate among the attendees of the event focused on most was the need, having attained the "idyllic" position of Sotogrande as an international destination linked to the high-end and luxury segment; to manage to establish a coherence and consistency in relation to the standard of quality that each of sectors must offer with service that befits the level of the destination.
There was mutual agreement on the positive trend experienced since emerging from the pandemic which further enhances the value and interest of investors towards an area as privileged as Sotogrande (geographic position, low density, nature, good transport connections, quality education, safety and sporting entities of the highest global level). All of this also poses a series of challenges on the "sustainability" at the highest level of this range of services.
It is an underlying concern in the entire business community in Sotogrande and its area of influence, the continuation, for some time, of the lack of operational staff willing to undertake essential tasks when it comes
to providing clients and users with the treatment of a "prime destination". Something essential for a local population that is growing and that demands this offer of quality across all areas: gastronomy, hotels, security, leisure, sport, facilities, infrastructure, transport, etc.
In this regard, among the certainties of the speakers, a very palpable reality could be felt in the daily life of the resort, the increase in its community. The traditional concept of Sotogrande that had often been linked to second homes and holiday periods is transforming and evolving in an outstanding way towards a full time residency destination. The families find a perfect setting, for all their needs, to definitively settle in the area, a phenomenon that encourages and also supports the upward and positive trend that the property sector has been experiencing for more than 18 months and whose first symptoms began in the months before the pandemic. According to data provided by attendees, at general levels, there has been an increase in the sale of properties of over 30% in comparison to the data of 2014; one of the best periods of the sector in this regard.
" e traditional concept of Sotogrande that had often been linked to second homes and holiday periods is transforming and evolving in an outstanding way towards a full time residency destination".
55 LA REVISTA DE SOTOGRANDE · INVIERNO 2022 XIII FORO EMPRESARIAL SOTOGRANDE INVIERNO 2022
El contexto internacional, con destinos similares a Sotogrande en una situación de conflicto o de incertidumbre, también favorecen este auge del resort como uno de los principales puntos predilectos por el inversor residencial de alto poder adquisitivo; la calidad del proyecto y la realidad que Sotogrande proyecta desde hace 60 años lo convierten en un enclave irrepetible. Un producto de excelencia.
UnadelasgrandesdesventajasconlasquecontabaSotogrande como destino era su desprotección o falta de atractivo taxativo para muchos inversores extranjeros que finalmente optaban por otros resorts, de características parecidas pero ubicados en países con notables beneficios y bonificaciones fiscales. Un tema que poco a poco parece que también se revierte y que recientemente toma aún mayor protagonismo tras la "supresión" en un 99% del Impuesto de Patrimonio por parte de la Junta de Andalucía, además de otras acciones que se están tomando y que impulsan la inversión, algo clave para sumar ventajas de un lugar como Sotogrande.
Y es que cada inversión, cada nuevo residente, tiene una reacción inmediata en la generación de empleo y riqueza en la zona. Se dibujaron datos tan relevantes como el siguiente: cada vivienda de 1.000 metros cuadrados cuenta de media con al menos 2.5 trabajadores todo el año de manera directa; más todo lo derivado indirectamente (mantenimiento y conservación, servicios públicos, asesoramiento fiscal y legal, transportes, comercios, etc.). Un círculo que integra en el proceso de crecimiento económico a toda la población y beneficioso para la comunidad al completo del Valle del Guadiaro.
Pero para todo ello, como resumen, es necesario aguardar y preservar unos cánones de calidad que den sentido a todo lo que se hace y evitar "masificar" o "saturar" un mercado y un destino únicos en este momento. De ahí la necesidad de buscar un crecimiento "sostenible y de calidad".
El evento contó con el patrocinio de Caixbank y la colaboración especial del Ayuntamiento de San Roque, Real Club Valderrama y Marqués de Riscal.
The international context, with destinations similar to Sotogrande in a situation of conflict or uncertainty, also encourage the rise of this resort as one of the main preferred points for residential investors with high purchase power; the quality of the project and the reality that Sotogrande has been projecting for 60 years make it an unrepeatable setting. A product of excellence.
One of the great setbacks of Sotogrande as a destination was its lack of protection or lack of tax appeal for many foreign investors who ultimately chose other resorts, with similar characteristics but located in countries with notable benefits and tax discounts. An issue that gradually seems to be reversing and which recently has gained greater prominence after the 99% "removal" of Wealth Tax by the Regional Government of Andalusia, as well as other actions that are being take and that encourage investment, which is essential to add advantages to a place like Sotogrande.
And the fact is that each investment, each new resident, has an immediate reaction of the creation of employment and wealth in the area. Very significant data such as the following was provided: every property of 1,000 square metres has an average of at least 2.5 direct employees throughout the year; plus everything deriving from it indirectly (maintenance and conservation, public services, tax and legal advice, transport, business, etc.). A circle that integrates the entire population into the process of economic growth and that is beneficial for the entire community of Valle del Guadiaro.
But, above all, as a summary, it is necessary to wait and preservequalitystandardsthatprovidemeaningtoeverything that is done and prevent "overcrowding" or "saturating" a market and a unique destination at the moment. Hence the need to seek "sustainable and quality" growth.
The event involved the sponsorship of Caixabank and the special collaboration of the Council of San Roque, Real Club Valderrama and Marqués de Riscal.
56 LA REVISTA DE SOTOGRANDE XIII FORO EMPRESARIAL SOTOGRANDE INVIERNO 2022
wMARÍA JOSÉ CARMONA I CEDIDAS
Eduardo Celles
Director de la popular Escuela de Golf Celles en Bilbao, entrenador del número uno del mundo Jon Rahm, Eduardo Celles une su nombre al de Sotogrande con motivo de un ambicioso proyecto inmobiliario 'Cork Oak Mansion'. La Revista Sotogrande tiene la oportunidad de charlar con él sobre su escuela, sobre Rahmysobreesteilusionante proyecto que muy pronto lo traerá a menudo por la urbanización.
· Muchas gracias por atendernos Eduardo, nos gustaría que nos hablaras de los comienzos de la Escuela de Golf Celles, ¿cómo surgió elproyecto?
Nuestra escuela ha cumplido ahora 25 años. Surgió como un negocio familiar. Somos hijos y nietos de profesionales del golf, la tercera generación. Mi abuelo ganó el Open de España en 1945, luego mi padre siguió esa estela y participó en la Copa del Mundo del 57 en Japón y Canadá. Nosotros, sus hijos, nos hemos dedicado a la enseñanza. En el año 97 decidimos abrir una escuela para acercar el golf a todos los jugadores que no puedan acceder a un club y se puedan iniciar en este magnífico deporte.
Actualmente tenemos 700 federados por la escuela, por donde pasan cada semana unos 300 alumnos. La verdad es que tenemos mucho éxito.
· Éxito además que ha traspasado fronteras gracias, sobre todo, a la figura de Jon Rahm, número uno del mundo, a quien tuviste la oportunidad de entrenar en esa misma escuela ¿Qué recuerdas de aqueljovencísimoJon?
Haber tenido a número uno del mundo como alumno nos llena de orgullo, no es algo que puedan decir muchas escuelas en todo el mundo.
·¿Tuvisteentoncesclaroqueacabaría despuntandoprofesionalmentecomo lohahecho?,¿levistecualidades?
Cuando solo tenía 13 años un día Jon me dijo: 'Eduardo, voy a ser número uno del mundo'. No me dijo creo, tal vez o quizá. Él ya tenía una forma de ser, un talento para el golf extraordinario. Le hice entonces algunos cambios en el swing, al principio le costó pero se fue adaptando y con eso ya ganó el Campeonato de España Junior con 15 años. Luego se fue a Phoenix, a Arizona State, la universidad. El primer año le costó adaptarse, pero luego se hizo número uno del mundo amateur y fue invitado al Torneo del Open de Phoenix.
En esa ocasión fui a verle. Era la primera vez que le veía jugar un torneo profesional. Al principio le dije a su padre que si su hijo quería ser número uno del mundo, allí había al menos cinco mil como él, pero luego vi cómo jugó con Tiger y con los mejores jugadores, cómo casi ganó, quedó el cuarto. Entonces le dije: 'tu hijo es diferente a los demás', ahí me di cuenta.
· Después de llegar a la cima del golf mundial, ¿qué futuro le auguras a tu alumnomásaventajado?
Le auguro un futuro muy largo, Jon es un jugador que hace una cosa que pocos jugadores han hecho: estar siempre en todos los torneos entre los primeros. Porque el golf es un deporte de picos, lo mismo vemos jugadoresqueestánarribayderepentecaen. Jon siempre está entre los diez primeros, nos esperan unos cuantos grandes de Jon.
· ¿Haservidolafamainternacionalde Jon para que más jóvenes se acerquen atuescuela?
La verdad que sí, se nota un montón. A la escuela viene mucha gente joven, el efecto Jon Rahm es una de las claves. También es verdad que con la pandemia se popularizó mucho el deporte al aire libre, muchos chavales que habían jugado de críos y lo habían abandonado volvieron a jugar. Pero, desde luego, el efecto Jon Rahm es muy
ENTRENADOR DE JON RAHM
58 LA REVISTA DE SOTOGRANDE ENTREVISTA INVIERNO 2022
"Cuando tenía 13 años un día Jon me confesó: 'Eduardo, voy a ser número uno del mundo'. No me dijo tal vez o quizás"
Director of the popular Celles Golf School in Bilbao, coach of the world number one Jon Rahm, Eduardo Celles joins his name to Sotogrande on the occasion of an ambitious real estate project 'Cork Oak Mansion'. La Revista Sotogrande has the opportunity to chat with him about his school, about Rahmandaboutthisexciting project that will soon bring himtoSotogrande.
· Many thanks for talking to us Eduardo, we would like you to tell us about the origins of the Celles Golf School,howdidtheprojectarise?
Our school has now celebrated its 25th anniversary.Itemergedasafamilybusiness. We are the children and grandchildren of golf professionals, the third generation. My grandfatherwontheSpanishOpenin1945, then my father continued in his footsteps and participated in the World Cup of `57 in Japan and Canada. We, their children, have been devoted to coaching. In ´97 we decided to open a school to bring golf to all the players who cannot access a club and get started in this magnificent sport.
Atpresent,wehave700playersfederatedby theschool,which300pupilsvisiteachweek. The truth is that we have a lot of success.
· Thatsuccesshasalsocrossedborders thanks, above all, to the figure of Jon Rahm, the world number one, who you had the chance to train at the same school. What do you remember abouttheveryyoungJon?
Having had a world number one as a pupil fills us with pride, it is something that not many schools around the world can say.
· Were you clear then that he would end up standing out professionally as he has done? Did you see those qualities?
When he was just 13 one day Jon told me: `Eduardo, I am going to be number one in the world`. He didn´t say I think, perhaps or maybe. He already had a way of being, an extraordinary talent for golf. Then I made some changes to his swing, it was difficult for him at the start but he gradually adapted and won the Junior Spanish Championship aged 15. Then, he went to Phoenix, to Arizona State, the university. He found it hard to adapt the first year, but then he became number one in the amateur world and was invited to the Open Tournament in Phoenix.
On that occasion I went to watch him. It was the first time that I watched him play at a professional tournament. To begin with I told his father that if his son wanted to be world number one, there were at least five thousand like him, but then I saw how he playedwithTigersandthebestplayers,how
he almost won, he finished fourth. Then I told him: "your son is different to the others", I realised it then.
· After reaching the summit of world golf, what future do you predict for yourmosttalentedpupil?
I predict a very long future; Jon is a player who does something that very few players have done: he is always among the top players at all tournaments. Because golf is a sport of ups and downs, we see players who are at the top and suddenly drop. Jon is always in the top ten, we can expect a few majors from Jon.
·HasJon´sinternationalfamehelped to bring more young people to your school?
Honestly, yes, we really notice it. A lot of young people come to the school, the Jon Rahm effect is one of the keys. It is also true that the pandemic really popularised outdoor sport, many young people who played as kids and had given up started playing again. But, of course, the Jon Rahm effect is very strong, what he is doing for golf in Spain is very impressive. He should be thanked.
· As an enthusiast and golf professional we assume you will have oftencometoSotogrande.
Of course. Sotogrande is the area that is home to the best courses in Spain. Due to the climate and the level of the courses it is a very
"When he was 13 one day Jon told me: 'Eduardo, I am going to be number one in the world'. He didn´t say perhaps or maybe"
59 LA REVISTA DE SOTOGRANDE · INVIERNO 2022 ENTREVISTA INVIERNO 2022
fuerte,esimpresionanteloqueestáhaciendo por el golf en España. Es de agradecérselo.
· Como apasionado y profesional del golf suponemos que habrás venido a menudoporSotogrande.
Por supuesto. Sotogrande es la zona donde están ubicados los mejores campos de España. Por el clima, por el nivel de los campos es un destino muy aconsejable para cualquier enamorado del golf. Yo lo conozco desde hace muchos años, pero los últimos que he estado viniendo con Jon al Valderrama Master he visto la importantísima apuesta de mejora que se
está haciendo en muchos campos de la zona. A nivel internacional, Sotogrande es el escaparate del golf en nuestro país.
· Sabemos que ahora tu vinculación con Sotogrande se ha hecho todavía más fuerte. Háblanos de ese proyecto inmobiliario que te trae recientementeporaquí.
Se trata de un proyecto muy ilusionante. La empresa DUS desarrollos inmobiliarios quiere vincular mi nombre a la venta de unas villas que tienen en Altos de Valderrama. Para mí es algo diferente a lo que me he dedicado toda la vida, pero creo que es un
gran proyecto donde podremos vincular vivienda y golf.
Tenemos pensado hacer varias actuaciones muy interesantes para la promoción de las villas, entre ellos organizar varios clinics con clientes que estén interesados en comprar las casas, hacer alguna experiencia de golf vinculada a Altos de Valderrama, que es donde se emplaza la promoción de estas 6 imponentes villas. La verdad es que es algo que me gusta, vincular mi imagen a esta zona, referente a nivel mundial en el mundo del golf, es una experiencia nueva que me hace mucha ilusión.
recommendable destination for any golf lover. I have known him for many years, but in the recent years that I have been coming with Jon to the Valderrama Masters I have seen the really significant commitment to improvement being made to several courses in the area. Internationally, Sotogrande is the golf showcase in our country.
· WeknowthatyourtiestoSotogrande have become even stronger. Tell us
about the property project that has recentlybroughtyouhere.
It is a very exciting project. The company DUS desarrollos inmobiliarios wants to link my name to the sale of some villas they have in Altos de Valderrama. For me, it is something that I have been devoted to my entirelife,butIbelievethatitisagreatproject where we can link properties and golf.
We intend to carry out several initiatives for the promotion of the villas, including organising several clinics with clients who are interested in purchasing the homes, and doing some golf experience linked to Altos de Valderrama, which is where the development of these 6 impressive villas is located.. Honestly, it is something that I like, linking my image to this area, a benchmark globally in the world of golf, it is a new experience that I am very excited about.
EL NUEVO LUJO EN ALTOS DE VALDERRAMA. Imagine una vivienda de más de 1000m2 construidos, con hasta un 40% de superficie exterior de vidrio, piscina interior, climatización, suelos radiantes y todas las comodidades para no querer salir de ella; todo ello, con un impacto medioambiental mínimo y un coste energético externo casi nulo. Así es el nuevo concepto de vivienda ideado por DUS Desarrollos Inmobiliarios. Un hogar autosuficiente y sostenible, pero no de una forma abstracta, sino como una realidad tangible y cuantificable, con certificación oficial. Un enclave único, merece una edificación única, en el Parque de los Alcornocales, el proyecto de DUS aprovecha toda la tecnología al alcance para dejar la menor huella en el entorno: de la mano de Geointegral®, geotermia para la climatización del agua y el interior de la vivienda,
THE NEW LUXURY IN ALTOS DE VALDERRAMA. Imagine a property of over 1000 built m2 with up to a 40% exterior surface area of glass, indoor pool, air conditioning, heated floors and all the amenities to not want to leave it; all, with a minimum environmental impact and an almost zero external energy cost. This is the new property concept devised by DUS Desarrollos Inmobiliarios. A self-sufficient and sustainable home, but not in an abstract way, but rather as a tangible and quantifiable reality, with official certification. A unique setting, deserves a unique building, in Parque de los Alcornocales, the project by DUS harnesses all available technology in order to have a minimal impact on the environment; geothermal energy to heat water and the inside of the property, solar
paneles solares, sistemas de domótica para optimizar el consumo, así como recuperación entálpica para regular la temperatura y mantener la pureza del aire, sin desperdicio de partículas de frío o calor. A estas innovaciones, sumamos la exquisita selección de materiales, como la piedra natural de los lavabos planos, que permiten un ahorro de agua de hasta el 70%, o el uso de sofisticados sistemas de ecojardinería con especies xerófilas y el empleo de aluminio reciclado. Todo con la idea de reducir al máximo el consumo energético y facilitar la integración paisajística. La sostenibilidad es el nuevo lujo, aseguran en DUS; un lujo que va más allá de la estética, que mira al futuro del entorno y las nuevas generaciones con generosidad.
panels, home automation systems to optimise consumption, as well as enthalpy recovery to regulate the temperature and maintain the purity of the air, without wasting cold or heat particles. In addition to these innovations there is the exquisite selection of materials, such as the natural stone of the flat sinks, which make it possible to reduce water by up to 70%, and the use of sophisticated eco-gardening systems with xerophile species and the use of recycled aluminium. All with the idea of fully reducing energy consumption and facilitating the integration of the landscape. Sustainability is the new luxury, they state at DUS; a luxury that goes beyond the aesthetic, that looks to the future of the environment and coming generations in a generous way.
60 LA REVISTA DE SOTOGRANDE ENTREVISTA INVIERNO 2022
SOSTENIBILIDAD SUSTAINABILITY
+34 650 242 835
Fran Silvestre en Altos de VALDERRAMA
En2023secumplirándiezañosdesdequelarelojera suiza se convirtió en Patrocinador y Cronómetro Oficial de esta celebradísima competición.
ROLEX, el reloj dela FÓRMULA
1 ROLEX,
wMARÍA
CARMONA I ROLEX 62 LA REVISTA DE SOTOGRANDE ROLEX INVIERNO 2022
THE WATCH OF FORMULA 1
JOSÉ
Solo una marca como Rolex podía asociarse aunacontecimientointernacionaldelcalado de la Fórmula 1. Solo un reloj tan preciso y técnicamente ambicioso podía convertirse en cronómetro oficial de esta competición estrella del automovilismo. En 2023 se cumplirán diez años desde que Rolex y la Fórmula 1 uniesen esfuerzos para potenciar este evento deportivo seguido anualmente por más de 490 millones de espectadores.
Only a brand like Rolex could be associated with an international event of the significance of the Formula 1. Only such a precise and technically ambitious watch could become the official timepiece of this star competition in racing. 2023 will mark ten years since Rolex and Formula 1 joined forces to strengthen this sporting event that is annually followed by more than 490 million viewers.
63 LA REVISTA DE SOTOGRANDE · INVIERNO 2022 ROLEX INVIERNO 2022
2023 WILL MARK TEN YEARS SINCE THE SWISS WATCHMAKER BECAME THE SPONSOR AND OFFICIAL WATCH OF THIS VERY FAMOUS COMPETITIONS.
Desde comienzos de 2013, Rolex es patrocinador y cronómetro oficial de la carrera que abre la temporada: el Gran Premio de Australia. La marca decidió dar el paso y apoyar esta competición emblemática en plena era de cambio en la que equipos y pilotos se lanzaron a apostar cada vez más por una tecnología innovadora y sostenible para proporcionar a los aficionados una experiencia definitiva en carreras automovilísticas.
La relación de Rolex con el automovilismo y la velocidad se remonta en realidad mucho tiempo atrás. Concretamente a los años 30 del siglo pasado, cuando la relojera apoyó al histórico piloto Malcolm Campbell. Él mismo llevó en su muñeca un Rolex
cuando rompió el récord mundial de velocidad con su bólido Bluebird y superó la barrera de las 300 millas (483 km) por hora.
Años más tarde, la presencia de Rolex sería frecuente en competiciones clave del mundo de motor, carreras icónicas como las 24 Horas de Le Mans, las 24 Horas de Daytona o el Campeonato MundialdeResistenciadelaFIA.Sibien la Fórmula 1 había sido desde siempre uno de sus acontecimientos predilectos por su exigencia técnica y su huella internacional. Durante 2022, Rolex ha acompañado a la Fórmula 1 en carreras a través de los cinco continentes y en lugares como Australia, Canadá, Singapur, Japón o Miami.
losquecompiten enestedeportesaben queeléxitoseobtienea travésdelaconfiabilidad, laatenciónaldetalleyla integridad;lomismoque enelmundoRolex"
Since the start of 2013, Rolex has been the sponsor and official timepiece of the race that opens the season: the Australian Grand Prix. The brand decided to take the step and support this emblematic competition in the era of change in which teams and drivers increasingly moved to commit to innovative and sustainable technology to provide fans with a definitive experience at races.
In fact, the link between Rolex and motorsport and speed goes back a long time. Specifically, to the 30´s, when the watchmaker supported the historic driver Malcolm Campbell. He himself wore a Rolex on his wrist when he broke
theworld speed recordwith his Bluebird racing car and broke the barrier of 300 miles (483 km) per hour.
Years later, the presence of Rolex would be common at key competitions in the racing world, iconic races such as the Le Mans 24 Hours, the Daytona 24 Hours and the FIA World Endurance Championship. However, Formula 1 has always been one of its preferred events due to its technical demands and its international impact. During 2022, Rolex has accompanied Formula 1 in races on the five continents and in places such as Australia, Canada, Singapore, Japan and Miami.
"Todos
64 LA REVISTA DE SOTOGRANDE ROLEX INVIERNO 2022
"Everyone who competes in this sport knows that success is obtained through reliability, attention to detail and integrity; the same as in the Rolex world"
Además, Rolex respalda desde hace décadas a importantísimos corredores de Fórmula 1. Lo hizo en 1968 con Sir Jackie Stewart, coronado tres veces campeón mundial en el Grand Prix de Mónaco.Stewartcomenzósutrayectoria automovilística en 1964 en Goodwood. El escocés, probando por primera vez un F3 Cooper, batió entonces al líder de Fórmula 1 de aquella temporada. Desde entonces se convirtió en uno de los pilotos de Fórmula 1 más aclamados de
todos los tiempos, no solo fue campeón delmundoentresocasiones(1969,1971 y 1973), sino que también venció en 27 de 99 Grandes Premios disputados. Sir Jackie Stewart obtuvo además un gran reconocimiento por su compromiso pionero con la seguridad de los pilotos de Fórmula 1 durante los 70.
"Todoslosquecompitenenestedeporte saben que el éxito se obtiene a través de la confiabilidad, la atención al detalle
y la integridad; lo mismo que en el mundo Rolex", ha defendido en varias ocasiones este prestigioso corredor.
Recientemente, otros dos pilotos se han unido a la familia Rolex: el australiano Mark Webber, Testimonial Rolex desde 2017 y ganador de nueve GrandesPremiosdeFórmula1ydelFIA World Endurance Championship; y el germano-finés Nico Rosberg, campeón del mundo de Fórmula 1 en 2016.
Also, for decades Rolex has been supporting very important Formula 1 racers. He did it in 1986 with Sir Jackie Stewart, who has crowned three-time world champion at the Monaco Grand Prix. Stewart began his racing career in 1964 at Goodwood. The Scot, trying out an F3 Cooper for the first time, beat the then Formula 1 leader of that season. Following that, he became one of the most acclaimed Formula 1 drivers of all time, he was not only three-time world champion (1969, 1971 and 1973), he has won 27 of the 99 Grand Prix races he competed in. Sir Jackie Stewart also obtained great recognition for his pioneering commitment to the safety of Formula 1 drivers during the 70´s.
65 LA REVISTA DE SOTOGRANDE · INVIERNO 2022 ROLEX INVIERNO 2022
"Nunca te duermas en los laureles y siempre da lo mejor de ti", es una de las máximas de Webber, cuya filosofía representa como un guante los valores de la marca Rolex.
"Después de mi primera victoria en 2009, compré un Rolex. Era un GMTMaster II. Había estado esperando un momento significativo en mi vida para darme un regalo que significase tanto para mí. Siempre he sentido que Rolex fabrica relojes elegantes, sofisticados y atemporales y me encanta lo simples, robustos y discretos que son. ¿Cuántas cosas tienen básicamente una garantía de por vida? Es un regalo para mí mismo de porvida".
Como señala este corredor, para los conductores de Fórmula 1 el reloj debe ser ante todo una herramienta funcional y extremadamente precisa.
"Everyone who competes in this sport knows that success is obtained through reliability, attention to detail and integrity; the same as in the Rolex world", this prestigious racer has stated on several occasions.
Recently, another two drivers have joined the Rolex family: the Australian Mark Webber, Testimonial Rolex since 2017 and winner of nine Formula 1 Grand Prix races and of the FIA World Endurance Championship; and the German-Finnish racer Nico Rosberg, Formula 1 world champion in 2016.
"Never rest on your laurels and always give your best", is one of the maxims of Webber, whose philosophy perfectly representsthevaluesoftheRolexbrand.
66 LA REVISTA DE SOTOGRANDE ROLEX INVIERNO 2022
Solo ellos saben lo que significa jugarse la vida en condiciones extremas, donde las fuerzas de aceleración, altas temperaturas, concentración intensa y falta de visibilidad hacen que las carreras se conviertan en retos realmente duros. Por eso necesitan una herramienta que les dé esa dosis de seguridad y control imprescindible en la pista. "Toda nuestra vida estamos expuestos en la pista de carreras, no hay lugar para el error. No podemos tener un reloj que nos decepcione, necesitamos un reloj que nos ayude a superar nuestros límites".
ElrelojdeMaxWebber
El modelo elegido por este piloto de Fórmula1,elGMTMasterII,sepresentó en 1982 y ofrecía una combinación de funciones únicas, resistencia y estética inmediatamente reconocible. El modelo se caracteriza por su aspecto robusto y versátil. Presenta una esfera negra y un disco de bisel Cerachrom bicolor en tres combinaciones distintas -cerámica verde y negra, marrón y negra, roja y azul-. Además dispone de una aguja adicional que da la vuelta a
la esfera en 24 horas y complementa a las tradicionales agujas de las horas, minutos y segundos, así como de un bisel giratorio bidireccional graduado 24horas.Estopermiteofrecerlahoraen dos husos horarios simultáneamente durante los vuelos intercontinentales. Por eso el GMT-Master II es el reloj ideal para los aficionados a recorrer el mundo a gran velocidad.
"After my first victory in 2009, I purchasedaRolex.ItwasaGMT-Master II. I had been waiting for a meaningful moment in my life to give myself a gift that meant a lot to me. I have always felt that Rolex manufactures elegant, sophisticated and timeless watches and I love how simple, robust and discreet they are. How many things basically have a lifelong guarantee? It is a lifelong gift to myself".
As the racer states, for Formula 1 drivers, above all else, the watch needs tobeafunctionalandextremelyprecise tool. Only they know what it means to risk their lives in extreme conditions, where the forces of acceleration, high
temperatures, intense concentration and lack of visibility make the roads really tough challenges.Therefore, they need a tool that gives them that dose of safety and control that is essential on the track. "We are exposed our entire lives on the race track, there is no room for mistakes. We cannot have a watch that disappoints us, we need a watch that helps us to overcome our limits".
The watch of Max Webber
The watch chosen by this Formula 1 driver, the GMT Master II, was released in 1982 and offered a combination of unique features, resistance and aesthetics that is
immediately recognisable. The model is characterised by its robust and versatile appearance. It has a black dial and a Cerachrom two-colour bezel in three different combinations -green and black ceramic, brown and black, red and blue-. It also has an additional hand that goes round the 24-hour face and complements the traditional hands of the hours, minutes and seconds, as well as a 24-hour bidirectional graduated rotating bezel. Thismakesitpossibletogivethetimein two time zones simultaneously during intercontinental flights. Therefore, the GMT-Master II is the ideal watch for fans of exploring the world at high speed.
ROLEX INVIERNO 2022 68 LA REVISTA DE SOTOGRANDE
San Roque (Cádiz)
El embrujo de los FARAONES
THE ENCHANTMENT OF THE PHARAOHS
wMARÍA JOSÉ CARMONA I CEDIDAS
70 LA REVISTA DE SOTOGRANDE VIAJES INVIERNO 2022
Egipto vuelve a estar de moda. El refuerzo de la seguridad, el aumento de la oferta cultural y la ampliación de sus circuitos Premium lo convierten en un destino sorprendente y acogedor. Una apuesta segura para un viaje inolvidable.
La pasión por la tierra de los faraones vuelve a desatarse de nuevo. Es el momento de remontar el Nilo, de adentrarse en las misteriosas tumbas y pirámides, de perderse en sus calles laberínticas. Tras unos años convulsos, Egipto está más de moda que nunca. La apuesta por la seguridad y el turismo de lujo han convertido a la cuna de la civilización en uno de los destinos más deseados. Y es que el país lo tiene todo: cultura, exotismo, gastronomía, hospitalidad, tradición milenaria, instalaciones hoteleras de primer nivel.
Precisamente ahora es el mejormomento para caerrendido a su embrujo, de octubre a febrero son los meses idóneos para recorrerla, sobre todo teniendo en cuenta las temperaturas que a partir de primavera pueden ser más difíciles de sobrellevar.
Egypt is fashionable again. Strengthened security, the increase in the cultural offer and the extension of its Premium circuits are making it a surprising and welcoming destination. A safe bet for an unforgettable trip.
The passion for the land of the pharaohs has been unleashed again. It is time to head back up the Nile, delve into mysterious tombs and pyramids, wander among its labyrinthine streets. After a few turbulent years, Egypt is more fashionable than ever. The commitment to safety and luxury tourism have made the birthplace of civilization one of the most sought-after destinations. And the fact is that the country has everything: culture, exoticism, gastronomy, hospitality, ancestral tradition, first-rate hotel facilities.
Indeed, now is the best time to fall under its charm, October to February are the ideal months for exploring it, especially bearing in mind the temperatures that from spring on can be more difficult to tolerate.
71 LA REVISTA DE SOTOGRANDE · INVIERNO 2022 VIAJES INVIERNO 2022
Egipto es el clásico lugar que, aún sin haber estado, uno ya siente como propio. Un país con más de 5.000 años de Historia, cuyos paisajes han llegado hasta nosotros a través de cientos de libros y películas. ¿Quién no ha soñadoalgunavezcondescubriresostesorosenpersona?
Desde la famosa esfinge y las pirámides de Giza -las únicas supervivientes de las Siete Maravillas del Mundo Antiguo- al majestuoso rio Nilo, desde los históricos templos de Lúxory Karnak, al solemne Valle de los Reyes donde descansan las tumbas de los faraones, desde la bellísima catarata de Asuán a los impresionantes templos de Abu Simbel custodiados por colosos de piedra. Sin olvidar por supuesto la caótica y multicultural capital egipcia, El Cairo, donde confluyen las mezquitas, iglesias y sinagogas con bazares, ciudadelas, así como el nuevo y reluciente Gran Museo Egipcio, con más de 480.000 metros cuadrados. El mayor centro cultural del mundo dedicado a una sola civilización.
"
La pasión por la tierra de los faraones vuelve a desatarse de nuevo. Es el momento de remontar el Nilo, de adentrarse en las misteriosas tumbas y pirámides, de perderse en sus calles laberínticas"
"It is time to head back up the Nile, delve into mysterious tombs and pyramids, wander among its labyrinthine streets"
72 LA REVISTA DE SOTOGRANDE VIAJES INVIERNO 2022
Egypt is the classical place that, even without having been there, you feel like it is your own. A country with more than 5,000 years of History, whose landscapes have reached us through hundreds of books and films. Who has never dreamt of discovering those treasures first-hand? From the famous sphinx and pyramids of Giza -the sole survivors of the Seven Wonders of the AncientWorld-tothemajesticRiverNile,fromthehistoric temples of Luxor and Karnak, to the solemn Valley of the Kings, home to the tombs ofthe pharaohs, from the really beautiful waterfall of Aswan to the stunning temples of Abu Simbel watched over by stone giants. Without of course forgetting the chaotic and multicultural Egyptian capital, which brings together mosques, churches and synagogues with bazaars, citadels, as well as the new and glittering Grand Egyptian Museum, covering more than 480,000 square metres.Theworld´s largest cultural centre devoted to a single civilization.
73 LA REVISTA DE SOTOGRANDE · INVIERNO 2022 VIAJES INVIERNO 2022
El Egipto más exclusivo
Seas el tipo de viajero de viajero que seas, Egipto es un destino que nunca decepciona. Menos aún si se opta por conocer el país a través de las numerosas agencias de viajes Premium que hoy ponen a disposición de los visitantes algunas de las experiencias más exclusivas que jamás se han visto.
En ese sentido, los circuitos de lujo garantizan el máximo confort, pero sobre todo aseguran llegar donde nadie llega. Esto incluye desde el acceso privado a las pirámides, paseos nocturnos por el Valle de los Reyes, permisos exclusivos para acceder a tumbas y yacimientos e incluso lugares vetados para el resto de turistas.
A través de estos servicios exclusivos uno puede enriquecer y personalizar la experiencia todo cuanto quiera. Se puede, por ejemplo, cruzar el Nilo en faluca -un tradicional velero egipcio construido en madera-, o alquilar un yate, o someterse a un exótico tratamiento de belleza inspirado en el ritual de baño de Cleopatra, o visitar los principales yacimientos arqueológicos acompañados de un egiptólogo o los más impresionantes bazares con un personal shopper, o incluir paradas originales y mucho menos masificadas como el oasis de Siwa o el Alamein.
Otra de las experiencias Premium que pueden añadirse a la tradicional ruta por Egipto es la posibilidad de bucear en el Mar Rojo, cuyas aguas templadas conservan algunos de los arrecifes de coral más impresionantes del mundo.
Dormir y comer como reyes
Egipto cuenta con algunos de los alojamientos más singulares delplaneta,dondeconfluyentodaslascomodidadesmodernas de lujo de cinco estrellas con un toque de estética tradicional. Uno de ellos es el Kempinski Nile Hotel del Cairo. Con una ubicación privilegiada en el centro de la ciudad a orillas del río Nilo, este cinco estrellas dispone de 137 habitaciones y 54 suites, cuatro restaurantes y un spa con piscina en la azotea desde el cual disfrutar de las espectaculares vistas de la ciudad.
Otros alojamientos que desde luego merece la pena señalar son, por ejemplo, el Old Cataract en Asuán. Un hotel emblemático donde tradición y modernidad se encuentran en un magnífico palacio victoriano del siglo XIX. Un lugar legendario donde durante años se han hospedado tanto miembros de la realeza, como mandatarios de todo el mundo. También está el Sofitel Winter Palace de Luxor. Una joya en el desierto, puro lujo francés, de espíritu cosmopolita y rodeado de reales jardines centenarios. Ya en el Mar Rojo, los visitantes pueden elegir entre numerosos hoteles y villas de lujo donde encontrar un refugio de serenidad y paz como el Royal Savoy en Sharm El Sheikh o el Oberoi Sahl Hasheesh, un hotel cinco estrellas con playa privada y su propio centro certificado de buceo.
74 LA REVISTA DE SOTOGRANDE VIAJES INVIERNO 2022
The most exclusive Egypt
Whatever kind of traveller you are; Egypt is a destination that never disappoints. And even less so if you choose to discover the country through the many Premium travel agencies that now offer visitors some of the most exclusive experiences ever seen.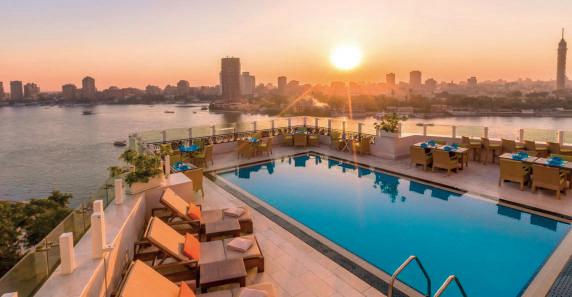 In that regard, the luxury circuits guarantee maximum comfort, but above all they ensure getting to where nobody gets to. This includes everything from private access to the pyramids, walks at night through the Valley of the Kings, exclusive permits to access tombs and settlements and even places that other tourists are prohibited to enter. Through these exclusive services you can enrich and personalise this experience as much as youwant. Forexample, you can cross the Nile in a felucca -a traditional Egyptian yacht built from wood- or rent a yacht, or undergo an exotic beauty treatment inspired by the bathing ritual of Cleopatra, or visit the main archaeological settlements accompanied by an Egyptologist or the most impressive bazaars with a personal shopper, or include original stops with a lot fewer people such as the Siwa Oasis and El-Alamein.
Another of the Premium experiences that can be added to the traditional route around Egypt is the chance to dive in the Red Sea, whose warm waters are home to some of the world´s most stunning coral reefs.
Sleep and eat like kings
Egypt has some of the most unique accommodation of the planet, which brings together all the modern luxury five-star amenities with a touch of traditional aesthetic. One of them is the Kempinski Nile Hotel in Cairo. With a privileged location in the city centre on the banks of the River Nile, this five-star hotel has 137 rooms and 54 suites, four restaurants and a spa with a pool on the rooftop from which you can enjoy the spectacular views of the city.
Other accommodation that is of course worth highlighting is, for example, the Old Cataract in Aswan. An iconic hotel where tradition and modernity blend in a magnificent Victorian palace from the 19th century. A legendary place which for years has welcomed both members of royalty and rulers from all over the world. There is also the Sofitel Winter Palace in Luxor. A gem in the desert, pure French luxury, with a cosmopolitan spirit and surrounded by century-old royal gardens. In the Red Sea, visitors can choose between several hotels and luxury villas where you can find a haven of peace and quiet such as the Royal Savoy in Sharm El Sheikh and the Oberoi Sahl Hasheesh, a five-star hotel with a private beach and its own certified diving school.
75 LA REVISTA DE SOTOGRANDE · INVIERNO 2022 VIAJES INVIERNO 2022
Por último, no podemos marcharnos de Egipto sin mencionar su maravillosa gastronomía. Su cocina tradicional es un festín tanto para el paladar como para la vista, donde abundan las ricas y coloridas especias. Sus delicias culinarias tienen tanto influencia turca como mediterránea e incluyen platos irresistibles de carne como el tagjin lahma o el pollo Sharkasia, pero también deliciosos postres tradicionales como el om ali, un pudín de pan y mantequilla con nueces y crema. Algunos nombres imprescindibles para probar estos platos son el restaurante Zitouni, situado en el interior del Four Seasons Hotel, o el restaurante Sachi, reconocido como el Mejor Restaurante de Egipto y el quinto mejor restaurante de todo Medio Oriente. Una última sorpresa gastronómica que nos depara la tierra de los faraones es que algunos de sus mejores restaurantes flotan sobre el Nilo. Se ubican en barcos atracados a orillas del río. Es el caso, por ejemplo, de Le Pacha o el popular Pier 88, uno de los restaurantes más sofisticados y tranquilos de la tumultuosa capital egipcia.
Lastly, we cannot leave Egypt without mentioning its marvellous gastronomy. Its traditional cuisine is a feast both for the palate and for the eyes, with an abundance of rich and colourful spices. Its culinary delights have both Turkish and Mediterranean influence and include irresistible meat dishes such as lahma tagine or Circassian chicken, but also delicious traditional desserts such as om ali, a bread and butter pudding with nuts and cream. Some essential names for trying these dishes are the restaurant Zitouni, located inside the Four Seasons Hotel, and the restaurant Sachi, recognised as the Best Restaurant in Egypt and the fifth best restaurant in all of the Middle East. A final gastronomic surprise awaiting us in the land of the pharaohs is that some of its best restaurants are floating on the Nile. They are located in boats docked on the banks of the river. This is the case, for examplewith Le Pacha or the popular Pier 88, one of the most sophisticated and peaceful restaurants in the frenetic Egyptian capital.
76 LA REVISTA DE SOTOGRANDE VIAJES INVIERNO 2022
Adiós a la ostentación y a la opulencia. Lejos quedan los días en que lujo era sinónimo de alarde y de exhibición; de despliegue de materiales, de formas imposibles y de acabadosllamativosyextravagantes.Lanueva arquitectura nos propone un concepto de lujo más experiencial, basado en el contacto del ser humano y de su espacio de vida con la naturalezacomoparteintegrantedelamisma.
Goodbye to ostentatiousness and opulence. Long gone are the days when luxury was a synonym of showing off and displays; of rolling out materials, impossible shapes and striking and extravagant finishes. The new architecture offers us a more experiential concept of luxury, based on the contact of humans and their living spaces with nature as an integral part of it. Instagram: _flow81 | info@flow81.com | +34 647 97 07 57 | flow81.com
78 LA REVISTA DE SOTOGRANDE FLOW81 INVIERNO 2022
La nueva arquitectura redefine el concepto del lujo
New architecture redefines concept of luxury
Durante años, la arquitectura se ha visto inmersa en una carrera por construir lo imposible sin importar donde fuese. Nuestras calles están repletas de viviendas de copia-pega; proyectos que parecen haber salido de un despacho listos para ser levantados a toda costa en cualquier parcela, sin importar las características de esta o qué tiene alrededor. El mercado del lujo en el sector inmobiliario está mostrando, sin embargo, un interés cada vez mayor por un tipo de vivienda integrada en su entorno; casas más conscientes y sostenibles que hacen sentir a sus habitantes que forman parte de la naturaleza que les rodea, apostando para ello por los espacios abiertos, por cristaleras amplias que permiten ver a través de la vivienda, por el uso de materiales puros y "desnudos" y, sobre todo, por no luchar contra los relieves del terreno y su vegetación sino todo lo contrario: utilizarlos como un punto de partida para su diseño.
For years, architecture has been immersed in a race to build the impossible regardless of the location. Our streets are packed with copy and paste properties; projects that seem to have emerged from an office ready to be erected at any cost on any plot, regardless of the home´s characteristics or what it has around it. However, the luxury market in the property sector is showing an increasing interest for a type of property integrated into its environment; homes that are conscious and sustainable that make their inhabitants feel that they form part of the nature around them, thus committing to open spaces, large windows that make it possible to see through the property, due to the use of pure and "bare materials and, above all, to not fighting against the relief of the terrain and its vegetation but rather quite the opposite: using it as a starting point for its design.
79 LA REVISTA DE SOTOGRANDE · INVIERNO 2022 FLOW81 INVIERNO 2022
wMANUEL GIL I FLOW 81
ÉsteeselcasodeVillaLasNubes,encalleGrazalema,Sotogrande, una espectacular vivienda que flota sobre un bosque diseñada por el estudio de arquitectura Flow81 que ha ganado el Premio Andalucía de Arquitectura que otorga la Junta de Andalucía. La villa está tan inmersa en un bosque que el propio bosque, literalmente, la atraviesa. Así es: un madroño se eleva en mitad del salón, varios pinos crecen perforando su terraza y desde cualquier punto de la casa puede verse el exterior, creando en todo el que la transitan la sensación de hallarse en la copa de un árbol –no en vano, sobrevuela el terreno a 11 metros de altura–. Además, la parcela no cuenta con vallas, permitiendo así el paso de los animales salvajes.
"Villa Las Nubes, en Sotogrande, una espectacular vivienda que flota sobre un bosque diseñada por el estudio de arquitectura Flow81 que ha ganado el Premio Andalucía de Arquitectura que otorga la Junta de Andalucía"
This is the case of Villa Las Nubes, on Calle Grazalema, Sotogrande, a spectacular property designed by the architecture studio Flow81 which has won the Andalusian Architecture Prize awarded by the Regional Government of Andalusia.Thevilla is so immersed in a forest that the forest itself literally goes through it. Thus: a strawberry tree stands in the middle of the living room, several pine trees pierce its terrace and the outside can be seen from anywhere in the home, creating in everything that goes through it the feeling of being in the top of a tree -not for nothing, it hovers over the land at a height of 11 meres-. Also, the plot does not have fencing, thus allowing the movement of wild animals.
80 LA REVISTA DE SOTOGRANDE FLOW81 INVIERNO 2022
81 LA REVISTA DE SOTOGRANDE · INVIERNO 2022 FLOW81 INVIERNO 2022
"Villa Las Nubes, on Calle Grazalema, Sotogrande, a spectacular property that floats over a forest designed by the architecture studio Flow81 which has won the Andalusian Architecture Prize awarded by the Regional Government of Andalusia."
En palabras del cofundador de Flow81, Nacho Merino, "En Flow81 apostamos por reconectar nuestro espacio de vida con el entorno en que se emplaza; reconciliarnos con el modo en que los sapiens hemos habitado durante la mayor parte de nuestra historia como especie apelando a lo más profundo de nuestra memoria genética" y añade "concebimos nuestros proyectos como un único volumen donde todos los agentes participan, conviven y fluyen. Diseñamos espacios no solo para vivir sino para convivir". Gonzalo Merino, también cofundador y arquitecto en Flow81 –estudio que trabaja villas con presupuesto superior a los dos millones de euros– asegura que esta forma de arquitectura ecológica debería ser un imperativo en su sector de cara a la sostenibilidad ambiental, pero además responde a un cambio en los intereses del mercado en la Costa del Sol: "hemos pasado de un perfil de cliente mayor, en busca de un lujo trasnochado y ostentoso, a un cliente más joven, de entre 35 y 45 años, que tiene una conciencia
ecológica clara y exige buen diseño, pero un diseño más discreto, con materiales puros y acabados desnudos que suponga un menor impacto visual y medioambiental".
Un diseño así exige un profundo estudio y entendimiento del terreno, de su orografía y de todos los elementos que la componen. De este modo, una gran roca en la parcela deja de ser un impedimento para convertirse en un elemento más en el salón. Un corredor de piedra natural o la propia montaña cubriendo parte de la vivienda a modo de tejado es el modo en que la propia naturaleza participa en el proceso creativo del estudio de arquitectura Flow81. El resultado no es solo original y hermoso sino también práctico, mejorando aspectos como la autorregulación térmica, el aislamiento o la ventilación de la vivienda.

Ya lo dijo el genio de Gaudí: "La originalidad es volver al origen".
"El hemos pasado a un cliente que tiene una conciencia ecológica clara y exige buen diseño, pero un diseño más discreto, con materiales puros y acabados desnudos que suponga un menor impacto visual y medioambiental"
82 LA REVISTA DE SOTOGRANDE FLOW81 INVIERNO 2022
According to the co-founder of Flow81, Nacho Merino, "At Flow81 we commit to reconnecting our living space with the environment it sits in; to reconciling ourselves with the way that humans have lived during most of our history as a species, appealing to the deepest part of our genetic memory" and he adds "we devise our projects as a single volume where all the agents participate, coexist and flow. We design spaces not only for living but rather for coexisting". Gonzalo Merino, fellow co-founder and architect at Flow81 -a studio that works on villas with a budget of over two million Euros- states that this form of environmentally-friendly architecture should be an imperative in his sector in terms of environmental sustainability, but it also corresponds to a change in the interests of the market in the Costa del Sol: "we have moved from a profile of older clients, in search of outdated and ostentatious luxury, to younger clients, aged 35 to 45, who have a clear environmental awareness and demand good design, but more discreet design, with pure materials and bare finishes which has less of an impact visually and on the environment".
Such a design requires a thorough study and understanding of the land, its terrain and all the elements that comprise it. Thus, a large rock on the plot stops being an impediment and becomes another element in the living room. A corridor of natural stone or the mountain itself covering part of the property in the form of a roof is the way in which nature itself participates in the creative process of the architecture studio Flow81. The result is not only original and beautiful, it is also practical, improving aspects such as self-regulating of heat, insulation and ventilation of the home.
As the genius Gaudí once said: "Originality is a return to the origin".
83 LA REVISTA DE SOTOGRANDE · INVIERNO 2022 FLOW81 INVIERNO 2022
"We have moved from a profile ofclients who have a clear environmental awareness and demand good design, but more discreet design, with pure materials and bare finishes which has less of an impact visually and on the environment"
Vinos para celebrar la vida
WINES TO CELEBRATE LIFE
Nuevo año, nuevos proyectos, nuevos motivos para celebrar. Brindemos como se merece con los mejores vinos de colección de Marqués de Riscal.
A new year, new projects, new reasons to celebrate. Let´s toast the way we deserve with the best wines from the Marqués de Riscal collection.
84 LA REVISTA DE SOTOGRANDE MARQUÉS DE RISCAL INVIERNO 2022
wMARÍA JOSÉ CARMONA I MARQUÉS DE RISCAL
El vino lleva siglos acompañando a los pueblos como bebida ritual en la celebración de actos sociales, banquetes y fiestas. El propio acto de brindar se remonta a la civilización griega cuando los comensales elevaban hacia el cielo sus copas para agradecer a los dioses –en particular a Dionisos, dios del vino, y Démeter, diosa de la agricultura- los dones y placeres ofrecidos a los hombres. Una expresión de alegría que, desde entonces, se ha seguido transmitiendo a través de imperios y generaciones hasta llegar hoy como símbolo de celebración y hermandad, de momentos compartidos con los seres queridos, como manifestación de todo aquello que nos hace humanos: el placer sencillo de disfrutar y agradecer la propia vida.
Coincidiendo con estas fechas de tránsito, de final e inicio de un nuevo año y con él de nuevos proyectos, propósitos e ilusiones, nada mejor que atraer la suerte con un brindis especial. Una colección selecta de tintos, blancos y rosados de excepción, procedentes de viñas centenarias seleccionadas por la siempre mano experta de Marqués de Riscal.
For centuries, wine has accompanied people as the ritual drink for the celebration of social events, banquets and parties. The act of toasting dates back to Greek civilization when diners would raise their glasses to the sky to thank the Gods -in particular, Dionysius, the god of wine, and Demeter, the goddess of agriculture- for the gifts and pleasures offered to men. An expression of joy that, since then, has continued to be passed down through empires and generations to today as a symbol of celebration and brotherhood, moments shared with loved ones, as a statement of everything that makes us human: the simple pleasure of enjoying and being grateful for life.
Coinciding with this time of passage, from the end and start of a new year and with new projects, resolutions and hopes, there is nothing better than attracting luck with a special toast. A select collection of exceptional reds, whites and rosés, from century-old vineyards selected by the always expert hand of Marqués de Riscal.
El placer sencillo de disfrutar y agradecer la propia vida"
Marqués de Riscal 150 Aniversario 2016
Nacido para conmemorar el 150 aniversario de la bodega Marqués de Riscal, 150 Aniversario Gran Reserva 150 Aniversario Gran Reserva es un vino que se produce solo en las añadas excelentes. Para su elaboración se recolectan uvas, en su mayoría tempranillo, de algunas de las viñas más viejas de la región, con una edad mínima de 80 años. Se trata en general de venerables viñas de baja productividad que producen algunos de los frutos de mayor concentración y sabor de la añada.
Este vino contiene modernidad y tradición, ofrece complejidad y frescura, poder y flexibilidad. Es sin duda la verdadera expresión de la Rioja Alavesa.
Created to commemorate the 150th anniversary of the Marqués de Riscal winery, 150 Aniversario Gran Reserva is a wine that is only produced in excellent years. To produce it, grapes are collected, mostly tempranillo, from some of the oldest vineyards in the region, with a minimum age of 80 years. In general, these are venerable low-yield vines that produce some of the fruit with the greatest concentration and flavour of the season.
This wine contains modernity and tradition, it offers complexity and freshness, power and flexibility. It is undoubtedly the true expression of La Rioja Alavesa.
"
85 LA REVISTA DE SOTOGRANDE · INVIERNO 2022 MARQUÉS DE RISCAL INVIERNO 2022
"The simple pleasure of enjoying and being grateful for life"
Barón de Chirel 2017
Barón de Chirel Reserva Barón de Chirel Reserva es un clásico moderno que realza la identidad, tradición y modernidad de Rioja. Desde sus inicios, Marqués de Riscal ha tenido un estrecho vínculo con los métodos de vinificación bordeleses. Fruto de este vínculo nació la idea de elaborar un vino experimental que recuperara la grandeza de aquellos caldos pero con los medios y la tecnología del siglo XX. Para ello, se seleccionaron viñas de entre 80 y 110 años con rendimientos bajísimos, uva de la mejor calidad, elaborado sólo en las mejores cosechas cuando el viñedo expresa todo el carácter del terruño. Aquella semilla fue la precursora de lo que más tarde se llamó "vinos de alta expresión".
Barón de Chirel Reserva is a modern classic that enhances the identity, tradition and modernity ofRioja. Since the outset, Marqués de Riscal has been closely linked to Bordeaux winegrowing methods. As a result of this link, the idea emerged to produce an experimental wine that recovers the greatness of those wines but with the resources and technology of the 20th century. To do so, wines aged between 80 and 110-years-old were selected with low yields, grapes of the best quality, producing using only the best harvests when the vine expresses all the character of the land. That seed was the precursor of what was later called "highly expressive wines".
Frank Gehry Selection 2012
car bette when up and shows a wine. Fran MARQUÉS DE RISCAL INVIERNO 2022
Bautizado con el nombre de uno de los más grandes arquitectos de los tiempos modernos y creador del emblemático Hotel Marqués de Riscal, el vino Frank Gehry Selección es el resultado de una cuidada selección de uvas procedentes de viñas propias de más de 80 años de edad. No es un vino de colección sino de puro hedonismo, capaz de acariciar los sentidos.
Un vino que acaricia los sentidos. La segunda copa está mejor que la primera, cuando se atempera, se abre y muestra la cantidad de matices que tiene. De trago lento y largo. El vino Frank Gehry Selección es un vino de amistad, vino de pausa.
Named after one of the greatest architects of modern times and the creator of the emblematic Hotel Marqués de Riscal, the Frank Gehry Selección wine is the result of a meticulous selection of grapes from vineyards that are more than 80-years-old. It isn´t a collector´s wine, but rather pure hedonism, capable of caressing
A wine that caresses the senses. The second glass is better than the first, when it tempers, it opens up and shows off the amount of nuances it has. A slow drinking and long wine. The Frank Gehry Selección wine is a wine for taking a break. 86 LA REVISTA DE SOTOGRANDE
Barón de Chirel Verdejo Viñas Centenarias 2021
Barón de Chirel Verdejo Viñas Centenarias Barón de Chirel Viñas Centenarias es un vino único, tanto por la meticulosa atención al detalle durante el periodo vegetativo, como por su posterior vinificación.
Está elaborado con viñas muy viejas de más de 100 años, prefiloxéricas, de las zonas de Aldeanueva del Codonal y Aldehuela, en Segovia. Estas viñas plantadas en pie franco se cultivan en vaso y son vendimiadas a mano. Cuenta también con una crianza sobre lías de 8 meses en fudres de roble austríaco Stockinger. De todo esto surge este vino soberbio, con frescura, energía y densidad, que recibe su nombre en honor a Carlos Hurtado de Amézaga y Zabala, quien modernizó el negocio de la familia durante los años de posguerra.
Barón de Chirel Verdejo Viñas Centenarias (Baron de Chirel Verdejo Century-old Vineyards) is a unique wine, both in terms of the meticulous attention to detail during the growing season and its subsequent winemaking.
It is produced with very old vines that are over 100-years-old, pre-phylloxera, from the zones of Aldeanueva del Codonal and Aldehuela, in Segovia. These vies planted ungrafted are gobelet-trained and harvested by hand. It is also aged on lees for 8 months in foudres of Austrian Stockinger oak. All of this creates this superb wine, with freshness, energy and density, which takes its name from Carlos Hurtado de Amézaga y Zabala, who modernised the family business during the postwar years.

Rosado Marqués de Riscal Viñas Viejas 2021
Marqués de Riscal Viñas Viejas de Riscal Viñas es un rosado de edición limitada que contiene la esencia más pura de la variedad Tempranillo Tinta de Toro. La excepcionalidad de este vino viene dada por su elaboración con uvas procedentes de viñas de más de 80 años, cultivadas en pie franco, prefiloxéricas, de las terrazas cascajosas más altas del río Duero.
Es, sin duda, un rosado atípico ya que en su elaboración se emplea la técnica del sangrado natural, donde se aprovecha el mosto que fluye directamente de la prensa tras una breve maceración. Su singularidad viene dada también por el contacto con lías finas de la variedad Sauvignon Blanc, que le aportan frescura y complejidad al vino.
Marqués de Riscal Viñas Viejas is a limited edition rosé that contains the purest essence of the Tempranillo Tinta de Toro variety. The exceptional nature of this wine derives from its production with grapes from vines that are over 80-yearsold, grown ungrafted, pre-phylloxera, on the highest gravelly terraces of the river Duero.
It is undoubtedly an atypical rosé as its production uses the technique of natural bleeding, where the grape juice that flows directly from the press is used after a short maceration. Its uniqueness also derives from the contact with the fine lees of the Sauvignon Blanc variety, that add freshness and complexity to the wine.
Marqués de Riscal Viñas Viejas, with its beautiful pale rose colour, is produced to be drunk young, but it possesses a sophisticated complexity of flavour, smooth structure and sofisticada de sabor, suavidad de estructura y persistencia
Marqués de Riscal Viñas Viejas, con su bonito color rosa palo,
MARQUÉS DE RISCAL INVIERNO 2022 87 LA REVISTA DE SOTOGRANDE · INVIERNO 2022
88 LA REVISTA DE SOTOGRANDE GASTRONOMÍA INVIERNO 2022
PASIÓN CARNÍVORA GASTRONOMÍA INVIERNO 2022
Viajamos a los principales templos de la carne roja en España. De Vizcaya a León, de Santiago a Vejer de la Frontera. Si usted también es un carnívoro gourmet vaya afilando los colmillos.
Loúltimoengastronomíasevistederojopasión. El rojo de la ternera, del buey. La alta cocina ha redescubierto como nunca las posibilidades de los platos de carne roja hasta convertirla en un auténtico producto gourmet.
Basta con mencionar por ejemplo el renacer de las carnes a la brasa, el exitoso descubrimiento de las carnes maduradas o el prestigio internacional tanto de las carnes autóctonas –ahí está la deseada carne de vaca gallega o la retinta gaditana- o de importación –Angus, Simmental, Wagyu-.
En España contamos con grandes templos de la carne, entre ellos hayrestaurantes con siglos de historia, experimentados durante generaciones en el tratamiento de la carne y el fuego; pero también otros más contemporáneos capaces de aportar creatividad y nuevos sabores a este producto de primera categoría.
A la parrilla, en steak tartar, ahumada o a baja temperatura, no pierdan detalle de esta jugosa lista gastronómica llena de suculentas propuestas para hincar el diente.
Wetravelledtothemainsanctuaries of red meat in Spain. From Biscay to León, from Santiago to Vejer de la Frontera. If you are also a gourmet meat eater, then sharpen your fangs.
The latest trend in gastronomy wears passionate red. The red of beef, of ox. Haute cuisine has rediscovered like never before the possibilities of red meat dishes to make it a real gourmet product.
For example, we only need to mention the renaissance of grilled meats, the successful rediscoveryofagedmeatsandtheinternational prestige of both local meats -including the sought-after beef of Vaca Gallega or Retinta Gaditana- or imported meat -Angus, Simmental, Wagyu-.
In Spain we have great sanctuaries of meat, including restaurants with centuries of history, experienced over generations in handling meat and fire; but also more modern ones capable of adding creativity and new flavours to this firstrate product.
On the grill, in steak tartar, smoked or slowcooked, don´t miss anything in this juicy gastronomic list full of succulent proposals to sink your teeth into.
wMARÍA JOSÉ CARMONA I CEDIDAS
Passion for meat 89 LA REVISTA DE SOTOGRANDE · INVIERNO 2022
Etxebarri
Este asador con nombre propio no solo es el único en España con una estrella Michelín, también es el único asador situado en el top diez de los mejores restaurantes del mundo. A su propietario, Bittor Arguinzoniz, le llaman "el domador de las brasas" porque nadie como él sabe utilizar el fuego para revelar el sabor auténtico de cada alimento, ya sea pescado, setas, verduras o un chuletón de vaca.
Su secreto se basa en una técnica ancestral que utiliza diferentes tipos de leña -encina, cepas de vid, roble-, así como diferentes utensilios inventados por él, incluido un curioso sistema de poleas que le permite variar la altura de las parrillas para controlar los puntos de cocción. Desde que Arguinzoniz reformó este viejo caserío del s. XVIII ubicado en su pueblo, Atxondo, se ha convertido en lugar de peregrinaje para los amantes del buen comer. En cada servicio no se atiende a más de 30 comensales. Por eso se recomienda reservar con tiempo, un mínimo dos meses, pues hay una enorme lista de espera.
O Fogar do Santiso
Referente gastronómico en Galicia, O Fogar do Santiso dispone de hasta seis locales,siendoeldelcentrodeSantiago, uno de los más populares. Especialistas eneltratamientodelasrazasautóctonas gallegasyla cocina a la brasa en hornos de carbón, esta cadena presume del carácter ecológico que impregna su carta. Por un lado, todas sus verduras son cultivadas en sus propios huertos; por otro los animales, de los que se obtienen las deliciosas carnes, son criados en libertad y alimentados solo con pasto. El resultado: Sabores que desprenden identidad y compromiso por la tierra.
El Capricho
El cocineroJosé Cordón aprendió desde niñoayudandoenelmerenderofamiliar que la fama había que ganársela a conciencia y así lo ha hecho estos años en su restaurante El Capricho, en León. Tanto que la revista Time llegó a decir que aquí se servía "la mejor carne del mundo".
Cordón busca por el norte de España y Portugal las mejores vacas y bueyes y luego deja madurar su carne hasta 90 días. De ahí surgen suculentas preparaciones de carnes veteadas de color impresionante y sabor profundo, muymineral.Losexpertosrecomiendan probar sus inmensos chuletones, pero también platos como la cecina y lengua de buey.
90 LA REVISTA DE SOTOGRANDE GASTRONOMÍA INVIERNO 2022
Etxebarri
This grill house with a well-deserved reputation is not only unique in Spain with a Michelin star, it is also the only grill house among the top ten restaurants in theworld. Its owner, Bittor Arguinzoniz, is known as the "master of theembers"becausenobodyknowshow to use fire to reveal the authentic flavour of each food like he does, whether fish, mushrooms, vegetables or a steak.
His secret is based on an ancestral technique which uses different types of firewood -holm oak, vine stocks, oak, as well as different utensils invented by him, including a curious system of pulleys that allows him to vary the height of the grills to control the cooking points.
Ever since Arguinzoniz renovated this old farmhouse from the 18th century located in his town, Atxondo, it has become a place of pilgrimage for those who love good food. No more than 30 diners are catered for in each service. Therefore, it is recommended to book with time, a minimum of two months in advance, as there is an enormous waiting list.
O Fogar do Santiso
A gastronomic benchmark in Galicia, O Fogar do Santiso has six premises, and the one in the centre of Santiago is among the most popular. Specialists in working with local Galician breeds and grill cooking in charcoal ovens, this chain boasts the environmentallyfriendly characterthat imbues its menu. On one hand, all of its vegetables are grown in its own vegetable gardens; on the other, the animals from which the delicious meats are obtained, are freerange and fed only with pasture. The result: Flavours that ooze identity and the commitment to the land.
El Capricho
From an early age, the chefJosé Cordón learned while working at the family snack bar that a reputation had to be earned consciously and this is what he hasdoneovertheyearsathisrestaurant El Capricho, in León. So much so that Time magazine said that it serves "the best meat in the world".
Cordón looks for the best cows and oxen in the north of Spain and Portugal and then lets their meat age for up to 90 days. Hence why they produce succulent dishes of marbled meats with a striking colour and deep flavour, that isvery mineral.The experts recommend trying their immense steaks, but also dishes such as the jerked beef and the ox tongue.
91 LA REVISTA DE SOTOGRANDE · INVIERNO 2022 GASTRONOMÍA INVIERNO 2022
templos de la carne
92 LA REVISTA DE SOTOGRANDE GASTRONOMÍA INVIERNO 2022
Cannibal Raw Bar
Crear una cocina sin artificios donde primen los alimentos crudos o semicrudos es la razón de ser del restaurante Cannibal Raw Bar, de origengallegoperoubicadodesde2009 en Madrid. Creado para satisfacer los deseos "caníbales" de los comensales más sibaritas, Cannibal propone platos como ceviches, tartares y carpaccios. Muy recomendados su 'steak tartar' ahumado con tuétano a la brasa o su carpaccio de lomo de vaca madurado.
Piantao
Los mejores ejemplares de vaca Angus llegados directamente desde la Pampa argentina pueden degustarse hoy en el mismo centro de Madrid en el restaurante Piantao de Javier Brichetto, creador de esta parrilla argentina contemporánea que mezcla la tradición del asado de su país con innovadoras técnicas de cocción.
Brichetto utiliza tres tipos de combustibles -madera de encina, roble blanco y carbón de quebracho
Cannibal Raw Bar
Creating no-frills cuisine where raw or semi-raw foods take precedence is the raison d'être of the Cannibal Raw Bar restaurant, of Galician origins but located in Madrid since 2009. Created to satisfy the "cannibal" desires of the most pleasure-loving diners, Cannibal offers dishes such as ceviche, tartars and carpaccios. Their smoked steak tartar with grilled marrow and their carpaccio of tenderloin of aged beef carpaccio are highly recommended.
Piantao
The best specimens of Angus beef directly from the Argentine Pampa can now be savoured in the very centre of Madrid at the Piantao restaurant of Javier Brichetto, the creator of this contemporary Argentine grill which mixes the tradition of the barbecue of his country with innovative cooking techniques.
argentino- en una inmensa parrilla de hierro hecha a medida. Como acompañamiento no pueden faltar las tradicionales empanadas criollas o los riquísimos embutidos artesanos.
Jimbo Smokehouse
También en Madrid, Jimbo Smokehouse es una auténtica fiesta de la carne y el humo. Su especialidad es la cocina a baja temperatura y ahumada. Un restaurante inspirado en lassmokehousesdelsurdeEEUU.Entre sus especialidades destacan el Brisket -pechodeterneradecortemagroylarga cocción- macerado con especias y el costillar sazonado con chili y ahumado durante seis horas y cubierto de salsa BBQ.
Essentia
Este restaurante situado en Tarancón, Cuenca, es uno de los pocos especializados en España en carne de vaca vieja finlandesa, calificada por la World Steak Challenge como una de las mejores carnes rojas del mundo. Por si sus deliciosas chuletas de ternera no
fueran suficiente motivo para hacerles una visita, Essentia también ofrece otras delicias castellanas, empezando por unos exquisitos torreznos famosos en esta región.
LomoAlto
Amantesdelasmaduracionesextremas éste es vuestro sitio. El restaurante LomoAlto en Barcelona propone una auténtica experiencia de sabor, puro "umami". El proyecto gastronómico de Carles Tejedor ha hecho de la maduración su seña de identidad, algunas de sus piezas de buey y vaca vieja llegan a esperar un año al completo en condiciones de humedad y temperatura controladas. El resultado es una carne potente y muy sabrosa, de textura verdaderamente única. Una delicatesen para los paladares más arriesgados.
Brichetto uses three types of fuel -holm oak wood, white oak and charcoal of Argentine quebracho- on an immense bespoke iron grill. As a side dish you cannotmissoutonthetraditionalcreole empanadas or the really delicious artisanal cold meats.
Jimbo Smokehouse
Also in Madrid, Jimbo Smokehouse is a real party of meat and smoke. Its speciality is slow-cooked and smoked cuisine. A restaurant inspired by the smokehouses of the American south. Its specialities include Brisket - slowcooked lean beef brisket- marinated with spices and ribs seasonedwith chilli and smoked for six hours and covered in BBQ sauce.
Essentia
This restaurant located in Tarancón, Cuenca, is one of the few restaurants in Spain specialised in aged Finnish beef, classified by the World Steak Challenge as one of the world´s best red meats.
As if its delicious beef steaks were not a good enough reason to visit, Essentia also offers other Castilian delights, beginning with the exquisite torrezno (pork crackling) which are famous in this region.
LomoAlto
For those who love extreme aging, this is your place. The restaurant LomoAlto in Barcelona offers an authentic flavour experience, that is pure "umami". The gastronomic project of Carles Tejedor has made aging its hallmark, some of its cuts of ox and aged beef wait for a full year in conditions with moisture and controlled temperature. The result is a potent and very delicious meat, with a truly unique texture. A delicacy for the most daring palates.
93 LA REVISTA DE SOTOGRANDE · INVIERNO 2022 GASTRONOMÍA INVIERNO 2022
Can Xurrades
La carne de buey de raza sayaguesa es hoy una de las más cotizadas entre los carnívoros. Desciende directamente de losuros,unaespeciedebisonteeuropeo extinguido a principios del siglo XVII y que ahora se quiere recuperar. Actualmenteexistenmuypocoslugares donde degustar esta carne, uno de ellos es Can Xurrades y está en Barcelona. Con una textura melosa, parecida a la ventrescadeatún,dicenquelacarnede esta especie recién recuperada puede competir en calidad con la de wagyu de Kobe. Un bocado que –dicen aquellos que lo han probado- se deshace como mantequilla y desprende un sabor potente imposible de olvidar.
Leña
El restaurante de Dani García, con sedes en Marbella, Dubai y Madrid, necesita de poca presentación. El chef malagueño se ha propuesto reivindicar las brasas y la parrilla sin dejar de lado su inigualable toque creativo. Por eso su asador atraviesa lo tradicional con un toque cosmopolita. De esa fusión surgen platos como los yakipinchos o espetos de carne o su celebradísima hamburguesa.Chuparselosdedos–dice García en su web- está absolutamente permitido.
La Castillería
Esta ruta carnívora de norte a sur no podría acabar en otro lugar que no fuese la provincia de Cádiz. Y es que, como bien saben por aquí, no solo de buen pescado se vive en esta tierra. La carne es también uno de los reclamos principales en restaurantes como La Castillería, en Vejer de la Frontera. Un lugar donde el crepitar de las llamas y el olor a leña carbonizada se sienten desdelamismapuerta.Galardonadoen 2022conunSoldelaGuíaRepsol,Juan Valdés,maestroasadordeLaCastillería, puede presumir de su excelso manejo delfuego,lostiempos,lastemperaturas, los atemperados, la cocción. Probar cualquieradesusplatosesunauténtico privilegio, sobre todo porlo exclusivo de su temporada, cerrada desde el pasado octubre, pero avivando ya las brasas paravolveraabrirsuspuertasenmarzo de 2023.
Can Xurrades
Ox meat from the Sayaguesa breed is currently one of the most soughtafter among meat eaters. It is a direct descendant of the aurochs, a species of European bison that went extinct at the end of the 17th century and which people now want to bring back. There are currently very few places for savouring this meat, one of them is Can Xurrades and it is in Barcelona. With a sweet texture, similar to tuna belly, they say that the meat of this recently recovered species can compete with the quality of Kobe wagyu beef. A delicacy that -according to those who have tried it- melts like butter and exudes a powerful flavour that is impossible to forget.
Leña
The restaurant of Dani García, with premises in Marbella, Dubai and Madrid, needs little introduction. The Malaga chef has set out to promote the embers and grill without forgetting his unmatched creative touch. That is why his grill house mixes the traditional with a cosmopolitan touch. That blend gives rise to dishes such as the yakipinchos or meat skewers or his really famous hamburger. Licking your fingers -states García on his website- is completely allowed.
La Castillería
This carnivorous route from north to south could end nowhere other than the province of Cadiz. And as we know well around here, this region does not only live off good fish. Meat is also one of the main attractions in restaurants such as La Castillería, in Vejer de la Frontera. A place where the crackling of fames and the smell of charred wood can be experienced from the moment you enter. Winner in 2022 of a Sun from the Repsol Guide, Juan Valdés, master grill chef at La Castillería, can boast of his incredible handling of fire, timing, temperatures, tempering, cooking. Trying any of his dishes is a real privilege, especially due to how exclusive their season is, finished since October, but the embers are being stirred to once again open the doors in March 2023.
94 LA REVISTA DE SOTOGRANDE GASTRONOMÍA INVIERNO 2022
2022: ELAÑODELAEXPLOSIÓN DELNUEVO CINE
ESPAÑOL
2022: THE YEAR OF THE EXPLOSION OF NEW SPANISH CINEMA
wCARLOS MORCILLO MIRA
Si el pasado año el protagonismo de las películas españolas más potentes corrió a cargo de pesos pesados como Pedro Almodóvar con "Madres paralelas" o Fernando León de Aranoa con "El buen patrón", 2022 ha servido para descubrir nuevas visiones y cineastas y confirmar a aquellos que ya venían golpeando la puerta como valores activos de la industria nacional. Las propuestas "obligadas" han dado paso a autores (y autoras) hasta ahora en los márgenes pero también ha habido espacio para productos comerciales en géneros tan populares como el terror y el musical. Veamos lo que ha dado de sí este año tan fructífero y renovador en el panorama cinematográfico patrio.
Although last year the starring role of the most powerful Spanish films came from heavyweights such as Pedro Almodóvar with "Parallel Mothers" or Fernando León de Aranoa with "The Good Boss", 2022 has helped us to discover new visions and filmmakers and confirm those who had been knocking at the door as assets in the national industry. The "musts" have given way to auteurs (and women ones too) who have thus far been on the margins but there has also been space for commercial products in genres as popular as horror and musicals. Let´s look at what this year, so fruitful and renovating on the national film scene, has given us.
Available on / Disponible:
El tándem Rodrigo Sorogoyen (director)- Isabel Peña (guionista) no deja de darnos alegrías. Los creadores de Que dios nos perdone, El reino, Madre y la extraordinaria miniserie Antidisturbios confirman su valor como uno de los mayores activos del cine español con un thriller insoportablemente tenso ambientado en una aldea remota de la Galicia rural. En ella, con ecos del western más sórdido, La caza de Carlos Saura y el Perros de paja de Sam Peckinpah, dos formas de ver y vivir la vida con los rostros de los excelentes Luis Zahera y Denis Menochet. Sin efectismos, con algo más de metraje de la cuenta y una resolución anticlimática, Sorogoyen cocinaafuegolentounadelaspelículas españolas de la temporada.
The duo Rodrigo Sorogoyen (director)Isabel Peña (scriptwriter) continues to offer joy. The creators of Que dios nos perdone, El reino, Madre and the extraordinary mini-series Antidisturbios have confirmed their value as one of the greatest assets in Spanish cinema with a thriller that is unbearably tense set in a remote villageinruralGalicia.Init,withechoes of the most sordid western, La caza (The Hunt) by Carlos Saura and Straw Dogs by Sam Peckinpah, two ways of seeing and experiencing life with the faces of the excellent Luis Zahera and Denis Menochet. Without theatricality, slightly too long and an anticlimactic ending,Sorogoyenslowlycooksupone of the Spanish films of the season.
CINE
AS BESTAS AS BESTAS
Cines 96 LA REVISTA DE SOTOGRANDE CINE INVIERNO 2022
Available on / Disponible:
Después de varios y notables cortometrajes, el debut de Alauda Ruiz de Azúa no ha podido caer con mejor pieencríticaypúblico,ylohaceconun drama familiar sensible y desgarrador, tiernoycruel,tristeydivertido.Comola vidamisma,vamos,peroalejadodetics televisivos y huyendo de tendencias lacrimógenas. Un film de gestos y silencios, de sentimientos reprimidos, secretos inconfesables y personajes con muchas dudas y algunas certezas, que sabe transmitir como pocos ese camino de incertidumbre que es la vida para la generación que hoy ronda los treinta y tantos. Merecidísima ganadora en el pasado Festival de Málaga.
CINCO LOBITOS LULLABY
After several and notable short films, the debut from Alauda Ruiz de Azúa could not have been received better by critics and audiences, and she does so with a sensitive and heartbreaking, tender and cruel, sad and fun family drama. Like life itself, but distanced from television clichés and flees from teary trends. A film of gestures and silences, of repressed feelings, unconfessable secrets and characters with lots of doubts and some certainties, that is able to convey that path of uncertainty that is life for the generation that is now thirty something in a way that few films do. A much deserved winner at the last Malaga Festival.
ALCARRÀS
ALCARRÀS
El presente año comenzaba con una de las mejores noticias para el cine español: una pequeña película dirigida por la catalana Carla Simón (que ya habíalogradounconsiderableéxitocon Verano 1993) se hacía nada menos que con el Oso de Oro del Festival de Berlín, decisión de un jurado presidido nada menos que por M. Night Shyamalan, el director de El sexto sentido. La directoraprosigueconsuacercamiento a las costumbres y lo tradicional en lo que se podría considerar una suerte de neorrealismo catalán/español, pero con un sorprendente dominio técnico de la narración y la puesta en escena, en la que las imágenes y los gestos respiran para ser asimilados y aprehendidos por el espectador. No es cine para las masas pero, una vez dentro, engancha.
This year began with some of the best news for Spanish cinema: a little film directed by the Catalan director Carla Simón (who had already achieved considerable success with Verano 1993 (Summer 1993) earned the Golden Bear at the Berlin Festival, a decision by a jury presided over by none other than M. Night Shyamalan, the director of The Sixth Sense. The director continues with her approach of customs and traditions with regard to what could be considered a kind of Catalan/Spanish neorealist film, but with a surprising technical mastery of narration and staging, in which the images and gestures breathe in order to be assimilated and apprehended by the viewer. It isn´t cinema for the masses but, once inside, it is addictive.
CINE /
Available on / Disponible:
/ 97 LA REVISTA DE SOTOGRANDE · INVIERNO 2022 CINE INVIERNO 2022
Available on / Disponible:
La progresión de Paco Plaza como uno de los referentes del terror español es casi meteórica y está fuera de toda duda. Apoyado en un guión de Carlos Vermut (otro de los nuevos valores del cine patrio, guionista y director de Magical Girl y la inminente y polémica Manticora), Plaza orquesta un oscuro tour de forcé cuyo mayor error fue quizá ser promocionado como un film de terror al uso, cuando más bien se trata de un lúgubre y cruel drama sobre el paso (y el peso) del tiempo que, eso sí, alcanza picos de lo más inquietantescuandoderivaenpesadilla claustrofóbica. En cualquier caso, es de lo mejor del director de Verónica.
LA ABUELA
THE GRANDMOTHER
The progression of Paco Plaza as one of the benchmarks in Spanish horror is almost meteoric and is beyond all doubt. Using a script by Carlos Vermut (another of the new assets in national cinema, the script writer and director of Magical Girl and the imminent and controversial Manticora), Plaza orchestrates a dark tour de force whose greatest error was perhaps to be promoted as a typical horror film, when it is rather a dark and cruel drama about the passing (and weight) of time that, having said this, does reach highly disturbing peaks when it develops into a claustrophobic nightmare. In any case, it is the best work by the director of Verónica.
ESPAÑOL
Available on / Disponible:
Cines
Director consagrado (y uno de los mejores del país), una de las mayores virtudes de la filmografía de Alberto Rodríguez está en abordar algunos de los episodios más relevantes de la historia moderna de España a través de géneros populares que sean capaces de enganchar al público, con guiones de acero y un talento para la narración fuera de toda duda. Así, Modelo 77 se une, subgénero carcelario mediante, a loqueyahizoRodríguezanteriormente con Grupo7 (policiaco), Laislamínima (thriller criminal) o El hombre de las mil caras (cine de espías): revisar un pedacito de historia lejos de lo edulcorante y aportar una (re)visión crítica a los barros que hoy nos hacen vivir en estos lodos.
MODELO 77
MODELO 77
An enshrined director (and one of the bestinthecountry),oneofthegreatest assets of the films of Alberto Rodríguez consists of tackling some of the most important episodes in Spain´s modern history through popular genres that are capable of hooking the public, with very strong scripts and a talent for narration that is beyond any doubt. Thus, Modelo 77 joins the jail subgenre by, as Rodríguez did previously with Unit 7 (police), La isla mínima (Marshland) (criminal thriller) and El hombre de las mil caras (Smoke & Mirrors) (spy film): looking at a little slice of history far from sugar coating it and providing a critical (re)vision of the dirt that we now find ourselves living in.
98 LA REVISTA DE SOTOGRANDE CINE INVIERNO 2022
VOY A PASÁRMELO BIEN
I AM GOING TO HAVE A GOOD TIME
Se puede ver en: Amazon Prime Video Es curioso, pero hasta que no vi no pude creerme que a alguien a quien no le gusta Hombres G (como es mi caso) pudiera disfrutar de un musical articulado en torno a…canciones de Hombres G. El caso es que nada molesta en esta simpatiquísima propuesta: los mecanismos nostálgicos no están subrayados de más, los críos son adorables, Raúl Arévalo y Dani Roviranodesentonanylascoreografías están bien trabajadas. Una película comercial, divertida y vitalista con la que Manuel Summers habría esbozado una sonrisa. Ideal si echas de menos aquellas mañanas de sábado de los ochenta y noventa escuchando la lista de los 40 principales.
Available on / Disponible:
Itisstrangebut,untilIsawitIcouldn´t believe that someone who does not like Hombres G (like me) could enjoy a musical structured around...songs by Hombres G. The fact is that it isn´t annoying at all in this really nice proposal: the nostalgic mechanisms are not overly stressed, the kids are adorable,RaúlArévaloandDaniRovira don´t clash and the choreography is well-worked. A commercial, fun and life affirming that would have brought asmiletothefaceofManuelSummers. Ideal if you miss those Saturday mornings in the eighties and nineties listening to the list of the top 40 hits.
ESPAÑOL
CERDITA
PIGGY
Después de cosechar toneladas de halagos en festivales de la talla de Sundance y Sitges, el debut de Carlota Pereda (adaptando al largometraje su propio corto) ha resultado una de las propuestas más innovadoras, frescas e insólitas (al menos, en el cine español) de los últimos años: un rompedor mix de drama rural, comedia costumbrista y slasher salvaje al más puro estilo La matanza de Texas (o de Extremadura) que ahonda en problemáticas tan serias como el bullying, el inmovilismo de la España profunda y vaciada y la alineación juvenil en torno a lo superficialylasredessociales.Brillante.
Available on / Disponible:
Cines
After earning tonnes of praise at festivals as renowned as Sundance and Sitges, the debut by Carlota Pereda(adaptingherownshortfilmto be a feature film) it has turned out to be one of the most innovative, freshest and unusual proposals (at least in Spanish cinema) in recent years: a ground-breaking mix of rural drama, traditional comedy and wild slasher in the purest style of TheTexasChainsaw Massacre (or Extremadura) that delve into very serious problems such as bullying, lack of mobility in deep and empty Spain and alignment among young people regarding superficiality and social networks. Brilliant.
99 LA REVISTA DE SOTOGRANDE · INVIERNO 2022 CINE INVIERNO 2022
Excepcional villa de estilo moderno situada en una calle sin salida en Sotogrande Costa
Excepcionalvilladeestilomoderno situada en una tranquila calle sin salida en Sotogrande Costa. Fue un diseñada por un famoso arquitecto. Con amplio camino de entrada, se compone de 6 dormitorios dobles (4 de ellos con balcón), 6 baños, más un aseo de invitados, alojamiento para empleados, salón, comedor, biblioteca, cocina totalmente equipada y lavadero. Dispone
de piscina de agua salada climatizada, ascensorinteriorentre la planta bajay1a. La entrada a la casa es a través de un precioso porche abierto con pared a ladrillo visto, columnas y fuente de mármol. Precioso jardín muy bien cuidado y con diferentes niveles. La propiedad dispone de sistema de calefacción, aire acondicionado, suelo radiante en los 2 baños principales y radiadores. Sevende totalmente equipada.■
Unique home situated in a quiet cul-de-sac in Sotogrande Costa
This unique home is situated in a quiet cul-de-sac in the Sotogrande Costa area. It was designed by a famous architect. Approached via a sweeping driveway this modern property holds surprises around every corner. The accommodation briefly comprises of 6 double bedrooms (4 ofwhich have balconies), 6 bathrooms (plus a guest cloakroom), staff quarters, drawing room, dining room, library, fully fitted kitchen and laundry. There is an internal lift linking the ground and first floors.The entrance to the
house is through a beautifully designed open porch of roman style brick walls, white columns and marble water features. Entering the house through the bespoke designed wooden door leads to the entrance hallway. The garden is well established and carefully landscaped with steps and lawned areas on different levels. The property has a heated saltwater pool, two separate heating systems, A/C, underfloor heating in the two main bathrooms and radiators as well as a backup heating system. The property is sold fully equipped. ฀
SOTOGRANDE
info@holmesotogrande.comTel - Phone: (+34) 956 79 53 40 www.holmesotogrande.com ☛ CARACTERÍSTICAS DEL INMUEBLE ï Dormitorios/Bedrooms:6 ï Baños/Bathrooms:6 ï M2 Parcela/Plot:4.772m2 ï M2 Construidos/Builtarea:909m2 ï REFERENCIA:HSS5-1238 3.900.000 € EsteprecionoincluyeimpuestosThispricedoesnotincludetaxes 100 LA REVISTA DE SOTOGRANDE HOLMES INVIERNO 2022
101 LA REVISTA DE SOTOGRANDE · INVIERNO 2022 HOLMES INVIERNO 2022
102 LA REVISTA DE SOTOGRANDE POLO INVIERNO 2022
El polo en Sotogrande suma 22
POLO IN SOTOGRANDE TOTALS 22
Ayala Polo Club anuncia que el Alto Handicap contará con equipos de hasta 22 goles para el 52º Torneo Internacional de Sotogrande, el próximo verano. La programación de torneos dibuja una temporada alta de polo en Sotogrande de más de cinco meses de duración
El mejor polo se vive y se disfruta, por supuesto, en Sotogrande. Ayala Polo Club, que desde el año 2020 cuenta con la gestión y organización de la temporada alta de polo en Sotogrande, realizó uno de los anuncios más esperados por la afición de polo en la zona. La próxima edición de 2023 del Torneo Internacional de Polo, la número 52, recuperará en el Alto Hándicap los equipos de 22 goles; algo que posiciona aún más el Grand Slam de Sotogrande como la gran referencia en la temporada estival del polo mundial.
Una apuesta que seguro incrementará aún más el nivel y la calidad de organizaciones y estrellas de este deporte que desfilarán el próximo agosto por las canchas de Sotogrande. Un paso más al frente de Ayala Polo desde que asumiese la gestión de la temporada de polo en Sotogrande, con Paola Zobel al frente.
Ayala Polo Club announced that the High Handicap category will have teams of up to 22 goals for the 52nd Sotogrande International Tournament, next summer. The tournaments programme is creating an elite polo season in Sotogrande lasting for more than five months.
Ofcourse,thebestpoloisexperiencedandenjoyed in Sotogrande.Ayala Polo Club, which since 2020 has managed and organised the high polo season in Sotogrande, made one of the most eagerlyawaited announcements for polo fans in the area. The next edition in 2023 of the International Polo Tournament, number 52 will bring back the 22 goal teams High Handicap; which further positions the Grand Slam in Sotogrande as the leading benchmark in the summer season of global polo.
An initiative that will surely further increase the level and quality of organisations and stars of this sport who will appear next August on the pitches inSotogrande.AnotherstepforwardbyAyalaPolo since it tookup management ofthe polo season in Sotogrande, led by Paola Zobel.
wMANUEL GIL I M. CALLEJO, AYALA POLO Y ENRIQUE MORA
103 LA REVISTA DE SOTOGRANDE · INVIERNO 2022 POLO INVIERNO 2022
Destacar también la presentación de todo el calendario oficial de competiciones para el 2023 que perfila nadamenosquecincomesesdepolode gran calidad de manera ininterrumpida en Sotogrande. Una agenda que arranca poco después de los 'clásicos' de Semana Santa, en el mes de mayo y que se alarga hasta bien avanzado el mes de septiembre. Destacar que
además del Torneo Internacional de Polo (con Alto, Mediano y Bajo HCP), el Memorial Fundador Enrique Zobel se disputaráconequiposde12-14golesyel resto de torneos serán para combinados entre 6-8 goles.
La Copa de Bienvenida, entre el 18 y 21 de mayo será el arranque de la temporada, el gran despegue; para
despedir el mes a continuación con la ya tradicional Copa Ke Sotogrande, este año calendarizada entre el 25 y 28 de mayo. Junio, uno de los meses más intensos de la temporada arranca con el Open de España repartido entre el 1 y 11 del mismo mes; para completar otras dos semanas de competición con el Memorial Manuel Prado y Colón de Carvajal, entre el 15 y 25 de junio.
104 LA REVISTA DE SOTOGRANDE POLO INVIERNO 2022
It is also worth highlighting the presentation of the entire official competition calendar for 2023 which plans no fewer than five months of high quality polo continuously in Sotogrande. An agenda that is getting underway shortly after the "classics" of Holy Week, in the month of May and it runs until well into the month of September. It is worth highlighting that in addition to the International Polo Tournament (with High, Medium and Low HCP), the Enrique Zobel Founder Memorial tournamentwith teams of1214 goals and the other tournaments will be for teams of between 6-8 goals.
The Welcome Cup, between 18 and 21 May will be the start of the season, the big launch; before bidding farewell to the following month with the now traditionalKeSotograndeCup,thisyear scheduled between 25 and 28 May. June, one of the most intense months of the season is getting underway with the Spanish Open between 1 and 11 of the same month; before completing another two weeks of competition with the Manuel Prado y Colón de Carvajal Memorial between 15 and 25 June.
105 LA REVISTA DE SOTOGRANDE · INVIERNO 2022 POLO INVIERNO 2022
El Memorial Fundador Enrique Zobel, una de las piezas fundamentales del calendario, se disputa entre el 29 de junio y el 9 de julio; para tomar fuerzas hasta el arranque del 52º Torneo Internacional de Polo con la Copa de Bronce entre el 24 y 29 de junio. La Copa de Plata se plantea entre el 1 y 12 de agosto; mientras que la Copa de Oro será entre el 14 y 16 de agosto.
El broche de la temporada llegará con la Copa San Enrique de Guadiaro, entre el 1 y 3 de septiembre y se cerrará definitivamente, hasta el próximo curso, con la Copa Despedida entre el 7 y 10 de septiembre. Un no parar de polo en Sotogrande, toda una grata noticia.
The Enrique Zobel Founder Memorial tournament, one of the crucial pieces of the calendar, is taking place between 29 June and 9 July; before gaining momentum up until the start of the 52nd International Polo Tournament with the Bronze Cup between 24 and 29 June. The Silver Cup is planned for between 1 and 12August;while the Gold Cup will be between 14 and 16 August. The finishing touch of the season will comewith the San Enrique de Guadiaro Cup, between 1 and 3 September and will end definitively, until next year, with the Farewell Cup between 7 and 10 September. Non-stop polo in Sotogrande, really good news.
106 LA REVISTA DE SOTOGRANDE POLO INVIERNO 2022
Ribera Del Marlin Núm. 20 | Av. De La Marina | Sotogrande 11310 Reserve/Reservas: +34.956.616.011 e: info@marinaplazasoto.com Food by A venue for all occasions Un lugar para todas las ocasiones If you have an upcoming event or function... we have the ideal space for you: Meeting Room | Conference Room | Private Dining Room Cocktail Party | Birthday Party | Christening Party Wedding Party | Christmas Party Si tiene un próximo evento o celebración... tenemos el espacio ideal para usted: Sala de Reuniones | Sala de Conferencias | Comedor Privado Para almuerzos | Cenas o cócteles | Fiestas de Cumpleaños Fiestas de Bautizos y Bodas | Fiestas de Navidad
El golfista vasco registra una impresionante tarjeta con 19 golpes bajo el Par del campo y levanta la edición 2022 del Estrella Damm N.A. Andalucía Masters.
The Basque golfer recorded a stunning card of 19 shots under par on the course and won 2022 edition of Estrella Damm N.A. Andalucía Masters.
VALDERRAMA
ESCRIBE SU NOMBRE EN LA HISTORIA DE
Otaegui becomes a legend of Valderrama Otaegui
108 LA REVISTA DE SOTOGRANDE EDAM INVIERNO 2022
wIMANUEL GIL
109 LA REVISTA DE SOTOGRANDE · INVIERNO 2022 EDAM INVIERNO 2022
Un magistral Ángel Hidalgo acaba cuarto tras un fin de semana imposible de olvidar.
Buengolf,granambienteyunRealClub Valderrama tan de excelencia como siempre. El extraordinario registro de 19 goles bajo el PAR (265) de Adrián Otaegui le hacen ingresar con honores en la historia del emblemático campo y le sirven para imponerse con una rotundidad indiscutible en esta edición 2022 del 2022 del Estrella Damm N.A. Andalucía Masters. El vasco mostró su perfil más sólido para no dar opciones a sus rivales en la jornada final que sí
tuvo mucha emoción por completar el 'Top 5' en el que se coló el malagueño Ángel Hidalgo tras una semana que difícilmente olvidará.
Todo un recital de golf de gran nivel por parte del 'Pirata Otaegui' que se deshacía en elogios al término del torneo en felicitaciones a todo el staff del Real Club Valderrama, voluntarios, compañeros en la competición y de manera muy especial al público que no paró de apoyarlo y auparlo en las dos jornadas finales hasta conseguir ese casi inalcanzable -19 enValderrama.
Edam
110 LA REVISTA DE SOTOGRANDE EDAM INVIERNO 2022
EDAM INVIERNO 2022
Damm N.A. Andalucía Masters at Valderrama. The Basque player showed his strongest side to give his rivals no chance on the final dat which did have a lot of excitement to make it into the Top 5, which the Malaga player Ángel
Hidalgo made it into after a week that will be difficult to forget.

praise at the end of the tournament, congratulating all the staff from Real Club Valderrama, volunteers, colleages at the competition, and especially the crowds that did not stop supporting him and raising his spirits on the two
final days until he obtained that almost unachievable -19 at Valderrama.
111 LA REVISTA DE SOTOGRANDE · INVIERNO 2022 EDAM INVIERNO 2022
Gran papel también del sueco Lagergren (-13), en segunda posición, seguido del australiano Lee (-10), una de las grandes sensaciones del torneo y uno de los jugadores más seguidos por los aficionados durante todo el fin de semana. Mención especial para Hildalgo y ese gran cuarto puesto en solitario.
El resto de la 'Armada' corrió peor suerte: Sebastián García Rodríguez (14º), Nacho Elvira y Pep Anglés (21º), Jorge Campillo (50º); Ángel Ayora, Gonzalo Fernández-Castaño y Santiago Tarrío (55º), Pedro Oriol (61º) y Pablo Larrazábal (65º).
Otra visita más del DP World Tour (Circuito Europeo) al Real Club Valderrama,alcorazóndeSotogrande;y la ventana abierta aún por conocer qué gran torneo podría albergar el próximo curso el histórico trazado.
There was also a great performance by the Swede Lagergren (-13), in second place, followed by the Australian Lee (-10), one of the great sensations of the tournament and one of the players most followed by fans during the entire weekend. A special mention goes to Hidalgo and that great fourth place held alone.
The rest of the 'Armada' wasn´t so lucky: Sebastián García Rodríguez (14th), Nacho Elvira and Pep Anglés (21st), Jorge Campillo (50th); Ángel Ayora, Gonzalo Fernández-Castaño y Santiago Tarrío (55th), Pedro Oriol (61st) and Pablo Larrazábal (65th).
Another visit by the DP World Tour (European Circuit) to Real Club Valderrama, to the heart of Sotogrande; and the window is stoll open to find out which great tournament the historic course could host next year.
112 LA REVISTA DE SOTOGRANDE EDAM INVIERNO 2022
Servicios: Reformas de jardines Mantenimiento de jardines y piscinas Construcciones de obra menor y reformas Informes técnicos Diseño y construcciones de jardines
Nuestro estudio cuenta con más de 20 años de experiencia, en el diseño, ejecución y mantenimiento de jardines y espacios naturales. Realizamos todo tipo de obras incluidas en el diseño de jardinería y paisajismo, ya sean de mayor o menor envergadura, así como la conservación y el seguimiento.
Ctra. Nacional 340 – Salida 127 Centro Comercial San Roque Golf Resort, Local 7D-1º Planta, cfpaisajismo@sotojardin.com (0034) 956 613 108 De 08:00 a 18:00
I
James Stewart Cómo se forjó la Ryder Cup de 1997 en Valderrama HOW THE 1997 RYDER CUP AT VALDERRAMA TOOK SHAPE 114 LA REVISTA DE SOTOGRANDE RYDER CUP INVIERNO 2022
wMANUEL GIL
CEDIDAS
La Revista de Sotogrande continúa con su serie de reportajes para conmemorar el 25º aniversario de la Ryder Cup de 1997 en el Real Club Valderrama. De la mano de James Stewart, una de las personas más vinculadas y cercanas a Jaime Ortiz-Patiño durante todo el proceso de planificaciónydesignaciónde Valderramacomosede,iremos descubriendo muchos de los momentos que conformaron lahistoriaylaleyendadecómo este gran evento mundial llegó a Sotogrande.
"Lo recuerdo perfectamente. Jimmy [Ortiz-Patiño] me invitó a participar y colaborar con el Volvo Masters en 1991 y, mientras tomábamos una copa después del torneo, de repente me mira ymedice:«QuierollevarlaRyderCupa Valderramayno sé pordónde empezar, ¿me ayudas?»".
Casi todas las historias tienen un gran prólogoquelashaceúnicasyduraderas en el tiempo. Probablemente, una frase que se escucha en un momento dado duranteuntorneodegolfyquemástarde inspiraría el que sería el mayor evento internacional de golf celebrado en Europa más allá de las Islas Británicas. Así lo recuerda James Stewart y lo explica extraordinariamente bien. Todo lo referente al nacimiento real de esa emoción, de esa idea imposible de alcanzar que luego se hizo realidad.
Lo hace para Sotogrande mientras sostiene en sus manos el libro original con el que se lanzó la candidatura, el plan inicial que perfilaba todos los detalles para acoger la Ryder Cup en Valderrama (espacios, destinos, habitaciones de hotel, montaje del torneo, etc.). Stewart, que por aquel entonces tenía su propia consultoría en Sotogrande, comenzó a colaborar a todos los niveles con Jaime OrtizPatiño, tanto a nivel empresarial como posteriormente en la gestión del golf y las relaciones con Valderrama. Una posición privilegiada que le permitió ser testigo, protagonista y admirar de
primera mano todos los entresijos y la historia que hay detrás de la Ryder.
"A pesar de que el PGA European Tour nos dijo que no teníamos posibilidad alguna de organizar la Ryder Cup de 1997, Jimmy decidió seguir adelante a por todas.Todo el proceso comenzó con mi visita a Kiawah Island, que acababa de acoger la Ryder Cup de 1991. Luego, con la ayuda de otro miembro de Valderrama, Lord MacLaurin, que en aquel entonces era presidente de Tesco, nos asesoró sobre cómo presentar nuestra candidatura a los medios de comunicación", explica Stewart. "Primero tuvimos que convencer a los responsables de que en España había una sede capaz de celebrar tal evento, ya que precisamente la edición de 1993 no vino a España porque consideraron que ningún campo reunía todos los requisitos necesarios. Siguiendo el protocolo nos presentamos primero a la Real Federación Española de Golf y luego al Comité de la Ryder Cup en Londres a través de una rueda de prensa en la que presentamos nuestro proyecto".
Sotogrande Magazine is continuingitsseriesofreports to commemorate the 25th anniversary of the 1997 Ryder Cup at Real Club Valderrama. AlongsideJamesStewart,one of the people most linked to and closest to Jaime OrtizPatiño during the entire process to plan and appoint Valderrama as the venue, we are discovering lots of the moments that shaped the historyandlegendofhowthis great global event came to Sotogrande.
"I remember it perfectly, Jimmy [OrtizPatiño] invited me to participate and collaborate with the Volvo Masters in 1991 and over a drink after the tournament, he suddenly looked at me and said: "Iwant to get the RyderCup to Valderrama and I don´t know where to begin, can you help me?"
Almost all stories have a great prologue that makes them unique and longlasting over time. Probably, a phrase is heard at a given time, during a golf tournament, and later it would inspire whatwouldbethegreatestinternational
golf event held in Europe outside of the British Isles. This is how James Stewart remembers it and explains it extraordinarily well. All regarding the actual birth of that excitement, of that impossible idea of achieving what became a reality.
He does so forSotograndewhile holding the original book which launched the bid, the initial plan that outlined all the details for hosting the Ryder Cup at Valderrama (spaces, destination, hotel rooms, set-up of the tournament, etc.). Stewart, who had his own consultancy business in Sotogrande at the time, began to collaborate on all levels with Jaime Ortiz-Patiño, both at a business level and later in terms of golf management and relationships with Valderrama. A privileged position that enabled him to be a witness, star and love first-hand all the ins and outs and the story behind the Ryder.
"DespitebeingtoldbythePGAEuropean Tour that we had no chance of hosting the 1997 Ryder Cup, Jimmy decided to go full steam ahead. The entire process began with my visit to Kiawah Island who had just hosted the 1991 Ryder Cup. Then, through the help of fellow Valderrama member, Lord MacLaurin
who was Chairman of Tesco, we had advice as to how to actually launch our bid to the media", explains Stewart. "We firsthadtoconvincethedecisionmakers that therewas avenue in Spain capable of holding the event precisely because the 1993 version did not come to Spain because no course was considered to have all the necessary requirements. Following protocol we presented first to the Royal Spanish Golf Federation and then to the Ryder Cup Committee in London at a press conference during which we presented our book".
"To prove our point, we particularly emphasized that we had the space, hotels, logistics and connections. Furthermore we had the determination of Ortiz-Patiño and the spectacular Valderrama course. We also engaged the support of the players who felt confident they could win at Valderrama as it was a course they already knew so well. During the entire process I accompanied Jaime on a lot of his trips; he used to go to the Opens and other tournaments, spend time with the important players, chat to the press, to the organisers and convince them that it was a great idea to celebrate the Ryder Cup in Sotogrande" he states.
115 LA REVISTA DE SOTOGRANDE · INVIERNO 2022 RYDER CUP INVIERNO 2022
"Para demostrar nuestro punto de vista, hicimos especial hincapié en que teníamos el espacio, los hoteles, la logística y las conexiones. Además, teníamos la determinación de OrtizPatiño y el espectacular campo de Valderrama. También contamos con el apoyo de los jugadores, que se sentían seguros de poder ganar en Valderrama, ya que era un campo que conocían muy bien. Durante todo el proceso acompañé a Jaime en muchos de sus viajes; iba a los Opensya otros torneos, pasaba tiempo con los jugadores importantes, charlaba con la prensa, con los organizadores y les convencía de que era una gran idea celebrar la Ryder Cup en Sotogrande", afirma.
En 1994 se anunció que la Ryder Cup se celebraría en España, ya que ValderramahabíaconvencidoalComité de que había una sede adecuada. Sin embargo, Valderrama aún no había sido nombrado el campo elegido.
"Los primeros obstáculos llegaron con las aspiraciones de otras sedes. Estaban la opción de Madrid, El Saler en Valencia, La Manga en Murcia e incluso Novo Sancti Petri, apoyada por Seve; todas eran grandes rivales de Valderramaytenían aliados en muchos frentes", explica James. "Lo estudiamos todo, presentamos dónde irían las carpas, el aparcamiento, la prensa, los hoteles, los viajes, el clima, todos los temas de seguridad… Absolutamente todo. Incluso íbamos a aumentar los kilovatios para el evento", afirmaJames.
"Yo ya había reservado todas las habitaciones de hotel entre Sotogrande y Málaga en 1992. ¡Seis años antes de la posible celebración de la Ryder Cup en Valderrama!", nos cuenta mientras sonríe al recordar los miles de trámites que tuvieron que hacer tanto a nivel nacional como internacional para convencer a las federaciones, al European Tour y a la comisión que designa las diferentes sedes de la Ryder. Después, una vez llegó el evento en 1997, todos esos trámites cobraron un sentido muy especial, incluyendo la llegada al Puerto de Algeciras de importantes cruceros y transatlánticos para albergar al público visitante.
In 1994, it was announced that the Ryder Cup would be held in Spain so Valderrama had convinced the Committee that there was a suitable venue. However, Valderrama were yet to be named as the chosen course.
"The first obstacles came with the aspirations of other venues. There was the option of Madrid, El Saler in Valencia, La Manga in Murcia and even Novo Sancti Petri, backed by Seve; they were all great rivals of Valderrama and had allies on many fronts" explains James. "We studied everything, presented where the tents would go, the car park, the press, the hotels, travel,
the weather, all the security issues, etc. Absolutely everything; we were even going to increase the kilowatts for the event" states James.

"Ihadbookedallthehotelroomsbetween Sotogrande and Malaga in 1992. Six years before the possible celebration of the Ryder Cup in Valderrama!" he states while smiling as he remembers the thousands of procedures they had to do nationally and internationally to convince the federations, the European Tour and the commission that appoints the different Ryder venues. Afterwards, once the event arrived in 1997, all those procedures took on a very special
meaning, even the arrival to the Port of Algeciras of important cruise ships and transatlantic lines to house the visiting public.
Not everything was easy along the way. There were accusations and slander that we had to deal with, all unfounded, but everything was achieved thanks to the great work and, of course, the experience ofValderrama at the highest level. That,togetherwiththeexceptional relationship with the entire "golfing universe" that Jaime Ortiz-Patiño had, made the Ryder possible. We knew we had something that the others didn´t: the best course and the guarantee of
116 LA REVISTA DE SOTOGRANDE RYDER CUP INVIERNO 2022
No todo fue fácil en el camino. Hubo acusaciones y calumnias con las que tuvimos que lidiar, todas infundadas, perotodoselogrógraciasalgrantrabajo y, por supuesto, a la experiencia de Valderrama en el más alto nivel. Todo eso, unido a la excepcional relación con todo el "universo golfístico" que tenía Jaime Ortiz-Patiño, hizo posible la Ryder. Sabíamos que teníamos algo que los demás no tenían: el mejor campo y la garantía de un éxito seguro. Eso transformaría y posicionaría a toda la zona como un gran destino golfístico mundial: "y así nació la llamada Costa del Golf".
Lafelicidadylaresponsabilidadllegaron porfinen1995,cuandoalfinseanunció que Valderrama sería la sede. James Stewart recuerda con mucho orgullo lo
que supuso para él haber vivido toda aquella tormenta para conseguir algo increíble y a todas luces muy difícil de repetir. "Creo que sería imposible en estos momentos con el importante gasto económico casi prohibitivo que hay que hacer antes de presentarse a una Ryder Cup en la actualidad. En su momento fue diferente y conseguimos hacer de lo imposible una realidad".
"Para mí fue muy especial haber vivido todo eso tan de cerca y si tuviera que llevarme un recuerdo estoy muy seguro de que sería el de Jimmy [Ortiz-Patiño], parado bajo el arco que va de la Casa Club al campo, junto a los Reyes de España: estaba radiante, se le veía en la cara que probablemente era el mejor momento de su vida. Transmitió esa pasión a todos los que trabajamos en
el proyecto y fue un verdadero orgullo haber participado en ese sueño", destaca.
"A nivel personal, todos esos viajes y encuentros junto a Jaime fueron muy emocionantes. Tuve el privilegio de conocer a mucha gente interesante, incluso de conocer y jugar al golf con el Presidente de los Estados Unidos, y la alegría que me proporcionó tal aventura fue mi mayor recompensa. Esos recuerdos son el mejor pago por lo que hicimos. Siempre es realmente satisfactorio poder pensar que ayudé a Valderrama a celebrar una Ryder Cup", concluyó.
certain success. That would transform and position the entire area as a great global golfing destination: "and this is how the so-called Costa del Golf was born".
The happiness and responsibility finally came in 1995 when Valderrama was finally announced as the venue. James Stewartvery proudly remembers what it meant to him to have lived through that entire storm to achieve something incredible and clearly very difficult to repeat. "I think that it would be impossible at present with the important almost prohibitive financial
spending that must be done before standing for a Ryder Cup at present. At the time it was different we managed to make the impossible a reality".
"For me it was really special to have experienced all of that so close and if I had to take away one memory I am very certain it would be Jimmy [OrtizPatiño] stopping under the arch, which leads from the Clubhouse to the course, with the King and Queen ofSpain at his side: he was glowing, you could see on his face that it was probably the best moment of his life. He conveyed that passion to all of us who worked on the
project and it was a real source of pride to have participated in that dream" he highlights.
"On a personal level, all those trips and meetings alongside Jaime were so exciting. I had the privilege to be introduced to so many interesting people, even meet and play golf with the President of the United States, and the enjoyment that this adventure gave me was my greatest reward. Those memoriesarethebestpaymentforwhat we did. It is always quietly satisfying to be able to think I helped Valderrama to celebrate a Ryder Cup" he concluded.
"Sabíamos que teníamos algo que el resto no: el mejor campo y la garantía de un éxito seguro"
117 LA REVISTA DE SOTOGRANDE · INVIERNO 2022 RYDER CUP INVIERNO 2022
"WE KNEW WE HAD SOMETHING THAT THE OTHERS DIDN´T: THE BEST COURSE AND THE GUARANTEE OF CERTAIN SUCCESS"
María Acacia
La intrahistoria de la Ryder
THE STORY BEHIND THE RYDER CUP
Si alguien conoce, cuenta o guarda silencio sobre todas las historias, anécdotas y lo que sucedió en aquella semana de septiembre de 1997 en el Real Club Valderrama es María Acacia. Comunicadora incansable y una de las figuras más importantes para conocer la repercusión del golf en España y Europa de las últimas décadas. Gracias a ella, suprivilegiadamemoriayarchivo fotográfico descubrimos algunos mitos más de aquella histórica Ryder Cup en España.
Si alguien dispone de una relato y una narrativa autorizada para contar lo que se puede, y lo que no, sobre la Ryder Cup de 1997 en Valderrama es María Acacia López-Bachiller; una de las personalidades más influyentes en el mundo del golf a nivel europeo durante las últimas décadas. Un archivo histórica en vida, gracias a su prodigiosa memoria, a la que acudir y consultar siempre es una gran opción. Más sicabeparaconocerlaleyendaylahistorias menos contadas de todo lo que rodeó a ese gran evento.
Ifthereissomeonewhoknows, tells or remains silent about all the stories, anecdotes and what happened that week in September 1997 at Real Club ValderramaitisMaríaAcacia. A tireless communicator and one of the most important figures for discovering the impact of golf in Spain and Europe over the last few decades. Thanks to her, her privileged memory and photographic archive we are discovering some more of the myths of that historic Ryder CupinSpain.
Ifsomeonehasataleandanauthorized voice to say what can and cannot be said about the 1997 Ryder Cup at Valderrama it is María Acacia LópezBachiller; one of the most influential figures in the world of golf at European level over the last few decades. A living historical archive, thanks to her prodigious memory, to come to and consult is always a great option. And even more so to discoverthe legend and the least told stories about everything that surrounded that great event.
"We had to fight against many things, not only to achieve Valderrama as a venue; but also to get everyone to understand the magnitude of an event like the Ryder Cup. Dante says that
each day more than 50,000 people came to the course who had to be accommodated; 1,000 accredited journalists not counting the 300 specialists for the television broadcast. It was necessary to install a press tent on two stories to house all of that and with technology that is not what we have today. Now an entire newspaper office fits in a laptop or even a mobile phone;soitwasnecessarytohaveradio installations,television,satellitephones, developing cabins for photographers. Spain, at that time, didn´t understand the magnitude of a tournament of these characteristics, considered alongside the final of a football World Cup and the Olympics, as the most important sporting event" states Mariaca.
118 LA REVISTA DE SOTOGRANDE RYDER CUP INVIERNO 2022
"Tuvimos que luchar contra muchas cosas, no sólo para la consecución de Valderrama como sede; sino para que todo el mundo comprendiera la magnitud de un evento como la Ryder Cup. Date cuenta que cada día acudían al campo más de 50.000 personas que había que hospedarlas; más de 1.000 periodistas acreditados sin contar los 300 especialistas para la retransmisión por televisión. Hubo que instalar una carpa de prensa de dos plantas para acoger todo aquello y con una tecnología que no es la actual. Ahora toda una redacción cabe en un portátil o incluso un móvil; entonces había que hacer instalaciones de radio, televisión, teléfonos satélites, cabinas de revelado para los fotógrafos. España, en aquella época, no comprendía la magnitud de un torneo de estas características, considerado junto con la Final de un Mundial de Fútbol y los Juegos Olímpicos, la cita deportiva de mayor trascendencia", matiza Mariaca.
Explica todo lo que hubo que trabajar con administraciones a nivel de espacios, seguridad, organización e incluso conexiones: "es de sobra conocida la anécdota de un reputado ministro de la época que se negaba a hacer esa famosa y mal llamada carretera para ricos", recuerda.
"Jaime [Ortiz-Patiño] siempre tuvo el convencimiento de conseguir la Ryder para Valderrama. Se movió por el mundo entero y planificó todo lo posible. "Desde el año 1989 Seve [Ballesteros]yateníaenlamentetraerla Ryder a España y todo aquel cúmulo de factores, incluido la genialidad que es Valderrama como campo y Sotogrande como destino, hicieron realidad algo que parecía imposible", detalla María Acacia que havivido a nivel profesional 11 Ryder Cups.
"Jaime Ortiz-Patiño vivía todo con una pasión desbordante", explica Mariaca. "Todo era muy importante, todo era inmediato y todo había que tratarlo de manera urgente. Recuerdo perfectamente que durante meses, durante toda la temporada previa a la celebración del torneo veníamos a Valderrama cada mes o dos meses a celebrar reuniones de planificación y organización. Decía siempre Jaime: 'mañana reunión a las 8'; algo que no a todos hacía mucha gracia, madrugar tanto sin necesidad. Al día siguiente volvía: 'mañana nos vemos a las 8'. Hasta que se encontró con la horma de su zapato y nuestra querida Emma Villacieros se presentó en una reunión en camisón, bata y zapatillas", comenta entre risas Mariaca sobre lo que fue una maratón y una aventura que difícilmente se podría repetir, organizar todo aquello.
She explains that it was necessary to work with administrations in terms of spaces, security, organisation and even connections: "there is averywell-known anecdote about a reputable minister from the time who refused to create the famous and badly named road for rich people" she recalls.
"Jaime [Ortiz-Patiño] was always convinced he would attain the Ryder Cup for Valderrama. He travelled all over the world and planned everything possible. "Since 1989 Seve [Ballesteros] had already thought about bringing the Ryder to Spain, and that mixture of factors, including how fantastic Valderrama is as a course and Sotogrande as a destination, made something that seemed impossible a reality", states María Acacia who has professionally experienced 11 Ryder Cups.
"Jaime Ortiz-Patiño experienced all of that with an overwhelming passion", explains Mariaca. "It was all very
important, it was all immediate and had to be dealt with urgently. I perfectly remember that for months, during the entire season before the tournament took place we came to Valderrama every month or two months to hold planning and organisation meetings. Jaime always said: "tomorrow meeting at 8"; something that we not everyone found funny, getting up so earlywithout the need. The next day he would return: "tomorrowwe will see you at 8". Until he met his match and our beloved Emma Villacieros turned up to a meeting in a nightgown" states María Acacias amidst laughter about what was a marathon and an adventure that would be difficult to repeat, organising all of that.
Undoubtedly, one of the most spectacular and well-remembered moments of the Ryder Cup in 1997 at Valderramawasthefamousgaladinner, before the start of the tournament and presentation. "A total of 500 attendees were confirmed at that dinner in a
tent prepared at San Roque Club, the general headquarters where most of the tournament´s sporting staff were based. More than 1,500 people ended up having dinnerthat night!" she smiles while remembering that emblematic evening, whose menu can be seen in this report. "It was unforgettable. They all ended up doing a conga and dancing 'La Macarena' to the rhythm of 'Los del Río' who performed that night onwhich the aimwas to make it clearto the entireworld, just at during the entire event, that Spain was and is capable of organising something of this level" she states. "It was really fun to see the Americans, everyone dancing, at that time 'La Macarena' was a real boom, even in the United States. "I would like to highlight that Seve´s initial idea, he was looking for a very Spanish night, was always to bring the guitarist Paco de Lucía, he was in love with his music. Finally, due to scheduling it wasn´t possible.
"Tuvimos que luchar contra muchas cosas, no sólo para la consecución de Valderrama como sede; sino para que todo el mundo comprendiera la magnitud de un evento como la Ryder Cup"
119 LA REVISTA DE SOTOGRANDE · INVIERNO 2022 RYDER CUP INVIERNO 2022
"WE HAD TO FIGHT AGAINST MANY THINGS, NOT ONLY TO ACHIEVE VALDERRAMA AS A VENUE; BUT ALSO TO GET EVERYONE TO UNDERSTAND THE MAGNITUDE OF AN EVENT LIKE THE RYDER CUP"
Sin duda, uno de los momentos más espectacularesyrecordados de la Ryder Cup de 1997 en Valderrama fue aquella famosa cena de gala, previa al inicio del torneo y presentación. "Estaban confirmados un total de 500 asistentes a aquella cena en una carpa preparada en San Roque Club, cuartel general en el que estaba ubicada la mayoría del staff deportivo del torneo. ¡Más de 1.500 personas acabaron cenando aquella noche!", sonríe mientras recuerda esa emblemática velada, cuyo menú puede verse en este mismo reportaje. "Fue algo inolvidable. Todos acabaron haciendo una conga y bailando 'La Macarena' al ritmo de 'Los del Río' que actuaron en aquella noche en la que se quiso dejar claro al mundo entero, igual que durante todo el evento, que España era y es capaz de organizar algo de este nivel", sostiene. "Fue divertidísimo ver
a los americanos, a todos bailando, por aquella época 'La Macarena' era todo un 'boom' incluso en los Estados Unidos. "Me gustaría destacar que la idea primera de Seve, que buscaba una noche muy española, siempre fue traeral guitarrista Paco de Lucía, era un enamorado de su música. Finalmente por agenda no fue posible".
Otrodelosmomentosmásimpactantes que rodearon los meses previos a la Ryder y que no muchos conocen fue la solidaridad y semblanza que mostró parte del equipo americano cuando se concentraron,semanasantesdeltorneo en la zona, para conocer Valderrama y su recorrido tan técnicoydiferente a los habituales del CircuitoAmericano.
"Unos días antes del Open Británico, Tom Kite se presentó con algunos
de los jugadores que ya sabía que jugarían la Ryder en Valderrama para entrenar y conocer el campo. Cómo fue su sorpresa que nada más aterrizar y encender la televisión se encontraron con aquellas imponentes imágenes de las manifestaciones con las manos blancas, en todos los pueblos de España, pidiendo la liberación a ETAde Miguel Ángel Blanco. Quedaron muy sorprendidos y guardo un detalle y una anécdota para la historia, lástima que como vinieron medio de 'incógnito', no quedase una foto al respecto", asevera.
"La mañana del domingo, todos los que estábamos en Valderrama portábamos un crespón negro en señal de luto por el asesinato de Miguel Ángel Blanco. Y una vez que se les explicó a los americanostodoaquello,todoelequipo en el que también se encontraba Tiger
120 LA REVISTA DE SOTOGRANDE RYDER CUP INVIERNO 2022
Woods, jugaron esa mañana portando el crespón en señal de respeto y duelo al igual que todos nosotros, fue un momentomuysobrecogedor",comenta.
La Ryder Cup de 1997 dejó muchos momentos inolvidables y en el que la lluvia fue protagonista de muchos de ellos, especialmente en aquella madrugada del jueves al viernes. Pero si pidiésemos a María Acacia que rescatara dos momentos que para ella fueron especiales de todo aquello los tiene muy claros.
"El primero de ellos ocurrió en el vestuario de Europa justo antes de que Costantino Rocca tuviera que salir a jugar contra el 'Tigre' [Woods]. Estaban
animándole, yo incluida en medio de todos. Recuerdo que Seve le decía una y otra vez: 'tú tranquilo, pase lo que pase tú ve tranquilo y hoyo a hoyo'. A los 30 segundos empezaba otra vez: 'Costantino, tú tranquilo'. Hasta que italiano le contestó ya harto y muy divertido para rebajar la tensión: 'Seve, siyoestoytranquilo,¡elqueestásfatalde los nervios eres tú!'", recuerda Mariaca quién siempre subraya que "Seve fue más Seve que nunca en aquella Ryder".
"La otra, que atesoro con especial cariño, fue el momento de la rueda de prensa final con todo el equipo europeo mientras iban pasando el micro de uno a otro. Chema [Olazábal] estaba en el extremo izquierdo y cuando le llegó el
turno de hablar rompió a llorar de una manera desconsolada. Se había pegado dos años muy duros luchando contra una lesión muy sacrifcada e incluso se llegó a imaginar fuera del deporte. Verse allí, tiempo después, ganador de una Ryder en España, después de todo lo que había sufrido y pasado, le emocionó. Nos emocionó a todos y la ocasión lo merecía", define.
Y es que todas las historias parecen pocas cuando uno habla con María Acacia. Éstas no serán las últimas, ni mucho menos.
Another of the most striking moments surrounding the months before the Ryder and that not many people know aboutwas the solidarity and image that part of the American team displayed when they met up, weeks before the tournament in the area, to discover Valderrama and its very technical course, different to the usual ones on the American Circuit.
"A few days before the British Open, Tom Kite turned up with some of the players who already knew that they would play the Ryder at Valderrama in order to train and get to know the course. You can imagine their surprise as soon as they landed and switched on the television and finding those striking images of the protests with the white hands, in all towns across Spain, calling for ETA to release Miguel Ángel Blanco. They were really surprised and I have a memorable detail and an anecdote, it is a shame that they came in "incognito" mode as there are no photos of it" she states.
"OntheSundaymorning,everyonewho was at Valderrama wore a black ribbon as a sign of mourning at the murder of Miguel Ángel Blanco. And once all that had been explained to the Americans, the entire team which Tiger Woods was also on, played that morning wearing the ribbon as a sign of respect and mourning just like all ofus, itwas avery overwhelming moment" she states.
The Ryder Cup in 1997 provided a lot of unforgettable moments and the rain played a central role on many of them, especially in the early morning between Thursday and Friday. But if we asked María Acacia to pick two moments which were special for her from all that, she is very clear about them.
"The first of them happened in the Europe changing room just before Costantino Rocca had to go out to play against "El Tigre" (Tiger Woods). They were encouraging him, me too in the middle of everyone. I remember that Seve told him time after time: "stay calm, whatever happens stay calm, take it hole by hole". After 30 seconds
he would begin again: "Look, you stay calm". Until the Italian, now fed up and in a very fun way to lower the tension replied: "Seve, I am calm, you are the one with terrible nerves!" recalls María who always highlights that "Seve was more Seve than ever at that Ryder Cup".
"The other, that I cherish with special affection, was the moment in the final press conference with all the European teamwhile they passed the microphone around. Chema [Olazábal] was on the end at the left and when it was his turn to talk he broke down in tears crying inconsolably. He had endured two very tough years fighting against a very difficult injury and even began to imagine himself out of the sport. Seeing himself there, afterwards, aswinner of a Ryder Cup in Spain, after everything he had suffered and gone through made himemotional.Itmadeusallemotional and the occasion deserved it" she states.
The fact is that all stories seem short when talking with María Acacia. These will not be the last, not at all.
121 LA REVISTA DE SOTOGRANDE · INVIERNO 2022 RYDER CUP INVIERNO 2022
EL REAL CLUB DE GOLF SOTOGRANDE BRINDA UNA FINAL 'CUM LAUDE' REAL CLUB DE GOLF SOTOGRANDE OFFERS FIRST-CLASS FINALE IX CIRCUITO DE GOLF SOTOGRANDE 122 LA REVISTA DE SOTOGRANDE CIRCUITO INVIERNO 2022
El Circuito de Golf Sotogrande pone el broche de oro y cierre a su novena edición con la celebración de la Gran Final en el histórico y emblemático Real Club de Golf Sotogrande. Finalistas e invitados disfrutan de una jornada para el recuerdo y una experiencia única gracias a un campo de leyenda y a una final llena de sorpesas y regalos.
¡Nada, ni nadie quiso perderse la Gran Final 2022 del IX Circuito de Golf Sotogrande en el histórico Real Club de Golf Sotogrande! Lluvia, nubes y sol brillaron casi por igual para regalar a finalista e invitados una jornada para el recuerdo en uno de los recorridos con
más historia del sur de Europa y en un destino y entorno envidiable. Todo un cúmulo de factores, lleno de sorpresas y regalos para los asistentes, que convirtieroneleventoenunexperiencia única más allá del golf, de lo deportivo y lo social. Simplemente, una final con el sello del Circuito de Golf Sotogrande.
Todos los participantes, jugadores e invitados, fueron recibidos con honores y un 'Welcome Pack' de muchos quilates: gorra ténica, polo PING, pack de ibéricos, marcadores, pañuelos, bolas, termos, agendas y muchas sorpresas más; además, del ya clásico distintivo para el finalista que es un regalo en exclusiva que sólo los clasificados lucen en el campo: un espectacular chaleco técnico.
El Circuito de Golf Sotogrande added the finishing touch to its ninth edition with the celebration of the Grand Finale at the historic and emblematic Real Club de Golf Sotogrande. Finalists and guests enjoy a memorable day and a unique experience thanks to a legendary course and a final packed with surprises and gifts.
Nothing or nobody wanted to miss the Grand Finale 2022 ofthe IX Sotogrande Golf Circuit at the historic Real Club de Golf Sotogrande! Rain, clouds and sun shone in almost equal measure to give finalists and guests a memorable day at one of the most historic courses
in southern Europe and an enviable destination and setting. A real series of factors, packed with surprises and gifts forthose attending, that made the event a unique experience beyond the golf, sport and socialising. Simply, a final with the hallmark of the Sotogrande Golf Circuit.
All the participants, players and guests were welcomed with honours and a first-class Welcome Pack: training cap, PING polo top, pack of Iberia meats, markets, handkerchiefs, balls, flasks, agendas and many more surprises; as well as the classic hallmark for finalists which is an exclusive gift that only qualified players wear on the course: a spectacular training vest.
123 LA REVISTA DE SOTOGRANDE · INVIERNO 2022 CIRCUITO INVIERNO 2022
Poco que añadir sobre el Real Club de Golf Sotogrande, sobre el estado del campo, su organización y equipo, todo roza la excelencia sino la supera. Los primeros hoyos apretaron a los jugadores con una fina pero consistente llovizna que hizo acto de presencia en los primeros swings, pero a medida que avanzó la jornada (como puede verse en las imágenes); el sol ganó la batalla y regaló un día para el recuerdo, uno más, con Sotograndeyel Circuito como protagonistas. Tras el golf, momento para cóctel y entrega de premios en la Casa Club, como siempre, con el corte de una pieza de gran calidad por parte del maestro jamonero Popi y vino de Marqués de Riscal.
En cuanto al apartado deportivo: los premiosespecialesfueronparaAntonio Cidoncha (Drive más largo caballeros) y
Elizaveta Ordzhonikidze, ganadora de laBolamáscercanayelDrivemáslargo en Damas. La propia Ordzhonikidze fue la ganadora en Damas, seguida de Deborah McWhinnie. En Segunda Cat. Caballeros el ganador fue Marcelo Cabrera seguido de Fco. López Jurado; mientras que en la Primera Cat. Caballeros el ganador fue Paul Mercer, seguido de Brian McWhinnie. Destacar la celebración del Torneo Paralelo, cuya victoria fue para Joaquín Larrad, seguido de Juan Vaquero y Domingo Plazas. Es digno de mención que cada uno de los ganadores de los diferentes torneos obtubo una fantástica Pantalla de Televisión SONY de 50 pulgadas. La organización también quiso tener un recuerdo para D. Óscar Villanueva Calleja, entregando una placa a su viuda Dña. Olga Merino.
124 LA REVISTA DE SOTOGRANDE CIRCUITO INVIERNO 2022
There is little more to add about Real Golf de Golf Sotogrande, regarding the rest of the course, its organisers and team, it all doesn´t just come close to excellence, it surpasses it. The opening holes pressured the players with a fine but consistent drizzle that made itself felt in the opening swings, but as the day progressed (as can be seen in the images); the sun won the battle and offered a memorable day, one more, with Sotogrande and the Circuit as the stars. After the golf, it was time for a cocktail and the presentation of prizes at the Club House, as always, with the cutting of a high quality piece by the Popi master ham cutter and wine from Marqués de Riscal.
As for the sport: the special prizes went to Antonio Cidoncha (Longest men´s drive) and Elizaveta Ordzhonikidze, winner of the Closest ball and the Longest drive in theWomen´s category. Ordzhonikidze was indeed the winner of the Women´s category, followed by Deborah McWhinnie. In the Men´s Second Category, the winner was Marcelo Cabrera followed by Fco. López Jurado; while in the Men´s First Category, the winner was Paul Mercer, followed by Brian McWhinnie. It is worth highlighting the celebration of the Parallel Tournament, whose victory went to Joaquín Larrad, followed by Juan Vaquero and Domingo Plazas. It is worth mentioning that each of the winners of the different tournaments obtained a fantastic SONY 50-inch television. The organisers also wished to remember Mr. Óscar Villanueva Calleja, by giving a plaque to his widow

125 LA REVISTA DE SOTOGRANDE · INVIERNO 2022 CIRCUITO INVIERNO 2022
Agradecer, una vez más y un año más, el apoyo de colaboradores y patrocinadores: Plazas & Abogados, Gilmar, AON, La Reserva Club Sotogrande,GrupoMiranza,LAOrganic y Popi Jamones. Volveremos con ganas y más fuerza, el próximo curso.
126 LA REVISTA DE SOTOGRANDE CIRCUITO INVIERNO 2022
Ms. Olga Merino. Once again this year we want to thank the collaborators and sponsors for their support: Plazas & Abogados, Gilmar, AON, La Reserva Club Sotogrande, Grupo Miranza, LA Organic and Popi Jamones. We will be back with enthusiasm and even stronger next year.
ocial otogrande
Final Torneo Rolex de Golf 2022 en Zagaleta
128 LA REVISTA DE SOTOGRANDE SOCIAL INVIERNO 2022
LRS-Weekend Tennis Clinic-20 129 LA REVISTA DE SOTOGRANDE · INVIERNO 2022 SOCIAL INVIERNO 2022
Estrella Damm N.A. Andalucía Masters
130 LA REVISTA DE SOTOGRANDE SOCIAL INVIERNO 2022
BUYING
Looking for a knowledgeable, approachable, service orientated Real Estate Agent?
Holmes Sotogrande is the friendly business with a long tradition of helping families make the right move.
Use our online property search tool for the largest portfolio of property for sale in Sotogrande.
Call now to take advantage of our expert knowledge to help you find your ideal home in Sotogrande.
SELLING
Holmes Sotogrande believes in the strength of teamwork.
Holmes Sotogrande has the team with the best reputation for results.
We are always looking for new listings. Call now for a free valuation and to hear how the Holmes team can help you best sell your home.
The longest established estate agency in SOTOGRANDE
La agencia inmobiliaria con más experiencia de SOTOGRANDE
COMPRA
¿Busca un agente inmobiliario experto, accesible y con vocación de servicio?
Holmes Sotogrande es su empresa amiga con una larga tradición ayudando a familias a encontrar su hogar ideal.
Use nuestro buscador online de propiedades y acceda al mayor portfolio de propiedades a la venta en Sotogrande.
Llámenos ahora y aprovéchese de nuestros conocimientos para ayudarle a encontrar su hogar ideal en Sotogrande.
VENTA
Holmes Sotogrande cree en la fuerza del trabajo en equipo.
La reputación del equipo de Holmes Sotogrande está avalada por sus buenos resultados en el sector. Siempre buscamos nuevas propiedades para vender.
Llame ahora si desea una valoración verbal gratuita y se convencerá de que somos la mejor opción para vender su propiedad.
Your Sotogrande property market specialists Su especialista en el mercado inmobiliario de Sotogrande
www.holmessotogrande.com +34 956 795 340
XIII Foro Empresarial Sotogrande
132 LA REVISTA DE SOTOGRANDE SOCIAL INVIERNO 2022
GUÍA GUÍA ÚTIL INVIERNO 2022
PÁDELYTENIS
ÚTIL
Sotogrande Racquet Centre
Dispone de nueve pistas de pádel, tres de tenis y cuatro de frontenis.
CPaseo del Parque s/n - Sotogrande Tel. 956 796 233
EL OCTÓGONO
Seis pistas de tenis y cinco de pádel.
CPaseo del Río s/n - Puerto de Sotogrande Tel. 659 453 444
LA RESERVA CLUB
La Reserva de Sotogrande
CTel. 956 785 252 . www.lareservaclubsotogrande.com
LA HACIENDA
Alcaidesa Links Golf Resort
CTel. 956 791 040 . www.alcaidesagolf.com
ACTIVIDADESNÁUTICAS
REAL CLUB MARÍTIMO SOTOGRANDE
Escuela de Vela Homologada. Abierta todo el año. Clases de todas estas actividades náuticas.
CMarina Puerto de Sotogrande Tel. 956 610 087 Tel. 648 444 930 Tel. 605 812 988
ACTIVIDADESECUESTRES SOTOGRANDE HÍPICA
Dispone de dos pistas y una independiente para dar cuerda. Cuenta con Pony Club, departamento de Doma, y departamento de Salto. CTel. 607 257 334 hipicasotogrande2015@gmail.com
SANTA MARÍA POLO CLUB
Dos zonas de juego. Los Pinos y Puente de Hierro. 9 Canchas CTel. 956 610 012
AYALA POLO CLUB
Dispone de tres canchas de polo, cancha de taqueo, dos pista de vareo, pista indoor y más de trescientas cuadras.
CSan Enrique de Guadiaro. Tel. 956 610 144
DOS LUNAS, POLO Y DOMA
Dispone de tres canchas de polo, tres de vareo, capacidad para tres equipos de 50 caballos cada uno. Dos canchas de taqueo de hierba y una All Weather.
CFinca El Mezquitón 11340 San Martín del Tesorillo info@doslunas.es Tel. 629 153 566
POLO VALLEY
CVereda de los pescadores (Secadero) Tel. 952 112 295
Complejo Deportivo para la práctica del polo, experiencias y eventos. www.polovalley.com
FINCA LA ALCAIDESA
CCarretera Arenillas Tel. 956 615 505 info@laalcaidesa.es
AYALA POLO CLUB
CTel. 670 961 841 info@ayalapoloclub.com
Algeciras HOSPITAL PUNTA EUROPA Crta. de Getares, s/n CTel. 956 025 000
La Línea HOSPITAL DEL SAS CTel. 956 026 500
Los Barrios HOSPITAL QUIRÓN SALUD
CParque empresarial Las Marismas Edif. Arttysur. PalmonesTel. 956 79 83 00
CLÍNICA DR. IGNACIO JIMÉNEZ
CAvda. Los Canos, 48, Pueblo Nuevo Ortodoncia - Dental - Facial T. 613 446 914
THE DENTIST
CGalerías Paniagua Tel. 956 795 273
QUORE CLINIC
CRibera del Marlin Portal 21, Edif. D, 1ºB 956 790 444 - 956 616 061
RAD-ONE
CPto. Dptvo. De Sotogrande Edif. C, Local 3 T. 600 44 33 00
HUMAN LINE
CC.C. Sotomarket Tel. 956 785 333
Marbella H. COSTA DEL SOL
CTel.951 976 669 951 976 670 Marbella
QUIRÓN SALUD
CAvda. Severo Ochoa, 22 Tel. 952 774 200
CENTRO DE SALUD CSan Enrique, 24h. Tel. 956 615 199
CENTRO DE SALUD SAN ROQUE CAv. Carlos Pacheco, 4 Tel. 956 024 700
PROTECCIÓN CIVIL SANITARIA
CSan Roque Tel. 956 782 673 GUADIARO CTel. 956 908 059
TORREGUADIARO CTel. 600 167 574
FARMACIAS GUADIARO
CC/ Carretera s/n. Tel. 956 614 105
TORREGUADIARO CCtra Nacional, 340. Tel. 956 610 005
SOTOGRANDE
CPza. Blanca s/n. Tel. 956 794 961
PUEBLO NUEVO
CC/ Sierra Bermeja. Tel. 956 794 052
SAN ENRIQUE DE GUADIARO CPlaza de la Fuente Tel. 956 615 128
DEPORTES / SPORTS SALUD / HEALTH 134 LA REVISTA DE SOTOGRANDE
SERVICIOS / SERVICES
SERVICIOSENSOTOGRANDE
ENTIDAD URBANÍSTICA SOTOGRANDE
CTel. 956 795 040
TORRE DE CONTROL
CPuerto Sotogrande Tel. 956 790 000
AGUAS DEL VALLE DEL GUADIARO
CTel. 856 560 924
CASETA DE CONTROL
CTel. 956 794 191
GALERÍAS PANIAGUA
CTel. 956 794 191
URB. ALTOS VALDERRAMA
CTel. 956 795 165
PUERTO DEPORTIVO
CTel. 956 790 000
NOTARIAS
SAN ROQUE
CTel. 956 780 157
PUEBLO NUEVO
CEdif. Guadiaro Tel. 956 795 029
PUEBLO NUEVO
CEdif. ayala Tel. 956 785 062
VETERINARIOS
VETERINARIA FÁBULA
CPueblo Nuevo de Guadiaro Tel. 956 695 259 Urgencias Tel. 620 529 522
CLUBESDEPLAYA
EL OCTÓGONO
CPaseo del Río, s/n Tel. 956 615 614
TROCADERO
CPaseo del Parque
Tel. 678 456 047 Tel. 956 795 012
THE BEACH
La Reserva Club Sotogrande Tel. 956 791 006
ALOJAMIENTO / ACCOMODATION
SOTOGRANDEYTORREGUADIARO
SO/ SOTOGRANDE***** Hotel y Spa Restaurantes: Cortijo, MIXO, Social Club, Society y HI-SO Bares y sala de eventos: Social Club, MIXO y Social One & Two Wellness: SO/ SPA & HEALTHCLUB (Membership is open)
CAvda Almenara, s/n Sotogrande Tel. 956 582 000 www.so-sotogrande.com
HOTEL MIM SOTOGRANDE ****
CPuerto Dtvo. Sotogrande Tel. 934 922 244
HOTEL PATRICIA **
CAvda. Mar del Sur - Torreguadiaro Tel. 956 615 300
HOTEL LAS CAMELIAS **
CAvda. Mar del Sur - Torreguadiaro Tel. 956 615 065
HOTEL ENCINAR DE SOTOGRANDE****
CAutovia A7, salida 130 Sotogrande Tel.: 956 695 444
CASTELLAR
LA ALMORAIMA****
CTel. 956 693 002
HOTEL EL ALCAZAR***
CCastillo de Castellar de la Frontera Tel. 956 693 150
ALGECIRAS
MERCURE ALGECIRAS ***
CCalle Malta, 1, 11204 Algeciras Teléfono : 956 639 748
AC HOTELES ALGECIRAS ****
CCtra. del Rinconcillo esq. C/ Hnos. Portilla, Algeciras Teléfono: 956 63 50 60
HOTEL ALBORÁN ***
CTel. 956 632 870
LALÍNEA
HOTEL ALCAIDESA **** CAlcaidesa Tel. 956 792 008
OHTELS
Campo de Gibraltar **** CC/ Avda. Principe de Asturias S/N Tel. 956 17 82 13
AC HOTELES ***
CLos Caireles, 2 Tel. 956 175 566
HOTEL APARTAMENTOS VISTA REAL ****
CAv. del Mediterráneo, 4B, La Alcaidesa Tel. 956 79 73 75
LOSBARRIOS
HOTEL GUADACORTE PARK ****
CCarretera Cádiz Málaga km 115 Tel. 956 677 500
HOTEL NH CAMPO DE GIBRALTAR
CBrújula, 27. Palmones Tel. +34956678101 nhcampodegibraltar@nh-hotels.com
TARIFA
HURRICANE HOTEL
CCtra. Nac. 340,Km.78, 1138 956 68 49 19
HOTEL DOS MARES **
CCtra. N- 340, km. 79,5 Tel. 956 684 035
THE RIAD ** CC/ Comendador Tel. 856 929 880 info@theriadtarifa.com
CASARES
HOTEL FINCA CORTESIN *****
Gran Lujo CCarretera de Casares s/n Casares Tel. 952 937 800 www.fincacortesin.es
135 LA REVISTA DE SOTOGRANDE · INVIERNO 2022 GUÍA ÚTIL INVIERNO 2022