BRING THE JOY BACK TO YOUR FEED ME-diaSocial WITH YOUR ACCEPT, EXPRESS AND YOURCELEBRATETRUESELF The secret tohappinesslong-term THE ANCIENT GREEK WISDOM YOU NEED TO KNOW WHY DO WE CHOOSE TO LOOK THE OTHER WAY? Come as you are PLUS HOW TO burnoutdiscuss BOSS Relationship red flags? DEVOTED TO MENTAL HEALTH & WELLBEING ISSUE£5.9965
2 | Issue XX | happiful.com Photography | Yusron El Jihan To go wrong in one's own way is better than to go right in someone else's FYODOR DOSTOEVSKY, CRIME AND PUNISHMENT
It's an interesting insight into the ways that our preferences feed into our sense of self, and vice versa. When it comes to our wellbeing, feeling as though we understand and can express ourselves is key. If you always W | happiful.com F | happifulhq T | @happifulhq I | @happiful_magazine
Self-knowledgeispower
It's a safe bet. Worldwide studies and surveys have found again and again that blue is the most common 'favourite colour' among adults. Scientists don't really know why this is the case, but if you're worried this means we're all the same, you shouldn't be. Colours are subjective; not only do we each see them slightly differently, but we also project onto them our individual experiences, emotions, culture, and associations. The result is a personal palette that tells the story of our lives, and which could never be replicated or even, currently, completely understood. Though, if you've ever taken a 'What does your favourite colour say about you?' quiz, you'll know there's something about being told that liking the colour green means you're dependable that really hits the spot, even if the science is dubious.
What's your favourite colour? Hang on, let me guess. Is it blue?
At Happiful, visitenvironmentalaboutmission.arearepresentation,inclusivity,andcreatinghappier,healthiersocietyattheforefrontofourTofindoutmoreoursocialandpledges, happiful.com/pledges
KATHRYN WHEELER | GUEST EDITOR make decisions in-line with your honest desires, needs, and values, those choices become that much easier. So, how do we get to that point? On p38, we explore 'dopamine dressing' and meet the colourful people who will challenge you to think differently about fashion and self-expression. And our exclusive journaling pages on p83 are a space to explore a limitless version of you. But you've also got to face the hard stuff. We're unpacking the concept of 'pleasanteeism' in the workplace on p14, and flick to p25 and you'll find a reflection on what would happen if, in a world that wants you to hide your struggles, you practised radical selfWhatacceptance?doesan honest, open, selfcelebrating you look like? Join us, as we get to the core of what makes us the people we are.
It's a trick borrowed from Lauren Labrecque, an associate professor at the University of Rhode Island. Lauren would ask the same question to her students, already having a slide prepared with her prediction: 80% of the responses would be blue.
20 Anxiety through the ages How to help kids at different stages 30 The truth about narcissism 35 Five common phobias 36 The burnout conversation How to talk to your boss about burnout 49 What is money trauma? The effects of childhood poverty last a lifetime – here's how to deal with itWellbeingTrythisat home 16 Questions to ask siblings 48 Meditation for hayfever 80 Microgardening How to help life flourish in even the smallest of spaces 82 Put joy back on your feeds 3828 35 True to you 14 What is pleasanteeism? Are you hiding your feelings at work? 25 Radical self-acceptance Here's what you have to gain 28 Adult bullying It's time to stand up to it 38 Dopamine dressing What can this colourful trend teach us about the power of self-expression? 83 Who are you? Unlock a limitless version of you with our print exclusive journaling pages
Food & health 43 Food to soothe Chef Lauren Lovatt shares her tips 56 Challenging a misdiagnosis What to do when you think you have received the wrong diagnosis 61 Finishing the course Here's what to expect from antidepressant withdrawal 66 Fab or fad? Do superfoods really deliver? 72 Snacks for better sleep Relationships53 Let's talk about porn We spoke to an ethical porn director about the impact of the industry 64 Get the balance right How to manage mismatched work-life balance in a relationship 69 Running a red flag Why do we ignore the signs something isn't right? 78 Sexy time Is the ultimate tool for a better sex life a calendar? 17 Ancient wisdom What can a Greek philosopher teach us about modern day happiness? 22 The art of resilience 32 Get it down Discover how writing 'morning pages' can transform your wellbeing 58 The return to the office How to navigate negotiations 74 The power of poultry Positive pointers 8 Good news Uplifting stories to make you smile 13 The wellbeing wrap 46 Do something new 77 Good reads not to miss Culture Rav is a counsellor and psychotherapist with more than 10 years' experience. BA MA MBACP (Accred) RAV SEKHON Life takes us on a wonderful journey full of joy, sadness, fear, and anger – sometimes all at once! However, we don't always allow ourselves to experience all of our emotions, and in doing so we reduce our ability to truly live. Go to p25 for an excellent insight into how self-acceptance can lead to a more fulfilling and authentic life. By allowing yourself to accept your emotions, you, in turn, accept yourself, leading to greater connectedness with the self and others. *Expert review Every issue of Happiful is reviewed by an accredited counsellor, to ensure we deliver the highest quality content while handling topics sensitively.661732
ALEX ALLAN BSc (Hons) NT Jenny is a andspecialisingcounsellorinrelationshipsfamilyissues.
JENNY WARWICK PGDip BACP
Peter is a psychotherapist.behaviouralcognitive PETER KLEIN BSc (Hons) PGDip CBT MA (DIst) BACP
Bhavna is psychotherapist,a coach, supervisor, and trainer. BHAVNA RAITHATHA BSc (Hons) MSc MBACP (Accred)
JOHN-PAUL DAVIES BSc PG Dip UKCP MBACP
Sophie is a dietitian and director of City Dietitians. SOPHIE MEDLIN BSc Hons RD FHEA
John-Paul is an andpsychotherapist,integrativecoach,writer.
Gaby is a life coach specialising in burnout prevention. GABY GRZYWACZ BSc CBP006075
Sarah is an expert in relationship problems and business coaching. DR ALSAWY-DAVIESSARAH BSc Hons MSc DClinPsy ILM
HAPPIFUL FAMILY Helping you find the help you need. Counselling Directory, Life Coach Directory, Hypnotherapy Directory, Nutritionist Resource, Therapy Directory
Meet the team of experts providing information, guidance, and insight throughout this issue Expert Panel Our team EDITORIAL Kathryn Wheeler | Guest Editor Rebecca Thair | Editor Lauren Bromley-Bird | Editorial Assistant Bonnie Evie Gifford, Kat Nicholls | Senior Writers Becky Wright | Content & Marketing Officer Grace Victory, Bhavna Raithatha | Columnists Lucy Donoughue | Head of Multimedia Ellen Lees | Head of Content Natalie Holmes | Sub-Editor Rav Sekhon | Expert Advisor ART & DESIGN Amy-Jean Burns | Head of Product Charlotte Reynell | Creative Lead Rosan Magar | COMMUNICATIONSIllustrator Alice Greedus | PR Manager CONTRIBUTORS George Bothamley, The School of Life, Caroline Butterwick, Lauren Lovatt, Beth Rees, Jenna Farmer, Marni Battista, Dr Sarah Alsawy-Davies, John-Paul Davies SPECIAL THANKS Gaby Grzywacz, Hasret Tekin, Peter Klein, Jenny Warwick, Helena Territt, Keith Howitt MANAGEMENT Aimi Maunders | Director & Co-Founder Emma White | Director & Co-Founder Paul Maunders | Director & Co-Founder SUBSCRIPTIONS For new orders and back orders, visit shop.happiful.com, or call Newsstand on +44 (0)1227 277 248 or subenquiries@newsstand.co.ukemail CONTACT Happiful, c/o Memiah, Building 3, Riverside Way, Camberley, Surrey, GU15 3YL Email us at hello@happiful.com
Helena is an executive coach, leadership consultant, and ADHD coach. HELENA TERRITT FCIPD MA EMCC
Alex is a specialisingnutritionalregisteredtherapistinguthealth.
Hasret is a child & adolescent specialisingtherapistintrauma. HASRET TEKIN BA PGdip MBACP MPTUK/PTI MAST
Our two-for-one tree commitment is made of two parts. Firstly, we source all our paper from FSC® certified sources. The FSC® label guarantees that the trees harvested are replaced, or allowed to regenerate naturally. Secondly, we will ensure an additional tree is planted for each one used, by making a suitable donation to a forestry charity. Happiful is a brand of Memiah Limited. The opinions, views and values expressed in Happiful are those of the authors of that content and do not necessarily represent our opinions, views or values. Nothing in the magazine constitutes advice on which you should rely. It is provided for general information purposes only. We work hard to achieve the highest possible editorial standards, however if you would like to pass on your feedback or have a complaint about Happiful, please email us at feedback@happiful. com. We do not accept liability for products and/or services offered by third parties. Memiah Limited is a private company limited by shares and registered in England and Wales with company number 05489185 and VAT number GB 920805837. Our registered office address is Building 3, Riverside Way, Camberley, Surrey, GU15 3YL.
INFORMATION ON ANXIETY
If you are experiencing domestic abuse, find support at nationaldahelpline.org.uk or call 0808 2000 247 p69
Discover more about what it means to live with anxiety, common causes, and guidance at anxietyuk.org.uk p20 WORK WITH NUTRITIONIST
LINES
DOMESTIC ABUSE
A
GENERALSUPPORTLISTENING
Head forhappiful.comtomoreservicesandsupport BRING THE JOY BACK TO YOUR FEED ME-diaSocial WITH YOUR ACCEPT, EXPRESS AND YOURCELEBRATETRUESELF The secret tohappinesslong-term THE ANCIENT GREEK WISDOM YOU NEED TO KNOW WHY DO WE CHOOSE TO LOOK THE OTHER WAY? Come as you are PLUS HOW TO burnoutdiscuss BOSS Relationship red flags? £5.99HAPPIFUL.COM DEVOTED TO MENTAL HEALTH & WELLBEING ISSUE£5.9965 Reader offer Visit happiful.com £71.88 Pay for 10 magazines, get two free Happiful delivered to your door before it hits the shelves Competitions and prize draws! For£59.9912printissues!
Prices and benefits are correct at the time of printing. For full terms and conditions, please visit happiful.com
FOR VICTIMS
Find help CRISIS
If you are in crisis and are concerned for your own safety, call 999 or go to A&E Call Samaritans on 116 123 or email them at jo@samaritans.org SANEline SANEline offers support and information from 4.30pm–10.30pm: 0300 304 7000 Mind Mind offers advice Mon–Fri 9am–6pm, except bank holidays: 0300 123 3393. Or email: info@mind.org.uk Switchboard Switchboard is a line for LGBT+ support. Open from 10am–10pm: 0300 330 0630. You can email: chris@switchboard.lgbt HELP OF
One undeniable truth is that finding the right help for each individual is a journey – what works for one of us will be different for someone else. But don't feel disheartened if you haven't found your path yet. Our Happiful family can help you on your way. Bringing together various arms of support, each of our sister sites focuses on a different method of nourishing your wellbeing – from counselling, to hypnotherapy, nutrition, coaching, and holistic therapy. Download our free Happiful app for more.
Cover illustration by Rosan Magar
To learn more about nutrition, and create a personalised plan, connect with a professional using nutritionist-resource.org.uk p43
The Uplift ART their message of equality and inclusion, as they provide a stage for dancers often underrepresented in ballet, whether that be due to sexual orientation, gender identity, size, class, race, orAdaptingethnicity.both classical ballets, such as Swan Lake, and also modern works – with music from Tchaikovsky, Chopin, Vivaldi, and Massenet – while the dancers pair immaculate technique with comic timing, performances are each underpinned by a deep knowledge and respect for the original artform, holding open the door to allow audiences to access ballet in a completely different way. Art is an evolution and, as Kevin Garcia – a dancer with the company since 2017 – says: "Every time the curtain opens, we represent progress for equality. We just do it dancing." The Trocks are performing across the UK in September and October. For more, visit Writingtrockstour.co.uk|KathrynWheeler
JelenicZoran|Photography
8 | Issue 65 | happiful.com What do you think of when you're asked to picture 'ballet'? Perhaps it's a certain type of body? And a certain type of audience? Well, Les Ballets Trockadero de Monte Carlo (aka The Trocks) are the comedy drag ballet company asking you to think again. They started out in 1974, as a downtown New York drag act in the wake of the Stonewall Riots, and are now known for their parodies of the conventions of classical ballet – and The Trocks are loud and proud about Ballet company breaks all the rules
DroppingMUSIC beats and smashing stigma: Fatboy Slim hosts workshop for those with severe mental illness
TheCOMMUNITYmovement to save millions of meals
happiful.com | Issue 65 | 9
OLIO, an app dedicated to helping neighbours share more and waste less, has announced plans to work with FareShare to save and redistribute meals by providing surplus food instead of letting it go to waste. And there's a lot of food to go around, as more than a million tonnes of edible, unsold food goes to waste yearly –that's the equivalent of 2.4 billion meals.More than 50,000 volunteer Food Waste Heroes will collect food from participating businesses, and list it on the OLIO app for local people to collect for free. FareShare takes surplus food that's unsold or unwanted, sorts it in regional warehouses, and passes it on to nearly 10,000 charities across the UK. Get involved by sharing food or spreading the word now. It's time to reduce food waste and help those who need it. Find out more at olioex.com
A DJ workshop for people with severe mental illness hit all the right notes recently, with musician Norman Cook (AKA Fatboy Slim) and Brighton-based DJs Audio Anonymous/Atomic Drop teaming up to teach. The masterclass was organised as part of Sussex Partnership NHS Foundation Trust's arts and health programme, Make Your Mark, and was funded by NHS charity Heads On. Six people joined the workshop, all with severe mental illness –which is when symptoms become so debilitating that the ability to function in occupational activities is impaired. Taking place at Rockwater on Hove seafront, the session shared the joy of music and allowed participants to learn creative, new skills. "Whilst there is growing understanding about the role the arts and creativity can play in recovery for people with common mental health problems, much less is known about this for people with severe mental illness, who can often face the greatest stigma around their illness and, as a result, have far less opportunities to be creative," says Natalie Rowlands, senior occupational therapist at Sussex Partnership, and lead organiser for the event. "We are absolutely delighted to be working with Fatboy Slim and
Writing | Kat Nicholls
Writing | Bonnie Evie Gifford Audio Anonymous/Atomic Drop to challenge some of this stigma and bring the sheer joy of music to people."Theworkshop was the first in a series, all bringing creativity to those so often stigmatised by society – what can we say, it's music to our ears.
The cost of living crisis is taking its toll on many of us. Prices are rising at their highest rate for 40 years, and a staggering 7.3 million adults and 2.6 million children are experiencing food poverty in the UK – nearly 14% of allInhouseholds.responseto the crisis, Tesco, One Stop, The Pret Foundation, and other British businesses are coming together with OLIO and FareShare to fight food waste and provide free meals.
10 | Issue 65 | happiful.com
In a recent study by LoveCrafts, it was found that 15% of men have used crafting as a form of escapism to aid their mental health, and 11% of men have picked up crafting to reduce stress and anxiety. Since lockdown gave us the opportunity to pursue hobbies that we wouldn't usually have the time for, the crafting community has flourished for men and it's easy to see why.
happiful.com
It's knit too late to put your crafting abilities to the test, so why not give it a go? The results may surprise you.
| Issue 65 | 11
Edward Griffith, CEO and Founder of LoveCrafts, explains: "Crafting has the feel-good factor. When we make something with our own hands, it leaves us feeling relaxed, fulfilled, and proud."
Have you ever felt that sense of accomplishment once you've completed a crafting project? A feeling of tranquillity while working away? This is what people like to call the 'healing power of crafting'. From crocheting to embroidery, the creative practice is packed with endless wellbeing benefits to help reduce stress and improve relaxation. And while crafting has typically attracted women, a new study has tracked a rise in the number of men beginning to pick up the needles and have a go – and they're discovering the wellbeing perks while they're at it.
Writing | Lauren Bromley-Bird
More men wellnesscasting-onareforWELLBEING
Take 5 Put your puzzling prowess to the test with this issue's thought-provoking challenges VisualKakurosjigsaw Complete the grids so that the numbers in each row and column add up to the values at the edge. You can use the digits one to nine, but remember that each one can only be used once in each sum! Can you piece together the separate shapes to complete the square? It's time to see the bigger picture. 'Freebies'do?HowdidyouVisitthesectionon shop.happiful.com tofindtheanswers,andmore! 3 6 4 12 11 6 11 6 EASY 23 15 10 3 2611 3 INTERMEDIATE 9
If you've ever felt like you've got a special bond with your feline companion, you'll love the latest research from Japan. A study from Kyoto University suggests cats actually know each other's names, and potentially even recognise the moniker of their owner! This could be due to competition, and the knowledge that there's the potential for food when their specific name is called.
Mapping it out To help with the cost of living crisis, Family Foraging Kitchen, a social enterprise from Cornwall, has created a map to show locals where to safely forage for food, as well as offering free courses to teach people how to prepare their finds.
If you're one to judge a book by its cover, you'll love the new app that's uniting avid readers with their perfect match! Booky Call is like Tinder for bibliophiles, allowing you to view a profile for different reads, and swipe right or left depending on what catches your eye. A perfect solution for those looking for their next pageturner.
The wellbeing wrap
There could be more science behind this sentiment than you'd think. Research in Psychological Science reveals that our voice actually changes after having a hard day at work. Analysing recordings of people in the evening after a tough day, they found they spoke more quickly and intensely, even if they felt OK at the time. This is another demonstration of the impact of stress on our bodies, and the importance of addressing it ASAP.
'The Last Photo' gallery displays 50 smiling pics taken of people shortly before they took their own lives, and shares their stories, emphasising that unhappy people won't always appear to be withdrawn or crying.
We may have had to say a sad goodbye to our beloved Dame Deborah James, but the tireless cancer campaigner's legacy lives on. Andrex has announced it will start displaying bowel cancer symptoms on the packaging of 29 million loo rolls, as part of a partnership with charity Bowel Cancer UK, and specifically thanked Deborah for her incredible work. Special delivery Postal workers will check on elderly and vulnerable residents during their rounds, as part of a new scheme being trialled by Royal Mail in Northumberland. If successful, the move could be rolled out nationwide, and has been applauded by charity Age UK – but they noted that this isn't a replacement for the health and care older people need.
The Kewdiscoveredlargestworld'swaterlilyhasbeenatGardens, with threegrowingleavesuptometreswide India has banned singleuse plastics - a significant step forward in tackling climate change around the world Air New Zealand is theintroducing world's first economy bunk beds for longhaul flights Dmitry Muratov, a Russian journalist, has auctioned off his 2021 Nobel Peace Prize for $103.5m to helprefugeesUkrainian
#GetOnARoll
Familiar feline?
onBookedafeeling
The state of California recently broke records by satisfying almost all of its energy needs using energyrenewablesources!It hit an incredible 99.9% renewable consumerrequiredprovidesolardemonstratingpower,thatandwindcantheenergytomeetdemand.
"You sound stressed?"
Actor and former WWE star John Cena has broken the Make-AWish Foundation record by becoming the first person ever to grant 650 wishes to youngsters! For perspective, no one in history has reached even 300 wishes before.
Charity Campaign Against Living Miserably (CALM) has revealed that 61% of people would struggle to know if someone was feeling suicidal, and so created a new exhibition to challenge stereotypes around suicide.
Are you hiding behind a mask of pleasantries at work? pleasanteeism?
First, let's look at the root of the problem: workplace culture. "If the company has the culture of pushing through all difficulties, delivering perfection, the whole 'work hard, play hard' nonsense, it's unlikely that an employee would feel comfortable disclosing their feelings to their boss until they're at a point where they can't do their job," says Gaby. Employers need to take the reins when it comes to preventing pleasanteeism, cultivating a culture of openness. "It starts with simple things, for example, a manager admitting that they have a headache, or are feeling a bit down, so they won't be at their best that day," Gaby explains. "That shows their team it's OK not to be at 100% all the time." Increasing the company's awareness of mental health and self-care is also key. This may include introducing mental health training, reminding people that they can take sick days for their mental health, and encouraging breaks.
when we're upset or in pain, to not be angry at people who hurt us," burnout prevention coach Gaby Grzywacz explains. "It's no surprise we take those lessons into the workplace. While at work, we are expected to be professional – and we usually don't see displaying our feelings as professional. So the thought of being open and honest about it doesn't cross people's minds." Gaby also notes that there is still a great amount of stigma surrounding mental health, with some fearing that they may be perceived as 'weak' – though she notes that it takes courage to be open about your feelings at work.
14 | Issue 65 | happiful.com
Writing | Kat Nicholls Illustrating | Rosan Magar
So, how can we find that courage to be more open at work?
The fear that's driving pleasanteeism may be palpable, but hiding your feelings isn't the answer. Suppressing negative emotions can impact our mental health, affecting our self-esteem, and causing a rise in anxiety and depression. It can also harm our physical health, leading to increased blood pressure and memory problems.
What is
I f I was to ask you, "How are you doing?" What would your response be? Now, imagine I'm a manager at work asking the same question – has your response changed?There'sa new 'ism' in the workplace: pleasanteeism. This refers to the pressure many of us feel to conceal any stress, anxiety or low mood we may be feeling, choosing to hide behind pleasantries instead. This grinand-bear-it workplace culture is on the rise, according to healthcare provider Lime Global. Surveying workers in the UK, in February 2022, Lime Global found that 75% of respondents admit to putting on a brave face at work, increasing from 51% in May 2021. Looking at the causes of this rise, financial concerns and the cost of living were high on the list, with over a third of those surveyed saying they were worried about money. But, while recent economic shifts no doubt have a part to play, concealing negative emotions is something we learn early on. "We're taught to hide our feelings from an early age. To stop crying
happiful.com | Issue 65 | 15
Learn more about Gaby Grzywacz's work at lifecoach-directory.org.uk
It's not an 'if', it's a 'when'. So you need to try to plan your day around taking care of yourself."
As well as companies taking responsibility for reducing pleasanteeism, there are steps we can take as individuals to start prioritising our wellness. Gaby explains that a helpful first step is to understand that no job is worth sacrificing your health for. "If you don't take care of yourself, your health will suffer.
Once you crack open the door to honesty, you'll be amazed what light shines through
xxxxxxxxxxxx
Gaby also shares her personal motto: 'If you think that you don't have time for a break, you should have two,' serving as a reminder that when we work hard, we should rest hard, too. "We live in a culture of productivity – but we don't have to (and shouldn't) fill our rest time with meaningful activities. And, remember, if you're thinking of work while resting, you're actually not resting at all." When it comes to being more open at work, start small. Consider how many conversations you have that aren't about work, and see if you can increase these a little. Perhaps a quick check-in with teammates in the morning, asking how they spent their weekend/evening. We are humans, not robots, and part of opening up at work is connecting to that human side. Once you crack open the door to honesty, you'll be amazed what light shines through.
The bonds that we share with siblings are like no other. Set some time aside, sit down, and deepen your connection with your sibling by asking them these questions – you never know what you might discover about them, and yourself 10 questions to connect with siblings 1. How does relationshipournowcomparetowhatitwaswhenwewereyounger? 7. In what ways arewe different? 8. Do you feel you
happiful.com | Issue 65 | 17 positive pointers
F or the vast majority of people, the desire to be happy is one of the core motivators in this life. Whether we consciously realise it or not, the reason why we work towards certain financial, career, or personal goals, is generally because we believe that achieving these things will help us to become happier than we areAndnow.itis the same story with our relationships, social activities, hobbies, interests – and even for when we might decide to just sit around the house all day long, doing nothing. Yes, we may sometimes seem to make decisions that are not necessarily good for us at all in the long-term. But, even here, the core reason is often because we are simply pining for an as yet unrealised form of happiness. But this is the problem: the more we pursue happiness in any of its forms, the more we realise just how difficult it is to really hold on to.
EPICURUS
I'm sure we have all experienced times when that success we worked so hard for turns out to be, somehow, not as good as we always imagined it to be. Or when a short-term pleasure never quite gives us that lasting happiness that we really need.
How the ideas of an ancient Greek philosopher could help you find true inner joy today AND THE ART OF happiness
So, with that being the case, it is really no surprise that many of us may feel completely lost when faced with the question: "How can I be happy?"
The truth is, happiness means different things to different people – and (sadly) there is no universal key to finding it.
However, we can still give ourselves the best possible chance of finding real happiness by approaching our life in a more philosophical way. And, this is the main purpose of this article. To dive a little deeper into the real 'art of happiness' via the insights of an ancient Greek philosopher known as Epicurus.
Now, just as a quick side note, if you have heard the name "Epicurus" or "Epicurean" before, then it may well have been in the context of describing someone who is hedonistic, or living a life of excess. >>>
Writing | George Bothamley
As an example, let's consider someone who enjoys playing video games in their spare time. If they use this hobby as a way to connect with friends, or to switch off from
The more we pursue happiness in any of its forms, the more we realise just how difficult it is to really hold on to And, in fact, even since the very earliest days of Epicurean philosophy – which started in a modest garden academy around 300 BC – this has been one of its most common misrepresentations. Because, of course, if we live our life only with the goal of being as happy as we possibly can, then there is a good chance we might stray increasingly towards a life of endless partying, overindulgence, and pleasure-seeking, forgoing all other personal responsibilities.
However, when it comes to Epicurus' real thoughts on living a happy life, the message could not be more different. Yes, he advocated for happiness being our ultimate goal in life. But he also insisted that the best way to actually approach this "pursuit of happiness" is always with a philosopher's mindset. In other words, this is not about living with total abandonment. Rather, it is encouraging us to approach every situation –and every temptation – with a discerning mind. Asking: "Will this particular pleasure really bring me lasting happiness? Or will it only bring temporary pleasure, which might lead to negative outcomes in the long run?"
18 | Issue 65 | happiful.com
And to remember that real, lasting happiness is not just about short-term material pleasures. Rather, it is something much broader. It is found in things like positive relationships, pursuing a vocation, contributing something meaningful to the world, or, most importantly, finding a sense of contentment within ourselves.
So you see, the issue is not with the video gaming itself, rather it is the manner in which such an activity is enjoyed. Much like how our favourite food can be extremely enjoyable in moderation, but makes us feel quite unwell if eaten to excess. Or how a shopping trip is good for some modest retail therapy, but bad if we end up spending every penny we have as a result. Essentially, all things are about finding balance. And, in that sense, the philosophy of Epicurus can almost be pictured like one of those old-fashioned weighing scales – where we are trying to weigh what we do now, alongside whether it will actually make our life happier in the long-term. And remember, there are many occasions in this life where our long-term happiness is actually only achieved after a period of short-term discomfort. For example, when the struggle of exercise can lead us to achieving a healthier body. Or, when a period of intense anxiety and nervousness comes in conjunction with our pursuit of that dream job, or new relationships.Ifwewereliving for shortterm pleasure alone, we would probably avoid all of these things from the outset! But, if we keep in mind Epicurus' mindset of: "Is this going to be good for my overall happiness in the long-term?" then, we can actually start to find joy in discomfort, too. Because we know that it is all part of a process –leading us to something better.
So, once again, having happiness as our fundamental goal in life is not something to feel guilty about. In fact, it is essential to our very nature.But,for that very reason, it is even more important to pursue it more mindfully.
Because, after all, if happiness is our fundamental goal – then it must also be our inner reality, too.
There are many occasions in this life where our long-term happiness is actually only achieved after a period of short-term discomfort positive pointers
happiful.com | Issue 65 | 19
the pressures of work, then, clearly, it is something that brings lasting happiness in their life. And, as such, can by all means be enjoyed without guilt. However, if the same person starts becoming so consumed by their 'enjoyment' of the video game that they begin playing obsessively, or staying up all hours of the day and night, to the point that it negatively impacts their physical or mental wellbeing, and ruins their ability to function at work or school then, clearly, the hobby has become more detrimental to their overall quality of life. And, therefore, should be stopped, because it is no longer beneficial to their long-term happiness.
20 | Issue 65 | happiful.comFrom young children to budding adults, anxiety can present in, and affect, young people in different ways as they grow up. So how can you spot and support it?
How to spot anxiety through the ages
Writing | Kathryn Wheeler caregiver from age six months to three years old." Hasret explains that you may notice your child is more clingy than usual, perhaps because they are worried that you will leave or disappear – at this age, they may not understand that you will come back. It might be that big life events such as starting nursery or school spark this reaction, and the anxiety might present as tantrums and protests, and unresolved it could lead to regression (such as wanting a dummy or a nappy), sleep problems, and phobias.
A
Fears are also common in this age group as a manifestation of anxiety." Eight to 11 years old Similarly to the previous age group, Hasret explains that the anxiety is likely to be tied up with their development stage, but on a larger scale. However, children in this age group may also have more of an awareness of external stress. At this age, they may have more life events to refer to, such as conflict at home, parental separation, the death of a grandparent, illness, or sibling problems. With a greater understanding of these scenarios, they might develop anxiety about rejection, take on worries about the health of a loved one, pick up on money stress, or begin to compare their lives to those around them.
Five to eight years old When a child reaches this age group, it's likely that they have moved beyond separation anxiety, and instead the root of their anxiety is tied up in new developmental stages such as school problems, friendship issues, and self-esteem dips. "They may feel worried about being likeable among friends, feeling shy in social scenarios, nervous, and clingy in new situations," Hasret explains. "Some levels of performance anxiety and nxiety is a natural part of many of our lives, and it doesn't just affect adults. Though the triggers and stressors may be different, many children experience anxiety, with the NHS finding that across five to 19-yearolds, around one in 12 (8.1%) reported an emotional disorder such as anxiety or depression. The point at which anxiety becomes a problem is when it begins to affect their everyday life, and gets in the way of them flourishing. But what does anxiety look like in children and young people of different ages? And how can we best support them at each stage? Here, with help from Hasret Tekin, a child and adolescent therapist, we highlight what to watch out for. Under five "This age group usually experiences anxiety in the form of separation anxiety," Hasret explains. "It is in line with normal child development that children may experience separation anxiety from their primary perfectionism are also common in this age group. When the anxiety becomes problematic, you may notice sleeping difficulties, bad dreams or nightmares, bed wetting, becoming irritable, tearful, unhappy, or withdrawn.
| Issue 65 | 21
"This age is pre-adolescent and adolescent years where the anxiety is usually about the transitions," Hasret says. "There are many things children say goodbye to in this age group, such as the end of primary school. They have the anxiety of transition to secondary school, new friends, and puberty. "Peer pressure and wanting to keep up with trends can also be triggering," she continues. "Feeling part of a friendship circle, a need to fit in, and issues around their personal boundaries may create a clash for them. Similarly, the developmental need of building up their independence and autonomy may clash with parental expectations."Hasretsaysthat the anxiety in this age group may present through isolation, a dip in joy, distraction, spending a lot of time on games and social media, people-pleasing, anger, and pushing boundaries. 15 years and over At this point, young people may begin to feel a lot of pressure
Hasret Tekin is a child and adolescent therapist specialising in trauma. Find out more by visiting counselling-directory.org.uk wellbeing
It can be really difficult to see a child struggling with their mental health, but with patience and awareness, you are in the best position to support them through difficult times.
happiful.com
around their future – considering impending exams, career choices, and relationships. "Anxiety, worries, and fears may all blend into each other, resulting in confidence and self-esteem issues, anger, hate, and self-blame," Hasret explains. "In some cases, significant anxiety may manifest itself through anger, sleeping issues, eating disorders, some obsessive thoughts and compulsive behaviours, lying, cheating, selfharm, unhealthy relationships, substance misuse, and suicidal thoughts."
11 to 14 years old
Resilience:
22 | Issue 65 |
building back up when things don't go to plan
circumstances to unexpected traumas, there are times in our lives when we all have had, or will have, to face adversity. Here, columnist Grace Victory explores what it takes to truly get through the hard times, and shares the secrets to cultivating your own form of resilience
Fromhappiful.comchallenging
Writing | Grace Victory Often, resilient behaviours are in who we are, or shown to us subconsciously through at least one healthy relationship or attachment relating to our childhood – but this is something not everyone is fortunate enough to have experienced. As adults, I guess we have to reclaim what resilience looks like to us, and mourn or grieve our childhood experiences that perhaps shaped our bounce back ability (or lack thereof).Nowmore than ever, resilience is something we need on a soul level, in order to navigate life with all its ups and downs. From the pandemic, which affected so many of us, to the political climate that, let's be honest, is a complete and utter sh*t show. From the constant rise in the cost of living, to personal trauma that we are still trying to overcome, being able to carry on through such stress is important and necessary for our survival.
In my opinion, resilience is no longer about constantly being strong, but about making it through the day, the month, or the year. It's about surrendering to your personal path or journey, and ultimately using your wellbeing tools to carry you through.Resilience doesn't need to be fighting an internal war, or stopping yourself from crying because you don't want to appear weak. Resilience is leaning on your community, practising self-care, and doing more of the things that fill up your cup. We cannot avoid what life throws at us – that's something I've learnt, particularly in the past two years. Life is unpredictable, but if you do not have strong foundations and aren't actively working towards them remaining strong, you could falter the moment harsh winds arrive. We can not only survive through the storm, but T he societal focus on 'resilience' is often rooted in a somewhat toxic need to always be strong at any given moment. The 'strong woman' trope, which is particularly felt by black women, can diminish softness, vulnerability, and lead to a lack of truth. I, like many of you reading this, have endured so much pain throughout my life that resilience and 'bouncing back' feels relatively easy. What other choice do we actually have? But also, at what cost does this resilience come?Ofcourse, resilience is something that's needed in order to be OK after we experience something difficult. That's life, and we can't run from it. From name calling in the playground to an egotistical boss at your new job, or maybe even a narcissistic parent – all of us go through things that eventually help us to grow, but there is a sadness in having to be tough, too.
Talking, nurturing, and
• Control. Taking control over our lives and working intentionally towards our goals builds confidence which, in turn, builds up our resilience to handle life stresses. When we actively get into the driver's seat and choose where we are headed, we become empowered and begin to feel more capable. Remember, resilience isn't about always being strong or trying not to feel weak. It's owning our truth and believing we are worthy to pick ourselves, and try again. (Shout out to Aaliyah!) we can go on to thrive, with due care, self-compassion, and grace. So, how do we become resilient?
• Connection, through community and purposeful relationships. Intimacy is how we show vulnerability, and vulnerability is how we develop intimacy. These two very important skills are practised within our relationships.
• Care for oneself. This is about maintaining or improving your own wellbeing with whatever that looks like to you. It could be through meditation, therapy, long walks, a balanced diet, or trying to get enough sleep etc. Self-care is how we take our power back!
GraceLovex spending time with people who are good for us helps to strengthen our own core beliefs.
happiful.com | Issue 65 | @GRACEFVICTORY23
How can we actively begin to form resilience from today? Here are some suggestions:
Resilience isn't about always being strong or trying not to feel weak. It's owning our truth and believing we are worthy to pick ourselves, and try again
24 | Issue 65 | happiful.com Photography | Jabari Timothy I believe we all have a lot to say, but finding ways to say it is more than half the battle CRISS JAMI, SALOMÉ: IN EVERY INCH IN EVERY MILE
happiful.com
ideatocontributinggreatfactorsmentalillnessisthethatweshouldbe well at all costs and all times. We suffer far more than we should because of how long it can take many of us until we allow ourselves to fall properly and usefully ill. For many years we may be able to evade our symptoms skilfully, pulling off an accomplished impression of what counts – in our unobservant societies – as a healthy human. We may gain all the accoutrements of socalled success – love, a career, family, prestige – without anyone bothering to note the sickness behind our eyes. We may take care to fill our days with activity so that we can be guaranteed to have no time to deal with any of the sores that blister inside. We >>>
| Issue 65 | 25
In a world that tells us to hide away our negative feelings and mental health struggles, what do we have to gain from radical self-acceptance?
An exercise in acceptance
O
Writing | The School of Life can rely on the extraordinary prestige of being busy to avoid the truly hard work of doing nothing other than sit with our minds and their complicated sorrows. We may be deep into mid-life before the problems finally emerge with clarity. When they do, it is liable to be extremely inconvenient to those around us. We may be unable to get out of bed; we might say the same mysterious sentence again and again. We might still be in our pyjamas at midday and awake and wide-eyed at 2 a.m. We might cry at inopportune moments or shout angrily at people who had always relied on us for docility.
In a crisis, our chances of getting better rely to a significant extent on having the right relationship to our illness; an attitude that is relatively unfrightened by our distress and that isn't overly in love with the idea of always seeming 'normal', which can allow us to be unwell for a while in order one day to reach a more authentic kind of sanity. It will help us in this quest if the images of mental illness we can draw on do not narrowly imply that our ailment is merely a pitiable possibility; if we can appeal to images that tease out the universal and dignified themes of our state, so that we do not have to fear and hate ourselves for being unwell on top of everything else. We stand to heal much faster if there are fewer associations like those created by the Spanish painter Goya (of madness as the seventh circle of hell) and more of men and women a little like you and me, sitting on the sofa, able to combine our inner wretchedness with other, more temperate and attractive qualities – so that we true to you ne of the
The best backgroundphilosophicalagainstwhich to wrestle with mental unwellness is one that conceives of the human animal as intrinsically rather than accidentally flawed; a philosophy that rejects the notion that we could ever be perfect and instead welcomes our griefs and our errors, our stumbles and our follies as no less a part of us than our triumphs and our intelligence.Japan'sZen Buddhism boldly expresses such thoughts, with its declaration that life itself is
Our chances of getting better rely on having the relationshipright to our illness remain every bit human, despite our terrifying convulsions, absences of mind, catastrophic forebodings, and sense of despair.
happiful.com | Issue 65 | 27
suffering, and its veneration in the visual arts – and by extension in its psychology – of all that is imperfect and unglossy: rainy autumn evenings, sadness, mosscovered roofs, stained wooden panels, tears and, most famously, misshapen and irregular pieces of pottery. Against such a background, it becomes much easier for us to accept ourselves in our unwell state. We feel less guilty that we are not at work and are not playing up to the roles demanded of us by responsible others. We can be less defensive and frightened, more inclined to seek out care, and more likely to recover properly in time.
tomorefrightened,andinclinedseekoutcare
With a philosophy of acceptance in mind, we can recognise that whatever the particularities of our crisis (which will need to be investigated with time), our pains fit into a broad picture of a crisis-prone human condition. No one is spared. No life can escape significant troubles. We don't have to know the details of someone's life to be able to guess at the sort of difficulties they too will encounter. We have all been born to inadequate parents; our desires will always exceed reality; we will all make some appalling errors; we will hurt those we love and anger those with power over us; we will be anxious and confused, woeful and lost. We should accept both that we are profoundly unwell and that our ailments are entirely normal.
Japanese philosophy has another lesson for us at this point: we will probably one day be pieced back together, but we are likely to retain substantial and ineradicable scars. Yet these marks can be worn with pride and self-respect. According to Zen Buddhism's tradition of kintsugi, an accidentally smashed bowl is not to be thrown away in embarrassment; its fragments can be carefully collected and reassembled with glue inflected with gold. The traces of repair are made obvious, celebrated and cherished, as if to suggest to us – as we bring a cup to our lips –that we do not have to give up on ourselves or be ashamed of our own brokenness.
Extracted from 'On Mental Illness' by The School of Life, out now, £15. For more, visit theschooloflife.com true to you
We can be less defensive
•
Bhavna is an
As a psychotherapist and coach, I've frequently seen clients present with trauma and PTSD as a result of prolonged exposure to stress and fear. Trauma can be caused by any significant or negative repeated event throughout a person's life, and is often as a result of feeling helplessness and powerlessness in a situation. This could be direct trauma (such as experiencing a life-threatening situation, witnessing death, being attacked or abused), or indirect trauma (witnessing someone else being threatened with harm, or injured, or killed, either in-person or on the news, or in a film). Such situations activate the body's autonomic nervous system, which prepares us for fight, flight, freeze, or fawn responses. This is absolutely natural; we are programmed to respond like this. We are incredibly resilient human beings, and a trauma response is proof that our minds and bodies are working as they were made to. These natural responses become problematic when the biofeedback system is activated by other threats, or by rumination over what happened. The brain doesn't know fact from a remembered memory, and so behaves as if the incident is happening again. Where does adult bullying occur? Everywhere there are people, is the short answer. At work, we
Bhavna BSc (Hons) MSc MBACP (Accred)
•
•
We typically associate 'bullying' with childhood. But, unfortunately, this insidious behaviour can be found in adult life as well. It's time to call it out, and explore ways to address it The physical symptoms of bullying include:
Adult bullying: What is it?
here are very few people in the world who haven't experienced bullying at some point in their lives. Adult bullying is often subtle, may be difficult to detect, carried out under the radar, and can make you question yourself. This can be discrimination, micro aggressions at work or in a relationship, racism, homophobia, or anything that makes an individual feel unsafe or excluded. How bullying impacts a person Targets of bullies often report a significant impact to their mental, emotional, and physical health, and ability to engage socially. On an emotional level, the impact could include:
• Becoming hyper vigilant to threats of danger Palpitations Nausea Stress Sleep disturbance Appetite increase or suppression Irritable bowel syndrome (IBS)
28 | Issue 65 | happiful.com
17Ksupervisor,criticalpsychotherapist,internationalcoach,incidencedebriefer,andspeakerwhohasworkedwithmorethanclientsinthepast25years.Findoutmorebyvisiting
•
• Low mood • Tearfulness • Anxiety attacks • Panic attacks • Depression • Reduction in self-esteem and confidence • Long-term impacts include agoraphobia, and more
•
•
Raithatha
T
counselling-directory.org.uk
It is that basic. As adults, we all have the capacity to choose how we behave towards others. If an individual can behave well in front of bosses or others they respect, then they can control their behaviour at other times.
happiful.com
Here's the thing: bullies are usually frightened, fearful, manipulative, malicious, and inadequate human beings. I've heard too many times, 'They just had a bad start, it's not their fault.' Actually, no, a lot of people have had experiences that have impacted their lives, but still don't make life a misery for others.
experience gossiping, rumour mills, micro aggressions with racism, sexual harassment, being overlooked for promotion, or intentionally excluded – the list is endless.Athome, there could be an overbearing spouse with demands, criticisms, or verbal or physical violence – please note, help is available if you are in this situation. Then there are family members who lie and cause fights, then sit back with the popcorn. You might find yourself in public being heckled by strangers, or getting body shamed on social media – we all know about those ubiquitous, insidious, and impotent trolls. Sadly, bullying can and does happen everywhere. So, how can we deal with bullies?
| Issue 65 | 29 EXPERT COLUMN
When someone chooses to disable their capacity for empathy, they become beings of little substance with little or no integrity, or self-respect. Their attacking and belittling nature is often an adapted behaviour to powerlessness at some point in their lives. However, this is not an excuse for unleashing their toxicity onto others. If you have a bully in your life, don't suffer in silence. Tell someone you trust. Speak to a colleague or manager at work, but if they are the problem, speak with HR. If necessary, use the full extent of workplace grievance procedures, and try to document everything when it happens.
At home, raise it with the person, if it is safe to do so. Share it with trusted family members, and ask them to support you when you are being bullied, or if they see it happening.Inpublic,don't put yourself at risk; if someone is threatening you in any way, dial 999. One positive avenue to explore is journaling. Writing about your feelings can be a huge help to get the situation and your feelings out of your head, so you can make space to think of a solution. Alternatively, you could try writing 'unsent letters' to the bully – give them a piece of your mind and express yourself, for your eyes only. This is a powerful way to speak your mind safely. It is also a great way to reflect on the situation, and practise what you would have liked to say – then shred it. Above all, you have a right to be safe, and to enjoy your life. If you are being bullied, tell your tribe and advocate for yourself wherever possible and safe to do so.
N arcissistic personality disorder (NPD) tends to have a bad reputation. If you search for it on Google, you'll be presented with a definition: 'A mental health condition in which people have an inflated sense of their own importance, a deep need for excessive attention and admiration, troubled relationships, and a lack of empathy for others.'
Writing | Bonnie Evie Gifford
It's no surprise, then, that diagnosing personality disorders like NPD can be considered controversial. Whats more, experts currently don't agree on how we can best understand personality disorders or even if we should diagnose them. But with so much confusion and so many misconceptions surrounding narcissism and NPD, what do we really need to know? And what common assumptions do we have that are just plain wrong?
UNDERSTANDING NPD
Generally speaking, someone with narcissistic personality disorder has a distorted self-image, believes they are superior to others, and often feel that their opinions, feelings, and interests are more important than others'. They may struggle to empathise with others, exaggerate their talents and accomplishments, or even lie about them. Success and power are extremely important to them. They may appear patronising, be quick to anger if contradicted, and show a need for challengingrelationships(andalcoholrelyingorriskthoseWithoutadmiration.helpandsupport,withNPDmaybeatofdevelopingdepressionsuicidalthoughts,andonsubstanceormisuse.Buildingmaintaining)healthycanbewithouthelp.
Finding help and support
Myths about narcissism and NPD, debunked
COMMON MYTHS MISCONCEPTIONSAND
We spoke with Counselling Directory member and counsellor, Peter Klein, to find out more about narcissism and narcissistic personality disorder, and to get answers to some of the most frequently asked questions and misconceptions.
If you think that you or someone you love may have narcissistic personality disorder, visiting your GP is the first step towards getting an assessment and potential diagnosis. Counselling (usually CBT), after psychotherapy or group therapy are often options offered to help with narcissistic personality disorder.
30 | Issue 65 | happiful.comSeparating
fact from fiction: Here's what you need to know about narcissism and narcissistic personality disorder
happiful.com | Issue 65 | 31
MYTH: NARCISSISM AND NARCISSISTIC PERSONALITY DISORDER ARE THE SAME THING
Peter Klein is a cognitive behavioural psychotherapist. For more, visit counselling-directory.org.uk
Seeking help for NPD is possible. While some forms of therapy may be more or less helpful, if the person is genuinely looking to change, it is can make a difference. As Peter explains: "Psychotherapy can work on narcissists if they are able to stop some of their harmful habits, such as deflecting and believing that everything that goes wrong in their life is someone else's fault. This can be hard to achieve, but is necessary in order to introduce the most helpful change."
challengesoverestimateconstantlylife'sandconnectwithpeoplewithoutfeelinginferior wellbeing
MYTH: PSYCHOTHERAPY DOES NOT WORK ON NARCISSISTS
"Narcissistic personality disorder, as a definition, is more clear cut than narcissism," Peter explains. "Many of those with NPD are unable to connect with others on a deeper level, which means that their relationships are more superficial. Someone with NPD will often not be able to experience empathy, and therefore is more likely to exploit others for their own means.
While love and relationships may be more difficult for some with NPD, they aren't impossible. Peter explains, "Narcissism is on a continuum, and healthy amounts can allow people to not constantly overestimate life's challenges and connect with people without feeling inferior. Many forms of love necessitate an ability to be able to connect, at least in some form. "More extreme narcissism or those with NPD may find it far harder to be able to connect, and therefore fall in love. Connection is hindered by their problematic tendencies such as pushing people away in order to keep them down."
"Many will also feel a sense of emptiness, which coincides with other problems such as anxiety and depression. Therefore NPD is mostly a far more serious problem than that which falls within the wide range of what is defined as being a 'narcissist'."
"Some narcissists can be dangerous and controlling, while many are not. But controlling a partner can supply the narcissist with the benefit of not having to feel insecure, as narcissists can feel insecure quickly about many things, such as when a partner wants to meet friends or even when they just have a differing opinion," Peter explains.
Narcissism is on a continuum, and healthy amounts can allow people to not
MYTH: NARCISSISTS ARE ALWAYS DANGEROUS AND CONTROLLING Narcissists are still normal people and, just like anyone else, no two are exactly the same.
MYTH: ALL NARCISSISTS ARE INCAPABLE OF LOVE
As a writer, I was curious about trying morning pages. I've seen others talk about how they find it useful, and wondered whether it would help me feel more
Morning pages, of course, are written first thing. Which Jenny explains gives you the chance to put your thoughts down on paper before the rest of your daily stuff gets in the way.
Writing | Caroline Butterwick energised to write creatively each day. So I decided to give it a go. The wellbeing benefits of morning pages I asked counsellor Jenny Warwick for her insights into how morning pages can support our mental health and wellbeing. "It gives you the chance to think about, and state, what's going on for you," she tells me. "It's an opportunity to put down literally whatever is at the top of your head without fear of judgement. You can get those thoughts out onto paper and clear them from your mind, so that you can start the day fresh. You may well be surprised at what comes up as a result.
happiful.comWhatare
Morning pages
'morning pages', and how can they support our wellbeing?
Cameron outlines 'morning pages' in her 1992 book, The Artist's Way, where she explores how we can discover and recover our creative selves. She recommends morning pages as a tool to help overcome creative blocks. And it's not just for artists: boosting creativity can help us to problem solve in all areas of our lives, making it a worthwhile exercise for everyone.
32 | Issue 65 |
"While it may be tricky initially, it may give you some insight into what's actually going on in your head, which is surely worth doing for your mental health and wellbeing."Bywriting morning pages every day, we can, Julia Cameron says, work through problems. "It is very difficult to complain about a situation morning after morning, month after month, without being moved to constructive action. The pages lead us out of despair and into undreamedof solutions," she writes in The Artist's Way.
"It's time that you are making specifically for you, and you alone," she adds. "It's before the day has gotten in the way of what's going on in your head. Your mind has been working overnight to process the previous day and is fresh. You could catch some insights as a result of this processing before you start your newMorningday." pages involves writing whatever comes to us, without worrying about spelling and grammar, or what other people will think. This, Jenny explains, allows us to pour our thoughts out as they are beginning to take form, knowing that no one M any of us know the wellbeing benefits of writing, whether it's creating a gratitude list each week or penning poetry that explores our experiences.
Morning pages is an activity that involves writing three pages of stream of consciousness in longhand, first thing each morning. This, according to its inventor, Julia Cameron, can help us think through problems and improve our creativity.
Get those thoughts out onto paper and clear them from your mind
Giving it a go I got out of bed earlier than usual – and felt a little grumpy about it, I have to say. Still in my pyjamas, I sat at my desk and got out an A4 notebook and a pen, ready to write my morning pages.
At first, I struggled to know what to put. I'm giving this morning pages thing a try, I noted down. Maybe it'll be a helpful experience. After writing a few lines like this, I started to find the words got going more easily. >>>
else is going to read them. "This means you can tap into thoughts and feelings you might not even realise or recognise that you had, which would be really valuable to know," says Jenny. "You might even surprise yourself with what you put down."
happiful.com | Issue 65 | 33 positive pointers
34 | Issue 65 | happiful.com Jenny Warwick is a counsellor specialising in relationships and family issues. To find out more, visit counselling-directory.org.uk
"There is no wrong way to do morning pages," Julia Cameron writes in The Artist's Way. "Pages are meant to be, simply, the act of moving the hand across the page and writing down whatever comes to mind. Nothing is too petty, too silly, too stupid, or too weird to be included."Tostart,I found my familiar inner critic complaining about my writing, how dull and silly it was. But a few days into trying morning pages, I found this critical voice was dimmed. After a couple of weeks of doing this daily, I noticed themes emerge. Often I write about what's been bothering me recently, or my plans for the day. One of the challenges I've experienced when writing morning pages is hitting a block while I write. Julia Cameron suggests that, if you're stuck, you should write "I can't think of anything to write" as many times as you need – even filling the full three pages with it if necessary. Sometimes, I find myself writing these words but, eventually, I get past that stage and write my own. An important aspect of morning pages is that they should be written by hand, rather than typing. "Just by holding a pen or pencil in your hand, feeling the paper underneath really helps you be mindful and in the present moment," explains Jenny. She advises that writing longhand also helps us avoid picking up our phone or using other technology firstJennything.advises that it takes time to establish a new habit like writing morning pages each day, so be kind to yourself if you struggle to get into it. She cites the benefits that having a routine can have for our wellbeing, and setting aside time each day that's just for us. I'm not a natural morning person, and so found the idea of writing morning pages as soon as I rolled out of bed a bit daunting. I also had to resist the urge to log onto my laptop and get going with the day, the sense of my 'to do' list hanging over me. But I've found that crafting out time for morning pages at the start of each day has felt like a way of making time for myself before I get stuck into work. Some days, the writing feels forced or trivial, but sometimes I'm surprised by the unexpected connections I make on the page. It's also helped me feel more able to focus on my other writing during the day, having spilt out my worries in my morning pages already.So,allin all, I'm planning to keep going with my morning pages – even if it does mean setting my alarm a little earlier than I'm used to.
With a reported 37% of the UK suffering with it, acrophobia can lead to severe avoidance behaviours, as people attempt to stay as far away as possible from bridges, tall buildings, and natural vantage points. And while this fear could stem from previous experiences, research now suggests our genetics could also play a part. 23andMe discovered that a third of Brits are more likely to experience a fear of heights due to "the brain missing visual input from nearby objects to help maintain balance", as noted by senior product scientist Alisa Lehman.
For those with arachnophobia, the intense fear and stress caused by arachnids (whether physically present or merely thinking about them) can prompt anxiety and panic related responses, such as a rapid heart rate, nausea, sweating, digestive issues, and difficulty breathing. Claustrophobia: a fear of confined spaces
happiful.com | Issue 65 | 35
The five most common phobias in the UK, revealed The fear factor
Acrophobia: a fear of heights
For those with claustrophobia, confined spaces such as lifts, public transport such as the Tube, tunnels, and even a locked car, could trigger the feelings of fear or losing control that sufferers often experience. According to the NHS, around 10% of the UK population will experience claustrophobia at some point in their lives.
Thephobia.goodnews
Glossophobia: a fear of public speaking Falling under the 'social anxiety' category, this fear occurs regardless of the size of the audience, and symptoms include dry mouth, headaches, and sweating. This phobia is another believed to be impacted by our DNA, with scientists at 23andMe reporting 800+ genetic markers associated with glossophobia, making around 17% of Brits "predisposed to this fear".
Ophidophobia: a fear of snakes
A 2013 study published in the Proceedings of the National Academy of Sciences suggests that, over time, our brains have been conditioned to fear even snake-like shapes, most likely to protect us from a perceived threat. So, this fear may seem more rational, despite there only being three species of wild snakes reported in the UK – and just one being poisonous. For support with addressing and overcoming phobias, visit hypnotherapy-directory.org.uk
Arachnophobia: a fear of spiders
Writing | Rebecca Thair W hether it's a chill down our spine when we see a creepy crawly, or feeling on edge in the dark, we all have something that scares us. But when these fears grow beyond an aversion to become debilitating, we enter the territory of a is that we don't have to let the things we're scared of stop us from living to the fullest. Here, we're exploring the top five most common phobias for Brits, based on a recent study by consumer genetics company 23andMe.
36 | Issue 65 | happiful.com
If this sounds familiar, you might be experiencing, or at the very least approaching, burnout. While burnout is no new issue, it's becoming increasingly prevalent. And after the last few years, many of us are aware of what it means to be happy and healthy, and what our minds and bodies need in order to function at their best.
Writing
But even if you know something isn't right, the hard part can be asking for help. So, how can you tell your employer that you're struggling? Understand what may be causing it When it comes to burnout recovery, often, the first step is to understand the root cause. Identifying the potential causes can help you to know exactly what support you may need from your employer, and also, indicate if there's anything that has been missing from your life. For example, have you been unusually busy in and out of work, so you've lost the time you previously had to actually rest? When was the last time you did something for yourself?
Recognise the signs and get the support you need
Identify the help you need Once you have an idea of what may be causing it, the next step is to understand what help you need. There might not be a clear answer, To others, it may look like you're thriving, and that you've got everything under control. But, despite how it looks on the outside, you know something's | Ellen Lees Illustrating | Rosan Magar
How to talk to your employer about burnout wrong. You're constantly tired, you're feeling overwhelmed. Every decision or conversation feels like it's draining you of energy, and that nagging voice of self-doubt is growing ever louder.
happiful.com | Issue 65 | 37
Of course, if you've realised that you're unhappy at your workplace, you may decide now is the time to move on. While scary, taking this leap could be the best thing you ever do. Speak to someone you feel comfortable with If you're nervous about talking to your employer, can you talk to a friend first? Or is there a colleague you can confide in?
Someone to be a listening ear while you try to understand what you need. Simply talking about how you feel can help you make sense of the situation when you can't see the wood for the trees. Read your company policies Does your company offer any wellbeing support? According to Mental Health UK, just 23% of people knew what plans their employers had in place to help spot the signs of chronic stress and burnout. While this is on employers to improve communication, if you are struggling, it's worth reading through company documents to understand exactly what is offered. Book a time to chat Knowing how you feel and what support you need will help make the conversation as easy as possible. Who you speak to will depend on the issue, but for general workload or job satisfaction issues, your manager is likely your first port of call. If you're feeling mistreated, or if you're not comfortable speaking with your manager, schedule a chat with HR. The best advice I can give from my own experience is to be as honest and open as possible. There's no shame in needing a little help, and showing this vulnerability doesn't mean you're incapable of doing your job. In fact, you should be really proud of yourself. Look after yourself It's important to look after yourself outside of work, too. Try to set up healthy boundaries to protect your energy; such as finishing work on time, taking regular breaks throughout the day, saying no to additional tasks when you're busy, and prioritising self-care. When you're in the midst of burnout, you may simply need to rest and let your body and mind recover. But, long-term, consider how you unwind. Are there any hobbies you can start, like cooking or reading? Exercise is also a great way to ease tension and boost mood –perhaps there's something new you can try that you've never done before, or a group you can join! Whatever it is, put a boundary around the things that bring you joy. If you're looking for support in burnout recovery and improving your relationship with work, you may find coaching helpful. Learn more at lifecoach-directory.org.uk
Every decision or conversation feels like it's draining you of energy, and that nagging voice of self-doubt is growing ever louder wellbeing but having an inkling of what will help you can make the conversation easier later on. Perhaps you feel like there's simply too much on your plate and delegating some of the work could help ease that pressure?
Writing | Kathryn Wheeler Illustrating | Rosan Magar month ever since, apart from a 16-month hiatus due to Covid.
O n the third Thursday of every month, the Old Spitalfields Market in Shoreditch, London, is infused with colour, pattern, and joy. And we're not just talking about the treasures that can be found on the flea market stalls. Cue the regular gathering of vibrant spirits and creative souls – people who love, and live in, full, bold, bright, wonderful colours.
The Colour Walk, as it is today, has been led for the past five years by upcycling fashion designer Florent Bidois, and was inspired by the life and work of artist Sue Kreitzman, who could, be reliably found in her technicoloured glory each Thursday at the flea market. "Sue is the constant inspiration behind the Colour Walk. To me, she is the face and I am the arms," Florent explains. "In December 2016, I organised my first Colour Walk as we know it: a monthly gathering of creative people who love to dress up and love colour. "I have committed to organising it every
While the Colour Walk is a concentrated culmination of selfexpression, these days, more and more of us are beginning to add a bit of buzz into our everyday wardrobes – and if you've walked into any highstreet clothing store recently, you might have noticed the prevalence of a certain trend.
38 | Issue 65 | happiful.com
Dubbed 'dopamine dressing', bright, bold colours, statement prints, colour blocking, and neon are all the rage in 2022, and retailers are chomping at the bit to deliver on our desire to infuse some joy into our lives. After all, following the hard times we've been through recently, it only makes sense. But the idea of boosting our mood with colour and with fashion isn't anything new. In 2012, a study from the University of Hertfordshire found that when participants wore clothes of symbolic value to them, their confidence increased. And, all the way back down the timeline, the emperor Charlemagne –born around AD740, near Liège in modern-day Belgium – wore red shoes at his coronation, as a symbol of his authority.
Colour has a huge impact on how we respond to the world around us (think marketing campaigns, and what the colours used are trying to get us to feel about their product), but they also do the same with how we relate to ourselves, and on what we tell others about the
It's about supporting the market, expressing ourselves, and just having fun." Here you will find a feast for the eyes, a multicoloured spread of prints, patterns, frills, and flare. Thrifted, crafted, savoured, and celebrated – below the kaleidoscopic surface, the Colour Walk is a safe space to express yourself as you truly are, and Florent shares that he's often told about deep feelings of 'belonging' experienced by attendees. Here 'Colour Walkers' find their tribe, a supportive group of people who gather together to experiment with style and with colour.
It's the technicoloured trend of 2022, but is there more to colourful fashion than meets the eye? The dawn of dopamine dressing
happiful.com | Issue 65 | 39
James Bore, @coffee_fueled
"It's taken me a lot of time to become confident enough to dress how I choose to, rather than knuckling down to the standard accepted look. Since I started expressing myself however I choose, it's been wonderfully freeing. Feeling like I look good by my own standards, or more accurately that I look like me, just makes me feel better." people we are. Momtaz BegumHossain is a colour theorist, author of Hello Rainbow: Finding Happiness in Colour, and also an attendee of the Colour Walk – who was, in her own words, born colourful. Consequently, this is a phenomenon she knows intimately."Everycolour radiates its own particular energy," Momtaz tells us. "These energies make us feel a certain way, and that's why colour can impact our mood. For example, red is a high-energy colour, it makes us feel alert and awake. On the other hand, a soft lavender shade is the opposite, it has much lower energy, creating a calming effect. >>> Colour has a huge impact on how we respond to the aroundworldus true to you
"It's called 'Hello Hue', and it's all about saying 'hello' to colour and welcoming it into your life, by encouraging you to prioritise colour every day. It starts with your mindset and being conscious about all of the choices you"So,make.next time you have to make a decision, go for the more colourful option – this could be that you need to buy some flowers for a colleague so you choose the most colourful bunch you can find, you want to buy some cushions for your bedroom so you go out of your comfort zone and opt for a colour you wouldn't normally go for, and in your wardrobe you start
The study of colour, also known as chromatics, has a lot to say about which particular colours can be used for what – with one study, published in the journal Color Research and Application, going as far as to seek to establish how specific colours and patterns could be used in mental health environments to support patients – but, ultimately, our responses are subjective, and while a clear blue might soothe one person, another could find it energising.
So next time you have to make a decision, go for the colourfulmoreoption
Florent Bidois
That said, there are still some guiding principles for you to follow in your colour discovery journey."Aspart of my work as a colour theorist, I've created a philosophy about how we can use colour to boost our mood and mental wellbeing," Momtaz explains.
40 | Issue 65 | happiful.com "Spending some time understanding how colours make us feel means we can turn to them when we need their help. So, if particular colours make us feel more confident we could wear them in situations where we need to boost our confidence, or, if we want to relax and de-stress, we can incorporate colours that make us feel calm."
"I have always loved styling outfits and dressing up but I really came into my own when I reached 50, and I haven't looked back since! Invisible? Never! Colour lifts your mood, without a doubt. I am not a follower of fashion, but I do care about style and wearing bright colours to lift a grey day or a grey mood!" Take fashion designer Florent Bidois, for example. Today, he can be spotted sporting eyecatching outfits, the kind of thing you could never pick off the rack, but he shares that his journey began with a pair of Topman skinny jeans.
happiful.com | 65 to experiment with new colour combinations."'Dopaminedressing' and expressing yourself should, of course, be about more than just following a brightly coloured trend that's bound to fizzle out by the next season. If it sounds tempting, note that it's not about going out and buying a whole new wardrobe, and should be about being authentically you, and using clothes and colours to guide your mood and selfexpression. And you don't have to go 'all-in' at once.
JacksonDanny|Photography true to you
| 41
Momtaz Begum
Issue
So, what do you want to tell the world about yourself? And, perhaps more importantly, how do you want to feel? Playful, creative, sophisticated, sexy, grounded, bold, calm, assertive, fun, cheerful, romantic, plucky –or that unique combination that makes you you? Whatever that may be, this is your sign to come as you are.
"My first piece of advice would be to start small; one accessory, socks, a detail," Florent says. "My second would be to look for your people, surround yourself with like-minded spirits and cheerleaders. Because if you feel comfortable, you'll allow yourself to take more risks, and you'll become the example. Then everything's a ripple effect."
Suzi Grant, @alternativeageing
42 | Issue 65 | happiful.com Photography | Jabari Timothy There is a crack, a crack in everything. That's how the light gets in LEONARD COHEN, 'ANTHEM'
The important link between diet and good mental health is often overlooked. So here are six mind-nourishing practical tips to help you put positivity back on your plate
I had finally found the right combination of talking therapy and holistic treatments, and was opening up to the idea of getting better – but the missing link was finding some sort of passion again. Fashion certainly wasn't it, and neither was the food I had always previously adored. So, I set out to rewrite this story, and create a trend book 'rebranding' mental health with an emphasis towards wellness.Exploring adaptogens (active ingredients in certain plants and mushrooms), rituals, and this new idea of wellbeing, was so exciting to me, and I jumped feet-first into a lifestyle that could feed my mind,Manytoo.years, three restaurants, and hundreds of cookery classes later, Mind Food became a book earlier this year, and at a time where the world of mental health is changing, and our mental health as a nation is worse than ever. Here are my six practical ideas for positive mental health: MINDSET This is all about prevention rather than cure, and sharing resources and foundations for good mental health, so that whatever you are going through, you have the tools to best support yourself and those around you. We don't always think about how food will make us feel, but understanding your personal recipe for feeling good is a very powerful tool. The idea of mind food is to include ingredients that can support you when you need to soothe, lift, balance, M ental health has affected me in many ways over the years. I have watched close friends suffer and fail to manage illnesses, noticed mental health go uncared for, witnessed first-hand the stigma, and seen the personal struggles of people trying to get help, yet getting nowhere within an impersonal system. Following my own mental health struggles, I have spent the past decade creating my own mental health handbook, that's been my guide to life ever since. This all started for me at the end of a five-year degree in fashion. I was at an all-time low, and just on the turning point of a period of intense depression and eating disorders, after losing someone I loved very much.
>>>LondonHoGungforYoanOlivier|Portrait food & health
happiful.com | Issue 65 | 43
Writing | Lauren Lovatt
withSoothefood
ADAPTOGENS AND TONIC HERBS
focus, or chill. This could be eating rosemary daily for better memory and focus, saffron tea for a natural lift each morning, or a cosy hemp hot chocolate for a moment of calm.
WHOLE FOODS
44 | Issue 65 | happiful.com
On the whole, mind food ingredients are eaten in their natural form – not only because unprocessed ingredients optimise taste and nutrition, but when you start any recipe with good ingredients, you can't go wrong. Leafy greens, rainbow vegetables, fruit, whole grains, nuts and seeds, beans, healthy fats, herbs and spices, are all essential in a balanced diet. But the real key is biodiversity, which means eating a range of foods rather than always sticking to what you know. Try buying a different vegetable, or ordering something you haven't tried before, as a starting point.
These ingredients often get a bad rap for being inaccessible. But these powerful plants can be the missing link to a deep transformation for many different issues. Lion's mane and reishi mushrooms, rosemary, rhodiola, and ashwagandha are
Issue 65
Lauren Lovatt is a plant-based chef and entrepreneur. Her book, 'Mind Food: Plant-based Recipes for Positive Mental Health' (Leaping Hare, £20), is available now.
45
happiful.com | |
& health
Using food as medicine is a part of what mind food is all about, so I encourage you to explore these powerful plants, and find which ones resonate with you. If you're new to this world of potent plants, start with just one that resonates, take a little each day, and see how you feel.
The idea of mind food is to
LIVING FOOD FERMENTATIONAND
Eating foods that are alive –sprouted foods, and ferments –are key in eating for your mind. Sprouting literally means to bring a seed to life. The process of sprouting makes the seed more easily digestible, and more nutritious, and gives you food with life and energy. Fermented foods not only add a tang to our colourful plates, but bring benefits to our gut health and minds. The key to these benefits is increasing the biodiversity in ourBothmicrobiome.oftheseprocesses can be fun, and will connect you with the amazing things plants can do.
ROUTINE Mind Food is also about making it easy to include these ingredients in your day, whether that is in a daily drink, batch cooking at the weekend, or a certain sweet treat you love. There are always little lifestyle hacks you can use, to give you a little boost to get you where you need to be. Make it easy, fun, and delicious!
PopowaKiyoSara|Photography
RITUALS Lifestyle rituals are just as important as the way you eat. These are the things that you include in your day, the things you need each day to thrive. This can be as simple as a morning and evening routine, but can also go deeper, with practices such as different forms of movement, connecting with nature, socialising, meditating, sound healing, and beyond. This can include healing practices like Chinese medicine, Ayurveda, acupuncture, and many more. We'll each connect with something unique, but opening up to this world can enrich our lives, feed our souls, and take our mental health to the next level.
some of the more potent plants that appear frequently in the mind food pantry.
balance,yousupportingredientsincludethatcanyouwhenneedtosoothe,lift,focus,orchill food
46 | Issue 65 | happiful.com
12 34 5 Writing
If you're a beginner when it comes to meditation, you're in good hands. Meditation teacher Meryl Arnett knows exactly what she's talking about when it comes to the practice, and she's here to help you find stillness in your busy routine with her guided meditation sessions and expert advice. (Available on all platforms) | Lauren Bromley-Bird
Happiful recommends
LEND US YOUR EARS
If you've ever been on a hike in the countryside, you would have noticed concrete pillars that mark the highest point of the area. What was once used as a device to map Great Britain, now paves the way for an outdoor adventure. Explore the countryside, challenge yourself to find as many as you can, and make sure to capture a photo of each one that you spot. (Visit trigbagging.co.uk for more information)
'The Mindful Minute' by Meryl Arnett
OUT AND ABOUT Go trig bagging
For those of you who want to live more sustainably, and take your first steps towards a zero-waste lifestyle, this beginner's guide covers all the basics. Author and advocate Erin Rhoads is on a mission to help us pursue healthier lives with her daily tips on how to reduce and reuse. (Out now, Hardie Grant Books, £10.00)
ACT OF KINDNESS
Cadbury x Prince's Trust #GiveADoubt campaign
Cadbury chocolate has collaborated with The Prince's Trust in a campaign to encourage open conversations around self-doubt. By sharing your doubts, this simple act of kindness can give a young person the hope and confidence to overcome their own and begin believing in themselves again. Everyone has doubts, what are yours? (Visit giveadoubt.cadbury.co.uk for more information)
PLUGGED-IN Dustin Poynter Calling all introverts who are in need of a good chuckle! Dustin Poynter sheds light on what it's like being a male introvert through his entertaining and completely relatable video content. Schedule some alone time (we know you want to), and give it a watch! (Follow @dustinpoynter on TikTok)
PAGE-TURNERS Waste Not Everyday: 365 ways to reduce, reuse and reconnect by Erin Rhoads
From an honest and inspiring documentary to lessons in sustainability, and a podcast that will help you embrace failure, try something new with our enriching suggestions
SQUARE EYES Kelly Holmes: Being Me Olympic champion and inspiration Dame Kelly Holmes opens up about her sexuality in a powerful documentary about self-discovery and identity. She openly discusses her emotional journey towards living authentically as herself, and talks about how keeping her sexuality hidden impacted her mental health as a result. (Available to watch on ITV player)
TECH TIP-OFFS
TREAT YOURSELF
The natural ingredient 'matcha' can be found in which herbal tea? a) Chamomile tea b) Ginger tea c) Green *Competitionteacloses 30 September 2022. UK mainland and Northern Ireland only. Good luck! T&Cs apply. perfectted.com
9 7 106 8 |TedPrefect
happiful.com
'Plarn' your plastic bags Be honest, do you have a stash of plastic bags in your cupboard right now? Get creative with a revolutionary, eco-friendly craft called 'plarning'. This involves re-using your plastic bags to crochet them into new items such as hats, mats, or handbags. You'll be pleasantly surprised by how beautiful the results can be. (Visit youtube.com for tutorials)
| Issue 65 | 47 culture
LESSON LEARNED
Go Jauntly Are you stuck on where to go for your outdoor walk? Ditch the indecisiveness with the Go Jauntly app and let it do the planning for you. Whether it's short walks, pub trips, or walking challenges, the easy-to-use app allows you to discover local routes and help you embrace the outdoors to its fullest. (Available on the App Store)
We know that exercise can feel like more of a chore than it needs to be, so this is a great way to bring life and soul back into your exercise routine. The full-body workout will have you working up a sweat to club classics from the 80s to the latest hits under disco lights. (Visit clubbercise.com to find classes near you)
Perfect Ted energy drinks
GET GOING Clubbercise
Perfect Ted have created an all-natural energy drink that is antioxidant-rich and packed with real fruit! Featuring three sparkling energy flavours, pineapple yuzu, apple and raspberry, and pear ginger, it uses matcha as a healthy caffeine alternative to help you improve focus for the hustler, the innovator, and the change-maker. (£13.75 for a pack of 6, PerfectTed.com)
WIN A VARIETY PACK OF PERFECT TED'S ENERGY DRINKS For your chance to win, simply email your answer to the following question to competitions@happiful.com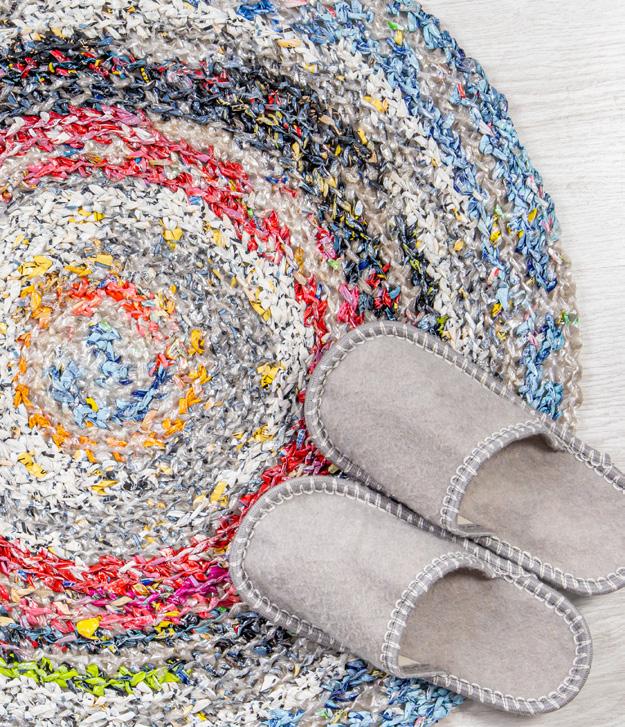 n a word, hay fever is miserable. This seasonal slog can have a knock-on effect on our wellbeing, keeping us up at night and making it difficult for us to go about our daily routines. While medication, staying indoors, and saline rinses are great calls, there's one more thing you might also want to try, and that's meditation. Hay fever invariably comes with frustration, and so a more mindful approach can help soothe that, taking one more thing off your plate. So, try this simple 10-minute meditation morning, night, or whenever you need it.
3. Working from your head down to your toes, shift your attention through your body, letting go of any tension that you might be holding on to as you go by.
Runny nose and streaming eyes? Yep, it's hay fever season. But this quick trick could be the key to managing symptoms Can soothemeditationhayfever?
1. Find somewhere comfortable to sit, set a timer for 10 minutes, and close your eyes.
2. If you're experiencing symptoms right now, observe them, but do it objectively.
I
5. Try to keep your mind clear, observing any sensations in your body, bringing your mind back to your breath if it wanders.
4. Breath deeply, slowly, and deliberately. If your nose is blocked or running, breathe through your mouth with slightly parted lips.
| Issue 65 | 49
Writing | Dr Sarah Alsawy-Davies I was garbage, point, laugh, and make gestures that I smelt. One of the teachers actually joined in, publicly yelling at me for not wearing the correct uniform, because I couldn't afford it. As you can imagine, I felt abnormal, like there was something fundamentally wrong with me. Even though I progressed from a place of thirdworld poverty to the breadline, I was always falling behind. I was inferior and never good enough.
I ended up believing that I wasn't good enough, that other people were better than me, that I deserved to be treated badly, and that was my life forever. Unfortunately, these beliefs continued through my life, and negatively affected my selfesteem, mental health, and relationships. I would constantly
oming from a place of financial poverty, I have become all too familiar with money trauma. Moving homes nine times before the age of 10 years old, I didn't have a place to call 'home'. Even then, when I say home, I mean a shack. I spent part of my childhood living with my grandparents in Cairo. We didn't have clean water, and had little food. Being the poor girl, with dirty, hand-medown clothes from my uncles, you can imagine I wasn't the most popular kid. Even when I lived with my mum in the UK, and we were in a better financial position, I was still unpopular. All the other children had new clothes, video games, and went on days out – all of which were beyond me. The teasing was humiliating. Kids would shout at me, tell me wellbeing
The long-term reality of poverty C
I'll never be good enough This was hard for me. Having those negative and critical messages from other people in society was excruciating. On top of that, the messages I received from family members were also painful ("We can't afford X", "We're not good enough to deserve Y", "We must accept being below the threshold").
Money and self-beliefs Anyone can see the negative impact of poverty in terms of quality of life. We hear how money worries can be stressful, but I'm not sure we appreciate its magnitude.Asaclinical psychologist, looking back at my upbringing, I know that I suffered traumas attached to money. My story is >>> not unique, and money trauma, sadly, often leads us to have an unhealthy relationship with ourselves and with other people.
happiful.com
Money trauma:
The effects of poverty can last a lifetime, regardless of your current financial position. So how can you recognise the damage it causes, and begin to live life on your own terms?
• Notice any limiting beliefs that you may have about yourself. Limiting beliefs are beliefs where we feel we are 'bound to a line'. For example, I am not enough to cross this threshold – whether that be I'm not good enough to get that job, to go for that promotion, to ask this person out on a date, to go out to this restaurant, to wear that dress etc.
• Get yourself a diary. Write about, and be aware of, your experiences. Notice what kind of messages you are sending yourself, and others. Becoming aware of what is going on in your mind, is the first step.
• Do things that make you feel good. The more pleasurable activities we do, the better we feel about ourselves. This can make a big difference to our self-esteem, and consequently have a domino effect on other parts of our lives –relationships, work, and overall lifestyle.
Dr Sarah Alsawy-Davies is a specialist clinical psychologist, business owner and business coach. To find out more, visit counselling-directory.org.uk
The more pleasurable activities we do, the better we feel about ourselves. This can have a domino effect on other parts of our lives be living in a state of anxiety, watching my every move to make sure I wasn't being 'weird' or 'shameful'.Iwouldtolerate emotionally and physically abusive behaviours from friends or ex-partners, because I felt that was what I deserved and I was worthy of no more. I would constantly try to please other people, so they didn't have a reason to criticise me. I worried that if I voiced my needs, I would be rejected, and all I wanted was to be accepted. I've got crabs, and I bet you do too Have you ever heard of what happens to crabs in a bucket? One crab may want to escape –and why not? It's crowded in that bucket, and there's the entire beach outside for the crab to live freely. But, as soon as that one crab tries to escape, its efforts are undermined by the other crabs, and the herd pulls that crab back into the bucket, to struggle like the rest of them.
wellbeing
• Analyse these beliefs. Are these coming from me, or are they objectively true? For example, am I really not good enough for that promotion, or do I not have the skills for it? Identifying what are beliefs, and what are facts, can help us work out the steps we need to take to move forward.
Does any of this ring true?
Money traumas are painful, and they're hard to deal with because we are essentially looking at a multitude of issues. I would always recommend getting support from a trained clinician or a coach, because we often have blind spots. That's why I developed my therapy and coaching services, to help people process traumas and get to a place of financial freedom – so they can live life on their own terms. If you're wanting a head start on your own, here are my top tips:
The effect of other people around us has a huge impact on how we view ourselves, and on our behaviours. Now, I have two successful businesses, but 10 years ago when I initially set up these businesses, and attempted to escape the family poverty, I was dragged back down. My family would often say: "This is very risky," "You'll lose everything," and "This is going to fail." Hearing those messages was tough, but I can see that my family were trying to protect me, and were affected by generational money traumas. They didn't want me to fail, and so thought it was perhaps better to not get my hopes up. They had also never experienced financial success, and thus it was very difficult for them to see how it could be possible for me – and if I did succeed, it would remind them of their failure to gain financial success.
happiful.com | Issue 65 | 51
52 | Issue 65 | happiful.com Photography | Hüseyin Topcu How you love yourself is how you teach others to love you RUPI KAUR, MILK AND HONEY
In 2022, adult sites regularly outperform the likes of Netflix, and sexualised content is omnipresent on social media. So why is talking about it so taboo? Here, an ethical porn director and a clinical sexologist discuss why we need to examine, and educate ourselves on, the impact of porn
"Little by little, I realised that my male friends had a very, very easy time with pornography. They use it in their lives, they like it, they enjoy it, and they haven't really thought much about it – whereas most of my female friends, they had a similar experience to mine."
I'm speaking to Erika Lust, an award-winning erotic filmmaker whose cinematic films are starkly different to the clips that might first come to mind when you think of 'porn'. These days, she heads a global business, and works with directors from the United States, the UK, Berlin, Finland, Colombia, Venezuela, Australia – the list goes on. But it all started in 2004 with her first indie erotic film, The Good Girl, a tongue-in-cheek take on the classic pizza boy trope and, she says, an experiment in breaking the mould for erotic stories. Since then, she hasn't looked back. If you've ever wondered what could qualify someone to direct pornography, consider this. Beyond her cinematic knowhow, Erika has a degree in political science and gender studies, and she notes how this first prompted her to deconstruct and analyse the power imbalances that are so often present in pornography.
For me, porn was part of trying to figure out who I was. But it brings up mixed feelings. It's both about watching images and feeling turned on, but at the same time the images, often, are representing scenarios that made me feel uncomfortable.
In Erika's films, performers practice safe sex, they communicate, they have conversations about consent, and – crucially – they behave in such a way that the viewer can see they respect one another.
happiful.com
"The more I was thinking and learning about it, I came to understand that it's all about the creators who are making it," Erika says. "The stories we have seen in porn repeated time after time, it's the white, middle-aged, fit, hetero man's story, and his vision of sexuality and what he finds sexy. You know what that is – that is breasts, and butts, and fancy cars, and cigars. It doesn't matter if he's from Los Angeles, Stockholm, Barcelona, Budapest, or Sydney, it's the same guy."
As she sees it, porn is a discourse about sexuality, about masculinity and femininity, and the roles we each play sexually, so understanding who's directing that discourse is key.
| Issue 65 | 53
But it's not just about creating an authentic film for the sheer pursuit of realism – many young >>>
" The ABCs of porn literacy relationships
Writing | Kathryn Wheeler My story is not that different from other women'syoungstories.
54 | Issue 65 | happiful.com people, and adults learn about sex from porn. Porn literacy – a framework for breaking down and understanding how, what, and why sexual images affect us – has, therefore, never been more necessary. In 2022, it's a kind of virtual life jacket for teens and young people, but also for adults reflecting on their own relationships with the content, and the conglomerates that are behind them. It's a landscape that led Erika to create The Porn Conversation, an educational platform, made in collaboration with experts, that offers information and conversation guides for parents and educators. A mother herself, Erika makes the point that she wouldn't let her daughters go to a bar without first talking to them about alcohol, so why don't we talk about porn when letting children have access to the internet?
Erika Lust on set
Avril Louise Clarke is a clinical sexologist working with The Porn Conversation, and she notes how the omnipresence of pornography means we need a new"Pornapproach.isaform of mainstream media and it influences you just as an influencer influences you," she notes. She shares her tips with us for approaching conversations with children and teenagers, but notes how adults could benefit from reflection, too. "Start asking yourself questions like, is my consumption of porn in a healthy space? How much time am I really spending on this? What
EskenaziAdriana|Photography
"When we start with the younger age groups, eight to 11, we really talk more about media literacy than porn literacy. Talk about their favourite Netflix series, ask them what messages does it send you? How do you feel when you watch this show?
"With teenagers, it's more to the point. In our guides, we talk about fetishisation, racial stereotypes, consent, and boundaries. We also talk about safer sexual practices.
Find more information and guides for parents and educators at thepornconversation.org
happiful.com
Porn is a form of influencesmediamainstreamandityou just as an influencesinfluenceryou
How to talk to kids about porn kind of porn am I consuming? Is it using racial stereotypes? And am I bringing that into my own life? Is it changing the way that I relate to myself and my body? Am I objectifying people based on what I've seen online?" This two-pronged approach is what porn literacy is all about: taking the time to break down and analyse the media you're consuming like Erika – asking critical questions, and tracing the root of the tropes – and then turning inwards and asking hard questions about what this means for you, as Avril suggests. And then, amongst this awareness is an alternative, a new age of pornography that is more than erotica, more even than art, and is a movement. When I put this to Erika, it rings true. "When I'm trying to identify myself and thinking about my work, I always see myself as an activist," Erika says. "The question I'm asking myself is how can I show sex in a way where it feels like you understand why they are turned on by each other? It's not only about showing skin and showing people having sex, but it's really an invitation into their inner, erotic world." So, what does entering that world tell us about who we are? Our society? Our own, personal sense of sexuality? How we think and feel about others? And what we truly desire? Well, that's for you to find out.
| Issue 65 | 55
"For nervous parents, check-in with yourself and recognise that this is not easy. There's no right or wrong way to do this. You don't have to make it so serious. It can be a conversation that's had at the dinner table or on a drive to soccer practice. It's scary, but give yourself the grace to understand that just showing up and trying is great."
FiguerasMonica|Photography
relationships Clinical sexologist Avril Louise Clarke shares her tips:
A ccording to Bipolar UK, it takes an average of nine years to receive a bipolar diagnosis, with patients being misdiagnosed an average of 3.5 times during that period. And the long road to diagnosis isn't exclusive to this particular mental illness.
Challenging a diagnosis can be intimidating, so we're sharing ways to work alongside health care professionals to make it a smoother and less stressful experience
How to question a mental misdiagnosishealth
As someone who was diagnosed with borderline personality disorder (BPD) instead of autism and ADHD, I know this feeling all too well. And a National Autistic Society study found that 42% of women were misdiagnosed with a mental health condition before being recognised as autistic.
Writing | Beth Rees
Questioning a diagnosis can be nerve-racking, which is why we're sharing some useful tips for going about it, with the help of counsellor Jenny Warwick.
Don't give up The road to the right diagnosis doesn't always run smoothly, so keep the destination in mind.
If you've approached your GP or psychiatrist in the past about a possible misdiagnosis and they
happiful.com | Issue 65 | 57 Jenny Warwick is a counsellor specialising in relationships and family issues. Find out more by visiting counselling-directory.org.uk
"It can feel like a huge weight has been lifted and this, in and of itself, can help you to start down the road to recovery."
haven't listened, it can be hard to trust the process. "Losing trust could mean a person doesn't continue to engage with their support if they feel they are not being heard or understood by their health professional. Their mental health is likely to get worse because it is not being treated appropriately," Jenny says. I was so afraid of being reviewed by the same psychiatrist who misdiagnosed me, that I asked for a second opinion from a different person. When they agreed, it was a sign that they were taking my concerns seriously so it's always worth asking.
"Getting the right diagnosis can be a positive experience," Jenny concludes. "It gives a name to how you've been feeling. The correct diagnosis also means the correct treatment and support are made available. It helps you to understand exactly why you are feeling the way you are.
food & health Book an appointment with your GP When booking an appointment, explain that you suspect a possible misdiagnosis and would like a review. This is especially important if you think the medication you've been prescribed isn't right. "If medication is prescribed for a condition you don't have, the treatment given is unlikely to work," Jenny explains. "This could mean that you are less likely to go back to the health care provider for follow-up treatment."Beinggiven the right medication, treatment, or support can be life-changing, so making that appointment is a positive first step. Write notes in bullet points Trying to remember everything you want to say in your appointment can be tricky, especially when you have a lot you want to talk about. Jenny says: "It can be helpful to make some bullet points of what it is you want to say, so that you have the facts easily to hand. You might not have a lot of time in the consultation to be able to explain what is happening and how you are feeling." That's why, in the lead-up to your appointment, it's a good idea to write everything down in a diary or journal. Alternatively, typing up your thoughts and printing off two copies (one for you and one for your GP) can be really helpful. You can then go through the information together.
doesn't always run smoothly, so keep the destination in mind
The road to the right diagnosis
In order for your health professional to review your diagnosis, be sure to record as many signs and symptoms as you can. This includes information about your moods, how you're feeling, any behaviours you're worried about (for example, substance abuse or isolating yourself) and also any big life changes (relationship breakups, bereavements, job loss, etc). Additionally, it's important to note down how you feel physically. "Physical illness can cause symptoms which could be confused with mental health issues – for example, low mood and fatigue associated with hyperthyroidism," Jenny explains.
"You could keep a mood diary including things like changes to sleep patterns, or changes to your appetite. Keep track of your moods and your behaviour so that it may be possible to find a link between these, which would be helpful with a diagnosis." (Try to) trust the process
Record symptoms,signs,and sleep
business wants you back, check your understanding, and then show how you can deliver your objectives from another location. Have evidence of your good performance and clear examples of why remote working is more productive for you. Managers may worry about building a supportive team if everybody is 100% remote, or if you are the only person not in the means your employer is legally obliged to make reasonable adjustments to avoid you being put at a disadvantage in the workplace. The Government Access to Work scheme provides grants of up to £65,180 to help employers with the cost of any adjustments, so it is worth asking for a workplace needs assessment. An Access to Work office, so consider being flexible about team meetings. It is possible to build an awesome hybrid team, but it takes conscious effort and time that many leaders don't have. Help them with your ideas. If your employment contract requires you to work in a specific place, you should take advice from your trade union or HR before having the conversation. adviser will talk with you and your employer to develop a tailored package of Adjustmentssupport.might include things like opportunitycoachingyourneurodiversitysittingheadphones,noise-cancellingasit/standdesk,awayfromneonlights,trainingforco-workers,apackageoftosupportyou,orthetoworkfromhome.
A
Read more about Helena Territt on Life Coach Directory. My company wants me back in the office, but I much prefer remote working. What can I do?
Life Coach Directory is part of the Happiful Family | Helping you find the help you need
Ask the experts
I'm manager?canworkandneurodivergentfinditdifficulttoinanoffice.HowIraisethiswithmy
How can I negotiate going back to the office?
There are good reasons to ask people back to the office, but some people are being told to come back when it just isn't necessary. Listen carefully to why theQQ
A If you are neurodivergent, it's likely that you will be covered by the Equality Act 2010 as someone with a disability. This
Executive coach Helena Territt answers your questions on returning to the office
• Think about what specifically is making it challenging. Could you commute at a quieter time? Take a lunchtime walk? Ask not to be disturbed?
• Try to allow yourself compassion as you make the transition and don't go too fast. Lower your expectations to 'good enough', and build in plenty of time to rest and recharge. This is a completely new approach, so you can create your own rules about how it works.
1. Be clear about what you are hoping to achieve, and open to different ways of achieving that aim.
2. Define the tricky areas and how you will navigate them together. How will you build in spontaneity and personal connection? What will you do if a decision is made over coffee while a team member was working from home?
Q
A conversation involves at least two people sharing their views, so avoid making assumptions or decisions too early. Many people are desperate to go back to the office, others will find it daunting.
3. Keep checking in on the cost/ benefit ratios. Is everyone in the office, but miserable? Or do you have a remote team who have never met and don't support each other? Be open with your team and coworkers about how you feel it is going, and find solutions together.
Helena's top tips for negotiating the 'back to the office' conversation:
• Have a conversation with co-workers or your manager about what you would like to be different, they may well agree.
happiful.com | Issue 65 | 59
My company has introduced a hybrid model, but I find it tough.
Do you have any tips?
A Hybrid working has a lot of advantages for employers and employees, but the reality can be challenging. Going back to a crowded commute, navigating flexible child-care, having an unpredictable routine, not to mention the overwhelm of a bright, noisy environment. It is natural to find this difficult and you will not be the only one struggling.
Keep it rolling For £5.99 per month, you'll receive each new edition of Happiful straight to your door (postage and packaging included*), packed with fascinating features, practical tips, inspiring stories, and expert advice. • Print-exclusive guided journaling pages in every issue • A simple, monthly subscription charge • Easily cancel your subscription at any time • Happiful and its packaging are fully recyclable • For every tree used to create our magazine, we plant two in its place • Purchasing a print subscription enables us to provide a digital magazine for free – ensuring there are no financial barriers to mental health support. We cannot thank you enough for your ongoing support of Happiful's mission to end mental health stigma, and to ensure everyone in need can access help. Together, we can make a difference. *UK mainland and NI only. Additional charges may apply for postage elsewhere. For orders to the EU please visit happiful.newsstand.co.uk Prices and benefits are correct at the time of printing. For full terms and conditions, please visit happiful.com. YOUR MONTHLY MUST-HAVE DELIVERY CAREER INSPO • GET GROUNDED • BODY LANGUAGE PLUS O On the hunt for pleasureequality THE BIG 'O' Paradise awaits as you discover a safe space just for you sanctuaryyourCreateown The ULTIMATE mindset reset We reveal the secrets to setting healthy boundaries Are your lines being crossed? Shake up perspectiveyour DEVOTED TO MENTAL HEALTH & WELLBEING ISSUE£5.9964 772514 373017 64 HAPPIFUL.COM £5.99 BRING THE JOY BACK TO YOUR FEED ME-diaSocial WITH YOUR ACCEPT, EXPRESS AND YOURCELEBRATETRUESELF The secret tohappinesslong-term THE ANCIENT GREEK WISDOM YOU NEED TO KNOW WHY DO WE CHOOSE TO LOOK THE OTHER WAY? Come as you are PLUS HOW TO burnoutdiscuss BOSS Relationship red flags? 65 £5.99HAPPIFUL.COM DEVOTED TO MENTAL HEALTH & WELLBEING ISSUE£5.9965 Never miss an issue with our brand new rolling subscription! missDon'tout!
When the time comes to end a course of antidepressants, many people face concerns about what's next. So we're laying out what to expect
WHAT ARE ANTIDEPRESSANTS?
"Antidepressants are medications prescribed for depression, anxiety disorders, obsessivecompulsive disorder (OCD), and some other mental and physical health conditions," The Royal College of Psychiatrists tells us. "There are almost 30 different kinds of antidepressants. We don't know for certain how antidepressants work, but they affect the activity of certain chemicals in our brains called neurotransmitters. These pass signals from one brain cell to another. The neurotransmitters most affected by antidepressants are serotonin and noradrenaline." >>> "
Writing | Kathryn Wheeler food & health
I have experienced anxiety since childhood and developed depression in my 20s, after the birth of my second child. Following my divorce, I became more affected, at times struggling to cope with my work which involved travelling around the UK delivering training in, ironically, mental health and exercise. Eventually, I went to my GP, who recommended antidepressants andSarahcounselling."Bolitho'sstory is likely to sound familiar to many. In the UK, the latest NHS statistics from January to March 2021 show that there were 20.2 million antidepressant drugs prescribed, a 1% decrease from 20.5 million items in the previous quarter, and a 3% increase from 19.6 million items for the same quarter in 2019/20. They're incredibly common, and yet mental health stigma means that there are often unanswered questions about the experience floating around. One such question is what to expect when you end a course of antidepressants? The length of time an individual will need to take antidepressants varies from person to person, and while one may take them for up to six months, another may continue to take them for five years, or more. But how can you tell when the right time to stop taking them is for you? What should you expect? And how can you do it safely? Read on to find out. But, first, we need to take some time to get to know what we're dealing with.
happiful.com | Issue 65 | 61
What to expect fromwithdrawalantidepressant
sideCommoneffects
"You may experience some of the following side-effects when coming off antidepressants, which are usually mild but can be severe," The Royal College of Psychiatrists advise. "If you do get any of the symptoms listed below, tell your doctor." • Dizziness (this is usually mild, but can be so bad that you can't stand up without help) • Anxiety, which comes and goes, sometimes in intense 'surges' • Difficulty getting to sleep and vivid or frightening dreams • Low mood, feeling unable to be interested in or enjoy things • A sense of being physically unwell • Rapidly changing moods • Anger • Fatigue • Loss of coordination • Headaches • The feeling of an electric shock in your arms, legs, or head (those are sometimes called 'zaps', and turning your head to the side can make them worse) • A feeling that things are not real ('derealisation'), or a feeling that you have 'cotton wool in your head' • Difficulty in concentrating • Suicidal thoughts • Queasiness • A feeling of inner restlessness and inability to stay still (akathisia). You are more likely to get these symptoms (and for them to be worse) if you stop taking an antidepressant suddenly or if you reduce the dose quickly.
From week five of taking them, Sarah recalls feeling more positive, and she noticed that her symptoms were reducing. She had also started counselling at this point, and was gradually starting to identify areas in her life that needed to change, and develop new coping skills. She continued to take the medication for about three years before she decided to speak to her GP. "I was concerned about coming off the medication, as I was not sure if I would experience depression again, or what the effects of withdrawing would be," she shares. "I am thankful that I was given good advice to do this slowly – I'm so glad I took the time, as it gave me the confidence that my symptoms were gone and that I couldAccordingcope."to The Royal College of Psychiatrists, how long you take an antidepressant will all depend on why you were prescribed them, and whether you have had to take them before. You might, like Sarah, have an idea of when you would like to end your course – in which case you should have a conversation with your doctor about when and how to reduce and stop taking your antidepressants."Youmayneed to balance the benefits that you get from antidepressants against the problems that can occur after using them for a long time," they advise. These problems can include sexual dysfunction, weight gain, and sleep problems. "Antidepressants can relieve symptoms of anxiety or depression, but prolonged use can lead to increased sideeffects. Some people also find that antidepressants will stop working after a period of time."
WHAT TO EXPECT AND HOW TO MANAGE IT
The kinds of side-effects that you will experience will depend entirely on the kind of antidepressant you have been taking, how long you have been taking it, and how quickly you stop using them.
food & health
Are addictive?antidepressants
From January to March 2021, 20.2 wereantidepressantsmillionprescribed
The Royal College of Psychiatrists echoes this practice: "When you agree that it is time to stop, your doctor can help you put together a tapering plan. This must be flexible. It should allow you to reduce the dose at a rate that you find comfortable – as slowly as you need to avoid distressing withdrawal symptoms," they explain. "This is also called 'dose tapering'. Dose reductions will usually get smaller as the dose decreases – some people need to get down to a very low dose beforeArmedstopping."withthe right support and information, the process can be straightforward. But if you're in any doubt at all, reach out to your GP. You can find out more by visiting rcpsych.ac.uk and searching for 'Stopping Antidepressants'.
Antidepressants are not addictive, and this is a common misconception. However, if you stop taking them suddenly you may experience some more intense side-effects. And antidepressants can make a huge difference in individuals' lives. A six-year study by the NIHR Oxford Health Biomedical Research Centre, that looked at the results of more than 500 trials, found that around 60% of people respond to the drugs by two months, with about a 50% reduction in their symptoms.
happiful.com | Issue 65 | 63
WHEN IS THE RIGHT TIME TO STOP?
"I monitored my symptoms in case they came back but, luckily, I felt fine," Sarah shares. "I still get occasional periods of low mood, but I am aware of symptoms earlier, and can make sure I exercise, eat well, and take time for me which helps me to cope. And I know that medication is there to help me if I need it."
work-life balance in relationships
A chieving a healthy work-life balance is tricky. Research shows that more than half (52%) of UK employees admit that work regularly eats into their personal life. And, worldwide, the UK ranks 11th for work-life balance, with the average worker putting in 22 days of unpaid overtime each year. That's pretty staggering, when you sit back and think about it. But what happens when our work-life balance isn't just affecting us? And what should you do when you and your partner have very priorities?different
My partner and I are very much in opposite camps regarding what feels like a healthy worklife balance. While I'm happy to jot down a few ideas outside of working hours, I'm pretty strict about switching off. My partner, on the other hand, would have continued taking work calls on our wedding day, if someone hadn't confiscated his phone. If you're worried that your relationship may be affected by your different attitudes to work and life, there are plenty of small changes you can make to help take the pressure off.
They say opposites attract. But when you've got vastly different work-life priorities to your partner, how can you find a happy balance that works for both of you?
Once you've established which areas are causing issues, try and work out boundaries. An outright ban on out-of-hours emails may cause a build-up of stress that wasn't there before, while ignoring boundaries could cause frustration. By creating boundaries together through discussions, you can establish what works for you both. Keep returning to these boundaries regularly to help judge if they are working as intended, or if there could be a better way to try things moving forward.
NEGOTIATE BOUNDARIES
Writing | Bonnie Evie Gifford Illustrating | Rosan Magar
TALK IT OUT Sitting down to have an open, honest, and frank conversation should be one of your first steps. This can help to make sure that you're on the same page. What may feel like reasonablecompletelybehaviourtooneofyou("It's only a couple of emails." "What's the harm in one more work call before dinner?") may be causing unnecessary stress, anxiety, or resentment for the other. No matter how close you are, you both need to remember that your partner is not a mind reader. They may not know something is wrong if you don't tell them.
How to deal with mismatched
Think about the time you are spending together. Do you feel relaxed, closer, refreshed? Or have you fallen into a slump? Ensuring the time that you do spend together is always used to its full potential can help you to better appreciate it, as well inspiring you both to feel excited at the prospect of more time together.
DISCUSS YOUR SHARED GOALS
Holding negativityontocan only hurt you in the long run – but that doesn't mean it should be brushed aside relationships
We each have very different driving motivations. Some people are career-driven, while others find fulfilment outside of their work. It's OK if your core values are different from your partners; there's no right or wrong way to be, but gaining a clear awareness of what drives each of you can help you develop a better understanding of one another in the long-term. should be brushed aside. Ensure that your partner understands how you are feeling, and work together to create a more positive, open space where you can talk.
FOCUS ON QUALITY, NOT QUANTITY
SCHEDULE US-TIME Set time aside in your calendar for uninterrupted time with your partner. Maybe that's something daily, like having a phone-free breakfast together. Or perhaps that's deciding on a set number of evenings where you both agree to be present in the moment, without outside distractions. Switching off for agreed-upon times can help you both to feel appreciated without allowing unnecessary anxiety or frustration to build.
Staying angry or upset about your different work priorities can lead to resentment, further hurt feelings, frustration, and misunderstandings. If you feel negative feelings continuing to linger or build, it could be a sign that you and your partner need to communicate better about your needs, boundaries, and expectations. Holding onto negativity can only hurt you in the long run – but that doesn't mean it happiful.com
LET GO OF RESENTMENT
| Issue 65 | 65
SUPERFOODEDITION meaning the label doesn't really tell us by itself what sets the product apart.
FADFAB
"The term superfood isn't regulated in any way, so anyone can make food or package a fruit or vegetable and call it a superfood," says Sophie Medlin, consultant dietitian at CityDietitians.Andthisisthe problem. While it might encourage us to eat more healthily, calling a product a 'superfood' doesn't necessarily mean it's better than one that isn't. Clever marketing has us thinking we need to splurge at health food stores for these hallowed foods in order to be healthy, but we can find many of the same benefits in our everyday diet – without the premium price tag. For example, while spirulina and quinoa are high in antioxidants, you don't need to splash out on them if you don't want to. In fact, you can find plenty of antioxidants in your average roast as broccoli and cabbage are great sources ofSo,them.which superfoods could be worth tucking into, and which ones should you leave on the shelf? Let's take a look… or H ow often have you added something to your shopping basket after reading that it was this month's superfood? Whether it's getting passionate about kale, or adding spirulina to our morning shake, we're all guilty of jumping on wellness trends in a bid to look and feel better. But what does the word 'superfood' actually mean? Well, it turns out there's actually no singular definition of what a superfood is. While we generally use the term to describe a product with some health benefits, 'superfood' is not a scientific term,
happiful.comWithso many products on the market promising to have 'superfood' properties, how can we separate the superficial sales claims from the ones actually worth trying? Jenna Farmer tackles the most popular superfoods on the market to reveal which ones actually live up to the hype
66 | Issue 65 |
FAD: Kale Remember when kale was everywhere? You could even buy T-shirts declaring your love for it. Yet, since 2014, the leafy green seems to have been declining in popularity with fewer and fewer Google searches – but why? Well, while it doesn't hurt to add this to your salad, you can just as easily get nutrients from similar vegetables. One study compared kale to other vegetables such as Chinese cabbage and spinach, and found they all contained higher levels of 17 nutrients than kale did.
The humble oat has never been more popular, whether it's Instagram-worthy pics of overnight oats or grabbing an oat latte on the way to work. But do oats actually live up to the superfood title?
FAB: Nuts Nuts are one of the most nutrientdense snacks you can opt for, and come with all kinds of health benefits. They're also super versatile – whether it's peanut butter on toast, or snacking on cashews before you head to the gym. It's their range of nutrients that Sophie thinks makes them worthy of the superfood label. "They contain healthy fats, proteins, and lots of essential nutrients like zinc and calcium, which can be hard to find elsewhere," she explains. Unlike some superfoods, nuts are readily available, and require minimum prep.
FAD: Oats
happiful.com | Issue 65 | 67 >>>
FAB: Blueberries All berries are a good source of fibre, but blueberries stand out from the crowd as a superfood worth shouting about.
"Blueberries are pretty 'super'; they contain polyphenols which are like antioxidants – these are shown to improve brain function," adds dietitian Sophie Medlin. Studies have shown that a moderate intake of blueberries can also help reduce your risk of things like type 2 diabetes and cardiovascular disease, thanks to anthocyanins (which are like antioxidants). And, there are ways to make your purchase last longer. "Buy frozen, because they're cheaper and retain more nutrients," advises Sophie. The perfect addition to whizz into your morning smoothie.
There's no denying oats have health benefits, but dietitian Sophie Medlin says we need to remember there's a whole range of other grains that do too, which, perhaps, aren't quite so fashionable."Oatsoften come up as a superfood, and while they do have health benefits, we're far better off eating a range of grains rather than just having oats in our porridge, because the wider the diversity of grains in our diet, the more diverse our microbiome will be," advises Sophie Medlin.
"Goji berries were one of the first superfoods we heard about, and while they are high in antioxidants, they're very expensive, difficult to get hold of, and oranges have more vitamin C than them," explains SophieAccordingMedlin.toNHS choices, there's no reliable evidence to support claims that goji berries can help with things like cardiovascular disease or improving your life expectancy, and any studies that do show some benefits use a much higher concentration of the berries than the products on our shelves contain.
FAD: Avocado Avocado on toast is one of the most hyped healthy brunch dishes around, but should we be tucking into it? Well, it's not the worst food choice, but Sophie questions its superfood label. "Avocado is a great source of healthy fats and fibre, but it's also high in calories, and is often expensive to eat." There are lots of other foods that offer similar health benefits to avocado, such as nuts and seeds, which might be more budget-friendly.
A study in Atherosclerosis found that, compared to those who didn't eat fish, eating salmon daily decreased LDL cholesterol (often dubbed the bad cholesterol) by 7%, and increased HDL cholesterol (the 'good' kind) by 5%, as well as decreasing blood pressure. The NHS recommends you eat at least one portion of oily fish, such as salmon, a week.
FAD: Goji Berries
68 | Issue 65 | happiful.com
"Salmon is thought of as a superfood, and I would agree with that!" says Sophie. One reason is that salmon is known for being packed full of omega 3 fatty acids. "These are really important for our brain and heart health, and for reducing inflammation in the body."
At the end of the day, all superfoods – whether considered fab or a fad – don't have the power to improve your health by themselves. The best health advice is to look beyond labels, and instead eat a variety of foods (fruit, veg, wholegrains, and proteins) for optimum health benefits.
Jenna Farmer is a freelance journalist who has Crohn's disease and blogs about her journey to improve gut health at abalancedbelly.co.uk
Sophie Medlin is a dietitian, director of City Dietitians, and chair of the British Dietetic Association for London. For more, visit nutritionist-resource.org.uk
FAB: Salmon
While these pink dried berries certainly aren't bad for you, there's nothing particularly special about them, despite what Instagram smoothie bowls may have you believe.
A s well as traumatic things that happen to you – like emotional,physical,andsexual abuse, or the betrayal of your trust via an affair – trauma in relationships also includes what isn't happening, and examples include a lack of attunement, emotional unavailability in the other person, and no safe container for your emotions and experiences. Sometimes they go unnoticed, sometimes they are ignored.Youmight be familiar with tolerating, even denying, some degree of trauma so that your relationship can continue as it is. For example, it may have become characterised more by criticism, complaint, and resentment than the love you want, but you shield yourself from what's really going on, or just 'get on with it'. Which begs the question… WHY DO WE DO THIS?
1. Fear. When you attach to someone, this part can get triggered at the thought of the relationship ending. Because your fear ensures your survival, it can make a potential ending feel like a life or death situation. If your body believes your survival is at risk by moving on to an uncertain future, it's easy to understand why you'll tolerate distress to avoid it. That said, the longer you stay, the more fearful you become, the more your trust and self-esteem drain away, and the tighter you grip the relationship. You're caught in a vicious circle.
Writing | John-Paul Davies
| Issue 65 | 69
Why do we ignore red flags in relationships?
Why do we ignore red flags in relationships?
An answer might be found in each of three important parts of you:
2. Reward. This includes your innate drives to acquire more possessions, status, money, sex, and to 'win'. These are powerful motivators, and some of the main reasons humans have been in existence for so long. Reward can make status, wealth, a great sex life, and a need not to 'lose', 'fail' or look 'less than' others, compelling reasons to stay – despite you rarely actually feeling good.
Sometimes, relationship problems fly under the radar, but other times we deliberately look the other way. Here, we're breaking down why we do this and explore what happens when we face tension head-on
3. Connection and love. Love is presumably where you'd hope to spend most of your time in a relationship, but, an ending – whether of the relationship or your trauma denial – might lead to you experiencing grief; love with nowhere to go. Grief is one of the most painful feelings and it's understandable that we, therefore, try to avoid feeling it. You'll of course be driven to accept, forgive, and empathise with and be selfless when you love someone. These are all great, loving qualities. >>> relationships
happiful.com
INANDOFDESERVINGYOU'REREALLOVERESPECTLIFE
For feelings, get to know what love feels like in your body. If you're going to make a change to feel better, you need to be experiencing feelings like love, excitement, joy, and aliveness elsewhere in life. Change will be unlikely if you don't deeply, bodily, know and feel what you're missing if the relationship remains as it is. Make sure your imagination, your body and behaviours, are all attending to creating, cultivating, and connecting in any way you Connectioncan.and self-love are going to be a real struggle for anyone who's been traumatised, so be patient and kind to yourself while you keep trying and trusting. The more you connect, the more 'calm and alive' you'll feel, and the more you'll be able to hold boundaries and communicate your needs in a relationship. It will happen. Maybe it'll mean the end of a relationship, maybe it'll mean it changes for the better. Either way, you'll be less likely to sit, caught in a place that no longer serves you, next to someone who may be better left untrusted.
John-Paul Davies is an integrative psychotherapist, coach, and writer. Find out more by visiting counselling-directory.org.uk
The key part to put your thought, feeling, body and behavioural energy into now though, is connection and love: connection with self, with nurturing and supporting others, and with the environment around you. For your thoughts, think about the qualities of love and ensure that's how you're treating yourself. You wouldn't stay in a relationship where you weren't getting the love you deserved if you always treated yourself lovingly, and were attuned and emotionally available to yourself.
71
WHAT NOW? So, if you're now at the point where sacrificing your wellbeing is too great a price to pay? Understandably, you might look to the other person. After all, if they changed it would solve everything. The trouble is, although everyone's able to change, some are unfortunately unwilling to keep doing the work needed to achieve it. Pay less attention to the other person and focus more on yourself. Look at managing your fears to realise there's no one in this world you can't live without, that you're deserving of real love and respect in life, and that there are potential partners out there who will agree. To address the 'reward' motivation, become more aware of the values you're basing your everyday decisions on. You'll have been told what should be important to you growing up. Of course, prioritise status and wealth above love and contentment if you want to, but know it's not possible to achieve sustained happiness if you give over your gold in exchange for glitter in this way.
Taken too far though, they'll overlook and accept problems and put empathy for the other person above empathy for yourself. Knowing your loved one has such potential for growth also leads to living in hope that they might eventually see and hear you one day, even without any real evidence it's happening.Withsuch a range of compelling parts in play, you can understand why you might endure, or deny, relationship trauma. A compassionate view of yourself is key here, because any frustration, or shame, you feel towards yourself for doing it simply leads to more fear and therefore more rigidity, making you cling even tighter.
Try to couple this empathetic understanding with an awareness that continuously tolerating emotional distress to maintain the status quo requires the sacrifice of your wellbeing.
happiful.com | Issue 65 |
relationships
•
• Remove the tray from the oven and add the broccoli. Drizzle the tamari and sesame oil over the fish, and sprinkle everything with the sesame seeds.
• Serve the sesame salmon and vegetables with rice and a side of avocado.
•
W hen it comes to optimal health, good sleep is as important as nutrition, movement, and relaxation. Research shows that it is crucial for most species to sleep well, and for us humans, the quality and quantity of our sleep affects our learning, memory, and creativity, as well as our immune function, gut microbiota, weight, and energy levels. So, catching those 'Zzzs' when you can is key to feeling like your best self. While many of us know about good sleep hygiene; regular bedtimes, warm baths, and stopping using screens two to three hours before bed can help, certain foods can also be very effective in helping to calm our nervous system and promote the production of melatonin, the hormone that helps us to sleep. Here are three recipes to try that are packed full of sleep-friendly nutrients.Sweetdreams!
•
• Meanwhile, steam the rice. When cooked, fluff with a fork and then stir through the chopped coriander and flaked almonds.
72 | Issue 65 | Threehappiful.comrecipes to help prepare your body for sleep
• 1 avocado Method • Preheat the oven to 200oC. Drizzle a baking tray with olive oil. • Place the salmon fillets onto the tray, skin side down. Add the spring onions and tomatoes, and season with salt and pepper. Bake for 8 minutes.
• Steam the broccoli for 5 minutes.
• Return to the oven for 4–5 minutes or until the salmon is just cooked.
dreamsSweet
Writing | Alex Allan Sesame salmon with coriander almond rice Serves 2 Ingredients • 2 tsp olive oil • 2 salmon fillets 6 spring onions, trimmed and cut into 3 pieces • 12 cherry tomatoes, halved Black pepper • 200g long-stemmed broccoli, trimmed • 1 tbsp tamari • 1 tsp sesame oil • 2 tsp sesame seeds ½ cup brown rice Handful fresh coriander, chopped • 2 tbsp flaked almonds
•
happiful.com
| Issue 65 | 73 food & health
Bedtime cherry smoothie Serves 1 Ingredients • 125ml Montmorency tart cherry juice • 125ml camomile tea, cold • ¼ cup oats • ½ banana, peeled and frozen • 1 kiwi, peeled and frozen • 1 tbsp almond butter • ½ tsp pure vanilla extract • 1 cup spinach Method • Add all the ingredients to a blender. • Blend until smooth. Serve. Goodnight golden milk Serves 1 Ingredients • 250ml milk of choice • 2 tsp almond butter • 1 tsp honey or maple syrup • ½ tsp pure vanilla extract • ½ tsp ground turmeric • ½ tsp ground cinnamon • 1 tsp ground ginger • ¼ tsp ground cardamon • Water, optional Method • Add milk to a pan along with the almond butter, honey or maple syrup, and spices. • Whisk well to combine. If it's too thick, add a splash of water. Stir. • Simmer for 10 minutes. Serve.
Alex Allan is a nutritional therapist, specialising in gut and hormone health. Find more at nutritionist-resource.org.uk Melatonin is our sleep hormone and essential for regulating our sleep cycle. Including melatonin-rich foods such as tart cherries, milk, fish, and nuts like pistachios and almonds, can help promote more restful sleep. In addition, the amino acid tryptophan (a protein building block) is turned into serotonin, our happy hormone, and then subsequently, into our sleep hormone, melatonin. Including tryptophan-rich foods such as salmon, turkey, dairy products, eggs, oats, almonds, and bananas can help promote the production of this sleep-friendly hormone. Calcium and magnesium are also required for relaxation – for both the mind and muscles! Including magnesium-rich foods such as avocados, spinach, broccoli, almonds, brown rice, and whole grains can help ensure adequate levels for good sleep. And don't forget, it's not just what you eat but how much you eat that can affect your sleep. Eating rich, heavy, or spicy foods close to bedtime can impair sleep and make it less restorative. But equally, waking up with hunger pangs can be a risk of highly restrictive diets. Ensure that you're getting a good variety of nutrients across the day, and keep an eye on maintaining blood sugar balance to ensure the best rest possible. The healthy bit
In south-east London, The Growing Lives project invites adults with mental health problems and autistic children to visit Sydenham Garden, which was founded in 2002 when a small group of local residents had the vision to convert a neglected nature reserve into a thriving community garden. Today, coworkers (the titles given to the beneficiaries) come together to garden, spend time in nature, and, importantly, care for a flock of 12 adopted hens. The community project is supported by the British Hen Welfare Trust (BHWT), a charity that saves 60,000 hens from slaughter every year, and rehomes them as pets and –
Across the country, our feathered friends are supporting people in new and surprising ways
Writing | Kathryn Wheeler now – as therapy animals. Jane Howorth MBE is the founder of the charity – and, for her, the decision to bring chickens into therapeutic environments just made sense. "We all know how much joy animals can bring as pets, and chickens certainly fit into that category," Jane explains. "But we hear so much anecdotal evidence of the way keeping hens can benefit human wellbeing.
Good eggs: How chickens are changing lives
G entle scratching,methodicalcoos, and a brisk ruffle of feathers; anyone who has had the pleasure of spending time around chickens will be able to relate to the soothing qualities of this particular poultry. Even so, they may not be the first creature that comes to mind when you think about therapy animals. But that's about to change.
David Lloyd is the coordinator for Growing Lives, and he's seen first-hand the impact these feathered friends can have on the people around them. He shares how children from a local special school visit them several times a week and, while some are non-verbal and avoid eye-contact with humans, they happily stroke, interact, and chatter away with the chickens in a way they can't with other people."Having rehomed chickens fits with our ethos; they're a bit of a metaphor for the work we do here," David explains. "They've had a difficult first part of their life, they're saved from death, they're then given a lot of love and nice surroundings, and within months they're thriving and growing into their potential."
"We've seen chickens being kept in prisons and probation hostels to help people not only learn responsibility, but also open up and develop empathy. We've seen them kept by community groups and other charities to bring people together and support mental and physical health. "And we hear so many stories from our adopters about how hens have helped to give them a positive focus and provide so many bright moments in life. They have so much love and affection to give that you can't help but feel better when you're around them."
Out of London and down to Cornwall, mother-of-three BillieJo Pascoe has also seen how beneficial chickens can be when it comes to supporting children withGeorge,autism.her son, didn't speak until he was five-and-a-halfyears old. But, after noticing that George smiled and made happy sounds whenever he saw chickens, the family adopted five from the BHWT.
74 | Issue 65 | happiful.com
"George was instantly in love," Billie-Jo says. "He spent hours hugging and stroking them, and making the Makaton [a language system used by people with learning or communication difficulties] sign for love, while pointing at the hens. "We realised hens could help with autism immediately after getting them. They have an immensely calming effect, and make George very relaxed and happy. He had a chicken under his arm from day one and they were so gentle with him." The family are no strangers to the animal kingdom. They live on a dairy farm with three horses, three ducks, a cockerel, and now 12 hens. But it is the hens, and one in particular, Florence, that Billie-Jo says have made a real difference to George's life. "We've read a little about the benefits mentally of keeping hens, and now we can vouch for that absolutely! They're clever – they each have their own personality. "Florence also helps with George's anxiety attacks and makes little noises that seem to have a huge effect on him," BillieJo shares. "It's like she knows what's happening and climbs on George to help him."
The human-animal connection is an incredibly powerful one.
They are very relaxing and very clever; they each have their own unique personality
Animal therapy can help us with a myriad of challenges, and has been shown again and again to make real, tangible differences in people's lives. They give us purpose and routine, but most importantly they offer a unique companionship. Something that, no matter how great or small the creature, can transform our wellbeing and our happiness. If you'd like to experience the joy a hen can bring and the positive ways they can improve your wellbeing, the BHWT rehomes hens regularly at adoption events. To learn more about adopting an ex-commercial hen visit bhwt.org.uk George and his hen
happiful.com | Issue 65 | 75
Color is a power which directly influences the soul
Photography | Yan Krukov
WASSILY KANDINSKY
D ame Deborah James was a journeysavingcancer,theawarenessmother,importantly,Bowelbabeandcharityjournalist,campaigner,founderofFund–butalso,adaughter,sister,andwife–whoraisedandchallengedtaboossurroundingbowelwhileinspiringandthelivesofmany.ThroughoutDeborah'soflivingwitha
The book explores how rebellious hope and living in the moment is key to navigating difficult times, and invites you to adapt and master your own mindset. For every book sold, £3 will go to the Bowelbabe Fund for Cancer Research UK. Must reads The Monologues:Breakup
Fakeaway:Vegan Plantbased UltimateClassicsTakeawayfortheNightIn by Katy Beskow Out now Picture this: it's a Friday night and you've headed to the local takeaway, only to find there aren't many vegan options. Well, we have a solution for you. From Chinese to Italian, discover 70 easy plantbased recipes to satisfy your Friday night cravings with this beginner's vegan cookbook.
EscapesSustainable by Lonely Planet Out now Lonely Planet has compiled a guidebook of the world's best eco-friendly get-aways, for those who want to travel more sustainably. From green hotels and off-grid camps to conservation opportunities and sustainable dining, there are 180 pages of remarkable eco-conscious resorts and experiences to explore. From discovering the best eco-conscious getaways, to exposing the joy of heartbreak, we share four books you won't want to miss |coversBook Amazon.co.uk
The Unexpected Joy of Heartbreak by Rosie Wilby Out now Break-ups really suck, but there is no better feeling than getting through the other side of it. Comedian and podcaster Rosie Wilby knows it all too well. When a break-up text led her on a quest to investigate the psychology of heartbreak, the result was this thought-provoking and humorous read.
happiful.com | Issue 65 | 77 Writing | Lauren reads...HappifulBromley-Bird
How to Live When You Could Be Dead by Deborah James 18 August terminal illness, her honesty, humour, and can-do attitude remained. Her spirit encouraged us to live life to the fullest, and continues to do so through her memoir, How to Live When You Could Be Dead
I met him when I was 42. Eight years younger than me, he often gets mistaken for any number of
Could scheduling sex be the key to preserving intimacy in long-term relationships?
Sexy time
I reach my hand across the kitchen island for the serving spoon, my husband's eyes tracking each deliberate movement as I gingerly place my second serving of turkey bolognese on my plate.
"Don't get sick, baby," he says tentatively, as I savour the full flavour of carrot and thyme melting in my mouth, and put my fork down.
I know what he means. My husband is not a jerk. He is not worried I will get fat. He is worried that these extra few bites will lead to me feeling bloated and full, which will in turn result in me explaining to him, "I don't feel pretty tonight," when he reaches for me under the covers as we settle into bed.
Writing | Marni Battista
relationships Hollywood movie stars – think Bradley Cooper or a young Hugh Grant. But, despite this, I have rarely been in the mood for having sex since I hit middle age. In my early 50s, I first chalked up my declining libido to needing more of an emotional connection before intimacy. We tried sharing compliments with each other before hitting the pillow, and finding time for walk-and-talks during the day so we could discuss the ups and downs of our lives. And while I felt appreciated and connected, it did nothing to rouse my lust. Then came menopause. I took supplements I saw advertised online, supposedly designed to provide hormone-free support to enhance libido. Nothing happened. I ultimately got on hormone replacement therapy, and while my night sweats stopped, my desire for sex continued to stay muted. On a long walk one day through the desert landscape with one of my besties, I confessed my situation. "We aren't unhappy," I said. "Despite the usual bickering and what my therapist friend calls 'normal marital hatred'. I love spending time with him, so why my case of the blahs?" Could it be that even though I am a relationship and life coach, an issue I thought I had conquered through a support group, years of therapy, and a seven-day personal development retreat was still wreaking havoc with my self-esteem? Did I really think that my innate worthiness was directly tied to how I sexually satisfied my husband? Did that make me a 'good wife'? Or even a 'good woman'? I thought hard, trying to remember the last time I had felt genuine sexual arousal. It was many months before, at the Watershed Music Festival my husband and I had attended. In my short shorts, I had pressed my body against my husband's as we made out while Tim McGraw crooned in the background, reminding me to "live like I am dying". I couldn't wait to get my adorable, attentive husband into bed that night. and year after year was my romantic relationship with my husband.Then,a woman who was leading an online goal-setting class I was in exuberantly shared that she and her husband scheduled sex, and that it had changed her life. I looked again at my weekly schedule, this time inspired. I called my friend and told her I was going to do it.
"You're scheduling sex?" she asked."Yes, I am." "Are you going to tell him?" "No," I said. "This is for me." I am four weeks into my experiment and so far my husband and I are having more sex than we have ever had. Sometimes I initiate it full-on in the most random of places because I'm feeling it. And sometimes I just tell him I'm in the mood and he initiates. While I miss the foot rubs he used to use to inveigle me, I am starting to feel like my former sexy self. I know now my worthiness isn't tied to sex. It's tied to me feeling playful and in charge of my own desires. So when I see the words sexy time on my calendar, written inside the kind of loopy heart I used to doodle in high school, I swith off Netflix, light a candle, and turn eagerly towards my husband. Marni Battista is a transformational life, love, and relationship coach, and the CEO of the Institute for Living Courageously. She has written a memoir and is on YouTube @Radical Living Challenge
Did I really think that my
husband?satisfiedhowdirectlyworthinessinnatewastiedtoIsexuallymy
| Issue 65 | 79
What had been so different?
happiful.com
Well, at the festival he didn't expect me to "do" anything. I was just being me on my own terms, and I felt sexy and confident. I knew there was an answer here but I couldn't quite see it... Yet. It wasn't until I was working on putting my weekly plans into my organiser that I realised while I had been crushing my goals at work, having great life balance, enjoying good friendships, and living my purpose, the one area I had put the least effort into week after week, month after month,
The ultimate guide to micro-gardening
Good quality soil Healthy, nutrient-rich soil will support the growth of your plantlife, even in a confined space. Rather than regular earth, it's worth using potting mix, as this tends to have better drainage and is sterilised to help fight off diseases.
Careful potting For the best chance of success, take your time with the initial planting. If you're using seeds, ensure they are spaced out according to packet instructions, to avoid overcrowding and fungi.
80 | Issue 65 | happiful.comThis
What do you need to get started?
Plus, as a budget-friendly activity, micro-gardening can aid you in becoming more self-reliant, as well as helping with the cost of living, providing you with fresh, homegrown produce to hand, that you could even gift to neighbours!
hey say it's the little things in life that make a big impact, and this certainly seems to be the case with micro-gardening. As we're faced with the problem of ever-shrinking personal outdoor space, with more people moving to cities, or finding their time to tend to green-fingered pursuits is limited, this hobby offers a sustainable, creative solution.
What are the benefits of urban gardening? Studies have proven, time and time again, that being around greenery and gardening is beneficial to our wellbeing –including providing stress relief, reducing symptoms of anxiety and depression, improving mood, and even combating high blood pressure – and yet the Fields in Trust charity revealed that, in 2022, nearly 2.8 million people in the UK live without access to green spaces. All too often, city dwellers, people living in apartments, and renters are excluded from enjoying the host of wellness perks that having a space of your own to cultivate can bring – but micro-gardening is here to reclaim those rewards. Even the act of being responsible for something other than yourself, such as a plant, can support those with mental illness, as it can help to establish a routine, reminds you of the importance of caring for yourself too, and provides that sense of achievement and recognition of progress.
Writing | Rebecca Thair T
What is micro gardening? A rewarding, often cost-effective, and time-efficient endeavour, micro-gardening is an accessible outlet, encouraging anyone and everyone to embrace the wellbeing benefits of gardening and growing your own produce, regardless of your location or outdoor space. It doesn't require a massive plot of land to commit to – you can create your own micro-garden using a small patch of earth, a balcony, or even a window box – and still reap the benefits of homegrown food. This isn't about spending a fortune on Instagram-worthy, perfect floral arrangements; it's an inventive pursuit, focused on the end product, that asks you to craft pots and planters from anything to hand, whether that be upcycling a bucket, or an old stack of tyres, to maximise urban spaces and allow for efficient growth.
growing trend sees people making the most of their, often limited, urban spaces, and proving that size doesn't matter when it comes to the quality of your homegrown crops
Don't worry, even if you don't have access to a lot of direct sunlight, there are still plant options that thrive in the shade. You could try nurturing your own ferns, or begonias, or amethyst flowers. If you're feeling inspired, even just a 'little', why not test out your green thumbs with a spot of micro-gardening? Your plant paradise doesn't have to be a pipe dream any longer…
In the shade?
Types of plants to grow:
• Flowers (sunflowers, lavender)
happiful.com | Issue 65 | 81 try this at home
Consider your water source
If you know regular watering might slip your mind, or if you just want to make the most of natural resources, creating a system to utilise rainwater to irrigate your herb haven could be a smart move. You may be able to use gutters and pipes to funnel water from your roof directly over the plants, or channel it into a container to spray over your crops at your convenience. Get space efficient You could build a vertical garden, and grow up rather than out, with some creative and simple structures crafted from trellis or bamboo. Or create stackable systems, meaning you can allow water to trickle through your plants, saving time and waste. Plus, if you're creating an urban garden on a balcony, you could place your plants along railings or in positions to offer you more privacy if desired. Embrace upcycling This can be a really fun, creative outlet as you explore ways to breathe new life into old objects you have lying around, or use it as an excuse to visit a charity shop or car boot sale to hunt for horticulture potential. You might want to use a wooden pallet to hold a host of herb pots, or an old kitchen sink for a planter.
• Microgreens (baby spinach, lettuce, watercress)
• Herbs (basil, thyme, sage)
• Dwarf vegetables (bok choy, Red Robin tomatoes, Romeo baby carrots)
1. Focus on following pages that inspire you What are the things that interest you, that really make you tick? It could be crafting, gardening, music, DIY, cooking, books, or film. Hunt down and follow accounts dedicated to sharing content on these topics. You'll then have the chance to soak up inspiration, and you might even learn a thing or two as you go, meaning you'll be leaving Instagram with more knowledge and drive than you went in with.
2. Make use of the 'mute' button
82 | Issue 65 | happiful.com E ver find yourself tapping out of social media feeling worse than you did before? Bad news, comparison traps, and toxic trends can wear you down over time. So, follow these steps to take back control of your feed.
How can I create a joyful Instagram feed?
4. Feed the algorithm
Social media politics is a real thing, and we all know the
The algorithm appears to work in strange and mysterious ways. And while sometimes it can get things right and show us content that we want, it can also get things wrong and we might find ourselves face-to-face with something we could have done without seeing. If that happens on your 'Explore' page, did you know that you can let Instagram know it wasn't for you? Simply tap the options button, and mark it as 'not interested'. You can also feed it in other ways, by 'saving' and 'liking' the things that you really love. Over time, your algorithm should learn what works for you, and if you're employing other techniques for creating a more positive feed, it shouldn't be long before your social media feeds start to blossom.
3. Turn off 'like' counts If chasing 'likes' is something that causes you stress, or has you second-guessing what you should or shouldn't share, now's the time to turn them off. You can hide likes on the things that you post, and also on other people's posts, by heading into the settings on the app. This eliminates a key factor in comparison culture, and also encourages you to share happy memories and special moments without the worry of how those 'likes' will add up.
It's time to put the fun back into social media anxiety that can accompany making the choice to 'unfollow' someone you know. But if someone is posting things that you find distressing, or even which just rub you up the wrong way, the 'mute' button is your best option. It's especially helpful when you know the person IRL, as you'll no longer see their posts popping on your feed, but you're still 'following' them, and so have the option to check in with them from time to time.
MitchellMarcPaul|BladesJayPhotography:
I am. I have • Watch • Like • Subscribe • Discover our podcasts, self-hypnosis sessions, meditations, interviews and more at youtube.com/happiful THE HAPPIFUL PODCASTTASHABAILEYJAYBLADESOWEN O'KANE CLAIRE RICHARDS
DAILY INSPIRATION | THERAPY & SUPPORT | YOUR MAGAZINE The Happiful App Happiful App is a product from the Happiful family, which includes: Counselling Directory, Life Coach Directory, Hypnotherapy Directory, Nutritionist Resource and Therapy Directory. Helping you find the help you need. THE UK'S POSITIVE MENTAL HEALTH APP