The Simple Joys of Home
APRIL 2023
We Can't Wait to Meet You
Novant Health Orthopedics and Sports Medicine experts provide what you need, when you need it.
Novant Health
Novant Ortho
Orthopedics & Sports Medicine - Winston-Salem 200 Robinhood Medical Plaza Winston-Salem, NC 27106 336-718-7950
Get back to doing what you love with less pain. Our orthopedic and sports medicine specialists are more accessible with care that's easier and faster than ever. You can choose from three convenient locations. Our specialists are available for consultations as soon as the same day.
Because when it comes to your bones, joints and muscles, pain can't wait.
SUB-SPECIALTIES INCLUDE:
Sports medicine (shoulder and knee)
Musculoskeletal oncology
Joint reconstruction (hip/knee/shoulder)
Pediatrics
Hand, wrist and elbow
Hip preservation
Foot and ankle
Orthopedic trauma
Novant Health
Orthopedics & Sports Medicine - Clemmons 7210 Village Medical Circle Suite 110 Clemmons, NC 27012 336-893-2400
Novant Health
Orthopedics & Sports Medicine - King King Medical Building 167 Moore Road Suite 202 King, NC 27021 336-673-6500
No need to be in pain one minute longer. Book now.
Novanthealth.org/OrthoNow
2 / FORSYTHFAMILYMAGAZINE.COM
Food insecurity. Skipped meals. Difficulty paying bills. Medication cut-backs. Doesn't sound so golden.
EVERY SENIOR DESERVES TO EAT. EVERY MEAL. EVERY DAY.
Take Action at FeedCommunityNOW.org
I'mthrilled to present our April issue to you! April is always our Spring Home issue (our Fall Home issue is published in October) as well as the second of our three summer camp showcase issues (March – May).
Check out our Home section on pages 12 – 21 and our Summer Camp section beginning on page 48.
Our cover this month is extra special. It features Ms. Hazel who is a Winston-Salem resident and Habitat for Humanity participant. I had the honor of meeting Ms. Hazel and touring her beautiful home during our cover shoot. The pride she feels (and has felt) for her home since the day they broke ground to build it is incredible. She scrolled through literally hundreds of photos and videos on her phone to show me a glimpse of the process and proudly told us that she stopped by every single day as it was being built. You know the feeling when you meet someone and they are simply a beam of light? That is Ms. Hazel. You can read all about her and her journey with Habitat beginning on page 32.
We had a great Kids' Morning Out at Salem Gymnastics and Swim on March 13th – stay tuned for updates on our KMO events! For the
foreseeable future, we'll be hosting KMO events once a quarter. Be sure to sign up for our newsletter (forsythfamilymagazine. com) and follow us on social media (@ forsythmags) to receive event reminders!
If you are on the hunt for things to do over the next couple of months, you are in the right spot! This issue is chock full of events coming up in April and May. Summerlark (featuring live music by CHRIS LANE!), Pretty in Pink Foundation's Triple Crown Casino Night, Trellis Support Derby Party, Clemmons Community Day, Empty Bowls, LKN Magazine's first-ever Tour de Boutique… and this just scratches the surface! I'm a big believer that supporting events such as these is one of the best ways to get involved with and support your local community. I encourage you to make plans to attend at least a couple of these events! I hope no one ever takes for granted the ability to attend in-person events with our community. It's a blessing!
Wishing you a happy start to Spring!
PUBLISHER
Brooke Eagle • Brooke@ForsythMags.com
SENIOR ACCOUNT EXECUTIVE
Tamara Bodford
ACCOUNT EXECUTIVE
Robin Bralley
ADVERTISING
Advertising@ForsythMags.com
BACK OFFICE & VIRTUAL ASSISTANT
The Office Nerd, Denise Heidel
COVER PHOTOGRAPHY
JEJ Photos
CONTRIBUTING PHOTOGRAPHERS
Jodie Brim Creative JEJ Photos
Sail Off Photography
*others contributed throughout accordingly
CONTENT EDITOR
Meghan Corbett
EDITORIAL DIRECTOR
Robin Shupe Keller
SENIOR STAFF WRITERS
Martie Emory • Carolyn Peterson
OTHER CONTRIBUTING WRITERS
Casey Cheek Karen Cooper
Damian Desmond Bethany Godwin
Amy Hill • Brian Jared • Taryn Jerez
Jean Marie Johnson • Michael Johnson
Susan Boyoung Bailey Schabacker
Lauren Sephton • Keith Tilley • Susan Woodall *others credited throughout accordingly
GRAPHIC DESIGN & PRODUCTION
Laurie Dalton
WEB DESIGN/MAINTENANCE
Ian McIlwraith
CONTACT
.forsythfamilymagazine.com
888-892-3204
BFORSYTH FAMILY DISCLAIMER Please note that the inclusion of stories and articles in Forsyth Family magazine does not imply endorsement of products or people. The views of the authors are presented for information and entertainment only, and may not necessarily reflect the views of Forsyth Family. Specifically, Forsyth Family in no way endorses any claim associated with health and/or well being with respect to any particular person. We disclaim all warranties, express or implied,including, but not limited to, implied warranties of merchantability and fitness for a particular purpose. We will not be held responsible or liable, directly or indirectly, for any loss or damage that is caused or alleged to have been caused in connection with the use of, or reliance on, any content in this magazine. Forsyth Family reserves the right to deny any advertisement or listing that does not meet Forsyth Family standards. Submissions are welcome but unsolicited materials are not guaranteed to be returned. Forsyth Family assumes no responsibility for information, products, services or statements made by advertisers or editorial contributors. All rights reserved. Reproduction in whole or in part without written permission from the publisher is prohibited. ©2007 by Forsyth Family Magazine, Inc.
4 / FORSYTHFAMILYMAGAZINE.COM
Featuring May 20
Buy Tickets Today at Ticketmaster
SummerLark is returning on May 20, 2023! Join us for an outdoor concert at Bailey Park in Innovation Quarter benefiting the Cancer Patient Support Program (CPSP) at Atrium Health Wake Forest Baptist. This fun-filled event will provide many ways to show your support for the CPSP and will include incredible live music, food trucks, fireworks and fun for the whole family.
Summer Lark
Presenting Sponsor
Signature Sponsor
Corporate Sponsorships Available Contact Sara Morales at SMorales@WakeHealth.edu or 336-716-6619.
For complete information, visit Giving.WakeHealth.edu/SummerLark
All proceeds will benefit the Cancer Patient Support Program at Atrium Health Wake Forest Baptist Comprehensive Cancer Center.
APRIL 2023 / 5
Benefit the Cancer Patient Support Program
To
6 / FORSYTHFAMILYMAGAZINE.COM 8 Richard Emmitt & Kim Lawson People of Prominence 12 Welcome Home! 16 Haint Blue: A History of Porches, Evil Spirits and Paint 26 Spreading Love with Hope du Jour Crisis Control Ministry Features TABLE OF CONTENTS 40 26 32 COVER STORY 40 SHARE Cooperative of WS: Harvest Market, A Community That Cares! 44 12th Annual Clemmons Community Day 48 Kids Summer Camp Showcase 58 Camp Dickenson: Life & Learning on the New River 62 Exciting News from RISE Indoor Sports 76 Spring Into Spring with Simple Life Hacks
APRIL 2023 / 7 All Types of Bowls 30 Reflections of a Southern Yankee 36 The Fancy Fork 46 The View from My Section: A Father's Perspective 66 Out & About in Winston-Salem 68 Dining Guide 70 Triad Moms on Main 72 It's a Grand Life 74 Every Issue 72 46 APRIL '23
Richard Emmett Kim Lawson People of Prominence
by MICHAEL W JOHNSON
Therhythm of a city is inextricably linked to its live music, hospitality and art pulse points. WinstonSalem receives myriad accolades for being a vibrant nucleus of celebratory events, culinary delights and a musicality all to its own. Richard Emmett and his wife, Kim Lawson, have blessed this city with their ceaseless and boundless energy in making Winston-Salem a formidably musical and delicious destination. They have teamed up to give us some historical perspective to their work here.
Richard currently serves as the Program Director of the Blue Ridge Parkway Foundation and is the co-owner/operator of the Ramkat. Kim is the General Manager and proprietor of the Powder Room Café on Burke Street.
1) What was the cultural landscape like in Winston-Salem 20-25 years ago?
Historically, this has always been an arts town. Things did decline in the 90s a bit. People certainly worked in town, but there was not much of a nightlife. There were some live shows at Ziggy's. But, it was during the late 90s that some of the local artists started gallery hop events downtown. The arts scene started to stir up some activity drawing people downtown.
Winston-Salem has always been a city where if you are someone with a vision and will choose to get involved, you can. Back in the 90s, people started to see what the true cultural opportunities were here. Roanoke, Greenville and other cities like those were models for how to get downtowns energized.
The city administration really did make efforts in earnest with downtown music programs, films on Fourth Street, and it was the Stevens Center who was at the forefront programming such things.
There was focused and intentional progress on the hospitality front with effective and generous loans for restaurants. These loans worked not just to improve the façade of restaurants, but also for the interiors, as well. Things were bubbling from a grassroots level, and the city had a real interest in furthering the progress.
2) What keeps you and your wife on the upward trajectory of innovation and stewardship of the cultural scene…motivation, vision?
We thought Winston-Salem should be more actively engaged with the artistic and musical scene. We both love artists and musicians, and we have always wanted to see them flourish. The creative elements in our community have always needed spaces to tell their stories. We have always maintained that giving artistic people a way to make a living at what they love is huge. In all of our ventures, we have fostered employees as family. We have kids who have always been willing to help us out by working at large concerts, special events, and/or to lend a hand when needed, even now that they are older and doing their own thing.
We love this community and want to continue to do things to make WinstonSalem a great placeto live, work and play.
3) What accomplishments are you both proud of? Some current and future projects.
We are proud to have played a role in and been a part of an exciting and dynamic time in the city of Winston-Salem's most recent revitalization. We certainly dove right into it with The Garage – the first nightlife business in the Arts District in this era. We are grateful to have been involved in the Downtown "Music in the Streets" Series, Films on 4th at The Stevens Center, the renovation of the Sawtooth Building into the Milton Rhodes Center for the Arts & Hanesbrands Theater. And now, we are so proud of the creation of The Ramkat and The Powder Room Cafe.
We are also very proud that many of the folks that we have worked for and with have gone on to have successful careers themselves as entrepreneurs, business people and not-for-profit organization leaders in this community.
4) What can the local community do to foster and be caretakers of the cultural environs?
We are adamant that people buy and support local businesses. Eat at local restaurants. Support local independent and not-for-profit arts organizations (Ramkat, Bookmarks, A/perture Cinema, Theater Alliance and the many other arts organizations affiliated with the Arts Council). Share and tell others about all the great things that can be found and enjoyed here.
5) What do you see as the future of Winston-Salem and the music and arts scene?
Don't really have a crystal ball, but we feel it will continue to grow, change and become more inclusive and diverse.
6) Why is it even important for WinstonSalem to maintain a standing as culturally relevant and vibrant?
A strong, vibrant and culturally relevant arts and entertainment scene has been one of the key aspects of Winston-Salem's revitalization. People have come to see Winston-Salem as an off-the-beaten path, less well-known version of Asheville, Charleston or Savannah. Winston-Salem has always been known for punching above its weight in arts and entertainment; with a lower cost of living, a walkable downtown and much less traffic than other similar towns. It's what differentiates us from other places and has been crucial in the growth of downtown, especially the growth of downtown residences.
7) Who would you nominate as a local person of prominence?
Lawren Desai, who is the owner of the downtown art house cinema known as A/ perture Cinema. Lawren is a true pioneer and took it upon herself to give the city something new and vital. Her arthouse cinema in the heart of downtown lends itself so well to the artistic fabric of the city.
8 / FORSYTHFAMILYMAGAZINE.COM
Duke Eye Center of Winston-Salem offers exceptional eye care and advanced treatments for a range of conditions including cataracts, corneal disease, glaucoma and dry eye.
Learn more at DukeEye.org
APRIL 2023 / 9
Community
Eye Center of Winston-Salem 1340 Creekshire Way, Suite 100
Expert Eye Care in Your
Duke
MEET THE TEAM Behind Making Dollars Making Sense ANGELA MCGILVARY: JOY IN SERVING
Angela McGilvary is one of those fortunate people who can say their career truly brings them joy. As a Partner and Branch Operations Manager for the Marzano Capital Group in Clemmons, NC, she is inspired every day to serve the group's equally fortunate clients. "We have built our company on the basic fundamentals of providing both trust and professional, personalized service to our clients and their families," says Angela. "I love to be of assistance to them, helping our clients pursue their goals, hopefully reducing their financial stress along the way."
While each day at the Marzano Capital office brings something new and challenging, it's their steadfast "team approach" that makes clients feel part of the family.
"We always have someone available here in the office to meet and assist our clients," adds Angela. "We have many who come by our office to visit just because they are in the area! When a client comes into our office for an appointment or drops off paperwork, we greet them in the front lobby to catch up on how their family is doing, and we truly enjoy the fellowship of talking and enjoying each other's company."
Our client relationships begin developing at a client's first face-to-face meeting, where needs and goals are discussed. The Marzano Capital Group team formulates a plan to pursue those life goals through investing, planning and education. "Our goal is to help our clients grow and maintain their wealth, and work towards their financial goals through investments and planning," she says. "That also includes referring them to valued advisors in the area, such as CPAs and attorneys, for estate planning, taxes and legal work that needs to be done." Locally, the group also works with several non-profits, and the team is actively engaged as a member of the Lewisville-Clemmons Chamber of Commerce and the Davie County Chamber of Commerce.
A resident of Clemmons for over 30 years, Angela knows firsthand the value of keeping family and community at the forefront of daily life. Blessed to come from a large family herself, she and her husband, Alex, have two sons – Michael
by MARTIE EMORY
and Adam – and a beautiful granddaughter. A seasoned stay-at-home mom, Angela first found her passion for the financial industry as a Branch Office Administrator with Edward Jones. (Angela's son, Michael, is currently a partner and financial advisor with the Marzano Capital Group as well, joining the company in 2016.) "My husband and I always believed in making your money work for you, by contributing into IRA accounts, 401K Plans, and by systematically investing monies each month." she says. "We both thought the financial position could be the right fit for my career."
& A TIP
Then, when Jon Marzano started in the business with his dad, Art, and they were looking for a Branch Office Administrator to work with Jon, Angela realized she liked the idea of being back in Clemmons, closer to home, and working in a larger office. "I met with Jon and Art, and now 24 years later, we are an independent practice with LPL Financial, we work solely for our clients. We would not have a thriving business without our clients." says Angela, proudly.
"We are always a phone call away for our clients," says Angela. "We live and work in this community, and we want the community to thrive. It really comes full circle."
10 / FORSYTHFAMILYMAGAZINE.COM Securities offered through LPL Financial, Member FINRA/SIPC, Investment advice offered through Independent Advisor Alliance, a registered investment advisor, Independent Advisor Alliance and Marzano Capital Group are separate entities from LPL Financial.
Marzano
marzanocapitalgroup.com or call 336-7660464. Office hours are Monday - Thursday 8:30 am - 5:00 pm, and Friday 8:30 am - 4:00 pm.
Capital Group is located at 2625 Neudorf Road, Suite 400, in Clemmons, NC. Learn more about their services and down-to-earth client care at
FUN FACT
If
Angela could have any other career – she would want to own an antique mall with exquisite gemstones, beautiful artwork, and fine furniture. She loves finding beautiful pieces in her spare time. Live your life to the fullest and cherish every day as if it were your last.
Welcome Home!
In every issue of Forsyth Family, we celebrate families, and for many of us, home is our favorite place to gather with our family. It's the place where we feel safe, loved, comfortable, and special. Our homes are more than just houses, apartments, or condos, they are spaces where families travel through life and make memories together.
Because of the vital role "homes" play in family life, the April and October issues
of Forsyth Family are our home editions. They are chock full of relevant topics to make your home an extraordinary place to be. Also, there are tips for making the most of your personal decor.
Enjoy!
If your business is interested in advertising in the fall home issue, please e-mail us at Advertising@ForsythMags.com and mention the Forsyth Family home issue.
•
•
The Safest Choice in Window Coverings.
Budget Blinds
Making window treatments safer for homes with children is a top priority. Budget Blinds of North Winston Salem & Mt. Airy, has partnered with the Window Covering Manufacturers Association (WCMA) for more than 15 years and continues to adhere to their safety standards by offering many child-friendly window treatment options, including cordless blinds and shades, motorized shades, and shutters, which are inherently cordless. The WCMA recommends replacing all window coverings made before 2001 with today's safer products, and using cordless or motorized window coverings in children's bedrooms and play areas.
MARCH 2023 / 13
Schedule your free at home consultation.
• Blinds
• Shutters
Shades
Home Automation
• Drapes •
Window Film Budget Blinds of North Winston-Salem & Mt Airy proudly serves Forsyth, Surry, Stokes and surrounding counties. 336-701-5474 • BudgetBlinds.com/NorthWinstonSalem Now offering a pay over time option with Affirm.
Design Your Dream Floor with the Experts
by MARTIE EMORY
Nothing says spring like updating a much-traveled area in your home!
Helping you create the beautiful space your family deserves is at the heart of what Weeks Hardwood Flooring does best. As the largest full-service flooring store in the Triad, they strive to truly know their clients, offer competitive pricing and take pride in the services they deliver. The Weeks team is also ready to launch your spring and summer seasons at home with something fresh and new.
"Some of the most common spring re-do projects are refinishing or re-coating hardwood floors, or replacing old carpet with new carpeting," says Cameron Weeks, Vice President of this local business that's earned its impeccable reputation through customer care and quality products.
He adds that spring and summer are probably the most popular times for kitchen updates, with an eye on more entertaining. A new kitchen floor can take anywhere from one to five days to complete, so if you're planning an out-of-town trip for Spring Break, that's a perfect time to schedule a flooring re-do – and come home to a stylish new look! Or, if your sun room is looking a bit outdated, now's the time for a brighter look with sleek, new tile.
Since opening their first storefront in 2005, the family owned business has thrived on reliability, customer service and a dedication to using only first-class materials. Founder and president, James Weeks, began laying hardwood back in 1979, and he learned early on what leads to a long-standing successful business. Along with Cameron, and son, Luke, who serves as Operations Manager, this is a trusted team that delivers only the best.
Besides cozy hardwoods – installation and refinishing – the professionally trained, in-house work crews are experts with residential tile, carpet, vinyl plank flooring and laminate flooring. On the commercial side – approximately 20% of their business –they offer vinyl plank flooring, carpet and tile, hardwood and pre-finished installation, hardwood refinishing and laminate flooring.
So, what's new and making a style statement for the upcoming season?
"Natural wood looks and warm brown tones are the most popular right now, along with low-sheen matte finishes and textured, wire-brushed floors," explains Cameron. And, if you're joining the popular trend of placing your home on the market this spring, it's always a good idea to get your hardwood floors refinished or re-coated, carpets cleaned, and tile or vinyl cleaned prior to putting your home up for sale.
Weeks Hardwood Flooring is conveniently located just off I-40 at 107 Guilford College Road in Greensboro. If you're ready for an update, reach them at 336.856.0202 to arrange for your free in-home estimate. Follow them online at weekshardwoodflooring. com, and on Facebook and Instagram @weekshardwoodflooring. Showroom hours are Monday through Friday 8:00 a.m. - 5:00 p.m., and Saturday, 9:00 a.m. - 1:00 p.m. Stop by to meet the team and feel the personal difference they deliver!
14 / FORSYTHFAMILYMAGAZINE.COM
APRIL 2023 / 15
A History of Porches, Evil Spirits and Paint
by KAREN COOPER
Haints, Hot Steams, incantations, secret signs, had vanished with our years as mist with the sunrise.
- To Kill a Mockingbird by Harper Lee
If you look up under the porches of the south, you'll notice many outdoor porch ceilings are painted a shade of light blue. It's not only a beautiful color, pleasing for porch sitting, the practice has a long history rich with cultural importance, as well.
Most historians attribute blue porch ceilings to the traditions of the Gullah Geechee people who were descendants of Africans enslaved on cotton, rice and indigo plantations of South Carolina, Georgia and Florida. Through the centuries, Gullah Geechee language, culture and traditions, including the use of "haint blue" developed from a blending of Central and West African ethnic groups.
What is a haint?
It's possible the name haint was derived from the word "haunt," but it has its own meaning and complicated cultural context. A haint is a restless ghost who has not left the world but has remained behind to haunt the living with trickery that is often harmless, but sometimes more menacing in nature. The lore of the haints in the U.S. can be traced back to the low country – a 200-mile area of coastal South Carolina and Georgia.
Gullah folklore tells us that ghosts, also referred to as haints, were not able to cross water. So, in order to prevent evil spirits from coming into homes, porch ceilings were painted a soft blue. The color was meant to simulate water in an effort to keep any haints or spirits at bay. To make the blue paint, the Gullah people combined milk, indigo dye, lime and other pigments. Many also believed the blue paint acted as a bug repellent because of the lime in the mixture, which can be a natural insect deterrent.
Some took it a step further and painted doors and window frames haint blue. The thinking was that haints would assume the door and windows were the sky, and therefore, get totally confused about how to enter the home.
The power of indigo.
The indigo (Indigofera tinctoria) plant is the natural source of the bold blue color that's been prized for centuries across many cultures for its spiritual power and as a symbol of wealth. It was so valuable it earned the name "blue gold," mostly due to the specific and strenuous processes necessary to extract the dye from the indigo plant. The cultivation practices were used by numerous ancient civilizations and date back five centuries in parts of Africa.
In a terribly ironic twist, this blue dye itself contributed to the suffering of the Gullah people. True indigo, a bean plant that provided valuable blue dye in early American history, was among the most important cash crops in the south, just behind cotton and tobacco, and its value helped strengthen and perpetuate the slave trade. The color once believed to protect the African people from the dreaded haints added to their misery in the antebellum south.
What started as superstition has become a design trend over the years. Porch ceilings are now painted blue all across the south and beyond, because it's a custom and because many remember their grandparents' or great-grandparents' blue porch ceilings. In some cases, people chose to paint their porches this lovely light blue just because they like it. Even in design circles, the pale blue-green tint is now known as "haint blue."
Whatever the real reasons behind this color being used for porch ceilings, the practice spread from a folk belief of enslaved Gullah people to one that southerners of all races employed in their own homes.
16 / FORSYTHFAMILYMAGAZINE.COM
336.770.1000 piedmontfederal.bank Need a BIGGER home? We can help.
10 Easy, Inexpensive Home Improvements for Spring
by KAREN COOPER
Who
doesn't love the hopefulness of spring? After a long, gray, lonely winter (especially this one), who among us isn't ready to get out in the sunshine and make our living space more beautiful…inside and out! If your home and surroundings need a little sprucing up, there's no time like the present to embark on a new project!
These budget-conscious ideas will have you admiring and enjoying your space for years to come. From funky garden planters and inexpensive outdoor furniture makeovers, to refreshed walls and cabinets inside, there are plenty of ways to improve your surroundings without spending a fortune.
• Find unconventional items around your house to use as garden planters—an old box spring, a wheelbarrow, a bass drum, crates, shelves, and pallets…all make wonderfully inventive planters and great conversation pieces! Design your vegetable, fruit, and herb garden using these inventive pieces.
• Make wire cloche covers to protect your vegetables/
fruits or other plants from pests—use chicken wire or wood covered in chicken wire to make cloche covers that will keep the pests out! There are great DIY videos online showing a variety of designs and how to make them.
• Make window planters— you can really get creative with these! They can be as simple as a plain wooden box or one fashioned out of old pallets; you can buy an inexpensive vinyl box ready to install, or adorn your boxes with ornamental iron features you love. Paint your boxes whatever color you choose, then pick out beautiful plants and blooming flowers that make you happy to look at each time you drive up the driveway.
• Change the hardware on your kitchen or bathroom cabinets; change out handles and knobs, and while you're at it…change towel racks and even lighting fixtures. You can get great vintage fixtures online or at antique markets, or find brand new ones anywhere they sell
home goods. There are so many varieties to suit your taste! What a difference a small change can make!
• Add peel-and-stick wallpaper to an accent wall or an entire room—anything you can dream up can be found in a peel-and-stick wallpaper these days. Bring the outside in with a forest scene, an English meadow, a tropical beach panorama, a night sky, or even go to the moon! Go anywhere you want to be! Create something amazing without breaking the bank.
• Find "new to you" deck or patio furniture on Facebook Marketplace or Craigslist for a steal! Look for a giant umbrella to create comfortable shade and relax with friends over a lazy summer al fresco dinner.
• Paint your front door a color you love—make your house POP! What color would you choose? Red? Yellow? Orange? Blue? Imagine the possibilities!
• Incorporate old bricks and stones into your garden or backyard. Create a garden
pathway, a small patio, a fire pit, or a place to set your café table and chairs. Wherever you need a hard surface or a focal point, use bricks or stones to make a fine-looking statement.
• Install a birdbath and bird feeder. It doesn't have to be your standard-fare birdbath. You can get creative and make it match your decorating personality! Anything that holds water can be a birdbath…a pile of stones with a terra cotta saucer or galvanized pan, stacked bricks with a shallow bowl or pan on top, a hanging birdbath with any shallow thing that holds water.
• Tiny lights—across the yard, deck, patio, anywhere you want to make a magical atmosphere….string up tiny lights. There are so many varieties now to help you make your space beautiful.
Whatever you choose to do, enjoy your time spent making your surroundings beautiful! Then invite your favorite people to enjoy them with you.
18 / FORSYTHFAMILYMAGAZINE.COM
APRIL 2023 / 19 Weedman Architectural & Landscape Lighting for Your Castle! Mention this ad for $100 OFF new installations or 10% OFF LED conversions *Minimum purchase required. *Offer expires 04/30/23 www.castlelights.com Call TODAY for a Complimentary Consultation 336.505.4913 Relax & Enjoy Your Lawn SPECIAL OFFER Sprinkler System Install $100 Off 336-462-6200 | Email: office@CarolinaIrrigation.net | www.CarolinaIrrigation.net We Offer: Installation & Service Spring Start Up Backflow Testing Winterization
Your Home Loan Experts
Whetheryou're buying your first home as a family or thinking about a second home, turning to the oldest financial institution founded in Winston-Salem and still in existence today, seems like a wise plan!
As Piedmont Federal Savings Bank celebrates 120 years of extraordinary service, what's most important is that clients always know they matter. They are your trusted financial source for all ages and stages of life, with a proven track record of staying true to the ideals of the original founders. Customer service is a given, and providing expert guidance along the way is something you can count on.
What Are the Top Five Things to Consider When Seeking a Home Loan?
1. Check your credit before you start the process.
2. Have a financial discussion with a local, experienced Piedmont Federal Savings Bank Loan Officer.
3. Determine if a fixed rate loan or an adjustable rate loan is right for you.
4. Gather supporting documentation (pay stubs, W2s and asset statements).
5. When shopping for a mortgage, consider rate, closing costs and personalized service.
20 / FORSYTHFAMILYMAGAZINE.COM
by MARTIE EMORY
Before you start your dream home search, make an appointment to speak with a Piedmont Federal Loan Officer. They can help you understand your credit report and suggest an action plan for any points you need to improve. They can also inform you about different types of loans and what steps you would need to take to qualify, as well as help determine your down payment, closing costs and payment options.
Be Prepared! Questions to Ask a Piedmont Federal Loan Officer:
• How much can I borrow?
• What is my interest rate?
• What are my closing costs?
• What is the minimum down payment?
• What documents will I need to provide?
• What is the approval time frame for my loan?
If you're in the market for your first home or even just considering the idea, their first-time homebuyers program can be the positive boost you need. Piedmont Federal strives to make home ownership as easy and affordable as possible for qualified, credit approved, first-time homebuyers. With no loan origination fee and the refund of your appraisal fee, you'll get to hold on to more of your hard-earned cash.
Piedmont Federal is also the only bank to be voted "Best Mortgage Lender" eight years in a row by the Winston-Salem Journal. Their home loan specialists help walk you through the process and answer all your questions. Even better, they are here for you over the entire life of your loan. They don't sell loans, which means your mortgage won't bounce around between banks all over the country, and you'll always know who to talk to with questions. Piedmont Federal keeps your mortgage close to home where it's not only serviced, but stays here in the community, as well. It's a tradition they have upheld for more than 100 years!
If finding a new home tops your wish-list for this spring or summer, reach out to a Piedmont Federal Loan Officer today. Piedmont Federal Savings Bank's home office is located at 201 South Stratford Road in Winston-Salem. Contact them at 336.770.1000 or online at piedmontfederal.bank.
APRIL 2023 / 21 D I D Y O U K N O W W E I N S T A L L H V A C E Q U I P M E N T F O R C O M M E R C I A L P R O P E R T I E S ? C a l l u s t o d a y f o r a f r e e q u o t e . 3 3 6 - 7 2 4 - 7 4 3 9
Top Five Reasons to Test Your Hearing
by MARTIE EMORY / photos by JODIE BRIM CREATIVE
It's no secret that hearing well and living well go handin-hand! Clearly, this is the heartfelt belief of Dr. Anna Nichols, as her practice, Nichols Hearing & Audiology in Winston-Salem uses those exact words as their tagline. (Hint: Committing that phrase to memory will also help you remember her website: HearWellLiveWellNC.com.)
Since October 1, 2022, she and her staff have made getting to know their patients a priority and have emphasized how much better hearing can improve both personal and professional relationships. An evaluation at Nichols Hearing & Audiology includes gathering your case history, visualization of your external ear canal and a hearing test in the practice's modern sound booth, using state-of-the-art equipment.
If you're pondering a hearing test, you probably already suspect there is at least minimal loss, and there are important reasons to make that call today!
1
Your Relationships: A hearing loss can affect every relationship in your day-to-day life. In the back of your mind, you may be revisiting conversations at home about the TV volume, but also consider those times you've been in a work meeting and asked colleagues to repeat comments. Those moments can be avoided!
2
Personalized Treatments: While 48 million people in the United States have some amount of hearing loss, (that's one out of five people you meet) no cases are identical. Each of their patients get personalized suggestions for their hearing solutions. Rather than do things the typical way, we've created a system designed around our patients' needs. 3
Hearing Loss & Overall Health: Less than stellar hearing (even a mild loss) can also affect a person's balance, making you more susceptible to slipping or falling. And, if that hearing difficulty affects academics or employment, those stressful situations can be detrimental to overall health even more over time. 4
Anxiety in Social Situations: Hearing loss can contribute to depression and a tendency to avoid social situations altogether. Withdrawing from gatherings with friends may be easier than the awkwardness of keeping up with conversations or meeting new people. 5
Improving Your Mental Sharpness: Researchers believe treating hearing loss early is one of the key things you can do to potentially reduce the risk of dementia. We all know learning new skills and developing hobbies at every age can increase your mental capacity – but putting yourself out there in a new class or interest group can be stressful if you're not hearing well.
NICHOLS HEARING & AUDIOLOGY
Nichols
3640 Westgate Center Circle,
B, Winston-Salem, 336.842.3437, online
and Audiology, and
Instagram @nicholshearingandaudiology.
Hearing & Audiology is located at
Suite
at HearWellLiveWellNC.com, Facebook at Nichols Hearing
on
APRIL 2023 / 23
Kaplan
Triad Area Events in April
April offers a variety of interesting and exciting events for families to experience in and around the Triad. Here are some of the top offerings:
Les Misérables
Steven Tanger Center, Greensboro
March 28-April 2, various times
Tickets $29 and up
This staging of the Tony Award-winning musical has been hailed as "Les Mis for the 21st Century" (Huffington Post). In 19th-century France, it tells the story of broken dreams, passion, sacrifice and redemption.
Stephen Towns: Declaration & Resistance
Reynolda House, Winston-Salem
April 1-May 14
Tickets $18
Stephen Towns examines the American dream through the lives of black Americans from the late 18th century to the present. Using labor as a backdrop, Towns explores building the economy, resilience, resistance and perseverance.
Cats & Dogs
Greensboro Science Center
April 1-May 7
General admission/$17.50-$19.50
The exhibit presents scientific, sociological and cultural knowledge about cats and dogs through a sensory and interactive journey of games and simulations. By putting yourself in an animal's place, you will understand them better and decode their behavior.
Ronan Farrow, Guilford College Bryan Series
Steven Tanger Center, Greensboro
April 4, 7:30 p.m.
Tickets $55-$75
Clue
Yadkin Cultural Arts Center
April 13, 7:30 p.m.
Tickets $24
Based on the 1985 movie that inspired the board game, "Clue" is a hilarious farce-meets-murder mystery that will leave fans laughing as they try to figure out who did it where and with what.
The Boy From OZ Theatre Alliance, Winston-Salem
April 14-23, 8 p.m.
Tickets $19 and $21
Truliant
The Boy From OZ is the most successful Australian musical ever, and the first from Australia to make it to Broadway. It is a tribute to the late Peter Allen, featuring his career highs and tragic lows.
R.E.M. Explored, Winston-Salem Symphony
Reynolds Auditorium
April 15, 7:30 p.m.
Tickets $25-$90
Ronan Farrow, a Pulitzer Prize-winning investigative reporter, pulls back the curtain on his works and details how he has broken some of his biggest stories. He details the obstacles that have forced him and other journalists to put everything on the line for truth.
RiverRun International Film Festival
Winston-Salem
April 13-22
Single-movie tickets $12
The RiverRun International Film Festival is celebrating its 25th year. It is one of the premier film festivals in the Southeastern U.S. RiverRun is a qualifying festival for the Oscars in the Animated Short and Documentary Short film categories.
The concert opens with selections from R.E.M.'s legendary playlist which has been newly reimagined for an orchestra. It concludes with R.E.M.'s Mike Mills performing his Concerto for Violin, Rock Band and Orchestra alongside Robert McDuffie, a Grammy Award-nominated violinist.
Kenny Chesney: I Go Back Tour with Kelsea Ballerini
Greensboro Coliseum
April 29, 7:30 p.m.
Tickets $30 and up
Kenny Chesney wanted to create a 2023 tour that is as special as his 2022 tour, which played in front of 1.3 million people. The country music singer, songwriter and guitarist has recorded more than 20 albums and produced more than 40 Top 10 singles.
24 / FORSYTHFAMILYMAGAZINE.COM
Federally insured by NCUA.
APRIL 2023 / 25 Nichols Hearing The season of new beginnings, and new hearing! Call for an appointment to have your hearing tested! Spring INTO BETTER HEARING NICHOLS HEARING AND AUDIOLOGY 336.842.3437 www.HearWellLiveWellNC.com
SPREADING
LOVE with
by MARTIE EMORY
Knownand loved as the largest non-profit provider of short-term assistance to those facing a crisis in Forsyth and Stokes Counties, Crisis Control Ministry serves neighbors with love and compassion.
There are numerous ways you can help support Crisis Control Ministry throughout the year. One of the easiest and most fun is happening on May 2nd, the 33rd Annual Hope du Jour. Plan to dine out during this signature fundraising event on Tuesday, May 2nd, 2023. A growing list of participating restaurants who give 10% of their proceeds throughout the day – including dine-in and take-out – can be found at hopedujour.org.
years, but we're proud to still be here supporting Hope du Jour because we know the need for Crisis Control's work is even greater today than it was before 2020. It's going to be a fun day for a great cause, so we hope everyone in Winston-Salem will mark their calendar to support our neighbors and friends throughout the community!"
Kimberly Gregg and her husband, Murphy, own Diamondback Grill in Winston-Salem, and Murphy was a part of the creation of this event back in 1990, and a strong supporter ever since.
None of this is possible without faithful support from local restaurants!
"We always want this to be a win-win event for everyone," states Margaret Elliott, Executive Director of Crisis Control Ministry. "We believe this is a great way to bring neighbors together to support one another. While, for Crisis Control, this is our bestknown signature event, with proceeds allowing us to serve those who need us, it's also a wonderful reason for folks to get together and celebrate with family and friends, and a great way to support local restaurants. Try a new place or visit an old favorite! Pick up takeout to put in the freezer, so you don't have to cook on a busy day later on. It's easy – eat out, take out and help out!"
Local restaurant owners agree this is a wonderful event. "We're so happy to be able to participate! I think this will be our 10th year! One of the great things about growing our business – which we're doing again this spring as we add East of Texas to our restaurant family – is that we can amplify the positive impact we have on the community when we partner with great non-profits like Hope du Jour. Like you all have done, we've had to change and adapt during the past three
"Diamondback Grill is honored to have been a part of Hope du Jour since its origin 33 years ago! The local restaurant community has always been a reliable partner in a huge number of outreach fundraising efforts. Hope du Jour is particularly significant to those of us who support our own families by feeding people. Forsyth County is in the frustrating reality of having a disproportionate number of underprivileged, hard-working people who struggle to feed their families. Childhood hunger is a crisis that undermines the wellness,
26 / FORSYTHFAMILYMAGAZINE.COM
– Claire Calvin, owner, The Porch Kitchen and Cantina, Alma Mexican and East of Texas.
pride, dignity and HOPE of our families struggling to do their best. On May 2nd, the restaurant community will come together once again to acknowledge the less fortunate human souls around us who regularly wake up hungry. Your local restaurants await another opportunity to offer basic needs and hope to our brothers and sisters through our annual partnership with Hope du Jour and Crisis Control Ministry."
– Murphy and Kimberly Gregg and the Diamondback Grill family
Hope du Jour is just one of many opportunities to support Crisis Control throughout the year. The entire community is also invited to the ministry's 50th Year Celebration and Worship Service on April 3rd, 2023. The community worship and music service at First Baptist Church on Fifth will feature The Most Reverend Michael B. Curry, the Presiding Bishop of the Episcopal Church (and a former Crisis Control Ministry board chair).
Then stay tuned for more information on the 50th Anniversary Community Concert and Celebration scheduled for August 26th, 2023 at the WinstonSalem Fairgrounds. Neighbors from all across the community are invited to join together for a day of music, food, fun and an opportunity to continue spreading the seeds of awareness and grace that have now been blooming for 50 years!
Since its beginning in 1973, Crisis Control Ministry has grown in response to the needs of the community. The ministry connects with individuals, faith-based communities, businesses and other organizations to help our neighbors who struggle to provide for their basic life needs. Over the years, a quote from Crisis Control Ministry's Founder, Reverend Ron Rice, has proven to be true. "All things become possible in a loving community."
For information and updates on the May 2nd Hope du Jour event, visit Hopedujour.org, and for more information on the 50th Year Celebration and Worship Service on April 3rd, visit crisiscontrol.org/50years. Crisis Control Ministry is located at 200 East Tenth Street in Winston-Salem. Hours are Monday through Friday: 9:00 a.m. to noon, and 1:00 p.m. to 4:00 p.m. Reach them at 336.724.7453, and online at Crisiscontrol.org. The satellite Kernersville location is at 431 W Bodenhamer St, 336.996.5401. Hours are Monday through Friday: 9:00 a.m. to noon, with additional hours Tuesday and Thursday: 1:00 p.m. to 4:00 p.m.
APRIL 2023 / 27
No
Apology Needed
by JEAN MARIE JOHNSON
MyEastern European dad was "from the old country," a man for whom demonstrating good manners was a nonnegotiable expectation. Because of him and my mom, I grew to deeply appreciate genuine manners, the kind that express personal accountability and demonstrate respect for others. Take the apology:
• I fail to keep my word...because I said "yes" when I really meant "no," or I simply forgot
• I make an insensitive comment… because I wasn't present in all of the ways that matter
• I cut you off at the intersection… because my impatience got the best of me
• I bump into you in the supermarket… because I was obliviously yapping on my phone
We're human, and when we do these things, we take responsibility for our actions by expressing our regret and admitting we were wrong. It's a powerful skill set that most of us learn at an early age by watching the adults around us and being prodded by them to "step up and apologize!"
On the other hand…
What we may not learn is how to identify when no apology is needed. Psychologists tell us that folks who apologize profusely tend to worry a great deal about what other people think, put the feelings of others above their own needs, worry about offending others, and may suffer from a lack of confidence or low self-esteem. Or over-apologizing may simply have become a reflexive habit.
Either way, there's a definite downside to over-apologizing. Mainly, we lose touch with ourselves and abandon the discernment that makes an apology meaningful and impactful.
When Not to Apologize
The oft quoted "Say what you mean and mean what you say" is a helpful rule of thumb. Here's an inconclusive list of some things that need no apology:
• When you say no to respect your own limits – because self-respect is the prerequisite to respecting others
• When prioritizing your time – because you are the master of your time and how you use it
• When attending to self-care – because you simply must "put your mask on first before assisting others"
• When you spend money on yourself – because it's simply not anyone's business
• When taking a phone/social media time out – because you need to control it, not the other way around
• When expecting to get what you paid for – because you paid for it
• When following your own path – because it's not up for scrutiny unless you say so
• When loving someone – because "they" don't need to understand or approve
• When you don't know the answer – because you can't know everything
• When you did nothing wrong – because you did nothing wrong
• When something is out of your control – because while it may be unfortunate, you are not responsible
• When you stand in your values and beliefs – because otherwise, who are you
• When you just want to wiggle out of an awkward situation – because that's cowardly
Alternative Responses
Consider alternatives to ill-advised apologies. For example, if you need to say no, are prioritizing self-care, or are taking a social media time out, say, "Thanks for understanding" or "I appreciate your understanding," and leave it at that.
Or, if someone is challenging the path you are on, your values, or how you spend your money, you might say "I know you may see it differently," or "I appreciate that we have different ideas about this," and again, leave it at that.
As for my dad, he knew how to show respect while being self-respecting at the same time. And while I make no apology for the fact that we saw some things very differently, I am grateful for his example.
28 / FORSYTHFAMILYMAGAZINE.COM
APRIL 2023 / 29 1063 W. Northwest Blvd. • Winston-Salem, NC 27101 336-725-5757 • www.SalemSmilesOrtho.com • New iTero Scanner eliminated gooey messy impressions! • Many treatments last only 15 months • Eat without restriction • Great for an active lifestyle Call today for your FREE consultation! Orthodontics for Children & Adults WASHINGTONPARKCROSSFIT.COM | 2020 HOLLYROOD ST WINSTON-SALEM | @WASHINGTONPARKCROSSFIT
PALEO ORANGE CHICKEN (Whole 30, No Added Sugar)
Serves 3-4 | Prep Time: 10 minutes
Cook Time: 15 minutes | Total Time: 25 minutes
INGREDIENTS
For the chicken:
2 cups chicken breast, diced
1/4 cup arrowroot powder or cornstarch
1 tsp salt
1 tsp garlic powder
2 T olive oil or avocado oil
ALL Types of BOWLS
by CASEY CHEEK, alltypesofbowls.com
Hi!I'm Casey, a part-time food blogger, full-time architect, wife and dog mom. On All Types Of Bowls, you'll find healthy inspiration for making your favorite cravings and comfort foods. I believe we should eat all our cravings, whether it's a leafy grain bowl or a big bowl of pasta.
For the sauce:
1 cup bell peppers, chopped
1/4 cup + 1/4 cup chicken broth
1/4 cup coconut aminos or soy sauce
2 T rice vinegar
1 large orange, juiced
1 tsp sesame oil
2 T tomato paste
1/2 T chili garlic sauce
1 tsp ginger paste
1 tsp garlic, minced
1 tsp sesame seeds
1 tsp red pepper flakes
Serve with sesame seeds and cilantro
DIRECTIONS
1. Toss the chicken with the arrowroot powder, salt and garlic powder.
2. Heat the oil in your pan on medium heat and add in the chicken. Cook until browned and almost completely cooked. We will cook it again in the sauce.
3. Remove the chicken from the pan and set aside. Add in the bell peppers and cook for 3 minutes. Lower the heat and add in 1/4 cup of chicken broth and mix. Scrape the bits from the bottom of the pan and mix.
4. In a bowl, whisk the coconut aminos or soy sauce, 1/4 cup chicken broth, orange juice, rice vinegar, sesame oil, tomato paste, ginger paste, garlic, sesame seeds and red pepper flakes.
5. Add the sauce to the pan and mix until sauce begins to thicken. Add the chicken back into the pan and stir for another couple minutes. Sauce should be thickened by now and chicken should be cooked through.
6. Serve with some rice and top with sesame seeds and cilantro.
30 / FORSYTHFAMILYMAGAZINE.COM
Thank You for Voting!
Favorite OB/GYN Doctor in the Winston-Salem Area: Dr. Amber G. Hatch, MD
Congratulations to Dr. Hatch, this year's Triad Moms on Main Favorite OB/ GYN Doctor in the Winston-Salem area recipient. Dr. Hatch joined Lyndhurst in August of 2011 and sees patients in our Winston-Salem and Mt. Airy offices. Her special interests include adolescent gynecology, laparoscopic and pelvic surgery, high-risk obstetrics, and research. In her free time, Dr. Hatch enjoys spending time with her husband, Matt and two sons Jack and Deacon. She also enjoys traveling, hiking, reading and she speaks conversational Spanish.
Lyndhurst
Favorite
Lyndhurst Medical Spa
Thank you to all who voted for us in the Triad Moms on Main 2023 Choice Awards. We are honored to be voted your favorite Medical Spa in Winston Salem!
Our mission at Lyndhurst Medical Spa is to provide you with an unforgettable spa experience. We are dedicated to helping women in the triad achieve brighter, healthier, younger looking skin with our contemporary procedures and moderate pricing. Invest in your skin health with Lyndhurst Medical Spa.
Novant Skin & Vein
APRIL 2023 / 31
Spa in the Winston-Salem Area:
We are in the Novant & Atrium Health Wake Forest Baptist Networks. lyndhurstgyn.com 111 Hanestown Court, Suite 151 Winston-Salem, NC 27103 336.765.9350 445 Pineview Drive, Suite 110 Kernersville, NC 27284 336.993.4532 1908 Caudle Road, Suite 101 Mt. Airy, NC 27030 336-789-9076 304 Mountainview Road King, NC 27021 336-765-9350 Three convenient locations Winston-Salem, Kernersville and High Point
If you experience: • Swelling in your legs
Leg pain and discomfort
Tired or heavy legs • Bulging veins
Spider veins
Skin discoloration Free Vein Consultation
13, 2023 Spring into action with pain-free legs. Let Novant Health Vein Specialists board-certified and compassionate experts help. RSVP to 336-776-3160 or go online to salemveins.com to register. Take the first step towards better health and a more confident you. Book your free visit today.
Follow Our Lead to Healthy Legs
•
•
•
•
April
32 / FORSYTHFAMILYMAGAZINE.COM
The Simple Joys of Home
by MARTIE EMORY / photos by JEJ PHOTOS
Think bright colors, daily affirmations and overflowing faith, and you'll be envisioning Winston-Salem resident and grateful Habitat for Humanity participant, Hazel Griffin.
APRIL 2023 / 33
From the Heart
A devoted mother, grandmother and great-grandmother, Hazel exudes pure love and joy with every word and every smile, and her home reflects every ounce of that joy. When Habitat for Humanity of Forsyth County thoughtfully considered who would be the most inspiring subject for their cover story, the choice was easy.
Everyone who knows Hazel has seen her become quite emotional when she talks about getting a Habitat home. She welcomes you inside (while pointing out her beautifully detailed yard and prized front porch) with love and compassion, and makes you feel as if something wonderful is always just about to happen!
Hazel beams when she talks about her new status as a homeowner, and is the proudest anyone could be of this amazing new home. Every room reflects her personality and inner spirit, and she is absolutely the most gracious hostess! She'll tell you right away that her faith comes first, and her Bible sits in the living room, ready when she's ready to soak in a favorite verse. Sticky notes on doors and windows – to remind her of a favorite quote or daily devotional – are common.
Artful decor in the hallway reminds us to "Be Kind. Be Humble." There's a sign in the den that reminds us to "Pray big. Worry small." Once you meet Hazel, those couldn't be more appropriate.
"I am so happy," says Hazel, whose home dedication was April 19, 2022. She moved in a week later, already with a careful vision of how every room in the 1,200-square-foot house would come
together. The white rockers you see on her spacious front porch were purchased early on, as she knew that porch would become her favorite spot. Habitat planted crepe myrtle trees and rose bushes to kick off the home's garden area, and Hazel waters and nurtures both every day.
Hazel's Story
"Only God knows how happy I am. At 69 years old, I have never been a homeowner," she explains. "After my husband passed away, I knew it was my time!"
As a renter, Hazel had struggled with her vertigo and climbing concrete steps daily to her second-floor apartment, and she passionately wanted a spot of her own to be able to sit outside and relax. Once she was approved for home ownership, the Habitat classes convinced her she was ready to take that step.
"I have composition books full of notes," says Hazel. "We learned how to take care of a yard, how to fix simple things and how to weatherize. I love the Habitat program; my only regret is that I didn't do it sooner."
Hazel tells how she drove to the house every day during the building phase, helped carry in the walls, took so many pictures and loves to show folks her "fresh blessed dirt" from the lot, which she has labeled in a large plastic bag for safe keeping!
"Once they put up the walls, it was such a blessing," says Hazel. "My home was finally being built." She and her sister blessed the newly finished home with a prayer, followed by moving in all the treasures she had intentionally chosen for each room.
An 11-year breast cancer survivor as of this July, Hazel is one of nine siblings, all still living, as well as her 91-year-old mother who lives in Eden, NC, where the family landed after leaving West Virginia. When Hazel later remarried, her husband wanted to move to WinstonSalem to be near family, and she's been in love with this area ever since coming here in 1982. Hazel is very active at her church, currently works part-time as a kitchen assistant at Atkins High School and she admits she can call most of the students by name! But, her family is her pride and joy, including daughters Izetta Hale and Christina Hale, and her granddaughter, India Johnson, who all stopped by for the photo shoot. In all, Hazel has three grandchildren and six greatgrandchildren, and she's thrilled to be able to host family Christmas celebrations in her new home.
" This house is MINE. I don't have to fight for a parking space. I can plant flowers, sit outside and enjoy the fresh air. It's never too late! Without God and Habitat, I wouldn't be where I am now!"
34 / FORSYTHFAMILYMAGAZINE.COM
Studies have shown that when a child grows up in a Habitat home, they have better health outcomes, do better in school and, overall, their future looks brighter. The Habitat homeownership program enables families to purchase a safe and affordable home, which is also the beginning of generational wealth. When asked what the most important reason they became a Habitat homeowner is, most will say "Now I have something to leave my children."
A global non-profit housing organization working in local communities across all 50 states in the United States, and in more than 70 countries around the world, the Habitat for Humanity program equips families to become sustainable homeowners. Participants must also be able and willing to pay an affordable mortgage, and Habitat mortgage payments are cycled back into the community to help build additional Habitat houses.
"Our Education Curriculum covers many topics including financial awareness, such as creating and building a savings account, how to deal with financial emergencies, budgets, insurance, debt and credit counseling," says Paola Candelaria, Director of Family Services. "Participants also spend time learning about social and emotional wellness, estate planning, home maintenance and landscaping techniques, and avoiding foreclosure. Our classes equip them with important tools for the future."
Habitat for Humanity of Forsyth County is located at 1023 West 14th Street in Winston-Salem, 336.765.8854. Learn more about their programs for home ownership at habitatforsyth.org. Many local individuals helped with building Hazel's home, along with these groups: WFU APO Fraternity, WFU Wesley Student Fellowship, Truist Bank, The Do School, Our Cornerstone Team members, Concordia University, Brandeis University and AmeriCorps National Civilian Community Corps
Hazel's Poem:
Habitat for Humanity
What a great way to be friendly
Build a house or two and give them away to me or you
Habitat for Humanity keeping people healthy
You can live a lot longer
Because making houses makes you stronger
You can't tell me there isn't anything keen in America
Look around and see there's people helping to free the homeless in America
Habitat for Humanity
I hope you have your hammer ready Nail a nail or two and build a house for me or you
Let's get involved and please, your donations are needed
Habitat's vision is of a world where everyone has a decent place to live
APRIL 2023 / 35
For Humanity D O N AT IO N S
the story of kids playing in their own yard while mom or dad cooks in their own kitchen. It's the story of everyday security and dreams for
help from Habitat for Humanity, volunteers and you.
Habitat
your support builds the story of home. It's
with
to help families build the story of home.
Shop, donate or volunteer
by DAMIAN DESMOND
Educational Musings
not a huge fan of Hollywood, so it takes a lot to impress me when it comes to movies. One that I've always loved is, "School of Rock." To quickly sum it up, Jack Black plays an aspiring rock band musician who just can't seem to catch a break. After being booted from his band, he poses as his roommate and accepts a substitute teacher position at a prestigious private school. At first, he is far more interested in just collecting a paycheck and couldn't care less about actually teaching his students. After accidentally overhearing his students playing instruments in music class, he crafts a plan to enter them and Battle of the
Despite the fact that he was dishonest to begin with, he goes on to learn more and more about each of his students and starts to build relationships with them – as a good teacher would do. He guides them toward their strengths and teaches them to overcome their weaknesses. He uses real world scenarios and situations to teach the students in ways that are not only fun, but are applicable in life, as well.
The students in his class truly learned through doing and experiencing – the ways teaching should be done. The culminating performance of the
entire class is the end result of a teacher who allowed his students to take control of their own educations while they were carefully guided along the way.
Education has played an integral role in my life. More than 33 of my 49 years were involved in education; both as a student and as a teacher. After being adopted, I rode the bus in the afternoon from my elementary school to the high school where my adoptive mother was a teacher. I completed my homework in her classroom while she finished up her own schoolwork. Now retired, my mother spent more than 40 years in the classroom as a Spanish teacher. Her influence on thousands of lives was undoubtedly far reaching and great.
Almost every teacher I ever had left an indelible mark on me – in good ways. My first grade teacher helped me get out of an abusive situation at home. My second grade teacher not only impacted my life, but became a coworker when I became a teacher in the same school, as well. To teach alongside a former teacher was truly a privilege. My 4th grade teacher lived next door to the school. She had a pool in her backyard, and we all walked over for a pool party at the end of the school year. Yet another elementary teacher was from Latvia. Her love for this country was not only memorable but inspiring, as well. There was something in particular that she taught us that I've never forgotten. She used WAJMaMo to help us remember the first five presidents of the United states: Washington, Adams, Jefferson, Madison and Monroe. It's funny how something stays with you forever. In middle school and high school, it was my Latin, biology and chemistry teachers who made the greatest impacts. My Latin teacher was a cool young man who had been a roadie for a band. We had so much fun in four years of that class, and we actually learned Latin. In biology, I will always remember dissecting various organisms including the ultimate specimen
– the fetal pig. My chemistry teacher was brilliant and could easily have had a job making tons of money, but his passion was teaching, and we learned so much from him. Making our own peanut brittle as an experiment wasn't bad either!
Looking back now, I know I was extremely fortunate to have had the high quality educators that I did. There is no doubt that their influences on me helped prompt me to become a teacher myself – which I did in 1998. Before I became a teacher, two of my cousins had already entered the field in Atlanta. One of them is still teaching there to this day. With my own mother and two of my cousins being educators, as well as my own positive experiences with my teachers, I knew being a teacher was for me.
Although I no longer teach and haven't done so for six years, I did spend 16 years in the classroom. As with any career, there were good days and bad days. Some of my most treasured memories are from teaching 5th grade science (and having my oldest son as a student was the icing on the cake). Several of my son's close friends were also my students. I've watched them all grow into incredible young men. Right before Christmas, I utilized one of my old VMI uniforms and dressed up as the conductor from The Polar Express. The eyes of young children lighting up as I yelled, "Aaaaallll Aabbooaarrdd!" is something I will never forget. In the past few years, I've had several former students reach out to me on social media. To hear from students that I had an impact on is an incredible feeling.
When I left teaching six years ago, I never looked back. The education system has changed a great deal since I was a child, and even more so in the past decade. Despite that, I'm extremely blessed to have been molded by wonderful teachers in my life. And, hopefully, my former students have the same sentiments toward me.
36 / FORSYTHFAMILYMAGAZINE.COM
Grab & GROW
Miracle Grounds Farm & Food Forest on the campus of Crossnore Communities for Children announces their annual plant sale. Stop by the garden and stock up on flowering annuals and native perennial varieties such as aster, Blackeyed Susan, lavender, goldenrod, pink muhly grass, and more!
May 5, 2023 May 6, 2023 9:00 am-12:00 pm 10:00 am-2:00 pm 3:00-5:00 pm
APRIL 2023 / 37
Foster Care & Adoptions Therapy Services Family Preservation Youth Independent Living crossnore.org | info@crossnore.org 1001 Reynolda Rd, Winston-Salem, NC 27104 ForsythFamily-3.676x10-PlantSale-Apr2023.indd 1 3/3/2023 8:40:14 AM
Child Safety Series
Conversations About CONSENT
by TARYN JEREZ
#2 TalkWithYourKids.org shares a basic dialogue reminder for parents to keep at the heart of your consent conversations. "Your body is your body. You get to say whether, when and how people touch you. If someone touches you in a way that you don't like, tell them to stop. If they don't stop, tell me or another adult you trust. That includes if the person who touched you is also an adult. I love you, and your safety and well-being are my number one concern." More than 90% of abusers are people children know, love and trust, so these reminders may be scary but are crucial.
#3 Keep the conversation age appropriate to best help your child comprehend what's being said and take the most away from the conversation.
It is never too early to start the conversation around consent.
Every April, National Child Abuse Prevention (CAP) recognizes the month as time to remind communities of the important role each of us collectively play to strengthen families and protect children against abuse through education and other resources. Abuse comes in many different forms and doesn't discriminate against children's age, race, gender or socioeconomic background. An estimated 42 million survivors of childhood sexual abuse exist in America today, which is why helping create a firm foundation your children can build on to understand how to protect their bodies and themselves from unwanted touch, behavior and more is imperative.
Many parents understand the importance of these conversations but feel a little lost on where to start or how to know age-appropriate ways to begin addressing the sensitive subject of consent with their children. Here is a checklist of ways you can create open dialogue around consent no matter how old the children in your life are:
3 Tips for Having Conversations About Consent with Children
#1 Remember to be open, honest and create a safe space for questions and conversations with your child. When it comes to bodies, sex and boundaries, children will learn things from lots of places, but you want the information they receive to come from you, your family values and experiences first and foremost whenever possible.
Babies & Toddlers - Learning their body, understanding the anatomically correct terms for body parts, teaching which body parts are "private parts," instructing how words like "no" and "stop" are to be honored and respected
Young Children - Speaking on body-related boundaries, reviewing words like "no" and "stop" can be used to honor boundaries (both their own and others), safe touch vs. unsafe touch, respecting other people's bodies, asking permission before physical touch with friends
Big Kids/Preteens - Understanding your body's cues and other people's cues, internet and cell phone safety & dangers, how to share if a friend is in danger or you/they have experienced negative physical touch and who to tell
Teenagers/Young Adults - Creating a policy where "there are no stupid questions" around bodies and sex, empowering them to love themselves and their bodies, educating on healthy relationships, reminding to trust their instincts if something or someone feels off, specifically talking about what consent looks and sounds like and respecting partners
Keeping Children Safe Takes A Village
Every child should grow up in a safe, stable and nurturing environment knowing their bodies and boundaries are respected. While parents and caregivers are keys to making this a reality, it is the support and commitment from their community that makes all the difference in making it a reality through encouragement, education and preventive measures.
This month, we hope as you read through this checklist, you feel confident to talk with the children in your life to help empower them to have power over their bodies.
Helpful Resources
talkwithyourkids.org
38 / FORSYTHFAMILYMAGAZINE.COM
Each month, this series will provide important facts and tips surrounding child safety in an effort to support parents and caregivers as they navigate reducing risks and creating the safest environment possible for the children in their lives.
APRIL 2023 / 39 FCDS org l 336 945 3151 Schedule Your Tour Today! For Learning & Discovery Winston-Salem 336-999-8037 privatediningoptionsavailable www.littlerichardsbarbeque.com Clemmons 336-766-0401 Mt. Airy 336-783-0227 Walkertown 336-754-4495 Yadkinville 336-679-7064 Contactcatering@littlerichardsbarbeque.com foryourcateringneedsfor ALL locations.
SHARE Cooperative of WS Harvest Market A Community That CARES!
by MARTIE EMORY / photos by TATUM TUCKER
Following their hearts, their faith and the mission to "Supply Honest And Respectful Engagement" – the Rev. Gary Williams and the Rev. Willard Bass, Jr. founded SHARE Cooperative of Winston-Salem in 2016. They then spotted the current space that houses the long-awaited Harvest Market.
Since launching the faith-based mission, the dream of opening a fresh food and produce market has been the primary goal. Thanks to incredibly generous community support, including a grant from the Kate B. Reynolds Charitable Trust and a grant from the city of Winston-Salem, the Harvest Market opened last October. Their motto is simple: There's something here for everyone!
Healthy, reasonably priced, readily accessible food is the main focus, as well as uniting the community through focused engagement, with a place in which all WinstonSalem residents can flourish. A full-service grocery store, Harvest Market carries fresh produce, fresh meats, pantry staples, paper products and cleaning supplies. You'll find name brands on the shelves, and since the market is member-driven, members have input into items they'd like to see available.
Rev. Williams and Rev. Bass wisely formulated the plan for this project out of a need of local citizens, under-served by other grocery and food outlets. As of today, the Harvest Market is the closest grocery store to downtown Winston-Salem!
Co-op members, already more than 575 in number, receive a 5% discount on the marked prices of food in the market, along with invitations to special events throughout the year. MemberOwners are also invited to attend board meetings and become involved in the daily operations of the co-op. An individual membership costs $100.00 – or, there's a full plates membership at $75 for students, seniors and SNAP recipients. Corporate memberships are available for $275. As a MemberOwner, you're also afforded the wonderful opportunity to interact with like-minded neighbors and be part of something truly special in your community!
Williams, Bass and the SHARE Cooperative board are proud of the growing market and all its possibilities, including hopes for a second location in the future. Board member Richie Williams shares other exciting news as well.
"We have just finished negotiations with Rosey Bloom's, a local family owned and operated company, that will begin operating the market's commercial kitchen in the next few weeks!" Rosey Bloom's famous collard greens are already available in the market by the jar – and other local vendors are always invited to share tasting events for shoppers.
The SHARE Cooperative was developed in partnership with The Freedom Tree at IDR and other various socio-economic and ethnic groups that make up the Winston-Salem community. The collaborators include the following:
Kate B. Reynolds Charitable Trust
Hubbard Commercial LLC
City of Winston-Salem, NC
Ministers Conference of Winston-Salem and Vicinity
Winston-Salem State University
Simon Green Atkins Community Development Corporation
Parkway United Church of Christ
First Baptist Church, Highland Avenue
First Presbyterian Church, Winston-Salem
Wake Forest School of Medicine
Brenner Children's Hospital
Wake Forest University
Goler Community Development Corporation
Spruce Design
Knollwood Baptist Church
Peace Haven Baptist Church, Winston-Salem
Winston-Salem Foundation
Blue Cross and Blue Shield of North Carolina Foundation
Reinvestment Fund – Healthy Food Financing Initiative
Piedmont Triad Regional Development Corporation
Forsyth County
Z Smith Reynolds
American Heart Association
United Health Association
Filipowski-Race Family
St. Paul's Episcopal Church
Centenary United Methodist Church
Unitarian Universalist Fellowship of Winston Salem
Trinity Presbyterian Church and the Davie Construction Company.
For more information on the Harvest Market or SHARE Cooperative, visit the website Share-ws.coop, follow them on Facebook, email info@share-ws.coop or call 336.283.3299.
The market is located at 635-A Peters Creek Parkway, with daily hours of 8:00 a.m. - 8:00 p.m.
Members and non-members are always invited to visit and purchase groceries at the Harvest Market.
Start planning where you will eat out for Hope du Jour
For the growing list of participating restaurants, visit: www.hopejujour.org
Crisis Control
On Tuesday, May 2 participating restaurants donate 10% of that day's proceeds to Crisis Control Ministry. While these proceeds allow the ministry to serve our neighbors, it is also a wonderful reason for folks to get together and celebrate with family and friends. It is a great way to support local restaurants. Try a new restaurant or visit an old favorite. Treat yourself to dessert or a drink at one of the participating coffee shops or breweries. You can even pick up take out to put in the freezer so you don't have to cook on a busy day later. It's easy – eat out – take out and help out! For a list of participating restaurants, visit: www.hopedujour.org
Neighbors Helping Neighbors for 50 Years
APRIL 2023 / 41
Walk-In and Same-Day Care Available at Novant Health Orthopedics and Sports Medicine
by MARTIE EMORY
Serving the community with next-level care and professionalism beyond compare, Novant Health Orthopedics and Sports Medicine is the best choice for athletes and weekend warriors alike!
The clinic accepts walk-in patients during weekday hours for urgent orthopedic and sports medicine injuries. Their providers are equipped to offer treatment for sprains, strains, fractures and other acute injuries.
Selecting Novant Health Orthopedics and Sports Medicine means you will have access to the exact expertise and innovative treatments professional athletes receive through the clinic, no matter what your amateur status! If the providers determine you need orthopedic surgery, both traditional and minimally invasive options are available. With robotic-assisted surgeries, even more complicated procedures such as joint replacements can mean a same day discharge and minimal downtime.
Getting care customized to your personal schedule means you're on the road to recovery even sooner.
Pediatric orthopedic surgery care and pediatric treatment of sports medicine is a vital part of treatment at Novant Health Orthopedics and Sports Medicine, and their providers are the best and most compassionate in the field.
We Specialize in Adults and Children
Phillip Mason, MD, is originally from a small town in South Carolina and loves that feeling of community where neighbors go the extra mile to get to know and help each other. Trained specifically in pediatrics, Dr. Mason enjoys getting young people back to doing the things they love most.
"Pediatric patients are different both physically and emotionally," explains Dr. Mason. "There's maturation and growth plates to consider, but we strive to get our patients back to school, back to their sports teams and simply getting to spend time with their friends."
Zachary Sandbulte, MD, started out studying economics at the University of Washington in Seattle, but then decided to follow in his father's footsteps and become a doctor. He did his residency and fellowship at the University of North Carolina at Chapel Hill. Dr. Sandbulte regularly treats high school athletes, including concussions and weekend warriors for issues with joints, tendons and nerve pain.
"As a primary care sports medicine specialist, I enjoy taking care of adolescents," he says. "The ultimate goal is to keep them as active as possible, as safely as possible, whether in organized sports or recreational activities."
All of Novant Health's providers realize that successful treatment for any injury is also a product of a patient's overall health. Providers review medical history and refer patients to their primary care physicians for treatment and monitoring of medical conditions.
We're Conveniently Located Near You
The Novant Health Orthopedics and Sports Medicine-Robinhood practice is located in close proximity to Mt. Tabor High School, Jefferson Middle School and the Robinhood Road Family YMCA –perfect for when weekday accidents call for first-class orthopedic care.
You'll also find that Novant Health offers orthopedic and sports medicine care in 13 additional locations across the Triad, including Clemmons, Greensboro, High Point, Kernersville, King, Lexington or Thomasville. No matter where you live, you and your family have easy access to orthopedic and sports medicine care.
Novant Health Orthopedics and Sports Medicine is located at 200 Robinhood Medical Plaza in Winston-Salem. Visit novanthealth.org for more information on their providers and services. Office hours are 8:00 a.m.-7:00 p.m. Monday to Friday. Call today for an appointment 336.718.7950.
42 / FORSYTHFAMILYMAGAZINE.COM
by KATIE MARSH
by KATIE MARSH
The Lewisville-Clemmons Chamber of Commerce is excited to host Clemmons Community Day on April 29th! A rain or shine, family-friendly event attended by 100+ vendors and 3500+ people, Clemmons Community Day is organized by the LewisvilleClemmons Chamber of Commerce and volunteers.
Denise Heidel, the Executive Director of the Lewisville-Clemmons Chamber of Commerce, shared, "The heart of the Chamber is really about our local business community. Clemmons Community Day allows us to bring businesses together for fun, games, and entertainment. It gives us a great excuse to celebrate our community and collaborate with others! It's truly a team effort with hours spent planning and perfecting this much-loved day!"
A team of volunteers led by Kristin Johnson is instrumental to the event's success. Kristin said, "Our volunteer committee started planning the 2023 Clemmons Community Day in November. We are thrilled to once again partner with our friends at the Jerry Long Family YMCA to host the event. For the second year, we've once again embraced Denise's favorite word, a 'co-opetition' with the Village of Clemmons, who will kick off the 2023 Clemmons Farmers' Market at the same time, same place…. Meaning a one-stop shop for two events for those who can't decide which to attend!"
"I agree," said Denise. "This is a win-win-win collaboration, and honestly, I love working with the Village of Clemmons and the Jerry Long Family YMCA. It brings added excitement and energy to the planning!"
Kristin said, "Visitors will have a chance to meet over 100 vendors eager to share their businesses and services with the community. We will also have all kinds of fun and games for families to enjoy, including a trackless train, bounce houses, music, and demos! In addition, we have lots of great food trucks and food vendors coming, and new this year – a dunk booth!"
Clemmons Community Day is truly a labor of love to showcase what is so special about Clemmons. The event is possible through sponsors, volunteers, the YMCA, and civil servants working together to make it a special day!
While the event is free, visitors are encouraged to bring a donation for the Clemmons Food Pantry. Clemmons Food Pantry always accepts in-date canned and boxed food, but they especially need cereal, canned fruit, canned soups, and snacks.
To learn more about Clemmons Community Day, visit LewisvilleClemmons.com or call Executive Director, Denise Heidel, at 336.970.5100.
44 / FORSYTHFAMILYMAGAZINE.COM
12th Annual
Activities will include:
Trackless Train | Bouncy House
Face Painting | Balloon Art
Music | Clemmons Fire Truck
Sheriff's Car | Demos
No pets, smoking, or alcohol, please.
PARTNERSHIP RECOGNITION
Thank you to our 2023 Clemmons Community Day Business Partners for helping us make this day possible, and FREE, to our community!
VILLAGE PARTNERS
Allegacy Federal Credit Union
Novant Health
The Jerry Long Family YMCA
AdSigns
Black Tie Transportation
SOCIETY PARTNERS
Truliant
TRAIN PARTNER
Modern Automotive
COMMUNITY PARTNERS
Animal Ark Veterinary Hospital
Cadence Living
Edward Jones – Matt Hynek
MEDIA PARTNERS
WBFJ
WTOB
Green Eyed Designs
Monarch Mortgage
Mosquito Authority
FRIEND PARTNERS
English's Bridal & Formalwear
Third Generation Homes
APRIL 2023 / 45 12th Annual Jerry Long Family YMCA 1150 S. Peace Haven Road, Clemmons APRIL 29, 2023 Saturday 10AM - 2PM FREE ADMISSION
by Lewisville-Clemmons Chamber of Commerce Learn more at Lewisville-Clemmons.com Please bring a non-perishable or canned food donation for the Clemmons Food Pantry A Fun-Filled Family Day! Rain or Shine!
Presented
Fancy Crispy Mushroom Fries
Fork
SERVES: 4
by @BRIGHTMOMENTCO / LAUREN SEPHTON
Thespring season is in full blossom with all its shining sunshine glory and abundant produce! From our favorite berries to serve with homemade tarts and pancakes to light spring mix salads, the flavor combinations will be endless this season.
What's in season this April? There's quite a list, so grab your pencil and paper! We have apples, kiwi, lemons, limes, mango, pears, pineapples, avocados, strawberries, rutabagas, citrus fruits, blueberries and bananas. For our vegetables, we have bok choy, carrots, cauliflower, celery, potatoes, peas, parsnips, mushrooms and most lettuce greens!
Now, you may be wondering, what's so special about mushrooms? Well, studies show they may help decrease the risk of cancer, promote lower cholesterol, protect brain health, provide a great source of Vitamin D, support a healthy immune system and stimulate a healthier gut. Wow! A mouthful, am I right? Mushrooms are not only a great addition to pastas and soups but can be served on their own like these crispy mushroom fries. as well.
INGREDIENTS
FOR THE MUSHROOM FRIES:
5 portobello mushrooms, or 1 lb. oyster mushrooms
1/2 cup all purpose flour
3 large eggs
1 1/2 cup panko breadcrumbs
1 T Italian herb seasoning
1 tsp. salt
frying oil
FOR THE ZESTY LEMON TAHINI DIPPING SAUCE:
1/2 cup tahini juice of 1 lemon
1-2 garlic cloves, grated
1/4 tsp. ground nutmeg salt & black pepper, to taste water, to thin out to preference
INSTRUCTIONS
1. Heat up your neutral frying oil in a pot over medium high heat to 350 degrees F. You will want at least two inches in depth.
2. To batter up your mushrooms, set up a station with three large bowls. In one bowl, add the flour and salt. In the second bowl, whisk the eggs until smooth. In the third bowl, mix the breadcrumbs and herbs together.
3. Slice or pull apart your mushrooms to fry-sized pieces. Dredge in the flour mix, then eggs, then breadcrumbs.
4. Working in small batches, place the battered fries in the oil to fry 1-2 minutes on each side. Until golden brown and crispy. Remove with slotted spoon to a paper towel lined plate to drain excess oils. Sprinkle with sea salt.
5. To make the dipping sauce, simply combine all ingredients.
6. Serve warm with the dipping sauce to enjoy!
TO MAKE IN THE CONVENTIONAL OVEN:
• Bake at 425 degrees F on a parchment paper lined sheet pan for 10-12 minutes, flipping halfway through, until golden brown and crispy.
TIP: Spray or drizzle in olive oil for extra crispiness.
THE
46 / FORSYTHFAMILYMAGAZINE.COM
Jodie Brim, Photographer + Creative Director SHOWCASING THE STORY BEHIND THE BRAND PHOTOGRAPHY VIDEOGRAPHY for business owners jodiebrim.com | 336.997.9487 | @jodiebrim 405 N. Cherry Street, Winston-Salem
Summer Reconnect with Friends and Make New Ones Learn a New Skill Create a Masterpiece What will your kids do this Summer?
APRIL 2023 / 49 Triple Threat So visit our website or call today before all of the prime spots are gone! www.dancemusicacting.com High Point: 336-884-3942 Winston-Salem: 336-794-3942 Summer Camps for ages 3 & up in July The Triad's Top Studio for all ages and levels at one location.
Rising 8th Grade
Shari Brady, Ph.D, Vice President of Education and Engagement for Kaleideum, shares what sets the popular destination's summer camps apart!
"Our camps are topical and exciting, while also being age-appropriate and aligned to the North Carolina science standards," says Shari. "Campers experience a wide variety of weekly themes – from coding and cooking, to slime time and space adventures."
Because Camp Kaleideum is offered every week during the summer, they can serve the family whose child has a special interest such as Harry Potter or Legos, while also serving the family who has a need for creative summertime childcare every week. From June 5th through August 25th, Camp Kaleideum will engage with approximately 1,200 campers in the pre-K through 8th grade age range. Because Kaleideum will be moving to a new building in downtown WinstonSalem in the fall of 2023 – with a grand opening planned for early 2024 – all summer 2023 camps will take place at one location: Kaleideum North, 400 West Hanes Mill Road in Winston-Salem.
Camp experiences for 2023 will include half-day sessions for Pre-K from 9:00 a.m.-12:30 p.m., and fullday camp for rising K-8 from 9:00 a.m. - 4:00 p.m. Before- and after-care are also available, but no after-care is provided for half-day camps.
A few creative camp names designed to tempt you include Dino Discoveries, Fizz, Bang, Pop, Wizard Academy, Dance 'n Beats, Code and
by MARTIE EMORY
Create, Gotta Catch 'em All, and Mad Science Lab…just to name a few. There's also The Great Engineering Bake-Off in conjunction with Wake Forest University. Fun is simply guaranteed at Camp Kaleideum, and learning is a happy bonus!
What's that special ingredient that makes these camp experiences so magical?
"Our staff is inspired by the 'aha' moments – those moments when a child understands what makes the elephant toothpaste react or the hydrogen balloon explode," explains Shari. "Every day at Camp Kaleideum, we are able to see the world from a different perspective, create handson programming and engage the public in interactive learning – all in the name of fun!"
Pre-registration for camp is required, and all payments are due in full upon registration. Campers can register online, with payment accepted via MasterCard, Visa, American Express and Discover. You may also register at the Kaleideum North Welcome Desk. For a full refund, cancellation must be received at least two weeks before the first day of the camp for which the child is registered. No refunds can be given after this date.
If you have questions about Camp Kaleideum or need more details, please contact 336.767.6730 or email scheduling@kaleideum.org. Stay tuned in early 2024, when the reimagined Kaleideum will open at 120 West Third Street in the heart of downtown Winston-Salem! Join Kaleideum to receive the member rate for camps, and enjoy the member discount programs throughout the year!
50 / FORSYTHFAMILYMAGAZINE.COM
5-August 25 Kaleideum North
to
Questions? Contact scheduling@kaleideum.org. BECOME A MEMBER and save money on Camp Kaleideum! 400 W Hanes Mill Rd, Winston-Salem Learn, play, explore, and have tons of FUN this summer! Learn more and register at kaleideum.org A Perfect Mix of Fun & Learning
June
Ages 3
Whenit's time to think about a unique summer camp experience that's close to home and enormously fun, Camp Kaleideum checks all the boxes – for parents and campers alike!
APRIL 2023 / 51 Kaleideum June 5-August 25 Kaleideum North Ages 3 to Rising 8th Grade Questions? Contact scheduling@kaleideum.org. BECOME A MEMBER and save money on Camp Kaleideum! 400 W Hanes Mill Rd, Winston-Salem Learn, play, explore, and have tons of FUN this summer! Learn more and register at kaleideum.org
Whetheryour children enjoy exploration, art, sports or serving others, FCDS Summer Enrichment has plenty of activities to let them discover new passions, create masterpieces, make friends and take learning to the next level.
Our experienced instructors and beautiful campus will ensure a memorable summer experience for your child. FCDS Summer Enrichment offers more than 150 different camps as well as academic programs through the Johnson Academic Center for grades K-12.
Here's a sample of 10 exciting camps your children may enjoy:
1
Watercolor Wonder - Grades 3-6
Welcome to the wonderful world of color! Campers will be exposed to a variety of tips, tricks and techniques used to create pieces in watercolor. Each day, they will learn a new technique using watercolor and create a painting to showcase that technique. Come find out what can be done with water media!
2 Photography - Grades 6-12 Join FCDS Art Teacher John Kildahl for a week of photography exploration. Learn the fundamentals of how a camera works by building a pinhole camera, make photograms in the darkroom to learn how to use the enlargers, and shoot, process and print on 35 mm film. Campers will learn how to take photographs with digital cameras, import them with Lightroom and make edits using Photoshop. It will be a fun, jam-packed week of photography making art and learning about the history of the medium! Campers may bring their own camera, but it is not required.
3 Junior Enrichment: Literature
Meets Lego - Grades K-2 Bring books to life with Lego creations! Imaginations soar as campers combine their favorite storybook with their love
Which EXCITING Camp Will Your Child LOVE?
of Legos. Each day of camp will bring new and exciting adventures as we explore different themes such as building custom playgrounds, life on a farm and custom car creations. This camp encourages your child's interest in reading while facilitating creative building and enhancing fine motor skills. Each daily theme will be reinforced with Legos, books, crafts, music, iPads and more. What could be better than combining a love of reading with Legos in one seriously awesome camp?
4 Basketball Camp - Grades K-12
Athletes of all ages and skill levels are invited to learn more about the game in a supportive environment. Campers will have the opportunity to learn from our varsity boys' basketball coaches and players. Work on the fundamental skills of passing, dribbling and shooting, while also learning team defensive and offensive concepts.
5 Outdoor Adventures - Grades 6-10 Make every day an adventure! Each day, we will venture outside both on and off campus to enjoy ourselves in nature. Activities will include everything from physical activities like hiking to lowkey scavenger hunts and geocaching. We will have five full days of outdoor adventure. Grab a friend, and come along for an amazing week of exploration and adventure!
6 Ceramics - Grades 6-12 Ever wanted to make your own mug, bowl, jar, vase or teapot? Come join FCDS Art Teacher John Kildahl for a week of wheel throwing. No experience required. We will learn how to center our clay on the wheel, how to trim up our pieces to perfection, how to add handles and spouts, and how to glaze and decorate our bisque-fired work. It'll be a messy and action-packed week of clay, and by the end, you'll head home with some lovely handmade pottery.
7 All Sports - Grades 3-8 Get active with a week of awesome activities and sports with your friends. FCDS Summer Enrichment coaches and leaders will give campers the opportunity to engage in and play a variety of different sports each day of the week. Campers will enjoy activities indoors and outdoors.
8 Music Producers - Grades 7-10
Music Producer camp will teach you some basic techniques to create music from scratch. Campers will be able to create their own music/sounds, collaborate with others and also learn how to express themselves in different genres. Maybe the skills you learn in this camp will lead to producing music with big names like Drake and Adele or writing scores for movies like the Marvel Cinematic Universe. The possibilities are endless!
9 Mindful Art & Yoga - Grades 2-6
Join us for a week that will cultivate mind-body connection,kindness, creativity and summer fun through artistic creations and yoga. Each day will consist of two hours of creative art and activities with one hour of yoga teachings and movement in between. These simple and mindful art activities will help you tap into your creativity and self-care practices. Campers will experience the beautiful outdoor peacefulness around campus as they find inspiration inwards and outwards.
10 Soccer Camp - Grades K-6
FCDS Varsity Coaches Julie McCann, Brendan Bohon and Nuwo Johnson invite you to join our annual soccer camp. Players will be challenged to improve in all skill areas: footwork, passing, scoring, moving without the ball, communication and goalie work. This camp is open to boys and girls. Players will be grouped by ability and experience. Cleats and shin guards are required, and water bottles are highly recommended.
We hope your child will join us for FCDS Summer Enrichment! Half-day and full-day options. Before- and after-care offered. Everyone is welcome! Learn more and register at fcds.org/summer today. Space is filling up quickly!
52 / FORSYTHFAMILYMAGAZINE.COM
FCDS FCDS  Enrichment Science & STEM Ceramics & Fiber Arts Animal Care Service & Leadership Is Your Child Ready for an Exciting SUMMER? Learn more and sign up at fcds.org/summer or scan QR code Rising K-12 - Half Day and Full Day Options - Before & After Care Offered Come play, learn, and discover at these FCDS Summer Sports and Enrichment programs - and many more! Summer Dodgeball & Nerf Wars Outdoor Adventures Basketball, Baseball, Soccer, Tennis, Lax, Field Hockey & Volleyball Creative Baking All welcome!
Preparing Youth for Challenges of the Future at Mixxer Community Makerspace
Mixxer Community Makerspace has one of the most dynamic summer learning programs in the Triad, offering a diverse range of STEAM (Science, Technology, Engineering, Arts and Mathematics) experiences for students in grades six through 12 through their innovative program, STEAM Experiences. This summer program plays a crucial role in combating summer learning loss, or the "summer slide," which affects many students between school years. By offering students fun and engaging ways to continue learning and growing over the summer, Mixxer Community Makerspace is helping to keep students engaged and prepared for the academic and professional challenges of the future.
Each subject is designed to provide hands-on, project-based learning experiences, giving students the opportunity to apply what they have learned in real-world situations and to create and share their own unique creations. With subjects such as Fashion Design, Drone Innovation, Meteorology, Metal Casting, Upcycled Jewelry, Coding with Makey Makey and Scratch, Coding in Python, Coding in Java, Graphic Design, Minecraft Engineering, and Music Production, students are sure to find a subject that interests them and that they are passionate about.
Project-based learning helps students to retain what they have learned and prepares them for future academic and professional challenges. Furthermore, students can socialize and develop important social skills, such as communication, collaboration and teamwork. These skills are essential for success in both academic and professional settings and are developed through the handson, interactive nature of the program.
All courses are taught by experienced educators who are passionate about their subjects and dedicated to helping students learn and grow. The dedication and expertise of the teachers provide students with a valuable educational experience that goes beyond the traditional classroom setting. Students are able to connect with their teachers and peers and learn in a supportive and inclusive environment.
STEAM Experiences
take place Monday through Saturday from 9am until 12pm during the summer months.
Mixxer Community Makerspace also provides access to technology and tools to makers of all ages using a business model like the YMCA from 12pm to 8pm Tuesday through Saturday. Individual memberships as well as family memberships are available for affordable monthly payments. Members have access to traditional tech and tools such as Woodworking, Metalworking, Blacksmithing and Sewing; plus more modern technology including 3D Printers, Laser Cutters, Vinyl Cutters, Computer Design Software and much more.
You can stop by Mixxer Community Makerspace Tuesday through Saturday between 12pm and 8pm to take a tour, ask questions and see for yourself. Mixxer is located next door to the Winston Cup Museum in downtown Winston-Salem at 1375 North Martin Luther King Jr. Drive. Be sure to check out the classes they have for adults, too. You could learn Screenprinting, Bladesmithing, 3D Printing, Woodcarving, Jewelry Making and so much more. Mixxer Community Makerspace has resources for every member of your family to Make Stuff & Learn Stuff.
54 / FORSYTHFAMILYMAGAZINE.COM
Piedmont Opera
Lift Every Voice and Sing, is a singing camp for children ages eleven and up, who will discover and perform music written by Black American composers!
This camp runs June 19th through the 25th, Monday thru Friday 9AM - 4:30PM, with a Saturday performance, and Sunday morning performance.
Daily the singers will work and perform with different professionals who are passionate about choral music, black music history, and classical singing. Singers with learn about breathing for singers, group singing classes, masterclasses, movement, & more! There will be opportunities to explore local arts and music venues, as well as after camp teamwork events.
For more information visit our website at piedmontopera.org or contact Lindsey Allen: lallen@piedmontopera.org.
Early Bird Tuition until March 31st ($300) includes $50 non-refundable registration fee.
Standard Tuition April 1st until June 5th ($350) includes $50 non-refundable registration fee.
APRIL 2023 / 55
Creative SUMMER FUN
TRIPLE THREAT – School of Dance, Music & Acting
by MARTIE EMORY
Withher own sense of style and the wisdom she's garnered through her own career as a professional performer, Holly Grubb Smith nurtures and inspires students at Triple Threat School of Dance, Music & Acting.
A High Point native, Holly owns and operates the studio's two convenient locations – the Winston-Salem location for the past 22 years and the High Point studio for the past 12 years. With a dedicated, gifted teaching staff of 13 that travels back and forth between the two studios, the Triple Threat experience is a perfect choice if you have an eye on becoming a professional performer or if you simply want to have fun and enjoy the arts! And, with summer on its way, it's also time to secure a spot in one of the studio's exciting summer programs!
Research has always shown that being part of dance, music and acting teaches children and teens important social and life skills such as discipline, teamwork and relating to others, and it also strengthens leadership skills. Practicing the arts helps with focus, while stimulating the brain in association with memory, emotional development and academic achievement. Students begin to excel inside and outside of the classroom, and with that, they see increased motivation, improved learning and stronger performances in grammar and math. Exposing children and even adults to dance, music and acting helps boost the brain, build motor skills and, most of all, builds confidence!
Visit the Triple Threat website at dancemusicacting.com for additional information and summer program registration (open now). Here's a glimpse of the creative fun coming this summer for those rising stars in your family!
Rock Star Dance Camp - Ages 5-10, Winston-Salem: July 10-14, High Point: July 17-21. Learn dance, musical theatre, acting, choreography and tumbling, in a fun and exciting environment!
FULL DAY: 9:00 a.m.-4:00 p.m. $255,
HALF DAY: 9:00 a.m.-12:00 p.m. $195.
Pop Star Jr. Dance Camp - Ages 3-5, Winston-Salem: July 1014, High Point: July 17-21. Enjoy a variety of activities including dance, tumbling, musical theatre, crafts and storytelling, along with theme days!
HALF DAY: 9:00 a.m.-12:00 p.m. $195
Technique Week - Pre-teen & Up, Winston-Salem: July 24-28, High Point: July 24-28
One week of intensive training to master turns, jumps, leaps and tricks! *Dance Experience Required*
FULL DAY: 9:00 a.m.-4:00 p.m. $255
Stop by to visit Triple Threat School of Dance, Music & Acting at 4759 Commercial Plaza Street in Winston-Salem to see for yourself how the creativity flows and how those masterful rhythms can benefit your own family! Reach them at 336.794.3942 and online at dancemusicacting.com for details on registering, class schedules and complete parent information. Triple Threat in High Point is located at 4008 Mendenhall Oaks Parkway, Suite 113, in High Point, 336.884.3942. Besides summer programs, both studios run on the school calendar year from August through June.
56 / FORSYTHFAMILYMAGAZINE.COM
APRIL 2023 / 57 You can always read all of our content online at forsythfamilymagazine.com
CAMP DICKENSON – Life & Learning on the New River
Nestled in a beautiful setting and surrounded by equally beautiful souls, Camp Dickenson in Fries, VA, is the perfect place to be inspired this summer!
Filled with fun, friendship and faith, this picturesque setting is a place where campers play, learn and soak in God's creations together. Minus the distractions of their everyday schedules and activities, campers participate in both high-energy worship and quiet time, while making new friends that have been known to last a lifetime. Many campers here are "regulars" who started in elementary school and are still returning as high school students.
by MARTIE EMORY
are perfect candidates to enjoy this new opportunity.
" We also chose to focus on the arts this first year, since often these programs tend to be cut first from local school curriculum," adds Anthony.
After much consideration and professional analysis, Camp Dickenson has also condensed their camp offerings from seven weeks down to four weeks, researching the most popular camp weeks overall for the last few years. Condensing to achieve even better quality of camp experiences is something the staff hopes will be even more effective and engaging.
Loved and applauded for the highest quality resident camps and adventure camps, Director Anthony Gomez shares what's new at Camp Dickenson for Summer 2023.
" We are returning to our roots this year, bringing back our specialty camps over the course of the next three years – one year at a time!" he says. "For this summer, we are introducing our MAD Camp July 23-28, a spirited focus on music, arts and drama for rising 10th through 12th graders. We have many musically inclined camp staff members, and we know this is the age when teens begin to develop more special interests."
MAD is a perfect fit! This exciting week will feature a schedule that focuses on all interactive music activities, creative arts and performance. Senior high students who are currently involved in concert band, chorus, marching band, theater or drama club at school
Summer camp has always provided children and teens with the most unique opportunities for personal growth and development, and surrounded by a compassionate staff and careful supervision, growth is often immeasurable! Campers gain insight into their personal strengths, while examining their own Christian values through ageappropriate faith guidance and relating to those around them. Research shows children who attend camp become more independent, grow in self-confidence and build important social skills.
Camp Dickenson summer camp registration is now open, and payment options are always available – as are sponsorships – thanks to a very generous base of compassionate donors.
" We're also thrilled to have some of our counselors with international backgrounds returning, which adds a fun element to the summer staff!" says Anthony.
Once a working farm and lovingly donated by its owner, Bill Dickenson, Camp Dickenson is serenely located along the New River, at 801 Camp Dickenson Lane, in Fries, VA. Reach them at 276.744.7241, email office@ campdickenson.com or visit them online at campdickenson.com for specific details on camp experiences, or for registration information. Follow Camp Dickenson on Facebook and Instagram @campdickenson.
APRIL 2023 / 59 S U M M E R C A M P S E A S O N S U M M E R C A M P S E A S O N i s a l m o s t h e r e ! i s a l m o s t h e r e ! SCAN TO LEARN MORE & REGISTER Competitive sports programming High level athletic training with RISE Sports Performance Youth camps Senior adult programming including Silver Sneakers®, Silver & Fit®, Renew Active® Home of Atrium Health Wake Forest Baptist Orthopaedics & Sports Medicine - RISE 419 Twins Way, Bermuda Run, NC | 336-920-7473 | www.RiseIndoorSports.com in Bermuda Run Offers: YMCA Camp Hanes 336 983 3131 or camphanes.org WHERE FUN COMES NATURALLY Summer
The Benefits of Summer Camp
What promise does summer hold? The promise of hot, sunny days. The promise of activities not possible during colder months. The promise of beaches, pools, lakes, and the like. The promise of time with family and friends, stretched out across long, lazy days…making memories.
As adults, many can look back with fondness and nostalgia to summers of their childhood. The carefree days of youth, which for some included time spent at summer camp…maybe for one week, maybe for the entire season. If you were lucky enough to spend time at camp, you know that the mark that experience leaves can last far beyond that summer and stay with you forever.
There are many benefits to summer camp. Here are some of the most valuable:
BUILDING RESILIENCE AND CONFIDENCE: At camp, children are positioned in an environment where it's safe to leave their comfort zone and try new activities they might not otherwise have the opportunity to try. Things like sliding down a giant slide into a lake below, tackling a high ropes course, trying a new sport, learning to maneuver a canoe or kayak…or numerous other challenges. If they don't get the hang of it the first time, they can try again until they feel confident in their ability. By taking risks and facing their fears, camp teaches children confidence and resilience in a safe and supportive environment.
FOSTERING FRIENDSHIPS: Meeting new people can be intimidating for some. In the relaxed atmosphere of camp, there is less pressure, and friendships develop
by KAREN COOPER
naturally. Kids with similar interests are together, involved in activities they enjoy, and bonds can form quickly and last for many years to come. Children can meet friends from different backgrounds and learn how to work together in teams. They can face challenges together and conquer fears together…a bonding experience for sure!
CONNECTING WITH NATURE & ENCOURAGING A HEALTHY LIFESTYLE: Most camps don't allow electronics (or permit only minimal use). The focus at camp is primarily on outdoor activities. Many camps provide a daily routine that involves waking up early, lots of physical activity, eating regular meals, and spending most of the time outdoors. Where at home they might be playing video games or watching TV, at camp those things are not an option. Kids are immersed in the "natural world." In addition, at camp children have to rely on each other and the adults around them to teach them skills and keep them safe during their time outside. Things like hiking, outdoor camping, and boating can be exciting, but also scary for a first-timer. The hope is that being and exploring in nature will foster a lifelong love of the outdoors.
PROMOTING PHYSICAL PLAY: Real opportunities for physical play in daily life are not what they used to be. Recess has been drastically reduced or removed from school altogether, homework is more challenging, video games have taken over, and many children are just too busy, while at camp the environment is set up for play. There is enough free time, plenty of playmates, and countless things to do. Playtime allows a child to be creative and
imaginative and express him- or herself in comfortable surroundings. They learn to negotiate with other children and make new friends.
SELF-RELIANCE AND INDEPENDENCE: Leaving their home to attend summer camp encourages a child to become more independent. In the camp setting children learn to make some decisions on their own. They discover they are able to do things without their parents by their side all the time, and this builds their confidence. In the positive, nurturing environment of summer camp, children can discover who they are and what their strengths and weaknesses are. They learn new skills that can shape their identity and help them become more self-reliant. Every success reinforces their sense of independence.
CAMP INSTILLS APPRECIATION FOR FAMILY AND HOME: Time away from home and family helps kids appreciate everything more: the parents who love them, the house that keeps them warm and safe, a meal cooked by mom or dad, and everything else they don't have at camp.
Naturally, parents want the best opportunities for their children. They want them to be happy, well-adjusted, healthy, and successful throughout their childhood and as adults. Children need life skills to be their best selves. Skills such as self-reliance, socialization, independence, and physical well-being will benefit them long after their summer camp days are over. Not only will a child return from camp with greater self-confidence and a stronger sense of identity, he or she will also have developed valuable new skills, made new friends, and created memories to last a lifetime.
60 / FORSYTHFAMILYMAGAZINE.COM
Few things are more rewarding than helping children expand their horizons and achieve things they never thought possible. Victory Junction has volunteer and summer staff opportunities to help provide transformative camp experiences for kids with serious illnesses and chronic medical conditions. The gift of your time and talents makes a tremendous impact on the lives of our campers.
Whether you come to Victory Junction as a volunteer or a summer employee, you can have the time of your life while helping to provide memorable experiences for children living with complex medical conditions. Join the fun and discover why at Victory Junction we say that Camp life is the BEST life!
Make
Learn more and apply at victoryjunction.org/teamvj
FIND YOUR FUN.
FIND YOUR Y.
SUMMER DAY CAMP
One week or the whole summer. Indoors and out. Archery to arts, cooking classes to character development, STEM games to swimming. At the YMCA, your child will have an exciting, engaging experience — all in a safe, inclusive environment.
Traditional Summer Camp: K-5 and Teen
• Specialty Camps like Art and Legos
Overnight camp at YMCA Camp Hanes
APRIL 2023 / 61 Register online at ykidscamp.org
!
DiFFeRenCe MAKE A
a Difference!
Exciting News
from RISE Indoor Sports
Indoor Sports is the place to be! Whether you're looking to join their newest program, a senior looking for options to stay in shape or need to make plans for youth summer camps, RISE has you covered. Here's a snippet of just a few exciting things you can enjoy at RISE Indoor Sports in Bermuda Run, NC.
RISE
Combat Athletics Joins the RISE Family!
The RISE family is growing, and we couldn't be more excited to announce our newest addition! Combat Athletics has moved their headquarters to RISE Indoor Sports so that they can better serve the wrestling/martial arts community in a state-of-the-art facility for training and growth. Registration is NOW OPEN, and we encourage you to learn more about their specific programming which includes wrestling, Jiu Jitsu, kickboxing, Muay Thai and more at riseindoorsports.com/sports/combat-wrestling-martial-arts. Please join us in welcoming Combat Athletics! "We are beyond excited for our transition to Rise. Our members will have access to a state-of-theart facility and dedicated staff. We are also excited to have a team working to help us impact the community through martial arts and wrestling," said Combat Athletics Owner Josh Stanley.
Summer Camp at RISE – It's About That Time!
The weather may not feel like summer, but don't let that fool you! In just a few short months, we'll be hosting our awesome summer camp programming for ages elementary through middle school, with lots of options available including full day, half day, single or multi-day participation. This summer, in addition to our introductory all-sports camp, we will be offering specific sports camps as well to take your game to the next level. Watch for announcements for volleyball, basketball, soccer, pickleball, wrestling, martial arts and other more. To register, visit riseindoorsports.com/ summer2023. Be sure to follow us on Facebook or Instagram for upcoming camp announcements and be the first to know when new programming is added!
A Multitude of Options for Seniors - Get Started TODAY!
Seniors, make this YOUR year! RISE offers a variety of fitness and exercise options for seniors, many free of charge with your supplemental insurance. Programming is available for RenewActive, Silver & Fit, SilverSneakers and Humana. Stop in today to take a look around, and see how you can make RISE a part of your health and fitness routine.
Sports, Movies, Crafts, Board Games & FUN! C A M P R I S E U P ALL SPORTS ALL SPORTS FULL DAY (8AM-5PM)| $200 PER WEEK OR $50 PER DAY HALF DAY (8AM-12PM)| $150 PER WEEK SUMMER 2023 Open to all Elementary and Middle School Students
62 / FORSYTHFAMILYMAGAZINE.COM
Josh Stanley, owner of Combat Athletics
APRIL 2023 / 63 Jim Shaw ACE www.shawaceacademy.com shawaceacademy@gmail.com | 336.306.8145 AIRPLANES | DRONES | FINANCIAL LITERACY MIDDLE SCHOOL: June 26-30, 2023 Jim Shaw ACE Academy HIGH SCHOOL: July 10-14, 2023 Golf Tournament FORSYTH TECH AVIATION LAB May 1, 2023 8:00 am - 3:00 pm Maple Chase Golf Country Club REGISTER NOW!! Summer
For the LOVE of
Brian Jared: @Winstonsalem_nc_bbq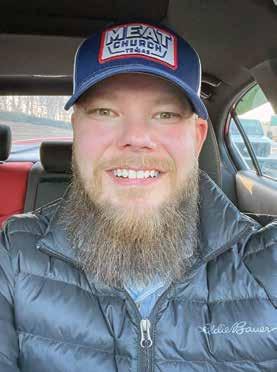 Looking for a great appetizer for your next gathering? This is easy and delicious.
Smoked Buffalo Chicken Dip
Prep Time: 15 minutes | Cook Time: 3-4 hours | Yields: 10-15 servings
Prepare your smoker by setting the temperature to 250 degrees. Season your whole chicken with your favorite poultry rub. Put it on the smoker until it reaches an internal temperature of 165 degrees.
Pull your chicken off, and let it rest for 10 minutes. While your chicken is resting, combine 1 package of softened cream cheese, a half cup of your favorite buffalo sauce (use 3/4 cup if you want to make it extra spicy), and a half cup of ranch together.
Shred your chicken, and add two cups to the above ingredients. Place in a large cast iron and put back on the smoker for 15 minutes. Drizzle ranch and buffalo sauce on top once finished; add freshly chopped green onion for garnish.
Serve with tortilla chips, pita bread, crackers or your favorite veggies.
**This can also be done in an oven at 350 degrees. If you do not have a lot of time, grab a rotisserie chicken from your local grocery store.
4-5 pound whole young chicken
3T of poultry seasoning
1 block softened cream cheese
1/2 to 3/4 cup buffalo sauce
1/2 cup ranch
1/2 green onion (garnish)
Smoke chicken until an internal temperature of 165 degrees. Let it rest for 10 minutes before shredding. Combine all ingredients in a large cast iron pan, and place back in the smoker or oven for 15 minutes. Drizzle with ranch and buffalo sauce. Chop your green onion and garnish. Serve at your next gathering for an easy appetizer your guests will love.
64 / FORSYTHFAMILYMAGAZINE.COM
The View from My Section – A Father's Perspective
Starting from Within: A Lesson in Problem Solving
by A. KEITH TILLEY
Justbefore the start of Spring, during my routine walk-about the yard to see what things needed to be done before the growing season begins again, I saw it. The huge wild holly bush in the back corner of the yard – my nemesis. It stood about eight feet tall and six feet wide. It began as a small, six-inch bloom in the natural area and grew over time. It didn't make sense in this part of the natural area, and I wanted to cut it down years earlier, but my wife liked it and said we could decorate it at Christmas. We never did. For me, it was just a reminder of something I needed to remove someday. Well, I decided, this would be the year. It was beginning to become an even bigger problem than size, as sprouts coming off the roots were springing up around it, only to eventually form additional hollies. So, it was time.
The problem was its tall size. The leaves had small spikes on the ends and scratched you every time you got near them. And, the branches by now were relatively thick. So, I knew it was going to be a challenge, and I wasn't looking forward to it. Yet another reason why it took me so long to get to this point.
My question was how I was going to get up there high enough using a ladder and contorting my older, less nimble body to cut thick, sharp spiked branches. I knew I would have to lean over in an unsafe position, to say the least, not to mention the toll it would take on my aging back. It reminds me of one of my favorite quotes by Peter McWilliams, "The willingness to do creates the ability to do." I know, I should have done it sooner, but it was too late for regrets now.
I thought about it for a couple of days, in between doing other things. Then it occurred to me, what would my now 97-year-old father do in my situation? He's a closet engineer, in that his actual occupation was a train station manager for the railroad for more than 40 years in his day; that's why he's always good at solving complex problems. Once, he was by himself and wanted to move a heavy oak wall unit in his bedroom from one side to the other. Why it had to be done at that moment is another question. Anyway, not having any help, he devised a plan. He took a long broom handle (the bristles had broken off on the end) and placed it on the floor beside the unit. Then he pushed one side upward just
enough to slide the broom handle under it a few inches. Next, he went to the opposite side and pushed upward on the unit. When he did, the wall unit rolled over the broom handle about three feet at a time. He would then repeat the procedure until he had moved the heavy unit across the room to the precise spot to his liking. Pretty smart. In the words of Elaine Sparling, "Where some see barriers, others opportunities."
So, thinking like my dad, I had an idea I would prune some branches on the wild holly to the base at about shoulder height. I would do this in a circular pattern all around the same level. Once I had cleared an opening about 10 inches tall, I would use my hand saw to saw off the top portion. At that point, with the shrub at a manageable height, I could continue cutting it down the rest of the way. Let me say to those who may know this trick already, I do not have a green thumb, so landscaping techniques are not my specialty. A few days later, I tried it and it worked flawlessly. Well, minus a few scratches on my arms (that's with long sleeves on). My wife watched me from the window thinking it was going to take me all afternoon. But, I actually got it down within a reasonably short period, and then had to haul away the brush.
As I sat back to rest a moment afterward and admire my work, I realized I had indeed tackled this problem like my dad. Some may say unconventionally. I like to think it's out-of-thebox thinking. Realizing, sometimes to tackle a problem you have to start from the inside rather than from the outside looking in. I felt quite pleased with my creative approach. Of course, I still hadn't earned the "green thumb" label. It was more like Zig Ziglar says, "I believe success is achieved by ordinary people with extraordinary determination." Consider me ordinary and very determined.
I initially thought I'd learned the lesson from this old, wild holly bush that had weighed on me for years. But, perhaps, it's yet another lesson from my dad rubbing off on me. I suppose they both played a role in imparting this bit of wisdom.
To comment and see more, visit theviewfrommysection.com.
66 / FORSYTHFAMILYMAGAZINE.COM
Novant Health WomanCare 1730 Kernersville Medical Pkwy. Suite 104 Kernersville, NC 27284 114 Charlois Blvd. Winton-Salem, NC 27103 4130 Clemmons Rd. Clemmons, NC 27013 © Novant Health, Inc. 2020 Call us at 336-765-5470 or visit nhwomancare.org Our team approach addresses your unique needs Let us show you the Calvary Difference! Connecting Heart & Mind 134 S. Peace Haven Rd, Winston-Salem, NC 27104 336-765-5575 cds@calvaryday.school www.calvaryday.school 2 year old Preschool through 12th Grade APRIL 2023 / 67
Out & About in Winston-Salem
Live Like Norah Galentine Gala Celebrating Friendships and a Special Young Woman
by CAROLYN S PETERSON
Whenyou lose a child due to a violent act, life is never the same from that moment on. No time for goodbye; in an instant, life ends. The family dynamic changes, milestones of graduation, college and marriage for that child are gone. Picking up the pieces of a shattered life is far from simple or easy. For Jennifer Smitherman, the loss of her daughter, Norah, at 17 years old, in November 2021, devastated her family but showed her the love and support of family and friends she never thought she would need to the degree she did. Since that day of loss, Jennifer has founded Live Like Norah Foundation, a non-profit 501(c) 3, offering scholarships to Yadkin County high school seniors. To say thank you to those women who reached out to Jennifer and her family since Norah's loss, Jennifer wanted to celebrate her friends with a Galentine Gala and bring awareness to the foundation.
A Celebration of Friends
The Live Like Norah Galentine Gala, to Jennifer, was her way of putting all the people in one room who carried her through the most devastating time of her life.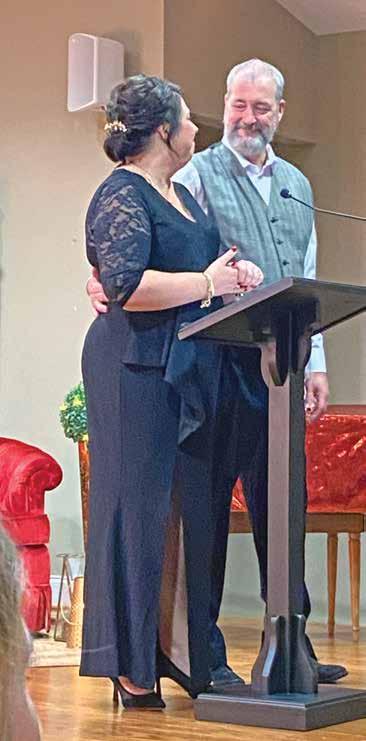 "The scripture that kept coming to mind as I planned the gala, was Proverbs 3:15 – 'for she is more precious than rubies,' which each attendee is to me. Our theme of the TV show 'Friends' set the tone, with a focus on what friends do for us and how they get us through the good and bad times of life. So many people volunteered to help with the event, and my husband's friends were the servers for the night. Boonville UMC was gracious to rent the building to the
foundation and every detail came together. Each table featured a China pattern, provided by a lady at the individual tables, with one set of China dating back to the 1800s. Our speaker, Beverly Burton, shared what our friends mean to us throughout our lives and the music for the evening was provided by Lauren Willard, Darlene Caudle, Amy Williams and Riley Reece. At the end of the evening, numbers were drawn, and those called were asked to identify the charity of their choice, and the foundation would make a donation on their behalf. We gave away $2,100 to various charities," said Jennifer.
Beyond the message of the bonds of friends, Jennifer wanted to share her testimony and that of her family, especially Norah's. "Grief is an emotional journey; sometimes I feel like I can't go on, but then I am reminded in ways that I am Chosen and belong to Christ. I will continue to trust in Him for the rest of my days. It was important to share that salvation is for all, and it begins the moment one accepts Jesus as their Lord and Savior. Our foundation strives to center all outreach and ministries by sharing that Jesus is the way, the truth and the light. Too much is taken for granted each day, trust me; I took much for granted, and I wanted to remind everyone to take time to use the good China, have dinner with your family and friends, pray before your meals, giving thanks for His many blessings. Losing Norah pauses me, daily, to really give thanks, for she too was far more precious than rubies," Jennifer commented.
For more information on the Live Like Norah Foundation, visit livelikenorah.org.
68 / FORSYTHFAMILYMAGAZINE.COM
by AMY HILL
Baked Just So
has been serving its pastries, specialty cakes, air-roasted coffee and ice cream sandwiches to WinstonSalem, Lewisville and Pfafftown locals since 2017. This woman-owned bakery is your best bet for custom-baked cakes and cupcakes for parties and events, as well as unique baked goods at breakfast time to get your day started.
The shop's award-winning cinnamon buns have been satisfying sweet-toothed locals since the bakery opened its doors. Owner Stacey Milner also created the customer favorite, dairy-free latte called "The Stacey," a lavender vanilla latte made with oat milk. Customers also rave about Baked Just SO's croissants, which always sport exciting seasonal flavors.
This spring, new seasonal menu items will be launched at Baked Just SO, including a delectable Guinness Chocolate Mousse, house-made tiramisu and a blueberry lemon cake, alongside the most amazing strawberry buns in Winston-Salem. Stacey has been working hard to make sure her baked goods are found around other local businesses in Winston-Salem, with Baked Just SO's vegan goodies currently sold at La Luz. Moji Coffee serves up Baked Just SO's croissants, cinnamon buns, cookies and more, while Milner's American Southern Restaurant on S. Stratford Road offers customers Baked Just SO's cakes, pies and gluten-free brownies for dessert. In the future, Stacey plans to focus on furthering her wholesale ventures as opposed to opening new storefronts.
On the hunt for a specialty cake, cheesecake or cupcakes for an upcoming birthday party or special event? Baked Just SO prepares custom orders fine-tuned to match party themes and customer preference. Baked Just SO also hosts birthday parties for little ones in-store for party guests to decorate their own housemade cookies and cupcakes while parents and chaperones sit back and relax with coffee or lemonade. Party guests even get to take home the sweet treats they've decorated when the party is over. Let the team at Baked Just SO set up beforehand and clean up after to make your child's party day sweet and stress-free.
In addition to cakes, pastries and coffee, Baked Just SO keeps customers cool with weekly ice cream sandwich specials made with locally sourced ice cream from Homeland Creamery. As a matter of fact, all dairy products used at Baked Just SO originate from Homeland Creamery in order to support other local businesses and ensure that customers are receiving products made with high quality ingredients.
If you find that Baked Just SO's coffee beverages brighten your day a bit more than commercial or chain coffee beverages, it's not all in your head. Coffee served at Baked Just SO is air-roasted Magic Beans coffee. While most coffee is drum roasted, air roasting involves the transfer of heat to coffee beans by using the steam of hot air for roasting the beans. This process creates lighter tasting coffee than traditional drum-roasted coffee, making it perfect for flavored lattes or a cup of Joe to accompany a buttery croissant. With three children of her own in elementary school, Stacey understands the need for educators to fuel their mornings before a full day's work in the classroom. She and the team at Baked Just SO offer teachers a 10% discount year-round to help energize educators and add a sweet treat to their day. Baked Just SO patrons also have the option to shop while they sip. Found in-store are jewelry, prints, candles, mugs and many other products produced by local vendors for guests to browse while drinking a cup of Magic Beans coffee.
To place a custom order or read more about the baked goods offered at Baked Just SO, visit the bakery's website at bakedjustso.com. Check out the team's Facebook page and follow Baked Just SO on Instagram at @bakedjustso1. Stop by Monday through Saturday at 5395 Robinhood Village Drive in Winston-Salem, or speak to a team member directly at 336.923.5778.
70 / FORSYTHFAMILYMAGAZINE.COM
APRIL 2023 / 71 Black Mountain Chocolate Hakkachow ABC Cookies Nothing Bundt Cake Mossy's 5029 Country Club Road Winston-Salem NC 27104 336-331-3848 https://shop.castiron.me/rubygs-buttercreme-sensations $5 off any $30 or more purchase excludes beverage & alcohol one coupon per customer expires 04/30/23. May not be combined with other discounts. 678 St. George Square Winston Salem · (beside Carmax) (336) 306-9146 NOTHINGBUNDTCAKES.COM Mon-Thurs 11am-1am | Fri-Sat 11am-2am Sun 12pm-1am www.mossysclemmons.com 6235 Towncenter Drive | Clemmons, NC 27012 EATS - ALES - SPIRITS A Fresh Meal Delivery Service Offering Weekly Delivery, Meal Plans & Our Simply Fit Training Program SAVE 20% ON FIRST ORDER USING PROMO CODE FORSYTHMAG 1116 Hwy 801 N | Advance, NC 336.474.9004 | hmsimple.com Join us to celebrate Ribs on Mondays for $1.25/bone. www.littlerichardsbarbeque.com Clemmons 336-766-0401 Mt. Airy 336-783-0227 Walkertown 336-754-4495 Yadkinville 336-679-7064 Winston-Salem 336-999-8037 Buy One Drink, Get One 1/2 Off VALID UNTIL 04/30/23 Photos with the Easter Bunny SATURDAY, APRIL 8TH | 10:00AM-4:00PM BRING IN THIS COUPON 3560 Clemmons Rd, Suite B • Clemmons, NC 27012 336.893.9892 • @bekindcoffeeco Dining Guide MENTION THIS AD WHILE BOOKING & RECEIVE UP TO 3 ADDITIONAL PARTY GUESTS FOR FREE. For more information contact Charley at 336-923-5778 or charley@bakedjustso.com 5395 Robinhood Village Drive | Winston-Salem, NC 27106 336.923.5778 We're back with open doors to host your birthday party or special celebration. Decorating cupcakes and cookies is fun for all ages and we can customize activities to your age group. Now offering party times on Saturday afternoons or privately on Sundays.
Teen Relationships: 8 Ways to Help Them Make Smart Choices
by TRIAD MOMS ON MAIN BLOGGER BRITNEY DENT
Have your children reached that age where they aren't really "kids" but they aren't yet adults? If so, you might be facing very different issues than you were when they were little. As a parent, you can help your teen make smart choices.
Children often grow up faster than their parents would like or expect. Your teens probably live in a less sheltered and reserved world than you did. Because of this, they're exposed to all kinds of experiences.
You want to keep them safe, but you don't want to keep them from enjoying all that life has to offer. At their age, they need both guidance and freedom. This can be challenging, but it is possible.
Relationships with Friends and Loved Ones
Helping your young one navigate relationships is just one of the important duties you'll have as a parent of a child who is a teenager. The peer relationships that adolescents have can be volatile at times. Best friends can seemingly hate each other overnight and then go back to being best friends a few days later.
To help your teen with relationships that don't involve a dating or a "crush" component, there are several things you can do, including:
1. Ensure your adolescent has someone to talk to. This might be you, another trusted family member or a mentor.
2. Be willing to listen even if you don't always agree with their opinion.
3. Try not to judge your teen's friends too harshly unless there is obvious danger.
4. Make time for loved ones to be part of their life, especially those who are aging.
Relationships with the Opposite Sex
In the years right before a child becomes a teenager, the idea of a boyfriend or girlfriend will probably start to appear. For some, this is a serious issue. For others, it's not even of interest. Either way, it's normal, so don't assume that your child has a problem based on his or her level of interest in having a romantic relationship.
For these kinds of relationships, parents can be both a help and a hindrance. Too much pressure to avoid these interactions can mean that a teen feels smothered and tries to rebel. Too few limitations may encourage your child to do something they're not ready for yet.
To avoid these extremes, consider these tips:
1. Allow your teen to spend supervised time with his or her "love" interest.
2. Talk frankly about relationship issues, including respect for their body, at the appropriate time.
3. Avoid activities that provide unsupervised time with their romantic interest.
4. Ensure you know where your pre-teen is and what he or she is doing.
It's impossible to know what your teen is doing every second, of course, but you still need to pay attention. Just because you can't be everywhere all the time doesn't mean you should give up entirely. Staying emotionally close to your teen can be hard, but the effort is important and worth your time.
If you continue to be involved in your teen's life and don't back down on issues where you really feel strongly, they'll learn to respect that. They might not always like your decisions, but there will be an understanding that abiding by them is required.
Consistency in your approach can go a long way toward helping your teen make positive choices now and in the future.
For more articles like this, log on to www.TriadMomsOnMain.com
72 / FORSYTHFAMILYMAGAZINE.COM
APRIL 2023 / 73 Grab your mom, sister, BFF, cousin, or coworker, and get ready to shop 'til you drop at LKN's first annual Tour de Boutique event of the Lake Norman area on April 22nd! For essential details, FAQs, and to register, scan the QR code or visit TinyUrl.com/LKNTDB2023. EVENTS R E G I S E W TINYURL.COM/LKNTDB2023
It's a Grand Life Grand
Happy Spring!
by SUSAN WOODALL
Spring
has sprung – although, since flowers and trees started blooming in February… Anyway, I digress. I love spring – Mother Nature does a beautiful job of surrounding us with vibrant colors that stretch from the sky to the ground. The temperatures let us know that we can store our winter clothes, keeping out a sweater or two for the occasional cool day. Longer daylight hours allow for more time outdoors for exercising, playing, gardening or just enjoying sitting and watching the world go by.
April also brings Easter and, for some schools, it means Spring Break. I love both of these because it means more time with family. As a child, I loved Easter for several reasons. Unlike what is more the norm today, we didn't go shopping for new clothes on a whim. Except for the odd piece here and there, we went shopping before school started in the fall for the majority of our school clothes, again as winter approached and then for our spring and summer wardrobes. Easter meant finding the perfect dress, hat and patent leather shoes. Even all these years later, I can still remember my favorites.
Easter eggs were dyed the day before in anticipation of being used in our hunt. Dyeing eggs, as I recall, had something to do with vinegar and food coloring. Today there are a multitude of ways to color and decorate eggs. If you are able to spend the holiday with your grandchildren, this is a wonderful activity to do with them. I found so many ideas online for unique ways to turn out eggs that are not just one color. There are also several different kits you can buy that provide materials and ideas that are age appropriate. For little hands, stickers are an easy way for them to be included without becoming frustrated.
Easter baskets, church, a wonderful lunch and then time to find the hidden eggs. If the grandchildren are a wide range in ages, there are different ways to handle it. The hiding area can be sectioned off with different degrees of difficulty. For the very young, put the eggs where they are very obvious to see. As the ages increase, placement becomes more of a true hunt. Plastic eggs with small prizes inside make the egg hunt even more fun.
Many schools take a spring break in April. This is a great time to plan a family trip or just some special day outings. The zoo is about an hour from Winston-Salem and is a wonderful way to spend a day especially on a beautiful spring day. Pack a picnic lunch and some snacks, and make a day of it. North Carolina has mountains, lakes and the Atlantic Ocean all within a doable drive.
Whether you stay home or go on an adventure, the most important thing you can do is spend one-on-one time with your grandchildren. It is something to be cherished, and the memories you make with them will be ones they tell their children. Well, it's a gorgeous day – think I'll see if my grands want to go for a walk. Happy spring, everyone!
74 / FORSYTHFAMILYMAGAZINE.COM
APRIL 2023 / 75 6255 TownCenter Drive, Clemmons (located next to Mossy's) 336-712-0505 • Fax • • B&W & Color Copies • • Mailbox Rentals • • Shipping Supplies • • Greeting Cards • • Notary Public • Stamps • Passport Photos Great eye health begins wit h preventative eye exams. Locally-owned & operated. Providing excellent care in the Triad for 11+ years. 2341 Winterhaven Lane | Winston-Salem, NC 27103 | 336.760.2020 | HillcrestVision.com Call to schedule an appointment today. FOLLOW US LIKE US & TAG US ON FACEBOOK AND INSTAGRAM @forsythmags
Spring Into Spring with Simple Life Hacks
by SUSAN BOYOUNG BAILEY SCHABACKER
Spring is the season of budding and new growth; it's also the season to get back on track with simple life hacks. Just a few simple ideas can make your life happier, more creative, fun and easier.
Spring Cleaning & Organizing
• Time to tidy up all those random cables and cords. Bundle and secure them with hair clips, then tuck them neatly into empty toilet paper rolls. Done!
• Need a discreet place to hide your keys, cards or a little cash? Clean out a lotion or sunscreen bottle to disguise and store small things – but don't forget where you tucked them away!
• Ready to retire mismatched, hole-y socks or bedraggled oven mitts? Run them through the washer and dryer, then repurpose them to clean cupboards, baseboards and crevices. Just spray those socks with a cleaning product and clean away. No mop? Put on those repurposed socks instead, turn on some music and have a floor dance cleaning party like in Pippi Longstocking.
Health and Healing and Beauty
• Add a lemon wedge or round to your green tea to maximize the health benefits, and combine black pepper with turmeric to improve absorption and boost bioavailability.
• Add cool tea (try green or herbal) to a spray bottle, then spritz, refresh and rejuvenate your face and body. Revitalize your hair with a light spray of tea-riffic nourishing nutrients.
• Synthesize vitamin D3 the natural way. Having enough vitamin D is essential and beneficial in multiple ways, including strengthening the immune system, improving brain function, boosting mood, lowering blood pressure, maintaining weight loss and helping prevent cancers. Without sunscreen, too much exposure to sun can be detrimental and damaging, so limit your time in the sun to just 10 to 30 minutes and no more than two or three times a week.
Gardening and Nature
• Attract more pollinators naturally. Bees, butterflies and birds, including hummingbirds, thrive in a harmonious habitat of diverse plants, flowers and trees. Do your research on specifics, like providing the milkweed plants that Monarch butterflies need for growth and development. Try to provide at least three nectar-producing plants native to North Carolina that can feed many. You can be a pollinator haven.
• Save those coffee grounds and tea bags. Composting naturally with tea and coffee can fertilize and nourish plants and flowers to accelerate growth of a glorious garden.
• Avoid chemically laden pesticides and insecticides whenever possible. Go green and substitute DIY pure products with organic and natural ingredients instead.
Kitchen Fun
• Make it pretty: Freeze teas, coffees, juices and edible flowers in ice cube molds to complement cocktails, mocktails, smoothies and other beverages.
• Pour batter in a squeezable plastic bottle (like an empty ketchup or mustard bottle), then get playful and crafty writing letters and words with your breakfast pancakes.
76 / FORSYTHFAMILYMAGAZINE.COM
Arts and Crafts
• Whether you're a wine, beer or hard liquor drinker or prefer kombucha, juices and sparkling drinks, collect the beverage bottles to repurpose into decorative vases. The mediums, colors and options are unlimited, and there's no need to limit imagination or creativity either. Use acrylics, oils or nail polish – try matte, opaque, shiny and glitter. Montage, decoupage or collage with papers, print outs, photographs, pressed flowers and/ or stickers. Rhinestones, confetti and glitter are always fun ways to glam and glitter it up!
• Forget those tiny nail art brushes, and pull out your stash of Sharpies to create beautiful nail art instead. Yes, it is considered safe to paint your nails with Sharpies. Start with a solid base coat (white works well) and then draw intricate line art with narrow Sharpie pens. Flowers, hearts, stars, dots and doodles hit the high marks. Leave as is with the basecoat showing through, or fill in your outlines with solid color. Wipe away any stray marks from your skin with rubbing alcohol. When dry, be sure to add a top coat or two to preserve the art. When you're ready to move on to your next canvas, the design is easily removed with nail polish remover. Your masterpiece will be the hit of the show!
Earth Day Fair
APRIL 2023 / 77
THANK YOU TO OUR SPONSORS! FREE PARKING | FREE BIKE VALET | RAIN OR SHINE
FUN! LIVE MUSIC! FOOD TRUCKS! ENVIRONMENTAL EDUCATION!
PIEDMONT
FAMILY
18th Annual
to movies and television, we might expect the change to occur immediately once there is a positive pregnancy test or the baby is born. However, because this role requires such a transformation, our confidence can often be affected.
Vulnerability with New Roles
When we are new to a role, it's very common that we feel some vulnerabilities. Experiencing a shift in responsibilities, daily schedules, change in priorities, etc. It all requires us to extend ourselves in new skills and abilities; we may feel unsure at times if we know what we are doing or if we will be able to rise to the role. We may pull in towards ourselves to retreat in vulnerability, reducing the exposure that others might see our struggles.
Distancing ourselves from others to hide our flaws is a natural reaction to self-protect, but in actuality, it makes things harder for us. We miss opportunities to be encouraged, to not feel alone and to hear from other's experiences. Coming into motherhood and each new phase that comes in the journey, is when we need others more than ever.
New Experiences Alone
I remember as a new mom feeling so nervous to leave my house for the first time alone to run an errand with my new baby. Was I capable of taking this small child out into the world on my own? Would I be able to multitask protecting him while also thinking of the shopping list of items needed? The logistics of it all left me feeling so incapable; how could I carry the baby around and still have room for groceries to fit in the cart? Then the judgment set in; other moms do this all the time, so why does this feel so big to me?
The Importance of Encouragement in Motherhood
BETHANY GODWIN
As I walked the aisle of the grocery store, I wondered if the "real grownups" were thinking I must not know what I'm doing. Checking out at the cashier, I struggled to lift what felt like a 30-pound car seat out of the cart, so I could load the bags into my cart to carry to the car. Then I had to muster all my strength to carry this carrier on one hip, while steering the cart with the other hand to the parking lot. On the outside, you might not have noticed anything, but on the inside, I was about to burst into tears over a grocery shopping experience. Why did it feel so hard? How do other parents do this? Why can't I
Insecurities and Encouragement
At the time I was isolated, being a young, stay-at-home mom, I didn't know I wasn't alone in this experience. It's actually a very common experience for new moms to feel unsure and nervous about going out to run errands alone with the baby. The power of connection is applicable in many life stages, especially with new roles like becoming a mother. Encouragement and words of affirmations to others can be so uplifting and can make a difference in someone's feelings of being capable or not.
If it was possible to go back in time and be an onlooker to this experience, I would have loved to have said to this younger version of me, "You're doing hard work! These are big changes to your daily routine; you've never done this before, and you're figuring it out. Things will get easier; it just takes some practice." Then, I would have offered to help push the cart and probably even a hug. What a difference it would have made to have experienced kindness from a stranger during a vulnerable time like that.
Encourage Others
The next time you're out in public, and you see a new parent juggling a task where they might be struggling or frustrated, I'd encourage you to remember how much a difference you can make with a simple gesture. We could all use some words of encouragement at times or someone to offer some help with a task. It can be hard to give ourselves grace at times; it makes it seem easier when others can be the voice of compassion when we are unable to give it to ourselves.
78 / FORSYTHFAMILYMAGAZINE.COM
Sail Off Photography Become a scroll stopper! HEADSHOTS PRODUCT COMPOSITE Winston-Salem Commercial & Portrait Photography Natalie Sahloff | Owner/Photographer Sailoffphotography.com | Natalie@sailoffphoto.com 336.407.2655
Event details are subject to change.
Please check event wesite and social media pages for updates as the dates draw near.
FOURTH THURS NOW-DEC 28
YOUNG PROFESSIONALS
5:30-7:30pm | Foothills Brewing, 3800 Kimwell Drive in Winston-Salem
It's part social, part networking! There will be deals and discounts on beverages, and the event is open to anyone 21-35 or the young at heart. We hope to see you there! https://bit.ly/3DdR03L
APR 2 THE BIG SLURP
12-6pm | Five Locations, Three AnimalWelfare Nonprofits, Lots of Suds.
Each location will donate money from specially selected beverages sold on April 2nd to benefit Humane Solution, Piedmont Animal Welfare Alliance (PAW Alliance), and Unchain Winston. Raffle for big prize and 50/50 raffle at each location. Food, vendors, fun. No cover. Where: Incendiary Brewing Company, 486 N. Patterson Ave., Winston-Salem; Juggheads Growlers & Pints, 4843 Country Club Rd, Winston-Salem; Lesser-Known Brewery Co., 901 S Broad St., Winston-Salem; Southside Beer Garden & Bottle Shop, 2108 S. Broad St., Winston-Salem; Tucker's Tap Yard, 1010 N. Liberty St., WinstonSalem. facebook.com/unchainwinston
APR 13
FREE VEIN CONSULTATION
THURSDAY
1-4pm | Novant Health Vein Specialists. Enjoy 2023 with healthy legs. If you or someone you love is suffering from painful, achy, swollen or discolored legs, our board-certified vein doctors can help. Join us at our next free vein consultation and get back the quality of life you deserve. RSVP to 336.776.3160, or go online to salemveins.com to register. Now is the time to put your best foot forward and love your legs more this year.
APR 14
BACKSTAGE BASH
7-10pm | 901 Trade Street in W-S.
APR 15 SHREDDING EVENT SPONSORED BY
BERMUDA RUN GARDEN CLUB
9am-12pm | Bermuda Run Town Hall, 120 Kinderton Boulevard in Bermuda Run
$5 per grocery bag or equivalent size box. Cash only. Rain or shine. Proceeds go to various Davie County community programs supported by the Garden Club. Contact Marie 336.650.5518 with questions.
APR 21
TRIPLE CROWN CASINO NIGHT BENEFITING PRETTY IN PINK FOUNDATION
5:30-11pm | 4151 Thomasville Road in W-S
Triple Crown Casino Night is back for its 2nd year, and it is going to be more exciting than ever! Mark your calendars for the 2nd annual Triple Crown Casino Night, benefiting Pretty in Pink Foundation! Join us for cocktails, dinner, a silent and live auction, wine pull, our diamond giveaway and, of course, casino gaming! We can't wait to see you there! Pretty in Pink Foundation's mission is to provide uninsured and under-insured breast cancer patients in NC with financial assistance for quality, life-saving medical treatment. Cost: $150/person. tccn23.givesmart.com
TRIAD HEART BALL
6:30-11pm | 4151 Thomasville Road in W-S
The American Heart Association is hosting their annual Triad Heart Ball at Legacy Stables in honor of community heart health. This black-tie event includes silent and live auctions, a gourmet dinner, and live entertainment. All proceeds benefit heart disease and stroke research and community impact programs focusing on prevention of cardiovascular disease. The Triad Heart Ball is proudly sponsored by Life Is Why Sponsor Novant Health and Platform Sponsor Novant Health Rehabilitation Hospital. Anita Pendergast, CEO of the Novant Health Rehabilitation Hospital, is this year's Triad Heart Ball chair. Cost: $250$2,500/person. triadheartball.heart.org
Join us for the Backstage Bash – special performances by local artists, drinks, food, music and more! Come bid on exciting prizes, listen to great music and celebrate 88 seasons of bringing the community together! The Master of Ceremonies for the event will be Matthew Cravey. Special guest performers include: Charity Hampton, Katie Muhlenkamp, Seph Schonekas and Dave Wils. Accompanied by Gwen Gregory. All proceeds go to support the efforts of The Little Theatre of Winston Salem. Get your tickets as soon as they go on sale for the best seats in the house – or better yet, get your friends together and purchase a table! ltofws.org/backstagebash
AARF PARTY 4 PAWS
7:30-10:30pm | 101 West 5th Street in W-S.
Please join us at AARF's Party 4 Paws fundraiser and enjoy a delicious meal, partake of your favorite libations, bid on silent and live auction items, take to the dance floor and be treated to a few surprises. Think espionage and mystery. Purchase your tickets and be part of solving the mystery. At the same time, you will be helping to raise community awareness and achieve our vision: a community where all cats and dogs live in safe, secure and permanent homes where they will find respect and love. Cost: $125-175. tinyurl.com/msmap9jr
If you have an event you'd like to submit, please go to forsythmags.com/calendar-of-events or scan our QR code.
80 / FORSYTHFAMILYMAGAZINE.COM
LKN FIRST ANNUAL TOUR DE BOUTIQUE
9am-6pm | Various Boutiques.
The LKN Tour de Boutique is a self-guided tour of 10 local boutiques. $50 per person includes the LKN simple modern 40-ounce Trek tumbler cup, a swag bag with some other goodies, coupons and even gift cards hidden inside! Exclusive specials and discounts at all participating boutiques, door prize tickets and a day full of fun! Sign up at tinyurl.com/LKNTDB2023
PIEDMONTH EARTH DAY FAIR 2023
10am-4pm | 569 Fairgrounds Boulevard, Gate 7 in Winston-Salem
This is the largest Earth Day celebration in NC. We expect crowds of 8,000 or more to be at this event. There will be food, drinks and different activities for kids.
APR 26
ANNUAL EMPTY BOWLS
Second Harvest Food Bank
3330 Shorefair Drive in W-S
Save the Date! Second Harvest's Annual Empty Bowls returns on Administrative Professionals' Day, featuring yummy soup options and handcrafted pottery bowls to go. Proceeds support the Food Bank's mission and work to provide access to healthy food and pathways to job opportunities. Tickets start at $60 for two. More information, contact Reedy Mensh at 336.784.5770.
APR 29
CLEMMONS COMMUNITY DAY
10am-2pm | Jerry Long Family YMCA
The Lewisville-Clemmons Chamber of Commerce will host our 12th Annual Clemmons Community Day. Once again, we're partnering with the Jerry Long Family YMCA, a member of our Chamber, to host this free, communitywide event.
FUSE MAKERS MARKET
10am-5pm | 750 Marguerite Drive in W-S.
FUSE Makers Market is an outdoor event celebrating community, culture and joy. Presented by the Metal Mavens, FUSE will once again be hosted on the beautiful grounds of Hanes House at SECCA. This year's market will feature 42 artists, local food trucks and experiences with collaborating organizations, such as UNCSA Film School and Art SHAC. A trio of makers and friends, the Metal Mavens use their strength in collaboration to bolster artists, make connections, strengthen communities and generate opportunities with events like FUSE. By offering introductions to new artists and providing new experiences with organizations like The Art SHAC and UNCSA, in an activated historic site like Hanes House at SECCA, the audiences that attend this event are bound to discover something new. You really won't want to miss it! https:// bit.ly/3ESzPWh
MAY 4-6
SHEPHERD'S CENTER USED BOOK SALE
Times vary | 500 Deacon Boulevard, Gate 5 in W-S
The Shepherd's Center of Greater Winston-Salem will hold its 31st Annual Used Book Sale on Thursday, May 4th and Friday, May 5th from 9am-9pm, and on Saturday, May 6th from 8am-2pm. On Saturday, all items are ½ price. Parking and admission are free! shepherdscenter.org/used-book-sale-1
MAY 5-6
FORSYTH COUNTY EXTENSION MASTER GARDENER VOLUNTEERS' PLANT SALE
8am-2pm | The Arboretum at Tanglewood Park, 4201 Manor House Circle in Clemmons. Enjoy the beauty of the gardens while making your way to one of Forsyth County's premier plant sales. Cash or check only. Shop early for the best selection. For additional information, call 336.703.2850.
MAY 6
COMMUNITY YARD SALE
7am-2pm | 6131 Frye Bridge Road in Clemmons.
First Christian Church of Clemmons is having a huge yard sale to benefit their renovation project. Tables will be available to the community for a rental fee. firstchristianclemmons.com/event/ community-yard-sale
WINSTON JUNCTION SPRING MARKET –COMMUNITY BOOTH
11am-4pm | 901 Trade Street Northwest in W-S.
Minglewood's staff will be sharing information about educational programs as well as leading a hands-on, family friendly activity.
MAY 20
FRIENDS AND FAMILY DAY
3:30-6pm | 6131 Frye Bridge Road in Clemmons.
First Christian Church of Clemmons' 3rd Annual Friends and Family Day includes a car show, bouncy houses and games for children, junk food Bingo, a cake walk and a silent auction which is held online and begins on May 6th. A meal of BBQ, hot dogs, hamburgers, chips, drinks and all the fixings are also provided to everyone free of charge! firstchristianclemmons.com/friends-andfamily-day
JUNE 9-25
SOMETHING ROTTEN
Times vary | 209 North Spruce Street in W-S.
Brothers Nick and Nigel Bottom are desperate to write a hit play but find themselves stuck in the shadow of that Renaissance rock star known as "The Bard." When a local soothsayer foretells a future where theatrical productions involve singing, dancing, and acting – all at the same time – Nick and Nigel set out to write the world's very first MUSICAL! This wild and hilarious comedy opened on Broadway in 2015 and was nominated for 10 Tony Awards, including Best Musical. Cost: $14.50-$27/person. ci.ovationtix. com/36350/production/1104902
APRIL 2023 / 81
APR 22
FUTURE EVENTS
82 / FORSYTHFAMILYMAGAZINE.COM B Baked Just So 71 Be Kind Coffee ....................................... 71 Brass Town Craft Chocolate 71 Budget Blinds ......................................... 13 C Calvary Day School 67 Camp Dickerson 63 Camp Hanes / YMCA 59 Carolina Irrigation 19 Castle Lights ........................................... 19 Clemmons Community Day 45 Crisis Control Ministries ........................ 41 Crossnore 37 D Duke Eye Center 9 F Forsyth Country Day School 39, 53 G Goin Postal .............................................. 75 H Habitat Restore of Forsyth County 35 Hakkachow 71 Healthy Made Simple 71 Hillcrest Vision 75 I iHeart Radio / Q104.1 ........................... 65 Imprints Cares 51 J JEJ Photos 43 Jim Shaw Ace Academy 63 Jodie Brim Creative ............................... 47 K Kaledieum 51 Kaplan Outlet Store ............................... 23 L LKN Magazine / Tour de Boutique....... 73 Lewisville Laser & Aesthetics 25 Little Richards ................................... 39, 71 Lyndhurst 31 M Marzano Capital Group ......................... 11 Merhoff & Associates 23 Mixxer / STEAM 55 Mossy's 71 N Nichols Hearing & Audiology 25 Nothing Bundt Cakes ............................ 71 Novant Health Orthopedics & Sports Medicine 2 Novant Health Vein Specialists 31 Novant Health WomanCare .................. 67 P Piedmont Earth Day Fair ....................... 77 Piedmont Federal Savings Bank 17 Piedmont Sheet Metal 21 Piedmont Youth Chorus 55 Pretty in Pink Foundation 37 R Rise Indoor Sports 59 Ruby G's Buttercreme Sensations 71 S Sail Off Photography 79 Salem Gymnastics & Swim .................... 49 Salem Smiles Orthodontics 29 Sawtooth School for Visual Art 57 Second Harvest Food Bank 3 Summerlark .............................................. 5 T Tanglewood Stables .............................. 77 The Little Theatre 59 Triple Threat 49 Truliant Federal Credit Union .........................Back Cover V Victory Junction...................................... 61 W Washington Park Crossfit ...................... 29 Weedman 19 Weeks Hardwood Flooring 15 Y YMCA 61 Ad Index We are Grateful for our advertisers It's our privilege to work with our advertising partners, who make this magazine possible. Because of their support, we are able to offer Forsyth Family as a free community resource. As you visit these businesses and organizations, please let them know you saw their ad in this month's issue. Easter! HAPPY
APRIL 2023 / 83 Forsyth Mags Podcast Globally ranked in the top 3% of podcasts! The Forsyth Magazines Podcast is available on Spotify, Apple Podcasts and all major streaming platforms.
No Stupid Fees
That's brighter banking.
Truliant.org
No Stupid Fees means we won't punish you when life gets in the way. That's why we've eliminated non-sufficient funds (NSF) fees. Plus, Truliant's free checking1 account features no minimum balance, no maintenance fees, Early Pay, and overdraft options that put you in control of managing your money to avoid unnecessary charges. Open yours today!
84 / FORSYTHFAMILYMAGAZINE.COM
Truliant
Federally insured by NCUA. (1) Must meet credit bureau ChexSystems qualifications.