1x
NEORA
HEADQUARTERS / Dallas, Texas
NUMBER OF FULL-TIME EMPLOYEES / 119
There are many things I love about Neora and working with them! The thing I love the most is that I feel like my feedback and the feedback of all employees working at Neora is valued. From the executive team and across all departments, everyone is very receptive and respectful of each other's opinions. There is no idea too small that doesn't get taken into consideration—whether it's an idea on how to improve our business, serve our customers better, fun internal culture activities, or ways to work as a team more efficiently—we are an opendoor policy kind of company! We work as a family, and we encourage and love to promote from within. I truly feel like the company is invested in me as much as I am invested in them.
WHAT MAKES YOUR COMPANY ONE OF THE BEST PLACES TO WORK IN
Neora is a company that values each employee and their unique gifts and talents. We have a casual, approachable, family-feel that makes you feel included and welcome. The size of the company allows each individual's hard work to be noticed, appreciated and recognized. Employees, at every level, are encouraged to contribute their ideas. We firmly believe that it is rewarding to work in an environment where your work makes an impact and a difference in the lives of so many people. Our mission statement is to make people better—and our employees are a key element to us delivering on that mission.
HOW DOES YOUR COMPANY BRING THE SAME REDCARPET TREATMENT TO YOUR EMPLOYEES THAT YOU GIVE TO YOUR DISTRIBUTORS? Making sure to have personal, timely and meaningful recognition of our employees is critical. We have peer-to-peer recognition programs in place, as senior leaders don't always get to see all the day-to-day work, and we want to ensure that every employee—at every level—gets the opportunity to be noticed and recognized. Many times, it is your co-worker who really sees you going the extra mile, so we ensure that those instances get amplified and celebrated.
—ERICA CAMPBELL / SENIOR MANAGER, GLOBAL MARKETS HOW WOULD YOU DEFINE YOUR COMPANY, AND WHAT ARE THE KEYWORDS THAT DESCRIBE YOUR CULTURE? We are a family-owned company; therefore, we strive to ensure that our culture represents it. We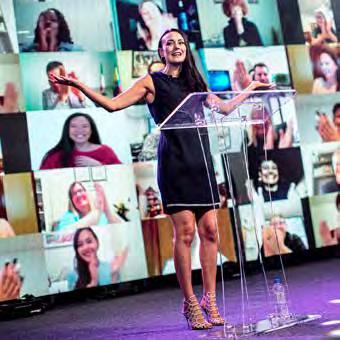 want our employees to feel welcomed, supported and comfortable presenting their ideas to everyone—from their co-worker to the CEO of the company.
We are also a very hard-working and fastpaced company. To stay innovative, we are always pushing ourselves to think outside the box and embrace change.
WHAT IS YOUR TOP PRIORITY WHEN IT COMES TO MAINTAINING A GREAT WORK ENVIRONMENT? Our top priority will always be to ensure that we have an environment that breeds trust and open communication. These two things are absolutely critical in creating the kinds of authentic relationships and honesty that are needed for a great working environment.
It is also a priority never to get complacent and to always be improving. We conduct yearly culture surveys with our employees to get insights and ideas on things we can improve on.
HOW DOES YOUR COMPANY SUPPORT TEAM MEMBERS IN THEIR PERSONAL AND PROFESSIONAL DEVELOPMENT? We encourage each employee to grow to their fullest potential, regardless of where their role first began. We are very proud that many of our top senior managers first began with us as customer support agents, then worked their way to leading departments and teams. We strive to customize each person's professional development path to help them gain the skills and confidence needed for the next step in their career.
Of course, with the best-selling author of The Slight Edge as the CEO and founder of our company, we have a focus on personal development. Whether that be access to a free personal development library of books, free resources from Live Happy, or recommendations on certain courses that would help them develop key skills, we want to always encourage an environment of continuous learning and growth. n