3x
MONAT WHAT MAKES YOUR COMPANY ONE OF THE BEST PLACES TO WORK IN DIRECT SELLING? COMPANY / MONAT HEADQUARTERS / Doral, Florida MONAT's unique family culture sets us apart and makes us one of the best places to work. Being part of the MONAT family means that we are all part NUMBER OF FULL-TIME EMPLOYEES / 420 of something bigger. MONAT leads by example YEAR FOUNDED / 2014 by showing gratitude to all its employees and encouraging them to join us is giving back to our community. Gratitude is the heart of our company. HOW DOES YOUR COMPANY BRING THE SAME REDCARPET TREATMENT TO YOUR EMPLOYEES THAT YOU GIVE TO YOUR DISTRIBUTORS? MONAT rolls out the red carpet for our staff during our two big events, the annual employee picnic and our holiday party. These events have one focus, and that is to celebrate and recognize all the hard work and dedication of MONAT's staff. At MONAT, we understand that each employee plays a key role in the company's success, and without them, this would not be possible. During these events, we take advantage of the opportunity that the family is all together to recognize our top performers with special awards, and our tenured employees, those who have been in the company for 5, 10, 15 and 20 years, are recognized and receive a service award. Due to the pandemic, our events looked a little different. Our annual picnic became a picnic basket giveaway where we encouraged our employees to spend some picnic time with their family and friends, and our holiday party was celebrated at the different sites with live music and festive lunches.
What I love most about working at MONAT is that it does not feel like a job! I feel like I am working with family. I wake up every day so happy to go to work because I enjoy helping those in need. I love seeing what our efforts do to make a difference in this world and the happiness it brings to people. Bringing a smile to someone's face every day is what makes me full of life and love, which is what I am part of in this company. I am eternally grateful to be part of something big, and I am so excited for what our future holds. Live with gratitude!
—VANESSA RAMOS / ADMINISTRATIVE ASSISTANT, GRATITUDE DEPARTMENT HOW WOULD YOU DEFINE YOUR COMPANY, AND WHAT ARE THE KEYWORDS THAT DESCRIBE YOUR CULTURE? At MONAT, we live and help others live with purpose, joy, and health. MONAT has an incredible purpose in building beautiful lives for our employees, customers, and Market Partners. We are a company with a culture of family, service, and gratitude. Our employees are family, and we treat each other with gratitude and respect.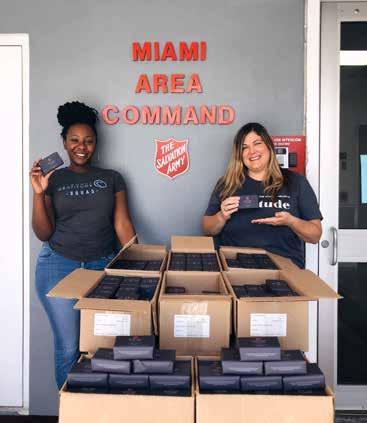 WHAT IS YOUR TOP PRIORITY WHEN IT COMES TO MAINTAINING A GREAT WORK ENVIRONMENT? MONAT's priority is to ensure all our employees know what the company pillars are: family, service, and gratitude. It's imperative everyone is treated with respect, shows integrity in their work, and gratitude in the workplace and the community. MONAT is all about a work environment of shared effort and success.
HOW DOES YOUR COMPANY SUPPORT TEAM MEMBERS IN THEIR PERSONAL AND PROFESSIONAL DEVELOPMENT? Our Rewards and Recognition program recognizes employees financially for great achievements. We have our three stages: Glow Getter, Stellar Supporter, and Top Performers. Our Top Performers are all nominated for the highest recognition award. MONAT has focused on growing its leader and offers its in-house build Leadership Certification Course to all leaders in the organization. In addition, we launched UGrow, a program in which leaders learn about technical and soft skills needed to be the best versions of themselves for their teams and in our distribution center. Employees participate in our LEAD Program that is all about the efforts in the supply chain, and how to improve our operating efficiencies.
WHAT IS SOMETHING THAT HELPED YOUR COMPANY PIVOT AND SHOW RESILIENCE IN 2020? 2020 was a challenging year for all of us. In order to keep our employees informed, we instantly established Work From Home Guidelines to all employees, setting the expectations of what the virtual working environment would see. Our Tip of the Week was born during the pandemic, in efforts to support our employees in the transition, and give them tips on how to stay connected and engaged in the new virtual environment. We stayed close to our employees with pulse surveys and checked in with our leaders frequently. We adapted our policies to the needs of our employees and our leaders in the new environment we faced during the pandemic. Also, we closely monitored the guidelines from the Centers of Disease Control (CDC) and WHO (World Health Organization) during these uncertain times relating to COVID-19.
Here are some of the things MONAT implemented to ensure the safety of our employees:
• Disinfecting our facilities several times a day, including a deep disinfectant in the evenings approved by the CDC
• Providing hand sanitizer and wipes to all remote and essential employees
• Providing masks and gloves to our Distribution Center employees
• Training employees thoroughly and frequently on hygiene and preventive practices
• Minimizing outside visitors from entering our facilities
• Using teleconferencing for internal meetings as often as possible
• Working from home or taking PTO if you are sick or have any potential symptoms or preconditions
• Flexible work schedules were introduced, including working from home for our remote workforce and 4-day work week for our Essential Workers in the
• Two extra weeks of sick pay to employees who were quarantined due to the COVID-19 virus or if someone they care for in their home has the COVID-19 virus. n