2
3
26 18 34 4
44 11 5 CHOICEOUR CONTENT LIBBY HALL 08 SMOKEY GREENE 11 PAUL CRAIG WILSON 14 ANNA KLINE 18 PAT MORRIS 23 AMY BETH HALE 26 CALEB BAILEY & PAINE'S RUN 30 FLAT RIVER BAND 34 EDDIE SANDERS 40 MARTIN GUITAR: UKES 44 ASHEVILLE RADIO MUSEUM 48 APPALACHIA FARM TO TABLE 52 VIDEO CHART 55 REVIEW 60 FAN PHOTOS 62
Richelle Putnam • Managing Journalist Editor Richelle Putnam is a Mississippi Arts Commission (MAC) Teaching Artist/Roster Artist (Literary), a Mississippi Humanities Speaker, and a 2014 MAC Literary Arts Fellowship recipient. Her non-fiction books include Lauderdale County, Mississippi; a Brief History, Legendary Locals of Meridian, Mississippi and Mississippi and the Great Depression. Richelle@TheBluegrassStandard.com
Keith Barnacastle • Publisher The Bluegrass Standard is a life-long dream of Keith Barnacastle, who grew up in Meridian, Mississippi. For three years, Keith brought the Suits, Boots and Bluegrass Festival to Meridian. Now, with the Bluegrass Standard, Keith's enthusiasm for the music, and his vision of its future, reaches a nationwide audience every month! Keith@TheBluegrassStandard.com
Our Staff
6 Rebekah Speer • Creative Director Rebekah Speer has nearly twenty years in the music industry in Nashville, TN. She creates a unique "look" for every issue of The Bluegrass Standard, and enjoys learning about each artist. In addition to her creative work with The Bluegrass Standard, Rebekah also provides graphic design and technical support to a variety of clients.
Susan Woelker • Marketing Susan traveled with a mixed ensemble at Trevecca Nazarene college as PR for the college. From there she moved on to working at Sony Music Nashville for 17 years in several compacities then transitioning on to the Nashville Songwritrers Association International (NSAI) where she was Sponsorship Director. The next step of her musical journey was to open her own business where she secured sponsorships for various events or companies in which the IBMA /World of Bluegrass was one of her clients.
Kara Martinez Bachman • Journalist Kara Martinez Bachman is an author, editor and journalist. Her music and culture reporting has appeared in dozens of publications and she's interviewed many performers over the years, from local musicians to well-known celebrities. She's a native of New Orleans and lives just outside the city with her husband, two kids, and two silly mutts. Susan Marquez • Journalist Susan Marquez is a freelance writer based in Madison, Mississippi and a Mississippi Arts Commission Roster Artist. After a 20+ year career in advertising and marketing, she began a professional writing career in 2001. Since that time she has written over 2000 articles which have been published in magazines, newspapers, business journals, trade publications. 7
Candace Nelson • Journalist Candace Nelson is a marketing professional living in Charleston, West Virginia. She is the author of the book "The West Virginia Pepperoni Roll." In her free time, Nelson travels and blogs about Appalachian food culture at CandaceLately.com. Find her on Twitter at @Candace07 or email CandaceRNelson@gmail.com.
Shelby C. Berry • Journalist Shelby Campbell is a writer and designer whose heart beats for creativity. A native of rural Livingston, AL, she found her passion in journalism and design at The University of West Alabama, where she received a Bachelor's degree in Integrated Marketing Communications. Shelby also has her own photography business.
Stephen Pitalo • Journalist
Stephen Pitalo has been an entertainment journalist for more than 30 years, having interviewed everyone from Joey Ramone to Bill Plympton to John Landis. He is the world's leading authority on the The Golden Age of Music Video (1976-1993), mining inside stories from interviews 70+ music video directors and countless artists of the pre-internet music era. GoldenAgeOfMusicVideo.com
For sixteen-year-old southeastern Ohio native Libby Hall, it has always been about the music and what it means to perform onstage. While there is not a large bluegrass community in her hometown, Libby learned early on how music brings people together as she traveled and met new people.
A repeatingLibbycool.andgirls,mandolinfatheratinstrument—theLibbymulti-instrumentalist,pickedupherfirstmandolin—eightyearsoldafterherbeganplayingthehimself.LikeallyoungshelookeduptoherfatherthoughttheinstrumentsoundedThenextthingherparentsknew,wasplayingthemandolinbyear,thenotesofthesongherfather was
"I definitely have a different style in my music, and I play by ear a lot. I love to improvise when I'm playing," Libby said. "I like jazz music, and I like incorporating jazz into the bluegrass. I play for a different style. Bluegrass is my main genre, but I love playing all genres of music."
Tomorrow's Bluegrass Stars
8
While her overall style in music is a bit different from traditional bluegrass, her bluegrass musical influences ultimately brought her to the young bluegrass musician group Tomorrow's Bluegrass Stars a few years ago.
"I'm a pretty quiet person, but I felt comfortable up there. I really loved performing and wanted to see where it took me," Libby said.
While at Bobby Osborne's Mandolin Round Up, Libby got the opportunity to meet Larry Smith,
Today, Libby still plays the mandolin, but over the years, she has also taken on the fiddle, piano, guitar, ukulele, tenor saxophone, and bassoon.While influenced in her music by bluegrass greats like Bill Monroe and Bobby Osborne and iconic musicians of today such as Sierra Hull and Sam Bush, Libby prides herself in creating a sound all her own.
Theplaying.same year, Libby performed at a local fair in Albany, Ohio, for the first time, winning an award. From that moment, she began performing and competing at countless regional festivals and bluegrass competitions.
SHELBY C. BERRY Libby Hall
"I love the new experiences music brings," Libby said. "I love performing when an audience gets into the music. I love the energy and togetherness that it brings. I may be nervous before I go on stage, but when I get up there, it all goes away. It's just me and the music."
9 President of Tomorrow's Bluegrass Stars, and his granddaughter Ashlyn Smith, a member of the group and a seasoned pro in the bluegrass community herself. "While at the event, the Smiths invited me to join Tomorrow's Bluegrass Stars, and I liked the idea of meeting other young musicians," said Libby. "I've definitely met some great people through the group, and every time I see them, they are so inviting and welcoming. It's a wonderful community to be a part Afterof." years of playing in this bluegrass community, Libby completed her debut instrumental album Done Gone in December 2021 in collaboration with Clay Hess, Natalie Tomlinson, Cory Walker, and Tim "ForCrouch.the album, I played the mandolin alongside Clay, Natalie, Cory, and Tim on their instruments, and we recorded ten cover songs of old time and bluegrass music," Libby said. Libby is beginning her senior year of high school, looking forward to playing the Ohio Valley Opry and other private events while preparing to minor in music once she gets to college next year.
While she dreams of one day joining a band and performing more, as that's something she hasn't been able to do up until this point, Libby is enjoying being a kid this year before the world and all of its possibilities open up to her. As she moves into the future, Libby looks back on the decisions that got her to this point with a humble "Don'tsmile. be afraid to step out of your box and do something that you wouldn't have done," Libby said. "You never know what will come out of something." To purchase a copy of Libby's debut album, Done Gone, and follow along as she schedules performances, visit her website at libbyhallmusic. com.
"Right now, I'm taking my music one day and one performance at a time," Libby said.
Nov. 17, 18, 19, 2022 Gatlinburg Convention Center W.L. Mills Auditorium 234 Historic Nature Trail, Gatlinburg, TN YOUR HOST BAND LORRAINE JORDAN & CAROLINA ROAD Thursday,LARRYFridaySTEPHENSON BAND Saturday LARRY SPARKS AND LONESOMEFridayRAMBLERS NICK CHANDLER ANDSaturdayDELIVERED CAROLINE AND SaturdayCOMPANY JOE MULLINS AND THE RADIOFridayRAMBLERSNOTHINSaturdayFANCY WILLIAMSONThursdayBRANCH RALPH STANLEY II & THE CLINCH MOUNTAINThursdayBOYS DEEPER SHADE OF BLUE Saturday FOR TICKETS CALL OR EMAIL KRISSY 919-609-6740 | citsbluegrass@gmail.com Mon -Fri 3:30pm till 6pm (leave message anytime) FOR ADDITIONAL INFORMATION Call 919-779-5672 Ext bluegrasschristmasinthesmokies.com1Gatlinburg,TN SOUND:GBS Productions FASTFridayTRACK THE FAMILYSaturdaySOWELL LARRY EFAW MOUNTAINEERSBLUEGRASS&FridayTHE KING JAMES BOYS Friday OSBORNEDEANSaturdayHARBORTOWNSaturday ALSO THURSDAY BLUEGRASS ALL STARS FEATURING TURNBERRY MUSIC ARTIST WITH HOST, BILLY LEE COXMOREONOTHERSIDEMOUNTAINSaturdayHIGHWAY PAULSpecialWILLIAMSGuest 10
Smokey Greene
Rodgers and thinking that someday I'd like to do that. I went to the square dances not to dance but to hear the music. I watched the guitar player, then went home and tried to copy what he did." And while he did other jobs throughout his life, music kept Smokey Sometimegoing.inthe early 1940s, Smokey's father brought home a radio, and that's when young Smokey first heard Slim Clark's yodeling. "I met Slim in 1946 and got paid to call square dances and play banjo for him. Later, I was milking cows, and my dad came in and said he didn't think I would be milking cows much longer. That was when I decided I wanted to play music for a living." But first, Smokey felt compelled to join the Air Force at 18. It was 1948, and Smokey laughs as he recalls driving the folks in his barracks crazy with his music. He was trained as a radio operator and was sent to a small Japanese island for a year, where he spent his spare time playing the guitar and singing. "AhiswhereIttimesfour"WeanotherwhereinSmokeyenlisted."muchclubs.gigsmoneyupband,playingandhillbillyheardmainofficercommandingontheislandaboutmy'music,'soonIwasinapickingextrapocketfromatofficers'"IhadsofunIre-landedCalifornia,hestartedband.playedorfiveaweek."wasalsohegotnickname.
"Instead of giving out my own cigarettes, I bought each band member a pack of cigarettes and took it out of their pay at the end of the night. They started calling me Smokey, and that's what they still call me today."
For well over eight decades, Walter George "Smokey" Greene has been living his dream of playing music. His first paid gig was at the Danby Four Corners Town Hall when he was sixteen. "I never looked back after that." Smokey was raised in Virginia's Carlislesongsbrotherwatchingrememberreunions.atatheremusicians,familygrewtheme,olderwasbrother,old.wasmusicfellRutland.southDanbyTinmouth/area,ofHeinlovewithwhenhefiveyears"Myolderwho16yearsthanplayedguitar.IupinafullofandwasalwayslotofmusicourfamilyImyplaybyCliffandJimmie
11 SUSAN MARQUEZ
When he left the Air Force in 1958, Smokey says it took him a while to get work playing music. "I wanted to stay in California, but my wife wanted to move back to Vermont. I did all kinds of jobs to make ends meet. I drove a crawler tractor and worked in a paper mill and on a chicken farm. When I finally started playing more, I was killing myself by working all day and playing music at night. One morning at breakfast, I told my wife that I could either quit the mill or quit music. She said quit the mill. She knew that without music, I'd never be happy." The couple lived in Vermont, and Smokey traveled to New York, where he mainly played at dude ranches and a few nightclubs. He got a job as a radio disc jockey. "I didn't like the way country music was sounding in the late 1960s and early 1970s, so I started listening to bluegrass. I promoted a lot of bluegrass shows and got to be friends with several bluegrass Inmusicians."theearly 1960s, Smokey honed his act, which included old-school ballads mixed with comedy songs, such as "I Don't Look Good Naked Anymore." He partnered with Don Reno, who Smokey says was "the best banjo player to ever come down the pike." The band opened a lot of shows for name acts, including Willie Nelson, Merle Haggard, Ernest Tubb, and Hank Thompson. In 1970, Smokey went to a bluegrass festival in Virginia with a friend. "He said he needed to find a place to hold a festival." Second Generation found a place to hold the festival in Glens Falls, New York. "They lived in Virginia, so they asked me to get the permits for the festival. But before the festival happened, the group broke up. "I had already put in the work to make it happen, so I decided to do it myself," Smokey says. "I was the first person to run a bluegrass festival in New York State." The Smokey Greene Bluegrass Festival kicked off in Corinth, New York, in 1972. "I ran it for 18 years," he says. "It got longer and longer until it went for seven days, with Gospel singing on Sunday." Smokey still plays a few festivals each year. He plays with his sons, Scott and Arlin. "Arlin is a great bass player and works with several different groups. Scott can play bass or guitar and does a lot of single gigs. Both work a lot and remind me of myself when I was their age." Smokey and his wife, Midge, moved to New York state from Florida a year ago to be closer to his sons. "I couldn't go anywhere without them," he says. "They also pick up where I leave off. I can't do a whole 45-minute show anymore."
12
13
After retiring at age 55 from a 31-year career as a probation officer, Paul Craig Wilson needed something to do. He had been a bluegrass musician for many years, and that gave him an idea to begin making Craigmandolins.wasintroduced
When Craig was eighteen, he was driving across town in his father's pickup truck. "His radio was on when I got in the truck, and I heard a Reno & Smiley bluegrass song." That was Craig's 'aha' moment. "I wanted Marquez
to music when he was five or six years old. "Our family lived on a farm outside of Bakersfield, California. I had two older brothers, and I was the third wheel, so I had to learn to entertain myself. I often sat by the radio back in the early 1950s, and I naturally gravitated to the three or four stations that played old country and occasionally some bluegrass music." Craig says he always wanted to play the guitar, but because his family lived so remotely, he had no teacher. "When my family moved into town, I was starting the seventh grade. A friend and I took a few guitar lessons." The boys started a semi-professional rock and roll band and played most weekends throughout high school.
14
Susan
Paul Craig Wilson
Craig did a little woodworking in junior high school. That, and his extensive research into mandolin building, gave him the confidence to give it a go. "In Bakersfield, I met Gary Cox, who taught woodshop at the local community college. He was a master furniture and cabinet maker. Gary got interested in building guitars, and we hit it off and became good friends. I built two guitars with him and learned a lot. I realized that I didn't have an extensive background in woodworking, and Gary helped me develop better overall skills that show up in my mandolin construction."
Mandolin building isn't something one can jump into. "There are a lot of specialized tools that are used to build a mandolin," says Craig. "And there are many jigs, fixtures, and different types of molds."
Craig has been building mandolins under the Wilson Mandolins name since 2006. He makes his mandolins using premier tone wood, maple for backs, sides, and necks, and spruce for tops.
Now based in Loudon, Tennessee, Craig says he is "a small shop builder" and doesn't build a large volume
to build mandolins and actually building them are two different things. "I guess being OCD helped me learn how to do it," Craig laughs. "When I decided to make mandolins, I soaked up all the knowledge I could. I read books and watched videos. I also connected with the luthiery community and found a generous group of people willing to share their Craigknowledge."attendedhis first bluegrass music festival in 1969. "It was an epic event held in Camp Springs, North Carolina, and the performers were an absolute 'who's who' of first-generation bluegrassers," he recalls. Over the years, he has had the opportunity to meet many of his musical heroes, including Bill Monroe, Flatt & Scruggs, Ralph Stanley, and a host of Afterothers.retiring,
Craig got involved with the California Bluegrass Association as a regional activities Vice President for over 15 years and as a Board of Directors member for five years. From 2006 to 2007, he served as co-director for the largest indoor bluegrass festival in California, SuperGrass/ Loarfest-West. In addition to the festival, the event was a "world-class" mandolin symposium that drew over forty Lloyd Loar signed instruments, perhaps the most ever assembled in one place and at one time. The event included a "mandolin tasting," a performance by the Nashville Mandolin Ensemble, and a panel discussion of four of the world's foremost mandolin builders, including Mike Kimnitzer, Lynn Dudenbostel, John Monteleone, and Steve Gilchrist. Craig met Charlie Derrington, a designer with Gibson, and Lynn Dudenbastel, a top mandolin maker, at the first Loarfest held at the IBMA event in Louisville in the mid-1990s. Lloyd Loar is credited with the design of Gibson's famous F5 mandolin, made popular by mandolin orchestras traveling the United States in the 1920s and 1930s. "Loar's design became the standard for bluegrass instruments mainly because Bill Monroe, 'the Father of Bluegrass Music,' played one and made them famous," says Craig. "Charlie rebuilt Bill Monroe's Lloyd Loar F-5 when it was badly damaged."
15 to play bluegrass music and got my first acoustic guitar." Shortly thereafter, Craig met Larry Cohea, a five-string banjo player who had recently moved to California from Springfield, Tennessee. While still teens, Craig and Larry started a bluegrass band, The Cumberland County Boys. "I was able to do some horse trading for my first mandolin, a 1918 Gibson F-4, that I used in that band. In the late 1960s, I had the good fortune to purchase a 1924 Lloyd Loar-signed Gibson mandolin. Larry and I played together until he moved to the San Francisco Bay Craigarea." played in other bluegrass bands in California over the next several decades, including The Born Again Bluegrass Band and Gloryland, with his longtime friend, Leroy "Mack" McNees (of Kentucky Colonel's fame,) as well as Stoney Point, Pacific Crest, The Roustabouts and more recently with The Ol' DecidingPals.
"There are different species of wood, each with different qualities, and I have had good results with most of them." On occasion, Craig has also used white oak or walnut in some of the mandolins he builds. "I may deviate some, but I try to respect the integrity of the Loar-constructed instruments. I have accurate blueprints as well as carving and other measurements from actual Lloyd Loar instruments and refer to them often as I am building."
16
Some of Craig's instruments have been sold at larger music festivals, including having a display at the IBMA a few times.
Craig has also built a number of mandolas, one which the Atlanta Mandolin orchestra uses and another purchased by Doyle Lawson and used on one of his recent recording projects. "Most recently, I have sold some through Gruhn Guitars in Nashville and some through networking."
Find more information on Wilson Mandolins on the company's website at wilsonmandolins.com.
of mandolins. "I typically build two to four instruments a year." The mandolins sell from around $3200 to $6000 each. He has made a few by commission, but most are built "on spec" and made with the challenge of his touchstone instrument, the Lloyd Loar Gibson of the 1920s. "I'm always trying to get as close to that as possible. It's become my passion."
Mississippi native Anna Kline started her career with Malaco Records in Jackson, Mississippi, working in licensing and copyrights and eventually found herself as a freelance writer and full-time musician.
"I was very fortunate to receive a musical education working there as a self-promoting musician, artist, and songwriter," said Anna. From that point, Anna's career gave her a melting pot of experience in the musical world, making her the ideal choice for the new Business Development Director position at the International Bluegrass Music Association, the bluegrass music trade organization headquartered in Nashville, Tennessee. This position
Shelby C. Berry
ANNAKLINE
18
19
According to Anna, the most critical element of this position is collaboration. With sponsors, IBMA tries to create a mutually beneficial relationship while sustaining and nurturing the bluegrass community.
"We are stronger when we collaborate. The result is always something unexpected and bigger than the initial seed you planted," Anna said.
20 identifies new opportunities for the bluegrass industry and builds relationships with artists, sponsors, and partners of the organization.
"I've been able to implement ideas and explore possibilities right in my lane with this job," Anna continued. "It's cool to have had the opportunity to put programs in place that help preserve an American genre of music. It blows my mind that I get to take a leading role in preserving and promoting bluegrass. I don't take it lightly."
With extensive experience on the stage and behind the industry scenes, Anna offers IBMA her plethora of experience - 10 years as a full-time musician and songwriter and more than 15 years of experience as a project coordinator and freelance writer.
21 "Now, it's like I have this other extension of myself," said Anna. "I did music, and freelance writing before this job fell into my lap, so it felt like a natural extension."
"John introduced me to bluegrass music, and I fell in love with it," said Anna. "It's so cool how our bluegrass community is widespread, and you have relationships that last a lifetime. There is a musical commonality that we all share. It's been a really special experience over the years to see how we are all connected."
Anna and John formed a new band in 2020 called Swift Silver, releasing their first album last summer. She continued to write for blogs and collaborate with artists on promotional work across all platforms before her hire at IBMA. "I would love to think that my alsotoandalleyes.canAnna.thisespeciallyanything,approachinformsexperiencemytowithposition,"said"IhopeIprovidefreshIunderstandthelogisticswhatneedshappen,butIhopetobean artist advocate." As IBMA finds itself in a place of growth and expansion, Anna is excited to be a part of the team working in sync for the same "Forgoal. years and years, people have wondered what I was doing for a living since I've done a bit of everything," said Anna. "But I always felt like it was all connected in some way. I felt like it's all got a purpose and that it would all come together one day. With this job at IBMA, I feel like it finally has."
Beginning her career in culture and music, studying music business and film at the University of Memphis, Anna's first real-life experience was at the famed Southern soul, blues, and gospel label Malaco Records. Shortly after, Anna began freelance writing for Jackson Free Press, DeSoto Magazine, and Portico Jackson Magazine. Her articles focused on local music, food, and Southern SouthmusictheTrailMississippiAuthority,DevelopmenttheFilmtheDivisionthesheAdditionally,culture.workedforMississippiofTourism,MississippiOffice,MississippiandtheCulinaryandcoordinatedfirstMississippishowcaseatbySouthwest.These jobs exposed Anna to culture and music before she decided to take to the stage herself. In 2012, Anna plunged into being a full-time musician and songwriter. As a performer, Anna is half of Grits & Soul alongside her partner John Looney. Over the years, they have been showcased at the World of Bluegrass and featured at Suwannee Springfest, Merlefest, and Bristol Rhythm & Roots Reunion.
with a special free Thurs performance by Thursday Night Potluck Dinner & Open Stage Thurs: Free Fri: Advance Price $30, Gate Price $35 Sat: Advance Price $30, Gate Price $35 Full Weekend Pass: Advance $55, Gate $65 Children 10 15 half price with paying adult Children under 10 free *Advance prices end November 3rd!* Small processing fees may apply for cards Campground collects a $15 gate fee per vehicle for non campers SCHEDULE Lyons, GA November 10, 11, 12, 13, 2022 TICKET INFO A family festival & pickin' party filled with great music, camping, food, & fellowship! Limited Number of 30/50 Pull-Thru RV Sites With Full Hookups • Tent Sites, Cabins, & Dry Camping Available • Clean Restrooms, Showers, & Laundry • Canoe & Kayak Rentals, Walking Trails, Biking, Fishing, & Playground • Food & Drink Concessions • Outdoor Stage • Bring Your Lawn Chair • No High Backed Chairs • Armbands Must Be Worn at All Times • Golf Carts Welcome • Pets on Leash & Cleaned Up After • Jamming 24/7! • No Alcohol at This Event! FRIDAY, NOV. 11: 1:00 Willie Wells & BRMG 2:00 The Edgar Loudermilk Band 3:00 - Backline 4:00 Retro 78 5:00 Dinner Break 6:00 Willie Wells & BRMG 7:00 Headin' Home 8:00 Retro 78 9:00 Backline Ohoopee River Campground 1449 John Trull Circle Lyons, GA 30436 SATURDAY, NOV. 12: 1:00 Blue Holler 2:00 Boonie Bevins & Carolina Drive 3:00 - The Edgar Loudermilk Band 4:00 The Little Roy & Lizzy Show 5:00 Dinner Break 6:00 Boonie Bevins & Carolina Drive 7:00 Blue Holler 8:00 The Little Roy & Lizzy Show 9:00 Headin' Home SUNDAY, NOV. 13 - Bluegrass Gospel Jam with Mike & Mary at 9:00 AM THURS, NOV. 10 Potluck Dinner at 5:00, Open Stage Starts at 6:00 1st Annual Event! Get your tickets online! ➡ headinhomefest.com Or, email info@headinhomebluegrass.com; call/text Marina (912 713 7899) or Libby (912-432-5885); mail checks to PO Box 88, Bloomingdale, GA 31302. ohoopeerivercampground.comCampsite reservations: 1-833-OHOOPEE Mark your calendar for the 2nd Annual Headin' Home Fest next year! Libby Lindblom Flyer Designs Subject to change All tickets non refundable November 9, 10, 11, 12, 202322
Susan Marquez 23
Pat Morris
Pat Morris found himself in the right place at the right time for a wonderful introduction to bluegrass music. A native of the Tidewater area of Southern Virginia, he worked at nearby Busch Gardens throughout high school and college. "They had a bluegrass show next to where I was working," he says. 'I spent my free time watching the shows. I was exposed to wonderfully talented artists like the late Gene Wooten, Steve Smith, Jim Lauderdale, and Bill Evans, and we quickly became friends." Before working at the theme park, Pat says he wasn't a big bluegrass fan. "Back then, I was starting to play guitar and liked singersongwriters like Harry Chapin, Dan Fogelberg, and Jim Croce. But I learned to love bluegrass and the bluegrass community."
First held in Owensboro, Kentucky, the World of Bluegrass moved to Louisville, then to Nashville, and finally to Raleigh ten years ago. We have a great partnership with Raleigh," says Pat. "It is a perfect match for such a large number of music fans. The IBMA World of Bluegrass is truly the biggest week of bluegrass music in the world." The event is scheduled for September 27 through October 1, with a full schedule including the 33rd Annual IBMA Music Awards on September 29 at the Duke Energy Center for the Performing Arts. The September 27-29 conference will feature workshops and panels on career development presented by veteran musicians with decades of industry knowledge and those with a fresh approach to the bluegrass music model. The IBMA 2022 Bluegrass Live! Festival will be held from September 30 through October 1 at the Red Hat Amphitheatre and downtown, with over 200,000 fans expected to enjoy IBMA and GRAMMY awardwinning legends and up-and-coming artists on Friday and Saturday. This year's main stage will feature the Infamous Stringdusters, The Jerry Douglas Band with special guests, Peter Rowan Bluegrass Band, Sierra Hull, Balsam Range, The Dan Tyminski Band, Molly Tuttle & Golden Highway, Dom Flemons, and Shultz's Dream, Della Mae, and Twisted Pine. The downtown stage and street stages on several blocks will feature more acts. Street vendors will present a wide array of arts and crafts, food and beverage, and family fun to downtown Raleigh.
Pat spent twenty years running non-profits, but when he had the opportunity to combine his passion for non-profit work with his love of bluegrass music to serve as executive director of the International Bluegrass Music Association, he couldn't resist. "They say to do what you love and love what you do, and that's exactly what I'm doing." He has been at the helm of the IBMA for a year now, and Pat is excited about bringing back the World of Bluegrass in Raleigh at full speed. "We had a virtual event in 2019, and part live, part virtual in 2021 with Covid restrictions. But this year, we are planning to be back at full speed. There is a huge demand for live music, especially bluegrass music."
The exhibition hall is the week's central gathering place, where 12,000 visitors will network and browse vendor booths featuring gear, services, products, festivals, and more. "We are expanding the exhibit hall this year to provide more places for bands to play and get exposure, adding more stages and an International Pavilion," says Pat.
The IBMA, a non-profit music organization, aims to connect, educate and empower bluegrass professionals
24 and enthusiasts, honoring tradition and encouraging innovation in the bluegrass community worldwide.
Pat says his vision for the organization is to be available to support the artists. "That is really important to them. We are putting that into action by inviting artists visiting Nashville to stop at our office and pick. We record it and post it on social media. So many artists have said that it has been so productive for them. We are also doing innovative things, like having an international band that received our first international assistance grant at the World of Bluegrass. We will also work to grow our international music and fanbase to encompass the international aspect of IBMA."
Bluegrass youth events will be in the youth room and on the youth stage, including workshops and special guests jamming with young musicians. There is no charge for youth events.
While Pat has presented many live non-profit events over the years on this scale, he says the IBMA World of Bluegrass event is special to him. The 2021 IBMA awards show saw 29-year-old Billy Strings take home the Entertainer of the Year award, while 83-year-old Del McCoury tied for Vocalist of the Year with Danny Paisley. It's a sign that bluegrass music is timeless, and the future is bright for the genre. "We feel we are getting back to normal as much as possible," Pat says. The fans are ready for this, and the IMBA members are ready. There has been a great buzz so far. It will be exciting to see so many people live instead of being two inches tall on a Zoom screen. This will be an exciting year for bluegrass music."
25
"I would say that because we have such a small staff, you must learn to do a lot of things yourself. Your printer doesn't work? You can't call IT – you are IT – fix it yourself. I didn't know a lot about accounting—the terminology, for example—when I got here. I could balance my checkbook and pay my bills, but I had a lot to learn about dealing with accountants, budgets, and the nonprofit world. So, it really tests you and what you're made of, in a way. You must rely on 26
Amy Beth Hale, a native of beautiful Lebanon, Tennessee, grew up on the campus of Castle Heights Military Academy (now closed), where her father taught and became headmaster. Hale was exposed to bluegrass music and festivals early on through her father's lifelong love for the mountain sound. The Smithville Fiddler's Jamboree was a particular favorite (and still is) of Amy Beth's. Enjoying all kinds of music, whatever sounded good to her ear, drove a passion that spurred her to become an archivist at heart. She read liner notes, session notes, songwriting credits, musician credits, tracking listings, and all details related to albums and songs. Is it any wonder that Hale would have an impressive collection of records? She is a treasure hunter these days, always keeping an eye out for an obscure record to add to her stockpile of vinyl. Being a voracious reader to boot and still preferring actual books to a Kindle or iPad, Amy Beth has amassed quite a library of cherished reading material. Laughing, she confesses she is running out of space to display them. This nostalgic keeper of music and books also tries her hand at photography, toying with the idea of taking pictures professionally someday. For Amy Beth, her parents were her biggest inspiration. "I admire them both so much and often consider how they would handle a problem or a situation. They were amazing people, and I was blessed to have them," she Asaid.hobbyist at heart, Amy Beth likes to go out and take pictures. "Sometimes that means I'm hiking around in the woods, and sometimes it means I'm taking pictures of musicians onstage." She adds that in addition to reading and listening to music, "I would say that I love to garden, but since the deer keep eating everything I plant, I don't love it much anymore." Amy Beth made quite the impression on the previous IBMA Executive Director, Paul Schiminger, driving into the ditch in front of the office just before her job interview.
"I didn't get the job that time around, but another position, for which I was bettersuited, opened up, and Paul called me to see if I was interested. I think that he felt I would be a good match for the Membership Director job since I had spent 20 years at SESAC working with songwriters, musicians, and the general public. "
The IBMA is a non-profit organization, which can pose a few challenges. The workload is heavy and stressful at times. The time of year tends to dictate how Hale will spend her workdays. Right now, all the focus is on World of Bluegrass preparation, keeping her jumping as she closes the final rounds for the IBMA awards. Amy Beth juggles many aspects of helping to organize the convention leading straight down the road to Raleigh, North Carolina, where the International Bluegrass Music Association holds its largest event of the year. There are many details to finalize for that week, and with a small staff, Amy Beth had to wear lots of hats to make it all happen. One day she orders lanyard ribbons for Conference badges, and the next, she talks to award nominees and organizes tickets and passes.
In that role, Hale currently oversees and runs the IBMA membership database, helps members with questions, and tries to keep members actively engaged. She also oversees the balloting for various bluegrass music and industry awards and the board elections. Though not officially the bookkeeper, she works closely with the accountant to pay the bills and track donations for the IBMA and its trust fund.
Amy Beth Hale Speer
27
Rebekah
Locate information for everything Walnut Valley Festival at www.wvfest.com Advance SeptavailableTicketsthru9that5pm The Steel Wheels Béla Fleck My Bluegrass Heart Check out the latest Camping Information Read the ReviewsRecordinglatestLearn WorkshopsPreFestabout Get In on the Fun at Feisty Kids Camp howDiscovertoEarn a FullTicket!Festival 8InstrumentContests24-hourJammin'Arts&Crafts AcousticKids Sept 14 - 18, 2022 Rhonda Vincent & the Rage Kelly Hunt 28 WALNUT SEPTEMBERFESTIVALVALLEY14th-18th2022
Many cherished memories evolve from an International Bluegrass Music Association event.
yourself and do it. " Those are just a few examples of the many things Amy Beth Hale does on any given day. July, August, and September are always super-busy months for the IBMA office, testing everyone's multitasking skills. Still, Hale helps get it all done and amazingly finds the time to complete interviews for magazines, too!
As far as being an IBMA employee, she said, "be prepared to be thrown into the deep end. But there's always someone to be there to help you learn to swim. You do have to hit the ground running, though. You can't be afraid to ask questions. And I hope anyone who wants to work for the IBMA would love bluegrass."
"Yes, World of Bluegrass is our huge and important event. I love it! I'm always happy to see everyone, and it is fun seeing hard work coming to life," she said, adding that IBMA has other programs and resources. "Our Leadership Bluegrass program is still going strong (I'm class of 2011), and it's an incredible opportunity for people to network and learn. It has a farreaching impact on the individual class members. The IBMA Trust Fund has helped so many bluegrass professionals during times of emergencies. It helps ease a burden and make things a little brighter."
"But I never really realized exactly what was going on behind the scenes to make things happen. When I started at the IBMA, we had four employees, including the Executive Director. I was absolutely amazed at the amount of work that those four employees (myself included) did to make World of Bluegrass happen. And then, when you get to Raleigh during the event, the volunteers, many of whom have worked this event for years, really become super important to us. They are so much help."
Joining the IBMA and working for the IBMA are different things. As the Membership Director, Hale wants people to join, connect, and participate! She wants professional members to actively vote and be part of committees and make their voices heard and for fan members to enjoy being a part of an organization that works hard to promote and protect bluegrass music for future generations.
"I can tell you that standing backstage in the wings of the Duke Energy Center during the 2017 IBMA Bluegrass Music Awards watching Bobby Hicks (who was inducted into the Hall of Fame that year) play "Cheyenne" was an incredible experience. I vividly remember standing there with tears in my eyes watching him play onstage."
There are so many layers to the IBMA, and current and future members should know that it doesn't just exist for one week a year in Raleigh, NC.
Amy Beth Hale has always attended World of Bluegrass week, even with her previous employer, a convention sponsor.
As pleased as Amy Beth is to have programmed the current online membership system, streamline accounts receivable and the payment process, and run IBMA's massive voting process, Hale hopes her most significant contribution is yet to come. If an award were created for bluegrass music's most professional multi-tasker, Amy Beth Hale would be a contender every year.
everything 29
Caleb Bailey &
30 With hurricane season in full swing right now, it's a time of the year when many down south can't help but face memories of trying times and dire struggles. For Caleb Bailey & Paine's Run, one of those memories led to a song and a new firsthand relationship with a harrowing storm tale of the past.
Singer, songwriter, and guitarist Caleb Bailey is, of course, the group's frontman, creator, and namesake. "I wrote the song 'Camille' to tell the tragic story of the night that Nelson Coun ty, Virginia was devastated by the hurricane that claimed the lives of over a hun dred people and washed away homes and cars," Bailey explained of the 1969 temThepest.infamous storm came ashore along the Mississippi Gulf Coast and leveled those communities, but people further inland were not spared its wrath. As it
made its way north and curved eastward, much of its strength remained, and Camille was still a tropical depression over Nelson County, Virginia. It dropped an incredible amount of rain. "I watched hours of doc umentaries on YouTube about the hurricane," Bailey explained. "In do ing so, I came across the story of Warren Raines and his family. Warren's family was killed in the flood, and he and his brother were the surviv ing members of the house that night. I remember being captivated by his story and wanted to cap ture that feeling into my Baileysong." said on the way into the studio to record, they stopped in Loving ston, Virginia, which is in Nelson County, about an hour from Bailey's home.
& Paine's Run
"We stopped to grab groceries for lunch that day, and when I rounded the corner in the frozen section of the store, I bumped into none oth er than Warren Raines," Bailey said. It was an incredible coincidence. "Of course, he didn't know me, so I introduced myself and explained 31
Martinez Bachman
Kara
The new song – and meeting its inspiration in person on a lark – isn't the only rewarding thing that's happened to Bailey recently. First, he took the leap in 2021 after years as a solo act; he now shares the spotlight with Paine's Run, named after a creek and road near his "Myhouse.solo project 'Poplar & Pine' was a success and featured my first #1 song in 'Grim Reaper.' Folks were wanting me to play, and I didn't have a steady band, so I started to assemble Paine's Run," he explained. "When we come to play a show, you won't hear a lot of cover songs. We love and appreciate the mu sic, but we play original music in the traditional vein."
A unique opportunity to take in that music is coming this winter. Caleb Bailey & Paine's Run will host "Merry Mountain Christmas" in Grottoes, Vir ginia on December 9 and 10. This event will be an evening of music, dinner, and drinks featuring Shenandoah Drive, two 45-minute sets by Paine's Run, and several featured special guests. Aside from music – or, maybe as an addendum to it (only time will tell) –yet another happy occurrence recently graced Bailey's life. "My girlfriend Christine and I wel comed a son last year, Colt Steele. He is the joy of our life," Bailey said. "He loves music. When he hears us playing, he starts yelling 'Da!' and running to the group. He slaps on the bass and the guitar, claps for himself and laughs, and then does it again!" Bailey added, "I would never force music on him, but I feel like he will have the gift in his life. He had an excitement for it naturally, and that has me so excited about the future and the potential to play with my son."
32 the irony that I was going to record 'Camille,' based in many ways on his account of that night." "We both were shell-shocked and exchanged numbers," Bailey continued. Of course, Raines was given a copy of the "Wesong.collaborated with The Nelson County Historical Society to have our CD release party in Nelson County. All the funds from ticket sales went to the society, and they were nice enough to allow us to use actual pictures of the devastation for our lyric video," Bailey said. "We are proud of how much airplay it has gotten," he said, adding that he appreciates the results from a media and radio distribution plan that promoted the band's music through Get it Played (Getitplayed.com).
33
It seems music is also in Bailey's blood; his great grandparents were musicians and bluegrass promoters, and his great uncle played with Tom T. Hall and Eddie Rabbit as a steel guitar and dobro player. He grew up with this stuff the same way his son will.
34
"The thing I love most about bluegrass is it is a sim ple yet complex art form," Bailey said. "I also love that the genre still speaks about family, history, and some things other genres have lost interest in. I love history and simple things in life, like gardening, so the natural sounds the instruments make are attractive to me."
35
36 SUSAN MARQUEZ
37
tour bus. "We actually had two traveling buses," says Andy. "We traveled from August, Maine to Arizona. Our mom and dad had a lot invested in us boys. We took music lessons from Barry Jones, who had a family band in Missouri. And our parents spent a lot of time with us. When we were kids, our dad took us to bluegrass festivals every weekend. They have always been our biggest supporters. We had a great upbringing, and you can't put a price on that."
Andy says the brothers all live in the same area in middle Tennessee and get together a couple of times a week to work on songs and rehearse. "We gather at my brother Dennijoe's house. We write music together, which is a lot of fun." Taught to sing harmony by their hitsnumberchartedBandTheinlove"WeandDoyalofAnotherStillsandlikebutGateandFairfieldgroupsBlackWekindslistenbrothers.inspiredBrotherslikesolidgroupsmother,withharmoniestheGatlinthe"Wetoallofmusic.likeoldGospelliketheFourtheGoldenQuartet,wealsotheEaglesCrosby,&Nash."sourceinspirationisLawsonQuicksilver.justreallyharmoniesgeneral."FlatRiverhasseveraloneonthe
Gospel charts. During their career, they opened for many notable stars, including Natalie Maines of the Dixie Chicks, Alison Krauss, Ricky Skaggs, Rhonda Vincent, and TG Sheppard With the release of their five-song EP, Sights and Sounds, the Flat River Band has entered new 38
The Flat River Band is a family band of brothers who cut their teeth on southern Gospel and Bluegrass in Missouri. The Sitze brothers, Andy, Chad, and Dennijoe, come from a multigenerational musical family. "We grew up listening to our grandpaw, who played upright bass," recalls Andy, who serves as the spokesperson for the band. "My daddy played guitar, and Mama sang." Cutting their teeth on Gospel and bluegrass music, the boys played onstage early on. "We spent twelve years playing bluegrass music with our parents grandparentsand at Silver Dollar City. We also played at Dollywood every other weekend." The travelingbrothersincalledintotoRiverminesElvins,ofThecalledMissouri.calledwhatbarbershopourBandit2008.theirdecidedbrotherstoformbandin"WenamedtheFlatRiverbecausedadhadainusedtobeFlatRiver,ItisnowParkHills."residentsFlatRiver,Esther,andvotedconsolidateanewcityParkHills1994.Thegrewupintheirfamily's
territory with The McCrary Sisters, whose father was a founding member of the Fairfield Four. The Sitze brothers have followed the McCrary Sisters since moving to Tennessee. The song "Shining Through My Window" features the McCrarys on vocals. Written by Chad, the song comes from a difficult period in his life, yet the cheerful theme is made even brighter by the brothers' harmonies, punctuated by the sweet female vocals the McCrary Sisters lend to the song. The song charted in the top three PlayMPE Christian Top 20 Streaming Chart in April. Mark Nicolosi directed the video of the song. A fun fact about the video is that Jimmy Snow, son of the legendary Hank Snow, played himself, a preacher, in the video. "The song is in the Top 40 now," says Andy. "We are grateful for that."
Another song on the EP that has performed well is "I Just Wish You Were Someone I Love," a 1977 number one hit by the Gatlin Brothers, who are also featured in the song video filmed at the famed Tootsie's Orchid Lounge in Nashville. The Flat River Band's version made its debut as number eight on the most-added song on the Billboard Indicator Chart for the week of January 4, 2022. It was also in the Top Five Most Downloaded song list on PlayMPE. Both songs were released as singles. The band of brothers is enjoying their time on the road together, taking their hybrid sound into a more country sound. Their sibling harmonies, superb musicianship, and stellar songwriting serve them well and get them noticed on a broader stage. The band is currently on the road, pushing the EP. The brothers like to be home while not playing music on the road. "Dennijoe has two girls, and Chad has four sons. "We all do a lot of things outside of music," Andy says. "I am an insurance adjuster and have my barber's license. Someone has to keep the band looking good!" Andy says he also raises chickens at home. "I have 35 laying hens, and I'm about to add 14 more. We easily get 15 to 20 eggs a day." 39
40
Singer, musician, songwriter, and event promoter Eddie Sanders has always had bluegrass festivals as a big part of his life. He was born and raised in southeastern Oklahoma, where his family started hosting the notable Sanders Family Bluegrass Festival in 1976.
"Bluegrass music has always been a part of my life," Sanders said. "We ran that festival for over 30 years. Being a part of such a large festival gave me the opportunity for a front row seat and a backstage pass to hang out around the legends of our music."
An Extreme Love for Bluegrass
"When I had the opportunity to start another festival here in Oklahoma, it was an easy decision for me to go all in," he said. "We need more bluegrass festivals, especially here in this part of the U.S. Hopefully, we can take our Xtreme Bluegrass to 'xtreme' new heights."
"As a child, I had the opportunity to perform on stage with greats like Bill Monroe himself," Sanders said. "The list of performers we had at the festival is long and includes so many great artists and musicians. Having been so involved with bluegrass music, I have always felt like the music, the songs, and the performers were a part of me and my family, so to Now,speak."he's parlayed all that experience into new events, one of which is now about to happen for its second year: Xtreme Bluegrass.
The second annual Xtreme Bluegrass Music Festival will take place in Eufaula, Oklahoma, on September 22, 23, and 24. It will feature over a dozen well-known acts, including Sideline, Appalachian Road Show, and Tina "ThisAdair.year,we have added an additional day, making it a three-day event," Sanders said. "Holding true to our name Xtreme Bluegrass, we have included bands ranging from those with the most traditional sounds around to those with beats and melodies of what some may call a more progressive style. We will also have gospel and old-time country music performed with a bluegrass flair. The list of performers we have scheduled for this year includes some top acts in the business today."
Kara Martinez Bachman Eddie Sanders
Sideline . FAST TRACK . Larry Stephenson APPALACHIAN ROAD SHOW . TINA ADAIR SHAWN CAMP . SCOTT VESTAL . Tim crouch EDDIE SANDERS . CHICKEN WIRE EMPIRE JOE HOTT . The baker family . SPRINGSTREET BONHAM BROTHERS . HEARTLAND EXPRESS Bazemore BLUEGRASS BAND xtremebluegrass.comEUFAULA,OKLAHOMA SEPTEMBER 22-24, 2022 FEATURING WORLD CLASS ENTERTAINMENTfortickets A Sanders, Powell, henry Productions EventFREDEMCEE:SANDERS BUTCHSOUNDCOOKSEY Brought to youby 41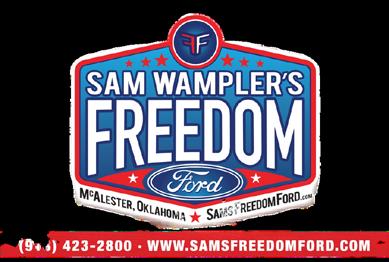 42
"I renewed my vows for my love of bluegrass," he explained. "I think it's the simplicity of bluegrass that makes it special. Bluegrass music is real; it's heartfelt. The players and singers in today's bluegrass world are among the best musicians in the world."
It seems Sanders has been particularly touched by bluegrass. "I can and do listen to all types of music," he said. "I enjoy hearing the differences in the way each genre is communicated with words and with music."
Sanders said the first single, titled "From Here to Hallelujah," deals with problems people face in today's "Aworld.friend of mine named Rodney Powell gave me the title and idea for this song," Sanders explained. "Rodney and I collaborated via text message, sharing ideas he had for the song. I was confined and isolated with Covid when the song was written. It was the first round of Covid. Fellow Oklahoman and bluegrass friend Joe Diffie had just passed away. The song simply talks about the fear and problems that the world faces daily. Hopefully, the song communicates the fact that you don't have to fear and you don't have to worry if you …get your ticket now, 'From Here to Hallelujah.'"
"I'm a Merle Haggard, Bob Wills fan," He continued. "That said, I recently promoted a couple of large modern country music shows. The bands were great. The songs and performances were top shelf. I left those country shows yearning to hear some bluegrass."
Sanders is also busy lately recording and releasing his new music. In addition to his solo work, his history includes a lengthy stint as guitarist and lead vocalist for Signal Mountain. His songs – or tunes he has cowritten – have been recorded by artists such as The Del McCoury Band and Kix Brooks. "I have a new single coming out on the EMG label," Sanders said. "The single will be a part of an all-new, allgospel project that we will be releasing soon."
Available Now on all Platforms!Digital 43
UKESGuitars:Martintradition44
Officially named CF Martin & Co, Martin Guitars is the epitome of music history with a long line of legendary instruments dating back to 1833 and traveling with soldiers into the Civil War to be strummed around campfires. Family- owned and operated since the beginning, six generations of Martins led the company through countless changes, passing along dedication to quality, craftsmanship, and protecting their environment.
"As a player myself, it inspires me knowing that some of my favorite music was created on Martins," said Mike George, Associate Product Manager for Martin WithGuitars.an unwavering commitment to environmental sustainability in their company practices, Martin Guitars has continuously driven the acoustic instrument market forward, introducing innovative and groundbreaking features that have become standards across the industry over the "Withoutyears. trying to sound too full of ourselves, I feel like we set the standard for guitars today. We created the standard for what an acoustic guitar is and have innovated the way an acoustic guitar should be Thegoing."company's sole purpose has been to preserve
Jimmie Rodgers, Hank Williams, Elvis Presley, Bob Dylan, John Lennon, John Mayer, and Thomas Rhett held one thing in common in their hands—a Martin.
while changing with the times and today's music through innovation and revolutionary Oneideas.of these innovative and revolutionary ideas was the addition of ukuleles to the Martin Guitars' Producingrepertoire.theirfirst ukulele in 1915, Martin Guitars has spent the last hundred years building some of the most sought-after ukuleles in the world of acoustic music. Last year, a Martin ukulele was aboard the Inspiation4 mission to space.
"We set the standard for acoustic guitars, but we can't forget that we started making ukuleles in 1915," Mike said. "A lot of companies have only started figuring out ukuleles in the last 20 years. We figured it out and perfected it 100 years ago. Martin ukuleles are really worth exploring."Martin Guitars announced their three newest ukulele models this year: 0 Tenor Uke, C1 Uke, and the T1 Uke FSC. "I would say the products we launched this year are more of an evolution," Mike said. "For the T1 Uke FSC tenor, we looked at the model completely and wanted to make a truly sustainable package. Made from 100% FSC woods and including a gig bag made from recycled 45
plastic water bottles pulled from the ocean, this model meets global recycling standards. We love keeping sustainability at the forefront of what we do without taking away from the quality of the product." Reminding itself to balance the tradition and history of Martin Guitars with the innovation of the future, like the new ukulele models, the Martin team prides itself in making the instruments everyone knows and loves while also pushing the boundaries of what they are comfortable with "Movingcreating. forward, we have some groundbreaking design choices for us coming. We are looking to branch out more than in any other five-year span before," Mike said. As we move toward tomorrow, Martin Guitars remains the primary choice for many musicians worldwide because of its quality, tone, and "Ourcraftsmanship.historyinthe music industry is not something we take for granted," Mike said. "We realize we have a legacy, but we don't want to rely too heavily on it and not be innovative enough. We always like to have one foot in our legacy with one foot toward the future."
46
48 Stephen Pitalo
"The link between A-B Tech and the Asheville Radio Museum goes 49
Going by the name "the Southern Appalachian Radio Museum" until 2017, the Asheville Radio Museum lives in the Elm Building on the campus of A-B Tech. The museum's volunteers teach amateur radio at the Asheville-Buncombe Technical Community College, aka A-B Tech, where the museum is located.
The Asheville Radio Museum traces the history of radio through the tech that brought audiences the earliest American radio broadcasts of bluegrass FormusicPeter
Abzug, Director of Media Relations for The Asheville Radio Museum, the connection between the museum and bluegrass music's origin is simply a matter of chronology, technology, and opportunity.
"Bluegrass music and musicians have had a connection with radio since the late 1920s," Abzug explained. "WWNC, considered Asheville's first successful radio station, featured bluegrass music after it went on air in 1927. Bill Monroe and the Blue Grass Boys had a regular weekly segment on WWNC in 1939. There's no counting how many bluegrass musicians were born from their first taste of the style heard on the Theradio."Asheville Radio Museum in Asheville, North Carolina traces the history of radio from the early days of spark-gap transmitters through the 1960s. Exhibits and artifacts include Atwater Kent, Philco, Silvertone, Edison phonographs, Crosley, Hammarlund, Harvey Wells, test instruments, spark gap transmitters, keys, and ancient QSL cards. Many displays are hands-on and kid-friendly, and the one-room museum also includes an operating amateur radio station, W4AFM.
"Volunteers,museum. most of whom are amateur radio operators, love to take visitors back to the discovery of radio waves in the 1800s and explain how that technology progressed and improved throughout the 20th century," Abzug said. "They'll explain the 'magic' of radio waves that move at the speed of light – 186,000 miles per hour – and their role in enabling many products that touch our everyday lives like mobile phones, wifi, Bluetooth-enabled devices, and even the James Webb Space Telescope. These all harness the same radio waves first predicted in 1864 by James Maxwell and proven 20 years later by Heinrich Hertz," Abzug said.Last year's successful Vintage Radio Market, held annually at A-B Tech, allowed attendees to see and appreciate the beauty in the workmanship of classic radios and could even purchase them.
"For the more technically inclined, vendors sold parts and provided advice to those who wanted to restore an old radio, such as one passed down through the family," Abzug said.
"The market provided an excellent time for the whole family to learn about a time long past. Our next Vintage Radio Market is on October 15th, beside the parking garage at A-B Tech."
50
More information on the museum is available at avlradiomuseum.org.
back 21 years to the museum's founding when a group of amateur radio operators who were radio collectors wanted to exhibit their combined collections for historical purposes," Abzug said. "A few of these ham radio operators already had established relationships with some of the instructors in the Engineering Department. These instructors helped the museum get on its feet by providing a room without cost for the museum. A-B Tech's support has been critical to the museum's success as we are a not-for-profit organization with 100% volunteer staff. The college provides exhibition and storage space and marketing support services. We probably would not have lasted so long without the college's Thebacking."advent of radio broadcasting in the 1920s brought unprecedented cultural and economic change to Appalachia. For the first time, farmers didn't have to travel to the county seat or nearest city to hear the latest news, commodity prices, or weather forecasts, all of which were critical to their professional and personal lives. Once radio receivers became more ubiquitous – by 1940, 28 million households possessed a radio – the federal government provided free advanced agricultural courses over the radio for farmers. These educational services helped increase crop yields and decrease animal disease, among many other benefits. The museum boasts one of the largest collections of amateur and home radios in the Southeast, but the museum is unique because it's also a learning
51
52
Appalachia Farm-To-TablePioneers
Farm-To-Table Movement Candance Nelson 53
Pioneers The
Traditional Appalachian cooking and the heritage that comes with it carries on in home kitchens, as well as select commercial Somekitchens.local restaurants embrace their roots and embrace the farmto-table movement not as a trend but as an ethos. As a way of life. These five restaurants embody what it means to ingredient-drivenexplorefoodand tell stories through meals: HUSK Restaurant
Appalachia is home to the original farm-to-table movement. From foraging for wild chanterelles and plucking ripe blackberries from bushes, Appalachians have grown food for their dinner table for centuries. For the last decade or so, the trend has been big city restaurants eschewing classical French techniques or rustic Italian recipes in favor of locally sourced Farm-to-tableproducts. dining has become popular, with ramps showing up on menus across the country every spring and the price per pound of morel mushrooms rivaling gas prices. In Appalachia, this farm-totable trend has been a lifestyle - a means of surviving and a way to make use of what is available. Beyond nourishing communities, the fruits from the land help tell the story of the people, culture, and history of the region.
Executive Chef and Owner Sean Brock, a James Beard awardwinner, places his restaurants' focus on heirloom products, seasonal flavors, and in-house Brockpickling.isknown for redefining what it means to cook in the South — many qualities which overlap with Appalachian cuisine: seed-saving, utilizing indigenous ingredients to the region, and prioritizing what is seasonally Accordingavailable. to its website, Husk restaurants have been "exploring the reality of Southern food," and Brock noted he hopes the nuances of Appalachian cuisine are also more appreciated moving
North Carolina, The Market Place sources its food locally but draws inspiration for dishes from far beyond the state's borders under Chef William Dissen's direction.
"This mélange of local food prepared with otherworldly traditions of the table may have helped the Market Place garner national attention, but the keen reverence for the heritage and roots of Appalachia has always remained at the center of what we do," according to the restaurant's Thatwebsite.philosophy weaves throughout the menu items, like a trio of housemade pickles; biscuits and gravy made with two jalapeño biscuits, house sausage gravy, and two sunny side eggs; and a local beef burger with a housemade potato bun, tomato jam, and pickled red onion.
West Virginia 1010 Bridge 1010 Bridge Road Charleston, WV 25314
The681.265.0599Mountain State's capital city restaurant, 1010 Bridge, boasts an Appalachian menu with Lowcountry influence, all in an upscale environment with Chef Paul Smith at the culinary helm.
37Nashville,843.577.250029401TennesseeRutledgeSt,Nashville,
"With our strong ties to the area, we will be utilizing local farmers and businesses whenever possible … and as many other local farmers as we can," according to 54
Located828.252.4162inAsheville,
Charleston, South Carolina 76 Queen St, Charleston, SC TN 12Savannah,615.256.656537210GeorgiaWOglethorpeAve, Savannah, GA With912.349.260031401threelocations scattered across the Southern United States, HUSK Restaurant doesn't put anything on the plate that doesn't come from the local region.
20TheNorthforward.CarolinaMarketPlaceWallStreet,Asheville, NC 28801
TOP 15 VIDEO CHART August 2022 Submit Your Professional Videos for Consideration to: editor@thebluegrassstandard.com*NRV–NewReleaseVideo Number Song Artist Label LM 1 Return to Me Someday Joe Hott 615 Hideaway Records 7 2 Camille Caleb Bailey Independent 11 3 I'll Be Loving You Greg Blake Turnberry Records 14 4 Blue Ridge Mountain Baby Appalachian Road show Billy Blue Records NRV 5 Heyday Lonesome River Band Mountain Home Music NRV 6 Hannah Authentic Unlimited Billy Blue Records NRV 7 Who's Gonna Tell the Story Lorraine Jordan & Carolina Road Pinecastle Records 4 8 Love Changes The Family Sowell Independent 8 9 The End of Crazy Donna Ulisse Billy Blue Records 3 10 Irons In the Fire Unspoken Tradition Mountain Home Music 10 11 We Will Grass You Becky Buller Band Dark Shadow Recording 5 12 I'm Warming Up to an Old Flame Tennessee Bluegrass Band Billy Blue Records 12 13 Being A Woman Caroline Jones Compass Records 13 14 Too Bad You're No Good Lindley Creek Pinecastle Records 1 15 Good Morning Moon Kristy Cox Billy Blue Records 2 55
56
57
the restaurant's website. The basis of 1010 Bridge's cuisine includes menu items like grass-fed beef carpaccio with local mushrooms, truffle shallot vinaigrette, micro salad, and local horseradish finishing salt; heritage pork osso bucco with parsnip purée and marinated green apple; and bloody butcher corn and scallion griddle cakes with honey butter. Hickory,Virginia The Inn at Nicewonder Farm & Vineyards 21500 Nicewonder Dr, Bristol, VA 24202 Chef276.285.2400TravisMilton transforms Appalachian heritage, culture, and traditions into delicious dishes using locally sourced produce at a Virginia winery. "Hickory is showcasing the finest in Appalachian cuisine, in the most elegant of atmospheres ... [and creating] the freshest and most unique flavors you have ever experienced," according to the restaurant's website. 58
The essence of the menu includes cornbread and sorghum butter for the table; chow-chow pancake with soup bean mayo; and slow-roasted pork gnocchi with sauerkraut purêe, roasted apple jus, and rye Appalachiancrumble.foodways are diverse and complex and often misunderstood. With more restaurants reinterpreting the bounty of Appalachia and rediscovering practices like foraging, canning, and pickling, the local food traditions live on.
Farm-to-table methods for many restaurants have been a foundation for Appalachian food all along. Local influences are present throughout all mountain dishes - and it's about time the rest of the country catches .up.
59
60 CD: isnewofreflectivewhichthetunesmainly2022.Odes/Codesreleasedinstrumentalistbanjoist,ChicagoWebsite:Artist:Odes/CodesMaxAllardwww.maxallard.com/composer,andmulti-MaxAllardanewCDcalledonJanuary21,Thisalbumconsistsofintrospectivecomposedduring2020Covidshutdown,isatimethatgaveamusicianplentyfocustimetocomposemusic.Andthisalbumreflective,introspective, and contemplative. Not fitting into any genre I can think of, I'll call Odes/Codes new acoustic music. Can the banjo be beautiful? Some think not, but in the right hands, it certainly can. There is no driving three-finger Scruggs style banjo here. There are no vocals. There are no two-and-a-half-minute breakdowns. There's pretty much nothing here that Jimmy Martin would like. As I have said in many different reviews, this sure ain't Bluegrass. There's just music to transport one to the place the composer envisions. I have always liked albums designed to listen to the whole thing as an experience; this is one of those albums. There are fourteen instrumental tunes, all banjo compositions other than two guitars and one piano tune, all Allard originals except for a couple of covers. I usually list the names of the tunes, but fourteen names of new instrumental tunes may not reveal anything at all about the music. I'll just list my favorites.
Track 1, "Of The Morning," is a haunting unrushed melody, making me think of peaceful times in pleasant climes.
Allard tells us that all the instruments featured on Odes/Codes were pitched at 450hz instead of the standard 440hz. There is no explanation anywhere I could find. I'd be interested in getting the artist's take on this. Why 450hz? Why not the more aesthetically appealing (or so we are told) 432hz? I'd sure like to hear more.
Track 13, "For Kaya," is a piano composition with space enough to insert yourself, walk around, and return. It is an unhurried stroll on a cool autumn evening. I can smell the wood smoke amid the gentle rustle of falling leaves. It would be a mistake to think that the ten tunes I didn't name here were not enjoyable. They all were. And then there will be the inevitable comparisons of Allard's banjo work to that of Béla Fleck, and that is understandable. But I think that Fleck comparisons will be mostly because of all new music pushing the boundaries of the banjo. I have thoroughly enjoyed listening to the CD several times. It is not pretentious. It is what it is. And I am thankful for anyone who takes risks to bring us new music.
Track 9, "Oakland Drive," features Allard's guitar work. Allard declares the great Leo Kottke as one of his influences. You'll hear it if you're familiar with Kottke's work.
Track 8, "Hindsight," is a beautiful banjo tune with haunting melodies interspersed with a taste of dark tension. It is my favorite tune on the CD.
Odes/Codes soothes as it entertains. I'd like to hear more from this Mississippimusician.
Chris Sharp
61
MUSIC IS HEARTBEATTHEOF VIRGINIA Visit Virginia's Crooked Road at IBMA World of Bluegrass Exhibit Area. thecrookedroadva.com FAN PHOTOS 62
63
64
65
www.turnberryrecords.com 66
www.turnberryrecords.com 67
68