Location: Town Park, 3651 Avalon Park East Blvd., Orlando, FL 32828
Location: Downtown Avalon Park, Or lando, FL 32828 October 8th, 5:00 p.m. – 10:00 p.m. Family Friendly festival with live music by Europa and The Brussel Sprouts Pol ka Band, RE/MAX Innovation Hot Air Balloon Rides, Free Bounce Park, Wein er Dog Derby, Car Show, Beer Garden and Local Vendors!
Spooktacular: October 29, 2022, 5:00 - 9:00 p.m. Dress up as your favorite character or in your favorite costume and join us for a hometown Halloween celebration. At this complimentary event, you will be able to enjoy trick or treating, food trucks, performances, bounce houses and Location:vendors!Town Park, 3651 Avalon Park East Blvd., Orlando, FL 32828 Fall Craft Fair Saturday, November 12th, 11:00 a.m. –3:00 Localp.m.vendor booths will feature home made items such as holiday decora
Location:p.m. 13000 Avalon Lake Drive, Ste. 100, Orlando, FL 32828
September in Avalon Park traditionally means the start of an event season with a wide variety of recreational amenities designed to get you and your family –outdoors and active. With the weather changing, safe family-friendly events, miles of paths for walking and biking and local dining, there are many ways to start some new fall traditions this Weyear.are excited to announce these fam ily-friendly activities in Downtown Avalon Park: Movie Under the Stars: Bring your blanket or lawn chair and enjoy free popcorn, local vendors, and a free movie in the park. The movie starts at dark but come early to enjoy a picnic dinner and meeting friends and -neighbors.
Join us for an evening of celebrating the community with an Enchanted Garden themed Gala featuring dinner, drinks, community awards and a silent auction.
Stop by each weekend to see the work of 40+ local artists, classes, workshops and Openevents!Fridays 5:00 p.m. – 9:00 p.m. and Saturdays & Sundays 12:00 p.m. – 5:00
tions, sweet treats, paintings, candles, plants and more!
Grace Foley 5K Join us as we honor community mem ber, Grace Foley, to raise funds in sup port of the Grace Foley Scholarship Saturday,Fund. October 15th, 7:00 a.m. On site Registration, 8:00 a.m. Race Start
Avalon Park Arts & Culture Center
Enjoy an afternoon of walking around scenic Avalon Lake to see the local wildlife or to stop for a foodie treat at Marketplace at Avalon Park who is celebrating their one-year anniversary this month with a celebration on Sep tember 17th, 11 am – 10 pm. While you are there, swing by Pico de Gallo with new addition, The Bakery, opening at the Clock Tower in early September. Be on the lookout for the grand opening of Café Coqui opening this month as well.
Family Fun in Downtown Avalon Park
Avalon Park Foundation Events
Location: Town Park, 3651 Avalon Park East Blvd., Orlando, FL 32828 Food Truck Night: Join us in Tanja King Park the 3rd Sun day of each month for beats and eats! Approximately 20 local food trucks fea turing a variety cuisine are available for families to try something new or get an old favorite all while enjoying live and local music together in Tanja King Park! Community Festivals: Downtown Avalon Park hosts 5 com munity festivals each year, where fam ilies can build traditions! From Ab solutely Avalon in the spring, to the Avalon Aglow holiday celebration, good times are sure to be had by all. This year we have partnered with Asia Trend to bring a new event, Moon Over Avalon on September 10th. Check out this and these other events this fall: Moon Over Avalon: September 10th, 5:00 p.m. – 9:00 p.m. Children's Arts and Crafts, DIY Festival Lanterns, Food Trucks, Night Market and Live Performances! Sidewalk SeptemberSale10th, 11:00 a.m. – 3:00 p.m. OctoberOktoberfest:7,5:00 p.m. – 10:00 p.m. Beer Garden Preview with tradition al music by Europa and dancing by Schuhplattler Gruppe Alpenrose.
Location: Town Park, 3651 Avalon Park East Blvd., Orlando, FL 32828
Location: Town Park, 3651 Avalon Park East Blvd., Orlando, FL 32828
From delicious food truck nights to cozy Movies Under the Stars and ex citing community festivals, September kicks off a jam-packed calendar with activities for everyone to enjoy!
Downtown Avalon Park Shops and Restaurants
Enchanted Gala-10 Year Anniversary Celebration and Community Awards
For an up-to-date listing of our shops, restaurants, and professional services, visit our online directory and to stay in the know with what is happening in Downtown Avalon Park, follow us on Facebook, Instagram and check out the online
#ILoveAvalonParkcalendar
Turkey Trot November 24th, 7:00 a.m. Onsite Regis tration, 8:00 a.m. Race Start Join the Avalon Park Foundation for this Annual fun run 5k for a cause through Downtown Avalon Park. Run Now, Gobble Later.
September 23rd, 7:00 p.m. Luca, Spon sored by The Cuervo Team-EXP Realty - October 28th, 6:00 p.m. Double Fea ture: Zootopia & Hocus Pocus November 18th, 7 p.m. Brave - December 16th, 7:00 p.m. Grinch
SEPTEMBER 2022 VOLUME 3 EDITION 9COMMUNITYLEARNLIVEWORKPLAYPAGE7PAGE11PAGE15UPDATESKEEPING THE NEWS LOCAL & THE COMMUNITY CONNECTED. PAGE 2
There is one universal craving that more than 8 billion people in the world have; a feeling a sense of belonging and safety. Every human wants to feel like they are safe and that they belong. Many years ago, the legendary former Avalon Park Elementary School Principal, Pam Sanders, and her teachers visited my native hometown Zurich, Switzerland. Just after 8 in the evening, when it was getting dark, she wondered what our son Daniel, who at the time was 9 years old, was doing while his parents were at dinner. When we told her that he would join us soon, she was shocked to learn that he would be by himself on a 20-minute ride on ParkbelongWhileworkcanplaceisandlikeitthebustravel9-year-oldtoItbelongcommunityembeddedtheirParentsorgettransportationwalkManyleavechildrendoctors,bankers,officefactoryEachtheotherclosework,people,usedZurichrestaurant.transportationpublictotheisamixed-town,wherelive,learn,andplayinproximitytomembersofcommunity.morningworkers,clerks,lawyers,andofallagestheirhouse.ofthemeitherortakepublictotoschool,workdailyerrands.knowkidsaresafe,inthetheyto.isunthinkableconsiderthatawouldaloneonainOrlandoineveningwhenisdarkandfeeltheyweresafebelong.ButthisAvalonPark.Awherepeoplelive,learn,andplay.notallwhoinAvalonparticipate in all four of these activities, many of them are, and we call them inmiddleisthetimescompany,Sinceother'seachtheyknowsafety.belongingacommunitytogether,andlearning,events.attend28+shop,somebikingwithintheirlivestakeholders.quadrupleTheyinAvalonPark,kidsgotoschoolwalkingordistance,workandmostpatronizetherestaurantsandthemanyLiving,working,playinginacreatesstrongsenseofandWhenpeopleeachother,watchoutforotherandeachfamilies.APGisaglobaltherearewhenIgotoofficeinwhatconsideredtheofthenighttheUStoconnect with our colleagues and businesses in other countries during their operating hours. While I would not go as far as to say Avalon Park is a town that "never sleeps" I always see somebody late in the evening or early in the morning, walking, jogging, and most of the time somebody I know, and can say hi, have a quick chat. Those encounters give me an instant and strong feeling of belonging and safety right here in Avalon Park. Living in a community like Avalon Park gives you a sense of belonging and safety, and I believe that those are two keys to healthy living.
Coffee Hour with BEAT GET IN TOUCH - Have an inclusion for the Avalon Park Sun? Email: info@AvalonParkSun.com - Editorial Staff: Publisher: Beat Kahli Copy Editor: Stephanie Lerret Graphic & Layout Editor: Kenzie Farrish 407.658.6565 3801 Avalon Park East Blvd. #400 Orlando, FL 32828
From
Maribel Gomez Cordero the Desk of Commissioner
LIVE Happy September! In September, we celebrate one of the most important annu al holidays, Labor Day. Labor Day was first introduced to the American public as a fed eral holiday in 1894. This year, Labor Day falls on September 5th. We take this holiday off to recognize and honor the hard work of the American labor movement and the American worker. I hope everyone has a magnificent Labor Day week end this year! With the annual Hurricane Season continuing, we are see ing a large number of thun derstorms in Central Florida. Please stay safe and take all necessary safety precautions when any weather changes oc cur. I encourage anyone inter ested in obtaining a free emer gency weather radio to contact Orange County's Emergency Management Division or my office as they are giving away these radios free of charge to the Also,public.since school is back in session, if you know of anyone who needs school supplies or back packs to contact my of fice. We want our kids to go through the school year with all of the necessary supplies for their education. As always, if you have any questions or concerns, you can email me at district4@ocfl.net or call my office at 407-836CommissionerBlessings,5881.
Maribel Gomez Cordero
The Real Estate Market: How Do You Feel?
Bottom Line: Sellers: Although housing supply is growing, there are enough homes on the market to prevent any significant price drop. Inventory levels show the housing market won't crash. Pricing your home for today's market is essential to attract buyers.
Average Days to Sell 2018-2019 Compared with 2022
Should I Wait Before Buying? Have you put a pause on your home search because it was just too hard. Possibly you're wait ing for prices to drop, or for interest rates to come down, or even unsure if you would be able to fine the right home. Only you can determine if now it the right time for you, so let's consider:
• Interest rates have stabilized at about 5% and are still historically low. Rates are forecast go higher over the next 6 months as the Feds raise their rates.
Homes in 2022 are still selling significantly faster than they did in 2018-2019.
The CoreLogic HPI Forecast indicates that home prices will increase on a year-over-year basis by 4.3% from June 2022 to June 2023. There are still qualified, motivated buyers out there. Increased inventory gives buyers more choices which means working with an accomplished local realtor to accurately price your home for today's market is essential.
• "Bidding Wars" are over, prices have stabilized making budgeting easier.
LIVE John Alexandrou - Broker/Owner since 2003 | Avalon Realty Group: 3925 Peppervine Dr., Orlando, FL 32828 407-312-3928 | AvalonRealty@gmail.com
Many of us remember the real estate crash of 2008, possibly feeling concerned it could happen again but rest assured current market conditions are completely different. For the market to crash, for real estate prices to fall, there must be an over-supply of homes, and this just isn't the case.
I'm thinking of selling my home, but I feel like I've missed the opportunity. Not at all. While the market is changing, the crazed frenzy is over, it's still a sellers' market. Home prices have stabilized, yet they're stilling selling quickly. (See the Graphic Below, data is for 32828 only.)
Active Listings in 2018-2019 as Compared with 2022
Buyers: The Bidding Wars are over!! Increase housing supply offers more choices, making it a little easier finding the right home for you and your budget, but waiting for interest rates to fall might be risky.
• The increase in the homes for sale gives you more choices, more opportunity to find the right home for you.
According to Clare Trapasso, Deputy Editor, Realtor.com "the nation is still suffering from a housing shortage. Housing inventory is increasing but it's still historical very low." We can see from the graphic below, while active listings are increasing they're historically low. (Data is for 32828 only.)
To Sell or Not To Sell?
What are the health benefits?
Seniors should remain ac tive without overexerting themselves to help them live a longer, happier life.
Exercise is an essential part in maintaining a healthy lifestyle. As we get older, the health benefits of exer cise become more notable.
LIVE Exercise
An easy, effective exercise routine for seniors 1. ThisYogalow-impact will help strengthen your bones, muscles and stability. You can either do this standing up or with a chair if need 2.ed.Water Exercisingaerobicsinthe water will put less stress on your joints, creating a fun and easier workout to do. Wa ter aerobics can improve balance and strength. 3. Walking If you don't want to have a structured workout or don't have time, walking is easily accessible. Take a nice stroll outside with others or just yourself. 4. ThisPilatesexercise has become a popular trend recently, but older adults have used it a lot for low impact work outs. Your core and overall strength will increase with implementing resistance 5.training.Dumbbell strength train Strengthing training can re duce the risks of deadly diseases like heart dis ease and diabetes. Using dumbbells can help you isolate your movements and build overall strength. Some of these exercises include bicep curls, front raise and tricep extension. A healthy senior commu nity in Central Florida At Encore at Avalon Park, we want our seniors to have a healthy, active life style that suits them. In addition to schedulingcallingCentrallivingParkmakesFindwheelchairsaccessibleofouralfulllivingliciousaccommodationscomfortableanddemeals,ourseniorcommunityoffersascheduleofrecreationandsocialactivitiesforseniorresidents,manywhichareperfectlyforseniorsintoenjoy.outmoreaboutwhatEncoreatAvalonthepremierseniorcommunityintheFloridaareaby407-270-7500andatour. Ideas for Seniors
Seniors should focus on ex ercises that build strength, mobility and balance. It's best to know your limits and consult with your doc tor to see if there's any type of exercise you shouldn't be doing.
Although exercising can improve your quality of life, it can also allow you to live a more independent one. A recent study found that implementing a week ly exercise program into your life can help older adults walk, bathe, cook, eat and use the restroom with little to no help.
It's okay to have help, but if you want to be more self-reliant, exercising can allow you to live that life Regularstyle. exercise also has many benefits for your body. Adopting a routine each week can help pre vent or reduce the symp toms of deadly diseases like heart disease, diabe tes, osteoporosis and de pression. It can also im prove your brain function; a healthy body means a healthy mind. Exercise has been linked to reduce the risk of Alzheimer's, ac cording to a recent study.
LIVE
Histori cally, governments around the world have censored music because of the pow erful influence they have. The Union of Soviet Com posers which was created in 1948, created and regu lated musical compositions to ensure that music lis tened to in the Soviet Union supported the political state of the time. Composers that did not meet the nationalist requirements of this organi zation were censored. Sta lin seemed to understand and be afraid of the pow er of music. During times of war, music was used to both unite an army and in still fear in the enemy. An example where music was used as a weapon can be noted as recent as the war in Iraq, when American troops often played songs on loud speakers for over 24 hours, leading their en emies to surrender. Some of these songs were, Enter Sandman (Metallica), Para noid (Black Sabbath), Bod ies (Drowning Pool).
LEARN
But what is music? At the core, music can be de scribed as a collection of frequencies (pitch) played at different times. The tim ing of these frequencies and the patterns it forms can be reduced to the word, rhythm. Rhythm is found everywhere in nature, start ing from the consistent and recurring beat of our hearts and the pace that we walk to the sound of individu al raindrops falling on the ground. Frequencies can sound either at the same time (harmony), or sequen tially (melody). By picturing a cube, one can understand the elements of music: Mel ody (X axis), Harmony (y axis), Rhythm (z axis). While music has been around for so long, it is im pressive how little is actu ally known about it. Ernst Chladni, a German physi cist and musician, took this understanding to a new lev el when he discovered that frequencies have physical geometric properties. He accomplished this by plac ing sand on a square metal plate and vibrating the plate at gradually different fre quencies. The sand formed beautiful geometric figures that increased in complex ity as the frequency was increased. Simply put, this means that music is physi cal in Whilenature!there are plenty of discoveries to be made about the scientific prop erties of music, a lot has been proven in terms of its positive effects on humans. When an individual listens to music with a strong beat, the heart beat has been found to synchronize with the music. This is useful in developing either a focused (faster) or relaxed (slower) state of mind and body. It also reduces cortisol levels and is used to treat bipo lar disorder, schizophrenia, anxiety, and depression. While listening to music has many benefits, actively playing a musical instru ment multiplies the posi tive effect. When one plays an instrument, (s)he uses the part of the brain's exec utive function which helps with making decisions and thinking ahead. It is also a complete mental workout because it uses all kinds of sensory stimulation: touch, sight, sound, and emotion al. A study concluded that senior citizens that take pi ano lessons "showed more robust gains in memory, verbal fluency, the speed at which they processed in formation, planning ability, and other cognitive func tions, as compared with those who had not received lessons." - Dr. John Dani (chair of Neuroscience at Penn's Perelman School of ParentsMedicine).often wonder about the best activities to provide for their children that will contribute to raising strong, healthy, kind, intelligent, and socially capable human beings. Learning a musical instrument and taking mu sic lessons has been proven to help children improve posture, be able to manage stress, make friends more easily, raise their IQ, and help them make better life Avalondecisions.Park is fortunate to have a gem, the Ava lon School of Music, which dedicates all of its effort to help reproduce the benefits listed above for all of its stu dents. For those interested in learning more about the benefits of music and how they can benefit, please call the Avalon School of Music at 407-770-0323 or email music.com.director@avalonschoolofat
What is Music & Why is it Important?
By: Paolo Tursi Music is everywhere. It can be heard in the grocery store, on an elevator, in a church, or in a rock con cert. It is the most common way to communicate a mes sage, and it is universal ly understood. Everyone, from a baby in their moth er's womb to a elderly resi dent in a nursing home, re sponds to music. One could go to a foreign country and not be able to speak a word of the native language, but be able to play music and receive a smile, laugh, cry, or other emotion in return. Music has existed just as long if not longer than writ ten communication. While the origins of music are un known (it is impossible to date when someone first sang), the first evidence of tangible musical instru ments date back to the Pa leolithic era (50,000 BCE) with flutes made out of bones. Contrast that to the oldest known cave paint ings, which some archeol ogists would date back to Music40,000BCE.ispowerful!
LEARN
& Foot Experts can
Sunshine Ankle & Foot Experts September Health Fact Whether you've been running on treadmills or running for the first time, the mistake many people make is to do too much too soon. Start with a fast walk to get your heart used to the new routine, and slowly increase your pace as the weeks go on. If you experience an injury during running/exercising, we are here to help!
Sunshine Ankle help you! Dr. Kiana Karbasi and Dr. Timothy Miller are currently seeing patients at 3701 Avalon Park West Blvd, Suite 225. Please call 407-863-3655 or visit us at www. sunshineankleandfoot. com to schedule an appointment! We love being a part of the Avalon Park Community and look forward to keeping it's members SAFE and keeping them going!
WORK CLICK HERE FOR DIRECTORY!FULL
Attend or Host a Networking Event
Get a Premium Shared Workspace at The 5th Floor Orlan do If you're interested in trying out a coworking space in the Orlando area, The 5th Floor Orlando has got you covered. At The 5th Floor Orlando, we provide beautiful and intu itive coworking spaces and hot desks that come equipped with concierge-level services, high-tech conference rooms, and private offices. Conve niently located above Market place at Avalon Park, we are sure to have the perfect shared workspace for any of your professional needs. For more information on our shared workspaces or to re serve a desk today, contact the 5th Floor online or call us at 407-730-3493.
Going off that last point, an other benefit of shared work spaces is that networking events are common. Be sure to go to as many events as you can. If there isn't one coming up, know that you can host one yourself.
Keep Each Other Accountable
One of the best benefits of a shared workspace is that being at one gives you the opportu nity to connect with people in different fields that you may not have had access to before. So, when you are working out of a shared workspace, be sure to be friendly and get to know those around you. You never know when a new relationship will turn into a potential business opportunity.
Shared workspaces are be coming increasingly popular as more and more work goes remote, but making the most of your time at a shared workspace is truly up to you. For those who want to efficiently and effectively use their time, here are some ways that start ups can make the most out of shared workspaces.
If you are working out of a shared workspace with co workers, this can be a great opportunity to keep each other productive. Working in an isolated space makes it easy to get distracted and procrastinate. However, sim ilar to group study sessions in school, working out of a shared workspace makes it so that you and your coworkers can hold each other account able, bond, keep each other focused, and avoid slumps by taking breaks together.
Explore Your New Community
How Startups Can Make the Most Out of Shared Workspaces WORK
Watch Out For Other Events Networking events aren't the only fun that can be had at a shared workspace, as addi tional programming is also common. At your shared workspace, you may have the opportunity to enjoy ed ucational workshops, catered lunches, and even group ex ercise classes. Such events are usually only available to those with shared workspace mem berships, so be sure to enjoy as many as you can.
What is CA2 Security?
Their mission is to enable cyber risk management transformation, balance, and simplifica tion to protect your company against cyber. CA2 helps small and mid-sized businesses to build continuous, adaptable, and action able cybersecurity programs and solutions by building incremental and achievable security roadmaps. Consulting with CA2 includes many services like cybersecurity consulting, cloud security and zero trust strategy, virtual chief information officer and many more! What businesses is CA2 Security looking for? CA2 works with start-ups, legal, healthcare and many more industries with cyber security needs. Continuing forward, they are looking for busy small and mid-sized business leaders struggling to manage their technology and cy ber risk. CA2 is here to help simplify cybersecurity so you can reach your business goals!
One quick way to prevent your website or de vice from a cyber-attack is to make sure your passwords are secure and not easy to guess, and when possible, compliment your pass word with an additional form of authentication such as a text message code for example; this is know as Multifactor Authentication (MFA) and known to mitigate many attempt to compromise access to systems. Another way to prevent bad things from happening is to avoid opening links or attachments on emails that you don't trust or don't know where it's from.
Technology can sometimes be challenging to understand and use. However, it's important for us to know it in order for it to be used for our businesses. Unfortunately, cyber attacks can happen and it can cause disruptions with in your company. It can be a challenging pro cess to understand how to prevent this, but CA2 Security is here to solve those problems for you. What are cyber security attacks? Cyber security attacks are an unauthorized at tempt to steal or destroy data and other assets online with an intent to cause damage. They aim to disrupt, disable, or destroy computer systems. In 2021, cyber-attacks were estimated to happen 2,200 times a day. This added up to around 800,000 cyber-attacks all year.
WORK Meet the Member: CA2 Security
CA2 Security on The 5th Floor CA2 Security is located on The 5th Floor, just above the Marketplace at Avalon Park. You can go to their website here for more informa Thetion.5th Floor Orlando offers modern and high-quality workspaces, concierge-level ser vices that are completely customized to our tenants' specific needs, and a convenient loca tion above Marketplace at Avalon Park. Our lockable cubicles, hot desks, and private offices are perfect for ambitious individuals looking for a workspace perfect for facilitating collab oration and fostering productivity. And our high-tech conference rooms are an excellent space to host your workshops, meetings, and Forevents.more information about CA2 Security and to reserve one of our accommodating cowork ing spaces, contact The 5th Floor Orlando on line or call us at 407-730-3493.
How do I prevent cyber-attacks?
Another solution is to leave it in the hands of a company to help you protect your network and technology assets and CA2 Security can help you with that.
WORK
WORK
WORK
WORK
WOW! If you didn't at tend the East Orlando Chamber of Commerce Business Expo on Au gust 25th you missed a great event. 115 exhib itors showcased their products and services to over 450 attendees at the DoubleTree Ho tel Orlando Airport. South Korea was repre sented by 5 companies who traveled to Orlan do to introduce their innovative products to the American audience. These items included biodegradable bubble wrap and packaging which completely de composes in 6 months, to air filtration systems made from biodegrad able materials to a cup sanitation system which allows customers to use their own drinkware at coffee shops. Innovation was in the air. Cham ber members were out in force networking and making contacts during this jammed packed 3-hour event. The rain held off allow ing attendees to expe rience the all-electric 3 wheeled Arcimoto and Tesla's complements of EV Transports.
Making Connections
Chamber member restaurants provid ed food and beverag es keeping attendees well hydrated and fed. Marlow's Tavern had samples of their Tuna Poke and Margaritas, Rock N Brew's featured pasta and wings while Chop5 provided a sam pling of salads. Clean Juice shared their 100% organic juices with P1 Vodka and The Keg Social providing addi tional drink samplings. The assortment of food samplings the hotel chef presented continually kept everyone Representativesfed. from the Landings at Gentry Park stated "We made so many new connec tions for both of our communities! We will absolutely participate again next year." Kim berly with CHOP5 was excited to be part of her first Business Expo stat ing "The communica tion in advance helped me know exactly what to expect. Great Event!" If you are looking for an opportunity to meet may prospective con sumers this is the event for you. Contact us to join the Chamber today and reserve your space for next year. On the Horizon, the East Orlando Chamber has plenty of addition al opportunities to get connected and stay in formed with current is sues and trends. OPTIC (Orlando's Profession al Technology & Inno vation Collaborative) event is Friday, Sep tember 16 at 8:30AM we will be covering the Top 10 Ways to Safeguard Your Personal Privacy Online. Tuesday, Sep tember 21 from 8:009:30AM, the Chamber's Real Estate Breakfast is discussing Central Florida Construction: A Solid Foundation for a Stronger Future. Fi nally, save the date on September 27 for our Pancakes & Promises Breakfast with the Can didates where you enjoy breakfast and ask your questions to candidates who are on the ballot for the November 8th Gen eral Election. The East Orlando Cham ber is your leader in Ad vocacy, Community En gagement and Regional Connections. Contact us today or visit EOCC. org or call 407-277-5951 to learn how you can be involved.
WORK
WORK
WORK
PLAY
ALL IS CALM: The Christmas Truce of 1914 | December 23 & 24
See What
PLAYTHEMAGIC
FLUTE | October 28 & 30
Venue/Time/Date: Steinmetz Hall, Dr. Phillips Center for the Performing Arts, 155 East Anderson Street, Or lando, FL 32801. Friday, December 23, 2022 at 7:30 p.m. | Saturday, December 24, 2022 at 2:00 p.m.
Description: Opera Orlando presents one of the greatest operas ever written, Mozart's The Magic Flute. Bring the family to this enchanting and whimsical fairy tale about love and light, sacrifice and darkness, and finding one's place in the world. In this sumptuous, spectacu lar production, journey along with Prince Tamino as he navigates a treacherous brave new world in his quest of Theself-discovery.storyunfolds
Summary: Mozart's The Magic Flute is an anime-in spired tale of Prince Tamino's journey through a world of fantasy in his quest of self-discovery. This all new take on an opera classic is perfect for all ages.
Description: Opera Orlando shares a message of camara derie, hope, and peace this holiday season as it remounts its acclaimed 2019 production of All is Calm: the Christ mas Truce of 1914. Set along the Western Front during World War I, this poignant and moving work relates the historic events of Christmas Eve in 1914 through actu al soldiers' letters and official military correspondence interwoven with old war songs and carols. Celebrate the holidays with this intimate and beautiful melding of music and theater as the cast performs a capella in the acoustically perfect Steinmetz Hall.
Steinmetz Hall, Dr. Phillips Center for the Performing Arts, 155 East Anderson Street, Or lando, FL 32801. Friday, October 28, 2022 at 7:30 p.m. | Sunday, October 30, 2022 at 2 p.m. Ticketing: Tickets may be purchased through the Dr. Phillips Center Box Office. Phone: (407) 839-0119, ext. 0 Email: info@operaolando.org Website: flute/drphillipscenter.org/events/tickets/2022/the-magic-https://www.
in frames like a graphic novel bringing all of the arts together to tell this fantastical tale. Artistic director Grant Preisser directs this all new production inspired by the fine art anime of Yoshitaka Amana, with dance choreographed by Maxine Montilus, puppetry by MicheLee Puppets, and music conducted by Chaow en Ting, making her Company debut. She will take the podium and lead the Orlando Philharmonic Orchestra, along with a stellar cast including Metropolitan Opera soprano Kathryn Bowden as The Queen of the Night, acclaimed tenor Tyler Nelson as Prince Tamino, the stunning, up-and-coming soprano Magdalena Kuzma as Pamina, and renowned baritone Brian James Myer as Venue/Time/Date:Papageno.
Written by Peter Rothstein with vocal arrangements by Erick Lichte and Timothy C. Takach, artistic director Grant Preisser once again directs this band of brothers with Andrew Minear making his Company debut as mu sic director. The troupe of singers welcomes back previ ous cast members, along with new faces coming together in harmony to tell this powerful story: the story of a Ger man soldier stepping into No Man's Land to sing "Stille Nacht (Silent Night)," which began an extraordinary and unprecedented night of music, acceptance, and peace.
Ticketing: Tickets may be purchased through the Dr. Phillips Center Box Office. Phone: 407-839-0119, ext. 0 Email: info@operaolando.org Website: drphillipscenter.org/events/tickets/2022/all-is-calm/https://www. is Happening at Orlando
Opera
Summary: Out of the Great War emerges a song, as a sol dier crosses into No Man's Land to sing "Silent Night." This holiday season, witness a moment of peace told through word and song, by those who lived it.
PLAY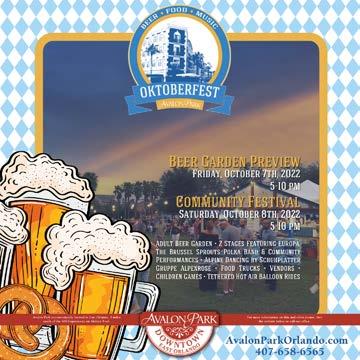 PLAY
PLAY

PLAY
PLAY
Wondrously crafted from gin and other lovelies, Pomp & Whimsy Gin Liqueur brings modern sensibilities to the tradition of gin cordial making by infusing classically distilled gin with a delightfully flavorful botanical liqueur. The result is a highly refined, yet playfully sensorial spirit, that is both graceful by itself, and effortlessly dressed, up or Deliciousdown. sipped by itself over ice, topped with soda, tonic or champagne, or used in place of gin in classic and contemporary
GinPomp@PompAndWhimsyPompAndWhimsy.comcocktails.&WhimsyLiqueur
PLAY
PLAY
PLAY
DINING
DINING
DINING
Coming together to create a healthy community
LIVE WELL
LIVE WELL
Make It Age Appropriate Get the kids involved with age-appropriate fun activities. Here are some examples: Preschoolers: Make sand wiches interesting. Cut whole wheat bread into a star or heart before filling it with turkey or cheese. Grab a wholewheat pretzel and wrap the turkey around it. It's the same as a sand wich, but looks more fun!
Teens: When it comes to teenagers, try to fo cus on the wellness and performance benefits of healthy eating. Health ier choices will help them perform better at extracurricular activi ties, such as sports, the ater, science, or math club. This strategy can also be helpful if a teen is trying to lose weight. For example, if your teen loves soccer but is also working toward a weight loss goal, talk about what types of healthy foods they can choose to boost their performance and en durance during practice and games. This ap proach generally works better than restricting foods, which sometimes leads to cravings.uncontrollable
Make Healthy Swaps
• Write them up and post them where ev eryone can see, like the fridge. Lead by Example Eating healthier begins with us, as parents. When we commit to new healthy habits, we are also role modeling them for our kids. Our kids are more likely to adopt healthy habits if we adopt them first! Cook and Eat Together Identify a meal (or two, or three) each day and eat together as a family. Regular family meals can help establish a sense of routine and provide an opportunity to spend time together. And don't be afraid to get the family involved with the cooking pro cess! Kids can help wash vegetables, set the table, or fill water glass es. Assign everyone a task to complete.
Some examples:
LIVE WELL
• Add a vegetable side to weeknight dinners
• Eat one piece of fruit alongside a healthy •breakfastIntegrate hearthealthy whole grains like breads and pastas
Making small healthy swaps can make a big difference! Using whole-grain bread in stead of white bread for lunch sandwiches or enjoying a bowl of fresh fruit instead of sugary cereal for breakfast are easy (and substitutions.delicious!)
Elementary and Mid dle-School Kids: Take them to the store or farmers market and let them choose healthy items they would like to try this week. They are more apt to eat it if they choose it. Under your supervision, al low them to help you do some of the prep work, like snapping green beans, washing potatoes, or shredding carrots. They can even help make their own lunches for school!
Five Ways to Make Healthy Eating Fun for Your Family
Making family lifestyle changes takes time and team work. It's not something that has to happen overnight. Small changes here and there add up to lifelong healthy habits down the road. Here are five tips for making healthy eating fun for your fam ily: Set Goals First, sit down as a family and set goals for your healthy eating plan. And remember, it's not all about cutting "bad" foods out! It's equally important to add healthy foods in.
COMMUNITY
Avalon Park Pickleball
"Actor Jamie Foxx is a good Pickleball player and was recently seen on the front row of a Pro Pickleball tournament in California. Billionaire and Microsoft cofounder Bill Gates has been playing Pickleball for over 50 years. Here in Avalon Park, one of our best players, Caleb Deckert, recently won a gold medal in men's doubles at a tournament in Gainesville Florida where he goes to UF. Caleb is sponsored at tourna ments by Pickleball Athlete Company, Pickleballath lete.com (enter Caleb15 for a 15% discount). Also this month, Timber Creek High School students and Avalon Park residents Steven Hamley and Austin Andronaco won our August Family Pickleball and Pizza Night tournament in South Village by defeat ing all 6 other teams. Watch for all our great Avalon Park players as they enter more Florida Pickleball tournaments this year . Pro Pickleball can be seen on YouTube, Facebook, Cable, and premiers on broad cast TV Saturday August 13th on CBS from 4pm6pm. "
CORNER
Timber Creek Regiment COMMUNITY
OUC Upcycles Concrete to Promote Ocean Conservation and Marine Life
Utility Donates 400 Tons of Material to Help Create Artificial Reef off Florida's Coast Nearly 400 tons, about 800,000 pounds, of concrete will soon find a new purpose in helping revitalize ma rine ecosystems off the coast of eastern Florida. OUC – The ReliableOne is donating the material this week to the Starship II artificial reef project in partnership with the Coastal Conservation Association (CCA) Florida, Building Conservation Trust (BCT), Shell Inc. and Volusia County.
The Orange County Public Works Traffic Engineering Division is in the process of converting more than 3,000 yield signs to stop signs to improve safety in neighborhoods throughout the TheCounty.project launched following the adoption of a resolution from the Board of Orange County Commis sioners in December of 2020, autho rizing Public Works to approve cer tain traffic control devices to enhance safety at intersections. Public Works identified 3,358 yield signs to be converted, organized them into 15 different groups and has already converted a third of the to tal groups. The entire project, which started in 2021, is estimated to be completed by October of 2023. "Over the years, Traffic Engineering has received numerous requests to re place yield signs with stop signs with in residential neighborhoods," said Frank Yokiel AICP, Orange County Traffic Engineering Project Manager. "We review these requests on a caseby-case basis and replace the yield signs. Since the yield signs were reaching their life expectancy for re flectivity, Traffic Engineering decid ed to initiate a program to replace all of the yield signs with stop signs for traffic control in residential neighbor Thehoods."conversion from Yield to Stop signs at regular intersections is a safety enhancement for all modes of transportation, including vehicles, pedestrians and bicyclists. "It clarifies user's expectations to stop every single time," said Hum berto Castillero, P.E., PTOE, Traffic Engineering Division Manager. "It also increases awareness of traffic conditions and provides more time for users to decide whether it is safe to navigate through the intersection. In addition, the new diamond grade material used for the STOP signs has much better reflectivity at night, en hancing the conspicuity of the signs."
"We've proudly served St. Cloud for 25 years, and our new operations center is a testament to our commit ment to that community," said Linda Ferrone, Chief Customer & Marketing Officer, who also oversees the utility's sustainability efforts. "This project also goes hand in hand with our sustainability initiatives, as our St. Cloud facility will be the first net-zero campus for a Florida utility. Projects like this allow us to take our efforts beyond our service territory to preserve pre cious natural resources and help our ocean ecosystem Thisthrive."isthe second reef created with concrete from the construction site. In 2019, 400,000 pounds of concrete were repurposed as ballast in the sinking of a cargo ship off the coast of Fort Pierce, OUC's first partner ship in an artificial reef project. In March 2022, OUC donated 50,000 pounds of precast underground util ity junction boxes to St. Cloud Fire Rescue to be used in confined-spaces training. "In conjunction with our partners, we are proud to create another sustainable fishery along Florida's East Coast," CCA Florida Executive Director Brian Gorski said. "Protecting marine habitat along with provid ing recreational anglers and divers access to it is our goal, and today's deployment is a testament to those Inefforts."justa few months, the reef will create a live-bottom habitat that will attract and sustain a wide variety of fish, shrimp and crab species for decades.
Department Converting Thousands of Yield Signs to Stop Signs
Orange County Public
Works Making Neighborhoods Safer COMMUNITY
Coordinates for the new reef are: approx. 29° 07.276'N, 80° Concrete53.316'W.forthe reef came from the site of OUC's St. Cloud Operations & Maintenance Center, which is currently under construction.
On Friday, Aug. 19, OUC transported the concrete from its Indian River Plant in Brevard County to Volusia County via barge. On Saturday, Aug. 20, it was deployed alongside 25 tons of granite donated by Shell at Volusia County's newly permitted reef site, located about 2.75 miles offshore of Lighthouse Point Park in Ponce Inlet. Together, the materials were sunk to create a new habitat and refuge for marine life.
COMMUNITY Jetsetters September 2022 Calendar