THE LAMP AND PRESIDENT'S REPORT 2020-2021
2
Photo courtesy of Ben McMillen
IN THIS ISSUE
Q&A
Honor
Recent grants and gifts enhance University programs Explore how Waynesburg University has prioritized pursuing support for equipment and program enhancements through state, federal and private grants and gifts during the coronavirus pandemic. Page 20
with students Our students bring life to our mission! Learn more about students across various academic programs in this featured Q&A section. Page 34
roll of donors This list includes the generous individuals and organizations who make a profound impact on our students. Page 74 3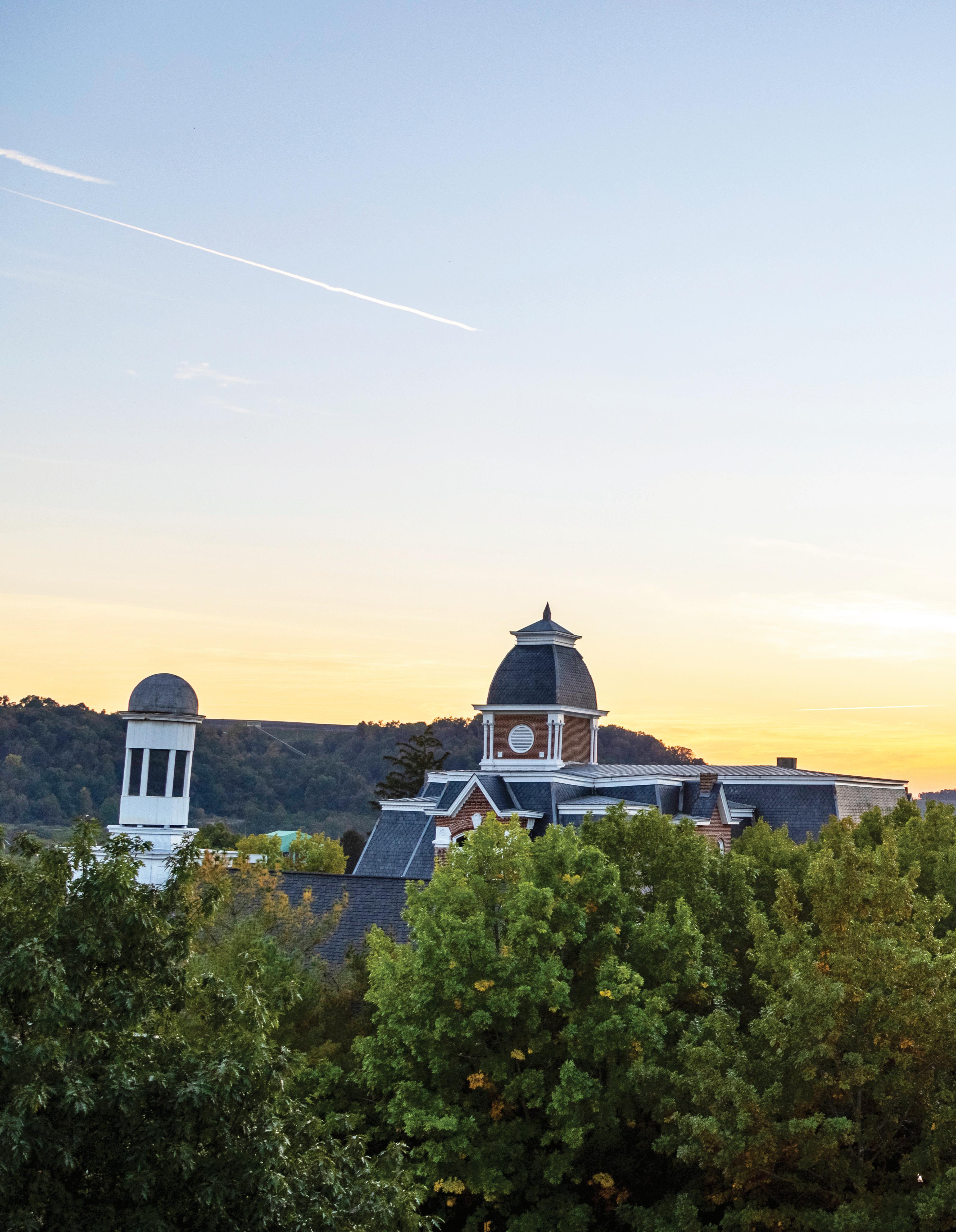 4
FROM THE PRESIDENT
Dear Friends,
As I reflect on the challenges of the past two years, I am overcome with both gratitude and pride for how far we have come.
Led by our mission of educating students to make connections between faith, learning and serving so that they might faithfully transform their communities and the world, our Waynesburg University Community has banded together in extraordinary ways to create new and exciting opportunities for our students and the larger community in the midst of the hardships faced by us all.
This edition of "The Lamp" reflects the progress through the fiscal year ending June 2021. Its publication is slightly delayed given the constraints of the pandemic. However, that has not slowed our continued progress.
In this new academic year, we have already received grants for an additional counseling program, creation of a Center for Criminal and Forensic Investigation, an Esports Arena, and other significant gifts that total approximately $3.5 million dollars. We are also launching a campaign for the "eHive," which will house a completely new center for entrepreneurial leadership. Please look for additional information about these new initiatives in the coming year.
Behind all of this progress stand the faculty, staff, students, alumni and friends who believe in the mission of this University. Without each of them, none of this is possible. Mrs. Lee and I wish to give all of you our sincerest gratitude and thanks for being part of this community that we are blessed to know and work for.
Fiat Lux, Douglas G. Lee Waynesburg University President
5
WAYNESBURG UNIVERSITY ADMINISTRATION President Douglas G. Lee Chancellor Timothy R. Thyreen Provost Dr. Dana Cook Baer Chief Financial Officer Laura Coss Vice President for Information Technology Services and Chief Information Officer William Dumire Vice President for Institutional Advancement and University Relations Stacey Brodak Vice President for Enrollment Dr. Shari Payne This publication is published by the Office of University Relations at Waynesburg University, 51 West College Street, Waynesburg, PA 15370. Waynesburg University is a Christian University offering more than 70 programs of study at the undergraduate, graduate and doctoral levels. Editor Ashley Wise Contributing Writers Robert Fox Rachel Pellegrino Matthew Stultz Ashley Wise Art Direction and Design Carrie McAfee Photography James DePriest Paul Hicks Ben McMillen Becky Viglione Gary Yon Alumni Services fdolfi@waynesburg.edu Phone: 724.852.3300 Correspondence mwhite@waynesburg.edu Phone: 724.852.3293 © 2022. All rights reserved. Unauthorized duplication of publication or material is strictly prohibited without express written consent of the copyright holder. WAYNESBURG.EDU 6
WAYNESBURG UNIVERSITY BOARD OF TRUSTEES 2020-2021 James R. Lowe Jr. Chair Cheryl L. Allen Vice Chair Mark A. Harner Vice Chair Gregory J. Halvatzis Secretary Mary Ann Meloy Treasurer EX-OFFICIO Douglas G. Lee President EMERITUS TRUSTEES Charles R. Baily Sr. H. Mathilda Horst Martha D. Smith BOARD SECRETARY EMERITUS Barbara H. Duffield HONORARY TRUSTEE John W. Knox II Cheryl A. Allen Frederick D. DePalma Laura E. Ellsworth Mark E. Fox Patrick A. Gallagher John H. Goodish Gary L. Guerrieri Gregory J. Halvatzis Mark A. Harner John K. Hinds J. William Hook James R. Lowe Jr. Mary Ann Meloy J. W. Montgomery III Carroll K. Morrison Terrence H. Murphy Gabriel Pellathy Heidi J. Szuminsky Marilyn H. West Donald P. Wilson 7
Waynesburg hosts annual criminal justice job/ internship fair Women's cross country earns sixth-straight PAC title Waynesburg University Players present fall play 'And Then There Were None' Nursing Program receives funding for White Coat Ceremony What's happening at Waynesburg University? NEWS 8
Students raise funds for local food bank and University food pantry WCTV nominated for six Student Emmys Gordon, Morar named Homecoming King and Queen Stover Scholars share internship experiences Discover more at waynesburg.edu/news and waynesburgsports.com 9