THE FUTURE OF SMART BUILDINGS
INTERVIEWS ANDIGESTION: FOOD INTO POWER
LONTRA HAS DESIGNS ON ENERGY
INSIDE: Covering
MANUFACTURING & TECHNOLOGY COMMERCIAL PROPERTY : MARCH 2018 ISSUE 06
Regional NEWS UPDATE
SME SHOWCASE In association with Gloucestershire, Oxfordshire, Worcestershire, Warwickshire and North Wiltshire
Editor-in-Chief
Nicky Godding
Tel: 07966 510401 nicky.godding@nkmedia.co.uk
Commercial Director
Kirsty Muir Tel: 07971 912020 kirsty.muir@nkmedia.co.uk
Customer Services
enquiries@nkmedia.co.uk
Accounts accounts@nkmedia.co.uk
Magazine Design
Brace Creative Agency www.brace.co.uk
Magazine Printers
Severnprint Ltd www.severnprint.co.uk
Chief Photographer: Rob Lacey www.roblaceyphotographer.co.uk
There has been a double digit increase in the number of people who trust traditional publishers and broadcasters, according to the annual Trust Barometer survey by global communications company Edelman. The survey also reports a fall in trust recorded for social media.
At Business & Innovation magazine if we hear about a story on social media, we check and check again, Our news comes from solid research - which is why you'll read stories in every issue of this magazine that haven't been published anywhere else.
Our flagship magazine is published bi-monthly and our readers tell us that they are increasingly relying on our magazine as an important source of research, and as a reference database for news.
So we are delighted to announce our new website. www.businessinnovationmag.co.uk offers an accessible, searchable database of news, features and interviews published in the magazine and online, as well as revealing important regional and national business news stories as they unfold.
We support business. Everything we've published will be available online and searchable. And of course, it will be editorially driven and content-rich, just like this magazine, so we invite you to take a look, and let us know if you think we can improve it further.
Business & Innovation Magazine is a bi-monthly magazine published by NK Media Ltd. Our readers are business owners, senior executives, key influencers, entrepreneurs, innovators and those working in further and higher education, and government departments. Any opinions expressed by those quoted in this magazine are their own and do not necessarily represent or reflect those of Business & Innovation Magazine, or of NK Media Ltd. No part of this publication may be reproduced or used in any form of advertising or promotion without the written permission of the Editor-in-Chief or Commercial Director.
Member of the Professional Publishers Association
ISSN 2514 - 7609
Advertising Sponsorship Inserts Events
Please contact:
Welcome, Nicky Godding Kirsty Muir Editor Commercial Director 07971 912020 kirsty.muir@nkmedia.co.uk @Kirstylovesbiz 07966 510401 nicky.godding@nkmedia.co.uk @Nickywritesbiz Visit us online @Bizinnovatemag Follow us businessinnovationmag.co.uk VISIT OUR NEW WEBSITE businessinnovationmag.co.uk Gloucestershire Oxfordshire Warwickshire Worcestershire North Wiltshire
Publisher NK Media Ltd. Company number 10569394. Registered office: Suite 1, Glebe Farm House, Daglingworth, Cirencester, GL7 7AE NEXT: ANNIVERSARY ISSUE MAY ISSUE 06
Our Regions
P6
IN THE HEADLINES
COMMERCIAL PROPERTY
P90
SPOTLIGHT ON SKILLS
P73
P24
CHALLENGING THE STATUS QUO
P83
HOW SMART IS YOUR PLACE OF WORK?
SPOTLIGHT ON CYBER
P65
SCIENCE & TECHNOLOGY SHOWCASE
P42
ISSUE 06 We talk to Peter Prior of Andigestion P10
Celebrating
&
Enterprises In the Headlines What's making news across the region? P6 Waste not, want not We talk to Peter Prior, who pioneered the UK's first commercial food waste only anaerobic digester P10 Regional News Update We report on businesses from Gloucestershire, Oxfordshire, Worcestershire & Warwickshire P15 Challenging the status quo Tell Warwickshire entrepreneur Steve Lindsey of Lontra something can't be done and he's likely to prove you wrong P24 Science & Technology Showcase P42 Businesses in the Community P46 Work to Live P49 Two trillion reasons to celebrate small & medium-sized enterprises (SMEs) P50 Career Ahead Whose career is going stratospheric? P62 Spotlight on Cyber HRH The Duke of York visits Cheltenham as part of his Pitch@Palace tour of the UK P65 Spotlight on Apprenticeships P70 Spotlight on Skills P73 Spotlight on Innovation P75 The report: Legal & Financial News P77 Spotlight on Manufacturing P80 How smart is your place of work? New government regulations coming into force in April could add significantly to landlords' costs P83 Commercial Property Construction & commercial property news P90 Let's get social Barrington Ayre launches new fashion range P30 Royds Withy King hosts annual 'meet the team' event at the Ashmolean, Oxford P32 GBE Converge celebrates brand launch P78 REGIONAL ROUND-UP P15
P50
Small
Medium-sized
For the first time, Londoners can ride through their city's streets with technology at their fingertips, thanks to an allnew electric taxi certified to carry fare-paying passengers. And it's all thanks to a Warwickshire manufacturer
HAIL THE ALL-ELECTRIC LONDON TAXI
Warwickshire innovation has enabled Londoners to ride through the city's streets with technology at their fingertips, thanks to an all-new electric taxi.
LEVC (London EV Company), based at Ansty Park, Coventry, has launched its new TX taxi, which it describes as "a revolution for passengers."
It offers comfort, wheelchair accessibility, air conditioning, phone charging and a more spacious cabin with six seats.
Chris Gubbey, Chief Executive at LEVC, said: "After extensive testing, LEVC's new taxi is ready to do the job it was made for: to transport people around London safely, cleanly and stylishly. I am immensely
proud of the work we have carried out so far. We have produced the world's most advanced electric taxi."
The company says the taxi has been put through its most rigorous testing regime ever, including in extreme weather conditions in the Arctic Circle and Arizona, and being driven thousands of miles by London cab drivers across the city.
The new TX was ready ahead of Transport for London's January 2018 deadline when all newly licensed taxis needed to be zero emission capable.
LEVC also premiered a Nordic version of its taxi at the region's largest electric vehicle summit held in Oslo in January.
Shirley Rodrigues, London's Deputy Mayor for Environment and Energy, said: "These new electric taxis will play a transformational role in the Mayor's plan to phase out diesel and clean up the transport network. This will help to accelerate improvements to London's toxic air."
Carl-Peter Forster, Chairman of the LEVC, said: "There have been many milestones, from opening a new UK factory – the first new automotive manufacturing facility in Britain for more than a decade; the first dedicated electric vehicle factory in the UK – to the announcement that our new TX is now able to carry fare-paying passengers. Our goal is to be the global, automotive leader in urban commercial vehicles."
Business & Innovation Magazine combines power of print with new web presence
Following a phenomenal first year, Business & Innovation Magazine has launched a new website to further support the regional business community.
www.businessinnovationmag.co.uk will offer an accessible, searchable database of news, features and interviews published both in the magazine and online, as well as revealing important regional and national business news every week. It will be editorially driven and content-rich, just like this magazine. The website will provide a valuable
research and reference database of news to help businesses build their network and widen regional business knowledge.
Business & Innovation Magazine Editor, Nicky Godding, said: "Over the last year there has been a huge increase in trust in traditional media, and Business & Innovation Magazine is recognised as an important source of news information not available in the same format anywhere else.
IN THE HEADLINES
The all-new electic TX taxi from the London EV Company
6
Renishaw reports rise in revenue as founder passes on CEO role
Global precision engineering company, Renishaw, has reported first half-year revenues of £279.5 million, compared with the previous year of just over £238 million, and revenue growth of 17 per cent.
However, the man behind this globally-successful business, Sir David McMurtry, has finally decided to hand over his chief executive role to William Lee, currently Group Sales and Marketing Director.
Sir David, 77, will remain Executive Chairman with responsibility for group innovation and product strategy.
WEST MIDLANDS SAFARI PARK CELEBRATES FUNDRAISING SUCCESS
Bewdley-based West Midlands Safari Park has raised more than £15,000, thanks to the efforts of its staff and visitors. It will be split between animal charities and projects chosen for the work they do in conserving some of the most threatened species in the world.
Supporting the fundraising initiatives, local artist Zaza Shelley created beautiful limited edition prints of the Park's animals. So far, the exclusive prints have raised nearly £600, which will also be donated to selected animal charities.
policy of continuous investment and improvement of the visitor experience.
Adjusted profit before tax was just over £62 million, up from £36 million, while statutory pre-tax profit was £66 million, up from £25 million.
Revenue from its metrology business for the first six months was just over £264 million, compared with around £224 million last year. Revenue from Renishaw's healthcare business for the first six months was just over £15 million, compared with £13.5 million last year.
Net engineering expenditure increased by seven per cent to just over £39 million and Renishaw reiterated its commitment to investment in research and development.
The privately-owned West Midlands Safari Park, which turned over in excess of £17 million in 2016/17, also reported an increase in visitor numbers in that year which it attributes to its
The workforce at the end of December, 2017 was 4,584, an increase of 54 since June 2017, including 87 graduates and apprentices.
Renishaw's global success is based on the touch-trigger probe invented by Sir David to solve a specific inspection requirement for the Olympus engines used on the supersonic Concorde aircraft. This innovative product led to a revolution in three-dimensional co-ordinate measurement, enabling the accurate measurement of machined components and finished assemblies.
Zaza said: "I am thrilled and honoured to have had the opportunity to support the safari park with fundraising for their chosen conservation charities. I was allowed access to the Park to draw, photograph and paint the animals, which I hugely enjoyed."
"I am thrilled and honoured to have had the opportunity to support the safari park with fundraising for their chosen conservation charities"
Local artist Zaza Shelley
In the headlines
"Sir David McMurtry has finally decided to hand over his chief executive role to William Lee. He will remain Executive Chairman"
7
William Lee: Renishaw's new CEO
FOREST OF DEAN 2018 WORLD RALLYCROSS DRIVER COMPETES IN
British engineering and a British driver will be competing at this year's World Rallycross Championships.
Oliver Bennett, 25, from the Forest of Dean, has revealed an all-new Mini adapted and built by Lydney-based Simpson Motorsport.
He will begin by competing in six events, including in Spain, Norway, Sweden, France, the USA and at the UK's Silverstone – the first time that Rallycross has been hosted by the circuit.
The FIA World Rallycross Championship is organised by the FIA in conjunction with series promoters IMG Motorsport. The series currently consists of 12 twoday events driven on closed circuits with mixed surfaces.
The new car, based on a production Mini Cooper, is expected to undergo testing this month (March), with the team, sponsored by XITE Energy, planning to race in the first round of the British Championships at Silverstone.
Oliver said: "Simpson Motorsport have been fundamental in the build, and at
Manufacturer raises £15 million and reveals new Oxford facility
In the headlines
YASA, the world's leading manufacturer of axial-flux electric motors and controllers, has raised £15 million in growth funding and opened a new factory in Oxford. Universal Partners joins Parkwalk Advisors and existing investors in the round, bringing the total raised by the company to £35 million.
The £15 million investment follows YASA signing long-term development and supply agreements with customers in the automotive sector. The company's new 100,000-unit capacity facility in Oxford will meet growing demand.
Eighty per cent of YASA's production is exported to automotive manufacturers across the world, including China.
The new facility was officially opened in February by the Secretary of State for Business, Energy and Industrial Strategy, the Rt Hon Greg Clark MP.
Dr Chris Harris, YASA's Chief Executive said: "Our customers are looking to adopt innovative new technologies such as YASA's electric motors and controllers in order to meet the needs of the rapidly expanding hybrid and pure electric automotive market."
He added: "The additional £15 million will enable YASA to further invest in the volume production capacity to meet our customers' requirements, and to address markets beyond automotive including aerospace and marine."
stages when I thought it was just too big a mountain to climb, they managed to overcome some serious time hurdles."
Oliver's team has partnered with Liam Doran at LD Motorsport to help with the development of the chassis and car, and take advantage of his vast experience in World Rallycross.
"When we put Liam Doran together with Julian Smith who owns and manages Simpson Motorsport we could see something very special developing," said Oliver.
"The outcome of a combination of years of circuit racing experience and LD's rallycross experience is likely to lead to a very impressive rallycross car."
Greg Clark said: "Innovation is the lifeblood of our industrial strategy and economy. YASA is a thriving business that is helping to deliver the UK's ambition to lead the world in meeting the grand challenges presented by clean growth and the future of mobility."
8
"Simpson Motorsport have been fundamental in the build, and at stages when I thought it was just too big a mountain to climb they managed to overcome some serious time hurdles"
IN THE HEADLINES
Greg Clark meets staff at the new YASA factory in Oxford
Model of Oliver Bennett's 2018 World Rallycross Car
LISTEN HARDER WAstE NOT, WANT NOT,
Andigestion pioneered the UK's first commercial "food waste only" anaerobic digester. Now chairman, Peter Prior, wants the government to heed the advice of independent companies before rolling out ill-informed energy policies
By Nicky Godding
10
In the UK, we throw away £13 billion of edible food every year
More than seven million tonnes of edible food is being thrown away, and that includes an incredible 86 million uneaten chickens, according to the waste campaigning organisation WRAP – talk about a waste of a life.
Of that seven million tonnes, the UK's manufacturing and retail sectors waste 1.9 million tonnes of food and drink a year, of which 1.1 million tonnes is avoidable, adds WRAP.
Aside from the obvious question - why is so much food wasted in such an apparently cavalier fashion - how is our food waste being dealt with?
Increasing amounts of it are being commercialised and turned into a resource. Instead of being sent to landfill, food waste is being used to produce energy and fertiliser.
Many councils are now collecting household food waste and sending it to be processed into biogas via anaerobic digestion, which feeds into our national grid.
One pioneering company that has established itself in Gloucestershire is Andigestion, part of the Summerleaze Group, a leading investor and innovator in the renewable energy sector.
The growth of the renewable energy industry, powered by generous government subsidies, enabled an increase in commercial anaerobic digestion across the UK.
Andigestion opened its second site, representing a £12 million investment, at Bishop's Cleeve, Cheltenham in 2015, at the landfill site operated by Grundon Waste Management. Andigestion's biggest contract is with Gloucestershire County Council.
Peter Prior, who joined the family business in 1962, is its outspoken chairman and a pioneer within the industry.
He established Andigestion in 2004 to develop and commercialise anaerobic digestion as a viable waste treatment technology. The company began by developing a research plant in Cambridge and subsequently converted a site at Holsworthy, Devon to process food waste instead of farm slurries.
Flawed government renewable energy policies
Andigestion
There are now more than 400 operational anaerobic digestion plants in the UK (140 are commercial, industrial food waste plants. The rest, typically small, are fed by agricultural products).
Around the same number were going through local planning until the government drastically reduced its renewable subsidies, making the process of converting food waste to energy via anaerobic digestion less commercially viable.
FAST FACTS ON ANDIGESTION'S BISHOPS'S CLEEVE PLANT
 The plant can process 34,000 tonnes of dry food waste per year. Currently it processes between 25,000-26,000 tonnes, which produces biogas that is fed into the national grid, and a nitrogenrich, organic fertiliser for use by local farmers.
 70 per cent of the food waste processed at Andigestion's Cheltenham facility is household, 30 per cent is commercial.
 The company collects food waste from around 170 Gloucestershire school and offers a bin exchange service – replacing a full waste food bin with a clean one.
 Andigestion's methane plant is running at full capacity. There are some opportunities to grow through electricity generation, which already powers the plant, and it feeds a small amount of electricity back into the National Grid.
 Andigestion accepts packaged as well as household food waste delivered by the council. Everything it receives is pulverised, with the organic waste forced through 12mm holes to separate it from any packaging, which is shredded and goes to landfill.
 Andigestion advises people not to use expensive biodegradable bags, instead it advocates lining household bin caddies with newspaper or cheap supermarket carrier bags. Biodegradable bags are elastic, and wrap themselves easily around the hammer mill when the food is being pulverised, blocking it up. These "green" bags do not go into the digester, either, but get sent to landfill. However, if householders are composting themselves, biodegradable bags, while expensive, do the job.
11
Peter is vocal in his criticism of the government's renewable energy policy. He says it has been influenced by the National Grid which significantly favours the production of gas/biomethane in preference to electricity.
"The government's claims as to the amount of gas/biomethane that can be produced by the renewable sector have been grossly exaggerated and probably politically motivated to appear to try and meet the renewable energy directive (RED) for heat," he says.
"In a 2009 report, the National Grid claimed that by 2020 the UK could be producing 15 per cent of our domestic heat from renewable resources, but we calculate that as of 2016, only 0.56 of one per cent was being produced from renewable resources and getting anywhere near 15 per cent is not credible.
"Currently about seven per cent of the country's energy is produced from renewable resources, including 26 per cent of our electricity. The majority of energy we use comes from natural gas, coal and petroleum.
"If you use WRAP's figure of seven million tonnes of food waste thrown away annually and convert that into gas/biomethane you would still only make about two per cent of our domestic demand for gas, and the government is rightly trying to reduce food waste.
"It is a far better use of food waste to produce electricity directly from gas produced by anaerobic digestion as the plant is cheaper and the need for support is much less. It also helps balance the local grid."
Peter feels strongly that the government isn't listening to private businesses such as his, who are on the ground trying to grow the sector. "I would like to see a ban on food waste going to landfill, which would make anaerobic digestion more viable."
He's not alone. Vision2020, the organisation campaigning for zero food waste going to landfill, says that 40 per cent of food waste still ends up in landfill, producing harmful methane which adds to global warming.
So how important is anaerobic digestion to the UK's holistic approach to waste management?
While it's small, it's very important, says Peter. "It encourages a reduction in the use of landfill, and waste food has to go somewhere. A lot was being sent for composting, but while the fertility remains, the all-important energy was being lost. Anaerobic digestion catches the methane which is then used to either generate electricity or inject biogas into the grid."
By the end of 2016, the UK had almost 90 anaerobic digestion plants injecting green biomethane into the gas grid, double the
number in December 2015, only 25 of which are based on food waste as a feed stock, according to a report published by the Anaerobic Digestion and Bioresources Association (ADBA). Some anaerobic digesters are being fed by crops grown specifically to make energy and not food. If this was radically increased we would soon have to import a great deal more food to support the population, Peter feels.
The value of the gas produced by Andigestion is £15 per megawatt hour. It receives £80 per megawatt hour in support, based on the date the plant was accredited in June 2015. This subsidy is set to run until 2035. The government has since brought the level of support for producing biogas via anaerobic digestion down significantly. Andigestion is not currently planning any more sites because it doesn't think the waste is available to make them viable propositions until the food waste to landfill regulations are changed.
So what should the government do?
Peter advises as little interference as possible. "The support required by the renewable sector to compete with fossil fuels is decreasing and the market should be left to determine which forms of renewables deliver the goods. Don't just listen to large organisations such as the National Grid who have got it utterly wrong in the past. Instead, take notice of the comments of smaller operators such as ourselves and let the market work."
12
The government isn't listening to business
Anaerobic digestion is an energy-from-waste process by which organic matter, such as animal or food waste, is broken down to produce biogas, electricity or fertiliser. This process happens in a sealed, oxygen-free tank called an anaerobic digester.
Andigestion
"I would like to see a ban on food waste going to landfill, which would make anaerobic digestion more viable"
Jason Ward, Andigestion's Commercial Manager
INVESTMENT IN UV GEL PRINTING
The printing company behind the vast hoardings around Cheltenham's Brewery Quarter and Mr Mulligan's Lost World Golf venue in the town, among many others, has invested £60,000 in new equipment, which it says represents the largest leap forward in print technology for years.
The Forest of Dean thinks big
Regional Round-up
Local businesses, business clubs, schools, colleges and public sector organisations packed a conference room at the Vantage Point Business Park at Mitcheldean in January to learn more about the launch of a new Forest Economic Partnership.
Many more people attended the event than organisers had anticipated, showing the substantial support for working together to promote the area.
Councillor Tim Gwilliam, Leader of the Forest of Dean District Council, who chaired the meeting, said:
Cheltenham-based The Bigger Printing Company's new Canon Océ Colorado 1640 has a unique UV gel printing process. Liquid ink turns into gel droplets the moment it lands on the media. This process decreases the ink volume required by up to 40 per cent compared to ecosolvent or latex printing. It has "blisteringly quick printing speeds," according to David Bowen, Bigger Printing's Operations and Marketing Manager.
"It offers lower running costs, which make for great client savings, especially on larger print runs, and produces brighter and more vibrant prints," he added.
Bigger Printing, which produces signage and large hoardings for clients around the UK, is also using the new equipment to produce signage for Cotswold Farm Park.
Social media has squeezed the print industry. Design agencies steer clients towards digital advertising, and there has been a rise in electronic billboards. However, as online becomes ever busier, stand-out print on public hoardings, exhibition boards, or print magazines such as this one, are becoming more attractive again as marketing teams seek to differentiate themselves.
David added: "We appreciate that our clients are facing tougher demands on their budgets and deadlines, and UVgel printing is just one step for us to supporting our clients even further."
"Establishing a new Forest Economic Partnership has been a priority for the district council's cabinet members. My cabinet colleagues and I believe it will be a positive strength to have an active group of people willing to focus on the local economy and promoting a shared vision. We believe it is important for the district to play a prominent part in strategic plan and policy making in Gloucestershire."
Adam Starkey, Vice-Chair of the GFirst Local Enterprise Partnership spoke at the event. He said: "It was a wonderful opportunity to encourage some inspired, radical thinking about how this unique area can continue to make its mark and compete effectively in the global marketplace."
Kevan Spencer, Managing Director at Vantage Developments revealed that a Forest Growth Hub facility will open its doors at Vantage Point Business Village later this year.
Kevan said: "We expect the Forest Growth Hub to open its doors in September and our dedicated team of business navigators will be available to meet people looking to start up new businesses, provide tailored advice for established businesses and connect them with tailored training solutions where needed."
15
GLOUCESTERSHIRE REGIONAL ROUND-UP
"We appreciate that our clients are facing tougher demands on their budgets and deadlines, and UV gel printing is just one step for us to supporting our clients even further"
David Bowen Operations & Marketing Manager), and Dan Watson, Production Manager at The Bigger Printing Company
Young apprentice first to new electrotechnical standard
A Gloucestershire young apprentice has become the first electrician to pass a new electrotechnical trailblazer apprenticeship standard.
George Russell, 22, who works at Staverton-based Clarkson Evans, passed the new electrotechnical apprenticeship standard introduced in response to the Richard Review of Apprenticeships.
The review recommended improvements to the assessment of all apprenticeships to make them more robust and better meet the needs of industry.
Simon Kingwell, Production Director at Clarkson Evans said: "We are delighted that one of our apprentices is the first to qualify as an electrician under this new standard. George is a hardworking member of staff who, since qualifying, has already been trusted to mentor an apprentice and lead his own team. We're confident he'll have a bright future in the electrical industry."
George is one of 116 apprentices at Clarkson Evans to have qualified as electricians in 2017.
Record sales for trolley manufacturer Stewart Golf
Gloucester-based trolley manufacturer, Stewart Golf, has announced a record sales high in 2017. Overall sales rose by 21 per cent year-on-year. This continues the record of growth every year since it was founded more than a decade ago.
Exports increased for the sixth year in a row. North America continues to be the company's largest export market, followed by Scandinavia where sales more than doubled when compared with 2016.
The business relocated to a new 10,000 sq ft Gloucester facility in April
last year which has resulted in a significant increase in manufacturing efficiency, according to the company.
Lead times have reduced on the company's flagship X & R Series machines.
Stewart Golf CEO Mark Stewart said: "We have delivered year-on-year sales growth across all categories of the business.
"With our new manufacturing capacity, the business is well-positioned to grow further in 2018."
Pennant boss voted Non-Executive Director of the Year
Regional Round-up
Simon Moore, Chairman of Stavertonbased Pennant International Group Plc, has been named Non-Executive Director of the Year at the 2018 Quoted Company Awards dinner held in London.
The award recognises Simon's role in leading the Pennant board to achieve robust good company governance, appointing and supporting the executive team and building strong relationships with its investors.
Simon said he was honoured to accept the award on behalf of the Group and added that it was testament to the hard work of all employees that the Group has navigated a transitional period so smoothly.
The Quoted Company Awards recognise the achievements of quoted companies and their key directors listed outside the FTSE 350.
17 GLOUCESTERSHIRE REGIONAL ROUND-UP
George Russell celebrates his success with Clarkson Evans Production Director Simon Kingwell
Making a successful acquisition…
Regardless of the reason for buying a business, careful consideration of all available alternatives needs to be made, such as growing organically or acquiring specific assets.
The acquisition process can be summarised as follows:
Planning your campaign
You should have a clear plan for your business which defines your objectives and sets the logic for the acquisition, ensuring that you have the financial capacity to see through the process.
Evaluation
You may be able to track potential acquisition targets for some time prior to declaring an interest. When you have done your homework, brainstorm your findings with an objective but interested third party, ensuring that the potential target is the right fit and that you have sufficient management resource to make a viable acquisition.
Spreading resources
The acquisition process is time consuming. Avoid the trap of focusing on the acquisition to the extent that your existing business suffers. Engage a mergers and acquisitions advisor early in the process.
How much to pay?
In planning and evaluating opportunities, set your maximum price based on return on investment and payback period. When
packaging the price, look for different ways of accommodating the vendor without breaching your limits, such as keeping the seller on as a consultant, deferring payments or basing part of the price on future performance.
Negotiation
Listen to the vendor's requirements – use that information in negotiations. Agree a suitable Heads of Agreement that reflects the substance of the agreed deal.
Due diligence
Engage commercial, financial and legal due diligence to confirm your understanding of the business. Depending on the outcome of the due diligence, you may need to vary or renegotiate terms of the deal.
Completing the deal
Involve your legal representative to deal with the documentation; make sure you are fully aware of what it means. The momentum of the deal process should be maintained by regular dialogue with your opposite number. Do not become hypnotised by the desire to complete.
After completion
As you implement your plans, a host of things will need to be achieved, including introducing management, integrating operations and financing requirements, aligning marketing and selling strategies and setting up financial reporting procedures. A detailed post-deal integration plan is essential.
The idea of acquiring a company may sound attractive, but the process of transforming the idea into reality has many obstacles. Just because a deal makes sense on paper, does not mean it will actually work; factors such as cultural fit need to be considered. Acquisitions are rarely clean and simple!
Hazlewoods Corporate Finance provide specialist advice to small and mid-market businesses on a wide range of transactions, including Mergers and Acquisitions, due diligence and business valuations. In the 12 months to 31 December 2017, the team advised on 159 completed transactions valued at £843 million.
For further information, or to discuss a potential acquisition, please contact Paul Fussell on tel: 01242 680000 or email paul.fussell@hazlewoods.co.uk www.hazlewoods.co.uk
PROMOTIONAL BUSINESS FEATURE
When a business is looking for expansion, purchasing another business can be an attractive option
Ash Chartered Surveyors grow
ASH Chartered Surveyors has announced that it has joined forces with the Cheltenham-based SPA Chartered Surveyors.
SPA was founded by Simon Pontifex FRICS in 1996. He will remain as a consultant and the existing staff, including his son Harry, will transfer to ASH ensuring a smooth transition of the business.
ASH Chartered Surveyors was established in Gloucester in 1989 and has developed into one of the leading independent multi-disciplined surveying practices in the Gloucestershire area. In 2013 it opened a second office in Rodney Road, Cheltenham following the acquisition of Horsleys.
Simon McKeag, a Partner at ASH Chartered Surveyors, said: "Simon Pontifex is a highly regarded surveyor known for his personal service, which we consider to be one of our key
strengths. The two firms will complement each other well.
"The acquisition allows us to strengthen our presence in Cheltenham and the services we offer.
Simon Pontifex added: "SPA are delighted to join ASH's team. We have the same ethos of providing a quality service to clients and we will be stronger together."
Gloucestershire begins crystal-ball gazing for a 2050 vision
Regional Round-up
A super city, enhanced regional parks, and a new bridge connecting communities across the Severn were just some of the big ideas revealed at the launch of a countywide exercise to create Gloucestershire's 2050 vision.
Hundreds of people from across Gloucestershire gathered at Cheltenham Racecourse to kick off the Big Conversation, which aims to engage the whole county in creating a shared vision for its long-term future.
The highlight of the event was the unveiling of eight ambitions and six big ideas that could transform the county, creating new opportunities and improving the quality of life for all.
The county's ambitions include growing the working age population, by keeping and attracting more 18-40 year olds with high level qualifications, and encouraging more business innovation and start-ups.
It also includes improving transport and internet connections and encouraging more efficient use of resources and sustainable energy, all ambitions which are likely to appeal to millennials.
Suggestions also include the creation of a 'super city' bringing Gloucester and Cheltenham closer together, a new River Severn bridge from Lydney to Sharpness, a new Cotswold Airport to open the region to international visitors
and the already-announced development of the National Cyber Security Park.
Stephen Marston, Vice-Chancellor of the University of Gloucestershire, said: "We are trying to look well beyond today's concerns, to imagine what life could be like in 30 years' time. That will help us work out what we need to put in train now in order to achieve a great quality of life for future generations."
"We hope everyone will pitch in with their ideas, hopes and suggestions. This autumn, we will draw all the responses together in a report on what we have learned about our shared ambitions and priorities for Gloucestershire."
19
"SPA are delighted to join ASH's team. We have the same ethos of providing a quality service to clients and we will be stronger together"
GLOUCESTERSHIRE REGIONAL ROUND-UP
Bruce Fenley, Simon Pontifex, Harry Pontifex and Simon McKeag
GBE and Converge Join Forces to Establish New Fire, Security and IT Solutions Brand
Gloucestershire's GBE Fire and Security Ltd. and Converge Technology Ltd. are
pleased to announce that they have decided to combine and operate the two companies under a new brand,
The companies joined forces in 2016 but have retained separate corporate identities until now.
The new brand integrates their Fire, Security and IT solutions which will strengthen and broaden the delivery to customers, providing a genuine end-to-end service designed for the entire life-cycle of a facility.
"We have had a long-standing, productive working relationship with Converge who have always shared our vision of providing customers with excellent levels of service. I'm confident the merging of the companies will greatly enhance the value we deliver."
GBE Converge
About GBE Fire and Security Ltd.
GBE Fire and Security provide expert, independent and bespoke system design, installation and support services for Life Safety and Security Systems to major construction projects, across sectors, throughout the UK. The company, which was formed in 1992, is based in Gloucester and works with innovative technology partners who are synonymous with producing equipment of the highestquality. The company is accredited with all the major industry bodies.
About Converge Technology Ltd.
pro-active support for over 30 years. Their experience covers WAN/LAN, voice & data cabling, servers, networking, Wi-Fi, hosted services and disaster recovery. Converge's customer base includes various commercial and publicsector organisations and educational establishments throughout the UK.
"The merger with GBE has put the final jigsaw piece into place, my vision of being able to design, implement & support all IP based solutions to all our customers is now a reality. The joining of two very customer focussed businesses, can only be a positive move for our customers and staff. A win – win for everyone concerned."
GBE Fire and Security Managing Director Jason Buttle Converge Managing Director Martyn Smith
Cheltenham based Converge have successfully provided IT infrastructure, Consultation, Design, integration and
01452 858030 | www.gbeconverge.com 08451 220884
Personal safety app reaches download landmark
Regional Round-up
Hollie Guard, the personal safety app from the Glouceser-based Hollie Gazzard Trust, has hit more than16,000 downloads.
Launched in 2015, the free, award-winning app for smartphones can protect men and women from possible danger. Hollie Guard turns a smartphone into an advanced personal safety device at the touch of a button. If in danger simply shake the phone to generate an alert. Your location, audio and video evidence of the incident will automatically be sent to your emergency contact via text and email. Shake it again and it sends out a high-pitched alarm and the flash starts to strobe, in order to attract maximum attention.
The Hollie Gazzard Trust was set up after the murder in 2014 of Hollie Gazzard at the Gloucester hairdressers where she worked, by her ex-boyfriend who had become threatening and abusive.
The Hollie Gazzard Trust supports young hairdressers and charities fighting domestic abuse and anti-knife crime. Hollie's father Nick is the chairman of the trust.
Nick said: "From the moment Hollie Guard is activated, your location is tracked and can be viewed in real time by your emergency contact. Evidence is not stored on the smartphone but on secure servers so that it can be used as future evidence. This is one of the reasons police forces up and down the land are now endorsing it."
Hollie Guard contains other features, including a "journey" feature allowing friends, family and co-workers to be notified of your movements. "Meetings" allow you to identify when you are going to a meeting or working alone. An alert will automatically be created if the timer expires or you do not cancel it.
The "Man down" facility provides extra protection for users in situations where injury or personal immobilisation is possible, by flagging sudden deceleration, non-movement and impact.
The App is available on Apple, Android and Windows.
Tewkesbury-based telecoms provider Midland Comms, has acquired Edgecoms, a technology business with more than 10 years of experience providing IT consultancy, support and cyber security solutions. All staff from Edgecoms have relocated to Tewkesbury. Midland Comms said that teaming up with Edgecoms, enables the company to offer a larger portfolio of products and services.
Steppes Travel wins two awards
Justin Wateridge, Managing Director of Cirencester-based Steppes Travel, has picked up the first Contribution to Luxury award at the ttgluxury Travel Awards while his marketing manager, Nadia Shahahaz Hussain collected an award for innovation from tech start-up Vamoos.
Editor of ttgluxury, April Hutchinson said: "The Contribution to Luxury Award recognises individuals dedicated to what we see as the core elements of our luxury travel industry – conservation and the environment, cultivation of an amazing company culture, incredible service standards, industry-shifting innovation and a true pioneering spirit.
"Justin ticks all the boxes and has our utmost respect. If this decade has been all about "experiential travel" he, and Steppes Travel, have always been way ahead of the curve."
ttgluxury is the UK's leading magazine for premium travel professionals.
Steppes Travel's Nadia Shahanaz Hussain picked up her award from Vamoos, a travel-based app offering a simple way to store holiday documents. Nadia won the Driving Innovation Award.
The Vamoos awards recognise innovative uses of its itinerary management app.
GLOUCESTERSHIRE REGIONAL ROUND-UP Midland Comms acquires Edgecoms
21
Parents Nick and Mandy Gazzard with their HollieGuard App
GKN rejects takeover bid
GKN, one of the UK's biggest engineering firms which has its headquarters in Redditch, has rejected a £7 billion takeover bid by Birmingham-based Melrose, a manufacturing turnaround firm.
The government is closely monitoring the situation as GKN is heavily involved in defence projects, including manufacturing parts for the UK's F-35 Lightning stealth fighter.
In January, the GKN board unanimously rejected the bid, calling it "entirely opportunistic" and a bid which "fundamentally undervalued" the company and its prospects.
GKN designs and manufactures systems and components for most of the world's leading aircraft, vehicle and machinery manufacturers. Founded more than 250 years ago, it is now a £9.4 billion business.
Melrose believes it could reverse a history of existing GKN management not delivering on margin targets. However, GKN says the Melrose offer is low price and high risk.
As we go to print, Melrose is continuing its hostile bid.
RECORD GROWTH FOR MORGAN MOTOR COMPANY
Morgan Motor Company has announced record profitability and growth as it continues to roll out its strategy under Chairman Dominic Riley, Managing Director Steve Morris and family shareholders.
Year-end reports record growth from the 109-year-old company with a 19 per cent increase in revenue to £36 million, and an increase in pre-tax profits to £2 million.
Last year saw strong performances from all sectors of the Morgan business, including a new technological partnership with Frazer-Nash for electric vehicle development, new model planning and strategic appointments within the management team coupled with increased marketing activity.
Export sales were up, helped by new partner growth within the global dealer network. The recently launched Aero GT and 50th Anniversary V8 sold out and all
Cathedral Square wins national retail award
The Salmon Harvester Opportunity Fund (SHOF) has received a Gold Award for Cathedral Square in Worcester, from the UK's retail property membership organisation Revo.
The £20 million scheme in the city centre won for a successful complete transformation.
The Gold Award celebrates the best examples of development, investment and asset management. Revo claimed the
scheme was an interesting blueprint for other locations that are challenged by the quality of their historic retail space, as improvement to the public realm and surrounding environment has significantly enlivened this end of Worcester's High Street.
Since completion in May last year, Cathedral Square has welcomed big name brands such as H&M, Cosy Club, All Bar One, Miller and Carter, Fitness4Less, Yo Sushi!, Kung Fu, Starbucks and Wilko.
vehicles produced at Malvern continue to be pre-sold.
Last year also saw the reacquisition of the land on which the factory is built. Purchase of the visitor centre has helped to provide stable foundations for Morgan's future growth plans and reverses a land buy-back deal that has been effective since 2006.
Steve Morris said: "The last year has seen us develop our long-term strategy for sustainable new products, exciting development plans and a real focus on longevity, customer care and dealer relations. Such strong results for the business shows that our strategy is sound and is a real credit to our dedicated, passionate and ever-growing workforce."
Dominic Riley said: "We are stronger than ever with record revenue growth, increased employment and strong demand from customers around the globe. Morgan Motor Company has never been stronger."
Gary Woodman, Chief Executive of Worcestershire Local Enterprise Partnership, said: "This is great recognition for a project that has modernised retail in Worcester and helped to boost the local economy."
22
REGIONAL ROUND-UP WORCESTERSHIRE
Cathedral Square
Regional Round-up
Countrywide sells LPG business, but sale to Mole Valley delayed
The sale of Worcestershire-based Countrywide Farmers, the farming and equestrian retailer, to Mole Valley Farmers Ltd, expected to have been completed by the end of January, has been delayed. The sale is subject to review by the Competition and Markets Authority. A new completion date of March 16 has been set.
In the meantime, the company has sold off its Countrywide LPG business to Dublin-based DCC, an international sales, marketing and support services group. It operates in four divisions: LPG, Retail & Oil, Healthcare and Technology.
In a statement, Countrywide said the sale was being progressed to ensure the business maintains sustainable value within its current going concern status.
DCC plc will acquire the trade and assets of the LPG business for £28.75 million,
Watertight Management expands into new premises
Bromsgrove-based Watertight Management Ltd, which specialises in civil engineering, clean and waste water management services, is set to open new premises following £522,000 funding from Santander Business Banking.
The business has won a number of successful contracts recently, including multiple clean water main laying schemes renewing clean drinking water infrastructure, as well as numerous repair and maintenance contracts for water companies throughout the UK.
The £522,000 funding package from Santander Business Banking has allowed Watertight Management to purchase new premises in Saxon Business Park in Bromsgrove to cater for the strong market demand. The new location will provide the business with the space and capacity to continue to grow, investing in IT infrastructure as well as bricks and mortar.
with completion targeted before the end of this month.
Countrywide LPG supplies bulk and cylinder LPG to domestic, agricultural and commercial customers in Britain. The business sells approximately 20,000 tonnes of LPG annually.
Countrywide Chief Executive Julie Wirth said: "We are delighted to have reached an agreement with DCC plc to acquire our LPG business. This represents an excellent opportunity for the Countrywide LPG brand to continue to grow and flourish within a leading international sales, marketing and support services group which has a strong LPG division currently operating in nine countries across Europe."
Countrywide operates around 53 stores and runs a fully operational website. It has more than 700 members of staff.
REGIONAL ROUND-UP WORCESTERSHIRE
Spring opening for Boardman Bikes performance centre
Construction of the new Boardman Bikes Performance Centre at The Valley in Evesham is now complete, and the Boardman Bikes team is ready to fit the building out and install a first-of-its-kind wind tunnel designed for cyclists.
Director Tom Collings, said: "The new property will offer the right impression to the big blue-chip companies we work with and provide space for our increased numbers of staff."
Chris Gagg, Business Relationship Director, Santander Business Banking, said: "Tom, Paul and the rest of the team at Watertight epitomise everything that a successful, growing SME business in the UK should be.
"I'm sure that this is only the first of many major milestones we'll hit together as our partnership grows in the coming months and years."
The 18,000-sq ft complex is due to open in the spring ready for professional and amateur cyclists to optimise their aerodynamic performance. It is expected to be a draw for UK and international cyclists.
Worcestershire County Council Cabinet Member responsible for Economy and Infrastructure, Cllr Ken Pollock said: "Having the UK's first cycling-specific wind tunnel at The Valley is great news for Worcestershire. We are very keen to promote cycling, both for recreation and commuting, and the company is a great stimulus for both. The new centre also proves that our county is open for business, and will undoubtedly put Evesham on the cycling map."
The centre will also host a showcase bike shop, event space and café.
Regional Round-up
"Having the UK's first cycling-specific wind tunnel at The Valley is great news or Worcestershire"
Watertight Management
The Boardman Bikes team outside the centre
"I'd always had grand ideas to build something and make a difference, but I thought I should get out into the world first and see how big companies work"
HOW CHALLENGING CAN CHANGE THE status quo THE WORLD
Telling Steve Lindsey something can't be done is like a red rag to a bull. And that's good news for UK engineering and export
By Nicky Godding
24
Air compression might not be the most exciting sector in which to launch a career as an entrepreneur. However, when Steve Lindsey discovered that air compressors absorb a staggering 10 per cent of the world's energy, and no-one had succeeded in making them more efficient for 100 years, he decided to do it himself.
Such ambition would have challenged a qualified engineer. But Steve was a management consultant.
A decade later and the company he set up, Lontra, has just anounced it intends to build a new manufacturing facility near Southam in Warwickshire for its range of industrial compressors. The project has been praised by the government's Innovate UK body.
The first part of the factory will open later this year, with a single flexible production line complementing the firm's existing R&D Technology Centre at Napton. Lontra's workforce is expected to double to 50 this year, with 25 new engineering and production line jobs. The project is backed by Shield Group Engineering, one of the largest manufacturers in the UK with contracts to supply components to Caterpillar, Cummins, Aston Martin, Jaguar Land Rover and JCB.
The global air compressor market is expected to exceed a staggering $37 billion by 2022, driven by additional demand from the food & beverage and pharmaceutical sectors, among others.
Shield Group and Lontra will invest £65 million into the development of the new Southam site and a further site, and funding is already being sought for a second phase of expansion.
Steve said: "We've led the world in innovative ideas. The spread of technology across prototyping and manufacturing means Britain is perfectly placed to lead the fourth industrial revolution."
FACTS ON STEVE LINDSEY 04
01
Former demo driver for Audi
Used to race Caterham cars
Lives in Richmond, spends three days a week with his Lontra team in Warwickshire
Has designed a unique hybrid wooden and steel garage with much better insulation
A grand idea
How did a London-based management consultant become an inventor?
"I'd always had grand ideas to build something and make a difference, but I thought I should get out into the world first and see how big companies work," said Steve. "I'm not an engineer, I studied chemistry and physics at Bristol University, but I like learning things."
In fact management consultancy is not unlike the process of invention and engineering Steve points out.
"Break the function of a compressor down into a consultancy-style problem and it only has to do four things: get air in, get air out, not leak too much and compress. The trouble was, those on the market weren't doing that very well.
"When someone told me that it would be impossible to make compressors more efficient, I decided to find out for myself." The problem with a lot of inventors,
25
02 03 04
Lontra
"There aren't many things that, with a fresh perspective, can't be improved. Too many people are blinded by the idea that something can't be done better."
The importance of nailing IP
according to Steve, is that they come at problems from the wrong angle. "Some come up with an idea, then think of a problem to apply it to. Others chase something that isn't that important.
"For instance, there is a concept of perfect balance and you'll see complex machines with extra spinning discs that are perfectly symmetrical, but that symmetry doesn't help at all. It's extraneous to the issue."
Steve worked his way through the European patents (available free online).
He's proved them wrong. Lontra's blade compressor is a circular mechanism. It replaces the old "up and down" piston technology by compressing air, or gas, in front and inducing the air behind in continuous motion. This minimises waste. It's oil-free, more energy-efficient and more reliable than alternatives.
"Our compressor saves 20 per cent energy over other compressors. It's good for customers, it's also good for the world."
"We want to be a significant UK exporting company and in 10 years, there's no reason why we can't be globally successful," added Steve.
Gaining credibility within the market
How do you get a product to market when you've got limited knowledge of the sector?
Part of Lontra's success is Steve's technology and part is his understanding and exposure to the financial world.
"Investors need proof points and gateways." To get over the first proof point and gain credibility for his invention, Southampton University agreed to run a fourth-year project based on the compressor. At the end of the project, Steve had the endorsement he needed.
"That was my first proof point. Then I raised money from The London Development Agency which enabled me to approach Cosworth Technology in Northampton to establish proof of concept."
Lontra's compressor received a glowing report from Cosworth. It also secured the expertise of engineer Clive Hudson, who liked the invention so much he agreed to become Lontra's engineering director.
With funding and proof of concept, Lontra could establish its own base. But where to go? Steve lives in Richmond, South London. "I could have headed to Shoreham, in Sussex – where there's a lot
of relevant engineering expertise, or we could open in the Golden Triangle of Warwickshire, Oxfordshire and Northamptonshire."
He chose Warwickshire and the business now employs 22 people. The majority are experienced and skilled engineers drawn from the automotive and aerospace sectors.
"Skilled engineers like working with us because what we're doing is new and challenging. They get to follow the project from beginning to end; we give them the freedom to do things properly and we work with the best in the industry
"Warwickshire is in the heart of the UK's automotive industry, and just as important for the engineers, it's located in a pretty village, not on an anonymous industrial estate."
"We want to be in the UK because we are British, but it's not done foolishly - we really believe Britain is the best place to make our products," explained Steve. "I believe that R&D should be close to manufacturing. We have globally competitive partners and some brilliant engineers."
The company's first chair, who sadly passed away in 2015, was Peter Watson. He was behind the team who licenced the lithium ion battery and used his expertise to help Lontra secure its first licence agreement with Swiss industrial engineering company Sulzer, for the waste water market – a significant milestone for the company.
Licensing proves a product's credibility and provides all-important IP protection.
Peter had a good story, according to Steve. "When they first licensed the lithium ion battery, the licence was infringed by an American company. Peter took his legal team over to challenge them, but the American company said: 'so what', because his company was so small.
"When Peter explained that one of his licensees was Sony and they had the right to defend their patents, the conversation changed and they settled.
"We have set up a similar process at Lontra. It's in our licensee's interest to defend our IP."
Lontra received The Institute of Mechanical Engineers' first investment through the Stephenson Fund, a £2 million investment fund aimed at companies working in mechanical engineering.
Innovate UK is also working with Steve's team on three projects and the company has just won around £1.5 million pounds from the EU's Horizon 2020 fund, to take its products into the food and pharmaceutical industries.
The Carbon Trust is also a supporter and encouraged Lontra to approach the water industry with its compressor. In September 2012 it launched a very successful trial with Severn Trent Water. Within nine months the blade compressor was supporting the site. It was the company's first prototype, proving far more reliable than Seven Trent's existing machines, and more than 20 per cent more efficient.
26
"Our compressor saves 20 per cent energy over other compressors. It's good for customers, it's also good for the world"
Lontra
Mercia investment grows
MIA SEEKS FUNDING TO BOOST MOTORSPORT AUDIENCES
The Motorsport Industry Association (MIA), based at Stoneleigh Park Warwickshire, wants to bring motorsport and high-performance engineering together with successful UK creative companies to better use research and development and data engineering to increase motorsport audiences.
The MIA aims to bid for government industrial strategy funding in order to attract new, young, tech-savvy digital audiences in significant numbers to enjoy motorsport.
technology and data than any other sport on the planet and, by working with successful creative companies, we can capture new audiences and generate more sponsorship and partners to mutual benefit"
It hopes this will encourage innovative UK businesses and researchers to develop new Virtual Reality (VR) and Augmented Reality (AR) products, services and experiences which will capture the
world's attention and position the UK as the global leader in immersive technologies.
Chris Aylett, Chief Executive of the MIA, said: "Motorsport has more technology and data than any other sport on the planet. By working with creative companies, we can capture new audiences and more sponsorship and partners to mutual benefit.
"This government fund is the perfect pump primer to make things change and the MIA is determined to put motorsport at the front of the sports audience grid."
Investment group Mercia, which has its headquarters in Henley-in-Arden, invested more than £48 million nationally in 2017, highlighting it as one of the UK's most active technology investors and a key source of funding and scaling for regional SMEs.
During 2017 Mercia invested nearly £26 million from its third party funds under management and £22.5 million in direct investments in portfolio companies including Oxford Genetics, nDreams, Warwick Audio Technologies, Impression Technologies, Medherant and Intechnica.
Mark Payton, Chief Executive of Mercia Technologies plc, said:
"During 2017 Mercia has continued to strengthen its regional presence, build its investment portfolio, its team and its network of university partners.
"The government's recent Patient Capital Review highlighted the importance of long-term investment. Mercia's complete capital solution model does just that. By identifying innovative regional businesses with high-growth potential, and providing them with patient investment and practical support at each stage of the cycle, we can turn them into global players while delivering value for our shareholders."
Farming and the environment must go hand-in-hand, and producing quality, home-grown food is critical to the future of the country, says the Stoneleigh-based National Farmers' Union (NFU).
The remarks follow publication of the government's 25-year environment plan.
The NFU says farming can uniquely deliver for the environment as long as there are productive and viable businesses, with food at the heart.
NFU Vice President Guy Smith said: "Farming offers innovative solutions to wider environmental challenges.
"We provide the raw materials for a domestic food industry that employs 3.8 million people and which, as the UK's largest manufacturing sector, generates £112 billion in value for the UK economy. This is why we welcomed the Secretary of State's commitment to create a national food policy and his recognition that food is at the heart of viable farming businesses."
29
Environmental policy and food production must go hand-in-hand
Regional Round-up
REGIONAL ROUND-UP WARWICKSHIRE
"Motorsport has more
Chris Aylett, CEO of the MIA
Barrington Ayre launches sports range
Barrington Ayre, makers of tailor-made clothing, hosted a launch event of its new sports range which will include golf, shooting and equestrian wear to complement its existing, established country range. Held at Cotswold Park Barns, guests were treated to a glass of bubbles and canapés along with a preview of the range from principal owner and tailor, Tom Warton supported by the brand's ambassador and GB pentathlon athlete, Zoe Davison.
PHOTOGRAPHY: ROB LACEY
Would you like to feature your business event, launch or party in our business events section?
contact: kirsty.muir@nkmedia.co.uk or visit businessinnovationmag.co.uk
Please
LET'S GET SOCIAL
Showcase pieces from the new sports range
Principal Owner and Tailor Tom Warton welcoming guests
Canapés served by LoveBites
George Price from St James's Place and Anthony Flynn from Investec Wealth & Investment
Brett Granger and Gill Kirkham from Hannah Kimber Jewellery and Richard East from Barrington Ayre Daniele Baizzarro from DB Eventing with Ian Johnston from 10A Marketing & Design
James Gibbs from RE Resource Group with Duncan Pattison from Safe Hands Recruitment
Charlie Walker of Walker Logistics with Les Davies from Vygon UK Ltd
Christine Williams, Huw Jones and Peter Heming from Heming Group
30
Margaret Young from Cotswold Barristers with Edward Young from Building Lab Ltd and Lise Seager from Cotswold Barristers
Steam-powered investment
For the first time since the Victorian era, the British public is being given the opportunity to buy shares in a British main line train operating company.
The offer is part of a fundraising exercise by Vintage Trains, which serves tourist hotspots including Stratford-upon-Avon, Oxford and the Cotswolds, to ensure iconic British steam trains continue to run epic journeys throughout the UK and tell the stories of how the British rail industry changed the world.
The company's innovative £3 million share scheme will help deliver an increased programme of train trips, boosting the tourism economy.
Adrian Shooter, the former Chairman of Chiltern Railways will be the chair of the Vintage Trains operating company. He said: "This unique opportunity to buy shares in a steam train operating company will enable anyone to own a piece of history, while helping us to train young engineers and continue the investment in our fleet of locomotives and carriages."
The new company will create up to 11 full-time roles and will be promoting traditional engineering expertise for future generations.
Getting the words right
Google's new pixel buds headphones might feature real-time translation, but it's not always the translation that's the problem, but the interpretation. How do you explain "cash cow" to a native Polish speaker, or "on the ball" to a Russian?
A Warwickshire company is coaching overseas executives in the subtleties of the English language to help them in their working lives.
Williams and Cooper, run by Melodie Williams and Nicky Cooper, has received support from the Coventry and Warwickshire Chamber of Commerce through the Coventry and Warwickshire Business Support Programme.
The company is looking to expand its client base which already includes small and medium-sized businesses as well as BMW, Arup and Hewlett Packard.
Melodie said: "People may have a good technical understanding of English but that doesn't always mean they
"Having English on your CV is one thing, but being able to cope with all the different slang and subtle phrases is very different"
understand the culture or the nuance of language. And, as a nation, we don't always say what we mean.
"If you are a native English speaker, you will very often understand the subtlety and culture of your working environment. If you are not, you can take things very literally."
Helena Bassett, a business adviser at the Coventry and Warwickshire Chamber of Commerce, said: "With a huge skills gap, more companies are having to tap into the overseas market when it comes to recruitment.
"Having English on your CV is one thing, but being able to cope with all the different slang and subtle phrases is very different."
Dallas Burston Polo Club wins business award
Southam-based Dallas Burston Polo Club has been announced as Business of the Year at the Pride of Stratford Awards.
The 600-acre site is currently going through a decade-long £122 million expansion that will include a new boutique hotel in addition to its current facilities for sports, weddings
and events. The polo club says the expansion will see hundreds of new jobs created and an increase in visitor footfall.
Major Richard Carney picked up the award. He said: "Dallas Burston Polo Club is proud to be a part of the history of this region and we strive to make Stratford-Upon-Avon a tourist destination for everyone".
31
Regional Round-up
REGIONAL ROUND-UP WARWICKSHIRE
Melodie Williams, Helena Bassett and Nicky Cooper
Royds Withy King hosts annual Meet the Team event
More than 200 people attended Royds Withy King's annual Meet the Team event in Oxford at the Ashmolean Museum. The good and the great of the Oxfordshire Business Community met friends and new contacts over champagne and canapés.
Simon Bassett, partner at Royds Withy King, thanked the guests for their continued support. He also provided a brief overview of the firm's recent achievements in consolidating their position as a UK Top 100 law firm and ranking 30th in the Sunday Times 100 Best Mid-Sized Companies to work for.
PHOTOGRAPHY: ROB LACEY
LET'S GET SOCIAL
A packed house at Royds Withy King, Meet the Team
Dr Gillian Forrest from SeeSaw
Jim Heppell from NatWest with Simon Bassett from Royds Withy King and Philip Donigan from STL Communications
Ashmolean Museum
Alex Stewart from The Bessemer Society with Simon Bassett of Royds Withy King and Stephen Bennington from The Bessemer Society
Tanja Sunajko-Melling from HSBC and Andrew King of Richardsons Chartered Accountants
Tracy Norris-Evans from Royds Withy King and Michelle Coulson from Coutts & Co
Peter O'Connell from Shaw Gibbs with Rachel McCarthy, Charlotte O'Driscoll from Royds Withy King and Philip Donigan from STL Communications
32
Damian Morley from Brewin Dolphin with Andre Nellist from Royds Withy King
kirsty.muir@nkmedia.co.uk or visit businessinnovationmag.co.uk Please contact Would you like to feature your business event, launch or party in our business events section? LET'S GET SOCIAL
Nicola Cale from Silverlining with Robert Pinheiro from Royds Withy King, Alison Taylor of Frenkel Topping and Sara Holloran
Simon Bassett, Partner at Royds Withy King
Nick Ashley from Critchleys and Ed Smith from Carter Jonas
Mark Nicholls from Tectona Partnership with Graham Hammond of Handelsbanken and Mark Meeson from Bidwells
Gavin West from Butler Sherborn with Bertie Cassels from Heaton & Partners
Mike Farwell from James Cowper with Rosie Hodgetts from Royds Withy King and Mark Nicholls from Tectona Partnership
Kofi Adjei from Royds Withy King and David Blythman from Scott Fraser
Andrew King and Sue Staunton from James Cowper Kreston with Ronald Peet from Royds Withy King
Stephen Bennington from The Bessemer Society with Debbie Austin from Wellers and Shaun Nicholson from Nicholson Brown
33
Peter Bird from Mathews Comfort with Chris Wilson from Royds Withy King
REBELLION SNAPS UP RADIANT
Oxford-based games developer and publisher Rebellion has bought Warwickbased Radiant Worlds, the development studio founded in 2013 by industry veterans Andrew Oliver, Philip Oliver and Richard Smithies. The purchase price was undisclosed.
Radiant Worlds, with its 70 employees, will become Rebellion Warwick, joining Rebellion Liverpool as a sister studio to the company's headquarters in Oxford. Rebellion Warwick is transitioning on to current projects – including the 1930s co-op adventure Strange Brigade and will contribute to projects based on Rebellion's IP such as Sniper Elite, Evil Genius, Battlezone and more. Founders Philip and Andrew Oliver will remain at Rebellion Warwick.
The acquisition completes a landmark 12 months for Rebellion which recently
celebrated its 25th birthday. In 2017 the company successfully self-published Sniper Elite 4, announced its next major new IP in Strange Brigade, and released a remaster of the BAFTA-nominated classic Rogue Trooper. Its stewardship of cutting edge comic 2000 AD, opened up the 2000 AD universe to external game developers and announced Mega-City One – an ambitious TV series set in the world of Judge Dredd.
Now employing more than 300 staff, Rebellion says this acquisition cements its reputation as one of the UK's most exciting multi-media companies.
Rebellion CEO and co-founder Jason Kingsley OBE, said: "It's been a great year for us and we have a lot of plans to help make 2018, 2019 and beyond bigger and even greater years for Rebellion."
Oxford battery supplier wins £1.25 million expansion funding
The largest supplier of batteries to the British military for use in communications and transport has secured a £1.25 million funding line as it looks to expand its reach into the UK energy market.
Oxford-based Denchi Power has provided more than 60 per cent of the lithium-ion cell batteries for military equipment since agreeing a £45 million contract with the Ministry of Defence in 2002.
Founded in 1996 as part of the privatisation of the UK's Atomic Energy Agency (AEA), the business specialises in providing primary and secondary rechargeable batteries to high reliability markets.
The business has expanded its sites in Abingdon and Thurso in the Scottish Highlands since completing a management buyout in 2014, with a total headcount of 120. Latest financial results saw turnover hit £5.7 million in the year to February 2017, a rise of 10 per cent on 2016 figures.
The invoice discounting line, provided by Secure Trust Bank Commercial Finance, will enable the business to launch a new product into the UK energy market. The 'Slice' batteries, which capture power from intermittent renewable energy sources, have been created to produce an alternative
Oxford Brookes to host Venturefest Oxford 2018
Venturefest Oxford will be hosted by Oxford Brookes University this year as the business investment event marks its 20th anniversary.
Now a major networking event, Venturefest will take place on Wednesday September 12.
The event will showcase innovation and business ideas across Oxfordshire, including space technologies, quantum computing, digital health and autonomous vehicles and robotics.
Local businesses, big and small, will sit alongside representatives from Oxford Brookes and the University of Oxford, local organisations, government authorities and a cross section of local support services and investors.
The Pitching for Success session for businesses will expand to not only those pitching for funding, but also mentoring, skills and personnel.
Lynn Shepherd, Chair of Venturefest said: "Oxford Brookes University gives us the chance to radically improve our programme, making it more dynamic and streamlined. The new Clerici Hall in particular is a triumph and we are excited to be one of the first to book it for our event."
Professor Alistair Fitt, Vice-Chancellor of Oxford Brookes University and Board Member for Venturefest Oxford said: "The University is proud of its strong partnerships with business and industry and we recognise the value of these events in providing opportunities, support and connections."
energy supply to the National Grid to be used in residential, commercial and utility markets.
Sales are expected to commence in the first quarter of 2018 to address a potential market of £80 million.
35
REGIONAL ROUND-UP OXFORDSHIRE
Regional Round-up
Rebellion's Sniper Elite 4 game which won the TIGA 2017 award for best visual design
REGIONAL ROUND-UP OXFORDSHIRE
Lucy Group Ltd buys Brazilian business
Oxford-based Lucy Group Ltd, which operates businesses in real estate, electrical distribution, street lighting and castings manufacturing, has bought a medium voltage switchgear business in Brazil from the Spanish electrical power group, Arteche.
Lucy Arteche will benefit from Arteche's experience and expertise in medium voltage, air-insulated switchgear products in South America as well as introducing Lucy Electric's products into the region.
John Griffiths, CEO of Lucy Electric, said: "With this strategic acquisition, Lucy Electric enters the developing markets of South America in line with our business development plan."
Alex Artetxe, CEO of Arteche Group, added: "Arteche will support Lucy Electric to maintain a close relationship and service with our customers and suppliers."
Lucy Group, which turned over £192 million in 2016, employs in excess of 1,300 people worldwide.
Glass more than half full for G-Smatt
Less than three months after launching in the UK, G-Smatt Europe, the developer of smart glass for media solutions, has won two awards. The first came at The Showman's Show where, alongside the first installation of the glass seen by the UK events industry, the company received an award for Best Exhibition Hall stand. The following week the company was recognised again, winning the Technological Innovation of the Year at the London Construction Awards.
Last year, G-Smatt, a Korean company based in Seoul, launched G-SmattEurope Media Limited in Oxford. The global company has an annual revenue worldwide of more than $90 million. G-Smatt's innovative
Prodrive wins top national motorsport award
Prodrive has achieved the highest accolade in the British motorsport industry after winning the Business of the Year Award at the Motorsport Industry Association (MIA) Business Excellence awards.
The Banbury-based company says it is the world's leading independent motorsport business, employing 500 people in the UK with nearly 400 at its headquarters by the M40. In 2017 the business won the 24 Hours of Le Mans and a second consecutive FIA World Endurance Championship title with Aston Martin Racing.
In China, the company's VW rally programme won more titles in the Chinese Rally Championship. Working with Aston
Martin in Gaydon, Prodrive unveiled a new Vantage GTE race car, the culmination of two years' work, and will unveil an all-new Megane RX to compete in the FIA World Rallycross Championship.
This is the first year it will compete in two FIA world championships and Prodrive will be the only business in the world to do so.
Tim Colchester, Prodrive Chief Operating Officer, said: "2017 was a very successful year for us on the race track and commercially. Receiving this accolade from your peers in the British motorsport industry is as important as winning on the race track or rally stage."
media glass allows you to turn glass façades into a vast canvas.
"We are a very young company and we didn't expect to gain such recognition at such an early stage in our development but we are thrilled that our innovative approach has been acknowledged by the construction industry," said Orhan Ertughrul, European Vice-President, G-Smatt Europe.
"The team worked hard to make these exhibitions a success. Constructing a twotier, glass and steel structure on the second floor of the Olympia exhibition hall was no mean achievement but it was worth it as our stand formed a centrepiece for London Build 2017 and it really showcased our capabilities."
The award also recognised how Prodrive transfers its motorsport technology and culture to help customers in the automotive, aerospace and marine sectors. More than half the company's business is involved in developing advanced technologies.
Regional Round-up
Tim Colchester (left) receives the MIA Award from Adrian Moore of Xtrac
36
G-Smatt's smart glass
Oxford Products buys its next door neighbour
Oxford Products has announced its purchase of Convenience Distribution
Oxford Ltd (CDO), a wholesale distribution business based next to its Witney headquarters.
CDO offers a "one-stop'shop" for the supply of leading brands to the forecourt, motorist centre and convenience markets. Established in 2003, the company operates under the umbrella of the Convenience Distribution Group.
Oxford Products is a global leader in motorcycle and bicycle aftermarket products, selling its own branded products to more than 90 countries worldwide, as well as distributing other leading global brands in the UK.
Gelder Joinery scoops top industry award
Headington-based Gelder Joinery scooped the "Woodworking Project of the Year" award from leading industry body, the British Woodworking Federation (BWF) for its conservation grade woodwork on an extensive Edwardian house restoration.
The project by the family-run business, was recognised by the UK's woodworking and joinery manufacturing industry for its unparalleled detail and design excellence, which helped create a simply beautiful restoration.
REGIONAL ROUND-UP OXFORDSHIRE
CDO joins an expanding Oxford Group of companies, which includes Oxford Products USA of Jacksonville (Florida), and specialist motorcycle brand distributor Tri-Motive Ltd, headquarterd in Swansea.
The purchase provides a stronger financial backbone for CDO, and also enables Oxford Products to build a much-needed extension to its headquarters on the empty 1.5 acres in front of the company's building.
Andrew Hammond, Managing Director at Oxford Products, who has overseen a decade of strong growth, said: "We are delighted to welcome CDO to the Oxford Group. We will enjoy using our combined knowledge and expertise to enhance both companies."
Bryan Gelder, Managing Director at Gelder Joinery Limited, said: "We were approached to quote for a conservation replacement oak splayed bay window. After seeing our workmanship, the architect managing the restoration then asked us to quote for an oak square bay window, an
oak gable truss window and all external joinery on the project. This marked the beginning of our largest conservation project to date."
Jonathan Lees Architects LLP, who managed the restoration, said: "The quality of workmanship has been of the highest order. It's a true testament to Gelder's years of experience – youthful, ambitious joiners combined with seasoned veterans."
Bryan Gelder said: "We're honoured to have won this award; all the team have played a part in this wonderful project and we are thrilled with the outcome so far. It's been a fantastic training opportunity for our apprentices, as well as a truly gratifying project for our more senior members. The story continues, as we are manufacturing two loggias, two pergolas and a tennis pavilion with a decorative internally exposed roof."
Community vision will transform Cambridge-Oxford Growth Arc
A vision for clusters of villages within walking and cycling distance is the winner of a competition to find innovative ways to transform the vital Cambridge-Milton Keynes-Oxford Growth Arc.
The Cambridge-Oxford Connection Ideas Competition encouraged people from across the infrastructure sector to submit ideas for delivering homes and improved transport connections across this economically-important part of the country.
Led by urban designers Tibbalds the winning submission from VeloCity, a multi-disciplinary team comprising architects, urban planners and engineers, looked to make the most of the existing character of the area, while creating new communities along the route of the planned East West Rail line.
Under the plans, each village would also include a "big back garden", a large piece of common land for the whole community to use.
37
Regional Round-up
Left: Edwardian house restoration Below: The Gelder Joinery team pick up their award
"We are delighted to welcome CDO to the Oxford Group. We will enjoy using our combined knowledge and expertise to enhance both companies"
The Bessemer Society A society of founders & CEO's of UK high-technology companies
The society is formed of a group of individuals who have the fusion of technical and entrepreneurial skills that is exemplified by the society's illustrious nineteenth century name sake, Sir Henry Bessemer, the inventor of a method to make steel, one that drove industrial growth across the world.
The members meet for dinners and workshops across the country in a relaxed atmosphere that enables them to network and safely share their experience. They represent a breadth of technologies and business sectors; but are linked by their desire to develop and commercialise technologies that are manufacturable.
Oxford Branch
Although members will get access to all Bessemer events, the Oxford and Thames Valley branch of the Society is now an established and dynamic part of the Oxford technology scene. We are welcoming members from across the region.
OXFORD EVENTS
Dinner - 8th March
Event - 17th March
Workshop - 17th May
Dinner - 5th July
Workshop - October TBC
Dinner - October TBC
NATIONAL EVENTS
Dinner: London - 21st February
Dinner: Liverpool - 10th May
Dinner: London - 25th April
Rapid Product Development:
ATOM Science Festival: Taking technology from the laboratory bench to business
How to protect your AI ideas
New Space: Harwell
Fundraising: what could possibly go wrong
The Faraday Challenge
Industrial Strategy: Alexandra Jones
Ambition: Sir Robin Saxby
Financing Hard Tech
Dinner: Sheffield - 20th June 4.0
Dinner: Newport - 20th September
Dinner: AGM - 21st November
Industrial Revolution
Electrifying the UK
Award the Fellowship of the Bessemer Society
SPONSORS MEDIA PARTNER
For more information about the Bessemer Society, please email admin@bessemer-society.co.uk www.bessemer-society.co.uk/membership **Membership is invitation only; but is open to companies of any size and sector, as long as they are or have an ambition to manufacture. The costs of membership are kept low in order to encourage companies of all sizes: from university spin-outs to established family businesses, to those listed on the stock exchange.
£30 million for vehicle-2-grid technology
New technology which could see electric vehicles helping power homes and businesses is being boosted by almost £30 million in government funding.
The investment supports vehicle-togrid (V2G) technologies that could enable electric cars and other vehicles to deliver electricity back to the smart grid, light homes and power businesses.
Funding has been awarded to 21 V2G projects for research, design and development and to explore commercial opportunities.
These schemes will demonstrate how energy stored in electric vehicle batteries could be borrowed by the electricity system during peak hours, before recharging during off-peak hours in time for drivers setting off on their next journey.
Oxford is one city which could significantly reduce local emissions and improve air quality by using electric vehicles in urban areas. Led by EDF Energy R&D UK, the "V2GO" is a large-scale demonstration of vehicle to grid charging in Oxford using 100 electric cars and vans, including delivery and taxi companies.
The consortium is made up of eight organisations with expertise in energy and power markets and systems, fleet operation value chains and electric mobility: EDF Energy R&D UK, University of Oxford, Oxfordshire County Council, Arrival, EO Charging, Upside Energy, and Worcestershirebased Fleet Innovation.
The funding competition run by Innovate UK, saw a host of winners including SSE Services, Nissan, OVO Energy, Octopus Energy, Cisco, Flexisolar and AT Kearney.
Three craft-loving women have swapped sewing patterns to make thermal blankets for satellites, thanks to some practical thinking from Harwellbased RAL Space's recruitment team.
Managers at the Multi-Layer Insulation(MLI) Facility at RAL Space Thermal Engineering Group were struggling to recruit people with the skills they needed.
Edward Jones, MLI Facility Manager, explains: "We were thinking about the skills we had, rather than those actually needed for the role. So the recruitment team took the technical jargon out of the job advert and refocused on the craft skills we needed."
The MLI team at RAL Space design and manufacture space thermal blankets to protect instruments from the extremes of temperature in space.
Making thermal blankets requires nimble-fingers and the ability to think three dimensionally – exactly the skills used by crafts people, so the job advert called for people with a love of sewing and crafting.
Angela Ashill was looking for a change of career. "I was intrigued and my craft business and previous career as a radiographer gave me the confidence to apply."
After Claire Morgan's children started school she began looking for a job to fit around them.
Kim Morgan has always had an interest in sewing and science, but never imagined she would be sewing thermal blankets in a laboratory.
RAL Space has around 500 blankets to make for external projects over the next two to three years and there is growing interest from beyond the space sector.
Edward said: "Kim, Claire and Angela are brilliant additions to our team, with a different way of looking at the task. We need more people like this taking up jobs in the UK space industry."
MEPC, which manages and develops Milton Park, has announced that 141 Park Drive is now fully available for occupation. It is one of three buildings at the £24 million speculative development, Park Drive East, at the Oxfordshire business park.
141 Park Drive East offers 42,000 sq ft to meet continuing demand at the business park for office and laboratory space in the region,
particularly from innovative occupiers, including science and technology businesses embarking on R&D activities.
Construction work on the three buildings began in February 2017 and last summer MEPC signed a prelet agreement with existing occupier Oxford Immunotec Global plc, a global NASDAQ-listed, high-growth diagnostics company which took the whole of 143 Park Drive.
39
New job is more than 'sew-sew' at RAL Space
141 Park Drive, Milton Park now available Regional Round-up
REGIONAL-ROUND
OXFORDSHIRE
UP
"Kim, Claire and Angela are a brilliant addition to our team, with a different way of looking at the task. We need more people like this taking up jobs in the UK space industry"
Kim Morgan, Claire Morgan and Angela Ashill of RAL Space
Specialist Business Insurance for Life Science & Technology Industries
For more information, contact: Paul Monaco Cert CII Commercial Insurance Director T: 07968 515305 E: paul.monaco@focusorm.co.uk www.focusorm.co.uk We pride ourselves on service, first and foremost; helping our clients get the best cover at the most competitive price available. FOCUS specialise in providing advice on insurance matters within the hi-tech scientific business environments, such as Biotechnology, Life Sciences, Medical Devices and Pharmaceuticals. Our highly knowledgeable and experienced team is available to help you through the intricacies of the cover needed to protect you and your business.  High Net Worth Home Insurance  Motor Insurance – including Family Fleet  Private Landlord Insurance  Property Damage/Business Interruption including Research and Development Operations  Public and Employers Liability  Products and Services Liability  Clinical Trials Liability (Global Programmes can be arranged)  Errors and Omissions Liability  Directors and Officers Liability  Intellectual Property Protection  Cyber and Privacy Risks FOCUS is one of the largest – and most respected – firms of Independent Insurance Consultants in Oxfordshire and the surrounding region.
FOCUS can provide solutions to the more complex insurance requirements including: How we can help FOCUS also provides bespoke solutions for Private Clients and can help with insurance needs including:
FOCUS on insurance for the Life Science & Technology industries
Almost twenty years ago FOCUS began working with academics, scientists, investors and business advisors in this sector. We have close relationships with Oxford Innovation, Oxford University Innovation and Oxford Sciences Innovation and have established ourselves as the specialist local broker within this industry group.
The University of Oxford is ranked first in the world in clinical, pre-clinical and health, and counts 23 Nobel Prize winners in medicine and chemistry among its graduates. Building from ground breaking research over £1 billion has been invested over recent years to make Oxfordshire one of the top BioClusters in Europe, home to hundreds of early stage and large organisations involved in own drug or medical device research and development, contract research, manufacturing and consulting services.
It has several research centres and business parks including Milton Park, Oxford Science Park, Harwell, Culham, Begbroke, Cherwell Innovation & Howbery Park, amongst many more housing some of the fastest growing businesses in the UK and Europe.
Why talk to FOCUS?
FOCUS is one of only a few specialist insurance brokers in this area able to deal with the needs of these unique industries. We have special arrangements with a number of insurers who are able to provide bespoke cover for businesses in these sectors.
One of our success stories
In 2002 Focus was contacted by a company's founder, working from his own home office after securing some seed funding, to provide advice on what insurances it would need in its very early stages. It has grown rapidly raising well over £150M in funding through private funding, grants and then a public offering to become a global business providing healthcare diagnostic testing products and services around the world, with office and laboratories in the UK, Europe, USA and Asia. We are extremely proud to still be their trusted insurance advisors.
We have always believed that it is important to support start-up and early stage companies in these sectors and build long term relationships with them as they continue their journeys into larger organisations, sometimes with overseas representation.
We enjoy working relationships with all the leading insurers and partner with many of them uniquely to ensure our clients benefit from appropriate protection and risk management solutions which are also affordable, especially important at the early stage of the company's life cycle.
To discuss how we can help you please contact: Paul Monaco Cert CII Commercial Insurance Director T: 07968 515305 E: paul.monaco@focusorm.co.uk FOCUS Oxford Risk Management Ltd Seacourt Tower, West Way, Oxford, OX2 0JL T: 01865 295 295 www.focusorm.co.uk
"The quality of service and encyclopaedic knowledge of the insurance industry displayed by the FOCUS insurance team has been second-to-none for many years. We are safe in the knowledge that our insurance requirements have been very well catered for."
Geoff Bush, Finance Director, Oxford Immunotec Ltd
PROMOTIONAL BUSINESS FEATURE
If you operate in a hi-tech, scientific or medical environment, the insurance advice you need is far from standard, it is specialist…
GOVERNMENT ANNOUNCES NUCLEAR FUNDING
The government has vowed to make the UK a world leader in nuclear technology after revealing £86 million funding for a national fusion technology platform at the Culham Centre for Fusion Energy, Oxfordshire.
The investment will fund the building and operation of a National Fusion Technology Platform at Culham, expected to open in 2020.
The new facilities will help secure around £1 billion in contracts for British companies from the key international fusion research experiment ITER being built in France, and other global fusion projects, according to the government. Looking further ahead, they will enable the UK Atomic Energy Authority (UKAEA) to develop technology for nuclear fusion power plants and put UK industry in a strong position to exploit the commercialisation of this highly promising low-carbon energy source.
The National Fusion Technology Platform is expected to create around 100 jobs at Culham Science Centre and many more in the wider nuclear industry supply chain.
UKAEA's Chief Executive Officer, Professor Ian Chapman, said:
"Fusion is entering the delivery era, with an increasing focus on the key technologies that will be needed for the first power stations.
The National Fusion Technology Platform will help British industry to maximise growth from opportunities provided by ITER. In the longer term it means the UK will be at the forefront of developing fusion and bringing cleaner energy to the world.
42
UK'S LEADING REAL ESTATE ADVISOR TO SCIENCE & TECHNOLOGY SECTORS
"Fusion is entering the delivery era, with an increasing focus on the key technologies that will be needed for the first power stations"
Internal view of the Joint European Torus (JET) vacuum vessel. Based at Culham Centre for Fusion Energy, it is the largest tokamak in the world. (A tokamak is a magnetic confinement system and a potential design for future fusion reactors).
Culham Centre for Fusion Energy
Digital health roadmap helps turn ideas into products
The Oxford Academic Health Science Network (AHSN) has launched a guide to help innovators overcome the challenges in developing digital products to improve health.
It helps innovators ask the right questions at every stage, including design and development, interoperability, information governance and data management, regulatory framework, clinical testing and developing a commercial model.
The guide was developed after Oxford AHSN identified a gap in support for SMEs developing and commercialising
digital health products including health management apps, wearable tech and online interactions.
Dr Nick Scott-Ram, Oxford AHSN's Director of Commercial Development, said: "We hope those involved in developing innovative digital products designed to improve patient care will find this an invaluable resource."
The resources were produced in collaboration with the University of Oxford, Oxford University Innovation and Oxentia. Oxford is one of the UK's 15 AHSNs established by the NHS.
Oxehealth raises £3m for vital sign monitors
Oxehealth, an Oxford University spinout that's turning digital cameras into vital sign monitors, has raised £3 million in early-stage funding.
Launched in 2012 as a spinout of Oxford University and Oxford University Hospitals, the company has recently held
trials at psychiatric hospital Broadmoor, and has been used to monitor patients with dementia by the NHS.
The funding round was led by commercialisation firm IP Group, and will be used to roll the technology out across the wider NHS.
Corin completes JV to deliver reconstructive solutions
Global orthopaedic manufacturer Corin, headquartered in Cirencester, has announced a joint venture agreement with Ossis, a New Zealandbased implant maker.
Ossis uses advanced technologies to custom design and manufacture titanium bone and joint implants with more than 200 successful implantations to date worldwide. Corin has recently developed an advanced 3D printing technology to manufacture its upcoming revision hip acetabular solution Trinity Plus™. The two companies are now partnering to provide the same cutting-edge technology for customised implants.
Oxford Genetics announces virus collaboration with MeiraGTx
Oxford Genetics, a leader in synthetic biology-based technologies, has established a new agreement with clinicalstage gene therapy company, MeiraGTx.
The collaboration will enable Oxford Genetics and London-based MeiraGTx to develop novel adeno-associated virus (AAV) vectors, as well as packaging and producer cell lines. Viral vectors are tools often used by molecular biologists to deliver genetic material into cells.
Dr Ryan Cawood, CEO at Oxford Genetics, said: "We are delighted to be working alongside the MeiraGTx team which will take us another step forward in our vision to deliver breakthrough technologies to the biotherapeutic industry.
"By creating advanced AAV production systems we aim to power the expansion of gene therapy as it moves towards addressing the more common disease
indications that present technologies cannot satisfy."
Dr Paul Brooks, Chief Commercial Officer at Oxford Genetics, added: "The agreement further demonstrates that our business model for early access to our technologies is resonating with the biotherapeutic industry. Through partnerships we will ultimately deliver benefits to patients by helping our partners reduce therapeutic development time and achieve earlier market approval."
UK'S LEADING REAL ESTATE ADVISOR TO SCIENCE & TECHNOLOGY SECTORS
43
SCIENCE & TECHNOLOGY
Science & Tech
Corin's AceOS: Custome Acetabulum Augmen
REUSABLE 'STINGING NETTLE' TREATMENT CANCER TARGETED WITH
Eye cancer treatment receives boost from UK regulatory agency
Immunocore Limited, the Milton Park, Oxford-based Tcell receptor (TCR) company focused on developing transformative biological therapies, has been granted Promising Innovative Medicines designation by the UK's Medicines and Healthcare Products regulatory agency for its IMCgp100 for the treatment of patients with eye cancer.
The company has also announced an interim chief executive after Dr Eliot Forster stepped down as CEO following three years of spearheading Immunocore's transformation into one of the UK's biotechnology flag-carriers.
Immunocore's Chief Commercial Officer, Andrew Hotchkiss, will take over as interim CEO. Eliot will support the Immunocore leadership team to assist the transition.
Stinging nettle and ants are now on the front line of cancer treatment, thanks to new research by the University of Warwick.
Research by the university has shown that cancer cells can be destroyed more effectively with a unique new reusable treatment, activated with a natural substance found in stinging nettles, ants and other organisms.
Named JPC11, the treatment targets a metabolic process which cancer cells rely on to survive and multiply.
Uniquely, this treatment can be recycled and reused within a cancer cell to attack it repeatedly.
This discovery could lead to future anti-cancer drugs being administered in smaller, more effective and potentially less toxic doses, decreasing chemotherapy side-effects.The researchers have focused on the potential to use this compound on ovarian and prostate cancers.
Dr James Coverdale, a Research Fellow from Warwick's Department of Chemistry, said: "Manipulating and applying wellestablished chemistry in a biological context provides a highly selective strategy for killing cancer cells."
"Manipulating and applying well-established chemistry in a biological context provides a highly selective strategy for killing cancer cells"
Professor Peter Sadler, a medicinal chemist at the University of Warwick, added: "It will take time to progress from the lab to the clinic.
"However, we are fortunate to have a talented, enthusiastic, international team working with colleagues in the Warwick Cancer Research Centre across the borderlines of chemistry, cell and systems biology and cancer medicine who are determined to succeed."
UK'S LEADING REAL ESTATE ADVISOR TO SCIENCE & TECHNOLOGY SECTORS
Science & Tech
44
Dr James Coverdale and Dr Isolda Romero-Canelón at The University of Warwick
Vaccitech secures £20 million flu vaccine funding
Vaccitech, the Oxford University spinout company developing a universal flu vaccine, among other products, has secured £20 million to urther develop the vaccine .
The round was co-led by new investors GV (formerly known as Google Ventures), Sequoia China and existing backer Oxford Sciences Innovation, which manages a £600 million fund aimed at Oxford University spinouts. Neptune Ventures also participated. In total, Vaccitech has now raised £30 million since 2016.
Vaccitech is currently a clinical stage company with a portfolio including a universal influenza vaccine in evaluation and a prostate cancer therapeutic at Phase 1 (which usually involves testing on healthy volunteers). A Human Papillomavirus (HPV) therapeutic, a Hepatitis B (HBV) therapeutic and another infectious disease asset are in late preclinical development.
The company is commercialising the research of vaccine development specialists Adrian Hill and Sarah Gilbert, who developed the underpinning technology at Oxford University's Jenner Institute.
Currently based at the Oxford Science Park, Vaccitech will use the funding to expand its business, develop its lab structure, and to push its influenza and prostate cancer programmes through Phase II (trials usually involving a larger group of people), by the end of 2019, and move three other programmes into the clinic.
Tom Evans, Chief Executive Officer at Vaccitech, said: "When you look at the 250 million people chronically infected with hepatitis B globally, or the number of people killed by flu each year, it becomes clear just how much potential impact Vaccitech's vaccine products could have. Add Oxford into the mix, where you have unprecedented ability to do advance products through outstanding vaccine science and tremendous translational medicine capability, and Vaccitech is well positioned to have an important impact on global health."
Tom Hulme, General Partner at GV, added: "Vaccitech has achieved an incredible amount with relatively little funding to date. The T-cell responses to the company's viral vector platform are among the highest achieved in man. We look forward to it being applied to tackle multiple human diseases."
Science & Tech
"The news that office rents in the Oxford region hit a new high in 2017 has been confirmed by Bidwells' research, highlighting the region's continued economic success despite wider economic and political uncertainty," says Bidwells partner David Williams.
"The prime office rental figures were revealing. Our offices and labs market research look twice yearly at rental values in the Golden Triangle of Oxford, Cambridge and London, as well as the region's other significant towns and cities. They found that prime office rents in the last six months of 2017 grew much faster in Oxford (14.3 per cent) than Cambridge (2.7 per cent), and rents in London for prime office space fell by 12.5 per cent.
"Rental values in Oxford reached £32 per sq ft by the end of last year, demonstrating again that the region's knowledge economy continues to drive rental growth in the city.
"At Bidwells we think this growth is unlikely to slow before 2022, with prime rents expected to reach £38 per sq ft by 2022. Oxford's prime rents have now grown 39.1 per cent since 2014.
"Despite office take-up slowing in the second half of 2017, 389,000 sq ft of space was taken last year, the highest for a decade. It was dominated by Oxford Nanopore's purchase of the Danby Building on Oxford Science Park.
"Harwell Campus has seen 160,000 sq ft developed in 2017. Its new Quad One Building completes this year with geospatial data analytics company, Rezatec, planning to relocate into the new building.
"Harwell, a world-renowned science and innovation campus, is home to 250 organisations and 6,000 people. A major contributor to Oxford's growth, it has ambitious plans for the further development of office, laboratory and high-tech industrial development.
"Our research also follows a UK Powerhouse Study, released by the Centre for Economics and Business Research (CEBR) in January, which predicted Oxford's economy is set to grow by 1.99 per cent in 2018, just behind Cambridge's predicted growth of 2.2 per cent.
"More than 80 per cent of Bidwells' work is concentrated in the Golden Triangle of Oxford, Cambridge and London, including sector-leading work in the science & technology, and education sectors."
Visit
UK'S LEADING REAL ESTATE ADVISOR TO SCIENCE & TECHNOLOGY SECTORS
45
SCIENCE & TECHNOLOGY
www.bidwells.co.uk to read its latest research.
David Williams, Partner, Bidwells
Oxford office growth to continue until at least 2022
Fasthosts' staff donate to Gloucester Foodbank
When Shaun John lost everything after a mini stroke, the Gloucester Foodbank helped him back on his feet. Four years later, Shaun is Head of Telesales at leading web and cloud hosting provider Fasthosts, based at Gloucester Docks.
Shaun has supported the foodbank ever since and encouraged his team members to get involved. The company has now committed to supporting the foodbank throughout the year.
Gloucester Foodbank is one of the Trussell Trust's 400-strong network of foodbanks. Individuals can be referred by social services, the Jobcentre, Citizens Advice or their local MP's office.
It's important to understand how someone can end up in a crisis situation like this. Shaun tells his story:
"I pretty much lost everything. It made me realise that anyone is potentially just three or four pay cheques away from a crisis. Nothing can describe what it feels like to try to recover while being unable to support yourself. Gloucester Foodbank supplied me with a three-day emergency food parcel to keep me going. It helped me get back on the road to recovery.
"When you're at rock bottom, it feels like there are 100 steps to climb. These guys offer a first step, but that can quickly escalate to your first five, 10 or 15. They're absolutely amazing."
Shaun encouraged his team members to donate time, money or both to the scheme. The response was phenomenal, with employees wanting to go but unable to due to so many people volunteering.
"Not one person came back to the office disappointed and all were incredibly humbled. It's important to support our community because you never know when you'll be relying on it to support you."
WARM WELCOME FOR NEW CHARITABLE TRUST
A leading supplier of domestic and commercial boilers is supporting charities throughout the UK and Ireland after receiving free advice from Midlands law firm Wright Hassall.
Warwick-based Baxi Heating UK, has launched the Baxi Heating Charitable Trust to focus all its charity fundraising and donations in one place following support from Leamingtonbased Wright Hassall.
Sarah Bailey, HR Director Baxi Heating and a trustee, said the company could be more strategic in the causes it supports, which will enable more people to benefit.
"There are three key themes we are looking to support: the relief of sickness and the preservation of health; improving learning and education and maintaining and improving accommodation for the homeless and the prevention and relief of poverty."
"We are also going to account for all the pro bono work our colleagues provide in one place so that we can be more strategic with these opportunities."
Rhys Jarman, a partner at Wright Hassall, said the law firm has developed a growing relationship with Baxi Heating since meeting at a networking event.
The Baxi Heating Charitable Trust processes requests for grants to individuals and organisations, free-ofcharge products and volunteer hours to benefit the communities where their employees live and work.
"Our managing partner Sarah Perry offered to carry out the legal work for free to help Baxi set up a trust. It is part of our responsible business offering."
Wright Hassall has launched a free monthly advice clinic where people can speak to a solicitor for 30 minutes.
46
BUSINESSES IN THE COMMUNITY
"Our managing partner Sarah Perry offered to carry out the legal work for free to help Baxi set up a trust as part of our responsible business offering"
Maureen Tallis, Baxi Heating UK; Rhys Jarman, Wright Hassall; Sarah Bailey, Baxi Heating UK and Alex Robinson, Wright Hassall
New collaboration for Business & Innovation Magazine and Circle2Success
Business & Innovation Magazine and C2S have announced a new collaboration to help strengthen the region's economy, promote the development of key industry sectors and reveal business news and successes.
This magazine and Circle2Success, a leading business community that supports growth, will collaborate in support of the thousands of companies and professionals across Gloucestershire, Worcestershire, Warwickshire, Oxfordshire, Bristol and Bath and into South Wales.
Business & Innovation Magazine, in print and on-line, provides a trusted news outlet for businesses across the region. Since our launch, in May 2017, we have built an impressive readership.
Founded in 2013, Circle2Success operates across Gloucestershire, Worcestershire, Bristol and Bath, Chepstow, Monmouthshire, South Wales and Wiltshire. Its members employ more than 55,000 people with a combined turnover in excess of £6.5 billion.
Kirsty Muir, Commercial Director at NK Media Ltd, which publishes Business & Innovation Magazine, said: "We are delighted to become members of Circle2Success. Our aims and ambitions to support and encourage the regional business community run in parallel."
Angela Edwards, Director, from Circle2Success, added: "We work with SMEs, entrepreneurs, national and global brands, across all sectors and size, including many of the region's most ambitious businesses. It makes absolute sense to align our two organisations to support growth, innovation, collaboration and promote the fantastic organisations we have in this region. Business & Innovation Magazine has fast become an important news outlet."
The companies plan to collaborate on events and activities to raise awareness of key regional sectors, support business and career development and provide unique business networking opportunities.
20-year celebrations deliver for local charities
Passionate About People, which has achieved year-on-year growth of 23 per cent, and in excess of 250 per cent growth over the last four financial years, has revealed the first nominated charities it will be supporting during its 20th anniversary this year.
The company, which incorporates Omega Resource Group, Datum RPO and Omega Engineering Services, is aiming for its PAP20:20 campaign to make 20 donations to 20 charitable organisations throughout 2018, raising money through various events and occasions.
The donations will equate to a minimum of £1,000 per charity, a total of £20,000. Charities include: Cirencester Housing for Young People (CHYP), Cheltenham-
Donation helps Headway boost life skills learning
A £1,000 donation from Harrison Clark Rickerby's charitable trust will help Headway Worcester to refurbish its kitchen in order to help those who have suffered brain injuries relearn important life skills. Mandie Fitzgerald, Headway's fundraising manager, said: "£1,000 is a considerable amount of money and will be a great help. We've now got £4,000 to find. Only two people could get into our old kitchen at any one time and the cooker was broken, so we really couldn't use it properly at all."
Learning to share talent and skills
Oxford Community Foundation is hosting a morning symposium to help businesses understand how to share the time, talent and skills of their employees with the charity sector. It will take place on April 10 at the Sultan Nazrin Shah Centre, Oxford.
based Caring for Communities and People (CCP), Cotswold Downs Syndrome Group, Creative Sustainability CIC, Stroud; The Hollie Gazzard Trust, Gloucester, Longfield Hospice and Oak & Furrows Wildlife Rescue Centre.
The full list of charities can be found on the company's website.
The company said: "We believe that contributing to local communities and charities is an extremely important aspect for us as a socially responsible Group."
"We believe that our 20th Anniversary provides an excellent opportunity to drive a year-long campaign that will benefit both the local community and communities that are close to us."
47
Businesses in the community
BUSINESSES IN THE COMMUNITY
Raymond Pugh (Co-Founder & Group Director), Alan Beresford (Co-Founder & CEO), James Strickland (Co-Founder & Group Director) and Paul Day (Group Finance Director)
WORK LIVE TO
Aim high with Ian Coley Shooting
As the game shooting season closes, we invited Matthew Panter, England & GB International Shooter and Assistant Gun Room Manager at Ian Coley Sporting, the award-winning gun shop and shooting school, to give us his top five tips for the new clay shooting season.
The right fit
Have your gun fit checked in case anything has changed over the winter. Gun fit is often overlooked and the end result is that you cannot shoot your best if your gun doesn't fit you. A gun fit, using an adjustable "try-gun" will provide you with a set of measurements that a gunsmith can use to make adjustments so that your gun suits your physical build, style of shooting and chosen discipline.
Practice makes perfect
Practice regularly over a range of different
targets. If any particular targets cause you problems, have a lesson with a qualified coach to hone your skills and iron out any bad habits you may have developed.
Poor planning leads to poor performance
Check all your shooting kit before the season starts and make sure you have everything you need for all eventualities.
Hit your target
Set challenging but achievable goals for the year. Avoid having unrealistic expectations, which end up in disillusionment and disappointment. A good coach will be able to help you identify a set of goals to work to.
Last but not least
Remember why you started shooting in the first place and enjoy yourself.
The dry facts on aqua massage
There's a fantastic new aqua massage therapy being offered in Gloucestershire. Imagine relaxing on to a warm massage bed on top of a water-filled mattress, and letting all your muscle tension, back and joint aches and stresses simply melt away.
This is massage like no other: forget lying face down, half-clothed with your face full of towel, this unusual (but glorious – we've tried it, then went back for more), massage technique allows you to lie totally relaxed, fully clothed, while your therapist provides a gentle massage made more powerful because your muscles are warmed by the gentle heat of the water.
The massage therapy, which is new to this area, is being offered by Gail Finch
of Cirencester-based 3Steps4Ward. A qualified massage therapist and Pilates instructor, Gail works with people who want to boost their wellbeing.
"I discovered the technique at a beauty and wellbeing show at Earls Court, London and tried it out myself there and then. It was a revelation and I couldn't wait to bring it back to offer to my clients," she explained.
And the best thing is, you can experience this massage therapy at work. "The system is portable and we're already providing regular aqua massage therapy to professionals at their offices," added Gail.
www.3steps4ward.co.uk
Ian Coley Sporting's Shooting School is a great venue for corporate entertainment for groups up to 100, with friendly and fully qualified instructors catering for all levels of experience. www.iancoley.co.uk
Oxford Literary Festival
The FT Weekend Oxford Literary Festival takes place between March 17-25. Guests lined up for interview include Anthony Horowitz, Antony Sher, Penelope Lively, Ruby Wax and more.
www.oxfordliteraryfestival.org
It's
a bit chilli in Worcestershire
Back by popular demand, the Eastnor Castle Chillifest takes place from May 6-7. Now in its seventh year, the event includes live music, bars, hot food, children's cookery school, chilli eating competition and cookery demonstrations.
www.eastnorcastle.com
Happy 950th William
To celebrate 950 years since William the Conqueror built the first motte and bailey castle at Warwick, the castle is holding an exclusive ball on April 14. Having defeated the English at the Battle of Hastings in 1066 (when he became William the Conqueror, having previously been called "William the Bastard"), William ordered the building of the first Warwick castle in 1068.
www.warwick-castle.com
49
WORK TO LIVE
Work to Live
TWO TRILLION REASONS TO CELEBRATE SMEs
Nearly all private sector businesses are small businesses, says the Federation of Small Businesses (over 99 per cent at the beginning of 2017) and SMEs employ more than16 million people, that's 60 per cent of all UK
What is an SME?
A small and medium sized enterprise (SME) is generally defined by employee headcount and turnover. Micro enterprises have fewer than 10 employees and turn over £2 million or below.
Small enterprises employ up to 50 members of staff, and turnover from £2 million to £20 million annually.
Medium enterprises have a staff headcount of up to 250 people and will turn over from £10 million to £50 million.
private sector employment. But is enough being done to help them?
There are some big issues facing SMEs: recruitment, skills, staff retention and access to finance are all growing concerns.
experts, it's one business investment that will pay off in the longer term.
With regard to access to finance, the Academy for Chief Executives says there are currently too many hurdles to clear, and this needs to be addressed if a business is to unlock its full potential.
The government offers a range of schemes, some encourage private investment in companies, another supports a company's own R&D. And there are more ways to secure investment.
Business leaders recognise the need to invest in training and development – but worry it's going to cost them money. In reality, according to
According to Paul Fussell, Partner at Gloucestershire accountants, Hazlewoods: "An arguably successful government policy has been the Enterprise Investment Scheme (EIS) and Seed Enterprise Investment Scheme (SEIS) reliefs to support equity investment in SMEs. This has aided the growth of crowdfunding
In 2017, UK small and medium-sized enterprises (SMEs) turned over £1.9 trillion, according to the Federation of Small Businesses. That's 51 per cent of all private sector turnover
"All businesses need four things: leadership (or entrepreneurship), a product or service, customers and money"
50
websites such as Crowdcube and Seedrs which provide new capital to support developing businesses (which can be risky investments). These reliefs offer individuals annual income tax relief of 50 per cent for SEIS investments of up to £100,000 and 30 per cent for EIS qualifying investments of up to £1 million, plus a potential capital gains taxfree return on exit (as well as the ability to defer capital gains on reinvestment and obtain relief from inheritance tax)."
Due to the significant tax benefits from these reliefs the rules are complex and HMRC is seeking to make further changes to reduce "guaranteed exit" investments, adds Paul. "HMRC is, however, also intending to double the amount of EIS relief available for knowledge intensive companies from April 6, 2018".
SMEs fear cybercrime and rising inflation, says Barclays
Rising inflation and cybersecurity are the most common fears among British SMEs for 2018, according to new research from Barclays Business Banking.
According to Barclays' annual SME Hopes and Fears Index, SMEs believe these issues are most likely to negatively impact their growth in 2018, while consumer demand is most widely expected to have a positive impact.
John Workman, Senior Partner at BPE Solicitors, says that all businesses need four things: leadership (or entrepreneurship), a product or service, customers and money.
"All these things can be learned or acquired, though money is probably the hardest to get, and relies on having the others right," he says. "You don't just need working capital and to understand that cash is king (possibly a demi-god) but to recognise the need for capital and expansion capital.
"Nothing is going to kill or cripple a business faster than the inability to grow," added John.
This feature showcases SMEs and looks at where the investment comes from.
Gary Chugg, Head of SME banking for Barclays in Gloucestershire said: "Compared with a year ago, more think technology and e-commerce will have a positive impact on their business. From our work with small companies, we see them making more use of data and online services, including our own, that help them manage their marketing and finances more easily.
"Inflation is clearly a worry and in particular the potential for prices to rise faster than wages. Business owners are clearly taking a prudent and cautious approach to the year ahead. However, there are positive signs of SMEs investing more and hiring more staff."
51 SME SHOWCASE
SME
"Compared with a year ago, more think technology and e-commerce will have a positive impact on their business"
John Workman, BPE and Paul Fussell, Hazlewoods
FORTUNE AND COURAGE FAVOUR THE BRAVE
Cheltenham-based Future Advanced Manufacture turns ideas into highly engineered prototypes capable of scaled production. Craig's is a great story, but he admits it's not always been an easy ride.
"I began working at Future Advanced in 2000, always looking at the next role up. By 2004 I was project manager, two years' later I was general manager and then my boss suggested a management buyout."
Craig didn't hesitate. "It was all about timing. In 2008 the banks were lending everywhere and I became the owner of Future Advanced. Then the financial crisis hit and I thought: "what have I done?"
While others may have held back, Craig went for it. "To grow we needed to get into batch production of components, so I went for aerospace approval. We had no track record in the sector but decisions made then are why we're successful now."
Future Advanced won its first aerospace contract in 2012. Then work came in rapidly. That year Craig paid off his old boss and the banks. The management buyout was completed early thanks to a massive drop in the base rate from six per cent to half a per cent. As Craig says, timing is everything.
He expanded into new premises. "I nearly ran out of money renovating, but only I knew that. This was my dream."
He'd called it right again. Craig signed more long-term aerospace contracts in the
following six months than in the history of the company and had to expand again into the next-door building.
"It's already at full capacity with five-year contracts. We are at nearly 80 staff and need 100. Probably our biggest challenge is finding enough skilled people," he says.
Success is about taking calculated risks and having the vision to explore different avenues.
"When I took over, oil and gas were more than 50 per cent of our order book, then they crumbled to zero. We mitigated the risk by moving into aerospace. Oil and gas are rising again and we are about to sign a deal to take on multiple contracts through an increased level of supply chain management. We have invested heavily in support staff to accommodate this growth with a US company, which recently closed its UK division. We've retained the UK manufacturing supply chain and it will be managed through Future Advanced.
"Our success has been diversity. I also employ the best engineers and pay them well."
Future Advanced will turn over around £13 million this year, and Craig is predicting a £20 million turnover within five years.
In the 10 years since he took over, it's been tough at times. "There comes a point in every business when you hit a lump. For us it was around £7 million turnover. Suddenly the senior management team, overheads and support staff had to grow to manage the sheer volume of work.
"You're spending extra money on overheads, when revenue is only growing organically. Then you come out on the other side. Your senior management team are effective, the revenue growth has absorbed the additional overheads and is starting to appear back on the bottom line.
"There are no real business models I've seen for SMEs explaining that. You just have to keep the faith."
The company's next phase of investment comes in 2019. "A lot of our expansion is self-funded, but we do asset finance. Clydesdale Bank have been fantastic. If you haven't got a banking relationship, you haven't got a business. But banks don't like surprises. If you give them the information ahead, they can support you.
"It's been a bit of a roller coaster over the last 10 years. But when it all comes together, it feels good."
53 SME SME SHOWCASE
Craig Peterson went from shop floor worker to multi-million-pound business owner in eight years.
"Leadership is where you can visualize something, believe in it and then you can build it. It's a gut feeling and I think it can't be taught. Then you can inspire others"
Craig Peterson, CEO at Future Advanced Manufacture
There are more funding avenues than ever before: bank loans, private equity, peer-to-peer lending, crowd funding, angel investment and government grants.
There's also the Business Growth Fund (BGF), established in 2011 after the financial crisis, to help SMEs grow. Set up by the "Big Four" banks plus Standard Chartered, it has so far invested £1.4 billion backing 200 companies.
A beautiful future
In 2015, SLG Beauty in Cheltenham accepted £10 million investment from the BGF.
From its origins as a designer and manufacturer of make-up applicators, SLG has massively widened its portfolio of products and brands, and in 2017 turned over £38.5 million.
The company now has an impressive portfolio of high-fashion licensed and own brands such as Superdry Beauty, Laura Ashley Beauty, Zoella Beauty and Lifestyle, COLAB Dry Shampoo, Missguided
SHOW ME THE MONEY
Beauty and Johnny's Chop Shop Grooming. The brands are distributed to Boots, Superdrug, Tesco and M&S to name a few, and in 28 countries globally.
Accepting external investment was new for the company, which had been founded by CEO Miles Dunkley's parents Bobbie and Graham, in 1985. The company had also attracted the attention of trade acquirers. "Companies with an upwards trajectory
Get more bang for your buck
In 1994, the government launched the Enterprise Investment Scheme (EIS), a series of UK tax reliefs to encourage individual investors to buy shares in small and growing companies. Since the EIS was launched, 26,355 companies have received investment and almost £16.2 billion of funds have been raised.
In 2015-16, companies from the business services and high-tech sectors together accounted for more than £1.2 billion of
investment and made up 68 per cent of all EIS investment. The high-tech includes research and development, instrument engineering, some chemicals and computer consultancy.
Last April, the Chancellor doubled the EIS limit to allow individuals to earn up to £600,000 in tax relief on investments of £2 million to encourage greater investment in high risk companies.
such as ours will always be subject to such approaches, but we weren't considering a sale," says Miles. However, it did get him thinking: what did the company need to do to equip itself for future growth?
It was his accountants, Cheltenham-based Hazlewoods, who suggested the BGF.
Miles liked what the BGF was offering and agreed to sell a 27 pere cent minority stake. The Fund also invested working capital, but for Miles, the most significant contribution was the appointment of nonexecutive chairman Geoff Percy. Geoff had been CEO of the phenomenally successful Simple skincare range which he had sold to Alberto Culver for £230 million.
"As important as the financial investment from the BGF, is its considerable expertise and access to the right people and the right knowledge," says Miles
SLG is a significant player in the beauty industry and the deals the company is now doing are bigger and higher profile. "To me, the BGF investment provides a
54
SME
SME SHOWCASE
Miles Dunkley, Chief Executive at SLG Beauty
testosterone-fuelled belief that our highly ambitious vision is absolutely possible," adds Miles.
The BGF invests in companies with turnovers from £5 million to £150 million. "But the decision if, or when, to sell a business stays with the people that own it. That's a massive differentiator for our business model," adds BGF Regional Director, Paul Oldham.
The BGF will consider investing in any sector other than real estate development or debt businesses. It invests long-term, minority capital between £2-10 million per funding round and the average size of cheque on first investment is around £5 million. The largest investment it has made into a business is £30 million.
Other businesses which have benefitted from BGF funding include: Banburybased Paintbox, Leamington Spa-based Solid Solutions Management and Oxfordbased Adestra.
Some of BGF's key criteria for investing is company ambition, strength of the management team and plans for growth. Paul added: "If a business isn't committed to growth, our investment isn't going to work."
Small but perfectly formed
For businesses turning over less than £5 million, what are the options?
Crowdfunding is one. In the year to September 2017, crowdfunding website Crowdcube had facilitated more than £39 million in loans. Syndicate Room and Seedrs facilitated loans amounting to around £14 million and £12 million respectively.
Crowdfunding allows the public to invest in return for an equity share in the business,
but different platforms and loans carry different levels of risk.
Consumers investing via loan-based crowdfunding platforms won't have access to the Financial Services Compensation Scheme and although some platforms have a way of cashing in your investment (a secondary market), it may not always be possible to cash it in quickly or for as much money as was invested.
Patently obvious
The government's Patent Box encourages companies to make profits from their patents by reducing UK tax paid on those profits. In 2014-15, the latest year for which government statistics are available, 1,135 companies claimed relief of nearly £652 million.
According to Hazlewoods Partner, Paul Fussell, Patent Box is still seen as rather an "elite sport" by many SMEs. "HMRC's figures indicate that almost 95 per cent of the support delivered through Patent Box went to large companies."
But it can be rewarding to be involved in a business which supports initiatives close to your heart and crowdfunding platforms may offer higher returns, though there are usually greater risks.
Another option is peer-to-peer lending. Folk2Folk, set up in 2013, aims to help create and sustain financially and socially successful local communities. It lends to local businesses requiring debt finance
This does not mean that SMEs should ignore Patent Box, he says. "HMRC figures show the average Patent Box tax relief claimed by SMEs in 2014-15 was around £59,000 and this should increase substantially as the scheme is fully transitioned in."
by matching them directly with investors through its peer-to-peer lending platform.
Angel Investment enables high net worth individuals to make use of their personal disposable finance. Angel investors usually invest between £50,000-£500,000.
According to the UK Business Angels Association, angel investment deals of £2 million are becoming more common due to syndication.
55
SME SHOWCASE
SME
"The decision if, or when, to sell a business stays with the people that own it. That's a massive differentiator for our business model"
RAW AMBITION FOR EXTREME SPORTS SECTOR
Growth Hub growing Gloucestershire's economy
An independent evaluation by BiGGAR Economics shows Gloucestershire's Growth Hub is boosting productivity and economic growth in the county.
In the three years since the Growth Hub opened, businesses which have received support from the Hub have seen a £20 million increase in turnover. Latest figures from the Office for National Statistics also show the growth rate in Gloucestershire is the third highest in the UK, behind London and Oxfordshire.
Rob Malin worked with the Growth Hub when he set up his business When in Rome Wine. The firm brings Italian wine into the county and offered the world's first box wine subscription service. Rob says the Growth Hub offered him support with funding and mentoring. He said: "The mentoring helped me professionalise my business and the seed funding helped me to set up the subscription service."
Raw Sports Ltd is probably the longest start-up in history.
But this edgy Forest of Dean-based clothing business, which has been selling apparel in the extreme sports sector for 25 years, has relaunched.
Over the years, more than 30 British champions and nine world champions have worn the Raw Sports brand.
The company, set up in 1993 by Forester Steve Grindle and former EMF band member Gareth Milford (remember the 1990s rock anthem You're Unbelievable?) has too often, Steve admits, taken a back seat to his other businesses, including a successful IT software business and property development.
But he's now secured the investment, commitment and the right team, to make Raw Sports roar louder than ever before.
What's changed for this extremesports lover? (at 51, he's still trialriding, mountain-biking, skiing and flying helicopters).
Steve was introduced to James Kent in November 2017. James, who cut his teeth working at a ballistic clothing armour company, is now a director at Raw Sports and putting his 20 years' technical product
"There's such a positive vibe going on, it's pretty much tangible whenever anyone visits us"
Raw Clothing in the Forest of Dean 56
Record-breaking year for CKF Systems
CKF Systems Ltd, the Gloucester-based robotics specialist, has announced its strongest year on record with orders totalling £8.7 million in 2017.
The company is a leading UK integrator of automated solutions for manufacturing industry, providing high-speed robotic pick, place and palletising systems for the food, automotive and logistics industries.
CKF Systems currently employs 50 engineers and plans to recruit a further five in 2018.
Using leadership to steer company growth
Intense periods of change can leave fastgrowing companies ricocheting from one challenge to another, according to Stewart Barnes at leadership and management consultancy Quolux. Fortunately, if you look in the right places, there's much today's SME leaders can learn to steer them through the twists and turns.
"It's often an entrepreneurial spark that ignites a young business, driven by its founders and a small team creating something exciting. As output increases or more investment is needed, the informality of the early days needs more formal management.
expertise (including from Fat Face, Jack Wills and Superdry) to good use at Raw Sports.
Steve has some great sporting heroes supporting the brand, including extreme enduro rider Graham Jarvis, who has more than a million followers on Facebook.
With his expert team behind him, working out of a former iron foundry near Cinderford, Raw Sports is now Steve's full-time focus. "There's such a positive vibe going on, it's pretty much tangible whenever anyone visits us," he says.
"Every business faces its own leadership challenges. But for growing SMEs these can feel particularly acute," says Stewart, who has developed high performance leadership programmes to improve productivity and profitability.
"Our 'Lead' programme helps owners, directors and senior managers navigate their way through change using 'tools', shared learning with like-minded peers and time for thinking deeply, so they feel equipped to deal with whatever is thrown at them. There are definite patterns of change; if you recognise what's happening (or what might be coming next) it's easier to prepare and take the lead.
"That brings new challenges; more delegation is required with the top management needing to 'let go' and take on the role of leading. That can be a struggle for those used to being highly directive. Growth means more people, or more sites, and greater coordination is required. Systems are put in place. But too many controls can be restrictive; all that innovative energy is being dampened. A shift in culture may be needed. Now we're in the era of professional good sense, effective information systems and, above all, strong leadership.
"Every business context is different, but the challenges are common. And the best news is, leadership skills are learnt, so everyone can improve."
57
SME SHOWCASE SME
CKF's IRB660 robot with vacuum gripper
Handelsbanken bolsters local team to meet growing demand
Handelsbanken Cirencester has appointed a new Corporate Banking Manager in response to increasing demand for its local relationship banking services. Ian Horseman joins the local relationship bank with over 30 years of banking experience. He will be involved in developing existing customer relationships as well as welcoming new customers to Handelsbanken's bespoke approach to local banking.
A strong focus on long-term relationships and high levels of personal service has seen the bank rated top for customer satisfaction nine years running in an independent survey of British banks' personal and business customers*. Branches are responsible for making all day-to-day banking decisions based solely on their customers' requirements, free from product and lending targets or bonus incentives.
Ian commented: "I'm delighted to be joining at such an exciting point in time for both the bank and the town. What attracted me to Handelsbanken was its pure focus on serving the customer. As experienced local bankers we have the power to make all the decisions that matter to our customers, swiftly and sensibly here in the branch.
The bank provides customers with an extremely high level of service and is the perfect fit for a rapidly expanding town rightly heralded as the "Capital of the Cotswolds."
The Cirencester Branch has developed a reputation for
traditional banking and high standards within the local business and professional services community.
Diane Pitts, Branch Manager, added: "I am very pleased to welcome Ian and his substantial experience to our team. His appointment means that we can continue to meet the growing needs of both existing and new customers in Cirencester.
Originally from Sweden, Handelsbanken now has over 800 branches in more than 20 countries and was named the world's third safest commercial bank, by Global Finance magazine**. At a time when strength and stability is of particular importance to customers, the Bank enjoys amongst the highest credit ratings of any international bank*** This reflects Handelsbanken's strong financial position, long-term focus and prudent, consistent approach to banking through all economic conditions.
In November 2017, Handelsbanken received the top rating in the Government-backed Business Banking Insight survey for the third year in a row – with 68% of SME banking customers saying they would strongly recommend the Bank's business current account and its associated services****.
Handelsbanken was also named Best Private Bank 2017 at the FT and Investors Chronicle Investment & Wealth Management Awards. This is the fifth time it has received the accolade for its customer-led approach to banking and wealth management*****.
Handelsbanken is the trading name of Svenska Handelsbanken AB (publ). Registered Office: Svenska Handelsbanken AB (publ), 3 Thomas More Square, London, E1W 1WY. Registered in England and Wales No, BR 000589. Incorporated in Sweden with limited liability. Registered in Sweden No, 502007-7862. Head Office in Stockholm. Authorised by the Swedish Financial Supervisory Authority (Finansinspektionen) and the Prudential Regulation Authority and subject to limited regulation by the Financial Conduct Authority and Prudential Regulation Authority. Details about the extent of our authorisation and regulation by the Prudential Regulation Authority, and regulation by the Financial Conduct Authority are available from us on request. HANDELSBANKEN CIRENCESTER
301 Cirencester Business Park Love Lane, Cirencester, GL7 1XD Tel: 01285 650262, Fax: 01285 650278 handelsbanken.co.uk/cirencester
Polythene UK named as "One to Watch"
OXFORD PLASTICS SOLVING GLOBAL PROBLEMS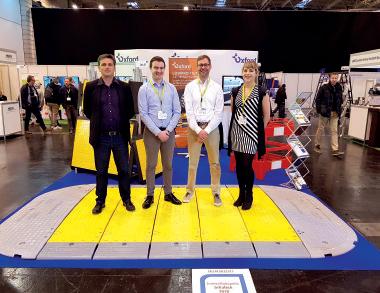 It's hard to believe, as we watch the BBC's Blue Planet, that we remain shocked at the plastic waste in the world's oceans, because the problem's been there for years.
Luckily, some began contributing to solving it decades ago.
Oxford Plastics, founded in 1985 by Chris and Belinda Whiteley, challenges the huge amount of "unusable" PVC waste in Europe taken from old wiring.
Copper wire was a valuable resource, but the plastic component was discarded. Chris designed a manufacturing process for converting waste PVC into new products such as heavy bases and road cone bases.
Oxford Plastics, based at Enstone, Oxfordshire, now supplies the construction, events and civil industries. It creates innovative products and invests heavily in research and development.
According to Chris: "We develop new production methods for composites and work closely with composite companies and individuals within Formula 1."
Building the business wasn't easy. "Cashflow, customers, competition and
suppliers to name a few, but this was to be expected," says Chris.
Before launching Oxford Plastics, Chris was doing market research on fresh foods. He had, however, studied chemistry at Oxford and marketing in London, and had tinkered with machinery and materials for years.
Witney-based Polythene UK Ltd has been named as "One to Watch" in Europe in a list of business excellence published by the European Business Awards.
The packaging company is leading the way for change, proving that the heavily criticised polythene industry can evolve with the needs of today's society.
James Woollard, Polythene UK's Managing Director, said: "It has always been my intention to set the environmental standards others will follow. I am extremely proud that Polythene UK has been recognised as 'One to Watch' in Europe."
A low point was the 2008 recession which hit public works and construction hard. "We dropped down to about 65 employees, keeping them on by putting everyone on a four day week," explains Belinda.
Since then the business has more than recovered. Oxford Plastics is now a multimillion-pound business with more than 100 employees on a five-acre site at Enstone, with big plans to keep on growing.
Belinda explains how the company found its focus. "Before we hit on construction, we experimented making multi-coloured dustbin lids and workmen's buckets, and sold PVC for shoe soles and coat hangers. But we found it best to supply products to distributors in one industry."
A business highlight, according to Belinda, was achieving a headcount of 100 staff, and the employees saying they liked the company's ethos and team spirit.
"We think the secret to our success is giving people freedom and responsibility," says Chris. "If you give people a bit of freedom they grow into it and make work their own. It's a special thing to watch."
And a handy hint from Belinda: "When you think you've got a fantastic deal, get another quote."
She added: "Designing new products is a two-way process. We are indebted to our customers and value our relationship with them."
59 SME SHOWCASE
SME
"When you think you've got a fantastic deal, get another quote"
Andrew Rogers, Business Development Manager, Joshua Willis, Customer Service, Christian Feigl, Business Development Germany and Charlotte Whiteley, Marketing Coordinator
GWP Group reports strong growth
Specialist packaging company GWP Group has announced another successful year of trading with a continuing strong increase in turnover and new business. The Gloucestershire and Wiltshire-based manufacturing company saw turnover increase to nearly nine per cent in the 2016/17 financial year, up from 8.4 per cent in the previous year. It now turns over around £11 million.
Ruth Cook, Managing Director of GWP Packaging said: "We are pleased that our performance continues to be strong. We are also proud that we have been able to expand during a period of unprecedented economic uncertainty."
WMG SME Group seeks interns for 2018
The Warwick Manufacturing Group (WMG) has developed a specialist internship programme for SMEs looking for additional resource and expertise to overcome business challenges.
Since the programme launched, more than 130 internship projects have been completed.
The internships typically take place for eight weeks over the summer and attract students and graduates from the University of Warwick and other local higher education establishments.
3P Innovation expands UK operations
Leading engineering consultancy and automation expert, 3P innovation, has announced plans for a purpose-built facility to accommodate its next phase of investment and growth.
Development has started on a new 30,000 sq ft development at Tournament Fields near Warwick. Since 2006, 3P has helped customers
to innovate, develop and industrialise new products and devices through the design and manufacture of customised manufacturing solutions and machines.
"Investment in our skill base of professional engineers and our new facility in the heart of England will allow increased capacity and production," said 3P Managing Director Tom Bailey.
GBE and Converge join forces
GBE Fire and Security Ltd and Converge Technology Ltd have revealed their new joint operating brand: gbe:converge.
The new brand will integrate GBE Fire and Security's fire, security and aftersales and Converge's IT services. The integration will
Hawkins and Brimble expands product range
Cheltenham-based men's grooming brand Hawkins & Brimble, launched in 2016 and already in retailers such as Waitrose, JoJo Maman Bebe, Boots and House of Fraser, has launched a new range of men's moisturising products.
"The collection is inspired by vintage barbering rituals but with a modern twist," says Stephen Shortt, CEO & Founder. "We wanted Hawkins & Brimble to cater to the modern man who requires a simple yet sophisticated routine."
strengthen and broaden the company's delivery to customers, it says.
Martyn Smith, Converge Managing Director said: "The merger with GBE has put the final jigsaw piece into place. My vision of being able to design, implement and support all IP based solutions to all our customers is now a reality."
Prima Dental launches JV company in China
Gloucester-based dental manufacturer Prima Dental has joined forces with a major dental manufacturer in south China to set up a new company and brand, Wave Dental.
Jointly owned by Prima Dental and Sinyuan Bur & Tool Co (SBT), Wave Dental will be based at Ningbo, south of Shanghai.
The new company will manufacture and supply dental drills to markets across China, the Asian market and beyond.
60
SME SME SHOWCASE
GWP Packaging
HOW MICRO SMES CAN SCALE UP THEIR IT SYSTEMS
Q&A
For growing micro-businesses, it's often the ultimate headache: how and when to scale up from a laptop to a fit-for-purpose, multi-user IT system
I've been running my business from my laptop for a few months. How do I scale up?
"How do you see your business growing? Are you looking to employ more people that need to access shared folders and data? Are these people going to be working remotely? If so then you may need to look at cloud-based options which can sometimes end up more cost-effective than buying a fullblown server and network set-up.
"From experience, when it comes to purchasing IT equipment, if you buy cheap, you either end up buying twice or getting very frustrated. I always suggest buying a better spec than you think you'll need. This way you will always have equipment that works better than you need and will always manage your workloads.
When is the right time to invest in IT support and what support should I be asking for?
We always suggest having an IT expert to turn to. While it might be cheap and convenient to bounce problems off friends and family, IT systems go wrong at random times and usually need sorting immediately –when that cheap support might not be there (or your friends and family might not be able to solve the problem).
We offer packages for all business sectors and sizes, such as "pay as you go" packages, where a client buys hours up front and uses them as needed, or monthly retainers customised to a client's specific technology needs.
What about backing up my system? What is the best way of never losing anything?
We recommend inviting an IT expert to evaluate the security and status of your anti-virus and any firewalls you may have. It may look costly to get something good in place, but we've seen companies lose all their data as the ransom money was just too high to retrieve all their files, inclusive of all of their Sage accounts files. Such a situation is totally avoidable, if you think ahead.
Obviously it's essential. A lot of people, especially when starting up, cross their fingers and don't back up properly. Then before they know it, the morning coffee gets spilled and the data is lost or corrupted.
The best way of never losing anything is to take out human intervention. The less thinking we have to do to back up data, the better and safer it will be.
As we've mentioned, businesses increasingly use the cloud to back-up data, but make sure your cloud backup is secure. We use secure, military-grade cloud backups that encrypt data before leaving a device. We also save up to 10 versions of our clients' files and those files will never be deleted, even if they're deleted from their computers.
I'm reading a lot about cyber-attacks. How should I protect my systems?
Having a free anti-virus package is NOT good enough, especially for businesses. You need advice and trusted platforms that do what they need to do to keep everything at arm's length.
Q
Q Q Q
My business now employs 10 members of staff. Some in the office and some out on the road. How can my IT system evolve to properly support them?
In most cases, moving to simple platforms like Office 365 can host an array of solutions to support your business needs from cloud file storage, to solutions available on the go – wherever you are with whatever device. You can either have your company fully within the cloud, or have your files stored locally with remote access if you already have a server and good internet.
When does my business need to employ a full-time IT expert?
This depends on your business needs. We look after companies from one person to those employing more than 100. If you want someone to sort a problem out immediately, then employ an IT engineer. If you want to save full-time salary costs, there's no reason why you can't outsource your tech needs.
www.cotswoldtechnologygroup.com
61
We invited Russ Grimmett from The Cotswold Technology Group to
answer some key questions: Q A A A A A A Q SME SHOWCASE
CAREER AHEAD
The Coventry-based Manufacturing Technology Centre has appointed Victoria Sanderson as HR Director. Victoria, who held similar positions at Marshall Aerospace and Defence Group and Domino Printing Sciences hopes to inspire more women into engineering.
HOLLAND & BARRETT APPOINTS MANAGING DIRECTOR
Steve Carson moves into a newly-created MD position at the Nuneaton-based health & wellness retailer Holland & Barrett to drive digital transformation. Steve was formerly Director of Retail and Customer Operations at Sainsbury's Argos.
03
Warwick property company AC Lloyd Homes has appointed four new directors. David Henley becomes Construction Director, Darren Meredith becomes Surveying Director, Mark Edwards has been appointed a Director of AC Lloyd Holdings and Darren Avern becomes Technical Director.
05
KNIGHT FRANK BOLSTERS REGIONAL RESIDENTIAL TEAM
Knight Frank's regional residential development department has appointed two new starters, Richard Murphy and Chris Milne (pictured). Both will be based out of the firm's Stratford-upon-Avon office.
04 06
Gloucestershire Enterprise Ltd (GEL) has appointed Sylvia Bullock to support the roll out of its new apprenticeship development programme. Sylvia will put her 30 years of experience in education and training to work engaging with businesses to help them develop staff.
CROWE CLARK WHITEHILL APPOINTS NEW MANAGING PARTNER FOR CHELTENHAM
National audit, tax and advisory firm Crowe Clark Whitehill has appointed Guy Biggin as its new Managing Partner in Cheltenham. Now a senior partner at Crowe, Guy continues to advise his charity and education clients while also leading the Cheltenham office.
01 05 03 02 06 07 04 62
MOORE ALLEN & INNOCENT APPOINTS YOUNGEST EVER MANAGING PARTNER
One of Cirencester's oldest firms has appointed its youngest ever managing partner. Moore Allen & Innocent – a residential and commercial property agent, antiques auctioneer and agricultural adviser – has appointed Mark Halliwell to its most senior role.
CAREER AHEAD 01
07
GEL APPOINTS BULLOCK TO APPRENTICESHIP ROLE 02
NEW HR DIRECTOR AIMS TO INSPIRE WOMEN INTO ENGINEERING
NEW DIRECTORS FOR AC LLOYD
Grove Business Park near Wantage has appointed Craig Davies-Ratcliffe, Sarah Turner and Jo Burgess to its Boston House Business Centre management team. Craig takes the role of Operations Manager, Sarah and Jo have been appointed as Customer Services Representatives at the serviced offices.
BOARD APPOINTMENTS FOR IMMUNOCORE
World leading T-cell receptor company Immunocore, at Milton Park, Abingdon, has appointed Laura Wade-Gery (above left) and Kristine Peterson (right) as NonExecutive Directors. Laura was Executive Director at Marks & Spencer. Kristine has more than 30 years' pharmaceutical and biotech sector experience.
09 11 10
PRACTICE MANAGER MAKES PARTNER
DF Legal LLP has appointed Joanne May to Partner. She was previously Practice Manager. Senior Partner David Ferraby said: "Jo is an invaluable asset and continues to drive DF Legal to new and exciting levels."
GKN ANNOUNCES NEW CEO
Anne Stevens, who was serving as Redditch-headquartered GKN's Interim Chief Executive, has become the Group's new Chief Executive. Anne is leading the development of a transformation plan to improve GKN's performance.
GRANT THORNTON BOOSTS EMPLOYER TEAM
Butler Sherborn, the Cotswold property specialist, has changed its business status to become a Limited Liability Partnership (LLP). In addition, two new partners – Elizabeth D'Allemagne and Richard Greasby have been appointed to join Sam Butler who founded the business in 1991.
NEW MD FOR AQUABIO
Worcester-headquartered Aquabio, which provides innovative systems for the treatment and reuse of industrial waste water, has appointed Terry McCarthy as its new Managing Director after a senior management restructure.
63 CAREER AHEAD
08 13 12
Grant Thornton has promoted Dominic Merlin-Cone to Partner, heading up Employer Solutions across the south region. The promotion comes as a result of growth in the firm's Employer Solutions team in the region. 14
BOSTON
SHERBORNE WELCOMES NEW PARTNERS 12 08 09 11 10 13 14
NEW SUPPORT TEAM FOR
HOUSE BUSINESS CENTRE BUTLER
TOP CYBER EXPERTS TO SPEAK AT THREE COUNTIES DEFENCE & SECURITY EXPO
The 2018 Three Counties Defence and Security (3CDSE) Expo will take place on May 31 at the Three Counties Showground, Malvern
This year the theme is innovation, with a focus on cyber security, hardware and vehicles, UAV and counter-UAV technology, communications and military procurement.
The event is unique among defence and security expos, offering business to business networking with key decision-makers.
Richard Morgan is Head of Defence, Security and the Forces team at Harrison Clark Rickerbys and lead for 3CDSE. He said: "Herefordshire, Worcestershire and Gloucestershire comprise the hub of the UK's defence and security industry, the 'golden triangle', with Special Forces in Hereford, Qinetiq and the Malvern Cyber Cluster in Worcestershire and GCHQ in
Gloucestershire, and all the satellite industries around them. Several sources suggest that 90 per cent of the UK's defence and security innovation has its home in this triangle."
Key speakers come from across the regional and nationally. They include Nicola Whiting, Chief Strategy Officer at Worcester-based Titania and Tony White, Chief Technology Officer at Ultra Electronics, which has a site at Cheltenham. Also speaking are Paul Crumpton, a business and cyber crime expert from West Mercia Police, Dr Emma Philpott of Malvern-based IASME which focuses on information assurance for small companies and Peter Rogers of GBR14 Ltd, a Tewkesbury-based cyber company which helps protect data.
To register for the event: www.3cdse.co.uk
Midlands Engine Cyber hosts US workshops
The UK Midlands Engine Cyber initiative hosted two workshops to help cyber businesses based in the Midlands with outward trade to the US.
The workshops, hosted by Andy Williams, the former Cyber Envoy for the Department for International Trade now working for the Department of Commerce Maryland, offered extensive knowledge and advice on how to best
National challenge will develop schoolgirls' tech skills
Teenage girls from across the UK are being invited to pit their tech skills against one another this month in a GCHQ competition to find the best and brightest candidates to protect the nation from future cyber attacks.
The CyberFirst Girls Competition, set up by Cheltenham-hedquartered GCHQ's new National Cyber Security Centre (NCSC), is an important step in knocking down barriers preventing women from joining the fight against online crime.
The pupils were put through a series of challenges to test their cyber security skills, with the top 10 teams progressing to a national final in London this month.
GCHQ Director Robert Hannigen said: "I work alongside some truly brilliant women who help protect the UK from all manner of online threats. The CyberFirst Girls Competition allows teams of young women a glimpse of this exciting world and provides a great opportunity to use new skills."
busineses could prepar themselves to enter the US market.
Over the past 18 months, the Midlands Cyber team has been strengthening its relationship with the State of Maryland, a global cyber hub, through visits and the signing of a Memorandum of Understanding in 2017. This relationship with the state enables Midlands Cyber to further support
business-related goals, with a growing network and supply chain support on hand to Midlands-based businesses.
One workshop was hosted in the West Midlands (Worcester) by Titania and the other in the East Midlands by Intercede. These companies have made a success of their businesses in the US market and will offer tips on the best strategy to immerse companies into the US.
65 Cyber
SPOTLIGHT ON CYBER
CYBER START-UPS PITCH TO THE PALACE
Twenty-two tech start-ups underwent royal scrutiny when Pitch@Palace, the Duke of York-led organisation, arrived in Cheltenham in February, as part of its tour around the UK.
Pitch@Palace gives entrepreneurs and early stage businesses the opportunity to present their ideas, meet with potential angels, mentors and business partners.
The campaign will culminate in a pitch at St James's Palace in London in April, when the finalists from each round will pitch directly to an influential audience from the worlds of entrepreneurship, technology, media and investment. The theme for this round of Pitch@Palace was 'Data, Intelligence and The Future of Security'.
"I am delighted to be able to bring Pitch@Palace on tour to Cheltenham. It is designed to provide a platform for entrepreneurs and audiences to meet, network and hear the great ideas that are being commercialised and built by the next generation of entrepreneurs"
The Duke of York, who watched all 22 pitches at Cheltenham Racecourse, said: "I am delighted to be able to bring Pitch@Palace on tour to Cheltenham. It is designed to provide a platform for entrepreneurs and audiences to meet, network and hear the great ideas that are being commercialised and built by the next generation of entrepreneurs."
Oxfordshire co-funds GDPR and cyber security training
Cyber
A successful collaboration between CC2i, 10 local authorities including Oxfordshire County Council, and BAFTA awardwinning film-makers, Matobo, is now delivering council-focused GDPR and cyber security awareness training across 32 local authorities, just one month after launching.
National Cyber Security Centre (NCSC) research shows that staff are the biggest threat to cyber security, with 50 per cent of
the worst information security breaches caused by human error.
The resulting training delivers more than 35 minutes of high quality content across 12 modules, each lasting three to five minutes. With modules covering phishing, scams, password management, offline security, GDPR and more, the animated, easy to consume approach ensures staff stay engaged.
The event was supported by the National Cyber Security Centre (NCSC), part of GCHQ, and Wayra UK, which helps identify and scale up start-ups using its parent organisation, Telefónica's, global resources.
Chris Ensor, Deputy Director for Cyber Skills and Growth at the NCSC, said: "As the UK's technical authority on cyber security, the NCSC is helping to develop agile and exciting tech start-ups. By using our insights into cyber risk and deep expertise, these new companies can provide new and novel solutions to the UK's cyber security challenges."
The event was moderated by Gary Stewart, Director of Wayra UK. He said: "Pitch@Palace is a game-changing initiative to help start-ups, not just in the UK, but throughout the world."
Foregenix expands into Brazil
Cyber security specialist Foregenix has expanded into São Paulo, Brazil.
The Marlborough-headquartered firm was also named by The Sunday Times as one of the fastest growing exporters in 2017, the only cyber security company featured in its SME Export Track 100.
Foregenix generates two-thirds of its revenue from international sales of its software solutions and consultancy teams, which operate in 20 countries.
66
Cheltenham: The home of online security in Britain
Cheltenham can claim to be the home of online security in Britain, according to Ciaran Martin, the Head of the National Cyber Security Centre and Board Member of GCHQ.
Delivering a keynote speech at the Pitch@Palace event at Cheltenham Racecourse, he said: "What is happening here is of huge national importance, and huge importance to our place in the world, and to our prosperity and security. With GCHQ located here, the NCSC within it, and the proliferation of cyber security businesses there is plenty of innovation."
Ciaran paid tribute to The Duke of York for his ongoing support and interest in digital and cyber security.
"Here in Cheltenham we are in the cradle of an exciting new phase in the history of digital Britain. We have been tasked by the Government and the National Security Council to make the UK the safest place to live and do business online.
"It's taken time to build meaningful collaboration with business, but as cyber threats and the country's understanding of them has evolved, so organisations are now working ever closer together.
From bunks to bugfinders and hedges
From Bugfinders, which is harnessing a global community of 55,000 testers across 149 countries to check for cyber bugs, to Bunk - which uses machine learning to connect renters with landlords without the need for hefty deposits, each pitching team had three minutes to explain their ideas to a 150-strong audience.
This proved tough for some. Just because you've got an amazing idea to solve a critical technological problem, doesn't mean you've got the communication skills to persuade the audience that it's worth investing in or supporting – however knowledgeable they are. Some of those presenting their ideas would have done well to revisit their three-minute pitch and ask themselves what they were actually trying to get across.
In some cases, the passion for the idea was obvious. The National Cyber Management Centre wants to run cyber educational and awareness courses, not only for private and public organisations, but also for the old, vulnerable and the young.
For others, it was the simplicity of an idea which engaged the audience. Hedge, which only launched in late 2017, aims to be a sustainable savings and impact investment platform for a new generation of investors.
The winners, announced by The Duke of York, were Trust Elevate, which solves the problem of age verification and parental consent for young adults and children in online transactions; Intruder, a proactive cyber security monitoring platform for SMEs which aims to identify customer weaknesses before the hackers, and Immersive Labs, which helps companies upskill their cyber security teams. Immersive Labs' online academies removes unconscious bias and increases diversity to help plug the growing cyber skills gap.
"Working with Wayra and Pitch@Palace, The NCSC is collaborating exceptionally well on some exciting new initiatives which are now making a difference," he said. "We are getting global attention for what this country is doing. And at a crucial point in the country's history, having that global leadership in cyber security matters."
He added: "The ideas pitched here and later at the Palace, will be crucial to cracking the strategic challenge, which is critical to our future economic success. It is also crucial to the safety of all of us and our children, our freedom and our way of life."
Chris Wallis of Intruder, said: "We are delighted that Pitch@Palace have added their name to a growing number of prestigious organisations who believe in the vision behind Intruder. And I have a sneaky feeling they may also become a customer soon."
The Duke said: "The judges had a long and involved conversation about all the businesses, and although three have got through to the next round of boot camp, we think there is a lot that we can do to help every business which pitched today. The judges discussed how we can practically assist your businesses, regardless of whether or not you make it through to the final selection."
Since it was launched in 2014, Pitch@Palace has supported more than 490 companies. Alumni include Yoyo wallet, a start-up accelerated through the Wayra UK programme and which recently raised a further $12 billion in funding.
67 SPOTLIGHT ON CYBER
"We are delighted that Pitch@Palace have added their name to a growing number of prestigious organisations who believe in the vision behind Intruder"
The Duke of York
RENISHAW HUNTS FOR RECORD NUMBER OF APPRENTICES
Global engineering technologies company Renishaw is recruiting for a record number of 50 apprentices across its Gloucestershire and South Wales sites.
The Gloucestershire-based Technical and Manufacturing Schemes require applicants to be GCSE qualified. Renishaw also offers degree-level apprenticeships in software and embedded electronic systems design, open to young people who have completed their A-Levels.
"An apprenticeship at Renishaw gives you the opportunity to work on ground-
breaking engineering projects," explained Chris Pockett, the company's Head of Communications. "As well as gaining hands-on experience in innovative and exciting industries, our apprentices have access to expert training and support, to continually build on the skills they are learning as part of their studies.
Renishaw's apprentices and former apprentices have been recognised for their successes by numerous industry awards. This includes Lucy Ackland, named as one of the UK's top 50 female engineers by The Daily Telegraph.
SGS College's Berkeley Green Campus receives funding
SGS Berkeley GREEN Campus has received £200,000 from the Nuclear Decommissioning Authority (NDA) to kit out its engineering workshop.
The workshop is now being used by young learners who started studying at the campus last September.
"The financial donation from the NDA has enabled the college to expand its workshop facilities with state-ofthe-art equipment"
The site, originally opened in 1961 to support the UK's nuclear power stations, has undergone extensive renovation to become a state-of-theart site for education and business.
Site Director at Berkeley GREEN, George Ridd, said: "The financial donation from the NDA grant has enabled the college to expand its workshop facilities with state-of-theart equipment."
University launches degree apprenticeship in leadership and management
The University of Gloucestershire has welcomed the first cohort of learners on its Chartered Manager Degree Apprenticeship. This will make the university the first provider in Gloucestershire to deliver this apprenticeship, allowing learners to earn while they learn, gaining a degree qualification and developing their leadership and management skills at work.
Staff from Superdry, electrical contractors
Clarkson Evans and Gloucestershire City Council are among the first enrolling staff on the programme.
This programme is accredited by industry leader the Chartered Management
Institute (CMI), meaning learners will receive the double benefit of achieving a full degree and accreditation from their industry body.
The Chartered Manager course is part of a wider apprenticeship programme available from the university which includes an MBA degree apprenticeship, cyber security, paraplanning (financial services) and healthcare.These courses have been developed in partnership with industry and business bodies to meet their skills needs.
Stephen Marston, Vice-Chancellor of the University of Gloucestershire said: "Employers tell us that leadership is an
important skills area for business growth, so we are delighted to be able to introduce our first degree apprenticeship to address this need.
"We are supporting growth and job creation in the county and apprenticeships are very much part of this wider economic picture."
Simon Amesbury, Resourcing Manager at global fashion brand Superdry: "This will help our people's professional development and enhance their career prospects, and will allow us to benefit from the broadening of their skills by deploying them to do more challenging and difficult work across the wider business."
70
Spotlight On Apprenticeships
House of Commons awards night for former college student
It's not every day that you get to rub shoulders with MPs and Peers at a special awards night at the Houses of Parliament. But that's what happened to former Abingdon & Witney College student Kirsty Newman.
The 18-year-old Early Years Education and Care student from Chipping Norton, who studied for her two-year CACHE Level 3 Diploma at the College's Witney campus, was a runner-up at the Association of Colleges (AoC) Annual Conference in November 2017.
That night, she was invited to attend the House of Commons event along with other finalists from across the country.
NEWLY FLEDGED LEGAL EAGLES
Regional firm, BPE Solicitors, has a brace of newly qualified solicitors following both Kathryn Broughton and Zaia Ndokera completing their training contracts and becoming fullyfledged solicitor.
Joining the Corporate team as a solicitor, Kathryn returns to the department where she took her second seat during her training contract. She also spent time in the employment, commercial and commercial litigation teams.
Zaia has qualified as a solicitor in the Family team. "I joined BPE as a trainee solicitor in 2016. The balance between great clients and a fantastic working atmosphere means the team works really well together."
John Workman, Senior Partner, said: "Seeing rising stars of the future come through our trainee scheme is always a Champagne moment. I look forward to seeing great things from these two in the coming years."
Midlands Group Training Services celebrate apprentice success
Midlands Group Training Services celebrated the success of apprentices at the MGTS Apprentice Awards 2017.
The students were there as part of the annual AoC Gold Awards, which celebrate the achievements of college alumni who have gone on to lead successful careers in many industries. Influential people who were recognised at this year's awards included broadcaster and presenter Stephanie Hirst, BBC reporter Sima Kotecha and actor and singer Shaun Escoffery.
Kirsty, who is studying for a degree in Primary Education at Oxford Brookes University, said: "It was inspirational to meet those who had achieved their goals through college as a starting point."
The training company, which has facilities in Redditch and Coventry, provides thousands of apprenticeship and qualifications and works in partnership with Jaguar Land Rover, along with many other organisations.
Aaron Beddoes of Kanes Foods won BTEC Programme Student of the Year. Emma Baylis of Arrowvale Electronics won a Special Recognition Award.
Emma's ambition is to achieve a degree in engineering.
Stuart Parker of Heller was voted Most Improved Apprentice of the Year and Jesse Wood of UK-NSI achieved First
Year Advanced Apprentice and First Year BTEC Student of the Year.
William Morgan of TRT Lighting was the Apprentices' Apprentice of the Year and Calum Wheatley of Thorlux Lighting was voted Advanced Apprentice Graduate of the Year.
71
SPOTLIGHT ON APPRENTICESHIPS
Spotlight On
Apprenticeships
"It was inspirational to meet those who had achieved their goals through college as a starting point"
Aaron Beddoes of Kanes Foods, Emma Baylis of Arrowvale Electronics, Stuart Parker of Heller, Jesse Wood of UK-NSI, William Morgan of TRT Lighting and Calum Wheatley of Thorlux Lighting
Zaia Ndokera, BPE Solicitors
Call us on 01452 221777 for more information about our Leadership Apprenticeship Programmes
2018 IS THE YEAR OF ENGINEERING
Engineering bosses across the region have joined forces with the government in making 2018 the Year of Engineering, to inspire the next generation of engineers.
Bosses from some of the UK's biggest businesses, including Steve Wadey, Chief Executive of Worcester-based Qinetiq, Andy Milner, Chief Executive of Oxfordbased Amey plc and Katherine Bennett of Bristol-ased Airbus have pledged to encourage everyone to take a closer look at engineering, challenge stereotypes associated with the career and showcase the sector properly. In an open letter, 20 UK bosses are calling on others to join them.
Engineering is one of the most productive sectors in the UK, but a shortfall of 20,000 engineering graduates every year is damaging growth. There is also
Management development programme delivers for BAE
Gloucestershire-based creative training company, Treehouse, has completed its first management development programme for BAE's Combat Air Product Support department.
The department had recognised that some of its key technical managers, while excelling in their own technical discipline, needed support in managing their people better. Twenty-six managers were selected to take part in the 10-month programme.
In a successful outcome, all managers learnt to be less involved in technical delivery and more supportive in helping their teams deliver and think for
widespread misunderstanding of engineering among young people and their parents and a lack of diversity in the sector – the workforce is 91 per cent male and 94 per cent white, according to the government.
Year-round activities will include Sir James Dyson, based at Malmesbury, investing in inspiring young engineers by providing opportunities to apply engineering principles to projects that solve real world problems. Schools will also get the chance to visit Airbus to meet engineers working on the Mars Rover, and Thales in the UK will be inspiring inventors of the future with robot clubs in primary schools.
For more information www.yearofengineering.gov.uk
£20 million to train digital specialists
The next generation of digital specialists will be created through a new Institute of Coding, made up of a consortium of universities including the Universities of Gloucestershire and Warwick, and business and industry experts, including Nuneaton-based Horiba Mira, Oxfordbased Unipart Manufacturing and Worcester-based QinetiQ. The project will receive £20 million to help tackle the UK's digital skills gap.
Universities Minister Sam Gyimah said: "A world-class pipeline of digital skills is essential to the UK's ability to shape our future."
Professor Kamal Bechkoum, Head of the School of Business and Computing at the University of Gloucestershire said: "Coding is fast becoming the most in-demand skill across industry. This is a tremendous opportunity for the University of Gloucestershire to play its part in a project that aims to reframe the education of coding to ensure employers have access to high quality graduates with the skills needed in the digital economy."
themselves, according to Treehouse Director, Helen Westendorp.
"Choosing managers that have the skills and desire to make change happen is the key to the start of any management development programme," she added.
Worcestershire Skills Show was due take place at Chateau Impney, Droitwich Spa on March, 7.
More than 1,800 students were expected to attend, as the show has developed a reputation for engaging and exciting activity-based stands that help to bring the world of work to life.
Gary Woodman, Chief Executive of Worcestershire Local Enterprise Partnership, said: "The annual event is a fantastic opportunity for local businesses to inspire the younger generations with their industry experiences and opportunities. The Worcestershire Skills Show is the biggest skills-based event in the county."
Spotlight
On Skills
More than 1800 expected at Worcestershire skills show
ON SKILLS
SPOTLIGHT
73
Helen Westendorp of Treehouse Training
IN AUSTRALIA GOING DRIVERLESS
A leading Coventry manufacturer is helping pioneer driverless vehicle technology Down Under after it began trials on a new "last mile" transport solution.
Aurrigo, the autonomous vehicle division of Coventry-based RDM Group, is testing its Pod Zero at the Tonsley Innovation District in South Australia to explore a possible solution to carrying and delivering cargo around the technology precinct.
Manufacturing work on a further two pods is being carried out at the firm's UK advanced engineering centre.
The Pod Zero has an operating speed of up to 24km/h, multiple battery options up
to eight hours or 80 kilometers and, if not carrying cargo, can be fitted out to seat four people.
Roger van der Lee, Aurrigo's Autonomous
PullClean gets a handle on sanitation
Do you eye the grubby area around door handles with suspicion? Do you wonder (as you pass someone departing a public toilet) whether they washed their hands?
Now an innovative door handle that triples the rate of hand sanitisation rates and provides feedback on usage, has been launched in the UK by former Oxford University students, Dr Alex Oshmyansky and Dr Jake McKnight.
The duo are marketing the product through Altitude Medical UK, based in Oxford.
PullClean encourages people to clean their hands every time they enter and exit a room, making hand hygiene simple and trackable. It was developed to reduce the spread of viruses and infections in hospitals, care homes, schools and universities, as well as hotels, restaurants, shopping centres and airports.
PullClean can currently be seen at the Science Museum in London, as part of a new exhibition, "Superbugs: the Fight for our Lives", which explores how society is responding to the challenge of antibiotic resistance and bacteria evolving into superbugs.
PullClean replaces two separate actions (sanitising and then opening a door) into one movement.
According to Dr McKnight, co-inventor of the device and General Manager at Altitude Medical UK: "We wanted to make it so easy for people to sanitise their hands, that it is almost subconscious."
A tube-shaped cartridge is placed in the centre of a hollow door handle, which releases sanitiser when a blue paddle button is pressed. Each handle includes a monitoring system that records data, from
Programmes Director for Australia and Asia Pacific, said: "The initiative at Tonsley Innovation District is the direct result of funding from the South Australian government's $10 million Future Mobility Lab Fund, supporting the development of driverless car technologies. We're proud to be involved in one of the first projects and delighted to see UK technology being used over 10,000 miles away."
Aurrigo designs and develops the driverless vehicles from the ground up, including the autonomous control systems and offers a full "in the field" operating service.
when the cartridge should be replaced, to hourly usage stats.
PullClean handles are already in use in the USA by the Hilton and Marriott hotels, as well as hospitals, care homes, doctors' surgeries, restaurants and universities.
Dr Oshmyansky conceived the idea while working as a junior doctor at the John Radcliffe hospital. Together with University of Oxford PhD student, Dr McKnight, a product design engineer, they came up with PullClean.
The Aurrigo 'Pod Zero'
Innovation
SPOTLIGHT ON INNOVATION
"We're proud to be involved in one of the first projects and delighted to see UK technology being used over 10,000 miles away"
75
The new PullClean door handle
White & Black sold to Gordon Dadds Solicitors
Oxford-based legal firm White & Black, which specialises in corporate and technology law, has been bought by acquisitive London-based legal and professional services firm, Gordon Dadds Group plc.
The firm paid £3.4 million in an all-cash deal.
For the year ended October, White & Black generated pre-tax profits of £660,000 on net fee income of £2.6 million.
LAW FIRM BANKS ON NEW TEAM
A Midlands law firm has made a major appointment to help head up a new banking and project finance team.
Wright Hassall, named Regional Law Firm of the Year at the 2017 Lawyers Awards, has appointed Judith Gershon as partner with responsibility for real estate finance at the Leamington Spa-based firm.
She has moved from the international law firm Gowling WLG and joins a new sixstrong team, led by corporate finance and banking partner, Keith Ainsworth.
The team has been assembled to expand the firm's banking and project finance offering which has grown significantly due to client demand.
BPE acts for The Smallpeice Trust on merger
Legal & Financial
Gloucestershire law firm BPE Solicitors has acted for the Warwickshirebased charity, The Smallpeice Trust, on its merger with the Arkwright Scholarships Trust.
The Smallpeice Trust is the UK's largest STEM (Science, Technology, Engineering and Mathematics) education charity, which reaches around 50,000 young people a year through its programmes.
The Arkwright Scholarships Trust supports future leaders in engineering during their A-Level (or equivalent) studies via its coveted Arkwright Engineering Scholarships programme. A record 425 Arkwright Engineering Scholarships were awarded in 2017.
Through the combined efforts of BPE's Corporate and Science &
"The Smallpeice Trust is the UK's largest STEM education charity, which reaches around 50,000 young people a year through its programmes"
Technology teams, the merger successfully brought together two charities enabling it to offer educational institutions, parents and young students a single point of contact for a wide range of STEM resources, courses, scholarships and mentors already working within the engineering and science sectors.
"I am delighted to have completed our second specialist acquisition after Gordon Dadds' successful IPO in 2017," said Adrian Biles, Gordon Dadds' Chief Executive Officer.
"White & Black Ltd is a highly regarded and profitable business which will add to the group's expertise."
Crowe Clark Whitehill helps paintball business expand
A paintball leisure business near Cirencester has appointed national audit, tax and advisory firm Crowe Clark Whitehill to help drive its expansion into the corporate market.
Combat Splat, based on five acres of woodland and fields in the Cotswold Water Park between Swindon and Cirencester, was launched nearly 10 years ago.
New boss Ollie Chadwick became involved with the company last summer and took on sole ownership in September. He wants to develop the business with new corporate customers and expand operations.
LEGAL & FINANCIAL REPORT
Wright Hassall's banking team: Chris Jones, Lucie Byron, Keith Ainsworth, Judith Gershon, Stephanie Elge and Myles Bennett
Combat Splat Paintball
GBE and Converge host brand launch at Gloucester Rugby
Gloucestershire-based GBE Fire and Security Ltd and Converge Technology Ltd welcomed guests for a celebration evening to launch their new brand, hosted in the 1873 suite at Gloucester Rugby.
The two companies have combined to operate under the new brand name of GBE Converge.
PHOTOGRAPHY: KAY RANSOM
Would you like to feature your business event, launch or party in our business events section?
78
Please contact: kirsty.muir@nkmedia.co.uk or visit businessinnovationmag.co.uk
LET'S
SOCIAL
GET
GBE Converge's new branded vehicle
Robert Games, Albright IP with Kevin Slater from GBE Converge.
Martyn Smith, Bridgette Smith and Jason Buttle, Directors at GBE Converge.
Kingsholm Stadium
Martyn Smith from GBE Converge with Kevin Aherne and James Aherne from National Shower Spares
Rob Brunt from GBE Converge with Suzanne Hall-Gibbins from Circle 2 Success and Darren Stevens from Prestbury Marketing
Henry Hodgkins from Warwick Butchart with Peter Mardon from WSP Solicitors
Bridgette Smith from GBE Converge with Kirsty Muir from Business & Innovation Magazine
Kevin Aherne from National Shower Spares with Jason Buttle of GBE Converge and James Harper from Harper Sheldon
Charles Cox from IAHAA with Will Abbott Randall & Payne and Ruth Tyler of GBE Converge
TAX YEAR END PLANNING FOR INDIVIDUALS
Don't miss out on annual allowances, says Sue Daye, Tax Partner in the Cheltenham office of national audit, tax and advisory firm, Crowe Clark Whitehill
Given the complexity around tax breaks, it can be easy to overlook the opportunities for efficient tax planning every year.
There are a number of annual allowances that you must use by April 5, 2018 or you will lose them.
Time is short, but here are just six areas you should be considering:
 ISAs
 Tax-efficient investments
 Pensions and charitable giving
 Savings and dividend allowances
 Capital Gains Tax (CGT)
 Inheritance Tax (IHT).
ISAs
There are several different types of ISAs and they can grow tax-free, with no tax to pay when funds are withdrawn.
You can invest up to £20,000 in an ISA each year. For parents and grandparents looking to transfer funds efficiently to a child, £4,128 can be invested per child in a Junior ISA.
The widely-publicised Help-to-Buy ISA enables those over 16 to save up to £200 per month. The government will add a 25 per cent tax-free bonus when the money is used to buy a first home, capped at £3,000 on £12,000 of savings – a good way for parents and grandparents to help children on to the property ladder.
The Lifetime ISA (LISA) is only available to those under 40 when the account is opened. Contributions can be made up to the age of 50. As well as the ISA tax benefits, a LISA receives a bonus of 25 per cent of that year's contributions but, to retain that bonus, the LISA must be used to purchase a first home or be withdrawn after the age of 60.
Tax-efficient investments
Everyone has their own investment entitlement and income tax relief is available which can reduce your tax liability. Investments include shares that qualify under Venture Capital Trusts (VCTs), Seed Enterprise Investment Scheme (SEIS) and the Enterprise Investment Scheme (EIS).
Pensions and charitable giving
Personal income between £100,001 and £123,000 is taxed at an effective rate of up to 60 per cent, owing to the loss of the personal allowance. Personal income over £150,000 is taxed at 45 per cent.
There are ways of reducing income being taxed at these rates of tax by:
 Passing income-yielding assets to a spouse with a lower income
 Deferring income to a later date
 Making pension contributions
 Making Gift Aid payments.
For those with relevant income over £150,000, the annual allowance for pension contributions has been reduced to £10,000 however, everyone should review their pension contributions to see if they could make additional contributions or make use of any brought forward unused annual allowance from the previous three tax years.
Savings and dividend allowances
The personal saving allowance permits £1,000 of tax-free interest for basic rate taxpayers and £500 for higher rate taxpayers. This is a saving of up to £200 per person. There is no annual allowance for those paying tax at 45 per cent.
Dividend income is another issue that needs urgent consideration before April 6. Currently, the first £5,000 of
dividend income is tax-free but this will be reduced to £2,000 from April 6, 2018. These allowances are particularly significant for couples with jointly-held investments and for business owners choosing how to extract their profits.
Capital Gains Tax (CGT)
Most people have an annual CGT allowance of £11,300 for 2017-18 which means that capital gains on investments up to this figure are tax-free before April 6. One way of using this allowance is to sell and buy back stocks and shares. This provides an opportunity to increase the base cost for future sales.
The repurchase will need to be delayed for 30 days, or made by your spouse, civil partner or ISA to benefit.
Assets standing at a loss can also be sold to reduce capital gains in the same tax year or carried forward and set against future capital gains.
Inheritance Tax (IHT)
The fact that you can make an annual gift of £3,000 IHT-free means that parents and grandparents can make tax-efficient gifts.
You can also make as many small gifts of £250 per person as you like each year, so this provides the opportunity of gifting £250 to each child or grandchild, each and every tax year IHT-free. Something to think about with birthdays and special occasions in mind.
Regular gifts out of surplus income can also be made IHT-free, but great care should be taken to ensure they are regular and specialist advice should be sought to ensure you remain compliant.
79
LEGAL & FINANCIAL REPORT
Sue Daye, Tax Partner, Crowe Clark Whitehill
WARWICKSHIRE CAR STARS RECORD OVERALL SALES FOR
Jaguar Land Rover achieved record global sales in 2017 while its next-door neighbour at Gaydon, Warwickshire, Aston Martin sold 5,117 sports cars last year amid sellout demand for its DB11 model.
Despite tough conditions in some key markets, Jaguar Land Rover achieved its best full-year global sales in 2017 with retail sales of 621,109 vehicles, up seven per cent on the previous year. The company's seventh successive year of sales growth was driven by the introduction of new models, increased uptake of its Ingenium clean diesel and petrol engines and the development of its manufacturing operations around the world to increase capacity.
Jaguar sales were up 20 per cent for the year, retailing 178,601 vehicles. Land Rover retailed a record 442,508 vehicles in 2017. The best-seller for the year was the Discovery Sport, retailing 126,078 vehicles.
Growth for Jaguar Land Rover in China and the USA helped offset the impact of difficult market conditions in the European, UK and Overseas markets.
The UK also showed a solid performance with sales of 117,748 Jaguars and Land Rovers, on a par with the 2016 record and bucking the overall trend in the company's domestic market.
Andy Goss, Jaguar Land Rover Group Sales Operations Director, said: "We have once again delivered year-on-year sales increases. But we are facing tough times in key markets such as the UK where consumer confidence and diesel taxes will hit us."
Strong growth for SMEs but skill shortages rocket
Retail sales at Aston Martin saw a 58 per cent year-on-year increase. Dr Andy Palmer, Aston Martin President and Chief Executive Officer, said: "We continue to perform ahead of expectations, in financial performance and in meeting our targets for the DB11 and special vehicles. Phase Two of our Second Century transformation programme will be largely completed in 2018 with the introduction of the Vanquish replacement and production of the new Vantage, contributing to continued sustainable profitability at Aston Martin."
Output growth among the UK's small and medium-sized (SME) manufacturers picked up in the three months to January, with a further acceleration expected, according to the latest CBI SME Trends Survey.
The survey of 339 respondents also found that optimism improved at the fastest pace since April 2014 and export optimism improved at the fastest pace on record. Driving strong growth in output was the quickest rise in new orders since April 1995, underpinned by a pick-up in domestic and export orders.
However concerns over skilled labour limiting output were the highest since January 1988.
Raicam buys Italian hydraulic business
In 2017 Aston Martin achieved its highest full-year sales volumes in nine years, driven by rising demand in North America, the UK and China.
As part of the Second Century Plan, Aston Martin is expanding its UK manufacturing footprint. The company has resumed output of special vehicles, notably the DB4GT Continuation, at its Newport Pagnell facility for the first time since 2007.
Construction work is continuing at the new St Athan facility in Wales, due for completion in 2019, ahead of production of the new DBX SUV. Aston Martin will report 2017 full-year earnings this month (March).
Redditch-based Raicam, which designs and develops brakes and clutches for the automotive industry, has acquired the hydraulic actuation division of Valeo, a worldwide automotive supplier. The purchase was expected to be finalised in early 2018.
Raicam says the purchase will enable it to manufacture the entire clutch and actuation system and provide customers with a faster and integrated service. It will also facilitate the industrialisation of hydraulic actuators and develop innovative products and systems to contribute to the reduction of CO2 emissions within the automotive industry.
80
Jaguar Land Rover achieves record global sales
"We have once again delivered year-on-year sales increases. But we are facing tough times in key markets such as the UK where consumer confidence and diesel taxes will hit us"
Versarien collaborates to develop 'smart clothing'
Manufacturing
Versarien plc, the Cheltenham advanced materials engineering group, has signed a collaboration agreement with a global textiles and apparel manufacturer to work on the incorporation of graphene into high performance sportswear.
The partner, based in Asia, designs, develops and manufactures clothing for well-known global brands. Using Versarien's graphene ink technology developed by the company's subsidiary, Cambridge Graphene Ltd, the collaboration will involve the incorporation of graphene into textiles via yarns and fabric finishes.
Neill Ricketts, CEO of Versarien, said: "Graphene has enormous potential to enhance the properties of fabrics and can also be incorporated within them to enable 'smart clothing' to be developed."
"This agreement demonstrates the wide-ranging capabilities of Versarien in the field of graphene and other nano materials. Coupled with the other agreements we have signed, and those we are discussing with companies globally, this demonstrates the huge number of potential applications for the different types of high quality graphene we can produce."
BRITVIC TO RAMP UP PRODUCTION AT ITS RUGBY SITE
Soft drinks manufacturer Britvic says it will boost production at its Rugby factory (the company's biggest site) as well as its other manufacturing sites at London and Leeds, following the announcement that it is transferring production from the Norfolk site it shared with Unilever.
In November the company reported an increase in revenue of nearly eight per cent to just over £1,540 million with organic revenue up. Profit after tax decreased 2.5 per cent to £111.6 million. At the November announcement, Simon Litherland, Chief Executive Officer, said: "Britvic has again demonstrated the resilience of our business, delivering another strong set of results. We have grown both organic revenue and margins whilst continuing to progress
our strategic priorities. I am particularly encouraged that we have increased the proportion of revenue generated from innovation and accelerated the returns from the business capability programme."
However, he added that April 2018 will bring uncertainty with the introduction of the Soft Drinks Industry Levy in GB and Ireland. He said: "We are well placed to navigate it thanks to the strength and breadth of our brand portfolio and our exciting marketing and innovation plans."
Britvic's Rugby plant employs around 215 people and has six production lines operating around the clock. Some of the brands produced in Warwickshire include Britvic mixers, R Whites lemonade, Fruit Shoot, Pepsi and Tango.
Adaptimmune announces manufacturing achievements
Oxford-based biopharmaceutical company, Adaptimmune Therapeutics plc, has announced the successful manufacturing of the first SPEAR T-cells for a patient at its Philadelphia facility in the USA.
The company, based at Milton Park, is a leader in T-cell therapy to treat cancer. It has also announced an agreement with the UK's Cell and Gene Therapy Catapult for vector production in the UK. Viral vectors are tools commonly used
by molecular biologists to deliver genetic material into cells.
"We are making great strides to becoming a fully integrated cell therapy company," said Adaptimmune's Chief Executive Officer, James Noble.
Keith Thompson, CEO, Cell and Gene Therapy Catapult, added: "This collaboration with Adaptimmune is a great example of a company using the capability we have developed to accelerate
GMP (good manufacturing practice) manufacturing for global supply. It is the first announcement of a viral vector manufacturing agreement at the centre and represents part of our commitment to help UK companies overcome barriers to growth.
"Improving the capacity of UK companies and contract manufacturers to supply viral vectors is one of our key priorities, and we are delighted to work with Adaptimmune on this and to support the trials of their SPEAR T-cell therapies.
81
SPOTLIGHT ON MANUFACTURING
COMMERCIAL BUILDINGS SMARTEN UP
Gigaclear widens its net to support business and enterprise
After a successful roll-out to a large number of rural residential properties Gigaclear is now including business and enterprise within its focus.
The company, founded in 2010 by Matthew Hare, welcomed its 15,000th customer in January.
Government regulations, higher standards and increased employee expectations have meant increasing costs for landlords.
More recently, employees are increasingly expecting funky play areas in their work environments, from table tennis to colourful "chill-out" zones, and some companies will spend millions of pounds to create a unique workspace.
Such spaces might be nice to have
but how much do they really help employees boost their productivity? There doesn't seem to be any independent, unbiased research to validate such investment.
However, investment in energy-efficient commercial buildings and superfast broadband is now essential to attract long-term tenants.
We look at the issues landlords are facing and report on successful projects from across the region.
The company says that in the last few years there has been a definite increase in the number of businesses starting up or moving to rural locations. A slow and unreliable broadband connection acts as an obstacle to growth, promotes competitive disadvantage and stunts productivity, so Gigaclear is investing to bring ultrafast broadband technology to rural businesses.
With Gigaclear Business Broadband, a pure fibre network is installed all the way to the premises, providing a consistent speed from the cabinet to the business.
83 SMART BUILDINGS
The standards we expect from our working environment have risen significantly
01452 880000
'Roberts Limbrick's offices have integrated modern technology in the conversion of a Victorian 'Carriage Building' in Gloucester. The BREEAM 'Excellent' scheme has upgraded and adapted the historic building to provide the performance and technology needed for a modern office and includes features such as lighting that self-adjusts to suit external lighting levels.
www.brutonknowles.co.uk |
Property is our passion
LANDLORDS FACE POTENTIALLY HUGE BUILDING AND REFURBISHMENT COSTS
As if landlords of older buildings don't have enough to worry about in maintaining their properties, a potentially costly new regulation is looming this April.
The Minimum Energy Efficiency Standard, or MEES for short, could mean that energy inefficient buildings (those with an Energy Performance Certificate [EPC] of F or G – the lowest two grades of energy efficiency), which they were previously able to let commercially, will no longer be lettable when the current lease ends.
to Bruton Knowles Partner, Dorian Wragg. "These new regulations have been known about for over a year, but too many landlords have ignored the potential Sword of Damocles which could be hanging over them."
There are some exemptions to the legislation. Landlords could avoid compliance if they can demonstrate that all cost-effective energy efficiency improvements have been carried out, or if they've tried to obtain consent to do the works from a local authority, but been turned down.
A building doesn't require an Energy Performance Certificate (EPC) if:
 It's listed or officially protected and the minimum energy performance requirements would affect it unacceptably
 It's a temporary building which will only be used for two years or less
 It's used as a place of worship, or for other religious activities
 It's an industrial site, workshop or non-residential agricultural building that doesn't use much energy
The new regulations relate to all non-domestic property, except for those not requiring an EPC under current regulations.
Landlords have five years to get their properties sorted out, because by April 1, 2023, every building will become covered by MEES, including those let on long leases.
Such legislation could cost landlords tens of thousands of pounds or more, according
Dorian adds: "Landlords could also avoid costly refurbishment if a qualified expert provides written confirmation that any required work would result in a devaluation of the property by five per cent or more."
But such written confirmation will only put off the inevitable for up to five years to 2023, he warns.
What should landlords do? Talk to a qualified expert, advises Dorian. "Time is running out. These are minimum
 It's a detached building with a total floor space under 50 square metres
 It's due to be demolished by the seller or landlord and they have planning and conservation consents
energy standards and it's likely that the government will raise the bar again, so we are advising landlords to quickly understand how this will affect their property portfolio so they can take the right steps to meet the regulations."
84 SMART BUILDINGS
"Landlords could also avoid costly refurbishment if a qualified expert provides written confirmation that any required work would result in a devaluation of the property by five per cent or more."
www.brutonknowles.co.uk
01452 880000
Dorian Wragg, Bruton Knowles
|
Commercial property advice, you can place absolute trust in
200th client milestone for energy saving programme
After just over one year of a three-year project, Worcestershire County Council's Business Energy Efficiency Programme, (BEEP), has signed up its 200th business.
BEEP is one of seven European Regional Development Fund (ERDF) business support programmes operating under Worcestershire's "Open For Business" banner.
The BEEP programme offers technical support and grant funding to help manufacturing and engineering businesses slash their energy usage and make cost savings. It works across other sectors too, such as distribution, hotels and professional services.
"Signing up the 200th business for BEEP represents a key milestone for the programme," said Christopher Atkinson, BEEP programme manager.
Participating businesses get expert advice from an independent energy management expert, either from the Herefordshire & Worcestershire Chamber of Commerce or Briar Associates and Pro Enviro Ltd, energy consultancy specialists.
Grants of up to £20,000 are available and can be used for LED lighting, heating improvements, compressors, fast acting warehouse doors and more.
Worcestershire County Council, along with Herefordshire & Worcestershire Chamber of Commerce, Shropshire Chamber of Commerce, Herefordshire Council, Telford & Wrekin Council and Worcestershire's District Councils were awarded £1.45 million funding from the Department for Communities and Local Government's European Regional Development Fund to help small and medium-sized businesses.
MEES: the headache for landlords
With more than one million sq ft of industrial space and 250,000 sq ft of additional office space, the new Minimum Energy Efficiency Standard (MEES) regulations are going to be challenging to meet at large business and industrial estates such as Vantage Point Business Village, at Mitcheldean in the Forest of Dean.
The site, formerly occupied by Rank Xerox from the 1940s until 2001, was bought by local entrepreneur Brian Bennett who, over the last 16 years, has redeveloped and refurbished the site to provide the Forest of Dean with much-needed flexible, commercial property space for growing businesses.
Owners of such large, legacy buildings face a number of problems: costs associated with upgrading buildings to meet government regulations, wellintentioned and sound though they are, are rising all the time.
Two years ago, Vantage Point installed what was then the UK's largest single solar array on a roof of its time. These solar panels are now generating green energy for the park.
The decision taken then will go some way to help Vantage Point meet the requirements of the MEES, but there are so many buildings on the site, that as leases end on each one, the management team will consider each refurbishment individually.
Group Commercial Director at Vantage Pont, Kevan Spencer, said: "Each building will have different requirements. One may need to have double glazing retrofitted, another might require its roof to be replaced.
"We will look at each refurbishment project on merit and aim to ensure that whatever we do is cost-effective both for Vantage Point and for the tenant wanting to take space at a rent they can afford."
85 SMART BUILDINGS
"We will look at each refurbishment project on merit and aim to ensure that whatever we do is cost effective both for Vantage Point and for the tenant wanting to take space at a rent they can afford"
Smart Buildings
Commercial property asset management www.brutonknowles.co.uk | 01452 880000
Vantage Point Business Village, Mitcheldean
Businesses are signing up to receive a new ultrafast, full-fibre gigabit infrastructure connection that would facilitate FTTP (fibre to the premises) for businesses in Cheltenham and Gloucester.
The service is being rolled out by Cheltenham-based ICT company, Bamboo Technology Group Ltd in partnership with CityFibre.
Plans to expand from the core network to reach a wider area of business are also now well under way.
In Quedgeley, CityFibre has demonstrated directional drilling to the drive technology.
This process uses a technique which has previously only been used for network construction in one other CityFibre Gigabit City (York).
A cost-effective and environmentallyfriendly solution for underground installation, directional drilling uses Electromagnetic Location (EML) and Ground Penetrating Radar (GPR) techniques to enable a machine to dig a tunnel horizontally beneath a road.
It creates a secure tunnel for the full-fibre technology, with minimal digging and disruption says Bamboo Technology Group.
Coventry GP practices connect to a Gigabit City network
More than 60 GP practices across Coventry and Warwickshire will benefit from their own next-generation full-fibre network when connections go live in May.
Gigabit City builder CityFibre is working in partnership with systems integrator, Pinacl Solutions to develop shared digital infrastructure capable of ultrafast internet speeds which will benefit approximately 340,000 people across Coventry by transforming the digital capabilities of local healthcare services.
Severn Wye Energy Agency offers free efficiency survey
Small and medium-sized businesses across Worcestershire and Gloucestershire can participate in a new service being rolled out by Severn Wye Energy Agency. Target 2020 is a free energy efficiency survey and analysis from the local non-profit company and registered charity.
Turned around in less than two weeks, the analysis will identify all the main energy thieves in a business – whether it's the business's heating system, lighting, refrigeration, appliances, fabric or just plain old employee behaviour.
The business energy adviser will help identify steps a business can take to reduce bills; from no-cost steps that cost nothing but make dramatic changes, right up to improvements that cost a bit more, but could transform the business into a leaner operation.
What makes the Target 2020 project special, is that where businesses decide to make these money-saving changes, there is a large pot of grant money, provided by the European Regional Development Fund, available to fund 35 per cent of improvements.
The network will also provide the necessary foundation for innovations such as virtual appointments and telecare.
Dr Steve Allen, Clinical Director at NHS Coventry and Rugby Clinical Commissioning Group said: "Enabling GP practice access to a local fibre network will provide instant access to online services, whilst improving the experience of patients visiting the practice."
The company says that pubs and restaurants have begun installing cellar cooling systems that cost nothing to run; manufacturers and offices have been replacing old fluorescent tubing with modern LED, providing better working conditions and enormous savings; and with simple things like new boilers and better heating controls rewarding businesses with 10-30 per cent savings, SMEs are seeing a quick return on investment.
87
Smart Buildings
SMART BUILDINGS
www.brutonknowles.co.uk | 01452 880000 The
Bamboo and CityFibre team signed up in Cheltenham and Gloucester
regions trusted commercial property consultants
SMART BUILDINGS: THE ARCHITECTS' POINT OF VIEW
How much can an architect contribute to a "smart building" (one that is sustainably built and wired for smart technology)?
Two award-winning architects' practices give their views. Both say that modern building management is already a lot smarter than many people realise. The smart building revolution has already begun.
Mark Powles leads RRA Architects, which has offices in London, Cheltenham and Hereford. Stephen Limbrick heads Gloucester-based Roberts Limbrick.
Mark says: "Smart building technology can cover everything from simple passive infrared sensor (PIR) lighting to fully automated buildings that can be controlled from a smartphone.
"A client willing to embrace new technology at the concept stage will reap the rewards over the long term with reduced energy consumption, better building performance, increased security and reduced maintenance costs.
"However not everyone is in the position to be able to design technology in upfront, and retro-fitting this technology is
"There is a lot of interest in 'smart' technology which appears to be mostly about sensors and controls linked to better user interfaces, allowing the building to automatically respond to changes to environmental conditions for example"
becoming more popular to enhance the efficiency of existing buildings."
Stephen Limbrick agrees: "There is certainly a lot of interest in "smart" technology.
"But the way many modern buildings have been designed makes them vulnerable to temperature changes. For example, lightweight buildings can be more susceptible to rapid overheating."
A way of resolving this is to design sophisticated systems controlling the effect, such as blinds and ventilation systems that automatically respond to excessive sunlight.
"We believe the 'smart' approach is to try to design out the problem by considering the fundamental design of the building, for example by using thermal mass to level out temperature fluctuations and considering a building's orientation to avoid glare and excessive heat gain," says Stephen.
But which technology is likely to last the test of time and what will be superseded by new technology? This involves thinking about how buildings are put together and taken apart again over its whole life, says Stephen. "This is surely the best way we can get most benefit from our precious finite resources. It involves making decisions that allow for the future redundancy of our newest technologies."
The benefits of adopting smart technology are numerous, adds Mark. "The obvious ones are improved energy efficiency leading directly to cost savings. Other benefits include providing a climate-controlled building offering a more comfortable working environment. This leads to a happier, more productive workforce and could increase a company's ability to recruit better staff due to a more conducive working environment."
SMART BUILDINGS
www.brutonknowles.co.uk | 01452 880000
'Smart home' designed by RRA Architects
88
Commercial property advice, you can place absolute trust in
BRE launches Centre for Smart Homes and Buildings
Smart Buildings
The building science centre, BRE (Building Research Establishment), has launched the Centre for Smart Homes and Buildings (CSHB) a collaborative hub for industry, academia and the government. Working with a range of partners, including Gloucester-based EDF Energy, BT and Telefonica, the CSHB will work to facilitate and improve the use of smart products and services within the built environment.
A key feature of BRE's new Centre for Smart Homes & Buildings is the Smart Home Lab, a house on the BRE site at Watford created to trial and test smart tech in a real setting. BRE is also trialling smart building technologies in their offices and developing smallscale city test beds across the site using Internet of Things (IoT) networks.
Currently being put to the test in the Smart Home Lab are a range of devices covering heating, energy use, safety and security, lighting and air quality.
Dr Martin Ganley, Director of Smart Homes and Buildings at BRE, said: "The CSHB will play a vital role in providing clarity on the performance of devices and systems, ensuring that technology meets the needs of the end user, and in helping address emerging risks and common challenges."
Ash Pocock, Head of Industry, Regulation and External Affairs for Smart Metering at EDF Energy, said: "The BRE Centre for Smart Homes and Buildings provides an opportunity to help address issues which are common across industry, shaping policy, defining standards, supporting innovation and demonstrators."
New energy management materials developed Green grants for Warwickshire businesses
Oxford researchers have developed scalable processes for the production of powders and thin-films of thermochromic metal oxides. Such materials have many applications in energy management of commercial and residential buildings, protection of exposed electronics against heat damage, infrared camouflage for military assets, and encapsulation of flexible OLED (organic light emitting diode) devices. The manufacturing processes make use of simple and readily available products, enabling low-cost adoption of the technology on a large scale.
Smart building uses include application on glass for energy management in buildings and Infrared protective barriers for outdoor electronics.
Smart furniture transforms spaces
A spin-out company from the Massachusetts Institute of Technology (MIT) is aiming to make robotic living a reality. Ori, a Boston-based startup, is selling smart robotic furniture that transforms into a bedroom, working or storage area, or large closet, or slides back against the wall to optimize space in small apartments.
Essentially, a small studio can at any time become a bedroom, lounge, walk-in closet, or living and working area, says Ori founder and CEO Hasier Larrea. "We use robotics to make small spaces act like they were two or three times bigger," he says. "200 sq ft seems too small to live in, but a 200 square foot bedroom or living room doesn't seem so small.
Coventry and Warwickshire SMEs can take advantage of a dedicated business support from their Local Enterprise Partnership to help improve resource or energy efficiency and use of renewable energy.
The services includes a green business network to inform SMEs of energy efficiency opportunities in the region, and one-to-one diagnostics.
Grand funding is available to SMEs across the LEP region (average £10,000) which will lever over £4.5 million in business investment into energy efficiency schemes and developing new low carbon products and technologies, which it hopes will lead to a reduction of 1,000 metric tonnes in greenhouse gas emissions.
"These technologies can evolve for kitchens, bathrooms and general partition walls. At some point, a two-bedroom apartment could turn into a large studio, transform into three rooms for your start-up, or go into 'party mode,' where it all opens up again," Larrea says. "Spaces will adapt to us, instead of us adapting to spaces, which is what we've been doing for so many years."
89
SMART BUILDINGS
www.brutonknowles.co.uk | 01452 880000 Property
Ori robotic furniture
is our passion
100TH TENANT FOR STONELEIGH PARK
Cyber Park plans for Cheltenham
Cheltenham could become the UK centre for cyber security companies, after Cheltenham Borough Council and GFirst Local Enterprise Partnership (LEP) revealed plans to create the UK's first cyber business park, right next door to GCHQ.
The park could create up to 8,000 high-tech cyber jobs, says GFirst LEP.
David Owen, Chief Executive of GFirst LEP, said: "This will transform 44 hectares into employment land and could attract £50 million private investment into a growth sector, helped by the proximity of GCHQ."
GFirst is investing £22 million infrastructure costs in the project. A further 30 hectares of land is allocated for residential development.
"The knock-on impact is that up to 8,000 people in mostly knowledgeintensive jobs will be buying services from local businesses, so it's not just the cyber security industry that will benefit," added David.
A Warwickshire business park is celebrating a milestone by welcoming its 100th occupier.
The number of organisations based at Stoneleigh Park has almost doubled since LaSalle Investment Management took responsibility for the estate in December 2010.
Under a 150-year lease from the Royal Agricultural Society of England, LaSalle committed to investing £50 million to make the park a centre for rural sciences, sustainability, innovation and business.
The Rural Innovation Centre, which opened in 2013 as a hub for small and start-up businesses, has been a significant contributor to the increase in occupiers.
Tisski, a Microsoft partner providing front and back office business software solutions, became the site's 100th tenant when it moved into Chamberlain House.
Founded by CEO Anna Assassa in 2011, Tisski relocated to Stoneleigh Park in its most successful year, which included Anna winning an Entrepreneur of the Year regional title in the NatWest Great British Entrepreneur Awards.
Anna said: "We doubled in size in 2017 and hope to achieve that again this year. We work predominantly with public sector
organisations and financial services and are looking to extend further into the NHS, and launch a new SME offering.
"We have grown to a team of 45, with support staff based here and consultants out in the field. Stoneleigh Park is a beautiful business park in a good central location."
"We have grown to a team of 45, with support staff based here and consultants out in the field. Stoneleigh Park is a beautiful business park in a good central location"
Colin Hooper, Estates Director at Stoneleigh Park, said the record number of businesses and employees, in the region of 1,300, demonstrated growth and commitment to the site.
He said: "We are delighted to welcome Tisski as our 100th occupier.
"Stoneleigh Park is home to several major national organisations, including the National Farmers' Union and Agriculture and Horticulture Development Board, which sit alongside smaller, local businesses giving the estate a unique mix."
Anna Assassa of Tisski and Colin Hooper, Estates Director at Stoneleigh Park
90
Commercial Propert y
Birth of new building at Warwick Hospital
Building contractor Speller Metcalfe has started work on a new £1.6 million birthing centre in the grounds of Warwick Hospital for South Warwickshire NHS Foundation Trust.
The centre will be midwife-led with its own separate entrance, four birthing rooms with private pools and a separate room for the families of patients, as well as a private garden.
The build costs are coming out of the trust's own budget, but a £200,000 Birth and Babies Appeal is also running to pay for enhanced equipment and upgraded furnishings to make the centre feel like a home-from-home.
Helen Lancaster, Director of Operations said: "The start of the building work is a key milestone on the way to offering women more choice on where they give birth."
Steve Speller, joint owner of Speller Metcalfe said: "We are delighted to be working with long-standing client, South Warwickshire NHS Trust, to provide a new midwifery-led unit."
Eynsham Hall up for sale
Eynsham Hall, one of Oxfordshire's most prominent country house hotels, is on the market.
The Grade II Listed property was rebuilt in 1908, but there has been a house on the site since the early 1700s.
Currently the hotel has 135 guest bedrooms, an extensive range of conference/meeting rooms and leisure facilities including a swimming pool. Planning consent has been granted for a significant development to add 80 guest bedrooms, purpose-built conference facilities with a capacity of 250, as well as a new spa and swimming pool complex.
Richard Upton, co-founder of Cathedral Group, acquired Eynsham Hall in 2005 and has recently invested
International food distributor moves to larger premises
Commercial Property
Business growth and increased sales have led international food distributor Vitaal, part of the Nationwide Produce Group, to move part of its UK operations to larger premises in Worcestershire.
The firm has invested £2 million in the purchase of Axis House, a former Wellpak warehouse on the Vale Park estate in Evesham, as well as in a small fleet of lorries and vans. This will soon become Vitaal's central cold-storage, palletcollations and distribution hub for the UK.
Established as Bernard O'Malley & Co in 1975, Nationwide Produce started life as a Lancashire produce merchant based in Southport and now operates across six locations in the UK with additional
offices in Belfast, the Netherlands and Spain, reporting a turnover of £114 million.
Iain Hibbert, associate at Roythornes Solicitors, acted on the purchase of the premises for Nationwide Produce.
Tim O'Malley, Group Managing Director at Nationwide Produce, said: "We've done many commercial property deals in the UK and abroad over the 44 years we've been in business, and I can honestly say this was the most difficult and tedious.
"Thanks to Iain's tenacity and perseverance we finally managed to bring the deal to fruition."
more than £3 million in refurbishment. The venue has since won a number of hotel industry awards, including for weddings and interior design.
Richard said: "We have taken Eynsham Hall to a new level of turnover and profitability but there is still a lot more potential for this magnificent hotel. Sadly, I am not in a position to dedicate the time to take Eynsham Hall to the next stage. This is a fantastic opportunity for an investor to acquire a gem of a property run by an extraordinary team."
On behalf of the joint agents, Christie & Co and Nick Sweeney, Jeremy Jones, Director at Christie & Co added: "Eynsham Hall offers a great opportunity to acquire an extensive site with the benefit of planning permission to extend the site and build revenue further."
Banbury's Marley Way Trade Park to grow
Dunmoore, a privately-owned property investment and development company, will invest more than half a million pounds in developing Marley Way Trade Park, Banbury.
Marley Way, one of Banbury's busiest trade destinations, generates more than 110,000 vehicle movements a week. Occupiers include Tile Giant, B&Q, Homebase and Halfords, plus a new Waitrose food store.
Dunmoore, which recently purchased the Trade Park, will refurbish the site to provide units from 3,000 to 8,000 sq ft.
White Commercial and Rapleys have been retained by Dunmoore to find tenants for the scheme.
COMMERCIAL PROPERTY IN THE HEADLINES
91
ASH CHARTERED SURVEYORS ACQUIRE RESPECTED LOCAL FIRM, SPA
SPA was founded by Simon Pontifex FRICS in 1996 and provides commercial property advice to a wide client base ranging from public limited companies to private property investors.
Simon has been working in Cheltenham for in excess of 30 years and has gained an in depth knowledge. He will remain as a Consultant and the existing staff, including Simon's son Harry will transfer to ASH ensuring continuity for SPA's clients and the smooth transition of the business.
ASH Chartered Surveyors was established in Gloucester in 1989 and has developed into one of the best recognised and leading independent multi-disciplined surveying practices in the Gloucestershire area.
In 2013 they opened a second office in Cheltenham on Rodney Road following the acquisition of Horsleys.
"SPA are delighted to join ASH's team. We have the same ethos of providing a quality service to clients and we will be stronger together."
Simon McKeag, a Partner of ASH Chartered Surveyors commented "Simon Pontifex is a highly regarded surveyor known for his personal service, which we consider to be one of our key strengths. The two firms will complement each other well and we look forward to working alongside Simon and his team to continue the existing client relationships and developing new ones."
"The acquisition allows us to strengthen
ASH Chartered Surveyors provide the right guidance and expertise to make wise property decisions. Our client base includes major corporate organisations, developers, property funds, private individuals and public-sector bodies.
our presence in Cheltenham and services we offer which include: Residential Block Management, Commercial Management, Commercial Sales and Lettings, Acquisitions, Valuation and Lease Renewals and Rent Reviews."
Simon Pontifex added "SPA are delighted to join ASH's team. We have the same ethos of providing a quality service to clients and we will be stronger together."
For further information on ASH Chartered Surveyors and SPA and the services available, please visit www.ashproperty.co.uk alternatively, email sjm@ashproperty.co.uk or simonpontifex@spacharteredsurveyors.com Tel: 01452 300433 or 01242 255242
www.ashproperty.co.uk
ASH Chartered Surveyors have recently joined forces with the respected Cheltenham based practice, SPA Chartered Surveyors.
Industrial | Office | Retail | Commercial and Residential development sites
Rural office hub offers country estate address
Bruton Knowles has been appointed as joint agents with Thomson and Partners to let Unit 7 College Farm buildings, which forms part of the Grade II* listed Cirencester Park and Bathurst Estate.
Arkell's buys first pub in Tetbury
Commercial Property
Arkell's Brewery has bought its first property in Tetbury. The Wiltshire brewery purchased The Priory Inn in the historic Cotswold town.
Matthew Smith, Director at Christie & Co, which sold the hotel, said: "Having received numerous offers for this opportunity, Arkells Brewery was successful in purchasing the business within a few weeks of agreeing on the sale."
The Priory is the second major investment in the Cotswolds by Arkell's in 2017. The
brewery also purchased The Crown Inn, Cirencester last year.
Brewery chairman, James Arkell, said: "The Priory is a thriving pub in the heart of a busy town which already has a strong and vibrant community around it and makes a strong addition to our growing estate of pubs in Gloucestershire."
The Priory Inn has 14 en-suite letting rooms in addition to a large bar, restaurant and – unusually for a town centre pub, a car park.
Supply shortages drive record rental growth in Gloucester
Gloucester's commercial property market is proving resilient, according to Alder King.
Take-up of office and industrial space in 2017, although down on record 2016 figures, was comfortably in line with the five-year average.
However, the ongoing shortage of quality office and industrial space remains a concern.
"Supply levels have been falling for several years," says Alder King partner Adrian Rowley. "However, Gloucester has more speculative industrial development than other locations.
"Schemes now under construction include St Modwen's Gateway 12 which will provide 115,000 sq ft in three buildings;
Prospect Land, which is developing 34,000 sq ft at Triangle Park and Gabwell which is building 40,000 sq ft at the Quadrant Centre, but further speculative development is needed to ensure the county maintains its competitiveness."
In Gloucester, a new rental high of £20 per sq ft was set for the out-oftown office market, while rents for Grade A industrial space rose from £6.50 to £6.75 per sq ft.
Around £63 million of assets were transacted in Gloucester, up 68 per cent on 2016. The largest was Reef Estates' purchase of Kings Walk Shopping Centre from Aviva for £20.5 million. Reef Estates plans to invest £5 million to improve the centre.
The refurbished Cotswold stone office suite offers a total of 1,954 sq ft with space across four rooms on the ground and first floor within a converted barn.
The building adjoins a number of other units creating a thriving rural office hub. Notable occupiers on site include NFU Mutual, Cirencester Chiropractic Centre, Mitchell Griffin Wealth Management, Staveley Investments, Mirus Design and RJ Polo.
Costa Coffee for Stonehouse Park
Stonehouse Park could get a new Costa Coffee if Robert Hitchins Ltd gets planning permission.
The project will transform a small triangular plot at the business park entrance into a new coffee shop with 32 customer spaces, and a 42-space car park for Sartorius Stedim.
Robert Hitchins has developed office and manufacturing facilities at Stonehouse Park for companies including National Nuclear Laboratory, Green Gourmet and Sartorius Stedim Lab Ltd. This is the last phase of the development.
Senior Development Manager for Robert Hitchins, Michael Plimmer, said: "From a fairly small, awkwardshaped site we have designed a highquality scheme."
Sartorius Stedim Lab has been granted planning permission to expand its multi-million pound manufacturing base as it prepares to double its output.
93
COMMERCIAL PROPERTY
GLOUCESTERSHIRE
James Arkell with The Priory landlord Rob Goves and George Arkell
Speculative development for Redditch and Kettering
Henley-in-Arden property company St Francis Group has entered a joint venture agreement with the Richardson family, to develop more than 600,000 sq ft of new industrial and warehouse space in Redditch and Kettering.
Spire Healthcare confirmed as Worcester Six tenant
A leading UK independent hospital group, Spire Healthcare, has been secured as the second pre-let occupier at the £120 million Worcester Six Business Park.
Spire Healthcare, the UK's largest private hospital provider in terms of revenue, has agreed a 20-year lease on a
Miller Homes signs deal for Worcester regional HQ
Miller Homes is set to open a new Midlands regional office at Brook Court, Whittington Park, Worcester following a deal brokered by Bruton Knowles.
Said to be one of the most significant office lettings for the city, Brook Court is located on the outskirts overlooking the Malvern Hills.
Robert Smith of Bruton Knowles said: "Brook Court is an ideal location close to junction seven of the M5. Miller Homes has taken two floors of around 7,800 sq ft on a new 10-year lease."
Brook Court forms part of the Whittington Hall complex within an area of landscaped parkland developed in the late 19th century around the original 1920s country house.
Fellow occupiers include The Resource Group, Mainstay Group Ltd and Hofmann Pruftechnik UK Ltd.
new 72,500 sq ft unit at a rent of £6.05 per sq ft. The move to the £9 million unit could create around 60 jobs.
A planning application has been approved by Wychavon District Council. Construction is expected to begin shortly Stoford director Gerard Ludlow confirmed.
A 20-acre site at Park Farm Industrial Estate, Redditch, known as Velocity 42 will see the speculative development of 330,000 sq ft of industrial and warehouse space. Work is expected to start on site this summer.
A new business park development, Cransley Park, Kettering will deliver 270,000 sq ft of space in a range of four units from 25,000 to 100,000 sq ft. Work is expected to start on site this Spring.
"Brook Court is an ideal location close to junction seven of the M5. Miller Homes has taken two floors of around 7,800 sq ft on a new 10-year lease"
Lance Turner from Bruton Knowles' Worcester office said: "This deal underlines the continued attractiveness of Worcester and we are delighted to have
assisted Miller Homes to secure a new Midlands regional office."
Danny O'Connor, Regional Managing Director for Miller Homes Midlands, said: "The new office, combined with further land investment, will help us achieve the carefully planned and ambitious target set for the business as a whole, of 4,000 units over the next three to four years.
"We are delighted to be moving to Worcester and look forward to establishing our new regional office in the area."
95
Commercial Property
Lance Turner from Bruton Knowles with Danny O'Connor, Miller Homes, Robert Smith from Bruton Knowles and Darren Turk, Miller Homes
WORCESTERSHIRE COMMERCIAL PROPERTY
Artist's impression of the Spire Healthcare development
New Oxford freehold development takes shape
Building work has started on a major commercial development which will be Oxford's first freehold scheme in a decade.
Glenmore Business Park will consist of 14 light industrial and warehouse units covering 16,000 sq ft at Langford Locks, Kidlington. Unit sizes range between 1,065 sq ft and 1,342 sq ft, although they could be combined to form larger areas if necessary.
Tom Barton, director of commercial property agents VSL & Partners which
Ground-breaking signals new accommodation at Somerville College
A ground-breaking ceremony performed by the husband of former Somerville College Principal, the late Catherine Hughes, celebrated the start of construction of new student accommodation for the Oxford University college.
Property consultants Bidwells, the team's project managers, and Oxfordbased construction firm, Beard, joined Dr Trevor Hughes as he officially started the construction phase of work on the new building – known as the Catherine Hughes Building.
Catherine Hughes was Principal of Somerville College from 1989 to 1996.
The new building will provide 68 bedrooms and allow the College to
Thames Valley office market supply falls
Although recording a strong end to the year in the Thames Valley office market, 2017 annual take-up fell back slightly, in comparison to 2016. The active sectors were technology, media and telecommunications, finance banking and insurance.
is the sole agent for the site, said: "Freehold properties have been hard to come by in Oxford so there is a huge amount of interest.
"The site is ideally situated for the A34, M40, Oxford Parkway train station and Oxford Airport, making it an ideal choice for expanding companies and ambitious small businesses."
Glenmore Business Park is expected to be completed by the summer.
Lambert Smith Hampton's Thames Valley Office Market Pulse, which provides a detailed insight of the region, found that enquiries, supply and demand all fell behind year-on-year.
The investment market in 2017 saw a total take-up of £1.88 billion against £2.28 billion in 2016. This is due to a lack of stock, with demand remaining strong from UK institutions, overseas buyers, property companies and private investors.
accommodate all undergraduates on site for the duration of their studies.
The new building, on Walton Street, was designed by Niall McLaughlin Architects. It will be built in red brick and have a graduate reading room on the ground floor. It is scheduled for completion in October 2019.
Charlie Lake, Director of Capital Markets at Lambert Smith Hampton said: "The Thames Valley continues to attract investor demand from a global audience. The established business parks have attracted overseas equity, enabling deployment of significant capital in single or combined estates.
"We have also seen continued appetite from local authorities and the UK institutions focusing on town centre opportunities. With the supply and demand dynamic in the occupational market looking encouraging for 2018, the challenge for investors will be sourcing suitable opportunities in an increasingly tight market."
Commercial Propert y
OXFORDSHIRE COMMERCIAL PROPERTY
"The Thames Valley continues to attract investor demand from a global audience"
Artist's impression of the new development
97
Dr Trevor Hughes digs the first earth on the site of the new building with Chris Clover (Bidwells), Joanna Innes (Fellow and Tutor in English), Andrew Parker (Treasurer), Adam Price (Beard) and Steve Johnson (Somerville College)
Plans approved for Leamington town centre
Plans for a major new development in Leamington town centre have been given the green light.
The scheme will create a new town centre 620-space car park, offices for Warwick District Council and private housing. A separate outline planning application for up to 170 new homes on the current site of the Council headquarters on Milverton Hill – the sale of which will fund the new HQ –was also approved.
New-look conference centre for University of Warwick
Commercial Property
Warwick Conferences, one of the largest commercial businesses within the university, has unveiled its revamped conference and training venue, Radcliffe, after a £6 million refurbishment.
The building has undergone a complete transformation with Midlands-based construction company GF Tomlinson.
As well as being more eco-friendly, the venue now resembles a sophisticated boutique hotel.
"The interior finish of the venue has been designed to encourage collaboration and synergy among delegates through the environment in which they work."
Radcliffe has seen the renovation of meeting rooms, the restaurant, communal areas and the bar.
This follows a successful accommodation refurbishment delivered by GF Tomlinson, which saw its 154 hotel-styled bedrooms revamped.
The move from Riverside House to the town centre will save the council more than £300,000 a year in running costs, it says. It will improve accessibility and increase footfall and spend for local businesses.
Councillor Andrew Mobbs, Leader of Warwick District Council, said: "The decision will bring a major economic boost to Leamington and the wider district. Covent Garden has long been in need of major investment and this scheme will create a landmark development fitting to this key Leamington town centre location."
The project does not require the council to dip into its reserves or borrow money to achieve these savings, as the sale of the Riverside House site will fund the new offices, he added.
"This refurbishment has modernised the venue in keeping with our energetic brand and promise of 'anything is possible'," explains Richard Harrison, Head of Conference Centres at the University of Warwick.
Andy Sewards, Managing Director of GF Tomlinson, said: "We're proud to have delivered this project with the support of local supply chain partners. The site team worked extremely well together, resulting in the scheme being delivered four days ahead of schedule."
Bromwich Hardy appointed on Leamington Cultural Quarter
Bromwich Hardy has been appointed by Complex Development Projects, to advise on their plans for developing Leamington Spa's Cultural Quarter.
Warwick District Council announced the appointment of development partner Complex Development Projects (CDP) to work with it on a masterplan for a 10-year project to turn the town centre area just south of the River Leam into a "Creative Quarter".
Brian Harrabin, CDP Director, said: "The Old Town area needs major regeneration and the focus on creative industries will help to unlock the cultural and commercial
potential of this area which is very much under-developed.
"Creative areas are organic and are ultimately made by people, not buildings. But you need the right environment to allow them to thrive."
Due to its location near to the motorway network and mainline railway station, the Creative Quarter would provide a revamped southern gateway for the town.
Landmarks within the area earmarked for improvement and development include the Pump Room Gardens, All Saints' Church, the Royal Mail Sorting Office and former post office, Spencer Yard and Bath Place.
WARWICKSHIRE COMMERCIAL PROPERTY
"Covent Garden has long been in need of major investment and this scheme will create a landmark development fitting to this key Leamington town centre location"
The new Radcliffe conference venue
98
Artist's impression of the new development