KEEPING OUR FINGER ON THE PULSE ANNUAL REPORT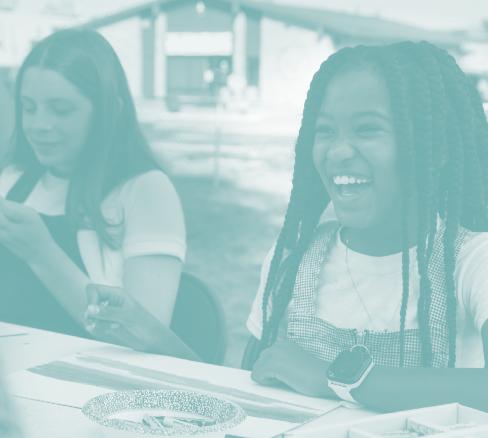 FINGER ON THE PULSE / SOUTHCOAST COMMUNITY FOUNDATION
21
SouthCoast Community Foundation 2 GRANTS & SCHOLARSHIPS 302 Grantee Organizations 115 Scholarship Awarded Received A Total Of $6,002,490 GIFTS Gifts Received $11,645,841 1,825 Gifts 1397 Donors 15 New Funds 217 Total Funds $9,342,587 For Existing Funds $2,303,254 For Creating New Funds AT A GLANCE: Investment Return 11.5% ASSETS Total Assets $53,195,877
MESSAGE FROM OUR LEADERSHIP
Dear Friends of the SouthCoast Community Foundation,
Over the course of last year and into 2022, we have kept our finger on the pulse of community needs within the Southeastern Massachusetts region to stay on top of how COVID-19 has impacted the lives of our most vulnerable residents and nonprofit, community, and business partners within our South Coast 41 cities and towns. And as part of our mission, we are continually revisiting our role to ensure our region is inclusive, welcoming, and equitable for all who live, work, and learn here.
Consequently, we continued our emergency response to meet this important responsibility, and our institutional commitment to advancing racial equity and social justice is the lens through which we have and are focused on our three strategic priorities:
Arts and creativity for a vibrant and inclusive region
• Education success for youth and adult learners Economic sustainability and workforce opportunity
We also welcomed new partners for change in this region with the establishment of the Mayflower Fund, which will provide $27 million over ten years to build inclusive, equitable, and diverse employment, training, and supply chain opportunities related to the offshore wind industry.
None of this would have been possible without your continued trust and support in us as your philanthropic partner. We are committed to keeping our finger on the pulse of the community's needs and learning what touches, moves, and inspires you for change in this region.
Our door is always open.
LINDA BODENMANN, BOARD CHAIR LEONARD M. LEE, PRESIDENT & CEO
FINGER ON THE PULSE / SOUTHCOAST COMMUNITY FOUNDATION 3
TABLE OF CONTENTS
At-A-Glance 2 Message from Leadership.................................................... 3 New Funds 6 Emergency Response 7 Racial Equity 8 Arts and Creativity ......................................................... 11 Education Success 15 Economic Sustainability and Workforce Opportunity 18 Legacy Giving 20 Convening ................................................................. 22 Board, Staff ............................................................... 24 Committees 25 Corporators 26 Financials 27 Contributors ...............................................................28
SouthCoast Community Foundation 4
SOUTHCOAST COMMUNITY FOUNDATION ANNUAL REPORT 21
FINGER ON THE PULSE / SOUTHCOAST COMMUNITY FOUNDATION 5 Mobilizing philanthropy by matching donors and resources with community needs for the benefit of our region.
FAIRHAVENMATTAPOISETT BEDFORD BLACKSTONE EAST LONGMEADOW SEEKONK STOCKBRIDGE WESTHAMPTON HOPEDALE GROVELAND RANDOLPH MONTGOMERY CHELSEAREVERE BROOKLINE BROOKFIELD ROCKLAND WINCHESTER TYNGSBOROUGH STONEHAM SHUTESBURY SUNDERLAND MELROSE HANCOCK BOXBOROUGH BELLINGHAM EASTHAMPTON WOBURN WEST SPRINGFIELD LYNNFIELD CAMBRIDGE BELMONT WESTBOYLSTON BURLINGTON HUNTINGTON LAWRENCE LONGMEADOW ARLINGTON WAKEFIELD SOMERVILLE PHILLIPSTON WEYMOUTH MAYNARD HOLBROOK EVERETT SOMERSET ACUSHNET MARBLEHEAD COHASSET NORTHBOROUGH STOUGHTON WESTSTOCKBRIDGE DARTMOUTH FAIRHAVENMATTAPOISETT FALL RIVER FREETOWN NEW BEDFORD DIGHTON PLYMOUTH ATTLEBORO NORTON NORTH ATTLEBORO EAST BRIDGEWATER MANSFIELD ROCHESTER RAYNHAM WHITMAN SEEKONK TAUNTON HALIFAX BROCKTON HANSON WESTPORT MARION AVON LAKEVILLE ABINGTON BERKLEY EASTON BRIDGEWATER REHOBOTH WAREHAM CARVER WEST BRIDGEWATER MIDDLEBOROUGH SOMERSET KINGSTON PLYMPTON ACUSHNET SWANSEA STOUGHTON GOSNOLD SERVICE REGION Southeastern Massachusetts 41 Cities & Towns
MISSION
EMERGENCY RESPONSE $2,263,709
NEW FUNDS
ECONOMIC OPPORTUNITY
$1,643,485
EDUCATION (INCLUDES SCHOLARSHIPS PAID) $1,316,994
STANDARD-TIMES' NEEDIEST FAMILIES FUND
We are now the home of one of the longest-running charitable initiatives that this region has ever seen, The Standard-Times' Neediest Families Fund. 2021 marked its 100th year helping vulnerable New Bedford families throughout the holidays. We are proud that The Standard-Times put their trust in us to be their philanthropic partner and deeply honored to be a part of the future of this important philanthropy effort for our region.
Ditchfield Family Scholarship Fund
Fall River Museum of Contemporary Art, Inc. Fund
George C. Decas Scholarship Fund
John Vasconcellos Fund
• Dr. Frederick M. Kalisz Jr. Memorial Scholarship Fund
• Leadership Equity Fund
• Nancy and Jack Braitmayer Fund for Innovative Educational Excellence
• NBAM Children's Art Fund
ARTS & CULTURE $778,302
Paul and Deborah Durland Scholarship Fund
Steven E. Ferreira Scholarship Fund
Suzanne and Sharon Areias Animal Welfare Fund
• Standard-Times' Neediest Families Fund
• The Donald and Gloria Zeman Fund
• The Dr. Norbert P. and Elsie R. Fraga Scholarship Fund
• The Mayflower Fund
SouthCoast Community Foundation 6
GRANT CATEGORIES