FALL 2022 Snellville,WhereEverybody'sProudtoBeSomebody Enjoy the Taste of SeptemberSnellville10 Excitement Grows for FallSnellvilleFestival 2020ToThingsDoInMiles see pages 2 & 3 see pages 8 & 9 see pages 20 & 21 October 22 12 - 6 PM | Towne Green
Many restaurants will feature their favorite foods and offer samplings for the tasting at the Annual "Taste of Snellville" event. All tickets will be sold at the TICKET TENT. When you purchase your tickets, you can also pick up a card that will have each restaurant's name on it that can be stamped once you visit each restaurant. Fill half your card and drop it in the box at the information tent for a chance to win some great door prizes that will be awarded toward the end of the event.
Join us for some great food, fun and music featuring ATLANTA SEV ENTEEN Band that will keep us entertained throughout the evening. Experience a diverse taste of many cultures as the "Great Chefs of Snellville" and surrounding area Chefs prepare their favorite foods for the Annual "Taste of Snellville".
September 10th Snellville Towne Green 2342 Oak Road • 4-8 pm Food • Fun • Music • Kids Zone • Wine Glass Painting FREE CARICATURE drawings
All tickets for food must be purchased at the Taste of Snellville TICKET TENTS. We will except both cash and credit cards. Bring a blanket or lawn chairs to sit on enjoy the evening with us. from 4:30 - 7:30 pm!
3 ParticipatingRestaurants Ionies Caribbean Kitchen Fratelli's Main Street Restaurant Berens Frozen Custard Chick-fil-A, Hwy. 78 Grecian BonefishGyroGrillBeSoulfullFingerz Quatro Amigos Mexican Cuisine Texas Roadhouse Mimi's Comfort Food Peterson's Bakery Lorena's Kitchen ...and more to come. Lincoln Fill Station will be on site with beer & wine for purchase For more information www.ExperienceSnellville.comvisit: The ATLANTA SEVENTEEN Band Local Artist Leroy Banks will instruct the wine glass painting. Kids Zone will have inflatables and the Trackless Train!
Fall 2022 - Volume 52
Publisher/Editor: Kelly McAloon Editor: Brian Arrington Snellville Spirit Magazine is produced by: Snellville Tourism & Trade Association P.O. Box 669 • Snellville, GA 30078 Website: www.ExperienceSnellville.com Snellville Tourism and Trade Association's mission is to promote business, tourism and events in the City of Snellville. President Don Britt Vice President Kurt Schulz Treasurer Lucy DeForest Secretary Kathy Emanuel Board Member Jared Eakins Board Member Melvin Everson Board Member Alice Snipes Board Member Andrew Yee Board Member Stephanie McDonald Executive Director Kelly McAloon Administrative Assistant Jessica Manis City Council Mayor Barbara Bender, Mayor Pro Tem Dave Emanuel, Cristy Lenski, Gretchen Schulz, Tod Warner and Solange Destang City Website: www.snellville.org Magazine Design by Brian Arrington, Kelly McAloon and pcoxcreative Magazine Cover Design by pcoxcreative Contributing Writers and Photographers: Kelly McAloon, Don Britt, Brian Arrington, Gretchen Schulz, Barbara Bender, pcoxcreative, Melvin Everson, Nikki Lawson, Lisa Sperling, Dorothy Jarrett, Jamie Spaar and Norman Carter Jr. 4
DonGreen!Britt, President, Experience Snellville Don Connecting our Community to Celebrate Snellville
Business is booming in Snellville!
If you haven't noticed, Snellville has many new businesses that just opened their doors. We are always happy to take part in the ribbon cuttings to welcome new business to Snellville. Check out some of the new restaurants that just opened up, such as Be Soulfull, Milk & Honey and the Buffalo Wing and Philly Eatery. The new Skechers Outlet just opened up too and is the second largest store in the East offering a wide variety of shoes and apparel for all your needs. Please continue to support our businesses and shop local. Fall brings the changing of the leaves that always paints such beautiful landscapes within our community. Be sure to save the dates for the upcoming events in the city which can all be found on our website. After a two year hiatus, the Taste of Snellville is back with many of the great chefs in the area preparing all their favorite foods for you to sample. There will be Wine Glass Painting classes offered by local artist, Leroy Banks. Be sure to sign up on our website to secure your spot. Get ready for the annual Fall Festival on Oct. 22 and get some early Christmas shopping in with some of our very talented craft vendors. Come dressed in your favorite Halloween costume and join in the costume fun for all ages including our furry four-legged friends.Itistruly an exciting time in Snellville with all the new development and all the new things to come in The Grove at Towne Center. As always, we love serving our community and all the visitors who stay with us. Hope to see you this Fall making memories on our Towne
20161412 26283018166 353433383640 22 24
THE
for citizens' academy
MAYOR'S MESSAGE
GWINNETT TECH PARTNERSHIP
night of food trucks.
Bruno
Local secondary school begins cooperative program CITY NEWS Residents to vote on package sales referendum.
PUBLIC
THINGS
VETERANS DAY
A preview of the city's event to honor those who served.
SNELLVILLE
5 30 37 CONTENTS 5 1086
PARTICIPANTS WANTED Snellville police
LIVE ON THE LAWN! Mars tribute band headlines season's final concert. CUTTINGS
RIBBON
BUS SAFETY Buses have changed over the years, keeping kids safe hasn't.
COMMUNITY GARDEN Plenty is sprouting at the Community Garden @ Snellville. SCHOOL DAYS Information from South Gwinnett and Brookwood.
Two businesses recently opened in Snellville. TO DO Within a 20-minute drive there is a lot to see and do. AND REC. Programs rundown at Briscoe Park and Active Adult Center.
PICTURE PAGES Were you at any of these local events?
FALLS DISHES Two recipes for fall foodies. EVENT CALENDAR A look ahead at the remaining events of 2022.
Mayor Barbara Bender keeps you posted on city happenings. WORKS Public Works Department has a new leader. turning ... time to celebrate fall on the Green. GROVE AT TOWNE CENTER are now leasing in downtown Snellville. FARMERS' MARKET Market boasts a diverse lineup of vendors. looking members. for another
FOOD TRUCK FRIDAY Get your taste buds ready
FALL FESTIVAL Leaves are
Apartments
PARKS
SCARECROW CONTEST Annual Fall Festival showcase awards best scarecrow.
Where Everybody's Proud to be Somebody
Snellville Public Works Public Works Johnson retires, Barton promoted to director After 29 years of outstanding and dedicated service to the residents of Snellville, Public Works Director Gaye Johnson is retired Aug. 1. "It's been an honor to work for the City of Snellville and a privilege," she said at her retirement party Tuesday. "The people I've met throughout the years and I've worked with and for are awesome people. I could not have made it all these years without the support of everybody. It takes a team and a family and Snellville really is a family. I just hope everyone has the good luck to work as many years I've got to work in Snellville. Thank you all for caring about me, loving me and making my job as easy as it can be." She was honored with a proclamation and a key to the city for her dedication to her job and Snellville.
Former Snellville Public Works Director Gaye Johnson and current Director Craig Barton.
Mayor's Message - Mayor Barbara Bender
Craig Barton, who has worked 15 years for Snellville Public Works will now lead said.projects,"infrastructureandourproactiveasTowneThedowntowndevelopmentchangestodepartment.the"IlookforwardalltheexcitinginthewithGroveatCenterwellasbeingwithstormwaterresurfacingBarton
Let us remember to continue to be kind and respectful of each other.
This is a great time to remind you of the state-of-the-art recycling center at 2531 Marigold Road next to T.W. Briscoe Park that is free to everyone, including non-residents, for recycling materials – paper, glass, plastic and cardboard.
6
Johnson was hired as Public Works director on July 4, 1993 and created a family atmosphere within her team, achieving great results from their positive work place. Under her leadership. Johnson improved all of the city's public services, be it sanitation, recycling, stormwater or landscaping, earning the department numerous awards and statewide accolades.
In June, the City Council passed a $14 million balanced budget for our fiscal year ending June 2023. Our City Manager Butch Sanders has done an excellent job of managing our resources to provide quality services without greatly increasing our expenses. The major expense increases were in salaries and benefits and sanitation costs. Even with some added expenses, we were able to reduce the millage rate (tax rate) for property taxes due to new development and property value increases.Thecost of sanitation has continued to increase with curbside recycling expense escalating at a rapid pace. Curbside recycling now costs us more than regular trash service due, in part, from too much trash going into the recycling bins. We are considering options to control the costs on recycling such as reducing the types of materials picked up curbside, charging a fee for service or eliminating curbside pick up altogether.
The best way to reduce recycling costs is to ensure only clean, recyclable items are placed in the bins at the curb. Paper, aluminum cans, cardboard and plastics labeled with a No. 1 or No. 2 (milk jugs and water bottles) are the only items we recycle curbside. Glass, plastic bags, food waste, Styrofoam and other plastics should go in the regular trash bin.
A resolution was passed calling for a referendum for a liquor store(s) within the city limits. This means that the residents of Snellville get to decide the question. The vote will be held at Snellville City Hall on Nov. 8. Early voting will be available and dates will be posted on the city's website at Snellville.org. Be sure to note on your calendar to make two stops on election day –Snellville City Hall and your regular polling location for county, state and federal elections.
COMPOSTING
See Recycling link at Snellville.org for curbside or recycling center item list and details.
Other than composting, residents have two options for getting rid of yard debris if you live inside the City Limits of Snellville.
In Autumn, fallen leaves that are left on the ground enter storm drains and end up in our waterways, resulting in an overload of organic materials in rivers and streams. The decomposition of this material can reduce sunlight penetration, increase nutrient loads, and decrease dissolved oxygen content, all affecting the health and vitality of waterways. Composting is one of many ways to reduce stormwater pollution and keep our streams and rivers clean. You too can use composting in your own back yard to manage your yard waste, improve your soil, and prevent stormwater pollution!
7
YARD DEBRIS DISPOSAL
The official Blue City of Snellville Bags for extra garbage are available at the same locations as the Brown Yard Debris Bags.
Public Works offers reminders about service as fall approaches
2. Purchase the official City Brown Bags with the City Seal and phone number for curb pick up. These are sold at Public Works, Kroger and Publix on Scenic Highway. When you purchase the brown bag you are paying for the curbside pickup. Pick-ups are normally done on Wednesdays so call by noon on Tuesday to be scheduled.
1. Bring up to a truck load to the Snellville Recycling Center on Marigold Road for free, subsequent load is $15.
Holiday curbside sanitation and recycling collection will observe the following days: Thanksgiving, Christmas Day and New Year's Day, meaning those with pickups on those days will be asked to put their garbage out the day after. When these holidays fall on a weekend, no changes will be made to our weekly pick-up schedule. When the actual holiday falls on a weekday, they will not run the regular routes. All pick-up days following the observed holiday will be delayed one day.
Fall is knocking at our door and that means leaves, leaves and more leaves! Composting is the earth's way of naturally recycling old plant material. When mixed with soil, compost improves soil structure, adds a wide variety of minerals and nutrients, and improves the soil's ability to retain moisture. Not only is composting beneficial from a soil management perspective, but it also can help to prevent stormwater pollution.
HOLIDAY PICKUPS
Remember to utilize the American Kidney Foundation truck located at the Snellville Recycling Center, 2591 Marigold Road, Snellville, for all your donations.
Contact Public Works if you have any questions about the schedule at 770-985-3527 Monday through Thursday 7 a.m. to 5:30 p.m. Visit our page on the City of Snellville Website for more information at www.snellville.org.
Snellville Public Works
Age categories: (0-2), (3-5), (6-8), (9-14), (15 and older) Dog Costume Contest will be held at 3:00 PM and you must register by 2:30 PM to participate. Register at the Costume Contest tent located to the left of the stage. Participate in the Scarecrow Contest, all details online at:
October 22 | Snellville Towne Green Noon- 6 p.m. | 2342 Oak Road
COSTUME CONTEST
Pumpkin Decorating Activity - $2.00 Let your creative side show and decorate your very own pumpkin for Fall.
•
Costume Contest for all ages, yes, that means Mom and Dad too (prizes for everyone). Costume contest will begin at 1:30 PM – You must register on the Towne Green no later than 1:00 PM to participate. Costume contest registration tent will be located to the left of the stage.
13th Annual Fall Festival
•9-holeminigolf •
$15
www.ExpericenceSnellville.comCRAFTVENDORS
Ray Howard Band - Earth, Wind & Fire Tribute – 4:00 p.m.
••MultipleInflatablesInflatableshootthehoopbasketball
Entertainment will include the Ray Howard Band - Earth, Wind & Fire Tribute that will ROCK the Green. You won't want to miss this group as they will keep you movin and groo vin. Bring a lawn chair or blanket to sit on and enjoy the music. ALL DAY ACTIVITY BAND includes: Rock wall Trackless train •GamingBus
There is nothing like the fall season to experience the beautiful changing of the leaves, feel the cool crisp air and of course, have fun at the ever so popular Snellville Fall Festival. Stop by the festival and do some early Christmas shopping at the wide variety of craft vendors that will line Oak Rd. in front of City Hall and the many crafters that will be selling their hand-made items in the Senior Center. The smell of festival food will fill the air to bring you flavors that will satisfy any palate. A wide variety of food will be available for purchase throughout the day. Beer will be available at this event.
– Fill out the vendor application for the Fall Festival. Spaces available on a first come, first serve basis. Any questions please email Kelly McAloon at kelmca@comcast.net or call 770.310.0429
By Kelly McAloon, ExecutiveDirector, ExperienceSnellville
EntertainmentSchedule 12:00 p.m. Festival Opens Senior Center Craft Show (at Senior Center) 1:30 p.m. Costume Contest for All Ages (must register by 1:00 p.m.) 3:00 p.m. Dog Costume Contest (must register by 2:30 p.m.) 3:45 p.m. Introduction of Dignitaries 3:50 p.m. Scarecrow Contest Winners, Scarecrow Silent Auction 4:00 p.m. Ray Howard Band Earth, Wind & Fire Tribute For more information visit: www.ExperienceSnellville.com ArtsSeniorSnellvilleCenter&CraftsShowSnellville Senior Centerin conjunction with theFall FestivalNOON – 5 p.m.
The Grove at Towne Center
The Tomlin offers pet friendly, spacious studio, one-, two-, and three-bedroom floorplans with tech-enabled smart home technology. The floor plans range from 486 square feet to 1,472 square feet flat-style layouts, as well as townhome-style two-story units starting at 1,356 square feet with pricing starting at $1,285 perAllmonth.apartments
The Tomlin at The Grove at Towne Center is leasing apartments now
To learn more about The Tomlin and review leasing options visit www.thetomlin.com.
10 Where Everybody's Proud to be Somebody
Tenants will be able to enjoy the many amenities of The Tomlin such as the cutting edge, 24-hour fitness center, a co-working space & conference room, a heated resort-style saltwater pool with sundeck & poolside cabanas, as well as a 2nd floor terrace with patio seating, tv's and pool table. This level of luxury, comfort, and convenience is new to Snellville – and unique to The Tomlin.
The Tomlin, Snellville's premiere town center apartment community located near the heart of the Grove at Towne Center is now open for leasing. These new luxury apartments offer resortstyle amenities, and a level of service that is unmatched – in a vibrant, walkable, city center at The Grove.
feature sophisticated details and high-end finishes starting with a gourmet kitchen with stunning granite and quartz countertops, shaker-style soft-close cabinetry, and energy efficient LED light fixtures. Select units will also have the options of stainless-steel appliances with a full-size French door fridge, large kitchen islands with bar seating, high efficiency front-loading washer & dryer, and large terraces and balconies.
Center offers a variety of floor plans and is currently leasing.
Tomlin
11 The Grove at Towne Center
The at The at Towne
Grove
Top to bottom: Floyd Jarvis of Beatrice Foods (holding his cassava pone and a juice); Lorena Aziz of Lorena's Kitchen (holding her empanadas); Lorraine Reid of Nisha's Flavors of India (holding samosas); Amer Isovic of Grand Prix Bakery sells a variety of Eastern European breads; and Bao Thao of Chang Family Farm holding bitter melon leaves.
By Gretchen MarketCouncilwomanSchulzorganizer
Lastly, we introduce you to another vendor who is new to the market this year: Chang Family Farm. Seng Chang and Bao Thao are natives of Laos. They sell vegetables that are very common to American fare, such as carrots, radishes, corn and cucumbers. But they also offer some that are less well known, including bitter melon, which, along with the plant's leaves, are typically used in a stir fry or soup.
Lorranie Reid has been with the market for several years, representing Nisha's Flavors of India. The items she offers include a variety of samosas, paratha, naan, chutneys and dips. "I love my regular customers," Lorraine says and even admits to planning her vacations so she does not miss a market. "I take my vacations Sunday through Friday so I can be at the market," she said.
Isovic has been a vendor at the market for nine years. He began representing his family's bakery, Grand Prix Bakery, at the market when he was 16 years old and a student at South Gwinnett High School. Amer, who is now 25, attended and graduated from Georgia State University and now works as a financial consultant. Amer is a native of Bosnia and came to this country with his family when he was 3 years old. His family's bakery, located in Lawrenceville, makes a variety of Eastern European breads including lepinja, lavash and kifle. "I like connecting with the community and following their family stories," Amer says. "Actually I like that more than selling bread."
12
After being in existence for 13 years, most residents are aware that the Snellville Farmers' Market offers an abundance of local agricultural products, including fresh produce, locally raised meats, eggs and honey. But did you also know that the market has several vendors who offer a variety of international foods that reflect the cultural diversity of our community? We would like to introduce you to some of them.
First, meet Floyd and Judy Jarvis who specialize in Guyanese foods and are in their second year as a vendor at the market. Floyd is a native of Guyana and came to the US in 1987. He has also lived in Zimbabwe. The foods they offer include chicken curry, roti, saltfish, cassava pone as well as healthy juices. Floyd says he enjoys the entrepreneurial activity of the market and likes the variety of ethnicities represented. "There's a lot of mixing and mingling here," he said. Next, let's meet our newest vendor, Lorena Aziz, a native of Santiago, Chile. Lorena came to the U.S. in 1985 to study English because her father wanted her to be fluent in the language. She intended to stay for three months but is still here! Lorena offers empanadas as well as a variety of sweets, including alfajores, a shortbread-type of cookie. The empanadas she serves are typical of Chile, she explains. They contain beef, onion, chopped black olives and raisins and represent "a bunch of flavors in your mouth," she said.Amer
Snellville Farmers' Market Where Everybody's Proud to be Somebody
Seng very proudly tells the story of his father, who fought with a CIAorganized group of Laotians in the Secret War, helping the United States in the fight against the Vietnamese. After the war, Seng moved to Thailand as a refugee. He came to the United States in 1990, settling initially in Michigan. He later moved to Alaska where he lived for 17 years. However, he admits, the Alaskan climate was not well suited to his love of farming. He and Bao now have 3.5 acres in Monroe where they grow all the vegetables they proudly display at theThemarket.Snellville Farmers Market is held every Saturday through Sept. 24 on the Towne Green, 8:30 a.m. to 12:30 p.m. Beginning in October 2022 and continuing through May 2023 the market will be held the first and third Saturdays of each month in the City Hall parking lot, 9 a.m. to noon. To subscribe to our newsletter send an email to snellvillefarmersmarket@gmail.com.
Also watch our weekly social media posts for a list of vendors expected each week.
Farmers' Market has international flair
13 Hill Top Pawn and Gun At Hill Top Pawn and Gun we want everyone to know we are "Large Enough to Handle your Needs and Small Enough to Care." Hill Top Pawn Inc. 1882 Athens Highway Snellville, GA 30078 Hilltop@bellsouth.net770-978-7079 WE BUY GOLD! With over 50 years of combined experience in the Gold buying industry, we are confident that we can offer top dollar for your Gold and Silver. Firearm Sales In our Firearm department we have a wide variety of new and used firearms with a staff that is friendly knowledgeable and willing to help. $Cash Loans$ At Hill Top Pawn we specialize in loaning out cash! We loan money on just about anything with amounts up to $10,000 Gold, Guns, Electronics, Tools, Instruments, Sporting Goods, Cars, Trailers, Boats, Motorcycles and more. (All loans are collateral based) TO SEE LATEST MENU, ENTERAINMENT SCHEDULE & RESERVE YOUR TABLE Made From Scratch. Always Fresh. Everyone's Welcome. Wednesdaythekitchenatsummitchase.com&Thursday•5-9PMFriday&Saturday•5-10PMSundayBrunch•11-3PM 3197 Classic Dr, Snellville, GA 30078 | 770.979.9000
Citizens' Police Academy class
Snellville Police Department looking for officers
Opportunities to interact with local police offered Snellville Police Department is making its officers available for the community to meet them during several events taking place in the near future.
Where Everybody's Proud to be Somebody
"The Citizens' Police Academy has always been an outstanding way to for our police officers and our community members to build better relationships," said SPD Chief Greg Perry. "Students receive top notch training from police instructors, and come away from the class with a much better understanding of our operations. I encourage anyone who is interested in our community to attend."
The application can be found here:www.snellville.org/ sites/default/files/uploads/police/scpa-application-revised.pdf
If you have any questions or concerns contact SPD Sgt. Scott Smith at ssmith@snellville.org
Snellville's most wanted - applicants for
Football season is quickly approaching and the Snellville Police Department is asking motorists not to drive under the influence of alcohol or drugs.
The City of Snellville Police Department is looking for participants for the 32nd session of the Citizens' Police Academy. The popular class is designed to strengthen the bond of friendship and cooperation between citizens and the police department.
As season approaches, police urge football fans to stay sober while driving
"We are looking for hard working men and women with high moral character to fill our open positions," said SPD Chief Greg Perry.You can find the job posting by visiting www.snellville.org/administration/jobs.
The six-week class takes place from 6-8 p.m., Sept. 15 and ends Oct 20. Classes take place at SPD headquarters, 2315 Wisteria Drive.The program helps citizens gain a better understanding of the risks and responsibilities of officers. Some of the classes included in this training are Domestic Violence, Traffic Stops, Building Searches, Special Response Team and K-9 units. This program also includes a ride along program with a Snellville police officer. Notarized applications must be returned no later than 5 p.m., Sept. 2. You will be notified via e-mail or phone call, as to the status of your application.
The Snellville Police Department is hiring for police officer positions. Based on the support from City Council and City Hall administration, a starting pay raise was implemented along with paying new candidates for their education, training, and experience.
Snellville Police Department
The department has made over 100 DUI arrests in 2022, and will be ramping up their DUI enforcement over the next several months.
Mark your calendar for these upcoming events - times TBD: Sept. 29 - "Cops in Donut Shops" - Fundraiser for the Special Olympics – Dunkin Donuts, 2115 E. Main St. E Oct. 5 - "National Coffee with a Cop Day" - Main Street Restaurant, 1142 Athens Highway, Suite No. 115 Oct. 7-10 - National Faith & Blue Weekend - Multiple events around the city. Dates and time to be announced at a later date.
"There are too many responsible choices that can be made as opposed to getting behind the wheel impaired," said SPD Chief Greg Perry. "Impaired drivers endanger the lives of other motorists as well as themselves."
14
piedmont.org
ComejoinusforthedeliciousfoodandDJLeewillkeepusentertainedwithgreatmusicthroughouttheevening!
Presented by:
Formation - A Beyonce Tribute opens the show at 6:15 p.m. This concert is dedicated to our dear friend, Ronnie Bentley!
Fall Snellville Food Truck Fridays • 4-8 pm SEPTEMBER 2 Atlanta Seafood The Patty Wagon Love at Wurst Sight My Vietnamese Food Mobile South of Philly Kona Ice Frozen Sweets OCTOBER 7 Hole in the Wall Lobster Dogs Yaardi Eats Big House SofishticatedBBQ Gyro Chef FrozenMediterraneanSweetsKonaIce
International touring sensation Uptown Funk invites you to experience the essence of Bruno Mars, his live band and the music that defines today's pop culture. Experience the group with their multitude of international platinum super hits such as "24K Magic," "Treasure" and "Uptown Funk." This group is exciting, fresh, fun and unique...you won't want to miss it!
Sponsors:Keystone Sponsor:Friend
Uptown Funk - Bruno Mars Tribute
Concerts are FREE to the public and take place on the Towne Green in front of City Hall from 6-9 p.m.
Sept. 24
Formation - Beyonce Tribute opens the show at 6:15 p.m.
CONCERT2022SERIES
Reserve a table for eight people for $140. Tables are limited and available on a first come, first serve basis. Register online at www.ExperienceSnellville.com.
Snellville • Atlanta NE 100 Spacious OutdoorOnsiteConferenceBoardroomComplimentaryGuestroomsHotBreakfast–500sqftRoom–800sqftFitnessCenterPoolwithPatio›››››››››››› 1905 Pharrs Road Snellville, GA 30078 P: (678)344-9090 | F: www.atlantane.hamptonbyhilton.com(678)344-9092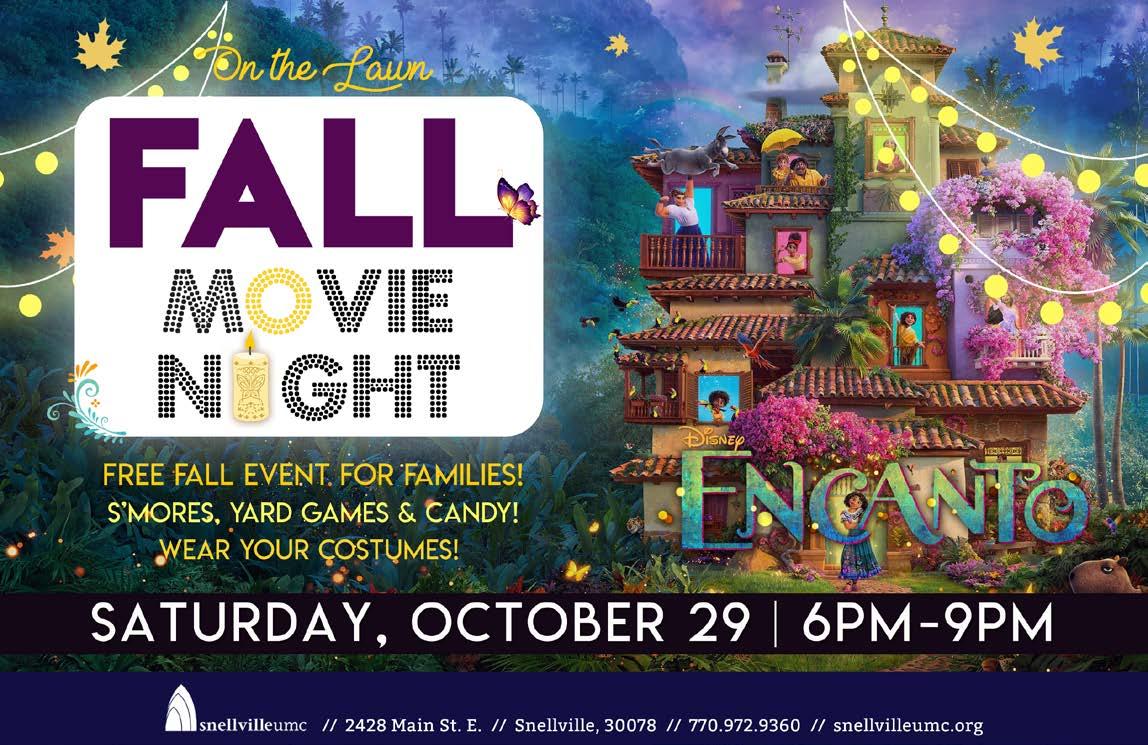 18 Where Everybody's Proud to be Somebody RIBBON CUTTINGS ... in Snellville
City and Snellville Tourism and Trade officials took part in a ribbon-cutting ceremony Aug. 19 at Skechers Warehouse Outlet, located at 1679 Scenic Highway S., Suite No. 400. The store is considered the 'flagship' location in the Southeast and is the second largest Skechers store in the East.
More on Ribbon Cuttings ... If you are are opening a new business in Snellville, give us a call, we'd like to meet you and welcome you to Snellville! Call 770-985-3517 for more information. City and Snellville Tourism and Trade officials cut the ribbon on a new restaurant July 28, officially welcoming them to the city. Be Soulfull, located at 2135 East Main St., Suite 310 in the Snellville Oaks Shopping Center, is a family owned and operated soul food restaurant.
All Services include: Complimentary; HotTea or Spring Water Spa Robe & Fresh Towels Aromatherapy & Spa Socks Salt Water Float Pods Salt RedZenMassage/ReikiCaveMeditationChairInfraredSaunaLightTherapyBedYoga/TaiChiIonicFootDetoxSpecialeventsSpaPackagesGiftCertificates678-585-1153 2415 Heritage Village Ste 3 Snellville GA 30078 Formerly Serenity Salt Cave & Healing Center Grand Opening —Sept 1-4
1 T.W. Briscoe Park - 1.6 mi
Lenora Park offers a wide variety of amenities such as a gymnasium, seven baseball/softball fields, fishing lake, dog park area, 18-hole Disc Golf Course, 1.5 mile paved trail, muchplaygroundspavilion,andmore.
4 Creekwater Alpaca Farm - 5.6 mi
There's no pressure to have a good golf swing or score a lot of points. At TOPGOLF, we've made socializing a sport through a blend of technology and entertainment. No matter the occasion we believe that every great time starts with play, is fueled by food and drinks and moved by music.
5 Yellow River Wildlife Sanctuary - 5 mi
8
Urban Air Adventure Park - 3.7 mi
10
9
One of Atlanta's favorite destinations for the entire family. Nestled in 3200 acres of natural beauty, Stone Mountain Park features family-friendly attractions and outdoor recreational activities. Seasonal events are offered throughout the year that will definitely delight every member of the family.
Annual Memorial Day and Veterans Day programs are held in front of the Veterans Memorial each year.
2 Stone Mountain Park - 8.4 mi
3 Lenora Park - 5.8 mi
Saltville Grotto & Spa will be your salty oasis in Snellville. We offer both wet and dry salt therapies such as floatation and a salt cave. In addition, you can get a massage, foot massage or ionic foot detox. Or maybe a session in our infrared sauna is more your style.
Explore one of Georgia's most iconic landmarks. Located in central Gwinnett alongside Yellow River, just minutes from Snellville. We are home to the original Bison herd, beautiful peacocks, albino wallabies, babydoll sheep, alpacas, fallow deer, spider monkeys, and much more.
The unique farm in Snellville, Ga. has been home to over 50 alpacas since 1993. We offer a safe, close up, hands-on experience unlike any other. Bring the family and enjoy petting the alpacas in their pen and seeing the bunnies and goats too! Guinea Fowl and Tolouse Geese also call Creekwater home. Enjoy it all with public or private tours. Visit our gift shop!
Visit beautiful Briscoe Park and check out all the things it has to offer including two softball fields, two indoor rental rooms, four outdoor andbasketballlake,walkingpool,pavilions,open-airoutdoor1.2milepavedtrail,6-acretenniscourts,courts,muchmore!
Welcome to our castles! It is our honor to provide you with an unforgettable experience of rivalry, feasting and fun! Epic battles of steel and steed, beyond the strength lies the power of charm.
If you are looking for the best yearround indoor amusement park in the Snellville and Gwinnett County area, Urban Air Adventure Park is the perfect place. Come have some fun with us on the SkydivingmustzipWarriorTrampolines,Go-Karts,Wipeout,Course,andline.Anabsolute–checkouttheattraction!
Saltville Grotto & Spa - 0.2 mi
7
Snellville Veterans Memorial - 0.1 mi
The Snellville Veterans Memorial is a state-of-the-art Memorial where locals and visitors stop by to reflect and pay homage to those who fought so selflessly for our free dom. "FREEDOM IS NEVER FREE."
6 Medieval Times Dinner & Tournament - 11 mi
TOPGOLF - 15 mi
fromSnellvilleCityHall
This family entertainment center boasts over 30,000 sq. ft. of fun! Guests are greeted at Stars and Strikes with bar.restaurantandexcitingbowling,upgradedanarcadeafull-serviceand
20 Andretti Indoor Karting & Games - 16 mi
Excitement at every turn, Andretti's offers Karting, Andretti 7D Experience, Duckpin Bowling, Arcade, Racing Simulators, Two-level Laser Tag, Hologate and a dining bar. Join our E-club and be on the inside track for exclusive specials, promotions and just general awesomeness tailored to what you want to do!
11 Lincoln Fill Station - 0.9 mi Based in Snellville, we are north Georgia's prime desti nation for craft beer and fine cigars. Whatever the weather, our covered patio and indoor lounge is the best place to enjoy delicious craft beers 7 days a week, 365 days a year. We have food trucks on site Thursday, Friday and Saturday nights and Sunday afternoons.
13 Niko's Wine Corner - .9 mi
Veteran owned and operated. Has a large se lection of wines that can be shipped to closing.minutestastingsslushies.thenewStopcustomersGeorgiaonly.inandtryourwinesanddeliciouswineWineend30priorto
The Complex Sports & Entertainment - approx 20 mi
12
Tucker Brewing - 13 mi
Proud to be named #4 Best Beer Garden in America by USA Today! Tucker Brewing Company is Georgia's premium lager brewery, dedicated to making easy-to-drink, flavorful lager beers. This is a family owned lager brewery inspired by German brewing traditions and honors the Southern roots of its owners. We strive every day to create a warm environment where family and friends can come to gether to appreciate beer, food and life.
17
Proudly brewing authentic European ales and lagers... no passport
We are a brewer owned and operated, small scale pro duction brewery that focuses on approachable and highly drinkable small-batch brews. We put our own spin on a variety of styles, old and new. Our beer is brewed in house and only available in our taproom. We take our beer seriously.
19
Ironshield Brewing - 7.8 mi
14
Come visit Niko's Wine Corner in Snellville and meet new owners Regina Koranteng and Seth Wiredu. They carry exotic beers that are not available in many package and grocery stores. In addition to the very exten sive selection of great wines and craft beers, they have Gwinnett County's first wine bar. Three Enomatic wine tasting machines provide an extensive and changing array of 32 amazing white and red wines. Weekly wine tasting events available.
Octoberfestrequired! - September 17, 2022. Live Music - German Food, Oktoberfest Beer and more…
15 Outrun Brewing - 11 mi
16
Slow Pour Brewing - 7.8 mi Gwinnett County's first brewery features the beautifully inviting tasting room and beer garden beckoning friends to sit and chat, in a family friendly atmosphere. Slow Pour offers delicious, innovative and original beers. Several nights a week there will be live music with food trucks on site. Dog friendly brewery.
18
Dragon Queen Winery - 1 mi
The Complex offers over 30 different sports games and ac tivities all under one roof. From cricket to baseball, experience numerous sports like never before and new ones for the very first time. Stars and EntertainmentStrikesCenter/Bowling - 5.4 mi
For information on tennis instruction, clinics, camps, and leagues by certified tennis instructors at Briscoe Park visit www.aetennis.com or call 470-417-4547.
Snellville Parks and Recreation
22
Where Everybody's Proud to be Somebody Briscoe Park is open daily 2500 Sawyer Parkway 6 a.m. to 10 p.m. 1925Oak770-985-3535RoadParkOakRoad (Passive neighborhood park) Park office is open Monday - Friday from 8 a.m.-5 p.m. For more information on registration and classes, check out the Parks and Recreation Department on Snellville's website at www.snellville.org/parks-recreation.
Movies @ Briscoe Park: Saturday, Sept.10 and Oct. 15 at dusk. Car Show @ Briscoe Park: Saturday, Nov. 12, 11 a.m.-3 p.m. Youth Kickball: Ages 5-15. Fridays evenings starting Sept. 16 (six-week season). $45 per participant.
For information about adult sports visit www.quickscores.com/snellville.
Outdoor tennis courts are available on a first-come-first-served basis without lights daily from 6 a.m. - 10 p.m. Not all of the courts may be available at all times if tennis Instructor or ALTA teams are utilizing the courts.
Please "like" our Facebook page for more information on our upcoming events and happenings: www.facebook.com/SnellvilleParks.
Multiple games are offered including "Madden21," "Rocket League," "Fortnite,""Mario Kart," and "Super Smash Bros."
National Youth Flag Football offers youth flag football at Briscoe Park. Practices and games will take place on Sundays. For more information visit www.falconsflagfootball.com.
GGLeagues is offering the ultimate Recreational Esports gaming experience for all ages and leagues run during all four seasons.
Information: www.gac-sports.org
Information: app.ggleagues.com/organization/snellville
Non-profit organization the Generals Athletic Club, offers sport programs and mentorship to the Snellville and Shiloh community.
All-In FC offers recreational and academy/select youth soccer programs at Briscoe Park. Information: www.allinfcsnellville.com

Snellville Parks and Recreation - Active Adult Center
Membership is $25 for Gwinnett County residents, $30 for outside the county and only $15 for those who live within the city limits of Snellville. The Center open from 9 a.m.-4 p.m. Monday through Friday. For more information call 770-985-3580 or go to www.snellville.org and find our current newsletter. and Thursdays 9:15 a.m. and 10:15 a.m. - hours when indoors (two classes) 9:30 a.m.- Outdoors - Sept. 1-Oct. 31 at T.W. Briscoe Park (one class) Knitting membership 12 p.m. Tuesdays Classes beginners, intermediate and advanced speakers and Thursdays. Call for specific information.
Free with
Also: Day and overnight trips DevotionalPinochle study Card-makingBowling classes BilliardsComputerPiano
Line
23
Tuesdays
Members of the Snellville Parks and Recreation's Active Adult Center are on the move! The center offers trips to local attractions on a regular basis. Most recently, members attended The Art Station in Stone Mountain to see the musical production of 'The Pin-Up Girls.' A group of members also visited The Sheridan at Eastside for energetic chair aerobics/zumba and lunch. A special two-night stay in Dillard saw members stay at Dillard House, shopping at downtown Clayton and Highlands, NC, visiting Tallulah Falls Gorge, relaxing at 12 Spies Vineyards and having fun at Goats on the Roof.
Bingo (first Fridays at 1 p.m.) ZumbaDancing
Offered for
Check out our Facebook page at facebook.com/snellvilleactiveadultcenter/. Activities include: Aerobics Free with membership Mondays
Crochet and
Spanish
The Snellville Senior Center, now known as the Active Adult Center is now open to adults over the age of 50 (previously 55.) Parks and Recreation officials said they hope this will be a more welcoming title for those who may want to come join in on all the fun activities the center offers. Look for expanded offerings and hours for all adult members over 50.
By Melvin Everson, Gwinnett Tech vice president of economic development and Nikki Lawson, Gwinnett Tech director of economic development When it comes to Economic and Workforce Development, Gwinnett Technical College is known for its innovative and creative thinking to ensure businesses have the required resources they need to thrive and survive.
We all are aware that positive Economic Development is one ingredient to a maintaining a viable and prosperous community. Gwinnett County is one such community that is thriving with unlimited amounts of positive economic development that's creating
Gwinnett Tech to offer Okabashi training
Where Everybody's Proud to be Somebody
24 Economic Development 24
Gwinnett Technical College is excited hosting the Okabashi trainings. Trainings such as these prepare our community's workforce to confidently enter varied work environments and expose businesses to additional programs Gwinnett Technical College can offer to fortify their skilled labor force.
2525
The company's new hiring initiative has produced an opportunity to strengthen Gwinnett's workforce and provide training to their new hires to equip them with skills to be successful on the job. To fulfill their training needs Okabashi Brands, Inc. has partnered with the Technical College System of Georgia's Quick Start program to conduct a series of trainings at Gwinnett Technical College. The trainings cover various topics such as, Effective Leadership to mechanics of operating machinery and working in a manufacturing facility.
a plethora of good paying jobs that will enable employees to take care of their families and participate in their communities various activities. So when the announcement was made about Okabashi Shoe Manufacture in Buford, Gwinnett Tech was ready to assist with this major economic development opportunity.
Gwinnett Technical College is excited to be hosting the Okabashi trainings. Trainings such as these prepare our community's workforce to confidently enter varied work environments and expose businesses to additional programs Gwinnett Technical College can offer to fortify their skilled labor force.
Economic Development
On June 23, there was a public announcement from Governor Brian Kemp that Okabashi Brands, Inc., will start a hiring campaign to fill approximately 340 new jobs created within their company. Okabashi is a third-generation family owed company. Under the leadership of Sara Irvani, CEO of Okabashi Brands, have been manufacturing footwear since 1984.
There will be another public information open house in the fall, Kaiser said.
Where Everybody's Proud to be Somebody
The median house value in Snellville is about $298,000, according to city officials. Based on the new millage, a house with that value will actually see a $70 savings in property taxes this year from $543 to $473. Mayor and Council recently approved the city's FY'23 balanced budget of $14.69 million. Taxes collected from this millage are the largest revenue source the city has and are necessary to balance the new Overallbudget.digest growth to $3.2 billion included many new development additions along with the state-mandated property reassessments.
26 City News 26
The Skyland Drive portion of the project calls for new sidewalks on the north side of Skyland Drive from just south of the intersection of Skyland Drive and Eldorado Place, where the sidewalk currently ends, to the intersection of Skyland Drive and Rockdale Circle. That portion totals 2,800 linear feet. The Pinehurst Road portion of the project calls for new sidewalks on the north side of Pinehurst Road from just south of the intersection of Pinehurst Road and North Road, where the sidewalk currently ends to the existing sidewalk near the entrance into Saddlebrook subdivision.
Mayor and Council approve millage rate lower than previous year Mayor and Council approved a millage rate of 4.00 mills, a rate lower than last year's, meaning many Snellville residents will see a decrease in property taxes this year.
City planning 100-year anniversary celebrations in 2023
Advance voting will be held Monday through Saturday, beginning Oct. 17, 2022 between the hours of 9 a.m. and 5 p.m. at Snellville City Hall. Advance voting ends at 5 p.m. Nov. 4.
The City of Snellville will be 100 years old next year and city officials are looking to celebrate in a big way.
It was a priority of Mayor and Council to do what they could to counter an increase in property taxes following the county's reassessment of homes in the city, City Manager Butch Sanders said. The current millage rate is 4.588 mills.
Two new sidewalk projects totaling 8,100 linear feet are planned for Pinehurst Road and Skyland Drive. A public information open house took place July 11, kicking off the projects which will improve student safety near South Gwinnett High School and pedestrian safety on Pinehurst Road.
The $1.7 million project will be funded with American Rescue Plan Act funds. Following face-to-face meetings with homeowner's along the proposed sidewalks to obtain temporary easements, construction could begin in spring of 2023 and be completed by early 2024, according to project engineer Lawrence K. Kaiser, president of Collaborative Infrastructure Services, Inc.
Mayor and Council approved a measure to put the following question on the ballot Nov. 8: "Shall the governing authority of the City of Snellville, Georgia be authorized to issue licenses for the package sale of distilled spirits within the city limits of the City of Snellville?" Residents will be asked to vote "yes" or "no."
A committee has been formed to commemorate the 100 years since the city charter was put in place in 1923. City staff, Snellville Tourism and Trade and the Snellville Historical Society are teaming up to celebrate Snellville's centennial with events, merchandise and more. Stay tuned for more information as it becomes available and get ready to celebrate 100 years of Snellville!
This Special Election will be held in the Snellville City Hall Community Room, located at 2342 Oak Road. Polls will open at 7 a.m. and close at 7 p.m. If approved, Mayor and Council will determine the process of awarding liquor licenses through a new local ordinance including the number of licenses to be awarded. When stores will be able to sell liquor will also be determined in the new law.
More than $1.7 million earmarked for sidewalk improvements
Residents to vote on package sales referendum Nov. 8 willResidentsbeasked in November to vote on whether they want the city to packagebusinesseslicensesissuetoforsales of alcohol.
27 •Free Hot Breakfast •Suites and Jacuzzi Rooms •100% Non-Smoking •Heated Indoor Pool •Fitness •MeetingCenterRoom SNELLVILLE PERFORMING ARTS 2020 EXCELLENCE IN ACTING 2021 TECH OLYMPICS i Theatrics International
Food Well Alliance grant used to replace greenhouse cover Thanks to a grant from the Food Well Alliance the Community Garden @ Snellville was able to replace the polyethylene film (plastic) that covers its greenhouse adjacent to T.W. Briscoe Park. It was quite an undertaking but thanks to Kurt Schulz, Wayne McClendon, Brian and Ellen Hughes and Wes and Lucy Nettleton the job was completed. It started raining just after volunteers got the plastic laid out in the grass. Two layers of 40-foot-by-40 foot plastic became near impossible to handle to pull up and over the framework. But after a couple of sunny days it dried out inside and out and the last of the wrinkles were pulled out.
The Community Garden @ Snellville is a project of Experience Snellville and is totally administered by volunteers. No city funds are budgeted for the garden.
"The first time we did this about eight years ago it took about five minutes to pull it over," said garden co-founder Kurt Schulz. "This took close to two hours as we could just manage to pull it about an inch at a time! What a day, but it is done!"
28 Where Everybody's Proud to be Somebody
The seedlings will be priced at $2 for a 4-pack (CASH ONLY) and all proceeds will be used to support the Community Garden. Some of the plants the gardeners expect to have include:
•Vegetables: arugula, bok choy, broccoli, Brussels sprouts, cauliflower, collards, kale, kohlrabi, lettuce and Swiss chard
Community Garden @ Snellville
Community Garden cool season seedlings to be sold at Farmers' Market Thank goodness we should soon be saying goodbye to hot temperatures. And as cooler weather comes, local gardeners will begin thinking about planting cool season vegetables and flowers like broccoli and snap dragons respectively.
28
•Flowers: dianthus and snap dragons
The Greenhouse Team at the Community Garden @ Snellville has been nurturing seedlings that they will have available in September at the Snellville Farmers' Market. An exact date had not been set as of the magazine deadline, so watch the Snellville Farmers Market or Community Garden @ Snellville Facebook pages for a date. The market is held on Saturdays, 8:30 a.m. to 12:30 p.m. on the Towne Green, 2342 Oak Road.
29 www.ersnell.com Family owned company with over 95 years experience Our shops and asphalt plants are spread across Georgia, including: Metro-Atlanta, Augusta, and Macon 1785 Oak Road Snellville, GA 30078 770-985-0600
welcomes Comets to
Principal Jarrett 2022-23
•Dedicated•Unified•Organized•Respectful•Proactive
SGHS
year DOROTHYJARRETT
Where Everybody's Proud to be Somebody
We are excited about the new beginning/fresh start that each of you has as we kick off the 2022-2023 school year. If you reached your goals last year, your new beginning this year should be to reach higher goals. If you did not reach your goals last year, your new beginning should be to learn from your mistakes and challenge yourself to work harder to reach your goals this year. The entire faculty, staff, custodians, cafeteria workers and administrators are here to support you. You are the promise of Gwinnett and we will help you shine!
•Commit to embracing and accepting all expectations (cell phone, head gear, no tops showing stomach, 20/20 rule to protect instructional time)
In our culture of high achievement, we must show that we are proud Comets. Our Positive Behavior Intervention System (PBIS) is in place to guide the behavior management expectations throughout the building. P.R.O.U.D. stands for:
•Come to school every day on time (let's eliminate tardies/ AWOLs)•Complete all assignments on time (eliminate NTIs)
The following is South Gwinnett High School Principal Dorothy Jarrett's message to students at the start of the 2022-23 school year.
•Communicate with your teachers
Welcome to your first full week of the 2022-23 school year! I am so happy to have all close to 2,800 of you in the schoolhouse. To our ninth graders, class of 2026, I so enjoyed welcoming you into your school last week, I hope you appreciated the time we took to focus on your social and emotional wellbeing. You should know without any doubt that you have layers of support here and that your teachers are here to help you every step of the way. Our promise to all of you is that you have an opportunity to shine every day! Dr. Joseph Washington spoke to you all and he made it very plain and clear; stay focused on what is important and at the end of every day, reflect on what went well and what you need to work harder on. That is great advice for everyone!Tomyfabulous upper classmen, I missed you so much. I look forward to continuing to catch up with what has been going on in your lives. We have a lot of work to do, but I need you to know, we are here for you. My class of 2023, this is your time to shine, I expect 100 percent of you to graduate May 2023. Period! We are continuing to focus on school culture and climate. Climate is how people feel in the school; culture is how people act in the school. In order for everyone to feel good and to be successful here at South, we must all be committed to creating a culture of high achievement in everything we do. Our culture includes these actions:
South Gwinnett High School
3030
The Army Junior Reserve Office Training Corps' mission is 'to motivate young people to be better citizens,' and that ties into South Gwinnett Principal Dorothy Jarrett's vision. Instilling confidence, pride and academic excellence through being Proactive, Respectful, Organized, Unified and Dedicated (PROUD) is how the South Gwinnett Comets JROTC Leadership and Academic Bowl (JLAB) team excelled again. Finishing nationally in the top 40 out of 2,000 high schools nationally, the Comets made it through four rounds of a fierce competition that is very similar to the gameshow 'Jeopardy.' The JROTC Leadership and Academic Bowl is an all-service national competition conducted at the Catholic University of America in Washington, DC. during the summer, and the next competition takes place June 18-27, 2023. Officials expect the South Gwinnett Comets to go even further next year. From left, Cadet Lt. Col. Macire Kebe, Cadet Capt. Alexander Brookins, Cadet Maj. Winta Mamo and Cadet Command Sgt. Maj. Ava Sellers participated in the JLAB competition.
The 134th Rose Parade and 109th Rose Bowl Game will be held on Monday, Jan. 2, 2023. The events will occur the day after New Year's Day, in keeping with the tournament's "Never on Sunday" tradition kept since 1893, the first year the Rose Parade fell on a Sunday. It will broadcast live at 8 a.m. PST.
Pasadena is not the only place Stanley has taken her student band members to perform on the road. Five years ago, the Bronco Marching Band participated in the 2017 London's New Year's Day Parade. It was footage from that performance that she used to apply for The Rose Parade. While the Brookwood Band has performed in New York, Washington DC, Hawaii, and other local events, The Rose Parade Presented by Honda is the most nationally recognized event Brookwood Band will have landed.
Brookwood High School
Each Bronco Marching Band member is responsible for paying $2,800 to participate in the parade, mostly through fundraising efforts. As of late August 2022, there were 194 who met the mark and counting. The band has 230 student members. Dr. Stanley welcomes any company or individual interest in financially supporting the band's fundraising efforts this fall. For information, contact her at laura.stanley@gcpsk12.org.
31
Brookwood's selection process began in May 2020, requiring the school's band director, Dr. Laura Moates Stanley, to submit a written application and video of the band's performance. She also had to secure letters of recommendation supporting Brookwood's band program and her as its director.
In addition, they will be performing in The Tournament of Roses' Bandfest around the same time as the parade. This is like a band exhibition where all the bands participating in the parade do a field show performance.
Brookwood High School's marching band is the only high school band in Georgia to earn a spot in the upcoming 134th Rose Parade presented by Honda in Pasadena, Calif. It is one of only 14 high schools across the nation and Gwinnett County Public Schools' first representation in the famous 5.5 mile parade. Approximately 60 high-level bands applied.
Everything's coming up roses for Brookwood marching band
The Brookwood High School Band performs at the annual Corky Kell Classic in Mercedes Benz stadium in Atlanta last month.
In July, the president of The Rose Bowl/The Rose Parade, Amy Wainscott, and her husband, Tim Wainscott, visited Brookwood to present Stanley and the band with the official, new parade poster and lapel pins. They "Rosed" the students in attendance by placing a rose applique on each person as they walked past them.
31
Highway behind
Center InTownSuITeS770-982-5250.com 1785 Presidential Circle • Snellville, Georgia 30078
And just this month, paperwork was filed to bring an SteakhouseOutback to Park Place. Georgia 30078 square separate remote control Scenic Target across from Eastside Medical
By Brian Arrington, Public Information Officer
"There is a need in the city for a quality limited-service hotel in the Scenic Highway Commercial Corridor as there are very few options for travelers to utilize while staying in the area," said Planning and Development Director Jason Thompson. "Eastside Medical Center, adjacent restaurants, retail businesses and neighboring residents could all benefit from having a nice Hampton Inn & Suites by Hilton within the city. Finally, Hampton Inn & Suites, under the Hilton (Hotels) umbrella, has a reputation for being a high-quality brand and product that would be an asset to the city for many years to come."
A five-story, 102-room Hampton Inn & Suites will be built in the city following a unanimous vote by the Mayor and Council earlier thisTheyear.64,400-square-foot building will be located in Park Place, a development located at the corner of Pharrs Road and Scenic Highway which recently saw the grand opening of Cracker Barrel, Freddie's, Zaxby's and Aspen Dental.
770.982.5250 www.Crest woodSuites.com ■ Affordable nightly, weekly and monthly rates ■ Average suite features over 300
living area, ample work space with desk,
of Snellville 1784 Presidential Circle ■ Snellville,
32 Askfor yourspecial 10%Falldiscountbymentioning ouradinSnellvilleSpiritMagazine! "Best of Gwinnett since 2017!" Chris Cawthon, Owner chris@abcdirectmarketing.com Preferred Printing and Mailing Vendor of Fast • Friendly • Dependable Printing & Direct Mail ABC_Spirit_Ad_Fall_2022_v1 copy.indd 1 8/15/22 10:59 AM NEW BUSINESS
There had been concerns the hotel would cause traffic issues at the busy intersection, but, according to the developers, daily trips would be reduced by nearly two thirds of what was previously approved for a 12,000-square-foot restaurant.
feet of comfortable living area ■ Each room includes a
cable tv with HBO or Showtime, iron and ironing board, and in-room hi-speed Internet access ■ Apartment size kitchen with refrigerator, two-burner stovetop, full size microwave, in-room coffee maker, in-room toaster, dishes, cookware & utensils, and a well-lit kitchen table/work area ■ Interior corridors with key card access for added security and always clean & friendly service ■ Clean, well-lit property with beautiful grounds and plenty of free parking ■ Exclusive in-lobby coffee barLocated off
The picture of the bus on the left was taken in 1925 and the one on the right was taken this year. School buses sure have changed over the years, but the need to keep students safe on their trip school has never waned. That's why The Snellville Spirit encourages students and parents alike to learn more about bus safety with the help of Gwinnett County Public Schools as the school year gets under way. To learn more about transportation and bus safety for Gwinnett County Public Schools visit
www.gcpsk12.org/GCPSTransportation. COME PLAY IN OUR BACKYARD! ALL-INCLUSIVE FAMILY FUN OurminiBackyardgolf 3685 Harrison Rd., Loganville, GA • www.ourbackyardminigolf.com470.699.3348
School Bus Safety
Held in Front of the Snellville Veterans Memorial HONORING ALL WHO SERVED Order Tiles, Pavers or Banners by September 30, 2022 to have in place for the Veterans Day program. Veterans Day Program November 11 | 3 PM H HH HH H Tile Paver Banner Current Pricing: 4x8 Paver ......... $140.00 Replica.........$60.00 8x8 Paver ......... $195.00 Replica.........$85.00 6X6 Tiles (Veterans Only)........$140.00 Replica.........$60.00 Direct delivery of Replica to home............. Additional....$10.00 Current Price: Banners will be displayed on the light posts on Oak Road and Wisteria approximately 30 days prior the Memorial Day holiday and again 30 days prior to the Veterans Day holiday. $175.00 for two years Order tiles and pavers online at – https://www.thatsmybrick.com/snellville Order the banners at – kelmca@comcast.net
Any
SCARECROWS ARE COMING TO SNELLVILLE!
Contest is available to eve1yone in ,",'nellville.
fun!
Visit
Calling all business owners, school s, churches, and ·residents to join in the fun! Gr eat advertising for businesses;too! Entrance fee i s $20. How will·this w ork? You create a scarecrow and put it on display outside your business, school, church, home or club We'll make sure that there is a map of all locatiuns where Scarecrows are on display for voting. Patrons will be encouraged to visit your location and vote on who has the BEST SCARECROW in Snellville.
To ensure that your scarecrow is on the map, the deadline to receive the ;egistration form is September 23, 2022.
10th Annual Scarecrow Contest
to
For
The winning scarecrows (lst, 2nd & 3rd Place) will be presented a trophy and cash prizes (lst-$_100, 2nd- $75 and 3rd- $50) and also receive recognition in our W i nter Snellville Spirit Magazine, ExperienceSnellville.com and our Facebook page. The winning scarecrow will be judged on creativity, overall presentation. BE CREATIVE AND HAVE FUN!
-------------
Voting will run online from October 7 through October 21 at l0p.m. You will bring your scarecrow to the Snellville FALL FESTIVAL on the Towne Green on October 22 for display. Contest winners will be announced at 3:45 p.rn. during the Fall Festival and then your scarecrows will be auctioned off t o the highest bidder with bids starting at $10.00. Scarecrows need to be able to stand on their own; delivery is to be made to the designated spot left of the stage on the Towne Green on Saturday, October 22 by 10:00 a.m. Please include a 3.x 5 card clearly marked with the scarecrow's name, your name and business infonnation.
Last
Ill Detach and
All proceeds from the a uction will benefit the Southeast Gwinnett Food Co-op. Your money will go to a worthy cause! more infom1ation, rules, tips and applications, visit www.ExperienceSnellville.com. questions can be sent to kelmca@comcast.net or call Kelly McAloon at 770-310-0429. return below to Snellville, form, ExperienceSnellville.com.year's winners of the Scarecrow Contest! www.ExperienceSnellville.com get in on the
36 Fun, Food and Fireworks ... Many thanks to Team Snellville Volunteers, Juneteenth Celebration Star Spangled Snellville Food Truck Friday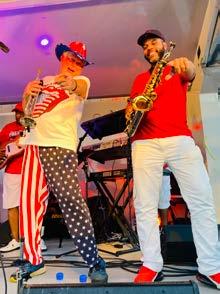 37 ... Were You Caught on Camera? Snellville Police Department and Public Works Chi-Town Transit Authority Concert Departure - Journey Tribute Concert
1 ½ tsp. curry powder
½ cup heavy cream, heated Melt butter in a large soup pot over medium heat. Add onions, celery, and carrot and sauté until soft, 5 to 7 minutes. Add flour and curry, and cook 5 more minutes, stirring frequently. Add chicken broth, mix well, and bring to a boil. Reduce heat and simmer for about 30 minute Add apple, rice, chicken, thyme, salt, and pepper. Simmer until rice is tender, 15 to 20 minutes. Just before serving, stir in hot cream.
1 skinless, boneless chicken breast half - cut into cubes
Creamy Pumpkin Hummus
Ingredients
-
Ingredients
1/3 cup tahini
Taste of Home
-AllRecipes.com
3 tbsp. orange juice
38
Fall Recipes
38
1 tsp. ground cumin 1 tsp. minced garlic 1/4 tsp. salt 2 tsbns pumpkin seed oil or olive oil, optional 1/4 cup salted pumpkin seeds or pepitas
1drainedcupcanned pumpkin
1/4 cup olive oil or pumpkin seed oil
¼ cup white rice
½ cup chopped onion
2 stalks celery, chopped 1 carrot, diced ¼ cup butter
In a food processor, combine the first nine ingredients; cover and process until smooth. Transfer to a serving platter or bowl. Garnish with oil if desired; top with pumpkin seeds and pomegranate seeds. Serve with pita chips, apples and pears.
1 pinch dried thyme salt and ground black pepper to taste
1 can (15 ounces) garbanzo beans or chickpeas, rinsed and
Baked pita chips and sliced apples and pears
1 ½ tsp. all-purpose flour
Mulligatawny Soup Where Everybody's Proud to be Somebody
1/4 cup pomegranate seeds
1 tbsp. toasted sesame oil
4 cups chicken broth ½ apple, cored and chopped
40 Snellville Tourism & Trade P.O. Box Snellville,669GA 30078 Snellville, Where Everybody's Proud to be Somebody. PRSRT U.S.ECRWSSSTDPOSTAGEPAIDLILBURN,GAABCDIRECT*********ECRWSSEDDM****POSTALCUSTOMER AWARD WINNING SNELLVILLE FARMERS' MARKET SUMMER MARKET • 8:30 AM - 12:30 PM THROUGH SEPTEMBER ON THE TOWNE GREEN EXTENDED MARKET • 9 AM - 12 PM 1ST & 3RD SATURDAY OF EVERY MONTH OCTOBER - MAY, CITY HALL PARKING LOT Scan QR Code for Details for 2022 Snellville Event Schedule on Towne Green OCTOBER/NOVEMBERFOODTRUCKFRIDAY1STFRIDAYOFSEPTEMBER&OCTOBER LIVE ON THE LAWN CONCERT SERIES 09.24.22 October 7 | 4-8 PM Food Truck Friday October 22 | 12-6 PM Fall NovemberFestival11 | 3-4 PM Veterans NovemberCelebration26 | 5-8 PM Christmas Tree Lighting November 26 | 5:30-6:30 PM Lighted Christmas Parade 2022SPONSORSKEYSTONE *All events are subject to change SEPTEMBER September 2 | 4-8 PM Food Truck Friday September 10 | 4-8 PM Taste of SeptemberSnellville24 | 6-9 PM Live on the Lawn Concert Uptown Funk – Bruno Mars Tribute COME STAY & PLAY WITH US!