SALT LAKE CITY CAR WASH TOUR HIGHLIGHTS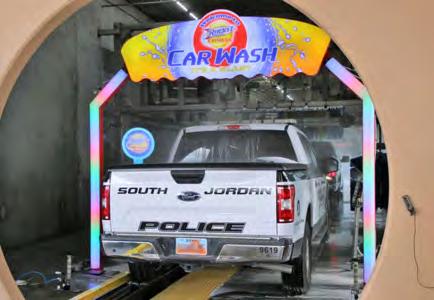 Publication of the Southwest Car Wash Association Third Quarter 2023
ADVANTAGE
www.DRB.com #ExploreGrowth
today you're expected to be an expert at eCommerce, employee scheduling, training, technology and data analytics all while running a car wash.
operators.
Because
More than a POS, Patheon is DRB®'s powerful, scalable technology platform designed to continuously evolve and integrate with the changing needs of end consumers and car wash operators. Built with hybrid-cloud technology, Patheon delivers omni-channel, intuitive experiences for customers, employees and wash
• Process transactions and manage unlimited plans with ease
• Transform data into insights
• Deliver a smooth, seamless user experience
• Integrate with applications that save you time and matter the most
quickly
Explore new paths to growth with Patheon. Call 800.336.6338 to schedule a free demo.
• Respond
to competitive pressures