SEE THIS PROPERTY ON PAGE 4
Free Issue
VOL 37, ISSUE 2
2023
REAL ESTATE MAGAZINE
FEBRUARY
417-699-0108 - Cell • 417-699-0071 - Office • TammyRodman82@gmail.com • LaurelMcelvain@gmail.com TammyRodman.com 19 Years Experience LuxuryCertifiedHome Nightly Rental Specialists Saddlebrooke Experts! Covering Stone, Taney & Christian Counties Experienced Negotiators Laurel McElvain Buyer SpecialistLicensed Realtor Tiffany Forester Licensed Assistant Tammy Rodman Listing SpecialistBroker/Owner February 2023 2 Parade of Homes (417)699-0071
REAL ESTATE MAGAZINE paradeofhomesbranson.com Produced By ..... Real Estate Publishing LLC Publisher ........................... Johnny Sacoulas Editor ......................................... Kim Cooper Layout/Pre-Press .....................Brian O'Neill Graphic Designer ................... Gabriel Jones Distribution ............................... Rick Rueter Parade of Homes Real Estate Magazine 8953 State Hwy 76, Branson West, MO 65737 (417) 334-6671 info@parade-homes.com www.parade-homes.com Neither Publisher nor
Broker
for
misrepresentation or typographical errors, or page placement
contained. No part of this magazine may be reproduced or republished without written consent of the Publisher. BERKSTRESSER FAMILY REALTY ....................................... 13-14 BILL BLITCH - KELLER WILLIAMS ......................................... 28 BRANSON GLOBE ................................................................ 42 BRANSON HOME SHOW ...................................................... 29 BRAZEALE LAW FIRM ............................................... 16, 17, 37 BUILT RIGHT .................................................................. 32-33 CHASE BANK .......................................................................27 CLEAR HOME INSPECTIONS .................................................. 9 CUSTOM DECKS & RAILINGS.................................................. 9 FAST CHAT WITH JUDY BERKSTRESSER ................................ 16 FOGGY RIVER REALTY LLC ...............................................10-11 FROM THE PUBLISHER ......................................................... 8 HEROS TASTES AND TAPS .................................................... 12 HOUSE KEY REALTY ............................................................. 36 HYDRORX ........................................................................... 38 KELLERW ILLIAMS - CAROLYN BOSS .................................... 35 LETTER FROM THE PUBLISHER .............................................. 8 LINDA TROTTER - REMAX LAKESIDE ..................................... 17 LOG CABIN FOR SALE ...........................................................27 PARADE OF HOMES MAGAZINE - LOCATIONS! .......... 39-41 PERFECTSIGNS.COM ............................................................37 R & L ENVIROCARE .............................................................. 17 RDU EXCAVATING LLC ......................................................... 24 RODMAN REALTY AND INVESTMENTS LLC ....................... 1, 30 RUSTIC TIMBERS ................................................................. 25 STEP ABOVE REAL ESTATE ............................................... 18-21 STONEWALL MOTOR INN - FOR SALE ................................... 24 TABLE ROCKS BEST REALTORS ............................. BACK COVER TABLE ROCK SUNSET PROPERTIES ................................. 26, 43 TIMBER VALLEY RUSTIC FURNITURE............................... 22-23 TRI-LAKES HUMANE SOCIETY .............................................. 17 VILLAGE AT INDIAN POINT................................................... 15 WEICHERT REALTORS .......................................................... 31 WHITETAIL PROPERTIES ........................................ COVER, 4-7 February 2023 3 Parade of Homes
listing
are responsible
accuracy,
herein
373 acres - $745,000
Fairview Farm is that farm where your imagination, combined with nature's beauty, can lead to a dream property. 75-80 acres of pasture to run some cows, goats or horses, with more acres that lay nicely and could be opened for pasture. A nice stand of white oak mixed with red oaks, hickory, walnut, cedar, dogwood and redbud. Four ponds dot the landscape as well as a beautiful live spring. The spring feeds Cane Creek adjoining the southwest corner. A cool cave rests in the hillside just below the old homestead where you'll find a pipe emerging from the spring taking your thoughts back to the days of prohibition. Several old whiskey barrel rings lying nearby confirm the suspicion. Electricity has been brought into the old farmstead and a well has been drilled.
50 acres - $200,000
Excellent LOCATION for an assortment of opportunities. Whether you're looking for a nice hunting tract with convenient access to many outdoor adventures or a rental business opportunity, this wooded tract deserves a look. Located just minutes from worldclass trout fishing or floating at Bennett Springs State Park, the potential for outdoor fun is limitless. Easy rolling terrain offers multiple secluded building sites for your home or rental cabins. The Niangua River is also well known for its incredible smallmouth bass fishing.
39 acres - $????
Welcome to Ridge Top Ranch, with panoramic views, beautiful ponds, productive pasture ground, great fencing, and a beautiful home and barn. Only 5 minutes from Marshfield and 20 minutes to Springfield. Private driveway The pastures have quality fencing and cross fencing, as well as three nice ponds for livestock water sources and fishing. The land lays large with nice terrain for hunting different strategies. In the 3 bed, 2.5 bath home, you will see incredible views from every window. Ridge Top Ranch has a lot of amazing attributes and would be a great property for a family and a nice farm.
290 acres - $1,295,000
Arrowhead Cattle Ranch is a highly productive property in an excellent location for raising cattle. Well-fenced, with 5 strand barbed wire along the boundary and cross fencing throughout the property. Additionally, a cattle working facility makes for easy handling of your cattle. 8 auto watering systems, 1 large lake and 8 ponds. A beautiful 4-bedroom home and massive garage is located on the ranch. Excellent opportunities for the outdoorsmen. Multiple outbuildings offer equipment storage, and a road through the parcel provides easy access.
318 acres - $1,250,000
The Rainey Family Farm has been owned by the same family since 1930. At one time, the farm boasted a large-scale turkey farm and cattle operation. The land has a lot of history. The property has a nice residence that can be your home in a nice quiet cattle farm area. The house is 2800 Sq ft. with four beds, three baths, a two-car attached garage and a few multi-use barns nearby. There are, in total, 123 open acres. It also has multiple large ponds and three wet weather creeks!
400 acres - $1,240,000
Productive grass farm with Ozark Mountain views and live water - Very nice combination farm offering the complete outdoor lifestyle. Living here allows for great grass and excellent hunting. Several ponds are stocked with lunker bass, crappie or catfish. Bull Shoals Lake is 20 minutes away. The hills surrounding this lifestyle yield great grass for the livestock of your choice. The ranch-style home has a beautiful setting amongst large oaks overlooking the rolling pastures. Approximately 1,600 square feet of living space with three beds and two baths, open kitchen, dining, and living room. The dream of land ownership is alive and well in MO.
147 acres - $1,150,000
Welcome to Pine Grove Farm. This is a ready-to-go recreational or cattle property in a fantastic area for big deer and turkeys. The seller has managed the land for optimal hunting and cattle production. The owner has established native warm-season and cool-season hay and pasture ground, with six automatic waterers and frost-free hydrants in different grazing paddocks. There's plenty of room to store your toys and equipment. The large hay barn has a corral system for working and holding livestock. The three bed, two bath home is nestled in the heart of the farm with large oaks for shade and a large deck to enjoy the farm's panoramic views.
50 acres - $350,000
Here is a great opportunity to own land near the shorelines of Table Rock Lake and the community of Reeds Spring. Beautiful open fields in the front and nice hardwoods covering the unique topography of the land for great hunting and recreational fun. The property has a perimeter fence in good condition for owning a herd of livestock. A gated entrance can serve as a driveway to your future home. Choose from multiple building spots with nice views and seclusion. Additionally, Peach Orchard Creek runs through the NW corner of the tract for seasonal live water. The property also boasts over a quarter mile of state HWY 76 road frontage.
Parade of Homes
" www . whitetailproperties . com U niq U e h U nting & F arming o pport U nities Agent, Land Specialist (417) 766-5595
let Brian sell YoUr propertY! l let Brian sell YoUr propertY!
Brian Utecht Brian Utecht
weBster coUntY
weBster coUntY
Dallas coUntY
DoUglas coUntY
camDen coUntY
taneY coUntY
ozark coUntY
stone coUntY
4
PENDING! February 2023
74 acres - $355,200
Productive tillable bottom ground tract with the Osage Fork of the Gasconade River running through it. There's also a building site with state highway access, electricity and a water well on site. Amazing wildlife opportunities with great deer numbers and a healthy turkey population. The flowing river has lots of character and attracts waterfowl when the area ponds freeze over. Game fish is abundant. You can access the river from the land or across the highway at the Rader Conservation area.
640 acres - $2,115,000
Clover Mountain Farm offers the owner many ways to live the outdoor lifestyle. Live water is abundant with multiple year-round ponds stocked with bass and crappie and a spring-fed creek. The property is supporting 80 pairs nicely and producing 250+ round bales annually. This scenic farm is headquartered at the ranch style, 3 bed, 2 bath, home overlooking several meadows. Multiple outbuildings for hay and machine storage. Deer and turkeys are abundant. Basically, this farm checks a lot of boxes.
35 acres - $168,000
Mayberry Farm is a productive farm with great access and water. For the crop production/pasture and hay guys, there is plenty of fertility on this farm. Most of the property is level and just a big buck factory with pinch points and stand locations ready to go. The property is planted in 25 acres of beans and corn. Call today for your private showing!
80 acres - $499,900
This potential estate acreage provides everything any future land owner in Southwest Missouri wants: cattle grazing and hay production fields, timber with small openings for optimized hunting opportunities, water features, beautiful building spots, and an amazing location for amenities. Gated entrance, high prairie land, beautiful pond, natural water source, nice barn, & three creeks. This land has a lot to offer and is even more desirable because of its location. You can leave this property on all blacktop roads.
216.5 acres - $619,000
Large timber tract with Niangua River frontage at Bennett Springs State Park. Large ridges and the slow-moving river make this property special. Sneak away to hunt your favorite stand or kayak the river. This is that kind of place. Incredible whitetail hunting and turkey hunting. Big buck producing area. Contact Land Specialist Brian W. Utecht with specific hunting questions. Close to town for everything a person could need. Call today for your very own private showing. Remember, buy land; they're not making it anymore.
92 acres - $1,150.000
TRUE Location, Location, Location! Rare opportunity for a large land tract within a few miles of Willard and Springfield. Lots of road frontage, live water creek, springs, timber, whitetail hunting and outstanding building sites with a gentle roll to it. For decades, one family has enjoyed the farm life and this convenient location, but it's time for them to move on. Investors, developers, hunters, ranchers and family residents will all find this property attractive.
90 acres - $249,900
Secluded, off-the-grid living with a live spring water source. Amish built home surrounded by the essentials for raising the needed livestock to live off the land. An excellent garden spot has been established. One pond. Good wildlife population for more protein options. These sellers have homesteaded here successfully; you can too.
February 2023
1,025 acres - $2,900,000
Stone Mountain Ranch is nestled among some of the most breathtaking scenery in Missouri and offers hunting, development possibilities and valuable water rights. The ranch is comprised of much diversity with glades, savannas, mountains, pasture land, springs, wooded creek bottoms and forested areas with nice timber. The location is just off Hwy 76 and Hwy 13 in Branson and next to Table Rock Lake. This property is loaded with wild game including deer, turkeys and fishing in the ponds and creek.
Parade of Homes
" www . whitetailproperties . com U niq U e h U nting & F arming o pport U nities Agent, Land Specialist (417) 766-5595 Brian Utecht
let Brian sell YoUr propertY! l let Brian sell YoUr propertY!
Brian Utecht
texas coUntY
stone coUntY
ozark coUntY
weBster coUntY
Dallas coUntY
weBster coUntY
greene coUntY
stone coUntY
5
1,700 acres - $5,100,000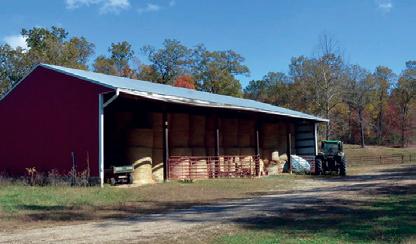 The Quail Run Ranch is a premier large cattle operation and hunting property. From the magnificent ridge top views overlooking the famed Bull Shoals Lake area to the hayfields, mature timber and ponds, the ranch reflects the cattleman's vision and the American dream of large land ownership. This productive cattle ranch is located just off State Highway W with over 3 miles of road frontage. Live water on the property with spring-fed creeks, ponds and four water wells. Great working pens, rotational grazing and the fencing is strong. The wildlife gathers on this farm in great numbers, so the freezer can stay full also. Remember, buy land; they're not making it anymore. Call us today.
" www . whitetailproperties . com PREMIER LARGE CATTLE OPERATION AND HUNTING PROPERTY Agent, Land Specialist (417) 766-5595 Brian Utecht Brian Utecht let Brian sell YoUr propertY! l let Brian sell YoUr propertY!
OVERLOOKING BULL SHOALS LAKE / 3 PONDS
METAL, SHOP, BARN, GARAGE
1200AC. PASTURE / 500 AC. MATURE TIMBER February 2023 6 Parade of Homes
2BD / 1BA CABIN