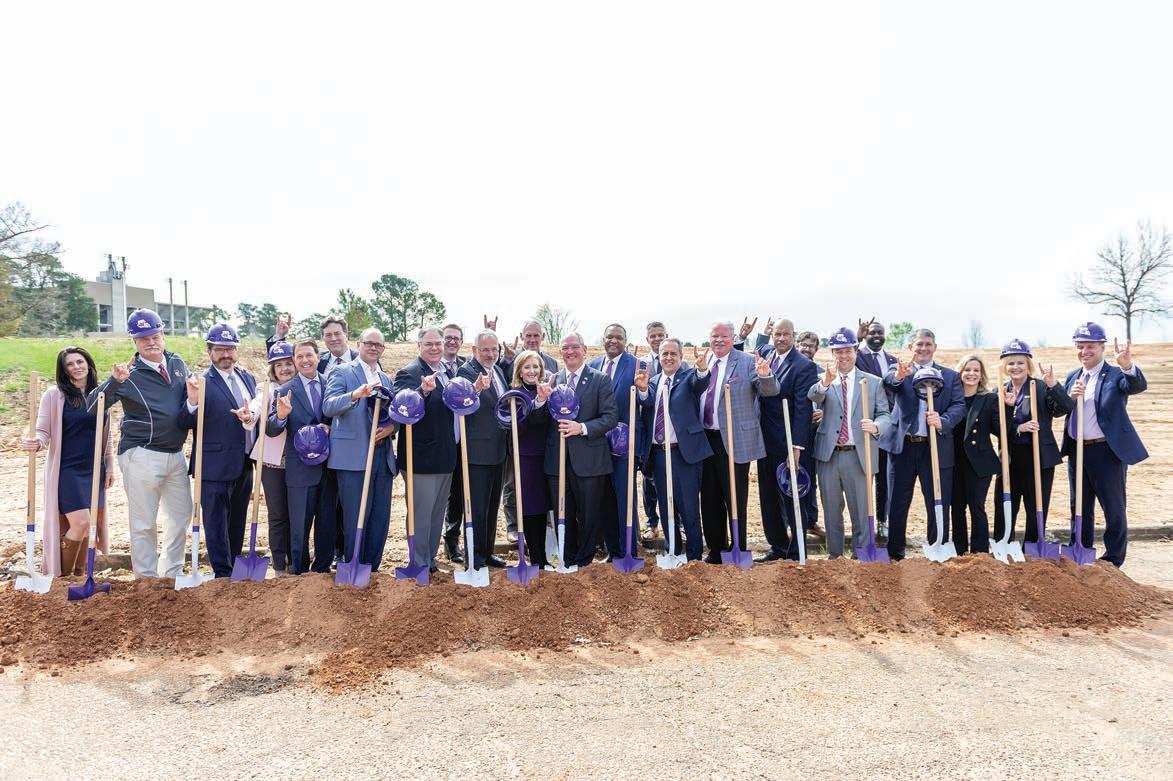 SPRING 2023 Northwestern State University Magazine
Dear Alumni:
One question I hear frequently is: "What is going on at Northwestern?" The answer over the past weeks has been "A lot!" In this issue, you can read about the groundbreaking for our new academic building, which will replace Kyser Hall. You can read about the success of our spring fund raiser, student and alumni accomplishments, new degree programs, significant contributions to the NSU Foundation and NSU's new basketball coach. Quite a lot has been going on.
In evaluating the university's strengths and weaknesses over the last several months, I have received valuable input on how the university can remain healthy and continue to be a driving economic factor in northwest Louisiana. We place a high priority on students and strive to provide best possible experience for them academically, from a community and inclusion standpoint and in preparation for their future careers. When they leave our campus, they are ready to work and lead.
I appreciate your unwavering support towards NSU. The relationships we have with you, our alumni, and with our partners in business, industry, healthcare, education and other areas, are critical for the university to remain personal, valuable, and impactful for each and every graduate.
Alumni Columns
Official Publication of Northwestern State University
Natchitoches, Louisiana
Organized in 1884
A member of CASE
Volume XXXIV Number 1 SPRING 2023
The Alumni Columns (USPS 015480) is published by Northwestern State University, Natchitoches, Louisiana, 71497-0002
Periodicals Postage Paid at Natchitoches, La., and at additional mailing offices.
POSTMASTER: Send address changes to the Alumni Columns, Northwestern State University, Natchitoches, La. 71497-0002.
Alumni Office Phone: 318-357-4414 and 888-799-6486
FAX: 318-357-4225 • E-mail: cobbd@nsula.edu
NSU ALUMNI OFFICERS
President Leah Sherman Middlebrook, Dallas, 1986, 2016
1st Vice President Dr. Nikki Ceaser-Small, Arlington, Texas, 2007
2nd Vice President J. Scott Repp, McKinney, Texas, 1989
Secretary Dr. Lisa Landry Mathews, Shreveport, 1992
Treasurer Kimberly Martin, Houston, 1988
Past President Patricia Hrapmann, New Orleans, 1973, 1978
EX OFFICIO MEMBERS
NSU President Dr. Marcus Jones, 1992
Interim Vice President for External Affairs Drake Owens, 2004, 2005
BOARD OF DIRECTORS
Steven Celestine.................................................... Shreveport, 1989
Tommy Chester Natchitoches, 1969
Caron Chester Coleman Natchitoches, 2000
Shade Dufrene Savannah, Texas, 1999, 2003
Allen Evans Shreveport, 1989
John Evans Natchitoches, 1992
LaTasha Gray-Grant....................................Mansfield, Texas, 2007
Emilyn Horton...............................Natchitoches, 1987, 1993, 2001
Emilie King Shreveport, 2017
Matt Koury Leesville, 1995
Jeremy LaCombe...................................................New Roads, 1999
Lane Luckie Tyler, Texas, 2008
Virginia Monceret.................................................New Roads, 2001
Mandi Mueller New Orleans, 2009
Camille Nunez Slidell, 2001
Michael Prudhomme Natchez, 1984
Joe Robertson DeQuincy, 1990
Mark Spikes League City, Texas, 1991
Dear Alumni:
As I write this, recruiters are on the road, students are registering for summer and fall classes and the Alumni and Development staff are on tour with After Hours events. It's certainly been a busy spring and we are already planning events set for later this year.
One of the benefits of working with alumni is reconnecting with friends and making new ones. Earlier this year, I was pleased to see two of our graduates who had not seen each other in more than 30 years rekindle their friendship just where it left off as they discussed their families, jobs and their memories of NSU.
I hope that you will check out our webpage at www.northwesternstatealumni.com or follow us on social media to stay up to date on all the good things happening at Northwestern State. We are here to help you get connected and stay involved with our alma mater.
northwesternstatealumni.com
Joseph B. Stamey Natchitoches, 1983
Crystal Hemphill Stewart Natchitoches, 1997, 2003
Toni Stroud Natchitoches, 1989
Glenn Talbert Shreveport, 1964
Jim Villard Alexandria, 1983
EMERITUS BOARD MEMBERS
Jerry Brungart Natchitoches, 1969, 1971
Leonard Endris (deceased) Leesville, 1974
Dr. Hayward Hargrove Black Mountain, N.C., 1964
Gail Jones Natchez 1981, 1998
STUDENT REPRESENTATIVE
SGA President Bailey Willis, Opelousas
ALUMNI COLUMNS STAFF
Publisher Danielle Antoon Cobb, 2010
Editor Leah Pilcher Jackson, 1994, 2011
Contributors David West Jason Pugh
Photography Chris Reich, 2007, 2009
Design/Layout Daphne Hines, 1982, 1984
Northwestern State University is accredited by the Southern Association of Colleges and Schools Commission on Colleges to award associate, baccalaureate, master's, specialist's, and doctorate degrees. Contact the Commission on Colleges at 1866 Southern Lane, Decatur, Georgia 30033-4097 or call 404-679-4500 for questions about the accreditation of Northwestern State University.
Northwestern State University does not discriminate on the basis of race, color, gender, religion, sexual orientation, national origin, disability, genetic information, age, pregnancy or parenting status, and veteran or retirement status in its programs and activities and provides equal access to the Boy Scouts and other designated youth groups. The following individuals have been designated to handle inquiries regarding non-discrimination policies (i.e., Title IX): Employees/Potential Employees – Veronica M. Biscoe, EEO Officer (318-3576359) and Students – Reatha Cox, Dean of Students (318-357-5285). For Americans with Disabilities Act (ADA) concerns, contact the Accessibility and Disability Support Director, Taylor Camidge, at 318-357-5460. Additionally, Northwestern complies with the Jeanne Clery Disclosure of Campus Security Policy & Campus Crime Statistics Act. Information about NSU's campus security and crime statistics can be found at https://www.nsula.edu/ universityaffairs/police/. Full disclosure statement: https://www.nsula.edu/iehr/.
Messages
Northwestern State University
Danielle Antoon Cobb 2010 Director of Alumni Affairs
Flavor of Louisiana raises more than $105,000 for student scholarships
Northwestern State University's spring fund raiser, Flavor of Louisiana, raised more than $105,000 this year to support student scholarships, faculty development and academic enhancements. Vendors at the March 17 event offered a variety of seafood dishes and other items for guests to mingle and dance while nibbling samplings of Louisiana seafood prepared in a variety of ways.
Event coordinator Cristy Bernard said the event was a success and thanked sponsors, as well as numerous faculty, staff and student volunteers who pitched in to pull off NSU's largest and most popular annual fund raiser.
"There are a lot of moving parts in putting on an event of this magnitude, and we received positive feedback from guests and vendors," Bernard said. "Best of all, we will be able to help deserving students complete their degrees through scholarships awarded by the NSU Foundation."
In addition to food vendors, booths were set up to raise funds for Phi Mu Fraternity and the Dylan Kyle Poche Memorial Bass Fishing Tournament and Scholarship.
On the cover: Current and past NSU administrators, elected officials and members of ACSW Architects, DonahueFavret Contractors, Perkins&Will architects and the Robert Alost family broke ground on what will be a new state of the art academic building. From left are Catherine Dalton, Stan Alost, Wes Alost, Lola Dunahoe, Dr. Chris Maggio, Mike Alost, Greg Damico, Eric Crozier, Brad Bailey, Dr. Jim Henderson, Dale Wohletz, First Lady Donna Edwards, Gov. John Bel Edwards, Dr. Marcus Jones, Patrick Descant, Sen. Jay Luneau, Rep. Ed Larvadain, Max Ferran, Jeremy LaCombe, Ted James, Rep. Gabe Firment, Gina Goings, Jennifer Kelly and Dr. Greg Handel.
This public document was published at a total cost of $34,317.15. 52,345 copies of this public document were published in this first printing at a cost of $34,317.15. The total cost of all printings of this document, including reprints is $34,317.15. This document was published by Northwestern State University Office of University Advancement and printed by Mele Printing Company, LLC, 619 North Tyler Street, Covington, LA 70433 to foster and promote the mutually beneficial relationship between Northwestern State University and its alumni, supporters and community partners. This material was printed in accordance with standards for printing by state agencies established pursuant to R.S. 43.31. Printing of this material was purchased in accordance with the provisions of Title 43 of the Louisiana Revised Statues.
1 SPRING 2023
NSU News
Gov. Jon Bel Edwards was among those in hard hats March 14 when officials at Northwestern State University broke ground on what will be a state of the art academic building named for former NSU President Dr. Robert Alost. Edwards said the groundbreaking on the $44 million investment represents the progress Louisiana is making by investing in education.
"It is incredibly significant for everybody, and for students that are not even on campus yet, students who are not even born yet. They are going to benefit from this investment, so in a very real way this groundbreaking is a testament to the work that we have all done collectively to invest again in higher education," Edwards said. "Education is the engine for economic growth and diversification. It is the key to opportunity and prosperity for everybody."
NSU President Dr. Marcus Jones said the groundbreaking marks a historic moment at the university.