Messages
Dear Alumni,
As I said to the assembly during the recent presidential investiture ceremony, preparing for and participating in that event intensified my sense of humility and gratitude at being selected to serve as president of our great university. The honor of working so closely with students, faculty and staff, alumni and other stakeholders in guiding Northwestern State University exceeds every ambition that I could have imagined for my life.
As many of you already know, I grew up in Winnfield with 19 brothers and sisters. Neither of my parents finished middle school but they both knew that our family' social and economic mobility was tied to our educational achievements. I will lead Northwestern with the same values and principles that were instilled in me by my parents. It will be my goal to set an example for colleagues by working hard and being dedicated to our mission, but also demonstrate compassion and concern for those whose lives we touch.
My overarching ambition as president is to enable and empower the university to continue to enrich the souls and spirits of students who will stand at the forefront of innovation, problemsolving and servant leadership, who will address our future social, environmental and economic challenges and who will respond to our global world with empathy, adaptability and kindness.
Thank you for your support and encouragement. I look forward to working together to assure an even brighter future for our university.
Alumni Columns
Official Publication of Northwestern State University Natchitoches, Louisiana
Organized in 1884
A member of CASE Volume XXXII Number 3 FALL 2022
The Alumni Columns (USPS 015480) is published by Northwestern State University, Natchitoches, Louisiana, 71497-0002
Periodicals Postage Paid at Natchitoches, La., and at additional mailing offices.
POSTMASTER: Send address changes to the Alumni Columns, Northwestern State University, Natchitoches, La. 71497-0002.
Alumni Office Phone: 318-357-4414 and 888-799-6486
FAX: 318-357-4225 • E-mail: owensd@nsula.edu
NSU ALUMNI OFFICERS
President Leah Sherman Middlebrook, Dallas, 1986, 2016
1st Vice President Dr. Nikki Ceaser-Small, Arlington, Texas, 2007
2nd Vice President J. Scott Repp, McKinney, Texas, 1989
Secretary Kimberly Martin, Lake Charles, 1988
Treasurer Trey Hill, Baton Rouge, 1985
Past President Patricia Hrapmann, New Orleans, 1973, 1978
EX OFFICIO MEMBERS
NSU President Dr. Marcus Jones, 1992
Vice President for External Affairs Jerry Pierce, 1961
Assistant Vice President of External Affairs for University Advancement Drake Owens, 2004, 2005
BOARD OF DIRECTORS
Steven Celestine.................................................... Shreveport, 1989
Tommy Chester Natchitoches, 1969
Caron Chester Coleman Natchitoches, 2000
Shade Dufrene Savannah, Texas, 1999, 2003
Allen Evans Shreveport, 1989
John Evans Natchitoches, 1992
LaTasha Gray-Grant....................................Mansfield, Texas, 2007
Emilyn Horton...............................Natchitoches, 1987, 1993, 2001
Emilie King.............................................................Shreveport, 2017
Matt Koury Leesville, 1995
Jeremy LaCombe...................................................New Roads, 1999
Lane Luckie............................................................Tyler, Texas, 2008
Dr. Lisa Landry Mathews Shreveport, 1992
Virginia Monceret.................................................New Roads, 2001
Mandi Mueller
Dear Alumni,
Thank you to everyone who reached out with words of kindness and congratulations when I was named director of Alumni Affairs at NSU. Northwestern State University has special meaning to my family and me and I am honored to be able to serve the university we love.
We are currently busily preparing for an action-packed Homecoming celebration and I invite you all to come back to campus for the festivities October 21-22. There will be something for everyone during the weekend. Be looking for an online schedule at www.northwesternstatealumni.com and on the NSU home page www.nsula.edu and take note that game time is at 1 p.m.
I am very excited about this opportunity to work with you as we share the message about how special NSU is. Please don't hesitate to reach out to me. I'm just a phone call or email away and I hope to hear from you soon.
Orleans, 2009
Michael Prudhomme Natchez, 1984
Joe Robertson...........................................................DeQuincy, 1990
Mark Spikes League City, Texas, 1991
Joseph B. Stamey Natchitoches, 1983
Crystal Hemphill Stewart....................... Natchitoches, 1997, 2003
Toni Stroud..........................................................Natchitoches, 1989
Glenn Talbert Shreveport, 1964
Taylor Townsend Natchitoches, 1986 Jim Villard Alexandria, 1983
EMERITUS BOARD MEMBERS
Jerry Brungart Natchitoches, 1969, 1971
Leonard Endris Leesville, 1974
Dr. Hayward Hargrove Black Mountain, N.C., 1964
Gail Jones Natchez 1981, 1998
STUDENT REPRESENTATIVE
SGA President Bailey Willis, Opelousas
Publisher Dr. Drake Owens, 2004, 2005
Editor Leah Pilcher Jackson, 1994, 2011
Contributors David West Jason Pugh
Photography Chris Reich, 2007, 2009
Design/Layout Daphne Hines, 1982, 1984
Northwestern State University is accredited by the Southern Association of Colleges and Schools Commission on Colleges to award associate, baccalaureate, master's, specialist's, and doctorate degrees. Contact the Commission on Colleges at 1866 Southern Lane, Decatur, Georgia 30033-4097 or call 404-679-4500 for questions about the accreditation of Northwestern State University.
Northwestern State University does not discriminate on the basis of race, color, gender, religion, sexual orientation, national origin, disability, genetic information, age, pregnancy or parenting status, and veteran or retirement status in its programs and activities and provides equal access to the Boy Scouts and other designated youth groups. The following individuals have been designated to handle inquiries regarding non-discrimination policies (i.e., Title IX): Employees/Potential Employees – Veronica M. Biscoe, EEO Officer (318-3576359) and Students – Reatha Cox, Dean of Students (318-357-5285). For Americans with Disabilities Act (ADA) concerns, contact the Accessibility and Disability Support Director, Taylor Camidge, at 318-357-5460. Additionally, Northwestern complies with the Jeanne Clery Disclosure of Campus Security Policy & Campus Crime Statistics Act. Information about NSU's campus security and crime statistics can be found at https://www.nsula.edu/ universityaffairs/police/. Full disclosure statement: http://universityplanning.nsula.edu/ notice-of-non-discrimination.
...................................................New
Northwestern State University
Danielle Antoon Cobb 2010
Director of Alumni Affairs
northwesternstatealumni.com
NSU News
Letter of Gratitude
Earlier this year, Dr. Marcus Jones received the following letter that underscores the lasting impact and influence of our university on people whose lives are touched by Northwestern.
"The letter was unexpected and came from an individual who, to my knowledge, has had no interaction with university personnel in decades," Jones said. "But it is a powerful, moving message on the value and relevance of our university and the work that all of you do every day."
Dr. Pam Simmons read the letter during the annual Faculty Institute at the start of the Fall semester.
I am writing this letter to President Jones today because strangely enough, Northwestern State has been at the forefront of my mind lately. I wanted to take a moment and share with the President an event that took place 30 years ago... an event that changed my life.
Dr. Jeffrey Romig
I was a young man stationed at Ft. Polk, Louisiana, in 1992. I was a corporal and an Army Medic. I had no college credits and at that time had no real ambition to attend college. I was planning on making the military my career.
I grew up in impoverished circumstances with an alcoholic father who had used his exceptional parenting skills to remove any self-confidence from my already depleted toolbox of life skills. So, I joined the Army with one goal in mind and that was to get away...as far away from that toxic situation as I possibly could and try to salvage some sort of life for myself.
I did not have the confidence to believe that I could attend college. My grades in high school were unremarkable and I felt that I would not have the academic abilities to compete with other students. So, the Army was the dangling branch hanging over the raging river that I grabbed onto that helped to pull me to safety.
So, getting back to 1992, I was in the Army's Primary Leadership Development Course (PLDC). During the first week of the course, an older gentleman from Northwestern State was given a few moments to speak to the class. He spoke a little bit about Northwestern and a little bit about the course we were beginning, however, he mostly focused his attention on the importance of using our time wisely and using our opportunities to further our education.
He told us that the PLDC course we were taking could earn us seven college credit hours at Northwestern State. All we had to do was to complete the program and then fill out the application and we would receive a transcript with those seven academic credit hours.
He then said something that I carry with me today. He said if you have never been to college then these seven hours may set your feet onto a path that will begin your academic journey. Then he said, "Who knows where that journey will carry you? It may lead you to a degree, to a better job, to opportunities not afforded others, but where ever road it places you, you better believe it will be an amazing adventure."
Well, I did complete PLDC and I applied for those seven hours. When I had those transcripts in my hand, I was surprised at how good it felt to be able to have proof that I could compete in college-level courses. My self-esteem at that time was so low that I never dreamed that my name would ever be on a college transcript.
Well, this gentleman's assessment was correct. I returned to school and went to St. Philips College in San Antonio, Texas, and
became a Licensed Practical Nurse. I then obtained a bachelor's degree from the University of Nebraska and then applied for the Army's Physician Assistant Program and was accepted. I graduated with a Master's Degree and have been practicing medicine since 1999. I have been blessed because of this profession and have used my free time to perform medical missions to places like Haiti and to Native American reservations.
I retired from the Army as a medical officer in 2015 completing 31 years of service. I served in Iraq and Kuwait and currently work at a Veterans Hospital and am a preceptor for PA student's clinical rotations or five universities.
Well, a couple of years ago, I decided that I wanted to obtain a doctorate. So I enrolled in Southern Illinois University's Doc torate of Medical Science Program and this June I completed the program.
Right now, I am in the Drury Inn Motel getting ready to attend our Hooding Ceremony to receive our Doctorate and what has been going through my mind for the last week has been the words of the academic advisor from Northwestern State who said "These seven hours will set your feet on the path to your academic journey."
I am sad to say that the only hours that I earned from your University were those seven hours, however, they were the most important seven hours that I ever had printed on a transcript and I cherish those hours because they moved me forward on an amazing adventure.
So, as I attend our ceremony today, I want to thank you and the Northwestern State family for the role that they played in my life. God bless you and thank you for taking the time to read this letter.
Jeffery S. Romig Danville, Illinois
This public document was published at a total cost of $34,013.90. 51,932 copies of this public document were published in this first printing at a cost of $34,013.90 The total cost of all printings of this document, including reprints is $34,013.90. This document was published by Northwestern State University Office of University Advancement and printed by Mele Printing Company, LLC, 619 North Tyler Street, Covington, LA 70433 to foster and promote the mutually beneficial relationship between Northwestern State University and its alumni, supporters and community partners. This material was printed in accordance with standards for printing by state agencies established pursuant to R.S. 43.31. Printing of this material was purchased in accordance with the provisions of Title 43 of the Louisiana Revised Statues.
1 FALL 2022
Alumni
Dr. Marcus Jones was named president of NSU in November 2021 and was formally invested to the office Friday, Sept. 9. Jones holds a bachelor's degree in business administration and finance from Northwestern State, a master's in international business and trade from Grambling State University and a law degree from Southern University Law Center.
Jones invested as Northwestern State's 20th president
The Northwestern State University family and the Natchitoches community marked a day of celebration as Dr. Marcus Jones was formally installed as the university's 20th president Friday, Sept. 9. The formal investiture took place in A.A. Fredericks Auditorium beginning with a procession of faculty and staff in full academic regalia, part of a ceremony steeped in tradition and nostalgia.
Jones was named Northwestern State's president in November 2021, having served as interim president since the retirement of Dr. Chris Maggio in July 2021.
Honored guests included Gov. John Bel Edwards, Dr. Kim Hunter Reed, commissioner of Higher Education, Louisiana Board of Regents, and dignitaries from throughout the region representing government, academia and professional fields. Natchitoches
Mayor Ronnie Williams Jr., Student Government Association President Bailey Willis of Opelousas, Faculty Senate President Dr. John Dunn and Leah Sherman Middlebrook, president of the NSU Alumni Association, offered words of welcome.
Edwards congratulated Jones, acknowledging the historic significance of Jones serving as Northwestern State's first Black president.
"Earning his undergraduate degree at Northwestern, his master's degree at Grambling, and his law degree at Southern, Dr. Jones is a testament to Louisiana's public higher education institutions. Dr. Jones has served the NSU community for many years, and I have no doubt he will continue to succeed in his new role," Edwards said. Reed said Jones' investiture is "the culmination of a lifetime of work for an individual who is thoughtful, engaged
and committed to student success."
The formal symbolic installation took place when SGA President Willis, Dr. Jim Henderson, former NSU president and current president of the University of Louisiana System, and Lola Dunahoe of Natchitoches, board member for the University of Louisiana System, invested Jones into office with the academic regalia of the NSU president, a gift from the students of NSU, and the presidential chain, which bears the names of all Northwestern State University presidents.
Jones, a native of Winnfield and one of 20 children, spoke of his parents' work ethic and the importance they placed on education.
"Primarily because of my parents, I, too, recognize that education is transformative and is connected to our students' social and economic mobility and potential," Jones said. "Based on that
2 FALL 2022
News
lifelong viewpoint, my presidency will be focused on doing everything within my power to provide out students with opportunities to succeed in their work and careers and enjoy meaningful and productive lives.
Jones pledged to remove barriers for individuals who aspire to build better lives through education.
"My overarching ambition as presi dent is to enable and empower the university to continue to enrich the souls and spirits of students who will stand at the forefront of innovation, problem-solving and servant-leader ship, who will address our future social, environmental and economic chal lenges and will respond to our global world with empathy, adaptability and kindness," he continued.
Jones acknowledged the history of Northwestern State, which was founded as Louisiana's State Normal School, specifically for the training of teachers, in 1884 on a tract of land that is the oldest continually occupied site for higher education in Louisiana. Sixty students enrolled in the first class and three of them graduated two years later.
Alumni
After 10 years, Normal sent 148 teachers into classrooms around the state. Today Northwestern State bolsters the economy and workforce by providing more than 2,000 qualified graduates annually in multiple fields to businesses, industries, institutions and other entities worldwide.
In 1965, NSU admitted its first seven Black students, including Doris Ann Roque-Robinson and Bishop James Johnson, the only surviving of the seven, who were present and recognized during the investiture.
"Northwestern has embraced change and conquered challenges throughout its nearly 14 decades, which helped fortify and prepare the university for the monumental obstacles of recent times," Jones said.
Jones holds a bachelor's degree in business administration and finance from Northwestern State, a master's in international business and trade from Grambling State University and a law degree from Southern University Law Center where he was managing editor of the Southern Law Review. He also studied international business and
finance at the University of Plymouth in Plymouth, England.
Jones has an extensive academic, business and legal background, having served as executive vice president and chief operating officer for the University of Louisiana System for the past year, where oversaw the areas of business finance, internal/external audit function, EEO and IT for the System and handled matters of system level importance on behalf of the UL System president.  He also oversaw management of budgets, administration, policies and procedures and international relations and acted as the legal liaison for the System.
Jones was NSU's executive vice president for university and business affairs from 2017-2020 where he was a key administrator in the planning, operation and management of the University.  He has been a member of Northwestern's faculty since 1994 as an instructor of business, assistant professor of business law and international business, associate professor of business law and international business and has held the Ben D. Johnson Endowed Professorship since 1999.
3 FALL 2022
News
Northwestern State University's 20th president, Dr. Marcus Jones, standing center, was formally installed during an investiture ceremony Friday, Sept. 9. The ceremony, steeped in tradition, included dignitaries representing government, academia and professional fields from around the state.
Alumni News
Six to be inducted into Long Purple Line
Northwestern State University will honor six alumni by inducting them into the University's alumni hall of distinction, the Long Purple Line. The 2022 inductees are Tommy Chester and Lola Dunahoe of Natchitoches, Dr. Johnny Cox of Coushatta. Tynes Hildebrand of Shreveport, Gail Metoyer Jones of Natchez and Carlos Treadway of London, England. The inductees will be honored at a luncheon on October 21 at 11:30 a.m. at the Natchitoches Events Center. Ticket information for the lunch and induction program is available at northwesternstatealumni.com.
Chester earned a bachelor's degree in wildlife management in 1967 and a master's degree in student personnel services in 1969. While at Northwestern, he met his wife, the former Cynthia (Cindy) Thomas.
He served in the U.S. Air Force. Chester was a teacher in Red River
and DeSoto parishes and director of Student Activities at Louisiana College and Louisiana Tech. He started a successful career with State Farm Insurance beginning in 1977 in Arcadia. As an agent, Chester has won numerous awards. Early in his career he was named a Travel Agent and was as an Honors Agent multiple times throughout his career. He has also been named as a Select Agent. His community service includes serving as president of the Arcadia Jaycees and Arcadia Lions Club.
Chester joined the NSU Alumni Association Board of Directors in the 1980s, and later became vice president, and president, serving in that role for 10 consecutive years. He holds the distinction as the longest serving president in Alumni Association history. He has also been a member of the NSU Athletic Association Board of Directors.
Tommy and Cindy Chester established the Doris G. Chester Scholarship through the Gallaspy Family College of Education.
Chester initiated an award for NSU faculty which is now the Excellence in Teaching Award. The honor is presented to a faculty member from each academic college during the fall semester. He worked with the late President Dr. Randall Webb in the late 1990s to gain student support to fund construction of the Randall J. Webb Wellness and Recreation Center.
Cox has served as mayor of Coushatta since 2012 after serving on the town council. He earned a bachelor's degree in industrial technology at NSU where he was Student Government Association president for two years and was the student representative of the Board of Trustees for State Colleges and
4 FALL 2022
Chester Cox Dunahoe Hildebrand
Jones Treadway
Universities and SGA representative to the Natchitoches Chamber of Commerce. He was in the ROTC program where he received the ROTC Academic Achievement Award, the Exceptional Performance Award, a Certificate of Appreciation and a Certificate of Proficiency. He attended ROTC Advanced Camp, receiving an Advance Camp Completion Award and completed the U.S. Army Infantry Airborne Course.
His academic honors included membership in Blue Key National Honor Fraternity, the National Honorary Dean's List, Presidential Academic Award, Who's Who Among American Colleges and Universities and the Natchitoches Outstanding Community Work Award.
He later earned a master's degree in biblical studies and a doctorate of ministry from the Institute for Teaching God's Word and a doctorate of theology, a doctorate of divinity and a doctorate of philosophy from the Minnesota Graduate School of Theology. Cox has been a pastor for more than 30 years.
Cox served in the U.S. Army and Louisiana Army National Guard. He was chief executive officer of Winnfield Funeral Home and Winnfield Holding Company. Cox was a sheriff's deputy with the Red River Parish Sheriff's Office and vice president-chairman of the executive board of the Louisiana Youth Outreach Commission. The Louisiana Legislature passed a resolution in 2013 commending Cox for his work on behalf of the people of Red River Parish.
Dunahoe was appointed by Governor John Bel Edwards to the Board of Supervisors for University of Louisiana System in 2016 and continues to serve on the management board which oversees Northwestern State and eight other state institutions. In that role, she served on the system search committee for the selection of three presidents of Northwestern State. Dunahoe served on the Onward Louisiana, Higher Education Transition Committee.
She was president of the Northwestern State University Foundation during Northwestern's first capital campaign which began with a goal of $18.84 million and raised $32
million to enhance the institution. Dunahoe chaired the nomination and governance committee and was also secretary and vice president. She currently holds executive committee position of past president. In 2021, Dunahoe was honored with the Northwestern State University Distinguished Alumna Service Award.
Dunahoe is chair and chief executive officer of the Mary R. Gallaspy Charitable Trust #2, a multi-million dollar trust consisting of real estate, oil and gas interests and other securities, managed for the purpose of awarding academic scholarships to Northwestern State students.
In her career, Dunahoe has been active in community service. She was president of the Prudhomme-Rouquier House Foundation during the time the organization received a $366,000 Save America's Treasure's Grant for the restoration of its 1790 property located in the Natchitoches Historic Landmark District. As a member of First Baptist Church of Natchitoches, she co-chaired the church's $2.5 million restoration project.
Hildebrand has had a seven-decade affiliation with NSU as a two-sport athlete, head basketball coach, athletics director, AD emeritus and an NCAA regional basketball officials advisor.
Hildeband earned bachelor's and master's degrees from Northwestern. He was head men's basketball coach from 1965-1980 and director of placement from 1980-1983. He returned to the athletic program as athletic director from 1983-1996.
As men's basketball coach, he led the Demons to the NAIA Playoffs for four consecutive years and won backto-back conference championships in 1973-74 and 1974-75. He assisted with the training camp of the 1972 United States Olympic Team at the invitation of legendary coach Henry Iba. Hildebrand led the basketball program into Division I, taking the team through its first four seasons at the highest level of competition.
While serving as athletic director, he helped guide the Demon athletic program into the Gulf Star Conference and later the Southland Conference. Hildebrand was selected to serve
on numerous NCAA committees including the Division 1-AA football selection panel. One of Hildebrand's trademarks as athletic director was using interns to supplement a small administrative staff. Among those who began their professional careers as interns for Hildebrand at NSU include Southeastern Conference Commissioner Greg Sankey and Greg Burke, who succeeded Hildebrand as NSU's athletic director and served in the position for 25 years.
Hildebrand was named Mr. Louisiana Basketball in 1981 and is a member of the Louisiana Basketball Hall of Fame. He was inducted into the N Club Hall of Fame in 1985 and the Louisiana Sports Hall of Fame in 2014. The Southland Conference inducted him into its Hall of Honor in 1999.
Jones has long record of public service in education, non-profit organizations and law enforcement. She earned a bachelor's degree in sociology from NSU and a master's in student personnel services. Jones worked 15 years at NSU initially as an admission counselor and recruiter and served as counselor with first the Louisiana Scholars College class. She moved into the position as director of TRIO: Student Support Services and Retention Coordinator, Freshman Connection and New Student Programs.
In 1998, Jones became chief professional officer of Boys and Girls Club of Natchitoches, obtaining more than $1 million in funding from local, state and regional agencies and foundations to establish and enhance programming for local youth and families. In 2000, she was named J. Richard Ullom Rookie of the Year for Professional Excellence by the Boys and Girls of America at the Regional Conference. She served on local, state and regional boards and committees.
In 2005, Jones accepted a position with Natchitoches Parish Sheriff's Office as a grant writer and community outreach coordinator. That evolved into the establishment of a Community Services Division and Jones served as division chief. Over eight years the Division was successful in targeting the needs of youth and continuned on next page
Alumni News
Long Purple Line continued
families through programs that helped the people of Natchitoches Parish.
Jones is a member of NSU Alumni Association, board member emeritus, and has served on the Chamber of Commerce Education Committee, chaired the Children and Youth Planning Board, Organizing MemberVice Regent for Daughters of the American Revolution, member of the St. Augustine Historical Society, and vice president of the Association for Preservation of Historic Natchitoches. She is married to Emery Jones, has a daughter Kristy and resides in Isle Brevelle on the family farm.
Treadway is chief executive officer of Ford Credit Europe. He has had a broad, global career with increasing responsibilities over the past 28 years. His assignments have provided experience in board management, strategy, business planning and analysis, policy and procedure development, pricing, marketing, brand management, forecasting, budgeting,
quality and productivity control, securitization support and government relations. Treadway also has experience in regulatory oversight and management, operational, commercial and consumer risk management, supplier management, operational oversight and compliance, customer servicing/satisfaction/fair treatment, an ability to manage large teams, employee development/training and succession planning and IT acumen.
He originally moved to London as Ford Credit Europe executive director of marketing and sales after serving as Ford Motor Credit Company's vice president for North American Business Center Operations upon returning to the United States. Treadway spent nearly seven years in China as president of Ford Automotive Finance China, regional operations director, and business development manager for Ford Credit Asia Pacific. His career with Ford Motor Credit began as a customer service representative in Fort
Lauderdale, Florida. Treadway advanced through a number of roles within the branch, regional, central office and business center functions within Ford Credit in Florida, Texas, Michigan and South Carolina before moving overseas.
An Alexandria native, Treadway earned a Bachelor of Business Administration from NSU in 1992 and a Master of Business Administration from Texas Christian University in 2004. He was a 4-year letterman for the Demon football team, two-time All-Southland Conference tight-end and named one of the 13 honorary captains on the Demons all-century team in the 2007 centennial celebration as a tribute to his leadership and value to his teams. He is also a member of Kappa Alpha Psi Fraternity. Treadway served as director of the Demons Unlimited Foundation (DUF) and a member of the Executive Committee until October 2021. He was also a co-founder of the Northwestern State University Black Alumni Alliance that was established in 2009.
NSU alum to lead Fort Worth Youth Orchestra Philharmonic
Northwestern State University alumnus Brian Coatney has been selected as the new conductor of the Fort Worth Youth Orchestra Philharmonic for the 2022-23 season. Coatney, a conductor, educator and music education advocate, has nearly 20 years of experience leading successful public school orchestra programs across Texas.
Coatney is a native of Arlington, Texas, who began cello studies at age five and participated in high school orchestra and percussion ensembles throughout high school. Coatney graduated summa cum laude from Northwestern State in 2001 with a bachelor's degree in music education and in 2003 earned a master's in orchestral conducting at James Madison University, where he studied under conductor and composer Dr. Robert McCashin. He joined the Klein High School fine arts program in 2003 as assistant orchestra director and conducted the Houston Youth Symphony Sinfonietta Orchestra before he was named director of orchestral studies at Plano Senior High School. In 2008, he was the recipient of the Texas American String Teachers Association's Marjorie Keller Young Teacher of the Year award. Coatney currently serves as director of Orchestras at
Wylie Independent School District's new orchestra program.
"I am forever grateful for the education I received at Northwestern State University," Coatney said. "The education I received and the friendships I developed have been invalu able in my career. I am especially appreciative of Dr. George Adams, Scott York, and Mr. Richard Rose for the opportuni ties they gave me and the knowledge they instilled on me. Northwestern State is a special place and I am elated to see the Music Department is still thriving and providing an excep tional education.
Coatney is active as an adjudicator and consultant for programs around the country and is a member of the Texas Orchestra Directors Association, Mu Omicron and Phi Mu Alpha Sinfonia. He is a past-president of the Texas Music Educators Association (TMEA), an organization representing 13,000 Texas music teachers that annually host the world's largest music education conference featuring all-state groups competitively selected from over 70,000 high school musicians.
While leading the Plano Senior High School Orchestra pro gram from 2007 to 2020, Coatney's groups won high marks in numerous competitions and were selected three times to perform at TMEA conferences as an invited Honor Full Orchestra. They also had the unique honor to be named the Full Orchestra division winner of the American String Teacher Association's National Orchestra Festival and were selected to perform at the prestigious Mid-West International Band and Orchestra Clinic in Chicago.
6 FALL 2022 Alumni News
Coatney
Alumni
2022
HOMECOMING schedule
Friday, Oct. 21st
9:00 am NSU Foundation Board of Directors meeting and NSU Alumni Association Board of Directors meetings
Natchitoches Events Center
750 Second Street
12:00 pm Long Purple Line Induction Ceremony
Natchitoches Events Center
750 Second Street
5:30 pm Demonland, Forever Parade and Pep Rally
NSU to Natchitoches Riverfront
8:00 pm BAA Alumni Mixer featuring On Point Band Hana Sushi Bar
750 Front  Street
Saturday, Oct. 22nd
9:00 am The N-Club Hall of Fame Ceremony Magale Recital Hall
Honoring 10 HOF members and 2 Pioneer members in this years class.
10:00 am NSU Alumni Association Football Tailgate Collins Pavilion
10:00 am GCEHD Hall of Distinguished Educators Induction Ceremony
Reception will be at 9:30 a.m. Teacher Education Center auditorium
10:00 am BAA Annual Business and Membership Meeting Student Union President's Room
11:00 am ROTC Homecoming Tailgate NSU Practice Field
1:00 pm
Homecoming Football Game
Northwestern State vs SE Missouri State
Turpin Stadium
Come out and support your Demons!
2:30 pm Halftime Ceremonies
Turpin Stadium
7:30 pm BAA Awards Reception
Natchitoches Events Center Ballroom B
750 Second Street
9:00 pm BAA Party with a Purpose
Celebrating 30 Years with Theta
Lambda Chapter Kappa Alpha Psi Spring '92 "The Dirty Dozen"
Natchitoches Events Center Ballroom B
750 Second Street
NSU planning Title IX celebration to honor women athletes
Northwestern State University Athletics will host a Title IX 50year celebration in Natchitoches Dec. 9-10. All former female student-athletes who participated in sports at NSU are invited to participate.
The celebration will begin with a social that is open to the public on Friday, Dec. 9 in the Natchitoches Room in Russell Hall.  A brunch on Saturday, Dec. 10 will take place from 9:3011:30 a.m. at Lee H. Nelson Hall, formerly the Women's Gymnasium at NSU, which now houses the National Center for Preservation Technology and Training.  The brunch, for former women athletes who played between 1963 and 1974, will include a history of women's athletics at NSU, titled "For the Love of the Game:  NSU Women's Sports and Title IX," presented by Debbie Smith, a researcher and historian at NCPTT.  Guests are then encouraged to attend the Lady Demon basketball game vs. University of LouisianaMonroe at 1 p.m. in Prather Coliseum where there will be designated guest seating and a special recognition.
The Current Sauce announced the first female athletes to receive scholarships in April 1975.
Organizers are planning another event with guest speakers to be held at a later date, according to volunteer coordinator Nanette Hawthorne. Invitations with RSVP information and other details will be distributed as plans are finalized. All former female athletes of any sport from any decade are invited to attend, according to volunteer coordinator Nanette Hawthorne. Invitations with RSVP information and other details will be distributed as plans are finalized.
Signed June 23, 1972, Title IX is the commonly used name for the federal civil rights law that prohibits sex-based discrimination, which extended to sports equity and is best known for its impact on high school and collegiate athletics.
More details regarding the reunion will be announced as plans are finalized. For more information, contact Hawthorne at nanettehawthorne@me.com. Former female studentathletes are encouraged to RSVP and help NSU build the database of women who competed in athletics at NSU.
7 FALL 2022
News
FOR MORE INFORMATION: VISIT www.northwesternstatealumni.com
Spotlights
Kenneth Cochran (2019) is now serving as the emergency public information systems coordinator for the Houston Office of Emergency Management.  Prior to joining the City of Houston OEM, Kenneth had 12 years of emergency response service.  He is a nationally registered EMT serving in the Army Reserves as a health care sergeant (68W) and antiterrorism officer for the 6th Legal Operations Detachment.  He is a former lieutenant of the New Llano Fire Department as well as a graduate of the Federal Law Enforcement Training Center with service in Bremerton, Washington.
Cochran's emergency management career started in the Louisiana National Guard when he was assigned to the highly specialized chemical, biological, radiological/nuclear and high yield explosive (CBRNE) – Enhanced Response Force Package (CERFP), a FEMA-partnered unit responsible for large scale disaster response and recovery missions.
In 2018 during Super Typhoon Yutu in the Northern Mariana Islands, Cochran served as the enlisted advisor to the surgeon cell commander for Task Force West coordinating personnel, logistics and operational objectives for recovery efforts between the continental United States, Hawaii, Guam and the Northern Mariana Islands. He completed his bachelor's degree at Northwestern State University in Unified Public Safety Administration with a dual concentration in Emergency Management as well as Fire and EMS Administration.
Dr. Damian Glover, associate director for the Louisiana Community and Technical College System (LCTCS) Strategic Engagement and Programs and executive director for the SkillsUSA Louisiana College/ Postsecondary division, was elected to serve as Region 2 representative of the SkillsUSA Board of Directors at the board's June 21 meeting during the SkillsUSA National Leadership and Skills Conference in Atlanta.
Glover is a graduate of Northwestern State, where he earned a Bachelor of Arts in English in 2015 and a Master of
Arts in student affairs in higher education in 2017. He earned a doctorate in education from the University of Lousiana at Monroe.
Glover is a leader in higher education with experience leading efforts related to enrollment management, student affairs, academic innovation, workforce development and institutional advancement.
Prior to his work at the system level, he worked at South Louisiana Community College (SLCC), a two-year public comprehensive community college, where he oversaw one stop student service centers at four of the college's campuses. In addition, he oversaw Title IX, student conduct, leadership development, new student orientation and graduation.
Before joining SLCC, Glover served NSU in several capacities including working with the university president on strategic engagement in recruiting, admissions, fund raising, strategic planning, first year experience and student life.
Dr. Lamar Bryant, associate vice chancellor for strategic initiatives in the Division of Diversity Engagement at the University of Tennessee Knoxville, has been appointed to the board of directors of Order of Omega, an international honor society recognizing fraternity men and women who have attained a high standard of leadership, service and scholarship.
Bryant earned a bachelor's degree in business adminis tration with a minor in marketing at Northwestern State University in 2004 and a master's degree in college student personnel administration in 2007. He earned a Ph.D. in higher education at the University of North Texas.
Since joining Order of Omega, Bryant has been a huge proponent of the international organization. More specifically, he helped charter two Order of Omega chapters at the University Texas at Tyler and Bethune-Cookman University respectively. He has also served as Order of Omega Case Study judge at a regional Sorority and Fraternity Life conference. During his graduate academic pursuits, Bryant received two fellowships from Order of Omega for his outstanding contributions to the field of Sorority and Fraternity Life. He was awarded the William J. Brennan and Jacque Placette Chapman Master's Fellowship as a Master's student at Northwestern State, and the Order of Omega Doctoral Fellowship as a Doctoral student at the University of North Texas. Bryant truly enjoys being a resource to both the national organization and the local chapter on his campus and is honored when he is invited to the local chapter's initiation ceremony or asked to speak at an local Order of Omega event.
In his current position at UT-Knoxville, Bryant collaborates with a team to help cultivate a campus environment that in inclusive and welcome to everyone, at all levels. He has over a decade of professional experience in higher education and an understanding of the correlation between an impactful
8 FALL 2022 Alumni News
Cochran Glover
Alumni News
well-rounded college experience and high student retention/ graduation rates. Bryant believes that academia presents individuals with an opportunity to challenge and support students academically, socially and personally. He believes college is about creating an experience that compels the student to persist and graduate. He is a member of Alpha Phi Alpha Fraternity and a 2005 initiate of Order of Omega.
Bryant is the fourth NSU Demon to serve on the board. John Hatley served as the Undergraduate Student Board Member in 1996. Katie Kennedy served as the Undergraduate Student Board Member in 2021-2022 and Reatha Cox is the current vice president.
Megan Ulu-Lani Boyanton (2017) joined The Denver in January as a business reporter. For two years, she chased after lawmakers on Capitol Hill as Bloomberg Government's agriculture and trade policy reporter. Boyanton has covered the Venezuelan refugee crisis in Peru, parliamentary affairs in England, White House press briefings in Washington, D.C., and midterm elections in Arizona. During her stint at Arizona PBS, she worked two beats: borderlands and social justice.
Boyanton received her master's in mass communication from Arizona State University and bachelor's in journalism and liberal arts from the Louisiana Scholars' College at Northwestern State University. She is a Beltz Award for Editorial Excellence winner and a past White House Correspondents' Association scholar. She is a member of the Overseas Press Club.
At NSU, Boyanton was a member of Phi Mu Fraternity, Purple Jackets Honor Society and Alpha Lambda Delta Honor Society. She has served as the external affairs commissioner of the Student Government Association, vice president and secretary of the Scholars' College Forum Council, a Gamma Chi recruitment counselor, the Life editor at The Current Sauce and a radio host at KNWD.  She was also a recipient of the Orland Dodson Scholarship awarded by the Shreveport Journalism Foundation.
Actress, singer and dancer Holli´ Conway was named one of six alternates for the Broadway performance of "SIX the Musical," which features an all-woman cast and all-woman band and won 23 awards in the 2021-22 Broadway season, including the Tony Award for Best Original Score (Music and Lyrics) and the Outer Critics Award for Best Musical.
Conway made her Broadway debut in 2019 as an Ikette in "Tina – The Tina Turner Musical."
The National Panhellenic Council has appointed Julie Fletcher Mincey as the director of growth and Panhellenic recruitment. In this newly created role, Mincey will lead efforts to support Panhellenic sorority community growth through a variety of recruitment initiatives. Mincey currently serves as Samford University's director of Greek Life and has worked at Samford since 2015.
Conway is a 2016 summa cum laude graduate of Northwestern, where she majored in theatre with an emphasis in musical theatre, performing in "Rent," "Avenue Q," "Sweeney Todd: The Demon Barber of Fleet Street," and "Hairspray." She was Miss Louisiana 2018 and won the talent preliminary and was second runner-up in Miss America 2018.
A native of Bunkie, Mincey earned a B.A. in theatre at NSU in 2011 and worked for Phi Mu as a national chapter consultant, visiting 41 different universities in one year. She earned a master's in counseling and personnel services from the University of Southern Mississippi in 2013 and is currently pursuing a Ph.D. in higher education at Azusa Pacific University.
At NSU, Mincey was a member of Phi Mu and served as chapter president in 2010. She also served as president of Student Theatre Organization and secretary of Order of Omega. She was a member of Purple Jackets and the university choir.
Mincey joined NPC in August, working remotely from her home in Birmingham, Alabama. She and her husband Jonathan have 1-year-old twin girls, Fletcher Ann and June.
Brady Renard (2012) has been appointed director of content/video marketing at Visit Lake Charles. He previously spent seven years as the sports director at KPLC-TV in Lake Charles.
Renard earned a Bachelor of Arts in journalism, which began his 13-year journey in sports journalism. In addition to KPLC, his media background includes KZBL Radio in Natchitoches, KTBS-TV in Shreveport and KTVE in Monroe. He is married to Jillian Corder (2012), assistant news director of KPLC.
9 FALL 2022
Conway
Mincey
Poche Scholarships awarded to four incoming freshman anglers
Four incoming Northwestern State freshmen were named recipients of Dylan Kyle Poche Memorial Scholarships, presented by the Poche family to students who will be part of the NSU Fishing Team.
The students are Stone Smith of Shreveport, a graduate of Captain Shreve High School who will major in criminal justice; Evan Howe of Stonewall, a graduate of North DeSoto High School who will major in business administration; Clayton Page of Shreveport, a graduate of Captain Shreve who will major in business administration, and Noah Trant of Bossier City, a graduate of Calvary Baptist Academy who will major in industrial engineering technology.
Burt and Shelley Poche, center, presented a donation to the NSU Foundation that funds scholarships for incoming members of the NSU Fishing Team and also provides support to the Fishing Team for travel and expenses. Funds are generated through the annual Dylan Kyle Poche Memorial Fishing Tournament. From left are Fishing Team member Austin Speer, incoming freshmen Clayton Page, Stone Smith, Mr. and Mrs. Poche, Evan Howe, Noah Trant and Fishing Team member Andrew Straughan.
Funds for the annual scholarships are generated through the Dylan Kyle Poche Memorial Fishing Tournament, held each year at Toledo Bend Reservoir, with a large portion also donated to the Fishing Team to defray expenses incurred with travel and competition.
The Dylan Kyle Poche Memorial Fishing Scholarship was established by Poche's parents, Burt and Shelley Poche and Misty Ott. Poche was a 2015 graduate of Natchitoches Central High School and an avid outdoorsman. He excelled at tournament fishing and was a member of the NCHS Fishing Team and the NSU Fishing Team as a freshman. He passed away in January 2016.
The seventh annual Dylan Kyle Poche Memorial Bass Tournament will be held March 25, 2023, on Toledo Bend. Information is available at https://dylankylepoche.com/.
Choate Scholarship will benefit future educators, librarians
A Natchitoches family is honoring their loved one by establishing a scholarship to benefit students pursuing a career where she touched many lives and influenced many students as a teacher and librarian.
The Cheryl Choate Memorial Scholarship will be awarded to a Northwestern State University student in the School of Education. First priority will be given to students preparing for careers in library science, followed by students preparing to be classroom educators. Recipients must maintain a 3.0 or better grade point average.
The scholarship will be awarded beginning this fall in the amount of $500 per semester.
Cheryl Ann Jeter Choate earned undergraduate and graduate degrees in education at NSU in 1975 and 1984, as did her husband, and both earned +30 hours beyond the master's degree. The couple's children and their spouses also earned degrees at NSU. They are Chris Choate (2003) and wife Becca Kaiser Choate (2003), Amy Choate Dill (2002) and Robert Dill (1997, 1999).
Mrs. Choate was employed by the Natchitoches Parish School Board for over 30 years, where she had a lasting impact on many students, serving as a teacher and librarian at Robeline High School, Campti Junior High and Lakeview High School. She loved reading, scrapbooking and traveling. She passed away Sept. 15, 2021.
Friends who wish to make a memorial contribution to the scholarship can do so by visiting the following link:  northwesternstatealumni.com/choate-scholarship/
The family of Cheryl Choate created a Northwestern State University scholarship in her memory. Wayne and Cheryl Choate, seated, are pictured with their family. On the middle row are Gavin Choate, Aiden Dill and Anniston Choate. On the back row are Chris Choate, Becca Kaiser Choate, Robert Dill, Alana Dill and Amy Choate Dill.
10 FALL 2022 Foundation News
Foundation
Daily is Heritage Club supporter of NSU Columns Fund
Natchitoches Edward Jones Financial Advisor Shawn Daily made a Heritage Club level donation in the amount of $5,000 to the Northwestern State University Foundation's Columns Fund. Daily is a long-time supporter of Northwestern State, having created the Shawn and Linnye Daily Endowed Scholarship for students majoring in business, finance, accounting, marketing or related fields. Daily has taught classes in NSU's School of Business for many years and supported numerous university events and fund raisers. Mr. and Mrs. Daily are also long-time platinum underwriters of the NatchitochesNorthwestern Symphony Society. He has also served as chapter advisor and financial advisor to NSU's Beta Omicron chapter of Pi Kappa Phi Fraternity. From left are Assistant Director of Donor Relations Cristy Bernard, Daily and Director of Development Jill Bankston.
Robeline student awarded Luther Lott Memorial Scholarship
Wesley Jordan of Robeline is this year's recipient of the Luther W. Lott Sr. Memorial Scholarship, a four-year award presented to a Northwestern State University student whose parent or guardian is an employee of Lott Oil Co. Jordan is a freshman majoring in nursing at NSU, where he maintains a 3.4 grade point average. As a student at Natchitoches Central High School, he was a member of the National Honor Society and graduated cum laude this past spring.
Jordan's mother Edythe is the Manager at Shop A Lott #4 in Natchitoches. Jordan is also a Lott Oil employee working at Shop A Lott #2 in Robeline.
Wesley Jordan of Robeline is the 2022 recipient of the Luther W. Lott Sr. Memorial Scholarship, presented to a Northwestern State student whose parent or guardian is an employee of Lott Oil Co. From left are Michael Lott, Jordan and Mark Massia, Vice President and Chief Operating Officer.
NSU Foundation would like to announce the following newly established scholarships.
Family
Leonard F. Endris Memorial
Payton
For information on how you can support new or existing scholarships, contact Cristy Bernard at (318) 357-4292 or bernardc@nsula.edu
A first generation college student, Jordan said he felt led to become a nurse because of a desire to help people. Having witnessed first-hand how difficult it can be for patients and their family to hear about a difficult diagnosis, he would like to be able help in his capacity as a nurse.
For information on supporting student scholarships through the NSU Foundation, visit northwesternstatealumni.com or call the Foundation at (318) 357-4414.
Jessica Avelis-Fontenot Memorial Scholarship
Friends of Jessica Avelis-Fontenot (2003) have created a scholarship in her memory to benefit a Northwestern State University student majoring in English education.
Avelis-Fontenot, a long-time teacher at Natchitoches Central High School, lost her battle with cancer Aug. 16.
Avelis-Fontenot was a "daughter, wife, mother, educator and devout Christian," said her friend Dr. John Dunn, who initiated the scholarship. "She was very passionate about 'her kids' she taught at Natchitoches Central High School. She ran the English department there for a number of years and was the past sponsor of the Chiefettes pep squad."
Friends may contribute to the scholarship by visiting  northwesternstatealumni.com/jessica-scholarship/.
11 FALL 2022
News
The
• Tabor
ASN Scholarship •
Scholarship • Mark
Artist Scholarship
Campus News
NSU gets OK for naming academic, athletic facilities
Northwestern State University received approval in August to name four major existing and planned facilities on its main campus at Natchitoches in honor of individuals who made a significant positive impact on the university.
A $37.3 million state-of-the-art facility that will replace Kyser Hall as NSU's primary academic center will be named for Dr. Robert Alost, who spent most of his distinguished educational career at Northwestern and was president of the university from 1986 to 1996.
The entire athletic fieldhouse complex that serves student athletes, coaches, and other personnel in all 14 intercollegiate sports in which the university participates will be named for former State Senator Donald G. Kelly.
A new $9.5 million annex to the fieldhouse will be named the David and Sherry Morgan Health Performance Center to honor those prominent alumni and generous donors, and the basketball court at Prather Coliseum will be named for retired coach Mike McConathy.
The request to name the facilities was approved this week by the Board of Supervisors for the University of Louisiana System. Ceremonies to commemorate the honorees and the new and expanded facilities will be announced as plans for each are finalized.
Northwestern president Dr. Marcus Jones said, "Naming university facilities for individuals has been infrequent over the years. These requests to honor Senator Kelly, Dr. Alost, David and Sherry Morgan and Coach McConathy reflect unprecedented private and state support in recent
campus facilities."
He stated that construction will start this fall on the Alost Hall academic center, which will be the largest capital outlay project in NSU history. The university also received $8 million
Donald G. Kelly Athletic Complex
in state funding and nearly $2 million in private donations for the fieldhouse expansion.
Jones said the decision to name the complex the Donald G. Kelly Athletic Complex "is appropriate and long overdue. Senator Kelly was the driving force in obtaining funding for construction of the athletic fieldhouse and the major expansion of Turpin Stadium."
He expressed appreciation to David and Sherry Morgan "who provided impetus for the Health Performance Center annex to the fieldhouse with a $1.5 million gift for the project that is the largest private contribution ever received by the university's athletic department. That funding helped pave the way for the state capital outlay funding."
Successful in numerous business enterprises, the Morgans have provided extensive financial support to the university over the years for scholarships and other programs.
A new artificial turf field has been installed at the stadium, and the Prather Coliseum court has been refurbished with new designs and other enhancements. Jones said naming the floor for
12 FALL 2022
Alost Hall Academic Center
McConathy
Campus News
McConathy "will help perpetuate the achievements of the winningest college basketball coach ever in Louisiana."
McConathy retired last spring after compiling 682 total wins, 330 victories at NSU. In 23 seasons at Northwestern, he guided teams to the only three NCAA Tournament appearances in school history.
The new 73,200-square-foot Alost Hall academic center will preserve the legacy of the former president whose tenure was highlighted by record enrollments, academic achievements, athletic success, physical plant enhancements and other major accomplishments. Alost died in 2020 at age 85.
Kelly was one of the most respected and influential figures in state government from the 1970s into the 1990s. He was a delegate to the Louisiana Constitutional Convention in 1973 and was then elected to five consecutive terms in the Senate where he was a floor leader for Governors Edwin Edwards and Buddy Roemer and served on powerful budget and finance committees.
He is a former NSU football player and a member of the university's N Club Hall of Fame and the Long Purple Line Hall of Distinction, the highest honor for NSU alumni.
David and Sherry Morgan Health Performance Center
Prospective students could qualify for tuition waivers to attend NSU
Northwestern State University is enticing out-of-state students by offering waivers for students who meet certain criteria. Out-of-state students who scored 21 or higher on the ACT and have a GPA of 2.25 or higher are eligible, as well as students who earn a performance scholarship through Creative and Performing Arts, a spirit group or ROTC. Students who live in a county on the Louisiana/Texas border are eligible, as are students with an immediate family member that is a graduate of a Louisiana university.
"NSU has a huge alumni base in Texas and Arkansas and we want our alumni know that their children or grandchildren may be eligible for out-of-state tuition waivers if they wish to continue the family tradition of earning a degree at Northwestern State," said Vanner Erikson, NSU's interim director of Enrollment Management and director of Recruiting.
Several other student population groups are eligible for exemptions, including children and spouses of
although fees will still apply. There are four federally-acknowledged tribes in Louisiana, the Chitimacha, Jena Band of Choctaws, Tunica-Biloxi and Coushatta. Erikson and staff are reaching out to other tribes in Texas and Oklahoma.
"It's never too early to research your options and explore what NSU has
aid is available at www.nsula.edu/ financialaid/types/.
Prospective students can also scan the QR code below to schedule a personalized campus tour.
For more information, contact Erikson at eriksonv@nsula.edu or (318) 357-4615.
13 FALL 2022
Athletics announces 2022 N-Club Hall of Fame class
A national champion, a pair of NFL veterans and one of the Demons of Destiny highlight the Northwestern State N-Club Hall of Fame Class of 2022.
The 12-member group will be inducted and honored at 9 a.m. on Oct. 22 ahead of Northwestern State's Homecoming game against Southeast Missouri. Kickoff for the game is set for 1 p.m.
Trecey Rew-Hoover, the 2011 NCAA Outdoor discus champion, leads the 10-member class of competitive inductees while, for the first time, the N-Club Pioneer Award will be given to a pair of former Northwestern State competitors.
Joining Rew-Hoover in the induction class are 2002 Southland Conference Defensive Player of the Year Roy Locks, seven-year NFL veteran and 2002 NCAA Outdoor Track and Field Championships qualifier Craig Nall, AllAmerican cornerback David Pittman, 2006 Southland Conference Basketball Tournament MVP Clifton Lee, threetime All-Southland Conference member and the conference's former career 3-point record holder Kia Converse, softball standouts Erin Mancuso and Amanda Ortego, who combined for seven All-Southland Conference honors, five-time Southland Conference
hurdles champion and NCAA Outdoor Track and Field Championship qualifier Brittany Littlejohn and 2002 Southland Conference Pitcher of the Year O.J. King. Trailblazers Louise "Do" Bonin and Melvin Howard will be honored with the N-Club Pioneer Award, which was first awarded to innovative strength and conditioning coach Al Miller in 2021.
The 12-person class was selected by a combination of voting by members of the N-Club, the association of former Northwestern State athletic
letterwinners, and a committee comprising N-Club members and NSU administrators.
Enshrinement in the N-Club Hall of Fame is among the highest honors NSU bestows on its former competitors and staff. Those receiving N-Club Hall of Fame recognition are showcased in a digital N-Club display in Prather Coliseum.
Information on the N Club induction ceremony, as well as more in-depth information on each inductee, is available at nsudemons.com.
14 FALL 2022 Athletic News
2022 N-Club Hall of Fame Induction Saturday, October 22, 2022 9:00 a.m. Turpin Stadium Ceremony preceding Northwestern State's Homecoming game against Southeast Missouri. Kickoff for the game is set for 1 p.m.
Athletic News
Alum's $100K gift includes start of Buddy Woods Family Scholarship
For several years, Buddy Wood lent his voice to the Demon Sports Network. Now, he is giving back something even more tangible.
Wood announced a donation of $100,000 to the Northwestern State Athletic Department, part of which will be used to start an endowment toward the Buddy Wood Family Scholarship.
"It's a continuing reinvestment in what Northwestern State has done and has meant to me through the years," Wood said. "I feel we as alumni have an obligation to give back and reinvest in the university that educated us and helped launch the careers that put us where we are now."
Wood's gift will benefit the athletic department as a whole while the scholarship will be built through the Perpetually Purple endowment program.
"It is alumni like Buddy Wood who make NSU Athletics so special and continue to make a difference for our student-athletes," former NSU Associate Athletic Director for External Affairs Ryan Hall said. "The entire Demon athletic family is so grateful for this contribution that will only enhance all of our programs. Thank you, Mr. Wood, for 'Bringing the Heat' to kick off the 2022-23 athletic year."
Enhancing Northwestern State athletic programs while aiding
Assistant softball coach Lexi Smith, left, Buddy Wood and former NSU Associate Athletic Director for External Affairs Ryan Hall are pictured after Wood announced his $100,000 gift to the department.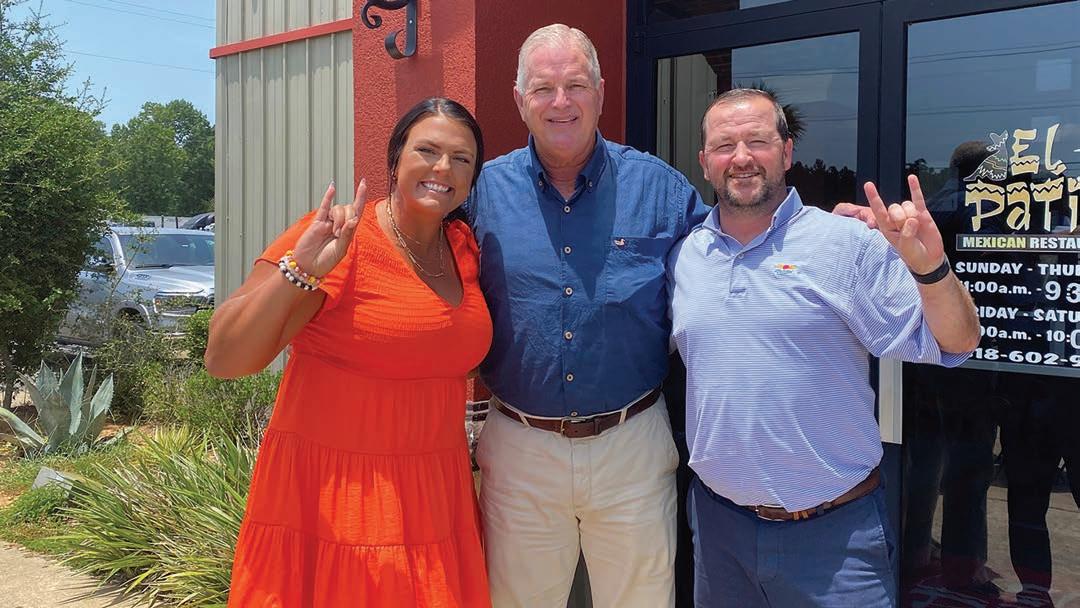 student-athletes was equally important to Wood, whose C.R. Wood State Farm Insurance Agency is located in Many.
"I want our university to prosper, and I want our athletic programs to prosper," Wood said. "It's a great way to support the development of studentathletes and, hopefully, help them launch careers that will make them as fortunate and blessed as I am."
The Perpetually Purple endowment program's aim is to allow NSU to pro vide a sustainable source of scholarship funding that's separate from efforts to
supplement the annual athletics pro gram budget with donations, corporate partnerships and special fund-raising events.
A minimum commitment of $10,000 is required to create an endowment fund, but that fund can start from any initial outright gift. Endowments can be established with an outright gift such as cash, a stock transfer or property sale, a life insurance policy, or can be included as a provision in a will or bequest.
Arrangements can be made to fund an endowment over an extended period of time.
Football Endowment honors Thomas Foster, friend and mentor
The Thomas "Dog Check" Foster Football Endowment at Northwestern State has been established in memory of the custodian who was a friend and mentor to many as well as an ambassador for NSU. He passed away Aug. 14. Foster's passion for Northwestern State was evident even after his retirement in 2011. He is pictured at left with former NSU Director of Athletics Greg Burke during a ceremony honoring Foster at an NSU football game. The fund was started under the Perpetually Purple program, which aims to allow NSU to provide a sustainable source of scholarship and endowment funding separate from efforts to supplement the annual athletics program budget with donations, corporate partnerships and special fund raising events. The athletic department hosted a gathering of Foster's family members and former NSU student-athletes Sept. 23, prior to NSU's first home football game. Friends share stories and remembrances of Foster, whose legacy lives on here at Northwestern State and within NFL scouting circles.
15 FALL 2022
In Memory
1942 – Sadie Maggio Dark, Sept. 2, 2022, Natchitoches
1944 – Virginia Huval, July 16, 2022, Cape Neddick, Maine
1948 – Clarence Nathan "Nate" Durham, April 29, 2002, Houston
1948 – A. Gerald Avant, Aug. 31, 2021, Tomball, Texas
1950 – Jean Wilson Roberts, July 22, 2022, Baton Rouge
1950, 1969 – Dorothy Tullos Robertson, Aug. 10, 2022, Natchitoches
1951 – Dixie Baum, June 9, 2022, Lenexa, Kansas
1952 – Dan Poole, July 21, 2022, Natchitoches
1953 – Dorothy "Dot" Anne Corry Gates, Aug. 19, 2022, Bossier City
1954 – Carolyn Williamson Bahm, June 5, 2022, Shreveport
1956 – Mary Estelle Carter Poole, May 4, 2022, Forest Hill
1956 – Terry A. Janes, Aug. 25, 2022, Kansas City, Missouri
1957 – Virginia Lou "Gingie" Trieschmann Pierson, June 16, 2022, Natchitoches
1958 – Charles Edward "Ed" Michael, June 28, 2022, Alexandria
1958 – Billy P. Plunkett, Aug. 24, 2022, Winnfield
1959 – Alonza Earnest Morgan, July 11, 2022, Natchitoches
1960 – Carolyn Maxine Hall, Sept. 4, 2022, Jacksonville, Florida
1961 – Eugene "Gene" Lee Campbell, July 27, 2021, Dayton, Texas
1961 – Samuel Love, March 26, 2022, Bossier City
1963 – Sue Holland Lemoine, July 10, 2022, Tyler, Texas
1964 – Shirley Faye Lavespere Johnson, July 1, 2022, Keithville
1964 – Benny Ray Canerday, June 28, 2022, Winnfield
1966 – Gloria Elaine Cruikshank Verzwyvelt, Aug. 28, 2022, Boyce
1967 – Charles R. Comish, June 19, 2022, Lake Charles
1967 – Thomas McConnell, Aug. 19, 2022, Shreveport
1969 – Thomas Conway Allen, Aug. 2, 2022, Shreveport
1970 – Ricky Alan Williams, June 4, 2022, Natchitoches Williams was retired Chief of Police at NSU.
1970 – Candice "Candy" Stewart Robinson, June 29, 2022, Austin, Texas
1971 – Larry W. McKenzie, March 24, 2022, Jasper, Georgia
1971 – Katherine Ann Zimmerman, July 22, 2022, Woodstock, Maryland
1971 – Robert Lance Arthur, Aug. 24, 2022, Many
1972 - Linda Lee Talmadge, June 22, 2022, Columbus, Ohio
1972 – Catherine Comeaux Thomas, June 6, 2022, Lafayette
1973, 1974 – Leonard F. Endris, Aug. 21, 2022, Leesville
1976 – Michael Gregory Boyce, Sept. 7, 2022, St. Amant
1976 – Mark Anthony Bynog, July 13, 2022, Shreveport
1977 – Dr. Robert "Bob" Gaddis, July 30, 2022, Tigerville, South Carolina
1978 – Rodney Lee Guidry, July 18, 2022, Pineville
1986 – Jonnette Ruth "Ruthie" Eitel Book, July 10, 2022, Acworth, Georgia
1990 – MeLissa Womack Little, July 1, 2022, Tyler, Texas
1993 – Patricia Dumas Ours, June 8, 2022, Marksville
1993 – Evelyn "Eve" Christmas LeGros James, July 20, 2022, Natchitoches
1995, 2008 – Jeannine Marien Ammons, Aug. 21, 2022, Shreveport
1997 – Candace "Candy" Miller Brunet, July 23, 2022, Lafayette
2003 – Jessica Avelis-Fontenot, Aug. 16, 2022, Natchitoches
James Guy Speicher, May 9, 2022, Quitman
Earl Everette Shirkey, June 1, 2022, Harrisonburg, Virginia
SSgt. Bryan Michael Faison, June 17, 2022, Beacon, New York
Samuel Bracey Branch, July 5, 2022, Meadows Place, Texas
Ersula H. "Sue" Brandenburg, July 13, 2022, Sumner, Washington
Walter Payten Williams, July 20, 2022, Natchitoches
Gregory Clark Langlois, July 30, 2022, Baton Rouge
Ruby Louise Yarbrough Richard, July 31, 2022, Pineville
Roy Walter Harrelson, Aug. 20, 2022, Morgan City
Jeraldine "Jerrie" Simmons Jantz, Sept. 6, 2022, Lake Charles
Guess Who
The 1997 Christmas Festival parade included a Northwestern State University float with three special riders representing the student body.
Can you name them? E-mail your answer to jacksonl@nsula.edu and include your city of residence and the year you graduated.
The Summer Edition of Alumni Columns featured a group identified as the first group of officers to serve the Iota Mu Chapter of Delta Sigma Theta. According to reader Jennifer Gail Walker Mitchell of Baton Rouge, the group pictured were not in fact the charter officers, but a later group of officers.
They were top row from left, Tanya Allen, president; Lorraine Billeaudeau, Jacqueline Brown, Betty Ford, vice president, and Robbie Lee. On the bottom row are Deborah Moss, secretary-treasurer; Gisele Proby, sergeant-at-arms; Jenifer Walker Johnson and Edwina Lewis, advisor.
Those who guessed correctly are as follows.
Jennifer Gail Walker Mitchell (1978) Baton Rouge Betty Smith (1980), Natchitoches Judith Greene-Peake (1978), Grand Cane Grace Wilson Brasher (1979), Longview, Texas Vallie Anderson (1983), Shreveport Christolyn Turner Milligan (1980), Tyler, Texas
Looking Back
Louisiana State Normal named the school's first Homecoming Queen in 1935. She was Ottie Mae Duncan, a home economics major from Alexandria. She was selected for the honor and led the procession of football sponsors to the homecoming football game between Louisiana State Normal College and Southwestern Louisiana Institute.
Normal's third annual "Home-coming Festival" took place November 28, 1935, when Ottie Mae, also referred to as the "Football Queen" and "Sweetheart of the Football Team," reigned with eight other female students on the court, Bobby Montgomery of Benton, Marie Hearne of Jonesboro, Patricia Burke of New Iberia, Edris O'Neal of Trees City, Thelma Hickman of Shreveport, Verone Ford of Oakdale, Harriet Hall of New Iberia and Isobel Page of Monroe. Hundreds of alumni from around the state attended the event.
Duncan was very active on campus as president of Purple Jackets, secretary for the Student Body Association, secretary/treasurer for the Student Council, assistant organizations director for Potpourri and Who's Who. She was a member of Alpha Sigma Alpha Sorority, Psi Psi Chapter, Euthenics Club, Fine Arts Club and YWCA and was elected to the Potpourri Court. She was also one of the four senior beauties.
The Columns staff was unable to find out further information on Ottie Mae and her life after she graduated from Normal in 1937. If you have more information, please send an email to jacksonl@nsula.edu.
17 FALL 2022
Northwestern State University Alumni Columns Natchitoches, LA 71497-0002 NSU WELCOMES CLASS OF 2026 Over 1,000 freshmen representing 246 different U.S. high schools and 12 different international high schools make up the class of 2026, including five sets of twins. The class comes to NSU from 10 different states and 25 countries. The new students are pictured during New Student Convocation, a ceremony to mark the beginning of their academic journey when freshmen are introduced to deans and department heads and learn about Demon history and traditions.