THE WORD SPEAK, LISTEN, CREATE AT WEEKLY SUPPORTIVE SESSIONS SEP/OCT 2022BODMINLIFE.COM BIKE LIGHTS GET STUCK IN WITH THIS COLOURFUL, SPARKLY EVENT COMING TO TOWN COMPETITION WIN TICKETS TO ANY SHOW IN OCTOBER OR NOVEMBER WITH INTOBODMIN ISSUE 06 Explore Bodmin's with Bodmin Jail this AUTUMN ' darkdeliciouslyhistory' The Community Voice of BODMIN In associatION with Bodmin Way
Dunmere Road, Bodmin www.rowesbakers.co.uk Our Delicious Clotted Cream Shortbread Biscuits Available in a variety of flavours including Choc Chip, Strawberry and our new Saffron Shortbread Biscuit and not forgetting our Fiery Ginger Crunch Biscuits! Pop in to one of our stores and see what the fuss is about!
Bodmin Life lifecommunitymedia
Our cover article on Bodmin Jail is exceptionally seasonally spooky (be sure to let us know if you have ever had an 'encounter' there) with lots going on, and don't forget on pages 25, 27 and 29 we have a brimming Wosson spread if you are looking for clubs or events… don't forget to contact Rosie or Mimi to get your event or club listed! We hope you have a wonderful autumn and if you have any stories you would like us to cover pop us an email!
bodminlife
Cover image: Rick Smith Photography 4 Market St, Launceston PL15 8EP | 01566 788700 www.bodminlife.com | hello@life-media.co.uk
Ellie Mason ellie@life-media.co.ukPublisher Claire Fry Business admin@life-media.co.ukAdministrator
Emma Eccles Junior Community content@life-media.co.ukEngagement
Hello and welcome to your Autumn edition of Bodmin Life! Though it might still feel pretty warm, it won't be long until it's cosy jumper season, hot chocolate and bonfire weather and we have some wonderful articles to get you in the mood!
Contacts
RosieCONTENTCripps Head of Community rosie@life-media.co.ukEngagement
Mimi Attenburrow Junior Community mimi@life-media.co.ukEngagement
Barbara Brittain
Kim Ashworth Junior Client kim@life-media.co.ukEngagement
Whilst every care has been taken to ensure that the data in this publication is accurate, the publisher accepts no liability to any party for loss or damage caused by errors or ommisions resulting from negligence, accident or any other cause. Bodmin Life does not officially endorse any advertising material included within this publication.
PROUDLY PRINTED IN CORNWALL
Bodmin-based news@bodminway.orgwriter ClaireADVERTISINGPearce Head of Client claire@life-media.co.ukEngagement
On page 43 we have a wonderful warming pumpkin soup recipe from the lovely team at Seaview Farm Shop; you could be in with a chance to win tickets with intoBodmin to an event of your choice in October or November, see full details on page 37 and don't forget to check out all the spooky Halloween and autumnal content in this issue, including some frightfully chilling local places that should be on your list to visit this Halloween on page 21.
Published by Life Community Media
Hello Bodmin!
Call us now: 01208 77573 Email: macmotors01@yahoo.co.uk 10b Cooksland Industrial Estate, Bodmin PL31 maccarservicingbodmin.co.uk2QB WITHTECHNICIANQUALIFIEDFULLY18YEARSMAINDEALEREXPERIENCE • All makes and models. • Servicing and repairs, Cambelts brakes etc. • Diagnostic work, Engine management, ABS, Airbags, etc. • Air con specialist. • Tyres all sizes. • Extensions • Renovation • Bathrooms • Kitchens • Farm Buildings • Groundwork • Brick BlockandWork • Stonewalling • Plastering • Rendering • Driveways • Patios • Hard Landscaping • Fencing 01208 74658 / 07712 549606
If you'd like to find out more, please call our familyrun company in Perranporth to request a digital or posted brochure. We're also always happy to chat with you about what you're looking for when it comes to heating as well as prices, tariffs, running costs and anything else you'd like to know. We can also provide free no obligation surveys to help you decide if this type of heating is right for you. 5www.bodminlife.com We chose ELKAtherm for our own homes, and over 4500 of our customers have made the switch too. Will you?
In the South West, we often use night storage, flat panel or other old-fashioned electric heating systems, often on expensive split energy tariffs. Often, this type of heating doesn't provide enough control to warm our home at the times of day we need it most.
● Available in a huge range of different size options, ensuring you get exactly the right size and killowattage to heat your space.
● 25-year manufacturer-backed guarantee and our dedicated call-out service ensure your heating lasts a lifetime.
Take control of your heating and bills with South West Heating Solutions
● The only electric heating company that's a Which? Trusted Trader with an A++ energy-rated product.
At South West Heating (a local Which? Trusted Trader), we provide ELKAtherm, an electric heating system with several key advantages offering more control over your heating and bills.
ADVERTORIAL <<
● Our easy-to-use control system gives you total control of every individual radiator in your home 24 hours a day from wherever you are, meaning no wasted heat.
To find out more call 01209 714600 or visit www.southwestheating.co.uk.
The fluted surface area offers up to 5x that of an average storage heater, helping warm your room more quickly and evenly.
We all want our homes to feel warm and cosy throughout the year, and with energy bills rising, now is the best time to explore all options for heating.
>> COVER STORY
The locals' pass launches this September - a worthwhile investment that requires one yearly payment to allow access to the jail for the rest of the Lateryear.inthe year, there will be festive events with a twist, including Christmas Carols in the Courtyard on 9th December. But as October approaches and we all prepare for the dark, mystical nights ahead, Bodmin Jail is certainly the place to be for Halloween, embracing
Delve into Bodmin's 'deliciously dark' history this autumn and winter Bodmin County Jail opened in 1779, as part of the plan to provide three penal institutions in the town: a debtor's prison, a house of correction and a county jail. Built by Sir John Call, the jail was extended in the 1840s to house more prisoners and after being declared unfit for purpose in 1850, a new 220-cell jail was built in its place, completed in 1861. It wasn't until 2016 when plans for the redevelopment to create a new tourist attraction came in that the jail got a new lease of life. A significant investment developed the 70-bedroom Bodmin Jail Hotel, as well as the visitor attraction that allows history lovers and those curious about Bodmin's past to explore more within the walls of the historic Bodmin Jail. Bodmin Life caught up with Jess Marlton, Museum General Manager, who is keen to get the local community more involved in the events coming up this autumn and winter, and to take advantage of its brand new locals' pass - giving local people access to the jail year-round. "We want to show that Bodmin has a really cool and quirky heritage and history, something we should all be proud of," Jess explained. "Bodmin is unique, it's the heritage hub of the west and nowhere can offer what this town can in terms of history. At the jail, we are determined to make that history engaging and exciting for everyone, but especially the people of Bodmin." The jail will host town walking tours, including Saints & Sinners, exploring the 'deliciously ridiculous dark tales of Bodmin as well as Bodmin's future', and Junior Jailers for children aged 7+ on Saturdays, with a 'Horrible Histories' style to bring history to life.
Bodmin Jail is a pinnacle in the town's history. It's where many Cornish criminals were taken to live out the last of their days up until 1909, and subsequently where tales of ghosts and the paranormal continue to this day. With tours, stories and a brand new locals' pass… 6
" We want to show that Bodmin has a really cool and quirky heritage and history, something we should all be proud of " the paranormal and eccentric history of the area between September and November. Explore the tale of the two witches associated with Bodmin with the jail's Walking with Witches tour, an intricate look into the heartbreaking way spiritual women were treated and accused in the past. The Heritage Go Darker Tour will delve into the dark side of Bodmin's history and will feature grisly artifacts, while the Dead Days Tour will run in October and November and will look at the rise of spiritualism in the Victorian age. On the evening of Halloween, the museum will host the first Victorian seance at the jail for 150 years, also accompanied by a three-course meal. "Is it haunted? Yes, of course," Jess added. "If you like them dead and a bit twitching, then these are the events for you." If you live locally and would like to explore what's on your doorstep, make sure to check out the Bodmin Jail locals' pass, available to obtain when you visit the Jail this autumn.
Kirsten Honey, Paranormal Manager Image: Rick Smith Photography
HCPC and ICO registered BSc (Hons), MSc, MChS PODIATRY CLINIC IN BODMIN SERVICES REMOVAL OF HARD SKIN (CALLUS) AND CORNS NAIL CARE INC. INGROWN, THICK AND FUNGAL NAILS ATHLETES FOOT, VERRUCA & OTHER SKIN CONDITIONS DIABETIC ASSESSMENTS AS PER NICE GUIDELINES MUSCULOSKELETALORTHOSESASSESSMENT ASSESSING AND TREATING FOOT, ANKLE AND LOWER LIMB PAIN FREE OFF-ROAD PARKING Contact Sarah: 07922 066776 Email:Web:bodminpodiatry@hotmail.comwww.bodminpodiatry.co.uk BODMIN Hands down the best in the area. Can't recommend them enough. M Burr R. Large 01208 ww76789 w.bodminvet.com Modern Medicine Traditional Values Excellent ser vice. Friendly professionaland sta always polite and willing to help with any situation. Day Trips & Coach Holidays Enterprise Park, Midway Road, Bodmin, Cornwall PL31 2FQ Call: 01208 77989 for bookings or brochure website: www.grouptravelcoachhire.co.uk
>> LOCAL NEWS 9www.bodminlife.com
He said to Bodmin Life: "It's a chance to create, with nothing to pull you away from the space. And if you don't like the chosen word, you can choose another one, or if you don't like that, you can just do your own thing. It's very formless."
E very Monday from 4.30pm – 6.30pm a mindful, community space is open to all in the reading room of The Old Library, Bodmin.
Bodmin Life attended one of these lovely afternoons and spoke to Paul, a regular to The Word. Paul told Bodmin Life that although that day he wasn't feeling like he wanted to create, he highly values the space as a chance to 'sit down and be myself, and not have other things going Acrosson'. the table, a member of the group, Heather, was busy skill sharing with another attendee, Kyle, as they worked on a printing technique to the word, 'Hurricane'. Heather said she enjoyed 'being in the company of like-minded people'. Whether you believe you are creative or not, why not pop along and allow your mind to be free and open for a couple of hours a week in this friendly and supportive environment!
The group offers not only a space to create, but also a chance to chat and meet people over a free cup of coffee or tea.
The Word originally started within the Bodmaxx creative hub by Holly Lovelock and Fin Davis, who wanted to create a social space that enabled anyone and everyone in the community to think and create freely, without the pressures and distractions of everyday life. However, the group is now run by one of its regular attendees, Robin Treasurer. Robin explained that it is a very relaxed and welcoming space where people can work with mixed media to create anything they wish, to the prompt of a single word which they pull from a hat at the beginning of the session.
What's The Word on Bodmin high street?
Saint Antony, Fore Street, Lostwithiel PL22 0BL Tel: 01208 871485 MortgagesCounty We speak your language Mortgages • First time buyers • Life & Critical Insurance Income protection • Home insurance • Equity release 01208 info@countymortgages.co.uk822256 www.countymortgages.co.uk 3 Hamley Court, Dennison Rd, Bodmin County Mortgages is a trading style of County Mortgages (Cornwall) Ltd which is authorised and regulated by the financial conduct authority. YOUR HOME MAY BE REPOSSESSED IF YOU DO NOT KEEP UP REPAYMENTS ON YOUR MORTGAGE The independent mortgage broker that speaks your language! FREEBOOKINFORYOURCONSULTATION
An exciting partnership between Bodmin organisations is bringing a brand new competition to the youngsters of Bodmin, as we search for the best design to feature on a reusable water bottle to be used at one of the town's biggest annual events in 2023.
Young Designer Competition
How to enter: Parent emails the design, giving the full name and age of the young person entering the competition to news@bodminway.org Keeping the paper version flat (do not fold), put it into an envelope. On a separate piece of paper, write the full name and age of the young person entering the competition, a means of contacting you and post or deliver by hand to The Old Library 10 Lower Bore Street, Bodmin PL31 2JX.
>> DESIGN COMPETITION
Love designing? Take the challenge!
11www.bodminlife.com
Sponsored by Proper Cornish, this is a collaboration between Plastic Free Bodmin, Bodmin Way and Bodmin Life in a project to reduce single use plastic in Bodmin by providing a branded reusable water bottle to children participating in the St Piran's Day parade in March 2023. Eye-catching branding is needed for the water bottles. That's where your children come in! The bio sport 750ml water bottle has a branding area of 9.5cm x 7.5cm which could be designed to align with one of three themes available for your child to choose from: 'What I love about Cornwall'; 'What interests me about the natural world'; and 'Ways to protect the Simplyenvironment'.choose a theme and create a drawing that would be a great fit for the bottle's branding - keep it simple, but stunning! Designs should use black font only, be kept within the dimensions of 9.5cm x 7.5cm and designed on a computer or on paper. This competition is aimed at primary school children in Key Stage 2. There will be 'Fun art and eco awards' for 1st, 2nd and 3rd places. The deadline is 30th November 2022.
TELEPHONE 01208 79877 01208 75913 email: tim@whensmymot.com web: www.whensmymot.com 31 Normandy Way, Bodmin, Cornwall PL31 1HA Class 4 & 7 MOT testing Road safety and your safety are paramount to us incorporating Sandercocks of Bodmin The Vac Sweeps Mr s METTERS&SONS EST. 1 953 Comprehensive and expe rt chimney sweep ser vice using vacuum with brush for NO MESS! Call 01840 211089 or email metters119@btinternet.com TO BOOK AN A www.mrsmettersandsons.coPPOINTMENTm • Wet rooms • Walk in showers and baths • Waterproof wall panelling • Slip resistant safety flooring • Grab rails & shower seats • Zero VAT on disabled bathrooms • Discounts for over 60s SSAFA and Ex Service personnel • Disabled Facilities Grants • Charity work and grants Call for our friendly advice, free survey and quote www.info@ahminstallations.co.ukahminstallations.co.ukTermsandconditionsapply,visitourwebsite for more details. 01208 221340 • Wet Walkroomsinshowers and baths Waterproof wall panelling • Slip resistant safety flooring Grab rails, shower seats & raised toilets Bathing a problem? – we can help FREE* Georgia toilet & basin with everyorderbathroom info@ahminstallations.co.uk www.ahminstallations.co.uk Terms and conditions apply, visit our website for more details. 02382 543308Call for friendly advice and free survey and quote Discover 134 x94.indd 4 03/11/2020 08:04 Wet rooms • Walk in showers and baths Waterproof wall panelling • Slip resistant safety ooring Grab rails, shower seats & raised toilets • Automatic bidet loos • Established family business 01823 729564 Call for friendly advice and free survey and quote Bathing a problem? – we can help Disabled Facilities Grants • Zero VAT on disabled bathrooms Discounts for over 60s, SSAFA and EX Service personnel *Terms and conditions apply, visit our website for more www.info@information.ahminstallations.co.ukahminstallations.co.uk FREE* Georgia toilet & basin with everyorderbathroom Showroom open 7 days, Blackdown Garden Centre, Hockholler West Buckland TA21 9HY 01823 661910 | 9.19/10 COVID-19 - SAFEGUARDING CUSTOMERS & COLLEAGUES Now taking orders for pre-Christmas ttings Wellington 145 x 215 Sept.indd 1 19/09/2020 13:29 FREE* Mirrored cabinet or high raised toilet with any fullinstallationbathroom
St Petroc's Sessions: Lau
Concerts at St Petroc's Church
Saturday October 1, 7pm, licensed bar, live music and supported by Bodmin's own Sophie Da Mey. Tickets via facebook.com/PhoenixEventsCornwall
The sessions are a series of live gigs offering an opportunity to enjoy live music and entertainment in the atmospheric setting of Cornwall's largest parish church, St Petroc's in Bodmin. Organised by intoBodmin and Cabaret Voltaire, the St Petroc's Sessions launched in 2017 at the inaugural Celebrate Bodmin Festival. Acts featured so far include Sam Lee, Hollie McNish, This is The Kit, Fairport Convention and The Cuban Brothers.
As part of their 'Unplugged' Concert Tour 2021, Lau are set to play Bodmin's St Petroc's Sessions on Friday October 21 2022, 7pm at St Petroc's Church. The pioneering Scottish folk trio experiment with sound and form, with complex and thrilling results. "Lau is a remarkable band – the most musically adventurous trio in British folk – exquisite and hypnotic, musicianship at its best." THE GUARDIAN. Tickets from intobodmin.co.uk/the-st-petrocs-sessions
If you would like more information about Bodmin Way's events, or would like to keep updated, visit their website www.bodminway.org/events-bodmin-way or check out their Facebook page, Bodmin Way.
Good Old Fashioned Lover Boys
Commonwealth Games
The Bodmin Way www.bodminway.org
St Petroc's Sessions
13 BODMIN WAY <<
The Bodmin Way Games took place on July 27, the day before the start of the Commonwealth Games in Birmingham. Its fun games mirrored those of the 'Friendly Games', including pole vaulting, para lawn bowls, beach volleyball and triathlon, all with our own take. Each game had a theme, Bible text and reflection question, for example, "Do you think God is most like a referee, coach or teammate?" Super teamwork, loyalty and determination were on show all afternoon. At the closing ceremony, certificates were presented to individual medal winners. The country winning gold was Tanzania with silver for Bangladesh.
Jesus was no therapist. When the poor were being fleeced he criticised the wealthy. When he came across corruption he challenged the perpetrators. Christianity is not there as a balm to help people feel better. It is a call to change circumstances so that the vulnerable can be strengthened. A stream of negative thoughts can overwhelm us at times. Positive thinking can be helpful. But our priority is to change the world around us so that all can thrive.
Evensong This traditional service takes place at 6pm on the first Sunday of the month at Lanivet and 6pm on the third Sunday of the month at St Stephen's.
Youth Bodmin Way Youth Club
BODMIN WAY <<
A
Revd Paul Holley - Chair, Bodmin Way message from Revd Paul Holley 15www.bodminway.org
The club meets at the Parish Centre, next to Priory Park, second Saturday monthly, from 6.30pm to 7.30pm, for fun, games, table tennis, crafts, music and more in a friendly and safe environment, for 11+, with free entry. October 8 Robotic UpdatesRecycling.atbodminway.org/youth-club. Bodmin Way this Autumn
A lot of people believe in positive thinking. We fear depression and want to keep ourselves in good spirits. However, there are problems with positive thinking. When we face difficult circumstances, we might avoid confronting them. Take the cost of living crisis. Should we just tell ourselves to cheerup and be grateful for what we have?
TEAM EVENTS Harvest services Harvest festivals are held on Sundays in all Bodmin Team churches, offering a welcome to everyone. September 18, 9.45am at St Hydroc's; October 2, 11am at Lanivet; October 9, 10am at St Petroc's; October 16, 3pm joint service at Millpool Methodist Church, preceded by lunch at 1pm (to book call 01208 821216) and harvest Evensong, 6pm at St Stephen's. Scarecrow festival Lanivet's weeklong scarecrow festival starts on Sunday September 25. A winner's cup is presented at a BBQ on Sunday October 2, 3.30pm at the Lanivet Inn. A Harvest Stroll The Bodmin Way Join us at 2pm on Thursday October 6 at St Stephen's for a leisurely three-mile circular walk, with refreshments at the church afterwards. Everyone welcome, including dogs.
BODMIN TEAM MINISTRY Sunday Services St Petroc's, Bodmin 10am St Stephen's, Nanstallon 10am (1st Sunday of the month) St Meubred's, Cardinham 9.30am St Hydroc's, Lanhydrock 9.45am Lanivet Church 11am
As well as enjoying the natural environment, travelling The Bodmin Way gives you the chance to see the ancient treasures of its historic churches. For an online look go to bodminway.org/churches.
History, Arts and Heritage
17 BODMIN WAY <<
For those who enjoy the great outdoors on horseback, there are The Bodmin Way horse riding routes, from bodminway.org/online-store.
Walking The Bodmin Way >> LOCAL NEWS www.bodminway.org
Explore the local area this autumn…
Inclusivity
To be as inclusive as possible, people are encouraged to walk the shortest sections, each roughly three miles long, and arrange a lift home. For those who are housebound, bodminway.org/walking has a 21-minute video of the 21mile route with glimpses inside the churches. Cycling The Bodmin Way offers a 26-mile cycle ride. A leaflet giving written directions alongside maps is available, including many exciting things to do on route. A GPX file can be downloaded, for a clockwise tour at Andbodminway.org/cycling.howaboutsettingyourself
a cycle challenge this autumn?! Revd Paul Holley, Chair of Bodmin Way and a keen cyclist, has set the time of 2 hours and 7 minutes for completing the 26-mile cycle route. He has appealed for people to take him on and said he'd be happy to congratulate anyone who beats his time. Message facebook.com/BodminWay or at info@bodminway.org if you do it!
Horseback
The Bodmin Way incorporates 21 miles of trails, paths, tracks, bridleways, fields, woods, riverbanks, bridges, lanes and roads. Whether the whole route is walked in one day or at different times, stamping your Bodmin Way passport can act as a record showing you have walked the route and visited the historic churches along the way. Dogs on a lead are welcome at all five churches. The circuit goes from Cardinham via Bodmin to Nanstallon, Lanivet and Lanhydrock or the other way around. Each church has its own circular walk. Leaflets and passports are available at all five churches, Shire Hall and at bodminway.org/online-store.
Learn a new skill Discover our range of leisure and qualification courses in Bodmin • Bookkeeping • Counselling Skills • English • English for Speakers of Other Languages • ICT • Languages • Maths • Music Technology And many more… Bodmin Adult Education Centre 0S, Chy Trevail, Beacon Technology Park, Dunmere Road, Bodmin, PL31 2FR (for sat nav please follow PL31 2QE) To browse our courses and to enrol please visit Callwww.cornwall.gov.uk/adultlearning03001231117 Local charges apply
Denise Christie of Health and Harmony™ now has a clinic at Nova Beauty in Bodmin
Bodmin Life goes
ADVERTORIAL <<
quarterly
We are excited to say that Bodmin Life magazine will now be produced on a quarterly basis, rather than a bimonthly basis. This is so we can, in time, create a bigger magazine with even more information, news and businesses than before - you'll have already noticed that this issue has increased to 48 pages! Our advertisers and associates from the community mean so much to us, which is why we are so keen to expand the magazine to make it the best it can be. If you are an existing advertising customer and would like some more information about this change, do contact claire@life-media.co.uk. If you are a business from the Bodmin area who would like to jump on board and get your name and service out there to the community, we would be happy to send you a copy of our media pack. If you have a story for us, contact rosie@life-media.co.uk - we are always keen to get as much community information and news out there as possible.
As a Certified Health Coach, Acupuncturist and multi-discipline Holistic Therapist, Denise has several areas of speciality including pain management, infertility, stress reduction, hormonal imbalance, menopause, pregnancy symptoms, allergies and sleep issues. With over 20 years' experience in the health and wellness profession, Denise takes a holistic approach to wellbeing and her mission is to fully support you on your journey to optimum health by addressing any physical, mental, emotional and energetic blocks. Working closely with her clients through treatments and/ or coaching she empowers them to manage their stress, choose nourishing foods, adopt daily self-care habits so that they can thrive – mentally, physically and emotionally - and finally have the health and peace of mind of their dreams. Denise has a professional approach to your healthcare putting every effort in to getting results as quickly as Treatmentspossible.Available: Acupuncture, Cosmetic PrescriptionAcupuncture,B12Injections, Fertility Coaching, Health Coaching, Nutrition, Reflexology, Reiki and PEMF Therapy. To book an appointment call 07930096451 or email contact@healthandharmony.info For more information go to www.healthandharmony.info 19www.bodminlife.com
Toshikazu Kawaguchi is a Japanese writer, born in Osaka. Before the Coffee Gets Cold was originally a play, before it became so popular that he adapted it into a short novel. For more book recommendations and reviews, please check out my Instagram @hallereads where I post regularly!
20 www.bodminlife.com
Anything you need help with, we will help No over inflated prices just a fair price 07957 757726 / 01208 368446 CS HANDYMAN SERVICES
A cosy read to get stuck into this autumn
Before The Coffee Gets Cold is a heart-warming and magical story, and centres around a small speciality coffee shop tucked away in Tokyo. The coffee shop seems typical at first glance, but holds a special power - the customers can travel back in time. However, there are some strict rules when it comes to time travel. You must be seated in the one, specific chair and you must return to the present before your cup of coffee gets cold. We meet four customers and go on a journey through time. Without revealing too much, these customers and their personal stories are what make the book so warming and cosy. I think it is the perfect autumn book - a good read to curl up with a hot mug of tea or hot chocolate.
BODMIN JAIL Arguably one of the most notorious locations in Cornwall for ghosts, Bodmin Jail is a popular spot for paranormal experts and thrill seekers alike. With 55 souls having been executed and buried on-site, without headstones, during its time as an active jail for Cornwall's most notorious criminals - including Matthew Weeks, buried in the Bodmin Jail Hotel car park and William Hampton, the last person to be executed therethere are many claims that the jail is haunted. In fact, it's said to be so haunted that the jail holds regular paranormal tours there - definitely not for the faintSeehearted…ourfeature on Bodmin Jail on pages 6 & 7. Bodmin Moor Bodmin Moor is so vast, it's a wonder prisoners of Bodmin Jail thought they could escape their jailers without considering the harsh landscape of the howling moors. The Beast of Bodmin Moor, a famous Cornish legend, is also said to roam this rugged land, making it even more eerie. Is that a snarl you hear? Or perhaps it's the screech of the wind as it tears through gorse and trees… And what about poor Charlotte Dymond? It's said the young woman was struck dead by her jealous lover, Matthew Weeks, after he discovered she had another suitor. The pair had left the farm located between Camelford and Davidstow and stomped out onto the moor, with Charlotte never to be seen alive again. People claim Charlotte can still be seen roaming the spot where she was murdered on 14th April, dressed in her Sunday best. Have you spotted Charlotte?
Explore BODMIn's dark past with these three spooky spots…
When things go bump in the night!
Jamaica Inn The famous Jamaica Inn, tucked away on Bodmin Moor on the outskirts of Launceston, is a pub filled with dark tales, accompanied by the sound of horses' hooves on the cobbles outside, low whispers and ghostly footsteps at night. This Cornish pub may serve great grub and beer, and even featured in a Daphne Du Maurier novel, but it's also a haven for ghostly activity - so much so that the pub now holds paranormal investigations there. Not only that, the British Paranormal Association has acknowledged that the inn is a genuine haunted establishment! 21www.bodminlife.com
Hundreds of Callywith College's A Level and Extended Diploma students are celebrating as they buck national trends to achieve high grades and secure outstanding progression opportunities.
Callywith College's exceptional students secure Outstanding qualification grades
L-R: Tommy Japes, Amelia Wilson & Liddy Aspen
Applications for September 2023 will open this September at www.callywith.ac.uk. The College will hold its next Open Event on Saturday 12th November, 2022, 10am – 3pm.
Amelia Wilson, who previously attended Bodmin College has achieved A, B, C in Geology, Geography and Environmental Science A Levels. Amelia, who has been offered a place to study Geology at Royal Holloway of London, shared: "I am very happy with my results as I had glandular fever when I did my exams and expected much worse. I had a great experience at Callywith. The facilities are amazing, staff are so supportive and it's such a lovely place to learn."
>> ADVERTORIAL 22 www.bodminlife.com
The 215 A Level students receiving results at the College have collectively secured a 99.4% pass rate, with 72% of entries being awarded A*-B grades; 10% higher than national averages for 2022.
Students studying Level 3 Extended Diploma and Diploma courses have also achieved excellent results with 106 (43%) of the College's cohort of 245 students passing with the top distinction grades or higher. Callywith College Principal Jon Grey said: "This year's results are truly remarkable and a huge credit to our students' resilience and determination to succeed. It is also a huge endorsement of the high-quality work of teaching and support staff at the College. We have so many great success stories and I'd like to congratulate all of our students on what they have Tommyachieved."Japes,who previously attended Launceston College, achieved four A*s in Biology, Chemistry and Maths A Levels and EPQ. Tommy, who has been offered a place at Barts and The London School of Medicine and Dentistry, said: "I feel so relieved and proud of myself. Callywith has been an excellent stepping-stone between school and university. It is a great environment to learn in and I have felt fully supported by my lecturers."
BTEC Level 3 Health & Social Care student Liddy Aspen, who previously attended Callington College, achieved D*D*D*. Liddy, who is going on to study Adult Nursing at Plymouth University, said: "I am super pleased with my results. My experience at Callywith was amazing. I had such supportive lecturers who were always there to answer any questions or concerns. It is so different to school – you are treated as young adults."
LOCAL
Rugby shirts were flung in the air for James Haskell, lead singers danced with the festival panda on stage and the crowd chanted loudly - for when he said 'Tinchy', they sure said
Panda-monium!'Stryder'!
A beautiful lit bicycle parade taking place in Bodmin this October
of July, PandaFest 2022 momentarily swapped the usual whispers on the wind that whistle through the Lanivet countryside to base on the breeze and the sound of cheering festival goers, a wide range of local musicians and some incredible acts from over the country emanated from the fields at Manor Mead. Some of the words that were used to describe PandaFest were 'Community', 'Intimate', 'Sunny' and 'Buzzing'! These four words alone perfectly sum up PandaFest 2022. Stalls included KBSK, with their fantastic dance and singing performances, Polyrhythm who brought their talented team and incredible musical instrument library, Cornwall Mind and Plastic Free Bodmin. It was an intimate festival at its finest and each band and performer had a close and friendly relationship with their crowds. The festival came to an end on Saturday night as the moon peered down on people dancing as Tinchy Stryder's classics filled a field in Lanivet! If you enjoy sparkling lights, cycling and community, get stuck into Bike Lights, a fantastic lit bicycle parade taking place in Bodmin this October. With the nights drawing in and the colder weather starting to creep up on us, Bike Lights is a lovely event that celebrates community, creativity and bringing people together.
Organised by Wadebridge Creative Hub CIC, the Bike Lights parade will take place in Bodmin on Friday, 14th ThisOctober.year, Bike Lights is being supported by a number of local businesses, FEAST, Wadebridge Town Council, Bodmin Town Council and Bude-Stratton Town Council to bring the three events to Wadebridge, Bodmin and Bude. The theme for this year's Bike Lights is the 'Atlantic ToHighway'.takepart in Bike Lights, the requirements are simple: just turn up with a decorated bike, pushchair, mobility scooter or wheelchair and give a donation!
23www.bodminlife.comOnthe8thand9th
NEWS <<
There will be a Bike Lights decorating workshop on Thursday, 13th October, 4.30pm at the Shire House Suite, ahead of the Bike Lights parade on the Friday, assembling at 5.45pm at Priory Park, near the football club, for a 6.45pm start. For more information about Bike Lights and how to get involved, email wadebridgecreativehub.co.uk.bikelights@
Get ready for Bike Lights
YOUR LOCAL SIGN WRITERS • Signage • Vehicle Graphics • Digital Print Plus so much more, visit our website to see what we do. 01566 777333 MASONS ARMS BODMIN A warm welcome awaits at this historic pub www.masonsarmsbodmin.co.uk 01208 77442 FRESH FOOD REAL ALES LIVE MUSIC LARGE BEER GARDEN
25
Royal Air Forces Association - The Bodmin branch meets on the second Tuesday of the month, 10.30am, at the Masons Arms, Bodmin, followed by a coffee morning on the Wednesday one week following, same place, same time. Phone 01208 243478 for further details.
Bodmin Book Chat - Join the Bodmin Library team for an informal, monthly book group. The first meeting was on the 25th June and will be held on Saturdays, 11.30am - 12.30pm, every 4 weeks. For more information, call Bodmin Library on 0300 123 4111.
Bodmin Inner Wheel Club - The Inner Wheel Club of Bodmin meets monthly at The Weavers Restaurant in Bodmin at 6pm. If you're female and over the age of 18 years and are interested in joining, contact the membership officer on 07391892721 if you'd like to come along and meet the friendly members.
Armed Forces Veterans Breakfast Club - The Bodmin branch meets on the third Saturday of the month, 10am, the Lanivet Inn. Find the club on Facebook for further information. Bodmin Camera Club - The group meets on Monday evenings at St Petroc's Parish Hall. Go to www.bodmincameraclub.org.uk for information on how to join and club updates. SkillSHARE - Meets every Tuesday, 1pm-4pm, at 81a Fore Street. Learn a new skill or develop familiar ones. Refreshments served.
Beacon Quilters - Meeting on the second and fourth Monday of the month, 7pm-9pm at Callywith College. Contact Mary Norman for information - 07460313777.
Bodmin Gaolbirds WI - The Bodmin Gaolbirds meet on the second Wednesday of the month, 7pm-9pm, Lanhydrock Memorial Hall. Come for a taster session, membership fees not due for the first two months. See their Facebook page for more information.
WHAt's ON << Send your
Open Stage Bodmin - An open stage event held every 3rd Wednesday of the month where any act of any genre can perform, and takes place between 7pm and 10pm at the Old Library in Bodmin - everyone is welcome. Previous performances include comedy, singing, bands, dancers and storytellers. Bar available for snacks and drinks.
Knit & Knatter - Wednesdays, 10.30am-12.30pm at the Old Library Cafe for anyone enthusiastic about knitting and crocheting, or would like to get started. A fun, social event with drinks and cake available.
continued on page 27
Wosson Bodmin!
Regular EVENTS & activities Clean DBS Available On Request All Works Fully Guaranteed Fully Insured Over 20 Years Of Experience ExperienceWe Have A NEW Number 07711 247805 Clean DBS Available On Request All Works Fully Guaranteed Fully Insured Over 20 Years Of Experience Callwww.mendavision.commendavision@gmail.comLEE:01208269388 Pay No VAT
Got an event? email mimi@life-media.co.uk event listings to mimi@life-media.co.uk
Start your monthly membership today! This includes access to over 30 classes per week and a free welcome session when you join. Join today online or in the gym. Contact us on the phone 01208 640536 or email bodmin@snapfitness.co.ukwww.snapfitness.co.uk/bodmin No joining fee for September! Sign up in September and save £15
Stay and Play – A parent and baby/toddler coffee morning takes place every Thursday from 9:30am and The Old Library Café. It is 'pay as you feel' and cakes, savoury food and drinks are available.
Bodmin Wellness Hub (Cuppa Companions) - Every 1st and 3rd Tuesday of the month from 1.30pm – 3.30pm, pop along to the Old Library in Bodmin for a free cup of tea or coffee and meet new people.
Bodmin Produce and Craft Market – Enjoy local produce and crafts on every last Saturday of the month from 9am – 3pm at Mount Folly Square, Bodmin. Saturday Coffee Morning – Bodmin Methodist Church holds a coffee morning every Saturday from 10am – 12pm where there is plenty of tea, coffee and biscuits!
WHAt's ON << Men's support group Mondays – M.A.S.A (Men against sexual abuse) run a support group on a Monday from 6.30pm – 8.30pm. To register please phone 07851671569 or 07936820469.
Time Together – Every Wednesday from 10.30am – 2.30pm a social and open space welcomes everyone to St Petroc's Church. Monthly Craft Market – A local craft market is held at the Old Library, Bodmin on the 1st Saturday of every month.
Family activities
Lanivet Baby Group - Thursdays, 9.30am-11am at Lanivet Community Centre, for children aged 0-2. £1.50 per child, hot drink included. Join their Facebook group for more information. Little Explorers – Every Wednesday at Discovering42 from 10am- 12pm. Toddler session in the bell tent. Join the friendly group as they mix a splash of science with a sprinkle of art and a dash of environmental awareness.
Storytime for 0-5 years – Come along on Mondays at 10am to storytime at the Bodmin Library at Chy Trevail, Beacon Technology Park. Make storytime an inspirational moment in your child's life and make some family memories at your local library.
Send your event listings
Bookstart Rhymetime for 0-5 years - Join a friendly and fun environment on Fridays at 10am at Bodmin Library, Chy Trevail. There is rhyming, games and music to inspire the children and a welcoming and inclusive space for parents and carers to mingle and make new friends.
Yoga Class at Bodmin Shire House Suite - Starts Thursday 15th September 10.15am (for 10.30am start) to 12 noon. For further details please contact Jan on 01637 880604, 07799244785 or email millwaysjanet@btinternet.com
27 PlumbingPiperight Southwest 07507 903603 / 01208 75115 • Bathroom installs & refits • Wall & floor tiling • Hot water tanks & radiator upgrades • All general plumbing & maintenance • Outside tap install from £35 call24hrout nochargeextra
The Pioneers – COMING SOON – Fridays 2pm –5pm at Discovering42. These exciting workshops are most suited to ages 11+. A friendly club making weird and whacky inventions from robotic eyes to pinball machines. Learn practical skills and build confidence through doing. Your imagination is the limit! Visit www.discovering42.co.uk/clubs/ for more information and to keep an eye on the start date for this exciting new workshop.
'YES, Really!' Storytelling - A FREE storytelling evening of local, true tales takes place every Monday at 8pm – 10pm at the Garland Ox. Suitable for anyone over the age of 16.
Bodmin Way Youth Club - For children aged 11+, meeting on alternate Saturdays at St Petroc's Parish Centre. Email info@bodminway. org to book your child's place. continued on page 29 to mimi@life-media.co.uk
www.brandontrust.org/jobs  Full training provided and ongoing support  Casual, part-time and full-time positions  We cover the cost of DBS checks  Shopping discounts including Blue Light card  Pension  Career development opportunities  Supportive recruitment process Join learning disability charity Brandon Trust as a support worker, and discover a career full of purpose and potential. You'll support people with a learning disability, autism or both, at home and in the community, so they are empowered to live the life they want. We currently have vacancies in a wide variety of locations across Cornwall, inlcuding Bodmin, Wadebridge, Liskeard, Roche and St Austell. Visit our website or scan the QR code for more information & to apply. Discover how you can change lives! Telephone: 01503 220971 Mobile: 07881 074757 Email: m a x m a n 1479@s k y.c om Over 35 Years Experience & Gas Safe Registered • Boilers supplied and fitted from £1400 • Boiler Servicing and Repair • Landlord inspections and certs NewRewiresbuildsLighting Pat SmoketestingAlarms and much more! 07507 www.jackrossiterelectrical.co.uk612873
Bike Lights Workshop - There will be a Bike Lights decorating workshop on Thursday, 13th October at 4.30pm at the Shire House Suite.
Autumn Events Studio Bodmin – Pop along to the Shire House Suite at 6pm on Saturday, 24th September for a showcase of 12 local musicians that made it on to the Studio Bodmin project to have their original work professionally produced.
Beasts of Bodmin Comedy Night – The incredible Tamsyn Kelly, a BBC New Comedy Award Comedian 2021 will be headlining this fun comedy night with some of the South West's most hilarious comedians. Tamsyn grew up on a tough council estate in Penzance and shares her thoughts and stories with no filter! Grab your friends and come along to the Shire House Suite at 7pm on the 12th November. For more information on ticket prices and how to book, visit: www.intobodmin.co.uk/whats-on or contact events@intobodmin.co.uk
Blisland Inn Quiz Night – Head over to the Blisland Inn every Wednesday at 8.30pm for their regular quiz night! All proceeds go to charity.
Lanivet Inn Quiz - The Lanivet Inn holds a quiz night every 2nd Tuesday of the month. Get there at 8pm for an 8.30pm start. Contact for more information, 01208 831212.
Bike Lights Parade - The Bike Lights parade on the Friday, 14th October, assembling at 5.45pm at Priory Park, near the football club, for a 6.45pm start. Halloween Parade – The Halloween Parade will take place on the 29th October. After last year's success, Bodmin's spooktacular Halloween parade is back! Keep an eye out for all the FREE creative workshops and activities throughout September and October that lead to a community celebration at its beast – I mean best!
Surrounding villages
Bodmin Light Switch On – Look out for stars in your eyes on the 25th November when Bodmin lights up the town for Christmas! will be celebrating Pride 2022! Watch out for pop-up performances and events happening around the town!
ARE YOU CURIOUS AS TO HOW HYPNOTHERAPY CAN HELP YOU? I treat a range of issues from low self esteem, depression, anxiety, phobias, even chronic pain and all that's in between. Give me a call to find out how I can assist you in creating the life that you deserve. 07723 122365 cornwallhypnotherapist.co.uk SlimmingWorld Bodmin Thursdays AM and PM at the Guide Hut Saturday AM at Berrycoombe School Comtact Teresa on 07557 348301 Send your event listings to mimi@life-media.co.uk 29
WHAt's ON << Bodmin Youth Band - The band rehearses on Wednesday evenings, 6.30pm-8pm at Bodmin Band and Social Club. If interested in joining, email bodminyouthband@gmail.com
Lanivet Netball - There are a range of training days and squads open to all abilities from age 16+, from walking netball to squad training nights. There are limited spaces and so please make contact in advance. For standard netball call 07970979953; for walking netball, 07970979953.
Bodmin Amateur Boxing Club Event – The Bodmin Amateur Boxing Club will be holding an event on 1st October. For more information contact Denis, deniscrosby@sky.com or 07786051841.
Warleggan History Group – A local history group that meets once a month, usually the fourth Wednesday of the month from 7.30pm in the Jubilee Hall, Mount. It is only £2 for a regular session, although there is also the opportunity to join in on field visits.
KBSK - Performing arts group for young people, led by Adie Dove. Go to www.kbsk.co.uk for the class timetable and more information.
Chris Pauling, Managing Director at Proper Cornish, said: "It's great for a Bodmin-based venue such as the Q-Bar to host such a prestigious event and we are delighted to be the main sponsor for the next three years. We wish all players who enter the event a very enjoyable weekend here in Bodmin." If you are interested in attending the event as either a player or as a spectator, why not pop into the Q-Bar to find out more or call Alan Bartlett on 07854 442287.
>> ADVERTORIAL 30 www.bodminlife.com
Proper Cornish is proud to sponsor the South West Open Pool Masters tournament at the Q-Bar
PRIZE MONEY TOTALLING £6,500
Proper Cornish is thrilled to be the main sponsor of the event having agreed a three-year sponsorship deal covering 2022, 2023 and 2024. Not only has Proper Cornish contributed towards the prize money, it has also provided the Q-Bar with a range of marketing support to help promote the event throughout the venue and on social media. As part of its community support, Proper Cornish, the award-winning Bodmin pasty maker, is delighted to announce that it is the new sponsor for the South West Open Pool Masters tournament which is organised by and held at the Q-Bar in Bodmin.
The Q-Bar's South West Open Pool Masters tournament is one of the largest pool events in the country, with the tournament this year taking place on Saturday 24th and Sunday 25th September. There is a range of cash prizes to be won (totalling £6,500) and the winner will not only receive a cash prize but will also be presented with an engraved trophy to commemorate their achievement. This is a fantastic event for pool players of all abilities and spectators alike and there will be plenty of Proper Cornish pasties on sale too.
& WWW.NEWQUAYPLASTICS.BIZ Newquay 01637 889333 Truro 01872 272729 LOCAL MANUFACTURERS SUPPLIERS & INSTALLERS WINDOWS | DOORS | CONSERVATORIES | RAINWATER GOODS NO SALESMEN NO OBLIGATION NO HIGH PRESSURE SALES PITCHES! Just friendly, old fashioned good advice! InsuranceGuaranteeBacked 10 YEAR Misted up Double Glazing Units? We can repair any make of PVC!
Bodmin Town Team is working to finalise the Action Plan for delivering the vision and some exciting community led projects are already well Determinedunderway. to preserve The Old Library for the town and transform it into a sustainable and inclusive resource, intoBodmin has succeeded in raising £400,000 to carry out a package of extensive refurbishments.
Earlier this year the Bodmin Town Centre Charrette brought local people together to co-design a vision for the future of their town centre.
With the cost of living on the rise, this autumn and winter is an uncertain time for many families. Your local foodbank
33
>> GET SUPPORT THIS AUTUMN
Bodmin's tourist attractions are working together to increase visitor numbers to the town, starting with a new walking tour of the town centre and plans to encourage more coaches to visit BodminBodmin.Way has also worked hard to develop a Community Larder which has now more than 250 members and distributes more than 750 kgs of food every week.
centreBodmin'sregeneratingtown
Community led projects leading the way for
An idea put forward by the local community during the Charrette was to improve the appearance of the opes (alleyways) which link the town centre with the rest of the town. Bodmin College's Digital Media students will be working on this project as part of their degree module for the coming year.
Bodminwww.bodminlife.comFoodbankis included within Wadebridge Foodbank's support for a large area of north Cornwall, and can be found at Immanuel Church on Berrycoombe Road on Monday and Wednesday afternoons. Also included in the foodbank's network is Padstow, Camelford and the surrounding areas.
Our Gate
Don't forget about Our Gate, run by Revd Elaine Munday, pioneer minister of St Petroc's Church, her husband Joseph and a team of volunteers from the community. They work hard to provide bags of food, toiletry and household items on a little table outside their front gate, free for people to take if they need it, and are based in St Mary's Crescent.
Between 1st April and 27th June 2022, the figures are up by 90% compared to the same period last year. At the time of writing, the number of people in emergency accommodation has risen by 300% from 2019 and the number of people fed by Wadebridge Foodbank is 1,234, with 504 of those being children. If you are in need of the foodbank's assistance, visit www.wadebridgefoodbank.org/get-help, call 01208 815374 or email contact@wadebridgefoodbank.org
CAFE - 01208 851178 Camel Trail Car Park, Wenfordbridge St Breward Bodmin PL30 www.snailspacecafe.co.uk3PN Local, fresh food and good coffee, and offering people the chance to hire a bike and cycle the Camel Trail! 7 days a week 9.30-4.30 Open March to end October Come and visit Cornwall's first 'plough to bottle' Gin & Vodka Distillery Find us near Lostwithiel, Cornwall Distillery Experiences from £19! *Complimentary G&T on arrival* Crewell Moor, Pelyn Cross. Lanlivery Cornwall. PL22 0JG www colwithfarmdistillery co uk | 01208 873967 We o er: Distillery Tours | Tutored Tastings | Gin or Vodka Schools Gin or Vodka Masterclasses | Shop with free samples
The easiest way to protect you home and family from fire is with a working smoke alarm. Ensure you have at least one smoke alarm on every level of your home and place it on the ceiling, in the middle of a room, or on the hallway/landing. Never disconnect or take the batteries out of your alarm if it goes off by mistake. Chimney Sweeping People should get their chimney swept twice a year when burning wood or house coal and at least once a year when burning smokeless fuels.
Bonfire/Fireworks Night
Smoke Detection
Autumn fire safety
Carbon Monoxide Is a colourless, odourless, tasteless, poisonous gas which is produced when fuels such as a gas, oil, coal and wood don't fully burn. If you have cookers, heaters, boilers, a gas fire, an open fire or log burner which uses any of these fuels you need to fit a CO detector.
People should avoid having bonfires and fireworks at home. However, if you wish to have them at home then please follow the easy-to-remember steps guide: B – Build your bonfire in a safe place O – Observers are to be kept at a safe distance N – Notify Fire Control on 02031622240 if you are having a bonfire F – Fuels and other accelerates to never be used on a fire I – Always have a hose or bucket of water ready R – Never return to a firework when it has been lit E – Extinguish, ensure the fire is fully out before you leave it unattended 35www.bodminlife.com
TOP TIPS <<
Keeping safe with Cornwall Fire & Rescue Cornwall Fire and Rescue Service are offering help and advice to people so that they stay safer in their homes. The most recent statistics for England, which cover from 1st January – 31st December 2021, show 181 people lost their lives in accidental dwelling fires, an increase of 18% on the previous year.
>> ADVERTORIAL
I
Each session lasts three hours and is booked exclusively for your group, with slots at 10am-1pm and 6pm-9pm, so whether you fancy a morning pamper with afternoon tea, or an evening session with chatter and bubbles flowing, Daisie's Garden Spa can provide the perfect pamper day for you and your friends. The spa experience is designed for groups of up to four people - perfect for catch-ups, small hen parties, birthday treats or simply a chilled pamper session! If you have a bigger group in mind, just drop the team a message. If you would like to book your spa experience, call 07547 266330. You can also like their Facebook page for updates, Daisie's Garden Spa. 36 www.bodminlife.com
f you are looking for somewhere tranquil to unwind and have fun with your friends, Daisie's Garden Spa could be the perfect spot for you. Set within a secure and beautiful garden space in Bodmin, Daisie's Garden Spa offers everything you will need to have a memorable and relaxing experience at a spa, including a hot tub surrounded by twinkling lights, wisteria and accompanied by chilled music; multiple seating areas, the perfect spot to sip on some nonalcoholic fizz while catching up with your best friends; and a sauna within a handmade hut, to warm the soul. To make your spa experience even more enjoyable, you can book an afternoon tea for two for just £14.95, treating yourself and your friends to an array of scones, cakes and delicious treats - and there's no need to fear if you have any intolerances, Daisie's Garden Spa can cater to all kinds of dietary requirements! Teas and coffees and non-alcoholic fizz are available to buy during your spa session. Run by Samantha Brenton, Daisie's Garden Spa is hoped to bring an alternative mini spa experience to the community within the comfort of their beautiful garden.
A tranquil space to unwind and have fun
Win a pair of tickets to the event of your choice this October with intoBodmin Enter now www.bodminlife.comat
Bodmin Music, Theatre & Comedy
Oct 1 | 7pm | | £8/£10/£12 Music - Kizamba Oct 8 | 7pm | | £8/£10/£12 Theatre - The Last Motel Oct 14 | 7pm | | £8/£10/£12 Music - Peter Canter Jazz Oct 16 | 2pm | | £8/£10/£12
Family - Tales from the Haunted Bookshop Oct 22 | 7pm | | £8/£10/£12 Theatre - Fanboy Book at www.intobodmin.co.uk 37www.bodminlife.com
Get involved - Open Stage Bodmin Sept 24 | 6pm | | £3 Music - Studio Bodmin Showcase Sept 29 | 7pm | | £8/£10/£12
Terms & Conditions: No purchase necessary. Entrants must be over 18. Competition excludes employees of Life Community Media or intoBodmin plus their families and anyone else connected to the above promotions. Prize is a a pair of tickets to the event of your choice in October or November . Prize is non-transferable and non-exchangeable and no cash alternative is available. Winners may be asked to partake in publicity if required. One entry per household. Prize must be redeemed by November 21st 2022. Hank the dog has got lost somewhere in this magazine, find him to be in with a chance of winning this amazing prize. This edition we have linked up with intoBodmin to offer our readers the chance to win a pair of tickets to the event of your choice in October or November (see www.intobodmin.co.uk/events for wosson). Simply find Hank and go to www.bodminlife.com to fill out the form. We will then select the winner!
Theatre - Help I think I'm a Nationalist Sept 16 | 7pm | | £5 Music - Rhythm & Blues Consortium Sept 17 | 7pm | | Pay what you feel Theatre - Armageddon Attenborough Sept 19 | 7pm | | £5 Music - Jazz Jam Sept 21 & Oct 19 | 7pm | | FREE
>> COMPETITION -BookshopHauntedthefromTales 16October Kizamba - October 1
Entries close on Friday 30th September 2022
ith the gathering of grain, vegetables and fruit, harvest is a time to celebrate and enjoy nature's abundance. Feasts connected to harvest are mentioned in the Bible. The Feast of Weeks (Shavout) marked the first fruits of harvest and the Feast of Ingathering (Sukkot) marked the end of harvest. In the Jewish calendar, the Feast of Ingathering finishes on the 21st day of the 7th month (Tishrei), which falls between late September and late October. There is no set day for harvest festivals. In the UK they are usually held in September or October. Particularly in rural areas, harvest festivals are great occasions, along with Christmas and Easter, when people who don't normally attend church go along. Food on display is given to the needy, auctioned for charity or delivered to a local food bank.
W
Enjoying nature's abundance
Harvest festivals are held on Sundays in all the churches in the Bodmin Team, offering a welcome to everyone. September 18, 9.45am at St Hydroc's, Lanhydrock; October 2, 11am at Lanivet Church; October 9, 10am at St Petroc's, Bodmin; October 16, for a 3pm joint service at Millpool Methodist Church and harvest Evensong, 6pm at St Stephen's, Nanstallon. Another harvest celebration at Lanivet is the village scarecrow festival, lasting a whole week from Sunday September 25 to October 2. This year's theme is pantomimes. A winner's cup for the best scarecrow is presented at a BBQ on Sunday October 2, 3.30pm at the Lanivet Inn. The Bodmin Way walk for harvest is on Thursday October 6, leaving St Stephen's Church, Nanstallon at 2pm. Everyone is welcome to come along on this leisurely 3-mile stroll, with steep sections, followed by refreshments at the church; dogs are welcome too. We will be sure to look out for heavy laden grapevines as we walk along the Camel Trail. 39www.bodminlife.com
Call today for your free no-obligation quote: 01752 www.realistic.uk.com841008 Windows , Doors & Conservatories Quality Products – Always Great Prices Windows ● Doors ● Conservatories ● Orangeries ● WarmROOF Single Story Extentions ● PVCu ● Aluminium ● Timber ● Composite Highly BuildingFriendlyrecommendedcustomerexperienceworksundertaken
Remembering Al Hodge and celebrating music and community
LOCAL NEWS <<
'Fabulous' storytelling brings colour to local libraries!
ALSTOCK wows the crowds
41www.bodminlife.com
Aida H Dee, author, storyteller, comedian, and LGBTQ+ and ADHD/Autistic activist, performed at Bodmin Library. In Bodmin Library an excited audience patiently and quietly sat awaiting the arrival of the 'Fabulous' storyteller, Aida H Dee. This storytelling experience was noticeably well crafted. Sab Samuel who is the founder of Drag Queen Story Hour UK, a.k.a, Aida H Dee spoke to Bodmin Life and said that the show was designed to be, 'helpful to brain activity' and to create, 'positive reinforcement for being silly and taking that creativity and harnessing it!' Isabelle from North Cornwall told Bodmin Life, 'My son has two mums, so to see diversity and inclusion is an important part of his life.' Sab has been very grateful for the support he has received from Cornwall council and Cornwall Pride, with special thanks to Cornwall Pride CEO, Matthew Kenworthy Gomes. Whether this performance is described as a drag act or a storytelling experience rooted in pantomime, the Shakespeare quote, 'That which we call a rose/ By any other name would smell as sweet' seems appropriate.
Congratulations to the Alstock team and the incredibly long list of supporters and sponsors. It is certainly a very special event for Bodmin!
Priory Park was shadowed by the lights, laughter and line-up from the incredible Dragstock and Alstock events which took place over the last weekend in July. Good vibes from a happy community filled the Alstock air and it was an event full of smiles and lots of dancing, despite the drizzle!
There were some incredible dance routines from KBSK who also did a slick routine to Dollface in the evening. The headliners Tankus the Henge are truly one of the best musical acts to see live, with lead singer and multitalented musician Jaz Delorean demonstrating next level performance skills. Towards the end of the night Bodmin Life bumped into our wonderful Mayor, Cllr Phil Cooper, who came to support and enjoy this incredible local event! All the acts were extremely professional and talented but the Mayor's hot picks were the crowd pleasing 'Joey the Lips' and the fantastic local band, 'DM Street'.
BODMIN & RAILWAYWENFORD
2. Roast in the oven, 180°, for 45 minutes.
Sea View Farm Shop, Higher Tynes, St Teath, Bodmin, Cornwall, PL30 3LR 07966 201 945 www.seaviewfarmshop.co.uk Frightfully good pumpkin soup Ingredients: ● One large pumpkin from Sea View Farm Shop ● One large white onion, diced ● Three cloves of garlic, chopped ● 1 tsp cumin ● 1 tsp chilli flakes ● Two tbsp olive oil ● 700ml vegetable stock ● Salt and pepper ● Roasted pumpkin seeds and double cream, to finish
4. Remove the pumpkin from the oven and throw into the onion and garlic mix, or tear the skin away.
1. Either cut out the flesh of the pumpkin (if using for Halloween pumpkins), or simply chop the pumpkin into wedges and place in a roasting tray (skin side down, if using) along with a tbsp olive oil, the cumin, chilli flakes and a pinch of salt.
5. Add the vegetable stock and season with salt and pepper to taste. Once it has been cooking away nicely for a few minutes, blend the soup until it is smooth.
6. Transfer into individual bowls or mugs, spill a little double cream on top and scatter some roasted pumpkin seeds on top, if you like.
3. Dice the onion and throw into a pan with the rest of the olive oil. Cook down until soft. Add the chopped garlic.
RECIPE << 43www.bodminlife.com
A friendly and quality service - Fully Qualified and Insured Call Nick Causton on 01208 73585 or 07793 766287 • Crown Reductions • Crown Thinning/Uplifting • Removal of Deadwood • Tree Felling • Hedge/Shrub Trimming • Grass Cutting • Site/Verge Clearance • Stump Removals • Tree Planting & Aftercare • All treework to B.S. 3998: 2010 (Recommendations for treework) EAGER BEAVER TREE SERVICES ALL T YPES OF TREE WORK UNDERTAKEN • Logs for sale • Woodchip for sale A truly bespoke service from start to finish… T: 01208 78555 www.fleurtationscornwall.com E: info@fleurtationscornwall.com 23 Honey Street, Bodmin, PL31 2DL
returns… LOCAL NEWS <<
The last Saturday of every month can now be marked on the calendar as the day to visit Mount Folly Square, where Bodmin's very own open-air market will be held.
• HR policies and practices • …andRecruitmentmore.
Bodmin's mayor, Councillor Phil Cooper said: "Bodmin Town Council is committed to retaining a community element to this market and encouraging local charities and community groups to come along. We also welcome other organisations that would like to put on, for example, a themed market of their own, on another Saturday of the month."
• Financial forecasting • Bid writing and fundraising • Leadership development
We are all aware of the challenges that businesses and individuals have been facing over the past couple of years, due to the pandemic, Brexit and more recently the war in Ukraine and the cost of living crisis.
For smaller businesses, it often involves lots of spinning plates and trying to be an expert in many fields.
To have a stall or to arrange your own market event, contact the Community Services Team at info@bodmin.gov.uk or on 01208 76616.
for Business to offer support to businesses in Bodmin
The first market to be held in years took place in July and was a welcome return to Bodmin's Saturday markets, which have taken place in the town as far back as Those1086.who came into town for the occasion now hope to see cheese, artisan bread, Cornish salts, fish, pies, preserves, local produce and crafts at future events – all under the protection of sturdy gazebos, gained through a joint bid of the town council and the Chamber of Commerce from the 'Welcome Back Fund.'
45www.bodminlife.com
• Staff wellbeing • Customer service training
Using the last pot of European funding, Konnect for Business can offer qualifying businesses in Bodmin up to 12 hours of fully funded specialist advice and practical support to ease your workload. Their team of 28 business specialists have extensive 'real world' experience and a passion for helping local businesses develop and grow. They can offer support on: • Business development and growth • Marketing strategy, website SEO, Social Media use and impact.
If you would like to know whether your business qualifies for fully funded support, please contact Nadia Henrique-Murray, Business Mentor at Konnect for Business, nadia@konnect-communities.co.uk.
Konnect Bodmin's market
Specialist advice and supportpractical Welcome back!
Saturday
Many of our readers will be familiar with Porthpean beach. Just a half-hour drive from Bodmin, it is one of the area's closest beaches and is popular with sunbathers, swimmers, kayakers and walkers alike.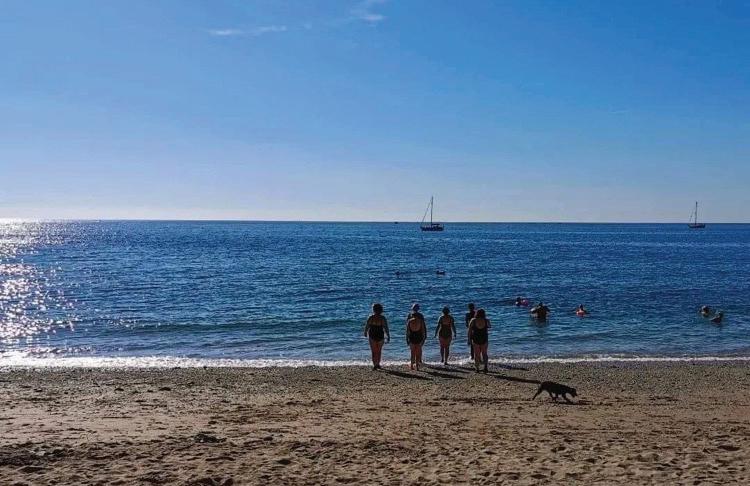 Local lady Liza Crabtree is on a mission to fundraise for a defibrillator to be installed at Porthpean beach.
missionwoman's
Having a defibrillator on-site will mean beach-goers can have vital access to a potentially life-saving piece of equipment. Liza has been receiving support from Duchy Defibrillators and FLEET Liza plans to use excess funds for beach safety courses, or giveto other community groups looking to install a defibrillator. To donate, visit defibrillator-for-porthpean-beachwww.crowdfunder.co.uk/p/vitalwww.bodminlife.com
Liza uses Porthpean beach for swim meets with her local cold water swimming group and, during winter swims, she noticed just how difficult it would be for somebody to access the nearest defibrillator, located in the village. Liza is planning to raise enough money - £2,600 to be precise - to install a defibrillator with casing on the wall of the beach cafe/shop so it is easily accessible to all beach users.
A to provide Porthpean beach with a defibrillator
46
Bodmin Rotary welcomes their first female President Bodmin Rotary Club has welcomed its first female president. The Rotary Club has been helping and supporting people in the town for 70 years, and each year introduces a new president. The 2022/2023 Bodmin Rotary President is a woman, for the very first time. That lady is Su Tune, who recently received the President's ceremonial chain from Pete Ford, who was President last year. Su is a farmer, rearing beef cattle, and is a practical and quite literally downto-earth person. In her year as Club President she is keen to make the community in Bodmin more aware of what Bodmin Rotary is all about and how it serves the community. She also wants to see the club attract more people to join and play an active role in helping those in the community who need help and support. She has many ideas to simplify and modernise how Rotary functions while retaining the key values of service to the community and fellowship among members. To find out more about Bodmin Rotary, complete the contact form on Facebookorwww.bodminrotary.org.ukmessagetheBodminRotarypage.
can to isit our ebsite & o ow s on ocial! predictedenergycostsaslowas£413ayear*
West Carclaze Garden Village is a lakeside community built around the unique and historic china clay landscape of St Austell, enjoying far reaching views towards the coast. Our homes are EPC 'A' rated and at the leading edge of sustainabile design, with high performance glazing, smart radiators with app control, solar panels on every property, air source heat pumps, and discrete technology to capture heat and warm the fi ltered outside air that constantly refreshes your home. Enjoy health and happiness every day, with energy bills as low as £413 a year — so you can enjoy more of your money and save up to 5.9 tonnes of carbon while you do it!*
*Official government assessment https://find-energy-certificate.service.gov.uk/energy-certificate/4101-2651-0532-6225-3223. CGI is indicative only Contact the agents for further information, and register for updates call 01208 74888 | sales@westcarclaze-gardenvillage.co.uk
A LIMITED NUMBER OF PROPERTIES REMAIN IN OUR FIRST RELEASE
• Pension Planning When do you want to retire and how much income will you need? • Life Assurance How much cash would your family need to maintain their current lifestyle if you die prematurely? • Income Protection Would you require a regular income or a cash sum if you suffered a serious illness or disability? • Investments/Regular Savings Are you making the best use of any spare capital or surplus income? Tel: 01208 832999 www.f2ffs.co.uk WTR House , Truro Road, Lanivet, Bodmin, Cornwall, PL30 5HF Remortgage Now Let us search the market for the best deal for you Call for an appointment 01208 832999 Face 2 Face Financial Services is a trading style of Face 2 Face Financial Services South West Limited, who is an appointed representative of Quilter Financial Services Limited & Quilter Mortgage Planning Limited, which are authorised and regulated by the Financial Conduct Authority. THE VALUE OF PENSIONS AND INVESTMENTS AND THE INCOME THEY PRODUCE CAN FALL AS WELL AS RISE. YOU MAY GET BACK LESS THAN YOU INVESTED. YOUR HOME MAY BE REPOSSESSED IF YOU DO NOT KEEP UP REPAYMENTS ON YOUR MORTGAGE. Don't leave remortgaging to a potential rise in interest rates. We can also help with: