WE BELIEVE IN GIVING BACK
In these pages, we celebrate your giving, your creative energies and your spirit of collaboration—the lifeblood of thriving communities that benefits us all. We thank you for coming together in support for the Keokuk Area Community Foundation!
$14,788,118.49 IN TOTALASSETS FOR2022
$1,097,827.63
213 TOTAL FUNDS IN DONOR CONTRIBUTIONS FOR2022
Dear Friends,
In various ways, 2022 was a transitional year for the Tri-State Area Region and the Keokuk Area Community Foundation. Throughout 2022, many communities and nonprofit organizations moved on from the pandemic. Due to your generosity, the Keokuk Area Community Foundation, and our affiliates, the Community Foundation of Des Moines County, and North Lee Community Foundation received over $1 Million in donations. In total, we distributed over $800,000 in grants and scholarships to students and nonprofit organizations. However, our investments could not keep up with our spirit of giving, and we saw record lows in investment performance for 2022. With all our successes and struggles, we continue to believe that we can remain committed to serving the greater good in the Tri-State Region.
In 2022, our scholarship programs grew beyond our wildest dreams! We were honored by the generosity of the Pardall, Boyd, Pflug and Roach Families in establishing new scholarship funds that will help nurses, doctors, mechanics, and trade school students receive the funding they need to fulfill their dreams.
Through our grant programs, the Lee County Charitable Fund awarded KPLAY: Keokuk Playgrounds For All a $25,000 IMPACT Grant to complete the Bentley Splashpad in Keokuk. In their 15th year as an organization, Lee County Youth Services, Inc. distributed more than $25,000 to Lee County Nonprofits that focus on youth. And as a new fund in 2022, the Keokuk Refugee Coalition distributed over $13,000 in grants to support new Ukrainian Refugees arriving in Keokuk.
Giving back is the core to our mission of strengthening leaders, students, and nonprofits through philanthropy. We know there will always be challenges, but it is always our goal to grow as an organization so we can continue to serve your passion for giving. We thank you for believing in us, and we will continue to work together to create a more vibrant and giving Tri-State Region! Leah Jones
Leah Jones Board Chair
Roger R. Ricketts Executive Director
TheKeokukAreaCommunity Foundation is proudto have RadioKeokuk's Co-Owner, Leah Jones asthenextBoard President. Leahbrings an enthusiasm andapassion for the Tri-State Areathatisinspiring.
SPLASHFORALL
KPLAY Playgrounds for All was founded with the purpose of bringing handicap-accessible play equipment to public playgrounds in the Keokuk, Iowa Community. Prior to the June 2015 opening of Bentley's Playground in Tolmie Park on Plank Road in Keokuk, there were no accessible playgrounds available in the Tri-State Area. Families with children needing adaptive equipment were required to drive 1-1/2 hours to Iowa City, or even 3 hours to St. Louis, MO, to use a playground.
After building successful playgrounds in Tolmie Park in 2015 and 2016, a new goal to build a Splash Pad Park was set. This splash pad will contain fun and colorful objects that will squirt water and allow children in wheelchairs to play with other children. After a successful $150,000.00 fundraising campaign, Bentley's Splash Pad opened August 27, 2022.
Showing support for Bentley's Playground, The Lee County Charitable Fund awarded KPLAY an IMPACT $25,000.00 grant to finish the Splash Pad landscaping and build a restroom for children and adults. The restroom project will be ongoing, but KPLAY is focused to complete their vision of bringing children with all kinds of disabilities the ability to play together with their peers and teach everyone that we are all different.
"It's actuallyvery overwhelming, "It'sadream come true. We've been working on thisforabout 4 years. WithCOVID, itkind ofputusin a bitof a stoplightlike itdid the rest of the world.But our communityhas been wonderful rallyingaround usall the time."-KPLAYPresident, TrishPayne.
CENTRAL LEE SCHOOLS SENSORYROOM PROGRAM
The foundation of the Central Lee School District is to educate independent thinkers to value themselves and others. This mission has had its challenges during the last two years, because the number of students who face challenges with stress and anxiety is increasing. Central Lee High School Freshman Aubrey Weber saw her fellow students struggling and through the International Future Problem Solving Competition, created an idea for a sensory space where students could go for relief. The Lee County Charitable Fund saw Aubrey's passion and awarded Central Lee Schools a $10,000 grant to build a sensory room.
The Central Lee Sensory Project involves removing walls in rooms that are currently used for storage and were originally built for individual band lessons. The project will increase the access students have to sensory break materials by creating a sensory room and check-out stations at the Central Lee Elementary School. One sensory room will be a calming and relaxing space for students, and the other will be more of a hands-on room with more tactile materials. Having two different rooms is beneficial because of various students' needs. In addition, there will also be more sensory stations in academic hallways so that students can have easier access to smaller sensory items to keep them focused in class. Around 20-30 kids with special needs will be using the sensory rooms, and nearly 500 kids utilizing the sensory stations.
2022IMPACT
"Studentscan feeloverwhelmed bythe increasedwork andbehavior expectationsand the increasedpressureto meetnew learningstandards.When learningand socialdemandsondevelopingstudentsare too high,thiscan leadto behavior outburstsand struggleswithlearningbeyondwhatstudentswould alreadyface.Sensorybreaksarea researched based intervention for studentswho feeloverwhelmed duringthe courseofthe day." -AubreyWeber
Aubrey Weber
WE BELIEVE
IN STUDENT SUCCESS
PEGGYDICKEYMEMORIALSCHOLARSHIP
Now in its 4th year, the Peggy Dickey Memorial Scholarship has awarded more than $15,000 in scholarships to Keokuk High School Students. The Peggy Dickey Memorial Scholarship opens every year in October. The current Peggy Dickey Scholarship Recipient is Keokuk High School Graduate and current Iowa State University Student, Kayde Martin.
"FromthetimeI waslittleI'vealways wanted to be a veterinarian. I wasn'tyourtypical girl.Instead of playing with barbiesor playing house,I performed surgeries onmystuffeddogs and pretendedto be a veterinarian.Thisscholarshipmeans alot tome, asitishelping support mefinanciallyandsetting me upforsuccess toearnmy degree,inhopes of accomplishing mydreamofbecoming a veterinarian someday.'' -KaydeMartin,PeggyDickey Memorial ScholarshipRecipient.
The Peggy Dickey Memorial Scholarship is a renewable scholarship for four years. The application opens January 1. Learn more at keokukfoundation.org/dickey.
TheKeokukAreaCommunityFoundation Scholarship Programrecognizesstudent achievementsand supportsdeservingstudents.Thankstoourfamilyofdonors,we have annualscholarshipstoprovide fundingtoTri-StateArea studentsand workingadults. Learn more atkeokukfoundation.org/scholarships.
$205,000 INSCHOLARSHIPS AWARDEDIN2022
64 STUDENTS AWARDEDIN2022
$700,000+ INSCHOLARSHIP FUND CONTRIBUTIONS
Kayde Martin
MOLLYHURLEYMEMORIALSCHOLARSHIP
The Molly Hurley Memorial Scholarship Fund was established by friends and loved ones of Molly at the Keokuk Area Community Foundation. The goal of the Molly Hurley Memorial Scholarship Fund is to help cosmetology students to follow their dreams in honor of the late Molly Hurley.
"Mybiggestlong-termgoal istoopenmyownsaloninmy hometowninWarsaw.We asresidents and especially business owners ofour communityare responsible for beingpassionate about our littletown and proud tolive here.Passion fuelsexcitement and excitement willmotivate otherstowant tomake adifference.''
PaiytonHuston, Molly HurleyScholarshipRecipient. The Molly Hurley Memorial Scholarship is open to any Lee, Hancock, or Clark County high school graduate or individual 18 or older who will be enrolled in any cosmetology school. This is a partial scholarship to be provided directly to the chosen candidate's cosmetology school of choice. Learn more at keokukfoundation.org/molly.
ERICPARDALLMEMORIALSCHOLARSHIP
Established in 2022, The Eric Pardall Memorial Scholarship is a scholarship fund of North Lee Community Foundation and the Keokuk Area Community Foundation. It will be awarded each year to high school seniors, college students, and continuing education students that have graduated from Central Lee High School, Fort Madison High School, and Holy Trinity High School. The Eric Pardall Memorial Scholarship is offered to students pursuing careers in agriculture, automotive/diesel repair, construction, engineering, health care/medical/nursing or any trade. Each of these renewable scholarships is $2,500.00 a year for four years. Learn more at keokukfoundation.org/pardall.
"Beingabletocarry onEricPardall'sname tofurthermy educationissomethingthatI will forever cherish. GrowingupwiththePardall family hasforeverchanged mylife. '' -EverleeHarvey, EricPardall Memorial ScholarshipRecipient.
Paiyton Huston
Bailey Schwartz
James Scheetz
Kelsey Kruse
Luke Fraise
Everlee Harvey
GERALDINE BOYD
MEMORIAL SCHOLARSHIP
The Keokuk Area Community Foundation is pleased to announce that the Geraldine (Jeri) Boyd Memorial Scholarship Committee recently awarded seven scholarships totaling $14,000 to nursing students in the Tri-State area. The following seven recipients accepting the scholarship include: Gabrielle Buschling, Megan Cook, Rachel Heule, Zach Meyers, Karissa Moeller, Annabel Neumann, and Olivia Rule.
This is the second year of the scholarship program established in memory of Jeri by her two daughters, Linda Boyd Griffey, and Janette Boyd Sullivan. Jeri was a longtime Keokuk Area Hospital Auxilian (KAH) and Hospital Volunteer. As an Auxilian, Jeri logged approximately 14,000 volunteer hours of service and was part of the hospital family for over 30 years.
During that time, she served as a patient representative, an escort at the surgery waiting room, and distributed reading materials, including her printouts of funny emails, to patients at KAH. In addition, Jeri served on the Board of Directors of the KAH Auxiliary and held the offices of President, Corresponding Secretary, Specialties Chair, Cardiac Rehabilitation Chair, Skilled Nursing Unit Chair and Nominating Chair. Jeri also represented the KAH Auxiliary at the Iowa Hospital Association meetings, Legislative Days and Summer Gatherings.
Geraldine (Jeri) Boyd Memorial Scholarships will be awarded annually to eligible full-time students in the nursing program at the Keokuk Campus of Southeastern Community College. The scholarships are funded by contributions made to the Geraldine (Jeri) Boyd Memorial Scholarship Fund held at the Keokuk Area Community Foundation.
"TheKeokuk AreaCommunityFoundation isproud to honor the legacyof JeriBoyd.Weare delighted to partnerwiththe Boyd Familyto investin the educationalgoalsoffuture healthprofessionalsfromthisregion."
-RogerR.Ricketts,Executive Director
For more information regarding the Geraldine Boyd Memorial Scholarship Fund or to contribute to the fund, visit keokukfoundation.org/boyd.
2022 NEW FUND
Megan Cook
Annabel Newman
Karissa Moeller
Rachel Heule
Olivia Rule
Gabrielle Buschling
Zach Meyers
MATTESON
TheMattesonScholarship only awardsscholarshipsto studentsand adultsfromSoutheastIowa. Each scholarshipisworth$12,000 for 4years.
Morgan Grelk Winfield/Mt. Union
Fatima Abudamir Burlington HS
Brett Baccam Mt. Pleasant HS
Jacob Bailey Mt. Pleasant HS
Seth Bailey New London HS
Lauren Beckman Burlington HS
Nadia Boeding Fort Madison HS
Sam Brueck Burlington Notre Dame
Lily Clark Waco HS
Abby Crowner Burlington Notre Dame
Chyane Davidson Central Lee HS
Tristen Davis Wapello HS
Garrett Dickey Mediapolis HS
Zach Glasscock Keokuk HS
Gracie Gobble Fort Madison HS
Gabe Gourley Burlington HS
Isabelle Hase Burlington HS
Carlee Heinz Keokuk HS
Erin Hemphill Wapello HS
Trent Hicks Mediapolis HS
SCHOLARSHIP
TheMattesonScholarship application opensevery year on January 1. Go to mattesonscholarship.orgto learn more.
Mallorie Machholz Burlington HS
Alaina Oliver Mediapolis HS
Carlee Sloan Winfield/Mt. Union HS
Brian Valdez Burlington HS
Seth Mendez Fort Madison HS
Hunter Miller West Burlington HS
Blake Moeller Central Lee HS Conner Muston Keokuk HS
Lauren Schreck Central Lee HS
Cameron Schroeder Burlington HS
Maille Sheerin Fort Madison HS
Stacy McKay Keokuk HS
Kyndal Townsley Winfield/Mt. Union HS
Charles Taylor West Burlington HS
Callum Tackes Keokuk HS
Will Neises Burlington HS
Jamie Sobczak Holy Trinity HS
Maddie Wellman Central Lee HS
Maui Pearl Whaley Mt Pleasant HS
BreAnn Yaley Danville HS
BONNIE AND CARL PFLUG
NURSING SCHOLARSHIP FUND
Established in 2022, The Bonnie and Carl Pflug Nursing Scholarship honors the lives of Bonnie and Carl Pflug through the spirit of nursing. Bonnie Pflug was a registered nurse and worked at both St. Joseph's Hospital and Keokuk Convalescent Center. She was a member of All Saints Catholic Church and had been a church organist and member of Ladies of Charity for many years. To all who knew her, Bonnie was an amazing woman who taught everyone she came into contact with how to live life with joy. Bonnie always had a positive outlook and saw the good in everyone and everything.
Carl Pflug was involved in public service his entire life. He was the second recipient of the Eppers-O'Malley award given to a Democrat for community service. He was awarded The Spirit of Keokuk award and an award for his dedication to the American Cancer Society. He was involved with the United Way and enjoyed volunteering for the Keokuk Area Hospital fundraiser, Kardiac Kapers.
The Bonnie and Carl Pflug Nursing Scholarship honors the giving legacy of Bonnie and Carl by providing scholarships to Lee County High School Students pursuing a career in nursing. The first Bonnie and Carl Pflug Nursing Scholarship Recipients were Keokuk High School Graduate, Karissa Moeller and Holy Trinity High School Graduate, Ava Peitz.
"In the future,Ihope towork for severalyearsin anadvanced care setting,and eventuallyobtainadual-certificationasa Nurse Practitionerin Psychiatric-Mental Healthand FamilyHealth.Iwanttoreturn toa ruralarea,suchasSoutheastIowa, where Ican bestusemyeducation to serve thosewhodonotalwayshave accessto advanced medicineand up-to-date practices." - Ava Peitz
For more information regarding the Bonnie and Carl Pflug Nursing Scholarship Fund or to contribute to the fund, visit keokukfoundation.org/pflug.
2022 NEW FUND
Karissa Moeller
Ava Peitz
WE BELIEVE IN GIVING
It would be difficult not to be aware of the ongoing war in Ukraine and the number of refugees this conflict has created. On April 21, President Biden announced "Uniting for Ukraine," a new streamlined program that allows citizens to serve as sponsors for Ukrainians who wish to seek immediate refuge in the U.S. This program offers training for sponsors and information on how to help facilitate the process of relocation. Ukrainian refugees displaced as a result of the Russian invasion are eligible for humanitarian parole through the Uniting for Ukraine program in the United States for a period of two years but in most cases they need help from communities to help with their transition.
In response to this critical need, a small group of Keokuk community members, the Keokuk Area Community Foundation and the Keokuk Christian Ministerial Association formed The Keokuk Refugee Coalition in August of 2022. On October 30, 2022, the coalition welcomed Andrii and Natalia Sotsenko. Their journey to re-adjustment has been challenging, but Andrii and Natalia have found employment and embraced Keokuk.
"There'sbeena lotofsupport.Itmeansalot to me thatmaybewe cancreatea welcomingrefuge to peoplewho need itso much,"said LouiseOrozco,aKeokuk Refugee Coalition Volunteer.
The Keokuk Refugee Coalition is an ongoing project. All money raised goes to assist refugees with housing, utilities, transportation, preparation for employment, education, clothing, food, and whatever else they might need while they transition.
Learn more at keokukfoundation.org/refugee.
WE BELIEVE IN THE POWER OF GIVING
FOODBANK OFIOWA
With a grant from KACF Grant Fund, the Food Bank of Iowa (FBOI) supported the Lee County Drop-In Center. This food pantry was able to purchase truck loads of donations that were able to help many people. If an agency were to purchase the same about of food retail it would cost exponentially more. $100 at the grocery store would get a pantry 44 pounds of food but $100 with FBOI gets them over 1,600 pounds of food. These dollars are stretched much further and clients are getting more food because of the grant funding.
Throughthe Keokuk Area CommunityFoundation GrantFundand the LeeCounty CharitableFund,we investin localnonprofitorganizationsthatcontribute to improvingthe qualityoflife inour communities.Our grantssupportinnovation, sustainabilityandcapacitybuilding.
$749,823.42 IN GRANTS& SCHOLARSHIPS AWARDED IN 2022
301 ORGANIZATIONS/ STUDENTS RECEIVED ASCHOLARSHIP OR GRANT IN2022
$6,172,434 IN GRANTS& SCHOLARSHIPS AWARDED SINCE2013
For more information regarding the Grant Programs of the Keokuk Area Community Foundation visit keokukfoundation.org.
KEOKUKUNIONDEPOTFOUNDATION
Approximately 3000 people attend events at the Depot each year. In addition, hundreds of people visit the riverfront area, of which the Depot is a major attraction. Keokuk Union Depot Foundation ("KUDF") has commenced restoration of the exterior masonry of the Depot's waiting room section to address serious structural issues. The 2022 KACF grant
THREERIVERSCONSERVATIONFOUNDATION
Three Rivers Conservation Foundation launched the "Places to Play" campaign in 2019 with the objective of replacing and enhancing playgrounds at Lee County parks. The group's first goal was to replace the playground at Pollmiller Park. This goal was met in 2020, and the new playground was installed in the spring of 2021. The next playground that was scheduled to raise funds and be built, was a new playground at Wilson Lake. This project was completed February 1st, 2023. Our last playground to be purchased and installed was at Chatfield Lake near Keokuk, IA. This playground was purchased in the fall of 2022 and installed most recently. This last project completes our Places to Play campaign.
THE BESTOFYOU COALITION
With a grant awarded from the KACF Grant Fund, three Keokuk students attended the Community Anti Drug Coalitions of America (CADCA) Youth Leadership Forum and Day on the Hill. Students attended numerous sessions led by dynamic speakers during the Forum that covered such topics as public speaking, the risks of youth marijuana use, the dangers of fentanyl and fake pills, how trauma can impact the decisions we make, addiction, the pros and cons of social media, and the impact youth voices can have in their communities. The three students were able to join other students from Iowa to speak with Senator Ernst, Senator Grassley, and Representative Miller-Meeks.
CENTRALLEEMUSICBOOSTERS
Central Lee is in the fortunate position to have more music students then music stands. Last Fall, The Central Lee Music Department was awarded a grant to purchase music equipment from the Arminda G. Bishop Trust. Used daily, the music stands are used for the following ensembles: marching band, concert band, jazz band, pep band, show band, concert choir, lessons, drum line rehearsal, performances and shows.
THESALVATIONARMY
Helping children with homework assignments, learning music and other character building activities such as behavior, manners and how to be helpers at home, is the new focus of Salvation Army. With a grant from the Lee County Charitable Fund, The Salvation Army purchased 2 touch screen displays with built in computers, 2 mobile carts and cords. This allowed students to have one unit in Keokuk and the other in Fort Madison where the after-school programs take place. There was no software to download and was much easier to locate youth activities to coincide with their learning needs.
KEOKUKCATHOLICSCHOOLS
The students at St. Vincent's have become voracious readers! We see them huddled in all areas of the classrooms, library, and common areas with their noses in a good book. "I just can't put it down!" you'll passionately hear. Our third-grade class has been so excited about the new biographies in their classroom that they decided to do a Living Wax Museum to highlight historical personalities. One first-grader was overheard saying, "You know, I'm a farmer, so this farm book is like my life." Thank you, Lee County Charitable Fund, for helping to make our dream of classroom libraries a reality!
IOWA JOBSFORAMERICANGRADUATES (IJAG)
Using grants from both the Lee County Charitable Fund, North Lee Community Foundation, and the Keokuk Area Community Foundation Grant Fund, IJAG- Keokuk High School Students implemented a service learning project to serve the students and/or community members that have a need for food outside of the school day. The students learned the importance and challenges of beginning and maintaining a food supply bank throughout the year. After preparing a meal, the Keokuk Students prepared care packages to military families serving overseas.
The goal of IJAG is to unlock student potential. IJAG programs help kids build the skills they need to be successful in the classroom, on the job, and in life. It's the gift of self-sufficiency that pays dividends to individuals, schools, employers, and communities.
KIDSIGHT:GIVING BACK TOCLARK COUNTY
KidSight's Mobile Vision Screening program goes out to daycare centers, early childhood programs like Head Start, and community events across the state. We collaborate with local optometrists and organizations through the KidSight Vision Care Network to provide low-cost follow-up care for children who need it. Using a grant from the Keokuk Area Community Foundation, KidSight proposed to increase vision screenings in Clark County by targeting private daycares and other community organizations that serve young children. KidSight screens children at the Kahoka Head Start, Wayland Head Start, and Early Childhood Center. KidSight also expanded screenings at private daycare centers to meet a goal of 250 screenings in the Clark County Area in 2022/2023.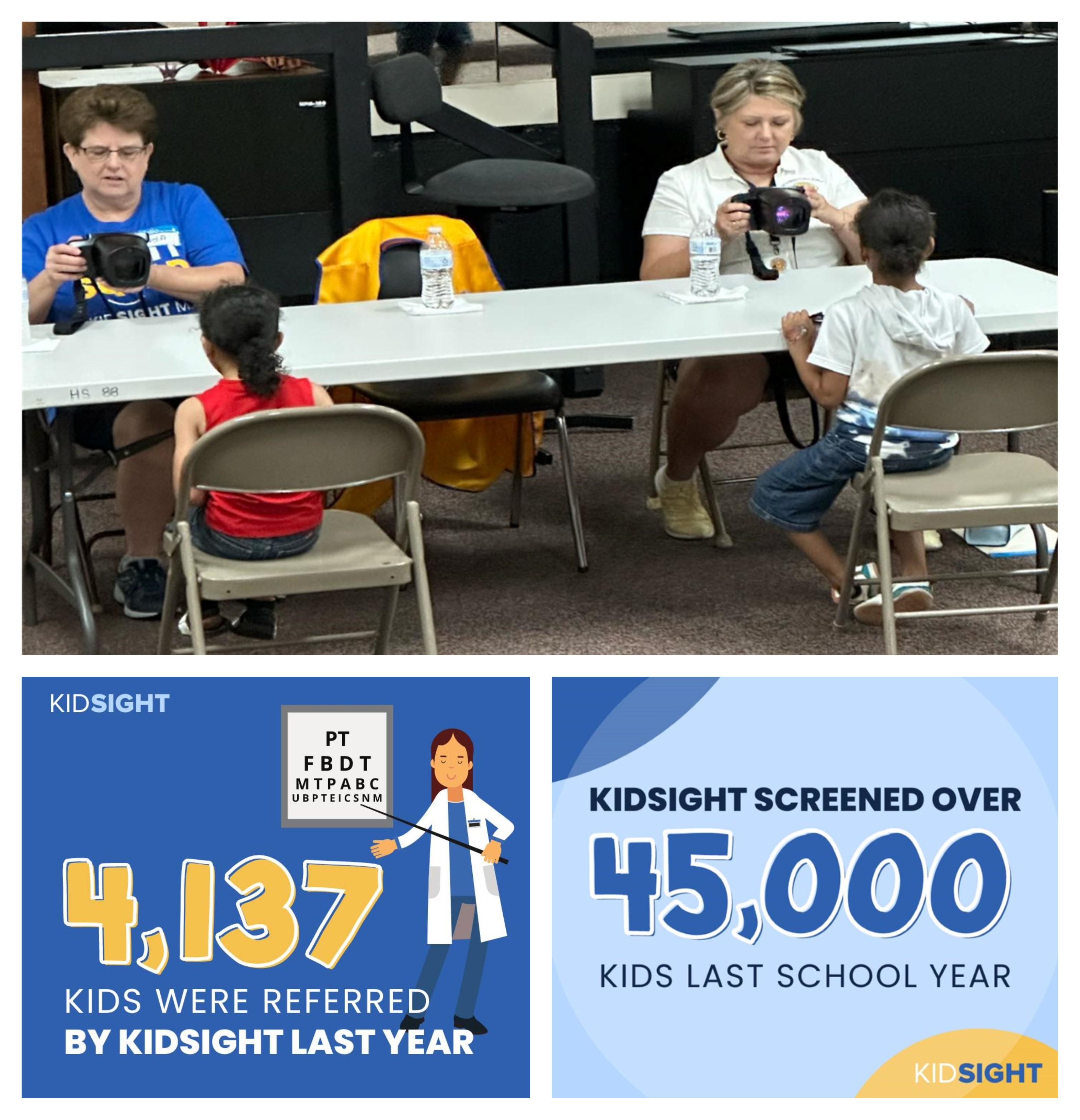 SAFETY UPGRADES
The Keokuk Community Child Development Center (KCCD) prides itself on being a quality rated center and providing best practice care for families in Keokuk. Using a grant from the Keokuk Area Community Foundation, the Keokuk Community Child Development Center (KCCD) purchased needed safety/wireless upgrades to their facility. The new safety technology allows the management at Keokuk Community Child Development Center to communicate with families and visitors safely using a two-way intercom and a new tablet for each teacher. The wireless internet was also upgraded to provide faster communication throughout the facility. The security updates also benefit the additional organizations using the church areas as well as church members. Securing the areas of the childcare center allows the other organizations of the community access to the church areas not occupied during the center's hours.
COMMUNITY FOUNDATION OFDESMOINES COUNTY
THEHEARTSONG ENDOWMENT
In 2022, Heart Song Adult Day Services, established an endowment with the Community Foundation of Des Moines County.
Heart Song is dedicated to preserving dignity in a safe and caring environment, through socialization and purposeful activities, to enhance the quality of life of adults. Heart Song prides themselves on the support, relief and independence to all caregivers and families, which enable them to continue caring for their loved ones and remain active in the community.
Apartner in givingfor SoutheastIowa,the CommunityFoundation ofDesMoines Countywasestablished to receivecharitable giftsfromdonorsto establishpermanent endowmentsfor thebenefitofDesMoinesCounty,Iowa. Learn more atcfdmc.org.
DOMESTICVIOLENCE INTERVENTIONPROGRAM
Every year, the Mickelson Grant Fund at the Community Foundation of Des Moines County provides Domestic Violence Intervention Program a grant for emergency and comprehensive services to any victim of intimate partner abuse in Des Moines County. DVIP provides financial support for housing, utilities, and transportation needs for survivors.
$2,762,267.81 TOTALASSETSFOR CFDMCIN 2022
39 ENDOWMENTS HELD IN TRUST
$98,832.75 AWARDEDINGRANTS BY CFDMCIN2022
GIVING IN HANCOCK COUNTY ADVOCACY NETWORK FOR CHILDREN
THEGREATESTHOPE
As first-time grant recipient from the Keokuk Area Foundation Grant Fund, Advocacy Network for Children has one singular goal: to find a safe, permanent, and loving home for children. Finding a home for a child can be a process, so Advocacy Network for Children in Hancock County recruits volunteer supervisors to be advocates of children who are in care of the court. Grant funding provided the coordination of volunteer activities including case assignment, review of volunteer reports, and accompanying volunteers to assigned court hearings. The greatest hope for all volunteers is the achievement that every child would be returning to home and the abuse/neglect stops.
WEBELIEVEINHEALTH
For over 30 years, Lee County Health Department (LCHD) has been pursuing its own home to be able to safely house up to 38 employees with adequate space to plan for and provide essential public health services in Southeast Iowa.
In 2022, North Lee Community Foundation and Keokuk Area Community Foundation made a commitment to assist Lee County and the Lee County Supervisors with a fundraising campaign for the proposed new Lee County Health Department and EMS building. The new Health Center and EMS facility will be centrally located in Lee County near the Fort Madison Hospital and on that property given to the County by the Meller family. This piece of land lies adjacent to the Shottenkirk Chevrolet Buick GMC car dealership in Fort Madison.
This new Health Department Center and EMS facility will provide easy access for all the communities and townships of Lee County and will provide excellent health services for all the people of Lee County.
With early and generous support from donors, business and corporations in the County, the Foundation has worked quietly with a campaign to raise up to $1,000,000 to assist with the funding of the construction of a state-of-the-art Meller Health Center.
"Thisnew HealthDepartmentCenterandEMS facilitywillprovide easyaccess forall the communitiesand townships ofLee Countyand will provide excellenthealth servicesfor all the people ofLee County."-LCDHExecutive Director, Michelle Ross
LEE COUNTY YOUTH SERVICES, INC.
In2022,Lee CountyYouthServices,Inc.,celebrated their twentiethyearofawarding grants toLee Countynonprofits.Since 2010,Lee CountyYouth Services,Inc. have distributed morethan$350,000ingrants. Themission ofLeeCountyYouthServices,Inc. is to provideopportunities andsupportforyouthinneedand thosewhoserve them. Lee CountyYouthServices,Inc.is committed toa programofsocial responsibilityand communityinvolvement/education.
YMCA TESTKITCHEN
It was announced in 2022/2023 that the Fort Madison Family YMCA and Elliott Test Kitchen Foundation would be merging to form YMCA Test Kitchen. With a grant from Lee County Youth Services, Inc. the new YMCA Test Kitchen continued the successful STEM Education/Camp program, which helps students in after-school/summer tutoring and provides them with a tasty meal.
For more information regarding the Grant Programs of Lee County Youth Services, Inc., visit keokukfoundation.org/lcys.
KEOKUK PARKSFOUNDATION
The purpose of "Fright Fest" is to offer area kids and their families an opportunity to come and celebrate the fall season by dressing up in costumes, decorating pumpkins, receiving candy and riding a hayride throughout Rand Park for an afternoon on the third Saturday in October. This event is always well attended and all activities offered are provided free of charge. Using a grant from Lee County Youth Services, Inc., Keokuk Parks Foundation were able to provide candy bags to all the youth who attended. For the first time, they offered those ages 8 and up a chance to throw an axe at a wooden bullseye in the trailer provided by Quincy Axe Company. Axe throwing was a great hit with kids and adults alike, giving them an opportunity to try something new that is not offered in our local area.
GIRLSCOUTSOFE.IOWA ANDW.ILLINOIS
With a grant from Lee County Youth Services, Inc., Girl Scouts in Troop 1357 in Keokuk learned a great deal about being great citizens to their community and helping those in need. Girl Scouts collected donations for the Keokuk Animal Shelter, and also collected food, birthday kits and funds to donate to God's Way Food Pantry.
"The girls were especiallymovedwhen they learned that there are childrenintheir communitythat aren'table tocelebrate their birthday, andthis promptedthem tobuild "birthdaykits" todonate tothefood pantry, containingitems tohelpthemhave abirthday cake,includinga disposable pan, cake mix, frosting,decorationsand candles."
-Girl Scouts ExecutiveDirector,Beth Garza
NORTH LEE COMMUNITY FOUNDATION
TheKeokukAreaCommunityFoundation isproud to haveNorthLeeCommunity Foundation(NLCF) asa partnerofgivingin LeeCounty.Currently,The NorthLee CommunityFoundation holdsmore than80differentfundsestablished byindividuals, families,and nonprofitagenciesto benefitNorthLeeCounty. For more information,visitnorthleecf.org.
HOUGHTONBALL ASSOCIATION
Serving all the baseball needs of Lee County, The Houghton Ball Association is in charge of organizing youth and adult games in Houghton. With a grant from the North Lee County Foundation, The Houghton Ball installed a handicapped accessible bathroom at the ball field. Before, patrons used the city hall restrooms that are nearly 100 yards away from the field. There was gravel and grass between the field and the bathrooms, so it is difficult to for some to get to them.
FORTMADISON BEAUTIFICATION FOUNDATION
Pickleball is becoming an active community engagement opportunity for socialization and physical exercise and also a tourist destination. With a grant from North Lee Community Foundation, the Fort Madison Beautification Foundation and Fort Madison Pickle Ball Association, this project built six new Pickleball courts at Victory Field Park in Fort Madison, Iowa.
$7,290,731.95 TOTALASSETSFOR NLCF IN2022
81 ENDOWMENTS HELD IN TRUST
$349,427 AWARDEDINGRANTS BY NLCF IN2022
FORTMADISON FAMILYYMCA
With 500 people using the Fort Madison Family YMCA Pool, the need for a clean pool is great. In the past, the Y collaborated with the city pool to use their pool vacuum to clean our pool 2-3 days a week but needed their own pool vacuum to stay on top of the cleaning procedure and not allow build up at the bottom of the pool. With a grant from North Lee Community Foundation, the Fort Madison Family YMCA purchased a new indoor swimming pool vacuum. Happier swimmers from all of Lee County rejoiced!
GENEROSITY OF MANY
We area CommunityFoundation thatseekstopreserve the futureofthisareaby buildingendowmentsthatprovide financialsupportand grantfundingfor Tri-State Area nonprofitorganizations,charities,churchesand educationalinstitutions.The following donorsmadea gift,gave to a memorial,established a fund or gave toan Endowmentat the Keokuk AreaCommunityFoundation,theCommunityFoundationof DesMoines County,orNorthLeeCommunityFoundation in2022.
Anonymous
Rosemary Abel
Michael & Michelle AbouAssaly
Todd & Kerri Ackerman
Helen Ackerson
John & Judy Aldredge
Alliant Energy Foundation
Cynthia & Roy Ames
Kristi Anderson
Jerry & Julie Anderson
Joy & Eugene Anderson
Apel Snyder International
Brett & Kelsey Azinger
Michael & Lora Azinger
Gary & Rosa Bailey
Carolyn Baker
Kevin & Ruth Bante
Christopher & Kelsey Barclift
Robert & Carol Bartles
Darlys Baum
Kate Baxter-Anderson
Will Beck
William & Cynthia Becker
Michael & Karen Beim
Kathleen Bentler
Susan Berberet
Sheldon & Molly Berger
Christine Bianco
Timothy & Tonja Binder
Mary Black
Debi Boeck
Lanah Boeck
Shari Jobe Bororgzad
Sandra & Leonard Branchini
Colleen Breheny
Catherine Breitenbucher
Marianna Brinck
William & Debra Brinkley
Robin Briscoe
Kourtney Brissett
Carol Brotherson
Ann Brotherson
Russell & Teresa Brotherton
H. Wesley Brown Brown
Marie Brownlee
Cindy Brueck
J Bryan
Burtraw Living Trust
Kathleen Cahill
Daniel Cahill
David & Amy Camp
Claudine Capps
Timothy & Sue Carlson
Teri Carman
Chris Carrara
Joan & Thomas Carroll
Stephen & Carla Celania
I-Min Chao
Narie Choi
Bev Christy
Curtis Cloke
Kathie Cochran
Chris Codden
Mae Conn
Tony & Lori Conn
Vincent & Betty Copeland
David Cosgrove
Patricia Courtney
Amy Cox
Carole & Shawn Daniels
Summer Day
Mary & James Dennis
Jerry & Sally Derby
John & Karen Dewey
Stacie & James Dickens
Michael Gollin & Jill Dickey
Ryan Dougherty
Terri & Barry Dowell
Mary Downey
Ralph & Betty Downey
Paige Dunn
Donna Dusen
Merle Eberline
Christopher & Caroline Edwards
Karen Elliott
Eva Ann Elmer
Sandra Elmore
Rich & Rae Ewers
Anthony Faber
First Presbyterian Church - Carthage
Anita Fleming
Dwight & Sue Foley - Mulch
Roberta Fowler - Tong
Ann Skaro & Frank Delaney
Sara Frey - Clark
Terrance & Paula Friedman
John & Lindsay Fruehling
Kathy Gabel
Melinda Gall
Thomas & Elizabeth Gardner
Sara Garza
Dennis Gehrt
Alan & Barb Gerst
Darla Gibbons
Jerry & Kimberly Glasgow
Joyce Glasscock
Martin Goetz
Jennifer Goetz
Randy Gray
Great River Health Systems Inc.
Linda Griffey
Leah Gudgel
Janet Hachmeister
Robert Haines
Sharon Haisch
Carole Halicki
Michelle Halton
Mary Susan Hanan
James & Diane Hankes
Joseph & Denise Hanks
Robert Hansen
Andrea Harper
Gigi Harrington
Ann Hass
Ivan Hasselbusch
Janet Haush
Tony & Tammy Hayes
Hazel Agencies
Dawn Hazell
Heart Song Adult Day Center
Colleen Heibner
Theresa Hellman
Joan Hellman
Shirley Hendricksmeyer
Cindy Henry
Michelle Henson
Lynnette Hess
Carol Hibler
Michael & Karen Hickey
Marianne Higdon
Mike Hoffman
Dr. Charles Holmes
Amber Horner
JoEllen Hoth
Christopher & Kathy Hughes
Debra Hulett
Lisa Hunter
Brian & Lynese Isom
Kendra Jahn
Valerie Jenkins
Kathleen Jennings
Dr. Jerry & Debra Jochims
Andrea & Thomas Johanns
Jay & Mindy Johnson
Richard & Kim Johnson
Dianna Jones
MaryAnn Jordahl
John & Maryann Jordahl
Mark & Christy Joyce
Kris Karre
Earnest & Judy Kaylor
Andrea Kelly
Andrea Kelly
Mark Kemp
Keokuk Area Hospital Foundation
Albert & Kathleen Keppel
Dev Kiedaisch
Scott & Lori Kindig
Madonna & Richard Kirchner
Julia Kirk
Michael & Kathy Klauser
Andrea Kline
Julie Kobliska
Brian & Lindi Kobliska
Kevin & Nicole Koellner
Steve & Agnes Koellner
Joseph & Jane Kowzan
Sarah Kraus
Robert & Susie Kraus
Susan & Gary Lange
Richard & Linda Larkin
Edward C & Jean Lemon
Amanda Lewis
Gretchen Lewis
Duane & Mary Loban
Donna Logan
John Logsdon
Marcia Lohmann
Tamara Lohmann
Lawrence & Sandra Long
Lisa & Mike Longshore
Annette Ludwig
Anthony Maerz
Gregory & Leslie Malinski
Gary & Ruth Mansheim
Dennis & Karen Marino
Jill & Stuart Mason
Carol Sue May
Kara McCabe
Janet Mccannon
M.J. & T.G McCoy
Kaylee McFarland
Lynn McLaury
Craig & Charlotte McManus
David McMurray
Alecia McNally
DeAnn McNally
Barbara McRoberts
Susan Meiers
Brian & Kimberly Mendez
Ann Menke
Wes Merydith
Richard & Nicole Meyers
Rose Miller
David & Gretchen Miller
Al Moander
David Morgan
Amy Moyner
Teresa Murray
Jean Nash
Michael & Kathleen Nunn
Oakford Physical Therapy
Joe & Amy O'Brien
Michael & Julie O'Conner
John & Louise Orozco
Rebecca O'Shea
Melissa Palmer
Richard & Georgia Pardall
Jerald & Linda Parks
Mary Parrish
Carolyn Patterson
D.A. & C.R. Patterson
Milton & Laurine Paule
Tammy Pfeiferling
Katherine Pflug
Mike & Bonnie Pierson
Timothy & Cheryl Plank
Walter & Joann Pogulis
Barbara Powell
Susan Powell - Fedler
Sue Prochazka
Michael & Joann Prosser
Burton & Joanne Prugh
Patrick Pullins
Carolyn Pundt
Brian (Chip) Readinger
Julie Rector
Nick Rector
Mark & Julie Rector
Dan & Chris Reid
Mark Renteria
Mike & Cherish Rentmeester
Deanna & Don Reynolds
Jerald & Lois Rigdon
Timothy & Christine Roberts
Nikki Robertson
John & Susan Rogers
Lindsay Ross
Philip & Pamela Roth
Megan Rounsaville
Jeffrey & Mary Rovane - Weld
Jeffrey & Cathryn Rucker
Ryan Ruffcorn
Quinn Ruhl
Charles & Rebecca Rump
Cindy Runge
Noel Rusher
Jesse Saar
Jesse Saar
Dr. Mark Saathoff
Malik & Jennifer Sadiq
Joyce Sanders
Ann Sandrock
Mary Saxton
Kent & Megan Schmidgall
JessIca Schrapf
Daniel Schreck
Nancy Schulte
Keith Schulz
John & Barbara Schulz
Katie & Tony Sciumbato
Ronald & Jennie Scott
Marlene Short
Michelle Skinner
Cynthia & Michael Skopec
Jack & Mary Jo Smith
R. Robert Woodburn & Janet Smith
Russ & Mary Smith
St. John's Church of Keokuk Iowa
Kimberly & Jeffrey Staub
Mark & Taley Steele
Judy Stevens
JR Stevens
Douglas Stewart
Lyn Stinson
Penny Sudbeck
Amanda Thomas
Erin Threlkeld
Richard & Francesca To
Wayne & Nancy Tolander
Sue Catherine Harris Trust
Michael & Teresa Umthun
Thomas & Joyce Vance
Thomas & Margaret Veith
Nora Vera-Godwin
Danielle Vogel
Gary & Gretchen Walls
Donald & Mary Lynn Walters
Don & Lori Weiss
Floyd & Lori Welch
Katie Wells
Matt & Andrea Wenzel
Paul & Mary Westermeyer
Nancy Wheeler
Amanda Wiebold
Mary Ann Wierather
Christine Williamson
Dennis Wilson
Rodney & Deborah Wittkamp
Judith & Lavon Worley
Carol Zaiser
Rebecca Zwanziger
Our donorsareour inspiration. Makea giftatkeokukfoundation.org.
COMMUNITY INVESTMENTS
TOTALASSETSBYYEAR
2022: $14,780.469.14
2021: $17,790,728.00
2020: $17,931,214.72
2019: $9,830,808.16
ASSETS/LIABILTIES
Cash in Banks: $456,913.23
Investments: $16,633,219.55
Other Currant Assets: $2,899.24
Liabilities: $1,852,750.41
GRANTSANDSUPPORT
Grants & Scholarships: $749,823.42
Program Support: $122,489.75
INVESTMENTRETURNS
Connection Bank: - 9.76%
Two Rivers Bank & Trust: - 12.08%
Pilot Grove Savings Bank: - 12.42%
Morgan Stanley: - 43.69%
Overall Return: - 22.96%
TheKeokukAreaCommunityFoundation servesdonorsand nonprofitsthroughsound financialmanagementthataimsto buildcharitableresourcesfor the Tri-State Area Communities.Dueto your generosityandour investmentperformance,our financial growthremainssteady,increasingthe impactwe have bydoinggreat thingsin the Tri-State Area. Visit
keokukfoundation.org/financials to view a copy of KACF's 990 IRS Return (certain sections are omitted for donor privacy). Also view our Independent Financial Review conducted by CPA Associates PC.
FORGOOD FOREVER
Established inOctober2004,The Keokuk AreaCommunityFoundation(KACF) isa 501(c)(3) charitable CommunityFoundationwhichreceivesgifts,grantsand contributionsfromcharitable individuals,families,businesses,andcorporations.These charitable giftsare used to establishpermanentendowments,foster leadership,assist Tri-State Areanonprofitorganizations,charities,schools,healthcare institutions,and strengthencommunitiesin southeastIowa,west-centralIllinois,and northeastMissouri.
BOARDOFDIRECTORS
Chair of the Board: Kerry Klepfer
Vice Chair: Leah Jones
Secretary: Jan Filkins
DIRECTORSEMERITUS
George Eichacker
Ivan Hasselbusch
Kerry Klepfer
Richard Lofton
Jack Smith
BOARDMEMBERS
Margaret Cardella, Mary Sue Chatfield, Tony Conn, Carlos Guzman, Cheri Kemp, Louise Orozco and Patrick Otang
STAFF
Executive Director: Roger R. Ricketts
CFO: Haley Shaffer
Administrator: Philip Ricketts
P.O. Box 367 Keokuk, Iowa 52632 319.670.0207 keokukfoundation.org KeokukArea Community Foundation