AN INSIDER'S GUIDE | FALL Truckee22 PRSRTSTD U.S. 5377POSTAGEPAIDDENVER,COPERMITNO. TruckeeChamberofCommerce 10065DonnerPassRoad Truckee,CA96161 Mountain Biking For Every Rider A River CommunityBuildingThroughRunsIt
CRYSTAL $64,500,000POINTE SEL V O L TUME H E LEADE R I NLAERYRUXUL E S TATE • $2.6 Billion 12386 STOCKHOLM WAY $2,185,000 THE LEADER IN LUXURY REAL ESTATE | 530 550 2464
Connect with the power of an iconic brand
At Chase International, we strive to exceed your expectations and deliver results every time. We've assembled a highly-skilled, experienced team of real estate professionals and staff committed to providing legendary client service with an unparalleled level of expertise. Making your dreams come true is what we do best. Embrace the power of success. Visit chaseinternational.com | laketahoe.luxury
A
WHAT'S
HAPPENING Fall/Winter Events PLAY Mountain Biking For Every Rider EXPLORE Museum of Truckee History - Small Town Character and Soul CREATE A BIG LIFE Exploring the Western Segment of Donner Pass Road THE HOW'S AND WHY'S OF TRUCKEE How Do I Report an Incident? BIG LIFE LOCALS Soumya Srinagesh JD LisaHossWallace202812869152730 15 ON THE COVER: Lisa Wallace is the Executive Director of the Truckee River Watershed Council. See more about the Truckee River on page 17, and Lisa's Big Life Local profile on page 30. Photo by Daphne Hougard. 25 9
LETTER
Table of Contents
FROM THE EDITOR Autumn Adventures
4 | Truckee.com
River Runs Through It Building Community - Lifting Each Other Up More Than A Place To Borrow Books FEATURES FALL 2022 201724 DEPARTMENTS
An Insider's Guide | 5 ©2022 Corcoran Global Living. All rights reserved. Each office is independently owned and operated. Corcoran Global Living fully supports the principals of the Fair Housing Act. If your property is currently represented by a real estate broker, this is not an attempt to solicit your listing. CA DRE License #01399851 Alison Elder Real Estate Advisor, Tahoe@AlisonElder.com530.582.8103Partner ElderGroupTahoeRealEstate.com Considering Selling? Get Results! Contact Alison Elder Today. Enjoy the Truckee LifestyleEnjoy the Truckee Lifestyle RealTrends 2022 Ranked 230th Nationally by Sales Volume TTCF.NET/IN-IT-TOGETHER/ Learn more or donate here:⅓OFTAHOETRUCKEERESIDENTSREPORTEDNEEDINGMENTALHEALTHSERVICES What makes Tahoe Truckee so special is the people. Our Behavioral Health Roadmap was developed to improve the health of our people. Join us on our mission, we're all in this together.
There are many ways to get out and enjoy the change of season, crisp autumn air and brilliant colors. It might be a hike, bike or just a scenic drive. It might be working side-by-side with other river lovers on restoration projects on Truckee Day, or it may be taking it a bit slower and curling up with a book on a cool autumn afternoon.
Autumn is a beautiful time of year. Yes, it's sad that summer is over, but that doesn't mean Fall isn't worthy of the same affection. Every year I am in awe of the magnificent colors we get to experience here –pockets of brilliant yellow and gold intermixed with the dark green pines. I can't say I have a favorite season, but Fall ranks pretty high!
The Truckee Library – As the weather cools down and we head into winter, you might find yourself curling up near the fire with a good book. The Truckee Library is a huge community asset – whether you get your
6 | Truckee.com
Mountain Biking For Everyone – In addition to the hundreds of trails that we enjoy, I am proud that we have now built some adaptive trails so everybody can get out and have a great time. Check out the story on page 9 to plan your autumn adventure.
A River Runs Through It – Every fall on Truckee River Day, we celebrate the river for its scenic beauty and care for it through restoration projects led by the Truckee River Watershed Council. Read about the history of the Truckee River, ways access is being improved, and how you can roll up your sleeves and join hundreds of like-minded volunteers working on projects throughout the watershed. Read about it on page 17.
embraceuponandright"AutumnAdventuresAutumnleadsusintowinterthenewyearwhichtochange."
hard copy or e-book, reading is a great way to escape. But the Truckee Library is more than borrowing books – you may be surprised to learn of all the services and programs the community benefits from. And if you've heard about the LibraryUp campaign for a new, modern space you can learn more about it in the article starting on page 24.
Holiday Season - Truckee Style – As we roll from fall right into the holiday season, you'll want to make sure you head downtown for the annual holiday tree lighting that kicks off the season the Friday before Thanksgiving. It is the quintessential small town community gathering to enjoy the spirit of the season. And of course, there is no better time to support our local businesses than to Shop Local for all your gifts. For more information about how to Enjoy the Holiday Season - Truckee Style, head to Truckee.com.
Autumn is the time of year when leaves change color and the days get shorter. It leads us right into winter and the new year upon which to embrace change. Call me a sentimental optimist, but I believe in the promise inherent in a new year. I am always excited by the opportunities 12 fresh months and 365 brand new days can bring. On behalf of everyone at the Truckee Chamber of Commerce, we wish you and your loved ones health and happiness in 2023 and we hope each day of the year ahead brings you the excitement, hope, and promise of new opportunities and possibilities.
Lynn Saunders PRESIDENT AND CEO TRUCKEE CHAMBER OF COMMERCE EDITOR, TRUCKEE.COM AN INSIDER'S GUIDE
CEO Truckee Chamber of lynn@truckee.comCommerce
EDITOR: Lynn Saunders &
CONTENT Tiffany Connolly Marketing
EDITOR:
DIRECTOR:
DESIGNER: J. Lewis Falconer Art & Design j.lewisfal@gmail.com CONTRIBUTING PHOTOGRAPHERS: Daphne Hougard Court Leve/Truckee Trails Foundation Tahoe Mountain Biking Girls Melissa Williams Truckee.com An Insider's Guide is a quarterly magazine published by Just Imagine Marketing and Design in cooperation with the Truckee Chamber of Commerce TRUCKEE CHAMBER OF COMMERCE 10065 DONNER PASS ROAD TRUCKEE, CA 96161 530-587-8808; INFO@TRUCKEE.COM Every effort has been made to ensure the accuracy of the information contained within Truckee.com Insider's Guide. The Truckee Chamber of Commerce and Just Imagine Marketing and Design assume no responsibility for misinformation. Please contact the Chamber with any additions or Printedcorrections.inthe USA on recycled paper with soy-based inks. Truckee.com The official website of the Truckee Chamber of Commerce. Boat and RV storage 35 minutes to Reno, NV Enclosed units 14 x 48 Canopy sites 14 x 40 Outdoor shrink-wrap storage 82366 Hawley Road Beckwourth, CA 96129 (530) www.mountainviewstorage.net826-6635
An Insider's Guide | 7 Truckee.com An Insider's Guide Fall 2022
Kathy
President
InBloom
PUBLISHER: Hess-Slocum
Just Imagine Marketing and kathy@justimaginemktg.comDesign
CONTRIBUTING Melissa Williams
NOVEMBER 5 Truckee Ski Swap
OCTOBER 1 Truckee Wine, Walk & Shop
OCTOBER 8 Heart of Gold Gravel Race
DOWNTOWN HOLIDAY FESTIVAL AND BUD FISH TREE LIGHTING CEREMONY
NOVEMBER 18 Annual Bud Fish Tree Lighting and Holiday Festival
Friday, November 18, 2022
OCTOBER 13-14 Truckee Historical Haunted Tour SOLD OUT
OCTOBER 15 Speaker Series: How Southern Pacific Cab Forward Locomotives Were Invented for Donner Pass
Sierra Speaker Series: Skirts in the Snow – Beyond the Tragedy of the Donner Party
OCTOBER 16 27th Annual Truckee River Day
This year will mark 47 years of the Truckee Downtown Merchants Association (TDMA) and Rotary Club of Truckee collaborating to bring the community together to celebrate the holiday season with the tree lighting ceremony. Gather in the center of downtown in front of the California Welcome Center in the train depot for singing, photos with Santa, and a group countdown that culminates in the lighting of the tree, a tradition that began with longtime local and Rotarian Bud Fish.
OCTOBER 8-9 Made in Tahoe Festival
OCTOBER 21 Cocktail Bingo
© 2021 Charles Schwab & Co., Inc. ("Schwab") Member SIPC. All rights reserved. (1120-0JP6) SCH4290-10 (9/21) Talk to Nate Farnell, your Branch Leader here in 530-448-8038Truckee. Your conversations.deservequestionsunscripted
8 | Truckee.com FOR DETAILS AND COMPLETE LIST OF EVENTS: TRUCKEE.COM/EVENTS What's happening... FALL EVENTS FROM OCTOBER THRU MID-DECEMBER A community forum to provide timely, relevant information on a variety of topics and create a networking opportunity. 2nd Tuesday of every month | 7:00–8:30am Truckee Town Hall | 10183 Truckee Airport Road Truckee.com for more information.
OCTOBER 22 Big Truck Day
OCTOBER 1 Great Trail Race, Run, Hike, Walk
Scan to see all the events going on this fall!
NOVEMBER 17 Soroptishop
2,DECEMBER9,16
Some may say spring has the best mountain biking, but fall runs a very close second. The weather has cooled, summer visitation has slowed, and while skiers hope for "white pow", mountain bikers know brief rain showers create "brown pow", turning dusty trails into compacted dirt and a fantastic time to hit the trails.
9 | PLAYTruckee.com
An Insider's Guide | 9
While mountain biking used to be limited to adventurous athletes who had an "in" on equipment and where to go, today all types of riders can feel the rush of speeding through the pines on their own wheels.
FOR EVERY RIDER
MOUNTAIN BIKING
There's truly something for everyone – the Truckee area is seemingly designed for mountain biking!
There are more than 600 trails in the Truckee area alone, not to mention trails near Lake Tahoe and in the foothills. You could literally ride a different trail every day for most of the season. Local shops are happy to suggest trails, and a great resource for mountain biking trails in the area is the Trailforks app. If you only want to check out trails in one region, it's free, and easy to use, with a map that is color coded by trail difficulty and it includes length, grade, trailhead locations, and also recent reviews and photos on conditions from riders. The majority of trails in Truckee are in the intermediate or blue category, but there are more than 100 beginner trails and 70+ difficult and expert trails to explore. If you like to race down the hill on your bike like you do on skis without pedaling up, Northstar California Resort and Woodward Tahoe also have seasonal bike parks with chairlifts and a variety of trails.
For Kids and Beginners
For Nature Lovers
There are a number of singletrack mountain biking trails available for those on e-bikes throughout the Truckee Ranger
National Forest allows Class 1, pedal assisted e-bikes on 35 miles of dirt trails, including the Emigrant Trail, Big Chief Trail, Sawtooth Trail, and Donkey Town and El Burro Trails (formerly known as Jackass Ridge Trails).
Class 1 (pedal assist only) e-bikes are also allowed on Tahoe Donner fire access roads and double track trails as of September 17, 2021.
For a jaw-dropping scenic fall ride through the changing aspens, pedal over to the lower portion of Tahoe Donner's "Whoop it Up" singletrack trail, rated intermediate, that winds through a magnificent aspen grove. Don't whoop it up too much – you'll want to go slow enough to take in the amber autumn scenery and you'll likely encounter hikers also enjoying the brilliant golden leaves.
Truckee is a mountain biking mecca
In the same area as the new Compass Skills Loop, off the 06 Forest Service road is the Sawtooth Trailhead, where you can jump on the new Gentle Jeffrey Trail with your kids. This 1-mile, 2-way non-motorized gentle flat path is open to mountain bikes but is not meant for fast riding. The trail is a bit wider than a typical singletrack trail, making it perfect for a slow meander through the Jeffrey Pine forest for new mountain bikers, young kids, or to take your dog along.
All three classes of e-bikes are permitted on Off-Highway Vehicle (OHV) trails in the Tahoe National Forest.
For E-bikers
TheDistrict.Tahoe
• Most trails are multi-use and for many levels. Mountain bikers should defer to all other trail users—hikers, runners, horses and dogs. Slow down as you approach a rider going slower than you and call out to pass.
MOUNTAIN BIKING ETIQUETTE
Steve Wentz of Momentum Trail Concepts, the all-inclusive design welcomes all levels of mountain bikers and was thoughtfully constructed to help improve skills, including for those using adaptive mountain bikes (aMTB). It's five feet wide and offers a progression of fun features for everyone. The trail is a project of the Truckee Trails Foundation, sponsored by Visit Truckee-Tahoe's Sustainable Truckee initiative.
• Downhill riders must move over for uphill riders; they have the right-of-way.
For Adaptive Riders
• Leave no trace and pack out your trash. If you see trash on the trail, don't hesitate to act! Pick it up and pack it out.
An Insider's Guide | 11
© LEVECOURT
Tahoe Donner also has some trails that skilled adaptive riders can enjoy, and Northstar California and Woodward Tahoe have generously sponsored High Fives days for adaptive athletes and their families at their bike parks.
• "Ride it, don't slide it!" Safety comes first. If you don't feel comfortable at the speed you're going, by all meansbrake. But if you're constantly hard braking on a trail, you may want to consider riding a less steep trail in the future. Over braking can damage trails, particularly on bermed corners.
Truckee Trails partnered with High Fives Foundation to offer a new adaptive Compass Skills Loop off the 06 Forest Service Road, across from the Sawtooth Trailhead that just opened this summer. "It was built in a way so that everyone can come out and have a great time," says Roy Tuscany, Founder of High Fives
DesignedFoundation.by
An Insider's Guide | 11
• Only ride open trails. If there is a sign posted that a trail is closed, stay off it. The PCT doesn't stand for Perfect Cycling Trail (wink, wink)!
© ZIRBELGREG
- Museum of Truckee History
Small town museums connect people to a local place. They bring together citizens to tell the story of their community, or of some important aspect of its history – and thereby build connections that will sustain their community. The Museum of Truckee History is a hidden gem chock full of fascinating displays, artifacts, and stories.
12 | EXPLORETruckee.com
Nothing Captures a Small Town's Character, Soul and Past Like Its Museum
When the Transcontinental Railroad opened in 1869, hundreds of small towns sprung up along the route. Now, most of them are ghost towns or just place names on the map, no longer needed. Truckee is one of the few that has survived through the many changes in industry, transportation, demographics, and the needs and interests of the population. The Museum of Truckee History tells the story of how Truckee survived and thrived as a railroad town, logging and lumber center, provider of ice for the California fruit industry, winter sports mecca, and all-season tourist destination.
Walk into the doors at the Museum of Truckee History (MoTH) and you're greeted by photos of old Truckee, artifacts that reflect the town's rich history, books and electronic screens. For such a small space, MoTH really packs a punch and is fascinating for the young and old alike.
© ZIRBELLGREG © ZIRBELLGREG © ZIRBELLGREG
An Insider's Guide | 13
The story of Truckee's survival from its beginnings as a railroad town through today's all-season tourist destination is well documented in relics, artifacts, interactive digital screens and live volunteer docents (when available).
The museum is a relatively new endeavor, with the original idea coming from Bill McGlashan, a descendant of C.F. McGlashan, an early Truckee resident. Bill wanted to see if the two local historical societies (Truckee-Donner Historical Society and the Truckee Donner Railroad Society) could do something together to help tell the story of Truckee.
How did Truckee survive? That's the guiding question at the Museum of Truckee History, a hidden gem located in Historic Downtown Truckee
The original volunteers associated with getting the museum off the ground were the late Jim Hood, Jerry Blackwill, Bob Bell, Karl Pape, Greg Zirbel and Chaun Mortier. Then Ed Larson, Barbara Czerwinski, Daniel Cobb, Dave DePuy and Judy DePuy joined to help make the museum a reality.
The project started with a shell of three rooms. The ceiling, walls and floor all had to be replaced or redone. There was a lot of sweat and stamina involved, with Greg Zirbel, President of the Truckee Donner Historical Society and last year's winner of the Truckee Chamber of Commerce Creative Award, leading the charge.
Finally, in celebration of the 150th anniversary of the completion of the Transcontinental Railroad in the summer of 2019, the museum hosted a soft opening. However, due to factors outside their control, there were several starts and stops. COVID-19 forced them to close in 2020. They tried opening again in May 2021 only to close a few weeks later. So far, 2022 has proven to be a much better year.
Truckee Donner PUD is here to help you do both with our electrification rebate programs. You can get money back for improving the energy efficiency of everyday equipment in your home and by replacing gas appliances with electric alternatives.
Want to reduce your greenhouse gas emissions AND save money on your energy and water bills?
have been donated by various people and are co-owned by the Truckee-Donner Historical Society and the Truckee Donner Railroad Society. The names of the donors (who have roots, family, or history in Truckee) are on the
Historicalthroughout.artifacts
• Energy Star Appliances save up to 50% in energy use. We've recently added induction cooktops to our list of rebates.
Get money back!
The museum packs a ton of history into a very small space, and visitors experience a mix of artifacts with electronic displays. The computers allow guests to go much deeper into answering the question of "Why Truckee Survived." There is a flow to the museum, so when you walk in, you'll start with a visit to Truckee's early days while the stories of each phase are told
• Install an EV Charger in your home and recive up to $950.
Contact info@MuseumofTruckeeHistory.com to schedule a tour or to learn more about getting involved.
14 | Truckee.com
• Heat Pump Hot Water Heaters extract free heat from the ambient air and cost less to operate compared to gas heaters or electric elements.
• Water Efficient Toilets use 60% less water than old toilets.
Learn more: For a full list of the rebates TDPUD offers and to apply online, go to tdpud.org/rebate or call our customer service department at (530) 587-3896 for assistance.
staffed and supported entirely by volunteer docents from the community. They are funded on donations and would love to have more people involved with sharing and preserving the history of Truckee.
• An Electric Panel Upgrade will ensure that your service panel can handle electric appliances.
MoTHartifacts.is
Thank you to Judy DePuy for providing the information for this story.
© ZIRBELLGREG
Did you know that Cha Fine Teas will host a tea party for your group, in their space or yours? All you have to do is reach out to Cindy Shippy or Tina Peek, the mother/daughter duo who opened Truckee's fine tea shop in 2015 on Donner Pass Road. Step into their inviting and airy space to be pleasantly welcomed by the wafting aromas of their extensive collection of teas created from scratch. With their family-owned blends of loose leaf creations, there is a flavor for everyone's palate, from chai to oolong to herbal and everything in between. Their goal is to share their family's tradition of communicating and connecting over tea by providing a space that's warm and comfortable for all their guests.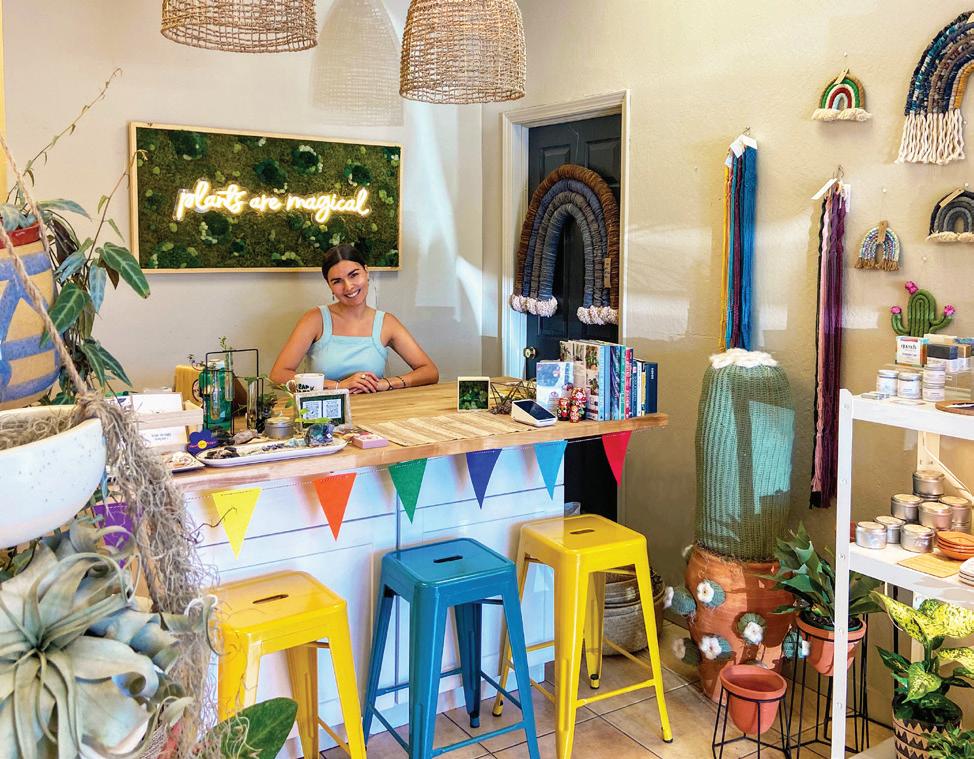 It has become safer for pedestrians to walk from shopping centers, visiting favorites like New Moon, Pet Station, Wild Cherries, Zuri Coffee Co., Golden Rotisserie, and so many more. The recent addition of High Altitude Fitness on the corner of Donner Pass Road and Northwoods Blvd. has provided children, teens and adults with indoor climbing and fitness options on the west side of town.
Cha Fine Teas
thegoodanya.com
An Insider's Guide | 15 CREATE A BIG LIFE
Anya Dublennikova brought her passion for plants to Truckee's community in October 2020. The Good Anya Plant Shop started in her home and is now located just a couple of doors down from Wild Cherries on Donner Pass Road. Anya's love for things that grow is the result of her mother's and grandmother's influence and her upbringing in the Siberian city of Khabarovsk. Always armed with a friendly smile and extensive expertise, she is happy to guide clients who are unsure of which plants will thrive in their homes. She'll even visit your space and offer advice on the best greenery for your home or office. The Good Anya not only sells plants, pots and home decor—she also makes maintenance-free moss art. Anya was recently recognized by the Truckee Chamber of Commerce at their Annual Awards Event with the prestigious Chairman's Award for her innovation and creation of such a unique business.
chafineteasoftruckee.com
Exploring the Western Segment of Donner Pass Road
Envision DPR (Donner Pass Road) is a Town of Truckee project aimed at improving Donner Pass Road. Several projects have been completed along DPR to improve pedestrian safety along the corridor, including four solar-powered digital radar speed feedback signs, six solar-powered pedestrian-activated beacons at three crosswalks to improve pedestrian crossing safety, paver sidewalks and center islands that help reduce motorists' speed, as well as beautify with landscaping.
Here are highlights of just a few businesses in the area:
The Good Anya Plant Shop
DISCOVER ALL OF TRUCKEE
A former competitive cyclist, Russel Hamby worked as a Pacos employee for three years before taking over the business in 2017. The brick-and-mortar shop and online platform offer all the gear a local Nordic or backcountry skier, mountain biker, or road biker is looking for to live the dream: best-in-class products, elevated service, curbside pick-up, and home delivery options. You can even enjoy a draft beer while you wait. They've recently expanded, opening a second location in downtown Sacramento with additional space for their growing eCommerce business. Pacos is dedicated to giving back to the local community, supporting Truckee Donner Land Trust, Truckee Trails Foundation, and High Fives Foundation.
Best Fit Boots opened with one intention: to make your ski boots fit better than you ever thought possible. They've truly taken the time to perfect their craft, from first opening up on Donner Summit through their current location next to Pacos. Their customers continue to return winter after winter to set up their family and friends with custom-fitted ski boots and foot beds that keep aching feet and nagging hot spots at bay for happy feet all season long. Happy feet = happy skier!
Since 2019, Paul Mitchell the School has been offering cosmetology and barbery programs to North Tahoe students—or as they call them, Future Professionals. The family-owned business is operated by Douglas Christensen, whose family also runs a second location in Reno, which has been in operation since 2008. Financial aid and scholarships are available to students who are required to bank a certain number of practice hours on each other, mannequins, or customers like you! For only $10, men and women can get a cut and style from a Paul Mitchell School student. Walk-ins are welcome, or make an appointment by calling them at (530) 291-5209. They are conveniently located on Donner Pass Road in the shopping center near Pacos and Coffeebar Bakery.
Echo Blue and Mountain Kids
mountainkidstruckee.comechobluetruckee.com
Pacos
Best Fit Boots bestfitboots.com
One of the best things you can do for the environment is to buy gently used clothes rather than new. Kelli Morrison and Ariana Love's shop Echo Blue has been providing Truckee with just that since 2011, proudly providing Truckee ladies and stylish visitors from near and far with unique, affordable and environmentally conscious women's clothing and accessories. Have kids? Shop for them too! Attached to Echo Blue is Mountain Kids Consignment—a place where families can upcycle their children's clothing and purchase new and gently used items that wouldn't break the bank. They also stock great gifts for adults and children, including locally-made candles, jewelry, toys and games, books and more.
pacostruckee.com
Paul Mitchell the School, North Tahoe paulmitchell.edu/northtahoe
16 | Truckee.com
Yet, as gentle as she seems, she's a force to be reckoned with. A true testament to strength and resilience, the Truckee River has sustained incredible challenges. From her shaky geological beginnings to a peaceful relationship with indigenous peoples to the devastating migration of Europeans and Americans, her fortitude is a true inspiration and something to behold.
If there is one natural element that ties the Truckee community together, it's the Truckee River. Like a metaphorical backbone, she runs right through our center, cutting her way through rock and soil near Historic Downtown, the Truckee Regional Park, Glenshire/Devonshire, Deerfield and more. We raise our children along her shores, refresh our bodies and minds in her cool embrace, raft, float, fish, meditate, walk, read, or simply sit quietly beside her as she runs softly by. One could safely say she is a symbol of our community's love for Truckee.
Originating from the High Sierra and flowing through Lake Tahoe to eventually release into Pyramid Lake on the Paiute Tribe's Reservation in Reno, the river is an integral component of an important watershed — an intricate balance of filtration and storage, erosion control, flood attenuation and habitat. When one factor is thrown off, the entire system is in danger of collapse, affecting native wildlife, habitats and foliage. Yet, she's survived climate change, geological upheavals and ice ages. What she almost didn't survive was modern development and human impact.
"She is a symbol of our community's love for Truckee."
A RIVER THROUGHRUNSIT
A DELICATE BALANCE
18 | Truckee.com
"Thanks to strong support from donors, the Land Trust was able to acquire Truckee Springs in June 2021. In early 2022, the California Department of Fish and Wildlife donated their land directly upstream to the Land Trust, growing the property to 67 acres," says Greyson Howard, Communications Director at the Truckee Donner Land Trust. "Now construction is underway for the continuation of the Truckee River Legacy Trail across the property, as well as the pedestrian bridge planned to connect to West River Street. It's a beautiful property right in the heart of our community, and we're excited for people to enjoy it once construction is complete."
her to death, with local organizations working hard to advocate for her and her fragile ecosystem by creating new stewardship efforts and opportunities for anyone who wants to give back.
PERAZZO MEADOWS
The Truckee River snakes through granite mountains, forests and towns, and her banks are home to coyote willow, desert peach, Sierra gooseberry, chokecherry, and so much more. Preserving her open space, and thus the wildlife and plants that live by her, is one goal of the Truckee Donner Land Trust.
Truckee Springs, a previously inaccessible 26-acre parcel of land that lies on the south side of the Truckee River, was up for sale and zoned for additional development in the form of homes and a hotel that would drastically and negatively affect the health of the river. The Truckee Donner Land Trust recently campaigned to purchase and preserve the space.
While the river is still considered "polluted" by the U.S. Environmental Protection Agency due to over 150 years of abuse, erosion, policy, invasive species and climate change, it is still in better shape than it was. Today, she provides drinking water for Reno businesses and residents, "generates hydropower, supplies irrigation water to farms along its banks and in the adjacent Carson River Basin, offers varied recreational opportunities, and serves as a vital ecosystem for fish and wildlife" (Water Education Foundation).
When humans made their way to the river almost 12,000 years ago, the river helped sustain them. The Native American Washoe and Paiute cultures benefitted from her gifts of large game, medicinal plants, fish and space for tribal celebrations. Families lived on her bounty of Lahontan cutthroat trout and cui-cui fish. Called "wakhu wa't'a" by the Washoe Tribe, people and river existed in a symbiotic relationship for hundreds of years. This delicate balance was forever changed following the California Gold Rush.
This important project will provide downtown Truckee River access and enjoyment, a footbridge, and additional trails and connections, eventually linking Glenshire with Donner Lake along the Legacy Trail. Protecting the land as open space creates tremendous benefits for the entire community.
It's no secret that our community loves the Truckee River and all she provides. However, efforts continue to ensure we don't love
But the Truckee River persisted. Things turned around for her after the Endangered Species Act and Clean Water Act passed in the 1970s, and as Native American efforts and lawsuits finally began to see traction in local and national governments.
DISRUPTING THE BALANCE
PRESERVING HER WILDS
The human migration west in the 18th century brought industry and development to the region. However, ignorance resulted in a wave of pollution and filth that left the river dirty and exhausted the fish population. The Lahontan cutthroat was thought to be extinct as a result of water diversions that followed the 1902 Newlands Act, while the cui-cui fish almost went extinct in the late 20th century.
Before and after photos of the Perazzo Meadows restoration project. Left before construction photo taken by Beth Christman in 2004. Right during establishment photo taken in 2017.
MODERN STEWARDSHIP
Visit
Work alongside your friends – and make new ones – as together we: Restore meadows, riparian areas, and more Plant native vegetation Mulch sensitive areas our mountain home required. truckeeriverwc.org
•
Be part of what started it all.
Adopt a Stream trains locals to be chemists to monitor the watershed's health.
The health of the Truckee River depends on us. When we come together in stewardship, she can continue to bestow her gifts— to the ecosystem we live in and for future generations to enjoy.
27th TRUCKEEANNUALRIVER DAY
It was the first Truckee River Day in 1996 that spawned today's Truckee River Watershed Council. Since then, thousands of nature-lovers have shown up yearly with their gumboots, buckets, shovels and smiles to take on hundreds of restoration projects throughout the watershed.
•
•
Watershed Council
WHEN: October 16, 2022 Pre-registration is
Before and after photos of the Martis Wildlife Area restoration project. Left photo before construction taken in 2015 by Michele Prestowitz. Right establishment photo taken by Anne Graham in 2022.
Weed Warriors programs involve local citizens, landowners, land managers and public agencies to attack over 2,000 acres of infestation.
Learn more about how you can be an active participant in restoring the health of the Truckee River at truckeeriverwc.org.
MARTIS WILDLIFE AREA
An Insider's Guide | 19
• Repair
River Talks are short, informational presentations about past and present threats to the Truckee River and how we can help restore and protect it.
The Truckee River's journey back to optimum health is continually threatened by human intervention, as the watershed's natural processes are often impeded by outside forces. With help from nonprofits like the Truckee River Watershed Council (TRWC), her future looks bright. Their mission is to bring the community "Together for the Truckee" to protect, enhance and restore the entire Truckee River Watershed. Their multi-faceted approach focuses on science, management, funding and education.
We believe a more sustainable tomorrow starts with the watershed. Our goal is to restore the resiliency of our environment—so nature and humanity can thrive together for -generations.TruckeeRiver
TRWC invites the community to get involved! Participate, become stewards, and actively take part in her continued maintenance.
A strong community can determine the success of its inhabitants. Our thriving mountain lifestyle brings us together in adventure on lakes, trails, campgrounds and rivers. We support each other in groups that lift us up in times of question and need.
When we ask our Big Life Locals
"Why Truckee?" in interviews, the word "community" is almost always mentioned. Themes of strength, vitality and health are commonly woven into their responses. And Truckee really lived up to these ideas during the onset of the COVID-19 pandemic and the restrictions that followed. Locals came together in support of one another physically, emotionally and financially.
© HOUGARDDAPHNE
SOUMYA SRINAGESH
20 | Truckee.com
COMMUNITYBUILDING Lifting Each Other Up When It Matters Most
Whether you're in Truckee or somewhere else across the globe, a Big Life starts with a strong community. And in ours, there is no shortage of groups for every interest and age designed to keep us healthy mentally and physically.
Soumya and her husband Justin moved from the Bay Area in 2021. They live in Russel Valley and welcomed their newborn Baby Kai earlier this year. Soumya is in sales leadership at Shopify, an e-commerce company. Soumya's family (including her in-laws!) chose to move to Truckee because of the community. From backcountry cross country skiing and biking to happy hour at Alibi, they have found lifelong friends and activities that keep them healthy and happy. Their Big Life is all about having quality connections with the earth and people around them!
When: Fridays | 1:30-3:00 p.m.
Contact: (530) 587-3769
Literacy Groups for Children
Your Authentic Wellness
Learn more: tfhd.com/wellness-neighborhood
Where: Tahoe Forest Center for Health
Learn tools to cope with life's daily challenges from experts in their fields. From stress, insomnia, nutrition, lack of energy, feeling overwhelmed, or general habit change, each session consists of education, discussion and goal setting to help you apply what you have learned to your daily life. There are new topics every month.
When: Thursdays | 9:00 - 11:00 a.m. Where: Community Recreation Center 10981 Truckee Way
Join in for a weekly get-together with coffee and homemade treats and spend time with other seniors! Connecting, laughing, talking, and giving support is so important. Get ready to learn from guest speakers, explore new local activities, and get involved in new groups for seniors and retirees.
Where: Tahoe Forest Center for Health, 11012 Donner Pass Road
NEED A LIFT?
exined.org.AnInsider's Guide | 21
Learn more: tfhd.com/wellness-neighborhood
When: 2nd Thursday of the month 5:15 p.m. - 6:30 p.m.
Mama's Meet Up
Explore groups for all ages for a stronger connection and lifted spirit.
Tahoe Truckee Reads, a community literacy effort led by the Excellence in Education Foundation, provides early reading support to children in select neighborhoods, including the Donner Creek Mobile Home Park. Kids get together to improve literacy skills with the help of local teachers over the summer at no cost to parents. Learn more at
Golden Years Meetups
New mothers can get hands-on breastfeeding support in an informal setting that helps moms transition into the fourth trimester. Assistance is provided by registered nurses, international board-certified lactation consultants, and certified lactation educators. New dads are also invited to join with their families.
Learn more: exined.org
Learn more:
ttcf.net/projects-programs/community-collaborative-of-tahoe-truckee-cctt/
When: Mondays | 5:30 p.m. Where: Locations vary Learn more: tahoesiliconmountain.com
For Local Entrepreneurs
Excellence in Education
Learn more: ttcf.net
22 | Truckee.com
Excellence in Education is a nonprofit foundation that enhances public education by strengthening the learning experiences for students within the Tahoe Truckee Unified School District. Since inception, they have funded over $4.7M in support of local teachers and students. Become a monthly donor to help support their efforts.
The Tahoe Truckee Community Foundation (TTCF) strives to make our community a better place for everyone. Numerous programs support four impact areas: families, housing, forests and impact investing. Initiatives like Forest Futures, Mountain Housing Council, Give Back Tahoe and more, are focused on making Tahoe Truckee a better place to live and visit. To date, the Tahoe Truckee Community Foundation has given $5.3 million through local impact investments to address pressing social and environmental issues. Want to help? Philanthropic opportunities allow donors to choose where their contributions are used, whether it be for Saving our Forests, Housing our Residents, Strengthening Families, Women in Philanthropy and more. Find out how you can help, or how to access resources, at ttcf.net.
Learn something new and network with entrepreneurs and professionals in the Truckee-Tahoe region with Tahoe Silicon Mountain's Mountain Minds Monday. Each month, they have a speaker who gives an educational presentation of interest to local business owners, entrepreneurs and professionals. Topics of discussion are usually based around technology, startups, entrepreneurship, local businesses, local communities and the environment. Middle and high school students are welcome to attend, participate and ask lots of questions.
Community Collaborative Truckee Tahoe (CCTT)
One especially impactful program under the TTCF umbrella is the Community Collaborative Truckee Tahoe (CCTT), which helps feed, shelter, and connect people with the help they need. With many local residents facing mental health challenges, CCTT steps in to offer a collaborative approach, partnering with more than 45 health, education, and social service organizations and coalitions.
GIVE A LIFT
Tahoe Truckee Community Foundation
Feeling great and want to give back? These local nonprofits need your help to keep our area and people healthy, animals happy and students thriving.
Mountain Area Preservation is a grassroots environmental advocacy nonprofit, established in 1987 by local citizens who wanted to protect open space and advocate for responsible development in the Truckee-Tahoe area. You can get involved by donating or volunteering. They are always looking for help with special events, fundraising, photography, marketing and PR, and community outreach.
Our local Humane Society is dedicated to saving and improving the lives of pets through adoption, community spay/neuter, and humane education programs. Volunteers as young as eight are encouraged to volunteer by walking shelter animals, helping them with socialization and participating in the Pet Assisted Therapy Program.
Learn more: hstt.org
Learn more: mountainareapreservation.org
Truckee's Community Christmas is an all-volunteer, nonprofit umbrella organization that coordinates various drives that happen during the holidays to help families in need in the Truckee area. Community members identify needy families and provide grocery store gift cards and toys for each child in the family. The senior program provides grocery store gift cards to identified low income seniors and housebound seniors. Other programs include a coat drive and toy drive. 'Tis the season to give back – help make a difference for hundreds of individuals by donating or volunteering.
Truckee Community Christmas
An Insider's Guide | 23
Mountain Area Preservation
Humane Society of Truckee-Tahoe
Learn more: truckeecommunitychristmas.com
The library's direction is driven by ongoing community needs, as well as by Measure A priorities that were approved by Nevada County taxpayers in 2006 to provide a quarter cent of all sales tax to Nevada County Libraries for 15 years. The Measure A priorities provide critical funding that have enabled all branches to expand their hours; increase programs, services, and technology access for children, teens, adults and those with disabilities; purchase more library materials; and expand service locations.
A treasure trove of resources, information, and community connection.
Libraries offer programming for children and adults alike, aiding in literacy and the acquisition of information, promoting an active community and creating informed citizens. Libraries are community hubs that serve an entire population; they are a beacon of "togetherness" in an increasingly polarized world.
Does anything define care for a community better than a library?
The Truckee Library, a branch of the Nevada County Library System, is no exception. A wide range of programs is generously offered to our community at no charge.
24 | Truckee.com
PLACETHANMOREATOBORROWBOOKS
More than a space to borrow books, libraries offer story time, literacy programs, book clubs, Wi-Fi, public computers, a co-working space, meeting space, resources for research, and so much more.
During the COVID pandemic, staff at the Truckee Library sought a myriad of ways to serve the community while the doors to its physical building were closed. Those innovative services included going to local neighborhoods such as Donner Creek Mobile Home Park, Truckee Pines, and others to provide activity books, craft projects, and school supplies to children who were receiving lunches from the Tahoe Truckee Unified School District (TTUSD) lunch van. Additionally, staff has served the Power Summer and Boys & Girls Club programs with programming and supplies. Over the last three summers, the library has provided thousands of books to local children.
As a result of being one of 10 libraries in California to receive a California Humanities Library Innovation Lab grant, the library was able to hold a large community drive-in movie and trunk or treat event in October 2020. The goal of the grant was to find ways to celebrate immigrant communities. A large and vibrant portion of Truckee's community members are those from Latinx backgrounds, who the Truckee Library seeks to further engage in library activities.
Here's a snapshot of services and programs the community benefits from, thanks to the work of the Truckee Library staff:
• Through a partnership with California State Parks, the California State Library Parks Pass program provides free vehicle day use passes for circulation at public libraries throughout California, including Truckee Library. Passes can be checked out for seven days.
• In addition to adding more hotspots, the Nevada County Library system has added more physical items to its collection, including a recreation collection. The recreation collection features outdoor yard games, trail cams, GPS units and more.
• The Read Up! Literacy Program assists adult learners building their reading and writing skills by pairing them with volunteer tutors. Currently, the program is seeking more tutors as a wait list of learners has accumulated.
Don't have time to visit the library in person? Jump on your computer to access online resources straight from their website. You'll find an Adult Learning Center offering busy adults the resources to improve their basic skills in reading, writing, and math, and prepare for the U.S. citizenship exam. Or find links to the Home Improvement Resource Center, driving test practice, career center, college center, resources in Spanish, children's resources, teen resources, and so much
• Adult programs include book clubs, guest speakers, movie screenings, arts and crafts, genealogy programs, one-onone technology appointments and more.
Also, during COVID, the Truckee Library worked with TTUSD to provide library access to each student, TK through 12th grade, so they had access to materials while schools were closed. Additionally, when the library and schools re-opened, the library expanded school visits to the library from local schools and preschools, as well as extended on-site visits to Donner Trail Elementary, Head Start, and other programs.
• Mobile Wi-Fi hotspots have been critical to locals who are challenged by Internet access issues.
• Community outreach and partnerships are critical to the work at the Truckee Library. Staff have developed a book club with the extended care facility at the Tahoe Forest Hospital; have partnered on community events with the Truckee Donner Recreation and Parks District; provide programs and book clubs to Tahoe Ability Group and Elevation organizations.
Ifmore.you
Our library is a treasure trove of resources, information, and community connection. Unfortunately, it's outgrown its current 4,500 square-foot space.
Libraries are community hubs that serve as a beacon of "togetherness" in an increasingly polarized world.
• Children and teen programs include weekly storytimes, Cricut crafting, Lego clubs, RUFF Reading with the Humane Society of Truckee-Tahoe's certified therapy animals, arts and crafts programs, and special performers.
An Insider's Guide | 25
• In 2021, the Truckee Library partnered with the Alliance for Workforce Development to open the WorkSpace, a free co-working and job-assistance center that features a conference room, space to work, and public computers.
do visit the library in person, their public computers are available for up to two 1-hour sessions per day. Or bring your computer and use their complimentary Wi-Fi, which can also be accessed from outside the building 24/7. Local students don't even need a separate library card. They can visit the Truckee Library and borrow books with their student IDs.
The big question is – when will it be built? Because of the lengthy process around new construction, and the need to raise funds to construct a new building, it is estimated that construction could begin between 2025 and 2027. However, construction is dependent on so many undetermined factors.
and: • Complete the 'Get Involved with LibraryUP' form • Sign up for the monthly newsletter • Contact them with questions, thoughts, and ideas at info@truckeefol.org • Follow them on Instagram @truckeefol or Facebook @trkfol • Make a donation on their website
"It's a project that affects EVERYONE. In a polarized world, it's more important than ever," says Louise.
"In order to ensure the vision for a new library was inclusive, several groups targeting teens, seniors, residents, and, with interpreters, the Hispanic community were held," says Louise Zabriskie, Friends of the Truckee Library Board President. "The focus groups were very successful, and we did get a wealth of information about what participants would like to see in a new, larger library."
26 | Truckee.com
Tucked between the Nevada County Sheriff's offices and the Nevada County Superior Court at 10031 Levon Avenue, the 4,500-square-foot building was built when the population of Truckee was a mere 2,000 in 1976. The cozy space was perfectly manageable for the small community it served.
The Friends of the Truckee Library, or simply "Friends," support the cultural, social, and educational well-being of everyone in our community. The volunteer board of directors raises money through used book sales and donations to support library programming and the adult and youth bestsellers program. These current bestsellers can be obtained by walking in and asking for them.
you want to get involved with the
The plan to build a new library has gained traction and has the Town's support. The Friends are working closely with Nevada County and the Town of Truckee to determine funding and operational needs for a larger space. Both jurisdictions are committed to supporting a new home for the Truckee Library. Truckee Donner Recreation and Park District have committed a 2-acre parcel at the Regional Park as the site for the new library.
or help in their efforts to build a larger
The Bobbi Luster, Truckee Branch hardworking lives access Big
Get Involved
staff who bring these instrumental programs to life for our community, giving everyone who
the
Today, Truckee's population has grown to over 17,000, and the library serves over 200 people a day and nearly 60,000 patrons per year (this number increases every year). With a max capacity of 54, the numbers just don't add up. A larger facility is needed to accomodate the range of programming and space our community deserves. Studies show that there is a 30-40% increase in library use when a new library is built; imagine the increased opportunities that can be offered to our ever-growing community with a larger space! Securing this new, modern building is one goal of the Friends of the Truckee Library.
of the
to a
Through a 2014 assessment led by Kathryn Page Associates, it was stated that a 20,000-square-foot library is necessary to meet the standards of modern libraries today. Some of our sister mountain resort towns with smaller populations have spaces 4-5 times the size of our current library. The projected cost of the project is $30M.
here
An Aging Physical Structure
If Friends Truckee Library space for community, to TruckeeFOL.org
head
While they are at the very beginning of the fundraising efforts to bring a new Truckee Library to the community, The Friends envision a mix of public, private, and philanthropic dollars being invested in the effort, including a bond measure, to provide the level of financing they will need to bring this important community institution to life.
Manager, and the
next time you're in the library, make sure and thank
Life. Rendering of what a new library could look like.
While the programming and resources that the Truckee Library provides are in no way dated, the building it lives in can no longer accommodate our growing population.
Dedicated to giving everyone in our community access to resources, they began LibraryUP, an awareness campaign to share the need for a new, modern space, and engage the community around a shared vision of what we need most—a community hub with space for increased programming and technologies, new meeting rooms and study areas, and so much more.
the
The "Friends and Library Up
BIG LIFE Don't you get a Big Truck hat for living The Big Life?
ORIGINALLY FROM I'm exotic…. I came from Reno.
© HOUGARDDAPHNE
YEARS IN TRUCKEE 20
The community is fortunate to have a radio station to provide us with entertainment and news, especially critical during emergencies. That was not always the case! Almost 20 years ago, recognizing its value to the community, JD put his heart, soul (and money) into taking a tiny little radio station to what it is today. He is dedicated to this community and doing what he can to help make it better and has spent countless hours broadcasting valuable information and interviews.
OCCUPATION Owner 101.5FM Truckee Tahoe Radio; Owner JD HOSS Hardwoods & Carpet
27 JDHoss
WHY TRUCKEE My wife and I did not want to live in Concrete Ville. So we bought a home in Truckee.
• Issues with cable TV service provider
We all love our pets in Truckee, and when problems arise, it's our responsibility to make sure pets and humans are safe. If you find yourself experiencing a nuisance related to someone's pet, like barking or property damage, you can submit an anonymous complaint. All you have to do is state the issue, provide an address of where the animal lives, and include your personal information so they can contact you if necessary. Submit complaints in writing at truckeepolice.com/animal-services/file-acomplaint/. Contact a Community Service Officer at (530) 5502320 for additional information.
Knowingnoise?Truckee's rules, ordinances, and how and where to report an incident can help address the situation and curb more from occurring in the future.
Are you finding too many cars and people, late-night parties, or trash at a short-term rental on your block? Being driven crazy by excessive barking of a dog late at night or early morning? Finding trash or graffiti on trails, public places and streets? Too much airplane
The How's and Why's of Truckee
Report a Trash Problem
Animal Complaint
How Do I Report
• Town road and rights-of-ways concerns
• Graffiti
• Stormwater issues
• Airport noise complaints
Whether overflowing public or private trash cans or litter found in the area, report the problem to Keep Truckee Green. It's unfortunate to see trash along trails, streets, and other public places, but when we report issues, we're working together to keep our town looking beautiful. Have an address ready and report trash problems at keeptruckeegreen.org/stay-informed/ report-a-trash-problem/.
• Wastewater and sewer concerns
Reporting Incidents Such as Graffiti, Noise, Stormwater Issues and More
28 | Truckee.com
Maybe you're out enjoying your favorite hike and come across graffiti, or you notice that a neighborhood intersection doesn't have a clear right-of-way. Perhaps your power is out, or stormwater is flooding your street. Truckee has set up a convenient portal to report these incidences and more. Visit townoftruckee.com/i-want-to/report and fill out the appropriate field for:
• Reporting or viewing power outages
An Incident?
• Wood burning pits, bonfires and campfires are not permitted.
The Town of Truckee's short-term rental ordinance is intended to strike a balance between welcoming visitors to Truckee while reducing nuisance issues associated with short-term rental properties. Here's a snapshot of Truckee's STR Rules and Ordinances:
Did you know that the CHP will help parents and caregivers install infant car seats? From community programs to vehicle theft tips, the CHP is a wealth of helpful information. If you have a question for the CHP that isn't related to an emergency, they're available 24/7. Just call 1-800-TELL-CHP (1-800-8355247) to learn more about: Part Truckee is contributing to community, when we all work to
An Insider's Guide | 29
of living a Big Life in
together, we continue
• Accumulation of trash is prohibited (overflowing trash cans).
• Unreasonable noise is restricted between the hours of 10 p.m. and 7 a.m.
Short-Term Rental Helpline
thrive. Looking to get more exposure for your business? Advertise in Truckee.com An Insider's Guide! For more information about rates please call Kathy Hess-Slocum at 775-846-5656 or kathy@justimaginemktg.com.email To find out more: Contact Kathy kathy@justimaginemktg.com775.846.5656Hess-Slocum Reno and Lake Tahoe We've got it covered! 89 267 431 5050288928 TahoeSouthLake TahoeKeys Reno395 CarsonCity CrystalBayTruckeeTahoeCity 80 BreezeKeys CIRC: 1,800 FREQ: Monthly VisitorLakeNorthTahoeGuide CIRC: 60,000 FREQ: Annual Truckee.com CIRC: 14,000 FREQ: Quarterly LivingSomersett CIRC: 6,200 FREQ: Bi-monthly Live.Work.Play.Live.Work.Play. CIRC: 7,700 FREQ: Quarterly TruckeeINSIDER'S DarkBrightPreparStaring Wildfire Season + Power Outages Why Public Matters you month, years we're Truckee Message fromthe SOA Board Business Highlight: Max Jones Local Heroes Weekend July 3–4, Incline School Photo Tahoe Association TKWC CONTAMINATIONURANIUM UPDATE SUMMER REPLACEMENTBULKHEAD UPDATE REGARDING TKPOA RESTRICTIONS IRRIGATION PROHIBITION VillageVillageInclineIncline 3.5" x 2.5" | Maximum Font Size: 30 pt MKT-5894N-A > edwardjones.com Looking for the right financial advisor? Michael R Murphy, CFP® Financial Advisor 12020 Donner Pass Rd Suite 102 Truckee, CA 530-587-267296161 Member SIPC
Non-Emergency CHP
• Vehicles may not be parked on the street (unless an alternative parking plan has been approved).
• Residential camping or sleeping in RVs or trailers is not allowed.
item for the request you'd like to submit, then follow the directions to enter the location of the issue, add an image (if you have one), type in the description, follow the prompts, and submit.
the
• Occupancy limits are two guests per room (excluding children under 13) between the hours of 10 p.m and 7 a.m.
Short Term Rentals (STR) Rules and Ordinances
Request Truckee
Request Truckee (powered by See, Click, Fix) helps residents reach the Town online or via their smartphone to request services or get help fixing issues. Head to townoftruckee.
• Special events like weddings, corporate events, commercial functions, etc., are not allowed.
Choosecom/i-want-to/report/submit-a-request.acategorybyclickingthebulleted
• Reporting a minor accident • Towing • CHP office locations • Vehicle theft tips • Community outreach programs (like car seat installs!) Experiencing and reporting incidences is never fun, however, when the correct agencies are contacted, issues are easier to address.
and
If you believe an STR ordinance is being violated, you can report it using the 24/7 Short-Term Rental Helpline at (530) 450-2430. If you prefer to submit the complaint online, you can do so at safe.hostcompliance.com/truckee-ca/tips
LisaWallace
ORIGINALLY FROM Brooklyn, NY. But it was not a hipster town then…
OCCUPATION Executive Director, Truckee River Watershed Council - We bring the community "Together for the Truckee" to protect, enhance, and restore the Truckee River watershed.
© HOUGARDDAPHNE
"You're such a booster for Truckee!" my brother in Indiana teases me. But, you know what, every year 450 people volunteer for Truckee River Day – and they have for more than 25 years! It's very moving to me – and it shows the combination of the Truckee River, the Tahoe National Forest, the small town, a deeply civic-minded community (to use that old fashioned and very apt phrase), the humbleness of most people, and the amount of fun that is here. Any human gets such a short time on the planet – we need to make the most of those years, and I can do that here – I can make the most of my time on earth.
After sailing most of the way around the world, I returned to California (in the Bay Area). I was badly wilting and knew I had to get to either the Sierra Nevada or the San Juan Mountains. I met some people in Truckee and that sealed things. I'm still friends with those people today.
30 © HOUGARDDAPHNE
YEARS IN TRUCKEE 23. I moved here on December 11, 1999 – I wanted to start my new life in Truckee before the start of the new millennium!
BIG LIFE
Read more about Truckee River Watershed Council onpage17.
WHY TRUCKEE
An Insider's Guide | 31 We are seeking loving families interested in opening their homes to adoptive and foster children. If you can help make a difference please contact us at sierrachildandfamilyservices.org. TRUCKEE OFFICE (530) 544-2111 (Lic. 097004206) OFFICES INCLUDE: DIAMOND SPRINGS TRUCKEESOUTHSANSACRAMENTOJACKSONANDREASLAKETAHOE Room for one more?
11836 Donner Pass Road, Truckee 100 Northstar Drive, Truckee 289 Commercial Street, Portola To experience living in this area is a once in a professionalswithrootsplaceopportunity.lifetimeIt'satoputdownandconnectourmountainlifestyle.LetoneofourDicksonbeyourcommunitystewardtothisspecialplacewecallhome. WELCOME HOME