The Magazine for the Trophy, Engraving, Awards, Medals, Key Cutting, Gifts, and Personalisation Industry
FEBRUARY 2023
TROPHEX introduce IMPRESS - a new platform for engraving, marking and personalisation
Trade shows, exhibitions and other events can be an excellent way to showcase your products and services. They give you the opportunity to increase awareness of your business, launch new products and services, network with industry members, explore partnership opportunities, see what competitors are offering, and generate new business leads.
After constant monitoring of the current climate in the UK it has been decided to further postpone the relaunch of TROPHEX.
Alongside this decision we would like to
share with you the exciting news of a new partnership.
Your much loved trade show TROPHEX is partnering with a new show called IMPRESS.
TROPHEX continues to be the industry recognised, independent, trade only meeting place for the trophies, engravables, awards, medals and gifts industry.
The new show IMPRESS brings you engraving, marking, DTG printing, sublimation, heat transfer, embroidery, key cutting and other solutions to enable you to make an impression.
IMPRESS with TROPHEX - Two shows working together representing the industry as a whole under one roof over two days.
The new dates are Sunday 24th and Monday 25th March 2024, at The National Motor Cycle Museum and Conference Centre in Birmingham.
With over thirty years of experience, an enviable database and a solid proven infrastructure in place to promote the show, IMPRESS with TROPHEX will target a wide audience to ensure the show is of benefit to not only the exhibitors, but also to visitors.
If you are interested in joining IMPRESS with TROPHEX and want to make an impression face to face with like minded businesses within your industry, please contact janesoones@ hillmedia.com for further information. Or you can call +44 (0) 1442 826826. Now is the time to make your mark
1 TROPHY & ENGRAVING NEWS FEBRUARY 2023
About CO2 Laser Cutting Machines
CO2 laser engraving and laser cutting machines are extremely popular due to their relatively low cost and incredible flexibility and accuracy. They are especially well suited to cutting and engraving a wide range of materials such as woods, plastics, leather, paper and card. However, they will not cut metals without a high power tube and gas delivery system such as that provided with our LS1390MM mixed metal / non metal cutting machine.
Although regular CO2 laser cutters will not cut metals, they are particularly well suited to engraving anodised, coated and powder coated metals. They will also mark coated metals with the use of a ceramic marking compound which is brushed or sprayed onto the surface of the material prior to marking. The laser machine burns this ceramic compound into the surface of the material and the excess compound is simply washed away.
Reliability and consumables
CO2 laser engraving machines and laser cutter machines are extremely popular in education and industry alike due to their low running costs and price of spare parts. All of our CO2
filled glass laser tubes are water cooled, extremely durable and with a typical life expectancy of 18 months to 7 years. Unlike some other laser sources such as metal tubes, our glass CO2 tubes are inexpensive to buy and easy to fit when they finally need replacing.
Most of our UK CO2 machines are installed with 3 high quality mirrors and a single focussing lens. Although these components are classed as consumable items they rarely need replacing if they are cleaned regularly as part of a routine maintenance schedule.
All of our cabinet type machines are class 1 laser devices which means that the laser radiation is unable to escape the enclosure under normal operating conditions. Class 1 laser devices are the only laser devices recommended for use in laser cutters for schools and education industries, as specified by CLEAPSS and HM Health and Safety
Executive. Class 4 devices where the laser beam can escape through open slots or the absence of suitable security switches are not allowed.
Our latest range of machines are fitted with the highest quality CE marked Allen Bradley Guardmaster noncontact safety switches.
Our larger industrial laser cutters, such as our flatbed laser cutters are categorised as class 4 laser devices and suitable safety precautions must be taken during operation, such as the wearing of laser safety glasses.
Any Questions?
We offer realistic and impartial advice as to the practicalities and capabilities of each machine for particular applications. We welcome the opportunity to process sample components for prospective customers and we offer live demonstration sessions on our entire machine range at our showroom in Halifax, West Yorkshire, UK.
How To Get In Touch
Please do not hesitate to contact us to discuss your application with our friendly and knowledgeable UK based sales team.
Telephone: +44 (0) 1422 310800
Email: sales@hpclaser.co.uk
Visit: www.hpclaser.co.uk
2 TROPHY & ENGRAVING NEWS FEBRUARY 2023 HPC LASER
Laser Engraving and Cutting Machine
We're pleased to announce this starter package offer, including all the equipment needed to get you started, and more!
›› RDWorks or Lightburn Software ›› Slatted Machine Bed (Non-Reflective) ›› Free 60W Laser Tube Upgrade ›› Installation and Training ›› Free UK delivery up to 250 miles ›› Lifetime Technical Support ›› 3 Year Onsite Warranty ›› Finance Options Available ›› 2 Free Onsite Services LS6840 PRO 60W £6,995 + VAT BOFA Extraction Unit Industrial Chiller Unit HPC Laser Ltd. Castle Mills, Saddleworth Road, Halifax, HX5 0RY T: 01422 310800 E: sales@hpclaser.co.uk W: www.hpclaser.co.uk LS6840 PRO
Offer!
Package
Nova Chrome UK launch their new Craft Express Laser Engraver for 2023
Ahead of IMPRESS with TROPHEX 2024, Nova Chrome UK are pleased to announce their attendance at the long-standing event. At the show, the traditionally sublimation focused firm will be displaying and demonstrating their new Craft Express Laser Engraver – and the growing range of supplies for this versatile, low-cost unit.
style bottles and glass ornaments. Rounding out the selection are a pair of attractive cutting boards – with more products are in the works. It goes without saying that sublimation will still be very much present and on display at Nova Chrome's stand – with the new generation Sawgrass SG500 and SG1000 on display at IMPRESS with TROPHEX, along with the latest additions to the ever-growing line of sublimation printable products. Visitors will be able to see old favourites, as well as view popular new items like Acrylic Blocks, ChromaLuxe Wall Tiles, Pet Tags and more.
The Craft Express offers the ability to cut and engrave materials including hardboards, MDF, bamboo, leather, acrylic and to engrave on glass, marble, slate and coated ceramics / aluminium. This, combined with a large working area of 500mm x 300mm and working
power of 40 watts opens the door to many products unavailable to sublimation alone. Also available is the optional Craft Express Roller which allows engraving on to cylindrical items. The range of engravable items from Nova Chrome currently includes staples such as coasters (in a choice of bamboo or slate), notebooks and hipflasks (with both available in a selection of colours). Other offerings for use with the Craft Express include travel tumblers and flasks, thermal 'Chilly'
Visitors to IMPRESS with TROPHEX 2024 are invited to Stand C4, where demonstrations will take place throughout both days of the show, with the chance to see the outstanding quality produced by both systems – and get advice on adding either to an existing business, improving quality of results or how the range of products can be used for promotional or personalised purposes.
For more information about products and services available from Nova Chrome UK you can also call 01407 720011, or email at info@novachrome. co.uk prior to the show.
Visit: www.novachrome.co.uk
4 TROPHY &
NEWS FEBRUARY
NOVACHROME
ENGRAVING
2023
www.sartorcoppe.com export@sartorcoppe.com www.compargroup.com export@compargroup.com find out our collections…
Fiber laser engraver UK tips and tricks
New to fiber engraving? Maybe you've just bought a new fiber laser engraver in the UK and you're looking for beginner's tips, or maybe you're a veteran searching for further skills to develop.
Either way, we can help you out with that!
Here are our top tips for using a fiber laser engraver…
When designing
1. Simple is best! When it comes to engraving, less is often more. A straightforward, understated design will have a cleaner result than with an overcrowded one.
2. Consider your audience. What are you engraving, and who is your audience? What message do you want to communicate to this audience?
3. We recommend using contrast. A high-contrast design is easier to read and more eye-catching than
a low-contrast one. This is especially important if your engraving will be viewed from a distance.
4. Be legible. Make sure your text is easy to read by using a clear font. Avoid using all caps unless absolutely necessary!
5. Think carefully about your material. The material you choose for your engraving will have a big impact on the overall look and feel of the finished piece. Consider the properties of each material before making your final decision.
Before you start
1. When first buying your fiber laser engraver in the UK, do your research! There are a range of different fiber laser engraver machines available, and it's important to choose one that's right for your specific needs. Consider things like the size of the machine, its power output, and any other features that might be relevant to your business.
2. If you're completely new to laser machines, it's a good idea to seek out training or guidance. You don't want to be going in blind with such a powerful piece of tech!
3. Choose carefully when selecting materials to be engraved, as some may require specific settings or techniques depending on their composition or thickness.
6 TROPHY & ENGRAVING NEWS FEBRUARY 2023
BOXFORD
4. As with most physical workplaces, it's great to keep your workshop well-lit so that you can clearly see what you're doing at all times. It will also help with visibility when using a magnifying glass or other tools to help with detailed work.
When you get going
1. When engraving on metals, use a high-power setting and keep the laser moving constantly to avoid burning marks into the material! That way your finish will be smoother, cleaner, and more professional.
2. Always clean your machine after use to remove any dust or debris that may have accumulated in the working area. This not only keeps the machine hygienic, but it ensures there's less chance of interference during your next project.
3. Maintenance is crucial. Like any piece of machinery, a fiber laser engraver requires regular maintenance to keep it clean and functioning to its best capacity.
By following our simple tips, you'll soon be creating a stunning laser engraving sure to impress!
For more information: https://www. boxford.co.uk/fibre-marking-lasers/
Telephone: 01422 324 810
Email: info@boxford.co.uk
Visit: https://www.boxford.co.uk/
BOXFORD
CALLNOW Tel: 01642 225799 email: sales@crystalgalleries.co.uk www.crystalgalleries.co.uk
& Crystal
YEARS OF BEING THE FIRST CHOICE FOR ALL YOUR GLASS ENGRAVING SUPPLIES
Glass
Gifts & Awards, Sandblasting Cabinets, Compressors and Mask Making Equipment & Film 38
Best prices in the industry Click & collect online 10,000,000 products in stock Next day delivery Centrally based No nonsense returns Small quantity orders PRODUCTS 6 reasons why you need to use us kydproducts co.uk ORDER YOURS TODAY Huge choice of quality products at unbeatable prices Even more categories online! KYD Products Ltd Unit 17 Boultbee Business Units, Nechells Place, Birmingham, B7 5AR, UK Email info@kydproducts.co.uk Tel (+44) 0121 327 1188 Fax (+44) 0121 327 0900 Huge stock of KEYRING PRODUCTS Small quantity orders for CUFF LINKS & TIE SLIDES Great selection of GOLF GIFTS Quick & easy DOMING SOLUTIONS New range of HIP FLASKS BADGE PRODUCTS
Direct To Film Footwear
In the growing world of personalisation TheMagicTouch have created another great opportunity. For customers to benefit from the massive potential of personalised shoes and footwear. This unique method to personalise and decorate all kinds of shoes and footwear is using their new Direct To Film Printing transfer process.
Jim Nicol, Managing Director explains, "25 years ago we were fortunate to engage with established shoe and fashion footwear brands. They created limited edition designs and incorporate full colour images. The pioneers are Dr Martens. They produced imited edition full colour designs. However, at the time the entry level cost of the digital transfer printers and equipment was very high. Additionally having to construct the finished footwear after the design had been printed to the specific leather panel eliminated this to many potential users".
Direct To Film Footwear
However, today TheMagicTouch confirm they offer various full colour transfer options for the decoration of all types of footwear. Use either toner-based or DTF transfers to create full colour images. You can apply the transfers directly to almost any type of trainers, sliders, sports boots, safety shoes and sandals. Use a hand-held iron designed for intricate transfer applications. You can apply the printed and cured DTF transfers easily to almost any part of the footwear with minimal risk of damage or any rejects.
Also the transfers can be easily and quickly removed using tradition flex and HTV removal sprays.
The finished transfer is vibrant and more importantly durable. Also the advantages of the DTF transfer include no cutting, no weeding, and no pre-treatment. Plus full colour digital transfers at the lowest cost ever!
Direct To Film Printing means that you can now create custom footwear easily, quickly and affordably.
If you would like further details please contact sales@themagictouch.co.uk or call us on 01582 671444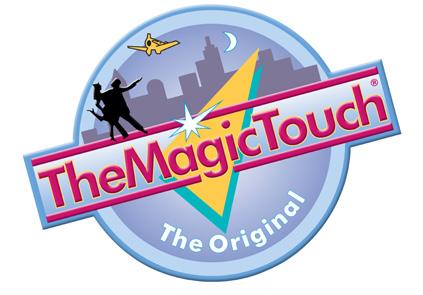 10 TROPHY & ENGRAVING NEWS FEBRUARY 2023 THEMAGICTOUCH
Euro Trophex - bringing over 30 years of service to your industry
Trade shows, exhibitions and other events can be an excellent way to showcase your products and services. They give you the opportunity to increase awareness of your business, launch new products and services, network with industry members, explore partnership opportunities, see what competitors are offering, generate new business leads, attract and convert customers.
What is a Trade Show?
A trade show is a platform where businesses (exhibitors), professionals and business representatives (visitors) come together under one roof to exchange knowledge and make connections with other like-minded professionals.
Exhibitors book a stand and use this space to connect and engage with visitors to the event. Ideally, the event is used to generate leads, network, promote products and services, and hopefully close a few sales in an organic setting that's tailored to them and their audience.
How can you benefit from exhibiting at a Trade Show?
There are many reasons why you would choose to exhibit at a trade show, which include:
Make sales – the golden ticket to trade show success, hitting a quota or making direct sales is the ultimate definition of winning.
Capture leads – without leads
salespeople have nobody to convert, so generating enough leads for your marketing funnel is a must.
Analysing the competition – what technology are they using, what marketing angle are they taking? It's good to know what the competition is up to.
Engage with existing customers –existing customers are more likely to invest in new products and services, so you can keep building relations and offering them more benefits.
Introduce new products/services –new and old customers could benefit from your new product.
Account-based marketing – go into a trade show with an idea of who you'd like to speak with, so you can create a strategy that's more likely to convert them.
Gather feedback – feedback is how you improve services and sales and marketing; you could receive advice that revolutionises how you do things.
Spot trends – spotting trends is vital if you want to stay relevant or avoid something that's a flash in the pan.
What should you look at when selecting a trade show?
The best success can be gained from participating at an event that has a well-established history. These events usually draw the best reward. The event organiser should have proven methods in place to market the event to the right audience. They will have a database they have accrued over many years of business. The venue should be easily accessed by road or public transport and have plenty of parking. A venue with excellent nearby facilities, hotels, restaurants, entertainment, can also be a bonus if the event is held over more than one day.
Can You Make Money at a Trade Show?
Keeping costs down is a benefit when deciding which trade show to exhibit at. Smaller shows tend to be cheaper, so choosing an event that is aimed at your target audience is the key to a successful outcome from exhibiting. Here are some ways you can get a healthy ROI from a trade show, including:
Only buy the space you need –the area you buy takes up a significant amount of your budget, so overdoing it can waste money, which is going to eat into your sales.
Get an enticing exhibition stand – you can have a tiny space and still
12 TROPHY & ENGRAVING NEWS FEBRUARY 2023 EURO TROPHEX 2023
attract people if your stand is attractive, making your area presentable promotes credibility.
Organisation is key – there's a temptation to blindly hand out literature and marketing collateral, putting it at the back of your space makes reps think about engaging first, which is more likely to generate a lead or a sale.
Use tech where it's useful – the whole purpose of a trade show is to generate business through face-toface marketing, so don't dehumanise the event by using too much technology.
Pick the right team – there's no point in attending an event if you pick the wrong staff. Ideally, it would benefit you if you had people who understand and empathise with customer challenges, but also know when to close deals.
Work the aisles – do not limit yourself to the boundary of your stand, you can reach out to passers-by and engage in the aisle.
Tell people you're exhibiting –use as many marketing techniques as you can to create a build-up to the event and get people excited. Utilise all marketing opportunities the event itself offer, these are generally targeted directly at your required audience.
What Do You Need for a Trade Show?
The last thing you want to do is under prepare. Get the following ticked off before you get to your event:
Event space – the first thing you need is event space, you'll have a shock if you turn up and there's nowhere for you to pitch!
Stand with supporting collateral – your stand and marketing collateral are what attract people to your stand.
Travel plans – train, bus, plane, car? It would help if you had robust plans in place before you depart.
Accommodation – if you're planning on staying over, which you may want to as events are long, tiring days, reserve in advance as hotels may get booked up prior to the event.
Marketing collateral – brochures, leaflets, business cards; get all the material you need and ensure you get plenty. You don't want to run out.
Staff – ask your staff well before the event to ensure they are available to attend, cancelling holidays will not be seen as favourable to you! Remember your staff are the face of the business at the event, get them prepared.
Could You See Success at a Trade Show?
Trade shows aren't an antiquated form of marketing and sales – they're proven to generate targeted, high-quality leads and sales. Not every business can benefit from attending trade shows, but they're certainly worth exploring. Just like trade shows give you the opportunity to better connect with prospective customers, exhibiting at a trade show also allows you to meet existing customers face-to-face. While most of today's business is conducted over email or phone, face-to-face meetings are undeniably a fantastic way to do business.
The Wall Street Journal agrees. Citing a study by Oxford Economics, the well-known financial publication reports that face-to-face meetings are the most effective way to strengthen relationships with both prospective customers and current customers.
Trade shows help bring all the different aspects of an industry together –consumers, distributors, suppliers and manufacturers, all in one place. With such a broad audience together in one place, businesses are able to schedule meetings, negotiate orders and other opportunities and collaborate on other projects. Trade shows allow businesses to facilitate discussions with their suppliers and even with other businesses, as well as move projects to another level if the opportunity arises.
Euro Trophex is a well established trade event, with over 30 years of experience, specifically tailored to the trophy, engraving, awards and medals industry - a great place to meet the industry under one roof over two days.
If you are interested in exhibiting or visiting this event, please contact Jane Soones at: Email: janesoones@hillmedia.com or call Nigel Bean to discuss options on: +44 (0) 1442 826826
13 TROPHY & ENGRAVING NEWS FEBRUARY 2023
White Toner Printer
Ultimate Versatility & Heavyweight Performance
The NEW A4 IColor 540 is a Toner-Based Digital Transfer Printer from Uninet, featuring full colour combined with white overprint™ and underprint™ capabilities in a single pass.
The A4 IColor 540 is a unique, low cost and versatile on-demand printing solution for short to mid-run transfer production of garments, labels, stationary, banners, hard surfaces, marketing customisation and much more! The IColor 540 is like having a professional print shop on your desktop, incorporating professional quality image printing capabilities, as well as optional speciality toner upgrade kits such as dye sublimation, fluorescent and metallic toners.
Use the IColor 540 for five different uses:
White overprint™ for heat transfer printing
White underprint™ for card/paper stock
CMYK for regular office printing
Optional dye-sublimation printing
Optional fluorescent printing
ProRIP & SmartCUT Software
The IColor ProRIP Software gives you total control of your workflow, allowing you to resize, rotate, change and remove colours in your graphics efficiently and easily.
The IColor SmartCUT Software allows you to increase your designs from A4 to A3, enabling you to produce larger graphics with your IColor 540 Printer. This software creates an intelligent split in your design, masking the join between artwork with no visual separation.
How to Enhance your Trophy Business
Expand your business opportunities and tap into a wide variety of market segments by producing personalized garments, trophies, accessories and more. Produce graphics with both colour and white for application to virtually any dark coloured textile or substrate. The printed image will result in soft, bright colours and the garment can be washed over and over without significant wear of the transfer.
The IColor 540 provides cost-effective fabric transfer production without the constant maintenance associated with direct-to-garment or silk screening systems. Get outstanding image quality results when combined with the correct transfer media to transfer images onto all fabric types whether light or dark!
What's Included?
Unique Features
• Print A4, A4XL and A3 using the Included SmartCUT and ProRIP Software.
• Ability to print white as an underprint™ and an overprint™ in the same machine, in one pass, using the IColor ProRIP software.
• The white opacity of UNINET's unique blend of toner is double that of any other brand, giving you the brightest whites and solid background to bring out the vibrancy of your colours.
2 Year return
base
• The true black cartridge is included with the printer, allowing you to switch to CMYK mode to print items such as paper, card media and CMYK transfer papers.
• Lowest cost and most flexible machine in the market.
Also Available:
Fluorescent Toners Metallic Toners (Stationery Only)
What
• Exceptional 1200 x 1200 dpi resolution.
• No maintenance associated with the IColor 540 as it is a toner based system.
• Easily swap back and forth between regular and speciality cartridges, eliminating the need to purchase separate machines to accomplish each function.
Dye Sublimation Toners
ProRIP Software SmartCUT Software Quick Setup Guide
to
warranty Underprint/Overprint Technology CMYK + W Toners
materials or products can I produce? Cotton Polyester Leather Metal Paper/Card T-shirts Hoodies Tote Bags Vinyl Caps Ceramic Wood Trophies Mugs Stationary CALL AMAYA TODAY ON 02392 590 281 TO BOOK YOUR FREE DEMONSTRATION OR SCAN THE QR CODE FOR MORE INFORMATION ON OUR WEBSITE! Showrooms in Hampshire & Nottingham www.amayauk.com | 02392 590 281 | sales@amayauk.com Signs
Trotec's TroLase Metallic and Metallic Plus ranges are the perfect alternatives to metal marking and engraving. Time is money for any business, and with the cost of metals rising, metallic engraving laminates provide a costeffective alternative for businesses.
The key advantage offered by metallic laminates is their acrylic base, making them suitable for both laser cutting and engraving with a CO2 laser machine. No material preparation is required, simply position the metallic laminate on the working area and begin processing. A thin top coating enables detailed results to be easily created at high production speeds, while the composition minimises dust and debris produced.
Metals in contrast cannot be laser cut, and blank metals require a fiber laser
for processing. To use a CO2 laser on metals, additional pastes and sprays must be applied, which brings additional costs and increases production time. The contrasting core and top layer mean that once processed no infilling is required, negating the need for paints or blacking fluid with mechanical machines.
A significant advantage of these materials is that unlike metals, they do not tarnish or corrode when exposed to the elements. The Metallic Plus range features a special coating
making them perfectly suited to exterior use.
TroLase Metallic and Metallic Plus are the ideal alternatives to metal and can be ordered cut-to-size with a range of extras, including next day delivery and adhesive backing.
Contact Trotec today to speak to materials experts and find out the optimal material for your application. Call today on +44 (0)191 580 1182, email materials@troteclaser.co.uk or visit engraving-supplies.co.uk.
16 TROPHY & ENGRAVING NEWS FEBRUARY 2023 TROTEC LASER
Switching materials could save your business a staggering 40% on raw material costs
Professional and industrial-grade laser engravers to suit all business budgets Cut out the middle man, deal direct with the manufacturer Peace of mind with free UK-based customer support Reliable service and maintenance from our field-based technicians Next-day engraving materials and supplies Now available with Ruby® Laser Software Redefined. Call 0191 580 1184 to arrange a free sample test or no-obligation demonstration (online or at a showroom) Laser Engravers for Trophies, Awards & Personalisation troteclaser.co.uk
New Year, New Market –Mimaki launches first Direct to Film printer
Mimaki has announced its first 'direct to film' (DTF) inkjet printer, the TxF150-75, at its Global Innovation Days event. Utilising a heat-based transfer method, the printer is ideal for creating premium, customised merchandising, sportswear and various other promotional textile applications. This is the latest entry from Mimaki for the decorated apparel segment and made its EMEA show debut at Printwear & Promotion Live! in the UK (26th-28th February 2023).
DTF printing provides an easy and affordable process for decorating apparel, and is commonly used for decorating T-shirts. The design is printed directly onto a special transfer film, which is then sprinkled with hot-melt powder, and once heated and dried, the transfer sheet is ready to be applied to the fabric using a heat press.
Based on Mimaki's best-selling 150 Series, the new TxF150-75 responds to the market need for a reliable, stable DTF technology. A built-in ink circulation system and degassed ink pack design help prevent common DTF issues, and by utilising proprietary Core Technologies, which include a nozzle check unit and nozzle recovery system, the printing process is carried out efficiently with minimal user intervention.
Mark Sollman, Sr. Product Manager EMEA, Mimaki Europe comments, "Apparel decoration is a hugely popular and dynamic sector, one which we are already operating in with our other textile technologies. However, we could see the impact DTF technology has had on the industry in recent years, with its significant advantages over existing technologies.
Namely, DTF avoids the time intensive process of plate creation in screen printing and the required weeding in traditional vinyl heat transfer. The technology can also create vibrant designs with its full colour printing capabilities. We're excited to bring a solution to the market that is designed for those already active in the decorated apparel sector and those looking to enter it, which excels in usability, reliability and quality."
As the company's first entry into a new segment, Mimaki has created its own range of water-based pigment inks (PHT50) especially for this solution. As of March 2023, these inks are OEKO-TEX® ECO PASSPORT certified, guaranteeing that safety and environmental standards are met in line with Mimaki's sustainability pledges. Unlike sublimation heat
transfer printing, DTF is much more versatile when it comes to materials, able to work with more than just polyester and polyester blended materials, and on light or dark coloured fabrics.
The printer is supplied with Mimaki's RasterLink7 RIP software, allowing users to have full oversight and the ability to streamline the process from the design to the final product.
Distributed in the UK and Ireland by Hybrid Services, the TxF150-75 will be commercially available via its network of specialist resellers from April 2023. For more information about this and the entire Mimaki product range, visit www.hybridservices.co.uk
18 TROPHY & ENGRAVING NEWS FEBRUARY 2023
HYBRID SERVICES
Mimaki's first DTF printer, the TxF150-75
With full colour DTF printing capabilities, the TxF150-75 can create eye-catching graphics for textiles, such as t-shirts.
LOOKING FOR A PERFECT SUPPLIER? Find all of the leading trophy, engraving, award, medal and personalisation suppliers under one roof over two days at your premier European trade event, Euro Trophex, in Barcelona in 2023 Fira Barcelona Montjuic, Barcelona, Spain 20th & 21st October 2023
We also have a large selection of refurbished machines & part exchange on your old machine & lease purchase is available.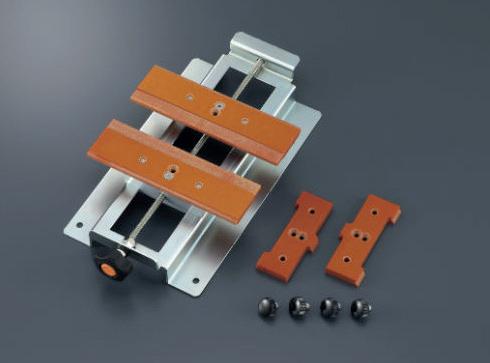 Rona Machines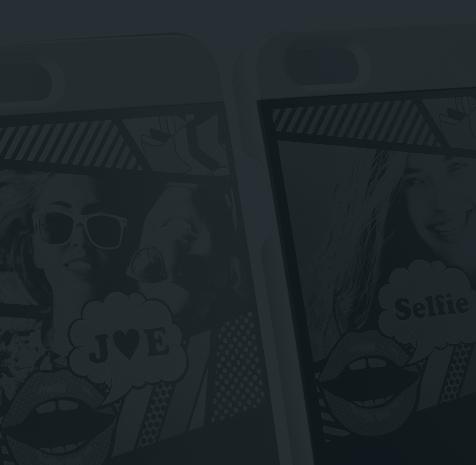 Unit 27, Hillgrove Business Park, Nazeing Road, Nazeing, Essex, EN9 2HB Call us on 01992 899255 or email us at sales@ronamachines.co.uk Engrave onto a huge range of giftware, signage, trophies, tools and industrial products Laser pointer for quick set-up and easy production Easily-applied nose cones for precise depth-regulation USB connection with LAN network connectivity Includes new Vectric V Carve software DGSHAPE DE-3 Desktop Engraver £5,450+VAT www.ronamachines.co.uk Intuitive and Intelligent Engraving for Today's User
Free delivery, installation and basic training of any NEW Roland DE-3 Engraver within a radius of 100 miles.
Recognising Effort and Achievement at the National Apprenticeship Awards
The 2022 National Apprenticeship Awards were held in London on Wednesday 30th November, celebrating the achievements of motivated and talented apprentices from across the UK, as well as the employers who champion apprenticeships within their organisations.
This was the 19th year of the National Apprenticeship Awards, and each year winners are chosen for each Region, who are then put forward for the National Apprenticeship Award.
In 2021, there were over a thousand entrants from over 300 towns and cities across the UK, ranging in age from 17 to 77 – proving that apprenticeships aren't just for young people, they're for anyone looking to give their career a boost.
2022's Awards were hosted by journalist and presenter Steph McGovern, who as a former engineering apprentice herself, knows how far a technical education can take you – as well as how many different opportunities it can bring.
Winners of the 2022 National Apprenticeship Awards
included:
Umayr Tanveer, a Software Engineering Apprentice at BT who
received a Special Recognition Award for his work promoting apprenticeships to school leavers from BAME and disadvantaged backgrounds.
Thomas Bartlett, who was awarded the Rising Star Award after a dramatic rise from HR apprentice to a Chief Operating Officer in just five years at Crosby Management Training and now leads his own team of three apprentices.
22 TROPHY & ENGRAVING NEWS FEBRUARY 2023 EFX
Kimmy Kimani Hobbs, a Business Administration apprentice who was awarded the Apprenticeship Champion Award for her work at Milton Keynes College as an advocate for apprenticeships among BAME communities.
KMF Group Limited won Large Employer of the Year.
The BBC won Macro Employer of the Year.
Troup Bywaters & Anders were awarded Small Employer of the Year. Robert Halfon, Minister for Skills, Apprenticeships and Higher Education said:
"Huge congratulations to all the winners and finalists from this year's National Apprenticeship Awards. I'm passionate about apprenticeships and the benefits they bring to individuals, businesses and communities up and down the country. These outstanding apprentices and their employers are leading the way, demonstrating just how rewarding apprenticeships can be.
Apprenticeships are an essential rung on the ladder of opportunity, offering people of all ages and backgrounds the chance to earn while they learn the skills they need to build successful careers while delivering the workforce employers need to flourish."
Designing trophies and more for The National Apprenticeship Awards
One of the most fun things about being involved with the acrylic trophy design for the National Apprenticeship Awards, is that there are a lot of different items to create.
As well as the awards themselves, which need unique designs for the Regional and National winners, there's also pin badges, bags and certificates that all need to be designed as part of the project.
One of the key features we wanted to include in the trophy design, was a combination of clear and mirrored acrylic. These two contrasting finishes came together to create a really fresh, stylish look to the trophy.
Alongside the trophies, EFX also created designs for bags, badges and
frames certificates for the winners, using the National Apprentice Award branding for 2022.
National Apprenticeship Week 2023
National Apprenticeship Week (NAW) took place between 6 to 12 February 2023 and is an opportunity for the education and skills sector to celebrate the achievements of apprentices around the country and the positive impact they make to communities, businesses, and the wider economy.
Get involved by visiting: NAW.Appawards.co.uk
About EFX
EFX is a family business that designs and manufactures bespoke trophies, awards, plaques and medals from their Warwickshire production site. Visit: www.efx.co.uk
24 TROPHY & ENGRAVING NEWS FEBRUARY 2023 EFX
NEW CUTTING EDGE HEAT TRANSFER TECHNOLOGY FROM SISER
S-Print
Sustainable and environmentally friendly fast drying water based material with a low temperature application
Sparkleprint
Contains small thin flakes which give a pearly glitter effect to any design. The sparkle finish makes the print shinly with a smooth touch
DigiBrick
750 Micron thick printable film designed to give a raised three dimensional effect to your designs
Class 1 or 2
FREE SAMPLES AVAILABLE
www.grafityp.co.uk
PHONE: 01827 300500
EMAIL: sales@grafityp.co.uk
A Thys Award ... different but so beautiful
More than 7000 Awards - Trophies - Medals on stock
"A must for every trophyshop"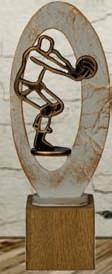 See demo video : www.thys.eu
GOLDEN TOUCH
Easy - Fast - Cheap
* easiest and cheapest way to personalize medals & trophies
* engraving work taking many hours is now history
* very fast (600 labels in 1 minute)
Best sold machine in the trophyworld!
* from 0.048 EUR/piece
* easiest software ever
* scratch-proof
* weather resistant
* create in a few seconds your own centre
Website : www.thys.eu E u r o p e ' s l e a d i n g m a n u f a c t u r e r o f A w a r d s - T r o p h i e s - M e d a l s ! T H Y S n v I n d u s t r i e p a r k B 1 5 2 2 2 0 H e i s t - o p - d e n - B e r g - B e l g i u m t e l : 0 0 3 2 ( 0 ) 1 5 2 5 0 1 5 0 f a x : 0 0 3 2 ( 0 ) 1 5 2 5 0 9 5 6 i n f o @ t h y s e u w w w t h y s e u
A Company of Western Engravers Supply, Inc. Engraving machines for all seasons
Road,
E info@csionline.co.uk
info@csionline.ie
Unit 5, Millers Court, Windmill
Kenn Business Park, Clevedon, Bristol BS21 6UL
Unit 5, Redcow Interchange Estate, Turnpike Road, Ballymount, Dublin 22 Fp22
Graphtec GB invited Keiyosa to their premises to demonstrate the versatility of the WidLaser
In an interview with Keiyosa we spoke to Vipul Patel who, with his partner Shivani Nana, love imagining new designs and making them come to life. From the homeware to the stationery they create a variety of gifts and take nature as their inspiration.
"We aim to bring this connection to you through the beautiful natural materials we use to make each individual piece", said VP. Beginning in 2013 and located in the heart of England where they design and hand-make all their products, they are proud to say that their customer base stretches across the globe.
The Keiyosa ethos is to contribute positively to the environment. All of the materials used, therefore, are consciously sourced from sustainable, responsible vendors. The wood used often comes from trees naturally felled in the UK and all of the packaging is environmentally friendly. They even use their wafer-thin wood shavings to help package pieces they make!
Vipul began by making carbon fibre parts for cars and so initially bought a woodworking machine. This then expanded into gift boxes and suddenly commissions started to roll in.
As things steadily grew Vipul was approached by a family member who was interested in calligraphy and wanted a drying rack. Vipul created this from scratch and through the popularity of this product, created the transition into bespoke calligraphy and desk stationery. In addition, by maximising social media channels their website and the ecommerce platform Etsy, this has continued to grow at a vast rate. Keiyosa are very much user led and will always try to accommodate request for bespoke products. As the variety of products increased (for example, the entry into the audio furniture market with
products including headphone stands) more specialist equipment was required. The purchase of a CNC machine was the start and more was to follow.
The need arose for a cutting machine to cut out and engrave cork for use as branding and as an anti-slip base for the Keiyosa products. After looking at several brands he found that Graphtec GB gave peace of mind in both quality and service. "I am very choosy about which suppliers we use. We will only use those that we can recommend to others" admitted VP.
When in discussion with Alastair Evans Graphtec's Digital Marketing & Ecommerce Executive about which model of the Graphtec's popular Silhouette cutter would be ideal for their needs, the conversation turned to lasers and their versatility. "I had in the past been contacted by various laser suppliers but felt uneasy by the support - or lack of - that was on offer" said VP.
28 TROPHY & ENGRAVING NEWS FEBRUARY 2023 GRAPHTEC GB
o f f e r i n g a p r e m i u m b u i l d & d e s i g n s t r a i g h t o u t o f W i d I n o v a t i o n ' s P o r t u g u e s e f a c i l i t y , t h e W i d L a s e r F 1 5 0 i s p e r f e c t f o r p r o f e s s i o n a l u s e r s l o o k i n g t o m a r k o n t o a w e a l t h o f m a t e r i a l s q u i c k l y a n d a c c u r a t e l y .
L E A R N M O R E
WORKSPACE: 150MM X 150MM
MAx speed: 4000MM/S
max resolution: 2000 dpis
P E R F E C T F O R M A R K I N G : STEEL ALUMINIUM BRASS COPPER K E Y S P E C I F I C A T I O N S :
e x c
y g r a p h t e c g b l t d | c a l l : 0 1 9 7 8 6 6 6 7 0 0 | e m a i l : s a l e s @ g r a p h t e c g b . c o . u k f 1 5 0 f i b e r l a s e r
CERAMIC PORCELAIN GLASS MARBLE
l u s i v e l y d i s t r i b u t e d i n t h e u k b
Graphtec GB invited Vipul to their premises for a demonstration by the Business Development Executive, Ellen Wain, and he was immediately impressed by the versatility of the WidLaser. Ellen explained that the laser could be used to cut out and engrave at the same time with a precision and accuracy that had previously been unattainable. This was the perfect solution for Keiyosa and it resolved their problem. Ellen gave a follow up training session and what was most pleasing to Vipul was the support he was offered by Graphtec GB "By people who really know their machines. Reassurance that if there are any issues there is onsite support and replacement parts available. No long lead times or for larger problems inadequate tech support over the phone, actual people onsite.
Graphtec GB are upfront about what they will offer you in support and service and the capabilities of their machine. Industry knowledge from Graphtec has been vital in helping us move forward with obtaining the most out of the WidLaser system" VP added.
Asked how he was getting on with the C500, Vipul explained that the RD Works software "is very easy to pick up, intuitive and works in conjunction with all major industry software such as Adobe which for Keiyosa is a big plus point - unlike several other machines
whose packaged software is not as polished or as efficient. I was so surprised at the speed of the WidLaser and have had messages from people on Instagram who bought Lasers that cost three times as much and are not as quick" said VP.
Keiyosa will now be expanding its products and its use of acrylic. "Cutting acrylic on a CNC can be challenging and it's so much quicker and cleaner to do it on the laser. The Widlaser has opened up new opportunities and markets. We can make multi-material pieces that were not possible before we had the WidLaser. Incorporating plastics into products, which we can now achieve using the laser, has solved the problem of wood drying out in certain climates. With the laser we can use an acrylic inset cut out with the laser whilst also adding colour and aesthetics to the pieces. The laser has enabled Keiyosa to produce prototyping at a fraction of the cost and time. The laser negates the need for jigs to be made to enable shapes to be cut out accurately. The laser has opened up a world of possibilities and has made a big difference to the way we will be able to work going forward" commented VP.
The WidLaser C500 - the smallest in the WidLaser range - has an engraving area of 500mm x 700mm with variable cutting speeds of up to 90,000mm/
min on the C500 model. Key design features include a 150mm adjustable machine height facility, automatic temperature and air control systems and smoke/dust extraction and waste retrieval units. Its compact design is ideal for installation in small work shops where space is invariably at a premium. This was an important element for Vipul whose workshop is narrow and when installation day took place engineer James installed it perfectly into a narrow gap. After which he gave a quick refresher on how to use the WidLaser and made sure Vipul was happy with the settings on the WidLaser and was up and was running before he left. "I was blown away by the professionalism and service that we received from Graphtec GB. I even received a call from Ellen to check everything was ok and if we had any issues" said VP. Going forward Vipul is excited about the new products he is able to create and the markets that have become available to Keiyosa and looks forwards to a long and successful relationship with Graphtec GB.
For more information on the WidLaser Series from Graphtec GB -
Telephone: +44 (0)1978 666700
Email: sales@graphtecgb.co.uk
Visit: https://graphtecgb.co.uk
To see the range of products on offer from Keiyosa visit https://www.keiyosa.com/
30 TROPHY & ENGRAVING NEWS FEBRUARY 2023 GRAPHTEC GB
I was blown away by the professionalism and service that we received from Graphtec GB. I even received a call from Ellen to check everything was ok and if we had any issues.
The Rugged Company specialises in custom making new Trophy Bases, refurbishing existing bases that have been damaged or are old and tired, we also create extensions to existing bases when you run out of room for new engraving plaques
Get in touch for a chat to see how we can help +44 (0) 7958 698582 | sales@theruggedcompany.co.uk | www.theruggedcompany.co.uk
AWARDS FOR THE BEST
Extraordinary trophies, awards and company gifts as well as a wide range of production methods.
Crystal Awards
Acrylic Awards
Metal Awards
Wooden Awards
Custom Watercut
Certificate Awards
Hollywood Awards
Business Awards
Budget Trophies Medals
Pins Cups
Aetzkunst Trophies Germany
www.trophies-germany.de info@aetzkunst.de
Out-performs every other multi-head in the market
Melco EMT16X modular embroidery machines give you outstanding embroidery production, increasing your profits and giving your customers unparalleled high-quality products they will keep coming back for!
Around 17 years ago, Melco redefined efficiency with the first networkable modular embroidery system. The Melco EMT16X is the latest generation of the most efficient, productive embroidery system in the world.
The Melco EMT16X is a multi-tasking modular embroidery machine that outperforms every other multi-head in the industry. More and more large multi-head customers have proved that the Melco EMT16X modular machines not only drastically increased their production on smaller orders but can double production on bulk orders.
Outstanding Performance, Efficiency and Stitch Quality.
Thanks to enhanced Melco stitch dynamics, the frequency of "thread issues" is minimized. This means more run time per machine and greater ROI (return on investment) potential.
Please call us now on 02392 590281 to find out more about the many benefits for your business on the new Melco EMT16X modular embroidery machine or arrange for a full demonstration at one of our showrooms.
02392 590 281 Showrooms
www.amayauk.com | sales@amayauk.com
in Hampshire and Nottinghamshire
PARTNERS WITH
racksack® mini wins New Product of the Year 2022 at the Best Business Awards
Beaverswood® announce its racksack® mini has been named New Product of the Year 2022 in the Best Business Awards.
The Best Business Awards are one of the UK's highest profile awards, attracting a wide range of entries from across all sectors from large international PLCs and public sector organisations to dynamic and innovative SMEs.
"Congratulations to Beaverswood® for responding to customer research and launching a mini racksack®, which is smaller than the original version," said the chairman of the judges, "Whereas the original racksack® is designed to collect and segregate waste and recycling materials at industrial premises, the mini does the same job but it is more suited to offices and smaller packing benches. Based on the same highquality material and design, the compact mini enables Beaverswood®
to expand its reach into new markets via resellers and direct to customers."
The racksack® range continues to lead the way in workplace waste segregation through its expanding family of products. First launched in 2009, racksack® has simplified the way businesses separate their waste, helping them to comply with waste regulations in the UK and EU. Not only this, but each racksack® saves 1m2 of valuable floor space on average, as well as providing a cost-effective and sustainable option versus standard black bin liners.
"We're delighted racksack® mini has been recognised as an exciting, up-and-coming
product!" said Stephanie Gentle, Managing Director of Beaverswood®, "racksack® mini is the direct result of customer feedback, who loved the original racksack® but wanted a smaller version for use in office environments. Customers continue to be a vital part of our R&D process and their feedback steers any enhancements to the racksack® range."
Beaverswood® continues to innovate and launch new visual management products that improve efficiencies and safety across the workplace, with plenty more to follow in 2023 and beyond.
About Beaverswood®
Founded in 1984, Beaverswood® makes the workplace work smarter. It currently serves over 400 resellers across the UK and Europe. For more information about Beaverswood® and racksack® mini, visit the Beaverswood® website: www.beaverswood.co.uk
34
NEWS FEBRUARY 2023
TROPHY & ENGRAVING
We're delighted racksack® mini has been recognised as an exciting, up-and-coming product!
BEAVERSWOOD®
Said Stephanie Gentle, Managing Director of Beaverswood.
The CE7000 series of cutting plotters will handle a wide range of flexible media used in multiple PRINT & CUT applications in the signage and graphics, interior decor, packaging and garment decoration and promotional products sectors... to name but a few.
NOT EVERY LASER MAKES THE CUT
Unbeatable quality and performance
Available in a choice of four different-sized models, WID Laser engraving/cutting machines set a new benchmark for quality and reliable performance at a truly affordable price. They come packed with performance-enhancing features normally found on more expensive machines, including an autofocus CCD camera for optimum material alignment and cutting accuracy.
Easy to use
Designed for both entry-level and seasoned professionals, dedicated multi-tool software enables even the most complex applications to be completed at speeds of up to 90,000 mm/min and with outstanding precision on finely detailed work.
Multiple applications
WID Laser machines will handle virtually any material, including stainless steel and other non-ferrous metals, alloys such as brass, bronze and copper, acrylic, plastics and laminates, marble, glass, slate and solid woods. Save time, save money
Eliminate the need for expensive secondary tooling with one all-embracing powerful production tool at a fraction of the cost.
Officially Distributed In The UK By: 01978 666 700 graphtecgb.co.uk GRA P HTEC GB LTD - UK & IRE LAND OFFI CAL DI STRIB UTOR
Available In 4 Widths 3 Model Formats Max Cutting Speed: Up To 1000mm/s Cutting Force: Max 450gf Networking Capabilities ARMS 8.0 Optical Eye For Print & Cut Continuous Cut Capabilities (Barcode Reader) Reliable Long-Length Tracking (Up To 5m) Large Graphic Type LCD Control Panel Warranty: 2 Years
Roll Fed Cutting Plotter
CE7000 Series
01978
666700 | graphtecgb.co.uk
Design.indd 1 22/04/2021 07:18
BADGES
ENGRAVING, LASER CUTTING & MARKING
DOMING
CENTRES
TROPHIES, AWARDS & MEDALS
36 TROPHY & ENGRAVING NEWS FEBRUARY 2023
SUPPLIES & SERVICES
ENGRAVING MACHINES EUROPEAN TRADE SHOW
U-MARQ the leading UK engraving machine and accessory manufacturer Supplies
Fira Barcelona Montjuic, Barcelona, Spain 20th & 21st October 2023
ENGRAVING
4 Green End Road, Great Barford, Bedfordshire MK44 3HA www.u-marq.com +44(0)1908 623522 sales@u-marq.com Follow - @U_MARQ Follow - umarqltd -U-MARQ
MEDALS
Armstrong Products Armstrong Products
ENGRAVING PLATE AND TROPHY CENTRE SPECIALISTS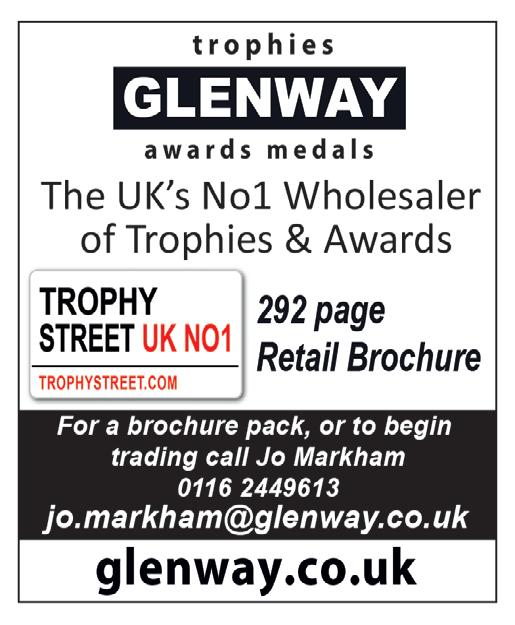 RECORD SHIELDS DIAMOND CUT DISCS SCREEN PRINTED PLAQUES INDUSTRIAL NAMEPLATES METAL SHEETS STICKERS
Tel: 01484 516040 Fax: 01484 519378 sales@armstrongproducts.co.uk www.armstrongproducts.co.uk
TROPHIES & AWARDS
Euro Trophex is a well established leading trade event with over 30 years of experience, focused on bringing the industry together
ENGRAVING
FOR SALE
Gravograph engraving machine TX2. Many accessories, including cutters and eight type sets all in good condition.
Telephone: 01228535812 E-Mail: jsh@jkharris.co.uk
Can send images.
Carlisle, Cumbria CA2 4UH.
Euro Trophex offers you
10 great reasons to exhibit or visit in October 2023: Meet and connect with prospective customers and suppliers – Strengthen your bond with existing customers and suppliers – Learn about new developments in your industry – Meet new companies that can help your business – Close deals during the show – Strengthen or establish your brand or business – Learn what your competitors are doing right – Rapidly expand your database of sales leads and contacts – Speak directly to your target market – Source alternative revenue making opportunites
If you are interested in exhibiting at Euro Trophex please get in touch. We will be happy to discuss your requirements and how we can help support your business through the rest of the year and into 2023.
If you are visiting Euro Trophex 2023, why not make a holiday of it and enjoy the beautiful city of Barcelona, the sights, the food, the culture, and of course the warm weather!
For more information email janesoones@aol.com
37 TROPHY & ENGRAVING NEWS FEBRUARY 2023
Engrave onto a huge range of giftware, signage, trophies, tools and industrial products
Laser pointer for quick set-up and easy production
38 TROPHY & ENGRAVING NEWS FEBRUARY 2023 ENGRAVING & CUTTING MACHINES LASER ENGRAVING AND CUTTING MACHINES Tel: 01827 300509 www.grafityp.co.uk E-mail: sales@grafityp.co.uk
> Industry leading engraving/cutting
> various work areas and power options > UK sales and support
> Finance options available
Visit our showroom for a full demonstration 24/09/2019 16:52:20
> CO², Fibre and Galvo laser options
DGSHAPE DE-3 Desktop Engraver Intuitive and Intelligent Engraving for Today's User £5,450+VAT www.ronamachines.co.uk Rona Machines Unit 27, Hillgrove Business Park, Nazeing Road, Nazeing, Essex, EN9 2HB Call us on 01992 899255 or email us at sales@ronamachines.co.uk
Free delivery, installation and basic training of any NEW Roland DE-3 Engraver within a radius of 100 miles. DESKTOP ENGRAVING MACHINES SUPPLIES & SERVICES
Easily-applied nose cones for precise depth-regulation USB connection with LAN network connectivity Includes new Vectric V Carve software
We also have a large selection of refurbished machines
& part exchange on your
old machine &
lease purchase is
available.
RONA MACHINES
We will buy your machine for cash! Lease purchase available
A SMALL SELECTION OF OUR STOCK VISIT OUR NEW WEBSITE - UPDATED REGULARLY
Gravograph IS400 cup and flat engraving machine, laser pointer with Gravostyle software. Mint condition £5,500
Gravograph IS400 Volume, cups up to 350mm diameter point & shoot Gravograph software mint condition .......................................................................... £POA
U-Marq Gem RX5 Visual Toolbox software, superb condition £2,750
Gravograph M20J Ideal machine for the jewellery trade, flat plate and inside ring engraver, excellent condition £3,250
Gravograph IS700 500x300 engraving area, tee-slot table and vice unit and EngraveLab 10 software £4,500
Gravograph IM4R inside ring engraver complete with software excellent condition .................................................................................................................. £POA
U-Marq Universal 300 flat engraving machine, can engrave cups and glasses up to 200mm diameter with Visual Toolbox 8 software £5500
U-Marq RX GEM with Visual Toolbox Gem software, excellent condition £2250
Signature 8080 Mini complete with software and many attachments in excellent condition ... £2750
U-MARQ VX4 406 x 304mm engraving area 140mm diameter cup engraving, Visual Tool box 8 software vice unit mint condition
£3500
Vision MAX Pro flat and cup engraving, series 4 controller, software lovely condition .............................................................................................................. £6000
Vision 1624 610 x 400 engraving area series 3 controller and software, excellent condition
Suregrave Mini ME desk top engraver Engravelab 10 software as new
Gravograph IS7000 610mm x 815mm engraving area 200watt spindle motor complete with stand & Gravostyle software, mint condition £POA
Gravograph IS400 flatwork engraver up to 300mm x 200mm Engravlab 10 software superb condition ................................................................................... £4750
Mastergrave / U-Marq compact, flat and tankard / glass engraver Visual Toolbox software lovely condition
Gravograph M40 300 x 200 engraving area, Gravostyle software, excellent condition £POA
Roland EGX 400 400 x 300mm engraving area Engravelab 10 software immaculate condition
Signature 8080 Plus 230 x 400mm engraving area cups and glassware upto 230mm diameter, hot foil blocking attachment, inside ring engraving attachment plus many more accessories, lovely condition
Suregrave Rotation S flat & cup machine up to 200mm diameter Hi-Drive 2 controller Engravalab 10 software mint condition
Suregrave Wizzard St 300mm x 300mm engraving area, Hi Drive 2 control, Engravelab 10 software, as new
Roland EGX 20 with Engravalab software 200 X 150 engraving area .........................................................................................................................................
Gravograph IS 200 TX 225 x 80 engraving area and 200ml diameter cups, superb condition, on-stand gravostyle software POA
Signature 8080 engraving machine Superb giftware and cup machine, several attachments, PC and software
Newing Hall Milgrav, Apex AMC 2 Controller, lovely condition POA
Roland Metaza MPX 70 complete with Roland software, virtually unused £650
Gravograph TX3, motorised flat and cup machine, cups/rosebowls to 12" diameter, cutters and diamond form £1750
Gravograph VXM, 200 x 150 engraving area, superb condition £1950
Dahlgren Wizzard 2000 St, 300mm x 300mm engraving area, 'T' slot table, surelab software, mint condition £2750
Mastergrave MK5 cup engraving machine, 10" cup diameter, complete with copy set, cutters and diamond marker, late machines immaculate condition £1100
Gravograph VX2B computer engraving system 650 x 490 engraving area complete with 3D controller and Engravelab 10 software ................................... £4000
Roland PNC 2300, 200 x 150 engraving area, nice compact machine, complete with Engravelab 8 software £2500
Gravograph Unica complete with keyboard and screen star programme as new £1950
Cipher 1410, 14" x 10" engraving area, complete with controller, high drive, hand set, Surelab 8 software, good condition £3000
Gravograph IM3 or similar ........................................................................................................................................................................................................... POA
Gravograph IS800 650 x 490 engraving area with Gravostyle software POA
Gravograph VX 300 x 350 engraving area complete with 3D controller and Engravelab 10 software £3400
Newing Hall 350 work station. 350mm x 300mm engraving area. Cup/Tankards upto 250mm diameter. Complete with Apex controller + Software. Superb condition POA
Gravograph TXL motorised cup attachment, cups up to 200mm diameter, letter set, cutters diamond, mint condition ........................................................... £1350
Suregrave Dalhgren 14" x 10" 350 x 250 mm engraving area complete with Suregrave high drive controller Surelab software mint condition £3000
Roland EGX 300 300 x 200 Engraving area Surelab 9 (Engravelab Software) Excellent condition £2750
Suregrave 2516 Surelab 9 heavy duty flat engraving machine complete superb condition £4500
Suregrave 2516i Hi-drive 2 controller, Surelab 9 software excellent condition ........................................................................................................................... POA
Newing Hall Pamtocut PNC 4E Apex AMC2 Control single phase with Engravelab 10 software superb condition
£6500
Gravograph M40G 300 x 200 engraving area flat and cup machine, laser pointer Gravostyle software mint condition POA
Suregrave 4824I HD2 Controller Engrave Lab 9 Software New Condition £8000
Mastergrave Universal Flat machine and cups up to 200mm diameter, superb condition £4250 ALL RECONDITIONED MACHINES ARE GUARANTEED. PX WELCOME • EXPORT ENQUIRIES WELCOMED. MACHINES AND ACCESSORIES BOUGHT FOR CASH • ALL PRICES PLUS CARRIAGE AND V.A.T. Day: 01992 899255 Mobile: 07850 333066. F: 01992 899256 Email: sales@ronamachines.co.uk www.ronamachines.co.uk 27 Hillgrove Business Park, Nazeing Rd, Nazeing, Waltham Abbey, Essex EN9 2HB
...
£4000
£2250
£3750
£4500
£6500
£4500
£3,500
POA
£4,500