Best of the Southwest Going Local MEETINGSMAGS.COM // FALL 2022 WORK PLAY Tee up for both at golf resorts and courses UP NORTH WITHOUT THE DRIVE Laid-back Livingston County's welcoming vibe Taste the freshest feasts statewideFrom shore to field, there's something for everyone
800.506.1299 • holland.org • wendy@holland.org Let us help you plan your next meeting! Great Gathering Places • Hip & Historic Downtown • Unique Dutch Attractions Award-Winning Community • 1950 Hotel Rooms DOUBLETREE BY HILTON HOTEL + CONFERENCE CENTER DISCOVER HOLLAND
Owned and Operated by the Grand Traverse Band of Ottawa and Chippewa Indians
Owned and Operated by the Grand Traverse Band of Ottawa and Chippewa Indians
New look, long history. For over 30 years, Grand Traverse Resort and Spa has been Northern Michigan's premier meeting destination. With our nearly $3 million renovation, including upgraded technology, services, and design, we're bringing the future of meetings to life. Learn more at grandtraverseresort.com/meet.
State-of-the-art Crestron® sound system
New air walls and LED lighting
All-new digital signage
25,000 square feet of remodeled space
New look, long history. For over 30 years, Grand Traverse Resort and Spa has been Northern Michigan's premier meeting destination. With our nearly $3 million renovation, including upgraded technology, services, and design, we're bringing the future of meetings to life. Learn more at grandtraverseresort.com/meet.
MEETINGS MODERNIZED
State-of-the-art Crestron® sound system
Vibrant "lake effect" design theme
New air walls and LED lighting
All-new digital signage MEETINGS MODERNIZED
Vibrant "lake effect" design theme
25,000 square feet of remodeled space
It's about time others are seeing Detroit for the amazing place it is. Our one-of-a-kind city is winning major meetings, conventions and sporting events — including the 2024 NFL Draft — with unique o erings and a committed work force. Come experience what everyone is talking about and plan your next meeting in Detroit. Learn Why Detroit. WALKABLE DOWNTOWN • POWERED BY SMALL BUSINESSES • EASY FLIGHTS IN AND OUT • #1 RIVERWALK BY USA TODAY • LEED-CERTIFIED HUNTINGTON PLACE TIME NAMED DETROIT ONE OF THE WORLD'S GREATEST PLACES COME SEE FOR YOURSELF DETROIT. BIG THINGS HAPPEN HERE.
FALSETTICHARLESBYPHOTO
HART PLAZA
MEET LIKE A LOCAL MICHIGAN'S CAPITAL CITY OFFERS: Virtual Studio & Hybrid Meeting Capabilities • Free Services COVID Protocol Resources • Premier Lodging Including Two New Hotels in 2021 Greater Lansing Safe Pledge Showcasing Commitment to Health & Safety Central Location in Midwest Boosts Attendance • Flexible & Unique Venues Dedicated Staff Committed to Your Success Greater Lansing Convention & Visitors Bureau | LANSING.ORG | (517) 487-6800
BY GREG JOHNSON
Arcadia Bluffs
4 MI M+E » FALL 2022 MUSEUMSCIENCE&AEROSPACEZOOAIRPHOTOGRAPHY;GRACELOLA(OPPOSITE)BLUFFS;ARCADIAPHOTOS:26 Feature // Golf Getaways
Golf resorts statewide are great for gatherings and hitting the links. Contents FALL 2022
Zingerman's Cornman Farms
Air Zoo Aerospace & Science Museum
MI.MEETINGSMAGS.COM 5 Feature // 33 Hybrid Meetings Are Here to Stay The pandemic inspired creativity in the meetings and events industry, and the changes are likely permanent. In Every Issue // 6 Editor's Note 9 Meeting Notes Places, products, and inspiring ideas to take your next meeting from drab to fab 16 Meet + Eat Farm-to-table Michigan delicacies flavor the freshest feasts. 20 Destination Natural abundance and much more draw meeting planners to southwest Michigan. 38 Industry Update Meetings + Events infographic and Michigan news 46 Snapshots ILEA Detroit event spotlights social media strategy. 48 People Profile Marketing the U.P. doesn't feel like work for Tom Nemacheck. On the Cover Grand Traverse Resort and Spa near Traverse City PHOTO COURTESY GRAND RESORTTRAVERSEANDSPA
Best of the Southwest Going Local WORK PLAY Tee up for both at golf resorts and courses County's welcoming vibe Restaurants serve up what's freshFrom shore to field, there's something for everyone
Meanwhile, as companies adopt a triple-bottom-line approach focused on people, profit, and planet, meeting planners representing those businesses are likely to be evaluating vendors based on their sustainability efforts.
» A WAVE IS OVERTAKING the meetings and events industry. It has been a long time in the making, and it is not likely to subside soon.
The Triple Bottom Line
When the CEO makes meeting sustainability goals an organization-wide prior ity, planning a conference that can be held up as being environmentally thoughtful aligns directly with that mission. Venues and other vendors that demonstrate a commitment to sustainability, especially when they can quantify it with data that shows how they're reducing waste and increasing energy efficiency, are likely to stand out to planners for whom such initiatives are also top of mind.
By the way, I'd like to introduce myself as the new editor of Michigan Meetings + Events. Please send feedback, ideas, and other thoughts my way. I look forward to hearing from you!
6 MI M+E » FALL 2022 WILLIAMSROBERTJOHNPHOTO: EDITO R 'S NOTE
mimeetingsmagsmi.meetingsmags.com
KATHY GIBBONS Editor kgibbons@greenspring.com
Holding a conference that is demonstrably low on environmental impact and high on commitment to being sustainably responsible is not only good for the planet, but it's also good for people—and for business.
That wave is sustainability mindfulness. For venues, that means updating infrastructure and practices to reduce carbon footprints. We see examples of it throughout Michigan as convention centers, hotels, and banquet facilities make improvements that merit green building certifications and take measures to reduce waste and to source food locally. Some have even built green roofs to create natural habitats and enhance energy efficiency.
Attendees take notice, too. A report by the Pew Research Center cited by Forbes in 2021 shows that Millennials (those born between 1981 and 1996) and Generation Z (those who came after them) are most likely to make purchases based on values and principles that include the environment. Not only are they highly engaged with the issue of climate change, but their lead also can hold sway over older colleagues.
MI.MEETINGSMAGS.COM 7 mi.meetingsmags.com PRESIDENT TAMMY GALVIN ASSOCIATE PUBLISHER – NATIONAL SALES LAURIE BURGER 586-416-4195 | LBURGER@GREENSPRING.COM EDITORIAL DIRECTOR ALESHA TAYLOR GROUP EDITOR KATELYN BLOOMQUIST SENIOR EDITOR TODD R. BERGER MANAGING EDITOR AVA DIAZ EDITOR KATHY GIBBONS ASSOCIATE EDITOR AMANDA CHRISTENSEN CREATIVE DIRECTOR TONYA SUTFIN ART DIRECTORS MICAH EDEL, TRACI ZELLMANN PRODUCTION MANAGER LY NGUYEN DIGITAL PRODUCTION DIRECTOR DEIDRA ANDERSON ADVERTISING COORDINATOR MIKAYLA SNYDER SALES + MARKETING SPECIALIST MADELINE BRAVERMAN ASSOCIATE PUBLISHER + DIRECTOR OF MARKETING, EVENTS + PARTNERSHIPS ARTHUR MORRISSEY EVENT + OFFICE MANAGER RICK KRUEGER COMMUNICATIONS SPECIALIST TEGHAN MURPHY MARKETING + EVENTS COORDINATOR RACHEL TAYLOR DIRECTOR OF BUSINESS OPERATIONS KATHIE GORECKI ACCOUNTING ASSOCIATE NATASHA BAJJU REPRINTS For high-quality reprints of 500 or more, call 612-371-5882 or email Lnguyen@greenspring.com. For address changes, ordering single copies, cancellations, or general questions about your subscription please contact customer service at 866-660-6247. 9401 James Ave. S., Suite 152, Bloomington, MN 55431 Phone 612-371-5800 Fax 612-371-5801 HOUR MEDIA CEO Stefan Wanczyk President John Balardo The pages between the covers of this magazine (except for any inserted material) are made from wood fiber that was procured from forests that are sustainably managed to remain healthy, productive, and biologically diverse. Michigan Meetings + Events is published quarterly © 2022 Greenspring Media. All rights reserved. PRINTED IN THE U.S.A. CRYSTAL MORE THOMPSONVILLE, MI Ski, snowboard, enjoy a massage or facial in the Crystal Spa, wine and dine, shop, or just relax. For details, crystalmountain.com/meetingsvisit Ad Number: CM-PP-22606A Trim: 4.625" x10" Perich Job No: 22606 Bleed: NA
When you're true to who you are, you're true to where you are. Come join TraverseCity.comus.
Exactly wherewe should be
inding sites for a meeting , event, or conference is never easy. Often you are planning get-togethers in a city other than where you live and that you may not be familiar with. One option is to Google venues in your host city, and while you are likely to find good options this way, you'll need to sort through myriad search results before you find something that will work for both your group and your budget. That's a time-consuming process. But there is an easier way: online venue-sourcing websites.
Cvent offers far more than just venue sourcing—with features including event registration, management, and marketing—and with some 234,000 venues in its system, the company might just offer the most options worldwide for hosting your event. The site is heavy on large event venues, such as hotels and conference centers, but you can dig deeper into the database for smaller event spaces. cvent.com
Kapow! offers listings of curated event venues in major cities across the country. Specializing in corporate events, the site promises leads and pricing for local restaurants, team-building activity providers, caterers, performers, distilleries and brewpubs, and rentable photo booths. The site presents general cost ideas but will provide a customized quote if you opt to submit detailed information about your upcoming event. kapow.com
F
A SEAMLESS SEARCH FOR VENUES
Kapow! is an effective website for those planning corporate meetings and events.
EVENTup has similar venuefinding capabilities, but users are able to explore by city. The website finds venues not only in a state's major cities, but also in numerous smaller cities attractive to budget-conscious planners of small- to mediumsized gatherings. EVENTup does not provide upfront pricing without requesting a quote, but if you are looking for venues outside of a major city, start your search here. eventup.com
MI.MEETINGSMAGS.COM 9 NOTESMEETING IdeasInspiring&PlacesProducts, GIBBONSBYCOMPILEDKATHYKAPOW!MALLMO,/STOCKADOBEPHOTOS:
"One of the questions on the survey asked if folks would support an alterna tive route to the island," Dennis says. "Some 80% of the 634 respondents indicated they would be more likely to visit the island if a pedestrian bridge was in Designplace."onthe $1.28 million project began in 2018, and the bridge opened this year on Memorial Day weekend.
"The project includes much more than the bridge itself," Dennis explains.
The intent was to create universal access, which was previously not possible for those with disabilities or other limitations.
10 MI M+E » FALL 2022 HOUSE;STEAKCHRISRUTH'SPARK;STATEFALLSTAHQUAMENONPHOTOS: ZERBSTKALIERESORT;MOUNTAINBOYNE(OPPOSITE)
"There was 350 feet of new boardwalk constructed on the mainland connect ing to the bridge abutment and several new boardwalk sections added to the island, including benches."
RUTH'S CHRIS STEAK HOUSE TO OPEN IN MOUNT PLEASANT
» IT USED TO BE that the only way to get to the 5-acre island at Lower Tahquamenon Falls in Michigan's Upper Peninsula was by rowboat. Now, with the addition of a new pedestrian bridge, it's accessible to everyone—no oars required. Kevin Dennis, manager of Tahquamenon Falls State Park, says the bridge is part of a project that emerged following a comprehensive public sur vey in 2017 when the park's manage ment plan was reviewed and updated.
Ruth's Chris Steak House will debut its fourth Michigan location at Soaring Eagle Casino & Resort in Mount Pleasant in spring 2023.
Founded by Ruth Fertel more than 55 years ago in New Orleans, the company has grown to operate more than 140 restaurants worldwide. It specializes in custom-aged USDA prime steaks prepared and served on 500-degree sizzling hot plates. Madefrom-scratch sides are prepared from Fertel's original recipes. Guests can also opt for seafood, soups, salads, and desserts.
"This is a fine-dining option that cannot be found in the immediate surrounding area," says Melinda Coffin, Soaring Eagle CEO. "We feel this is a great addition to the many offerings you can find at Soaring Eagle."
MEETING NOTES Products, Places & Inspiring Ideas
BRIDGING THE ACCESSIBILITY GAP
The Lower Tahquamenon Falls bridge was part of a larger effort to make the island accessible.
Soaring Eagle also offers an indoor entertainment space that holds 3,200 people and a summer outdoor concert venue that can seat 13,000. Its AAA Four Diamond hotel boasts 512 recently renovated rooms, a full-service spa, indoor pool and Jacuzzi, and a large outdoor Jacuzzi that is open year-round.
Suspended Fascination at Boyne Mountain Resort
"Boyne Resorts operates 12 properties throughout the United States and Canada, and a major benefit to that kind of geographical diversity is to learn from success stories and bring them to life in new locations," says Erin Ernst, Boyne Resorts' Michigan operations director of communications. "Boyne Mountain offers the right topography and tremendous scenic views suited for the addition of a bridge."
If you take an interesting but underutilized space and connect with a client who wants to think outside the box when imagining an event, what is the result? It's Kalie Zerbst's Eventus Detroit. Simply put, she transforms non traditional properties into one-ofa-kind event venues.
OUTSIDE OF THE BOX
Guests will ride one of several chairlifts to the mountain's top and then be able to walk along the bridge to take in the panoramic views of Boyne Valley. The bridge is modeled after the Gatlinburg SkyBridge at Boyne's sister property, Gatlinburg Sky Lift Park, in Tennessee.
An artist's rendering of the new SkyBridge Michigan at Boyne Mountain Resort
"The underutilized spaces are places that maybe people don't think to do an event in," Zerbst explains, citing examples of an old storage warehouse or empty office room. "I always try to find event spaces in different sizes and finishes. Another thing I like about a lot of the spaces I work in is that they are customizable—there are a lot of different rooms for breakout spaces. You don't feel like you're in a stagnant space. That's my goal: event spaces that are interesting."
A pedestrian bridge appeals to a broader market of people as it's not an activ ity requiring a special skillset to do like some of Boyne's other primary attractions, but the suspension aspect also brings a thrill factor, because it will sway as people are walking on it. "It will also have a glass panel section in the middle, making the attraction really appealing to adventurers," she says.
Open year-round, SkyBridge Michigan should prove to be a major attraction, Ernst notes, adding, "The experience will be a great activity to incorporate into a northern Michigan visit."
The Riverside is an industrial-chic warehouse for events in Detroit.
Boyne Mountain Resort expects to open its new SkyBridge Michigan in fall 2022. The resort is building the 1,200-foot-long, 118-foot-high timber-towered suspen sion bridge at the top of the ski slopes. Its towers are over 50 feet high and nearly 70 feet long, anchoring each end of the bridge in a design that nods to northern Michigan's logging heritage.
MI.MEETINGSMAGS.COM 11
VIBE: Think of it as an "up North" desti nation without the drive. "Our county has a laid-back welcoming vibe, and its his tory is a living part of the community as we are close-knit, connected, and familyoriented," says Mary Robinson, Explore Brighton Howell Area's executive director. "Our area has a vibrant din ing and shopping culture, but with an outdoorsy twist because of our notable
Clockwise from top: A bird's-eye view of downtown Brighton; the 2022 Annual Partner Meeting & Luncheon of the Explore Brighton Howell Area; hiking the Potawatomi Trail
ENERGIZE YOUR EVENT IN LIVINGSTON COUNTY
12 MI M+E » FALL 2022
BY BECKY KALAJIAN
» LIVINGSTON COUNTY in southeast Michigan is less than an hour from down town Detroit. The area has many hotels and event venues, along with affordable hotel rooms, opportunities to get outside after your meeting, delectable restaurants, and a charming atmosphere.
AREAHOWELLBRIGHTONEXPLOREPHOTOS:
MUST-SEES AND -DOS: Hell, the satani cally named hamlet, is a hot spot for daytrippers. Visitors can be named mayor for the day; get married at the chapel; and enjoy Screams Ice Cream, which features unique toppings.
If you want to get outside, mountain bik ing on the Potawatomi Trail is a favorite, and Island Lake is home to a nice little beach area to relax. Some of the area's parks even offer visitors the chance to stay in yurts.
For more adventurous groups, the Howell Nature Center and Wildwood Ranch offer activities like zip lines, high and low ropes courses, and nature-based team-building activities.
For more traditional spaces, Robin son recommends Crystal Gardens , a 55,000-square-foot facility with on-site catering for up to 900; and Waldenwoods Banquet & Conference Center, a lakeside retreat that can host in its sea sonal, permanent tent or its banquet hall with additional—but limited—lodging.
RESTAURANTS: Dining in Brighton includes Bourbons (Southern fare and craft cocktails), Brighton Bar and Grill (farm-to-table dishes), and Diamonds Steak and Seafood in Howell.
cluster of top-notch parks in the area surrounding this community."
HOTELS: Livingston County has 1,200 affordable rooms. "These are mainly very convenient, newer hotels built in the last three to four years," says Robinson.
TRANSPORTATION: "Livingston County is on the western edge of southeast Mich igan, smack dab between Washtenaw, Oakland, and Ingham counties," says Robinson. "Visitors can fly to either Detroit Metropolitan Wayne County Airport or directly into Livingston County Airport in Howell. ... Not only are we connected to Ann Arbor, Detroit, and Lansing, but we also meet in the middle of those areas."
VENUES: The largest venue in Liv ingston County is the Legacy Center Sports Complex , a multisport venue with a 104,000-square-foot dome and 101,000-square-foot field house for trade shows, outdoor meetings, and retreats.
For birding, Robinson recommends Kensington Metropark for its wide variety of Boutiquespecies.shopping includes  Jenna Kator in Howell, the Artisans Bench in Brighton, and That's What She Shed Boutique in Hartland, which carries a vari ety of one-of-a-kind pieces.
MEETING NOTES Products, Places & Inspiring Ideas
FLINT & GENESEE X ExploreFlintandGenesee.org
For mor than meetin
MI.MEETINGSMAGS.COM 13
…
Whether from the audience at a PGA tournament or on the links of a championship course, make your next event more than a meeting. Traditional conference spaces , historic landmarks, world-class galleries, and more than 20 golf courses to explore — you'll make the most of your time together when you meet in Flint & Genesee.
A Harvard Business School article, "The Subconscious Mind of the Consumer (And How to Reach It)" by Manda Mahoney,
Once you have crafted and executed a program that evokes all five emotions, how do you measure success before the opportuni ties start rolling in from sales? Including a simple five-question series in the post-event survey will help you find out.
Examining emotions can change how gatherings are planned and evaluated. BY LIZ LATHAN AND NICOLE OSIBODU
On the surface, your event is perfect. You are following the best practices. It's (mostly) sustainable, turnout is decent, and everyone's just happy to be gathering again.
» THE LOGISTICS ARE FLAWLESS.
Liz Lathan (top) and Nicole Osibodu are two of
Haute, our full-service event and creative agency, has always believed that to truly drive business, an event must elicit an emotional response and be anchored in conversation. That's why we set out to scientifically prove our theory of emotions last year.
But something was missing. You can't quite put your finger on it. And when your sales team calls, there really isn't much for your attendees to talk about. It was just like all the other events. Nothing really stood out.
What EventsModern-DayAreMissing
We partnered with research firm Alla Breve to develop a year long study, "Return on Emotion," designed to identify exactly what emotions should be evoked to create an environment for business readiness. As it turns out, there are five: hopeful, adventurous, active, accepted, and motivated.
Using a 10-point scale, ask participants how the experience made them feel regarding the five core emotions: hopeless to hopeful, hesitant to adventurous, rejected to accepted, pas sive to active, and uninspired to motivated. Then, average the score. Our research found that average scores of 8.6 or greater meant that participants were more likely to send business to others from the program.
The content is spot on, and your com pany executives are happy with the flow andYourpresentations.salesteamis already eager to make follow-up calls over the next couple of weeks, anticipating a receptive response.
The keynote speaker is epic and a crowd pleaser. The evening networking event is also spectacular—amazing cocktails, a hopping band, and plenty of food.
We're excited to share our findings and even more excited to help planners put return on emotion into action in their pro grams and measure the impact.
MEETING NOTES Products, Places & Inspiring Ideas
which features an interview with professor Gerald Zaltman, revealed that 95% of business decisions are made by the sub conscious mind, meaning that emotions drive choices. Unfor tunately, emotions are the part of events that we so often find absent. Aside from that dynamic keynote speaker, did you do enough to evoke the right emotions at your event to make it memorable and ensure that everyone would leave with an engag ing story to tell?
STUDY IDENTIFIES FIVE EMOTIONS
A BLUEPRINT FOR EXPERIENCE
Armed with these findings, we began crafting our programs differently and embedding these emotions as a blueprint for the experience. It is best to plan programs with equal parts of these five emotions—think of it as 20% for each.
"95% of decisionsbusinessaremade by the subconscious mind, meaning emotions drive choices."
eventaandcreativeeventaincludingfiveportfoliohaveTogether,Companies.ofcofounderstheHautetheygrowntheintocompanies,Haute,full-serviceandagency,HauteSpot,musicandvenue.
14 MI M+E » FALL 2022
& Conference Center • 10 Meeting Breakout Rooms • Complimentary Wireless Internet • 2 On-Premise Restaurant and Lounges • Live Nightly Entertainment • 360 European-themed Guestrooms • Walking Distance to Main Street Shopping and Attractions • World Famous Frankenmuth® Chicken Dinners plus Custom Menus Located In the Hear t of Downtown Frank enmuth Bavarian Inn Lodge & Conference Center One Covered Bridge Lane, Frankenmuth, MI 48734 frankenmuthmeetings.com • 1-877-213-7664 Let us assist you with planning a meeting or event in Frankenmuth! Old World Charm with Modern Day Convenience Bavarian Inn Lodge & Conference Center • 10 Meeting Breakout Rooms • Complimentary Wireless Internet • 2 On-Premise Restaurant and Lounges • Live Nightly Entertainment • 360 European-themed Guestrooms • Walking Distance to Main Street Shopping and Attractions • World Famous Frankenmuth® Chicken Dinners plus Custom Menus Located In the Hear t of Downtown Frank enmuth Bavarian Inn Lodge & Conference Center One Covered Bridge Lane, Frankenmuth, MI 48734 frankenmuthmeetings.com • 1-877-213-7664 Let us assist you with planning a meeting or event in Frankenmuth! Old World Charm with Modern Day Convenience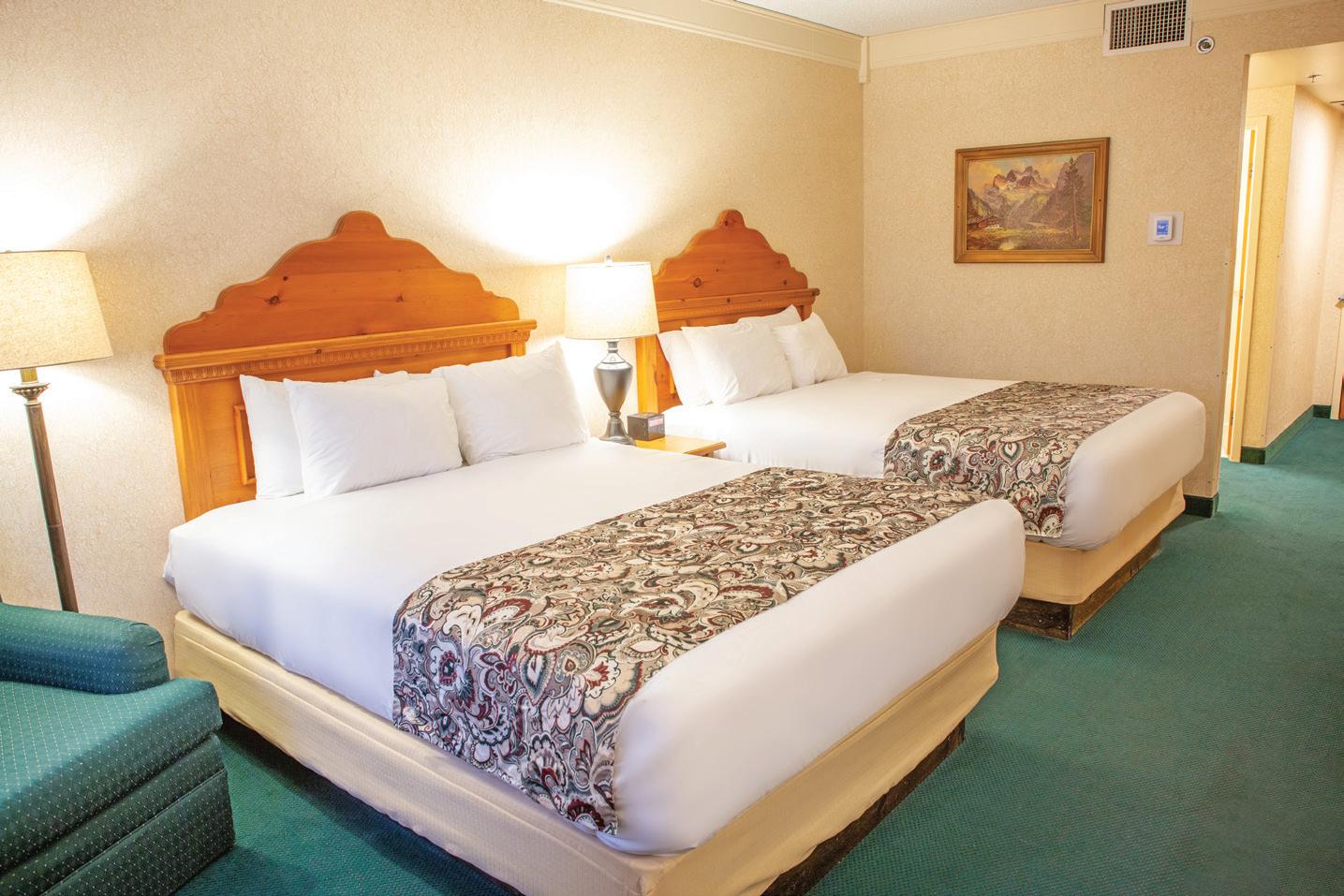 Aligning with the long-growing focus on fresh, local products in home as well as restaurant kitchens, they embody the best of what's avail able in the Great Lakes State, says Dave Lorenz, vice president of Travel Michigan. "With the abundance of produce Michigan has to offer, farm-to-table restaurants, markets, and cafes
16 MI M+E » FALL 2022 PHOTOGRAPHY;GRACELOLAPHOTOS: EAKLESHAYLA(OPPOSITE) MEET + EAT Farm to Table
Farm-to-table gatherings offer a taste of what's fresh. BY BECKY KALAJIAN
» FARM-TO-TABLE eateries are among the newest offshoots of Michigan's agritourism scene.
Guests enjoy a Zingerman'sspecialtymealatCornmanFarms.
Going Local
That's also the case when it comes to experi ences for groups. From being able to harvest your own honey to petting the goats that provide the chevre on your plate, such opportunities are popping up all across the state, from Dearborn to Mackinac Island.
continue to see an increase in customers, leading to a significant boost to the state's agribusiness ecosystem," he says.
and weather visually, shielded from the elements. And there's more seat ing on an outdoor patio for weddings, meetings, and events.
In addition to partial rentals of the res taurant space, Sylvan Table offers wine dinners and recently opened for brunch.
SYLVAN TABLE // Sylvan Lake
The Ryans farm the 3 acres behind the restaurant and have also teamed up with
30-plus other farms to ensure the highest sustainability ethos possible, says Gen eral Manager Sadie Simon. In addition to educating guests on the environmental impact of food consumption, Sylvan Table's team has poured heart, soul, and elbow grease into the property's ambi ance. "I still get goose bumps when I come to work," Simon says.
A Sylvan Table brunch plate with a breakfast bowl, Matcha-cha-cha cocktail, mimosas, house-made granola, yogurt, and a smoked trout and ramp tart
"Our gardens aren't hands-off," she adds. "We encourage guests to walk through the garden, touch things, smell things, pick Standoutthings."experiences for visitors include lawn games, sipping a glass of red wine by a fire pit as the sun sets, and even a meet and greet with goats during a cocktail hour or break.
The farm's menus are custom-built for each event using seasonal produce, which also finds its way into beverages like lav ender lemonade or basil gimlets. For more adventurous groups, there's a trout farm nearby where guests can catch their own fish for dinner. "It doesn't get any more local than that," Mason says.
Sylvan Table is housed in a 300-year-old barn that was moved from Maine to its current location. Owners Tim and Nicole Ryan serve rustic, elevated, multicultural cuisine made from seasonal ingredients sourced from the backyard farm as well as local partners.
ZINGERMAN'S CORNMAN FARMS // Ann Arbor
Since 2014, Chef Kieron Hales and Man aging Partner Tabitha Mason have hosted events for as few as four and as many as 200 at their 27-acre working farm, event space, and culinary destination just min utes outside of Ann Arbor.
MI.MEETINGSMAGS.COM 17
The 7,800-square-foot, open-air cathedral barn offers two dining levels. Opening to the kitchen, it features sev eral wood-fired elements: an 8-foot grill, a pizza oven, and two fireplaces—one of which is used for cooking. A glassroofed solarium yields additional dining/ seating where guests can enjoy the skies
Zingerman's Cornman Farms' 1830sera barn and farmhouse were completely renovated with modern touches when Hales and Mason bought the property 10 years ago. Their intent was to help people understand and experience where food comes from, says Mason.
In addition to a 4,300-square-foot greenhouse that seats up to 150 people, there's Dotty, the couple's whimsical, refurbished beverage trailer, and The Garden, an additional 4,500 square feet of edible plantings, native flowers, fire pits, and conversation nooks.
PHOTOGRAPHY;LREBECCAPHOTOS: RESORTPOINTMISSION(OPPOSITE)
18 MI M+E » FALL 2022 MEET + EAT Farm to Table
OF THE LAND // Battle Creek Farmer/chef duo Trent Thompson and Bridgett Blough have built something remarkable on the 20-acre organic veg etable, fruit, and flower farm called Of the Land.
Guests are treated to an atmosphere that is not only serene, but also makes for an incredible photo backdrop.
"Here, it's, 'What do I have in season; what can we make with what I have?'" says Blough, who prepares everything from scratch in her on-site commercial kitchen. "What we do here is beauti ful, tastes really good, and plays on multiple senses."
team this past spring planted 85,000 zinnias in a circular pattern outside the greenhouse where guests could stand in the middle for selfies.
Of the Land strives to provide picture-perfect backdrops for gatherings.
The spaces were thoughtfully laid out not only for weddings, but also for meetings, where attendees can enjoy Of the Land's all-inclusive venue services: catering, vintage bar and bartending service, and optional floral packages.
"What we do here is beautiful, tastes really good, and plays on multiple senses."
"The uniqueness of what we have is what our clients love," says Blough, whose
–BRIDGETT BLOUGH , OF THE LAND
The greenhouse's sides retract upward for open-air seating, and for chillier eve nings, the walls go down and propane heaters light up.
"Mackinac Island has long been known as a fudge destination, but not necessarily a food destination," Ware adds. "The team at Mission Point saw this as an opportunity and, as such, has made delicious dining a core value."
In addition to Mission Point's regional, house-made cuisine, Ware directs visitors to Lily's Lemonade, the island's only specialty lemonade stand with a variety of lemonade blends. Mission Point also serves Frosé, a frozen rose wine drink from Brys Estate Vine yard and Winery in Traverse City.
MISSION POINT RESORT // Mackinac Island
Mission Point Resort's Frosé
Grand Rapids // The Sovengard, with its slogan of "Eat Local, Save the World," features a beer garden with a living wall, bocce court, and plenty of space for events.
MI.MEETINGSMAGS.COM 19
Traverse City // Mission Table, overlooking West Bay on the Old Mission Peninsula, is exclu sively for events and weddings. Formerly known as Bowers Harbor Inn, Mission Table show cases local ingredients and a wine list with producers who respect artisanal techniques.
For the past several years, the Ware family has invested heavily in talent, training, equip ment, and local sourcing at Mackinac Island's Mission Point Resort, a 241-room hotel with six dining venues.
Midland // Aster is a farm-totable restaurant owned by Evan Sumrell and Lisa Kuznicki, who met and bonded over their shared passions of design, hospitality, and quality, flavorful cuisine. Sumrell, a chef with years of kitchen expe rience, and Kuznicki, a beautyindustry veteran, dreamed of one day opening their own restaurant and creating a community around a culture of sustainable cooking.
Other Farm-toTable Spots
Armada // Based on a 150-acre farm about an hour northeast of Detroit, the family-owned Blake's Orchard offers multiple venues including its Apple Barn, seating up to 120 guests; Orchard Square Tent, accommodating 225 seats; a 120-person-capacity greenhouse; and a more intimate Orchard Square Tap with space for 50.
Dearborn // Eagle Tavern at historic Greenfield Village car ries on a tradition of serving what Michigan grows, with recipes handed down from the cooks who ruled the kitchen 175 years ago. The menu reflects both the seasonal nature and availabil ity of foods in mid-19th-century Michigan, also offering a selec tion of alcoholic and nonalcoholic drinks of the period. Fresh ingre dients are sourced from local and regional farmers or raised on-site.
While the 18-acre property has long been a favorite meeting and event space, these latest efforts are designed to take what guests experience to the next level, says Liz Ware, Mission Point's vice president of sales and marketing—only on Mackinac Island, it's "farm-to-ferry," she notes.
» TOWERING LIGHTHOUSES conjure images of Great Lakes sailors, and the surrounding landscape is dotted with roadside produce stands. Craft breweries and family-owned wineries add local flavor. And wherever visitors head in southwest Michigan, they're never far from a Lake Michigan beach. These very same attractions and sites that draw travelers to southwest Michigan for cozy
A variety of hotels, which regularly partner with the Air Zoo for package discounts, is nearby. On-site meeting spaces at the Air Zoo range from intimate boardrooms to large banquet facilities.
Lee, manager of groups and events at the Air Zoo Aerospace & Science Museum there. Meeting attendees appreciate the ease of travel to the educational and meeting venue, she says.
20 MI M+E » FALL 2022 SOUPSTOCK/ADOBEPHOTO:
Meet Up in Southwest Michigan
DESTINATION Southwest Michigan
romantic getaways or family-friendly escapes captivate meeting planners.
When it comes to accessibility between work and play for corporate events, one city comes to mind: Kalamazoo. The city is midway between Detroit and Chicago at the intersection of Interstate Highway 94 and U.S. Highway 131, giving the city a decided edge when it comes to corporate gatherings, according to Holly
BY AMY S. ECKERT
New Buffalo Lighthouse and Beach, New Buffalo
Wherever you host your event, there's always a spot for group fun in Kalamazoo and nearby.
Host your next meeting, conference or reunion along Lake Michigan. After setting goals or brainstorming, play golf, paddle scenic rivers, tour craft wineries and breweries, and do much more. Our great hotel rates and itineraries will add to your joy. OF MEETING IN & AROUND ST. JOSEPH Simple JOYS THE SWMICHIGAN.ORG/MEETINGS
For many meetings and event planners, the draw of southwest Michigan's natural attractions proves to be the key in con vincing travelers to attend a corporate gathering—and once they have arrived, to stay a while.
22 MI M+E » FALL 2022
"Once clients have become acquainted through these activities, they seem eager to get down to business," says Lee.
St. Julian Winery, the largest, longestrunning, and most-awarded family-owned winery in the state, manages multiple tast ing rooms across southern Michigan. But its home base and headquarters in Paw Paw rank as St. Julian's most popular for small corporate gatherings and receptions.
"We are in an era when it's so important to connect and engage with business col leagues in person again," she says. "And yet we see that for many of those busi ness travelers who are meeting in person, people are out of practice when it comes to that face-to-face networking experience."
Participating in the activities on tap at the Air Zoo serves as something of an ice breaker for many meeting attendees. Lee has watched clients playfully competing in paper airplane-flying tournaments and trying to best one another in the facility's simulated fighter and stunt planes.
NATURAL MEETING INCENTIVES
DESTINATION Southwest Michigan
Top to bottom: St. Julian Winery's grapevines; The Inn at Harbor Shores is set on the water in St. Joseph.
Lee emphasizes that the fun factor of destinations like the Air Zoo shouldn't be overlooked by meeting planners.
CENTERMENDELTHE(OPPOSITE)PETERS;ARIELLEWINERY;JULIANST.PHOTOS:
Centered within a 50-mile radius of the winery's vineyards and fruit orchards, St. Julian's Paw Paw location allows clients to combine the business at hand with the pleasure of the region's acclaimed wines.
The Warhawk, Corsair, and Wildcat rooms, each overlooking the Air Zoo's scenic grounds, have a capacity for 32 attendees or may be combined into a single 125-seat conference room. The recently remodeled Missions Theater is ideal for business presentations and keynote addresses, with seating for as many as 62.
Natural beauty is a key draw at Harbor Shores Resort in St. Joseph. Notable for its Jack Nicklaus Signature Course in Benton Harbor, the resort draws meeting planners whether they opt to offer tee times as an after-hours amenity or to include an organized golf tournament as part of the conference agenda.
"Some of our corporate guests take a tour of the production facility that includes wine tasting and charcuterie," says Amy Bobo, lead marketing designer at St. Julian. "Other meeting planners may choose to hold their business functions elsewhere in southwest Michigan and just head to St. Julian for an afternoon tour or an evening wine-tasting event."
In addition to golf, Harbor Shores Resort has access to 12 miles of hiking trails as well as bike rentals,
Meeting participants typically attend receptions in either the facility's Apollo event space or the tasting room itself to socialize and network. Occasionally, gatherings move outdoors, where tidy rows of riesling, cabernet franc, and pinot grigio vines provide a scenic backdrop to networking events.
While many of southwest Michigan's corporate meeting venues tout the area's natural beauty, the region is also home to stellar artistic attractions. The Mendel Center at Lake Michigan College in Benton Harbor is known for its cultural performances, ranging from stand-up comedy to inspirational lecture series and holiday concerts.
The Mendel Center's 250-seat Hanson Theatre offers an intimate space for engagements.andceremonies,performances,speaking
Another beachside meeting venue is Shadowland on Silver Beach in St. Joseph. Located right on the Lake Michigan shoreline and within an easy walk to area hotels and restaurants, Shadowland offers meeting facilities for as many as 300 guests and floorto-ceiling windows overlooking a bluff and Compass Fountain Park. Event organizers can opt to rent the Silver Beach Carousel with its 48 hand-carved figures.
indoor and outdoor pools, swimming at Lake Michi gan's Jean Klock Beach, and charter fishing excur sions. The waterfront Inn at Harbor Shores also includes 92 guest rooms, meeting rooms to accom modate as many as 300, four restaurants, and catering facilities, all just a 90-minute drive from Chicago.
MI.MEETINGSMAGS.COM 23
AT THE CROSSROADS
"This region of the state is truly a hidden gem," says Adams. "And it's easy to relay that. Corporate groups understand that in southwest Michigan, they can organize a true getaway that's not far away."
advantage of Four Winds' built-in entertainment: rock concerts, gaming tutorials, slot tourneys, and cooking demonstrations.
Four Winds Casino in New Buffalo is one of southwest Michigan's largest event venues. Four Winds' Silver Creek Event Center boasts more than 17,000 square feet of event space, with banquet seating for as many as 1,000 and theater seating for up to 1,600. The property's Kankakee Grill is a popular casual meeting space with two bars, dining facilities for up to 300, a live stage, and an outdoor patio furnished with fire pits.
CASINOWINDSFOURNOWICKI;JOSHUAPHOTOS:
Top to bottom: The waterfront Shadowland on Silver Beach offers meeting facilities for as many as 300 guests; Four Winds Casino provides banquet seating for up to 1,000.
Meeting planners can combine these entertainment options with a corporate event at The Mendel Center. Facilities include space for as few as 25 and as many as 900 attendees, and catering services incorporate Michigan's celebrated craft beers and wines. The center's Great Upton Hall offers one of the region's largest indoor gathering spaces. With nearly 14,500 square feet of open floor space and portable stage facilities, Upton Hall can easily accommodate trade shows and large exhibitions.
"I like to tell meeting planners that here in New Buffalo, we're in the middle of nowhere, and the middle of everywhere," says Adams, referencing the area's combination of lush outdoor spaces and access to transportation hubs.
Meeting planners can organize picnics along the Lake Michigan shore (less than 5 miles away) and wine-tasting dinners at nearby Tabor Hill Winery. Within the casino, they can take
And once business is concluded, Adams says it's not unusual for attendees to stay longer in southwest Michigan. What begins as a corporate retreat can quickly become a family getaway with a day or two spent beachcombing, visiting U-pick orchards, renting kayaks, or taking in Lake Michigan sunsets.
Diverse meeting spaces, 415 hotel rooms, and varied options are key components for corporate meeting planners. Yet Tim Adams, Four Winds' director of sales and catering, notes that southwest Michigan's Great Lakes location often seals the deal for corporate travel offices.
24 MI M+E » FALL 2022 DESTINATION Southwest Michigan
Reception!
A change of scenery can give your crew a fresh perspective on challenging projects and motivate! And now you can tap into greater team unity and stronger collaborations with our locally-crafted libations...many from Big Buck Brewery.
Book a group meeting now through the end of November for a complimentary Michigan Beer & Wine Call us at 855.420.9183 for details!
A change of scenery can give your crew a fresh perspective on challenging projects and motivate! And now you can tap into greater team unity and stronger collaborations with our locally-crafted libations...many from Big Buck Brewery. Book a group meeting now through the end of November for a complimentary Michigan Beer & Wine Call us at 855.420.9183 for details!
MI.MEETINGSMAGS.COM 25WWW.TREETOPS.COM | 855.420.9183 | MICHIGAN'S MOST SPECTACULAR RESORT. Teamwork Makes the Dream Work!
Inspirational Views & MEETINGS WITH Michigan-Made Brews! BOOK NOW FOR A BEERMICHIGANFREE&WINERECEPTION! FEATURING BIG BUCK BREWERY. WWW.TREETOPS.COM | 855.420.9183 | MICHIGAN'S MOST SPECTACULAR RESORT. Teamwork Makes the Dream Work!
Reception!
Inspirational Views & MEETINGS WITH Michigan-Made Brews! BOOK NOW FOR A BEERMICHIGANFREE&WINERECEPTION! FEATURING BIG BUCK BREWERY.
Golf
26 MI M+E » FALL 2022 RESORTTREETOPSPHOTO:
Groups tee up for fairway fun at resorts and courses across Michigan.
by GREG JOHNSON Getaways
MI.MEETINGSMAGS.COM 27
"We have 20,000 square feet of meet ing space," says Barry Owens, Tree tops' general manager. "It's all over the board in terms of taking care of groups of multiple sizes. We have some groups that come in to get business done, and some government groups, and golf clearly isn't what they come for and (in that event) we mainly work with just some of the individuals who want to make golf part of their stay. Then we have groups that have their meet ings and then have their big golf outings or events, too."
Owens describes a fraternal group that came to Treetops over the Fourth of July weekend earlier this summer. "That included in the neighborhood of 350 peo ple having meetings, some brought their families, they played golf, they took advan tage of the spa, they spent time together at the pools, they went hiking or biking," he says. "It worked for everybody in that group, and it works for groups of all types because that's what we are set up to do."
Take Gaylord's Treetops Resort with its five world-class golf courses. It's part of the Gaylord Golf Mecca marketing group of 17 golf course members and 21 lodging partners going strong in its 35th year.
"It has what we need for what we have become," he says. "Over the years we have talked with firefighters, large corporate groups—so many different people there at the same time as us. It works for them, too."
onferences, conventions, meetings, team-building retreats, expos, trade shows, banquets—almost any gathering can blend with golf. And as resort golf has developed and expanded in Michigan over
celebratingGolfers
the last 50 years and made the state a leading summer golf destination, courses and resorts have expanded their facilities and capabilities for hosting such events. a successful
As Treetops views it, the idea is to plan your next meeting with a side of adven ture. Besides golf, adventures can include rafting, canoeing, and other outdoor activities. Still, a tour of the resort's two campuses just outside of Gaylord shows that golf is the alpha activity to pair with a planned meeting.
Larry Mack, a Detroit native now living in Florida, has been leading a golf group fittingly called "The Ragtag" to northern Lower Michigan on golf trips for 46 years. The last 23 have been to Treetops.
It started as a social outing for friends from Michigan State University who had played softball and golf together. As other professionals joined in, business net working became part of it. There's always a large banquet, and Mack even holds a charitable raffle.
round atResortTreetopsinGaylord
28 MI M+E » FALL 2022
Leading the Way
Crystal Mountain in Thompsonville finds those who come for meetings often bring their families along, which means other activities at the resort become part of the booking as well as golf.
Meet & Play
small percentage of our overall rounds because we are heavy on rounds of the social group type, but they are important to us, and the resort has a staff person dedicated to contacting the groups regard ing golf opportunities."
RESORT&GOLFNATIONALMANISTEEMOUNTAIN;CRYSTALRESORTS;BOYNESPA;ANDRESORTTRAVERSEGRANDLEFT)TOPFROM(CLOCKWISEPHOTOS:
"We work very hard to meet the needs of groups and balance that with golfers who are vacationing or just coming up to play golf for a few days," says Ken Griffin, Boyne director of golf sales and marketing "We have group sales and convention services to help groups. … We also have team mem bers who specially oversee golf events, like tournaments, charity events, and others. It takes some planning, a lot of communica tion and work, but it's what we do. We want them to have the best meeting experience, and if they play golf, the best golf experi ence they can have."
There are also myriad meeting facilities from smaller spaces to large ballrooms. Groups of 500 or more can be accom modated, with many groups playing golf simultaneously as they spread out to the various courses.
"Golf is a big draw, and it's all part of hav ing a lot of activities for guests. The lodging and the restaurants are right here, and the water park and the spa are nearby," says Manager of Public Relations Brittney Buti. "When they bring their families, it turns into a mini vacation or long weekend, and we build some of those activities right into the itinerary for them. We get a lot of groups that will come, have a meeting, then play 18 holes. It's very common in the summer."
He continues, "Groups that come for con ferences and meetings book well ahead— sometimes years ahead—and they are a big part of what we do as a resort. … We have some golf on the books well through 2025 now for those kinds of groups."
Shanty Creek Resort near Bellaire has four village areas over 5,500 acres with more than 36,000 square feet of event space. Shanty Creek also has five golf courses—Cedar River, The Legend, Hawk's Eye, Schuss Mountain, and Summit.
Also in northern Lower Michigan, Boyne Resorts is often credited for jumpstart ing the golf resort industry in Michigan when founder Everett Kircher wanted to keep winter ski resort workers employed year-round and added golf courses to his ski hills. Boyne operates three properties: Boyne Mountain Resort in Boyne Falls, The Highlands in Harbor Springs, and Inn at Bay Harbor near Petoskey—with 10 golf courses among them.
With three championship golf courses, Grand Traverse Resort and Spa near Tra verse City hosted the Hall Financial Michi gan Open Championship in June of this year. That was the same week it presented a National Cherry Festival committee outing and an excursion for a resort group.
Multitasking
"We make sure the other outings and groups feel they are getting attention and that we care about them being there and having a great time playing golf," says Tom McGee, director of golf. "The number of rounds attached to meetings groups is a
Likewise, the Eagle Eye and Hawk Hol low properties in Bath, just outside of East Lansing, seamlessly hosted the Michigan Amateur Championship in 2022 with 156 golfers over five days on the Hawk Hol low course while still holding outings, golf leagues, and more on the Eagle Eye course. Eagle Eye Golf & Banquet Center has seven banquet rooms and can accommodate meetings and trade shows up to 500 guests.
MI.MEETINGSMAGS.COM 29
Clockwise from top left: A shot from a bunker at Grand Traverse Resort and Spa; with 10 Resort'sNationalRetreat,ninthMountain;togroupsopportunitiesareasandseason;throughoutgroupResortscourses,golfBoynehostsgolfeventstheindooroutdoorofferforofallsizesmeetatCrystaltheholeatTheManisteeGolf&course
The project is part of expansions and renovations that include a new 15,000-square-foot, indoor-outdoor ballroom and 6,200-square-foot outdoor garden pavilion. It's all designed to elevate the property to the next level as a destination for golfers as well as corporate events, conferences, and meetings, says Paul Wegert, CEO of Boutique Hotel Professionals and managing director of the Inn at St. John's. The new golf course should open in fall 2023.
A little farther north, Garland Lodge & Golf Resort in Lewiston has four golf courses and meeting space with banquet seating for up to 250 people, as well as other areas to manage groups of many sizes.
BLUFFSARCADIAPHOTO:
18-hole golf course (The Cardinal), a seven-hole par-3 course (The Little Cardinal), and a unique 18-hole putting course (The Greens at St. John's). "The Cardinal golf course at the Inn at St. John's will have classic lines created by the best of modern construction methods," Hearn says. "The goal is for golfers to finish playing and realize they have used all their skills, all their clubs, and enjoyed all the things golf provides— challenge, excitement, fun."
Stunning views come with a round of golf at Arcadia Bluffs near Frankfort.
Pohlcat near Mount Pleasant offers reception seating for up to 300 people in a newly renovated banquet facility, as well as a large tent outside as an option for groups. The golf course was designed by former PGA Tour standout Dan Pohl, a Mount Pleasant native who is involved in ownership and as an instructor.
30 MI M+E » FALL 2022
About 90 minutes north in Roscommon, Forest Dunes Golf Club markets its golf courses designed by Tom Weiskopf and Tom Doak as national destinations. Forest Dunes also offers banquet and meeting facilities, and high-end lodging.
Arcadia Bluffs near Frankfort offers The Bluffs Course, resembling a seaside links course with views of Lake Michigan, and The South Course, described as a tribute to a bygone era in golf course design. Private event spaces can accommodate groups of up to 90, with full audiovisual capabilities.
To the southwest on the Lake Michigan coast, Manistee National Golf & Resort in Manistee, home to two golf courses and a 42-room inn, can accommodate events up to 225 Downstatepeople.near Detroit, The Inn at St. John's in Plymouth announced in late 2021 that award-winning Raymond Hearn Golf Course Designs, a Holland-based firm, is creating a new
Meet where you
Four seasons and three resorts offer endless opportunities to meet, relax and restore in northern Michigan. Visit BoyneResorts.com for future information or reach out to one of our meeting specialists at Groupsales2@boyne.com. To book your event, speak to our team at 231.549.6012.
love to play
32 MI M+E » FALL 2022 Regional stories on the top meeting and event venues, advice from professionals, and reports on food, beverage, décor, technology and more… AT YOUR FINGERTIPS! Digital Edition mi.meetingsmags.com/archive published by
MI.MEETINGSMAGS.COM 33
GONINNIKITA/ADOBEPHOTO:
Are Here to Stay
» BY JULIE KENDRICK
The days of "death by Zoom" are over, but event experts predict that meetings will be blending in-person and online for the foreseeable future.
34 MI M+E » FALL 2022
"The industry was due for a reinvention," says Ryan Murphy, director of sales and marketing at technology-focused event production company Projection. "Something beautiful and meaning ful has stemmed from the pandemic. We can now do things more than one way, increasing our potential to add creativity and engagement. In the case of our company, we morphed from working like Broadway producers to suddenly becoming television producers overnight. Now what we're seeing is more production value on live events," Murphy continues. "It's similar to producing televised awards shows that are educationally blended, glitzy, and immersive."
"It goes without saying that 2020 was excru ciating for our industry," says Linda McNairy, vice president of American Express Meetings & Events. "But it did prompt us to engage in more meaningful conversations that dug into the why and how of what was happening. We worked to understand more deeply the importance of bringing people together in challenging environ ments. For our part, it has been an opportunity we have embraced."
"The very concept of in-person events is evolv ing, and we will need to cater to the needs of a new generation," says Julius Solaris, an expert on event trends and founder of consulting firm Boldpush.
"When we first began talking about hybrid meet ings, we were thinking about synchronous events where viewers at home would see every single part of the meeting on their screens," explains Sarah Michel, vice president of professional connexity for Velvet Chainsaw Consulting Inc. "We learned very quickly that it's too expensive to pull off a syn chronous meeting, so what we're witnessing now is a reimagining of how hybrid can work."
YOU WANT ME TO PLAN TWO MEETINGS?
"It's almost like learning a new language," says Maggie Pearson, senior conference director at Conference Managers. "This is definitely the year of the hybrid meeting."
If, as Pearson says, we have all been learning a new language, then what can we discover from those who have become most fluent in this new way of planning and conducting meetings? Across the country, industry professionals are seeing grow ing registration numbers when meetings include a virtual option, and those attendees are frequently first-timers who had never been able to attend before for any number of reasons, including cost, travel complications, and disabilities. They are using technology like holograms to bring remote speakers closer to audiences, wherever they are. And many are finding that even in-person attend ees are often deciding they will virtually attend sessions, choosing to spend their on-site time recon necting with colleagues they have not seen in years.
verybody loves to talk about welcoming change. Then change happens, and whew, it's tough. After the past few years, meetings and events professionals certainly appreciate that feeling, but they're also feeling energized by so many new ways for attendees to gather.
WORDLY.AIAIRMEET;(OPPOSITE)PHOTOS:
LEARNING THE LANGUAGE OF HYBRID
Oftentimes, "hybrid" means that two different meetings need to be planned—one live experience and a second recast of content a few weeks after with speakers invited back for live questions and
Boldpush's Julius Solaris, for his part, thinks the time is right for holograms.
» IF YOU'RE WONDERING which snazzy new hybrid meeting tech products will stick and which won't, that's a question no one is completely prepared to answer right now.
TeCh Matters
That view is echoed by Linda McNairy, who says American Express Meetings & Events has strategically taken an approach not to go "all in" with any one tech supplier. "We'd rather be more fluent in a full portfolio," she says. "We're the experts in face-to-face, and they're the experts in tech, so we hope that helps us to be as collaborative as possible."
Airmeet
MI.MEETINGSMAGS.COM 35
Still, there are all kinds of possibilities that might end up being the tech darlings of our new hybrid future, so we asked our experts what has been most intriguing to them lately.
"Hybrid meetings are in their infancy," says Adrian Segar, founder of Conferences That Work. "We're still scratching the surface of what will be possible technologically. I'd suggest not focusing too much on the tools and more on how you use them."
Andrew Roby of Andrew Roby Events wonders if we might be asking virtual participants to don an Oculus Rift in the near future. "Those who are attending virtually are wanting more of an in-depth experience," he says, "and virtual reality and the Virtual Desktop application might help them become engulfed in the environment. It has been hard to pull off in the past because of the expense, but it's becoming more accessible."
"We've been talking about holograms for 15 years now, but I believe now is the time to beam in people," he says. "ARHT Media has been doing some amazing work in this field. The company goes to the speaker's house and sets up a studio. It feels very realistic."
And even if they aren't "attending" via their HTC Vive, online-only participants will likely be catching your meeting on their phones.
"The single biggest factor influencing the progress of hybrid events is the advancement of mobile technology," says Lalit Mangal, CEO and co-founder of virtual event platform company Airmeet. "Nextgeneration events are using mobile not just for consumption and streaming, but also for engagement and analytics."
Wordly.AI
"One of my favorite products is from Wordly.AI," Liz King Caruso of Techsytalk says. "It translates and captions, seamlessly, in more than 16 languages. We used Wordly.AI for a Techsytalk global conference last year, and I was a huge fan of not only how simple it was to use the platform, but also of the difference it made for our global attendees."
RETOOL CANCELLATION POLICIES »
ANTICIPATE FAILURE » "Have a plan A, B, and C in place," says Andrew Roby of Andrew Roby Events. "If you have any virtual component, it doesn't matter which platform you're using, just accept that some techni cal problem is going to happen, especially with a multiple-day event. Know what you'll do next, and how you'll communicate, when something goes down."
"Meetings need to allow no-fee cancella tions, eternally," says Sarah Michel of Velvet Chainsaw Consulting Inc. "If participants feel uncomfortable being around others or if they get sick, convert them to a virtual attendee or give them a credit for future events. Look at how airlines are handling it as a guide."
"This is the time to be flexible and try new things," suggests Karen Hartline, director of corporate events for tech company GitLab. "In-person events now shouldn't look and feel like they did pre-pandemic. Sensory overload is a real thing, as we're around hundreds and thousands of people at a meeting. And remember how you feel being on video calls all day long? We need to consider more breaks to allow people to recharge and refocus both in person and online."
"We're also working on an event that has in-person
CREATE JOURNEY MAPS » "Map out every aspect of the attendee experience, both in person and virtual, before you move forward," Projection's Ryan Murphy says. "Create a clear production schedule to guide all the work that needs to be done for a seamless attendee experience. Then be pre pared to change plans last minute."
Many of the experts we spoke with are including some in-person-only content, and some that has been repackaged and repurposed with online-only elements. Hartline shares GitLab examples: "We're working on an event that will have a simultaneous in-person/online component for the opening and closing keynotes. We're considering things like having the speakers come on camera for the online audience immediately following to answer live questions, with the thought that that will give a special experience to those not there in person," Hartline continues.
NICHOLASKATY(OPPOSITE)PHOTO:
TipsHybrid From the Trenches
HOW TO BLEND IT ALL UP WITHOUT LOSING YOUR MIND
"No one wants to spend hours consuming con tent, so we're finding that very short, 'packed' ses sions, about 20 to 40 minutes, are working well," says Andrew Roby, creative director at Andrew Roby Events. "People can consume it, then take a break. The era of the two-hour keynote or panel session is over."
36 MI M+E » FALL 2022
Not only are two meetings required, but the inperson experience also can't be the same old thing you were doing in 2019, either. "If you had your attendees on the treadmill of 'general session/break/concur rent/lunch,' it's not going to work anymore," Michel says. "Programming with talking-head speakers at the front of the room is also a thing of the past. Attendees literally won't go into those rooms now. People want interactive, peer-to-peer learning ses sions. The speaker is looked at as a guide/facilitator of the experience and is no longer seen as the smartest person in the room."
answers. And some hybrid meetings have speakers presenting online and in person in real time. Those who have already done it know that the labor required to cre ate both in-person and virtual meetings is intense. "It's super taxing on a team that has probably grown leaner in the past couple years," Michel says.
PREPARE FOR STICKER SHOCK » "We've heard from our industry partners that, on average, AV and tech costs alone to produce a hybrid event are at least 25% higher than an in-person meeting," says Tammy Kockaya, chief strategy and growth officer at the Event Leadership Institute.
TLC FOR VIRTUAL PARTICIPANTS »
Before, during, and after your event, your virtual audience—many of whom are new to your meeting and possibly virtual meetings in general—might require extra hand-holding. "They might need to download software, create a user profile, and generally engage with a tech platform they may not be familiar with," Kockaya says. "Consider a how-to session a couple of days in advance to help them navigate the virtual platform."
"Now that everyone has been forced to meet online for an extended period of time and sees that it can
"We need to balance what we learned the past few years," McNairy says. "It's important to treat each individual as a whole person. In the past, an 'invita tion' to a company event was really a command perfor mance. But people have family issues, health issues, and other challenges that keep them from wanting to—or being able to—travel to events. Now is the right time to focus on effectively utilizing hybrid elements to curate access to key components of meetings, so that if you can't make it in person for the entire event, you can still participate in key moments."
–LIZ KING CARUSO » Event planner, strategist, and CEO at Techsytalk
And, along the way, McNairy urges all of us to be forgiving of ourselves. "This work is going to stretch our brains, so it's important to know you will make mistakes. Lean into them and be honest, but don't stop pushing forward."
work, I think it will now be a consideration to be included in every event-planning process moving forward," Hartline says. "Attendees will expect it, even if it's not a full mirror of the in-person event, and event planners will embrace it, since it gets you started on a plan that's a bit easier to change to if in person isn't able to happen."
WHAT HAPPENS NOW?
Get out your crystal ball. Then toss it out the window (assuming you're on a low floor), because that thing hasn't done you any good the past few years. Even if it feels like we're stumbling in the dark, we must keep planning and moving forward. When we asked experts what's ahead, they shared thoughts about the general direction meetings and events might be taking, at least for the short term.
"Organizations realize the power of tapping into a larger audience, having less travel time, and being more inclusive. As in-person comes slowly back, organizations will want to hold on to the benefits of virtual meetings."
Liz onconferencingofCarusoKing(left)Techsytalkhubilo.com
"While these hybrid events are not always easy to pull off, I think a lot of organizations realize the power of tapping into a larger audience, having less travel time, and being more inclusive," says Liz King Caruso, event planner, strategist, and CEO at Techsytalk. "As in-person comes slowly back, organizations will want to hold on to the benefits of virtual meetings."
and remote aspects, but on different dates, which essentially is two separate events with similar con tent. This allows our small team to focus on the right experience for each event."
MI.MEETINGSMAGS.COM 37
utensilsCompostableMacaroniandcheese
2. Plant-based foods
3. Caribbean (e.g., Puerto Rican, Cuban, Dominican)
3. Comfort foods
Southeast Asian (e.g., Vietnamese, Singaporean, Filipino)
5. Global fare and flavors
38 MI M+E » FALL 2022 RINDUSTYUPDATE Infographic
T
Culinary Macro Trends
4. Healthy and immunity-boosting foods
he National Restaurant Association partnered with the American Culinary Federation to conduct its annual "What's Hot 2022 Culinary Forecast" survey. The organizations polled 350 professional chefs considered thought leaders in the culinary world. The association and federation presented chefs with a list of 109 food items and culinary concepts, and respondents were asked to rate each item as "Hot," "Not Hot," and "Perennial Favorite." The association and the Menu Research & Insights Division of Technomic compiled the list of food items and culinary concepts.
4. North African (e.g., Moroccan, Algerian, Libyan)
The Hottest FOOD AND BEVERAGE TRENDS
The polled chefs forecast menu trends in 12 categories, including culinary macro trends, global flavor trends, food trends, and beverage trends.
Moroccan bastilla
STOCKADOBEPHOTOS:
2. South American (e.g., Argentinian, Brazilian, Chilean)
1.
Global Flavor Trends
1. Sustainability
5. Western African (e.g., Nigerian, Ghanaian, Western Saharan)
Vietnamesebanhmi
MI.MEETINGSMAGS.COM 3939 Beverage Trends NONALCOHOLIC 1. Nut milks (e.g., cashew, pistachio) 2. Nonalcoholic seltzers/ sparkling water 3. CBD-infused beverages ALCOHOL 1. Hard seltzers 2. Uniquely spiced cocktail rims (e.g., Tajín Clásico, togarashi) 3. At-home cocktail kits DESSERTS 1.Alternative sweeteners (e.g., maple sugar, coconut sugar) 2. Alcohol infusions 3. CBD desserts Food Trends BREAKFAST 1. breakfastNontraditionalproteins (e.g, chorizo, vegan bacon) 2. breakfastPlant-basedsandwiches 3. breakfastEgg-basedbowls LUNCH 1. sandwichesPlant-based 2. inspiredGloballysalads 3. Grain-based bowls DINNER 1. Less-expensive chicken cuts (e.g., thighs vs. wings) 2. Plant-based burgers 3. Less-expensive beef cuts (e.g., beef chuck vs. loin) ANDCONDIMENTSSEASONINGS1. Gochujang 2. Tajín Clásico 3. Harissa Cashewmilk SNACKS 1. Immunity-boosting snacks 2. CBD-infused snacks 3. Reduced-sugar snacks seltzersHard chiliGochujangpaste
The 55,000-square-foot facility— the newest convention center in the Midwest and second largest in west ern Michigan—features 37,700 square feet of meeting space that includes a 16,550-square-foot, clear-span ball room and 13 breakout rooms.
2022 with 60 large events this year to date [mid-summer], and we are looking forward to a busy end to the summer/fall and an even busier 2023 and LeighAnn2024."Mikesell, City of Muskegon deputy city manager, says the VanDyk fills a void when it comes to attracting events to the city.
The VanDyk can host between 100 and 2,500 attendees. It's located between and has entrances to the newly renovated Delta Hotels by Marriott and Mercy Health Arena, the latter of which is set to open two new restaurants later this year. The Shoreline Hotel is across the street, offering additional rooms close by.
"The larger events at our convention center often utilize our entire event space, and the groups are the center of attention for not only our facilities, but also our downtown," Charron says.
In fact, being part of the downtown district is a selling point for those plan ning meetings, he adds.
"The city, businesses, and com munity activists have done a great job of creating a lively downtown corridor with different and creative retail shops, breweries, distilleries, restaurants, and watering holes—all within walking distance of the conven tion center," Charron says. "A lot of groups and organizations are notic ing the exciting things happening in Muskegon and they want to experi ence them for themselves."
Muskegon's VanDyk Mortgage Convention Center is attracting larger events.
attract new and different groups. The convention center was designed in a way that provides good flexibility."
40 MI M+E » FALL 2022 CVBLANSINGGREATER(OPPOSITE)PHOTO;D'ANGELOJOHNPHOTOS: INDUST R Y UPDATE Regional News
NEW MUSKEGON CONVENTION CENTER IS HAVING 'A GREAT 2022'
"We did not previously have the space for these midsize conventions," she says. "There are a number of ven ues in the city and surrounding area that can accommodate smaller groups, and we needed additional space to
"As the pandemic subsided and groups became more comfortable committing to large events, we expe rienced an uptick in our booking[s] of convention and meeting business," Charron says. "We have had a great
» IT HAS BEEN a year and a half since the VanDyk Mortgage Convention Center opened its doors in downtown Muskegon. Rory Charron, director of operations for manager Parkland Properties of Michigan, says the $21 mil lion venue has turned out to be every thing community leaders had hoped for—and then some.
GREATER LANSING CVB WINS TOP AWARD FOR WEBSITE
The Central Michigan Chapter of the Public Relations Society of America recognized the new website of the Greater Lansing Convention & Visitors Bureau (GLCVB) with a PACE Pinnacle Award.
"We knew a strong web presence was necessary," she says. "We updated design and features to make it more mobile friendly."
"It's a great resource for event planners and includes testimonials, videos of facilities, event-planning resources, and destination information," she explains. "Planners can submit their requests for proposal, learn about our free services, and contact our expert team for personalized assistance. We have seen a 40% increase in web traffic since making the improvements."
location, historic and beautifully renovated loft space, stunning city views, and unparalleled ambiance.
Grand Rapids' premier event space exemplifies the best in "old world convenient downtown
PREMIER SPACE
life. Scan
Tracy Padot, and Beth
From board meetings and conferences to all-out holiday affairs, The High Five GR can host it all. Experience the care and attention that goes into your event when you work with The High Five to bring your vision to to book a tour call 616.828.1411 MORE THAN JUST A MEETING
&
MI.MEETINGSMAGS.COM 41
FOR
or
"The awards are judged [for] research, design, and usability of the website," says GLCVB Vice President of Marketing Communications Tracy Padot. "It is the highest-level award given in the 'best website' category."
Lori Lanspeary, Jespersen of the Greater Lansing Convention Visitors Bureau
The organization worked with Simpleview of Tucson, Arizona, to do the web development, which took more than a year to complete. Padot says she and her staff have received positive feedback about the revamped website.
Padot says the overhaul of lansing.org was spurred by an understanding that visitors and event planners sought more information digitally during the pandemic.
Meet
Mt. Pleasant Meeting Planners. Fall Print Ad Option 5.indd 1 8/15/2022 2:18:35 PM
(800) 772-4433 | dorothy@meetmtp.commeetmtp.com Grow your meetings and meet in central Michigan!
EVENT
meets new". A
FROM DRESSAGE TO DISTILLERY
Equestrian Center near Petoskey is being renovated into a 40,000-square-foot multiuse activity center that will include a distillery, tasting room, and wedding venue, among other amenities.
42 MI M+E » FALL 2022 INDUST R Y UPDATE Regional News
The co-owners plan to add golf simulators this winter, an outdoor patio in summer 2023, and a wedding pavilion in 2024.
Adam says groups of up to 200 can be accommodated indoors, with a capacity of 500 people or more for outdoor events.
"There was just such a special feeling once entering the property—a sense of bliss." gypsyvodka.com
The co-owners of Gypsy Vodka and High Five Spirits took on the project, which they named Gypsy Farms. They already operate tasting rooms in Petoskey and on Mackinac Island.
The tasting room, cocktail garden, and food stalls are scheduled to open by October, and Gypsy Farms is now taking
Co-owner Adam Kazanowski says he and his brother have a purchase agree ment with current owner Dave Johnson.
"Our organization is committed to building community through catalytic developments, innovative design and construction, and inclusive placemaking," he says. "I'm thrilled to have the oppor tunity to lead this team as we continue to foster dynamic connec tions between people and environments through a range of retail, residential, institutional, and commercial office spaces."
Bradford joined the organization in 2018 and worked with con tractors and suppliers to minimize the impact of the pandemic and keep construction and development planning on track in recent years.
Bradford cites new restaurants like Union Assembly and Tin Roof Detroit as recently completed projects. The company also delivered a new office building for Mercedes Benz Financial Ser vices in Farmington Hills.
MEYERS+ASSOCIATES(OPPOSITE)SPIRITS;FIVEHIGHPHOTOS:
There are two vacation rentals onsite, with expansive outdoor space for events. It's set on 23 pastoral acres overlooking Lake Michigan.
Previously serving as senior vice president, Bradford's new title represents the Ilitch organiza tion's commitment to development and improving the lives of peo ple who live, work, and play in Detroit and beyond, Bradford says.
"It will bring new jobs and retain talent while creating an inno vation hub in Detroit," Bradford says. "I find all of it energizing, and I enjoy seeing all of this progress come to life."
"When we first looked at the property, we felt like we were driving in Kentucky on the Bourbon Trail," Michael says.
In addition to building a 14,000-squarefoot distillery in the former indoor riding arena, they are planning a tasting room, indoor cocktail garden, food stalls, a pri vate rental bar and lounge, and an event space in the old equestrian center itself, says co-owner Michael Kazanowski.
"For example, we opened an impressive new office building in May 2021, and we have two great tenants, Warner Norcross & Judd and Boston Consulting Group, with new offices right on Woodward Avenue," he says. "Restoration of the historic Eddystone residences began pre-pandemic and opened on schedule."
KEITH BRADFORD PROMOTED AT OLYMPIA DEVELOPMENT, THE DISTRICT DETROIT
Keith Bradford has been named president of the Ilitch Company's Olympia Development of Michi gan and The District Detroit, a 50-block sports and entertainment development in the Motor City.
Detroit's only full-time comedy club, Detroit House of Comedy, opened in June in The District Detroit. Three new restaurants are also on the horizon, and the organization recently announced it will be working with Related Companies to bring the Detroit Center for Innovation to The District Detroit.
"[He] has been a huge help on securing this historic site," Adam notes. "Mr. Johnson had many inquiries on the property, but it was important to him and us to keep the main structure up and preserve the historic equestrian center as much as possible."
» THE FORMER BAY HARBOR
"It's one of the most iconic buildings in Michigan, but it has been unavailable to the public," Michael says. "When we entered the building for the first time, it hit us that this could be a one-ofa-kind event space and the perfect location for a distillery."
booking for events in 2023 and beyond.
An artist's rendering of the bar in Gypsy Farms
It will feature 5,000 square feet of meeting and event space, a fitness room, a bar/lounge, and Toscana Restaurant & Bar. The hotel and restaurant are slated to open in 2023.
A $256 million mixed-use development on Michi gan Avenue between the campus of Michigan State University and downtown Lansing is designed to replace an underperform ing corridor of fragmented developments with a zone of activity that cre ates jobs, enhances the economy, and creates a sense of place.
Also part of the package is market-rate housing, senior living, student housing, retail and commercial space, and public amenities. redcedarfacts.com
Dual-Branded Hotel Part of Lansing's Red Cedar Project
The Red Cedar project, as it's called, will include a dual-branded hotel—a Hyatt House by Hyatt with 139 rooms and AC Hotel by Marriott with 156 rooms, according to Carl Hren, senior vice president of development for Concord Hospitality, one of the development partners.
"The two hotels are important to support the market of and visitation to the Lansing area," Hren says. "They will provide a diversity of rooms within the development and also support Michigan State's hospitality school whenever possible."
Hren says market studies predict the hotels will serve extended-stay, leisure, and business travelers as well as Michigan State University students and their families.
MI.MEETINGSMAGS.COM 43
From top: A rendering of the hotel; the lobby lounge
CMP, CTA Vice
PIKE, CMP Chapter administrator, Treeline Associates
CMP
BRETT BOWMAN
2022-23 BOARD MEMBERS:
44 MI M+E » FALL 2022 INDUST R Y UPDATE Regional News
MPI Michigan Chapter Announces 2022-23 Board of Directors
Immediate past president, Consumers Energy
LINDA BAHR, CMM,
MARY GETTEL,
fundraising and special events, Raising
Bahr Events
KARA ZIMMER of
KARALEE MCKINSTRY
gala at the Grand
ELIZABETH
CMP
in June.
Director of Pleasant
education, Treeline Associates
Destinationdirector,Michigan
member care, Boyne Resorts PRESIDENTMICHIGANMPICMP,HUGHES,DEBBIEPHOTO:
CMP President,
LINDSAY KIRCHINGER, of
JENNIFER BERKEMEIER
Director of the
Area Convention & Visitors Bureau
monthly meetings, Mount
a new board of its Celebration! Traverse Traverse City
The organization Mid-Winter
Director of
Director
partnerships,strategicAMS
finance,
directors during
Resort and Spa in
social media, Health Care Association of Michigan
Vice president, leadership develop ment, Huntington
regional confer ences, Michigan Economic Development Corp.
DOROTHY DEAN
CTA Vice
communications, AGC Michigan
CMP Director
CGMP Director
DEBBIE HUGHES, Michigan District of the
Vice president, Traverse City
Place
JENN MORDEN,
Lutheran Church–Missouri Synod
CATHY MAYHEW, president,
SARAH DYSINGER, president,
Tourism
KIM CORCORAN, Executive
CMP, CTA President-elect, Connect Space Inc.
The Meeting ganInternationalProfessionals(MPI)MichiChapterinaugurated
STACY YERBY, of
CMP
Symposium and the MPI Great Lakes Education Summit.
of meeting professionals offers education, leadership training, scholarships, and professional development for its members. Each year, MPI Michigan also hosts industry events and networking forums, including a
MIRACLE JOINS DELAMAR TRAVERSE CITY
Sammie Lukaskiewicz is the new executive director of the Manistee County Visitors Bureau. Most recently vice president of marketing and communications for Crystal Mountain in Thompsonville, she led strategic communications, Lukaskiewicz previously worked promoting talent and career opportunities for the Michigan Department of Talent and Economic Development and then the Department of Labor and Economic Opportunity.
Brett Bowman is the new sales manager at Traverse City Tourism. His past positions have included sales manager at Great Wolf Lodge, executive meeting manager at Grand Traverse Resort and Spa, and program coordinator at Crossing Boundaries. He is also vice president of finance for Meeting Professionals International, Michigan Chapter.
MI.MEETINGSMAGS.COM 45 People News //
Taryn Miracle is the new director of sales and marketing at the waterfront Delamar resort in Traverse City. Miracle previously worked as director of sales and catering at Great Wolf Lodge, also in Traverse City.
LUKASKIEWICZ TO LEAD MANISTEE CVB
Not Your Average Meeting airzoo.org/host-an-eventSpacesCorporate Events & ExperiencesTeamHands-on&CelebrationsMeetingsConferencesBuilding MEET MUSKEGON... the Natural Choice SCHEDULE YOUR SITE VISITMUSKEGON.ORGAMBERMAE@VISITMUSKEGON.ORGVISIT231.724.1123
TRAVERSE CITY TOURISM HIRES BOWMAN
ILEA Detroit Confers Social Media Tips
A summer refresher on revitalizing social media practices attracted members of the International Live Events Association (ILEA) Detroit Chapter to the Selfie Shop in Madison Heights on June 22. Olivia Stouffer of Liv in the Moment Photography spoke to the group on the importance of personalization, photos, videos, and content creation; Kate McClellan of Purple Clover Events discussed scheduling posts to save time; and Rachel Wickremasinghe from the marketing team at Display Group concentrated on engagement. Participants also put what they learned to use as they strolled around the shop taking selfies.
6 87 5 21 4
or
1. Laia Al-Duwaisan, Liv Stouffer
2. Mika Vanderheyden 3. Emily Bosh Garner 4. Lindsay Obremski, Connie Seibt, Brittany Wenson 5. Liv Stouffer
3 SNAPSHOTS ILEA at the Selfie Shop
To have your meeting event kgibbons@greenspring.com
photos featured, contact
6. Participants in the social media workshop 7. Taking in the ILEA event 8. Kate McClellan
46 MI M+E » FALL 2022 PHOTOGRAPHY;RAFFERTYEMMA8)7,6,(2,PHOTOGRAPHY;MOMENTTHEINLIV5)(1,PHOTOS: WENSONBRITANY(4)GARNER;BOSHEMILY(3)
MI.MEETINGSMAGS.COM 47 BCV-5051 MI Meet & Events fall.indd 4 8/1/22 12:52 PM Digital stories on the top meeting and event venues, advice from professionals, and reports on food, beverage, décor, technology and more! IN YOUR INBOX Stay up-to-date! MI.MEETINGSMAGS.COM/NEWSLETTER-SIGNUP-MICHIGAN
When the vaccine came out and we started to watch what the research was showing, it was about, 'Man, we're open ing the door and getting the hell out of here.' So, we changed our campaign to 'Go Outside and Play.' It came from discussions with our advertising agency and us—all of us grew up with the idea that our parents told us that all the time. So, we decided to use that as a campaign, and the response has been very good.
» IF YOU ASK Tom Nemacheck, he has the greatest job there is. The execu tive director of Upper Peninsula Travel & Recreation for the last 27 years says he enjoys what he does more than ever before. While retirement may be on his radar at some point, he's happily staying put for now because he says it's an exciting time to be in tourism marketing with so many digi tal tools available to reach the masses.
M+E: What are some of your prime areas for corporate events and business conferences?
48 MI M+E » FALL 2022 CAYLORCARLPHOTO:
M+E: Where do you draw people from?
TN: A tremendous amount of traffic is coming out of Minnesota and Wisconsin, and the Illinois market comes up through Wisconsin. The western U.P. is four hours from Minneapolis-St. Paul.
M+E: During the pandemic, even during the earlier lockdown stages, people were flocking to the U.P. to get away to your wide-open spaces. How did that affect your marketing?
Yooper Through and Through
TN: The tourism industry in the U.P. has broken every record we ever had. We realized by about the end of May [2020] that it was an unbelievable boon that was coming our way. … That summer we broke every record we had, [and] last summer, we broke every record from the year before.
PEOPLE P R OFILE Tom Nemacheck
Marketing the U.P. doesn't feel like work for Tom Nemacheck. BY KATHY GIBBONS
TN: Of course, there's that little thing called Mackinac Island, which is obviously on everybody's radar when it comes to meet ings and events. For association meetings, government meetings, industry meetings, and corporate retreats, the No. 1 areas are the bigger communities: Marquette would be No. 1 … then you would break it down from St. Ignace, Sault Ste. Marie, Houghton, Escanaba, Iron Mountain—those six commu nities represent about 90% of it.
YOUR GETAWAY. REIMAGINED. Escape the world for a while and enjoy endless action and indulgence. Celebrate your winning moments. Taste the good life. Lounge around in plush accommodations. And do it all over again tomorrow. It's all here at Michigan's most exciting destination
5 REASONS TO HOLD YOUR NEXT MEETING ON MACKINAC ISLAND
More than 100,000 square-feet of for big or small. from professionally trained so don't have to sweat the carriage fudge much
Support
you
Sodetails.many things to do for attendees –horse-drawn
tasting, hiking, biking, golf, shopping and
meeting rooms
more. Fantastic menus of excellent dining with upscale and casual options and vibrant nightlife, too. Historic and unique places to stay, from world-class resorts and one-of-akind hotels to quaint cottages, luxury condos and Victorian B&Bs. 1. 2. 3. 4. 5. MACKINACISLAND.ORG Request an Island Meeting Guide
events
staff
rides,