THE TRAVEL ISSUE
THE TRAVEL ISSUE
Sun, snow or a quick city break – find delicious inspiration for your next exciting getaway
Sun, snow or a quick city break – find delicious inspiration for your next exciting getaway
TORY BURCH
TORY BURCH
From busy New York City to relaxing on Antigua
From busy New York City to relaxing on Antigua
WILDERNESS SAFARIS
WILDERNESS SAFARIS
The luxury experience company that set new standards
The luxury experience company that set new standards
ROSEWOOD
ROSEWOOD
The Chinese hospitality group is taking over iconic hotels
The Chinese hospitality group is taking over iconic hotels
No. 1/23
No. 1/23
DECEMBER / JANUARY / FEBRUARY
DECEMBER / JANUARY / FEBRUARY
Spain 8.20 EUR THE ENGEL & VÖLKERS MAGAZINE STAY IN TOUCH!
BUY AND FLY WITH CONFIDENCE
YOUR PARTNER FOR PRE-OWNED AIRCRAFT
WITH HERREOS AVIATION, CLIENTS KNOW THEY'RE GETTING NOT ONLY FIRST-CLASS KNOWHOW BUT ALSO TRADITIONAL FAMILY BUSINESS VALUES. THEY KNOW THAT OUR AIM IS NOT JUST TO MAKE A CLIENT, BUT TO KEEP ONE.
YOURS EBERHARD HERR
phone +49 171 713 716 7 . sales@herreos.eu . www.herreos.eu
The world is a book, and those who do not travel read only one page." The sentiment dates all the way back to Roman philoso pher Augustine of Hippo – and he was right: When we travel, we meet new people, get to know different cultures and open our minds to new ex periences. It makes no difference whether we journey through our own country or venture further afield – all that matters is taking a break from routine and finding inspira tion. I spent my own summer vacation in Greece this year and was captivated by the country's millennia-old history and the unique hospitality of its people. I'll definitely be going back – there's still so much more to discover! In 2018, flag carrier SWISS conducted a survey that aimed to discover how important traveling is to people. It revealed that 85% of Germans wish they could experience a par ticularly happy moment from their travels again. That's precisely the feeling that prompts many of our clients to buy a vacation property in their favorite place. That way, they can keep coming back to their personal dream destina tion with the added benefit of feeling totally at home there. As a real estate enthusiast, I'm often asked about the criteria for an ideal vaca tion property. The answer to that question is as individual as the buyers them selves. If they're buying it with a view to returns, it's important to check the property's potential in terms of location, occupancy and rentability. On the other hand, if it's intended for their own use, personal preferences are upper most: an apartment in the picturesque old quarter or peace and quiet in the backcountry? A mountain or sea view, a good-sized garden or a roof terrace? And if Greece has cast its spell on you too, I've got a great tip: The island of Symi is part of the Dodecanese chain and is located about 9 kilometers to the west of the Turkish mainland. Symi is popular for its colorful neoclassical hous es and unspoiled nature – and is still off the beaten tourist track. In 2021, exclu sive vacation homes were selling for around € 800,000, which is still moderate for the premium segment as compared to other European destinations. If you've started to get itchy feet, our Travel issue of GG magazine is the perfect read! Join us as we explore some of the most beautiful places in the world and their stories – I'm sure you'll find inspiration!
www.gg-magazine.com
Sincerely, Christian Völkers
CHRISTIAN SCHOPPE WELCOME 6
PHOTO: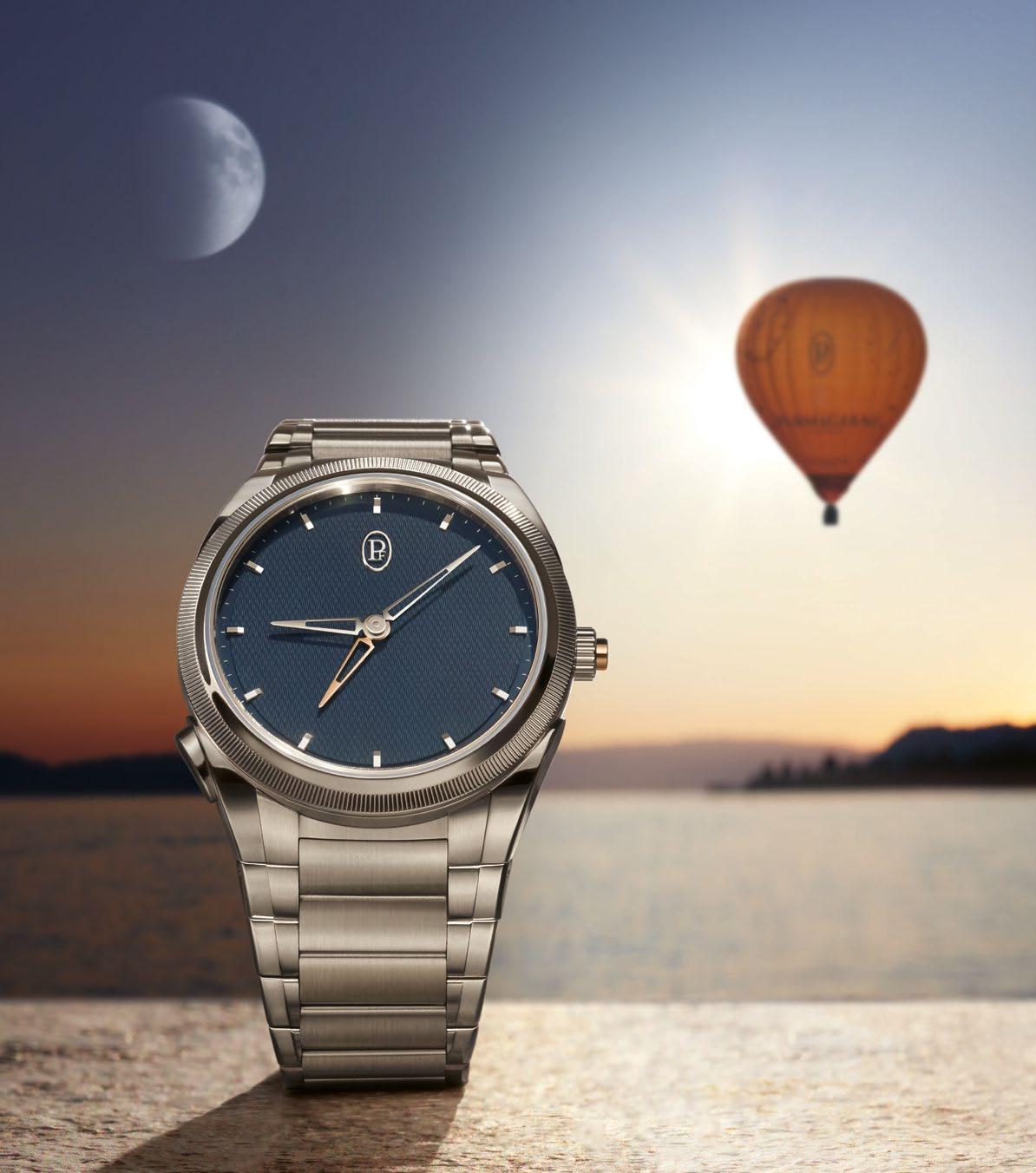 #TimeIsFlying
TONDA PF GMT RATTRAPANTE