BOTTOMLINE THE Premier Meats DECEMBER 2022 Christmas Dinner just got easier PLUS we've got rebates! Give old food trends a new life TRENDS What you need to know about credit card surcharges NEWS Fraud alert! Are you protected? OPERATIONS
REBATES BIB rebates on 20L BIBs! $3 rebates on 12L BIBs! $1.75 Pepsi® - PepsiCo, Inc. Used under licence. ©PepseCo Canada ULC, 2012 LIMITED TIME OFFER! DEC. 1, 2022 - FEB. 28, 2023 * This promotion is for Direct Pepsi Customers only New customers and existing members are eligible. Broadline distribution (FSD) purchases do not qualify for this offer. Contact your R.I.B.A. or Pepsi representative for details.
1 Prologis Blvd., Ste. 400, Mississauga, ON, L5W 0G2 519-668-3396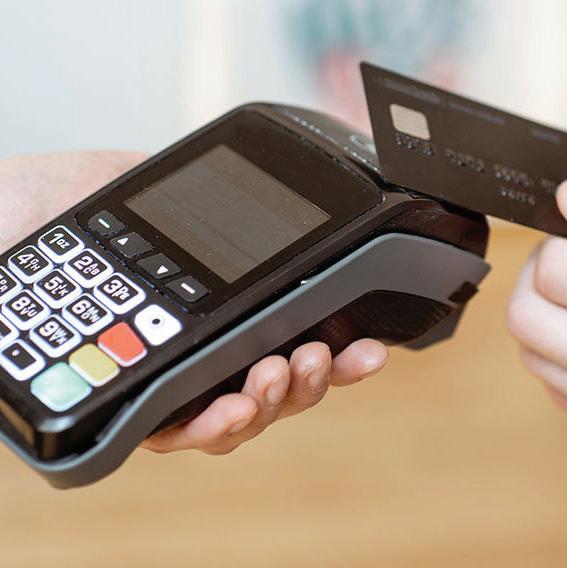 THE BOTTOM LINE December 2022 | 3
Free
CONTENTS 5 From our VP 12 Marketing: The Big Idea Marketing ideas you can use 14 Premier Meats Christmas dinner just got easier with the versatility of Premier Meats 16 Fraud alert! Protect yourself from fraud with these tips from Chase 6 in season Food for thought Everything you need to know about grapefruits, clementines and blood oranges — three fresh ingredients you can incorporate into your winter menus 26 recipes For the love of shrimp Shrimp like you've never had shrimp before... thanks to our friends at High Liner DECEMBER 2022 43 surcharges Credit card surcharges What you need to know before adding new credit card surcharges to customers' bills 22 Sandwich priorities What do customers say is the most important factor? 30 Seafood Take a dive into the many options available 38 Operations Turbo charging your growth when labor is scarce 44 Rational Make your kitchen more cost efficient with Rational BOTTOMLINE THE Adding or Switching Distributors? Email info@ribacorporation.com Please notify the Foodbuy Foodservice office if your restaurant has added or switched food distributors. This will ensure that there is no delay with your entitled rebate. Call us...519-668-3396 Foodbuy Foodservice retains the right to amend or negate any portion or part of this informative should there be an error or omission and re-publish the correct listing, rebate, article etc. in a future informative without liability.
Head office
Toll
(Ontario) 1-888-320-RIBA (7422) info@ribacorporation.com www.ribacorporation.com
4 | THE BOTTOM LINE December 2022 Egg, Cheese & Bacon Egg, Smoked Ham & Cheese Egg & Cheese NEW Breakfast Sandwiches *VOTED MOST TRUSTED EGG BRAND BY CANADIAN SHOPPERS BASED ON THE BRANDSPARK® CANADIAN TRUST STUDY, 2021 AND 2020. Fully cooked and made with quality ingredients, our new microwavable, individually wrapped breakfast sandwiches are where ready-to-go meets ready-to-serve! Save time. Save money. Save labour. Entice your customers with 3 delicious flavours! PRODUCT BRAND PACK SIZE SCC CODE BBF# SYSCO# Breakfast Sandwich Egg, Smoked Ham & Cheese Burnbrae Farms 24 x 130 g 10065651023430 02343 5591351 Breakfast Sandwich Egg, Cheese & Bacon Burnbrae Farms 24 x 116 g 10065651023423 02342 5591365 Breakfast Sandwich Egg & Cheese Burnbrae Farms 24 x 112 g 10065651023416 02341 5591373 Now Available! burnbraefarmsfoodservice.com | 1 800 666-5979 Made in Canada from domestic and imported ingredients
May your holiday season be all wrapped up with cheer and filled with celebration for the New Year.
We would like to take this opportunity to wish everyone a wonderful new year filled with abundance, joy, and treasured moments. Our members and partners are important to us, and we look forward to sharing another year with you.
May 2023 be your best year yet!
Christos N. Kyriakopoulos Vice President
Rich Hsu General Manager
Peter N. Kalantzis Senior Director of Sales
Mandy Ouellette
Account Manager - Foodservice
Kiran Thandi Account Manager - Foodservice
Rahul Patel
Account Manager - Foodservice
Victoria Lange Account Manager - Foodservice
Gerardo Damore Account Manager - Foodservice
Nancy Rasic Associate Account Manager
Susan Batsford Marketing Manager / Graphic Designer
Troy Taylor VP Strategic Development
THE BOTTOM LINE December 2022 | 5