COMPLIMENTARY
Dr. Sue MathIson Throat/Nose/Ear Health
Dr. noah Chelliah Heart/Cardiac Health
Menley Denham Brain Health
DR. Philip Johnson Joint Health
amanda Simmers Muscle Health tessa Simmers Muscle Health
Dr. Chris Dockter Spine/Back Health
MARCH 2023
dr. John Bassett Gut Health Ryan Bothun Feet Health
Sponsored Content: Beverage Insider: 5 must try RTDs
Sponsored Content: Healing the Hurt in the Community
Think Global; Act Local
ARTS & ENTERTAINMENT
5 Hot Upcoming Events
Explosive Entertainment
Walking Phoenix: Pursuing the American Dream
HEALTH SPORTS & REC
Finding Your Inner Strength
Where Are They Now? An Interview with Payton Otterdahl
HOME & DESIGN
Neo Moves 2 Doors Down, Revealing Big Community Project
FOOD & DRINK (FIKA)
5 Things to Eat & Drink
PARENTS & KIDS
Editor's Choice: Sam's Favorite YA Book
Releases of 2022
Need Local Date Ideas This Month?
BUSINESS
Meet the Maker: Solsaa
CAREERS
Successful Advice: Lauryn Schneider
MIXOLOGIST OF THE MONTH: TORI PIERCE
18 TIPS
FARGO MONTHLY // MARCH 2023 COVER STORY
your favorite things in one spot. FARGOMONTHLY.COM Extended content, events, drink specials, giveaways and more.
& TRICKS FROM 9 HEALTH PROFESSIONALS
All
fargomonthly @fargomonthly
US ONLINE 32 91 71 12 14 36 38 40 42 46 52 54 58 62 64 70 71 74 76 80 86 88 90 90 96
info@spotlightmediafargo.com 701-478-7768 fargomonthly.com @fargomonthly
FIND
4 | MARCH 2023 | FARGOMONTHLY.COM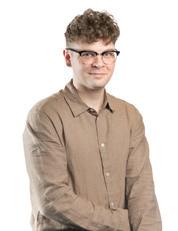 MIKE BRADY KIM
LEVI TY
GENEVA
GRANT
SAM JOSIAH
GARY
PAUL
DEVAN TORI
KACEY HAILEY
MIRANDA
JESSICA
NICK KELLEN
BEN TOMMY KELLAN
JONATHAN
Learn more about us at spotlightmediafargo.com Meet the team 6 | MARCH 2023 | FARGOMONTHLY.COM
RYNE JOHN
Fargo Monthly Magazine is published 12 times a year and is free. Copies are available at more than 500 Fargo-Moorhead locations and digitally at fargomonthly.com.
Publisher
EDITORIAL
Editorial Team Lead
Editors
Art Director
Editorial Graphic Designers
Content Specialist
Contributors
INTERACTIVE Business Development Manager Business Development Associate
Videographer Director of Digital Advertising Results
Graphic Designer Web Designer Social Media Specialist
ADVERTISING VP of Business Development
Sales Representatives
Mike Dragosavich
Brady Drake Brady@SpotlightMediaFargo.com
Geneva Nodland, Grant Ayers, Josiah Kopp , Sam Kise
Kim Cowles
Levi Dinh, Ty Betts
Gary Ussery
Alexandre Cyusa, Ashley Morken
Nick Schommer
Kellen Feeney
Tommy Uhlir
Jonathan Chicka
Ben Buchanan
Kellan Benson
Ryne Bigelow
Paul Hoefer Paul@SpotlightMediaFargo.com
Al Anderson Al@SpotlightMediaFargo.com
Devan Maki Devan@SpotlightMediaFargo.com
Sales & Marketing Advisor
Tori Helland Tori@SpotlightMediaFargo.com
Kacey Mongeon Kacey@SpotlightMediaFargo.com
Marketing Associate
Client Relations
Client Relations Manager
Marketing Coordinator
Operations Assistant
DISTRIBUTION Delivery
Hailey Bebler Hailey@SpotlightMediaFargo.com
ClientRelations@SpotlightMediaFargo.com
Jenny Johnson
Jessica Mullen
Miranda Knudson
John Stuber
Fargo Monthly is published by Spotlight, LLC. Copyright 2023 Fargo Monthly and fargomonthly.com. All rights reserved. No parts of this magazine may be reproduced or distributed without written permission of Fargo Monthly and Spotlight, LLC is not responsible for, and expressly disclaims all liability for, damages of any kind arising out of use, reference to, or reliance on such information. Spotlight, LLC accepts no liability for the accuracy of statements made by the advertisers.
Spotlight, LLC 4609 33rd Ave S Suite #304 Fargo, ND 58104 or info@spotlightmediafargo.com
ADVERTISING: 701-478-SPOT (7768)
March 2023 Volume 13 / Issue 3