Lehigh Valley
The Arts & Culture Issue
Celebrating local shopping, dining, arts, events, and
community ISSUE N o 36 | FALL 2022
The highest level of quality and safety. It's what you expect and deserve from your most trusted health partner. It's also what makes Lehigh Valley Hospital the No. 1 hospital in the region and a top hospital in Pennsylvania. LVHN.org/USNews
# 1 Nine Years Running
2 LVHN.ORG 1.888.402.5846 LOCATIONS ACROSS THE REGION: LVHN.ORG/FIND-A-LOCATION
Drawn to women's rights and activism by way of watching her mother do the same is what this issue's Fig Authentic is all about. 66
COVERTHEON HaydenfilmsofJr.Barron,Darin spreadingcover,ouracrossglides historyKrumping—itsonwordthe canithowandstyledanceaas Darin'sReadcommunity.ourhelp 15.&14pagesonstory
And of course great asanddining,shopping,arts,events,community—always.KeepReading
Find artists, creators, and changemakers from all across the Lehigh Valley in the largest and most colorful Arts & Culture issue to date. Creativity abounds in the Valley! 20-59
Making compassion part of business culture mindfulnessthroughtraining. 71
Giving Back: Darin Barron, Jr.
Read about the female trailblazers of Gross McGinley, LPP, who are making a difference every day. 16-19
Creative Community
Contents ISSUE 36 / FALL 2022 / LEHIGH VALLEY, PENNSYLVANIA / THE ARTS & CULTURE ISSUE 3
Women cultivatewhochange
Fig AmresseAuthentic:Farrow
IN THIS ISSUE This fall, take a look at all the Lehigh Valley has to offer as you live and love local in our creative community.
Fresh BethlehemofJessicaFace:MorrisseyToastique
Meet our 2022 Social Shanthi@WorkPartner:Mission
The intersection of dance, film, and storytelling to foster connection is how Darin Barron, Jr. gives back to his community. 14-15
Inspired by entrepreneurialher mother, Jessica brings healthfocused power meals to the Lehigh Valley. 81
Fig Industries, LLC has made every attempt to ensure that all information contained in this publication has been obtained from reliable sources, but all such information is provided "as is" with no guarantee of completeness or accuracy. The views of contributors do not necessarily reflect the views or policies of Fig Industries, LLC. Fig Industries, LLC cannot be held responsible for errors or omissions contained in, or reliance made upon the contents of, this publication. Copyright: Copyright 2022 © Fig Industries, LLC. All rights reserved. Photography or page layout contained in Fig shall not be reproduced, in whole or in part, without the specific written permission of Fig Industries, LLC. Contact 717.394.7737 or studio@figindustries.com.
Shanthi@Work
Look for Fig Lehigh Valley on Facebook and Instagram for daily coverage of local entertainment, events, food, and community.
Lehigh Valley Legends
SOCIAL MISSION PARTNER
Colin Coleman
ADVERTISING IN FIG
PHOTOGRAPHERS
WindTouchstoneSouthSideUniversityArtsDistrictTheatreCreekBethlehem
ISSUE SPONSORS
Marlow Rodale
ALL THINGS SOCIAL
CONTRIBUTERS
Meghan Burke
Kate Hughes
FINANCE
SOCIAL MEDIA
Emily WillKayleeKerschnerMasulloTeodori
Ryan Walsh and Christian Miccio of Zeptepi Creative Guy Daniel
Sam MichaelBrandtLebson
Jason James
COMMUNITY PARTNERS
Michael CliffHaydenfilmsLebsonInstituteLewisExperience
Kate Hughes Lori Ball
Matt Brandt
Fig Industries
To find out how you can strategically market your business through a Fig communications package, contact studio@figindustries.com.
ART DIRECTOR
DIRECTOR
Fig Industries is redefining success through social impact and environmental accountability in the communities we serve. Learn more about our B-Corp certification at figindustries.com/b-corp/.
DESIGNERS
Cara Walker
CLIENT ADVOCATE Meghan Burke
PUBLISHER
Greater Easton Development Partnership Moravian
Leila Bandar
INDUSTRIESFIGBYPRODUCED&CREATED believewhomakersandthinkersofteamcreativecuriouslyaareWe brandsdeliveranddesignWeeverything.changecanideabigonethat figindustries.com.atteamourMeetlove.peoplethat Credits ISSUECULTURE&ARTSTHE
WRITERS
portraits by Chocodiem
Chocolateavailable.
WHAT DOES IT MEAN TO BE CREATIVE? It's hard to put a boundary around the term. Whether you put pen to paper, brush to canvas, or chocolate shavings to truffle, we believe you're building an experience. You're making something that brings joy, invokes questions, elevates an issue, or communicates the beauty of life around us—be it for yourself or for the world.
KATECREATIVELY,HUGHES & THE FIG TEAM
At Fig, we get up in the morning ready to bring new ideas to life. We express ourselves through visual communication and living out our mission—one click, stroke, swipe, word, and image at a time.
A place to be Creative
Become a subscriber and have Fig sent to your home while giving back—10% of all subscriptions go to our Fig Social Mission Partner, Shanthi@Work. Go to figlehighvalley.com/subscribe. Gift subscriptions
ISSUE 36 / FALL 2022 / LEHIGH VALLEY, PENNSYLVANIA / THE ARTS & CULTURE ISSUE 5 FigfromnoteA
The Lehigh Valley is always changing and offering new viewpoints for those who live, work, play, and visit. You will read about some of the most interesting art, of both the past and the future, and how it relates directly to our community. We pay homage to inspiring individuals who
You may even find yourself moved to make something beautiful too.
We invite you to become immersed in the wonder of creativity and engage with these, and other, inspirational thinkers, artists, and innovators within the Lehigh Valley community.
live out their mission to enrich, engage, and spark joy. Since we all experience, react to, and interpret art differently, this set of creatives ensures there is something accessible to everyone. The impact and influence of their work is endless.
Scan here to visit website!their Owners Val and Dan
THE ARCADIA VR ARENA is like nothing you've ever seen before.
Choose to teleport into a sci-fi arena, fight to become a pirate king, or fend off a cyborg invasion!
6 627 HAMILTON STREET, ALLENTOWN 484.274.6527 GOSPLITPINE.COM
Once the VR headset goes on, anything can happen. It's reality, but not as you know it.
You'll dodge lasers in an epic battle for supremacy. Or perhaps you'll soar through the air on a hoverboard while trying to avoid obstacles. No matter what game you choose, the Arcadia VR Arena at Split Pine Axe Throwing is sure to transport each player to a new level of fun.
READY TO ENTER A WORLD?NEW
My So-called Life needs more plants in it
45 EAST BELVIDERE STREET, NAZARETH, PA 20 MAIN STREET, CLINTON, NJ CURIOUSPLANTAHOLIC.COM 7
Let your curiosity lead you through the doors of this beautifully curated shop and leave with a little treasure and a smile.
KNOWN AS THE "CURIOUS PLANTAHOLIC," Jenny DeLorenzo owns a shop in Nazareth by the same name.
Curious Plantaholic is a popular destination for plant enthusiasts of all kinds. Carrying a wide variety of plants—from cacti to orchids to homegrown carnivorous plants—you can find something to fit perfectly into your "socalled life" (see what we did there?). The staff doesn't always dress up like characters from a 90s sitcom, but they are always fun and inclusive.
Internet that keeps up with you.
YOU NEED ULTRA-RELIABLE, SUPERSONIC INTERNET FROM BROADBAND POWERED BY RCN that will let your creativity flow! We're evolving to better serve you, your passions, your work, and your life. With speeds up to 1.2 Gig available, experience the astounding possibilities.
8 ASTOUND.COM 1.800.4.ASTOUND 2124 AVENUE C, BETHLEHEM
ASTOUND
Dr. Katie P. Desiderio says, "We operate in the space of the art of the possible."
Corporate and community partnerships come in many forms, and there is no set menu of options. Assistant Vice President of Corporate-Educational Partnerships
with companies around the Lehigh Valley, Moravian University formally established the Office Of University Partnerships in 2022. Led by staff in both the Bethlehem and Lancaster locations, their mission is to cultivate rich education solutions and high-impact practice in the spirit of shared growth.
Interested in partnering with Moravian University? tomoravian.edu/partnershipsVisitfindoutmore.
Partnering with industry leaders
AFTER YEARS OF PARTNERSHIP
When meeting with a new partner, University Partnerships presents these topics to get the conversation started: Employee acquisition and retention Workforce TuitionConsultationupskillingprojectsdiscounts
1200 MAIN STREET, BETHLEHEM 610.861.1400 MORAVIAN.EDU/PARTNERSHIPS 9
Camille Murphy (right), Chairperson, Art Department, Associate Professor of Art, Head of Graphic & Interactive Design Track and Liz Mogollan (left), Class of 2020
Camille Murphy Art Department Chairperson, Associate Professor of Art, Head of Graphic & Interactive Design Track
"
MORAVIAN'S PARTNERSHIP with Factory was instrumental in providing Liz Mogollan, Class of 2020, with the internship that led to her position as full-time graphic designer. The opportunities available for students at Factory would not be possible without Camille Murphy, Associate Professor of Art and Department Chair, who works tirelessly to provide a number of real world experiences to her students. In 2022, the partnership will continue with Factory hosting another competition for a new group of Moravian graphic and interactive design majors pitching new packaging and marketing ideas for products made by Factory clients.
Factory
10
"I work with area companies so our graphic and interactive design students get to work on projects for real clients with feedback from design leaders in the area. The contest with Factory taught our students how to pitch ideas, make great things, and sell your ideas while listening to your client. Because of the contest and internship from winning, Liz received a job offer before even graduating!"
"
"When Moravian occupational therapy students visited the Good Shepherd Home residents, the energy was infectious. The students listened intently to the needs of each resident, took precise measurements, and created a customized device uniquely suited for each of them. These opportunities will continue to grow with the opening of the Good ShepherdMoravian University 3D Experience in the Good Shepherd Rehabilitation Hospital next June."
Emily Lyter PT, DPT, Administrative Director Good Shepherd Learns, Creates, & Research Good Shepherd Rehabilitation Network
Sara Benham, Assistant Professor of Occupational Therapy; Jeff Bush, Assistant Professor of Computer Science; Emily Lyter, Administrative Director Good Shepherd Learns Creates & Research ; and Amanda Clark, Director of Good Shepherd Creates
1200 MAIN STREET, BETHLEHEM 610.861.1400 MORAVIAN.EDU/PARTNERSHIPS 11
Good Shepherd
THE GOOD SHEPHERD PARTNERSHIP aims to improve rehabilitation care through 3D printing to enrich patient outcomes, independence, and quality of life. The aim is to engage Moravian students as researchers and change leaders, inspiring creativity and furthering the use of 3D printing and design in rehabilitation settings. They are bringing together a community of patients, clinicians, educators, researchers, and students to solve clinical dilemmas with this accessible and affordable servicedelivery method, leveraging technology and unleashing the creativity of customized 3D printing designs.
"My time at Moravian prepared me for so many aspects of my future life and career. The breadth of experiences and relationships at Moravian allowed me to engage as a much more well-rounded student and physician."
12 1200 MAIN STREET, BETHLEHEM 610.861.1400 MORAVIAN.EDU/PARTNERSHIPS
"
Dr. Andrew Goodbred, MD, FAAFP
Nilsa Lasso-von Lang, Associate Professor of Spanish and Assistant Director of Multicultural Enrollment and Dr. Andrew Goodbred, Associate Program Director at St. Luke's Family Medicine Residency - Anderson Campus
St. Luke's University Health Network
DR. ANDREW GOODBRED CLASS OF 2008, learned Spanish during his undergraduate work at Moravian. These Spanish skills have helped him better communicate with many of his patients at St. Luke's who speak limited English. Dr. Goodbred wanted to share this opportunity to improve the practice of his family medicine residents. Naturally, he contacted his Alma Mater where a customized Spanish Language for Health Professionals program was created just for St. Luke's, launching this fall.
SKIP THE WATERING, skip the pruning, and enjoy the beauty of a botanical display without ever lifting a finger. Woman owned and operated, Mission Plant Co. curates your space for the perfect plant-match and brings the expertise to keep your plants lush and thriving for years to come. Every plantscape package comes with living plants, modern planters, routine plant care, and a Free Plant Replacement Guarantee. Schedule your complimentary estimate, meet founder and owner Sabrina, and watch your space transform into a welcoming, living haven!
Sabrina Walters, founder and owner
HELLO@MISSIONPLANTCO.COM 610.653.3414 MISSIONPLANTCO.COM 13
The plant curator
Film reentered his story when he was at NACC and a video artist asked to film him dancing and his Krump artistry. Krump is a dance form that was, as Darin explains it, "born in LA in the 2000s to combat gang violence. It is a subjective, sometimes spiritual, evolving form." The filming of his story ignited something in Darin. "I wanted to offer that experience to other dancers, to get their stories out," he said. This led him to Haydenfilms, where Darin has been able to find the support to realize his vision.
Theory of 5 Dance Competition
Dance Meets Film
Sponsored by Haydenfilms Institute
Community and Competitions
14 LEARN MORE ABOUT FIG GIVING BACK AT FIGLEHIGHVALLEY.COM
Dancers are coming to the Lehigh Valley to work and film with Haydenfilms, and Darin's work gives them an opportunity to speak out. "We always want to think about what outlets and spaces are created for artists, where you can be seen and feel there are people like you," Darin added.
In 2022, Haydenfilms hosted the Theory of 5 Dance Competition. Darin explains, "It's something we came up with that's accessible to anyone, not necessarily elite dancers." Theory of 5 is based on Chris Saraceno's coaching work around five components to a successful life. "We created an original piece of music that's positive and upbeat, where anyone can create something unique—their own dance art," Darin said. Participants shared their choreography to the song by posting their reels on Instagram and TikTok. "It was a way to have global accessibility and an inclusive environment; connecting dancers of all walks of life," he said. Be sure to follow Darin on Instagram @darinthebarronjr
Darin says, "Stories save lives and have powerful influence. Through filmmaking and journalism, we can encourage others. We find each other in community. And it is important as artists that we support one another."
Breakthrough Moments and Film
MYCITYDANCESERIES
Giving Back: Darin Barron, Jr.
Darin's artistic career was born out of dance. His project "My City Dance Series" fuses his background as a Krump dance artist with his work as a filmmaker. The platform serves as an empowering space for dancers to tell their stories. "Through film, we weave dance and movement with interviews to reveal the person behind the art," explains Darin. "We go beyond dance as entertainment to get at the why behind their dancing. The film stories capture more deeply what the dancer tries to express in their art." Deeply intentional, My City Dance connects dancers to the wider community.
Giving Back | Making a difference in the lives of others
AS AN ARTIST, DARIN BARRON, JR. defies the category. The founder of My City Dance and Haydenfilms' Business Development Director, with Haydenfilms, Darin's work is at the intersection of dance, film, and storytelling to foster connection and community.
Bringing film, dance, and community together for deep storytelling and connection
15
Masterful problem-solving is her business
A strategic business partner to clients across diverse business sectors, Loren takes a collaborative approach to analyze business opportunities, address business risk by proactively establishing processes and policies, and close business and banking
16
Scan here to learn more about Loren and the Gross McGinley team.
Outside of the office, Loren grabs the reins as a volunteer board member in several community organizations, including Women's Resources of Monroe County, Lehigh Valley Economic Development Corporation, and the Rodale Institute. Loren also serves as an assistant City
With her extensive experience, connection to the community, and unbridled ambition, Loren has established herself as one of the Valley's top business attorneys. Wherever she goes, she brings her dynamic energy and unique problemsolving skills to every situation.
transactions. Whether she is advising on general business matters, employment issues, financing, or commercial real estate, she thoughtfully counsels clients from a place of genuine care, with particular attention to their specific needs and goals. She has a reputation for being laser-focused and attentive, remaining steadfast through any challenge.
Solicitor for the City of Bethlehem. She shares her clients' entrepreneurial spirit as co-owner of Camp Bow Wow, a dog daycare and boarding business located in Allentown, with her husband Bobby.
THE WOMEN OF GROSS MCGINLEY
STUDIES SHOW THAT CHILDREN who ride horses have enhanced memory and advanced learning and problem-solving abilities. Attorney Loren Speziale has been riding horses and working in her family's equine business since she was a young child, so it is no wonder this accomplished equestrian excels at helping businesses reach their goals and solve their complex legal challenges.
LOREN L. SPEZIALE ESQ-DEPUTY MANAGING PARTNER
My experience has compelled me to help pave the way for future female litigators." "
Scan here to learn more about Kimberly and the Gross McGinley team.
Appealing to a new vision
33 SOUTH 7TH STREET, ALLENTOWN GROSSMCGINLEY.COM 17
KIMBERLY G. KRUPKA ESQ-PARTNER
Kim remains committed to her vision of elevating her profession while attracting more women to legal practice in the courtroom. By way of example and through mentoring, Kim hopes to encourage a new generation of female attorneys to command the courtroom.
Outside of the courtroom, Kim serves as a committee member of the Pennsylvania Bar Association, Civil Litigation Retreat.
Eager to educate fellow litigators and medical professionals, Kim often shares her knowledge at Bar Association educational events and provides legal insights about medical professional liability and risk avoidance with the healthcare community.
While Kim seeks to inspire others, she is continuously inspired by the medical professionals she represents, who extend their hearts and souls in caring for their patients. Witnessing their passion for patients drives her passion to serve them in the courtroom.
Kim's experience has compelled her to help pave the way for future female litigators. As a defense attorney for the region's top hospitals and physicians, she mentors law students and peer attorneys pursuing their own paths of success–whether in a court of law, their homes, or the community. Kim fiercely believes the legal profession is best served through diverse representation and aims to encourage and inspire those she mentors.
SINCE BEGINNING her legal career in the late 1990s, Kimberly Krupka has been waiting for female attorneys to have their day in court. Today, female litigators remain underrepresented, making up just 25% of courtroom lawyers.
18 THE WOMEN OF GROSS MCGINLEY
Having made partner at a young age, Sarah is excited about the next chapters of her life, continuing to make the Lehigh Valley home and authoring a life and career she loves.
Scan here to learn more about Sarah and the Gross McGinley team.
of six, Gross McGinley's criminal defense team is the largest in the Lehigh Valley.
At home, Sarah and her husband seek to be on the same page as they raise their family while both pursuing their legal
careers and juggling busy schedules. They're an open book when it comes to their love of the beach and making time for their passion of travel adventures.
After starting out as an assistant DA in central Pennsylvania, Sarah began her career as a defense attorney in Gross McGinley's medical malpractice group. She quickly realized a gap in the firm's suite of service offerings—criminal defense. Collaborating with a fellow attorney and former prosecutor, Sarah launched this new practice area and continues to lead it today. With a team
SARAH HART CHARETTE ESQ-PARTNER
SINCE CHILDHOOD, Attorney Sarah Hart Charette has loved reading and visiting the library. Ironically, Sarah is not a "by the book" person, building her personal and professional life by doing things in her own unconventional way.
Writing her own narrative
An avid bookworm, Sarah serves on the Emmaus Public Library Board of Directors, chairing the fundraising committee. In 2021, she spearheaded a new "tee time" mini golf event at the library, which raised $11,000 in its first year. She enjoys supporting her hometown library and ensuring it can continue offering great programming and resources for her daughter and the next generation of readers.
doesn't claim to play an instrument or carry a tune, practicing law is music to her ears. After providing legal representation to vulnerable populations for over a decade at a nonprofit agency, she found a new rhythm as a family law attorney and litigator at Gross McGinley.
KELLIE L. RAHL-HEFFNER ESQ-PARTNER
the music and come out stronger on the other side of their darkest days.
When something strikes a chord with Kellie, she gets involved and takes action. In the Lehigh Valley nonprofit community, she's taken on leadership roles in Habitat for Humanity, Pinebrook Family Answers, and the Allentown Chamber of Commerce.
open their home to overlooked dark-haired canines and currently share living space with three loving, four-legged friends.
Families and individuals choose Kellie to help them navigate sensitive legal matters like divorce and child custody, appreciating her practical and upbeat approach. She knows how life can go a bit off-key at times, and she makes it her business to help her clients face
Scan here to learn more about Kellie and the Gross McGinley team.
33 SOUTH 7TH STREET, ALLENTOWN GROSSMCGINLEY.COM 19
WHILE KELLIE RAHL-HEFFNER
Animals are also near and dear to Kellie's heart, and when she and her wife learned how black dogs in shelters are less likely to be adopted and more often euthanized, they changed their tune about pet ownership. They now exclusively
While Kellie will never toot her own horn about her achievements and community service, she will proudly share her love of 90s rap, singing as loudly as possible while driving to or from court or cleaning her West End Allentown home on weekends.
Conducting life, law & community is her passion
20
FROM WHIMSICAL PAINTINGS by artists like Roey Ebert to the powerful dance moves of dancers like Darin Barron, Jr., art—in all its forms—is woven into the fabric and hung on the walls of the Lehigh Valley. That's why our arts & culture issue is an annual favorite here at Fig. This year's issue shines a light on a multitude of incredible creatives—including female leaders and changemakers in the Lehigh Valley. We invite you to flip through the pages and find out just why we love our very creative community and the incredible people who live here.
ARTIST WENDY STOUDT, opened gallery840 in the fall of 2018 as a space to create her own art as well as a gallery to showcase amazing local artists and to hold art workshops. When you visit the gallery, you will often find her painting custom floral bouquets, local scenery, or colorful sunsets in an impressionistic style. Art lovers will find a unique collection of artwork and artisan-made items by emerging and established artists. A variety of workshops, art gatherings, and family days provide the opportunity for everyone to be creative.
21 gallery840 840 west hamilton street, suite 101, allentown 484.866.2972 | artist@gallery840.netgallery840.net@gallery_840/gallery840
Founder Wendy Stoudt in her studio
Scan to follow them on Instagram
Current Exhibit: Branches, August 20–October 29 Upcoming: Holiday Artist Market, November 12–December 23
A beautiful life
CREATIVE COMMUNITY
art collector, the artists, the legacy abstract abstractnarrativepainting.compainter@asmithjrnyc H scan here to view his website
Anthony Smith, Jr. The frame,
Michael M. Baker—a lifelong Lehigh Valley resident as well as Founding Board Member and Art Program Co-chair of JuxtaHub—is the owner of the frame. the
Artist Anthony Smith in his Residency studio at Vermont Studio Center.
ANTHONY SMITH, JR. a narrative and mixed-media Lehigh Valley artist, has taken on a very interesting project. He's been working on a commissioned piece for the last several months. The piece, "Rosenwald," all started with a frame.
Photo by Leila Bandar
22
The Joseph Greenberg frame
Smith showing frame owner and art collector Michael Baker sketches for "Rosenwald"
The story of how Michael came across the frame started in 2019 when he received an online auction alert for a painting he'd been eyeing up. He went to the house auction preview in Elkins Park, where he found "the wonderful painting, a terrific Gallucci pot, and a disappointingly unsigned but beautiful frame," Michael said. He won these items at auction and even had the pleasure of meeting dear friends of the home's former Michaelowners.immediately
23
The frame's maker, unsigned but now verified, is Joseph J Greenberg, Jr. (1915-1991), a well-known Philadelphia sculptor and wood carver. Possibly the most well-known of Joseph Greenberg's work is the 60-foot and 11,000-pound steel triad sculpture titled "Symbol of Progress" at City of Bethlehem Public Library in Payrow Plaza.
to the founding of the National Gallery of Art and to the Library of Congress.
To Anthony Smith, Jr. Michael wrote, "The frame's story has become a source of personal inspiration, startling revelation, and a great joy in so much discovery. It pleases me to no end that the story of this unique frame has been the source of inspiration for your commissioned work 'Rosenwald' and that your work in this frame will reveal, inspire, and bring joy and amazement to many!"
"The Symbol of Progress" by Joseph Greenberg at the Bethlehem Public Library
The Greenberg frame, first a troubling unknown, then became tied to Rosenwald's brilliance, and then tangentially tied to Bethlehem, Pennsylvania by Greenberg's sculpture "Symbol of Progress." The sculpture described by the artist's son, Dan Greenberg: "This piece is meant to stand as a symbol of various ethnic groups on which the city is based, moving upward to show the integration of the people of Bethlehem, then progressing skyward as they are strengthened by their diverse beginnings and their subsequent meeting."
began researching the Elkins Park address to read about the former owners, the Rosenwald family.
H Scan here to learn about artist Joseph Greenberg
Michael was astonished to learn about several generations of Rosenwalds and their fame and fortune from Sears, Roebuck and Company.
Michael Baker said it was a logical and easy decision to have the Rosenwald painting, framed in the Greenberg frame, to be created by Anthony Smith, Jr., an African American artist working in Bethlehem. Without hesitation, Smith agreed to the Rosenwald painting in his abstract narrative style, creating an informative and discovering illustration of the meetings and combinations of Rosenwald's and African American histories and heritages.
"I then learned of Rosenwald's incredible contributions to his country and communities through intentional unheralded philanthropy and unsung broad community service," Michael added. In the early 20 th century, the Rosenwald Fund "for the well-being of mankind" uplifted and educated African American communities by contributing towards construction of more than 5,000 schools in the South. The Rosenwald Fund supported grants for seemingly limitless opportunities in the sciences, arts, and other cultural pursuits—significant contributions to the African American intellectual and cultural revival of the Harlem Renaissance and other important academic and culturally historical figures. The next generation of Rosenwalds supported financially and contributed artworks
24
SPACES FROM MARS HOUSE
"My entire philosophy as an artist has been to create healing experiences through technology—to use the screen as a meditative experience," she said.
As the boundary between the digital and physical worlds continues to blur, Krista's work will increasingly challenge and inspire rethinking people's relationship with technology.
25 Check out Krista
The aim of Techism is to encourage people to become more aware of the impact of technology on their lives and to explore ways to use technology for positive change. Krista's art is just one example of how technology can be used to open up new possibilities for expression.
Be sure to follow Krista Kim at kristakimstudio.com and on Instagram @krista.kim. Kim's Lehigh Valley artists Marlow Rodale and Michael Lebson
CREATIVE COMMUNITY
During the COVID-19 lockdown in 2020, Krista continued to explore the creative potential of using screens as digital instruments of well-being, creating Mars House—a completely virtual environment. Using her digital zen philosophy, Mars House became the first ever Metaverse home for sale as an NFT in March 2021. The piece received global acclaim, and in the same month it was listed, it became the highest-grossing sale of an NFT on SuperRare.
KRISTA KIM IS A CONTEMPORARY ARTIST AND FOUNDER of the 2014 Techism movement, which explores the concept of the digital consciousness. Her interest in digital technology and its revolutionary effects on human perception, media, social structures, and communication led her to work in both digital and physical realms. After developing her signature style of shifting gradients using digital tools, she's been able to create pieces that are both mesmerizing and thought-provoking.
I think that was the message that really resonated with people."
"Time Square is the most powerful space for capitalism in the world. It's a true symbol. If you could just change that for a moment and create a healing space for the public, that's a game changer," she explained. "It's a paradigm shift in how we can use the technology and the messaging of the screens for well-being.
program—washing Time Square with healing light for three minutes each night of the month.
Krista is continuing to make history and a name for herself through her art. In February 2022, her show CONTINUUM was displayed in Time Square through The Time Square Art Alliance. For the first time ever, 90 screens participated in the Midnight Moment—the world's largest and longest running digital art
Krista Kim kristakimstudio.com@krista.kim
TedX Talk Krista inContinuumKim'sshowTimeSquare Visit InstagramRodale'sMarlow Visit InstagramLebson'sMichael Sponsored by
"When I understood the power of blockchain and NFTs…then I knew we were entering a whole new civilization that would be a fluid interplay between digital metaverse experiences and real life," she said.
Ready for the ultimate art experience? | 9 am –5 pm By appointment
"It's a different and fun way to make art more accessible," says Nina. With a grand opening September 23, this gallery is sure to impress. Come check out a space like none other at Midnight Gallery.
open hours: Monday–Friday
Co-owner Nina Boodhansingh, is an artist and muralist based in Lehigh Valley. Nina has always had a passion for art and making a difference in her community. Joining forces with Chris Birgl, the two decided to combine their love of the arts and opened a contemporary gallery.
Sunday | Closed
26 4315 independence drive midnightgallerypa.com610.466.5538schnecksville@midnightgallerypa
Saturday |
Director, Curator, and HNinaCo-ownerBoodhansingh
VISIT MIDNIGHT GALLERY to experience work by local and regional artists. And yes, there's cars there too.
out
Picture-ready crew any advertising needs, scan here to check their website.
From left to right: Kate Hughes, Steven Nazario, Brandon C. Lay, and Sarah Cugini
WRITER/DIRECTOR BRANDON C. LAY, along with his team of award-winning Regular Players and collaborators, are passionate about filmmaking and storytelling. They bring their creative minds and collaborative spirit to every shoot, creating a supportive and imaginative environment with their picture-ready crew. With years of experience in independent film, Brandon and his team know how to bring the best out of each actor and technician, resulting in engaging and memorable films, commercials, and event videos.
F CREATIVE COMMUNITY
For
27 Living Proof Pictures 484.764.5202 | livingproofpictures.com
What makes Blum's work so unique is that he follows the traditional ways of photography printing. Depending on the subject, Blum will use the camera best suited to capture the scene. Once captured, each photo is individually printed by hand in his darkroom. The historical printing processes he employs range from palladium, cyanotype, silver gelatin, ambrotype, and others.
A photographer's take on the modern world
28
MATTHEW BLUM'S PHOTOGRAPHY is a combination of machination and the sublime—a rusty nail awash in ripples of soft rose petals in a day-old city sidewalk puddle. His work has been exhibited in prestigious galleries around the Lehigh Valley and in printed publications.
Matthew Blum
By utilizing traditional printing techniques, his photos have a unique, timeless quality that appeals to art lovers everywhere!
Follow Matthew @mblum6180 for new and available prints.
mblum6180.comphotographer@mblum6180
WHETHER IT'S CURATING a traveling, one-of-a-kind purse show, opening a museum, advocating for local artists, or custom designing exquisite clothing for those wanting to make a statement, these Bly Girls do it all…in style!
For upcoming weddings, galas, holiday parties, or special events, why go online when Lara Bly Designs has it all under one roof? For years, Lara has been outfitting Lehigh Valley women—of all body shapes— in the highest level of fashion and comfort.
Be sure to check out Girls' Night every third Thursday, a night of wine and shopping!
29
Left to right: Ilene Wood, Lara Bly, Kate Hughes, and Santa Bannon-Shillea
202 east third street, bethlehem larably.com484.935.1025
H Fashion show, November 5. For more information and to reserve seats scan here!
Fly Bly and see what everyone's been shopping about.
CREATIVE COMMUNITY
Bly Girls know a thing or two when it comes to the arts
"No matter what your proportions are, I can design something just for you when you have that special occasion," Lara said. "These unique styles you simply won't find anywhere else in the Lehigh Valley." Find out about her latest hand-picked collections and custom-made eveningwear at her semiannual fashion shows!
HouseBethlehemGallery 459 main street, bethlehem bethlehemhousegallery.com610.419.6262/bethlehemhousegallery@bhousegallery 30
Artwork and RachelGalleryAssistantarrangementsfloralbyDirector/Manager,Bell
Opening reception on October 21 from 6–9 pm
october 21 , 2022–january 7, 2023
WARD VAN HAUTE AND RACHEL BELL are the dynamic duo behind Bethlehem House Gallery, bringing the best of the best art to the Lehigh Valley. Stop in anytime during gallery hours to take a tour of their colorful, fully-furnished rooms curated with local art. These two can't wait to show you their latest finds as they help you imagine them in your own home.
The Summer now–octoberShow8,2022
Closing reception on October 8 from 6–9 pm
The Holiday Show
Director & Curator, Ward Van Haute
Upcoming Events
CREATIVE COMMUNITY
31
BYOB AND BYO IMAGINATION! The new Bethlehem House Courtyard is the perfect space to enjoy an evening outside admiring beautiful glass artwork by Director and Curator Ward Van Haute. Located behind Bethlehem House Gallery, you can access the courtyard from Main Street between the gallery and the Goundie House. Be sure to check their social media for their upcoming live music and pop-up art show schedules!
DISH AND PEARS FIGLIO
A WARM, SOFT GLOW MARLOW RODALE
ROEY IS A TALENTED ARTIST, and her pieces have been gaining a lot of attention lately. In fact, she will be featured on the Magnolia Network's Bargain Mansions next season. Roey's art has also been gracing the walls of the Apollo Grill in Bethlehem for the past few months, but as all good things must come to an end, October is your last chance to dine in and see her work there.
GOLDEN FOREST | GOLD LEAF & ACRYLIC
Check out Roey's artwork at roeyebert.com. You can also visit her family's furniture store, Ebert Furniture Gallery, in Allentown or at ebertfurniture.com.
Making a difference
But Roey is more than just an artist—she's also a teacher. Through Capital Blue Cross Connect Health and Wellness, she provides free online art classes for children and adults. Her passion for teaching and creating shines through in everything she does.
Roey Ebert fine roeyebert.comartist@roeyebertart
32
For more Information about joining LAA, go to LehighArtAlliance.org.
lehighartalliance@gmail.comlehighartalliance.org/lehighartallianceorg@lehighartalliance
Baum School of Art august 2 september9 22, 2022
LAA 87th Fall Juried Exhibition
"Winter and Holiday" Themed Exhibit september 16 october 30 , 2022
"Art of Play" Themed Exhibit
FOR OVER 87 YEARS, the Lehigh Art Alliance has been made up of member artists and enthusiasts who represent all levels of experience, achievement, ages, styles, artistic expression, and media. Whether you are a seasoned art professional or just entering your art journey, you will find interaction with their dynamic and varied member community will spark creative growth.
Banana Factory Crayola Gallery
january 14 march 5, 20 23 LAA 88th Winter Juried Exhibition
ONE OF THE NATION'S most respected high schools for the arts is located right in the heart of the Lehigh Valley. Charter Arts, which opened in 2003, is an audition-based public charter school that provides a comprehensive curriculum for high school students who have a dedicated passion for the creative and performing arts. Students major in one of seven artistic disciplines: Dance, Instrumental Music, Literary Arts, Production Arts, Theatre, Visual Arts, or Vocal Music. 321 east 3rd street, bethlehem charterarts.org610.868.2971 Artistic Excellence. Academic Rigor. #1 Best Charter High School in PA #1 Best Public High School Teachers in PA 33 Doors open at 5:30 pm for tours, program begins at 6:30 pm. RSVP is required, visit the school website. Fall Admissions Open House Events october 26, 2022 | november 15, 2022 CREATIVE COMMUNITY
Exhibit Calendar
Historic decemberMuseumsBethlehemandSites9–january 31 , 2022
DANCING PROFESSIONALLY FOR OVER 15 YEARS, Ely Mambru's passion for her craft has shaped her into the disciplined, confident, and compassionate woman she is today. She began dancing at the age of four and quickly developed a love for the art form. Through her teenage years, Ely took classes in many different Latin dance styles, which helped her to become resilient and disciplined. Her achievements in dance have also given her confidence to pursue other goals in life with determination. In March of 2018, her dream was realized when she opened up her own dance studio in Allentown. Ely is grateful for the lessons that dance has taught her and hopes to inspire others through her passion for dance.
Ely Dance Studio 26 north sixth street suite 110, allentown elydancestudio.com954.909.9525 The only professional dance studio teaching Salsa, Merengue, and Bachata in the Lehigh Valley Sponsored by Lehigh Valley Legends lehighvalleylegends.com Scan here to visit their website to learn more!
34
It would be my pleasure to teach you the art of dance, and help awaken your own creatively, rhythm, and imagination."
Left to right: Ely with her son, Skyler and daughter, Shantal
Ely Mambru, owner
" 35 CREATIVE COMMUNITY
Artist talk and reception on Thursday, September 22, 2022 from 5–7 pm . For more information, lehighvalley.psu.edu/gallery.visit
ANN LALIK has been known as a creative force in our art community for more than three decades—a distinction earned after 20 years of leadership at the Baum School of Art, countless hours of service on boards and commitees, and more recently, as the Arts Coordinator and Gallery Director at Penn State Lehigh Valley.
36
But Lalik admits she is most energized by the students and collaborates constantly with faculty to integrate the arts into all academic disciplines, using the campus' two galleries and collection of more than 200 works as her backdrop.
"I hope to awaken the same sort of curiosity and passion for the arts that allowed me to forge such a rich and colorful pathway in life," Lalik said.
I hope to awaken the same sort of curiosity and passion for the arts that allowed me to forge such a rich and colorful pathway in life."
There, the talented artist, instructor, and administrator works relentlessly to infuse the visual arts into the newly expanded campus, using her influence and imagination to orchestrate a wide array of exhibits that often include internationally recognized artists in the Ronald K. De Long Gallery. On a more local level, Lalik spotlights the region's young artists and groups in the campus' Community Gallery. And during COVID-19, she created the Essence of Democracy—a series of virtual panel discussions with artists whose work gives voice to those often unheard. While engagement in the arts was fading under the pressure of the pandemic, the initiative drew an international following and underscored the campus' strategic focus on diversity, equity, and inclusion.
– Ann Lalik, Gallery Director and Arts Coordinator
A gallery filled with diverse perspective
Join their Fall Exhibition
LINDA STEIN: FLUIDITY OF GENDER
"
2809 saucon valley road, center lehighvalley.psu.eduvalley
August 29–December 3, 2022
NO ONE CREATES spaces quite like Mairin. She has a knack for taking her clients' individual personalities and preferences into account, then infusing each space with color and life. Her process is client-driven, which means she takes the time to get to know her clients and understand their needs before starting to design. As a trained mural artist with over 15 years of experience, Mairin delights in creating one-of-a-kind paintings for her clients. The results are always stunning, livable spaces that perfectly reflect the people who live in them.
Mairin Egge
37 CREATIVE COMMUNITY
Call or go online to book a consultation today!
artist, interior decorator Hmairinegge.com330.858.1926@mairin.eggecheckouther work
Meet the decorator behind your dream space
Through its classes and outreach programs, the school provides access to arts education to students from all walks of life, encouraging them to study art and connect with their creativity. Last year, the school served over 2,500 students through these programs. Its community
baumschool.org610.433.0032allentown
38
Lehigh Valley, celebrating diversity and welcoming all community members.
is dedicated to providing instruction, guidance, and encouragement for children and adults who wish to reach their full potential through the study of the visual Throughoutarts.its
RAPHAEL'S School of Athens symbolizes the union of art, philosophy, and science all under one roof—it is considered to be one of the masterpieces of the Italian Renaissance. The Baum School of Art is a community visual arts school located in downtown Allentown and is a place with a similar inclusivity of art and community. For the re-creation of this artwork, the school brought together a mix of what makes the school so special—its students of all ages, instructors, staff, and members of the Board of Trustees.
west
The Baum School of Art was founded nearly a century ago in 1926 by Walter Emerson Baum, a Pennsylvania Impressionist artist. Walter humbly began the school by teaching a painting class to a group of Allentown public school teachers, so that they could, in turn, teach their students art. Baum believed that no one should be deprived the opportunity to study art because of limited financial resources. This belief was the cornerstone on which the school was built. Its mission of enriching lives through arts education remains true to Walter Baum's vision. The school
Mission: Enriching lives through arts education
history, The Baum School of Art has been dedicated to serving the residents of Allentown and the greater
510 linden street,
39
outreach programs assist underserved areas of the community and include financial aid for children, teens, and adults to explore classes in art, design, and fashion; free after-school programs to every public school in Allentown; scholarships for senior citizens; programs for youth and young adults on the autism spectrum; merit scholarships and
recognition for exceptionally talented students; and many more.
Begin your path to creating your own personal masterpiece in the heart of downtown Allentown.
H Scan here to visit their website!
Stop by The Baum School of Art to check out one of its many classes or view art exhibitions in its Rodale Galleries to become part of this modern day S chool of Athens . Visit baumschool.org or call 610.433.0032 for more information.
In keeping with its name, Civic Theatre is committed to representing and serving the entire community. The Theatre
40
527 north 19th street, allentown civictheatre.com/civictheatreofallentown@civictheatre
organization's many initiatives strive to keep ticket prices low, ensure racial justice and equity, offer accessible performances, and to be a place of inclusion and belonging for all.
The entire community is invited to audition and work with seasoned Artistic Director William Sanders and other skilled theatre professionals to create elevated and inspired performances. An administrative team headed by Managing Director Diane Donaher leads the theatre's community engagement, fundraising, and marketing efforts.
Located in a newly-renovated, historic facility in the West End, Civic Theatre of Allentown is a professional community theatre, combining the talent and dedication of a volunteer cast and crew with the skills and experience of a professional staff.
Take in the view
Civic's commitment to developing artists and audiences of the future is evident, providing opportunities for people of all ages to appreciate the theatrical arts. By nurturing the talent of local artists and engaging with the community, Civic Theatre is enriching the lives of everyone it touches.
Did you know?
Civic
Civic also operates an arthouse cinema at Theatre514 on North 19th Street. The cinema shows a weekly selection of the latest releases and award-winning art films—including documentaries, independent, and international films— every Thursday–Sunday.
Best Designer
484.951.2600 SPUNDESIGN.COM @SPUNDESIGN 41
Design, remodel & stage
Houzz Best Home Stager/Designer 2017, 2018, 2019 Call
Morning
Who's 2021 Stager
Who
Amy Bloom and Team Spun
Best Home
Readers Choice 2019 Best Interior Designer
Amy and Team Spun utilize their talents to create the perfect atmosphere and layout for any project, big or small. With ventures ranging from residential to commercial, and complete remodels to just refreshing, there isn't a project Team Spun can't accomplish to perfection!
LVBA Lehigh Valley 2017, 2018, 2019, 2021
AMY BLOOM IS THE OWNER and CEO of Spun Design—an award winning, Lehigh Valley based design company that's serving both residential and commercial clients throughout the Lehigh Valley, the Poconos, Greater Philadelphia Area, and New Jersey. Projects include designing, remodeling, staging, organizing, corporate housing, shopping, and consulting clients from the initial concept all the way to final delivery.
Our intimate space provides the unique 'Godfrey's experience'— a palpable connection between the music artists and the audience, an experience rarely found in larger venues today."
E
"
Godfrey Daniels
42
– Ramona LaBarre, Managing Director
FOR MORE THAN 46 YEARS, Godfrey Daniels has presented live music in an iconic club tucked away on Bethlehem's Southside. In 1976, Dave Fry and Cindy Dinsmore opened the doors of their new coffeehouse and christened it "Godfrey Daniels" after the euphemistic expletive favored by W. C. Fields. Since then, audiences young and old have enjoyed the space, as the music has evolved to include local, national, and international musicians performing diverse music—from world to folk, blues to jazz, bluegrass to Americana. Godfrey Daniels' 47th season opens September 9 & 10.
Where every ticket is a backstage pass
H Pictured left to right: Bakithi Kumalo, aka Paul Simon's bassist, and New Zealand singer-songwriter Miriam Clancy, who will perform together at Godfrey's with The South African All-Stars on September 10 Ramona ManagingLaBarre,Director
7 east fourth street, bethlehem godfreydaniels.org/godfreydaniels76@godfrey_daniels
Stop in and take a selfie in front of their record wall and tag them @compactdisccenter and @CDCenter!
MARY RADAKOVITS, co-owner and manager of Compact Disc Center, brings music to the Valley by way of CDs and vinyl. As an independent record store since 1989, Mary's shop is a haven for music lovers looking for their favorite tunes. From the Beatles to Billie Eilish, Drake to David Bowie, Slipknot to Harry Styles, explore your musical journey! Enjoy the wonder of browsing through music as you connect with other music fans at Compact Disc Center.
"We're your neighborhood music store," Mary says. "Our customers are the best—they love their music even more than I do." Compact Disc Center has evolved through every trend to become 1365 easton ave, bethlehem 610.868.3070cdcenterpa.com@compactdisccenter/CDCenter
CREATIVE COMMUNITY
With prices that can't be beat and a knowledgeable staff, Compact Disc Center is the place to go for all your musical needs. Whether you're picking up a new album or browsing through the used section, you're sure to discover something great at Compact Disc Center.
a one-stop music emporium for used and new vinyl records, cassettes, DVDs, blu-rays, posters, stickers, t-shirts and, of course, CDs. If she doesn't have what you're searching for, Mary specializes in ordering those hard-to-find gems, in any format.
Compact Disc Center
Music to your ears
43
Mary Radakovits, Co-owner and Manager
16 events, 10 venues, 5 days Gather. Create. Celebrate. Transform.
16 EVENTS
PRE-FESTIVAL EVENTS
Scan here to learn more about the events, how to donate, or sign up to volunteer.
SEE IT, SUPPORT IT, BE PART OF THE ACTION!
A long weekend of visual art, theatre, live music, dance, conversation, and more
321 east fourth street, bethlehem 610.867.1689touchstone.org
September 28–October 2, 2022
Touchstone Theatre
DOZENS OF COMMUNITY PARTNERS
Featuring original, community-based performances by Touchstone/Moravian University MFA students
Creativity abounds at Festival UnBound
5-DAY SeptemberFESTIVAL28–October 2
Performances and gatherings at Touchstone's outdoor Barrio Stage, and at venues across Bethlehem and Allentown
Wondering how to explore this year's festival? Here's the rundown:
GUEST ARTIST RESIDENCIES
September 16, 17 & 20
Including acclaimed singer-songwriter and former Bethlehem resident, John Gorka; Maafa Commemoration Project Lehigh Valley Director, Nehprii Amenii; and theatre artist and housing advocate, Mark Valdez
44
FESTIVAL UNBOUND IS A 5-DAY HYPER-LOCAL, arts-infused, transformative community celebration and conversation. Its mission is to engage our diverse Lehigh Valley community—through art and civic dialogue—in the radical act of envisioning a future together.
44
Bethlehem Area Public Library, Godfrey Daniels, Hispanic Center Lehigh Valley, Indian American Association of the Lehigh Valley, Resurrected Life Community Church, and so many more!
zoellnerartscenter.org MICHAEL AprilORCHESTRATHEDecemberJUKEBOXPOSTMODERNNovemberFEINSTEIN517PHILADELPHIA15 45
NEW YORK PHILHARMONIC
On Saturday, October 1st, The New York Philharmonic, which helped inaugurate Zoellner Arts Center in 1997, and marked its 10th anniversary, returns for a third performance in Baker Hall to commemorate our 25th anniversary. Music Director Jaap van Zweden conducts the orchestra in a concert that blends the impressionistic delicacy of Debussy's Prelude to the Afternoon of a Faun with the Romantic virtuosity of Bruch's Violin Concerto No. 1, with Bomsori Kim as soloist. The rediscovered Symphony No. 4 by Florence Price completes the program. Price was a pioneering composer in the 1930s. She was the first woman of African American descent to receive national recognition as a symphonic composer and have her music performed by a major American orchestra during that period.
Celebrating 25 years of Zoellner Arts Center
"I'm a regular person with a very cool job. I did not make it to where I am without the generosity of others within the industry, so now, anytime I get the chance, I like to pay it forward," Valerie said.
throughout the Lehigh Valley, including the Red Shoe whose proceeds go directly to Third Street Alliance.
Valerie is grateful that her job has afforded her the opportunity to use her talents to help dozens of charities
actress, model, valeriebittner.comspokeswoman
Valerie Bittner
In the spotlight
NO JOB IS TOO BIG, too small, or too out of the box for Valerie Bittner! Since 1993, she has been sharpening her skills as a commercial model, on-camera talent, and voice artist in the Lehigh Valley and beyond. Also on her resume is her experience as a skilled live marketing professional, where she has highlighted companies at trade shows, expos, and events.
Check out Valerie's podcast for aspiring models and actors, The Martini Shot , on Apple Podcasts and Soundcloud.
Easton: A city that celebrates uniqueness and creativity
On the following pages, Greater Easton Development Partnership is pleased to highlight just a portion of the creative energy that permeates the city.
CREATIVE COMMUNITY
"We Gon Be Alright: A Tribute to Adé Hogue"
47
A volunteer-driven, not-for-profit organization focused on Easton's economic well-being, historical integrity, vibrant culture, and hospitality, GEDP operates the Easton Farmers' Market, Easton Public Market, PA Bacon Fest, Live at the Falls, the West Ward Community Initiative and West Ward Market, Easton Ambassadors, Easton Main Street Initiative, and many other programs and events. They partner with countless organizations and individuals to make Easton an ideal place to live, work, visit and enjoy life.
AS ONE OF ONLY THREE CITIES where the Declaration of Independence was read aloud after its signing in 1776, the City of Easton embraces the principles of liberty and freedom. Easton is a place where pioneering thoughts and diverse beliefs are welcome; where uniqueness is an asset to both individuals and the city. Easton's timeless spirit of independence makes it a magnet for free thinkers, artists, entrepreneurs, non-conformists, and anyone looking to bring creativity to life in word and action.
by Lisa Congdon
To learn more visit: eastonpartnership.org.
Church Street side of Easton Public Market
48 ADDRESS ###.###.#### WEBSITE
Artisanal market
Mercantile Outpost
Dear Dakota, Studios
325 northampton street, easton easton public market 610.258.4046 | mercantileoutpost.cominfo@mercantilehome.com/mercantileoutpost@mhoutpost
and "Build
Photography studio
228 northampton street (floor 2), easton 610.463.0011 | isasuma.art@gmail.com isasuma.com | @isasuma.artisasuma.etsy.com
of handcrafted bags and accessories from Latin America
526 northampton street, easton 484.892.1913 | deardakotastudios.comdeardakota.studios@gmail.com@deardakota.studios
Artful, handmade creations Your Own Bouquet" Flower Bar
Isasuma
49 eleven20 Studios 1120 butler street, easton 610.349.2384 | /eleven20studioseleven20butler@gmail.com Trading Post Depot 401 northampton street, easton tradingpostdepot.com610.216.2806@tradingpostdepot Vasari Classic Artists' Oil Colors 1235 simon boulevard simon silk mill, easton vasaricolors.com1.800.932.9375@vasari_oil_paint Handcrafted oil colors Artist studios and workspace Custom furniture creations and home decor CREATIVE COMMUNITY
Lost Tavern Brewing 444782losttavernbrewing.commainstreet,hellertownmainstreet,bethlehem
Both locations provide fresh beer of the highest quality in a variety of styles, from classics to the creatively crafted.
50
Left to right: Kenny Rampolla, Co-President & Marketing Director; Anthony Gangi, Co-President & Head of Operations; Dina Robles, General Manager; and Ken Rampolla, CEO
The crafting behind craft beer labels
GRETCHEN GROSS Artist and label designer Gretchen @thetwistedplottcoGross
businesses in and around the Lehigh Valley. However, my label work stays strictly within Lost Tavern," she added.
SHORTLY AFTER LOST TAVERN started canning their own beer in 2016, bartender and artist Gretchen Gross began working closely with CoPresident and Marketing Director Kenny Rampolla on custom-designed, hand drawn label work. "I love to be pushed outside of my comfort zone, but realism is definitely my specialty," Gretchen said. She also sells unique artwork on Redbubble and creates chalkboard artwork in different restaurants located within the Valley. "I've also open myself up to do logos for small
Lost Tavern has two taprooms in the Lehigh Valley: one in Hellertown and the second in Bethlehem, located within the oldest continually operating book shop in America, The Moravian Book Shop. Lost Tavern looks to "honor, not only our heritage, but our home town, where our company was originally founded."
localmamacatering.com@localmamacatering Bringing dream events to life!
Local Mama Catering
51
LOCAL MAMA CATERING sources ingredients locally and organically whenever possible, creating dishes full of fresh, seasonal flavors in a gourmet presentation. Personalized menus can be completely customized for any dietary preference. Beth takes pride in her connection with her community as a matriarch. Her career as a chef has led her to offer her skills as a singer, a teacher, and an artist. "This cohesive blend of showing the world who I am and helping others realize their true potential is my reason for living," she said.
" I believe there is an art to everything that we do."
CREATIVE COMMUNITY
Beth Anna Raynock, Chef and Owner of Local Mama Catering
Whether it's a music festival, performance space, nightclub, or private party, they offer live painting, stage artwork design, and gallery curation for any space.
No mural request, indoor or outdoor, is too large or too small. They have the experience, expertise, and equipment to get the job done.
Dripped On Productions
PUBLIC ART HAS the power to inspire a community. People develop pride in these works, and they make them their own, weaving them into the very fabric of the city. Public art is for everyone, and Dripped On Productions, co-founded by Denton Burrows and Jonathan Neville, is extremely passionate about this. Street Art/Muralism is the largest art movement of our time, and Dripped On Productions seeks to be at the forefront of its promotion and creation, while also producing projects with a level of professionalism and execution that is unrivaled.
SPRAY PAINT LESSONS & WORKSHOPS
Signs, logos, lettering, and decorations—their hand painting skills can be used for any medium.
Helping artwork reach new heights
VIDEO
Co-founders, Jonathan Neville (left) and Denton Burrows (right)
From summer camps for kids to corporate team building for adults, they can customize their unique spray paint workshops just for you.
HAND PAINTING
art production specialists drippedon.com | @drippedon
EVENT SERVICES
They also offer clients professional video documentation of their projects.
52
Services MURALS
H Join thousands of users hosting virtual galleries and events in beautiful artist-built spaces.
virtual spatial.iogallery/spatial.io@spatial_io@spatialxr
SPATIAL IS A PASSIONATE TEAM of 3D designers and technologists based in New York, San Francisco, and all around the United States— including right here in the Lehigh Valley! Spatial is dedicated to helping creators and brands build their own 3D spaces in the metaverse to share culture together. Spatial empowers creators and businesses to leverage their beautiful spaces to share eye-popping content, build a tight knit community, and drive meaningful sales of their creative works and products. Artists are encouraged to create beautiful and functional virtual venues they can sell or rent to others looking to host mind-blowing digital experiences. The metaverse is an opportunity to empower creators to build their livelihood around their work and connect with new audiences globally. Spatial sees the internet's evolution into a 3D digital space as an opportunity for creators, their supporters, and their fans to interact more closely than ever. They believe the metaverse should be an accessible and humane space, and are working actively to create a safe and welcoming 3D internet experience for everyone.
CREATIVE COMMUNITY
Explore the Metaverse
53
It takes a creative team to make awardwinning chocolates
One of the top ten chocolatiers in North America, 2016
JP HEPP & Team
"A place where the culinary and the arts meet."
easton public market 325 northampton street chocodiem-us.com973.518.2789@chocodiem
CHOCODIEM makes fresh, exquisite, and handmade chocolates using authentic Belgian recipes to make truffles, vegan pralines, customized handpainted chocolates, and chocolate sculptures such as gnomes, dragon eggs, and mushrooms. They are made just for you to indulge or to celebrate a loved one with a special gift.
Custom orders upon request
54
MATT HALM turns blank walls into beautiful spaces. Where most see a drab building, the muralist sees a blank canvas.
"A painting can change the look and feel of a room, a mural can change look and feel of a whole neighborhood. I want my work to communicate something memorable and meaningful, to inspire creativity and positivity. Public art has this amazing power to build connections between community, environment, and imagination. I am grateful for every chance to make the world a more colorful place," Matt said.
Thinking big
"Southbound" by Matt Halm on 3rd and New Streets, Bethlehem
muralist, artist, teacher matt-halm.com@matthalmmurals
Matt Halm
55
CREATIVE COMMUNITY
Matt is an Allentown native who has been working as a professional muralist and teacher for over a decade. His unique graphic style mixes patterning, realism, collage, and geometric design in a vibrant and conceptual way. His work can be seen everywhere from the Lehigh Valley to Logan, Utah. Halm's future projects include murals for the DaVinci Science Center, City Center, and a student project with The Allentown School District Foundation.
56 26 NORTH 6TH STREET #150, ALLENTOWN 917.375.3994 IOBEAUTYMARKET.COM @INSIDEOUTERBEAUTYMARKET
LET INSIDE OUTER BEAUTY BE YOUR GUIDE. Dixie LincolnNichols opened Inside Outer Beauty as a way to empower other women and share her love of health and wellness. The quaint little store in Allentown is packed with clean products that are both good for you and the planet. Dixie's passion for helping others shines through in everything she does, and her customers are always leaving feeling more confident, beautiful, and healthy.
H Scan this QR code and start your healthy skin and nutritional journey today!
Looking for a healthy beauty routine?
The Lobby is a collaboration from the Lofts on Main, Domaci, and Ginger and The Schnappes.
Artisan
57
Pop-up
CREATIVE COMMUNITY
LIVE MUSIC ON STAGE
THE LOBBY AT THE LOFTS is a brand new intimate entertainment space located on Main Street in Historic Bethlehem. A unique listening room concept, The Lobby is dedicated to presenting well-known and highly talented bands in multiple musical genres. The beautiful venue is furnished by local lifestyle retailer Domaci. With shopping, a boutique hotel, and a soon-to-open taproom all onsite, this is a one-stop destination for arts and entertainment in the heart of downtown. The venue is becoming a sought after venue for musicians.
OTHER STAGE EVENTS AT LOBBY until the taproom opens shops exhibitions
Ginger and Joe, a jazz and pop duo, is just one of the many bands you'll find performing at The Lobby.
Lobby at the Lofts 523 main street, Hlobbyatthelofts.combethlehem/lobbyattheloftsviewtheireventspage Let them entertain you!
EVERY FRIDAY AND SATURDAY NIGHT
THE
Complimentary wine available
58 324 south new street, bethlehem southsideartsdistrict.com610.360.5778@southsideartsdistrict
Discover the life of Roberto Clemente through art
"De Borinken, Al Mundo" is the 36th addition to SouthSide Bethlehem's Urban Arts Trail, a sprawling 2.75 mile walk through a collection of public artworks created by artists within the community and from around the world. The SouthSide Arts District is thrilled to highlight the contributions of Bethlehem's Latin community with this vibrant and culturally enriching work of art.
A BLAZING SUN and a gentle breeze accompanied the day when the mural "De Boriken, al Mundo" (English translation: From Boriken, to the World) was raised on the Hispanic Center located at 520 East 4th Street in Bethlehem in June 2022.
59
The mural was commissioned by the Hispanic Center of the Lehigh Valley with support from Richard and Helen Anderson, Patrick and Diane Bower, Capital Blue Cross, and St. Luke's University Health Network. It was created by Puerto Rican and Dominican artist Salina Almanzar. The artwork honors the life of Roberto Clemente. Clemente was a world renowned Pittsburgh Pirates baseball legend and humanitarian who was born and raised in Puerto Rico; however, he spent much of his professional life in Pittsburgh, a workingclass steel town quite similar to Bethlehem.
In 1973, posthumously, Clemente became the first Hispanic person to be inducted into the Major League Baseball Hall of Fame.
These pages are sponsored by Wind Creek Bethlehem
Artist Salina Almanzar
Multicolored Flor de Magas, Puerto Rico's national flower, burst from the bottom left corner. And in the background, blueprints of a Bethlehem steel furnace symbolize the kindredness between the working
The mural depicts Roberto Clemente swinging a baseball bat emblazoned with the flag of Puerto Rico, with an American flag patch prominently embroidered on the sleeve of his baseball uniform. Surrounding him are the maps of Puerto Rico and Pittsburgh, which represent the connection between the two places that were influential in his life.
And make a difference he did. During his time in the Major Leagues, Clemente made history multiple times by defying systemic racism and cultural discrimination while becoming the first Latin American and Caribbean player to win a League MVP Award in 1966 and a World Series MVP Award in 1971. His charitable nature showed its quality when a natural disaster devastated Puerto Rico and surrounding countries in 1972.
CREATIVE COMMUNITY
class and immigrant communities of Pittsburgh and Bethlehem. Twenty-three different Latin American and Caribbean countries' flags, representing the Bethlehem community's diversity, adorn the base of the mural and were painted by students, seniors, and other community members. Clemente was a naturally charitable and caring man, and his personal philosophy is boldly inscribed on the mural, reading: "Any time you have an opportunity to make a difference in this world and you don't, then you are wasting your time on Earth."
Clemente personally arranged for several planes full of essential aid and supplies to be delivered to survivors, and he boarded one of these flights to Nicaragua to ensure the aid was not confiscated by the corrupt Nicaraguan government. In a tragic twist of fate, the plane's engine failed shortly after takeoff. Clemente, only 38, lost his life in the subsequent crash.
"We want our Team Members to feel a sense of importance and belonging," said Kathy McCracken, Executive Vice President and General Manager at Wind Creek Bethlehem. "More than that, we want them to feel recognized for their efforts."
We want our Team Members to feel empowered, encouraged, and appreciated. It's what they deserve."
Kathy McCracken Executive Vice President and General Manager at Wind Creek Bethlehem
Striving to promote genuineness and positive energy, Wind Creek Bethlehem seeks to bring a level of human caring into the workplace. In addition to providing Team Members with conventional benefits like health coverage, a 401(k), bonuses, and quarterly recognitions, the company heads other unique internal initiatives.
Team Members who provide exceptional service to guests or colleagues are recognized with what Wind Creek dubbed, Wind Dollars. This internal "currency" is redeemable on merchandise, including clothing, electronics, gift cards, and more. Similarly, Team Members are eligible to receive appreciation gifts if they are mentioned by name in a guest survey.
"
WITH WIND CREEK BETHLEHEM, it starts internally—with a strong desire to support Team Members in remarkable ways.
Creek Bethlehem values are eligible to be peer-nominated for one of the company's most coveted awards—Best of the Best. In addition to receiving a large prize, winners of the quarterly award compete in Wind Creek Bethlehem's annual Best of the Best competition.
Each quarter, Team Members who continuously exemplify Wind
60 77 WIND CREEK BOULEVARD, BETHLEHEM 877.726.3777 WINDCREEK.COM/BETHLEHEM
First-Class Hospitality: A reflection of company culture
For select Team Members who may have experienced a catastrophic event or emergency, Wind Creek Bethlehem provides relief through their parent company, Wind Creek Hospitality's Helping Hearts and Hands program. Funded by internal contributions including donations, fundraising, and an employer match, this program extends much-needed financial aid to Team Members during times of need.
128 WEST 4TH STREET, BETHLEHEM 610.849.2011 ALISTSALONSPA.COM 61
WHETHER IN THE CHAIR OR BEHIND IT, the A-Listers are a cut above the rest. Andrea DeJesus' hair salon is a popular spot in Bethlehem's SouthSide Arts District. Not only does she offer top-of-the-line services, but Andrea also makes sure each employee takes classes to style and cut hair like a pro.
Become an A-Lister
Visit their website to learn more about the A-List apprenticeship program and career opportunities.
NOW HIRING!
Andrea DeJesus, Owner of A-List Salon, and Tiana, Apprentice
A-Lister clients always leave the salon feeling beautiful and confident.
Become one today! Earn a cosmetology degree at A-List Salon through their new apprenticeship program!
Retirement Benefits Specialist Tax-Sheltered Plans Series 7, 66 Life Accident and Health
In his free time, Dylan loves practicing the drums, exploring the outdoors, and helping others.
Awarded by Equitable Advisors, based upon receipt of a Certificate in Retirement Planning from the Wharton School of the University of Pennsylvania.
62 601 STONES CROSSING ROAD, SUITE A4, EASTON 610.606.0541 DYLAN.STROUP@EDUCATEDWEALTHSTRATEGIES.COM
Designations & Licenses:
AGE-4895891.1(8/22)(Exp.8/24)
Plan well so you can play well
ChFC®
DYLAN HAS BEEN A FINANCIAL PLANNER since 2010 when he was recruited to AXA, now Equitable Advisors, to work with educators. In 2015, he joined Educated Wealth Strategies, an experienced financial team within Equitable, where he set out on a mission to raise the standard of financial literacy to public school employees and their families. As a partner with Educated Wealth Strategies, his practice grew, and the backgrounds and professions of the clients he served became more diverse. Dylan has now created a team who all share his passion to help people define their goals and create a financial strategy. His promise is to bring experience alongside transparency, integrity, and reliability to identify financial strategies that holistically help you live life as you intend.
RetirementProfessionalPlanning Specialist
H Meet Dylan and his team educatedwealthstrategies.com.at Scan the QR code to take the first step getting to know Dylan and how he can serve you.
Securities offered through Equitable Advisors, LLC (NY, NY 212-314-4600), member FINRA, SIPC (Equitable Financial Advisors in MI & TN). Investment advisory products and services offered through Equitable Advisors, LLC, an SEC-registered investment advisor. Annuity and insurance products offered through Equitable Network, LLC. Educated Wealth Strategies is not a registered investment advisor and is not owned or operated by Equitable Advisors or Equitable Network. Retirement Benefits Group is a specialized division of Equitable Advisors, LLC (Equitable Financial Advisors in MI & TN).
CFP® | CERTIFIED FINANCIAL PLANNER™
THE BREASTFEEDING SHOP PROVIDES THE BEST breast pumps that are on the market. They thoroughly understand the features and benefits of all of the brands so they can properly help their customers. They stay on top of the newest technology on the market. Their goal is to help as many moms as possible, as it is truly their passion. At The Breastfeeding Shop, they don't "sell" breast pumps— they help new and expecting moms with their personal journey.
Breastfeeding:
Achieving the new normal
431 CHESTNUT STREET, EMMAUS 866.255.6779 THEBREASTFEEDINGSHOP.COM 63
Patty FounderGatter,&CEO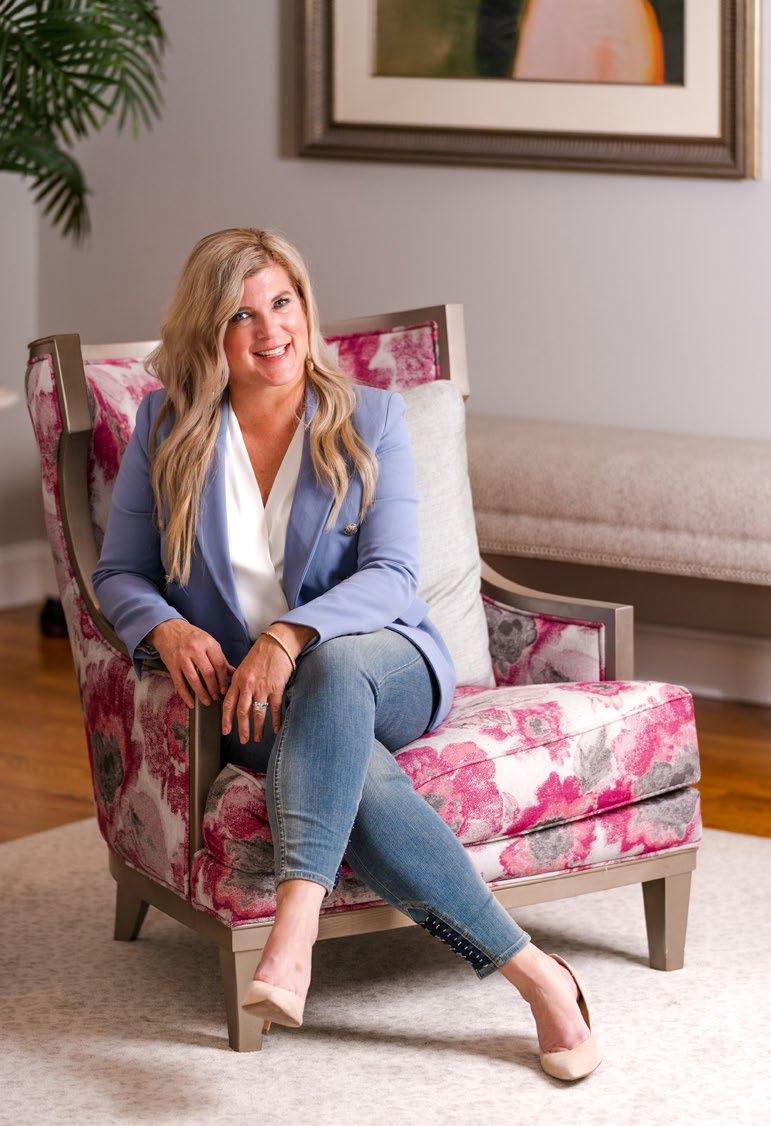 After carrying a baby for nine months, it is an incredible feeling to finally bring that little one into the world.
Spectra S2 Breast Pump
64
Helping new and expecting moms around the world with their individual breastfeeding journey
To find out more , stop in or visit online at thebreastfeedingshop.com
The decision on how to feed your baby is a very personal journey. At The Breastfeeding Shop they work with each and every customer individually and help guide her through the options that are available to her. Whether it be exclusively nursing, both using a breast pump and nursing, or pumping only. There are many
@THEBREASTFEEDINGSHOP 431 CHESTNUT STREET, EMMAUS 866.255.6779 THEBREASTFEEDINGSHOP.COM 65
helps new and expecting moms with their individual breastfeeding journey. Having a baby is one of the most miraculous things a woman can experience, however it can be overwhelming as well.
Willow Go
ways to feed a baby—after all—fed is best!
The Breastfeeding Shop provides assistance in navigating insurance reimbursement too! Most insurances will pay for a breast pump. They work with all of the major insurance companies such as Aetna, Tricare, Cigna, United Healthcare, Blue Cross Blue Shield & more.
The Breastfeeding Shop embraces all customers and holds a non-judgmental, safe environment to discuss sensitive topics.
THE BREASTFEEDING SHOP
Authentic | Leading the way through innovation and example
Fig Authentic: Amresse Farrow
"Lunch was just an hour for social isolation and discomfort," she laughs. "Why would I want that when I could go to the library instead?" Eight years of library lunches ensued. Today, Amresse is creatively at work on children's library programming.
AMRESSE FARROW HAS BEEN PROPELLED since a very young age by an almost instinctive drive toward activism. From healthcare to children's literacy to public policy and equity, Amresse has grown into adulthood committed to raising awareness and taking action. A unique combination of early childhood experiences, an insatiable curiosity, and a desire to live authentically are the internal motivations that placed her on a path of community activism that paves the way for others to do the same.
to redirect the conversation back to her mom as her inspiration. "It was my mom who made me who I am. I watched her make her way out of extreme challenges," Amresse explained. Though ideas for what is next at the library and the Breastfeeding Shop are bubbling forth, Amresse is always looking at what's next and what's possible. Currently, it is immersing herself in DEI plans for the library and beyond.
But wherever Amresse finds herself, she stresses that her goal is "to be so authentically myself that it inspires others to shine their light and do the same."
DRIVENSPIRITED
66 LEARN MORE ABOUT FIG AUTHENTIC AT FIGLEHIGHVALLEY.COM
INSPIRED
Amresse's work with the Breastfeeding Shop is equally born out of passion. "Newborns and new mothers hold a special place for me because of my mom," she said. Amresse's mom was a single mom and labor and delivery RN, and Amresse spent several nights a week overnight at the hospital with her mother at work. Those early impressions profoundly shaped Amresse. "I grew up fascinated by all of it: mothers, infants, healthcare, and insurance. At age 12 I even disguised myself as a young nurse in order to sneak into a presentation on breastmilk!" she said. By 13 Amresse was campaigning in her community in Carbon County for tax breaks and services until she found herself in Washington DC extending her hand to Michelle Obama at the Women's Leadership Summit. It's been a steady stream of grassroots activism, volunteerism, and formal and self-education that drives Amresse forward. Despite her incredible array of accomplishments, she is quick
A natural marketer with a mission, Amresse holds positions in communications and marketing with the Bethlehem Public Library and with the Breastfeeding Shop in Emmaus. Her work involves daily engagement with the community whether it is forward movement on library programming, supporting the Breastfeeding Shop's mission to support mothers, or joining forces to move DEI within the city's leadership.
For Amresse, her jobs are much more than opportunities to flex her marketing prowess or her long list of technical skills. The library has been a part of Amresse's life since her middle school years when she officially traded school lunch for an hour with the school librarian.
74 WEST BROAD STREET #140, BETHLEHEM 610. 882.9848 MYAMERICANHAIRLINES.COM 67
truck and brick and mortar spot on the Southside of Bethlehem. At The Flying V, you can expect a warm, friendly welcome and food as comforting as a flannel on a cool, fall day. They offer delicious poutine (fries, cheese curds, and gravy), cured meats, and deserts—all with a Canadian twist and made in-house from scratch.
IT ALL STARTED when Matt Vymazal started making poutine for his homesick Canadian wife, Christie. Now owning the successful and tasty restaurant concept, The Flying V, Matt and Christie are bringing Canadian cuisine to the Lehigh Valley and beyond. The eatery started as a pop-up tent before growing into a food
68 201 EAST THIRD STREET, BETHLEHEM 610.419.2530 THEFLYING-V.COM
The Poutinerie is a space that supports the community, hosts live music, local art, and serves up the best french fries you've ever had!
Stop in to the restaurant today or book The Flying V food truck for your next event!
Get your tastebuds ready for Flying V!
28 EAST THIRD STREET, BETHLEHEM 610.332.2400 FOXOPTICAL.COM 69 A face is like a work of art. It deserves a great frame.
Book online or schedule a virtual consultation via Instagram @eskandalohair or eskandalohair.com
We create a harmonious space. We make work/life balance a priority!
ESKANDALO!
70 12 W 4TH STREET, BETHLEHEM 610.625.9100 ESKANDALOHAIR.COM "
SINCE 2007, HAIR BY ESKANDALO! has been churning out awesome hair and stylists on the Southside of Bethlehem. Here's how they salon differently according to owner Alison Leigh.
If you've ever had a stylist on their last legs of a 12-hour shift, you know how great it is to have one who's energized and happy to be there!
If you are a stylist looking for a salon that values your time and energy, check us out! If you're a client looking to take the guesswork out of your hair appointment, give us a shout! We would love to meet you!"
We don't gender any service. What you pay is determined by how long it takes to achieve your style goal, not your gender identity. We care about your pronouns and creating safety within our walls.
WE BELIEVE IN PROMOTING INCLUSIVITY AND DIVERSITY, SO EVERYONE IS WELCOME HERE!" - Alison Leigh, Owner Celebrating 15 years of providing top-notch service to their clients, Alison Leigh and the Eskandalo! team stand the test of time.
"We charge by time, not service. We have a virtual consultation to discuss a client's goal, how long it'll take, and the stylist's hourly rate. At the appointment, the stylist can do whatever's needed!
We are gratuity-free. No more awkward moments, trying to do math at the register! No more stylist disappointment if a client under-tips.
(pronounced es-KAN-da-lo) means something EXCITING is happening!
H Dr. Georgia Bomgardner, Director of Community Education and Engagement
P.O. BOX 91423, ALLENTOWN 610.829.9134 SHANTHIPROJECT.ORG 71
SHANTHI@WORK HELPS reduce stress and improve productivity so your team can return to work each day with a genuine focus on the organization's goals while achieving their own peak job Proceedsperformance.fromShanthi@Work help support their Calm+Kind+Focused program, which provide kids social-emotional learning skills and resiliency for an increasingly complex 21st Century World.
Social Mission the Community Together focus productivityand Shanthi@Workwith
As our 2022 Social Mission Partner, 10% of every Fig Lehigh Valley subscription in 2022 goes directly to Shanthi@Work. Go to figlehighvalley.com/fig-magazine to subscribe.
Transforming
yourRediscover
is, one little creative act a day can be incredibly healing. Trust us, you may not feel like doing it now, but when you sink your hands into that clay, make that first stroke upon a canvas, or type up that first sentence, you will immediately be carried away by the creative energy.
– Bloc Dispensary 72 3650 NAZARETH PIKE, BETHLEHEM 484.214.5400 BLOCDISPENSARY.COM HELLO@BLOCDISPENSARY.COM
As we move into cooler days and spend more time inside, let's make it our goal to exercise our minds by engaging in more creative pursuits. Do some creative writing every day or take this opportunity to begin that novel you've always wanted to write. Start painting, whether it's your first time in years or your first time ever. Take a pottery class and make something fun. Whatever it
"THE DAYS ARE GETTING SHORTER. The air is getting cooler. Our favorite flavors are back in season and our favorite holidays are around the corner. You know what that means. Fall is here!
Many love this time of year. In fact, plenty of people would probably consider fall their favorite season. Some days, the weather is perfect for stepping out and going for a walk, while others are perfect for indoor activities. But as we spend less time outside and get cozy under a blanket watching our favorite movies, we may find ourselves becoming less motivated to be active.
Fall is here at Bloc!
The Bloc team at Painting with a Twist in Bethlehem
Still not feeling motivated to get off the couch? Perhaps you need a little kick. Check out Bloc Dispensary's selection of energizing cannabis products that can give you the creative boost you need to help your inner artist find its voice."
Though there's nothing wrong with taking it easy and relaxing once in a while, too much downtime can put you in a rut. You may begin to feel lethargic, which could lead to feelings of depression.
IN THE MOOD FOR PANCAKES OR AN AMAZING BREAKFAST?
Don't "Fargo" eating at Roasted
Chef Chris McDermott (left) with owners Derek Wallen (center), Shelli Topping (right), and baby Jaxton
22 WEST FOURTH STREET, BETHLEHEM 610.849.2673 ROASTEDBETHLEHEM.COM 73
Be sure to stop by Roasted in Southside Bethlehem. They have all the favorites, from scratch-made breakfast to lunch classics with a twist. To say Roasted has killer pancakes would be an understatement. These fluffy buttermilk caramel apple pancakes are made with local apples with a vegan option. Every month Roasted has a different seasonal pancake—make sure you try them all! Feel good about supporting community while satisfying hunger. Just mind the wood chipper!
Scan
here to view the menu and order online!
Kate offers a unique hybrid method of training and rehabilitation. She incorporates her specialties in strength and conditioning coupled with mobility training to create a clear mind-body awareness focusing on function and anatomical alignment. Recognizing that each client is unique, she creates a program that centers around the client's body as the foundation to create a plan of action to reach their goals. While Kate herself trains as an athlete, her clients come from all walks of life and are on their own personal journey to better health and fitness. Her sessions are offered in a variety of packages whether in private, small group, or corporate settings.
Scan
MEET KATE: CERTIFIED PERSONAL TRAINER, MOBILITY SPECIALIST, AND NUTRITION COACH.
theExperiencedifference with Kate Chakey Fitness
74 FITNWELLCOACH.COM
Kate has the experience, knowledge, and passion to create a customized, tailored plan for each individual. She believes in a whole-lifestyle approach which helps people integrate health and fitness into their daily lives. Read more about Kate and her services by visiting her website: fitnwellcoach.com. here for more information on how to get started!
6501 SAINT PETERS ROAD, MACUNGIE 610.417.9446 DOMAINEPTERION.COM 75 paradise
Specializing in dry European wines, Domaine Pterion grows seven noble varietals which are hand-harvested, fermented, aged, and bottled onsite at their state-of-the-art winery.
DOMAINE PTERION is serenely perched atop South Mountain on a historic farm offering an exquisitely renovated 1780s bank barn with views of rolling hills, spring-fed ponds, and a 15-acre vineyard.
Domaine Pterion is a picturesque location for weddings, showers, corporate retreats, and celebrations of family milestones. Booking weddings and events now. LOVERS
A WINE
Executive Director of CAHW, Kelly Bauer
THIS IS WHAT EACH SHELTER CAT IS THINKING UPON FINDING THEIR FUR-EVER HOME!
CAHW is a life-saving adoption facility dedicated to finding permanent homes for Northampton County's homeless pets.
Did I tell you how divinely and utterly happy I am?"
To find out more, volunteer, donate, or start the pet adoption process visit: healthyanimalcenter.org
76 1165 ISLAND PARK ROAD, EASTON PROJECT PAW: 452 NORTHAMPTON STREET, EASTON 610.252.7722 HEALTHYANIMALCENTER.ORG
"
Project Paw benefits the Center for Animal Health and Welfare CAHW)— housing Betty's Place, a cuddle-withcats café (what could be better?), and Resale to the Rescue, a treasurefilled thrift store in Easton. Come in, pick up some fabulous vintage finds, pour a cup of coffee, and let one of Project Paw's cats rescue you!
Holly GolightlyBreakfast at Tiffany's, 1961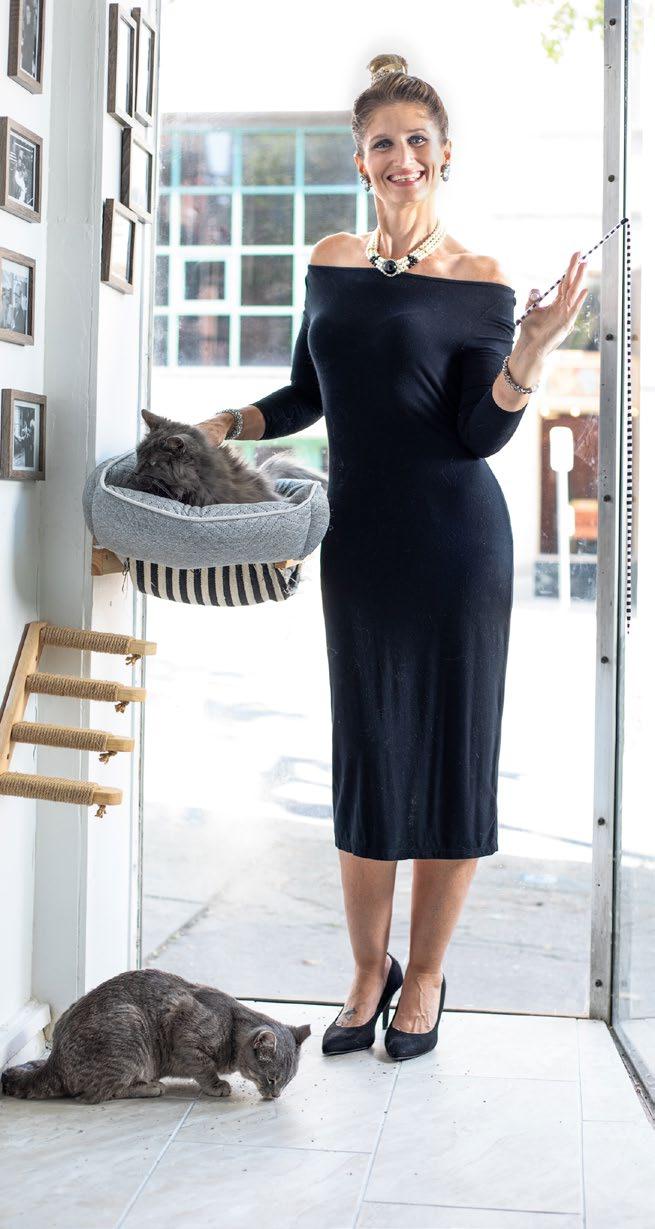 designed for your wellness and productivity. Whether you're a solo entrepreneur, a small business, or a global company with a local presence, Venture X is the ultimate productivity-booster—with the freedom of flexible, all-inclusive pricing. 40
suites staffed reception fully stocked cafe event space multiple conference rooms collaboration spaces 24/7 access SCAN BELOW TO CLAIM YOUR FREE 1-DAY PRODUCTIVITY PASS ADMITPASSPRODUCTIVITYONE More than 150 members and 50 companies served...and we're just getting started!
EXCEPTIONAL OFFICE SPACE FOR YOUR GROWING BUSINESS
X provides
VENTURE world-class services—meticulously private office
306 SOUTH NEW STREET, BETHLEHEM 484.403.0077 VENTUREX.COM @VENTUREXBETHLEHEM 77
office space, amenities, and
"WHEN YOU SUPPORT YOUR COMMUNITY, your community supports you. I am truly blessed to be a part of such an active, caring community that understands the need to continue to support one another through giving back," says owner Rachel Griffith. The Apollo Grill has a long history of giving back to our local community.
Rachel Griffith, owner
78 85 WEST BROAD STREET, BETHLEHEM 610.865.9600 APOLLOGRILL.COM
Interested in donating? Email them at apollogrill@yahoo.com to inquire!
In the last five years alone, the Apollo Grill has helped raise funds for many local nonprofits including Victory House, Bradbury-Sullivan LGBT Community Center, LGBTQ Business Council, Habitat for Humanity Lehigh Valley, Community Action Lehigh Valley's Generation Next Scholarship Fund, Backpack Pals, Wildlands Conservancy, Cancer Support
Community of the Lehigh Valley, and Angel 34. They have raised over $250,000 in total for the organizations. The Apollo Grill strongly believes that one of the keys to having a successful business is backing your community and keeping it thriving and healthy.
How Rachel Griffith gives back to her community
Left to right: Sarne Brewster and Christe Konopitski, Creative Konsulting Exchange Founder & Consultant
REALTOR, SARNE BREWSTER has a full plate juggling community organization commitments, a 2022 Leukemia and Lymphoma Society (LLS) Woman of the Year campaign, and a thriving real estate career. Working with Creative Konsulting Exchange, Sarne found support and guidance to launch and establish a personal brand identity, grow engagement and followers on her social media accounts, create new client connections, and host a successful LLS campaign—raising more than $10,000 in 10 Creativeweeks.Konsulting Exchange is dedicated to growing community for nonprofit organizations and businesses through custom-tailored consulting services focused on fundraising, social media, and marketing. If you're ready to increase your revenue and grow your community of support for your business, they want to work with you!
CLIENT AND LEHIGH VALLEY CLIFF LEWIS
CREATIVEKONSULTINGEXCHANGE.COM @CREATIVEKONSULTINGEXCHANGE 79
For the businesses and community leaders that want to do it all—you don't have to do it alone.
The help and support you need, when you need it
Scan here to schedule your meeting with Creative ExchangeKonsultingtoday!
"FOR ME, IT IS ALL ABOUT investing in health, wealth, and self. Being a realtor is about more than physical property or sales—I want to help others to leverage their situation to open up new opportunities for themselves and their families. It really is all about investments and investing in real estate can be a way to benefit your health, your wealth, and yourself," says Sarne.
H Scan here to follow her on social media!
80 CLIFFLEWISREALTOR.COM
Having lived in the Lehigh Valley for more than eight years, Sarne continues to invest in others through her work with Kiwanis, ASPIRE to Autonomy, BW NICE, and other local causes including the Leukemia and Lymphoma Society. Always one to take on her next challenge, Sarne is dedicated to helping both her community and clients.
Whether you're looking for a property, interested in what it takes to become an entrepreneur, or wanting to get to know the Lehigh Valley better, be sure to follow along with Sarne's social media accounts and send her a message to connect!
Styled by Lara Bly Designs
Linktree
"I feel so grateful to be able to work with the Cliff Lewis Experience because they value the same things that I do: a tight-knit team, professional development, and the importance of empowering those around you."
This page is sponsored by Cliff Lewis Experience
Community— the key that opens doors for Sarne Brewster
This fall, Jessica will be opening her own cafe, Toastique Bethlehem, in the heart of the Southside. She admires Southside Bethlehem and loves the sense of community that exists there. Recipes will incorporate as many locally sourced ingredients as possible. Menu items will include gourmet toasts, smoothie bowls, salads, soups, cold pressed juices, coffee, and more. The cafe will be located at 21 East Third Street. Stay tuned for more details on the opening date!
COMING
In 2021, Jessica graduated with her MBA from Lehigh University and was unsure of which career path to take. A few months went by and nothing about the job search process felt right. Her gut told her to hold out and be patient. And soon enough, Jessica stumbled across the opportunity of opening her own business. Growing up with an entrepreneurial mother and working alongside of her in the family business for years, Jessica was inspired to be her own boss. She knew the level of commitment required
to make a business succeed. And if she was going to work hard, Jessica wanted it to be for herself. She thought, "I'm going to take a chance on myself, on entrepreneurship, because if I don't take the risk now I never will."
Jessica is passionate about what Toastique stands for and its ties to the Lehigh Valley. She thought "This would be the perfect place for the Southside."
A NEW FACE is entering the Southside community! Jessica Morrissey, a Lehigh Valley native, is the owner of Toastique Bethlehem.
|
Jessica Morrissey, owner of BethlehemToastique
SOON: 21 EAST THIRD STREET, BETHLEHEM TOASTIQUE.COM @TOASTIQUE 81
Vacationing with her mother, she stumbled upon Toastique, a boutique gourmet toast and juice bar franchise, founded by a Parkland High School grad. Jessica did her research on the brand and fell in love. The Toastique brand places a strong emphasis on using both locally sourced ingredients and sustainable products, and their mission is to make eating healthy accessible and exciting.
Fresh Face: Toastique Bethlehem
Fresh Face Welcoming new businesses to Lehigh Valley
Experience award-winning
82 336 NORTHAMPTON STREET, EASTON 484.298.0400 AMANSEASTON.COM
Co-owners Sukhjeet and Gagan Bansal
Indian cuisine
Aman's Artisan Indian Cuisine has quickly became a favorite spot for locals and visitors alike. The food is top notch, but what really sets this family-owned restaurant apart is the warm and welcoming atmosphere. Be sure to stop by and raise a glass to authentic world class North Indian Punjabi Cuisine, in a world class ambiance, with world class service, right here in the heart of the Lehigh Valley! Guests can enjoy a delicious meal while taking in the charming town atmosphere. Quaint outdoor dining is now available.
WHEN THE BANSAL FAMILY opened their restaurant in Historic Downtown Easton in 2019, they knew they had something special. Their North Indian Punjabi cuisine was awarded the "Best of the Best World Top 10% Restaurant Award" by Trip Advisor. They are excited to share their award-winning flavors with the people of the Lehigh Valley. The restaurant was a hit from the start, thanks in part to its gorgeous setting nestled in the heart of Easton.
502 SOUTH CLEWELL STREET, FOUNTAIN HILL 610.653.7850 FOXANDFINCHSTUDIO.COM 83
Linda F Gertie
Abby Ogden, owner, with her family and two dogs
AT FOX & FINCH, it's a family affair. Or a birthday. Maybe a microwedding. Perhaps engagement photos? Whatever the occasion, just schedule with one of Lehigh Valley's best photographers and rent Fox & Finch studio! Bring friends, family, pets, or simply book a solo photo session and capture those fleeting moments. When it's all about hosting that magical event or getting that perfect shot with just the right background, superb lighting, and the quintessential prop (like Linda...or Gertie), it's time to play at Fox & Finch. Check out @foxandfinchstudio where fun, exemplary memories are archived daily.
SOUTHSIDE ARTS DISTRICT FALL RESTAURANT & RETAIL WEEK September 12–18 southsideartsdistrict.com
THE 35 TH ANNUAL CELTIC CLASSIC September 23–25 celticfest.org
HARVEST FEST STREET FAIR October 1 getdowntownbethlehem.com
THE NEW YORK PHILHARMONIC AT ZOELLNER ARTS CENTER October 1 zoellner.cas.lehigh.edu
EASTON GARLIC FEST
BAUM SCHOOL OF ART – LAA 87TH FALL JURIED EXHIBITION Now through September 22 lehighartalliance.org
MIDNIGHT GALLERY GRAND OPENING September 23 midnightgallerypa.com
CHILI FEST October 22 southsideartsdistrict.com
7 TH ANNUAL DRIVE FOR ADAM September 17 raceforadam.org
CHRISTMAS HUTS ON MAIN November 10–December 22 getdowntownbethlehem.com
HISTORIC BETHLEHEM MUSEUM & SITES "ART OF PLAY"
EventsFall
84
EASTON FARMER'S MARKET PUMPKINS & POOCHES October 29 eastonfarmersmarket.com
OKTOBERFEST September 30–October 2 & October 7–9 steelstacks.org
HOPS 4 HOPE 2022 October 8 losttavernbrewing.com
EASTON FARMERS' MARKET APPLE JAM October 15 eastonfarmersmarket.com
THEME EXHIBIT September 16–October 30 lehighartalliance.org
October 1–2 eastongarlicfest.com
FESTIVAL UNBOUND September 28–October 2 touchstone.org Sponsored by
GET HAPPY: MICHAEL FEINSTEIN CELEBRATES THE JUDY GARLAND CENTENNIAL November 5 zoellner.cas.leghigh.edu PA BACON FEST November 5-6 pabaconfest.com
EASTON PEACE CANDLE LIGHTING November 26 eastonmainstreet.org
ALLENTOWN BEER FEST September 10 downtownallentown.ticketleap.com
Lending more than a hand
NEXA 2139679
85
Eric Siegfried E
NEXA 126231
Shana Kay E
No matter what changes the markets might go through, you can rely on NEXA Mortgage loan officers for unquestionable expertise, open communication, and sound advice tailored to your individual situation. Building collaborative client relationships, they get to know your exact needs and goals so they are able to not just meet, but exceed expectations.
@mortgage_dad.credit_nerd/ericsiegfriedmlo
NMLS#nexamortgage.comMortgage1669690,NMLS#
Equal Housing Lender 484.866.1475 | esiegfried@nexamortgage.comesiegfried.com
Equal Housing Lender 484.809.3160skay@nexamortgage.com
When it comes to one of the most significant transactions you will make, choose NEXA Loan Officers to lend more than just a helping hand with access to every loan option needed to achieve financial goals.
NMLS#nexamortgage.comMortgage166960,NMLS#
NO MATTER THE CLIENT or the transaction, their focus remains the same: provide the best guidance, support, and loan options to suit the specific needs of their clients so they can achieve their goals. Whether buying, selling, refinancing, or building new, NEXA is committed to serving customers with honesty, integrity, and competence while providing an exceptional customer experience.
Want to learn more about loans? Connect with Eric on social media!
86 51 WEST BROAD STREET, BETHLEHEM 610.419.1200 TWISTEDOLIVEBETHLEHEM.COM
Delicious & tag-worthy dining
the bartenders at Twisted Olive have a passion for creating, so be sure to check out the seasonally rotating house infusions. For mouthwateringly good times, gather with friends and family inside this beautifully curated restaurant, outside in their newly designed outdoor area, or at the famous fusion bar!
For any of the best seats in the house, make reservations today.
SAVORY ENTREES, UNIQUE DESSERTS, AND DELICIOUS COCKTAILS from the fusion bar make Twisted Olive the place to dine this fall. An emphasis on freshness and seasonality shines through with each forkful of ingredients grown from their very own garden. Chef/Owner Steve Kershner makes sure the menu offers a unique variety of flavors— with a twist —from across the world. Thirsty? Say no more—
@TWISTEDOLIVEBETHLEHEM @TWISTED_OLIVEOPEN MONDAY: 4–10  pm TUESDAY–SATURDAY: 11:30  am –10  pm
Elias Makhoul @lehighvalleyeatz, Heidi Stahl @lehighvalleyfoodforthought, and George Gaisey @theofficialbrunchboys
433 SOUTH KINZER AVENUE, NEW HOLLAND 717.355.6000 GARDENSPOTVILLAGE.ORG 87 GenerationNext Investinginthe
Find a job with work-life balance at wearegsc.org.
THIS PAST SUMMER, Mark and Colleen Musselman hosted their son, daughter-in-law, and grandkids who live in Thailand. As Director of Life Enrichment at Garden Spot Village, Colleen coordinates fun for residents and their families. Her role offers her flexibility and work-life balance, allowing her to spend time making incredible memories when her family is in town.
figuspresortedstandardpostagepaidindustries17604306 South New Street, Suite 110 Bethlehem, PA 18015 Fig Industries is redefining success through social impact and environmental accountability to the communities we serve. Please pass this Fig on or recycle it. 610.419.4320 SOUTHSIDE BETHLEHEM ZESTBETHLEHEM.COM 610.706.0100 3501 BROADWAY, ALLENTOWN GRILLE3501.COM