WINTER 2023 SALMA HAYEK PINAULT SOAKS IT UP
IN SPACE Journey
EMIRATES FIRST
Unwind in the ultimate private suite, followed by a refreshing shower and fine dining at any time.
at
Hello Tomorrow
Onboard shower spa available on Emirates A380s.
Onboard shower spa available on Emirates A380s.
781 Fifth Avenue | 65 Prince Street | ghurka.com Available at Barneys New York
Ghurka
CULTURE
CONTENTS / WINTER 2023 STYLE 24 CRUISE CONTROL C hanel brings its new resort collection to Miami Beach 26 E ARTHLY DELIGHTS A new book dedicated to Bvlgari's botanicalinspired jewels 30 LOCK IT UP Inside Tiffany & Co.'s new Jewelry Design and Innovation Workshop in New York City 32 STYLISH READS Bone up on your fashion history BEAUTY 34 J 'ADORE CHARLIZE L ongtime Dior brand ambassador C harlize Theron talks to DuJour about her newest J'Adore Parfum d'Eau f ragrance campaign 38 NEW TO MARKET The latest beauty tech for face and body rejuvenation LIFE 40 PARADISE ON PARK Interior designer Katie Lydon transforms a pre-war apartment in Midtown Manhattan into a serene sanctuary 44 TECH WATCH From cooking appliances to televisions and smart watches, your guide to the best new devices
CHARLIZE THERON: DANIEL JACKSON, COURTESY OF PARFUMS CHRISTIAN DIOR; INTERIOR: REBECCA MCALPIN
46 FINE KLEIN Fashion photographer Steven
book 48 PAINTED LADIES Surveying the work of more
300 female painters A look from the latest Chanel cruise collection 24 ON THE COVER Dress, $9,510, SAINT LAURENT BY ANTHONY VACCARELLO, ysl.com Photography by NICK THOMPSON Styling by CHERYL KONTEH & FARRAH O'CONNOR Charlize Theron 34 18k rose and white gold and diamond Lock bangle, $13,000, TIFFANY & CO., tiffany.com 30 The living room of a Park Avenue apartment designed by Katie Lydon 40 DUJOUR.COM WINTER 2023 6
Klein's eponymous first
than
RM UP-01 FERRARI Ultra-flat manual winding calibre 1.75 millimetres thin 45-hour power reserve (± 10%) Baseplate and bridges in grade 5 titanium Patented ultra-flat escapement Function selector Limited edition of 150 pieces A Racing Machine On The Wrist
HERMITAGE HOTEL: ALYSSA ROSENHECK CONTENTS / WINTER 2023 FEATURES 66 SALMA SETTLES IN W ith two movies out this winter, actress and producer Salma Hayek Pinault is at the top of her game 80 A VERDANT VISION For a sprawling garden in Bellport masterminded by landscape designer Edwina von Gal, it's not about flowers 90 ONCE UPON A FARM A new biography explores the life of designer and domestic doyenne Bunny Mellon and her special Virginia farm estate TRAVEL 50 MAGICAL MARRAKECH The Moroccan city is flourishing and more vibrant than ever before 56 MUSIC CITY MOMENTS Nashville's hotel, dining and cultural scenes continue to boom 60 E ASTERN PROMISES W ith a new resort in Bangkok, Four Seasons Hotels and Resorts is dominating in Asia A Riad pool at La Mamounia 50 A villa's entrance at the Four Seasons Resort Bali at Jimbaran Bay The lobby lounge at The Hermitage Hotel in Nashville 60 56 DUJOUR.COM 8
CITIES
98 ASPEN
E xplore the newest additions to the base of Buttermilk Mountain and lots of cultural happenings
99 CHICAGO
Luxury sleepwear brand Petite Plume's new collaboration with The Colony hotel in Palm Beach and new restaurant openings
100 DALLAS
L a Vie Style House's new bridal collection, Gucci opens in Fort Worth and Sabah's El Paso workshop
102 HOUSTON
A new bar opens at Hotel Lulu in Round Top and a Robert Motherwell drawing show at the Menil Collection
104 L AS VEGAS
Eyal Shani opens two restaurants at the Venetian Resort and new shopping options
106 LOS ANGELES
Two hotels open and Westime opens its first boutique dedicated to certified preowned timepieces
108 MIAMI
Major Food Group opens its newest restaurant, Contessa, and a Dyson Beauty Lab arrives at Saks Fifth Avenue Bal Harbour
110 NEW YORK CITY
A plethora of beauty openings from SoHo to the Upper East Side; Chopard opens a flagship boutique on Fifth Avenue and where to eat this winter
114 ORANGE COUNTY
A new Valmont facial to try at Spa Montage along with other hospitality news in the area
116 PALM BEACH
The Colony hotel is celebrating its 75th anniversary with entirely redesigned guest rooms and a photography exhibit at the Norton Museum of Art
120
SAN FRANCISCO
New restaurants and hotels in San Francisco proper and lots of exciting openings from wine country to the South Bay and San Martin 122 BINNSHOTS/PARTIES
ARTIFACT
Truman Capote's Black and White Dance was the party of the century
HOTEL PER LA: THE INGALLS CONTENTS / WINTER 2023
128 BY INVITATION ONLY
114 The lobby terrace at the Park Hyatt Aviara in Carlsbad, California The Hotel Per La 106 Fur bag, $7,200, FENDI, fendi.com 104 An Ocean Club suite at The Lodge at Bodega
120 DUJOUR.COM WINTER 2023 10
Bay
OBELISCO COLLECTION | robertocoin.com
London CALLING
The NoMad in Covent Garden was the ideal location for our winter print issue cover shoot in October

SUITES (2), RECEPTION AREA,
BEHIND THE SCENES
BALLROOM AND SIDE HUSTLE: SIMON UPTON
A Magistrates suite sitting room
Side Hustle
The hotel's exterior
NoMad's first European outpost, in a historic 19th-century building formerly known as Bow Street Magistrates' Court and Police Station in Covent Garden, is the Sydell Group's fourth NoMad hotel to date. The 91 rooms and suites were designed by interior design studio Roman and Williams. The hotel features spaces including the NoMad Restaurant, Side Hustle, the Library and the brand's first-ever subterranean craft cocktail bar and lounge, Common Decency. thenomadhotel.com –CHRISTINA OHLY EVANS
Salma Hayek Pinault strolled into the NoMad hotel in style on a Monday morning in late October for DuJour 's cover shoot. During the day, the actress caught up with her glam team and enjoyed poached eggs on sourdough with arugula as a midday snack.
The reception area
WINTER 2023 DUJOUR.COM 13
A Magistrates suite The Magistrates Ballroom
PRINT CONSULTANT Calev Print Media
DIRECTOR
CONTRIBUTING WRITERS
EDITOR Natasha Wolff CREATIVE
Alexander Wolf
Edward Espitia Christina Ohly Evans
CONTRIBUTING COPY EDITOR
CONTRIBUTING IMAGING SPECIALIST
CEO/PUBLISHER Jason Binn ASSISTANT CONTROLLER Veronica Jones EXECUTIVE ASSISTANT Kenny Placencio RM 88 Automatic Tourbillon Smiley timepiece, $1,220,000, RICHARD MILLE , richardmille.com RM 07-01 Intergalactic Misty Night timepiece, $243,000, RICHARD MILLE , richardmille.com DuJour (ISSN 2328-8868) is published four times a year by DuJour Media Group, LLC, 530 7th Avenue, Floor M1, NYC 10018, 646-710-4494. All rights reserved. Reproduction without permission of the publisher is prohibited. The publishers and editors are not responsible for unsolicited material and it will be treated as unconditionally assigned for publication subject to DuJour magazine's right to edit. Return postage must accompany all manuscripts, photographs, and drawings. Copyright © 2022 DuJour Media Group, LLC. For a subscription to DuJour magazine, go to dujour.com/free, call 800-783-4903, or email custsvc_dujour@fulcoinc.com.
Alyssa Giacobbe Marshall Heyman Lauren Jade Hill
Regan Hofmann
Travis O'Brien
e're very excited to share our winter print issue starring the indomitable Academy Award-nominated Salma Hayek Pinault. She is starring in two films this winter and speaks candidly about topics ranging from her costars Antonio Banderas and Channing Tatum to not using email or a computer, her relationship with her husband, Kering chairman and CEO François-Henri Pinault, and her friend and director Angelina Jolie.
We traveled to Miami for a behind-the-scenes look at Chanel creative director Virginie Viard's latest cruise runway collection for the French fashion house and toured Tiffany & Co.'s Jewelry Design and Innovation Workshop in New York City, where the most exciting brand creations are being dreamt up.
We also spoke with actress Charlize Theron about being the face of the new Dior fragrance J'adore Parfum d'Eau and her long-standing partnership with the maison. We have a feature on the latest beauty tech, books on photographer Steven Klein and designer Bunny Mellon and a home story on a chic new Park Avenue apartment.
Christina Ohly Evans went to Morocco and Nashville, while Marshall Heyman hit Bangkok and Bali for our travel section. We hope you enjoy reading this issue as much as we did producing it.
Wolff Editor
Instagram: @natashawolff
Things I'm LOVING for WINTER
Denim and crystal mules, $995, JIMMY CHOO, jimmychoo.com
18k yellow gold and sterling silver Odin Hoop Earrings, $1,700, SPINELLI KILCOLLIN, spinellikilcollin.com
Bag, $1,375, ROGER VIVIER , rogervivier.com
ED LETTER
Dress, $150, HILL HOUSE HOME , hillhousehome.com
Natasha
W
PORTRAIT: ALEXI LUBOMIRSKI DUJOUR.COM 16 WINTER 2023
© The AMES Companies
Organization for your lifestyle™ THE NEW BLACK IS OXFORD BLACK. Sophisticated enough for any room, or city. Visit CustomClosetMaid.com
MasterSuite 27th Avenue in Oxford Black with Stainless Steel Bar Pulls
This issue marks a decade of DuJour Media. From day one, we set out to bring together content and commerce, on and offline. And, it only gets better as we celebrate the most iconic people and the prominent places where our strategic partners and friends live, work and play.
The tenth anniversary issue of DuJour showcases the gorgeous and talented actress and producer Salma Hayek Pinault. She last graced our cover in spring 2017; this time, she is back in two very exciting films: Puss in Boots: The Last Wish (out December 21) and Magic Mike's Last Dance, coming in February. Photographed on location at the NoMad Hotel in London, Nick Thompson shot stunning and sexy images of Hayek Pinault in the best of the season's fashion looks.
Whether you're wintering in Palm Beach or Aspen, DuJour's award-winning team will be there to serve as your lifestyle guide for all things fabulous. Here's to another 10 remarkable years.
DuJour Media: where luxury will always live.
Binn
Founder and CEO
Twitter/Instagram: @jasonbinn
BINNSHOT
Jason
Dwayne "The Rock" Johnson in Dolce & Gabbana at a premiere in NYC
Anne Hathaway at Elle 's Women in Hollywood party in L.A.
Kate Hudson in Saint Laurent by Anthony Vaccarello at a premiere in London
Sigourney Weaver in Saint Laurent by Anthony Vaccarello at the New York Film Festival
WITH HAYEK PINAULT:
VLASIC/GETTY
BINDL/GETTY
Emily Blunt in Prada at a premiere in NYC
BINN
SLAVEN
IMAGES; DOMINIK
IMAGES
DUJOUR.COM WINTER 2023 18
With Salma Hayek Pinault at DuJour 's tenth anniversary cover party at The Venue at Hard Rock Hotel New York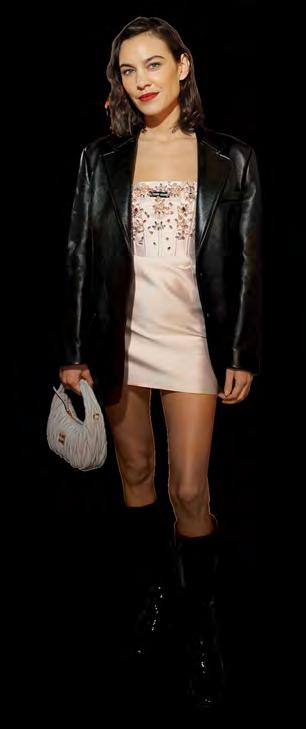 Naomi Watts in Dior at Elle 's Women in Hollywood party in L.A.
Margot Robbie in Celine by Hedi Slimane at a premiere in London
Elle Macpherson at the Dior fashion show in Paris
Kylie Jenner at the BOF 500 gala in Paris
Hugh Jackman at a screening in NYC
Andra Day in Chanel at a Chanel dinner to celebrate the 1932 High Jewelry Collection in L.A.
Christy Turlington at the Tribeca Chanel Women's Filmmaker Program luncheon in NYC
Gillian Anderson at a Burberry fashion show in London
Emma Corrin in Miu Miu in London
Pharrell Williams at a Chanel cruise collection show in Miami
Jennifer Coolidge in Dolce & Gabbana at a premiere in L.A.
Whoopi Goldberg at a premiere in NYC
Alexa Chung at a Miu Miu dinner in Paris
With Salma Hayek Pinault at DuJour 's tenth anniversary cover party at The Venue at Hard Rock Hotel New York
Stephen Colbert and Jerry Seinfeld at WSJ Magazine 's Innovator Awards in NYC
Olivia Wilde in Saint Laurent by Anthony Vaccarello at an event in NYC
19
Gwyneth Paltrow at a Veuve Clicquot event in L.A.
WINTER 2023 DUJOUR.COM
BINNSHOT
Lupita Nyong'o at a premiere in NYC
Gayle King at a premiere in NYC
Christian Louboutin and Diane von Furstenberg at the World Monuments Fund Hadrian gala in NYC
Lili Reinhart in Max Mara at the Women in Film Honors event in L.A.
Gabrielle Union in Prada at the New York Film Festival
Lashana Lynch in Fendi at the Women in Film Honors event in L.A.
Claire Danes and Hugh Dancy at the New York City Ballet's Fall Fashion Gala
Zoe Saldaña in Fendi at a premiere in LA
Adam Driver at the Camparisponsored opening night of the New York Film Festival
Noah Baumbach and Greta Gerwig at the Camparisponsored opening night of the New York Film Festival
Nina Dobrev at the "Louis Vuitton: 200 Trunks, 200 Visionaries" exhibition in NYC
Mariah Carey in Chopard jewelry at the Global Citizen Festival in NYC
Emily Ratajkowski at the Tory Burch store in NYC
Lena Waithe and Riccardo Tisci at a Burberry fashion show in London
DUJOUR.COM WINTER 2023 20
Marion Cotillard at a Chanel cruise collection show in Miami
THE GOLD STANDARD

Adrien Brody Ava DuVernay in Louis Vuitton Kaitlyn Dever in Dior Michelle Yeoh Kaia Gerber in Alaïa Eddie Redmayne Glenn Close Alicia Vikander in Louis Vuitton Diana Ross Judd Apatow Leslie Mann Laura Dern in Khaite Lily Collins in Dior Selma Blair Christina Ricci
Margulies Joe Jonas and Sophie Turner, both in Louis Vuitton George Clooney Julia Roberts in Thom Browne Emma
in Louis Vuitton Hailey Bieber WINTER 2023 DUJOUR.COM 21
Hollywood heavy hitters attended the second annual Academy Museum gala in L.A., which toasted Miky Lee, Steve McQueen, Julia Roberts and Tilda Swinton for their work in cinema
Julianna
Stone
ART MEETS FILM
BINNSHOT
The stars came out to honor artists Helen Pashgian and Park Chan-wook at the 11th annual LACMA Art+Film Gala in L.A., sponsored by Gucci
Billie Eilish
Elton John
Jesse Rutherford
Janelle Monáe
Elizabeth Banks
Jude Law Chloé Zhao
Sebastian Stan
Julia Garner
Kendall Jenner
Kim Kardashian
Jodie TurnerSmith
Sydney Sweeney
Idris Elba
Sabrina Elba
Andrew Garfield
Laura Harrier
DUJOUR.COM WINTER 2023 22
Sandra Oh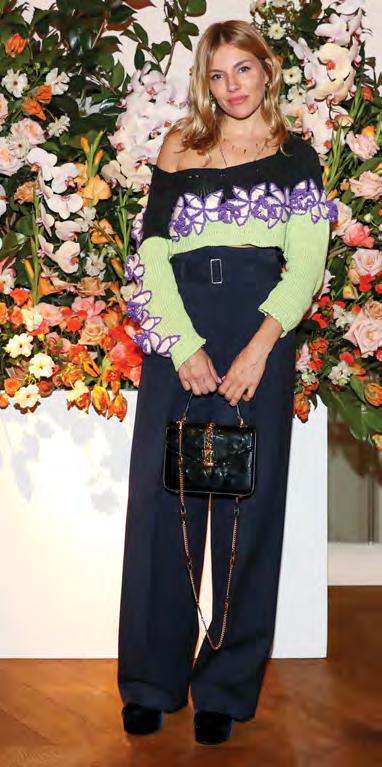 Bella Hadid at a Miu Miu dinner in Paris
Tessa Thompson at the Academy Women's Luncheon in L.A.
Alexandra Daddario in Dior at the Guggenheim International Gala in NYC
Maye Musk in Dior at the Guggenheim International Gala in NYC
Poppy Delevingne at a Stella McCartney fashion show in Paris
Jurnee Smollett at a Chanel dinner to celebrate the 1932 High Jewelry Collection in L.A.
Rachel Brosnahan in Dior at the Guggenheim International Gala in NYC Kristin Davis at the New York City Ballet's Fall Fashion Gala
Queen Latifah at a premiere in NYC
John Krasinski in Dolce & Gabbana at the Albie awards in NYC
Sienna Miller
at a
Dr. Sturm dinner at Casa Cruz in NYC
Dianna Agron at the Tribeca Chanel Women's Filmmaker Program luncheon in NYC
Rita Wilson at the Academy Women's Luncheon in L.A.
Jerry Hall and Georgia May Jagger at a Saint Laurent fashion show in Paris
Carey Mulligan at the Women in
WINTER 2023 DUJOUR.COM 23
Film Honors event in L.A.
CRUISE CONTROL
Chanel brings its new resort collection to Miami Beach
BY NATASHA WOLFF
BEHIND THE SCENES
DUJOUR.COM WINTER 2023 24
STYLE
First shown at the Monte-Carlo Beach Hotel in Monaco this May and now in stores, the Chanel cruise collection made a visit to Miami Beach's sunny shores recently. The Faena hotel with its Floridian art deco style was the perfect tropical backdrop for the fashion show. A Riviera-style boardwalk was constructed on the hotel's beach, and guests sat under red-and-white umbrellas in cabanas to watch the presentation. Chanel creative director Virginie Viard showed short suits, sporty jumpsuits in a salute to Formula One's first Miami Grand Prix, strapless tweed minis, maxi shirtdresses and, of course, a tennis racket bag—the ultimate in courtside chic.
For the occasion, the label tapped directors Sofia and Roman Coppola to direct a short video featuring models Blésnya Minher, HyunJi Shin, Mariam de Vinzelle and Vivienne Rohner in Monaco interspersed with scenes of Miami Beach: the art deco buildings, skyscrapers, palm trees, boat trips and swimming. Chanel has five boutiques in Florida (Design District, Bal Harbour Shops, Aventura,
Palm Beach and Orlando), which has become a major international market in recent years.
But it wasn't the first time the house had presented one of its destination shows in the Magic City: In 2008, under the direction of creative director Karl Lagerfeld, Chanel presented a cruise collection by the legendary pool of the Raleigh Hotel on South Beach.
Friends of the house like Lily-Rose Depp, Marion Cotillard and Pharrell Williams were on hand to celebrate the collection. Afterward, VIP guests and clients sipped on palomas and margaritas and noshed on local specialty stone crab claws, spicy tuna hand rolls and gelato from a monochromatic Chanel gelato cart. Williams performed alongside musician Nile Rodgers (the duo collaborated with Daft Punk on the 2013 hit "Get Lucky"), who sang some of the hits he has written and produced over the years, including "Everybody Dance," "Le Freak," "I Want Your Love" and "Good Times." Everyone in the audience was definitely feeling lucky to be there. ■
Models walk the boardwalk in Chanel's new cruise collection
COURTESY OF CHANEL
JEWELRY PROFILE
Earthly DELIGHTS
Bvlgari's latest high jewelry collection, inspired by the Garden of Eden, celebrates nature as a limitless source of inspiration for the Roman house.
Bulgari Eden: The Garden of Wonders (Rizzoli) contains sketches and photographs, captured by Korean photographer Cho Gi-Seok, of the jewelry from the new collection alongside poetry by Emily Dickinson and Federico García Lorca.
LIFE TRAVEL CULTURE BEAUTY STYLE ALL PHOTOGRAPHS COURTESY OF RIZZOLI
and diamond High Jewelry ring DUJOUR.COM WINTER 2023 26
Platinum
Platinum, emerald
diamond High Jewelry necklace WINTER 2023 DUJOUR.COM 27
and
LIFE TRAVEL CULTURE BEAUTY STYLE
DUJOUR.COM WINTER 2023 28
Pink gold, tourmaline, blue zircon, aquamarine, amethyst and diamond High Jewelry necklace
WINTER 2023 DUJOUR.COM 29
Platinum, sapphire and diamond High Jewelry necklace
BY NATASHA WOLFF
18k
Tiffany & Co.'s Jewelry Design and Innovation Workshop (JDIW) launched in 2018 in New York City as a catalyst for development that allows designers, jewelers and engineers to collaborate under one roof, mixing craftsmanship with advanced technologies. One of the concepts to emerge from this studio is the new Tiffany Lock collection, which re-envisions the idea of a padlock, an important design theme from the Tiffany archives. "Tiffany Lock is an elegant interpretation of an archival functional design," says Alexandre Arnault, the brand's executive vice president of product and communication. "Defined by modern, clean lines and a breakthrough clasp mechanism, Tiffany Lock represents an exciting new pillar to our diamond and gold jewelry offering." We spoke with Dana Naberezny, JDIW's chief innovation officer, to learn more.
You started your career at Tiffany & Co. in 1995. How has your position evolved over the years? I've held various positions across product development, supply management and product engineering. In 2016, I rejoined the brand to create and launch our in-house prototyping workshop, the Jewelry Design and Innovation Workshop. I have always been a student of innovation and innovative spaces, and in building the JDIW, we created a place that can stand on the revolutionary foundation of Tiffany brand DNA and quality craftsmanship.
What's special about JDIW and what makes it unique in the jewelry market?
At the JDIW, we work on prototypes only and take the bright light of creativity from the legendary Tiffany & Co. designers and weave in technical know-how and curiosity into designs. At Tiffany & Co., our sourcing and crafting process is what sets us apart from other jewelers. While other brands source and even craft from external vendors, we own and operate a fully end-to-end supply chain, enabling us to act in socially and environmentally friendly ways and guarantee consistent quality across all collections. We get to
LIFE TRAVEL CULTURE BEAUTY STYLE
18k rose gold and diamond Lock earrings, price upon request, TIFFANY & CO., tiffany.com
THE MAKING OF Lock It UP Inside Tiffany & Co.'s new Jewelry Design and Innovation Workshop in New York City, where the most exciting brand creations are being dreamt up
Looking at prototypes
white
and
DUJOUR.COM WINTER 2023 30
gold
diamond Lock pendant necklace, price upon request, TIFFANY & CO., tiffany.com
discover, create and work with the most amazing metals, diamonds and gemstones sourced by our teams and the newest collaborations with some of the world's leading artists. We are here to bring our designers' visions to life, and we do this by being a marriage of technology and craft. We take Tiffany & Co.'s designers' concepts and partner with them to make them truly three-dimensional and function in their desired form. Lastly, we work with manufacturing teams around the world to make these pieces into a reality.
Tell us about the Tiffany Lock collection and how long it was in gestation at JDIW.
The padlock has an important place in Tiffany & Co.'s history; it is part of our brand DNA and is an archival motif that goes back to the late 1800s, when Tiffany first offered its clients functioning padlocks. The team at the JDIW worked for over a year to engineer a clasp mechanism that is both easy to use and secure. The Lock collection is Tiffany's first all-gender collection and embodies the open-minded spirit of today's generation. The narrative behind the collection is about unity, belonging and the universal bonds that connect us. ■
We have created a place that can stand on the revolutionary foundation of Tiffany brand DNA and quality craftsmanship.
—DANA NABEREZNY
Testing a Tiffany Lock clasp mechanism
Artisans at the JDIW workshop
18k gold Lock ring, price upon request, TIFFANY & CO., tiffany.com
WINTER 2023 DUJOUR.COM 31
STYLISH READS
An Origin Story
Cartier: 13 rue de la Paix (Flammarion) charts the Parisian jewelry brand's roots from its 1899 opening at its 13 rue de la Paix address, where its creations came to life under the direction of Louis Cartier. Previously unpublished work by photographers such as Laziz Hamani amplifies the creative vision of this iconic location.
LIFE TRAVEL CULTURE BEAUTY STYLE
CARTIER
CARTIER: CECIL BEATON ARCHIVE/CONDÉ NAST; QUEEN OF SPAIN: CARTIER ARCHIVES PARIS © WIDE WORLD PHOTOS;
ARCHIVES PARIS © CARTIER; LAZIZ HAMANI; ROBERT DESOUCHES
FASHION HISTORY
Cartier's director of fine jewelry, Jeanne Toussaint, photographed by Cecil Beaton in her office in 1962
Study for a vanity case, 1923
inro, circa 1890
A salon in the boutique circa 1924
An
Renovation work at 13 rue de la Paix in 2021
Cartier: 13 rue de la
Paix
DUJOUR.COM WINTER 2023 32
Queen of Spain Victoria Eugenie of Battenberg leaving the boutique, circa 1920
Flower Power
Known for his bright floral patterns, American fashion designer Ken Scott followed a maximalist design philosophy when it came to his vibrant collections, giving him the moniker "The Fashion Gardener." A 2021 Gucci Epilogue capsule collection featured Scott's prints, and now the luxe monograph Ken Scott (Rizzoli) provides an in-depth exploration of the designer's colorful archives.
Luggage featuring Scott's prints in Life , 1961; Ken Scott in 1976; Ken Scott ; an Infinito print ensemble in Vogue Italia , 1968; a sketch by the designer; the entrance to Scott's Milan studio in 2010
KEN SCOTT: MILTON H. GREENE AND JOSHUA GREENE; ALFA CASTALDI (2), ARCHIVIO FONDAZIONE KEN SCOTT; RUY TEIXEIRA FOR VELVET
CLOCKWISE FROM LEFT:
WINTER
DUJOUR.COM 33
2023
J'Adore CHARLIZE
Academy Award–winning actress and longtime Dior brand ambassador Charlize Theron talks to DuJour about her newest J'Adore Parfum d'Eau fragrance campaign
BY NATASHA WOLFF PHOTOGRAPHY BY DANIEL JACKSON
The 47-year-old actress and mother of two has been part of the Dior Beauty family as the face of its J'Adore fragrance for the last 15 years. The Oscar winner, currently starring in The School for Good and Evil, is synonymous with the brand's ethos and aesthetic. Theron talked to DuJour about sustainability, her favorite memories on set with Dior and how her relationship with scent and beauty has evolved over the years.
You have been the face of J'Adore for more than 15 years. How would you describe the evolution of your relationship with Dior?
I feel incredibly honored to have been a part of the Dior Beauty family for more than 15 years. They've become like family to me, and each new campaign over the years has brought so many great memories and experiences to my life. A lot has happened over the past decade and a half in my life—in my career, in my family— and Dior has been there with me every step of the way. With the different iterations of products and messaging, we've gotten to take risks and experiment with exciting new ideas, and it's been such an enjoyable ride.
Who is the J'Adore woman?
She is feminine, strong and elegant. She knows what she wants and is constantly on a journey to find it. I relate to this sense of knowing what I want and making sure I do everything I can to achieve it—that's how I've lived most of my life. I also love how the J'Adore woman rallies other women alongside her and knows that in order to be strong, we have to stick together. The tribe of women I have in my life are my everything, and we lift each other up and are each other's biggest supporters.
The new J'Adore Parfum d'Eau is a technical innovation that does not include alcohol. Does sustainability play a big role in your everyday life and your social commitment projects?
I try to be very cognizant of sustainability, especially as our planet continues to be harmed by the effects of climate change. I have definitely made changes in my life to help lead a more natural existence. It's something we should all be more aware of and work toward, and I'm so glad Dior is making technical innovations to work toward a more sustainable future, too.
FIRST PERSON
Coat, price upon request, DIOR , dior.com PHOTOS COURTESY OF PARFUMS CHRISTIAN DIOR DUJOUR.COM WINTER 2023 34
BEAUTY
Shirt, price upon request, DIOR , dior.com STYLING BY LESLIE FREMAR; MAKEUP BY KATE LEE USING DIOR BEAUTY; HAIR BY ADIR ABERGEL; NAILS BY TOM BACHIK USING DIOR BEAUTY
WINTER 2023 DUJOUR.COM 35
Coat, price upon request,
DIOR , dior.com
CHARLIZE'S DIOR FAVORITES
"I've also added the new Prestige la Crème Haute Réparation into my skincare routine and I love how it makes my skin feel."
Prestige Prestige La Crème $420, DIOR , dior.com 
"When I feel like going out, my go-to product is the Rouge Dior Forever lipstick. I love a bold red lip!" Rouge Dior Forever lipstick, $42, DIOR , dior.com 
"I love my J'Adore perfume, obviously."
J'Adore Parfum d'Eau, $118, DIOR , dior.com 
What is your favorite Dior Beauty memory?
Working with the late Peter Lindbergh. He was such a gentleman and absolute master of his craft. We had such a blast shooting the Dior campaign together. It's times like those I cherish as part of this work—the laughter on set, the creative synergy—and I am so grateful for the times we shared through this partnership. Another fond memory that comes to mind is our collaboration between Dior and my foundation, CTAOP, through our Chin Up campaign. It was so inspiring to see the incredible women Dior brought together to share their stories and to be able to hear from women all across the world from various walks of life, not just public figures or those in entertainment.
How does Dior Beauty fit into your lifestyle?
I love being able to get dressed up and feel good about the way I look, the way I smell and the way I feel, and having Dior in my arsenal helps me achieve that every time.
How has your role as a Dior ambassador expanded your world?
Working with Dior has opened doors for me in ways I could never have expected. I've gotten to see and experience some amazing things in the world, and the people I've met along the way have enriched not only my personal life, but have provided deep professional and creative relationships that I've carried with me over the past 15 years. I've gotten to work with the best of the best directors, photographers and designers, and those relationships and the things they've taught me have had a profound impact on my work as an actor.
When and how do you wear perfume?
I think a lot of confidence can come from your scent, knowing that you're walking into a room smelling beautiful. It's always a nice feeling when someone compliments your scent. Over the years, I've recognized our sense of smell is the sense most directly tied to memory, so I find it extremely important in making a first impression. I wear perfume almost every day…one dab on each wrist and then a spritz on the neck!
Do you like to try new fragrances or do you stick with favorites?
I love scents that are familiar to me or remind me of certain memories or locations—that's always comforting. But I also really enjoy trying new scents that aren't necessarily tied to a memory but feel exciting and different.
■
I've recognized our sense of smell is the sense most directly tied to memory, so I find it extremely important in making a first impression.
WINTER 2023 DUJOUR.COM 37
—CHARLIZE THERON
New to MARKET
From radiofrequency treatments to injectables, we talked to the top doctors to find out about innovative face and body treatments to give definition and reduce wrinkles and cellulite so you look and feel your best this winter
BY NATASHA WOLFF
FACE
JUVÉDERM VOLUX XC
Juvéderm Volux XC is the first hyaluronic acid–based injectable filler approved by the FDA to specifically target the jawline. "I am excited for the introduction of Volux into the Juvéderm family of fillers as it offers three times the cohesiveness and lifting power as Voluma," says double board-certified plastic surgeon Dr. David Shafer, of NYC's Shafer Clinic Fifth Avenue. "Volux is our strongest filler for definition of the jawline with powerful lifting capacity for the soft tissue and skin. As I inject Volux, I instantly see the difference from other fillers as I am able to give patients an instant strengthening of their jawline." Since hyaluronic acid is naturally occurring in the body, this jaw-defining filler is safe and universally compatible. "Juvéderm Volux XC complements our existing product line to provide even more structure, cohesivity and lift capacity to create an improved jawline that appears more defined in real life and on camera," says Global Allergan Aesthetics President Carrie Strom. "This is what our providers have been asking for to deliver the jaw-dropping results their patients are seeking." Dr. Shafer still recommends Voluma for cheeks and Juvéderm Ultra and Volbella for lips. juvederm.com
ELLACOR
For skin smoothing and wrinkle reduction, Dr. Dendy Engelman, dermatologist and Mohs surgeon of NYC's Shafer Clinic Fifth Avenue, loves Ellacor. The new FDA-approved device offers a fix for moderate and severe wrinkles in the mid and lower face of adults 22 years and older. The Ellacor system with Micro-Coring Technology is the first and only device to remove skin on a microscale for an improvement in the appearance of wrinkles. The minimally invasive treatment uses hollow needles to remove micro-cores of skin. After the skin is removed, the body's natural healing response goes into effect as the skin quickly realigns to close the cores. "The treatment strategically removes micro-cores of tissue in order to lift the face, tighten the skin and reduce fine
Multi-Retinol Night Emulsion, $135, MARIE VERONIQUE , marieveronique.com
A RETINOL REVELATION
After years of research and development, aesthetician and skin health expert Kristina Holey and skincare formulator and chemist Marie Veronique have unveiled a breakthrough new retinoid. MultiRetinol Night Emulsion was created to offer an effective, microbiomefriendly alternative to prescription retinoids to treat aging skin. "Our goal was to come up with an innovative formula that would deliver all the amazing benefits of retinol but without the negative side effects or the controversial ingredients and preservatives," says Holey.
LIFE TRAVEL CULTURE BEAUTY STYLE NEW & NOTEWORTHY
lines and wrinkles, mainly around the cheeks, jaw and jowls," explains Dr. Engelman. "Ellacor is capable of removing 12,000 micro-cores of skin in a treatment area without leaving behind any scars. Patients (and doctors!) are loving this treatment because it yields very effective results, usually in three sessions, with only a few days of downtime afterward and no permanent marks." Beware, this treatment is not suitable for deeper skin tones, as scarring and hyperpigmentation can occur. ellacor.com
EMFACE
BTL, the authority in non-invasive body sculpting, has released Emface, the first and only non-invasive, needle-free device that uses electromagnetic stimulation and radiofrequency to reduce the appearance of wrinkles and tone facial muscles to lift the face. The facial pad applicators specifically match the contours of every face and selectively activate and contract individual muscles in the forehead, cheeks and corners of the mouth while delivering consistent heating. The painless 20-minute treatment (four sessions are recommended, each completed 2-14 days apart) does for the face what Emsculpt did for the body. "This is an excellent option for anyone who is looking for a fast and painless boost with no downtime," says Dr. Engelman. "Patients love that they can see a visible difference immediately after each 20-minute treatment. Emface also stimulates the body's natural collagen and elastin production for longer-term results." bodybybtl.com
BODY RESONIC
The new Resonic device uses Rapid Acoustic Pulse (RAP) technology to deliver safe and effective treatment for the reduction of cellulite. "Our discussions with our target dermatologists and plastic surgeons on our RAP technology have been very well received, and there is strong enthusiasm for an effective and efficient patient experience for tattoo removal and cellulite treatment with the Resonic device over the coming months," says Soliton CEO and President Brad Hauser. resonic.com
Ellacor
Emface
Juvéderm Volux XC
WINTER 2023 DUJOUR.COM 39
Resonic
Paradise on Park
Interior designer Katie Lydon transforms a pre-war apartment in Midtown Manhattan into a serene sanctuary
BY NATASHA WOLFF PHOTOGRAPHY BY REBECCA MCALPIN
LEFT:
In the primary bedroom, a custom bed by Dune, nightstands by Desiron, rug by Stark Carpet and vintage Murano glass lamps create a quiet oasis
LEFT:
As the owner of the womenswear boutique The RiverLane, in Essex, Connecticut, Robin Zubretsky knows the importance of having an appealing physical space. That's why the entrepreneur tapped her frequent collaborator, interior designer Katie Lydon, when she needed to gut renovate a pre-war apartment on Park Avenue. The resulting space is a study in calm and serenity with a neutral color palette of whites, grays, silvers and golds. "The apartment is set on a high floor in a gorgeous building on Park Avenue and has beautiful views and light throughout," says Lydon. "It is a wonderfully light and open threebedroom apartment with a great-sized kitchen and back pantry area. Zubretsky and her husband use the home to host extended family and friends, and it's a welcome place for entertaining."
DESIGN
The KL Kitchen, Inc.–designed kitchen features custom stainless steel cabinetry and quartz countertops. Appliances by Sub-Zero, Wolf and Miele make for a fabulous chef's haven.
LIFE WINTER
DUJOUR.COM 41
The living room features a custom sectional sofa and ottomans by Dune, stainless steel coffee table and leather ottomans by Desiron, a Warp & Weft rug, artwork by Kenneth Josephson and Damien Hirst and Venetian plaster and lacquered ceiling by Deux Femmes Decorative Art
2023
Special paint finishes and wall treatments by decorative painters make the space feel rich and luminous. "We used plaster ceiling moldings to give the ceilings that very important lift," says Lydon. "The ceilings in the great room are lacquered white and it really sends them soaring. To achieve that, the beams and moldings had to be perfect." Prints from artists like Richard Serra, Donald Sultan and Damien Hirst line the walls alongside photography by Kenneth Josephson and a glass sculpture by Jeff Zimmerman. A stainless steel kitchen is a standout custom design, and bathrooms were redone using Studium and Waterworks tile with soft and interesting patterns and layouts on the floor. ■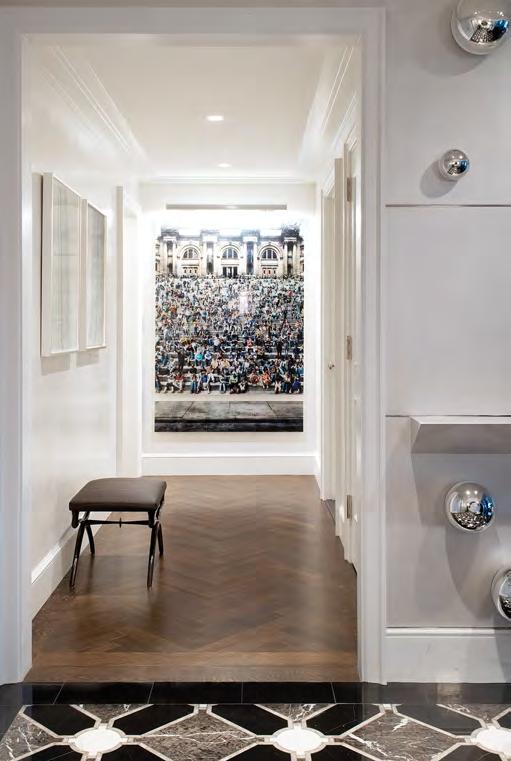 TRAVEL CULTURE LIFE STYLE BEAUTY
We worked with our decorative painters to do beautiful paint finishes throughout, and all the walls have this gorgeous luminous quality.
—KATIE LYDON
LEFT:
In the dining room, a table by BDDW, chairs and sideboard by Dune, rug by Beauvais Carpets
and
custom mirror
by
John
Boone
make
for a luxe space
RIGHT:
DUJOUR.COM WINTER 2023 42
Upon entry, art by Jeff Zimmerman and Sangbin IM greets guests alongside a tiled floor by Studium
Outdoor furniture by Janus et Cie offers a refined perch from which to enjoy the view
A seated vanity area (with a chair by B&B Italia) was a must on the clients' primary bath wish list
In the primary bedroom, a lucite-and-wood desk by Profiles is paired with a chair by Baker to create a calm oasis of productivity
WINTER 2023 DUJOUR.COM 43
In the primary bathroom, a soaking tub sits atop tile and underneath sconces, all by Waterworks
TECHNOLOGY
Tech WATCH
From cooking appliances to televisions and smart watches, your guide to the best new devices
BY NATASHA WOLFF
TV
The LG Posé OLED TV is more of a high-end furniture piece or art object than a television. The television, available in a 48- or 55-inch format, provides stunning OLED evo picture quality and can be switched to Gallery mode, enabling users to display artwork or photos on a self-lit digital canvas to transform their television into art.
Objet Collection Posé OLED TV, from $1,800, LG, lg.com
SCANWATCH
HORIZO N
SMART WATCH
Withings' new ScanWatch Horizon hybrid watch looks like an elegant dive watch, but it's actually an affordable, wearable fitness tracker. With a 30-day battery life and a stainless steel case, the device tracks activities and monitors your heart rate and sleep while boasting intuitive features.
ScanWatch Horizon smart watch, $500, WITHINGS, withings.com
9
MICROSOFT SURFACE PRO
Equipped with a 120Hz refresh rate, HD camera, a choice of processors and a custom upgraded G6 chip for optimal inking, Microsoft's Surface Pro 9 tablet computer is the ultimate portable device. To celebrate Surface's 10th anniversary, the brand has partnered with Liberty of London on a limited-edition design and matching keyboard.
Surface Pro 9 tablet computer, from $1,000, MICROSOFT, microsoft.com
TRAVEL CULTURE LIFE STYLE BEAUTY
LG POSÉ OLED
DUJOUR.COM WINTER 2023 44
APPLE WATCH HERMÈS SERIES 8
Apple's new Apple Watch Series 8 features an 18-hour battery life and retina display with new features like low power mode and watchOS9 software. Since 2015, the French luxury fashion house Hermès has been an Apple brand partner; now, a selection of interactive watch faces and luxe straps are on offer inspired by the House's equine brand heritage.
Apple Watch Hermès series 8, from $1,229, APPLE , apple.com
FORME STUDIO WORKOUT MIRROR
The Forme Studio workout mirror is a sleek and discreet piece of smart fitness equipment for your home. Its immersive 43-inch 4K touchscreen allows users to browse and stream a variety of trainer-led fitness classes. When not in use, the touch-enabled smart gym screen looks like an ordinary full-length mirror, so no one will be the wiser. Studio workout mirror, $2,495, FORME , formelife.com
DYSON ZONE
Dyson's first wearable technology, its Zone Air-Purifying Headphones, provides a high fidelity, immersive listening experience and on-the-go air purification wherever your day takes you. Powered by advanced lithium-ion batteries and USB-C charging, the headphones offer 50 hours of audio-only run-time or four hours of combined purification and audio run-time, charging to 100 percent in three hours. An additional built-in microphone enables phone calls and voice recordings.
Zone Air-Purifying Headphones $950, DYSON, dyson.com
LEICA Q2 GHOST CAMERA
Leica's new Q2 "Ghost" camera comes in white covered in gray cowhide leather with a special coating to protect against environmental influences. The limited-edition piece (only 150 sets were made) inspired by a legendary dive watch is engraved with a unique serial number and comes with a woven gray carrying strap. Q2 "Ghost" Set, $5,995, LEICA X HODINKEE , leicacamerausa.com
THERMOMIX TM6
Affectionately known as the Tesla for the kitchen, the high-tech Thermomix TM6 is a multiuse appliance that transforms any countertop. Its versatility is unmatched, with 24 different functions and techniques ranging from whisking and chopping to steaming, sous vide cooking and emulsifying. With Wi-Fi connectivity, automatic updates, smart-device shopping lists and online recipes for 60,000 meals, the TM6 is the ultimate sous chef. For the first time in its 50-year history, the company has released the fan favorite all-in-one device in a limited-edition black colorway. TM6 all-in-one kitchen appliance, $1,500, THERMOMIX , shop.thermomix.com
The new Nest Wifi Pro is built with Wi-Fi 6E to offer dramatically faster speeds than previous versions. It constantly optimizes for smooth connections throughout your home and uses Google smarts to self-diagnose and fix common issues–meaning it offers diagnostic and troubleshooting help and is intelligent enough to fix common issues itself.
Nest Wifi Pro with Wi-Fi 6E, from $200, GOOGLE , google.com
GOOGLE NEST WIFI PRO
WINTER 2023 DUJOUR.COM 45
STEVEN KLEIN. ALL RIGHTS RESERVED
"Suburbia #24, Bedford, NY" (2012)
"Bondage Warriors #8, Brooklyn, NY" (2009)
"JT Leroy #1, Los Angeles" (2001)
DUJOUR.COM WINTER 2023 46
"Super Linda, Image No. 11, Linda Evangelista, New York" (2012)
BOOKS
Fine KLEIN
After 30 years as a photographer, Steven Klein debuts his first book
Steven Klein (Phaidon) is the fashion photographer's first book after 30 years creating hyperreal images. The tome includes iconic images, originally published in fashion titles like W and Vogue, of famous faces like Madonna, Rihanna, Brad Pitt and Kim Kardashian. In addition to his editorial images, Klein has worked with notable brand clients including Balenciaga, Dolce & Gabbana, Tom Ford, Alexander McQueen and Louis Vuitton and has been exhibited at galleries and museums such as Deitch Projects, Gagosian and the International Center of Photography.
CULTURE
Steven Klein (Phaidon)
"Suburbia #11, Montclair, NJ" (2007)
WINTER 2023 DUJOUR.COM 47
Painted LADIES
Great Women Painters (Phaidon) surveys the work of more than 300 female painters, including Alice Neel, Frida Kahlo, Carmen Herrera, Agnes Martin and Joan Mitchell
LIFE TRAVEL BEAUTY CULTURE STYLE
BOOKS
Gina Beavers "Painter's Lips" 2019 DUJOUR.COM WINTER 2023 48
GINA BEAVERS "PAINTER'S LIPS": COURTESY THE ARTIST AND MARIANNE BOESKY GALLERY, NEW YORK AND ASPEN; PAT STEIR "ELEPHANT WATERFALL": COURTESY THE ARTIST AND LÉVY GORVY
Pat Steir "Elephant Waterfall" 1990
Work by Frida Kahlo and Lee Krasner
WINTER 2023 DUJOUR.COM 49
Great Women Painters (Phaidon)
Magical MARRAKECH
The Moroccan city is flourishing and more vibrant than ever before
BY CHRISTINA OHLY EVANS
If there was a silver lining to the COVID-19 shutdown in Marrakech, it would be that it allowed the city's artisans, restaurateurs and hoteliers time to regroup, redesign and reopen to international travelers. The results of this refresh can be felt at every turn, from the winding souks in the medina to the verdant gardens, and especially in the chic boutique hotels and riads that have cropped up in unexpected, hidden places.
There is a creative energy in Marrakech right now that is not to be missed—and with increased air access from major European cities as well as direct flights from New York to Casablanca, the city and the surrounding Atlas mountains are easily accessible. For an escape that offers the perfect mix of history, luxury and exoticism, the Red City—so named for its striking clay ramparts—is a wonderful place to explore this winter.
A CLOSER LOOK
DUJOUR.COM WINTER 2023 50
TRAVEL
WHERE TO STAY
From sumptuous tried-and-true hotels—La Mamounia and the Royal Mansour among them—to newer chic riads within the medina, there is something for everyone in a city that has long been well known for hospitality. In the past few years, several new properties have emerged, while storied brands have upped their game with new restaurant concepts, interior designs, spa features and, in many cases, exquisitely curated concept shops.
ROYAL MANSOUR
If you want to live like a king (or queen), head straight for the Royal Mansour, the passion project of King Mohammed VI of Morocco that's within striking distance of the Majorelle Garden, the central Jemaa el-Fna square and much more. Created by 1,200 local artisans, North African, Spanish and Moorish architectural elements combine to create 53 three-story riads that range in size from one to four bedrooms, each with its own courtyard, fountain and rooftop plunge pool. Dedicated butlers move seamlessly throughout the property—largely underground—so that every need is met, from unpacking suitcases to stocking kitchens and minibars.
In addition to the lush gardens and a world-class, visually stunning spa, the Royal Mansour is regarded as one the city's top culinary destinations. Michelin-starred chefs Yannick Alléno and Massimiliano Alajmo oversee La Grande Table Marocaine and Sesamo, respectively, and the property also includes Le Jardin by
ABOVE: The Casablanca suite at L'Hotel Marrakech
OPPOSITE: The pool at the Royal Mansour
the pool, which highlights Mediterranean and Asian-inspired dishes including delicious ceviches and sushi. Opened in December 2019, Italian restaurant Sesamo has offered Alajmo's classic dishes using ingredients produced locally, along with vegetables from Royal Mansour's kitchen garden, in opulent interiors integrating the work of master Venetian craftsmen. One of the most unique additions to the property is The Nest, a private dining experience for eight that's suspended high above the gardens with sweeping views over Marrakech and the Koutoubia Mosque's tower in the distance. royalmansour.com
L'HOTEL MARRAKECH
British designer Jasper Conran's five-suite hotel is the epitome of understated Moroccan luxury. With courtyard gardens and terraces in bloom, a discreet lap pool and a small hammam, as well as artfilled, white-washed rooms adorned with billowing voile curtains, L'Hotel Marrakech is almost cinematic in its presentation. Candles and lanterns set the serene stage at night, while days are spent shopping in the medina or relaxing on a tasteful sun lounger with the scent of orange blossoms permeating the air. Rooms are spare in the Conran aesthetic, with white four poster beds and white Egyptian linens all standard. This is one for guests who are interested in staying in an authentic 19th-century palace with attentive staff and plenty of peace and quiet (children under 18 are not allowed)— together with a really good martini. l-hotelmarrakech.com
L'HOTEL MARRAKECH: RICHARD POWERS
WINTER 2023 DUJOUR.COM 51
THE OBEROI
Set on 28 acres at the outskirts of the city and with views of the snow-capped Atlas mountains beyond sits The Oberoi, Marrakech, a newer property comprising 84 rooms, villas and suites. Opened in December 2019, the hotel feels brand-new, with a pristine courtyard that incorporates the design of the historic Medersa Ben Youssef with state-of-the-art touches at every turn. Fusing Moroccan and Andalusian architectural styles, the ambitious structure evokes a traditional palace where soaring domes, curved arches and tall pillars are decorated with intricate ceramic tiling and carvings that took 200 craftsmen two years to complete. An inner courtyard overlooks the hotel's Alhambra-inspired Grand Canal and, beyond that, acres of olive tree–filled gardens and the Atlas mountains. This breathtaking setting provides a dramatic backdrop for three restaurants, where Moroccan, Indian and Mediterranean cuisines highlight the ingredients of local artisans. At the spa, plant-based Moroccan and Ayurvedic wellness treatments are on offer, and villas come with private pools in walled gardens of lavender, rosemary and bougainvillea. A true standout is the just-launched Saha ("health" in Arabic) holistic wellness program. This personalized approach includes day- to weeklong offerings that incorporate everything from tai chi to hiking, hammams and nutritional cooking courses. oberoihotels.com
LA MAMOUNIA
Considered the grand dame of Marrakech hotels, La Mamounia's history dates to the 18th century, when it was a 32-acre orchard. Built in the 1920s by French architects Henri Prost and Antoine Marchisio, the palace-style property still offers a mix of authentic Moroccan detailing and art deco touches, but 2020 saw a redesign of its restaurants and palatial public spaces by French firm Jouin Manku. The results are a luxurious cinema that seats 20 for private screenings—complete with Pierre Hermé popcorn—and L'Œnothèque, a private underground wine tasting room with a dedicated sommelier. Also of note are two new restaurants overseen by the internationally renowned chef Jean-Georges Vongerichten, an Italian trattoria and a pan-Asian dining venue. Guests can choose from 135 richly appointed rooms, including 71 suites and three riads, each with three bedrooms, sitting rooms and pools. Best of all, perhaps, is the sumptuous breakfast spread, which can be taken indoors or by the expansive pool, where you're surrounded by lush gardens and are instantly transported back in time.
mamounia.com
RIAD MENA & BEYOND
On a tiny, hidden alleyway within the medina walls, you'll find the very special Riad Mena, a seven-suite gem that opened in 2014 under stylish owner Philomena Schurer Merckoll with interiors specialist Romain Michel-Meniere, who later opened its equally chic country counterpart, Berber Lodge. A 10-minute walk from the bustling Bahia and El Badii palaces, Riad Mena feels like a true oasis: traditional Moroccan touches like leather poufs and Berber rugs adorn cozy reading nooks, while mid-century furniture and lighting are placed thoughtfully throughout the private mansion-cum-hotel. The staff are warm and knowledgeable, going the extra mile to arrange yoga sessions, parties on the sprawling rooftop terrace and truly curated shopping excursions. Best of all, the new Pink Door gallery-shop next door highlights stunning ceramics by Lrnce, local photography, textiles and much more. The addition of a beautiful, streamlined pool means that guests can cool off when the temperatures inevitably soar. riadmenaandbeyond.com
LIFE BEAUTY TRAVEL STYLE CULTURE
The lobby of The Oberoi
L' Italien par Jean-Georges restaurant at La Mamounia
DUJOUR.COM WINTER 2023 52
RIAD MENA & BEYOND: RICHARD POWERS
WORTH THE TRIP
KASBAH TAMADOT
Travel an hour outside of Marrakech to the tiny town of Asni, in the foothills of the Atlas mountains, and you'll find Kasbah Tamadot, a 28-room oasis that offers 10 authentic Berber tents that are accessible through a charming vegetable garden. Purchased in 1989 by Sir Richard Branson from Italian antiques dealer and art collector Luciano Tempo, the property has retained the feeling of a traditional Moroccan home, right down to the central Kasbah with its reflecting pool and stunning rooftop terrace.
Heavy wood doors, splashes of brilliant color, handmade embroideries, brass lanterns and furniture sourced from local souks all coalesce to create a distinctly Moroccan 10,000 Nights in the Jungle vibe. For those wishing to swim in a sleek infinity pool with views of the Atlas or work out in high-tech splendor, Kasbah Tamadot is the perfect antidote to the harried pace of Marrakech. Added bonus: Onsite mules, donkeys and camels all add to the feeling of a local home stay. virginlimitededition.com
WHERE TO SHOP
BENI RUGS
Inspired by Morocco's beautiful landscape, rich tones and oldworld architecture along with its ancient rug-making traditions, entrepreneurs Robert Wright and Tiberio Lobo-Navia are modernizing the trade of Moroccan rugs with their brand Beni Rugs, founded in 2018. Offering rugs that are authentically and ethically handmade in the Atlas mountains, the brand specializes in easily customizable designs ranging from natural forms and abstract artwork to zellige tile patterns. The company recently opened a studio headquarters near Marrakech in Tameslouht featuring a showroom with sleek rug displays, a vast collection of yarns and color, and a team of Berber women who weave in a courtyard surrounding a 150-year-old olive tree. The space is the first where clients can not only design a custom rug but meet the craftspeople behind their creation. "The fact that they'll also be able to enjoy Italian coffee and play pétanque afterward doesn't hurt, either," says Lobo-Navia. benirugs.com
BENI RUGS: GRANT LEGAN
The Traveller suite at Riad Mena & Beyond
Weavers at Beni Rugs
WINTER 2023 DUJOUR.COM 53
The deck of a Berber tent at Kasbah Tamadot
BELDI COUNTRY CLUB
This unique property offers 42 suites that are the epitome of Moroccan French style, as well as an immersive spa and several dining options, including an enormous reclaimed greenhouse. But what really sets this chic spot apart is its expertly curated souk, selling everything from hand-embroidered linens and blown glass to pottery and Berber carpets. If you need to stock up on housewares, this is your one-stop shop. beldicountryclub.com
MAISON DU CAFTAN
While not exactly new —this shop was opened in 1981 by owner Haj Abdellah Benbrahim—it is an ever-changing emporium of caftans, tunics, djellabas, velvet jackets and much more. Half the fun in a visit here is working with the salespeople, who will happily dig out whatever you like. Linen napkins and tablecloths in traditional Moroccan hues are among the best sellers and serve as perfect reminders of this special retail experience.
MORO MARRAKECH
Just around the corner from 33 Rue Majorelle you'll find Moro, a concept store, café and boutique hotel that is the brainchild of Mohcyn and Mouad, founders of noted natural cosmetics brand The Moroccans. This space is so much more than a shop, with two
expansive shaded courtyards that are ideal for sipping fresh mint tea or browsing the duo's selection of expertly curated contemporary ceramics. Nooks hold everything from argan oil–infused fragrances to handmade candles and beaded jewelry, all providing a feast for the senses.
Fashion is another strong focus, with embellished dresses, glasses by Baars x Gogosha and leather goods by Bougroug. And because the enthusiastic, tasteful owners have thought of everything, you'll also find a delectable selection of local products including honey from the Atlas mountains, organic olive oil and artisanal chocolates. moromarrakech.com
33 RUE MAJORELLE
While not technically new, Marrakech's first concept shop is the brainchild of Egyptian entrepreneur Yehia Abdelnour, whose gift for curating exquisite Moroccan linens, jewelry, tasseled djellabas for parents and kids—even the coolest postcards!— knows no bounds.
Set just across the street from Yves Saint Laurent's iconic Majorelle Garden, the shop's two airy floors feature the work of local artisans. Standouts include featherweight cashmere scarves in muted tones and breezy-yet-modern caftans that you can wear in the city. Consider this the edit of the souk you've always wished for; wonderful baskets, brass bracelets, T-shirts and more are all found in this chic little world. 33ruemajorelle.com
LIFE BEAUTY TRAVEL STYLE CULTURE
DUJOUR.COM WINTER 2023 54
CLOCKWISE FROM TOP: Showing off a rug at Beldi Country Club; 33 Rue Majorelle; The office at Beni Rugs
ABOVE: A Marrakech Insiders sidecar tour
LEFT: Moro Marrakech
PURE FUN MARRAKECH INSIDERS
Ever think about exploring a city by sidecar? Neither had I, but what an exciting journey it was through the winding streets of Marrakech and out onto the wide open highways that lead to the Atlas mountains. From the Iconic Ride (3 hours; $410) that highlights the city's 1960s heyday with stops at the iconic Le Grand Café de la Poste, the vibrant alleyways of the medina, and the art deco home of Yves Saint Laurent and Pierre Bergé in the Palmeraie to the Desert Ride (6 hours; $415) through the stunning Agafay stone desert, the adventures await. Every excursion is tailor-made and guides who are fluent in French, Arabic and English are happy to show you everything, from hidden shops to the best cafés to the architectural highlights of Gueliz. So strap on a helmet and goggles, don't forget the sunscreen and live like Indiana Jones, if just for an afternoon. marrakechinsiders.com
PLAN-IT MOROCCO
This female-owned travel agency offers cultural, culinary and design tours throughout the city, and there is no better way to start the day than with one of their walking foodie morning tours. Starting with a hearty bissara breakfast soup and ending with a sumptuous rooftop feast overlooking the medina, the stroll includes tasting delectable olives, spices, freshly baked breads and dried fruit while sipping mint tea along the way. plan-it-morocco.com
LA SULTANA
No trip to Marrakech is complete with a hammam, a traditional scrub, bath and massage with healing argan oil. There is no place more beautiful than the ancient subterranean spa at La Sultana, where flickering candles and endless marble baths set the stage for total relaxation. lasultanahotels.com ■
MARRAKECH INSIDERS: ABDELHAK-ACIM
WINTER 2023 DUJOUR.COM 55
CITY GUIDE
Music City Moments
Nashville's hotel, dining and cultural scenes continue to boom
BY CHRISTINA OHLY EVANS
In case you haven't heard, Nashville is the place to be these days. No longer a preserve for country music fans and bachelorette parties (though both of these contingents are still well served), the city skyline is now studded with gleaming five-star hotels—many with stunning rooftop bars and pools—and restaurants that reflect the diversity that continues to set the city apart. The arts are flourishing as well, with the historic Ryman Auditorium featuring performers that range from Amy Grant and Vince Gill to the storied Moscow Ballet. Museums including the Country Music Hall of Fame and the recently opened National Museum of African American Music draw multigenerational music lovers. Nashville is within a four-hour flight radius of most major cities and has seen a major airport expansion to support it, making it the perfect escape for music fans, foodies and anyone who appreciates a truly festive stay.
HENRIETTA RED: ANDREW THOMAS LEE TRAVEL STYLE
DUJOUR.COM WINTER 2023 56
WHERE TO EAT
DRUSIE & DARR
Set within the iconic Hermitage Hotel, Drusie & Darr marks Michelin-starred chef Jean-Georges Vongerichten's first Nashville foray. The warm-yet-glamorous space with its original arched ceilings has been reimagined by designer Thomas Juul-Hansen and is a study in neutral hues; metal, wood, leather and cream-colored stone are all accented by dramatic lighting. Chic banquettes and a destination bar invite diners to linger over a glass of wine or plates that fuse local ingredients with the chef's traditional light technique. thehermitagehotel.com
MIMO RESTAURANT AND BAR
Located in the Four Seasons Hotel Nashville, Mimo Restaurant and Bar offers elevated southern Italian food with a focus on seafood and is led by Michelin-starred chef Aniello "Nello" Turco. mimorestaurant.com
AUDREY
James Beard Award–winning chef Sean Brock's latest culinary outing, Audrey, fuses his Appalachian roots with contemporary Japanese design. The result is a stunning 10,000-square-foot, twostory space that is destination dining at its finest. With Brock's impressive art collection as a backdrop and spare interior architecture by local design firm Powell, Audrey (named for Brock's grandmother) is all about local, from materials to ingredients to the makers who have handcrafted quilts that adorn the walls. Brock's menu is equally eclectic, with his famous Southern touches: pitcooked candy-roasted squash with barley and grapefruit, shaved roasted ham with chamomile honey and local chestnut, grits with sorghum cured egg yolk and bay laurel and hearth roasted chicken with heirloom peanuts are just a few of the highlights. Brock also recently opened the 37-seat restaurant June. audreynashville.com
HENRIETTA RED
Bustling Germantown is the setting for chef Julia Sullivan's popular brunch and oyster bar spot, Henrietta Red. Shareable plates of monkey bread, sunchokes and mackerel toast, as well as craft cocktails and local beers, make this convivial spot a real draw–and the dining room, with its communal tables and cozy banquettes, means there is something for everyone. Desserts including a Goo Goo Cluster sundae and flourless chocolate cake with goat milk ice cream are fan favorites as well. henriettared.com
DRUSIE & DARR: ALYSSA ROSENHECK; HENRIETTA RED: ANDREW THOMAS LEE
The dining room at Audrey
ABOVE: The bar at Drusie & Darr
BELOW: The bar at Henrietta Red
WINTER 2023 DUJOUR.COM 57
WHERE TO STAY
W HOTEL NASHVILLE
It's impossible to miss the 14-story mirrored building that's now home to the W Nashville and its 286 rooms, 60 suites and two presidential suites. Spaces meld industrial design with warm finishes, and a musical theme pervades with furniture inspired by vintage stereo equipment. Highlights of the expansive property include a coffee shop, two destination restaurants, retail spaces, a live entertainment venue and a serene Secret Garden to escape the hustle and bustle of the city. Outdoor attractions like the rooftop bar, Proof, offering 360-degree skyline views, a 2,000-square-feet pool (Nashville's largest) and a manicured yoga lawn are all ideal for relaxation. w-hotels.marriott.com
FOUR SEASONS HOTEL NASHVILLE
A 40-story gleaming glass tower in the SoBro neighborhood is home to the new Four Seasons Nashville, a sumptuous 235-room and suite property with sweeping views of the burgeoning city skyline. An expansive spa with a seventh-floor outdoor pool deck, as well as a state-of-the-art fitness center designed by celebrity trainer Harley Pasternak, are just a few of the hotel's healthy enticements. The food program is comprehensive as well, with Neapolitan chef Aniello "Nello" Turco helming the wildly popular Mimo and adjacent Mimo Bar with its perfect negronis. fourseasons.com
1 HOTEL
Just steps from Music City Center and the Country Music Hall of Fame, the 1 Hotel's 215 rooms, including 37 suites, have sweeping skyline views. A lush ivy-covered façade is the perfect introduction to the sustainable luxury lifestyle hotel brand's eighth property, one where simple natural materials pervade and touch points include wooden room keys, in-room chalkboards to reduce paper waste, closet hangers fashioned from 100 percent recycled paper and in-room water carafes made from recycled wine bottles. Food and beverage take center stage, too, with 1 Kitchen Nashville, located on the ground floor, offering innovative farm-to-table dining courtesy of Top Chef alum Chris Crary. At the Rooftop Bar, guests can savor fresh juices blended in-house that use honey from the property's onsite bee garden. Fitness enthusiasts will enjoy the comprehensive Bamford Wellness Spa as well as an Anatomy fitness and yoga studio, both of which are designed to enhance holistic wellbeing. 1hotels.com
THE HERMITAGE
The grand dame of Nashville hotels since 1910, The Hermitage Hotel has undergone a multiyear restoration that honors the heritage of the National Historic Landmark while refreshing its 122 luxurious guest rooms, suites and public spaces. Interior design firm Forrest Perkins has preserved original detailing—the lobby's hand-painted glass ceiling, plasterwork and marble—while brightening the atmosphere with furnishings and decorative objects in shades of sky blue and silver. Draper James, Nashville native Reese Witherspoon's clothing line, is responsible for staff style, while chef Jean-Georges Vongerichten's Drusie & Darr draws tourists and locals alike with its fresh crudo, thin-crust pizzas and chic cocktails in the hotel's iconic bar. Of special note: Don't miss the new ladies' room, which takes its visual cues from the famous 1930s art deco men's room and features striped walls in a mix of pink marble and rose gold detailing with glamorous, photo-worthy fixtures. thehermitagehotel.com
STYLE LIFE BEAUTY TRAVEL CULTURE OPPOSITE—THE HERMITAGE: ALYSSA ROSENHECK
2 1 3 1 W
2
Seasons
3
DUJOUR.COM WINTER 2023 58
Nashville
The lobby at Four
Nashville
The lobby at 1 Hotel
THE RUSSELL
A 115-year-old church-turned-boutique hotel, The Russell offers a truly unique stay with plenty of local color. From glorious stained glass windows to bold, modern furniture, a very laid-back vibe permeates the property—one that's set in the residential East Nashville neighborhood. Church pews have been reclaimed for use as headboards and the architectural integrity of the space—right down to having no elevator—has been faithfully left intact. russellnashville.com
CONRAD NASHVILLE
Just steps from Music Row in the heart of downtown, Conrad Nashville is one of the latest additions to the city's thriving hotel scene. With 234 spacious rooms by design firm Champalimaud, the property exudes warmth from the double-height lobby and Great Room to cozy seating spaces and guest rooms swathed in rich fabrics, dark woods, leather and bronze. An expansive fitness area and pool deck provide a relaxing escape, while Blue Aster is the place for modern Southern cuisine that changes throughout the seasons. hilton.com
SOHO HOUSE
A former sock factory in the Wedgewood-Houston neighborhood is home to the latest Soho House—and the largest one in North America. Conceived as a laid-back-yet-stylish meeting spot for creatives, the property includes a hotel, restaurant, fitness club, buzzy pool and multiple music venues, and it's drawing an international clientele who appreciate the club's luxurious touches. The house's 47 bedrooms feature natural wood finishes, upholstered velvet headboards and furnishings courtesy of the Soho Home brand. sohohouse.com
SOUTHALL FARM & INN
One of the festive season's most anticipated openings is Southall, a 62-room and 16-cottage property that's likely to compete with the perpetually booked Blackberry Farm. Located just 25 minutes from Nashville in neighboring Franklin, this farm-based resort project is spread across 325 verdant acres with cow pastures, apiaries, gardens, orchards and even an orangery. Outdoor enthusiasts will love the five miles of hiking trails and seven-acre lake that was built for regenerative water retention. southalltn.com
THOMPSON NASHVILLE
The 12-story mid-century modern boutique Thompson Nashville hotel offers a luxurious yet low-key stay in Nashville's hip Gulch neighborhood. With 224 rustic chic guest rooms and suites that feature floor-to-ceiling windows, the real highlight here is L.A. Jackson—the rooftop lounge is arguably one of Nashville's best. Other special details: The hotel has guitars for guests' use, or they can arrange lessons with an expert from local favorite Carter Vintage Guitars. Also of note is Marsh House, the onsite, upscale restaurant that's become famous for brunch and a comprehensive raw bar. hyatt.com
Russell lobby
Conrad Nashville
Big Room at Soho House
A guest room at The Hermitage Hotel
An executive suite at the Thompson
The Farm Stand at Southall
4 5 6 7 4
5
6
7
8
9
8 9 WINTER 2023 DUJOUR.COM 59
The
A
BY MARSHALL HEYMAN
LIFE BEAUTY TRAVEL STYLE CULTURE
River View Terrace suite An Executive suite WHERE TO GO NOW EASTERN Promises With a new resort in Bangkok, Four Seasons Hotels and Resorts is dominating in Asia
A
DUJOUR.COM WINTER 2023 60
THAILAND
FOUR SEASONS HOTEL BANGKOK AT CHAO PHRAYA RIVER
Though a beach vacation may be the obvious choice, don't disregard the calmness of a hotel on the river—even if that river is in the bustling city of Bangkok. With 299 spacious guest rooms, some featuring floor-to-ceiling windows for majestic river views, the new Four Seasons Hotel Bangkok at Chao Phraya River is raising the bar in Thailand's capital city. The location is especially appealing as traveling by long boat here can be a more convenient route for sightseeing or even shopping at the nearby Iconsiam mall. (The busy city has plenty of street traffic.)
Don't forget to go exploring outside the hotel, especially because this Four Seasons is its own kind of village, complete with a Cantonese restaurant (Yu Ting Yuan), a French brasserie in the Balthazar model (Brasserie Palmier), an Italian ristorante in the form of Riva del Fiume, an Argentina-inspired cocktail bar called BKK Social Club (try the La Pampa, made with gin and eucalyptus honey) and Cafe Madeleine, an adorable patisserie that has a great cold brew with coconut water and Thai iced tea. A 26,000-square-foot, two-level Urban Wellness Centre boasts a 30-meter fitness pool, a spa with nine treatment rooms for a traditional Thai massage to go with that iced tea and a Muay Thai court to work off all the delicious food you've just eaten. Check out the onsite art gallery, a partnership with the Museum of Contemporary Art, before or after a very Instagrammable afternoon tea—dry ice effect included. fourseasons.com
CLOCKWISE FROM TOP: The entrance of the Four Seasons Hotel Bangkok at Chao Phraya River; the pool; BKK Social Club; Riva del Fiume restaurant
AND IN BALI…
FOUR SEASONS RESORT BALI
AT JIMBARAN BAY
A trip to the Sayan is best complemented by a few nights at the beachfront Four Seasons Resort Bali at Jimbaran Bay, which boasts 156 thatched-roof villas and residences nestled among landscaped tropical gardens. We'd suggest ordering floating breakfast to your villa's private plunge pool, but then you'd miss out on the spectacular daily breakfast buffet at Taman Wantilan. The resort boasts an onsite surf school, Sanskrit calligraphy classes, artist workshops, temple, architecture and garden tours and Bali's longest beachfront infinity pool (187 feet), onto which Dior painted its Dioriviera logo and toile de Jouy design last summer for a Dioriviera collection popup installation. Two musts: dinner at Jala, an intimate and authentic Balinese restaurant, and a massage at the newly renovated Healing Village Spa. Try the Baru Detox treatment, which features vibrations of chromotherapy delivered through beams of light via a Vichy shower. It's a trip in itself. fourseasons.com
BEAUTY TRAVEL STYLE CULTURE
RIGHT: Sundara Liquid History at Four Seasons Resort Bali at Jimbaran Bay
The view from a villa
The living room of an Imperial villa
FOUR SEASONS RESORT BALI AT SAYAN
The Ayung River at Four Seasons Resort Bali at Sayan doesn't have regular longboats and dinner cruises, but you'll see the occasional group of rafters. You can also arrange to arrive via water to this architectural marvel of a hotel. Even though the resort is just 10 minutes from Ubud, where you can find the famed Monkey Forest, two Starbucks and any number of flip-flops, you'll find plenty to do onproperty. Two of our favorites are the Muladhara Chakra Ceremony at the Sacred River Spa Villa, featuring a cleansing Balinese kemenyan smoke ceremony, and a Sacred Nap in an aerial silk hammock at the Dharam Shanti River Terrace. You'll be in good company: President Barack Obama had a restoring sacred nap when he visited, too. fourseasons.com
WINTER 2023 DUJOUR.COM 63
FROM TOP: The lobby of Four Seasons Resort Bali at Sayan; the Dharma Shanti Yoga Bale; the exterior of the hotel; the Spa Village
DESIGN PORTRAIT.
DESIGN PORTRAIT.
Ray, seat system designed by Antonio Citterio. www.bebitalia.com
B&B Italia Stores New York: 150 E. 58th Street - 135 Madison Avenue
Other B&B Italia Stores: Austin - Dallas - Houston - Los Angeles - Miami
San Francisco - Seattle - Sun Valley - Washington DC - Belo Horizonte - Sao Paulo
Ray, seat system designed by Antonio Citterio. www.bebitalia.com
Please call 1 800 872 1697 - info.usa@bebitalia.com
Time_Less Program: select B&B Italia pieces now in stock: www.bbitaliatimeless.com
B&B Italia Stores New York: 150 E. 58th Street - 135 Madison Avenue
Other B&B Italia Stores: Austin - Dallas - Houston - Los Angeles - Miami
Milan Design Week: April 4 th/9 th 2017
San Francisco - Seattle - Sun Valley - Washington DC - Belo Horizonte - Sao Paulo
B&B Italia Store Via Durini, 14 - B&B Italia, B&B Italia Outdoor and Maxalto new collections
Please call 1 800 872 1697 - info.usa@bebitalia.com
Time_Less Program: select B&B Italia pieces now in stock: www.bbitaliatimeless.com
Microsoft House by Herzog & De Meuron, Viale Pasubio, 21 - B&B Italia Outdoor special presentation
Milan Design Week: April 4 th/9 th 2017
B&B Italia Store Via Durini, 14 - B&B Italia, B&B Italia Outdoor and Maxalto new collections
winter 2023
Actress Salma Hayek Pinault on her two new film roles; a sprawling green space in Bellport; and the life and home of Bunny Mellon is explored in a new book
NGOC MINH NGO
WINTER
DUJOUR.COM 65
Verdant gardens in Long Island
2023
BY
LM
MOVIES OUT THIS
THE ACTRESS AND PRODUCER
IS AT THE
OF HER GAME settles in DUJOUR.COM WINTER 2023 66
MARSHALL HEYMAN PHOTOGRAPHY BY NICK THOMPSON STYLING BY CHERYL KONTEH & FARRAH O'CONNOR
A
S WITH TWO
WINTER,
SALMA HAYEK PINAULT
TOP
Coat, $4,980,
GUCCI, gucci.com
Turtleneck, $545, MAX MARA , maxmara.com Tights, $38, COMMANDO, wearcommando.com Cuff, $552, SAINT LAURENT
BY ANTHONY VACCARELLO,
ysl.com
FEW YEARS AGO, SALMA HAYEK PINAULT'S now-15-year-old daughter, Valentina, came home from school complaining that her mother hadn't taught her about that elusive fashion item: the Hermès Birkin. She had to learn about it from her friends.
"How come you can't be like the other moms?" Hayek Pinault recalls Valentina asking her at the time. "You're just not cool and chic."
Of course, when Salma Hayek Pinault shows up at the Spaniards Inn, a historic pub that appears in works by Bram Stoker and Charles Dickens and is not far from her home in Hampstead Heath, she's the epitome of cool. Stepping out of a BMW, fashionably late and fierce, she comes in jeans and a Gucci jacket (her husband, Valentina's father, is Kering CEO FrançoisHenri Pinault), wearing no makeup, with a handsome driver in tow who'd fit in quite nicely with a crowd out of Kingsman
But raising a teenager? That's a different story. In that conversation, Hayek Pinault told her daughter that when Valentina was little, their friend and neighbor Charlotte Gainsbourg—whose mother, Jane Birkin, is the namesake of the covetable bag—would often carry and play with her. Isn't that a lot cooler than knowing what a Birkin is?
Valentina asked her mom why she hadn't told her earlier. Hayek Pinault felt that knowing about a Birkin at that age wasn't necessary.
"I said, 'I would never do that. You're right, I'm not like other moms and I refuse,'" Hayek Pinault remembers, sipping on a lateafternoon cup of black coffee in a quiet corner of the pub. "We don't talk a lot about brands at home with the family. It's more about artistic expression."
When she and her daughter are in the U.S., "we love going to Target," Hayek Pinault adds. "It's funny, because you end up spending a lot more than you thought you would."
Still, with Kering owning such companies as Bottega Veneta, Gucci, Saint Laurent, Balenciaga and Alexander McQueen, Hayek Pinault must have a pretty serious wardrobe. She admits she does, and she's proud to chime in that Valentina "steals from my closet all the time. If she didn't, I would feel beat down."
She elaborates. "I want to be angry about not finding a thing or two in there because I know she took it," Hayek Pinault admits of her daughter's occasional ransacking. "I want to have that contradiction in my life. It's a passage of age. It's a connection. I might not be cool, but at least she must have liked one thing I had in there."
WINTER 2023 DUJOUR.COM 69
When Hayek Pinault told her kids (Valentina, her stepdaughter Mathilde, 21, and two stepsons) she'd been cast in the sequel Magic Mike's Last Dance , which would involve the actress in potentially provocative scenes with a negligibly clothed Channing Tatum, they didn't blink. A racy still from the film shows the actress with her hand on Tatum's abs.
"They know Channing. They know [his girlfriend] Zoë Kravitz. They know what Magic Mike is. They knew I was going to make it. They grew up with me doing this job, and their father is so cool about it and understands it so well, so there's never been an issue," Hayek Pinault says.
There was just one concern about the movie: "As long as you don't have to do the cheesy dance," Valentina said. "As long as you don't have to do the Pony," referring to an iconic dance Tatum does to Ginuwine's song "Pony" in the first Magic Mike . "I said, 'No, I don't have to. Don't worry about it.' I'd read the script, and I knew I wasn't doing the Pony."
Pony or not, says Tatum, "the fact that Salma was interested in our story was a blessing. She's an icon."
Tatum might have second thoughts were he to look at the bio on Hayek Pinault's Instagram account. Valentina, for one, thinks it's the "cheesiest thing in the world." Instead of, say, "actress, activist, bombshell, recent Lady Gaga co-star in House of Gucci ," it's a description of the actress told in a series of nearly 100 emojis. These include a fist bump, a unicorn, a crystal ball, a whale, a bottle of Champagne, two glasses of Champagne, a lipstick, a kiss, a squid…and it goes on. It's really quite remarkable and sweet and, yes, cheesy.
Hayek Pinault, who has 22 million followers on the platform but says she often forgets to post, laughs when it comes up. "I like a lot of things, and it's too complicated to think of a way to describe myself in words," she says. She explains that, as an actress, an artist and a mother, she's certainly sensitive, "but what saves me a lot is myself and my sense of humor. I don't want to try to be cool. I want to laugh."
Friends, in particular appreciate that about her. "I love her open, hearty, unselfconscious laugh, her dancing with freedom and mirth, and her commitment to her growth, creatively and personally," says
her pal Ashley Judd, who met Hayek Pinault in 1995 and played opposite the actress in Frida . " I love her devotion to female alliances and her connected way of knowing just about everyone, it seems, and how she brings people together."
Hayek Pinault doesn't just bring people together; she also does it with animals. As a gift to her husband, she gave him a pet rescue owl and named the bird Kering. Wait. Back up. Did he ask for an owl? She shakes her head no.
"But that was my way of having one," Hayek Pinault says, with a wink. "She loves me." (She means the owl.)
Having an owl named Kering can't possibly beat having a husband who runs Kering. But, especially as Gucci has surged in popularity these last few years, there is a downside. People are always asking her for a discount.
"Oh, my God, it's a problem. It's crazy," Hayek Pinault says, while acknowledging that it is not the worst problem to have. "But it happens much more than you would think. I've had situations where a doctor I've seen for a long time brings it up. I've had journalists ask me for it. My daughter gets asked for it at school."
Hayek Pinault says she understands the urge. "I would want it, too," she says. But she makes a point to not interfere with her husband's business. "I wouldn't do that to him," she explains. "I don't want to be in a position of who I give it to and who I don't. I feel so mortified and uncomfortable, and I don't want these people to feel like they're not appreciated. So I stay out of it. I don't give Gucci discounts."
The family lives in London because that's where Valentina goes to school, and Pinault has offices in London and Paris. "I need green. I need nature," she says. "I love this area. I like the plants. I like the good oxygen. I like to go walk in the park."
Still, time zone-wise, it's a full nine hours later than Hollywood, which means she has to do the "double shift." She has a full day in London, which involves working on her philanthropic causes, among other things, but at 5 p.m. London time, Los Angeles starts to wake up and she shifts focus to her acting and producing projects. There are phone calls until midnight, she says; Hayek Pinault doesn't use a computer or email (except for her daughter's school communications).
Turtleneck, $545, MAX MARA , maxmara.com . Tights, $38, COMMANDO, wearcommando.com Necklace, $1,104, cuff, $552, SAINT LAURENT BY ANTHONY VACCARELLO, ysl.com
DUJOUR.COM WINTER 2023 70
"I REMEMBER WHEN MY DAUGHTER WAS MUCH YOUNGER, SHE SAID: 'MOM, HOW COME YOU'RE NOT LIKE THE OTHER MOMS OF MY FRIENDS? I SAID, 'WHAT DO YOU MEAN?' SHE SAID, 'YOU'RE JUST NOT COOL AND CHIC.' I SAID, 'I'M KIND OF COOL.'
Dress, $1,395, MAGDA BUTRYM, magdabutrym.com 18k gold and diamond earrings, $37,800, BOUCHERON, boucheron.com
ON THE OPINION PIECE SHE PENNED FOR THE NEW YORK TIMES ABOUT HARVEY WEINSTEIN BEING CITED BY THE PULITZER PRIZE COMMITTEE, "THAT'S PRETTY AMAZING. THAT'S REALLY NICE, FOR A DYSLEXIC MEXICAN WITH QUESTIONABLE ENGLISH."
Suit, $1,500, HARITHAND, harithand .com . 18k white gold, sapphire and diamond ring, price upon request, CHOPARD, chopard.com
WINTER 2023 DUJOUR.COM 75
"I GET ALONG REALLY WELL WITH MY HUSBAND. SO, THE COMBINATION OF WORKING HARD AND BEING TIRED WHEN YOU'RE NOT WORKING AND HAVING KIDS AND ENJOYING THE COMPANY OF YOUR SIGNIFICANT OTHER SOMETIMES MAKES YOU VERY RECLUSIVE."
Suit, $1,500, HARITHAND, harithand.com
18k white gold, sapphire and diamond ring, price upon request, CHOPARD, chopard.com
DUJOUR.COM WINTER 2023 76
Coat, $6,900, BOTTEGA VENETA , bottegaveneta.com Earrings, $660, SAINT LAURENT BY ANTHONY VACCARELLO, ysl.com
"I'm either working or tired," she says. Add in the fact that she enjoys spending time with her husband and family, and "that sometimes makes you very reclusive."
Living in London also gives her a sense of freedom to do what she wants. "I don't feel like I have to wear this or be this or do this movie. I don't need to belong to a box," she explains. "I like to do whatever I want to do."
(One thing she does not want to do is theater. "I throw up. I get panic attacks." She got her start playing Jasmine in a production of the story of Aladdin in Mexico. In rehearsals, everything was great. The first time she had an actual performance, which included being carried out from the wings on a bed, "I saw the audience, I jumped out and I started throwing up.")
Besides the latest Magic Mike in February, directed by Steven Soderbergh, who also directed the actress in Traffic, she reprises her vocal role as Kitty Softpaws this holiday season opposite her friend Antonio Banderas in Puss in Boots: The Last Wish, a decade after the original. Then there's Without Blood, a drama about a war-torn country based on the 2002 novel by Alessandro Baricco, opposite Mexican actor Demián Bichir. Though the film does not yet have a release date, it's particularly notable because it was directed by Angelina Jolie, with whom Hayek Pinault became friends while making the Marvel movie Eternals.
"I've never met anyone in my life that was more different than the public image," Hayek Pinault says of Jolie. "She cares about people. She's very present. She's very empathetic. No fakeness. And, oh, God, she could have made this movie with anyone in the world. I didn't want to play the character; I was really scared of the character. She suffers the entire movie. But I did want her to direct me. So of course I said yes."
Sure, they share tips on how to be Hollywood moms, but making Without Blood took their relationship to the next level. "We are closer than ever," Hayek Pinault says. "For both of us it was an amazing, life-changing experience."
"Really," Hayek Pinault adds, "It made me fall in love deeper and stronger with being an actress."
Another experience she had on a film set this year was also particularly empowering. Hayek Pinault won't name the movie, but when she walked on set, "I started sobbing." That's because she looked around and noticed that 80 percent of the people in key
positions were women, including the director of photography, the camera operator and the whole sound department.
"I don't know how long I've done this, but it was the first time I've seen that in 30 years or more," she explains. "I waited my entire life for that moment."
Hayek Pinault has, of course, been on the forefront of advocating for women, and not just in Hollywood. One of the most public situations was a moving and terrifying essay she wrote in 2017 for the New York Times , in which she described the struggles and hurdles of making 2002's Frida Kahlo biopic Frida under the oppressive and sadistic hand of Harvey Weinstein.
"It took me months and months to write, and I wrote it myself. But I've never read it since," she says. The Times chose the piece to include in its Pulitzer Prize submission packet in 2018. "And we won," Hayek Pinault says. "That's really nice for a dyslexic Mexican with questionable English."
In the article, Hayek Pinault describes how she felt it was her duty to bring Kahlo's story to the screen. She had to see the project, directed by Julie Taymor, to fruition. "And I was very, very strong in front of [Weinstein]. I stood up. I knew that was the only way," she recalls. "Harvey was scary, but I think he was also attracted to people not letting him walk over them."
They had plenty of professional fights, she says, "but I never really got to tell him everything I thought about him—I just kept it all smooth. I never went and said, 'You know what? You really hurt me.' You don't do that to an aggressor because you lose. They see you break and you're done."
The thing is, she concedes, "my story is not that special. I put it in the right words, but it happens in every walk of life."
Frida ended up being nominated for six Oscars, including for Best Actress. It won two (Best Original Score and Best Makeup), though not with any help from Miramax, which was pushing Chicago and Gangs of New York at the time.
When the film was released, Hayek Pinault says, "I didn't feel supported. I thought, We have so much to offer as women, and why does it have to be so hard?" Two decades later, the industry has made great strides towards representation and inclusivity, but "art needs to be courageous. We need to go to new places."
Does she feel supported now by her peers? "Yes, now I do. But I'm 56. It took a while." ■
Dress,
$13,500, GUCCI, gucci.com
DUJOUR.COM WINTER 2023 78
ON PEOPLE ASKING FOR HER GUCCI DISCOUNT: "IT COMES UP MUCH MORE THAN YOU WOULD THINK. SOMETIMES PEOPLE YOU DON'T KNOW ASK. I'VE BEEN ASKED BY JOURNALISTS AND DOCTORS FOR IT. MY DAUGHTER GETS ASKED FOR IT AT SCHOOL. THE WORST PART IS THAT I FEEL SO MORTIFIED BECAUSE I'M GOING TO SAY NO. IT'S LIKE, THAT'S NOT MY JOB."
Hair: Miguel Perez at The Wall Group
Makeup: Sofia Schwarzkopf-Tilbury Makeup Artist's Assistant: Melina Bismpiki
Manicure: Kate Williamson Producer: Catherine Gargan Seamstress: Elenor Williams
Styling Assistant: Akos Geczi Bandi
Shot on location at the NoMad London
FOR A SPRAWLING GARDEN IN BELLPORT, MASTERMINDED BY LANDSCAPE DESIGNER EDWINA VON GAL, IT'S NOT ABOUT FLOWERS
VerdantA VISION
DUJOUR.COM WINTER 2023 80
Photography by NGOC MINH NGO
Evergreens of many shapes and colors were used to create a dramatic tapestry for the garden
ellport Village is a quaint hamlet on Long Island's Great South Bay, a laid-back beach community with a lot of charm and casual elegance. Historic architecture, a private beach and a charming Main Street have attracted low-key creatives to the area for decades. Sperone Westwater co-founder and gallerist Angela Westwater and David Meitus, owner of Studium, a fine surfaces showroom at the A&D Building in Midtown Manhattan, have had a home here since 1989. The New York City–based couple and their family enjoy weekends and summers at the serene retreat. Meitus tapped landscape designer Edwina von Gal to conceive of their verdant gardens in the early 1990s before handing it off to local landscaper Frank Petrignani of Terraservice.
B
ABOVE: White hydrangeas permeate the landscape throughout the garden
DUJOUR.COM WINTER 2023 82
BELOW: A shade garden on the south edge of the property is punctuated with a stone path
A path leading to the pool features a large cherry tree with variegated landscaping on either side
A grass path cuts down to the main lawn. Liriope flanks each side of the path, which is punctuated with a specimen crape myrtle.
—DAVID MEITUS
It's not really about flowers. It transcends a traditional flower garden.
A path leading to the pool features a large cherry blossom tree with variegated landscaping on either side
Nepeta is planted below white hydrangeas
The original barn on the property was converted into a multiuse pool house complete with an India-inspired room for entertaining and lounging.
White hydrangeas line the left side of the pool, while evergreens line the right.
"It's not really about flowers," says Meitus of the sprawling green lawn and gardens. "There's a concentration on shrubs, trees and flowering bushes. It transcends a traditional flower garden." Slate and pine needle paths surround the perimeter of the property, and a geometric hedged herb garden sits adjacent to the pergola, where they host many lunches al fresco. A pool tiled in Jerusalem stone with a sandblasted finish is lined by hydrangeas. It faces the India room, an indoor pool room where Westwater, who shuns the sun, can retreat to read and where the couple enjoys entertaining friends. The opulent yet comfortable room is tiled in stunning mosaic floors inspired by the family's trip to India 20 years ago. The sumptuous colors and intricacy of the floor design were meticulously fabricated by Studium's mosaic craftsmen. "The rambling Edwardian house of gallerist Angela Westwater and David Meitus is surrounded by a bower of carefully calibrated greenery, and David's pride and joy, the pool pavilion, is decorated in maharaja-glamorous Indian style—perfect for showcasing one of his celebrated Studium mosaic-fragment floors," says The World of Interiors editor-in-chief Hamish Bowles. ■
LEFT: An herb garden is dissected into four distinct areas by evergreens. Wisteria covers the pergola for al fresco dining. Dogwoods add height on the right side.
BELOW: A discrete driveway winds down to the property
ONCE UPON
A FARM
A new biography explores the life of designer and domestic doyenne BUNNY MELLON and her special VIRGINIA FARM ESTATE
IN I'LL BUILD A STAIRWAY TO PARADISE: A LIFE OF BUNNY MELLON (Farrar, Straus and Giroux), author Mac Griswold—a close friend of his subject's for many years—explores the life of designer and philanthropist Bunny Mellon, whose life was marked by astonishing good fortune as well as tragedy and scandal. The wife of Paul Mellon, one of the wealthiest men of his era, she traveled in the most rarefied circles and counted Jackie Kennedy, Hubert de Givenchy, and Cristóbal Balenciaga as close friends.
The American society doyenne owned eight homes, including a Virginia estate, Oak Spring Farm (purchased and expanded in 1936), which remains one of the triumphs of American horticulture and the fullest flowering of Mellon's creative vision. Her homes boast acre after acre of gardens bearing her distinctive imprint, as well as thousands of books testifying to her lifelong passion for plants. In the below excerpt, we learn about the Mellons' private estate in Upperville, Virginia, on more than 2,000 acres of rolling green pasture featuring views of the Blue Ridge, Cobbler and Bull Run mountains.
THIS PAGE AND OPPOSITE: PROPERTY FROM THE COLLECTION OF MRS.
2014
PAUL MELLON, SOTHEBY'S,
DUJOUR.COM WINTER 2023 90
The Basket House at Oak Spring
The bar corner at Oak Spring
For the fifty-one years of their marriage, whatever their other romantic entanglements, their rifts, and their quarrels, Paul and Bunny continued to work together closely in Virginia. In their different ways—she with design, he with horses—they were creating the ultimate private American pastoral. Bunny had already tested her strengths at siting and scale at Apple Hill. She had a taste for abstraction and simplification, and she also trusted her ability to create structure using the horizon and the existing landforms. She had certain rules that had worked for her in the past: every great landscape architect knows her own strategies— and knows also how to guard herself from being too formulaic. She was unafraid of making mistakes and bold in correcting them to create an innate sense of harmony.
By the time Bunny was 101 years old, she had given up gardening herself and was being driven around the place by Nancy
Collins. A holly that had grown too large stood crammed up against one of the house gables. "Cut that down," Bunny said. Nancy was aghast at the instant decision to take down a tree that had been there, as far as she knew, since the 1950s. Bunny did not explain the accuracy of her judicious eye, but she knew it was right and simply said, "If I don't do it, who will?"
Of course, she also had enough money to do anything. Billy Baldwin, the New York decorator, wrote that Bunny said to him more than once, "Oh, come on, Billy. Let's take a chance. You aren't sure, and neither am I." Then, if she wasn't entirely pleased with their efforts, she declared, "It didn't work," and they'd start over.
Bunny's Upperville, Virginia, canvas was divided into two parts: Oak Spring Farm is located east of Rokeby Road, while Paul's Rokeby Stables lay to the west. Rokeby was Paul's—with certain exceptions, principally the big greenhouses. Oak Spring was Bunny's—except for
the Brick House, which she had so happily left for the renovated and enlarged Fletcher log cabin, later known as Little Oak Spring, in 1955. Every acre was safely in conservation easement.
While Paul's activities mainly took place at Rokeby, he wrote that "the paddocks and fields near the house are reserved for horses in order that we may have the pleasure of seeing them from the house or when we go for a walk." Oak Spring and Rokeby were yoked under the supervision of Ron Evans, who oversaw carpenters, electricians, fence builders, mechanics, and painters—everyone except the gardeners, who worked directly for Bunny.
The first glimpse of this very carefully wrought American landscape comes on the drive along Rokeby Road, which treats you to a bucolic stretch of fields, woods, and ponds. Immediately inside the main entrance to Oak Spring Farm—just a break in the fieldstone wall—stands a small white pavilion. A severe speed bump more or less forces you to stop. An affable, ruddy-cheeked older man wearing a blazer, tie, and gray slacks steps out to ask your business with a very Virginian accent.
Neither Bunny nor Paul wanted the feeling of being in a "gated community." Instead, at every one of the many Oak Spring entrances, rather than anything as offensive as a gate stands one of these well-proportioned little white buildings equipped with an intercom to the house and a security center. Many of the men whose services, including overnight patrols, were paid for with Mellon money were former CIA hands. All were armed, trusted, and well rewarded.
In the 2014 Sotheby's auction of Bunny's art, household effects, and jewels, the presence of seven sturdy Rolex Oyster Perpetual Explorers might have seemed simply an example of insatiable accumulation, but, in fact, the Mellons often gave Rolexes to trusted employees. These timepieces may have been kept on hand just in case they needed more.
In one of her garden notebooks Bunny had jotted, "Enclosures guard against many things." The Bunny I knew was indeed given to frights about security and safety, albeit with, perhaps, a somewhat primitive sense of what that "security" might mean: she kept her Schlumberger collection under her bed in locked boxes made by the farm's metalworkers and carpenters.
Once you have passed scrutiny at the entrance, imagine you are visiting the Mellons at Oak Spring anytime between 1955 and 2016, when the properties were put up for sale after Bunny's death. The drive rises gently, skirting a tall grove of oaks on the right and running close to a pasture on the left. A priceless Thoroughbred mare or yearling is grazing. Each shade tree in the pasture, just as in English parks, is protected by its own little fence, which keeps livestock from rubbing against the bark. Here on the drive there is no glimpse of a main building: the Brick House, with its imposing, brick-walled formal garden and a clock tower, lies invisibly off to the right behind the oaks.
he graceful, farm-based landscape that today appears unchanging sometimes seems too uninflected to bear the immense load of memories it carries. At the top of a hill, one way takes you to the livestock barns and past the old walled farm cemetery where Robert Isabell, society's foremost florist and event planner in the 1980s and the greatest of Bunny's latterday romantic passions, is interred. Beyond is a small farmhouse that became Tuffy Lloyd's house in his final years. Another route takes you down a steep hillside and across a Goose Creek floodplain to Spring Hill, where Eliza would live out her days as an unspeaking quadriplegic.
Sometime in the 1990s the Mellons' Gulfstream jet brought Eliza and me from New York, touching down on the long turf landing strip. The plane's cabin was hung with small, airy works by Pablo Picasso, Paul Klee, and Ben Nicholson. Bunny, in a warm and serviceable brown jacket, stood by her aged green Volvo wagon, waiting with a smile on her face as Eliza and I crossed the grass. Tendrils of hair escaped from under her beret into the December breeze. She looked very old but very lively.
Something else came into focus for me: I saw, as if for the first time, that the trees lining the airstrip, the drives, and the pasture fences all looked like the very best editions of themselves—the perfect lindens, oaks, maples, and hickories. The architect John Barnes, whose father, Edward Larrabee Barnes, designed the main Oak Spring Garden Library in 1980, remembered one visit. Over lunch with Mrs. Mellon, he discovered that she "had spent most of the morning on a walkie-talkie with an arborist sitting in a tree a mile and a half away. He was shaping it to create her perfect viewshed." He added that for Bunny Mellon, "whatever was in sight was part of the garden."
Bunny was convinced she could divine the innate character of each species of tree and reveal it in the specimens shaped by her private arborist, Everett Hicks, and his assistants. However, repeated and extreme pruning over time runs the risk of shortening the life of a tree. A lighter hand can sometimes at least slow this outcome.
Bunny's extreme need to prune and shape, combined with her ability to satisfy her own dreams, extended to her ideas for her children. I think both Tuffy and Eliza suffered for it, however gentle her hand. She expected them to absorb all the minutiae that interested her. Tuffy told me that when he was ten or eleven, his mother asked him to come with her to supervise a load of coal pouring endlessly into the Apple Hill cellar. Her answer as to why they had to do that was to make sure the lumps of coal were the right size. "If they are too small," she told her bored little boy, "they won't give out enough heat," adding, "I'm learning too, Tuffy." Of course, the children were also the beneficiaries of what extraordinary family clout could provide. While it seems almost a normal thing for Stacy Lloyd to use his connections to help his son get a State Department job, it's quite another to build a well-equipped home stage inside a barn on the Mellon farm, where a teenage Eliza, in a brief fantasy of a career onstage, played Sammy Davis, Jr., in her own top hat and bespoke tails.
Returning to the top of the steep hill overlooking Goose Creek, one can choose between the way to the Brick House and a grand
THIS PAGE: FRED CONRAD / THE NEW YORK TIMES / REDUX; OPPOSITE: PROPERTY FROM THE COLLECTION OF MRS. PAUL MELLON, SOTHEBY'S, 2014 WINTER 2023 DUJOUR.COM 93
Bunny Mellon OPPOSITE: A George III–style standing bookcase at Oak Spring
T
and formal way of life or to Oak Spring, simpler and cozier, which Bunny and Paul enjoyed. Oak Spring is only one of the seven residences Bunny designed over her lifetime. Along with the New York house on East Seventieth Street, it is also the only one that reveals Paul's specific tastes and interests.
The turn for Oak Spring is marked by a life-size bronze horse, Sea Hero, by the British sculptor Tessa Pullen, and a sweeping view in every direction. Paul, a brilliant equine matchmaker, had bred Sea Hero, but neither he at age eighty-six, nor Sea Hero's trainer, Mackenzie "Mack" Miller, at seventy-two, had been particularly sanguine about the horse's chance of winning the Kentucky Derby, which neither man had ever won.
Still, the two old horsemen headed off to Kentucky on May 1, 1993, harboring secret hopes. Bunny, who was no longer paying much attention to racing, decided to go at the last minute. She grabbed her hat and hopped aboard the Mellon plane. After the joyful upset victory (Sea Hero had gone off at 13 to 1), the party flew back to the farm, Bunny holding fast to a flower from the traditional garland of red roses that blankets a Kentucky Derby winner. Paul had exuberantly pulled it out and handed it to his wife. It was, after all, their forty-fifth wedding anniversary.
Heading down the drive to Oak Spring for the first time, you might almost wonder where the house is. The hodgepodge assemblage of low white buildings is half-hidden in the fold of a hill and blurred by a small orchard. A tall oak Bunny planted near the spring gave the place its name.
When I had stood on the post-andrail pasture fence along that drive with my Foxcroft schoolmates in 1957, I certainly hadn't had eyes for anything except the queen's Rolls-Royce slowly traversing the gravel. The queen, a horsewoman since childhood and a fancier of fine horseflesh, was curious to see Paul's stables and breeding establishment, but what she saw must have surprised her in its modesty.
Bunny's close friend Liza Maugham, by then Lady Glendevon, moved in court circles in London. She wrote to Bunny after the royal visit that "my mother-in-law . . . sat next to Prince Philip at dinner, and he talked about their trip to Virginia in the most glowing terms . . . After dinner my mother-in-law had a chat with the queen, and she was even more enthusiastic . . . she said that it was such a relief to meet an American millionaire who was not 'purse proud'—her expression . . . She . . . 'loved the prettiness and simplicity of the house.'" (Had Bunny's whitewash trick fooled her?)
Simplicity derived from open space designed to lead to stillness and tranquility is key to Oak Spring's extended pastoral of fields, woods, and farm buildings. The same simplicity governs a sketch of the racecourse at Newmarket Heath by the eighteenth-century British artist George Stubbs, whose works Paul collected. That exquisite little image, Newmarket Heath, with a Rubbing Down House , now at the Yale Center for British Art, has been rightly described as being about "nothing."
Stubbs's "nothing"—a wide expanse of horizon, sky, and distance viewed over rough grass—extends across half the painting. The other half is anchored by a solid little brick house where grooms washed off horses after a race. For the English art historian Martin Myrone, the work displays "the power of art to project an image of order " For Bunny, order in the physical world was also achieved chiefly with air, light, and space.
In designing a garden, as she wrote in one of her books, Bunny began with the same elements that Stubbs used in his sketch:
"When I see any landscaped area for the first time, I automatically look for . . . how much sky, how much air. Then the shape is it cut up into bits without any thought of line or patterns."
In the 1980s, when Bunny thought most intently about writing a gardening book, she looked back at how she had taught herself landscape design, writing, "I hesitated to use the word 'landscape' until a friend explained the origin of the word to me. Since then it seems a little better—but is it a picture or a live landscape? It should evoke a sense of pleasure calm & wellbeing. This changes with each individual and that is why this is a book of collected suggestions not rules."
Paul, writing a decade later, looked back at his childhood memories of England before World War I, before his parents divorced: "Somehow at this great distance it all melts into a sunny and imperturbable English summer landscape. There seemed to be a tranquility in those days that has never again been found and a quietness as detached from life as the memory itself."
The power of art to project an image of order. Bunny sought her perfect order in coherent landscape form. Paul looked back to what had been the only happy days of his childhood. Something else that powered the couple's creation of "the farm" was a desire for the wholesomeness of the seasonal round as it figures in country pursuits, as well as the contentment that a grand self-sufficiency can provide. Hence their storage spaces, such as the honey house, smokehouse, apple house, and so forth—even though they only spent a certain number of months a year at Oak Spring.
Over time, every square foot of their vast landscape was created or worked over as part of a project, a jigsaw puzzle of the very best pieces that would fall harmoniously into place as a whole. What was "the best" was always the question.
Without doubt it was hallmarked by a quiet exclusivity. For instance, the American artisanal cheese movement, the long-ago beginning of today's locavore passion, started in the 1970s in Vermont and California, and Bunny jumped aboard. Her Oak Spring Dairy delivered milk to a few locals in old-fashioned glass bottles, as well as farmstead cheeses. In the center of the circular green label Bunny designed for her wares was a husky oak tree. (The same iconic oak was embroidered on her table linens and stamped in a faint lavender lusterware hue on the tiny coffee mugs Bunny had made for the Garden Library.) The cheese maker Allen Bassler made more than a dozen varieties, of which the plain yellow cheddar, aged for a year in a small garage that had been transformed into a cheese "cave," was the best. I don't think Bunny's cheeses matched the explosion in American excellence that has followed, but they were admirable—and they were hers
The dairy is hidden behind another log cabin at Oak Spring— not the one that became the Mellons' residence, but one where Nelly Jo's grandmother lived, across Goose Creek. Bunny, who loved playing her own version of dollhouse with the outbuildings, as if imaginary families lived in them, eventually restored and reimagined this particular cabin down to the last teaspoon. In this case, however, the inhabitant she envisioned had not been imaginary; she had lovingly planned it for long visits by Jackie Kennedy, her best friend. ■
EXCERPTED FROM I'LL BUILD A STAIRWAY TO PARADISE: A LIFE OF BUNNY MELLON BY MAC GRISWOLD. PUBLISHED BY FARRAR, STRAUS AND GIROUX. COPYRIGHT © 2022 BY MAC GRISWOLD. ALL RIGHTS RESERVED.
DUJOUR.COM WINTER 2023 94
Bunny was convinced she could divine the innate character of each species of tree and reveal it in the specimens shaped by her private arborist, Everett Hicks.
The front hall at Oak Spring
APARTMENT INTERIOR: OAK SPRING GARDEN FOUNDATION, UPPERVILLE, VIRGINIA; THE
WINTER
DUJOUR.COM 95
The interior of the Mellons' apartment at 15 rue de l'Université
FRONT HALL: MICHAEL DUNNE PHOTOGRAPHY
2023
at RH
The Dining Room
Guesthouse
CITIES
HOUSE PROUD
RH has opened RH Guesthouse New York , a first-of-its-kind hospitality experience for travelers seeking privacy and luxury. Accessed through a secure private entrance, the property features just six guest rooms, three guest suites and RH chairman and CEO Gary Friedman's private residence occupying the entire top floor, which is sometimes available for booking. Located in the Meatpacking District only steps from the RH New York gallery, RH Guesthouse occupies a restored and reimagined triangular loft building constructed in 1887. Each of the guest rooms and suites includes two full bathrooms clad in warm, vein-matched Italian travertine slabs, a freshly stocked gourmet pantry, in-room gym equipment and exclusive use of the private rooftop garden, pool and dining terrace. The décor features European oak, south-facing soundproof windows and architectural lighting, and the beds are by Dutch brand FreshBed, a scientifically designed bed system that regulates air quality, temperature and humidity for optimal sleep. "The RH Guesthouse has been designed through a lens of privacy and luxury," says Friedman. "We believe privacy is going to become a large and important market, and the RH Guesthouse has an opportunity to define that new market with a before-unseen level of design, quality and hospitality." The Dining Room & Terrace serves wood-grilled dishes like Australian Wagyu ribeye, rotisserie chicken and a wood-grilled avocado topped with 15 grams of Petrossian Imperial Kaluga Caviar. The Champagne & Caviar Bar, located in the Guesthouse cellar, is a 32-seat experience serving the highest grades of Petrossian caviar and a curated list of some of the world's finest Champagnes. rhguesthouse.com
DALLAS HAMPTONS CHICAGO HOUSTON SAN FRANCISCO ORANGE COUNTY LAS VEGAS LOS ANGELES MIAMI NEW YORK CITY WINTER 2023 DUJOUR.COM 97
ASPEN
ROOM REQUEST ,
A RESORT RENEWAL
The Aspen Meadows Resort will debut 98 new guest rooms over the winter as part of a multimillion-dollar refresh of the property. The extensive renovation will pay homage to the resort's Bauhaus roots and its designer, Herbert Bayer, while also upgrading the rooms with modern amenities and skier-friendly design (think benches for putting on boots with storage underneath, as well as wet bars and new technology throughout). The resort, tucked away on 40 acres in the West End, is now under the management of Salamander Hotels & Resorts, which will debut a host of exciting property-wide improvements over the next year. aspenmeadows.com
FOR MORE ON ASPEN, VISIT DUJOUR.COM/CITIES
CULTURE SHOCK
Founded in 2021, Dance Aspen is creating a thriving resident dance company that cultivates relationships among local artists and other arts organizations through dedication and collaboration, with the goal of increasing high-caliber performing arts in the community. Its winter program debuts March 17 at the Wheeler Opera House. danceaspen.org Aspen Film has acquired the Isis Theatre, which will become a permanent exhibition home for the nonprofit organization currently housed at the Wheeler Opera House. Its short film festival, Aspen Shortsfest, widely recognized as a premier short film festival and showcase of world cinema's most remarkable emerging and established talents, returns April 10-16. aspenfilm.org
RETAIL REPORT
A FRENCH CONNECTION
Rocky Mountain High
After a $23 million investment, a transformed base area at Buttermilk Mountain will debut this winter, complete with a 9,000-square-foot fully electric skier services building, renovated and renamed Buttermilk Mountain Lodge restaurant and The Backyard, a bar and heated outdoor patio. This major renovation will create a sustainable one-stop shop for guests to purchase tickets, rent equipment, shop and relax in the lounge. "We are looking forward to showing guests the transformation at the base of Buttermilk," says Dana Dalla Betta, senior project manager for design and development. "The team has worked hard to provide a cohesive guest experience, starting with the Hideout children's center, a brand-new guest services building and into Buttermilk Mountain Lodge, which has been fully remodeled inside and out. At lunch, guests will enjoy the new outdoor bar and grill on the expanded south-facing patio, The Backyard."
French activewear brand Fusalp, celebrating its 70th anniversary, has opened a 1,900-square-foot boutique carrying the brand's full range of men's, women's and children's ready-towear, ski and accessories collections. The boutique pays homage to the label's heritage in tailoring and skiwear expertise, linked to the greatest champions of alpine skiing and of the Olympic Games. Interior designer Dillon Garris has incorporated furniture by 1950s artists such as Charlotte Perriand and Jean Prouvé into the décor. fusalp.com
jacket, $1,550, FUSALP, fusalp.com
DANCE ASPEN: WENDY WETMORE; BUTTERMILK MOUNTAIN LODGE: OLIVER SUTRO
ASPEN
CHICAGO LAS VEGAS HOUSTON Ê
ASPEN
&
aspensnowmass.com
DALLAS
Hortense Tartan
A new guest room at the Aspen Meadows Resort
Dance Aspen dancers Anthony Tiedeman and Kaya Wolsey
DUJOUR.COM WINTER 2023 98
POWER PLAYER
SLEEPING BEAUTIES
Emily Hikade talks about Petite Plume's new collaboration with The Colony Hotel
In 2015, entrepreneur Emily Hikade launched Petite Plume, a luxury sleepwear company that uses the finest cotton. The finest attention to detail can be seen throughout the range, from engraved buttons and piping to customization options. The preshrunk and yarn-dyed collection includes loungewear pieces for women, men and children in a variety of seasonal prints and designs. New for this winter, the Chicago-based brand has partnered with iconic Palm Beach hotel The Colony on a special collection. "We are so excited to announce an exclusive, limited-edition collaboration with the legendary Colony Hotel in Palm Beach," says Hikade. "Sarah Wetenhall and I admire each other's brands so much that we had to create something together. There's nothing better than a fabulous night's sleep at The Colony than when it's done in classic Petite Plume pajamas." petite-plume.com
BELOW:
St. Tropez palm print pajamas, $138, PETITE PLUME , petite-plume.com
Bambola in the West Loop features Asian and European dishes inspired by the Silk Road. Led by chef de cuisine Alisha Elenz and Bonhomme Group's Michelinstarred executive chef Marcos Campos, the menu highlights Turkish, Persian and Indian cuisines. Much like the blending of cultures along the historic trade route, global spirits and complementary spices and ingredients are used to enhance the cocktail menu. bambolachicago.com
Mexican concept Barcocina has opened a second location in West Town, where diners can enjoy truffle street corn guacamole, scallop ceviche bites, empanadas and a range of taco fillings including brisket, tuna poke and pineapple pork. The contemporary yet rustic setting is the perfect place to enjoy a taco and a variety of tequila and mezcal selections. barcocinachicago.com
LEFT:
The dining room at Bambola
BELOW: The dining room at Indienne
Indienne is a new fine-dining Indian restaurant in the River North neighborhood from chef and partner Sujan Sarkar. The expansive 5,800-square-foot restaurant serves food cooked on charcoal and over open fire, two cornerstones of Indian food preparation. There are two five-course tasting menus–vegetarian and non-vegetarian–which features dishes like pani puri, tart with passion fruit, buckwheat and avocado and egg curry with lobster, uni, cultured butter and pao bread.
"While Indian cuisine is growing in popularity due to hardworking immigrant families, it doesn't yet have its footing in the mainstream of American fine dining," says Sarkar. "Too often, Indian food is viewed as a to-go or casual dining option, rather than something you would enjoy as a sophisticated dining experience." indiennechicago.com
PAJAMAS: D ALE DEGABRIELE PHOTOGRAPHY; ON MODEL: KIRSTEN MICCOLI PHOTOGRAPHY; INDIENNE: NEIL JOHN BURGER
ORANGE COUNTY MIAMI SAN FRANCISCO LOS ANGELES NEW YORK CITY
CHICAGO
Emily Hikade
EAT HERE NOW Ê FOR MORE ON CHICAGO, VISIT
/CITIES WINTER 2023 DUJOUR.COM 99
DUJOUR.COM
Mini lace dress, $850, LA VIE STYLE HOUSE , overthe moon.com
HOUSE OF STYLE
La Vie Style House Lindsey McClain and Jamie Coulter founders talk about their new bridal collection
Founded by Lindsey McClain and Jamie Coulter in 2013, the Dallas-based brand La Vie Style House makes vintage-inspired, one-size caftans, wrap and mini dresses for its adoring fan base. The duo hit it off after realizing that all body types looked great in these colorful, hand-embroidered pieces, and now they have a store in Dallas and one in Houston. Women can wear the dresses, which come in a variety of colors and patterns, at the pool with flip-flops or dressed up with heels at night with equal aplomb. New for this season is the label's first-ever one-size-fitsall bridal collection in flattering silhouettes with artful embellishments and whimsical details. The La Vie Style House Bridal Collection, available at Over The Moon, allows customers to select colors from the brand's standard lace offerings. "Jamie and I loved the idea of expanding into a more formal one-size option," says McClain. "We created it with our vision of a relaxed, whimsical and easy way to dress the bride, bridesmaid, mother of the bride or wedding guest. There are timeless pieces and some over-the-top ones, too. We think it's fun and will create some ease in the bridal world." laviestylehouse.com
Silk and feather caftan, $2,550, LA VIE STYLE HOUSE , overthemoon.com
Silk gown, $2,150, LA VIE STYLE HOUSE , overthemoon.com
HOUSTON LAS VEGAS LOS ANGELES DALLAS ASPEN CHICAGO
POWER PLAYER
LEFT: Founders Lindsey McClain and Jamie Coulter
Ê
MORE ON
VISIT
LA VIE STYLE HOUSE: ELIO NOGUEIRA DUJOUR.COM WINTER 2023 100
FOR
DALLAS,
DUJOUR.COM/CITIES
KIWI DREAMS
Quarter Acre is a new restaurant inspired by chef and owner Toby Archibald's New Zealand roots. The 2,300-square-foot space provides a natural feel with a warm atmosphere and service without the stiffness that is often associated with high-quality dining. "I always knew I wanted to open a restaurant with great food, impeccable service and a welcoming atmosphere like many memorable restaurants I've encountered in New Zealand and around the world," says Archibald. Dishes on the menu, including smoked beef tartare, banana leaf–grilled cod and hay-roasted chicken, emphasize local produce while also highlighting international ingredients such as seafood and wine from New Zealand and Australia.
quarteracrerestaurant.com
RETAIL REPORT .
GUCCI THE GREAT
Following its recent Austin store opening, Italian fashion label Gucci has opened a store at The Shops at Clearfork in Fort Worth. Spanning over 4,500 square feet and showcasing a wide collection of men's and women's shoes, handbags, luggage, small leather goods, jewelry, watches and eyewear, the new boutique is colorful and vibrant. gucci.com
RETAIL REPORT SLIP & SLIDE
Sabah , an American shoe company inspired by Turkish designs with a factory in Turkey, has opened a workshop in El Paso employing 12 artisans. Founded in New York City by Mickey Ashmore in 2013, the brand makes slip-on shoes in vegetabletanned leather and covered in colorful prints and fabrics. "We decided on El Paso for many reasons, and because we found it shared many of the same characteristics as Gaziantep, Turkey, where our original Sabah workshop is located," Ashmore says. "We wanted the new Sabah
workshop to complement our amazing craftspeople in Turkey, for there to be dialogue, sharing of ideas and a fusion of skills, crafts and talents." The border town has a history of making leather goods, including cowboy boots. sabah.am
ORANGE COUNTY PALM BEACH NEW YORK CITY SAN FRANCISCO MIAMI
EAT HERE NOW
Women's Bellagio Blue Velvet Baba slippers, $210, SABAH, sabah.am
WINTER 2023 DUJOUR.COM 101
FROM TOP: Dishes at Quarter Acre; chef Toby Archibald
HOUSTON
RETAIL REPORT
SITTING PRETTY
Fanciful Australian fashion brand Zimmermann has opened a store in River Oaks. The luxe label, founded by Australian sisters Nicky and Simone Zimmermann, specializes in ultra feminine pieces (think ruffles,lace and billowing sleeves). zimmermann.com
Blouse, $530, ZIMMERMANN zimmermann.com
FROM TOP:
The new boutique; linen dress, $530, ZIMMERMANN, zimmermann.com
FOR MORE ON HOUSTON, VISIT DUJOUR.COM /CITIES
ROOM REQUEST BAR NONE
Halfway between Houston and Austin, Hotel Lulu is a boutique hotel in Round Top designed as a retreat for urban dwellers looking to indulge. The first full-service hotel in the small Texas town (population 90) features 14 rooms across six restored bungalows, a swimming pool, restaurant and bar. The hotel and restaurant, Lulu's, are named after the owner and CEO of Palacios Murphy hospitality group, Cinda Murphy de Palacios. The rooms feature dramatic canopied beds, custom upholstery, a modern mix of furniture and original cedar walls. Il Cuculo, the bar, features a wraparound mural on the plaster walls created by Houston-based artist Andrea Condara. "I have always been interested in creating spaces that encourage community and inspire the people who have everything," says Murphy de Palacios. "We want to forge our own path in everything we do—ignoring trends and embracing the experiences and things that truly inspire our team. Round Top is going to explode, and it is truly a 40-year dream in the making to see a hotel of this caliber finally open." New this winter is an expansion of Il Cuculo designed by Houston-based designer Dennis Brackeen, combining turn-of-the-century and rare mid-century modern objects with luxurious custom upholstery. hotellulutx.com
LAS VEGAS LOS ANGELES
The entrance to Il Cuculo bar at Hotel Lulu HOTEL LULU: PAR BENGTSSON DUJOUR.COM WINTER 2023 102
ASPEN
CHICAGO DALLAS Ê
The Mother Lode
The Menil Collection presents the most comprehensive survey ever mounted of the drawings of Robert Motherwell, on view through March 12. Spanning the artist's career from the 1940s through the 1980s with more than 100 works, Robert Motherwell Drawing: As Fast as the Mind Itself shows the full range of the artist's practice. The youngest and most scholarly of the artists who came to be identified as abstract expressionists, Motherwell explored a personal, spontaneous language of mark-making throughout his life, creating drawings in a wide variety of techniques and styles that he sometimes used concurrently. "John and Dominique de Menil first visited Motherwell's studio in 1952 and later acquired work by him," says the Menil Collection's director, Rebecca Rabinow. "From early surrealist works to the artist's late drawings, this exhibition will provide an invaluable opportunity for visitors to experience the boldness and intensity of Motherwell's extraordinary career." menil.org
© 2022 DEDALUS FOUNDATION, INC. / VAGA AT ARTISTS RIGHTS SOCIETY (ARS), NY
GALLERY GUIDE
Robert Motherwell "Untitled" (1943)
Robert Motherwell "Lyric Suite" (1965)
Robert Motherwell "Untitled" (1967)
FRANCISCO WINTER 2023 DUJOUR.COM 103
ORANGE COUNTY PALM BEACH NEW YORK CITY MIAMI SAN
Wide Awake
Wynn Las Vegas debuts its new entertainment offering, Awakening, this winter. An unprecedented spectacle, the show immerses audiences in the Awakening Theater, a customdesigned 360-degree, 1,600-seat venue. The show was conceived and created by Bernie Yuman, Baz Halpin and Michael Curry, and is narrated by Anthony Hopkins. "Every so often, the bar for spectacle in Las Vegas is raised," says Wynn Resorts CEO Craig Billings. Infused with modern-day myth and magic, the boundary-pushing show comes to life through a combination of dramatic choreography, elaborate set design, more than 300 costumes, a 60-foot prismatic stage made of dichroic glass and custom LED screens and 3D sound technology to showcase its original score. "Our theater at Wynn has afforded us the ability to create something unlike anything else in entertainment," says Halpin. "Awakening is a Las Vegas spectacle on an epic scale." awakeninglasvegas.com
LOS ANGELES LAS VEGAS ASPEN CHICAGO DALLAS HOUSTON
Ê
DUJOUR.COM WINTER 2023 104
FOR MORE ON LAS VEGAS, VISIT DUJOUR.COM/CITIES
EAT HERE NOW MIDDLE EASTERN MOMENTS
Celebrated chef Eyal Shani is opening branches of his popular restaurants HaSalon and Miznon at the Venetian Resort Las Vegas this winter. Originally from Tel Aviv, Shani is often described as a founding father of modern Israeli cuisine. He is the owner of 40 restaurants worldwide and a Master Chef judge. HaSalon (with branches in Ibiza, New York and Miami) celebrates Mediterranean cuisine in a fine dining atmosphere, while Miznon brings casual Israeli street food favorites to diners. "The Venetian Resort is a leader in the Las Vegas culinary landscape, and our restaurant collection is curated to deliver an unparalleled experience for our guests," says Patrick Nichols, the resort's president and CEO. "The artistry and passion that chef Shani is known for makes HaSalon and Miznon perfect additions as we continue to build the energy and spirit of the Venetian Resort." "I'm fascinated to bring HaSalon and Miznon to Las Vegas," says Shani. "People around the world are constantly dreaming of this destination and bringing incredible energy to the city and to the Venetian Resort. There's inspiration around every corner, and being able to showcase the best of what we do in such a vibrant and unique location is an extraordinary opportunity." venetianlasvegas.com
Italian label Fendi has opened a third Las Vegas boutique at The Shops at Crystals. The nearly 6,000-square-foot space features men's and women's ready-to-wear, accessories and leather goods collections. The space incorporates special materials that highlight the brand's codes and tradition, such as marble that recalls the architecture of Roman churches and glass walls that imitate the movement of water, which recalls Roman fountains. fendi.com
High-performing luxury outerwear brand Canada Goose has opened a new boutique at The Shops at Wynn. Along with the ultimate warm outerwear (which may not be practical for Las Vegas), Canada Goose offers lightweight down jackets, rain jackets, hoodies and more pieces fit for the desert lifestyle. Along with expanded product categories like footwear, sought-after collaborations and special capsule collections, the store carries the brand's full assortment for men, women and children. canadagoose.com
HASALON: TEDDY WOLFF
The Fendi store at The Shops at Crystals
ORANGE COUNTY NEW YORK CITY
FRANCISCO
BEACH MIAMI RETAIL REPORT Vest, $750, CANADA GOOSE , canadagoose.com WINTER 2023 DUJOUR.COM 105
FROM LEFT: Dishes at HaSalon; chef Eyal Shani; Miznon
SAN
PALM
ROOM REQUEST
Hotel Per La is a new 12-story property in downtown Los Angeles featuring 241 guest rooms and a ground-floor restaurant, bar and lobby café. Bar Clara, the hotel's rooftop bar, offers poolside drinks, a Mediterranean-influenced menu, and views of the LA skyline. hotelperla.com
Los Angeles–based hospitality brand Palisociety is set to mark its continued expansion with the debut of the new Palihouse West Hollywood , featuring 95 guest rooms, a pool, two distinct dining options and a lobby lounge. "On the heels of an incredible few years of trepidation in the hotel business, we are elated to grow and nurture our brand into a new chapter of momentum," says the brand's founder, Avi Brosh. "Over the past 20 years, we've defined ourselves as a design-forward, neighborhood-centric hotel company focused on a highly personalized, proprietor-driven approach to hospitality. It is evident that today's guest appreciates that distinct point of view, perhaps now more than ever." palisociety.com
EAT HERE NOW
YES, DEAR
Husband-and-wife restaurateurs Hans and Patti Röckenwagner (of Dear John's fame) are at it again with the opening of their new Marina Del Rey restaurant, Dear Jane's. The oceanfront seafoodfocused restaurant, helmed by chef Josiah Citrin of Melisse, features a glamorous throwback vibe and great cocktails, two of which are named after famous Janes: Jetson Blue (for Jane Jetson) and Lady Austen (for Jane Austen). Patti Röckenwagner curated the restaurant's art with pieces from the Robert Berman Gallery, and Jamie Lee Curtis voices Dear Jane's voicemail message—as Wanda from A Fish Called Wanda , no less (there is also a JLC seafood tower named after Curtis). dearjanesla.com
HOTEL PER LA: THE INGALLS; DEAR JANE'S: ART GRAY; JAMIE LEE CURTIS: ART STREIBER
The lobby at the Hotel Per La A king room at Palihouse West Hollywood
ASPEN CHICAGO DALLAS HOUSTON LOS ANGELES LAS VEGAS
FROM TOP:
The JLC seafood tower; Jamie Lee Curtis working the phones
DUJOUR.COM WINTER 2023 106
Family-owned watch and jewelry retailer Westime has announced the opening of its first boutique dedicated to certified pre-owned timepieces. The 4,500-square-foot boutique sits atop Westime's flagship Beverly Hills location and offers brands like Richard Mille, Rolex, Patek Philippe, Audemars Piguet, Omega and Urwerk. "As one of only four certified pre-owned Richard Mille partners in the world—and the only one in the Americas—Westime is a unique destination for everyone seeking a pre-owned Richard Mille watch that has been evaluated, authenticated and restored by Richard Mille's in-house watchmakers," says Greg Simonian, president of Westime. Each Richard Mille timepiece from Westime is accompanied by a 24-month international warranty, certificate of authenticity, service booklet, new strap and presentation box. westime.com
Swiss luxury watchmaker and jeweler Piaget has opened a boutique on Rodeo Drive with a shimmering gold façade. Art is a special focus of the new store, as Piaget has a long history of working with artists. piaget.com
WESTIME: ADRIAN TIEMENS
the
store
RIGHT: The façade of
Piaget
FROM TOP: The new Westime boutique; the Richard Mille watch lounge
Ê FOR MORE ON LOS ANGELES, VISIT DUJOUR.COM/CITIES PALM BEACH ORANGE COUNTY NEW YORK CITY MIAMI SAN FRANCISCO RETAIL REPORT . WATCH THIS SPACE Westime opens its first boutique dedicated to certified pre-owned timepieces atop the brand's Rodeo Drive flagship WINTER 2023 DUJOUR.COM 107
EAT HERE NOW THE ITALIAN JOB
Global hospitality empire Major Food Group (founded by Jeff Zalaznick, Mario Carbone and Rich Torrisi) has expanded its celebrated Contessa to the Design District. The two-story restaurant, inspired by the old-world sophistication of northern Italy's iconic villas and estates, serves classic dishes like beef carpaccio, spicy lobster capellini and veal Milanese. "Contessa Miami channels the singular sense of refinement and pleasure of those northern Italian meals we wish could go on forever, right in the heart of the Magic City," says Carbone. "I can't think of a more perfect location to bring this restaurant to life and to share with
the people of Miami a menu dedicated to a rich and elegant region we've long hoped to celebrate." With high-gloss teak woodwork, emerald striped drapery, lush plantings, pink Venetian plaster walls and murano glass light fixtures, Contessa transports guests to Lake Como circa 1960. "Contessa is grand and glamorous; it's designed to be an all-day anchor where you can eat, drink and celebrate into the night in the most elegant yet energetic neighborhood in Miami. I'm honored to once again have the opportunity to collaborate with my dear friend and visionary, Craig Robins," says Zalaznick. contessatrattoria.com
BEAUTY BEAT AIR APPARENT
Beloved device maker Dyson has opened its first Dyson Beauty Lab at Saks Fifth Avenue Bal Harbour. The new home showcases Dyson's full range of hair care technology and latest innovations. The space boasts a luxury wash basin and two styling stations so customers can have their hair styled from wet to dry using the new Dyson Airwrap multistyler, Dyson Corrale straightener or Dyson Supersonic hair dryer. "At Dyson, we are on a mission to create technology that supports every hair type and every style with less damage to promote healthy, shiny hair," says Peggy Elsrode, president of Dyson Americas. "We're looking forward to welcoming women and men in Miami to experience the transformative properties of our technology firsthand." dyson.com
BEAUTY BEAT SURF'S UP
Austrian skincare brand Susanne Kaufmann has partnered with the spa at the Four Seasons Hotel and Residences at The Surf Club to offer signature treatments and products that provide a holistic approach to wellness. Kafumann's passion for holistic living combined with the very best Eastern and Western expertise showcases bespoke experiences, where traditional practices meet modern science. The Surf Club spa, designed by Joseph Dirand, features lots of natural light, a white-and-blue color palette and oceanfront views, allowing guests to enjoy these services in one of six treatment rooms (the spa also offers steam baths, saunas, relaxation rooms and a hammam). "Our spa at The Surf Club is the epitome of modern luxury," says Kaufmann. "We offer a menu of results-driven, targeted facial and body treatments that rejuvenate, nourish and support the skin for long-term benefits. Each treatment is developed using our product range, powered by efficacious Alpine ingredients, plant extracts and botanical essences. I wanted to create an experience that celebrates the rituals and wellness practices that are deeply rooted in our lives in the Alpine region, whilst honoring the culture, spirit and attitude of The Surf Club." susannekaufmann.com
HOUSTON DALLAS CHICAGO ASPEN LAS VEGAS LOS ANGELES
CONTESSA: MICHAEL STAVARIDIS
DUJOUR.COM WINTER 2023 108
Mayfair House Hotel & Garden in Coconut Grove has undergone a major two-year renovation by New York–based interior design studio Goodrich. Each residential-style guest room, which range in size from 500–1,124 square feet, features its own terrace. The property also boasts two new food and beverage concepts by local hospitality group Lost Boy & Co. (Tropezón and Fox's Lounge): Mayfair Grill restaurant and Sipsip, a Calypsostyle rooftop pool bar with island inspired cocktails, an extensive rum program, a menu of Caribbean favorites and live music. "The Mayfair House Hotel & Garden is a special part of the neighborhood's history, and we are thrilled to be able to help write the next chapter of its story," says Lost Boy & Co. co-founder Chris Hudnall. "There is no place better suited for reinvention in Miami than Coconut Grove." mayfairhousemiami.com
FROM TOP:
The reception area at Loews Coral Gables Hotel; a deluxe king room
Loews has opened its second Miami hotel in Coral Gables. Loews Coral Gables Hotel boasts 242 guest rooms and suites, four restaurants, a pool and spa facility.
"This opening marks a significant milestone for us as we add a second hotel in South Florida, furthering our belief in Miami as a destination," says Loews Hotels & Co.'s chairman and CEO, Jonathan Tisch. Loews Coral Gables Hotel. The four onsite restaurants are Americana Kitchen, lobby bar
Americana Bar, ninth floor poolside lounge Phineas and grab-and-go café Miami Joe Coffee. loewshotels.com
MAYFAIR HOUSE: WILL PRYCE
FRANCISCO
ORANGE COUNTY NEW YORK CITY MIAMI Ê FOR MORE ON MIAMI, VISIT DUJOUR.COM /CITIES
SAN
PALM BEACH
WINTER 2023 DUJOUR.COM 109
The Terrace at Mayfair House
ROOM REQUEST
RAISE A GLASS MIXMASTER
Shortly after announcing his departure from Thyme Bar in NYC, mixologist Jeremy Le Blanche has unveiled a new playlist-inspired cocktail menu at RT60 Rooftop Bar & Lounge, located inside the Hard Rock Hotel New York. The eight cocktails (like Pump Up the Jam and Yuki No Hana) are served with garnishes including rose petals, cotton candy and hazelnut salt, while global ingredients like sesame and green shiso find their way into house-infused cordials and syrups. "I wanted to create cocktails that represent the ethos of Hard Rock Hotel New York," says Le Blanche. "This menu touches upon multiple generations of music and has a unique twist for each drink." hardrockhotels.com
FOXY MOXY
The new 303-bedroom Moxy Lower East Side hotel from Lightstone Group features interiors by Michaelis Boyd and Rockwell Group and architecture by Stonehill Taylor. Tao Group Hospitality is managing the restaurant and bar options, which include Sake No Hana, a Japanese restaurant; Silver Lining, a piano lounge; The Highlight Room, a rooftop bar; The Fix, an all-day café and lobby bar; and Loosie's, a subterranean club. "By providing a stunning variety of venues and concepts under a single roof, the hotel really embodies the diversity of the Lower East Side," says Mitchell Hochberg, Lightstone's president. "People come to the neighborhood to indulge their thirst for discovery, and they'll get that at the Moxy too." marriott.com
REQUEST
ROOM
LEFT: The
at
A Factory Loft Suite living room
DALLAS CHICAGO ASPEN LAS VEGAS LOS ANGELES Ê FOR MORE ON NEW YORK CITY, VISIT DUJOUR.COM /CITIES MOXY LOWER EAST SIDE: MICHAEL KLEINBERG DUJOUR.COM WINTER 2023 110
FROM
terrace
RT60 Rooftop Bar & Lounge; the Pump Up the Jam cocktail
HOUSTON
Upper East Side wellness destination
Sage + Sound features custom face and body treatments by Tracie Martyn and Biologique Recherche, acupuncture by Paul Kempisty, lymphatic drainage massages by IMD Beauty Spa and nontoxic nail treatments by Sundays. The 5,000-square-foot space will also house a restaurant, Isle of Us, run by restaurateur Lisle Richards. Founded by Lacey Tisch and Lauren Zucker, the goal of Sage + Sound is to provide an approachable space and community for self-care and holistic wellness. "Lacey and I really connected on finding a place to focus on self-care," says Zucker. "What could we create that included everything from acupuncture to mindfulness classes to a café that had that same energy?" sage-sound.com
Remedy Place bills itself as the Soho House of wellness, a luxurious and refined Flatiron sanctuary that's perfect for those who wish for an aesthetically beautiful space to optimize their healing journey. The club features holistic treatments and amenities like an ice bath studio, vitamin IV drips, lymphatic compression, acupuncture, cupping, infrared sauna and cryotherapy. remedyplace.com
Practice makes perfect at Practise, a new facial studio in Tribeca. Founded by Bella and Gigi Hadid's go-to aesthetician, Kristyn Smith, the new space offers a range of state-of-the-art facials using modalities such as microcurrent, microdermabrasion and microneedling alongside skincare products from beloved brands like Environ. practisenyc.com
For the past two decades, skincare expert Oni Chaves has launched spas in the U.S. for international brands such as Amore Pacific and Space NK, as well as worked with facialist Dangene. After moving back to New York City from Los
BEAUTY BEAT
Angeles, the aesthetician has opened Oni Skincare in a charming building on the Upper East Side offering skincare treatments like facials, microneedling, lasers and microblading. oniskincare.com
German skincare expert Dr. Barbara Sturm has found an Upper East Side home to showcase her beloved Dr. Barbara Sturm Molecular Cosmetics product line and cutting-edge facial treatments. The 5,000-square-foot townhouse on Madison Avenue was designed by German architect Tobias Freytag (who happens to be Dr. Sturm's brother) and showcases five treatment rooms and a couples treatment room with whimsical wallpaper hosting new skin treatments along with light therapy and scalp massages. Dr. Sturm's much-lauded sciencebased product line (fans include Gwyneth Paltrow, Bella Hadid and Kate Moss) features skin and haircare bestsellers like her Sun Drops, The Better B Niacinamide Serum, Scalp Serum and Hyaluronic Serum. drsturm.com
BELOW: A treatment room at Dr. Barbara Sturm on Madison Avenue
LEFT: Practise
LEFT: The reception area at Sage + Sound
SAN FRANCISCO
MIAMI
NEW YORK
PALM BEACH ORANGE COUNTY
CITY
The lounge area at Remedy Place
WINTER 2023 DUJOUR.COM 111
Oni Skincare
EAT HERE NOW
Lord's is a modern English bistro in SoHo focused on nose-to-tail, traditional English cooking from chef Ed Szymanski and general manager Patricia Howard, also of Dame. Dishes include curried lamb scotch egg, veal tartare, devilled crab on toast, grilled duck kebab with offal and onions and beef wellington. The restaurateur couple was attracted to the space's tall ceilings and large double doors opening onto the wide avenue of LaGuardia Place, and the dining room is painted a stately hunter green with brass accents, exposed brick, dark walnut millwork, green marble tables and a European-inspired plaster entryway. lordsenglish.com
T Bar has been resurrected on East 60th Street after closing its uptown outpost. Restaurateurs Derek Axelrod and Tony Fortuna are behind the new three-floor space, which boasts chandeliers, luxurious velvet booths and a sleek
bar area. Their classic menu favorites are also on offer, including tuna tartare, crispy sushi, steaks, salads and pastas. tbar.nyc
Following a pandemic closure, Union Square Hospitality Group has reopened its beloved Gramercy Park Italian restaurant Maialino as Maialino (vicino) in a new location. The trattoria and wine bar features a menu of shareable small plates, pastas (malfatti al Maialino with braised suckling pig and bucatini all'Amatriciana) and main dishes (pollo alla diavola and swordfish spada) along with its award-winning wine program. Executive chef Joe Downey-Zayas is focused on cultivating an inher ently Roman experience and recreating the magic of Maialino for long-time loyalists and first-time guests alike. "Maialino is where I first got my start as a chef. It's a restaurant that I love
The private dining room at Lord's; the dining room at T Bar; appetizers at Maialino (vicino); black bass ceviche at Flex Mussels
deeply and have missed greatly," says Downey-Zayas. "The beauty of Maialino lies in its dedication to time-honored culinary traditions—rustic dishes made with a simple number of quality ingredients that have the power to transport you." maialinonyc.com
Beloved Upper East Side fish restaurant Flex Mussels has moved to spacious new digs on 81st Street and Third Avenue. Owned by Bobby, Laura and Alexandra Shapiro, the restaurant's new space boasts 160 seats and many new raw bar, crudo and ceviche offerings. The two-level, light-filled space offers indoor and outdoor seating in a beautiful setting. Standouts include lobster frites, bluefin tuna crudo, calamari and, of course, mussels. flexmussels.com
Monsieur Vo is a new Vietnamese restaurant from chef Jimmy Ly and Yen Vo, the husband-and-wife duo behind the critically acclaimed Madame Vo. The East Village space offers chef Ly's modern Saigoninfluenced takes on street food, comfort food and largeformat meat and seafood dishes. monsieurvonyc.com
HOUSTON DALLAS CHICAGO ASPEN LAS VEGAS LOS ANGELES
Pho ga kho at Monsieur Vo
CLOCKWISE FROM LEFT:
DUJOUR.COM WINTER 2023 112
LORD'S: EVAN SUNG; MAIALINO (VICINO): GIADA PAOLONI; FLEX MUSSELS: ANDREW SOKOLOW
Chef/owner Marc Forgione (Peasant, Restaurant Marc Forgione) has taken over the former Otto space in Greenwich Village and opened One Fifth. The Italian restaurant serves pinsa, a Roman-style oval pizza with a cloud-like, chewy interior, a crispy exterior, and toppings such as clams and 'nduja, summer squash and ricotta and bottarga with fennel and fromage blanc. Also on offer are housemade pastas, meat and fish alongside comforting vegetable side dishes. onefifthnyc.com
The Seaport's historic Tin Building has been transformed into a sprawling, 53,000-square-foot culinary marketplace complete with grocery markets, six full-service restaurants, dining counters, four bars and private dining offerings. With thoughtfully built structures by Cass Calder Smith Architecture, interiors by Roman and Williams and culinary offerings curated by Jean-Georges Vongerichten, what more could you ask for? The Chinese-inspired House of the Red Pearl, French bistro T. Brasserie, seafood eatery Fulton Fish Co., Italian pasta-and-pizza joint Frenchman's Dough, plant-based concept Seeds & Weeds and sushi spot Shikku comprise the sit-down dining options. tinbuilding.com
RETAIL REPORT
Loewe, under the direction of creative director Jonathan Anderson, has reimagined its two-story SoHo boutique showcasing the brand's latest ready-towear lines and accessories for men and women. New finishes in the space include hand-glazed ceramics, brass and iron details—a warm contrast with the glass, concrete and wood. Furniture such as the Conoid Cushion chair by George Nakashima, an octagonal Bexley table, an Utrecht armchair by Gerrit Thomas Rietveld and handmade wool carpets from Spain complete the design. Art by
The Loewe boutique
international artists including Zilia Sánchez, Joe Hogan, Takuro Kuwata, Altoon Sultan, Cerith Wyn Evans, Thomas Lanigan-Schmidt and Andrea Büttner adorns the space. loewe.com
FROM TOP: The new Chopard boutique; 18k yellow gold Alpine Eagle 41mm watch, $49,100, CHOPARD, chopard.com
Chopard debuts its new two-story Fifth Avenue flagship in the Crown Building this month after 15 years on Madison Avenue. The brand is marking the occasion with new timepieces from its signature collections, including a yellow gold Alpine Eagle, Happy Sport Fifth Avenue Edition and Happy Sport New York Edition. The new boutique will also showcase a stunning necklace from this year's Red Carpet Collection featuring a very rare fancy vivid yellow diamond weighing just over 100 carats, which was worn by Julia Roberts at this year's Cannes Film Festival. Designed to resemble a New York City penthouse, the décor creates a unique oasis in which the Scheufele family has successfully built an unforgettable home away from home. chopard.com
ONE FIFTH: EVAN SUNG; TIN BUILDING BY JEAN-GEORGES:
NICOLE FRANZEN
Ê FOR
VISIT
/CITIES SAN FRANCISCO MIAMI PALM BEACH ORANGE COUNTY NEW YORK CITY
MORE ON NEW YORK CITY,
DUJOUR.COM
WINTER 2023 DUJOUR.COM 113
Small plates at One Fifth T Café at the Tin Building
FROM LEFT: Spa Montage at Montage Laguna Beach; V-Firm Cream, $440, VALMONT, lamaisonvalmont.com
BEAUTY BEAT BE FIRM
Swiss skincare brand Valmont is debuting a new luxurious facial treatment at Spa Montage at Montage Laguna Beach this winter. The Firmness of the Hills facial uses Valmont's new V-Firm product line in conjunction with sculpting and remodeling deep tissue massage to boost elasticity, tone and density of the skin. The new V-Firm line includes a serum, cream and eye cream and helps to restore skin's firmness. montagehotels.com
PARADISE FOUND
Paradisaea is a new contemporary Californian restaurant in La Jolla, imagined by longtime residents Eric and Zoe Kleinbub. A green and salmon color palette, a large custom alabaster sconce and a stained rattan wall separating the bar from the open kitchen, leather-clad columns and driftwood floors define the chic, airy space. Menu highlights include a jalapeño Caesar salad, wagyu nachos, tagliatelle with uni and a pan-roasted chicken stuffed with lemon-dijon butter and served alongside buttermilk-dressed local greens and salsa verde. paradisaea.com
Pan-roasted chicken at Paradisaea
FARTHER AFIELD .
ASPEN
HOUSTON DALLAS CHICAGO
LAS VEGAS LOS ANGELES
Ê
FOR MORE ON ORANGE COUNTY, VISIT DUJOUR.COM /CITIES
DUJOUR.COM WINTER 2023 114
ROOM REQUEST
FROM TOP:
A view of the pool area at Park Hyatt Aviara; a king room at Vea Newport Beach; the Monarch pool at Waldorf Astoria Monarch Beach Resort
Park Hyatt Aviara , situated along the Pacific on more than 200 lush acres, has undergone a top-to-bottom, propertywide transformation refreshing all public spaces, guestrooms and suites and social spaces. This spring, Miraval Resorts & Spas will open its Miraval Life in Balance Spa concept at the property, offering a personalized approach to wellness. hyatt.com
Formerly the Newport Beach Marriott Hotel & Spa, Vea Newport Beach has reopened after a multimillion-dollar reimagination. Vea was designed to focus on the most important aspect of the hotel: the ocean view. Interiors feature warm woods, muted neutrals, delicate marble and sculptural glass for high design without excessive complexity. "Vea was built as a gathering place for our community; as a sophisticated destination that our neighbors could return to time and again for cocktails on our lanai or dinner at View, as well as something that would be equally attractive to visitors seeking to experience the best of Southern California's ocean views and luxury living," says the hotel's general manager, Debbie Snavely. A massive circular waterfall at the front entrance leads into the luxurious lobby, which is enveloped by stunning wave-inspired millwork and a view of the ocean beyond that follows the pier
out onto the pool deck. marriott.com
A $30 million refresh of the Waldorf Astoria Monarch Beach's 400 guest rooms debuted this fall. Each of the resort's rooms and suites features new flooring, furnishing and finishes with a coastal color palette, natural finishes and curated art. The resort will convert 20 of its Studio Suites to one-bedroom suites, creating a spacious living room separate from the bedroom plus a private terrace. waldorfastoriamonarchbeach.com
MIAMI NEW YORK CITY SAN FRANCISCO PALM BEACH ORANGE COUNTY
WINTER 2023 DUJOUR.COM 115
Point & Shoot
A Personal View on High Fashion & Street Style: Photographs from the Nicola Erni Collection, 1930s to Now at the Norton Museum of Art explores fashion and street style photography through the eyes of Swiss collector and patron Nicola Erni, who has built one of the most important private collections of fashion photography. This is the first time that this comprehensive collection of more than 250 photographs by Horst P. Horst, Richard Avedon and Irving Penn, among others, will be on view at a public institution. norton.org
Ê FOR MORE ON PALM BEACH, VISIT DUJOUR.COM/CITIES HOUSTON DALLAS CHICAGO ASPEN LAS VEGAS LOS ANGELES
Arthur Elgort "Romance: Christian Lacroix Haute Couture Atelier in Paris, for House & Garden" (1988)
DUJOUR.COM WINTER 2023 116
ARTHUR ELGORT, HOUSE
&
GARDEN © CONDÉ NAST. PHOTO: RETO PEDRINI PHOTOGRAPHY
MANE EVENT
Famed New York–based hairdresser Julien Farel has opened a branch of his Restore salon at Via Flagler by The Breakers, formerly the Lotus Hair Studio led by Reigan Roan-Zapatier. "There is no better place to grow our business than in Palm Beach," says Farel, a French hair guru who has styled the manes of Barbra Streisand, Rachel Weisz, Kate Beckinsale and Catherine Deneuve. "My wife, Suelyn, and I spent years turning over many stones in Florida looking for the right gem. It had to be a top-notch salon to fall in line with our brand and possess the same ambitious standards of luxury service with the highest level of talent. This is a group of incredibly talented people in a prime location." This location will offer color, cuts, treatments, blowouts and other salon services, plus Farel's coveted product line. julienfarel.com
A MATTER OF HEALTH
For the best in health and wellness, a members-only clinic can offer immediate care, streamlined services and a stress-free experience. The 4,000-square-foot Sollis Health clinic in Palm Beach strives to do just that. Following the success of pop-up clinics at the W South Beach and the Four Seasons Surfside, the 24/7, VIP medical service is opening a state-of-the-art flagship this spring on the stylish Royal Palm Way among chic neighbors like Cafe Boulud and Buccan. Catering to the upscale neighborhood, the clinic offers everything from house calls to emergency care with a focus on expedited hospitality. "The growing Palm Beach community can have the peace of mind that Sollis Health will be there for them day or night—in a serene and private setting, with no appointment and no wait. We are here for emergencies, simple complaints and anything in between," says Sollis Heath co-founder Andrew Olanow. With an on-site lab, advanced radiology equipment, testing and experienced, emergency-trained physicians, Sollis Health is prepared to expertly care for the Palm Beach community. sollishealth.com
ROOM REQUEST PRETTY IN PINK
The Colony hotel has just reopened with entirely redesigned guest rooms in celebration of the hotel's 75th anniversary. Affectionately known as the Pink Paradise, the hotel's guest rooms and suites have been reimagined by Kemble Interiors using purveyors such as de Gournay, Schumacher, Farrow & Ball and Matouk. "It has long been our intention to align the guest rooms with the ethos of the rest of the property," says The Colony's owner and president, Sarah Wetenhall. "We desire each guest room to be a luxurious representation of the Palm Beach way of life, generously imbued with The Colony's unique sense of playfulness, with special attention dedicated to how our guests experience the space." De Gournay murals of local botanicals and animals line the halls; each floor depicts a beloved Palm Beach scene and each room a different theme. Throughout the hotel, guests can find art by photographers Nick Mele, Nathan Coe and Chris Leidy along with paintings by Sarah Boyts Yoder. thecolonypalmbeach.com
MIAMI
SAN FRANCISCO NEW YORK CITY ORANGE COUNTY PALM BEACH
Watercolors of the The Colony's new guest rooms
Ê FOR MORE ON PALM BEACH, VISIT DUJOUR.COM /CITIES
Julien Farel at his new Via Flager salon
The reception desk at Sollis Health
WINTER 2023 DUJOUR.COM 117
EAT HERE NOW
At Oakland's Occitania , a 250-seat French restaurant, local design team Arcsine took cues from the natural landscape with tones of lavender, terracotta, gold and green. Chef and owner Paul Canales (Oliveto, Duende) is cooking everything from a fried polenta cake with ratatouille, comté cheese and watercress to boudin blanc with pork and veal sausage, braised savoy cabbage, caramelized apples and grain mustard. "The exceptional location allowed the team to fully harness the concept of light and darkness," says Arcsine co-founder Daniel Scovill. "The close collaboration between the array of truly mesmerizing artists (Sam Strand and Ramona Downey) that left their touch on the restaurant has created a truly notable space." occitaniaoakland.com
The dining room at Occitania
FROM TOP: The dining room at La Société; tarte flambée
La Société, a modern brasserie featuring classic French dishes using a bounty of California ingredients, is now open at Hyatt Regency San Francisco Downtown SOMA. Open for breakfast and dinner, the restaurant combines the comfort of everyday French cooking with an eclectic cocktail program and a thoughtfully crafted list of regional and European wines. hyatt.com
BY JENNIE NUNN
LOS
OCCITANIA: PATRICIA CHANG; LA SOCIETE INTERIOR: CHRISTINE GATTI; LA SOCIETE FOOD: GALDONES PHOTOGRAPHY HOUSTON DALLAS CHICAGO ASPEN LAS VEGAS
ANGELES
DUJOUR.COM WINTER 2023 118
RETAIL REPORT . LINING UP
Situated within a 12-story building, The Line hotel features 236 rooms, complimentary bike rentals, a gym and four dining options including Tenderheart, overseen by chef Joe Hou (Angler, Per Se). At Rise Over Run, a manicured rooftop solarium with panoramic views, snag a seat by the firepit and enjoy a cocktail from an inventive menu created by local bartender and notable mixologist Danny Louie (Mister Jiu's, Alembic). Try the Strawberry Reign, made with Amass gin, pamplemousse, vermouth, strawberry and citrus. thelinehotel.com
Chef Chris Bleidorn and partner Aarti Shetty of two-star Michelin restaurant Birdsong have opened the doors to the first brick-and-mortar location of their casual concept Birdbox . Situated in the South Park neighborhood, the 50-seat eatery's menu features birdboxes (fried chicken, cornbread and the eatery's signature Raging Falcon hot sauce) and chicken sandwiches made with free-range, organic chicken raised in local family farms. "Fried chicken to us is the ultimate comfort food," says Shetty. "When the pandemic started, our first thought was to do a fried chicken takeout concept. With time, we started to learn so much more about the challenges of sourcing and buying humanely raised, environmentally sustainable chickens for large consumption. We all consume so much chicken as a nation, but give very little thought to where it came from." birdboxsf.com
MORE ON SAN FRANCISCO, VISIT DUJOUR.COM/CITIES
Ê
FOR
NEW YORK CITY ORANGE COUNTY PALM BEACH SAN FRANCISCO
MIAMI
WINTER 2023 DUJOUR.COM 119
Menu items at Birdbox
ROOM REQUEST ,
Originally purchased in 1972 as a modest motor lodge and known as the Bodega Bay Lodge, the 83-room coastal refuge has been meticulously reimagined and renamed The Lodge at Bodega Bay. The refreshed rooms and suites include the Captain's Quarters, a 1,200-square-foot suite with a fireplace and wraparound deck with views of the nearby bay, and Ocean Suites with vaulted ceilings, coastalinspired artwork and private patios. To reset and recharge, book the Warm Shell massage at the spa and prepare to be whisked away as heated shells ease tired and achy muscles. thelodgeatbodegabay.com
WINE COUNTRY NEWS
EAT HERE NOW .
Following the devastating Glass Fire two years ago, the culinary scene at Meadowood Napa Valley is alive again thanks to the opening of Forum Designed by notable local architect Howard Backen, the structure is complete with an innovative maxiflex tent system by Maryland-based company Losberger De Boer, an expansive outdoor patio and a 10-seat bar. "Forum is a casual restaurant, so it should be two things: good and fun," says chef Scot Livingston. "We wanted to create a place where everyone could relax and take in the beautiful surroundings Meadowood offers while also enjoying elevated yet approachable fare. It is a place to unwind and have a good time. Because my culinary background is rooted in classic French technique, I will use the finesse of that approach while creating dishes that represent the flavors of the world." meadowood.com
The pool area at the Lodge at Bodega Bay
HOUSTON DALLAS CHICAGO ASPEN LAS VEGAS LOS ANGELES
Carnitas benedict at Forum at Meadowood
DUJOUR.COM WINTER 2023 120
ROOM REQUEST
On the heels of a multimillion-dollar renovation, CordeValle, located approximately an hour south of San Francisco, is welcoming guests with 45 refreshed guestrooms and suites; an 180-hole championship golf course designed by golf architect Robert Trent Jones Jr.; newly resurfaced tennis courts; and an on-site pool and spa. "Upon arriving at CordeValle over 15 years ago, I knew we had something truly special on our hands," says Luca Rutigliano, managing director. "When you drive through the arrival gates, the property reveals itself to you, the beautiful lush grounds surrounded by the contrasting golden Santa Cruz Mountains. It's unlike anything I have ever seen. Over the years, we have prided ourselves on providing an excellent guest experience marked by unmatched service and a wealth of amenities. From completely redesigned rooms and personalized amenities to our refreshed golf course and culinary program, we have completely reimagined the entire CordeValle experience and are looking forward to sharing it with the world." cordevalle.com
In the South Bay, Tetra Hotel, an Autograph Collection Hotel has opened its doors, with 186 rooms including 14 suites thoughtfully designed by Gabellini Sheppard. The sleek property, connected to sister hotel AC Hotel by Marriott Sunnyvale Moffett Park, features a heated outdoor swimming pool framed by olive trees and complimentary electric car charging stations. "Tetra Hotel is a tranquil, modern escape at the heart of Silicon Valley, a place to disconnect from routines and reconnect with what matters," says Mike Lerman, the hotel's general manager. "Our signature restaurant, Adrestia, features a Californiainspired menu shaped by local ingredients with Japanese and broader Asian influences, while Nokori bar invites guests to explore one of the most prolific selections of Japanese whisky in the area." marriott.com
TETRA HOTEL: JOHN WOODCOCK
NEW YORK CITY ORANGE COUNTY
MIAMI
PALM BEACH SAN FRANCISCO
FARTHER AFIELD
A Villa suite at CordeValle The hotel lobby and bar at Tetra Hotel Ê FOR MORE ON SAN FRANCISCO, VISIT DUJOUR.COM /CITIES WINTER 2023 DUJOUR.COM 121
FASHION FIRST
BINNSHOT
The CFDA Fashion Awards, put on by the Council of Fashion Designers of America, took place at Casa Cipriani in lower Manhattan
Kerry Washington in Vera Wang
Gigi Hadid in Thom Browne
Richard Stark
Regina Hall in Jason Wu
Marisa Tomei
Martha Stewart
Trevor Noah
Katie Holmes in Jonathan Simkhai
Barbara Sturm in Zac Posen
Michael Kors
Amanda Seyfried in Michael Kors
Bradley Cooper
Lenny Kravitz
Natasha Lyonne in Proenza Schouler
Dee Hilfiger
DUJOUR.COM WINTER 2023 122
Tommy Hilfiger
at a
Dasha Zhukova
the
McCartney skincare
Freida Pinto at the God's Love We Deliver gala in NYC
her skincare launch
Madonna
McCartney skincare
Amber Valletta at a Saint Laurent fashion show in Paris Miranda July
Miu Miu dinner in Paris
at
Stella
launch in NYC
Stella McCartney at
in NYC
at the Stella
launch in NYC
Kristen
Stewart at a Chanel fashion show in Paris
Tilda
Swinton in Chanel at the BFI Luminous Gala in London
Jeff Koons at a Stella McCartney fashion show in Paris
Love We Deliver
Nicky
Hilton Rothschild at the God's
gala in NYC
Danai Gurira at the Bvlgari Celebrates Fifty Years in America event in NYC
Helena Christensen at the Metropolitan Opera opening night gala in NYC
Theron in
at a
WINTER 2023 DUJOUR.COM 123
Charlize
Dior
premiere in L.A.
AMERICAN ICONS
ALL LOCKED UP
BINNSHOT
For his first West Coast runway show event, Ralph Lauren hosted a World of Ralph Lauren event at the Huntington Museum and Gardens outside of L.A.
Tiffany & Co. hosted an intimate cocktail and dinner party at the Sunset Tower Hotel to celebrate its Lock collection
Natasha
Poly Irina Shayk Chris Pine
Sylvester Stallone
Passi
Preposulo
Jennifer Flavin Gian Luca
de
Jessica Chastain
Gal
Alexandre Arnault Zoë Kravitz in The Row Kris
Lori
Corey
Mila
DUJOUR.COM WINTER 2023 124
Patrick Schwarzenegger John Legend Laura Dern
Gadot Miranda Kerr
Jenner
Harvey
Gamble Mindy Kaling Sophia Stallone
Kunis Ashton Kutcher Sistine Stallone
Rosamund Pike at a Dior fashion show in Paris
Simone Ashley in Burberry at the Albie Awards in NYC Jessica Alba at the God's Love We Deliver gala in NYC
Halle Bailey and Ashley Park at a Roger Vivier presentation in Paris
Lily Allen at a dinner to celebrate the new Chanel Premiere Original Edition watch in NYC
Lily-Rose Depp at a Chanel cruise collection show in Miami
Chloe Bailey at a Burberry fashion show in London
Kiernan Shipka at a Roger Vivier presentation in Paris
Molly Ringwald at the Metropolitan Opera opening night gala in NYC
Grace Gummer and Cazzie David at the Tribeca Chanel Women's Filmmaker Program luncheon in NYC
Camille Cottin at a Dior fashion show in Paris
Karlie Kloss and Joan Smalls at a Stella McCartney fashion show in Paris
Christian and Sibi Bale in Dolce & Gabbana at a premiere in NYC
"Louis
200
200
Let o at the BOF 500 gala in
WINTER 2023 DUJOUR.COM 125
Victor Cruz at
the
Vuitton:
Trunks,
Visionaries"
exhibition in NYC
Jared
Paris
BINNSHOT
Seinfeld at a dinner to celebrate the new Chanel
Edition watch
Lake Bell and Jane Fonda at the Women in Film Honors event in L.A.
Daniel Kaluuya at a Burberry fashion show in London Maria Sharapova at the Moncler 70th anniversary event in Milan
Christine Baranski at the Metropolitan Opera opening night gala in NYC
Ashley Olsen at the World Monuments Fund Hadrian gala in NYC
Lucy Boynton in Chanel at the Academy Women's Luncheon in L.A.
Laurene Powell Jobs at a Stella McCartney fashion show in Paris
Baz Luhrmann at a Miu Miu dinner in Paris
Anitta at WSJ Magazine's Innovator Awards in NYC
Karen Elson at the Stella McCartney skincare launch in NYC
Shalom Harlow at a Saint Laurent fashion show in Paris
DUJOUR.COM WINTER 2023 126
Shailene Woodley at the Dior fashion show in Paris
Eva Herzigova at a Saint Laurent fashion show in Paris
Lea Michele in Michael Kors at the God's Love We Deliver gala in NYC
Zaya Wade at a Miu Miu dinner in Paris
Patty Jenkins at the Tribeca Chanel Women's Filmmaker Program luncheon in NYC
Carla Bruni at a Saint Laurent fashion show in Paris Maya Rudolph at WSJ Magazine 's Innovator Awards in NYC
Adwoa Aboah at a Miu Miu dinner in Paris
Kristen McMenamy at a Miu Miu dinner in Paris
Ellie Goulding at a Stella McCartney fashion show in Paris
Maggie Gyllenhaal at a Dior fashion show in Paris
Justin Theroux at a Dr. Sturm dinner at Casa Cruz in NYC
Camila Morrone at a Burberry fashion show in London
Norah Jones
in Dior at the Guggenheim International Gala in NYC
to
the 1932 High
L.A.
at the "Louis Vuitton: 200 Trunks, 200 Visionaries"
in NYC WINTER 2023 DUJOUR.COM 127
Jennifer Meyer at a Chanel dinner
celebrate
Jewelry Collection in
Aurora James
exhibition
BY INVITATION ONLY
The best party ever
BY EDWARD ESPITIA
ruman Capote's Black and White Dance was already touted as the party of the century before the first bottle of Taittinger was popped.
In Cold Blood , the novel that propelled Capote to international fame, was released in January 1966.
Considered the first true crime novel, In Cold Blood recounted the murder of the Clutter family in Kansas. Capote spent six years splitting his time between New York and Kansas interviewing and developing a close relationship with the suspects, which took an extraordinary toll on the author. To celebrate his chef-d'oeuvre and to close the dark chapter of the previous six years, Capote planned the party to end all parties, his Black and White Dance in honor of The Washington Post owner Katharine Graham.
In true Capote style, he made the selection of guests a dramatic event itself. In the months leading up to the party, he was regularly seen with his infamous composition notebook that contained the secret list of who was in and who was out. He would theatrically strike through or add names as potential guests fell in and out of favor.
Those who were lucky enough to receive the invitation were summoned to the Grand Ballroom of the Plaza Hotel for a masked ball
with an unyielding black and white dress code, inspired by the Ascot scene in My Fair Lady. The Monday after Thanksgiving 1966 was dreary and wet, but that didn't stop the press and onlookers from camping outside the Plaza to see the parade of glamour. As the partygoers ascended to the ballroom, they rubbed elbows with the likes of Andy Warhol, Gloria Vanderbilt , Babe Paley, Harry Belafonte, the Maharani of Jaipur, Frank Sinatra , Mia Farrow, Gloria Guinness, Lee Radziwill, Brooke Astor, Capote's elevator man, the Kansas 11 (a group that the author befriended during his time working on In Cold Blood ) and more than 500 of Capote's dearest friends. The guests were prompted to remove their masks at midnight, dined on chicken hash and spaghetti and danced until the small hours.
Capote went out with a bang. He would never publish another novel, as he would succumb to addiction in the years after his famous ball. The nail in his social coffin came with the 1975 publication of La Côte Basque 1965, a thinly veiled, sordid tell-all of the society swans who were his honored guests a few short years earlier. The story's publication and the subsequent fallout are the subject of the second installment of Ryan Murphy's Feud . The anthology series starring Naomi Watts, Demi Moore and Chloë Sevigny has started filming on the Upper East Side and will premiere in 2023.
MUSEUM OF THE CITY OF NEW YORK
A RTIFACT / WINTER 2023
DUJOUR.COM 128 WINTER 2023
T
DRAMATICALLY BETTER.
RM UP-01 FERRARI Ultra-flat manual winding calibre 1.75 millimetres thin 45-hour power reserve (± 10%) Baseplate and bridges in grade 5 titanium Patented ultra-flat escapement Function selector Limited edition of 150 pieces A Racing Machine On The Wrist