Shenina Cinnamon
YoungPromisingWoman
VOL . XXIII - THE PROMISING YOUNG WOMAN
www.dmusemagz.com
#THE PROMISING YOUNG WOMAN
Love is in the air
"My mama always said life was like a box of chocolates. You never know what you're gonna get." -Forrest Gump, 1994
Well, at least you should get or share a box of chocolate for your loved ones, he he. And expect good things in this month of love. Ya, bulan Februari identik dengan bulan kasih sayang. Meskipun banyak yang mengatakan bahwa hari kasih sayang seharusnya dirayakan setiap hari, tapi tidak ada salahnya untuk meluangkan waktu di tanggal 14 Februari ini bersama orang atau bahkan peliharaan tersayang. Di tengah-tengah kesibukan, kadang kita lupa untuk memberikan sedikit perhatian, kado atau bahkan sekedar mengatakan 'I love you' kepada pasangan, sahabat atau orang tua kita. So, why not appreciate February 14th with a lil bit of love?
Dan mari kita rayakan bulan bersimbolik hati ini dengan si manis bertalenta Shenina Cinammon. Aktris yang penuh energik dan fun ini menghiasi cover DMuse Magz bulan February dengan gayanya yang unik, a bit androgyny dan casual sporty. Kami juga ngobrol seru tentang perjalanan karirnya dan bagaimana ia bertahan di tengah-tengah persaingan dan tekanan dalam dunia perfilman. Shenina juga bercerita tentang bagaimana pentingnya work life balance lewat akun youtube channel kami: DMUSE MAGZ. At least, Shenina menunjukkan bagaimana ia menerima dan menghargai dirinya sebagai bentuk self-appreciation tanpa harus menjadi self-centered. It's a form of love too.
Jangan ketinggalan juga halaman fashion kami dimana kami memilih fashion items dengan tema Valentines yang sweet tapi tetap edgy dan timeless.
Akhir kata, enjoy edisi kami kali ini sebagai penghibur hari-harimu di bulan February dan … love while you can.
E Editor's
Note
D-Muse Magazine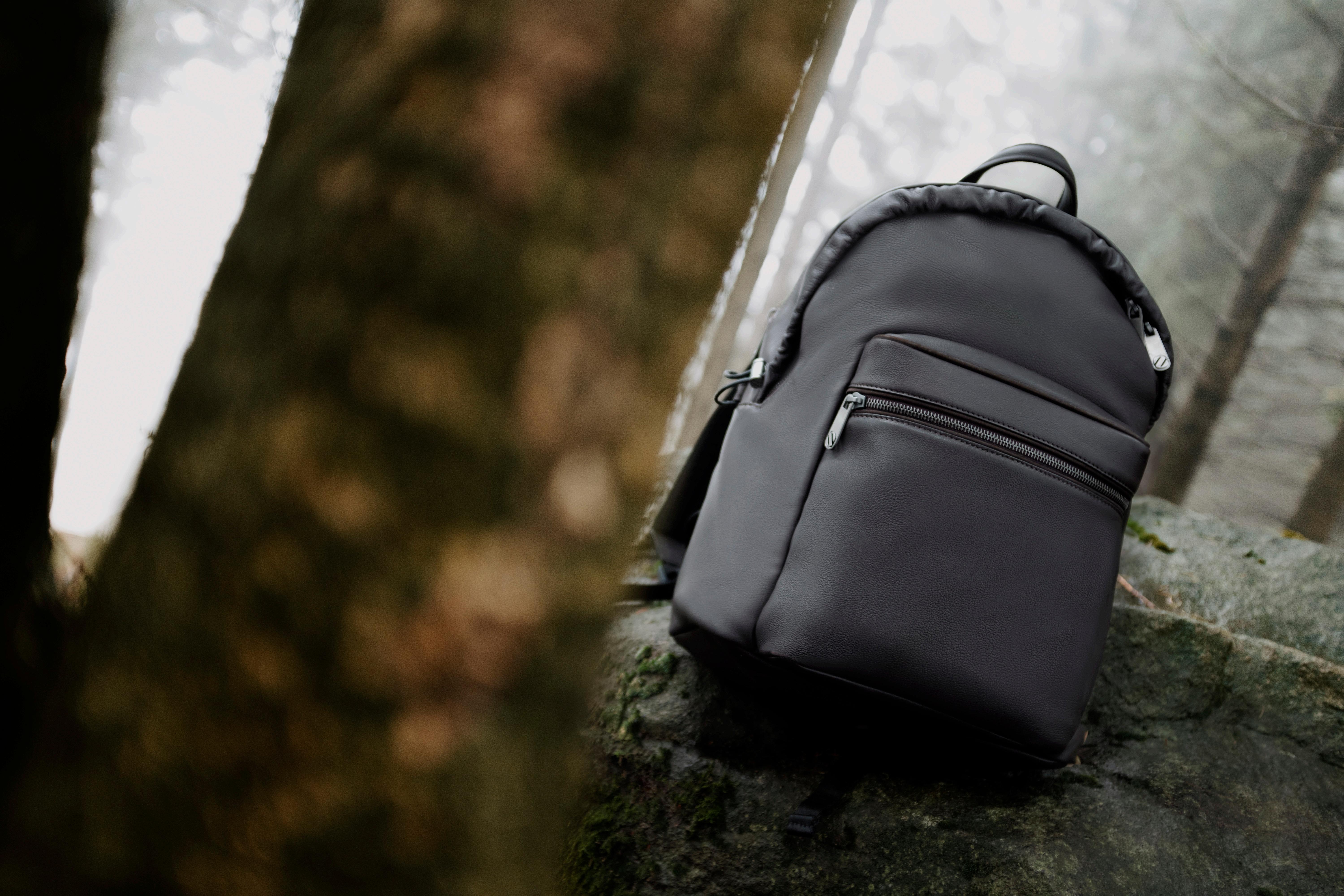 Sebuah Rasa yang Nyaman
Uniqlo U 2023 Spring Summer Collection resmi diluncurkan dengan gaya modern dan versatile yang terasa 'comfy'
Perusahaan ritel global asal Jepang
UNIQLO baru saja meluncurkan koleksi
Uniqlo U Spring Summer 2023 mulai 10 Februari yang lalu. Dirancang oleh Direktur Artistik Christophe Lemaire dan tim UNIQLO R&D di Paris, koleksi bertema "Sebuah Rasa yang Nyaman" ini menawarkan berbagai pakaian modular modern yang tak lekang oleh waktu serta bertujuan untuk memudahkan kehidupan sehari-hari. Pakaian yang memiliki model layering dengan bahan dan warna matte yang lembut dan AIRism katun yang menyegarkan berpadu dengan luaran utilitarian yang ringan untuk menciptakan koleksi yang lengkap dan versatile dengan proporsi yang seringkali tidak terduga namun dipertimbangkan dengan cermat. Palet warna yang ceria namun elegan menampilkan warna-warna netral yang bersahaja serta biru dan krem yang kaya, cerah dengan nuansa hijau, oranye, kuning, merah muda, dan ungu.
Berikut adalah hasil wawancara dengan Christophe Lemaire tentang design Uniqlo U Spring Summer 2023 ini.
Koleksi ini menampilkan pakaian serbaguna yang cocok untuk berolahraga sampai menjadi tampilan utama gaya urban. Apa pendekatan Anda untuk activewear?
C: Kami ingin mempertahankan semua fungsionalitas dan teknis dari activewear tetapi tanpa terlihat terlalu sporty. Layering adalah kunci dalam siluet kami dan activewear sangat cocok dengan konsep tersebut. Ini adalah sebuah pakaian yang bisa dipakai sendiri untuk berolahraga tetapi juga sebagai lapisan pertama untuk tampilan modern dan chic. Dari yoga hingga galeri seni.
Fashion news
Palet warna season kali ini lebih cerah danpenuhkeceriaan.Bagaimanaitubisa terjadi?
C: Warna DNA Uniqlo U adalah warna netral yang menarik–kaya, lembut, dan elegan. Musim ini kami tertarik pada warna yang lebih lembut yang menghadirkan penuh harapan pada koleksi pria dan wanita. Kami menandainya dengan warna kuning cerah dan oranye, serta warna ungu dan pink yang lebih berani. Kemudian tentang menemukan kombinasi warna yang tepat untuk mencapai palet yang dapat disatukan dengan mudah, dalam setiap kemungkinan kombinasi.
Apa teknologi yang dipakai di balik seamless, potongan tubular, dan jahitan?
C: Ini adalah teknik yang luar biasa. Mesin menenun berbagai bagian pakaian dalam tabung dan kemudian kami merakitnya menjadi satu. Misalnya, kedua kaki celana legging ditenun membentuk tabung lalu dijahit menjadi satu di bagian tengah depan dan belakang. Ini memberi Anda kesempatan untuk melepas jahitan samping pakaian, dan memudahkan setiap gerakan.
Pakaian yang sangat mewakili dalam koleksi ini?
C: Untuk pakaian wanita, poncho saku berbahan nilon anti air mewakili ide koleksi dengan menjawab kebutuhan yang tepat–menangkal hujan ringan–dalam palet yang sejuk dan berwarna-warni, sekaligus menciptakan siluet yang stylish. Kami juga menyukai ide transparansi dalam luaran. Pada busana pria, kemeja seersucker katun dan celana pendek, dengan garis-garis dan kotak-kotak, benar-benar menentukan corak koleksinya.
Ini adalah pakaian menswear yang dibuat dengan cara yang menyenangkan dan bertekstur untuk kombinasi yang tidak terduga. Juga, tas bahu serut unisex berbahan nilon benar-benar menjadi ciri khas, terlihat modern dan sangat praktis. Kami semua menyukainya. Seluruh tim juga memakainya!
Detil utilitas adalah ciri khas Uniqlo
U. Mengapa Anda tertarik dengannya?
C: Karena kami mendesain pakaian untuk kehidupan sehari-hari. Inilah LifeWear! Itulah yang sering kami fokuskan, penempatan dan konstruksi detail, saku, drawstring, dan elemen modular lainnya. Berfokus pada utilitas mendorong kita untuk memikirkan kembali fungsi dalam kehidupan kita sehari-hari dan kebiasaan baru kita. Kami ingin semua elemen pakaian kami dirancang untuk digunakan, dan setiap elemen fungsional.
Kami mencoba untuk berterus-terang, dengan penekanan pada bagaimana pakaian itu dipotong, bagaimana karakteristik bahannya. Sederhana, berkualitas tinggi dengan rasa keindahan yang praktis.
Bagaimana kita bisa tetap tampil cantik pada cuaca yang mulai panas?
C: Layering adalah kuncinya. Di pagi dan malam hari, cuaca mungkin masih dingin, dan Anda mungkin ingin mengenakan cardigan atau jaket blouson tipis, misalnyacardiganribuntukwanitadanjaketutility oversized untuk pria. Potongan lebar, mudah, dan nyaman!. Serta potongan katun AIRism dengan fungsi sentuhannya yang kering dan lembut sepanjang hari.
THE PROMISING YOUNG WOMAN
Pernah dilempar script sama sutradara, karir
akting Shenina Cinnamon malah semakin
berkilau
Photographer Julian Latif
Fashion Director Caroline Meliala
Hair and Makeup Kiky Lutan
Videographer Kemal Abdalla
Coat Sejauh Mata Memandang
Fashion SPREAD
Setelah memulai debut sebagai pem -
eran utama dalam film Penyalin Ca -
haya pada tahun 2021 yang juga
mengantarkan Shenina Cinnamon
pada nominasi Piala Citra untuk Pemeran Utama Perempuan Terbaik di Festival
Film Indonesia 2021 dan terpilih sebagai
aktris terbaik juga lewat film Penyalin
Cahaya dari Festival Film Wartawan Indonesia kini Shenina lagi-lagi menggemparkan dunia perfilman Indonesia
dengan berperan sebagai akris
utama dalam film baru keluaran
Netflix Indonesia: Dear David.
Alur cerita yang berpusat pada cinta segitiga, krisis identitas, eksplorasi seksualitas, hingga persimpangan hidup remaja dengan media sosial, akan menjadi
benang merah yang disusun dengan baik lewat karakter Laras yang memiliki
fantasi nakal terhadap
cowok yang ia taksir di sekolahnya dan tersebar ke satu sekolahnya
lewat blog-nya sendiri.
Wajah yang mungil
dengan tubuh kurus dan rambut pendek hitam
bergelombang mendatangi studio tempat kami melakukan seksi pemotretan Cover Dmuse edisi
Februari dengan
sapaannya yang penuh keceriaan.
Tak jauh dari perawakannya yang
tampak di televisi dan media sosial, Shenina memang gadis yang bubbly dan penuh energi.
Sambil menjalani sesi pemotretan, kami
ngobrol tentang perjalanan karirnya di dunia akting.
Ia juga dengan semangat mengatakan bahwa film Dear David ini bakal jadi kado terindahnya karena tanggal rilis-nya berdekatan dengan hari ulang tahunnya. "Sebenarnya aku tuh dulu nggak pernah kepingin jadi aktris, awalnya aku kekeuh untuk fokus di balik layar jadi sutradara makanya dari SMK sampai kuliah aku ambil jurusan perfilman. Tapi malah kesempatan datang untuk ikut audisi jadi pemain sinetron awalnya hingga sekarang sudah aktif mulai akting di layar lebar. Ternyata sekarang aku merasa tampil di layar kaca menarik juga," kata anak dari sutradara Harris Cinammon ini. "Dan semuanya nggak berjalan dengan mulus. Aku udah pernah ngerasain dilempar script sama sutradara…tapi ya itu nggak membuat aku patah semangat. Aku belajar terus menganalisa kekurangan aku sendiri dan mengembangkan skill aktingku dari satu film ke film lainnya," ungkapnya. Meskipun masih muda, tidak bisa dipungkiri turn over di dunia entertainment Indonesia termasuk perfilman juga banyak meregenerasi pemain-pemain baru
Knitwear, KENZO
Top and Skirt, SEAN & SHEILA
dan Shenina menghadapinya bukan dengan berkompetisi secara
tidak sehat namun dengan semakin belajar dalam mengasah skill aktingnya agar ia tidak kalah dengan pemain-pemain baru.
Kami juga bertanya bagaimana ia menghadapi tekanan dalam dunia perfilman apalagi tadi mendengar ia pernah dilempar script oleh sutradara. "Selama kita menganggap itu hal yang positif maka kita bisa menjalaninya dengan tenang. Bahkan ketika
mendapat kritik, jangan gampang
sakit hati, karena siapa tahu kritik itu justru kunci membuat akting kamu bisa lebih baik lagi. Karena kadang
apa yang kita rasa kita
udah kasih yang terbaik bisa jadi berbeda di mata penonton dan penikmat film. Kita merasa sudah all out tapi penonton masih merasa kurang atau kritikus juga memberika kritik
, nah jadikan itu hal positif yang bisa membangun my acting skill," jelasnya dengan santai.
Shenina memang terkenal suka mengambil project film yang
jalan ceritanya 'tidak biasa' dan unik. Contohnya adalah Photocopier atau Penyalin Cahaya yang
mengangkat isu kekerasan seksual dari seorang mahasiswi bernama Sur. Tapi kami
juga penasaran kira-kira apa sih dream role-nya Shenina
setelah sekian lama berkarir di dunia akting. "Selain shooting sama sutradara
besar Indonesia,kalau bisa request aku tuh pingin banget akting di film action. Soalnya badan aku kan kecil aku pingin challenge diri aku apakah aku bisa memerankan acting di film action," katanya.
Top, pants and sling bag, B.Y.O
Mengenai life goals, Shenina
adalah wanita muda yang full of energy. Selain harus tetap bertahan di dunia akting dengan mengem -
bangkan skill nya dan tidak tergantikan oleh aktris-aktris baru, Shenina juga ingin memiliki waktu yang lebih banyak bersama keluarga
juga dalam waktu dekat ingin liburan ke Jepang.
Seperti yang ia katakan sebelumnya, di dalam karir harus bisa menganggap semua hal positif, Shenina juga bercerita tentang hal-hal
favorit selama menjadi aktris. "Aku
senang ketemu orang baru
dan juga banyak belajar dari aktor senior tanpa harus merasa 'digurui'.
Aku juga banyak belajar dari kru, dimana setiap film kru-nya beda-beda
dan aku senang mengeksplor karakter mereka
yang mana aku pikir mun -
gkin suatu saat aku bisa
gali dan pakai di dalam
aktingku. Kaya misaln -
ya aku lihat salah satu kru
makan permen karet cuma digulum terus-terusan tanpa ditiup, kayanya gesture
ini seru deh kalau aku pa -
kai buat salah satu karakter peran yang aku mainin nanti. It's really useful," lanjutnya "Dan bagian favorit tapi juga sedih adalah bagian dimana proses shooting selesai dan aku ga ketemu mereka lagi, it makes me feel sad."
Well, buat kalian yang penasaran dengan akting matang seorang Shenina, segera lihat aksinya dalam film keluaran Netflix terbaru: Dear David.
All by SEAN & SHEILA
All by SEJAUH MATA MEMANDANG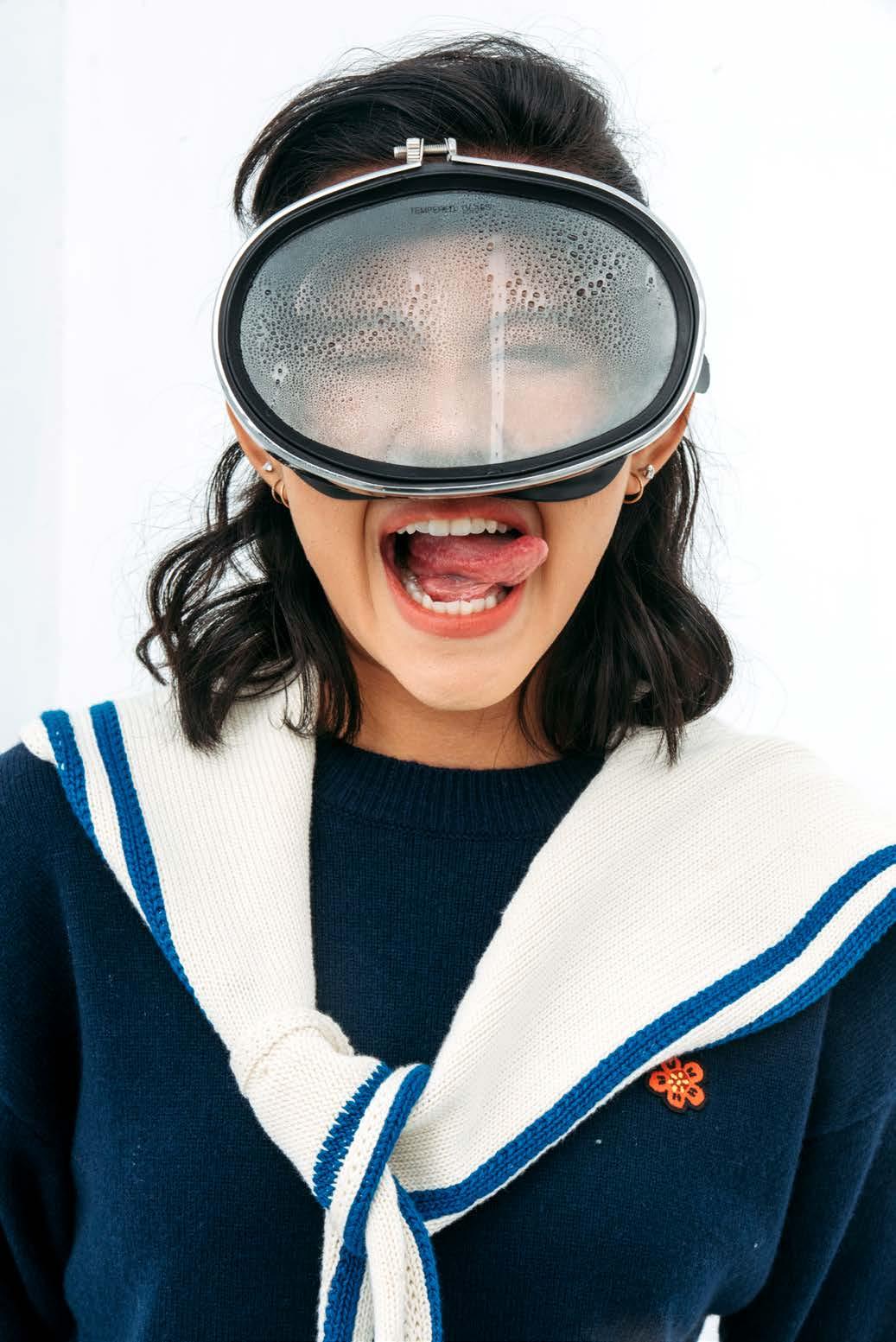 All by KENZO
All by B.Y.O
Fashion news @rosesarerosie Rose in Shushu Tong
Blackpink's Best
Fashion Moments
Born
Flashing light displays, arresting visuals and heart-thumping energy. That's what anyone would expect from a Blackpink world tour. From fashion FROW to beauty campaigns, the K-pop mega group has been making headlines but their fans have long willed their return to what they do best: making music. And so they did. Comeback season was upon them last September as they released their second studio album since debuting in 2016, titled Born Pink. This was accompanied by two extravagant music videos for their headlining tracks, 'Shut Down' and 'Pink Venom', followed by one very exciting announcement—their world tour. With concerts, gigs and raves in full swing across the globe, the group kicked off their nine-month tour in Seoul on 15 October. And so the Blinks (Blackpink's official fanbase name) swarmed the KSPO Dome seats, filling up every single seat that had been made available. Consequently, their infallible sell-out rate was mirrored at every show since, from Houston and Chicago all the way to the cities of Paris and Copenhagen. And in return, the four members Jennie, Rose , Lisa and Jisoo showed up with their best performances
of the group's, addictive hits from 'How You Like That' to melodic favourites such as 'Playing with Fire' and 'Don't Know What To Do'. But dynamic stages aside, the US and Europe leg of their tour also saw a stellar range of delicious fashion pulls that was in line with each of the members' personal styles. Whilst creative looks for the girls had been dreamed up by the group's long-standing stylist Minhee Park, it's of ample reminder here that each of the Blackpink members are ambassadors for the major fashion houses such as Chanel, Dior, Celine and Saint Laurent. Of course, the maisons wasted no time in crafting out custom looks meant for them to wear on-stage; Jennie saw a snow white Chanel ensemble for her solo stage whilst Rose shrugged into a chic biker jacket from Saint Laurent. And when they weren't on stage? The K-pop stars granted us with a sizable number of off-duty looks that were primed for the hours they enjoyed abroad—from Paris all the way to Abu Dhabi. As they embark on the Asia leg of their tour, cast your gaze over the best fashion moments spotted during the Blackpink World Tour so far, all below. Continue to watch this space for more updates.
Fashion news
Here are the best style spotted from Blackpink's
Pink World Tour, and some of those could inspire your Valentine's
Fashion news @jennierubyjane Jennie in Aniye Records
Fashion news @lalalalisam Lisa in Celine
Fashion news @sooyaaa Jisoo in Shushu Tong
Fashion news @rosesarerosie Rose in Saint Laurent
Fashion news @jennierubyjane Jennie in Courreges
Fashion news @lalalalisam Lisa in Area
Fashion news @sooyaaa Jisoo in Nana Jacqueline
Fashion news @jennierubyjane Jennie in Chanel
Fashion news @lalalalisam Lisa in Celine
Fashion news @rosesarerosie
Rose in Saint Laurent and Dr Martens
Fashion news @jennierubyjane Jennie in custom Chanel
Chill Out…
To Create A Work-Life Balance is the concept of 'self-love', and now its more relevant
In France, there are certain hours of the day where people are legally free from sending or responding to work emails. It's the first piece of legislation seeking to establish a work-life balance since the invention of the smartphone eliminated the ability to clock in and out. "Employees physically leave the office, but they do not leave their work," explained French lawmaker Benoit Hamon to the BBC of the country's decision. "They remain attached by a kind of electronic leash—like a dog." But drawing a line in the sand of when you walk away from work is not as simple as it was for your parents' generation. Modern careers require a recalibrating of scales. "We've reached a point where technology has outpaced our capacity to manage the speed at which we're progressing," says Arianna Huffington, founder of the Huffington Post, who, after a collapsing in a
wave of exhaustion in 2007, has very publicly spent the past 10 years focused on finding and creating tools to establish happy, healthy boundaries. Most recently, she launched Thrive Global, a website dedicated to making wellness as integral to the definition of success as professional advancement has been. For Huffington, taking "sacred time" away from screens is absolutely vital to resetting for better in-office decisions, personal relationships, and physical and mental health. The Internet scion's phone is never within view if she is "having a meal with loved ones, working on a project, [or] sleeping." In fact, she puts her phone in what she calls a phone bed to charge at night 30 minutes before she herself goes to sleep, to allow her mind time to unwind. "We've learned that your day starts the night before—meaning getting enough sleep is essential to how we start our day," she explains.
Lifestyle
Singer, such concrete boundaries are not conducive to her working rhythms. Instead, she unplugs in smaller ways throughout the day. "I think you have to make spaces in your life where you just can't be reached," says Singer, who finds that working out and riding a bike are easy excuses to momentarily dip out of touch. "I ride a bike to and from work when it's not snowing and during the shows as much as possible in New York and Paris." It's during these 20 or so minutes in the wind that Singer puts her phone away, leaves her headphones in her bag, and lets cycling be her only mental task. At home, she's guarded herself from being overly involved online by living without Wi-Fi—a surprising tactic from a digital leader, especially in the face of the growing prevalence of Internet service (Facebook launched its first Wi-Fi drone last year with the goal of getting the whole world—even its most remote locations—online). "I have my phone," she admits, "but if I need to download a video or read a document at length, I have to go to the lobby of my building or to [the café on] the corner. What that means is, I'm not watching television in my house and my children can't stream anything. That gives your mind a break from input." She recalls sage advice from colleague Camilla Nickerson, also a mom, who once told Singer "that when she's at home, she's really a mom. And when she's at work, she's at work. You just have to do it that way. You have to really be where you are." Presence can be more than just a place, says Intermix founder Khajak Keledjian. "When you do something, you might as well do it 100 percent," he reasons. It's a theory often applied to hard work, but he parlays it into breathing, walking, and even meals. "If you're eating, eat 100 percent. Eat well, digest it well, do it mindfully. I ask myself, Am I doing this meaningfully or just for the hell of it?" says Keledjian. He has found that his own commitment to achieving calm in a chaotic world affects his employees positively, too: "Wellness trickles down from the top." Keledjian more than practices what he preaches. He found the benefits of channeling the stress of running a 40-door retail business into meditation so valuable, he eventually launched his own Manhattan meditation stu-
So while the French enjoy their quiet time, Americans may find it more difficult both legally and culturally to cut back on their working hours. According to Keledjian, you don't have to. "The only thing that has helped me is to add, sometimes just 20 seconds at a time," he says of implementing exercises during the day to help assuage anxiety, fatigue, or even sugar cravings. From there, a quiet commute home, a well-enjoyed meal, and a silenced phone in the night should tip the scale in your favor.
Vogue.com
For
Creative Director Sally