5x
JEUNESSE
COMPANY / Jeunesse Global HEADQUARTERS / Lake Mary, Florida
NUMBER OF FULL-TIME EMPLOYEES / 775
Jeunesse has been my home and family away from home since its inception, and I continue to be excited about our daily adventures! What I love most about working for Jeunesse is the team atmosphere—we are always willing to jump in and help one another get things done, knowing that when one succeeds, we all succeed, which is our main goal for all of those that depend on us.
—BRIAN TRUSTMAN / SENIOR DIRECTOR OF MARKETING
OPERATIONS WHAT MAKES YOUR COMPANY ONE OF THE BEST PLACES TO WORK IN DIRECT SELLING?
In a word, family makes Jeunesse one of the best places to work in direct selling. Each day, our incredible family of employees gathers in Jeunesse offices worldwide, all united with a common purpose to make a positive impact in the world. We are so grateful for this family that works hard, meets challenges head-on, collaborates to create amazing work, stands alongside us as we celebrate success, and then enthusiastically does it all again to bring
Jeunesse to the next level. Our employees are invested in our mission and know that they are making a difference. This unity and sense of purpose has defined our corporate culture for the past 11 years and continues to help make Jeunesse an incredible place where we are proud to work.
HOW DOES YOUR COMPANY BRING THE SAME REDCARPET TREATMENT TO YOUR EMPLOYEES THAT YOU GIVE TO YOUR DISTRIBUTORS? Normally, we roll out the red carpet for our employees at our corporate offices around the world—from the four-story, 70,000-square-foot World Headquarters building in Florida to the Jeunesse Tokyo office featuring a Jeunesse Kids™ vending machine that supports the company's nonprofit foundation. We have always strived to create a home away from home atmosphere for our employees with on-site amenities such as a state-of-the-art fitness center, Jeunesse Café and lounge areas, as well as employee appreciation events. Since our employees have been working from their actual homes for most of the year, we have brought some of those amenities to them through virtual personal development meetings, twiceweekly live streaming yoga classes, exciting contests and recognition.
We are looking forward to welcoming our employees back to our HQ office this spring.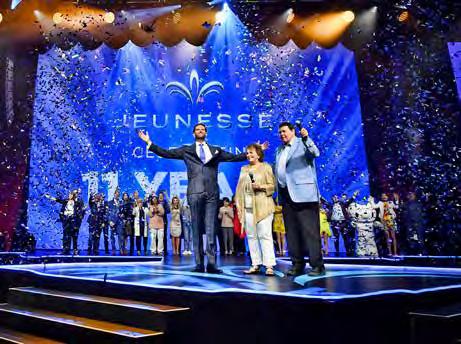 HOW WOULD YOU DEFINE YOUR COMPANY, AND WHAT ARE THE KEYWORDS THAT DESCRIBE YOUR CULTURE? Jeunesse seeks to make a positive impact in the world by helping people look and feel young while empowering each other to unleash their potential. We do this through our products, opportunities, employees, Distributors, and Jeunesse Kids, our nonprofit foundation. Central to this mission is the concept that we are "One Team. One Family. One Jeunesse." and that we collectively achieve success when we strive to serve others by leading with servants' hearts. We embrace a Generation Young culture that values youthfulness, vibrancy, and a zest for living life to the fullest—at every age.
WHAT IS YOUR TOP PRIORITY WHEN IT COMES TO MAINTAINING A GREAT WORK ENVIRONMENT? Our top priority in maintaining a great work experience is to ensure every employee feels valued, included and appreciated. At Jeunesse, our employees have the opportunity to share their ideas and vast experiences. We accomplish this by promoting a healthy work-life balance, fostering a family-oriented environment, providing effective and professional leadership, and creating global employee engagement initiatives worldwide.
Each month, we host a global initiative to promote engagement and deepen our understanding of the value of cultural diversity in our corporate offices.
HOW DOES YOUR COMPANY SUPPORT TEAM MEMBERS IN THEIR PERSONAL AND PROFESSIONAL DEVELOPMENT? From the moment our employees are interviewed, we identify the traits that align with the Jeunesse values, mission and culture. Team spirit, active listening skills, patience, empathy and a positive attitude are the main attributes we look for and foster in our company. We want all of our employees to succeed in their area of work. They are coached and mentored by experts in their department. We work with our employees to help shape them to become the best in our industry.
In 2020, we focused on helping our employees transition and adjust to a remote work environment and continued to support their health and wellness. We launched the Swarovski Work from Home Challenge, where employees earned prizes embellished with the famous crystals based on photo submissions of their creative homebased workspaces. We also pivoted our J-Meet personal development meetings to a virtual setting, created virtual workout sessions with our Director of Fitness, and maintained online live-streaming yoga classes twice a week.
To inspire and encourage one another, we have created the Jeunesse Family Vision Board. Employees have contributed content to the Jeunesse Family Circle website representing their hopes, dreams and goals for 2021. Throughout the year, employees share content and encourage one another in this closed group setting.
WHAT IS SOMETHING THAT HELPED YOUR COMPANY PIVOT AND SHOW RESILIENCE IN 2020? With nearly 800 employees working in offices, moving this global staff to a secure, remote environment was one of the most significant pivots.
An increase in corporate communications to all employees helped to optimize team morale and ensure employees felt connected while working in remote locations. We even implemented virtual fitness and yoga classes to continue to support the health and wellness of our employees.
In addition to keeping remote employees safe, Jeunesse implemented increased safety precautions for those working in areas where remote work was not possible, such as in Distribution Centers. Procedures implemented to reduce the spread of COVID-19 include purchasing thermal scanners for temperature checks, introducing new self-certification technology (for contact tracing considerations), social distancing guidelines, and maskwearing at all times. n