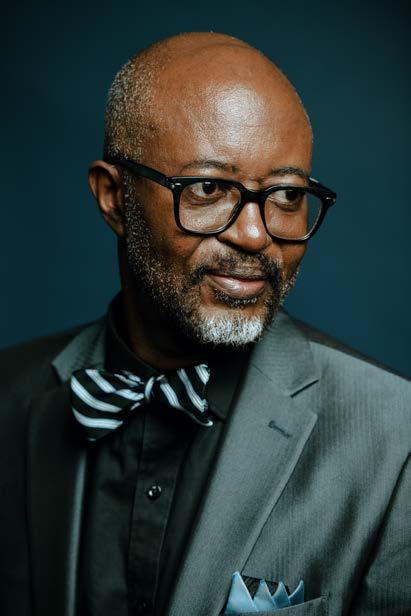 COMMUNITY COLLEGE Executives
James O.
IV
Community College
Russell A. Kavalhuna Henry Ford College Rose B. Bellanca Washtenaw Community College
Sawyer
Macomb
Curtis L. Ivery Wayne County Community College District
College Leading the New Push to Transform the Talent Pipeline A GAME CHANGER: D3C3 SETS SIGHTS ON BOOSTING GRADUATION RATES 7 WAYS TO ENGAGE: EMPLOYERS CAN BUILD WORKFORCE THROUGH CHAMBER EDUCATION AND TALENT PORTFOLIO US $4.00 A PUBLICATION OF THE DETROIT REGIONAL CHAMBER • DECEMBE R 2022 EMPLOYER-LED TALENT SOLUTIONS: CASE STUDIES IN APPRENTICESHIPS AND BUILDING A CULTURE OF LEARNING
Glenn Cerny Schoolcraft College Peter M. Provenzano Jr. Oakland Community College Kojo A. Quartey Monroe County Community
Banking & Finance Business Transactions Commercial Litigation Environmental & Energy Law Estate Planning & Business Succession Foodservice & Hospitality Government Relations & Public Policy Health Care Law Labor & Employment Law Mergers & Acquisitions Real Estate Law ATTORNEYS & COUNSELORS AT LAW Thomas P. Vincent President & CEO 248.901.4000 | tvincent@plunkettcooney.com Michigan | Ohio | Indiana | Illinois | www.plunkettcooney.com Business leaders say they trust the attorneys of Plunkett Cooney to anticipate legal pitfalls, to resolve high-stakes litigation and to craft contracts they can sign... with condence. See your business differently. Get the Plunkett Cooney perspective. Plunkett Cooney Perspective™ Get the
Community Colleges and Employers: Partners in Building the Workforce CONTENTS DECEMBER 2022 • VOLUME 114, ISSUE 4 MEMBERSHIP CONTENT WORKFORCE POLICY SHOWCASING EMPLOYER LED ENGAGEMENT COMMUNITY COLLEGE WORKFORCE DEVELOPMENT EXECUTIVE SUMMARY BIG TIME CONTRIBUTORS Community Colleges Key to Growing Michigan's Skilled Workforce A GAME CHANGER D3C3 Sets Sights on Boosting Graduation Rates 6 FROM THE PRESIDENT Michigan's Political Health Will Drive Our Economic Health EXECUTIVE SUMMARY The Critical Role of Community Colleges 2 D3C3 IN ACTION Community Colleges Engaging Employers in New Ways to Meet Talent Needs 12 A DEAL-MAKER'S MOMENT Congressman Fred Upton Steps Away After a Storied Career THE FUTURE OF OUR DOWNTOWN 2023 Detroit Policy Conference Examines the Next Phase of Resurgence 36 18 GAINING FAME Toyota's Innovative Training Program Coming to Washtenaw Community College A SCALABLE SOLUTION New Internship Program Connects Students to Careers in Finance EMPLOYER-LED TALENT SOLUTIONS Case Studies in Apprenticeships and Building a Culture of Learning ADVOCACY AND EDUCATION Supporting Policy That Builds Tomorrow's Workforce 7 WAYS TO ENGAGE Employers Can Build Workforce Through Chamber Education and Talent Portfolio IT WAS A MATTER OF TIME Detroit Reconnect Student Thriving in Return to College 22 38 40 IN THE NEWS Good Things Are Happening to Businesses Throughout Metro Detroit 42 ON THE ROSTER Join Us in Welcoming These New Members to the Chamber Publisher Tammy Carnrike, CCE Managing Editor Melissa Read Editor James Martinez Photographers Andrew Potter Courtesy Photos Advertising Director Jim Connarn Advertising Representatives Laurie Scotese Research and Analysis Christyn Lucas Austeja Uptaite Back Issues 313.596.0391 Published by Detroit Regional Chamber Services Inc. No part of this magazine may be reproduced without written permission.
4 10 20 24 28 30 34 REPLICATING GEORGIA STATE Increasing Student Success Through Data, Technology, and Personalized Attention 14 KNOCKING DOWN BARRIERS Learn4ward Offers Unique Pathway to Two- and Four-Year Degrees HIGH-VALUE CREDENTIALS Key Pathways to Rebuild Detroit's Workforce and 97 High-Value Credentials 16
Detroiter (ISSN 0011-9709) is published four times a year (April, June, Oct. and Dec.) by the Detroit Regional Chamber, One Woodward Avenue, Suite 1900, Detroit MI 48226, Phone: (313)964-4000. Periodical postage paid at Detroit MI Subscription price: members, $14: nonmembers, $18. Individual copies: $4; plus postage. POSTMASTER Send address changes to: Detroiter, One Woodward Avenue, Suite 1900, Detroit MI 48226. Copyright 2007, Detroit Regional Chamber Services Inc.
FROM THE PRESIDENT
MICHIGAN'S POLITICAL HEALTH WILL DRIVE OUR ECONOMIC HEALTH
Many of us breathed a sigh of relief as Election Season 2022 came to a close. Not because certain candidates or parties were victorious, but rather for Election Night's lack of drama and the return to normal candidate behavior. For the most part, voters were able to cast their votes without impediment, election officials and volunteers were able to do their important work without unwarranted protests or harassment, and candidates that fell short engaged in the proud American tradition of conceding their election contests with a spirit of goodwill. Whew.
The 2022 election confirmed what Americans and political pundits know – we are a divided nation. As Michigan moved more toward "blue" state status with decisive victories by Governor Whitmer and other statewide Democrats, Florida moved more toward "red" state status with an equally decisive victory of a sitting Republican governor over a well-known former governor and member of Congress.
An element of Michigan's "blue" shift in 2022 was the historic seizing of control by the Democrats of both chambers in the legislature after a generation of solid Republican control. For many in the business community this is cause for pause. History shows that as minority political parties regain majority control, political overreach is a likely outcome.
The unspoken truth is that America's business community is no longer fully aligned with the Republican party. The demographics and interests of our two primary political parties have shifted dramatically over the last 15 years. On tax policy and regulatory issues, businesses still have a reliable ally in the Republicans. However, on matters such as addressing workforce and higher education issues – critical to the talent pipeline into businesses – and investment in critical infrastructure, the Democrats have become a newfound ally.
As businesses navigate the changing landscape, the Chamber has some suggested guidelines for our new legislature.
STABILITY MATTERS.
After 40 years without control of the legislature, the new majority would be wise to remember that overreaching on a political agenda that caters to the few, risks not only their hard-fought majority, but sends a destabilizing message to the rest of the nation and world. Businesses invest in places that exhibit longterm stability and have sustainable policies – not places that veer from one ideology to another.
HISTORY MATTERS.
Every minority party feels mistreated by the majority. While the new majority has earned the right to pursue policies that are different from the prior majority, it would be wise to treat today's minority party as tomorrow's majority party. Our politics work better when both political parties recognize that neither party gets it right all the time. Overall productivity is enhanced when each party treats the other with the knowledge that their current majority is temporary at best and bipartisan cooperation is the most successful legislative strategy.
CIVILITY MATTERS.
In Washington, we see daily reminders of how not to behave and treat others. The yelling, demagoguery, demonizing (and yes, even disinformation) that comes from the city of my birth and the bulk of my professional career is a regular abject lesson in what we don't want our children to mimic. Such incivility can paralyze governing bodies, distract from significant issues that require bipartisan solutions, and result in clumsy or ill-fated policy changes that harm the economy. Here in Michigan, we can do better, and we deserve better. I urge our new legislature and its leaders to borrow an old (and sadly, outdated) Washington refrain, "the other party is not my enemy, they are simply my opponents today – for tomorrow they may be my ally."
Let's hope for better in Michigan.
K. BARUAH PRESIDENT AND CHIEF EXECUTIVE OFFICER, DETROIT REGIONAL CHAMBER
Executive Summary 2
SANDY